Veneto is that northern Italian region where everything is on your doorstep: sea, plains, lakes, mountains, rivers, valleys, hills, large cities, walled towns, and medieval villages. To mention but a few of the travel options there!
It doesn't matter if you like spending your holiday hiking and being active or if you prefer the peace and quiet of archaeological museums and art galleries. In the Veneto, you just need to travel thirty minutes in one direction or forty-five in the other to reach a large variety of natural and man-created sights that you need months to explore. What happens if you only have a week or two at your disposal?!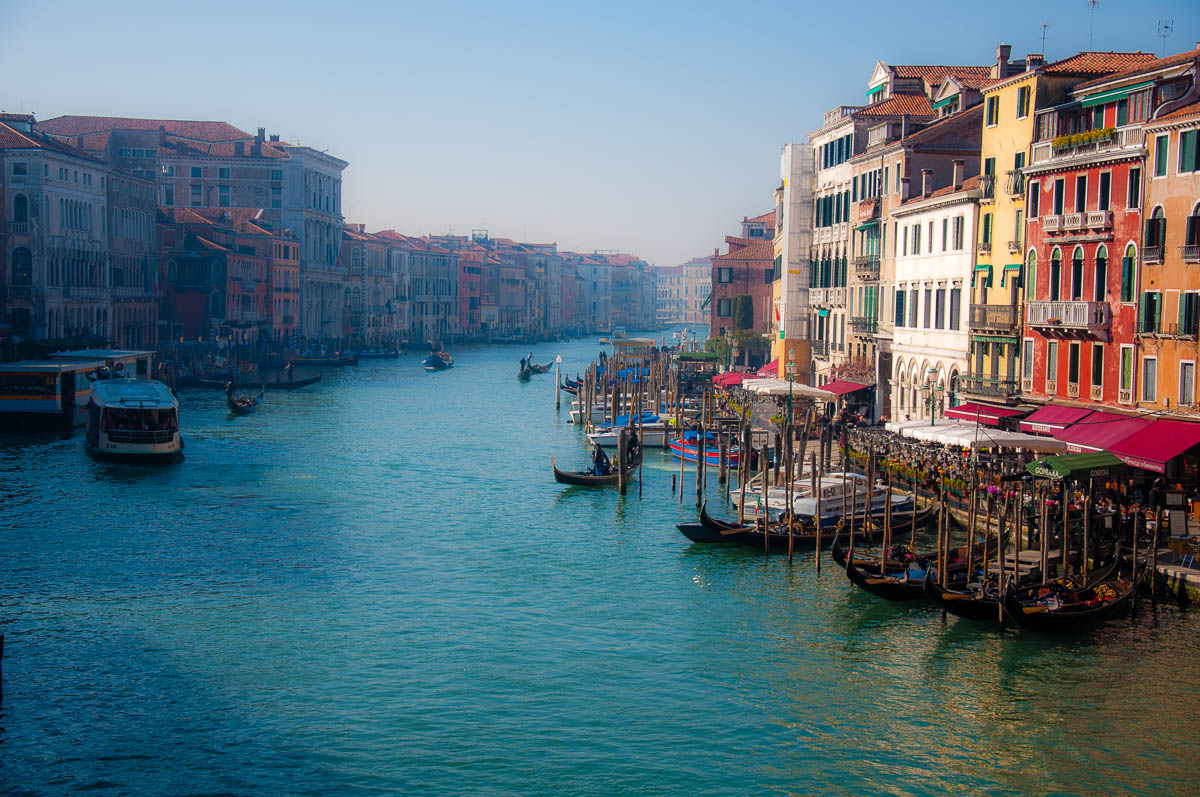 Aaargh! There are so many choices – from:
Venice, Padua and Verona with their many layers of history and art to
dozens of walled towns with medieval castles and centuries-old buildings with fully frescoed facades; from
Lake Garda – Italy's largest lake – to
the delta of the River Po – Italy's longest river; from
the sandy beaches that stretch for miles along the Venetian lagoon to
the stunning mountain reliefs of the Dolomites – where peaks, valleys and lakes got together to create an unforgettable landscape.
So, to help you pick the best options for you and your vacation here is a nice and tidy list of the top 15 places to visit in the Veneto, Italy. The list covers all types of natural and man-created sights with lots of destinations provided as examples under each category. Reading through it all will help you pick and mix the places you want to see for yourself in the Veneto.
This list will also give you lots of ideas about where to go and what to explore in the Veneto, Italy so as to utilise your vacation time as best as possible. As there is nothing worse than finding out what else you could have done in a certain area only after you have flown back home.
In addition, right at the end of this blog post, I have provided lots of practical details and further information about the Italian region of the Veneto in order to make your planning even smoother and more enjoyable.
Read on!
Top 15 Places to Visit in the Veneto, Italy
1. Veneto's Main Cities
Venice doesn't really need an introduction. Once the head of a former superpower that lorded it over the Mediterranean and large swathes of land for centuries, nowadays Venice is the capital of the northern Italian region of the Veneto. The city of water attracts millions of visitors each year. They arrive in search of precious art, stunning architecture, a romantic experience or just the ultimate selfie.
If this is your first visit to the Veneto, don't miss Venice. This is a place that needs to be seen at least once in a lifetime. Put aside a minimum of two days to explore the sides of Venice that interest you the most – its museums, churches, labyrinthine streets, layered history. At the same time, don't miss the other two large gems which make Veneto's crown so much more resplendent: Padua and Verona.
Padua is the city that sparked the Renaissance with the master painter Giotto covering in exquisite frescoes the Scrovegni Chapel. His absolute skill in depicting human emotions leaves you deeply touched as you follow fresco by fresco the biblical stories under a stunningly painted blue sky dotted with gold stars. Yet, Padua offers so much more than the obligatory Scrovegni Chapel. A lively University town (the world's fifth oldest University was founded there in 1222), Padua has dozens of landmarks and a delicious food scene. Click here to find 89 reasons to visit this often overlooked yet major city in the Veneto, Italy.
Verona (pictured above) is undoubtedly the city of Romeo and Juliet. Yet, again, this city in the Veneto, Italy has many more surprises up its sleeves. Roman ruins, majestic churches, historical squares, an excellent Christmas market, year-round art exhibitions, lush gardens and the world's most spectacular opera festival, Verona has much to give to the traveller looking to experience history and beauty at the same place.
2. Veneto's Smaller Cities and Towns
The best thing about the Veneto, Italy is that the size of a town does not define the amount of history and the number of sights you are going to find in it. No matter how small a place is or how off the beaten track, you are bound to discover a very rich collection of art and artefacts. As such, put at least a day aside and take your pick from the following smaller cities and towns in the Veneto, Italy:
Vicenza – the city of gold and Palladio, Vicenza is where you will find great architecture and some of the finest jewellery shops in Italy. Built on Roman foundations, the city truly prospered during the Renaissance. Nowadays Vicenza is a great day trip during which to discover several lovely museums, lots of Palladian architecture and a must-have piece of jewellery or two.
Treviso – mostly known for the convenience of its low-cost airport, Treviso is so much more than that. The city's cobbled historical centre is lined with historical palaces. Art galleries offer a never-ending series or exhibitions and art events. Add to this a very lively Carnival and many other happenings – from music concerts to a hot-air balloons festival. Plus, Treviso is where the worldwide famous dessert tiramisu and sparkling wine prosecco were born.
Belluno – known as the gateway to the Dolomites, Belluno is a very pretty town. Its historical churches and buildings stand out against a backdrop of majestic craggy peaks. From Belluno, you can easily reach all types of ski resorts, hiking paths, mountainous lakes and medieval villages. This includes Pieve di Cadore' – the small town where the renowned painter Titian was born and where major Italian eyewear brands started as a cottage industry some centuries ago.
Rovigo (pictured above) – the gateway to the delta of the river Po, Rovigo is another historical city in the Veneto, Italy that stays off the beaten track. There are many things to be seen and explored in the city's quiet historical centre. Among them is a free art gallery housing originals by Tiepolo and Bellini as well as one of Italy's tallest medieval towers – the 66 meters high Torre Dona'.
Bassano del Grappa – a picturesque city on the shores of the crystal clear river Brenta. Founded many centuries ago in pre-Roman (and some say even in pre-Venetic) times, today Bassano stands out with its medieval and Venetian architecture. There is a castle (used for opera performances each summer), fortified city walls, lovely cobbled piazzas and many old buildings with faded frescoes on the walls. Bassano is famous as a grappa production centre – this is a potent alcoholic drink made of grapes. The local ceramics industry is also very well developed.
3. Veneto's Roman Heritage Towns
Roman heritage can be easily found all over the Veneto, Italy. After all, the territory of what is nowadays the Veneto has been an ally of the Roman Empire since the 3rd century BC. In 49 BC the original Veneti tribes received full Roman citizenship. Most of the cities and the towns of the Veneto had been founded by or flourished under the Romans. Their current names are evolved from the names they carried during the times of the Roman Empire. For example, Padua used to be Patavium, Treviso – Tarvisio and Vicenza – Vicetia.
In every town or city of the Veneto (even in Venice) you can easily come across vestiges of the Roman civilization. These can be in the shape of monumental buildings which are still being used one way or another (like the Roman Arena in Verona – pictured above). Or they can be in the shape of priceless archaeological collections like the one of the National Archaeological Museum in Venice.
If you have a deep-seated interest in Roman history though, make sure that you head to one of the following two towns in the Veneto, Italy. They were important centres during the times of the Roman Empire and this is where you can get incredibly close to ancient history:
Concordia Sagittaria – here you can see important Roman ruins like a portion of the consular Roman road Via Annia and the Paleochristian Basilica Apostolorum. The town was founded in 42 BC by the Romans on the crossroads of the Via Annia and Via Postumia – ancient Roman roads of great importance.
Oderzo – an ancient town founded in the 10th century BC. Oderzo's Civic Museum and historical centre give you a chance to explore both the pre-Roman and the Roman history of the town. You can walk among ancient ruins and feel the echo of the times when Oderzo was still called Opitergium.
N.B.: Very detailed information about the archaeology of the Veneto, Italy can be found on the ArcheoVeneto website. There you can get details about the Archaeological museums, areas and itineraries to explore in the area.
4. Veneto's Medieval Walled Towns
Veneto has had a tumultuous history, vestiges of which can be found all over its territory. The Middle Ages were a particularly busy period with several leagues and invaders vying for dominance over the rich land. Towns circumnavigated by thick brick walls were built in the plains and the hills of the Veneto to protect the rulers' interests.
These medieval walled towns are incredibly interesting to visit today. In many of them, their mighty defensive walls and castles are still standing only slightly affected by the passing time. Here are just a few of these jewels of history for you to explore when you find yourself in the Veneto, Italy:
Asolo – a picture-perfect town in the foothills of the Dolomites. Known as the City of the Hundred Horizons and the Pearl of the Province of Treviso, its beauty has attracted artists, writers, and royals for centuries.
Castelfranco Veneto – a gorgeous town with an almost intact defensive wall, pretty historic centre and a host of festivals and events. Including a chocolate fair! This is also the birthplace of Giorgione – one of the most renowned Italian painters.
Cittadella – here you will find Europe's best medieval parapet walkway. In simple English, this means that you can circumnavigate the whole town by walking on its medieval defensive wall. In September, don't miss the town-wide medieval fair. In winter, a nice little ice rink is built on the central square.
Conegliano – the starting point of Veneto's Prosecco Country (see point 10 below) and also the birthplace of the renowned painter Cima da Conegliano. This is a beautiful medieval walled town with a great castle turned into a Civic Museum, a lovely cathedral and the impressive fully frescoed both on the inside and the outside Sala dei Battuti.
Feltre – huddled on top of a small hill, this medieval walled town is surrounded by the powerful peaks of the Dolomites. Tall stone houses with frescoed facades and whimsical chimneys will capture your imagination. There are several museums and churches, a lovely theatre and a stunning main square – Piazza Maggiore. Don't miss the 11th-century Sanctuary of St. St. Vittore and Corona nearby.
Marostica – a very pretty town famous for its medieval defensive wall (which climbs up to the top of a steep hill) and its two castles (one, ruined, on top of the hill, and the other one – preserved and flanking the town's main square). Every other September Marostica holds a huge spectacle – a live chess game with people and horses instead of chess pieces. It is all based on a local legend. Come to Marostica in June for the absolutely huge and juicy cherries that grow there.
Montagnana – this is where some of the best Italian prosciutto is made. The town is very pretty, too. Surrounded by a powerful defensive wall, there is also a castle, a lovely main square, and a stunning Cathedral.
Serravalle (Vittorio Veneto) (pictured above) – a medieval fairytale come true. Don't miss the Museo del Cenedese for its fabulous frescoes, paintings, and other works of art. Plus, the ticket includes a visit to a fully frescoed chapel where the babies born in the local hospital used to be baptised.
5. Veneto's Seaside Towns and Veneto's Tegnue
Bordering the Adriatic Sea, Veneto, Italy is blessed with several seaside towns and resorts with lovely sandy beaches and centuries-old fishing traditions.
If you are looking for a place to top up your tan, eat super fresh seafood, get close to the Veneto's flora and fauna, or learn more about the Veneto's history, head to one of these three towns and make sure that you take lots of day trips from each one of them:
Caorle – a lovely fishing town with a colourful historical centre, a seaside promenade which doubles as an open-air art gallery and the iconic fishermen's Church of Madonna dell'Angelo. Nearby you will discover the historical Casoni – typical for the area wood and cane houses where the local fishermen and their families used to live. Ernest Hemingway described Caorle and its lagoon in its novel Across the River and into the Trees.
Chioggia (pictured above) – a town that is like an undiscovered Venice and, in fact, is actually older than Venice herself. Chioggia is spread over several islets on the southern tip of the Venetian Lagoon and it is connected to terra firma by means of a causeway. Nearby is Sottomarina – a place of kilometric beaches and a vibrant summer nightlife.
Jesolo – a seaside town-cum-resort Jesolo comes into its own in summer yet it has a lot to offer during the rest of the year, too. Get there for the huge aquaparks, beachside entertainment, fun boat trips and a nice aquarium with fish from all over the world. In winter visit for the great Christmas market and the large sand Nativity scene which is famous all over Italy.
Veneto's Tegnue – if you love diving, you may be thrilled to find out that the Veneto, Italy has its own 'coral reefs'! Considered somewhat of a geological anomaly, these are areas of rocky outcrops with rich shoals of flora and fauna. Known as Tegnue in the Venetian language, these genuine natural reefs were built by coralline algae over the past 7000 years. Home to colourful sea sponges, anemonies, sea-squirts, lobsters, crabs and fish, the reefs can be seen at a depth of 17 to 25 metres. Centuries ago, fishermen's nets would often get caught in the rocks of the reefs. This led to the proliferation of many local legends about an ancient civilization submerged in the Adriatic, on the remains of which the nets would get caught. Nowadays, large scientific studies have established the origins of the Tegnue and described its rich character as a divers' paradise. Please, be aware that the areas of the Tegnue are protected and diving there is strictly monitored.
6. Veneto's Towns on Lake Garda
Lago di Garda is Italy's largest lake. With its blue beauty, dramatic surroundings and a string of pretty as a postcard little towns, the lake is a great place to visit and spend time at. The Veneto's portion of Lake Garda stands out with its olive groves, craggy mountainous peaks and lots of opportunities for hiking, sailing or simply relaxing. Plus, there are several museums, historical churches, medieval villages, camping sites and an ultra-modern funicular which takes you up to Monte Baldo in a swivelling cabin. Here are some of the Veneto's best little towns and spots to explore on the shores of Lake Garda:
Lazise – with its wide promenade, citrus trees, and many gelato shops, Lazise is a dream to spend a relaxing day in. This medieval town has a very well preserved 13th-century defensive wall encircling its historical centre as well as a picturesque castle (not open for visits). Go for a walk admiring the yachts moored in the blue waters of Lake Garda. A small beach gives you a chance to cool off. In winter, pay a visit to the lively Christmas market selling local crafts and foodstuffs. The almond nougat (called mandorlato) from nearby Cologna Veneta and Lonigo comes highly recommended. Don't miss the 12th century Church of San Nicolo' – dedicated to the Patron Saint of waters and navigators. Between the church and the shore of Lake Garda, you will see the historic building of the Venetian Customs House (Dogana Veneta). Dating back to the 14th century, it was used to facilitate the commerce between Lombardy and the Republic of Venice.
Bardolino – nowadays famous for the wine produced there, the area of Bardolino bears witness to human settlements since prehistoric times. The town has had a tumultuous history changing hands several times. Curiously, Bardolino was an independent city-state until 1193. Afterwards, it was ruled by the Scaliger dynasty from Verona, then by the Republic of Venice, and finally by Austria before it joined Italy in 1866. Bardolino has a very cute historic centre, several churches dating back to the 11th-12th centuries and 12th-century defensive walls. Make sure that you go for a walk on the promenade to admire the beautiful yachts moored in the marina. The town is charming with its cafes and restaurants with open-air seating areas. A Christmas market with a small ice rink takes place each year (read more about it here). There are also several festivals held in Bardolino. Most of them are dedicated to the locally-produced wine, but there are some cultural and kids-orientated events, too.
Garda – the town of Garda not only gave Lake Garda its current name, but it also has what seemingly is the most stunning location on its shores. After all, Garda apparently comes from the German word 'warda' meaning 'place of guarding' or 'place of observation'. The town stretches along a picturesque bay right before the point from which the much narrower and elongated part of Lake Garda starts. La Rocca – a rock outcrop covered with lush vegetation – stands guard over the town of Garda. This is where a fifth-century fortification used to stand until the incoming Venetians destroyed it. You can go for a walk all the way to the top of La Rocca. When exploring the town itself, don't miss the Captain's Palace. Built in the Venetian Gothic style, this is where the Captain (the appointed by Venice local ruler) lived. Originally, the harbour was right in front of the palace, but at a later stage it was filled and turned into the square you see today.
Punta di San Vigilio (pictured above) – Less than 5 mins away by car from Garda Town you will find one of the most charming places on the shores of Lake Garda. Punta di San Vigilio is a natural promontory dotted with lovely parks, centuries-old olive trees and gorgeous villas. Napoleon and Winston Churchill are only two of the many famous visitors who fell in love with it. Punta di San Vigilio can get very busy in summer when a popular tavern is open on the tip of the promontory. In winter, it's almost deserted and makes for a wonderfully peaceful walk.
Torri del Benaco – this is a very pretty and picturesque town. Its name reminds us of the Roman name – Lacus Benacus – under which Lake Garda was known up to around the 9th century AD. There you can enjoy a visit to the impressive and well preserved Scaliger castle. It was built in 1383 on the orders of Verona's ruler Antonio della Scala. Most likely, a Roman fort used to stand at the same spot. The Scaliger castle in Torri del Benaco nowadays houses an Ethnographic Museum. There you can explore the local traditions of fishing and olive oil production. The museum also has a section dedicated to the prehistoric rock engravings found in the area. Another unmissable place inside the castle is the so-called limonara – a winter garden with huge lemon trees. It was created in 1760 and it is one of the very few of its type still in existence.
Malcesine – nestled at the bottom of Mount Baldo, Malcesine will steal your heart with its picturesque steep streets and its Scaliger castle standing guard over Lake Garda. Goethe spent a night there in 1786 whilst on his Grand Italian Tour. At the time Malcesine could be reached only by water and the German poet and humanist had to take refuge in the town, after sudden strong winds impeded the advance of his boat. The story goes that Goethe decided to sketch the castle and he was almost arrested on the suspicion that he was an Austrian spy. In Malcesine, you can dive (down to the bottom of the lake at 346 m), sail, and practice windsurfing. This is also where you can hop on the funicular to take you to the top of Monte Baldo – an alpine range which for centuries has been known as the Garden of Europe for its extraordinarily rich variety of plant species (including orchids).
7. Veneto's Spa Towns and Resorts
With natural springs gushing non-stop hot mineral water at several points throughout the territory of the Veneto, it's a little surprise that whole spa towns and large spa resorts using both mineral water and sea waters have been built all over this Northern Italian region. Here are a few for your interest:
Abano Terme – this is a town completely dedicated to the culture of spa. Hundreds of hotels and spa facilities offer all sorts of treatments and access to thermal swimming pools. You will be spoilt for choice. Abano Terme is in the lush surroundings of the Euganean Hills (see point 12 below) and just a stone's throw away from Padua and Vicenza.
Montegrotto Terme – right next door to Abano Terme (they even share a train station), Montegrotto Terme is another town in the Veneto completely dedicated to the curative properties of the local thermal springs. Again, dozens of hotels and modern spa facilities will tempt you to spend a whole day or even a week simply relaxing and rejuvenating yourself.
Bibione – a lovely resort town on the shores of the Adriatic Sea, Bibione also has large spa facilities overlooking its sandy beaches. Here you can get the full package of summer fun and relaxation.
Recoaro Terme – a somewhat faded beauty of a town and an important thermal centre. People have been coming here for centuries to take the waters in search of cures for body, soul and mind. Surrounded by beautiful mountainous nature, Recoaro is a pleasure to visit. A nearby spot which will delight the hikers is Montagna Spaccata – a series of waterfalls enclosed in a rugged gorge (pictured above).
8. Veneto's Islands
A surprising fact about Italy is that it has so many islands and archipelagos that 1/6 of its territory is insular! Veneto has hundreds of islands just waiting to be discovered by curious travellers. Obviously, the most well-known example is Venice which is built on 118 islands connected with over 400 bridges and separated by around 170 canals. Chioggia, as pointed above, is another town in the Venetian lagoon which is entirely built on small islands. Yet, this is not all. Here are a few more islands in the Veneto for your interest:
Burano – a gorgeous little island in the Venetian lagoon. Famous for its lace-making traditions, fishing heritage and colourful houses which, the legend states, were painted in bright tones so that the fishermen could spot their homes from afar on foggy days.
Murano – another compelling island to explore just a stone's throw away from Venice. This is where the art of modern glass-making took shape several centuries ago. Many glassmaking artists and studios operate on the island. You can see a glassmaking demonstration, shop for unique pieces of glass, and admire the stunning Murano glass chandeliers.
Lido – a thin and long sandbar less than 20 minutes away by vaporetto from St. Mark's Square in Venice. Lido is where you need to go if you want beaches while in Venice. This is also where the Venice Film Festival takes place in September every year. Lastly, you can actually drive on Lido – something which is impossible in the fully pedestrian Venice.
Pellestrina – an island between Chioggia and Lido which is seldom visited by tourists. It is known for its colourful houses and its lace. As well as for its Murazzi wall – a mighty embankment built of Istrian stone by the Republic of Venice in order to defend the banks of the lagoon from the erosion of the sea.
San Giorgio Maggiore (pictured above) – a tiny yet gorgeous island in the St. Mark's basin. Its Palladian church has provided the stunning background in, possibly, a billion photos of Venice. Head there to explore the church, to drink in the enchanting views of Venice enjoyed from the top of the bell tower (there is a lift!), to join a guided tour of the headquarters of the Cini Foundation and to admire the yachts that stop on the island.
San Servolo – a little-known islet just off Venice where Benedictine monks lived for centuries before a military hospital was built there. Later the hospital was used to treat people with mental illnesses and it is nowadays turned into a museum.
Torcello – this is the island where it all began for Venice. Torcello is just off the coast of Burano and is nowadays very sparsely populated (some say that there are less than ten people who live there full-time). Yet, in pre-Medieval times Torcello was an important political and trading centre with thousands of inhabitants. Later on, due to changes in the ecology of the lagoon, most of the population of Torcello moved to the nearby islands of Burano and Murano as well as to Venice. Today, you can see the few churches and historic buildings remaining on the island as well as the so-called Devil's Bridge which has no railings and several dark legends are associated with it. Yet, most attention deserve the Byzantine mosaics preserved in the Basilica of Santa Maria Assunta (also known as Torcello Cathedral).
Isola Albarella, Isola Donzella, Isola di Ariano – islands in the Delta of the river Po where you can find modern resorts with golf courses and stunning natural sights. It is on the drive to Isola Albarella that flocks of pink flamingoes can also be seen in the wild.
Islands in Lake Garda – there are several islands in Lake Garda, the most well-known of which is called Isola del Garda. This is a private island with a stunning palatial villa surrounded by Italian and English gardens. Guided visits are organised seasonally.
9. Veneto's Parks and Gardens
The Veneto is very lush and green spaces abound all over its territory. Either attached to historical palaces and villas or independently standing in large cities or smaller towns, Veneto's parks and gardens are lovely places to visit and explore. You don't have to be a gardening expert to appreciate their beauty and historical significance. In some of them, you can even take a picnic and enjoy a few happy hours surrounded by family, friends and some very carefully cultivated native and exotic trees and plants. For your interest, here are some of the most beautiful parks and gardens in the Veneto, Italy (click here for more detailed information):
Villa Parco Bolasco (pictured above) – this lovely 19th-century garden was chosen as Italy's most beautiful park for 2018. You will find it just off the historical centre of the medieval walled town of Castelfranco Veneto (see point 4 above). Free guided visits are organised seasonally.
Parco Giardino Sigurta' – one of Italy's most important and most beautiful gardens. You will find it in the small town of Valeggio sul Mincio which is close to Verona and Lake Garda. Through the years Parco Giardino Sigurta has been named the Most Beautiful Garden of Italy, has won awards for its amazing tulip displays and in 2015 took the second place at the European Garden Award. The history of the park spans several centuries. The park was acquired by the Sigurta' family in 1941. There are many things to be seen and enjoyed here – gorgeous spring flower displays (including one million tulips), wide green spaces which are perfect for picnics and/or lazy afternoons under the warm spring sun, picturesque ponds with huge koi carps, a rose avenue, a newly-added maze, the Romeo and Juliet sundial, a medicinal herb garden and water gardens to name but a few.
Botanical Garden of Padua University – this is the oldest University garden in the world. Here history and vegetation intermingle to create a lovely place where you can spend a whole day happily exploring the many uses people have found for plants. The garden is in the historical centre of Padua and can be visited all year round.
Giardino Valzansibio – a monumental historical garden dotted with stunning fountains. It is often referred to as 'The Small Versailles'. You will find it in the small town of Galzignano Terme in the Euganean Hills just a stone's throw away from Padua.
Butterfly Ark and Forest of the Fairies – the oldest butterfly house in Italy is in the small spa town of Montegrotto Terme which is very close to Padua. There you can see hundreds of gorgeous specimens from Africa, Asia and the Amazon fluttering freely among native flowers and bushes in bloom. Once you have walked through the marquees housing the butterflies, you will find yourself in a lovely park of 6000 sq m. Called Bosco delle Fate (in English the Forest of the Fairies), you can follow its winding paths glimpsing along the way all sorts of weird and wonderful creatures. Large posters in both English, Italian and German give in-depth information about white witches, fairies, ogres and trolls. It is all good fun and a great place to take the kids to fire up their imagination.
Gardens of Villa Pisani – known as the Queen of the Venetian villas, Villa Pisani is in the small town of Stra just outside of Padua. The villa has a gorgeous park with Italian and English gardens, several large water features, an ice-house and a maze. A great place to spend a hot afternoon at pretending to be a member of the old Venetian aristocracy.
Giardino Giusti – for stunning views of fair Verona, head to the lovely Giusti Garden which is on the other side of the river Adige to the city's historical centre. This Renaissance garden, first planted in the 15th century, is a place of contrasts. It has a flat part which has been styled in the best Italian gardening traditions and then, suddenly, it rises sharply up a steep hill all the way to Verona's medieval defensive walls. Incredibly tall cypress trees line the alleys in the garden and inspired Goethe himself when the German writer and statesman visited the Giusti Garden in 1786.
10. Veneto's Prosecco Country
If you like drinking prosecco, you may be surprised to find out that not only prosecco is produced in the Veneto but you can easily visit the place where the magic happens. In other words, the area between the towns of Conegliano (pictured above) and Valdobbiadene. This is where the grapes used in every bottle of prosecco ripe under the hot Italian sun and where every litre of proper original prosecco is actually produced.
Prosecco Country is a beautiful area of vine-draped hillsides. You can easily reach Conegliano by train from Venice and Padua. The onwards exploration of the vineyards and the wineries is best done by car. The area offers some stunning hiking opportunities and it is dotted with medieval castles, lovely rivers and small lakes, old abbeys and churches with precious works of art, and even an old mill next to a picturesque waterfall.
11. Veneto's Lakes and Rivers
The region of the Veneto has the honour of bordering Italy's largest lake – Lago di Garda (see point 6 above). Still, there are many more lakes and rivers here offering stunning views, water sports, nature hikes and even a refreshing dip in the heat of summer.
In terms of lakes, apart from Garda, here are some of the most beautiful and well-known lakes in the Veneto, Italy for you to explore and enjoy: Lago di Misurina (province of Belluno), Lago del Mis (province of Belluno), Lago del Sorapis (province of Belluno), and Lago di Fimon (province of Vicenza and pictured above). The latter also happens to be the oldest lake in Northern Italy. At 35 000 years of age, it precedes the formation of Lago di Garda. In the Euganean Hills (see point 12 below) you will also find and a handful of small picturesque lakes like Lago della Costa which is right outside Arqua' Petrarca.
In terms of rivers, some of Italy's largest and most important rivers flow through the territory of the Veneto. In fact, all of the most important cities and towns in the Veneto (save for Venice, of course) have a river running through them. For example, Verona is crossed by the river Adige, Bassano del Grappa is reflected in the crystal clear waters of the river Brenta, Padua is on the river Bacchiglione, and Vicenza has not one but two rivers – Retrone and Bacchiglione as well as a handful of canals.
Not to mention that the delta of the river Po serves as a sort of natural border between the Veneto and another Northern Italian region – Emilia-Romagna.
12. Veneto's Mountains and Hills
For all its flat as pancake plains that allow you to see for kilometres around you, the Veneto also has some of Europe's most impressive mountains and hilly areas, too. Head to the province of Belluno for a taste of the Dolomites with their craggy peaks, winter resorts and beautiful valleys. The Asiago Plateau offers quick access to mountainous landscapes from the plains below and it is also famous for the local Asiago cheese and a type of smoked and aged ham called speck. The Venetian Pre-Alps include a number of stunning peaks, smaller mountains and massifs spread between Verona, Vicenza, Treviso, and Belluno. Two of the most important ones are Monte Baldo which overlooks Lake Garda and Monte Grappa (pictured above) which was the stage of important battles during World Wars I and II (nowadays a large memorial monument and an ossary keep the memory of the ferocious battles that were fought there.
Then, you also have the Berici Hills and the Euganean Hills – the former touching on Vicenza and the latter just a stone's throw away from Padua. With foothills covered with vineyards, olive groves, and cherry hills, these two groups of hills are also rich in hiking opportunities, are dotted with whimsical museums and give you easy access to medieval walled towns.
13. Veneto's Nature Reserves and Oases
If you love being surrounded by nature, Veneto, Italy has a lot of spots for you to explore and enjoy. A multitude of nature reserves and oases are spread all over this Northern Italian region. There you can observe hundreds of types of birds and other local wildlife in their natural habitats. You can also see orchids and other rare plants growing in their natural environment.
The World Wildlife Fund has established several natural oases all over the Veneto covering in total 445 hectares of protected land. For example, head over to Oasi Stagni di Casale (pictured above) just outside Vicenza (you can even get bus 19 to get there without a car) to find yourself surrounded by tall green reeds and traversing on wooden walkways set above large ponds while all around you birds flap their wings and nest.
Don't miss Veneto's Regional Park of the Delta of the River Po – a huge expanse of protected land, marshes and water where you can see pink flamingoes in the wild, hundreds of other species of birds as well as several animals, river- and sea-life and a rich variety of vegetation.
14. Veneto's Christian Sanctuaries
Veneto's Christian heritage is an integral part of the spirit and the history of this Northern Italian region. You cannot visit Veneto's cities and towns without stepping in a church or ten. It could be to admire their architecture, to see originals by such Venetian masters as Giorgione, Titian, Veronese and Cima da Conegliano, or to take part in religious celebrations.
Veneto has several important Christian sanctuaries with interesting stories and captivating architectonical and artistic legacy. Here are just three of them:
Basilica of St. Anthony of Padua – St. Anthony is highly venerated in Padua to the point where he is known simply as Il Santo (The Saint) in the city. The Basilica where the relics of the Saint are held is a stunning work of art and devotion. Don't miss it when you visit Padua. Put at least two hours aside in order to be able to explore in detail the many splendid chapels, major works of art (by Donatello, Titian and Mantegna to name but a few of the big names there), cloisters and museums.
Church of St. Mary of Monte Berico, Vicenza – this minor basilica is one of Italy's most important shrines dedicated to the devotion of the Virgin Mary. Built on the site where the Virgin appeared twice in order to save Vicenza from a devastating bout of the plague, the church attracts thousands of visitors each year.
Sanctuary of the Madonna della Corona, Spiazzi (pictured above) – a partially rock-hewn basilica built into the rocks of Monte Baldo at 774 metres height. Visiting it is a truly wonderful experience.
15. Veneto's Venetian Villas
Veneto, Italy is famous for its Venetian villas. These are large country homes that were built in the past few centuries by the local noblemen to show off family fortunes and aristocratic good taste. Designed by the best Italian architects (Andrea Palladio was often commissioned to design villas) and covered with frescoes by the likes of Veronese and Tiepolo, the Venetian villas are heaven for lovers of history and art. Here are six of the most famous ones. They are also easy to visit:
Villa Capra La Rotonda + Villa Valmarana ai Nani, Vicenza – Villa Capra La Rotonda is Palladio's most famous villa. Its architectural design has inspired several other buildings all over the world. You will find it on the outskirts of Vicenza. Combine it with a visit to the nearby Villa Valmarana ai Nani – with frescoes by father and son Tiepolo, a splendid garden, and a great cafe overlooking Monte Berico.
Villa Contarini, Piazzola sul Brenta – Huge and splendid, this villa looks like the royal palace of a small country. Plus, once a month one of the largest antique and vintage markets in Italy takes place right in front of it.
Villa Foscari La Malcontenta, Mira – Another stunning Palladian villa with breathtaking frescoes.
Villa Pisani, Stra (pictured above) – Lauded as the Queen of the Venetian Villas, Villa Pisani is as big as a palace. It has an interesting history, lush garden with a maze, and many fully frescoed rooms. A must-see! Once in Stra, you can also visit Villa Foscarini Rossi. It is next door to Villa Pisani and it houses a large Shoe Museum.
Practical Information About the Veneto, Italy
I. Where is the Veneto, Italy?
Veneto is one of Italy's twenty regions. You will find it in the Northeast of the country. The Veneto borders:
four other Italian regions – Friuli-Venezia Giulia to the east, Emilia-Romagna to the south, Lombardy to the west, and Trentino-Alto Adige to the north;
one country – Austria to the north; and
one sea – the Adriatic to the east.
II. How to Get to the Veneto, Italy?
The Veneto is very well-connected to the rest of Italy, Europe and the world via:
a well-developed network of high-speed and fast regional trains. For example, you can reach Venice from Rome in just under four hours and Verona from Milan in just over an hour. The best websites to use in order the check travel times and to buy tickets to travel by train to and within the Veneto are:
a number of convenient airports served by long-haul and/or low-cost airlines. The most popular and used ones are:
a good road network including both toll roads and regional roads.
III. How to Travel Around the Veneto, Italy?
Veneto's large and small cities and towns are served by high-speed and/or regional trains which offer quick, regular connections at affordable prices. There are also several bus companies travelling between the many places of interest.
Even if you are not used to travelling by public transport, don't be afraid to use the trains and the buses (coaches) in the Veneto, Northern Italy. Train and bus stations are conveniently and centrally located so that you can reach the historical centres in a matter of minutes.
Travelling by car is also easy and convenient. Be aware that the historical centres of the cities and the towns in the Veneto are traditionally off-limits for cars and you may need to park a short walk away. Driving into a ZTL – limited traffic zone – will incur a large penalty. Keep an eye out for signs indicating that you are in the vicinity of a ZTL, as a GPS app may unwittingly guide you right through it.
In the large cities like Padua and Verona, there are many large parking facilities. In principle, both paid and free parking is not overly difficult to come across (unless it's a holiday or a special occasion).
IV. What to Eat and Drink in the Veneto, Italy?
The Veneto has its own cuisine which has taken centuries to develop and fine tune. Pizza is not traditionally Venetian. Of course, you will find many pizzerias with wood-fired ovens all over the Veneto. Feel free to tuck into a pizza or two (unless you are in Venice where wood-fired ovens are not allowed) but better still, experiment with typically Venetian dishes and desserts.
Here is a very small list with only some of the food traditional for the Veneto, Italy:
bigoli – thick spaghetti usually served with duck sauce or sardines;
baccala' alla vicentina – a dish with a cult following, it is prepared with desiccated cod and served with polenta;
risi e bisi – a creamy dish of rice and peas which used to be served to the Doge of Venice on 25th April – St. Mark's Day – each year;
sarde in saor – made with a type of sardines, onions and vinegar, very typical for Venice;
tramezzini – triangular sandwiches of soft crustless bread stuffed with a generous portion of different fillings;
cicchetti – Venetian bite-size snacks to savour with an ombra – a small glass of wine.
For dessert tuck into a tiramisu (this worldwide famous pudding was created in Treviso), torta fregolotta (made with flour, almond meal, sugar and cream), zaeti (biscuits made with cornflour, sultanas and grappa).
In the late afternoon and early evening, order a classic Venetian spritz – a refreshing prosecco-based drink which gives you a nice little buzz. It is traditionally served with potato crisps and/or other finger foods.
The Veneto is home to several famous wine-making areas (Soave, Valpolicella, Prosecco Country, etc.) so try to sample many different wines.
At Christmas, indulge in a large slice of pandoro– the Verona-invented Christmas dessert which gives Milan's panettone a run for its money every festive season.
V. What to See in a Week in the Veneto, Italy?
The choice really is yours but here is what I would do if I only had a week to spend in the Veneto, Italy. My interests are art, history, and nature which covers most general interest sightseeing. Still, think about your own interests and how active you want to be during your week of vacation in order to tailor this suggested programme to your own tastes and expectations.
One week in the Veneto, Italy = 3 Days in Venice + 1 Day in Padua or Verona or Vicenza + 1 Day in 1 or 2 Medieval Walled Town(s) + 2 Days at Lake Garda
Of the three days in Venice, I would spend one exploring the nearby islands like Murano, Burano, Torcello, Lido and Pellestrina. During the two days at Lake Garda, I would try to see as many of the lovely little towns dotted around its shores.
You can also decide to spend two days in Venice, one day in Padua and one day in Verona. Or you can spend three days in Venice, two days between Padua, Vicenza and Verona and eliminate the day for the medieval walled towns as there are several of them at and near Lake Garda.
The options are infinite. If you want to explore and see as much as possible, try not to spend the whole week without leaving the same place. If you prefer not to move accommodation every two or three days, then book your hotel or B&B in one of the Veneto's big cities and take lots and lots of day trips. You will be surprised how much you can cover in a week with not that much travelling. Honestly, you can get from Venice to Padua in less than thirty minutes and from Padua to Vicenza in 15 mins. This is shorter than some people's daily commute to work!
In Conclusion
Veneto is a wonderful destination in Northern Italy to spend a short break or a longer vacation by yourself or with your loved ones. No matter if you love art and culture or are seeking to experience nature at her best, the Veneto offers countless options to relax, sightsee and feel refreshed.
Don't limit yourself just to the Veneto's capital – Venice. A worldwide famous beauty, Venice can be captivating with its canals and several layers of history. Yet, within a very easy reach from Venice, you will find great cities like Padua and Verona, Italy's largest lake – Lago di Garda, several mountains and beaches plus many spa resorts with natural thermal waters.
The above blog post breaks down the 15 best places to explore in the Veneto – from large cities and medieval walled towns to spots of natural beauty – you will be spoiled for choice. Have a look at all the examples provided as well as the practical information given about the Veneto. This will help you mix and match several places to explore and enjoy for a great time in Northern Italy.
More Helpful Links
Thank you for reading! Please, leave me a comment, pin the image below or use the buttons right at the end to share it on social media.
For more stories like this, you can follow me on Facebook and subscribe to my weekly strictly no-spam newsletter.