'When is the best time to visit Italy?' is a question that many people ask during the planning stages of their Italian holiday.
The simple answer to it is: 'Anytime!'. Italy has four seasons and it's an exciting place to visit in each one of them.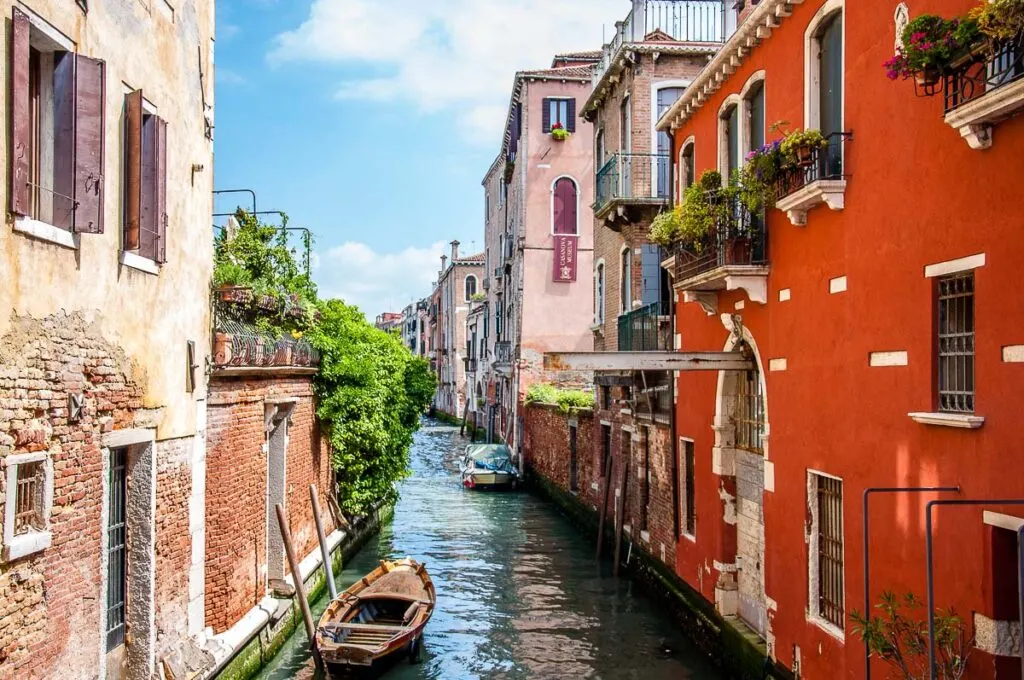 From blooming wisterias in spring to gold foliage in autumn, from snow-covered mountains in winter to gold beaches in summer, Italian nature has something unique and beautiful to highlight every month of the year.
Italy's cities and towns also follow the cycle of seasons. From open-air music events and food festivals in summer to lively Christmas celebrations and markets in winter, any season is a good time to travel to Italy to experience the best that this beautiful country has to offer.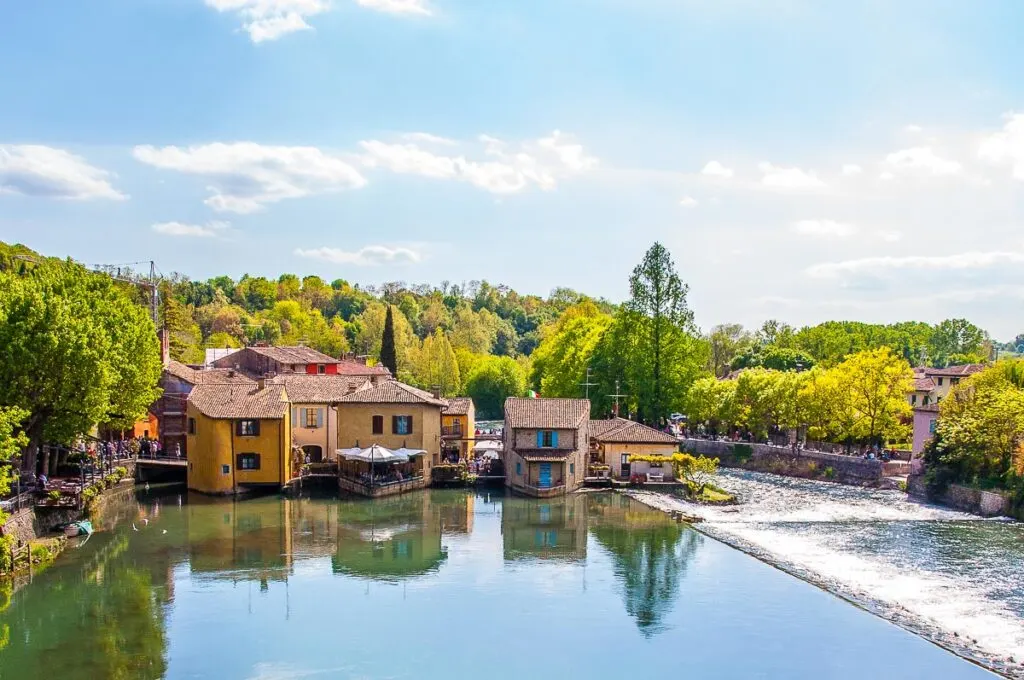 Yet, unless you are planning to move to Italy or spend a long amount of time here, I am sure that you will want to know very precisely and specifically what is the very best time to visit so that you are guaranteed a truly memorable Italian experience.
This blog post will give you the information that you need to make the best choice for you. It's based on my countless visits to the country over a period of almost 20 years (six of which I actually spent living there). From scorching summers to truly cold winters, I have experienced all the variations of the Italian weather in all four Italian seasons.
Now, I want to share with you the important details. This way you can decide when to visit Italy in accordance with your personal interests, ability to tolerate heat, and available holiday time.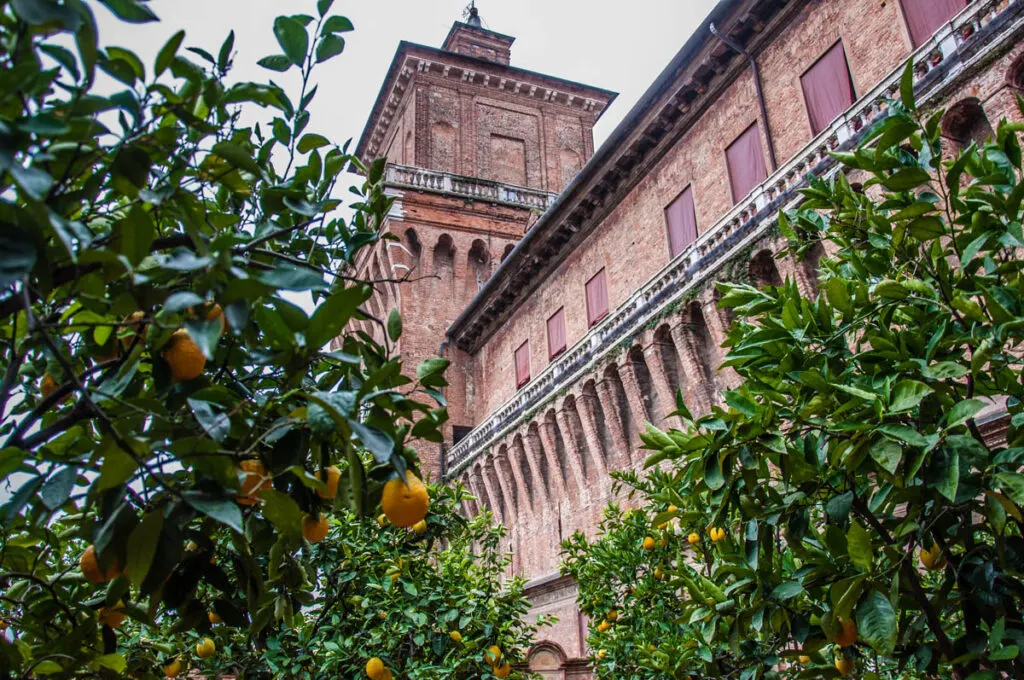 I will start with a short introduction to the statistically best time of the year to be in Italy. Then, I will cover Italy's four seasons – primavera, estate, autunno, and inverno – one by one. Expect average temperatures, packing lists, main events and many more useful details.
Plus, I have illustrated each Italian season with a set of five carefully selected photos to give you a visual idea of what to expect.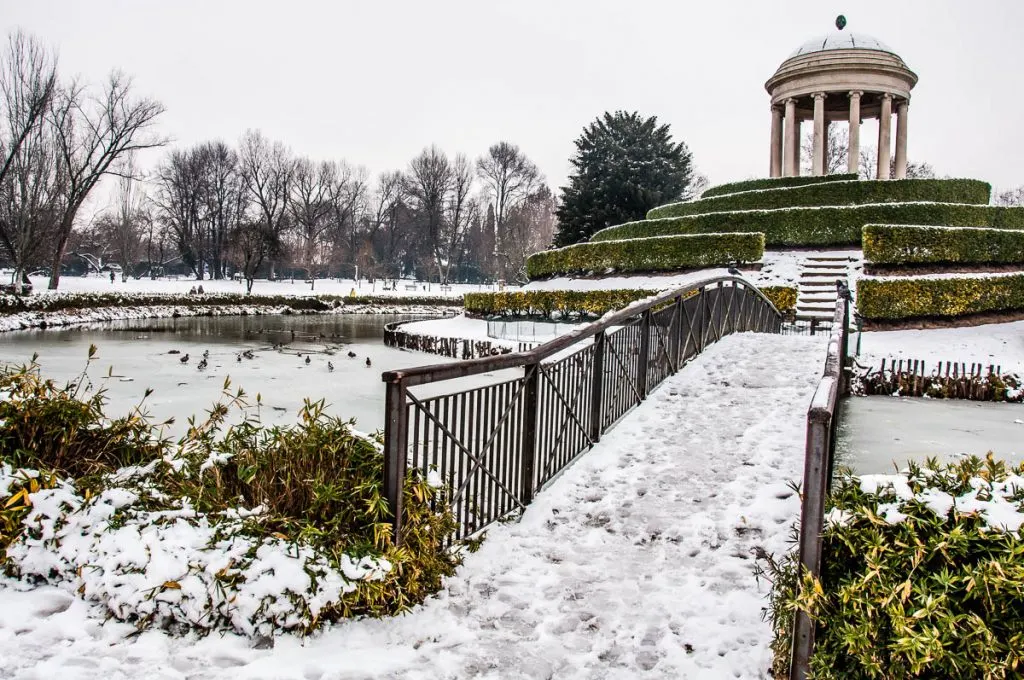 Next, I will share with you four practical tips. They will come in handy any time of the year in Italy. Finally, I will tell you one curious story about the cycle of seasons and the effect it has had on the artistic output of Italy over the centuries.
I hope that all this information will come very useful during the planning stages of your Italian holiday. I also hope that you will enjoy reading it all and looking at the pictures showing the beauty of Italy in all four seasons.
Have a look!
When Is the Best Time to Visit Italy?
Pin for Later!
It is always a good time to visit Italy but the best time to travel here are the shoulder seasons.
In other words, these are the months of April and May and then September and October. They shoulder the high season and serve as a buffer between it and the low season in Italy.
These four months offer the best of Italy's weather – long daylight hours, lots of sun, and pleasant temperatures. At the same time, the tourist crowds are much smaller. So, it's easier to get around and enjoy even the most popular Italian cities and landmarks.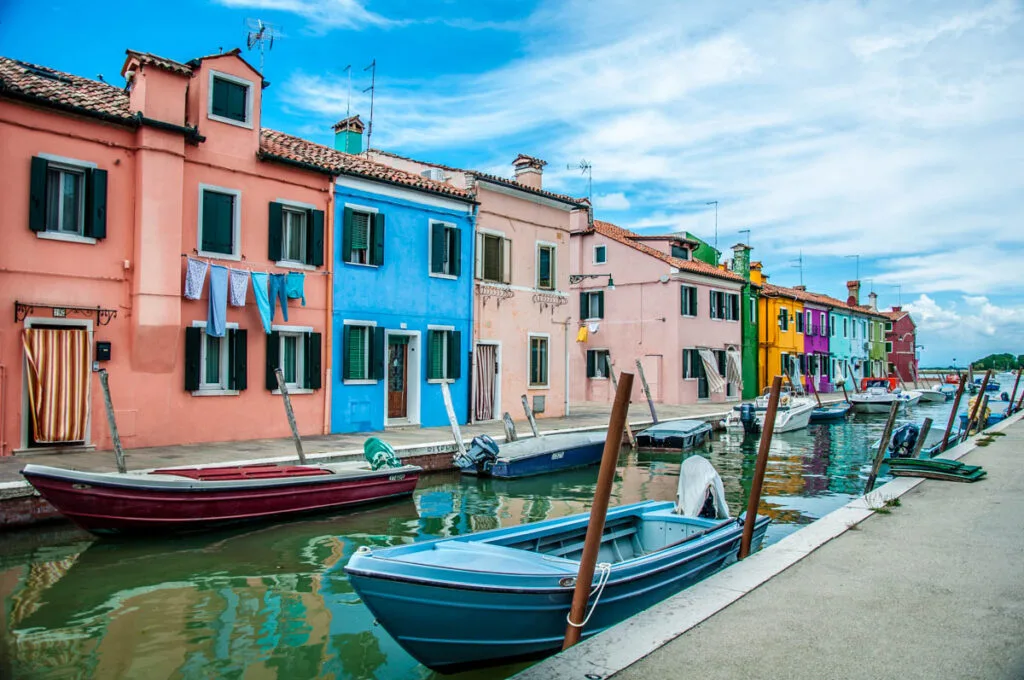 Be ready, however, for some rain (especially towards the end of April and the start of May) and some fog (in the second half of October). Otherwise, expect temperatures between 18 and 25 degrees Celsius mid-spring and between 27 down to 18 degrees Celsius towards the end of summer and the first full month of autumn.
Obviously, this will depend on where precisely in Italy you are. There can be significant variations between the south and the north of the country in terms of median temperatures and rainfall.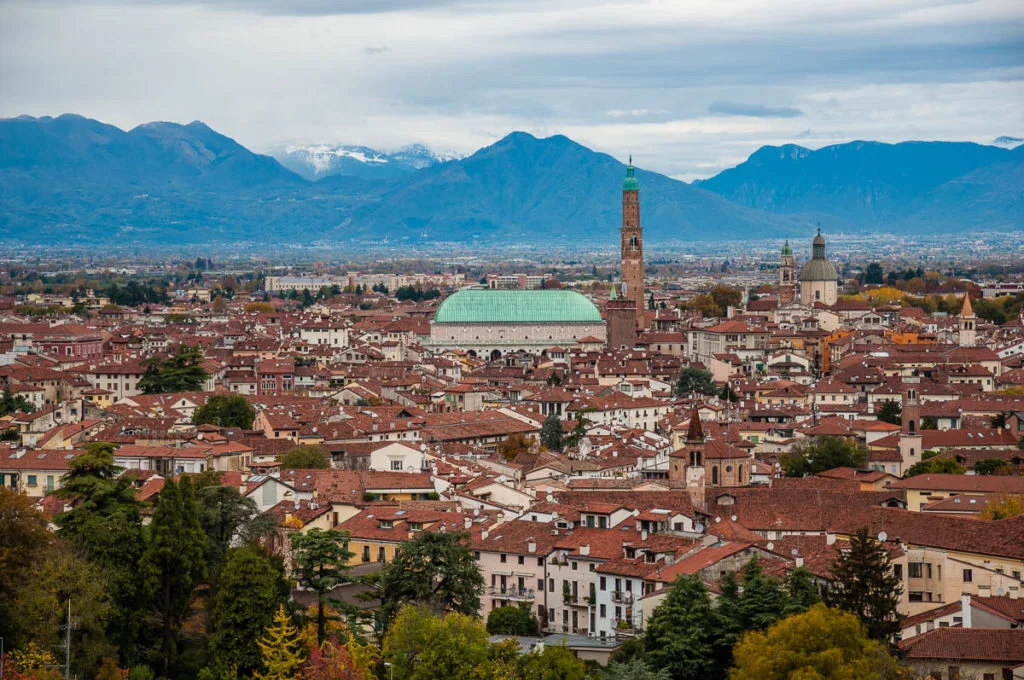 In a nutshell, if you can, try to head to Italy during the shoulder season – either mid-spring or on the cusp between summer and autumn. If it's not possible, then March and November can also be good times to travel here. Especially, the second half of March and the first week or so of November.
Otherwise, I personally enjoyed the most the low season and the Christmas period in Italy. This is when the tourist crowds were at their smallest. Plus, there were plenty of sunny days or days with clear skies to walk around and explore on foot.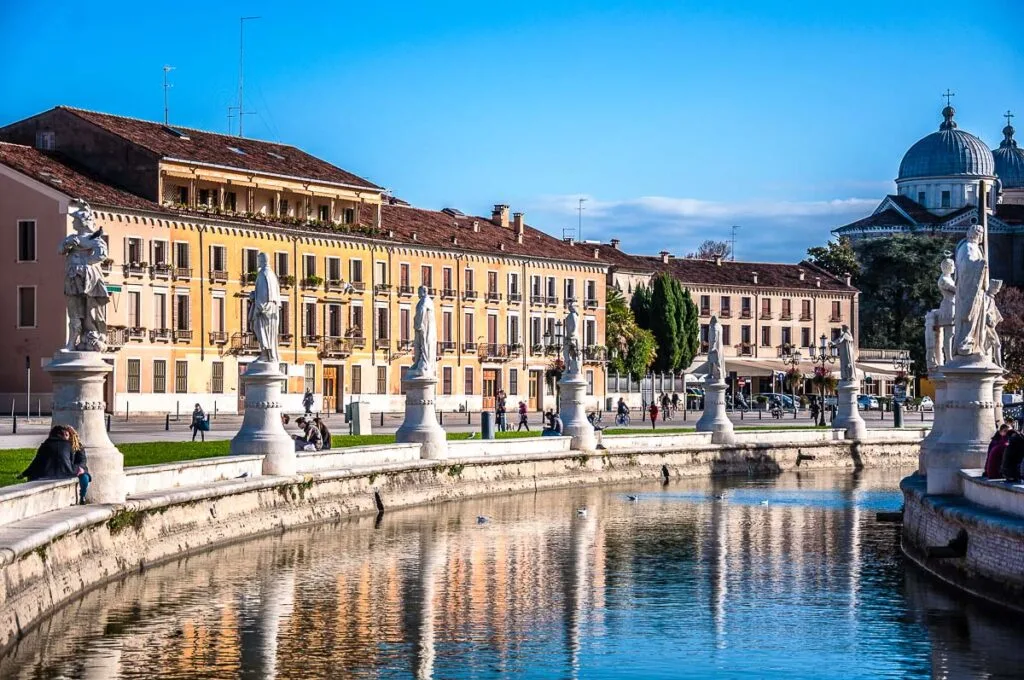 The high season or the summer in Italy is traditionally very busy and excruciatingly hot. This is when Italy's tourist hotspots get overwhelming numbers of visitors and air conditioners may not be present in every hotel.
So, pick your accommodation carefully, stock up on suncream, and try to keep in the shade as much as possible. Otherwise, escape to Italy's mountains and enjoy their lush forests and clean air.
The Italian Seasons Explained
Pin for Later!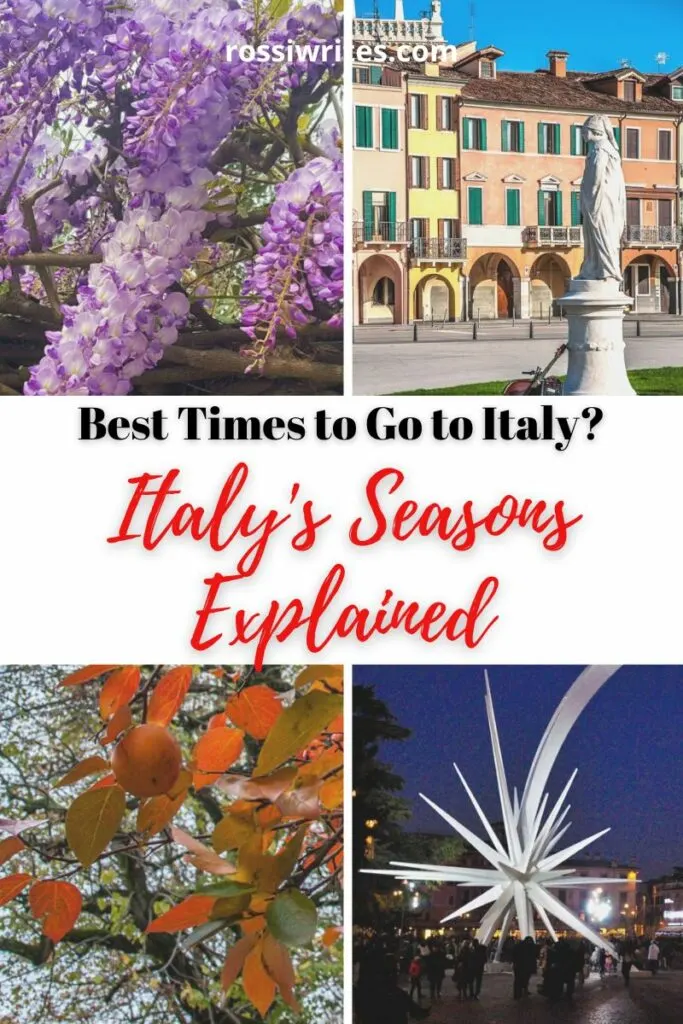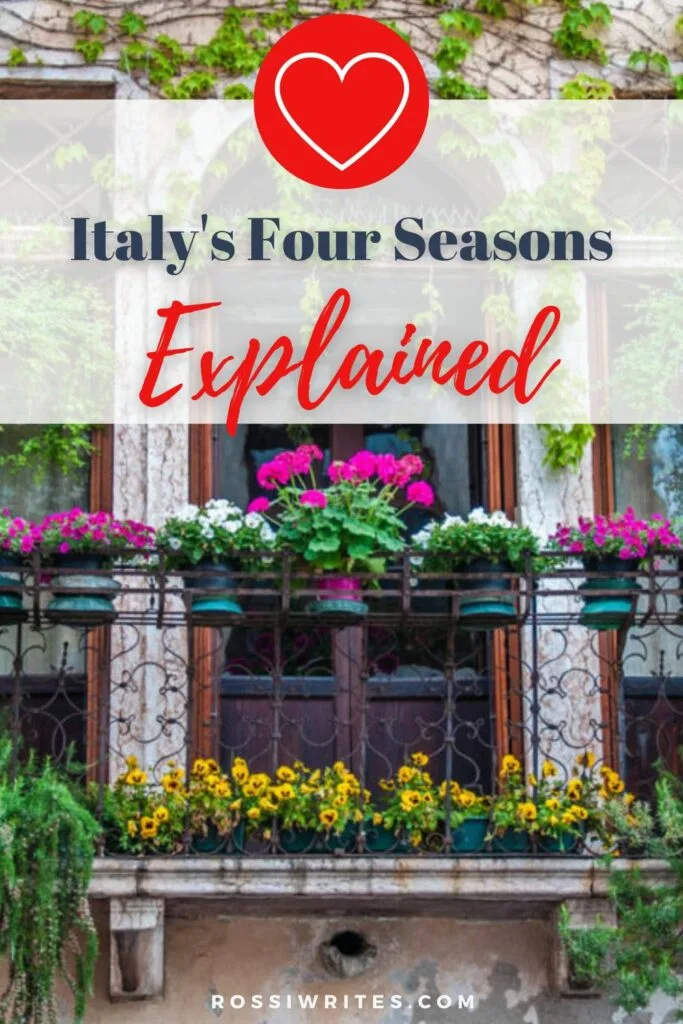 1. Primavera – Spring in Italy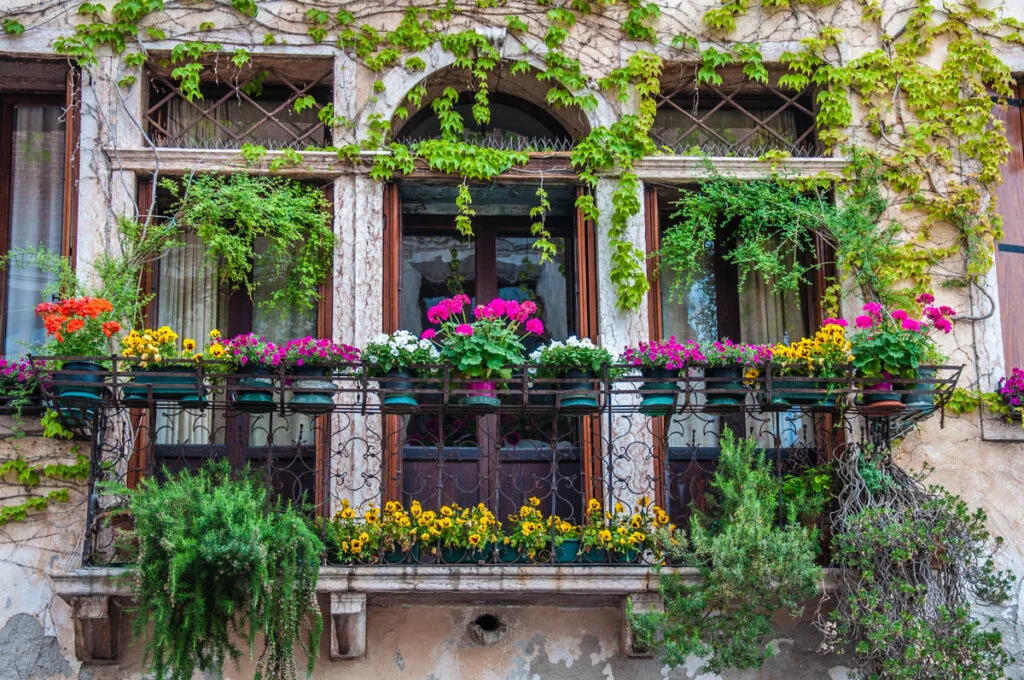 Keywords for Spring in Italy: Blossoming Trees and Blooming Flowers; Fresh Vegetables; Food Festivals; Lush Mountains; Crystal Clear Lakes; Museum Visits; Occasional Downpour; Crisp Air
How It Feels to Be in Italy in Spring: Gorgeous! It feels simply gorgeous! Spring in Italy is a truly beautiful season. From the lush carpet of new grass that covers valleys and hills to the orchards that overnight erupt in pink and white blossoms and as you drive past them your heart fills with hope and you feel relaxed and peaceful.
Fresh vegetables, just plucked from the soil of Italy's hundreds of small farms, fill up the crates propped up at Italy's hundreds of fresh produce markets. Held at historic squares, you can pick perfect artichokes and asparagus spears as you look at centuries-old buildings that feature in books on art and architecture.
Spring in Italy is the perfect time to go walking. In the mountains where far-reaching panoramic views fill you up with awe. Around Italy's medieval villages and walled towns. And all over Italy's many art galleries and museums.
Even the occasional downpour doesn't spoil the mood of spring in Italy. While the raindrops outside wash the historic facades, you can enjoy a cooking class in an Italian home, delve into the collections of major Italian landmarks like the Doge's Palace in Venice or sit in a small Italian pasticceria and enjoy a proper Italian coffee and all the pastries you can manage.
Best Things to Do in Spring in Italy:
Eat Fresh – this is the season of white and green asparagus, plump artichokes of which the violet variety is especially prized, different types of chicory of which the red chicory (radicchio rosso) of Treviso is very popular, peas, and leafy vegetables.
Go Hiking – Italy is crossed by thousands of hiking paths of different levels of difficulty. They allow you to experience the beauty of Italian nature first-hand. Hiking in Italy in spring is especially lovely as you get to see nature's awakening and blossoming into life.
Shop at Fresh Produce and Flower Markets – there is a fresh produce market in every Italian city, town, and village. Some are held daily, others twice a week or weekly, and some have been held at the same spot for centuries. Just like the 800 years old market in Padua! Shopping and browsing at these markets is a great way to experience Italy authentically and get to know the high-quality ingredients that go into the delicious Italian dishes. Spring in Italy is also the season when large flower markets are held all over the country.
Visit Medieval Villages and Walled Towns – Italy is a country of millennial history. Its picturesque small villages and medieval fortified towns preserve it in the most authentic and exciting way possible. Make sure that you pencil a visit to at least one of them during your Italian holiday. Here are a few suggestions: Borghetto sul Mincio, Cittadella, Este, Montagnana, Nesso on Lake Como, Campo di Brenzone on Lake Garda, Villages in Veneto, Villages in Emilia Romagna, Villages in Friuli Venezia Giulia.
Eat at a Sagra – a sagra is a traditional food festival dedicated to a local dish or foodstuff. It's usually organised by a small village or town and it's an event that all the locals take part in. The food is delicious, inexpensive, and prepared to zealously guarded recipes. It's a wonderful way to experience small-town and agricultural Italy authentically. Have a look at these blog posts about a pea sagra and a truffle sagra I enjoyed eating at.
Visit Sights and Museums – Italy has a wonderful abundance of museums, landmarks, and art galleries. Spring is a great season to spend long hours in them, especially on a day when the rain is coming down fast and furious. Don't just go for the largest and most famous museums here though. There is a myriad of small local museums in the Italian cities and towns which are delightful to explore. Have a look here for more things to do on a rainy day in Italy.
What's the Weather Like in Spring in Italy: In general, spring in Italy is a mild and sunny season which gets warmer and warmer between March and May. In the majestic mountains of Northern Italy, there is still snow at the start of the season and sometimes a snowfall is registered as late as April.
In the cities and towns of Italy, spring quickly brings short-sleeved weather, especially in the south of the country. Late afternoons and evenings are still chilly though and call for a light jumper and/or jacket, especially in March and April. Between April and May, there is an increased chance of rain.
Waterparks open their doors towards the end of May and in June you really start to feel the heat. It's scorching!
There are significant variations in the temperatures you can expect in Northern, Central, and Southern Italy. Yet, here are some average values month by month:
March in Italy – 9 to 16 degrees Celsius
April in Italy – 13 to 19 degrees Celsius
May in Italy – 17 to 23 degrees Celsius
What to Pack for Spring in Italy: With the weather getting warmer from the start of March onwards, think of layers that are easy to take off or put back on to keep you cosy and comfortable during your explorations in Italy. For example, a short-sleeved top coupled with a long-sleeved top, a hoodie or a light jumper and a light jacket. Nothing too heavy, so that when you have to take a layer off, it's not too cumbersome to carry it around with you for the rest of the day.
At the same time, make sure that you have a waterproof layer with you at all times. Especially, towards the end of April and the first weeks of May. Rainy days can be plenty then and you don't want to get wet.
Five Photos to Make You Want to Visit Italy in Spring: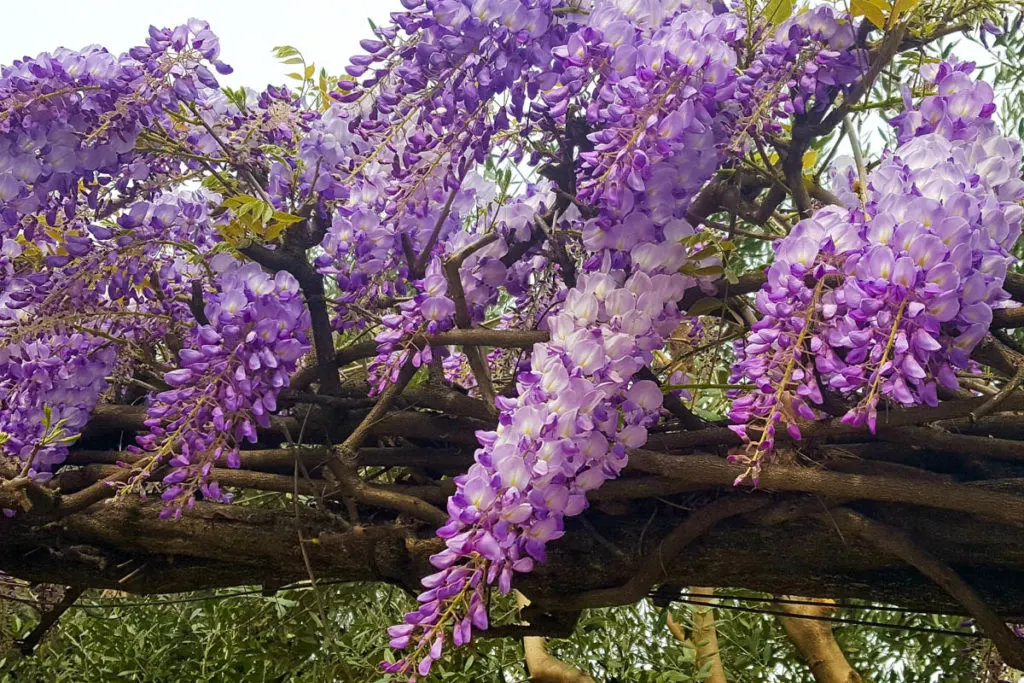 Wisteria season is particularly beautiful in Italy. Huge wisteria vines decorate historic facades and private homes here. When they erupt in long bunches of purple blossoms in April, Italy's towns and villages are even more picture-perfect.
Wisterias have a gentle sweet scent. I once couldn't resist the sight of an enormous wisteria and literally walked inside it. This is what it looked and felt like. So beautiful!
The photo above shows the perfect purple blossoms of a large wisteria draped around the fence of a house in Vicenza – a small city in the north of Italy. Every April, at the start of wisteria season I would go on wisteria-spotting walks around Vicenza. This particular vine was always so perfect and beautiful.
Have a look at this blog post for more photos of Italy's splendid wisterias: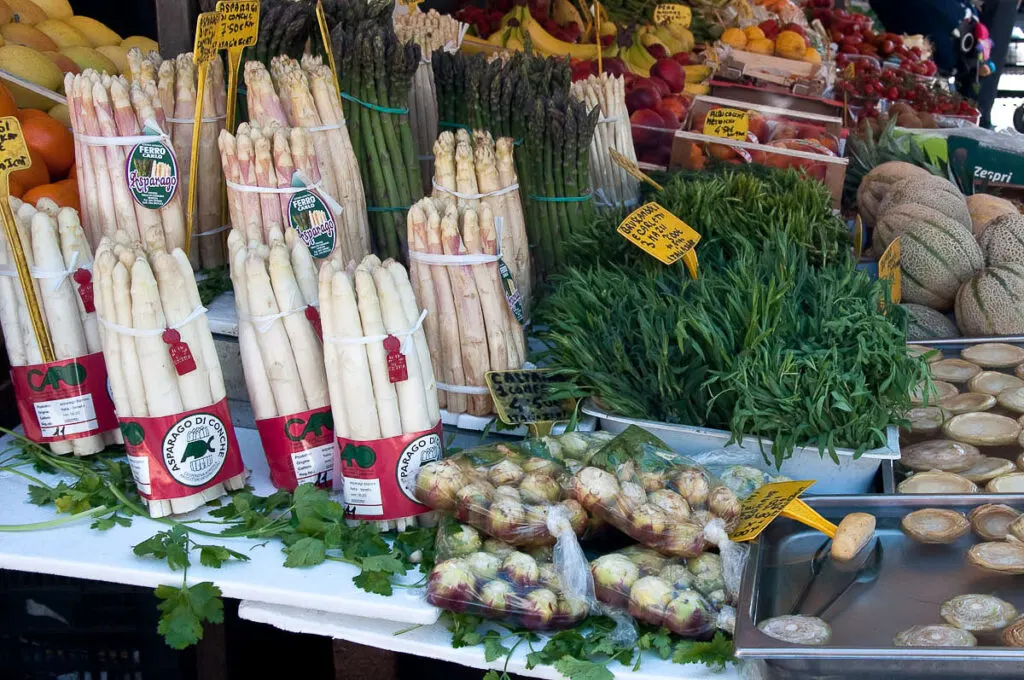 Spring is a wonderful time of the year to be in Italy on account of all the fresh local produce. I am particularly fond of the white asparagus which is in season from March until June.
While asparagus – especially the white variety – can be rather expensive, in Italy it's very affordable, even more so mid-season. This is when you can get a half-kilo bunch of the freshest and most delicious white asparagus for five-six euros.
This photo shows you a stall at the daily market in Padua, Italy. The market has been held at the same spot for 800 years! It's a must-see place in an underrated Italian city that has so much to offer. Have a look at these blog posts if market shopping is something you would love to do in Italy: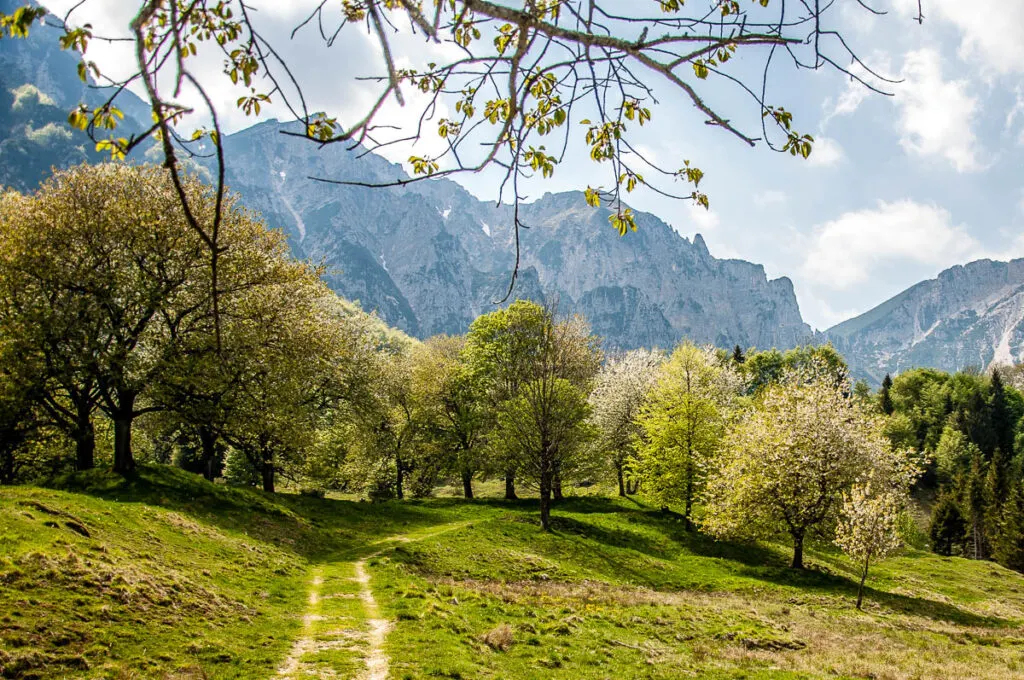 Hiking in Italy in spring is truly delightful. Nature awakens and blossoms. Jagged mountains and rolling hills stretch all the way to the horizon. And lush forests beckon you in.
Walking across verdant landscapes feels so calming and peaceful. Time slows down and suddenly, there is nothing more important in the world than to stop to look at a wildflower or to take in the sprawling views.
The photo above shows an enchanting corner of Italy that stays firmly off the beaten track. These are the Little Dolomites – a mountain chain in the Northern Italian region of Veneto. Have a look at this blog post to find out how to do this particular hike. It's suitable for all hiking abilities:
Italy's medieval walled towns are such a delight to discover in any season. More so in spring when the sun shines bright, the skies are blue, and it's not too hot so that you can easily walk arpund for hours and enjoy the gentle breeze.
A hotspot of history, art, and architecture, the Italian walled towns give you a chance to explore Italy authentically and discover little-known stories and masterpieces.
The photo above shows the walled town of Montagnana in the north of Italy as I saw it on a bright-skied spring day some years ago. Every May, Montagnana holds a big festival dedicated to the locally produced prosciutto. It's a delight for all senses to experience it for yourself. For more about Montagnana, have a look at these blog posts: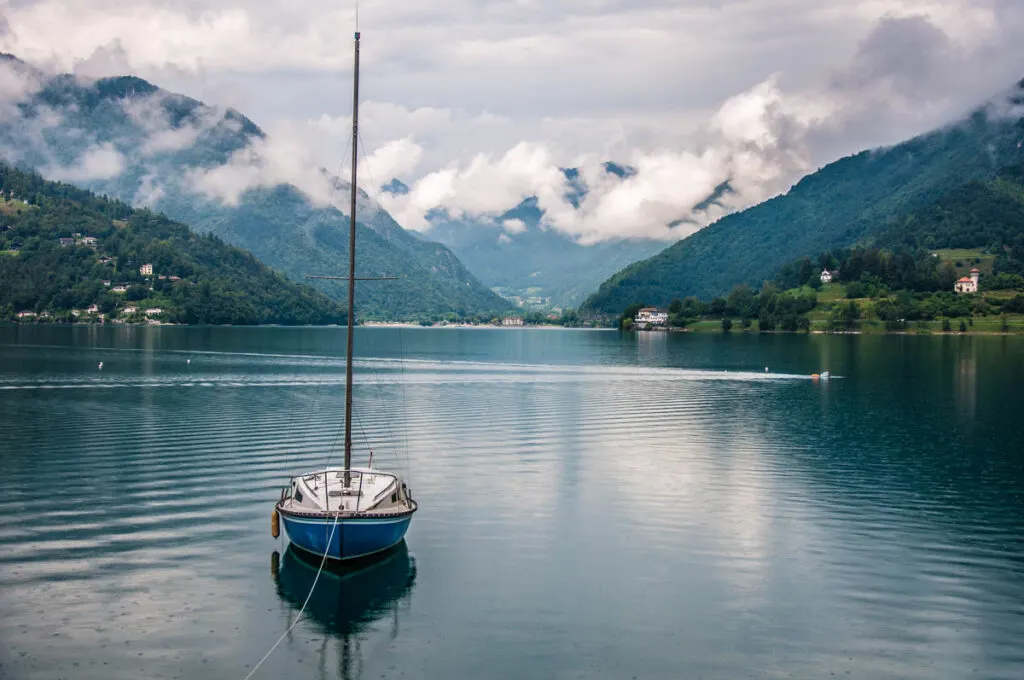 Lakes dot the territory of Italy and are delightful corners to explore in this beautiful country. From Italy's largest lake – Lago di Garda – and Italy's most famous lake – Lago di Como – to the hundreds of lakes of differing sizes and fame, there is a lake for every taste in Italy.
No matter if you like lakes that can be reached only after arduous hiking or lakes with beaches where you can sunbathe and relax, in Italy there is a lake to fit just your expectations.
The photo above shows Lake Ledro in Northern Italy. Small and very picturesque, a few millennia ago an ancient civilisation flourished here. The remains of prehistoric stilt houses were discovered on the bottom of the lake. Nowadays, a small museum on the shores tells their story.
Lake Ledro is very pretty and peaceful. I can spend hours just looking at its blue waters and the mountains that surround it. A light sprinkle of rain only adds to the poetry of the scene.
Have a look at these blog posts for more about Italy's lakes:
2. Estate – Summer in Italy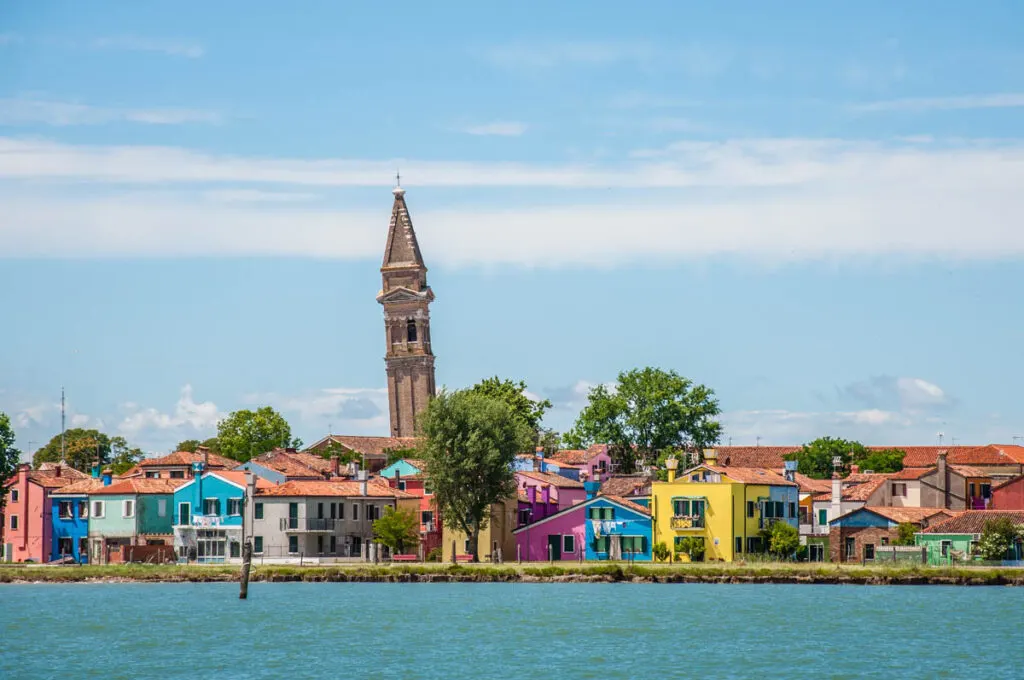 Keywords for Summer in Italy: Great Beaches; So Much Sun; Bright Colours, Opera Festivals; Ripe Fruit; A Dip in the Water; Laundry on the Clotheslines; Peaceful Churches; Lots of Gelato; Mosquito Bites; Cold Coffee Drinks
How It Feels to Be in Italy in Summer: It feels hot! Excruciatingly hot! The sun is blazing high up in the bleached sky and all you want is some respite. Thankfully, a dip in the water is always a possibility in Italy either on the beach or in the swimming pool. The country's many lakes and rivers also offer countless opportunities for wild swimming.
Plus, a nice gelato is always at hand. And sightseeing in big, imposing, semi-dark churches has never felt more peaceful. In any case, there are many ways to beat the summer heat in Italy, so check them all out in this blog post:
And then, come evening, Italy's towns spring to life. Just as the sun is setting, people come out in their droves for the traditional passeggiata. This is a leisurely walk in your best clothes to socialise and see what's happening around the historic centre.
At the same time, in summer, many large cities around Italy feel deserted by the locals. They are all enjoying their long annual holidays at the beach or in the mountains. Their place is taken by hordes of tourists – dazed by the sun and the endless sightseeing.
For the best experience, follow in the steps of the Italians. Leave behind the large cities in favour of Italy's small towns and follow the breeze to the seafront or the forests.
Best Things to Do in Summer in Italy:
Have Fun at the Beach or the Waterpark – there is nothing like taking a dip in the water when the sun is blazing high up in the sky. Italy is blessed with hundreds of splendid beaches and dozens of amazing waterparks. Make full use of them. Don't miss the best beaches near Venice and the best beaches around Italy's largest lake. In addition, have a look at this blog post for the best waterparks in the vicinity of Lake Garda.
Escape the Sun – stay out of the sun as much as you can. When you are sightseeing, seek shade at all times and keep hydrated. Follow the example of the Italians and go to the beach in the morning, then take a riposo in the afternoon. Then go out in the evening again to enjoy a leisurely walk and dinner at an outside table of a small restaurant.
Head to the Islands – islands comprise one-sixth of the territory of Italy. From the large islands of Sardinia and Sicily to the small islands in the Venetian Lagoon and even the picturesque islands in the Italian lakes, you have a huge number of Italian islands to choose from. Spending a few days on one (or several of them) imbibing the local culture and sun is a great way to spend summer in Italy.
Spend Relaxing Days in the Hills and Mountains – Italy's mountains and hilly groups are great destinations not just in winter. In summer, they offer respite from the sun and a lovely cooling breeze to keep you fresh when out and about. If you can't take high temperatures but want to spend time in Italy in summer, the mountains in Piedmont, Aosta Valley, Lombardy, Veneto, Trentino-Alto Adige, and Friuli Venezia Giulia are great destinations when the sun is blazing above. You can also combine city sightseeing with days spent exploring lush hills. For example, the cities of Venice, Padua, and Vicenza in Northern Italy are a stone's throw away from the Euganean Hills and the Berici Hills. And the city of Verona is next door to the Lessinia Hills and Monte Baldo, too.
Visit Centuries-Old Churches – Italy's beautiful churches are wonderful to spend time in when it's too hot outside. Full of priceless works of art, they are peaceful places where your eyes can find refuge from the sun's glare outside.
Eat Gelato by the Bucketful – summer is the right time to indulge in Italy's famous take on frozen desserts. Each gelateria here makes gelato to its own recipes and offers a large variety of seasonal flavours. The best gelaterias use only fresh fruit and the best chocolate to make their delicious produce. Treat yourself to gelato at least three times a day. Especially, if the temperatures have really been testing your resistance to heat.
In addition, have a look at this blog post for many more fun and exciting things to do in Italy in summer:
What's the Weather Like in Summer in Italy: Very, very hot! Temperatures can easily reach over 40 degrees Celsius and stay there for days on end. Nights can feel suffocatingly hot and even muggy. If you come from colder climes and are not accustomed to exceedingly hot weather, check in advance if the accommodation you are interested in has a functioning air conditioner. Not every hotel or other type of accommodation in Italy has this amenity.
By the end of July and throughout August, thunderstorms may develop rapidly bringing torrential rain, too. This is mostly valid for the north of Italy and the rain doesn't tend to last long but you don't want to be caught in it, especially if you are out hiking.
Here are some average summer temperatures for Italy month by month. As mentioned above under the entry for spring, there will be significant differences depending on which corner of Italy you will be visiting. So, make sure that you research the weather forecast for your specific destination in the week(s) before travelling.
June in Italy – 21 to 27 degrees Celsius
July in Italy – 24 to 31 degrees Celsius
August in Italy – 22 to 31 degrees Celsius
What to Pack for Summer in Italy: With the sun blazing in the sky, make sure that you pack a high-factor suncream and slather it liberally when out and about. A pair of sunglasses and/or a hat with a wide brim can really help alleviate the pain from sun glare. People in Italy dress with decorum, so avoid super short and revealing clothes in historic centres and sights. Opt for floaty dresses and clothes made of thin natural fabrics. They will also help keep you cool and protected from the sun.
Mosquitoes can be relentless in Italy in summer, so pack a repellent in any shape that you find comfortable to use. This could be a lotion, a spray or even one of those mosquito repellent bracelets. It really pays to be prepared as mosquitoes here are truly ferocious and their bites itch for days. Don't worry, however, if you don't bring anything with you. Italian pharmacies and supermarkets are very well stocked with insect repellents in summer. Mosquito in Italian is zanzara (pl. zanzare). It was one of the first words I learned in Italian.
When you are booking your accommodation in Italy in the summer, it pays to ask if the windows have mosquito screens (or zanzariere in Italian). This tip is mainly applicable to private rentals and small B&B's. You may want to keep the windows open during the day or at night and the last thing you will want to deal with is a room full of mosquitoes.
Make sure that you also bring a light scarf with you. It will come in very handy both in the evenings when there is a light breeze and for those church visits where visitors are expected to abide by a respectful dress code and have their shoulders and knees covered at all times.
One last tip for a great holiday in Italy in summer! Make sure that you bring shoes that are comfortable to walk around in the heat and on all types of surfaces like cobbles, flat stones, and marble. Plus, many towns and cities here have steep streets, numerous flights of steps, as well as narrow lanes that were paved centuries ago. You want to make sure that your feet and ankles are properly supported at all times instead of sliding up and down in slippery shoes or flip-flops.
Five Photos to Make You Want to Visit Italy in Summer: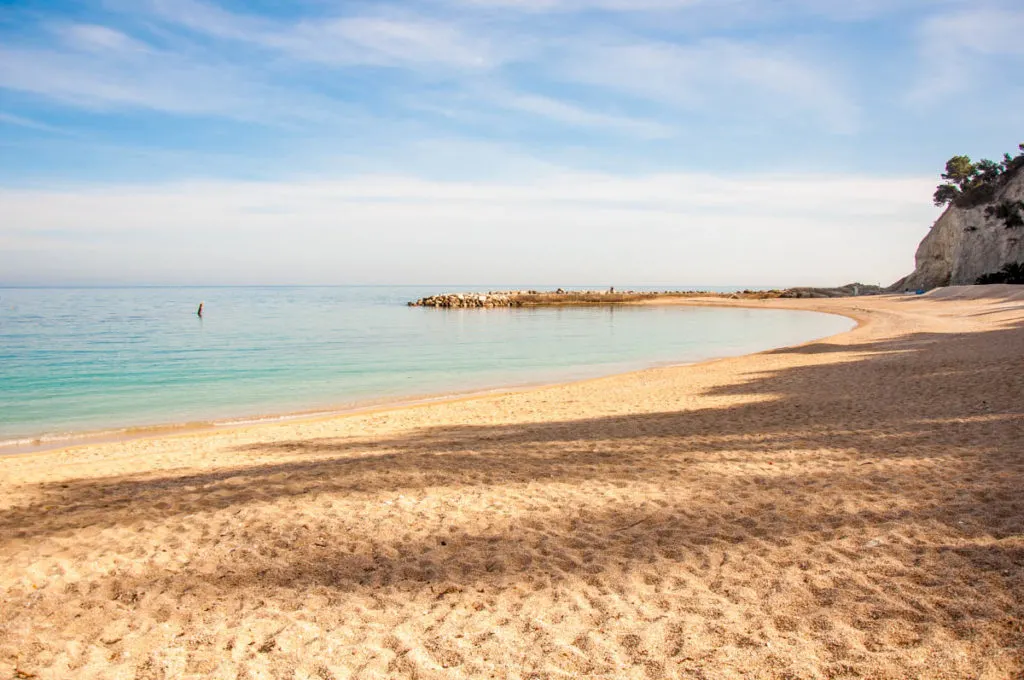 Italy has a beautiful coastline dotted by hundreds of stunning beaches. In total, beaches here have a combined length of almost 3,240 km! Lapped by teal and turquoise waters, they are a great destination no matter if you want to relax on a sunlounger book in hand or keep active by walking or practising water sports. Kitesurfing is especially popular!
The above photo shows a golden sand beach in the small town of Sirolo. You will find it in the Central Italian region of the Marche. Together with the neighbouring town of Numana, Sirolo is a very popular destination in Italy on account of its beaches. Thousands of Italians flock here every summer for sun and sea in the shadow of Monte Conero. This steep promontory is the highest point on the Adriatic Sea from Trieste in Northeastern Italy to the Gargano Massiff on the spur of the Italian boot.
Nothing says summer in Italy like freshly laundered clothes left to dry outside on long clotheslines. There is something so life-affirming and incredibly picturesque in watching clothes flapping in the wind against houses that have been standing at the same spot for centuries.
The island of Burano in the Venetian Lagoon is especially famous for its colourful houses. People travel from all over the world to admire the technicolour effect they produce. I spotted this clothesline in a small courtyard during a leisurely walk around Burano one hot summer. The breeze moved the tablecloth and the rest of the laundry back and forth in wide elegant movements. It was incredibly cinematic!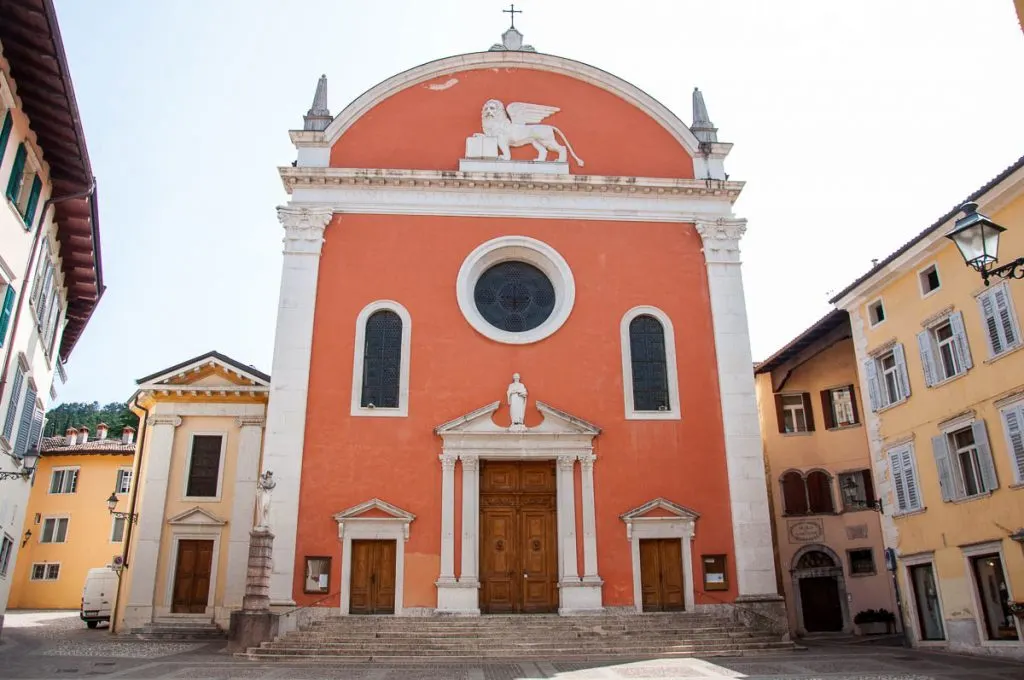 Seeking refuge from the sun in Italy's semi-darkened, peaceful churches is a favourite occupation of mine. There is no other place in the world so quiet and so pleasant to be in when the sun outside melts your thoughts into an unsightly mush.
You don't need to be religious to appreciate the peace and quiet that these vast enclosed places bring. With frescoed walls and ceilings, with wooden benches standing in straight lines in the glow of the candles, and with statues of the saints, the Virgin Mary, and Jesus Christ looking benevolently down on you, Italian churches invite you to sit down, to get your thoughts together, to spend a moment in perfect stillness, and – if you feel like it – to offer a prayer for better outcomes.
The above photo shows the Church of St. Mark in Rovereto – a beautiful city in the autonomous Northern Italian province of Trentino. The church is a very special place to visit. I love its facade with its simple yet elegant lines and with its rather striking colour. What would you call it?! A bright shade of terracotta? Burn orange?
They say that the famous Austrian composer Wolfgang Amadeus Mozart – then a 13 years old wunderkind – gave his first concert in Italy in this exact church on 26th December 1769. Standing at a small square that in summer is a veritable suntrap, Rovereto's Church of St. Mark is always a delight to visit.
Singing is a favourite Italian pastime that over the centuries has been elevated into a form of pure art. Italy, after all, gave us opera. Lavish opera houses dot the large Italian cities – from Milan's La Scala and Venice's La Fenice to Naples' San Carlo.
The best opera experience to have in Italy though is at the Verona Opera Festival. Over 100 years old, each summer it's held in the Roman Arena in the City of Love. This enormous amphitheatre is older than Rome's Coliseum and in its heyday hosted gladiator fights and even nautical battles. For the latter, the arena was flooded with water from the nearby River Adige and ships sailed up and down it under the clamorous shouts of the 30,000-strong crowd.
Nowadays, Arena di Verona is the world's finest open-air opera venue. Seeing an opera performance here is a must if you are in this corner of Italy in summer. Tickets for the stone seats don't cost the earth and the scenography is always spectacular. The best opera singers fill up the space with their voices.
The above photo shows the stage set for Aida – the famous opera by the Italian composer Giuseppe Verdi – just outside of Arena di Verona. The different stage sets for the operas performed each summer are kept by the Roman amphitheatre's ancient walls. Going for a walk around them – with Aida's Egyptian statues on one side and La Traviata's elegant French ballroom on the other – is always a great experience. Read more about Verona Opera Festival in this blog post: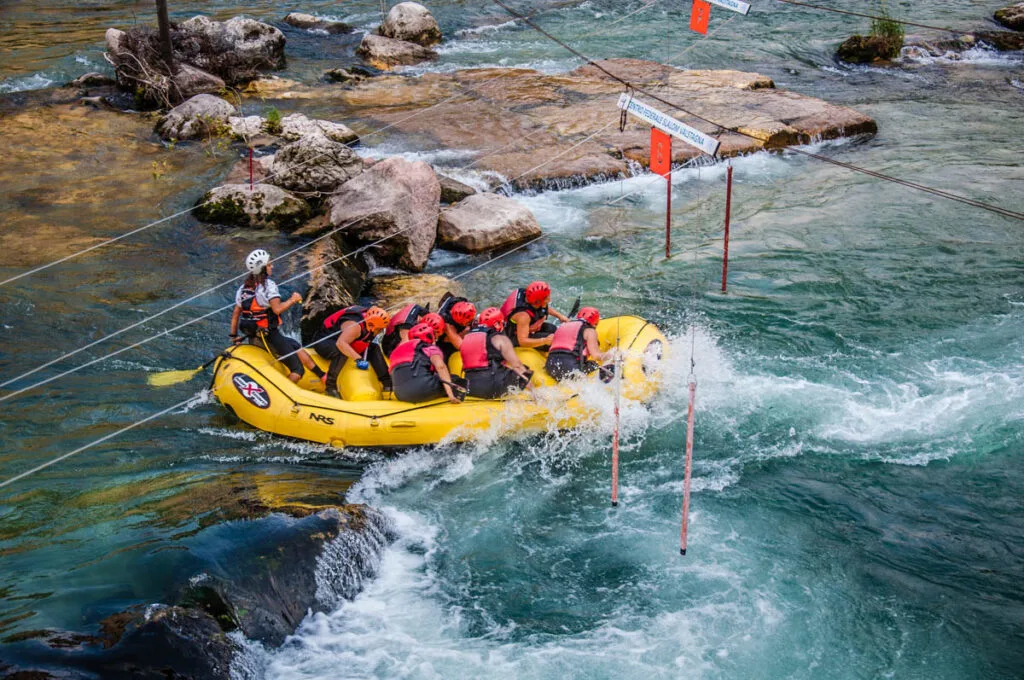 The best way to deal with the heat in Italy in summer is to take a dip in the water. The easiest way to do it is to head to the beach, to an Italian lake or to the swimming pool of your accommodation.
You can be more adventurous, however, and try your hand at a high-adrenaline water sport.
For example, rafting and canyoning are very popular in Italy. I gave rafting a try and it was a great experience. We rowed down the River Brenta – a long Italian river that connects the province of Trentino to the Adriatic Sea in the north of the country. It was exciting, fun, and truly memorable. Plus, it was the best thing to do to get some respite from the heat that summer.
The photo above shows you a raft sailing down the Brenta near the picturesque small town of Valstagna. Give it a try if you can. It's amazing!
3. Autunno – Autumn in Italy
Keywords for Autumn in Italy: Golden Light; Castagnata; Autumn Leaf Colour; Apple and Grape Picking; Chocolate Festivals; Forest Walks; Fog; Heartfelt Celebrations; Walking in the Rain
How It Feels to Be in Italy in Autumn: Glorious! The golden light, the blue skies, the trees with their riot of leaves in every shade of yellow, orange, and red. It's a season when you feel inner peace for no particular reason. You can easily spend hours just taking in the beauty of Italian nature and landmarks and feeling at peace with the world.
Juicy golden grapes and sweet apples beckon you from market stalls and small fruit and veg shops. The tourist crowds have largely dispersed and you can walk around without bumping into people at every step. Even better, chocolate and wine festivals take place all over Italy.
Then October and November bring many heartfelt celebrations from Ognissanti to the Day of San Martino and Venice's Festa della Salute. Slowly but surely, the fogs start rolling in. Thick and heavy, they envelop the Italian cities adding a layer of mystery to their world-famous sights.
The days get really chilly and very short and before you know it Christmas markets pop all over Italy and the long holiday season begins.
Best Things to Do in Autumn in Italy:
Enjoy the Second Summer – October and sometimes even the first week of November gift to Italy a second summer. This is a glorious period of golden light and short-sleeved but not scorching temperatures. Some years bring rain early, of course. But more often than not, this is an absolutely beautiful period that makes you appreciate Italy, nature, and life in a very deep, meaningful way.
Fall in Love with Foliage – waxy yellow and bright red leaves add to the beauty of autumn in Italy. It's the perfect time of the year to head out of town for a gentle walk along the shores of a lake or for a nice hike in the folds of a mountain. Even just walking along the ancient streets of an Italian city is a pleasure like no other in autumn. Huge Ginkgo Biloba trees release millions of bright yellow fan-shaped leaves to the wind. It's beautiful!
Drink Wine – many wine festivals take place in Italy in autumn. This is also the season of grape picking and the Italian wineries – from the small, family-owned ones to the large enterprises – are busy making sure that the new grape juice will become an outstanding vintage. It's a great time of the year to visit a winery and sample their wines. There are so many options to choose from.
Discover Italy's Hidden Gems – visiting Italy is not all about world-famous museums and landmarks. The history and art of this beautiful country are best experienced in places that are on the edge of the beaten track and often get overlooked by the mass tourist. For example, Italy's historic libraries, the homes of Italy's famous personalities, and the workshops of the Italian artisans. Autumn is a great season to visit these places and get to know Italy in a more authentic and intimate way.
Celebrate a Local Festival – there are many celebrations and festivals held all over Italy in autumn. Each city and town here has its own stories to tell and they crystallise in annual celebrations that involve the whole community. From the Day of San Martino on 11th November which is celebrated all over Italy to smaller, local events, there are many options to get closer to Italy's customs, beliefs, and traditions
Eat Chestnuts and Chocolate – autumn in Italy smells of roasted chestnuts and has a taste of chocolate. This is the season when all over the country chestnut festivals called castagnata and chocolate markets are held. Both are an experience not to be missed when in Italy in autumn.
What's the Weather Like in Autumn in Italy: Summer gradually seeps into autumn in Italy. The days are sunny and bright and had it not been for the occasional rain and the jacket that you need in the early mornings and late afternoons, it would be easy to think that it's still summer here in late October.
November brings fogs and the first really chilly weather. Especially, in the coastal areas where cold winds from the seas blow and in the mountains which are getting ready for the first snowfalls.
Here are some average autumn temperatures month by month for Italy. Again with the proviso that this is a very long country and variations between the north, centre and the south are to be expected.
September in Italy – 19 to 27 degrees Celsius
October in Italy – 14 to 22 degrees Celsius
November in Italy – 8 to 18 degrees Celsius
What to Pack for Autumn in Italy: Just like in spring, you need cosy, warm layers if you are planning to spend autumn in Italy. A waterproof jacket and shoes/boots are a must, especially, if your visit is in November. In general, bring clothes that can be layered and that keep you comfortably warm without overheating.
During the day it may get considerably warmer than in the evenings. Especially, in late September and October. Make sure that any layers that you need to take off – like a jumper or a jacket – are easy to hold and carry around, especially, if you have a long day of sightseeing ahead of you.
While traditionally waterparks close in September and in the north of the country the seawater is too cold for a swim in October, bring a swimming costume to use in thermal parks, hot mineral water pools, and spa resorts.
Five Photos to Make You Want to Visit Italy in Autumn: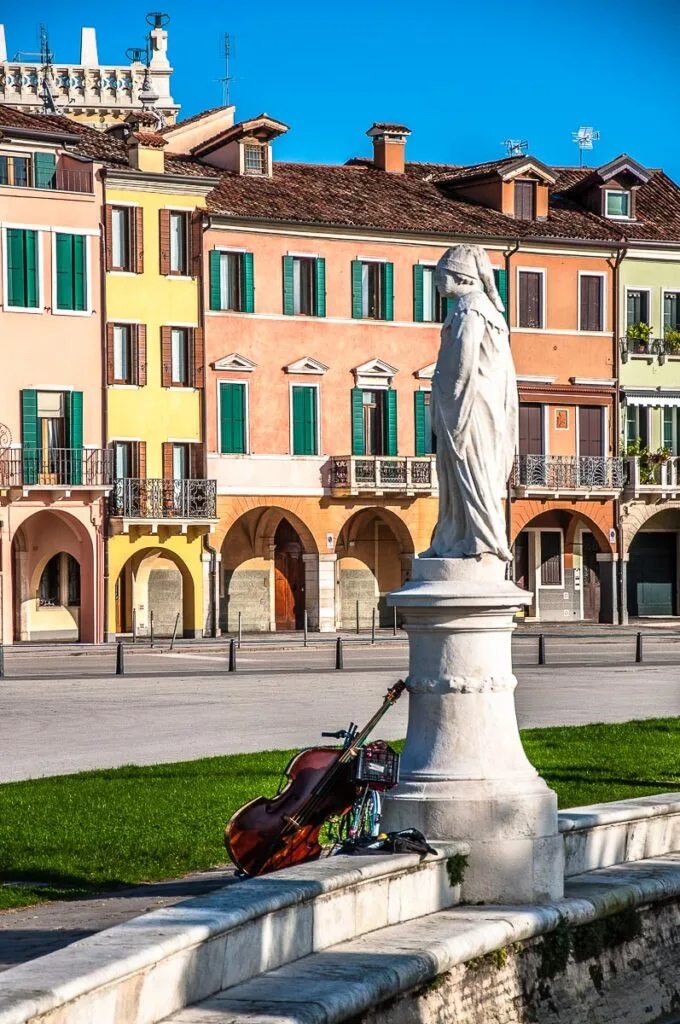 The golden light of autumn in Italy is so beautiful. It brings in sharp contrast the historic facades, the statues decorating the public spaces, and even the cobbles of the ancient streets. On a warm autumnal day, it's a delight to sightsee on foot around the Italian cities and towns.
The photo above shows a violoncello leaning against one of the 78 statues adorning Italy's largest square – Prato della Valle – on a warm day at the start of November. It was such a beautiful, artistic scene. A precious moment in time captured for me to treasure forever.
Have a look at this blog post for more information about Prato della Valle. It really is a must-see when you are in Italy:
Grape picking is one of the main events of autumn in Italy. The vineyards are groaning under the weight of long, heavy bunches of golden, red, and dark blue grapes. Often, they are picked entirely by hand. Local festivals then celebrate the year's grape harvest with traditions that have been passed from generation to generation for centuries.
The photo above shows the bunches of sweet white grapes hung to dry in the shelter of the medieval gate of the small town of Soave in the Italian region of Veneto. Soave is famous all over Italy and the world for its eponymous white wine. It was also chosen as the prettiest Italian borgo (or small town in English) for 2022.
Each autumn, the best bunches of grapes picked in the vineyards of Soave are hung to wither for a certain period of time. This way, they lose some of their water content whilst their sugar content gets higher and more concentrated. Then, the grapes are used to make the famous Reciotto di Soave – a prize wine that is sweet, velvety, and with notes of honey.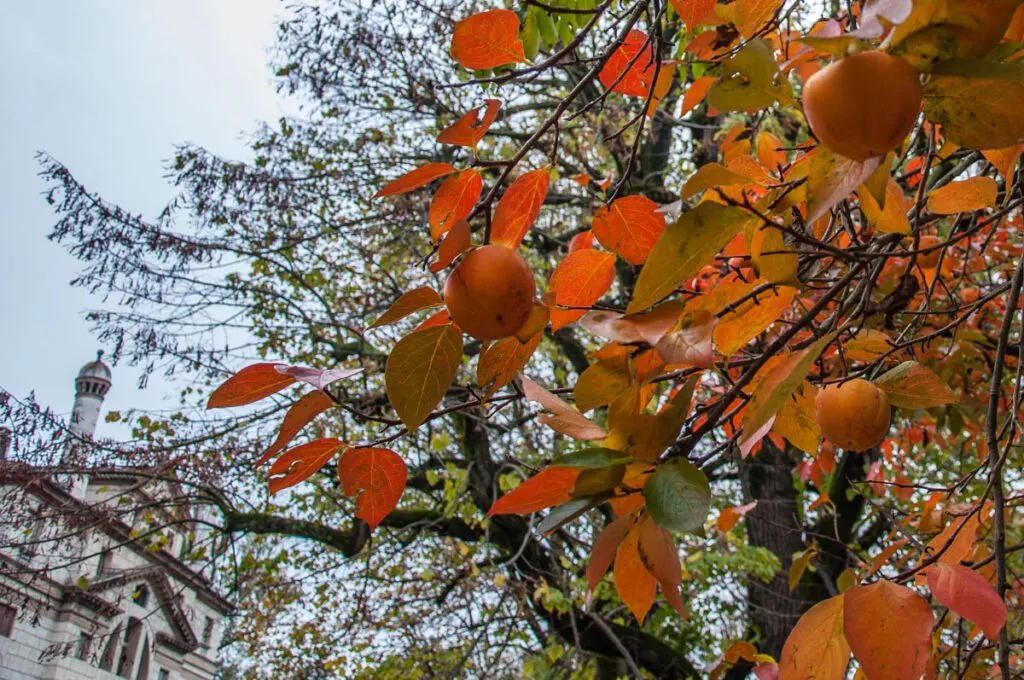 Autumn in Italy is persimmon season. These large, orange fruits hang from the branches of tall trees the leaves of which change to a vivid orange colour between October and November. There seems to be a persimmon tree in every front yard in Italy. Often, there are two or even three. And then sometimes you will see a long line of persimmon trees flanking the road leading down to a small village in the plains or hills of Italy.
Persimmon trees are a rather curious sight. Towards the end of autumn and with the arrival of winter, they lose their leaves completely. Yet their fruits remain steadfastly attached to their branches for weeks. It takes a really long time for the fruits to ripe completely. Then they heavily drop to the ground in a pile of soft fragrant mush.
The above photo shows the persimmon tree in the garden of La Malcontenta – one of the most beautiful historic villas in Italy. Covered with bright orange leaves and fruits, the tree provides a beautiful spot of contrast against the foggy, grey November day.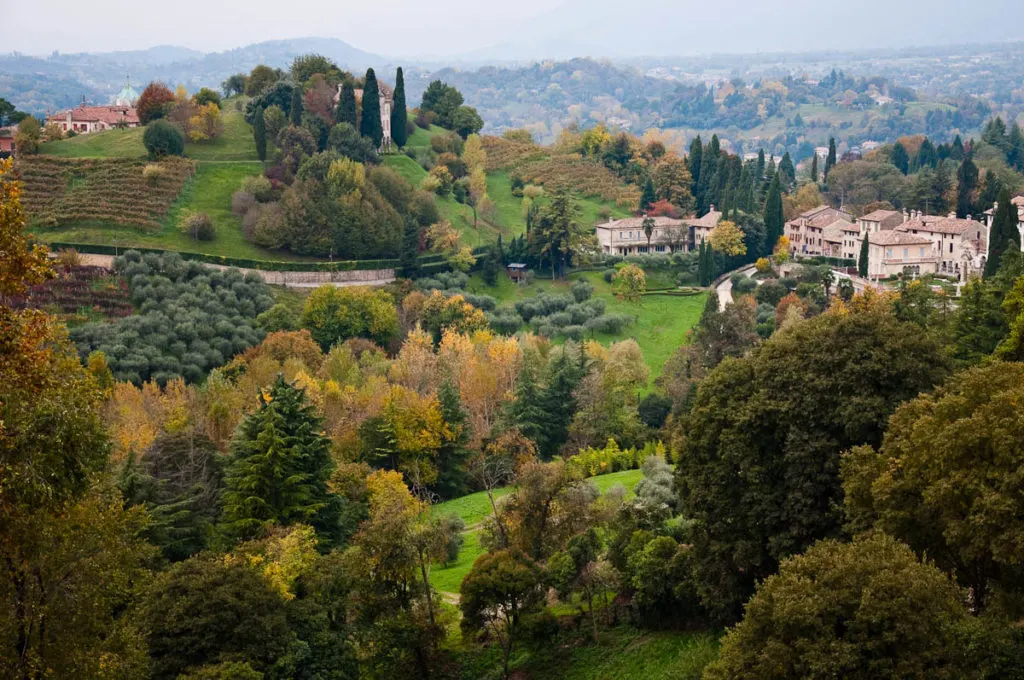 Autumn is beautiful in Italy and one of the best ways to experience it is to go for a long walk. Ideally, one that affords panoramic views over the Italian hills and mountains.
In the above photo, you can see the Asolo Hills in autumn. This is a small hilly group crowned by the lovely Asolo. Known as the Town of a Hundred Horizons, this is a hilltop place of stone houses, a medieval castle, and a sturdy fortress. Head to Asolo for some of the most stunning panoramas in Northern Italy. Lost in the beautiful views, it's easy to understand why throughout the centuries Asolo has attracted many celebrated poets and artists. Even the former queen of Cyprus – Catherine Cornaro – set her court here in the 15th century.
The full beauty of the Asolo Hills, I feel, it's best experienced in autumn when the leaves have just started changing their colours from lush green to the many shades of fire. Have a look at this blog post for a walk around Asolo on a glorious day in autumn: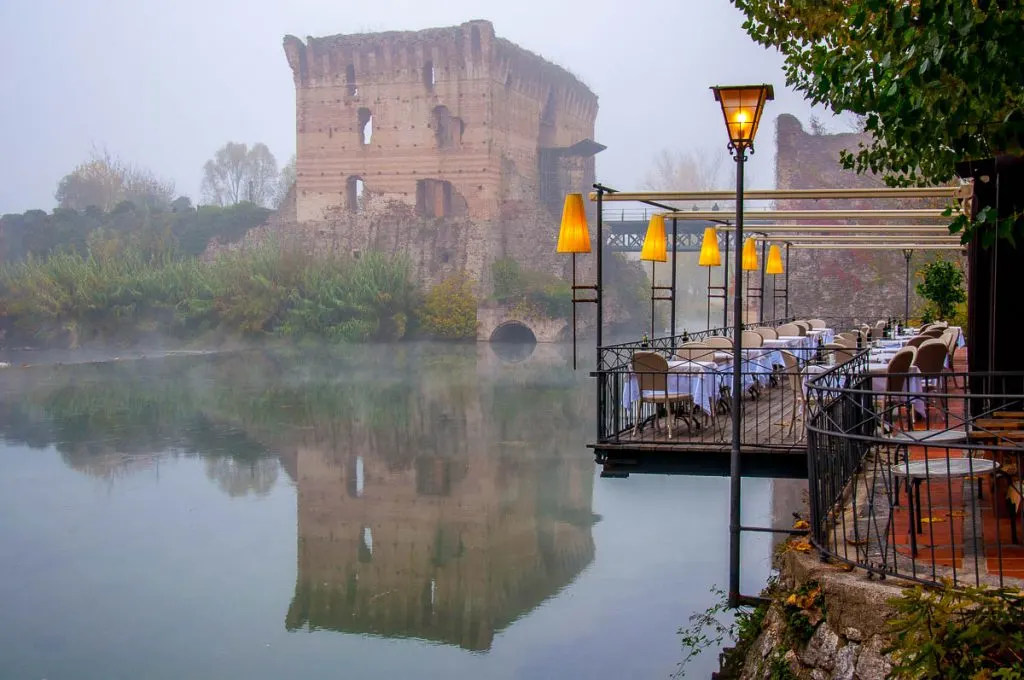 When the fogs descend, autumns in Italy turn chilly and the days get shorter and shorter. On the plus side though, fogs add to the allure of the Italian cities and towns. They envelop the historic landmarks in a layer of mystery and give you a different way to experience and photograph them.
The above photo shows the medieval Visconti Bridge in Italy's village on water – Borghetto sul Mincio. It is a place famous for its centuries-old mills, hilltop castle, and a local delicacy – love-knot tortellini. It's beautiful to visit in any season. On a foggy day in autumn, it has a lovely tinge of melancholy to it.
Have a look at this blog post for more about Borghetto sul Mincio, its bridge, and the legend behind its handmade tortellini:
4. Inverno – Winter in Italy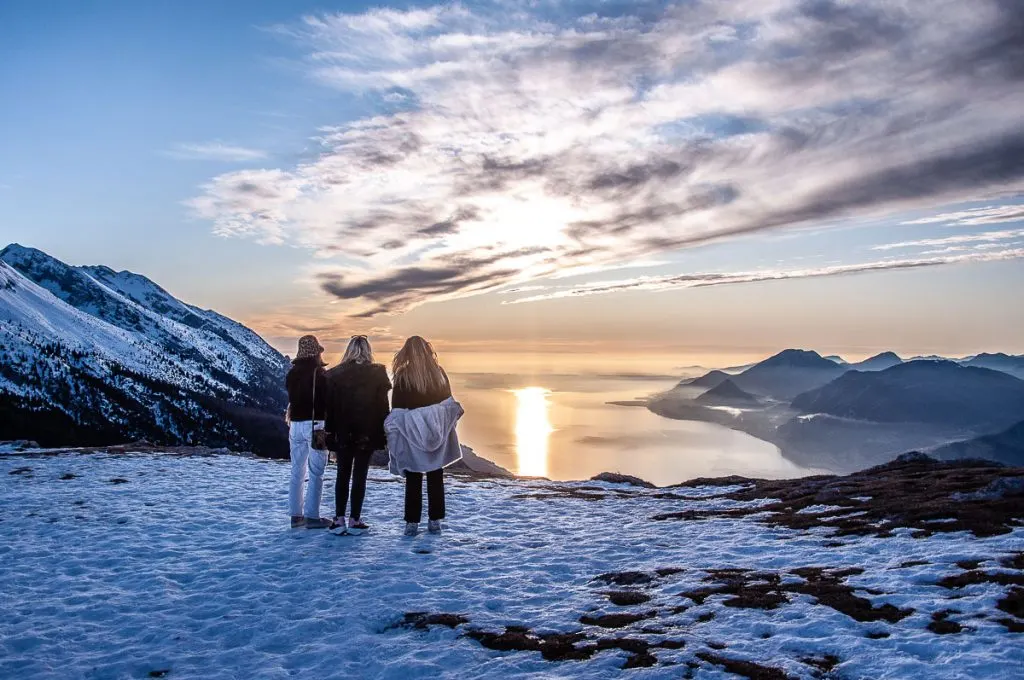 Keywords for Winter in Italy: Christmas; Nativity Scenes; Panettone and Pandoro; Befana; Sales; Ice Skating Rings; Snow and Winter Sports; Hot Chocolate; Carnival
How It Feels to Be in Italy in Winter: Festive! For me, winter in Italy passes under the sign of two large celebrations – Christmas and Carnival. The Italian Christmas festivities start on the 8th of December and last until Epiphany on the 6th of January. It's a month of Christmas markets, Nativity Scenes, large slices of panettone, delicious cups of hot chocolate, and not one but five Christmas gift bearers! The focus is on spending time with your family and loved ones. It's a very authentic and personal way of celebrating one of the most important Christian holidays.
The Carnival mood starts as soon as the Christmas festivities end. The official Carnival period lasts around three weeks between the end of January and the beginning of March. The exact dates change every year depending on the start of Lent. It's a time for fun, delicious Carnival fritters, and a cloud of confetti. While the Carnival in Venice is the most famous one, many Italian cities and towns have their own unique Carnival traditions that are a must-see.
Then again, winter in Italy is time to head to the mountains and play in the snow. Skiing, snowboarding, snowshoeing or even simply building a snowman and engaging in a vigorous snow fight… There are many ways to have fun during the Italian winter.
Best Things to Do in Winter in Italy:
Shop at Christmas Markets – Italy has some of the best Christmas markets in Europe. Especially popular are the ones in Bolzano and Trento in the north of the country. Plus, every large Italian city like Rome, Milan, Turin, and Verona has its own Christmas markets selling traditional and artisanal goods and serving excellent Christmas fare. Markets start operating around the beginning of November and many remain open all the way until the 6th of January. Make sure that you visit at least one of them if you are spending time in Italy in winter. They are a great place to stock on lovely gifts and to experience the authentic Italian Christmas cheer.
See Hundreds of Nativity Scenes – the presepe (or Nativity Scene in English) is at the heart of the Christmas celebrations in Italy. This is a representation of the Holy Family in the stables in Bethlehem. Italy has a long-standing tradition of making presepi in many different sizes and materials. In the run-up to Christmas and then all the way to Epiphany, you will see them decorating Italian churches, squares, and private homes. Have a look at this detailed blog post to discover 15 curious facts about this particular Italian Christmas tradition.
Get to Know the Italian Christmas Gift Bearers – while most countries have one Christmas character bringing presents to the well-behaved kids, in Italy they have five! From St. Lucy to Befana, click to read this fun blog post to find out who is who in terms of Christmas gifts in Italy and who will be bringing you something depending on which part of the country you have chosen to spend your winter holidays in Italy.
Drink Italian Hot Chocolate – there is nothing better on a cold winter day in Italy than a cup of proper hot chocolate. Incredibly thick, not overly sweet, and eaten with a spoon, this is one delicious drink you will keep dreaming of long after your winter visit to Italy has come to an end. Expect to pay around three to four euros for a small cup of hot chocolate in the Italian patisseries and bars.
Throw Confetti at a Carnival Parade – a permanent cloud of confetti is a given at the lively and raucous parades that take over Italy's streets and squares during the Carnival period. Scoop confetti with wild abandon and throw them at the dancers and masked-up characters who take part in the processions. They will respond in earnest. And then, just as you think that you are safe, the confetti cannons on the Carnival floats will unleash a huge eruption of tiny circles of colourful paper. It's a lot of fun!
Ice Skate, Ski, and Snowboard – winter is a great time to be in Italy if you love winter sports. Ski resorts abound in the north and the centre of the country. Between December and January, temporary ice skating rings pop up like mushrooms in the historic centres of small towns and large cities. Even if you are not the world's most graceful skater, do give them a try. I have been forever terrified of slipping and falling on ice but, let me tell you, in Italy, even I gave ice skating a try and enjoyed it immensely. My secret?! Alongside a pair of skates, I also always hire a bear- or penguin-shaped support. After all, there is nothing like skating surrounded by historic facades or with the whole of Lake Garda spreading right in front of your eyes just as your feet are sliding on the ice.
What's the Weather Like in Winter in Italy: Cold, chilly, often wet, and sometimes snowy! Yet generously interspersed with periods of bright sunshine and clear skies.
Occasional snowfalls cover the large Italian cities. Once a winter or so! Be quick to take a picture or two of the gondolas in Venice or the Coliseum in Rome under a thin white blanket as it rarely lasts more than a couple of days if that.
Cold rains are more usual, especially in the months of January and February which are the coldest period of the Italian year. And yet, even during a rainy spell, it rarely feels dark and oppressive here. Even if the sun starts to set halfway through the afternoon, the colourful riot of Carnival breaks the monotony that winter imposes on other countries. Between cups of hot chocolate and festive parades, soon winter becomes a season to look forward to in the bel paese.
Here are some average winter temperatures for Italy. Expect significant variations between the mountains and the plains as well as the north and the south of the country.
December in Italy – 5 to 14 degrees Celsius
January in Italy – 3 to 13 degrees Celsius
February in Italy – 5 to 13 degrees Celsius
What to Pack for Winter in Italy: Warm layers! Think soft, cosy clothes with a waterproof layer on top. When it rains, the Italians carry huge umbrellas to keep dry but with all the sightseeing you have planned, you may find it more convenient to have a thick waterproof jacket coupled with a suitable hat, neck warmer, and gloves.
Thermal underwear and vests can be very useful. There is nothing worse than feeling chilled to the bone in wet and windy places. Here, Venice immediately comes to mind!
Give special consideration to the shoes and the boots you will be packing. They not only need to be comfortable to allow you easily to walk between landmarks and sights but, ideally, they have to be waterproof, too. It's no fun spending a whole day on your feet in wet socks and shoes.
The same applies to your bag. Especially, if you want to keep your camera, mobile phone, and documents dry. Pick a sturdy, waterproof bag with zips.
Five Photos to Make You Want to Visit Italy in Winter: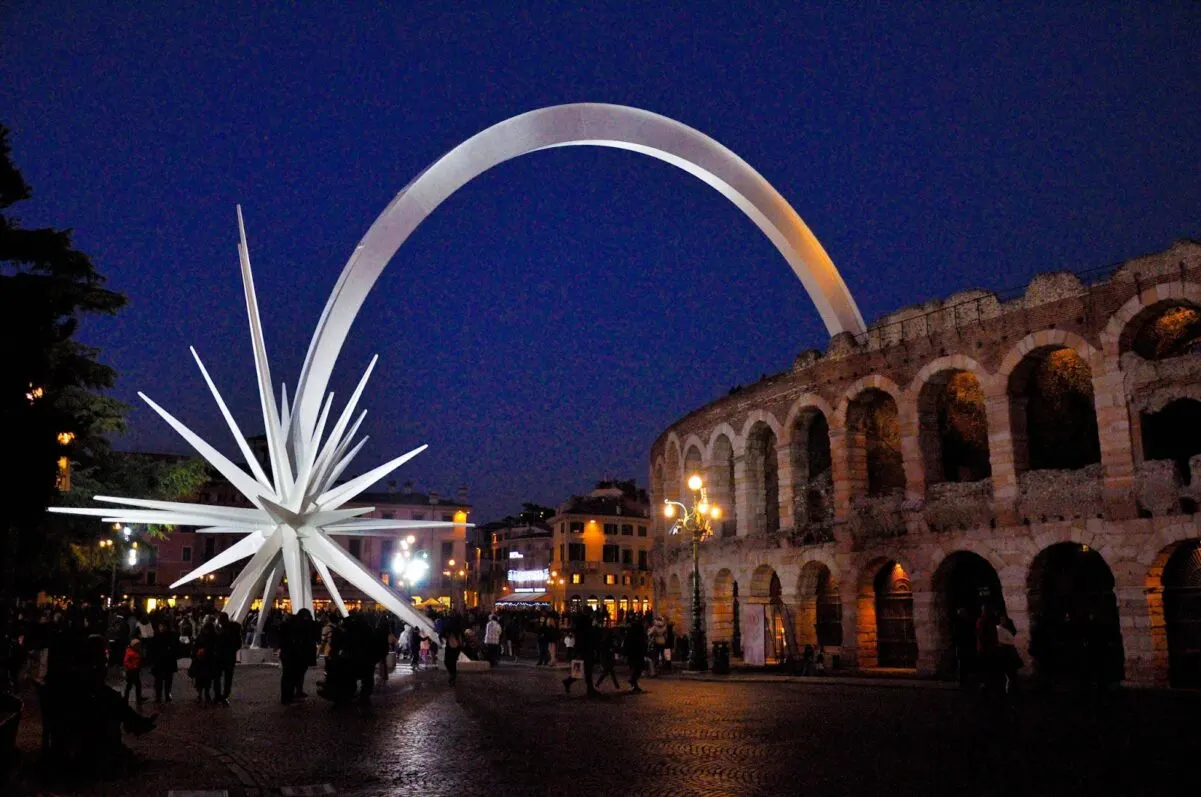 Christmas is a month-long season in Italy. It's a great time of the year to visit this beautiful country. Each city and town gets lavishly decorated with lights and illuminations. Festive images are projected on the facades of the buildings in the historic centres.
The above photo shows the huge shooting star which each year is attached to the ancient Roman Arena in the city of Verona in Northern Italy. Made of iron and painted in white, it symbolises the Star of Bethlehem which led the Three Wise Men to the birthplace of Jesus.
The metal star has been erected in Verona since 1984 and it is an intrinsic part of the Christmas experience in this gorgeous Italian city. The structure is 70 metres high and weighs a staggering 78 tons.
For more information about Christmas in Italy, have a look at these blog posts: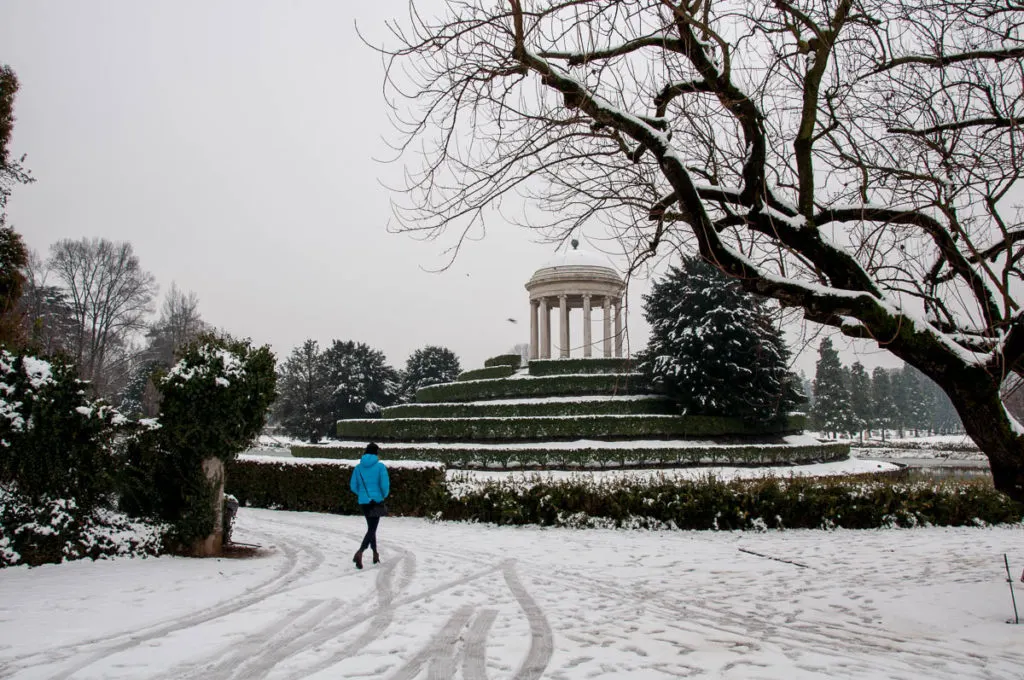 'Does it snow in Italy?' is a question often asked during the planning stages of an Italian holiday. And the answer is 'Yes! Yes, it does!'. So, perhaps don't come here if you are after some burning hot winter sun and temperatures in the 30s Celsius.
On the other hand, Italy is a wonderful winter destination if you want to ski and snowboard or simply relax in a Winter Wonderland. For this, the Alps and the Dolomites more than deliver.
Otherwise, it does snow in Italy's large cities and towns, too. More often than not, the snow doesn't last that long but it provides beautiful scenery for great photos during the hours or the days before it melts completely. The above photo shows you one such snowy day in the city of Vicenza, Italy.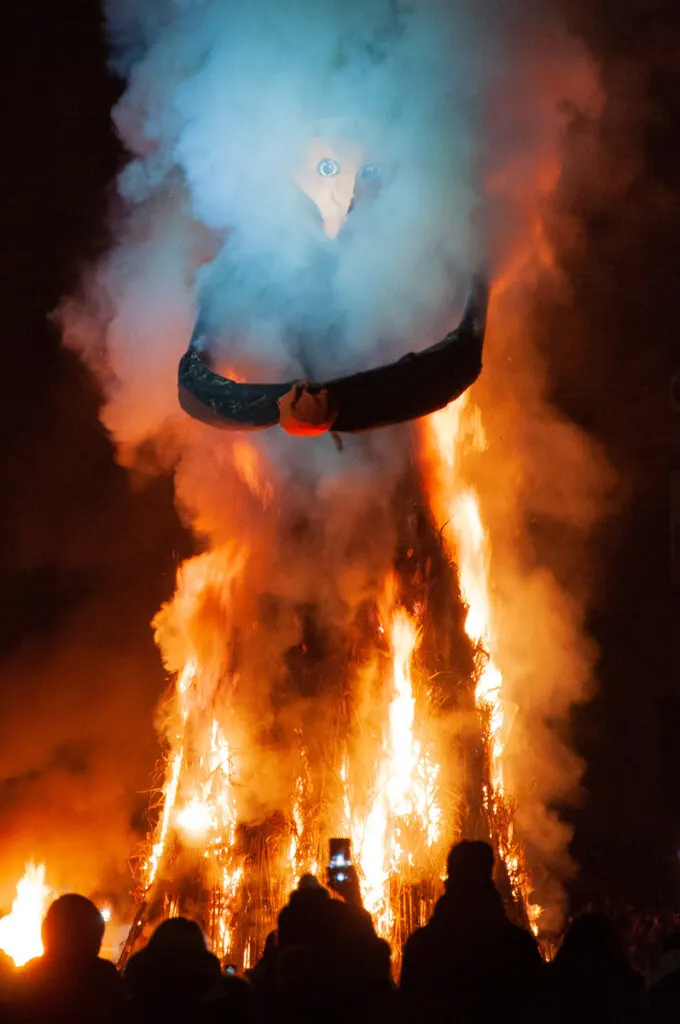 Befana is an old lady with a long, crooked nose and a broom to ride around on. Although she looks quite a lot like a witch, she isn't. Instead, Befana brings presents to the well-behaved Italian children on Epiphany Eve (the night of the 5th to the 6th of January). Those kids who didn't behave to the best of their ability during the preceding year get only a piece of coal.
Once the lady with the long nose has delivered her presents, a large effigy of her likeness is burned on the main squares of many Italian cities and towns. The above photo shows the effigy of Befana in a blaze of flames in Padua, Italy.
Up to a few decades ago, Befana was the main (and in many corners of Italy the only) gift-giver during the Italian Christmas season. Her tradition is inspired by beliefs that pre-date Christianity.
In Roman times, they thought that female divinities flew over the fields in the cold nights of winter to ensure rich harvests in the forthcoming spring and summer. These mystical creatures were guided either by Diana – the goddess of the Moon and vegetation – or by minor goddesses – Satia (goddess of satiety) and Abundia (goddess of abundance).
It is not surprising then that Befana – from her broom to her incineration on an effigy – at a first glance, has something a bit pagan about her. Her image has been completely Christianised though. And there is even a legend that makes her a part of the Nativity Story and explains why she flies on a broom bringing presents to the well-behaved Italian kids.
For more about Befana and Italy's Christmas gift-giving traditions, have a look at this blog post: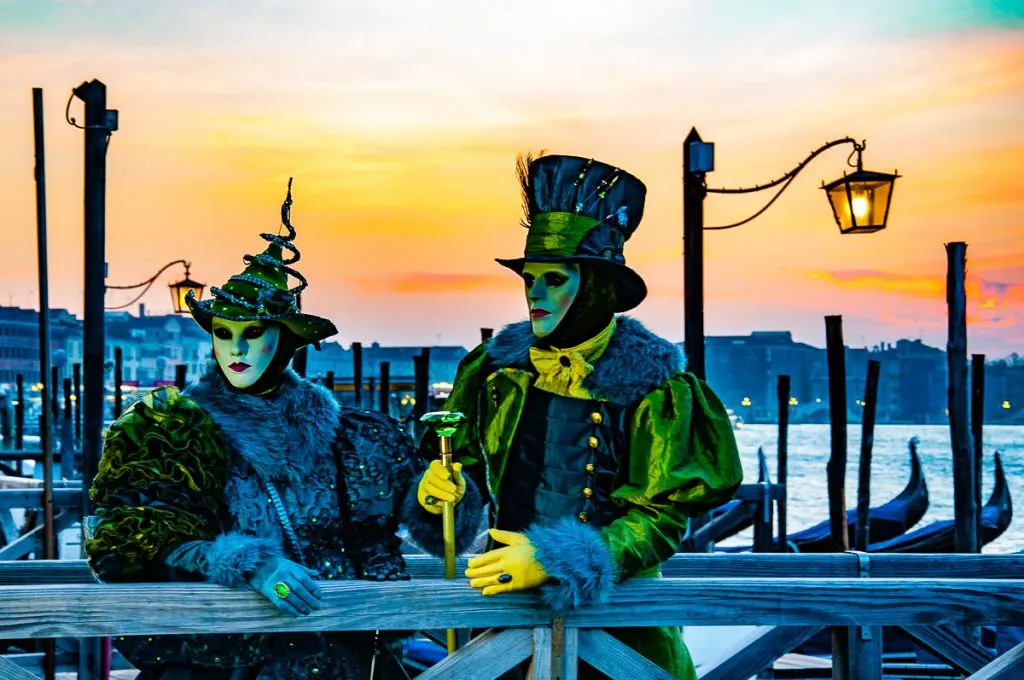 Carnival is a wonderful time of the year to be in Italy. It's beautiful, it's magical, and it can be quite raucous. Expect large parades across the historic centres of the Italian cities and towns, a cloud of confetti, and lavish, imaginative costumes. Plus, Carnival in Italy is a very family-friendly event. Kids have a great time dressing up, eating fritters, and throwing confetti.
Many places in Italy have their own, centuries-old Carnival traditions. The most famous celebrations are, of course, in Venice. Yet there are many other places here where you can have a great Carnival experience.
The above photo shows two masked figures that I photographed posing at sunrise in Venice. For more information about Carnival in Italy, have a look at these blog posts: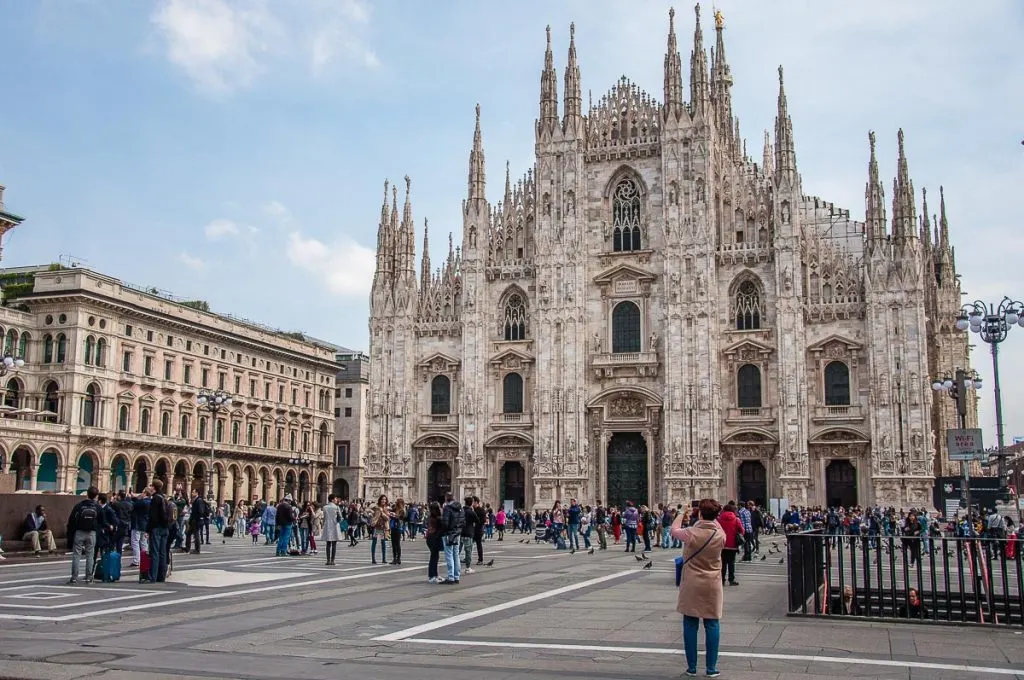 Winter is my favourite time of the year for sightseeing and museum-hopping in Italy. The tourist crowds are at their thinnest. In the smaller cities, you can literally have world-class landmarks completely to yourself.
I still remember visiting Palazzo Farnese in Piacenza at the end of December a couple of years ago. My husband, our child, and I were the only visitors to this huge and splendid museum. I spent a long, long moment in front of the famous Tondo by Botticelli. There was no crowding, nor pressure to keep moving. It was a completely different experience from when I went to see his famous 'Primavera' and 'The Birth of Venice' in the Uffizi Gallery in Florence at the height of summer.
The above photo shows the famous Duomo in Milan on a grey day in February. As this is one of the most famous churches in the whole world, there were still crowds milling around. Their size though was much smaller in comparison to the high season. Plus, you didn't have to wait in the scorching sun for your turn to enter the building.
Four Practical Tips about Visiting Italy in Any Season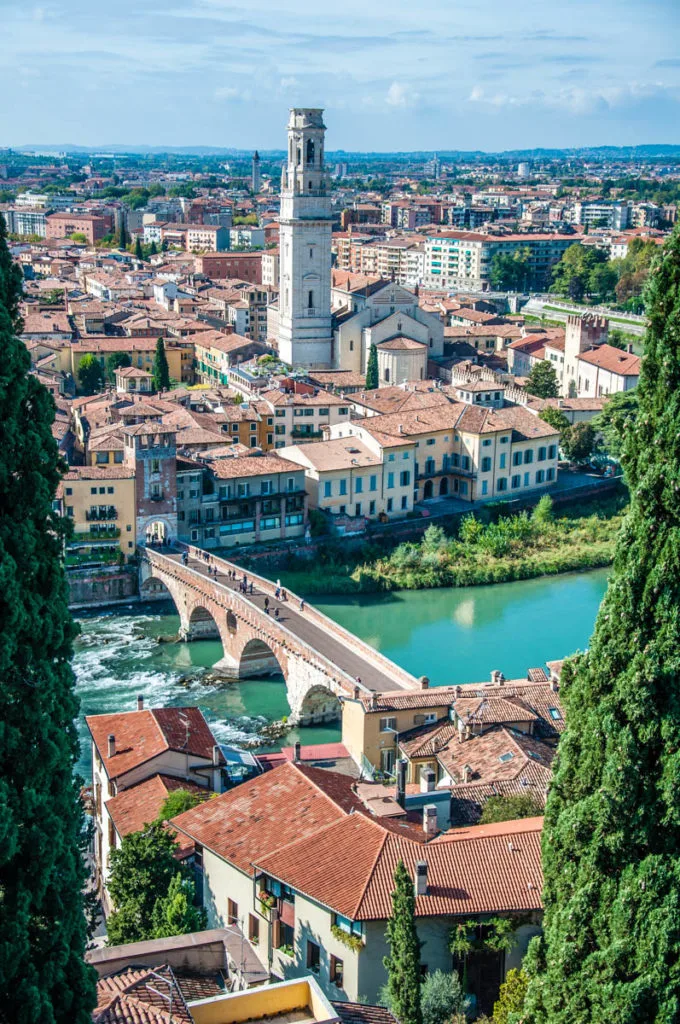 Avoid Mondays – no matter the season, Monday is usually not a good day for sightseeing in Italy. Many museums and landmarks are closed and many shops take the morning off and only open in the afternoon.
In the large Italian cities, Mondays are not so bad but in the smaller cities and towns, this is the one day when you may find yourself with not much to do but walk around and look at things from the outside.
Before booking a long weekend in Italy, check to see if the places you are interested in are actually open on Monday. If not, try to book your short break from Friday to Sunday rather than Saturday to Monday.
Dress for the Weather Not for the Season – as you travel around Italy, you may soon notice that the Italians tend to dress for the season rather than the actual weather. This is why in March when the temperatures start hitting 20 degrees Celsius, you will see ladies and gents in their thick coats and scarves around their necks. For them, it's still winter, after all!
You don't have to do the same! Dress for the actual temperatures. Chances are you will want to see it all and do it all. Hence, it's always best to make sure that your body feels comfortable. Dress with some style but make sure that your body can breathe and that you can easily regulate your temperature without overheating or freezing.
Enjoy Seasonal Activities – Italy is a country that very much lives according to the cycle of seasons. For the best experience, eat fresh seasonal food and enjoy seasonal activities. Don't complain that particular food, fruit or vegetable is missing from the table because it's not in season. Don't attempt to do things outside of their window. And don't expect that the weather will adjust itself to suit your holiday plans.
For example, don't go hiking when a cold rain is forthcoming in late autumn just because you've read about people doing a particular hike in late spring and you want to replicate the photos. Don't expect to be served the prized soft crabs moeche in Venice outside of a few weeks in spring and autumn. Don't book a visit to Italy in summer only to complain incessantly about how hot it gets there.
That's a lot of don'ts but it's important to understand that the Italian lifestyle is very much in tune with the seasons. To best experience Italy, you need to be attuned to what they bring, too.
Be Open to Changes – It's totally understandable that you will want to see it all and do it all when in Italy. After all, this is a country that's at the top of many travel bucket lists. Every moment spent in its historic cities and beautiful nature counts.
At the same time, be open to the idea that things may happen to change your carefully constructed travel plans. Showers in spring and a cold snap in early autumn may seem like the end of the world when you have a day of sightseeing ahead of you. Similarly, an unbearable heatwave or a sudden snowfall may hinder your ideas for a day trip.
The thing is, no matter how meticulous your plans are and how big your expectations are, you never know what exactly is going to happen. So, be open to changes and to things not really sticking always to plan. Have some ideas in mind for what you may do if what you actually want to do can't happen for whatever reason. This will give you peace of mind and will open new horizons in front of you even when the seasons and the weather don't seem to cooperate with your travel dreams for Italy.
These two blog posts may come in very handy, indeed:
One Curious Story about Italy's Seasons and Their Effect on the Italian Lifestyle and Creative Output
Life in Italy has followed the natural cycle of seasons for millennia. The change of winter into spring into summer into autumn into winter and so on has defined the sequence of tasks and celebrations of everyday life. During the Middle Ages and the Renaissance, this sequence became known as the Labours of the Months.
The Labours were a cycle of activities taking place throughout the year, each one of them to be performed at a particular time and closely linked to a particular season. As such, in spring you had trees to prune and fields to dig. In summer, you had to harvest and thresh the wheat. In autumn, you had to pick the grapes and make wine. And winter brought festivities and large-scale food preparation.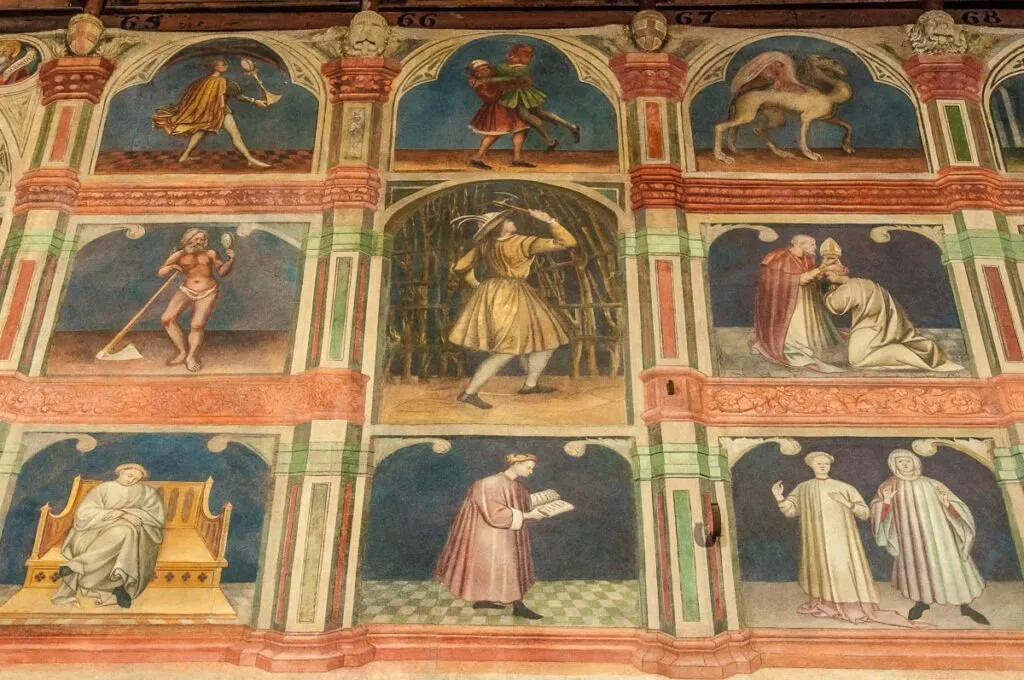 This cycle of rural activities was at the base of life. It provided structure and consistency. It kept things in perspective. If you worked hard in spring, you would harvest rich returns in summer and autumn and then feast throughout winter.
With not many people able to read and write during the Middle Ages and the Early Renaissance, the Labours of the Months became an often used theme in frescoes, bas-reliefs, and other forms of artistic and cultural expression.
The images – painted or chiselled – provided guidance on what had to be done each month of the year. In the past, they were a point of reference for the community. Nowadays, they help us understand how people functioned in relation to nature and the natural cycle of seasons.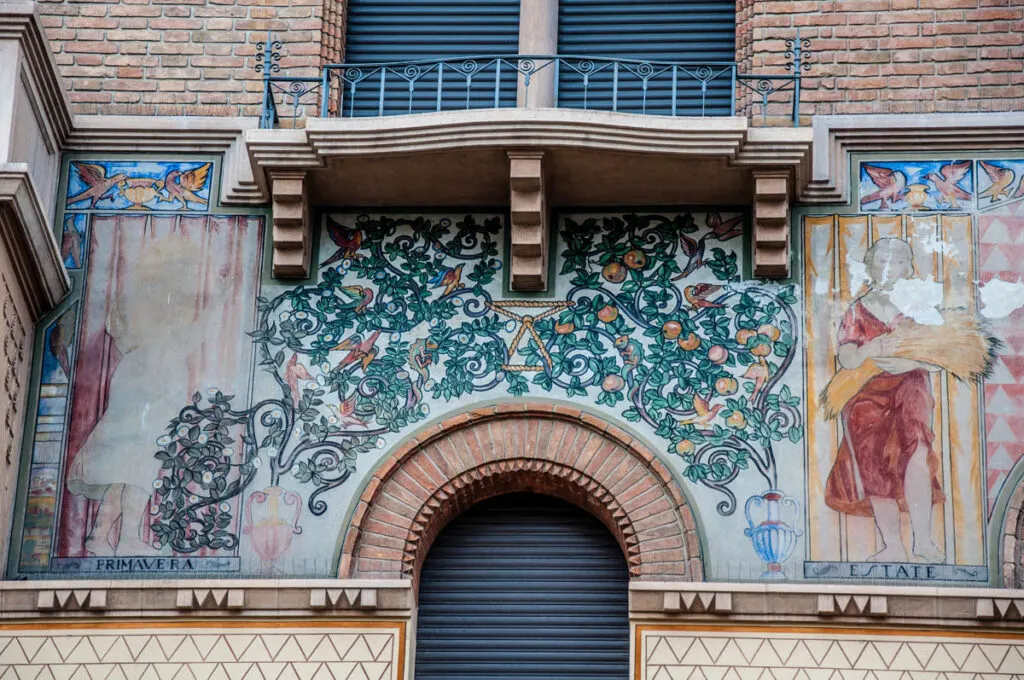 I developed an interest in the Labours of the Months and their depictions during the six years that I spent living in Italy. Everywhere I went – albeit in a famous Italian city or a small walled town – I sought out relevant frescoes, paintings, and books.
Here are three of my favourite Labours of the Months that I had a chance to see in Italy: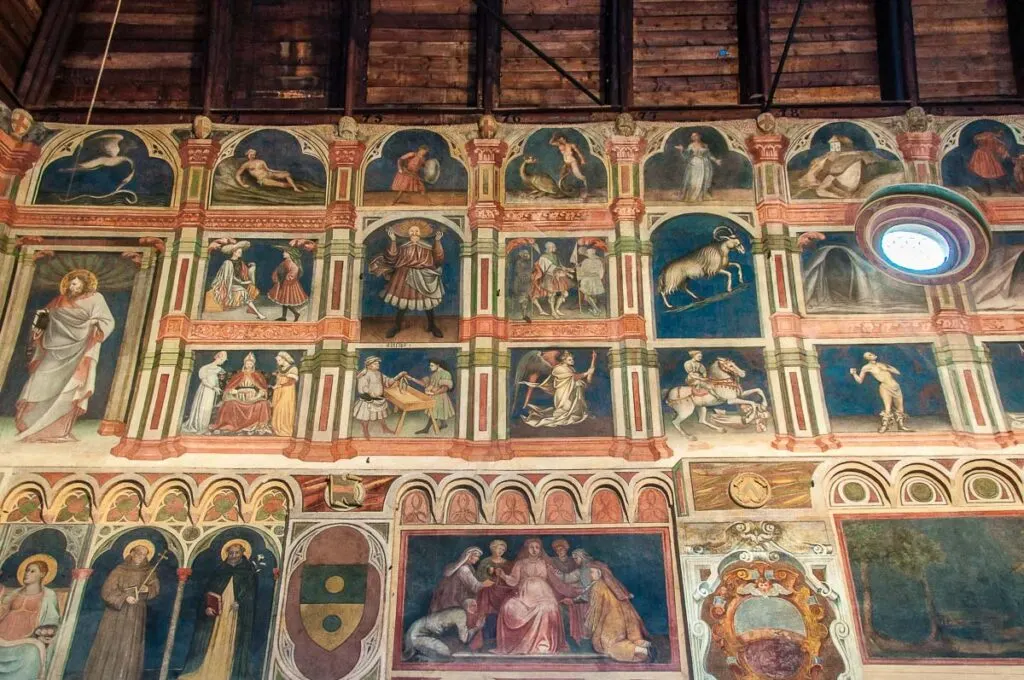 Palazzo della Ragione in Padua, Veneto – a huge cycle of frescoes depicting in detail the months of the year and the respective tasks, trades, and even character traits related to each one of them. In total, there are over 300 scenes here dating back to the 14th and 15th centuries.
Palazzo del Bene in Rovereto, Trentino – a beautiful fully-frescoed building in the heart of the little-known yet incredibly charming northern Italian city of Rovereto. Here, you can see a small cycle of the Labours of the Months presenting both rural and courtly activities.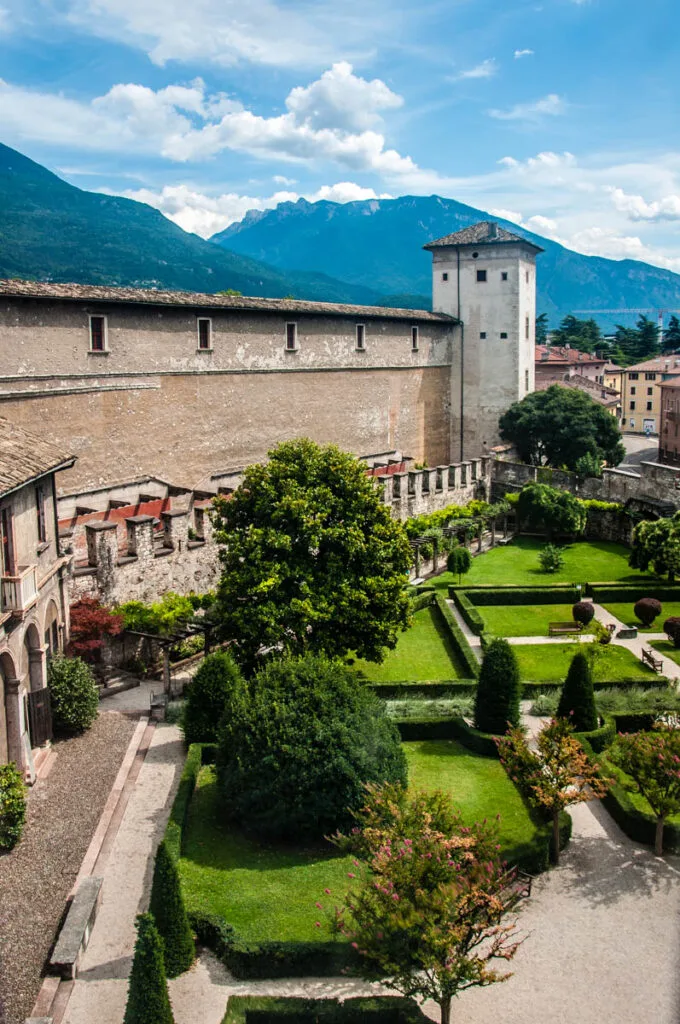 Torre Aquila in the Buonconsiglio Castle in Trento, Trentino – an outstanding cycle of frescoes from the late 14th-century. They depict in detail the change of seasons and the effect this had on the occupations and celebrations of the different layers of society at the time.
To fully understand the importance that the seasons had over life in Italy throughout the centuries, we can also look at the bedroom of Federico da Montefeltro – the 15th century Duque of Urbino. He was one of the most esteemed rulers in Renaissance Italy, a person of high intellect and refined tastes.
It's interesting to note then that his bed was placed in a small wooden alcove painted with a cycle of trees each representing one of the four seasons.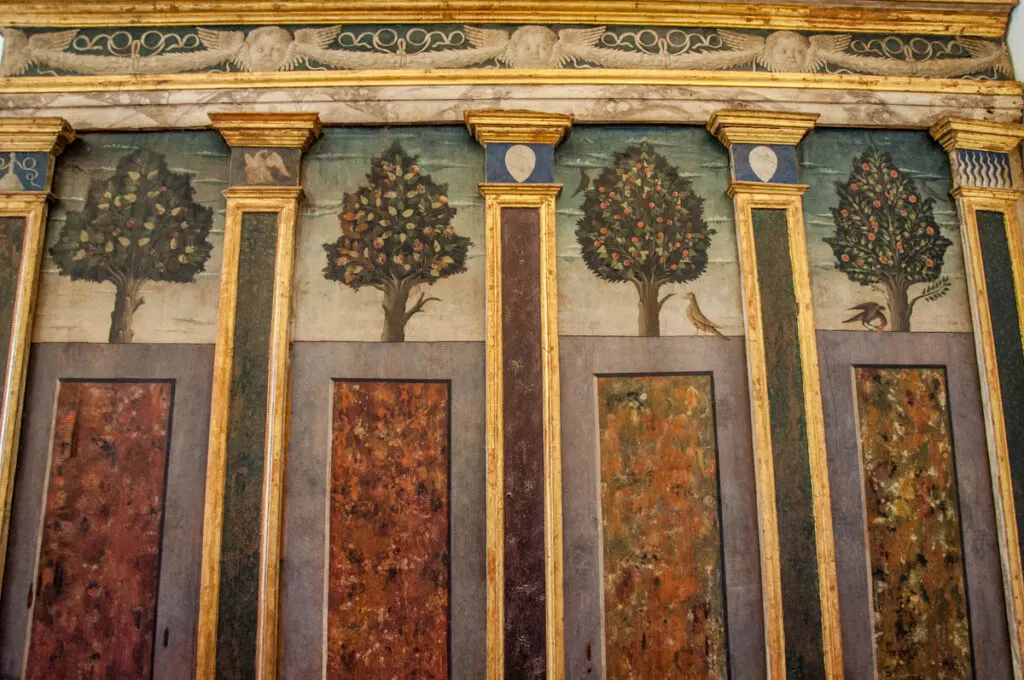 Nowadays, many of us live in societies where the natural cycle of seasons is often made quite irrelevant. The shops are stocked with strawberries, grapes, and asparagus all year round. When we want a bit of sun in winter, we get on the plane and easily travel across the world to sunbathe.
When it rains torrentially, we somehow still expect things to function smoothly and shops to be full of food no matter what. We have even managed to reduce such a glorious work of music like Vivaldi's Four Seasons to an irritating piece of muzak that drills holes in our ears when we have been left on hold for too long by large companies.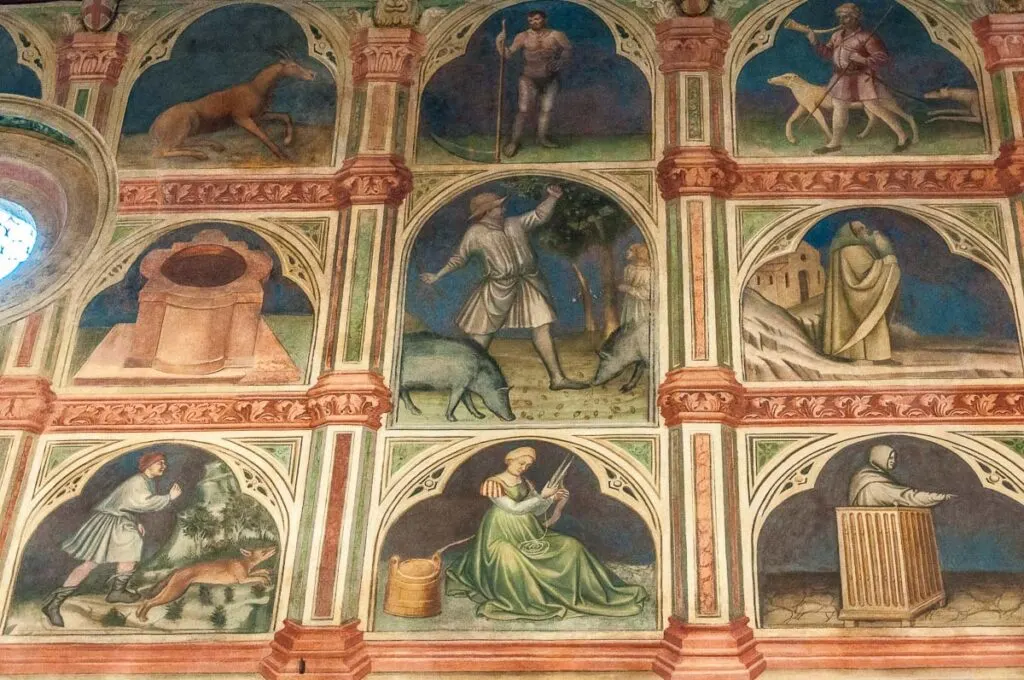 So, Italy offers a refreshing (and somewhat sobering) reminder of the importance of the seasons. Both through its artistic output and daily life. It's a country where food, traditions, and activities are still very much enjoyed in their seasonal order and not all throughout the year.
In Conclusion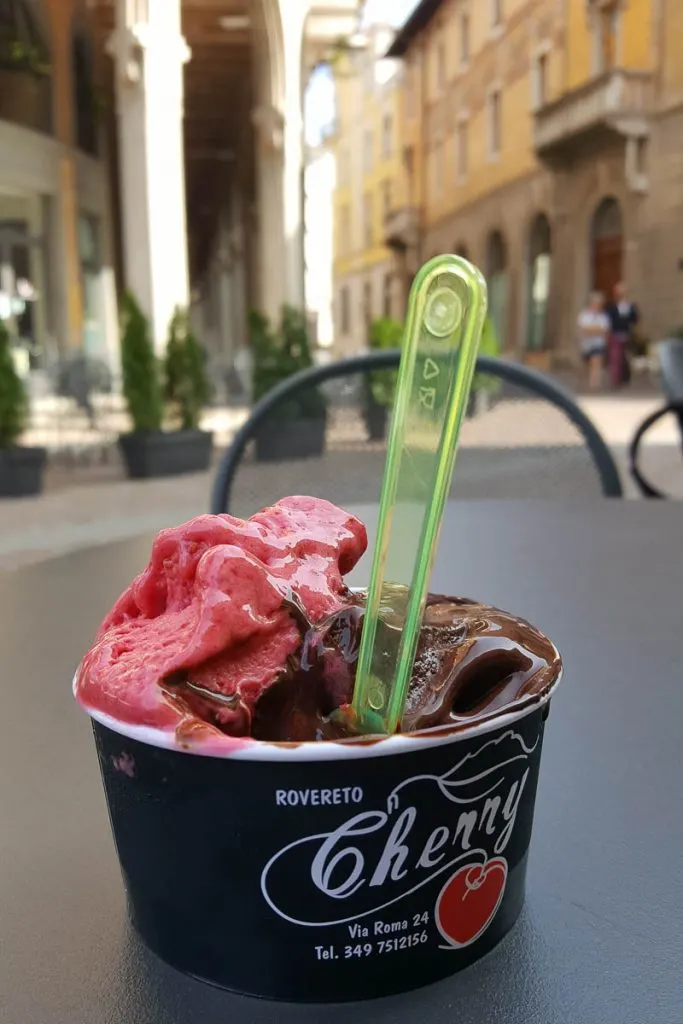 What are the best times to go to Italy is a question often asked by travellers planning to visit this beautiful country. With all that Italy has to offer, it's only natural to want to have a great Italian holiday with the best weather and the best seasonal activities.
Italy has four seasons with distinct weather and seasonal food and traditions attached to each one of them. From blooming wisterias in spring to beaches with fine golden sand in summer, from an autumn of rich harvests and grape picking to a winter of Christmas and Carnival celebrations, every season in Italy offers a long list of things to do, eat, and enjoy.
To help you make the right decision for yourself, in this blog post today, I provided you with extensive information about the best time to visit Italy and what each Italian season brings to the table.
I hope that all the first-hand tried and tested details I shared with you will come in very useful when you are planning your Italian adventure. I am sure it will be a great one no matter the time of the year.
Enjoy Italy in any season!
Now, get ready quick for your visit to Italy in any season!

More Helpful Italy Info for You
Best of Italy: Italy Gift Guide, Italian Piazzas, Italian Markets, Accommodation for Every Budget
Italian Food: Best Italian Food Gifts, Cheap Italian Food, Rules of Italian Breakfast, Italian Breakfast Foods
Italian Coffee: Italian Coffee Culture, Italian Coffee Drinks, History of Coffee in Italy
Christmas in Italy: Fun Facts, Things to Do, Italian Nativity Scenes, Panettone, Christmas Guide
Northern Italy: Best Cities to Visit, Major Airports, Reasons to Visit
Lake Garda: Best Towns, Theme Parks, Nearest Airports, Travel Options, Lake Garda with Kids, Malcesine, Riva del Garda, Torri del Benaco
Lake Como: Things to See, Nesso
Venice: Essential Tips, Major Landmarks, Hidden Gems, How to Navigate Venice, Venice in a Day for Art Lovers, Train Stations, Nearest Airports, Best Tours, Beaches of Venice, Quotes about Venice, Boats in Venice, Haunted Venice, Day Trips from Venice, Venice to Lake Garda, Venice to Padua, Arco del Paradiso
Verona: Things to Do in One Day, Verona Opera Festival, Day Trips from Verona, Romeo and Juliet Itinerary
Padua: Things to Do in One Day, 101 Facts About Padua, 10 Reasons to Visit Padua, Day Trips from Padua
Vicenza: Things to Do, Day Trips from Vicenza, Best Museums
Veneto: Top Places to Visit, Unique Adventures, Most Colourful Places, Mysterious Places, Most Beautiful Lakes, Reasons to Visit
Lombardy: Best Cities and Towns, Reasons to Visit, Brescia
Friuli Venezia Giulia: Venzone, Most Beautiful Villages
Emilia Romagna: Bologna, Ravenna, Comacchio, Most Beautiful Villages
Marche: Reasons to Visit, Gradara, Frasassi Caves, Temple of Valadier
Thank you for reading! Please, leave me a comment, pin the images or use the buttons right at the top and at the end of this blog post to share it on social media.
For more useful information like this, please, like my blog's page on Facebook and subscribe to my strictly no-spam newsletter.
Pin This Blog Post!