Padua is a great base for your exploration of the sights and beauty of Northern Italy.
On one hand, the city is in the immediate vicinity of such perennial favourites like Venice and Verona.
On the other, Padua is very well-connected by train and coach to a number of large Northern Italian cities as well as to a multitude of picturesque smaller towns.
All of them are great options for unforgettable day trips.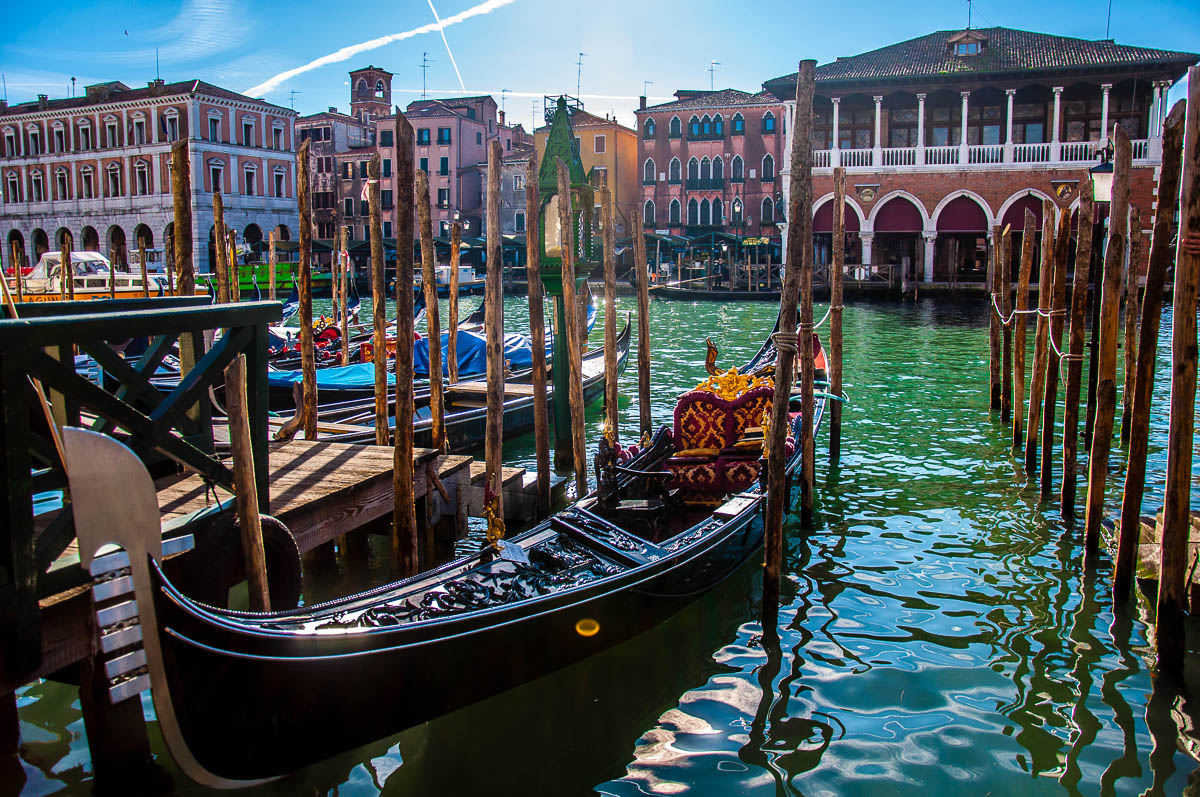 In addition, Padua is still very much undiscovered by the large tourist masses. You can easily find nice affordable accommodation in a historical setting and you don't have to pay exorbitant prices for an authentic dinner surrounded by locals.
There are many reasons to visit Padua and yet even more reasons to simply base yourself there and then tick off as many day trips in Northern Italy as you can.
It doesn't matter if you are an art aficionado, a self-confessed foodie or a hiking fiend. It's not a problem if you love small off-the-beaten-track places or adore the hustle and bustle of large cities. There are many options for exciting day trips to take within a short distance of Padua to satisfy the needs and wants of even the most capricious traveller.
Each of these day trips from Padua, Italy has been personally tried and tested by me. For ease of use, I have split the day trips suggested below into the following alphabetised categories:
Cities and Towns;
Lake Garda with Lakeside Towns and World-Class Amusement Parks;
Sights of Natural Beauty;
Spa Towns;
Medieval Towns and Villages; and
Venetian Villas.
For each of the larger destinations I have included:
a shortlist with the most important sights that can be seen in a day;
travel times by train/coach;
photos to give you an idea what to expect;
(where available) links to detailed overviews and exciting videos to help you organise your day trip. The videos are hosted on my blog's Facebook page. If you haven't liked it yet, I would really appreciate it if you could!
For each of the categories with smaller destinations I have provided:
a concise overview;
travel times by train/coach/car and/or distance in km from Padua;
photos to give you an idea what to expect;
(where available) links to detailed overviews and exciting videos to help you organise your day trip. The videos are hosted on my blog's Facebook page. Once again, if you haven't liked it yet, I would really, really appreciate it if you could!
The maximum travel time is 2 hours one way, as no-one wants to spend a large chunk of the day just getting there when there is so much to see and do within very close proximity to Padua.
Italy is an exciting country with a rich heritage. The more you see the more you want to see and to experience it all. So, take your pick according to your interests – art, nature, architecture, history, shopping, even spa and wellness!
With a few exceptions, most day trips from Padua given here are by train. Train travel in Italy is usually well organised and it doesn't cost the earth, so there is nothing to stop you from exploring. I have provided the average train times for each destination and the types of trains that serve it. If you see something like this:
From 59 mins (Frecciargento and Frecciarossa) – it means that the particular destination is served both by Frecciargento trains and Frecciarrossa trains and they all take from 59 mins to reach it.
From 1 h 46 mins (Regionale Veloce plus Regionale) – it means that you will need to change trains halfway through the journey. The first half will be on a Regionale Veloce train and the second on a Regionale train.
Don't worry! It's not difficult at all. Especially, as at the end of this article, I have included lots of tips to help you navigate the Italian train systems like a local and know your Frecciarossa train from your Regionale Veloce train like a pro.
Let's start!
Day Trips from Padua, Italy – Over 35 Unmissable Destinations in the Veneto, Lombardy, and Emilia-Romagna
I. Cities and Towns
Italy is blessed with some of the most beautiful and interesting in terms of art, history, and traditions cities and towns in the world.
Finding yourself in Padua with time to spare you will feel like a child in a huge playground – super excited and a bit lost where to start your day tripping from.
My suggestion is to explore the nearby main cities first. Especially, if you are in Padua for a short amount of time.
Your top options are Venice, Verona, Vicenza, Brescia and Milan. They are all very close to Padua and very easily reached. A day will be just enough to see their main sights and to whet your appetite for many future returns. Once you have ticked these five destinations off your list, continue with the rest.
1. Bassano del Grappa
Bassano del Grappa is a picturesque city on the shores of the crystal clear river Brenta. The Venetian Prealps serve as its dramatic backdrop. Founded many centuries ago in pre-Roman (and some say even in pre-Venetic) times, today Bassano stands out with its medieval and Venetian architecture. There is a castle (used for opera performances each summer), fortified city walls, lovely cobbled piazzas and many old buildings with faded frescoes on the walls. Winged lions (the symbol of the Republic of Venice) can be spotted all over the city's historical centre.
Bassano is famous as a centre of production of grappa– a potent alcoholic drink made of grapes. The local ceramics industry is also very well developed. You will see lovely artisan shops dotted around the city selling imaginative hand-painted cups, bowls, plates and terrines in any possible shape and size. A large market is held weekly and seasonal events attract enthusiastic crowds. Here are some of Bassano del Grappa's major sights for you to explore and enjoy:
Ponte degli Alpini – a wooden covered bridge straddling the river Brenta. A bridge has stood in the same place since the Middle Ages. It was destroyed several times. In 1569, Andrea Palladio – one of the most-renowned architects for the past 500 years in the Western world – erected the bridge again giving it its current magnificent shape. The bridge's tumultuous history didn't stop there though. It was again and again destroyed in wars and force major events. The last time this happened was in 1945. Every time the bridge was rebuilt following Palladio's original designs;
Duomo – Bassano's Cathedral was originally built in the year 1000 and its imposing body is still a wonder to behold;
Palazzo del Municipio – with its gorgeous frescoed loggia this palace is a noteworthy sight in Bassano del Grappa as it was built in 1404;
Palazzo Michieli-Bonato – with a facade frescoed by one of Bassano's most lauded painters – Jacopo del Ponte (also known as Jacopo da Bassano);
Civic Museum – housed in the convent of St. Francis, the Civic Museum has an archaeological collection, a medieval section, a number of works by the likes of Canova and father and son Tiepolo, as well as a whole room dedicated to Jacopo del Ponte. The adjacent cloister holds a lapidarium and it's also used for contemporary art installations.
Church of St. Francis – an impressive 12th-century church next door to the Civic Museum. It has a 14th-century crucifix among several other works of art;
Palazzo Bonaguro – where the Natural History section of the Civic Museum is housed;
Palazzo Sturm – a lovely historical building which also houses the Ceramics Museum;
Poli Grappa Museum – where you can learn all about the potent Italian drink grappa and see how it is made.
Bassano del Grappa is the perfect day trip from Padua. On one hand, it is small enough so that you can walk everywhere and cover all of its sights in a day. On the other, it offers a great variety of things to see and enjoy so that you can easily fill up a day with a spot of sightseeing, some nice shopping and relaxed people-watching over a lovely lunch.
Travel Times: From 58 mins (Regionale plus Regionale).
Tips: Bassano del Grappa really comes into its own during city-wide events with parades and entertainment. Then you can certainly feel that local Italian spirit that is pretty much lost in the country's larger tourist traps. Click here to learn how you can find the best Italian festivals, events and happenings and make sure that you head to Bassano del Grappa on one such day.
Click here for further information:
2. Bologna
Bologna is the capital of the Italian region of Emilia-Romagna and the seventh most populous city in Italy. Bologna is famous the world over for its food traditions. Millions of people flock to the city each year to experience its fabulous fresh pasta, more-ish mortadella, genuine gelato in dozens of flavours and universally famous meat sauce which Italians call ragu (and everybody else calls bolognese). Apart from eating lots of great food, in a fast-paced day, you can see several of Bologna's main sights. Here are the most spectacular ones:
Archiginnasio – the first permanent seat of the University of Bologna which is the oldest University in the world still in continuous operation today;
Asinelli and Garisenda Towers – witnesses of Bologna's medieval past when close to 200 towers graced the city's skyline;
Basilica of Santo Stefano (also known as Sette Chiese or Seven Churches in English) – built over what was originally a temple of the goddess Isis and then grew into a complex of seven interconnected chapels and churches;
Neptune's Fountain;
Quadrilatero – the city's medieval market which is still going strong today;
Basilica di San Petronio – Bologna's main church which is also the tenth-largest church in the world as well as the largest church built of bricks in the world;
Piazza Maggiore – lined up by splendid palaces like Palazzo d'Accursio. This is also where the Basilica di San Petronio stands;
Endless porticoes keeping you from rain and shine;
FICO Eataly World – the largest agri-food park in the world.
Bologna will give you a chance to delve deeper into Italy's history and art. Plus, there is simply no chance to have bad food in the city which is known as La Gorda (the Fat One) Italy-wide.
Travel Times: From 59 mins (Frecciargento. Frecciarossa and Italo Treno), from 1 h 27 mins (Intercity) and from 1 h 35 mins (Regionale Veloce).
Tips: If you love Italian gelato, make sure that you visit the Carpigiani Gelato Museum in Bologna – the only museum dedicated to the history of artisan gelato where you can take gelato classes, go on a guided tour or take part in special tasting events.
Click here for further information:
3. Brescia
Brescia is a hidden gem in the Italian province of Lombardy. While most tourists head over to the Lombardian capital Milan (see point 6 below), make sure that you get off the train at Brescia to experience its unexpected beauty. The city's history spans 3200 years and offers a rich tapestry of sights and museums for you to explore. Among these are:
Monumental area of the Roman Forum – where you can see the best preserved Roman public buildings in Northern Italy;
Huge castle (known as the Falcon of Italy) with battlements, a tower, drawbridge, rampart and an Arms Museum in the keep. Its position on the steep Cidneo hill also offers unparalleled views over Brescia;
Many spacious squares lined up with stunning buildings. Don't miss the Art Deco Piazza della Vittoria (with the Torrione – the first skyscraper built in Italy) and the Renaissance Piazza della Loggia (with the inspiring Palazzo della Loggia and the beautiful astronomical clock).
Duomo Vecchio and Duomo Nuovo (The Old and the New Cathedrals);
Monastic Complex of San Salvatore/Santa Giulia (Santa Giulia City Museum) – with 11 000 works of art and archaeological finds;
Teatro Grande – a lavish opera house.
There are so many things to see and experience in Brescia, you can have a very full and exciting day there. Make sure that you plan well so as to cover as much ground as you can.
Travel Times: From 1 h 19 mins (Frecciarossa and Italo Treno) and from 1 h 46 mins (Regionale Veloce plus Regionale).
Tips: Try the local cheese Bagoss. It is produced in small quantities in the nearby village of Bagolino and it has a lovely dense and salty flavour with hints of walnuts and chestnuts.
Click here for further information:
4. Chioggia / Sottomarina
Chioggia is like an unspoiled Venice with a slow and gentle pace of life. Plus, this small town in the Venetian lagoon just off the Italian Adriatic coast is older than Venice and just like it, it's crisscrossed by canals. Chioggia is full of character, easy to navigate, with tons of fresh seafood, huge beaches within a very close reach and, above all, there are no maddening crowds. You can take it easy and observe the locals at what they have been doing for centuries: fishing and lacemaking. Seafood is abundant so leave lots of belly-space for a freshly caught and cooked seafood lunch. When in Chioggia, don't miss the following sights and experiences:
A fun boat trip around Chioggia on the southern tip of the Venetian Lagoon;
Wholesale and retail fish markets – after all, Chioggia is one of the biggest and oldest fishing ports in Italy;
Local restaurants serving the freshest seafood;
The oldest clock in the world in the Clock Tower Museum;
Sottomarina – a lively suburb of Chioggia with a 10 km long and up to 300 m wide sandy beach. The sand is rich in augite, quartz, silicates, and micaceous elements making the beach ideal for sand bathing treatment.
Chioggia will give you a good idea of what Venice would have been like today had it not become a maritime and commercial powerhouse centuries ago.
Travel Times: From 1 h 6 mins by coach E005-V/E005-Z to Chioggia and from 1 h 15 mins by coach E005-V/E005-Z to Sottomarina. The coach line is operated by BusItalia Veneto. The coaches leave from Autostazione BusItalia (Viale della Pace 1, 35131, Padua) which is two minutes away from Padua's train station.
Tips: In the third week of June every year, Chioggia stages the Palio della Marciliana – a historic reenactment inspired by its 14th-century history. Hundreds of people, dressed in historical costumes, take over the town. There are noble ladies, knights, musicians and craftsmen, there are ancient games, balls, and parades. Chioggia re-lives its past when it was rivalling the splendour of Venice.
Click here for further information:
5. Ferrara
Ferrara is a beautiful city which has so much to offer to the discerning traveller eager to learn more about Italy's medieval and Renaissance history and art. Ruled by the House of Este in the 14th and the 15th centuries, Ferrara boasts several splendid palaces, a cathedral with a fabulous facade, and 9 km of defensive walls which are (alongside those of Lucca in Tuscany) the best preserved Renaissance walls in Italy. Ferrara's historical centre is a UNESCO World Heritage site. Some of the main sights there are:
Castello Estense – an iconic medieval brick building surrounded by a large moat;
Cathedral of San Giorgio – its construction started at the beginning of the 12th century. The cathedral's impressive facade is a reflection of the different historical periods that Ferrara lived through;
Palazzo dei Diamanti – a Renaissance palace and a venue for art exhibitions;
The University of Ferrara with its Botanical Garden – Copernicus being one of its most notable students;
Natural History Museum – housed in a beautiful building;
Teatro Comunale – a stunning theatre and opera house with a rich programme of events. In addition, the Teatro Comunale's internal courtyard (called Rotonda Foschini in honour of the engineer Antonio Foschini) will make you marvel at its perfectly elliptical shape.
Ferrara is also an incredibly easy city to explore with children in tow. Head over there to give your little ones a chance to run and have fun in the many playgrounds installed all over town.
Travel Times: From 29 mins (Italo Treno), from 30 mins (Frecciargento), from 59 mins (Intercity) and from 1 h 1 min (Regionale Veloce).
Tips: Enjoy a day trip from Padua to Ferrara in September. This is when Italy's most important ballooning event takes place in the Bassani Urban Park just outside of Ferrara's Renaissance defensive walls. It is a big event with thousands of people flocking to see it, with pop-up restaurants and lots of entertainment options for little ones and grown-ups.
Click here for further information:
6. Milan
Second in Italy in terms of its population, the city of Milan is a hustling and bustling metropolis where you can certainly feel the modern heart of the country beating a frenetic drum. In comparison with other smaller Italian cities and towns, Milan may look a bit grey, rough around the edges and uninspiring at a first glance. You just need to look deeper beneath the surface to easily discover impressive sights. Some of these are:
Milan Cathedral (better known as Duomo di Milano) – the largest Gothic cathedral in the world. With its lacy facade it is a sight to behold;
Sforza Castle – a medieval fortress which was enlarged by the ruling Sforza family in the 15th century;
Leonardo da Vinci's Last Supper – it is advisable to book your ticket in advance;
La Scalla Theatre – if you can't catch a performance, make sure that you visit the on-site museum telling the stories of Italian opera, composers, singers and dancers;
Galleria Vittorio Emanuele II – the world's oldest still active shopping mall;
Pinacoteca di Brera – a stunning art gallery offering a rich programme of talks and events;
Navigli District – a system of canals and waterways built between the 12th and the 19th centuries. The Navigli canals connect Milan with some of the most important lakes and rivers in Northern Italy as well as with Switzerland, Northeastern and Western Europe.
A day is hardly enough to see all that Milan has to offer. Yet, provided you plan well and are clear as to which sights you want to squeeze in your available time, you will be able to gain a good idea of the character of this dynamic albeit a bit dusty Italian city.
Travel Times: From 1 h 57 mins (Frecciarossa) and from 1 h 58 mins (Italo Treno). Train station: Milano Centrale
Tips: To admire Milan's skyline from above make sure that you climb to the rooftop of the Milan Cathedral (Duomo) and/or the rooftop of the Galleria Vittorio Emanuele II. There are lifts at both places! There is an entrance fee, too but the views and the experience are more than worth it.
Click here for further information:
7. Rovigo
Rovigo is one of the larger cities and a provincial capital in the Northern Italian region of the Veneto. It's usually overlooked in favour of Venice and Verona. Yet, if you have ticked off all the other day trip destinations from Padua on this list, make sure that you dedicate a day to the sights and stories that Rovigo has in store for you. You may be pleasantly surprised by what you will discover. Here is a nice and compact list to give you some ideas:
Torre Dona' – a 66 meters high brick tower which is a remnant of Rovigo's medieval castle. It's thought that the tower was the tallest brick structure in Italy at the time of its construction. To this day, it remains one of the country's tallest medieval towers;
Medieval fortifications – many remnants of medieval fortified walls, huge gates and watchtowers remain in Rovigo. The most important are: the ruins of Rovigo's medieval castle which was originally built in the 10th century, Porta San Bortolo, Torre Grimani, and Torre Pighin;
Rovigo Cathedral – originally erected before the 11th century and then re-built in the 15th and the 17th centuries;
La Rotonda Church (also known as the Church of the Madonna del Soccorso) – the church is designed by a pupil of Palladio to house a miraculous image of the Madonna with Child carrying a rose. The church's interior is covered with 17th-century frescos;
Several Renaissance palaces – for example, Palazzo Roverella (housing an art gallery – see the entry on Pinacoteca dei Concordi below, an archaeological collection and temporary exhibitions) and Palazzo Roncale.
Pinacoteca dei Concordi – an art gallery where you can admire originals by the likes of Tiepolo, Giovanni Bellini, and Palma the Elder.
Rovigo has a nice historical centre which goes quiet during the afternoon hours of traditional riposo. The main Piazza Vittorio Emanuele II is surrounded by lovely buildings which are beautiful to photograph.
Travel Times: From 17 mins (Italo Treno), from 18 mins (Frecciarossa), from 22 mins (Frecciabianca) and from 34 mins (Regionale Veloce)
Tips: Rovigo is the entry point for trips to the Delta of the river Po. Po is the longest river in Italy and its delta is a fab place for active and beach tourism. You can canoe, cycle, bird-watch, go on a boat or simply relax on the beach. The area is also of interest to enthusiasts of historical and industrial archaeology.
8. Treviso
People usually fly into Treviso and then head straight to either Venice or Verona, completely bypassing this rather very pretty Northern Italian city. Don't make the same mistake. With its breathtaking frescoed buildings, mighty defensive walls and narrow curving streets, Treviso guarantees a day of exciting exploration. Some of the main sights there are:
Church of St. Francis (Chiesa di San Francesco) – a prime example of the late Romanesque/early Gothic style, this church has important frescos from the 13th century. Inside it are also the tombs of Petrarch's daughter Francesca and Dante's son Pietro. The church was used as a stable and storeroom by Napoleon's army and then by the Austrian troops. Some of its artistic legacy in the shape of paintings by the likes of Carpaccio and Alvise Vivarini was removed. The church underwent a large-scale renovation at the start of the 20th century;
Piazza dei Signori – Treviso's main square. Around it, you can admire the Palazzo del Podesta with the 13th-century Civic Tower, the gothic Palazzo dei Trecento (which was bombed in 1944 by the Allied Forces) and Palazzo Pretorio with a 17th-century facade;
Church of San Nicolo – for its many frescoes and also the earliest depiction of spectacles (eyeglasses) in Europe;
Loggia dei Cavalieri – a very elegant structure with faded frescoes in the heart of the old town. It was built in the 13th century to serve the local nobility as a place for meetings, conversations and games.
Duomo San Pietro – Treviso's seven-domed cathedral where you can admire a Titian and visit a very atmospheric crypt among other things.
Civic Museum Santa Caterina and Civic Museum Luigi Bailo – for some fine art and fabulous temporary exhibitions.
La Pescheria – a small river island where the town's fresh fish market is held.
If you spend a day in Treviso on a trip from Padua, make sure that you put some time aside to experience Treviso's laid-back atmosphere in one of the many coffee houses dotted around the city. Engage in some people-watching while sipping an excellent cup of coffee and find out for yourself the true meaning of the Italian concept dolce far niente (it's sweet to do nothing).
Travel Times: From 43 mins (Regionale Veloce plus Regionale Veloce), from 59 mins (Regionale plus Regionale) and from 1 h 6 mins (Regionale).
Tips: Treviso is the birthplace of a dessert, a vegetable and a drink all three of which make life so much more delicious:
The first one is tiramisu – that glorious dessert made with coffee- and marsala-dipped ladyfingers which are then layered with mascarpone beaten with raw eggs.
The second one is the radicchio rosso – also called Italian chicory in English. Its bitter taste is a great complement to any fresh salad, plus it is very tasty grilled and added to pasta dishes, too.
The third one is prosecco which nowadays is incredibly popular in the UK.
9. Venice
It would be a shame to spend just a day in Venice, but when the time is tight, don't hesitate to dedicate a day to this beautiful unique city where there is so much to see and do. Venice is a very popular destination and its central parts can be overcrowded with eager tourists. Especially during the high tourist season which is anywhere from Carnival in February to mid-autumn.
Make sure that you have a good idea as to what you want to see in Venice so as to utilise your available time as best as possible. Also, bear in mind that you will spend the whole day on foot, so wear your most comfortable shoes.
Here are some suggestions for places to explore and things to do for a pleasant day in Venice avoiding the crowds as much as possible.
Take the vaporetto line 1 down the Grand Canal all the way to St. Mark's Square. Yes, it is pricey, but it is a fabulous introduction to the beauty of Venice. Along the way you will see such stunning buildings and structures as Ca Pesaro, Ca d'Oro, Rialto Bridge, Ca Rezzonico, Accademia Bridge, Gallerie dell'Accademia, Basilica Santa Maria della Salute and the St. Mark's Basin with St. Mark's Square and the Doge's Palace on one side and the islet of San Giorgio Maggiore on the other;
Visit the Doge's Palace – it will give you an excellent idea of the Republic of Venice as a political and commercial titan during its heyday. You will also gain an understanding of the Republic's unique governmental structure and will see some stunning art;
Visit St. Mark's Basilica and go up its Campanile;
Tuck into a generous selection of cicchetti – Venice's own traditional savoury snacks washed down with a glass of wine (called ombra by Venetians);
Explore the fresh produce and fish markets at Rialto. Click here to learn more about the 10-centuries old Rialto Fish Market;
Take a traghetto across the Grand Canal;
Explore a less crowded museum or sight like Fondazione Querini Stampalia, the Ships Pavillion, La Fenice Opera Theatre or Ca Pesaro;
Book a private tour of Venice tailor-made to your exact specifications and expectations. I recommend Luisella Romeo from See Venice and Erika Cornali from When in Venice;
If you are lucky to be there at the right time, enjoy a historical event, like Carnevale, Venice Historical Regatta, Regatta of the Ancient Maritime Republics or even the annual Befana race;
Walk everywhere and visit every church you will come across.
Venice is such a delight. Approached with a little bit of planning, a day trip to the city of water can be a travel highlight to remember and cherish for years to come.
Travel Times: From 25 mins (Italo Treno), from 26 mins (Frecciarossa) and from 27 mins (Regionale Veloce). Train station: Venezia Santa Lucia.
Tips: The train station you need to get off at is Venezia Santa Lucia. It is the last stop on the train track. Don't get off at Venezia Mestre as this is the train station of mainland Venice.
Click here for further information:
10. Verona
Fair Verona doesn't need an introduction. This is, after all, the Italian city which is forever linked in our hearts with the story of Romeo and Juliet. Verona is worth a day trip from Padua not just because of its Shakespearean links though. The city has a rich Roman and medieval past, a worldwide known opera festival and enough sights and places of interest to keep you occupied and excited for several days. Take your pick:
Piazza Bra – one of the largest squares in Italy where you will find Arena di Verona – once used to host gladiator fights and nowadays one of the finest concert venues in the world. This is where the famous Verona Opera Festival is held every summer. It is important to note that Arena di Verona pre-dates Rome's Coliseum by around a century;
Piazza delle Erbe – lined up with beautifully frescoed buildings and the gorgeous Palazzo Maffei. In the centre of this lovely historical square you will see the Madonna Verona fountain which is recognised as the symbol of the city of Verona;
Piazza dei Signori – again, lined up with even more beautifully frescoed buildings and with the statue of Dante at its heart. This square is where the annual Christmas market and several other important for the city events are held;
Torre dei Lamberti – built in 1172, this is the tallest tower in Verona. It offers you inspiring views over the red rooftops of the city;
Roman Theatre and Archaeological Museum – this splendid Roman theatre was built in the first century BC and it is very well preserved to these days. Something more, it is still used for stage performances today. Visit the adjacent Archaeological Museum if you want to learn more about Verona's Roman past;
Juliet's House outfitted with the famous balcony (which, in fact, is a sawed in half sarcophagus) – if you go there don't just limit yourself to a quick visit of the courtyard. Instead, make sure that you tour the actual house, as it gives you a fascinating look into life in the 13th century;
Castelvecchio – explore this medieval castle which nowadays houses a splendid art collection;
Giardino Giusti – a Renaissance garden first planted in the 15th century. From its top level you can enjoy stunning views of Verona;
Scaliger Tombs – a group of Gothic funerary monuments in honour of Verona's medieval rulers – the fearsome Della Scala Family.
Juliet's Club – where the Secretaries of Juliet reply to letters sent from all over the world asking the Shakespearean heroine for advice in the matters of the heart.
There are so many museums, churches and places of interest in Verona, that you will be spoiled for choice. The good thing is that the city centre is easily navigable by foot, so you can walk everywhere and see as much as possible within a day. Just wear some very comfortable shoes.
Travel Times: From 40 mins (Italo Treno), from 42 mins (Frecciarossa) and from 59 mins (Regionale Veloce). Train staion: Verona Porta Nuova.
Tips: Try the locally made sweets Baci di Romeo and Baci di Giulietta (literally Romeo's Kisses and Juliet's Kisses). They are delicious. Romeo's version is made of almond paste and buttercream and Juliet's is made of hazelnut paste and chocolate cream. They sell them in a few places around town. My favourite place to buy them from is a historical pasticceria called De Rossi. Here I hasten to add that I am in no way related to them and also, this is not an ad, just a personal recommendation as I love these sweets so much.
Click here for further information:
11. Vicenza
Known as the Pearl of Renaissance, the Heart of Veneto, the City of Palladio and the Gold Town, Vicenza lies half-way between Venice and Verona in the Northern Italian region of the Veneto. The city is a creative hub of art, jewellery traditions and one-of-a-kind events. Plus it is a veritable open-air museum of architecture. Its streets are lined with sumptuous palaces and buildings which have inspired architectural cannons all over Europe and North America for the past 500 years.
This is also the city I have been calling home for the past four years. So, obviously, I have a lot of recommendations as to what to see and do here. Don't miss the main sights:
Basilica Palladiana – a stunning work of architectural art and the jewel in the crown of Andrea Palladio – the most influential architect of the Western world for the past 500 years who used Vicenza as his own personal architectural playground. Important temporary art exhibitions are regularly held in the Basilica Palladiana. Its top level terrace is open for visits from spring until autumn each year allowing you to enjoy an unparallel view of the city of Vicenza;
Piazza dei Signori – Vicenza's central square lined up with Palladio's buildings and seeped in history;
Church of St. Mary of Mount Berico – overlooking the city and one of Italy's most important and visited sanctuaries;
Teatro Olimpico – the first indoor theatre in masonry in the world. It was designed by Andrea Palladio. Inside you can also see the world's oldest surviving stage set still in use today;
Many lavish jewellery shops as Vicenza is one of Italy's most important centres of jewellery making;
Jewellery Museum – the first in Italy. The jewels exhibited in the museum change every two years. In addition, temporary thematic exhibitions are held there regularly;
Church of Santa Corona – the church was built in 1261 to house a Holy Thorn from Christ's Crown. For security reasons, nowadays the Holy Thorn Reliquary is shown to the public only on Easter. The rest of the time it is kept in the nearby Diocesan Museum. The church itself is very beautiful and has a rich collection of priceless works of art. Among them are paintings by Giovanni Bellini and Paolo Veronese;
Villa Capra 'La Rotonda' and Villa Valmarana ai Nani – within a short walk from Vicenza's train station, you can see two of the most famous and most beautiful Venetian villas. La Rotonda is one of the most copied buildings in the world and it has inspired the design of the White House.
Gallerie d'Italia at Palazzo Leoni Montanari – a remarkable art museum.
Palladio Museum – learn all there is to know about Andrea Palladio and the genius of his architecture. Admire models of Palladio's buildings. See temporary art exhibitions.
Civic Art Gallery of Palazzo Chiericati – stunning collections of paintings, sculptures and applied arts from the 13th to the 20th centuries. It's all housed in a beautiful Palladian palace.
For all that it has to offer, Vicenza keeps itself away from the trodden tourist track. This makes it all the lovelier to explore and peaceful to enjoy. If you are an architecture aficionado or are looking for that rare gem of a city which has it all but it lacks crowds and cheapened attractions, come to Vicenza for a day trip from Padua to remember for years to come.
Travel Times: From 14 mins (Frecciarossa), from 15 mins (Italo Treno), from 17 mins (Regionale Veloce) and from 24 mins (Regionale).
Tips: You may wonder why there is a mulberry tree in the courtyard of the Palladio Museum in Vicenza, Italy. The surprising answer is that the humble mulberry tree facilitated the growth of Vicenza to the point of the city becoming a centre of European architecture and art. Mulberry leaves mean food for silkworms and silkworms mean silk. The production of silk fabrics in Vicenza in the 16th and the 17th centuries was such that the city, in spite of its compact size, quickly amassed unimaginable riches which the local textile merchants promptly invested in the construction of sumptuous palaces and splendid collections of art.
Click here for further information:
II. Lake Garda with Gorgeous Lakeside Towns and World-Class Amusement Parks
Lago di Garda is Italy's largest lake. Its shores are dotted with picturesque towns and villages and its landscapes leave you breathless. You can get there very swiftly from Padua to experience la dolce vita in its true sense.
Medieval castles, Roman ruins, frescoed houses, lake views, nature hikes, spa procedures, boat trips, sublime gelato. You can savour it all in one perfect day trip from Padua.
There are several lakeside towns which you can reach with ease for a fantastic day trip from Padua. For example Desenzano del Garda, Sirmione, Peschiera del Garda, and Lazise. You can spend a lazy day in just one town or, even better, zip between several of them from dawn to dusk. Don't miss:
Lake Garda and the towns on its shores offer so many options and so much beauty to experience in a day that even the traveller who really knows their mind will find it difficult to choose. As such, make a plan before you go so that you can see as much as possible and yet feel refreshed and full of happy memories at the end of your day trip from Padua.
Travel Times: From 56 mins (Italo Treno), from 58 mins (Frecciarossa) and from 1 h 18 mins (Regionale Veloce plus Regionale) to Peschiera del Garda (you can take bus 164 from Peschiera del Garda to Lazise, travel time between the two towns is 14 mins). From 1 h 1 min (Italo Treno), from 1 h 3 mins (Frecciarossa) and from 1 h 28 mins (Regionale Veloce plus Regionale) to Desenzano del Garda/Sirmione. Shuttle buses are available at Peschiera del Garda train station to ferry you to the amusement parks.
Tips: Lake Garda is gorgeous to visit any time of the year. July and August tend to be crowded, but any other month (including the Christmas period) the lakeside towns are lovely to explore. Beware that most historical sights may be closed on Mondays.
Click here for further information:
III. Sights of Natural Beauty
If you like hiking and spending time in nature, you are in luck. Within a short distance away from Padua, there are many and varied sights of natural beauty. Sea, lakes, a lagoon, volcanic hills, marshlands, river estuaries and deltas. You will feel spoilt for choice.
Below are just a handful of the many natural sights you can visit on a day trip from Padua. Trains and coaches will help you get to the most popular ones. Otherwise, having a car at your disposal helps.
1. Delta del Po
Po is the longest Italian river. It flows into the Adriatic Sea. Its delta is a regional park – a spot of extraordinary natural beauty which is home to more than 400 species of birds including flocks of wild pink flamingoes. There are many places to see in the Delta del Po. From wild beaches to islands with private resorts and golf courses, there is much to experience there. If you like hiking, I would suggest that you head by car to the Giardino Botanico Litoraneo di Porto Caleri (about 67 km away from Padua) for a nice walk surrounded by lush vegetation on the edge of the sea.
2. Euganean Hills
Beloved by poets and writers, the Euganean are a group of volcanic hills which were formed underwater 35 million years ago. Nowadays they are clothed with cherry orchards, olive groves, and vines, and have inspired such illustrious poets and writers as Petrarch and Percy Shelley.
The Euganean Hills are dotted with cute historical towns and crisscrossed by hiking trails. There is an abundance of interesting sights, ancient monasteries and quirky museums. You will need a car to reach most points of the Euganean Hills. However, there are regular trains linking Padua with the towns there (please, see the entries for Abano Terme, Arqua Petrarca, Este, Monselice and Montegrotto Terme below).
Click here for further information:
3. Grotte di Caglieron
If you love hiking, waterfalls, caves and cheese and you have a car at your disposal, make sure that you head on a day trip from Padua to Grotte di Caglieron. This is an area of beautiful nature where wooden walkways take you through a series of caves and where countless waterfalls stream down the rocky sides of a gorgeous gorge. Curiously enough, one of the caves is used by a local dairy company to mature cheese and you can buy yourself a slab of cheese or two. Grotte di Caglieron is about 110 km away from Padua.
Click here for further information:
4. Lake Fimon
Lake Fimon is the oldest lake in Northern Italy. At 35 000 years of age, it precedes the formation of Lago di Garda (Italy's largest lake). Best reached by car and about 50 km away from Padua, Lake Fimon is a great place to spend a relaxing day in summer or even just a couple of hours in any season.
Click here for further information:
5. Prosecco Country
If you like drinking prosecco and you find yourself in Padua, you may want to visit the area where the magic happens. In other words, the place where the grapes used in every bottle of prosecco ripe under the hot Italian sun and where every litre of proper original prosecco is actually produced.
Prosecco Country is a beautiful area of vine-draped hillsides between the towns of Conegliano and Valdobbiadene. You can reach both towns by train from Padua. It takes from 1 h 2 mins (Regionale Veloce plus Regionale Veloce) to travel to Conegliano and about 1 h 13 mins (Regionale plus Regionale) to arrive in Valdobbiadene.
If you want to explore the small wineries and the hillside vineyards, it's best to do it by car. The area offers some stunning hiking.
IV. Spa Towns
The only issue with all this amazing day tripping from Padua is that it is bound to leave you very, very tired. Still, you are in luck! As within a very short distance from Padua, there are several fabulous thermal bath towns where you can spend a whole day getting your strength back.
Thermal waters and spa therapy have been used in Italy for thousands of years. The areas adjacent to Padua are especially rich in thermal traditions (after all, remember when I told you above that the volcanic Euganean Hills are a stone's throw away from the city?).
1. Abano Terme
Abano Terme is a town completely dedicated to the culture of spa. Hundreds of hotels and spa facilities offer all sorts of treatments and access to thermal swimming pools. You will be spoilt for choice. You can reach Abano Terme in about 10 mins by train (Regionale Veloce) and 26 mins by coach.
2. Montegrotto Terme
Right next door to Abano Terme (they even share a train station), Montegrotto Terme is another town in the Veneto completely dedicated to the curative properties of the local thermal springs. Again, dozens of hotels and modern spa facilities will tempt you to spend a whole day simply relaxing and rejuvenating yourself. You can reach Montegrotto Terme in about 10 mins by train (Regionale Veloce) and 23 mins by coach.
In this thermal bath town, you can also visit the very nice Butterfly House and Fairy Forest. This is a lovely place combining a rather large butterfly house with a fairy forest where some very whimsical creatures live.
Click here for further information:
V. Medieval Towns and Villages
As a testament to its tumultuous history, the area around Padua is dotted with gorgeous medieval towns. Most of them are surrounded by well-preserved defensive walls giving you the illusion that you really step back in time and see life as it were many centuries ago.
You don't need to be a history buff to fall in love with the medieval towns within a day-trip distance from Padua. Their beauty and the intriguing stories each house and castle tell soon will make you want to tick all these places off your day trip wish list.
1. Arqua Petrarca
Arqua Petrarca is a beautiful stone village built on top of a hill and overlooking the majestic Euganean Hills. It is famous as the place to which the Herald of the Renaissance – Petrarch – retreated to at the end of his life. Nowadays, you can visit Petrarch's house and his tomb in addition to enjoying the authentic atmosphere of Arqua Petrarca. It's best to reach the village by car. Otherwise there is a twice a day bus which takes around 52 mins from Padua.
Click here for further information:
2. Asolo
Asolo is a picture-perfect town in the foothills of the Dolomites. Known as the City of the Hundred Horizons and the Pearl of the Province of Treviso, its beauty has attracted artists, writers, and royals for centuries. To visit Asolo from Padua, you will need to take a train to Montebelluna (from 46 mins, Regionale) and then coach to Asolo (23 mins, runs hourly).
Click here for further information:
3. Castelfranco Veneto
Castelfranco Veneto is a gorgeous town with an almost intact defensive wall, pretty historic centre and a host of festivals and events. Including a chocolate fair! This is also the birthplace of Giorgione – one of the most renowned Italian painters. You can reach Castelfranco Veneto from Padua in as little as 27 mins by Regionale train.
Click here for further information:
4. Cison di Valmarino, Follina and Mel
If you have a car at your disposal and a day to spare, head from Padua up to Cison di Valmarino, Follina and Mel. These are three of the most beautiful villages in Italy and all three are within a very short distance from one another. Surrounded by hills covered with vineyards and with a history that stretches many centuries back, the three villages are free from tourist crowds and you can experience authentically the rhythm of the local daily life. I particularly like the medieval Abbey in Follina. In Cison di Valmarino, you can see (among other things) Castel Brando – one of the largest castles in Italy which nowadays functions as a luxury hotel. If you have a chance, visit Cison di Valmarino during an edition of the Artigianato Vivo. This is a large event which takes place twice a year and attracts hundreds of artisans and craftsmen who take over the streets of the village.
Click here for further information:
5. Cittadella
Cittadella is one of my most favourite small towns in Northern Italy. Here you will find Europe's best medieval parapet walkway. In simple English, this means that you can circumnavigate the whole town by walking on its medieval defensive wall. In September, don't miss the town-wide medieval fair. In winter, a nice little ice rink is built on the central square. Cittadella is truly lovely. You can combine it with a visit to the nearby Castelfranco Veneto or simply drive out there in the early summer evenings to enjoy an aperitivo in one of its lovely bars. By Regionale train, Cittadella is about 43 misn away from Padua.
Click here for further information:
6. Este
Este has a great Archeological Museum, a thriving ceramics industry, and a lovely walled park where the town's medieval castle used to stand. You can get from Padua to Este in about 28 mins by Regionale train. You can also combine a visit to Este with a visit to Arqua Petrarca (it takes 18 mins by bus, buses run three times a day) or Monselice (it takes 8 mins by Regionale train).
Click here for further information:
7. Feltre
Feltre is really charming. Huddled on top of a small hill, the town is picturesquely surrounded by the powerful peaks of the Dolomites. Tall stone houses with frescoed facades and whimsical chimneys will capture your imagination. There are several museums and churches, a lovely theatre and a stunning main square – Piazza Maggiore. You can get from Padua to Feltre in about 1 h 31 mins (Regionale plus Regionale). If you have a car at your disposal, then make sure that you also travel a little outside of Feltre to the nearby Sanctuary of St. St. Vittore and Corona which dates back to the 11th century.
Click here for further information:
8. Monselice
Monselice is really pretty. Plus it has one of the best castles I have had the chance to see. Its armoury is only second to the one in the Doge's Palace in Venice. And it has some really wonderful fireplaces, too. Yes, I know! Fireplaces! You wouldn't expect anyone to get crazy for a fireplace, but the ones in Monselice Castle are truly works of art. In addition to the castle, don't miss the Seven Churches Sanctuary, the Old Cathedral, and Villa Duodo. You can get from Padua to Monselice in about 19 mins (Regionale Veloce).
Click here for further information:
9. Montagnana
Montagnana is where some of the best Italian prosciutto is made. The town is very pretty, too. Surrounded by a powerful defensive wall, there is also a castle, a lovely main square, and a stunning Cathedral. You can get from Padua to Montagnana in about 47 mins (Regionale).
Click here for further information:
10. Noale
Noale has a fortress, a moat, a gaggle of colourful and frescoed houses, and a nearby nature reserve with ponds and hundreds of birds. It is a great destination to spend a quiet day in the bosom of Veneto. Give it a try! From Padua, you can get there in about 53 mins (Regionale plus Regionale). You can also combine a visit to Noale with a visit to Castelfranco Veneto.
Click here for further information:
11. Sarmede
Approximately 102 km away from Padua and best reached by car, Sarmede is a small village in the province of Treviso. This is where a famous kids' theatre festival takes place every year. In addition, the houses in the village are frescoed by famous illustrators of kids' books. Click here to access the official website.
12. Serravalle (Vittorio Veneto)
Serravalle is a medieval fairytale come true. This is one of the most picturesque and most memorable medieval towns I have had the chance to visit in Italy. Nowadays, Serravalle is part of Vittorio Veneto (the two have fused with the expansion of the latter). Yet it's like stepping centuries back in time as soon as you reach the first cobbled streets of Serravalle. Don't miss the Museo del Cenedese for its fabulous frescoes, paintings, and other works of art. Plus, the ticket includes a visit to a fully frescoed chapel where the babies born in the local hospital used to be baptised. From Padua, you can reach Vittorio Veneto in about 1 h 36 mins by train (you will need to change trains twice – Regionale Veloce plus Regionale Veloce plus Regionale). If you arrive by car, then you can also visit the nearby Grotte del Caglieron and the town of Conegliano.
VI. Venetian Villas
The Northern Italian region of the Veneto is famous for its villas – large country homes built by the local noblemen to show off family fortunes and aristocratic good taste. Designed by the best architects that have ever lived (Andrea Palladio was often commissioned to design villas) and covered with frescoes by the likes of Veronese and Tiepolo, the Venetian villas are heaven for lovers of history and art.
Right next door to Padua there are several of the most beautiful and famous Venetian villas for you to explore. Often, they also have a large park attached to them, so that you can spend a nice day or half a day immersed in both nature and architecture.
1. Villa Capra La Rotonda + Villa Valmarana ai Nani
Villa Capra La Rotonda is Palladio's most famous villa. Its architectural design has inspired several other buildings all over the world. You will find it on the outskirts of Vicenza. Combine it with a visit to the nearby Villa Valmarana ai Nani – with frescoes by father and son Tiepolo, a splendid garden, and a great cafe overlooking Mount Berico. Click here and here to access the villas' official websites. From Padua, take a train to Vicenza (from 14 mins by Frecciarossa, from 15 mins by Italo Treno, from 17 mins by Regionale Veloce and from 24 mins by Regionale). Then walk from Vicenza train station to the two villas. It will take you about half an hour in total. The distance from Vicenza train station to Villa Valmarana ai Nani is 1.8 km and then you have just under a kilometre to Villa Capra La Rotonda.
Click here for further information:
2. Villa Contarini, Piazzola sul Brenta
Huge and splendid, this villa looks like the royal palace of a small country. Plus, every month one of the largest antique and vintage markets in Italy takes place right in front of it. From Padua, you can reach Piazzola sul Brenta by bus. It takes about 29 mins and the buses run hourly.
Click here for further information:
3. Villa Foscari La Malcontenta, Mira
Another stunning Palladian villa with breathtaking frescoes. Click here to access its official website. It takes about 21 mins by Regionale train to reach Mira from Padua.
4. Villa Pisani, Stra
Lauded as the Queen of the Venetian Villas, Villa Pisani is as big as a palace. It has an interesting history, lush garden with a maze, and many fully frescoed rooms. A must-see! Travel from Padua to Stra by bus. It takes about 14 mins and buses run every 30 mins. Once in Stra, you can also visit Villa Foscarini Rossi. It is next door to Villa Pisani and it houses a large Shoe Museum.
Click here for further information:
And finally…
Tips and Tricks for Quick and Cheap Train and Coach Travel for Unforgettable Day Trips from Padua, Italy
I. Websites to check travel options for day trips from Padua
To check travel options and get an idea of travel times and ticket prices for day trips from Padua, I use the following websites:
1. Rome 2 Rio – which shows me all the available modes of transport from Padua to a particular destination.
2. Trainline – which shows me all the available train journeys from Padua to a particular destination. It also shows prices and types of trains but it doesn't allow you to purchase tickets for the cheaper regional trains.
3. Trenitalia – my go-to train travel website in Italy. It gives me all the available train destinations, travel times, changes and price points. It also allows you to buy your tickets for all types of trains (Frecciarossa, Frecciargento, Intercity, Regionale Veloce and Regionale) in advance.
4. Italo Treno – a train company running its own branded high-speed trains. Often announces discount codes on its Facebook page. It's best to buy tickets in advance from their website as the prices may increase if you buy the ticket on the day.
5. FS Bus Italia Veneto – for coach travel information from Padua to several destinations.
II. Tips and tricks for quick and cheap day trips by train from Padua
Train travel in Italy is generally very well organised. You can get from A to B quickly and (in most cases) cheaply. Here are some tips and tricks to help you enjoy these great day trips from Padua by train:
1. There are different types of trains in Italy depending on their speed:
Frecciarossa and Frecciargento (Trenitalia) and Italo Treno are the high-speed trains which will zip you from Padua to, for example, Milan and Verona in no time.
Regionale Veloce stands for fast regional trains which connect towns and cities within the region and are travelling at rather fast speeds.
Regionale are the slowest trains of them all. They stop at all small towns and villages along the way.
2. Where possible, try to travel by Regionale Veloce:
The tickets for this type of train are several times cheaper than the tickets for the high-speed trains Frecciarossa and Frecciargento.
The Regionale Veloce tickets also don't fluctuate in price, so you can buy them on the day.
For example, a one-way ticket from Padua to Vicenza with the Frecciarossa train can cost as much as 18 euros if you buy it online. If you take a Regionale Veloce train, you will pay only 4.25 euros. The difference in travel times is only 2 mins. Frecciarossa takes 15 mins from Padua to Vicenza. Regionale Veloce takes 17 mins.
3. Travel by Frecciarossa/Frecciargento to destinations which are further away from Padua, like Milan and Lake Garda. You will pay more, but you will spend much less time travelling.
In this case, try to buy your tickets in advance online, as they will be cheaper than buying them on the day at the train station.
4. Travel by Regionale trains only if there are no other options. They are cheap, but they can take a very long time.
5. Bear in mind that if you use the Trenitalia website to compare prices and travel times for the different types of trains:
You need to type the names of your departure and destination cities in Italian. For example, Venezia for Venice and Padova for Padua. It doesn't matter if you are using the site in English or Italian. I don't know why this is so, just be aware that if you type 'Venice', you will get an error message. Above I have provided the Italian names of the respective train stations where they diverge from their English version.
6. You can buy tickets online in advance or on the day at the train station:
Lines for the ticket office can be long and slow-moving so arrive with plenty of time to spare;
You can use the ticket machines to either buy a ticket or print a ticket bought online;
Beware that some ticket machines only take cards and others take both cards and cash. Check the symbols in the upper right corner of the machine to make sure you are using the correct machine depending on how you want to pay;
The ticket machines are multilingual – you can select the language you want at the start of the operation;
There is a recorded message about pickpockets and being vigilant. Usually, you cannot skip it, you can only start buying your ticket once the message has finished playing;
Some ticket machines print the ticket on large rectangular pieces of card. Other machines print the ticket on small rectangular pieces of card. It seems to depend on the machines and the station, but all machines look the same and operate the same at all stations.
7. Don't forget to validate your ticket before boarding the train:
Look for the small oval machines attached to walls and pillars at train stations and train platforms;
You don't need to validate tickets for Frecciarossa/Frecciargento bought online which you have printed at home or via a ticket machine at the train station. These are usually tickets with an assigned seat and for a train leaving at a particular time;
You need to validate all other tickets (especially for Regionale Veloce and Regionale trains) bought at the station (from the ticket office or the ticket machine);
Tickets for the Regionale Veloce and the Regionale trains are 'open', in the sense that you can use them for any such train on the day you purchased the ticket for.
However, once validated, your ticket is valid for the next 4 hours. In other words, you need to board the train within the four hours after having validated your ticket.
Insert the ticket in the machine's slot, pushing it in and as much to the left as it would go and then wait for the whirring sound. Take your ticket out and check if the machine has printed a long line with numbers on your ticket. The first few numbers are the time and the date.
8. Trains arrive a couple of minutes before the time of departure, so they stay on the platform a little longer than trains in England, for example, where they arrive and leave within a very short window of time.
9. Trains often have two floors with upstairs and downstairs seats. For the best views, go upstairs.
10. Always buy a ticket before you travel. If you are caught without a ticket, with the incorrect ticket or a not validated ticket, you may be given an option to buy a ticket at a higher price, but you may as well be fined a rather large amount of money.
Have fun exploring what Italy has to offer in the immediate vicinity of Padua. Let me know which ones of these great day trips from Padua you will be taking or have already taken. Have I missed a fab destination? Comment below!
More Helpful Links
Thank you for reading! Please, leave me a comment, pin the image below or use the buttons right at the end to share it on social media.
For more stories like this, you can follow me on Facebook and subscribe to my weekly strictly no-spam newsletter.