A day trip from Venice to Verona in Italy is easy, enjoyable, and a great thing to do if you are travelling solo, as a couple or in a group.
Universally known as the City of Love, fair Verona is the backdrop of the Romeo and Juliet story. The city's other major claim to fame is Arena di Verona – an impressive Roman amphitheatre that is older than the Colosseum in Rome.
In addition, Verona is rich in beautiful and unique sights that span over 2,000 years of history and art. With a lively historic centre, the city offers a great number of things to see, do, and enjoy. Many of them can be easily covered in a day.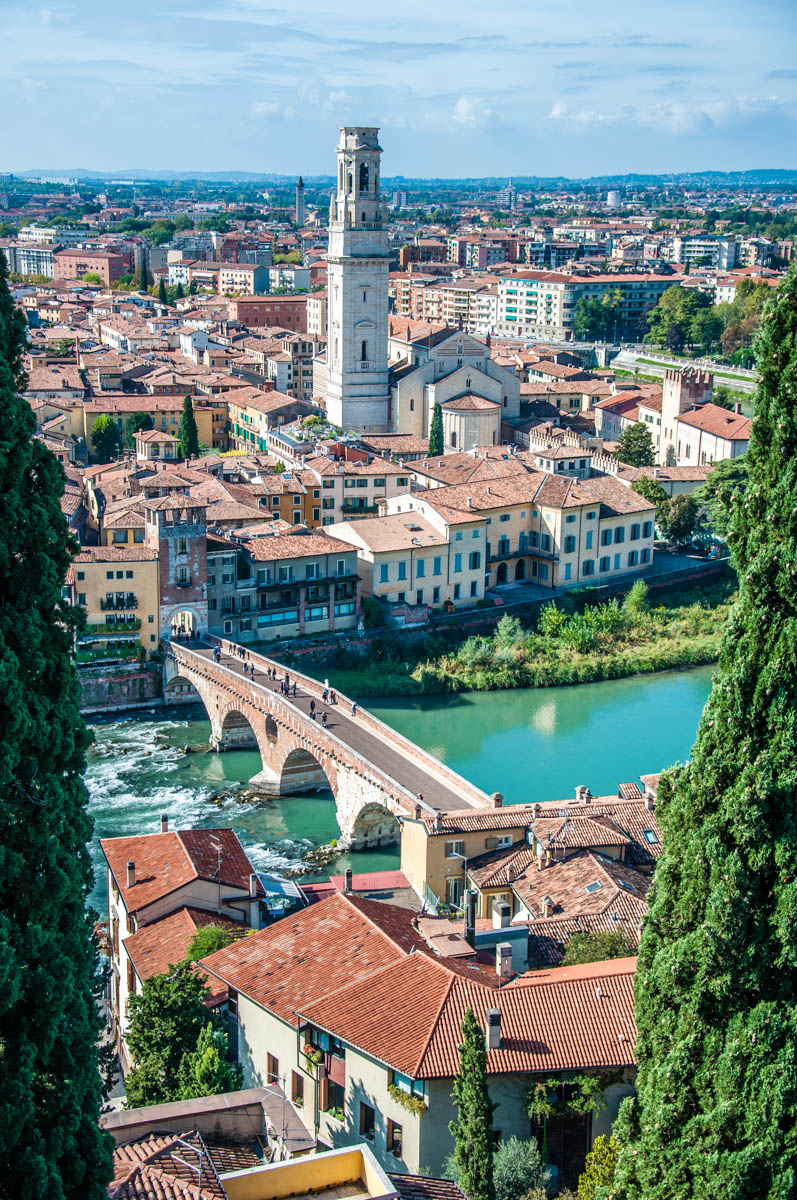 With travel times starting from an hour and 12 mins one way this is a day trip in Italy to fall in love with. Don't miss the chance! Fast trains connect Venice to Verona all throughout the day. A modern motorway links them, too.
To make it easy for you, in this blog post, I have collated all the details to make planning a day trip from Venice to Verona a success. From first-hand tried and tested information on how to travel between these two Italian cities by train and by car to a shortlist of the major sights to see in Verona in a day, everything's covered.
During my six years of living in Italy, I made the journey from Venice to Verona and from Verona to Venice dozens of times. Each time, it was so worth it and it opened yet another horizon in front of me in terms of Italian history, culture, food, and art.
Now, I would like to share my tips with you to help you have a great experience, too. Logically organised in easy chunks, below you will find the information that you need to enjoy Verona on a great day trip from Venice in Italy.
Have a look!
Venice to Verona – An Easy Day Trip in Italy You Need to Take (With Travel Tips and Sights to See)
Where is Verona, Italy?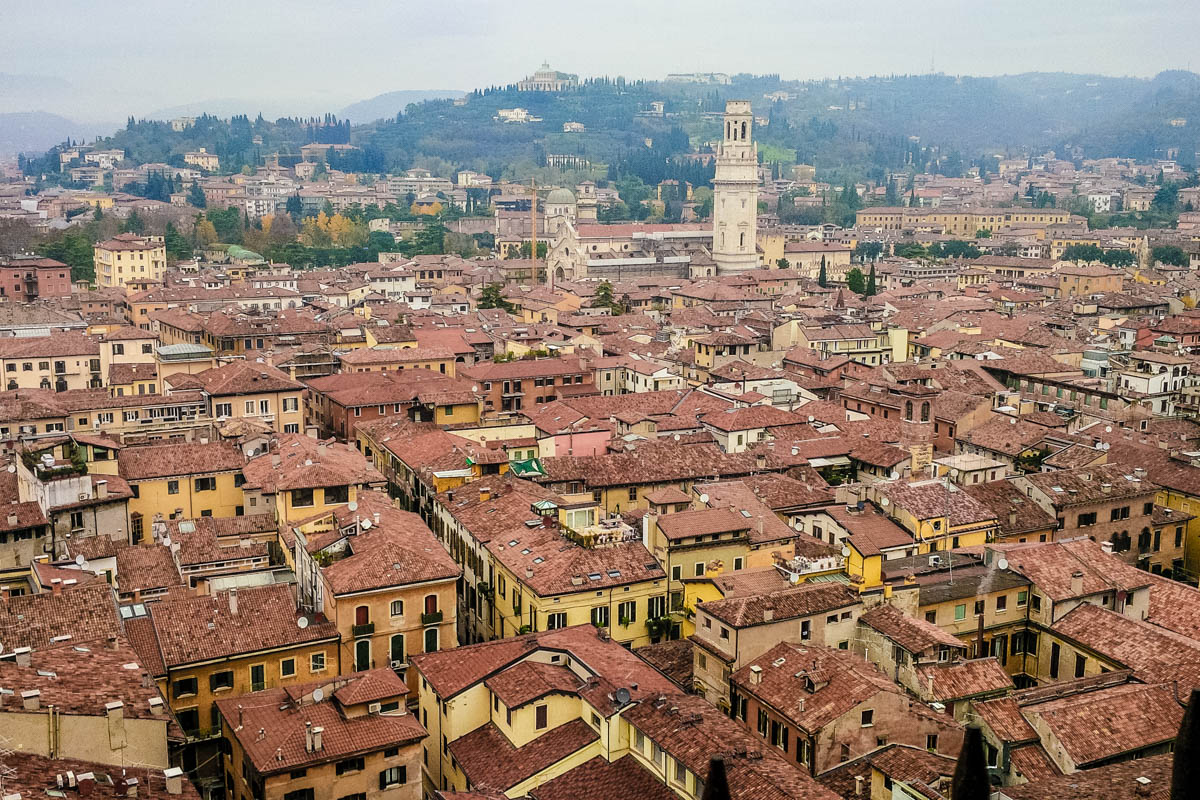 Verona is one of the major cities in the Northern Italian region of Veneto. It is within close proximity to Veneto's other large cities, namely:
Vicenza – eastwards about 60 km away from Verona;
Padua – eastwards about 96 km away from Verona; and
Venice – eastwards about 121 km away from Verona.
Verona is connected to all three cities by road and railway. Travel between them is easy, well-organised, and inexpensive.
The capital of its own province, Verona is an important cultural centre in Northern Italy. For its concentration of important historic landmarks, Verona has been a UNESCO World Heritage Site since the year 2000.
The city's main train station – Verona Porta Nuova – is among the ten busiest railway stations in Italy. As such, Verona is easy and quick to reach from a number of large Italian cities like Milan, Bologna, Turin, Florence, and even the Italian capital Rome. In addition, Verona enjoys excellent railway connections to a number of important European cities in Austria, Switzerland, and Germany.
Geographically, the area of the Province of Verona is beautifully diverse. Here you will find the:
Venetian Plain – an expansive flatland that stretches from the Veneto to Italy's Northeasternmost region of Friuli Venezia Giulia;
Valpolicella Valley – famous for its vineyards and wines;
Lessinia Hills – known for their beautiful virgin nature and millennial history,
Monte Baldo mountain chain – often called the Garden of Europe for its botanical richness; and
Lago di Garda – Italy's largest lake.
All of them are within a short distance away from Verona.
Adige – the second-longest river in Italy – holds Verona's historic centre in an elegant embrace. The historic centre of Verona is, generally speaking, on flat ground, so it's very easy to walk everywhere here and cover a lot of ground within a day. Veronetta – the city's quarter on the left shore of the River Adige – is hillier in respect to the historic centre and there a number of sights here (like Giardino Giusti and Piazzale Castel San Pietro) that afford beautiful panoramic views over the whole city.
Why Visit Verona from Venice?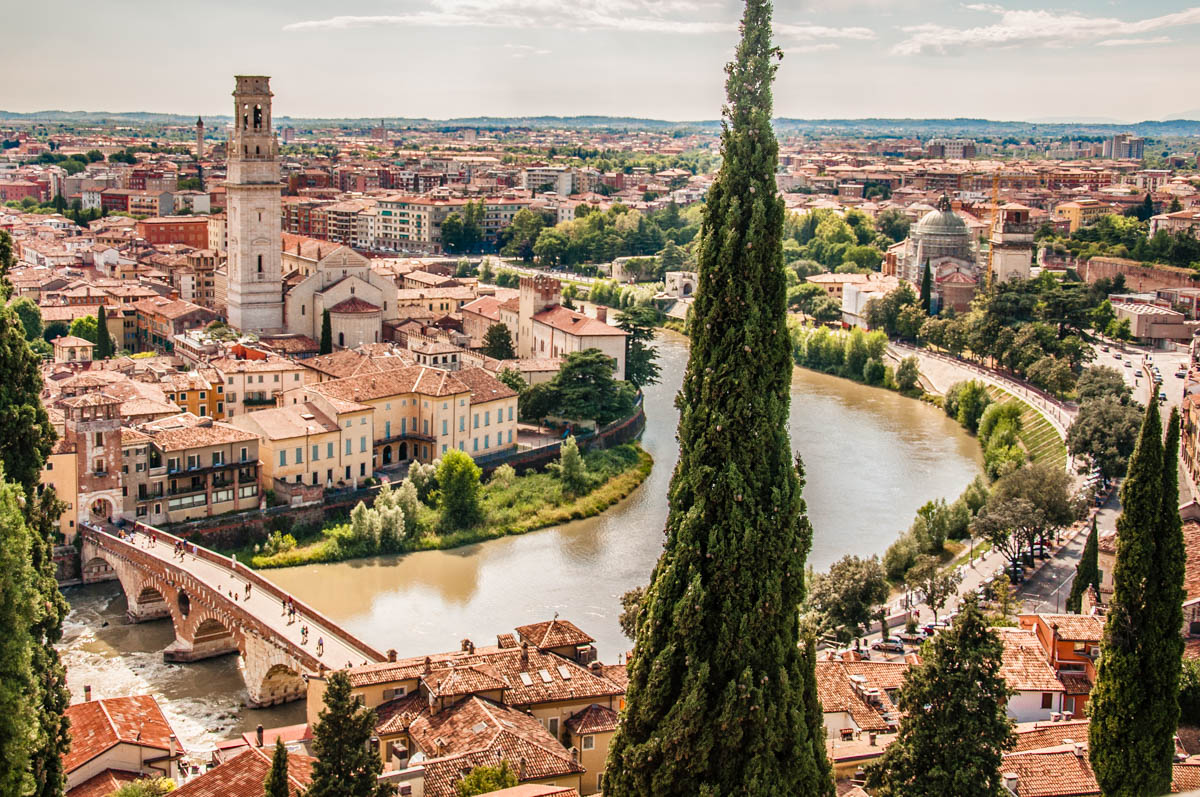 If you are spending more than three days in Venice, it's always a good idea to take a day trip from the city of water. This way you can explore a bit of Italy's mainland and see beautiful historic places that are famous worldwide.
For its proximity to Venice and its wealth of art, history, and culture, Verona is a top choice for such a day trip. Plus, the two cities have a centuries-old historical connection for Verona used to be part of the Republic of Venice from 1405 to 1797. Yet, Verona and Venice have a completely different look and feel.
Verona has a large number of well-preserved Roman structures in addition to several important medieval and Renaissance sights, churches, and whole streets.
As noted above, Verona is also famous as the setting of the world's most well-known love story – Shakespeare's Romeo and Juliet. The city has capitalised on this literary connection to the point of becoming universally known as the City of Love. There are a number of Romeo and Juliet sights here with Juliet's House a must-see. In addition, every February the historic centre hosts the Verona in Love festival.
Verona also has a very lively vibe to it. Many large-scale events and festivals take place here all throughout the year. A notable example is the Verona Opera Festival which is held in Arena di Verona – an imposing Roman amphitheatre that pre-dates Rome's Colosseum.
How to Travel from Venice to Verona?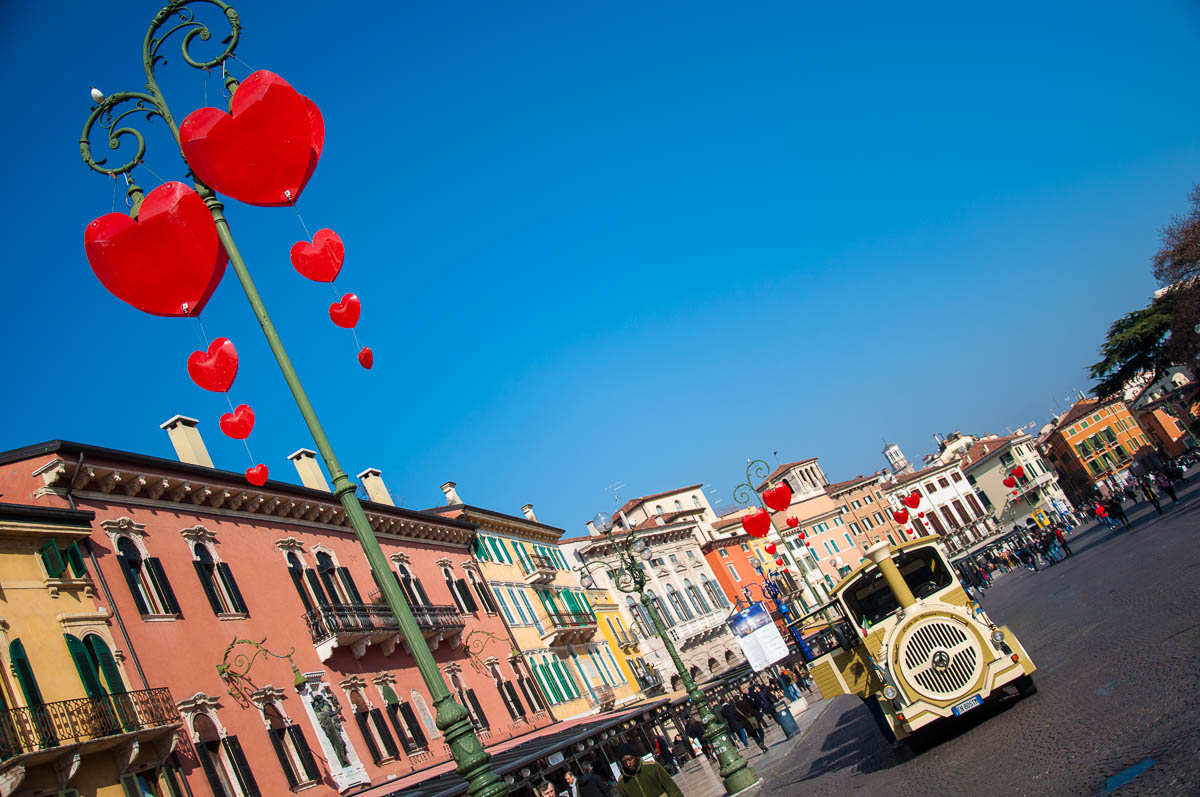 There are two main convenient ways to travel from Venice to Verona. Here they are in further details:
– Venice to Verona by Train – train times are from short to manageable depending on the type of train you choose. There are dozens of trains running between Venice and Verona all throughout the day.
In general, there are two types of trains here:
high-speed trains (Frecciarossa and ItaloTreno) – on average they take about 1 h 12 mins from Venezia Santa Lucia train station to Verona Porta Nuova train station. They are very swish and travel really fast. However, this type of trains cost more and the tickets for them get more expensive the closer to the date of travel you buy them. If you want to maximise your sightseeing time and don't mind the cost, then get a high-speed train from Venice to Verona. The earlier you buy your tickets, the less you will pay, so keep an eye on the TrenItalia and ItaloTreno websites for best pricing.
regional trains (Regionale Veloce and Regionale) – a Regionale Veloce train is a fast regional train that only stops at the major train stations along the way. A Regionale train is a slow regional train which stops at every train station – no matter how small. The tickets for both cost the same, don't increase in price no matter how close to departure you buy them, can be used for both a Regionale Veloce or a Regionale train, and can be bought on the day of travel from the ticket machines or the ticket kiosks at the train station. A Regionale Veloce train takes about 1 h 28 mins from Venice to Verona. These trains are new, well-maintained, and very comfortable. Usually, the train carriages have two levels so you can climb the steps to the top floor of the train and enjoy the views from there. The Regionale Veloce trains are a great alternative to the high-speed trains – about three times cheaper and with just over 15 mins difference in travel times. The Regionale trains take from 2 h 16 mins to 2 h 22 mins to reach Verona from Venice, so it's best to get a Regionale Veloce train (especially as the price is the same). The thing to remember is that once you buy your ticket for a Regionale Veloce or a Regionale train, you need to validate it before you board the train! Basically, you need to place your ticket in the slot of one of the machines affixed to the walls of the train station and wait for the machine to print a code on the ticket. If you don't do it, your ticket is not valid and fines are large.
Train Stations:
Depending on where you are staying in Venice, there are two train stations from which to start your day trip to Verona. Both of these train stations are on the same train line:
Venezia Santa Lucia train station – if you are staying in Venice proper, i.e. the historic centre of Venice on the islands in the Venetian Lagoon, this is the train station you need to take the train to Verona. The travel times given above apply to the journeys starting from this train station.
Venezia Mestre train station – you need to use this train station if you are staying in Mestre – the mainland part of Venice. Travel times will be on average 10-12 mins shorter.
There are also two train stations in Verona:
Verona Porta Nuova – this is the city's main railway station. It is about 20 mins on foot and about 10-12 mins by bus from Piazza Bra and Arena di Verona from where you can start exploring the local sights.
Verona Porta Vescovo – this is a small local railway station served only by the Regionale Veloce and the Regionale trains. It precedes Verona Porta Nuova and trains from Venice stop here for a minute or two. It is quite away from the main sights but, for example, if you want to start your day in Verona by visiting Giardino Giusti on the left side of the River Adige, this will be the train station to get off at (provided you are travelling on a Regionale Veloce or a Regionale train).
Buying Tickets Online:
To check train travel times and buy train tickets in advance, you can use one of these two websites:
TrenItalia – for both high-speed trains and regional trains;
ItaloTreno – for high-speed trains only.
Both are easy to navigate and have an English user interface. The only thing to remember is that on the TrenItalia website you need to use the Italian names of the train stations (as given above) when you are doing a search for tickets.
– Venice to Verona by Car – as you know, Venice is a car-free city. Yet, if you have a car at your disposal (parked on the island of Tronchetto, at Venice's Piazzale Roma or anywhere in Mestre), using it to quickly and easily get to Verona from Venice can be a good idea.
The journey by toll roads can take anything from just over an hour to two hours depending on how heavy the traffic is. Using GPS navigation is indispensable as traffic jams sometimes occur and it can help you avoid them as much as possible. This very helpful website will give you an estimate of how much the tolls are going to cost. Be prepared for a more assertive type of driving and drivers that seem to be on the offensive all the time.
There are many large multi-storey car parks in Verona where you can leave your car for the time you will be there. This very useful page published by Verona's Council lists the main car parks in the city. It's in Italian so you can use Google Translate to get the gist of it. Parcheggio Cittadella and Parking Arena are the two car parks that we would usually park at. Both are an easy walking distance away from Arena di Verona.
You may want to park closer to a particular landmark you are interested in. So, check other options online, too as there are many car parks all around the city to suit your budget and sightseeing plans.
Bear in mind that the historic centre of Verona is a limited traffic zone (known as ZTL or zona traffico limitato in Italian). Unless you have a special pass giving you access, avoid driving through a ZTL zone in Italy. Fines are really steep and they will mail them to your address abroad or charge the car rental company which will then assign you the respective sum with added administration costs.
What to see in Verona on a Day Trip from Venice?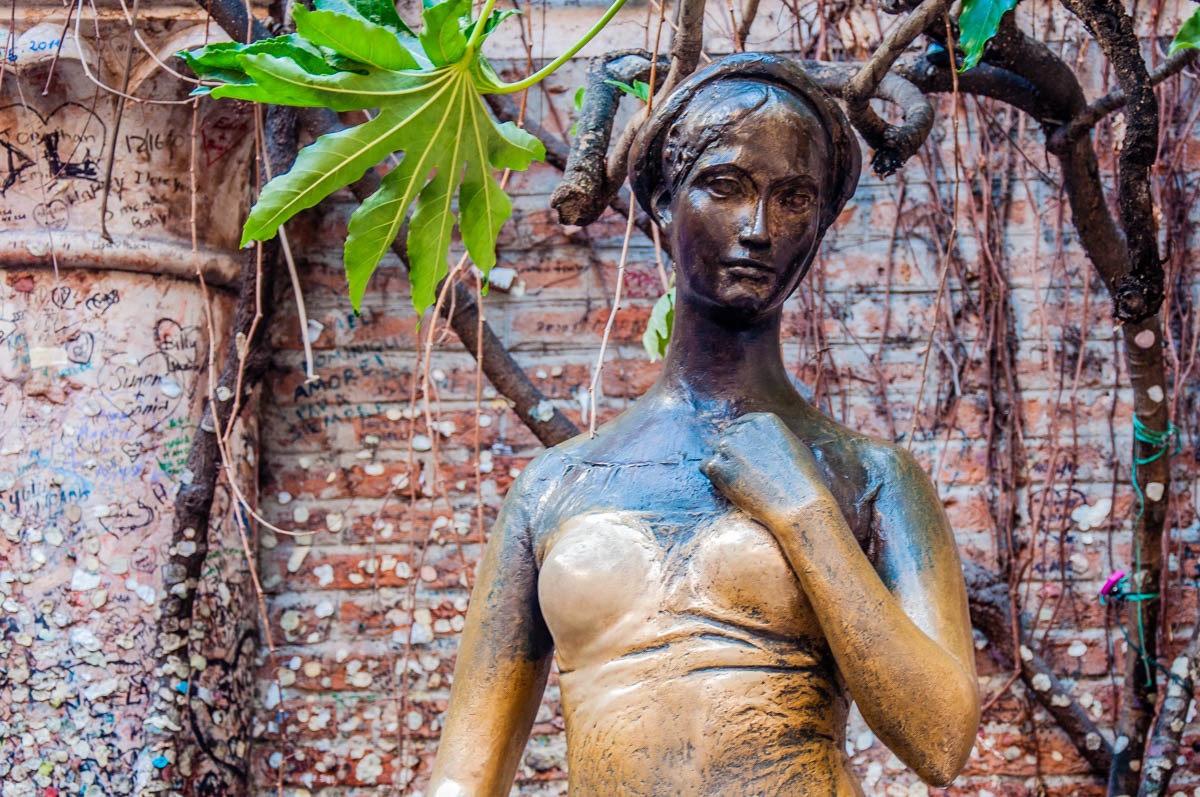 There are many things to see in Verona, Italy and you can certainly cover a lot of ground here in one day. The city has a rich Roman heritage, many medieval and Renaissance landmarks, beautiful churches, historic piazzas, and frescoed palaces in addition to many museums and art galleries. The local food is delicious and has centuries-old traditions, too.
Here is a shortlist to get you started planning your day trip from Milan to Verona:
Arena di Verona – an impressive Roman amphitheatre that pre-dates Rome's Colosseum by several decades. In the past, it hosted gladiator fights and naval battles. Nowadays it is one of the finest concert venues in the world. This is where the famous Verona Opera Festival is held every summer.
Juliet's House – outfitted with the famous balcony (which, in fact, is a sarcophagus sawed in half). Click here for more details about Verona and its role in the story of Romeo and Juliet.
Piazza delle Erbe – a beautiful square in the heart of Verona's historic centre. It's surrounded by stunning frescoed buildings from many different periods. The gorgeous Baroque facade of Palazzo Maffei presides over Piazza delle Erbe. The Madonna Verona Fountain – one of the symbols of the city of Verona – stands in the middle of the square.
Piazza dei Signori – another beautiful square right next to Piazza delle Erbe. Imposing historic buildings flank it on all sides. The famous statue of Dante stands in the centre of the square. Many of Verona's largest events are held at Piazza dei Signori. The annual Christmas market is especially popular.
Scaliger Tombs – a group of Gothic funerary monuments honouring Verona's medieval rulers – the fearsome Della Scala Family.
Torre dei Lamberti – built in 1172, this is the tallest tower in Verona. It offers you inspiring views over the city's red rooftops.
Basilica of Sant'Anastasia – a splendid Gothic church with a large concentration of works of art and a beautifully frescoed vaulted ceiling.
Castelvecchio – a mighty medieval castle on the shores of the River Adige. Nowadays it houses a marvellous art collection.
Roman Theatre and Archaeological Museum – built in the first century BC, this is a very well preserved theatre that is still used for stage performances today. Visit the adjacent Archaeological Museum if you want to learn more about Verona's Roman past.
Giardino Giusti – a Renaissance garden first planted in the 15th century. From its top level, you can enjoy stunning views of Verona.
There are many more beautiful sights and unique locations to visit in Verona, Italy on a day trip from Milan. To make sure that you can see it all in a day, have a look at this blog post:
It covers in detail the many wonderful sights and landmarks that make Verona a must-see destination in Italy. It also suggests three itineraries for the city's historic centre. Coupled with many photos and lots of first-hand tried and tested tips, this blog post will help you turn your day in Verona into an unforgettable experience.
What Is Your Personal Experience of Travelling from Venice to Verona?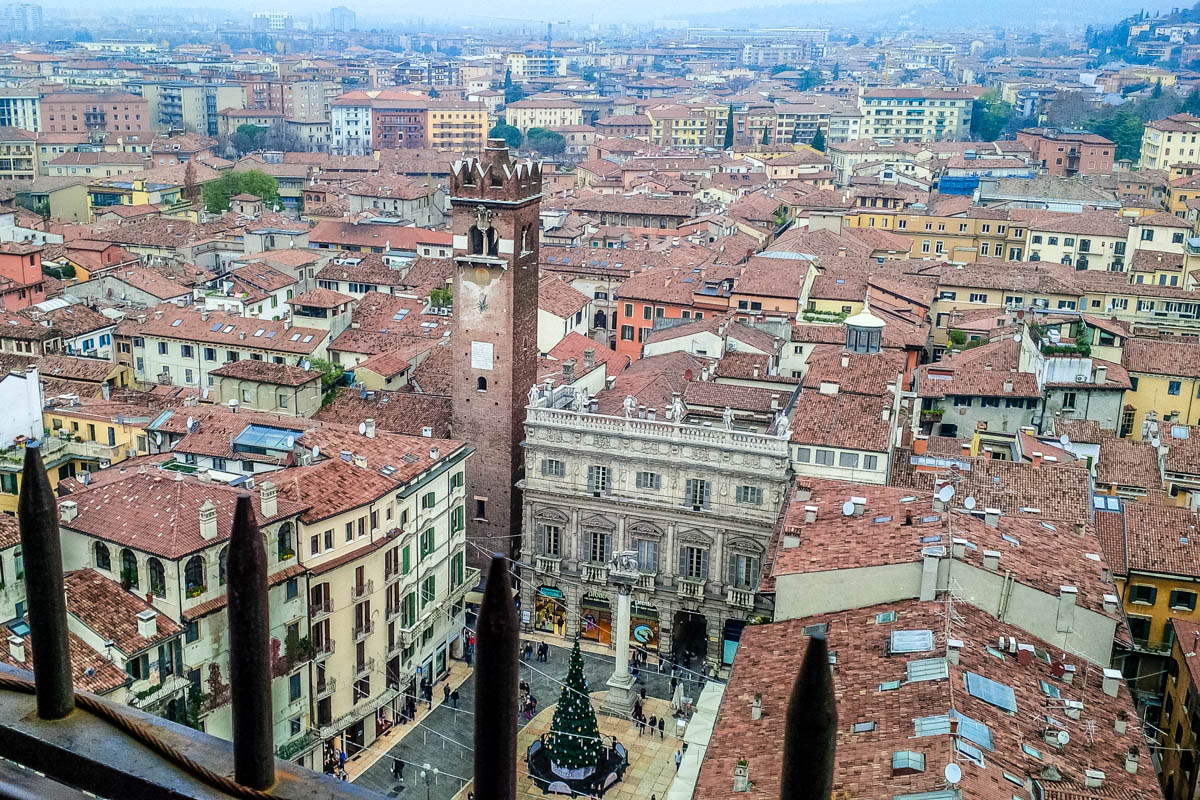 I spent six years living in Vicenza – an elegant historic city halfway between Venice and Verona in Italy. As such, I took every opportunity to travel to both Verona and Venice on day trips to explore their art, history, culture, unique events, delicious food, and lovely city settings.
Travelling by train and by car around the Veneto is incredibly easy and inexpensive. The Veneto is the Northern Italian region which Venice, Verona, and Vicenza are a part of. Travel distances between the tree cities are short and easy to navigate. A modern motorway leads directly from Venice all the way to Verona. Dozens of train connect the two cities all throughout the day.
The trains are clean, new, and well-maintained. They feel safe. While they can get quite busy in the mornings and in the late afternoons with students and workers commuting between Venice, Verona, and the towns and cities between the two, the journey is not long per se and it's never an inconvenience to make it.
Verona has so much to offer that a day here quickly flies away. Delving into the city's history and art is very satisfying for you always end up discovering new things. Even if you are here just for a day, you can explore places of great historic, architectural, and artistic importance. Plus, the city as a whole is very beautiful and turning every corner reveals more beauty to truly fall in love with.
The local food is delicious and great coffee is served in every coffee shop. Don't miss sampling Verona's traditional pastries and cakes, too. I am particularly fond of the so-called Baci di Romeo and Baci di Giulietta (literally 'Romeo's Kisses' and 'Juliet's Kisses). These little biscuits taste divine! Romeo's version is made of almond paste and buttercream and Juliet's is made of hazelnut paste and chocolate cream. A must-try!
I full-heartedly recommend taking a day trip from Venice to Verona to anyone spending more than three days in Venice and wanting to have an authentic Italian experience.
A small disclaimer is due here: All the information contained in this blog post is up to date at the date of publishing it. This is not professional, exclusive advice. Just personal experiences and suggestions shared without any obligation to you and any expectations from you.
In Conclusion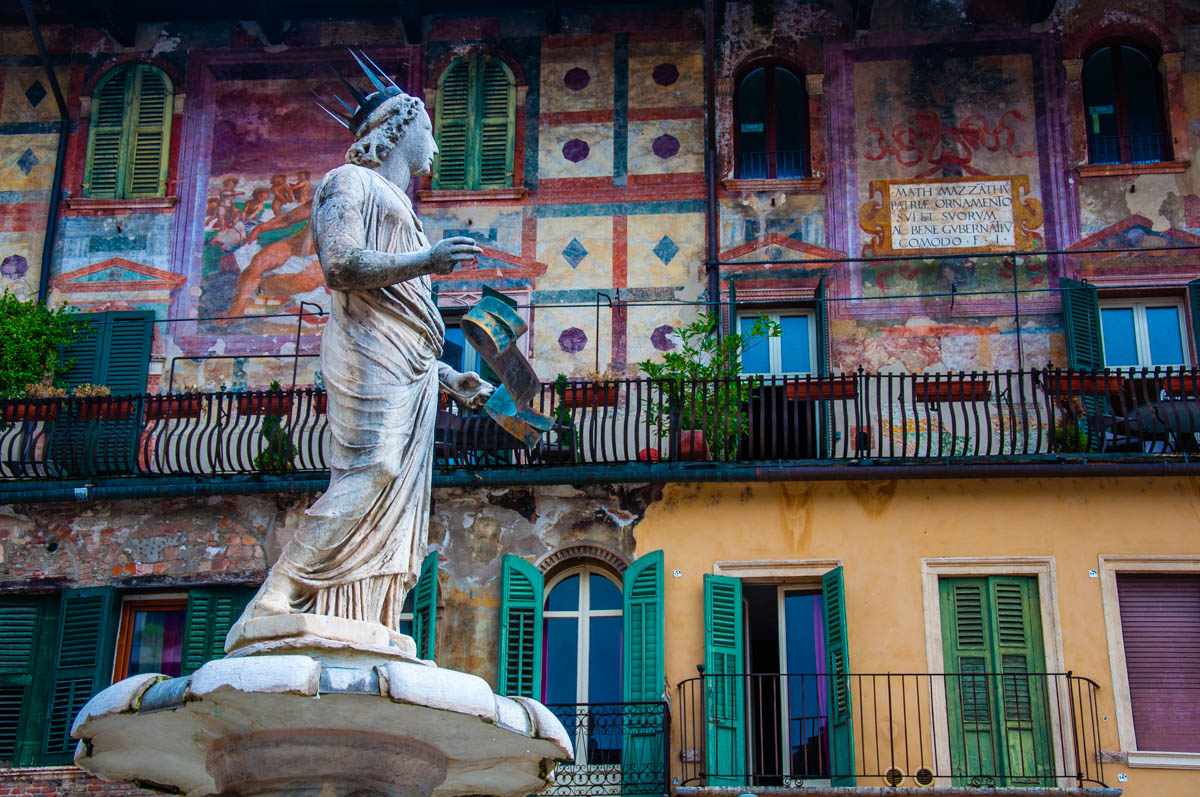 Taking a day trip from Venice to Verona is a great way to make your Italian holiday even more exciting.
These two Italian cities are a very manageable distance away from one another. They are connected by a modern motorway and multiple trains run between the two all throughout the day. Hence visiting Verona from Venice is easy and straightforward.
Verona has so much to offer to the curious traveller. From history and art to romance and good food, the City of Love is the perfect destination for an Italian day trip.
The above blog post gives you detailed information on how to make a day trip from Venice to Verona a reality. From details on how to get there by train and car to a shortlist of what to do and see in Verona, all the bases are covered.
I hope that the information provided will galvanise you to put Verona at the top of your travel wish list and that you will visit this exciting Italian city on a day trip from Venice (or even stay longer) as soon as this is possible.
Enjoy your day trip to Verona, Italy!
More Helpful Verona Info for You
Verona: Things to Do in One Day, Verona Opera Festival, Day Trips from Verona
Verona Videos: Piazza Bra with Arena di Verona, Stage sets of Verona Opera Festival, Juliet's House, The Juliet Club, Traditional Italian patisserie, Verona's Skyline, Verona Seen from the Funicular, Verona Marathon
More Helpful Italy Info for You
Day Trips in Italy: Milan to Venice, Venice to Verona, Bologna to Venice, Florence to Venice, Verona to Venice, Venice to Padua
Best of Italy: Italian Piazzas, Italian Food, Italian Markets, Italian Coffee Culture
Northern Italy: 18 Best Cities to Visit
Lake Garda: Best Towns, Nearest Airports, Travel Options, Lake Garda with Kids
Lake Como: Things to See, Nesso
Veneto: Best Cities to Visit, Top 15 Places, 30 Adventures, 15 Most Colourful Places
Friuli Venezia Giulia: Venzone, Most Beautiful Villages
Emilia Romagna: Bologna, Ravenna, Comacchio, Most Beautiful Villages
Marche: 6 Reasons to Visit, Gradara, Frasassi Caves, Temple of Valadier
Padua: Things to Do in One Day, 101 Facts About Padua, 10 Reasons to Visit Padua, Day Trips from Padua
Vicenza: Things to Do, Day Trips from Vicenza
Thank you for reading! Please, leave me a comment, pin the image below or use the buttons right at the top and at the end of this blog post to share it on social media.
For more useful information like this, please, like my blog's page on Facebook and subscribe to my strictly no-spam newsletter.