Here are the best things to do in Lago di Como – Italy's most famous lake.
A popular tourist destination, Lake Como has a lot to offer no matter your travelling style.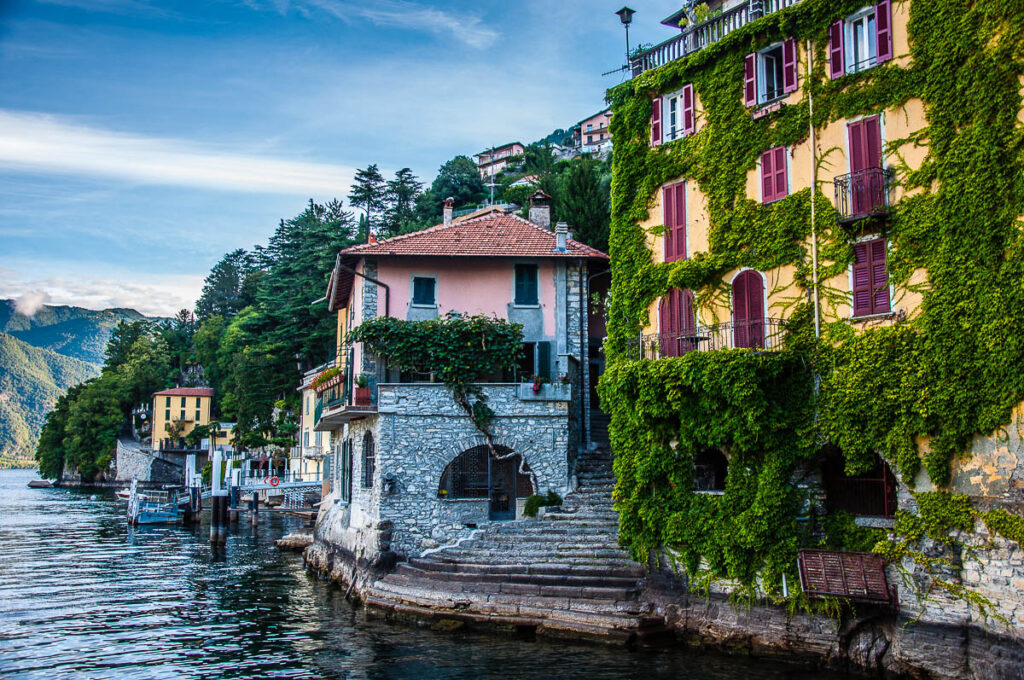 This is a place where you can do lots and see lots even within the span of a day. As the lake is quite big though, it's important that you know in advance exactly what you want to focus on during your visit.
This could be enjoyable moments spent in picturesque lakefront towns, hikes in lush nature, or explorations of historic sights – from medieval fortresses to lavish villas surrounded by centuries-old botanical gardens. Alternatively, you may simply want a little bit of all! Ideally coupled with a nice meal.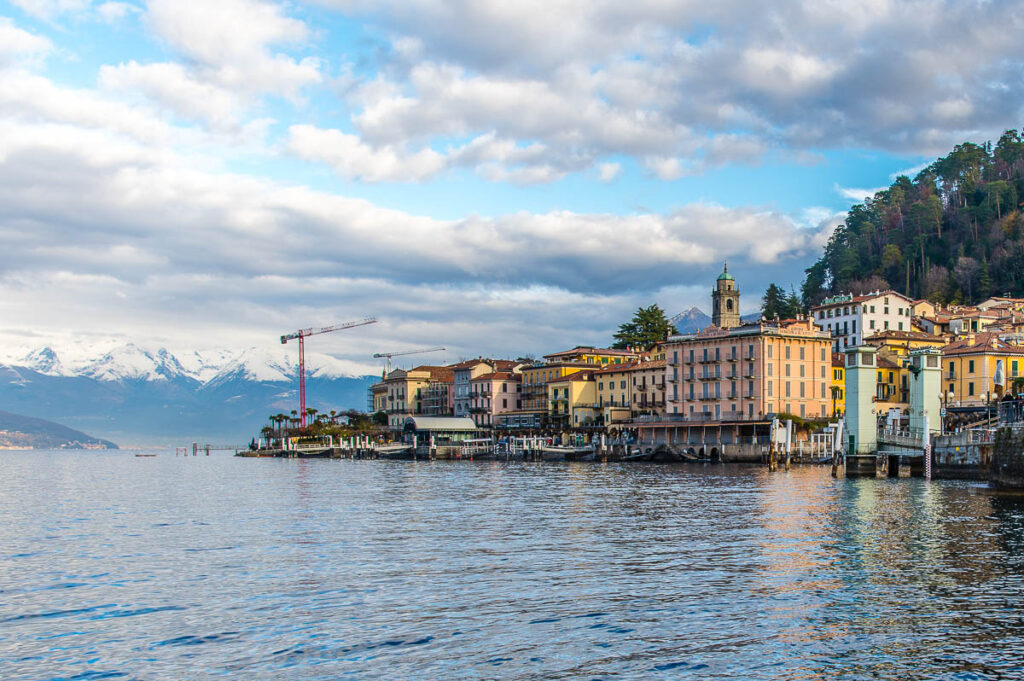 Here is where this blog post will come in very handy. It lists the best things to do in Lake Como organised in easy to browse through categories. This way you can scroll through it and pick just the things that correspond to your personal interests and wants.
And, you never know! If you are feeling adventurous, this blog post will give you plenty of ideas for new things to try at the lake – from panoramic trips by seaplane to visiting the abbey featured in the background of Leonardo da Vinci's Last Supper!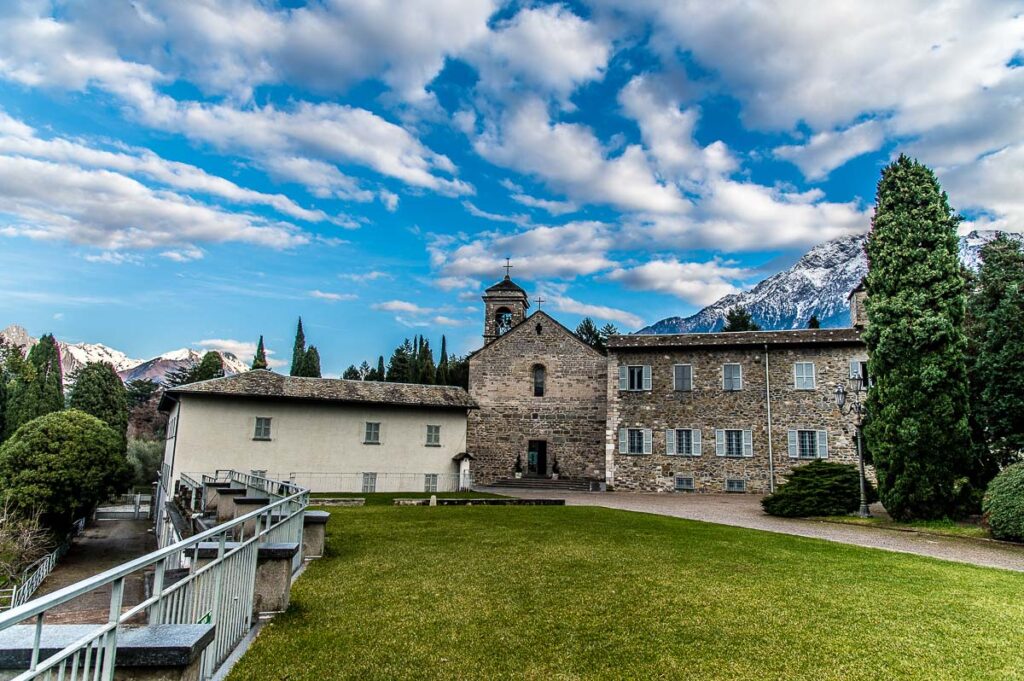 So, this is how we are going to proceed today. First, I will show you a map with the main lakefront towns and the most exciting sights around Lake Como pinned to it. This is followed by the detailed list of the 25 best things to do around Lake Como.
Finally, you will find an extensive section packed with practical tips about visiting Italy's most famous lake. How to reach Lake Como and travel around it? How long to spend on its shores? What type of accommodation is best to book? What to pack? All these and many more topics are covered so as to help streamline your travel planning.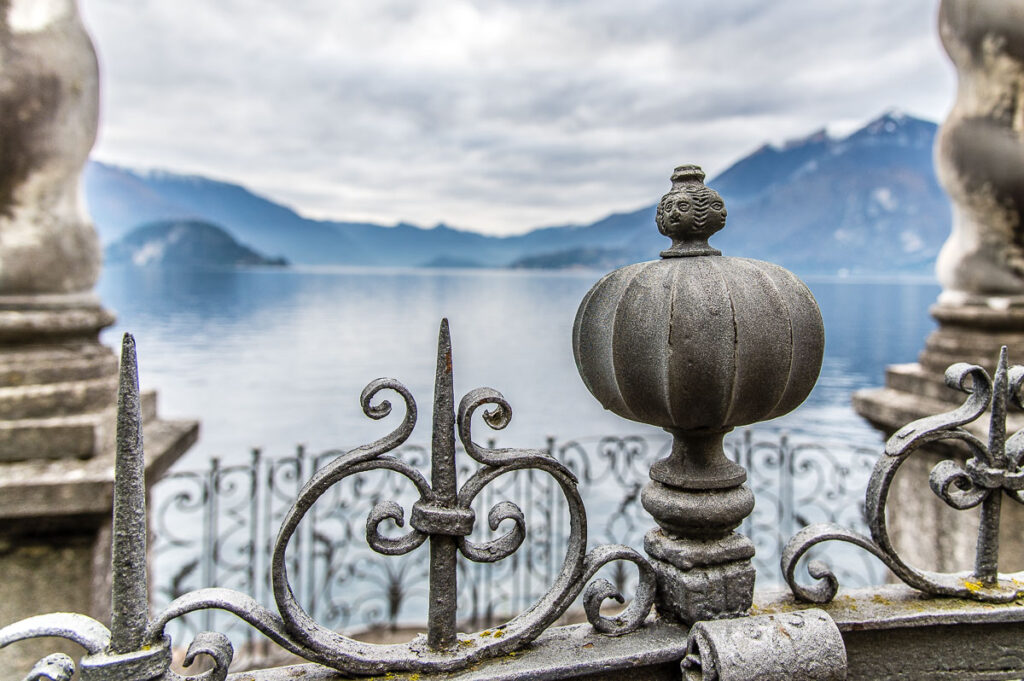 All the information in this blog post is based on my first-hand experiences of visiting Lake Como numerous times over the last five years. I hope that you will find it all of use and that you will have the type of experiences at the lake that travel memories are made of.
For more information about Lake Como, also have a look at the following blog posts:
Otherwise, let's start!
Map of Lake Como – Best Lakefront Towns, Sights, and Things to Do Around Italy's Most Famous Lake
Lake Como has the somewhat unusual shape of an upturned letter Y. Surrounded by steep mountains, it looks a lot like a fjord with the important distinction that it's landlocked.
Lake Como (or Lago di Como – as they call it in Italian) is in Northern Italy. Part of the Northern Italian region of Lombardy, it often is affectionately called Il Uomo – or The Man – by the locals. The lake's outline does in fact look a bit like a man taking a large step with one of his feet resting on the town of Lecco and the other – on the town of Como.
Lake Como has three thin branches which meet at Punta Spartivento. This beautiful promontory is next door to the town of Bellagio and opens sprawling views over the lake.
The three branches are named after their main lakefront towns. As such, the northern branch of Lake Como is known as Colico, the eastern as Lecco, and the western one as Como.
The mountainous area locked between the Lecco and the Como branches of the lake is called the Triangolo Lariano – the Larian Triangle (from Lake Como's ancient name – Lario). Punta Spartivento is right at the tip of this natural triangle.
The above map shows the exact location of Lake Como in Italy. You can use it as any other map in Google Maps. For example, you can zoom in and out, calculate directions to Lake Como from anywhere in Italy and abroad, and check distances between the different lakefront towns and sights. To open the map in a new browser tab, click on the last icon in its top right corner.
A click on the first icon in the top left corner of the map will open a list of the towns, sights, and other locations pinned to it. For ease of use, here they are organised in alphabetised categories:
Main Lakefront Towns (pinned with a red star): Bellagio, Bellano, Cernobbio, Como, Gravedona, Lecco, Menaggio, Varenna (there are many more lakefront towns around Lago di Como. You can use the map to zoom in on them).
Villas (pinned with a green star): Villa Bernasconi, Villa Carlotta, Villa del Balbaniello, Villa Manzoni, Villa Melzi, Villa Monastero
Funiculars and Cable Cars (pinned with a yellow star): Argegno-Pigra Cable Car, Como-Brunate Funicular, Piani d'Erna Cable Car
Castles, Churches, Forts, and Museums (pinned with a purple star): Abbey of St. Mary of Piona, Basilica of San Nicolo' (Lecco), Castello Baradello, Castello di Vezio, Church of Santa Maria Maddalena, Duomo di Como, Forte Montecchio-Nord, Moto Guzzi Museum, Museo Barca Lariana, Museo della Seta, Pinacoteca Civica (Como), Torre di Orezia, Volta Temple
Other Sights (pinned with a blue star): Aeroclub Como, Lido Villa Olmo, Life Electric, Orrido di Bellano and Ca' del Diavol, Orrido di Nesso and Civera Bridge, Punta Spartivento
25 Best Things to Do in Lake Como, Italy (With Maps, Travel Info, and Practical Tips)
Pin for Later!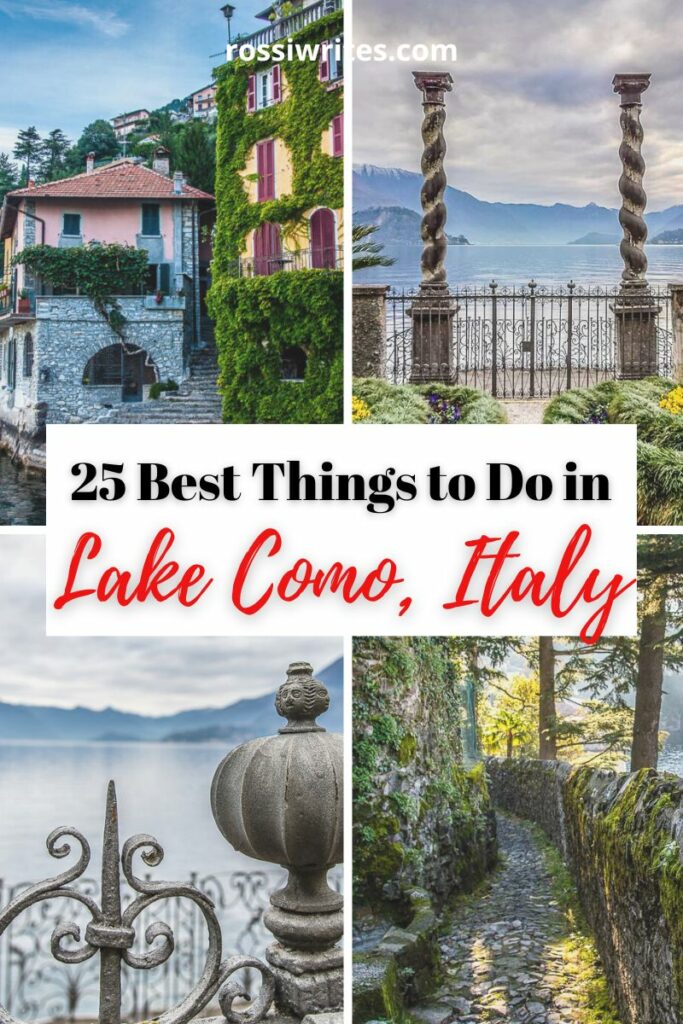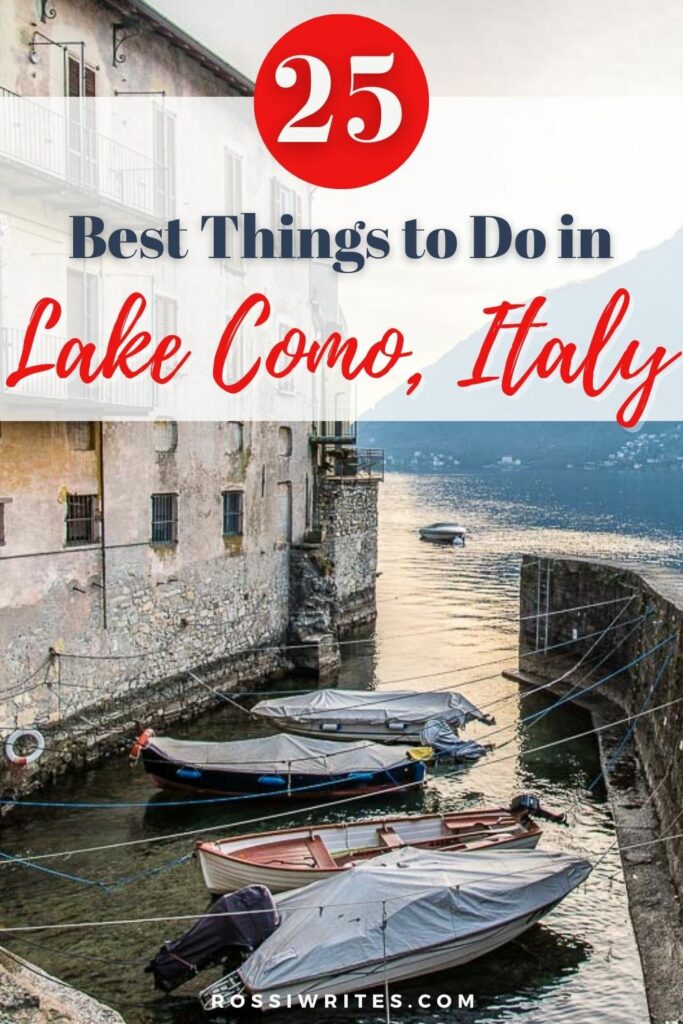 1. Get to Know the Beautiful Towns Dotted Around Lake Como in Italy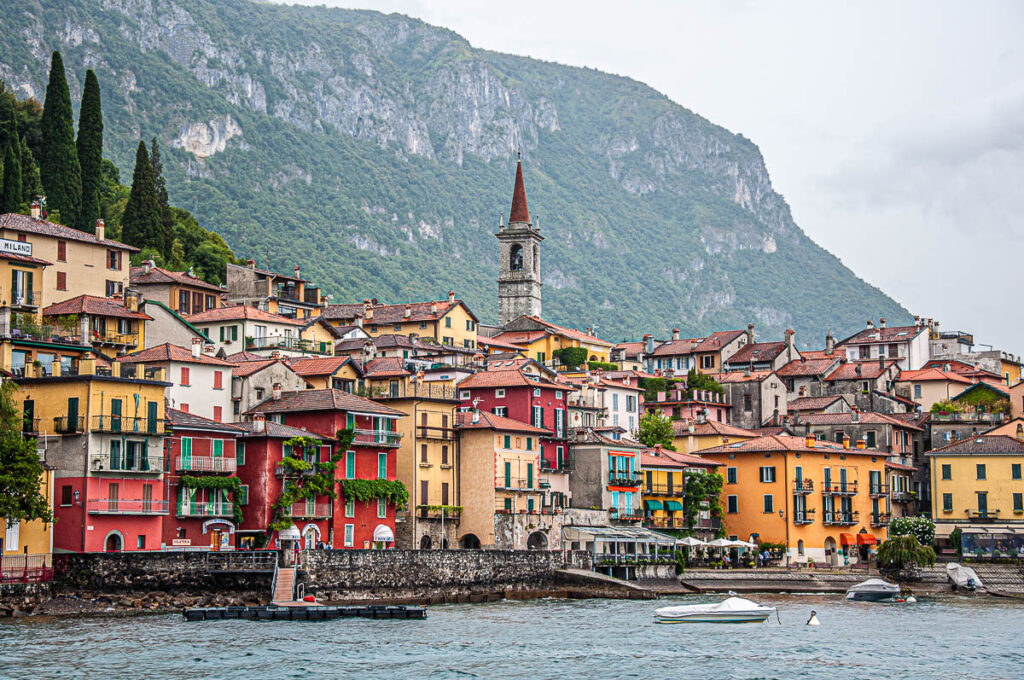 The shores of Lake Como are dotted with a myriad of beautiful small towns. Some of them are famous all over the world. A case in point is Bellagio which charms with its historic centre where steep cobbled streets are flanked by old tall houses. The town stands right next to Punta Spartivento – the small promontory jutting deep into the meeting spot of Lake Como's three branches. The coveted end destination of most day trips to the lake, Bellagio is picture-perfect although it can get suffocatingly busy in summer.
Como and Lecco are Lake Como's main towns. Spanning respectively the bottom tips of the western and the eastern branches of the lake, they have pretty harbours, long lakefront promenades, and a handful of must-see sights and museums. Connected by train to Milan and taking less than three-quarters of an hour to reach from the Milano Centrale train station, Como and Lecco make for a great base from which to explore everything that Lake Como has to offer.
Varenna, Cernobbio, and Menaggio are three of the most picturesque towns on Lago di Como. Popular with visitors to the lake, they are easy to reach by public transport. Varenna, for example, has a railway station served by direct trains from Milan. Menaggio is just a short hop across the water by ferry from Varenna. Cernobbio is a short bus ride away from the town of Como. All three are great for a relaxed day of sightseeing and taking in the beauty and history of Lake Como.
Then, there are dozens of hidden gems of small towns and cute little hamlets here. Right off the beaten track, it is where you can experience the beauty and the traditions of Lake Como in the most authentic way.
The town of Bellano, for example, is just up the road from Varenna. It has its own railway station and a very pretty historic centre. More excitingly though, it is here that you can walk around a huge gorge – Orrido di Bellano. It has been excavated over hundreds of thousands of years by a series of mighty waterfalls. Standing on the walkway suspended high above the waters gushing into the gorge's depths is one of those breathtaking travel experiences that forever stay in your mind.
So, in terms of towns, Lake Como has a lot to offer – from popular touristy destinations to veritable secret spots. Seeing as many of them as you can during your visit will help you make the most of your time at the lake.
2. Visit Lake Como's Elegant Historic Villas and Lush Botanical Gardens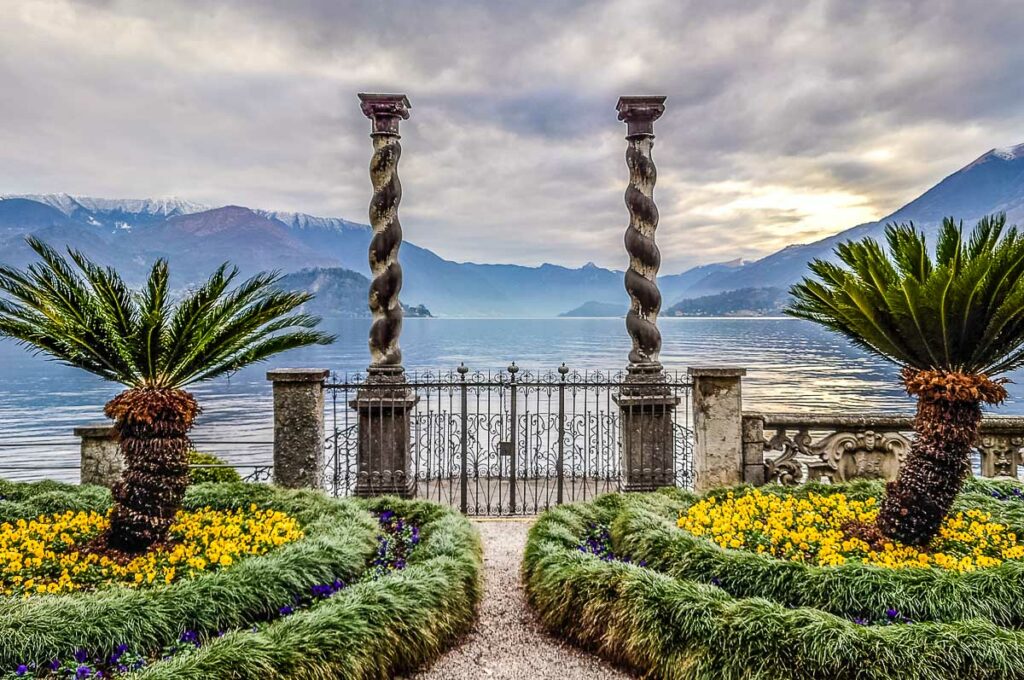 Lake Como is widely known for hosting a gaggle of historic villas on its shores. These lavish summer residences date centuries back in time and often are surrounded by exquisite botanical gardens that are a pure delight to take a walk in.
Housing aristocratic families and renowned composers, singers, and writers in the past, nowadays, several of Lake Como's villas function as museums while others have been converted into exclusive luxury hotels and resorts.
With frescoed rooms furnished with elegant pieces that will make you want to have an unlimited budget to redecorate your own home, Lake Como's villas are a must-see. The most famous ones that are open for visits are:
Villa Monastero near Varenna – it has a beautiful botanical garden, offers sprawling views of the lake, and has the most beautiful historic bathroom with a plunge pool I have had a chance to see.
Villa del Balbaniello near Lenno – this is easily one of the most romantic places in the world on account of its architecture and location on the lake. It is here that many iconic film scenes have been shot throughout the decades. Most importantly, the villa provided the setting for Padmé Amidala's and Anakin Skywalker's romance in Star Wars: Episode II – Attack of the Clones.
Villa Carlotta in Tremezzo – this lavish Neoclassical villa has a priceless collection of paintings and sculptures. It stands at the heart of a beautiful botanical garden where you can spend many happy hours just taking the lake views in.
Botanical Garden of Villa Melzi in Bellagio – another stunningly beautiful garden with hundreds of varieties of roses and camellias as well as many rare plants. Throughout the centuries it has attracted many illustrious visitors and it's a great place to explore on a sunny morning in spring or a hot summer day.
Of the historic villas here that have been turned into exclusive hotels, a mention deserve:
Villa Roccabruna in Blevio – rebuilt several times throughout the years, in the 19th century this villa was owned by the renowned opera singer Giuditta Pasta. Nowadays, you can see a sculpture of her in the museum of La Scala Theatre in Milan. Giuditta loved spending summers on Lake Como and hosted many famous Italian composers – from Gaetano Donizetti to Vincenzo Bellini. Nowadays, the villa has been converted into the posh Mandarin Oriental, Lago di Como Resort.
Villa d'Este in Cernobbio – surrounded by a meticulously landscaped 10-hectare private park and with a pool floating in Lake Como, this is one of the most luxurious hotels in the world. It's housed in a palatial villa first built in the 16th century by the Cardinal and papal secretary Tolomeo Gallio.
Villa Passalacqua in Moltrasio – an 18th-century grand villa built in a former property of Pope Innocent XI. The celebrated composer Bellini was a regular visitor and composed his opera Sonnambula here. After an extensive restoration, nowadays, the villa functions as a luxury hotel.
Villa Serbelloni in Bellagio – this five-star grand hotel is nestled in a beautiful garden facing Lake Como. Built between 1850-1854 as a holiday home for an aristocratic family from the city of Bergamo, it was converted into a luxury hotel in 1873. It impresses with its blend of Empire, Neoclassical, and Art Nouveau styles as well as with its impeccable service.
3. Explore Lake Como by Ferry and Boat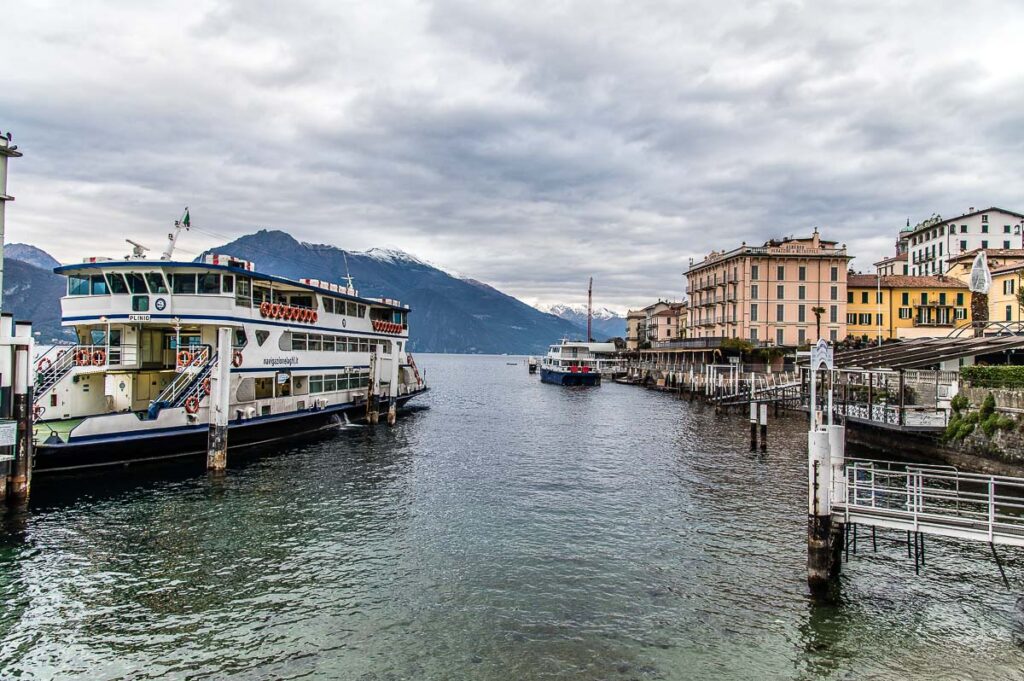 One of the best ways to experience Lake Como is to see it from the water. The easiest way to do it is to catch a ferry from one lakefront town to another. Particularly famous is the pedestrian ferry line that connects the town of Como to the town of Bellagio.
The slow ferry service takes about two hours and stops at many small lakefront towns on both sides of the Como branch of the lake. This gives you a chance to take in their beauty offset by the deep waters of the lake and the blue sky above. The fast ferry service costs more but covers the same distance in about an hour stopping only at the larger towns along the way.
Alternatively, you can get the pedestrian and car ferry that circulates between the towns of Bellagio, Menaggio, and Varenna in the central portion of the lake. The crossing from one town to the other lasts only 15 minutes. Yet, it affords some of the best views of the three branches of Lake Como and their meeting point at Punta Spartivento.
For more details on how to get around Lake Como by ferry, have a look at point 4 of this blog post:
If you don't want to depend on the ferries' timetables and routes, then you can hire a sleek motorboat and explore the most beautiful corners of Lake Como in style.
There are many companies all around the lake that charter boats for visitors. You can ask for recommendations at your accommodation or simply head to the promenade to chat directly with the boat reps there. Alternatively, you can book a boat online in advance for two hours or four hours.
If you don't have any experience with motorboats, you can hire a boat with a skipper to take you places and show you many hidden corners. Alternatively, you can choose to share the boat with other people for a cheaper yet fun experience.
A serious word of warning here, however! The lake water can get very cold very quickly. Especially, the further away from the shore you are. Lake Como is the deepest lake in Italy. Its waters drop to a depth of 425 m! The risk of drowning is real.
The boat chartering company should provide you with life jackets and advise you specifically where it's considered safe to anchor and how close to the shore you can get.
During the high season, there is a high level of boat traffic in Lake Como. Many luxury boats here travel at full speed. You need to observe proper distances from other boats, yachts, and the shore at all times.
4. Ride Funiculars and Cable Cars to Enjoy Lake Como's Panoramas from Headspinning Heights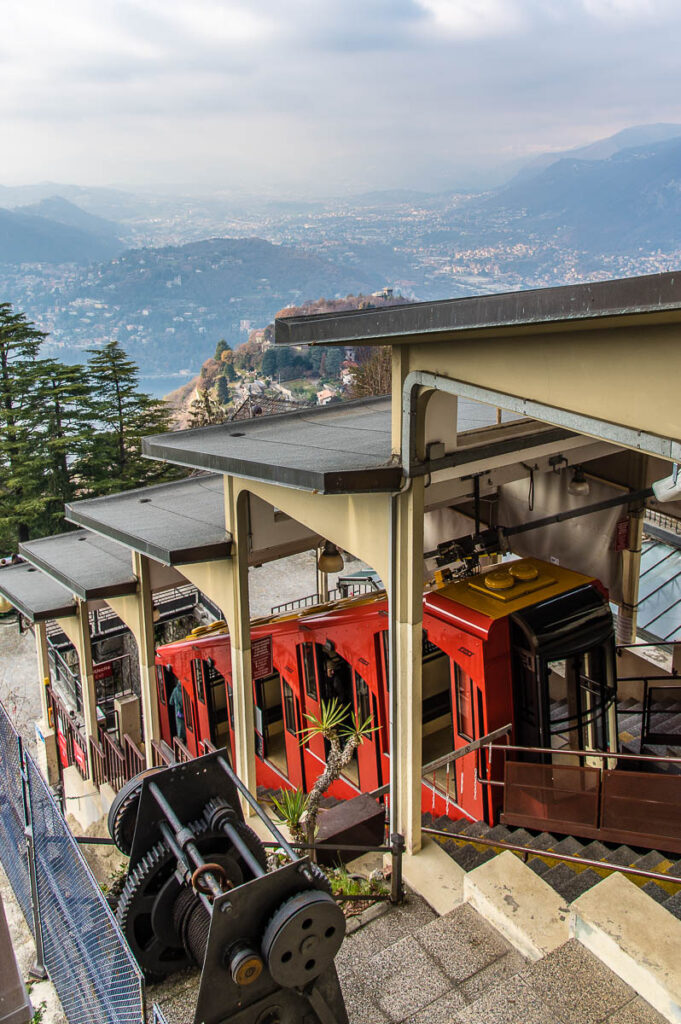 Another great way to see Lake Como is to take in its beauty from above. The surrounding steep mountains provide many high-elevation points that open breathtaking views of the lake. You don't even need to hike for hours to reach the best ones. Funiculars and cable cars will take you uphill so that you can enjoy the sprawling panoramas as they slowly open in front of your charmed eyes.
Here are some of the most popular places around Lake Como to get a funicular or a cable car ride so as to see what the birds get to enjoy on a daily basis:
Como-Brunate Funicular – the most popular funicular at Lake Como. A short walk away from the historic centre of the town of Como, it will take you up to the hilltop village of Brunate where you can enjoy a walk by its splendid Art Nouveau villas or hike to the tall Volta Lighthouse. Expect long queues for the funicular during the high season.
Piani d'Erna Cable Car – completely renovated in 2008, this cable car connects Malnago (near the town of Lecco) to the mountain resort Piani d'Erna which stands at a height of 1375 m.
Argegna-Pigra Cable Car – one of the steepest cable cars in Italy and Europe. In 4 mins, it takes you 648 m uphill to a beautiful terrace in the Comasche Prealps where you can enjoy a fantastic view of the lake and the surrounding mountains.
5. Learn About Lake Como's Silk-Making Traditions and Shop for Exclusive Silk Accessories
Nowadays, Lake Como is predominantly a tourist destination attracting people with its beautiful setting and charming corners. For many centuries, however, the towns on its shores have been known as an important producer of prized silks. As such, they were instrumental in the growth of Italy's high fashion.
Walk through the historic centres of the towns of Bellagio and Como and you will see plenty of small boutiques selling silk accessories – from scarves and ties to lovely handbags. One of the most famous ones is Pierangelo Masciardi – a local designer whose silk creations are worn by numerous celebrities including several Presidents of the United States.
A spot of shopping for silk products is always a very enjoyable thing to do at Lago di Como. At the same time, make sure that you delve deeper into the lake's silk-weaving traditions by visiting the Museum della Seta in the town of Como and/or Villa Bernasconi in nearby Cernobbio.
The former showcases the production of the prized local fabrics from silkworm to silk thread. It's a great place to visit with children as the museum organises many family-friendly events and activities.
The latter is a splendid Art Nouveau villa originally built by a rich silk producer next to what once were his factory buildings (nowadays converted into residential flats). The displays in Villa Bernasconi include several silk-weaving artifacts. There is even a textile loom to try your hand at.
The architecture of the villa is absolutely beautiful, too. If you look closer at the tiles which decorate its facade, you will recognise the image of a stylised silkworm – the humble insect that guaranteed the riches of Lake Como for many centuries.
Silk-weaving is such a significant part of the heritage of Italy's most famous lake that as you walk around its towns you may even come across streets named after the people who were instrumental in its development and growth. A case in point is Via Pietro Boldoni in the historic centre of the town of Como. Boldoni was a local businessman who introduced silk-weaving to the area back in the 16th century.
6. Visit the Shops and Workshops of Local Craftsmen Around Lake Como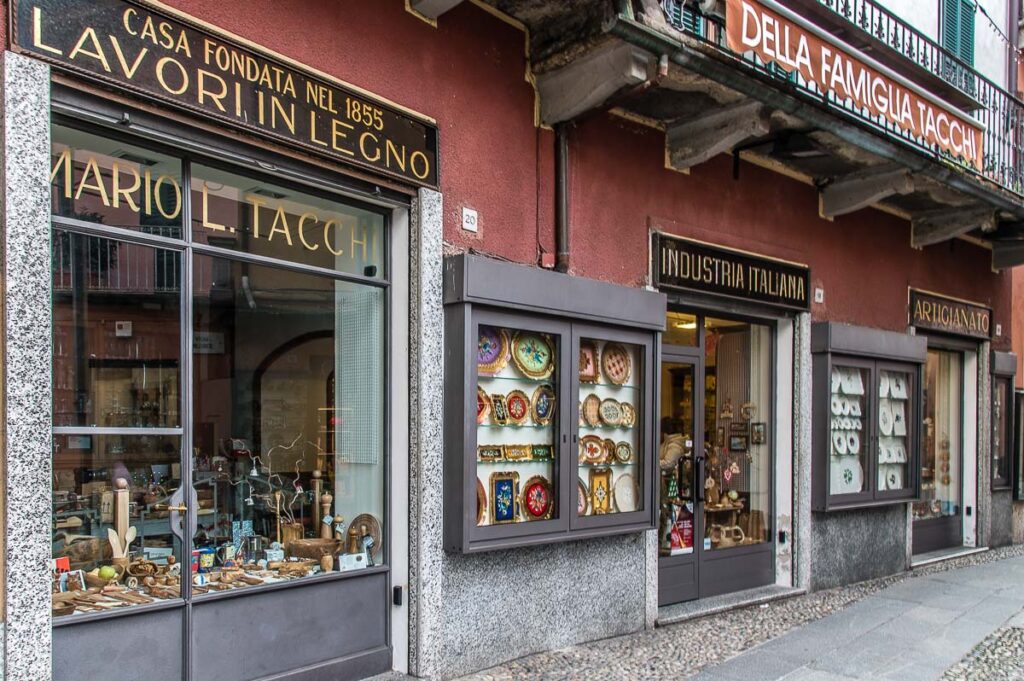 If you like shopping for unique handmade items, Lake Como is a great place to visit. Many artisans and craftsmen have set up their workshops in the towns dotting the lake's shores. There is something so special about buying directly from a person who has invested their soul and skills in the making of beautiful and useful items.
So, here are some of my favourite designer and maker shops around the lake:
7. Get to Know the Stories of the Historic Personalities Who Called Lake Como Home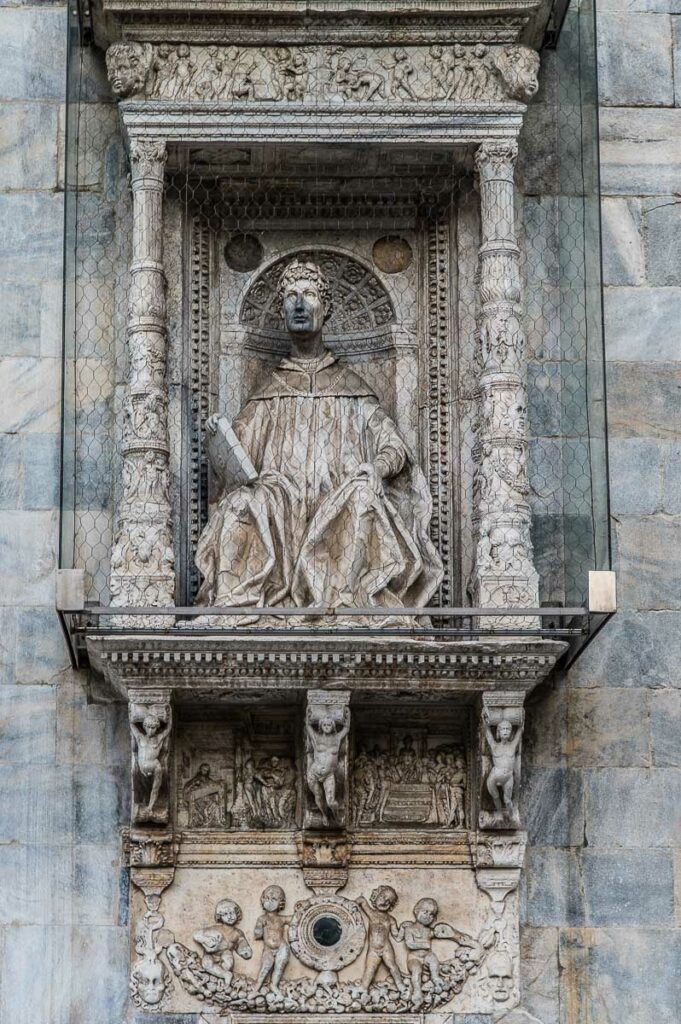 Throughout the centuries, Lake Como has inspired many of Italy's most significant historic personalities. Some of them were born here and some visited the lake in search of inspiration. This resulted in works of literature, music, science, and art that today are famous all over the world.
Spending a bit of time at Lake Como getting to know the stories behind the personalities is a great way to immerse yourself in this beautiful corner of Italy on a more personable and authentic level. Among them are:
Pliny the Elder and Pliny the Younger – uncle and nephew, these Ancient Roman authors were born in the town of Como. Nowadays, their statues flank the main entrance of the town's majestic Cathedral. Pliny the Younger also used to have two villas – called Tragedia and Commedia – in what today we know as the lakefront town of Bellagio.
Sigismondo Boldoni – this 16th/17th-century writer and philosopher was born in Bellano and wrote one of the earliest descriptions of the history and traditions of Lake Como. Curiously, he plays an important part in the multimedia visit to the Orrido di Bellano and Ca' del Diavol (see points 8 and 9 below).
Alessandro Volta – this 18th/19th-century physician invented the voltaic pile which gave rise to the electric battery as we know it today. You can visit the Neoclassical Volta Temple in the beautiful town of Como to learn more about his life. Don't miss the Life Electric monument – the contemporary sculpture just off the town's promenade. Designed by the architect and sculptor Daniel Libeskind, it celebrates Volta's achievements.
Alessandro Manzoni – born in the lakefront town of Lecco, this 18th/19th-century author wrote one of Italy's most seminal novels – I Promessi Sposi (translated in English as 'The Bethrothed'). Nowadays, you can visit Villa Manzoni – the house where the writer spent the first 20 years of his life.
Giuseppe Verdi, Vincenzo Bellini, Franz Liszt, Ruggero Leoncavallo – many famous composers spent long periods of time on Lake Como where they created some of their most famous works. Among them are Bellini's La Sonnambula and Verdi's La Traviata.
Many famous names from the worlds of politics, acting, fashion, and writing have holidayed on Lake Como, too. Among them were Mary Shelley, Winston Churchill, and Gianni Versace.
Nowadays, Italy's most famous lake continues to attract A-list stars and celebrities. Among the famous people who have stayed on its shores are Madonna, Jennifer Lopez, and Richard Branson. And, of course, George Clooney has two villas on Lake Como!
8. Discover the Legends of Lake Como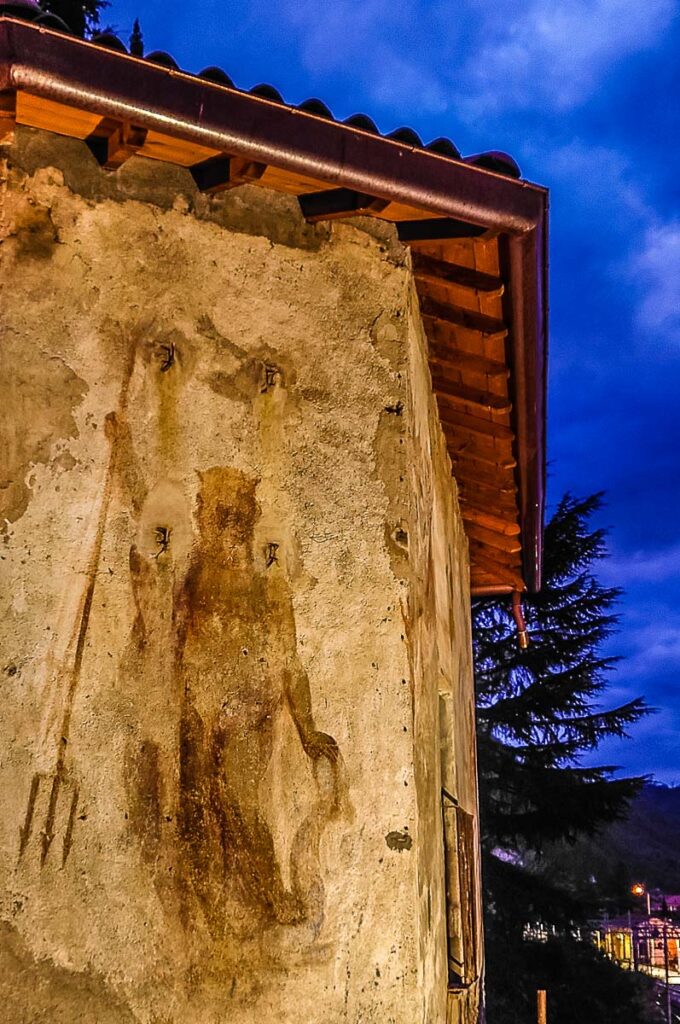 A quaint way to experience Lake Como is to get to know it through its quirky corners and local legends.
To start with, don't miss a visit to the Devil's House – Ca' del Diavol. This is a small medieval tower in the lakefront town of Bellano. Its exterior walls are decorated with faded frescoes of a large horned creature and witches. It is thought that in the past, the structure was used for devil-worshipping rituals and libidinous activities. Nowadays, Ca' del Diavol can be visited as part of your tour of Orrido di Bellano – a deep gorge excavated throughout the millennia by a series of waterfalls on the river Pioverna.
Hunters of the Holy Grail may want to head to Lake Como, too. A local legend claims that the cup with which Jesus celebrated the Last Supper and in which his blood was collected after the Crucifixion, used to be kept in a specially erected chapel on Isola Comacina – the only island on Lake Como. In 603AD, the monks, fearing attack, secluded the cup in the nearby Val Codera. Later on, a landslide obscured forever the hiding place of the legendary cup.
Mythical animals are not amiss at Lago di Como, too. According to the locals, a night creature called Cincirunbel haunts the town of San Siro on the western shore of the Colico branch of the lake. Half-bird, half-goat, it tries to get inside rooms where people with unclear conscience sleep.
Many locals also believe that a huge serpent-like animal lives in the depths of Lake Como, not unlike the well-known Nessie of Loch Ness in Scotland. People call it Larrie from the ancient name of the lake – Lario.
With Lake Como being the deepest lake in Italy and one of the deepest in Europe, it's easy to let your imagination run free with visions of what may lurk beneath the dark waters. In fact, during the Triassic Period, they were inhabited by the Lariosaurus – a marine reptile that would grow to about a meter in size. Its fossils were first discovered around the lake in the 19th century and nowadays can be seen in the museum of Castello di Vezio (see point 12 below).
9. Marvel at Powerful Waterfalls on the Shores of Lake Como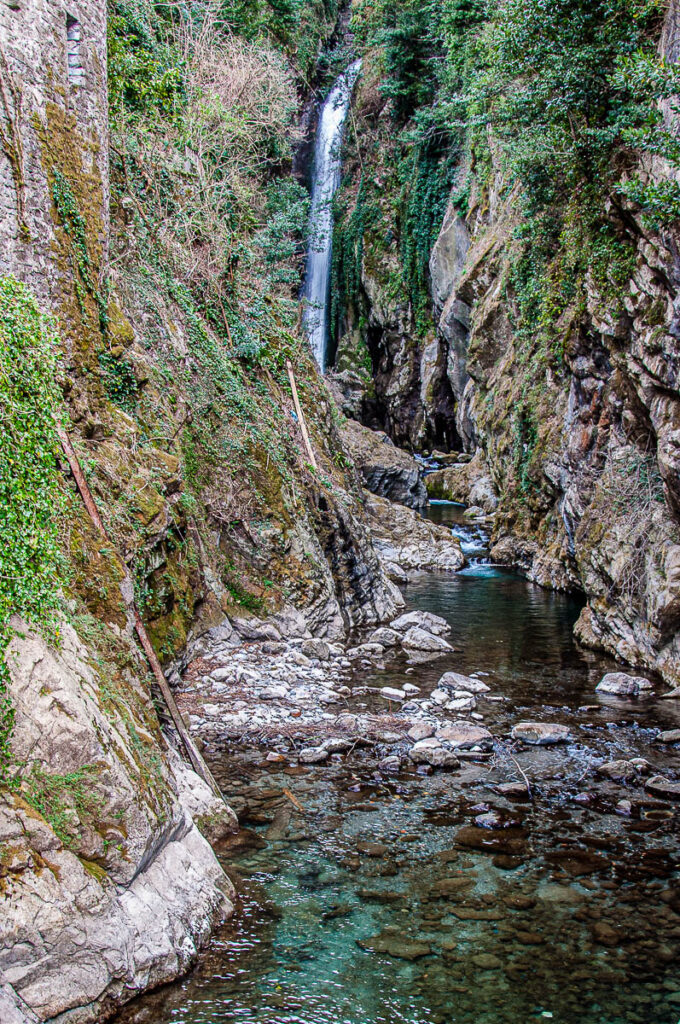 One of the best things to do in Lago di Como is to see the splendid waterfalls that tumble down the steep slopes surrounding the lake. Two of the most spectacular waterfalls here are right in the heart of a small lakefront village and a small lakefront town. So, they are very easy to visit!
They are called Orrido di Nesso and Orrido di Bellano. In Italian, orrido has two meanings – horrid and gorge.
Orrido di Nesso is in the small village of Nesso on the eastern shore of the Como branch of the lake. The bus which connects the towns of Como and Bellagio stops right next to the top portion of the waterfall. You can pop into the local bar for a quick coffee and some waterfall views. Then you need to follow the steep cobbled stairways that curve down through the village to the lakefront. There are 300 steps in total!
The effort is worth it though. At the bottom of the steps, you will find the centuries-old Civera Bridge. It affords beautiful views over Orrido di Nesso on one side and Lake Como on the other. It's one of the most photographed spots on the whole lake.
If you catch the ferry from Como to Bellagio, it passes by the Civera Bridge and Orrido di Nesso so that you can still see them and snap a photo without having to deal with the steep cobbled steps.
Orrido di Bellano is in the small town of Bellano on the eastern shore of the Colico branch of Lake Como. There is a small fee to see it (and if you pay a bit extra, you can also visit the adjacent Ca' del Diavol from point 8 above). Long walkways are attached at a significant height to the vertical rocks surrounding the waterfalls. They are on the fast-rushing River Pioverna which has excavated the huge gorge.
The views are splendid and the water is an incredible emerald green or turquoise blue depending on the time of the day. Bellano really is a hidden gem on Lake Como and its Orrido di Bellano is one of the best natural settings to experience here.
There are several other waterfalls around Lake Como. Some of them – for example, the Cascata del Cenghen and the Cascata del Cam – can be reached as part of a woodland hike. Others are firmly off the beaten track and only locals in the know can tell you how to reach them safely.
10. Hike Through Beautiful Pristine Nature and Follow Ancient Trails Around Lake Como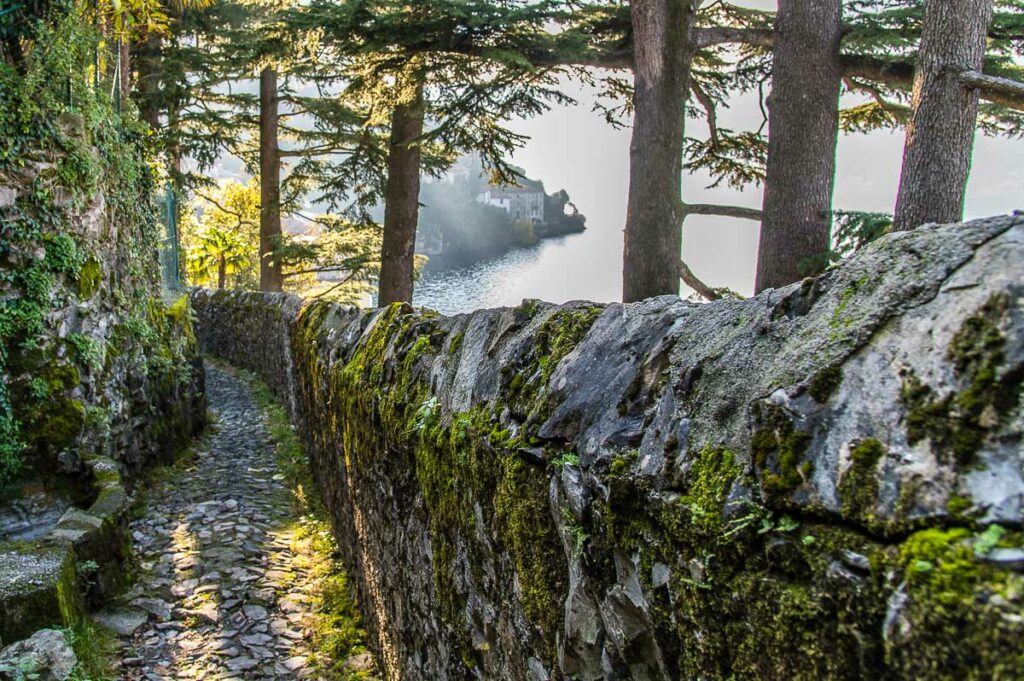 Surrounded by verdant mountains, Lake Como is the perfect destination for walkers and hikers. Paths and trails accommodating different abilities crisscross the slopes and are particularly numerous in the Triangolo Lariano – the triangular mountainous area that juts between the Como and the Lecco branches of the lake.
As you explore the many lakefront towns, you will soon notice small signs pointing to the trailheads of well-established hiking paths. Some of them are multi-stage hikes like the Strada Regia, the Sentiero del Viandante, and the Ridge of the Triangolo Lariano. There are hundreds of day- and half-day hikes, too. For example, Sentiero delle Espressioni, Greenway dei Patriarchi, and the hike to Sasso San Martino. This very useful website lists many of the best local hikes organised by difficulty.
Walking has been one of the main ways to reach the small towns and hamlets here since Roman times. Lake Como was on the route connecting the north of modern-day Italy to northern Europe and as such the roads around it were instrumental for the transport of goods and quick communications.
Nowadays, walking on the centuries-old cobbled mule tracks – known as mulattiere in Italian – is a great way to get to know the lake on an intimate level. Your hike will take you across verdant slopes and past historic chapels with precious frescoes, beautiful villas, and small hamlets that preserve ancient traditions. You will also get to enjoy deep peace and quiet with only the song of birds soaring high over the waters of the lake.
Just make sure that you always wear suitable walking shoes as traversing the cobbled paths can be hard on the feet and you need your ankles supported at all times.
11. Spend Time in Lake Como's Wonderful Museums and Quirky Sights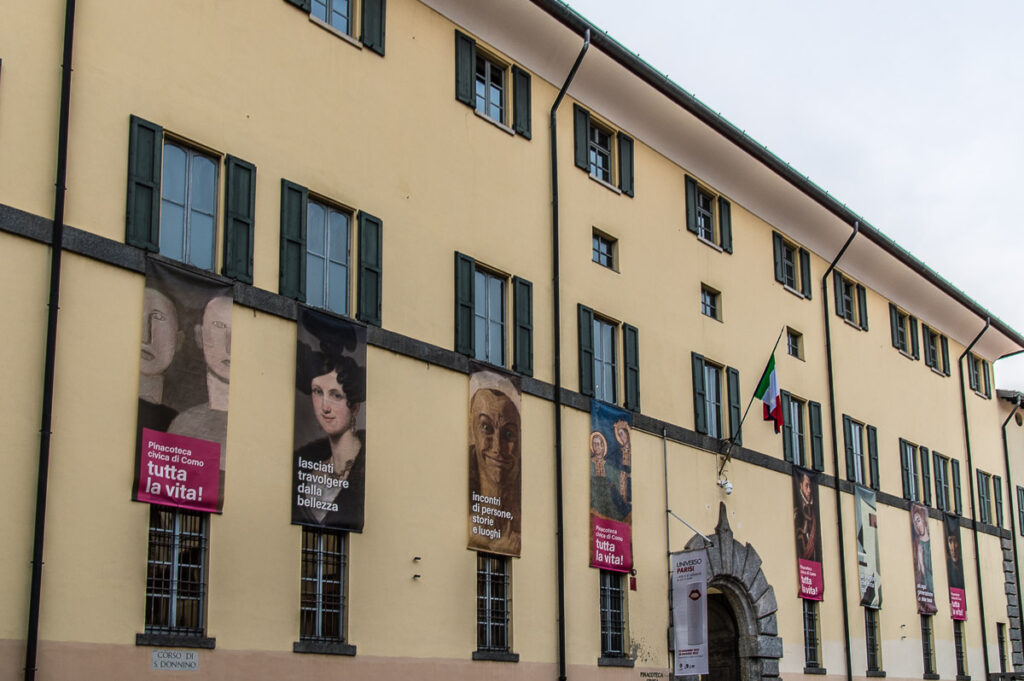 There are many wonderful museums and quirky sights around Lake Como. Visiting them gives you a chance to delve into the local culture and feel truly connected to this beautiful corner of Italy beyond the tourist cliches.
Expect archaeological museums with ancient artifacts and art galleries with numerous masterpieces. Don't miss the small local expositions exploring the lake's folkloric heritage and even its dairy-making traditions. All in all, there is lots to see and learn about here.
At Lake Como, you can also visit one of the best motorcycle museums in Europe. You will find it in the pretty as a picture lakefront town of Mandello del Lario – just a few minutes by train up the road from Lecco. The famous Italian motorcycle brand Moto Guzzi was established here in 1921. Nowadays, the Moto Guzzi Museum tells the company's story and showcases some of Italy's most iconic motorcycles.
The excellent Pinacoteca Civica in the town of Como has a wonderful art collection encompassing many masterpieces of Lombardy's medieval, Renaissance, and Baroque periods. It's here that I saw a series of splendid canvases depicting the Fall of the Rebel Angels. Painted by Paolo Pagani, they were so impactful that I was both terrified to look at them and couldn't stop staring trying to imbibe every little detail – from the bodies of the angels angrily twisted in their Fall to the curly tails sprouting at the bottom of their backs to mark the irreversibility of their transformation into demons.
The top floor of the Pinacoteca has a must-see exhibition exploring the area's Razzionalismo architecture. Dating back to the 1920s and 1930s, it is a reflection of the political and cultural aspirations of Italy during the period between the two World Wars.
Here are some more must-see museums and quirky sights to visit around Lake Como:
Before heading to one of the smaller museums around Lake Como, make sure that you check its opening hours. Some of them remain closed during the low season while most of them close for the long Italian lunch break known as riposo.
12. Visit Lake Como's Forts and Castles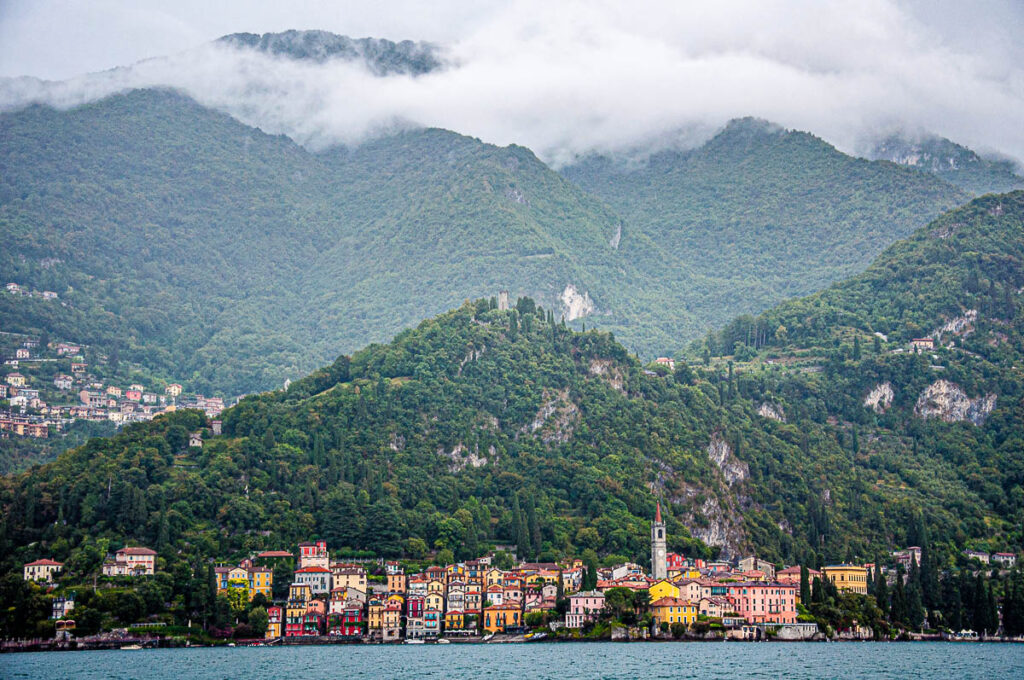 Lake Como's lands are dotted with dozens of must-see forts and castles. Some of them date back to the early Middle Ages. Others were erected during the two World Wars. Each one of them has numerous stories to tell and more often than not affords stunning views of the lake. So, make sure that you visit at least one of Lago di Como's castles and forts during your explorations of this beautiful corner of Italy.
Here are some of the most striking:
Castello Baradello – this castle with an ancient history crowns the top of a small hill next to the town of Como.
Castello di Vezio – this hilltop castle overlooks the town of Varenna and has a small natural history museum where you can see the fossils of the Lariosaurus (see point 8 above).
Torre di Orezia – the remains of a once mighty medieval castle that dominated the area around the town of Dervio in the upper branch of Lake Como.
Forte Montecchio-Nord – this is Europe's best-preserved large fort from the First World War.
13. Discover Lake Como's Centuries-old Churches and Monasteries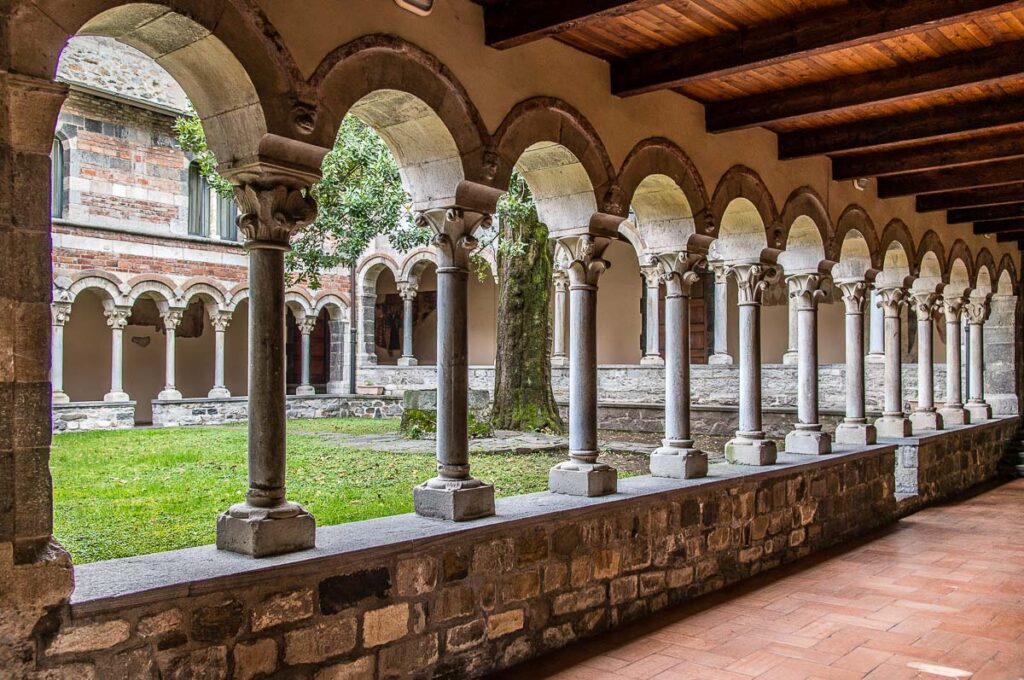 There are many centuries-old churches and monasteries around Lake Como that are a must-see on account of their history, architecture, and precious art and artifacts. The best course of action is to pop into every small or large church and chapel you come across during your explorations of the lake's shores You never know what curious stories and unique local traditions you are going to discover.
Otherwise, here are just a few of the truly unmissable religious sights to see for yourself at Lake Como:
Duomo di Como – officially known as the Cathedral of Santa Maria Assunta, this is the main church of the town of Como. It's also the third-largest religious building in the northern Italian region of Lombardy. With an imposing body – a mixture of Gothic, Renaissance, and Baroque elements – it keeps many priceless works of art and has a beautiful facade decorated with many sculptural groups, bas-reliefs, and carvings.
Church of Santa Maria Maddalena – standing in the village of Ossuccio, this is the church with the most iconic bell tower on Lake Como.
Basilica of San Nicolo' – the main church of the lakefront town of Lecco has Lombardy's second-tallest (and Italy's sixth-tallest) bell tower. Built of bricks and housing nine bells, it is the same height as England's famous Big Ben clock tower – 96 m.
Abbey of St. Mary of Piona – a blessed place of peace and quiet built on the edge of a small promontory with striking views across the Colico branch of Lake Como. The medieval cloister with its centuries-old frescoes and carved capitals is a must-see. A curious fact – art historians state that this is the abbey painted in the background of Leonardo da Vinci's Last Supper. The bell tower visible in the world-famous fresco, however, was replaced in the 18th century with a new structure.
14. Have Fun at Lake Como's Lively Events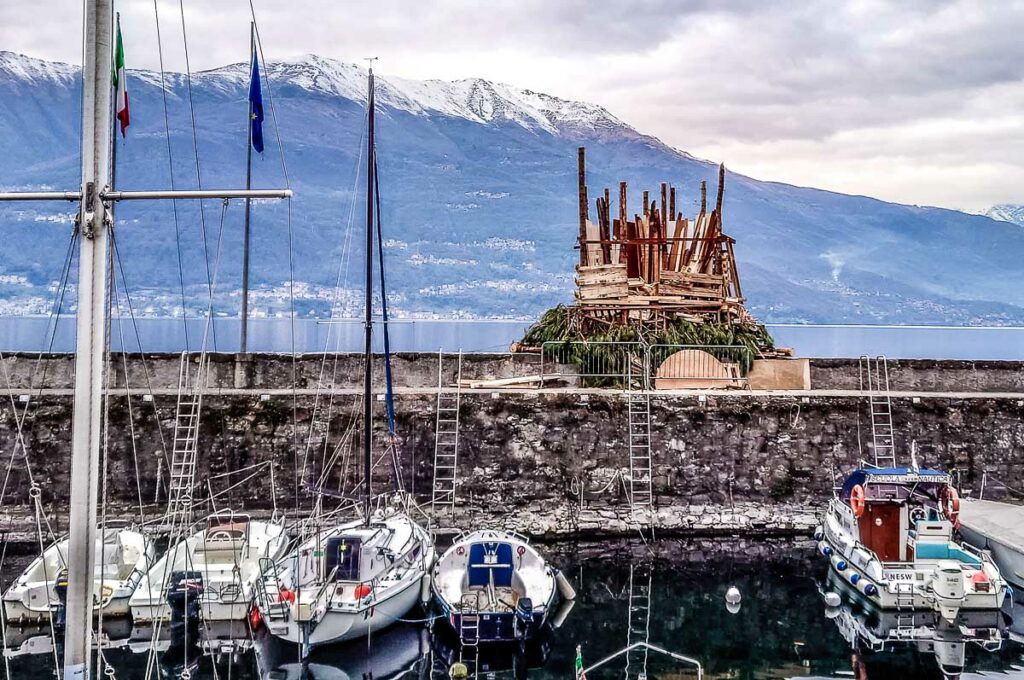 All throughout the year, many of Lake Como's towns hold spectacular events and reenactments recalling important episodes of local history. Attending one or more of these festivals is a wonderful way to get close to the local traditions and understand better what makes the lake so special beyond the usual touristy reasons.
The event calendar of Lake Como starts on 5th January when the town of Bellano celebrates the Pesa Vegia. This large-scale reenactment fuses Epiphany with an important local event of the 17th century.
Between the end of January and the start of March (with the exact dates changing every year) you can enjoy the local celebrations of Carnival. The one in Schignano – a small village in the mountains above the lakefront town of Brienno – is particularly famous. It follows ancient traditions and has its own local masked characters – Bello and Brutto (the Beautiful One and the Ugly One) – which are the focus of the celebrations.
In July, enjoy the large-scale fireworks for the Sagra di San Giovanni – a major festival in Lago di Como's calendar. It reenacts the historic attack on Isola Comacina. Another historic reenactment takes place in October at the Forte di Fuentes in the town of Colico.
Joining a local celebration during your time at Lake Como is a great way to add a special experience to your host of travel memories. Ask in the local tourist information office what's on during your visit and then make time to go and see it for yourself. It could be a food fair, a music festival, or an event with historic roots. Have fun!
15. Tuck into Lake Como's Delicious Local Food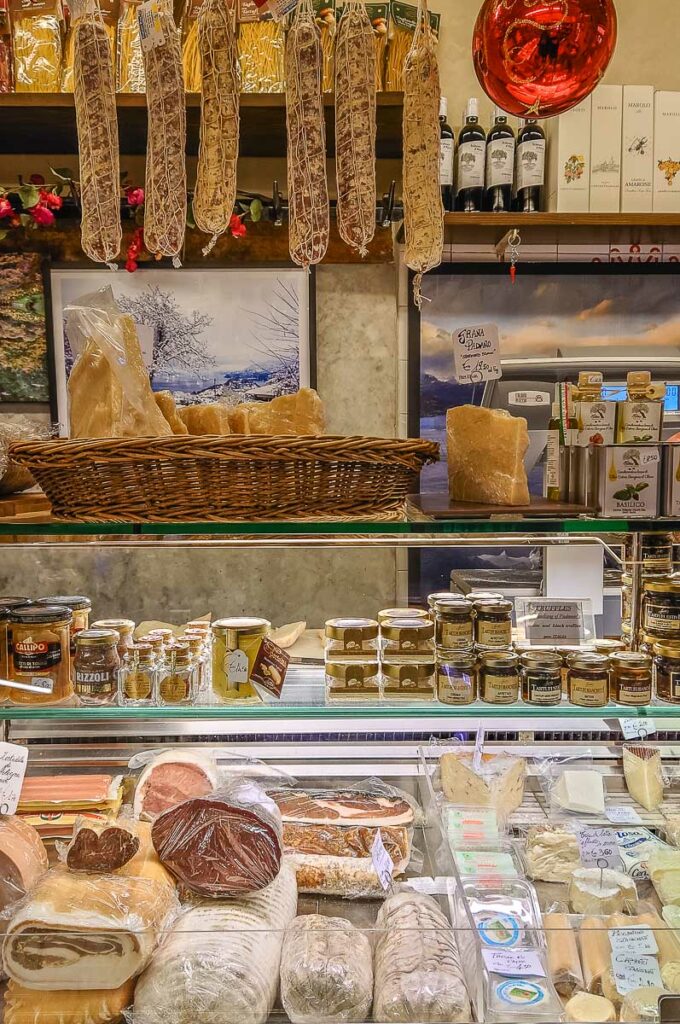 Lake Como has many local dishes that make exploring its culinary traditions worth your time. Above all, you will want to taste the lake fish – from the famous tench (usually served with a risotto) to missultin (also spelled as missoltini). The latter is a type of shad fish (locally called agoni) which are caught between May and June, salted in brine, sundried, and preserved with laurel leaves in a traditional wooden container called missolta. The container is then covered with a lid with weights on top and left over several months. Finally, the missultin is served grilled, drizzled with oil and vinegar, and accompanied with polenta and red wine.
Other delicious types of fish to try at Lake Como are alborelle (bleak), luccio (pike), and cavedano (chub). Order a nice plate of fritto misto for a selection of battered and fried pieces of lake fish often served with polenta and battered vegetables.
Lake Como is also well-known for its locally produced olive oils. For the best quality, search for bottles with the DOP Laghi Lombardi-Lario sign. DOP or Denominazione di Origine Protetta translates into English as Protected Designation of Origin. It's a sign used for locally produced foodstuffs that follow strict procedures and satisfy stringent quality requirements.
Then, if you are a dairy lover like me, Lake Como will offer a seemingly endless variety of cheeses to try. For the best experience, I suggest popping into a local deli – the historic Macelleria Salumeria Butti Enrico in the town of Bellagio is perfect – and buying a selection of cheeses to taste. Many of them are made with goat milk.
Don't miss taleggio (which is typical for the whole of the region of Lombardy), semuda, zincarlin (spiced with herbs and black pepper), and triangolo del Lario.
Polenta is another typical for Northern Italy food you can enjoy at lake Como. Tuck into a nice portion of polenta taragna (prepared with buckwheat and corn), polenta uncia (enriched with buckwheat, butter, garlic, and a variety of cheeses), and polenta toc (also enriched with butter and cheese). For more information about polenta, have a look at this blog post:
In terms of local sweets and desserts, give these a bite:
miascia – this is a cake with ancient roots in Lake Como's farming communities. It is prepared from stale bread, milk, eggs, sugar, butter, apples or pears, pinenuts, raisins, crushed amaretti biscuits, bitter chocolate, and lemon peel.
masigott – prepared with white flour and buckwheat, it's quite crumbly, and it's flavoured with candied orange peel.
16. Enjoy Peace and Quiet on the Shores of Lake Como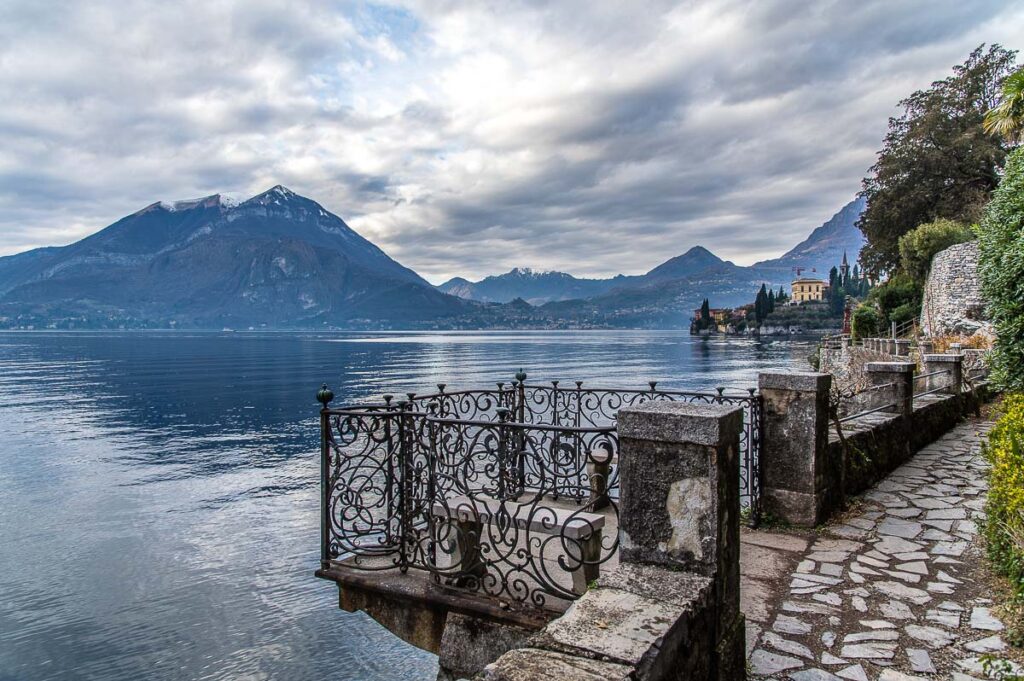 Lake Como is a very popular tourist destination and yet – due to its sheer size – still offers many hidden corners where you will be far from the maddening crowds. As such, the northern end of the lake as well as the western shore of the Lecco branch are traditionally overlooked by the mass tourist. Come here in any season for a chance to be left with just your thoughts for company.
Then, in winter, peace and quiet spread over the whole lake. While some large-scale Christmas events take place on the waterfront, in general, the local towns and villages embrace a much slower pace of life. So, it's very easy to find seclusion – even in tourist hotspots that in the high season heave with people – and thus experience Lake Como on a deeper level.
In the bosom of gorgeous nature and with sprawling views to enjoy in solitude, you get to truly disconnect and experience a more fulfilling relaxation – something that is otherwise difficult to achieve in our modern stressful world.
Learn More:
17. Marvel at Lake Como's Varied Architectural Heritage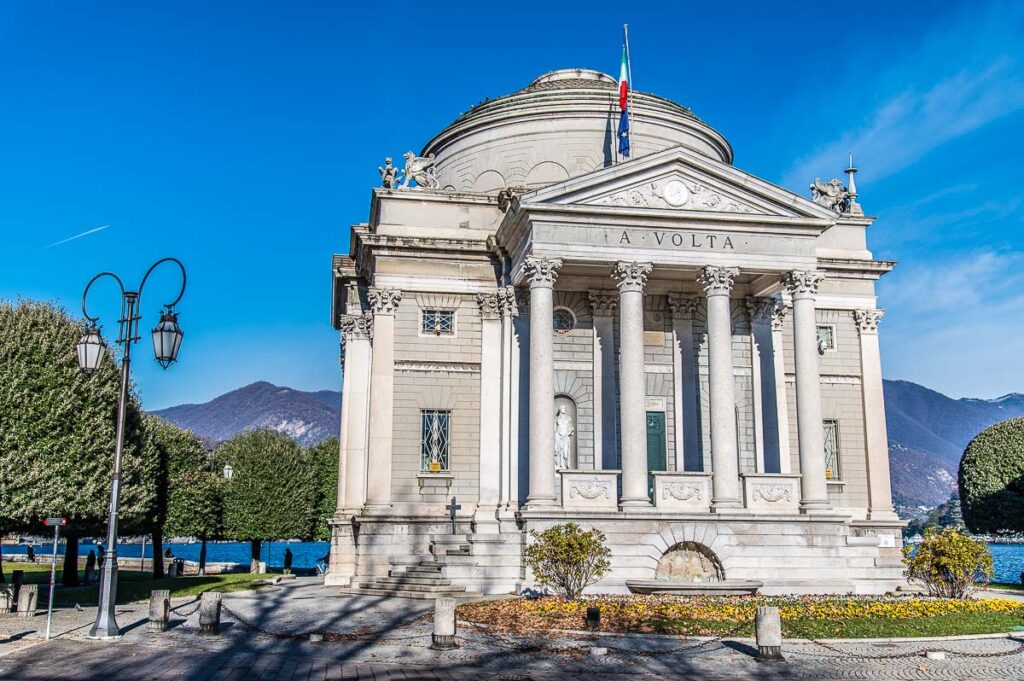 Lake Como is a wonderful place to visit if you have a particular interest in architecture. Many different architectural styles – from the historic and ornamented to the modern-day and pragmatic – are represented here thus making the lakefront towns curious and eclectic places to explore.
As you walk around, there is always something unexpected and exciting vying for your attention around every corner. This could be a medieval castle like the one in the town of Varenna, a group of splendid Art Nouveau villas like the ones you can walk past in the hilltop town of Brunate, or a Neoclassical structure like the Volta Temple in the town of Como and Villa Carlotta in Tremezzina.
It's not all about distinguished architectural styles and worldwide famous buildings here though. At Lake Como, you will also get to see Italy's most pragmatic and utilitarian approaches to construction. Surrounded by vertical slopes and steep cliffs, the lake's shores are not easy to build on. Yet, somehow, people have adapted their lives and abodes to this otherwise strenuous environment and made it all look if not necessarily beautiful in all cases then at least quaint and quirky.
As such, expect to see tall houses that seem to have grown – one floor at a time – over several decades. This results in some strangely angular constructions that make use of every available space and corner. In some of the small towns and villages around the lake – Nesso being a great example – multi-storey houses have been inserted between large boulders protruding from the slopes.
Following the cobbled streets and stairways that crisscross the small hamlets on the lake shores, it's quite fascinating indeed to see how inventive people have been here over the centuries. Many brave architectural decisions have been made by many resourceful people in order to build a house here. And who could blame them?! The views and the natural setting are simply one of a kind!
18. Stay in Lake Como's Exclusive Luxury Hotels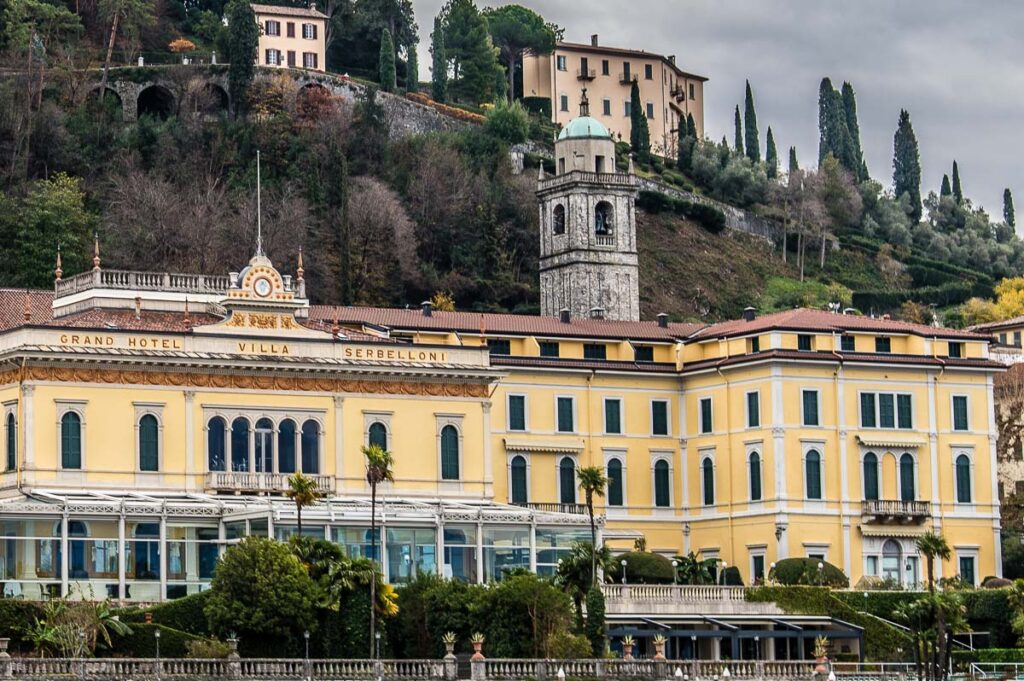 If you have ever wanted to really treat yourself (and have worked hard for the means to afford it), Lake Como is the perfect place to truly spoil yourself and your loved ones.
Hotels, villas, and resorts offering exceptional levels of luxury are in their dozens here. Many of them, like Grand Hotel Villa Serbelloni, are housed in architecturally splendid historic mansions and villas. Others occupy purpose-built facilities that have become the standard of luxury accommodation all over the world. The magnificent Grand Hotel Tremezzo is a case in point. This is a place where you can spend time in the outstanding spa, tuck into culinary elevated meals, and zip around the lake courtesy of the hotel's mahogany water limousines.
From hiring a private villa – carefully restored and tastefully furnished – to staying in elegant houses tucked in the grounds of exclusive resorts, there are many ways to enjoy refined luxury at Lake Como in Italy.
19. Take a Flight in a Seaplane Over Lake Como and the Comasche Prealps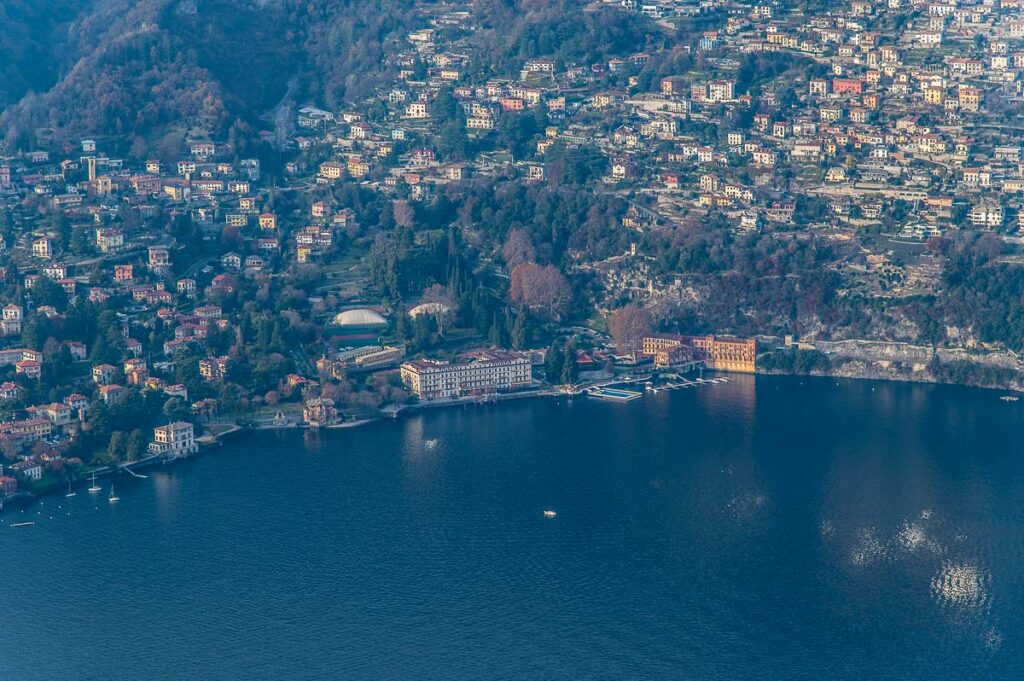 A truly exciting thing to do at Lago di Como is getting to see Italy's most famous lake from above. From morning til dusk, you will spot seaplanes flying parallel to the mountain peaks and descending all the way down to the limpid waters.
Standing by the Volta Temple on the town of Como's lakefront promenade, you can observe a steady sequence of seaplanes flying out of their hangar and gliding up. They are operated by Aeroclub Como – the oldest seaplane organisation in the world which also runs a flight school.
While it may cost a pretty penny, a seaplane flight over Lake Como is the stuff that memories are made of. So, consider it a special treat! For sure, it's the type of travel experience that will provide food for conversation (and bragging rights!) for years to come.
20. Photograph Iconic Corners Around Lake Como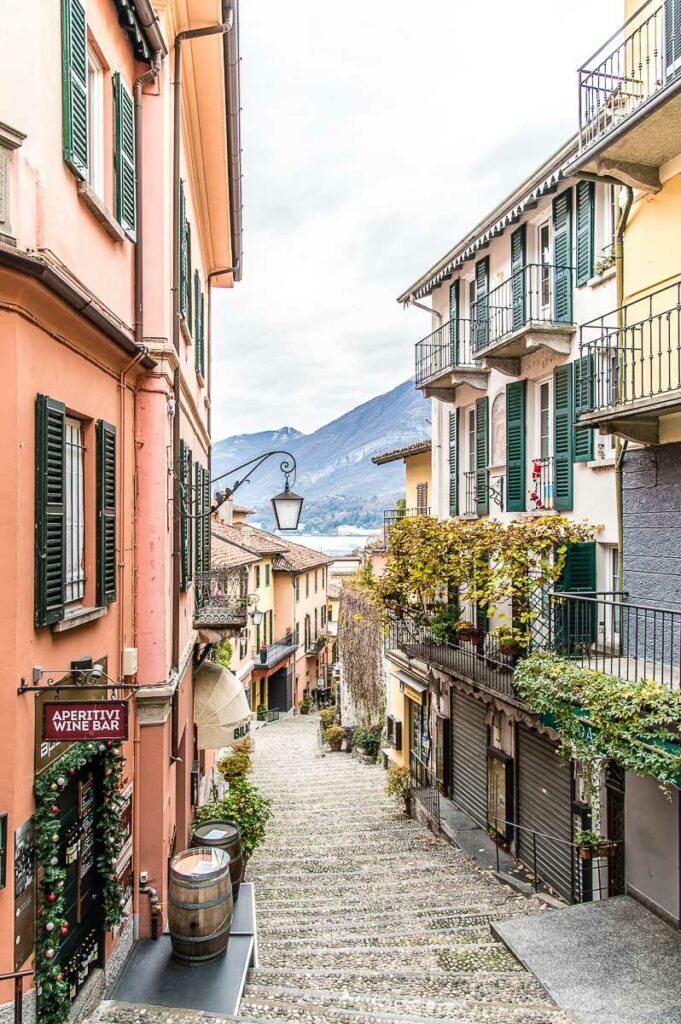 Lago di Como is famous all over the world. On social media, there is a constant stream of stunning photographs showing its most iconic corners in the best possible light. It's only fair then that you may want to photograph the lake at its best. Here are a few of the most beautiful corners here to see through your lens:
Salita di Serbelloni – a curved cobbled street made of wide steps in the heart of Bellagio. Flanked by tall houses, it affords a gorgeous view of the lake and the mountains that surround it.
Como-Brunate Funicular – as the funicular slowly goes up the steep slope, the panoramic view of the town of Como provides endless opportunities for photos with the wow factor.
Ponte Civera in Nesso – this Romanesque curved bridge overlooks both Orrido di Nesso and Lake Como. A favourite spot of the hip crowd in summer, it's absolutely deserted during the low season.
Villa Monastero – one of the most famous villas on Lake Como has a beautiful botanical garden that stretches along the shore and provides many spots for iconic photos with twisted pillars, citrus trees, and endless chains of mountains.
These are some of the places that reveal the most stunning angles of the lake. It's not surprising then that during the high season, there are queues of professional and amateur photographers at these spots. Armed with top of the range cameras and mobile phones people from all over the world are desperate to replicate the most iconic images of Lake Como.
In a way, there is nothing wrong with this! So, join them, too. Take lots of photos of Lake Como and all the visual delights it has to offer. Once you have ticked off all of the popular places, try to find your own angles to photograph the lake from. It's a really inspiring place offering many hidden gems, unexpected viewpoints, and sprawling panoramas.
It really helps develop your sensitivity as a photographer. So, don't miss any opportunities to see it your way through your lens. Seek lesser-visited corners, capture the lake's centuries-old churches, the steep cobbled steps that go up the vertical slopes and stand in for streets in many hamlets and towns here. Pan out to shoot the lake's indomitable nature.
In many social media posts, Lake Como comes across as this perfect, almost saccarine place. Instead, show it as it is – powerful, with hidden depths, and surrounded by mountains that reach for the sky. Even if you have never thought of yourself as an especially good picture taker, Lake Como – if you give it a chance – can turn you into a naturally born photographer.
21. Swim and Sunbathe at Lake Como's Beaches and Lidos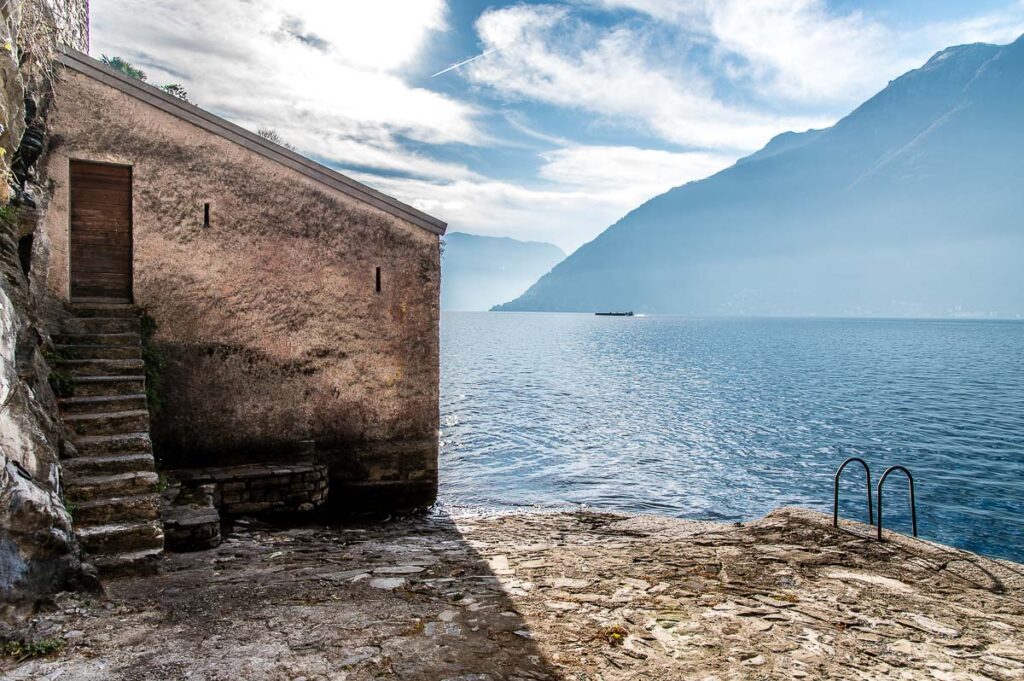 During the hot months, Lake Como is a great place for a spot of sunbathing and swimming. Many small beaches – some grassy, some sandy, and some covered with pebbles – dot the lake's shores. They attract both locals and tourist crowds, so, head there early to get a nice spot.
Here is a word of warning though! Lago di Como is the deepest lake in Italy. Its waters drop to a depth of 425 m. The further away you are from the shore, the colder the water may feel, even at the height of summer. Especially, if you decide to hire a motorboat and jump into the lake for a swim. The risk of thermal shock and potential drowning is real. Exercise caution and common sense.
Something else to consider. According to the Italian news agency ANSA, the water at certain points of Lake Como may be polluted. This article (in Italian) has more details or you can try to search for other sources of information, too.
So, a better option is to head to an open-air swimming pool. The luxury hotels around the lake – from Grand Hotel Villa Serbelloni to Villa d'Este – have gorgeous pools flanked by perfectly lined sunloungers, each providing a spectacular lake view.
Still, you don't have to pay hundreds and thousands of euros per night to enjoy swimming in an open-air pool at Lake Como. Villa Olmo – a palatial historic building next door to the town of Como – has a lido with swimming pools open to the public each summer for a very reasonable price. You can find more details on the official website of Lido Villa Olmo.
22. Take a Day Trip from Lake Como to Many Exciting Destinations in Italy and Switzerland
If you have picked Lake Como as a base for your Italian holiday, you are in luck! Apart from offering a long list of things to do on its shores, the lake is also a great point of departure for many day trips in Northern Italy.
Only 40 mins away by train from Milan and right next door to Switzerland, you can travel every day from Lake Como to a nearby sight or city for exciting explorations and memorable travel experiences. That's it if you can bear to leave the lake behind.
Here are some of the best day trips you can enjoy from Lake Como:
Learn More:
23. Celebrate a Heartfelt Italian Christmas in the Festively Illuminated Towns of Lake Como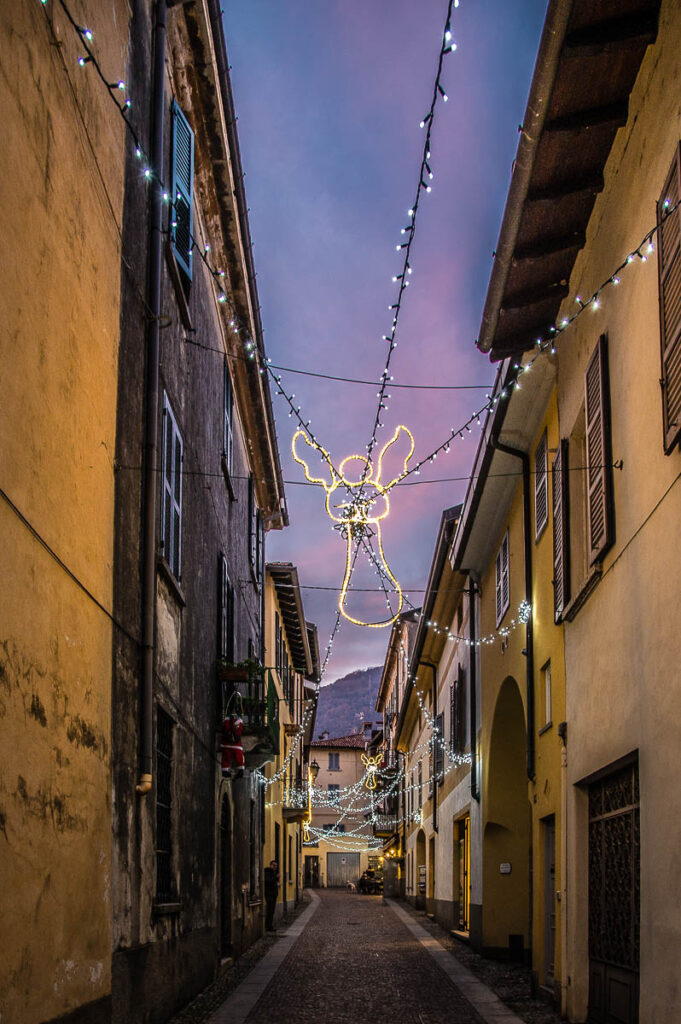 Lake Como is a great place to enjoy Christmas the Italian way. The festive season in Italy starts on the 8th of December – the Feast of the Immaculate Conception of the Virgin Mary – and lasts all the way to Epiphany on the 6th of January when Befana brings sweets to the well-behaved Italian kids.
Expect Christmas markets selling delicious food from all around the country, tasteful decorations, beautiful Nativity scenes, and Befana dolls. You will find all this and more in Como's lakefront towns all throughout the festive season.
The lake is particularly famous for its lavish festive illuminations. The multi-day event City of Toys in the town of Cernobbio, for example, is where you can enjoy Christmas with beautiful lights, an arts and crafts market, an ice rink, and exciting performances.
In any case, each of the larger lakefront towns stages its own Christmas events. The historic centres get decorated in such a way as to emphasise the beauty of the centuries-old houses. As you travel around Lake Como in the evenings, your eyes delight in the colourful lights that – like strings of gemstones – stretch for miles along the shores.
The local churches hold concerts and festive masses. The lake communities flock to them all throughout the Christmas season to enjoy the traditional presepi and religious celebrations. Everyone's invited! All in all, Lake Como is the place where you can experience the real atmosphere of the Italian Christmas.
Learn More:
24. Experience a Disappearing Way of Life in the Medieval Hamlets of Lake Como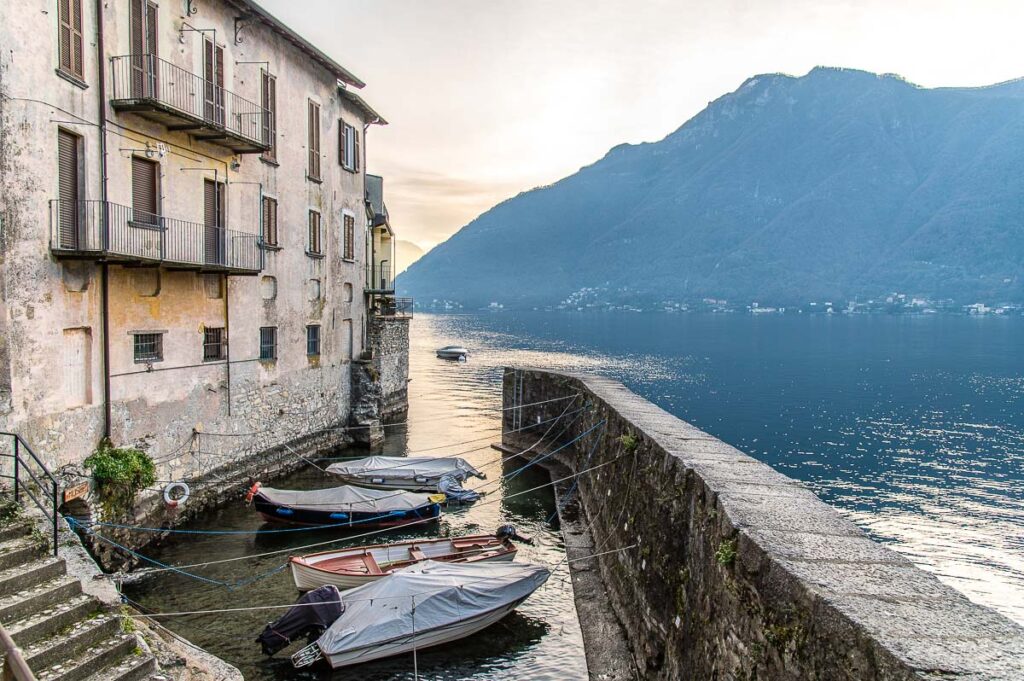 Fueled by stunning imagery on social media, Lake Como exists in our collective imagination as a verdant, luxury destination dotted with exclusive places to visit. Certainly, this is one of the lake's most beautiful and sought-after facets.
At the same time, this is a place where you can experience small-town Italy truly authentically and beyond the travel cliches and thus immerse yourself in a disappearing way of life.
With towns made of tall houses clinging to the steep slopes where many streets are in fact stairways of cobbled steps, living around the lake year-round can be rather physically taxing. Out of breath after scaling yet another endless flight of jagged steps, I complain to the lady running a small shop in one of the lakefront towns: 'I don't know how you do it every day!'
'It's easy!', she says while demonstrating a perfect high kick and touching her toes with her fingers.
Yet, as you walk around it's easy to come across the faded fascias of small shops and restaurants that are no more. A former trattoria here, a long-closed textile shop there, the streets of the smaller towns around Lake Como can feel empty and quiet on a winter day.
Glamourous boutiques and elegant historic shops thrive in the larger lakefront towns like Lecco, Como, and Cernobbio which are also built on flatter ground. Nowadays, the lake's main fortunes depend on tourism but in the near past, the production of prized textiles was the main industry here.
As you explore around, it's easy to come across the vestiges of past glories. A case in point is the empty body of the large cotton mill that once employed most of the inhabitants of Bellano. With plans to regenerate it into an art centre, this impressive structure will certainly inject a new lease of life into this underrated town on Lake Como.
25. Circumnavigate Lake Como by Public Transport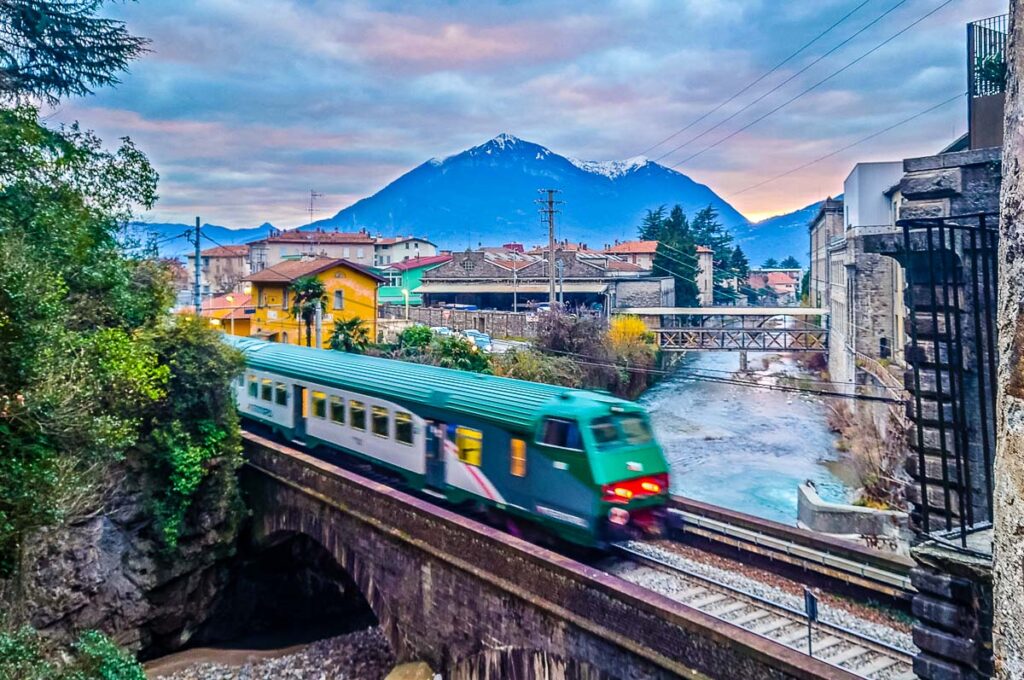 Lago di Como has a lot to offer to the curious traveller. Yet, most people who come to visit, choose to spend their time in three main spots – the towns of Como, Bellagio, and Varenna. They may also visit a villa or two and that's it.
If you want to really get to know Lake Como, then challenge yourself to see the most of it. Its unusual shape and steep shores may seem to make travelling around the lake very difficult. Yet with a bit of information and some advance planning, you can easily circumnavigate the whole lake by public transport. This way you will get to experience it fully and enjoy many of its corners that remain strictly off the beaten path.
Here is one way to do it: get a train from Milan (or anywhere you may be in Italy) to the town of Como. Once there, get the local bus C10. It will take you all the way up the western shore of the lake to the town of Menaggio and then along the northwestern shore and around the northern tip of the lake to the town of Colico. Along the way are such iconic places as Villa del Balbaniello and Villa Carlotta. You can also explore beautiful lakefront towns such as Cernobbio, Laglio, Menaggio, and Gravedona. The bus takes around 1 h 10 mins from Como to Menaggio and it covers the full itinerary in about 2 h 15 mins or so.
Once in Colico, you can get the fast ferry back to the town of Como. Or (and even better), you can get the train that skirts the eastern shore of Lake Como and travel all the way down to the town of Lecco in about 44 mins. There is also a slower train which covers the same distance in just over an hour. Along the way, the train stops in such beautiful towns as Bellano, Varenna, and Mandello del Lario.
In Lecco, you may choose to get the local bus C40 which in about an hour will take you back to the town of Como. This will complete your circumnavigation of Italy's most famous lake.
If you want to challenge yourself further though and have the time to spare, in Lecco you can get the local bus D10 which will take you up to Bellagio in about 45 mins or so. Once in Bellagio, you can get bus C30 down to the town of Como. This way, you will also travel along the edge of the Triangolo Lariano – the mountainous triangle between the Como branch and the Lecco branch of the lake.
You can travel around the whole of Lake Como in one long, exciting day. Or you can decide to split the experience over several days and spend the night in some of the beautiful lakefront towns along the way. You can find information about Lake Como's buses on the website of ASF Autolinee. Otherwise, in this blog post, I explain in detail how to get around the lake. Points 2, 3, and 4 are particularly helpful.
Practical Tips About Visiting Lake Como in Italy
Pin for Later!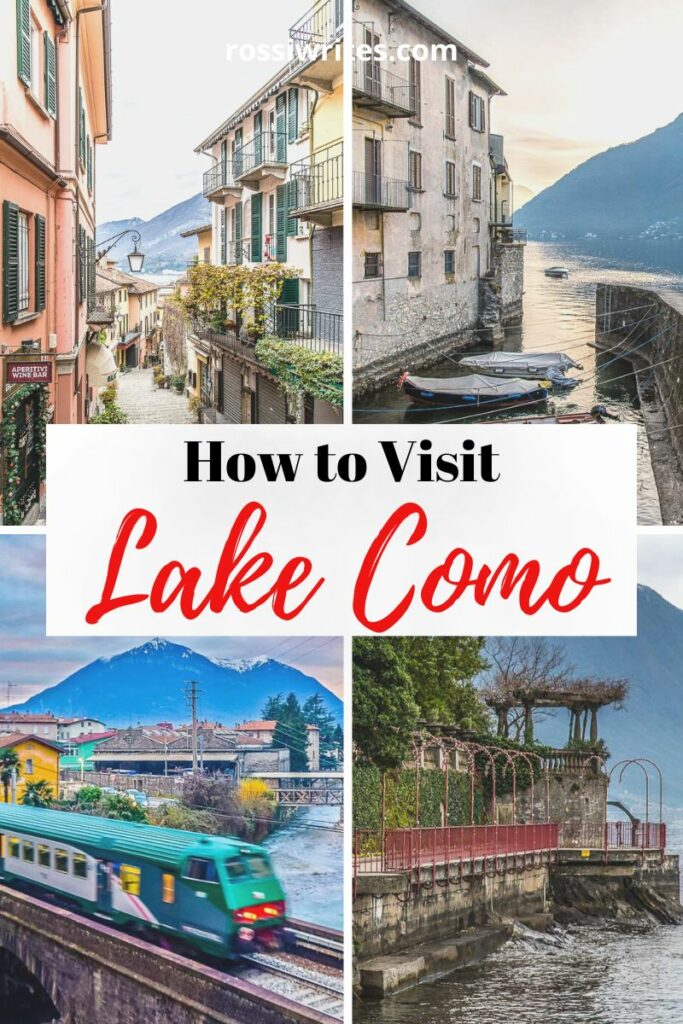 How to Reach Lake Como and Travel Around it by Car and Public Transport?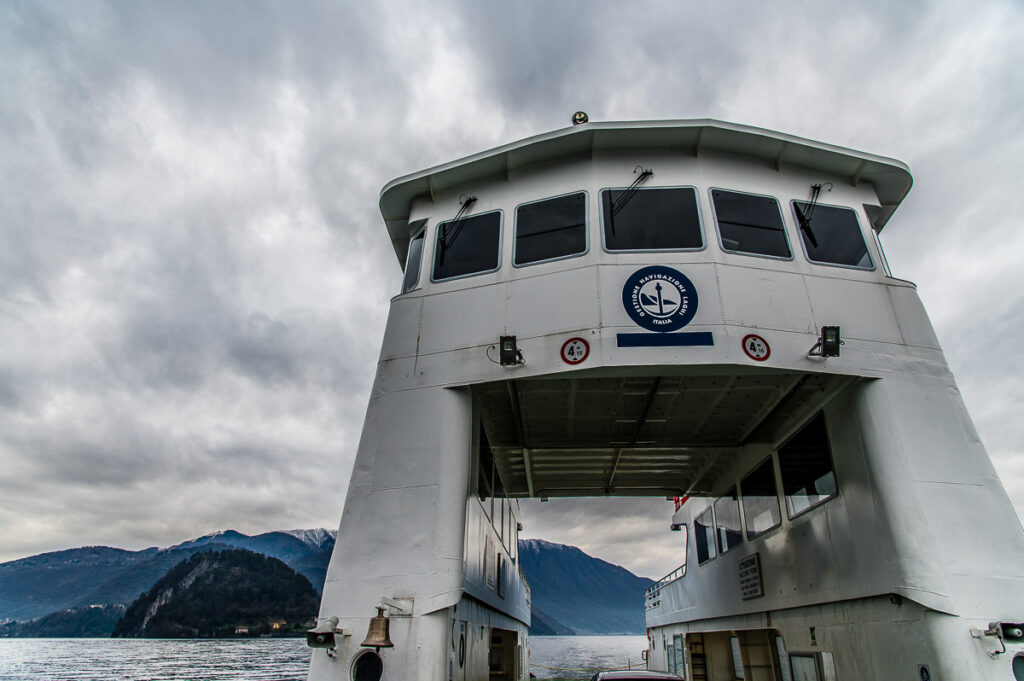 For exhaustive details about reaching Lake Como and travelling around it by car, train, bus, ferry, and even seaplane, have a look at this blog post:
When Is the Best Time to Visit Lake Como in Italy?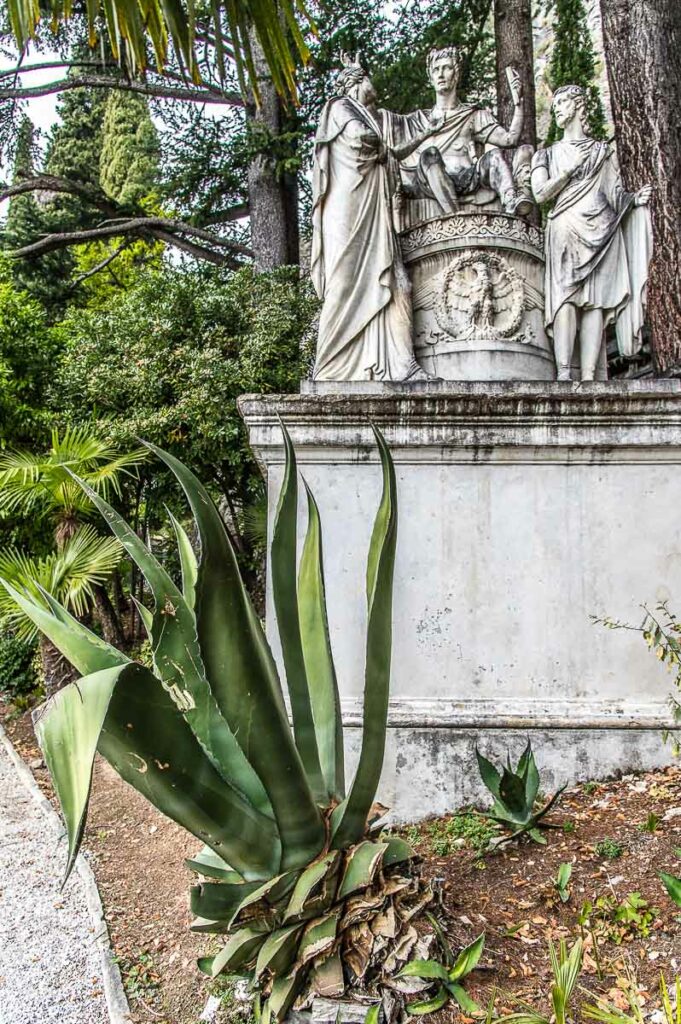 Lake Como has a lot to offer in all seasons. Summer is the busiest time of the year here. This is when hundreds of thousands of people flock to the lake to enjoy day trips and longer holidays on its shores. On summer weekends, half of Milan decamps to Lake Como, too as many of the Milanesi have villas here or simply come to hike, relax, and enjoy the stunning natural setting.
If you are planning to visit Lake Como in the summer expect large crowds of both Italians and people from all over the world. On the plus side, however, all sights – from historic villas to quirky museums – are open, lots of fun events take place, and there's nothing like taking a cooling plunge in the water, ideally in an outdoor swimming pool floating on the lake.
In winter, the lake is very peaceful and offers great opportunities to experience its heritage and nature more authentically. While some of the historic villas and several hotels either close for the low season or operate with greatly reduced facilities, there is still plenty to do around Lake Como during the cold months. Christmas is a particular highlight with festive illuminations, markets, and events. Find out more in this blog post:
To best experience what Lake Como has to offer, try to come here during the shoulder seasons. Late March to May and then late September to October are the best periods of the year to visit. Crowds are just starting to form in spring and already dispersing in autumn. The lakefront towns are full of life. From April onwards, gorgeous rhododendrons, camellias, and roses bloom in their thousands in exquisite botanical gardens and private courtyards.
The temperatures are decidedly pleasant and vary between 15 and 20 degrees Celsius. So, you can comfortably sightsee and hike around without being scorched to a crisp by the sun. The only downside to the shoulder seasons, however, is the bigger chance of rain! April and May can have respectively up to 10 and 12 rainy days while September and October usually have around eight rainy days each.
Where to Stay at Lake Como, Italy?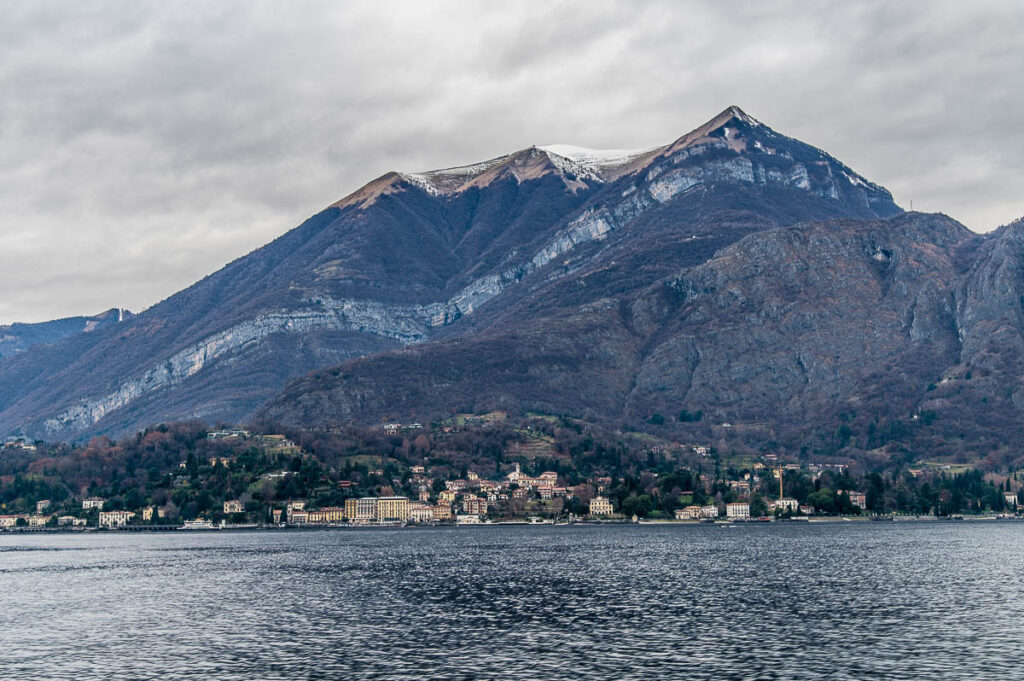 There is a huge selection of places to stay at Lake Como in any season.
You can choose from lavish historic villas that nowadays function as exclusive hotels. You can opt for a cosy B&B in the centre of a lakefront town. Or you may prefer a self-catering accommodation to enjoy a home-from-home experience.
If you are arriving by car, then make sure that your accommodation also offers parking spaces or can recommend a nearby car park. Especially, if you are planning to stay outside of the larger lakefront towns like Como and Lecco. Parking spaces in the smaller lake towns may be difficult to come across and are usually taken by the locals.
If you are relying on public transport and your accommodation doesn't provide transfers, then make sure that you have easy access to the nearest bus stop or ferry port. You don't want to have to walk for miles luggage in hand or depend on taxis every time you want to go to the town centre.
Here are some suggestions for places to stay at Lake Como. All come highly recommended:
Luxury: Grand Hotel Victoria concept & spa by R Collection Hotels, Grand Hotel Villa Serbelloni
Mid-Range: Casa sull'Albero, Hotel Lenno,
Budget: Locanda Alberti, Valle dei Mulini – Lake Como,
Alternatively, have a look at this map giving you a quick visual idea of the available accommodation options around Lake Como, Italy. You can zoom in and out, type in your specific travel dates, and then click on the different price points for detailed information about the hotel you are interested in:
In addition, have a look at this blog post which explains the different types of accommodation you can book in Italy. It will give you plenty of ideas to look into for the best and quirkiest places to experience here:
How Long to Spend at Lake Como?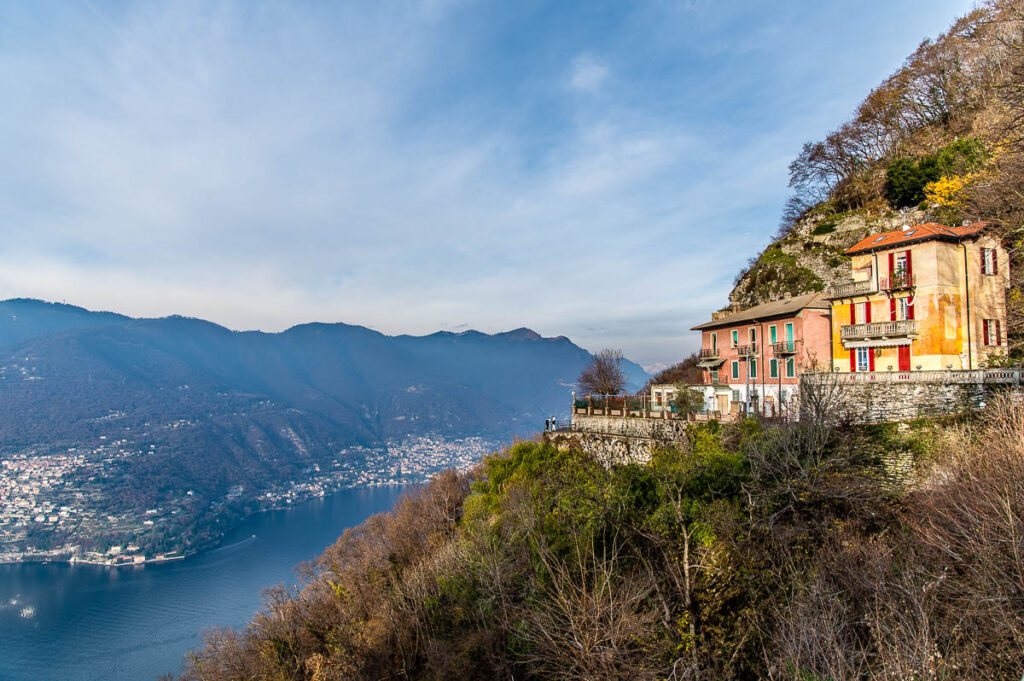 Lake Como has a lot to offer no matter your style of travel. You may be after a peaceful and relaxing holiday with stunning lake views, a pampering experience with spa procedures and some pool lounging, an active nature break with lots of hiking, or an unforgettable day trip. Or you may just want to be able to say that you've been to Lake Como and understand what all the fuss is about. Any reason to visit is valid!
So, how long to spend here depends entirely on you and on the amount of time you have at your disposal.
Let's say that this will be your first visit to the lake and you just want to test the waters. Then you can easily take a self-organised or guided day trip from Milan to Lake Como and see one or a few of the most popular lakefront towns like Como, Varenna, and Bellagio. You can also book a guided day trip around the lake taking you to some of its best sights (this one comes highly recommended).
Alternatively, you can pencil in a weekend break or an even longer stay at Lake Como. It's a big place that easily caters to all types of travellers.
What to Pack for a Visit to Lake Como?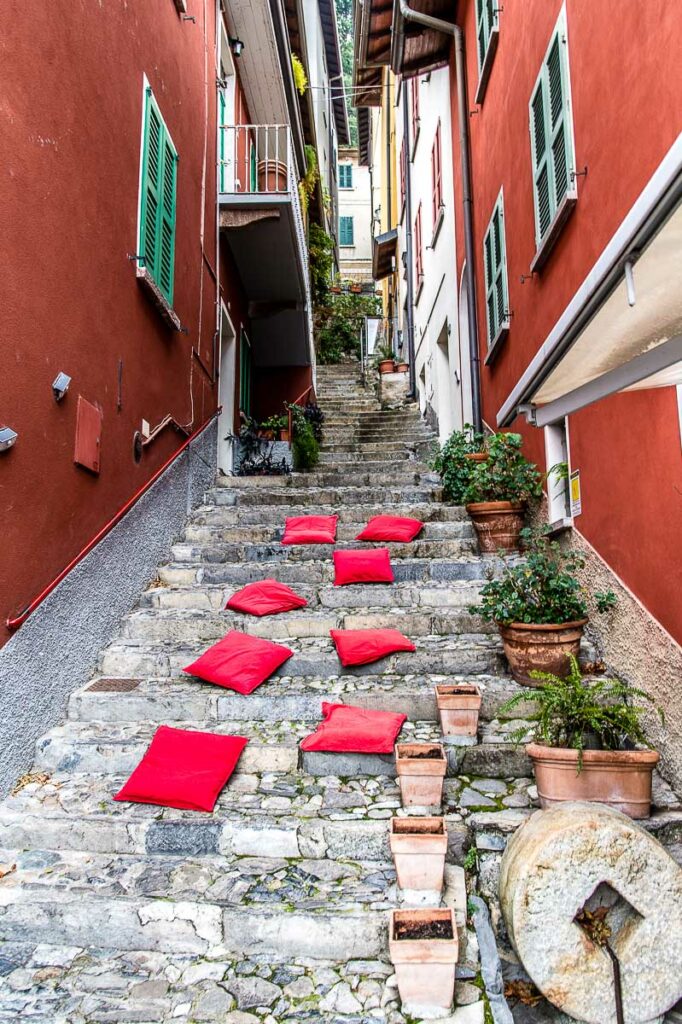 Lake Como has its own microclimate with moderate temperatures which vacillate around 26 degrees Celsius in summer and drop to around 4 to 8 degrees Celsius in winter. May and June are the wettest months in terms of rainfall and snow days in winter are very rare. Nights can get chilly in any season.
As such, no matter when you choose to visit, make sure that you pack plenty of layers. A light jacket or a cosy jersey may come in very handy during the high season. I am speaking as someone who got caught in a cold downpour in Varenna in July without a jacket because I had wanted to pack light and had assumed that summer is always warm in Italy. At the same time, don't forget your sun cream, a hat/sunglasses, and a swimming costume.
In winter, you will want to be able to peel off a layer or two on one of those not-rare days when the sun shines bright at lunchtime and it feels like it's spring already. At the same time, don't forget your hat, scarf, and gloves as wrapping up warm in the evenings feels so nice.
Bringing my padded hat with ear flaps (similar to this one) was my best packing decision during my last visit to Lake Como over ten days this past Christmas. It kept me really cosy during festive market explorations and hiking around.
Always pack a pair of good walking shoes for Lake Como. Plus, hiking shoes/boots are a must when you go exploring in nature. With many of the towns and villages around the lake having steep cobbled streets and often flights of steps instead of streets altogether, your ankles need to be well supported at all times.
Unless you are planning to visit just the towns of Como, Lecco, and Cernobbio (the central parts of which are flat), make sure that you bring an appropriate pair of shoes to allow you to safely navigate uneven surfaces and steep slopes.
Which Are the Best Towns to Visit on Lake Como?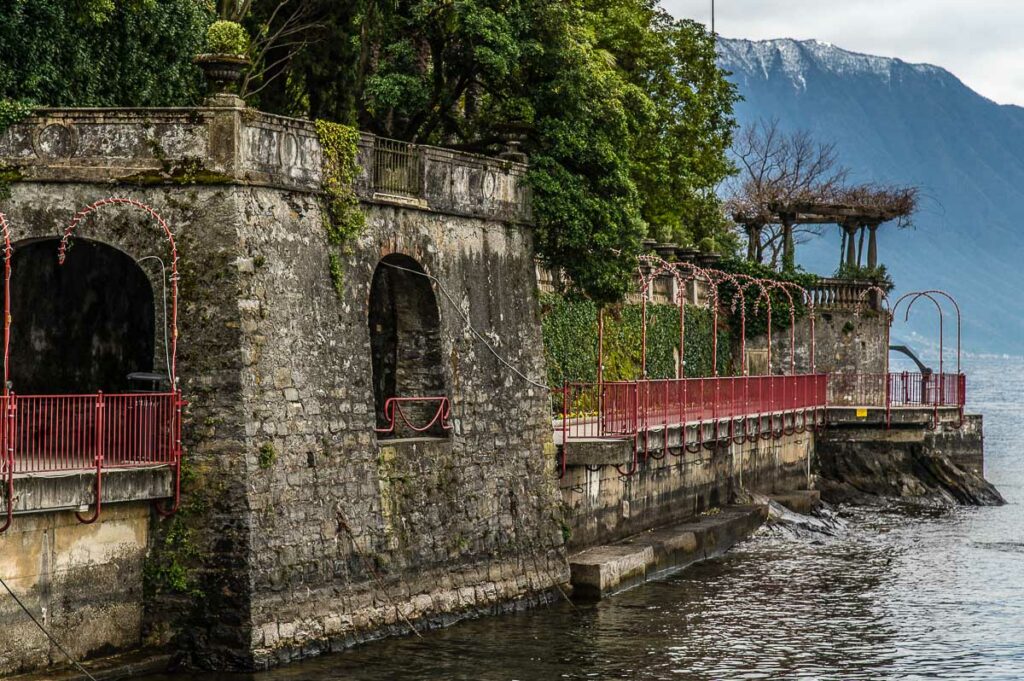 There are easily dozens of small towns and villages clustered along the waterline and clinging to the steep slopes above Lake Como. Some of them – like Bellagio – are famous worldwide. Others are much less known yet they have beautiful historic centres, a number of curious sights, and are on numerous hiking paths crisscrossing the lake's lush natural setting.
If you only have a limited amount of time to spend at the lake, here is a short list of four of the most gorgeous lakefront towns. All of them are easy to reach by train or by train/bus/ferry from nearby Milan. This makes them great destinations for day trips and weekend breaks as well as for longer stays on Italy's most famous lake.
Como – one of the largest towns on Lake Como. Come here for the imposing Duomo, the sights dedicated to Alessandro Volta (the inventor of the prototype of the electric battery), and the funicular taking you up a vertiginous slope to the town of Brunate. Regular trains link Como to Milan all throughout the day. Once in Como, you can also take a bus to nearby Cernobbio (another beautiful lakefront town) or a ferry up to Bellagio.
Bellagio – this is easily the most famous town on Lake Como. It stands on the tip of Punta Spartivento – the meeting point of the lake's three branches. Bellagio is very picturesque and has a number of easy to see in a day sights – from the botanical garden of Villa Melzi to the cobbled streets of its historic centre populated by silk shops and craft workshops. You can reach Bellagio by bus or ferry from Como, by bus from Lecco, and by ferry from Varenna.
Varenna – the most charming town on Lake Como is a delight to explore. It has a cute little harbour, a waterfront promenade with far-reaching lake views, medieval castle, and next door to it stands the magnificent Villa Monastero with its delightful garden. Regular trains connect Varenna to Milan all throughout the day. Ferries link this lakefront town to the towns of Menaggio and Bellagio, too, so that you can see them all in a day.
Bellano – this is Lake Como's hidden gem of a town. With a beautiful promenade, a cute harbour, and a dramatic gorge with a series of powerful waterfalls, Bellano has a lot to offer. You can easily see it all in a few hours or over a very leisurely day. Even better! Bellano is on the same train line as Varenna, making it possible to visit both towns as part of the same trip.
What Are the Very Best Things to Do in Lake Como?
As you saw above, there are many things to do and enjoy around Italy's most famous lake – Lago di Como. If you are pressed for time and can't do it all, then take your pick from this handy shortlist:
Sightseeing – the shores of the lake are studded with historic villas, centuries-old churches, and excellent museums. The most well-known are the Duomo, the Volta Temple, the Civic Art Gallery, and the Silk Museum in Como, Villa Balbaniello near Lenno, Villa Monastero next door to Varenna, Villa Melzi in Bellagio, the Moto Guzzi Motorcycle Museum in Mandello del Lario, and so many others.
Hiking and Nature Exploring – it is so very easy to get close to nature around Lake Como. Hiking paths (some of which follow ancient Roman roads) crisscross the steep slopes and link the small towns and villages here. Powerful waterfalls rumble through vertiginous gorges and flow into the lake. Don't miss Orrido di Nesso and Orrido di Bellano. You don't even need to break a sweat to get out and about in nature here. A number of funiculars and cable cars offer the chance to enjoy sprawling lake views from the comfort of a smoothly ascending cabin.
Shopping – Lake Como is a great place to indulge in some shopping no matter if you are after the latest fashions of the best Italian brands or artisan items by local craftsmen. The area is also famous for its locally designed silk accessories. Silk has been produced around the lake for centuries and nowadays you can get beautiful silk bags, scarves, and ties for yourself and your loved ones. Don't miss the local brand Acqua del Lario which makes perfumes, candles, and home scents inspired by the towns and vistas of Lake Como.
Where to Find More Information About Lake Como and the Region of Lombardy?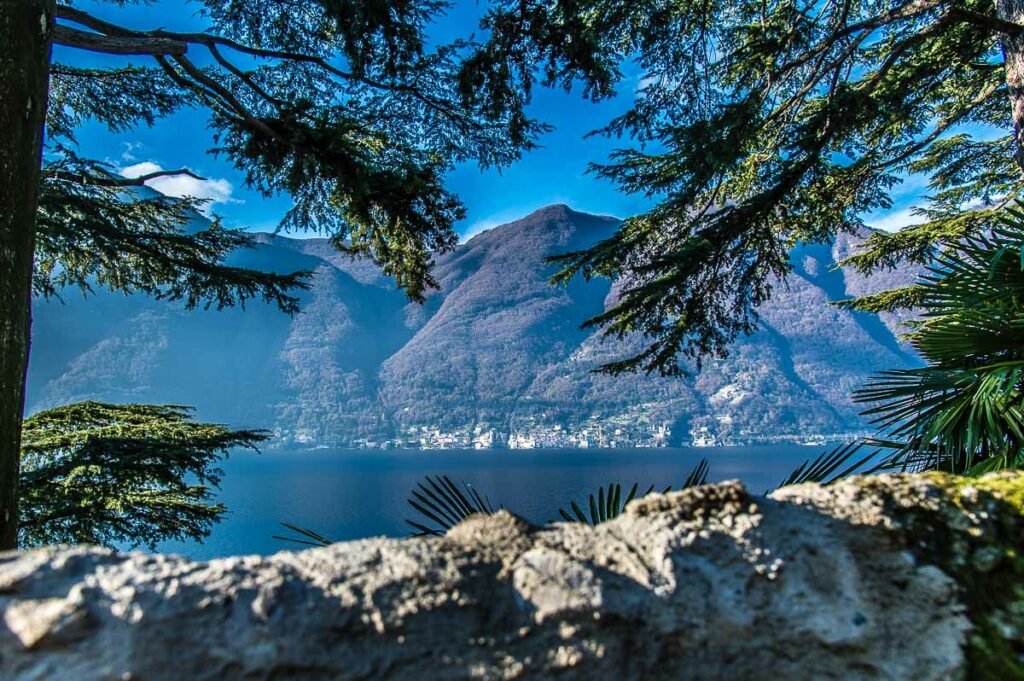 If you are considering a trip to Lake Como in particular and the Northern Italian region of Lombardy in general, you may want to also have a look at the following categories and posts on my blog:
They are based on my first-hand experience of visiting these destinations in Italy and provide lots of practical information to help you plan your travels.
In addition, for the most up-to-date information about events and local sights, keep an eye on the official websites of Milan, the Region of Lombardy, and the major towns on Lake Como, for example, Como, Bellagio, Varenna, Lecco, and so on.
Finally, if you want to invest in a good guidebook, this one covers Lombardy, Milan, and the Italian lakes. This makes it very handy to carry around with you during your travels.
Where to Find More Information About Visiting Italy?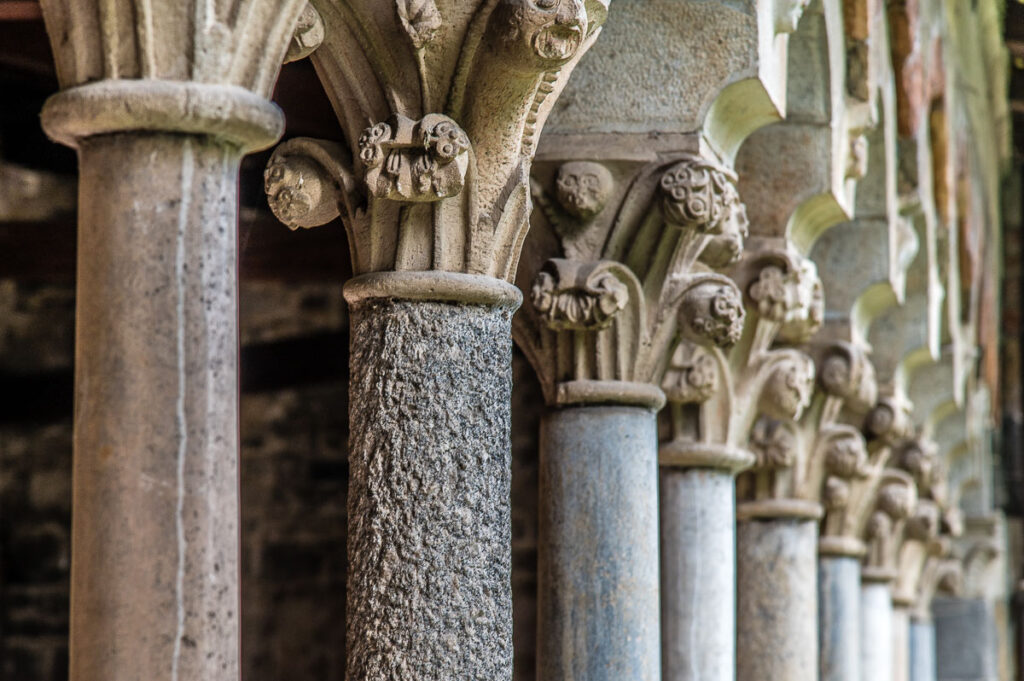 I have been blogging about travelling to and within Italy for eight years now providing detailed and first-hand tried and tested information about the best things to do in this beautiful country. It's all based on my close to twenty years of visiting Italy solo and with my family. Six of these years, we actually spent living in Vicenza in the north of the country.
If you are after in-depth researched and illustrated with dozens of pertinent photos articles about Italy, have a look at the following categories and blog posts:
In addition, right at the end of this blog post, you will find a list with links to some of my most popular blog posts about many beautiful and exciting cities, towns, and regions to visit in Italy. So, just scroll down and then click on the ones you are interested in.
Finally, Italy's official tourism website is a great source of the latest news about travel in Italy. Otherwise, this is one of the best guidebooks about Italy.
In Conclusion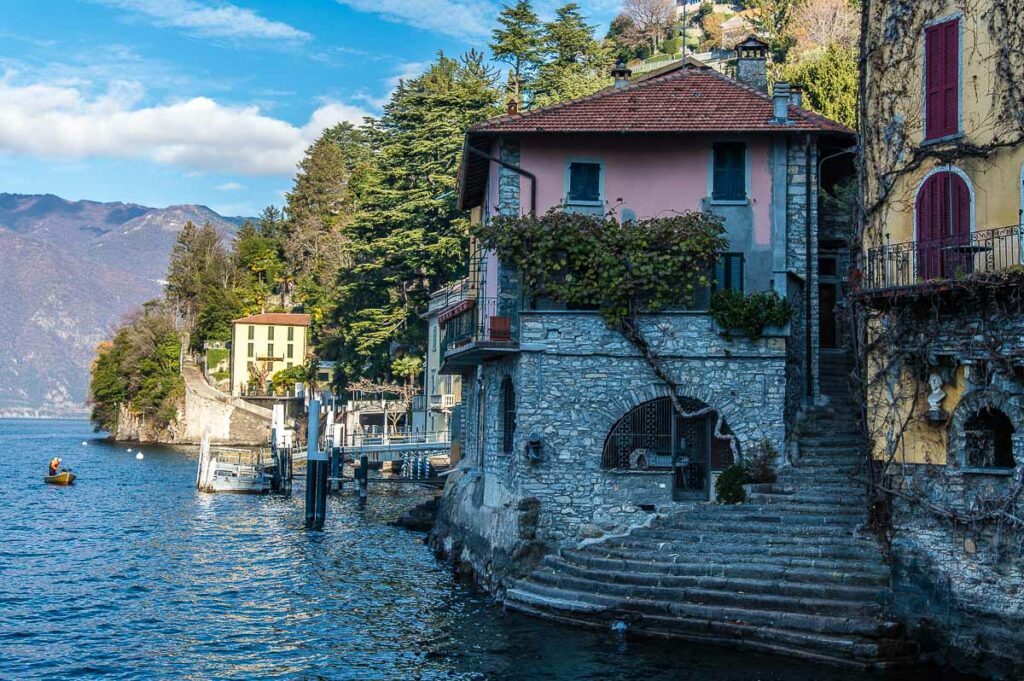 With a stunning natural setting, Lago di Como is deservedly Italy's most famous lake. Shaped like an upturned letter Y and looking very much like a land-locked fjord, the lake attracts millions of tourists each year eager to enjoy its beauty and visit its most famous towns and sights.
At the same time, Lake Como has many hidden corners where one can get to experience the history and heritage of this part of Italy in the most authentic way.
So, in this blog post today, I gave you a long list of the best things to do in Lake Como – from the most popular activities to the numerous secret gems that only people in the know get to enjoy here. From specific must-see sights to exciting activities and large-scale events, it's all covered in detail. I hope that this list will give you lots of fun ideas for unique things to do during your stay at the lake.
Plus, it's all coupled with first-hand tried and tested practical tips about visiting and travelling around Lake Como. Together with the handy maps included in this blog post, I hope that they will come in very useful during the planning stages of your visit to Italy's most famous lake.
I wish you a great Italian adventure getting to do lots of exciting things around Lake Como!
Enjoy it and all it has to offer to the discerning traveller!
More Helpful Italy Info for You
Best of Italy: Italian Piazzas, Italian Markets, Accommodation for Every Budget, Best Times to Visit Italy, Italy in Summer, Italy with Kids
Italian Food: Best Italian Food Gifts, Cheap Italian Food, Rules of Italian Breakfast, Italian Breakfast Foods
Italian Coffee: Italian Coffee Culture, Italian Coffee Drinks, History of Coffee in Italy
Christmas in Italy: Fun Facts, Things to Do, Italian Nativity Scenes, Panettone, Christmas Guide
Northern Italy: Best Cities to Visit, Major Airports, Reasons to Visit
Lake Como: How to Get to Lake Como, Reasons to Visit in Winter, Inspiring Photos, Nesso
Lake Garda Towns and Villages: Best Towns, Desenzano del Garda, Riva del Garda, Malcesine, Torri del Benaco, Punta di San Vigilio, Campo di Brenzone, Borghetto and Valeggio sul Mincio
Visiting Lake Garda: Map of Lake Garda, Getting Around Lake Garda, Lake Garda with Kids, 8 Best Airports, Venice to Lake Garda, Verona to Lake Garda, Milan to Lake Garda, Bologna to Lake Garda
Verona: Things to Do in One Day, Verona Opera Festival, Day Trips from Verona, Romeo and Juliet Itinerary, Verona to Venice, Verona to Milan
Padua: Things to Do in One Day, 101 Facts About Padua, 10 Reasons to Visit Padua, Day Trips from Padua
Vicenza: Things to Do, Day Trips from Vicenza, Best Museums, The Beauty of Vicenza
Veneto: Top Places to Visit, Unique Adventures, Most Colourful Places, Mysterious Places, Most Beautiful Lakes, Reasons to Visit, Main Cities, Prettiest Small Towns, Most Beautiful Villages
Lombardy: Best Cities and Towns, Reasons to Visit, Brescia
Friuli Venezia Giulia: Venzone, Most Beautiful Villages
Emilia Romagna: Bologna, Ravenna, Comacchio, Most Beautiful Villages
Marche: Reasons to Visit, Gradara, Frasassi Caves, Temple of Valadier
Thank you for reading! Please, leave me a comment, pin the images or use the buttons right at the top and at the end of this blog post to share it on social media.
For more useful information like this, please, like my blog's page on Facebook and Instagram and subscribe to my strictly no-spam newsletter.
Pin This Blog Post!