Here is a handy list of the best things to do at Lake Garda with kids.
Exploring Italy's largest lake as a family is a guarantee for a great adventure!
After all, Lago di Garda – as they call it in Italian – is a truly fabulous destination for a day trip or an extended holiday in any season with kids of any age.
Easy to reach by plane from abroad and close to several important Italian cities like Verona, Milan, and even Venice, Lake Garda offers a never-ending list of fun activities for the whole family.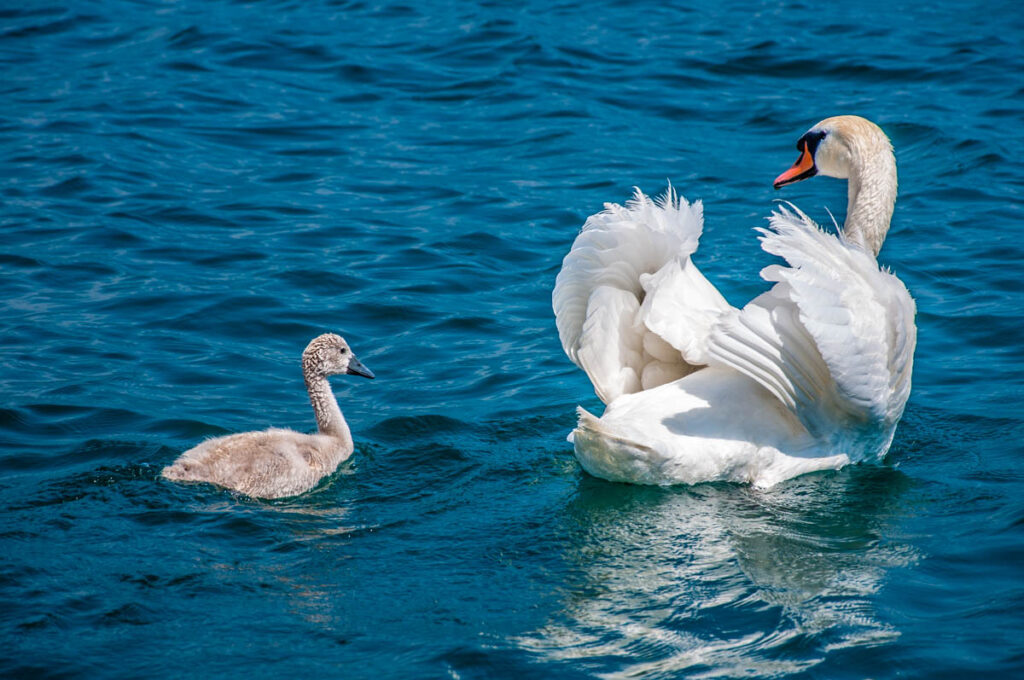 If you have ever wondered if Lake Garda has what it takes to keep your toddler or your teenager occupied for more than a sweet minute, fear not. The answer is a resounding 'Yes!'.
There are lots of things at Lake Garda to keep kids and their parents happy and active: Italy's largest theme parks, striking medieval castles, gorgeous lakefront towns, exciting kid-friendly museums, centrally located playgrounds. All this is in addition to plenty of opportunities for exhilarating hikes, relaxing beach time, visits to caves and waterfalls, and lots of different water sports.
The choice is yours! Or, better said, of your children!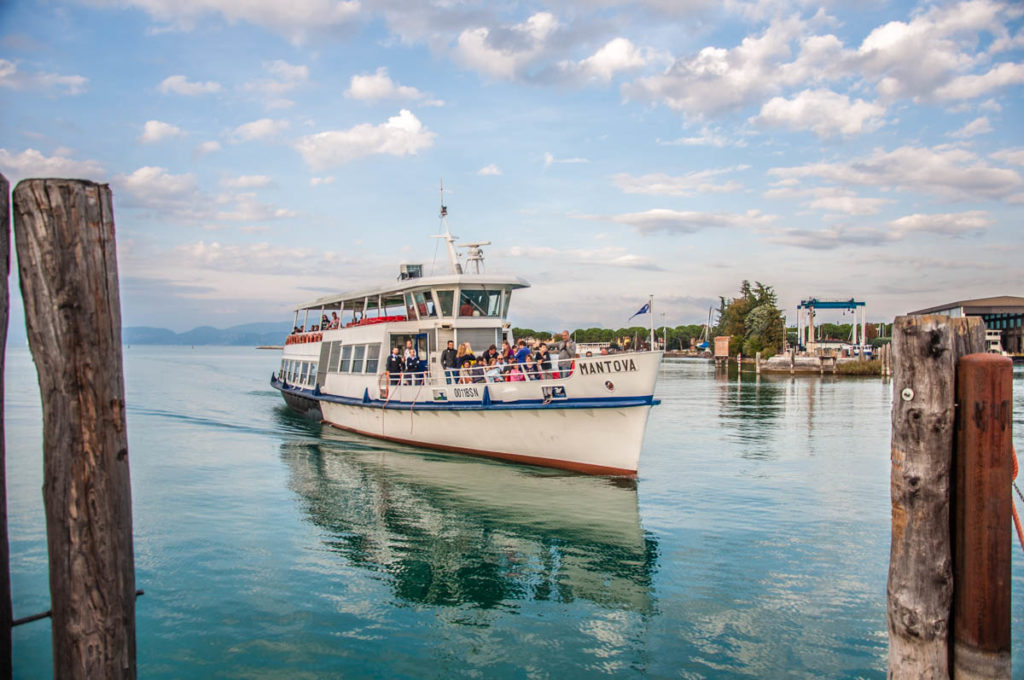 During the six years that I spent living in Italy, Lake Garda became my favourite family-friendly destination. My husband, our child, and I would head there in any season and for any reason. We loved exploring its many corners, hidden gems, lush nature, delicious local food, and historic sights.
You can do the same! Lake Garda is a great place for families with kids of any age to visit and explore.
Italy's largest lake offers a whole host of opportunities for outdoor fun and exciting sightseeing in addition to many fabulous events. You can focus on just one town on the shores of Lake Garda and spend there a day to cherish forever. Or you can book a longer family holiday and see more of the lake.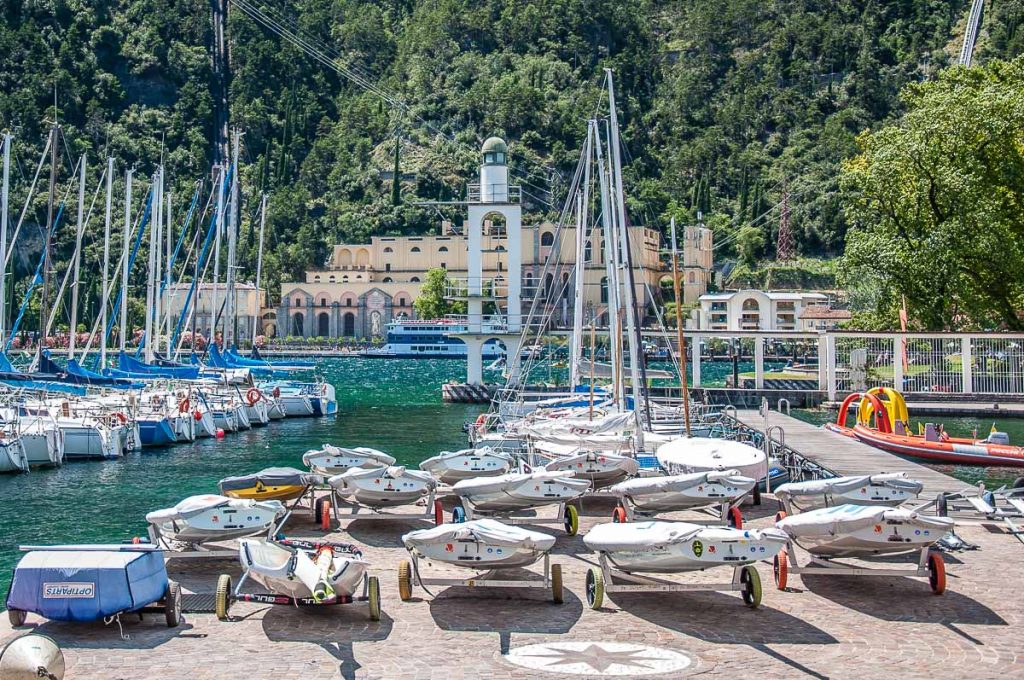 This is why today I am sharing with you everything I learned about Italy's largest lake and the many wonderful ways to spend time around it with kids. I hope that all this first-hand tried and tested information will come in handy during the research stage of your Lake Garda family holiday.
At the end of this blog post, you will also find a section with lots of practical travel and accommodation tips to make your Lake Garda planning an easy and enjoyable experience. From nearest airports, travel times, and transport options to geographical information, weather stats, and accommodation, it covers all the bases for your vacation at Lake Garda with kids.
Have a look!
Lake Garda with Kids – 11 Best Things to Do for a Great Family Holiday at Italy's Largest Lake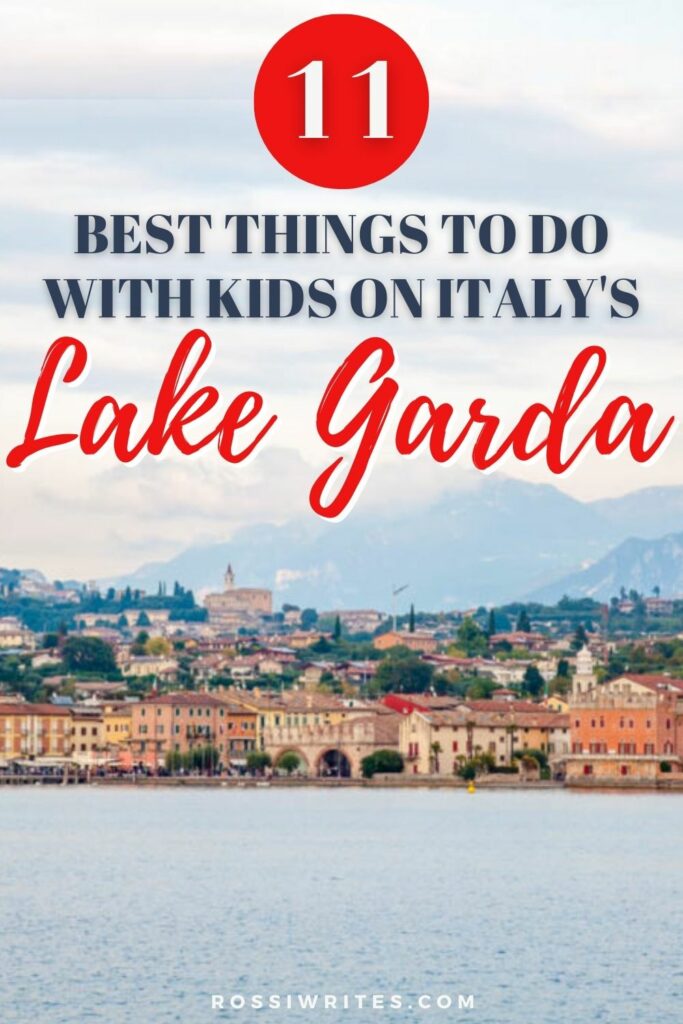 1. Take Your Kids to Italy's Best Theme Parks on the Shores of Lake Garda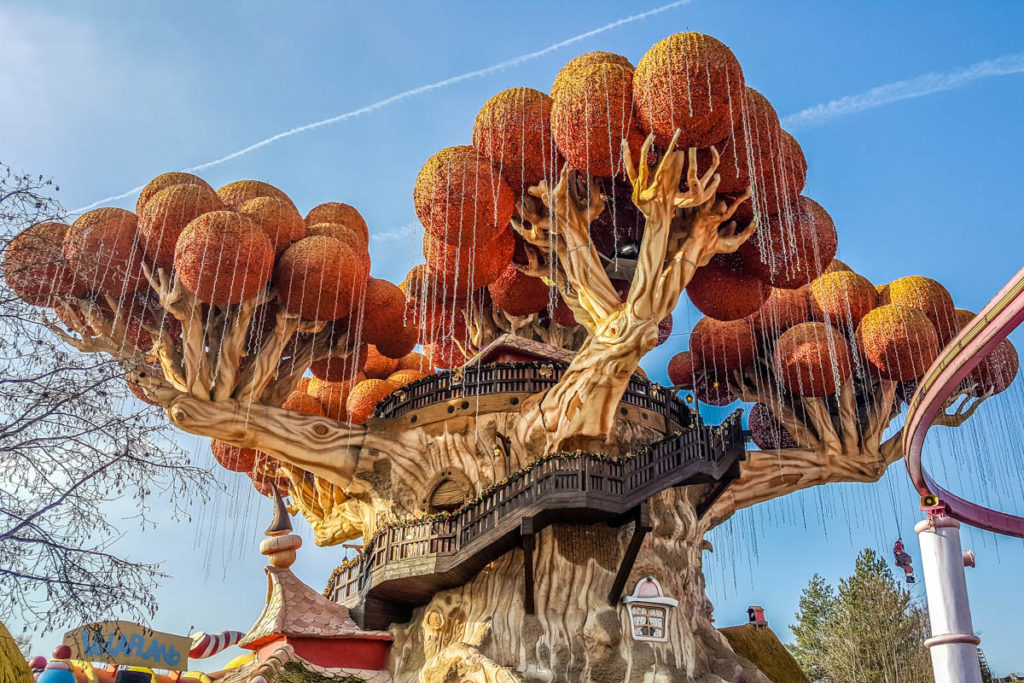 You will find Italy's largest theme parks on the southern shore of Lake Garda. Gardaland is the most famous of them all. It is a great place to take the kids to as it's huge and offers oodles of fun for the whole family. From exhilarating rides to spectacular shows, you can easily spend a couple of days here and still not see it and do it all.
To make it easy on yourself, you can stay in the adjacent Gardaland Resort. It has three family hotels – Gardaland Hotel, Gardaland Adventure Hotel, and Gardaland Magic Hotel – in addition to thematic restaurants and even more opportunities to keep the kids happy and active.
I particularly like the Gardaland's mascot – a smiley green dinosaur with the fetchingly healthy name Prezzemolo (which means Parsley in English!).
The Halloween period and the Christmas season are great times to visit Gardaland at Lake Garda, Italy. Expect lavish seasonal decorations, fantastic entertainment shows, and lots of fun activities. At Christmas, there is also a fabulous Santa's Grotto where elves bake cookies for the kids and help them write a letter to Babbo Natale (Santa Claus in Italian) and Befana (an old lady with a long nose who brings presents to the Italian kids on Epiphany).
Inside Gardaland, you can also visit the Legoland Water Park. Next door to Gardaland, stands the Gardaland Sea Life Aquarium – another point of interest to keep your kids happily entertained for hours.
Two other large amusement parks to have fun at Lake Garda are Movieland the Hollywood Park and Caneva the Aquapark. Both are managed by Canevaworld.
You can also find several adventure parks around Lake Garda, Italy. Set up in idyllic forests, this is where your kids can climb trees, slide on ziplines, and have tons of fun. Two of the most well-known ones are Busatte Adventure and Jungle Adventure Park.
If you don't want to spend any money and yet your kids need a bit of a run, at Lake Garda you are still in luck. Every lakefront town has a centrally-located playground for kids to play at. For example, the playground in the town of Lazise is right behind the medieval Scaliger castle. The playground in Desenzano del Garda is on the waterfront and has a large old-fashioned locomotive right next to it. Particularly lovely is the playground in the small town of Navene. It's right next to a nice beach.
If you are prepared to travel a bit further afield, then give Leolandia a try. This large amusement park is between the cities of Bergamo and Milan. If you have a car at your disposal, you can reach it in about an hour from the town of Peschiera del Garda (on the southern edge of the lake) and in about two hours from Riva del Garda (on the northern edge of the lake). During the high season, there is usually a shuttle bus ferrying families with kids from Lake Garda to Leolandia and back.
More Information:
2. Explore with Your Kids Lake Garda's Many Charming Towns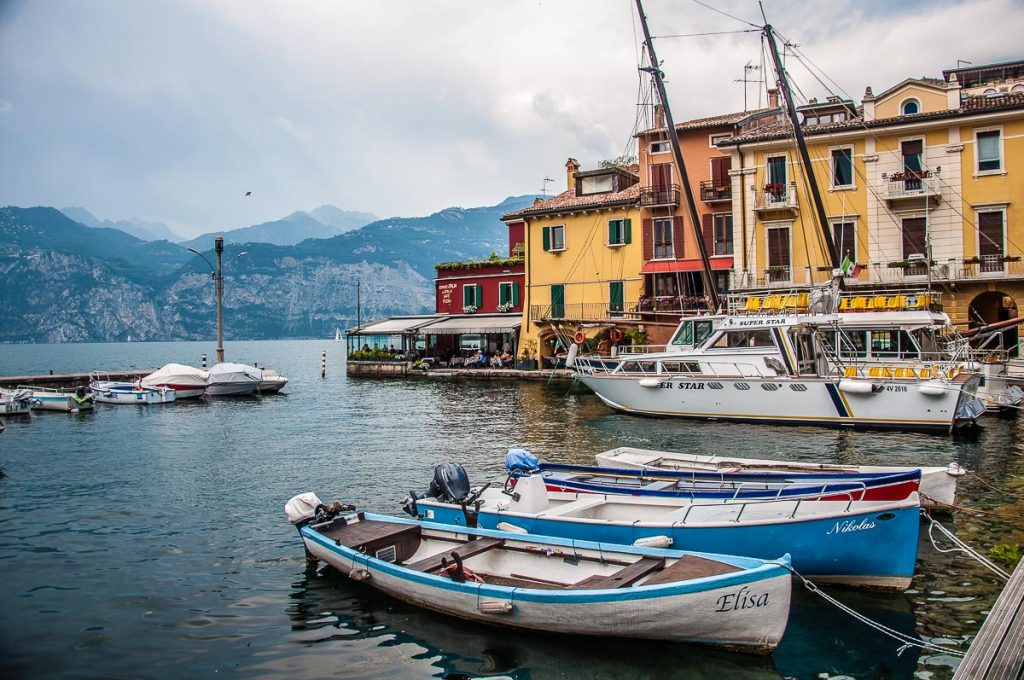 From its wide southern end to its narrow northern tip, the shores of Lake Garda are dotted with many beautiful towns to explore at your leisure with your kids. Each of these small towns offers a long list of local sights to keep you busy for hours. Here are only some examples:
In addition, Lake Garda's towns have curious museums, many ice-cream shops with dozens of flavours of handmade gelato, a rich programme of local events, and weekly markets selling fresh local produce.
Each lakefront town has its own character and charm. So, make it your family's mission to tick off as many of them as you can.
If you have a car at your disposal, go for a drive around the whole lake. Its circumference is around 160 km. You can put aside a couple of days or so to do it. Try to stop as often as you can along the way to take in the lakefront towns and the local sights. To cut some of the driving off, you can take a car ferry from Torri del Benaco on the eastern shore across to Toscolano/Maderno on the western shore of the lake.
Still, don't worry if you have decided against renting a car! You can still easily reach Lake Garda by public transport and then use the local buses and ferries (or even rent a boat) to see as many lakefront towns and sights as you like. Desenzano del Garda and Peschiera del Garda have train stations with excellent connections to Verona, Venice, Milan, and many other Italian cities and towns.
A network of public buses serves the towns on Lake Garda and it also connects them to nearby Verona, Rovereto, Trento and several other cities and points of interest.
Ferries crisscross the lake at regular intervals, too. Thus you can easily get from one lakefront town to another while enjoying stunning views along the way. For more details on this option, see point 3 below.
If you prefer someone else to organise it all for you while you and your family simply relax and take the sights in, then you can join a guided tour. For example, this is a great tour allowing you to see the towns of Salo', Lazise, Sirmione, and Limone sul Garda on the same day.
More Information:
3. Get on a Boat to Crisscross Italy's Largest Lake Together with Your Kids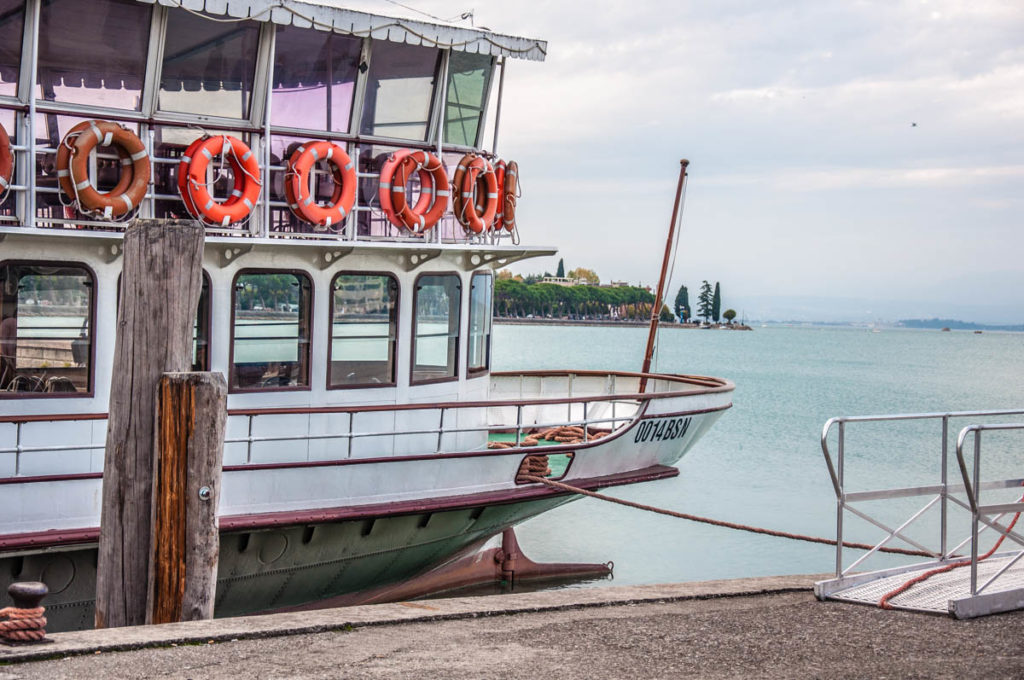 The best way to see and appreciate Lake Garda's beautiful landscape is from the water.
Crossing Italy's largest lake onboard one of the ferries that connect the different lakefront towns is a great adventure for kids and parents alike. Ferryboats run regularly throughout the day and you can even take your car on some of them.
A nice and easy ferry trip to do is from Limone sul Garda on the western shore of the lake across to Malcesine on the eastern side. This gives you a chance to marvel at the town's medieval Scaliger Castle with the steep Monte Baldo serving as its dramatic backdrop.
Monte Baldo is the tallest mountain flanking Lake Garda. It is also known as the Garden of Europe for the unparalleled number and variety of botanical species that grow here. Among them are 62 types of orchids!
Another exciting ferry trip to do across Lake Garda is from the town of Torri del Benaco to the twin towns of Maderno and Toscolano. This ferry crossing is at one of the narrowest points of the lake and in about half an hour you can hop from its eastern to its western side together with your car.
The ferry crossing from Desenzano del Garda to Sirmione is another journey that affords beautiful lake views. Plus, it takes only about 20 mins. Or, if you prefer, you can take the ferry from Peschiera del Garda to Lazise. It takes about 25 mins and the ferry then continues to nearby Bardolino and Garda Town.
Sitting on the ferry deck together with your kids and taking in the gorgeous panoramic views of the lake and the mountains is a moment that memories are made of.
Click here for details about Lake Garda's ferryboats and their timetables. On this official website, you will also find information about the ferries' daily circulation cards and the Happy Family discount for adults and kids travelling together.
Still, you don't have to rely just on ferries and their timetables to enjoy fun boat trips on Lake Garda.
In many towns around the lake, you can hire a motorboat or a sailboat for a few hours, a whole day or a whole week, if you like. This is a great way to feel free as a bird and to head with your kids to the specific lakeside spots you want to visit, albeit particular towns, beaches, or other sights of interest.
Another option is to join organised boat tours on Lake Garda, Italy. For example, speedboats take tourists around the promontory on which the town of Sirmione is built all throughout the day. The tours start from the small port by the Scaliger Castle and last around 30 mins. It is a very exciting experience with lots of great panoramas to enjoy. You can book it here.
Another short and sweet boat tour is the one from the town of Salo' to the Isola del Garda – a beautiful island with a splendid villa in the Neo-Gothic Venetian style.
4. Enjoy as a Family the Beaches and the Waterparks around Lake Garda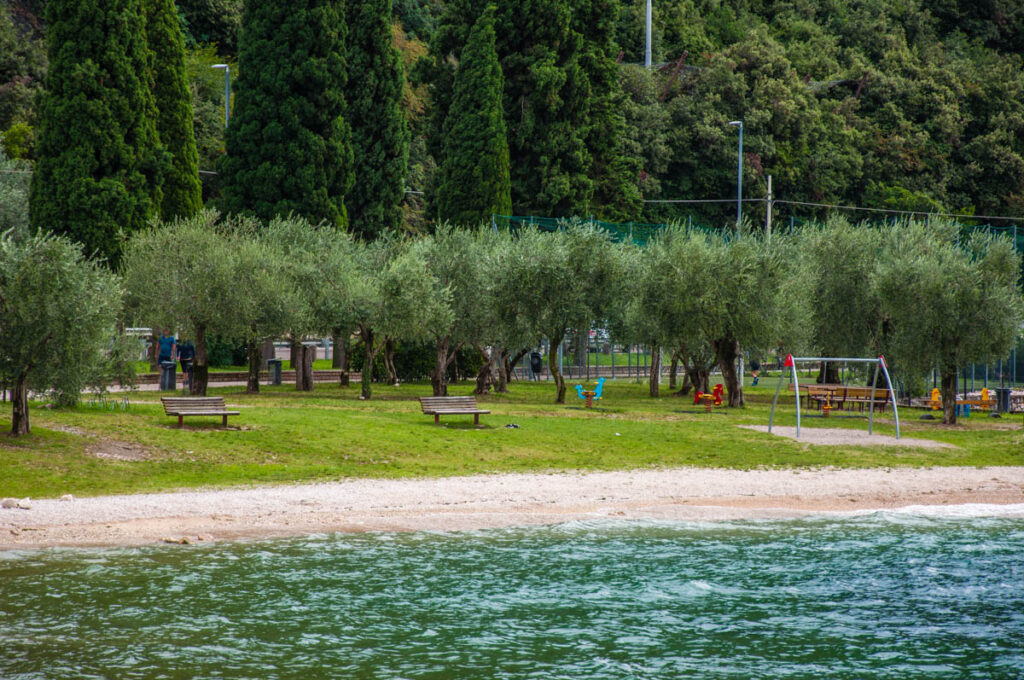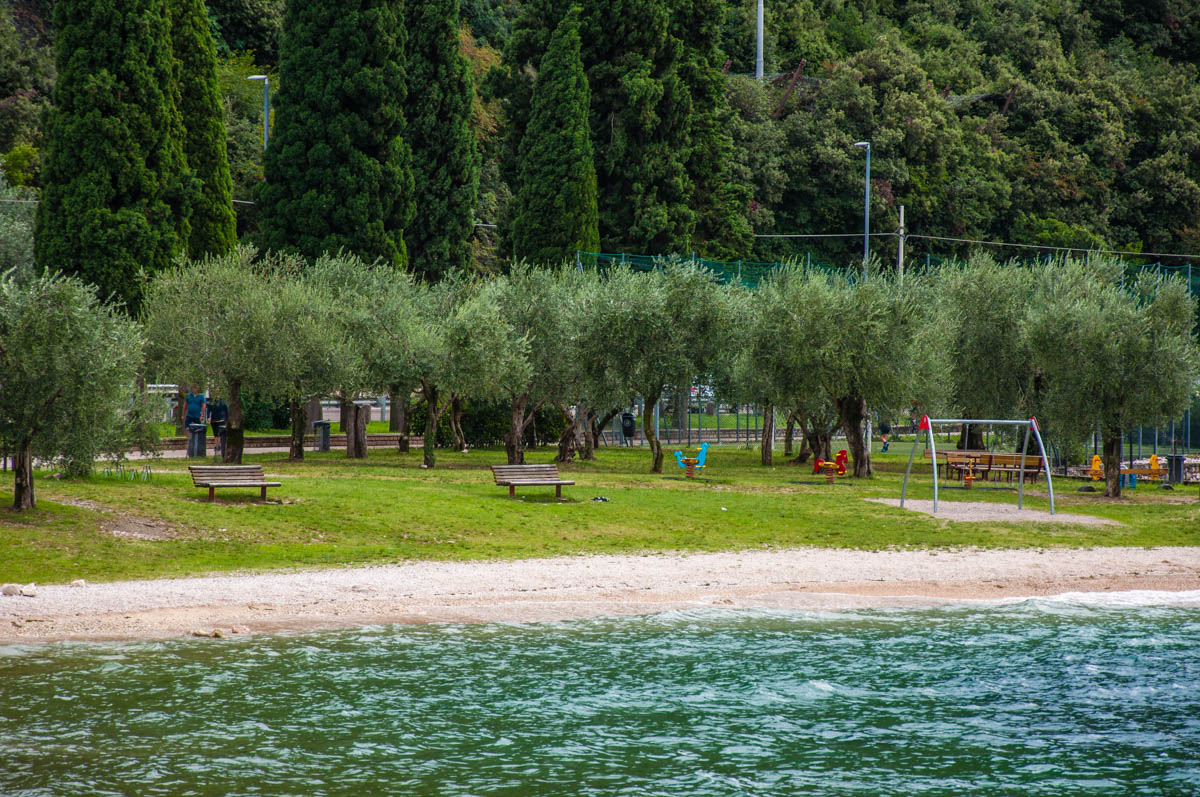 Make full use of Lago di Garda's beaches and waterparks during your family's lake holiday.
Lovely little beaches – sometimes secluded, other times right next to bustling lakefront towns – are dotted all around the lakeshores.
From May till August, the temperature of the water fluctuates between 20 and 23 degrees Celsius. Don't forget your beach shoes as beaches around the lake are mostly pebbly and only sometimes grassy.
Some of the most well-known beaches on the shores of Lake Garda are Jamaica Beach in Sirmione, Lido Mirabello Beach in Bardolino, as well as the beaches around Riva del Garda – Sabbioni, Pini, and Miralago.
Going to the beach is not the only way to make a splash in the water at Lake Garda. You and your kids can enjoy all sorts of water sports here, too. From sailing and diving to windsurfing, kitesurfing, and canyoning, the choice is yours.
For lots of water-based fun in any season and for any age, head to Aquardens – Italy's largest thermal water park. It is only about 15 mins away by car from the lakefront town of Lazise. Another option is the thermal park of Villa dei Cedri – it's also open year-round.
In summer, make a splash in Parco Cavour – a waterpark with many swimming pools and entertainment options. It's only about 12 km away from Peschiera del Garda and next door to the medieval hamlet of Borghetto sul Mincio.
For more waterparks around Lake Garda, have a look at the entry III. Water and Spa Parks at Lake Garda, Italy in this blog post.
In some of the towns around the lake, you can hire a pedalo for a fun family-friendly experience. If your kids are grown-up, you can also treat them to a paddleboard tour on Italy's largest lake.
Finally, if you want to get close to the water here without getting too wet then make sure that you visit the stunning waterfall Cascata del Varone. It's just a short distance away from Riva del Garda. The waterfall is inside a cave and there are two viewing platforms – a lower and an upper one – allowing you to admire the crashing force of the mass of water tumbling down the jagged rocks.
More Information:
5. Go for Family-Friendly Walks and Hikes around Lake Garda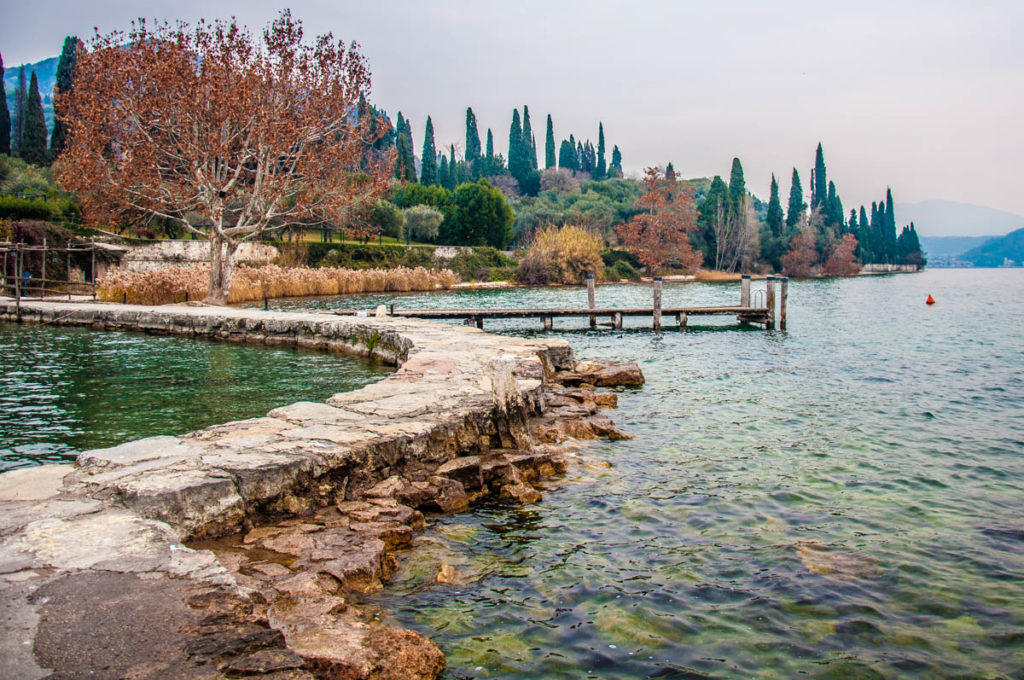 With its varied landscape, Lake Garda offers dozens of opportunities to go for enjoyable walks and strenuous hikes. No matter how active you are as a family, you are bound to find just the perfect route for you.
The easiest and most pleasant form of exercise is to stroll along the endless promenades that connect many of the lakefront towns. This way parents and kids can have great family time together both sightseeing and stopping for coffee and gelato breaks along the way.
For example, go for a walk on the promenade between the towns of Lazise and Bardolino. It offers you great views and benches to have a rest along the way. It's about 5 km long and the promenade also doubles as a cycling lane, if you would rather hire bikes and exercise on two wheels.
For a stunningly beautiful yet very easy walk, head to Punta di San Vigilio just past Garda Town.
Punta di San Vigilio is a long promontory with a famous beach, olive groves, and a cypress-lined alley. It serves as sort of a boundary between the wide lower half of the lake and its narrower upper part. There is an exclusive hotel, a famous trattoria, and a tiny medieval hamlet. In the low season, there is hardly anyone here, so it's a great place to go for a leisurely family walk and to see the cormorants that nest just off the tip of the promontory.
Another place to go to for an easy family walk is the stunning Parco Giardino Sigurta'. Officially recognised as one of the most beautiful garden parks in Italy and Europe, Sigurta' is especially famous for its one million tulips. You will find it a short drive away from the town of Peschiera del Garda and next door to the medieval hamlet of Borghetto sul Mincio.
If you want a bit more strenuous exercise for you and your kids, there are many great hikes to enjoy around Lake Garda. The hills and mountains on the lake's shores are crisscrossed by hiking paths taking you high above the waterline for some great views and fresh air. For example, try hiking to the medieval village of Campo di Brenzone following the centuries-old stone-covered mule tracks known as mulattiere.
The Busatte Panoramic Trail is a very popular local hike at the northern extremity of Lake Garda. The trail includes going up and down metal staircases that are attached to the rocks and open gorgeous panoramic views over the lake.
More Information:
6. Spend Time at Exciting Kid-Friendly Museums around Lake Garda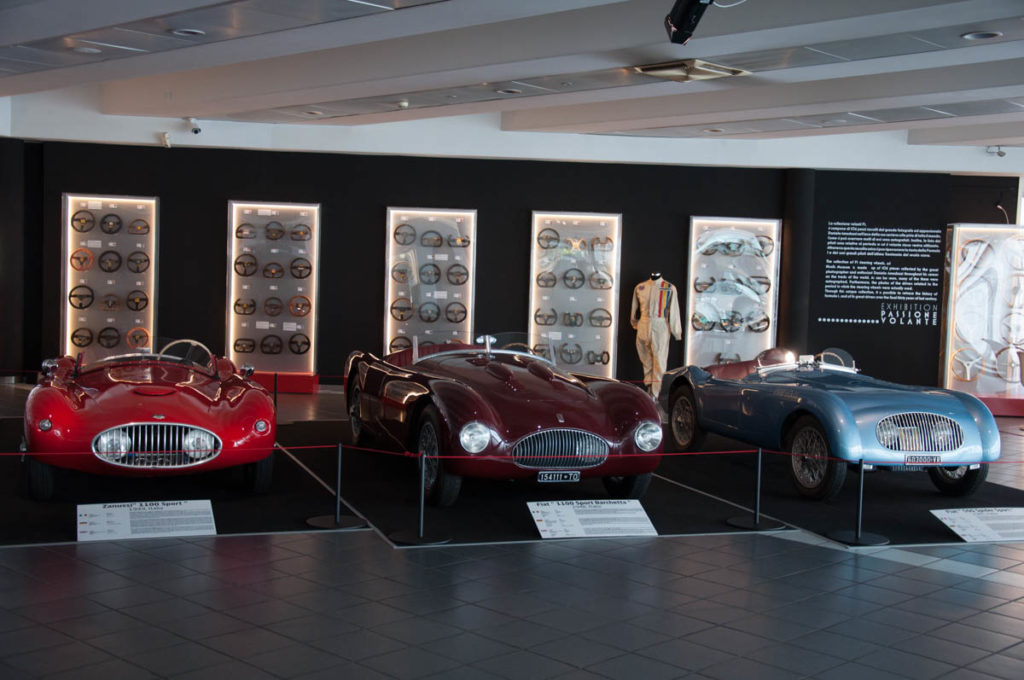 Stimulating your kids' imagination and expanding their knowledge is a task you can easily complete while having a fabulous family holiday or a great day trip on the shores of Lake Garda.
Many kid-friendly museums are dotted around the lake. Here are a few to stir your and your kids' interest:
If you are spending a few days at Lake Garda and you want to explore a bit further away, head straight to Trento – the capital of the autonomous Northern Italian province of Trentino.
There you will find MUSE – an outstanding science museum – where you and your kids can spend many exciting hours.
The Aeronautics Museum Gianni Caproni is another kid-friendly museum not to miss in Trento.
7. Take Your Family on Visits to Fab Historic Sights around Lake Garda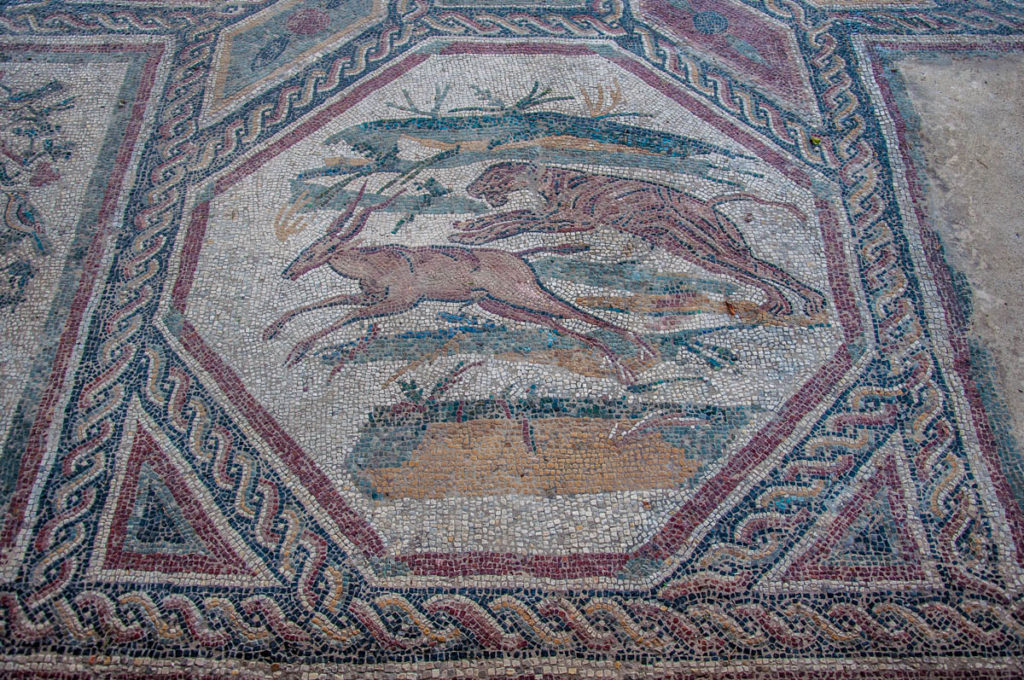 Use your family holiday on the shores of Lake Garda to indulge in a spot of history. From Roman ruins to medieval castles, your kids will love being explorers for a day. So, let them delve deeper into the secrets of the past.
The easiest way to do it is to head to the charming lakefront town of Sirmione. You will find it on the tip of the narrow promontory Sirmio which juts deep into the waters off the southern shore of Lake Garda.
Sirmione has a medieval castle that was built by the powerful Scaliger dynasty – rulers of Verona in the Middle Ages. The castle has a fortified port with crenellated walls that rise straight out of the lake. A climb to the top of the castle towers and walls will regale you with enchanting views of Sirmione's red rooftops and Lake Garda's sparkling teal waters.
Continue your walk through Sirmione all the way to the end of the promontory. This is where the ruins of an enormous Roman villa wait to be discovered by curious children. Known as Grotte di Catullo and built over 2,000 years ago, the villa and the adjacent museum are an exciting place to explore in order to learn how the Romans lived on the shores of Lake Garda.
In the nearby town of Desenzano del Garda, you can see the ruins of another Roman villa. It was originally built in the 1st century BC and then it was expanded on several occasions during the next few hundreds of years. Nowadays, Desenzano del Garda's Roman villa is recognised as the most important testimony in Northern Italy of the Late Antiquity's mansions.
Of particular interest here are the many very well-preserved floor mosaics. With their rich colours and elaborate patterns, they depict hunting scenes, boats surrounded by flocks of fish, and cherubs holding overflowing cornucopias.
There are many more historic sights to visit around Lake Garda in Italy with family. Almost every lakefront town has its own medieval castle or fortress with centuries of history behind it. For example, you can find medieval Scaliger castles in Malcesine, Lazise, and Torri del Benaco, too.
The defensive walls built in the 16th century by the Republic of Venice around the town of Peschiera del Garda are a UNESCO Heritage Site. Shaped as a pentagon they jut straight out of the water and are a must-see sight.
The towns on Lake Garda may be small in size but they have deep layers of history allowing you and your kids to discover many curious facts about the past. Take your pick from archaeological parks, Roman ruins, medieval fortifications, walled towns, and exciting museums. There is so much to see that before you know it you may already be planning a return family holiday to Italy's largest lake.
More Information:
8. Explore Medieval Villages on Family Walks around Lake Garda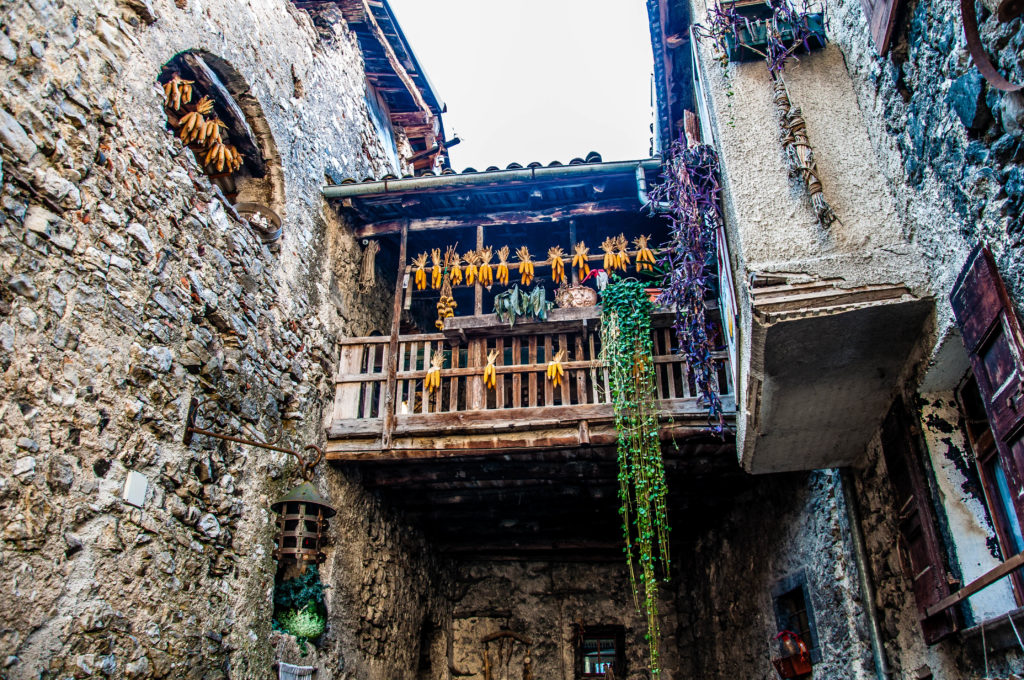 Lake Garda is a very special place as here you can travel centuries back in time. Its shores are dotted not just with beautiful medieval castles but also with many founded in the Middle Ages villages where people still live and work.
Take your kids and head to one of these little time capsules for a taste of a bygone way of life and for some stunning rustic architecture. Here are four destinations for your interest:
9. Take Your Kids to Meet Llamas and Alpacas Near Lake Garda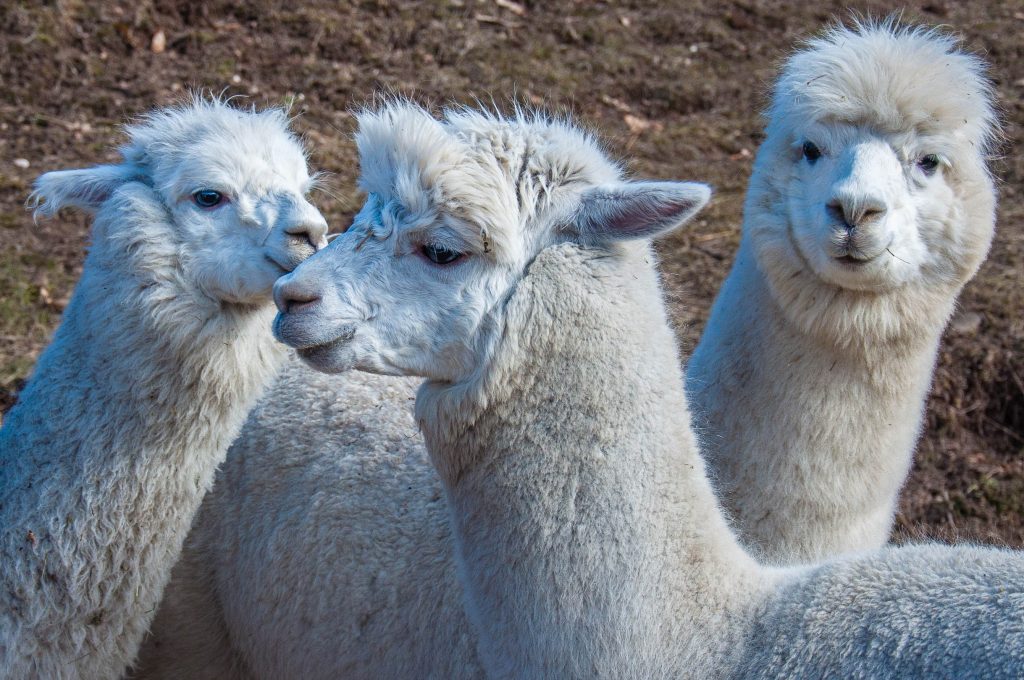 Hiking through the lush forests that surround Lake Garda in the company of docile alpacas and fluffy llamas is an experience of a lifetime. Especially if you are a child.
It is a very special, very relaxing thing to do. You get to bond with the animals, enjoy a great walk, and breathe in fresh forest air in large delicious gulps. Plus, it gives you the opportunity to take some really cool selfies.
There are two places near Lake Garda where you can make this happen. One is a farm called Maso Eden which is just over half an hour away from Riva del Garda on the lake's northern edge.
At Maso Eden, they rear alpacas, llamas, dozens of varieties of chickens, ducks, geese, and even peacocks. Plus, they have the most impressive maremma-abruzzese sheepdogs. Apart from hikes in the company of llamas and alpacas, Maso Eden also organises several other experiences giving kids and adults a chance to get close to the animals.
The other place where you can see and hike with alpacas as well as buy some lovely items made with their soft wool is the Azienda Agricola Elalpaca. You will find it on the outskirts of the tiny village of Spiazzi and just up the road from the Sanctuary of Madonna della Corona (a partly-hewn in the rocks church which is worth it of a visit on its own). Spiazzi is in the mountains above Garda Town – a drive of approximately 25 mins.
10. Enjoy a Great Family-Friendly Day Trip from Lake Garda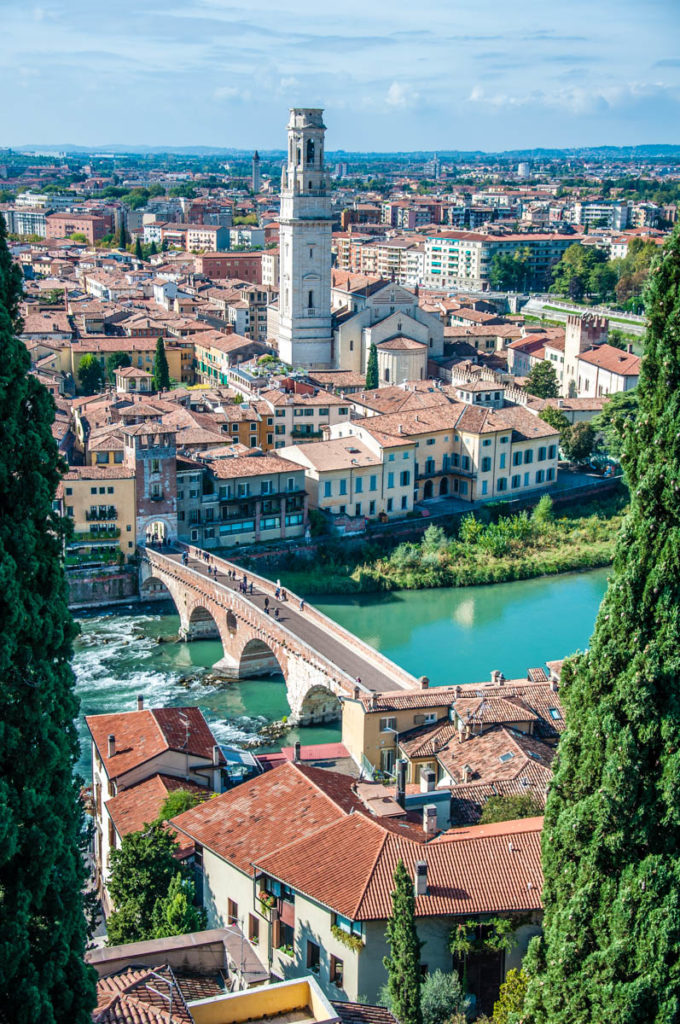 Lake Garda is right next to some of the most beautiful and historic Italian cities, towns, and places of interest. This gives you endless possibilities for exploration during your family holiday!
If you are spending a week or two at Italy's largest lake, make sure that you pencil in some time to go on exciting day trips:
Here are some other places of interest you can easily visit from Lake Garda: the rock-hewn Sanctuary of Madonna della Corona, Lessinia Regional Nature Park, Adamello Brenta Nature Park.
Don't miss a trip up Monte Baldo – the tallest mountain on the shores of Lake Garda. It is known as the Garden of Europe for its unparalleled number of botanical species. You can easily reach its top from the town of Malcesine by riding a state-of-the-art swivelling cable car.
If lakes are your thing, then you are in luck. From Lake Garda, you can easily access many other Northern Italian lakes. Here are some to consider: Lake Tenno, Lake Ledro, Lake Idro, Lake Valvestino, Lake Molveno, Lake Caldonazzo, Lake Levico, Lake Iseo, and even Italy's most famous lake – Lago di Como.
More Information:
11. Have a Magical Christmas at Lake Garda with Your Family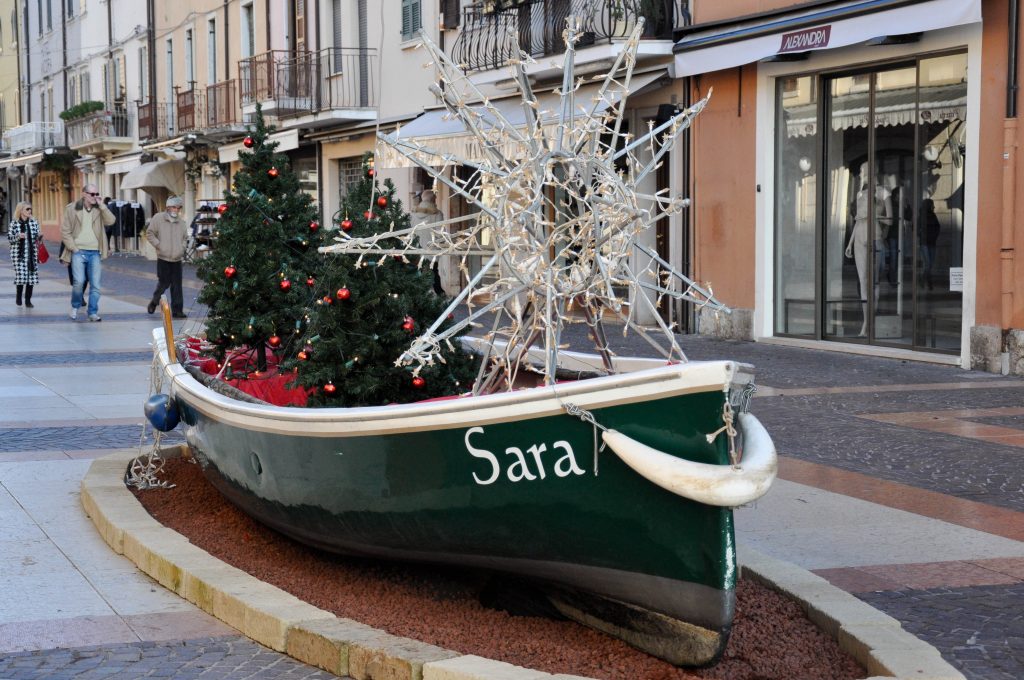 Christmas is a magical time to spend at Italy's Lake Garda. With the suffocating summer crowds long gone, this is a great moment to explore the lake and all it has to offer.
The small lakefront towns stage beautiful Christmas markets and many Christmas-themed events. Detailed Nativity scenes are arranged in all churches. Some of the towns – like Garda Town and Peschiera del Garda – even have an underwater Nativity scene.
Christmas concerts and ice rinks are the order of the day. The Santa Claus House opens its doors in Riva del Garda on the northern extremity of the lake. You and your kids can pay a visit to Santa and Mrs Santa, play and work on your own creation in the Christmas workshop, or explore the North Pole and the Elves' Cave.
Gardaland becomes a veritable winter wonderland for the holidays. There are lavish productions, fun rides, and a chance to meet Father Christmas in his magical grotto where busy elves treat each child to a freshly baked cookie. Closer to the festive season, you can buy tickets for Gardaland Magic Winter by clicking here.
Flover – an enormous garden centre near Garda Town – recreates Santa's village. This is a huge Christmas-themed area with daily festive events, theatrical productions, and creative workshops. Plus, the decorations are truly amazing. In addition, there is a huge space filled with Christmas baubles, tinsel, and trees which you can buy and take home. Families can easily spend the whole day here.
The medieval village of Campo di Brenzone stages a large exhibition of Nativity scenes. Hundreds of Nativity scenes in any possible size and style are placed all over the village – in abandoned houses and underneath olive trees, in stone passages and large gardens. It's a beautiful thing to see.
On New Year's Day, don't miss the traditional Tuffo di Capodanno. This is when the brave men and women of Riva del Garda go for a dip in Lake Garda in spite of it being freezing cold.
On Epiphany – 6th of January – Italian kids traditionally receive presents from Befana. She is an old lady with a long crooked nose who rides a broom and fills the stockings of the well-behaved children with sweets and chocolates. A fun event is held in her honour every year in Riva del Garda. Its highlight is the arrival of Befana who swims out of the lake.
More Information:
Practical Information about Visiting Italy's Lake Garda with Kids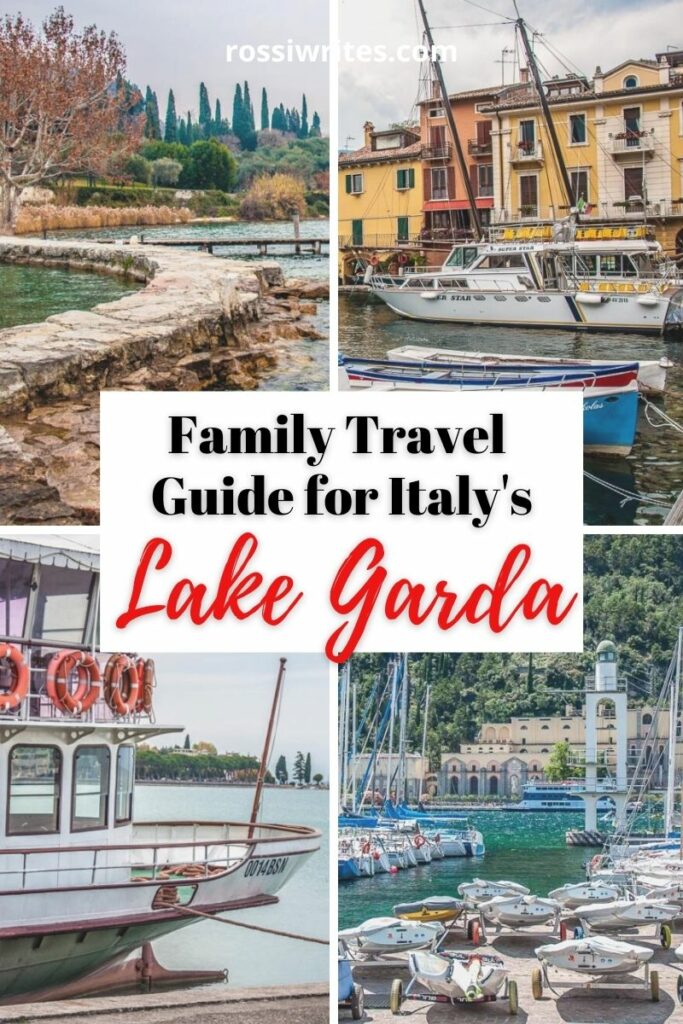 Where in Italy is Lake Garda?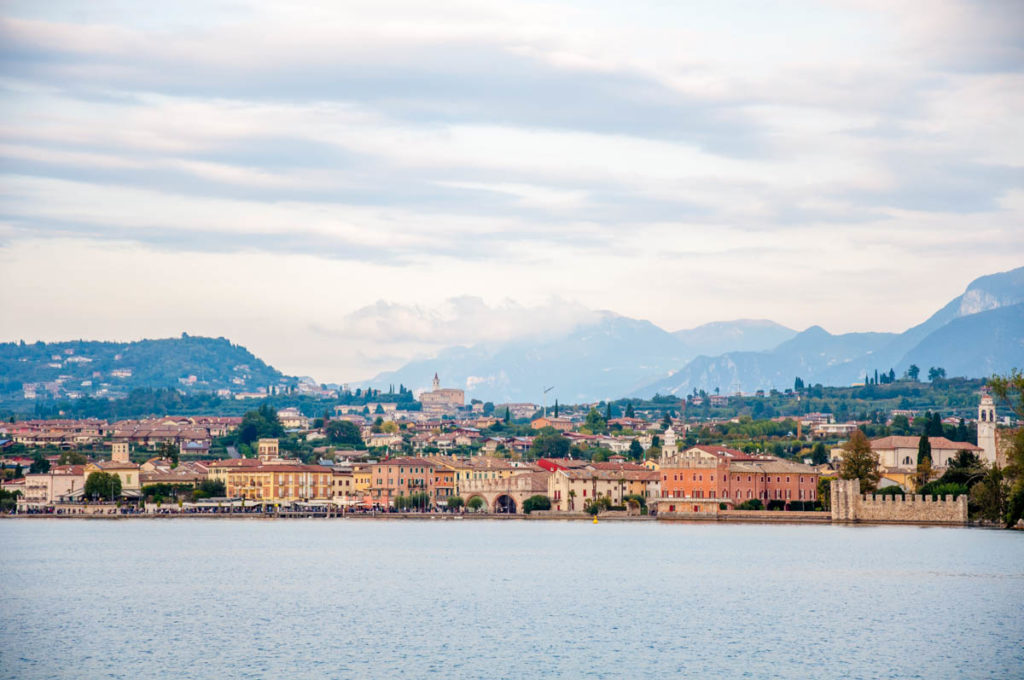 Lake Garda is Italy's largest lake. It stands in the northeastern corner of the country.
The lake serves as a natural border between three Italian regions – Veneto, Lombardy, and Trentino-Alto Adige. Visiting it gives you a chance to experience their traditions, food, and history within a short amount of time and easy to navigate distances.
By train, bus, and car, Lago di Garda is within close proximity to some of the most important Northern Italian cities. Verona, Brescia, and Rovereto are the three nearest to the lake. Milan, Padua, Venice, and Bologna are also great starting points for a quick day trip or a longer stay on the lake's shores.
Here is a small map showing the exact location of Lake Garda in Italy:
For more details have a look at this blog post:
For specific information on how to reach Lake Garda from the nearest large Italian cities, click on the following blog posts: Milan to Lake Garda, Venice to Lake Garda, Verona to Lake Garda, Bologna to Lake Garda.
What is Lake Garda's name in Italian?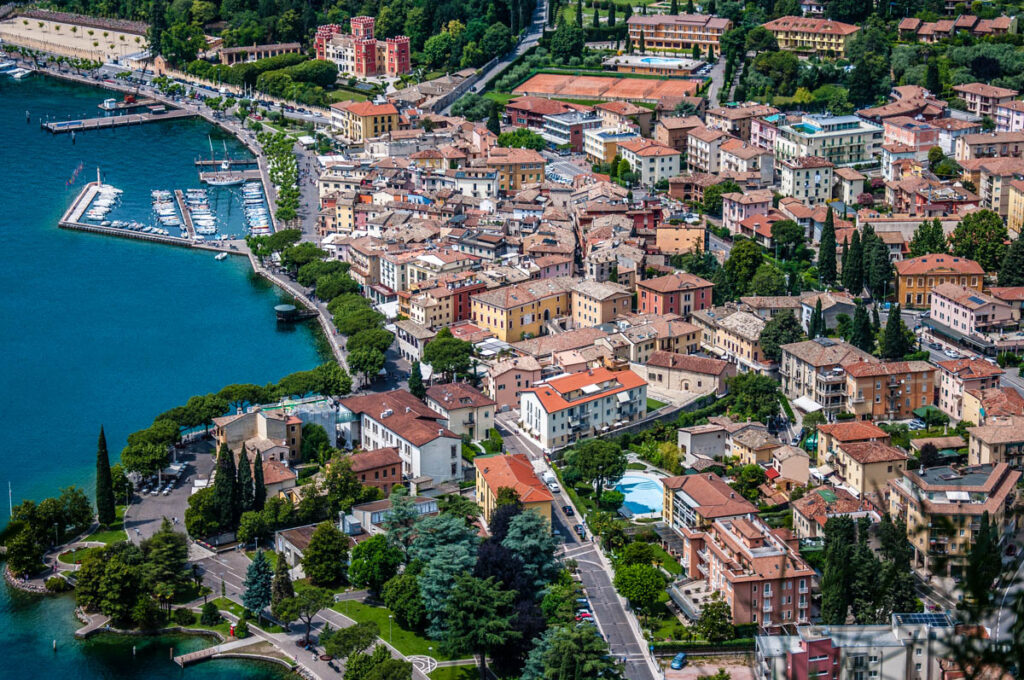 In Italian, Lake Garda is known as Lago di Garda. The ancient Romans called it Lacus Benacus – from the Latin word for 'lake' and the Celtic word for 'horned' on account of its many promontories that jut deep into the water.
The lake took its current name around the 8th century AD from the town of Garda (pictured above) on its shores. Garda is a corruption of the original Germanic word warda meaning 'place of guard' or 'place of observation'.
What is the geography of Lake Garda?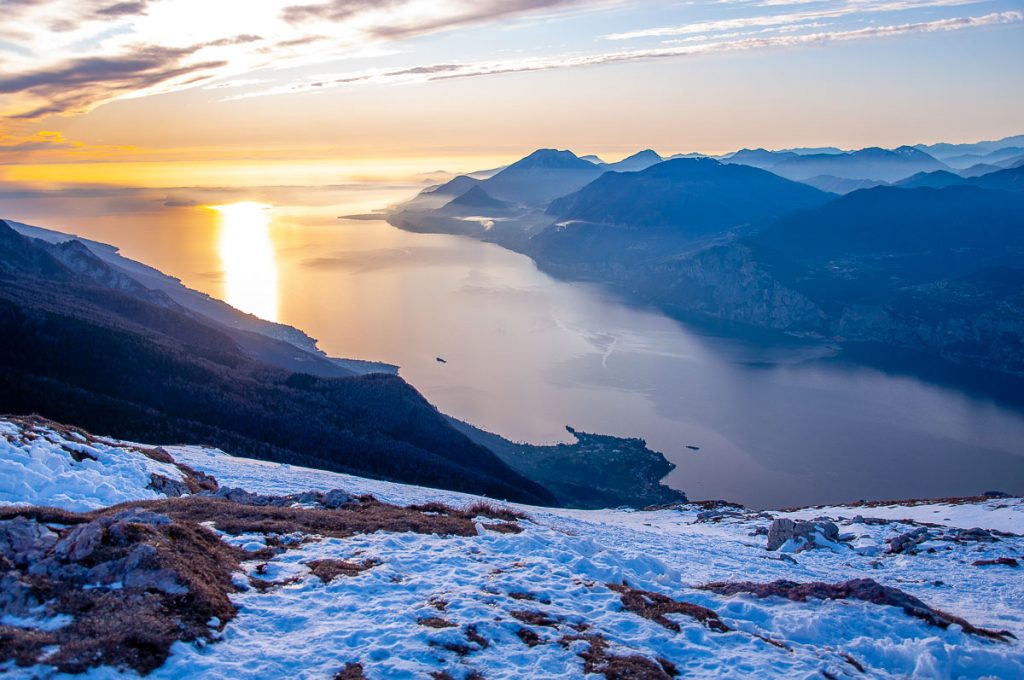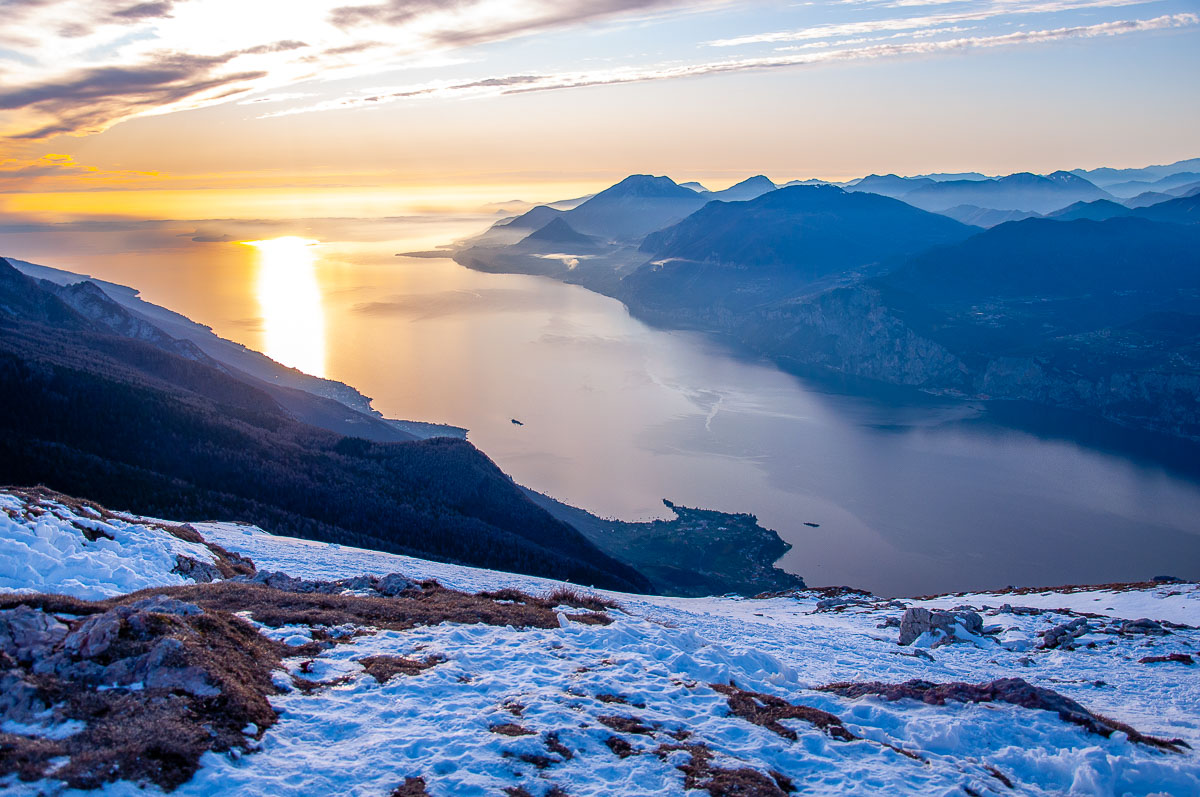 Imagine a long narrow basin of water being held in a tight embrace by tall, powerful mountains to the north. To the south, the landscape flattens and the lake spreads out with wild Italian abandon.
Vineyards, olive groves, and historic citrus greenhouses dot the steep rugged slopes and the verdant plains. The blue waters of the lake glint under the hot Italian sun. Cuddled on the shores are picturesque towns, each one with its own character and appeal.
Lago di Garda is a glacial lake surrounded by Alpine mountains. In fact, at the northern extremity of the lake, near the towns of Nago-Torbole, you can see the immense potholes created when the huge glacier slid down the mountains before its ice melted to create the lake. Read more about the potholes (locally known as Marmitte dei Giganti) under point 13 in this blog post:
Monte Baldo is one of the most important mountains around Lake Garda. It shoulders its eastern shore. In summer, Monte Baldo is a great place to hike and practice adrenaline sports like paragliding. In winter, you can ski and snowboard here.
Monte Baldo is also known as the Garden of Europe as it is incredibly rich in botanical species. Among them are 62 types of orchids.
Which is the nearest airport to Lake Garda in Italy?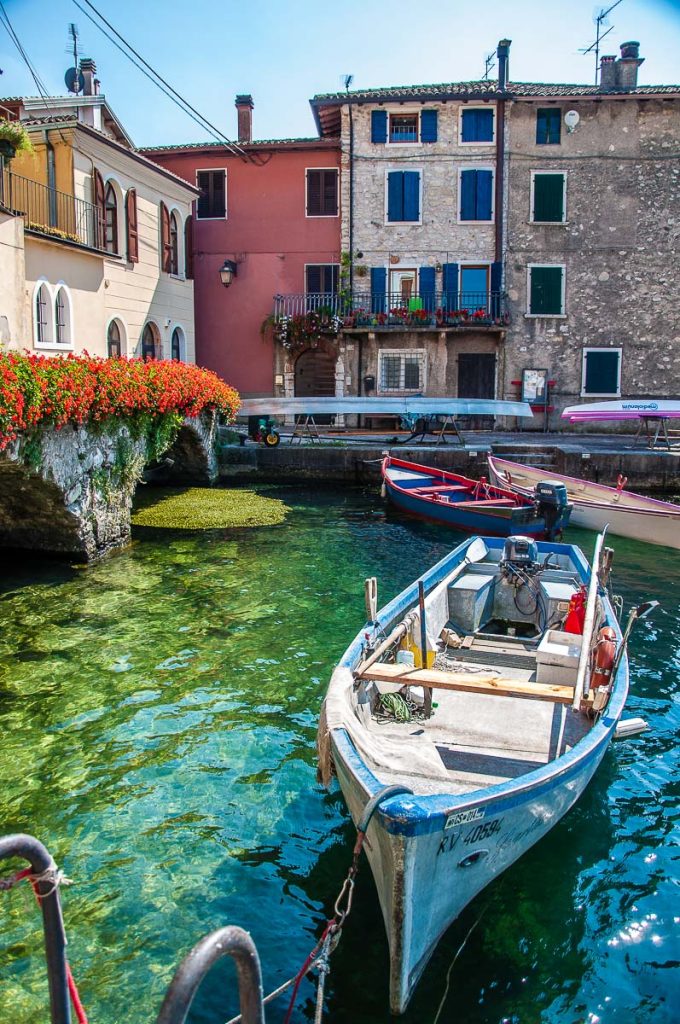 The nearest airport to Lake Garda is just outside the city of Verona. The distance from the Valerio Catullo Airport to the town of Peschiera del Garda on the southern shore of the lake is only about 21 km or 20 mins by car.
There are, however, several other airports nearby that are a great point of arrival for family holidays on Lake Garda. Have a look at these two blog posts for the most convenient airport(s) for Italy's largest lake in line with your specific travel plans:
How to easily travel to and around Lake Garda with children?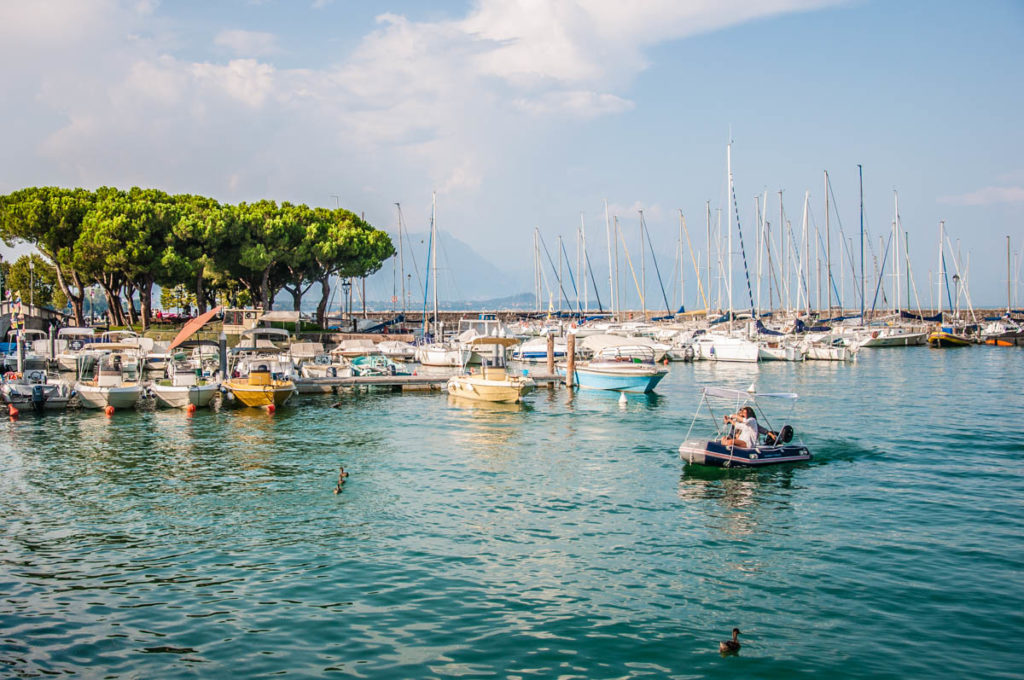 Lake Garda is easy to get to from anywhere in Italy and abroad. No matter how you are planning to arrive here – by catching a plane, getting a train, hiring a car or a combination of all three – Italy's largest lake is easy to reach and circumnavigate. Which is a great thing when travelling with kids!
This blog post explains in detail how to travel around Lake Garda by different types of public and private transport:
Which ones you will choose will depend largely on where on Lake Garda you and your family will be staying at. Have a look at this blog post for details about the lakefront town(s) you may want to pick as a base:
In a nutshell, this is how to get to and around Italy's largest lake:
Have a look at the following resources for train, bus, and ferry tickets and timetables and/or to check the rates to hire a car:
Do I need a car to explore Lake Garda with my family after all?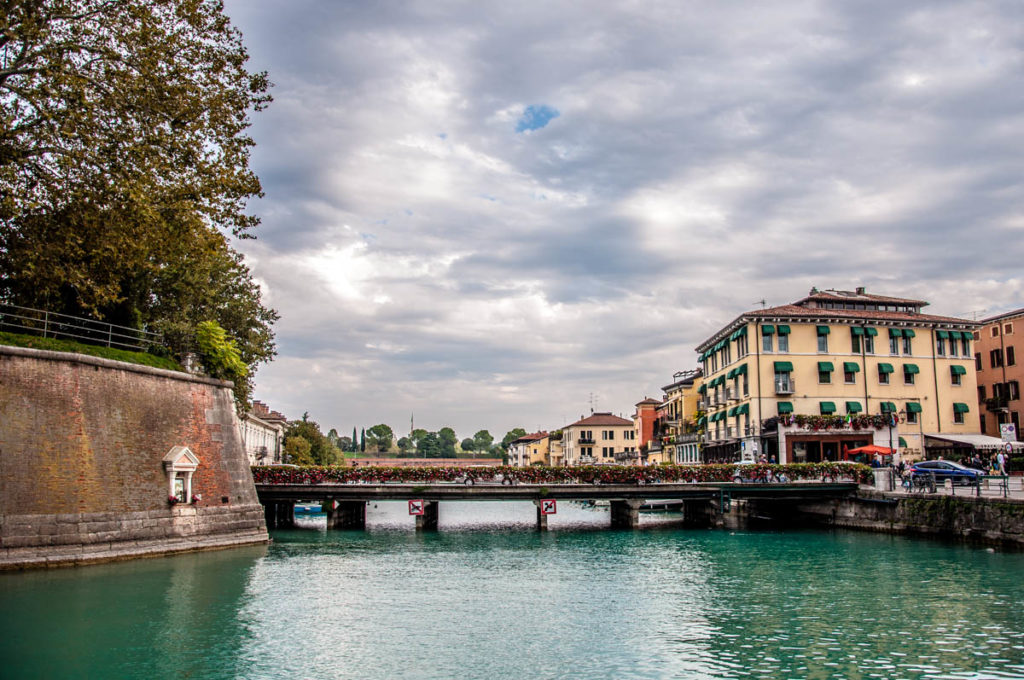 You can certainly rely on public transport to reach many of the towns and places of interest on the shores of Italy's Lake Garda.
Two of the lake's main towns – Peschiera del Garda and Desenzano del Garda – are only a short train ride away from Verona, Brescia, and Milan. Plus, there is a well-developed network of buses and ferries serving the lakefront towns.
So, consider carefully the cons and pros of renting a car for family holidays at Lake Garda.
If you plan to spend most of your time at the same spot, you may be perfectly fine not having a car at your disposal.
On the other hand, if you don't want to rely on the schedules of the local public transport and want to spend your days exploring Lake Garda's attractions and hidden gems, then a car may make it all so much easier.
A lakeside road runs all around Italy's largest lake allowing for quick stops at the places that catch your eye as you drive past. Stunning panoramic views abound and more than once you will feel happy just being there and seeing so much beauty everywhere you look.
Keep your eyes on the road though as at times driving around the lake can be quite the challenge. At certain places, the road gets narrow and curvy. At peak times and during the high season traffic jams can eat significantly into your time.
The driving style in Italy is rather assertive. Be prepared for cars, lorries, and coaches getting uncomfortably close to you or trying to overtake without giving you much warning. The tunnels leading from the town of Limone sul Garda on the western shore up to Riva del Garda on the northern extremity of the lake can be particularly testing when the traffic flow is heavy.
The lakeside road runs through the many lakefront towns. There are speed limits along the way and pedestrians may try to cross even at spots with no zebra crossings. People may also walk along the road where there are no pavements.
Parking places can be difficult to come by during the high season. For example, whereas it is very easy to park right next to the medieval castle in Sirmione in late autumn, all winter and early spring, in summer you will be really lucky to find a parking place within a walking distance from the castle.
Before booking accommodation, make sure that you ask in advance if there are parking spaces available for guests. Otherwise, you may spend long stretches of time each day looking for a place to park and then walking to your accommodation.
When is the best time to visit Lake Garda as a family with kids?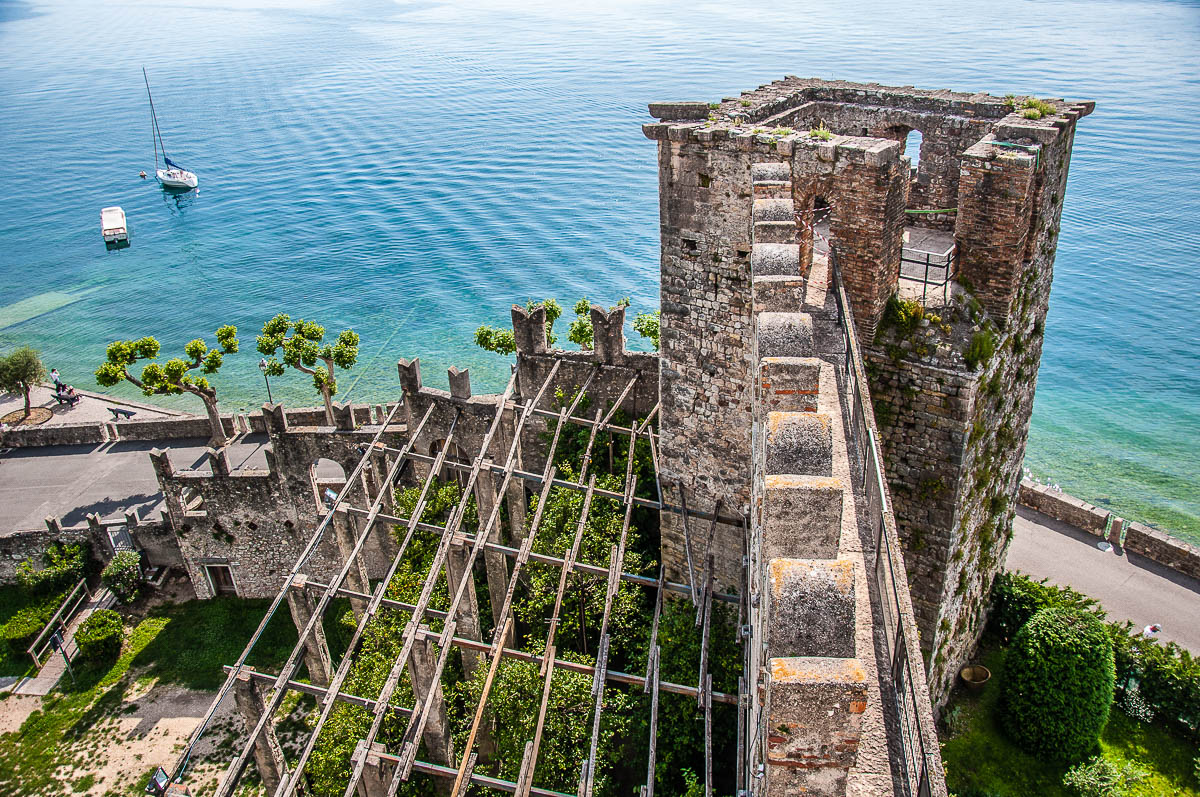 It really depends on what you are looking for. If it is beautiful views, great hiking, amazing food, and historic towns, feel free to come at any time of the year. The lake is gorgeous in any season.
Lake Garda has a lovely Mediterranean-style microclimate. Winters are rarely freezing. In summer, a nice refreshing breeze brings a welcome respite even on a scorcher of a day.
Late autumn, winter, and early spring are mostly crowd-free and offer many different types of local entertainment like Christmas events and craft markets, food and wine festivals and so on.
When the weather gets warm though people start flocking to Lake Garda. It is, after all, a very popular holiday destination and one of the best places to visit in Italy with kids. In July and August, the streets of the lakefront towns are densely packed, restaurants are abuzz, the local beaches are busy, and taking a dip in the clear lake waters to cool off is a pleasure like no other.
In August, temperatures around Lake Garda can reach on average 30 degrees Celsius. The shoulder season is especially pleasant here. April and May and then September and October bring temperatures between 20 and 25 degrees Celsius. However, there is also a slightly bigger chance of rain.
My favourite times to visit Lake Garda with my family are the shoulder and low seasons. Any time from the end of October to the end of April, when we can explore the area in peace.
If you don't have any other option but to come here during the hot summer months, then, don't let me stop you. Lake Garda offers many different surprises in every season so summer is a great time to be here, too.
Where to stay around Lake Garda with kids?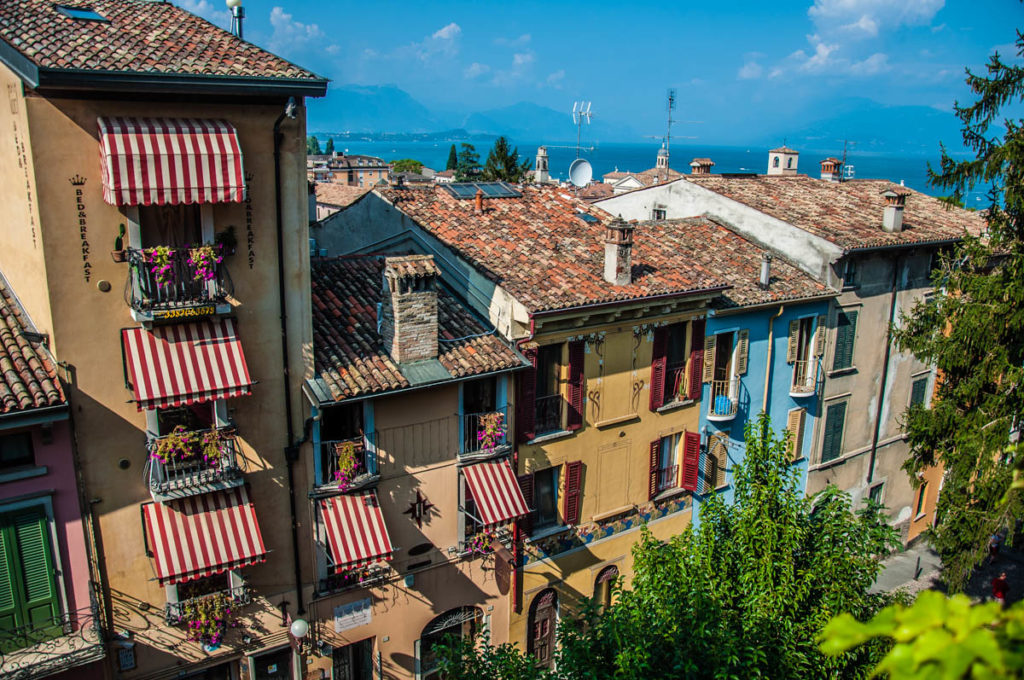 You can find all sorts and types of accommodation on Italy's Lago di Garda to suit your requirements. From luxury family-friendly hotels on the edge of the lake to stylish caravan parks, holiday villages, and fun camping sites in the bosom of nature, there is something for everyone.
For ideas about the types of accommodation available around Lake Garda in particular and Italy in general, have a look at this blog post:
I usually prefer to book all my accommodation through Booking.com. It gives me many different options in terms of budget and location and I can also read and compare reviews left by real people. Click to see all the best places to stay on Lake Garda, Italy.
Apart from the traditional hotels and B&B's, here you can also stay on a small farm (called agriturismo), a garni or a spacious holiday home for a one-in-a-lifetime family experience.
Make sure that you book well in advance, as the lake is a very popular tourist destination and prices can rise steeply depending on the season and how little time there is between now and your visit.
The first step is to decide on which Lake Garda town(s) you want to use as a base during your family holiday. Then, you can use this map to look for suitable accommodation in the adjacent area. Just zoom in and out and move the map around to have a good look at all available options:
Which are the best towns to visit around Lake Garda with kids?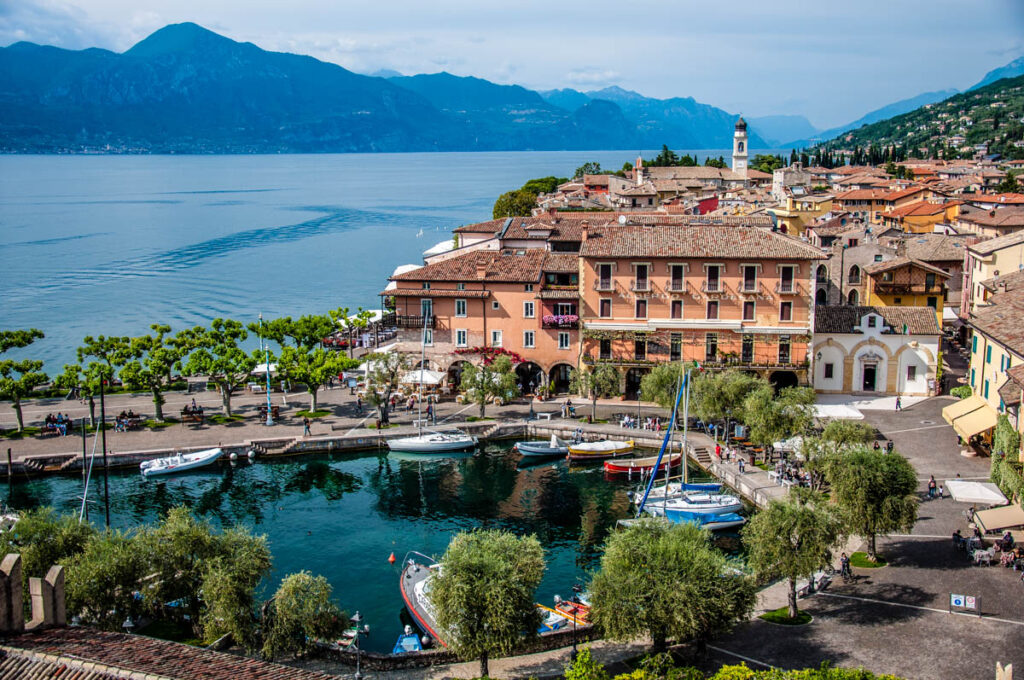 There are dozens of charming towns and villages on the shores of Italy's Lake Garda waiting to be discovered by curious kids and their parents.
For a detailed list of the best ones, have a look at this blog post:
It gives you an overview of the medieval fortified towns, the cultural hubs, the beach centrals, and the hiking grounds you can explore on the lake's shores.
Each small town on Italy's largest lake has its own charm and landmarks, so pick the ones you want to visit based on your family's interests and requirements.
My all-time Lake Garda favourites are Malcesine, Sirmione, Castelleto sul Garda, Lazise, Torri del Benaco, Borghetto sul Mincio, and Riva del Garda. Yet, there are so many more here that are wonderful to visit as a family. So, don't miss any chance you have to explore as many lakefront towns and villages as you can while you are here.
In Conclusion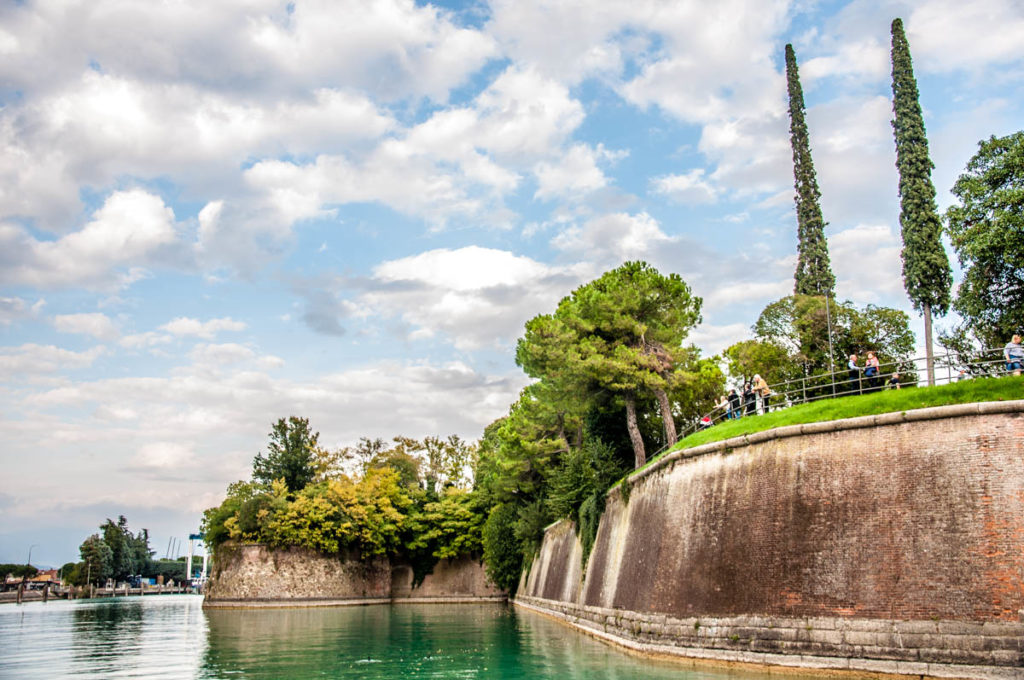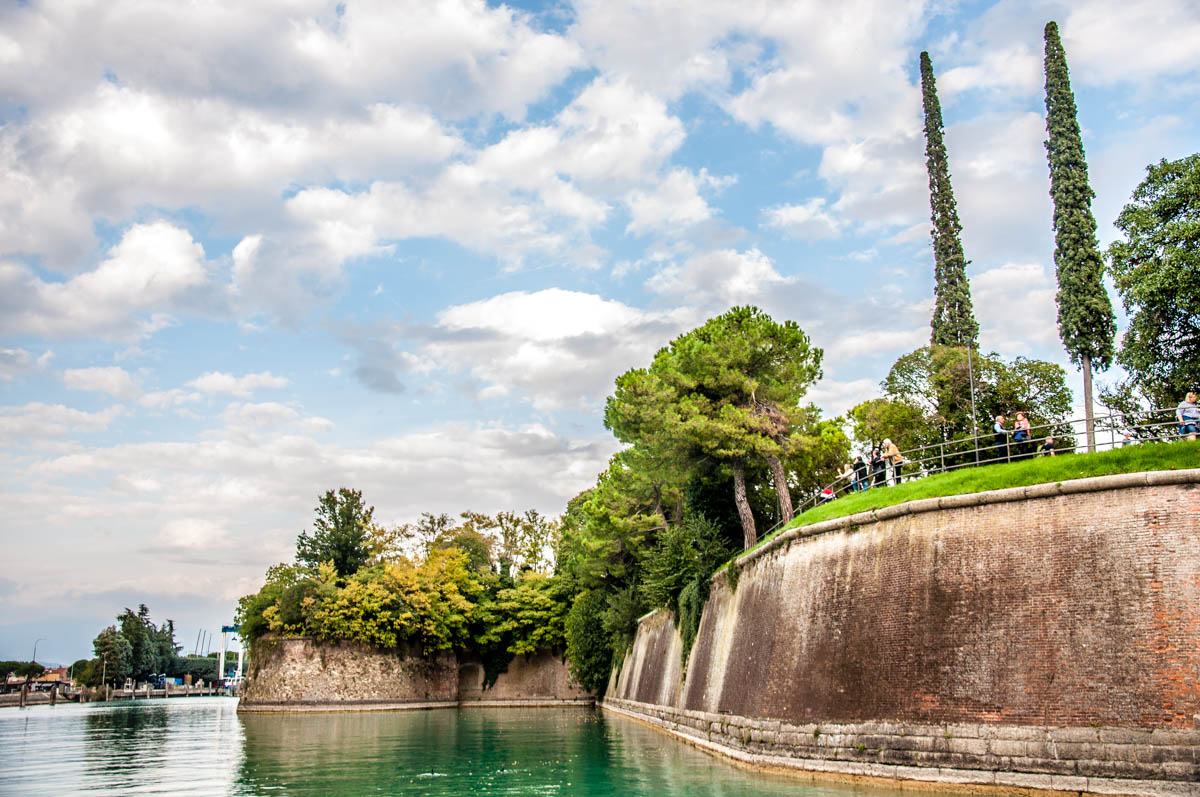 Lake Garda is a great destination for family holidays.
Italy's largest lake offers a whole host of great sights and outdoor activities to appeal to kids of any age. Easy to visit from a number of large Italian cities like Verona, Milan, and Venice, the shores of Lago di Garda are dotted with many lovely towns with great family-friendly amenities.
You can visit the lake on a fun day trip or have a wonderful holiday as a family there. From active sightseeing to full relaxation, Lake Garda is a place that appeals to both kids and parents.
So, to make your travel planning fun, smooth, and easy, in this blog post today, I gave you lots of first-hand tried and tested ideas for the best things to do around Italy's Lake Garda with kids.
From Roman ruins and medieval castles to Italy's best theme parks, from easy to navigate hiking paths to a waterfall in a cave, from fun museums to centuries-old villages and thermal parks, there are many ways to immerse yourself in the history and beauty of Lake Garda.
It's all coupled with a special section with practical tips about visiting Italy's largest lake with family. From how to reach it and circumnavigate it by public and private transport to where to stay on its shores, it's all provided to give you a clear idea of this wonderful Italian destination. I hope that you will find this exhaustive travel guide very useful.
Enjoy your time at Lake Garda!
It's the perfect holiday place to make memories as a family!
Now, get ready quick for your visit with kids to Lake Garda in Italy!

More Helpful Lake Garda Info for You
Lake Garda Towns and Villages: Best Towns, Riva del Garda, Malcesine, Torri del Benaco, Punta di San Vigilio, Campo di Brenzone, Borghetto sul Mincio
Lake Garda Hiking: Tibetan Bridge, Rocca di Garda, Park of the Waterfalls
Visiting Lake Garda: Map of Lake Garda, Lake Garda with Kids, 8 Best Airports, Milan to Lake Garda, Venice to Lake Garda, Verona to Lake Garda, Bologna to Lake Garda, Travel Around Lake Garda
Lake Garda Beaches: 16 Top Tips, 3 Unmissable Beaches
Lake Garda Sights: Theme Parks, Best Castles, Shortest River in Italy, Sanctuary of Madonna della Corona
Thank you for reading! Please, leave me a comment, pin the images below or use the buttons right at the top and at the end of this blog post to share it on social media.
For more useful information like this, please, like my blog's page on Facebook and subscribe to my strictly no-spam newsletter.