Lake Como makes for a great winter destination if you are looking for peace and quiet and generally clear-sky weather.
Couple this with picturesque lakefront towns, vertiginous mountains, exciting celebrations, and a generous helping of world-class art and architecture, and Italy's most famous lake becomes a must-see in the off-season.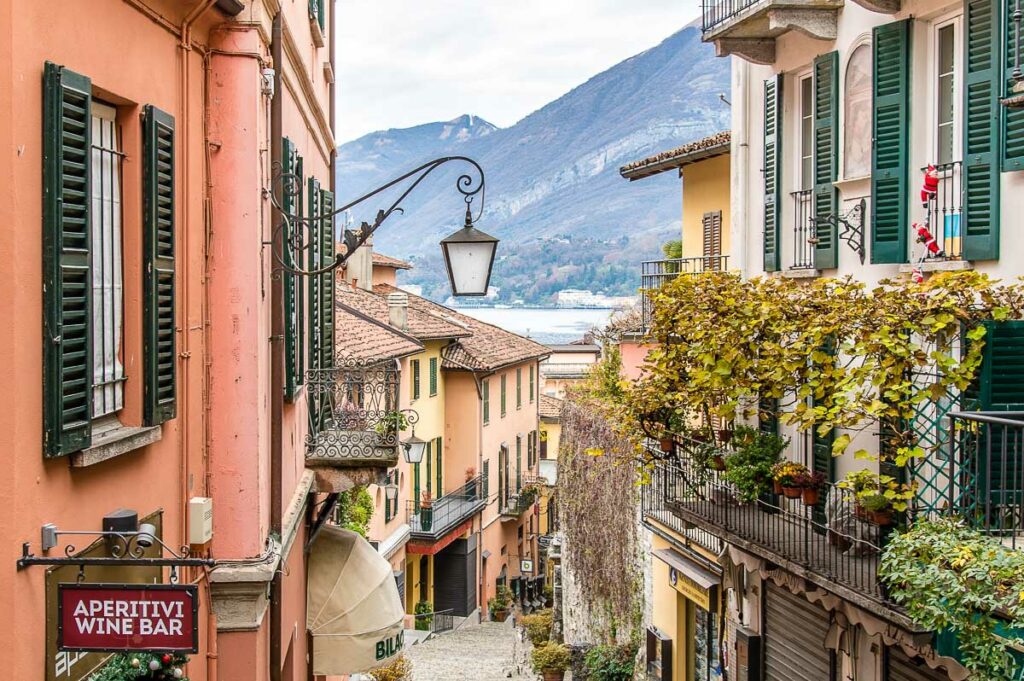 The best thing about Lake Como in winter is the lack of crowds. While in summer it attracts thousands of visitors from all around the world – all clogging the narrow cobbled streets and spilling out of the local restaurants – the low season here is particularly blissful and it gives you a chance to experience Italy authentically.
As it happens, most of my visits with my family to Lake Como have been during the off-season with the last one taking place over ten days this past Christmas. As a person who is always looking for hidden gems and gets easily overwhelmed by noise and multitudes of people, seeing the lake at its calmest always feels like such a blessing.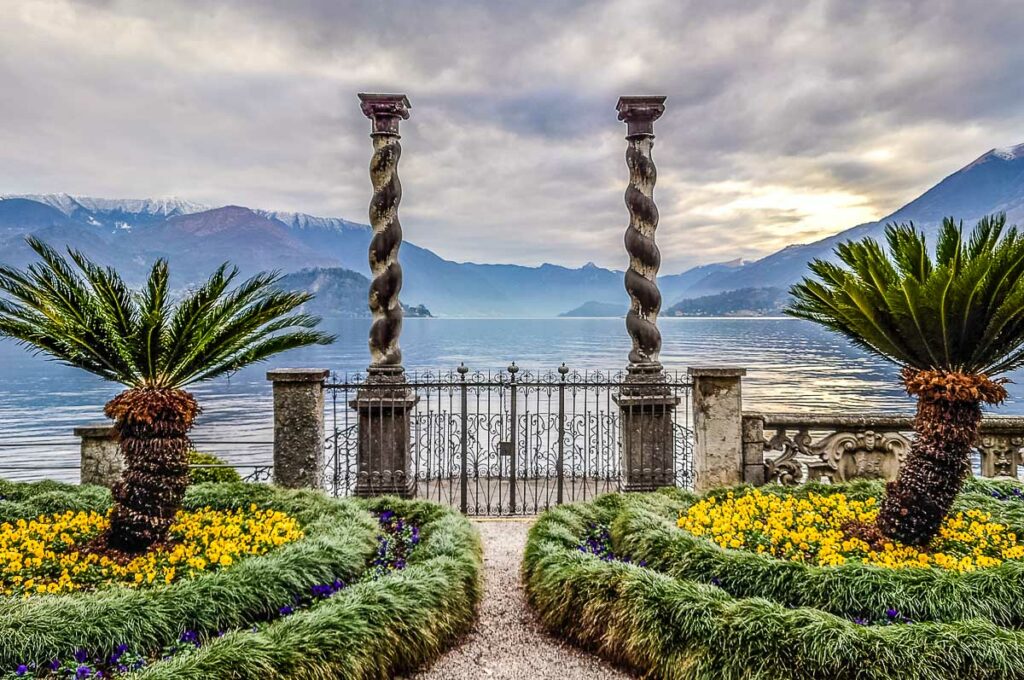 It is wonderful to follow centuries-old paths across the steep slopes, marvel at the force of waterfalls crashing through dramatic gorges, and pop into small local shops to stock on typical for the region cheeses and salami. All without having to brave the crowds. Visiting historic villas and museums on a whim without worrying about the availability of tickets is so very enjoyable, too allowing us to be spontaneous in our explorations rather than having it all planned months in advance.
Then, there are the lively Christmas markets and beautiful seasonal decorations giving the lakefront towns a classy festive look where we can relax into the holidays rather than feeling stressed about shopping and eating too much. And while visiting Lake Como in winter comes with a few disadvantages, too, all in all, seeing Italy's most famous lake during the off-season is always a truly memorable experience for me.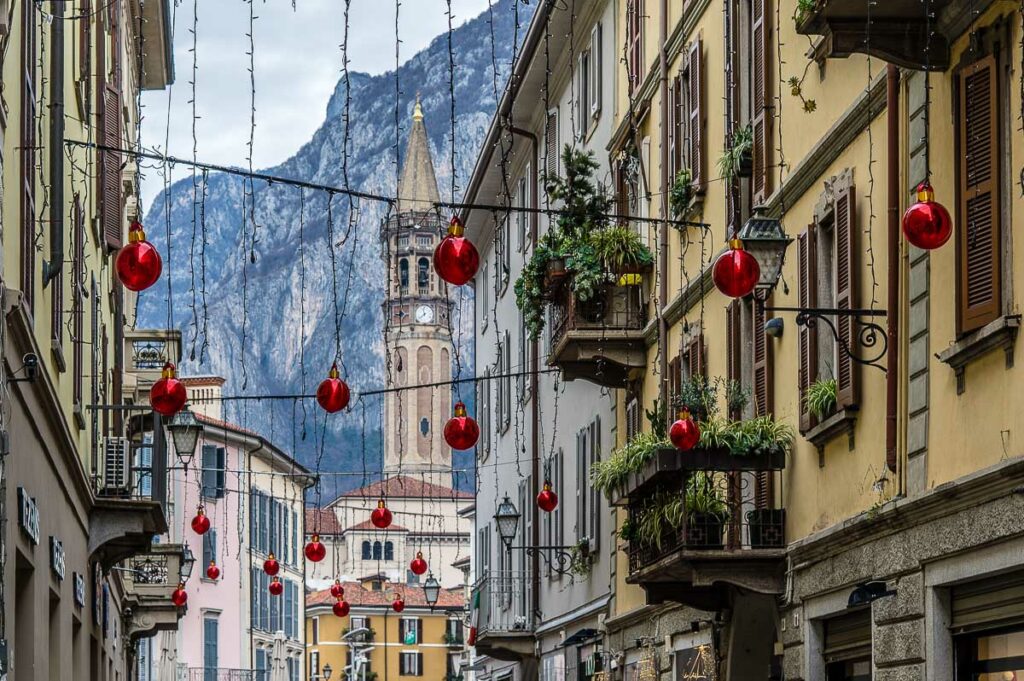 So, in this blog post today, I want to share with you ten reasons to visit Lago di Como between November and March. Just in case you are like me and like to experience places outside of the hustle and bustle of the high season. At the same time (and to keep things balanced), I will cover not only the pros but also some of the inconveniences of being here in the off-season. This way you can decide for yourself if Italy's most famous lake is a place you want to see in winter.
Right at the end, I have also included a detailed section with practical tips about visiting Lake Como. From where in Italy it is and how to get to it to where to stay on its shores, there is lots of information and two handy maps to help you plan your trip.
Have a look!
Lake Como in Winter – 10 Reasons to Visit Italy's Most Famous Lake in the Off-Season
Pin for Later!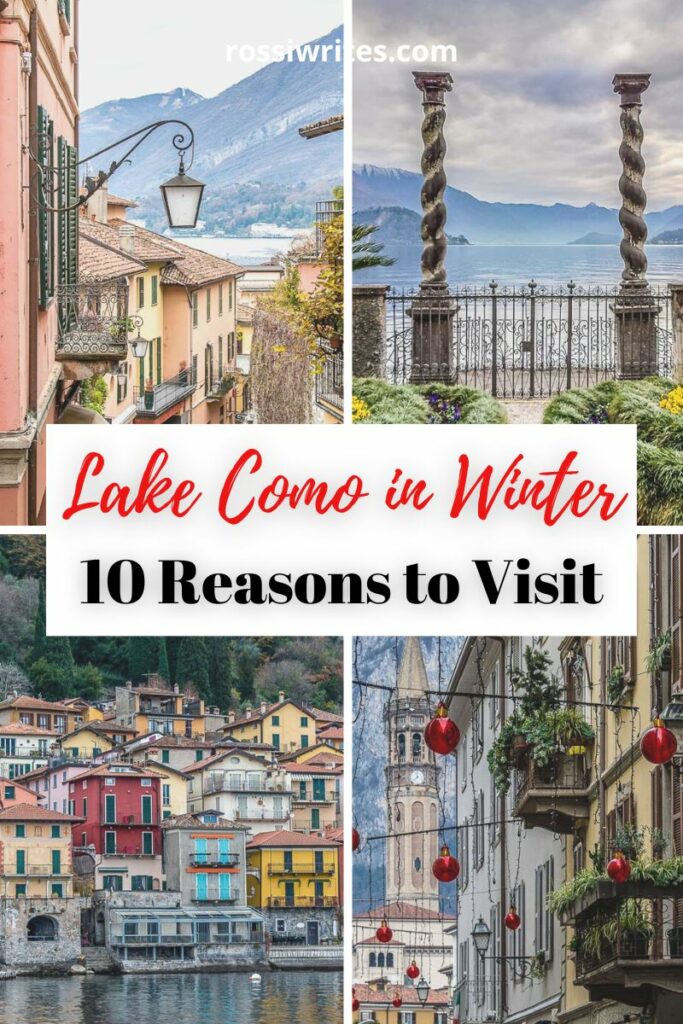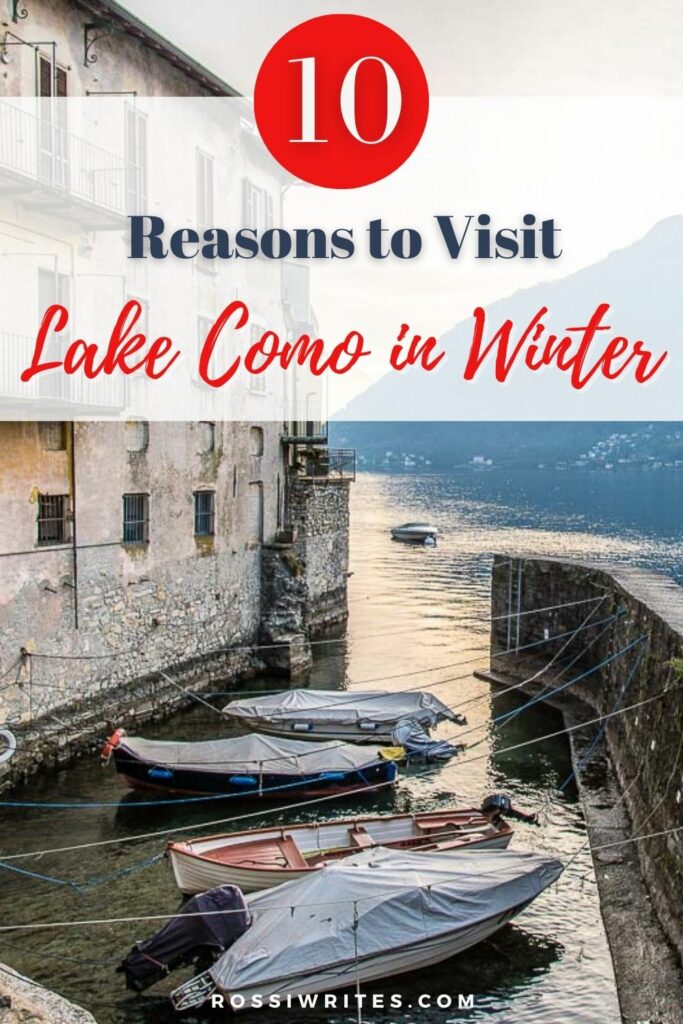 1. Mostly Clear-Sky Weather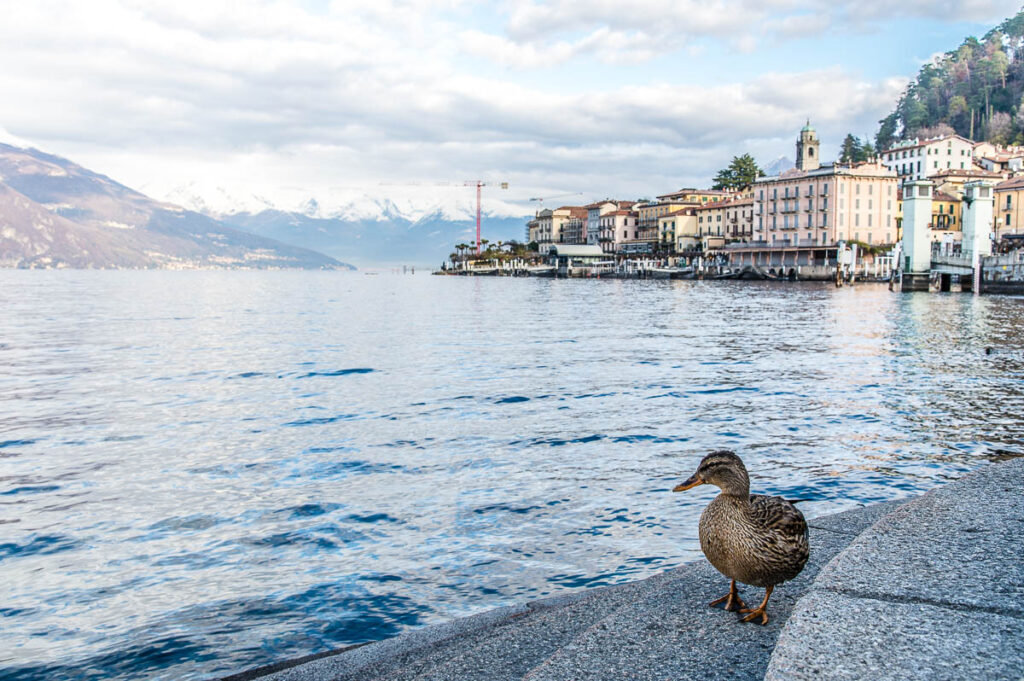 December, January, and February are traditionally Lake Como's driest months. On average, it only rains about five days per month here during the winter. In November and March, this number increases to seven to eight days, and then spring is actually the wettest season on Italy's most famous lake.
If you (like me) live in a generally wet climate with rainy days aplenty every month, in winter Lake Como offers a beautiful escape from the constant threat of yet another downpour. When we were packing for our Christmas visit to the lake, the weather forecast for our corner of the English county of Kent was for non-stop rains all throughout the festive period. As someone who suffers from a lack of energy and misses sunshine, just the thought of dark wet winter days makes me feel down.
Instead, we were incredibly lucky to have ten clear-sky days at Lake Como and while the temperatures didn't rise above 11 degrees Celsius on average, it was so good to be able to go out for long walks and day trips without worrying about waterproof clothes. The weather was mostly mild with some gentle morning hazes over the water adding to the lake's charm.
Keep in Mind:
Having said all that, Lake Como is not a winter sun destination. The days are short and the evenings can get chilly. Bring a warm jacket, a hat, gloves, and a scarf to keep toasty at all times.
2. Heartfelt Christmas Celebrations
Lake Como is a great place to enjoy Christmas the Italian way. The festive season in Italy starts on the 8th of December – the Feast of the Immaculate Conception of the Virgin Mary – and lasts all the way to Epiphany on the 6th of January when Befana brings sweets to the well-behaved Italian kids.
Expect Christmas markets selling delicious food from all around the country, tasteful decorations, beautiful Nativity scenes, and Befana dolls. You will find all this and more in Como's lakefront towns all throughout the festive season.
The lake is particularly famous for its lavish festive illuminations. The multi-day event City of Toys in the town of Cernobbio, for example, is where you can enjoy Christmas with beautiful lights, an arts and crafts market, an ice rink, and exciting performances.
In any case, each of the larger lakefront towns stages its own Christmas events and its historic centre gets decorated in such a way as to emphasise the beauty of its centuries-old houses. As you travel around Lake Como in the evenings, your eyes delight in the colourful lights that – like strings of gemstones – stretch for miles along the shores.
The local churches hold concerts and festive masses. The lake communities flock to them all throughout the Christmas season to enjoy the traditional presepi and religious celebrations. Everyone's invited! All in all, Lake Como is the place where you can experience the real atmosphere of the Italian Christmas.
Learn More:
3. Authentic Local Festivals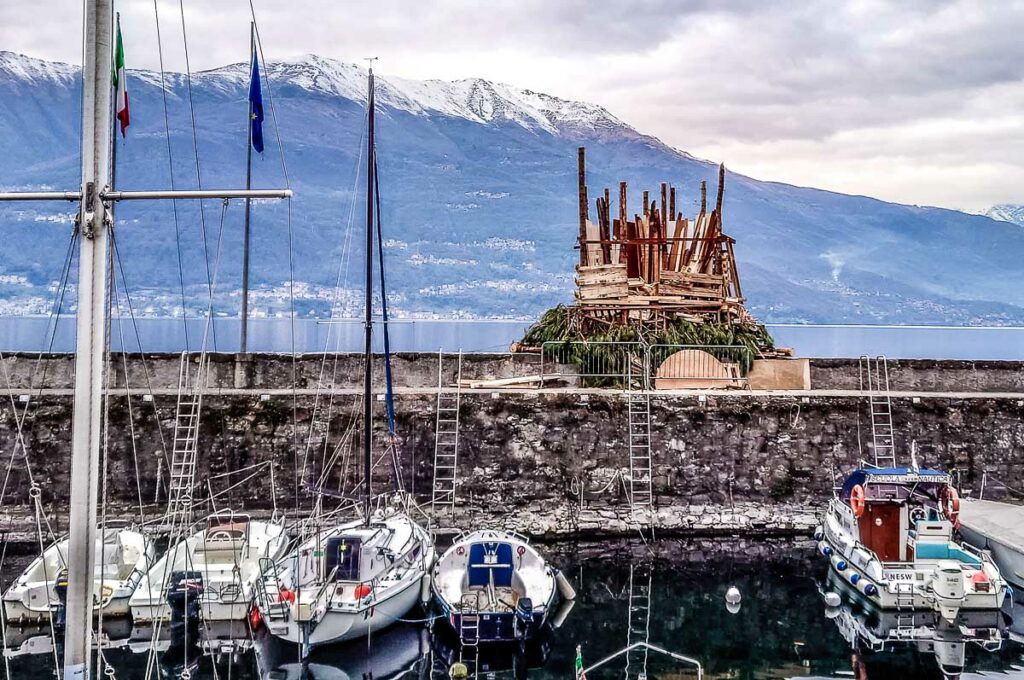 Christmas is not the only large celebration taking place in the off-season at Lake Como. Many of the lakefront towns hold spectacular events and reenactments recalling important events of local history.
Particularly famous is the Pesa Vegia in Bellano – a town on the eastern shore of the lake. With 400-year-old traditions, it fuses two celebrations – Epiphany and that of bringing back the old units of measurement to the jubilation of Bellano's 17th-century merchants.
Each year thousands of people flock to Bellano on the 5th of January and the town stages a lavish historic parade and several accompanying events.
You can also enjoy a historical reenactment in the town of Colico's imposing medieval castle in October, a whole host of cultural events under the slogan Marvellous Bellagio in January, and a traditional celebration of St. Anthony's Abbot Day in Crandola with a bonfire and a blessing over farm animals.
Carnival is another period in winter when a visit to Lake Como is a must. Expect joyous parades, competitions for the best mask, and lots of frittelle – traditional for Carnival fried dough balls. The Carnival in Schignano – a small village in the mountains above the lakefront town of Brienno – is particularly famous. It follows ancient traditions and has its own local masked characters – Bello and Brutto (the Beautiful One and the Ugly One) – around which the celebrations are focused.
4. Experiencing a Disappearing Way of Life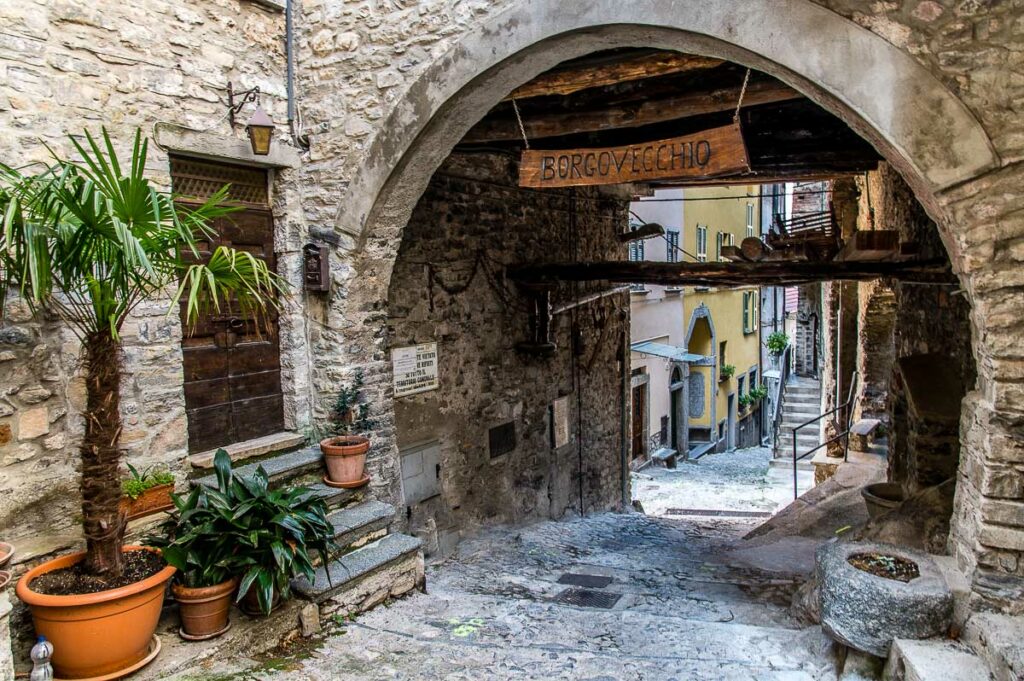 Fueled by stunning imagery on social media, Lake Como exists in our collective imagination as a verdant, luxury destination dotted with exclusive places to visit. Certainly, this is one of the lake's most beautiful and sought-after facets.
At the same time, this is a place where you can experience small-town Italy truly authentically and beyond the travel cliches and thus immerse yourself in a disappearing way of life.
With towns made of tall houses clinging to the steep slopes where many streets are in fact stairways of cobbled steps, living around the lake year-round can be rather physically taxing. Out of breath after scaling yet another endless flight of jagged steps, I complain to the lady running a small shop in one of the lakefront towns: 'I don't know how you do it every day!'
'It's easy!', she says while demonstrating a perfect high kick and touching her toes with her fingers.
Yet, as you walk around it's easy to come across the faded fascias of small shops and restaurants that are no more. A former trattoria here, a long-closed textile shop there, the streets of the smaller towns around Lake Como can feel empty and quiet on a winter day.
Glamourous boutiques and elegant historic shops thrive in the larger lakefront towns like Lecco, Como, and Cernobbio which are also built on flatter ground. Nowadays, the lake's main fortunes depend on tourism but in the near past, this was the place producing from silk bug to silk thread the best textiles for Italy's high fashion houses.
The design and sale of silk accessories is still a significant source of jobs around the lake. At the same time, as you explore around it's easy to come across the vestiges of past glories. A case in point is the empty body of the large cotton mill that once employed most of the inhabitants of the town of Bellano. With plans to regenerate it into an art centre, this impressive structure will certainly inject a new lease of life into this underrated town on Lake Como.
Keep in Mind:
You may find out that, especially in winter, the traditional long Italian lunch break – called riposo – is still very much part of daily life around Lake Como. As such, shops, sights, and churches may close for a couple of hours in the afternoon. Plan your day around riposo as there is nothing more disappointing than to arrive at a place only to find out that you have to wait for hours before everything re-opens.
Learn More:
5. Uninterrupted Lake Views and Snow-Capped Mountains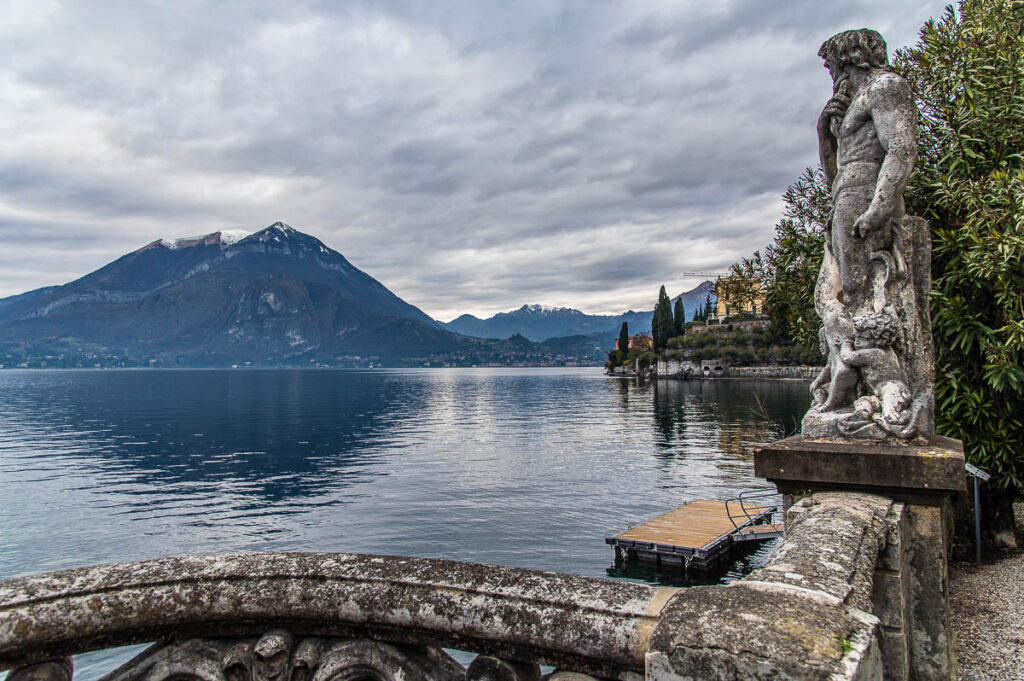 There are many fun and exciting things to do around Lago di Como in winter. Yet, the best of them all is simply to stop and take in the lake in all its beauty. Viewpoints opening majestic vistas are abundant here. You can take a funicular, stop at one of the lookouts that dot the narrow road circling the lake, position yourself at Punta Spartivento in Bellagio (where the lake splits into two branches) or simply sit on a bench along a lakefront town's promenade.
For all its elegant villas and carefully curated images on social media, Lake Como is a place where you can feel the vast, indomitable power of nature. Steep rugged mountains tower over the narrow branches of the fjord-like lake. Looking up at them – threateningly vertical – you know that although you are in the heart of Europe, there are still many spots here where human feet haven't stepped yet.
The lake water reaches mysterious depths and on the surface, it looks almost black. It is only when you look closely at the shallows you realise how incredibly crystal clear it actually is.
To the north, the snow-capped peaks of the Alps provide the most stunning backdrop. Then, when the sun sets, its last rays seem to set the peaks ablaze and for one glorious moment, the snow turns pink.
With many trees and shrubs having lost their verdant outfits, there is nothing here in winter to take your attention away from the pure power of the lake. Your eyes feast on it instead of getting distracted by plump hydrangeas plopped here and there. In winter, there is nothing soft and glitzy about the landscape of Lake Como and you gain a new appreciation of nature and its vital force.
My favourite place to stop and look at Lake Como in the off-season is the botanical garden of Villa Monastero next door to the town of Varenna. Walk along the alley lined by citrus trees – laden with lemons, oranges, and bergamots in winter – and then stop to take the lake in.
To your left, you will see Punta Spartivento and the lake's two branches – Lecco and Como – disappearing in the distance. To your right are the snow-capped Alps. It's a huge natural amphitheatre with you – a tiny, delicate human – taking the best place in the audience and feeling both overawed by and filled with love for the beauty of this world.
6. Truly Quiet Corners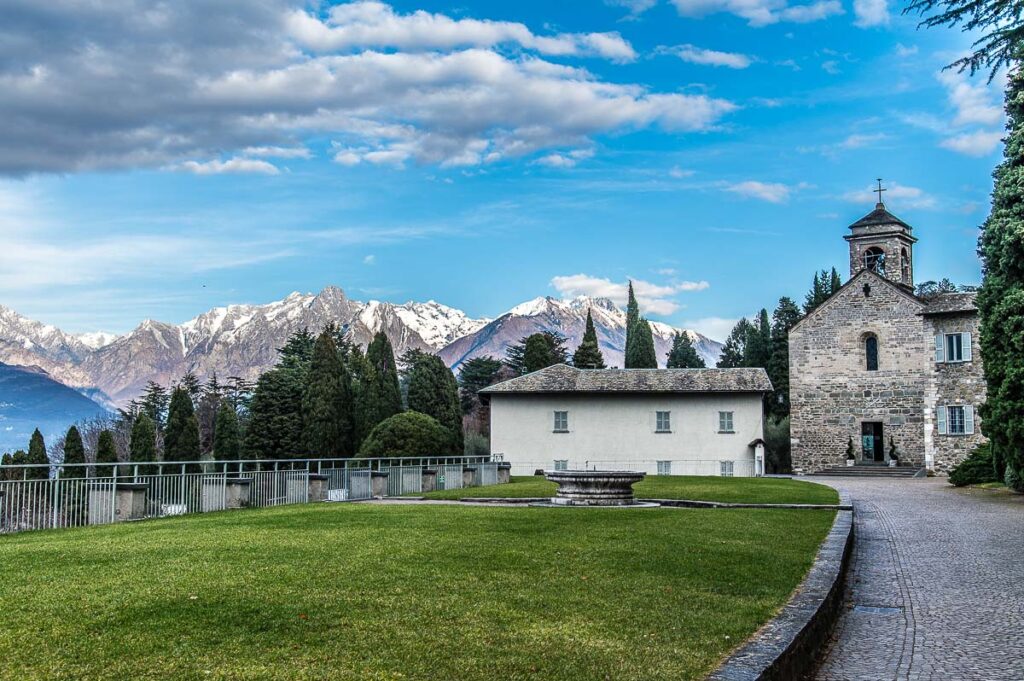 For all its popularity as a travel destination, Lake Como is particularly rich in hidden corners where peace and quiet reign. If you lead a hectic life, overstimulated by crowds, lights, and noise, it's such a luxury to be able to relax in the lake's winter silence.
A simple walk across a sleepy village or an easy hike following a mulattiera – a centuries-old mule path – will give you a chance to calm your inner voice and simply be.
My favourite exploration in search of peace and quiet was the walk I took around the town of Nesso with my daughter. Built on the slopes, Nesso is split into several parts connected by pathways opening sprawling views of the lake. The town is very famous for its waterfall – Orrido di Nesso – which in summer attracts a fashionable crowd of young people who come to jump off a millennial bridge, swim in the limpid waters of the lake, and take selfies. In winter, we had the place to ourselves.
In a world where you are constantly worried about your safety and carefully map your way back home after dark, it felt so special to be able to simply go for a relaxed walk past tall houses and up and down steep streets without thinking of anything else but the beauty around us.
The Abbey of St. Mary of Piona – pictured above – is another very special place to visit around Lago di Como if you are after some peace and quiet. You will find it at the tip of a small promontory opening lovely views over the northern end of the lake.
7. Lots of Opportunities to Keep Active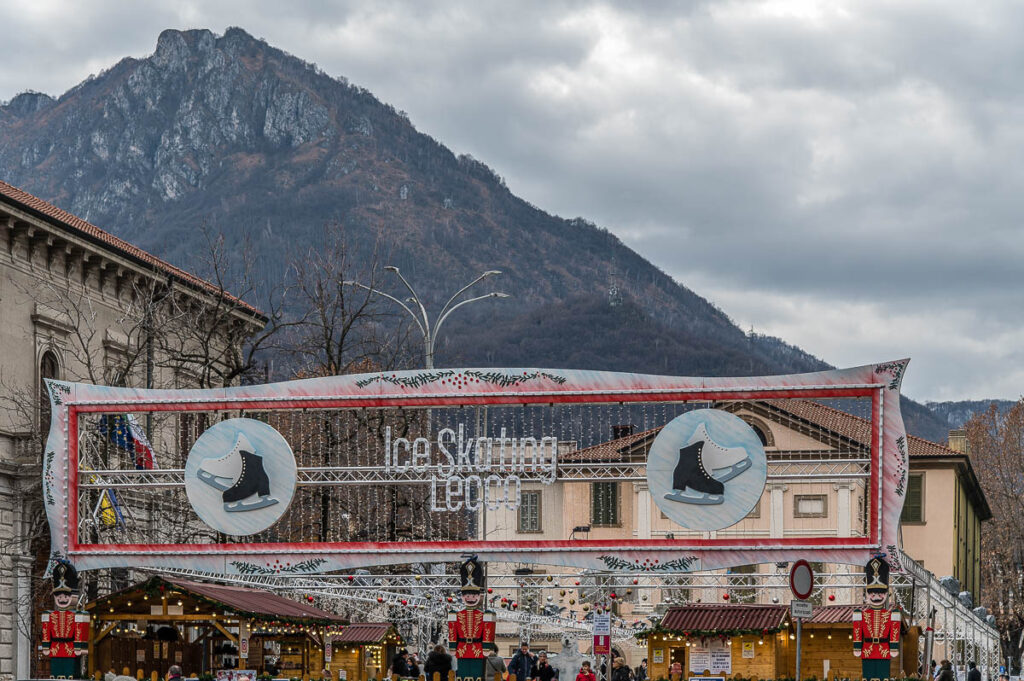 Lake Como offers many opportunities to keep active in any season. Hiking paths for all abilities crisscross the mountains around it linking villages and towns. As you walk around the lakefront towns, you will often see small signs pointing to a nearby hiking path. Strada Regia and the Greenway of the Patriarchi are two of the more well-known ones.
A visit to two large waterfalls – Orrido di Nesso and Orrido di Bellano – is a must. One is in the heart of the town of Nesso and the other is just above the town of Bellano. Reaching Orrido di Nesso requires navigating 300 steep steps down and then up again. A wooden walkway is suspended above the Orrido di Bellano inviting you to take a walk at a head-spinning height.
Within an easy driving distance from Lake Como, you will also find several ski resorts. Piani di Bobbio, for example, is less than half an hour away from the town of Lecco. If ice skating is your thing, then you are in luck, too. In winter, many small temporary ice skating rinks pop up in many of Lake Como's towns providing hours of fun for kids and adults.
8. No Queues, No Crowds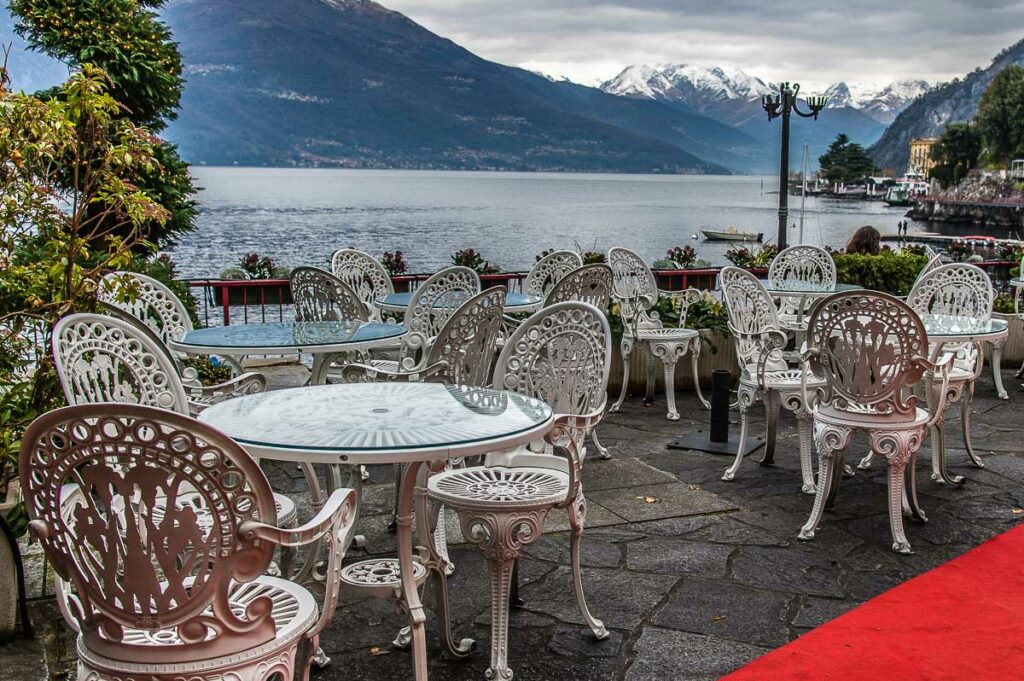 It is such a bliss to be able to explore Lake Como without having to squish past thousands of other tourists. While the lake can certainly get overcrowded in summer, in the off-season you will often be completely alone with your thoughts even in the most famous local hotspots.
We were lucky to see Villa Monastero in complete peace and quiet. There were perhaps 20 other visitors there at the same time and it was so easy to lose them in the vast gardens and feel like the only people in this paradise-like place.
When we visited the Civic Art Gallery in the town of Como, we were the only visitors in its many vast rooms. It was such a privilege to be able to spend time looking slowly at art without being jostled by other people. Only a couple of weeks prior to that I had to visit the National Gallery in London to look at two paintings for an essay I had to write for my history of art course. It was a completely different experience with the constant chatter of people, the bright lights, and the man who took ten photos of each painting with his very loud shutter echoing around the whole room.
In the off-season, Lake Como's most touristy town – Bellaggio – still gets a coachload or five of tourists throughout the day. Yet, it's nothing like at the height of summer when its narrow cobbled streets are jam-packed with people eager to photograph the same spots. We found that as long as we reached Bellagio before ten we seemed to have it completely to ourselves and often were the only people at Punta Spartivento just taking the majestic views of the lake in.
Keep in Mind:
While some of Lake Como's major sights remain open all throughout the low season, others are either closed or require a booking in advance. A case in point is the Volta Temple in the town of Como and Villa Carlotta in Tremezzo. If you are planning to travel to Lake Como specifically to see a particular sight, it's best to check in advance if it's open or not. Otherwise, there is still plenty of things to do and see here in winter and it's easy to make plans on the spot.
The same applies to local hotels and restaurants. Many of them remain open year-round but many also close for the low season. If your travel plans are not tied up to specific accommodation options and eateries, then you will still find plenty of places to stay and eat at.
9. Easier to Get Around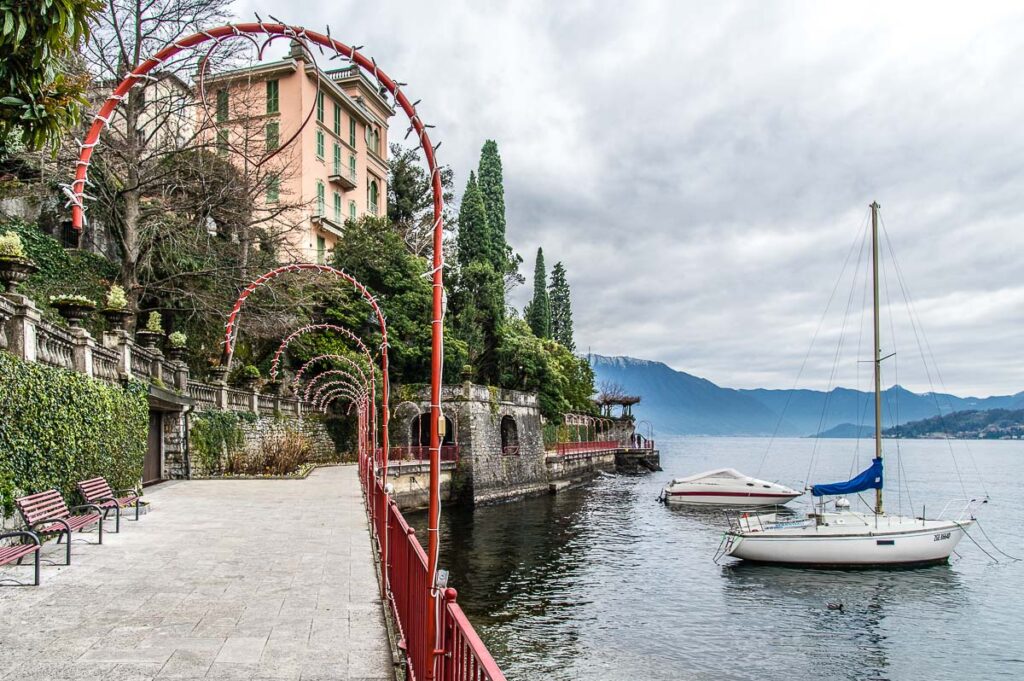 Shaped as an upturned letter Y and surrounded by tall mountains, Lake Como is resolutely fjord-like. Vertiginously steep, its shores allow little space for roads and straight lines are almost impossible here. This is particularly noticeable if you need to drive around the lake. The road that circumnavigates the whole of Lago di Como is particularly narrow and sinuous with the locals being somewhat assertive drivers.
In the high season, traffic clogs the lake. Getting from point A to point B can test your patience and your driving skills to the max. In winter, it's so much more pleasant to get around. Above all, it's much easier to find a parking space in the lakefront towns and near the main sights.
You also don't need to queue to catch a ferry or a bus. You can buy a ticket and board the next one without having to deal with crowds of travellers. This gives you a lot of freedom to decide where to head to at the last minute and makes your exploration of the lake more spontaneous and exciting.
Keep in Mind:
For many reasons driving around Lake Como is not for the faint-hearted. Have a look at the practical tips about visiting the lake further below for information on how to get around and what to expect in terms of roads, driving styles, and car parks.
10. Excellent Shopping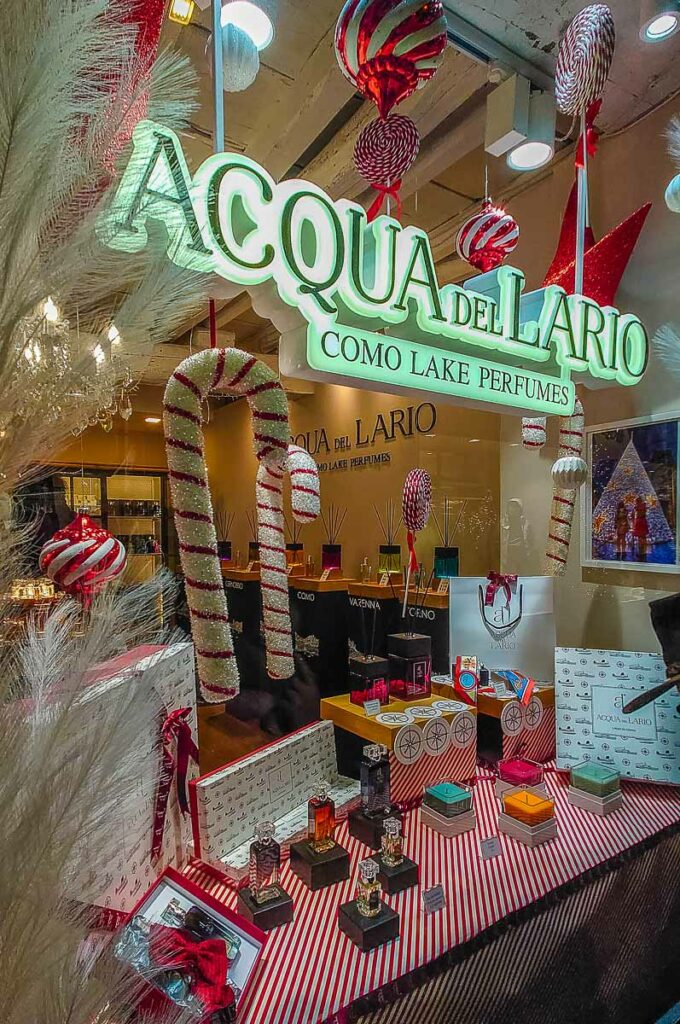 Lake Como is a great place to visit in the off-season if you like to shop for quirky crafts and luxury items. The larger lakefront towns house both the workshops of local craftsmen as well as boutiques stocking the latest fashions from Italy's most famous brands.
The winter sale season (or Saldi invernali in Italian) starts right after the end of the Christmas holidays and lasts as much as two months. It's a great period to grab a bargain or two.
In addition, Lake Como is particularly famous for its locally designed silk accessories. Everywhere you look, you will find exquisite silk scarfs, bags, and ties making wonderful presents for loved ones back home. A local silk designer even created the ties worn by several Presidents of the United States.
In terms of local creators, don't miss the Acqua del Lario brand which creates scents inspired by Lake Como. You will find its stylish shop in the historic centre of the town of Como. In Bellagio, I also particularly like the glass shop I Vetri di Bellagio. Just up the road from it, you will also find La Bottega del Legno di Mario Tacchi – the beautiful workshop of a master carpenter.
Practical Tips About Visiting Italy's Lake Como in Winter
Pin for Later!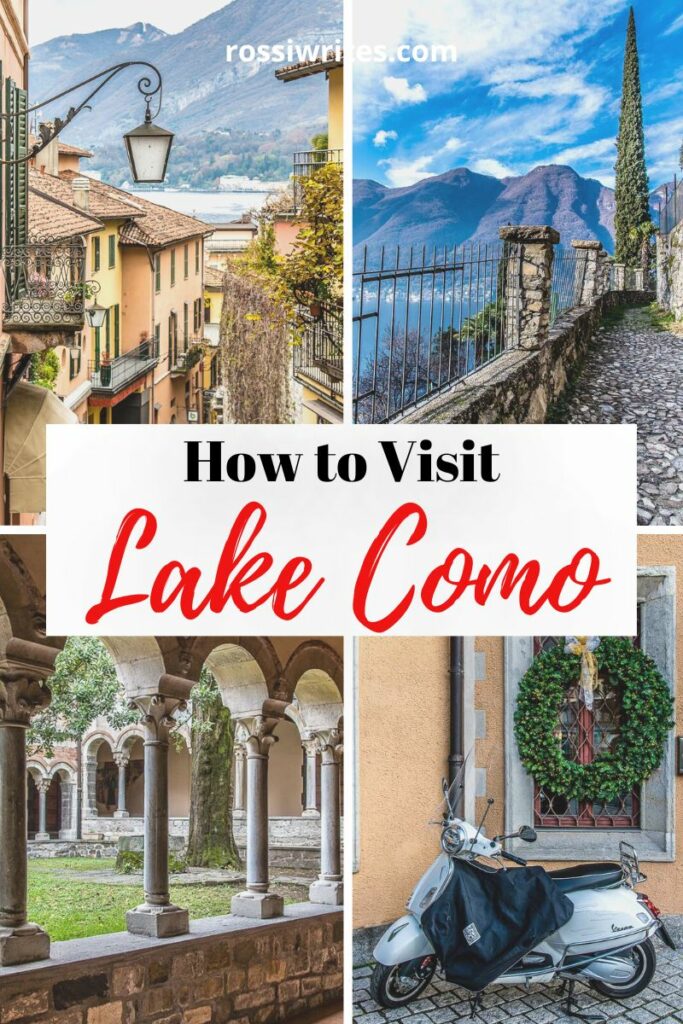 Where in Italy is Lake Como?
Lake Como has the somewhat unusual shape of an upturned letter Y. Surrounded by steep mountains, it looks like a fjord with the important distinction that it's inland.
Lago di Como – as it is known in Italian – is in Northern Italy. Part of the Northern Italian region of Lombardy, it often is affectionately called Il Uomo – or The Man – by the locals. The lake's outline does in fact look a bit like a man taking a large step with one of his feet resting on the town of Lecco and the other – on the town of Como.
Lake Como has three thin branches which meet at Punta Spartivento. This beautiful promontory is next door to the town of Bellagio and opens sprawling views over the lake.
The three branches are named after their main lakefront towns. As such, the northern branch of Lake Como is known as Colico, the eastern as Lecco, and the western one as Como.
The mountainous area locked between the Lecco and the Como branches of the lake is called the Triangolo Lariano – the Larian Triangle (from Lake Como's ancient name – Lario). Punta Spartivento is right at the tip of this natural triangle.
Here is a map showing the exact location of Lake Como in Italy. You can zoom in and out and use it to calculate directions from anywhere in Italy and abroad.
I have pinned both the city of Milan and the following lakefront towns to the map: Como, Lecco, Colico, Bellagio, and Varenna. The first three, as already mentioned, are the largest towns here. The other two are the most popular destinations for day trips and tourist visits.
The map will give you a clear visual idea of where these towns are in relation to one another and Milan. Further below you will find extensive details on how to reach Lake Como and travel around it, too.
How to Reach Lake Como?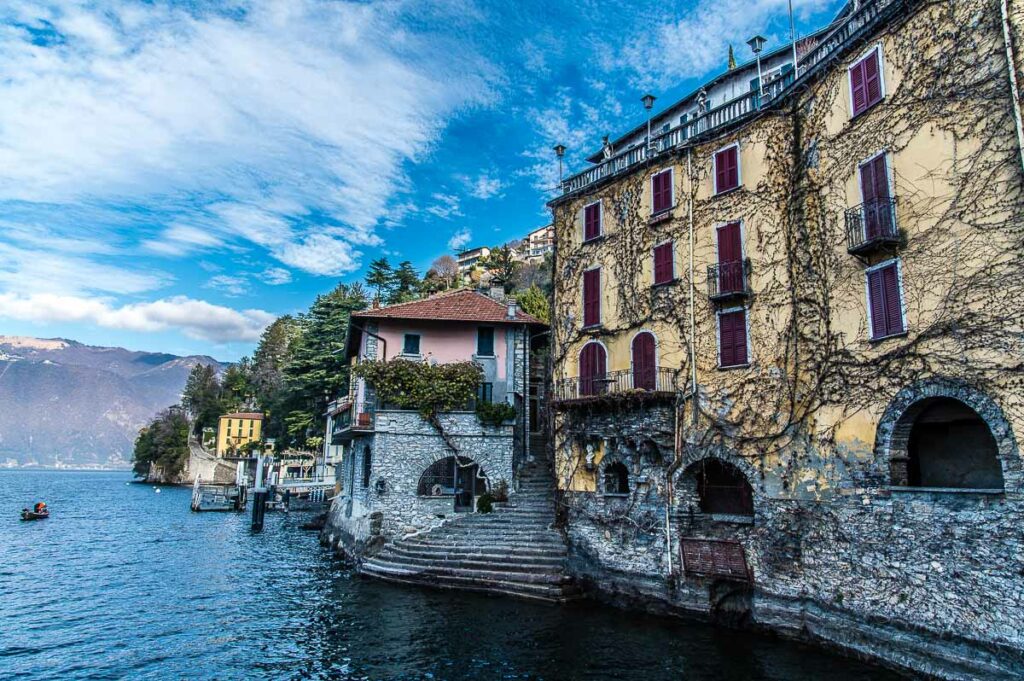 You can easily get to Lake Como by plane, road, and railway from anywhere in Italy and abroad. In a nutshell, here is how it works (have a look at this blog post for further details):
By Plane
The nearest to Lake Como large international airports are:
Milan Malpensa – more convenient for the Como branch of the lake. From the airport, you can get the Malpensa Express train to Saronno. Once there, take the train to Como Nord Lago – a small end-of-the-line railway station next to Como's lakefront promenade. Along the way, the train also stops at Como Camerlata and Como San Giovanni – two other railway stations serving the town of Como. Total travel time by train is around 1 h 20 mins.
Bergamo Orio al Serio – more convenient for the Lecco branch of the lake. From Bergamo Orio al Serio airport take the shuttle bus to Bergamo railway station. Once there, take the train to Lecco. Total travel time starts from just over an hour.
Milan Linate – convenient for both the Como and the Lecco branches of the lake. From Milan Linate airport get the Airport Bus Express to Milano Centrale railway station (25 mins travel time). Once there, you can continue by train to Como, Lecco or another lakefront town with a railway connection. Alternatively, you can get bus line 73 from Milan Linate Airport to Milano Forlanini railway station. Once there, you can continue by train to Como, Lecco or another lakefront town with a railway connection. Travel times are longer than taking the train from Milano Centrale and you will need to change trains along the way in the city of Monza.
Learn More:
By Train
On the Como branch of the lake, the town of Como is the only one linked by railway. It has three train stations:
Como San Giovanni – the town's main railway station is about a kilometre away from the Duomo and the lakefront promenade. If you are arriving from Milano Centrale, get off here and either walk or take a local bus to the historic centre.
Como Camerlata – a small railway station serving the town's southern suburbs. Arriving from Milan, it precedes Como San Giovanni.
Como Nord Lago – a small, end-of-the-line railway station just off the lakefront promenade, next door to the majestic Duomo, and very close to the station of the Brunate funicular. Get off at this stop if you are travelling from Milan Malpensa/Saronno.
A railway line spans the eastern shore of the Lecco branch of Lake Como and connects it to Milan's main railway station – Milano Centrale. As such, you can easily reach the many lakefront towns here by train in around an hour on average. Here are some sample travel times:
Milano Centrale to Lecco – 39 mins
Milano Centrale to Mandelo del Lario – 51 mins
Milano Centrale to Varenna/Esino – 1 h 4 mins
Milano Centrale to Bellano/Tartavalle Terme – 1 h 9 mins
By Road
You can reach Lake Como from Milan by driving on Autostrada A9 – the oldest motorway in Italy and the world. It's also known as the Autostrada dei Laghi (Motorway of the Lakes) and it was built in 1924.
A lakeside road skirts the whole outline of Lake Como providing stunning panoramic views and breathtaking viewpoints. If you are the driver, however, keep your eyes on the road at all times as it is incredibly sinuous and often very narrow. The road runs through the lakefront towns and villages. Many of them have limited or no pavements at all. Expect to see locals and visitors strolling down the road as cars and buses pass by them.
Some of the local drivers – very used to the roads – drive in a very assertive manner. As such, they may encroach into the opposite lane and even try to pressure you to drive faster than you are comfortable with. If you can, don't be too proud to let them pass and maintain a sensible speed at all times.
On the other hand, the eastern shore of the Lecco and the Colico branches of the lake is very easy to explore by car as it's served by the Italian highway SS36. This fast road runs through a series of tunnels. From Lecco, it takes just half an hour to reach Colico (at the upper northeastern shore of Lake Como). Travel times from Lecco to Varenna and Bellano, for example, are only about 20-22 mins depending on the time of the day. Just make sure that you keep an eye out for the right exit. If you miss it (as it happened to us once), you will need to follow the highway for quite some time before you can turn back.
Be aware that parking around the lake is generally problematic. In the larger lakefront towns like Lecco and Como, there are multistorey car parks. The smaller towns here though often have very few parking spaces the majority of which are reserved for the locals.
Learn More:
How to Get Around Lake Como?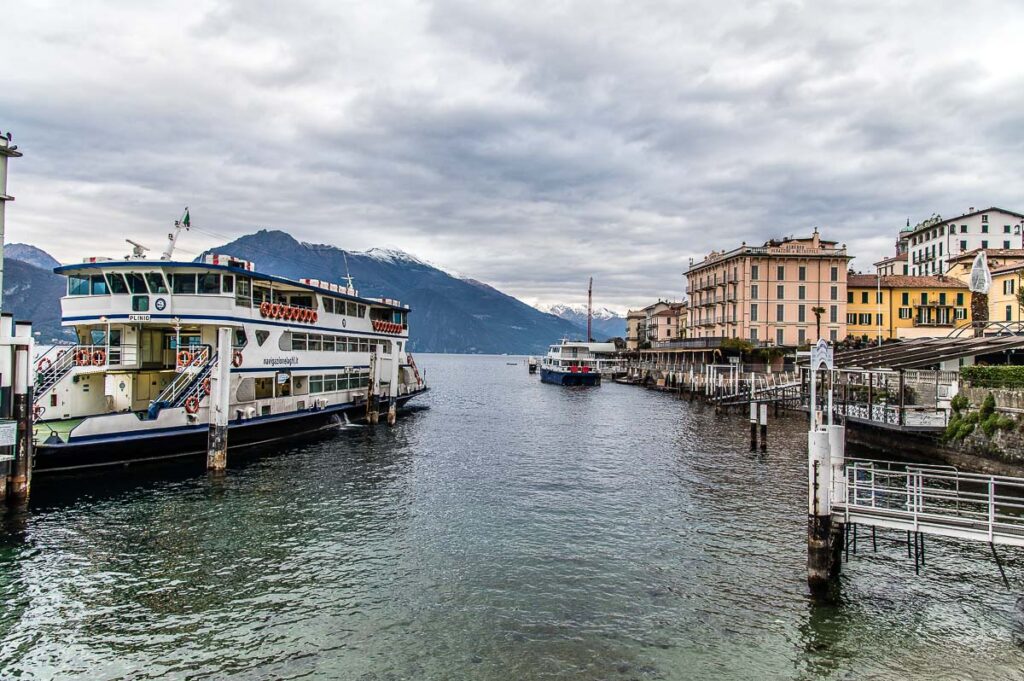 There are four main ways to get around Lake Como: by local bus, by ferry, by road, and by train. In the preceding point, I already covered travelling by car around the lake and by train up the eastern shore of the Lecco branch. The other two options work as follows:
By Local Bus
Local buses connect the many towns and villages around Lake Como. They run from early in the morning until late in the evening. In winter, they offer the quickest and most convenient way to get from point A to point B on the Como branch of the lake. Two of the main lines are:
C30 – which connects the town of Como to Bellagio via the small town of Nesso; and
C10 – which connects the town of Como to Tremezzina, Menaggio, and Colico
You can check the current timetables and prices for the different bus lines serving Lake Como on the website of ASF Autolinee (in Italian). This handy map gives you a visual idea of the bus routes here.
By Ferry/Hydrofoil
To best enjoy the beauty of Lake Como, you need to see its shores from the water. Regularly running ferries and hydrofoil boats connect the dozens of lakefront towns all throughout the day. You can check the current timetable at the official website of Navigazioni Laghi.
In addition, a pedestrian and car ferry serves the centre of the lake thus providing easy access between the towns of Varenna, Bellagio, and Menaggio. During the high season, there is also a shuttle boat connecting these three towns to several of the major sights and other small towns in the central part of Lake Como.
Learn More:
Where to Stay at Lake Como in Winter?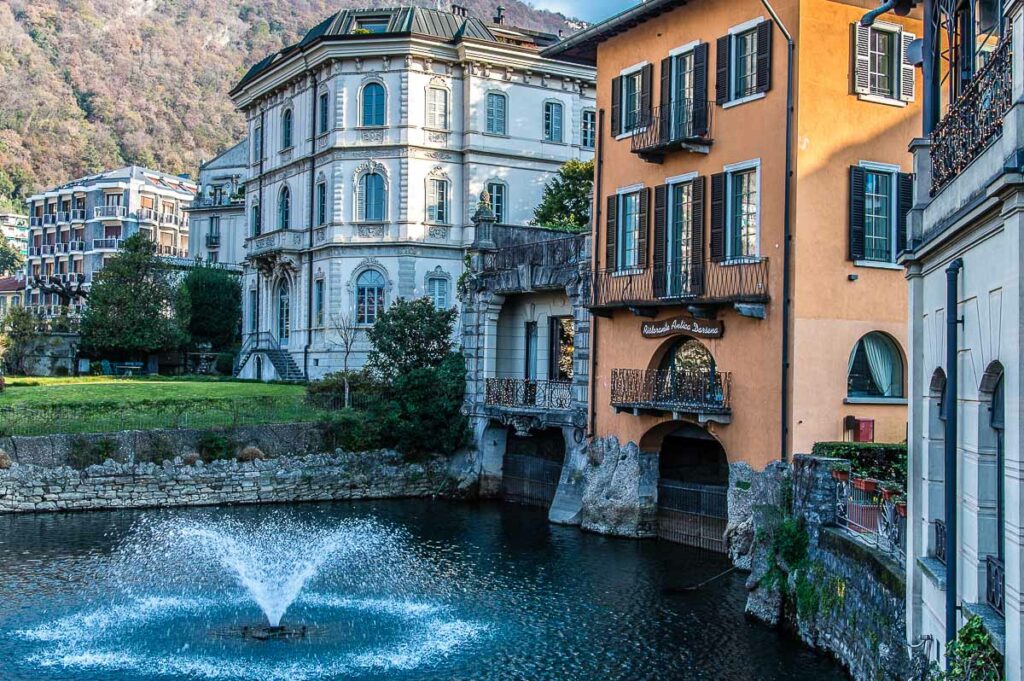 Even though it's off-season, there is still a nice variety of options for places to stay at Lake Como in winter. You can choose from lavish historic villas that nowadays function as exclusive hotels. You can opt for a cosy B&B in the centre of a lakefront town. Or you may prefer a self-catering accommodation to enjoy a home-from-home experience.
If you are arriving by car, then make sure that your accommodation also offers parking spaces or can recommend a nearby car park. Especially, if you are planning to stay outside of the larger lakefront towns like Como and Lecco. Parking spaces in the smaller lake towns may be difficult to come across and are usually taken by the locals.
If you are relying on public transport and your accommodation doesn't provide transfers, then make sure that you have easy access to the nearest bus stop or ferry port. You don't want to have to walk for miles luggage in hand.
Here are some suggestions for places to stay at Lake Como. All come highly recommended:
Luxury: MUSA Lago di Como, Villa Giu Luxury Lake Como,
Mid-Range: B&B Villa Costanza, Relais di Giada
Budget: Locanda Alberti, Locanda Capolago
Alternatively, have a look at this map giving you a quick visual idea of the available accommodation options around Lake Como, Italy. You can zoom in and out, type in your specific travel dates, and then click on the different price points for detailed information about the hotel you are interested in:
In addition, have a look at this blog post which explains the different types of accommodation you can book in Italy. It will give you plenty of ideas to look into for the best and quirkiest places to experience here:
How Long to Spend at Lake Como in Winter?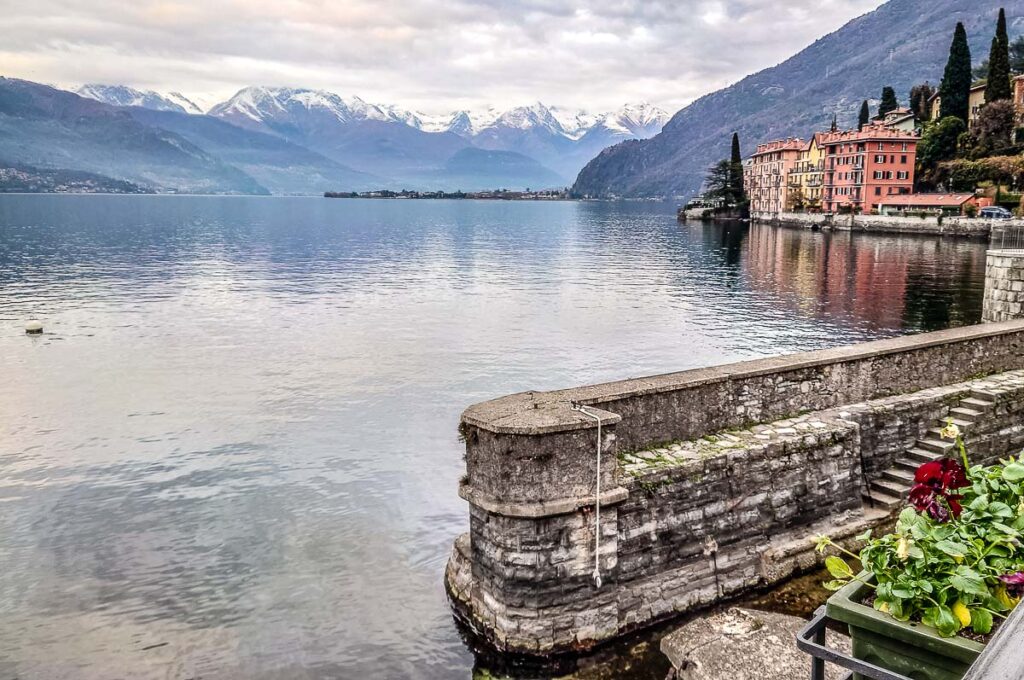 Lake Como has a lot to offer to the off-season traveller seeking peace and quiet yet also wanting to enjoy a bit of sightseeing, shopping, and getting close to nature. So, how long to spend here in winter depends entirely on you and on the amount of time you have at your disposal.
You can easily take a self-organised or guided day trip from Milan to Lake Como and visit one or a couple of the most popular lakefront towns like Como, Varenna, and Bellagio. You can also book a guided day trip around the lake taking you to some of its best sights (this one comes highly recommended).
Alternatively, you can pencil in a long weekend or an even longer stay at Lake Como in winter. As long as you have established that Italy's most famous lake has what you need and expect during the low season, you will have all the conditions for a lovely experience.
What to Pack for a Visit to Lake Como in Winter?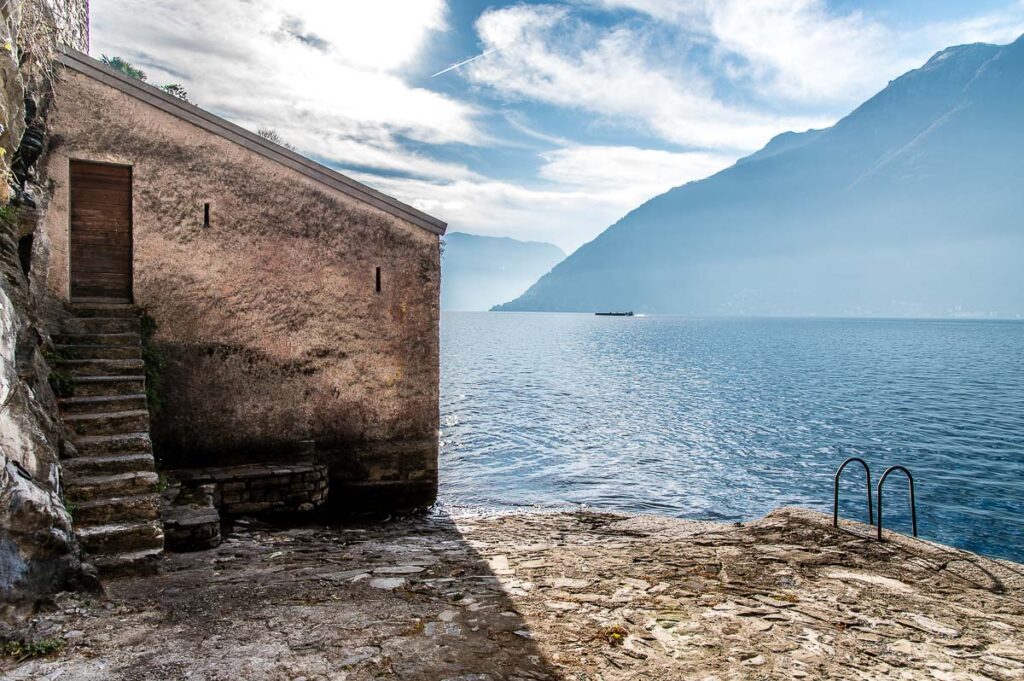 During the winter months, Lake Como enjoys mostly dry weather. Clear-sky days may start with hazy mornings and end with chilly evenings. Temperatures may go up to 11 degrees Celsius, so don't expect a winter sun destination.
As such, make sure that you pack plenty of layers – warm tops and trousers/leggings that you can layer up and gradually peel off as the day progresses to a mild afternoon. Bringing my warm hat with ear flaps (similar to this one) was my best packing decision as it kept me cosy during Christmas market explorations and hiking around Lake Como.
I also made sure to pack my hiking boots even though they are quite heavy to carry. With many of the towns and villages around Lake Como having steep cobbled streets and often flights of steps instead of streets altogether, my ankles were well supported at all times.
Unless you are planning to visit just the towns of Como, Lecco, and Cernobbio (the central parts of which are flat), make sure that you bring an appropriate pair of shoes to allow you to safely navigate uneven surfaces and steep slopes.
Which Are the Best Towns to Visit on Lake Como?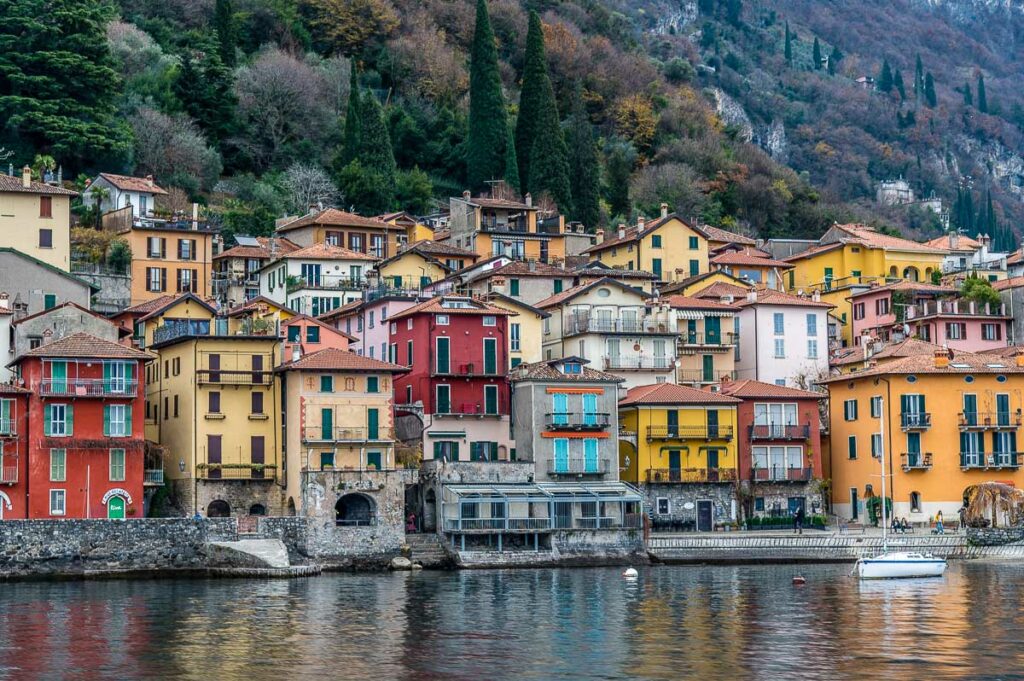 There are easily dozens of small towns and villages clustered along the waterline and clinging to the steep slopes above Lake Como. Some of them – like Bellagio – are famous worldwide. Others are much less known yet they have beautiful historic centres, a number of curious sights, and are linked to numerous hiking paths crisscrossing the lake's lush natural setting.
Here is a short list of four of the most gorgeous towns on Lake Como to explore during your visit. All of them are easy to reach by train or by train/bus/ferry from Milan. This makes them great destinations for day trips and weekend breaks as well as for longer stays on Italy's most famous lakes.
Como – one of the largest towns on Lake Como, come here for the imposing Duomo, the sights dedicated to Alessandro Volta (the inventor of the first electric battery), and the funicular taking you up a vertiginous slope to the town of Brunate. Regular trains link Como to Milan all throughout the day. Once in Como, you can also take a bus to nearby Cernobbio (another beautiful lakefront town) or a ferry up to Bellagio.
Bellagio – this is easily the most famous town on Lake Como. It stands on the tip of the promontory where the lake splits into its two branches. Bellagio is very picturesque and has a number of easy to see in a day sights – from the botanical garden of Villa Melzi to the cobbled streets of its historic centre populated by silk shops and craft workshops. You can reach Bellagio by bus or ferry from Como and by ferry from Varenna.
Varenna – the most charming town on Lake Como is a delight to explore. It has a cute little harbour, a waterfront promenade with far-reaching lake views, medieval castle, and next door to it stands the magnificent Villa Monastero with its delightful garden. Regular trains connect Varenna to Milan all throughout the day. Ferries link this lakefront town to the towns of Menaggio and Bellagio, too, so that you can see them all in a day.
Bellano – this is Lake Como's hidden gem of a town. With a beautiful promenade, a cute harbour, and a dramatic gorge cut through over millions of years by a powerful waterfall, Bellano has a lot to offer. Yet, you can easily see it all in a few hours or over a very leisurely day. Even better! Bellano is on the same train line as Varenna, making it possible to visit both towns on the same trip.
What Are the Best Things to Do at Lake Como?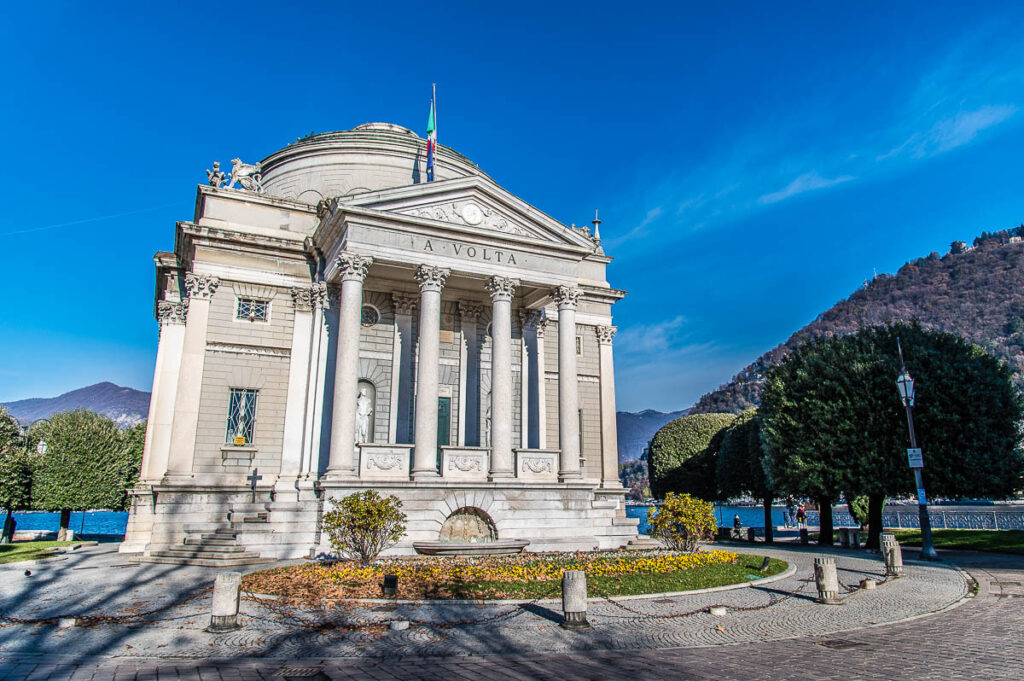 There are many things to do and enjoy around Italy's most famous lake – Lago di Como. Here are some ideas:
Sightseeing – the shores of the lake are studded with historic villas, centuries-old churches, and excellent museums. The most well-known are the Duomo, the Volta Temple, the Civic Art Gallery, and the Silk Museum in Como, Villa Balbaniello near Lenno, Villa Monastero next door to Varenna, Villa Melzi in Bellagio, the Moto Guzzi Motorcycle Museum in Mandello del Lario, and so many others.
Hiking and Nature Exploring – it is so very easy to get close to nature around Lake Como. Hiking paths (some of which follow ancient Roman roads) crisscross the steep slopes and link the small towns and villages here. Powerful waterfalls crash through tall canyons and flow into the lake. Don't miss Orrido di Nesso and Orrido di Bellano. You don't even need to break a sweat to get out and about in nature here. A number of funiculars offer the chance to enjoy sprawling lake views from the comfort of a smoothly ascending cabin.
Where to Find More Information About Lake Como and the Region of Lombardy?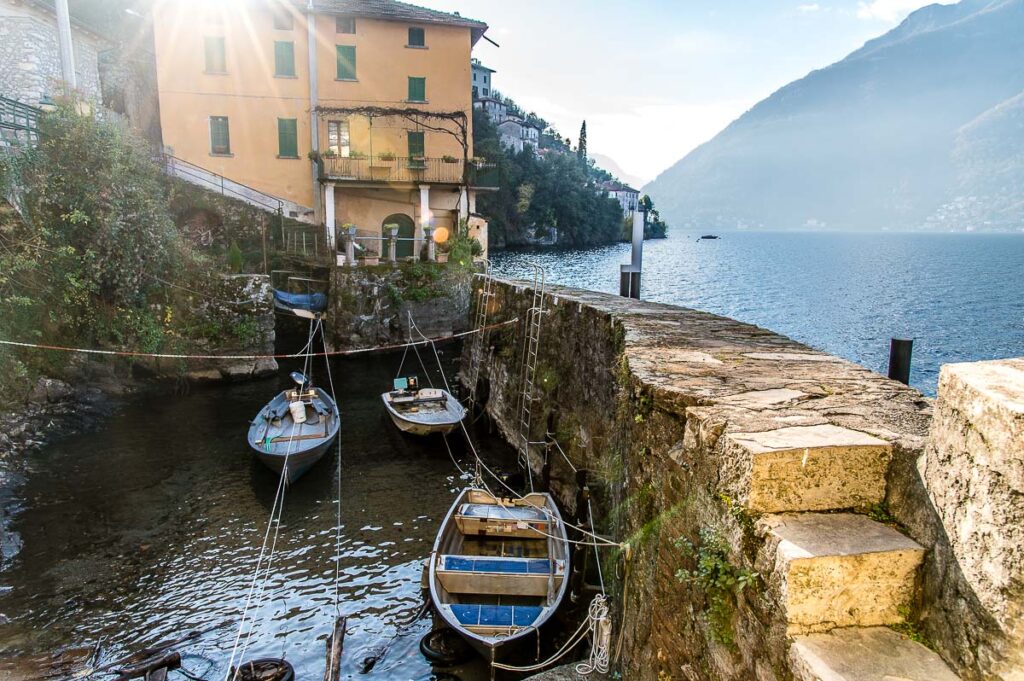 If you are considering a trip to Lake Como in particular and the Northern Italian region of Lombardy in general, you may want to also have a look at the following categories and posts on my blog:
They are based on my first-hand experience of visiting these destinations in Italy and provide lots of practical information to help you plan your travels.
In addition, for the most up-to-date information about events and local sights, keep an eye on the official websites of Milan, the Region of Lombardy, and the major towns on Lake Como, for example, Como, Bellagio, Varenna, Lecco, and so on.
Finally, if you want to invest in a good guidebook, this one covers Lombardy, Milan, and the Italian lakes which makes it very handy to carry around with you during your travels.
Where to Find More Information About Visiting Italy?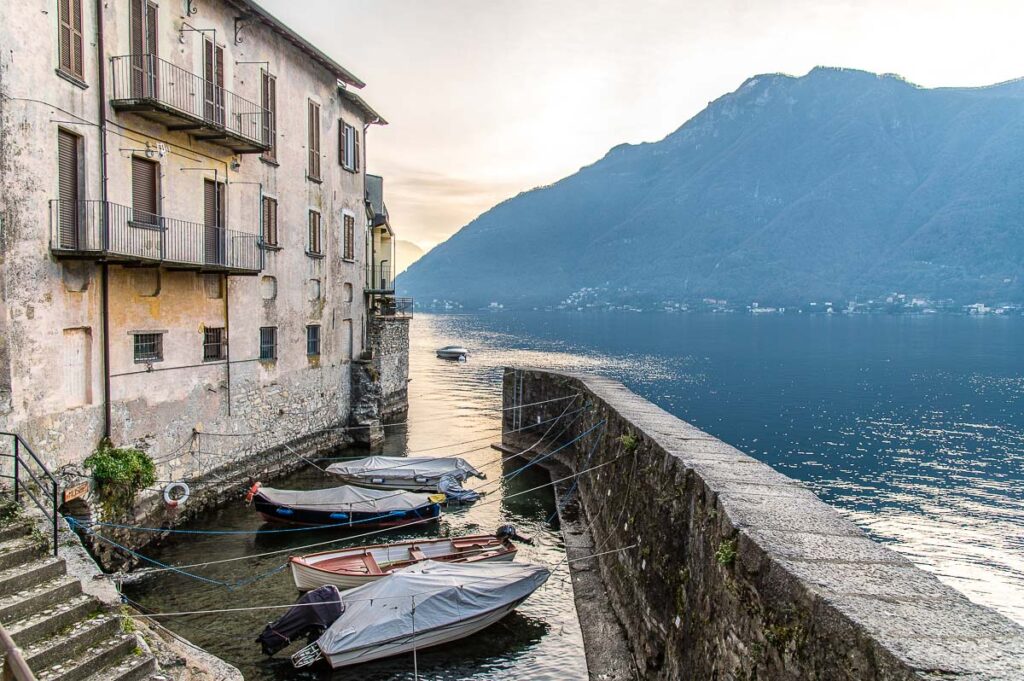 I have been blogging about travelling to and within Italy for eight years now providing detailed and first-hand tried and tested information about the best things to do in this beautiful country. It's all based on my close to twenty years of visiting Italy by myself and with my family. Six of these years, we actually spent living in Vicenza in the north of the country.
If you are after in-depth researched and illustrated with dozens of pertinent photos articles about Italy, have a look at the following categories and blog posts:
In addition, right at the end of this blog post, you will find a list with links to some of my most popular blog posts about many beautiful and exciting cities, towns, and regions to visit in Italy. So, just scroll down and then click on the ones you are interested in.
Finally, Italy's official tourism website is a great source of the latest news about travel in Italy. Otherwise, this is one of the best guidebooks about Italy.
In Conclusion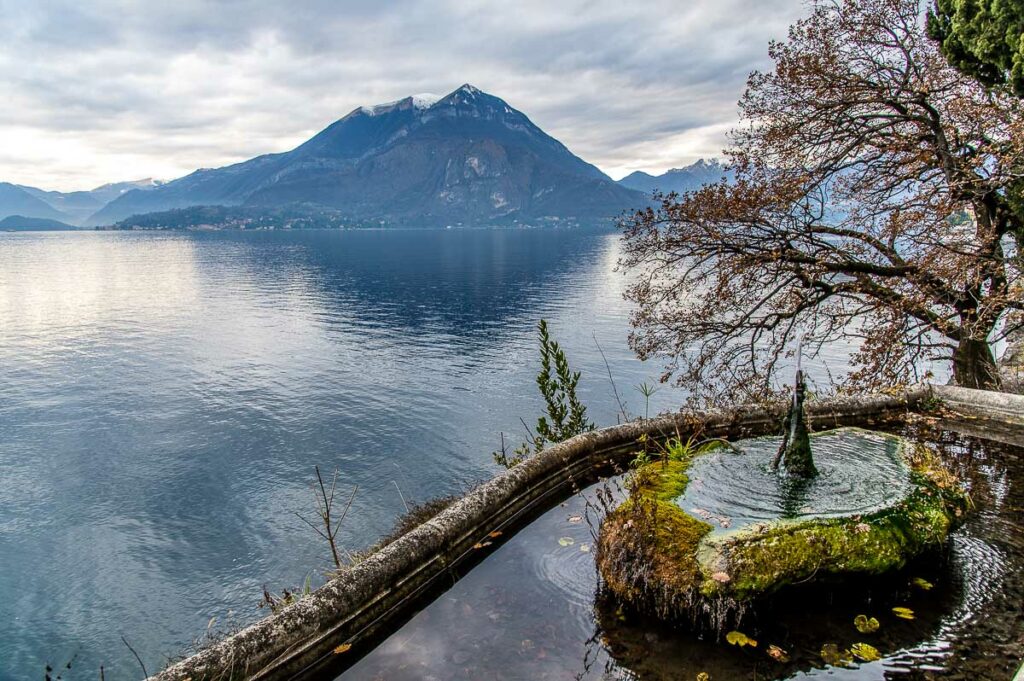 On account of its gorgeous natural setting and lavish historic sights, Lago di Como is one of the most popular Italian destinations and certainly Italy's most famous lake.
Everyone wants to visit Lago di Como! Especially, when the sun is shining bright. And this leads to the lake getting overcrowded in the high season and difficult to enjoy when thousands of other people are clamouring to see the same landmarks.
In winter though, Lake Como is a peaceful world of its own where – between lakefront towns and small villages – you can experience Italy authentically. From heartfelt Christmas celebrations to uninterrupted panoramic views, the lake has a lot to offer in the low season. So, in this blog post today I distilled for you the ten best reasons to visit Lake Como during the traditionally cold months.
Expect peace and quiet, hidden corners, the ability to be spontaneous, and lots of festive decorations and events. All the best ingredients for a holiday to remember!
I hope that all the detailed and first-hand tried and tested information I shared with you will inspire you to discover Italy's most famous lake for yourself in the off-season.
Enjoy Lake Como in winter!
More Helpful Italy Info for You
Best of Italy: Italian Piazzas, Italian Markets, Accommodation for Every Budget, Best Times to Visit Italy, Italy in Summer, Italy with Kids
Italian Food: Best Italian Food Gifts, Cheap Italian Food, Rules of Italian Breakfast, Italian Breakfast Foods
Italian Coffee: Italian Coffee Culture, Italian Coffee Drinks, History of Coffee in Italy
Christmas in Italy: Fun Facts, Things to Do, Italian Nativity Scenes, Panettone, Christmas Guide
Northern Italy: Best Cities to Visit, Major Airports, Reasons to Visit
Lake Como: How to Get to Lake Como, Best Airports, The Beauty of Lake Como in Photos, Nesso
Lake Garda Towns and Villages: Best Towns, Desenzano del Garda, Riva del Garda, Malcesine, Torri del Benaco, Punta di San Vigilio, Campo di Brenzone, Borghetto and Valeggio sul Mincio
Visiting Lake Garda: Map of Lake Garda, Getting Around Lake Garda, Lake Garda with Kids, 8 Best Airports, Venice to Lake Garda, Verona to Lake Garda, Milan to Lake Garda, Bologna to Lake Garda
Verona: Things to Do in One Day, Verona Opera Festival, Day Trips from Verona, Romeo and Juliet Itinerary, Verona to Venice, Verona to Milan
Padua: Things to Do in One Day, 101 Facts About Padua, 10 Reasons to Visit Padua, Day Trips from Padua
Vicenza: Things to Do, Day Trips from Vicenza, Best Museums, The Beauty of Vicenza
Veneto: Top Places to Visit, Unique Adventures, Most Colourful Places, Mysterious Places, Most Beautiful Lakes, Reasons to Visit, Main Cities, Prettiest Small Towns, Most Beautiful Villages
Lombardy: Best Cities and Towns, Reasons to Visit, Brescia
Friuli Venezia Giulia: Venzone, Most Beautiful Villages
Emilia Romagna: Bologna, Ravenna, Comacchio, Most Beautiful Villages
Marche: Reasons to Visit, Gradara, Frasassi Caves, Temple of Valadier
Thank you for reading! Please, leave me a comment, pin the images or use the buttons right at the top and at the end of this blog post to share it on social media.
For more useful information like this, please, like my blog's page on Facebook and Instagram and subscribe to my strictly no-spam newsletter.
Pin This Blog Post!