Where is Padua is a question with an easy answer.
Padua or Padova – as it's known in Italian – is a large city in the northeastern corner of Italy. It's part of the Italian region of Veneto and it's on the railway line and the highway connecting the tourist magnets of Verona and Venice. Hence, Padua often gets overlooked in their favour.
And this is actually great news for the discerning traveller who is always on the lookout for the next hidden gem offering rich layers of history, inspiring art, and great food with centuries-old traditions. Padua ticks off all three of these requirements and offers so much more. Plus, thankfully, is still not overrun with tourists and exploring it gives you a chance to get to know Italy on a truly authentic level.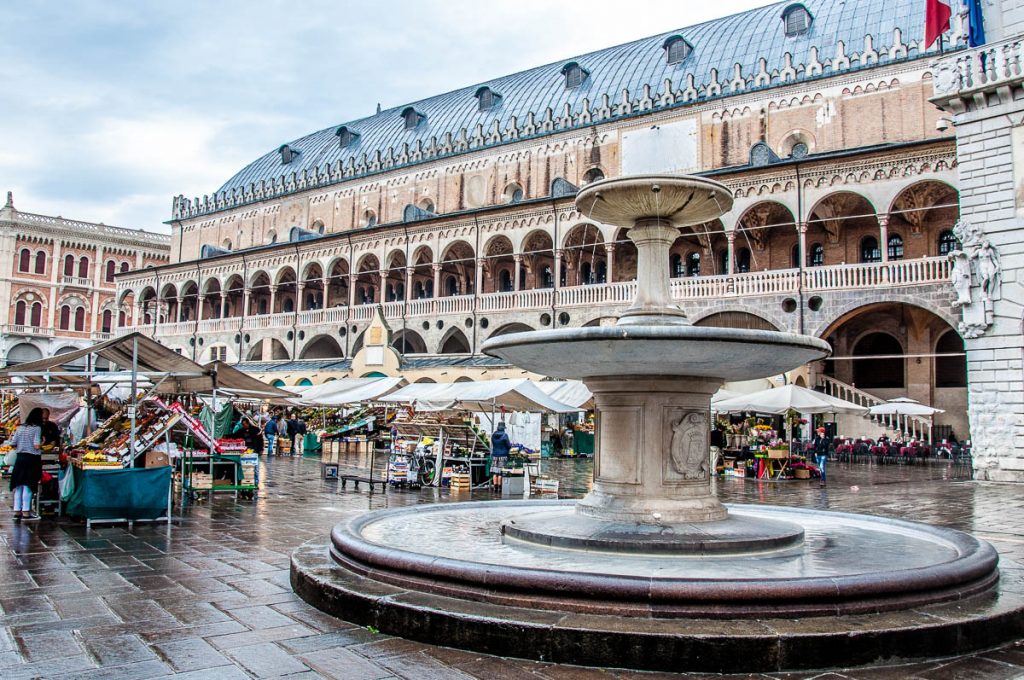 It is after all in Padua that you can see the Scrovegni Chapel – famous for its cycle of frescoes that is recognised as the first masterpiece of the Italian Renaissance. Also here, you can visit the world's oldest academic botanical garden, Italy's largest square, Italy's second-oldest University, and an 800-year-old market. And this is just the start of the list!
So, if Padua has beeped on your travel radar and you are considering a trip to this exciting Italian city, in this blog post today I will share with you detailed practical information on how exactly to do this. To start with, we will look at Padua's exact location from a geographical and administrative point of view. For visual reference, I've also included a map.
Next we will cover five different ways to reach Padua both from anywhere in Italy and from abroad. You will see how incredibly easy it is. Once again, I've included maps, detailed directions, as well as specific travel times from the nearest large Italian cities and international airports.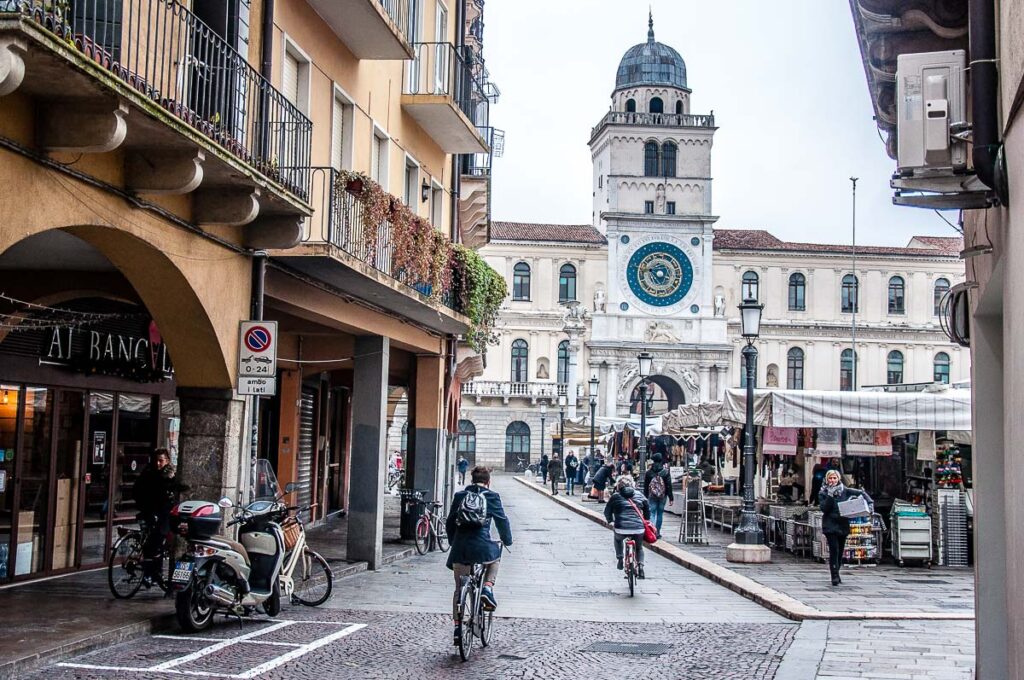 Then, I will pinpoint some considerations to have in mind when choosing your accommodation in Padua. This way you will have a clearer idea as to where in town you want to base yourself at.
Finally, you will also find an answer to the perennial question: 'Is Padua worth visiting?'. With all that this Italian city has to offer – from history and art to large-scale events and excellent food – I won't keep you in suspense by telling you immediately that the answer is a resounding 'Yes!'. Still, scroll down for specifics.
In addition to all the maps and helpful information, you will also find lots of practical tips peppered throughout this blog post. First-hand tried and tested, I hope that they will serve you well during the planning stages of your visit to Padua and while you are actually in town.
All the photos in this blog post were taken by me during the six years that I spent living next door to Padua and making use of every available moment to explore this so very exciting city. If you need any more convincing that Padua should be top of your travel wish list, have a look at these blog posts, too:
Otherwise, let's start!
Where is Padua?
Padua is a large city in northeastern Italy. Geographically, you will find it at the eastern extremity of the valley of the River Po and less than 50 km away from the Adriatic Sea.
The above map shows you the exact location of Padua in Italy. You can zoom in and out to get a better idea in terms of nearby destinations. You can also use this map to calculate directions from specific points of departure in Italy and abroad to the places which are of interest to you in Padua. If you wish, you can also open a larger version of this map in a new tab to make it easier to browse.
Administratively, Padua is part of the Italian region of Veneto and the capital of the Province of Padua. It has just over 200,000 inhabitants and hosts over 60,000 students attending Italy's second-oldest (coincidentally, the world's fifth-oldest) University – Universita' di Padova.
The River Brenta skirts the city and the River Bacchiglione runs through it providing picturesque corners and views. Centuries-old defensive walls and gates, medieval buildings, Renaissance facades, and houses in the Liberty style flank Padua's squares and streets making every walk in this Italian city feel like an act of discovery.
Padua is 42 km away from Venice, 96 km away from Verona, 115 km away from Bologna, 232 km away from Florence, and 246 km away from Milan. Less than 30 km away from Padua, you will find the lush Euganean Hills – a group of volcanic hills studded with picturesque villages, renowned vineyards, beautiful hiking paths, and many stunning landmarks (for example, Giardino Valsanzibio which was officially recognised as Italy's most beautiful park in 2003).
In addition, numerous historic towns and lovely villages are within an easy drive away from Padua. Among them are Chioggia (known also as Little Venice), the medieval walled town of Cittadella, and the spa town Abano Terme.
Right next door to Padua, you can also visit several of the famous Venetian villas. Palatial in style and often surrounded by lush parks, they are rich repositories of art and a great throwback to the times of the Republic of Venice. Don't miss Villa Pisani and Villa Foscarini Rossi in Stra (20 km from Padua), Villa La Rotonda and Villa Valmarana ai Nani (36 km from Padua), and Villa Widmann and Villa Foscari La Malcontenta in Mira (40 km from Padua).
All throughout the day, high-speed and fast regional trains connect Padua to these and many more destinations in Italy. This makes Padua an easy Italian day trip and/or a convenient base to choose for a longer holiday in the country.
Five international airports offer quick transfers to Padua. They are Venice Marco Polo Airport, International Airport Treviso Antonio Canova, Verona Valerio Catullo Airport, Bologna Guglielmo Marconi Airport, and Trieste Airport.
How to Reach Padua from Anywhere in Italy and Abroad?
1. Travel to Padua by Plane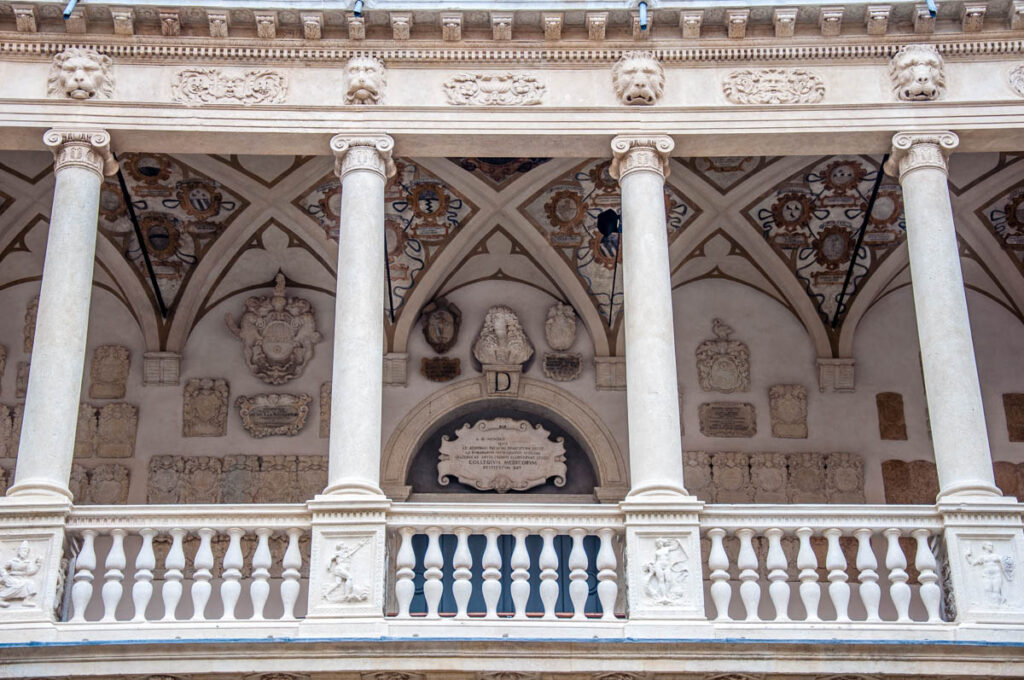 While Padua doesn't have its own airport, this Italian city is still incredibly easy to travel to by plane. Five international airports offer quick and easy access to Padua. They are:
Venice Marco Polo Airport – a shuttle bus will take you directly from this stylish and busy airport to Padua Bus Station. The service runs on average twice per hour during the day and takes about 1 h 5 mins. Alternatively, you can take a shuttle bus to the Venezia Mestre train station in about half an hour. Once there, you can then get a direct train to Padua. The train journey lasts around 15 mins.
International Airport Treviso Antonio Canova – bus number 101 connects twice an hour this small yet very busy budget airport to Padua. You will be arriving at your accommodation in Padua in just over an hour straight from the plane.
Verona Valerio Catullo Airport – a shuttle bus connects this compact and easy-to-navigate airport to the Verona Porta Nuova train station. Once there, get a train ticket to Padua. You will be arriving in 42 mins (by high-speed train) or in 59 mins (by fast regional train).
Bologna Guglielmo Marconi Airport – a monorail train – the Marconi Express – connects Bologna Airport to Bologna Centrale train station. Travel time between the two is only seven minutes! Once at the train station, get a train ticket to Padua. A high-speed train will take you there in about an hour. The journey by fast regional train will be much cheaper but it will last about an hour and a half.
Trieste Airport – if none of the above four airports works for you, then you can also consider flying to Trieste Airport. There are direct trains from this airport to Venice's train station – Venezia Santa Lucia. Once there, you can get a train to Padua. Altogether the journey can last from around 1 h 40 mins to just under two hours.
Here is a handy map showing the exact location of these five airports in relation to Padua. You can zoom in and out to get a better idea of distances. You can use the map to calculate directions, too. If you click on the grey star by the name of the map, you will add it to your favourites in Google Maps and thus be able to consult it as and when you want. Finally, if you click on the window-shaped icon in the top right corner, this will open the map in a separate tab for easier browsing.
2. Travel to Padua by Train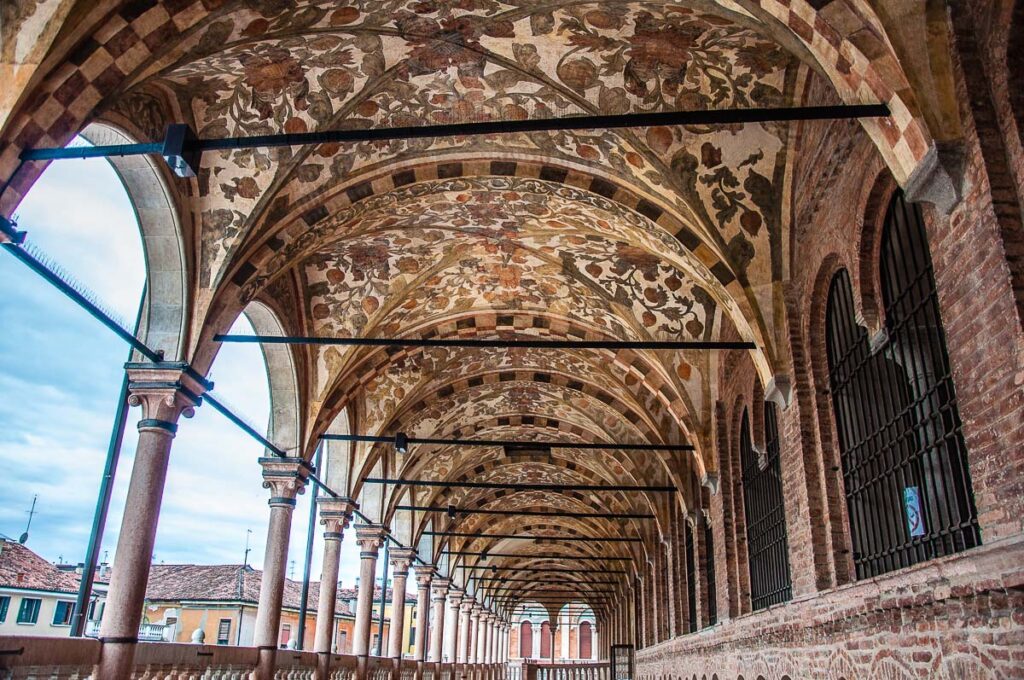 Padua's train station is one of the main hubs of the Italian railway system. Numerous trains pass through it every day connecting the city to Italy's largest cities and most beautiful towns. The types of trains you can use to reach Padua fall into the following groups:
High-Speed Trains (Frecciarossa, Frecciargento, ItaloTreno) – these are very modern, fast-moving trains that can reach up to 300 km/h. Frecciarossa and Frecciargento are owned by the Italian state railway company TrenItalia. ItaloTreno is a privately owned railway firm.
The ticket prices for high-speed trains increase the closer it gets to the day of travel. It pays to get your tickets well in advance. These trains are the best option if you are planning to reach Padua from further afield, for example, Naples, Florence, and Rome.
Fast Regional Trains (Treno regionale veloce) – these are modern fast trains which often have two decks (great for enjoying the views!). They are operated by the Italian state railway company TrenItalia. They connect Veneto's main cities – Venice, Padua, Vicenza, Verona, and so on. Slightly slower than the high-speed trains, they are, however, up to three times cheaper. Plus, their prices don't fluctuate, making them ideal to buy on the spot for a spontaneous day trip to Padua.
The only thing you mustn't forget is that once you've bought your ticket, you need to validate it before boarding the train. This is done by placing the ticket into one of the oval machines affixed to the walls of the train station and the pillars of the train platforms. The machine will make a whirring sound and print a special code on the ticket. Travelling with a non-validated ticket will incur a heavy fine.
Regional Trains (Treno regionale) – they operate just like the fast regional trains (treno regionale veloce) above. The only difference is that the regional trains are the slowest railway transport in Veneto, Italy. They stop at all small stations along the way and a journey that on the fast regional train may take you 45 mins, on a regional train may stretch to double this time. Only use them if there are no other options. Again, don't forget to validate your ticket before boarding the train.
To check train times to and from Padua in Italy and to book train tickets in advance, I find the following three websites very useful: Omio, ItaloTreno, and TrenItalia.
Here are some average travel times by either high-speed train or fast regional train from some of Italy's most famous cities to Padua. As you can see, they are perfect for day trips coming both from Northern and Central Italy:
This map will give you a good visual idea of where is Padua in relation to all these beautiful Italian cities. You can use it in the same way as the map under point 1 above. This particular map is also applicable to point 3 below.
3. Travel to Padua by Car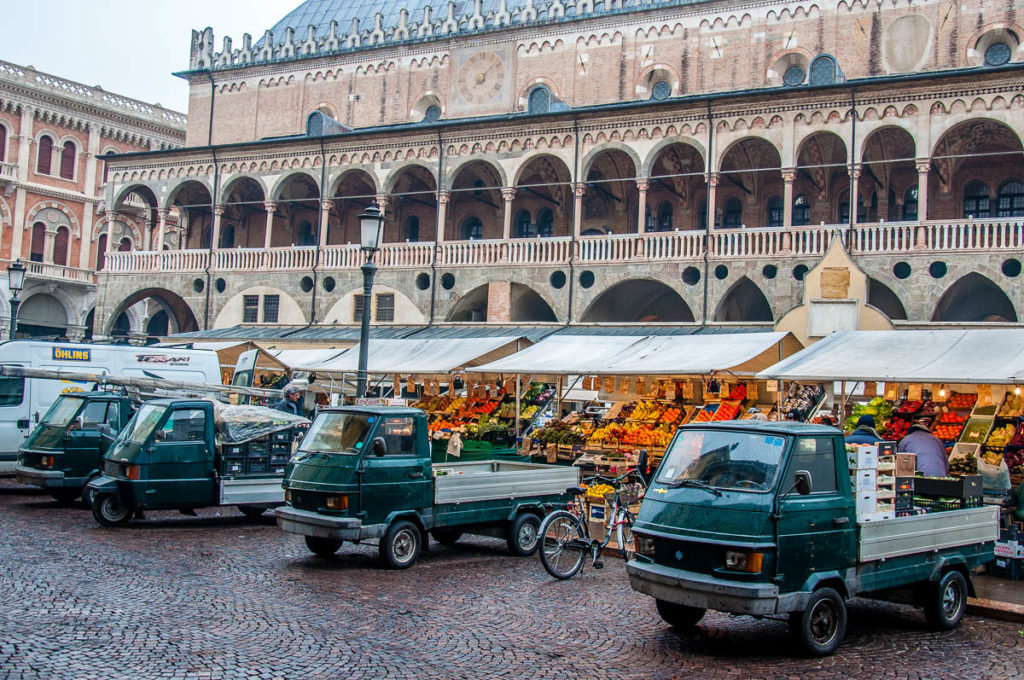 Padua is one of the main destinations on the Autostrada A4 and Autostrada A13. Both are important highways in Northern Italy. The first links Turin to Trieste via Milan, Padua, and Venice. The second stretches from Bologna to Padua via Ferrara and Rovigo.
Highways in Italy are paid for and you will need to stop at a toll booth before joining either Autostrada A4 or Autostrada A13 to pick up a ticket. You will have to stop at a toll booth once again at the end of your journey to pay for the distance that you have just driven on the highway. You can pay by card or in cash. Sometimes, the booth is manned but most of the time you will need to use the automatic self-service till.
The official website of Autostrade Italiane has a very good explanation of how to pay the toll fee (or il pedaggio in Italian). Click on this link to acquaint yourself with the different types of toll payments and how to recognise which gate to head to pay your fee when exiting an Italian highway. Click on this link to find out how the toll rates are calculated depending on several parameters.
In addition, this toll calculator will give you an idea of how much toll you are expected to pay when driving to Padua depending on the type of your vehicle and your point of departure in Italy or Europe.
While highways in Italy are paid for, they usually offer the quickest way to get from point A to point B in the country. Well-maintained and offering beautiful views of the lush Italian countryside as you zip past, driving on the highway in Italy is expedient and well-organised.
In addition, a dense network of provincial and regional roads crisscrosses the Province of Padua in particular and Veneto in Northern Italy as a whole. They are free to use but will take you through small towns and villages with speed limits thus stretching your travel time. They are still a great option if you want to take it slowly and get to see more of Italy on your way to Padua.
Bear in mind that the driving style in Italy can be very assertive. If this will be your first driving experience in the country, be alert and keep your cool at all times.
One very important note! When reaching Padua by car, bear in mind that the historic centre of the city is what they call in Italy a zona a traffico limitato or ZTL. This means that unless you have special permission, driving through Padua's historic centre will incur a very steep fine. The official website of the Comune di Padova (Padua's local authority) has a very detailed page with information about the ZTL.
You can ask your accommodation in Padua if it can provide you with a special temporary dispensation to drive through the ZTL. If the answer is negative, it's always best to park in one of the city's many car parks. You can find more information about parking in Padua on the dedicated page of the website of the city's Comune and on the Parcheggi Padova website.
Some of the above websites seem to be only in Italian. If you don't speak the language, you can use Google Translate to get the gist of the information and make plans accordingly.
Finally, here are some average distances in km from some of Italy's most famous cities to Padua. As you can see, they are perfect for reaching Padua by car both from Northern and Central Italy:
4. Travel to Padua by Bus/Coach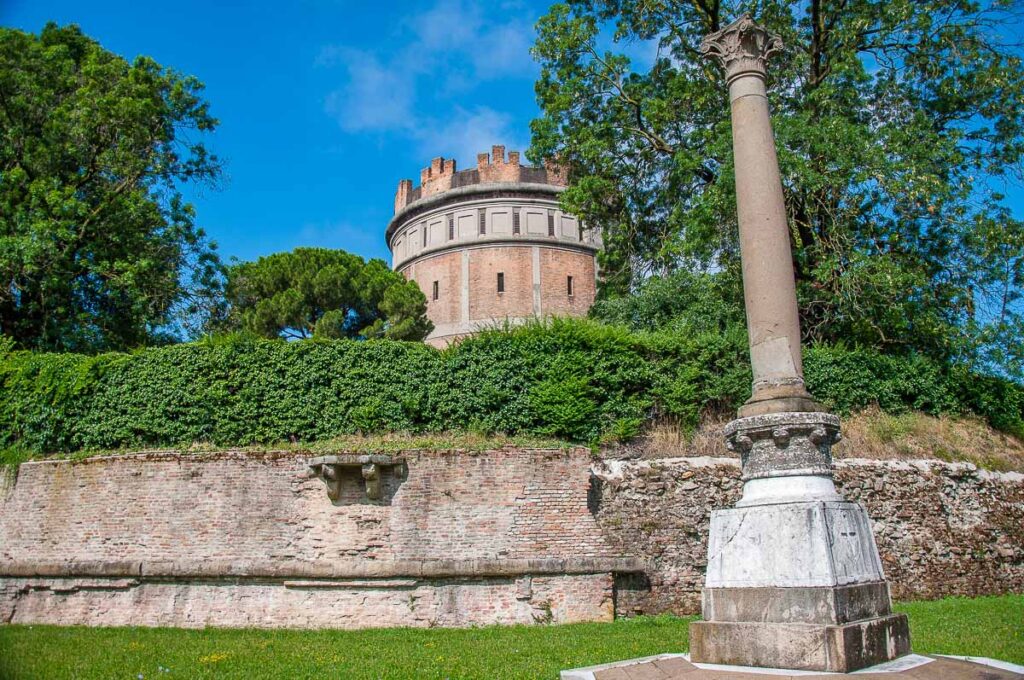 Seeing how well-organised and quick railway travel in Northern Italy is, I would suggest that you use buses and/or coaches to reach Padua only in one of the following two scenarios:
no train connections are available; or
you find a bus/coach ticket at a truly bargainous price and don't mind the longer travel time.
You can check Omio to see what's available in terms of coach travel from elsewhere in Italy or abroad to Padua.
If you are staying in a small town or village without a railway station in the countryside around Padua, then you can make use of the extensive network of local buses. BusItalia Veneto is the company providing public transport services both in and around Padua. You can use its website to consult the current timetables, check ticket prices, and find out how to buy tickets.
Here is also a useful map showing the different bus lines that connect Padua to the adjacent small towns and villages. There are many options for fun days out from and to the hidden gems of Padua's countryside.
5. Travel to Padua by Boat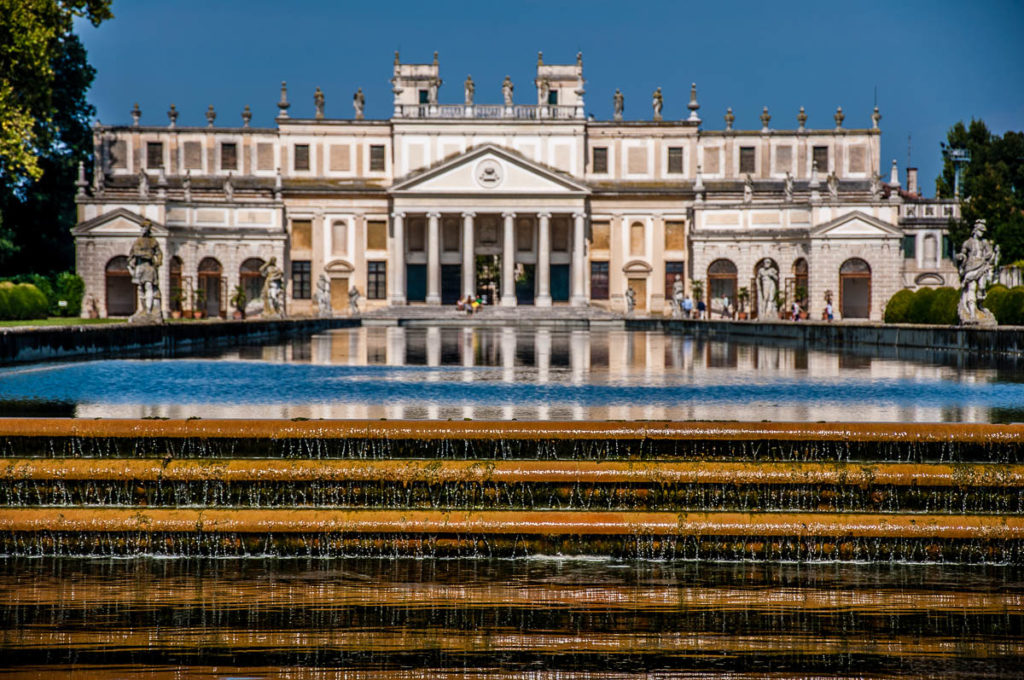 Padua is about 50 km away from the Adriatic Sea, yet you can still reach this beautiful city in Italy by boat. How come?!
A branch of the River Brenta, called Naviglio del Brenta links the Venetian Lagoon directly to Padua. Its shores are known as the Riviera del Brenta and house many historically and architecturally important Venetian villas. Built between the 15th and 18th centuries and surrounded by fertile agricultural lands, they were used as summer residences by the Venetian patricians who would reach them on board the traditional burchiello boats.
Nowadays, the tradition of cruising the Naviglio del Brenta from Venice to Padua and back persists. Sleek boats with the historic name Burchiello have been equipped to provide day tours going up and down the river canal. Along the way, passengers are treated to the beautiful views of Veneto's countryside dotted with over 50 historic Venetian villas. Most importantly, they get to visit three of the most famous ones – Villa Foscari, Villa Widmann, and the gardens of Villa Pisani (winner of the competition Italy's Most Beautiful Park in 2008).
Enjoying a boat cruise on the Naviglio del Brenta is a great way to reach Padua from Venice or Venice from Padua if you have the time to spare. The villas and the countryside views are lovely and you get to experience a corner of Italy which is usually reserved for connoisseurs of the history, art, and architecture of the Republic of Venice.
GetYourGuide offers burchiello cruises both from Venice to Padua and from Padua to Venice. Click on the links to check prices and to book directly.
Where to Stay in Padua?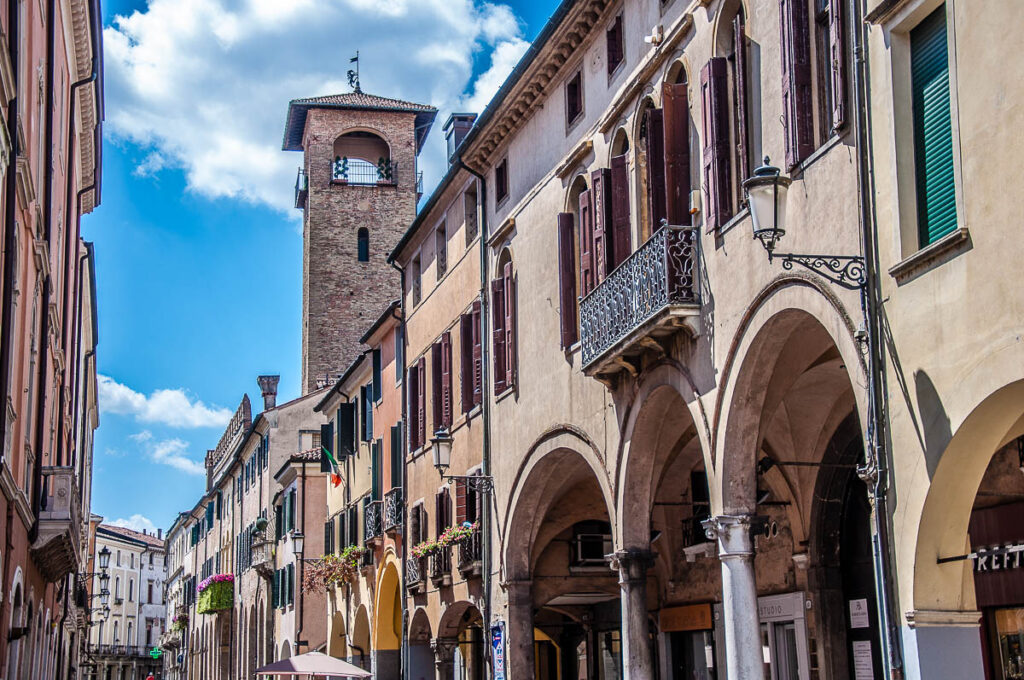 You can find all sorts and types of accommodation in the Italian city of Padua to suit any budget. From luxury hotels to cosy B&B's and comfortable hostels, there is something for everyone.
No matter where you choose to stay in Padua, make sure that you book in advance. Especially, if you are planning to visit during a large local event. While Padua doesn't suffer the effects of overtourism, it's still a large academic, industrial, and event centre in Northern Italy. So, it attracts a steady number of visitors – from parents visiting graduation ceremonies and business people booked to attend a conference to fans flocking to see a concert by a major star or band.
As such, accommodation prices can rise steeply depending on the season and how little time there is between now and your visit.
For ideas about the types of accommodation available in Padua in particular and Italy in general, have a look at this blog post:
If you are coming to Padua mainly to sightsee, you may want to book a place in the historic centre. This way, you will see the most without spending extra money on transport and you can always return to your hotel for an Italian riposo after a particularly heavy morning ticking off the local sights. Some of the best accommodation options in town also offer splendid views over Padua's most beautiful corners.
Generally, the area from the Scrovegni Chapel down to Prato della Valle (including also Piazza delle Erbe, Piazza della Frutta, and Piazza dei Signori, as well as the historic Jewish Ghetto) is the most historic portion of the city centre.
If you are arriving by car, ask if your accommodation can provide you with a temporary pass allowing you to drive through the ZTL (limited traffic zone). If you are coming by train and laden with heavy luggage, pick a place near a local bus or tram stop. Check this map to get a visual idea.
I usually prefer to book all my accommodation through Booking.com. Click to see all available options for places to stay in Padua in Veneto, Northern Italy. These hotels come highly recommended:
Budget: Hotel Casa del Pellegrino, Scrovegni Room & Breakfast, Hotel Maritan
Mid-Range: Padova Suites C20, Blooms Botanical Rooms, Palazzo Mantua Benavides Suites & Apartments, Le Camp Suite & Spa
If you need some visual help in terms of precise location and price range, have a look at this map. It gives you a quick idea of the prices and whereabouts of the many hotels and other forms of accommodation you can book for your stay in Padua, Italy.
You can zoom in and out in order to search for a place to stay. You can also click on the option that interests you to find out more details or to make a booking directly.
After All, Is Padua Worth Visiting?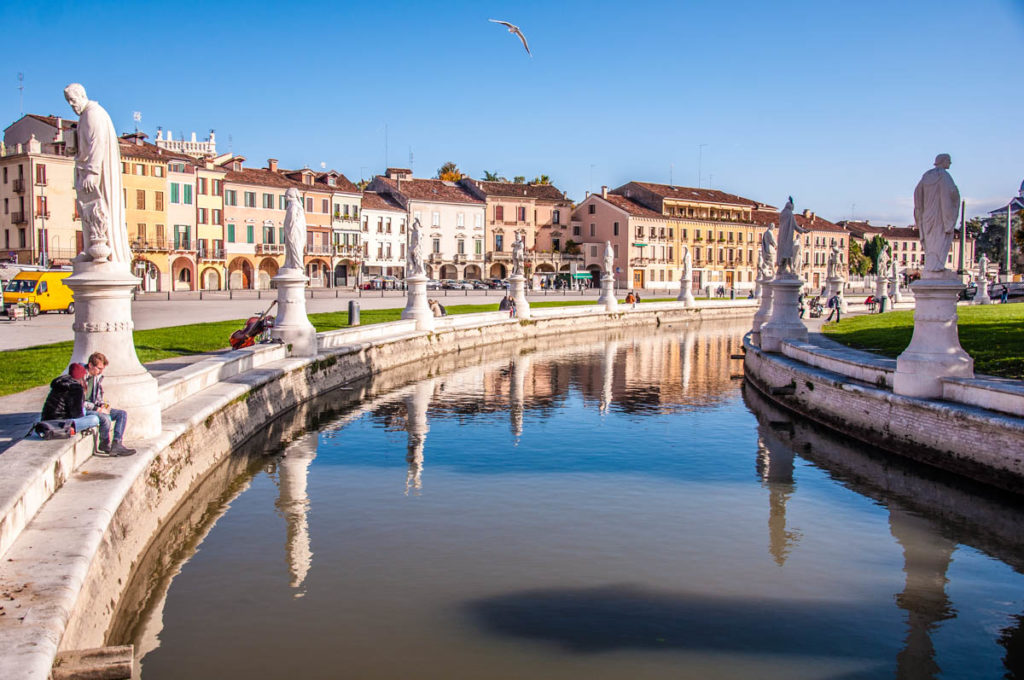 The straight answer is that yes, Padua is very much worth a visit. Seldom there has been a city with so much to offer that yet remains firmly off the beaten track. While over the last few years, the popularity of the fresco cycle of the Scrovegni Chapel has expanded exponentially, Padua has so many more must-see landmarks. From Palazzo Bo – the historic seat of the second-oldest University in Italy – to the world's oldest academic botanical garden, Italy's largest square, the Basilica of St. Anthony, and the numerous historic piazzas, this is a city that compels you to get out and about to explore and learn things.
Yet Padua is not a stuffy place that is only oriented towards past historic glories. This is a very lively and vibrant destination with an active social life and many cafes, eateries, and bars dotted all over its historic centre. Plus, dozens of large-scale events take place here all throughout the year. The Christmas festivities are particularly beautiful with exhibitions of traditional Nativity scenes, sophisticated illuminations projected on the city's historic facades, and an impressive Epiphany bonfire when a large effigy of Befana – Italy's Christmas gift-bearer – gets burned.
Daily markets liven up the historic centre with their stalls laden with fresh produce and all sorts of homewares and fashion items. People come out to shop, to engage with the city and each other. They sit in the cafes enjoying proper Italian coffee and delicious cakes typical for Padua. It's all very Italian, very authentic in the best possible way. There are no crowds of tourists to navigate or the typical shops full of tourist tatt. In Padua, you immerse yourself immediately in the Italian way of life and this – together with all its history and art, churches and piazzas – makes this Italian city a true and magnificent must-see!
In Conclusion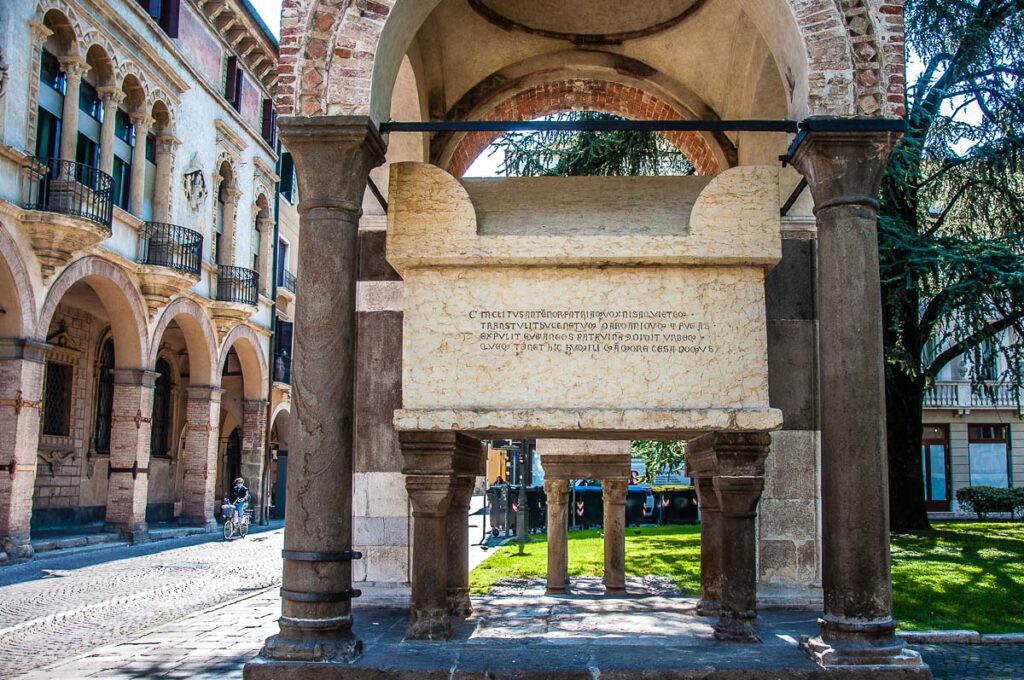 'But… where is Padua?' is the type of question to pop into your head when you are considering day trip destinations or a base for a longer stay in Italy and someone suggests that you need to look into visiting this off-the-beaten-track Italian city. Sandwiched between the worldwide famous Venice and Verona, Padua is often overlooked in their favour, yet it has an unrivalled catalogue of art and deep layers of history that make a visit to it a must.
So, in this blog post today I covered in detail the practicalities of visiting Padua from anywhere in Italy and abroad. We started by pinpointing on the map the exact geographic location of this Italian city. Then, we discussed its administrative position in the country. This was followed by looking into five different and easy ways to reach Padua by road, railway, and even water.
We finished by discussing accommodation options in Padua and emphasising the city's strong points that make it a must-see destination in Italy. I hope that this first-hand tried and tested travel information will come in very handy during the planning stages of your Italian holiday.
I also hope that now that you know how easy it is to get to Padua, you will be heading there as soon as possible.
Enjoy Padua and find for yourself why this certainly is Italy's hidden gem of a city!
More Helpful Padua Info for You
Padua: Reasons to Visit, Things to Do in One Day, Day Trips from Padua, Venice to Padua Day Trip, Padua in the Run-Up to Christmas, Prato della Valle – Italy's Largest Square, Cornaro Loggia and Odeon, Astronomical Clock, Sant'Antonio's Cakes, Daily Market, Palazzo della Ragione
Videos of Padua: Top 6 Things to See in Padua, Prato della Valle, Basilica of St. Anthony – 1, Basilica of St. Anthony – 2, Scrovegni Chapel, Palazzo della Ragione and Market on Piazza delle Erbe, Palazzo Bo, Piazza dei Signori
More Helpful Italy Info for You
Best of Italy: Best Times to Visit Italy, Italy in Summer, Italy with Kids, Italian Piazzas, Accommodation for Every Budget, Italian Markets
Italian Food: Best Italian Food Gifts, Cheap Italian Food, Rules of Italian Breakfast, Italian Breakfast Foods
Italian Coffee: Italian Coffee Culture, Italian Coffee Drinks, History of Coffee in Italy
Christmas in Italy: Fun Facts, Things to Do, Italian Nativity Scenes, Panettone, Christmas Guide
Northern Italy: Best Cities to Visit, Major Airports, Reasons to Visit
Lake Como: Things to See, Nesso
Lake Garda Towns and Villages: Best Towns, Desenzano del Garda, Riva del Garda, Malcesine, Torri del Benaco, Punta di San Vigilio, Campo di Brenzone, Borghetto and Valeggio sul Mincio
Visiting Lake Garda: Map of Lake Garda, Getting Around Lake Garda, Lake Garda with Kids, 8 Best Airports, Venice to Lake Garda, Verona to Lake Garda, Milan to Lake Garda, Bologna to Lake Garda
Venice: Essential Tips, Things to Do, Major Landmarks, Hidden Gems, How to Navigate Venice, Venice in a Day for Art Lovers, Haunted Venice, Beaches of Venice, Quotes about Venice, Boats in Venice, Day Trips from Venice, Dorsoduro, Arco del Paradiso, Train Stations, Nearest Airports, Best Tours
Verona: Things to Do in One Day, Verona Opera Festival, Day Trips from Verona, Romeo and Juliet Itinerary, Verona to Venice, Verona to Milan
Vicenza: Things to Do, Day Trips from Vicenza, Best Museums, The Beauty of Vicenza
Veneto: Top Places to Visit, Unique Adventures, Most Colourful Places, Mysterious Places, Most Beautiful Lakes, Reasons to Visit, Main Cities, Prettiest Small Towns, Most Beautiful Villages
Lombardy: Best Cities and Towns, Reasons to Visit, Brescia
Friuli Venezia Giulia: Venzone, Most Beautiful Villages
Emilia Romagna: Bologna, Ravenna, Comacchio, Most Beautiful Villages
Marche: Reasons to Visit, Gradara, Frasassi Caves, Temple of Valadier
Thank you for reading! Please, leave me a comment, pin the images or use the buttons right at the top and at the end of this blog post to share it on social media.
For more useful information like this, please, like my blog's page on Facebook and subscribe to my strictly no-spam newsletter.