Here are 60 things to do in Venice you'll love.
This is a detailed Venice to-do list to help you experience Italy's City of Canals in the most in-depth and authentic way.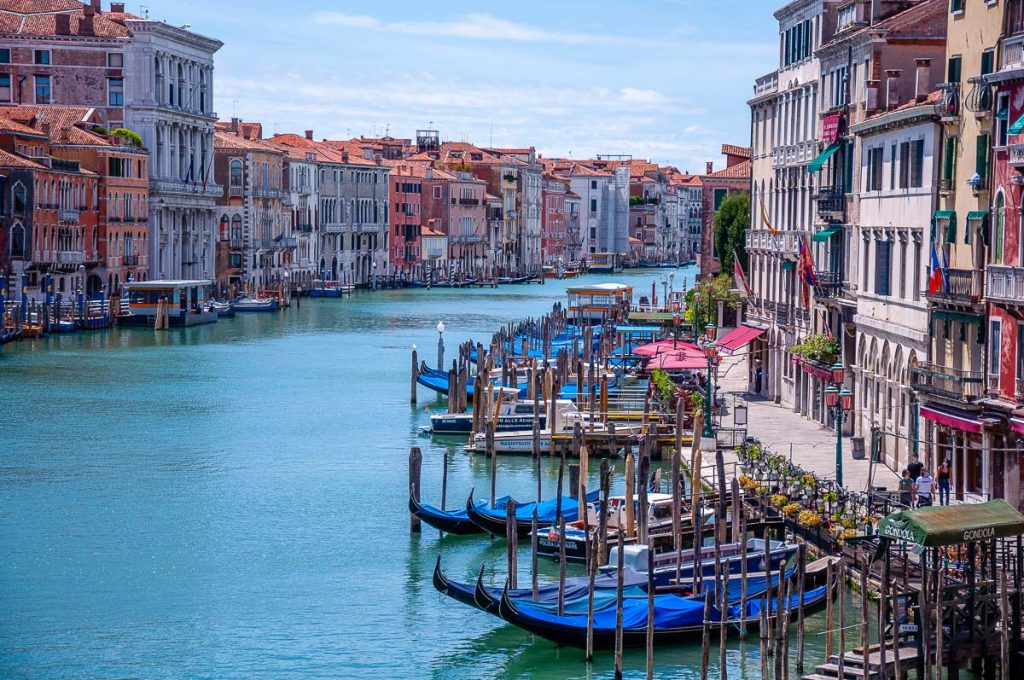 One of the most beautiful and unique destinations in the world, Venice has dozens of famous landmarks and hundreds of secret corners. They are all so exciting and inspiring to discover one by one.
The only issue is that time never seems to be enough for all of Venice's must-sees. Especially, if you have a limited number of days and you suspect that this will be your only visit to Venice for the foreseeable future. What to do, then?!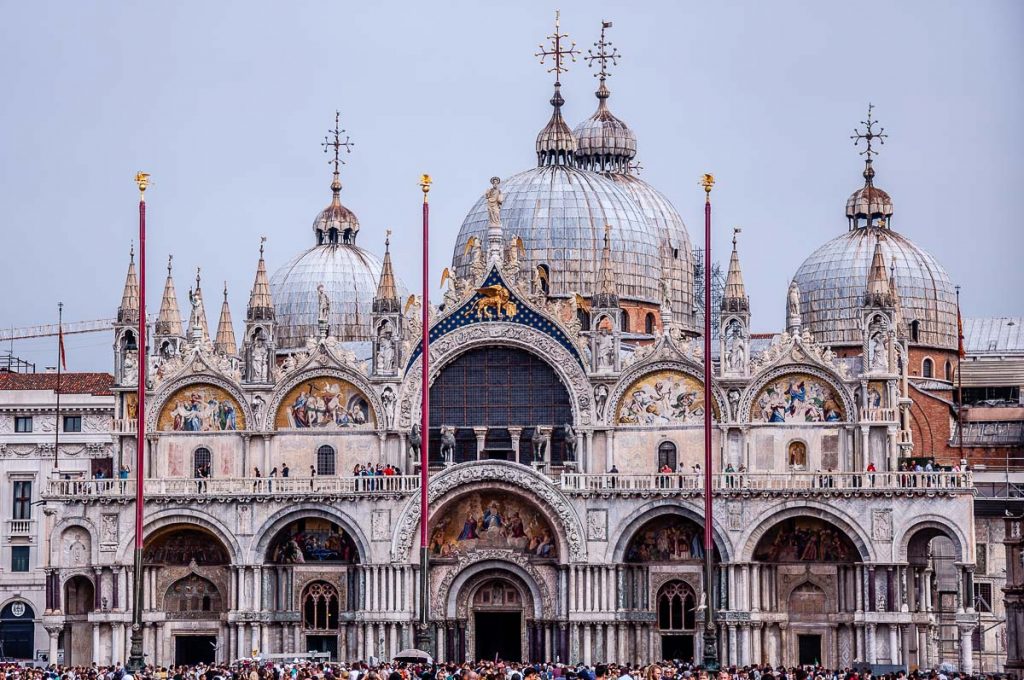 To help you out, in this blog post today, I will give you a shortlist of the best things to do in Venice. It's structured in nine categories – sightseeing, boats, walks, panoramic views, events, shopping, food, islands in the Venetian Lagoon, and day trips from Venice. It lists succinctly the top places to visit in Venice, the best experiences to have here, and the Venice attractions you simply can't miss.
This is followed by a map showing the exact location of each sight, so that you can plan your itinerary in Venice in the best possible way. Finally, there is a list of practical tips to help you find your way to and around the City of Canals with minimum hassle.
Use all this information to earmark the specific things you personally want to see in Venice and to plan your time in this beautiful city. Known as Venezia in Italian, it has a lot to offer and here below are the 60 best things that throw light on its history, traditions, beauty, and quirks.
Have a look!
60 Things to Do in Venice You'll Love – The Ultimate Venice To-Do List
Pin for Later!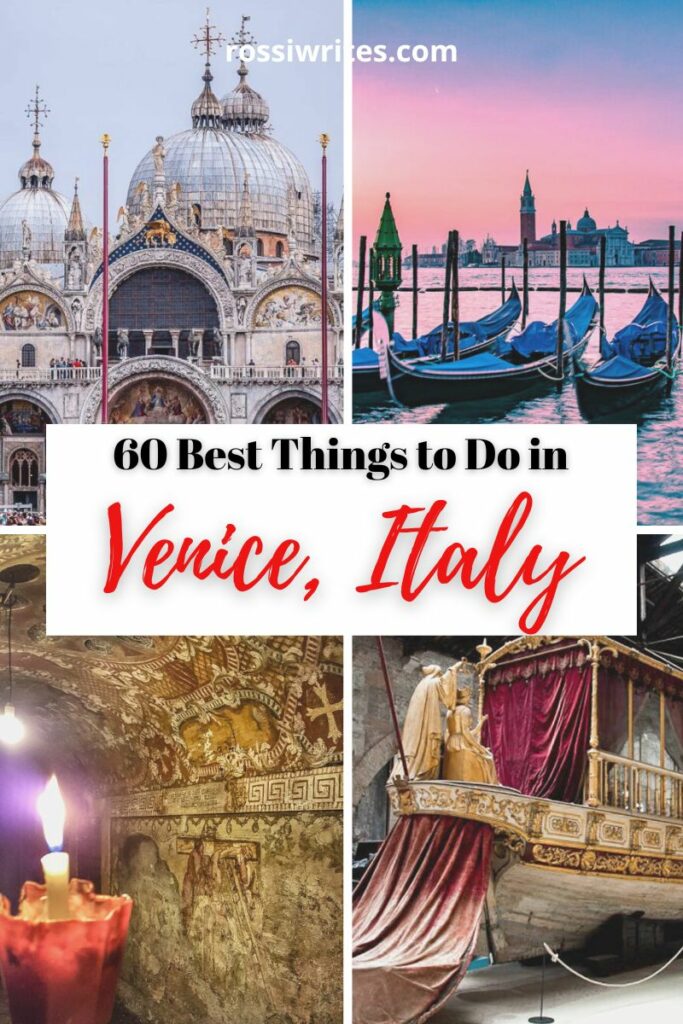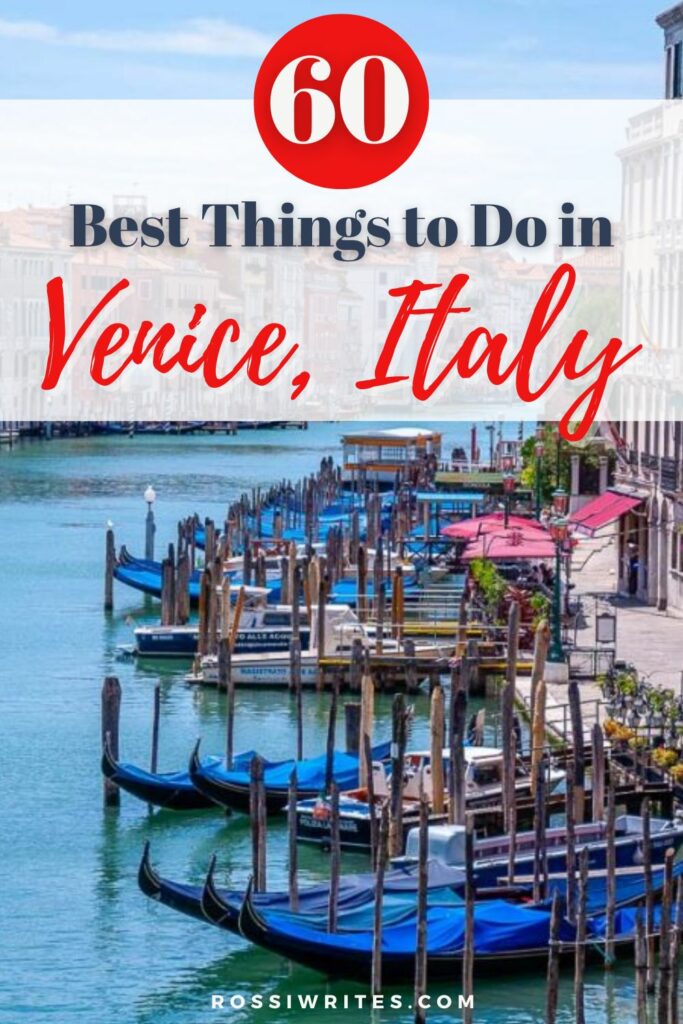 Sightseeing in Venice, Italy
Venice is the ultimate sightseeing destination. There are so many world-class sights and landmarks here that a lifetime is not enough to see them all and learn about their history and art. When you have a few short days in Venice, a strategy is needed so that you not only cover the most ground but you do it without getting overwhelmed.
Here are the main things to see in Venice. Choose just the ones that appeal to you:
1. See Venice's Five Top Sights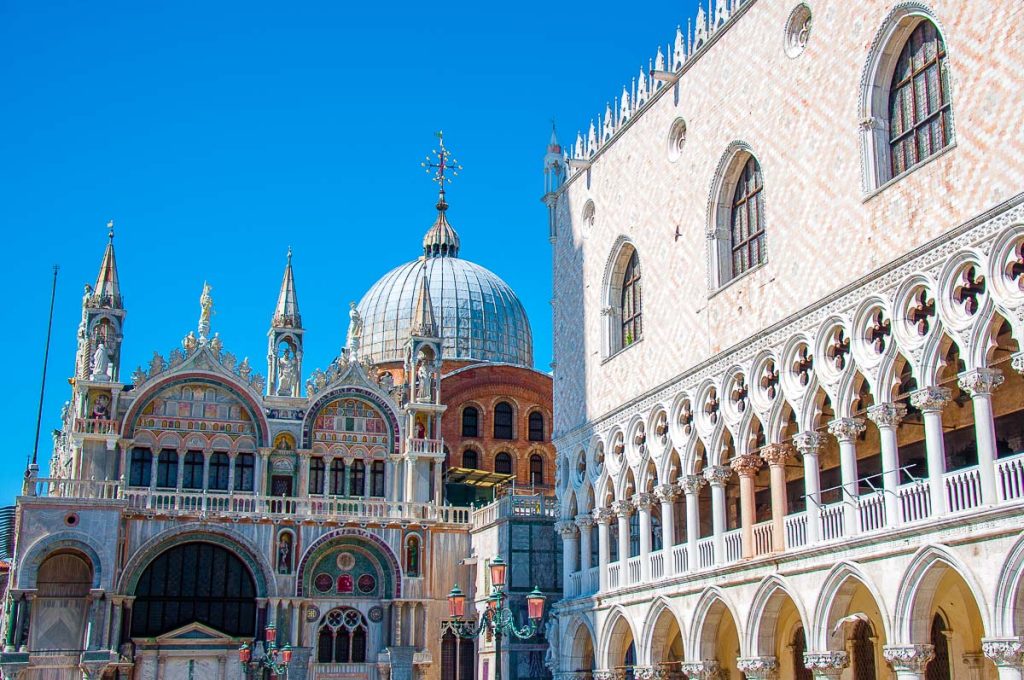 No visit to Venice would be complete without seeing for yourself these five most important Venetian landmarks. They reveal the most about the history of Venice, have striking architecture, rich collections of art, and are known worldwide. They are Doge's Palace, St. Mark's Basilica, St. Mark's Square, Rialto Bridge, and Gallerie dell'Accademia.
Luckily the first three are right next to one another and the other two are short walks away. So, you can combine them all in one hectic day and then rest assured that you have done your best.
Learn More:
2. See Venice's Five Top Churches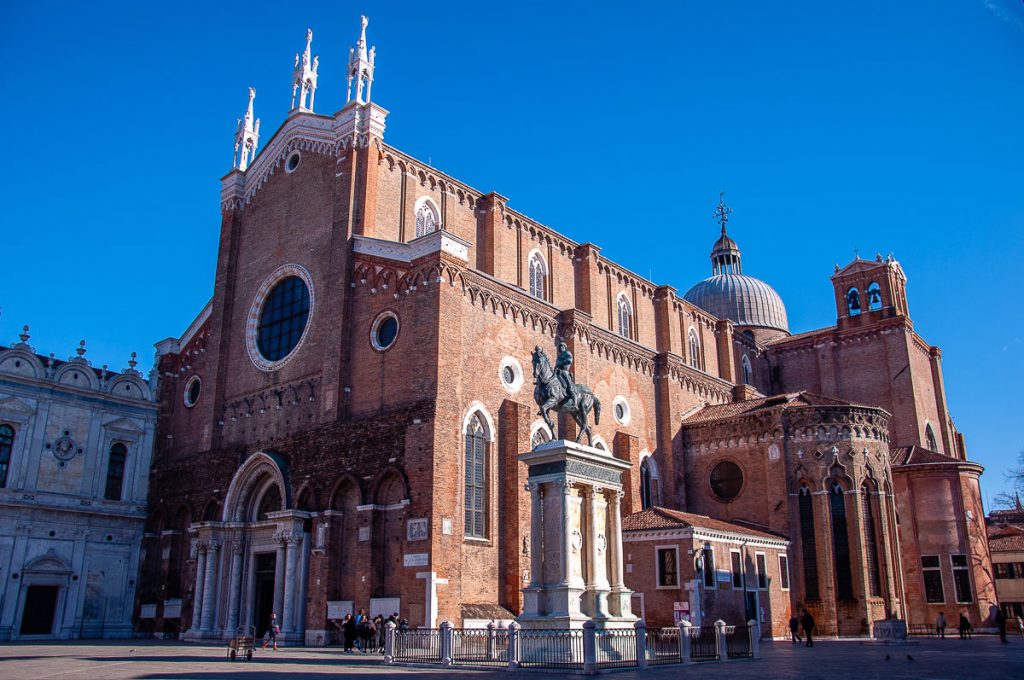 Churches in Venice are so much more than a place of religious worship. They are also architectural masterpieces and guard rich repositories of art. A visit to Venice needs to include at least a dozen of the 200 or so churches here.
The easiest way to do it is to enter every church that you come across during your sightseeing expeditions. In any case and apart from the above-mentioned St. Mark's Basilica, make sure that you don't miss the following five: Basilica dei Santi Giovanni e Paolo, Basilica dei Frari, Basilica della Salute, Church of Madonna dell'Orto, and Church of San Pantalon.
Many of the Venetian churches are completely free to visit. Some charge a small entrance fee. With a Chorus Pass you can see a dozen and a half of the churches of Venice with some of the richest collections of art for a very reasonable single price.
3. See the Venetian Scuole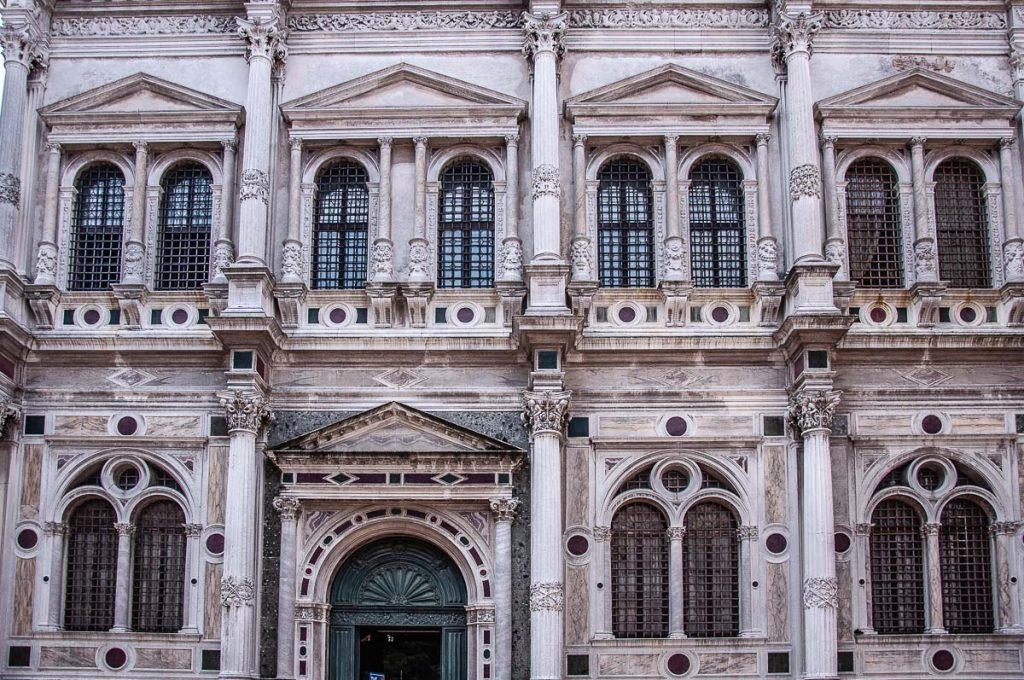 For many centuries, Venice had important confraternities. Their members were Venetian and foreign citizens who gave time and money for the development of many different religious and charitable projects.
Several of these confraternities grew into powerful organisations housed in large buildings with outstanding architecture and art. They were known as Scuole Grandi and Scuole Piccole. The members of the former had to be Venetian citizens who could have different occupations. The members of the latter could be either Venetians employed in a particular trade or foreigners living and trading in the city.
Nowadays, visiting Venice's Scuole is yet another way to delve deeper into the history and traditions of the City of Canals. Here are the most striking Scuole to put on your Venice to-do list: Scuola Grande di San Rocco, Scuola Grande di San Giovanni Evangelista, Scuola Grande di San Marco, Scuola di San Giorgio degli Schiavoni, and Scuola Grande dei Carmini.
While you may not have time to see them all, try visiting at least the Scuola Grande di San Rocco for its striking facade and monumental cycle of Tintoretto paintings. Just around the corner from it, you will also find the Scuola Grande di San Giovanni Evangelista.
4. Wake Up Early and Go to Bed Late to Have Venice All for Yourself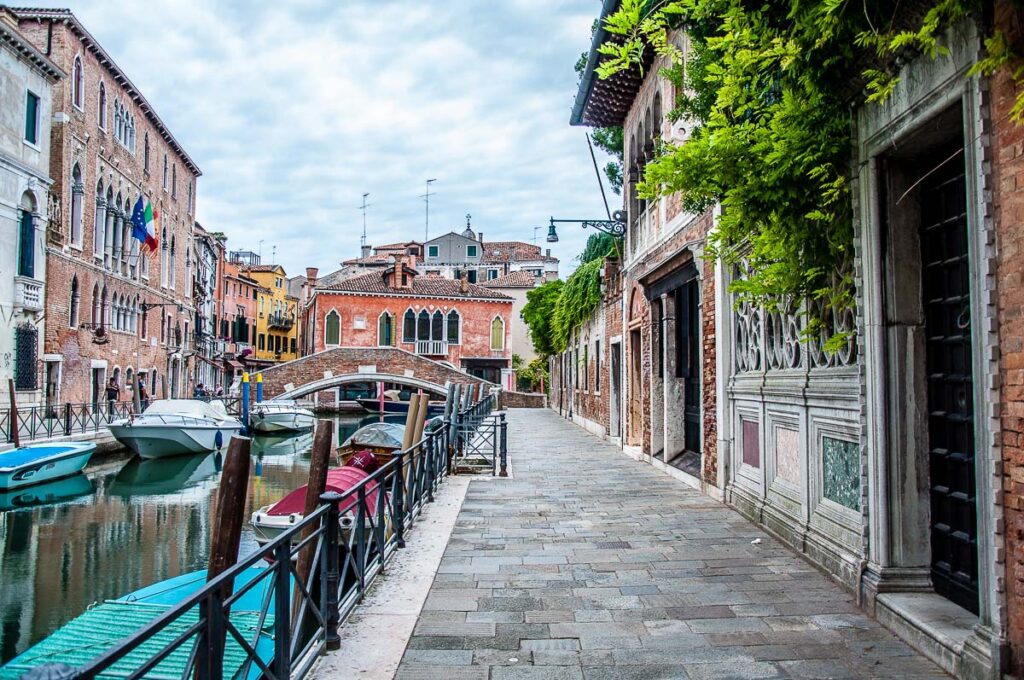 Millions of people flock to Venice each day. The main tourist areas of the City of Canals easily become clogged with the constant flow of tourists. On a hot summer day, there is nothing more unpleasant than being pressed against what feels like thousands of other people in a series of small curving streets.
The best thing to do is to wake up early and explore Venice in the peace and quiet at the start of the day. This is the perfect time to experience the city authentically and to see it at its best. In Venice's silent small squares – known as campi – you will notice millions of details which are otherwise so easy to miss when you are caught in the throng of people during the day.
In the early morning, you'll feel like the luckiest person in the world to have all this beauty for yourself. Then do it all over again in the evening and see how Venice quietly winds down after another hectic day.
Learn More:
5. Take a Photo of the Most Famous Bridges of Venice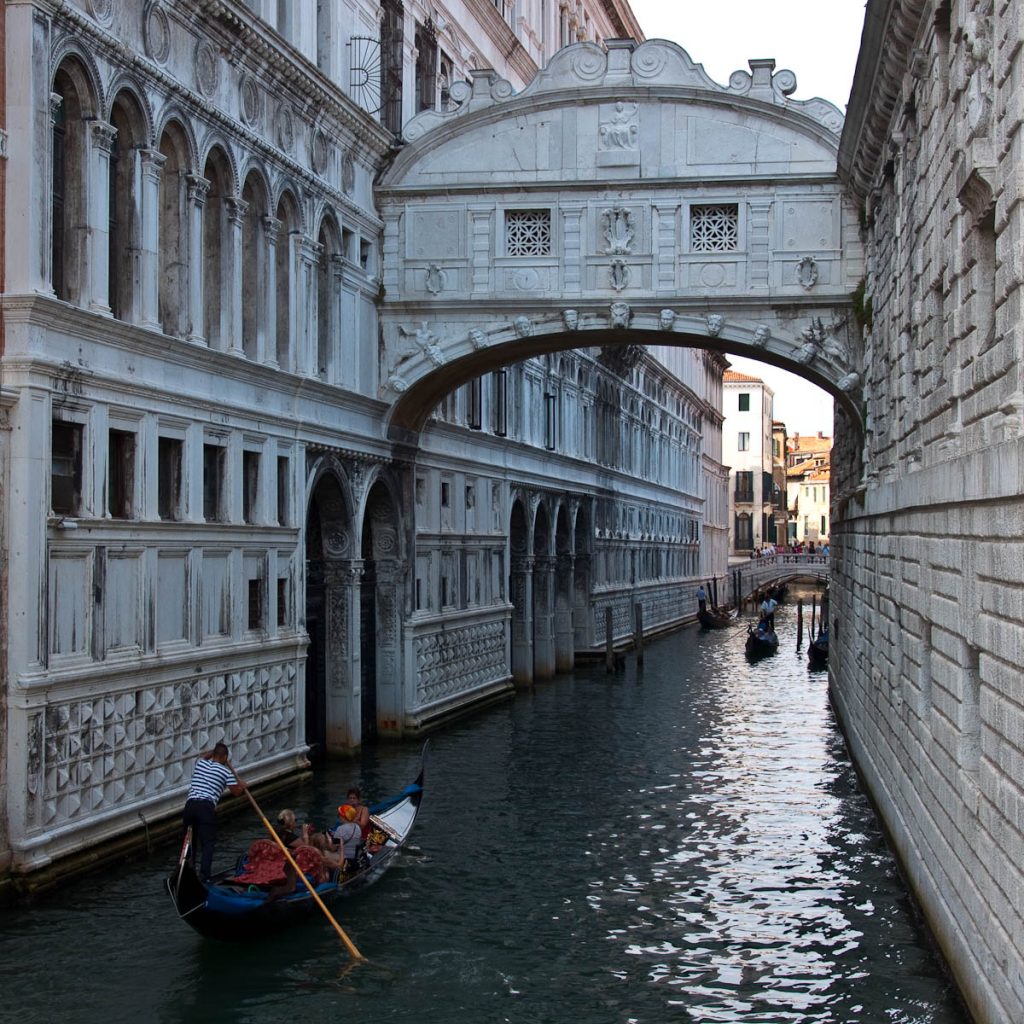 Venice's 150 canals are crossed by almost 400 bridges. They are the most important communication links in the City of Water by making it possible to reach all of its corners on foot.
Each Venetian bridge has a name and a story. Many – like Rialto Bridge, the Bridge of Sighs, and Accademia Bridge – are known worldwide. Others – like Chiodo Bridge and the Bridge of Fists – are hidden gems yet a must-see on account of their role in the culture of Venice. All of Venice's bridges allow you to enjoy beautiful views of this unique city.
In your explorations of Venice, make it your goal to cross as many bridges as you can. Learn their names and stories. Take photos of them as a special memento of your time here.
6. Visit All Six Sestieri of Venice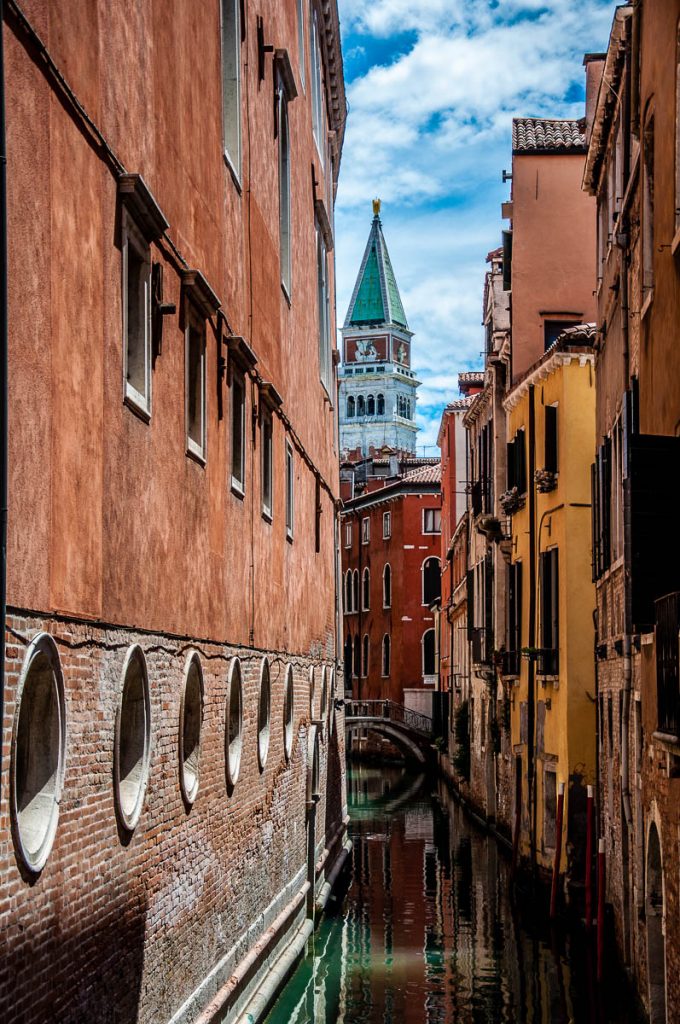 Historically, most Italian cities used to be divided in four quarters or districts. Unlike them, Venice is organised in six districts called sestiere (pl. sestieri). They are Cannaregio, Santa Croce, San Polo, Dorsoduro, Castello, and San Marco. Three of them are on the left-hand side of the Grand Canal and three are on the right-hand side.
To experience Venice fully, make sure that you explore all of its six sestieri. Each one of them has its own character and offers a long list of must-sees. In the sestiere of San Marco, for example, you will find the most well-known Venetian landmarks. The Doge's Palace, St. Mark's Basilica, and St. Mark's Square are right at its heart.
In Cannaregio, you can visit the Jewish Ghetto of Venice – the first in the world. It is also the place where the word ghetto was originally coined. Dorsoduro has the must-see Gallerie dell'Accademia and Basilica della Salute but also a gondola-making workshop, the allegedly haunted palace Ca' Dario, and the outstanding Peggy Guggenheim Collection.
In Castello, you can see the Venetian Arsenale and then enjoy a peaceful walk far from the maddening tourist crowds. Here, freshly laundered clothes flap in the wind against the centuries-old facades and provide inspiration for genuine photos of Venice.
7. Visit Venice's Best Museums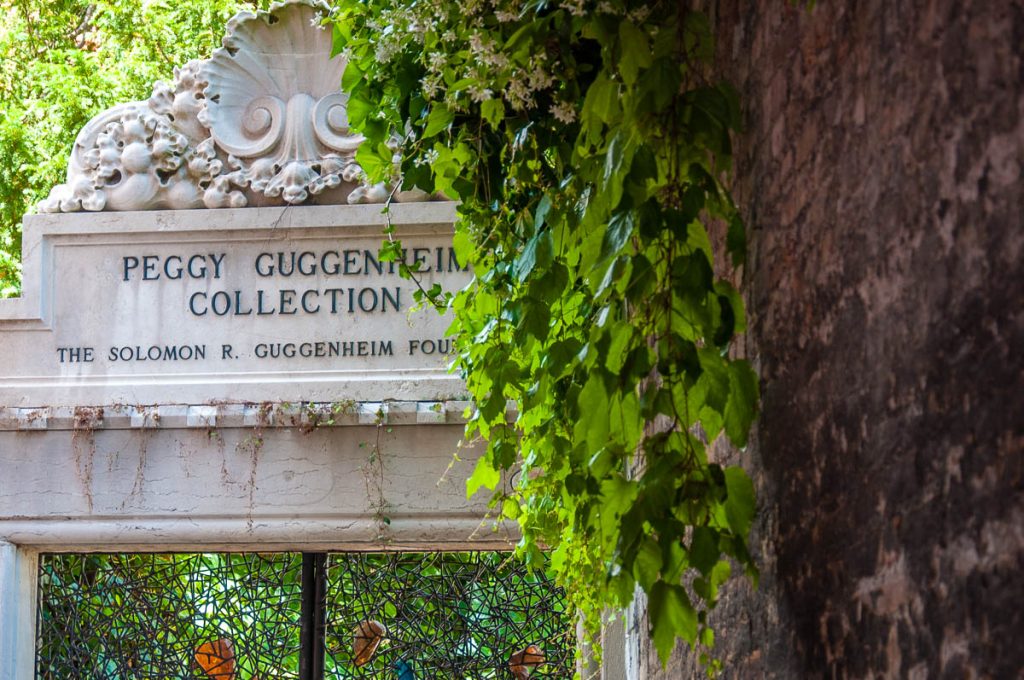 The City of Canals is rich in must-see museums and art galleries. Depending on your interests, put at least a couple on your Venice to-do list.
Museo Correr, for example, is a great introduction to the pomp, history, and art of Venice. If you are interested in modern art, then head to Ca' Pesaro and/or the Peggy Guggenheim Collection. The Naval Museum will reveal to you the intriguing history of Venice as a powerful maritime republic.
The Natural History Museum is an exciting place to visit if you are a natural explorer at heart. And if you love fashion, don't miss the Museum of Palazzo Mocenigo and the Fortuny Museum in Venice.
8. Lose Yourself in Venice's Labyrinthine Streets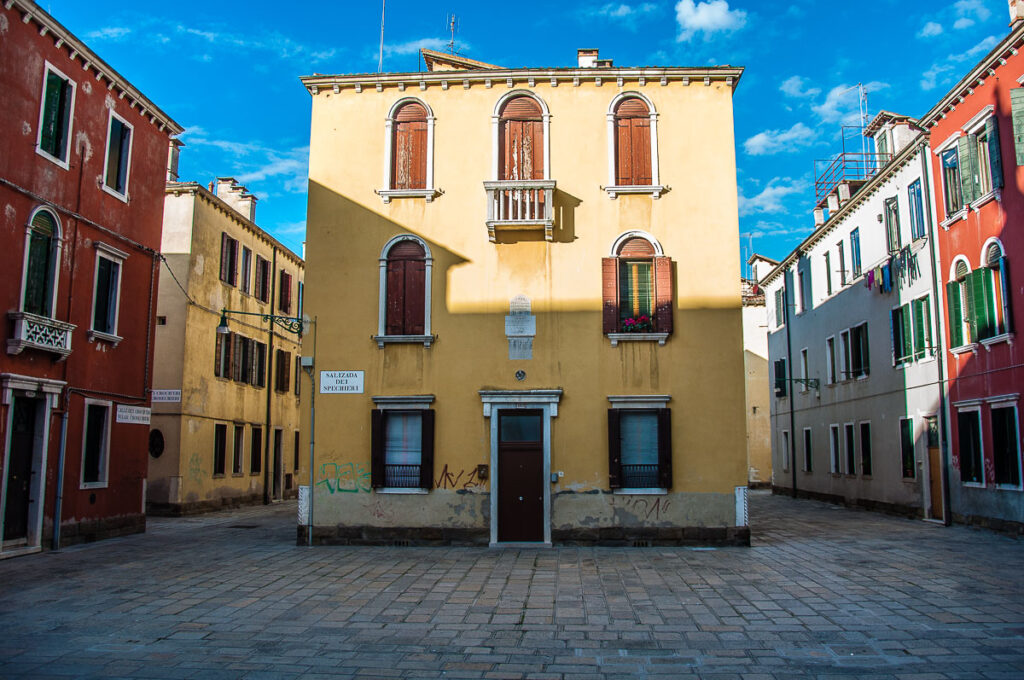 The best way to experience Venice is to allow yourself to explore it in a relaxed, organic way. In other words, don't be too structured and don't adhere to super strict, unflexible sightseeing plans.
Instead, leave the City of Canals to lead and guide your exploration. Follow every small narrow street that catches your eye. Enter every church you come across. Stop in the middle of a deserted campo to look around and notice the small details. Pop into curious and quirky shops. Expect to get lost and then to miraculously find your bearings again. Time and time again.
This is the ultimate joy of getting to know Venice intimately. If you allow the city to lead you instead of trying to impose your plans on it, it will reveal to you stories and curiosities you will need a lifetime to discover in books by yourself.
9. Explore Venice through Music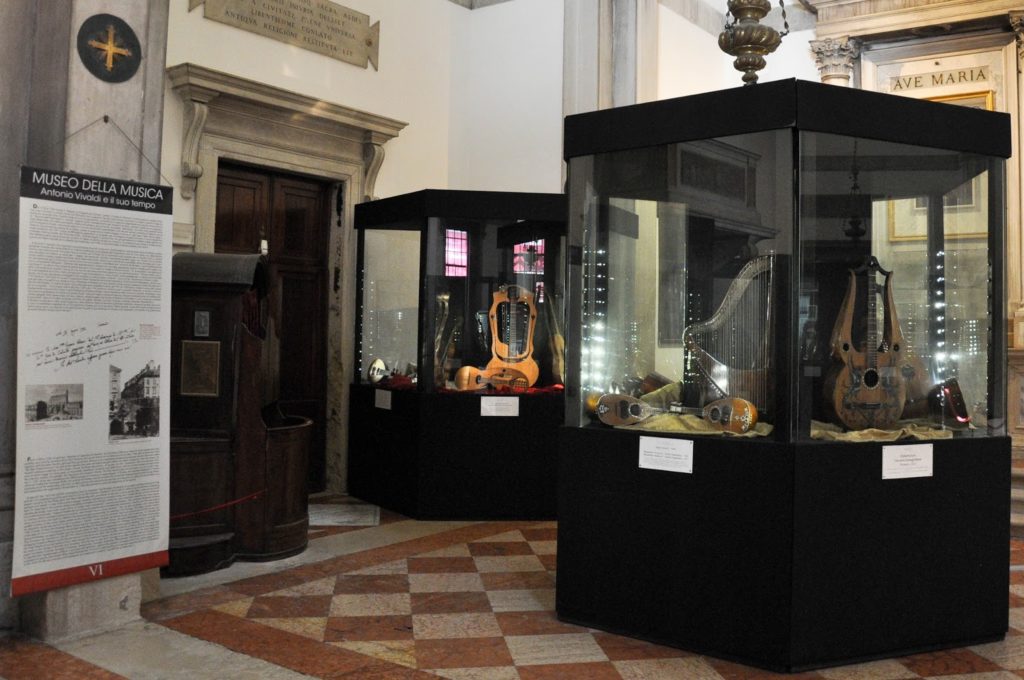 Venice played an important role in the development of music. Many musical instruments and ways to perform and experience music were developed here over the centuries.
When you sightsee around Venice, follow the music when you can. This could be by enjoying a performance in a Venetian church, attending a concert in a Venetian palace or at the Conservatory of Venice, and spending time in the small but rich in information Museo della Musica.
A visit to Venice's lavish Teatro La Fenice is also a must. You can pop in during the day to see its beautiful premises for yourself. Ideally, book to see an opera for a once-in-a-lifetime experience.
10. For Each Day That You Stay in Venice, Try to Discover Two Hidden Gems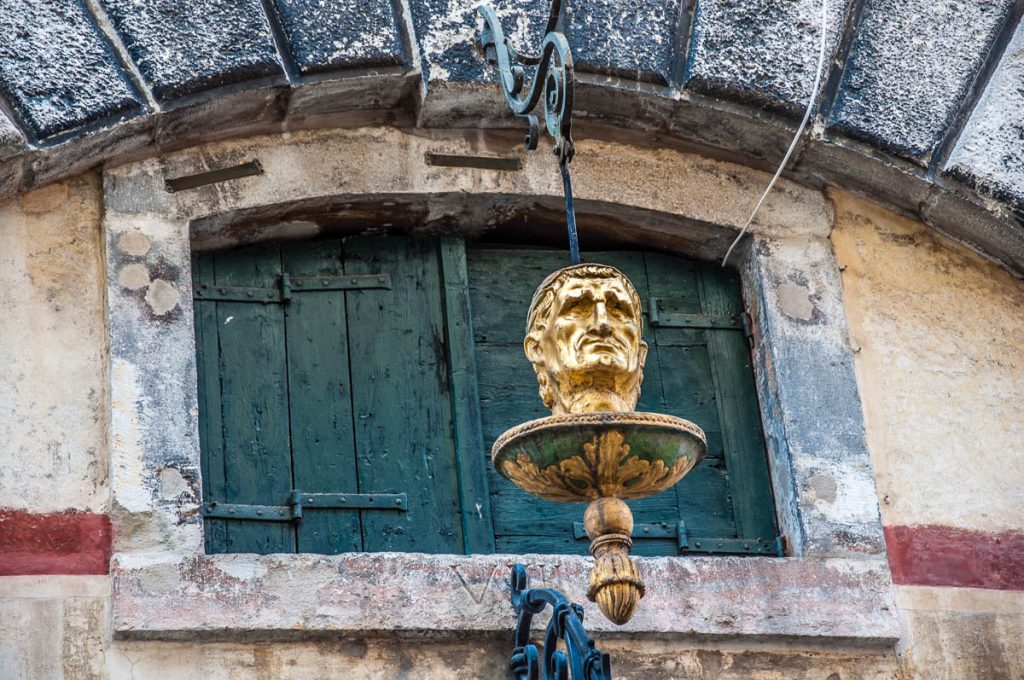 The City of Canals is a place of secret corners. For each day that you spend here, make it your goal to uncover at least a couple of Venice's hidden gems for yourself.
This could be the room with scenes of Venetian life in the Fondazione Querini Stampalia. Or the shrine in the Sotoportego de la Corte Nova with the miraculous image of the Virgin Mary. Or my favourite – Arco del Paradiso – the triangular Gothic Arch that crowns one of Venice's best preserved medieval streets – Calle del Paradiso.
Many tourists come to Venice eager to see the quirky bookshop Libreria Acqua Alta where a gondola filled with old books and a staircase fashioned out of books provide a very instagrammable backdrop. Be more adventurous than this! Delve really deep into Venice's secrets and uncover true hidden gems that are centuries-old and have multilayered, captivating stories to tell.
Learn More:
11. Get to Know Venice's Spooky Stories and Creepy Characters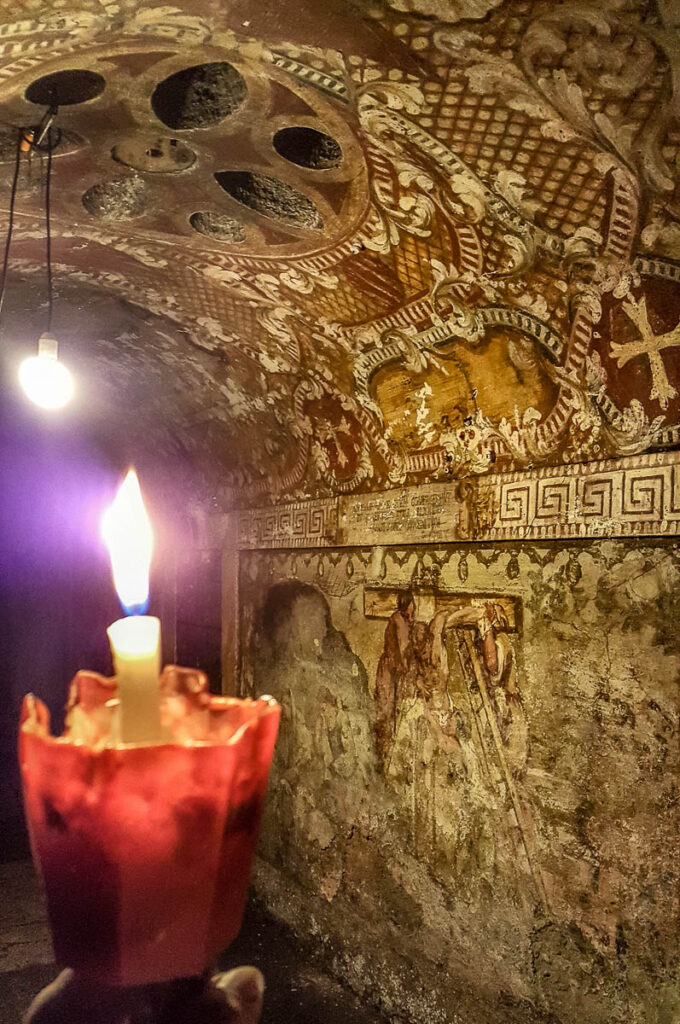 Venice is famous as one of the most romantic places in the whole world. Yet, the City of Canals has an undeniably spooky side to it. Throughout the centuries, many creepy characters lived in Venice and inhabited its collective imagination. Witches, sea beasts, murderers, ghosts, and monsters… Venice has them all!
After all, this is a place where you can feel the weight of many centuries. Many people from many different nations arrived here in search of riches and adventure. Plus, the City of Canals has a truly confusing labyrinthine character. Dense fogs often envelop it in their ghostly embrace. And everywhere you look, there is yet another curving alley abruptly ending on the edge of a dark canal.
In your explorations of Venice, make sure that you get to know its spooky stories, too. This could be by visiting the city's three crypts – one in the Church of San Simeone Piccolo, another in the Church of San Zaccaria, and the third in St. Mark's Basilica. Or it could be by walking past one of Venice's allegedly haunted buildings. Immediately Ca' Dario comes to mind.
Finally, don't forget to rub the metal nose of the statue of Sior Rioba on Campo dei Mori in the sestiere of Cannaregio. Allegedly, it brings good luck!
Learn More:
Boats in Venice, Italy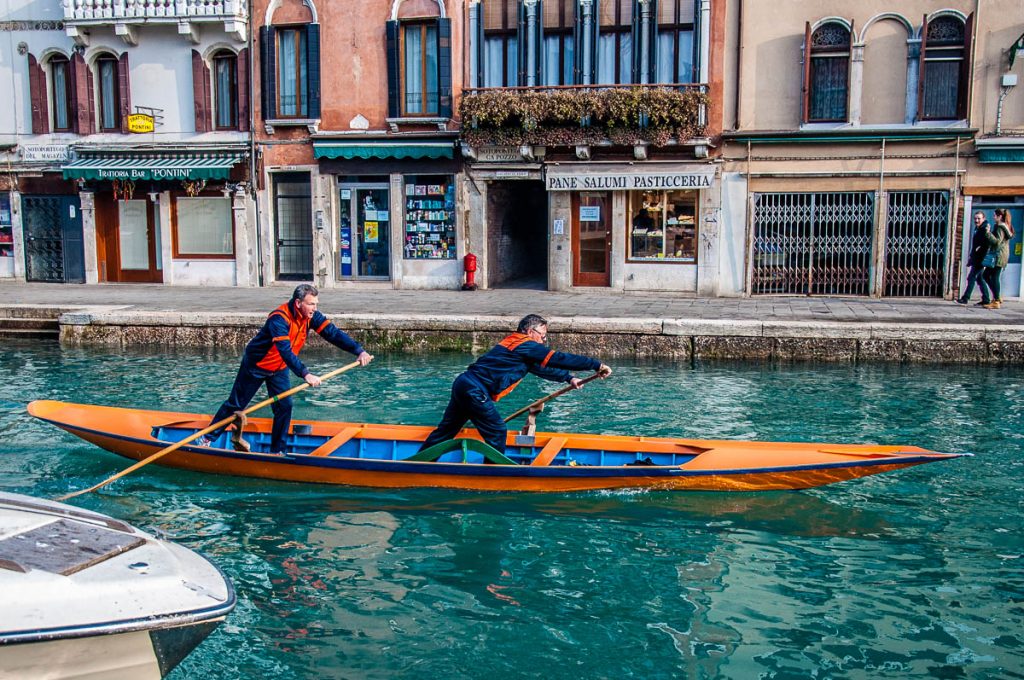 Built on a cluster of 118 small islands in the Venetian Lagoon, Venice is often called the Floating City. In fact, its palaces and buildings seem to emerge straight from the water. Crisscrossed by canals, the city is not accessible to cars. Instead, boats are used as an everyday form of transport.
Here are the best boat experiences to have in Venice during your stay:
12. Take a Vaporetto down the Grand Canal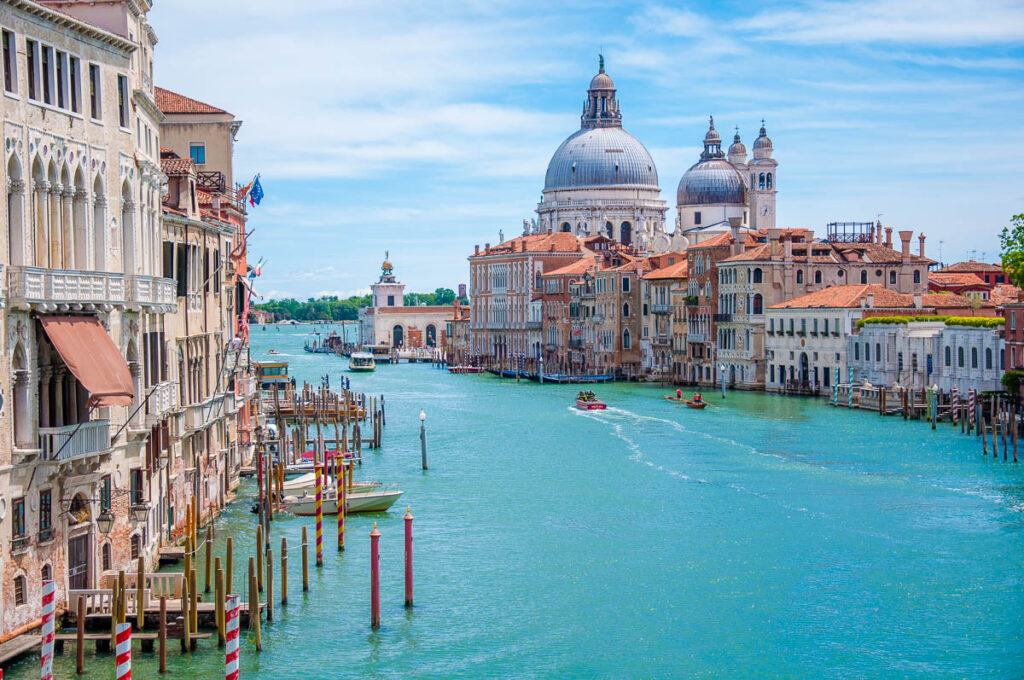 Venice was originally designed to be seen and admired from the water. So, for the best introduction to the beauty and the unique location of Venice take a vaporetto down Canale Grande.
A vaporetto is a boat that serves as a public water bus. Take vaporetto line 1 from Piazzale Roma or Venezia Santa Lucia train station. Sit comfortably near a window or on the small afterdeck and prepare to fall in love.
Flanked by majestic palaces and historic buildings, the Grand Canal curls in an upturned S-shape right across Venice just like a ribbon that is being tied around a precious present. It is rightfully considered to be the world's most beautiful thoroughfare. At its end stands the world-famous St. Mark's Square which like a theatre stage presents to you Venice's most important historic buildings – the Doge's Palace and St. Mark's Basilica.
You can consult the current timetable of vaporetto line 1 here and buy your tickets in advance here.
Make sure that you catch the right vaporetto going down the Grand Canal and not a vaporetto heading towards the Giudecca Canal. Although it also provides a journey with beautiful views, if this is your first visit to Venice, you will want to do the shorter and much more stunning trip down the Grand Canal first.
13. Cross the Grand Canal on a Traghetto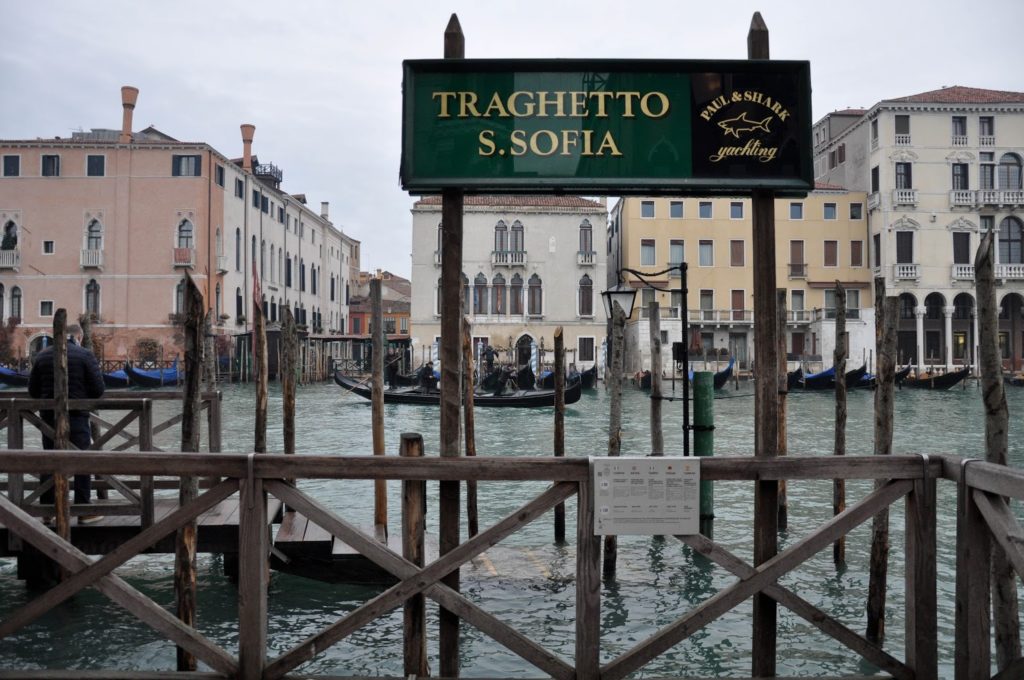 Traghetto is a simple black gondola-shaped boat that takes you across Venice's main thoroughfare – Canale Grande – at certain points. A ride costs a couple of euros one way unless you have a Venezia Unica card. Traditionally, you need to stand upright. Although, nowadays, the two ferrymen ask the tourists to sit down for the short journey.
Years ago, there were dozens of traghetto stations along the Grand Canal. Nowadays, there is only a handful left. I recommend the traghetto stops at Santa Sofia near the Rialto Market and Rialto Bridge and Santa Maria del Giglio for the Peggy Guggenheim Collection and the Basilica della Salute on one side and St. Mark's Square on the other side of the Grand Canal.
Riding the traghetto in Venice is a great way to see the beauty of the Grand Canal from a different point of view. It also saves you the time and effort of walking for miles as the Grand Canal is only crossed by four bridges otherwise. They are Constitution Bridge (Ponte della Costituzione), Bridge of the Barefoot Monks (Ponte degli Scalzi), Rialto Bridge, and Accademia Bridge.
14. Enjoy a Gondola Ride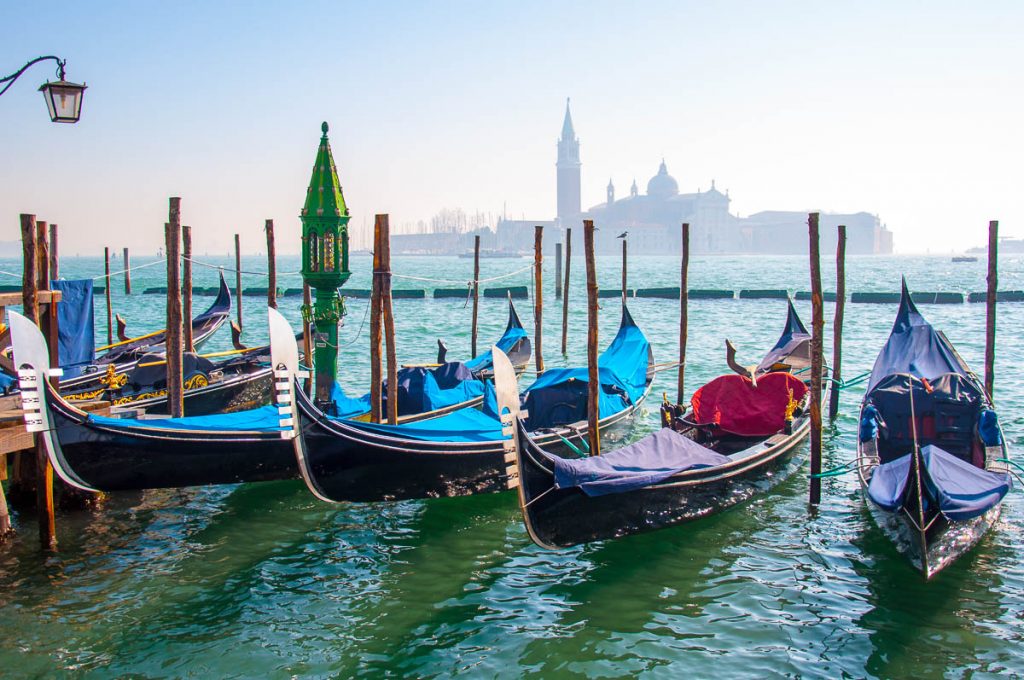 A gondola ride is one of the most iconic things to do in Venice. The gondola is an elegant boat made of eight different types of wood. It's lacquered in mirror-shine black and it's rowed by a single oarsman – the gondolier – who stands upright on the stern.
He is dressed in a uniform of a striped top and straw hat, has undergone strict training over several years, and most often than not his father and forefathers have also been gondoliers. Rowing a gondola is one of the oldest trades in the city of water.
A gondolier knows where to find all the best waterside views and hidden spots in Venice. Customarily, a gondola ride lasts around 30 mins and the prices to hire a gondola are set up by the city council – Comune di Venezia. Click here to check them on the official website. Further down on the same web page, you can find a list of the official gondola stations with email addresses and telephone numbers to contact them and book a gondola tour in advance.
In addition, you can check these Venice gondola tours to see which one will appeal to you. Many of them combine a gondola ride with another must-have experience in Venice to help you maximise your sightseeing time:
15. See How the Venetian Gondolas Are Made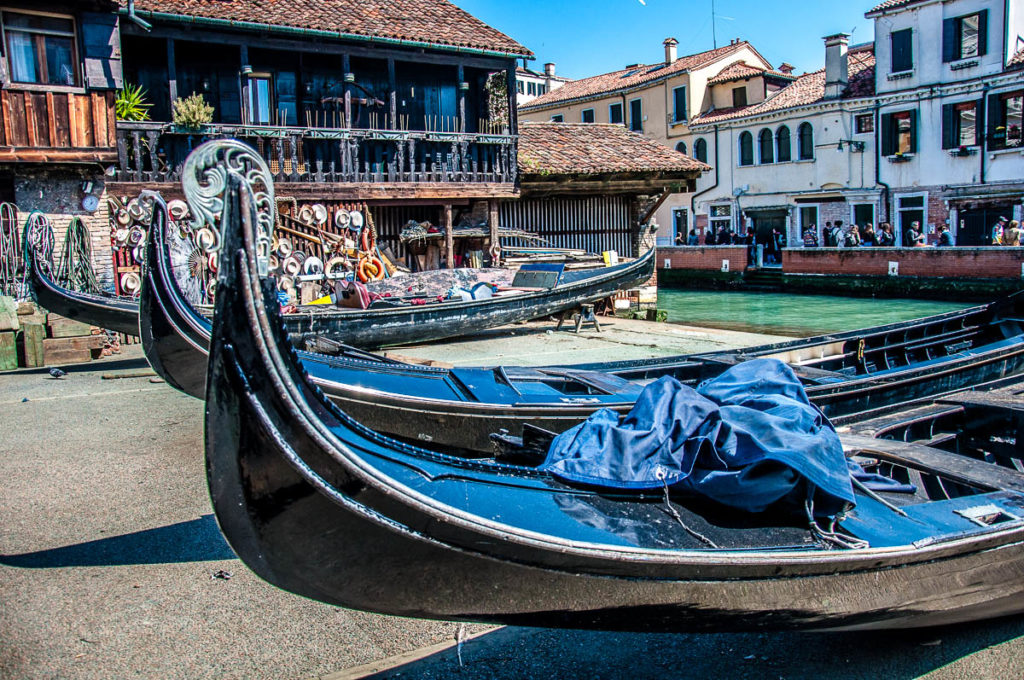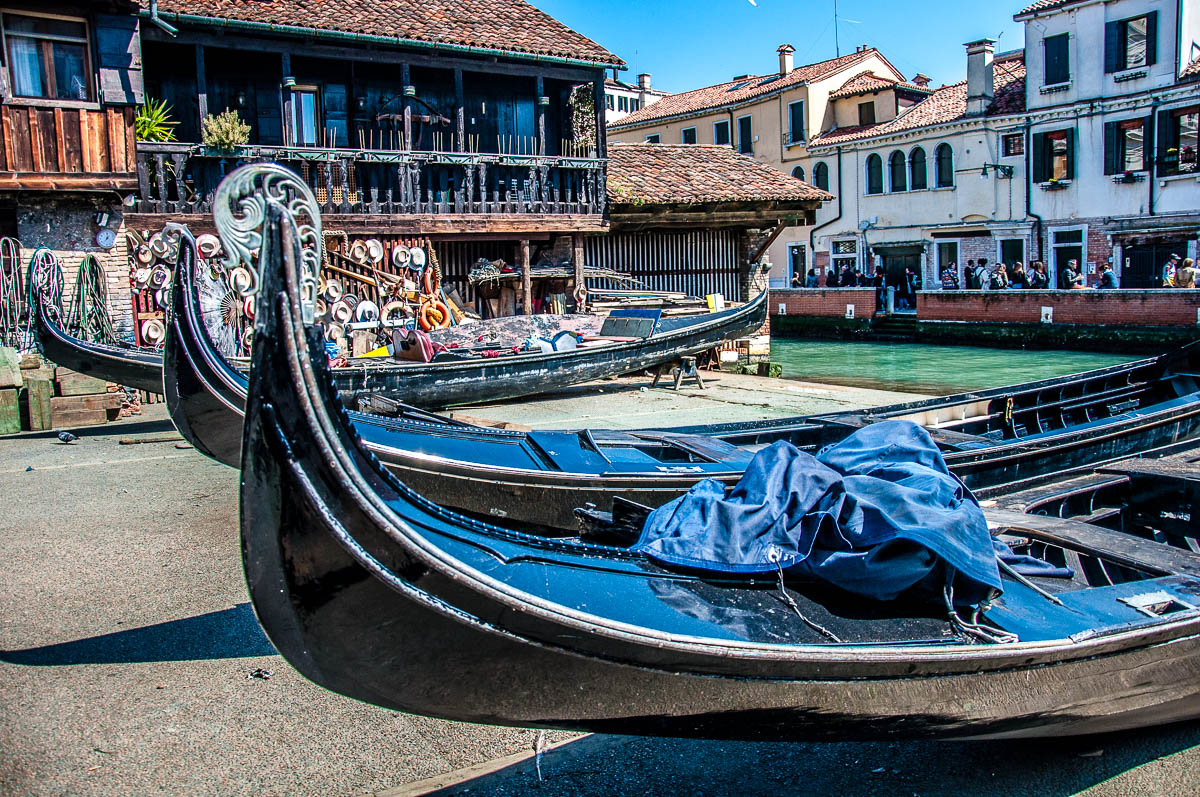 The black gondola is Venice's most iconic boat and one of the symbols of the City of Canals. While centuries ago, there were over 10,000 gondolas in Venice, today they number only around 400. Building a gondola is an intricate endeavour.
Each of these elegant boats is tailor-made for the gondolier who will be guiding it through the canals of Venice. A gondola is composed of hundreds of parts and eight different types of wood: oak, pine, elm, cherry, larch, walnut, basswood and mahogany. Although you would never guess it just by looking at a gondola. Its black elongated body seems so perfectly cohesive like it has been drawn with one smooth swirly movement by the skilled hand of an artist.
Venetian gondolas are made in a squero – a specialised boatyard. Squero di San Trovaso is the most well-known one of the few Venetian boatyards that are still going strong. It stands on a corner towards the end of the canal Rio di San Trovaso in the sestiere of Dorsoduro. It's just a few stops away from the Gallerie dell'Accademia.
While the squero is closed to the public, you can watch the gondola-makers at work from the opposite side of the canal. On the corner, there is a small osteria called Al Squero. For the full Venetian experience, get a glass of Prosecco and a selection of cichetti – traditional for Venice finger foods – and spend some time watching the artisans putting together yet another elegant gondola.
16. Visit the Craftsmen Who Make the Gondola's Many Different Components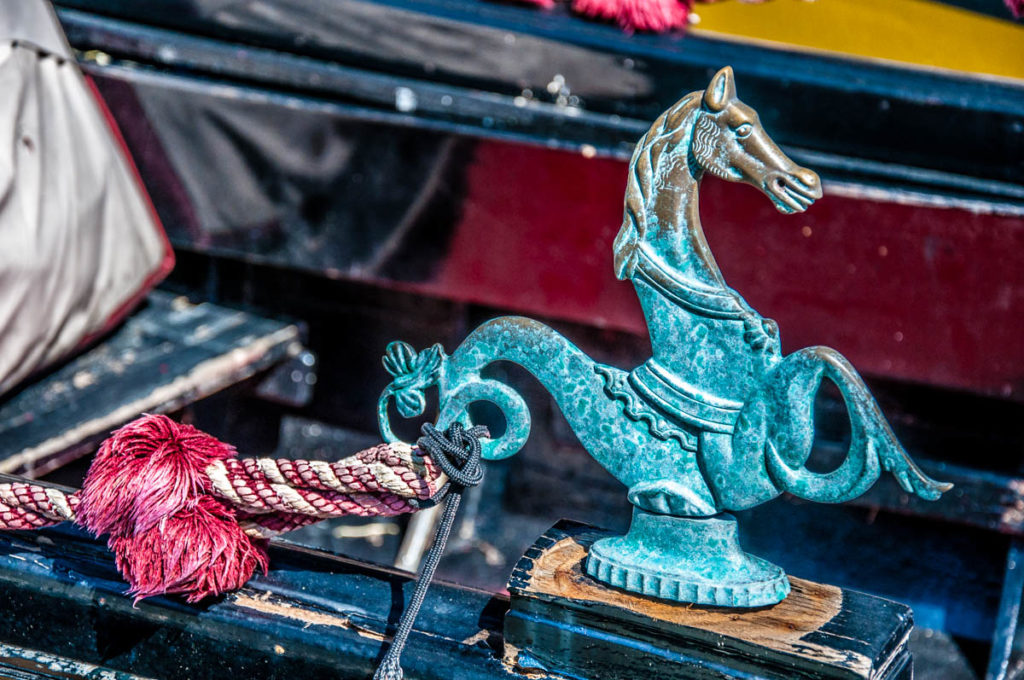 The Venetian gondola has many different components. Some of them are made by specialised artisans who have spent years and decades honing their art to perfection. You can visit them in their studios to learn more about some of the most authentic traditions of Venice. Through them, centuries-old skills get a new lease of life.
For example, there are only five forcolai left in the world. These are the craftsmen carving the fórcola – the typical Venetian rowlock that the gondolier uses as a support for their oar. Each fórcola is tailor-made to match the gondolier's height and posture. Book a visit to Forcolaio Matto to meet the youngest forcolaio in Venice and see him at work.
Alternatively, head to the Antica Fonderia Valese. This is the last remaining foundry in the City of Canals. Here you can see how the metal ornaments for the gondolas are made. Among them are the splendid cavallucci marini – the intricate seahorses that you will see decorating many of the gondolas in Venice.
17. Have Fun Spotting Venice's Quirky Boats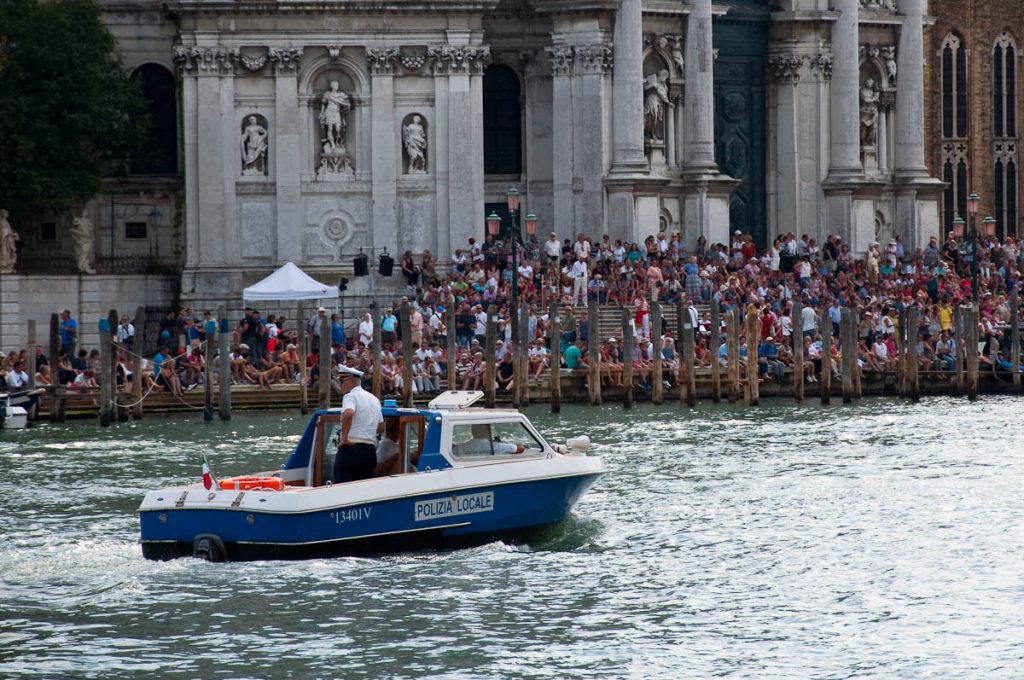 Many different watercrafts navigate the canals of Venice. While the gondola is the most iconic one of them, there are many other boats to admire here. For example, sanpierota, sandolo, topo, and batela.
Some of them have been adapted to modern life, so as you walk around Venice you will see many curious boats to stop and take a photo of. Postal boats, delivery boats, and even freezer boats are easy to spot here. Expect also ambulance boats, fire engine boats, and police boats. The rubbish is also taken away in large specially-adapted barges.
Living on water is not easy. Seeing how people lead their daily lives relying on boats instead of cars is certainly one of the most intriguing things to do in Venice. It definitely makes you appreciate so much more the resourcefulness and the resilience of the Venetian citizens.
Learn More:
18. See a Venetian Regatta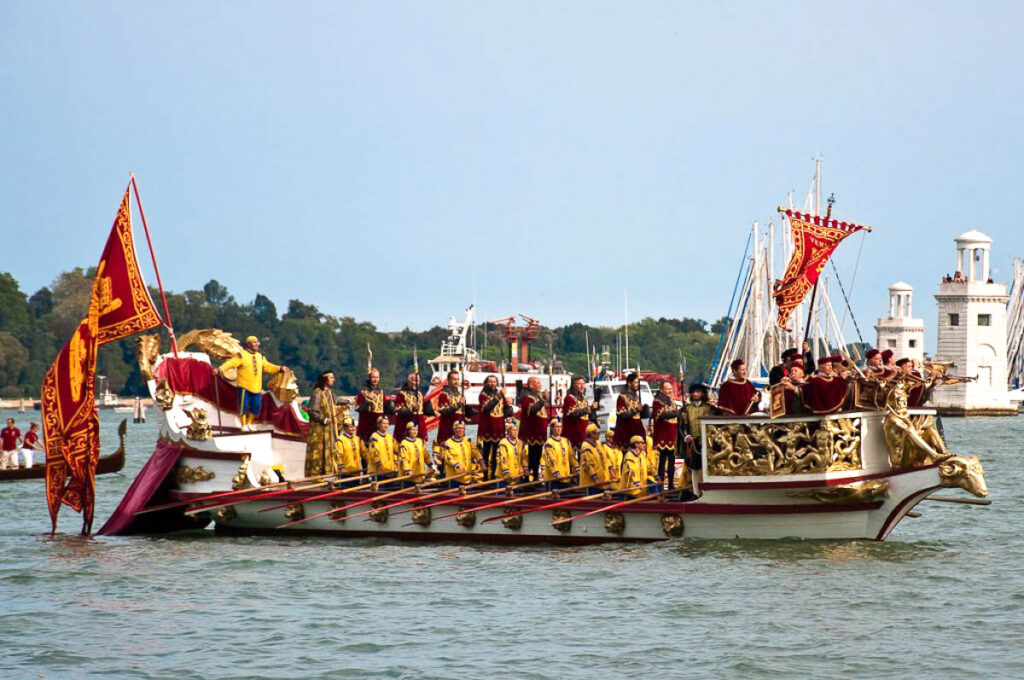 The word regatta comes from the Venetian language. Spelt with one t, it originally meant contest and it quickly began to be used for the boat races and competitions that the Venetians loved to organise.
To this day, many regattas – both small and large – regularly take place in the City of Water. They are great events to watch as they reveal something very authentic about the Venetian spirit and endurance.
Check in advance to see if your visit to Venice coincides with a regatta. The most well-known ones are the Regata del Redentore, Vogalonga, and the Historical Regatta. If you are in Venice during the Christmas season, don't miss the Regatta delle Befane. This is when men dressed as the Italian Christmas gift-bearer Befana compete in small traditional boats starting from the Rialto Bridge.
Walks in Venice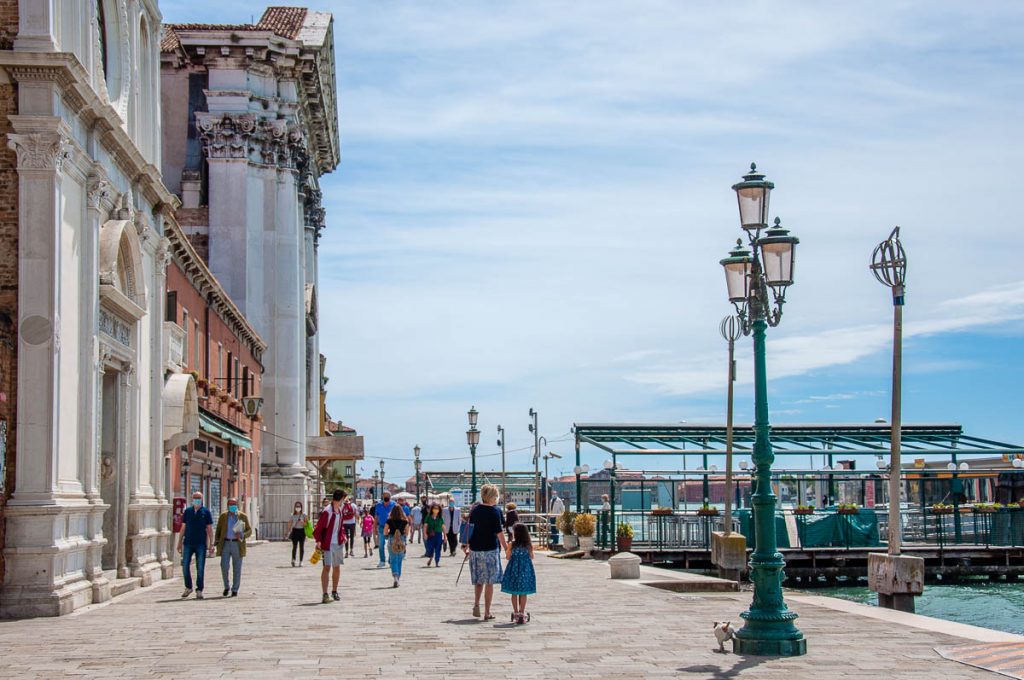 Venice is a great place to walk around. With no cars and apart from boats, the only way to go places here is to walk. Walking is also a fabulous way to enjoy the beauty of Venice and discover many of the city's hidden corners.
Here are some great walks to tick off here:
19. Go for a Walk Along the Fondamenta delle Zattere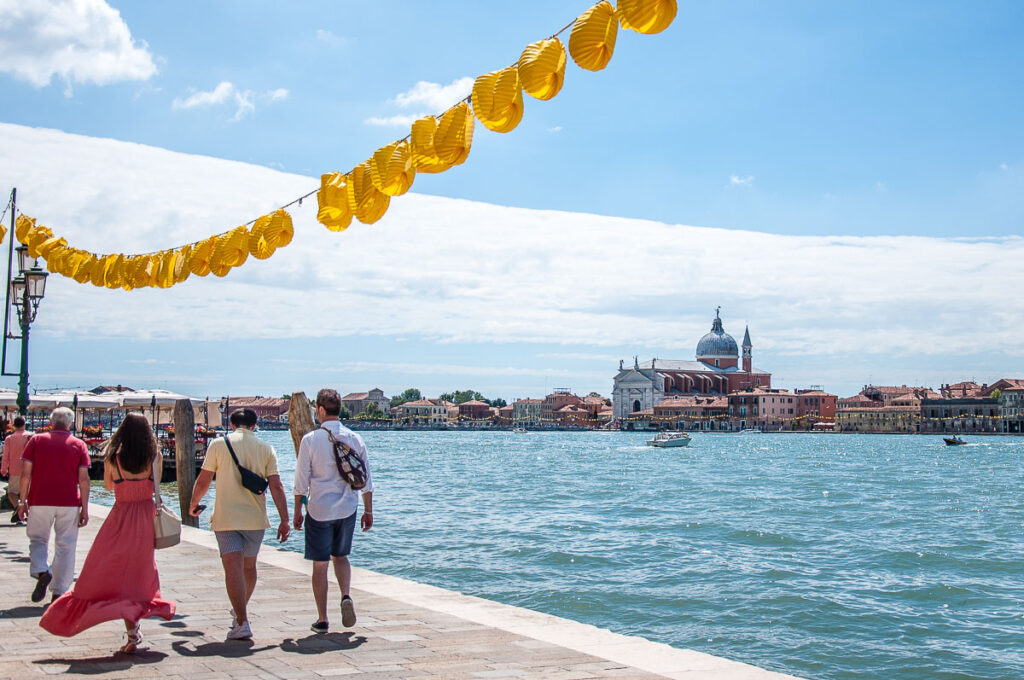 The Fondamenta delle Zattere is a long waterfront promenade. It runs along the northern edge of the Giudecca Canal in Venice. It's a favourite place of the Venetians for a leisurely walk with far-reaching views across the water. Several important sights are dotted along the way.
The fondamenta is named after the zattere. These were the rafts loaded with wooden logs from the forests of the Northern Italian region of Veneto (of which Venice is the capital). They were then used for the construction of the foundations of the Venetian palaces and buildings.
The fondamenta runs along 1,7 km from San Basilio vaporetto stop to the Punta della Dogana. I would suggest walking it either early in the morning or late in the afternoon. There is not much shade along the way and on a summer day, it can get uncomfortably hot.
By all means, stop at Gelateria Nico and do as the Venetians – order a gianduiotto. This is a thick slab of frozen chocolate dessert with pieces of hazelnuts studded in it. It's topped with delicious whipped cream.
20. Walk from Giardini della Biennale to the Doge's Palace
This is another long waterfront walk in Venice offering beautiful views. The total distance is about 1.5 to 1.7 km and you more or less will be walking in a straight line following three paved long promenades that seem to blend into one another. They are Riva dei Sette Martiri, Riva Ca' di Dio, and Riva degli Schiavoni.
For maximum enjoyment, try to do this walk either early in the morning or in the late afternoon / early evening. Again, there is not much shade along the way and between April and September, it can get unbearably hot here.
Also, Riva degli Schiavoni is where many tour boats arrive bringing loads of tourists on day trips to Venice. You will want to avoid the crowds.
21. Walk from Venezia Santa Lucia Train Station to St. Mark's Square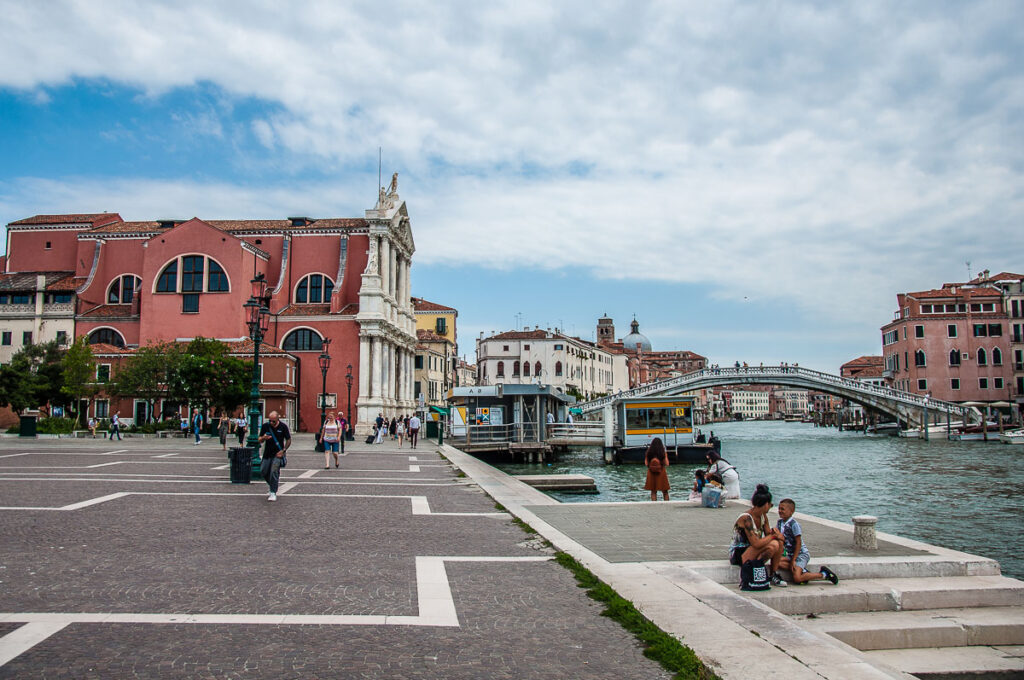 Many visitors to Venice walk from the city's train station – Venezia Santa Lucia to the city's majestic St. Mark's Square. Usually, they follow the shortest route along Strada Nova and end up exhausted by the crowds and the noise. Thus, their first impressions of Venice may not be that great.
My favourite route between the train station and the square actually goes through a much quieter and more atmospheric area of Venice. Plus, it's dotted with many of the City of Canals' most interesting sights and landmarks.
I have described it in some detail in this blog post: One Day in Italy for Art Lovers. If you look at the two maps at the end of it, you can easily tailor my suggested itinerary to fit just your sightseeing needs. The important bit is that it will help you avoid the overcrowded Strada Nova, show you some of the best places to see in Venice, and help you reach St. Mark's Square on foot.
22. Walk Across Venice's Votive Bridges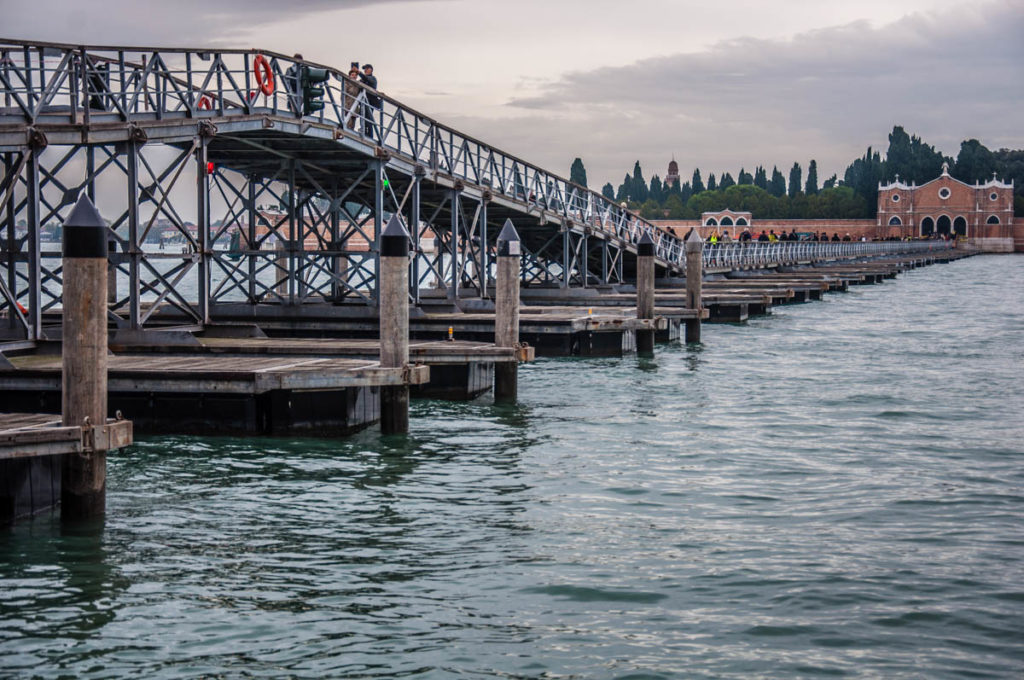 This is a walk in Venice with a difference. For a couple of its main celebrations and festivals, the Venetians erect a temporary bridge across one of their main canals.
The bridges rest on barges positioned at regular intervals across the water. Crossing them is a unique experience to have in Venice and an authentic way to mark a celebration that dates hundreds of years back in time.
Venice erects a votive bridge:
across the Giudecca Canal for the Festa del Redentore on the third weekend of July;
across the Grand Canal for the Festa della Madonna della Salute on 21st November.
At the end of October and the beginning of November, a bridge is also sometimes placed between the Fondamente Nove and the Island of San Michele – the cemetery of Venice.
If you are in Venice on these dates, don't miss the experience of walking across a temporary bridge at a place where traditionally one can't cross Venice's main canals.
23. Go for a Walk in the Gardens of Venice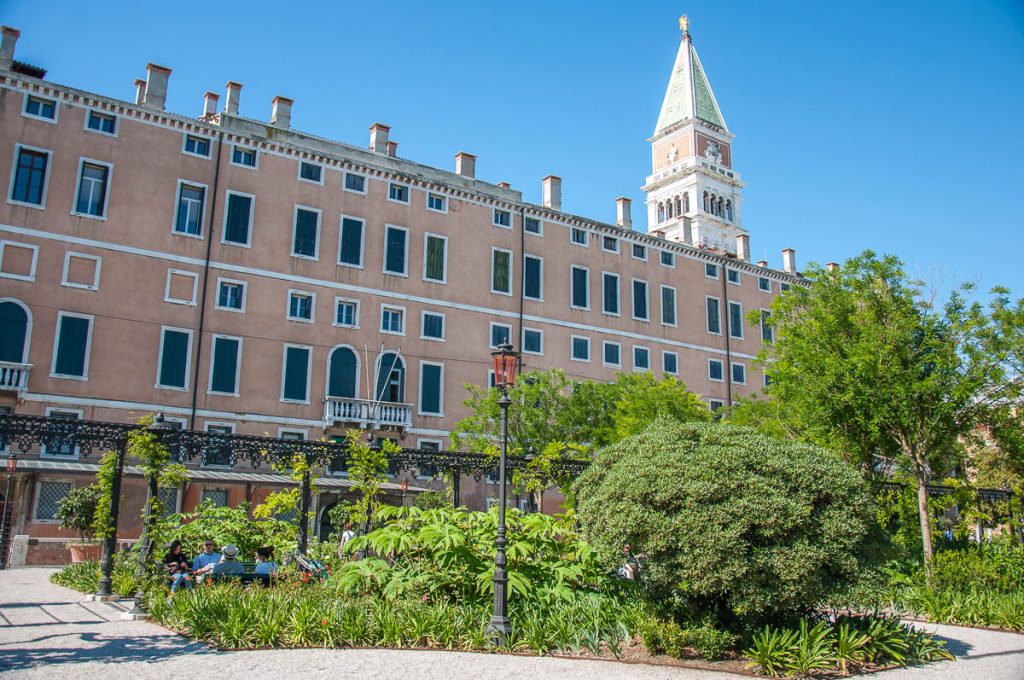 At a first glance, Venice is a tightly built-up urban space. You may be surprised then to discover that the City of Water is dotted with lovely gardens where one can go for a walk to escape the heat and learn very many interesting things about Venetian history.
A favourite of mine is the mystical garden in the Convent of the Discalced Carmelites. It stands right next door to Venezia Santa Lucia train station. Protected by tall walls, it's easy to skip it during a hectic visit to Venice. Here are some more gardens in Venice to discover at your leisure: Giardini Reali right next to St. Mark's Square, garden of Ca' Rezzonico, Giardini della Biennale, Parco delle Rimembranze, the garden of Spazio Thetis, Serra dei Giardini, the garden and the vineyard of the Church of San Francesco della Vigna.
Panoramic Views of Venice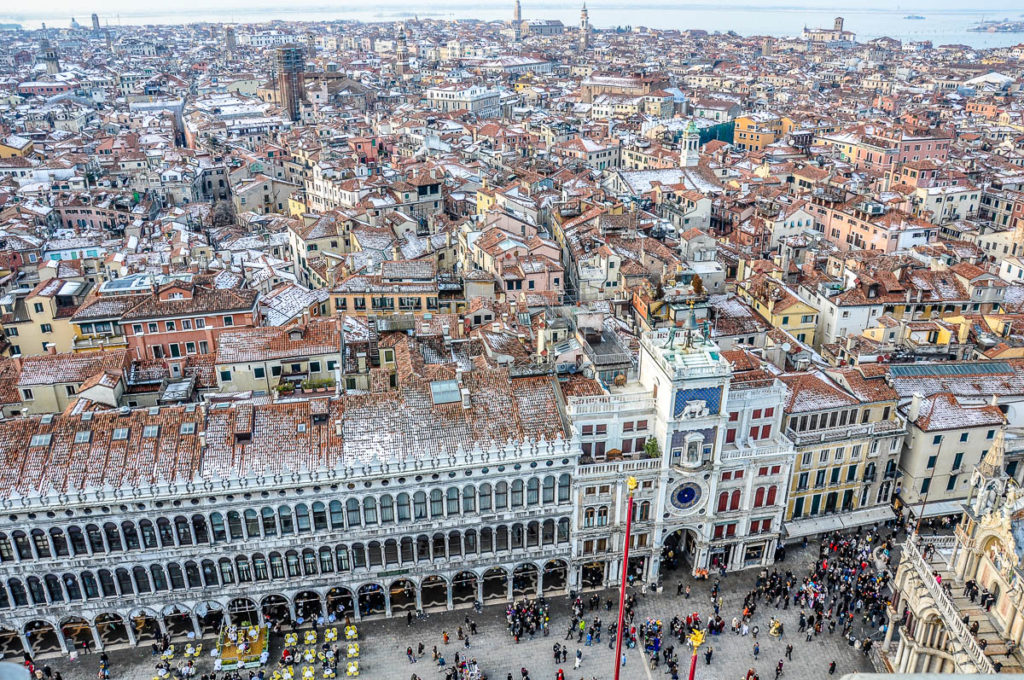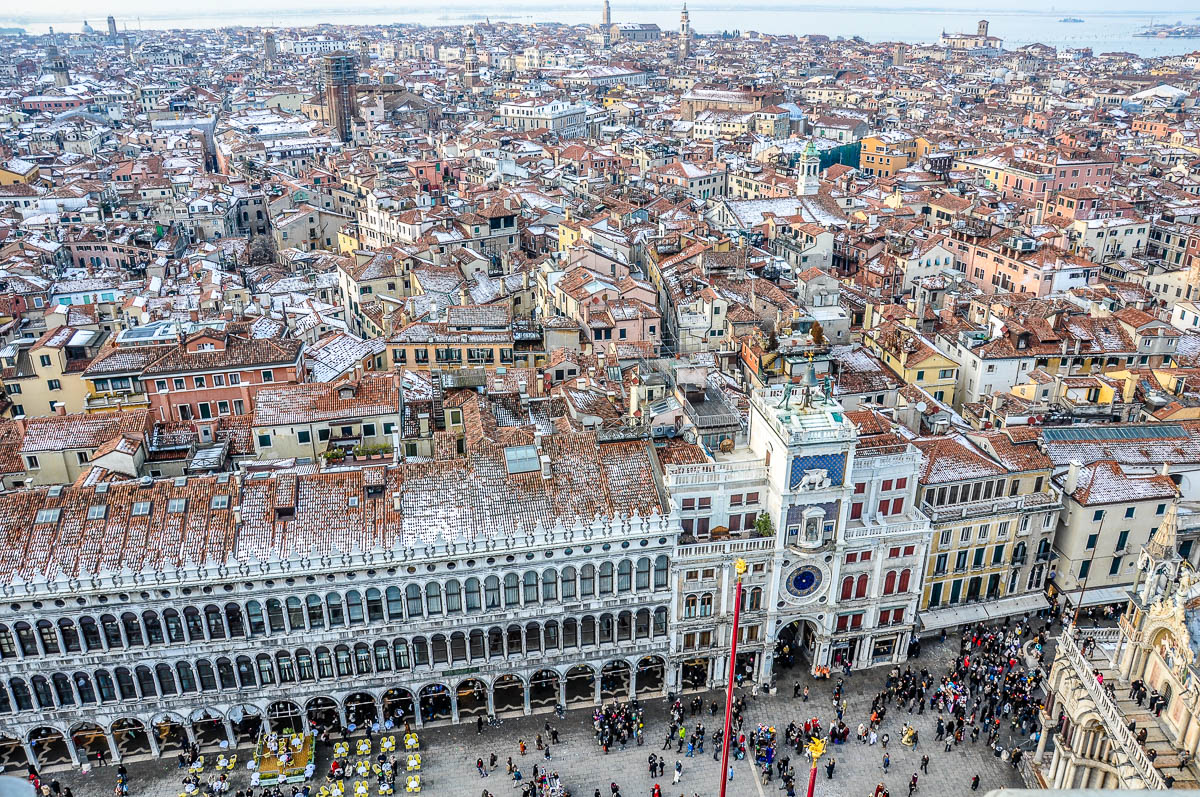 The breathtaking cityscape of Venice is best appreciated from a bird's-eye view. Thankfully, there are many tall structures in town allowing you to enjoy stunning panoramas.
Here are the best ones to add to your Venice to-do list:
24. See the whole of Venice from the Top of St. Mark's Bell Tower (Campanile di San Marco)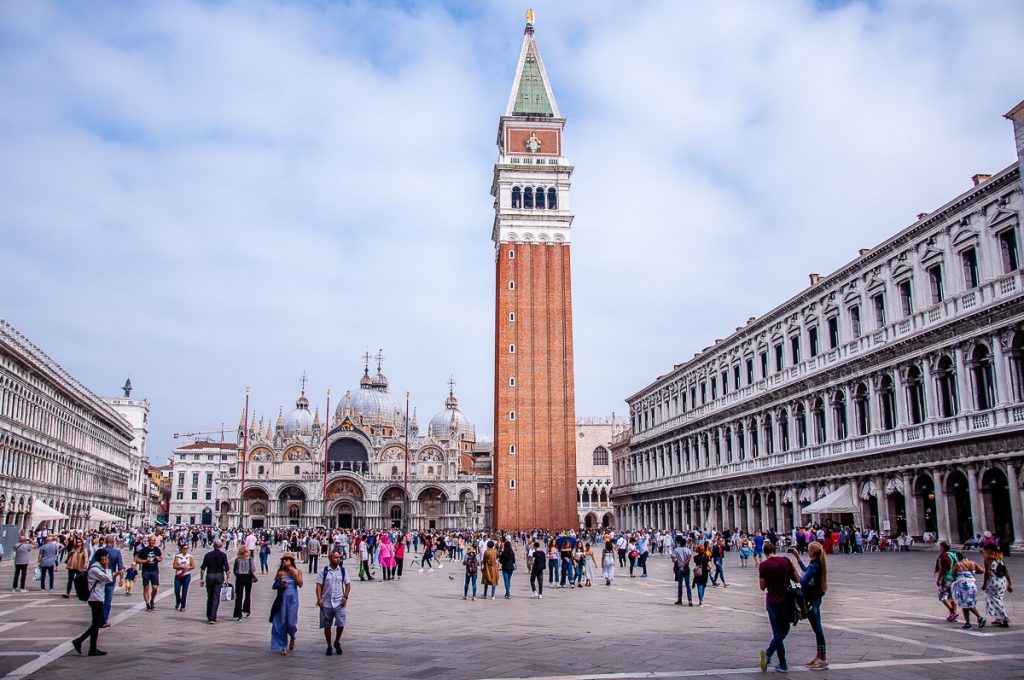 St. Mark's Bell Tower is Venice's tallest building and one of its most iconic structures. Almost 99 m high, this is a square brick tower with a pyramidal spire. It stands on the corner of St. Mark's Square and Piazzetta San Marco and across from St. Mark's Basilica and the Doge's Palace.
From its belfry, you can enjoy some of the most inspiring 360-degree panoramas of the whole city of Venice and the Venetian Lagoon. A lift will whisk you up there swiftly from the ground level. The spectacle of Venice from above is something that forever stays in your mind.
You can buy a ticket in situ to visit St. Mark's Bell Tower in Venice. During the high season, consider buying a ticket in advance to avoid queuing.
25. Marvel at St. Mark's Square from the Terrace of St. Mark's Basilica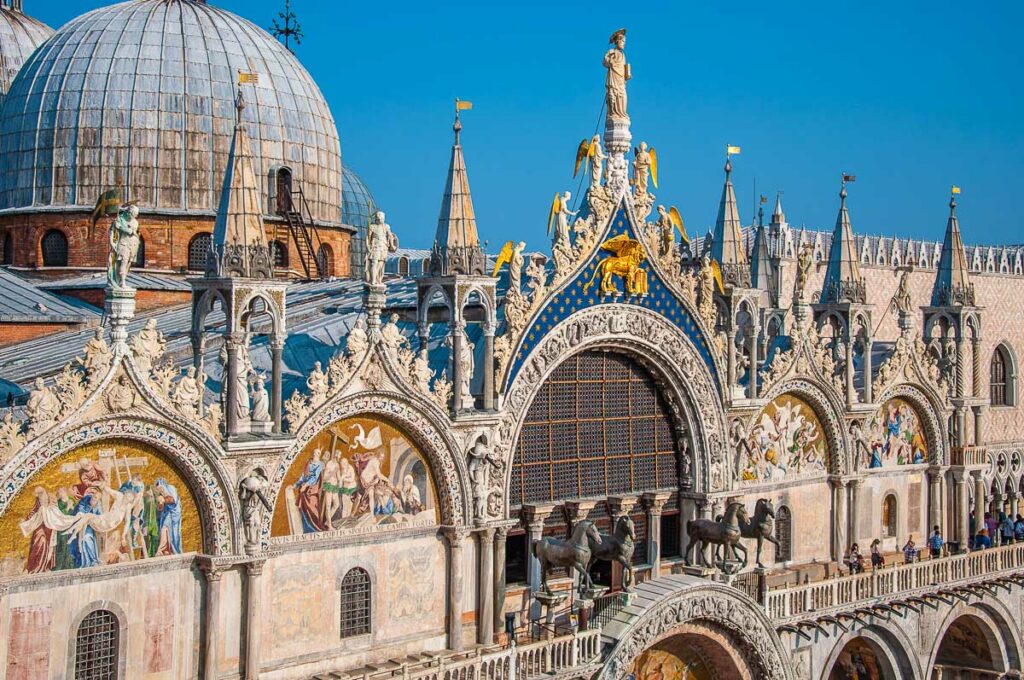 The terrace of St. Mark's Basilica stands above the majestic main entrance of this most iconic church in Venice. It runs along its lavishly decorated with marbles and mosaics facade and spans its right and left sides.
Standing on the terrace you get to enjoy a fantastic bird's-eye views of St. Mark's Square and the Piazzetta di San Marco. It's more than worth the small access fee.
26. Get a Heady View of Venice's Rooftops from the Top of St. Mark's Clock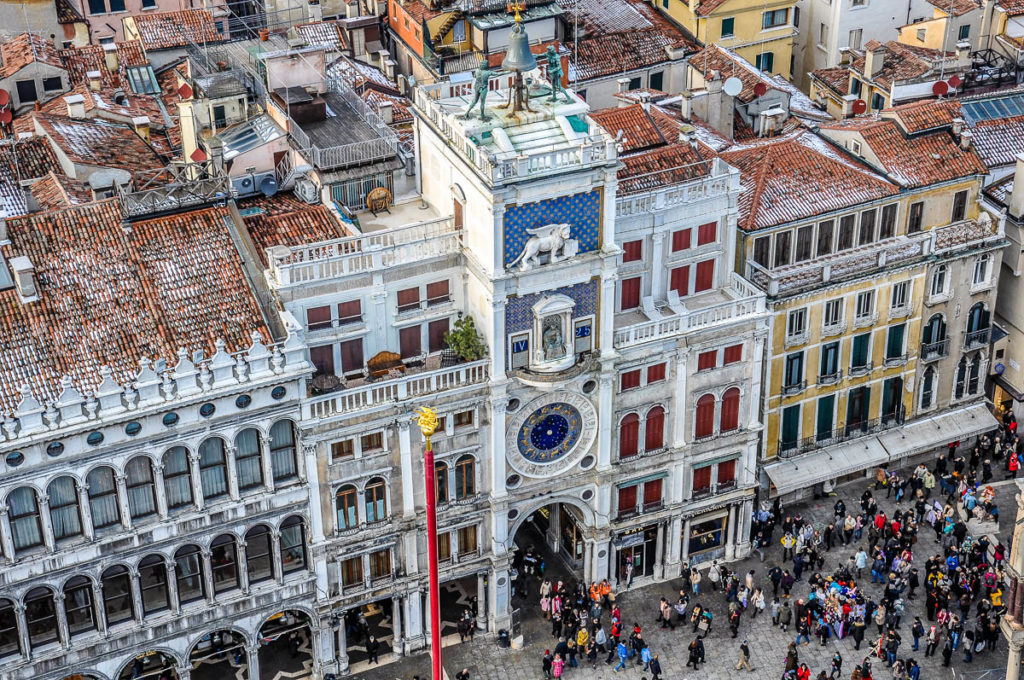 A Renaissance clocktower with the most beautiful clockface stands on the north side of St. Mark's Square just a stone's throw away from St. Mark's Basilica. Known as St. Mark's Clock, not many visitors to Venice realise that you can actually visit it to enjoy heady panoramic views of Venice's rooftops.
For this, you need to join a guided tour. It's organised by Museo Correr (also on St. Mark's Square) and takes place several times throughout the day. The tour is so very informative and exciting. You get to go up a tiny spiral staircase and enjoy Venice first from a large side balcony and then from the top of the clocktower.
Up there, you are just an arm's away from the two Mori – as the figures of prehistoric men dressed in furs and striking the large bell between them on the hour are known as.
27. Climb the Bell Tower of the Church of San Giorgio Maggiore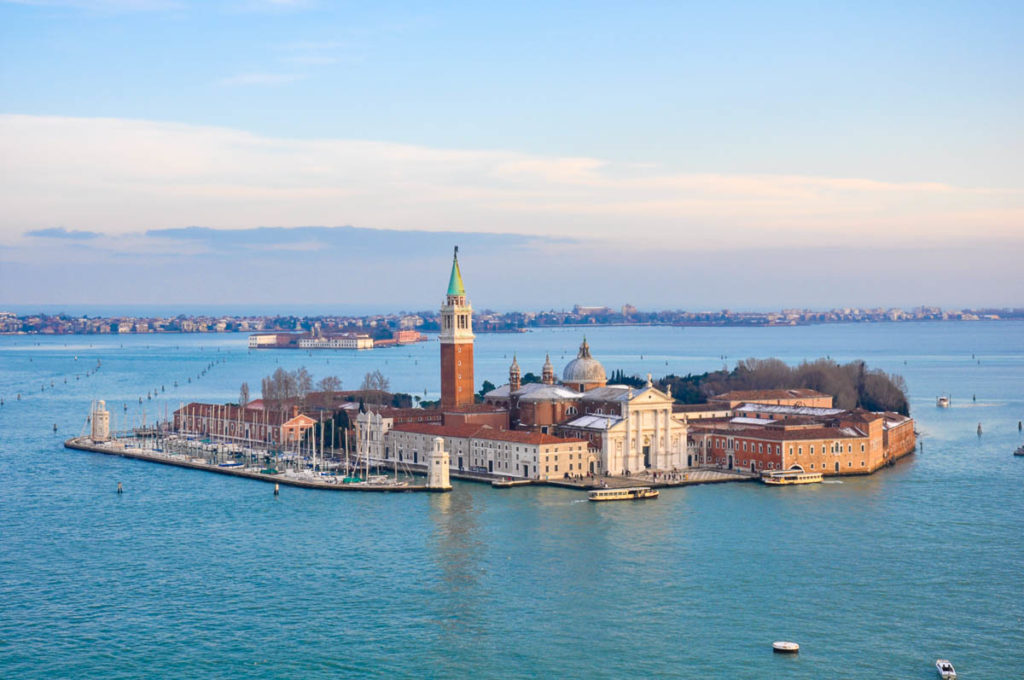 San Giorgio Maggiore is the tiny island that stands in St. Mark's Basin right opposite the Doge's Palace in Venice. You can reach it by vaporetto. The journey is very short. Usually, there are no huge crowds here. So, you can explore the island at your leisure.
The main sight to visit here is the Church of San Giorgio Maggiore. This is an imposing 16th-century building designed by the famous architect Andrea Palladio – the creator of the Palladian architectural style.
The church has a tall bell tower which affords superb panoramic views of Venice. Make sure that you visit on a clear day for maximum impact.
28. See Rialto Bridge and the Grand Canal from the Rooftop Terrace of Fondaco dei Tedeschi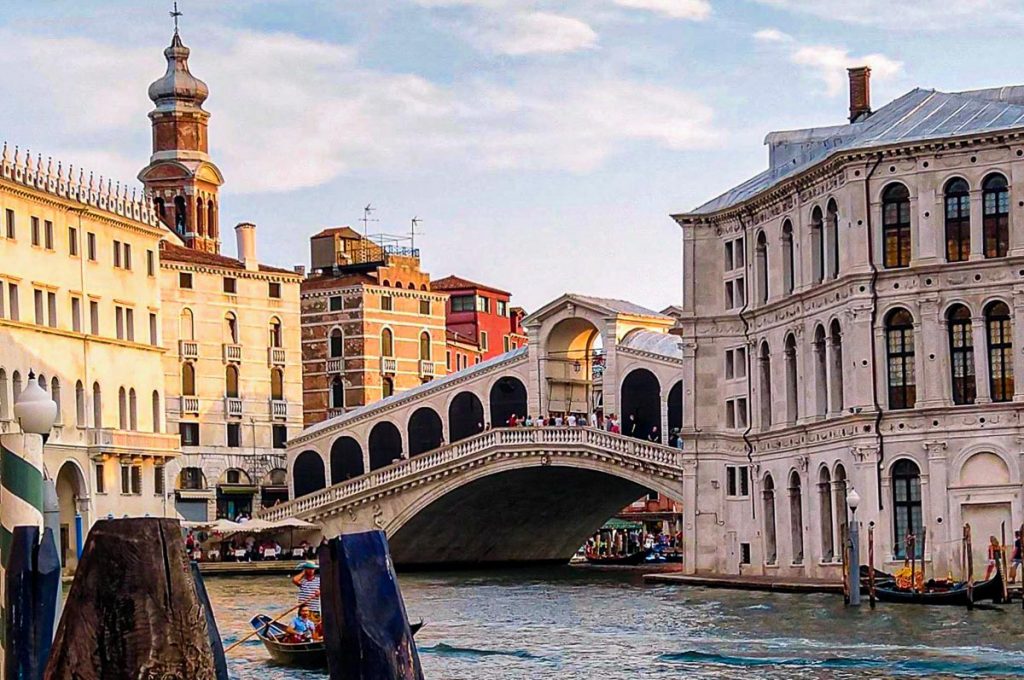 While most of the other entries on this list of the best panoramic viewpoints in Venice are paid for, the rooftop terrace of the Fondaco dei Tedeschi is actually free. You just need to book a time slot for your visit and you can spend up to 15 mins there.
Fondaco dei Tedeschi is a historic building in Venice right next to the famus Rialto Bridge. Centuries ago, it provided living quarters for the German merchants in Venice. In its heyday, it was decorated with frescoes by Giorgione and Titian. Nowadays, it functions as a luxury department store.
29. Climb the Spiral Scala Contarini del Bovolo for Unforgettable Views of Venice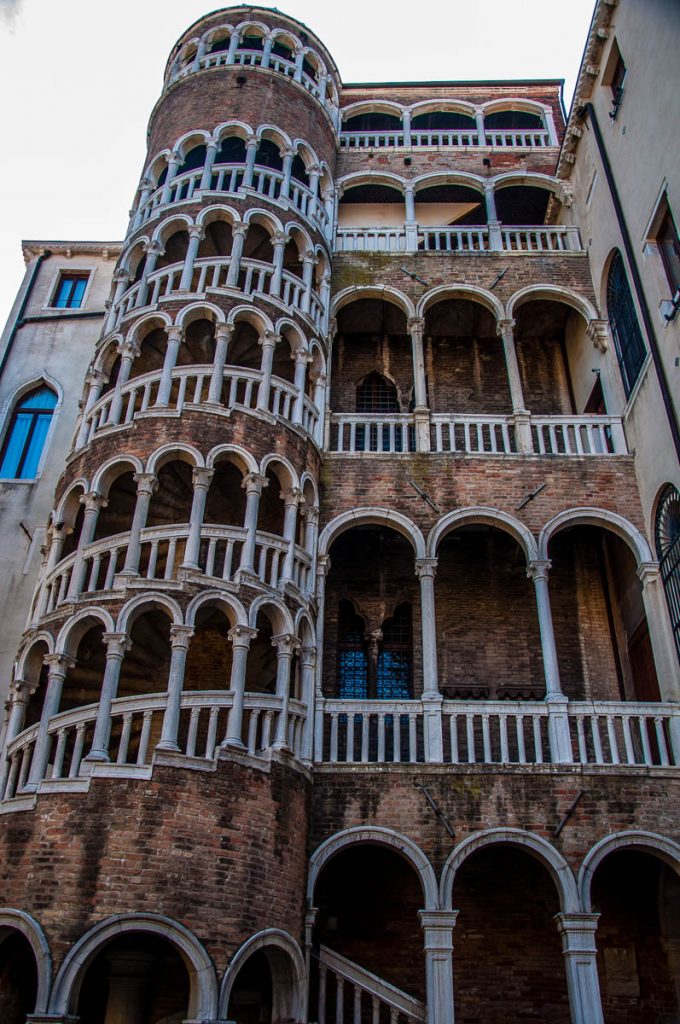 Scala Contarini del Bovolo is the outside staircase of the Palazzo Contarini del Bovolo in the sestiere of San Marco. Bovolo means snail and this Late Gothic staircase is spiral-shaped and richly decorated.
In the last few years or so, it has become a must-see in Venice on account of its elegant, symmetric design. It provides stunning instagrammable views and backdrops.
Many visitors to Italy have it high on their Venice to-do list. The palace and the staircase face a small courtyard hidden in a veritable maze of narrow curving streets. Finding them takes a bit of effort. It's worth it! Plan your visit by buying a ticket in advance.
30. See Venice's Two Most Iconic Bridges From Ca' Foscari University of Venice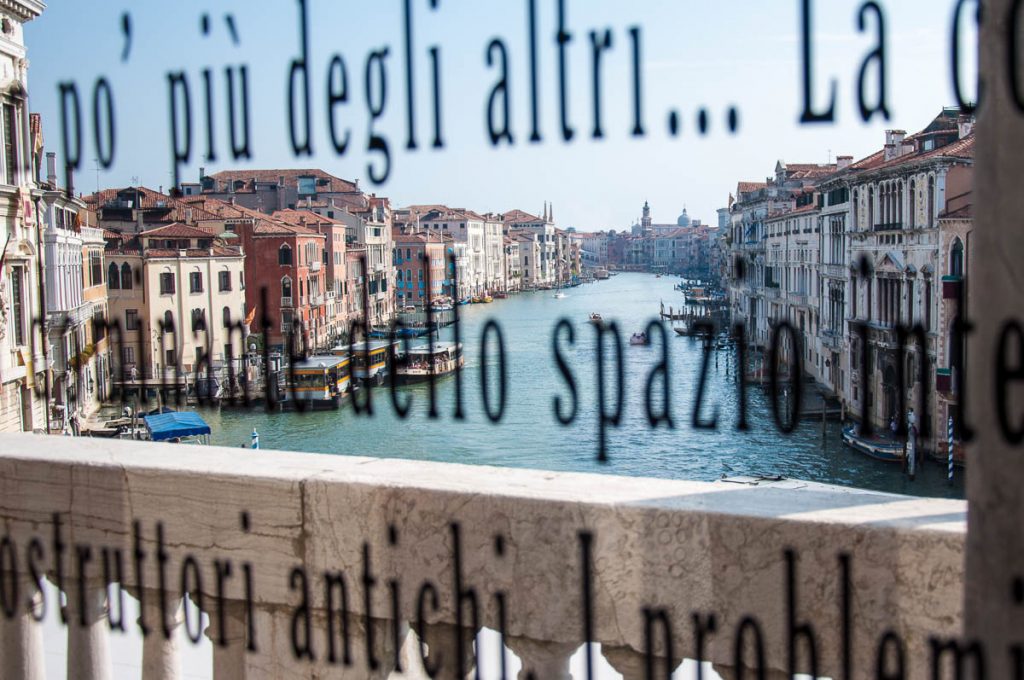 Ca' Foscari is one of the most beautiful palaces in Venice. It was built by the longest-reigning Venetian Doge – Francesco Foscari – in the 15th century. It stands on the only spot on the Grand Canal from which you can glimpse both the Rialto Bridge to the left and the Accademia Bridge to the right.
Nowadays, Ca' Foscari hosts the University of Venice. Free guided tours led by students take place here weekly. Take advantage of this great opportunity to visit one of Venice's most interesting historic buildings and to admire the stunning panoramic views of the Grand Canal from its lace-like Venetian windows.
31. Enjoy Panoramic Views of Venice from a Private Altana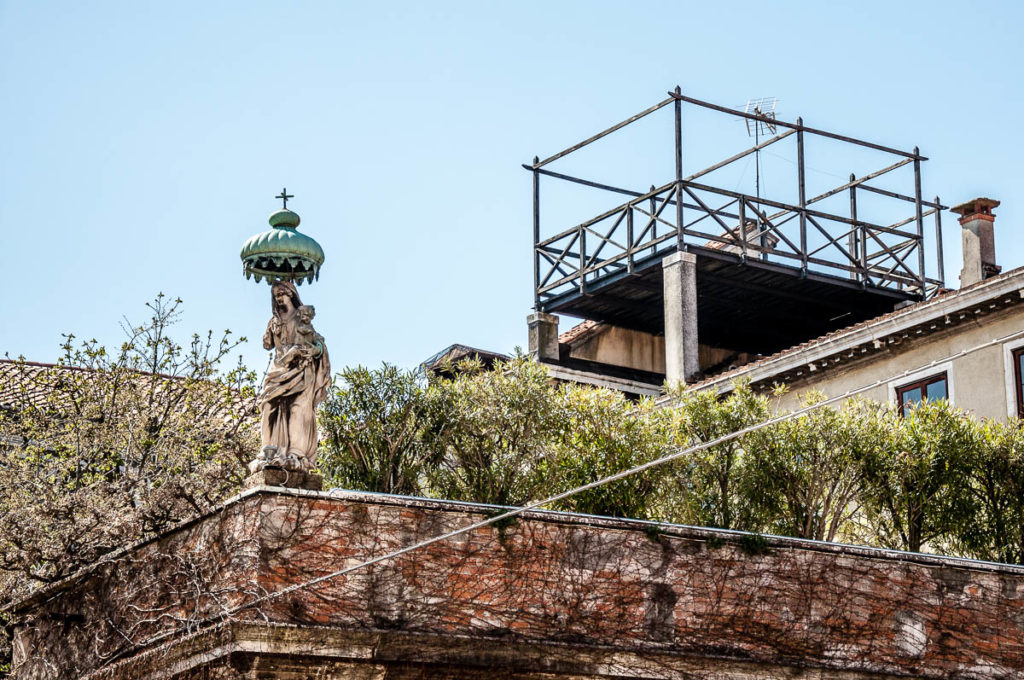 An altana is traditional for Venice rooftop terrace. Built of wood, it offers an open-air space to dry the laundry in the sun, spend precious hours of relaxation, and admire the splendid views of the City of Canals from above. In a densely built place like Venice, an altana is a valuable private place that many Venetians adorn with potted plants.
Centuries ago, the ladies of Venice would sit on their altane to lighten their hair in the sun. Apparently, in the homemade hair-bleaching mixture horse urine was an important ingredient.
As you walk around Venice, look up and you will see dozens of altane protruding from the rooftops. If you want to have access to your own altana when in Venice, make sure that you book an accommodation that provides this purely Venetian extra.
32. Get to See Three Iconic Panoramic Views of Venice from Punta della Dogana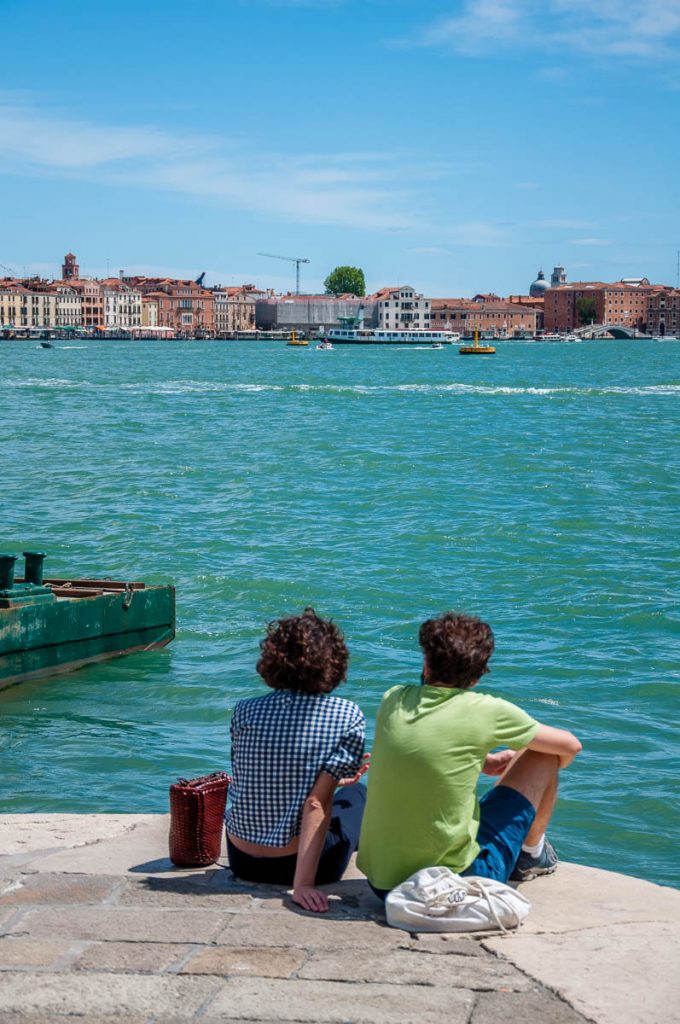 Punta della Dogana is the triangular tip marking the point where the Grand Canal and the Giudecca Canal meet and flow into the St. Mark's Basin. It's a wonderful place in Venice to go for a walk to. It's in the Venetian sestiere of Dorsoduro and walking there will take you past some of Venice's most famous landmarks. The iconic Basilica della Salute and the old customs buildings which nowadays function as an art museum are some of them.
Standing on the Punta della Dogana allows you to see some of the most striking views in Venice. To the left, diagonally from you, stands the majestic St. Mark's Square and the Gothic Doge's Palace. Straight ahead you can admire the Church of San Giorgio Maggiore which was designed by the renowned Renaissance architect Andrea Palladio. To the right, you can take in the island of Giudecca with another Palladian building – the Church of Redentore – dominating the skyline.
Events in Venice
Venice has a rich program of events that make it an even more vibrant and captivating place to visit and explore. From local celebrations with traditions that go centuries back in time to large festivals with worldwide fame, there is always something to do and see in Venice in every season.
Here are some of the most fabulous and unmissable Venetian events to put on your calendar now:
33. Have Fun at the Carnival of Venice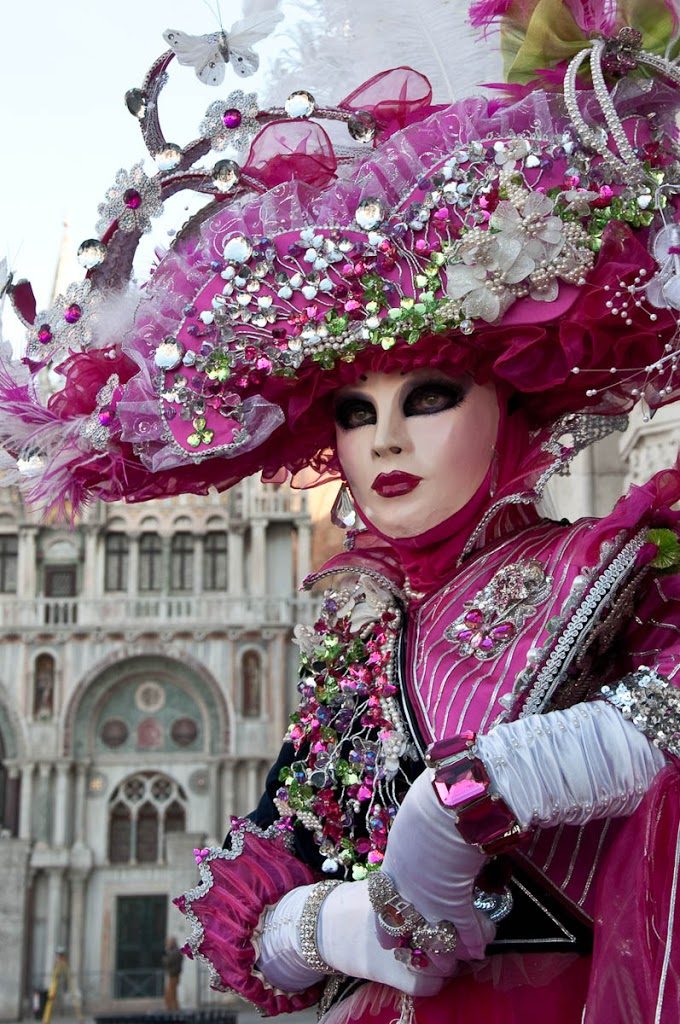 With almost 1,000 years of history behind its back, the Carnival of Venice is one of the most lavish parties in the world. It lasts about two and a half weeks between the end of January and early March. The exact dates change every year depending on the specific start of Lent.
Famous for its imaginative masks and costumes, the Carnival of Venice attracts thousands of visitors and revives unique Venetian celebrations and traditions.
Learn More:
34. See Venice Getting Married to the Sea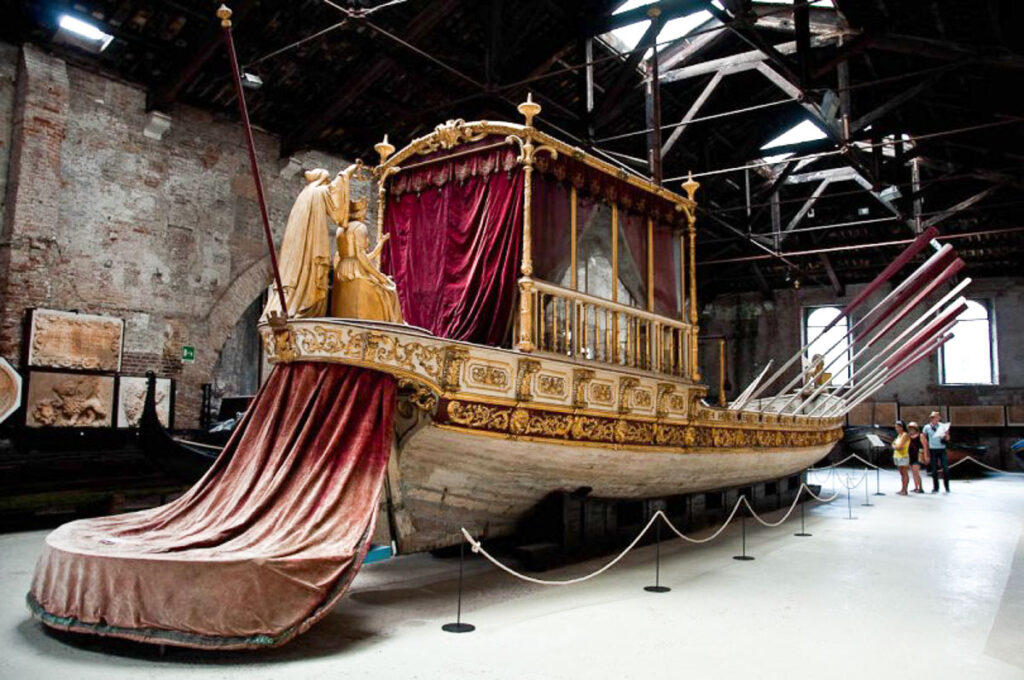 Festa della Sensa is easily Venice's most mystical celebration. On Ascension Day in May, a fleet of historical Venetian boats goes out to sea to perform an ancient ceremony. About 1,000 years old and commemorating important historic events, it consists of Venice getting married to the sea.
The is symbolically celebrated by once the Doge and nowadays the Mayor of Venice throwing a ring in the waters of the Adriatic.
If you can't make it to Venice specifically for Festa della Sensa, make sure that you visit the Ships Pavillion which is part of the city's splendid Historical Naval Museum. This is where you can see historic Venetian boats used by the Doges of Venice in centuries past.
35. Spend Time at the Biennale of Venice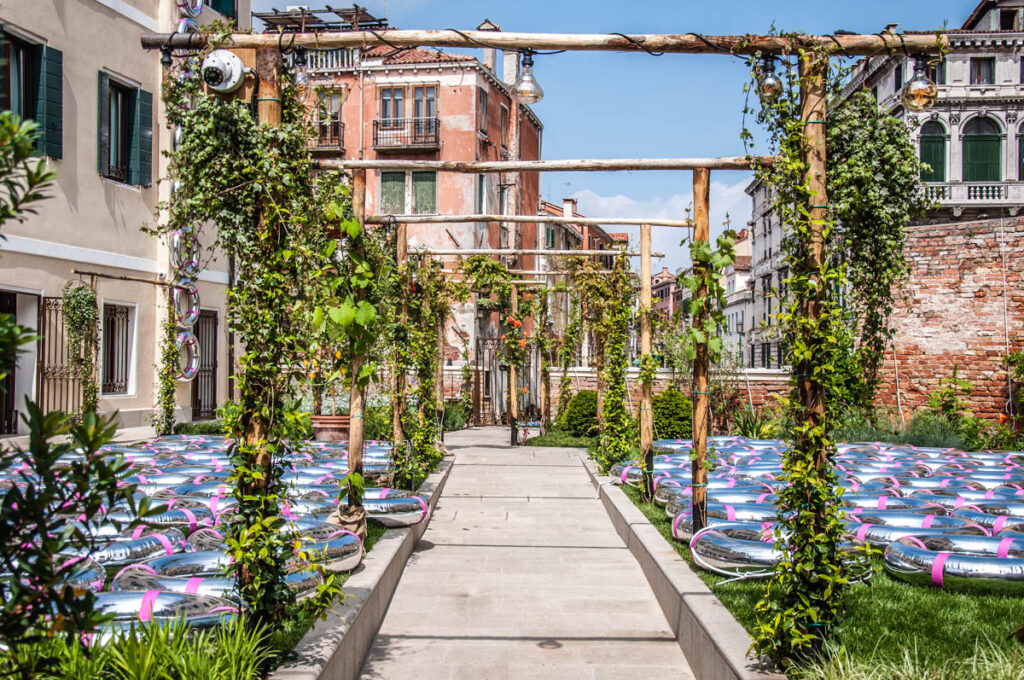 First held in 1895, Venice Biennale is one of the world's largest events dedicated to all forms of artistic expression – from theatre, film, and dance to art and architecture. The main exhibition takes place in the Venetian Arsenale and in the Biennale Gardens in the sestiere of Castello. Many accompanying events – from performances to exhibitions – take place all over Venice.
Starting in May and going until November, the Biennale is an exciting time to be in Venice.
36. Enjoy the Splendid Fireworks for the Festa del Redentore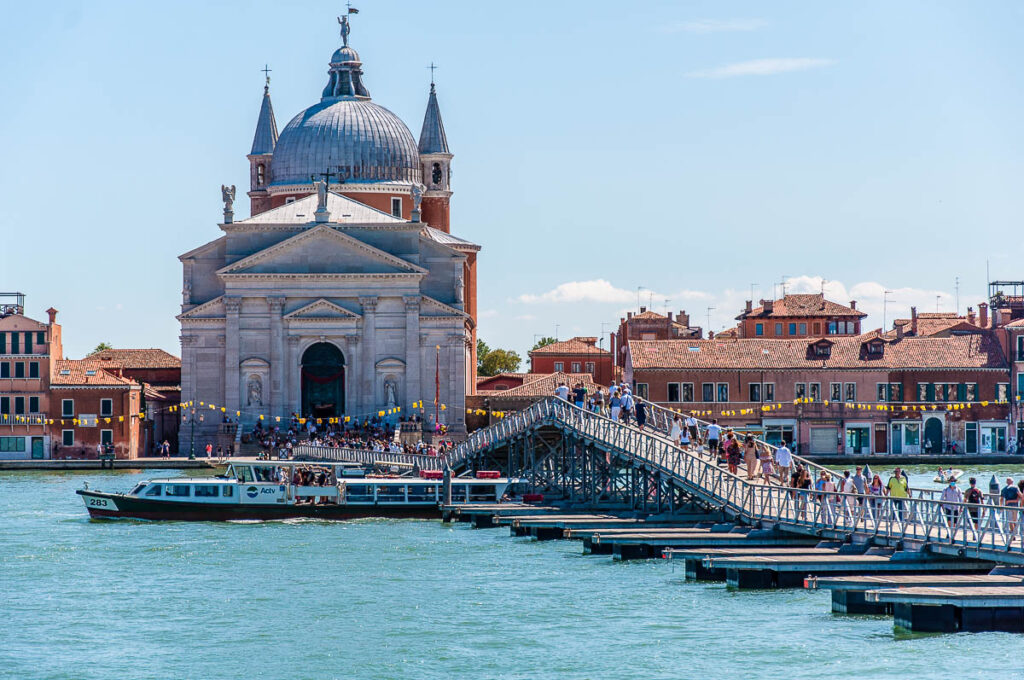 Festa del Redentore is held on the third weekend of July in Venice. It celebrates the deliverance of the city from the black death of 1576 which decimated the population. With 50,000 people dying, the Venetian Doge gave a promise to build a monumental new church if the plague ended.
The Church of the Santissimo Redentore was designed by the famous Renaissance architect Andrea Palladio. It dominates the skyline of the island of Giudecca and it has a striking marble facade that resembles a Classical temple.
For the Festa del Redentore, a votive bridge is built across the Giudecca Canal. It leads from the Fondamenta delle Zattere to the entrance of the Church of Redentore. Mass is served hourly and Venetians come in their droves to give thanks for the deliverance of their city four and a half centuries ago.
In the evening, a fireworks display of a massive scale lights up the sky above Venice. Venetians congregate in their boats in St. Mark's Basin – the water expanse between the Doge's Palace and the island of San Giorgio Maggiore. Thousands of visitors to Venice and people from all over Veneto and Italy stand on the shore to watch the spectacular show.
37. Marvel at the Regata Storica's Parade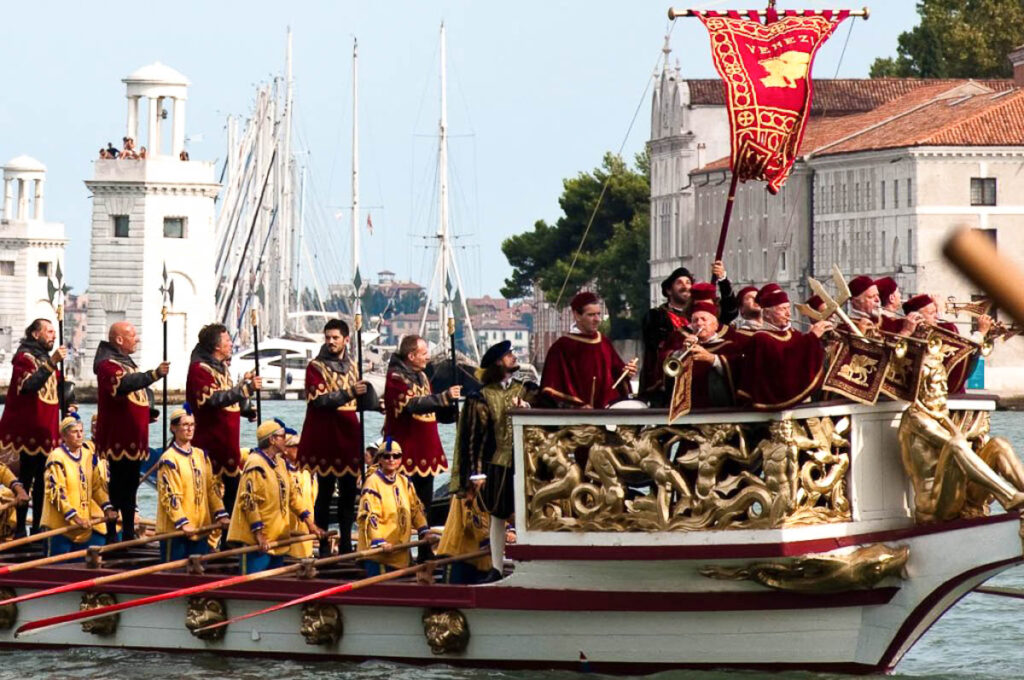 The Regata Storica is another major annual event in Venice, Italy. It's held on the first Sunday of September and it consists of boat races that the Venetians are very passionate about.
The thousands of visitors to Venice though are mainly impressed by the lavish water parade that opens the Regata. It recreates the parade that was organised by the Republic of Venice in honour of Caterina Cornaro. Venetian by birth, she ruled as Queen of Cyprus, Jerusalem, and Armenia in the second half of the 15th century.
After the death of her husband, Caterina ceded her throne to Venice, thus giving the Republic huge financial and political advantages in the Mediterranean. She returned to her motherland where she was given the lands of Asolo – nowadays one of the most beautiful villages in all of Italy.
38. Experience the Festa della Madonna della Salute – The Most Heartfelt Venetian Event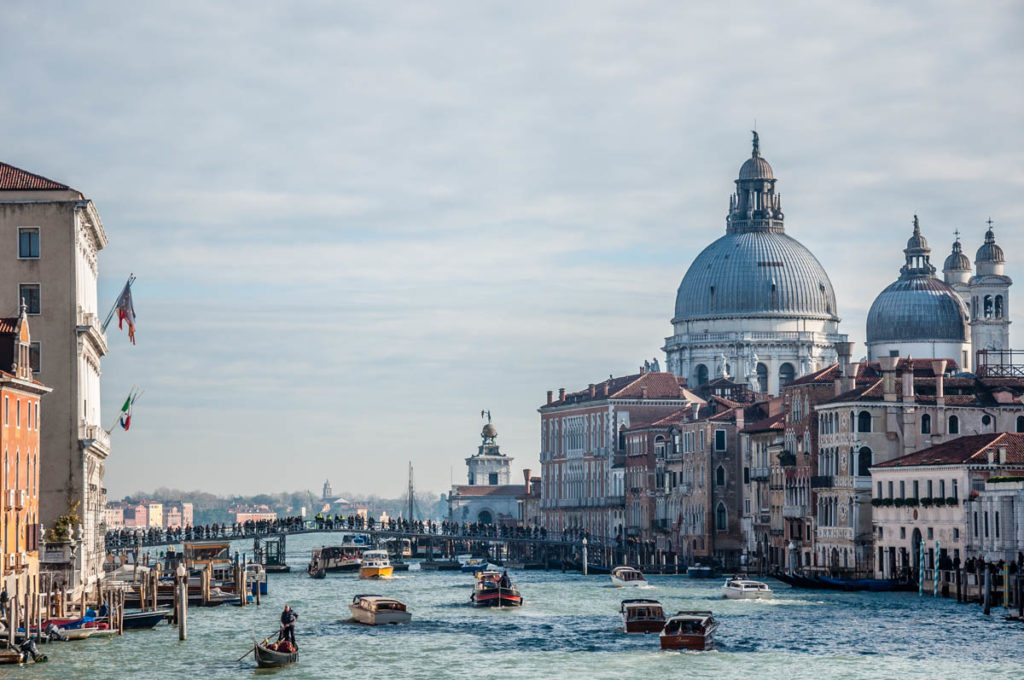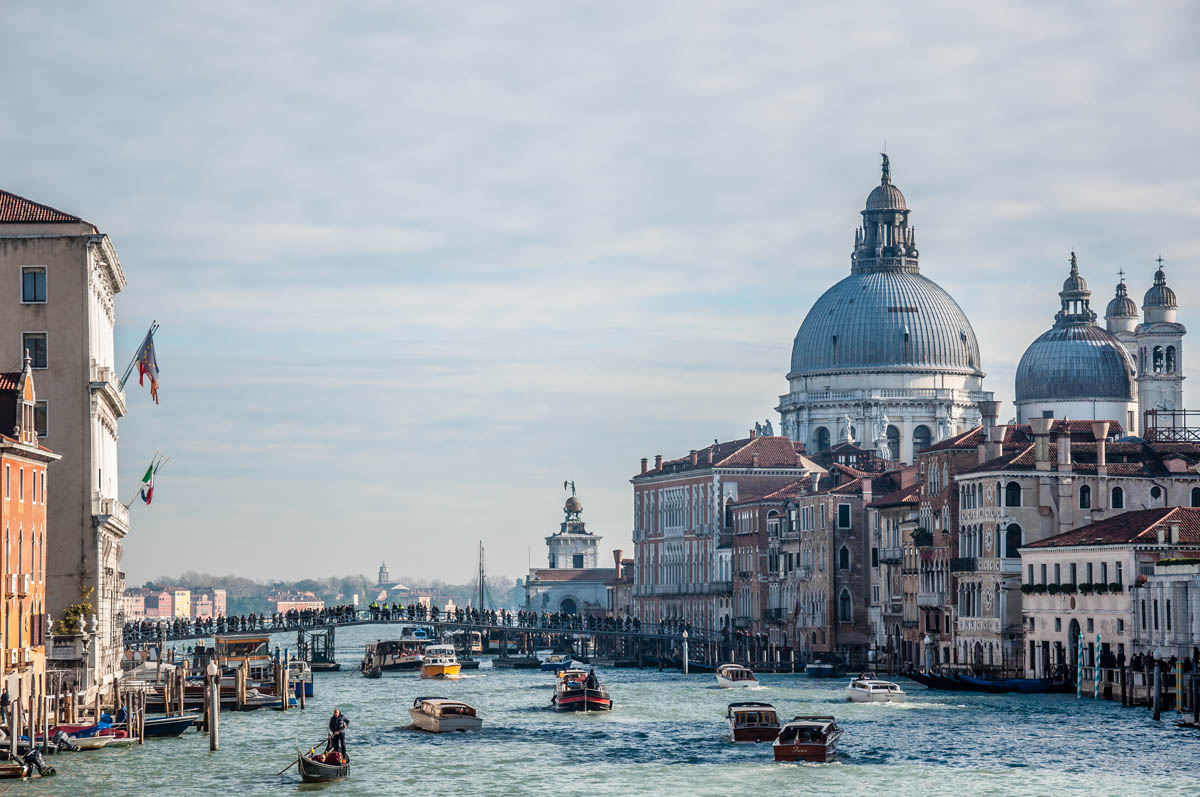 The Festa della Madonna della Salute is often billed as the most heartfelt Venetian festival. It takes place on 21st November each year and it commemorates the deliverance of Venice from the bubonic plague that hit the north of Italy in 1630 and 1631.
The Basilica della Salute – the majestic church at the end of the Grand Canal – was in fact built in completion of the solemn promise given by the Doge to erect a church if Venice was to be saved from this plague.
On the day of the celebrations, Venetians make a pilgrimage to the Basilica della Salute. They cross a special temporary bridge built over the Grand Canal, then walk down to the church, attend mass which is held hourly, and light candles for health.
Behind the basilica, a large fair takes place with numerous stalls selling Venitian delicacies and bunches of balloons.
Shopping in Venice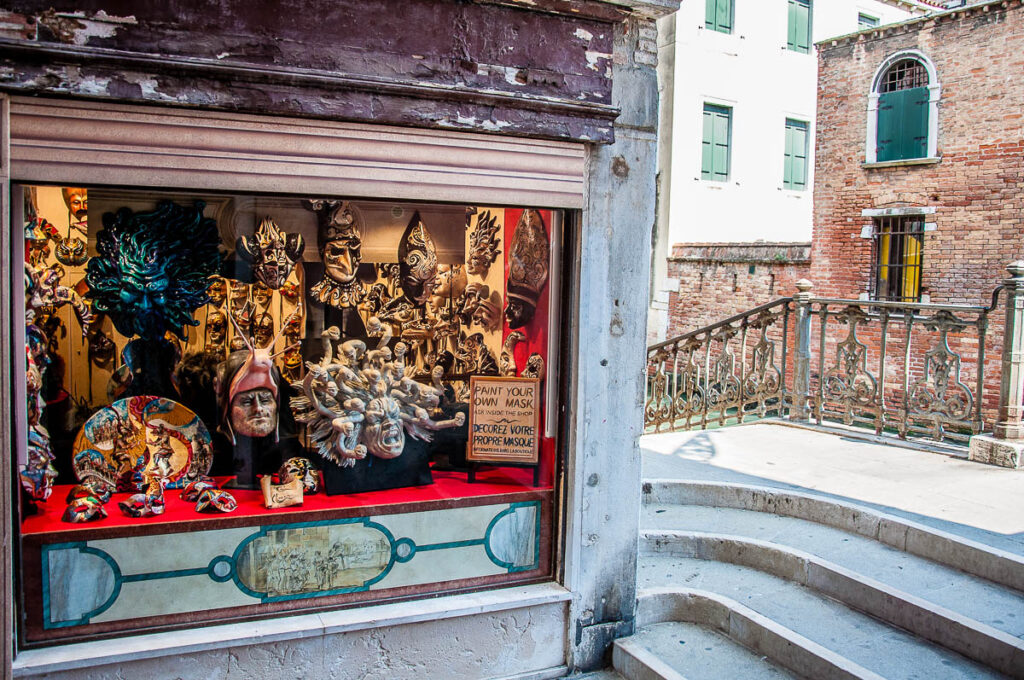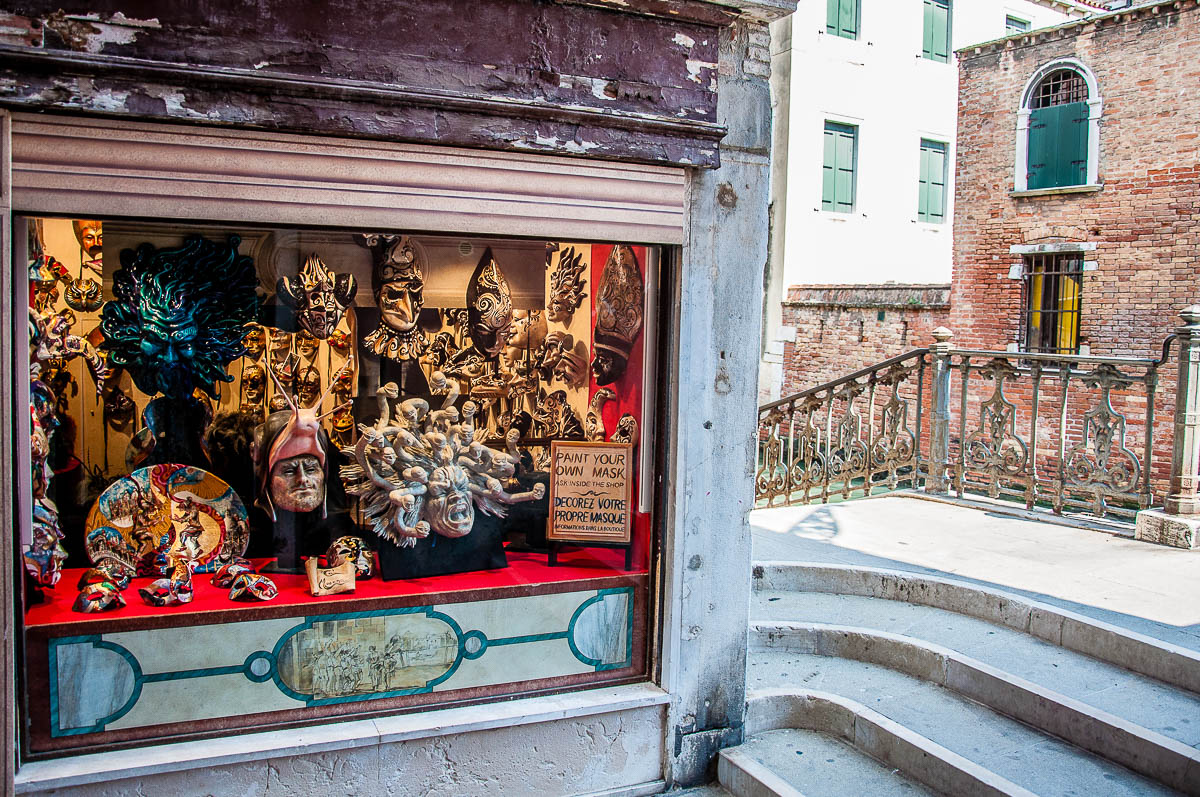 Venice is a paradise for the discerning shopper looking to find unique works of craft and art. Centuries-old workshops handmaking beautiful textiles, masks, perfumes, cosmetics, jewellery, glass objects, puppets, and lace are dotted all over the islands of Venice. Visiting them is like delving into a bygone world of excellent craftsmanship and original creations.
Here are some suggestions for places to visit in Venice in order to shop:
39. Shop Unique Venetian Crafts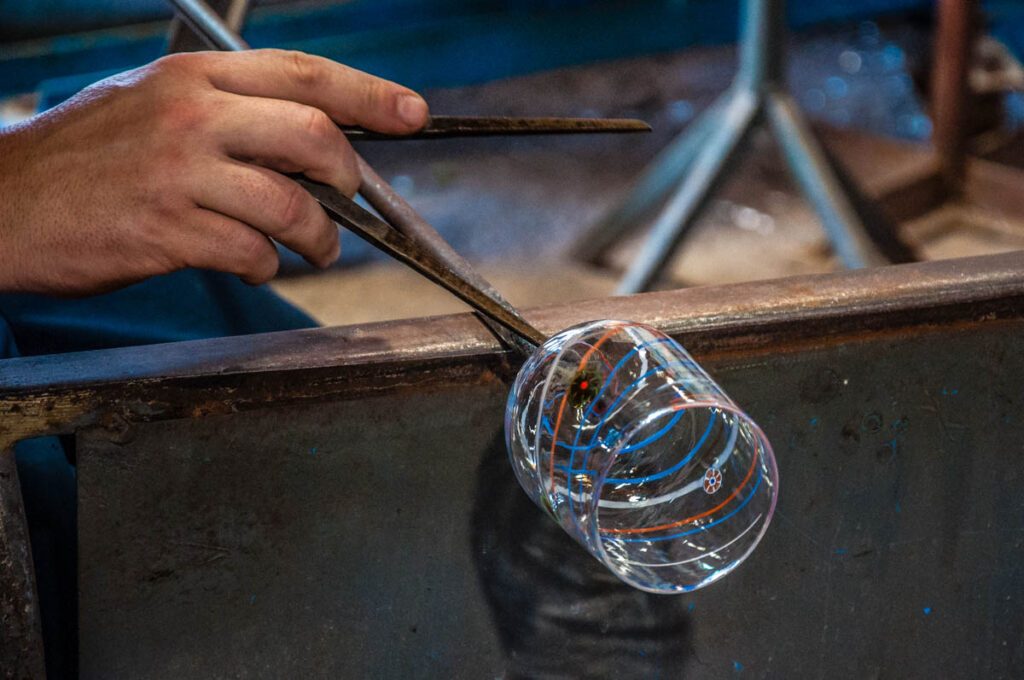 Over many centuries, Venice has been a fertile ground for the development of several specific crafts. From glass- and lacemaking to mosaics and marionettes, this is a city where artisans continue to create veritable works of art with their hands using ancient techniques and tools.
Buying an original, made-in-Venice artisan souvenir is a great way to invest in the survival of Venice and its traditions.
Here are some of the most beautiful and exquisite Venetian crafts and where to find them:
Murano Glass – traditional for Venice and with a rich historic heritage. Make sure that you only purchase Murano glass items that have the trademark Vetro Artistico Murano. It guarantees that the items were made on the island of Murano in compliance with the existing laws. Here is a list of recommended shops.
Handmade Masks – the custom of wearing masks in Venice is almost as old as the Venetian Carnival. Enjoy visiting a master mask-maker workshop in Venice. It's a whimsical world of wonderful creations. My favourite is Ca' Macana, although there are several others dotted around the City of Masks. You can also book to attend a mask-making and mask decorating workshop here.
Plum Plum Creations – the artisan studio and shop of Venetian printmaker Arianna Sautariello. Plum Plum Creations is in the sestiere of Cannaregio.
Paolo Olbi – beautifully handmade items of marbled paper and leather. Right opposite the entrance gate of the University of Ca' Foscari in the sestiere of Dorsoduro.
Learn More:
40. Pop Into Venice's Quirky Shops for One-of-a-Kind Gifts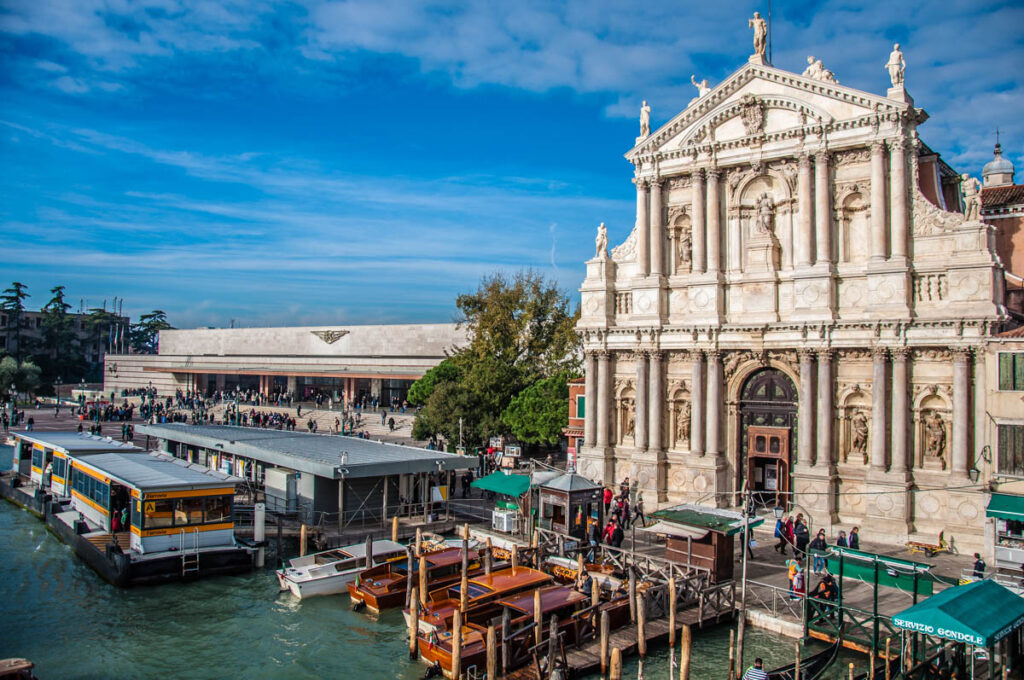 Venice has many amazingly quirky shops full to the brim with unique products. Shopping in them is so much fun and so inspiring. If like me you find it difficult to shop for gifts, Venice's boutiques are the place to head to.
Here are two of my favourites:
Monastic shop attached to the Church of Santa Maria di Nazareth (also known as Church of the Scalzi) – a wonderful treasure trove of products made in Italy's monasteries. The Acqua di Melissa (lemon balm water) made by the brothers of the Order of the Discalced Carmelites is particularly famous. It has been produced at that spot in Venice for many centuries. You will find the church and its shop right next door to Venezia Santa Lucia train station.
Signor Blum – wonderful puzzles, creative objects, and whimsical toys. All made of wood. A very fun and colourful shop in the sestiere of Dorsoduro. Right next door to the Bridge of Pugni and the adjacent fruit and veg barge.
There are so many more quirky and lovely shops in Venice. Half of the fun is coming across them hidden in small side streets and on the corners of small sunlit squares. Even if shopping is not on your Venice to-do list, you will be so tempted. So very tempted!
41. Take Advantage of the Sales Seasons in Venice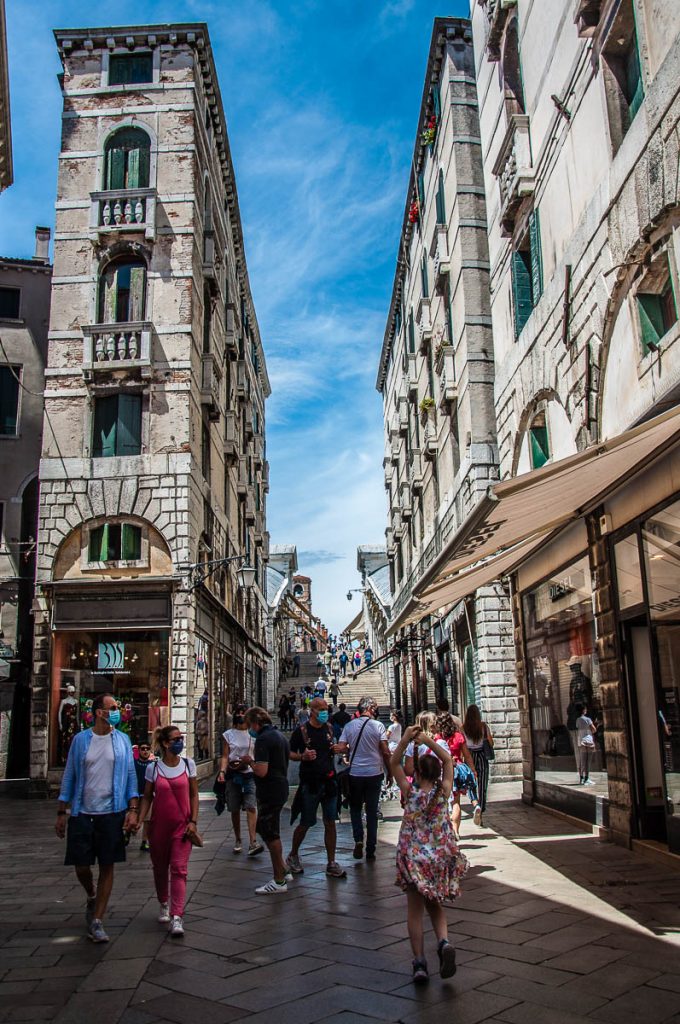 There are two sales seasons in Italy. Traditionally, one is at the start of January and the other is in summer. The dates vary a bit from year to year and from one Italian region to another. They are decided on a regional level and publicised in the press in advance.
Venice is the capital of the Northern Italian region of Veneto. As such, you can check the dates for this year's seasonal sales by performing a web search for saldi invernali in Veneto (winter sales in Veneto) or saldi estivi in Veneto (summer sales in Veneto).
Famous Italian and French fashion houses, as well as international high street brands, have their shops in Venice. So, timing your visit to coincide with sales season can lead to some great savings if shopping is what you like to do the most.
Food in Venice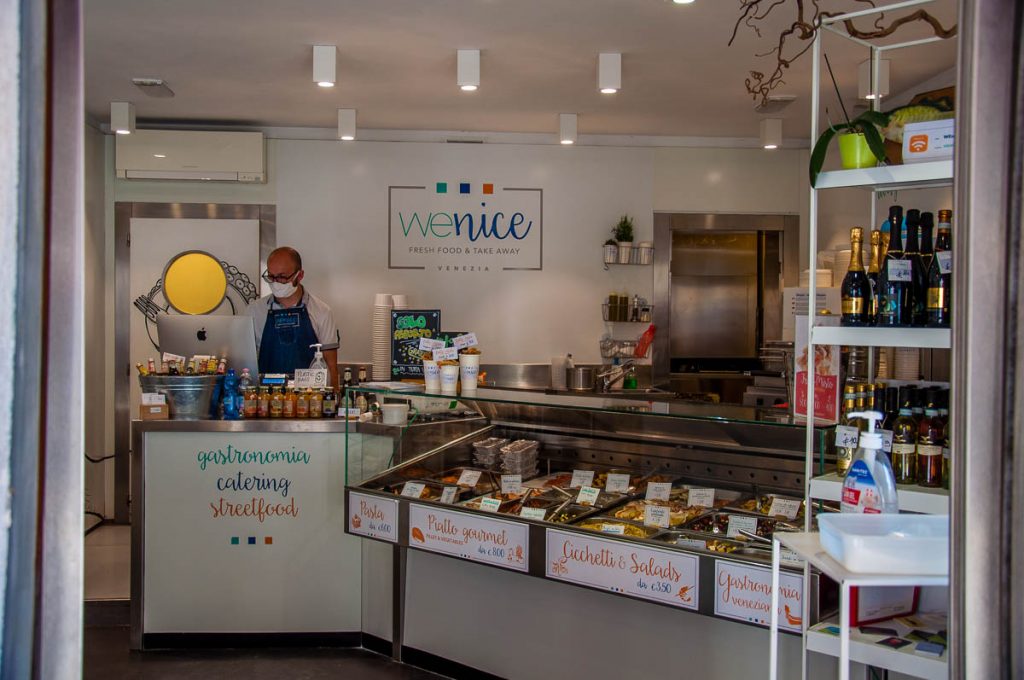 Venice has its own unique cuisine. Its development was stimulated by the bounty of fresh seafood provided by the Venetian Lagoon as well as by the historical trade connections that the Republic of Venice maintained with far-flung places across the West and the East.
So, come to Venice with an open mind and ready to experience dishes that may not quite correspond to what the world perceives to be strictly Italian food.
Here are some of the best Venetian foods to sample during your Venetian holiday:
42. Indulge in Seafood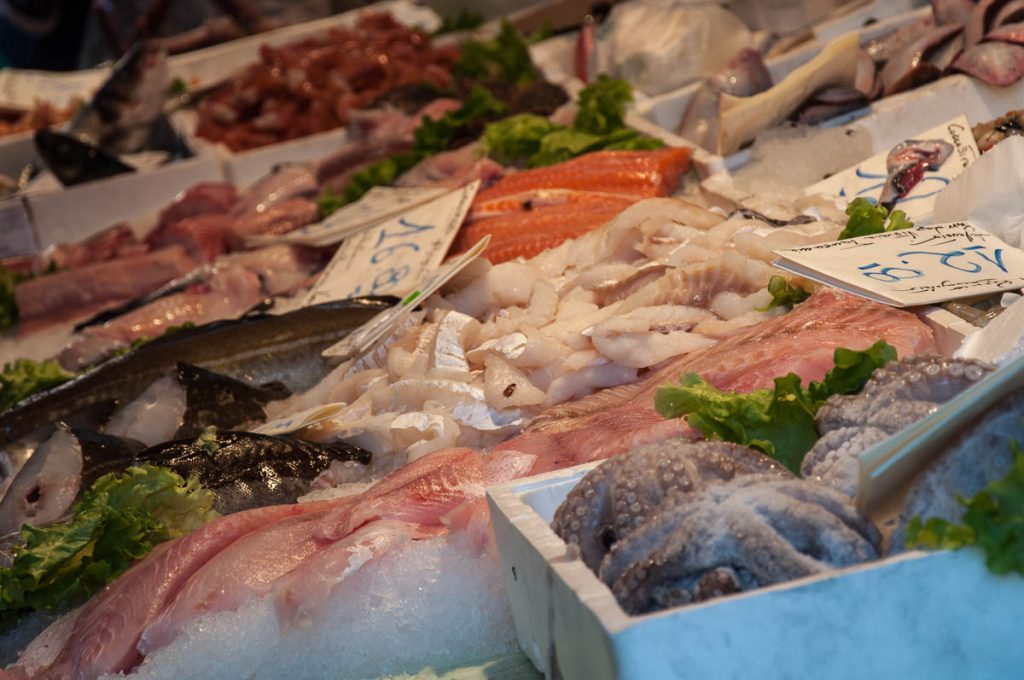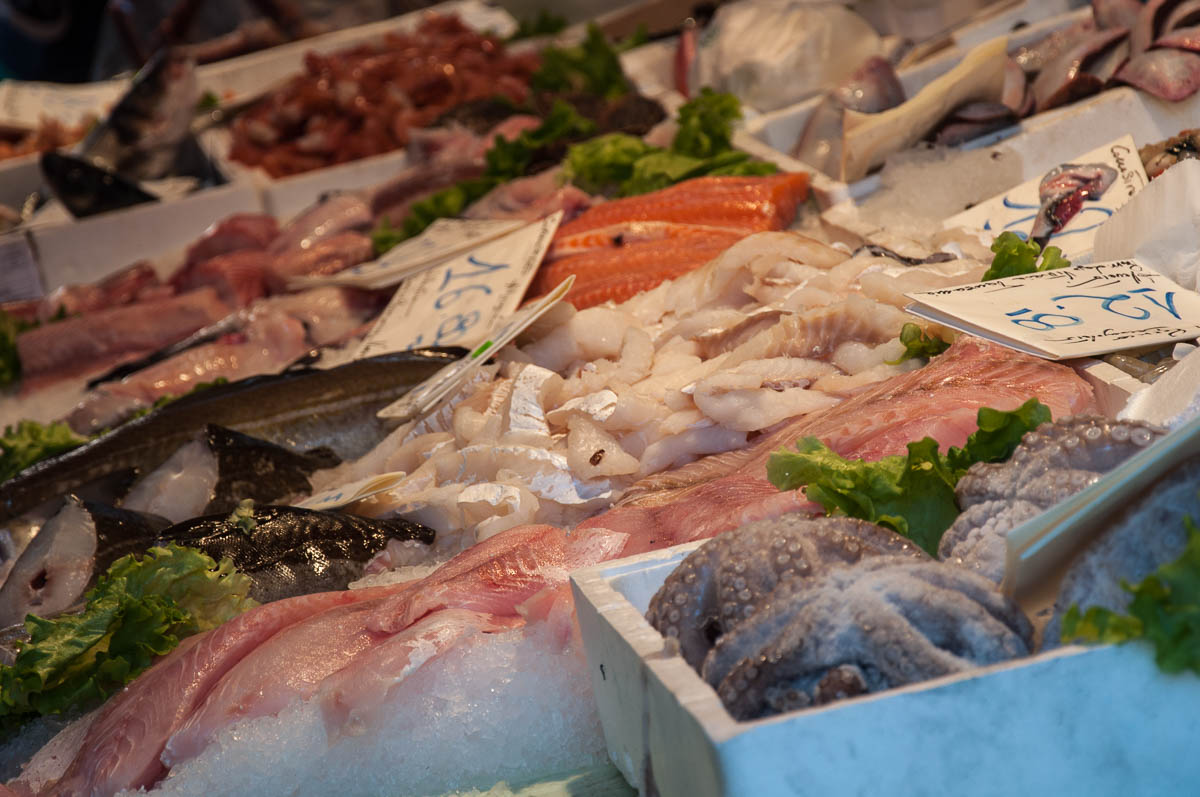 Venice is a great place to indulge your love for seafood. With centuries-old culinary traditions and with the Venetian Lagoon providing a huge variety of fish, crabs, and molluscs, you will be spoilt for choice.
For an idea of what's on offer, head to Rialto Fish Market early in the day to see the freshest catch. Over ten centuries old, the market is housed in a fetching Neo-Gothic structure a step away from the famous Rialto Bridge.
Grab a portion of fritto misto from a nearby eaterie. This is a mix of seafood and julienned vegetables that have been battered with durum wheat semolina and cornmeal. Then they are served deep-fried on a bed of polenta.
Deep-fried moeche is another typical for Venice dish. These are soft-shelled crabs that can be enjoyed only for a limited time in autumn and spring. Sarde in saor is sardines in a sweet and sour sauce made with vinegar and raisins among other things. It sounds wacky but it's so incredibly tasty you will regret not giving it a try. Don't miss a taste of baccala' mantecato – the most iconic dish of Venetian cuisine. It's prepared with stockfish from Norway's Lofoten Islands and has been a Venetian staple since the 15th century.
For a quick introduction to Venetian seafood, join a specialised guided tour. This food experience will take you from Rialto Fish Market to two of Venice's top eateries so that you can wine and dine on traditional Venetian drinks and dishes. This one offers you a five-course Italian seafood feast cooked by a Venetian sailor.
Learn More:
43. Eat Fruit and Veg Grown in the Venetian Lagoon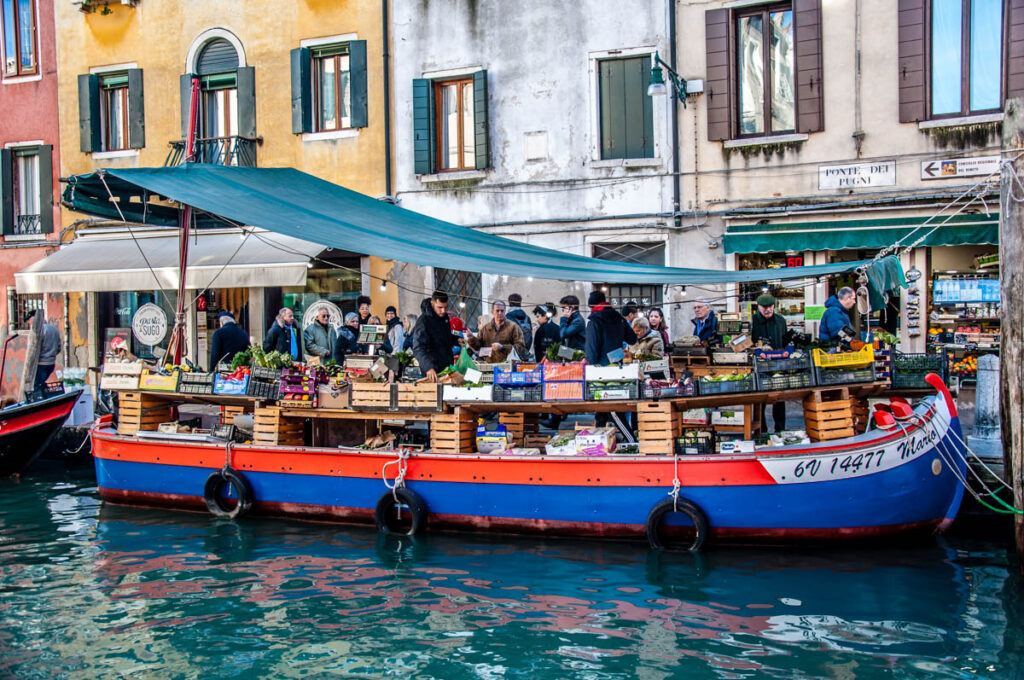 You may be surprised to find out that there are many orchards, vegetable patches, and even vineyards in the Venetian Lagoon. Most of them are concentrated on the large Island of Sant'Erasmo (which also has a nice beach). A few are dotted around the islands of Vignole, Mazzorbo, and Giudecca, too. There are even some in the City of Canals itself.
When in Venice, make sure that you shop for fresh vegetables and fruits grown in the Venetian Lagoon. Particularly prized are the purple artichokes from Sant'Erasmo and the dorona grapes from Mazzorbo. On the latter, you can also visit Venissa – a walled vineyard with a Michelin-starred restaurant.
In Venice, don't miss the fruit and veg barge anchored next to the Ponte dei Pugni (Bridge of Fists) in the sestiere of Dorsoduro. Stocked with fresh produce from the lagoon, shopping here is a whole Venetian experience.
44. Give Venetian Finger Foods a Try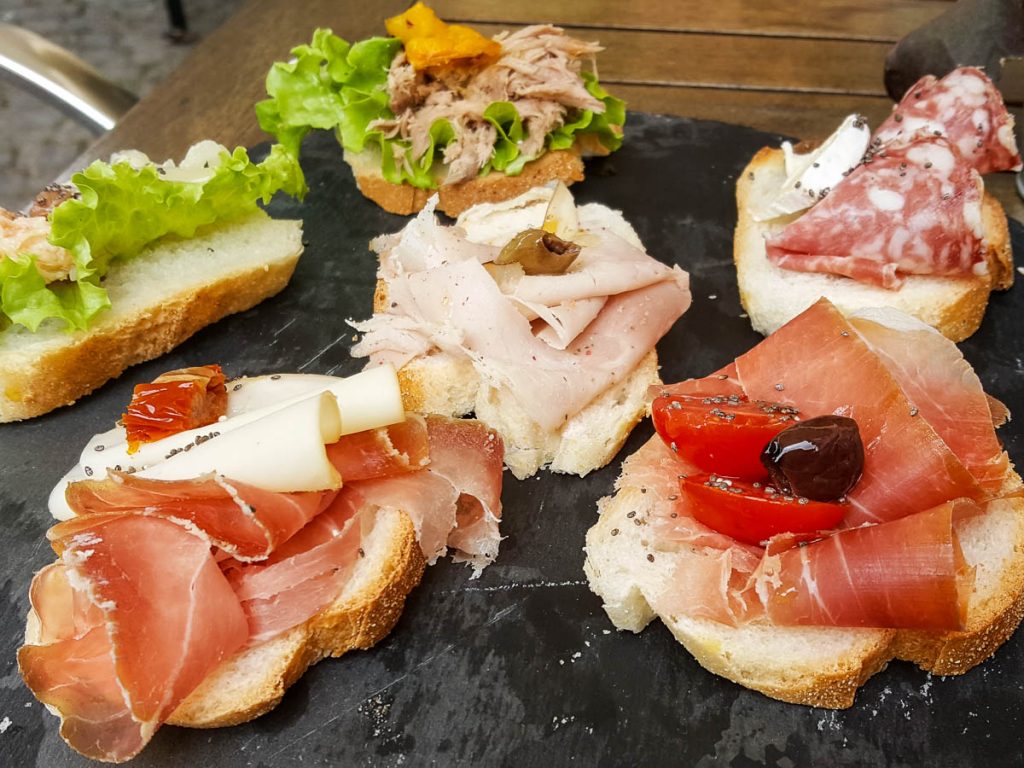 Cicchetti (pronounced chi–KEH–tee) are traditional Venetian finger foods. Served in small portions, there are many varieties of cicchetti and they can cost as little as a euro or two per piece. This can be a small slice of white polenta with a helping of baccala' mantecato or a piece of crusty bread with one of many delicious toppings.
A mix of cicchetti makes for a great lunch in Venice giving you a taste of many local foods and food combinations. Customarily served in small eateries called bacaro (pl. bacari), cicchetti are washed down with an ombra – a small glass of house wine.
Tramezzini are triangular sandwiches made with super soft crustless bread and stuffed with one of many different fillings. For example, sliced boiled egg and artichokes, sopressa salami and red radicchio, tuna fish, ham and mushrooms, and so on. They make for a great snack or – if you buy a selection – for a nice and inexpensive lunch, too.
As you walk around Venice, keep an eye out for small bacari and osterie serving delicious cicchetti and tramezzini. Alternatively, this guided tour will introduce you to the flavours and traditions of Venetian finger food.
Learn More:
45. Tuck into Venetian Pastries, Biscuits, and Chocolates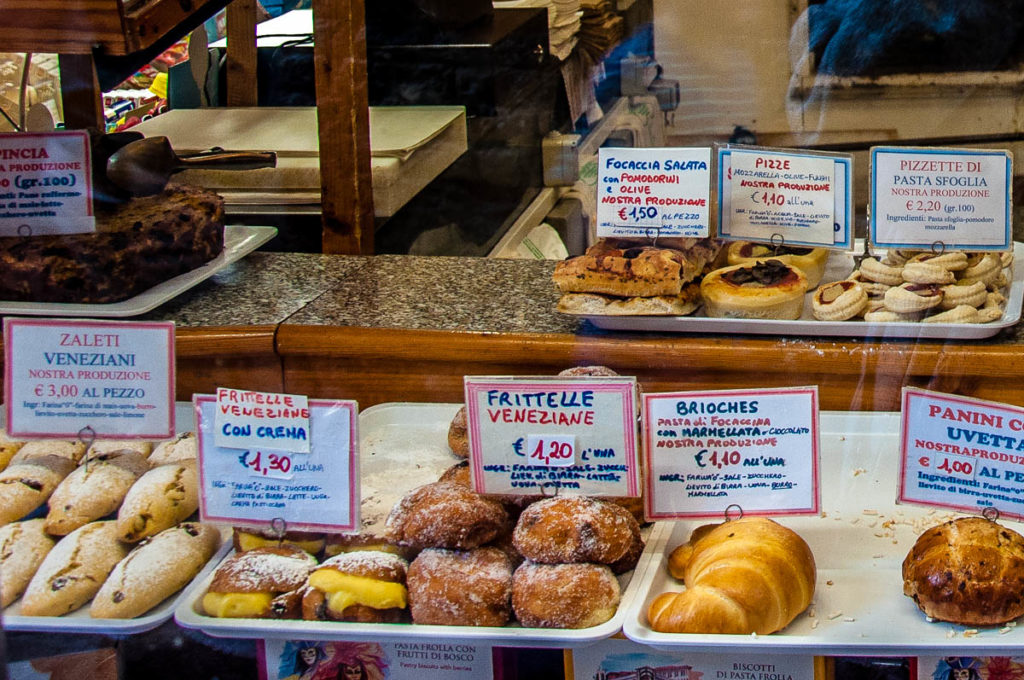 Sugar first reached Europe by the way of Venice. So, the City of Canals has a longstanding tradition in terms of pastries, sweets, and baking.
Start each day in Venice with a typical local breakfast of coffee and pastries. The most popular one is called brioche. It looks a bit like a croissant but it's larger, much less flaky, and it can have so many different fillings. My favourite one is pistachio spread (imagine a chocolate spread but made of ground pistachios instead of cocoa! It's so good!).
During the Carnival, tuck into frittelle – fried balls of dough stuffed with different creams or chocolate. The rest of the time, indulge in tiramisu, pasticceria mignon (sweets and cakes in tiny sizes), marzipans, local biscuits (like the Esse from Burano), and handmade chocolates. I am partial to Pasticceria Rosa Salva but there are dozens of great patisseries all over town.
A good way to sample the best of Venice's pastries, biscuits, and chocolates is to join a guided tour. This one will introduce you to a Venetian master chocolatier and their exquisite truffles, pralines, and hot chocolate. This one will take you on a morning walk of Venice so that you can enjoy the city's main sights while tucking in a number of traditional local pastries and sweets. And this kid-friendly tour will open the world of Venetian sweets and desserts in front of your eyes by taking you to authentic local bakeries and patisseries across all six Venetian sestieri and revealing to you the stories of Venice's most famous sugary delights.
Learn More:
46. Enjoy Proper Coffee in Venice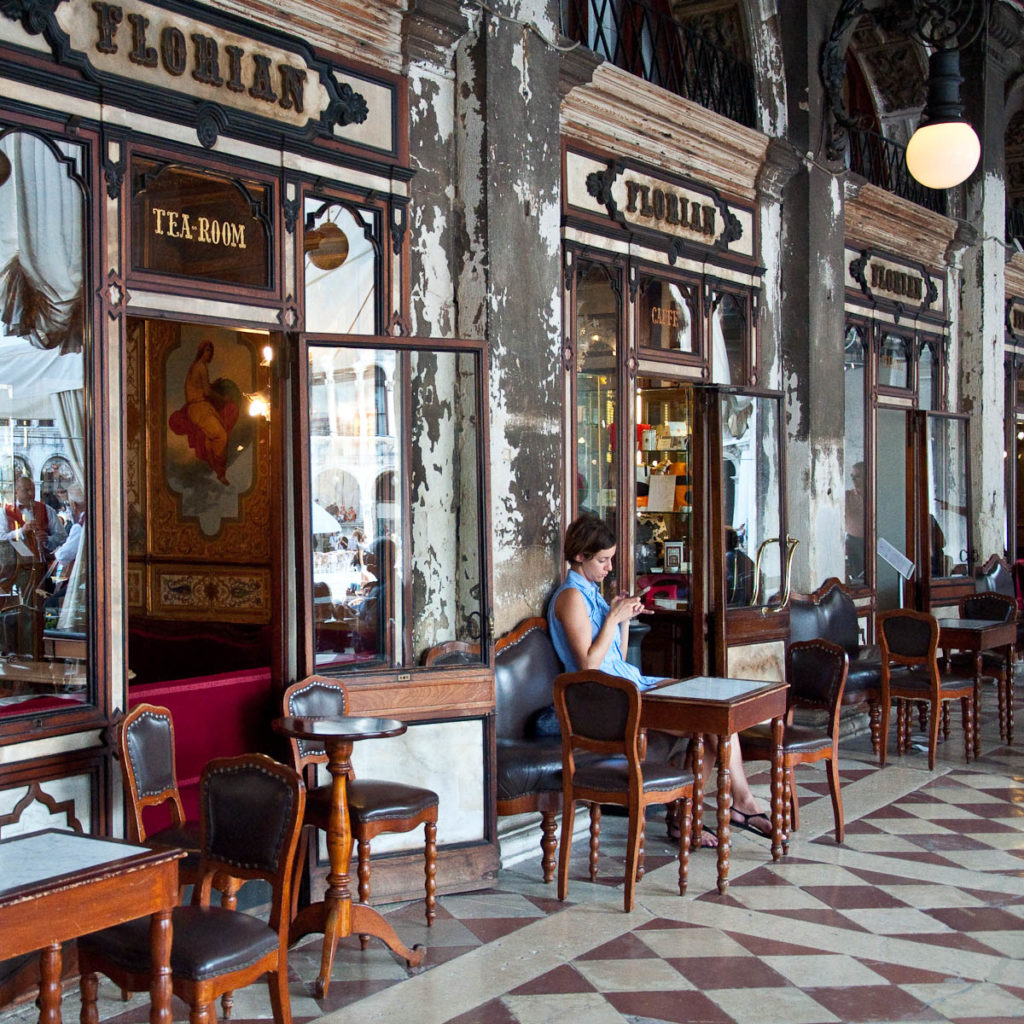 Just like sugar, coffee also reached Europe through Venice. In addition, the world's oldest coffee house – the mythical Caffe' Florian – first opened its doors on St. Mark's Square on 29th December 1720.
Coffee traditions are still very much alive and kicking in Venice. So, indulge in proper coffee during your Venetian holiday. Caffe' Florian is a must-see for its wonderful decor, literary connections, and coffee heritage. Grancaffe' Quadri is another unmissable historic coffee house in Venice.
Don't forget the many small torrefazioni – coffee roasters. They roast and serve wonderful varieties of coffee in Venice, too. Torrefazione Cannaregio deserves a visit.
Learn More:
47. Drink from Venice's Free Water Fountains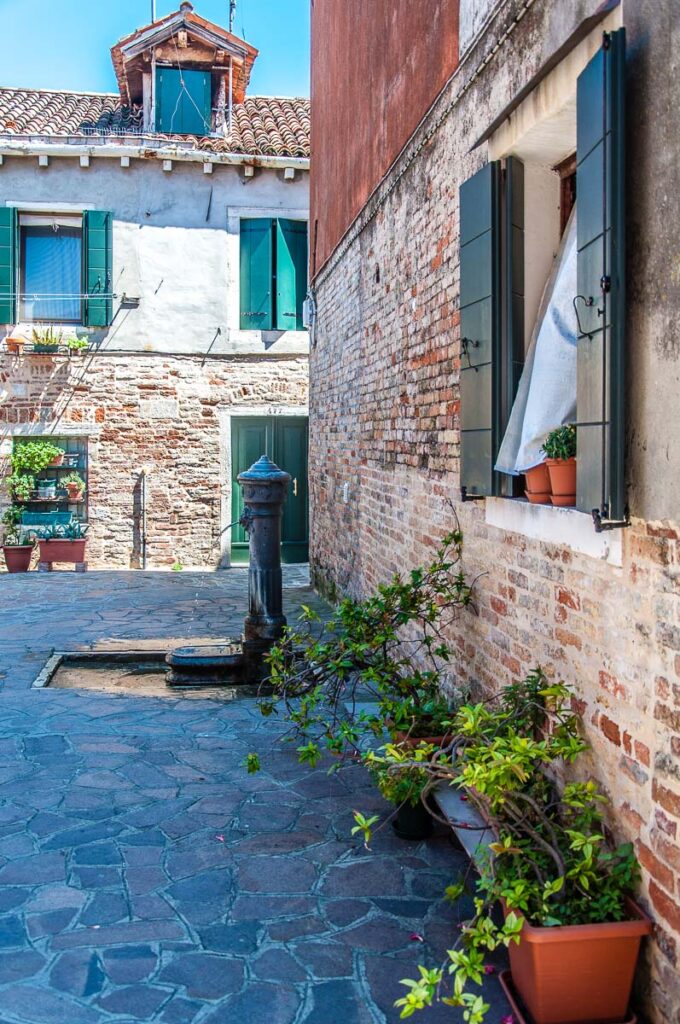 You don't need to buy bottles of water in your explorations of Venice. The city is dotted with dozens of drinking fountains providing for free deliciously cold water to both residents and visitors of Venice.
You quickly start to appreciate them when you are asked to pay 3 euros for a small bottle of water in a touristy cafe.
Just bring a reusable water bottle with you and you are good to go. You can find a map of all drinking fountains in Venice at this dedicated website.
Islands in the Venetian Lagoon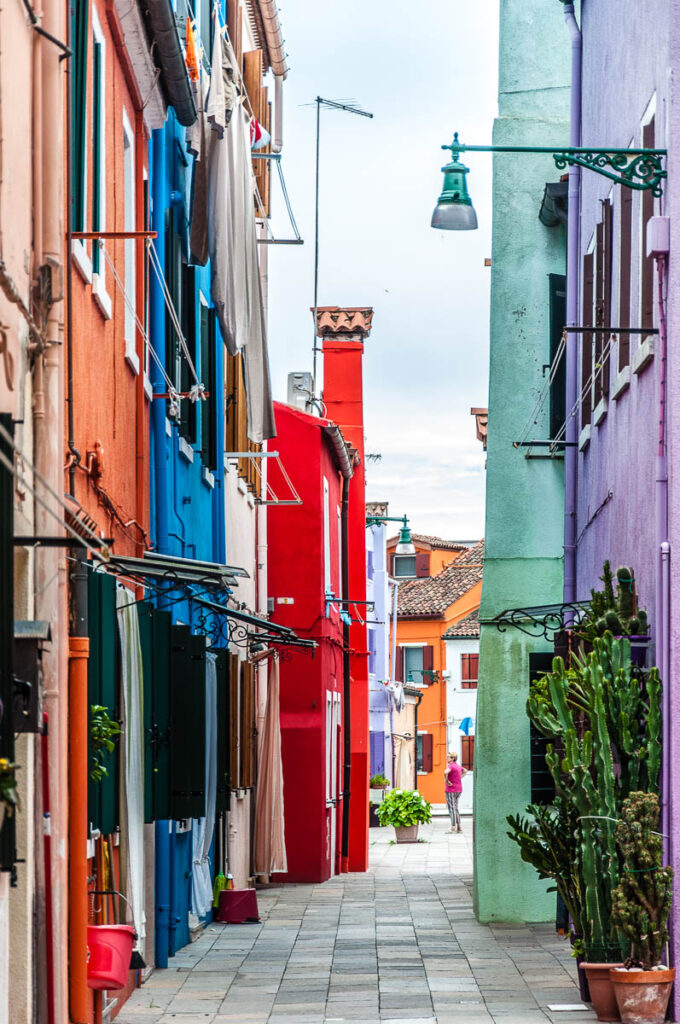 Venice is built on 118 small islands in the heart of the Venetian Lagoon. Yet a short trip by boat away from the main historic part of Venice, you will find several other Venetian islands worth a visit. Each one of them has something that makes it unique. You can either spend a day in one or combine two or three for a day trip to remember.
Here are the best islands to visit in the Venetian Lagoon:
48. San Giorgio Maggiore – The Tiny Island with the Huge Palladian Church and a Swanky Yacht Club
San Giorgio Maggiore is a tiny island in the Basin of St. Mark. It features as a backdrop in many iconic photos of Venice. A vaporetto will take you there in less than five minutes.
The island's main draw is the huge church designed by the renowned Renaissance architect Andrea Palladio. It's part of the ancient monastery of San Giorgio Maggiore and preserves important pieces of Venetian art. Its bell tower reveals beautiful panoramic views of Venice.
The island also hosts the famous labyrinth dedicated to the famous writer from Argentine Jorge Luis Borges, an amphitheatre, and a swanky yacht club.
49. Murano – The Venetian Island of Handmade Glass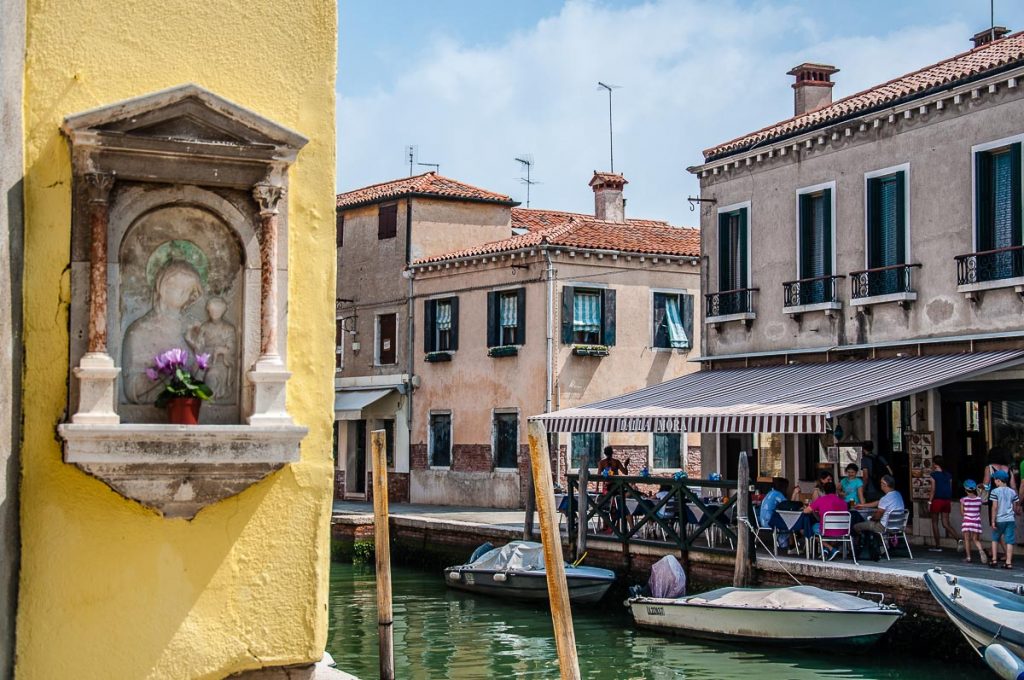 Murano is a stone's throw away from Fondamente Nove in Venice. A vaporetto will take you there in 15 mins or so. Along the way, it also stops at the island of San Michele, which is the cemetery of Venice.
The island of Murano is famous for its centuries-old traditions of glassmaking. Murano glass is loved and prized all over the world. A walk around the island must include a visit to at least one of the many glassmaking workshops here. Shops specialised in glass objects, figurines, and lavish glass chandeliers and Venetian mirrors abound.
There is also an outstanding Glass Museum and one of the oldest buildings in the Venetian Lagoon – the Church of Santi Maria e Donato – which also has beautiful floor mosaics.
You can visit Murano on the same day as the islands of Burano and Torcello in the Venetian Lagoon. You can either go by vaporetto or book an organised day trip. This one comes highly recommended.
50. Burano – The Venetian Island of Colourful Houses, Handmade Lace, and Delicious Cookies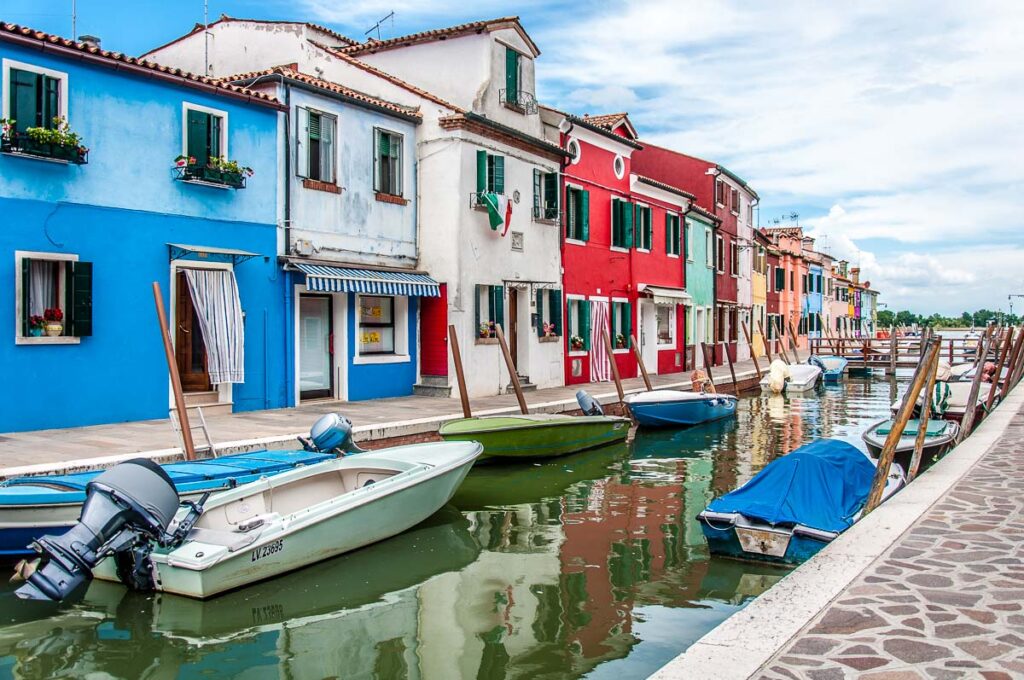 Burano is famous all over the world on account of its colourful houses. Each one is painted in a different bright hue, they create a stunningly vibrant effect. Crisscrossed by canals and dotted with restaurants serving the traditional risotto di go, Burano is the perfect place for a leisurely walk and a long lunch. Make sure that you try Burano's famous cookies – esse and bussolà (also sometimes called buranelli).
This island in the Venetian Lagoon is also famous for the centuries-old traditions of lacemaking. Burano's Lace Museum is a great place to learn about this intricate craft. Many shops around the island sell handmade lace fashioned into clothes and different objects.
Burano is connected to the adjacent island of Mazzorbo via a wooden bridge. So, you can easily visit yet another island in the Venetian Lagoon on the same trip. You can also combine Burano with the islands of Murano and Torcello. You can either go by vaporetto or book an organised day trip. This one comes highly recommended.
51. Torcello – The Island Where Venice Was Born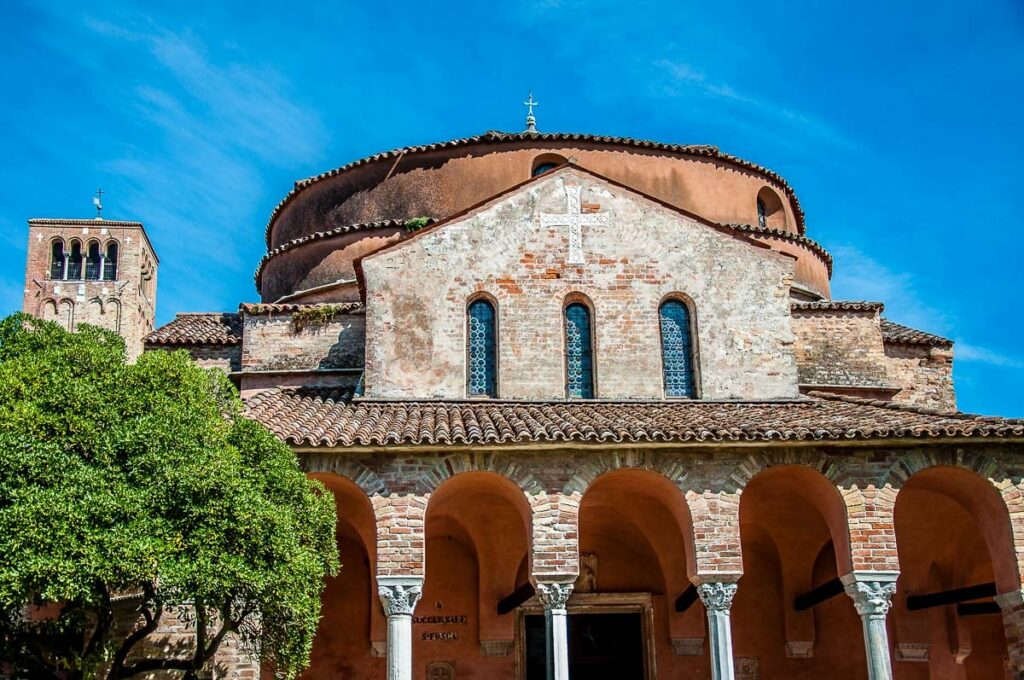 Torcello was the first inhabited island in the Venetian Lagoon. People first settled there in the 5th century AD. A few hundred of years later, the island had a population of a few thousand.
Nowadays, Torcello has less than 20 permanent residents and a handful of must-see sights. Among them stands out the Church of Santa Maria Assunta with outstanding gold mosaics that date back to the 11th century.
You can combine a visit to Torcello with the islands of Murano and Burano. You can either go by vaporetto or book an organised day trip. This one comes highly recommended.
52. Lido di Venezia – The Island of Beaches , Films, and Art Nuveau
Lido di Venezia is a thin island that stands between the Venetian Lagoon and the Adriatic Sea. 11 km long, this is one of the very few islands in the whole lagoon where you can drive a car. In fact, there is a car ferry from Tronchetto – Venice's car park island – to Lido di Venezia that you can take if you have arrived in the City of Canals with your own vehicle.
Otherwise, you can easily get there by vaporetto. The crossing from St. Mark's Square is just over 20 mins.
Dotted with a number of sights, Lido di Venezia is primarily famous for hosting the world's oldest film festival. Venice International Film Festival takes place here every September. The island is also known for its beaches, luxury hotels, and Art Nouveau architecture. Come here for a nice walk, for a fun beach day a stone's throw from Venice, and to see important sights such as the Monastery of San Nicolo', the Nicelli Airport (often referred to as the most beautiful in the world), and the Jewish Cemetery.
Learn More:
53. Giudecca – The Venetian Island of Peace and Quiet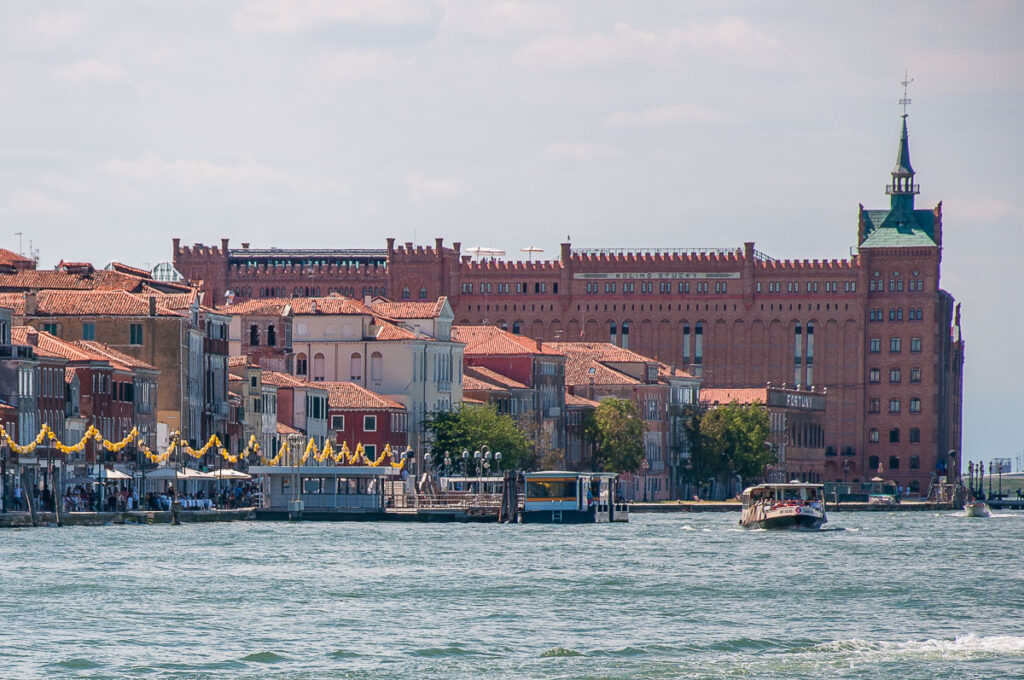 Giudecca is the long thin island separated from the rest of the sestiere of Dorsoduro in Venice by the long and wide Giudecca Canal. You can get there by vaporetto or – once a year – by walking on the temporary bridge. The latter is erected on the third weekend of July for the major Venetian celebration of Festa del Redentore.
Escape to the island of Giudecca when the crowds in Venice get a bit too much. This sleepy peaceful place has a lot of charm and its own quirky sights such as the Casa dei Tre Oci. Also here, you can see the imposing Hilton Molino Stucky Hotel. It's one of the few places to stay in Venice where guests have the use of a swimming pool. It's splendid and it opens fantastic bird's-eye's views of Venice.
54. Chioggia – The Venetian Town of Fresh Seafood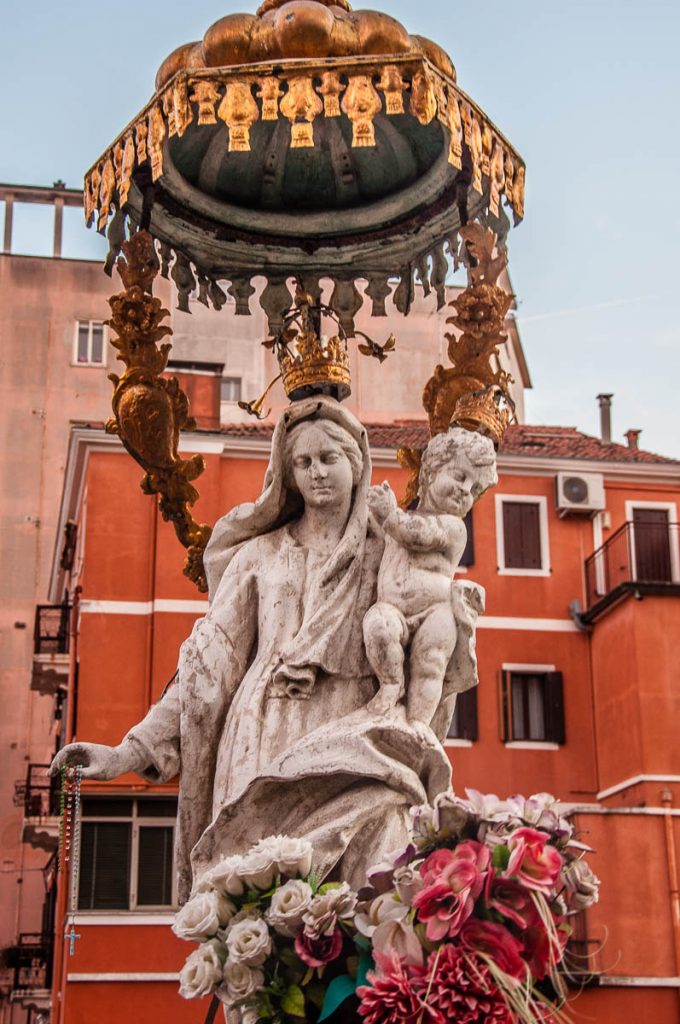 Chioggia is like a mini Venice but without the suffocating tourist crowds. The town is built on a series of islands at the southern end of the Venetian Lagoon. It's a great place to visit from Venice for oodles of authentic charm and the nearby beaches of Sottomarina.
Chioggia is ver pretty. Expect canals full of boats and pastel houses draped with Italy's most photogenic clotheslines. Just walking around feels like a real treat. You pass by many churches full of priceless works of art, two fish markets doing a brisk business, and small restaurants serving the freshest seafood. Everywhere you look picturesque views open in front of your eyes.
Chioggia takes a bit of time to reach from Venice but it's all worth it! You will need to get a vaporetto to the island of Lido di Venezia, then change to a bus down to the island of Pellestrina, and finally get a vaporetto to Chioggia. It's easier than it sounds.
Learn More:
Chioggia: 10 Reasons to Visit, Point 7 in Cities of Venice and Veneto
Chioggia Video: Traditional Lacemaking
Day Trips from Venice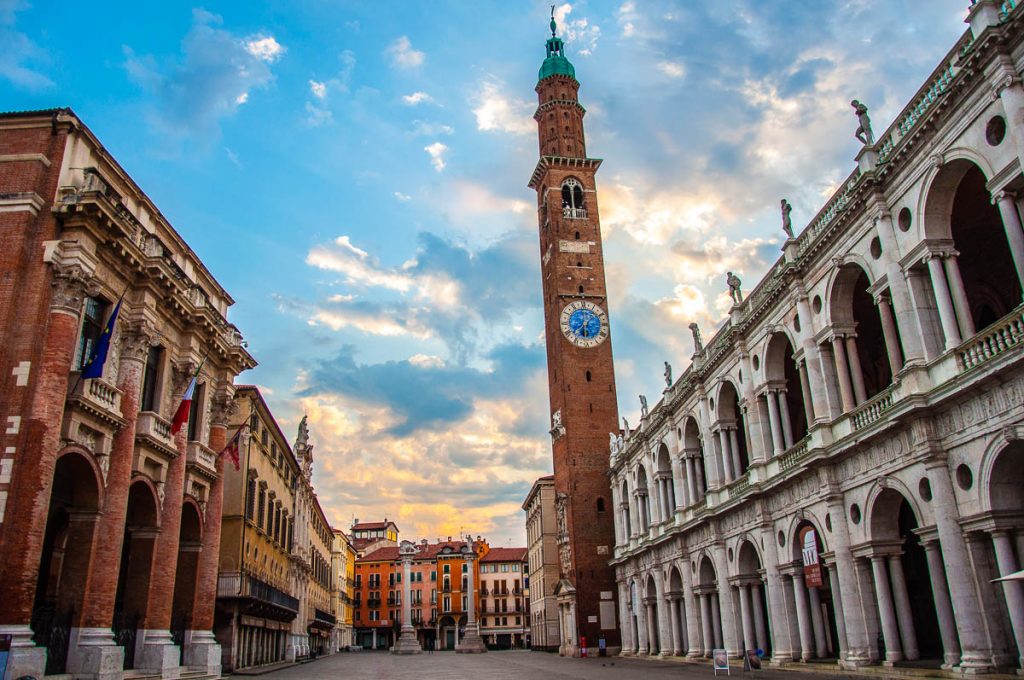 Venice needs time to be explored and savoured. Yet, to truly get to know Venice, you also need to head out and see for yourself the cities that once were an important part of the Republic of Venice. Many of them make for great day trips from the City of Water.
With fast trains and short travelling times, these are the best cities to see if you are spending more than four days in Venice, Italy:
55. Padua – The City of Saints and Academics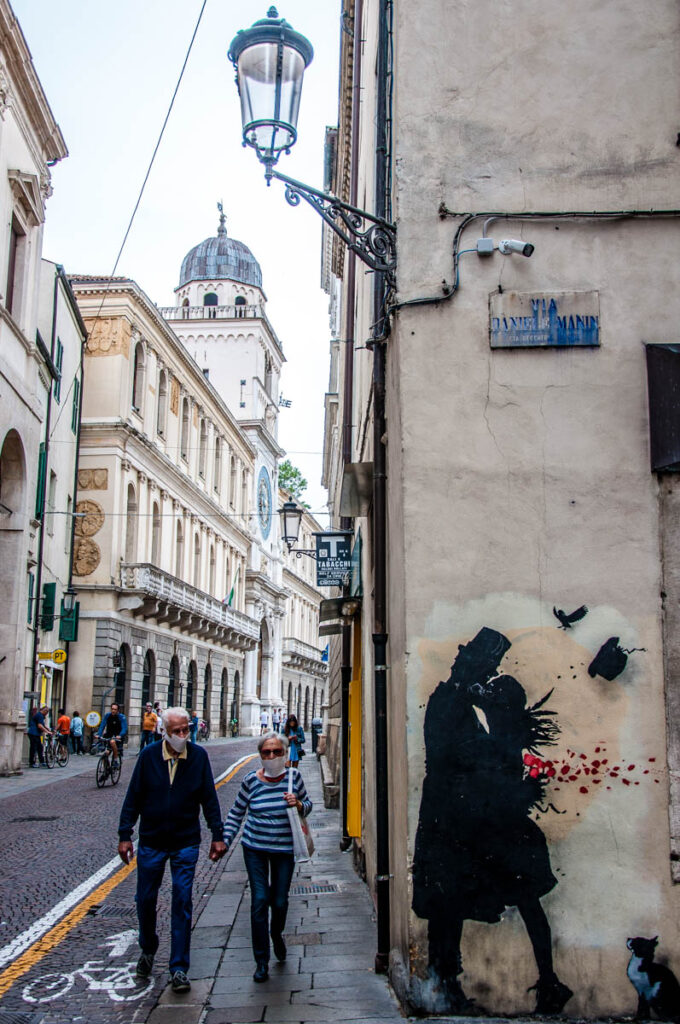 Less than half an hour away from Venice, Padua is often overlooked. Yet, this city in the Northern Italian region of Veneto has a long list of must-see sights. Plus, it's inscribed twice on the UNESCO World Heritage List.
Chiefly known as the setting of Shakespeare's The Taming of the Shrew, Padua is rich in art, museums, churches, and historic buildings. It also has an excellent food scene.
Put at least a day aside for this gem of a Venetian city. From the world's oldest academic botanical garden to Italy's second-oldest University, from Italy's largest square to an 800-year-old daily market, not to mention the very first Italian Renaissance frescoes, Padua has many aces up its sleeve.
Learn More:
Padua: 10 Reasons to Visit, Best Things to Do, 101 Facts, Day Trips from Padua, Padua in the Run-Up to Christmas, Cornaro Loggia and Odeon, 800-Year-Old Market, Astronomical Clock, Point 3 in Cities of Venice and Veneto, Venice to Padua
Padua Videos: Prato della Valle, Basilica of St. Anthony of Padua, Scrovegni Chapel, Palazzo della Ragione, Palazzo Bo
56. Verona – The City of Love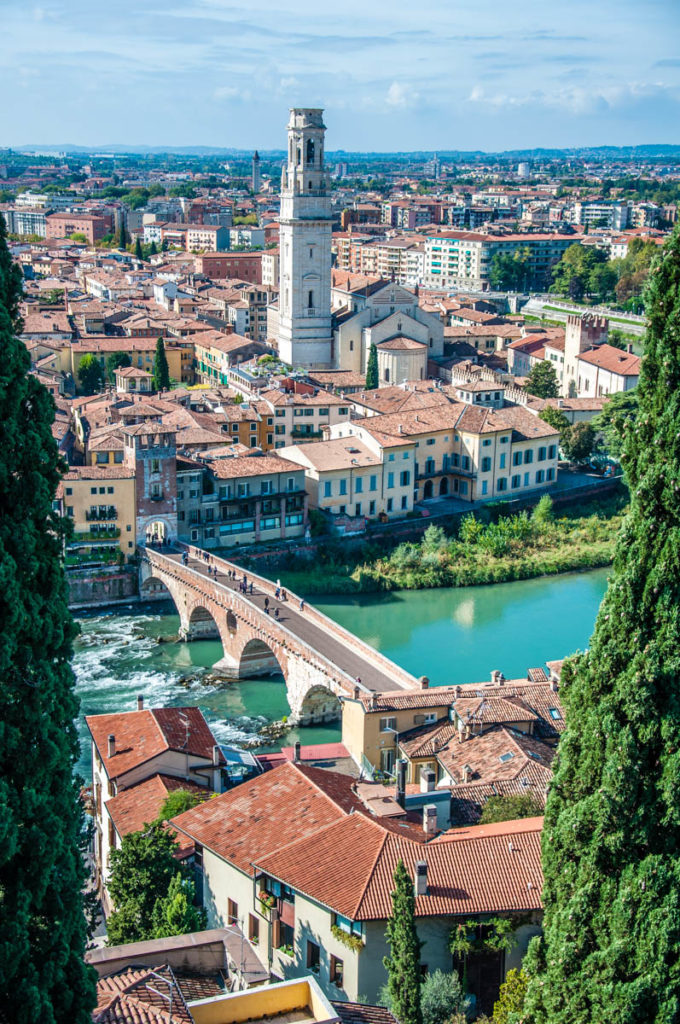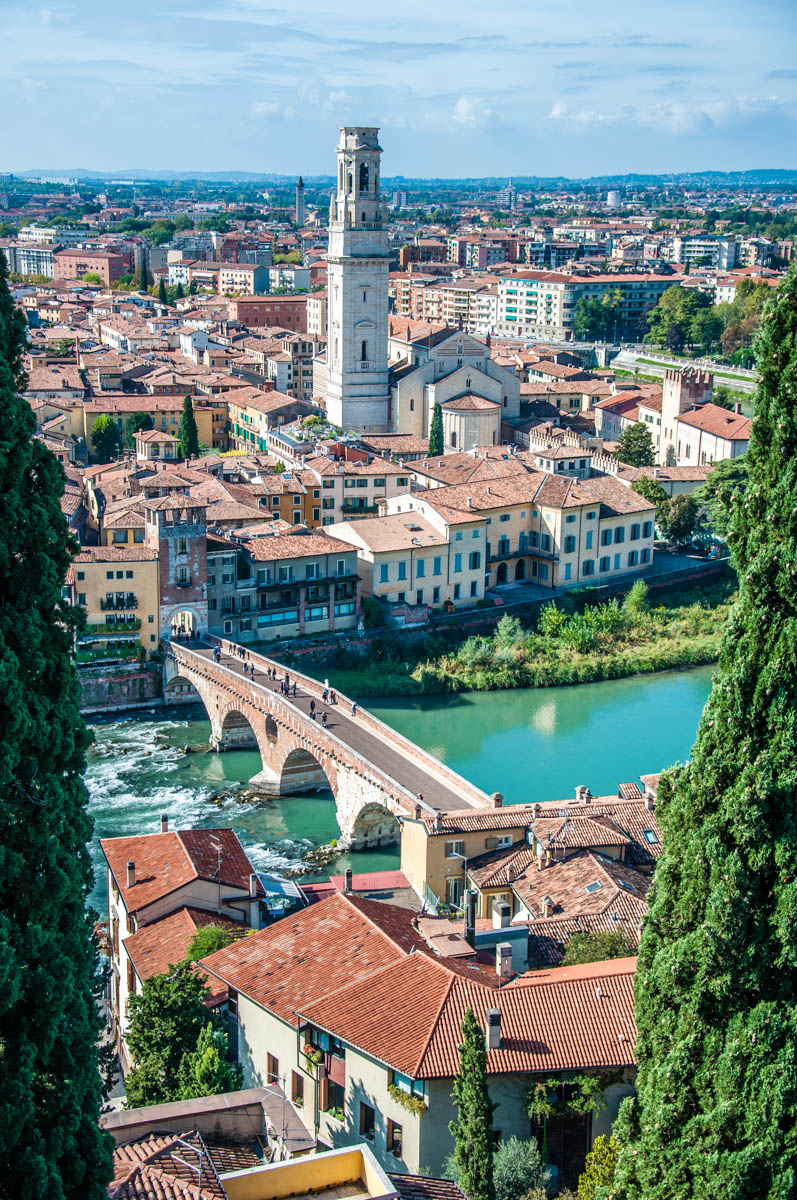 Just over an hour away from Venice on the high-speed train, fair Verona doesn't need an introduction. This is, after all, the Italian city that is forever linked in our hearts with the story of Romeo and Juliet. Verona is a great destination in Italy for a day trip from Venice not just because of its Shakespearean heritage though.
This Venetian city also has a rich Roman and medieval past, a worldwide known opera festival, and enough sights and places of interest to keep you busy over at least one long hectic day.
Learn More:
Verona: Best Things to Do, Verona Opera Festival, Day Trips from Verona, Best Airports for Verona, Point 2 in Cities of Venice and Veneto, Venice to Verona
Verona Videos: Piazza Bra with Arena di Verona, Stage Sets of Verona Opera Festival, Juliet's House, The Juliet Club, Traditional Patisserie, Verona's skyline (seen from Giardino Giusti), Verona's skyline (seen from the funicular at Castel San Pietro), Verona Marathon
57. Vicenza – The City of Architecture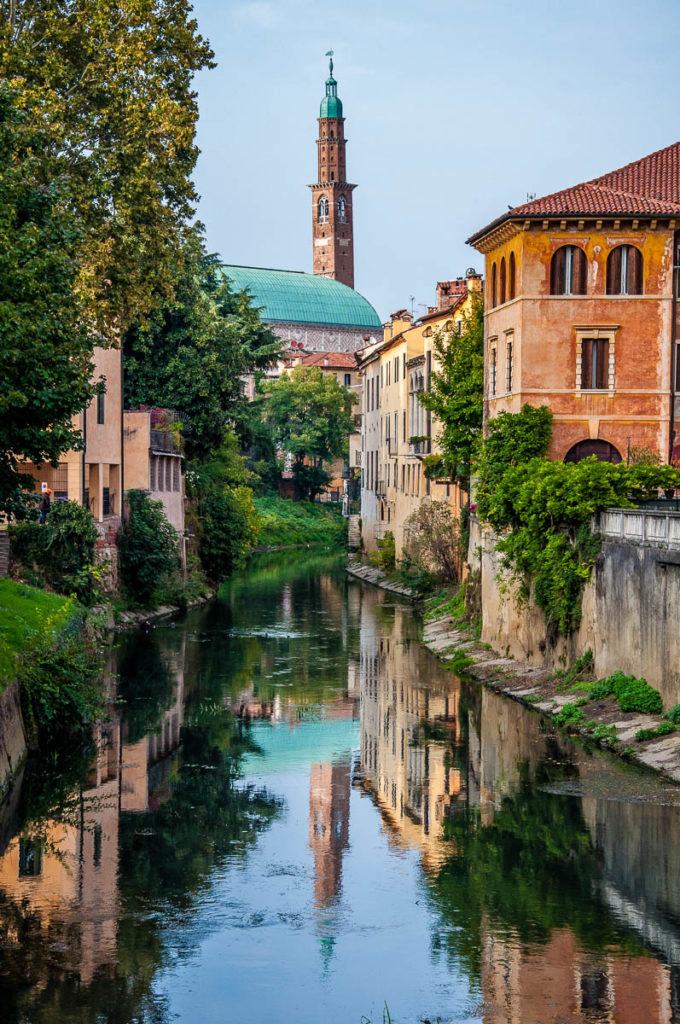 Three-quarters of an hour away from Venice, Vicenza is known under many names. Among them are the Pearl of the Renaissance, the Heart of Veneto, the City of Palladio, and the Gold Town.
This city in Veneto, Italy is a creative hub of art, jewellery traditions, and one-of-a-kind events. Plus it is a veritable open-air museum of architecture. Its streets are lined with sumptuous Palladian palaces and buildings. They have inspired architectural cannons all over Europe and North America for the past 500 years. It is also thanks to them that Vicenza is inscribed on the UNESCO World Heritage List.
Learn More:
Vicenza: Best Things to Do, The Beauty of Vicenza, Vicenza in the Snow, Day Trips from Vicenza, Nearby Nature Sights, Chocolate Festival in Vicenza, The Oldest Patisserie in Vicenza, Flower Market, Teatro Olimpico, The Hanging Gardens, Point 4 in Cities of Venice and Veneto
Vicenza Videos: Teatro Olimpico, Christmas Lights, Chapel of the Virgin of Rosario, Palladio Museum, Giro della Rua, Terrace of the Basilica Palladiana, Parco Querini Covered in Snow
58. Treviso – The City of Prosecco and Tiramisu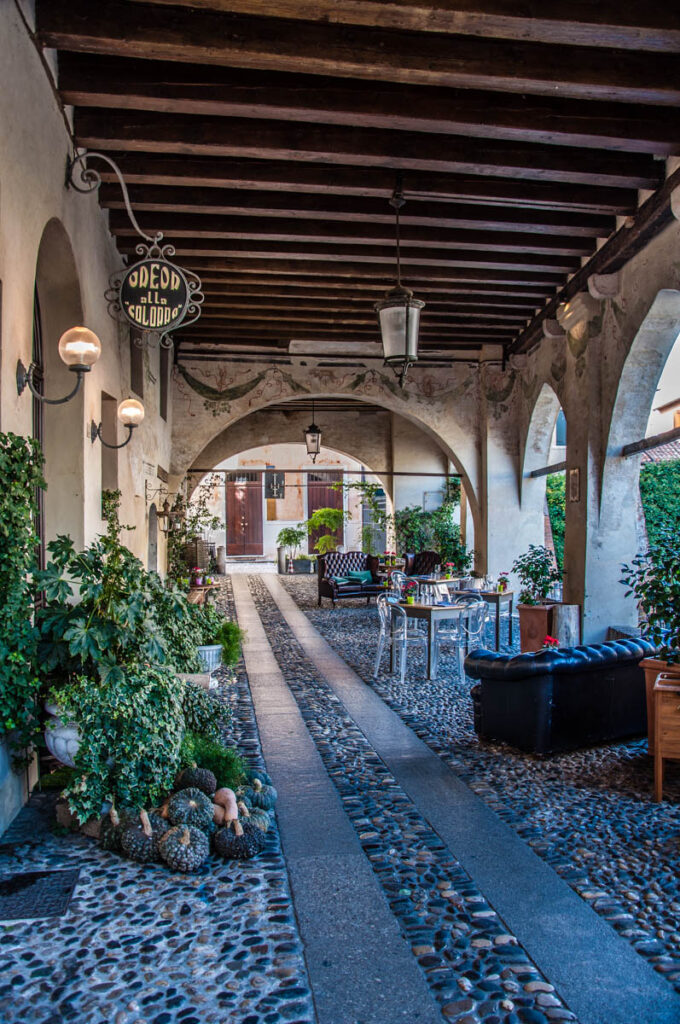 About half an hour away from Venice, Treviso is an underrated destination to explore on a day trip. Expect breathtaking frescoed buildings, mighty defensive walls, long canals, stone bridges, and historic cobbled streets.
Plus, Treviso is the birthplace of the iconic Italian dessert – tiramisu. The province of this Italian city is also where Prosecco is produced. This light sparkling wine nowadays is famous all over the world and the hills where the grapes used in its making grow are a UNESCO World Heritage Site.
Learn More:
Treviso: Point 5 in Cities of Venice and Veneto, Treviso to Venice
59. Bassano del Grappa – The City of Grappa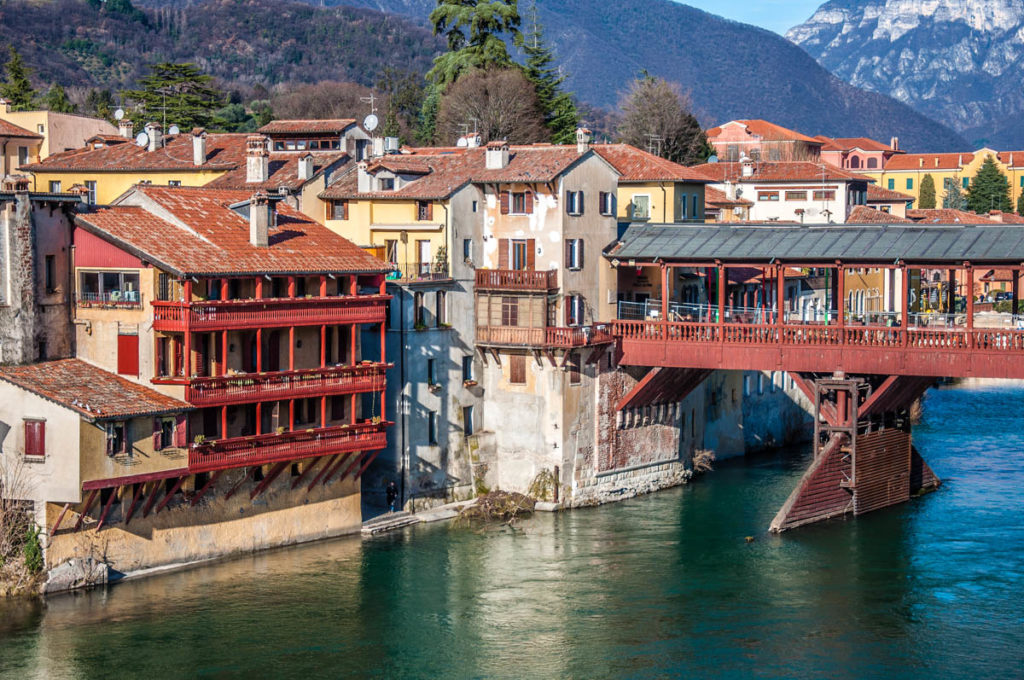 About an hour and a quarter away from Venice, you will find a hidden gem. Bassano del Grappa is a picturesque small city on the shores of the crystal clear river Brenta. The Venetian Prealps serve as its dramatic backdrop. Founded in the 2nd century BC, today Bassano stands out with its medieval and Venetian architecture.
Here you can see the remains of a medieval castle (used for opera performances each summer), fortified city walls, lovely cobbled piazzas, and many old buildings with faded frescoes on their facades. Winged lions (the symbol of the Republic of Venice) can be spotted all over the city's historic centre.
Bassano is well known as a centre of production of grappa – a potent alcoholic drink made of grapes. It is often assumed that this Venetian city owes the second part of its name to the drink. Instead, Bassano was named del Grappa in 1928 to commemorate the soldiers who lost their lives in the decisive battles that were fought on the nearby Mount Grappa during the First World War.
60. The Dolomites – The Mountains With the Pink Glow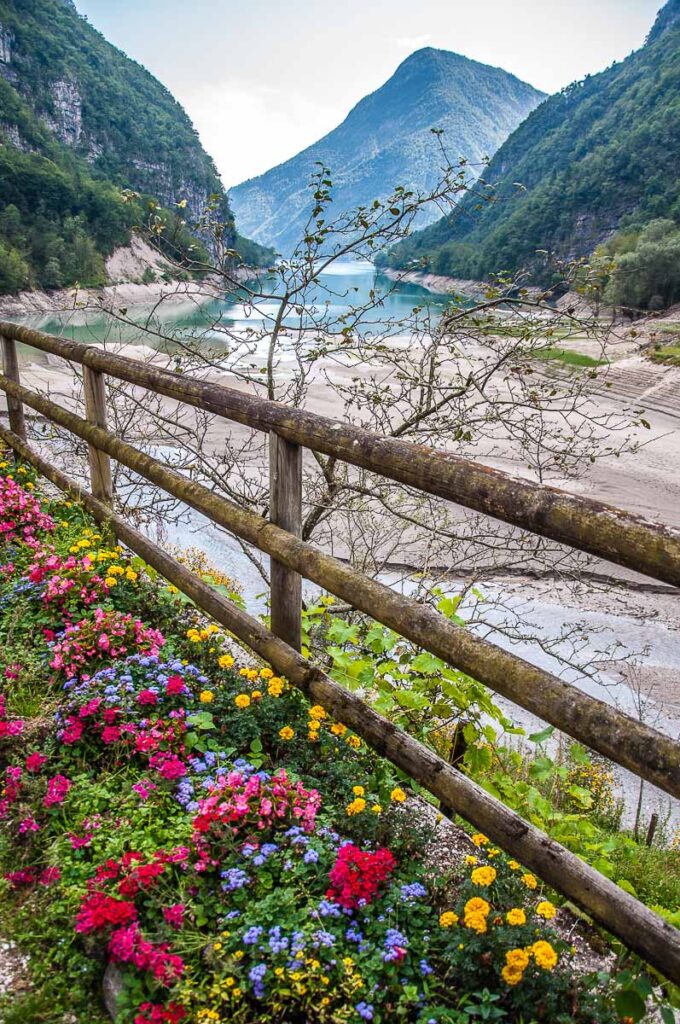 The Dolomites is a beautiful mountain range in Northeastern Italy. Their craggy peaks seem to glow in pink and mauve tones when the sun rises and sets. Dotted with lakes and centuries-old forests, the Dolomites are a popular place to visit if you love hiking and being in the bosom of pristine nature.
You can easily travel to the Dolomites on a day trip from Venice. It's a great idea, especially, if you are in the City of Canals in summer and the heat is really starting to get to you. The best way to do it is to book an organised trip. This one is very popular.
Map of the Best Things to Do in Venice, Italy
Here is a map showing you the location of the best things to do and the best sights to see in the city of Venice in Northern Italy.
I made it using Google Maps. So, you can use it just like any other Google map. You can zoom in and out, click to open the map in a separate tab and click on the different pins to see their coordinates.
You can also use this map to calculate distances and directions from any of the featured sights to any point in Venice and vice-versa. You can also zoom in and explore the urban plan of the City of Canals.
You can share this map of the best things to do in Venice, Italy on social media, too.
Most importantly, if you click on the small dark grey star next to the map's name 'Best Things to Do in Venice', this will save the map to your account in Google Maps. This way, you can easily revisit it for directions any time you want.
Practical Tips About Visiting Venice in Italy
Pin for Later!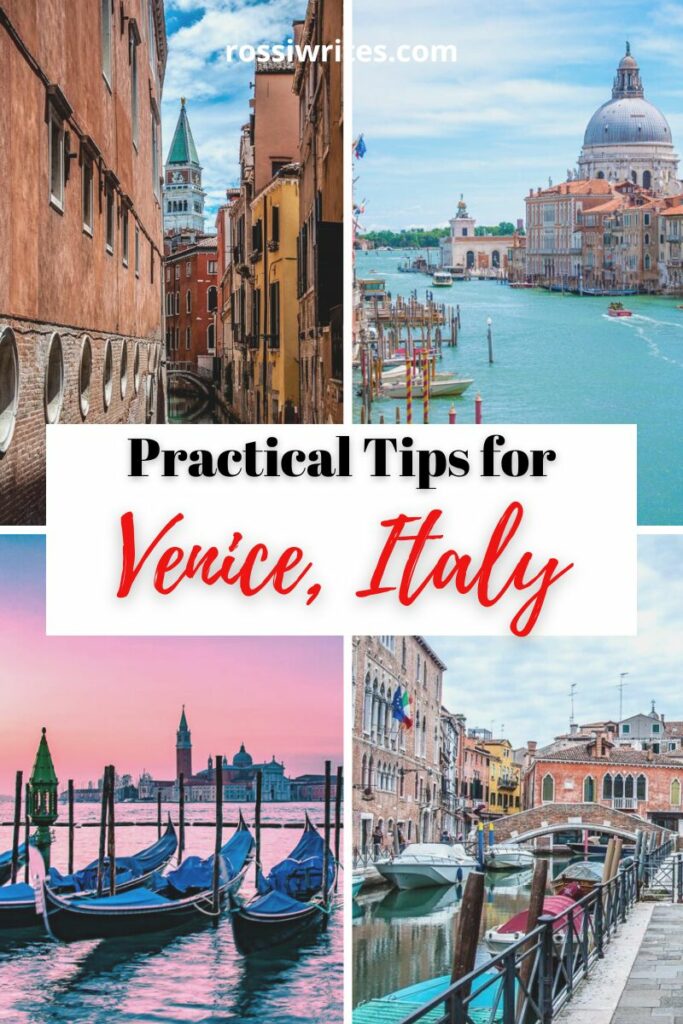 Where is Venice and What's Its Layout?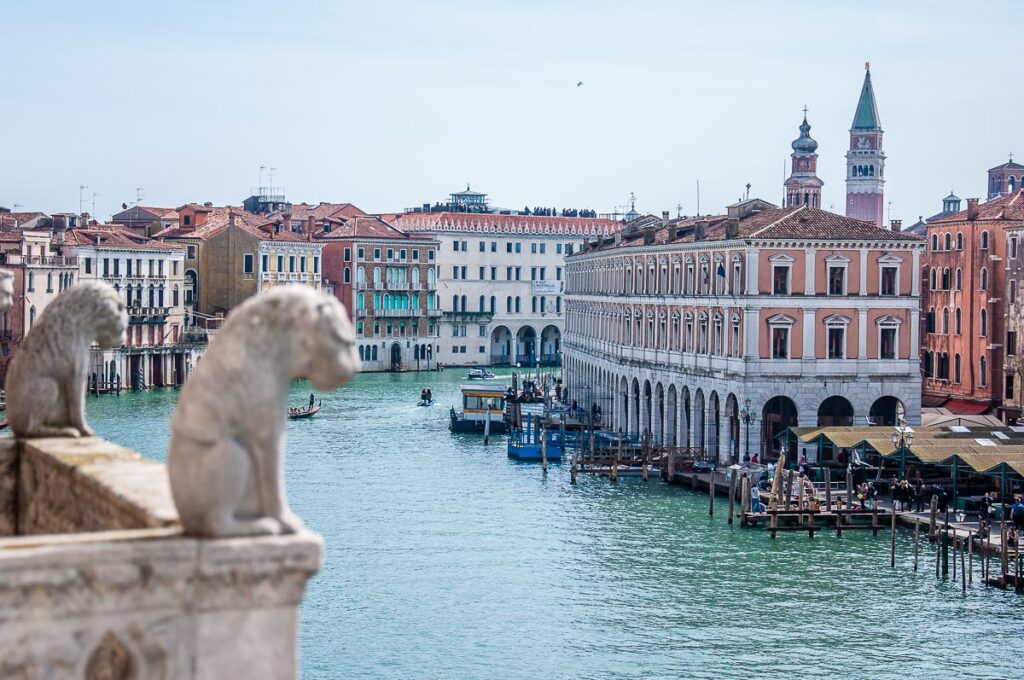 Known as Venezia in Italian, Venice is a worldwide famous city in Italy. It has a unique urban plan, centuries-old history, and a rich catalogue of art. It attracts millions of visitors each year.
The City of Venice (or Comune di Venezia in Italian) is also the capital of the Italian region of Veneto. Geographically, Venice stands in northeastern Italy. Administratively, it is composed of several different parts. These are:
The historic centre of Venice – built on a cluster of 118 small islands in the Venetian Lagoon and surrounded by water on all sides, this is Venezia proper in terms of history, architecture, and art. For over a thousand years, it was the capital of the historic Republic of Venice. Nowadays, it is one of the biggest tourist destinations in the world. Dozens of major landmarks, must-see museums, and important churches are concentrated here. About 53,000 people live in the historic centre of Venice.
The mainland area of Venice – a collection of mainland towns and boroughs. In general, these are heavily industrialised and don't offer the attractions of Venice. The most well-known ones are Mestre and Marghera. About 180,000 to 200,000 (depending on the source) people live in the mainland area of Venice. Just under 90,000 of them are in Mestre. Mestre has its own historic centre but this is not on par with Venice. It's a place that offers convenient shopping, cheaper accommodation, and it has the rather striking M9 Museum of the 20th Century.
Other islands in the Venetian Lagoon – several other islands dotted around the Venetian Lagoon are part of the Comune di Venezia. Among them are Lido di Venezia, Murano, and Burano.
How to Reach Venice from Abroad and/or Anywhere in Italy?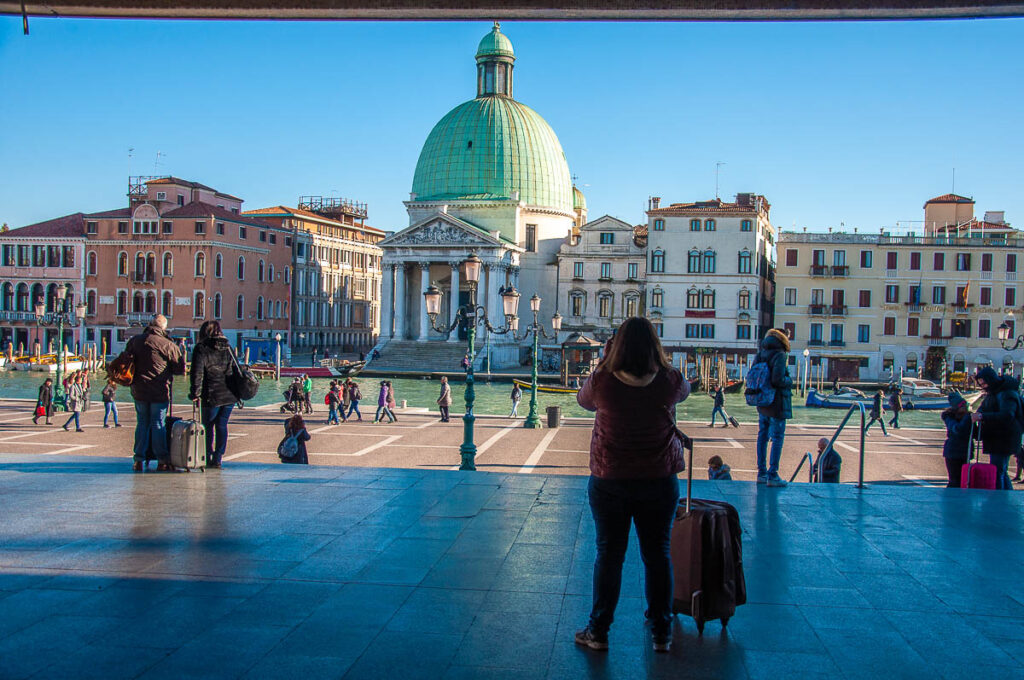 The most convenient way to reach Venice from abroad is by air. The nearest airports are two – Venice Marco Polo Airport and Treviso Airport.
Yet, there are three more airports near Venice that may be more convenient for you depending on plane ticket prices, travel times, your point of departure, and your plans for Venice and Italy.
Find all the pertinent information in this blog post:
If you are already in Italy, you can reach Venice by train, by road, and by ferry. A long bridge connects the Venetian mainland to the historic centre of Venice. The bridge has two parts:
Venice Railroad Bridge – completed in 1846, this is the railway track bridge that allows trains to reach the historic centre of Venice across the water. The railway tracks end at Venezia Santa Lucia which is an end-of-the-line train station.
Liberty Bridge (in Italian, Ponte della Liberta') – completed in 1933, this is the road bridge that allows cars, buses, and other vehicles to reach Piazzale Roma and the island of Tronchetto in Venice. Tronchetto serves as a large car park. There are parking facilities at Piazzale Roma, too. Otherwise, historic Venice is not accessible to cars.
Alternatively, you may want to park at the Fusina ferry terminal and take a ferry from there straight to Fondamenta delle Zattere in Venice. This is a very convenient way to travel, especially if you are staying elsewhere in Veneto and want to visit Venice on a day trip.
Finally, have a look at these blog stops for specific travel directions from some of the largest cities in Italy: Verona to Venice, Florence to Venice, Milan to Venice, Bologna to Venice, Treviso to Venice.
Which Venice Train Station is Best?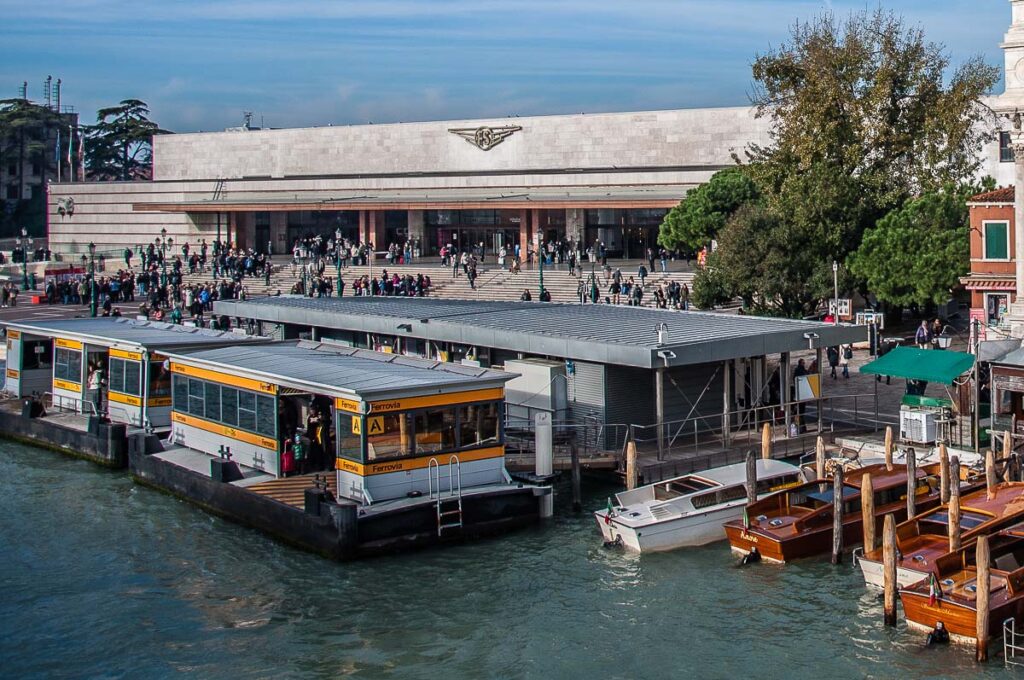 Venice has two main railway stations – Venezia Mestre and Venezia Santa Lucia. Which one you need to get off at will depend on where in Venice you have booked your accommodation:
Venezia Mestre – only if you booked to stay in the borough of Mestre on the mainland.
Venezia Santa Lucia – if you are staying in Venice proper, i.e. the historic centre of Venice built on 118 small islands in the Venetian Lagoon.
Venezia Mestre precedes Venezia Santa Lucia on the railway line. So, when the train pulls into Mestre, don't rush to get off if your hotel is in Venice. Just wait until the train has crossed the long railroad bridge that connects the mainland to the City of Water.
To learn more about Venice's train stations, how to navigate them, and which one to get off at, have a look at this detailed blog post:
It also covers the types of trains you can use in Italy. To check train times and book tickets in advance, have a look at Omio, ItaloTreno or TrenItalia.
ItaloTreno regularly offers discounts and reduced prices. It really pays to keep an eye on their website.
How to Get Around Venice by Public and Private Transport?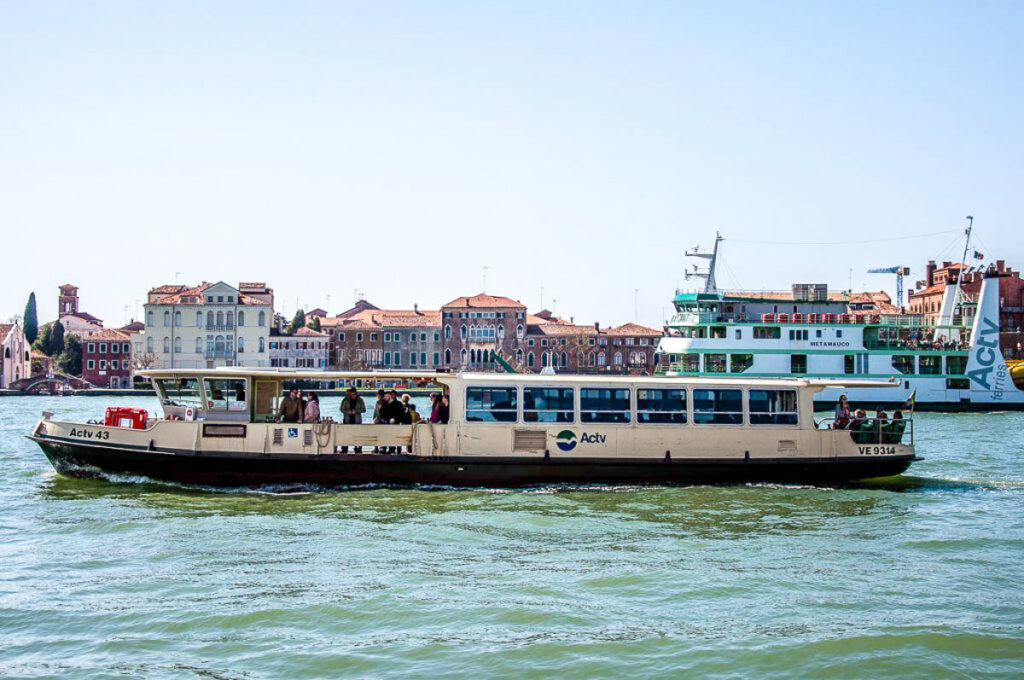 If you have reached Venice by train, your starting point in the city will be the Venezia Santa Lucia train station.
If you have reached Venice by bus, taxi, or private transfer your starting point in the city will be Piazzale Roma.
And if you have reached Venice by car, then your starting point in the city will be either the car parks at Piazzale Roma or the island of Tronchetto which serves as a huge car park on the outskirts of Venice.
Here is what you can do:
You can get a vaporetto – Venice's water buses. To give you an idea of what they look like, have a look at the above photo. The boat in the foreground is a Venetian vaporetto.
When you book your accommodation in Venice or one of the islands in the Venetian Lagoon, ask which is the nearest vaporetto stop. Then take the respective vaporetto line from either Piazzale Roma or Venezia Santa Lucia train station.
You can check the current timetables at this link. You can also buy a single or a multi-day pass for Venice's vaporetti from here. Once you get off at the right stop, you will need to walk.
For useful information on how to orientate yourself in Venice, have a look at this blog post:
You can get a motoscafo – you can hire a sleek Venetian water taxi to take you from either Piazzale Roma or Venezia Santa Lucia train station to anywhere you want in Venice or the islands in the Venetian Lagoon. While this is a pricey option, it's also super stylish.
If you travel in a group or as a large family, hiring a motoscafo may be much more convenient and comfortable than lugging suitcases on the vaporetti and then walking long distances with children in tow.
You can get the car ferry to Lido di Venezia and then continue to Pellestrina – if you are staying on the island of Lido di Venezia or Pellestrina and have arrived by car (either rented or your own), then you can take the car ferry or traghetto in Italian. Have a look at the boat in the background of the above photo to see what it looks like.
The traghetto leaves from the island of Tronchetto which is next door to Piazzale Roma. It then travels down the Giudecca Canal and St. Mark's Basin opening splendid views of Venice for you (and your car) to enjoy.
Once you arrive in Lido di Venezia, you can then drive down to Pellestrina. Bear in mind that there is a short ferry crossing between Lido and Pellestrina, too. It lasts about 10 mins or so.
You can find all relevant details about Venice's car ferries at this link. It includes information about the two traghetto routes (17 from Tronchetto to Lido and 11 from Lido to Pellestrina), prices, and how to book in advance or on the day.
Where to Stay in Venice?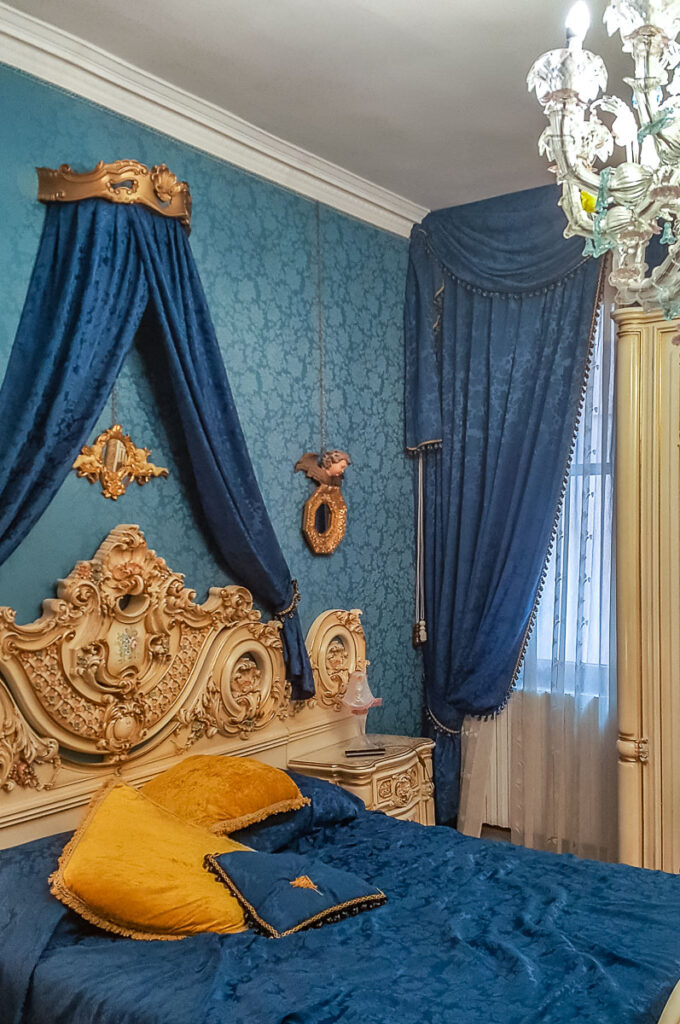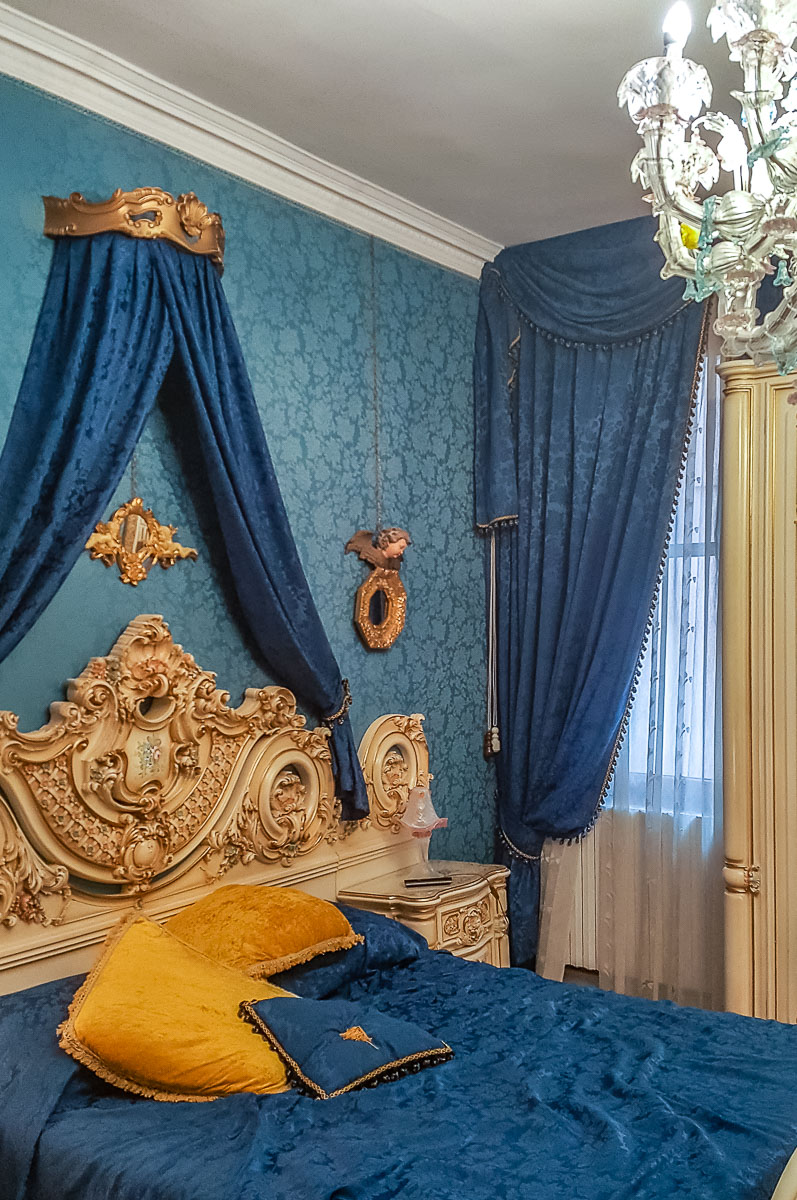 In Venice, you can find all sorts and types of accommodation to suit any budget. From fabulous hotels with spa facilities and swimming pools to cosy B&B's in historic buildings, there is something for everyone.
For ideas about the types of accommodation available in Venice in particular and Italy in general, have a look at this blog post:
Otherwise, here are three of the hotels I have enjoyed staying at when in Venice:
Accommodation in Venice: Scalon del Doge, Hotel Torino, Hotel Moresco.
Where to Find More Information About Venice?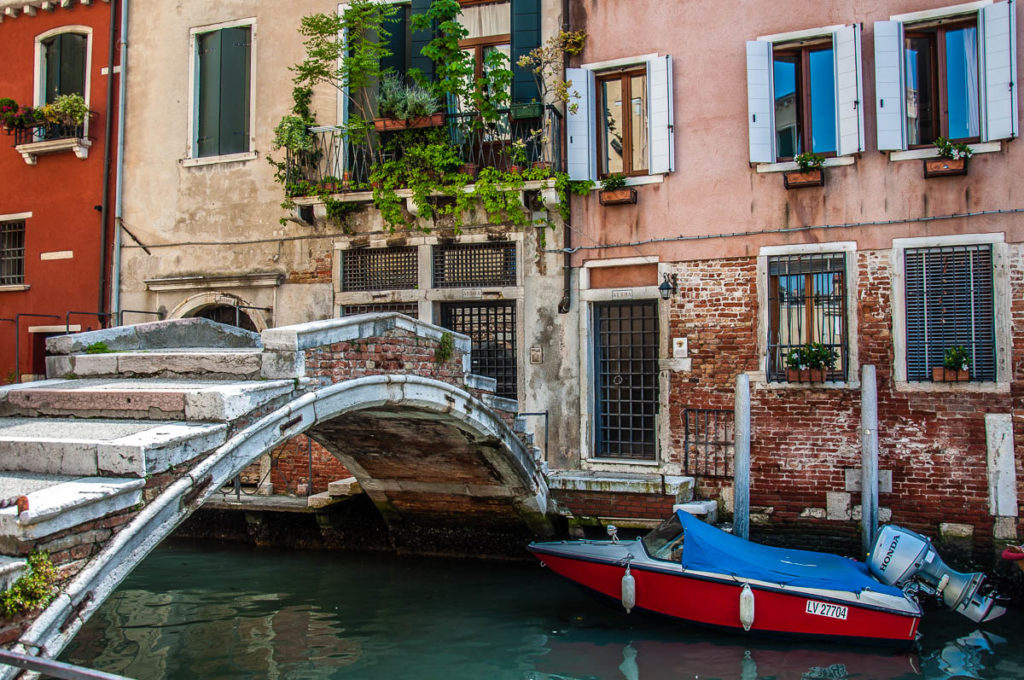 Venice is a very popular topic to write about. A simple Google search will return millions of results providing you with answers to your questions. In addition, many books have been written about the City of Canals. They delve into the history of the City of Canals, explain in detail the practicalities of visiting it or use it as a marvellous stage for romance and tragedies.
If you are looking for detailed, well-researched, and first-hand tried and tested information about Venice, you may also want to click and read my relevant blog posts. I have been visiting Venice for close to twenty years now and writing about it for close to ten years. I have a lot of useful information to share, so while it may not come across as humble to recommend my own writing, I hope that it will come in very handy during the preparatory stages of your Venetian holiday.
Here are the relevant links:
Venice: Essential Tips, Major Landmarks, Hidden Gems, How to Navigate Venice, Venice in a Day for Art Lovers, Train Stations, Nearest Airports, Best Tours, Beaches of Venice, Quotes about Venice, Boats in Venice, Haunted Venice, Day Trips from Venice, Arco del Paradiso
Travel to and from Venice: Treviso to Venice, Verona to Venice, Florence to Venice, Milan to Venice, Bologna to Venice, Venice to Lake Garda, Venice to Padua, Venice to Verona, Venice to Milan
Venice Videos: Grand Canal, St. Mark's Square at Carnival, St. Mark's Square, View from Rialto Bridge, View from Accademia Bridge, Venetian gondolas, Historical Regatta, Squero di San Trovaso, Palazzo Contarini del Bovolo, Fondazione Querini Stampalia, Palazzo Grimani, Rialto Fish Market, Ca' Macana, Festa della Madonna della Salute
Otherwise, have a look at these books about Venice:
Lonely Planet Venice & The Veneto Travel Guide
Venice: A New History by Thomas F. Madden
In Conclusion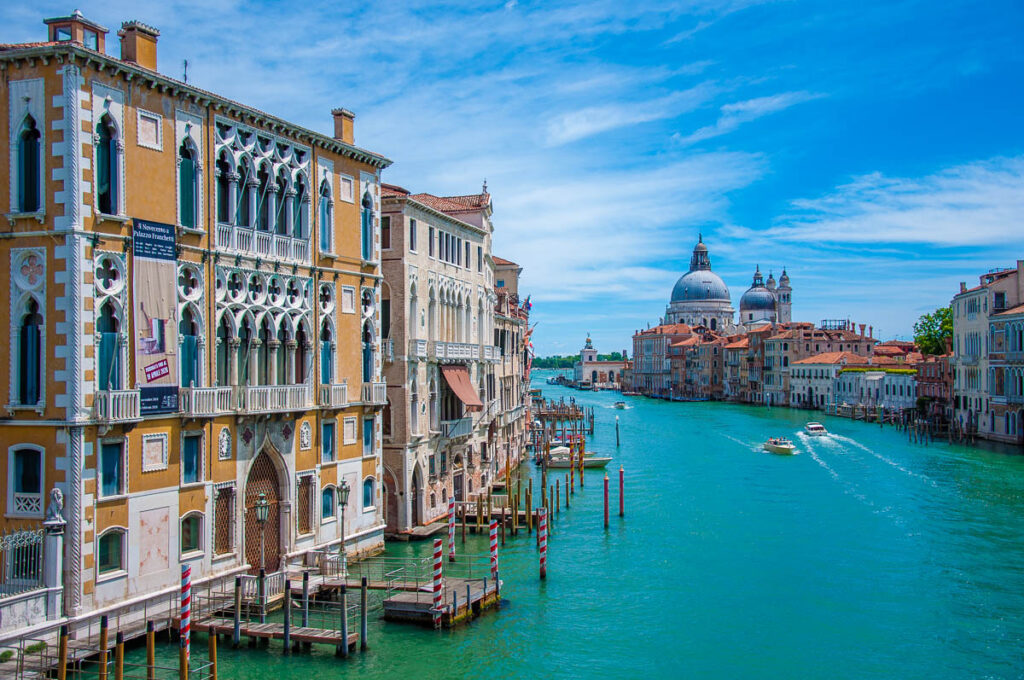 In this blog post today, I shared with you the best things to do in Venice, Italy. Coupled with a map and practical tips, I hope that you find this Venice to-do list very useful.
Italy's City of Canals has so much to offer to the curious traveller. I hope that you'll have a great time delving into its history and art and discovering its hidden corners and secrets.
Enjoy Venice authentically!
Now, get ready quick for your visit to Venice, Italy!

More Helpful Italy Info for You
Best of Italy: Italian Piazzas, Italian Food, Italian Markets, Italian Coffee Culture, Rules of Italian Breakfast, Italian Breakfast Foods
Northern Italy: Reasons to Visit, 18 Best Cities to Visit, 11 Major Airports
Day Trips in Italy: Bologna to Venice, Venice to Milan, Verona to Milan, Milan to Verona, Venice to Verona, Milan to Venice, Florence to Venice, Verona to Venice, Venice to Padua, Verona to Lake Garda, Venice to Lake Garda, Bologna to Lake Garda, Milan to Lake Garda
Lake Como: Things to See, Nesso
Lombardy: Best Cities and Towns, Reasons to Visit, Brescia
Friuli Venezia Giulia: Venzone, Most Beautiful Villages
Emilia Romagna: Bologna, Ravenna, Comacchio, Most Beautiful Villages
Marche: Reasons to Visit, Gradara, Frasassi Caves, Temple of Valadier
Trentino: Best Cities and Towns, Beautiful Lakes, Lake Caldonazzo, Violins' Forest, 15 Amazing Places
Veneto: Best Cities to Visit, Prettiest Small Towns, Most Beautiful Villages, Top 15 Places, 30 Adventures, 15 Most Colourful Places, Beautiful Lakes
Verona: Things to Do in One Day, Verona Opera Festival, Day Trips from Verona, Romeo and Juliet Itinerary, Best Airports for Verona
Padua: Things to Do in One Day, 101 Facts About Padua, 10 Reasons to Visit Padua, Day Trips from Padua
Vicenza: Things to Do, Day Trips from Vicenza, Best Museums, The Beauty of Vicenza
Thank you for reading! Please, leave me a comment, pin the images or use the buttons right at the top and at the end of this blog post to share it on social media.
For more useful information like this, please, like my blog's page on Facebook and subscribe to my strictly no-spam newsletter.
Pin This Blog Post!