Here are the best things to do, eat, and enjoy this summer in Italy.
Italy in summer is a place of vibrant colours, fun festivals, and sunkissed beaches. With long sunny days, summer – or estate in Italian – is also the season of abundant fresh food, exciting cultural events, and keeping active.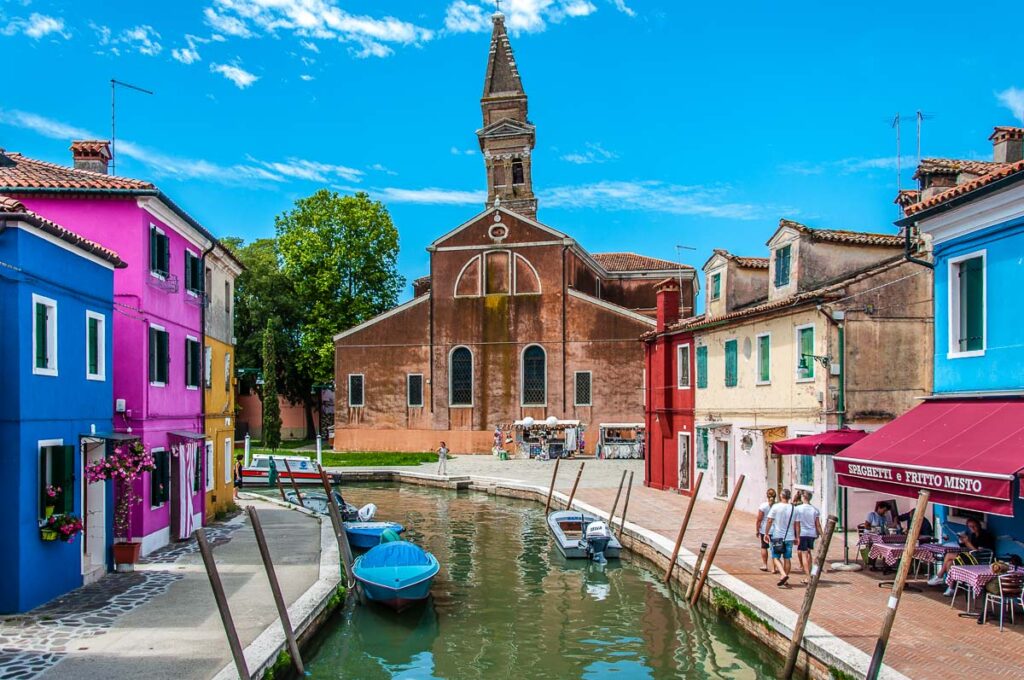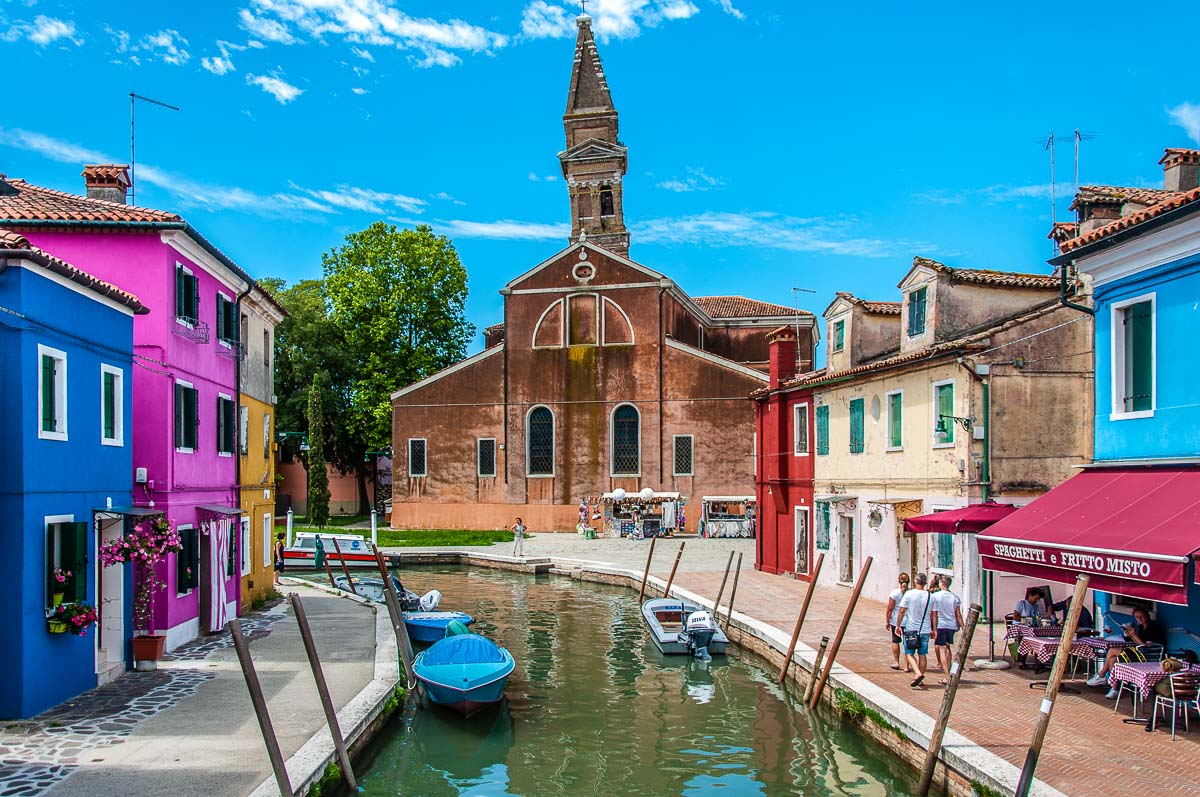 The thing is that according to the standard advice travelling to Italy in summer should be avoided on account of the scorching temperatures and the crowds.
It's true! There are no two ways about it. This is the high season when millions of tourists from all over the world flock to Italy. Then, under the hot Italian sun, they jostle around the country's most famous cities and siege its most well-known sights.
Yet, summer is still a great time to visit Italy. Especially, if you can't get a few days off at any other time of the year. Or if your holidays are tightly tied up to the school calendar.
With a bit of planning, you can have a wonderful summer vacation in Italy with minimum crowds, fresh air, and a long list of activities to enjoy ticking off one by one.
This is where this blog post comes in very handy. As it not only lists in detail the very best things to do in Italy in summer but also gives you specific examples of many exciting yet off-the-radar places and events to head to. For ease of browsing, they are organised into the following six groups: water, history and culture, sightseeing, nature, music, and food.
Picking a few ideas off this list will add to your excitement of discovering Italy in summer in the most fun, authentic, and refreshing way.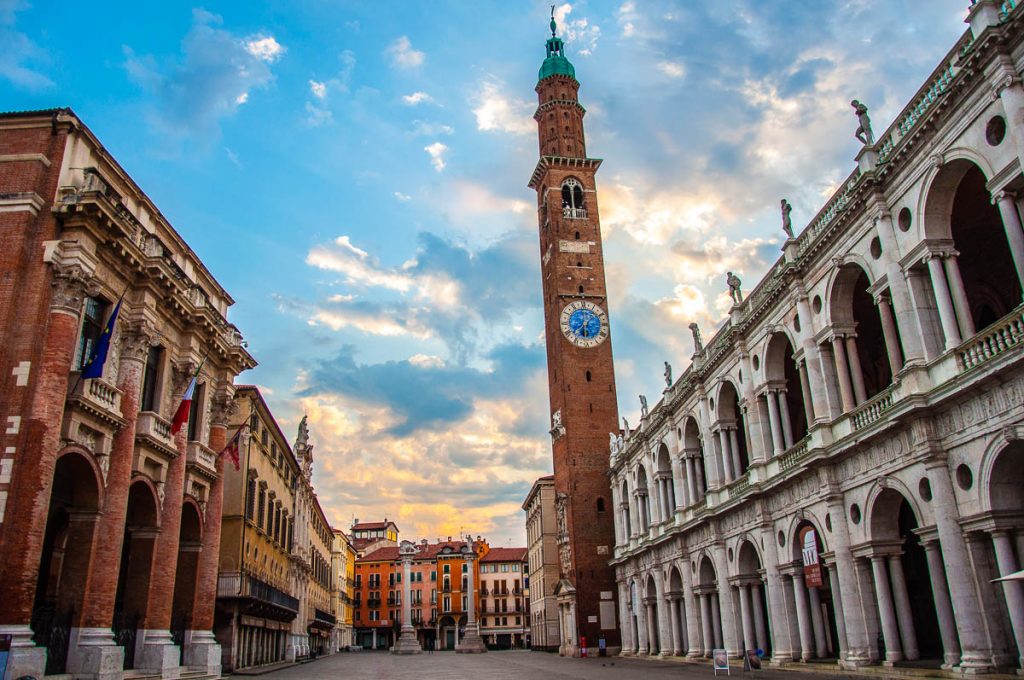 Plus, at the end of this blog post, I have also included an overview of Italy's weather in summer and a handy packing list so that you know what to bring with you for maximum comfort. For even more pertinent information, have a look at these two blog posts:
Otherwise, from hiking through lush forests to high-adrenaline adventures canyoning and rafting, from enjoying world-famous opera festivals to celebrating town-wide events and historic reenactments, there are so many fun things to do in Italy in summer.
Now, find them all out!
31 Best Things to Do, Eat, and Enjoy This Summer in Italy
Pin for Later!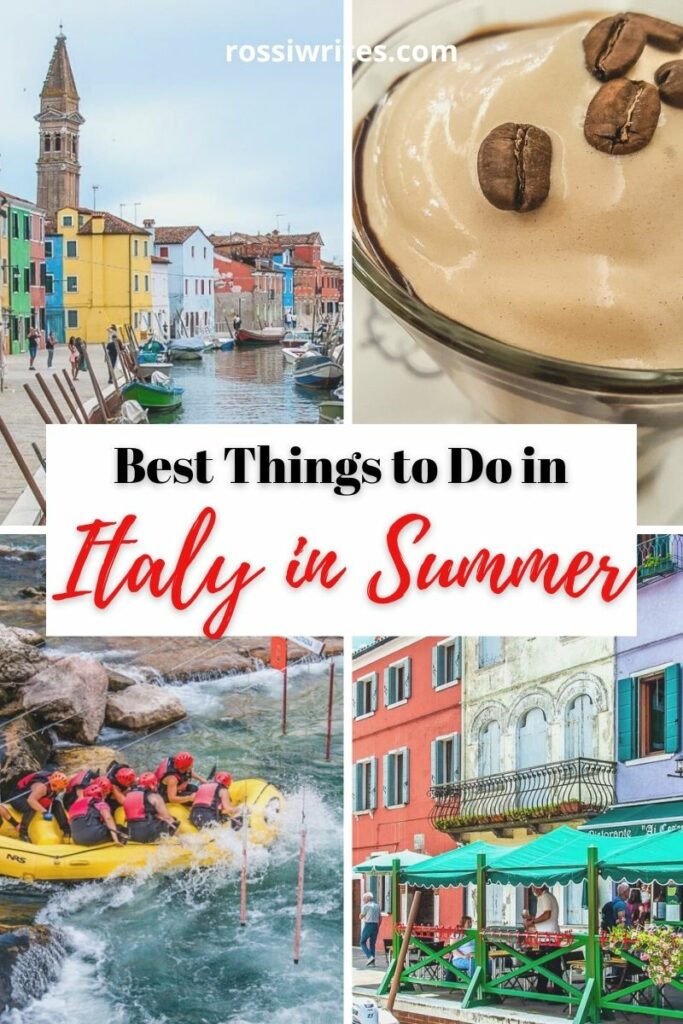 I. Have Fun in the Water This Summer in Italy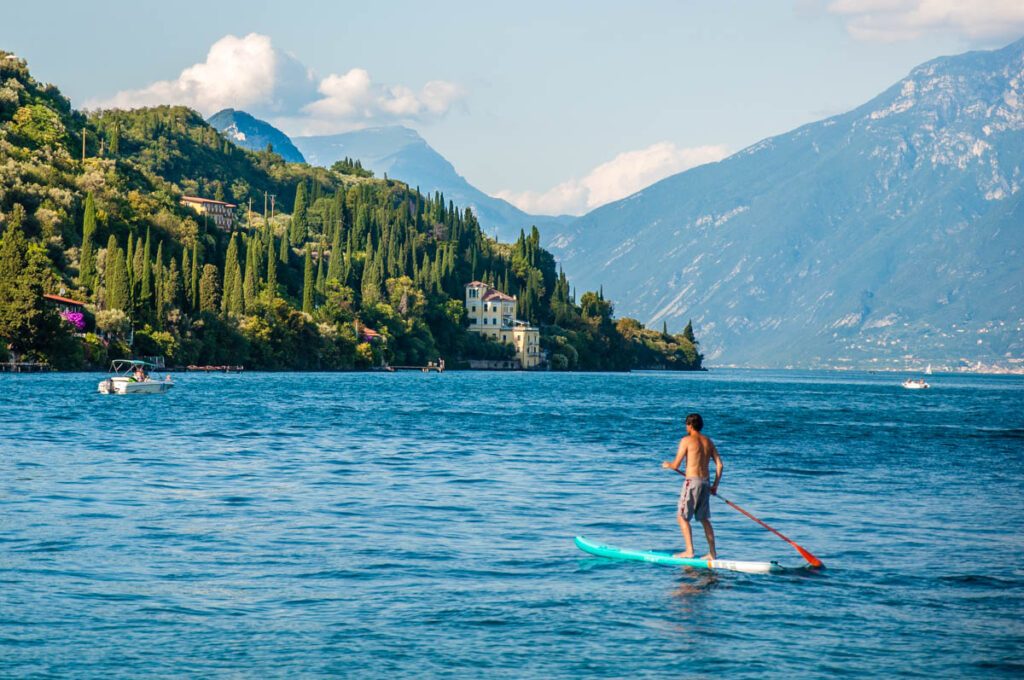 From sparkling beaches to exciting water parks, from swimming in lakes to sunning yourself by the pool of an exceptional Italian hotel, there are many ways to have fun in the water this summer in Italy. Find out more below:
1. Top Your Tan on Italy's Beaches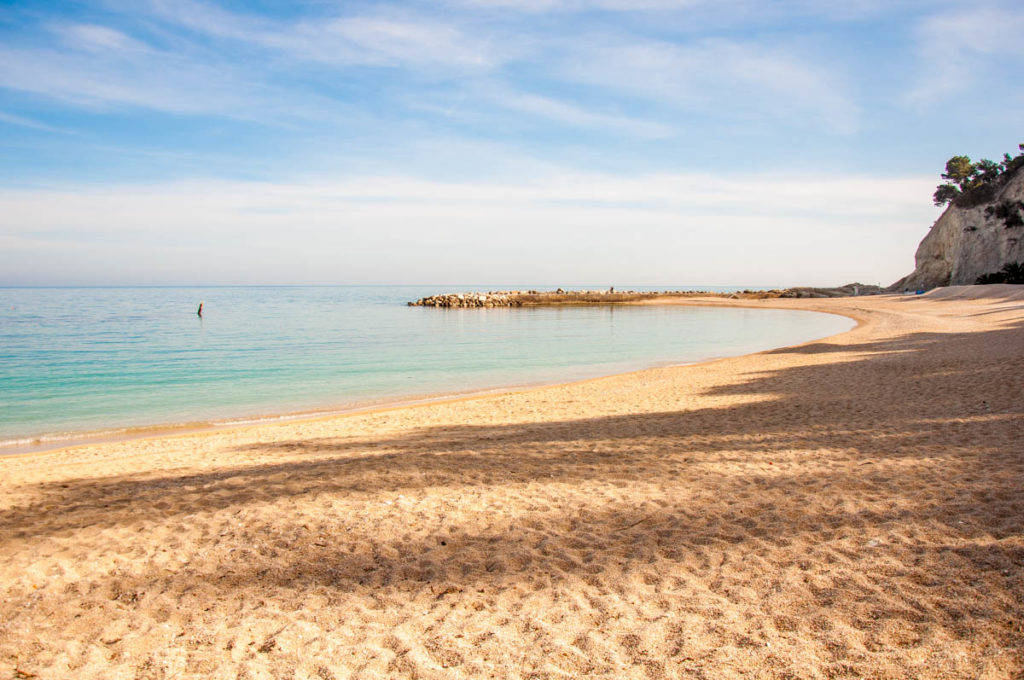 Summer equals time spent on the beach. Even more so in Italy – a country with 3.3 thousand kilometres of beaches and close to 500 Blue Flag destinations (of which 416 beaches and 81 marinas).
With 15 out of the 20 Italian regions having a beachline, here you will find all sorts and types of beaches and beach amenities. From private establishments with long lines of colourful umbrellas and sun loungers to wild beaches where there is only you, the sea, and the sun.
So, it's perfectly natural to travel to Italy in summer specifically to spend time on the beach and to top up your tan. From the Adriatic, the Ligurian, the Tyrrhenian and the Ionian coastlines to the beaches of Sicily and Sardinia bathed by the Mediterranean Sea, there is a truly overwhelming choice of beaches in Italy.
My favourite beaches here span the Adriatic coast of Italy – from Lignano Sabbiadoro in the region of Friuli Venezia Giulia all the way down to Monte Conero in the region of the Marche.
More Information:
2. Make a Splash This Summer in Italy's Water Parks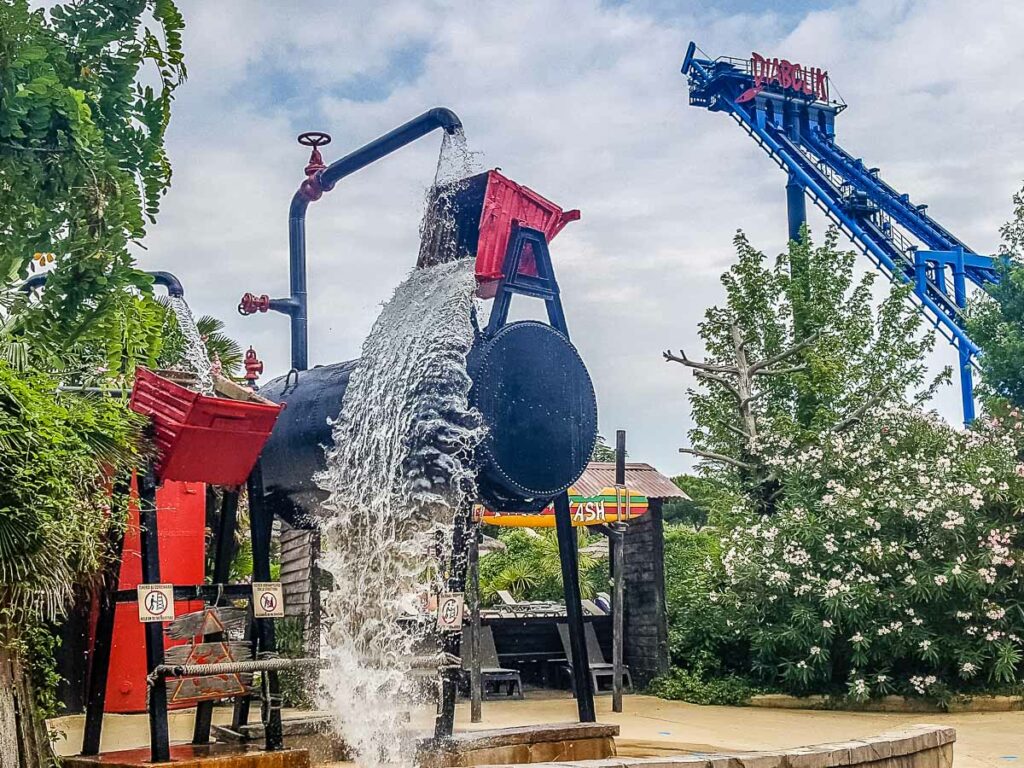 There is nothing like taking a refreshing dip in the water when Italy's hot sun is blazing high up in the sky. What to do, however, if you are nowhere near an Italian beach?
Thankfully, all over Italy, you will find amazing water parks. Make full use of them. They are fun places with all sorts of water-related activities. Slides, lazy rivers, large hot tubs with dozens of jets. On a hot day, you will not want to leave.
Here are some names to put on your Italian water park bucket list: Acquatica Park in Milan, Mirabeach near Ravenna, Aquafan in Riccione, Caribe Bay in Jesolo, Cavour Water Park and Caneva Aquapark at Lake Garda, Aquafollie in Caorle near Venice, AquaSplash Franciacorta in Colombaro, and AquaSplash in Lignano.
Some Italian water parks have historic swimming pools, too. For example, in Terme di Giunone – a water park in the Province of Verona – there are two pools with thermal water which have been used since Roman times. One is perfectly round and its bottom is covered with fine sand. The other is shaped like a half-circle and its bottom is covered with large stone slabs and small pebbles. Swimming in them is really cool as you imagine the ancient Romans relaxing in the water over two thousand years ago.
More Information:
3. Enjoy a Cooling Dip in Italy's Lakes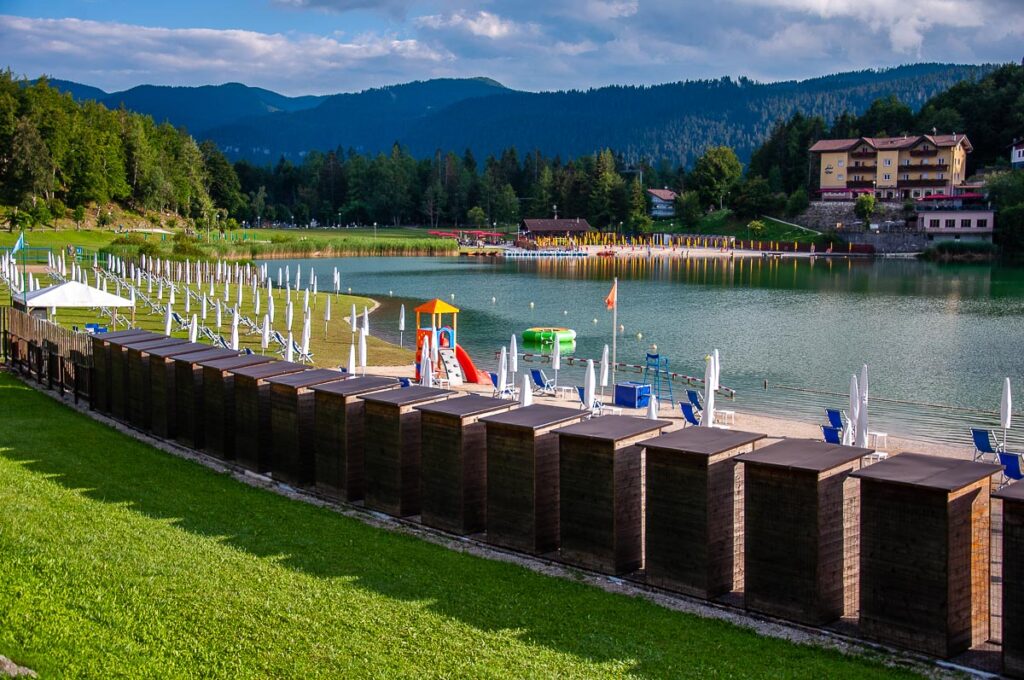 Italy is richly blessed with hundreds of pristine lakes. Many of them are dotted with small beaches where you can swim and sun yourself during the hot summer months.
Lago di Garda is a case in point. This is Italy's largest lake and there are over a hundred small beaches on its shores. Pebbly or covered with grass, they are a great place to head to when the temperatures start hitting record highs.
Other famous Northern Italian lakes are Lake Como, Lake Orta, Lake Maggiore, and Lake Iseo but there are many other lake destinations to explore all over the country.
The autonomous province of Trentino is particularly blessed as it has almost 300 lakes. You can literally spend the whole summer in its valleys and mountains and keep discovering for yourself more and more beautiful lakes.
Lake Caldonazzo – Trentino's largest lake – deserves a special mention here for its warm waters. They are wonderful to swim in and the lake is a hub for many different water sports.
More Information:
4. Follow the Italians to Their Favourite Wild Swimming Spot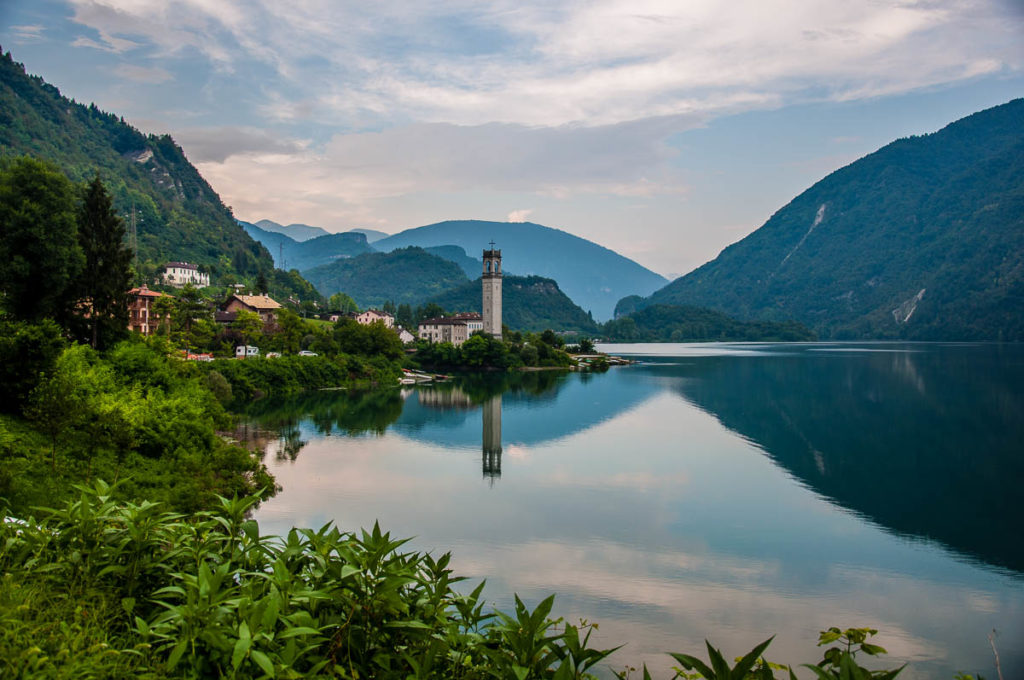 Seas, lakes, and water parks are not the only places where you can go for a cooling swim during the hot months in Italy.
In a country so generously dotted with stunning lagoons, ponds, rivers, thermal springs, and waterfalls, water is literally everywhere here. Hence, Italians have taken to wild swimming as the proverbial duck takes to water.
There are many splendid wild swimming spots in Italy. My favourite is Contrà Pria in the Northern Italian region of Veneto. Otherwise, you can see some of the very best ones all over the country in these two round-ups published by The Guardian and Conde Nast Traveller.
The thing you need to be aware of is that often you will need a car to reach these spots as they tend to be in secluded areas far from the main tourist hotspots. Also, the water can be freezing cold. This is not necessarily a bad thing considering that you may need to counteract temperatures that are veering close to 40 degrees Celsius.
Lastly something very important! Sometimes access to a particular body of water is either entirely or temporarily forbidden due to serious factors like an unsafe environment or an epidemiological outbreak. So, due diligence is needed when deciding first, if wild swimming is for you and second, where to practice it safely.
5. Rent a Boat or Go on a Boat Tour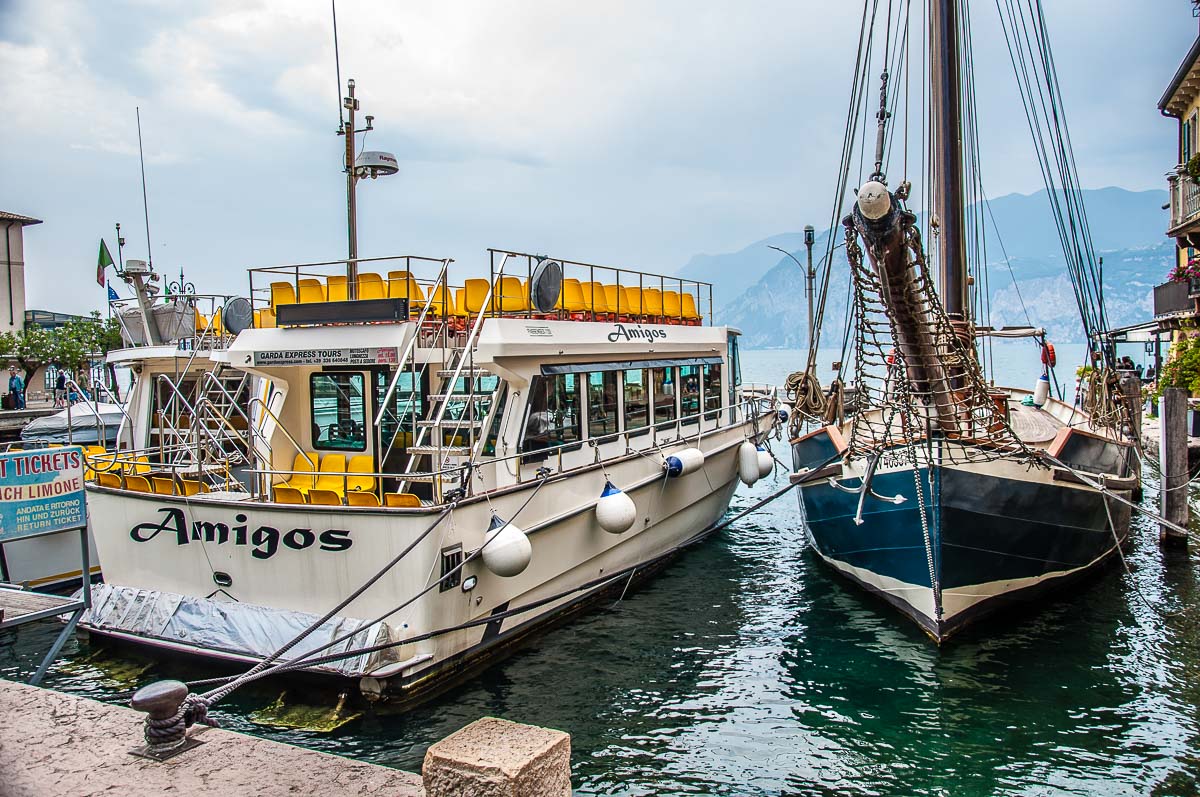 There is nothing better than to spend time on a boat as it navigates sparkling waters and opens up marvellous coastal views. It feels so relaxing and exciting at the same time. It's certainly one of the best things to do in Italy in summer.
Renting a boat – albeit a small motorboat on an Italian lake or a sailing yacht in an Italian seaside resort – is uncomplicated and a great way to make memories. If you are unsure of your skills as a captain, you can even hire a skipper to steer the boat while you are simply enjoying the views and the breeze.
Alternatively, you can book a boat tour to take you to a particular Italian sight. It could be the famous island of Capri, the hidden gem of La Maddalena Archipelago off the coast of Sardinia, a cruise of Lago di Garda or simply a shared gondola ride in Venice.
You will soon discover that the beauty of Italy in summer is best enjoyed from the water.
6. Give Water Sports a Try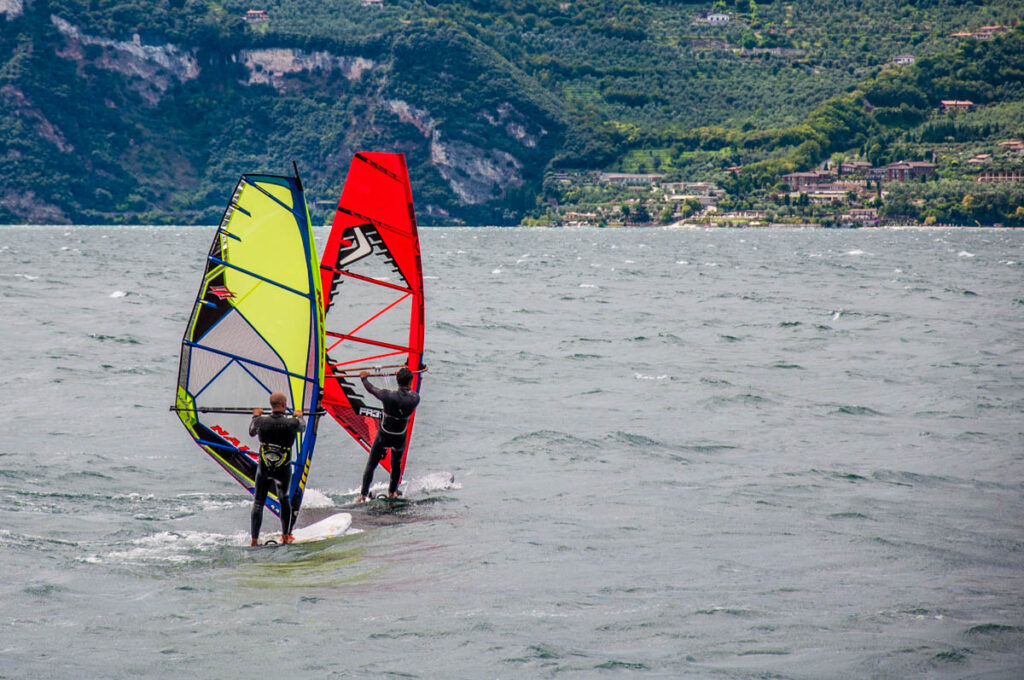 Summer is the perfect season to give water sports a try. The Italian seas and lakes are the perfect place to do it.
There are so many ways to keep active here. You can surf, kitesurf, windsurf, water ski, dive, snorkel, paddleboard, canoe, or simply hire a pedalo.
You don't have to be an expert in any of these water sports either. Many companies offer tasters, individual and group training and guided practice.
Ask for recommendations at your accommodation or at the tourist office of the specific place you will be visiting in Italy this summer.
7. Spend Relaxing Hours by the Swimming Pool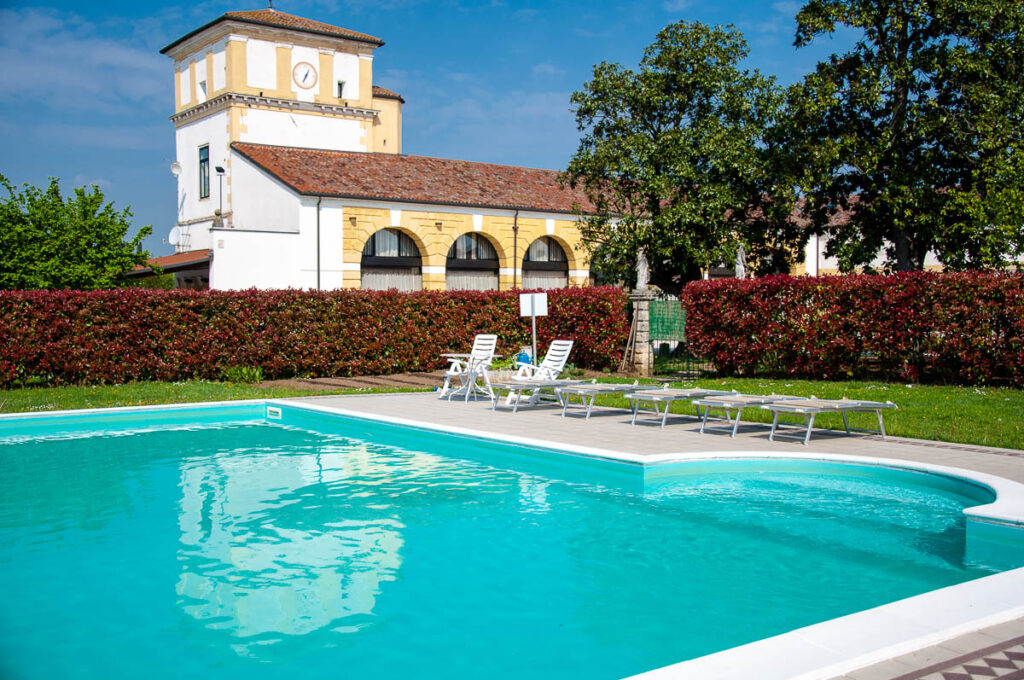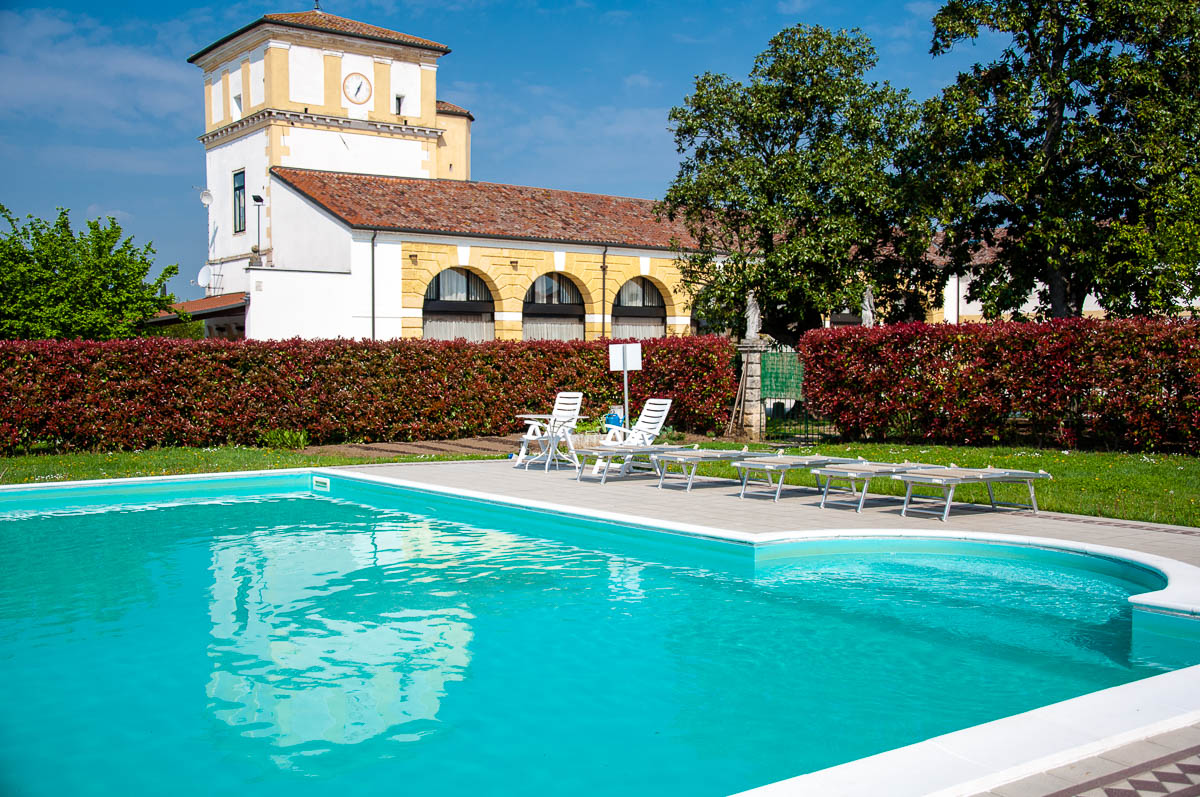 Summer is a season to relax and recharge your batteries. One of the best ways to do it is to take it easy by the swimming pool. Italy has many different types of accommodation offering a pool as part of the package. From historic Italian villas with frescoed rooms to family-friendly hotels, so many of them come with a swimming pool or two.
One of the most famous swimming pools in Italy is that of Grand Hotel Tremezzo on Lake Como. The outdoor floating pool here offers fantastic views across the water to the lakefront town of Bellagio. Many of the hotels in the autonomous region of Trentino-Alto Adige come with stunning swimming pools with panoramic views of the surrounding mountains. The Olympic Spa Hotel is a case in point but there are many others to book for a refreshing mountain break this summer in Italy.
Alternatively, consider spending a weekend or a week in one of Italy's spa towns. There you can swim in pools filled with thermal waters and enjoy a wide variety of spa procedures. Some of the most famous Italian spa towns are: Abano Terme, Montegrotto Terme, Gambassi Terme, Cianchiano Terme, Galzignano Terme, and Montecatini Terme to mention but a few.
Of course, there are several spa towns in Italy without the word Terme in their names. For example, Sirmione on Lake Garda, Bibione on the Adriatic Sea, and Taormina in Sicily. Not to forget the most famous free spa in the world – Cascate del Mulino (Saturnia) in Tuscany.
II. Delve into History and Culture This Summer in Italy
From historic events and reenactments to large firework displays, from art festivals to thematic museums and even horse and boat races spurred by centuries-old rivalries, there are many exciting ways to delve into Italy's history and culture this summer. Find out more below:
1. Enjoy Historic Events and Reenactments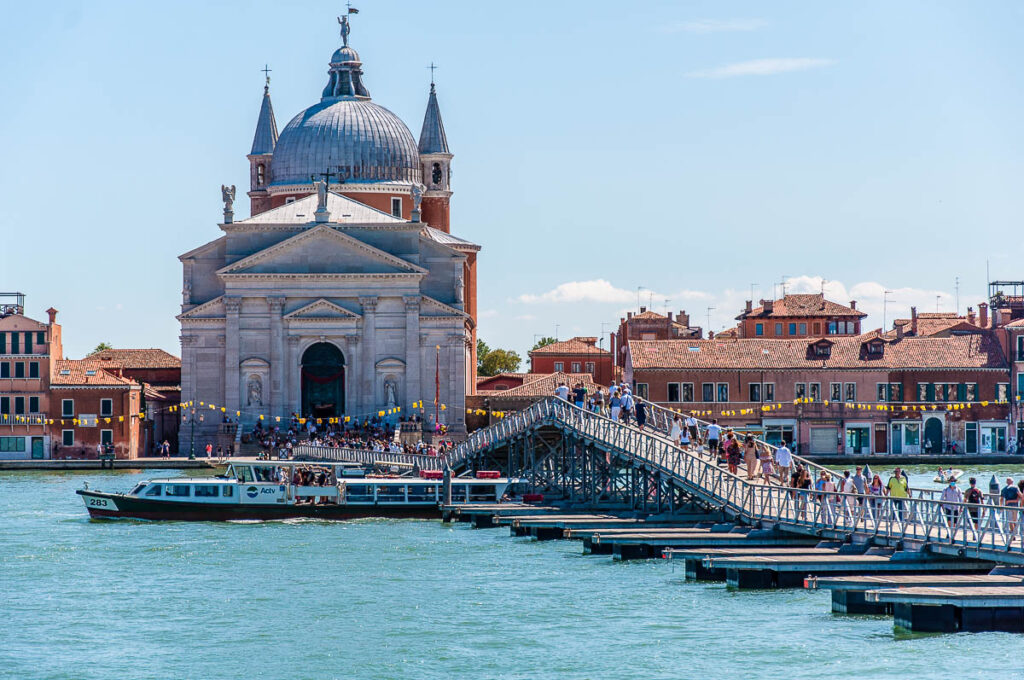 The Italian cities and towns are great at staging large-scale festivals that recreate historic events. With hundreds of participants, these festivals take over Italy's historic centres and transport you centuries back in time. Summer is the best season to see many of the most famous Italian historic events and reenactments.
Here are a few to choose from or to inspire you to search for more:
Every summer, Venice holds two important events which help you immerse yourself in the history and pomp of the City of Canals.
One is the Festa del Redentore, taking place on the third weekend of July. It celebrates the deliverance of Venice from the terrible plague which decimated the city in 1576. This is when a temporary pontoon bridge is built over the Giudecca Canal and a huge fireworks display marks the end of the festival.
And then on the first Sunday of September, Venice holds its famous Historical Regatta. The event opens with a lavish procession on water and it's then followed by exciting boat races.
The small town of Ascoli Piceno in the Central Italian region of the Marche (one of Italy's last hidden gems) hosts the historical Quintana. This is a vibrant and emotional celebration of the town's medieval past.
In the first half of July, head to Monteriggioni near Siena in Tuscany. A medieval festival centred around the town's castle brings historic reenactments, shows inspired by bygone times, ancient crafts, sieges, and fights.
2. Attend an Italian Palio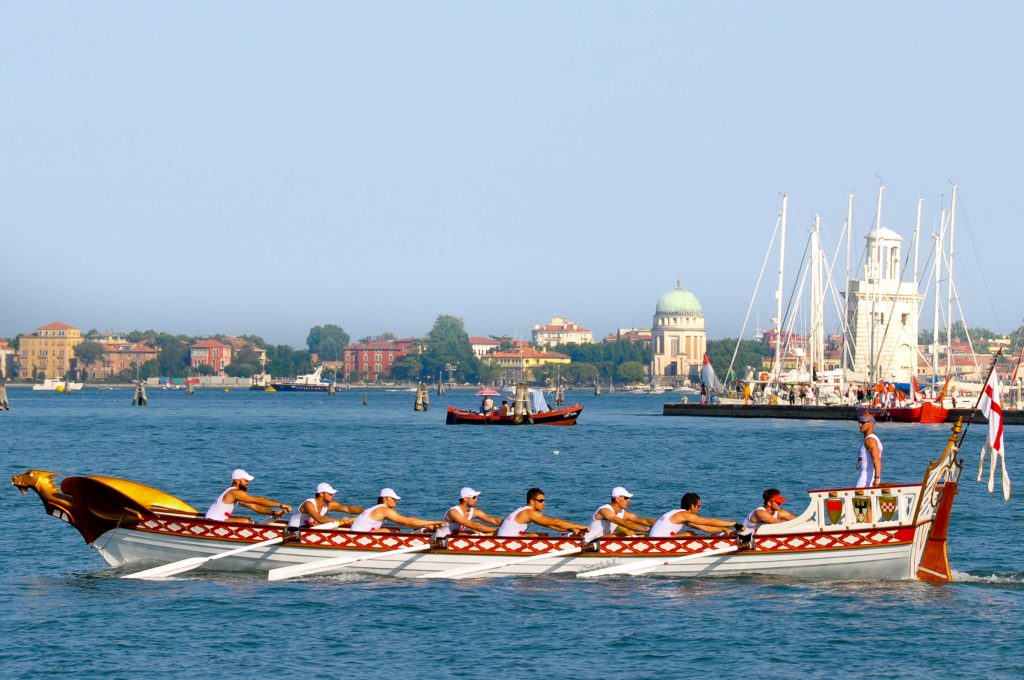 A palio in Italy is an annual athletic contest. It could be a horse race, a donkey race, a boat race or even a raft race. Traditionally, it pitches against each other the contrade – or districts – of an Italian city or town. With Italian families often living at the same place for generations, you can imagine that rivalries here stretch back hundreds of years and emotions run high.
Often, a palio is also linked to a particular historic event. So, the race is preceded by an elaborate parade with people dressed in period costumes, flag-throwers showing off their skills, and historic characters like a Venetian doge, a medieval diplomat, or a Renaissance condottiero enacted by local volunteers.
A palio is a great thing to see during the summer in Italy. And while the Palio di Siena is the internationally most famous of them all, there are many more around Italy that are very authentic in spirit and very, very exciting to watch.
Here are a few to grab your interest and make you want to see one for yourself in Italy this summer:
Palio di Ferrara – held at the end of May in the Renaissance city of Ferrara, this is one of the largest historic horse races in Italy. There is a lot of local pride invested in it and a meticulously organised program of accompanying events and parades.
Palio delle Antiche Repubbliche Marinare – this very particular palio pitches against each other the four ancient maritime republics – Venice, Genoa, Amalfi, and Pisa. The boat race is held in June and each city takes a turn hosting it. There are a lot of historic rivalries here, so passions run high.
Palio delle Zattere – the tiny town of Valstagna in the Northern Italian region of Veneto organises the most unique palio of them all. The strongest men in town compete standing up on rafts floating down the River Brenta. They recreate the events of bygone times when tree trunks from the forests of Veneto's mountains were sent down the river all the way to Venice to be used for the construction of the Venetian houses and palazzi.
Palio di Feltre – the little-known town of Feltre in the Northern Italian region of Veneto hosts one of the most lavish and well-organised palii in all of Italy. Head to Feltre in the Dolomites the first week of August for a truly memorable experience.
Palio del Golfo – head to La Spezia (the beautiful port city near Cinque Terre in Liguria) on the first Sunday of August for this exciting boat race which is part of the local Festival of the Sea.
Palio di Asti – the town of Asti in the Northern Italian region of Piedmont is famous all over the world on account of its sparkling wine. In Italy, the town is also known for hosting one of the country's oldest horse races. Usually held in September, the Palio di Asti has a rich program of accompanying events. A small museum in town is dedicated to the palio's history and traditions.
3. Spend Time at Captivating Art Festivals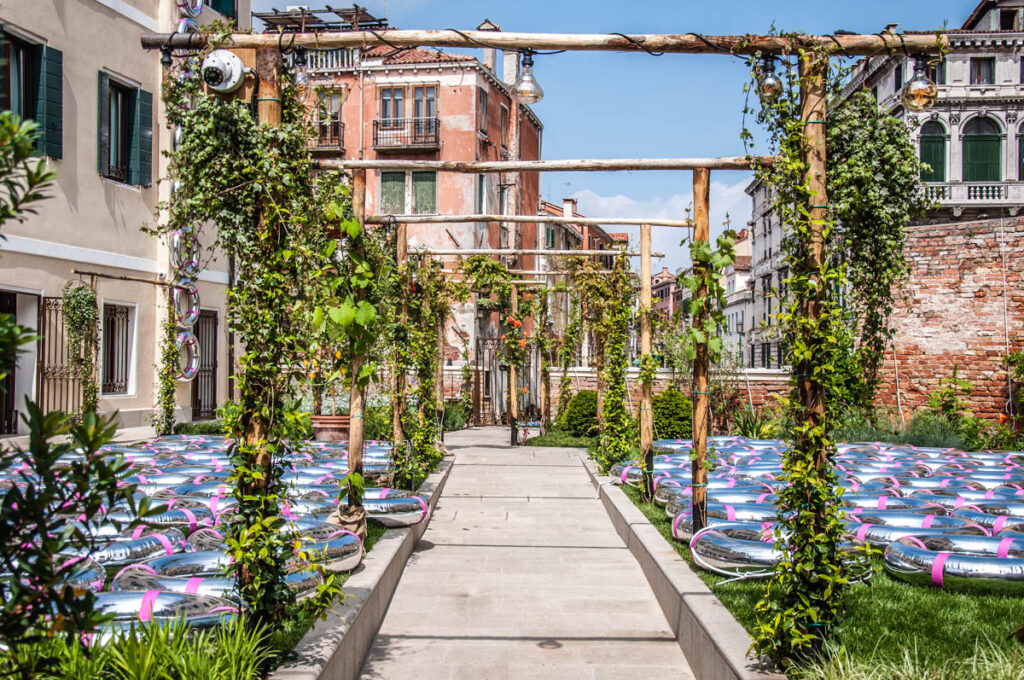 Italy is famous for its artistic heritage. It is a country which celebrates art from many different periods and encourages the creation of art in many different forms.
Summer is a great time to be in Italy if art is of interest to you or if you are open to allowing art to give you a new point of view. Art festivals and happenings take place all over the country. They are great places to visit in order to get closer to human creativity and to give yourself a chance to experience new things.
The Venice Biennale is particularly famous. It is a large-scale international cultural exhibition spotlighting different forms of art. It's a must-see if you want to experience Venice differently and if you would like to put your finger on the creative pulse of the world.
The Festival dei Due Mondi takes place between the end of June and the start of July in the ancient city of Spoleto in the region of Umbria. It combines art, culture, and music and it's one of the most important cultural events in Italy.
Festivaletteratura is a great place for lovers of the written word. Each September, it attracts a large number of writers from Italy and all over the world. Expect readings and guided tours coupled with performances and concerts. The Renaissance city of Mantua provides the stunning backdrop.
The Venice Film Festival is easily the largest and most important cultural event towards the end of summer in Italy. It starts on the last day of August and takes place over the first ten days of September. It attracts the world's most renowned actors, directors, and filmmakers to the island of Lido di Venezia in the Venetian Lagoon.
4. Hike Through Art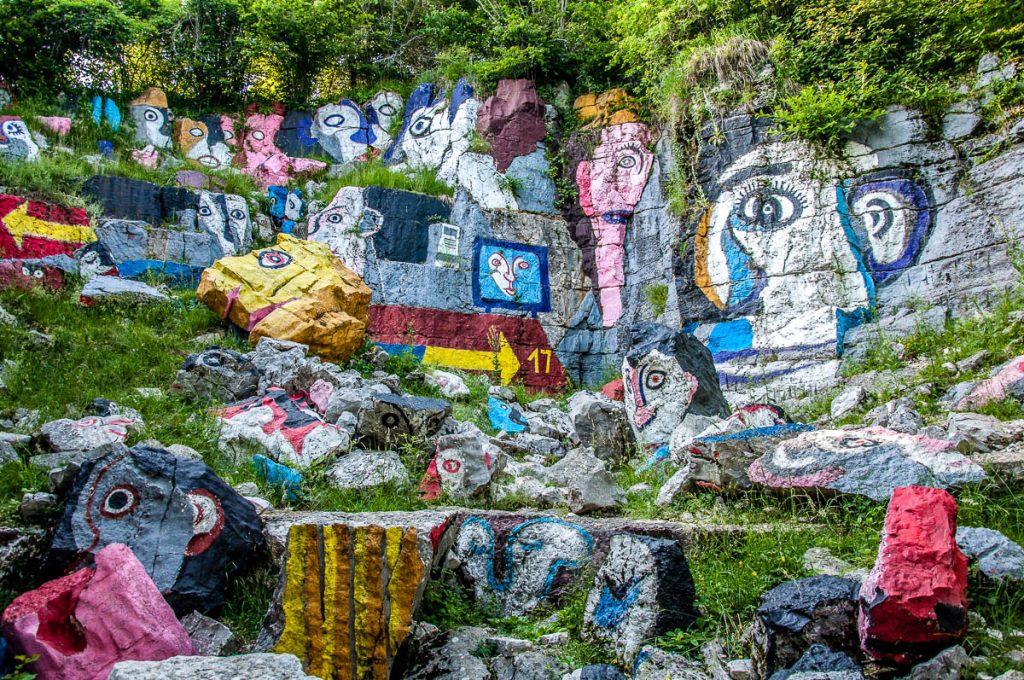 A cool way to get close to art and culture in Italy is to combine them with a nice and relaxing walk.
Many parks and corners of nature in Italy are dotted with pieces of contemporary art. This creates stunning open-air art galleries where art appreciation and keeping healthy come hand in hand. And what can be better than admiring the fruits of human creativity in the context of nature?!
Here are six such art parks to put on your summer in Italy wish list:
Parco del Sojo – a natural park with 70 pieces of contemporary art installed in a lush forest.
Cave Dipinte – this is a group of abandoned quarries that have been turned into an open-air art installation by the artist Tony Zarpellon.
Parco Arte Sella – another natural park with large sculptural pieces of contemporary art cleverly positioned in sunlit clearings and among tall trees.
RespirArt – one of the highest art parks in the world, this is a place that combines 29 works of art with a 3-km walk in the heart of the Dolomites.
Fattoria di Celle – a large collection of contemporary art by world-renowned artists placed in the grounds of a Tuscan villa.
Giardino dei Tarocchi – a fantasmagorical place where big and bright works of art inspired by the Major Arcana of the tarot cards both contrast with and complement their natural setting.
5. Visit Thematic Museums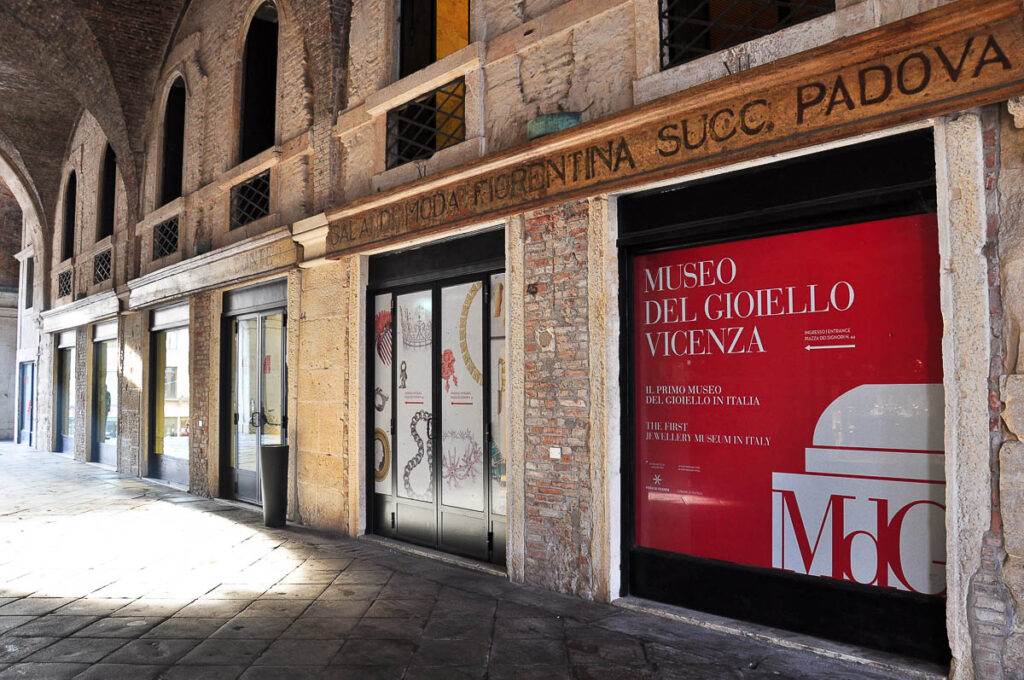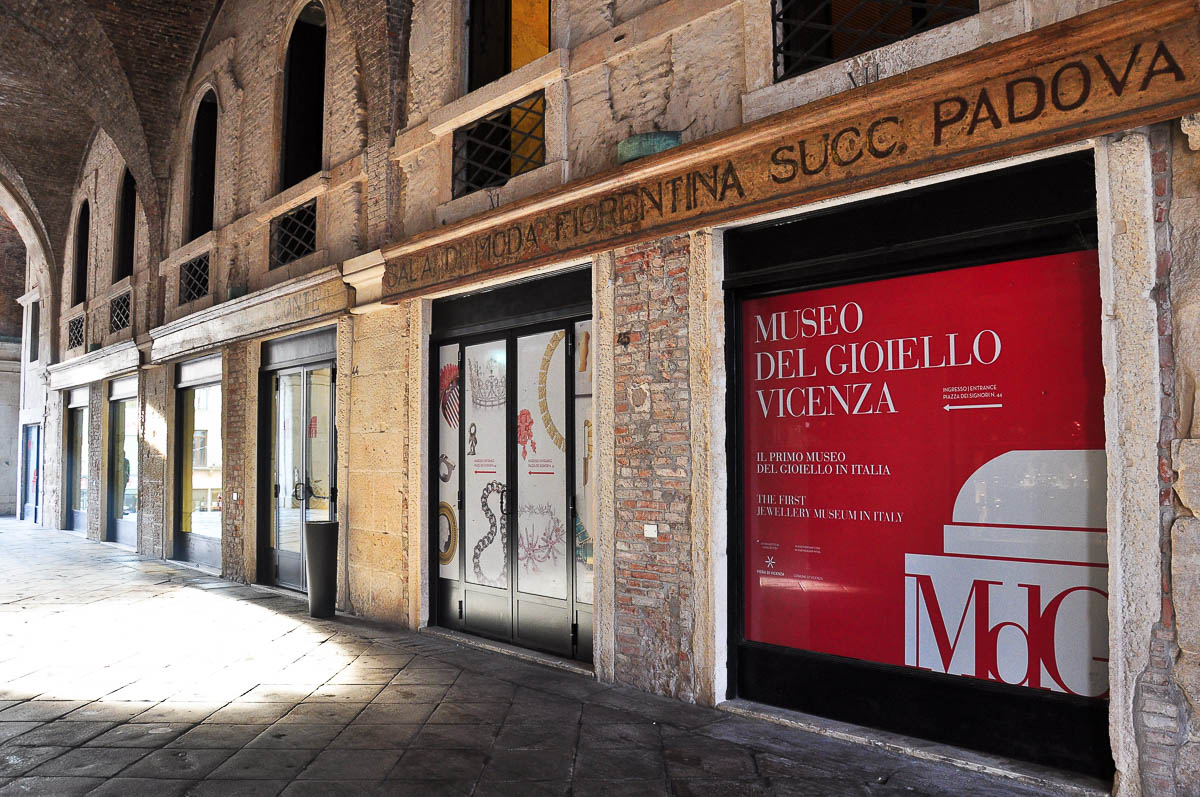 Italy has many large world-famous art galleries and museums. The country, however, is also rich in thematic museums where you can explore the history and traditions of a particular craft, occupation, type of art or corner of Italy.
Often devoid of crowds, these are amazing places to visit. They can be both small and lovingly housed in a few rooms or large and spread out in huge, purpose-built buildings.
Visiting them is a great way to feed an interest in a particular subject and to discover new topics to delve in.
Here are a few thematic museums to visit this summer in Italy:
Museo Nicolis near Verona – a splendid museum housing 300 classic cars, motorbikes, and bicycles. It even has aeroplanes parked on its rooftop!
Jewellery Museum in Vicenza – Italy's first museum dedicated to the art of jewellery-making and jewellery design. Under its floors, you can see the preserved remains of a 13th-century goldsmithing workshop.
Corkscrew Museum in Barolo – quite the unique museum this is, isn't it?! Its whole exposition is dedicated to the history and quirks of the corkscrew. Sounds like a simple everyday thing but where all the wine lovers in the world would be without it?! Quite fittingly, Italy's Corkscrew Museum also has a wine bar/restaurant attached to it.
Papyrus Museum in Siracusa – an extraordinary place exploring the history of papyrus – the 'paper' of the ancient civilisations. Visit to see how papyrus scrolls used to be made. The museum holds priceless Pharaonic, Hieratic, Demotic, Greek and Coptic papyri as well as papyrus boats from Ethiopia and Lake Chad.
Gelato Museum near Bologna – Italy's only museum dedicated to one of its most famous foodstuffs. Come here to learn all about gelato – from history and traditions to how to make it. A great place to visit with kids!
III. Do Some Sightseeing with a Difference This Summer in Italy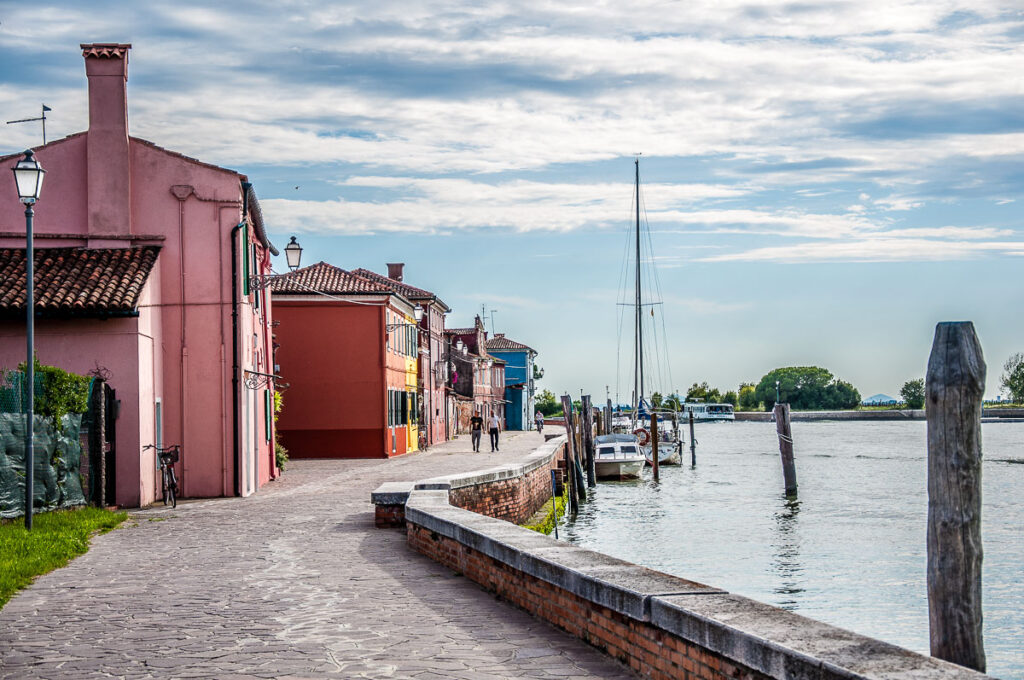 From visiting gorgeous islands, small villages, and medieval walled towns to enjoying bird's-eye views, there are many ways to enjoy a spot of sightseeing with a difference this summer in Italy. Find out more below:
1. Head to Italy's Islands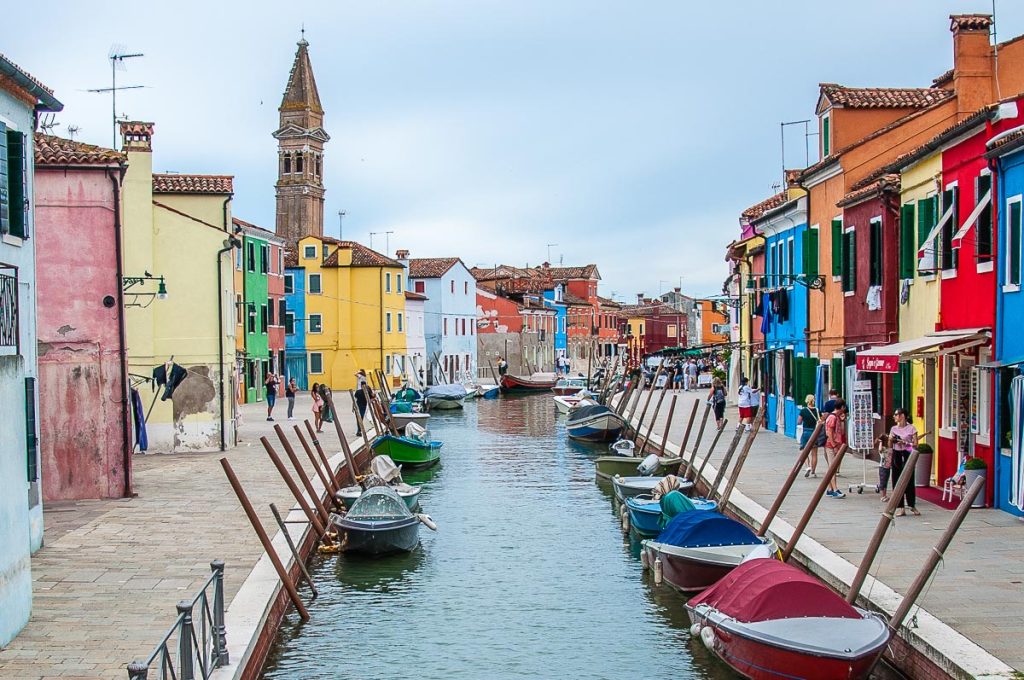 Italy has so many islands and archipelagos that 1/6th of its territory is insular. Of course, Sicily and Sardinia are the two largest and possibly best-known Italian islands but there are hundreds more of them to see and explore here.
Italy has islands both in the seas that surround it and in the many lakes dotted all over its territory. Plus, the historic city of Venice is built on 118 islands connected by more than 400 bridges and separated by around 170 canals.
Italian islands are great destinations in summer. Expect beautiful nature, interesting local traditions, and great historical and cultural sights. A quick and easy way to explore as many islands in Italy as possible is to spend a few days in Venice.
This way, you can tick off the islands of San Giorgio Maggiore, Murano, Burano, Torcello, Pellestrina, Lido di Venezia and several other Venetian islets off your list. You can also visit nearby Chioggia – a picturesque town on a cluster of small islands at the southern end of the Venetian Lagoon.
You will see how all these islands have their own unique features and customs even though they are only a short journey by boat away from each other.
Or, you can travel up to the Northern Italian lakes like Garda, Iseo, and Como. They are so big that they have their own islands, too. In fact, Monte Isola – Iseo's island – is the largest lake island not just in Italy but in South and Central Europe, too.
2. Spend Time in Italy's Small Villages and Historic Towns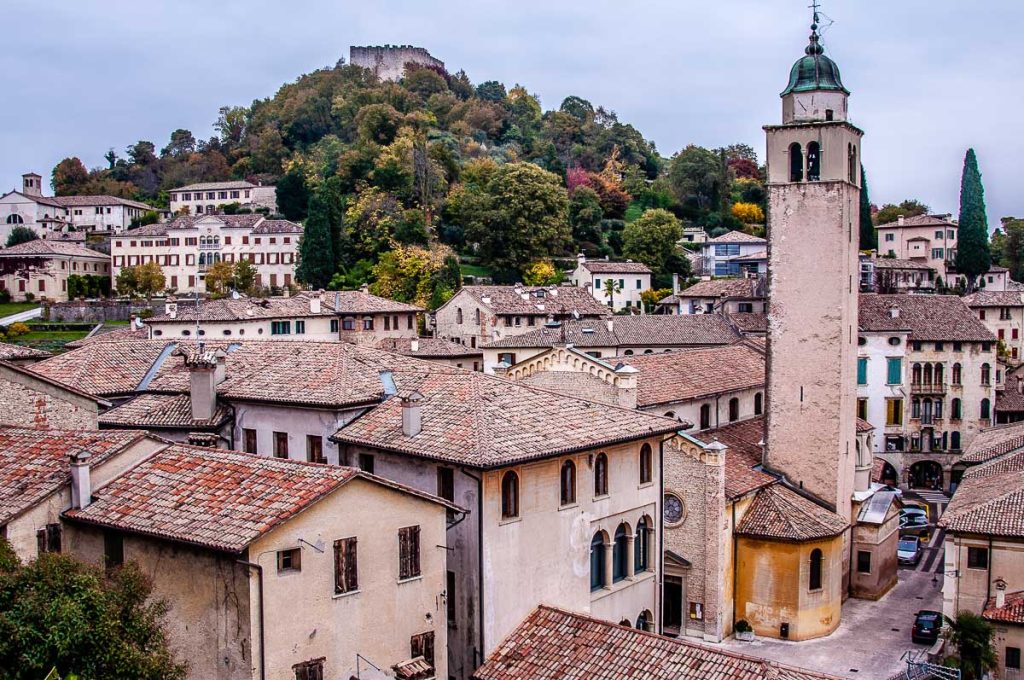 Italy's most authentic beauty and charming traditions are upheld by its historic villages. They are called borghi in Italian. They are often small in size and very much off the beaten track. Yet they offer a real opportunity to truly immerse yourself in the Italian lifestyle.
Most people plan their Italian summer adventures strictly around the country's main tourist hubs like Florence, Venice, and Rome. If you put a day aside to venture further afield and visit one or two of Italy's many villages, you will soon discover stories, legends, and inspiring views to give you a new understanding of what makes Italy a must-see destination year-round.
Even better! Italy has hundreds of small historic towns. These are picturesque places – often surrounded by sturdy defensive walls – where you will feel like you have travelled back to the Middle Ages or the Renaissance.
Especially, if you happen to visit during one of the many historical reenactments which are regularly held here. This is when people dress in costumes, cook food over open fires, and entertain themselves with medieval games and sword fights. It's a lot of fun!
So, make it your goal this summer in Italy! Explore Italy's villages and small towns for a dose of beauty and history.
More Information:
3. See Italy from Above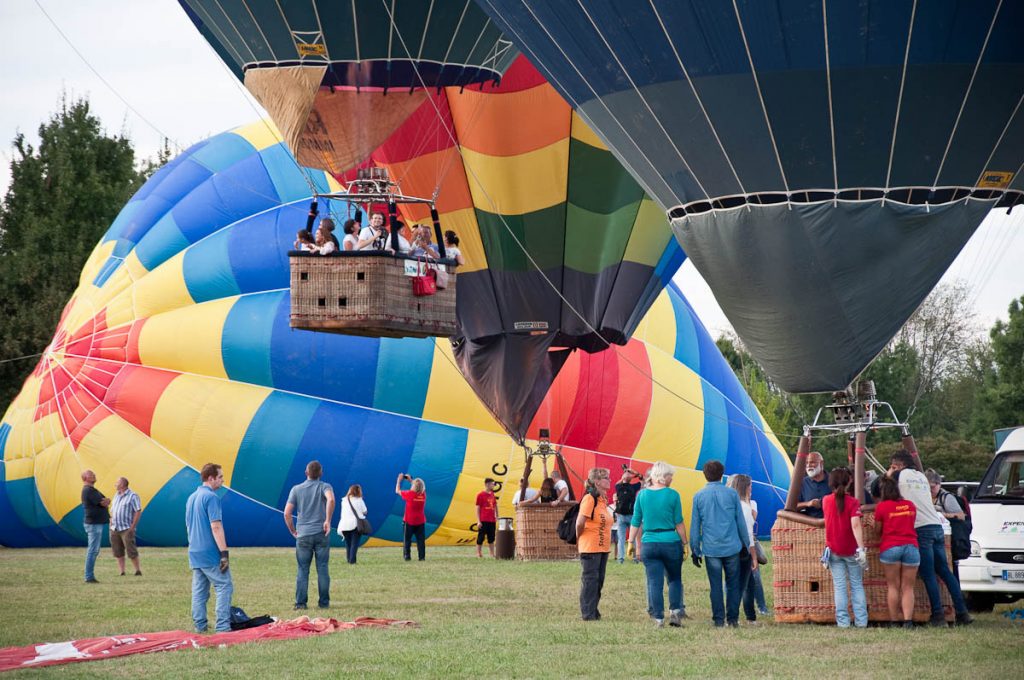 For the ultimate sightseeing with a difference this summer, see Italy from above.
This may be as extravagant as taking a helicopter ride over Lake Como or Venice. Alternatively, you can also enjoy aerial views of Italy's most famous lake from a seaplane. The flights are organised by the oldest seaplane flight organisation in the world – Aeroclub Como.
For something just a bit more pocket-friendly yet still affording spectacular panoramas, take a balloon ride over Italy. You can book it in Florence, Siena, Assisi, and even Rome. And if you are a true daredevil, then get a paragliding experience under your belt this summer in Italy. There are many clubs organising them all over the country with Lake Garda and Monte Grappa providing splendid views and tons of excitement.
Beautiful views are guaranteed, too if you take a cable car or a funicular in Italy. The choice is big – from the historic funiculars of Verona, Trento, and Bergamo to the cable cars of Monte Baldo and Mont Blanc (or Monte Blanco, as it's known in Italian).
It's not every day that you can feel like a bird and all these experiences come coupled with fantastic Italian views, so make sure that you tick off at least one.
IV. Get Close to Nature This Summer in Italy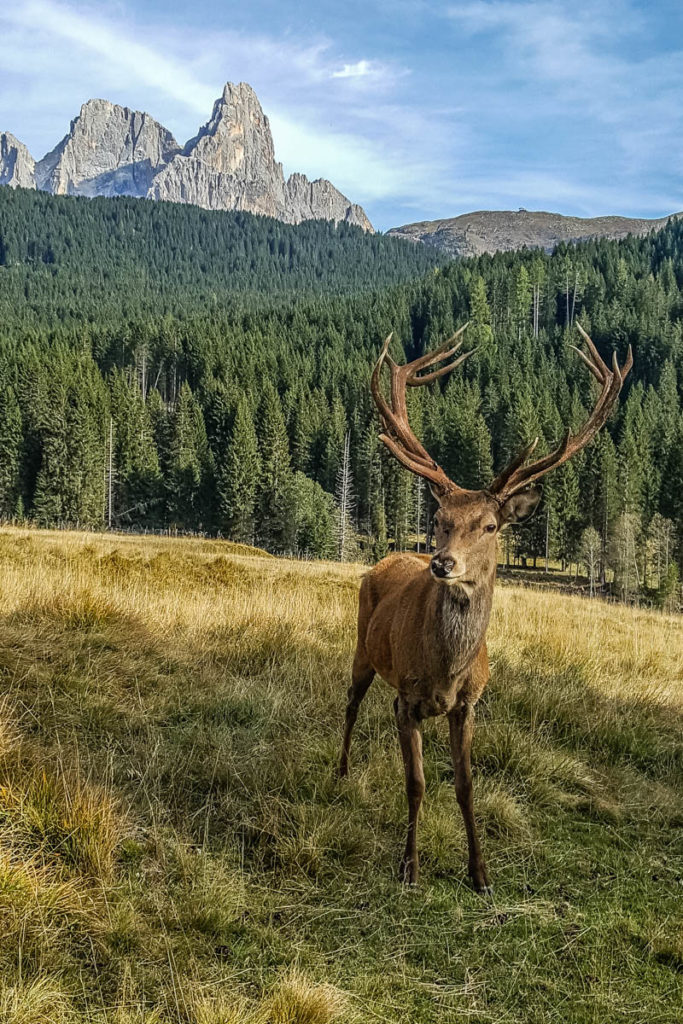 From beautiful national parks to centuries-old forests, from rafting and canyoning to forest bathing and hiking, there are many ways to get close to nature this summer in Italy. Find out more below:
1. Enjoy the Fresh Air and the Stunning Beauty of Italy's National Parks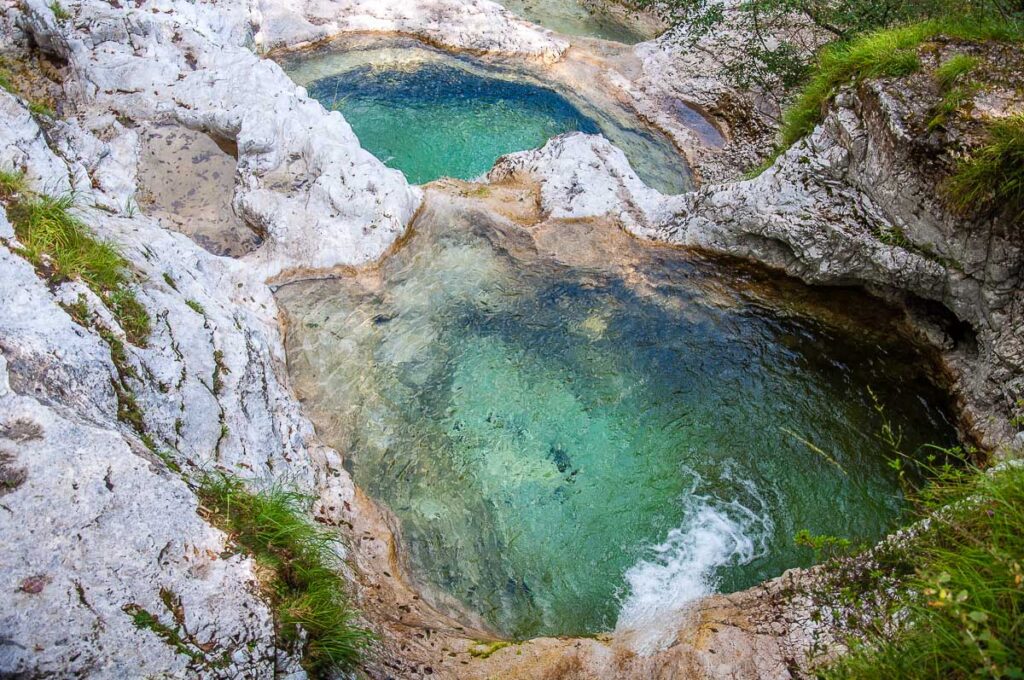 Italy has 25 national parks. These protected natural areas take just over 5% of the country's territory. From the peaks of the Dolomiti Bellunesi in Northern Italy to the small island of Pantelleria just off the coast of Sicily in the south, these national parks are where you can see and experience the beauty of Italian nature. Both overground and underwater.
Expect majestic mountains, crystal-clear waters, deep forests, quaint corners, and a huge variety of plants and animals. Great to visit in summer, Italy's national parks offer splendid panoramic views, close contact with nature, and a whole host of activities – from hiking to diving.
When the Italian cities and towns are gripped by exhausting heatwaves, you can escape to a nearby national park and enjoy the clean refreshing air in the dense shadow of the trees. This list of Italy's national parks is a good starting point for a bit of research on which park to head to.
Of the national parks that I have had a chance to visit in Italy, my favourite one is the Dolomiti Bellunesi. With pristine nature and crisscrossed by dozens of hiking paths, it's easy to reach from the largest cities in the region of Veneto and it's so beautiful to explore.
More Information:
2. Have Fun in Cool Adventure Parks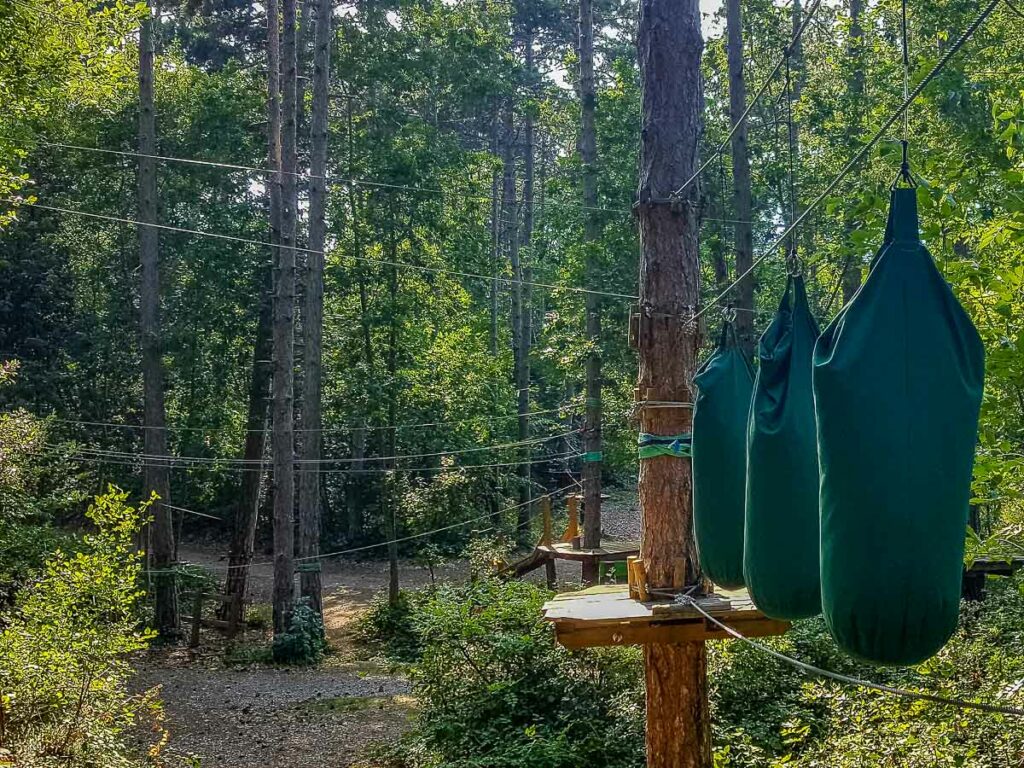 Italy is dotted with cool adventure parks where you can have fun and test your endurance in the bosom of nature. So, get the adrenaline running by walking on rope bridges suspended between tall trees and ziplining from platform to platform set up high above the ground.
The best bit is that adventure parks in Italy offer different trails for different age groups and abilities. This way all the family can take part and you get to do just what you feel comfortable with.
Here are some great adventure parks to head to in Italy this summer:
Parco Avventura Le Fiorine – this adventure park is set in the beautiful Euganean Hills – a hilly group of volcanic origin in the Northern Italian region of Veneto. You can combine a visit to the park with a nice hike, a visit to a nearby medieval town like Monselice or Este or a historic village like Arquà Petrarca.
Acropark Laghetto Roana – this adventure park is set in the Altopiano di Asiago – a stunning plateau in Veneto which played a decisive role during the two World Wars. One of the trails here includes ziplining over a small lake! You can combine a visit to this park with hikes and visits to cute towns and historic sights in the area.
Rimbalzello Adventure Park – this adventure park is right next to the waterfront of Italy's largest lake – Lago di Garda. The nearest lakefront towns are Gardone Riviera and Salo' in the Northern Italian region of Lombardy. You can combine a visit to this park with time spent on the beach, lunch in a nearby restaurant or even a boat tour on the lake.
Parco Avventura Mont Blanc – this adventure park affords splendid views of Mont Blanc – the highest mountain in Western Europe – and has seven trails. You will find it in the Northern Italian region of the Aosta Valley and you can combine a visit to it with a hike ending at a panoramic terrace suspended at a height of 160 m.
Parco Avventura Canyon Park – this adventure park is set up over a river in the lush surroundings of Bagni di Lucca – a small town near Lucca in Tuscany. The trails are suspended above a deep canyon offering oodles of excitement and beautiful views as you make it across the different stages. In this park, you can also experience paddleboard yoga.
More Information:
3. Go on Forest Walks
Forest bathing is a concept born in Japan but it's perfectly applicable to Italy, too. 31% of the Italian territory is forested which means that here you are never truly far away from trees.
Slowly walking through a forest to de-stress and re-energise is something that we all can do with more often in our hectic lives. Being surrounded by tall trees can feel so calming. Breathing in the scents of the forest is so relaxing, too. Resin, grass, bark… They all have their unmistakable aroma that reminds you – you are in the bosom of nature now.
There are so many beautiful forests in Italy that you will be spoilt for choice. I love the forests of Asiago – a plateau in the Northern Italian region of Veneto. They feel so fairytale-like. Especially in summer, when the trees are covered with lush crowns of leaves. Then you have Paneveggio – a forest which produces the best trees for the exact art of violin-making. Not forgetting Cansiglio – the largest forest in mainland Italy where you sort of expect to run into an anguana – a mythical Italian creature – around every corner.
No matter which part of Italy you will be visiting this summer, try to put a day or half a day aside for a slow walk in a nearby forest. Relaxation through communion with nature is one of the best things to experience here during the hot months.
4. Hike, Hike, Hike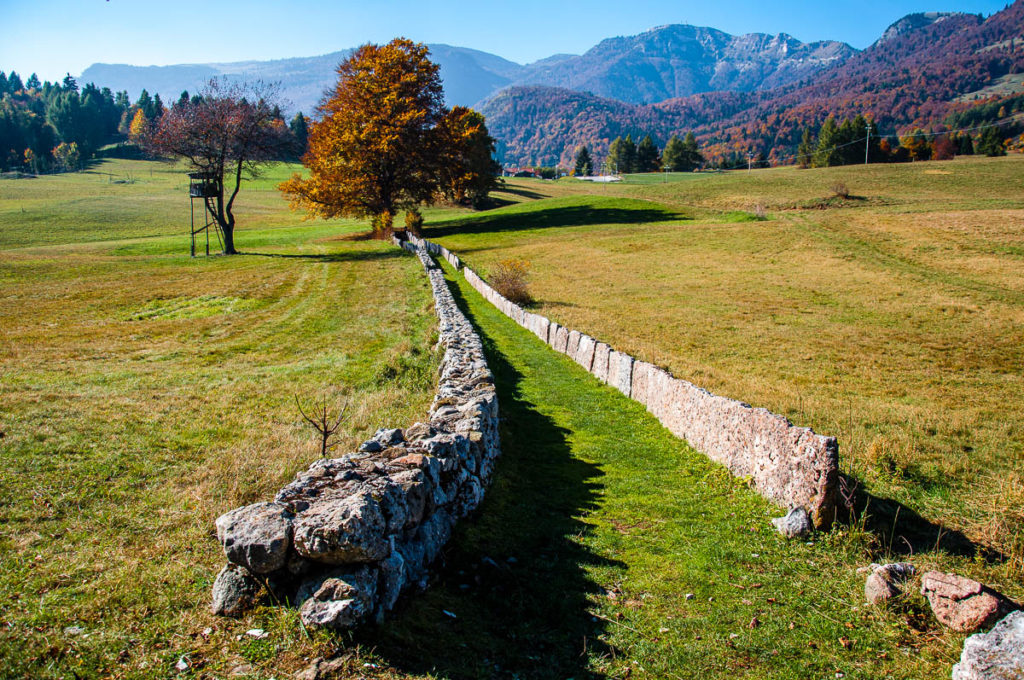 Hundreds of hiking trails crisscross Italy's mountains, hills, forests, and plains. They offer you an easy way to get active, see more of Italy, and immerse yourself in the beauty of its nature.
If you like walking and exploring hidden corners on foot, go for a hike this summer in Italy. You won't be disapponted! Majestic views, fresh air, and splendid lanscapes are yours to discover and enjoy.
Every Italian region has its own famous hikes and dozens of little-known trails. Pick one depending on your interests. It could be a popular trek like the Tre Cime di Lavaredo in the Dolomites, a strenuous panoramic walk like the Path of the Gods on the Amalfi Coast or something small, easy, and local like the Excalibur trail or the Path of the Big Trees in Veneto.
Local tourist offices will have plenty of information about fantastic hikes for all abilities. Summer is a great season to be out and about and provided you bring enough water and food to keep your energy levels up, a hike could well turn out to be your favourite travel memory of Italy.
Just bear in mind that comfortable walking shoes with a good grip and ankle support are a must at all times. Pick your hike strictly depending on your ability and not simply based on beautiful pictures you might have seen. Avoid hiking paths that don't provide shade for most of the trail as you can quickly overheat. Bring an insect repellent and sunscreen. Don't take spontaneous detours, and make sure that someone knows your hiking plans and estimated time of return.
More Information:
5. Give Adventure Sports a Try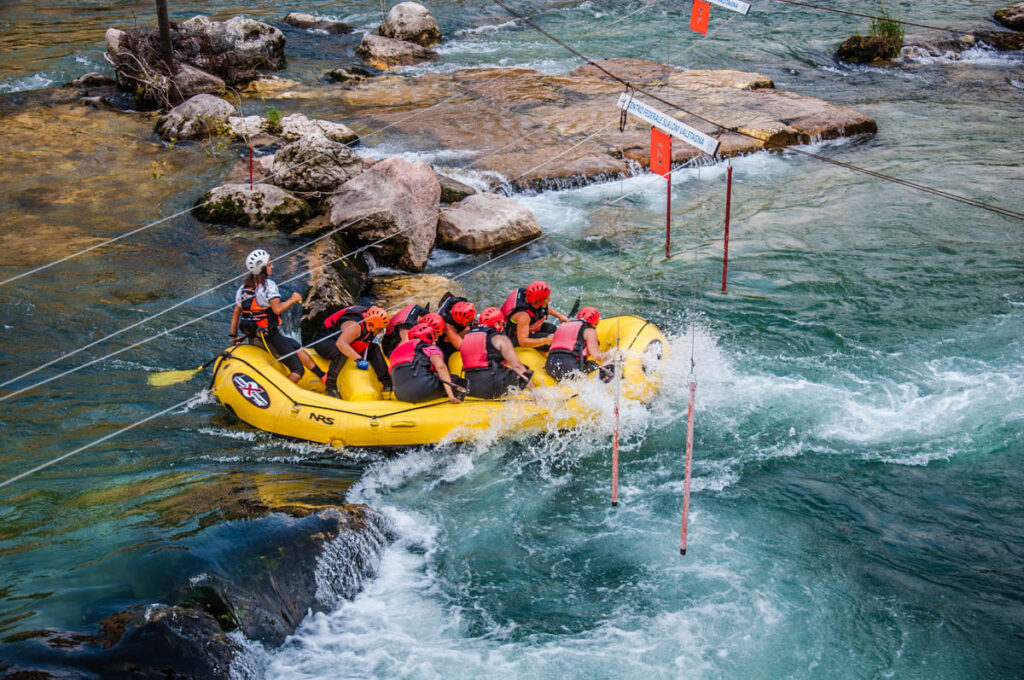 Even if you are not the adventurous type, this summer in Italy you can easily try your hand at different types of fun exciting sports to see how you feel about it all. From rafting to rock climbing, there is something for everyone. Even tobogganing for kids and parents!
The best thing is that you don't need to invest in expensive equipment or hours of training. Companies specialised in providing high-adrenaline experiences to visitors of Italy will kit you out with everything you need.
Here are some easy ways to give adventure sports a try in Italy. Trentino's alpine coaster is so much fun for both kids and adults. Coasteering in Portofino is full of excitement. Canyoning around Lake Garda helps you discover stunning corners of nature which can't be seen or enjoyed the same way by simply driving past. There is even a family-friendly option. Body rafting is a cool way to get your adrenaline flowing in Sicily. Tuscany has many hidden gems. Explore its Cocciglia Canyon by giving river trekking a try.
You will get wet, you will test your endurance, you will see Italy in a brand new light, and above all you will have so much fun. Speaking strictly from experience after my own rafting adventure down the River Brenta!
6. Enjoy a Camping and Caravanning Holiday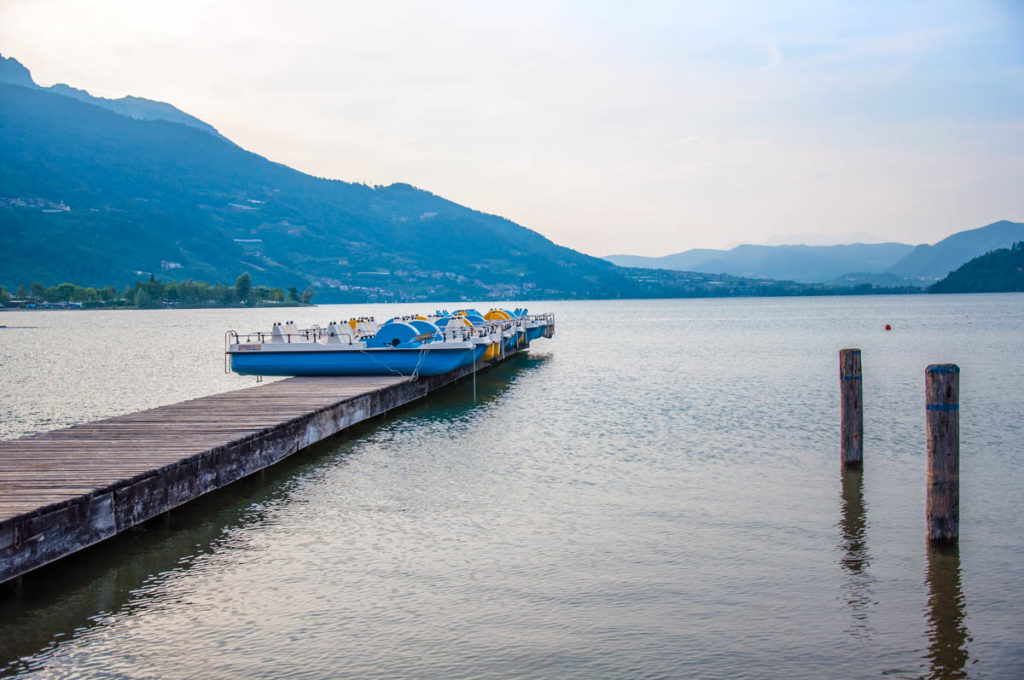 If you love camping and caravanning, Italy is a great destination for you. Even if you are unsure about the delights of sleeping in a tent or driving around in a camper van, then Italy is the country to start your camping and caravanning adventure.
There are many camping sites here and caravanning is something like a national obsession. You will find places to pitch your tent and/or park your camper van all over the country. On the edge of pristine lakes, next door to large beaches, in the bosom of centuries-old forests, the choice is staggering.
The curious thing is that camper vans are considered akin to cars in Italy. So, you can park your camper van anywhere a car can. As long as, of course, you stay within the lines. While I don't recommend driving a camper van in the middle of busy Italian cities, they are great for road trips across Italy. You will find that they are especially popular with Italian families with kids.
If you don't have a camper van and are unwilling to spend a holiday in a tent, then you can glamp it up in a nice caravan or snazzy pod. Glamping opportunities are abundant in Italy, too.
Oten, camping sites here have facilities for all types of campers – from plain pitches for tents and spaces to hook your camper van to the water and electricity supply to elegant pods in different sizes and shapes. The largest camping sites have swimming pools, on-site shops and all sorts of amenities to make your Italian summer holiday fun for all the family.
Bear in mind, however, that wild camping is not allowed in Italy. Otherwise, you can start your research on camping in Italy in summer by using these two websites: Camping.it and CampingItalia.it.
V. Enjoy Music This Summer in Italy
From world-class opera performances to cool music festivals, from learning about famous Italian composers to discovering the beauty of traditional Italian dances, there are many ways to enjoy music this summer in Italy. Find out more below:
1. Revel in a World-Class Opera Performance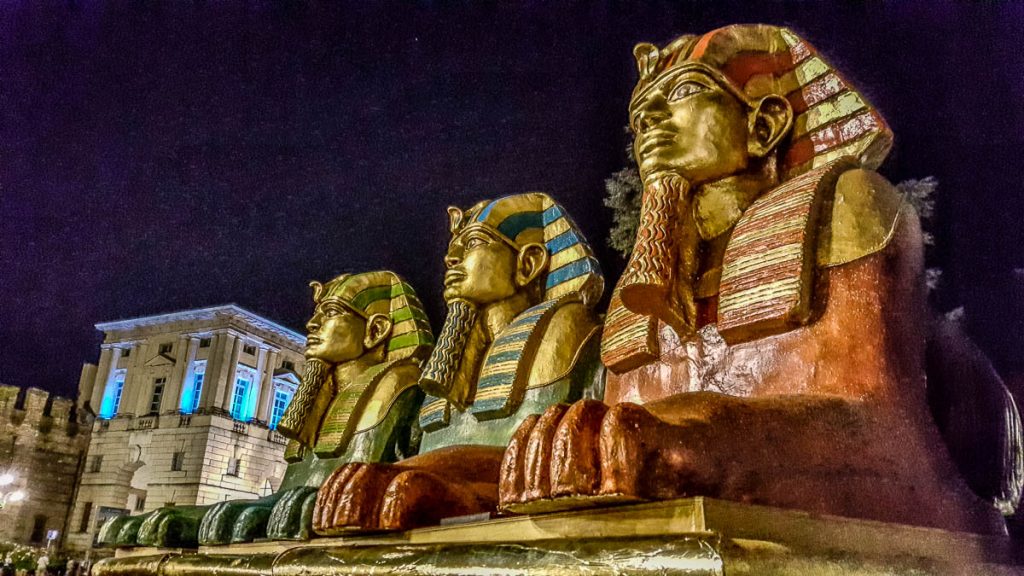 Summer is the best season to experience the beauty of Italian opera. Large-scale opera festivals are held all over the country. The most well-known of them all is the Verona Opera Festival. Over 100 years old, each summer it takes over the Roman Arena in the City of Love.
Expect lavish stage sets and the world's best opera singers. Even if opera is not really your thing, the Verona Opera Festival is one of those once-in-a-lifetime experiences that you simply have to tick off. Sitting under the starry sky on the stone steps of the millennial arena and listening to a voice that touches something deep inside you is what memories are truly made of.
Yet, that's not all in terms of opera in Italy in summer. There is a rich selection of Italian opera events to choose from. Here are a couple:
Caracalla – this is the summer opera festival held from June to August in the Italian capital Rome. The majestic Caracalla's Thermal Baths are the perfect backdrop. Don't miss it!
Sferisterio – this is a large opera festival held between July and August in the city of Macerata in the Central Italian region of the Marche. The performances are staged in the unique Sferisterio – an early 19th-century open-air stadium with a semicircular shape. The stadium was originally built for games of pallone col bracciale – an ancient Italian sport. Nowadays, it's used for performances and large-scale events.
More Information:
2. Get Close to the Works of Famous Italian Composers
Italy has many composers who have left their indelible mark on the world's music scene. From Rossini to Donizetti and Verdi to Puccini, their melodies live on.
Summer is the season when Italy stages many different festivals dedicated to the country's most illustrious composers. It's a great opportunity to learn more about them and experience their music in the original settings where it was first composed.
Here are two of the best to head to:
Puccini Festival – this music festival takes place in the second half of July and the first three-quarters of August. It was founded by Giacomo Puccini himself in 1930. The operas of this great Italian composer are staged in the open-air theatre of Torri del Lago in the Central Italian region of Tuscany. The theatre is right next door to the villa where Puccini lived and worked and where his mausoleum stands.
Rossini Opera Festival – this is one of the most important opera events in Italy and the world. It's dedicated to the famous Italian composer Gioacchino Rossini and it's held in his birth town – the city of Pesaro in the Central Italian region of the Marche.
3. Live the Excitement of Lively Music Events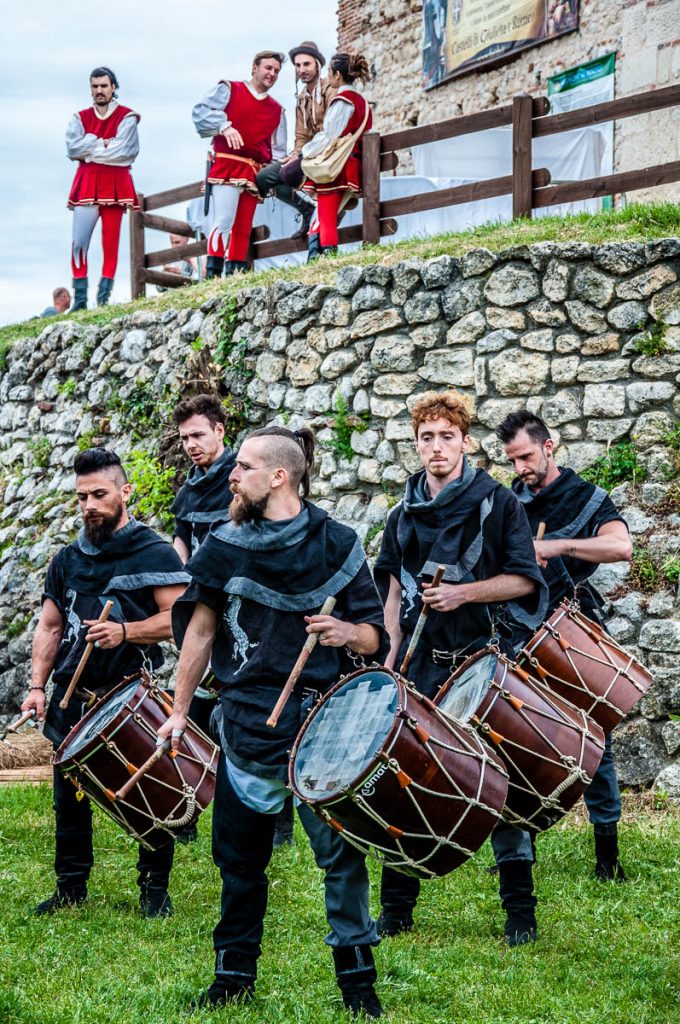 Events dedicated to many different types of music are a staple in Italy's summer calendar. No matter in which corner of the boot-shaped country you are spending your holiday, there will be a fun and lively music festival right next door.
If you love live music, book your tickets now. From concerts by some of the coolest world-famous bands to performances of traditional dances, the choice is yours. Have a look at these large music events held in Italy in summer for ideas on where to start:
Sounds of the Dolomites – travel to the beautiful Dolomites for this unique festival taking place in July and August each summer. Here the music is combined with hikes along paths taking you into the bosom of the mountain. At the end of the path, the musicians – who have been carrying their instruments on their shoulders – sit on a rock or in the middle of a clearing and perform in unison with nature.
Como Festival – City of Music – this is an exciting festival which each July takes over the city of Como on Italy's most famous lake – Lago di Como. Expect musicals, opera, jazz concerts, and dance music in many historic settings all around town.
Notte della Taranta – held at the end of August, this is an important festival dedicated to traditional music. Its program of itinerant concerts and the famous Concertone on the last day attract over 200,000 spectators to Grecìa Salentina. This is an area near the town of Lecce in Puglia inhabited by an ethnic Greek minority who speak Griko – a variant of Greek.
Mito Settembre Musica – in September, travel between Turin and Milan for a rich program of musical events. Expect a string of concerts, Baroque opera, medieval and jazz performances, and open-air shows linking two of the largest cities in the north of Italy through the language of music.
VI. Eat Fresh, Seasonal Food and Enjoy Delicious Drinks This Summer in Italy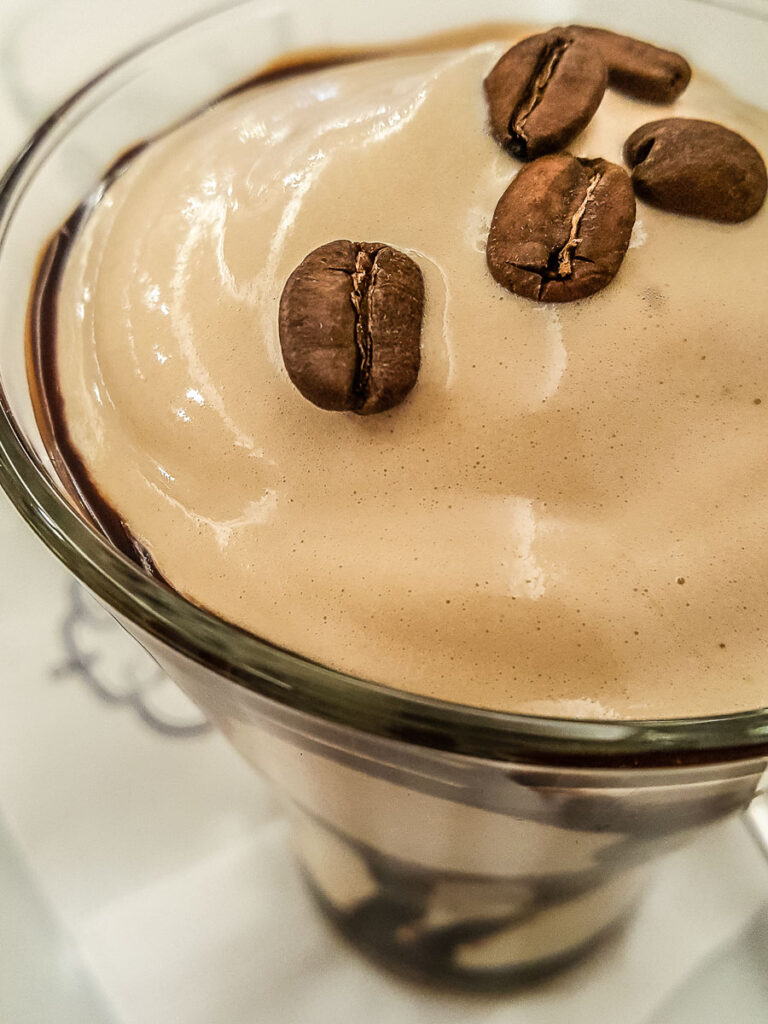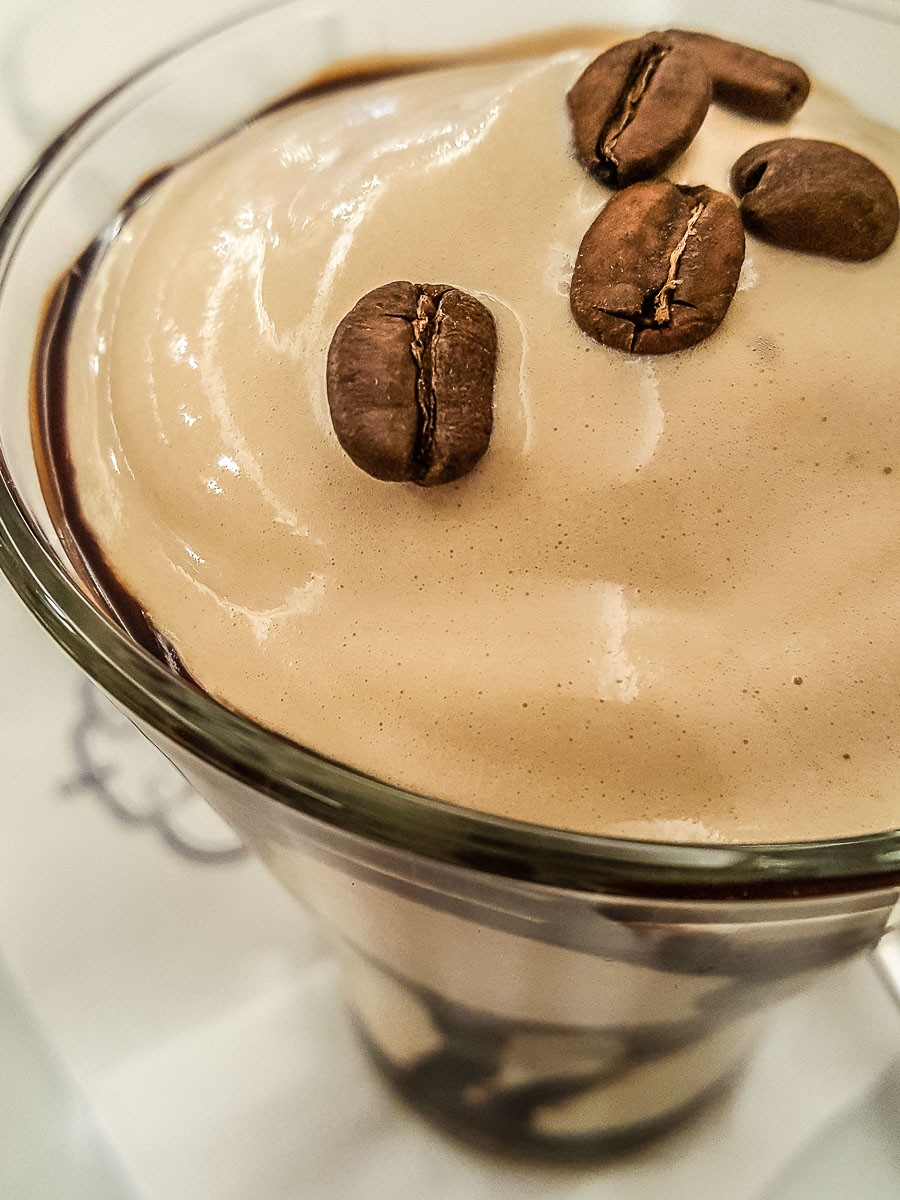 From juicy watermelons and sweet grapes to cold coffee drinks and from cooking lessons to food festivals, summer really is the best season to be in Italy if you are a foodie at heart. Find out more below:
1. Tuck into Seasonal Fruits and Veg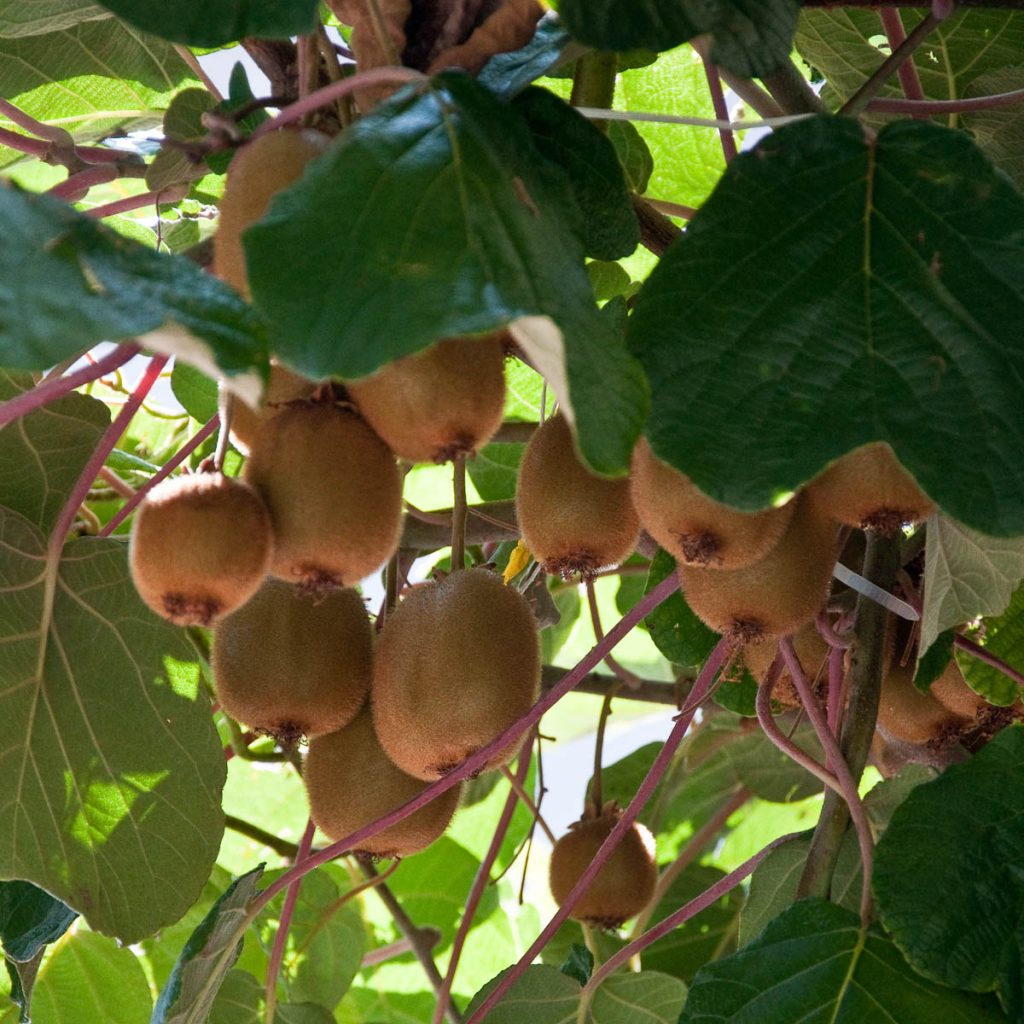 In Italy, summer is the season of a long list of delicious fruits and veg. In a country dotted with hundreds of small independent farms, you can expect an abundance of fresh produce ripened under the glorious Italian sun.
From cherries in June to grapes in September, there is something juicy and delightful to tuck in all throughout summer. My personal favourites are figs, watermelons and melons, peaches and apricots, and grapes, lots of grapes. Then, you have strawberries, kiwis, plums, apples, and so much more.
Head to fresh produce markets and small local fruit and veg shops to stock on aubergines, courgettes, and fresh beans. Don't forget plenty of Italian tomatoes! And a big variety of seasonal salad leaves. Enjoy!
2. Indulge in Truffles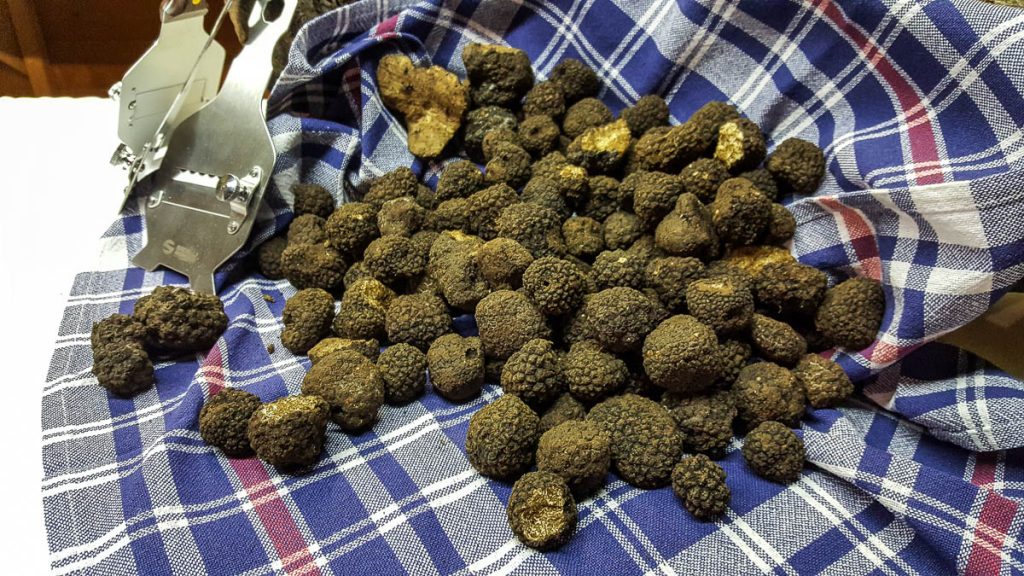 Truffles are one of the world's most expensive foods. They are rare, difficult to find, and have a very particular taste. Luckily, Italy is one of the best places on the planet to indulge in truffles and summer is when both black and white truffles are harvested at certain spots around the country.
Even better! The Italian Black Summer Truffles are one of the most affordable truffle varieties. They also have a milder aroma and taste compared to the winter variety. So, if this will be your first foray into the delights of eating truffles, you can take it easy and not spend huge amounts of money to find out if you like truffles after all or not really.
While Italy's largest truffle fairs are traditionally held in autumn, there are still several local truffle festivals here taking place in August and September. They are most popular in the regions of Abbruzzo and Tuscany. You can also find a couple in both Molise and Lazio.
Just ask the local tourist information office if there will be a Festa del Tartufo nearby during your stay in Italy this summer. You never know what authentic gem of a festival you may unearth!
For the most exciting experience, try your hand at truffle hunting. This truffle hunt will take you to a private oak forest near San Gimignano in Tuscany. There in the company of truffle hunting dogs, you will learn how to recognise the best truffle spots.
More Information:
3. Take a Cooking Class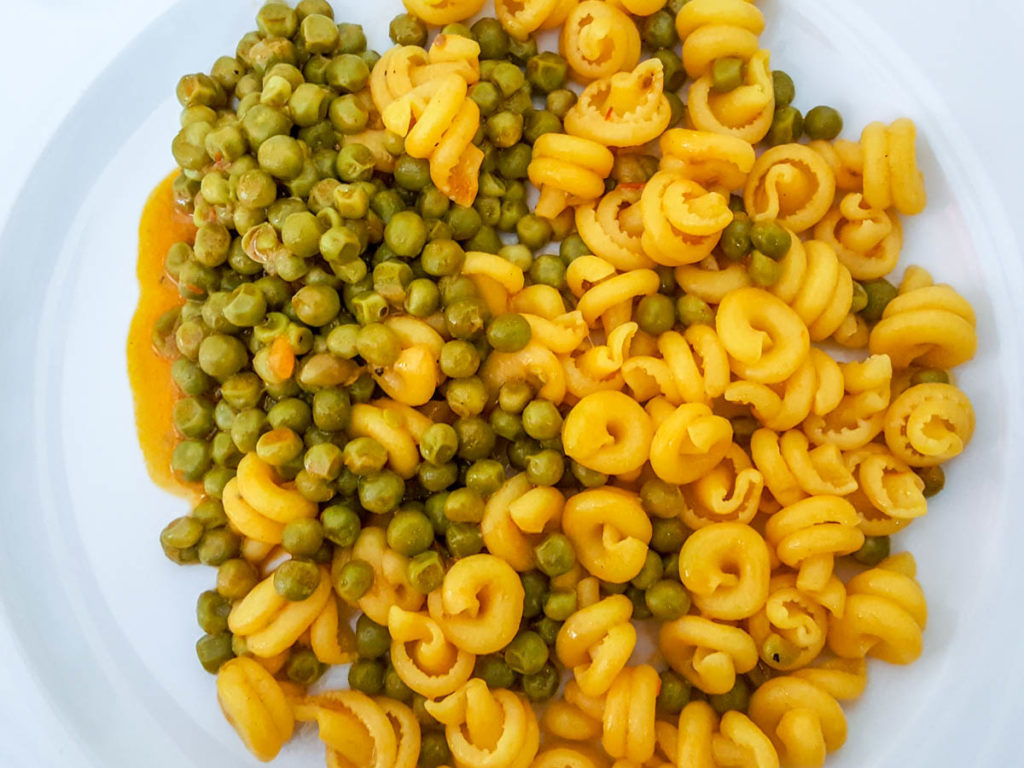 Summer is a great time to learn to cook authentic Italian recipes with fresh seasonal products.
There are many cooking classes to choose from when in Italy, so take your pick depending on what you like to eat. From pizza-, pasta-, and gelato-making to regional culinary experiences, the choice is endless.
This pasta and tiramisu workshop in Rome is a perennial favourite. And this pizza and gelato class in Florence will give you just the skills you need to whip delicious Italian food at home after your Italian summer holiday.
4. Have as Many Summer Gelato Flavours As You Can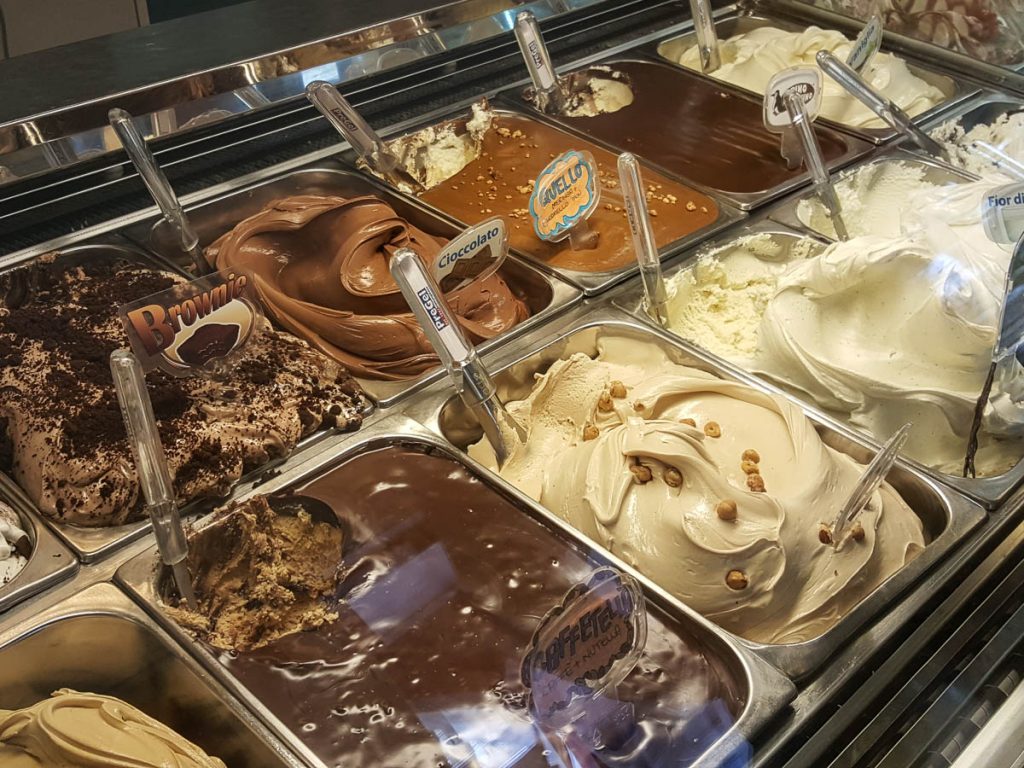 Artisanal Italian gelato is famous all over the world. It's made using natural ingredients and comes in many different flavours. Thousands of small gelaterie operate in the country. Many have been owned by the same family for generations and pride themselves on making gelato using only seasonal fruits and high-quality ingredients.
While some of the classic flavours of an Italian gelateria are vanilla, chocolate, lemon, pistachio, hazelnut, and stracciatella, summer is a great time to indulge in many fresh seasonal flavours. From strawberry to watermelon and from basil and mint to peaches and apricots, the choice is yours. Don't forget kiwi (Italy is after all one of the world's largest producers of this zesty fruit), raspberry, and blueberry.
How to find the best gelateria in town? Follow the Italians who congregate around their favourite place – from bambini to nonni. A cup or cone in hand, they spend time enjoying their chilled dessert while chatting to friends and neighbours during the long Italian summer evenings.
5. Head to a Food Festival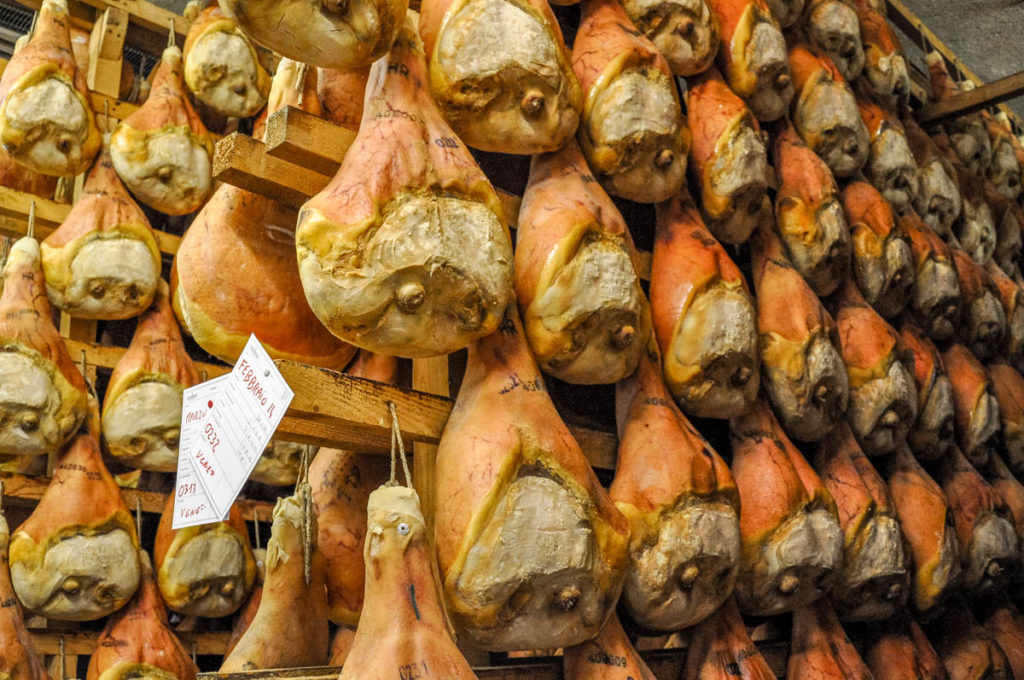 Food and Italy is a match made in heaven. There is no better time to experience it than summer when large-scale and small food festivals take over the country.
For a taste of authentic Italian food at popular prices, head to a sagra. This is a food festival dedicated to a particular local fruit, vegetable or other such foodstuff. Organised by volunteers with the aim to strengthen their traditions and promote their culinary heritage, sagre are a lot of fun to attend.
All food cooked and served at a sagra is centred around said local foodstuff. It could be cherries, rice, salami, polenta, peas, truffles, fish or something else. There are hundreds of sagre all over Italy to choose from.
Alongside sagre, there are also many large-scale food festivals held across the 20 Italian regions each summer. Here are a few to whet your appetite:
Festa Artusiana – between the end of June and the start of July, head to Forlimpopoli – a small town in the northern Italian region of Emilia-Romagna. Every year, the town celebrates its most famous son – Pellegrino Artusi. He was the original Italian cookbook writer and gastronome. His book Science in the Kitchen and the Art of Eating Well is still highly-regarded more than 130 years since it was first published.
Olimpiadi Vera Pizza Napoletana – in July, hundreds of pizza makers from all over the world flock to Campania to take part in the Olympic Games of pizza making.
Stragusto – also in July, the city of Trapani on the island of Sicily stages a large street food festival. Come to taste the food of the Mediterranean with Italian and Sicilian flavours.
Festival del Prosciutto di Parma – held at the start of September, it celebrates the flavours and traditions of the worldwide famous Parma ham. Over 1,000 different types of prosciutti are served and you can also visit the ham factories.
Diamante Peperoncino Festival – also in September head to Calabria for the annual event dedicated to everything chilli pepper. Organised by the Accademia Italiana del Peperoncino, this festival is a must for lovers of all things spicy.
6. Enjoy Wine from Grape to Glass
Famous for its wines – from Asti and Chianti to Prosecco and Soave – Italy is the place to head to in summer to learn more about centuries-old winemaking traditions from grape to glass.
From bunches of grapes ripening juicily under the hot Italian sun to thousands of bottles of wine maturing in historic Italian cellars, here you can follow the journey that Italian wines take from the vineyard to the barrel.
A visit to a winery is always an exciting thing to do here. You can take a total immersion wine tour in Chianti, enjoy a full-day Prosecco wine tour and tasting or discover for yourself Franciacorta – a wine region in Northern Italy which produces outstanding sparkling wines.
Alternatively, during the first half of August, you can enjoy the Italy-wide event Calici di Stelle. This is when dozens of cellars in the country's most beautiful wine-producing regions open their doors for wine tastings and delicious dinners under the stars.
You can also take part in grape harvest events like the popular Festa dell'Uva in the Ossola Valley in the Northern Italian region of Piedmont. Douja d'Or is another popular wine festival in Piedmont. It's held in the town of Asti and it combines wine tastings with musical and cultural events celebrating the renowned Asti sparkling wines.
7. Keep Cool with Three Cold Coffee-Based Drinks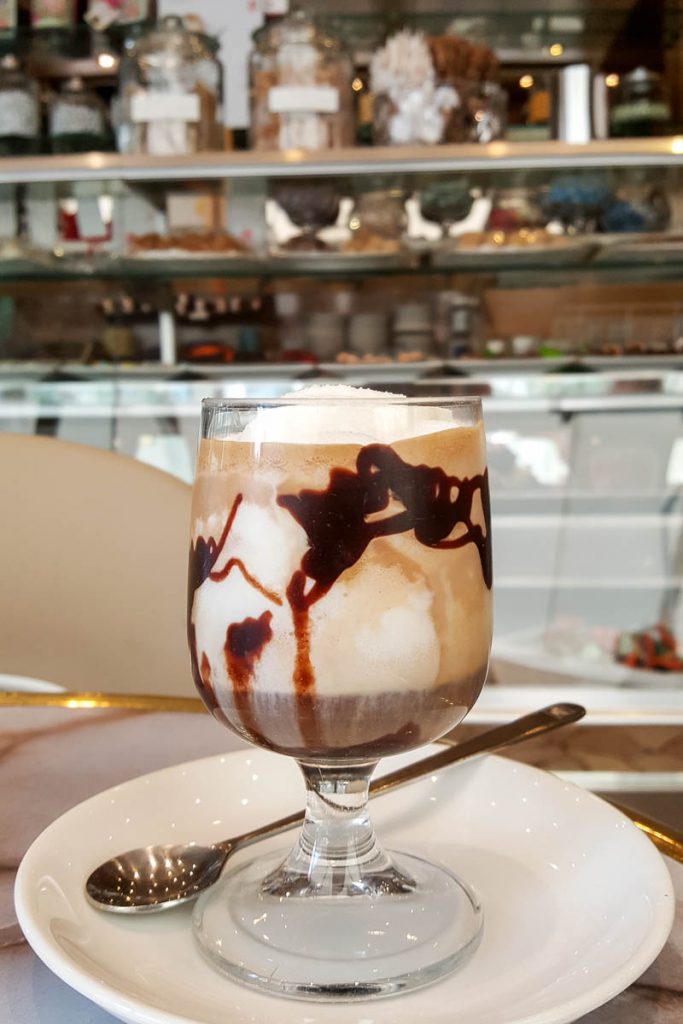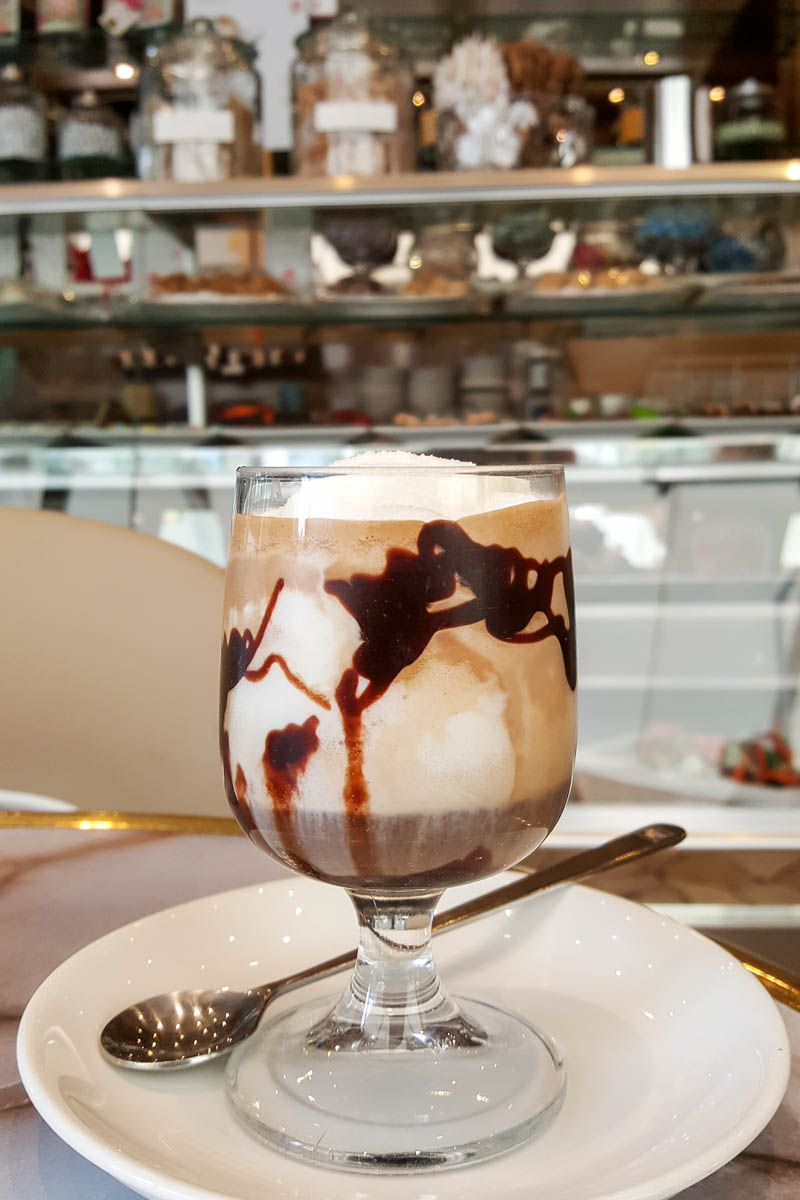 Summer is hot in Italy and to keep their energy up the Italians have cleverly developed three delicious cold coffee-based drinks. Follow in their steps and give them a try. They are:
Caffè Shakerato – this is a very elegant drink which is customarily served in a tall glass. It is made by pouring a long shot of strong espresso over ice. They are then energetically shaken together in a metal shaker, just like a cocktail. When you order it, you will be asked if you want it with sugar (hence 'sweet' – in Italian dolce or zuccherato) or not (hence 'bitter' – in Italian amaro).
Affogato al Caffè (also called Caffè Affogato) – this cold coffee-based drink combines two of Italy's main pleasures – espresso and gelato! Its name means literally 'drowned coffee'. This is so because it is prepared by placing a scoop of (traditionally, vanilla) gelato in a glass and then pouring on top of it a shot of freshly made espresso.
Crema al Caffè – this is like a slush puppy for grown-ups. Basically, it is a frozen cream and coffee mixture which is slushed by a machine. It's my all-time favourite drink on a hot day in Itay!
More Information:
What's the Weather Like in Italy in Summer?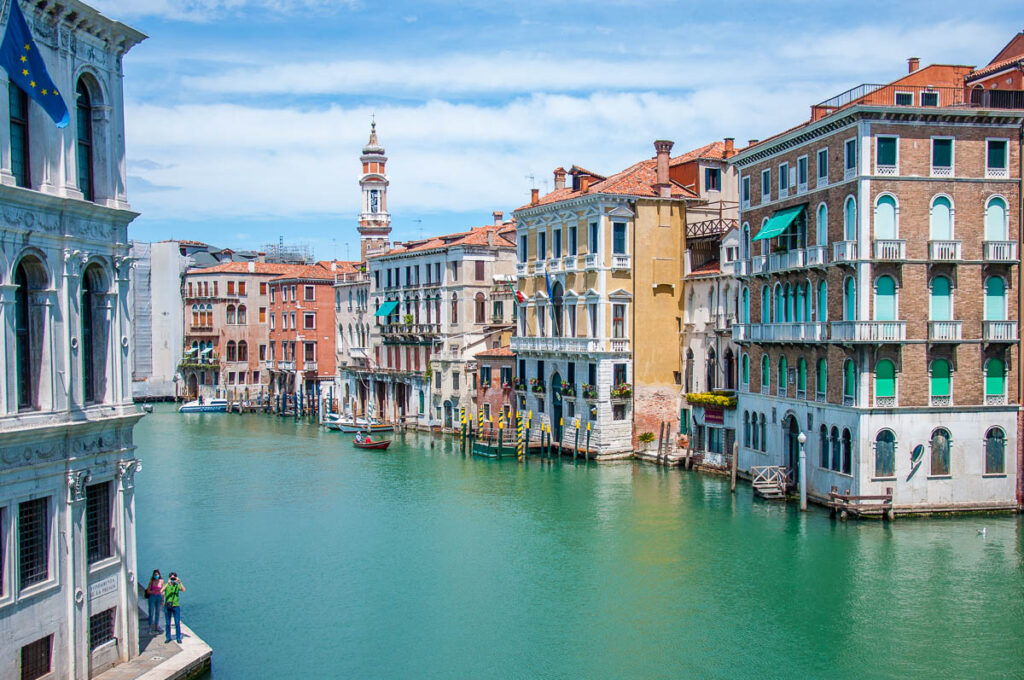 The weather in Italy in summer is hot. There are no two ways about it.
Temperatures can easily reach over 40 degrees Celsius and stay there for days on end. Nights can feel suffocatingly hot and muggy. If you come from colder climes and are not accustomed to exceedingly hot weather, check in advance if the accommodation you are interested in has a functioning air conditioner. Not every hotel or other type of accommodation in Italy has this amenity.
In July and August, thunderstorms may develop rapidly bringing torrential rain. This is mostly valid for the north of Italy. The rain doesn't tend to last long but you don't want to be caught in it, especially if you are out hiking.
Here are some average summer temperatures for Italy month by month. Bear in mind that there will be significant differences depending on which corner of Italy you will be visiting. So, make sure that you research the weather forecast for your specific destination in the week(s) before travelling.
June in Italy – 21 to 27 degrees Celsius
July in Italy – 24 to 31 degrees Celsius
August in Italy – 22 to 31 degrees Celsius
What to Pack for Italy in Summer?
Pin for Later!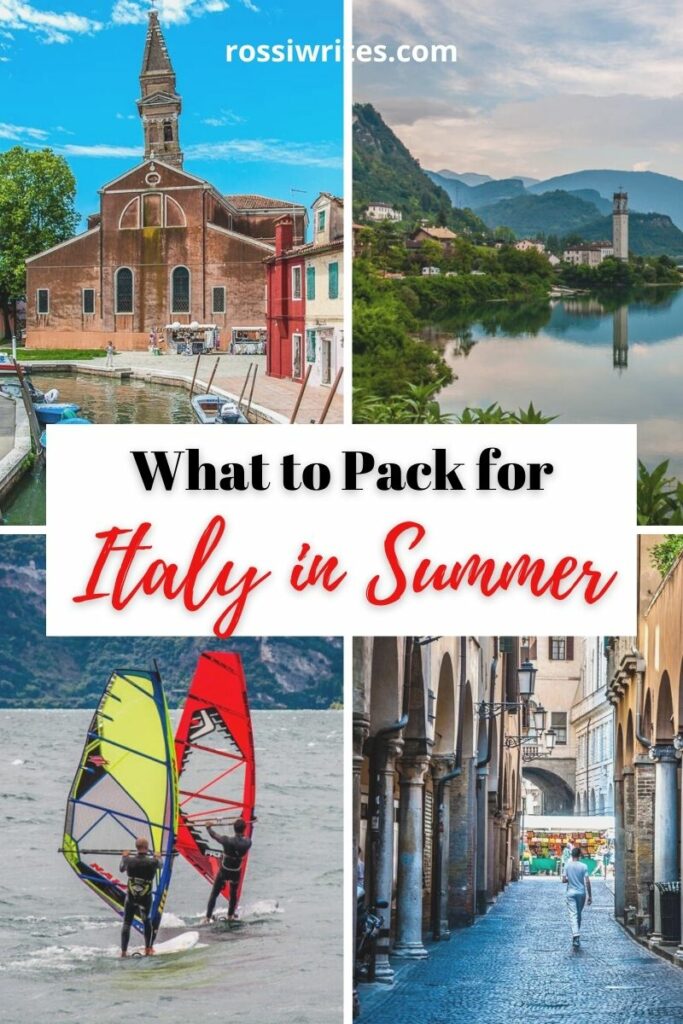 Skincare:
Suncream: With the sun blazing in the sky, make sure that you pack a high-factor suncream and slather it liberally when out and about.
Insect repellent: Mosquitoes can be relentless in Italy in summer, so pack a repellent in any shape that you find comfortable to use. This could be a lotion, a spray or even one of those mosquito repellent bracelets. It really pays to be prepared as mosquitoes here are truly ferocious and their bites itch for days.
Don't worry, however, if you don't bring anything with you. Italian pharmacies and supermarkets are very well stocked with all sorts of toiletries, suncream, and insect repellents. Mosquito in Italian is zanzara (pl. zanzare). It's a useful word to know!
Clothing:
Clothes: Opt for floaty dresses, loose trousers, and clothes made of thin natural fabrics. They will also help keep you cool and protected from the sun. People in Italy dress with decorum, so avoid super short, tight, and/or revealing clothes in historic centres, churches, and landmarks.
Accessories: A pair of sunglasses can really help alleviate the pain from sun glare. A sun hat comes in very useful when you are planning to spend the day outside in the hot weather. A light scarf proofs handy if you need to cover your shoulders in a church or on a breezy day.
Shoes: Make sure that you bring shoes that are comfortable to walk around in the heat and on all types of surfaces like cobbles, flat stones, and marble. Plus, many towns and cities here have steep streets, numerous flights of steps, as well as narrow lanes that were paved centuries ago. You want to make sure that your feet and ankles are properly supported at all times instead of sliding up and down in slippery shoes or flip-flops.
Necessities:
Portable Charger – With all the beautiful views and must-see sights that Italy has to offer, you will want to keep your mobile phone charged at all times to capture it all in photos and videos.
Smart Trackers – always good to have them attached to wallets, cameras, and even pets and kids for peace of mind when travelling.
Passport Cover – as a visitor to Italy, you need to carry some form of identification with you at all times. This is explained succinctly here. Keep your passport wrinkle-free in this very stylish passport cover. Alternatively, pick this one which comes in a selection of colours to appeal to any taste.
In Conclusion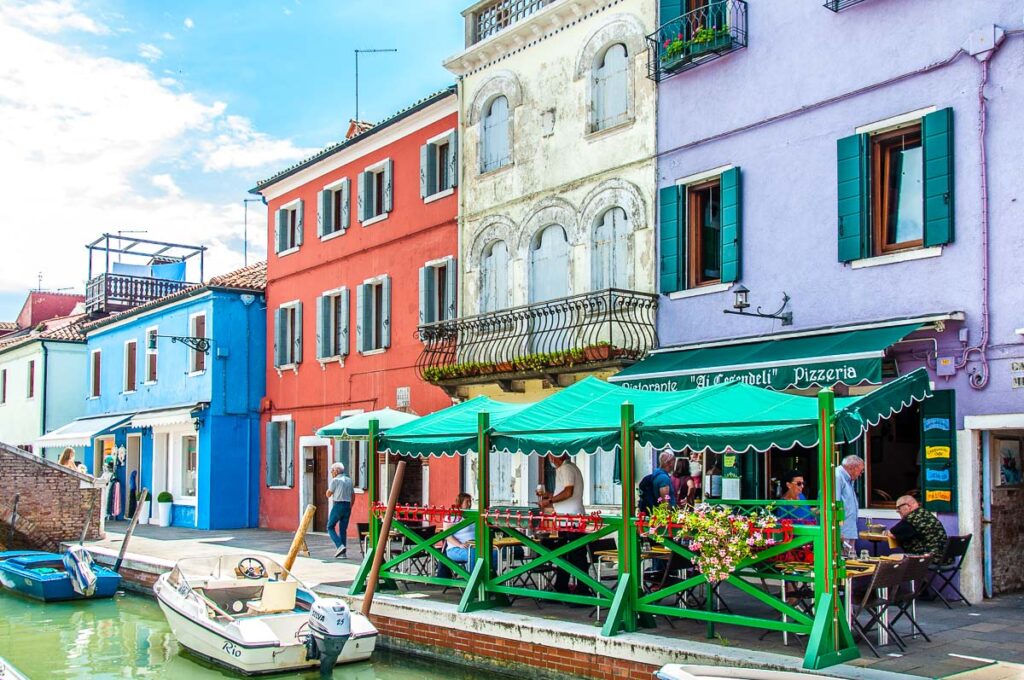 Italy in summer is a great place to be if you don't mind a bit of heat. With a long list of activities and fun events, the country has a lot to offer to the traveller seeking to experience its good food, deep layers of history, and beautiful nature.
In this blog post today, I share with you the best things to do, eat, and enjoy this summer in Italy. This is coupled with an overview of Italy's weather in summer, as well as a packing list to help you get ready for your trip.
There are lots of ideas here to help you escape the crowds, beat the heat, and have a wonderful Italian summer holiday. I hope that they will come in very handy both when planning your trip and during your stay in Italy.
From pristine lakes and Blue Flag beaches to high-adrenaline adventures, from lively festivals and fresh, seasonal food, enjoy Italy in summer.
And have a wonderful summer in Italy!
Now, get ready quick for your visit to Italy in summer!

More Helpful Italy Info for You
Best of Italy: Italy Gift Guide, Italian Piazzas, Italian Markets, Accommodation for Every Budget, Best Times to Visit Italy, Italy with Kids
Italian Food: Best Italian Food Gifts, Cheap Italian Food, Rules of Italian Breakfast, Italian Breakfast Foods
Italian Coffee: Italian Coffee Culture, Italian Coffee Drinks, History of Coffee in Italy
Christmas in Italy: Fun Facts, Things to Do, Italian Nativity Scenes, Panettone, Christmas Guide
Northern Italy: Best Cities to Visit, Major Airports, Reasons to Visit
Lake Garda: Best Towns, Theme Parks, Lake Garda Map, Nearest Airports, Travel Options, Lake Garda with Kids, Malcesine, Riva del Garda, Torri del Benaco, Desenzano del Garda
Lake Como: Things to See, Nesso
Venice: Essential Tips, Major Landmarks, Hidden Gems, How to Navigate Venice, Venice in a Day for Art Lovers, Train Stations, Nearest Airports, Best Tours, Beaches of Venice, Quotes about Venice, Boats in Venice, Haunted Venice, Day Trips from Venice, Venice to Lake Garda, Venice to Padua, Arco del Paradiso
Verona: Things to Do in One Day, Verona Opera Festival, Day Trips from Verona, Romeo and Juliet Itinerary
Padua: Things to Do in One Day, 101 Facts About Padua, 10 Reasons to Visit Padua, Day Trips from Padua
Vicenza: Things to Do, Day Trips from Vicenza, Best Museums
Veneto: Top Places to Visit, Unique Adventures, Most Colourful Places, Mysterious Places, Most Beautiful Lakes, Reasons to Visit
Lombardy: Best Cities and Towns, Reasons to Visit, Brescia
Friuli Venezia Giulia: Venzone, Most Beautiful Villages
Emilia Romagna: Bologna, Ravenna, Comacchio, Most Beautiful Villages
Marche: Reasons to Visit, Gradara, Frasassi Caves, Temple of Valadier
Thank you for reading! Please, leave me a comment, pin the images or use the buttons right at the top and at the end of this blog post to share it on social media.
For more useful information like this, please, like my blog's page on Facebook and subscribe to my strictly no-spam newsletter.
Pin This Blog Post!