Here are ten reasons to visit Perugia – a hilltop city in Central Italy that tempts you with its Etruscan heritage, medieval architecture, and Renaissance masterpieces.
Just off the midpoint between Florence and Rome, Perugia is the capital of the Central Italian region of Umbria and a multilayered gem.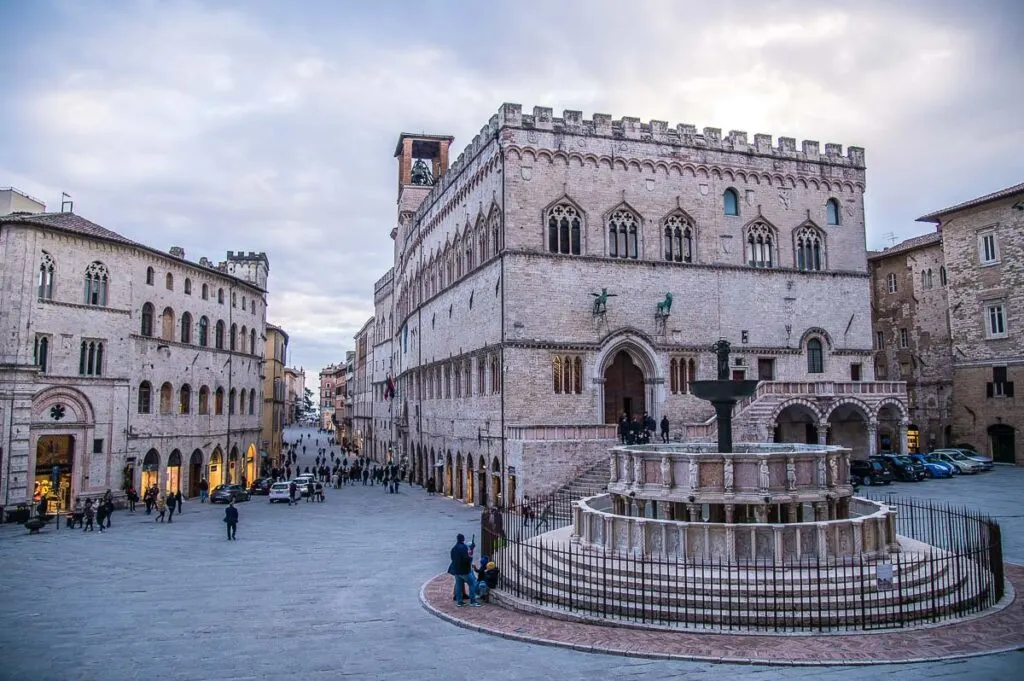 Here you can descend into an Etruscan well, walk along a medieval aqueduct, and then admire frescoes by the great artists Perugino and Raphael. A Renaissance fortress labyrinth is free for you to wander around looking for the exit that will take you across the street to the workshop of a family of stained glass artists.
Historic palazzi with lavish interiors, priceless collections of books, and numerous stories to tell grace the stone-covered streets. And everywhere you look, mythical griffins – half-lion and half-eagle – look right back at you in the shape of statues, ornaments, and bas-reliefs adorning Perugia's hidden corners and weathered facades.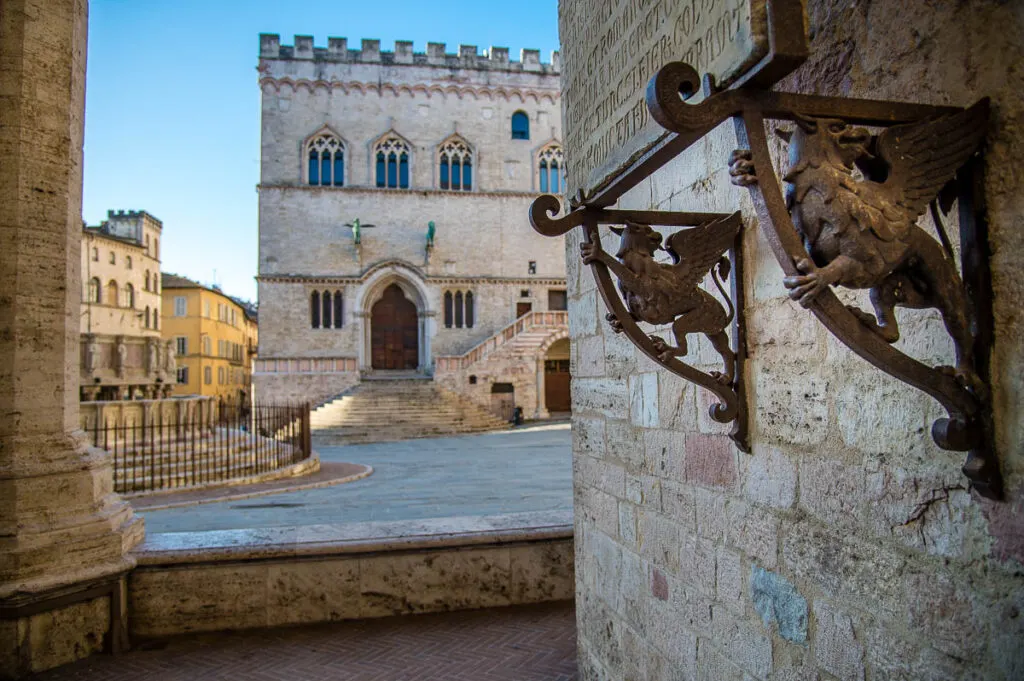 Any time that you need a break, you can stop and take in the uplifting panoramas of green rolling hills that stretch all the way to the horizon propped by the snow-capped Apennines.
Then, to recharge after all the sightseeing and the emotions that come with it, you can tuck into the delicious yet unpretentious local cuisine. Enjoy a generous slice of Perugia's torta al testo with one of many mouthwatering fillings, taste some of Italy's best chocolates, and take your coffee in a cafe that is more than 150 years old.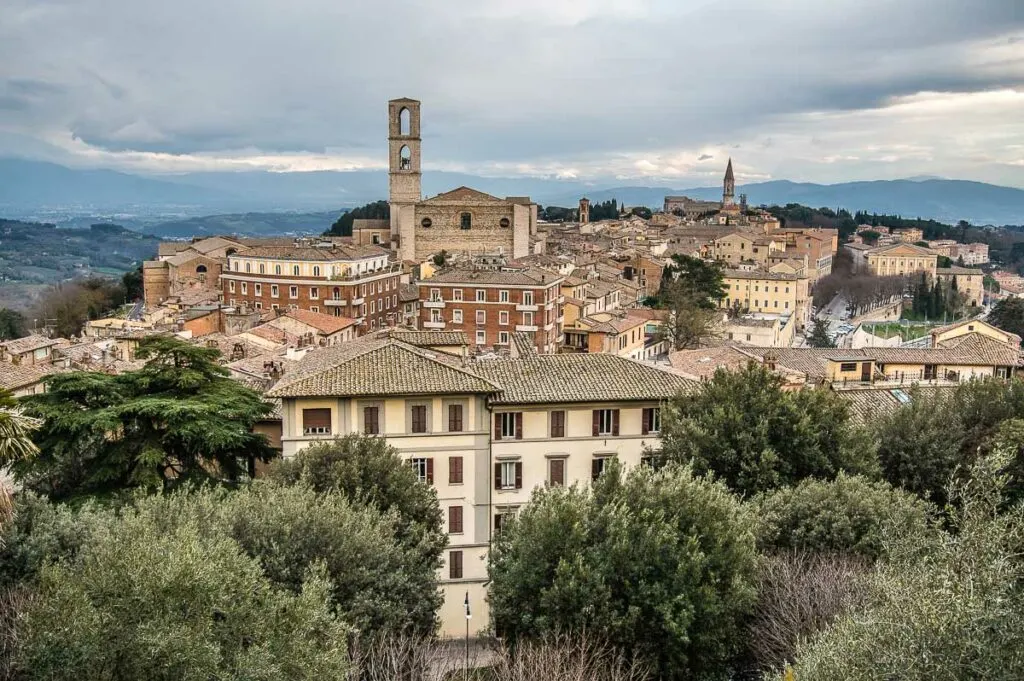 Yes, Perugia has a lot to surprise and delight you with. Its most unusual sight, however, is the Santo Anello. Revered as Virgin Mary's bridal ring, it is kept in a golden reliquary in Perugia's Duomo. Even if you choose not to believe that it's the real thing, over the centuries it has inspired a series of artistic masterpieces and important local celebrations and events.
So, fresh from my visit to Perugia, today, I want to share with you all the reasons why you should put the Umbrian capital and one of Italy's most underrated cities on top of your travel wish list. At the end of this blog post, I have also included an essential travel guide to help you plan your trip. Easy to reach from abroad and anywhere in Italy, Perugia needs to be seen.
Here is why!
10 Reasons to Visit Perugia – The Italian Hilltop City of Griffins, Chocolate, and Virgin Mary's Bridal Ring
Pin for Later!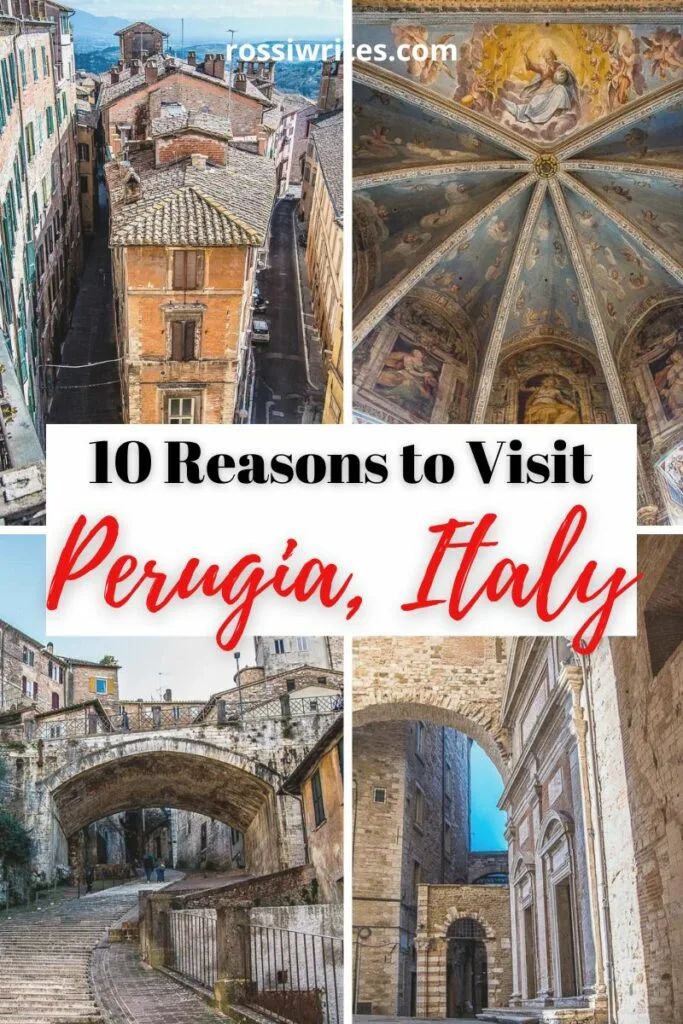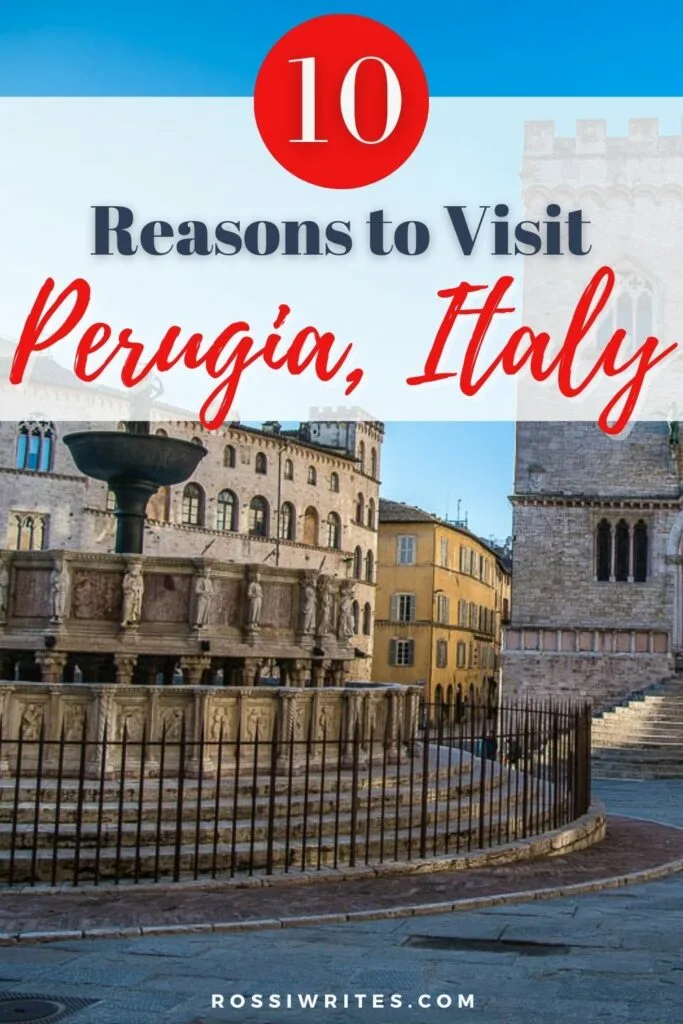 1. Perugia is a City of Many Layers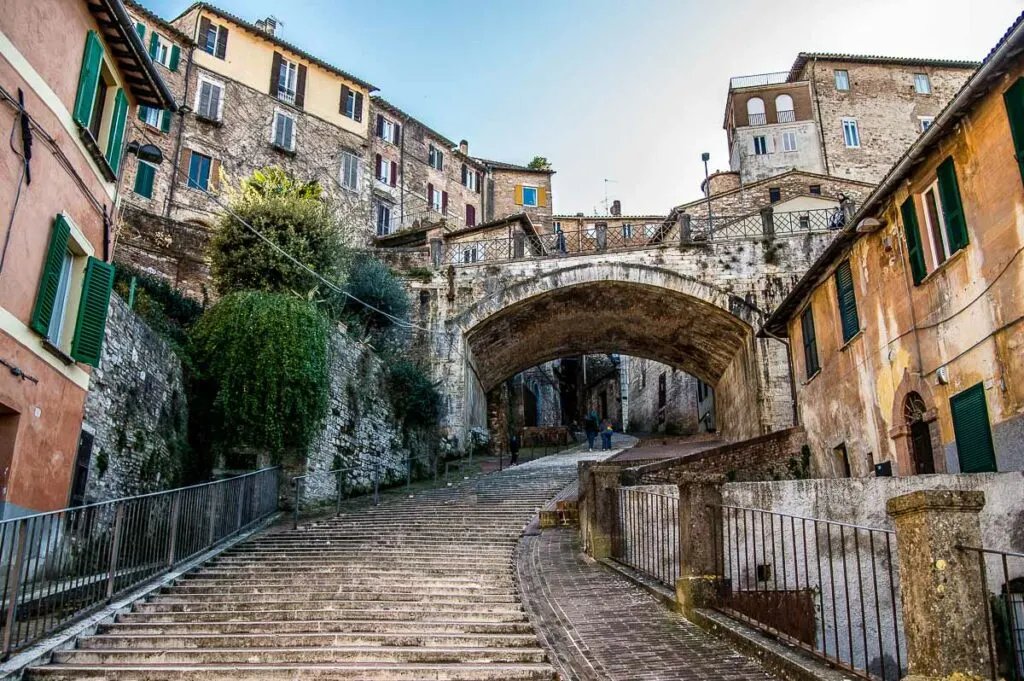 I love destinations that have a lot to offer on many different levels – from history and art to good food, quirky artifacts, and a strong local identity. Perugia has all this by the bucketful. It really is a place where you immerse yourself in the experience of getting to know everything it has to offer.
The city has many layers to it – both literally and figuratively speaking. Perugia's historic centre, for example, stands over what once was an Etruscan acropolis. At its heyday, this ancient hilltop fortification stretched across two hills – Colle Landone and Colle del Sole. At 494 m, the latter is the highest point in Perugia. Today it hosts the sinuous streets and densely packed tall houses of the Porta Sole district of the historic centre.
Walking around, you soon realise that many buildings in Perugia have Etruscan foundations, medieval arches, and Renaissance ornamentation. Each civilisation that made the city its home erected its structures on top of the ruins of the preceding historic period. Nowadays, this wonderful puzzle of architectural styles tells curious stories about the past.
With all its history and art, the city still has a nice and lively vibe to it thanks to the thousands of students who attend its many academic institutions. Among them stands out the University of Perugia. Founded in 1308, this is the seventh-oldest University in Italy.
Perugia also has a rich cultural life and throughout the year stages many large-scale events and festivals. Umbria Jazz, for example, is one of the most important jazz gatherings in the world.
All in all, Perugia has a multifaceted appeal. You can explore its many layers both figuratively and literally, find exciting things to do in line with your own interests, and feel enriched by the experience as a whole.
2. Perugia Has an Exciting Historic Heritage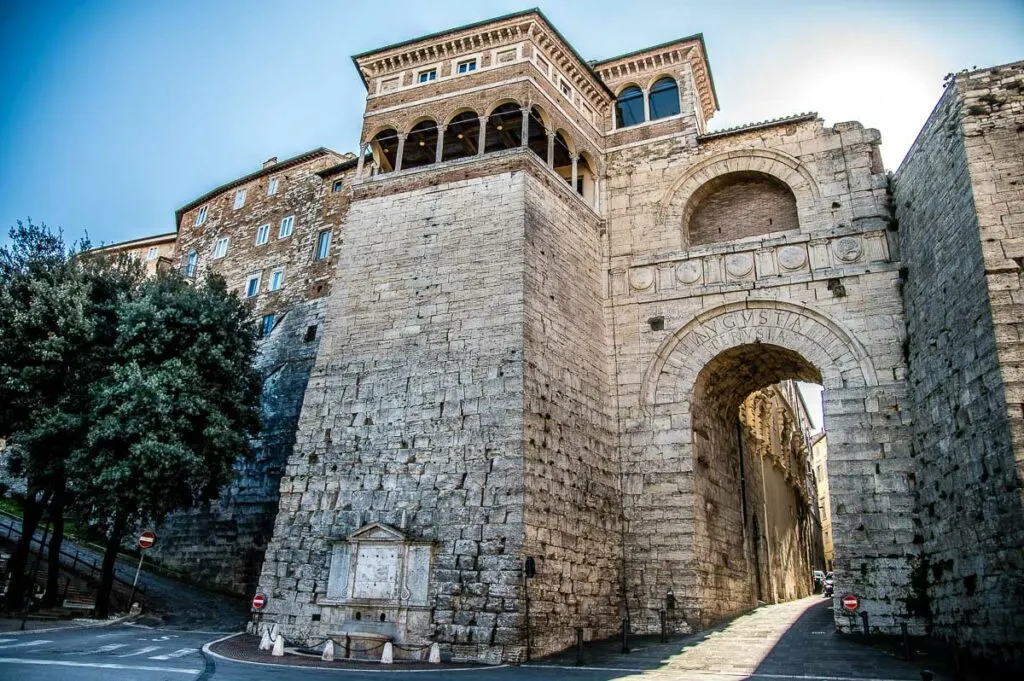 Perugia is a city in the heart of Italy. Standing at the widest part of the Italian peninsula, it has always been at the crossroads of important events and civilisational meetings. Densely built over the peaks and slopes of a sequence of hills, its millennial history stretches back to the times of the ancient Umbri tribe followed by the Etruscans and then the Romans.
The city was originally known as Perusia – a name with alleged Indo-European roots referencing the reddish colour of the local clay. It flourished under Etruscan rule but was then decimated and rebuilt by the first Roman emperor – Augustus (also known as Octavian) – who called it Perusia Augusta after himself. You can still see this historic name on some of the large gates in the defensive walls which in the past circled the whole city.
Perugia was of great political and religious importance during the Middle Ages. It even served as a papal residence during the 13th century – a period known as the Perugia Papacy. The locals alternated between embracing the pontiffs and violently rebelling against them.
During the Renaissance, Perugia was the cradle of some of the greatest Italian artists. Among them stand out the names of Perugino (the teacher of Raphael), Pinturicchio, and Benedetto Bonfigli.
In the centuries that followed, the city lost the prominent role it had played in the politics and art of medieval and Early Renaissance Italy. Nowadays, its citizens humbly refer to it as simply a provincial capital. Yet, this is what makes Perugia a must-see. With its world-class sights and just off the beaten track, this underrated city offers a satisfying immersion into the past far from the maddening crowds that besiege Italy's tourist magnets.
3. Perugia Keeps Many Artistic Treasures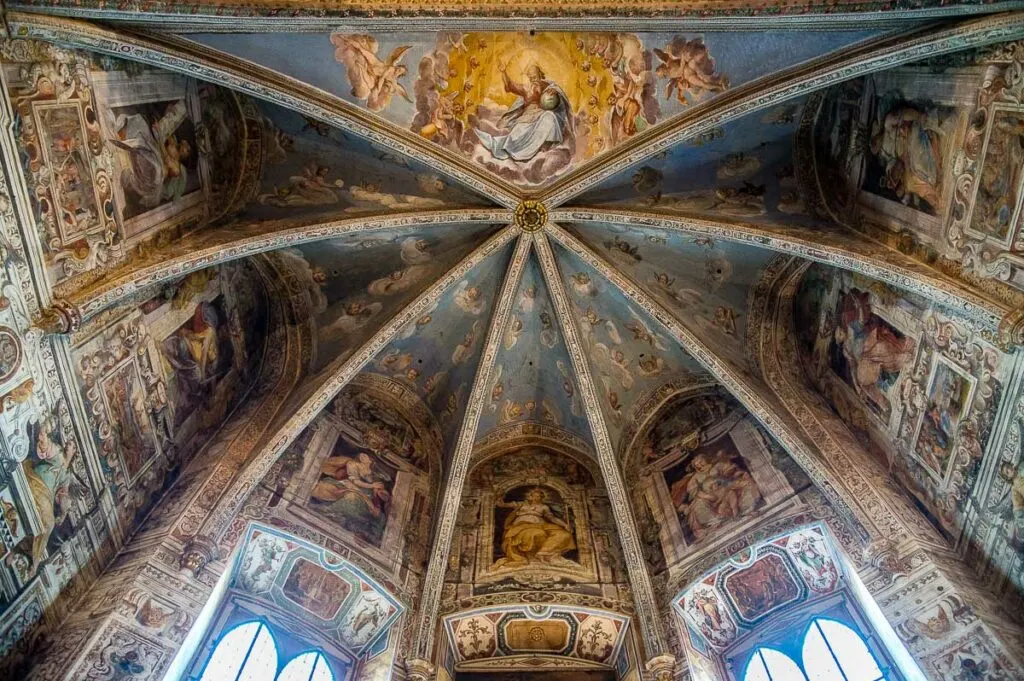 The art you can get to see when in Perugia is world-class. Right in the heart of the historic centre of the city stands the National Gallery of Umbria. Its 39 rooms exhibit a truly excellent selection of medieval, Renaissance, and Baroque masterpieces by the likes of Duccio di Boninsegna, Piero della Francesca, and Benozzo Gozzoli.
The Gallery also has an exquisite collection of paintings by Perugino. Umbrian by birth, Pietro Vannucci – known as Perugino after the city that nurtured its talent – provides an important link between the Early and the High Italian Renaissance.
Trained by Andrea Verrocchio in Florence alongside Leonardo da Vinci and Filippino Lippi, Perugino was the teacher of Raphael and at one point was considered the best master in Italy. If you are wondering why his name may ring a bell, it could be because he painted some of the frescoes in the Vatican's Sistine Chapel.
The National Gallery of Umbria is the best place to immerse yourself in the work of Perugino and his students. Also here you can get close to the work of Benedetto Bonfigli – a splendid but criminally underrated Renaissance artist – and Pinturricchio – another excellent painter of the Umbrian School.
There are many other must-see places in Perugia where you can immerse yourself in art. Pop into the Hall of Notaries, the Collegio del Cambio, and the Collegio della Mercanzia. All three are next door to the National Gallery of Umbria. Expect some splendid frescoes (including a self-portrait by Perugino) and wonderful wooden carvings. Pay a visit to the Capella di San Severo a short walk away to admire the only remaining fresco by Raphael in Perugia.
Marvel at the beautiful collections of fine and decorative arts at the Palazzo Sorbello and Palazzo Baldeschi in town. For something really special, walk from the historic centre to the San Pietro Museum Complex and admire the lavish interiors of its basilica where every available space is covered with frescoes, carvings, statues, and paintings.
The most impressive among them all is the monumental canvas by the Venetian painter Antonio Vassilacchi representing the family tree of the Benedictine order. Look at it from afar and you will notice how the hundreds of figures depicted on the canvas seem to morph into a terrifying devil's face.
Don't miss the Etruscan bronzes and sarcophagi – richly carved and some still preserving their original colouring – in the city's Archaeological Museum.
For the most unique artistic experience in Perugia (and one of the best art-related encounters to have in Italy in general), book a visit to Studio Moretti-Caselli. This stained glass workshop is housed in a medieval frescoed building and is run by the fifth generation of a family of master glass painters.
All in all, Perugia is a treasure trove for the art lover. Here you are bound to come face to face with many masterpieces. Even if you think that art is not your thing, this Italian city will give you many opportunities to change your mind.
4. Perugia Offers Fantastic Sightseeing Experiences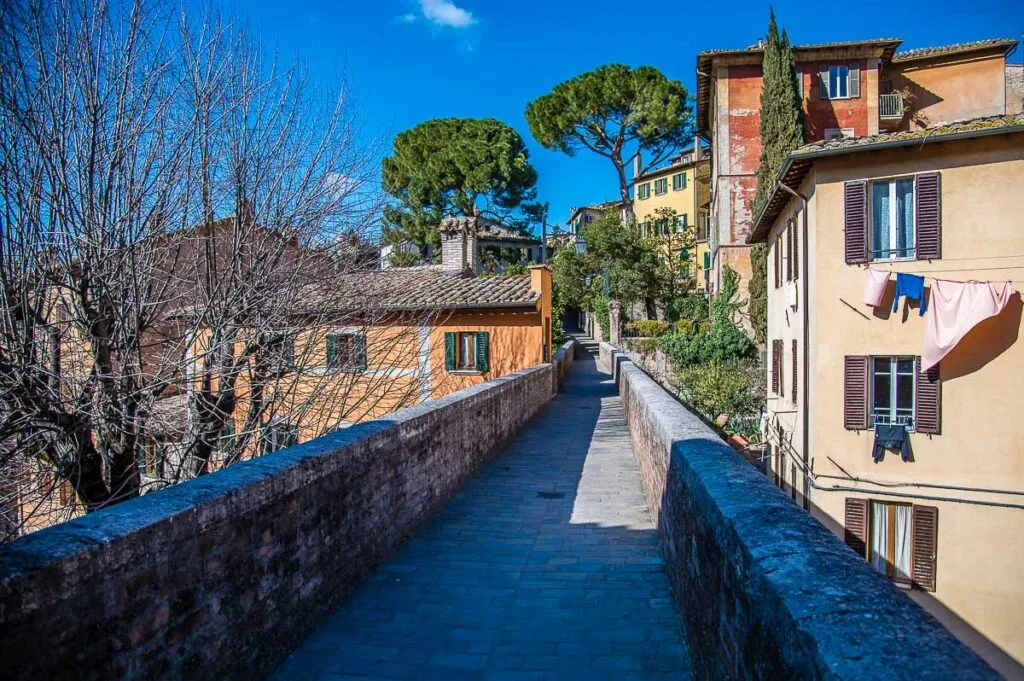 Perugia has many must-see sights. One of the most atmospheric ones is the city's Etruscan well. It dates back to the 3rd century BC and it's 37 m deep. You can actually walk inside it as a glass bridge is suspended right above the water level within the stone well. It's both spooky and fascinating, especially, when you consider the fact that the well was excavated in the rock almost at the highest point of the Colle del Sole – the taller of the two hills on which the Etruscan acropolis used to stand.
A similarly great experience, although out in the open air, is the walk you can take along Perugia's medieval aqueduct. Four km long, it was built in the 13th century to supply water upwards to the hilltop Fontana Maggiore. This is the medieval fountain with two superimposed basins which graces the city's main square, Piazza IV Novembre (formerly known as Piazza Grande). Nowadays, the aqueduct has been turned into a walking path that bisects the dense clusters of houses in the lower part of the historic centre.
Don't miss the underground tour of Perugia run by the Capitular Museum in town. It needs to be booked in advance but the effort is worth it as it provides an immersive experience across the city's layers. Descending 15 metres underground, you get to see the evolution in Etruscan masonry skills, the remains of an ancient Roman road and impluvium (the pool where rainwater was collected), as well as the conclave hall with a medieval arched ceiling where five Popes were chosen during the Perugia Papacy in the 13th century.
Don't miss the Rocca Paolina – a Renaissance fortress that is part of the city's fabric in a very organic way. You can explore it free of charge. It's like a labyrinth where you come across temporary art exhibitions as you traverse dark corridors and enter large rooms that randomly open in front of you.
Sightseeing around Perugia is an exciting experience in many different ways. It truly makes you feel like you have been transported centuries back in time. Even a simple walk early in the morning through the maze of narrow streets of the historic centre will easily catapult you to the Middle Ages and will reveal dozens of unexpected gems – from churches and towers to enormous defensive walls – to stop and marvel at.
5. In Perugia, You Can See One of the Most Unusual Christian Relics
Perugia has a unique claim to fame. It is here, in this hilltop city in Central Italy that you can see the bridal ring of the Virgin Mary. The one, they say, used at her wedding to St. Joseph.
Made of chalcedony, this heavy, wide band is kept in a centuries-old strongbox with 14 locks. The keys for them are guarded by Perugia's historic guilds and associations and the ring is shown to the public only twice per year – on 29th July and 12th September.
The ritual of the ring's display is known as Calata. It consists of several steps. First is the ceremonial opening of the strongbox – kept in a purpose-built room at a height of eight metres in the Chapel of the Holy Ring in Perugia's Duomo – the Metropolitan Cathedral of San Lorenzo. Once out of the strongbox, the ring is carefully suspended in a gold reliquary which is then placed on a special mechanism shaped to look like a silver cloud.
Under the melodious singing of the members of the Confraternity of the Holy Ring, the silver cloud starts slowly descending thus bringing the gold reliquary and the Virgin's Bridal Ring down to the chapel's altar. It's a beautiful and inspired ceremony.
The ring, they say, dates back to the 1st century AD and has been in Perugia since 1473. The choice to believe in its authenticity is strictly personal. The important for me thing is that the presence of the ring has inspired the creation of some of the city's most precious works of art. It has also provided the basis for centuries-old local traditions and rituals which add to Perugia's flavour.
6. In Perugia, You Can Tuck into Delicious Umbrian Dishes
Italy is famous for its food and Umbria has its own delicacies to add to the large Italian table of delicious dishes and meals. From cheap and cheerful torta al testo to refined truffles and saffron, there are many culinary choices here to pick from.
Torta al testo is a typical local flatbread sold stuffed with different fillings. Erba e salsiccia (leafy green vegetables and local sausage) is, they say, the most traditional among them. A nice slice of torta al testo will set you back anything from five to seven euros and will keep you going all day. For the best options in town, head to Piada & Delizia or to Testone.
Pasta is represented by the local variety of stringozzi. These long rectangular strands are perfect to enjoy with shavings of fresh truffles. Cappelletti – delicious small pasta parcels with a variety of fillings – are also typical for Umbria.
In terms of sliced meats, the ones from the small town of Norcia are particularly famous. Among them are capocollo and corallina di Norcia – both prepared with pepper and crushed garlic. Mazzafegati are sausages made with ground meat and pig liver and seasoned with wild fennel. Norcino is the most typical local salami. Also seasoned with fennel, it's made with coarsely ground pork meat.
Breads, cakes, and desserts are plentiful here, too. Torciglione is the most curiously looking among them all. It's shaped like an eel (or a snake if you prefer) and it's made of copious amounts of ground almonds and sugar.
For an introduction to the best food in Perugia, consider joining this food tour. It will take you to the top gourmet spots in the historic centre and you will taste the foods that the locals are proud of – from the very special fagiolina beans to Umbrian truffles.
7. Plus, Chocolate is Everywhere in Perugia
Perugia and chocolate go together like two peas in a pod! Just look at this amazing chocolate sculpture recreating Perugino's famous painting 'The Marriage of the Virgin'. I spotted it in the window display of the Pasticceria Sandri in the city's historic centre. Founded in 1860 and with European royals among its many customers, it makes and sells a wonderful variety of Umbrian and Italian desserts.
Everywhere you look in town, you will see chocolate boutiques selling handmade chocolate truffles and pralines as well as iconic chocolate brands.
Especially famous is Perugina – a chocolate company that was founded in Perugia in 1907. Today it's owned by a multinational behemoth. Perugina produces the world-famous Baci. These chocolate kisses are topped with a whole hazelnut and wrapped in a silver foil dotted with dark blue stars. For added sophistication, inside the wrapping, there is a small note with a love quote translated into four languages.
I have always loved Baci chocolates. The beautiful brand colours and the love note inside appeal to me on many levels! So, I used my visit to Perugia to sample all the new varieties. The Amore and Passione one – a collaboration with the Italian high fashion brand Dolce & Gabbana – is very attractive as it's enrobed in dark pink, almost red chocolate.
Every year, Perugia holds EuroChocolate – one of the biggest chocolate festivals in Europe. Lasting just over a week, it attracts close to a million visitors. If you come to the city at any other time of the year, then you can still experience the festival flavours by popping into one of the many EuroChocolate shops around the historic centre.
Alternatively, you may choose to visit the Chocolate Museum and take a class at the Chocolate School. Both are at the Casa del Cioccolato in the factory of Perugina just outside Perugia. For a full chocolate immersion, consider staying in the Chocohotel where everything – from breakfast to interior design – is chocolate-inspired.
8. Perugia Is Picture-Perfect
With its hilltop location, medieval architecture, and rather splendid central square – Piazza IV Novembre – Perugia is very photogenic. Viewpoints at the highest spots of the historic centre open sweeping panoramas across Umbria's rolling green hills. The snow-capped Apennines provide a stunning backdrop. On a clear-sky day, it feels so nice to stop for an inspired minute and just take all this beauty in.
I had one such lovely moment on the terrace of Palazzo Sorbello in Perugia. Built over the city's ancient Etruscan well, the palace is beautifully decorated and has a priceless collection of historic books. Yet, one of its major strong points is the views that its terrace affords over the historic centre of Perugia and the surrounding hills from a vertiginous height. Just being up there with the early March sun shining down on me felt so special, definitely the stuff that travel memories are made of.
Perugia is not all about grand panoramas though. This is a city rich in details – historic, artistic, and artisan. They are a delight to discover one by one. It could be the marble panels – each with a different group of figures chiseled on it – that surround the Fontana Maggiore. It could be the incredibly phantasmagorical carved wood figures decorating the choir of the basilica in the San Pietro Museum Complex.
Or it could be the many griffins in different sizes and materials – from metal to stone – that decorate the historic centre from its main facades to its most hidden corners. They say that this ancient symbol of courage and valour dates back to Etruscan times. The citizens of Perugia have truly made it their own and you will come face to face with numerous griffins as you walk around town.
This abundance of details – both decorative and symbolic – makes exploring and photographing Perugia really exciting. You never know what curious little gem you will come across and what unusual stories it will tell about the city and its many layers.
9. Perugia Is Great to Explore on Foot for a Truly Active City Break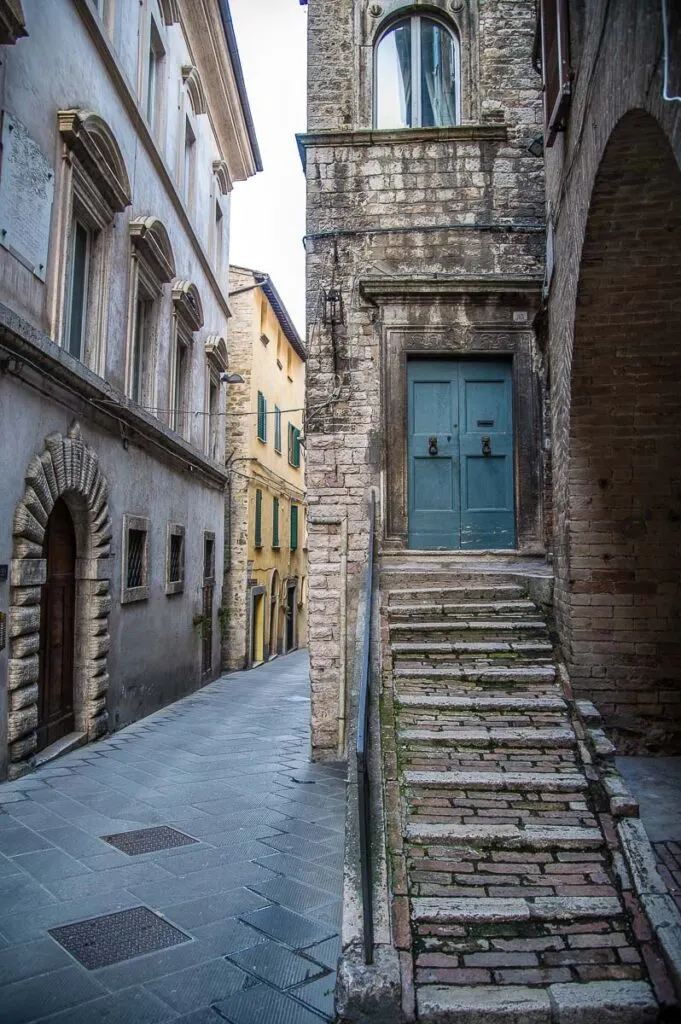 Perugia is a city that you explore on foot. This makes it a great destination for a truly active city break.
You can reach the historic centre by public transport but then you need to walk to do things and see places. Uphill and downhill, following narrow streets which often are so steep that have been transformed into seemingly endless series of shallow steps. This effort makes you relate to the city in a very physical and personal way.
As a visitor, you are not sheltered behind the window of a tour bus or picking and choosing what to see and whizzing there by taxi. Instead, you are out there, walking, exploring, and getting to know the secrets of Perugia's historic centre, its maze of sinuous alleys, and its splendid facades. You walk past tall buildings that flank the streets keeping them in a perennial penumbra. You open heavy doors to reveal the lavish interiors of a historic palace or a guild's meeting hall behind them.
It's this physical engagement with Perugia that makes the city so exciting to get to know. At the end of a long day of sightseeing, it definitely feels like you have been on the step machine in the gym for hours on end. I could definitely feel it in my calves for a few days after returning from Perugia.
The best bit, however, is that all this physical exercise helps you work up an appetite to truly indulge in Perugia's delicacies. What's another Baci chocolate or two after walking along the medieval aqueduct and then all the way uphill to the splendid Fontana Maggiore?!
10. Perugia Is Easy to Reach from Abroad and the Largest Italian Cities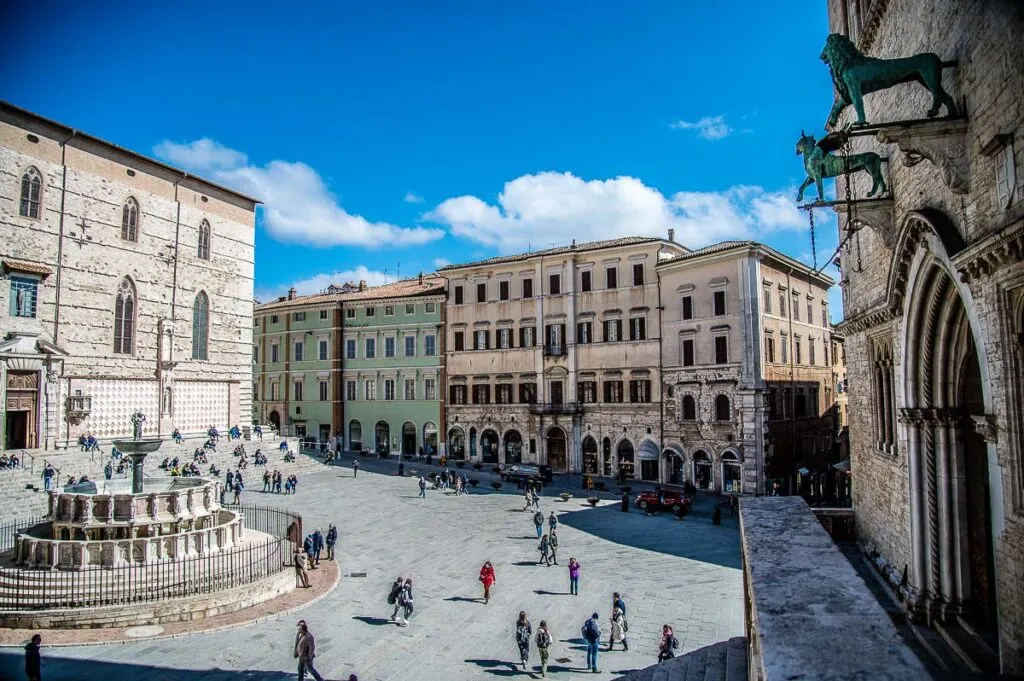 One of the best things about Perugia is how easy it is to reach both from abroad and the large Italian cities. This makes it a great destination for a last-minute city break in the green heart of Italy.
With its hilltop location in the central Italian region of Umbria, Perugia is almost halfway between the Italian capital Rome and the Renaissance city of Florence. Travel times by train start from 2 h and 30 mins from Rome and just over two hours from Florence.
Even better! Perugia has its own airport served by two of the largest budget airlines – RyanAir and WizzAir – in Europe. Ticket prices are very reasonable. For comparison, at £36 return (bought two months in advance) my plane ticket to Perugia was cheaper than my weekly return ticket from Kent (where I live) to Oxford (where I take a history of art course at present).
The flights from London Stanstead to Perugia operate year-round and take only about two and a half hours. During the high season, you can also fly there from Barcelona, Bucarest, Charleroi, Krakow, London Heathrow, Rotterdam/The Hague, and several destinations in continental and insular Italy. This means that you can easily fly to Perugia for the weekend just like I did a couple of weeks ago.
The airport is very small and very quick to navigate. You can be on the bus to Perugia as quickly as half an hour after the plane touches down. The journey by bus from the airport to the historic centre lasts only around 30 mins. This makes Perugia one of the most convenient to reach by plane historic cities in Europe.
Essential Travel Guide for Visiting Perugia, Italy
Pin for Later!
Where in Italy is Perugia?
Perugia is the capital of the Central Italian region of Umbria. Known as Italy's green heart, Umbria is surrounded by the regions of Tuscany, the Marche, Lazio, and Abruzzo. As such it is the only landlocked Italian region that doesn't border another country.
Perugia is in the upper half of Umbria and just off the centre of the region. It's the largest city between Florence and Rome and has about 170,000 inhabitants. The local Universities attract up to 40 thousand students each year.
The above map shows you the exact location of Perugia in Umbria and Italy. You can zoom in and out, use the map to calculate directions to and from Perugia, as well as open the map in a new tab for easier navigation.
Is Perugia Worth Visiting After All?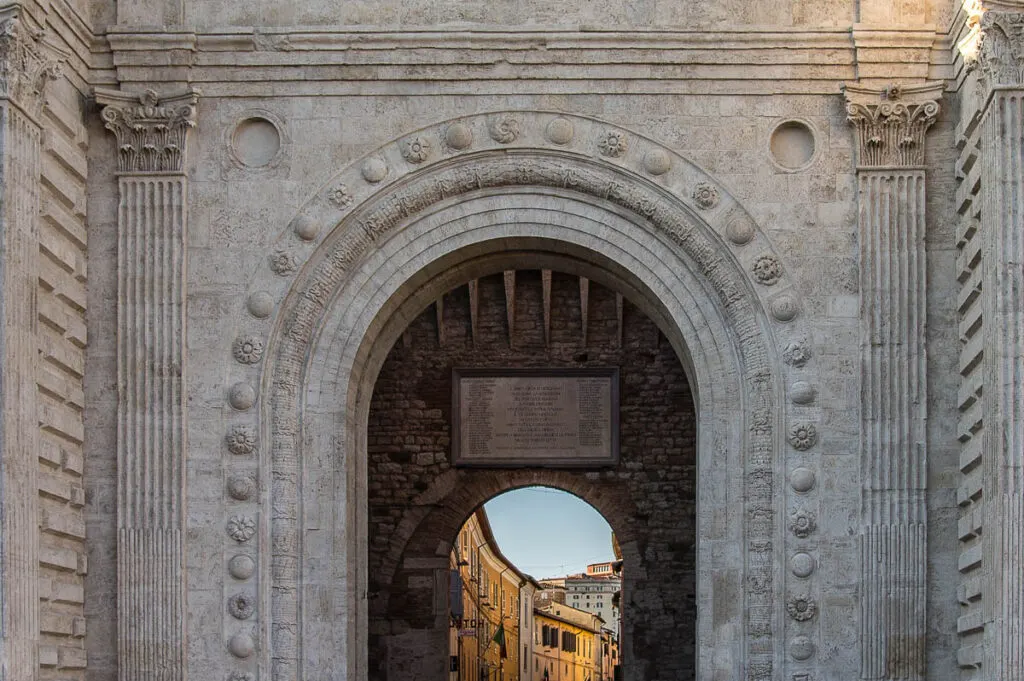 Yes! For everything that Perugia has to offer, this small city in Central Italy is still very much a hidden gem. It is a great place to explore, especially if you want to focus on history, art, and unique sights. With its hilltop location, the historic centre has a maze-like layout inviting you to walk everywhere to make the most of its secret corners and major landmarks.
All this makes Perugia the perfect destination for an active city break with the delicious local food and famous local chocolates providing the energy to keep exploring.
How Long to Spend in Perugia When in Italy?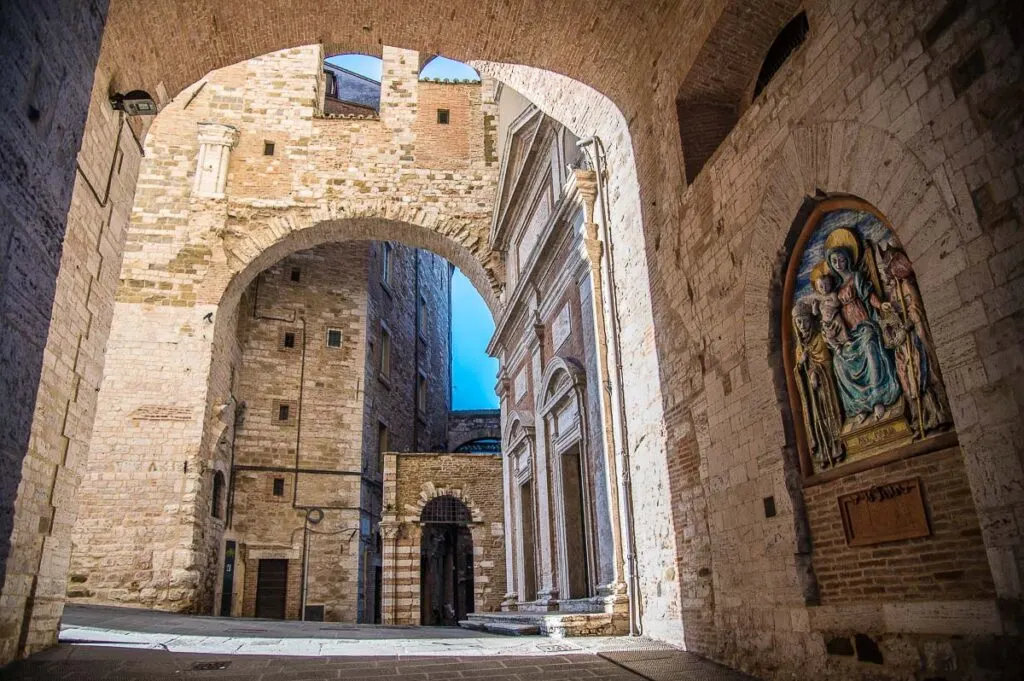 If you want to get to know Perugia instead of just skipping through a couple of its main sights, then two full days are perfect to spend here. This is enough time to give you a good introduction to everything that Perugia has to offer. If you want to delve even deeper or attend one of the city's large annual festivals, then consider adding more days to your stay.
On the surface, Perugia may come across as quite sedate and easy to walk around and be done with it in a half a day or so. This is quite misleading and soon you realise that the more you see here, the more the number of must-see places increases. Plus, the hilly location and the need to walk everywhere in the historic centre, soon get the best out of you, and coffee breaks or little pauses to admire the hilltop panoramas become a welcome respite.
So, pace yourself and take it easy just enjoying the experience, instead of rushing around. Perugia is a city with a millennial history. There is lots to see and do here. Plus, the surrounding area is dotted with many other exciting towns and destinations – from Assisi and Lake Trasimeno in Umbria to Arezzo and Sansepolcro in Tuscany. As such, Perugia is also a great starting point for day trips.
If, however, you have very little time to spare and yet you want to see the best that Perugia has to offer, a good way around it is to book a guided tour of the historic centre. This one comes highly recommended and will take you to the major landmarks in the city.
How to Reach Perugia from Anywhere in Italy and Abroad?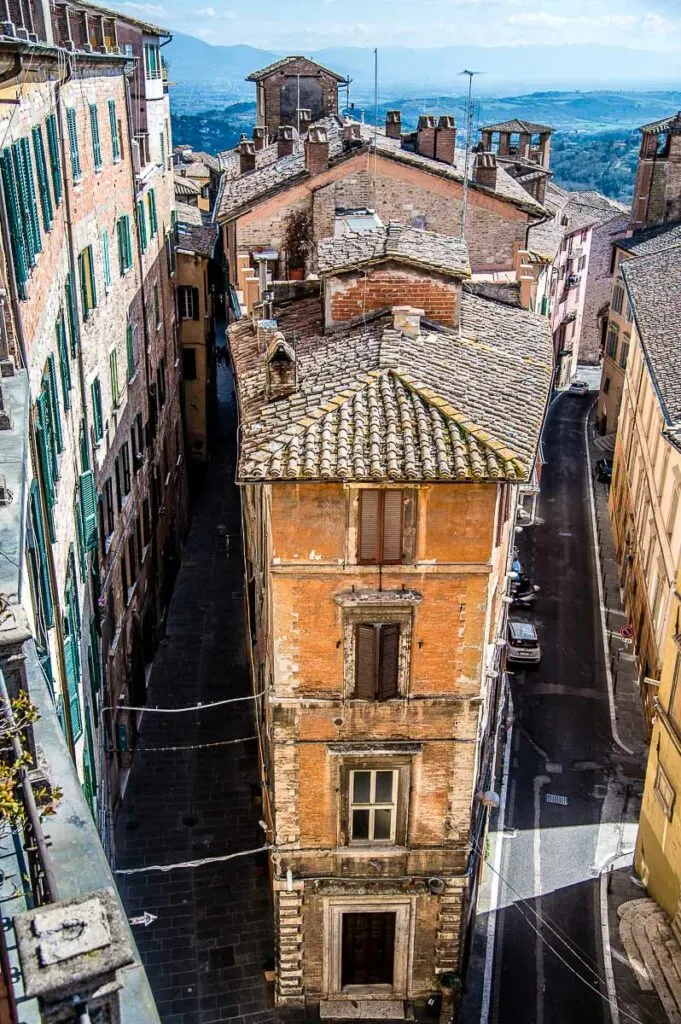 No matter your point of departure, Perugia is easy to reach both from abroad and within Italy by plane, train, and car.
Here is how to do it:
By Plane
Perugia has a small airport about 12 km away from the city. It's known as Umbria International Airport San Francesco d'Assisi (formerly Perugia Sant'Egidio Airport). With one runway, the airport serves both domestic and international flights. The number of destinations increases during the high season. A number of routes – for example, to London Stanstead – are maintained year-round.
A shuttle bus connects the airport to Perugia's historic centre. The ride takes around 30 mins. The bus stops a few times along the way, most importantly at Perugia Fontivegge coach and railway station. If you get off here, you can take the MiniMetro up to the historic centre. Otherwise, you can stay on the bus which also continues to the hilltop historic centre.
The bus schedule corresponds to the times of arrival and departure of the flights to and from Perugia. You can buy tickets from the bus driver. When I visited, he only took cash, and the ticket cost five euros, so make sure that you have some money on you.
By Train
Perugia's main railway station is called Perugia Fontivegge. It's in the plains below the hilltop historic centre, so you will need to get a bus or the MiniMetro to avoid the long walk to the local sights.
Train travel in Italy is, in general, well organised. Perugia is on the Milan to Rome railway line. Trains connect Perugia to Rome, Florence, and a number of other large and small Italian cities and towns all throughout the day. To check train times and book train tickets in advance, I find the following three websites very useful: Omio, ItaloTreno, and TrenItalia.
By Car
The most important Italian highway – Autostrada A1 (also known as Autostrada del Sole) – runs past Perugia. It stretches from Naples to Milan and Perugia is just off the mid-point. If this will be your first time driving in Italy, prepare for a more assertive driving style. Ideally, use a GPS app (Google Maps is always very handy) so that you know in advance which exit to get off at.
How to Navigate Perugia?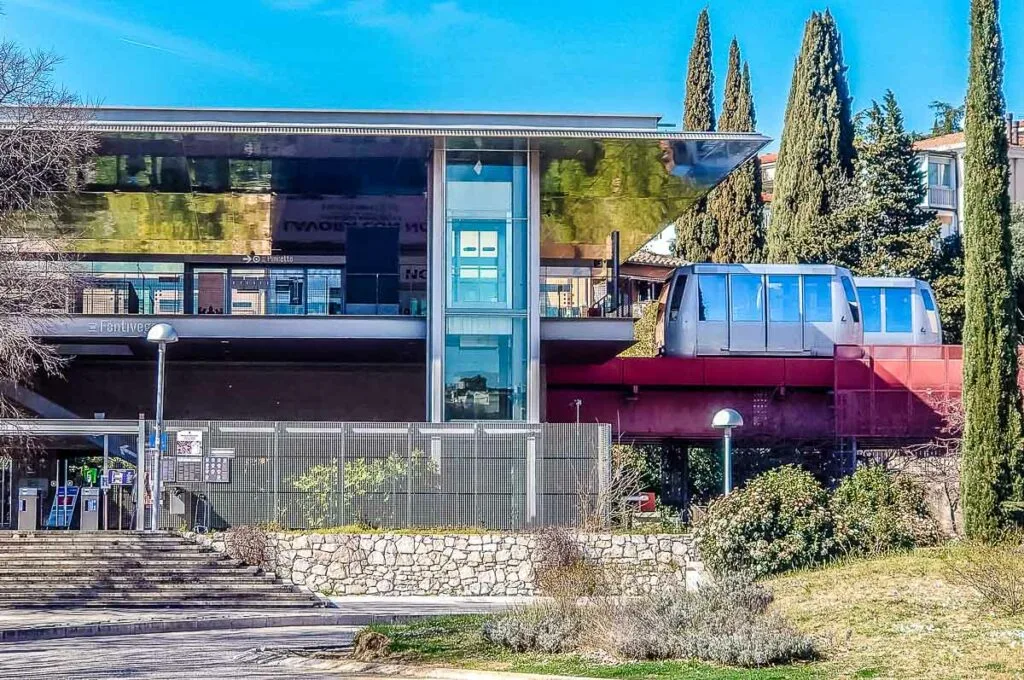 Perugia's historic centre has a hilltop location and a medieval layout. Expect lots of stone-covered streets, some of which are sinuous and narrow and others are so steep that look more like a stairway with a long flight of steps running from top to bottom.
As such, the best way to explore the historic centre is on foot. Prepare for lots of walking.
If you are planning to reach Perugia by car and your accommodation is in the historic centre, ask in advance if it provides parking facilities and if it can give you a special pass allowing you to drive to where you are staying. Otherwise, driving in the historic centre comes with many restrictions, and breaking them incurs heavy fines. Many of the streets here also are not accessible to cars. So, it's important to have an idea in advance where you are going to park and how you are going to get there.
If you are relying on public transport, there is a large network of buses connecting Perugia's historic centre to the other quarters of the city, the nearby towns and villages, and the local airport. Buses don't really drive across the historic centre. They skirt it and while they will leave you close to some of the most important sights here, you will still need to walk from the bus stop to the main museums and the Duomo.
Perugia has a very cute type of public transport called the MiniMetro. It looks like a small driverless capsule that glides along a long track, not unlike a theme park ride. The MiniMetro whizzes from the city's modern suburbs to the city's bus and railway station Fontivegge and then up to the historic centre. For the novelty factor and convenience, you need to take the MiniMetro at least once when you are in Perugia.
Perugia also has lots of free escalators and lifts that connect the lower parts of the city to the hilltop historic centre. You can use them to get from Piazza Italia down inside the Rocca Paolina, for example. The lift taking you down to Pincetto – the first stop of the MiniMetro in the historic centre – is also quite cool as it doesn't go straight down but follows a downward curve.
When Is the Best Time to Visit Perugia in Italy?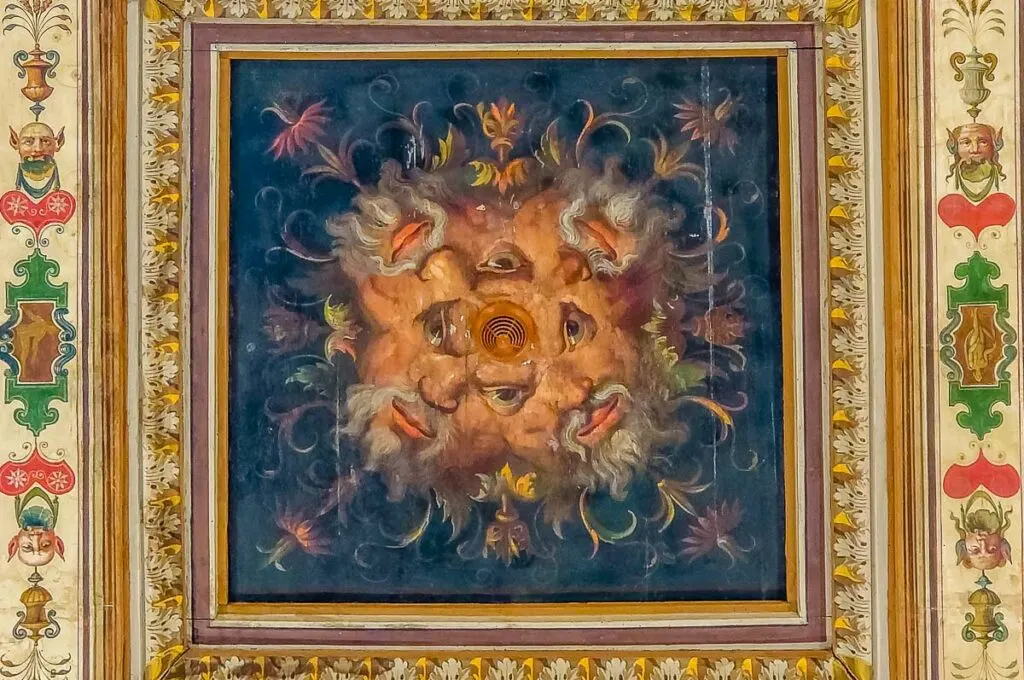 The best time to visit Perugia is during one of the many festivals and events that take place here throughout the year. This is when you can see the town out in force, eat lots of chocolate, and listen to some great music, among other things.
Otherwise, Perugia is a great destination at any time of the year. For the perfect city break, come here during the shoulder season – April and May and then September and October. In summer, temperatures rise to about 29-30 degrees Celsius and you can combine a visit to Perugia with a swim in Lago di Trasimeno – the fourth-largest Italian lake which is only half an hour away.
In winter, expect some rainy days which will make you seek refuge in Perugia's outstanding sights and museums. On a cold and windy day, a nice slice of the local delicacy – torta al testo – will keep you feeling warm inside and ready for more sightseeing.
Have a look at these blog posts for more information about the best times to visit Italy:
Where to Stay in Perugia in Italy?
You can find all sorts and types of accommodation in the Umbrian capital Perugia to suit any budget. From five-star hotels in frescoed historic palazzi to cosy B&Bs in tall brick buildings with coffered ceilings and vintage furnishings, there is something to suit all requirements.
For ideas about the types of accommodation available in Perugia in particular and Italy in general, have a look at this blog post:
No matter your budget, if sightseeing is your main reason for visiting Perugia, then make sure that you stay in the historic centre of this hilltop city. Walking will be your main form of transportation here and you will want to make the walk back to your accommodation as short as possible at the end of a busy day.
If you are travelling to Perugia by car, then pick accommodation that also provides parking facilities (ideally free). Driving around the historic centre is complicated with many restrictions and steep fines, especially for visitors. So, you will want to have somewhere safe and convenient to leave your car during your stay.
If you are planning to use public transport to reach the historic centre from the San Francesco d'Assisi Airport or from Perugia's train station, then you can choose accommodation near one of the stops below. This will save you the effort of lugging your bags and suitcases around.
MiniMetro – Terminal Pincetto is right in the historic centre. Stazione della Cupa is conveniently located for easy access to the historic centre via free escalators. Stazione Fontivegge of the MiniMetro is right next door to Perugia's train station.
Perugia Airlink – the bus connecting the airport to the city of Perugia stops right next to the train station and Stazione Fontivegge of the MiniMetro. It then continues to Piazza Italia – a main square right in the heart of the historic centre.
During my visit to Perugia, I stayed in Albergo Anna – a small, homely hotel that was inexpensive and very conveniently located for all the sights. Above all, it was very easy to reach from Stazione della Cupa and Piazza Italia.
I usually prefer to book all my accommodation through Booking.com. Click to see all available options for places to stay in and around Perugia, Italy. The following hotels are conveniently located in the city's historic centre and come highly recommended:
Budget: Le Stanze di Galileo
Mid-Range: Hotel Fortuna, Hotel Priori Secret Garden
Luxury: Locanda della Posta Boutique Hotel
In case you are coming to Perugia mainly to experience its chocolate heritage, then you need to stay at Chocohotel where everything – from breakfast to interior design – is chocolate-inspired.
If you need some visual help in terms of precise location and price range, have a look at this map. It gives you a quick idea of the prices and whereabouts of the many hotels and other forms of accommodation you can book for your stay in the Umbrian capital Perugia in Central Italy.
You can zoom in and out in order to search for a place to stay. You can also click on the option that interests you to find out more details or to make a booking directly.
What to Pack for a Visit to Perugia in Italy?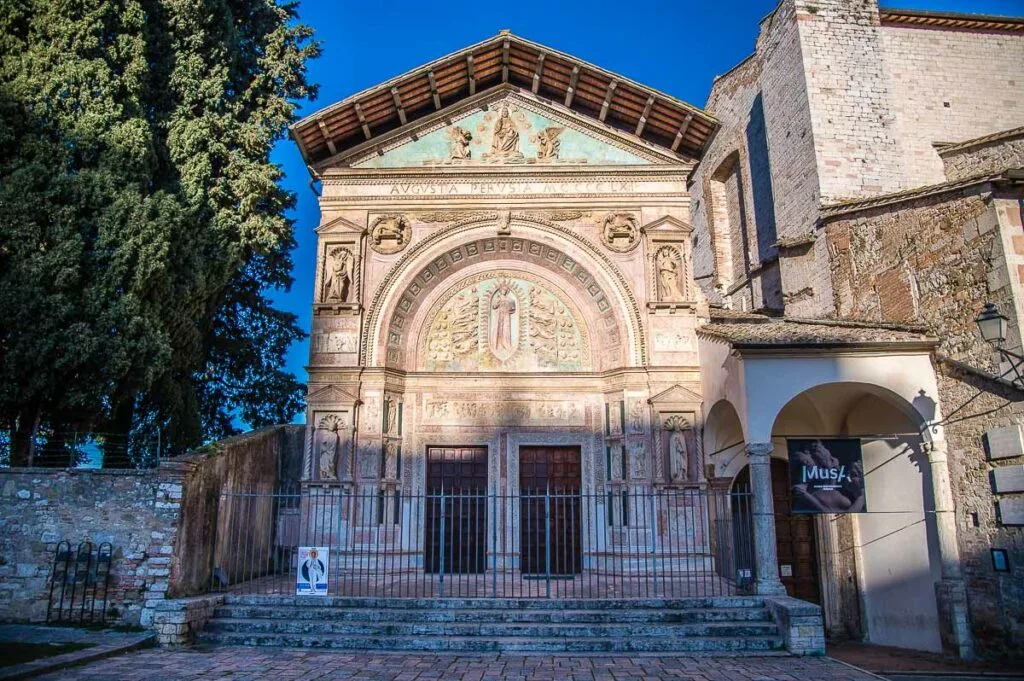 Comfortable shoes are the most important item to pack for your visit to Perugia. This hilltop city will make you walk both uphill and downhill to reach its many sights. So, you will want your feet to feel as comfie as possible on the different types of historic surfaces here – from stone slabs to cobbles.
Many steep streets here are comprised of seemingly endless steps. Some of them may be irregular and worn out, so you need to watch your step. As such, avoid flip-flops and high heels. Opt for shoes that keep you steady, are well-ventilated, and don't allow your foot to slide inside them. Soles with a good grip make all the difference when you are rushing around Perugia trying to make the most of your time here.
Otherwise, with four well-defined seasons, Perugia is a holiday destination that's easy to pack for.
In summer, bring sun cream, a hat and/or sunglasses, as there are many open spots in the hilltop historic centre where the sun will shine straight down on you. In winter, layer up. This way you will be cosy when it's chilly and the winds blow through the narrow historic streets flanked by centuries-old tall buildings.
In spring and autumn make sure that you have a waterproof jacket on you as downpours do happen on some days.
Follow the Italian dress code in so that bare shoulders and knees are traditionally not welcome when visiting museums and churches.
I visited Perugia in early March and got a little bit of all types of weather – from icy drizzle to a glorious sunny sky. At all times the temperature was a few degrees higher than in grey England. It reached a maximum of about 13-14 degrees Celsius which was very nice and definitely jacket-off weather for me.
What Are Some Other Must-See Towns and Destinations near Perugia in Italy?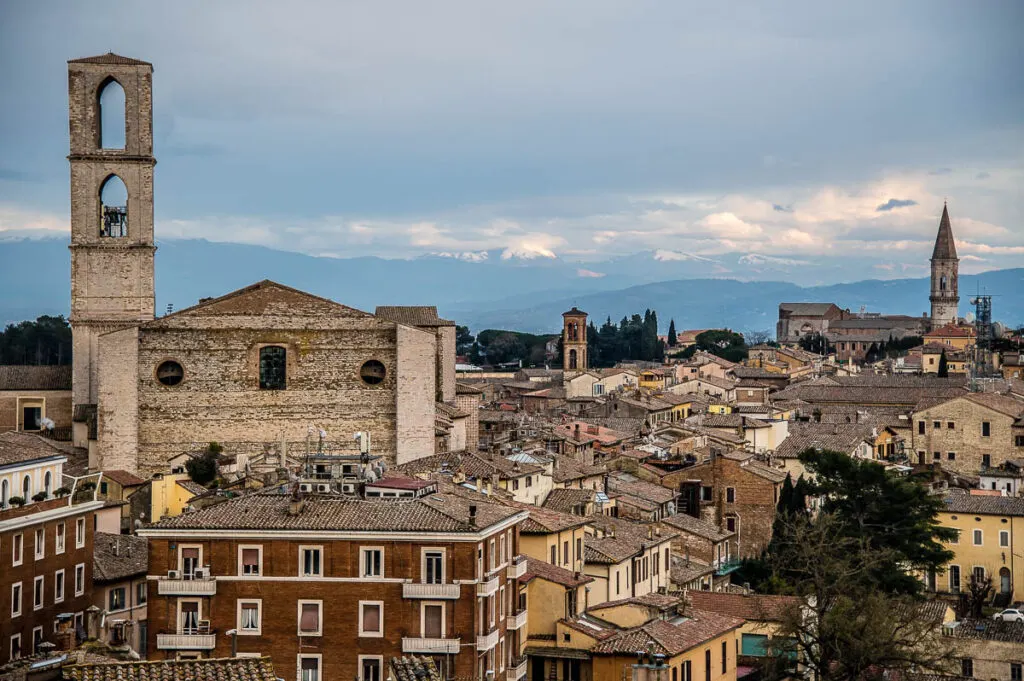 Perugia is perfectly located for exciting day trips in both Umbria and Tuscany. Convenient trains and well-appointed highways and regional roads link the hilltop Umbrian capital to many local gems – many of which are famous worldwide.
Here is a shortlist of the places you may want to see for yourself when holidaying in Perugia:
Assisi (Umbria) – the birthplace of St. Francis, this small Umbrian town is less than 30 km away from Perugia. It's famous worldwide for its Franciscan Structures – a collection of basilicas, monasteries, and other religious sights pertaining to the history of the saint and the Order of St. Francis. Since 2000, the Structures are a UNESCO World Heritage Site. In Assisi, you can also explore several Roman ruins with the Temple of Minerva taking a pride of place among them.
Lake Trasimeno (Umbria) – Italy's fourth-largest lake is only about 30 km away from Perugia. With shores dotted with picturesque villages and delicious local cuisine based on fresh lake fish, prized fagiolina beans, and olive oil, this is a place to visit to practice water sports, enjoy leisurely walks, and take in the beauty of the Umbrian countryside. The fortified village of Passignano sul Trasimeno is particularly famous for its atmospheric historic centre and the trips by ferry boat to Isola Maggiore – one of the lake's three islands.
Orvieto (Umbria) – famous for its splendid Duomo, this Umbrian city is just over 75 km away from Perugia. With Etruscan roots and a long list of sights – among them a papal well and a complex underground system of caves and tunnels – this is a great day trip in the green heart of Italy.
Arezzo (Tuscany) – the capital of one of the Tuscan provinces is just under 100 km away from Perugia. Famous as the birthplace of the artist and bona fide first art historian Giorgio Vasari, this is a beautiful place where medieval architecture meets Renaissance masterpieces.
There are many more must-see villages and towns next door to Perugia. Among them are Foligno, Gubbio, Spello, Spoleto, and Todi in Umbria, Cortona and Sansepolcro in Tuscany, as well as Fabriano and even the Frasassi Caves in the Marche. The choice is yours!
Where to Find More Information about Visiting Italy?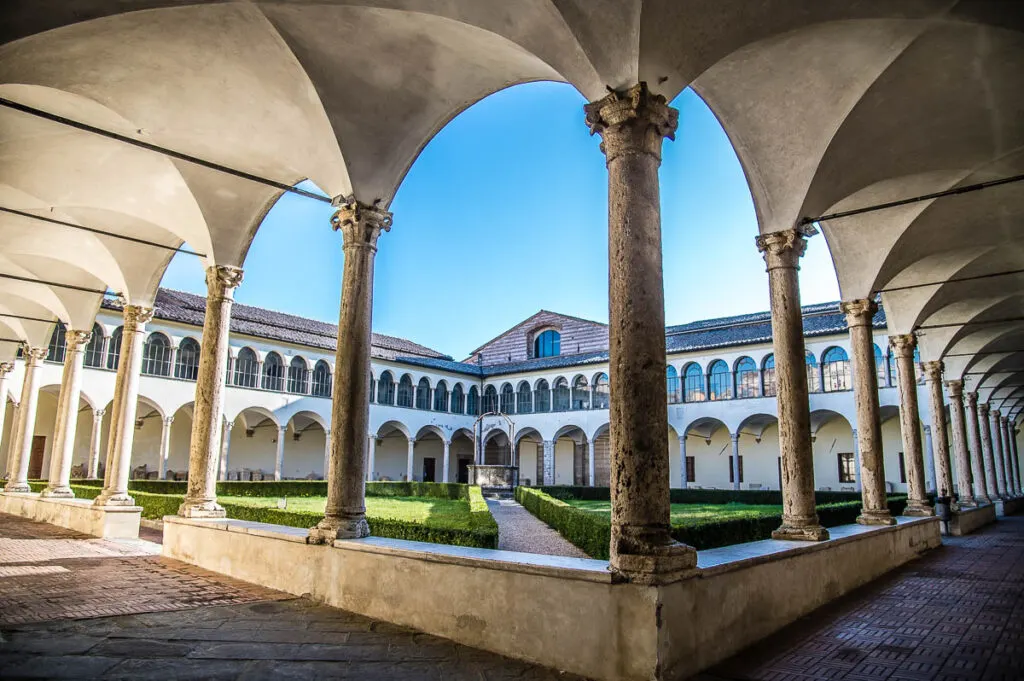 I have been blogging about travelling to Italy since 2014 providing detailed and first-hand tried and tested information about the best things to do in this beautiful country. It's all based on my close to twenty years of visiting Italy solo and with my family. Six of these years, we actually spent living in Vicenza in the north of the country.
If you are after in-depth researched and illustrated with dozens of pertinent photos articles about Italy, have a look at the following categories and blog posts:
In addition, right at the end of this blog post, you will find a list with links to some of my most popular blog posts about many beautiful and exciting cities, towns, and regions to visit in Italy. So, just scroll down and then click on the ones you are interested in.
Finally, Italy's official tourism website is a great source for the latest news about travel in Italy. Otherwise, this is one of the best guidebooks about Italy.
In Conclusion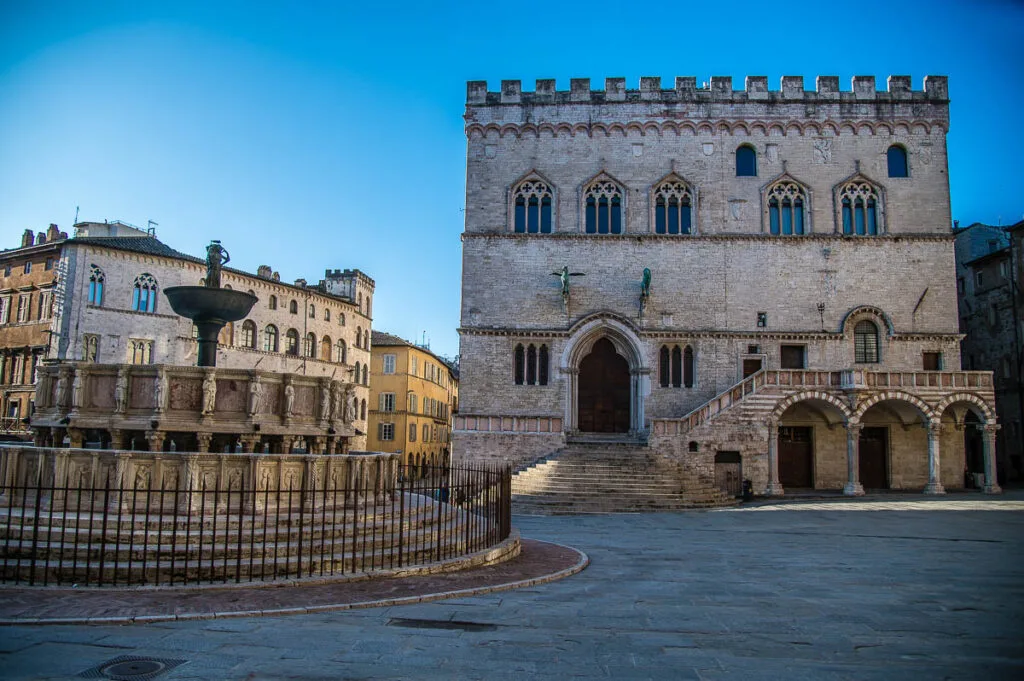 Perugia is a hidden gem of a city in the green heart of Italy. On the road from Florence to Rome, it's only too easy to miss it eager to head straight to the biggest Italian tourist magnets. Yet, Perugia has a lot to offer to the discerning traveller – from ancient history and outstanding art to heart-stealing views and lots and lots of chocolate.
If you have been looking for a new destination to explore in Italy – somewhere pretty and exciting where a new discovery awaits around every corner – then put Perugia right at the top of your travel bucket list. The capital of the central Italian region of Umbria is easy to reach from a number of European cities and will surprise you on many levels.
Fresh from my own visit to Perugia a couple of weeks ago, in this blog post today I shared with you the ten best reasons to head there pronto. From exciting sightseeing to important works of art, from artisan workshops to world-class museums, and from convocations of griffins to a unique Christian relic, Perugia has a lot of stories to tell and it really pays to stop, open your heart, and listen.
I hope that this blog post has inspired you to head to Perugia before long and that the essential travel guide it also includes will come in very handy when you are planning your trip to Central Italy.
Enjoy discovering everything that the Umbrian capital has in store for you!
Have a great time in Perugia!
More Helpful Italy Info for You
Best of Italy: Italian Piazzas, Italian Markets, Accommodation for Every Budget, Best Times to Visit Italy, Italy in Summer, Italy with Kids
Italian Food: Best Italian Food Gifts, Cheap Italian Food, Rules of Italian Breakfast, Italian Breakfast Foods
Italian Coffee: Italian Coffee Culture, Italian Coffee Drinks, History of Coffee in Italy
Christmas in Italy: Fun Facts, Things to Do, Italian Nativity Scenes, Panettone, Christmas Guide
Northern Italy: Best Cities to Visit, Major Airports, Reasons to Visit
Lake Como: Best Things to Do, How to Get to Lake Como, Reasons to Visit in Winter, Inspiring Photos, Best Airports, Nesso
Lake Garda Towns and Villages: Best Towns, Desenzano del Garda, Lazise, Riva del Garda, Malcesine, Torri del Benaco, Punta di San Vigilio, Campo di Brenzone, Borghetto and Valeggio sul Mincio
Visiting Lake Garda: Map of Lake Garda, Getting Around Lake Garda, Lake Garda with Kids, 8 Best Airports, Venice to Lake Garda, Verona to Lake Garda, Milan to Lake Garda, Bologna to Lake Garda
Verona: Things to Do in One Day, Verona Opera Festival, Day Trips from Verona, Romeo and Juliet Itinerary, Verona to Venice, Verona to Milan
Padua: Things to Do in One Day, 101 Facts About Padua, Reasons to Visit Padua, Day Trips from Padua
Vicenza: Things to Do, Day Trips from Vicenza, Best Museums, The Beauty of Vicenza
Veneto: Top Places to Visit, Unique Adventures, Most Colourful Places, Mysterious Places, Most Beautiful Lakes, Reasons to Visit, Main Cities, Prettiest Small Towns, Most Beautiful Villages
Lombardy: Best Cities and Towns, Reasons to Visit, Brescia
Friuli Venezia Giulia: Venzone, Most Beautiful Villages
Emilia Romagna: Bologna, Ravenna, Comacchio, Most Beautiful Villages
Marche: Reasons to Visit, Gradara, Frasassi Caves, Temple of Valadier
Thank you for reading! Please, leave me a comment, pin the images or use the buttons right at the top and at the end of this blog post to share it on social media.
For more useful information like this, please, like my blog's pages on Facebook and Instagram and subscribe to my strictly no-spam newsletter.
Pin This Blog Post!