Here are ten reasons to visit Lombardy – the Italian region that has the worldwide famous city of Milan as its capital.
Known as Lombardia in Italian, you will find it right in the centre of the cuff of the boot of Italy. From this top location, it plays a leading role in the country's commerce, industry, and cultural life.
Plus, many of Italy's most coveted destinations are on the territory of Lombardy. Lake Como is a case in point. Perennially popular, it attracts both travellers and Hollywood stars eager to experience the beauty of Italy.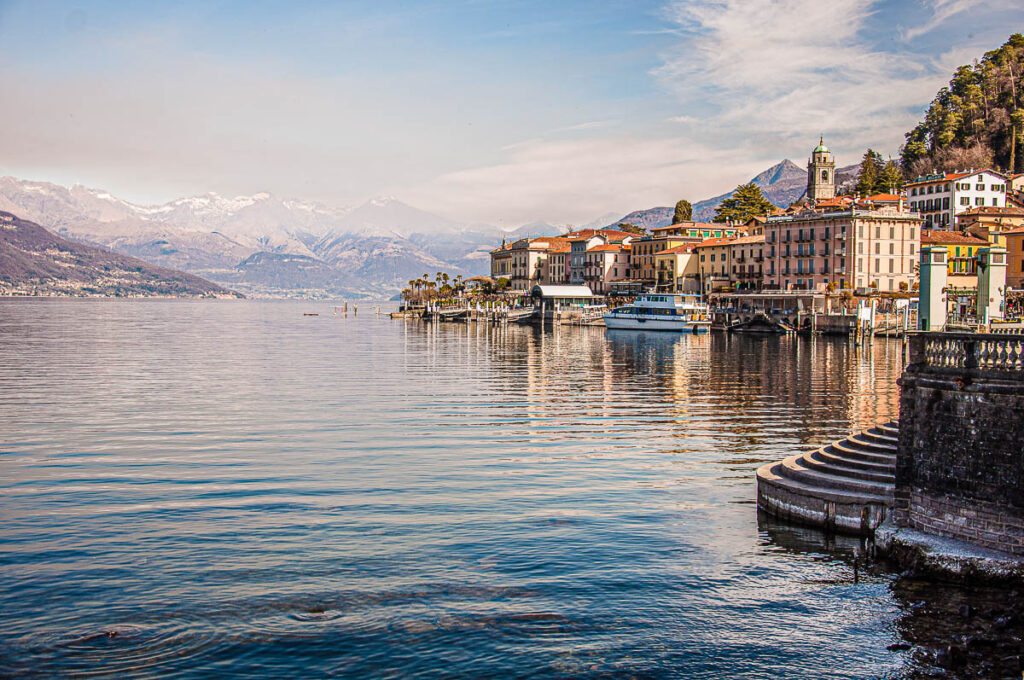 Lombardy also includes a significant portion of the Italian Alps, some of the prettiest northern Italian lakes, as well as many historic towns and cities the names of which have become synonymous with art. Impressively, the region also has the highest concentration of UNESCO World Heritage Sites in all of Italy.
With Switzerland to the north, and the Italian regions of Trentino-Alto Adige and Veneto to the east, Emilia-Romagna to the south, and Piedmont to the west, Lombardy is easy to reach from anywhere in Italy, Europe, and the world.
The region's busy airports, high-speed railway network, and fast highways make a trip to Lombardy a quick and easy experience. It's not surprising then that millions of visitors flock to this corner of Italy every year eager to see Milan and Lake Como for themselves. Many of them also use Milan's international airports as a point of arrival for a wider-reaching Italian holiday.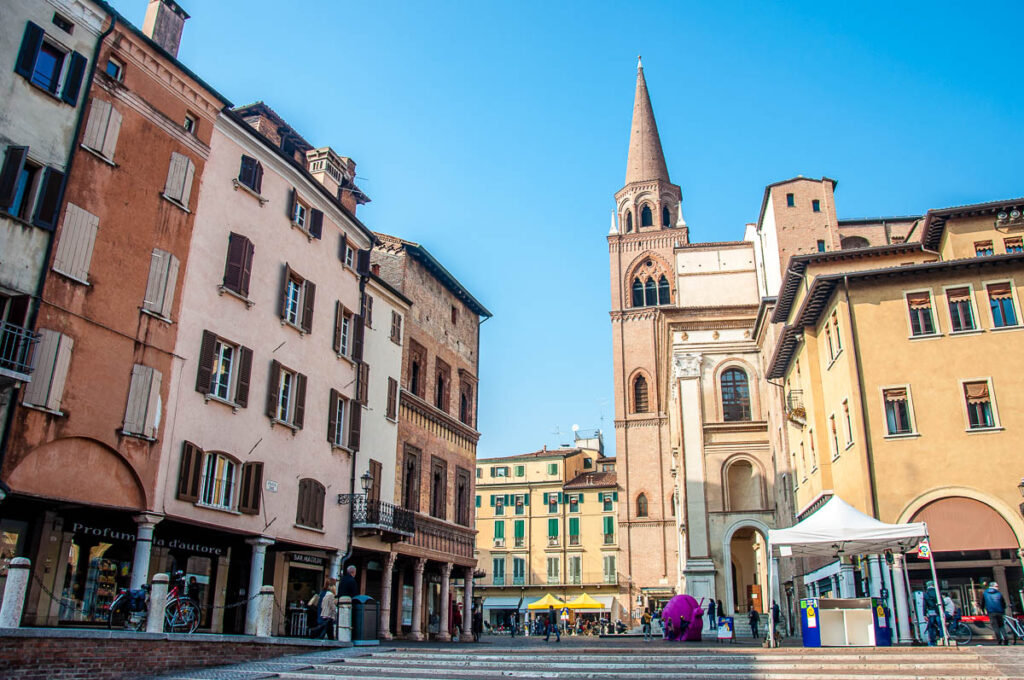 Lombardy, however, is so much more than just its capital and famous lake. This is a place of millennial history, refined art, centuries-old music heritage, and delicious local food.
It's a land where many of Italy's most famous historic figures lived and worked. Among them are the Roman author and natural philosopher Pliny the Elder, the polymath Leonardo da Vinci, and the pioneer of electricity Alessandro Volta.
It's also the most cosmopolitan Italian region which, at the same time, has many towns and villages with perfectly preserved medieval and Renaissance look and feel.
All this makes Lombardy a very exciting place to explore. No matter what you may be passionate about – history, art, sports, food, famous landmarks or traditional festivals and lively events – in Lombardy there are many ways to indulge and expand your interests.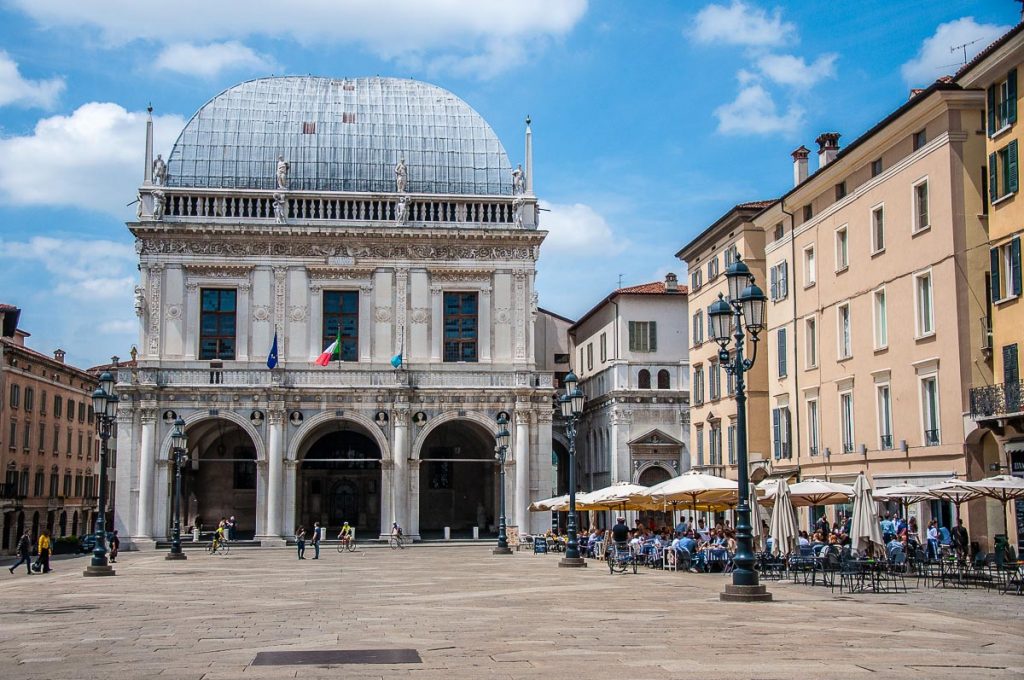 I am a big fan of Lombardy in Italy myself. I love visiting and revisiting its cities, villages, mountains, and lakes, its hidden corners and worldwide known gems.
So, in this blog post today, I will give you the ten best reasons that make Lombardy a must-see destination in Italy. From its cities, history, music, and art to its stunning nature and centuries-old traditions and culture, it's all covered. Plus, this easy to read travel guide is peppered from start to finish with practical travel tips that I personally tried and tested over my many visits to Lombardy.
I hope that you will enjoy reading it, looking at the photos I took of the Lombardian nature and sights, and that you will feel inspired to head to this beautiful Italian region as soon as possible. It's the perfect place for a weekend trip a longer Italian holiday.
Find out why!
10 Reasons to Visit the Region of Lombardy in Italy – From Milan and Lake Como to Lombardy's History, Nature, and Art
Pin for Later!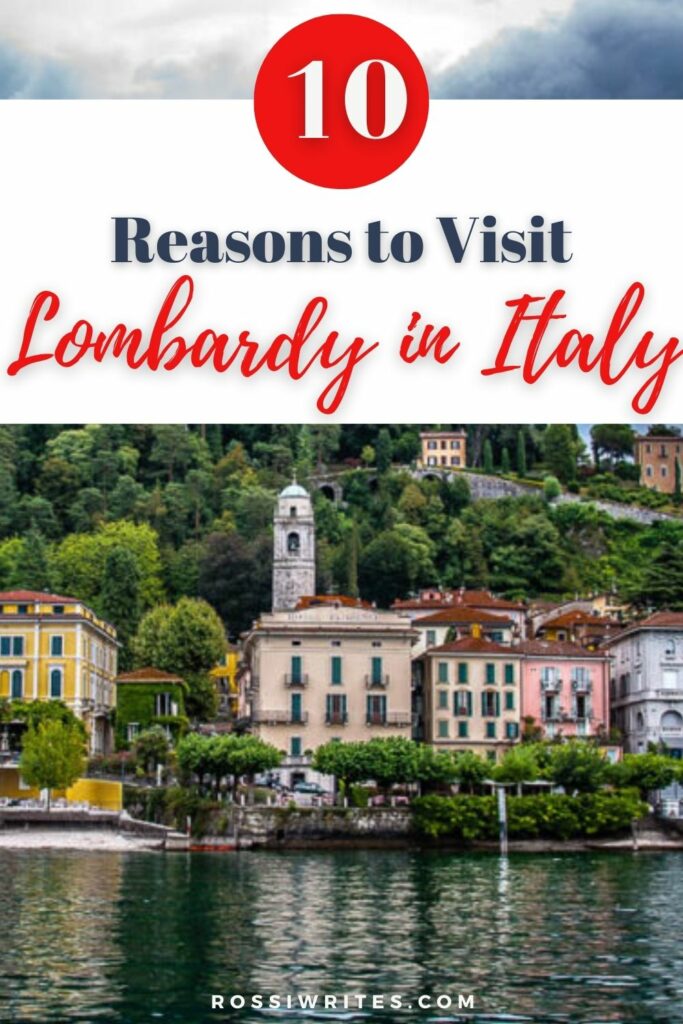 1. Lombardy's Capital Milan – Experience Italy's Most Cosmopolitan City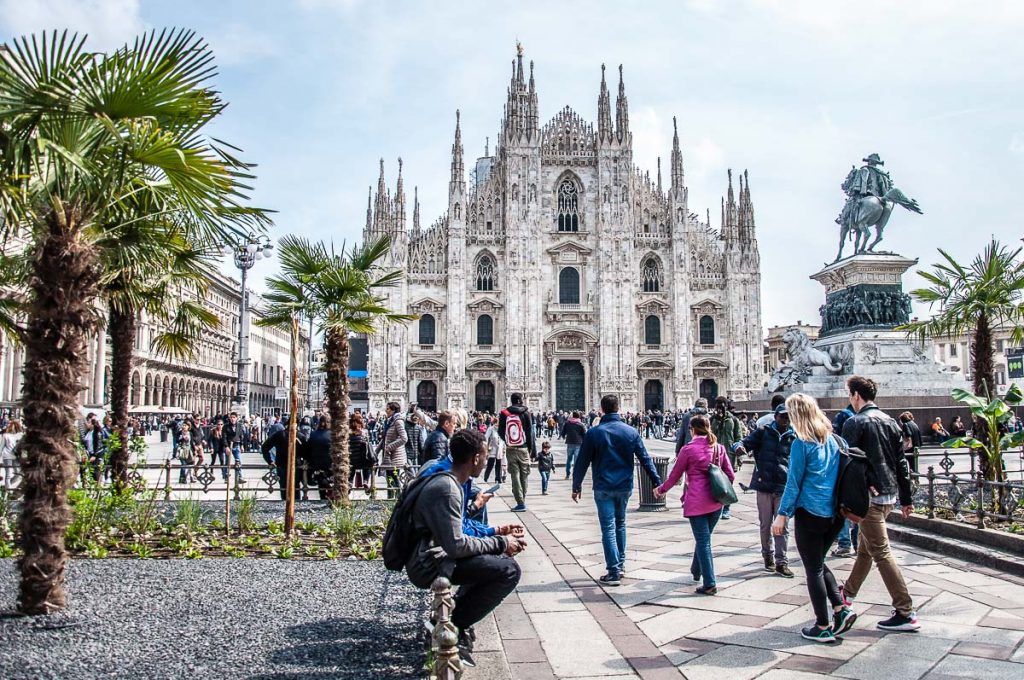 Milan – or Milano in Italian – is one of the most famous cities in the world. A fashion capital and an important centre of industry and commerce, this is a large, exciting city that has its finger on the pulse of Italy and Europe.
At the same time, Milan is also a place with centuries-old history and a repository where some of the world's most precious works of art are kept.
From the iconic Duomo di Milano – a stunning Gothic cathedral with a lace-like triangular facade – to the famous Teatro alla Scala, Lombardy's capital has a string of beautiful must-see landmarks.
This is also the city where the famous painter, sculptor, and engineer Leonardo da Vinci spent 18 years of his life. Nowadays, some of his greatest masterpieces can be seen here.
The famous fresco The Last Supper doesn't really need an introduction. In addition, in Milan, you can also see:
Leonardo's Codex Atlanticus – a 12-volume set of his writings and drawings which nowadays is kept in the city's Biblioteca Ambrosiana. This ancient library conserves precious historic books and has an important art gallery on-site. You can admire another of Leonardo's works of art – Portrait of a Musician – here. Click to book your visit.
Leonardo's Vineyard – this was a gift that the artist received from the Duke of Milan in 1498. Nowadays, the original rows and the original vine stock have been carefully restored and brought back to life once again. Click to book your tickets or guided tour.
In addition to all its striking landmarks and international creative buzz, Milan also has many hidden corners and little quirks. Seek them out as they reveal the authentic character of this sprawling and at a first glance rather grey city in all its multilayered charm.
From the historic trams rumbling through the city's wide central boulevards to the Navigli district – crisscrossed by canals flanked by lively eateries – Milan must be seen and experienced at least once in a lifetime.
More Information:
2. Lombardy's Lakes – Enjoy the Famous Lake Como, Lake Maggiore, and Lake Garda and Discover Many More Beautiful Northern Italian Lakes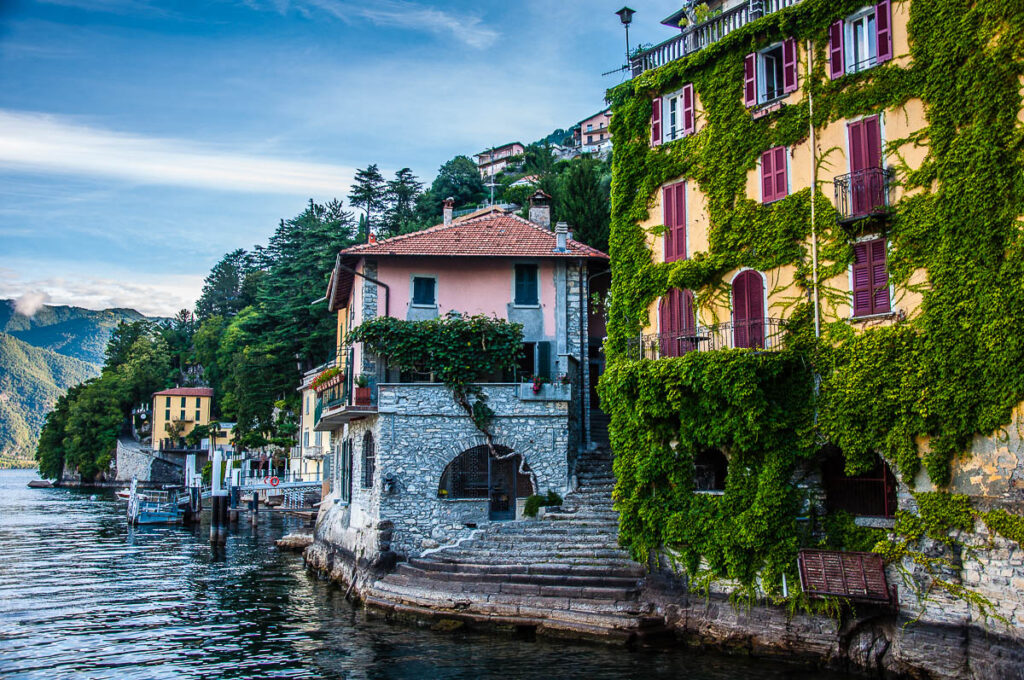 Lombardy is blessed to have several of Northern Italy's most well-known and beautiful lakes on its territory. Most importantly, Lago di Como. Italy's most famous lake is one of the brightest gems in Lombardy's crown.
An easy train ride or car drive away from Milan, Lake Como stretches up towards Switzerland. It looks like an upturned letter Y. The panorama of its three branches' meeting point is best enjoyed from Bellagio.
This lakefront town is very picturesque! It's not surprising really that the ancient Romans used to build their villas here.
Among them was Pliny the Younger – a famous Roman lawyer, magistrate, and author as well as the nephew of Pliny the Elder. He had not one but two villas at the spot of modern-day Bellagio. While one was up in the hill above the lake, the other was right next to the water, so he could fish through the window while he relaxed in bed.
Beautiful as it is, don't limit yourself just to Lake Como during your visit to Lombardy.
In this northern Italian region, you can also spend wonderful moments on the shores of the worldwide known Lake Garda, Lake Maggiore, and the gaining wider appreciation Lake Iseo. Or you can discover many small yet striking lakes like Lake Idro and Lake Valvestino. The first is a thin and long lake where, they say, the mythical monster Idra lives. The other resembles a Norwegian fjord and makes up in beauty what it lacks in size.
If you are planning to visit Lombardy primarily to explore its capital Milan, then make sure that you put a day aside to see one of the region's lakes, too. Easy to get to by public transport or by car, they give you a chance to experience Italy from a different point of view.
For example, at Lombardy's lakes you can explore picturesque waterfront towns. Sirmione on Lake Garda and Varenna on Lake Como are my personal favourites. You can go for a hike in the hills and the mountains flanking the Lombardian lakes and take in heady panoramic views. Or you can simply top up your tan on one of the many lakefront beaches and take a ferry across the water so as to enjoy the views of lush hills, olive groves, and small villages as they glide past you.
If you would rather combine city sightseeing and a lake visit, however, then head straight to Mantua. This Lombardian city is surrounded by three lakes and it's a beautiful place to explore.
More Information:
3. Lombardy's Excellent Transport Links – Arrive at Busy International Airports and Travel around by High-Speed Trains and Fast Highways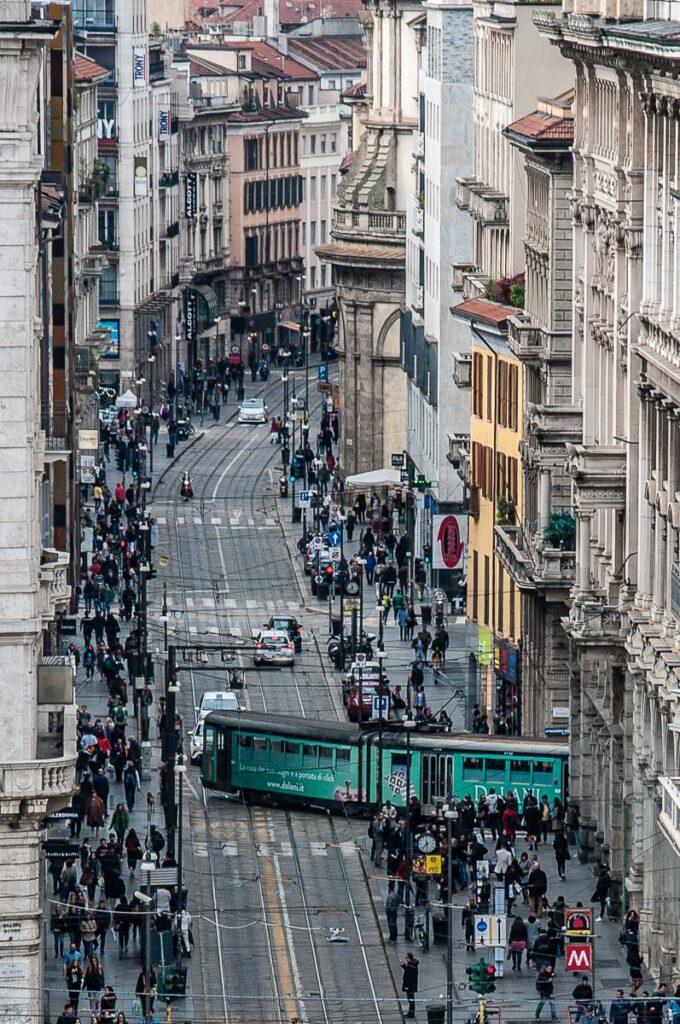 Lombardy is very well connected by air, rail, and road to all corners of Italy and Europe.
Three major airports operate in this northern Italian region. They are:
Based on the number of passengers they deal with on a daily basis, all three are in the top 10 of the busiest Italian airports.
This means that you can easily reach Lombardy and Milan from anywhere in the world on a flight operated either by a low-cost company or a major airline. This way you can book just the right ticket for your budget and available travelling times and pick the most convenient airport for your destination in Lombardy and Italy.
Lombardy's well-developed railway network is another top reason to come here. High-speed trains and fast regional trains operated both by the national railway company and a private enterprise guarantee you quick and easy access to a long list of must-see destinations and cities in Italy.
Here are some sample travelling times by high-speed train both within Lombardy and beyond:
Milan to Brescia – from 36 mins;
Milan to Turin – from 1 h;
Milan to Desenzano del Garda on Lake Garda – from 1 h 3 mins;
Milan to Bologna – from 1 h 4 mins;
Milan to Genoa – from 1 h 27 mins;
Milan to Florence – from 1 h 54 mins;
Milan to Venice – from 2 h 27 mins;
Milan to Rome – from 3 h 10 mins.
All this gives you so many options for exciting day trips and longer journeys during your stay in Lombardy and Italy.
Finally, exploring Lombardy by car is also very easy. A dense road network connects the region's main cities like Milan and Brescia to the smaller towns and picturesque villages here.
Knowing that within an hour's drive from anywhere in Lombardy you can be on the shores of a beautiful lake, in the folds of the mountains or exploring the art and history of a new place, is a great incentive to visit this northern Italian region.
If you are looking further afield, then travelling by car is also a quick way to get from Lombardy to anywhere in Italy. Several important highways run through the region leading to the country's most beautiful and important destinations. Among them are:
Autostrada A4 (known also as La Serenissima after the moniker of the historic Republic of Venice) – it connects Turin first to Milan then Brescia and continues to Verona, Venice and Triest; and
Ausostrada A21 (known also as the Motorway of the Wines as it goes across several important wine-producing areas) – it connects Turin to Cremona and Brescia.
More Information:
4. Lombardy's UNESCO World Heritage Sights – Explore the Highest Concentration in Italy of Cultural and Natural Landmarks with Universal Value to Humanity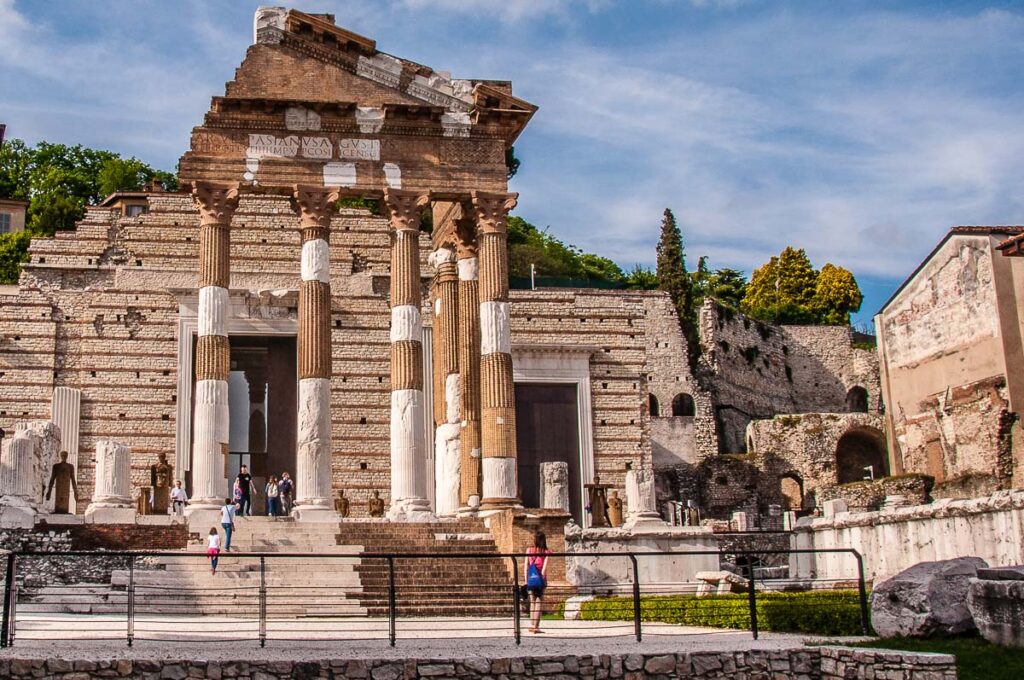 Lombardy is the region with the highest number of UNESCO World Heritage Sites in Italy. There are 11 of them here.
Even more, this is the region with Italy's first UNESCO World Heritage Site. The Rock Drawings in Valcamonica in Lombardy were inscribed by UNESCO in 1979. For comparison, the Historic Centre of Rome was listed in 1980.
If you like exploring cultural landmarks with a value that transcends local history and national borders, then Lombardy is a must-see. From the Church and the Dominican Convent of Santa Maria delle Grazie with The Last Supper fresco by Leonardo da Vinci in the heart of Milan to the Renaissance gem of Mantua and the ideal city of Sabbionetta, here you can immerse yourself into humanity's highest levels of creativity from art to architecture.
In terms of natural sights, Monte San Giorgio is a great representative. This pyramid-shaped mountain stands right on the border of Italy and Switzerland. It is regarded as the best depository of marine fossils from the Triassic period (245-230 million years ago). At the time, the mountain was a tropical lagoon teeming with life.
The city of Brescia is my favourite destination in Lombardy in terms of UNESCO World Heritage Sites. Come here to see Northern Italy's largest and best-preserved Roman archaeological area. Next door to it stands the Santa Giulia Museum Complex with an area of 14,000 sq. m and over 12,000 artefacts.
The archaeological area and the museum are inscribed on UNESCO's List of World Heritage Sites as part of the property 'Longobards in Italy. Places of the power (568-774 A.D.)'. Both deserve a visit during a day trip to or a longer stay in Brescia – an exciting city just over half an hour away by high-speed train from Milan.
More Information:
5. Lombardy's Cities of Art – Discover Roman Ruins, Medieval Fortifications, and Renaissance Pearls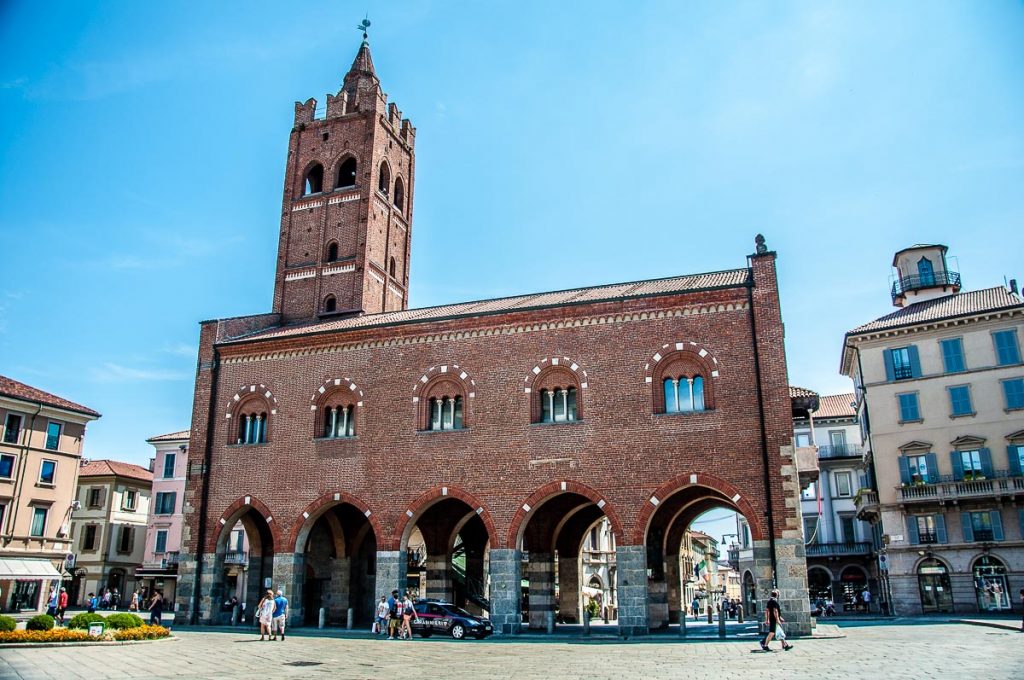 Beyond the buzz of Milan and the sights of Brescia, Lombardy is dotted with many smaller cities and larger towns that safeguard some of Italy's best artistic achievements and historic places of interest.
Known collectively as Cities of Art (in Italian, Citta' d'Arte), they have so much to offer to the curious traveller – from art galleries densely packed with masterpieces to sturdy fortifications, splendid buildings, and tall bell towers offering heady views.
Take the funicular up to Bergamo's Upper Town – or Citta' Alta as it is known in Italian – for example, and you will find yourself in an urban nucleus where the Middle Ages meet the Renaissance. To make it even more dramatic, it's all enveloped in massive Venetian walls. The narrow cobbled streets will then lead you up to a central square – Piazza Vecchia – that the famous Swiss-French architect Corbusier once declared to be "the most beautiful in the world".
In the town of Como on the lower edge of Lake Como, you can start your exploration of the past from Roman ruins and then progress through the Middle Ages all the way to the present. The different historic periods here blend and fuse into one another, each taking inspiration from the previous ones and adding something new and inspired to the mix.
Hence, when you look at imposing buildings like the Como Cathedral, you can spot many elements pertaining to different eras and yet all of them create a harmonious whole.
Monza – another of the Lombardian Cities of Art – lives one foot in the past and one foot in the future. This lovely city – the third-largest in Lombardy – is famous both for its medieval and Neoclassical buildings and as the seat of the Italian Grand Prix.
Built in 1922, the Autodromo Nazionale di Monza is the world's third-oldest purpose-built motor racing circuit. It has been hosting high-speed motor races for a century. Nowadays, it's officially referred to as The Temple of Speed as the cars achieve top speeds of nearly 350 km/h.
From Pavia to Sondrio and from Mantua to Varese, there are many Cities of Art in Lombardy. Each one of them has something special and unique to offer to the traveller eager to experience the best of Italy. Head there and see it all for yourself!
More Information:
6. Lombardy's Musical Heritage – Learn about Violinmaking in Cremona and Enjoy Opera in Brescia and Milan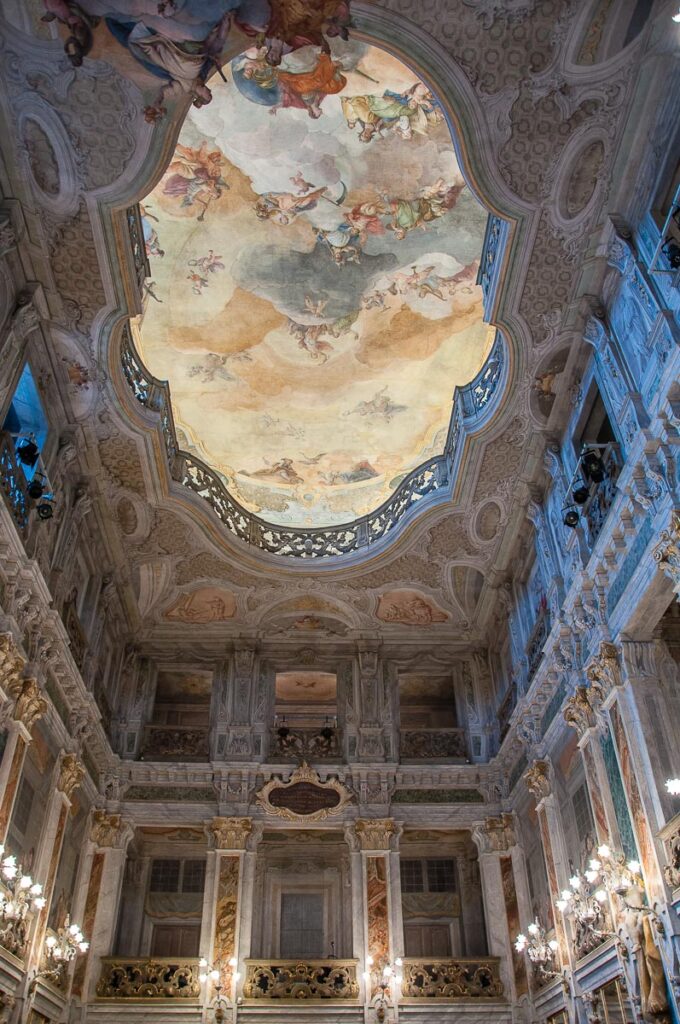 Lombardy plays an important role in Italy's musical heritage. This northern Italian region has contributed greatly to the development of lyrical singing and the refining of musical instruments as we know them nowadays. As such, it's dotted with important landmarks giving you a chance to gain a first-hand understanding of the history of music.
If music is in your heart, then make sure that you visit Cremona in Lombardy, Italy. Less than an hour and a half away from Milan, this small city preserves centuries-old violinmaking traditions. Some of the world's greatest luthiers like Nicolo' Amati and Antonio Stradivari worked here in the 16th and 17th centuries crafting violins, cellos, guitars, and harps that to this day set the standards for string instruments.
To this day, Cremona's beautiful historic centre is dotted with the workshops of luthiers. And then a short walk away from the city's splendid Cathedral stands the excellent Violin Museum. Don't miss a visit! It has state-of-the-art displays and many priceless historic violins and other string instruments. You can book your tickets here.
In addition, make sure that you visit Lombardy's historic opera houses. Two of the most famous of them all are:
Teatro alla Scala in Milan – you can either catch a world-class performance here or simply visit during the day to see the theatre's lavish interiors and the excellent on-site museum for yourself. Alternatively, you can enjoy a guided tour of La Scala or see it from the comfort of your own home with this virtual tour. This is one of the world's most famous opera houses where great Italian composers like Rossini, Donizetti, and Verdi have premiered many of their operas and where globally famous opera singers have given the performances of their lives.
Teatro Grande in Brescia – a spectacularly lavish theatre with a history that goes back to the 16th century. It's housed in a purpose-built building from the start of the 19th century. The theatre was recognised as a national monument of Italy over 100 years ago. Its performance hall is horseshoe-shaped, 22 x 17 m in size, and has five rows of boxes.
Lombardy is also the birthplace of famous Italian composers. Gaetano Donizetti, for example, was born in Bergamo in 1797. Nowadays, the Donizetti Museum is one of the best things to see in this underrated northern Italian city.
The composer Claudio Monteverdi was born in the city of Cremona. His opera Orfeo is widely accepted to be 'the first great opera' ever.
Finally, Lombardy is where many renowned music festivals and competitions take place every year. Brescia, for example, organises a highly regarded piano competition under the name of Arturo Benedetti Michelangeli – one of the greatest pianists of the 20th century who was a native of the city.
7. Lombardy's Great Outdoors – Get Active by Practicing All Sorts of Sports in This Beautiful Corner of Italy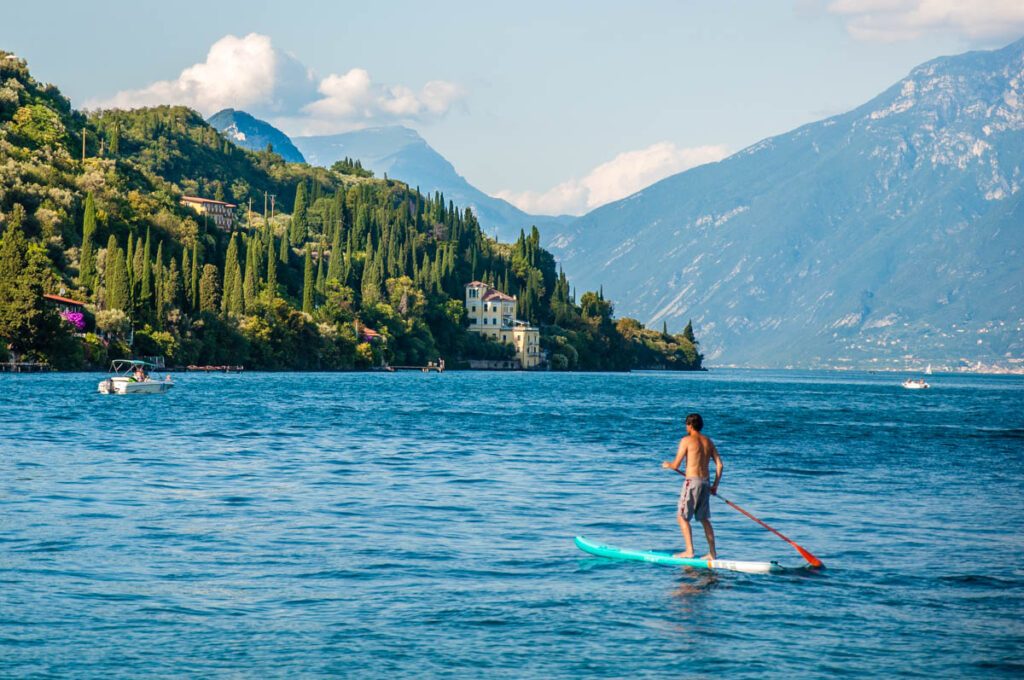 It's so very easy to get out and get active when you are in Lombardy.
This northern Italian region is dotted with lakes where you can swim, sail, paddleboard, and even practice kitesurfing. It also has a generous portion of the Italian Alps where hiking trails and ski slopes are in their hundreds. No matter the season, there is always something exciting to do here – from snowboarding and snowshoe walking in winter to canyoning and mountain biking in summer.
Lombardy's great outdoors are a delight to discover and there is something for all abilities and ages to enjoy. From gentle walks and ski schools for absolute beginners to rock climbing and expert slopes.
Some of Lombardy's most important ski resorts are in the provinces of Brescia, Bergamo, and Sondrio. From Pontedilegno-Tonale, Brembo Super Ski, and Valtorta-Piani di Bobbio to Piazzatorre, Bormio Ski, and Aprica, there are dozens of excellent ski destinations to choose from here.
In terms of walking and hiking, you will be spoilt for choice, no matter if you are travelling as a family with small kids, as a group of friends or with a significant other. Trails of different levels of difficulty crisscross Lombardy's beautiful nature offering you splendid panoramic views, forest bathing, fairytale waterfalls, and the ability to fill in your lungs with fresh, clean air.
There is nothing like going for a hike on a beautiful day in the forests and hills of Lombardy. Then you can stop for a hearty lunch in one of the many mountain huts that serve freshly cooked traditional food prepared with zero km ingredients. It's a wonderful way to clear off your mind and relax.
The local tourist offices in Lombardy usually have plenty of information about local hikes and outdoor explorations. These are especially numerous around the region's lakes like Como, Iseo, and Garda.
Provided you bring in the right shoes and clothing to ensure your comfort and safety, it's a great idea to add a hike or another type of activity to your list with things to do in Lombardy, Italy.
If you would rather rely on an expert local guide to show you hidden gems in the bosom of Lombardy's nature, then you can simply book an organised hike or activity. Have a look at the options below for some must-see destinations:
8. Lombardy's Rich Culinary Traditions – Savour Delicious Dishes and Enjoy Italy's Best Sparkling Wines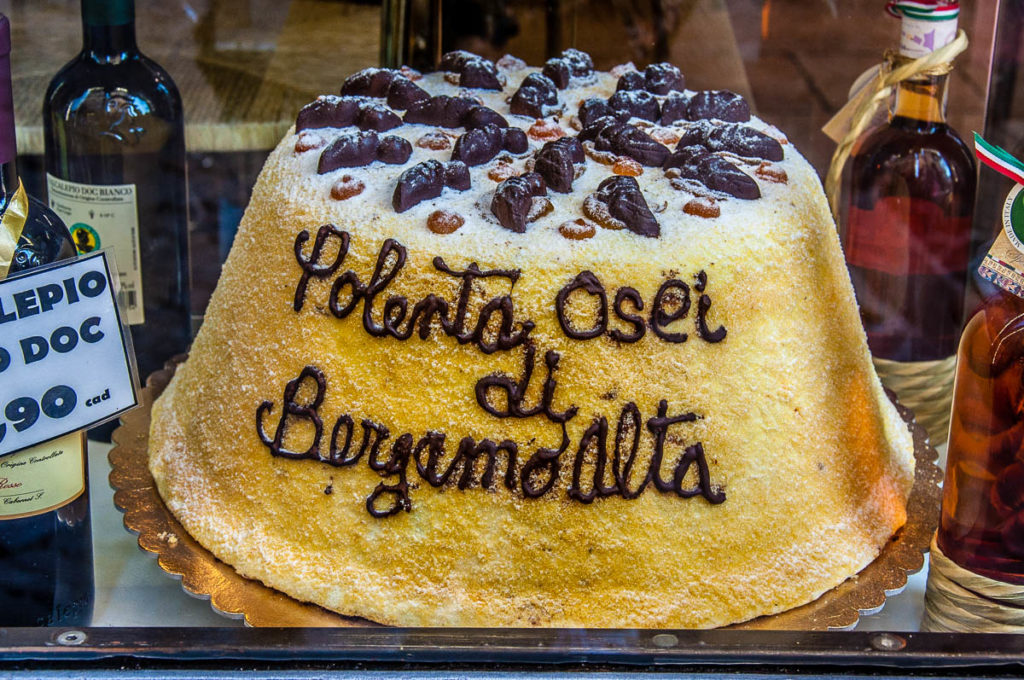 As a land of centuries-old traditions, Lombardy has a rich cuisine based on the many and varied delicacies of the different provinces that comprise this northern Italian region.
From stuffed pasta and elaborate risottos to polenta used both in savoury dishes and sweet cakes, Lombardy is a delight to discover fork and spoon in hand.
Here are some traditional Lombardian dishes to enjoy during your visit:
risotto alla milanese – this is a classic Italian dish from the Lombardian capital Milan. It's prepared with Arborio rice and it owes its yellow colour to the addition of saffron;
cotoletta alla milanese – another signature dish from Milan, this is a breaded veal chop wich traditionally is served with a portion of French fries or patatine fritte as they call them in Italian. By the way, the easiest way to discover Milan's culinary secrets and delights is to join a small guided tour to take you to all the right places. This one is particularly good.
Bagoss – prized cheese that is only produced in the small village of Bagolino near the city of Brescia in Lombardy. It has a lovely dense and salty flavour with hints of walnuts and chestnuts. Having a thick slice of Bagoss in a soft bread roll feels like a feast in itself.
casonsei – large pasta shapes stuffed with a filling made of eggs, mature cheese (or ricotta), spinach or meat. Typical for Bergamo and Brescia, they are served generously drizzled with melted butter and decorated with sage leaves.
polenta taragna – typical for Bergamo and Brescia, this is polenta prepared with ground buckwheat and corn flour. It is then mixed with fresh cheeses and melted butter.
tortelli di zucca – typical for the Lombardian city of Mantua, these are pasta shapes stuffed with a delicious pumkin filling.
In addition, Lombardy enjoys a great tradition of sweets and desserts. Without a doubt, panettone is its most famous sweet creation. Served for Christmas in Italy, it's also adored and devoured all around the world.
Other famous Lombardian sweets and cakes are:
Cremona's nougat – locally known as torrone;
Mantua's sbrisolona cake – it's similar to shortbread but it has a rougher crumb and it's made with generous helpings of almond flour and chopped almonds; and
Bergamo's splendid polenta e osei – this is a sweet polenta cake covered with marzipan and decorated with chocolate birds.
Finally, it is in Lombardy that you can visit one of Italy's most famous wine-producing areas – Franciacorta. Its sparkling wines enjoy worldwide recognition. It's widely accepted that Franciacorta sparkling wines surpass Veneto's prosecco and are a serious rival to France's champagne.
Franciacorta is in the province of Brescia and booking a guided tour is an easy way to explore the beautiful vineyards and the historical wineries that it's dotted with. For example, you can visit a centuries-old cellar and do a tasting by pairing wines with delicious local specialities.
9. Lombardy's Religious Landmarks – Seek Peace in Sacred Mountains and Some of Italy's Most Splendid Duomos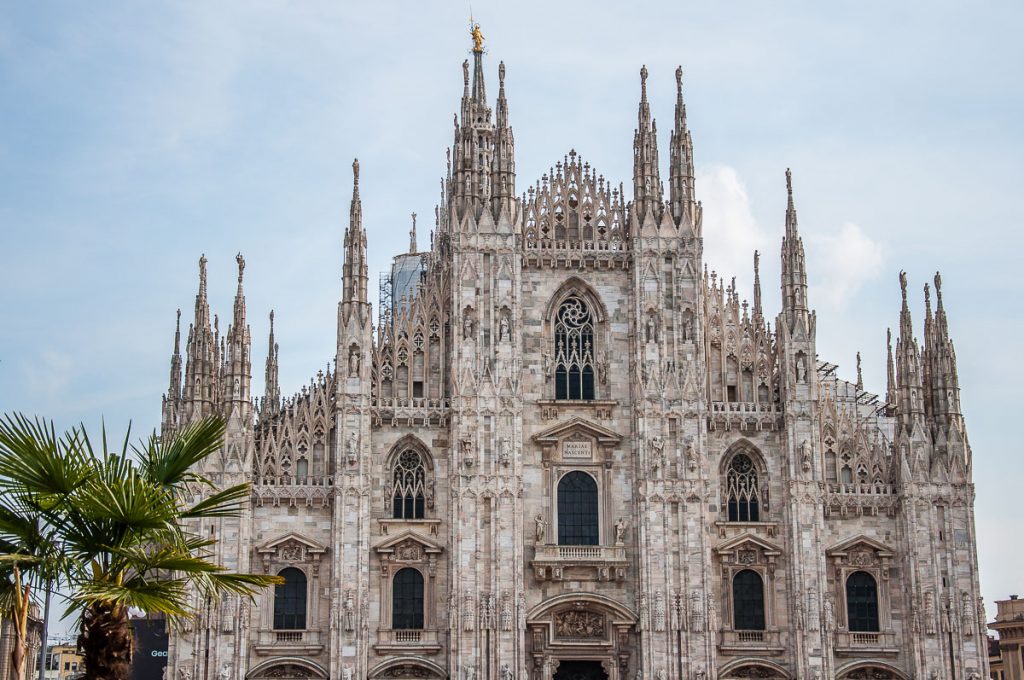 Lombardy is one of the best destinations to explore in Italy if you have a particular interest in religious architecture and little-known historic events that have left their imprint on Europe from the Middle Ages onwards.
This northern Italian region is dotted with some of the world's most impressive cathedrals, centuries-old monasteries, and picturesque sanctuaries. The most famous of them all is the Duomo di Milano. This is a must-see landmark in Lombardy's capital. It can be explored from many different angles:
history – by visiting the Duomo's archaeological area;
architecture – by learning about this Gothic masterpiece the construction of which lasted nearly six centuries;
religion – by seeing for yourself the interiors of the cathedral or attending a mass held in it; and even
stunning panoramas – by enjoying bird's-eye views of Milan from the rooftop of its Duomo.
Depending on what you want to see and/or the time you have available, you can either book a ticket to see the Duomo, its rooftops and museum, a priority entry just to its rooftops by lift or stairs or a skip the line entry to the cathedral only.
There are several other impressive Duomos in Lombardy, Italy. Monza Cathedral deserves a special mention here for its black and white marble facade and the fully frescoed Royal Chapel of Teodolinda – the Queen of the Lombards from 590 to 627 AD.
In terms of monasteries and convents, don't miss the Certosa di Pavia – a monumental religious complex with outstanding architecture and many priceless works of art.
One of my favourite sanctuaries in Lombardy is the Santuario di Montecastello. Built on a tiny piece of flat surface bordering the summit of a sharp peak, it overlooks Lake Garda from a tremendous height.
Everywhere you go in Lombardy, you will come across large and small churches guarding the memories and the traditions of the local communities. In many of them, you will discover unexpected masterpieces. A case in point is the small town of Clusone. A beautiful day trip from Bergamo, here you can see a late 15th-century fresco known as The Triumph and Dance of Death (also often referred to as The Macabre Dance).
Finally, it is in Lombardy (and the neighbouring Italian region of Piedmont) that you can visit Italy's Sacred Mountains or Sacri Monti. This is a group of nine calvaries – or devotional complexes built on the slopes of mountains – that date back to the late 16th/17th centuries. A UNESCO World Heritage Site, they blend beautifully with the surrounding nature and are skillfully decorated with frescoes and statues.
10. Lombardy's Small Towns and Villages – Experience Beautiful Sights and Authentic Lombardian Traditions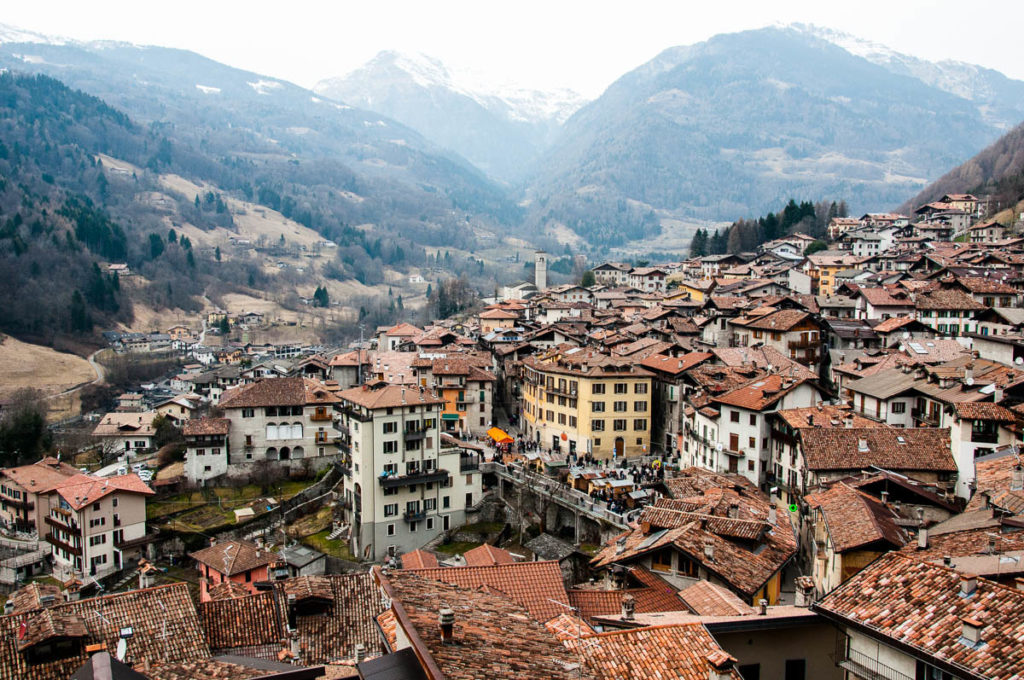 It's not all about large cities and worldwide famous landmarks in Lombardy though.
This Italian region is also peppered with small towns and villages in the bosom of lush mountains or on the shores of beautiful lakes. These are places where centennial architecture is preserved together with ancient traditions that culminate in town-wide heartfelt festivals.
A case in point is the small village of Bagolino. Its tall houses tumble down the slope of a hill overlooking a small alpine valley. The locals speak their own dialect and produce one of the most prized cheeses in Lombardy – Bagoss.
They also preserve a centuries-old Carnival tradition which has been classified as an ethnological discovery of immense importance.
The small fortified village of Castellaro Lagusello near Mantua in Lombardy seems plucked from a fairy tale. Surrounded by medieval defensive walls it stands on the shores of a tiny heart-shaped lake. It makes for a great visit to this corner of Italy offering a chance to not only learn about history but actually see it and experience it first hand.
The tiny village of Nesso clings to the steep slopes above Lake Como. Right in its heart, a tall waterfall – powerful and rumbling – hurtles down a vertiginous narrow gorge. At the bottom, its waters collect and now calm and clear flow together into the lake. Along the way, they pass underneath a small medieval bridge.
In summer, people jump from the bridge into the lake for a refreshing swim. A tall house stands right next to the bridge and seems to grow straight from the lake. Its facade is embraced by the luxuriant leaves of a huge Virginia creeper which turn bright red each autumn. It's all so very beautiful and picturesque!
Then you have Monte Isola – Europe's largest lake island. It stands tall and proud in the centre of Lombardy's Lake Iseo. Eleven tiny fishing villages dot the island which is a car-free territory and has one bus line. It's as idyllic and as far from the hustle and bustle of our modern world as you can get in Europe.
And yet, Monte Isola is only two hours away from Milan and an hour away from Brescia. Easy to explore even on a day trip, it brings you close to the authentic heart of Italy.
In Conclusion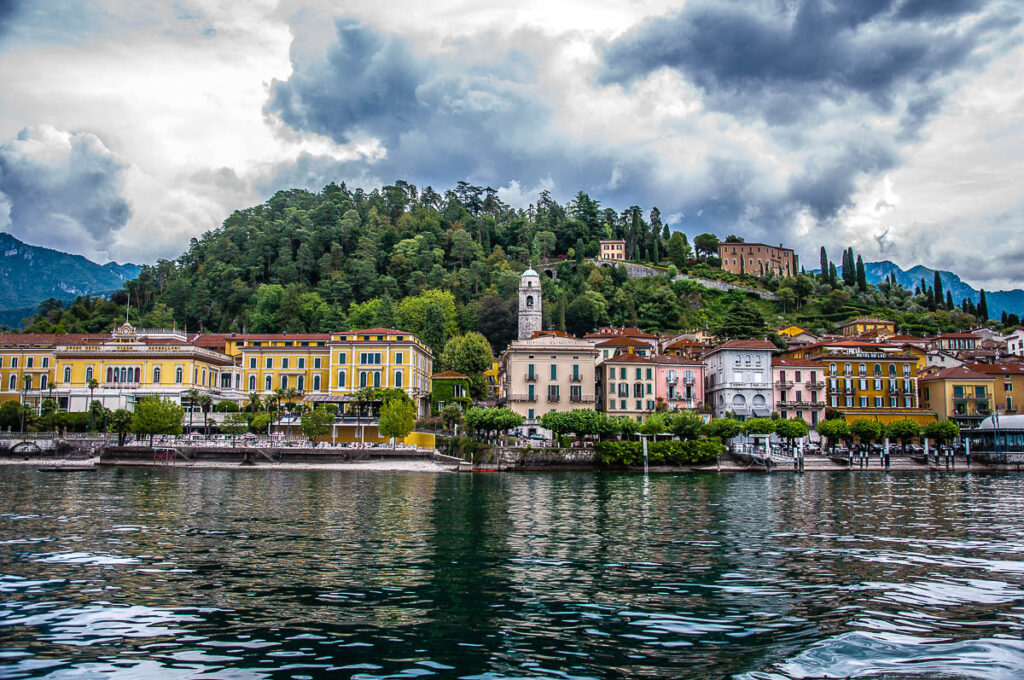 Lombardy is a beautiful and exciting region in the north of Italy. With the cosmopolitan city of Milan as its capital, a large portion of the Italian Alps, and a number of the most famous northern Italian lakes on its territory, it's a great place to visit.
No matter if you are after an exciting city break with lots of sightseeing and oodles of good food, a relaxing vacation in the bosom of nature, or a holiday that helps you reconnect with yourself and discover new interests, Lombardy delivers in so many different ways.
So, in this blog post today I shared with you the ten best reasons to visit Lombardy in Italy. From the region's art and history to its lush nature, from its most well-known points of interest to its hidden gems, it's all covered in an easy to reference format.
I hope that the information provided will pique your curiosity and will have you making travel plans for Lombardy in Italy even before you have finished reading.
I love visiting and revisiting Lombardy and I took every opportunity to do it during the six years that I spent living in Italy. It's a region that has a lot to offer, it's easy to get to and around, has delicious local cuisine, and so many sights and activities that you will want to return time and time again to experience it all.
Enjoy discovering Lombardy for yourself!
And have a wonderful time in this beautiful corner of Italy!
Now, get ready quick for your visit to Lombardy, Italy!

More Helpful Italy Info for You
Northern Italy: Reasons to Visit, Best Cities, Major Airports
Lombardy: Best Cities and Towns, Brescia
Day Trips: Milan to Verona, Milan to Venice, Milan to Lake Garda, Venice to Milan, Verona to Milan
Lake Garda: Best Towns, Map of Lake Garda, Theme Parks, Nearest Airports, Travel Options, Lake Garda with Kids, Beautiful Castles
Lake Como: Things to See, Nesso
Thank you for reading! Please, leave me a comment, pin the images below or use the buttons right at the top and at the end of this blog post to share it on social media.
For more useful information like this, please, like my blog's page on Facebook and subscribe to my strictly no-spam newsletter.
Pin This Blog Post!