Here are the best things to do in Vicenza – a small city in Italy that stays firmly off the beaten track.
Halfway between the travel magnets of Venice and Verona in the Northern Italian region of Veneto, Vicenza is rarely given a second thought at the planning stages of an unforgettable Italian holiday.
Yet, if you want to have the authentic Italian experience without the tourist crowds and see some of Italy's most important works of architecture and art, you can do no wrong but pencil a day or two to spend in Vicenza – a city which is a UNESCO World Heritage Site.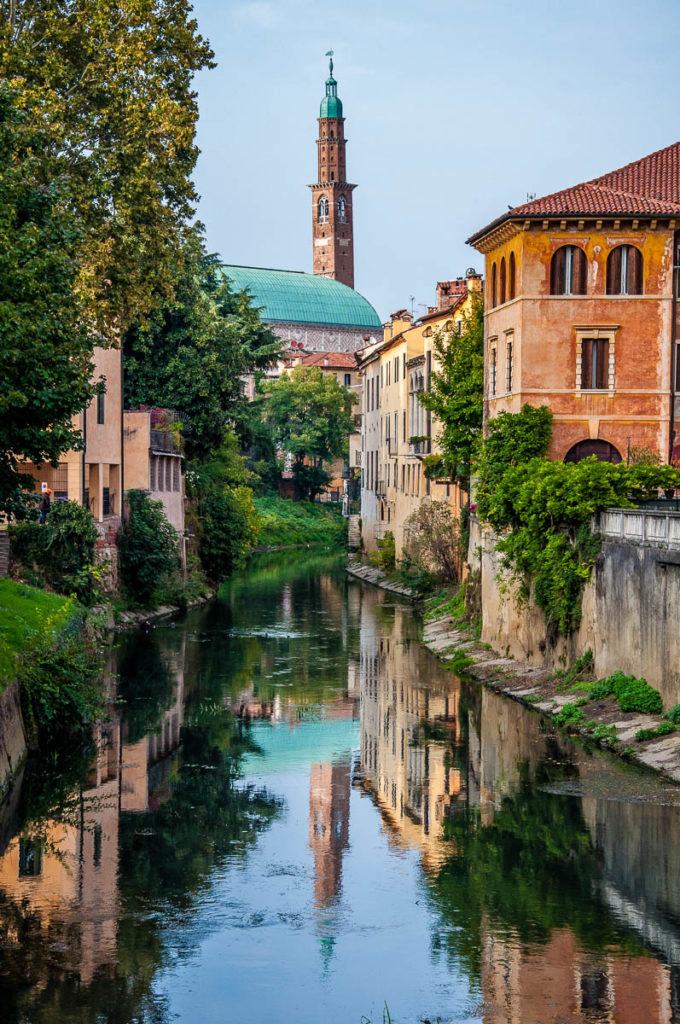 From underground Roman ruins to Renaissance palaces and Baroque frescoes, Vicenza keeps several aces up its sleeve.
Throughout the centuries, the city was home to many illustrious personalities with Andrea Palladio towering above them all. Considered to be one of the most influential architects of the past 500 years, Palladio turned Vicenza into his own architectural playground. He dotted the city with palaces, villas, and buildings and in the process, he created the Palladian architectural style.
Among Palladio's most famous buildings in and around Vicenza are:
Basilica Palladiana – originally a medieval town hall that Palladio enveloped with an exquisitely Renaissance shell.
Villa Capra La Rotonda – one of the world's most famous buildings that has been partially or fully replicated numerous times in Europe and the United States.
Teatro Olimpico – the world's first indoor theatre in masonry. Coincidentally, Teatro Olimpico also has the world's oldest surviving stage set.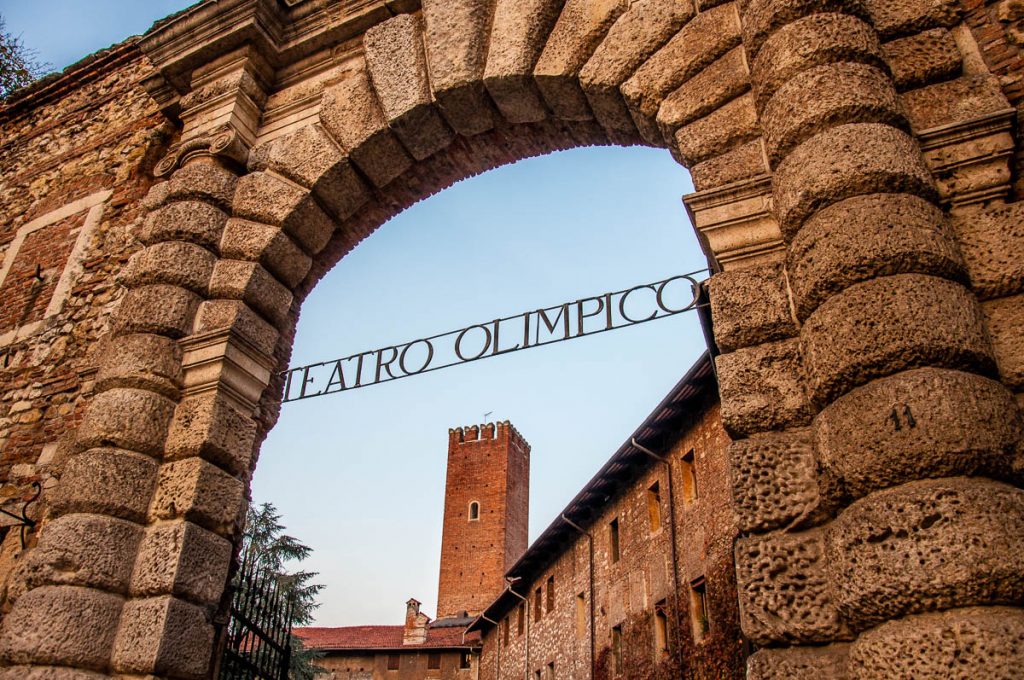 Architecture is not all that you will find in Vicenza, though.
This small Northern Italian city is also one of the world's largest centres of jewellery design and production with centuries-old goldsmithing traditions at the base of it. Vicenza's historic jewellery shops are a treasure trove for anyone looking for that unique piece…or ten.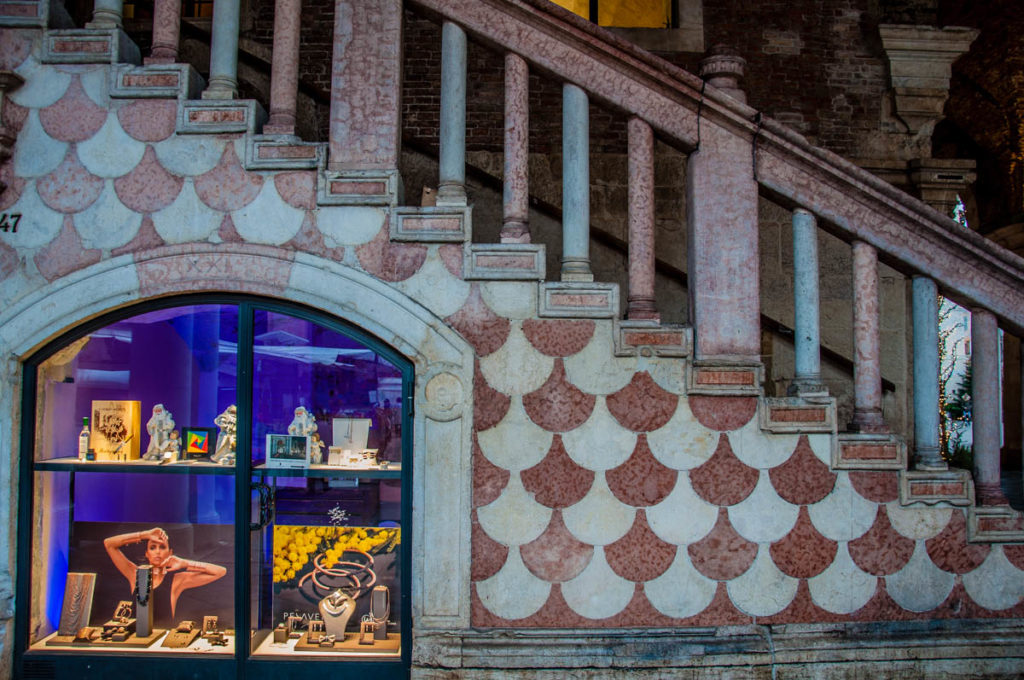 Plus, Vicenza is the birthplace of the original author of Romeo and Juliet, too!
'What?!', you may be thinking right now. 'But the most famous love story of all times was authored by the English playwright William Shakespeare!', you may want to tell me next.
Well, had it not been for one Luigi da Porto – a nobleman from Vicenza – it is very likely that Shakespeare's famous play would have never seen the light of day or have broken through yonder window as the Bard would have put it himself.
So, yes, even if you may have never considered Vicenza as a travel destination up to this point, on account of its many sights, stories, and historic personalities, this small Italian city may just suddenly jump to the top of your travel bucket list.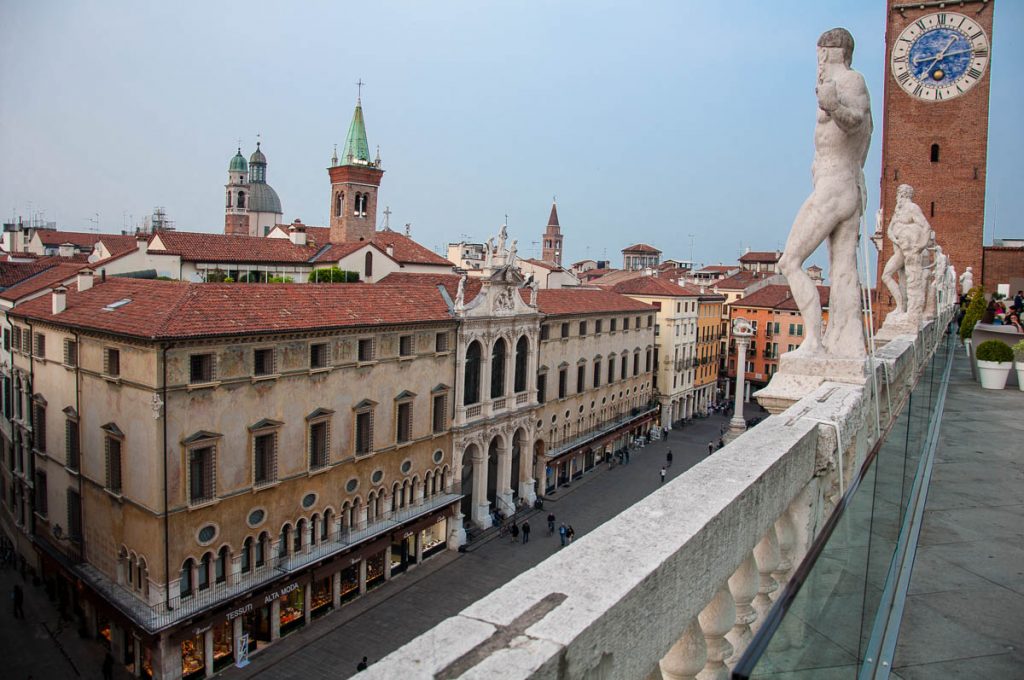 As such and to help you have a wonderful visit to Vicenza, I have written for you below the best things you can do and see here and the best local experiences you can enjoy by yourself, with your family or with your friends.
All the information provided is based on my six years of living in Vicenza and on my constant exploration of this beautiful Italian city, its numerous sights, and its many hidden gems.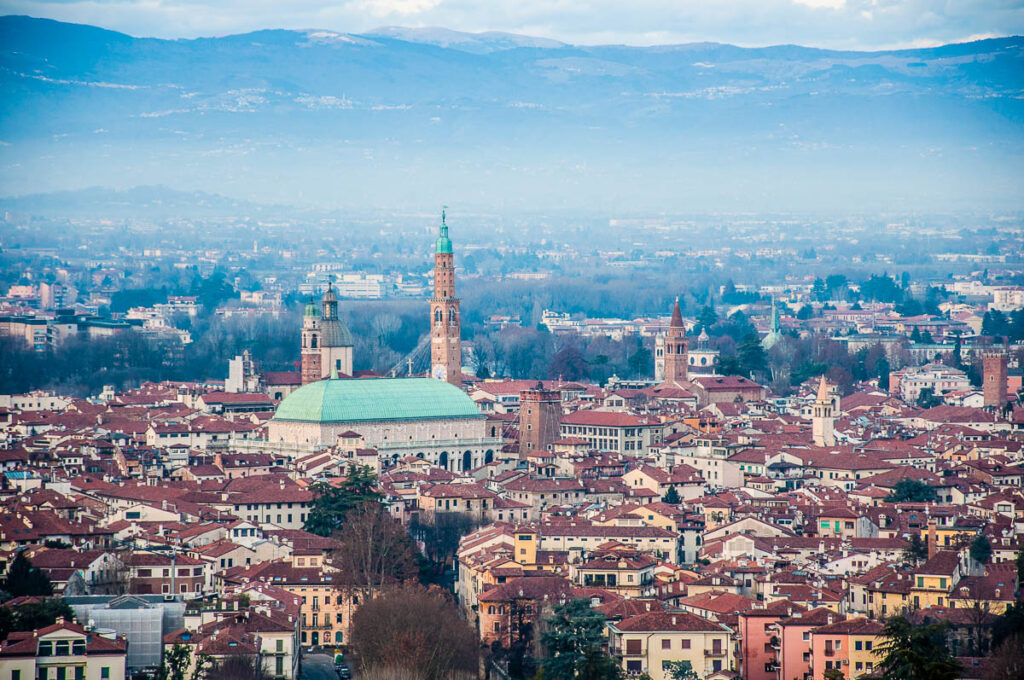 From art and architecture to shopping and eating out, this list of the 25 best things to do in Vicenza, Italy will guide you through the city's best attractions and best-kept secrets.
Plus, at the end of this blog post, I have included a section with useful maps and practical tips on how to reach Vicenza, where to stay here, and how to navigate the city.
Take full advantage of this blog post for a great Vicenza experience!
25 Best Things to Do in Vicenza – Italy's Hidden Gem (With Maps and Useful Tips)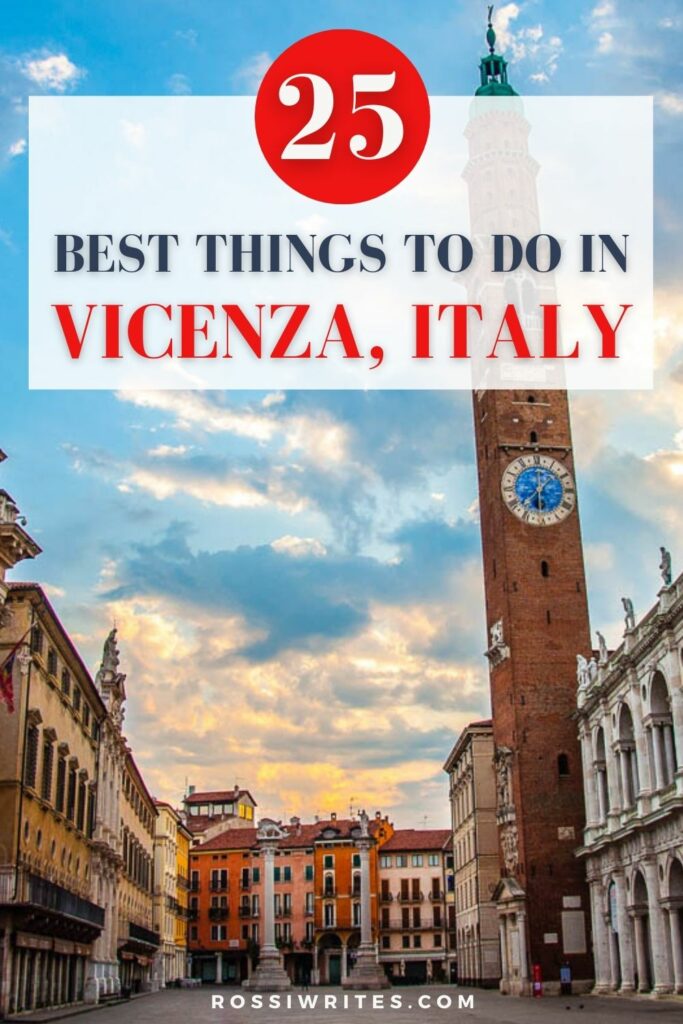 1. Fall in Love with Vicenza's Basilica Palladiana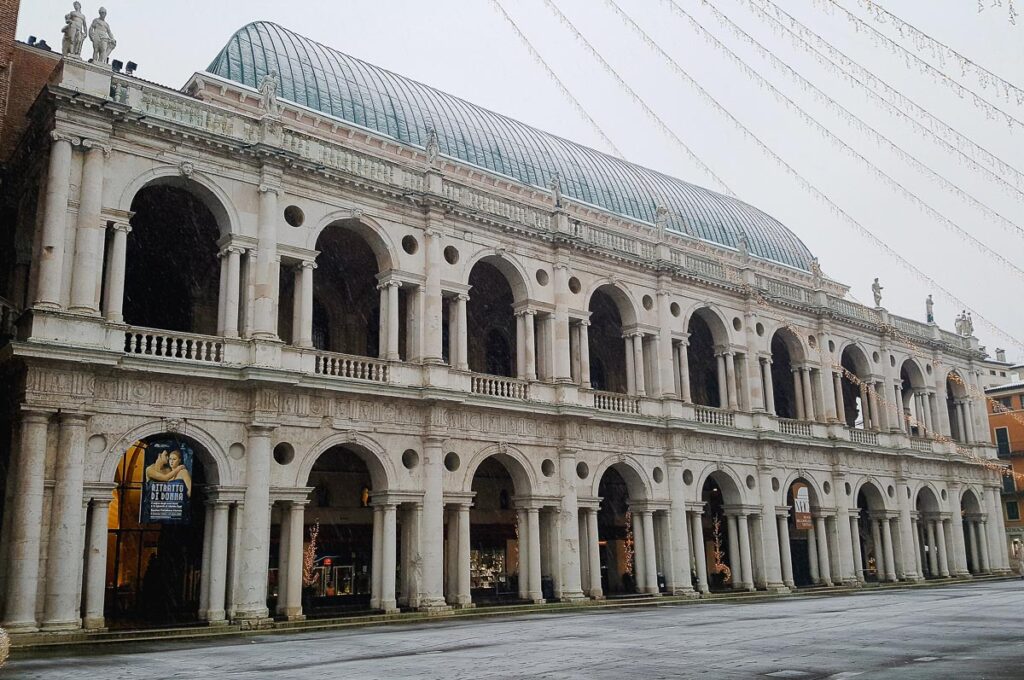 The Basilica Palladiana is Vicenza's most central and stunning sight. Originally a Gothic building that served as a town hall, its reconstruction in the 16th century was the first major commission of Andrea Palladio – one of the most influential architects in the world for the past 500 years.
Palladio encased the Gothic architecture in a gorgeous Renaissance shell of perfect symmetry and balance. He also named the building a basilica thus evoking the ancient Roman meaning of the term – a large hall used by a court of justice and for public assemblies. Hence, and unlike the confusion the name Basilica may cause due to the religious connotation of it, the building has never been and has never been used as a church.
You will find the Basilica Palladiana flanking – tall and proud – Vicenza's main square – the pretty-as-a-picture Piazza dei Signori.
Although centuries-old, the basilica has a timeless look. Especially recognisable are its Palladian windows – the symmetrical arched openings supported by columns which make the basilica's facade look so airy, elegant and like reaching up towards the sky.
The Palladian windows are so beautiful and memorable that many of Vicenza's businesses use them as inspiration for their products. For example, Loison – an award-winning artisan bakery – wraps some of its panettones in paper printed with an endless succession of Palladian windows. And the historic jewellery shop Soprana has created a whole line of jewels replicating their shape.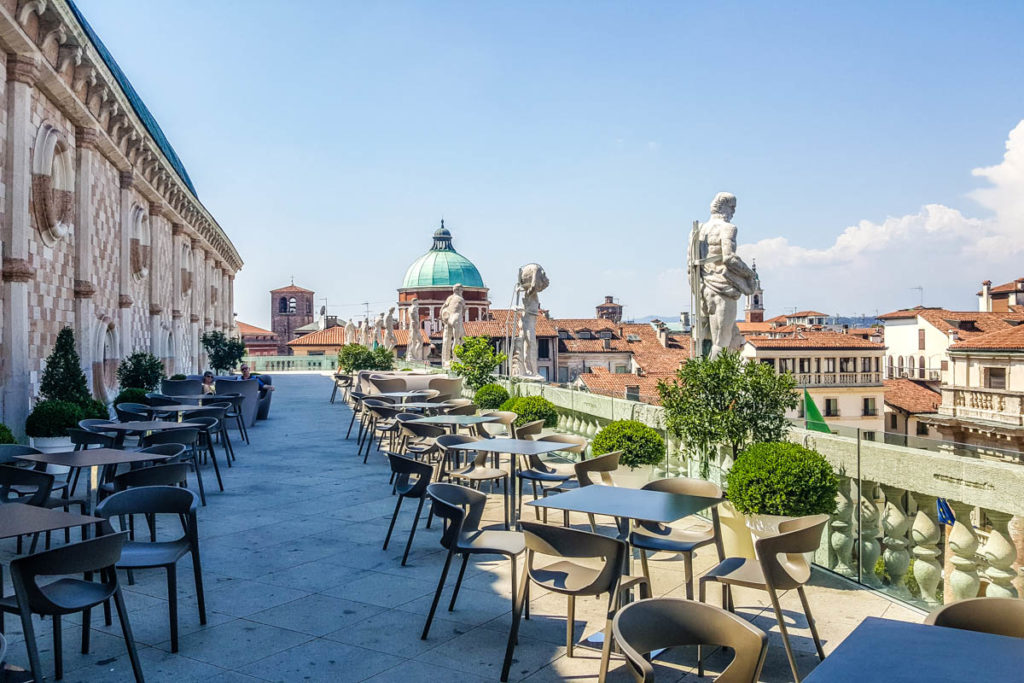 Crowned by a hull-shaped copper rooftop, the Basilica Palladiana towers over Vicenza's historic centre. Sadly, the building suffered greatly during the Second World War. Its rooftop caught fire and melted during the Allied Forces' bombing of Vicenza on 18th March 1945. The Palladian loggia and several of the statues adorning the Basilica were damaged, too.
The Basilica and its rooftop were fully restored after the war, and nowadays its distinctive shape features in all iconic images of Vicenza.
To this day the Basilica Palladiana serves the city in many different ways.
The ground floor of the building is taken up by historic shops selling fine jewellery, glasses, and watches. Also here you can visit two of Vicenza's most well-known bars – Il Grottino and Bar Borsa.
The main floor houses Vicenza's Jewellery Museum – the first of its type in the whole of Italy – as well as an enormous hall where large art exhibitions are regularly held.
The crowning glory of the Basilica Palladiana is its terrace. Surrounding the building's hull-shaped rooftop, the terrace is a great place to go for a walk on a balmy evening to take in the beauty of Vicenza from a birds-eye point of view.
More Information:
2. Marvel at the Stage Set of Vicenza's Teatro Olimpico – the World's Oldest Indoor Theatre in Masonry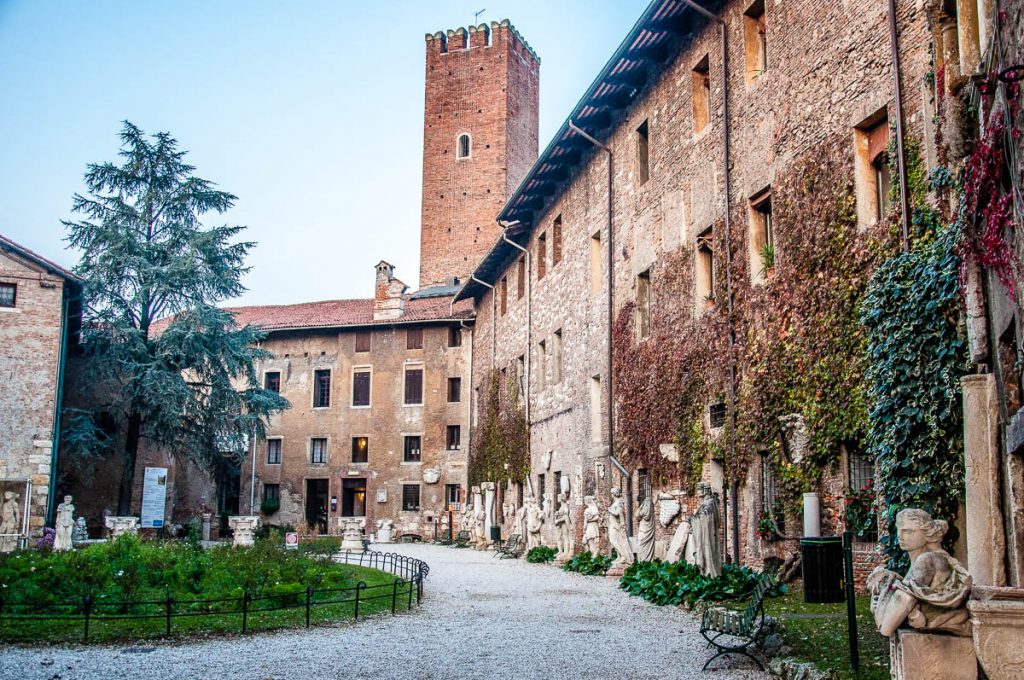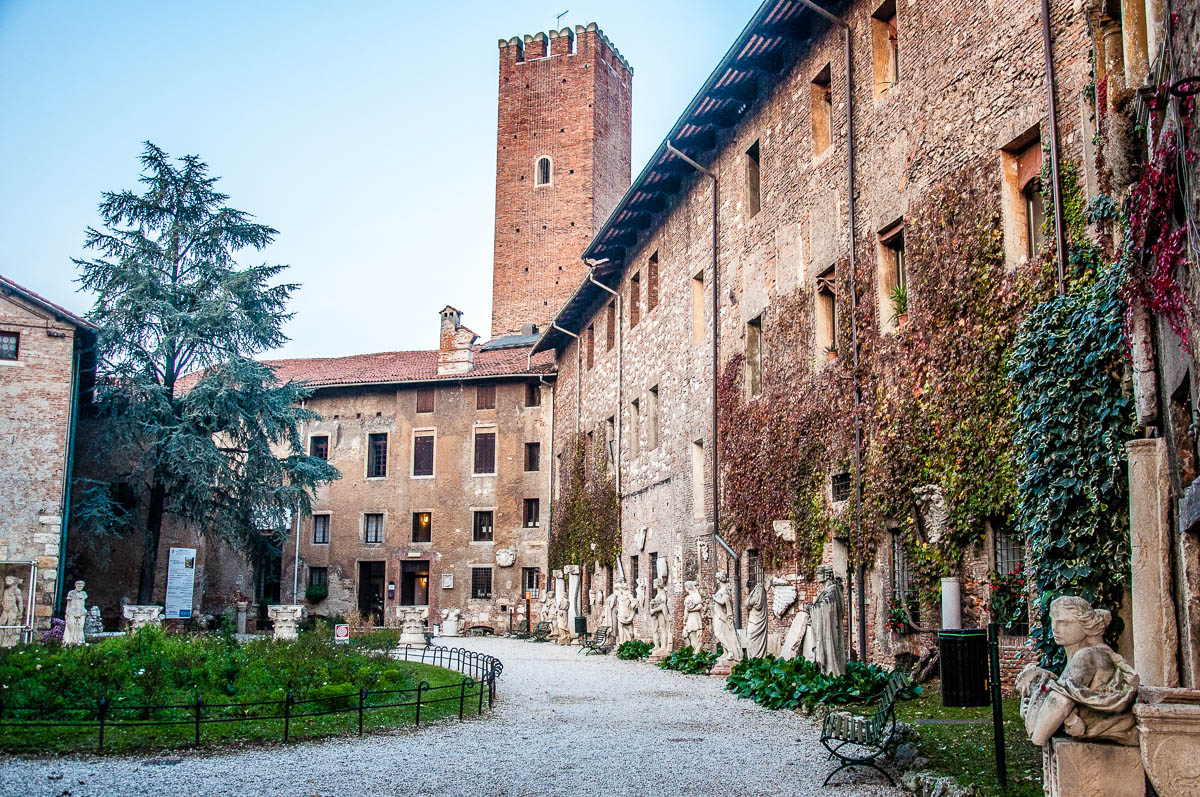 Vicenza's Teatro Olimpico was built between 1580 and 1585. It was the last project of Andrea Palladio, the Renaissance architect who defined Vicenza's character. The construction of the theatre was commissioned by the Accademia Olimpica, a cultural institution established in 1555 by a group of the city's intellectuals. Palladio himself was a founding member.
The Accademia Olimpica aimed to breathe a new lease of life into theatre as a glorious art form of the classical past. Everything classical and referring to Ancient Greece and Rome was revered during the Italian Renaissance. To use a modern term, theatrical performances and the revival of classical ideas about theatre were all the rage at that time.
For the design of Vicenza's Teatro Olimpico, Palladio took inspiration from ancient Roman theatres as well as from the Cornaro Loggia. The latter is a small theatrical stage – half-opened to the elements – that the engineer and patron of the arts Alvise Cornaro had built in the nearby city of Padua in 1524.
Instead of erecting a brand new theatre, an old building was repurposed in Vicenza. It had previously been a fortress, then a prison, and then a gunpowder warehouse. Unfortunately, Palladio died six months after work on the Teatro Olimpico began and so another renowned architect, Vincenzo Scamozzi, completed the project.
Nowadays, Teatro Olimpico is one of the major sights to see in Vicenza, Italy. It stands at the start of Corso Palladio, the city's elegant high street, and it is just across the road from Palazzo Chiericati, the home of Vicenza's Civic Art Gallery. People in the know travel from all over the world to see it. And yet, it remains one of Italy's most underrated attractions.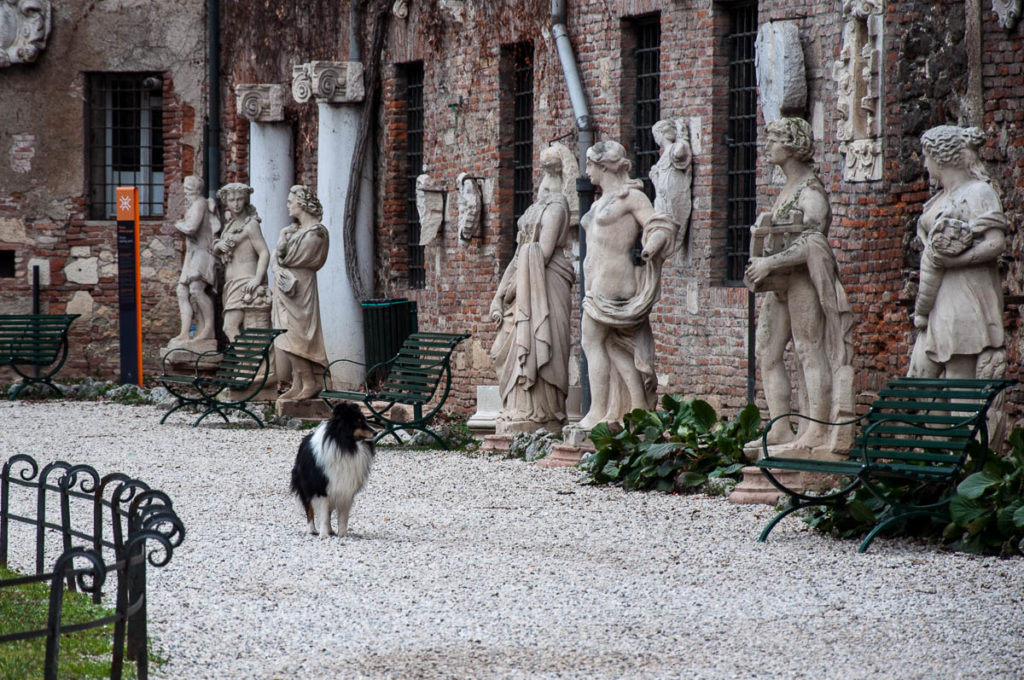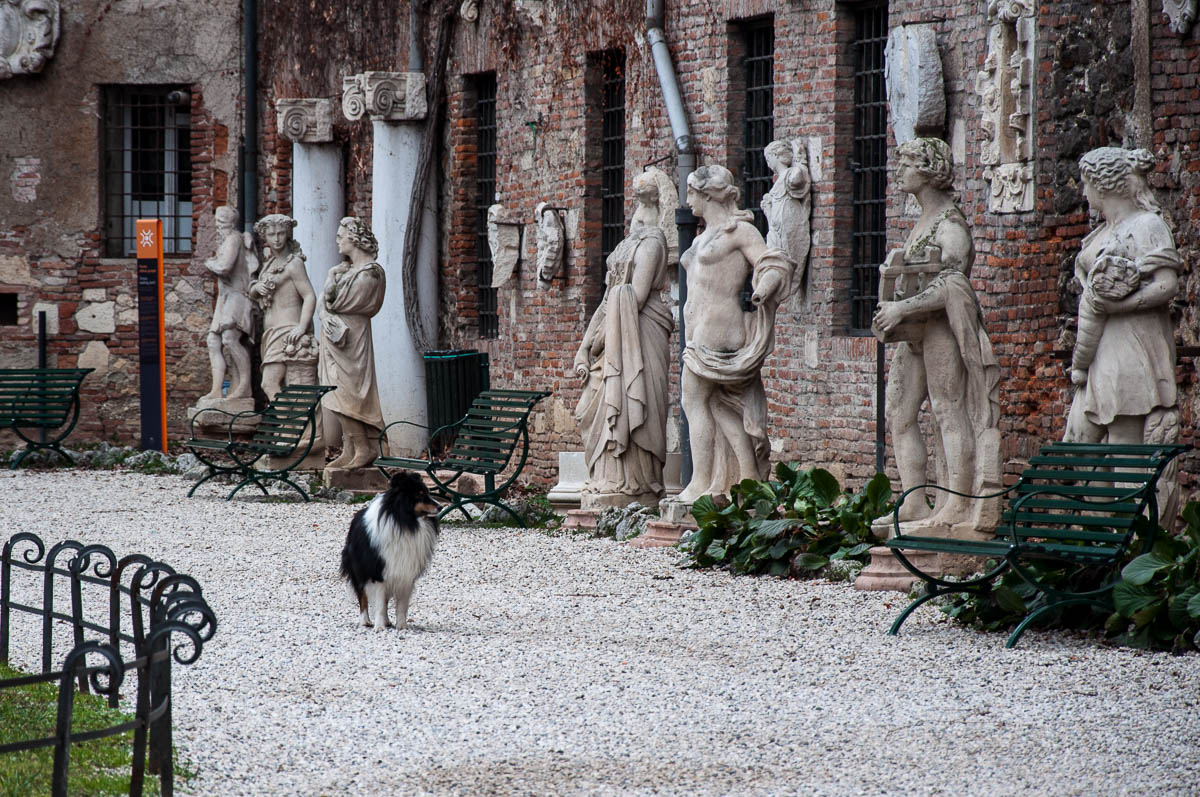 Teatro Olimpico has a small garden populated by ancient-looking (but actually made in the 19th century) statues. They were brought here from another theatre in Vicenza – Teatro Verdi – after it had been destroyed during the Second World War's bombings of the city. The garden is a lovely place to sit in for a few minutes on a warm day, especially when the pink hydrangeas here are in full bloom.
Inside, Teatro Olimpico has an elliptical auditorium, frescoed walls, and richly decorated surfaces. Statues and lavish ornamentation abound. The effect is stunning and you cannot help it but utter a breathless 'Wow!' (as cheesy as it sounds) when you see it for the first time. It's even more amazing when you realise that instead of stone and marble, everything is made of stucco.
Yet, the most spectacular thing here is the theatre's stage set! It was created by Vincenzo Scamozzi to represent an idealised vision of the city of Thebes for the inaugural performance of Sophocles' Oedipus Rex in 1585. Meant to be used just once, the stage set was never taken down. In fact, it is the oldest stage set in the world still in use today.
The clever use of perspective and trompe-l'oeil effects makes it seem like the streets of Thebes disappear far away in the distance. The houses get smaller and smaller the further away they are from the front of the stage. It looks absolutely realistic.
Teatro Olimpico is definitely one of the brightest jewels in Vicenza's crown. A must-see when you are in town. For maximum effect, try to catch a performance here. Concerts, festivals, and cultural events are regularly held in this historic theatre.
More Information:
3. Admire the Architecture of Andrea Palladio all Over Vicenza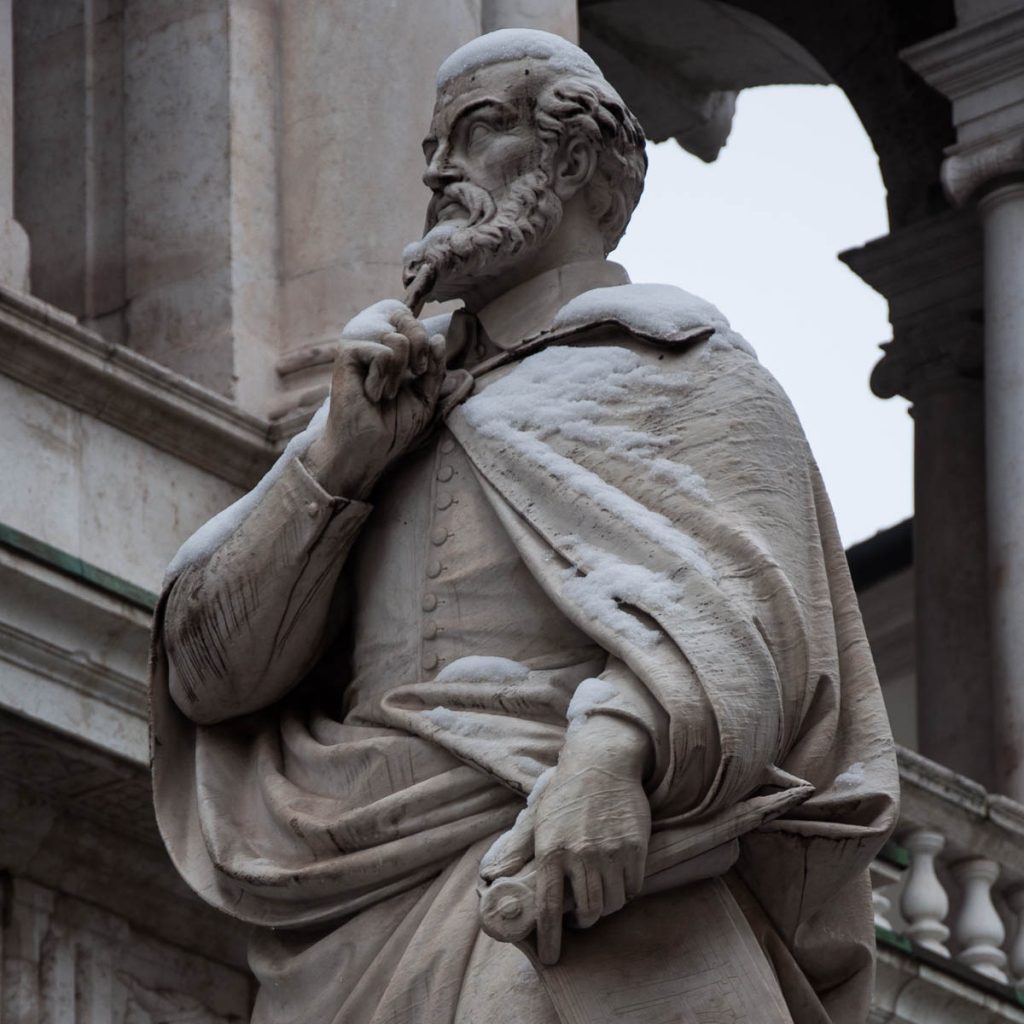 I know I mentioned the name of Andrea Palladio several times already. And this is only fair as Vicenza came to be known as Italy's Renaissance Pearl precisely due to Palladio's architecture. Groundbreaking for its time and still exerting influence over the world to this day, it pays homage to the classical canons and ideals of Ancient Greece and Rome.
Born Andrea di Pietro della Gondola into a miller's family in the nearby city of Padua, Palladio made Vicenza his personal architectural playground, designing and erecting 23 buildings in and around the city.
Having started his career as a stonecutter, the young Andrea was taken under the wing of the patrician and humanist scholar Gian Giorgio Trissino from Vicenza. It was Trissino who bestowed upon his talented protege the moniker Palladio. Andrea's significant contribution to architecture gave rise to the Palladian style which is still being replicated all over the world.
Palladio's architecture was a great source of inspiration for many buildings of importance built in the United States. Thomas Jefferson – a Founding Father and the third president of the USA as well as an architect and a polymath – was a dedicated follower of Palladio and referred to Palladio's designs and writings as 'his architectural Bible'.
Such is the influence of Palladio's architecture that, on 6th December 2010, he was proclaimed the Father of American Architecture by the Eleventh Congress of the United States. Note that this happened 430 years after Palladio's death.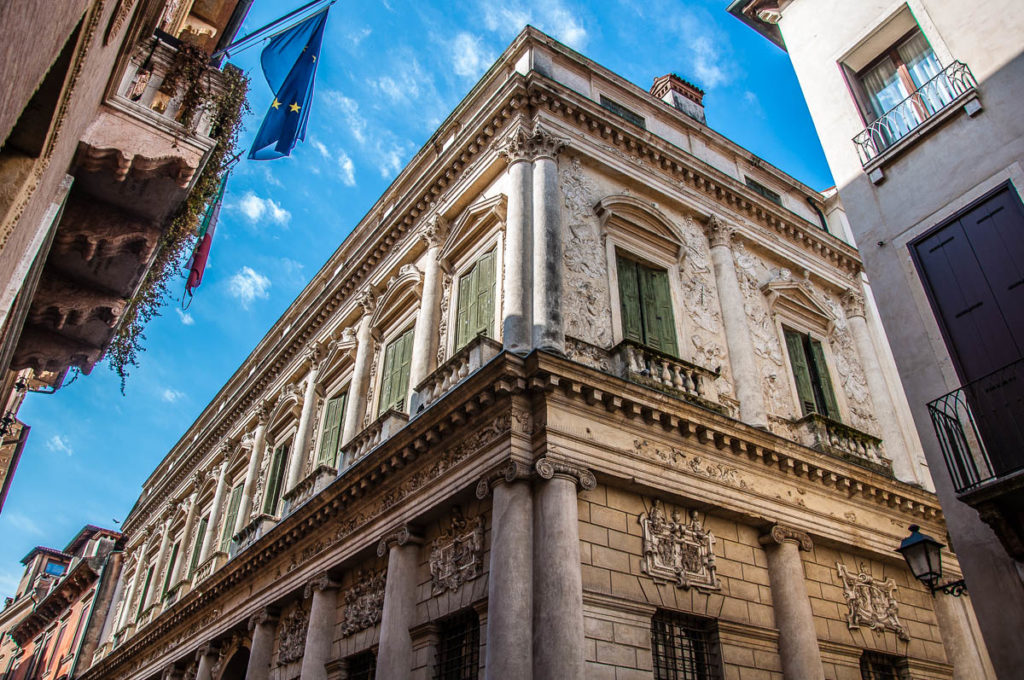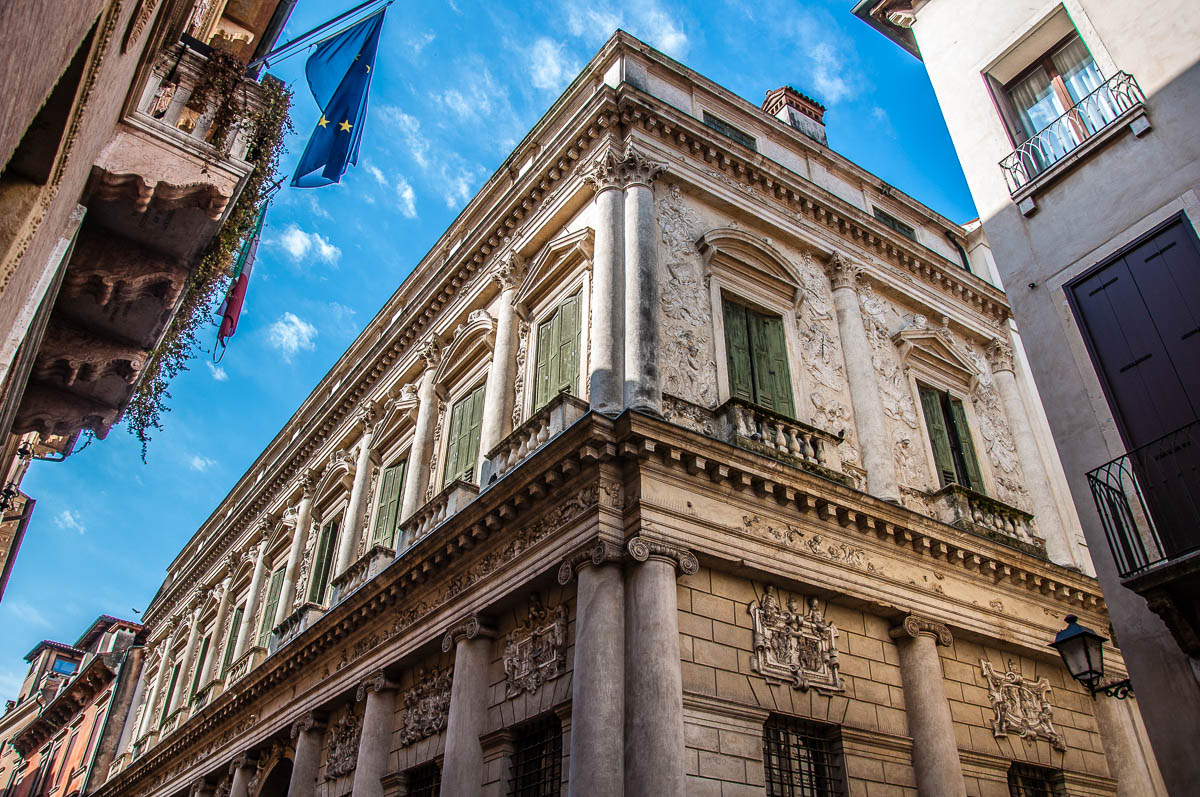 There is no better place in the world to learn about Palladio and admire his designs than the city of Vicenza in Italy. With 23 palaces and buildings designed and erected by Palladio all over town, as well as several of Palladio's villas gracing the nearby countryside, you can have a very speedy and enriching introduction to architecture and Palladio just by looking around and visiting gorgeous sights.
Here are some of the most important places related to Palladio, his life and work that you can see for yourself during your visit to Vicenza:
Palladio Museum – housed in the lavish Palazzo Barbaran da Porto (designed by Palladio himself), this is an excellent and innovative museum where you can see Palladio's treatise The Four Books on Architecture, detailed models of Palladio's buildings in Vicenza and Veneto, as well as temporary exhibitions that are regularly held throughout the year. The museum collaborates with the most eminent figures in architecture today and it is a place where one can learn lots in a short amount of time. A must-see when in Vicenza!
Basilica Palladiana – the first major commission of Palladio as a young architect. For more details, see point 1 above.
Monument of Andrea Palladio – you will find this sculptural representation of a pensive Palladio right next to the Basilica Palladiana. The local cafes place their tables next to the monument and kids run around its base all summer long. It's a great place to stop for a coffee or an aperitivo and enjoy them in the company of Andrea Palladio himself.
Teatro Olimpico – the world's oldest indoor theatre in masonry was originally designed by Palladio himself. For more details, see point 2 above.
Villa Capra 'La Rotonda' – one of the most famous buildings in the world. This villa on the outskirts of Vicenza is cubic in shape and has four identical facades. Much lauded and replicated by architects throughout the centuries, it's a sight that needs to be seen both inside and out as the beauty of the frescoed interiors complements the perfect proportions of the exterior.
Palazzo Chiericati – a splendid palace with elegant loggias and a row of statues on the edge of its rooftop. It houses Vicenza's Civic Art Gallery where you can admire many masterpieces by Venetian and international artists.
Valmarana Chapel in the Church of Santa Corona – a sombre chapel in the crypt of one of Vicenza's most splendid churches.
Palladio's Monumental Tomb in Vicenza's Cemetery – Palladio's was originally laid to rest in Vicenza's Church of Santa Corona. Later on, a monumental chapel was built especially for him in the city's cemetery and his bones were transferred there.
More Information:
4. Take in the Beauty of Vicenza's Piazza dei Signori and Learn the Stories of the Buildings that Surround It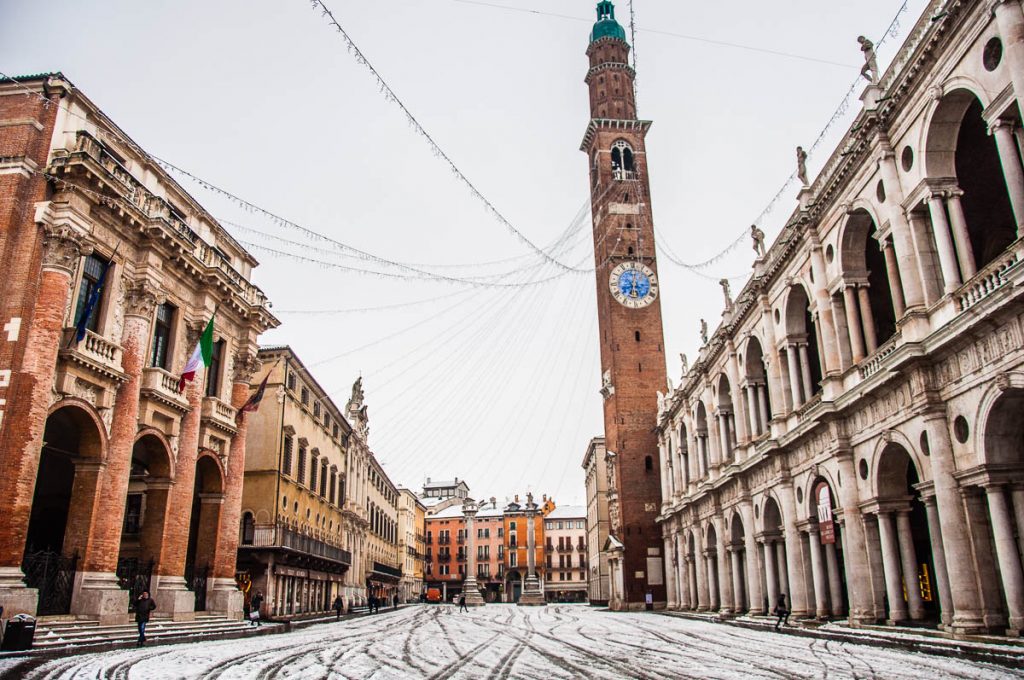 Piazza dei Signori is Vicenza's historic heart. Standing right at the spot where the Forum of Vicetia – the Roman precursor of Vicenza – once was, this is a large rectangular square surrounded by some of the city's most iconic and important buildings.
Known as Piazza Grande during the Middle Ages, its current name, Piazza dei Signori, means Square of the Lords in English as this is where the city's Chief Magistrate and Captain lived when the Republic of Venice ruled over Vicenza from 1404 to 1797.
You have to see and experience Piazza dei Signori for yourself in order to gain a good understanding of Vicenza, its history, and what this little city in Northern Italy stands for.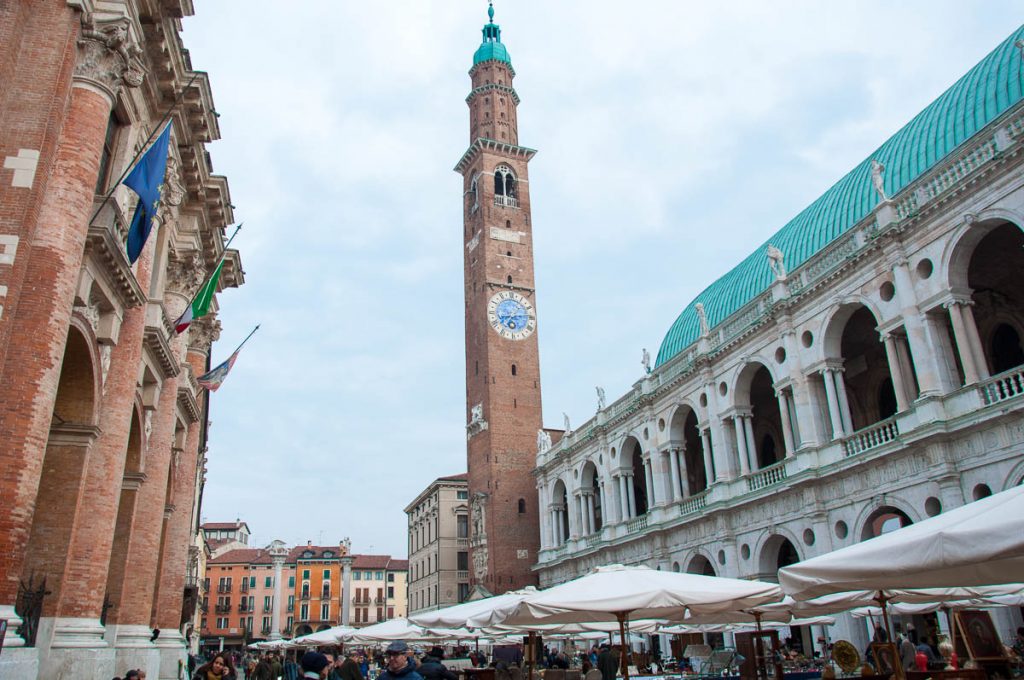 The piazza is grand! Its expansive surface is paved with large flat stones on which the local kids love to run and ride their bikes. On warm evenings, crowds of elegantly dressed people descend on Piazza dei Signori to enjoy a nice evening walk in the company of friends and relatives.
Cafes and bars line the square serving cups of always excellent Italian coffee and glasses of aperitivo.
And then, every Tuesday and Thursday all-year-round, Piazza dei Signori is taken over by a myriad of market stalls selling anything and everything from tablecloths and scarves to bags, potted flowers, curtains, household items, and pants. And, as with everything in Italy, even the market has centuries-long traditions, for it has been held in this central Vicenza square since the Middle Ages.
At weekends, Vicenza's Piazza dei Signori hosts a long calendar of events: from flower markets to antique shows; from open-air concerts to art performances. Not forgetting the exciting chocolate festival that takes over the square for a long weekend in October. For Christmas, long strands of festive lights hang above the square, thus giving it a very fairytale look.
It wouldn't be an exaggeration to say that Vicenza's Piazza dei Signori is one of Italy's most beautiful squares. It's definitely a place to see for yourself and knowing a bit about the history of the stunning buildings that surround it will make you appreciate it even more.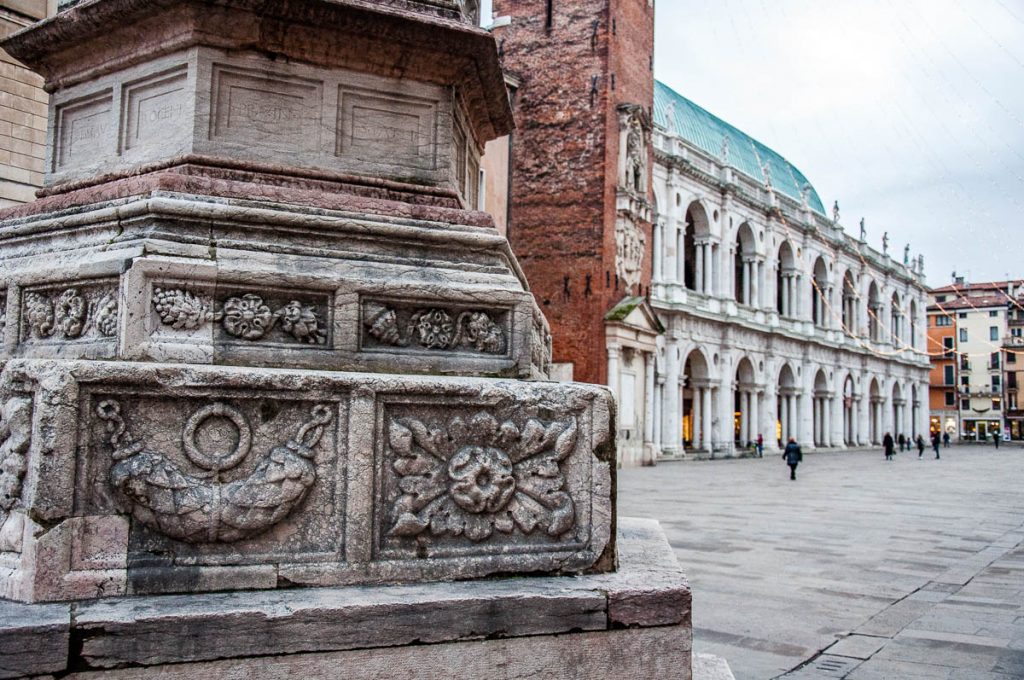 So, here are the most important buildings to see around Piazza dei Signori in Vicenza. Not all of them are open to the public but are still gorgeous to see from the outside:
Basilica Palladiana – have a look at point 1 in this list for exhaustive details about the history and significance of this stunning Palladian building.
Torre Bissara – an 82-meter tall clock tower, originally built in the 12th century. Its clock shows both the time and the lunar phases and it was installed in the tower in 1378.
Palazzo del Capitaniato (also known as Loggia del Capitanio) – a colossal building made of red bricks and lavishly adorned with statues and bas-reliefs. It stands opposite the Basilica Palladiana and it was also designed by Andrea Palladio himself. Comparing the two buildings – both facing each other – is a great way to see how the architect's style evolved and matured. I particularly like the monumental columns dominating the palazzo's facade.
Palazzo del Monte della Pieta and San Vincenzo Church – this is the oldest building on Piazza dei Signori. I love its facade which is 72 m long and incorporates the Church of San Vincenzo (originally built in 1387 and dedicated to Vicenza's patron saint). Look closely and you will see that the whole facade of the Palazzo del Monte della Pieta is covered with faded frescoes depicting the story of Moses. Originally painted during the Late Renaissance and then repainted at the start of the 20th century, unfortunately, nowadays their beauty is significantly faded.
The pillars topped by a statue of the Lion of St. Mark's and a sculpture of Christ the Redeemer – the first pillar was erected in 1464. It was a symbol of the rule of the Republic of Venice over Vicenza. The other pillar was placed at Vicenza's Piazza dei Signori in 1640.
More Information:
5. Discover the Church That No Longer Exists in Vicenza's Palazzo Chiericati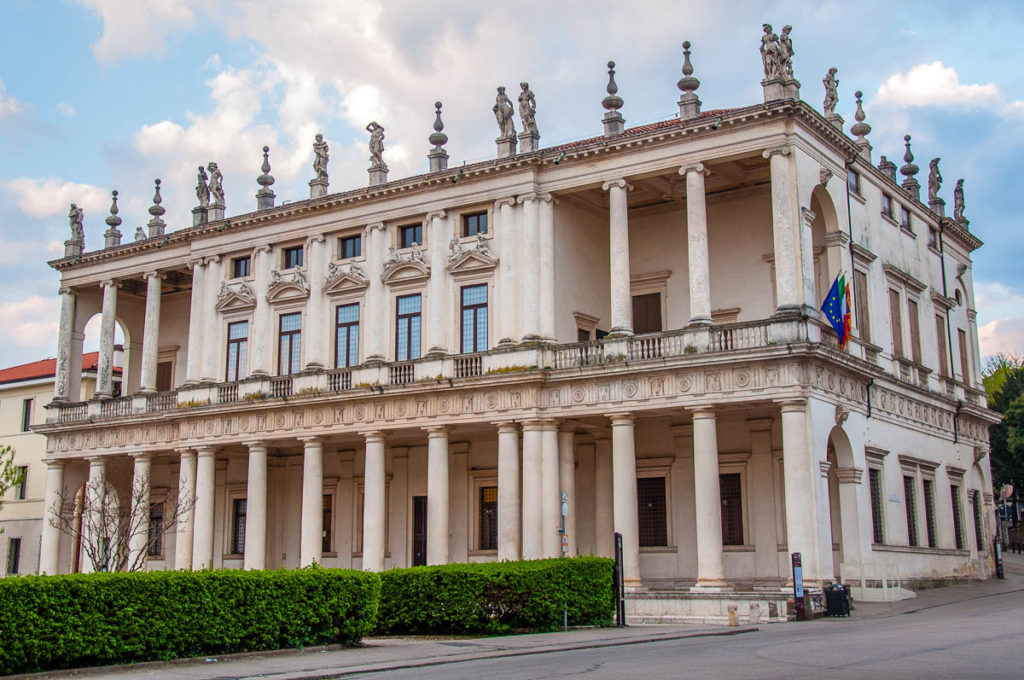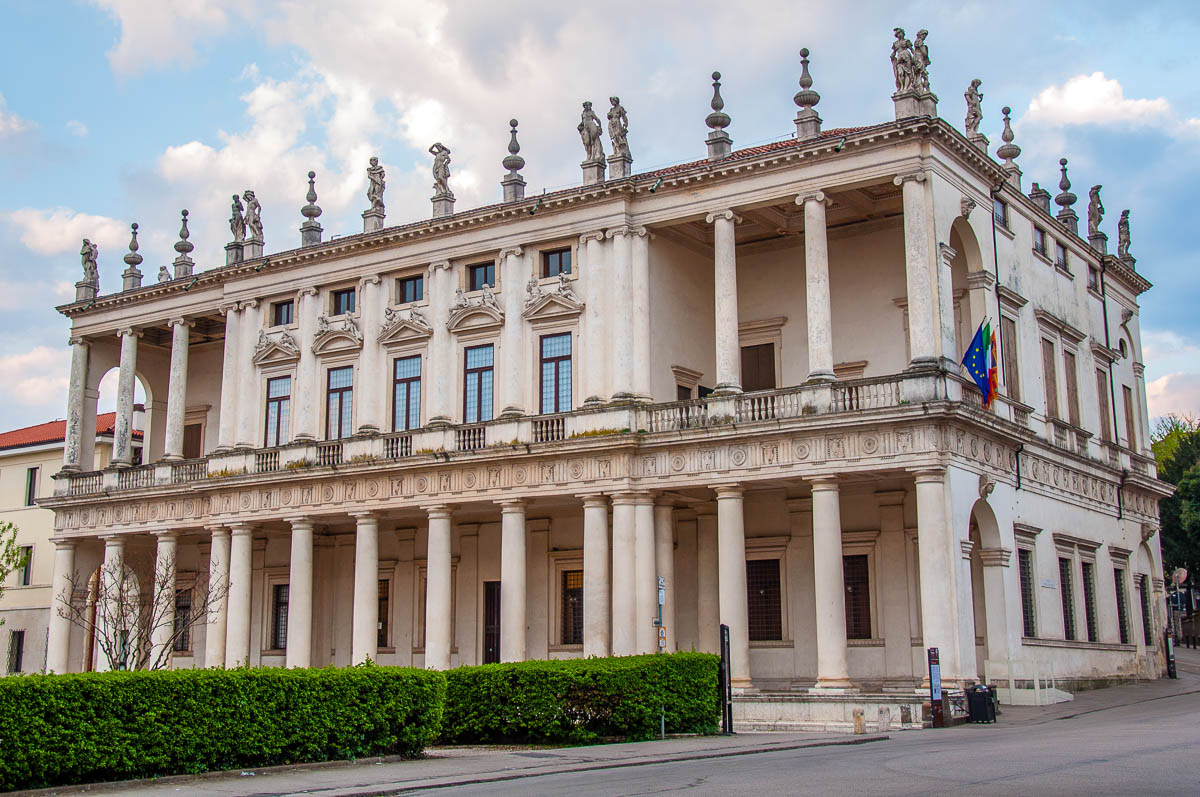 Palazzo Chiericati is a distinguished palace designed by the famous Renaissance architect Andrea Palladio. It stands right at the start of Vicenza's main street – the elegant Corso Palladio. A row of statues adorns the top of its beautifully symmetrical facade. The palazzo is very easy to fall in love with.
Built between the 16th and the 17th centuries, Palazzo Chiericati has been hosting Vicenza's Civic Art Gallery since 1855. Come here to see the city's art collections and to admire stunning 16th-century frescoes and 17th-century stuccoes. The underground floor of the palace is where you can see the carefully preserved remains of 14th- and 15th-centuries houses.
A visit to Palazzo Chiericati is a must when you are in Vicenza, Italy. The collections housed here range from the art of the Middle Ages to that of the 20th century. You have the chance to admire masterpieces by the likes of Tintoretto, Veronese, and Tiepolo. And the best bit is that quite often, the museum is a peaceful and quiet place to spend hours in your own company while contemplating the paintings.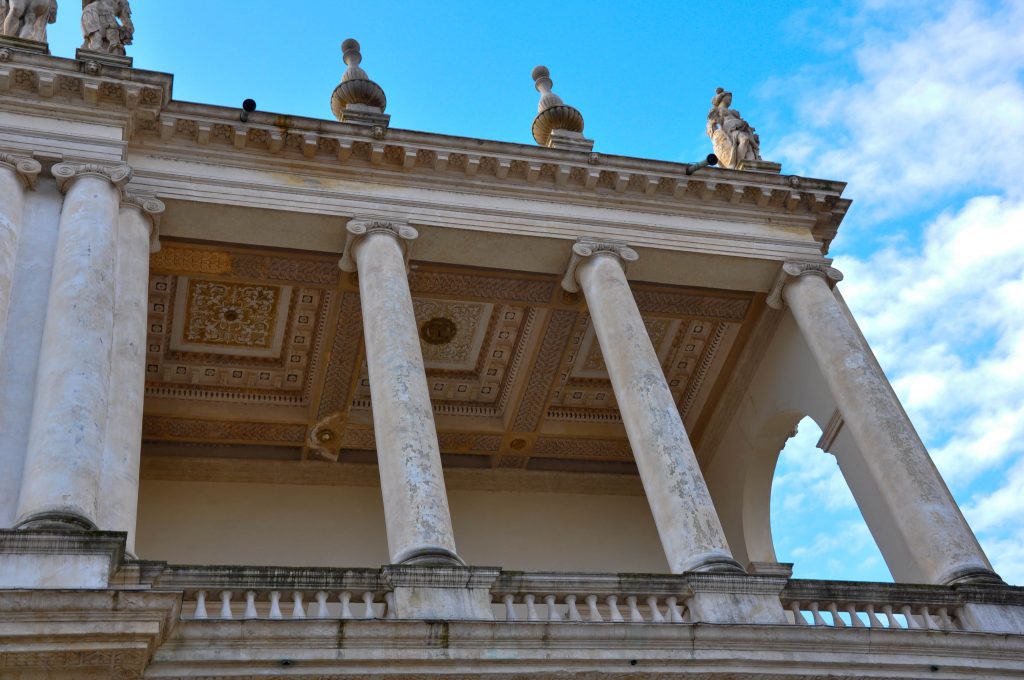 One of the most interesting things to see in Palazzo Chiericati is the art that used to adorn one of the richest churches in the city of Vicenza. The Church of St. Bartholomew (locally referred to as San Bortolo) was part of a centuries-old monastery at the place where nowadays Vicenza's hospital stands.
The cloister of the old monastery is still there. You can see it and sit in its small garden if, for whatever reason, you need to visit the hospital here.
The Church of St. Bartholomew was first mentioned in documents as early as the 13th century. The monastery that grew around it had an eventful history throughout the decades that followed. However, in 1771, it was suppressed by decree of the Venetian Senate and its building was converted into a hospital.
The repurposing of the monastery led to its gradual dismantling. Thirteen large canvasses that until that moment had been adorning the altars of the Church of St. Bartholomew were given to Vicenza's Civic Art Gallery for safekeeping.
Nowadays, you can admire these altarpieces – enormous in their size and incredibly rich in their detail – in one of the largest halls of Palazzo Chiericati. Painted by Cima da Conegliano, Bartolomeo Montagna, and other famous Venetian artists, originally they were surrounded by intricately decorated marble frames. These frames are reproduced here in thick card. This gives you a good idea of what it felt like being in the church that no longer exists.
More Information:
6. Explore the Eclectic Art Collection of Gallerie d'Italia in Palazzo Leoni Montanari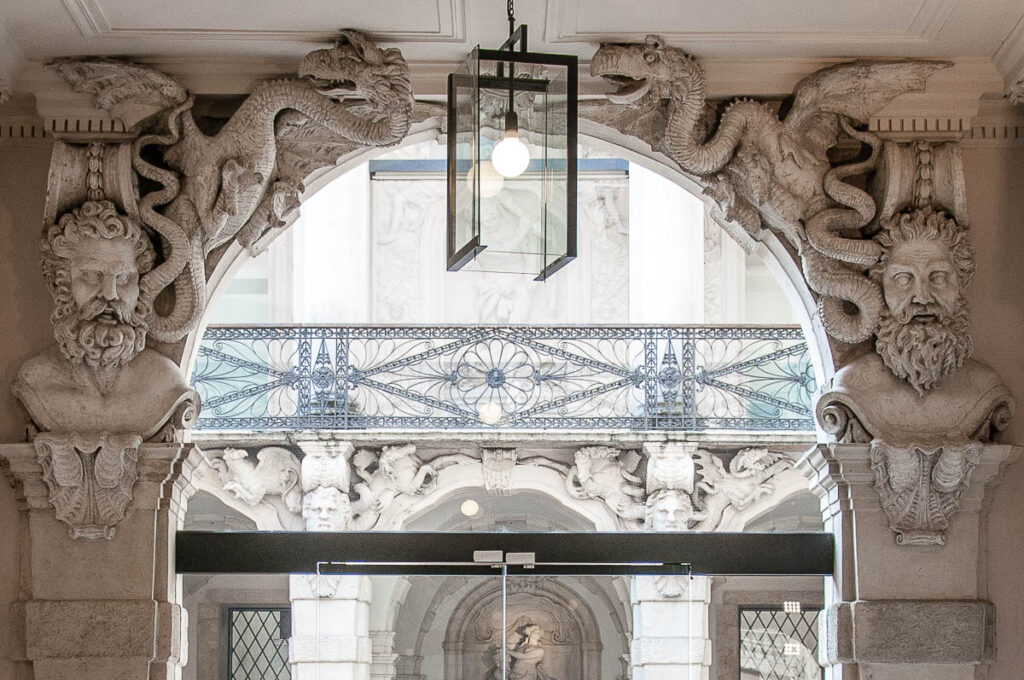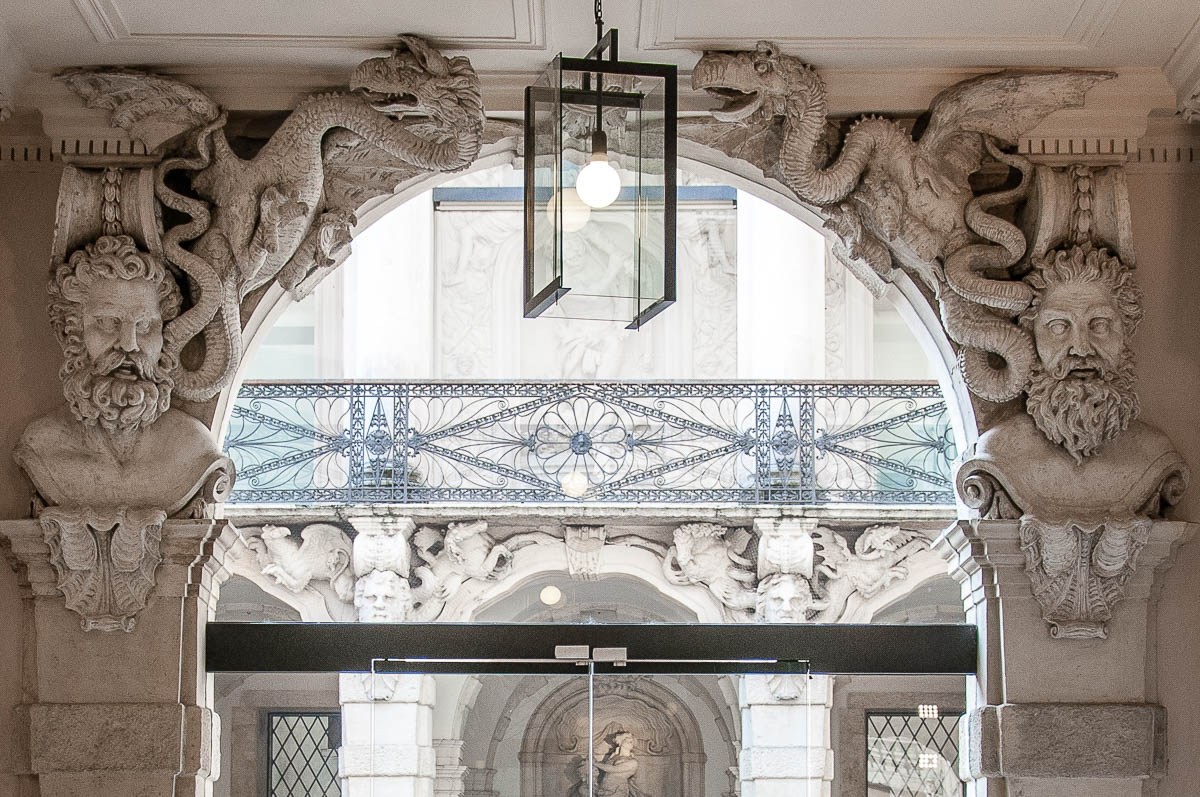 Palazzo Leoni Montanari is a lavish late Baroque building that catches the eye and takes the breath away with its whimsical stucco decorations and a row of statues right on the edge of its rooftop.
You will find it tucked away in a quiet side street just off Vicenza's main artery, Corso Palladio, and a few steps up from one of the city's most important churches – that of Santa Corona.
The palazzo houses the eclectic art collections of the Vicenza's branch of Gallerie d'Italia – a museum that also has a presence in Milan and Naples.
Make sure that you visit the Gallerie d'Italia during your stay in Vicenza. From Ancient Greek pottery to 18th-century Venetian masterpieces by the likes of Canaletto, Pietro Longhi, and Francesco Guardi, from Western Europe's largest collection of Russian religious art to exciting temporary exhibitions, the museum is a delight to explore.
Plus, the palace in which it is set is simply stunning with its incredibly ornate ceilings and frescoed walls. Often, you won't know what to look at first – the actual works of art or the lavish architectural setting.
My most favourite masterpiece in the Gallerie d'Italia in Palazzo Leoni Montanari in Vicenza is the sculpture called The Fall of the Rebel Angels. Carved from a single piece of Carrara marble it features 60 figures of angels and demons engaged in a ferocious fight. There are some dragons, too.
The sculpture is the work of Agostino Fasolato – a sculptor from Padua. It's truly spellbinding! I love spending time seeing it from all possible angles and admiring the perfect composition of tangled bodies, wings, and tails.
More Information:
7. When in Vicenza, Pay Homage to the Original Author of 'Romeo and Juliet'
Enter one Luigi da Porto!
Little known beyond the confines of his native Vicenza, this nobleman and soldier is the actual author of the world's most well-known love story – that of Romeo and Juliet!
It may feel like everything you have ever known and trusted is crashing down in a big puff of smoke but, yes, it's true! William Shakespeare was not the person to originally come up with the plot of the story of the star-crossed lovers. Although, yes, he managed to make it world-famous. We need to give him that!
Instead, Romeo and Juliet (or Romeo and Giulietta as they are known in Italian) are the creation of the literary mind of Luigi da Porto. He was a nobleman from Vicenza who retreated to his villa in the countryside to write after he had been gravely wounded in a military campaign.
From the windows of his villa, da Porto could see two medieval castles – the Castle of Villa and the Castle of Bellaguardia. They crown the lush hills around the small town of Montecchio Maggiore which is only about 15 mins away by car from Vicenza.
Gazing up at the castles and finding inspiration in a local legend and his own love troubles, between 1512 and 1524 da Porto penned a novella. It was called Historia novellamente ritrovata di due nobili amanti (in English: A Newly Found Story of Two Noble Lovers) and it was dedicated to his cousin Lucina Sarvognan whom he was in love with.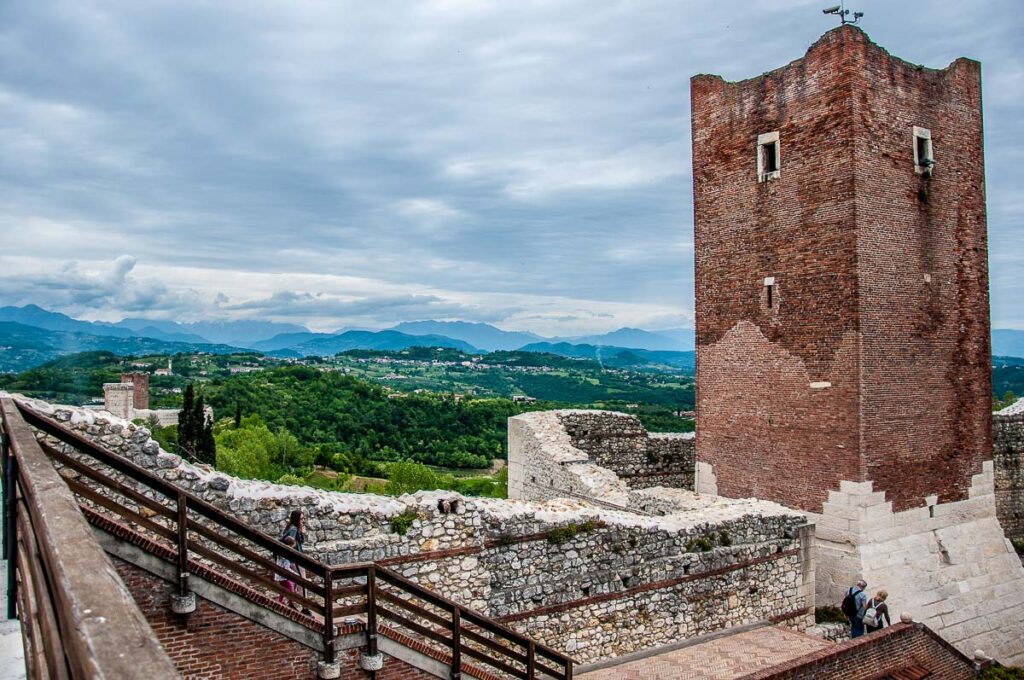 Luigi da Porto set the plot of his novel in Verona and came with the names of Romeo Montecchi and Giulietta Capuletti. It is thought that da Porto's inspiration for Romeo's name and surname and Juliet's surname came from Dante's Divine Comedy.
Da Porto outlined the young couple's tragic love and ultimate death. In addition, he introduced the characters of Mercutio, Tybalt, Friar Laurence, and Paris.
The novella was published in Venice in 1531 – after the writer's death – and it was so successful that it was even translated into English.
Have a look at this detailed Romeo and Juliet itinerary you can explore during your visit to Northern Italy. Taken from it, here are a few places you can visit in and around Vicenza to get in touch first hand with the life and spirit of Luigi da Porto:
Head to the pretty as a picture Contra' Porti in Vicenza. Between the large ornate gates of numbers 15 and 17 on this street, you will see a memorial plaque. It commemorates the fact that Luigi da Porto died in this house on 10th May 1529 at 43 years of age.
Pay a visit to Vicenza's stunning Church of Santa Corona. The author of Romeo and Juliet is laid to rest here in a stone sarcophagus on the left-hand side of the church under a large painting by Bartolomeo Montagna.
Luigi da Porto is mentioned in the exhibition of Palazzo Chiericati (see point 5 above), as well.
Head to Montecchio Maggiore and visit the two castles that inspired the writing of Luigi da Porto. Originally known as the Castle of Villa and the Castle of Bellaguardia, nowadays everyone refers to them as Romeo's and Juliet's Castles.
More Information:
8. When in Vicenza, Learn the Story of Antonio Pigafetta – Magellan's Diarist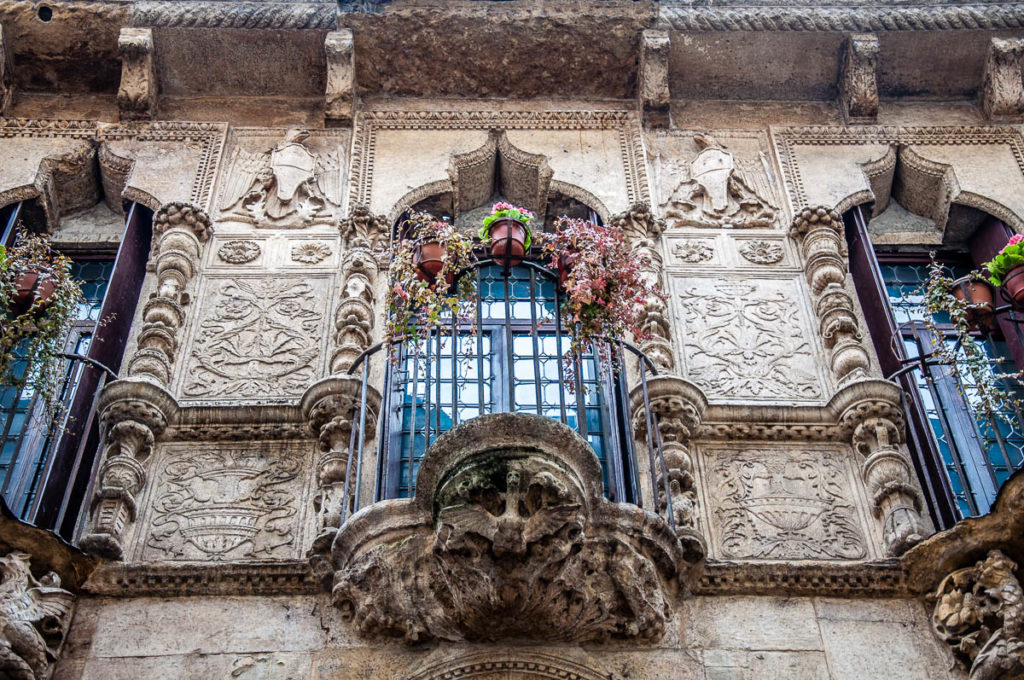 Ferdinand Magellan is known the world over as the leader of the first circumnavigation of the Earth. It took place between 1519 and 1522.
Yet, had it not been for one Antonio Pigafetta, a nobleman and adventurer from Vicenza, there is a chance that we may have never learned the precise details of the role that Magellan had in this feat.
The strong tensions at the time between Spain (the country that had subsidised the expedition) and Portugal (the homeland of Magellan) threatened to rewrite history in many different ways.
It was only thanks to the detailed diary that Pigafetta – a member of Magellan's crew – had kept during the circumnavigation of the world, that we know what exactly happened in the three years that it took to complete it.
Once back in Vicenza, Pigafetta published his book Report on the First Voyage Around the World. It was based on the notes that he had taken during the long and arduous journey.
In his book, Pigafetta included facts, maps, and observations about the visited places, their geography, flora, fauna, languages and not least their people. He even described Magellan's death and was one of just 18 people who completed the circumnavigation out of the 240 who had been part of the original crew.
Vicenza is incredibly proud of its son and his role in the historical journey.
In September of each year, a special procession takes through the streets of the city's historic centre in celebration of Pigafetta's life and achievements.
If you are in town at any other time of the year, make sure that you walk past the so-called Pigafetta's House. For me, this is the most beautiful house in town. It's private property, so no visits are allowed.
It has to be said that Antonio Pigafetta himself never actually lived in this house. It was owned by the Pigafetta family of which Antonio was the most notable member. Until the 1990's it was, however, assumed that the building had been his. You can see a nice memorial plaque describing Antonio's achievements on the wall right next to the house.
More Information:
9. Eat at Vicenza's Honest Restaurant and/or Several of the City's Best Eateries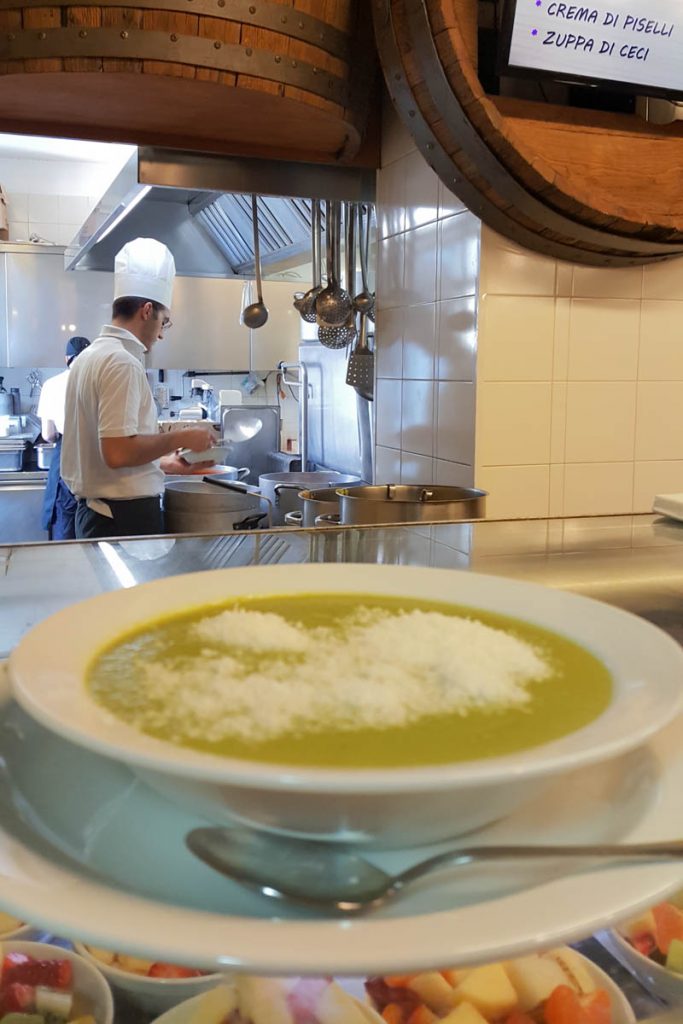 While other cities may have an honest bar in an exclusive hotel, Vicenza has a whole honest restaurant with delicious food and prices that are incredibly pocket-friendly.
An honest restaurant means that you get your food from the counter and once finished, you go up to the till and tell the gentleman behind it what you had. No one keeps a tally and it is up to you and your honesty to list everything that you consumed.
Called Ristorante Righetti and situated very close to Vicenza's Duomo and Piazza dei Signori, the restaurant has been at that place for many years and it is a place the locals love to flock to. Prices are very affordable and the food is always fresh and tasty.
Righetti is open for lunch and dinner Monday to Friday and it remains closed on weekends. It gets very busy very quickly. I really love going there as the food is seasonal and changes daily. You can also see the chefs hard at work, filling deep plates with soup and plating hot meals. It is certainly an experience, especially, the first time when you are unsure how it all works.
In addition, here are some more suggestions for places to go to in Vicenza for a nice meal:
La Bottega da Claudio – pop in for fresh seafood and Venetian finger food – cicchetti – just off Piazza dei Signori in town. Click here for photos of some of the dishes you can sample at this small place.
Il Ceppo – a deli with a bistro preparing and serving fresh traditional local dishes.
Angolo Palladio – excellent pizzas and very nice steak.
Bamburger – handmade burgers with vegetarian and vegan options, too. Everything is locally sourced.
Pizzeria Vesuvio – a large selection of tasty pizzas at excellent prices.
Agriturismo Corona – a very easy to reach from central Vicenza farmhouse where you can taste local dishes with on-site grown fresh produce at very reasonable prices.
10. Taste Vicenza's Most Beloved Dish – Bacala' Alla Vicentina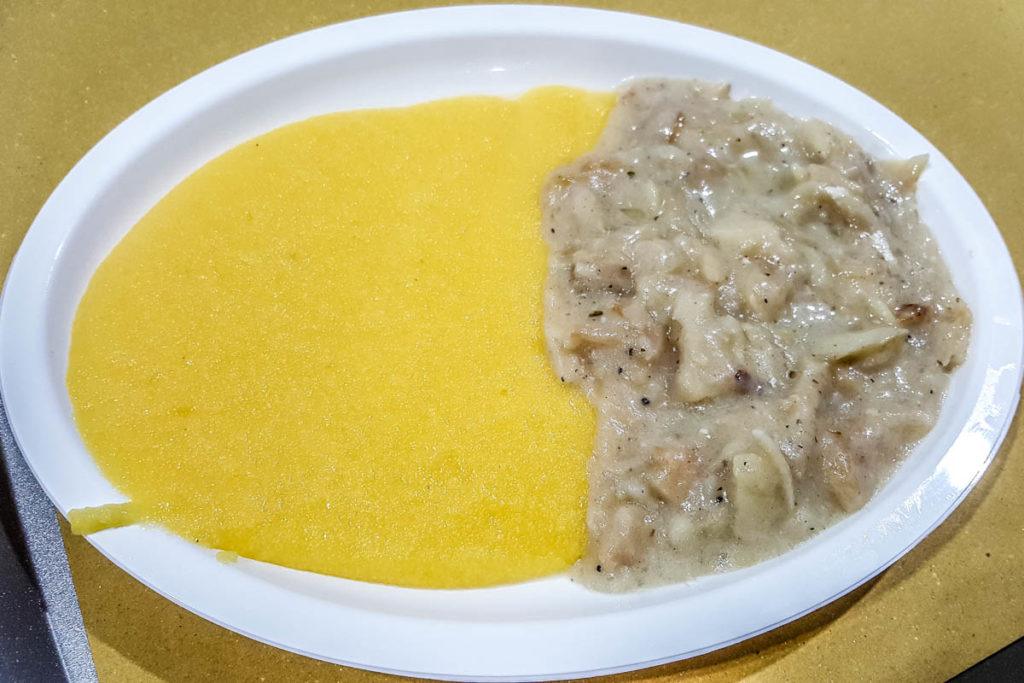 Bacala' alla vicentina – cod cooked the Vicenza way – is a dish with centuries-old traditions that the people of Vicenza are incredibly proud of.
Prepared with stockfish – air-dried cod – from the Norwegian island of Røst and served on a bed of piping hot polenta, bacala' alla vicentina must be sampled when you are in Vicenza. Otherwise, you wouldn't be getting the full cultural experience.
Keep an open mind, however, as both visually and in taste, the dish doesn't have much in common with what the world has come to perceive as traditional Italian food.
Yet, there are not many dishes still served in Italy to these days with a more exciting history and more jealously guarded traditions than the bacala' alla vicentina. Plus, it is a dish that is very difficult to prepare well. So, make sure that you sample it at one of the restaurants recommended by the Venerable Brotherhood of the Bacala' alla Vicentina. Because, yes, this dish has its own brotherhood! As you do!
For me, the most amazing thing about the bacala' alla vicentina is the food route that was established centuries ago to meet the demand for it. The cod – dried to a crisp – has been travelling from Røst to Vicenza for close to 600 years. It is quite amazing to think that so many centuries ago, two of the most distant from one another countries in Europe developed a trade based on the love of the citizens of Vicenza for this particular fish.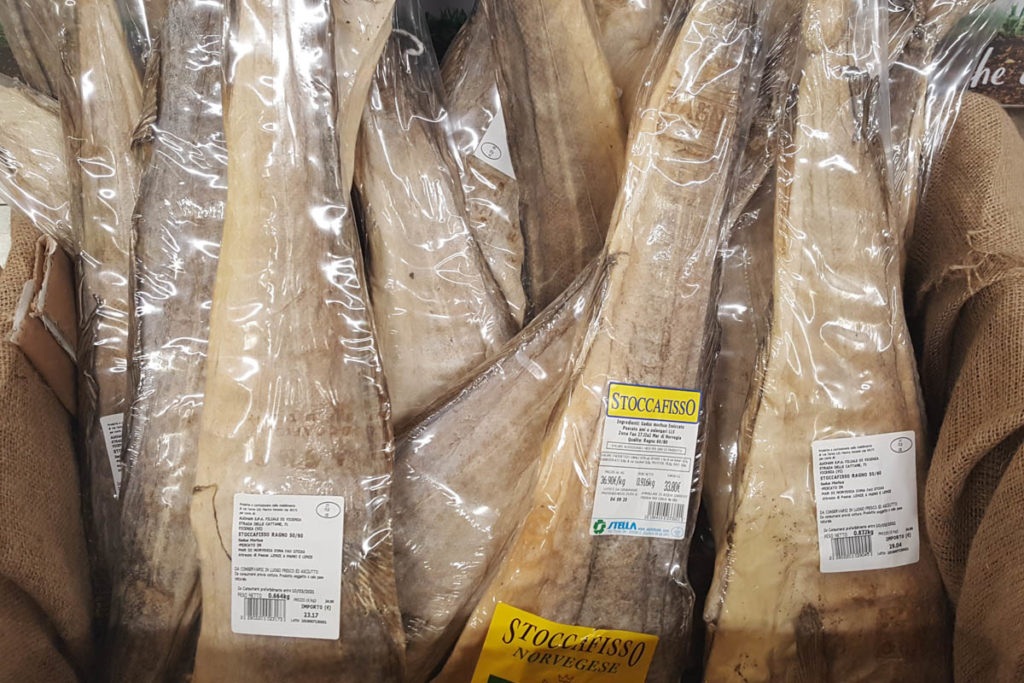 It all started in 1431 when Piero Querini – a Venetian merchant – sailed away from Crete (then known as Candia) to Flanders on a ship laden with precious wares. As fortune would have it, Querini's ship was wrecked. He and the surviving sailors found refuge on the island of Røst on the outer edges of the Lofoten Archipelago in Norway.
There, the Venetians developed a taste for the locals' sustenance – stockfish. In other words, peeled and salted cod that is air-dried for months thus becoming hard as a stick. On their way back to Venice, Piero Querini and his mates brought a load of stockfish. Soon, stockfish inspired the development of several recipes in the cities and towns which at the time were under the rule of the Republic of Venice. Hence, a food route was established between the Republic and the island of Røst.
Bacala' alla vicentina was the stockfish-based dish developed specifically in Vicenza. It marries in one plate the best of Røst and the best of Veneto. Røst's air-dried cod is rehydrated in milk over several days and then slowly cooked over many hours. It is then served on a bed of polenta – Veneto's staple dish.
You may not fall in love with bacala' alla vicentina from the very first bite. Do give it a chance though. It is an integral part of the Vicenza experience.
More Information:
11. Discover Vicenza's Roman Roots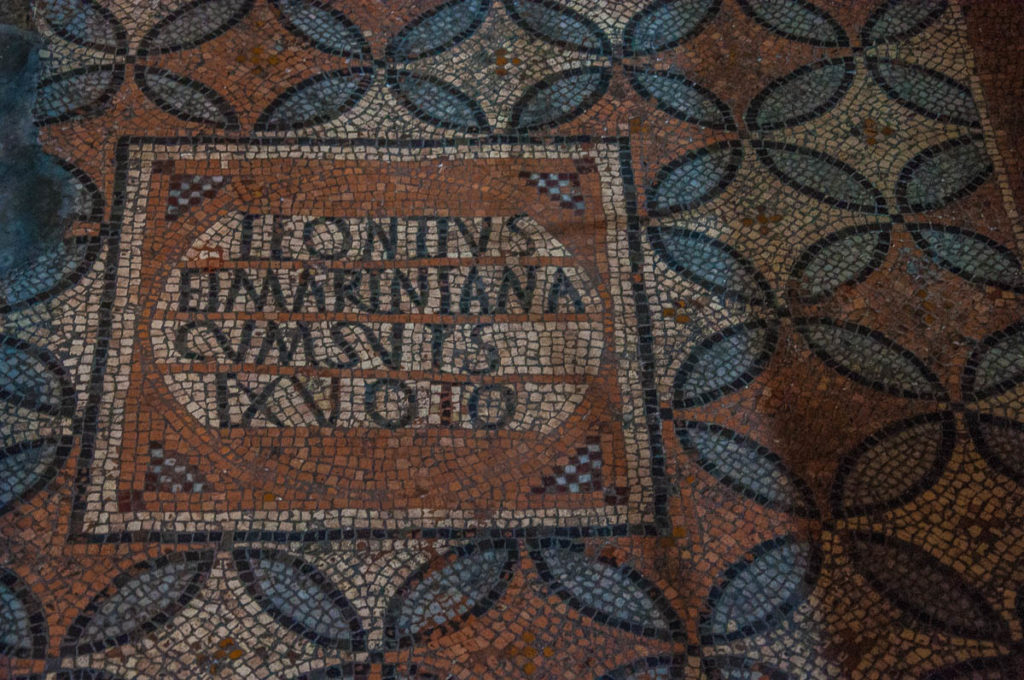 Vicenza owes its name to the ancient Romans. Originally a settlement first of the Proto-Italic Euganei tribe and then of the Paleo-Veneti tribe, by 157 BC, the city had become a Roman centre known as Vicetia or Vincentia – the Victorious.
In 49 BC, Vicetia became a municipium, i.e. a Roman town, and its inhabitants were granted Roman citizenship.
Although nowadays Vicenza is deprived of big and flashy Roman ruins, there are several hidden corners around the city where you can get close to the ancient Romans and their lives in Vicetia.
Above all, it's interesting to know that many of Vicenza's contemporary landmarks lie on top of their Roman equivalents. As such, Corso Palladio, Vicenza's elegant main street, follows the straight line of the Roman Decumanus Maximus – Vicetia's main road which pointed to Aquileia to the east and to Verona to the west.
Similarly, Vicenza's main square – the monumental Piazza dei Signori – occupies the spot at which the Roman Forum once stood. A semicircular terrace of residential buildings just off Piazza dei Signori follows the exact outline of the no-longer in existence 1st BC Roman Theatre that was Vicetia's most prized building in Roman times.
In addition, here are the most important spots and places around town where you can get in touch with Vicenza's Roman days of glory:
Criptoportico Romano – a cryptoporticus is a covered passageway that is half-underground and is lit via windows or openings at the top of its walls. A splendid Roman cryptoporticus – once part of a lavish Roman house – was uncovered in Vicenza after a bombardment by the Allied Forces during the Second World War. Nowadays, the cryptoporticus is open for guided visits that give you a chance to learn about Roman Vicetia and what relics were found during the archaeological studies that took place here.
Archaeological Area of Vicenza's Cathedral – join a guided visit organised by Vicenza's Diocesan Museum and see the remains of Roman Vicetia underneath the city's cathedral. Once again, these ruins were discovered after the Allied Forces heavily bombed the cathedral during the Second World War.
Roman relics at the Archaeological Museum of Vicenza – admire Roman mosaics and relics in the small but nicely curated Archaeological Museum in the city.
Early Christian artifacts at the Diocesan Museum of Vicenza – trace the early history of Christianity in Vicenza on the threshold between the Roman era and the early Middle Ages.
Late Antiquity mosaics and sarcophagi in the Basilica of Santi Felice and Fortunato – the oldest church in Vicenza is a multilayered environment where each wall, pillar, and pavement bear testimony to the constant rearrangement of the religious building throughout the centuries. Here you can see mosaics dating back to the 4th and the 5th centuries as well as sarcophagi from the cemetery that existed at that place during the times of the Roman Empire.
More Information:
12. See the Holy Thorn at Vicenza's Diocesan Museum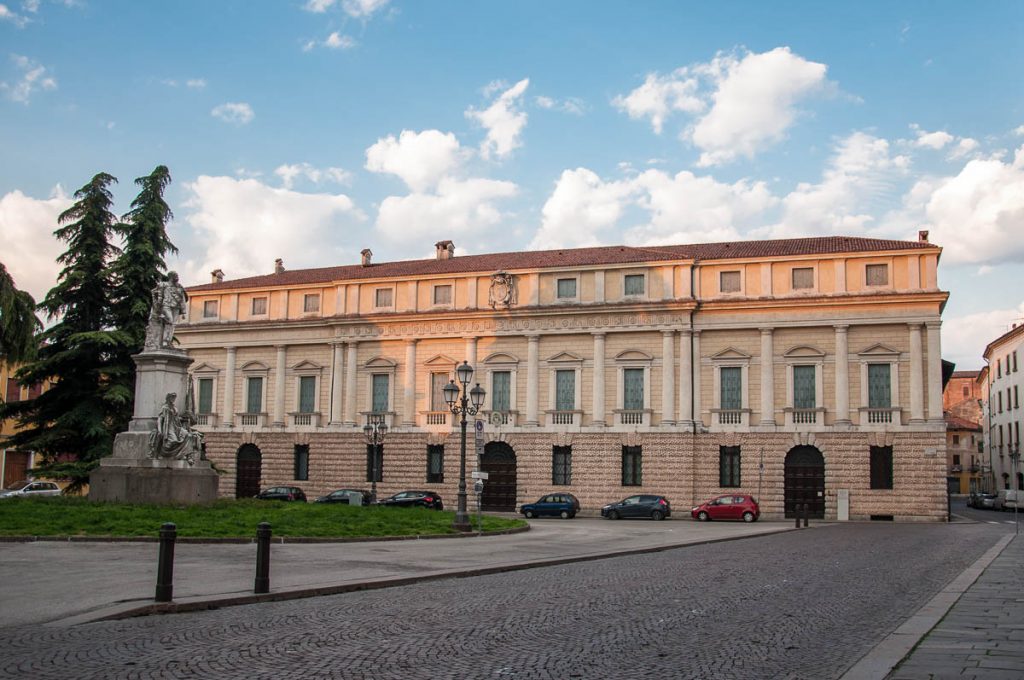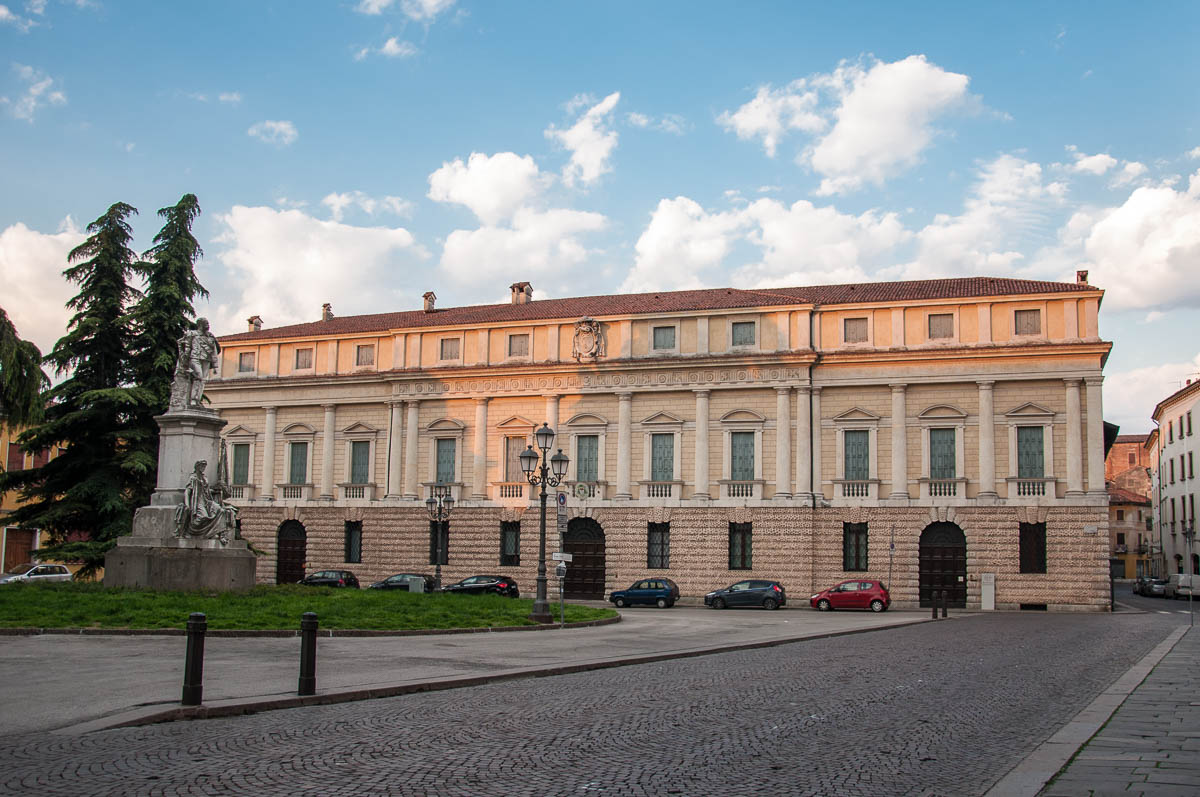 The Diocesan Museum traces the history of Christianity and Christian worship in Vicenza, Italy. It has some very interesting collections of archaeological artifacts, fine paintings, religious vestments, illuminated manuscripts, and even Romanian icons. In addition, the museum has a beautiful collection of spheres made of semi-precious stones as well as a multi-room collection of ethnic masks from all over the world. Unfortunately, the latter is only rarely open to the public.
The Diocesan Museum is also where you can see a staggering 3D model of Vicenza's historic centre. Made entirely of silver with some gold details, it is a testament to the city's centuries-old traditions of silver- and goldsmithing and jewellery-making.
Yet, the most precious item in the collections of Vicenza's Diocesan Museum is the Holy Thorn from the Crown of thorns that was placed on the head of Jesus during His crucifixion.
The Holy Thorn is housed in a precious reliquary studded with gems and adorned with enamels. Made in the 14th century by the goldsmiths of Vicenza, the reliquary is beautiful to look at. Make sure that you spend some time just taking in the many intricate details and scenes that have been painstakingly created on the reliquary's surface.
The Holy Thorn was given by the King of France Louis IX to the Blessed Bartolomeo da Breganze – an Italian Dominican friar and bishop of Vicenza in the 13th century.
Up to 1850, the Holy Thorn was kept in the Chapel of the Holy Thorn in the Church of Santa Corona in Vicenza. It was then moved for safekeeping to the Diocesan Museum where it can be seen year-round. Holy Week is the only exception. This is when the Holy Thorn is transferred back to the Church of Santa Corona so that the faithful can worship it during the Easter celebrations.
More Information:
13. Admire Giovanni Bellini's Painting in the Church of Santa Corona in Vicenza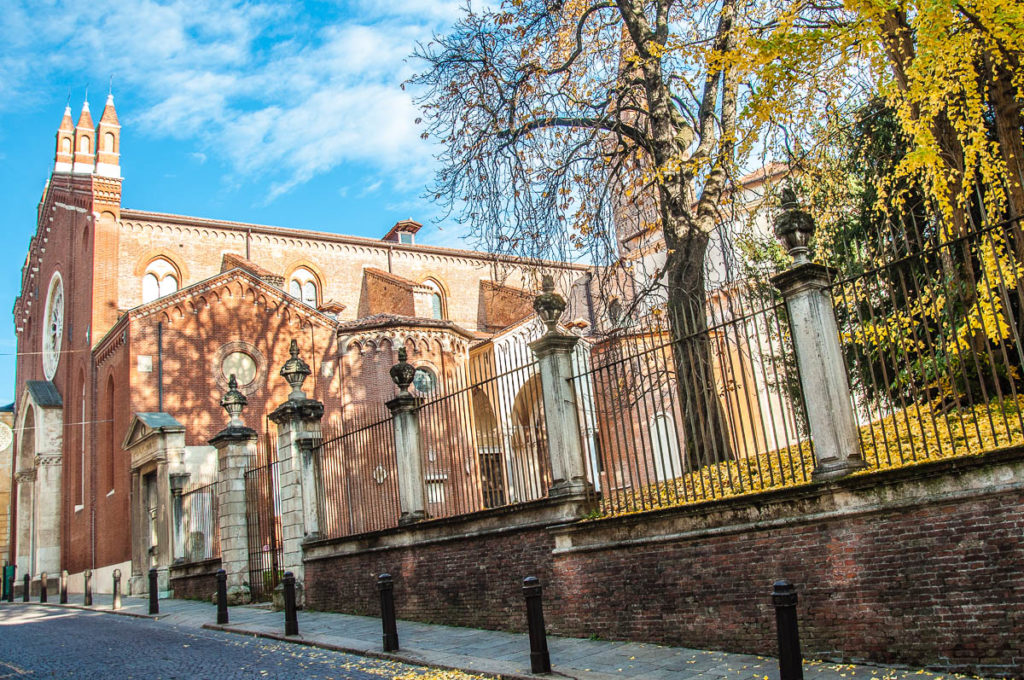 The Church of Santa Corona is one of the most interesting and beautiful places to see in Vicenza, Italy.
Originally built in the 13th century to house the Holy Thorn that had been given to the Bishop of Vicenza by the King of France (see point 12 above), the church quickly became the city's main place of worship for many centuries.
Nowadays, its Gothic brick building houses many priceless works of art by the likes of Paolo Veronese and Bartolomeo Montagna. The church also has a spectacular pietra dura altar and intarsia choir stalls with complicated patterns and scenes made entirely of wood.
Among the famous people interred here is Luigi da Porto – the original author of Romeo and Juliet (see point 7 above). The great Renaissance architect Andrea Palladio was also originally laid to rest here (see point 3 above) and the church's Valmarana Chapel is one of Palladio's works.
The most impressive work of art in the Church of Santa Corona in Vicenza is an enormous canvas by Giovanni Bellini – one of the most renowned artists of the Venetian school of Renaissance painting.
Depicting the Baptism of Christ and painted in 1501-2, this is a full-scale altarpiece. Over four metres high, the painting grabs your attention as you walk by and soon you will notice that the eyes of Christ seem to gently gaze upon you as you walk around the church. Bellini's painting is very harmonious and a soft light seems to flow from it.
A richly adorned frame complements this extraordinary painting which is one of the most famous works of art of the Italian Renaissance.
More Information:
14. Make a Pilgrimage to Vicenza's Sanctuary of Monte Berico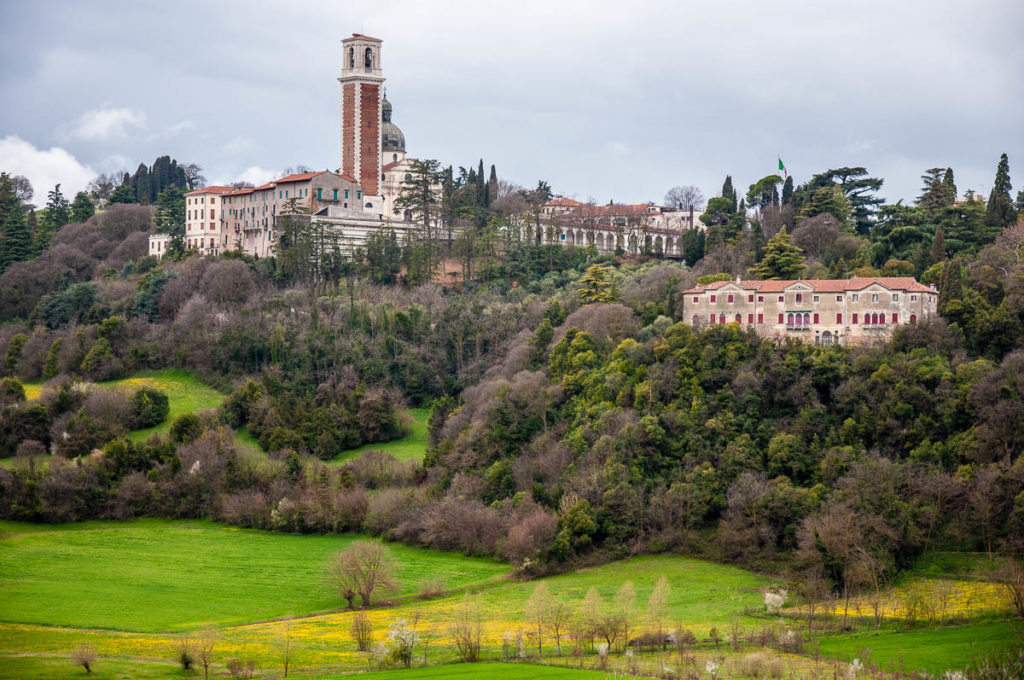 Monte Berico is the hill at the foot of which Vicenza's historic centre spreads out. On top of it stands one of Italy's most important sanctuaries dedicated to the Virgin Mary.
The local tradition states that the Virgin appeared twice on that hill to a peasant girl called Vincenza Pasini – first in 1426 and then in 1428. At the time, Vicenza was being ravished by a terrible plague and the Virgin promised that if the local people were to build her a church on Monte Berico, the contagion would come to an end.
The church was built in three months. Inside it, the faithful pray in front of a statue of the Virgin Mary which was sculpted by Nicolo' da Venezia in 1430. It is interesting to note that the sanctuary has been remodeled several times throughout the centuries. The way it looks nowadays is the result of the integration of two churches – a Gothic one from the 15th century and a Baroque one from the 18th century. Behind them, you will find a convent with a peaceful cloister where every Christmas a large Nativity Scene is set up.
From the cloister, you can walk into the friars' old refectory which is adorned with the grandiose canvas 'The Supper of St. Gregory' by Paolo Veronese. On 10th June 1848, the painting was cut into 32 pieces by Austrian soldiers attacking Vicenza. Thankfully, the painting was soon restored and to this day it is one of the central works of art to be admired at Monte Berico.
You can walk from Vicenza's main square – Piazza dei Signori – up to the top of Monte Berico. A long covered gallery goes up the hill and leads to the sanctuary. Alternatively, a stone stairway just a bit further down the road goes halfway up the hill and from there you can walk in the shade of the gallery or on the pavement that runs paralel to it.
Monte Berico and its Marian Sanctuary need to be seen as part of a visit to Vicenza. They are intrinsically connected to the history, traditions, and beliefs of this small Italian city and its people.
More Information:
15. Feast Your Eyes on Vicenza's Stunning Panoramic Views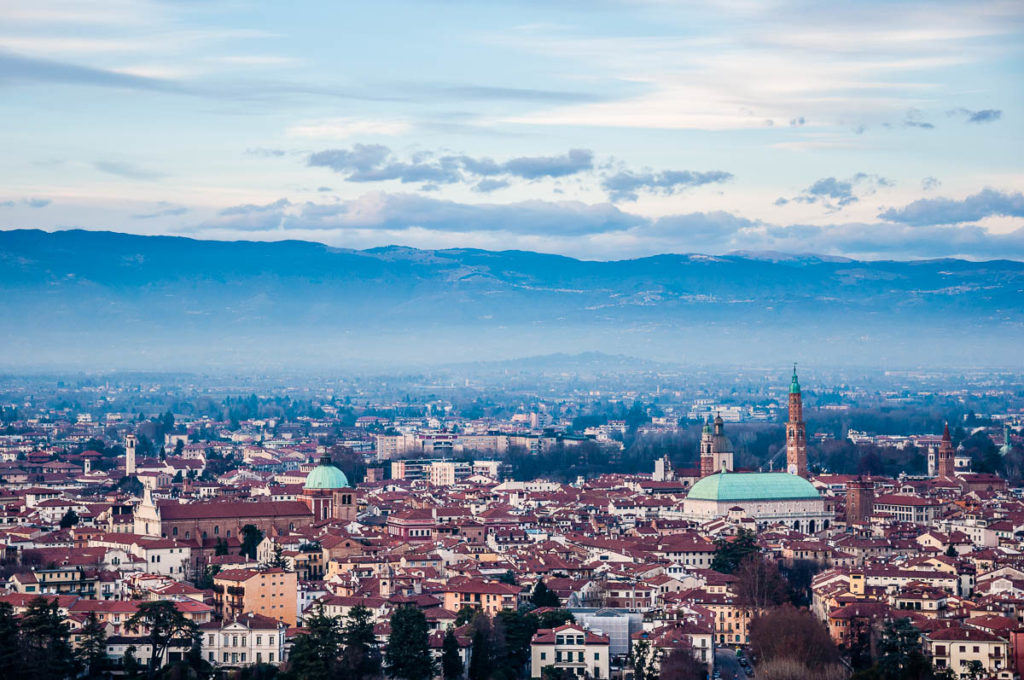 Vicenza is a very pretty city. It looks even lovelier seen from a high point. Here is an easy to tick off list of the places dotted around town which give you the height needed to enjoy some stunning views and to take some lovely panoramic photos:
Terrace of the Basilica Palladiana – a lovely open-air space giving you heady views of the Piazza dei Signori below and of the rooftops of Vicenza around you. You can even have a coffee or an aperitivo up there for maximum enjoyment of the views!
Piazzalle della Vittoria – use your walk to the top of Monte Berico (see point 14 above) to enjoy some of the best panoramic views of Vicenza. Piazzalle della Vittoria is a small square just a few steps away from the Sanctuary of Monte Berico. It is surrounded by a stone balustrade and it allows you to see the whole city and the surrounding mountains. From Monte Grappa and the Dolomites to the Venetian Lagoon, on a crisp day the views from up there are truly spellbinding.
The top of the Scalette – the Scalette is the long stone stairway that leads up to Monte Berico. Once you have scaled its 192 steps – a nice and energising physical effort – you will be rewarded with a stunning view of Vicenza with the green domes of the Basilica Palladiana and the city's Duomo in the heart of the historic centre.
Il Torrione – an imposing medieval tower that is a remnant of Vicenza's no longer existing Scaliger Castle. It dominates the landscape of the city's historic centre. An exhibition space dedicated to contemporary art occupies the tower's top floors. A visit to Il Torrione will allow you to enjoy a breathtaking view of Vicenza from a height of 60 metres.
Try to see Vicenza from above from as many of these four places as you can visit. Each will provide you with a different angle from which to enjoy the city and its beauty.
More Information:
16. Cross Vicenza's Bridges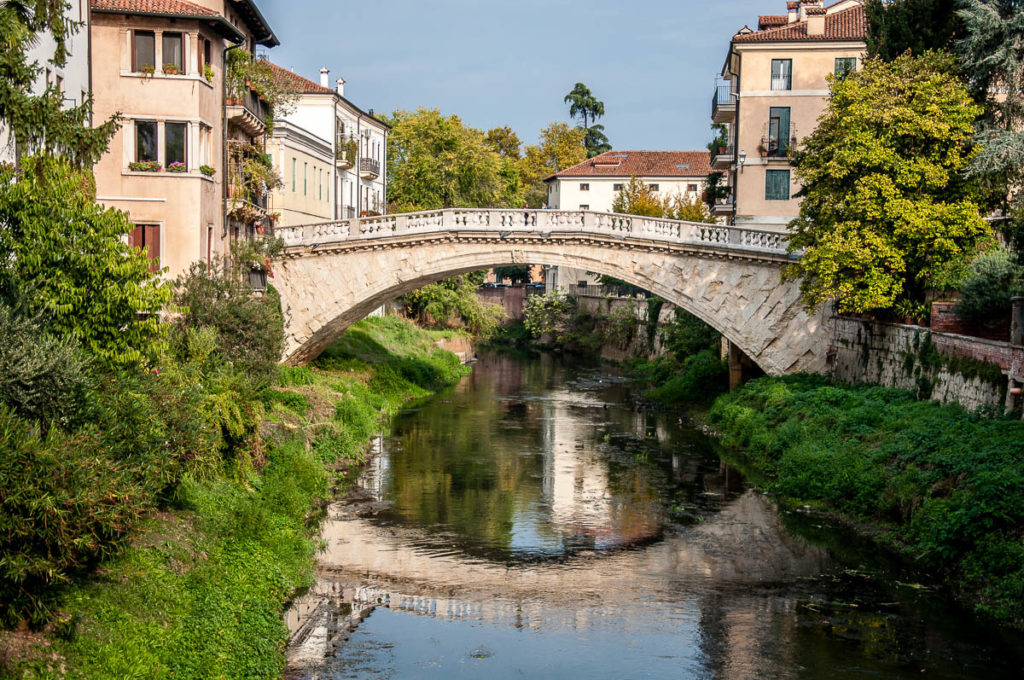 Retrone and Bacchiglione are the two main rivers that cross Vicenza's historic centre. In addition, there is a handful of streams that meander through the city and have helped shape its landscape throughout the centuries.
In the past, deliveries of spices and other exotic products would arrive by riverboats from Venice. The clay-rich river banks would provide the raw materials for the blooming ceramics industry in the city. Water mills would work day and night along the rivers, and water would surround different parts of the centre which nowadays are completely drained and built on.
Thus several of Vicenza's bridges have very old origins and three of them date back to Roman times.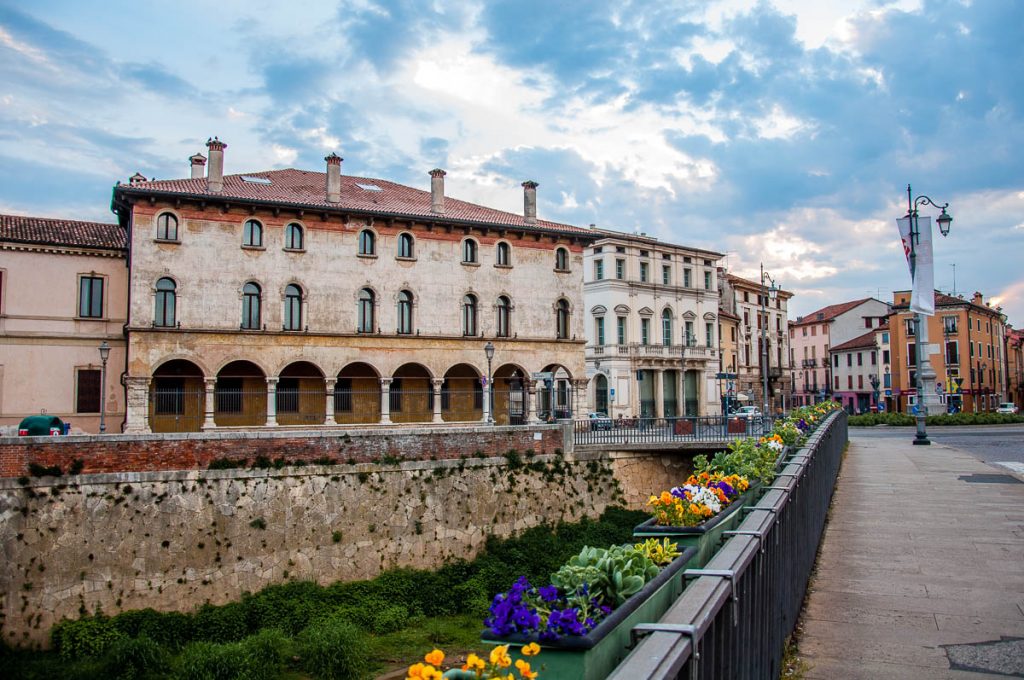 Cross the bridges of Vicenza to enjoy beautiful river views of this lovely Italian city and to delve deeper into its history and the stories of the people who shaped it. Here are some of the most interesting bridges in Vicenza to see at your leisure:
Ponte dei Angeli – a bridge has been standing at this point over the curve of the river Bacchiglione since Roman times. Throughout the centuries the bridge has been rebuilt and modernised several times. Nowadays, it is surrounded by Renaissance palaces and it's right next to one of the brightest gems in Vicenza's crown – Teatro Olimpico (see point 2 above).
Ponte Furo – this bridge was originally built by the Romans in the 2nd century AD. It was then enlarged and strengthened during the Middle Ages. It gives you one of the most iconic views of Vicenza's Basilica Palladiana.
Ponte San Michele – built between 1621 and 1623, it is considered to be the most beautiful bridge in Vicenza, Italy. It was designed by the architects Tomaso and Francesco Contini who also worked on the Rialto bridge in Venice. The German poet and philosopher Goethe fell in love with the elegant San Michele Bridge when he visited the city in September 1786.
Ponte Pusterla – a large stone bridge that opens beautiful views over the river Bacchiglione and leads you straight into Vicenza's historic centre. Here you can see the waterwheels of old mills that were once used for the thriving local manufacture of wool and fabrics.
Ponte delle Barche – the oldest bridge in Vicenza. Its name – Bridge of the Boats – is due to the fact that this is where the boats leaving or arriving in Vicenza were loaded and unloaded.
There are many more bridges to see and cross in Vicenza. Not every one of them may have a curious story attached to it, yet all of them offer you the opportunity to enjoy some lovely waterside views of the city's streets and facades.
17. Light a Candle in Vicenza's Churches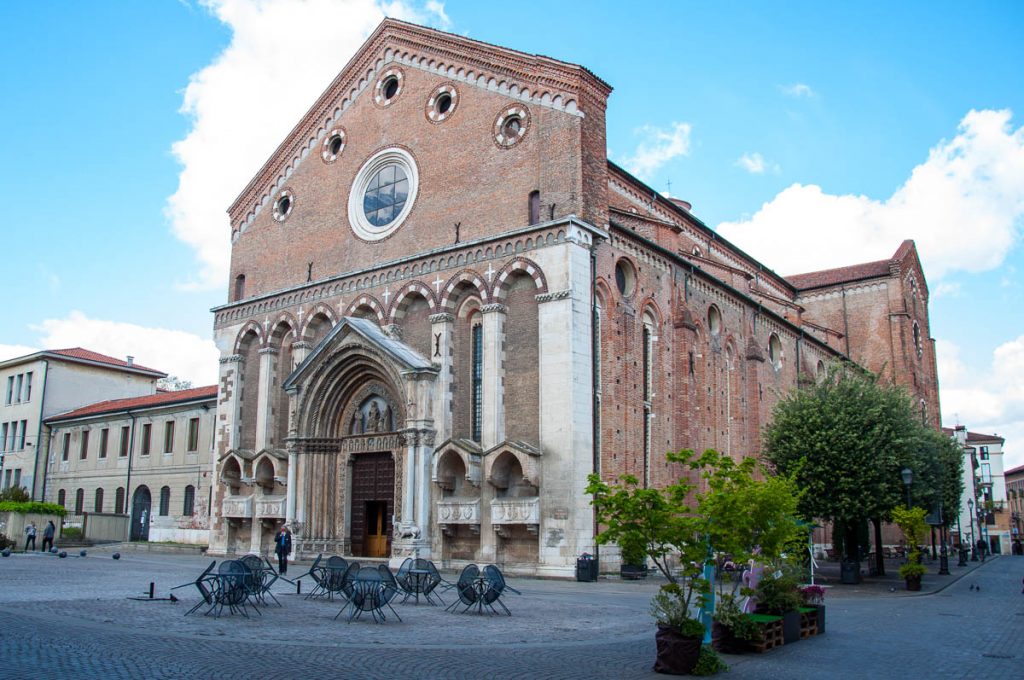 Just like every Italian city, Vicenza is dotted with churches. Small ones and big ones, old ones and new ones, lavishly decorated cathedrals and simple chapels.
Even if you are not a practising Christian or have a complicated relationship with religion, visiting Vicenza's churches will give you the opportunity to explore in-depth the history, the art, and the architecture of this charming Italian city.
Churches here are very much part of the living fabric of the city. Mass is regularly held, people pop in to say a prayer on their way to work, and beautiful flower arrangements decorate the altars showing that a caring hand is making sure that the House of God is always a warm and welcoming place.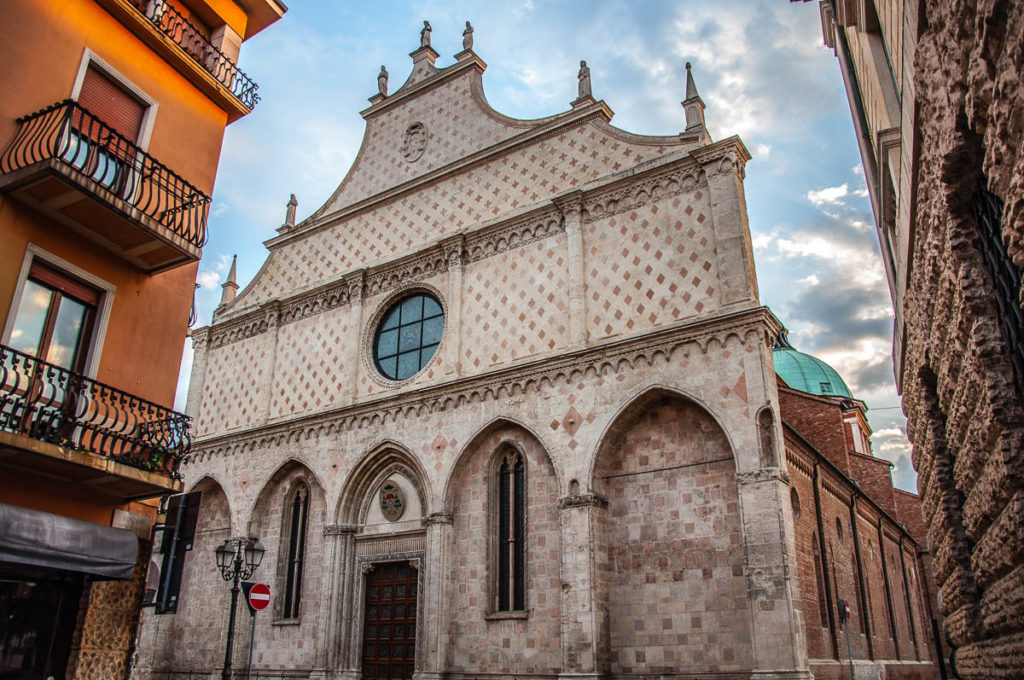 So, here is a short list of some of the most interesting churches to see in Vicenza:
There are many more churches all over Vicenza. Each has its own story and precious works of art. If you are passing by a church in Vicenza that is not on the above shortlist, don't miss the opportunity to walk in and get close to another piece of the history and traditions of this lovely Italian city.
Bear in mind that tourist visits are not allowed if a mass is in progress. Also, please, make sure that you wear appropriate clothing. Shoulders and knees have to be covered.
More Information:
18. Indulge in Shopping and Palazzo Spotting on Corso Palladio – Vicenza's Elegant Main Street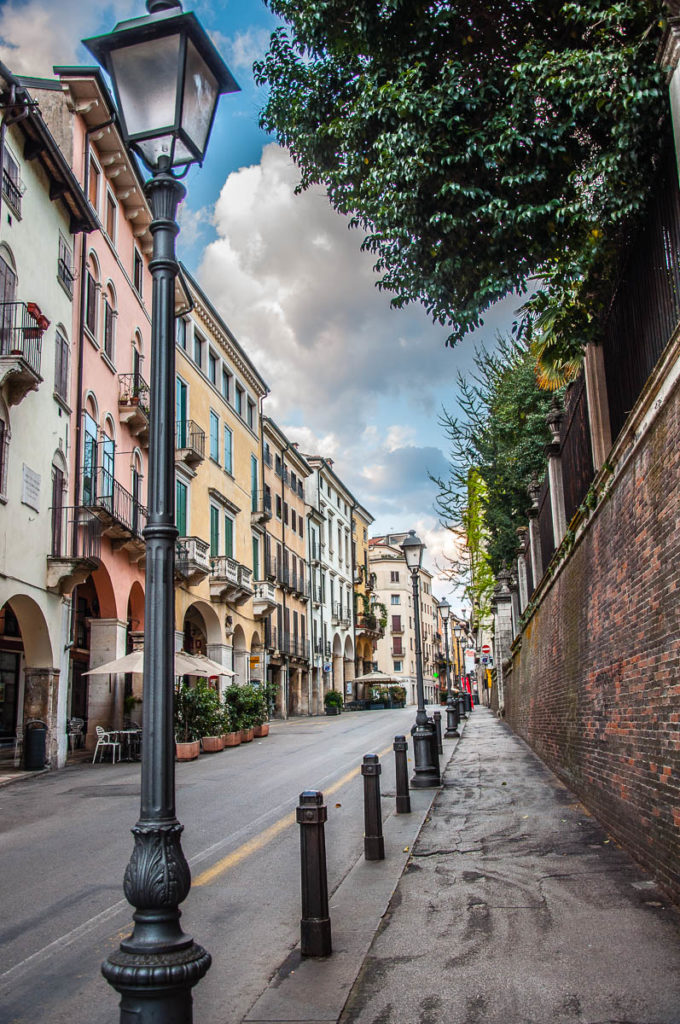 Corso Palladio is Vicenza's elegant main street. Dotted with historical palaces and fashionable boutiques, you will find yourself traversing it several times during your visit to this small Italian city.
About 700 m long, Corso Palladio runs across Vicenza's historic centre. From Teatro Olimpico at one end to the medieval Torrione at the other, almost everything that is worth seeing here is either on or near Corso Palladio.
The most curious thing about Corso Palladio is that it follows the line of the Roman Decumanus Maximus. This was the main street of the Roman city of Vicetia (see point 11 above). It led to Aquileia to the east and to Verona to the west.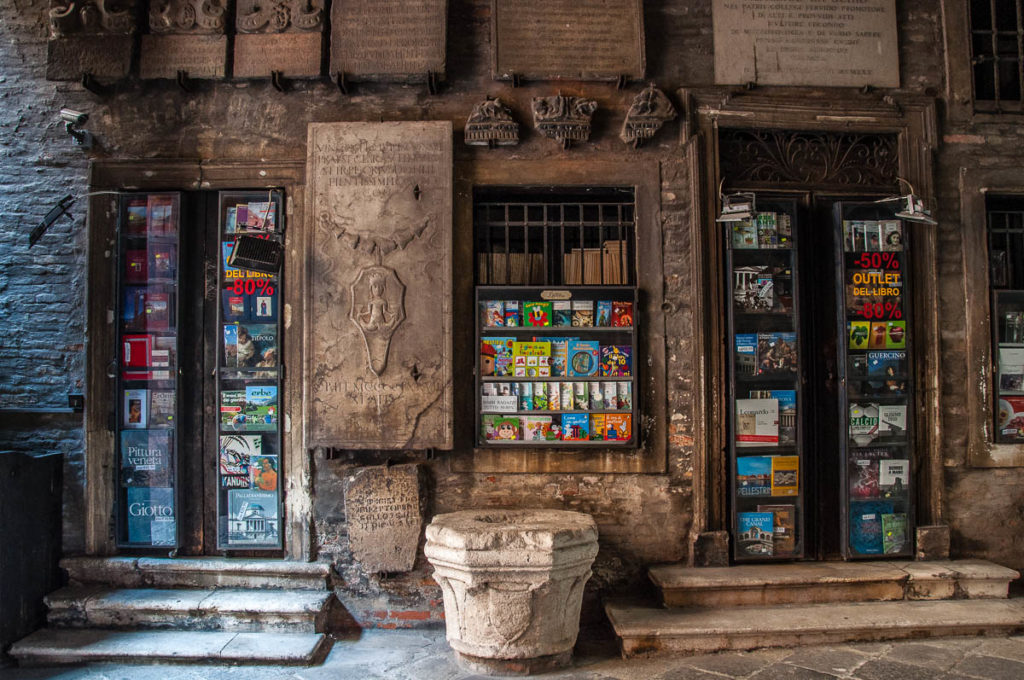 Here are some of the most interesting buildings you can see along Corso Palladio in Vicenza:
Teatro Olimpico – please, see point 2 above for detailed information about Teatro Olimpico and why it is one of the brightest jewels in Vicenza's crown.
Palazzo Chiericati – please, see point 5 above for detailed information about Vicenza's Civic Art Gallery which is housed in the Palladian Palazzo Chiericati.
Casa Cogollo – a small house with a narrow facade right next to the lush garden of the Church of Santa Corona. According to popular belief, it was the house where Andrea Palladio resided during his time in Vicenza. In fact, Palladio didn't live here but allegedly was contracted by the owner of the house – the notary Cogollo – to remodel its interior spaces and restructure its facade. The elegant facade was frescoed in the 16th century by the painter Giovanni Antonio Fasolo. Unfortunately, nowadays it retains only a pale blurred shadow of the original frescoes.
Church of San Gaetano – sandwiched between the adjacent buildings, this church has a truly imposing facade and a front door that can easily accommodate a giant. The church was badly bombed by the Allied Forces during the Second World War thus losing much of its pictorial richness and its musical organ. It was restored in the years after the end of the war.
Ca' d'Oro – one of the most splendid palaces in Vicenza. Its facade is richly decorated and I have spent many moments trying to decipher the different figures and symbols chiseled on it. The atrium of the palazzo is open to the public and houses a small archaeological collection. The inner cobbled courtyard has one of Vicenza's most picturesque wisterias.
Palazzo Trissino – a long and proud 16-century building with a beautiful portico supported by mammoth columns. It serves as Vicenza's City Hall.
Il Torrione – an imposing medieval tower that is a remnant of Vicenza's no longer existing Scaliger Castle. It dominates the landscape of Vicenza's historic centre. An exhibition space dedicated to contemporary art occupies the tower's top floors. A visit to Il Torrione will allow you to enjoy a breathtaking view of Vicenza from a height of 60 metres.
Then, of course, you have so many opportunities to indulge in a spot of shopping here. Italian and multinational brands stand side by side on Corso Palladio. From make-up, jewellery, and clothes to delis selling traditional food and cafes serving proper Italian coffee, exploring Corso Palladio is a delightful way to spend an hour or two in Vicenza, Italy.
More information:
19. Have Fun at a City-Wide Event in Vicenza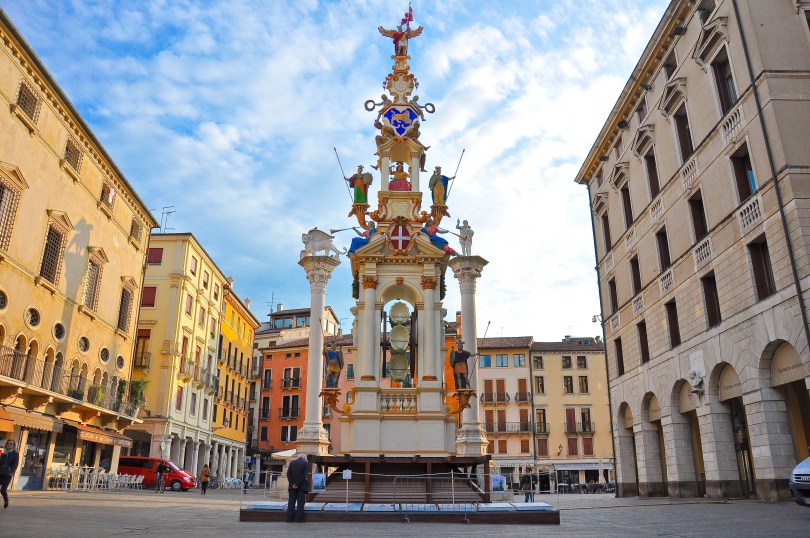 At first glance, Vicenza may seem like a small and sedate town where not much is happening on a daily basis. In comparison with the vibrant Verona and the eternal student city of Padua, Vicenza really is like their boring cousin.
Don't let this potentially put you off Vicenza, though. The city hasn't lost its ability to party and on the days when a city-wide event or festival is held here, you will find Vicenza full of verve and colour.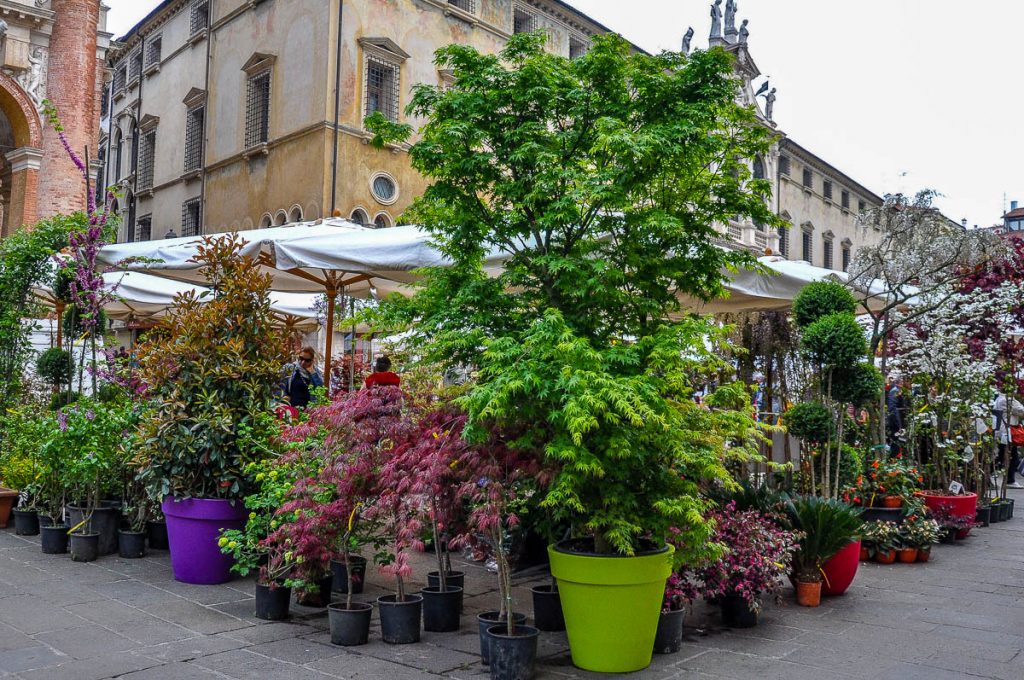 Here are just a few of the events that are really worth it to be experienced in Vicenza. Take your pick:
Floriculture and Horticulture Festival – held every spring, this is a beautiful weekend-long festival dedicated to flower- and plant-growing. Piazza dei Signori – Vicenza's main square – becomes a huge garden and dozens of stalls sell potted plants, shrubs, and even fully-grown trees.
Chocolate Festival – held every October, this is a yummy weekend-long festival when stalls selling chocolate in hundreds of varieties and shapes take over Vicenza's historic centre.
Vicenza Oro – one of the world's largest and most important jewellery trade fairs. It has a rich programme of cultural events taking place in Vicenza's historic centre.
Giro della Rua – a traditional for Vicenza celebration with centuries-old roots. Its focal point is a tall structure called La Rua which is erected every two years on Piazza dei Signori.
Antiques market – held monthly except during the hot summer months, this is where you will find oodles of vintage and antique items – glass, paintings, furniture, hats, jewellery, prints, and so on.
Twice-weekly market – selling anything and everything from fresh produce, cheese, and fish to curtains, pans, and honey, this is a traditional Italian market that takes over Vicenza's Piazza dei Signori and adjacent streets every Tuesday and Thursday. You need to be quick though as the market starts early in the morning and by 1 pm the stalls start closing and the market vans take away the abundance of cheap clothing, tablecloths, socks, bags, and hundreds of other items.
Plus, there are many more events taking place here. A jazz festival, Christmas celebrations, large-scale exhibitions, food festivals… You name it!
When you visit Vicenza, make sure that you pop into the city's Tourist Information Office (which is next door to Teatro Olimpico) and ask what's on in town during the day(s) of your being here. You never know! You might be lucky and have a chance to share an unforgettable experience with the citizens of Vicenza. Enjoy!
More information:
20. Take Part in a Traditional Italian Passegiatta in Vicenza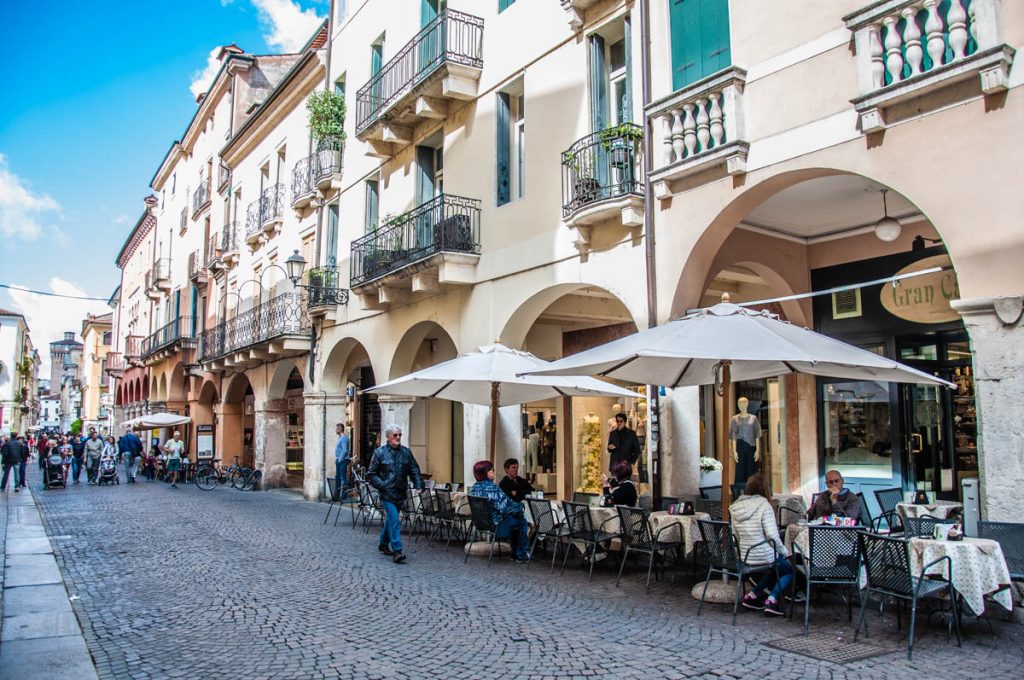 A passeggiata is a leisurely walk that the Italians take in the evening traditionally dressed up to the nines. The goal is to see things, to be seen, and to socialise. It is a very pleasant social ritual that results in historical squares and streets all across Italy bubbling with life and laughter long after the sun has set on a nice and warm day.
With the temperatures rising from the end of February onwards (in spite of the occasional April shower or May downpour), an evening stroll is a lovely way to relax after a hard day of sightseeing and to indulge in some authentic dolce vita. You will see people enjoying an aperitivo over a nice selection of nibbles, whole families out and about with a gaggle of kids ranging from newborns to late teens, and bars, cafes, and coffee shops staying open late into the night. This is also often accompanied by seasonal events, DJ sessions, and live music.
The turnout is at its best over the weekend but the closer to the summer you get, the bigger the crowds of people engaging in a passeggiata on a weeknight grow. All in all, a passeggiata is a very civilised thing! It gives you time to talk to the people closest to you, to feel part of the community, and to take it easy over a nice glass of aperitivo or two.
Taking part in a passeggiata also gives you a very good idea of the unspoken rules of the Italian society – from how to dress to how to behave with decorum. It's a mesmerising peek into Italy's culture.
So, when in Vicenza, don't miss your chance to go for a little passeggiata or two. The passeggiata hotspots in town are Piazza dei Signori, Corso Palladio, Corso Fogazzaro, and the smaller streets and squares around them.
21. Get to Know Vicenza's Centuries-Old Jewellery-Making Traditions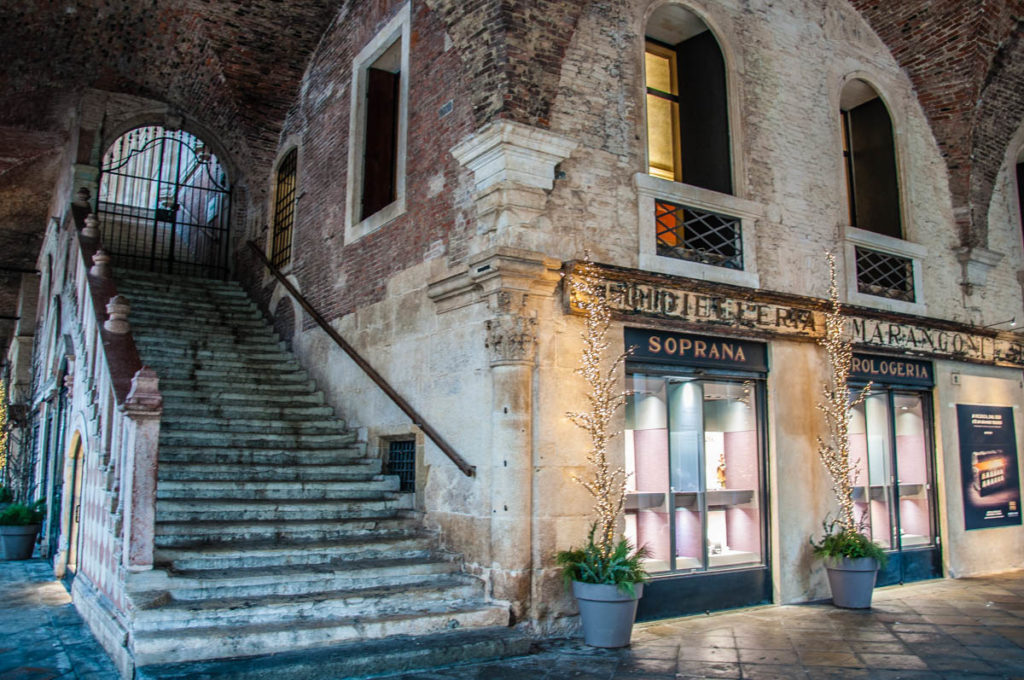 Vicenza has been a centre of goldsmithing and jewellery production since the Middle Ages.
The foundations of a 13th-century jewellery-making workshop can be seen covered with protective glass sheets on the ground floor of the city's Jewellery Museum. There is also a faded fresco on one of the walls – a remnant of the goldsmiths' private chapel.
To this day jewellery is incredibly important to Vicenza. The city produces one-fifth of all of Italy's gold jewels. Dozens of businesses – from tiny one-man artisanal workshops to multinational brands with shops all over the world – are the backbone of Vicenza's jewellery manufacture.
You will see that jewellery shops abound in the historic centre. Twice a year, the city also hosts VicenzaOro – one of the world's leading jewellery trade exhibitions.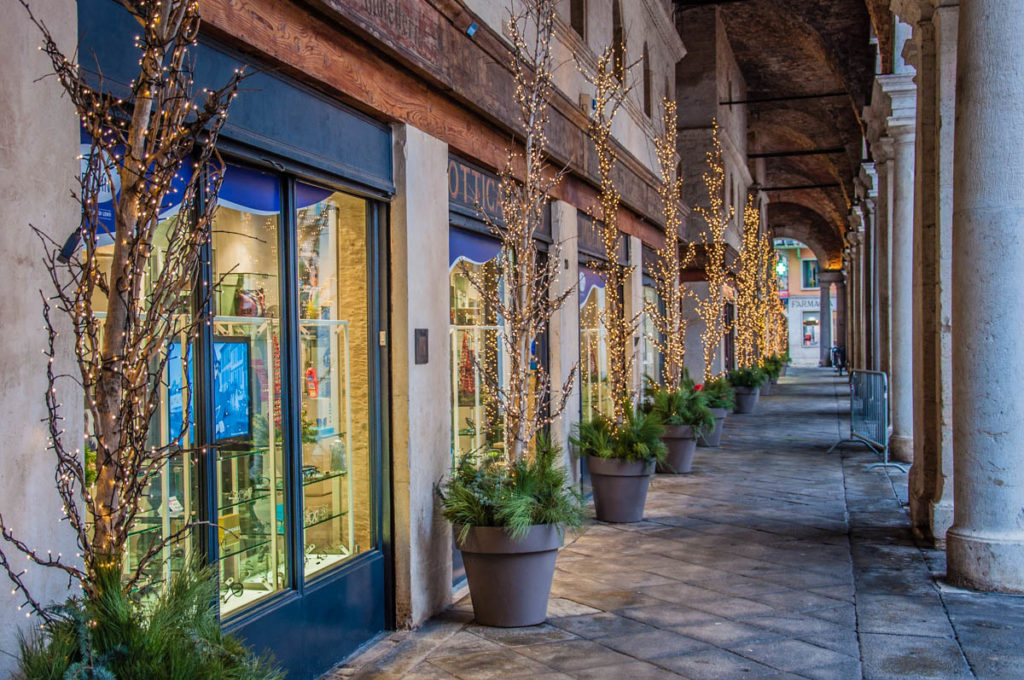 Here are some places around town where you can admire the local jewellery-making traditions and shop for locally made pieces:
Jewellery Museum – the first Jewellery Museum in Italy. It opened its doors in December 2014. Its permanent display changes every couple of years. In addition, the museum holds many temporary jewellery exhibitions.
Artisan jewellery makers – there are many artisan goldsmiths and jewellery makers whose studios and workshops are dotted around Vicenza. At this link, you can find direct connections to the websites of some of Vicenza's best jewellery makers.
Unique jewellery shops – go for a walk around the ground floor of the Basilica Palladiana (see point 1 above). You will see many cute as a button jewellery shops selling unique and wonderful jewels. A special mention deserves the Loving Palladio jewellery line created by Soprana – one of Vicenza's historic jewellery shops.
Jewel of Vicenza – a stunning three-dimensional sterling silver model of the historic centre of the city of Vicenza. The original was made in the 16th century allegedly following a model by Andrea Palladio. Unfortunately, it was stolen by the Napoleonic army and destroyed. In 2012-13, the Jewel of Vicenza was re-created and nowadays, it can be admired in Vicenza's Diocesan Museum (see point 12 above). It has a truly fascinating story and it is breathtaking to see up close. Vicenza's historic buildings – churches, palaces, and the Basilica Palladiana – are made of silver in incredible detail.
To admire two of the most stunning examples of the heights of the goldsmithing art of Vicenza, head to the Sanctuary of Monte Berico (see point 14 above). The statue of the Madonna of Monte Berico inside the Sanctuary is adorned with a breathtaking crown and pectoral necklace. Created specifically for the coronation of the Madonna (held on 25th August 1900), the two jewels were restored in the year 2000 by one of Vicenza's most prominent jewellers – Stefano Soprana.
More Information:
22. Discover the History and Traditions of Italian Food at Biblioteca La Vigna in Vicenza
Biblioteca La Vigna is one of Vicenza's most intriguing hidden gems.
Housed in the Palazzo Brusarosco-Zaccaria, you will find this wonderful library just a few steps away from the Church of Santa Croce ai Carmini. The library is entirely dedicated to books about food. It has an incredibly rich collection of cooking books, recipe compendiums, and writings on food and wine culture and production.
In addition, Biblioteca La Vigna encompasses the Centre for Rural Culture and Civilisation so that – in one place – you can research and learn about food growing and rearing in Italy over the centuries. It is a great source of information on anything related to Italy's agriculture.
Biblioteca La Vigna holds dozens of thousands of books and documents in its archives – from ancient tomes to new releases. I have spent many happy hours researching Italian food and culinary traditions in the library's quiet reading rooms.
The library has two more points of attraction. One is the adjacent garden (see point 23 below) with the installation Galileo's Moons in its centre. The other is the palace's top-floor flat. Both were designed by the renowned Italian architect Carlo Scarpa.
More Information:
23. Go for a Walk in Vicenza's Green Spaces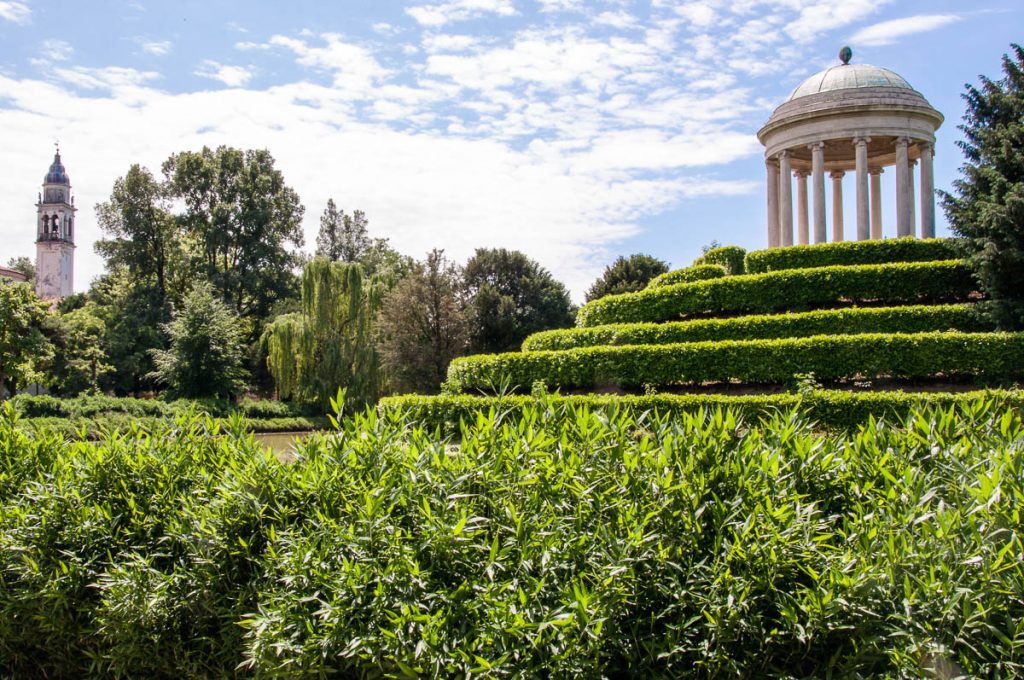 At first glance, Vicenza looks like a densely populated city with hardly a place left for a walk or a moment of relaxation surrounded by nature. Yet, and just as long as you know where to look, soon you will discover that Vicenza is a rather green place and flowers in bloom adorn thousands of balconies and windows all over town.
While many buildings present their formal facades to the streets of Vicenza, at their backs lush private gardens are hidden. Trees and small green patches are everywhere. Plus, within a short distance from the city centre, you can find several beauty spots and a couple of small lakes to quickly get in touch with nature when you need it.
Spring is an especially beautiful period to be in Vicenza. This is when large wisterias drape their bunches of purple petals all over balconies and fences. A large open-air flower and plant market takes place in town every April.
The rest of the year, the green-fingered people of Vicenza turn their balconies into veritable hanging gardens and it is always a pleasure to walk around town while looking up to admire the colourful blooms streaming down the facades of centuries-old buildings.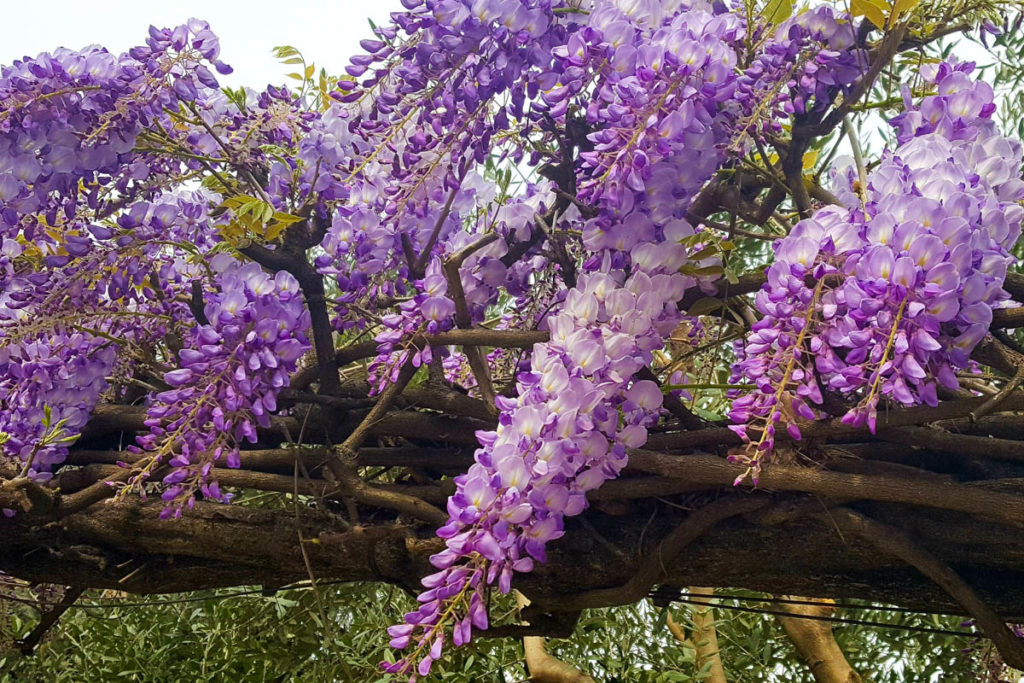 So, in case you want to go for a walk or a spot of relaxation in Vicenza's green spaces, here is a nice and tidy shortlist to help you find your way to the nearest one:
Parco Querini – this is a lovely park just ten minutes or so away from Vicenza's historic centre. It has a large open green space, a pond with an island crowned by a small temple, an alley flanked by centuries-old statues, and a dense copse of trees in the middle. Plus a gaggle of chickens, ducks, and turtles. You may even spot a nutria or two – a large rodent with long orange front teeth.
Garden of Teatro Olimpico – my favourite green space in Vicenza. You can sit and relax surrounded by 19th-century statues and archaeological artifacts. When the orchestra rehearses inside, the music comes softly in waves as you quietly sit on one of the side benches.
Cloister of the Church of San Lorenzo – a peaceful green area you can see as part of your visit to the Church of San Lorenzo (see point 17 above).
Giardini Salvi – a small garden at the very start of Corso Palladio and on a straight line from Vicenza's train station. Inside, you can admire one of Palladio's famous buildings – the Loggia Valmarana.
Campo Marzo – a wide green just outside Vicenza's train station. It can be fun to visit during city-wide events and celebrations when a fair sets its stalls and rides here. It also has a large, gated playground.
Garden of Palazzo Brusarosco-Zaccaria – a large garden off the beaten track in Vicenza's historic centre. Populated by many different varieties of trees and shrubs, in its middle you will see a large installation called Galileo's Moons which serves as a huge wind chime. Not many people know about this garden and it is quite nice to spend a few minutes here with your own thoughts. Plus, it's in the same space as Biblioteca La Vigna (see point 22 above).
Oasi Stagni Casale – a nature oasis set up in old clay quarries. A paradise for nesting birds and all sorts of other animals. A great spot for bird watching, it is only a bus ride away from Vicenza's historic centre.
Valetta del Silenzio – an expansive green space just outside Vicenza's historic centre. You will find it next door to the world-renowned Villa Capra la Rotonda by Andrea Palladio (see point 3 above). If you love walking, then you can hike from Valletta del Silenzio all the way up to the large park of Villa Guiccioli (see bellow).
Garden of Villa Guiccioli (Museum of Risorgimento) – if you make it to the top of Monte Berico and have an hour to spare, you can walk further down the road to the Museum of Risorgimento and Resistenza. Housed in a former villa, it is surrounded by a lovely garden with hundreds of different species of trees, shrubs, and plants – from local specimens to exotic ones.
Even if your time in Vicenza is limited and you can't put an hour aside to explore one of the city's green spaces, you will never be too far from blooms and petals here.
Many balconies around Vicenza have been turned into veritable hanging gardens. So, you just have to look up as you walk around town to be regaled with inspiring views of plants and flowers.
More Information:
24. Explore Vicenza's Elegant Venetian Villas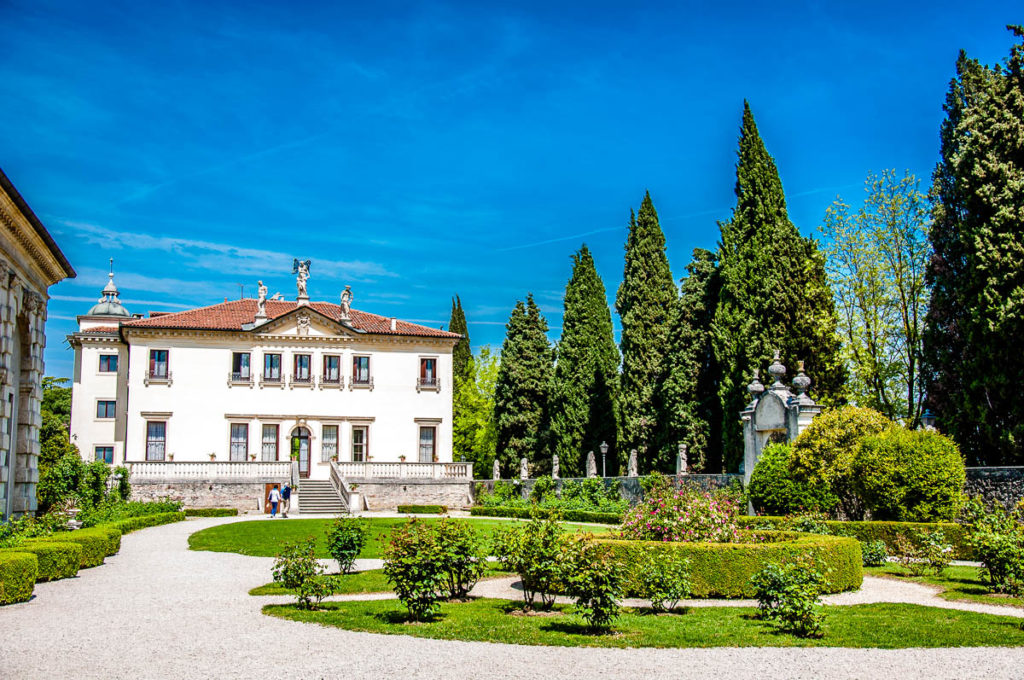 There are many gorgeous villas dotted around the countryside of Vicenza.
In Veneto's context, a villa is a beautiful country house with refined architecture and often surrounded by a gorgeous garden or a nice park. In the past centuries, the Venetian nobility would spend their summers in such villas to oversee the tending of their lands and to enjoy the fresh air.
Thus the Venetian villas were both the central point of active agricultural work and an escape from the constraints of city life during the year's hottest months. The villa would offer all sorts of comforts to the family of the Venetian nobleman and their relatives and friends. At the same time, the man of the house could easily oversee the many different stages of crop cultivation, wine production, and any other sort of farm activity.
Designed by famous architects and frescoed by the most renowned artists of the day, the villas of Veneto could have a long list of both practical and whimsical amenities – from storage places for machinery and crops to ice houses where large pieces of ice would be preserved in winter to be used to cool the beverages of the noble ladies and gents all summer long.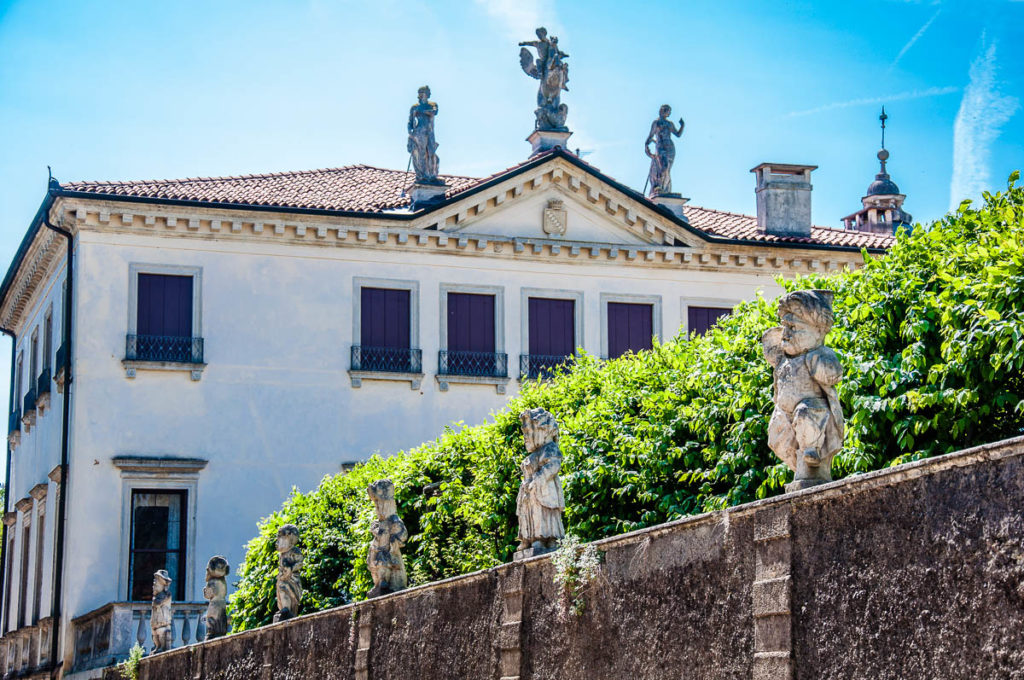 Several lavish Venetian villas with illustrious history and splendid architecture can be easily visited from Vicenza. Here are three for your interest:
Villa Capra La Rotonda – probably the most famous Venetian villa in the world, this is a splendid Palladian cube-shaped building with four identical facades. You will find it on the outskirts of Vicenza and can easily walk to it from the city's train station. For maximum enjoyment the villa needs to be seen both on the inside and the outside.
Villa Valmarana ai Nani – a true gem of architecture and art, this villa enjoys stunning views of Monte Berico (see point 14 above). The villa is famous above all for its splendid frescoes by father and son Giambattista and Giandomenico Tiepolo. A stone path connects Villa Valmarana ai Nani to Villa Capra La Rotonda, so quite conveniently, you can visit both in one morning or afternoon.
Villa Caldogno – allegedly designed by Andrea Palladio, this villa is lavishly frescoed inside. In its garden, you can also visit a bunker from the Second World War. You can easily reach the villa from Vicenza's historic centre by taking bus number 9.
25. Take a Trip to a Hidden Gem or Two Near Vicenza, Italy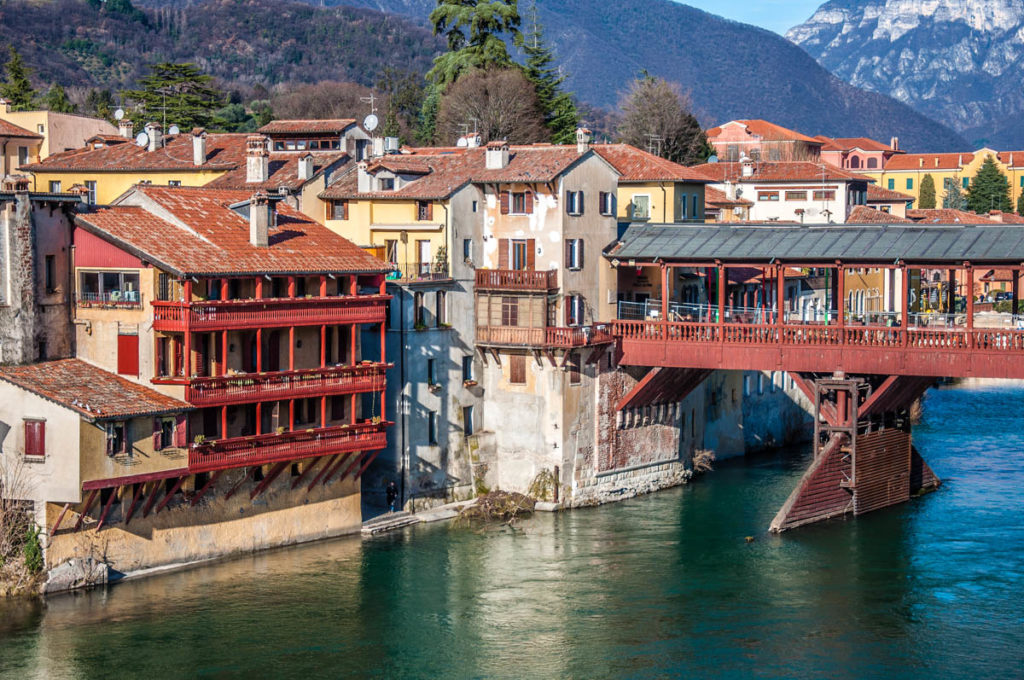 Within a very close distance to Vicenza – I mean 15 minutes to an hour away – you will find a plethora of wonderful and whimsical places to happily spend a day at.
From medieval walled towns to sights of natural beauty, from active monasteries to vineyards and wineries, from spa towns to hilltop castles, from patrician villas to some of Italy's most beautiful villages, the choice really is yours.
The area around Vicenza is densely packed with sights giving you so many options for an unforgettable day out. Plus, as the distances are so short, you can easily pack two or even three places in a day.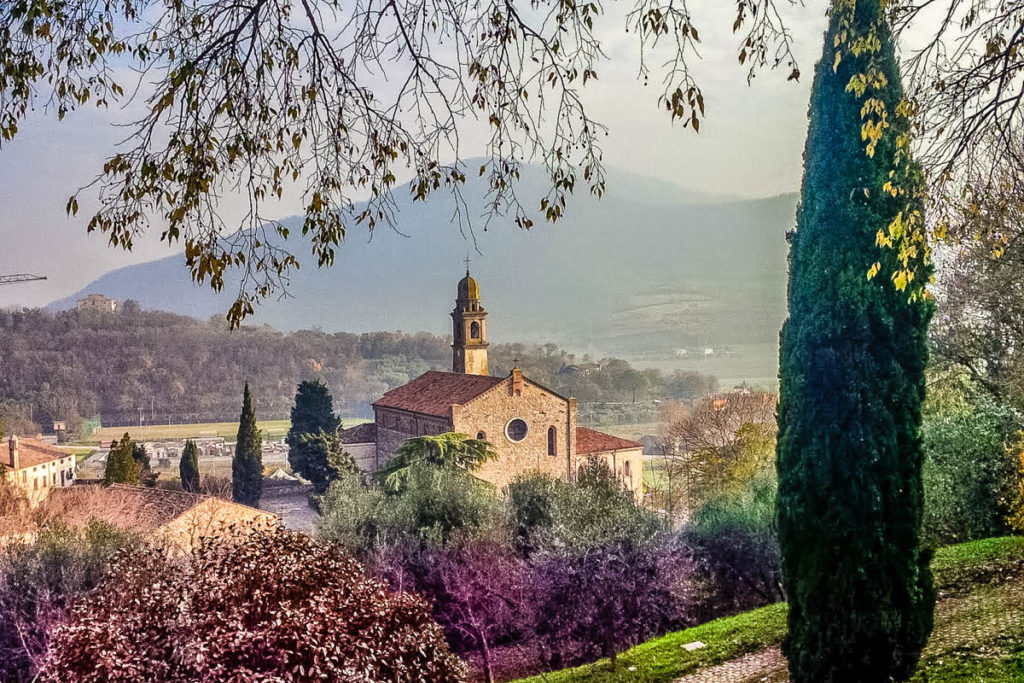 Here are some of my favourite destinations:
Medieval walled towns: Este, Montagnana, Monselice, Marostica, Soave, Cittadella, Castelfranco Veneto, Chioggia, Bassano del Grappa
Hills, lakes, and hikes: Euganean Hills, Berici Hills, Asolo Hills, Lake Fimon
Spa towns and destinations: Abano Terme, Galzignano Terme, Montegrotto Terme
More Information:
Map of the Main Sights and Attractions in Vicenza, Italy
Here is a nice and useful map pinpointing the exact locations of Vicenza's main sights and attractions. You can use it to help you decide what to see in town and in what order, to calculate distances and check walking directions, driving instructions, and public transport options. Click on the map to zoom in and out, to see Street View, and to use all the usual functions that a map made in Google Maps traditionally offers.
In addition, here is a list of Vicenza's sights and attractions included in this map: 1. Basilica Palladiana 2. Piazza dei Signori 3. Torre Bissara 4. Palazzo del Capitaniato 5. Monument of Andrea Palladio 6. Ponte San Michele 7. Teatro Olimpico 8. Palazzo Chiericati 9. Church of Santa Corona 10. Archaeological Museum 11. Gallerie d'Italia in Palazzo Leoni-Montanari 12. Ca' d'Oro on Corso Palladio 13. Memorial Plaque of Luigi da Porto 14. Pigafetta's House 15. Criptoportico Romano 16. Duomo of Santa Maria Annunciata 17. Diocesan Museum 18. Ponte Furo 19. Torrione 20. Giardino Salvi 21. Campo Marzo 22. Basilica of Santi Felice and Fortunato 23. International Library La Vigna 24. Parco Querini 25. Palladio's Monumental Tomb 26. Scalette to Monte Berico 27. Sanctuary of Monte Berico 28. Piazzale della Vittoria 29. Villa Valmarana ai Nani 30. Villa Capra la Rotonda
Practical Information and Useful Tips about Visiting Vicenza, Italy
1. Where in Italy is Vicenza?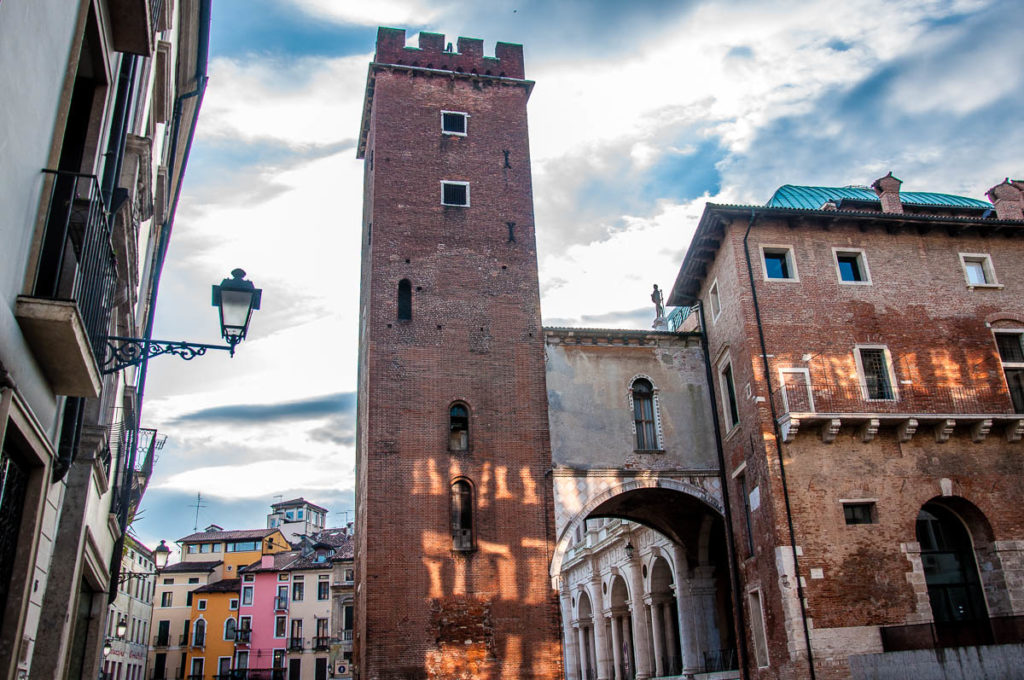 Vicenza is a small city and a provincial capital in the Northern Italian region of Veneto. It stands in the Venetian Plains that stretch between the Venetian Lagoon and the Venetian Prealps. A small group of hills – the Colli Berici – shoulder the city and provide easy access to hiking paths and clean air on the weekends.
Vicenza has about 112,000 inhabitants and is about halfway between Venice and Verona. There are several large airports within an hour or two away. In addition, good road and railway networks connect Vicenza to many important cities in Veneto and in Italy. Among them are:
Padua – around 42 km away from Vicenza;
Verona – around 58 km away from Vicenza;
Venice – around 75 km away from Vicenza;
Lake Garda – around 80 km away from Vicenza;
Treviso – around 91 km away from Vicenza;
Bologna – around 152 km away from Vicenza; and
Milan – around 212 km away from Vicenza.
Here is a map showing the exact location of Vicenza in Italy. You can click on it to zoom in and out, to check specific distances, and to get directions to other destinations in Italy and abroad:
2. How to reach Vicenza, Italy?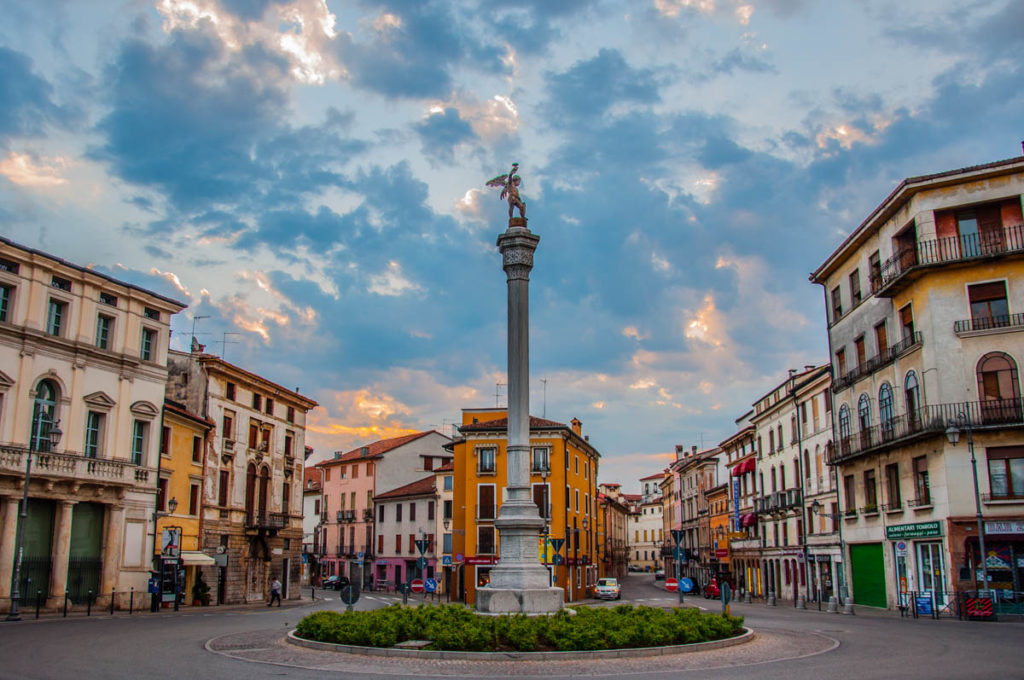 From abroad, the easiest way to reach Vicenza is by plane. While the city doesn't have a commercial service airport, nearby there are several major airports that are very convenient for Vicenza.
Vicenza can also be easily reached by train from anywhere in Italy or Europe. The city's train station is on the main Milan-Venice trainline and you can get direct trains to many towns and cities in Veneto, Italy, and Europe from here, too.
To check train travel times and buy tickets in advance, I use Omio. It shows prices and travel times for all available types of trains in Italy irrespective of the company that runs them. This way I can compare costs and times of departure and arrival.
Vicenza is also very easy to reach by car. The Italian highway A4 connects Vicenza to Turin, Milan, Brescia, and Verona to the west and Padua, Venice, and Triest to the east. This helpful website will give you an estimate of how much the tolls are going to cost. Click to hire a car for your trip to Vicenza in Italy.
3. How big is Vicenza, Italy?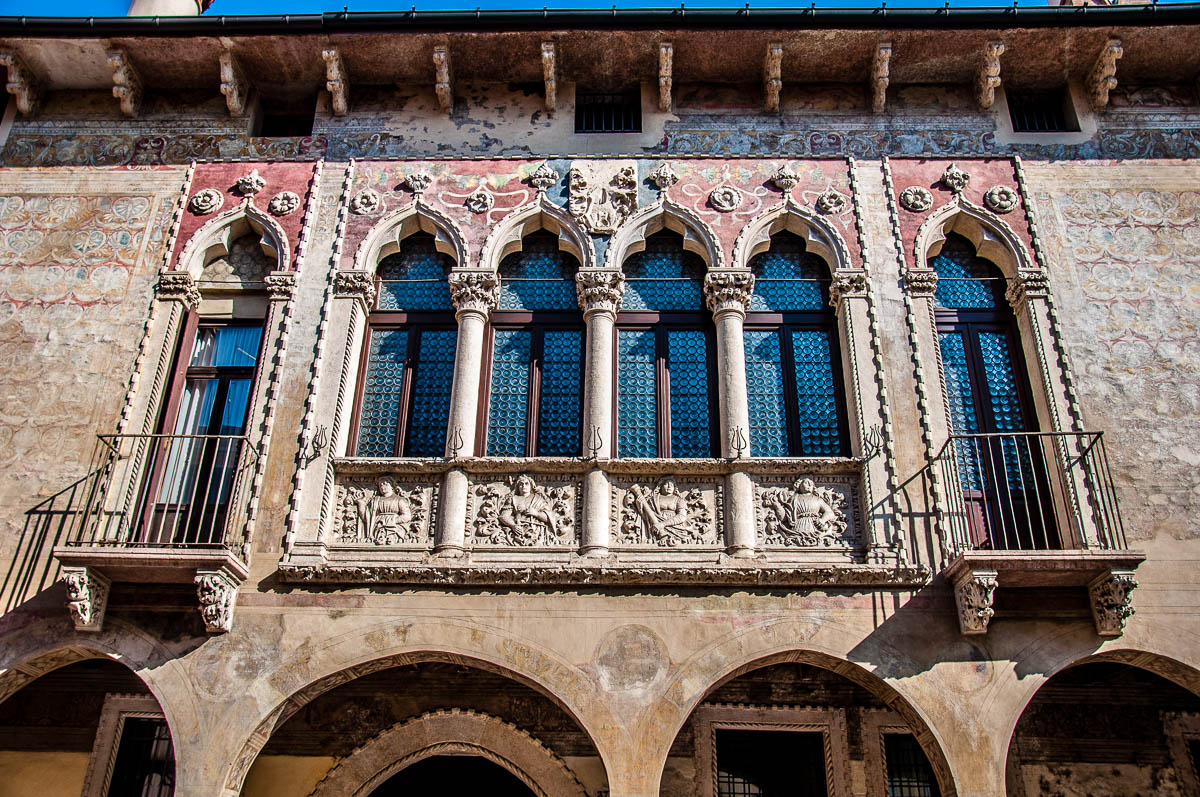 Vicenza has around 112,000 inhabitants and a very walkable historic centre which is very easy to navigate on foot. The train station is a six-minute walk from the main street – the elegant Corso Palladio – so you can find yourself in the heart of Vicenza in no time at all.
The rivers Bacchiglione and Retrone meander picturesquely through the historic centre.
If you have just a day to spend in beautiful Vicenza, you can easily walk everywhere and see almost everything that must be seen here from dawn till dusk.
There is a well-organised public transport system with buses crisscrossing the city. Buses, however, are not allowed inside Vicenza's actual historic centre and their routes skirt it on the outside.
4. Can you recommend accommodation in Vicenza, Italy?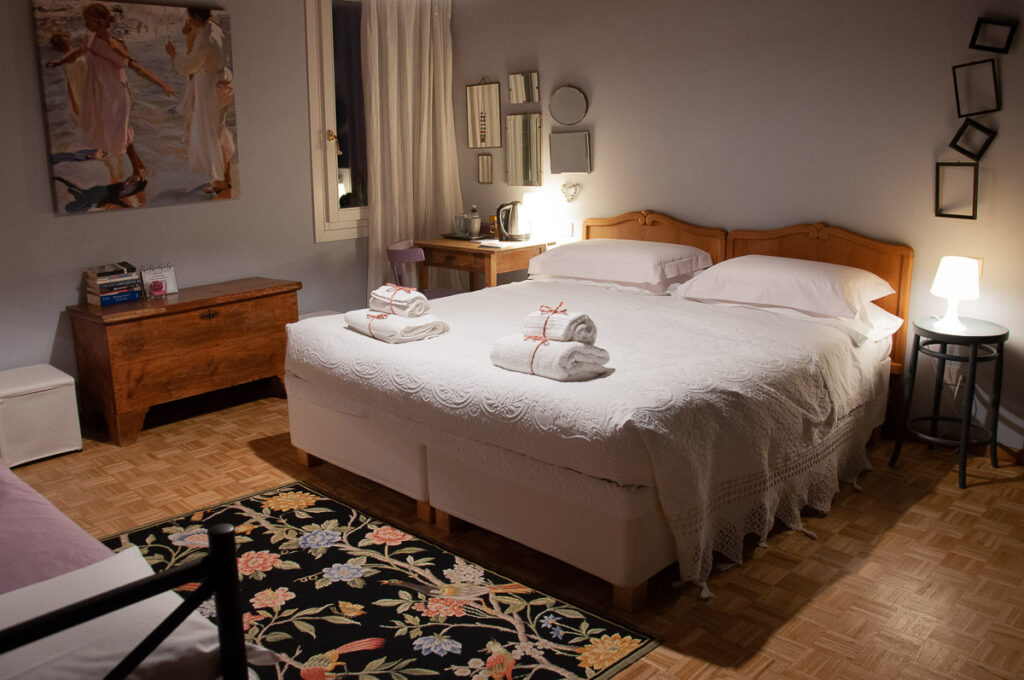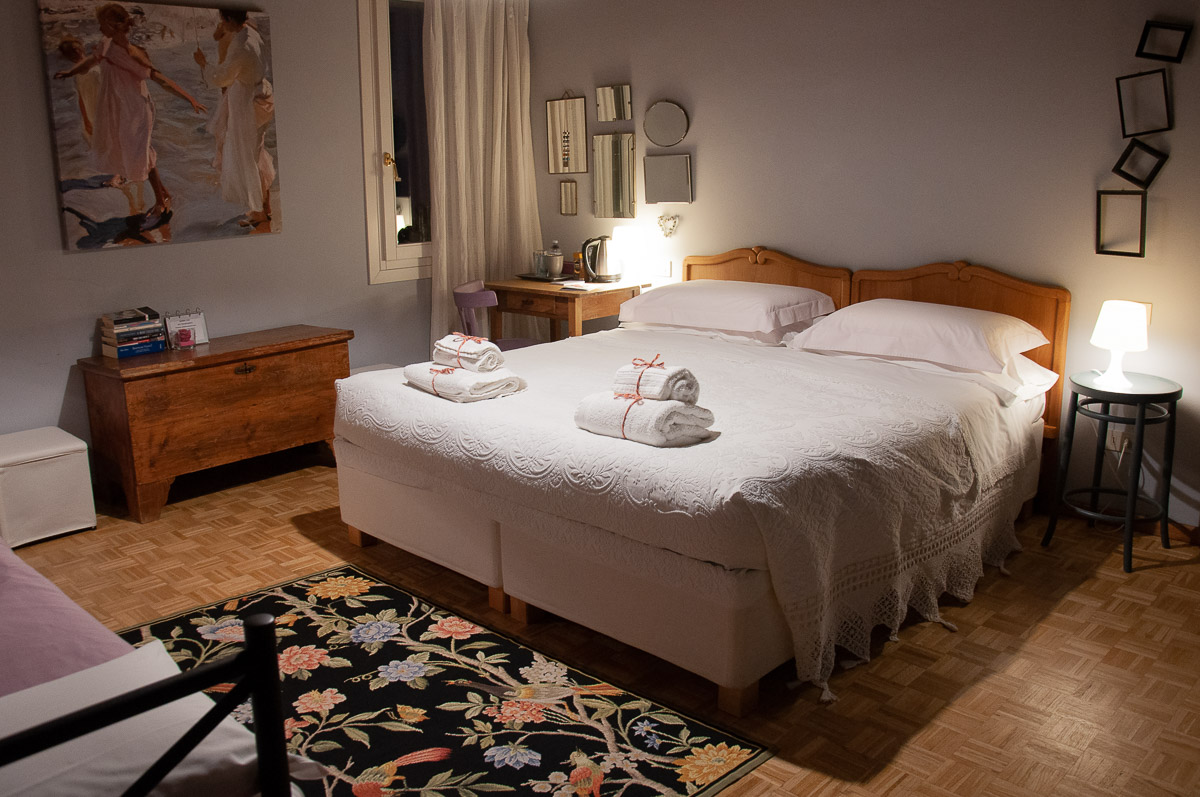 Sure! From first-hand experience, I can recommend the following three places to stay in Vicenza, Italy. All three are centrally located and give you easy access to all the important sights in the city's historic centre.
I loved staying in all three on different occasions and I am only too happy to pass the word along.
Relais Santa Corona – small and exclusive, you will find this stylishly decorated gem right next door to Palazzo Leoni Montanari and up the street from the Church of Santa Corona.
Palazzo Valmarana Braga – stay in a palazzo designed by Andrea Palladio himself. The spacious flats have antique furnishings and fully equipped kitchens.
B&B Portico Rosso – here you will find a true home from home. Gorgeously furnished with antique items and curiosities from Italy and all over the world, this B&B is a delight to stay in. Its owner Lucia is a true connoisseur of Vicenza and will talk you through all the hidden corners and best restaurants to discover in town.
If you prefer to choose a different place for your visit to Vicenza, Italy, then have a look at this map. It gives you a quick visual idea of the many hotels and other forms of accommodation you can book for your stay here:
5. When is a good time to visit Vicenza, Italy?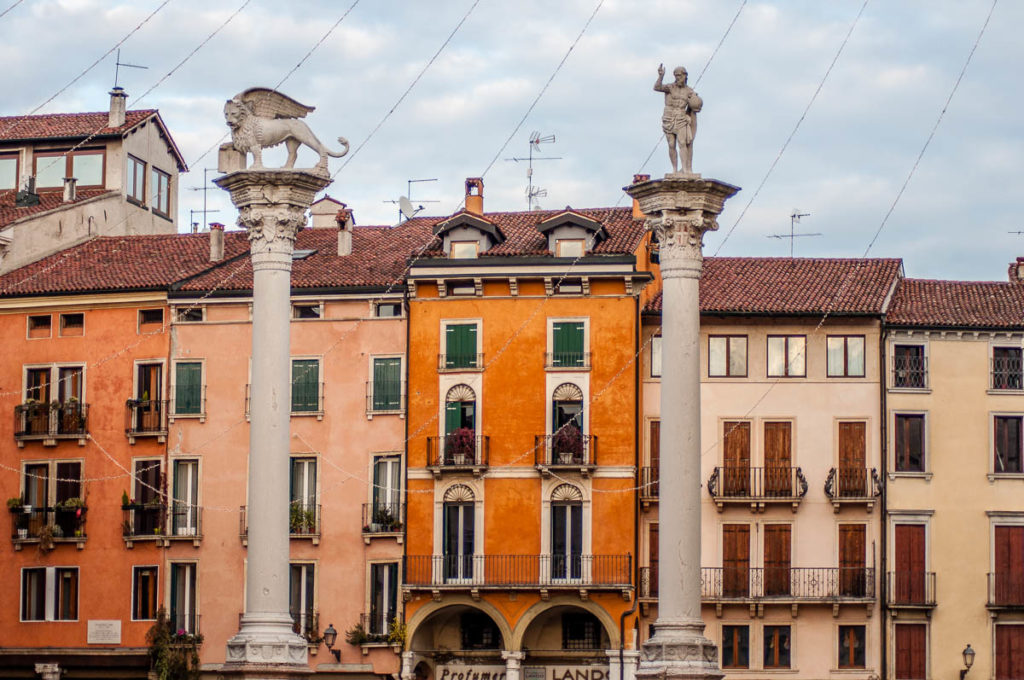 The best time to visit Vicenza, Italy is on a day when a large event is taking place here. It could be an annually held festival, the autumnal chocolate market, the monthly antiques market, the twice-a-week market or a city-centric event like Il Giro della Rua.
On festival and event days, Vicenza is full of verve and it's a pleasure to walk around its historic centre and feel part of it all.
Otherwise, the city is particularly pretty in spring when the magnolia trees and wisterias are in full bloom. In late spring and early summer, many concerts and other cultural events take place here. Come October, the weather usually is nice and warm allowing you to walk outside without a jacket and on some days even in short sleeves. For Christmas, Vicenza dresses in sparkling lights and has a rich calendar of religious celebrations and lay festivities.
6. When is not a good time to visit Vicenza, Italy?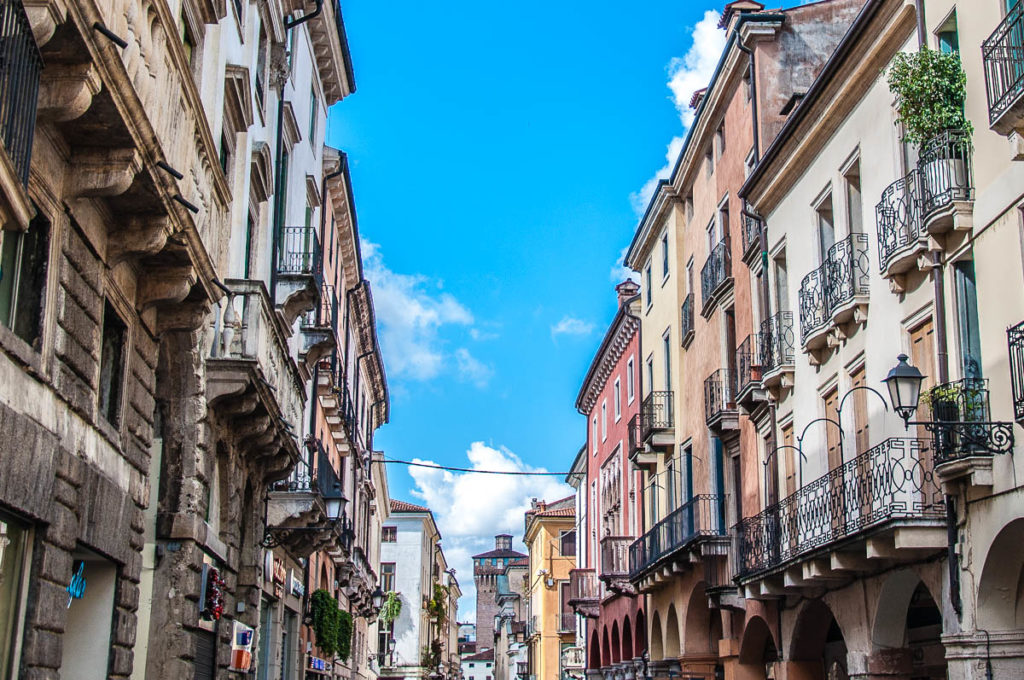 In principle, Mondays are not a good day to visit Vicenza, Italy.
This is the day on which the museums in town remain closed (unless it's a national holiday). Most shops also stay closed in the morning. So, Vicenza is very, very quiet on Mondays.
If you really want to come here and for whatever reason, you can only do it on a Monday, then do come by all means. Just, don't be too disappointed to find things closed. You will still be able to go for a lovely walk and have a nice meal though, so not all is bad.
The month of August is when the Italians, traditionally, take a long summer holiday. Thus, Vicenza becomes a bit of a ghost town. It's hot and humid, many places are closed, there may be some large-scale roadworks and repairs going on, and the mosquitoes are at their most ferocious.
Again, if you can only come here in August, take your chance. At least, make sure that your visit is not on an August Monday.
7. What do I need to know before visiting Vicenza, Italy?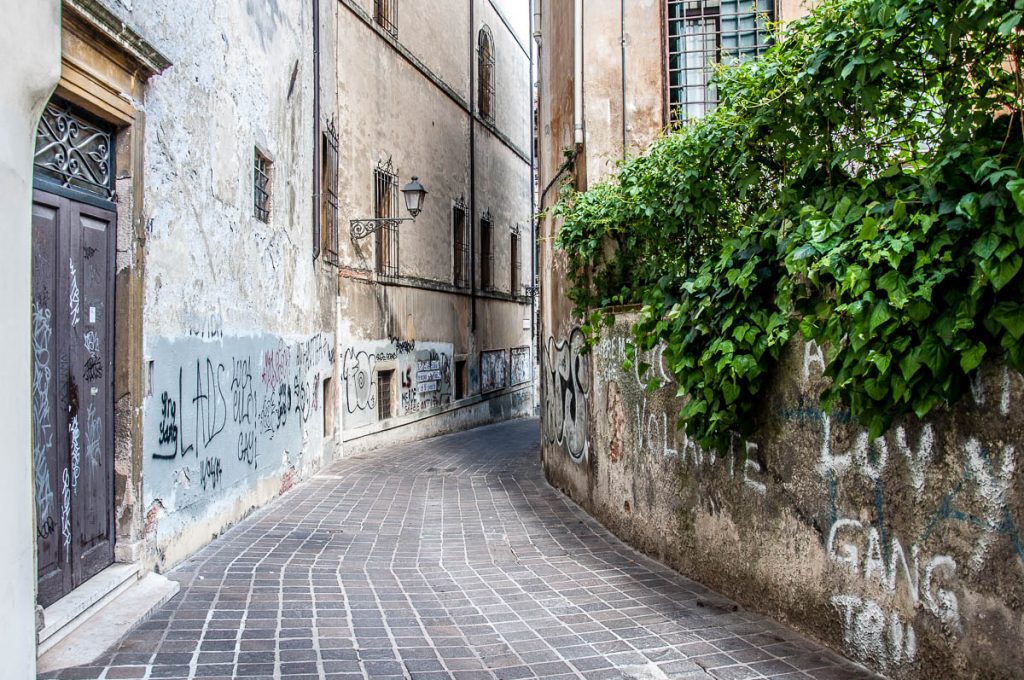 Here are some practical tips to know in advance before organising a visit to Vicenza, Italy:
The city's museums and sights are traditionally closed on Mondays. This doesn't apply if a national holiday falls on a Monday. However, it's always better to call in advance and double-check in order to avoid disappointment.
Vicenza's Tourist Information Office is right next door to Teatro Olimpico. Here you can get up to date information about museums, sights, and events. Also here you can buy Vicenza Museum Card which gives you better rates for the museums and sights you are interested to see during your visit. I have used Vicenza Museum Card several times and have found it to be good value.
Vicenza's train station is very close to the city's historic centre. A few minutes walk in a straight line and you will find yourself at the end of Corso Palladio – Vicenza's elegant main street.
Vicenza's historic centre is generally very easy to navigate on foot and with a buggy/stroller. The historic centre is a limited traffic zone so make sure that you don't drive your vehicle into it (if you don't have a special dispensation). The fine can be steep.
When visiting a church, please, make sure that your shoulders and knees are covered and that, in general, you wear suitable clothing. Also, tourist visits are not allowed in churches when a mass is in progress.
Riposo – the traditional Italian long lunch break – is observed by many places in town (not museums!). Please, plan your visit accordingly. Click here to read more about riposo and how to navigate it successfully.
Many restaurants and eateries are traditionally open for lunch and dinner service and close between both.
Vicenza is generally a safe and sedate place. Still, please, take all the usual precautions you would when visiting a new place. Here are some useful safety tips to keep in mind when travelling solo.
8. What are some great tours and activities to book in Vicenza, Italy?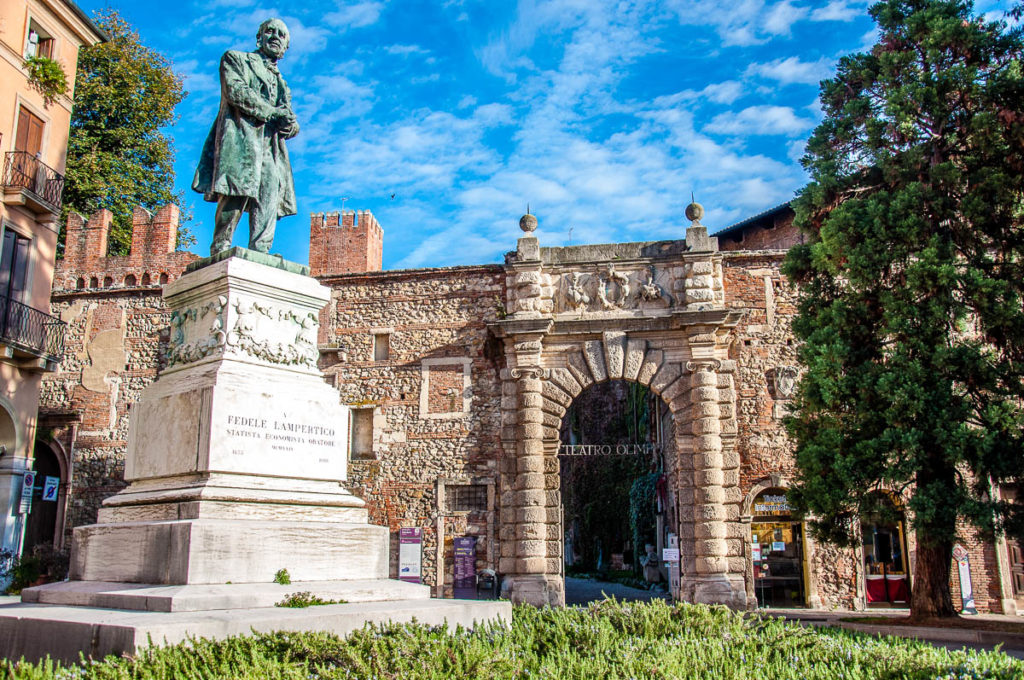 If you enjoy exploring new places with the help of an expert local guide, then booking an organised tour or activity during your time in Vicenza, Italy is a great idea. It will give you a chance to delve in a structured manner into everything that this small Italian city and its surroundings have to offer. From history and art to delicious food and wine, you can experience the best of Vicenza in a short amount of time.
Here are some of the best tours in and around Vicenza to look into and choose from according to your interests, available time, and budget:
9. What nearby cities and towns can I visit from Vicenza, Italy?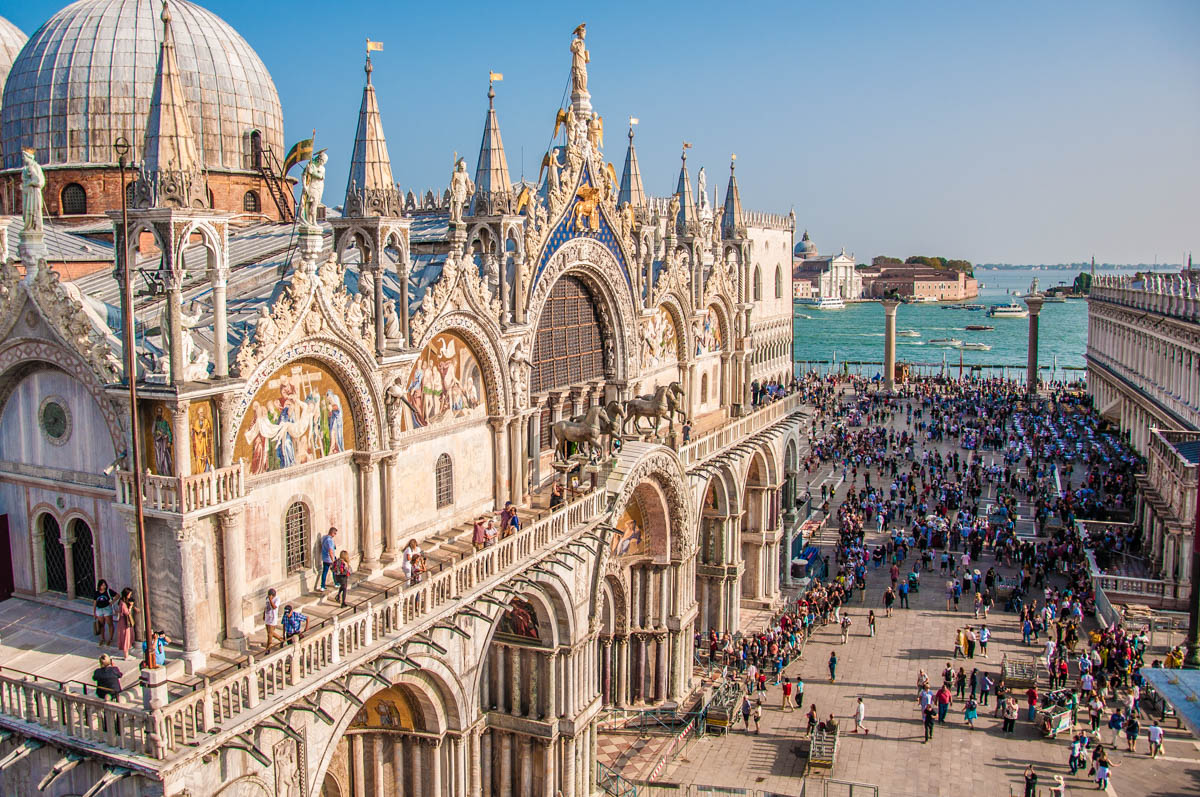 In spite of being off the beaten track, Vicenza is close to many worldwide famous cities and destinations in Italy.
Sandwiched between Venice and Verona, Vicenza is connected to many major Italian cities via high-speed and regional trains, as well as toll highways and provincial roads. The Adriatic Sea and several large sea resorts are about an hour away. For lovers of nature and hiking, the Asiago Plateau is about an hour away and the Dolomites are less than two hours away from Vicenza. Italy's largest lake – Lago di Garda – is about an hour away by car and you can get there even faster by high-speed train.
You can easily visit Vicenza for a day from several larger Italian cities like Milan, Brescia, Verona, Venice, Padua, Ferrara, and Bologna. Or, you can pick Vicenza as a base in Italy and then explore at your leisure not only the well-known destinations that are near it but also many hidden corners and little-known gems like medieval walled towns, areas of natural beauty, Venetian villas, and spa towns.
Have a look at this detailed blog post listing dozens of day trips from Vicenza. Travel times, train tips and lots of photos are provided, too. For even more information, scroll down to the cluster of helpful links right at the end of this blog post.
In Conclusion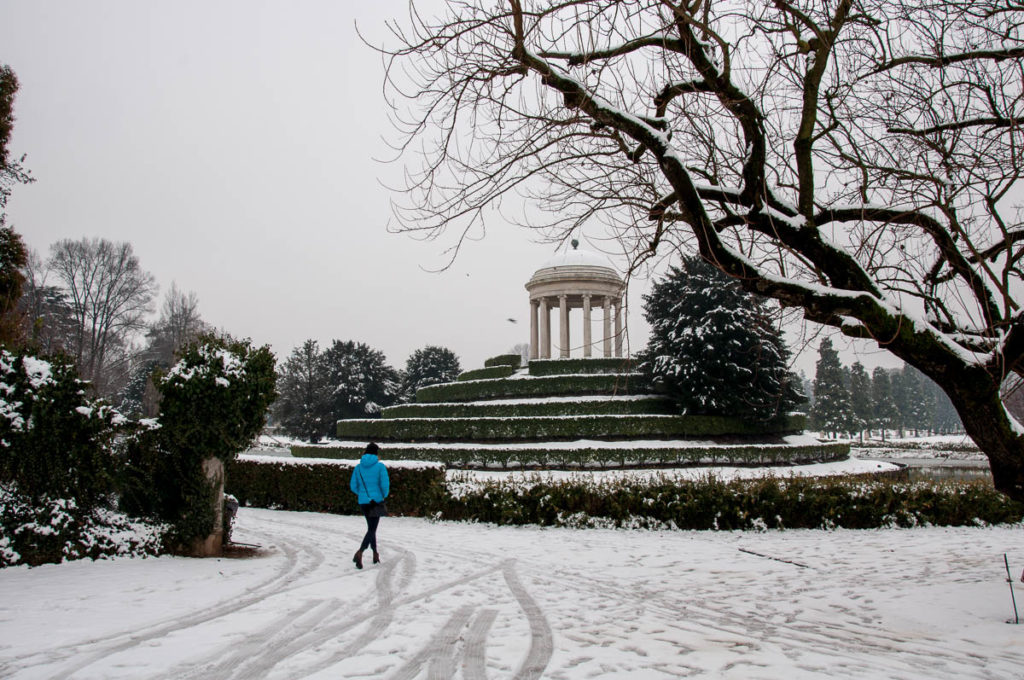 Vicenza is a small city in the Northern Italian region of Veneto.
Often overlooked for the nearby tourist magnets of Venice and Verona, nevertheless, Vicenza has many sights and attractions to fill up a day trip or a longer visit with great experiences and unforgettable memories.
The city's Roman roots go back to the 2nd century BC. Its beautiful historic centre was then shaped during the Middle Ages and the Italian Renaissance.
Nowadays, Vicenza has many exciting museums, one of Italy's most important Sanctuaries dedicated to the Virgin Mary, lots of lively events, and even its own local dish with an international background.
In this blog post, I share with you the best things to do in Vicenza, Italy. All the detailed information and first-hand tried and tested practical tips are based on my six years spent living in this small Northern Italian city. I hope that this in-depth guide will be of indispensable help to you during your own explorations.
Enjoy discovering the major landmarks and the hidden gems of this beautiful corner of Italy!
Have a wonderful time in Vicenza!
Now, get ready quick for your visit to Vicenza, Italy!

More Helpful Veneto Info for You
Veneto: Best Cities to Visit, Top Places to Visit, Unique Adventures, Most Colourful Places, Mysterious Places, Best Lakes to Visit, Reasons to Visit
Veneto's Small Towns and Villages: Prettiest Small Towns, Most Beautiful Villages, Malcesine, Torri del Benaco, Punta di San Vigilio, Campo di Brenzone
Venice: Major Landmarks, Essential Tips, Hidden Gems, One Day Itinerary for Art Lovers, Nearest Airports, Boats in Venice, Haunted Venice, Day Trips from Venice, Arco del Paradiso
Verona: Things to Do in One Day, Day Trips from Verona
Padua: Things to Do in One Day, 101 Facts About Padua, 10 Reasons to Visit Padua, Day Trips from Padua
Vicenza: The Beauty of Vicenza, Must-See Museums, Day Trips from Vicenza, Historic Pasticceria Soraru, Nearby Beauty Spots, Lake Fimon, Hanging Gardens
Hiking in Veneto: Cadini del Brenton and Cascate della Soffia, Lake Garda's Tibetan Bridge, Rocca di Garda, Dante's Hill, Grotta Azzurra di Mel, Family-Friendly Walks and Hikes, Sanctuary of Madonna della Corona
More Helpful Italy Info for You
Best of Italy: Italy Gift Guide, Italian Piazzas, Italian Markets
Italian Food: Best Italian Food Gifts, Cheap Italian Food, Rules of Italian Breakfast, Italian Breakfast Foods
Italian Coffee: Italian Coffee Culture, Italian Coffee Drinks, History of Coffee in Italy
Northern Italy: Best Cities to Visit, Major Airports
Lake Garda: Best Towns, Nearest Airports, Travel Options, Lake Garda with Kids, Malcesine, Riva del Garda, Torri del Benaco
Lake Como: Things to See, Nesso
Friuli Venezia Giulia: Venzone, Most Beautiful Villages
Emilia Romagna: Bologna, Ravenna, Comacchio, Most Beautiful Villages
Marche: Reasons to Visit, Gradara, Frasassi Caves, Temple of Valadier
Thank you for reading! Please, leave me a comment, pin the images below or use the buttons right at the top and at the end of this blog post to share it on social media.
For more useful information like this, please, like my blog's page on Facebook and subscribe to my strictly no-spam newsletter.