Dedicating a day to explore the museums in Vicenza, Italy is time well-spent.
Their rich and eclectic collections will introduce you to beautiful works of art, important historic artefacts, priceless jewels, and splendid designs.
Plus, one of Vicenza's museums is dedicated entirely to Andrea Palladio – the creator of the Palladian architectural style and one of the most influential architects in the Western world for the past 500 years.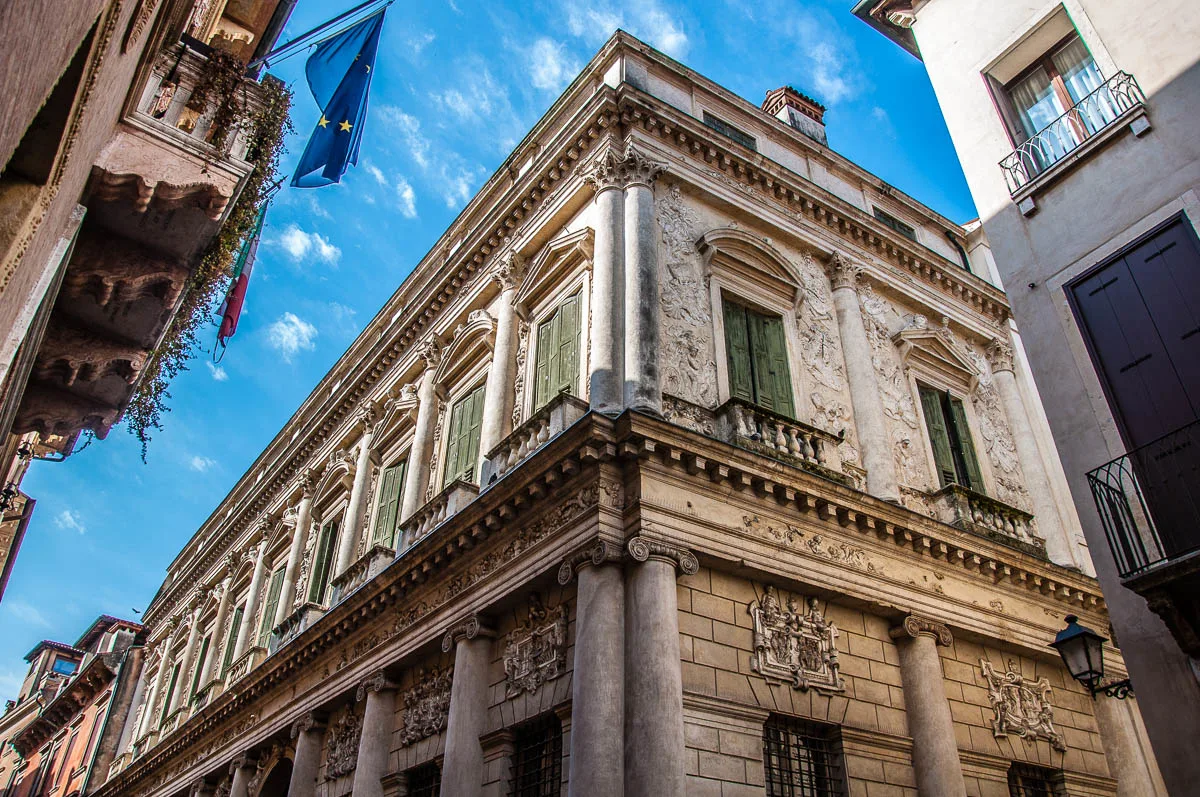 Vicenza is a small city in Northern Italy. It makes for a great trip from the nearby tourist magnets of Venice, Verona, and Padua. Standing firmly off the beaten track, Vicenza is easy to navigate on foot and you don't have to battle large tourist crowds here to see everything that needs to be seen.
If you are interested to explore Vicenza in-depth, please, have a look at this blog post:
In addition, in this blog post today, I want to introduce you specifically to the ten best museums in Vicenza, Italy and the most important things you can see in each one of them. From Roman artefacts to Renaissance paintings, from the world's oldest theatre stage set to cannons used during the First Italian War of Independence, the breadth of history, art, and artefacts you can see in Vicenza is truly impressive.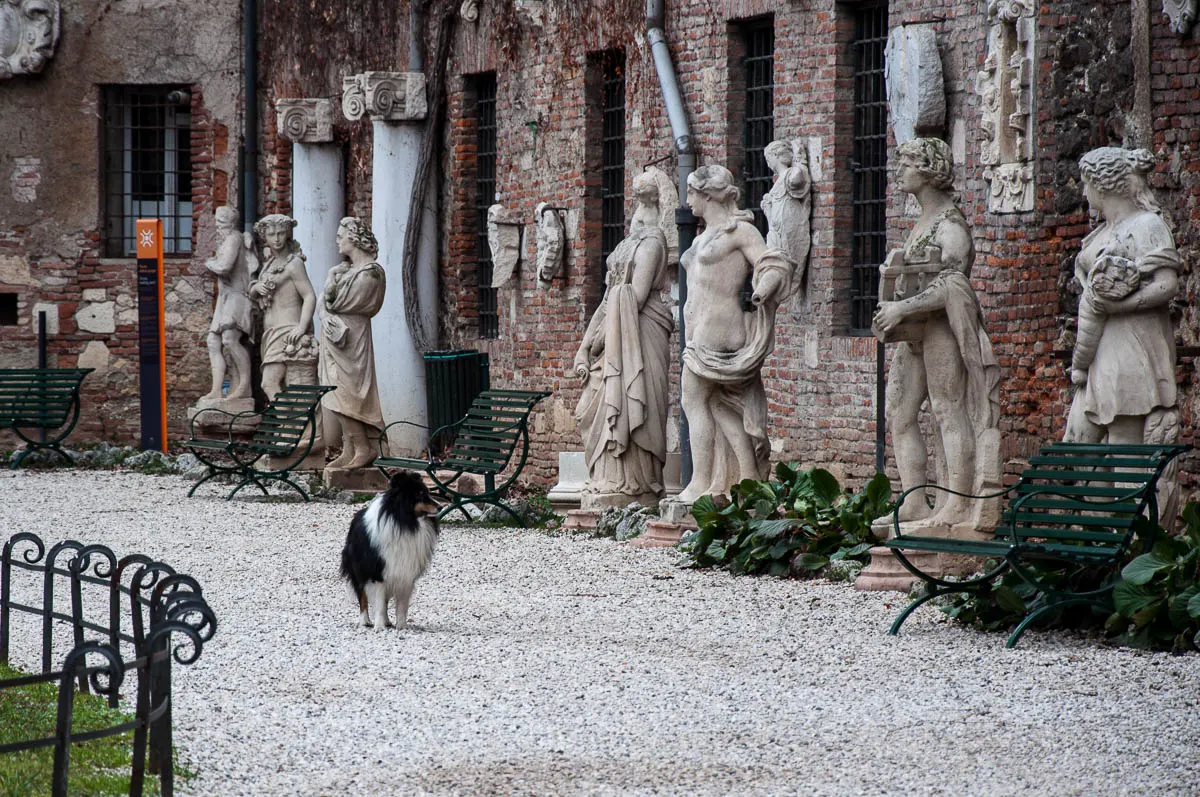 The ten museums are listed according to their location in Vicenza. This way, if you want to see them all over a day or two, you can easily walk from one museum to the next in the exact sequence given below instead of constantly zigzagging around the city's historic centre.
In addition, at the end of this blog post, I have included some practical tips to help you organise your visits to the museums in Vicenza in the most efficient and cost-effective way.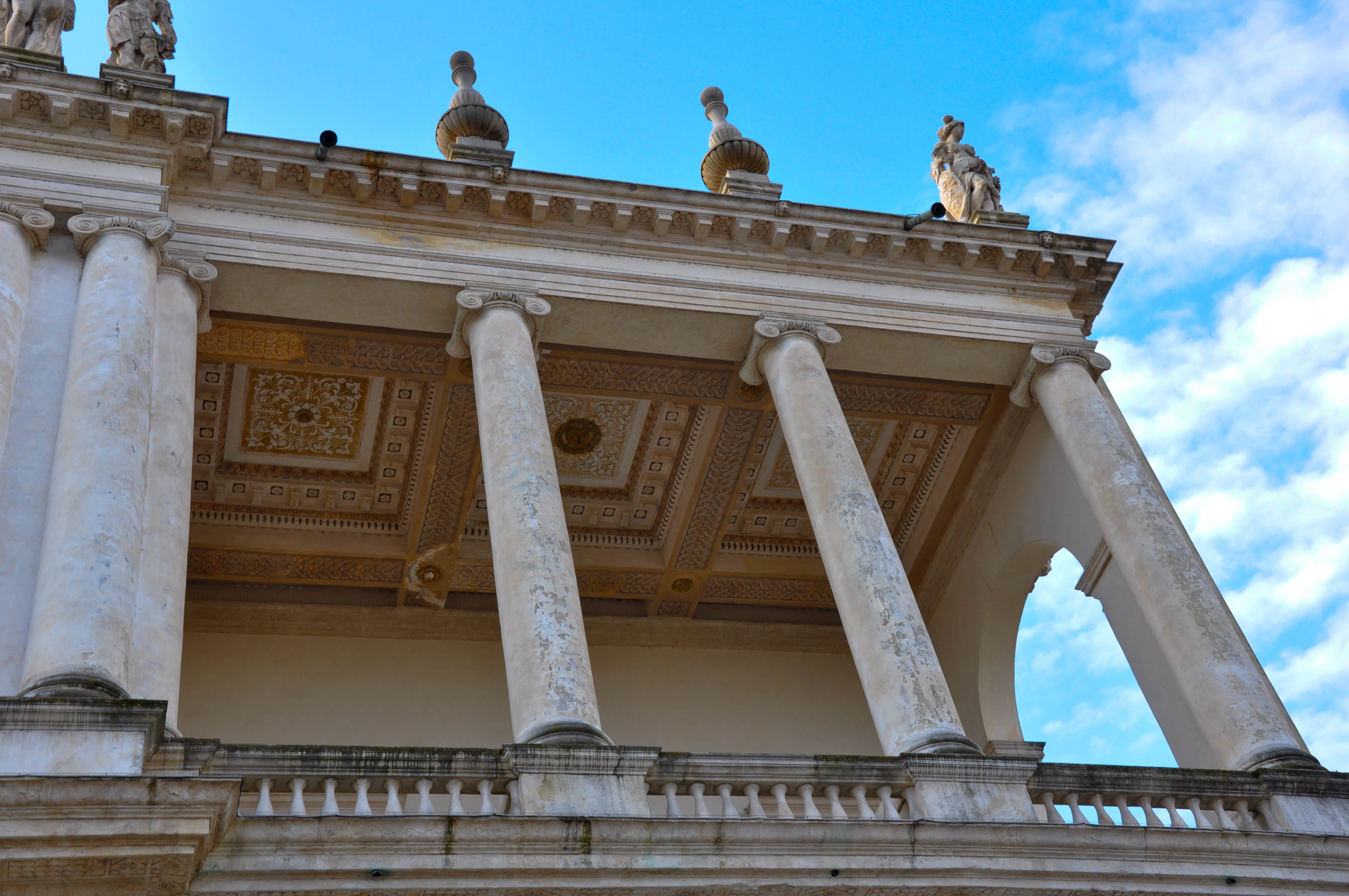 During my six years of living in Vicenza, Italy, I loved exploring the city's museums and discovering the stories that the artefacts in them tell. Now, I want to share with you what I've learned so as to inspire you to see Vicenza and its museums for yourself.
Let's start!
10 Must-See Museums in Vicenza, Italy (With Map and Travel Tips)
1. Teatro Olimpico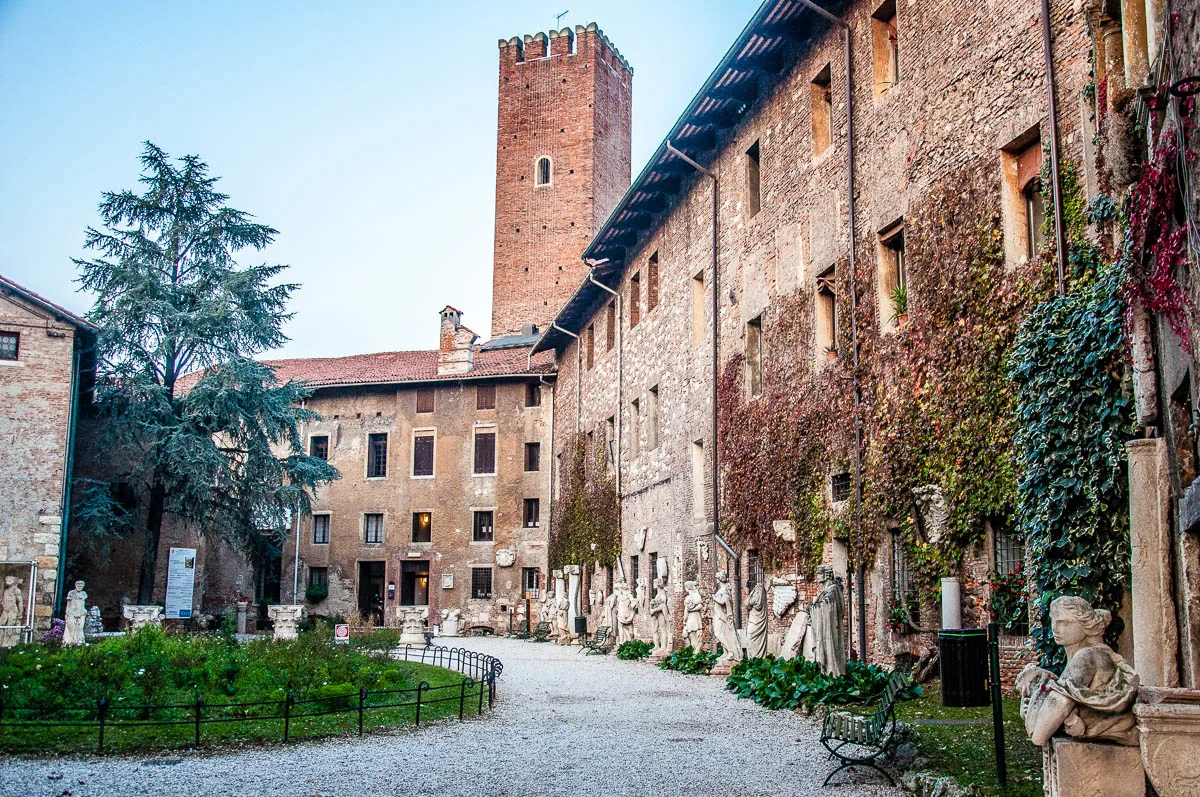 Vicenza's Teatro Olimpico is the world's first indoor theatre in masonry. Coincidentally, it also has the world's oldest surviving stage set. If you love architecture, history, theatre, and art or if you simply want to see something beautiful and unique, make sure that you put Teatro Olimpico at the top of your Vicenza bucket list.
You will find Teatro Olimpico at the start of Vicenza's high street – the elegant Corso Palladio. You can easily reach it either via a short bus ride from Vicenza's train station or a lovely walk across the city's historic centre. Right next to Teatro Olimpico you will also find Vicenza's Tourist Information Office. Plus, all other museums on this list (save for one) are a few steps away.
One of the two most important sights in Vicenza (the other being the Basilica Palladiana, point 7 below), Teatro Olimpico is not strictly a museum in the sense that there are no displays with artefacts to look at there. However, the building as a whole is a living museum of architecture, theatre, music, and the arts.
Here is what you can see there:
Courtyard – a pretty green corner populated by ancient-looking (but actually made in the 19th century) statues. They were brought there from another theatre in Vicenza – Teatro Verdi – which had been destroyed during the Second World War's bombings of the city. Teatro Olimpico's courtyard is a lovely place to sit in for a few minutes on a warm day, especially when the pink hydrangeas there are in bloom.
Odeo and Antiodeo Rooms – covered with frescoes and with intricate wooden ceilings, these spacious rooms prepare your senses for the overwhelming effect of the theatre hall with its elliptical auditorium and trompe-l'oeil stage set.
Elliptical Auditorium – sit on the ancient wooden steps and let your eyes travel over the richly decorated surfaces, numerous statues, and lavish ornamentation. You will be amazed! Especially when you find out that everything here – although it looks like marble and stone – was made of stucco, gesso, and plaster.
Stage Set – created by the architect Vincenzo Scamozzi, it represents an idealised vision of the Ancient Greek city of Thebes. Originally meant to be used just once for the inaugural performance of Sophocles' Oedipus Rex in 1585, in fact, the stage set was never taken down. Nowadays, it's the world's oldest stage set still in use.
My Favourite Display/Artefact Here: I loved Teatro Olimpico's stage set! I could look at it for hours. It is so incredibly detailed. I ended up seeing new things each time that I visited. It's a dream of mine (one of those dreams that most probably will never come true) to actually be able to get close to it. As it is very old and very fragile, they don't allow people up there though.
The clever use of perspective and the stunning trompe-l'oeil effect makes it seem like the streets of Thebes disappear far away in the distance. The houses get smaller and smaller the further away they are from the front of the stage. It all looks very realistic.
Time to Spend Here: 30 mins.
More Information:
2. Civic Art Gallery of Palazzo Chiericati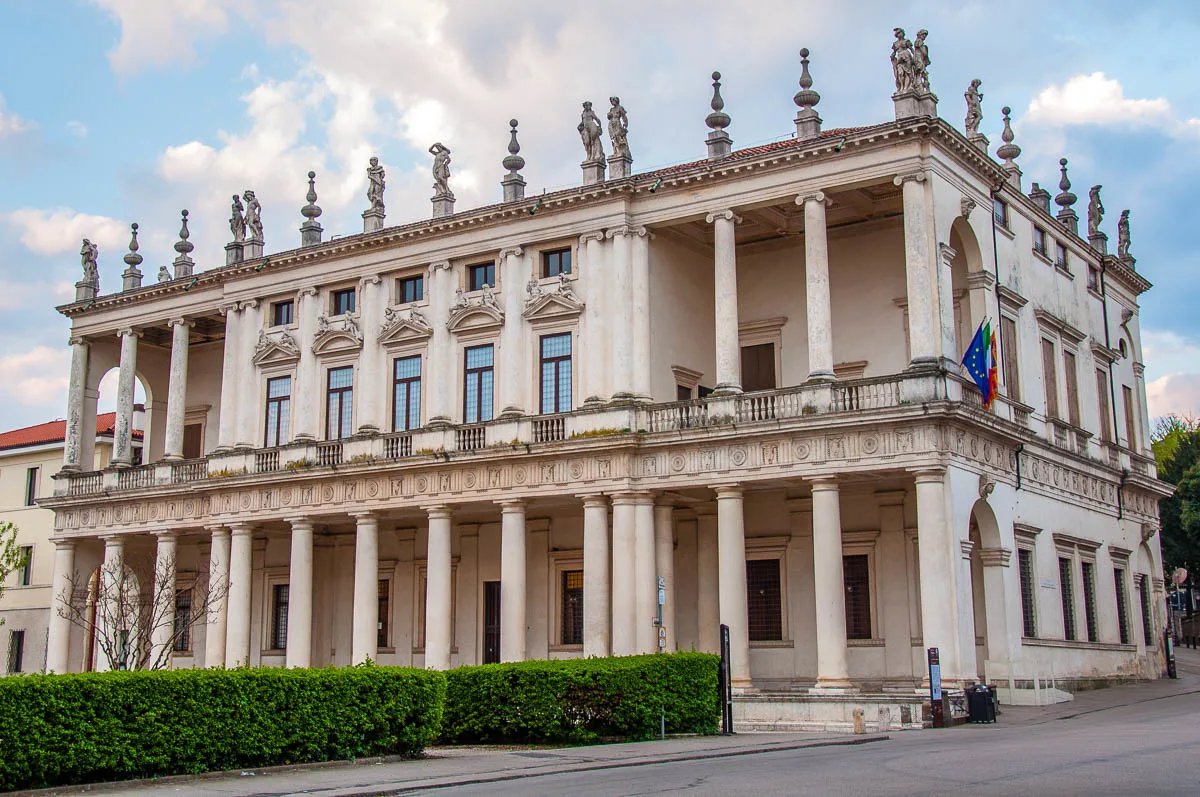 Vicenza's Palazzo Chiericati is a splendid palace that was built between the 16th and the 17th centuries. It was designed by the famous architect Andrea Palladio and it's just across the street from Teatro Olimpico (see point 1 above). With its elegant loggias and a row of statues crowning its symmetrical facade, Palazzo Chiericati is one of the most striking buildings you can see in Vicenza, Italy.
Originally built for one of Vicenza's most noble families – the Chiericati – the city's council bought the palace in 1839 to house Vicenza's civic art collections. After two decades of internal modifications and restructuring, the palace opened its doors as a museum on 18th August 1855.
Nowadays, the Civic Art Gallery of Palazzo Chiericati showcases Vicenza's rich collections of paintings, sculptures, and applied arts from the 13th to the 20th centuries. Here you can marvel at originals by Veronese, Tintoretto, and Tiepolo and also discover a host of beautiful works of art by lesser-known yet sublimely expressive Venetian and international artists.
The Civic Art Gallery of Palazzo Chiericati has five floors with the visit starting from the ground floor. Here is what you can see on each floor in this museum in Vicenza:
Ground Floor – beautifully frescoed ceilings in addition to a large room with paintings showing Vicenza and its dignitaries during the 16th and the 17th centuries when the city experienced a rapid economic rise as part of the Republic of Venice.
First Floor – here you can trace the development of the Venetian school of painting between the 13th and the 16th centuries. Originals by the likes of Paolo Veneziano, Cima da Conegliano, and Veronese are proudly displayed on this floor.
Second Floor – explore some of the best works of art of the Venetian school of painting from the 16th century onwards. Expect originals by Veronese, Jacopo da Ponte (known as Jacopo da Bassano), and Tintoretto. A special mention deserve the rock crystal carvings by Valerio Belli – a famous engraver of hardstones and gems. Born in Vicenza, Belli worked in the papal court in Rome.
Attic – climb up the steps to Palazzo Chiericati's nicely appointed attic to see the private collection of Marquess Giuseppe Roi. Paintings, drawings, and engravings from the 15th to the 20th centuries are exhibited here. The three attic rooms are furnished with elegant pieces of furniture and photos of royals and celebrities hang on the walls. Walking around feels very much like being in a flat that is still being lived in and the owner will walk back in at any minute.
Underground Floor – temporary exhibitions and events take place here. As you walk around, look at the floor and you will see the carefully preserved remains of the houses that existed at that spot in the 14th and the 15th centuries.
My Favourite Display/Artefact Here: I have spent many pleasant moments in Palazzo Chiericati during my time in Vicenza. Sometimes, I would walk from room to room stopping in front of every single painting and reading all the information provided on the museum displays. Other times, I would head to a particular painting and spend a long time trying to decipher its secrets.
For example, one of my favourite paintings there was by an artist called Marcello Fogolino. It showed St. Francis in front of Vicenza's Basilica Palladiana (see point 7 below). If you looked closely, you could see that this most iconic for the city building was depicted as it had looked during the Middle Ages, long before it was restructured into a Renaissance Palladian masterpiece. I found this historic reference hidden in a painting quite amazing!
In addition, one of my favourite rooms in the Civic Art Gallery of Palazzo Chiericati was the one with the large canvasses from the altars of the Church of St. Bartholomew. The church had been part of a 13th-century monastery. When in the 18th century the monastery was converted into Vicenza's hospital, the large altarpieces were transferred for safekeeping to Palazzo Chiericati.
Time to Spend Here: At least an hour.
More Information:
3. Gallerie d'Italia, Palazzo Leoni-Montanari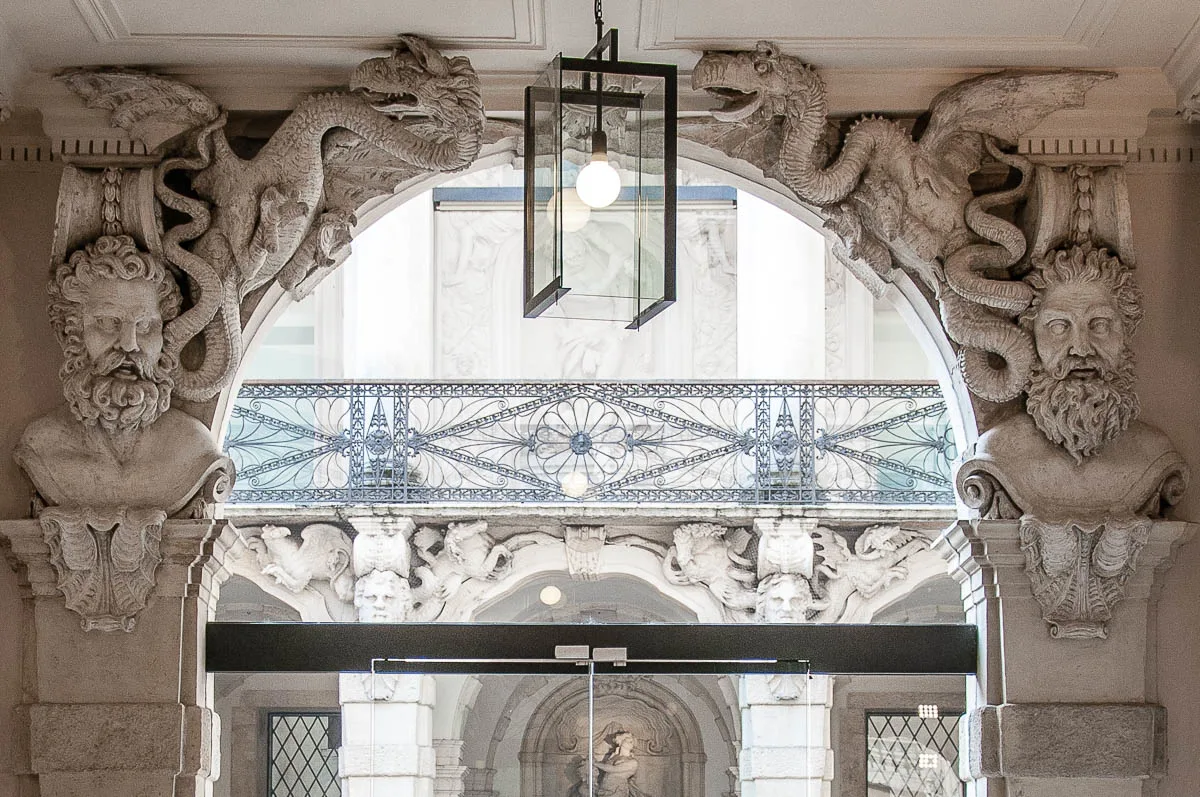 Vicenza's Palazzo Leoni Montanari is a lavish Baroque building. It takes your breath away with its whimsical stucco decorations and a row of statues right on the edge of its rooftop. You will find it tucked away in a quiet side street just off Vicenza's main artery – Corso Palladio. It is a short walk away from Teatro Olimpico (see point 1 above) and Palazzo Chiericati (see point 2 above).
Palazzo Leoni-Montanari houses the eclectic art collections of the Vicenza's branch of Gallerie d'Italia – a museum that also has branches in Milan and Naples. From Ancient Greek pottery to 18th-century Venetian masterpieces, from Western Europe's largest collection of Russian religious art to exciting temporary exhibitions, the museum is a delight to explore.
Plus, the palace itself is simply stunning with its incredibly ornate ceilings, frescoed walls, and Murano glass chandeliers. Often, you wouldn't know what to look at first – the actual works of art or the lavish architectural setting.
The Gallerie d'Italia at Palazzo Leoni-Montanari has three floors with the visit starting from the ground floor. While it often holds temporary exhibitions of great interest, here are the permanent collections you can admire in this museum in Vicenza:
Ancient Greek Ceramics – an important collection with over 500 artefacts.
18th-century Venetian Art – by the likes of Canaletto, Pietro Longhi, and Francesco Guardi. A must-see for the lover of the Venetian school of painting.
Russian Icons – the most important collection of Russian icons in Western Europe. The icons are really beautiful and open new horizons for your appreciation of religious art.
My Favourite Display/Artefact Here: My most favourite masterpiece in the Gallerie d'Italia in Palazzo Leoni Montanari in Vicenza is the sculpture called The Fall of the Rebel Angels. Carved from a single piece of Carrara marble it features 60 figures of angels and demons engaged in a ferocious fight. There are some dragons, too.
The sculpture is the work of Agostino Fasolato – a sculptor from Padua. It's truly spellbinding! I loved spending time seeing it from all possible angles and admiring the perfect composition of tangled bodies, wings, and tails.
Otherwise, the palace and the gallery as a whole are truly lovely. In a small compact size, you can travel through many different eras of artistic expression under the most lavishly stuccoed ceilings this side of Italy.
Time to Spend Here: About 45-60 mins.
More Information:
4. Natural History and Archaeological Museum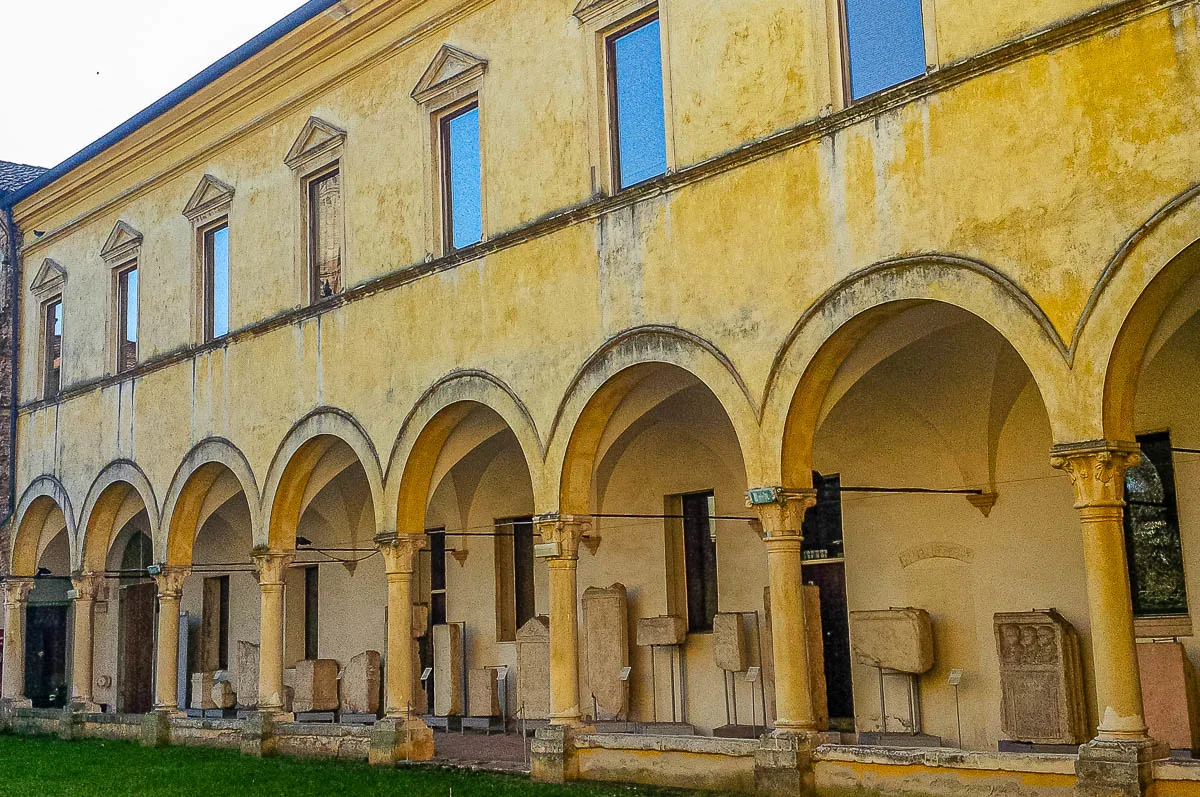 Vicenza's Natural History and Archaeological Museum is housed in a bright yellow building which is part of a former monastic complex. You will see it right past the Church of Santa Corona as you are walking up the street for your visit to the Gallerie d'Italia in Palazzo Leoni-Montanari (see point 3 above).
With archaeological artefacts organised on the ground floor and natural history displays on the first floor, the museum is quick to walk around. Small and tidy, the Natural History and Archaeological Museum is a great place to learn about the ancient history of Vicenza – from the Veneti tribes who inhabited those lands a number of millennia ago to the Romans who settled the city and gave it the name Vicetia.
Here are some of the most interesting things to see in this museum in Vicenza:
Remains from Teatro Berga – Vicenza's now defunct Roman amphitheatre which was built in the 1st century BC and was used as a theatre until the 3rd century AD. Then, in the Middle Ages, Teatro Berga became a prison. After falling into ruin, it was replaced with residential buildings in the 17th century. The buildings follow the outline of the theatre and seen from above they create a perfect half circular shape.
Other Roman Remains – Statues from Rome and the Caracalla Terme in addition to funerary stele and Roman mosaics from Vicenza.
Venetic Inscriptions – the Veneti were an ancient Iron Age tribe with its own script and advanced culture.
Natural History Section – expect taxidermied animals coupled with displays about the Colli Berici (the group of hills at the foot of which Vicenza stands) and Lake Fimon (a small lake a short drive away from Vicenza). The detailed information throws light on the local ecosystems and biodiversity.
My Favourite Display/Artefact Here: I loved seeing the Venetic inscriptions here. They are a bit hidden though. You need to walk through the museum, around the former monastic cloister and then, through a door at the end of the cloister, enter the museum's last rooms. The Venetic displays are worth this little foray.
Another thing I found of interest here was that from the former cloister you can see the buildings attached to the Church of Santa Corona. Together with the museum building, they were once part of a monastic complex and suffered badly during the bombardments of the Second World War. We were told that the crates which can be seen on the buildings' balconies contain debris from these bombardments.
Time to Spend Here: 30 mins.
More Information:
5. Lapidarium of Ca' d'Oro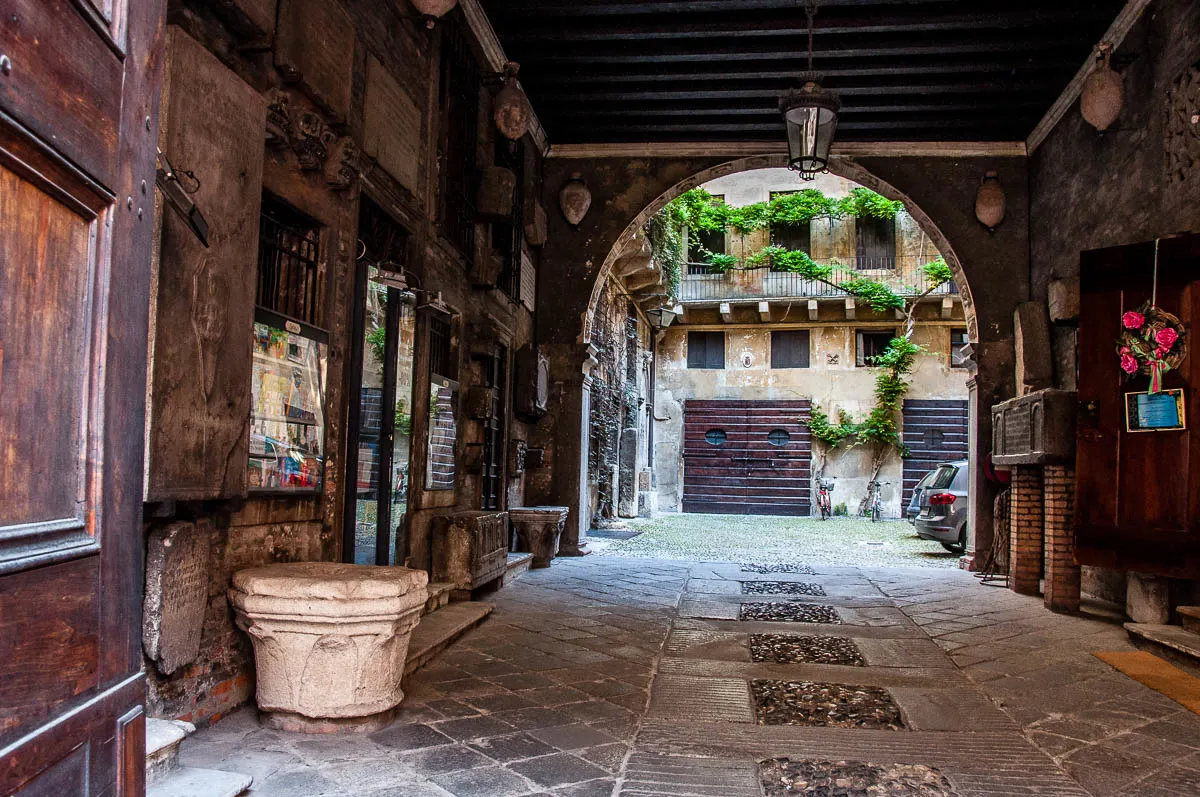 Vicenza's Ca' d'Oro (also known as Palazzo da Schio) is a splendid Gothic palace with a richly decorated facade. You will find it sitting prettily on Vicenza's main street – the elegant Corso Palladio – where it attracts the admiring glances of the city's locals and visitors.
Less than five minutes away on foot from the Natural History and Archaeological Museum (see point 4 above), Ca' d'Oro is not a museum per se but it holds a great number of archaeological artefacts. They were collected by Giovanni da Schio – an 18th-century count who wanted to preserve and promote the rich heritage of Vicenza and its surroundings.
You can walk off the street into the lovely atrium of Ca' d'Oro free of charge to admire the collection of Venetic inscriptions, funerary stele, ancient pillars, and other stones of archaeological value. A screen inside the atrium shows a video on loop providing more information about the collection.
Count Giovanni da Schio's dream was to open a whole museum. While this didn't come to fruition, his Lapidarium to this day is one of the most curious and interesting places to see in Vicenza.
The Count's descendants very occasionally organise guided tours of the Lapidarium where they tell the stories of the archaeological artefacts and explain the meaning of the many decorative elements on the facade of Ca' d'Oro. It's a great way to learn more about this fascinating palace and the larger-than-life personality of Count da Schio.
My Favourite Display/Artefact Here: I loved the large stela with a two-tailed mermaid chiselled on it. It's on your left-hand side when you enter Ca' d'Oro's atrium and it is a bit difficult to spot at first in the dim light. I have long been interested in images of two-tailed mermaids (called Melusine) and to come across one in the centre of Vicenza felt really special to me.
Time to Spend Here: 10-15 mins.
More Information:
6. Palladio Museum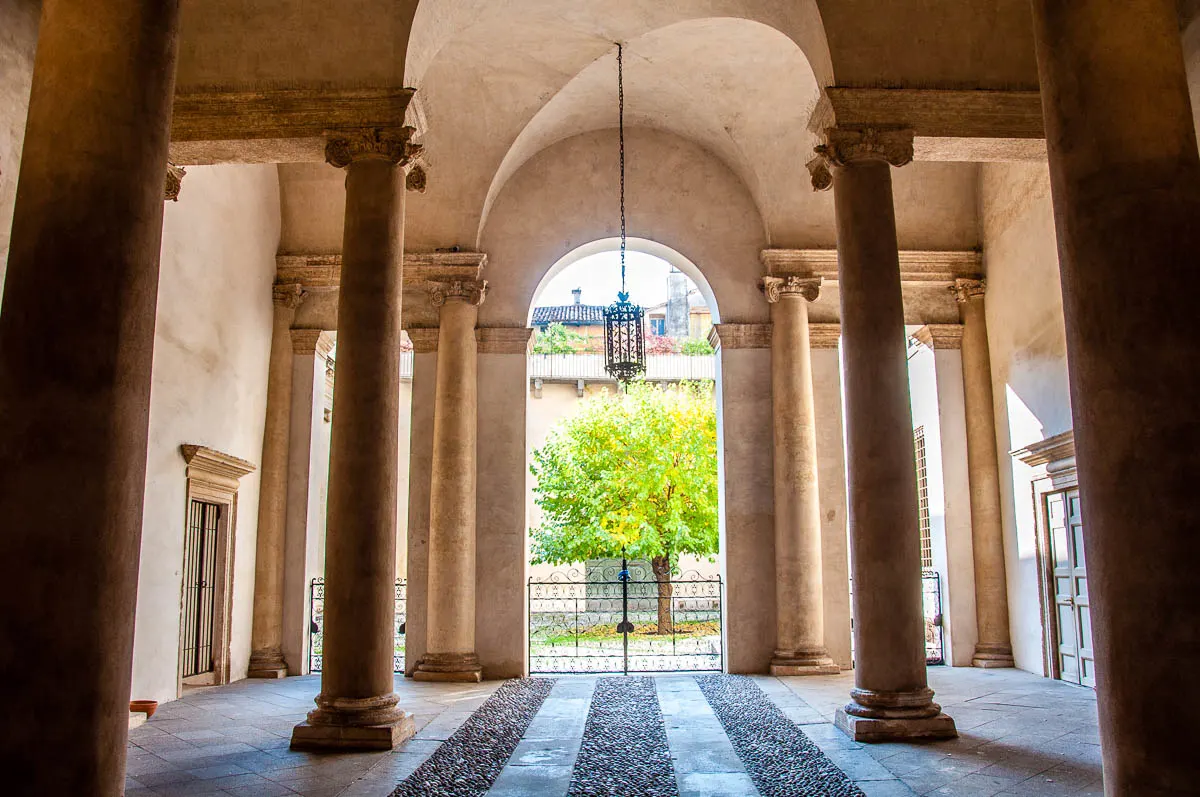 Vicenza's Palladio Museum tells the story of Andrea Palladio – one of the most eminent architects of the Western World and the creator of the Palladian architectural style. Born in the nearby city of Padua, Palladio spent many years working and living in Vicenza where he designed and built 23 palaces and villas in and around the city. In fact, it is due to Palladio's architectural heritage that Vicenza was inscribed as a UNESCO World Heritage Site in 1994.
The museum introduces you in an easy-to-follow and pleasant way to Palladio's legacy. It is housed in the lavish Palazzo Barbaran da Porto which was designed by Palladio himself. You will find this large palace with an intricately decorated facade in a small side street off Corso Palladio. It is just around the corner from Ca' d'Oro (see point 5 above).
The Palladio Museum is an excellent and innovative space which collaborates with the most important figures in architecture today. Even a short visit to it gives you a chance to learn a lot. Here are some of the most interesting things to see in this museum in Vicenza:
Palladio's treatise 'The Four Books on Architecture' – one of the most influential works on architecture in the world. It has been studied and faithfully followed by architects for centuries. For example, Palladio's designs and writings were a great font of inspiration for many important buildings in the United States. Thomas Jefferson – a Founding Father and the third president of the USA as well as an architect and a polymath – was a dedicated follower of Palladio and referred to Palladio's designs and writings as 'his architectural Bible'.
Detailed Models of Palladio's buildings in Vicenza and the Veneto – giving you a quick and clear overview of Palladio's body of architectural work. This way, if you don't have the ability to visit all of his buildings and villas (and there are dozens of them), you can get a good idea of their design and stylistic values.
Palladio's Timeline – so that you can learn more about the life of Palladio and the historical and artistic context in which he worked.
A Host of Temporary Exhibitions – regularly held throughout the year, they make a visit to this museum in Vicenza even more worthwhile.
My Favourite Display/Artefact Here: I love the mulberry tree which grows in the museum's courtyard. There is a small label attached to it. If you stop and read it you will find that the humble mulberry leaves were the reason why the merchant and noble families of Vicenza were able to commission so many splendid palaces and buildings during the Renaissance.
At the time, silk fabrics were highly sought after and the citizens of Vicenza started growing silkworms in order to develop a lucrative textile industry. And what do silkworms love to munch on? Mulberry leaves! The large amounts of money earned from the silk trade were then invested in the construction of lavish palaces and villas. Palladio's patrons sought to elevate their social status by commissioning buildings inspired by the Ancient Greco-Roman architecture to show how cultured and refined they were and at the same time to bring glory to their city.
Time to Spend Here: 45 mins.
More Information:
7. Basilica Palladiana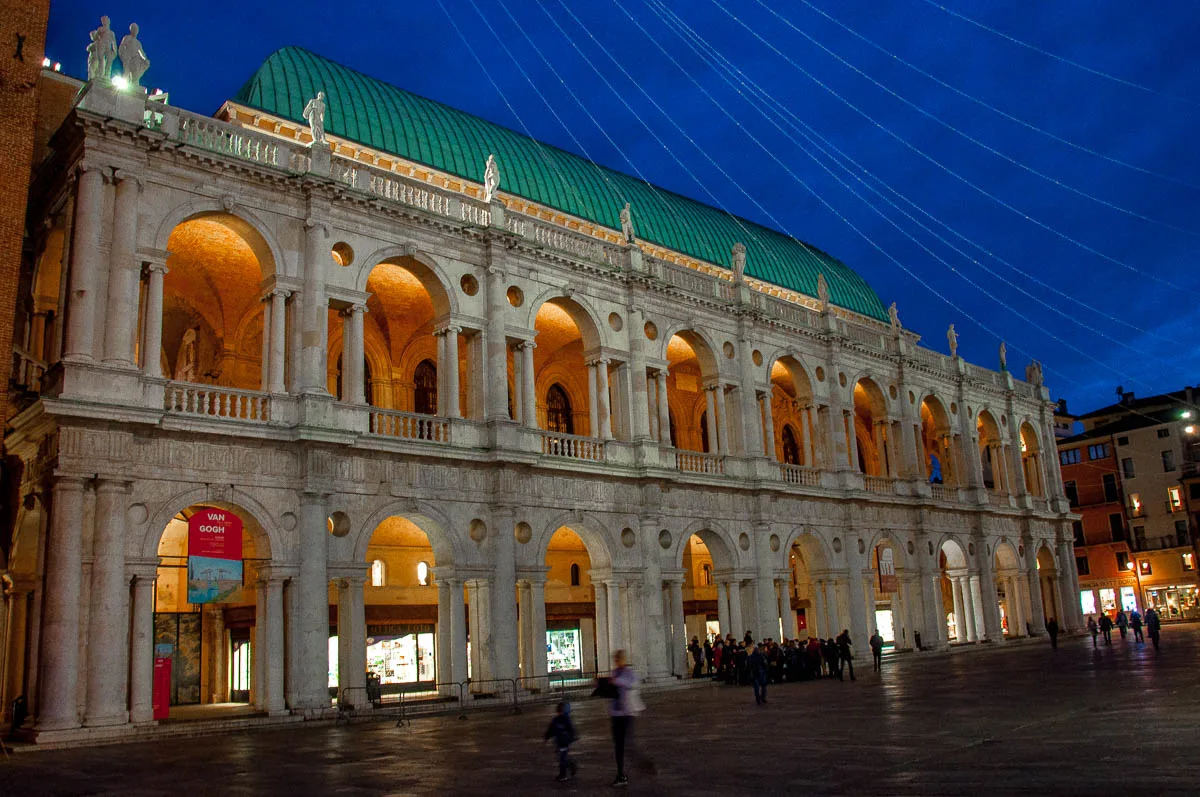 Vicenza's Basilica Palladiana is a multifunctional building which hosts important temporary exhibitions, houses a museum (see point 8 below), offers the best panoramic views in town, and provides retail spaces to a number of historic and sophisticated jewellery workshops.
While the Basilica Palladiana is not a museum per se, it is one of the two most important sights in Vicenza (the other being the Teatro Olimpico – see point 1 above) and as such, it deserves a place on this list. You will find it a couple of minutes or so away in a straight line from the Palladio Museum (see point 6 above).
The Basilica Palladiana presides over Vicenza's main square – the splendid Piazza dei Signori – and it is the city's ultimate pride and joy. In your walk around Vicenza's best museums, take a little bit of time to admire and explore the Basilica Palladiana. Here are the most interesting things you can do there:
Ground Floor – a must-see for people who love to shop for unique jewels, hand-picked vintage items and antics, and other such refined and sophisticated goods. In the Middle Ages and the Renaissance, Vicenza's best goldsmithing workshops were housed here. Nowadays, a host of jewellery designers and retailers have taken over their place. Also here, you will find one of the city's most popular haunts – Bar Borsa. The entrance of Vicenza's Jewellery Museum is also on the Basilica Palladiana's ground floor.
First Floor – with a ceiling that resembles an upturned boat hull, this is an enormous space where important exhibitions are regularly held. On the outside, the exhibition hall is enveloped by Palladio's famously symmetrical marble shell. This is also where the main exhibition rooms of Vicenza's Jewellery Museum are.
Terrace – come here for the most beautiful bird's-eye views of Vicenza and for a drink when the small bar is open.
My Favourite Display/Artefact Here: I love the Basilica's terrace. It's a great place to go for a little walk (yes, it's huge!), look at the city from above, and just feel happy to be surrounded by so much beauty. The large exhibitions held at the Basilica are always a must-see. And the displays of the Jewellery Museum make me dream of gorgeous jewels to adorn my imaginary life with.
The best thing about the Basilica Palladiana though is how beautiful and symmetrical the building is. Huge in size and imposing in character, it's nevertheless very elegant and airy. It's delightful to look at and seeing it on a walk around Vicenza's historic centre always feels such a treat for it's the perfect sum of history and beauty.
Time to Spend Here: 45 mins.
More Information:
8. Jewellery Museum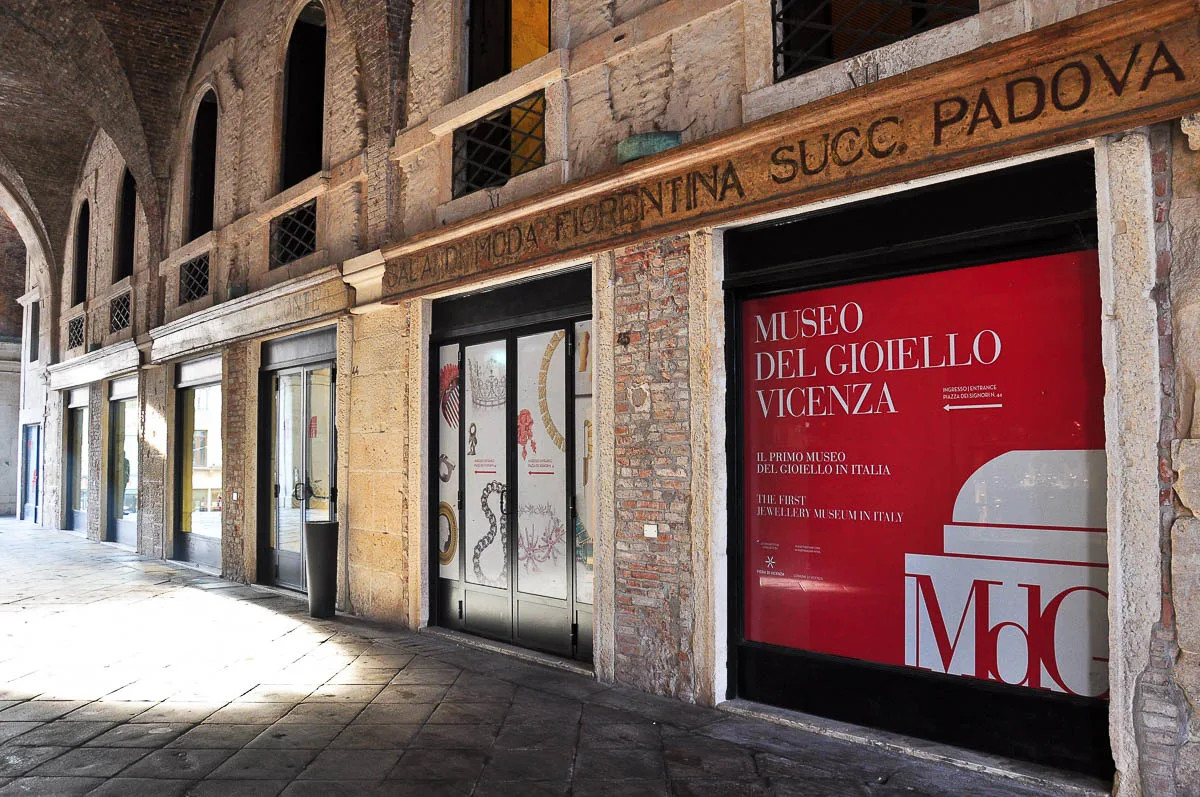 Vicenza's Jewellery Museum was the first of its kind in Italy when it opened its doors on Christmas Eve, 2014. In the years that followed, other Italian towns with a strong jewellery industry tried to follow in Vicenza's steps. Yet, to this day, the Jewellery Museum in Vicenza remains in the lead thanks to its unique location, the fact that it entirely changes its displays every two years, the many temporary exhibitions it holds, and above all for leaning firmly on Vicenza's centuries-old goldsmithing and jewellery-making heritage.
You will find Vicenza's Jewellery Museum in the Basilica Palladiana (see point 7 above). Its sparkling displays are tastefully organised in a number of small rooms that lead from one to the next in a carefully planned itinerary. There are so many beautiful and historical jewellery pieces here! You cannot help it but imagine how wonderful it must be to own one or two of these priceless works of art.
Even if you are not really into jewellery, a visit to Vicenza's Jewellery Museum will give you a great introduction to the artistry of jewellery-making and the role that jewellery has played through history. Once your visit to the museum comes to an end, you will be doubly more tempted to shop in Vicenza's many jewellery shops. For this is the city which produces over one fifth of all gold jewellery made in Italy. So, the choice is big and there is a pricepoint to suit every pocket.
My Favourite Display/Artefact Here: I love the fact that Vicenza's Jewellery Museum stands at the exact same place where a goldsmithing workshop was operating in Vicenza in the 13th century. Going up the steps to the museum's exhibition rooms, you can see a fresco preserved on the wall. It was part of the chapel in which the goldsmiths would pray.
Then, in the museum's shop, there are glass panels inserted in the floor. Beneath them, you can see the centuries-old foundations of the medieval workshop. This creates an incredibly strong connection with the past and you feel that you are at a special place that keeps alive the jewellery-making traditions of Vicenza and Italy.
Time to Spend Here: 30 mins.
More Information:
9. Diocesan Museum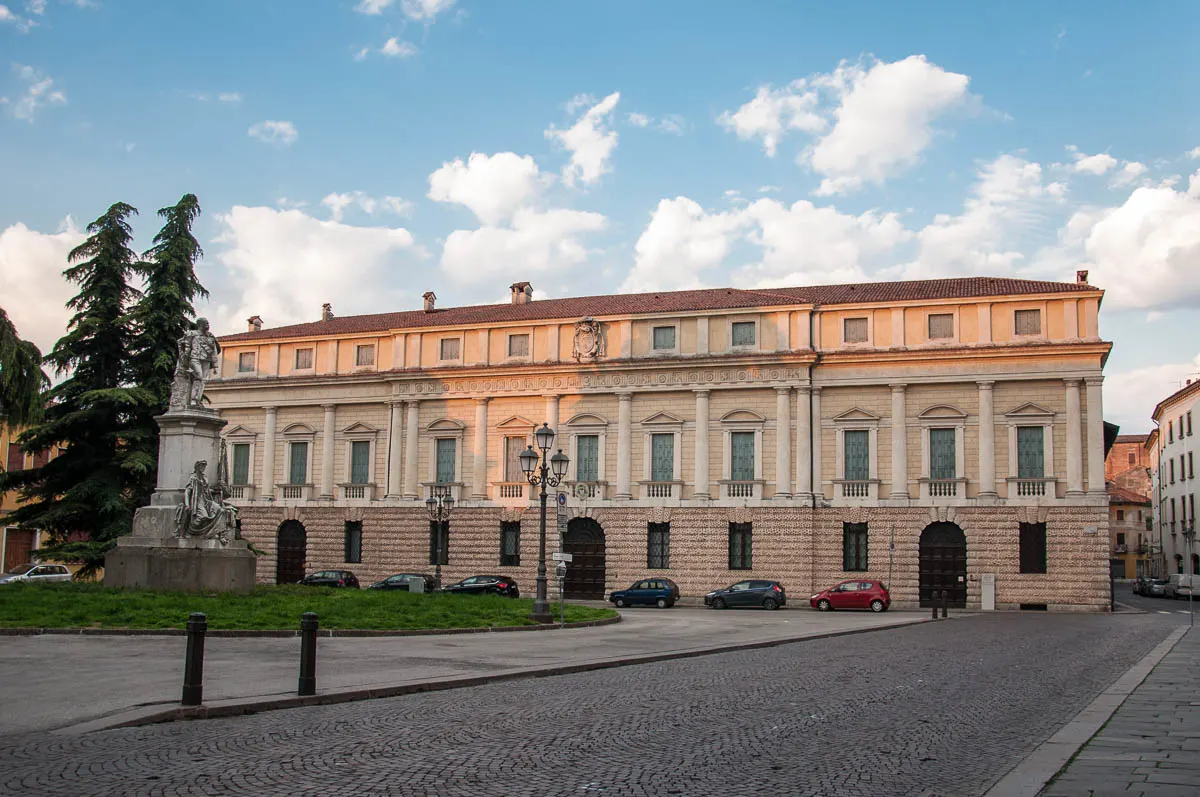 Vicenza's Diocesan Museum is a short walk away in a straight line from the Basilica Palladiana (please, see point 7 above). It's housed in the Bishop's Palace the long facade of which flanks a small piazza in the city's historic centre and it's just across the street from the imposing Cathedral of Santa Maria Annunciata.
This is an eclectic museum which traces the history of Christianity in Vicenza. As such, it has an interesting selection of Roman artefacts, illuminated manuscripts, Gothic and Renaissance works of art. The Diocesan Museum also holds a number of rather unusual collections. Plus, on its underground floor you can see the ruins of a sturdy tower – a leftover from the Middle Ages when Vicenza was known as the City of 100 towers.
The two most important objects to see in the Diocesan Museum in Vicenza though are as follows:
The Holy Thorn – believed to be a thorn taken from the Crown of thorns which was placed on the head of Jesus Christ on his way to Golgotha. The Holy Thorn is housed in a precious reliquary studded with gems and adorned with enamels. Made in the 14th century by the goldsmiths of Vicenza, the reliquary is beautiful to look at.
Vicenza's Jewel – a 3D model of Vicenza's historic centre. Made entirely of silver with some gold details, it is a testament to the city's centuries-old traditions of silver- and goldsmithing and jewellery-making.
In addition, here are some of the most interesting things to see in this museum in Vicenza:
Archaeological Section – delve into the story of the first Christians in Vicenza from Roman times to the Middle Ages. Among the many interesting artefacts here, you can see a large baptismal bath made of Proconnesio marble.
Liturgic Books and Documents – enter this small darkened room to admire some very old and precious books. Some of their pages have been embellished with beautiful miniatures.
Art Gallery – head to the first floor of Vicenza's Diocesan Museum to explore its collection of paintings and statues on religious themes. The represented painters are from Vicenza and the Veneto giving you a chance to get closer to local artistic interpretations of the International Gothic, the Renaissance, and the Baroque.
Religious Art Collection – go down the stairs to Vicenza's Diocesan Museum's underground floor to admire rare icons from Romania and other religious objects. A huge collection of spheres cut out of semi-precious stones is also displayed on this floor.
Ethnographic Collection – the top floor of the museum holds a fantastic collection of masks and folk art from all over the world. Unfortunately, access is only rarely offered to the general public.
As you can see, Vicenza's Diocesan Museum is really worth it a visit. Plus, this is also the museum that looks after two underground archaeological areas in the city's historic centre:
Criptoportico Romano – a splendid Roman cryptoporticus (a covered passageway) – once part of a lavish Roman house – was uncovered in Vicenza after a bombardment by the Allied Forces during the Second World War. Nowadays, the cryptoporticus is open for guided visits through Vicenza's Diocesan Museum.
Archaeological Area of Vicenza's Cathedral – join a guided visit organised by Vicenza's Diocesan Museum and see the remains of Roman Vicetia underneath the city's cathedral. Once again, these ruins were discovered after the Allied Forces heavily bombed the cathedral during the Second World War.
My Favourite Display/Artefact Here: I loved the Diocesan Museum in Vicenza for its whimsical and unusual collections. My absolute favourite were the spheres cut of gemstones. I also loved seeing the Cope of the Parrots. This is a long red liturgical vestment embroidered with gold parrots. It is considered to be one of the oldest textiles in Europe.
The Jewel of Vicenza is absolutely stunning, too. Don't miss a chance to see it up close, especially if you are interested in silversmithing and/or creating detailed 3d models.
Time to Spend Here: 45 mins at the museum. The visits to the Criptoportico Romano and the Archaeological Area of Vicenza's Cathedral are about 30 mins each.
More Information:
10. Risorgimento and Resistance Museum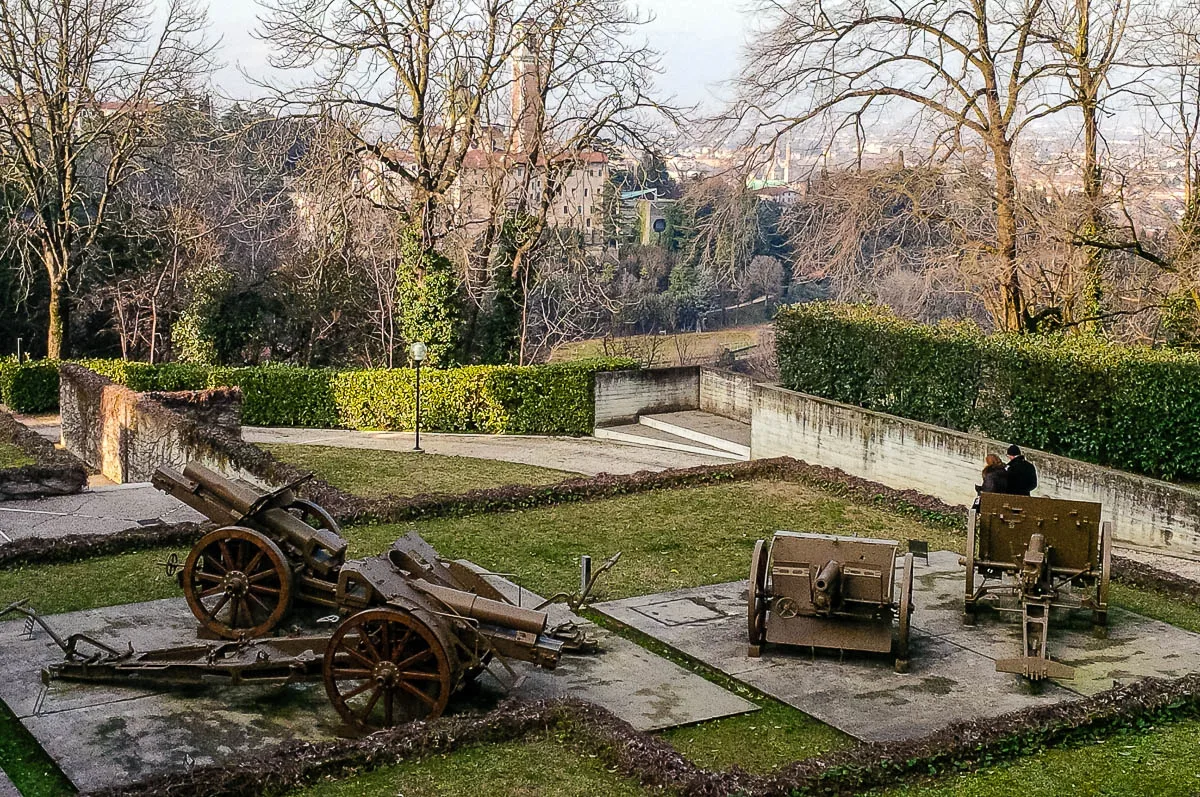 Vicenza's Risorgimento and Resistance Museum is a place that anyone with an interest in military history would find fascinating to visit. Bear in mind that the museum is outside of the city's historic centre. It will take you about 35 minutes to walk there from Vicenza's main square – Piazza dei Signori. You can do the same journey in 10 minutes by car.
You may not be able to fit a visit to this museum if you only have a day in Vicenza and you want to tick off all the other museums there first. Still, if your main interest is military history and especially Italian war history then make sure that you head there first thing in the morning.
Vicenza's Risorgimento and Resistance Museum is housed in Villa Guiccioli. You will find it on top of the Ambellicopoli Hill just further down the road from the Sanctuary of Monte Berico. The elegant villa is surrounded by a lovely garden with hundreds of different species of trees, shrubs, and plants – from local specimens to exotic ones.
Inside the museum, you can trace the history of Vicenza from the fall of the Republic of Venice to the Second World War. The emphasis is on:
the events that took place in Vicenza during the Italian Unification (known as the Risorgimento in Italian); and
the Italian resistance movement during the Second World War.
For the role it played in both, Vicenza is the only city in Italy to be awarded the Gold Medal of Military Valour twice.
My Favourite Display/Artefact Here: I love history, however, I tend to be more interested in the history of art than the history of war. So, on the occasions that I walked from Vicenza's historical centre to the Risorgimento and Resistance Museum, it was not so much to see the museum itself but to enjoy the walk and to spend some time in the beautiful garden that surrounds Villa Guiccioli.
Still, I visited the museum a couple of times, too. It is very neat and with beautifully presented displays. I seem to remember that the displays and the information provided were in Italian only. However, on the museum's official website you can find extensive information in English about the different collections and archives held there.
The things I really loved seeing at this museum were the small models of the Giro della Rua – the large temporary structure which is the symbol of Vicenza's most important celebration. Nowadays, Giro della Rua is celebrated every two years in September but in the past centuries it was the city's major event. So, if you are interested in it and the tradition behind it, the Risorgimento and Resistance Museum is a great place to start your research.
Time to Spend Here: 45 mins at the museum. As much time as you need to enjoy the garden around the museum.
More Information:
Map of the 10 Must-See Museums in Vicenza, Italy
Tips about Visiting the 10 Must-See Museums in Vicenza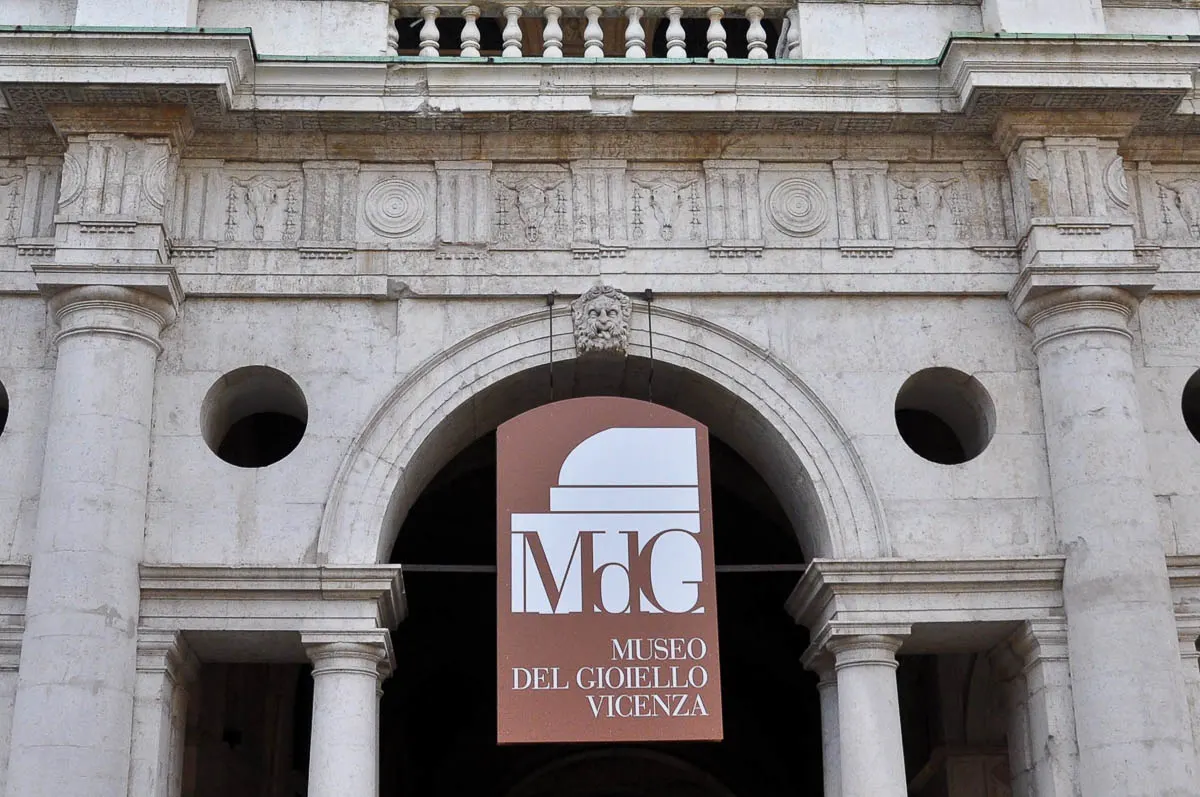 Vicenza has a compact historic centre that can be easily traversed on foot. In a day you can cover a lot of ground here and explore nine of the ten museums without any problems exactly in the order they are listed above.
The Risorgimento and Resistance Museum (number 10 on the list) is a walk away from the historic centre. You can drive to it in about ten minutes or walk there in about 35 mins or so from Vicenza's main square – Piazza dei Signori. So, if you only have a day in Vicenza and want to see all ten museums on the list, you can do it with a bit of planning. Provided, of course, that you adhere to a strict schedule and don't spend much time in any one of them.
Otherwise, take it as easy as you want! And spread your visits to Vicenza's museums over as many days as you can. There are many paintings and artefacts in the museums of Vicenza that deserve stopping in front of them and spending time just taking them in, admiring their beauty, and learning their history. So, unless you are pressed for time, don't rush it.
When planning your visit to a museum in Vicenza, please, check its opening hours and days in advance. I have provided links to the museums' official websites above. In principle, avoid visiting Vicenza on a Monday if you are interested in seeing the city's museums. On Mondays, they are customarily closed. The only exception is if a national or a regional holiday falls on a Monday in which case the museums are open.
Some of the museums in Vicenza observe the traditional Italian lunch break – called riposo – which usually lasts a couple of hours or so. You don't want to head to a museum only to arrive and find it closed! So, make sure that you check the most up to date opening hours and days prior to your visit.
The most cost-efficient way to visit the museums in Vicenza is to purchase a Vicenza Card. It gives you access to several of the sights in the city for a combined price provided you use the card within a predetermined time period. You can purchase the Vicenza Card from the Tourist Information Office next door to Teatro Olimpico and from all participating museums/sights.
In Conclusion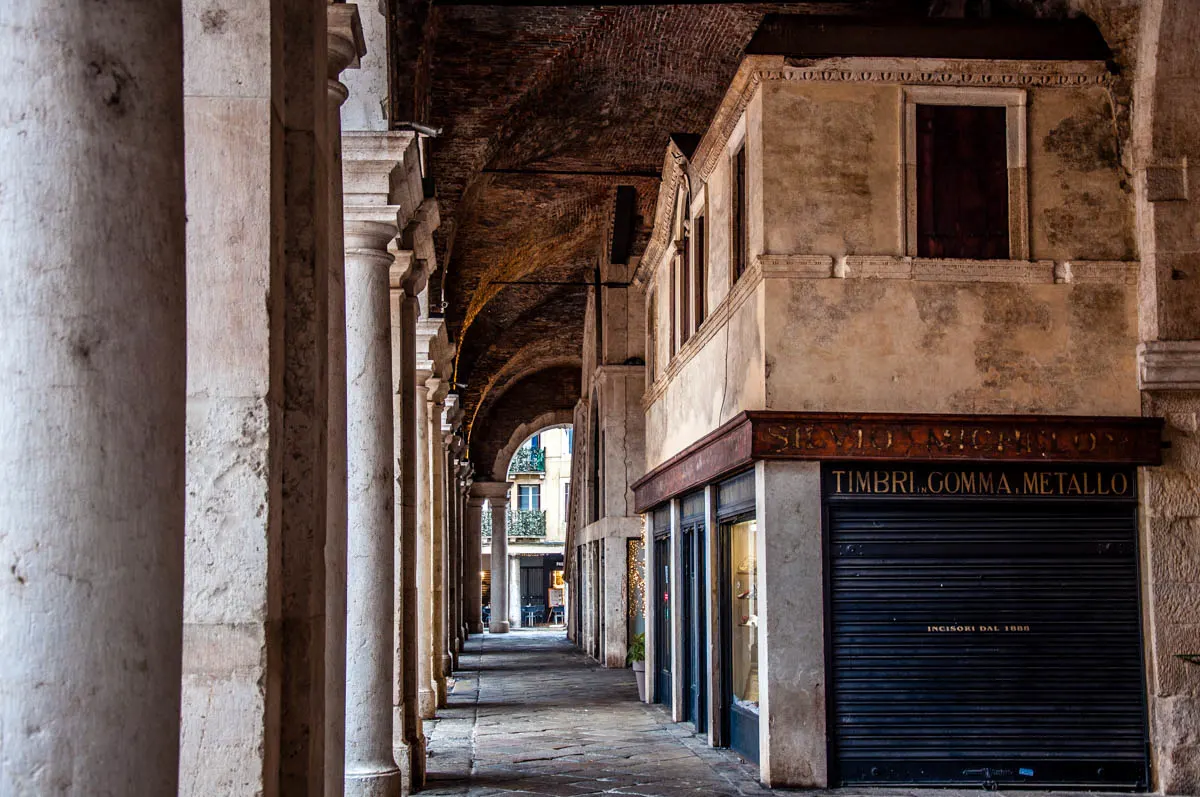 Vicenza is a lovely little city in the Northern Italian region of the Veneto.
With a rich history and centuries-old local traditions, Vicenza has a host of unmissable museums preserving priceless masterpieces and artefacts.
In the above blog post, I shared with you the ten best museums to visit in Vicenza now. From art galleries to an architecture museum, from a museum filled with precious jewels to a lapidarium with ancient inscriptions and a war history museum, in Vicenza there is a museum to appeal to everyone.
I hope that the detailed information provided above will help you plan your museum visits in Vicenza in the most time-efficient way.
Enjoy visiting Vicenza and its museums!
More Helpful Links for Things to Do In and Around Vicenza, Italy
Thank you for reading! Please, leave me a comment, pin the image below or use the buttons right at the top and at the end of this blog post to share it on social media.
For more useful information like this, please, like my blog's page on Facebook and subscribe to my strictly no-spam newsletter.