Here are the 31 prettiest small towns in Veneto, Italy.
They are wonderful destinations for a day trip or a long weekend.
You can even use them as a base for a longer exploration of Veneto – a northern region of Italy that has Venice as its capital.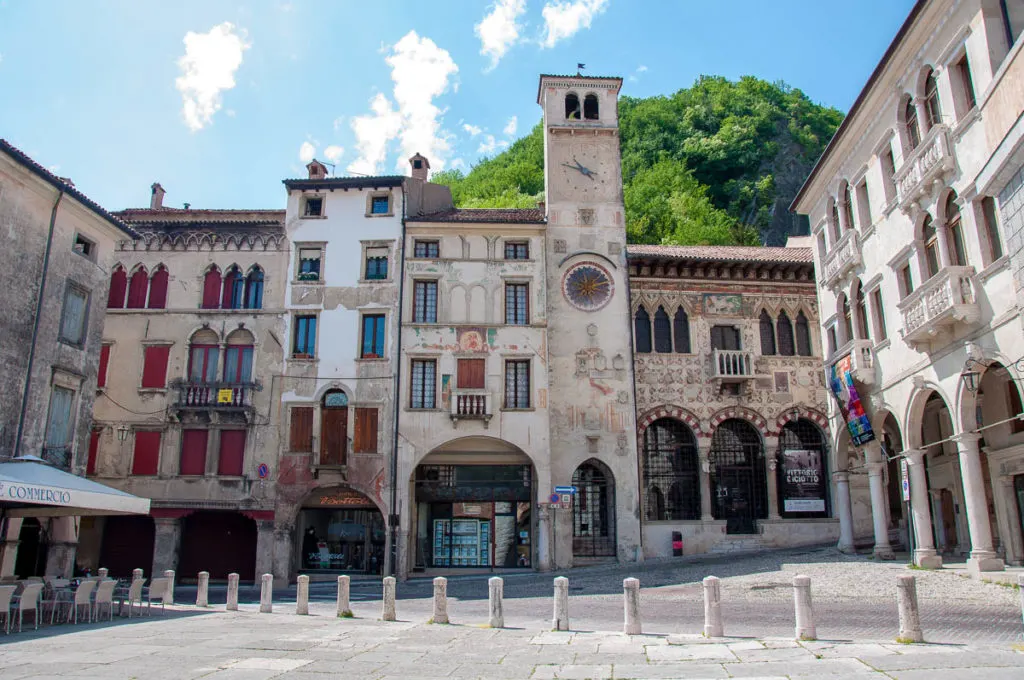 Veneto has a long and illustrious history. From Roman ruins to medieval castles, from Renaissance architecture to contemporary art, you can find it all here. Plus, the region is blessed with lush nature. From the sparkling beaches of the Adriatic Sea and the limpid waters of Italy's largest lake – Lago di Garda – to the peaks of the Venetian Pre-Alps and the Dolomites, here you will discover whimsical formations, pristine nature parks, hundreds of hiking paths, and simply lovely natural settings.
The millions of people who visit Veneto in Italy each year concentrate mainly on its large cities like Venice, Verona, and Padua. Yet the region has many stunningly beautiful small towns allowing you to immerse yourself both in the history of this corner of Italy and the authentic Italian lifestyle.
So, this blog post gives you a shortlist of the 31 prettiest small towns in Veneto. At the end of it, I have also included a map of their locations and many practical tips to make your travels in this Northern Italian region as easy and enjoyable as possible. It's all based on my experiences of getting to know Veneto over the six years that I spent living in Italy. I have personally visited each of the 31 small towns covered here. To many of them, I returned countless times.
I hope that this list will help you pinpoint wonderful and little-known destinations to explore by yourself, with a friend or with your family. I also hope that by visiting one or more of them, you will fall in love with the beauty and history of Veneto just like I did.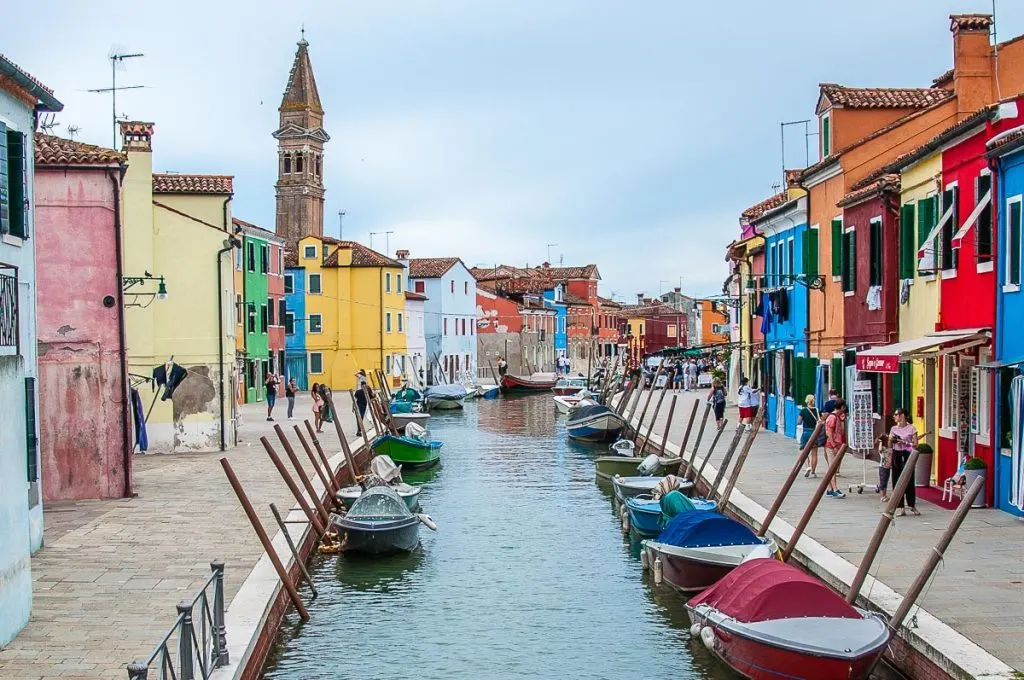 In addition, have a look at these two blog posts:
They will give you even more information about exploring Veneto and the wonderful places you can see and experience here.
Now, let's start!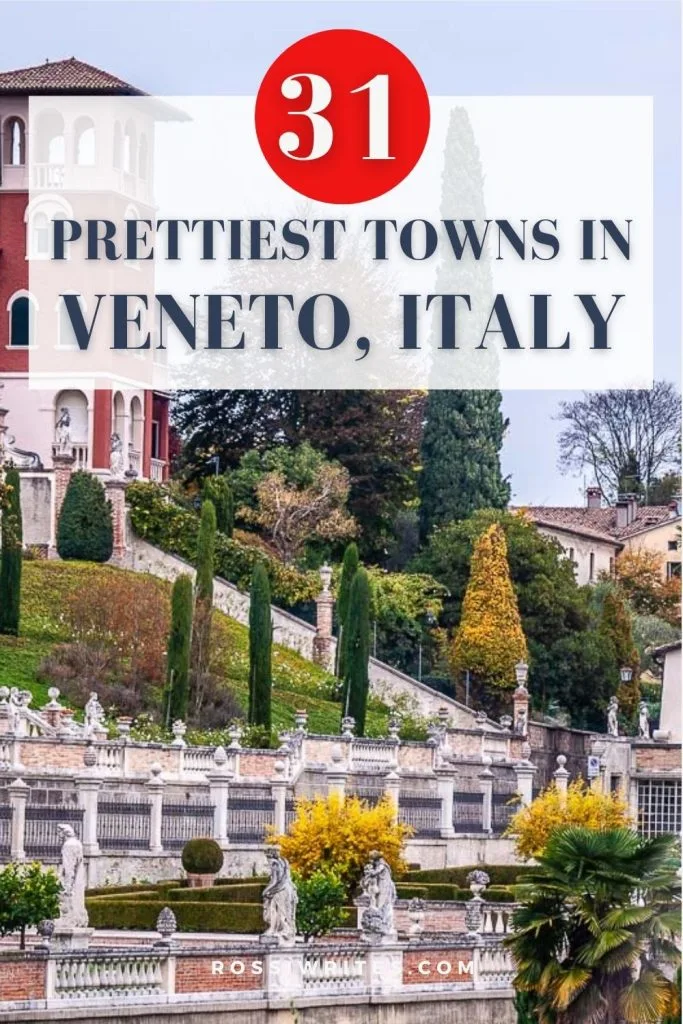 31 Prettiest Small Towns in Veneto, Italy
1. Asiago in Veneto, Italy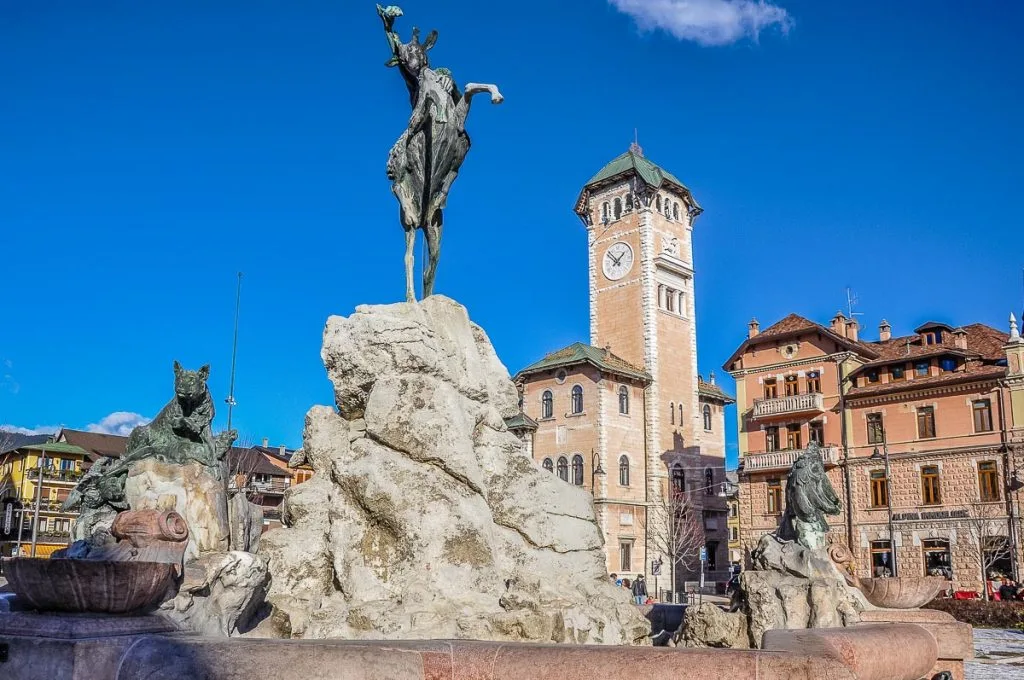 Asiago is a small town huddled in the bosom of the Asiago Plateau (in Italian Altopiano di Asiago). It's renowned for its beautiful location, for the local production of the famous Asiago cheese, and as an important centre of winter sports. The town is a curious mixture of Italian and Tyrolean influences. It is lovely to go for a walk through its centre after a day spent on the ski slopes or hiking through the lush forests nearby.
The Asiago Plateau itself is a flat-top mountain that is about a kilometre tall. Historically, it was populated by the Cimbri – a germanic tribe. During the First World War, Asiago was a point of contention between Italy and the Austro-Hungarian Empire. The Asiago War Memorial commemorates the fallen in the Battle of Asiago in 1916.
More Information:
2. Asolo in Veneto, Italy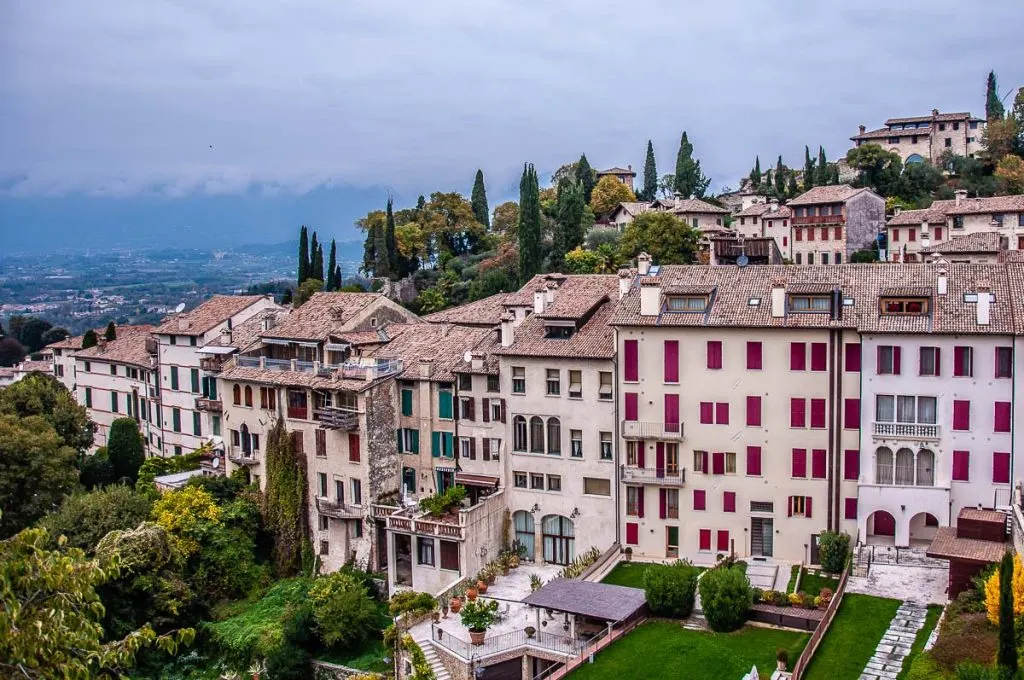 Asolo is a pretty as a picture hilltop town that is most deserving of its moniker – The Town of A Hundred Horizons. It has a medieval castle, a centuries-old fortress, cobbled streets, tall stone houses, and a historic cafe. Faded colourful frescoes adorn many of the facades in Asolo's historic centre. The locally produced Prosecco is especially prized both in Italy and abroad.
The story of Asolo is tightly interwoven with the fates of three strong women. One is Queen Catherine Cornaro who ruled over Asolo after abdicating the throne of Cyprus in the 15th century so that the Republic of Venice could take over the island. The other is Eleonora Duse – a great Italian actress of the 19th/20th centuries. And the third is Freya Stark – an audacious explorer, significant geographer, and acclaimed travel writer of the 20th century.
More Information:
3. Bardolino in Veneto, Italy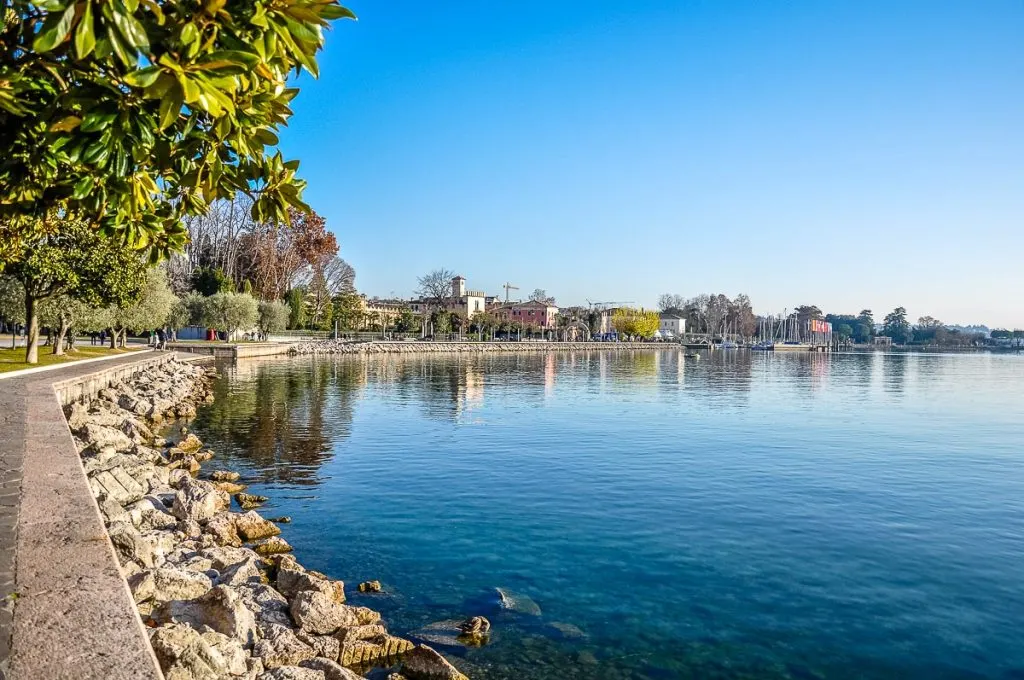 Bardolino is a lovely town to visit on the Veneto's shores of Italy's largest lake – Lago di Garda. It has a cute historic centre, several churches dating back to the 11th/12th centuries, and 12th-century defensive walls. Going for a walk along Bardolino's promenade is a very pleasant and relaxing activity. Beautiful yachts and boats are moored in the large marina and the lake's limpid waters glisten under the sun.
The town is charming with its cafes and restaurants with open-air seating areas. Every winter, a Christmas market with a small ice rink takes place on the lakefront. Throughout the year, several large festivals are held in Bardolino, too. The locally produced pink claret wine and virgin olive oil are very famous, too.
There have been human settlements in the area of Bardolino since prehistoric times. The town has had a tumultuous history changing hands several times. It was an independent city-state until 1193. Then it was ruled by the Scaliger dynasty from Verona, the Republic of Venice, and the Austro-Hungarian Empire until it joined Italy in 1866.
More Information:
4. Burano in Veneto, Italy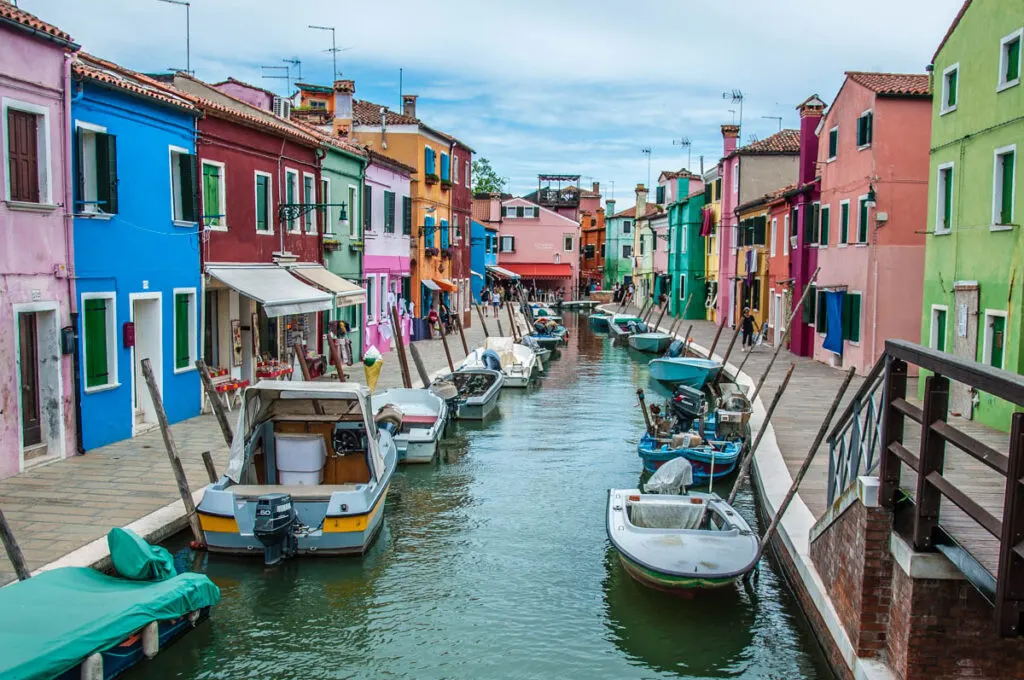 Burano is a small island in the Venetian Lagoon in Veneto, Italy. It is famous all over the world for each of its houses is painted in a contrasting bright colour. The effect is striking! Burano features in thousands of iconic photographs and attracts millions of visitors eager to immerse themselves in its vibrant beauty.
While Burano is not strictly a town, it's small, contained, and compact. Just under 3,000 people live here on a permanent basis. So, not including it in this list of the 31 prettiest towns in Veneto, Italy would certainly be an oversight.
Burano is also famous for its centuries-old lacemaking traditions and its dishes based on freshly caught fish and seafood. The local risotto is especially tasty. It's prepared with a flavoursome broth made with goby fish (also called go') from the Venetian Lagoon. The local biscuits bussolai buranelli and essi also deserve a mention. Made of dough that is rich in egg yolks, flour, sugar, and butter, they have a pale golden colour, and are very flavoursome.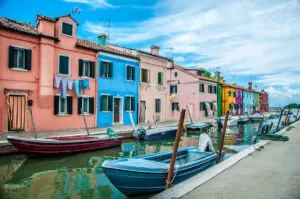 Islands in the Venetian Lagoon
Take a boat trip around the Venetian Lagoon visiting three of its most famous islands – Murano, Burano, and Torcello…
5. Caorle in Veneto, Italy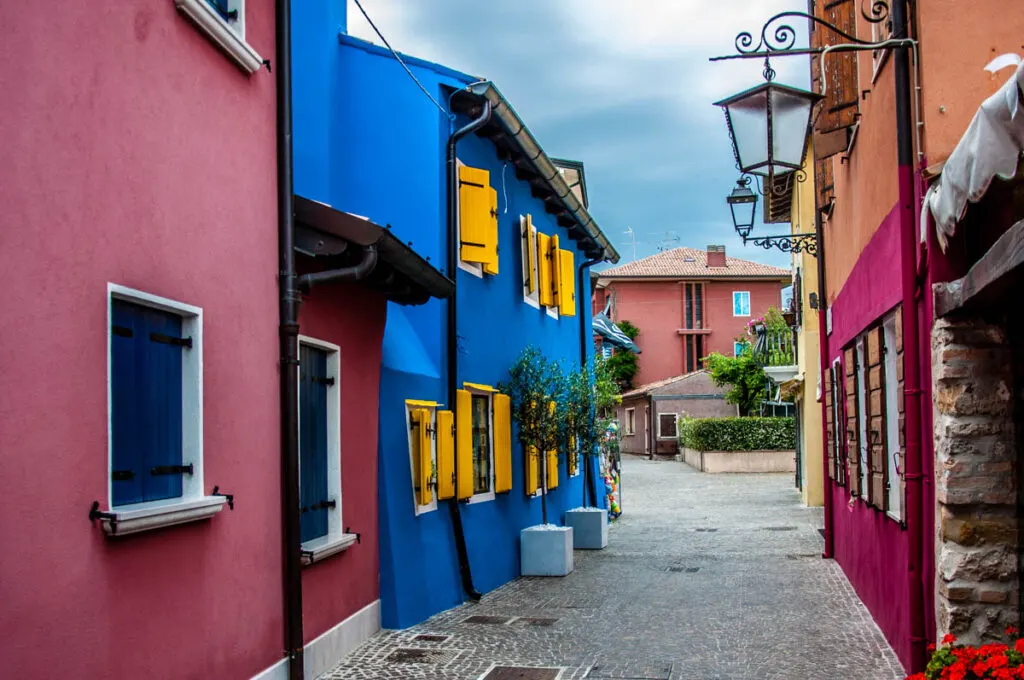 Caorle is a lovely seaside town and resort just up north from the Venetian Lagoon. Its historic centre replicates the colours of Burano and the local fresh fish dishes are equally delicious. In addition, Caorle has sprawling sandy beaches. The Adriatic Sea's tides leave them covered with thousands of colourful shells with beautiful and whimsical shapes.
Don't miss the town's round bell tower which is almost one thousand years old. Then go for a walk along Caorle's historic streets where the facade of each house is painted in a different intense tone. A long promenade offers lovely sea views and is lined up by large boulders. Shapes and patterns have been chiselled in them by local artists thus becoming a must-see open-air art gallery.
The historic casoni near Caorle are very unique. These are large huts where the local fishermen lived and worked. A great way to see them is to take a boat tour of the Caorle Lagoon.
6. Castelfranco Veneto in Veneto, Italy
Castelfranco Veneto is a gem of a small town in the Venetian plains. Originally, it grew around a castle built by the Lords of Treviso in the 12th century. Nowadays, the historic centre of Castelfranco Veneto is still surrounded by a thick defensive wall and a deep moat. Beyond it stand tall houses with faded frescoed facades. It's picture-perfect!
The town is famous as the birthplace of Giorgione. He is one of the most enigmatic artists of the Italian Renaissance and was also the teacher of another celebrated painter – Titian. In the Duomo of Castelfranco Veneto, you can admire Giorgione's masterpiece 'The Madonna and Child Between St. Francis and St. Nicasius'. Just outside of the Duomo stands Giorgione's House. Visiting it helps you immerse yourself in the era of great cultural and scientific progress that the renowned artist inhabited.
In Castelfranco Veneto you can see one of Veneto's most beautiful squares – Piazza San Liberale. Next to the town's historic centre you can also visit one of Italy's most beautiful gardens. The Park of Villa Revedin Bollasco is a lovely 19th-century garden that was chosen as Italy's most beautiful public park for the year 2018.
Castelfranco Veneto is a charming and evocative place to visit any time of the year. It really comes into its own during one of the many festivals, historic reenactments, and other special events that this town in Veneto, Italy holds regularly throughout the year.
More Information:
7. Castelletto sul Garda in Veneto, Italy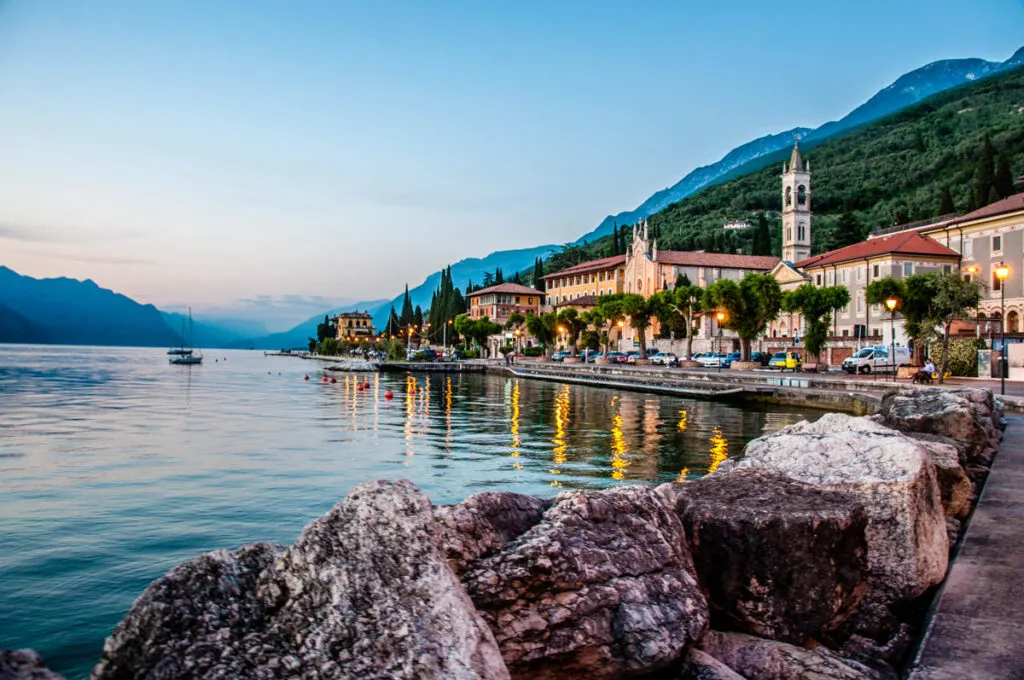 Castelletto sul Garda (also known as Castelletto di Brenzone) is a small beautiful town on the Veneto's shores of Italy's largest lake – Lago di Garda. With its pebbly beaches, seafood restaurants, and a pretty harbour full of fishing boats, Castelletto is a very attractive place to visit.
The buildings and houses here are painted in different intense colours. This makes the town look like a gem set between the blue waters of Lake Garda and the green slopes of Mount Baldo. Come here to relax and to enjoy the rich palette of the town and the lush nature that surrounds it.
There are many things to do and see in and around Castelletto sul Garda. You can drive up the lake's shores to take photos of Italy's shortest river. You can hike to a medieval village in the hills above the town. You can hire a boat and go for a cruise around Lake Garda. Or you can visit other beautiful lakefront towns like Torri del Benaco, Malcesine, and Riva del Garda.
Castelletto sul Garda is my happy place on the shores of Lake Garda. It's both so beautiful and relaxing. Plus, it's in the bosom of gorgeous nature. It's not surprising that the ancient Romans chose to build a villa here. Its ruins can be seen in what nowadays is the town's cemetery.
More Information:
8. Cittadella in Veneto, Italy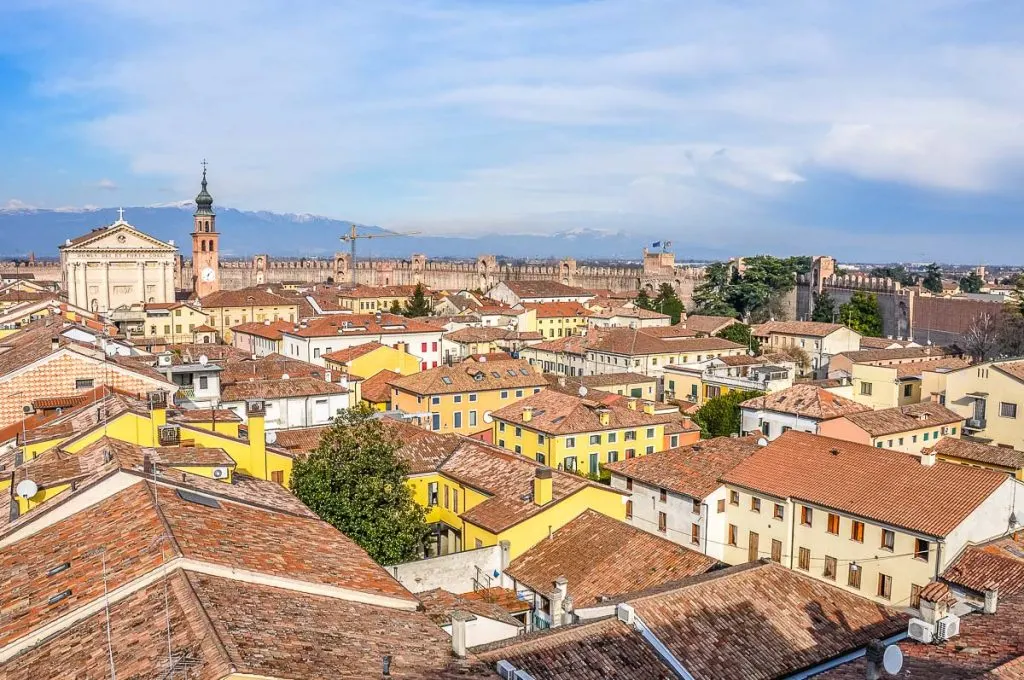 Cittadella is a beautifully preserved medieval town. It has a tall defensive wall that circles its historic centre in a tight elliptical embrace. Made of red bricks and stones from the nearby River Brenta and surrounded by a deep freshwater moat, the wall was first erected in the 13th century. Nowadays, you can actually walk on it at a height of 14 to 30 metres and circumnavigate the whole town in just over an hour. It's a unique experience in Europe!
Standing high up on the medieval wall, you can admire from above Cittadella's historic centre, the Venetian plains, and – on the horizon – the snow-capped peaks of the Venetian Pre-Alps. Spending a day here is like a journey back in time to the Middle Ages. Cobbled streets, vaulted porticoes, tall defensive gates, and impressive buildings abound. Cittadella is especially interesting to see during its annual historic reenactment. This is when you can expect a torch-lit parade, medieval music, archery competitions, and a splendid fireworks display.
More Information:
9. Conegliano in Veneto, Italy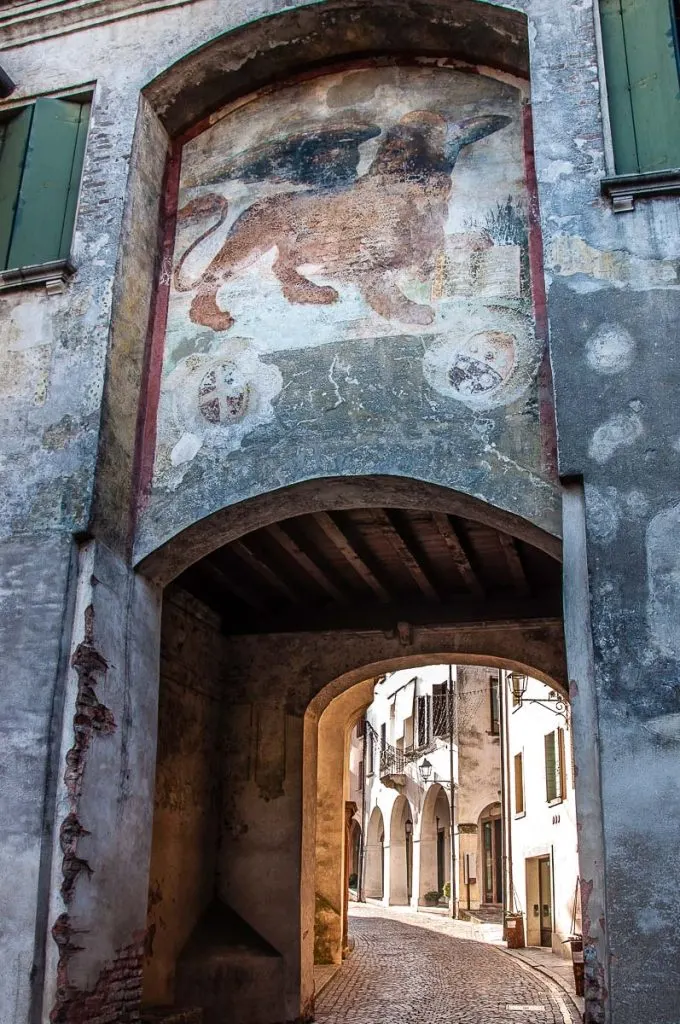 Conegliano is a dream of a medieval walled town in the heart of Italy's Prosecco region. It is also the birthplace of Cima da Conegliano – one of the most interesting artists of the Venetian Renaissance.
With a historic centre encircled by tall medieval walls and a long central street flanked by centuries-old frescoed facades, Conegliano is a must-see destination in Veneto. This hidden gem in Italy just waits to be discovered by those who love art, history, beautiful views, Prosecco, and coffee. For among other things, Conegliano is also where one of Italy's own chains of coffee houses – Bottega del Caffe Dersut – was founded.
With a millennium-old castle perched on top of a small hill and a historic centre that elegantly fans out around it, Conegliano is one of those rare places where beauty has hidden depths and where you feel happy simply by visiting it.
10. Este in Veneto, Italy
At first glance, Este is a small, humble town in Veneto, Italy. Yet, this is a place that for three millennia has played centre stage to the rise and fall of some of the world's greatest civilisations – from the Paleoveneti of the Iron Age and the Ancient Romans to powerful medieval dynasties and the Republic of Venice.
Pretty as a picture, Este lies at the foot of the volcanic Euganean Hills, the beauty of which has inspired writers and poets of the calibre of Petrarch and Percy Shelley. Driving through Este, the first thing that will jump out at you will be the town's medieval defensive wall followed by a gaggle of Gothic and Baroque buildings. With its iron-wrought balconies draped with plants and flowers, Este has all the authentic charm of small-town Italy.
Here you can visit one of the best archaeological museums in the country, a medieval fortification which has been converted into a marvellous park with a rose garden, many centuries-old chapels and churches, lavish villas, as well as some of the best ceramic studios this side of Italy. Este's historic centre is a great place to go for an amble and the whole area is rich in beautiful things to do, see, and enjoy any time of the year.
More Information:
11. Feltre in Veneto, Italy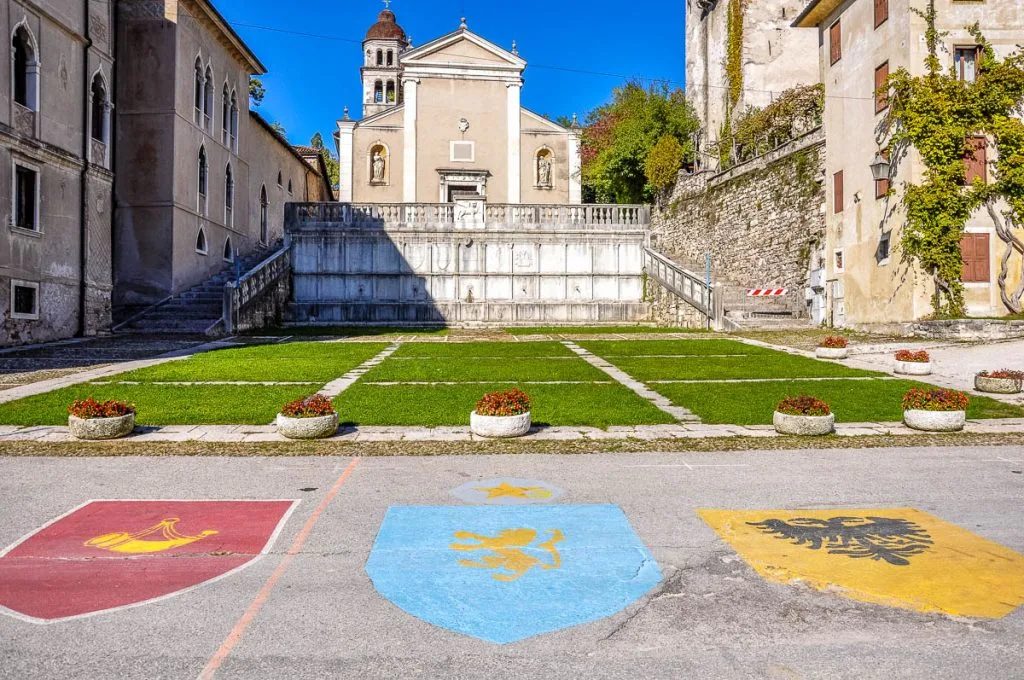 Feltre is a true hidden corner of Veneto in Italy. This centuries-old town is perched on top of a small hill that is surrounded by the staggering peaks of the Dolomites. With a stunning setting and a history that stretches back to Roman times, Feltre also has a cobbled historic centre flanked by tall houses with colourful frescoed facades.
Once a flourishing Roman city called Feltria, nowadays, Feltre has underground Roman ruins, a medieval castle that was erected on the foundations of a Roman watchtower, a 16th-century central square built in the Venetian style, a handful of lovely museums, and a theatre decorated by the same artists who worked on La Fenice Opera House in Venice. Near Feltre, you can also visit the Sanctuary of St. St. Vittore and Corona which was founded in the 11th century.
More Information:
12. Garda Town in Veneto, Italy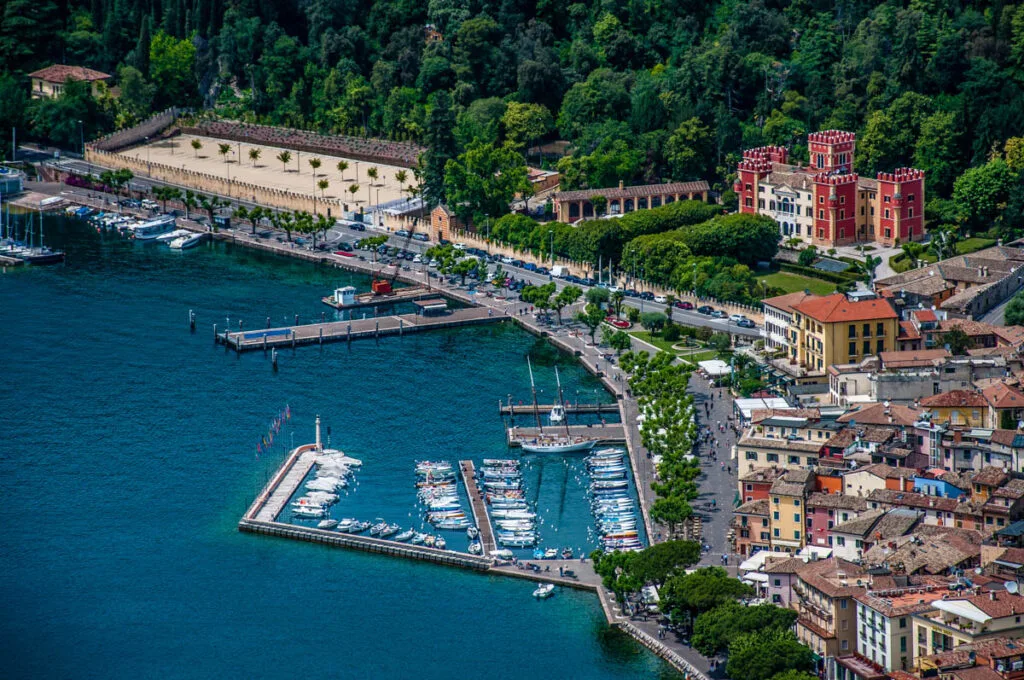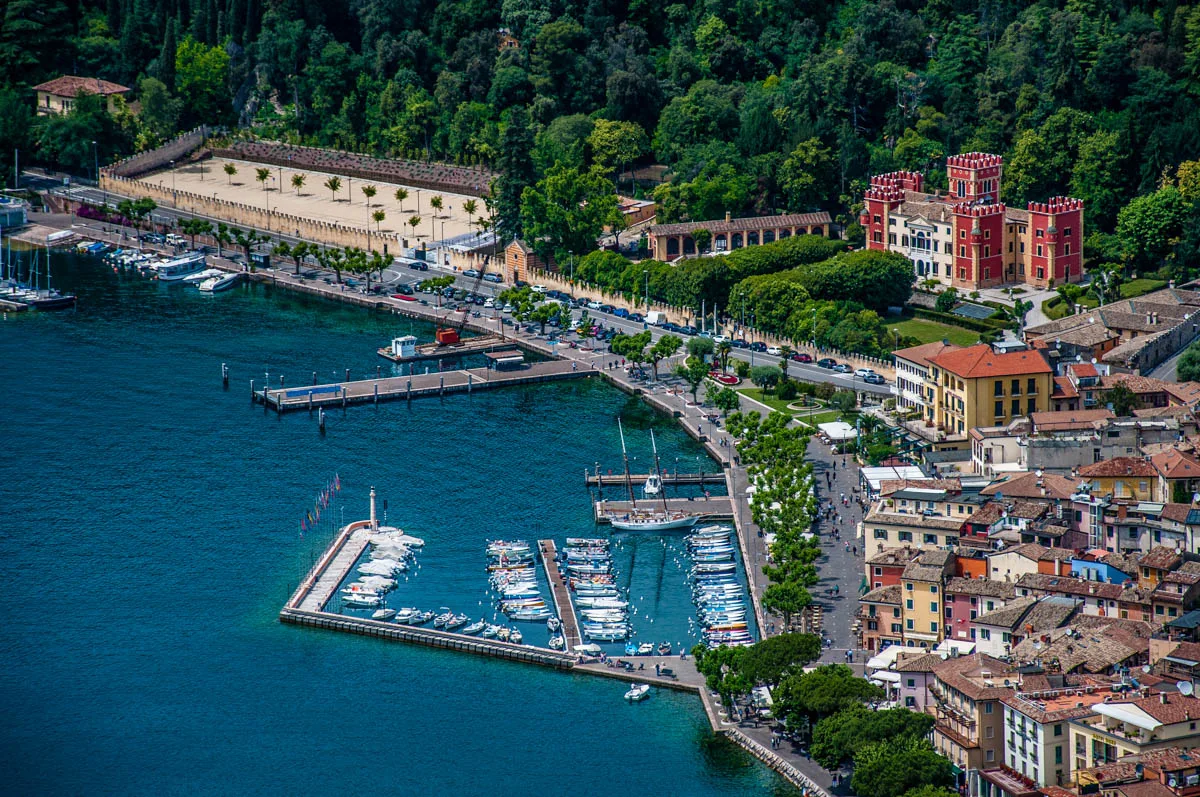 The town of Garda stands on the shores of Italy's largest lake – Lake Garda – and shares its name with it. Garda comes from the Germanic word warda meaning 'place of guard' or 'place of observation'. The name was originally used for a small fort built in the early Middle Ages on top of a tall rocky hill allowing far-reaching views of the lake.
Soon, a town emerged at the base of the hill where a picturesque bay provided safe harbour. Throughout the centuries, the fort was destroyed. Nowadays, only a few ruined defensive walls still survive on top of the hill known as La Rocca. The town, however, thrives to this day and it's one of the most beautiful destinations on Lake Garda.
Garda Town has a picturesque historic centre, a long promenade which connects it to the nearby town of Bardolino, a palazzo in the Venetian Gothic style that once hosted the Captain of the Lake (the appointed by the Republic of Venice local ruler), and an informative museum exploring the local history and traditions. Also here you can see the whimsical Villa Albertini which is a mix of 16th- and 19th-century architecture.
Nearby, you can visit the Punta di San Vigilio which is recognised as the most romantic corner of Lake Garda.
More Information:
13. Laghi in Veneto, Italy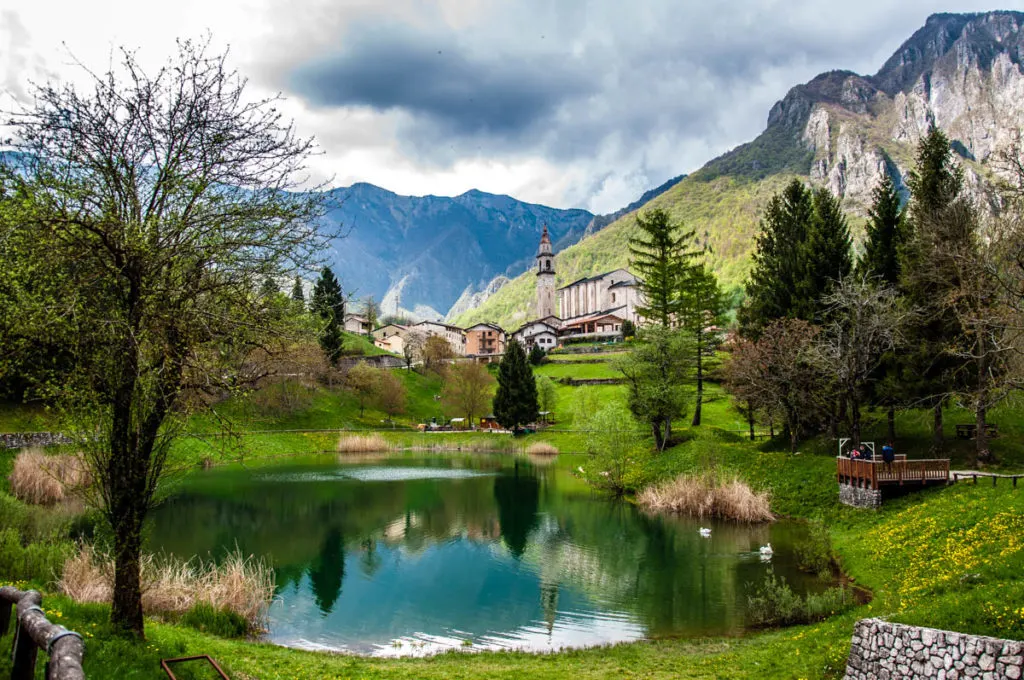 Laghi is a tiny town in the Venetian Pre-Alps. It is known as the municipality with the smallest number of inhabitants in the Province of Vicenza – the third largest province in the region of Veneto. Only 130 people live here in houses in faded shades of ochre on top of a small hill. The town is surrounded by mountain peaks that stretch up to a height of 1,900 m. The beauty of Laghi's setting is complemented by two small alpine lakes. This minuscule Italian town owes its name to them as Laghi in Italian means 'lakes' in English.
Laghi is a wonderful destination in Veneto for those who seek to experience the beauty of Italy's nature. Dozens of hiking paths crisscross the mountains around the tiny town. Just sitting by the two small lakes and looking up at Laghi is a reason enough to come visit. If you are lucky, the resident swans will glide up to you to say hello. It's all so peaceful and wholesome. The stuff that dreams of Italy are made of!
14. Lazise in Veneto, Italy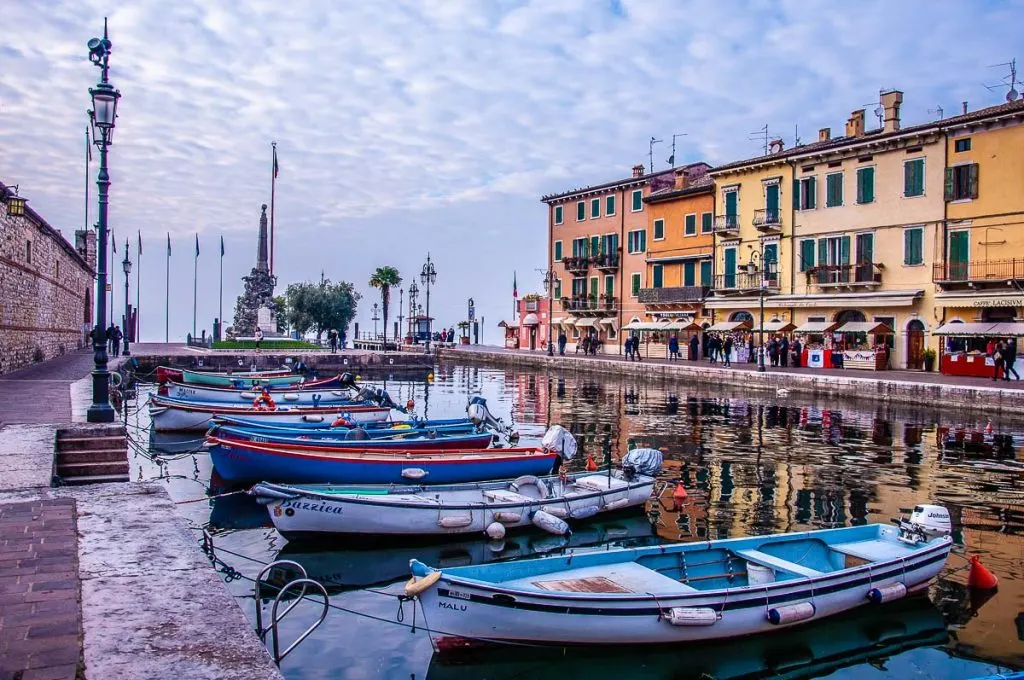 Lazise is another of the pretty towns on Veneto's shores of Italy's largest lake – Lago di Garda. Centuries-old and with an impressive medieval defensive wall and castle, Lazise is a delight to explore in any season. Its houses huddle around the lakefront and catch the eye with their facades in bright orange, sunny yellow, and muted ochre tones. Then the sparkling blue waters of the lake at the front and the greens and browns of the hills at the back create a beautiful natural frame for this gem of a small Italian town.
Going for a stroll through the narrow streets of Lazise's historic centre is a very cinematic experience. Flowers in full bloom greet you from every balcony. Boats in blue, red, and white sway in the small harbour. Handmade gelato tempts you in dozens of flavours and colours – from choc chip mint to watermelon. Elegant couples walk across the checkerboard pattern of the main square – Piazza Vittorio Emanuele. The medieval Scaliger Castle, the 12th-century Church of San Nicolo', and the old Venetian Customs House stand nearby.
Then, there are so many different things to do here, too. From wine and claret tastings in the historic centre to stand-up paddling in the lake. Or you can simply sunbathe on the town's pebbly beach and then follow the long promenade to nearby Bardolino – another of the prettiest towns in Veneto, Italy.
More Information: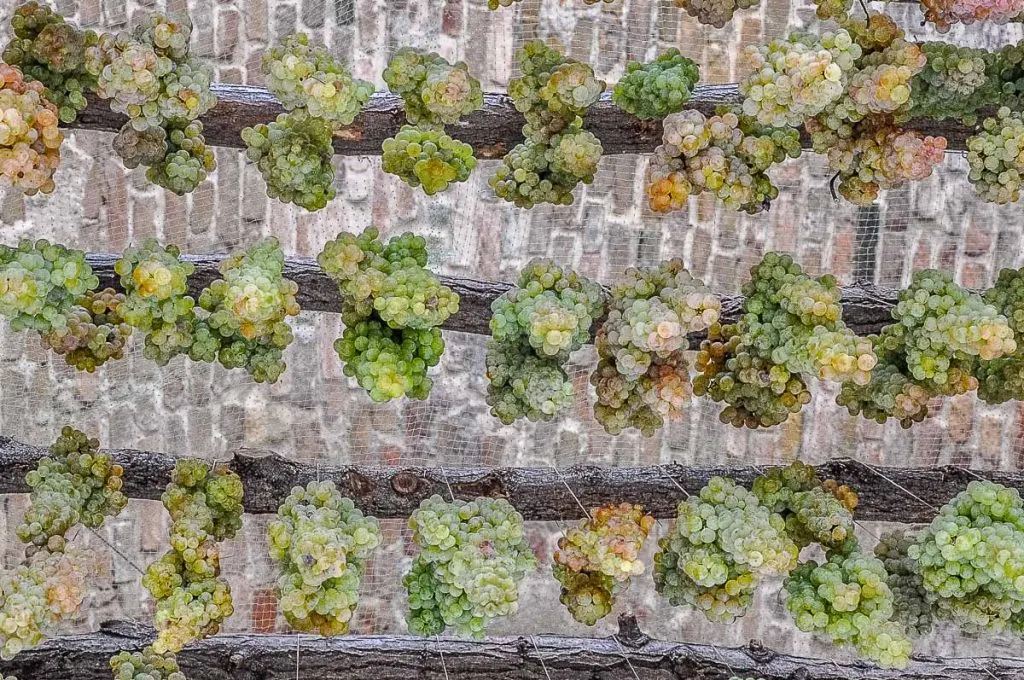 Tour a Family Winery
Discover century-old winemaking traditions and sample wines produced on the shores of Italy's largest lake – Lago di Garda…
15. Malo in Veneto, Italy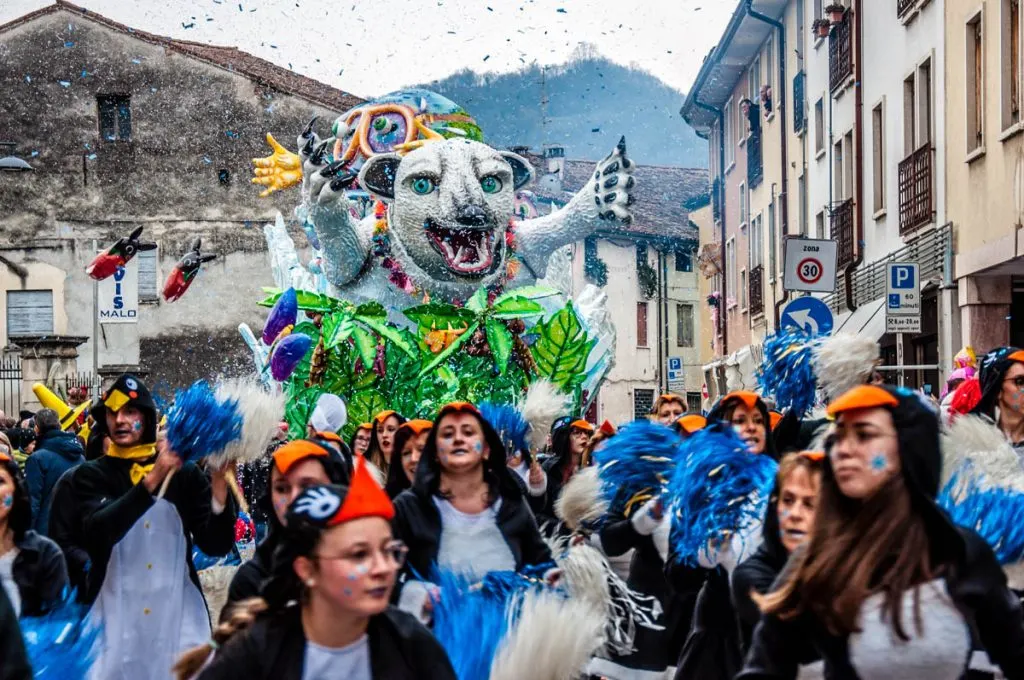 Malo is one of those Italian towns that take a little while to reveal their secrets to the first-time visitor. Small, quiet, and rather reserved, Malo may initially give you the impression that there isn't much to do here after all. The tall facades look just a tad taciturn and the streets seem deserted, especially during the traditional Italian lunch break called riposo.
To get Malo to reveal its intriguing beauty, you just need to know where to look both in and around the town. For example, there are several Venetian villas here with the most intriguing one being an unfinished structure by the celebrated architect Andrea Palladio. Then, there is a rather splendid mask-making studio-cum-museum that moved from Venice to Malo several years ago. You can also visit a local museum dedicated to two typical for the area crafts – those of silk-producing and brickmaking. What a curious mix!
Malo really comes into its own during the weeks of Carnival. It has to be said that this small Italian town stages one of the largest and most colourful Carnival celebrations this side of Italy. Huge floats parade down the central streets surrounded by hundreds of whimsically dressed dancers and performers. Handfuls of confetti fly in the air and the party goes on until late in the evening.
16. Malcesine in Veneto, Italy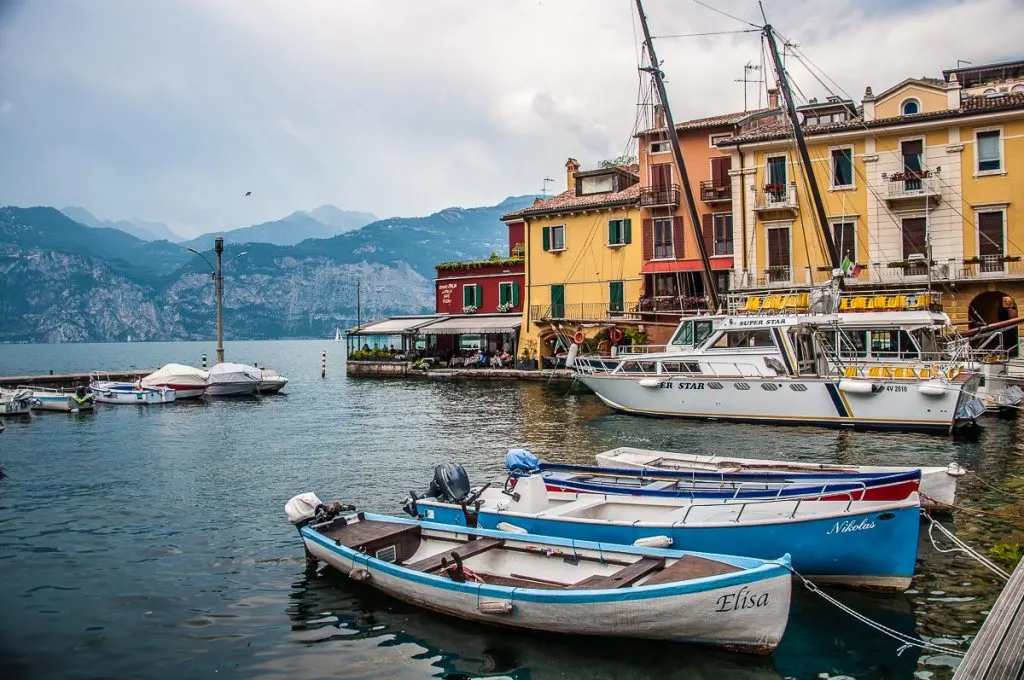 Malcesine is easily the most beautiful town on the shores of Lake Garda. For me, at least! Built on a small rocky outcrop above the limpid waters of Italy's largest lake, this small town is a visual delight. Steep cobbled streets lead up to Malcesine Castle and down to a tiny, secret beach in the historic centre of the town. Pomegranate and citrus trees grow next to medieval defensive walls. Fishing boats sway in the historic harbour. And then, the Captain's Palace has a stunning lakefront garden where you can lose yourself in contemplation of the lake.
For many centuries, Malcesine could be reached only by boat. Nowadays, it's not a problem to arrive here by car. The best way to see the town for the first time though is from the water. Ferries and boats crisscross Lake Garda giving you plenty of opportunities for panoramic waterside views. Alternatively, take the rotating cable car up to the top of Mount Baldo – the mountain that towers above Malcesine. The views from up there are soul-inspiring! Plus in summer Mount Baldo is a hikers' paradise and in winter it entices lovers of winter sports with its freshly fallen snow.
More Information:
17. Marostica in Veneto, Italy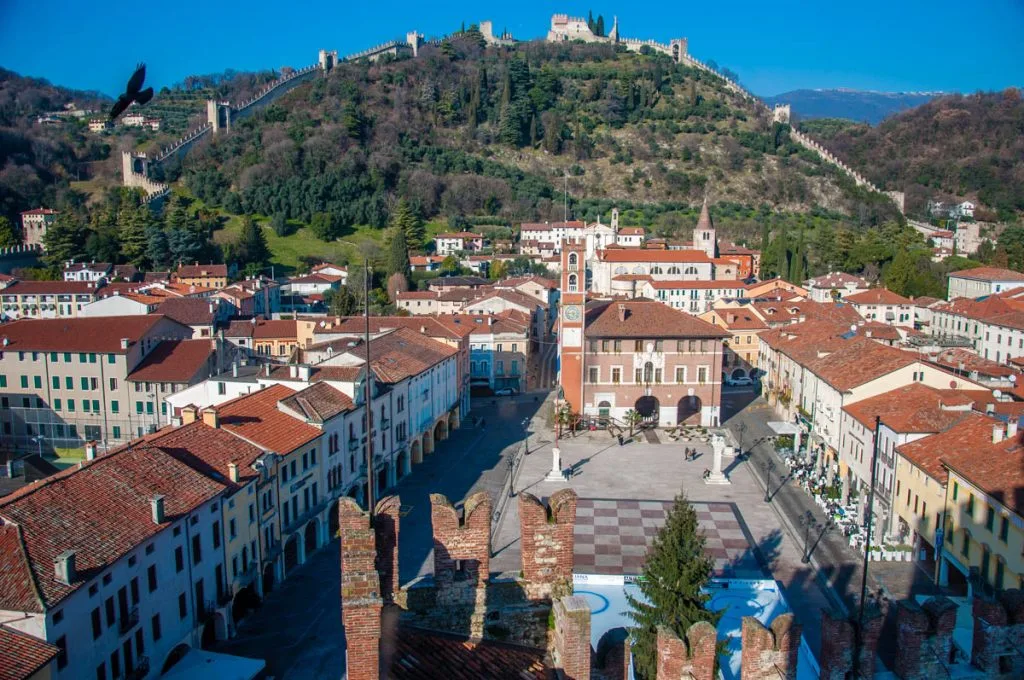 Marostica was the first small town in Veneto that stole my heart. It is so picture-perfect, it has such an interesting history, and so many unmissable local sights that it really is one of the best day trips you can have in the area. Nestled at the bottom of a hill, Marostica is fully encircled by a strong defensive wall. The wall climbs to the top of the hill and then descends on its other side holding the town in its powerful embrace. Two castles – one at the top of the hill and the other at its base – complete the ring of the medieval wall.
Marostica's central square looks like a huge chessboard. In September of every other year, a game of chess is staged here with real people and horses taking up the roles of the chess pieces. The performance is based on a local legend. According to it two noblemen played a game of chess instead of duelling to death for the hand in marriage of the daughter of the local lord.
That's not all though! Marostica is also famous for its cherries. The town is surrounded by cherry orchards and cherry farming here dates back to the beginning of the 15th century. Plus, Marostica is the only place in Italy to have the Protected Geographical Indication (PGI) mark specifically for cherries. Every spring, a large festival is held in town to celebrate this delicious and juicy red fruit.
More Information:
18. Mel in Veneto, Italy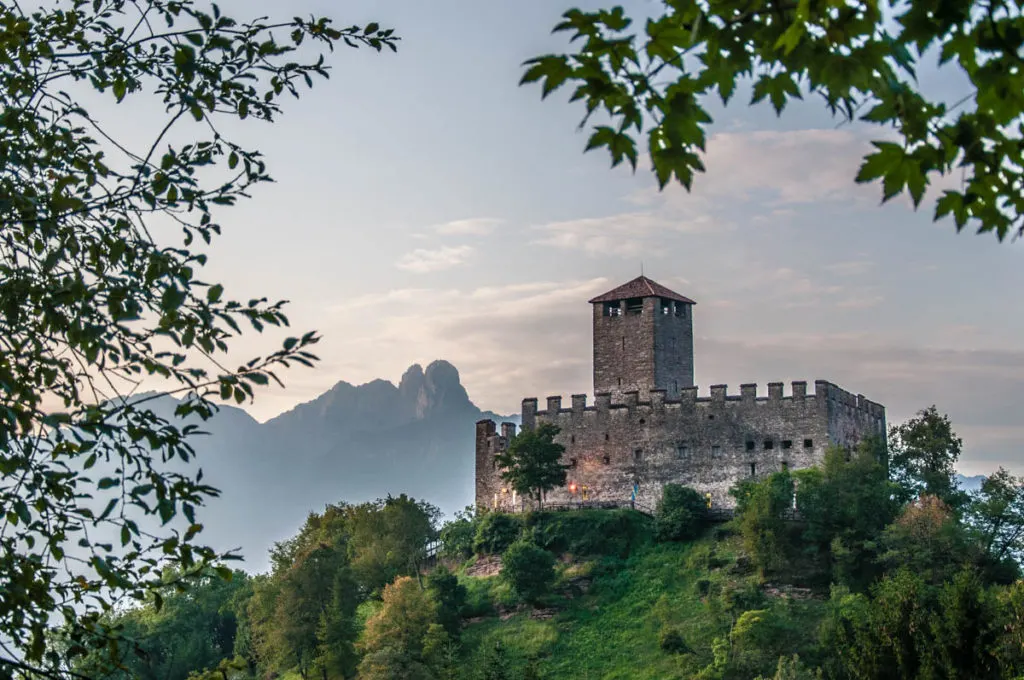 Mel is a small pretty town in the Dolomites. Officially recognised as one of Italy's most beautiful towns, it stands at a spot that has been inhabited since at least the Iron Age. In fact, the local Archaeological Museum hosts the findings from an Iron Age necropolis that has been excavated near Mel's historic centre.
A short drive away from Mel stands the mighty Zumelle Castle. Built during the Middle Ages on the spot of an earlier Roman fortification, nowadays the castle has a lively calendar of events and you can even rent a room to sleep in it. A hike away from the castle you can also see the Grotta Azzurra di Mel – a tiny grotto with turquoise water that is worth the walk along a rocky riverbed to reach it.
Mel and its area are also famous for the local apples. A large apple festival – Mele di Mel – is traditionally held in this small town every autumn.
More Information:
19. Mira, Mirano and Dolo in Veneto, Italy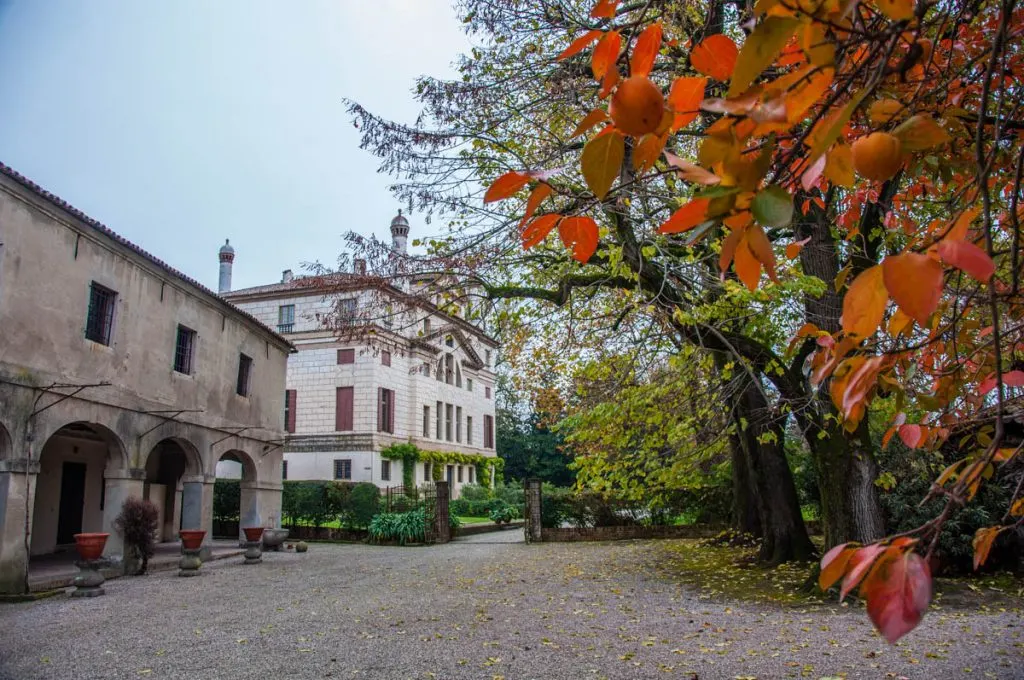 Mira, Mirano, and Dolo are three small towns in Veneto. Right next to one another, you can visit them all on the same day. Mira and Mirano even share a train station. Firmly off the beaten track, the three towns have a nice list of must-see local sights.
From patrician villas, ancient mills, and gorgeous parks to cute historic centres and dozens of hiking and cycling paths, Mira, Mirano, and Dolo provide you with lots of options to pick from for a nice day trip in Veneto. The gem among them all is Villa Foscari La Malcontenta. This is a famous 16th-century Venetian villa designed by the renowned architect Andrea Palladio. It is beautifully frescoed inside.
20. Monselice in Veneto, Italy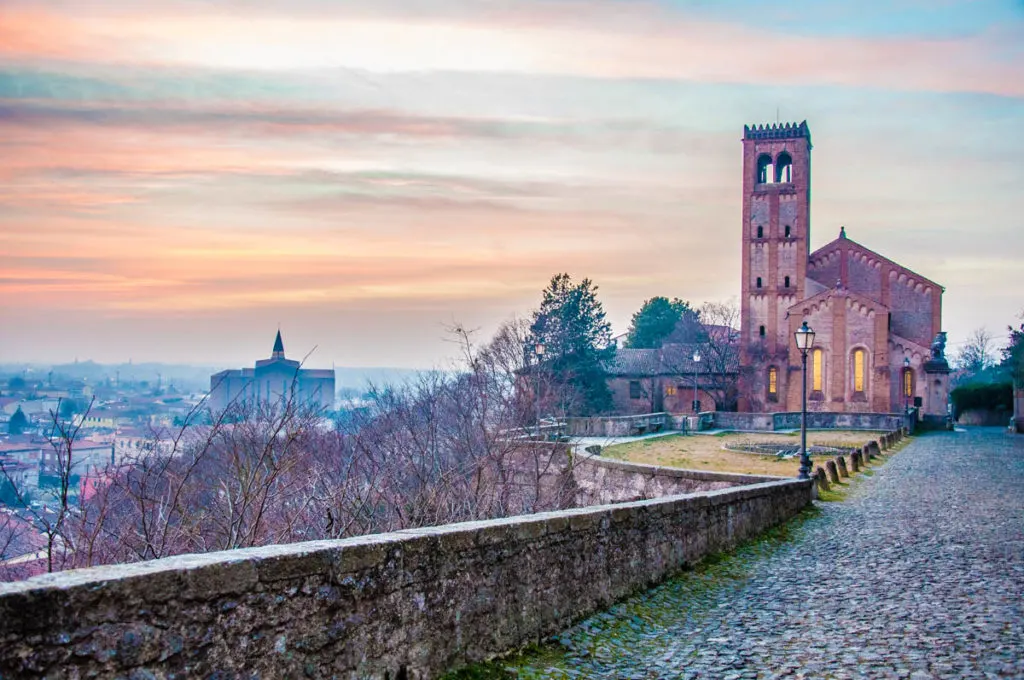 Monselice is nestled in the beautiful setting of the Euganean Hills – a hilly group of volcanic origins that breaks the monotony of the flat as a pancake Venetian plains. In bygone times, the rich families of the Republic of Venice would escape to their villas around Monselice during the hot summer months. Thus they left their architectural mark all over the area.
The town is small and easy to navigate on foot. A step off the central piazza here, you can visit Monselice Castle. It is really one of the most beautiful and interesting in terms of history and art fortifications to explore in all of Veneto, Italy. The castle's main building is a rich patchwork of architectural styles reflecting the building techniques and styles of several different periods. The castle's armoury is second only to the collection of arms at the Doge's Palace in Venice. Plus, the fireplaces in Monselice Castle are simply stunning! I had never thought that I could be so captivated by a fireplace until I saw the works of art they had created here to keep warm during the cold months of the year.
Also in Monselice, you can walk uphill to the Seven Churches Sanctuary. A papal bull grants the pilgrims visiting it the same indulgencies as those granted to the pilgrims visiting the seven main churches of Rome.
More Information:
21. Montagnana in Veneto, Italy
Montagnana is officially recognised as one of Italy's most beautiful towns. It stands in the Venetian plains and is completely surrounded by a mighty defensive wall. The town's historic streets and squares are flanked by tall houses with vaulted porticoes and colourful facades. An imposing cathedral occupies Montagnana's most focal spot. Inside it, you can admire frescoes by Giorgione, an altarpiece by Veronese, and many more precious works of art.
With a history that goes back to the Bronze Age, Montagnana experienced many transformations throughout the centuries. In Roman times, it was a military fortified castrum and served as an official postal station. During the Middle Ages, the town became the battleground of the area's powerful feudal lords.
Montagnana is a must-see not just for art lovers and history buffs, though. This small town in Veneto is also a renowned prosciutto-making centre. Its prosciuttifici follow a centuries-old process of dry curing the ham and produce thousands of kilos of one of the most strictly controlled food products in the European Union. A two-week-long Prosciutto Festival is held in Montagnana every spring. It is a highlight in the town's busy social calendar which also includes a large historical reenactment and an air show with an aircraft exhibition.
More Information:
22. Noale in Veneto, Italy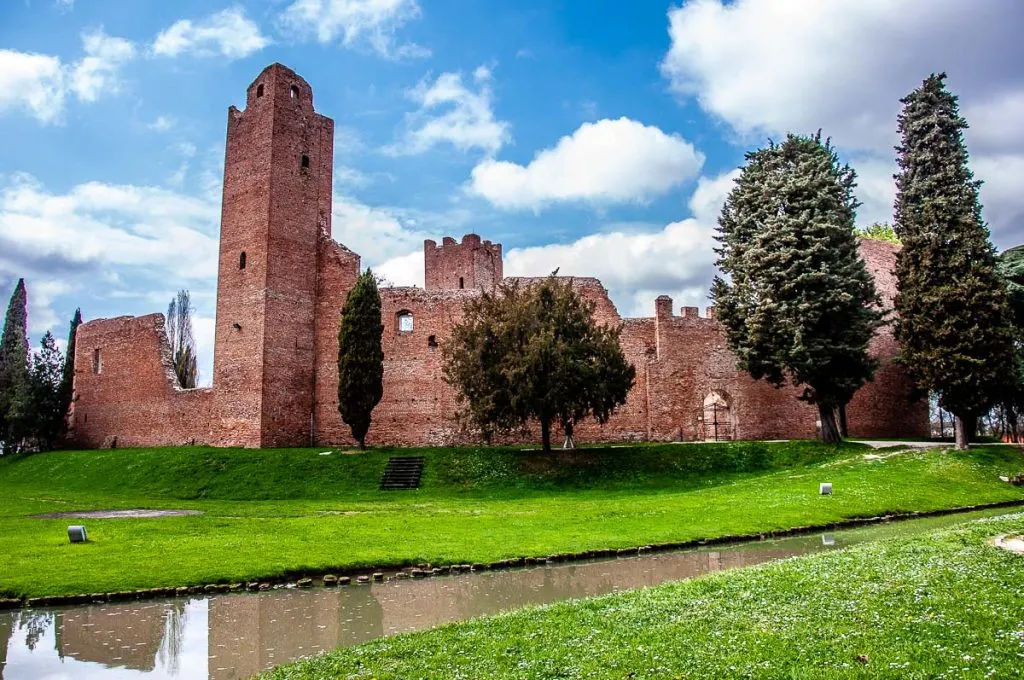 Noale is a beautiful medieval walled town in the Venetian plains. With a well preserved 12th century fortress surrounded by a moat and long stretches of defensive walls, it gives you that wonderful feeling of being in a place rich in traditions and history. Noale is also very authentic and relaxed. Here you can walk around taking in the views and the local sights without jostling for space with coachloads of tourists.
The colourful and frescoed houses of the historic centre have been weathered by the hands of time. And everywhere you look, there is water. In the past, a moat circumnavigated the whole town, rendering it difficult to attack and take by an enemy force.
A walking distance away from Noale, there is also a small protected area called WWF Oasi Cave di Noale. It has two small lakes and it's a birdwatchers' paradise.
More Information:
23. Peschiera del Garda in Veneto, Italy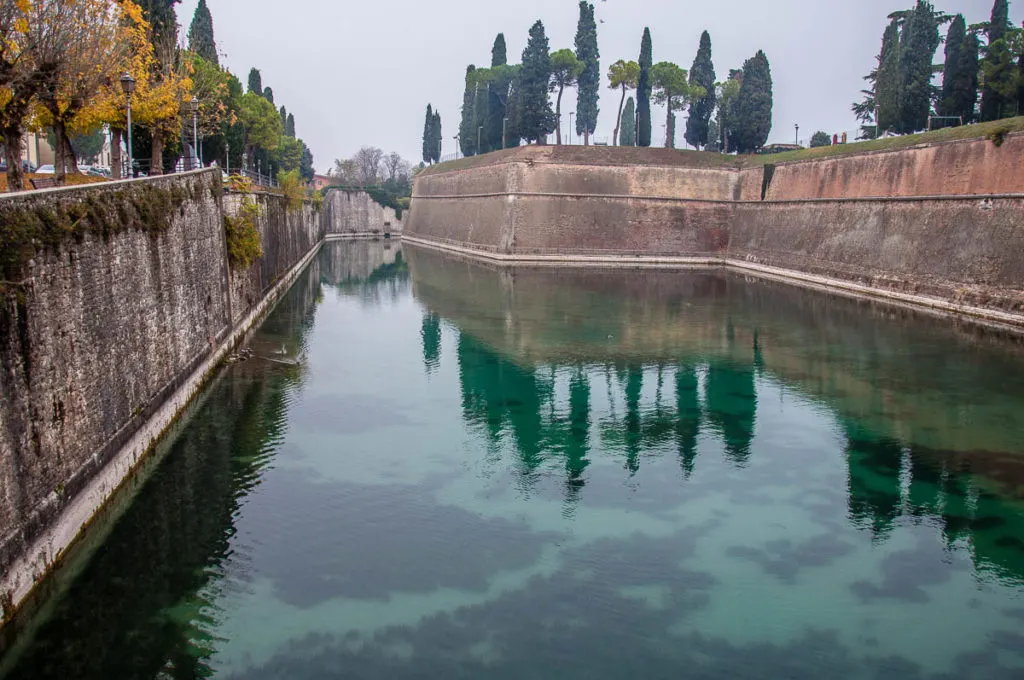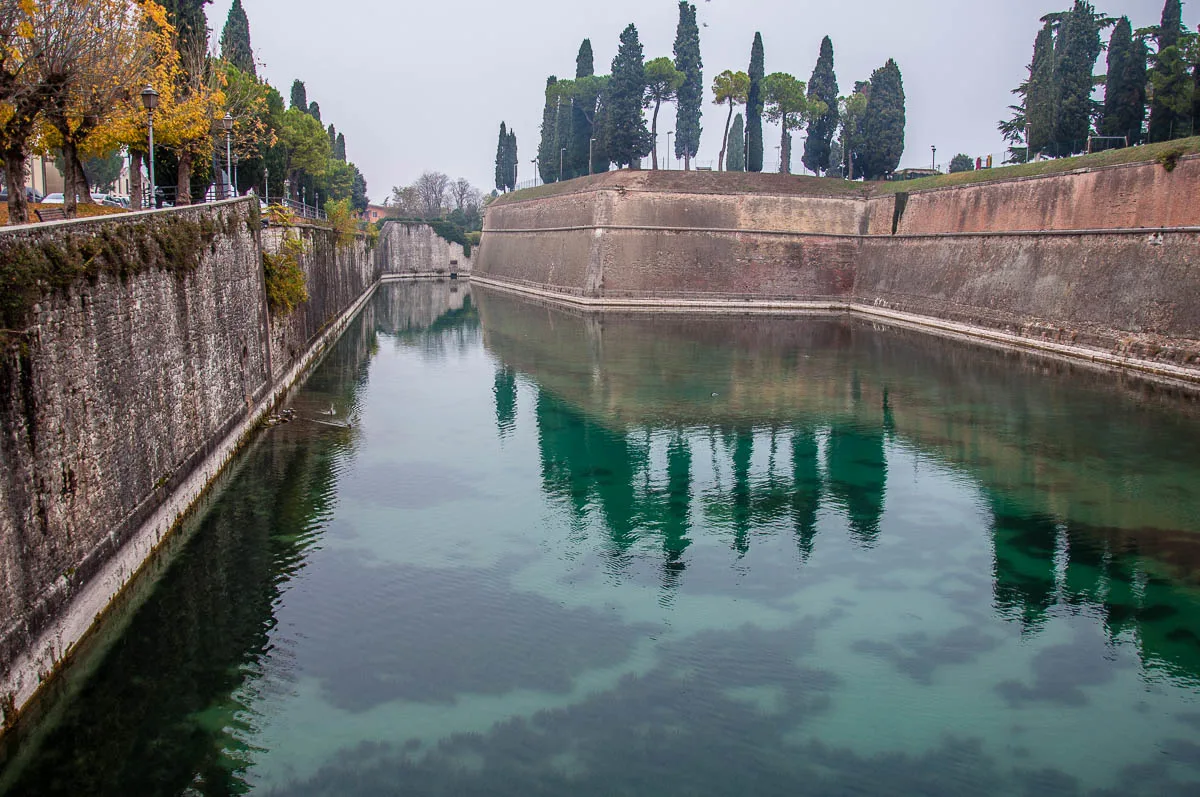 Peschiera del Garda is the perfect example of a fortified town in Italy. Positioned right on the spot where the River Mincio flows out of Lake Garda, Peschiera is built on a series of small islands and it's surrounded by massive defensive walls. The walls – thick and sturdy – seem to grow from the bottom of the lake. Such is the impression they produce and their historical value, too that in 2017 Peschiera del Garda became a UNESCO World Heritage Site.
With pre-historic roots and Roman heritage, Peschiera del Garda was mentioned by Pliny the Elder in his Natural History as a place abundant in eels. It is thought that the town must have been originally fortified during the Roman era for it served as the base of the Roman military float for Lacus Benacus (the Latin name of Lake Garda). At the beginning of the 13th century, Peschiera was fortified again. The Scaligers – the medieval rulers of Verona – played an important part by completing the walls and erecting a fortress.
Nowadays, Peschiera del Garda is one of the prettiest towns in Veneto, Italy. Visiting it brings you close to the history of the region in many different ways. Its historic centre is cute as a button, too. Even better, a stone's throw away from Peschiera del Garda you can visit some of Italy's largest and best amusement parks – Gardaland, Caneva Waterpark, and Movieland Park, as well as the safari park and zoo Parco Natura Viva and the thermal spa Aquardens.
More Information: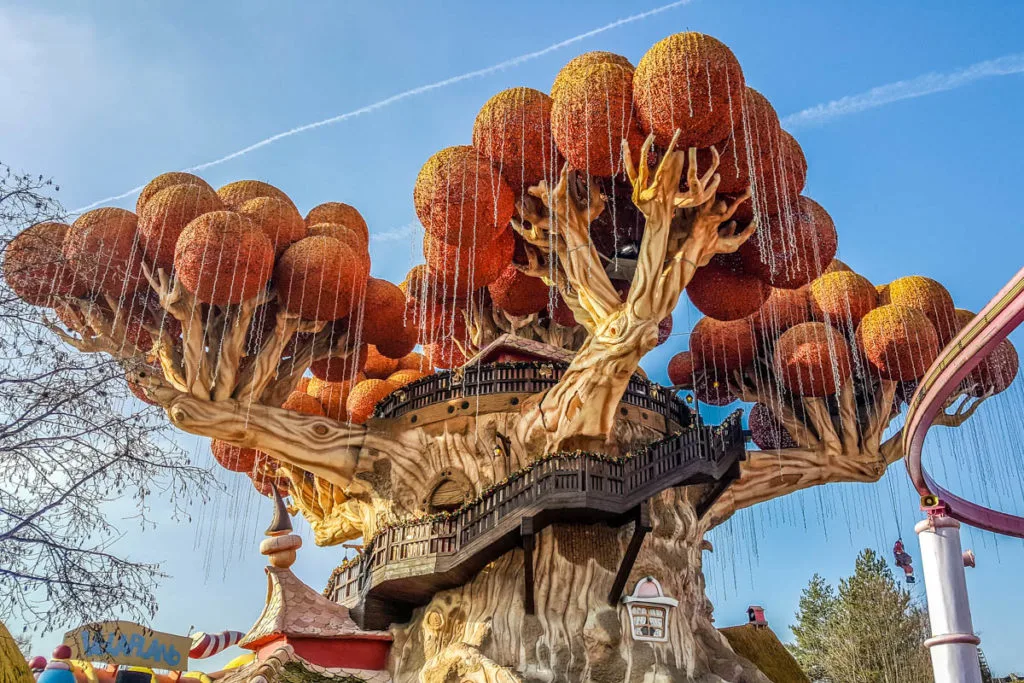 2-in-1 Gardaland and Parco Giardino Sigurta'
Have fun at one of Europe's largest amusement parks and then spend time in one of Italy's most beautiful gardens…
24. Portogruaro in Veneto, Italy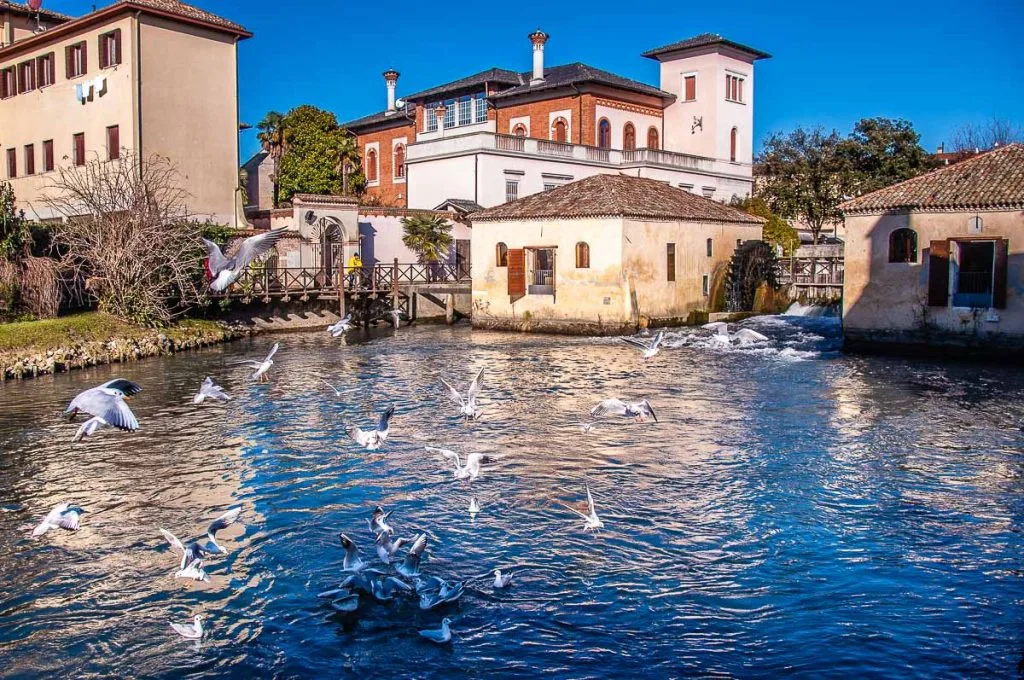 Portogruaro is a 12th-century town in Veneto that stays firmly off the beaten track. It's very charming with its buildings in the Gothic Venetian style and streets flanked by long porticoes. The town hall dates back to the 13th century and has an impressive crenellated facade. Two 12th-century mills stand on the River Lemene that flows through the historic centre of the town. Nowadays, they function as exhibition spaces and offer lovely waterside views of Portogruaro.
I particularly loved how quiet and authentic the town feels. There are no crowds of tourists here and you can immerse yourself in the Italian dolce vita. Portogruaro's Archaeological Museum is excellent, too! It holds many of the findings from the archaeological sites in the nearby town of Concordia Sagittaria – once an important Ancient Roman colony. Portogruaro is only a short driving distance away from Concordia Sagittaria. You can combine them both in one day in order to learn more about Veneto's Roman heritage.
25. Recoaro Terme in Veneto, Italy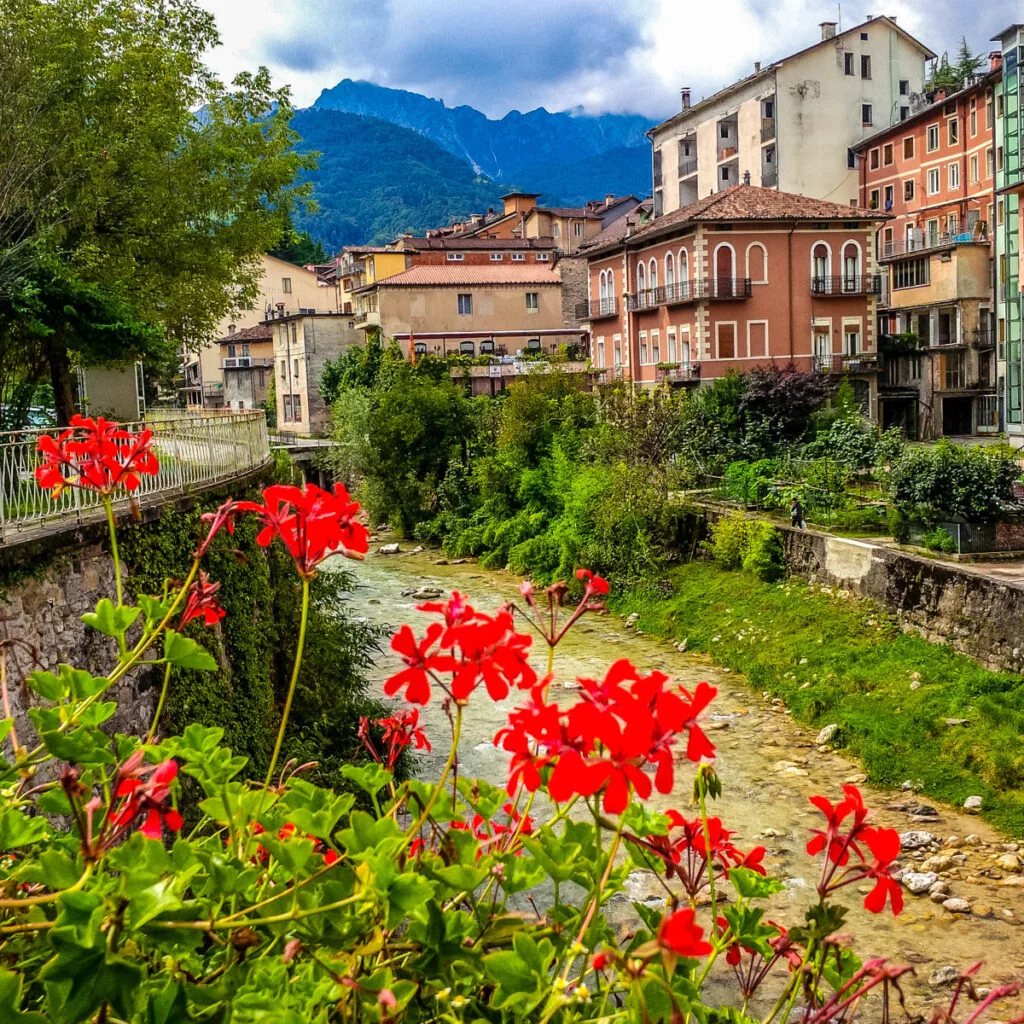 Recoaro Terme is a small town at the foot of Veneto's Little Dolomites. The area is particularly famous for its mineral water springs. The town has a historic spa which in the past used to attract famous people like Nietzsche and Goethe. If you wish, you can follow in their steps and visit the spa to take the waters. Each of them allegedly helps improve a different ailment.
I find Recoaro Terme quite attractive with its colourful facades, steep streets, and patrician villas. The fast River Agno rushes right through its historic centre. The town has lost a bit of its sheen of a once-famous spa centre that attracted the nobility of Europe. Which, I think, makes it more authentic, more lived in. Surrounded by lush nature, it's a great place to visit. Especially if you like hiking in summer and skiing/snowboarding in winter. Two easy hikes you can do nearby are the Path of the Big Trees and the Montagna Spaccata. For winter sports, head to the nearby Recoaro Mille ski resort.
More Information:
26. Thiene in Veneto, Italy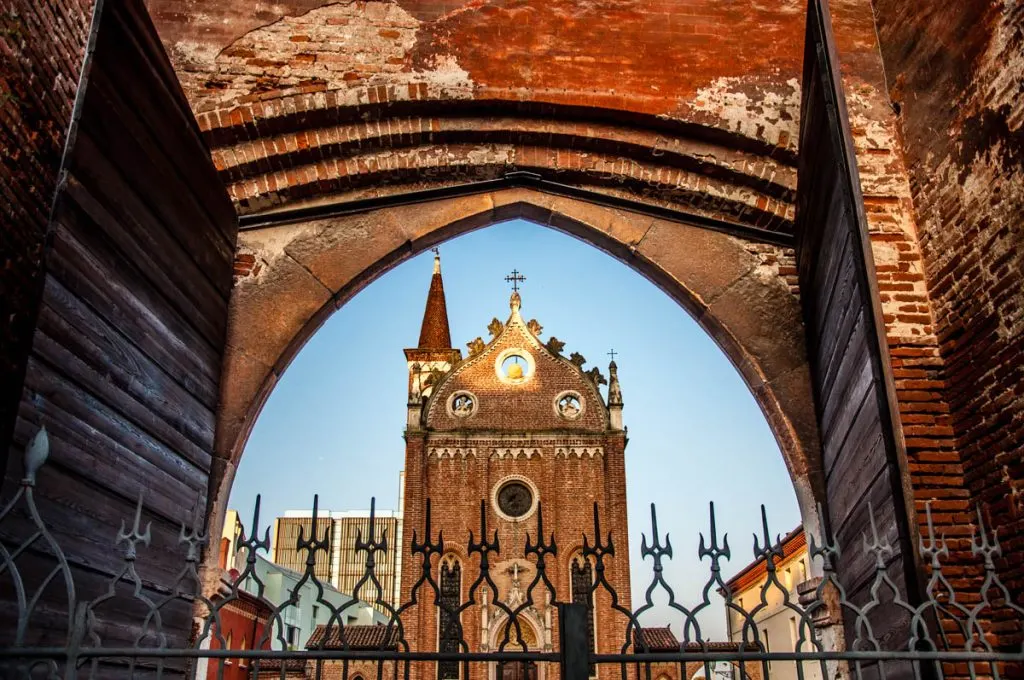 Thiene is compact, cute, and virtually unknown. Yet, this small town in Veneto has a lot to offer to those seeking to experience Italy off the beaten track. Right in its heart, you can visit the splendid Castello di Thiene. Also known as Villa Porto Colleoni Thiene, this is a Late Gothic palace and a precursor to the Venetian villa. With lovely frescoes both on the inside and the outside walls, the palace is a treasure trove of art accumulated throughout the centuries by the noble families that owned it.
Also here, you can see one of the most impressive stables ever built. Decorated with marble pillars and statues, it is a throwback to the time when the Castello di Thiene was known for the prized horses reared here.
Then, the town of Thiene itself is a lovely stop during a day trip in Veneto's countryside. The cute historic centre really comes into its own during one of the large-scale events and festivals held here throughout the year. A special mention deserve the historical reenactment and the Renaissance market which are organised every autumn. Near Thiene, you can also spend happy moments with your kids in Oasi Rossi (no connection to me) where there is a butterfly house and a large park for the little ones to run around and play in.
More Information:
27. Torri del Benaco in Veneto, Italy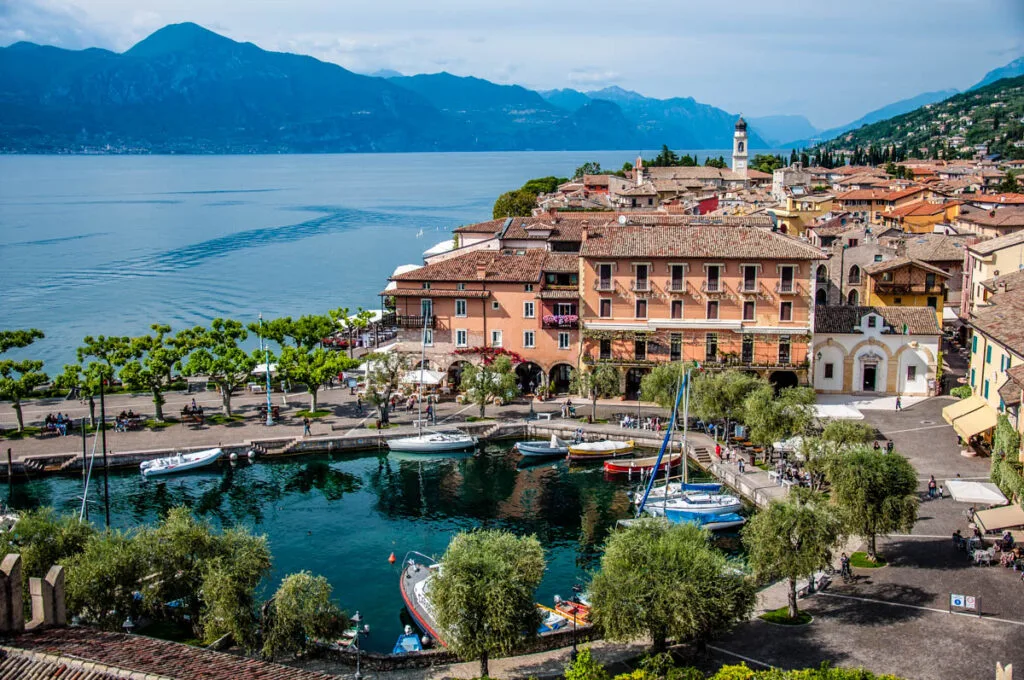 Torri del Benaco is one of the most beautiful towns on Italy's Lake Garda. Elegant and pocket-size, it has a cute as a button historic centre, a picturesque harbour, and an imposing medieval castle with a centuries-old citrus garden. Plus, Torri del Benaco offers some of the best lake views this side of Italy, cute pebbly beaches right next to its promenades, and countless hiking trails in the hills that keep guard over the town.
All in all, it is a great place to head to learn more about Veneto's history, to sample delicious dishes inspired by the lake and the mountains, and to take in the beauty of Italy. Lovers of water sports will be in their element here, too. From swimming and sailing to diving, fishing, and even kitesurfing, Torri del Benaco is a great place to take a dip in the water.
More Information:
28. Serravalle in Veneto, Italy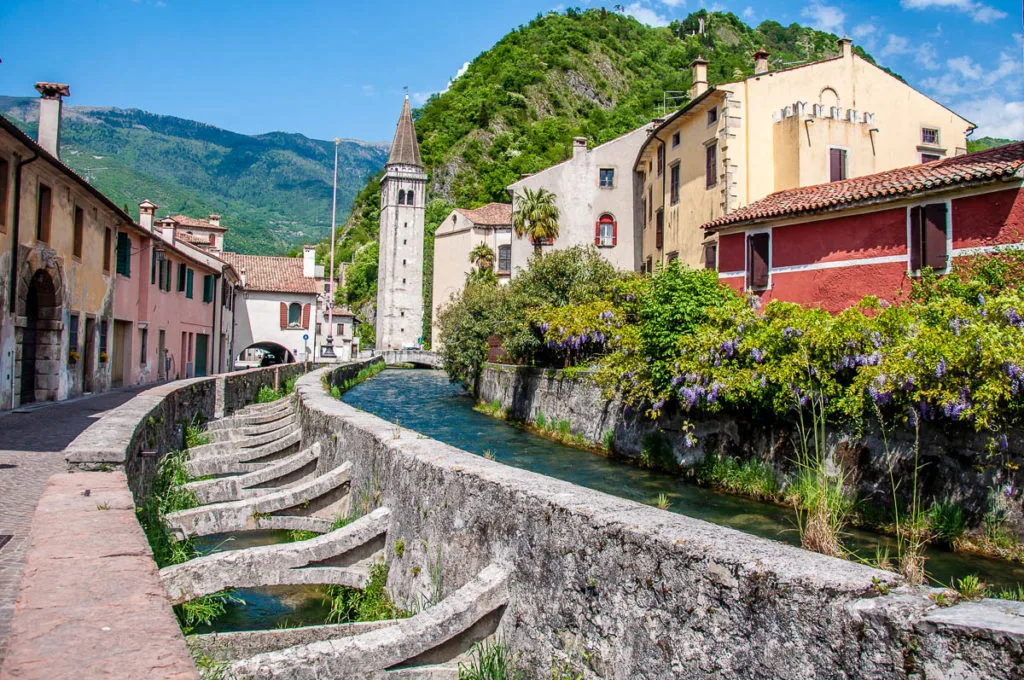 Serravalle for me is a very special town in Veneto, Italy. With its frescoed houses and the River Meschio running through it, it is absolutely beautiful. Every time that I had a chance to visit it, I felt transported into a fairytale on the edge between the Middle Ages and the Renaissance.
The town itself has ancient origins. It has a perfectly preserved historic nucleus while it has also grown throughout the centuries. Nowadays Serravalle is fused with the nearby town of Ceneda and both are officially known under the name Vittorio Veneto.
Come to Serravalle in any season to experience its beauty and history. The main Piazza Flaminio is breathtaking and there are a number of must-see museums, churches, and sanctuaries in the town in particular and Vittorio Veneto as a whole. Nearby, you can also visit the Grotte del Caglieron – a beautiful area of caves and waterfalls.
More Information:
29. Soave in Veneto, Italy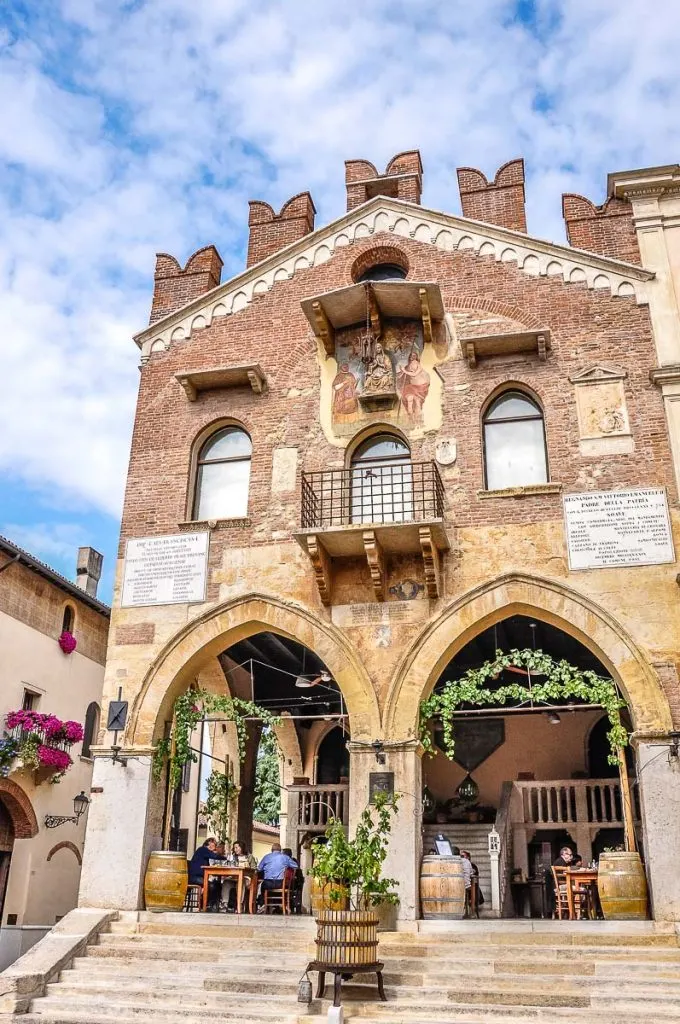 Soave is one of the most beautiful medieval walled towns you can visit in Italy. Its name may ring a bell for it's used to designate the locally produced and world-famous Soave white wine. Winegrowing and winemaking are centuries-old occupations here. In fact, the town is completely surrounded by carefully tended vineyards.
Beautiful surroundings aside, Soave itself is very picturesque. Its medieval castle crowns a small hill. The town's houses and churches dot the hill's slope and then spread around the hill's foot. A thick defensive wall – tall and crenellated – circles the town and scales the hill all the way to the hilltop castle. Soave is wonderful to spend a day walking up and down its cobbled streets, admiring the panoramic views from the courtyard of its castle, and sampling the local wine in one of the many small trattorias and restaurants.
In autumn, the town celebrates its winegrowing and winemaking heritage with the very popular Festa dell'Uva (Grape Festival). This is when Soave's facades and historic gates get adorned with long strands of golden bunches of grapes. It's picture-perfect!
More Information:
30. Valeggio sul Mincio in Veneto, Italy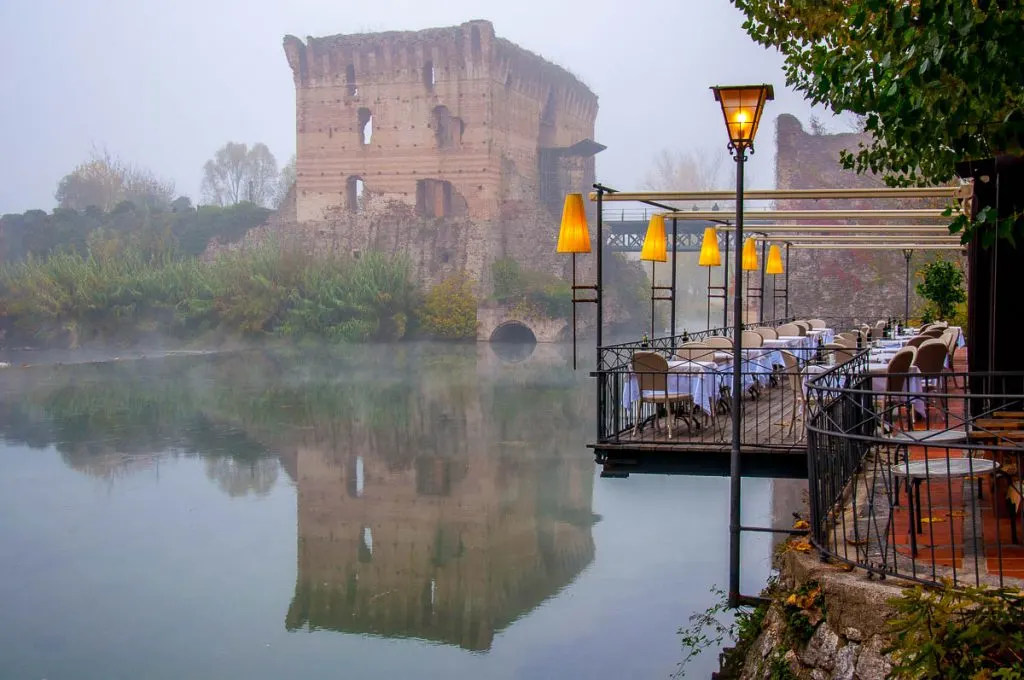 Valeggio sul Mincio is a small town standing next to the fast-rushing River Mincio. It's just a stone's throw away from the City of Love – Verona – and Italy's largest lake – Lago di Garda. It's famous for its tortellini. Handmade to an ancient recipe, they are delicious and come with different seasonal fillings.
Locally, Valeggio's tortellini are known as love knots (in Italian, nodo d'amore). Their evocative name is based on a legend about a nymph who once lived in the River Mincio. She fell in love with a human and gave him a knotted handkerchief as a symbol of her undying love.
Valeggio sul Mincio is home to a medieval castle, a 14th-century bridge, and a medieval hamlet – Borghetto – with ancient watermills. These nowadays have been turned into boutique hotels with river views and wisteria-draped restaurants serving the local delicacy. One of the most beautiful parks in Italy and Europe – Parco Giardino Sigurta' – is adjacent to the town. Parco Cavour is another local must-see. This is a large tropical lagoon waterpark that offers oodles of fun come summer.
Every year, Valeggio sul Mincio celebrates its famous tortellini with a large-scale food festival known as Festa del Nodo d'Amore. This is when 13 tonnes of handmade tortellini are served for dinner held on the historic bridge in town. The table is more than a kilometre long and seats over 3,300 people! It's a great event where you can feel the authentic spirit of Italy and have a truly outstanding meal.
More Information:
31. Valstagna in Veneto, Italy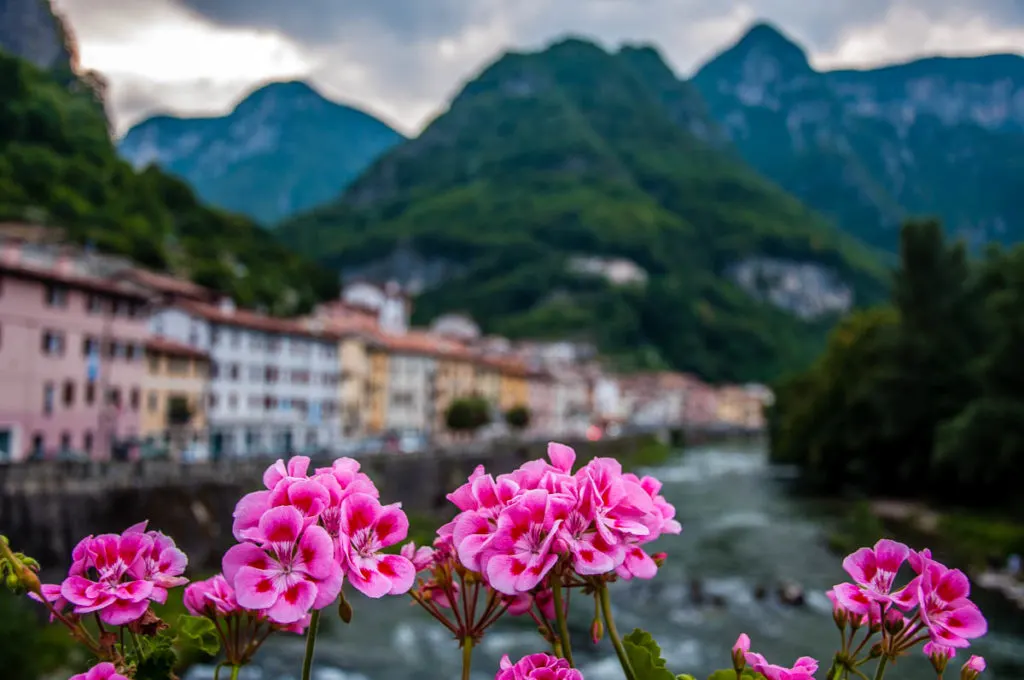 Valstagna is a small town in the foothills of Veneto's lush mountains. In the past, it served as a major supplier of the large logs used to build the foundations of Venice's lavish palaces and buildings. Later on, the area became famous for the locally-grown tobacco. Nowadays, Valstagna is a quiet small town that zealously preserves its centuries-old traditions.
The town's colourful houses and main buildings stand right next to the River Brenta. So as to emphasise its historic dependence on this fast-rushing river, Valstagna is rather narrow and very long. Walking around town you are never far from the river. And then, the steep slopes that sandwich Valstagna between the Brenta and the mountains are carefully terraced and tended to by small local farms.
Valstagna is lovely to visit in any season. More so in spring when everything is green and blooming. Then, in summer, the town holds a large event in which the young local men compete on rafts down the fast river. Thus they recreate the historic trade between Valstagna and Venice when logs from the forests in the nearby mountains would be sent floating down the Brenta all the way to the Venetian Lagoon.
You can also experience Valstagna's centuries-old rafting traditions. During the high season, local companies organise rafting trips and canoe-kayak experiences here. The area is perfect for hiking and camping enthusiasts, too. And just down the road from Valstagna, you can also visit the Grotte di Oliero – a small cave that can only be reached via a short boat trip.
Map of the 31 Prettiest Small Towns in Veneto, Italy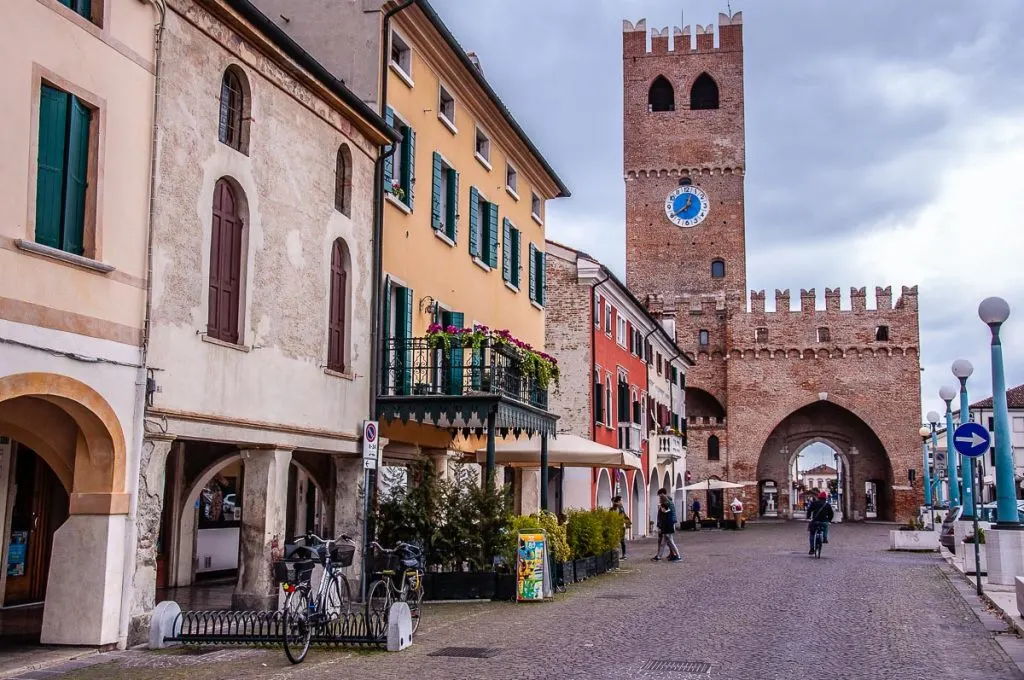 Here is a map showing you the exact locations of the 31 prettiest small towns in Veneto, Italy. I hope that it will come in useful when you are planning your day trips or longer explorations of the area.
I made the map in Google Maps, so you can zoom in and out, use Street View, and work with it just as with any other map in Google Maps. For ease of reference, right below this map, there is a list of the prettiest small towns in Veneto, Italy, too:
Asiago – Asolo – Bardolino – Burano – Caorle – Castelfranco Veneto – Castelletto sul Garda – Cittadella – Conegliano – Este – Feltre – Garda Town – Laghi – Lazise – Malo – Malcesine – Marostica – Mel – Mira – Mirano – Dolo – Monselice – Montagnana – Noale – Peschiera del Garda – Portogruaro – Recoaro Terme – Thiene – Torri del Benaco – Serravalle – Soave – Valeggio sul Mincio – Valstagna
How to Reach the 31 Prettiest Small Towns in Veneto, Italy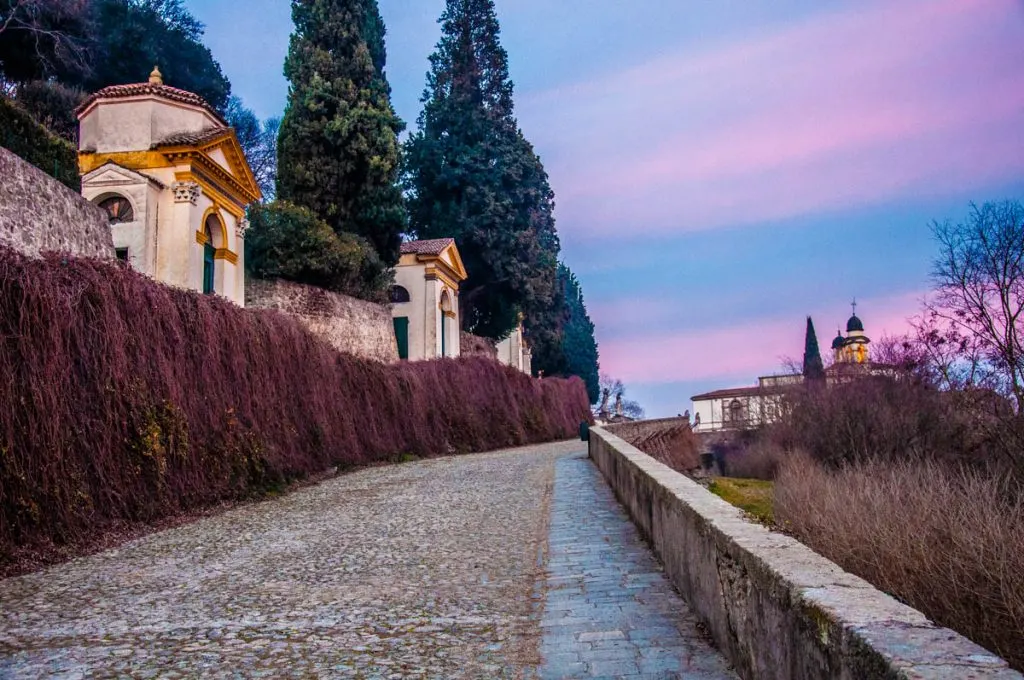 If you are planning to arrive in Veneto by plane, have a look at these three blog posts for the most convenient airport(s) in line with your specific travel plans:
Otherwise, Veneto has an excellent public transport network. Fast trains and frequent buses connect the large cities here with dozens of small towns. Alternatively, if you don't want to be tied up to the timetables of the local trains and buses, then you can always hire a car.
To quickly reach these 31 prettiest towns in Veneto, Italy, I suggest using the following resources:
Where to Stay in the 31 Prettiest Small Towns in Veneto, Italy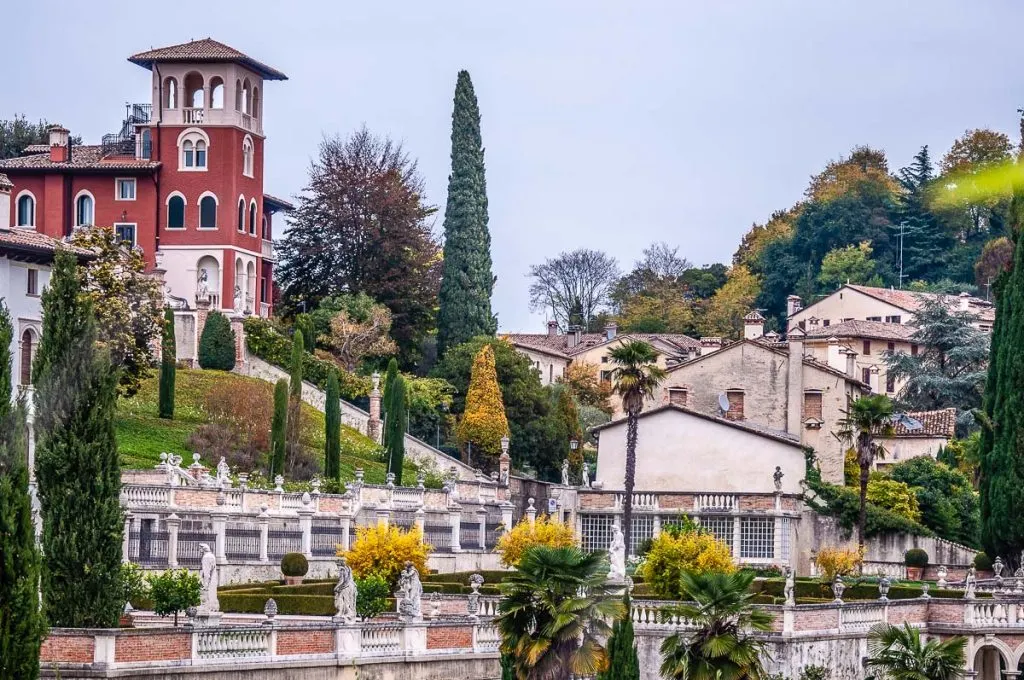 You can find all sorts and types of accommodation in and around the 31 prettiest small towns in Veneto, Italy to suit any budget. From fabulous hotels with spa facilities and swimming pools to cozy B&B's in historic buildings, there is something for everyone.
For ideas about the types of accommodation available in Veneto in particular and Italy in general, have a look at this blog post:
I usually prefer to book all my accommodation through Booking.com. It gives me many different options in terms of budget and location and I can also read and compare reviews left by real people. Click to see all available places to stay in Veneto, Italy.
If you need some visual help in terms of precise location and price range, have a look at this map. It gives you a quick idea of the prices and whereabouts of the many hotels and other forms of accommodation you can book for your stay in Veneto, Italy. You can zoom in and out in order to search for a place to stay. You can also click on the option that interests you to find out more details or to make a booking directly.
In addition, if you click on 'Accommodation' in the top right corner of the map and select 'Experiences' from the drop-down menu, then you can see some truly exciting experiences you can book directly in Veneto, Italy:
Tours and Experiences in the 31 Prettiest Small Towns in Veneto, Italy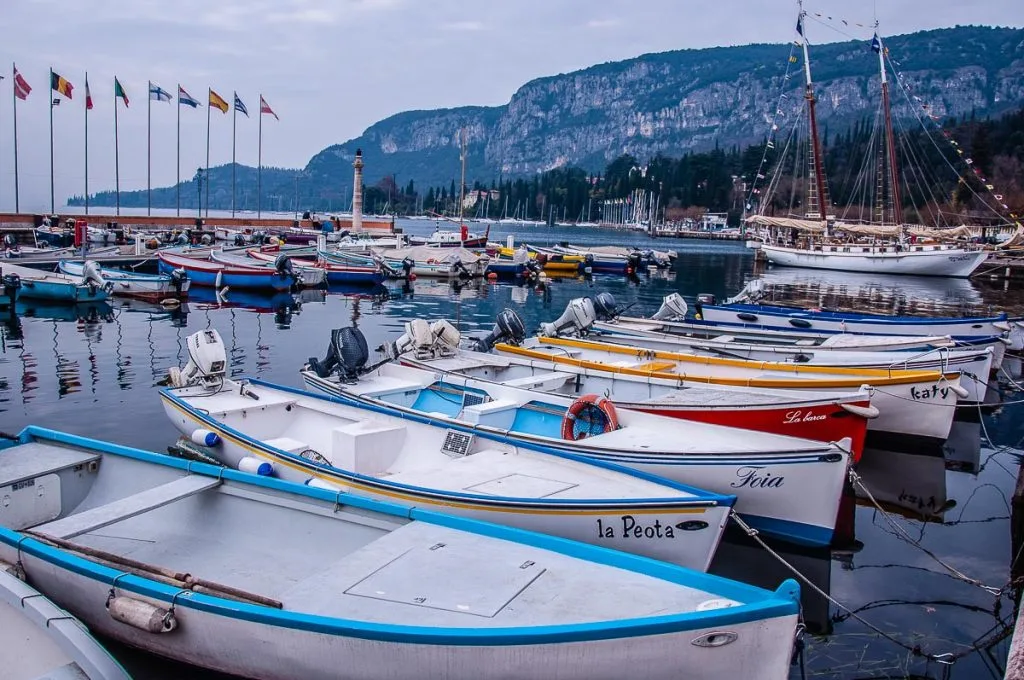 There are many tours and experiences organised by the most well-established tour companies and licensed guides in Veneto, Italy. Booking one or more of their offerings can save you lots of time and enable you to see a side of Italy that may be difficult to uncover by yourself. Especially if you are here only for a limited period of time.
Here are my favourite search engines for tours and experiences in Veneto, Italy:
For more useful travel resources, have a look at this dedicated page.
In Conclusion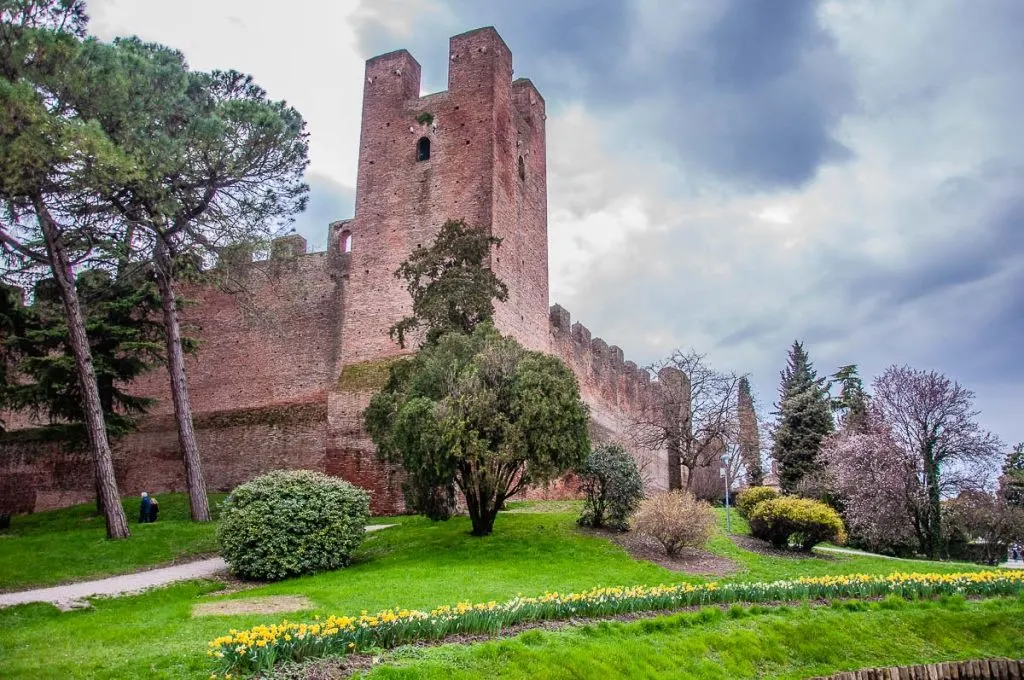 Veneto is one of Italy's most beautiful corners. Every year, millions of people visit this Northern Italian region attracted by the allure of its capital – the city of water Venice.
Yet, Veneto has so much more to offer to the curious traveller. From the shores of the sparkling Adriatic Sea to the mighty peaks of the Dolomites and the Venetian Pre-Alps, the region is dotted with small pretty towns that are rich in art, history, culture, and good food.
To give you lots of ideas for day trips and longer stays in Veneto, in this blog post I share with you the 31 prettiest small towns here. Each one of them is a gem of a destination where you can experience authentically the beauty of the Italian way of life.
I hope that the information and the practical tips in this blog post will inspire you to venture off the beaten track and see many of Veneto's prettiest towns.
Enjoy your travels in Veneto, Italy!
More Helpful Veneto Info for You
Veneto: Best Cities to Visit, Top 15 Places, 30 Adventures, 15 Most Colourful Places, 10 Mysterious Places, Best Lakes to Visit, 15 Reasons to Visit
Veneto's Small Towns and Villages: Most Beautiful Villages, Malcesine, Torri del Benaco, Punta di San Vigilio, Campo di Brenzone, Este, Montagnana, Cittadella, Borghetto sul Mincio
Venice: Best Things to Do, Main Landmarks, Essential Tips, Hidden Gems, One Day Itinerary for Art Lovers, Nearest Airports, Boats in Venice, Haunted Venice, Beaches in Venice, Dorsoduro, Day Trips from Venice, Rialto Bridge, Arco del Paradiso
Verona: Things to Do in One Day, Day Trips from Verona
Padua: Things to Do in One Day, 101 Facts About Padua, 10 Reasons to Visit Padua, Where is Padua, Day Trips from Padua
Vicenza: Things to Do, 10 Must-See Museums, Day Trips from Vicenza
Hiking in Veneto: Sanctuary of Madonna della Corona, Cadini del Brenton and Cascate della Soffia, Lake Garda's Tibetan Bridge, Rocca di Garda, Dante's Hill, Grotta Azzurra di Mel, Family-Friendly Walks and Hikes
More Helpful Italy Info for You
Best of Italy: Best Times to Visit Italy, Italy in Summer, Italy with Kids, Italian Piazzas, Accommodation for Every Budget, Italian Markets
Italian Food: Best Italian Food Gifts, Cheap Italian Food, Rules of Italian Breakfast, Italian Breakfast Foods
Italian Coffee: Italian Coffee Culture, Italian Coffee Drinks, History of Coffee in Italy
Christmas in Italy: Fun Facts, Things to Do, Italian Nativity Scenes, Panettone, Christmas Guide
Lake Garda: Best Towns, Nearest Airports, Travel Options, Lake Garda with Kids, Best Castles, Tips for Lake Garda Beaches, 3 Unmissable Beaches, Milan to Lake Garda, Verona to Lake Garda, Venice to Lake Garda, Malcesine, Riva del Garda, Torri del Benaco
Lake Como: Things to See, Nesso
Emilia Romagna: Bologna, Ravenna, Comacchio, Most Beautiful Villages
Friuli Venezia Giulia: Venzone, Most Beautiful Villages
Marche: 6 Reasons to Visit, Gradara, Frasassi Caves, Temple of Valadier
Lombardy: Best Cities and Towns, Verona to Milan, Venice to Milan
Thank you for reading! Please, leave me a comment, pin the images below or use the buttons right at the top and at the end of this blog post to share it on social media.
For more useful information like this, please, like my blog's page on Facebook and subscribe to my strictly no-spam newsletter.