Calle, campo, and sestiere are Venetian place names that you will come across many times during your visit to Italy's city of water.
Today let's learn what they and many other Venetian toponyms mean so that you can navigate Venice like a local.
Built on 118 islands in the Venetian Lagoon, this beautiful city is one of the world's most famous destinations. Each year it attracts millions of visitors.
Surrounded by water on all sides, Venice has developed its own unique urban plan. The city is very much like a maze and can completely confuse your sense of orientation, especially if this is your first visit.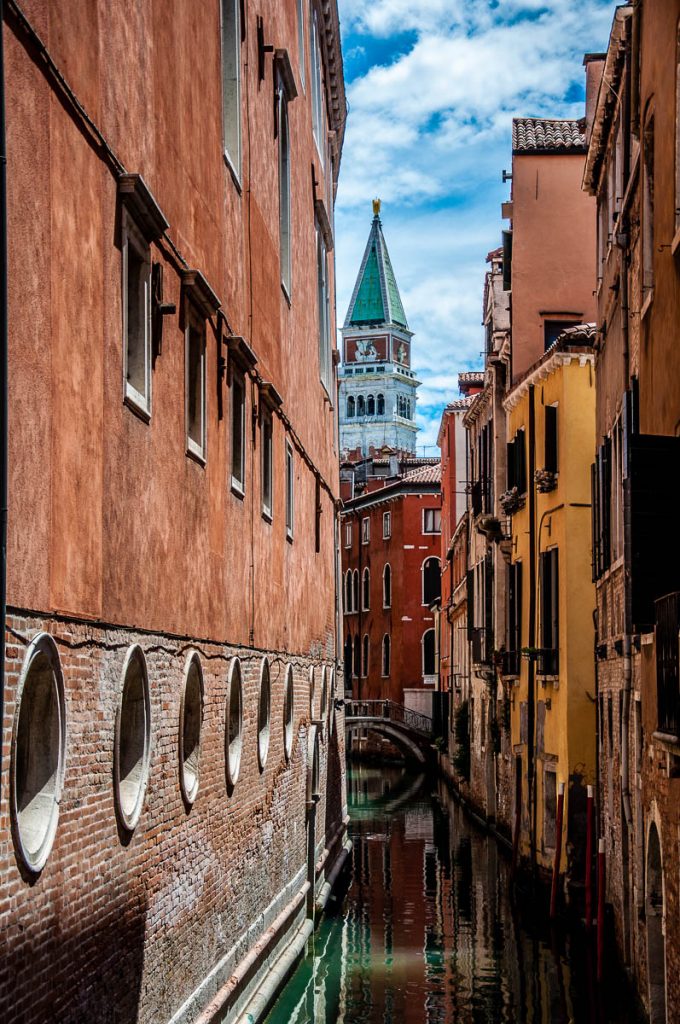 Fear not! By understanding what the different Venetian place names mean, you will soon learn how to better orient yourself in Venice. The city of water has a millennial history, many famous landmarks, and a rich catalogue of art. It also has its own language – Venetian – which, at one point, was in direct competition with the Tuscan tongue to become the basis for modern-day Italian.
Some of the most widely used Italian words nowadays are actually Venetian in their origins. Many of them have also been embraced by languages all around the world. Among them are the ubiquitous ciao but also laguna (lagoon), regata (regatta), arsenale (arsenal), and even lido.
Centuries ago, the Venetian was also the language of seafaring and sea trade in the Mediterranean. Just like English nowadays, it was spoken by the crews of the ships crisscrossing this vast sea laden with precious cargoes of spices, sugar, and coffee.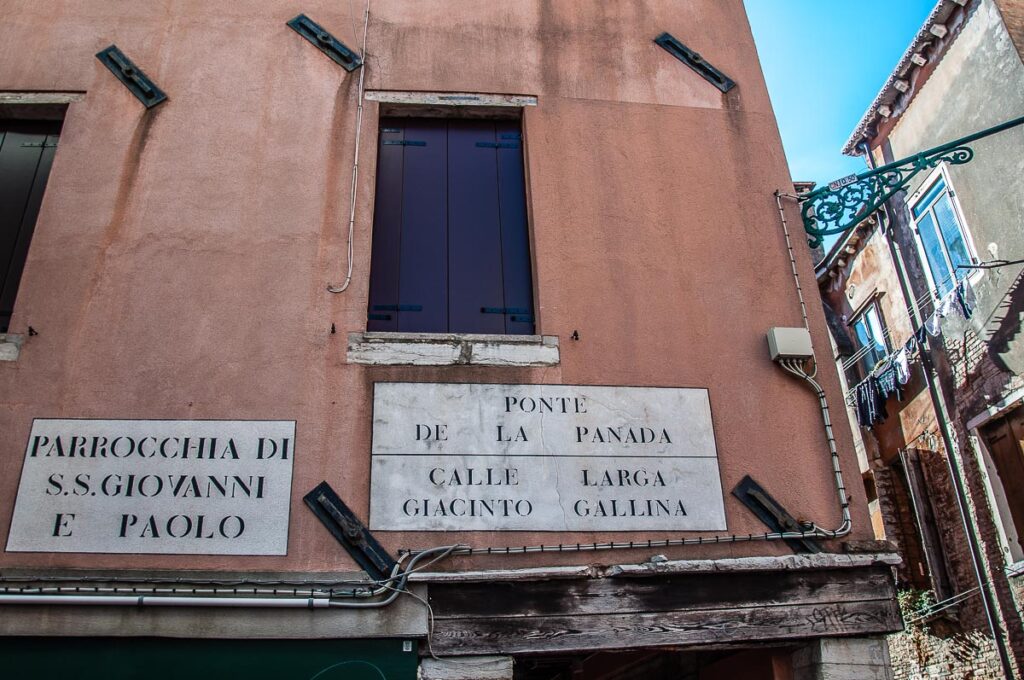 So, looking around Venice today and especially, trying to navigate the labyrinthine city of water, you will be coming across the Venetian language time and time again. All the streets, squares, canal banks, and other unique features of Venice's urban plan have historic Venetian place names. Terms as calle, campo, fondamenta, and also rio, salizzada, and piscina here are at every step.
What do all these Venetian toponyms mean?!
As a linguist and a travel writer myself, I loved learning their meaning and studying their etymologies during my many visits to Venice. Today, I want to share it all with you, so as to make your explorations of this beautiful and unique city even more exciting and authentic.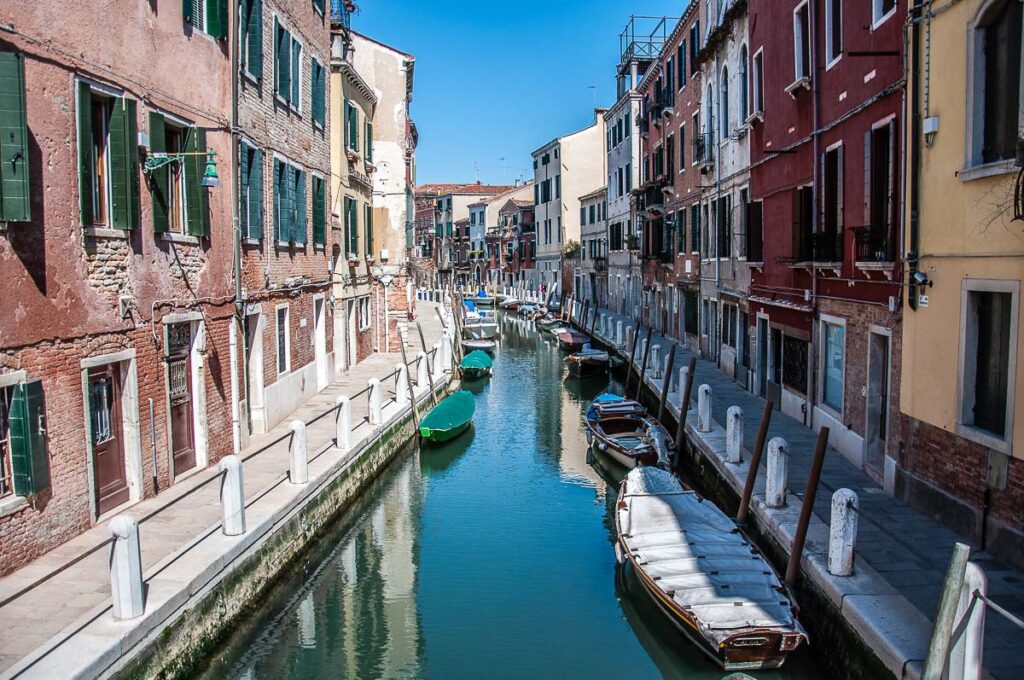 So, how are we going to proceed?
We will start with the answer to an often asked question: 'Are there streets and roads in Venice?'. Then, we will explore the history and the traditions of the Venetian street signs – the nizioleti. Next is a short Venetian glossary listing the meaning of the different Venetian place names.
I will also quickly touch on another curious aspect of Venice – why the house numbers in the city of water are traditionally three and even four digits long.
We will end with the answer to another important question: 'What to do if you get lost in Venice?'. Spoiler alert: It's nothing to be afraid of.
If this will be your first visit to the city of water, then have a look at these blog posts, too:
Otherwise, let's tuck into the topic at hand:
Venetian Place Names or How to Navigate Venice Like a Local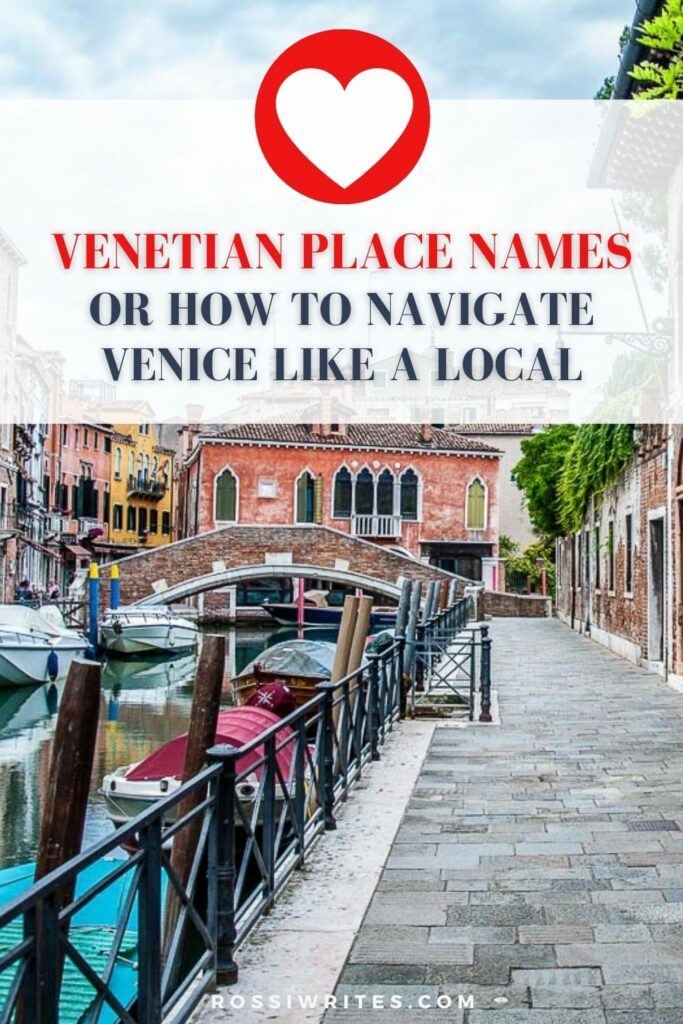 Are There Streets and Roads in Venice?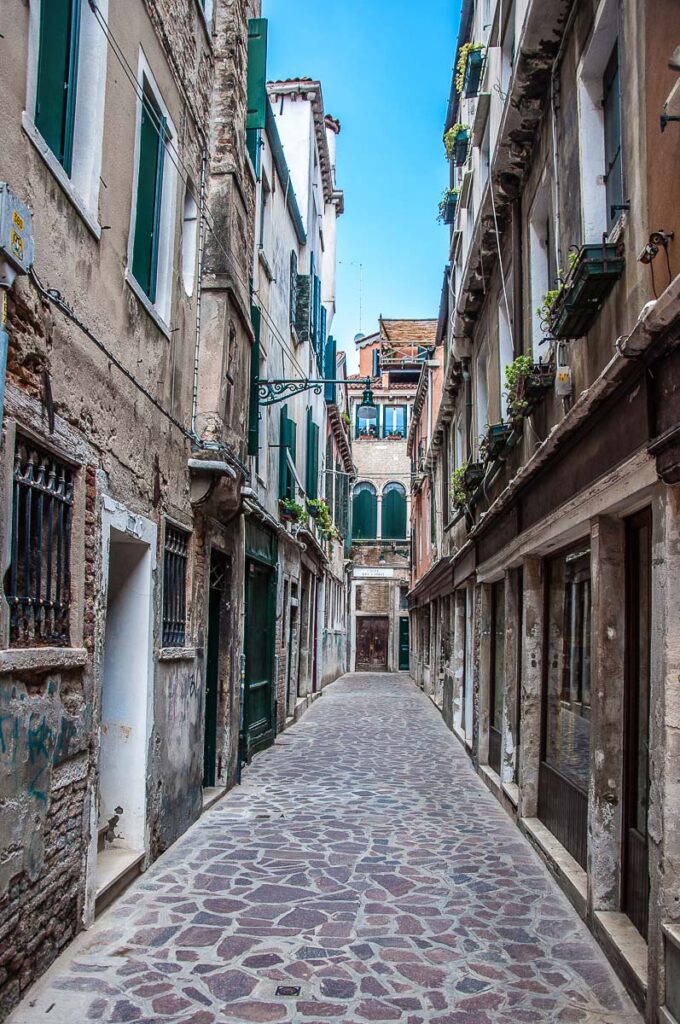 At a first glance, it may look like a ridiculous thing to ask, but this is a very good question to start with. You may have been afraid to voice it yourself, yet it may have popped once or twice in your mind. After all, we all have been bombarded with beautiful photos of Venice where splendid facades seem to grow directly from the water.
Plus, it is a widely known fact that the best way to see and experience Venice is from the water. Public vaporetti, gondolas, and private boats crisscross the Venetian canals taking you places and making you fall in love with the waterside beauty of Venice.
Yet, many corners of the city can be reached only on foot. So, are there streets and roads in Venice, after all?
Here is the answer:
Venice has no driving roads but it has pedestrian streets.
Venice is a city with no cars. In other words, you can't drive here as instead of roads the city has canals.
Cars can reach the city of water but they need to be parked on its outskirts, either:
on the island of Tronchetto which functions as a huge car park; or
in the parking lots on Piazzale Roma.
Alternatively, cars can be ferried from Tronchetto to the island of Lido di Venezia in the Venetian Lagoon where there are roads to drive them on.
Otherwise, Venice has many streets and you can easily walk all around the city on foot. There are different types of streets in Venice – short and long, narrow and wide, sinuous and straight. Some Venetian streets are more like tiny alleyways, others are flanked by canals, and yet others lead to a dead end.
For each type of street in Venice, there is a Venetian term describing it. Have a look at the glossary further below!
Now, as you walk around Venice, you will quickly start noticing large signs on the facades. Handpainted on a white rectangle, they are known as nizioleto (pl. nizioleti).
What Are the Venetian Nizioleti?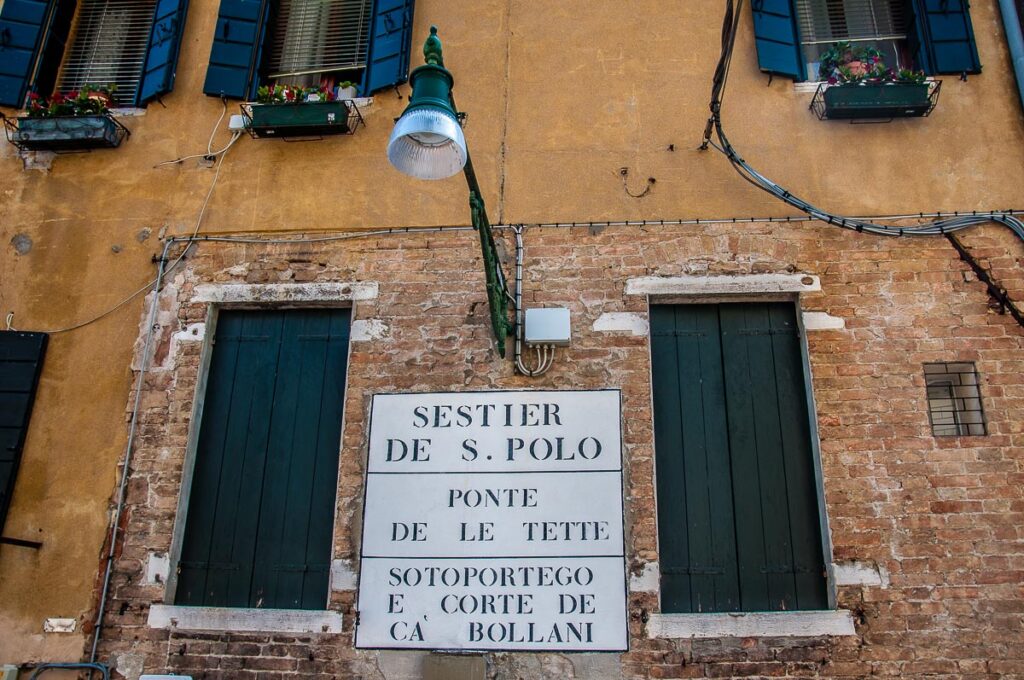 The nizioleti are Venice's street signs. They are handpainted on white rectangular background directly on the walls of the Venetian houses and buildings and can serve one of three purposes:
They tell you the name of the street, square or canal bank you are currently at in Venice. In this case, the nizioleto's lettering and frame are black.
They point you in the direction of Venice's most famous landmarks. In this case, the nizioleto's lettering and frame are red. There is also an arrow painted within the frame showing you which way to go.
They show the numbers of the Venetian houses, palaces, and other buildings. In this case, the nizioleto is much smaller in size and the number is painted inside an oval or a rectangular white panel.
The use of nizioleti dates back to the start of the 19th century. After the Fall of the Republic of Venice in 1797, the Napoleonic authorities spent a long time working on a new cadastre of the city which for the first time included all the private and public buildings in Venice.
Also for the first time, a system of street signs was developed and initially implemented between 1808 and 1816. The signs were called nizioleti – a diminutive form of the Venetian word niziol meaning sheet or cloth in English. These signs recorded the centuries-old names of the Venetian streets, canals, bridges, and other urban features which up until that moment had been passed on orally.
To this day the nizioleti remain the standard of street signage in Venice. They are painted by hand on a white limestone rectangle drawn directly on the facades and about two metres above street level. The font used is Bodoni.
They say that there are almost 4,000 nizioleti around Venice. As you explore the city on foot, you will get used to keeping an eye out for them in order to know where exactly in the city of water you are. They are very useful, a great point of reference, and great for photographs of Venice's quirks, too.
What Do the Different Venetian Toponyms Mean? Here Is a Handy Glossary!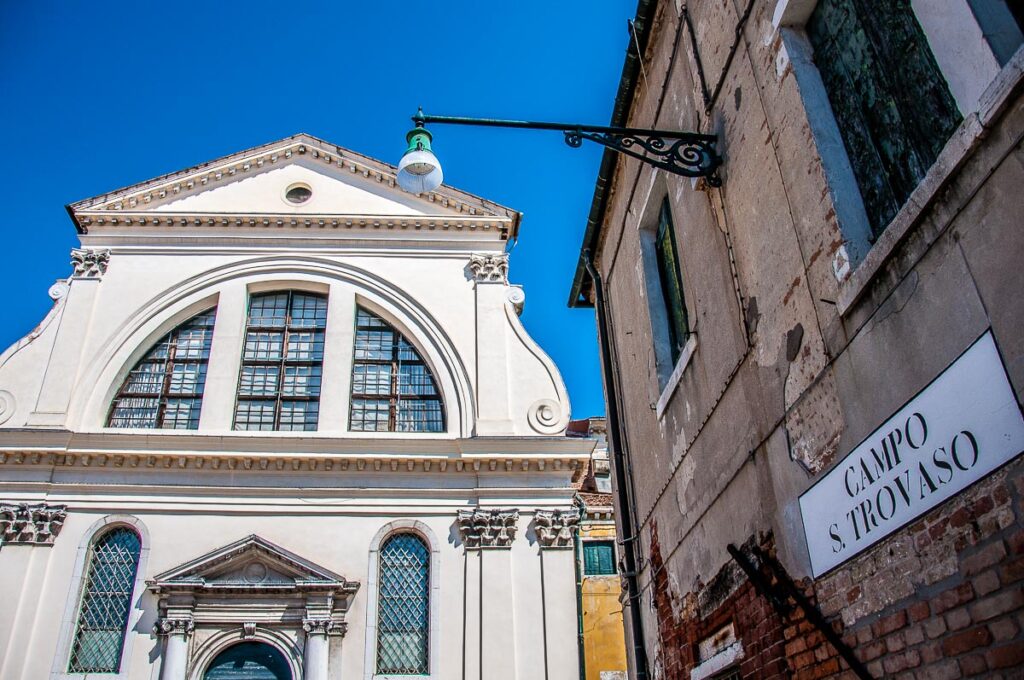 As you walk around Venice, you will soon notice that certain words are used across many different nizioleti. For example, calle, campo, and fondamenta are three of the most frequent ones. You may ask yourself what do they mean.
They are, simply put, toponyms (or place names) in the Venetian language. As mentioned above, all nizioleti use the original Venetian names of the streets, squares, canal banks, and other urban features of Venice.
Let's learn what the different Venetian toponyms mean. Its' a lot of fun and it gives us some great insights into the history and the traditions of Venice.
For ease of use, I have organised the following most used Venetian place names in an alphabetical glossary. For each, I have also provided specific examples. You will soon see that each Venetian street, square, tunnel or canal bank is named (in general) after one of the following: a local aristocratic family, a typical for Venice trade, a traditional craft, a venerated patron saint, a foreign community that once thrived in Venice or even a curious (and sometimes morbid) event.
Have a look:
Calle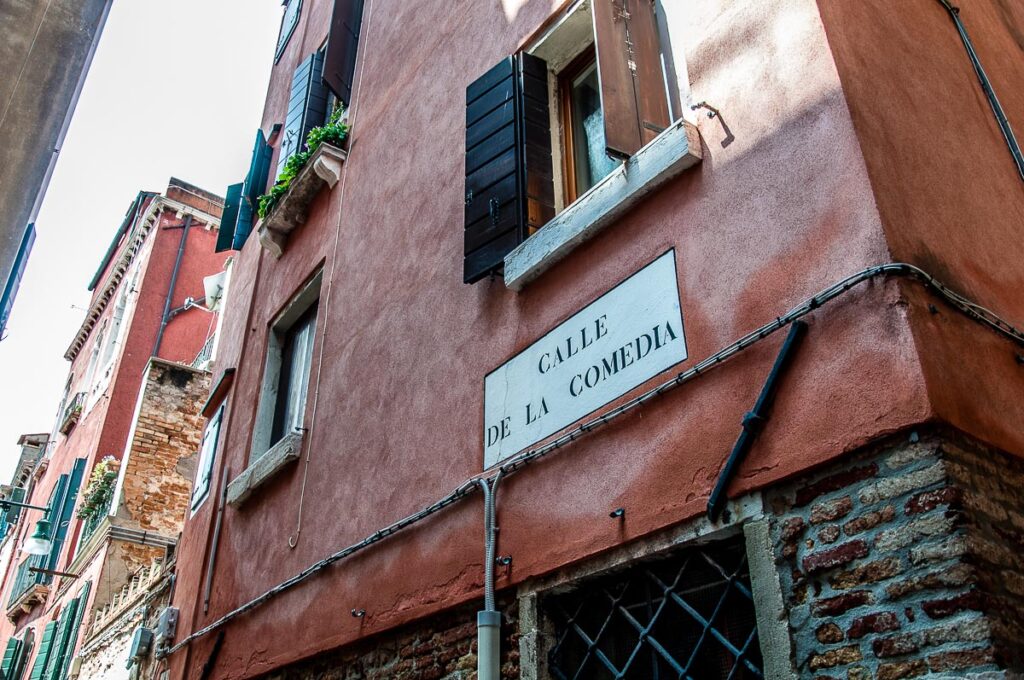 A calle is the typical street in Venice. There are about 3,000 calli in the city of water. The term comes from the Latin callis meaning 'rough/stony track' or 'path'. A Venetian calle is flanked by buildings on both sides. The buildings can have shops on the ground floor and flats on the upper floors. Or they can be just residential buildings.
A narrow calle is known as callétte. A wide calle is referred to as calle larga. A long calle is known as calle lunga. In a nutshell, when you think of a street in Venice, think of calle.
One of my favourite streets in Venice is called Calle del Paradiso or Street of the Paradise. It is one of the best-preserved medieval streets in the city of water. Come here to see the traditional for Venice barbacani – thick wooden beams used to make the upper floor of the houses wider than their ground floor.
You can see both Byzantine and Gothic influences in the architecture of the houses lining up the Calle del Paradiso. Parts of the oldest buildings here date back to the 13th century! The newest houses are from the 16th century.
This narrow and straight Venetian calle is called 'of the Paradise', supposedly, due to the lavish way it used to be decorated during the feasts and holidays celebrated in Venice of yore. A particular highlight were the decorations that once used to be put up here for Good Friday.
The photo above shows you the Calle de la Comedia in the Venetian sestiere of Santa Croce. Originally, it used to be called Calle del Teatro as it lead to the Teatro di San Cassiano which once was the world's first public opera house.
Campo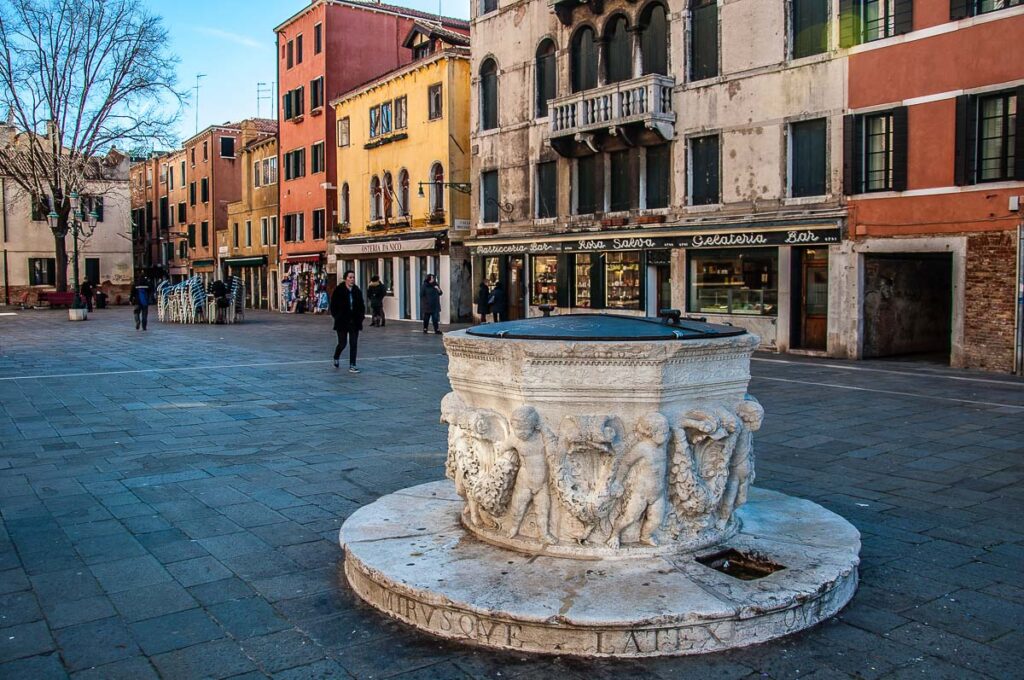 A campo is the traditional Venetian square. The word campo means 'field' in English. For centuries, the campi in Venice were just that – grassy, often cultivated fields near a church, surrounded by houses, and with a drinking water well at their hearts. Domestic animals could be seen there grazing all day long. Orchards and vegetable patches were planted in them. Often the campi also served as burial grounds.
The campi were paved only after the Fall of the Republic of Venice in 1797. While no longer cultivated, they are still known as campo – field. The historic water wells still stand in their centre. Nowadays, the Venetian campi can be lively places dotted with the outside tables of the local eateries, some benches, and even market stalls selling fresh fruit and veg or even fish and seafood. Other Venetian campi are little oases of peace and quiet and you can escape to them when the tourist hubbub of the city gets a bit too much.
While Venice's campi are referred to as squares in English, the locals state that there is only one actual square in town – the splendid Piazza San Marco – St. Mark's Square. You can read more about it under point 5 in this blog post: Italian Piazzas – 20 Most Beautiful Squares in Veneto, Northern Italy.
One of my favourite campi in Venice is Campo San Trovaso in the sestiere of Dorsoduro. It's usually a very peaceful place and it's also right next to one of the last surviving gondola-building yards in Venice. The Church of San Trovaso overlooks the square. Inside it, you can see the altar of the gondola-making guild with an early 17th-century carving of a gondola.
The campo and the church take their name from the amalgamation of the names of the early Christian martyrs San Gervasio and San Protasio.
On the other hand, the photo above shows you Campo di Santi Giovanni e Paolo in the sestiere of Castello. It flanks one of the largest churches in Venice – the Basilica of Santi Giovanni and Paolo (you can read more about it under point 18 in this blog post about Venice's major landmarks). Also here you can admire the large equestrian statue designed by Andrea Verrocchio – the teacher of Leonardo da Vinci. And then you can pop into Pasticceria Rosa Salva – one of Venice's historic patisseries.
Corte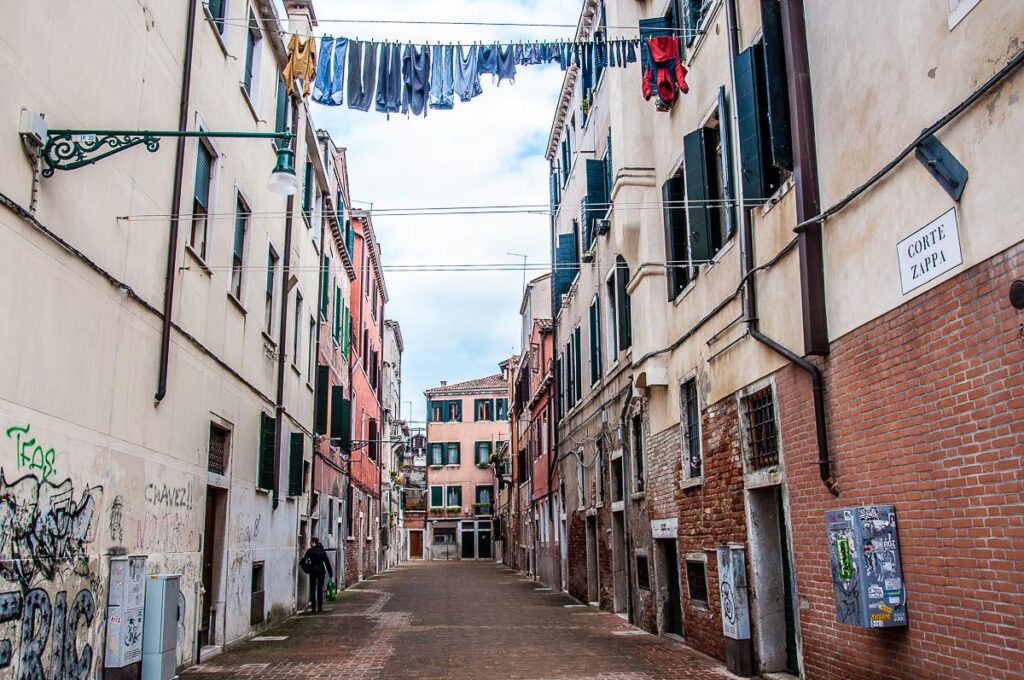 Corte is a toponym that is typical for Venice. It's used to designate a small square surrounded by houses and with only one entrance. It can sometimes have access to a canal, too.
If you can, try seeing the Corte Botera in the sestiere of Castello. It is very picturesque. It has a water well, an outside stone staircase, and some beautiful stone pillars. It also has a porch overlooking the canal of Rio San Giovanni Laterano. The corte's name comes from the botteri or barrel-makers who used to have a workshop here in the past.
The photo above shows the small Corte Zappa in the sestiere of Cannaregio. It gives a good visual idea of the structure of a typical Venetian corte.
Cortile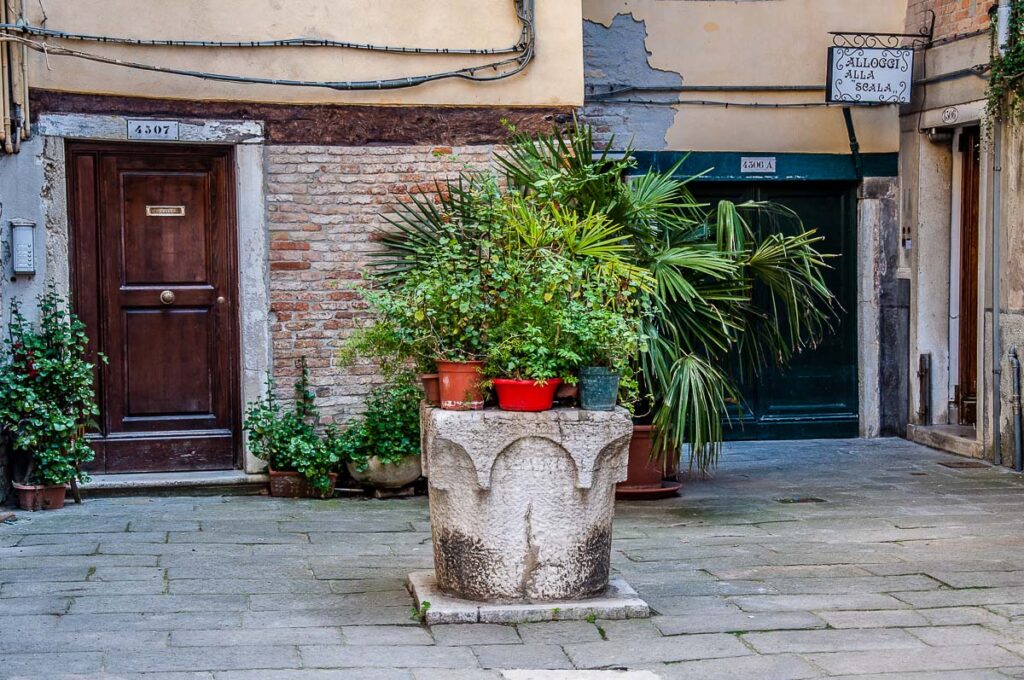 Cortile means literally a courtyard. Surrounded by facades and often with a well in their centre, these can be little suntraps decorated with potted flowers or dark places haunted by local legends.
The grandest and most famous cortile in Venice is that of the Doge's Palace. I particularly like the cortili of Ca' Foscari – a historic palace which nowadays houses the University of Venice – and of Ca' d'Oro – a splendid Gothic palazzo that functions as a refined art gallery.
The photo above shows the small courtyard right next to one of Venice's major landmarks – the famous Scala Contarini del Bovolo.
Fondamenta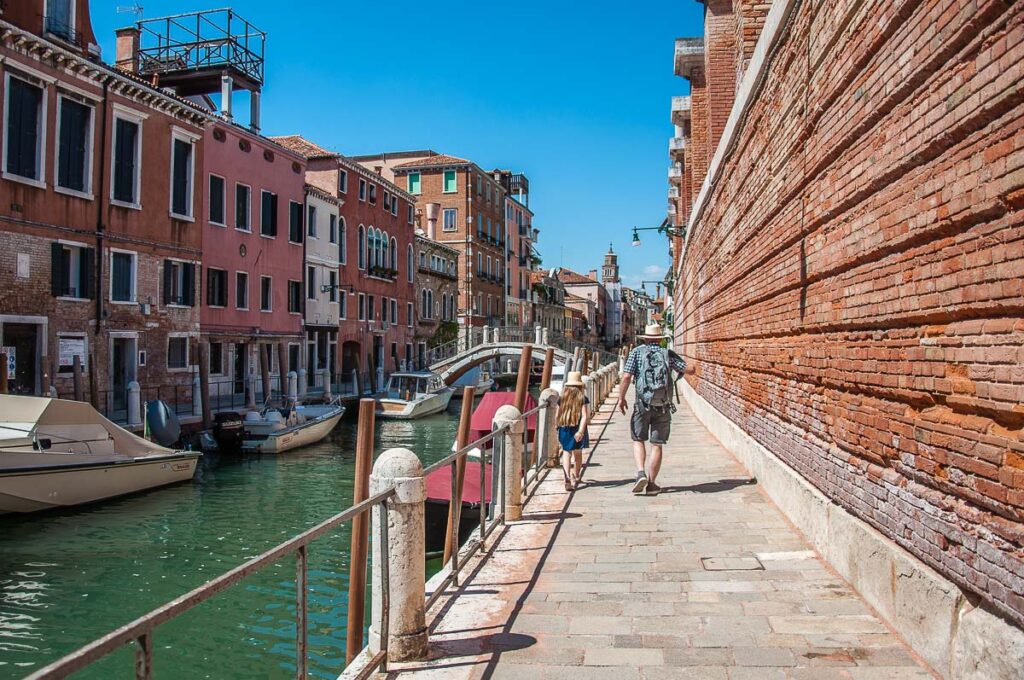 Fondamenta is a term that is used to designate the bank of a Venetian canal. In other words, this is a walkway in Venice that is flanked by a canal on one side and by a row of buildings on the other. Often, shops, workshops, and eateries take the ground floor of the buildings, thus making each fondamenta a lively place to explore one curious shop at a time.
Depending on how they are separated from the water, there are three types of fondamente:
Fondamenta with metal railings. For example, see this photo of Fondamenta del Gaffaro in the sestiere of Santa Croce. The fondamenta takes its name from the noble Gaffaro family who used to have a house here. One of the most haunting Venetian stories is about the cold-blooded murder at the hands of his servants of Domenico – a member of the Gaffaro family and bishop of Eraclea.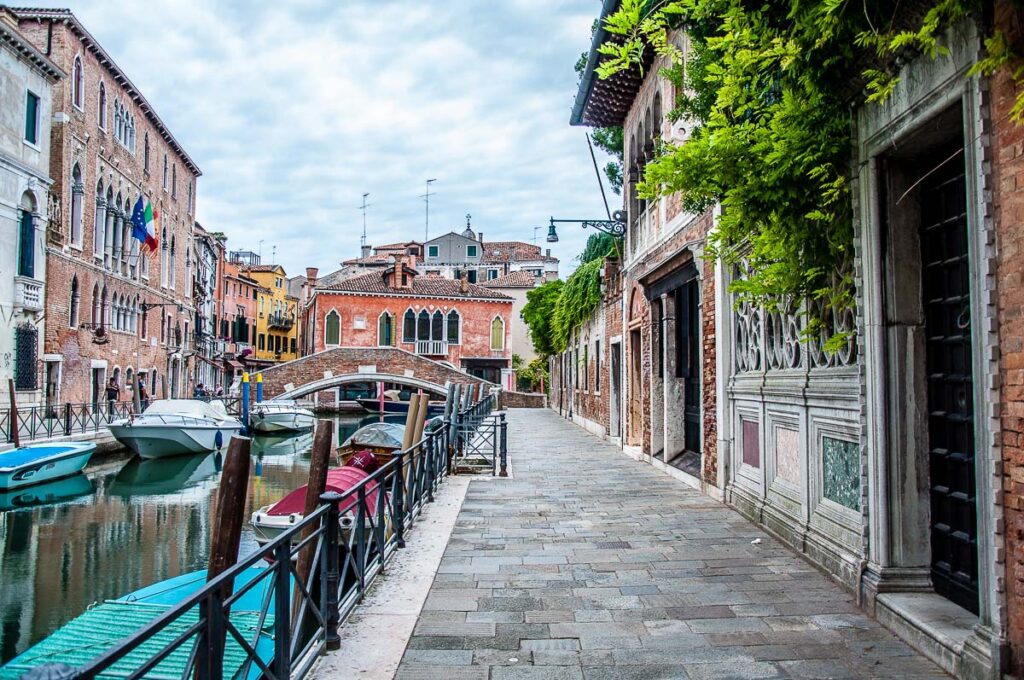 Fondamenta with brick walls. For example, see this photo of Rio di San Trovaso – one of the canals in the Venetian sestiere of Dorsoduro. It's flanked by two fondamente both separated from the water with low brick walls.
One is the Fondamenta Priuli named after a prominent aristocratic family in the Republic of Venice.
The other is the Fondamenta Sangiantoffetti. Its name comes from the amalgamation of the name of the noble family Toffetti di San Giovanni. Originally from the town of Crema (nowadays in the Italian region of Lombardy), they moved to Venice where they became part of the Venetian nobility.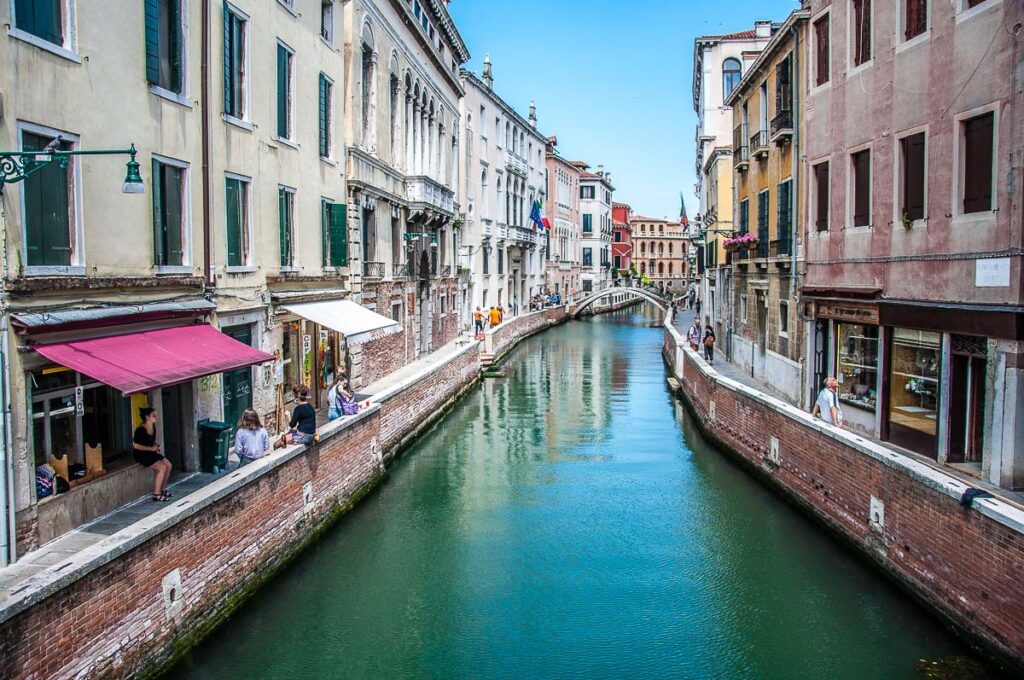 Fondamenta with no railings. For example, see this photo of the popular Fondamenta dei Ormesini in the sestiere of Cannaregio.
The ormesini were silk drapes that were originally sourced from the Kingdom of Ormus and later on were imitated in Venice and Florence. The fondamenta was once the place where the workshops specialised in their production were located.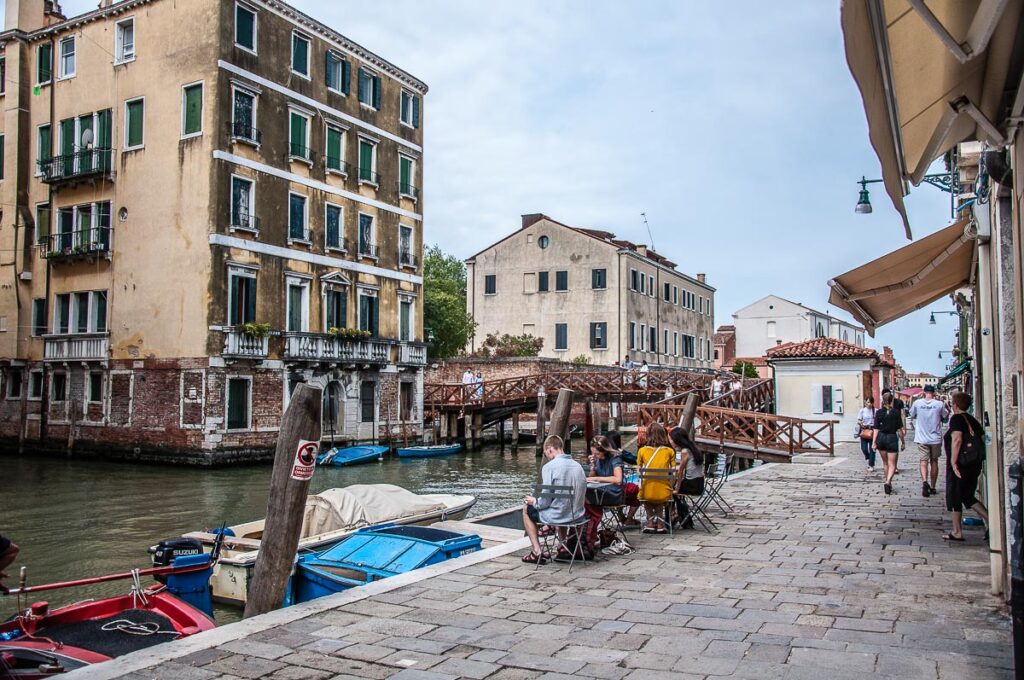 A strip of white Istrian stone runs along the edge of the Venetian fondamente. Pay particular attention to it, especially if the fondamenta doesn't have railings. During acqua alta, when the ground becomes covered in water, the edge of the fondamenta can be difficult to spot, so keep close to the buildings as you walk along.
Venetian fondamente also have mooring places for boats and steps made of white Itrian stone leading down to the water. It is an unspoken rule in Venice to never stand on the green steps, i.e. the steps covered in algae as they are notoriously slippery. Here is what they look like.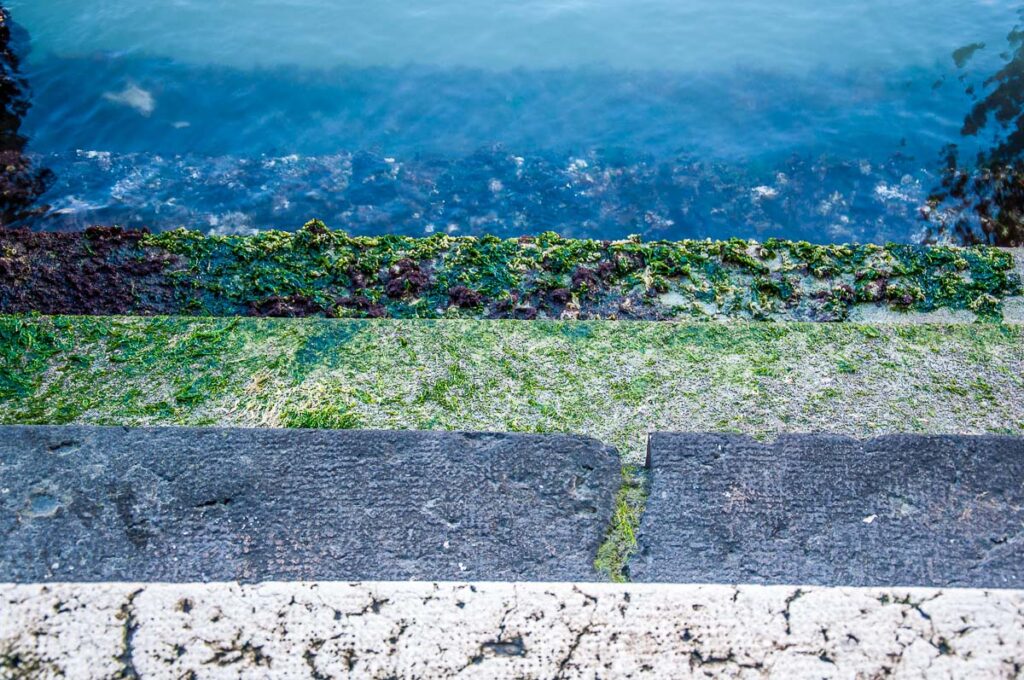 Lista
Lista is a very particular term. It designates the white stones that you may see as part of the pavement in front of certain Venetian buildings. In the past, these stones indicated the limit of the diplomatic immunity of the ambassador who lived in that particular palazzo.
Unfortunately, I don't have a photo of a Venetian lista in my photo archive. When visiting Venice, you can see one for yourself on Rio Tera' Lista di Spagna where in the past and as the name of the street indicates, lived the Spanish ambassador to Venice.
Liston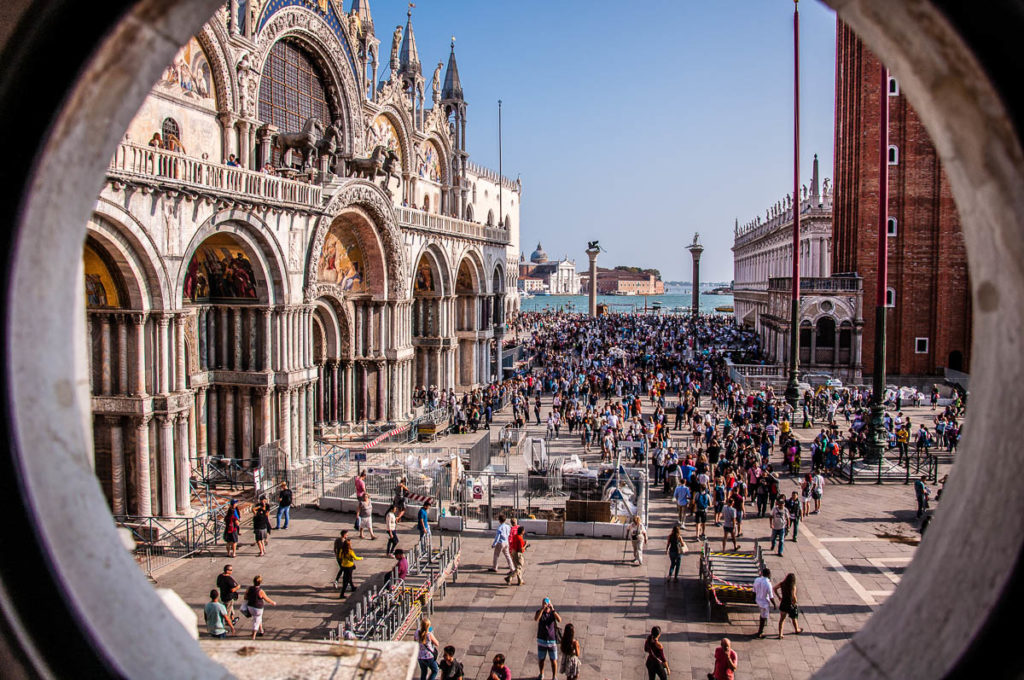 A liston was the paved portion of a large campo where the nobles could go for a walk in order to be seen and to socialise. The word liston originally meant the long slabs of trachyte and white Istrian stone that were used to pave the squares in the cities ruled by Venice. It quickly became a synonym for 'walk'. Far il liston (in English, to go for a walk on the square) was an important part of social life.
Venice's most famous liston was on St. Mark's Square. It stretched from St. Mark's Clock Tower down to the two pillars crowned by the statues of the city's patron saints – the winged lion of San Marco and San Todaro with the Egyptian crocodile.
Piscina
Piscina is another very Venetian toponym. It literally means a pool. In the past, these were shallow ponds that would get flooded during high tides. Once the water subsided, it was then easy to pick the fish that had been left stranded there.
Some sources also claim that the piscine were used for washing, too. Nowadays, these piscine have been filled up. Their ancient names remain though. Walking around Venice you can still come across such toponyms as Piscina di San Zulian and Piscina di Frezzaria in the sestiere of San Marco and other places in the city.
Ponte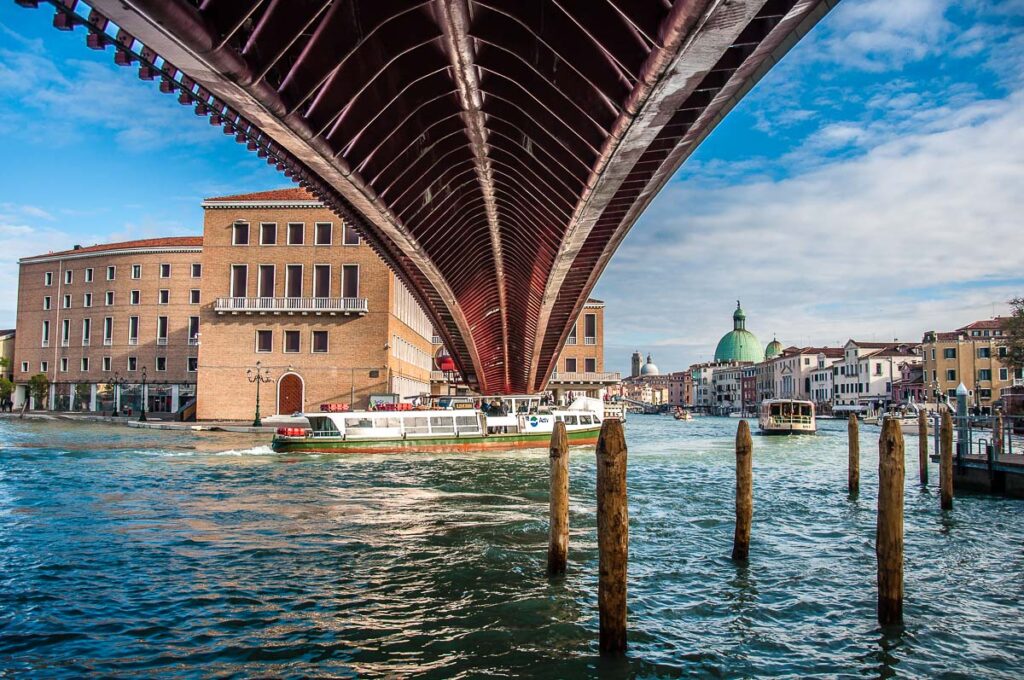 Ponte means literally a bridge. Venice has 391 bridges. They are what keeps the city of water together and make it possible to walk all over town on foot.
Built of stone, wood, and metal, small and large in size, mostly public but some still private property, the bridges of Venice have many stories to tell. A few of them, like the Rialto Bridge and the Bridge of Sighs, are famous all over the world!
Traditionally, bridges in Venice were erected without railings but nowadays there are only two such bridges still in existence in the Venetian Lagoon. One is the Ponte del Chiodo in the Venetian sestiere of Cannaregio. The other is the Ponte del Diavolo on the island of Torcello.
Curiously, there are only four bridges that span Venice's Grand Canal. Although it is more than 3 km long, you can only cross it on foot at four points: Ponte della Costituzione (pictured above), Ponte degli Scalzi, Ponte de Rialto, and Ponte dell'Accademia.
Ramo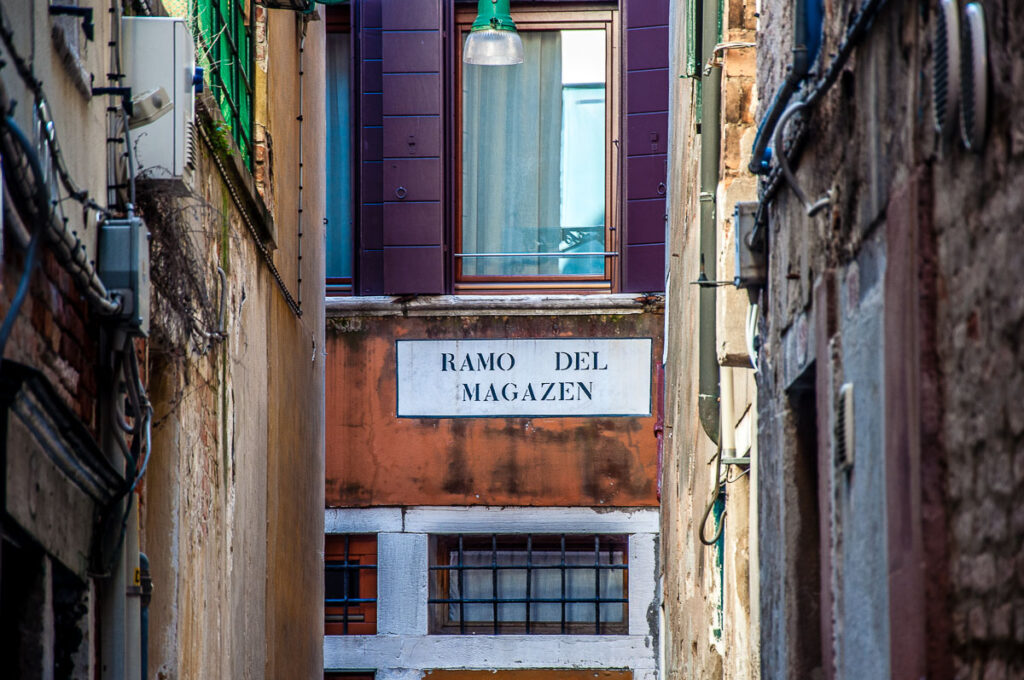 In English, ramo means a branch. In the scope of Venetian place names, a ramo is a small side street. It can connect two calli or a calle to a campo.
Most often though, a ramo leads to a dead end. This could be the edge of a canal where there is no bridge to cross over or the brick wall of a Venetian house.
The above photo shows you the nizioleto of the Ramo del Magazen. Magazen is the Venetian word for warehouse. It was also used to refer to a place where wine was retailed.
Rio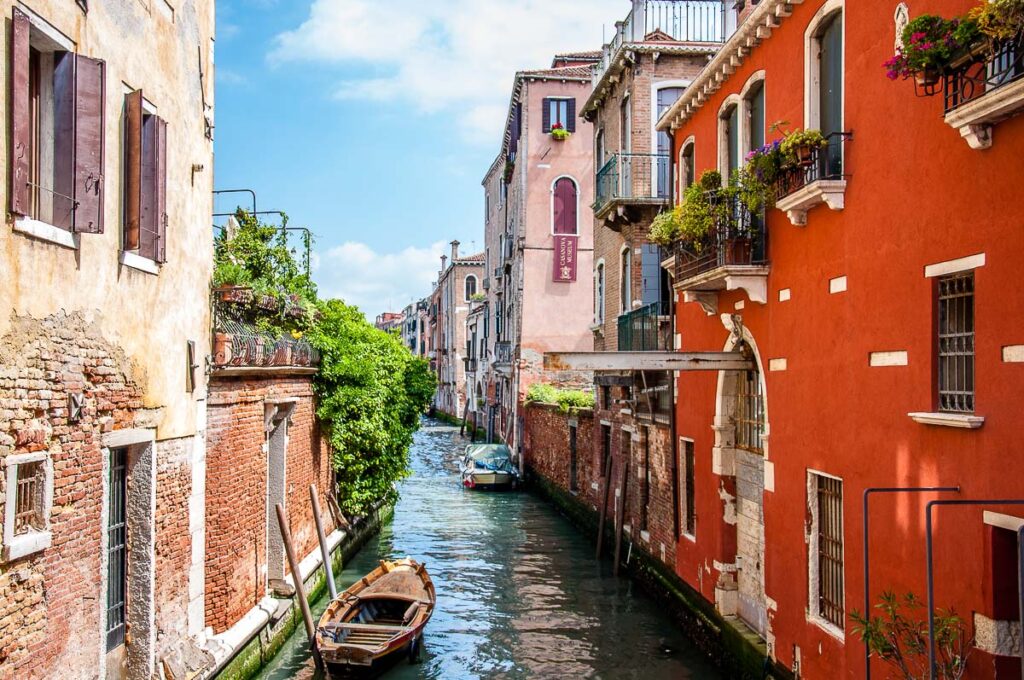 Rio is the term the Venetians use for the smaller waterways that crisscross their city. Canale or canal in English is a word reserved only for a few large canals here. Among them are the Grand Canal, the Canal of Cannaregio, and the Giudecca Canal.
Otherwise, the smaller waterways in Venice are known as rio (pl. rii). The term derives from rivo or stream in English.
The photo above shows Rio di San Felice in the sestiere of Cannaregio. This smaller canal leads directly to the Grand Canal. It takes its name from the adjacent to it Church of San Felice. This is the view you can enjoy from the Ponte del Chiodo. It is, certainly, one of my most favourite views in Venice!
Rio tera'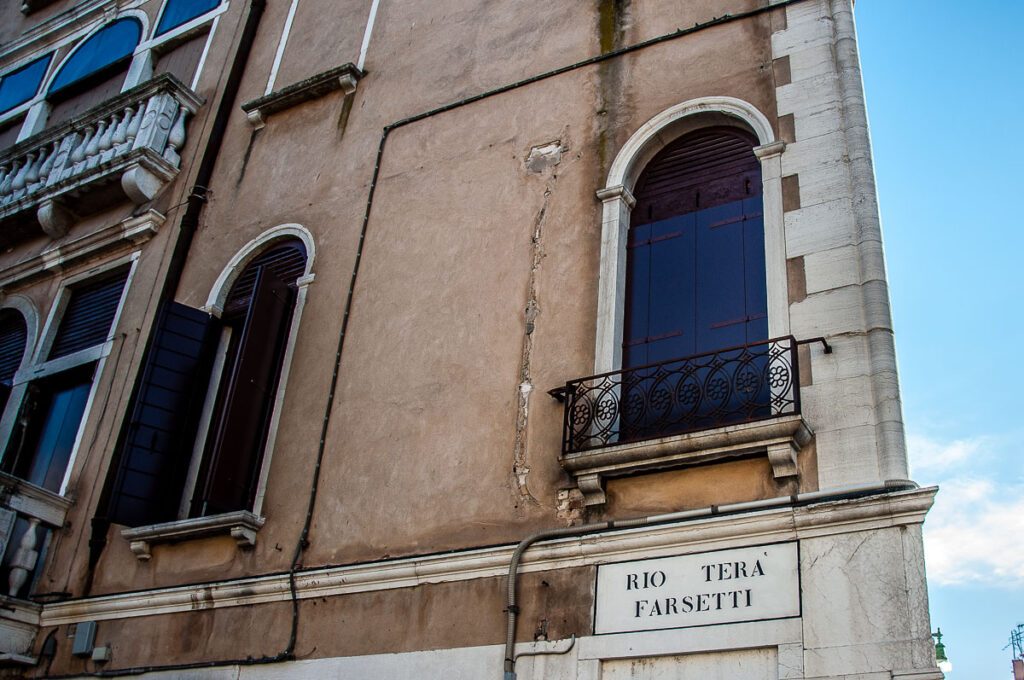 A rio tera' is a street in Venice that was once a canal. The canal was then covered (or interred) to allow for easier movement around town. In some cases, the water continues to flow underneath the street on top.
The photo above shows the nizioleto of Rio Tera' Farsetti. The street is named after the noble Farsetti – the rich Venetian branch of a patrician family with Tuscan roots.
Rio Tera' Farsetti was created in 1915 by filling up the Rio Morto – a waterway that was originally part of the Rio dei Do Ponti which itself was interred almost a century earlier in 1818.
Riva
The Venetian riva is just like a Venetian fondamenta. The main difference is that instead of a canal, the riva is flanked by a large expanse of water.
The Riva degli Schiavoni is the most famous riva in Venice. This is a large promenade that brims St. Mark's Basin from the Doge's Palace all the way to the Rio di Ca' di Dio. It owes its name to the Slavic merchants from Dalmatia (nowadays split between Croatia and Montenegro) who would moor their ships along the promenade and set up their stalls on it. At the time of the Republic of Venice, Dalmatia was also known as Slavonia or Schiavonia.
Nowadays, the Riva degli Schiavoni is a very busy place with dozens of market stalls selling cheap souvenirs and tourist groups arriving by boat and fanning out to explore the city of water.
The above photo shows the Riva degli Schiavoni during the opening parade for the Regatta of the Ancient Maritime Republics. This is a sports competition that reenacts the historic rivalry between the Republics of Amalfi, Genoa, Pisa, and Venice.
All dressed in bright red, the representatives of Pisa look just splendid. Don't you think?!
Other rive you can see in Venice are the Riva Ca' di Dio and the Riva dei Sette Martiri. Both also stretch along the St. Mark's Basin.
Ruga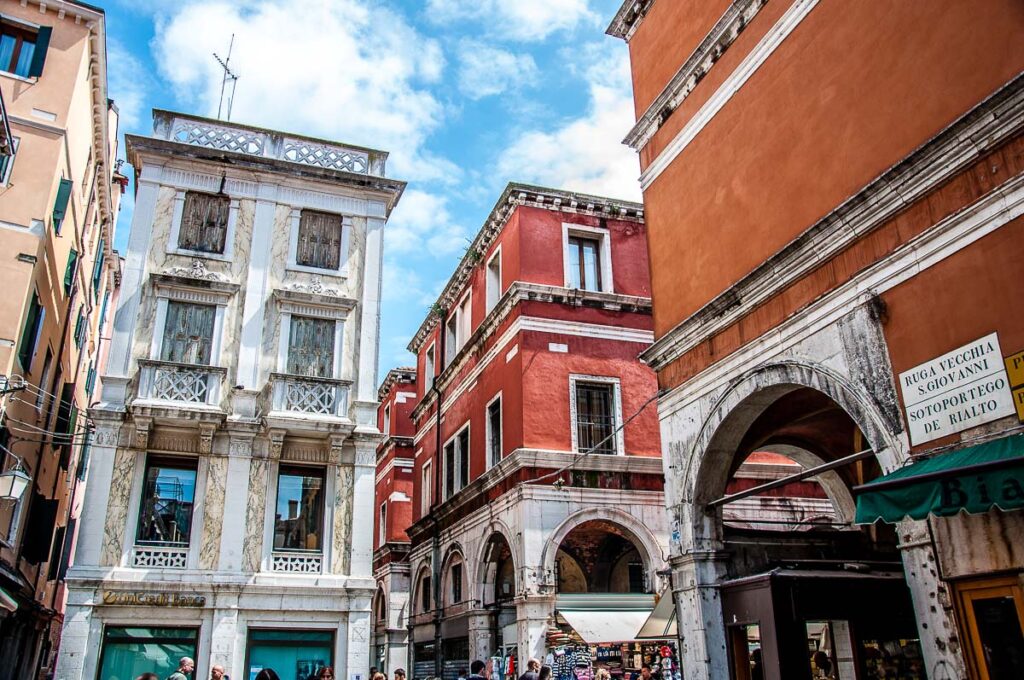 Ruga is yet another type of street in Venice. The word means wrinkle in Italian but in the Venetian tradition, this was a street covered with well-compacted soil where you could walk without fear of sinking or getting your shoes wet.
Some experts claim that the term comes from the French rue and that a ruga traditionally is a Venetian street lined by shops and workshops.
The photo above shows the Ruga Vecchia di San Giovanni. You will find it in the immediate vicinity of the Rialto Bridge. The word vecchia (or old in English) indicates that the street has ancient origins. It takes its name from the Church of San Giovanni Elemosinario which is just further down the street. Founded over a millennium ago, it is one of the oldest churches in Venice.
Salizzada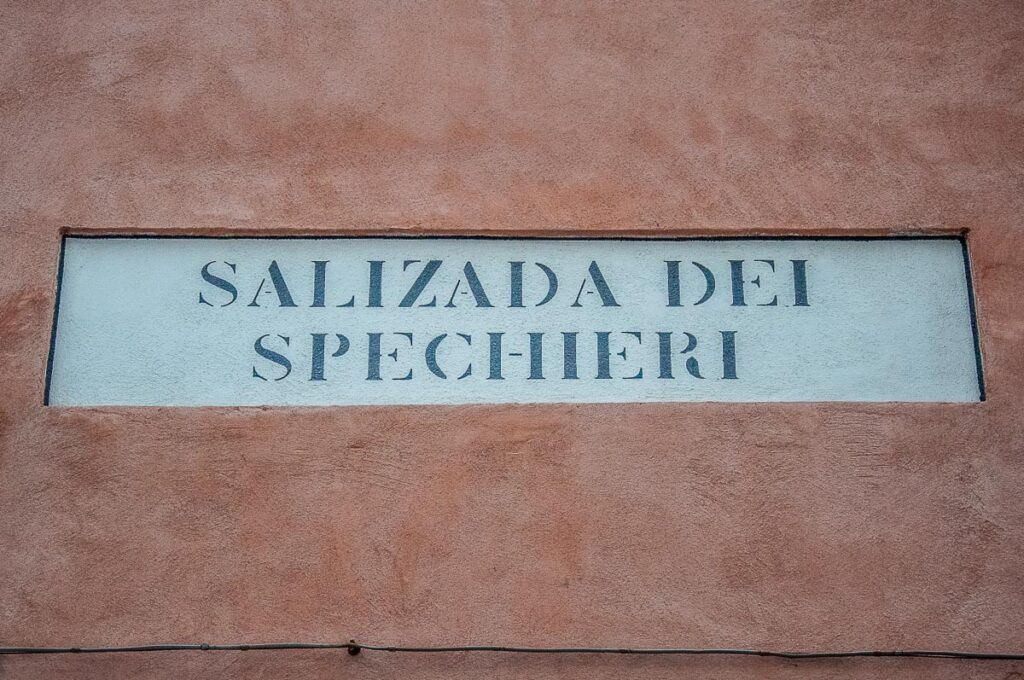 A salizzada (also spelt salizada) is a historically important street in Venice. Thus it was one of the first to be paved in the city of water. The term salizzada comes from the Venetian word selce or paving stone in English.
You will see that some Venetian salizzade were paved with masegni. These are rectangular slabs of trachyte stone that were brought to Venice from the nearby Euganean Hills. Other salizzade are covered with bricks that are placed in a particular V-shaped pattern.
The photo above shows the nizioleto of the Salizada dei Spechieri – the paved street of the mirror-makers. Centuries ago, Venetian mirrors were highly prized luxury items and their production was a zealously guarded artisan and trade secret.
Sotoportego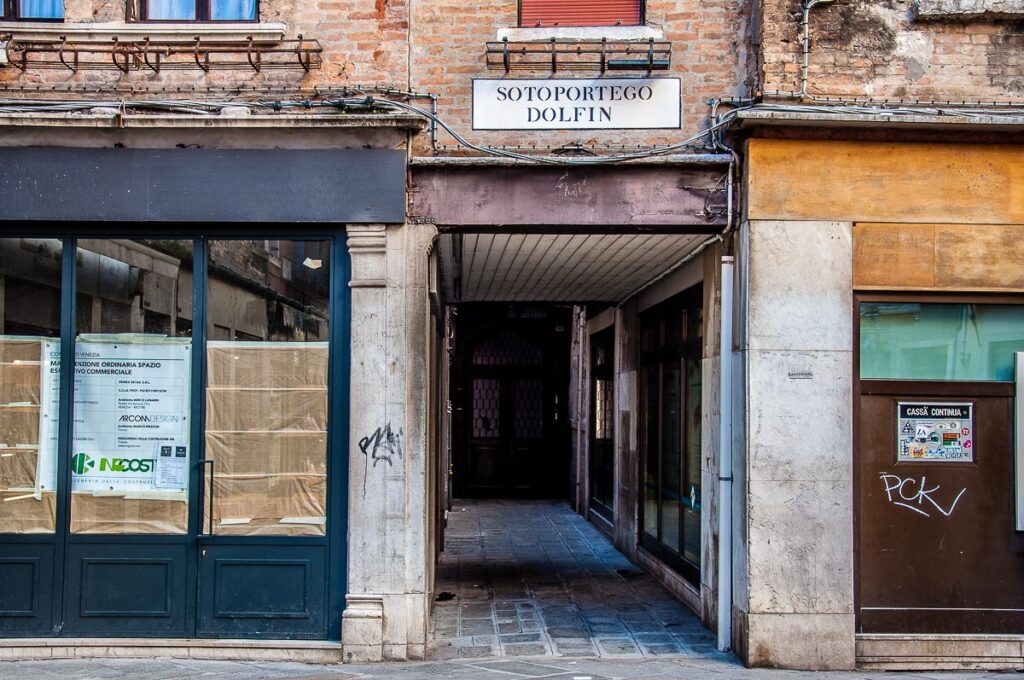 A sotoportego is a passageway that – like a little tunnel – goes through the ground floor of a building in Venice. It thus connects calli and campi in the city of water.
The many sotoporteghi in Venice add dramatically to the charm and the labyrinthine character of the city of water. These little shortcuts take you quickly from one point across to another and in the process confuse your sense of orientation even further.
The constant contrast between the lightness of the campi and the darkness of the sotoporteghi ads to the mystery of Venice.
The photo above shows the Sotoportego Dolfin in the sestiere of Cannaregio. While not necessarily the most picturesque sotoportego in Venice, it gives a good visual idea of the function these little tunels have.
The Delfini (also known as Dolfin, Delfino or Delfin) were an ancient noble family in Venice. It is thought that as part of the twelve original noble lineages of the Republic of Venice, they took part in the election of the first Doge in 697 AD.
Strada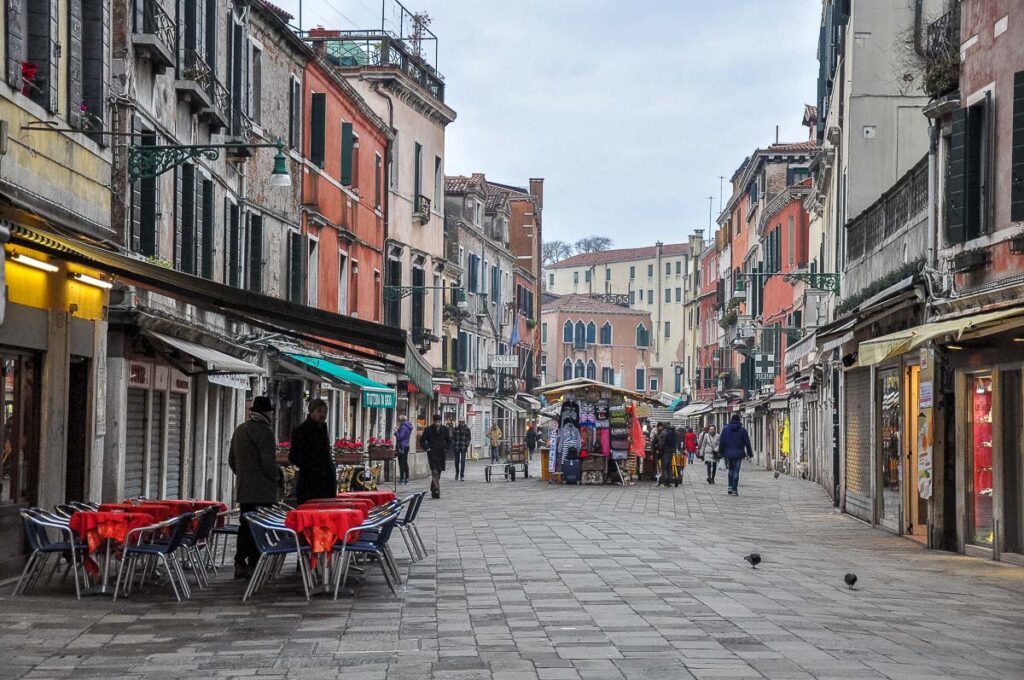 The Italian word strada (or street in English) is used for just one street in Venice. The Strada Nova (also known as Strada Nuova) is a long pedestrian route that leads from the Santa Lucia train station to Rialto Bridge. This sort of Venetian boulevard is a chain of several long streets interconnected with bridges.
The Strada Nova was created during the 19th century when efforts were made to improve the urban plan and the pedestrian viability of Venice. Nowadays, the street is dotted with stalls selling cheap souvenirs and it's flanked by shops. It's easily one of the most crowded places in Venice.
It's also one of my least favourite spots in the city of water. It's very convenient for such important Venice landmarks as Ca' d'Oro and the Jewish Ghetto. However, if you can, try to avoid basing your first impression of Venice on a stroll down the Strada Nova.
Why Venetian Houses Have House Numbers with Up to Four Digits?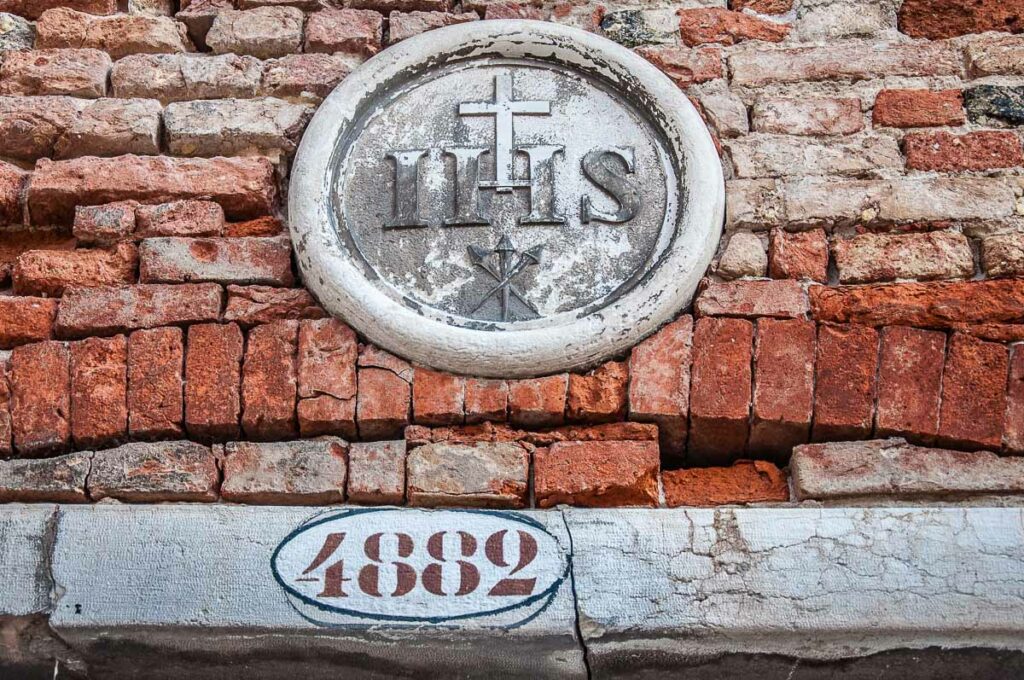 Walk around Venice and soon a curious thing will jump out at you. House numbers here can have as many as three or even four digits. Like house number 3456 or house number 5562. In the Venetian sestiere of Castello, for example, the numbering goes almost up to 7,000.
The reason for this is that instead of recommencing the numbering of the houses from one on each street, the numbering here covers all the houses in one district (or sestiere in the Venetian language). Number 1 is a major landmark in each sestiere. For example, in the sestiere of Dorsoduro, number 1 is the famous Basilica della Salute (read more about it under point 10 in this blog post). Then the following numbers are assigned in expanding concentric circles around it.
This type of house numbering was introduced in Venice between 1797 and 1805. It's based on a now antiquated Austrian numbering system. A regulation issued on 24th September 1801 made its adoption official.
While a bit strange at first, Venice's house numbering system makes a lot of sense. Especially, considering that often, in the different sestieri (or districts) here, there happen to exist streets with the same name. Venetian addresses, however, in general, consist only of the house number and the name of the sestiere (with the name of the street usually bypassed).
As you explore Venice, you may come across a large painted nizioleto which indicates the last number of that particular sestiere. Take a photo of it as it is quite a curious element of local culture and traditions.
Now, What is a Sestiere, Again? And Why Venice Has Six of Them?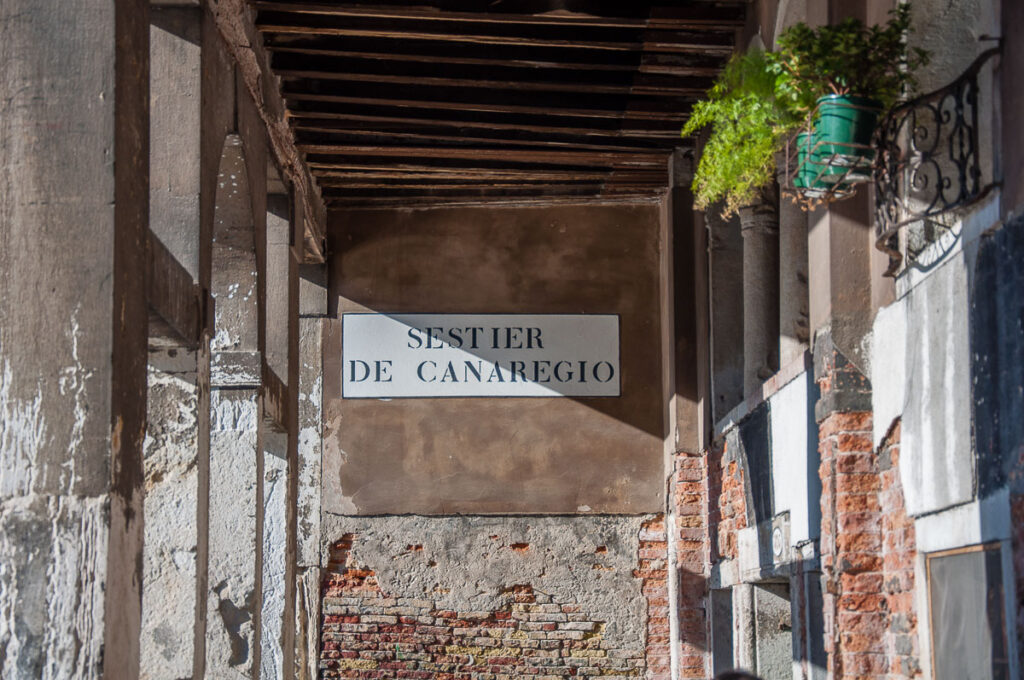 A sestiere or sestier (pl. sestieri) means one-sixth in English. This is a term used to signify the districts of those Italian cities and towns that, historically, were divided into six subdivisions.
Traditionally, the Romans split their cities and military camps into four districts clearly defined by the intersection of their main roads:
the Decumanus Maximums – an east-west oriented road; and
the Cardo – a north-south oriented road.
The resulting four districts are known as quartiere in Italian and quarter in English. Nowadays, these words are also customarily used to mean a neighbourhood.
Now, Venice was the first city to be split into six districts – sestieri. This was due to its complicated urban plan and its location in the heart of the Venetian Lagoon.
The sestieri of Venice have kept their names from their inception to our days. They are:
Cannaregio – originally a marshy land with abundant reeds, it takes its name from canèo (pl. canèi)- the Venetian word for this tall slender plant.
Castello – this sestiere grew around an ancient fortress or castle (in Italian, castello) which nowadays no longer exists.
San Marco – named after one of Venice's major landmarks – the majestic Basilica of St. Mark.
San Polo – named after the Church of San Polo, it spreads around the ancient Rialto Market in the heart of Venice.
Santa Croce – named after the demolished Church of Santa Croce. It stretches around the city's train station – Stazione Ferroviaria di Santa Lucia – and it includes Piazzale Roma and the island of Tronchetto which is a huge car park.
Dorsoduro – with a name that means a hardback, this was originally an area of sand dunes. Nowadays, this sestiere houses some of Venice's most important buildings and museums. Among them are Gallerie dell'Accademia, Ca' Rezzonico, Peggy Guggenheim Collection, and the Basilica della Salute.
There are other Italian cities that in the past had an urban plan based on six districts or sestieri. Among them are Genoa, Milan, Florence, and Rapallo. Nowadays, they have outgrown this original division though and their sestieri are simply a historic reference.
And What If, After Learning All This, I Still End Up Getting Lost in Venice?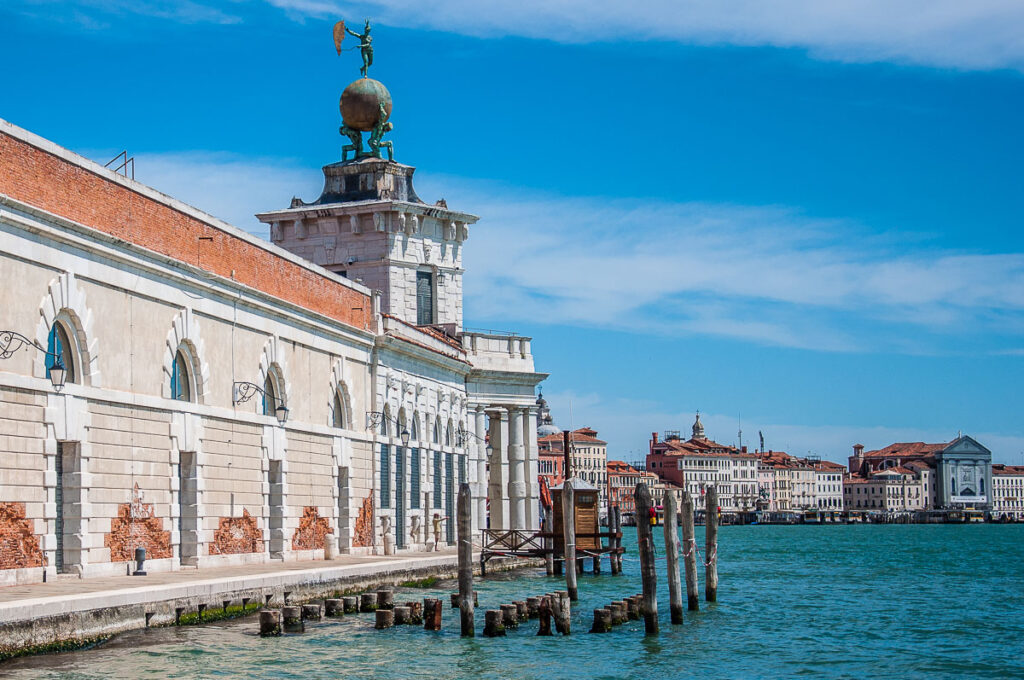 Getting lost in Venice is one of the best things that can happen to you in the city of water. It's also something that happens to almost every visitor of Venice.
Don't panic! Don't worry! And, above all, don't fight it!
Embrace it and make the most of it.
Venice is like a maze where there are surprises at every corner. Narrow streets twist and turn. Something that should be just around the corner refuses to reveal itself unless you walk in circles dozens of times. A hidden garden jumps right in front of you when you least expect it. And often, you end up on the edge of a canal unable to simply cross to the other side.
This is how the city reveals its history and stories to you. You just have to look and listen. Before you know it, you have come across a landmark you didn't even know existed, a small church that is rich in centuries-old artefacts and priceless paintings, a palazzo that has housed kings, a museum that reveals the beauty of Venetian art or a waterside view that leaves you breathless.
During my many explorations of Venice, I have found that GPS apps seem to go a bit crazy in the city of water. By all means, do rely on them to make an itinerary for your time in Venice and to find out the locations of the specific sights you want to visit. If you then get sidetracked or a bit lost during your actual walk around Venice, don't worry.
In a way, the city is very compact, walkable, and before you know it, it will lead you to where you want to be. In the meantime, just enjoy the hidden gems it will unexpectedly reveal to you.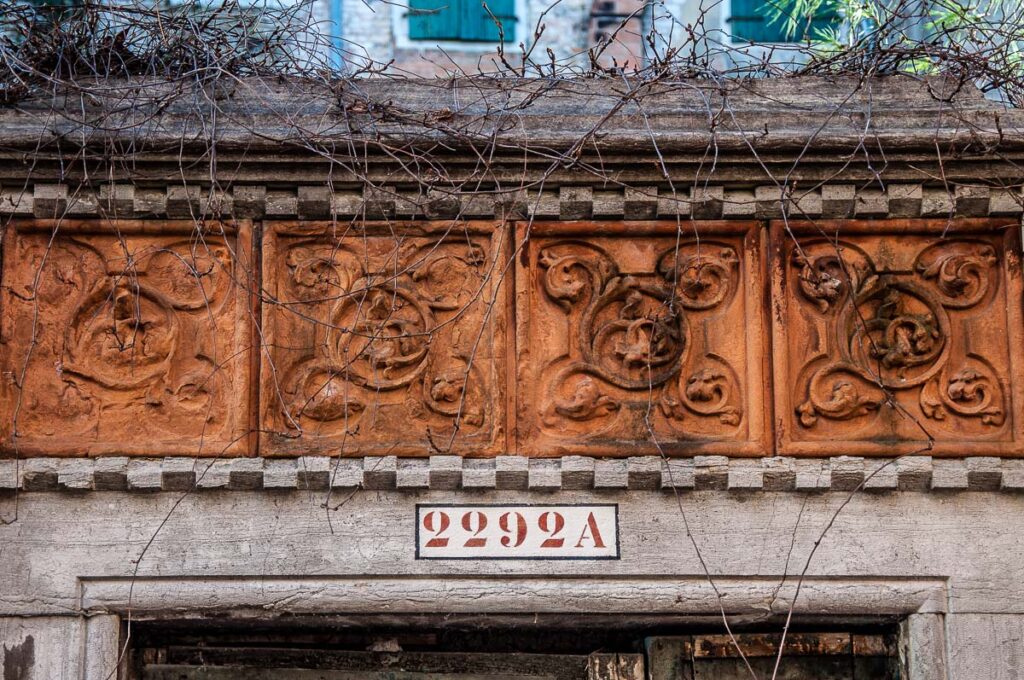 In all my visits to Venice over the past 16 years (six of which I spent living in the city of Vicenza 45 minutes away), I have lost myself in the city of water – both literally and figuratively – countless times. Simply walking around Venice brings so much visual pleasure. It makes you feel curious on so many levels. So many small details jump out at you.
It's only logical to stop, take it all in, change track, follow a different street. It all happens very spontaneously.
Of course, if you only have a limited amount of time in Venice and you want to see it all in a day, getting lost here may seem like a waste of time. Again, don't stress! It's the city's way. It's just showing you something you didn't know you needed to see. A slower pace, a fleeting moment surrounded by beauty, a sight off the beaten path, a shortcut you didn't know existed, a sudden glimpse into the Venetian way of life.
Venice is also, in general, a safe city. So, while it pays to keep your valuables close to you in crowded places, you can relax into the city and let it guide you.
If you really, really don't want to get lost in Venice, then I would suggest booking a guided tour with an expert local guide. In this case, have a look at this blog post:
In Conclusion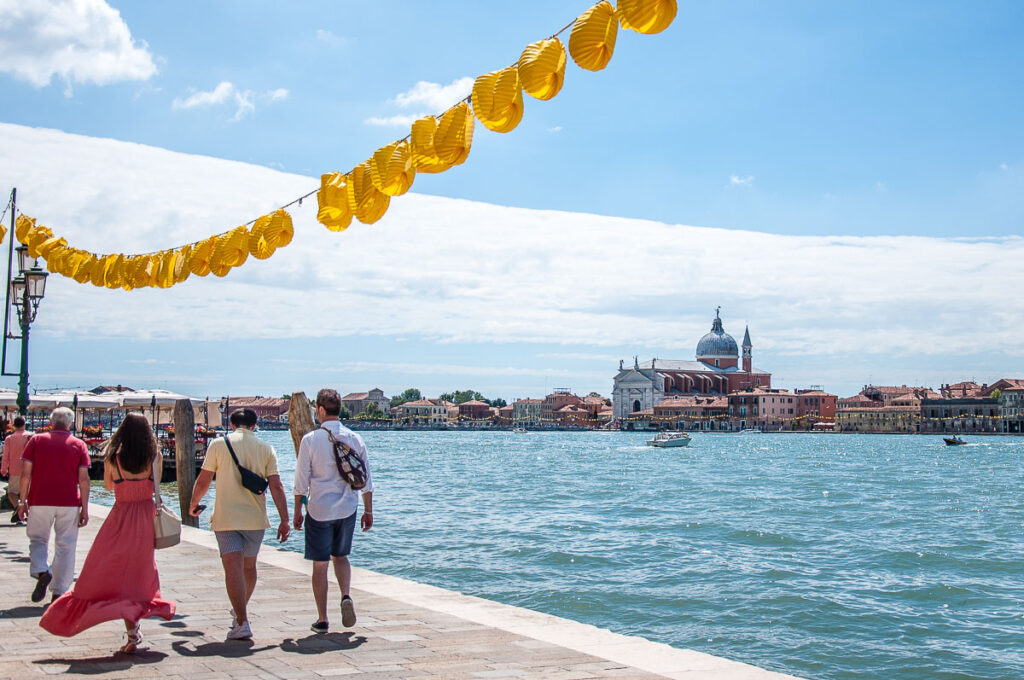 Venice is a beautiful and exciting place to visit. Yet, it is also a confusing city that seems to go against all the rules of modern-day urban living.
A city with no cars and with canals instead of roads, Venice can be a test even for the most experienced traveller. At the same time, it is a place that must be seen for its history, ethereal beauty, and for its vast catalogue of art and splendid views.
So, to make your exploration of Venice as easy as possible and to help you navigate it as a local, in this blog post I shared with you the meaning and the story of the Venetian toponyms. From calle to campo and from nizioleto to sestiere, I delved into the history and the semantics of the Venetian place names.
I hope that the information shared here will help you orient yourself smoothly in the city of water even if this may be your first visit to it.
Enjoy Venice and its many quirks!
They are what makes the city of water so easy to fall in love with!
Now, get ready quick for your visit to Venice, Italy!

More Helpful Venice Info for You
Venice: Essential Tips, Major Landmarks, Hidden Gems, Venice in a Day for Art Lovers, Nearest Airports, Best Tours, Boats in Venice, Haunted Venice, Day Trips from Venice, Arco del Paradiso
Venice Videos: Grand Canal, St. Mark's Square at Carnival, St. Mark's Square, View from Rialto Bridge, View from Accademia Bridge, Venetian gondolas, Historical Regatta, Squero di San Trovaso, Palazzo Contarini del Bovolo, Fondazione Querini Stampalia, Palazzo Grimani, Rialto Fish Market, Ca' Macana, Festa della Madonna della Salute
More Helpful Italy Info for You
Italian Food: Budget Italian Food, Italian Markets, Rules of Italian Breakfast, Italian Breakfast Foods and Drinks, Italian Food Gifts
Italian Coffee: Rules of Italian Coffee Culture, Italian Coffee Drinks, History of Italian Coffee Culture
Christmas in Italy: Facts, Nativity Scenes, Things to Do, Christmas Guide
Northern Italy: Best Cities to Visit, Major Airports
Lake Garda: Best Towns, Nearest Airports, Travel Options, Lake Garda with Kids, Malcesine, Riva del Garda, Torri del Benaco
Lake Como: Things to See, Nesso
Veneto: Best Cities to Visit, Prettiest Small Towns, Beautiful Villages, Top 15 Places, 30 Adventures, Most Colourful Places, Beautiful Piazzas, Must-See Lakes
Friuli Venezia Giulia: Venzone, Most Beautiful Villages
Emilia Romagna: Bologna, Ravenna, Comacchio, Most Beautiful Villages
Marche: Reasons to Visit, Gradara, Frasassi Caves, Temple of Valadier
Verona: Things to Do in One Day, Day Trips from Verona
Padua: Things to Do in One Day, Facts About Padua, Reasons to Visit, Day Trips from Padua
Vicenza: Things to Do, Must-See Museums, Vicenza in Photos, Day Trips from Vicenza