Here are 45 essential tips for Venice in Italy to make your visit to this unique and magical city a truly wonderful travel experience.
All tips are based on my explorations of Venice over a period of 15 years (with six of them spent living next door to the city of water).
By sharing these tips with you, I want to help you streamline your Venice travel planning and make your time there truly memorable and enjoyable.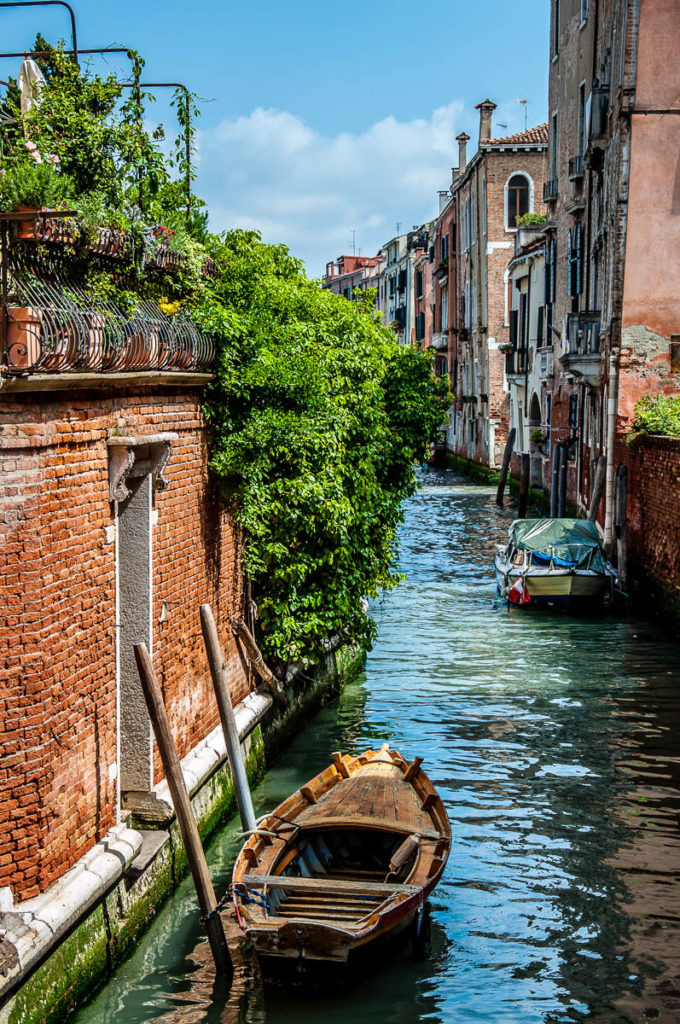 Venice in Italy is a magical city that sits at the top of many travel wishlists. Founded 1,600 years ago on a cluster of islands in the Venetian Lagoon, throughout the centuries Venice has charmed many travellers with its beautiful architecture, rich catalogue of art, and deep layers of history. Nowadays, millions of people head to Venice each year eager to see for themselves its spectacular scenery and unique cultural heritage.
At the same time, visiting the city of water also presents some very specific challenges. Venice, after all, is a car-free city where you need to rely on boats and your own feet to take you places. It is also a city that is struggling to preserve its centuries-old traditions and way of life against a world of cheap travel, fast movement, and excessive consumption.
As result, Venice can make you feel both elated and dejected. It can charm you and repel you. And it can make you fall in love with its beauty and yet do your head in with its whimsicalities. Often, within the same minute.
So, I wrote this blog post to help you experience this magical city in the best possible way while avoiding common pitfalls. My 45 essential tips for Venice, Italy are organised into nine groups: when to visit, airports, accommodation, travel, food, sightseeing, health and safety, money management, and time management. I've also included a special bonus tip for Venice right at the end of this blog post. In a way, this bonus tip is the most essential tip of them all! You'll see!
I hope that my 45 essential tips for Venice will come in very handy so that your time in the city of water is as exciting and enriching as possible. Especially, if this is your first visit there.
Have a look!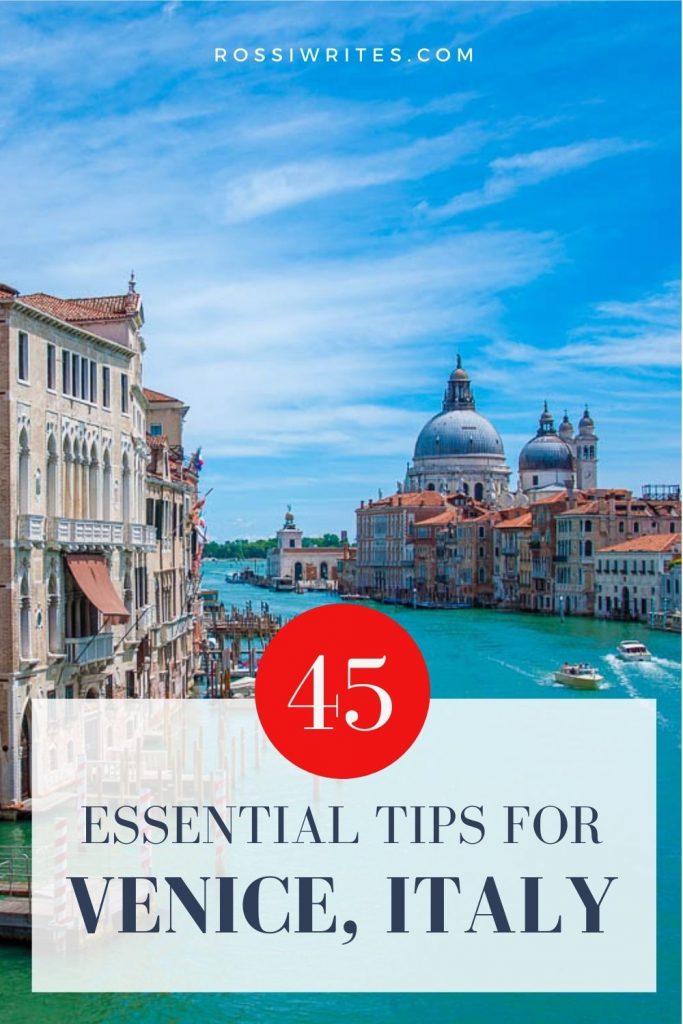 45 Essential Tips for Venice, Italy – A Must-Read for First-Time Visitors
When to Visit Tips for Venice, Italy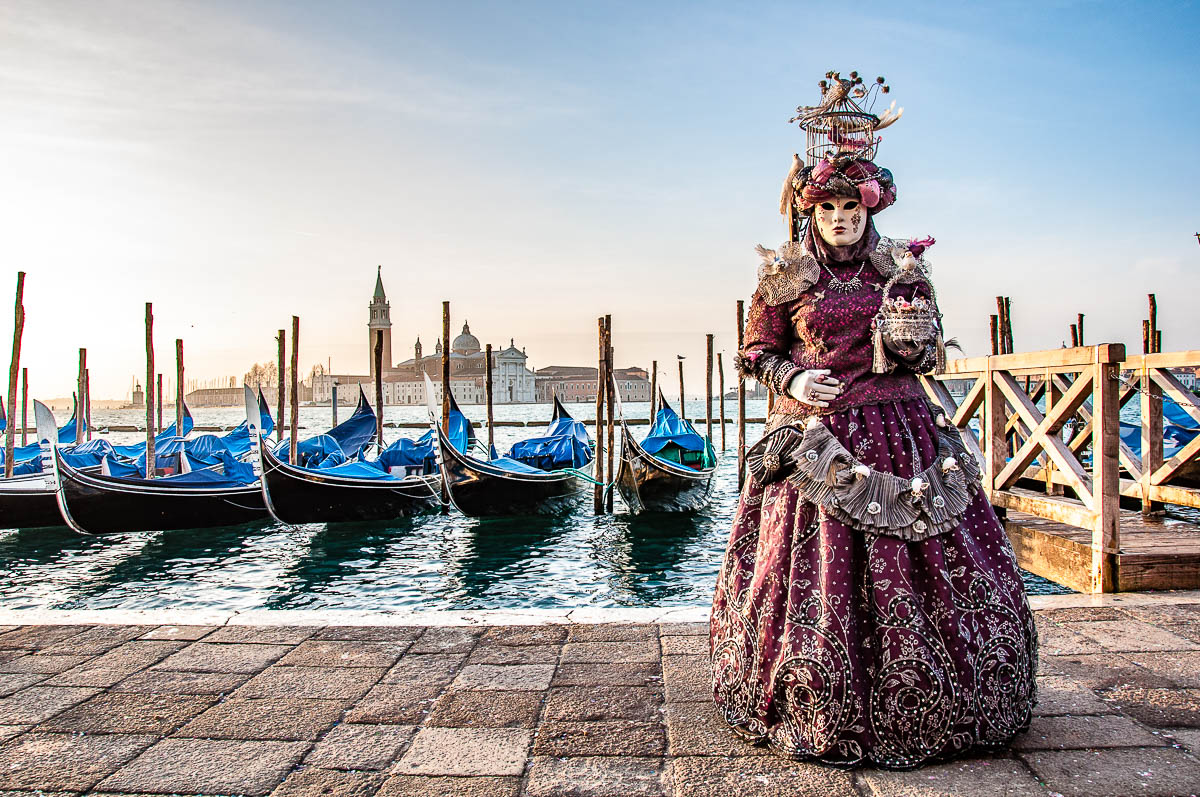 1. Venice is Always a Good Idea
Venice is one of the most famous cities in the world and a dream destination for millions of people. With its unique location in the heart of the Venetian Lagoon and with deep layers of history, visiting the city of water is always a good idea.
Venice has a lot to offer every month of the year. And its beauty is dramatically marked by the seasons. With the wisterias dripping in purple blooms in spring, with the canals glistening in millions of shades of teal in summer, with autumnal mists adding to the mystery of the city, and with the riot of Carnival in winter, Venice always is a delight to discover.
So, don't delay it! As soon as you have a few free days and travelling is an option, head to Venice to see for yourself its spectacular scenery and rich heritage.
2. Yet The Best Months to Visit Venice Are…
Venice is especially great to visit during the shoulder season. This is the travel period between the low and the high season and vice-versa. So, from March through April to the start of May and then from the end of September through October to mid-November are particularly lovely times of the year to find yourself in Venice.
This is when the crowds of tourists are very manageable, the city feels authentic and it basks in beautiful spring or autumnal sunlight. Temperatures during the shoulder seasons in Venice customarily are also very pleasant.
3. Plan Your Visit to Coincide with a Large-Scale Venetian Event
If your travel plans are not dependant on school holidays or any other such restrictive scheduling, then try to visit Venice during one of its big traditional celebrations. This way you can experience the pomp of the city, relive its glorious past, and/or see the world's latest trends in terms of films, art, and architecture.
The Carnival of Venice is a particularly great time to visit the city of water. It is held in the weeks before the Catholic Lent. Then you have La Sensa in May, the Vogalonga in May or June, the Festa del Redentore in July, the Historic Regatta and the Venice Film Festival in September, and the Festa della Salute in November. Add to this the Venice Biennale and the Venice Architecture Biennale which are held over several months.
Click here for more details:
4. Stay in Venice as Long as You Can
Venice truly has a lot to offer. Trying to squeeze its many landmarks in a day or two is a recipe for rushing around and missing out on some truly unique and wonderful sights. If you only have a day or two at your disposal, by all means, don't let this stop you from coming to Venice. My first visit to the city of water was indeed a day trip. While time really flies quickly here, a day can be a great taster of Venice and it can start a lifelong love affair with the city of water. As it happened to me!
Yet, if you know that you are unlikely, for whatever reason, to return to Venice in the future, then try to put aside as much time as you can for your visit to it. If you have three full days, for example, you can spend two days in Venice and then dedicate a day to exploring other islands in the Venetian Lagoon. If you have four days, then you can spend the fourth on a day trip to the Italian mainland. And if you have five, six days or a whole week, then you can explore Venice in a very methodical and yet spontaneous way, delving deep beneath the surface and discovering the truly hidden gems that make the city of water so unique. From visits to artisan workshops to taking gondola rowing lessons, the variety of things you can do in Venice is only limited by your imagination.
5. Make Sure That You Visit Venice Sooner…
…rather than later. Venice requires a certain physical and emotional stamina. Walking everywhere and spending whole days on your feet can get very taxing very quick. Especially during the very hot summer months and the chilly winter days. Then, the huge quantity of art, architecture, history, and traditions to process can be simply overwhelming.
So, don't postpone your visit to Venice, Italy. Do it as soon as you can both in terms of time and money.
Airport Tips for Venice, Italy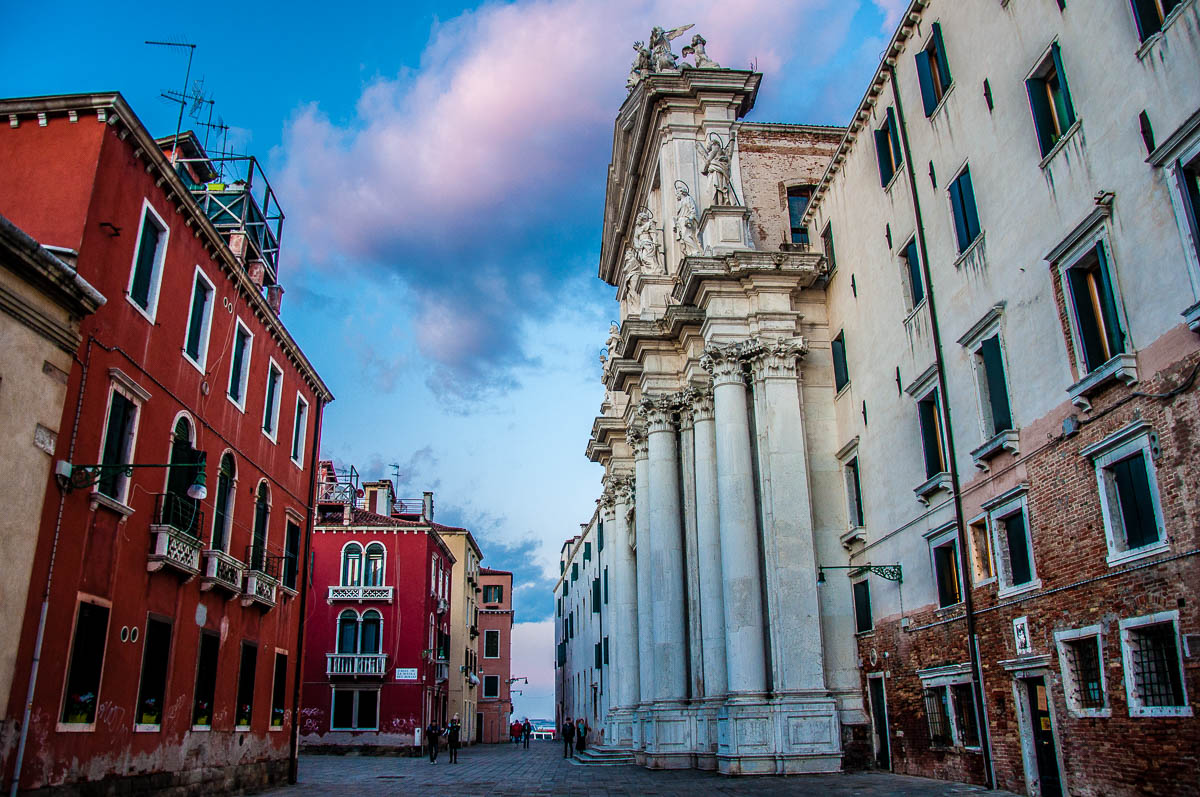 6. Know the Best Airports for a Venetian Holiday
There are several Italian airports you can fly into for a visit to Venice. The two most convenient ones are:
Yet, you can use the following airports, too:
While the first two are physically the closest airports to Venice, the other three are a very manageable train ride away, too. So, depending on plane ticket prices and available flights, keep an open mind as to which airport you can fly into for your Venetian holiday.
Click here for more details:
7. Plan Your Trip from the Airport to Venice
There are many different ways to get from your airport of arrival to Venice.
If you fly into Venice Marco Polo airport, then you can choose one of the following options to reach your destination in the city of water:
Shuttle buses, taxis, and private transfers by car will drop you off at Piazzale Roma. Once there, you can either walk or use Venice's water buses (vaporetto) to travel to the vaporetto stop that is nearest to your accommodation. Click to buy a single, one-day or a multi-day ticket for Venice's vaporetti in advance.
Shared water taxis and private transfers by boat should drop you off at the nearest to your accommodation mooring point.
If you fly into Treviso Airport, then again you can rely on a shuttle bus to take you all the way to Piazzale Roma in Venice. Another option is to get a bus from Treviso Airport to Treviso Centrale train station and then travel to Venice by train. Alternatively, you can book a private transfer, too.
And if you fly into either Verona or Bologna, then you can take the shuttle from the airport to respectively Verona Porta Nuova train station or Bologna Centrale train station. High-speed and fast regional trains connect Verona and Bologna to Venice all throughout the day.
Flying into Trieste Airport is very convenient, too. The airport has its own train station which is served by direct trains to Venice.
Click here for more details:
8. To Be Extra Organised, Book Your Train Tickets to Venice in Advance
If you decide to travel from your chosen airport to Venice by train, check these two websites for train prices and times:
The first website shows you all available trains for your date and time of travel. This includes high-speed trains, fast regional trains and regional trains. It pays to book your tickets for the high-speed trains in advance as they increase in price the closer to the date of departure it gets. The prices for tickets for the fast regional and the regional trains remain unchanged no matter when you buy them.
For close distances in Italy, the fast regional trains are the best option. They are inexpensive, run often, and stop only at the most important cities and towns along the way. For long distance travel in Italy (for example, Bologna to Venice), the high-speed trains are the better option. They cost more but offer quick and smooth travel.
The second website is of Italy's private high-speed train operator. Italo's trains offer fast and smooth travel between many of Italy's largest cities. Again, it pays to purchase your tickets in advance as the price increases the closer to the day of travel it gets.
9. Allow Plenty of Time to Reach the Airport from Venice
At the end of your time in Venice, make sure that you allow plenty of time to travel back to your chosen airport. During your stay in the city of water, you will come to feel how time seems to flow differently here. Somehow slower, more unhurried. Plus, the beautiful setting of Venice makes you prone to daydreaming and relaxing into yourself. So, it may be a bit of a shock to the system when you need to quickly switch back.
Plan carefully how long it's going to take you to reach the airport from your Venetian accommodation. Then add 30% more time to it. Consider that you will have to carry your luggage (probably heavier on account of the many wonderful things you have bought in Venice) all the way to the nearest mooring point or vaporetto stop or even to Piazzale Roma or the Venezia Santa Lucia train station. There may be crowds you need to navigate. Or you may get lost for one last time in the maze of narrow curving streets.
While the vaporetti and the trains here traditionally run on time, give yourself some extra minutes just in case. Plus, if you take the water bus to Venice Marco Polo Airport, don't forget that there is a long-ish walk from the docks to the terminal.
10. Shop Exquisite Italian Food, Fashion, and Crafts at the Airport
Getting early to the airport after a wonderful vacation in Venice pays in yet another way. You will have plenty of time to explore the many lovely shops there and stock on Italian food, fashion, and crafts.
This applies mainly if you travel back from Venice Marco Polo Airport or (to a degree) Bologna Airport. They are bigger and have several excellent shops. Buying at the airport can save you the effort of lugging extra weight from your accommodation in Venice to the plane.
Just remember that the choice is not going to be as big as in Venice itself. Also Bologna Airport will not necessarily have traditional for Venice crafts. Still, shopping at an Italian airport is always very exciting. Especially in terms of coming across delicious deli items, the latest Italian styles, and beautiful artisanal gifts.
Accommodation Tips for Venice, Italy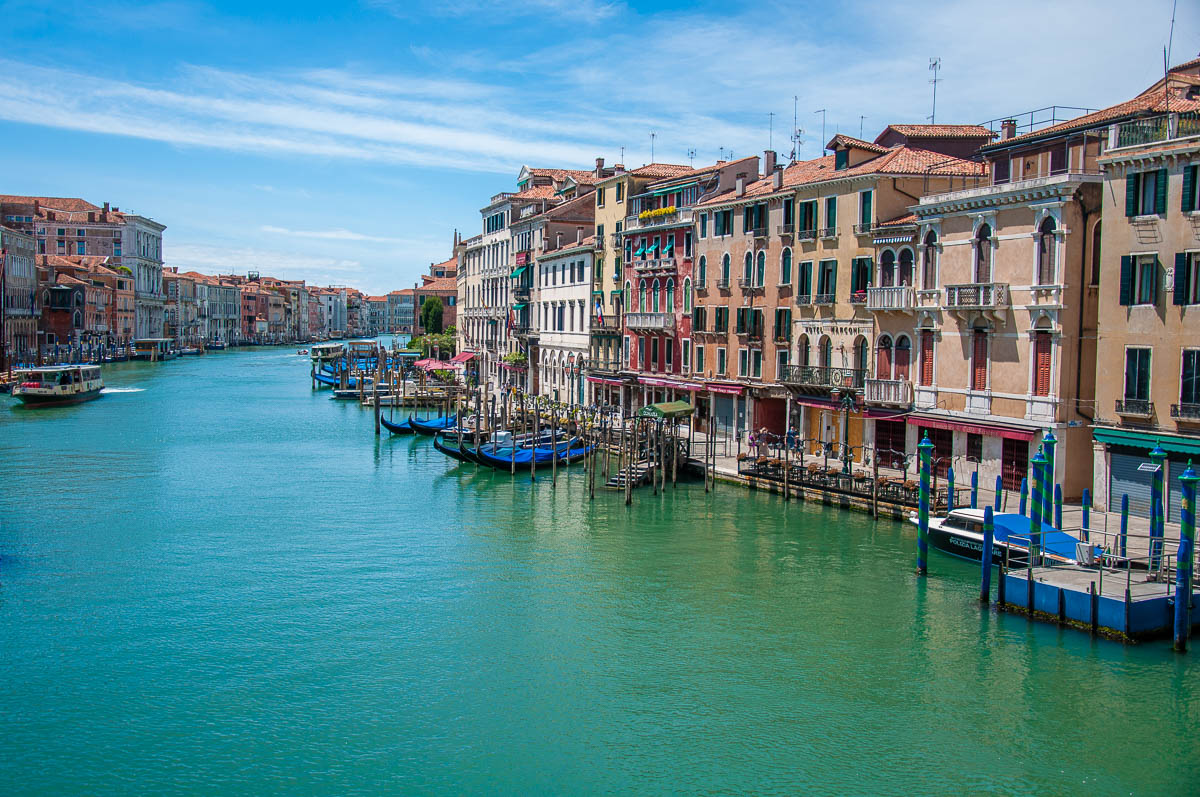 11. Stay in Venice Proper
Venice has two parts:
The historic centre of Venice – built on 118 islands in the Venetian Lagoon and surrounded by water on all sides. This was the capital of the Republic of Venice and nowadays is one of the biggest tourist destinations in the world.
The mainland area of Venice – known as Venezia Mestre or simply Mestre, this is the large borough on the mainland. It houses many of Venice's administrative and local government offices.
Many guidebooks and blog posts suggest that you stay in Mestre as hotels there tend to be cheaper. Yet, if you want to explore the beauty and heritage of Venice and truly feel the authentic atmosphere of the city of water, then I would strongly suggest that you book your accommodation in the historic centre.
This way you will have Venice all for yourself in the early mornings and the late evenings. Plus you won't have to spend time and money every day on train or bus transport from Mestre across the water to Venice. While Mestre has a pretty historic centre, it's not on par with Venice. If this is your first or, you suspect, only visit to Venice, then it's advisable to have the full Venetian experience by actually staying in the historic centre.
I usually prefer to book all my accommodation through Booking.com. Click to see all available options for places to stay in Venice, Italy.
If you need some visual help in terms of precise location and price range, have a look at this map. It gives you a quick idea of the prices and whereabouts of the many hotels and other forms of accommodation you can book for your stay in Venice, Italy.
You can zoom in and out in order to search for a place to stay. You can also click on the option that interests you to find out more details or to make a booking directly.
In addition, if you click on 'Accommodation' in the top right corner of the map and select 'Experiences' from the drop-down menu, then you can see some truly exciting experiences you can book directly in Venice, Italy:
12. Choose Carefully the Venetian Sestiere (or Island) To Base Yourself in
A sestiere (or one-sixth in English) is a term used to signify the districts of Italian cities and towns that are divided into six subdivisions. Venice is one such city and it has six sestieri: Cannaregio, Castello, San Marco, San Polo, Santa Croce, and Dorsoduro.
San Marco and San Polo are the two most central sestieri. This is where a large number of the most famous Venetian sights are. They also tend to be the busiest spots in town.
My personal favourite is Dorsoduro. It provides easy access to the train station and it's dotted with wonderful churches, museums, and art galleries. It affords beautiful views over the Grand Canal and the Giudecca Canal. Dorsoduro also tends to have pockets of peace and quiet next to some very lively hotspots. It is also where you can go on a guided visit of Ca' Foscari – the University of Venice.
Before booking your accommodation in Venice, make sure that you research in some detail the city's six sestieri. Then choose the one most convenient for you based on the things you want to see in Venice, how far you are prepared to walk to reach your hotel/B&B, and what other amenities you want to have nearby.
Again, while some guidebooks and blog posts suggest staying on either Giudecca or Lido – two of the largest islands in the Venetian Lagoon – if this is your first visit to Venice or if you are only spending a couple of days here, then try to stick to Venice itself. Both Giudecca and Lido are lovely and offer additional things to do. Yet if you want to concentrate on Venice and the main sights here in addition to a few hidden gems, then the daily travel to and from these two islands (no matter how close they are) can become a time-eater and an inconvenience.
13. Decide on the Type of Accommodation to Book in Venice
There are many different types of accommodation in Venice to please any pocket. From lavish five-star hotels to humble hostels, from atmospheric B&B's to historic palaces, you will have a lot of fun choosing where to stay. Heck, you can even book a room in a monastery during your time in Venice!
For a detailed overview of the different types of accommodation to pick from, have a look at this blog post:
14. Consider Paying a Bit More for Some Purely Venetian Extras
Your stay in Venice can be made so much more special if you choose to book a place equipped with some typical for Venice architectural and artisan details. Here are some examples for your interest:
Altana – a traditional for Venice rooftop terrace. Built of wood, it offers an open-air space to spend precious hours of relaxation and to simply admire the splendid views of Venice from above.
Murano glass chandeliers – there is nothing like staying in a room adorned with an original Murano glass chandelier. It makes you feel really grand and it gives you a very immediate understanding of the lavish heritage of the city of water.
Frescoed walls – many old Venetian palaces nowadays have been turned into hotels with a varying number of stars. With frescoed and stuccoed walls and ceilings, they offer you a chance to feel surrounded by art at all times during your Venetian stay.
Canal views – ask for a room with a canal view (although this may cost a bit more). You want to see the boats and gondolas passing by, the beautiful facades of the buildings on the edge of the canal, and just have the full Venetian experience.
15. Space is a Premium in Venice
Venice is a densely built city where buildings lean onto other buildings in a never-ending parade. Also, the Venetians of yore seem to have been physically a tad slimmer than us.
So, don't be surprised if your hotel room seems somewhat small or is a bit quirky in shape. Space is often ingeniously utilised though. You will see how every nook and cranny have been made to serve a purpose and/or look pretty in many different ways. I remember booking a single room in a Venetian hotel about ten years ago. Upon arrival, I realised that in the past my single room must have been a cupboard. Or something like that. It was very narrow and long. Still, it was beautifully frescoed.
The last hotel we stayed in Venice was in a palazzo just round the corner from Rialto Bridge and with views of the Grand Canal. We had the Murano glass chandelier, walls dressed in beautiful fabrics, the works. And two bathrooms. Both of which were tiny yet one had a bath in. It was a bath that you could only sit in but still a bath.
Travel Tips for Venice, Italy

16. Travel Light for an Easy Transfer to and from Venice
You don't want to arrive in Venice burdened with heavy suitcases. Lugging them around town can be incredibly tiring and frustrating. Just consider all the bridges you will need to go up and down. Not to mention the crowds that you will need to brave in the more touristy parts of Venice. Of course, you can hire a porter at the train station or a water taxi to take you right to your hotel.
Otherwise, consider packing lightly for Venice. Leave space in your suitcase for all the wonderful things you can buy there, too: handmade Venetian masks, authentic Murano glass, precious jewellery, wonderful antiques, great paper products and so on.
17. Get Off at the Right Train Station for Historic Venice or Venice on the Mainland
There are two train stations under the name Venezia (which is Italian for Venice). Both of them are on the same train line:
Venezia Santa Lucia train station – if you want to visit Venice proper, i.e. the historic centre of Venice on the islands in the Venetian Lagoon, this is the train station you need to travel to. It's an end of the railway line station. Reaching it involves crossing the lagoon on the incredibly long bridge Ponte della Liberta'.
Venezia Mestre train station – if you have a specific interest in Mestre – the mainland administrative borough of Venice – you need to get off at this station. Bear in mind that it precedes the Venezia Santa Lucia train station.
First-time visitors of Venice at times get confused and get off the train at Venezia Mestre when, in fact, they need to stay on the train to Venezia Santa Lucia.
18. When in Venice, Know Your Watercraft Options
Venice is a city of water and the traditional way to travel around town is by boat. In a tiny, simplified nutshell, there are four types of watercraft you can use here:
Vaporetto – Venice's water buses go up and down the Grand Canal, some smaller canals, around the city, and connect it to nearby islands.
Motoscafo – Venice's water taxis. They are beautiful and sleek. Quite pricey, too. Yet, if you want to do Venice in style, consider booking a motoscafo.
Traghetto on the Grand Canal – black boats that look like an unadorned gondola. They serve to take you across the Grand Canal at spots that are far from the four bridges that cross it. You can read all about my first experience taking a traghetto in Venice here.
Gondola – Venice's most famous boat, the elegant gondola can be hired for a panoramic ride around the city's pretty canals. There are set prices for a set amount of time. If you want your gondolier to serenade you, this costs extra.
19. Learn How to Orient Yourself in Venice
Venice is a city built on 118 islands in the heart of the Venetian Lagoon. It is completely car-free and looks like a maze where it is only too easy to lose yourself. Often navigation apps go a bit haywire here and may try to send you across a canal where there is no bridge or make you walk in circles time and time again.
Plus, I always take with a pinch of salt any walking times estimated by the navigation app and double them in my mind. It's only too easy to get distracted when walking in Venice and end up taking the wrong turn. Plus, navigating the crowds of people at the city's most popular spots can stretch immensely any time estimate.
Yes, there is nothing better than to relax and simply explore Venice by following its narrow curving streets to whatever hidden gems they may take you. Yet, things can quickly get frustrating if you have only a limited amount of time or if you are trying to find your hotel heavy luggage in hand.
So, it always pays to spend a bit of time looking at the map of Venice before your visit to the city. Having a clear idea of where your accommodation is located or how close to it are the different sights you want to visit, can really help you make a general plan for your time in the city of water.
Learning a few of Venice's topography terms is also very useful. Check the Place Names section in this blog post to find out what calle, campo, fondamenta, rio tera', salizzada, and sotoportego mean. This will come in handy when finding your way around Venice.
20. When in Venice, Walk on the Right and Don't Obstruct the Bridges
When walking around Venice make an effort to keep to the right at all points. Venice is a living city with its own citizens who try to go about their daily lives while millions of people around them sightsee, suddenly stop in their tracks to take photos, and sometimes behave with no decorum.
With narrow curving streets – many of which are used by thousands of people every day – keeping to the right ensures that the pedestrian flow is as fast and smooth as possible.
Bridges are very much Venice's links of communication. They connect the dozens of tiny islands on which the historic city is built, provide access to shops and private homes, and serve as useful points of reference when you are walking around. As such, obstructing a bridge or lingering on a bridge is frowned upon by the Venetians and can actually incur a heavy fine.
Food Tips for Venice, Italy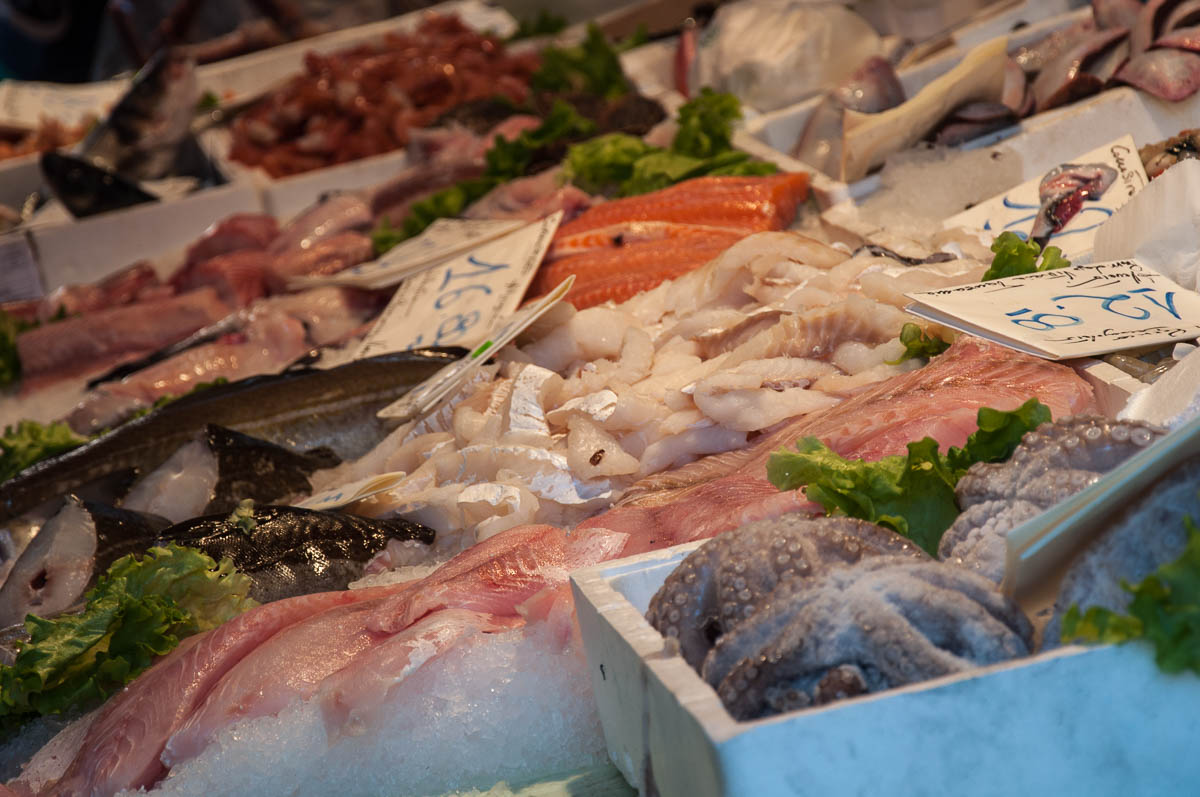 21. Think Before Ordering a Pizza in Venice
Think carefully before ordering a pizza in Venice. While pizza is the most famous Italian export, it is not a traditional Venetian food. In Italy, there are dozens of regional and provincial cuisines. They are incredibly varied and based on centuries-old customs, techniques, local products, and in some cases trade routes that were established as early as the Middle Ages and the Renaissance.
As such, when in Italy, it's always best to eat the food that is traditional for the city or province you are in. Pizza – originally from Naples – has taken deep roots all over Italy in the past few decades. Yet, Venice is the only place where I would advise caution before tucking into one.
Why? Often the pizzas served in Venice are not freshly made and have arrived in the city of water mass-produced and in a frozen state. This is especially true for those eateries that have printed pictures of dishes plastered all over their windows or on a large board by their entrance.
If you simply must have a pizza in Venice, then make sure that you head to the places visited by the locals. This blog post gives you a good idea of where to find them and what to expect there in terms of pizza. It's in Italian, so if need be, you can use Google Translate to get the gist of it.
22. Indulge in Venice's Traditional Sweets and Pastries
Sugar first reached Europe by the way of Venice. So, the city of water has a longstanding tradition in terms of pastries, sweets, and baking.
Start each day with a typical local breakfast of coffee and pastries. The most popular one is called brioche. It looks a bit like a croissant but it's larger, much less flaky, and it can have so many different fillings. My favourite one is pistachio spread (imagine a chocolate spread but made of ground pistachios instead of cocoa! It's so good!).
During the Carnival, tuck into frittelle – fried balls of dough stuffed with different creams or chocolate. The rest of the time, indulge in tiramisu, pasticceria mignon (sweets and cakes in tiny sizes), marzipans, local biscuits (like the Esse from Burano), and handmade chocolates. I am partial to Pasticceria Rosa Salva but there are dozens of great patisseries all over town.
A good way to sample the best of Venice's sweets and chocolates is to join a guided tour. This one will introduce you to a Venetian master chocolatier and their exquisite truffles, pralines, and hot chocolate. This one will take you on a morning walk of Venice so that you can enjoy the city's main sights while tucking in a number of traditional local pastries and sweets. While this kid-friendly tour will open the world of Venetian sweets and desserts in front of your eyes by taking you to authentic local bakeries and patisseries across all six Venetian sestieri and revealing to you the stories of Venice's most famous sugary delights.
Click here for more details:
23. Have Lots of Traditional Venetian Seafood
Venice is a great place to indulge your love for seafood. With centuries-old culinary traditions and with the Venetian Lagoon providing a huge variety of fish, crabs, and molluscs, you will be spoilt for choice.
For an idea of what's on offer, head to Rialto Fish Market early in the day to see the freshest catch. Over ten centuries old, the market is housed in a fetching Neo-Gothic structure a step away from the famous Rialto Bridge.
Grab a portion of fritto misto from a nearby eaterie. This is a mix of seafood and julienned vegetables that have been battered with durum wheat semolina and cornmeal. Then they are served deep-fried on a bed of polenta.
Deep-fried moeche is another typical for Venice dish. These are soft-shelled crabs that can be enjoyed only for a limited time in autumn and spring. Sarde in saor is sardines in a sweet and sour sauce made with vinegar and raisins among other things. It sounds wacky but it's so incredibly tasty you will regret not giving it a try. Don't miss a taste of baccala' mantecato – the most iconic dish of the Venetian cuisine. It's prepared with stockfish from Norway's Lofoten Islands and has been a Venetian staple since the 15th century.
For a quick introduction to Venetian seafood, join a specialised guided tour in the city of water. This semi-private food experience will take you from Rialto Fish Market to two of Venice's top eateries so that you can wine and dine on traditional Venetian drinks and dishes. And this one offers you a five-course Italian seafood feast cooked by a Venetian sailor.
24. Stop for Coffee in Venice
Just like sugar, coffee also reached Europe through Venice. In addition, the world's oldest coffee house – the mythical Caffe' Florian – first opened its doors here on 29th December 1720.
Coffee traditions are still very much alive and kicking in Venice. So, indulge in proper coffee during your Venetian holiday. Caffe' Florian is a must-see for its wonderful decor, literary connections, and coffee heritage. Grancaffe' Quadri is another unmissable historic coffee house in Venice.
Don't forget the many small torrefazioni – coffee roasters. They roast and serve wonderful varieties of coffee in Venice, too. Torrefazione Cannaregio is particularly famous.
Click here for more details:
25. Snack on Cicchetti and Tramezzini – Venice's Traditional Finger Foods
Cicchetti (pronounced chi–KEH–tee) are traditional Venetian finger foods. Served in small portions, there are many varieties of cicchetti and they can cost as little as a euro or two per piece. This can be a small slice of white polenta with a helping of baccala' mantecato or a piece of crusty bread with one of many delicious toppings.
A mix of cicchetti makes for a great lunch in Venice giving you a taste of many local foods and food combinations. Customarily served in small eateries called bacaro (pl. bacari), cicchetti are washed down with an ombra – a small glass of house wine.
Osteria Al Squero is a particularly famous place to eat cicchetti in Venice. You will find it right opposite Squero Tramontin – a gondola-making and -repairing boatyard in the sestiere of Dorsoduro.
Tramezzini are triangular sandwiches made with super soft crustless bread and stuffed with many different fillings. For example, sliced boiled egg and artichokes, sopressa salami and red radicchio, tuna fish, ham and mushrooms, and so on. They make for a great snack or – if you buy a selection – for a nice and inexpensive lunch, too.
As you walk around Venice, keep an eye out for small bacari serving delicious cicchetti and tramezzini. Alternatively, this guided tour will introduce you to the flavours and traditions of Venetian finger food.
Click here for more details:
Sightseeing Tips for Venice, Italy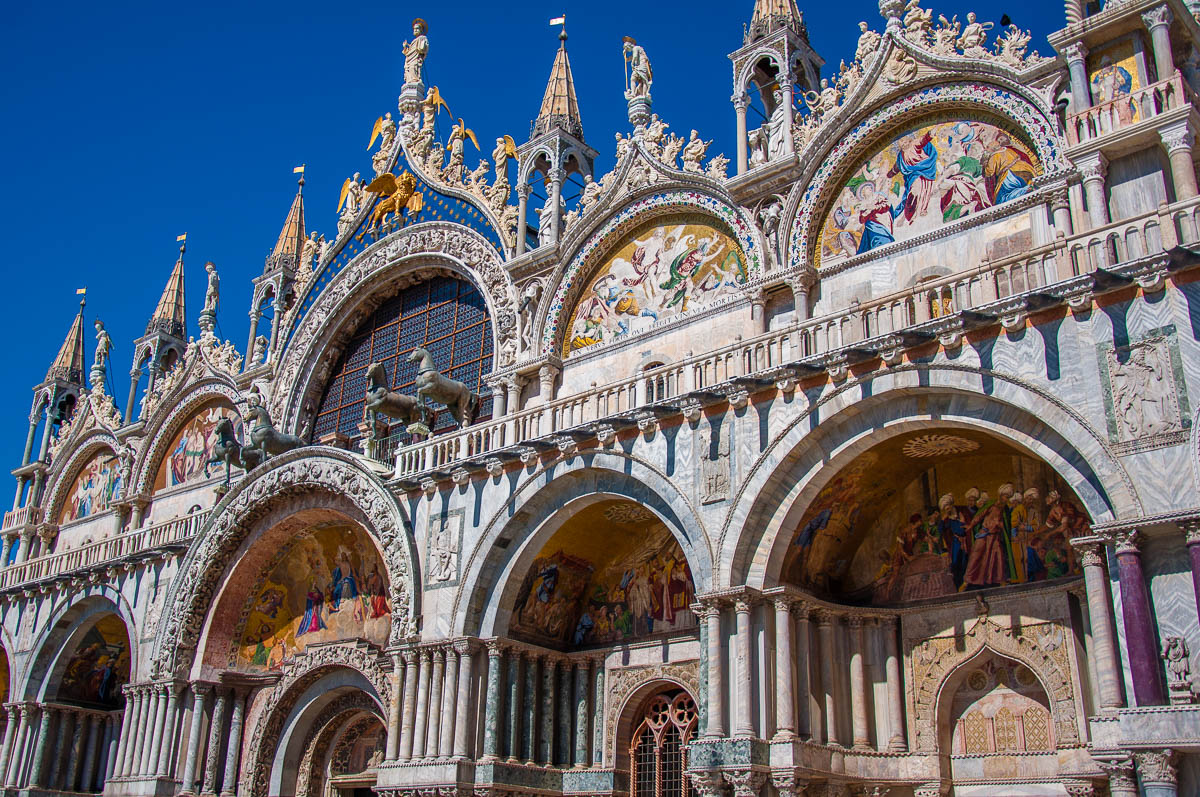 26. Head Early to Venice's Most Famous Sights
To avoid the crowds and queues, make sure that you head early to Venice's most famous sights. For example, St. Mark's Basilica and its bell tower. Queues here can be an hour or so long. However, if you turn up right before opening times, you can minimise or totally avoid queuing.
Plus, you can get lots of beautiful photos of Venice's most iconic sights without the usual crowds of people that besiege them!
27. When in Venice, Get Off the Beaten Path
For all its worldwide famous sights and museums, Venice is also incredibly rich in hidden gems. No other destination gives you as much satisfaction as Venice when exploring it off the beaten path.
Quirky corners coupled with curious stories abound here. Make sure that you experience as many of them as possible for yourself. This blog post gives you pointers for 101 little-known yet fabulous things to do in Venice. And this blog post will reveal to you the haunted Venice of ghostly apparitions, centuries-old legends, and even mysterious crypts. Have a look!
28. See Venice from the Water
Venice was designed to be seen from the water. Its lavish palaces have their most splendid facades turned towards the canals. Its most important buildings are on the water's edge.
Make sure then that you see Venice as the visitors of the city in the past centuries did. From the water, floating down its canals on a boat. This way you can truly appreciate the beauty, the elegance, and the grandeur of Venice – a city that challenges all conventions of the traditional urban settlement.
There are many ways to get on a boat in Venice. Check tip number 18 above for four of the most popular watercraft here. Catching a traghetto across the Grand Canal is one of the simplest, quickest, and cheapest ways to see Venice from the water.
In addition, you can get on vaporetto line 1 from either Piazzale Roma or Venezia Santa Lucia train station and then travel all the way down to St. Mark's Square. This way you can revel in the beauty of the Grand Canal and marvel at the most iconic buildings, palaces, and churches of Venice as they come into view. Click to buy your Venice vaporetto tickets in advance.
A gondola ride is one of the most iconic things you can enjoy in Venice. You can either have it all for yourself or share it with other passengers. If you prefer, you can have a romantic gondola experience followed by a meal for two. Seeing Venice from a sleek black gondola is the stuff memories are made of!
You can hire a gondola on-site by simply approaching a gondolier at one of the many gondola stops around Venice. The tour lasts around 25-30 minutes and the price is currently set at 80 euros for up to six passengers. If you want your gondolier to serenade you, this comes with a surcharge. Also, evening and night-time gondola tours cost more.
Alternatively, you may want to book your gondola tour in advance or combine it with different activities – from a walking tour to a photoshoot. There are many different ways to do it, so have a look here for an exhaustive list of the different options and the respective prices.
29. For the Best Introduction to Venice, Book a Guide
A private tour with a Venetian guide is an unmissable opportunity to delve into the history of Venice, discover hidden gems, marvel at unique works of art, and just get to know Venice as a local does.
With the sheer amount of things to do and see here, it's only too easy to become overwhelmed and not know where to start from or what to see first. Or you may end up missing several must-see sights. In such cases, booking a private tour in Venice is a great way to truly experience the city of water and see it from the most authentic point of view.
I always recommend Luisella Romeo from See Venice and Erika Cornali from When in Venice. Both are wonderful people, they speak several languages and are truly dedicated to bringing the beauty of Venice to you.
Alternatively, you may prefer using one of the large tour sites to pick a top-rated guided visit or activity in Venice. The best options are Viator, Get Your Guide, and Tiquets.
30. To See the Authentic Venice, Wake Up Early and Go to Bed Late
One of the best ways to see the authentic Venice, is to go for a walk around the city early in the morning and late in the evening. You will discover a whole new face to it. Free of tourist crowds, Venice is incredibly peaceful and cinematic and you feel like the luckiest person in the world to have all this beauty for yourself.
It really pays to wake up very early in the morning and go for a walk while the city still awakes. And then do it again in the evening and see how Venice quietly winds down after another hectic day. To have enough energy for these early rises and late bedtimes, make sure that you take an Italian riposo in the afternoon.
Health and Safety Tips for Venice, Italy

31. To Walk Around Venice, Bring Your Most Comfortable Shoes
Venice is a car-free city which means that you will spend your time here walking everywhere. Taking the vaporetti (Venice's water buses) or the motoscafi (Venice's water taxis) is a great way to travel long distances around the city. Yet, it can be time-consuming and in the case of water taxis, very costly, too.
Plus, there are many places around town that can only be reached on foot. Benches are lacking, sitting on the steps of churches and historical buildings is forbidden, and spending long hours upright can be very, very tiring. Even if you are in great physical shape, Venice can be truly overwhelming. What with the many sights to see and the many masterpieces to walk up to, stop in front of and admire, your feet may start feeling heavy long before the end of the day.
Hence, it's essential that you come to Venice armed with your most comfortable shoes.
32. When You Walk Around Venice, Always Mind Your Step
While Venice is a nice and flat city that is easy (but taxing) to walk all over, make sure that you mind your step when strolling around town. Especially, in the following two scenarios:
steps leading down to the water – you will notice that often some of these steps are covered with algae. Avoid stepping on them at all cost as they are very slippery. Many a tourist, eager to take a close-up artsy shot of a gondola or two has braved the steps with the green tinge. Only to find themselves completely soaked.
edges of the canal paths during acqua alta – when the tide peaks, sometimes the water levels rise so high that Venice gets flooded. While, in most cases, you can put a pair of wellies on and still walk around town, you need to be careful not to incidentally end in the water by overstepping the edge of a canal path (known as fondamenta in the Venetian language).
33. Never Swim in the Venetian Canals
Venice is universally known as the City of Canals on account of its 150 waterways. Narrow and wide, short and long, curved and straight, the canals of Venice are the city's arteries.
Swimming in them is not allowed for many reasons. A large number of boats – many of them motorised – crisscross Venice's canals at all hours of the day, so it would not be safe for swimmers. Also, the water – beautiful and inviting as it looks – is polluted and you don't want it on your skin or in your mouth. Lastly, swimming in the canals goes against Venetian decorum. This is a historic city of art, after all, not a seaside resort. Hence, a heavy fine awaits anyone swimming in the Venetian canals.
I would also advise you against sitting on the edges of the canals and dipping your feet in the water. You honestly don't want the water on your skin. Plus, such behaviour will not endear you to the locals.
If you want to swim, then head to one of the nearby beaches. Spiaggia Alberoni on the island of Lido di Venezia, the beaches of Sottomarina near the town of Chioggia, the beaches of Lido di Jesolo, and the beaches of Caorle are particularly famous and within an easy-ish distance from Venice.
34. If You Visit Venice In Summer, Bring Suncream
Venice can get incredibly hot in summer. Add to this the air's high humidity and the feeling is of being inside a very hot oven. The strong sunlight is reflected by the water in the canals and it bounces off the beautiful facades thus making your eyes squint in pain.
A high factor suncream and sunglasses are a necessity!
If you are desperate for a bit of shade, head to the Giardini Reali – a small, nicely landscaped garden facing the Grand Canal next door to St. Mark's Square. Alternatively, go for a walk in the Giardini della Biennale in the sestiere of Castello. My favourite small garden with free entry in Venice stands adjacent to Ca' Rezzonico – the museum of 18th-century Venice. It's lush with plenty of shade and flowering shrubs. Plus, it has a small playground for the kids to run around.
35. And If You Visit Venice in Winter, Bring an Extra Layer or Two
Venice is not a winter sun destination. While the sun may be shining high and the sky may be nice and blue, there is a chill in the air during the day and at night it can get very cold.
Sometimes, it even snows! This doesn't happen often (more or less, once every couple of winters or so) but when it does, it turns Venice into a magical fairytale. A slippery one at that as the stone fondamente – Venice's canal paths – can be challenging to navigate with a dusting of snow on top.
The rest of the time, the high humidity chills you to the bone and fogs often add to the mystery of Venice.
If you visit Venice in late autumn and winter, then definitely wrap up warm. It's better to feel nice and cozy and peel a layer off when needed than suffer the cold chills.
Money Management Tips for Venice, Italy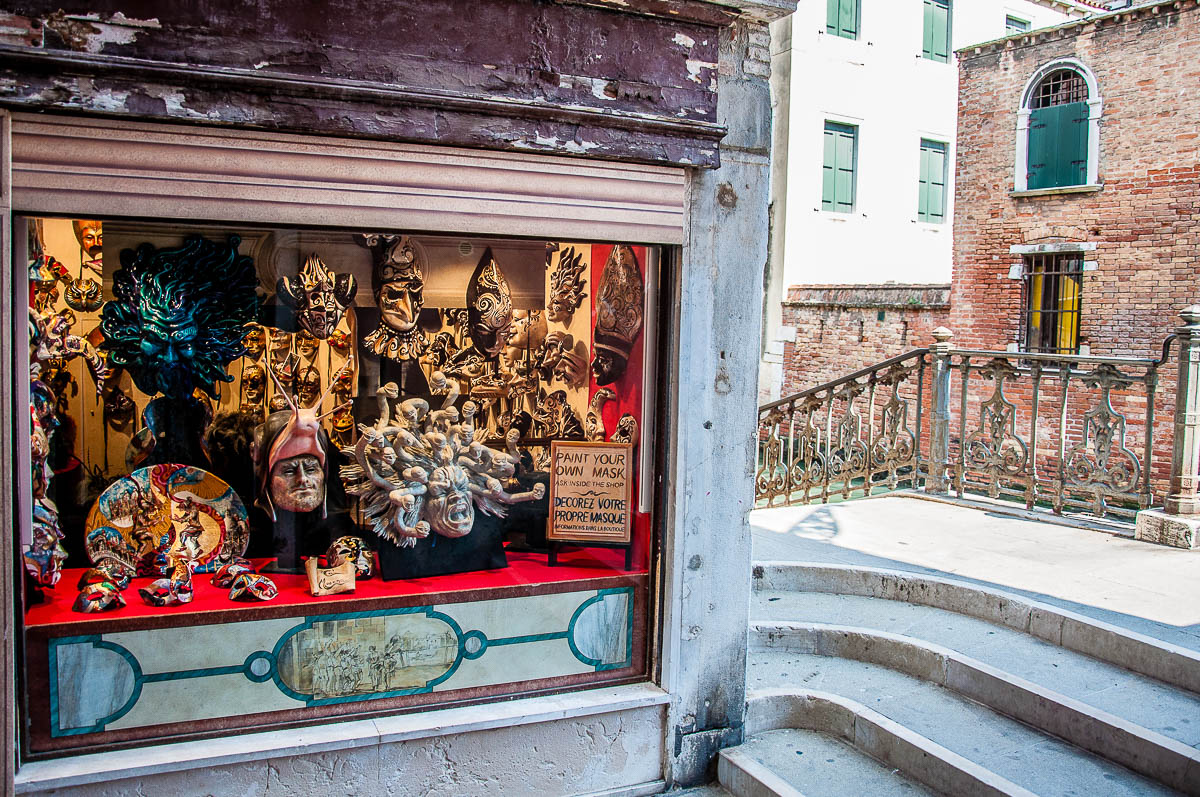 36. When in Venice, Expect to Spend
Venice is a difficult city to live, work, and do business in. With no cars, everything has to be transported by boats and then lifted and carried by hand. Insurance premiums are high and acqua alta can cause anything from inconvenience to devastation. Prices factor in all this.
So, Venice is not a budget destination and to truly see and experience its very best sides, you need to be prepared to spend. Mind you, not for tourist gimmicks and overpriced food. But for museum tickets, concert tickets, and exhibition entry fees. For great local food which is freshly made following centuries-old techniques. For handmade artisan items which you will love and use for years to come. And for beautiful jewellery, unique decorations, lovely handmade notebooks, traditional Venetian masks, luxury fabrics, charming antiques, and one-of-a-kind pieces of art. And, of course, for a gondola ride!
To be honest, in terms of daily expenses, I find London much more expensive than Venice. Whereas a single espresso in London can cost anything from £1.50 to £2.00, in Venice you can get a proper Italian espresso and a breakfast pastry for more or less the same money. And while a quick lunch from a chain shop in London can cost anything from £10 to £15, in Venice a lovely plate of cicchetti made in a small bacaro that has been there for dozens if not hundreds of years will cost less than that. So, you can get yourself a nice glass of wine, too.
37. When in Venice, Always Buy Authentic Crafts
There are so many wonderful things in Venice that it makes sense to take every opportunity to stock on some lovely gifts for friends, family, and yourself. In doing so, make sure that you support authentic Venetian artisans rather than yet another cheap souvenir shop. Imported souvenirs are cheap in Venice but they lack in quality and undermine the work of honest craftsmen.
For example, cheap masks sold on the streets of Venice often are made with dyes that are harmful to the skin. While they are produced for decorative purposes only, often you are not told this by the stall trader eager to make a sale. It is much better to buy Venetian masks made in one of Venice's acclaimed mask workshops where the traditions of Venetian mask-making have been researched in depth and brought back to life.
Venice has a great concentration of skilled artisans and craftsmen. Visiting their studios and shops is such a great experience. They preserve the living history and traditions of the city. And their work needs support. From handmade glass, jewellery, and lace to unique ceramics, prints, silk velvets, and marbled paper, the choice is enticing and the quality is high!
Click here for more details:
38. Bring a Water Bottle and Fill It for Free from Venice's Water Fountains
You don't need to buy bottles of water in your explorations of Venice. The city is dotted with dozens of drinking fountains providing for free deliciously cold water to both residents and visitors of Venice.
You quickly start to appreciate them when you are asked to pay 3 euros for a small bottle of water in a touristy cafe.
Just bring a reusable water bottle with you and you are good to go.
39. Invest in Passes To Maximise Your Sightseeing in Venice
To make your euros stretch further in Venice, consider investing in a pass that is designed to offer savings and convenience to visitors. Click on these links to get an idea of what to expect:
40. Take Advantage of the Sales Seasons in Venice
There are two sales seasons in Italy. Traditionally, one is at the start of January and the other is in summer. The dates vary a bit from year to year and from one Italian region to another. They are decided on a regional level and publicised in the press in advance.
Venice is the capital of the Northern Italian region of Veneto. As such, you can check the dates for this year's seasonal sales by performing a web search for saldi invernali in Veneto (winter sales in Veneto) or saldi estivi in Veneto (summer sales in Veneto).
Famous Italian and French fashion houses, as well as international high street brands, have their shops in Venice. So, timing your visit to coincide with sales season can lead to some great savings if shopping is what you like to do best.
Time Management Tips for Venice, Italy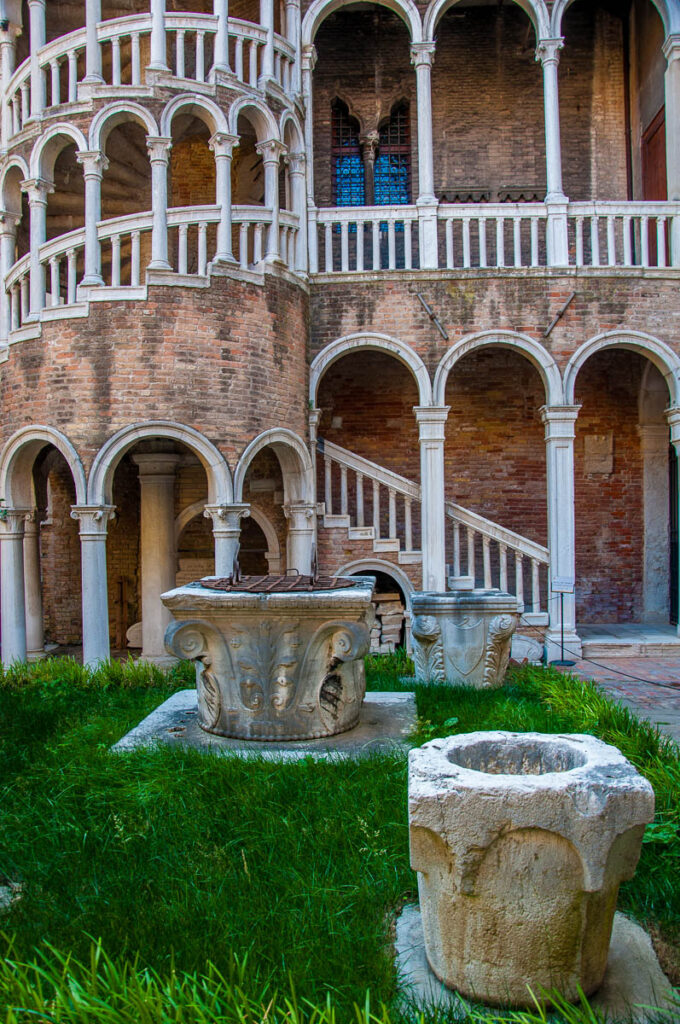 41. Have a Good Idea About What You Want to See in Venice
Venice is rich in sights to see and things to do. With all the walking, stopping for photos, and gawking at all the beauty around you, time in Venice quickly flies away. Plus, the more you see the more you want to see. Arriving in Venice without much of a clue and hoping that you will work out what to do on the spot is a recipe for wasted moments and missed experiences. You may still end up seeing some of the most famous landmarks. Yet looking back in hindsight, you may beat yourself up about how much you have missed.
To make the most of your time in Venice, make sure that you research the many different things to do here in advance and have a clear idea of what you want to see and experience. Is it art and museums, beautiful views and fresh seafood, traditional crafts and hidden corners?! A mix of all or something very particular?!
Jot down a rough plan of what you want to do each day of your stay in Venice. Pick sights that are within close proximity to one another. Even if you are in peak shape, all the walking and spending long hours on your feet quickly add up. Try not to plan too much for any one day. Leave plenty of time for each sight – both to reach it without rushing and to be able to fully enjoy its atmosphere and artefacts.
42. Yet Be Spontaneous in Order to Experience Venice Authentically
Venice is the best place in the world to be spontaneous. Every narrow curving street you take leads you to yet another worldwide famous sight or hidden gem.
Be adventurous! While your rough plan will guarantee that you will be exploring Venice in a purposeful manner, take every opportunity to adapt it if you come across something else that catches your eye. Visit every church you come across. Follow the locals to their favourite gelaterias and eateries. Stop to admire artisans at work and to purchase their handmade wares. Spend long moments at quiet squares (locally called campi) where you can observe the authentic Venice. Go for long walks trying to spot as many typical for Venice architectural details like patera and finestrata.
With its rich heritage and with hundreds of things to do and see, it's practically impossible to know in advance what exactly you will fall in love with in Venice. You may be thinking that you want to visit Venice for all the art and then, once arrived, you may be drawn to the local crafts and compelled to discover as much as possible about them. Or you may be planning to visit Venice for all the gorgeous photos you can take and then, without even being religious, to become intrigued by the Venetian churches and to want to visit as many of them for their architecture, art, and history.
43. Put a Day Aside for the Islands in the Venetian Lagoon
While Venice is the undisputable star of the Venetian Lagoon, there are dozens of islands here that deserve a visit, too. For their history, for the local crafts, for their beauty, for their colourful houses, for their peace and quiet, for many reasons, really.
Murano, Burano, and Torcello are the three most famous islands in the Venetian Lagoon. Many visitors to Venice spend a day visiting all three. Murano is famous for its locally made glass. Burano – for its lace and houses painted in a riot of colours. Torcello is where the history of Venice started as it was the first island in the Venetian Lagoon where a settlement rose back in the 5th century AD.
Yet, there is also:
Giudecca with its peaceful atmosphere and some very interesting buildings;
Lido with its wonderful beaches;
Chioggia which at one time was more powerful than Venice;
Pellestrina where you can cycle along the murazzi – the long wall separating the Venetian Lagoon from the Adriatic Sea;
Mazzorbo (connected to Burano via a wooden bridge) with the Venissa restaurant and vineyard;
Sant'Erasmo with Venice's fruit and vegetable gardens.
And if you want something different, then you can head to the island of San Michele. It has served as Venice's cemetery since the start of the 19th century. Alternatively, explore the island of San Servolo. This is where people with mental illnesses used to be sent to in the past. Nowadays, the former insane asylum on the island hosts a very thoughtfully curated museum.
It is only by visiting the different islands and by travelling between them that you come to appreciate the spectacular scenery of the Venetian Lagoon. It is quite amazing really how such an inhospitable environment has been elevated into one of the most beautiful and special places on earth.
You can visit the islands in the Venetian Lagoon by yourself by taking advantage of the very well-organised network of vaporetti. Or you can book a guided tour whisking you from island to island in one active day or half-day.
This full-day excursion, for example, will take you on a tour of Murano, Burano, and Torcello directly from Venice's train station. This half-day experience includes a visit to a glass factory on Murano and a lace workshop on Burano.
44. Take a Day Trip to Italy's Mainland
If you are spending more than three days in Venice, make sure that you put a day aside for a trip to Italy's mainland. High-speed and fast regional trains connect Venice numerous times a day to such beautiful destinations as Padua, Vicenza, Verona, Lake Garda, Milan, Brescia, and Bologna. Not to mention the myriad of medieval walled towns dotted all around the Veneto – the Northern Italian region of which Venice is the capital.
Train travel is quick, inexpensive and very well-organised. You can reach Padua from Venice in less than half an hour and then spend a wonderful day discovering the frescoed Scrovegni Chapel, Italy's second-oldest University, and the world's oldest academic botanical garden. Or, in an hour and a half, you can reach Italy's largest lake – Lago di Garda – which is a great destination for families with kids, couples, and solo travellers.
It's so nice to be able to see more and do more in the span of the same Italian holiday. Visiting Venice gives you a chance to visit many other unique and beautiful Italian destinations, too. Take full advantage of that!
Click here for more details:
45. Book a Return Trip to Venice
No matter how long you spend in Venice, it's never enough. There is just so much to do, see, and enjoy here. The city of water has a way to get under your skin, to make you really fall for it.
So, don't stress that you were not able to see it all and do it all while here. Instead, make sure that you book a return trip to Venice so that you can continue your exploration of this most unique and beautiful city in the world.
A Bonus Tip for Venice, Italy
Toilets! A totally essential topic for any visitor to Venice and Italy in general. Now, if you need to spend a penny, don't fret! It's all very nicely and logically organised in Venice as long as you know where to look. Here is how it works:
Paid public toilets – dotted at crucial points with high footfall around the city. Here is a map for you to see where the paid public toilets are located in Venice. They are very clean and thoroughly sanitised throughout the day. Do keep euro coins on you, as you need to pay every time you use them. If you buy the Venezia Unica City Pass (see point 39 above), you can add a Public Toilet Service as an option to it. This works out slightly cheaper compared to paying for each separate visit.
Toilets in Museums/Sights – museums and sights in Venice have well-equipped and clean toilets which you can make use of during your visit. Usually, you can't just pop in from the street to use their facilities though.
Cafes/Eateries/Restaurants – as a paying customer you can access the toilet on the premises. At times, these can be tiny but make use of them, especially if you find the fee for the paid public toilets prohibitive. In any case, please, remember that the toilets in Venice's cafes, eateries, and restaurants are only for paying customers.
In Conclusion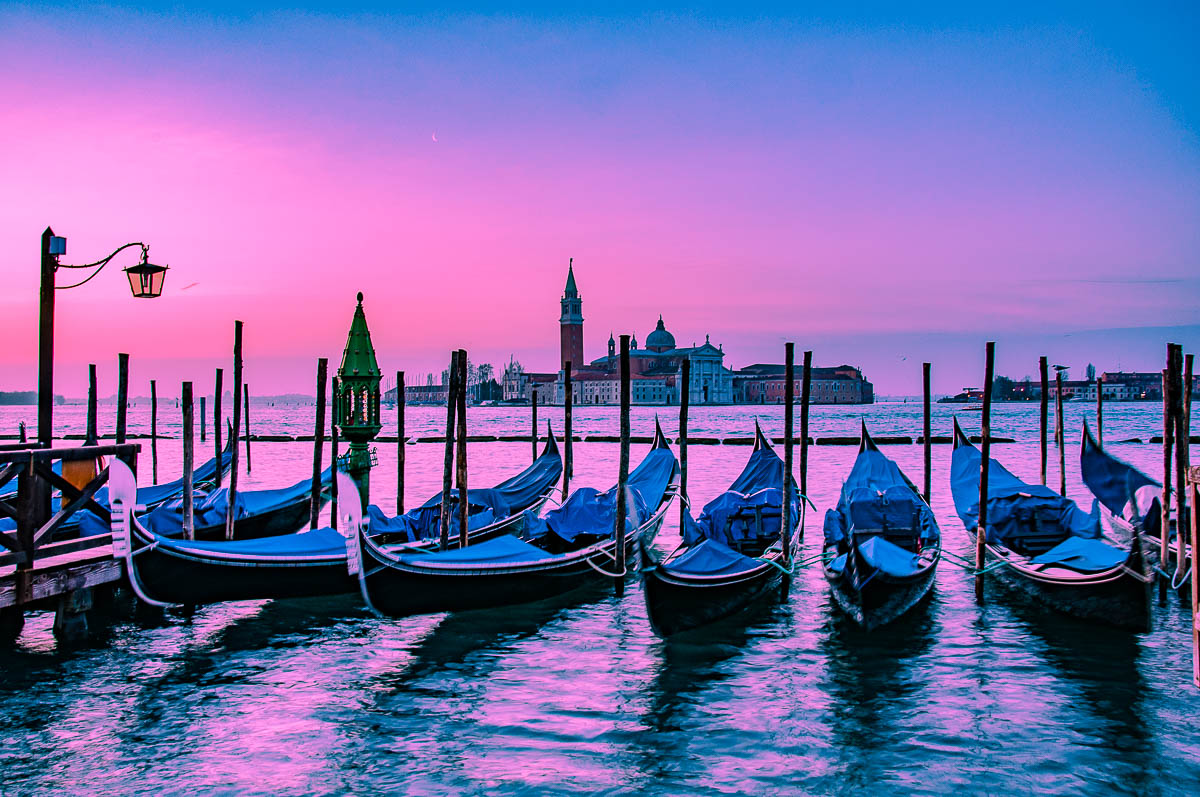 Venice is a dream destination for many. With its unique location in the heart of the Venetian Lagoon and with its many layers of history, the city of water has a lot to offer to the traveller seeking beautiful and memorable experiences.
Yet, Venice doesn't reveal its secrets easily. For the many things you can do and enjoy here, often, you also need to dig deeper beneath the surface to find your way around Venice. As a car-free city with a maze of narrow curving streets, its own centuries-old traditions, and many, many quirks, Venice can be a challenge. Especially if you arrive here hoping to discover it all on the spot as you go.
To help you have the best experience in the city of water, in this blog post I share with you my 45 essential tips for Venice. They are particularly useful if this will be your first visit. From no-nonsense travel and accommodation tips to health and safety and time management tips, I've organised the information in logical chunks to help put you in Venice mood and mode.
I hope that you will find these tips for Venice helpful and that they will galvanise you to head to the city of water as soon as possible.
Enjoy your time in Venice, Italy!
More Helpful Venice Info for You
Venice: Major Landmarks, Hidden Gems, Best Tours, Venetian Place Names, Nearest Airports, Boats in Venice, Haunted Venice, Day Trips from Venice, Arco del Paradiso
Venice Videos: Grand Canal, St. Mark's Square at Carnival, St. Mark's Square, View from Rialto Bridge, View from Accademia Bridge, Venetian gondolas, Historical Regatta, Squero di San Trovaso, Palazzo Contarini del Bovolo, Fondazione Querini Stampalia, Palazzo Grimani, Rialto Fish Market, Ca' Macana, Festa della Madonna della Salute
More Helpful Italy Info for You
Best of Italy: Italian Piazzas, Italian Food, Italian Markets, Italian Coffee Culture
Northern Italy:18 Best Cities to Visit
Lake Garda: Best Towns, Nearest Airports, Travel Options, Lake Garda with Kids
Lake Como: Things to See, Nesso
Veneto: Best Cities to Visit, Top 15 Places, 30 Adventures, 15 Most Colourful Places
Friuli Venezia Giulia: Venzone, Most Beautiful Villages
Emilia Romagna: Bologna, Ravenna, Comacchio, Most Beautiful Villages
Marche: 6 Reasons to Visit, Gradara, Frasassi Caves, Temple of Valadier
Verona: Things to Do in One Day, Day Trips from Verona
Padua: Things to Do in One Day, 101 Facts About Padua, 10 Reasons to Visit Padua, Day Trips from Padua
Vicenza: Things to Do, 10 Must-See Museums, Day Trips from Vicenza
Thank you for reading! Please, leave me a comment, pin the image below or use the buttons right at the top and at the end of this blog post to share it on social media.
For more useful information like this, please, like my blog's page on Facebook and subscribe to my strictly no-spam newsletter.