Rialto Bridge is the most famous bridge in Venice and probably, in the whole of Italy.
Every year, millions of visitors to the City of Canals flock to it to have their pictures taken with and from Ponte di Rialto (as it's known in Italian).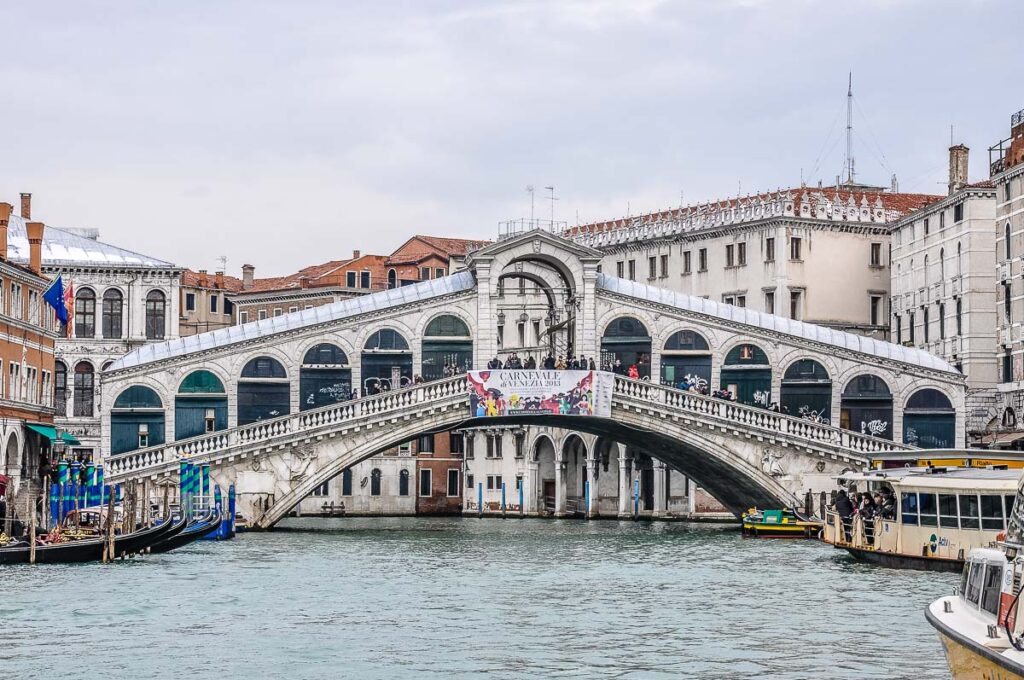 Spanning the Grand Canal, this elegant single-arch bridge has a curious story that started a millennium ago. Throughout the centuries that followed, Ponte di Rialto was at the centre of Venetian life. It bridged Venice's commercial hub – Rialto – to the Venetian sestiere of San Marco where the political apparatus of the City of Canals was centred. Soon, from a simple link of communication, the bridge became something more.
As such, Rialto Bridge was painted by some of the best artists, took a prominent spot in traditional Venetian celebrations, and achieved an iconic status not just in Italy but all over the world.
When, today, we stop in the open loggia at the top of the bridge to take in the splendid views of the Grand Canal, if we listen carefully – beyond the tourists' hubbub – we can hear the echo of history being made at this very spot.
As often happens with history though, with all its dry data and boring dates, it's easy to ignore its call in favour of taking a nice photo or simply enjoying the views. Yet, knowing a bit about Rialto Bridge and how it came to be only deepens the experience of being at this extraordinary place in Venice.
So, in this blog post today, I want to share with you 15 fascinating facts about Ponte di Rialto in the City of Canals. In an engaging way, they throw light on the bridge's history, architecture, and position in the life and customs of Venice. To make things even more fun, there is also a smattering of historic gossip thrown in.
I hope that you will enjoy reading these 15 facts about Rialto Bridge and that they will deepen your understanding of its importance in the life of Venice.
To further help you organise your visit to Rialto Bridge in particular and Venice as a whole, at the end of this blog post, I have also included a section with practical travel tips. From a map showing the bridge's exact location on the Grand Canal to directions on how to get to it from Venice's train station and St. Mark's Square, all sorts of useful information is covered. Including accommodation options with Rialto Bridge views.
Have a look!
Rialto Bridge – 15 Fascinating Facts About the Most Famous Bridge in Venice, Italy
Pin for Later!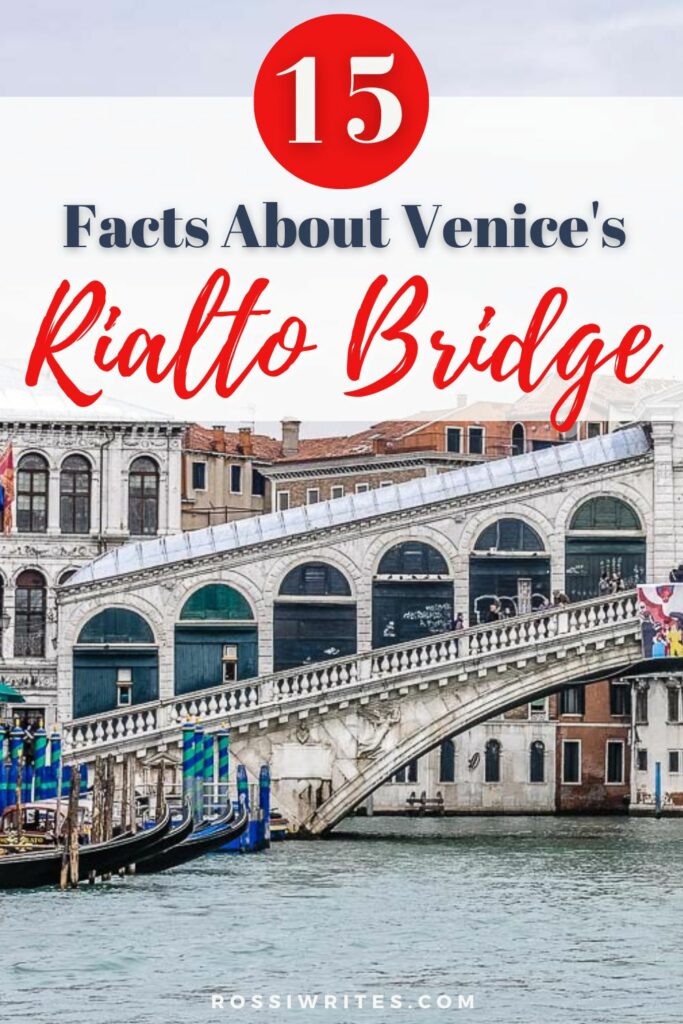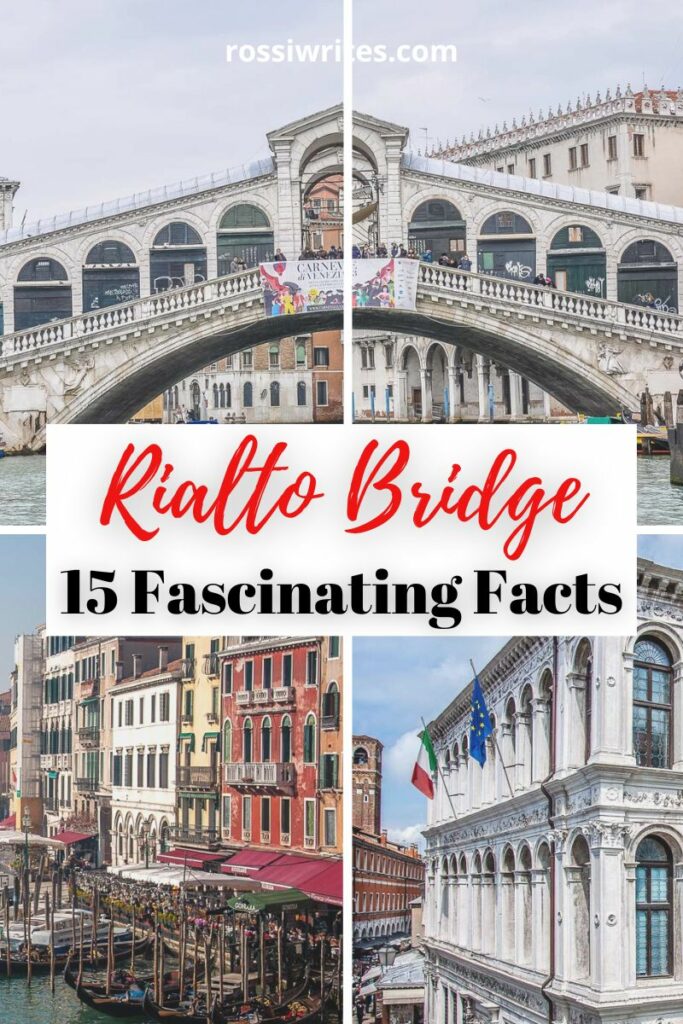 1. Rialto Bridge Is The Oldest Bridge Spanning Venice's Grand Canal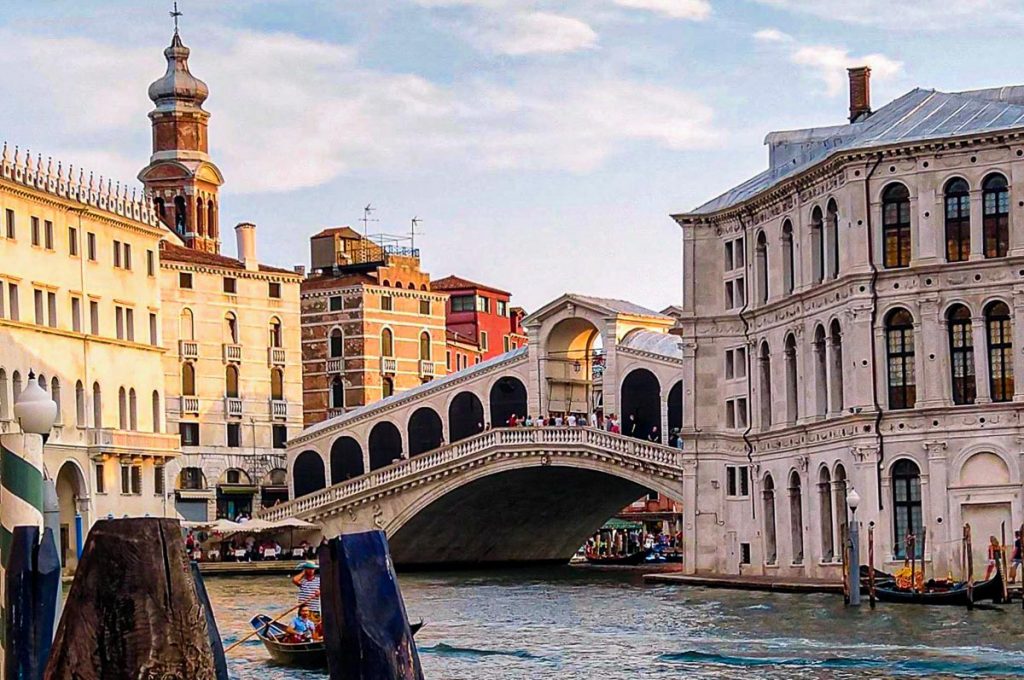 Only four bridges span the 2.4 miles long Grand Canal in Venice. In Italian, their names are: Ponte di Rialto, Ponte dell'Accademia, Ponte degli Scalzi, and Ponte della Costituzione.
Rialto Bridge is the oldest of them all. While its current stone structure dates back to the end of the 16th century, a bridge has existed at this spot since at least the 11th century.
In fact, Ponte di Rialto was the only bridge on the Grand Canal for hundreds of years. By comparison, the other three bridges here are positively recent. The Accademia Bridge, for example, was only built between 1852 and 1854 and then entirely replaced in 1933. The Bridge of the Barefoot Monks (Ponte degli Scalzi) was completed in 1934, and the Constitution Bridge (also known as the Calatrava Bridge after its architect) was opened in 2008.
Learn more about Accademia Bridge under point 9 in this blog post:
2. Rialto Bridge Straddles Venice's Grand Canal at Its Narrowest Point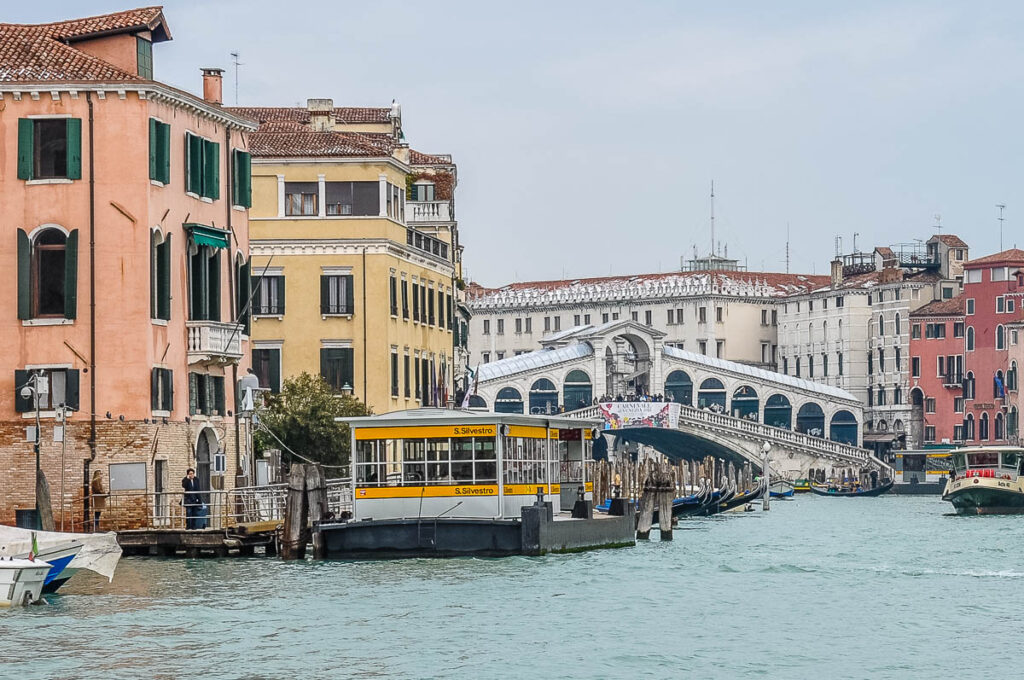 Venice's main thoroughfare – the Grand Canal – is between 30 and 70 m wide. Rialto Bridge straddles it at its narrowest stretch and more or less at the midpoint of its course which is shaped like an upturned S.
The stone bridge, as we see it today, is 48 m long and 22.1 m wide. Its elegant single arch spans 28 m and reaches a maximum height of 7.5 m. This allows for large vessels – customarily vaporetti (Venice's water buses) – to easily pass under the bridge.
In fact, one of the best experiences in Venice is to ride a vaporetto along the Grand Canal and watch in awe as Ponte di Rialto slowly comes into view. Composed of strict geometrical lines, that seem to surge upwards, the bridge brings an element of surprise to the fluid curve of the large water course.
Its north side has a certain angular twist to it. Its south side – elegant like a fully-opened fan – seems suspended over the Grand Canal. Like a caring hand has gingerly lowered it there in one piece slotting it perfectly in its environment. When the large vaporetto effortlessly glides under Rialto Bridge and you come to realise how tall and wide in fact its arch is, the sensation of amazement never gets old.
Two abutments support the bridge's arch. They rest on the banks of the Grand Canal and are lapped by its waters as their level rises and falls throughout the day. For the construction of the abutments at the end of the 16th century, 12,000 wooden logs were pushed deep into the soil to provide a solid base. This is typical for Venice, where building works required the soft, marshy soil first to be rendered more stable. Over time the wooden logs would then petrify and be able to suport large structures.
A sloped ramp starts from each abutment and meets the other at a square platform on top of the bridge. This creates a roughly triangular shape over the large round arch. Two barrel-vaulted arcades populated by shops go up each ramp and are connected by a small curved arch at the bridge's apex. A small tympanum crowns it all creating a visual reference to a classical temple.
Three stairways composed of several flights of steps go up each ramp. The central stairway – like a wide shopping street – runs between the two arcades. The two narrower stairways run on each side of the arcades and – protected by stone railings – allow the visitor to Venice to take in the panoramas of the Grand Canal.
All in all, Rialto Bridge is one of the most striking in terms of its setting and architecture structures in the world. It took a significant engineering skill to build. It feels light and elegant. And it adds drama to the densely populated with tall rectangular buildings curve of the Grand Canal.
3. Rialto Bridge Connected Venice's Political Heart to Its Financial Nucleus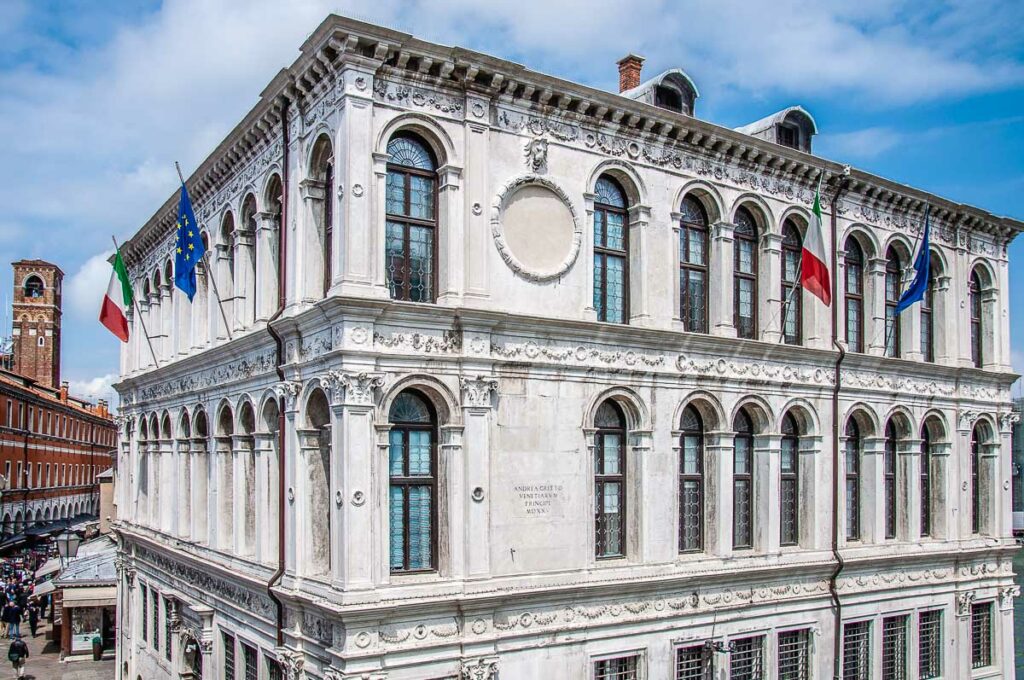 During the heyday of the Republic of Venice, Rialto Bridge was of utmost importance for the daily functioning of the city-state. It was the only footway between the two banks of the Grand Canal which splits the City of Water in two. It thus provided quick and easy access from St. Mark's Square to Rialto.
St. Mark's Square is only six minutes away on foot from Rialto Bridge. This is where Venice's political apparatus used to be based. Here you have the imposing buildings of the Doge's Palace and the Procuratie which used to house the Venetian doge, government, and various important magistrates.
First established in the 11th century, Rialto Market quickly grew into a large commercial and financial quarter known simply as Rialto. This is where boats from all over the Mediterranean and further afield would arrive laden with precious cargo and where Venice's artisans, manufacturers, and food sellers were based. Cavernous warehousing and production facilities were concentrated here, too. In addition, large buildings such as the Palazzo dei Camerlenghi and the Palazzo dei Dieci Savi housed the financial authorities of the Republic of Venice. The former even had a jail on its ground floor for debt-ridden merchants.
While nowadays Rialto Bridge is a tourist magnet and a sought-after backdrop for selfies, in the past this was Venice's main communication link in many different ways. It allowed for the citizens of Venice to quickly reach the market to shop for food, commodities, and luxuries. And it made it possible for the political and financial authorities of the Republic to work in close connection.
4. Ponte di Rialto Started Life in the 11th Century as a Simple Boat Bridge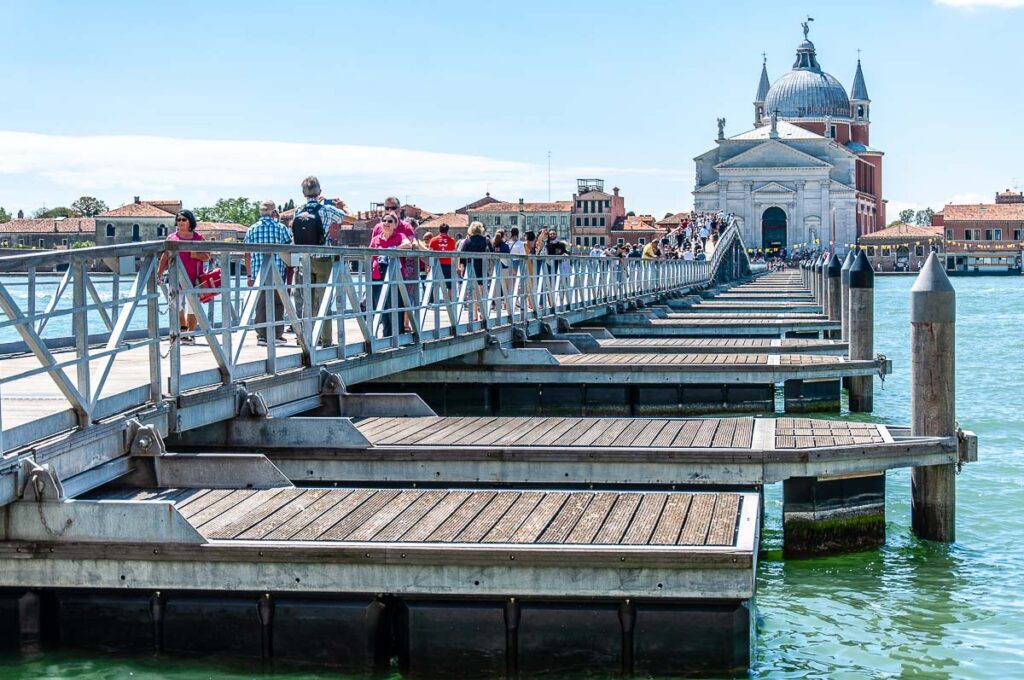 Back in the 11th century, a simple boat bridge was built across the narrowest point of the Grand Canal. By that point, Rialto Market had already become of vital importance to Venetian life. Traders and customers alike needed a way to quickly reach the market and a bridge made of boats tied next to one another and covered with planks served them well to start with.
Nowadays, you can get a rough idea of what this bridge may have looked like if you visit Venice either on the 21st of November or during the third weekend of July. The former is when the City of Canals celebrates the Festa della Salute and the latter is when it stages its Redentore Festival. Both are centuries-old events marking the deliverance of Venice from devastating bouts of the plague.
The most interesting part of both celebrations is the erection of a temporary bridge across the Grand Canal (21st November) and the Giudecca Canal (the third weekend of July). The photo above shows the latter. Obviously, the original Rialto Bridge was not that refined and technologically advanced. Yet these temporary bridges are a great throwback to how things used to be done in Venice centuries ago.
Around 1181, the original boat bridge at Rialto on the Grand Canal was replaced by a proper bridge supported by wooden poles. The builder was Nicolò Barattieri – an engineer and architect from Lombardy – who also worked on St. Mark's Bell Tower and put upright the iconic pillars on St. Mark's Square.
In the mid-13th century, Nicolò's bridge was replaced by yet another wooden bridge. This one, however, was made of two tall sloping ramps with a movable central section. It could be opened to let tall ships pass, most notably the Doge's lavish state barge Bucintoro.
Some historians state that the wooden bridge could also be open to stall pursuits and thus avoid fights in the heart of Venice. With people from all over the Mediterranean flocking to the City of Canals to make their fortunes, you can imagine that passions sometimes ran high there during the Middle Ages.
In the three hundred years that followed, the wooden Rialto Bridge was badly damaged several times. In 1444 it even collapsed when a large crowd gathered there to witness a patrician wedding. This led to a significant loss of life.
The constant need to maintain and rebuild the bridge made it a costly expense for the coffers of Venice. In 1503, the idea to erect a bridge of stone at the same spot was raised for the first time. It would, however, take almost 90 years before it came to fruition.
5. Originally, Rialto Bridge Was Known as Ponte della Moneta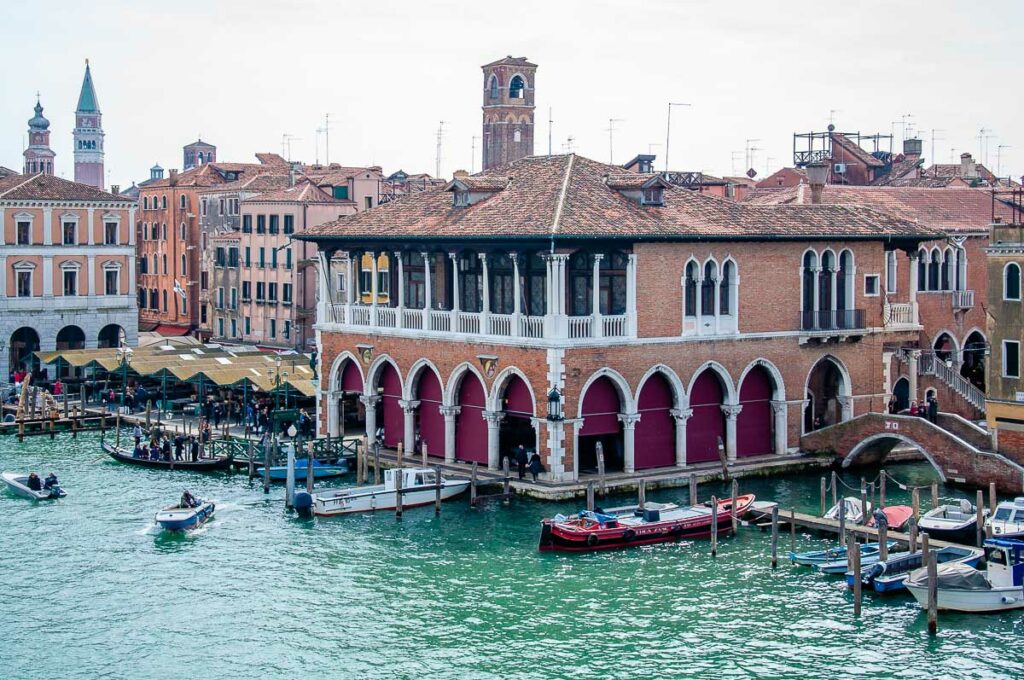 Venice's Rialto Bridge was not always known as Ponte di Rialto. In fact, there are two theories about its first name – Ponte della Moneta.
According to one of them, originally, people had to pay a toll of one quartarolo (a small Venetian coin similar to a farthing) to cross the bridge. Hence, they started to call it Ponte della Moneta (Bridge of the Coin) or Ponte del Quartarolo (Bridge of the Farthing).
The other theory explains that the bridge got its name from its proximity to Venice's old Mint – the facility where coins were minted at the time.
We know that in 1458, Venetians began to call the bridge – Ponte di Rialto. You can tell that the ever-increasing importance of Rialto as Venice's commercial and financial hub must have rubbed on the bridge that led to it.
The French architect Antoine Rondelet offers more details to explain what led to the change of name. In his 19th-century work 'Historic Essay on Rialto Bridge', he writes that in 1458 the bridge was enlarged and two rows of shops were built on its ramps. The income from the shops' rent was used to maintain the bridge and thus the requirement to pay a toll to cross it was abolished. Hence, the old name – Ponte della Moneta – soon fell into oblivion.
6. Throughout the Centuries, Rialto Bridge Has Inspired Many Talented Artists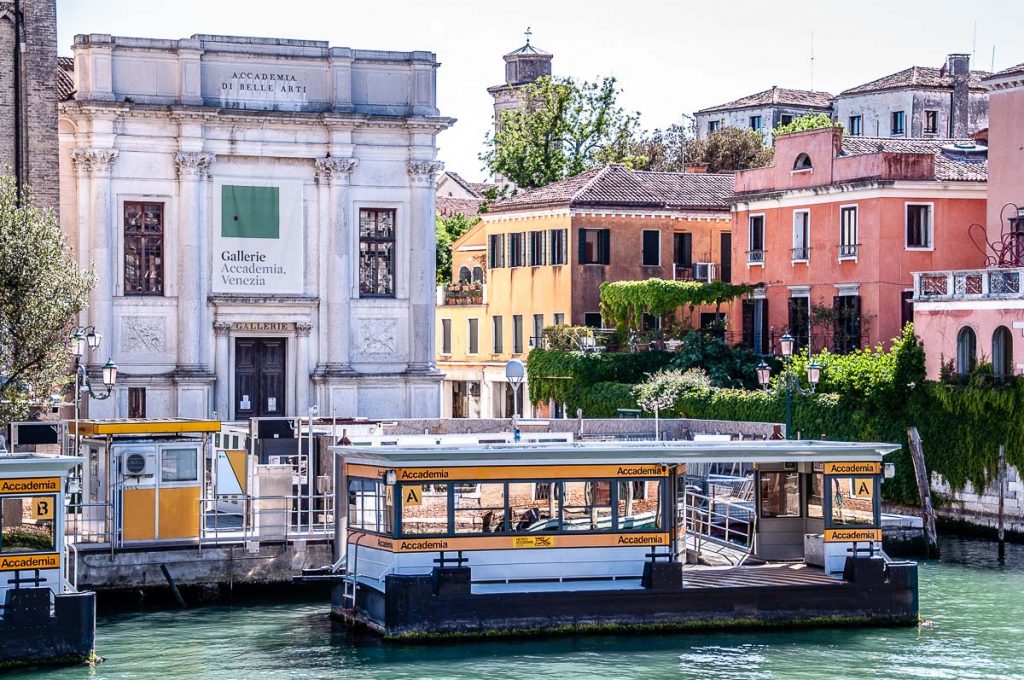 You can see what Rialto Bridge used to look like throughout the centuries by looking at the paintings of many famous artists. This iconic Venetian bridge features in many masterpieces.
Especially well-known is the canvas Miracle of the Relic of the Cross at the Ponte di Rialto by the renowned Renaissance artist Vittore Carpaccio. Rialto Bridge takes centre stage in the backdrop of this large work of art. You can say that it's the first thing that jumps out at you when you look at the painting.
The wooden bridge is made of two sloping ramps supported by thick wooden pillars. The movable central section at the top is held by tensed strong ropes.
Nowadays, Carpaccio's monumental painting is kept in the Gallerie dell'Accademia. Pictured above, this is Venice's most important art gallery.
Rialto Bridge – in all its glory – has inspired artists representing different periods and styles. Click on the links to see Venice's most famous bridge painted by the landscape painter Michele Marieschi, Baroque painter Gabriele Bella, the Neoclassical artist Francesco Tironi, the vedutist Francesco Guardi, the painter of Venetian views Giovanni Grubacs, the surrealist Giorgio de Chirico, and the portrait and landscape painter John Singer Sargent. The painting of Rialto Bridge – a vision in blue – by the abstract artist Kandinsky is particularly striking.
Canaletto – easily the most famous painter of Venetian views – drew Ponte di Rialto several times. Interestingly, he also depicted the bridge not just as it is in real life but as envisaged by Andrea Palladio – a famous Renaissance architect. In the 16th century, he submitted a design for the rebuilding of Rialto Bridge from stone but was unsuccessful. Click to have a look here at what Palladio had in mind.
Learn more about Gallerie dell'Accademia under point 8 in this blog post:
7. Rialto Bridge As We Know It, Is the Work of the Architect Antonio da Ponte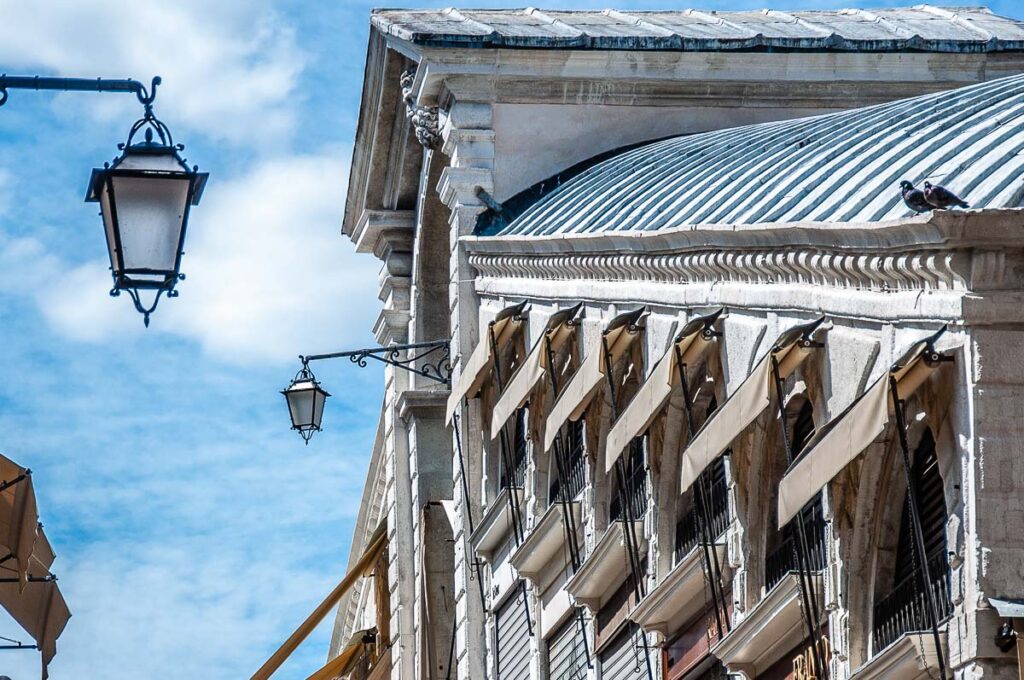 If you have clicked on the last link under point 6 above, you would have seen what Rialto Bridge would have looked like as a Palladian building.
Andrea Palladio is one of the most famous Italian Renaissance personalities and one of the most influential architects of all time. Inspired by the perfect proportions of the ancient Greek and Roman villas and temples and following the prescriptions of the Roman architect Vitruvius, Palladio designed and built many sophisticated religious and civic buildings in Venice and Veneto. As such, he created the Palladian architectural style.
When in the 16th century the idea to rebuild out of stone the then-wooden Ponte di Rialto started gathering speed, Palladio submitted several designs for this iconic bridge. He imagined it grand and classical in inspiration, looking like an ancient temple suspended over three arches above water.
Always practical and eager to achieve the best results without outlandish spending, the Venetian government rejected not just Palladio's designs but also those submitted by several famous architects. Some say that among them was the sculptor and artist Michelangelo (of the Sistine Chapel and David fame).
Instead, the winning design was by Antonio da Ponte (also known as dal Ponte) – a Venetian architect and engineer whose name fortuitously means 'of the bridge'. He had already proved his professional credentials by working on the rebuilding of the Doge's Palace after it had been devastated by fire in 1574.
Da Ponte submitted two designs. First, a bridge of three arches and after some consideration, he changed it all to a single arch. Some historians feel that he liberally borrowed from the sketches submitted by the architect Vicenzo Scamozzi – a pupil of Palladio.
The construction of the stone Rialto Bridge began in 1588. They say that Scamozzi vociferously expressed his doubts about the structural strength of da Ponte's single arch. He predicted that it would crumble even before the bridge was finished.
Instead, the Venetian government was so pleased with da Ponte's work that they say, he was granted a 20-year patent protecting his single arch design. During that time no one could produce sketches of it or reproduce it elsewhere.
Palladio's sketches didn't go completely to waste though. They inspired the design of the 17th-century Pulteney Bridge over the River Avon in the English town of Bath. In one way or another, they were also used for the construction of jewel-sized bridges in the parks of several English manor houses.
8. They Say That Stones from an Ancient Roman Theatre Were Used for the Construction of Rialto Bridge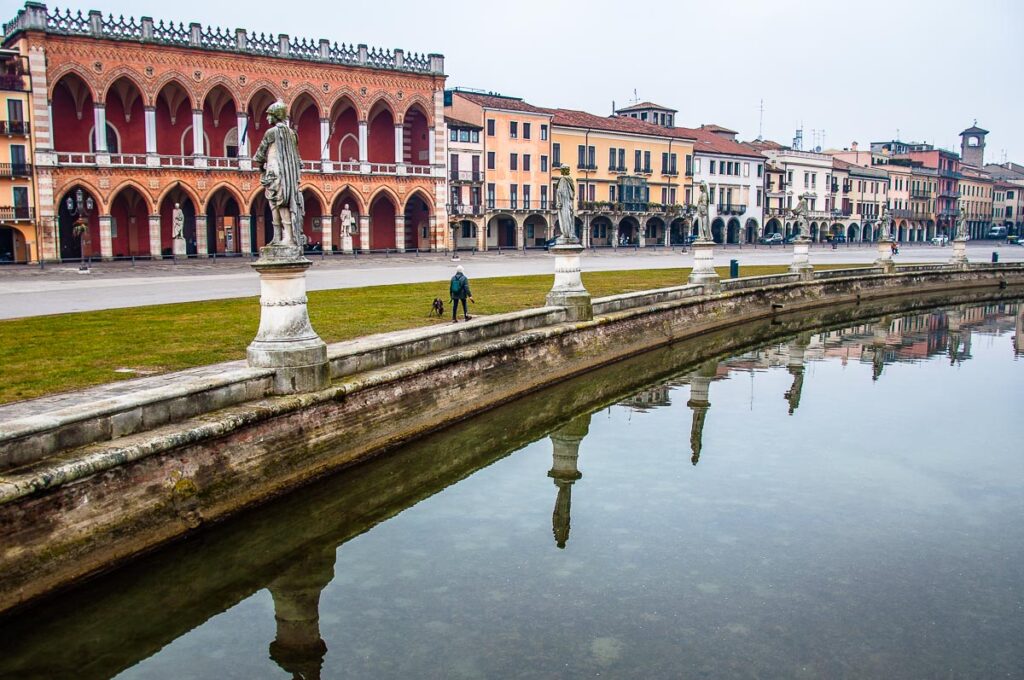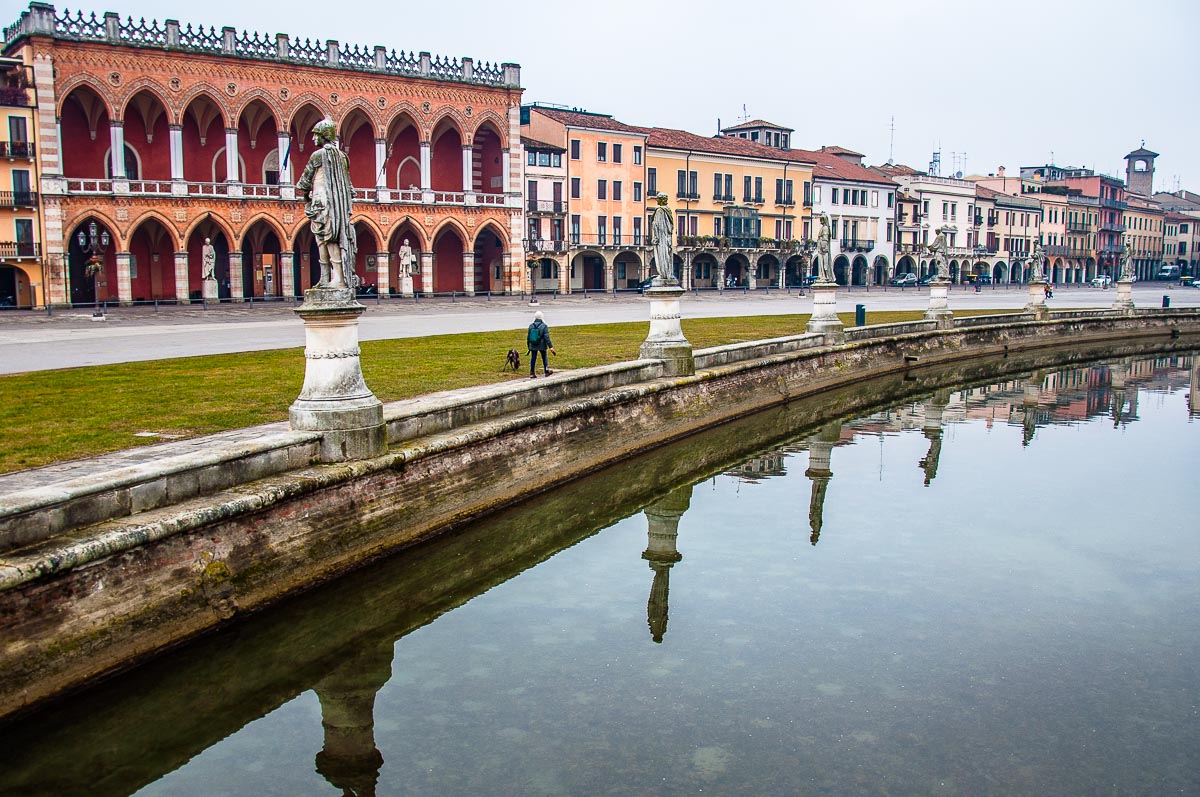 As with every iconic building, there are many stories, legends, and even hearsay linked to Rialto Bridge in Venice. The most gruesome of them is the one about the Devil tricking the bridge's main builder and stealing the soul of his unborn child.
I, however, prefer the story about the ancient Roman stones allegedly used for the construction of Rialto Bridge. They say that they were extracted from the ruined Roman theatre in Padua – a must-see Italian city next door to Venice.
The theatre dated back to around 49 BC. It occupied a pride of place at Campus Martius – a large field where the ancient Romans staged military exercises and parades. Curiously, nowadays, Italy's largest square – Prato della Valle – stands at the spot of the ancient Campus Martius in Padua.
In its heyday, the Roman theatre here was an imposing building with a diameter of around 50 m. It was called Zairo which some experts think is a corruption of either Satiro (on account of the satirical plays performed here) or the Latin word Theatrum.
After the fall of the Roman Empire, Padua suffered many attacks between the 5th and the 9th centuries at the hands of the Huns, the Lombards, and the Magyars. The Roman heritage of the city was reduced to ruins. Nowadays, the remains of the Roman theatre Zairo lie at the bottom of the wide canal which circles Prato della Valle (see the photo above).
Now, they say that in the 11th century, slabs of stone were extracted from Zairo and sold to Venice to use as foundations of the Rialto Bridge. Seeing that at the time, the bridge was still in its most rudimentary form, this story poses many questions.
What is known for certain though is that Antonio da Ponte built the Rialto Bridge of Istrian stone – dense limestone from Istria. Nowadays, the largest peninsula in the Adriatic Sea is part of Croatia. At the time of building the bridge, it was ruled over by the Republic of Venice.
Learn more about Padua and Prato della Valle in these blog posts:
9. Rialto Bridge Is Decorated with Reliefs Elevating the Myth of Venice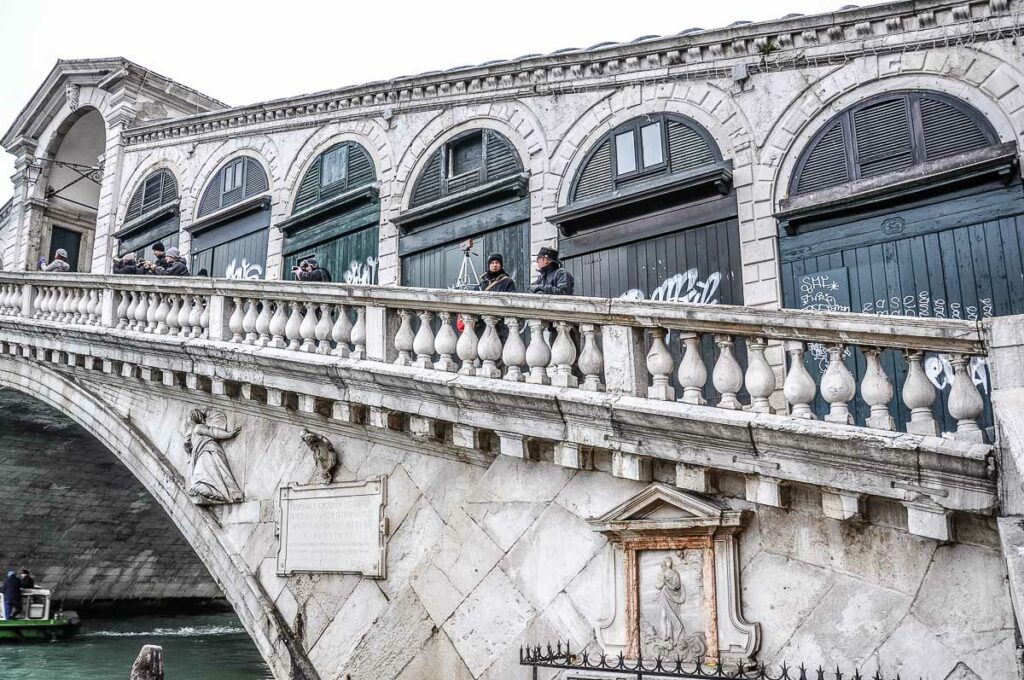 Venice was founded over 1,600 years ago. For over a thousand years, it also functioned as a powerful republic that controlled vast swathes of sea and land. During all this time, the Venetian government and citizens invested a lot of conscious effort to create and propagate the myth of Venice as a daughter of the seas and a city-state predestined to achieve great things.
As such, Rialto Bridge – one of the most central and iconic structures in the City of Canals – also played its part. Look closely, and you will see that the base of the bridge is decorated with stone reliefs with rich symbology behind them.
On the southern side of Rialto Bridge, you will see two reliefs by Agostino Rubini. They represent:
Archangel Gabriel holding a lily – on the side of the Riva del Ferro in the sestiere of San Marco;
the Virgin Mary – on the side of the Riva del Vin in the sestiere of San Polo.
At the top of the bridge's arch, you will notice the Holy Spirit depicted as a dove.
This is the Biblical Annunciation – the moment when the Archangel Gabriel tells the Virgin Mary that she is with a child.
According to the myth, Venice was founded on 25th March 421 – the day when the Feast of the Annunciation is celebrated by the Roman Catholic Church. Depicting this holy event on Venice's most iconic bridge clearly proclaims the close link between Christ's Annunciation and the birth of Venice.
In the past, when coded images and symbols were readily understood, this would send a powerful message to any visitors – both dignitaries and ordinary men – about the Republic of Venice as a divinely ordained city-state. Especially, as its foundation date is also carved on this side of the bridge.
On the north side of Rialto Bridge, you can see two reliefs by Tiziano Aspetti. One depicts St. Marks – the patron saint of Venice. The other shows St. Theodore (called San Todaro in the Venetian language). He was a warrior saint, a dragon slayer, and the first patron of Venice before the relics of St. Mark were smuggled out of Alexandria and brought to the City of Canals in 828.
Once again, these two reliefs fed into the myth of Venice as a place under the patronage of highly revered saints.
Now, let's talk about something a bit more irreverent! Right next to Rialto Bridge stands the Palazzo dei Camerlenghi. In the past, it housed Venice's financial authorities and it also had a jail on its ground floor. If you look carefully at the bas-reliefs that adorn its facades, you may spot two very curious panels.
One shows a woman with fire coming out of her nether regions. The other is of a man with a clawed foot protruding between his legs. When Ponte di Rialto was being built of stone, there were many who thought that its design was too risky and the arch would collapse.
'This bridge would be finished when my nether regions catch fire!' and 'They'll finish the bridge when I grow a nail down there!', the populace would say. Tongue-in-cheek, the two bas-reliefs on the walls of the palace reference these instances of popular mistrust.
10. Rialto Bridge Has Always Been Central to Some of Venice's Most Authentic Celebrations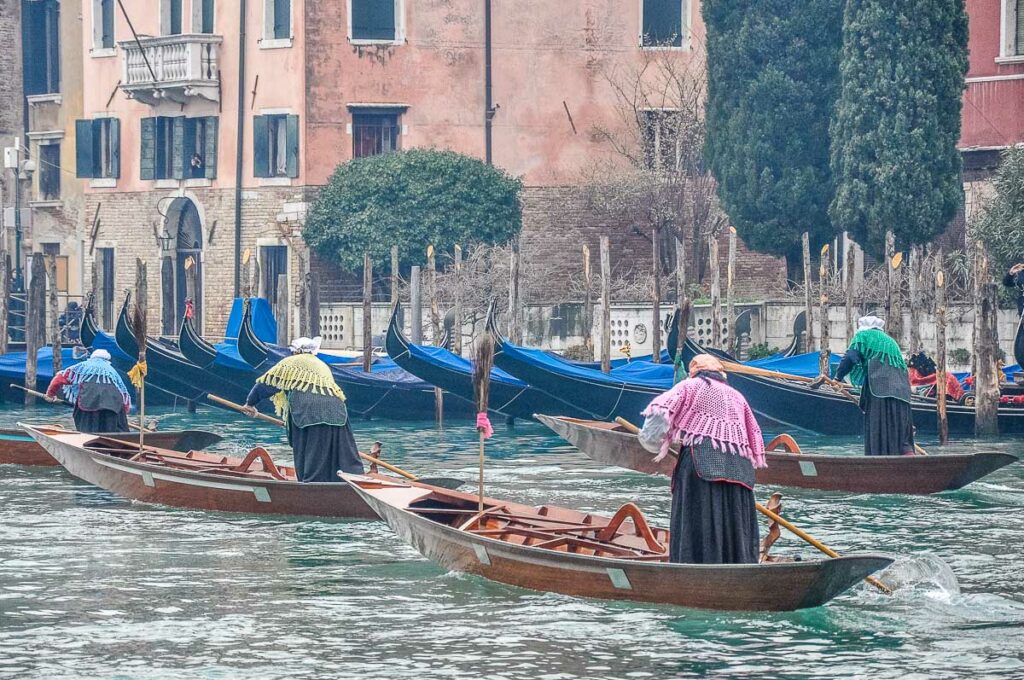 Rialto Bridge has always played important role in the life of Venice. Linking the political and the financial hubs of the City of Canals, it was also often the stage for large and lavish celebrations.
Celebratory water parades would glide underneath the bridge's single arch and the citizens of Venice would crowd along the bridge and the banks of the Grand Canal to enjoy the splendid views. A beautiful painting by the Venetian artist Giovanni Grubacs recreates the pomp and splendour of one such celebration. You can see it here.
To this day, Rialto Bridge is central to Venice's festivals. Large posters are often attached to its railings announcing specific events. Boat races start from and/or finish next to it.
The most curious one of them is the Regata delle Befane. Befana is one of Italy's five Christmas gift bearers. She is an old woman with a long nose who – riding a broom – brings presents to the well-behaved Italian children on Epiphany Eve (5th to 6th of January).
In Befana's honour, on 6th January a fun boat race takes place in Venice starting from Rialto Bridge. Five men – each a renowned Venetian rower – compete against each other on the Grand Canal. Dressed as Befana – with a bonnet on their heads and a colourful woollen shawl around their shoulders – they give it their all rowing standing up in small traditional Venetian boats.
It's a lot of fun to watch! To mark the occasion, a huge stocking is attached to Rialto Bridge. It's a direct reference to the stockings that Italian kids hang up on Epiphany Eve hoping that Befana will fill them up with sweets overnight.
Learn more about Befana in this blog post:
11. Rialto Bridge Affords Some of the Most Beautiful Views of the Grand Canal in Venice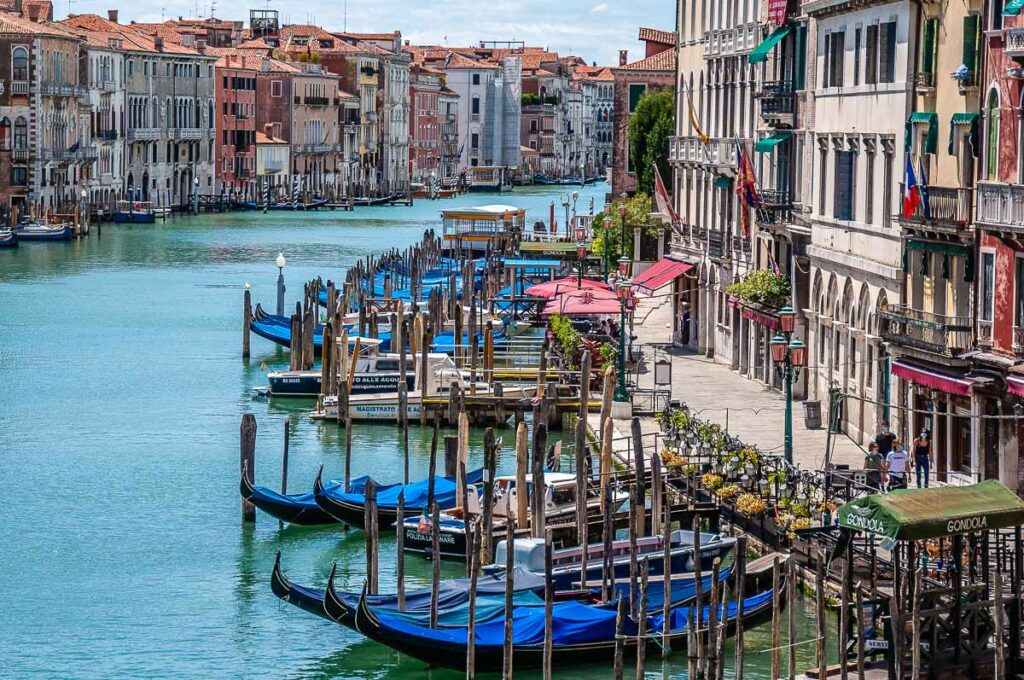 Venice is a uniquely captivating city and the Grand Canal is customarily called 'the world's most beautiful thoroughfare'. Its banks are lined up with splendid palazzi and historically important religious and civic buildings.
As luck would have it, Rialto Bridge is one of the best spots to take in the beauty of Venice and the Grand Canal. My favourite view here is of the canal flowing into its wide lower curve flanked by the Riva del Vin and the Riva del Ferro – the two opposite banks on the southern side of the bridge.
Now, Ponte di Rialto is one of the most famous places in Venice. Plus, it's only one of four places where you can cross the Grand Canal on foot. As such, during the day, the footfall of tourists and residents here is particularly heavy. Especially, during the high season.
To best enjoy the beauty of the Grand Canal from Rialto Bridge, come here either very early in the morning or later in the evening. With minimum people around, you will really capture the moment and have a wonderful Venetian experience.
We all have seen so many photos of the Grand Canal taken from Ponte di Rialto. You can easily assume that there is nothing new to surprise you here. Seeing it all for yourself though always provokes a very powerful sensation on many deep levels. No matter how short or long your stay is in Venice, try to come to Rialto Bridge at different times throughout the day and the evening. Each time, the view will be beautiful in a different way. You will feel like standing up in front of the canvas of a supremely talented artist.
12. Rialto Bridge Stands Right Next to Venice's Oldest Church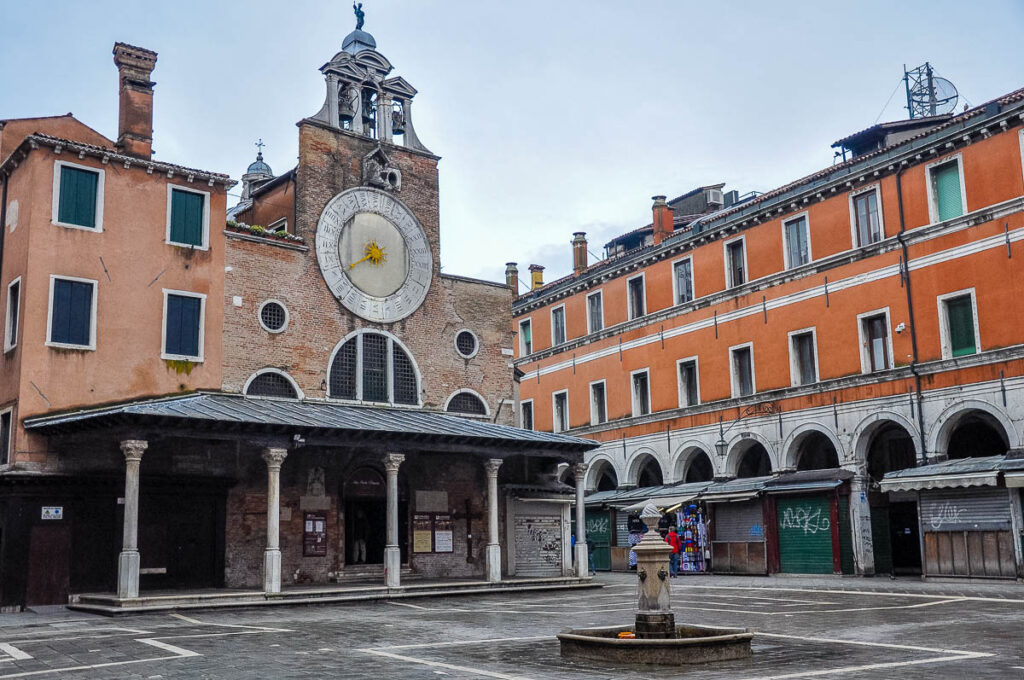 Right next to Rialto Bridge in the sestiere of San Polo, you can visit Venice's oldest church – Chiesa di San Giacomo di Rialto. Legend has it that the church was consecrated on the foundation date of Venice – 25th March 421. In fact, inside San Giacometto – as the locals lovingly call it – you can see a marble slab with Venice's date of birth carved on it.
The first document to actually mention the church is from 1152. The building was then consecrated by Pope Alexander III in 1177. In the 16th century, the church passed under the direct patronage of the doge who would visit it solemnly every year on Holy Thursday.
Throughout the years, the church suffered fires, restructurings, and rebuildings. Small in size, it preserves a few typical for Venice of the Middle Ages characteristics. The most interesting one of them is the Gothic portico attached to its facade.
What most people notice first when looking at the Church of San Giacomo di Rialto though is its large clock. It's inserted in the bell-gable – a short rectangular shape stuck in the centre of the facade and masking the lack of a proper bell tower.
Look closely and you will notice that the clock has a very unusual 24-hour clock face. The Latin number four here appears as 'IIII' instead of the widely used nowadays 'IV'. Also, the clock follows the conventions of the Italian hours and it measures the day from sunset onwards. This is why at the top of its face you will see XVIII for 6 pm instead of XII for midnight.
13. In the Vicinity of Rialto Bridge You Can See Many of Venice's Hidden Gems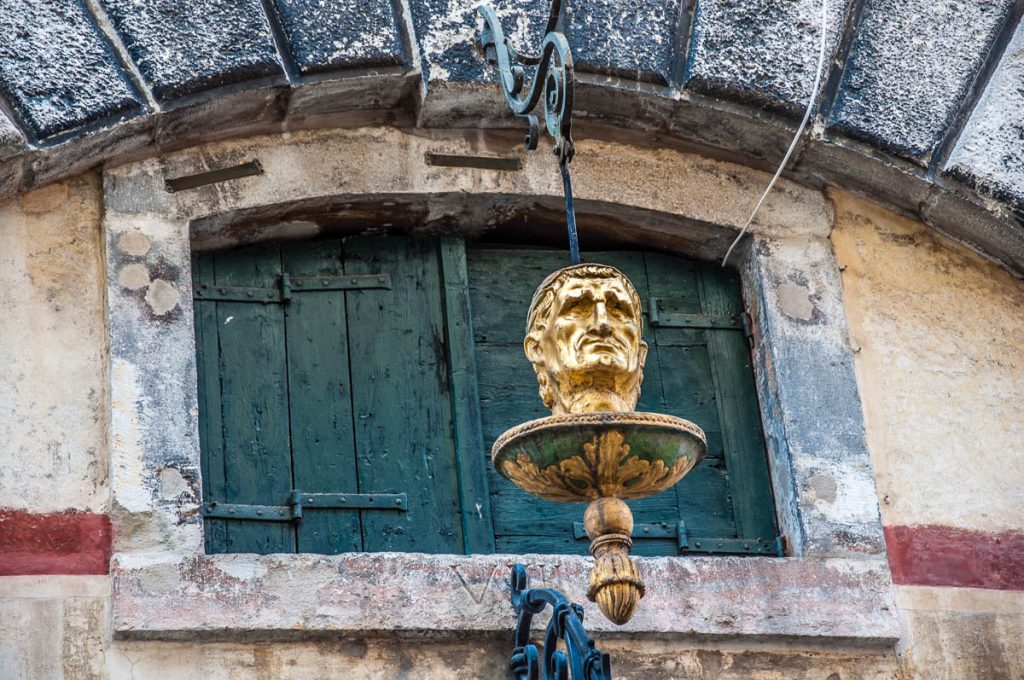 Rialto Bridge occupies a very central place in Venice. It's not surprising then that in its vicinity you can find several of the City of Canals' major landmarks and numerous secret corners.
Rialto Market is just around the corner and St. Mark's Square with all that it has to offer is less than ten minutes away. Yet, what makes the area around Rialto Bridge so much more exciting is the proliferation of little-known, hiding in plain sight wonderful Venetian hidden gems.
Here are a few for you to have fun trying to spot in the busy surroundings of Rialto Bridge:
Testa d'Oro – once the sign of a renowned Venetian pharmacy, this golden head hangs to this day above the shops that line up Salizzada Pio X – the street that leads up to the bridge on the sestiere of San Marco side.
Church of San Giovanni Elemosinario – decorated with paintings by Titian, Palma the Younger, and Pordenone as well as with recently rediscovered frescoes by Pordenone, this was once an important church in Rialto where many of the Venetian guilds would congregate.
Osteria Bancogiro – a renowned eaterie housed in what once were the premises of Venice's first public bank.
Pietra del Bando (brought as war loot from Syria in 1256) and Gobbo di Rialto (erected in 1541) – a short thick pillar of red porphyry and a marble statue of a hunchback with a staircase leading to a small platform on top of it. In the past, they were used as a high spot from where the latest decrees and criminal convictions were read to the nobles, the merchants and the populace of the City of Canals.
Wooden Bridge of Poste Vecie – housed in a former post office of the Republic of Venice, Poste Vecie is a restaurant that has been in the same spot since the 16th century. To reach its door you need to cross Venice's oldest bridge that is still standing. Arched and made of wood, this is a small private bridge at the back of Rialto Fish Market.
14. There Are 24 Shops on Rialto Bridge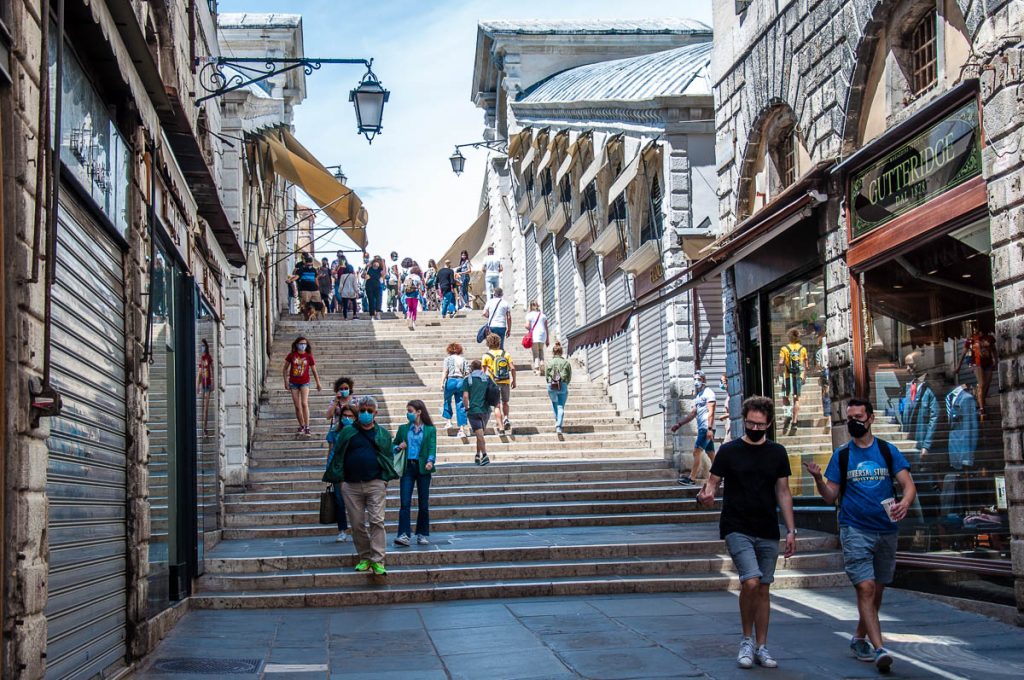 Ponte di Rialto is one of a few bridges in the world lined up with shops on both sides of its full span. Its sloping ramps support two barrel-vaulted arcades which house 24 shops. Quite small, they make use of every available space inside to showcase their wares – Italian-made jewellery, shoes, and other elegant items.
There have been shops on Rialto Bridge since 1458 when it was still a wooden structure. Due to their prime location, they commanded high rents. A tradition which persists to our days.
When at the end of the 16th century Rialto Bridge was rebuilt of Istrian stone, its design in a way approximated the previous wooden bridge and included shop premises, too. They say that while Antonio da Ponte worked on the arch and the supports of the bridge, it was his grandsons Antonio and Tommaso Contin who designed the arcades housing the shops and the balustrades on both sides of the bridge.
Buying something from the shops on Ponte di Rialto is a fun experience to have in Venice. I got myself a necklace of Murano glass the first time that I went there (and, obviously, had my picture taken, too). From cameos and gold jewellery to decorative elements and writing implements, you can find all sorts of curious objects and souvenirs here to take home with you.
Don't miss Venice's gondolier shop – Emilio Ceccato. It's on the San Polo end of the bridge and sells elegant attire for real and wannabe gondoliers. A boater hat is always a great idea!
15. For the Best Views of Rialto Bridge Go To…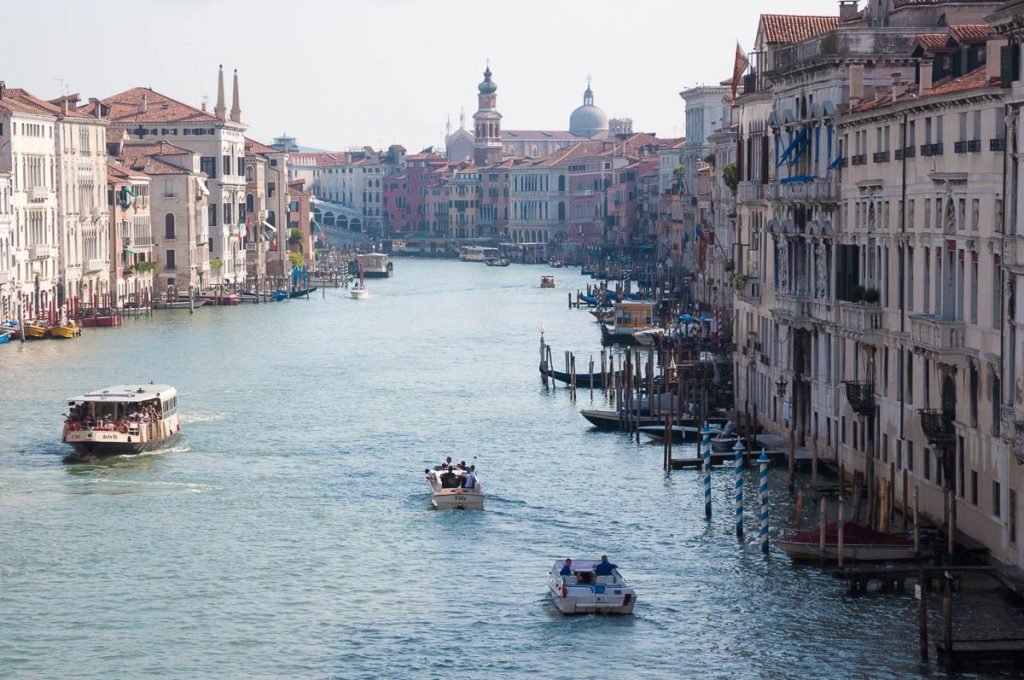 Here is a handy shortlist of some of the most popular and some lesser-known spots allowing you to enjoy the best views of Rialto Bridge:
Riva del Vin in the sestiere of San Polo;
Riva del Ferro in the sestiere of San Marco;
Fondamenta de la Preson in the sestiere of San Polo;
Fondamenta del Traghetto del Buso in the sestiere of San Marco;
the rooftop of Fondaco dei Tedeschi in the sestiere of San Marco – you need to book the slot for your free visit in advance;
Calle del Remer in the sestiere of Cannaregio; and
the board of a vaporetto (Venice's water bus). Vaporetto lines 1 and 2 go up and down the Grand Canal, providing the most splendid views. Just a word of advice, however. If you are sitting at the front of the vaporetto, make sure that you don't stand up when the bridge comes into view (no matter how excited you may get). You will obstruct the view of the vaporetto's captain and he won't be too happy with you. Speaking from… ahem (lolling my head in shame!), personal experience.
Once again, for the best experience, try coming either very early in the morning or in the evening. During the day, most of these spots are incredibly busy with visitors to and residents of Venice. Also, bear in mind that while the wooden quays along the rive and fondamente may allow the most charming views, they may actually be used by delivery boats, gondolas, and other watercraft. So, don't obstruct them!
Unfortunately, when visiting these spots to enjoy views of Rialto Bridge, I have come across people who have acted really territorially over them by hogging the space and engaging in long photoshoots. Don't be like them! Remember that most of these spots have a heavy footfall during the day and many people use them to do actual work, for example, deliveries to the local hotels and restaurants. Be considerate!
One final tip! Did you know that, allegedly, there is only one place on the Grand Canal that affords a view of both Rialto Bridge up north and Accademia Bridge down south?!
This place is the Aula 'Mario Barrato' of Ca' Foscari University of Venice. You can visit it for free during the weekly guided tours of the University. The tours are very interesting and you get to learn lots of information about the Gothic Palace Ca' Foscari and the University itself.
The view of the Grand Canal from the Aula 'Mario Barrato' is very beautiful, too. It's true that you get to see both bridges from up there. However, be forewarned that Rialto Bridge is visible only partially. See the photo above to get an idea of what to expect.
Here is a nice and tidy map showing you the exact locations of the above-mentioned spots affording gorgeous and intriguing views of Rialto Bridge (vaporetto excluded!). There sure are more but these are the ones I have enjoyed coming across by myself.
You can zoom in and out to get a better idea of locations. You can also use the map to calculate directions from a particular spot in Venice. If you click on the small grey star next to the map name, this will add the map to your favourites in Google Maps. Thus, you will be able to use it as and when you want.
Finally, click on the sliding window icon in the top left corner to open the list with all locations pinned to the map. The icon in the top right corner of the map will open it in a new tab for easier browsing.
Practical Tips About Visiting Rialto Bridge in Venice, Italy
Pin for Later!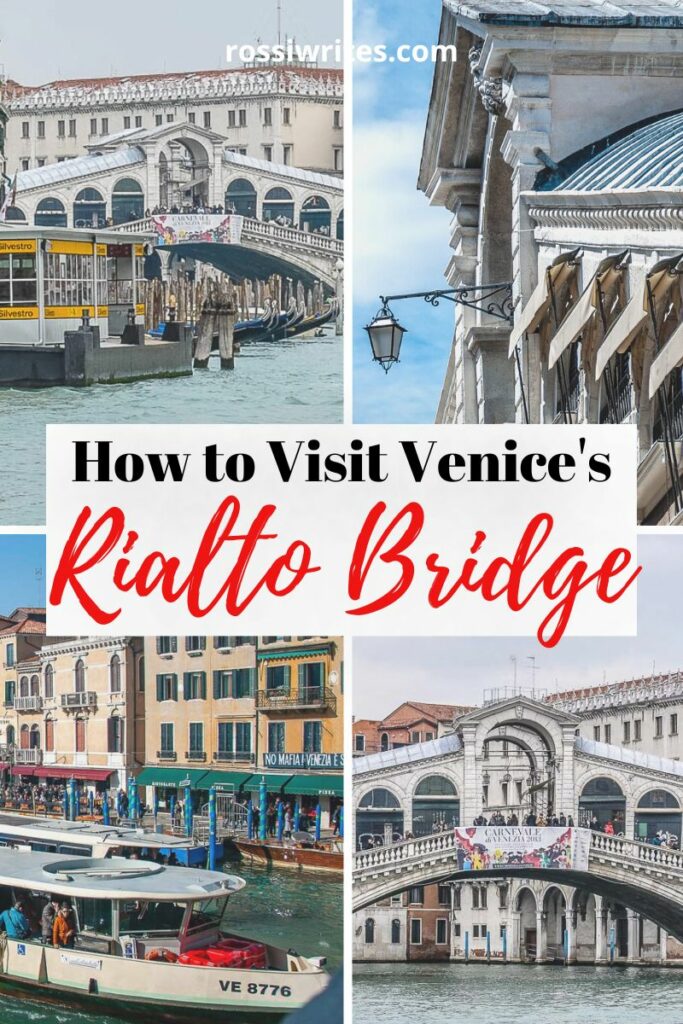 Where Exactly in Venice, Italy is Rialto Bridge?
Rialto Bridge is in the heart of Venice. Stretching over the Grand Canal, it links the sestiere of San Marco (where you will find St. Mark's Square, St. Mark's Basilica, and the Doge's Palace) to the sestiere of San Polo (where you will find Rialto Market, Scuola Grande di San Rocco, and the Basilica dei Frari).
A short distance away from both Venice's train station and St. Mark's Square, Rialto Bridge is very easy to reach both on foot and by boat. This coupled with its architectural beauty and historical value makes it a must-see landmark even during a short visit to Italy's City of Canals.
The above map shows you the exact location of Rialto Bridge in Venice. You can zoom in and out to get a better idea of where it stands and which other sights it's close to. You can also use this map to calculate directions from specific points of departure in the City of Canals to Rialto Bridge. If you wish, you can also open a larger version of this map in a new tab to make it easier to browse.
How to Reach Rialto Bridge in Venice, Italy?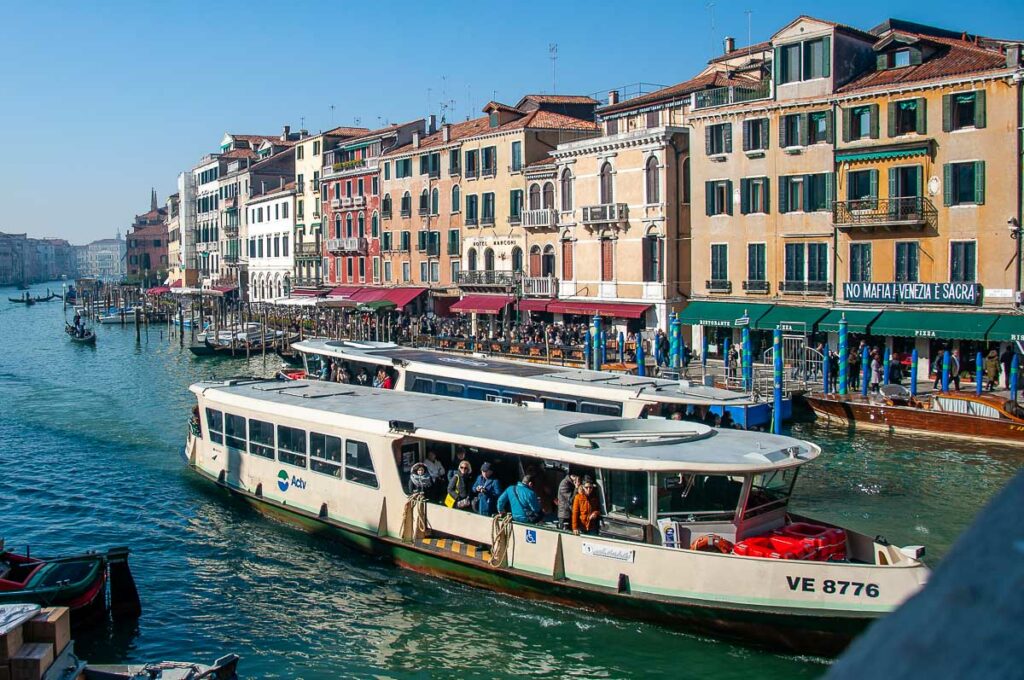 Quite conveniently, Rialto Bridge stands about 20 mins away from Venezia Santa Lucia train station and less than 10 mins away from St. Mark's Square. This makes it very easy to see no matter how long you are staying in Venice and where in the city your accommodation is.
You can reach Rialto Bridge either on foot or by boat. Here is how it works:
On Foot:
Starting from Venice's train station – Venezia Santa Lucia – you can walk to Rialto Bridge in about 20 mins. Starting from St. Mark's Square, you can walk to Rialto Bridge in about 6 to 10 mins.
You can use Google Maps on your phone to show you the most convenient way to get there. Alternatively, keep an eye out for the yellow and black signs on the walls of the Venetian houses. They point the way to the major landmarks in the City of Canals.
If this is your first visit to Venice, you may get a bit lost along the way. Don't worry! This is part of the experience and a great way to immerse yourself in the atmosphere of this unique city. This blog post will help you find your way around Venice in a more intuitive way:
By Boat:
Starting from Venice's train station – Venezia Santa Lucia – you can take a vaporetto down the Grand Canal to reach Rialto Bridge in about 15 mins or so. A vaporetto is a water bus – the type of public transport used in Venice. You can click here to buy single tickets, daily and multi-day passes for Venice's vaporetti in advance.
Click on the links below to see the timetables of the respective vaporetto lines.
Vaporetto Line 1 – it will take you down the Grand Canal straight to Rialto Mercato (on the San Polo side of the Grand Canal) in less than 15 mins. The vaporetto then stops at Rialto (on the San Marco side of the Grand Canal) and San Silvestro (on the San Polo side of the Grand Canal) vaporetto stops. All of these stops are right next to Rialto Bridge. If you want to experience riding the vaporetto under the bridge, then don't get off at Rialto Mercato.
Vaporetto Line 2 – this is a fast circular line, so you will need to make sure that you get the vaporetto going down the Grand Canal (and not the vaporetto heading up to Piazzale Roma). You can then get off at Rialto.
Starting from St. Mark's Square, you can take a vaporetto up the Grand Canal to Rialto Bridge.
Vaporetto Line 1 – it will take you from San Marco up to San Silvestro, Rialto, and Rialto Mercato.
Vaporetto Line 2 – it will take you from San Marco Giardinetti stop up to Rialto.
Alternatively, you can book a private water taxi to take you to Rialto Bridge from wherever you are in Venice.
Where to Stay in Venice, Italy for the Best Views of Rialto Bridge?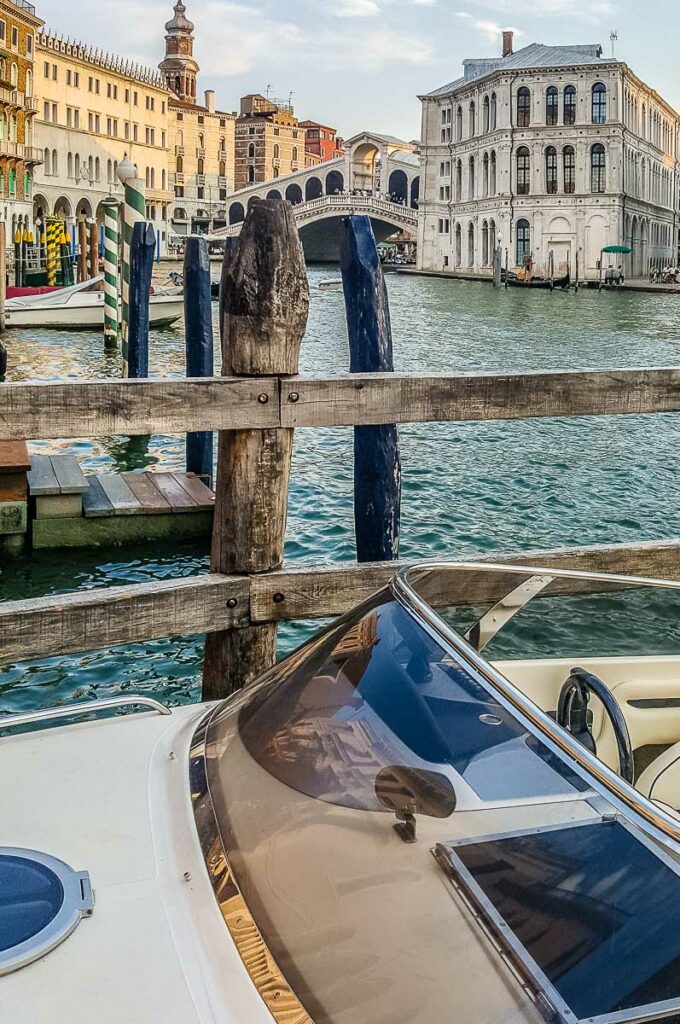 You can find all sorts and types of accommodation around Rialto Bridge in Venice to suit any budget. From luxury hotels to cosy B&B's, there is something for everyone.
No matter where you choose to stay here, make sure that you book well in advance. Especially, if you are planning to visit during the high season or for the Venetian Carnival. Venice is always a popular destination and many visitors return time and time again. Prices can rise steeply depending on the season and how little time there is between now and your visit.
For ideas about the types of accommodation available in Venice in particular and Italy in general, have a look at this blog post:
I usually prefer to book all my accommodation through Booking.com. Click to see all available options for places to stay around Rialto Bridge in Venice. The following hotels are very conveniently located for Rialto Bridge:
Budget: Residenza Grisostomo
Mid-Range: Riva del Vin Boutique Hotel, Hotel Rialto, Antica Locanda Sturion Residenza D'Epoca
Luxury: H10 Palazzo Canova
If you need some visual help in terms of precise location and price range, have a look at this map. It gives you a quick idea of the prices and whereabouts of the many hotels and other forms of accommodation you can book for your stay near Rialto Bridge in Venice, Italy.
You can zoom in and out in order to search for a place to stay. You can also click on the option that interests you to find out more details or to make a booking directly.
Where to Find More Information About Rialto Bridge in Venice, Italy?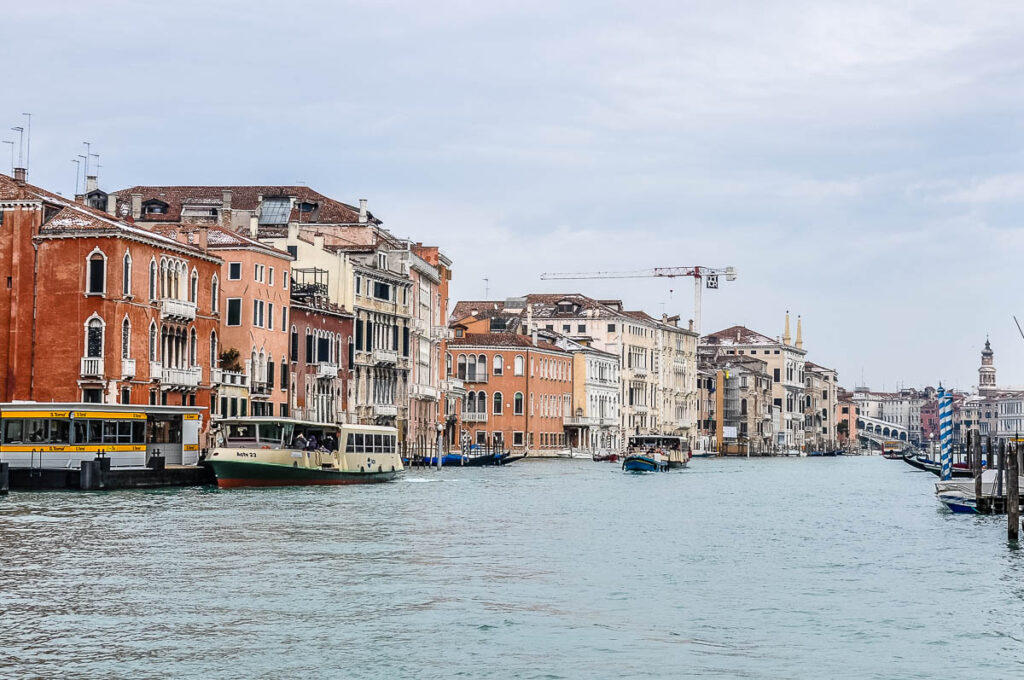 There are many books about Venice that explore in detail its major landmarks and hidden corners.
Below I have listed two of my favourite ones. They will give you even more in-depth information about Rialto Bridge and the most exciting and curious things to do in its vicinity.
111 Places in Venice That You Must Not Miss by Gerd Wolfgang Sievers
Secret Venice – An Unusual Travel Guide by Thomas Jonglez
If you like delving into historic resources, then have a look at Antoine Rondelet's Historic Essay on Rialto Bridge, too. It's in French and it provides fascinating details about Venice's iconic bridge.
Where to Find More Information about Venice, Italy?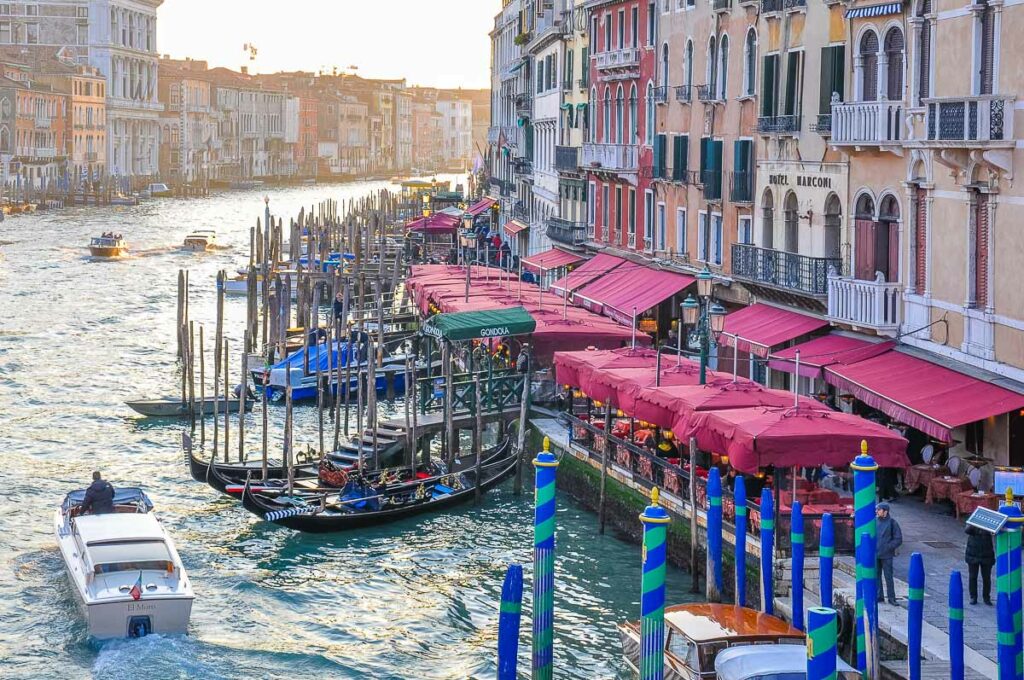 Venice is a very popular topic to write about. A simple Google search will return millions of results providing you with information about travelling to and exploring the City of Canals.
In addition, many books have been written about Venice. They delve into the millennial history of the Floating City, explain in detail the practicalities of visiting it or use it as a marvellous stage for romance and tragedies.
It's not very humble of me to say it but if you are looking for detailed, well-researched, and first-hand tried and tested information about Venice, have a look at my relevant blog posts.
I have been visiting Venice for close to twenty years now and writing about it for almost ten years. On the pages of this blog, I have shared lots of useful information. I hope that it will come in very handy during the preparatory stages of your Venetian holiday.
Here are the relevant links:
Sightseeing in Venice: Things to Do, Major Landmarks, Hidden Gems, How to Navigate Venice, Venice in a Day for Art Lovers, Haunted Venice, Beaches of Venice, Quotes about Venice, Boats in Venice, Day Trips from Venice, Arco del Paradiso
Travel to Venice: Essential Tips, Train Stations, Nearest Airports, Best Tours, Treviso to Venice, Verona to Venice, Florence to Venice, Milan to Venice, Bologna to Venice, Venice to Lake Garda, Venice to Padua, Venice to Verona, Venice to Milan
Venetian Sestieri: Dorsoduro
Venice Videos: Grand Canal, St. Mark's Square at Carnival, St. Mark's Square, View from Rialto Bridge, View from Accademia Bridge, Venetian gondolas, Historical Regatta, Squero di San Trovaso, Palazzo Contarini del Bovolo, Fondazione Querini Stampalia, Palazzo Grimani, Rialto Fish Market, Ca' Macana, Festa della Madonna della Salute
Finally, have a look at my Amazon Shop. I have a special section with all the best books about Venice in terms of history, travel, art, and fiction writing. There is a lot to read and a lot of exciting information to uncover about the City of Canals.
In Conclusion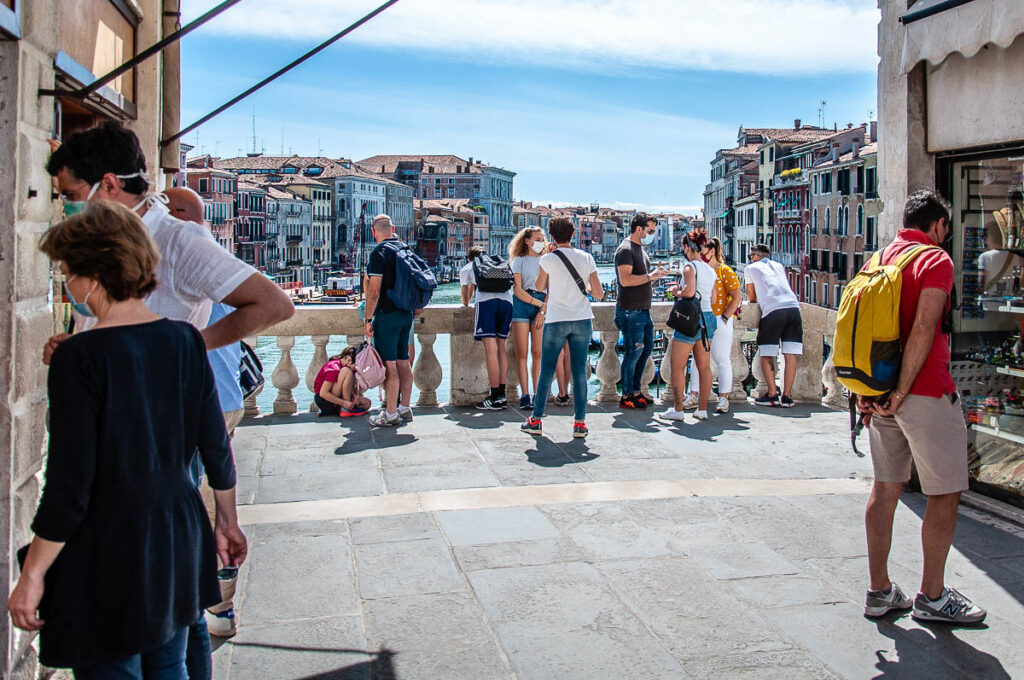 Here you have them – 15 fascinating facts about Venice's Ponte di Rialto. I hope you enjoyed this little walk across the history and the peculiarities of this iconic bridge.
From how it started as a simple structure of boats linked one next to another to how it was built of Istrian stone after many renowned architects competed to design it, Rialto Bridge has a truly captivating story. Far from being a simple tourist attraction in Venice, it is deeply linked to the City of Canals, its way of life, and its essence.
Enjoy visiting Rialto Bridge!
And have a wonderful time in Venice!
More Helpful Italy Info for You
Best of Italy: Italy Gift Guide, Italian Piazzas, Italian Markets, Accommodation for Every Budget, Best Times to Visit Italy, Italy in Summer, Italy with Kids
Italian Food: Best Italian Food Gifts, Cheap Italian Food, Rules of Italian Breakfast, Italian Breakfast Foods
Italian Coffee: Italian Coffee Culture, Italian Coffee Drinks, History of Coffee in Italy
Christmas in Italy: Fun Facts, Things to Do, Italian Nativity Scenes, Panettone, Christmas Guide
Northern Italy: Best Cities to Visit, Major Airports, Reasons to Visit
Lake Como: Things to See, Nesso
Lake Garda Towns and Villages: Best Towns, Desenzano del Garda, Riva del Garda, Malcesine, Torri del Benaco, Punta di San Vigilio, Campo di Brenzone, Borghetto and Valeggio sul Mincio
Visiting Lake Garda: Map of Lake Garda, Getting Around Lake Garda, Lake Garda with Kids, 8 Best Airports, Venice to Lake Garda, Verona to Lake Garda, Milan to Lake Garda, Bologna to Lake Garda
Verona: Things to Do in One Day, Verona Opera Festival, Day Trips from Verona, Romeo and Juliet Itinerary, Verona to Venice, Verona to Milan
Padua: Things to Do in One Day, 101 Facts About Padua, 10 Reasons to Visit Padua, Day Trips from Padua
Vicenza: Things to Do, Day Trips from Vicenza, Best Museums, The Beauty of Vicenza
Veneto: Top Places to Visit, Unique Adventures, Most Colourful Places, Mysterious Places, Most Beautiful Lakes, Reasons to Visit, Main Cities, Prettiest Small Towns, Most Beautiful Villages
Lombardy: Best Cities and Towns, Reasons to Visit, Brescia
Friuli Venezia Giulia: Venzone, Most Beautiful Villages
Emilia Romagna: Bologna, Ravenna, Comacchio, Most Beautiful Villages
Marche: Reasons to Visit, Gradara, Frasassi Caves, Temple of Valadier
Thank you for reading! Please, leave me a comment, pin the images or use the buttons right at the top and at the end of this blog post to share it on social media.
For more useful information like this, please, like my blog's page on Facebook and subscribe to my strictly no-spam newsletter.
Pin This Blog Post!