Padua is an Italian city that is older than Rome, it's close to many of Italy's tourist magnets, and it has so many unmissable sights that you can easily fill up your stay here with wonderful things to do.
Plus, this intriguing city in the Northern Italian region of the Veneto is often overlooked by tourists in favour of the nearby Venice and Verona.
This means that Padua remains mostly off the beaten track and it's a pleasure to explore without having to run the gauntlet of large crowds and coach parties. So, if you are looking for an exciting day trip destination in Northern Italy or a base from which to explore large swathes of both Northern and Central Italy, then Padua is a great choice.
Take it from me!
I used to live next door to Padua for six years and I took every opportunity to escape to this attractive city time and time again in order to see yet more of it and learn more about its history and art. There is so much to discover here! So many great sights and museums! And so many delicious things to eat and drink!
Now, I am only too happy to pass the word along. Especially, considering that Padua features twice on the UNESCO's World Heritage Site list. Once for its 14th-century frescoes and another for its Orto Botanico – the oldest academic botanical garden in the world!
So, let me tell you about Padua in Italy and what makes it a great Italian destination for a day trip, a long weekend or even a whole week or two. Without further ado, here are the ten main reasons to visit Padua during your Italian holiday. All neatly organised in nice and easy chunks of information based on my extensive first-hand research and experience.
Have a look!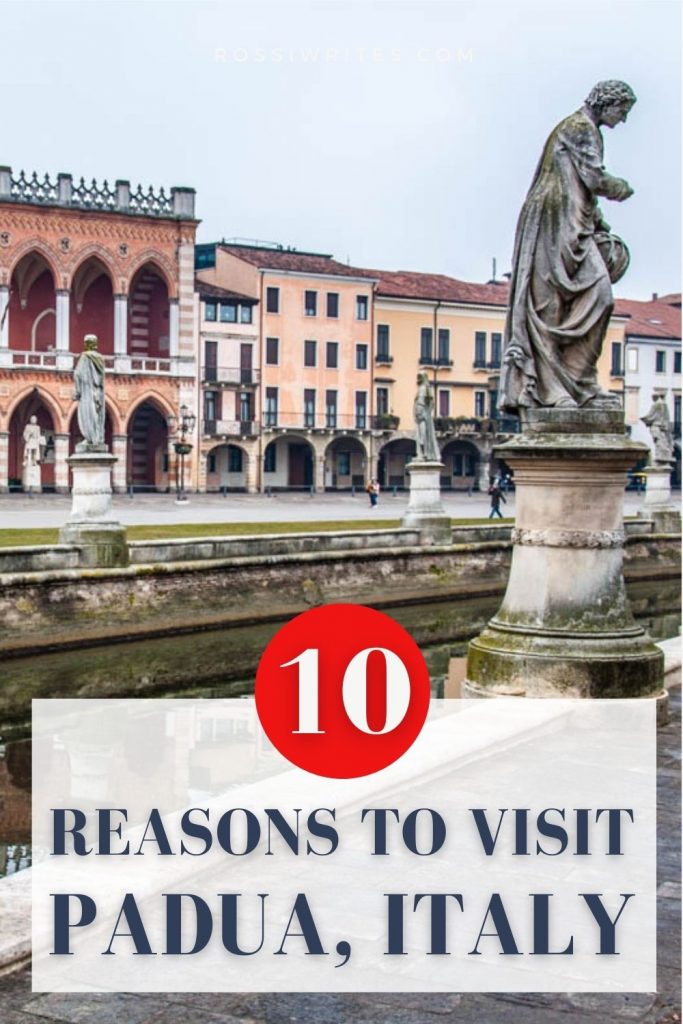 10 Reasons to Visit Padua, Italy – A Must-See Italian City
1. Padua Has an Incredibly Rich Historical and Artistic Heritage
Padua was founded in 1183 BC which makes it 430 years older than Rome! Plus, by the end of the 1st century BC, Padua is alleged to have been the richest city in Italy after Rome. Since then, the city has borne witness to many historical events. Its beautiful historical centre is like a patchwork of architectural styles and artistic influences spanning many centuries.
From Roman ruins and medieval walls to Renaissance frescoes and Liberty style architecture, Padua in Italy is a place where people have lived and created for over three millennia.
Dozens of museums shed light on the different periods in Padua's exciting history. Every walk you take around the town will bring you to sights of great historic and artistic importance.
For example, in Padua, you can see the houses in which the polymath Galileo Galilei and the sculptor Donatello lived, the street on which the renowned architect Andrea Palladio was born and the basilica in which Elena Cornaro Piscopia – the first woman with a PhD in the world – was laid to rest.
For maximum and quick exposure to the art and history of Padua in Italy, don't miss:
Scrovegni Chapel and Eremitani Civic Museums – Frescoed at the start of the 14th century by the Florentine Giotto di Bondone, the Scrovegni Chapel is considered to be the first masterpiece of the Italian Renaissance. Next door to it, you can visit the Eremitani Civic Museums. On the ground floor here you can see important archaeological artefacts tracing the multilayered history of Padua and its surroundings. On the top floor of the museum, you can enjoy paintings by Tintoretto, Titian, Giorgione, and dozens of other worldwide recognised artists.
Palazzo della Ragione – a must-see medieval town hall with a fully frescoed upper floor (known as Il Salone) and loggia which opens splendid views over Padua's daily market. In contrast, its ground floor – the so-called Sotto il Salone – is taken by the city's best delis, bakeries, fishmongers, and butchers.
Pratto della Valle – this is Italy's largest square! An oval canal runs around its edge and 78 statues are dotted on both sides of the canal. They represent famous people that have left their mark on the history and culture of Padua, Italy. For example, statue number 36 is of Galileo Galilei who, in his own words, spent the happiest 18 years of his life living and teaching in Padua! Number 35 is Petrarch who was a regular visitor to Padua in the 14th century and number 21 is the eminent Renaissance painter Andrea Mantegna who studied and worked here.
Click for more information:
2. Padua is Both a Scientific and a Religious Centre
Padua is a very curious city in so that both scientific innovation and religious tradition have flourished here over the centuries independently of one another.
Italy's second-oldest University was founded in Padua in 1222 and to this day it is a stalwart of science and scientific discovery. In fact, the University of Padua is one of the leading higher education institutions in Europe. Over the centuries, many famous scientists have studied and/or taught here and many important discoveries were made along the way.
For example, it's widely accepted that the University of Padua is the birthplace of modern medicine. It was here that the world's first permanent anatomy theatre was installed in the 16th century and systematic dissections regularly took place. This made it possible to completely re-evaluate the then-available knowledge about human anatomy and huge progress was made in terms of medicine as a science.
The University of Padua's historical seat – Palazzo Bo – stands right in the city's heart. Its portico is covered with the crests of former students and daily guided tours take eager visitors to the rooms where science was moulded and shaped for many centuries. Among the highlights is Galileo's podium from which he taught his widely popular lectures during his time in Padua. Curiously enough, across from the podium, there is a small pillar in which one of Galileo's vertebrae is kept.
At the same time, Padua is the centre of the cult of St. Anthony. Or Il Santo as the Saint is lovingly referred to locally.
Make sure that you put at least an hour aside for the splendid Basilica of St. Anthony of Padua. This is a richly decorated and rather large church with countless Christian relics and priceless works of art. The lovely cloisters, the on-site museums and the different chapels here make the visit to the basilica an unmissable experience for every visitor to Padua, Italy.
In addition, the city is rich in churches – both large and small. Each of them has countless stories to tell. From the:
Church of the Eremitani – carefully restored after it was bombed during the Second World War; to the
Baptistery – fully covered with frescoes from the 14th century,
Padua in Italy is the right place to delve into the history and art of the Catholic faith.
For maximum and quick exposure to the scientific and religious traditions of Padua in Italy, don't miss:
Palazzo Bo – this is the historical seat of the University of Padua. Guided visits are, usually, held daily in a number of languages.
University of Padua Botanical Garden – the world's oldest botanical garden which, nowadays, is also a UNESCO World Heritage Site.
Basilica of St. Anthony of Padua – a Roman Catholic church and a minor basilica dedicated to the cult of St. Anthony.
Baptistery – dedicated to St. John the Baptist, you will find it next door to Padua's Duomo. Its plain exterior hides a stunning fresco cycle by Giusto de Menabuoi. Padua's Baptistery is also inscribed on UNESCO's World Heritage Site list as part of the city's priceless collection of 14th-century frescoes.
Diocesan Museum – a very interesting museum next to Padua's Duomo with priceless frescoes and a rich collection of devotional art.
Click for more information:
3. Padua Offers Excellent Shopping Opportunities
Padua's central streets are lined with tempting window displays. From multinational high fashion and high-street favourites to historic shops that have been in business for dozens if not hundreds of years, you will be spoilt for choice.
Cosmetics, jewellery, and fashion stores stand side-by-side with shops specialised in rare prints, haberdashery, and priceless antics. There are also many art galleries and bookshops selling new and vintage editions. Just go for a walk through Padua's historic centre and pop into any small boutique or a larger store that takes your fancy. Soon, you will find yourself very much in love with dozens of drawings, paintings, rare jewellery pieces, daring outfits, imaginative textiles. Budget accordingly!
In addition, the daily market on Piazza dei Signori (Sundays excluded) and the regularly held bric-a-brac and vintage markets on Prato della Valle give you a chance to shop for bags, clothes, and all sorts of knick-knacks at pocket-friendly prices.
For maximum and quick exposure to shopping opportunities in Padua in Italy, go for a walk along:
Via del Santo up to Palazzo Zabarella – for shops selling rare books and beautiful prints, among other things.
Via Altinate – for boutiques specialised in fashion and accessories.
The area between Porta Altinate, Via Baiamonti, and Piazza della Frutta for all sorts of high-street stores and historic shops.
Shops and shopping malls are all over Padua, so explore as many as you can if shopping is your thing.
4. Padua Has an Active Nightlife
Students make up one-fifth of Padua's population. So, there is vibrant nightlife here and there are lots of places to head to when the sun comes down. The Italian aperitivo hour is when the city gets really lively, especially on a balmy evening.
Countless cafes and bars line the main squares in town – Piazza delle Erbe, Piazza della Frutta, and Piazza dei Signori. In the late afternoons and early evenings of the hot months, countless tables and chairs are placed alfresco. Families and groups of friends come out in droves, all nicely dressed up, and ready to relax after a long day.
Chatter and music fill the air. Tall glasses clink and clank. Kids run around. Tall historic buildings overlook this beautiful Italian scene. It's quite cinematic, really. Make sure that you take part!
Gran Teatro Geox is the place to head to in Padua for concerts by world-famous singers and bands as well as for musical theatre performances touring Europe. Just make sure that you book a ticket well in advance.
For maximum and quick exposure to the nightlife in Padua in Italy, go for a:
Passegiata! This is Italy's traditional early evening walk taken by families and friends to see what's new around town and to be seen in their best attire. Head to Padua's historic centre. Starting from Caffe' Pedrocchi walk around the three main squares – Piazza delle Erbe, Piazza della Frutta, and Piazza dei Signori – and see which cafe, bar or restaurant will appeal to you the most. Have an aperitivo, tuck into dinner, have fun. It's a great way to experience the authentic Italy!
5. Padua is Close to Many Italian Tourist Magnets
Padua's train station is one of the main hubs of the Italian railway system. In addition, a large network of buses and coaches connects Padua to dozens of small towns and larger cities in the north and the centre of Italy. The city is also on the Autostrada A4 – the important Italian highway which connects Turin and Trieste via Milan and Venice.
All this means one thing: you can easily visit Padua for a day trip! Or, if you are staying in Padua during your Italian holidays, you can easily travel from here to many other Italian cities. To give you an idea of the wide choice available, here are some travel times by high-speed (Frecciarossa/Frecciargento/Italo Treno) train and/or fast regional (Regionale Veloce) train from Padua to some of the most famous Italian cities:
Or you can take the bus to a host of nearby towns and villages like Chioggia, Arqua Petrarca, and Stra to enjoy a day trip exploring beautiful beaches, Venetian villas, and places of historical importance.
For maximum and quick exposure to the many opportunities for day trips from Padua in Italy, don't miss:
This blog post revealing 35 unmissable destinations to explore from Padua. It also includes a detailed list with tips and tricks on how to navigate the Italian train system.
6. Plus Padua is Next Door to Four Airports
No-one likes an airport transfer that lasts hours and costs the earth. You are in luck then, as Padua in Italy is close to four airports conveniently served by flights from all over Europe and the world.
Here they are together with tips on how to quickly get from each one of them to Padua:
To quickly find information about getting from one of the above four airports/cities to Padua in Italy, don't miss:
Trenitalia – the website of the Italian railway company.
Padova – Canova Airport – the website with information about bus 101 which connects Padua with Treviso's Canova Airport.
Click for more information:
Check the section with tips and tricks about quick and cheap train travel from and to Padua at the end of this blog post.
7. In Padua, There Is Great Local and International Food
Padua has some enviable culinary traditions and finding delicious food that doesn't break the bank is not a problem here. After all, Padua is the city where:
a daily fresh fruit and vegetable market has been going strong for over 800 years; and where
the ground floor of the city's medieval town hall – Palazzo della Ragione – has been occupied by butchers, fishmongers, bakeries, and eateries since it was originally built in the 13th century. A tradition which is going strong right to this day.
In addition, one of Italy's most famous food carts sets up for business every evening (Mondays excluded) on Piazza della Frutta right by Palazzo della Ragione. Called La Folperia it specialises in seafood and most notably, octopus. It's been in business since 1977 and it keeps alive Padua's centuries-old tradition of octopus- and seafood-sellers.
This Italian city is also host to many restaurants serving international cuisine. In case you are really hankering for a burger, a Chinese or a Mexican meal, you won't be disappointed.
To keep it authentic though, make sure that you sample the culinary specialities of Padua, the Veneto, and Italy. From bigoli (thick spaghetti traditionally served with duck- or sardine-based sauce) and bollito misto alla Padovana (a stew combining different cuts of meat) to risotto and pizza, the choice is abundant.
From cheap street food to places to eat with friends on wooden tables, from sandwich-shops selling excellent tramezzini, piadine, and panini to refined restaurants, Padua's food scene is a joy to explore.
For maximum and quick exposure to the many traditional food options in Padua in Italy, head straight to:
Sotto Il Salone – the oldest food shopping centre in Padua. This is the narrow and long space on the ground floor of Palazzo della Ragione. You will find it right in Padua's heart, between Piazza delle Erbe and Piazza della Frutta. Walk it from one end to the other taking in the rich displays of the resident butchers, fishmongers, bakeries, and delis. Buy lots of different foods and products in small portions from the many different shops to sample. For a quick bite, stop for a generously stuffed tramezzino or piadina in one of the several bars and sandwich shops inside and outside Sotto Il Salone.
Click for more information:
8. You Will Find Excellent Coffee and Cakes Here, Too
Having a serious case of the sweet tooth?! No worries!
Padua is the right place to be if you love cakes, biscuits, sweets, and gelato! There are many lovely cake shops, patisseries, and gelaterias dotted all over town. Some of them have been at the same spot for dozens of years and the padovani flock to them for traditional local delights. Here is a couple of examples:
pazientina cake – a glorious mix of almond pastry, sponge, zabaione, and large shavings of dark chocolate. A must-try!
pevarini – a biscuit with a bite. It's made of almonds and cacao and spiced up with black pepper.
Talking of excellent places to eat proper Italian gelato, don't miss Gelateria Giotto – a cute little place with an interesting story behind it. All the gelato, chocolates, and other sweets here are produced by the patisserie workshop at Padua's Prison where the prisoners receive professional patisserie training. Year after year, their panettone, for example, receives some of the highest accolades in Italy.
Padua is not all about the cake, though! This Italian city is also big on coffee. In Padua's historical centre, you will find the imposing building of one of Italy's most famous coffee houses. Called Caffe' Pedrocchi, it was founded in 1831.
For maximum and quick exposure to the many amazing cake and coffee options in Padua in Italy, head straight to:
Click for more information:
9. Padua Has a Rich Programme of Fantastic Events
There is always something happening in Padua. From a rich palette of events during the Christmas holidays to a summer studded with concerts and festivals, the city is an exciting place to find yourself at.
Padua's tourist offices – one inside the train station and another right behind Caffe' Pedrocchi – can provide you with the most up-to-date information about the latest happenings in town. Every summer, a temporary tourist office opens its doors at Piazza del Santo, too.
In addition, keep an eye on the website of Padova Fiere – Padua's sprawling exhibition centre – for news and info about forthcoming large-scale shows and events.
All over town – in shops, cafes, and hotels – you will find bunches of brochures and leaflets. Pick as many as you like as they will give you information about interesting local events you simply cannot miss.
Click for more information:
10. Padua Has a Well-Organised Public Transport System
Padua is crisscrossed by many buses and a very modern and convenient tram. No matter where you are in town, you can easily and quickly get to the historic centre, the train station and anywhere else. No need to walk for miles or to spend a large chunk of your budget on taxis.
The website of Busitalia Veneto has all the details (in Italian, so if you don't speak it, you can use Google Translate to orientate yourself) about the different public transport lines which run through Padua and connect the city with nearby towns and villages. This page (also in Italian) has up-to-date information about the different types of tickets and their prices.
In Conclusion
If you are in the planning stages of a holiday in Italy and are looking for a great day trip or a convenient place to serve as your base, the city of Padua may just be the perfect candidate.
Within a very convenient distance from four airports and served by an extensive public transport network, Padua in Northern Italy is easy to reach and easy to navigate.
Plus, Padua has a thriving food scene, an 800-years old market, and is home to one of Italy's most famous historic coffee houses.
In addition, the city is older than Rome and it has an incredibly rich artistic and historic heritage. Close to several tourist magnets like Venice, Verona, Lake Garda, and Milan, Padua is a great city to either visit for a day or to stay in for a longer exploration.
In the above blog post, I listed ten reasons to visit Padua during your Italian holiday. I hope that you found the information useful and that it will galvanise you to put this exciting city at the top of your travel wish list.
Now, if you are ready to start planning your time in Padua in Italy, have a look at this blog post:
which gives you in-depth information and helpful tips about everything you can experience there from dawn till dusk.
Have a great time in Padua, Italy!
More Helpful Padua Info for You
Padua: Things to Do in One Day, 101 Facts About Padua, Day Trips from Padua, Venice to Padua Day Trip, Padua in the Run-Up to Christmas, Prato della Valle – Italy's Largest Square, Cornaro Loggia and Odeon, Astronomical Clock, Sant'Antonio's Cakes, Daily Market
Videos of Padua: Top 6 Things to See in Padua, Prato della Valle, Basilica of St. Anthony – 1, Basilica of St. Anthony – 2, Scrovegni Chapel, Palazzo della Ragione and market on Piazza delle Erbe, Palazzo Bo, Piazza dei Signori
More Helpful Italy Info for You
Best of Italy: Italian Piazzas, Italian Food, Italian Markets, Italian Coffee Culture
Northern Italy: 18 Best Cities to Visit
Lake Garda: Best Towns, Nearest Airports, Travel Options, Lake Garda with Kids
Lake Como: Things to See, Nesso
Veneto: Best Cities to Visit, Top 15 Places, 30 Adventures, 15 Most Colourful Places
Friuli Venezia Giulia: Venzone, Most Beautiful Villages
Emilia Romagna: Bologna, Ravenna, Comacchio, Most Beautiful Villages
Marche: 6 Reasons to Visit, Gradara, Frasassi Caves, Temple of Valadier
Verona: Things to Do in One Day, Day Trips from Verona
Vicenza: Things to Do, 10 Must-See Museums, Day Trips from Vicenza
Thank you for reading! Please, leave me a comment, pin the images below or use the buttons right at the top and at the end of this blog post to share it on social media.
For more useful information like this, please, like my blog's page on Facebook and subscribe to my strictly no-spam newsletter.