Summers in Italy are hot, so here are 16 easy ways to beat the heat in Italy this summer.
You may be looking forward to your Italian holiday and dreaming of sunny weather, golden beaches, and alfresco living. Yet, Italy's furnace heat in summer can turn out to be very difficult to tolerate and manage. Especially, if you are coming from colder climates.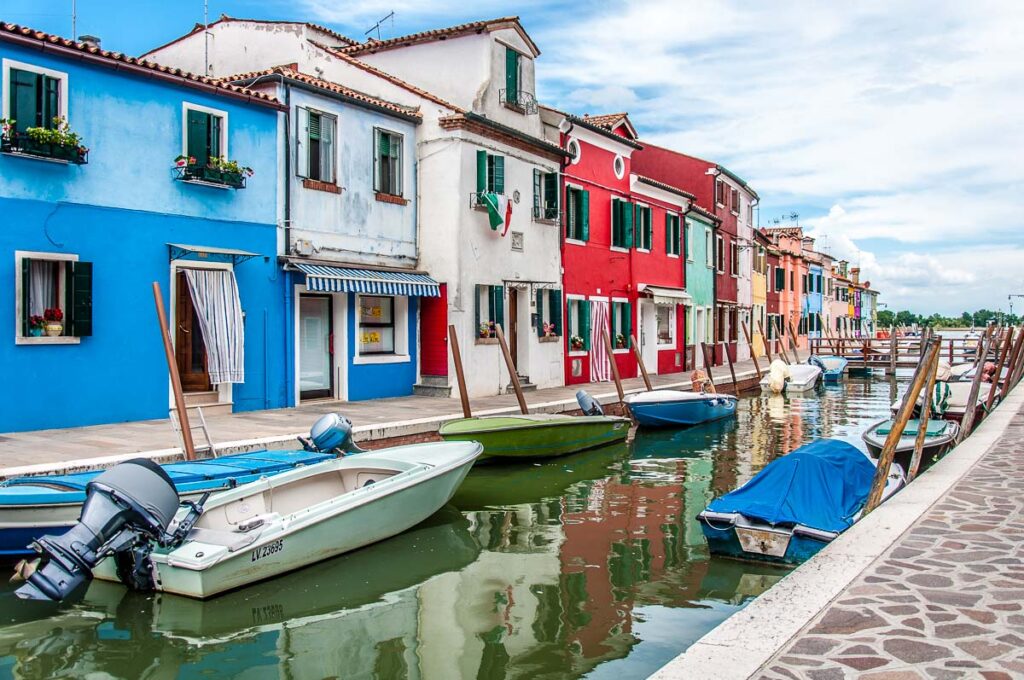 What to do then?! First of all, don't worry. There are many simple and practical ways to keep cool in Italy even on the hottest of days. It takes a bit of forward planning, some awareness of Italy's culture and customs, as well as a healthy dose of respect for the hot Italian sun.
To help you out, in this blog post, I will share with you everything I have learned about Italy's hot season during my many visits to the country over a period of close to 20 years. Six of them, I actually lived there. And, yes, dealing with the summer heat was a steep learning curve.
Now, I will distil it all for you – from making sure that your Italian accommodation actually has an air conditioning unit to easy ways to avoid sun glare and remain fresh and hydrated when the temperatures are hitting record highs. Expect tried and tested tips, personal experiences, and no-nonsense ways to deal with the Italian heat.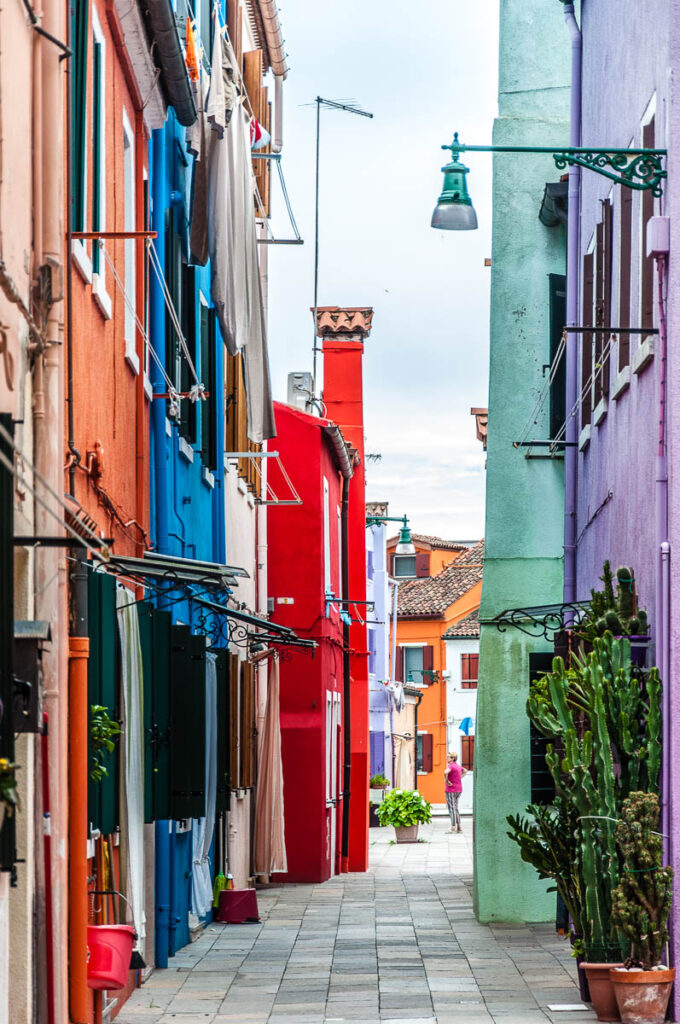 For even more useful information, have a look also at these two blog posts:
Now, let's start!
16 Ways to Beat the Heat in Italy in Summer
Pin This Blog Post for Later!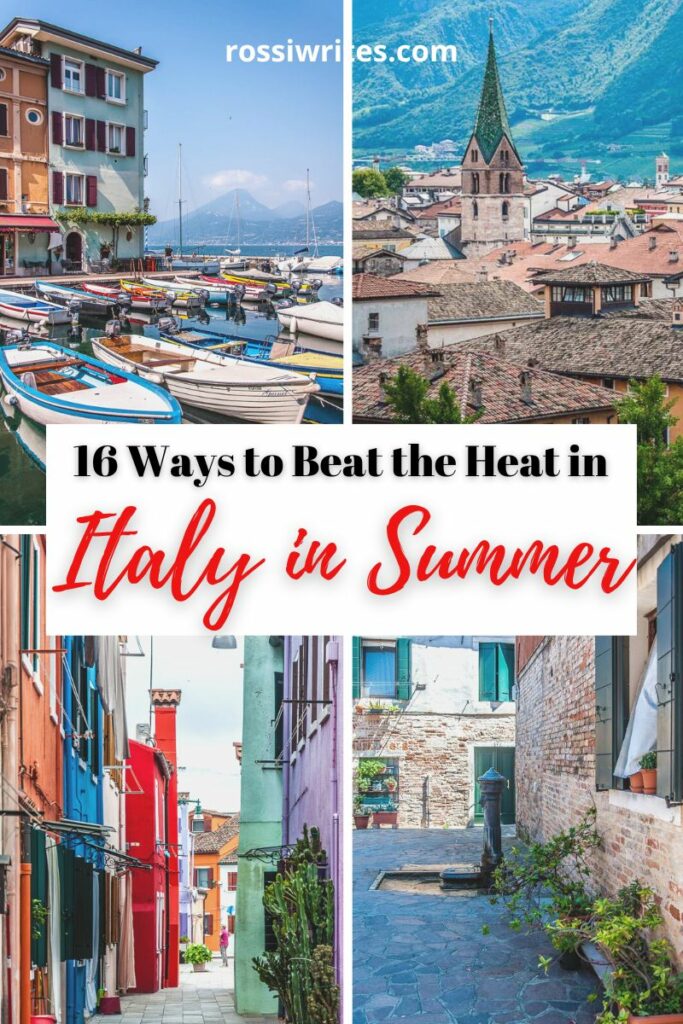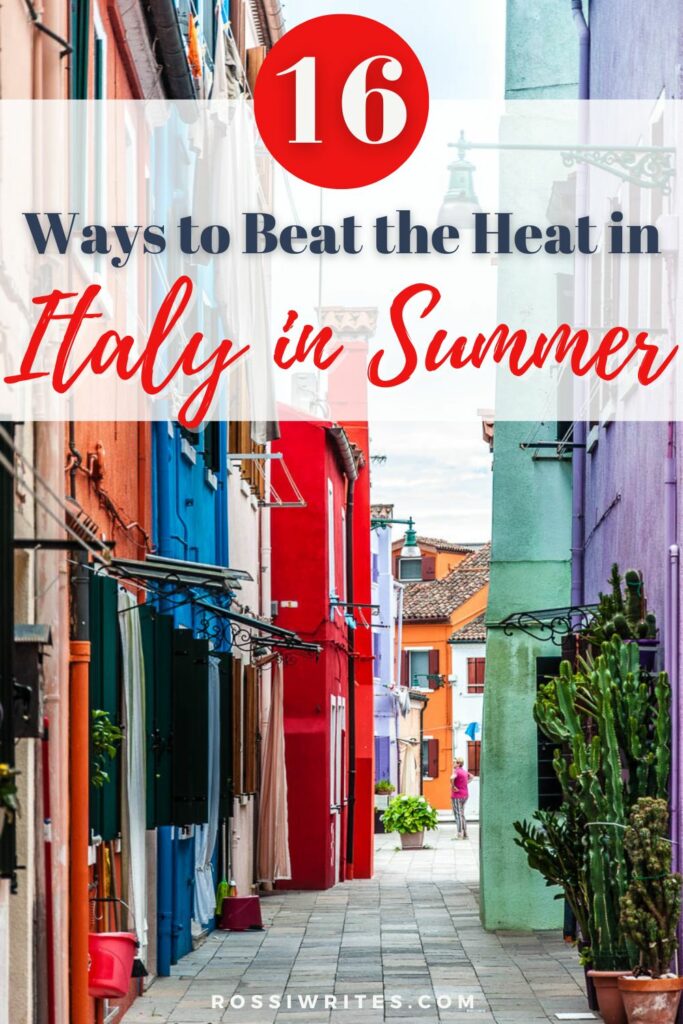 1. When You Plan Your Visit to Italy in Summer, Make Sure That Your Accommodation Has Air Conditioning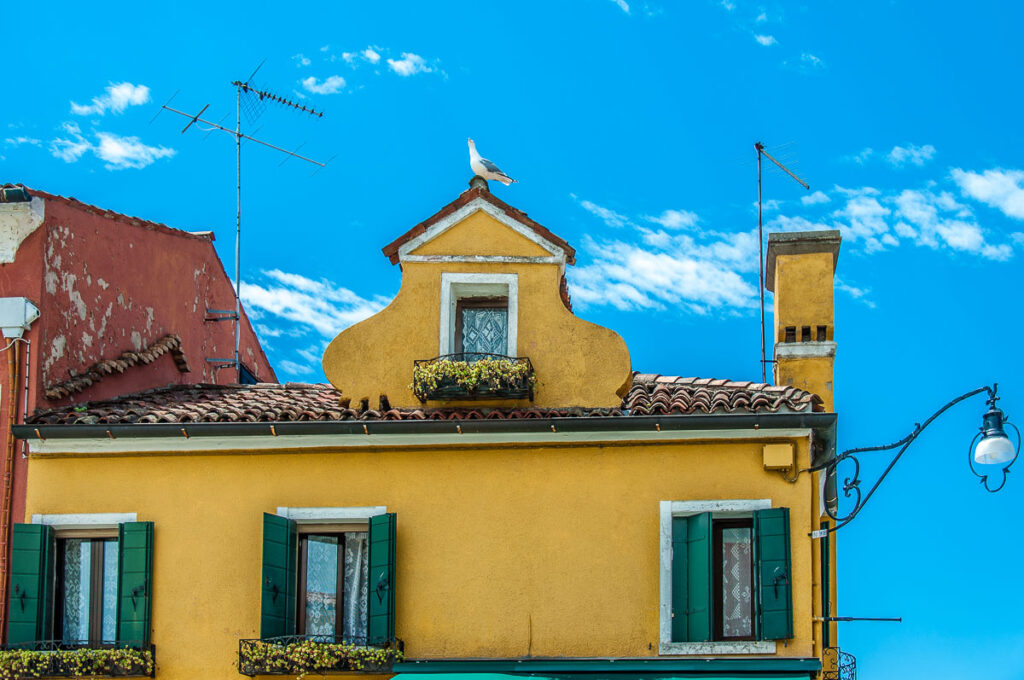 Are you used to persistently high temperatures? If not, then one of the most important things when you book your Italian summer holiday is to make sure that your accommodation in Italy has functioning air conditioning.
It's logical to expect that in a country with traditionally hot summers, air conditioning would be present everywhere. Yet, this is not quite the case. There are plenty of places in Italy – from shops to hotels – with no air con.
The reasons for this are several. In general, the Italians dread drafts. A stream of cold air is often perceived as the source of all sorts of maladies – from a simple cold to something called cervicale which corresponds to pain, stiffness, and general discomfort in the top part of the spine.
With the weather steadily warming up from March onwards, the Italians also have the advantage of having a long period to gradually get used to the increasing temperatures. This is different to arriving in Italy in the midst of the summer heat when back home the thermometer seldom hits 30 degrees Celsius.
Air conditioners are also fairly energy-intensive and not always environmentally friendly. Electricity is quite expensive in Italy. Finally, adding air conditioning units to historic buildings requires special consideration and care.
If you are not used to heat and plan to spend your summer holiday in Italy sightseeing and generally on the go, then make sure that your accommodation is outfitted with an air conditioner. Being able to return to a nicely chilled room after traipsing around museums and landmarks all day truly makes all the difference.
Simply opening the windows to get a breeze doesn't always work in Italy. First, the streets outside may be noisy with people living it up through the night until the sun starts coming up. Second, summer nights in Italy can be oppressively hot and humid, too.
So, before you book, make sure that you read in detail the online description of the place you are interested in. You can also call the contact number and ask for details. This is especially valid if you are planning to rent a flat, a historic villa or a room in a small hotel off the beaten track.
Even better, read the reviews left by previous guests. Make a note if they mention the availability of air conditioning and how satisfied they were with it. Was it new or old, was it rattling through the night or noise-free?
I usually book my accommodation in Italy through Booking.com. It has a large selection of places there – from family-friendly hotels to traditional agriturismi. I always look for the small snowflake icon indicating that there is an air conditioner in the room. Its presence (or lack of) has often been a decisive factor when choosing accommodation in Italy.
My Personal Experience:
The first summer we spent living in Italy, our air conditioning was old and rattly. We could only put it on for a short amount of time in the evening as it was making so much noise.
It was one hell of a summer where all the windows were constantly open in the house and we couldn't find a respite from the scorching heat.
When our brand new and practically silent air conditioning unit was installed, we fully embraced the pleasures of summers in Italy.
Learn More:
2. Embrace Italy's Traditional Riposo During the Hottest Hours of the Day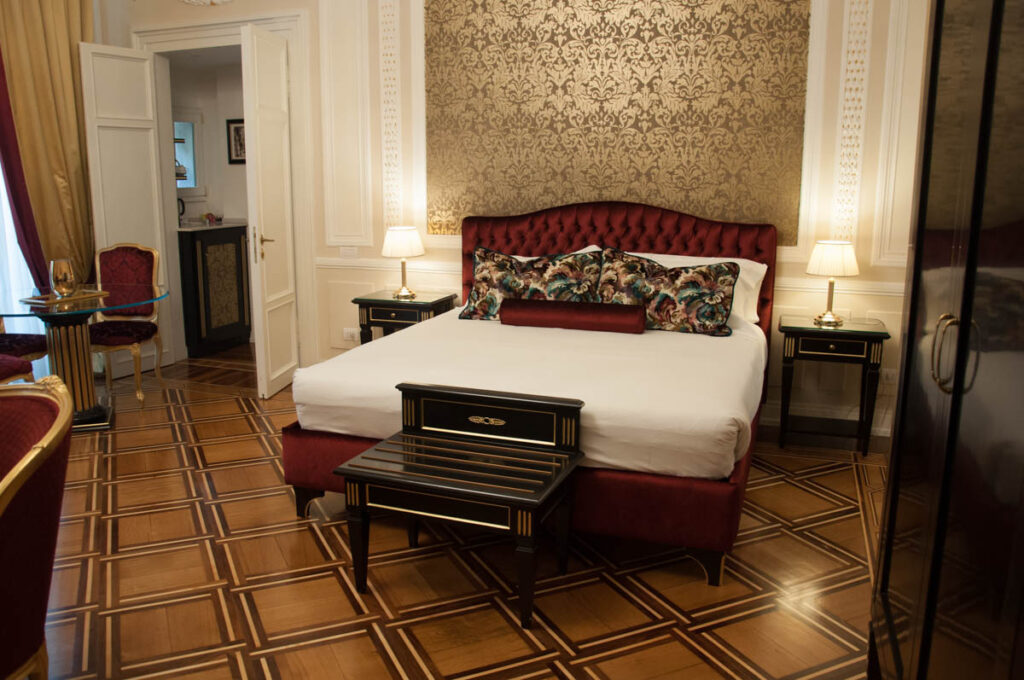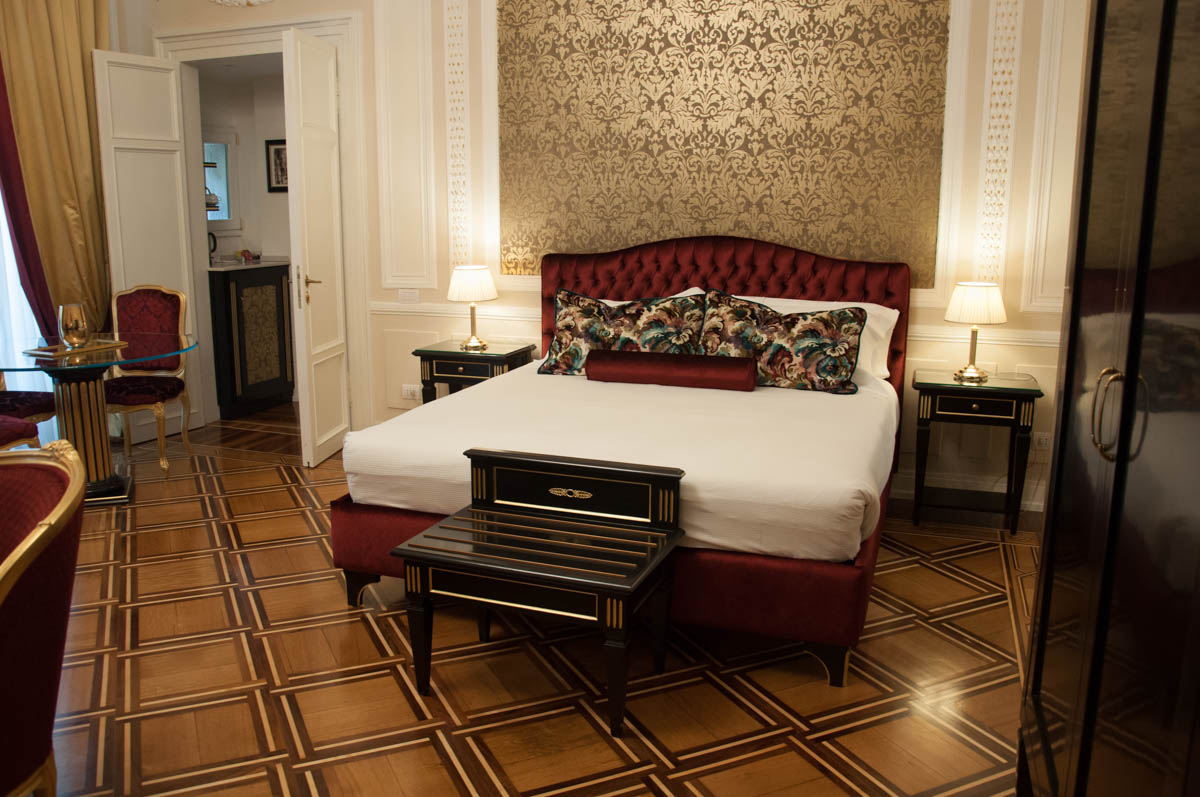 The Italians have dealt with very hot summers for a very long time. So they have come up with a genius way to make the most of their day without having to suffer in the heat.
In other words, they take an extended lunch break – called riposo – of two to four hours during the hottest time of the day. Smaller shops, offices, and even some museums and large shopping centres put the shutters down around 1 pm each afternoon. Then, they reopen between 3.30 and 4.30 pm and stay open until 7:30 or in some cases until 8:00 pm. This is especially valid for the smaller Italian cities and towns.
You may find it a bit frustrating and counterproductive at the start. You may even complain about the waste of time and being unable to shop in the early afternoon. Yet, it will be in your interest to adopt riposo as an integral part of your Italian experience. Taking a break during the hottest hours of the day will allow you to relax and freshen up.
An afternoon nap will also give you the energy to stay out much later in the evening. This is when temperatures cool off a little bit. Historic piazzas and streets liven up with the traditional Italian evening stroll called passeggiata. Dressed in their nicest clothes, the locals come out for a walk and to meet up with friends.
Take part in this authentic Italian ritual. Then sit at an outside table to people-watch with an aperitivo in hand. Follow with a nice and relaxed supper under the starry Italian sky.
My Personal Experience:
Getting used to riposo was one of the best things I did during my six years in Italy. Being able to switch off for a couple of hours in the afternoon (mainly in summer and not so much in winter!) was such a luxury.
In summer, the early afternoon hours in the Northern Italian region of Veneto where I lived were suffocatingly hot. I couldn't do anything outside as the excruciating feeling of melting in the sun eliminated any joy I might have otherwise derived from sightseeing. With everything closed, I couldn't run errands either.
Staying in with the shutters down gave me respite, an opportunity to relax, and extra time to work on my blog with the air con gently humming above my head. Bliss!
Learn More:
3. When It's Hot in Italy, Explore on Foot Early in the Morning and Late in the Afternoon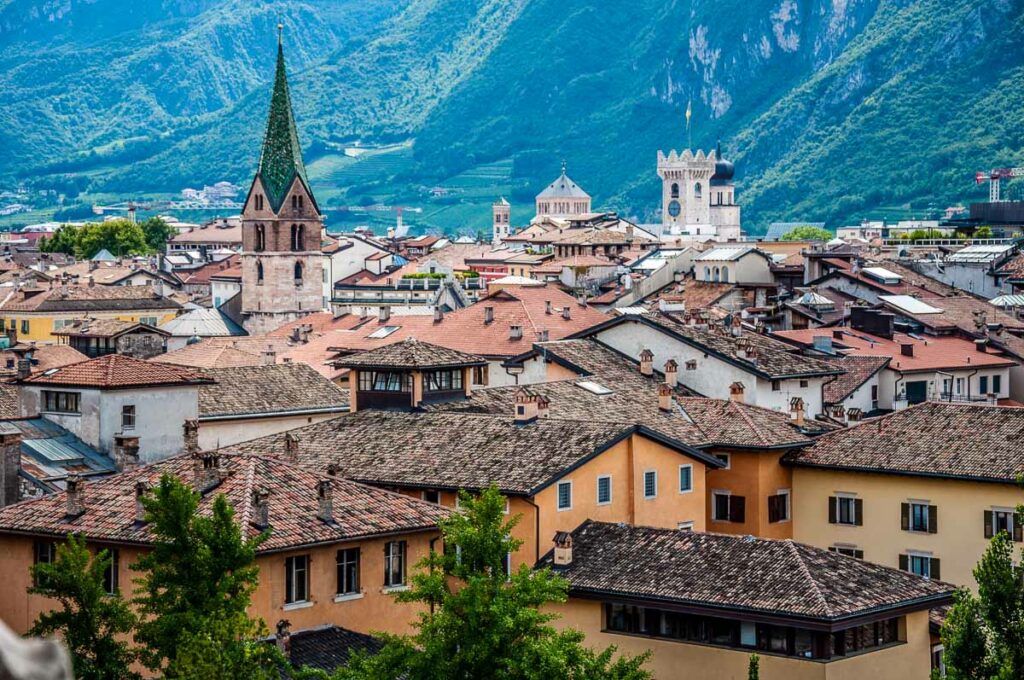 If you are planning to do a lot of outdoor sightseeing during your visit to Italy in summer, make sure that you do it early in the morning and/or late in the afternoon. This way you will be avoiding the hottest hours of the day and the crowds of sweaty irritable tourists jostling for space on historic piazzas, around ancient ruins, and in front of world-known fountains.
Waking up early will pay off (and you can always catch up on sleep during riposo) as you will be able to see the Italian cities and towns at their very best – uncrowded, picture-perfect, and a joy to walk around. Grab a fresh brioche and a cup of proper Italian coffee at the nearest cafe for a typical Italian breakfast. Then walk across sleepy squares, cobbled alleys, and stone bridges taking in their beauty without a soul around.
Late afternoons and early evenings are the other great time slot for some outdoor sightseeing when it's hot in Italy. As the sun slowly sets a light breeze makes walking an enjoyable activity once again. Plus, the fabled blue hour is the best time of the day to take photos of Italy's beautiful historic sights.
My Personal Experience:
I walked all over Venice on a terribly hot day at the start of June some years ago. By the end of it, I had a splitting headache, dark spots were dancing in front of my eyes, and I felt so exhausted, that it took me days to recover.
Since then, I have avoided as much as possible staying outside in Italy during the hottest hours of the day in summer. I always try to organise my outdoor sightseeing in such a way that I am either in a museum, in a cafe or at my accommodation for the duration of the early afternoon.
As such, I discovered that Venice, for example, is best to experience authentically early in the morning before the crowds of tourists have begun their unrelenting siege. Then the City of Canals is a delight to explore.
Learn More:
4. When It's Hot in Italy, Block the Afternoons Off and Squish In As Many Museum Visits as You Can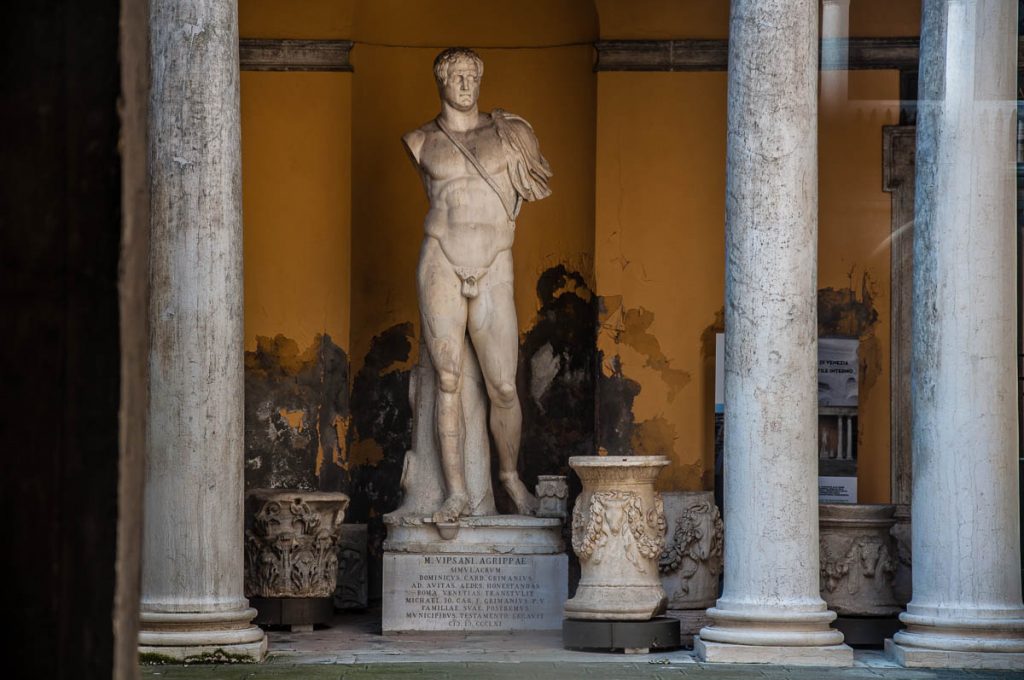 If you really can't bear to do as an Italian and nap in the afternoons (see point 2 about riposo above), then try to do all of your museum and gallery exploring during the hottest time of the day.
Enjoying the gentle whirr of the air con units in Italy's best museums and galleries while admiring priceless works of art and historical artefacts is a sensation like no other. You will definitely feel like you have beaten the Italian heat at its own game.
Just make sure that you book all your tickets in advance so that you don't have to queue outside for hours in order to be allowed in. Another shortcut would be to buy a cumulative city pass giving you access to a number of the biggest sights in an Italian city.
To book museum and art gallery tickets in Italy, I use these three websites: Tiqets, GetYourGuide, and Viator. In terms of city passes, I have found the Verona Card and the Turin Card very useful.
My Personal Experience:
My husband, our daughter, and I explored Turin's majestic Egyptian Museum in the early afternoon of a hot summer day. We spent several hours in its many air-conditioned rooms full of unique Egyptian statues, papyri, and artefacts while outside the temperature was sizzling hot.
In fact, it was so nice and cool inside that we had to cover our little daughter with a light blanket in her stroller. She slept throughout the visit. As relatively new parents at the time, we felt so pleased with ourselves for organising the museum visit in such a way that it not only kept us inside during the hottest time of the day but it also coincided with our toddler's afternoon nap.
5. Go Up or Go Down To Escape the Heat in Italy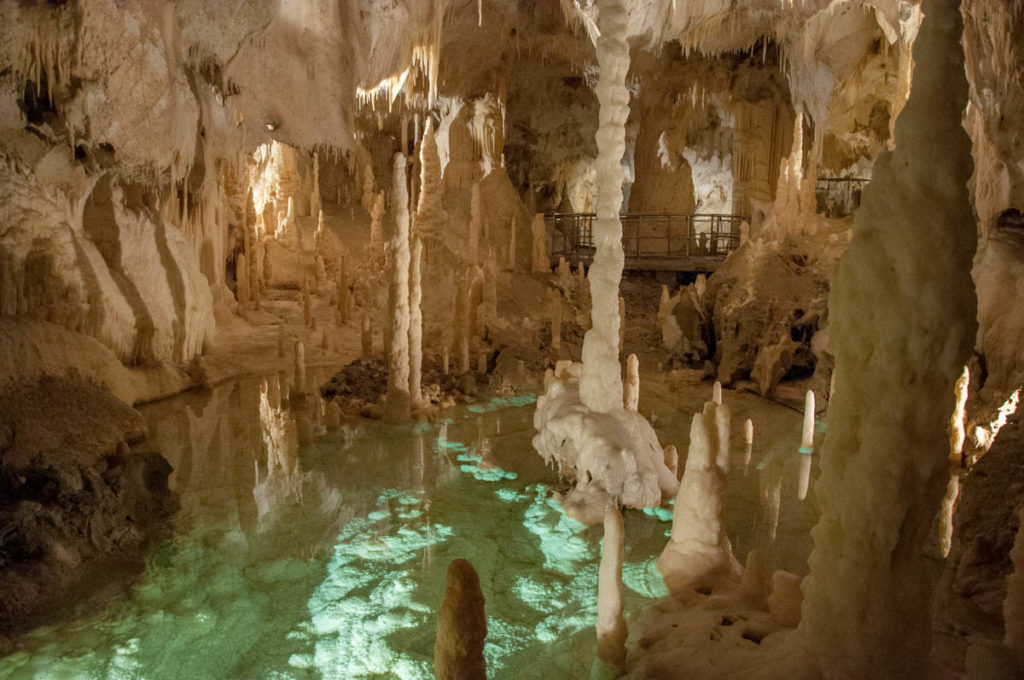 When it's really, really hot in Italy, enjoy a momentary escape by going up or going down.
Italian cities and towns are dotted with a number of tall structures – bell towers, turrets, medieval defensive walls, and the like. Go up the steps or better, take the lift to catch a bit of a breeze at the top. Plus, you get to enjoy some truly stunning views from your high vantage position.
Alternatively, head down. Italy's land is rich in underground treasures – excavated Roman ruins, tunnels and trenches left from the two World Wars, whole underground cities, and stunningly beautiful caves. The sun doesn't shine there so you are guaranteed a temporary respite from the heat.
My Personal Experience:
I love photographing Italy from above. So, I have been up and down many towers and high vantage spots around the country. If you are chasing not just pretty panoramic views but also a bit of a breeze, ideally make sure that the Italian tower you are about to pay to go up has a roof or is otherwise covered on top. The St. Mark's Campanile in Venice is a perfect case in point.
I also love exploring Italy's underground treasures – from natural caves to excavated ruins. In summer, it is so nice being down there. It's cool, refreshing, peaceful, and you get to learn so much.
Some of the most interesting underground places I've seen here are the Republican Temple in the Ancient Roman Capitolium in the city of Brescia, the Frasassi Caves in the Central Italian region of the Marche, and the war tunnels cut in the hills of Monte Grappa.
Plus, if you are in Veneto and have a car at your disposal, don't miss the Grotte di Oliero. This is a small cave that can only be reached via a short boat trip on an underground river. It's a truly refreshing experience on a scorchingly hot day!
Learn More:
6. Book Events at Night This Summer in Italy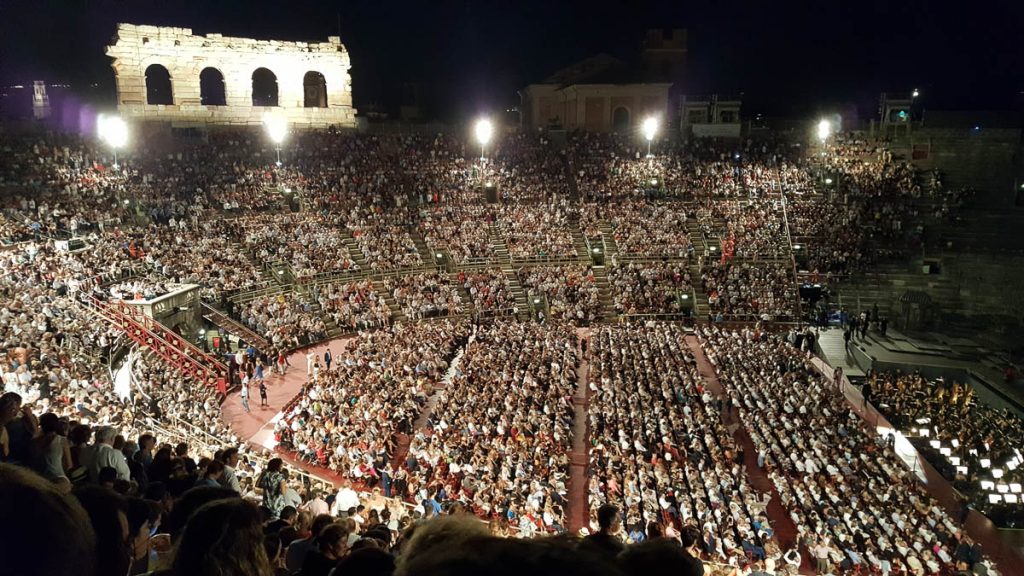 You will be surprised by the number of events that happen after dusk in Italy in summer. Guided tours of old towns, silent discos at historic piazzas, museums staying open until late, night hikes under the stars, and even kid-friendly educational visits to nature reserves. Add to this the hundreds of open-air theatrical shows, cinema nights, music concerts, and opera performances.
All these and many more fun and cool (on many different levels) events take place in Italy all throughout the hot months. No matter which corner of this beautiful country you are spending your summer holiday in, there is a long list of after-dark events and nighttime shows to choose from. Take your pick to truly make use of your time in Italy, hot weather or not!
To find out what's on during your stay here, ask at your accommodation, pop in the local tourist information office, and keep an eye out for posters around town. You may be surprised by the rich cultural, music, and naturalistic offering of after-dark events in Italy.
My Personal Experience:
I loved seeing first Turandot and then La Traviata under the stars at the Verona Opera Festival – the world's most spectacular opera event. Staged in the 2,000 years old Roman amphitheatre in the Northern Italian city of Verona, it is a great example of how life in Italy doesn't stop at sundown.
Read More:
7. Head to Italy's Beaches to Cool Off with a Nice Swim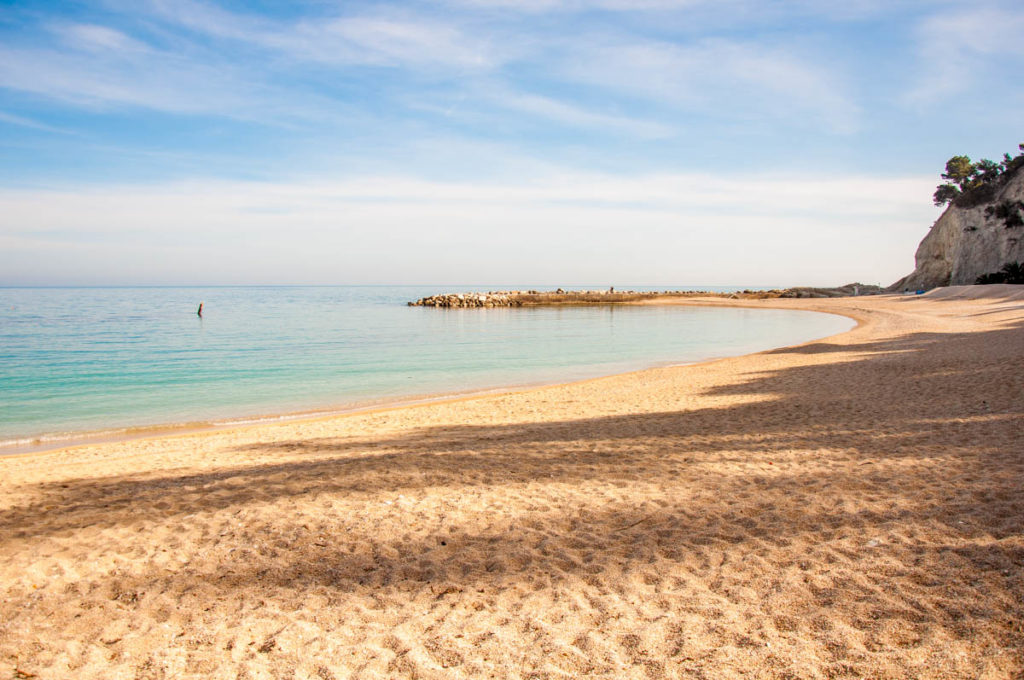 Of course, a visit to Italy is not all about art, culture, museums, and historic sights. 15 out of the 20 Italian regions have a coastline totalling 3.3 thousand kilometres of beaches. 416 of them have a Blue Flag.
Summer, obviously, is perfect to spend time on an Italian beach or two. Just take your pick from the Adriatic, the Ligurian, the Tyrrhenian, and the Ionian coastlines. Also, don't forget the beaches of Sicily and Sardinia bathed by the Mediterranean Sea.
So, on a hot day in Italy, spending time at the nearest beach is the logical thing to do. No matter which corner of the boot you are at, the choice is rich. You can head to private beaches with long lines of colourful umbrellas and sun loungers, free beaches with large playgrounds for the kids to run around, and even wild beaches where there is only you, the sea, and the sun.
Considering how hot it gets in Italy in summer, however, keep in mind the following precautions:
Take regular dips in the sea to keep cool.
Slather on the sun cream. Especially, if you don't get much exposure to the sun at home.
Ideally, try avoiding being on the beach during the hottest hours of the day. The sun can really burn you to a crisp. Instead, utilise the afternoon to relax by having a nice, little snooze or booking a massage at your hotel or the nearest spa.
My Personal Experience:
Beaches in Italy are fabulous. The largest ones go on for kilometres and have all sorts of facilities directly on the sand. Expect gelato kiosks, bars, restaurants, playgrounds, pedalo hire, facilities for water sports, and so much more.
My favourite beaches here span the Adriatic coast of Italy – from Lignano Sabbiadoro in the region of Friuli Venezia Giulia all the way down to Monte Conero in the region of the Marche.
If you are in the Northern Italian region of Veneto, give the Sottomarina beach a try. It's right next to the town of Chioggia at the southern end of the Venetian Lagoon. The sand of this beach is very rich in augite, quartz, silicates, and micaceous elements and as such is ideal for sand bathing treatments.
In addition, don't miss Italy's lake beaches. Lago di Garda is a case in point. This is Italy's largest lake and there are over a hundred small beaches on its shores. Pebbly or covered with grass, they are a great place to head to when the temperatures in Italy start hitting record highs.
Learn More:
8. Splash a Hot Day Away in Italy's Water Parks and Thermal Baths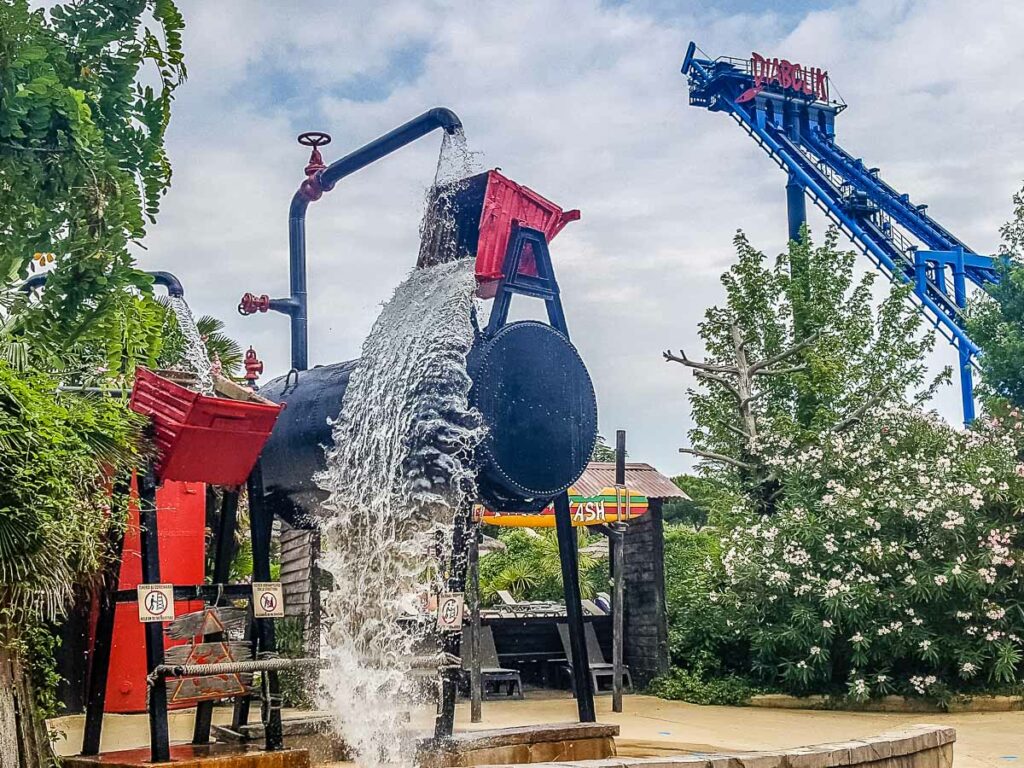 There is nothing like taking a refreshing dip in the water when Italy's hot sun is blazing high up in the sky. What to do, however, if you are nowhere near an Italian beach?
Thankfully, all over Italy, you will find amazing water parks. Make full use of them. They are fun places with all sorts of water-related activities. Slides, lazy rivers, large hot tubs with dozens of jets. On a hot day, you will not want to leave.
Here are some names to put on your Italian water park bucket list: Acquatica Park in Milan, Mirabeach near Ravenna, Aquafan in Riccione, Caribe Bay in Jesolo, Cavour Water Park and Caneva Aquapark at Lake Garda, Aquafollie in Caorle near Venice, AquaSplash Franciacorta in Colombaro, and AquaSplash in Lignano.
Some Italian water parks have historic swimming pools, too. For example, in Terme di Giunone – a water park in the Province of Verona – there are two pools with thermal water which have been used since Roman times. One is perfectly round and its bottom is covered with fine sand. The other is shaped like a half-circle and its bottom is covered with large stone slabs and small pebbles. Swimming in them is really cool as you imagine the ancient Romans relaxing in the water over two thousand years ago.
Thermal baths are also easy to find in Italy. The Italian land is rich in hot water springs which feed large swimming pools and all sorts of spa facilities for you to enjoy. In general, Italian towns with the word Terme in their name are the places to head to if you want to relax in thermal waters. Some of the most famous Italian spa towns are: Abano Terme, Montegrotto Terme, Gambassi Terme, Cianchiano Terme, Galzignano Terme, and Montecatini Terme.
Of course, there are several spa towns and thermal baths in Italy without a Terme in their names. For example, Sirmione on Lake Garda, Bibione on the Adriatic Sea, and Taormina in Sicily. Not forgetting the most famous free spa in the world – Cascate del Mulino (Saturnia) in Tuscany.
Do give Aquardens near Verona a try, too. It's paid for but being Italy's largest thermal water park, it's worth every eurocent.
My Personal Experience:
I love water parks and have ticked off my list many of the best ones in Italy. On a hot summer day, there is nothing better than packing a bag with towels and a book and heading to the nearest one. We were lucky, as there were quite a few water parks in and around the city of Vicenza where we lived.
Depending on the size of the water park there are different types of slides and a varying number of swimming pools – from large to small and suitable for different age groups. The largest water parks also offer great entertainment options – from disco nights to all sorts of thematic events.
Learn More:
9. When It's Hot in Italy, Follow the Italians to Their Favourite Wild Swimming Spot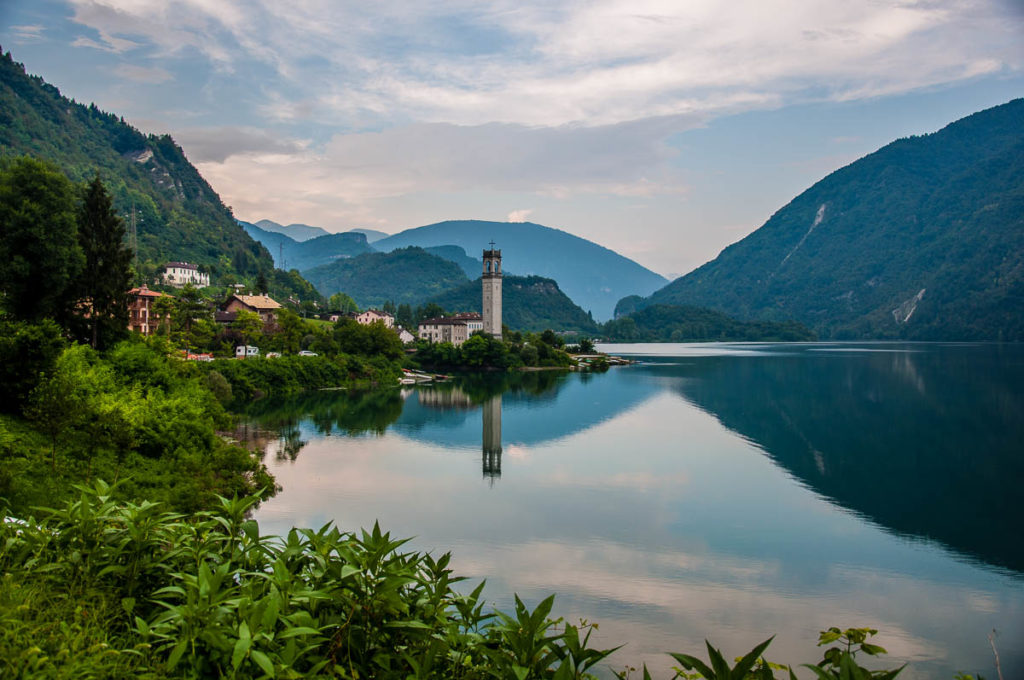 Seas, lakes, and water parks are not the only places where you can go for a cooling swim during the hot months in Italy.
In a country so generously dotted with stunning lagoons, ponds, rivers, thermal springs, and waterfalls, water is literally everywhere here. Hence, the Italians have taken to wild swimming as the proverbial duck takes to water.
There are many splendid wild swimming spots in Italy. You can see some of the very best ones in these two round-ups published by The Guardian and Conde Nast Traveller.
The thing you need to be aware of is that often you will need a car to reach these spots as they tend to be in secluded areas far from the main tourist destinations. Also, the water can be freezing cold. This is not necessarily a bad thing considering that you may need to counteract temperatures that are veering close to 40 degrees Celsius.
Lastly, something very important! Sometimes access to a particular body of water is either entirely or temporarily forbidden due to serious factors like an unsafe environment or an epidemiological outbreak. So, due diligence is needed when deciding first, if wild swimming is for you and second, where to practice it safely.
If you decide to give wild swimming a try during your summer holiday in Italy (and have found a safe place to do it), then it's advisable to pack a pair of water shoes. There is nothing worse than stepping barefoot on jagged stones or pebbles. So, choose comfort where possible!
Avoid taking unnecessary risks and bring enough food and water for the day. Also, be aware that wild camping is not legal in Italy. So, you can't pitch a tent and spend the night in the vicinity of a wild swimming spot.
My Personal Experience:
My favourite wild swimming spot in Italy is Contrà Pria in the Northern Italian region of Veneto. To be completely honest here (as always!), I am not a big fan of wild swimming in general. I am quite an anxious person and have certain phobias. Yet, the few times that we went to Contrà Pria, I had a nice and relaxing time.
10. To Escape the Heat in Italy, Head to the Hills and Mountains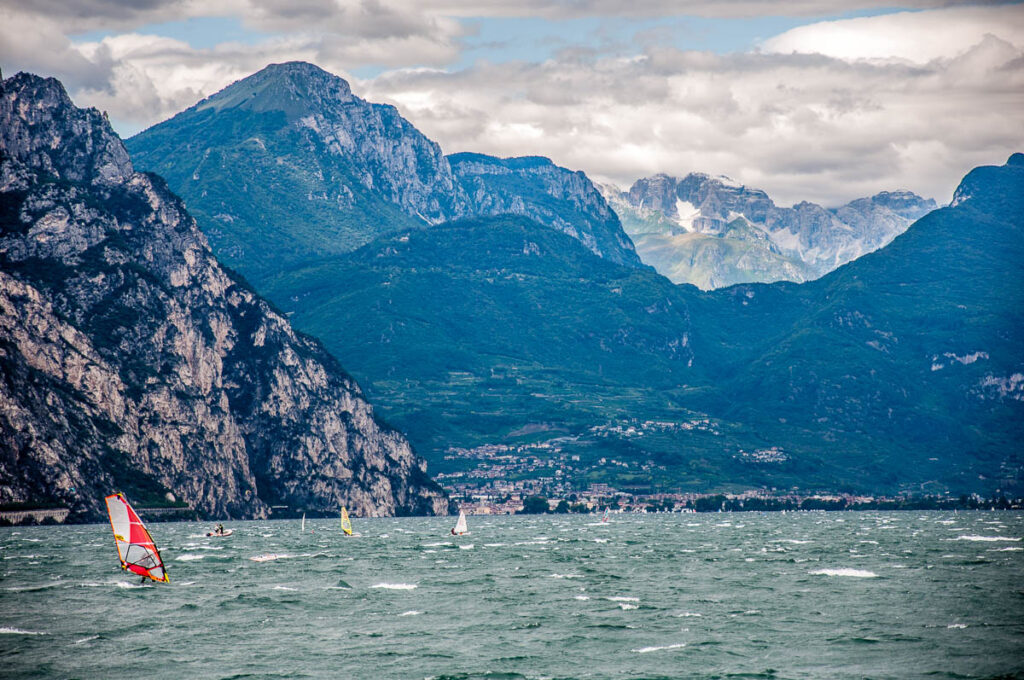 Almost 40% of the territory of Italy is mountainous. So, you are never far away from a nice Italian hill or mountain. They are the best places to escape to when the temperatures are scorching in the Italian cities and towns. Expect centuries-old forests, a refreshing breeze, clean air, and even rivers and lakes in some of which you can swim.
Natural beauty spots, national parks, protected areas, and places of historic interest await you in the hills and mountains of Italy. Make sure that you explore them during your Italian summer holiday. They are so much better than being stuck in a hellishly hot city with millions of other tourists.
So, leave the hot and humid plains behind you and head to the hills and mountains of Italy this summer. Dotted with little villages, independent dairy farms, waterfalls, and even art parks, there are so many things you can do and enjoy here – from hiking to rafting and hand-gliding.
Even if you have already booked your stay in an Italian city and you can't simply pack your bags and head to the cooler mountains, there are still options to escape the urban heat. Albeit for a day!
For example, near Venice and Padua, you can go hiking in the beautiful Euganean Hills – a hilly group of volcanic origin. Or you can head straight to the Dolomites. In Milan, you can take the train to Varenna on Lake Como and then follow one of the many hiking trails in the area.
If you are in Verona, then you can head to Monte Baldo or the Lessinia Hills. The former shoulders the eastern shore of Lake Garda and it's known as the Garden of Europe on account of its botanic richness. The latter is a hilly group with ancient pastures and mysterious sights like the Covolo di Camposilvano. This is a karst sinkhole that, they say, inspired Dante himself for his description of hell in The Divine Comedy.
My Personal Experience:
I was very much a city person through and through until we moved to Italy. Living within an arm's reach of the Berici Hills, the Euganean Hills, the Asiago Plateau, the Venetian Prealps, and the Dolomites gave me just the impetus that I needed to discover the beauty of the Italian hill groups and mountains.
In summer, we escaped to the hills and mountains of Veneto searching for respite from the scorching temperatures in the city. In the bosom of lush forests, it felt so nice and refreshing. I discovered my love for hiking and far-reaching panoramic views.
If you are planning a visit to Italy in summer, definitely consider spending it close to the mountains. Even if you would rather enjoy a city base here, make sure that you put a day aside to explore the nearest hills. There are so many options no matter your level of ability. Take full advantage!
Learn More:
Hiking in Italy – a dedicated category on my blog with lots of blog posts about easy hikes to do in the hills and mountains of Italy.
11. On a Hot Day in Italy Chill in the Gardens and Parks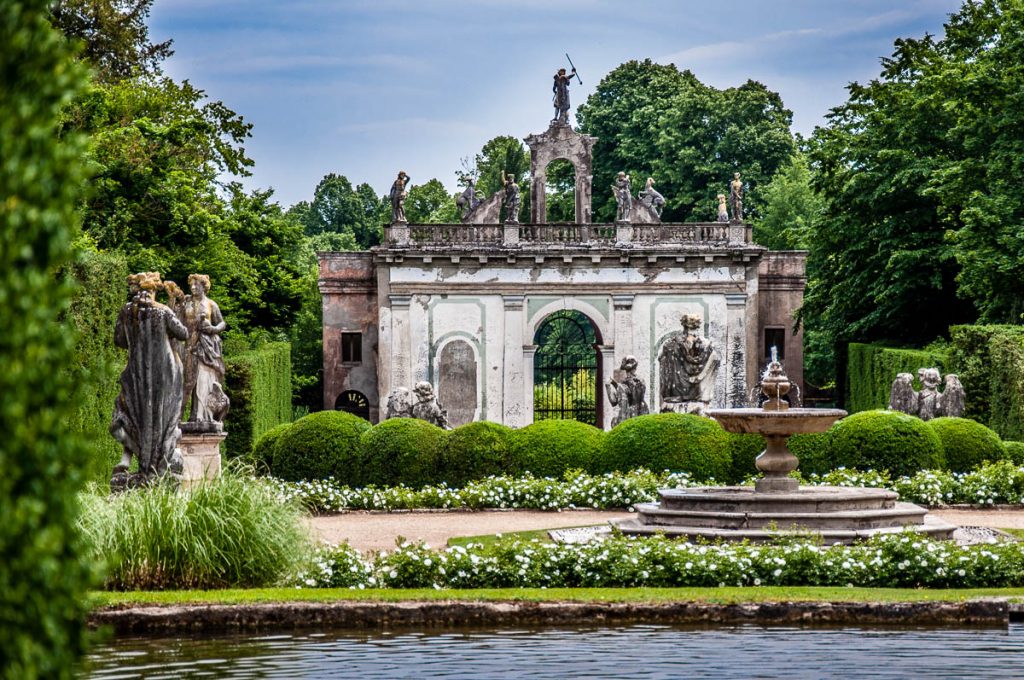 What to do if you are in Italy, it's scorching, and you can't make it to the mountains?! Perhaps you don't have a car at your disposal. Or it could be that you are here just for a short break that has been meticulously planned to include a maximum amount of sights and you simply can't bear to miss all those amazing museums for a day in the woods. Yet, the heat is truly intolerable!
Here is an easy solution! Take some time off to chill in Italy's gardens and parks instead.
There is a green place in every Italian city where you can relax in the shadow for a little bit, eat a gelato or two, and restore your will to keep sightseeing.
Often visiting a garden or a park in Italy is a great form of sightseeing, too. The country is famous for its historic formal gardens. The Italian Renaissance gardens have inspired many gardening experts and fans both in Europe and beyond. Plus, nowadays, Italy regularly wins accolades for its green spaces in many international garden awards.
Parco Giardino Sigurtà is a case in point. Throughout the years, it has been awarded many trophies on account of its tulip displays, green maze, and botanical richness. In 2013, it was officially proclaimed the most beautiful park in Italy.
Giardino Giusti is another great example. This stunning Renaissance garden in Verona has been attracting admirers for centuries.
In the city of Padua, on the other hand, you will find the oldest academic botanical garden in the world. A UNESCO World Heritage Site, it has over 7,000 botanical species, a beautiful historic layout, and a stunning modern greenhouse.
If you are into gardening history, then don't miss the Botanical Garden of the University of Pisa in Tuscany. It claims that it's even older than the one in Padua. Yet, as its location changed at some point throughout the centuries, Padua takes top trumps.
My Personal Experience:
I love landscaped gardens and parks, so I made sure to visit as many as possible during my time in Italy.
I am particularly happy to have ticked off four of Italy's officially most beautiful parks. Coincidentally, all four are in the Northern Italian region of Veneto. So, it's relatively easy to see them all during the same Italian holiday.
They are: Valsanzibio Historic Garden, Park of Villa Nazionale Pisani, Parco Giardino Sigurtà, and Park of Villa Revedin Bolasco. You can read about my visits to them in this blog post.
Learn More:
12. Walk Under the Porticoes To Escape the Sun's Glare in Summer in Italy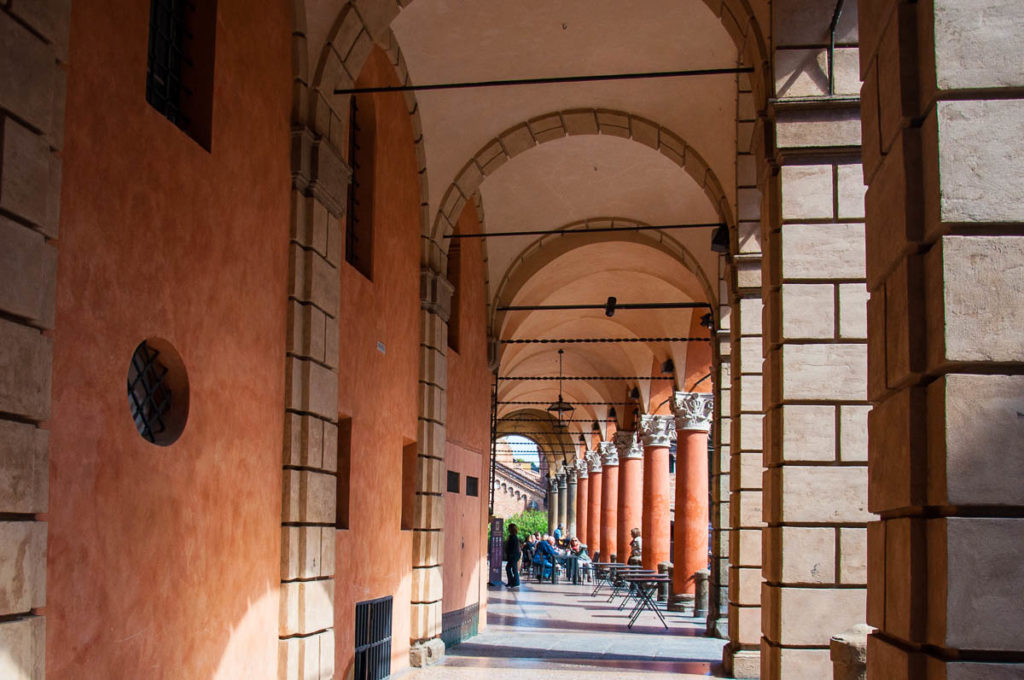 Porticoes are one of the best architectural elements of an Italian historic centre.
They are like tunnels that flank partially or fully many main streets in Italy. The ground floor wall of the buildings encloses the portico on one side. The street-side of the portico consists of a long series of columns. The protruding top floor of the buildings provides the portico's ceiling.
Even on the hottest of days, a portico is a nice and cool environment. You can walk around town in the shadow of the porticoes, thus avoiding the blinding glare of the blazingly hot sun.
The tradition of building porticoes in the Italian cities and towns is ancient. During your explorations of Italy, you will notice porticoes of many different eras and styles: Romanesque, Gothic, Renaissance, and Neoclassical. Even many modern-day ones.
Bologna, Padua, and Turin are the three cities in Italy and coincidentally the world with the longest total length of porticoes. They say that Bologna has 38 km of porticoes, Padua – 25 km, and Turin – 18 km.
My Personal Experience:
I love Italy's porticoes. My eyes are very sensitive to sun glare and yet, I don't really like wearing sunglasses. So, being able to walk around town in the pleasant shade of the porticoes is amazing. I can see where I am going without being blinded by the sun. Plus, it always feels so much cooler in the shelter of the porticoes. Especially, on a scorching summer day!
Porticoes also add something magical and mysterious to the Italian streets. They emphasise their historic character and add visual interest to photos, too.
13. When It's Hot in Italy, Cool Off with a Cold Italian Drink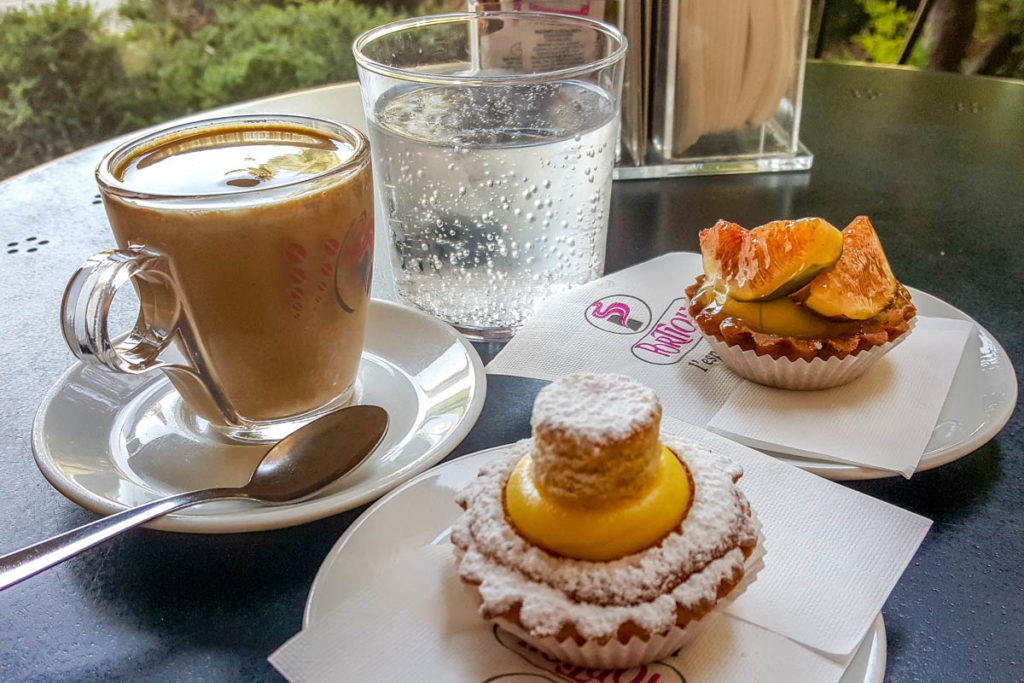 Keeping cool is paramount on a scorching hot summer day. As luck would have it, Italy has a long list of cold drinks to pick from. As an added bonus, they appeal to many different tastes and are all delicious. Here are some of the most popular ones:
Granita – Sicilian in origin, nowadays, you will find granita sold all over Italy. This is a slushie made of water, sugar, and various flavourings. Mint and lemon are the most popular ones. Having a granita on a hot day is like dipping your feet in cold, cold water. It gives you instant relief from the heat.
Cold coffee-based Italian drinks – for a cold shot of caffeine to make you feel perky and energetic again. Choose from:
Caffè Shakerato – this is a very elegant drink which is customarily served in a tall glass. It is made by pouring a long shot of strong espresso over ice. They are then energetically shaken together in a metal shaker, just like a cocktail. When you order it, you will be asked if you want it with sugar (hence 'sweet' – in Italian dolce or zuccherato) or not (hence 'bitter' – in Italian amaro).
Affogato al Caffè (also called Caffè Affogato) – this cold coffee-based drink combines two of Italy's main pleasures – espresso and gelato! Its name means literally 'drowned coffee'. This is so because it is prepared by placing a scoop of (traditionally, vanilla) gelato in a glass and then pouring on top of it a shot of freshly made espresso.
Crema al Caffè – this is like a slush puppy for grown-ups. Basically, it is a frozen cream and coffee mixture which is slushed by a machine. It's my all-time favourite drink on a hot day in Itay!
Italian Fizzy Drinks – I usually don't drink fizzy drinks often as they are too sweet. Fizzy drinks in Italy are the exception to the rule as they have very refreshing flavours, come in small size bottles, and some are quite bitter to taste (which I find super refreshing on a hot day). Here are a few of my favourites. If you click on the links, you can see what they look like on Amazon and even buy them if they are available in your country:
Chinotto – with the bitter taste of the fruit of the myrtle-leaved orange tree or chinotto in Italian.
Aranciata – a classic fizzy orangeade.
Lemonsoda – a super refreshing lemon-flavoured fizzy drink.
Cedrata – a sparkling drink with the cool taste of citron.
In the evening you can partake in the Italian tradition of aperitivo and enjoy a chilled bright orange drink to cool you off after a hot day of sightseeing. Traditionally there are two versions: Campari which is bitter and Aperol which is slightly less bitter.
You can have them mixed with soda water or served as a Spritz (a mix of sparkling wine, soda and either Campari or Aperol).
If you want a non-alcoholic aperitivo drink, opt for either Sanbittèr or Crodino. These are fizzy drinks sold in tiny glass bottles. They are quite bitter but so very refreshing. You can mix them with fizzy water and/or have them with a slice of citrus fruit.
Finally, in the name of keeping cool, you can also order a glass of Prosecco. This delicious sparkling wine is traditionally served chilled.
My Personal Experience:
My favourite Italian cold coffee-based drink is crema al caffè. I can't get enough of its creamy texture in summer.
Chinotto is my favourite Italian fizzy drink. However, be warned! People either love it or hate it from the very first sip. So, give it a try and decide for yourself.
Learn More:
14. Keep Hydrated by Topping Up Your Water Bottle from Italy's Free Drinking Fountains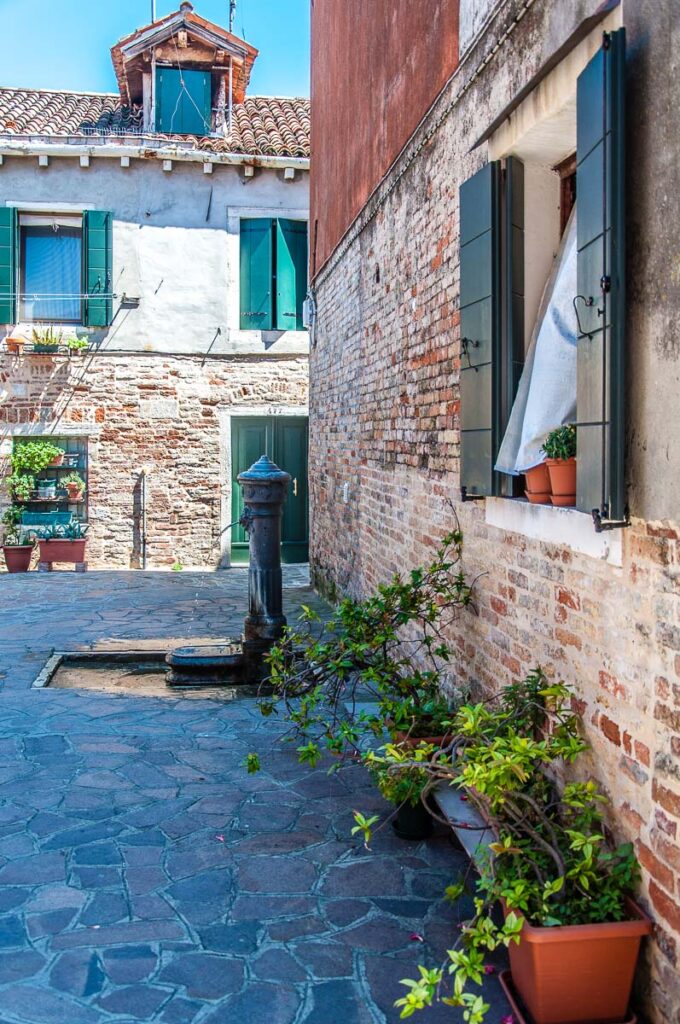 When out and about in the sun in Italy always carry a reusable water bottle with you.
Many Italian cities and towns are dotted with drinking fountains. Free to use, you can top up your water bottle and even fill your dog's portable water bowl.
Water can cost quite a lot in Italian cafes and bars. Especially in places with a dense tourist flow. So, the free drinking fountains help you keep hydrated, save you money, and minimise the need for single-use plastic bottles.
Win-win-win!
My Personal Experience:
I love the drinking fountains that are dotted all over Venice. The city can be a furnace in summer, so having access to cold water no matter where you are in town comes in very handy.
You can find a map of all drinking fountains in Venice at this dedicated website.
15. Eat Light This Summer in Italy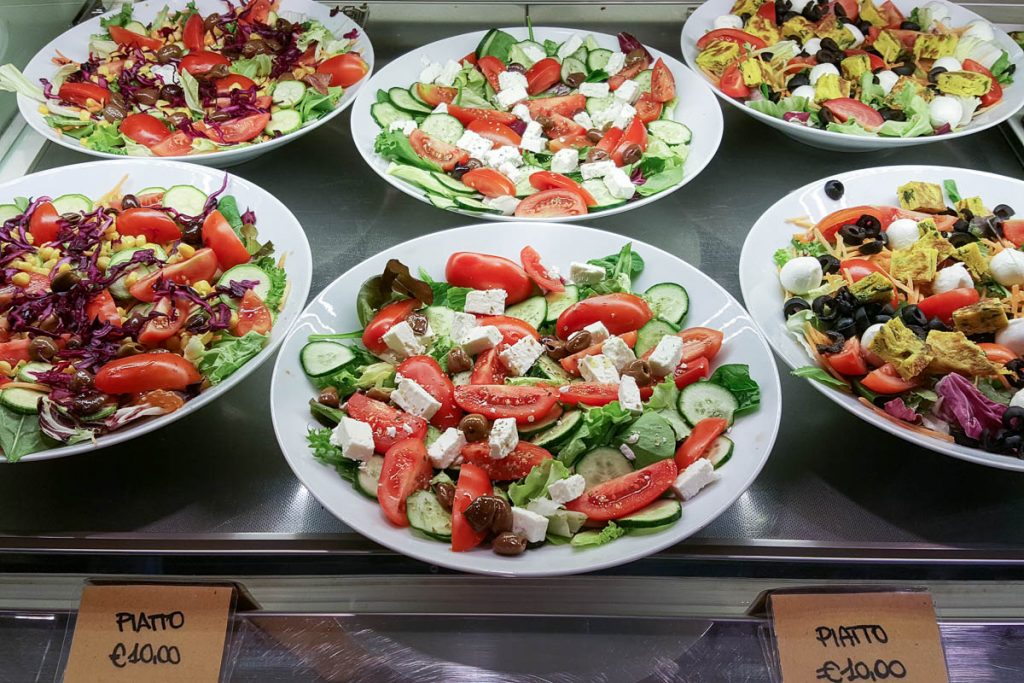 Freshly prepared with seasonal and local products, Italian food is especially tasty and flavoursome in summer.
On a blazingly hot day, you will want to keep your energy up yet avoid the so-called food coma after a heavy meal. Luckily, restaurants and eateries in Italy offer many light options. So delicious, too!
Opt for large salads or insalatone in Italian. Order lightly grilled vegetables. Choose cheeses like burrata and mozzarella. Indulge in fresh seafood. Snack on bruschette topped with fresh tomatoes and basil. Round off the meal with seasonal fruit like watermelons, melons, peaches, and grapes.
You will soon discover, too that in principle, Italian portions are significantly smaller than English and American ones. The lack of food excess also helps to keep you energetic in the heat.
For dessert chill with a semifreddo – an Italian frozen dessert made of yolks, sugar and cream. Even better! Develop a gelato ritual and have at least one delicious cone or cup each day that you are in Italy.
My Personal Experience:
Insalata di riso is a summer staple in Italy. This, basically, is chilled boiled rice mixed with chopped vegetables (grilled and/or pickled) and pieces of tuna (optional). Sometimes hardboiled eggs are added, too.
This rice salad is very easy to prepare. Very tasty, too. I have it often during the hot months in Italy. Juicy watermelons and melons are my favourite summer fruits. As for gelato… I never say no to a small cup!
16. This Summer in Italy Follow the Italian Dress Code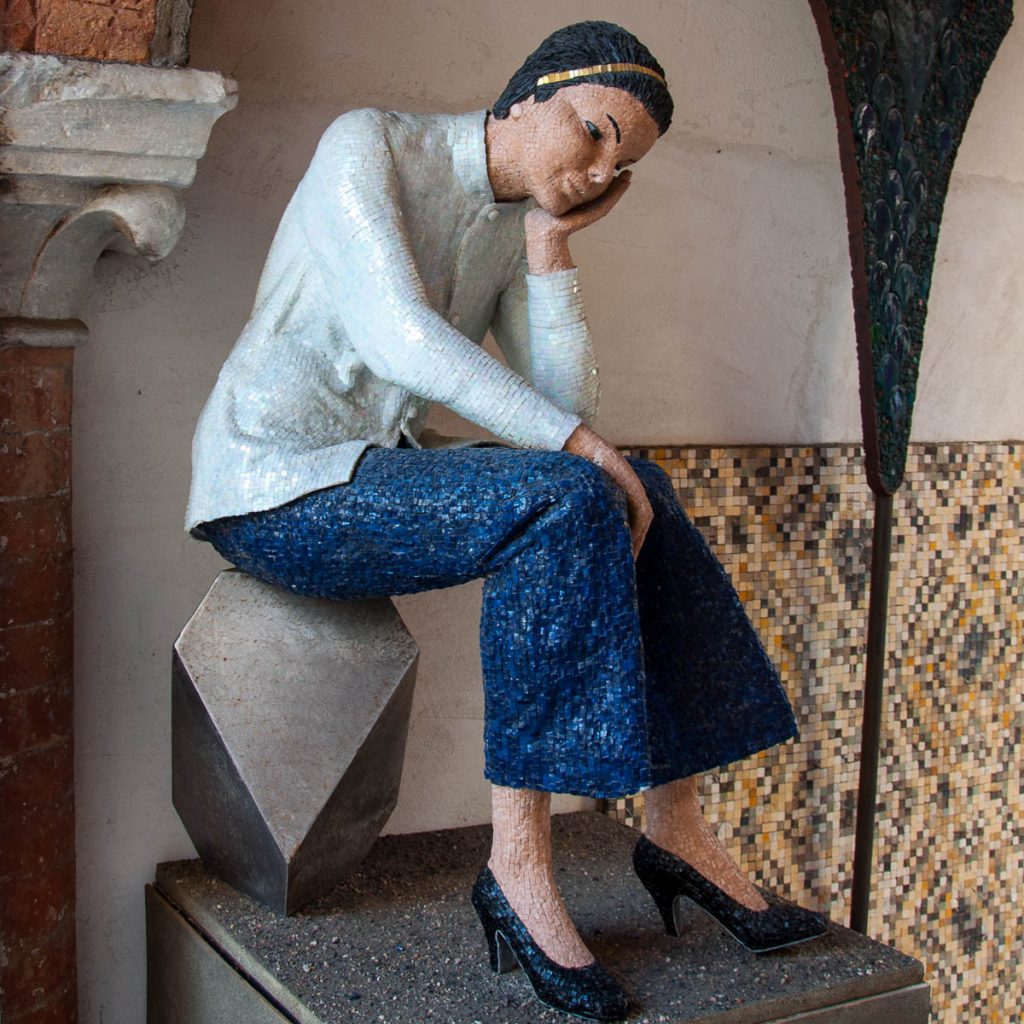 Take a leaf off the Italian style book and dress accordingly for the extremely hot and stuffy weather.
Opt for natural fabrics and cuts that give your body a chance to breathe. Avoid showing too much skin. It may get you kicked out of a church or two. Plus, excessive sun exposure is no fun.
Wear a hat and sunglasses. As well as nice summer shoes that support and cushion your feet. With all the walking and sightseeing you will be doing, it really pays to bring at least two good pairs that let your feet breathe and prevent sweating.
Flip-flops can be super uncomfortable on historic cobbled pavements which are typical for Italy. Keep them for the swimming pool or the spa.
Don't get scandalised when you see Italian men wearing tiny skin-tight speedos on the beach. It's part of Italy's beach culture!
My Personal Experience:
Italians dress so very stylishly. The concept of bella figura – or the art of cultivating a fine appearance – is something ingrained in them from a very young age.
I love watching the old Italian ladies going on about their day. From the perfectly applied lipstick and nicely-coiffed hair to the polished shoes with a sensible yet elegant low heel, it's a lesson in style every time.
In Conclusion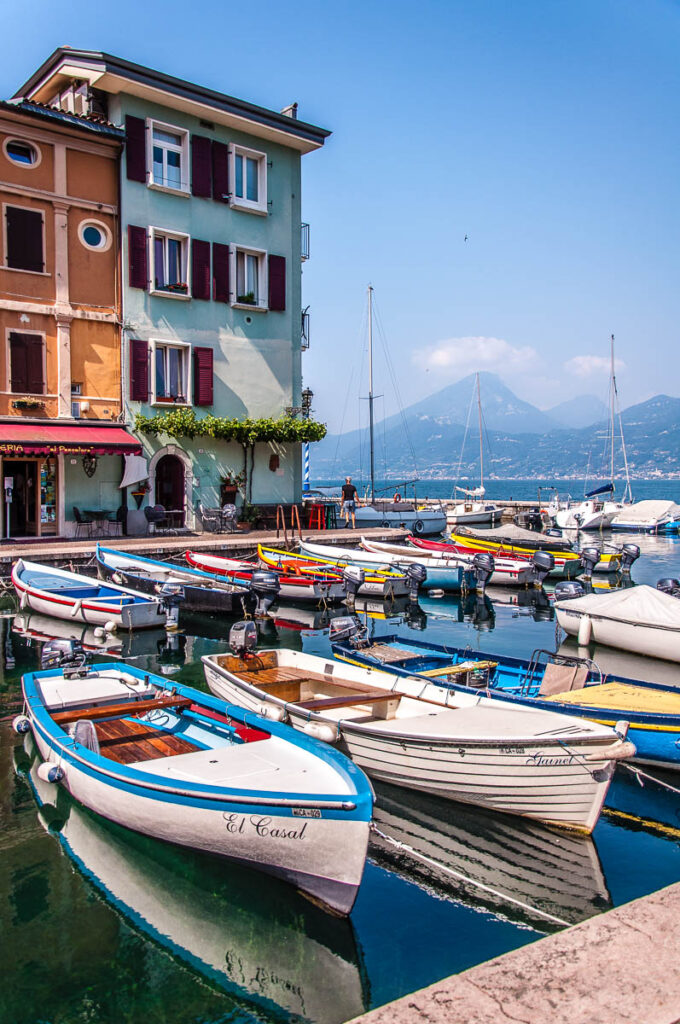 Summers in Italy can be incredibly hot and stuffy. Yet, there are many ways to keep fresh during your Italian holiday no matter what the thermometer is showing.
From splashing in large water parks to actively seeking shade in historic porticoes, award-winning gardens, and centuries-old forests, Italy is cooler than you think even in the middle of a scorching summer.
So, in this blog post today I shared with you 16 ways to beat the heat in Italy.
First hand tried and tested over many hot Italian summers, I hope that they will come in very handy when you holiday in Italy.
Have a cool summer!
Now, get ready quick for your visit to Italy in summer!

More Helpful Italy Info for You
Best of Italy: Italy Gift Guide, Italian Piazzas, Italian Markets, Accommodation for Every Budget, Best Times to Visit Italy, Italy in Summer, Italy with Kids
Italian Food: Best Italian Food Gifts, Cheap Italian Food, Rules of Italian Breakfast, Italian Breakfast Foods
Italian Coffee: Italian Coffee Culture, Italian Coffee Drinks, History of Coffee in Italy
Christmas in Italy: Fun Facts, Things to Do, Italian Nativity Scenes, Panettone, Christmas Guide
Northern Italy: Best Cities to Visit, Major Airports, Reasons to Visit
Lake Garda: Best Towns, Theme Parks, Lake Garda Map, Nearest Airports, Travel Options, Lake Garda with Kids, Malcesine, Riva del Garda, Torri del Benaco, Desenzano del Garda
Lake Como: Things to See, Nesso
Venice: Essential Tips, Major Landmarks, Hidden Gems, How to Navigate Venice, Venice in a Day for Art Lovers, Train Stations, Nearest Airports, Best Tours, Beaches of Venice, Quotes about Venice, Boats in Venice, Haunted Venice, Day Trips from Venice, Venice to Lake Garda, Venice to Padua, Arco del Paradiso
Verona: Things to Do in One Day, Verona Opera Festival, Day Trips from Verona, Romeo and Juliet Itinerary
Padua: Things to Do in One Day, 101 Facts About Padua, 10 Reasons to Visit Padua, Day Trips from Padua
Vicenza: Things to Do, Day Trips from Vicenza, Best Museums
Veneto: Top Places to Visit, Unique Adventures, Most Colourful Places, Mysterious Places, Most Beautiful Lakes, Reasons to Visit
Lombardy: Best Cities and Towns, Reasons to Visit, Brescia
Friuli Venezia Giulia: Venzone, Most Beautiful Villages
Emilia Romagna: Bologna, Ravenna, Comacchio, Most Beautiful Villages
Marche: Reasons to Visit, Gradara, Frasassi Caves, Temple of Valadier
Thank you for reading! Please, leave me a comment, pin the images or use the buttons right at the top and at the end of this blog post to share it on social media.
For more useful information like this, please, like my blog's page on Facebook and subscribe to my strictly no-spam newsletter.
Pin This Blog Post!