The food of Lago di Garda – Italy's largest lake – reflects the culinary traditions and delights of three northern Italian regions.
A visit to this beautiful corner of the fertile Italian land won't be complete without sampling the best foodstuffs, dishes, and wines that Lake Garda has to offer.
From fresh lake fish to juicy peaches and kiwis, from creamy and grilled polenta to more-ish risottos, and from prized truffles to sugared chestnuts, you will be spoiled for choice. Especially, if eating good, honest, local food makes up for a great part of the enjoyment you derive from travelling.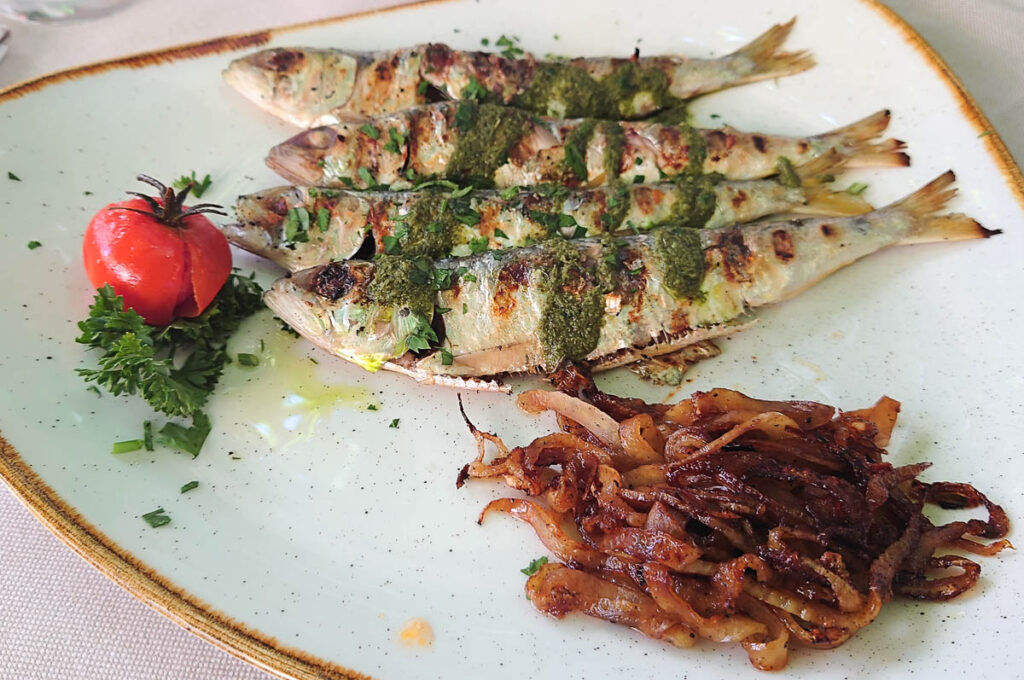 So, in this blog post today, I want to share with you a useful overview of the food to enjoy at Lake Garda. It's all based on my personal travels, research, and experiences around Italy's largest lake.
I will start with an introduction to the culinary particularities of Lago di Garda. This is followed by a shortlist of the typical for the lake foodstuffs. Next, it's a list of traditional local dishes, a few words about eating pizza and pasta here, and some of the best local cheeses to try.
Then, you have a list of pastries and desserts and a few words about gelato and granita. Finally, you will find an overview of coffee and wines to try at Lake Garda.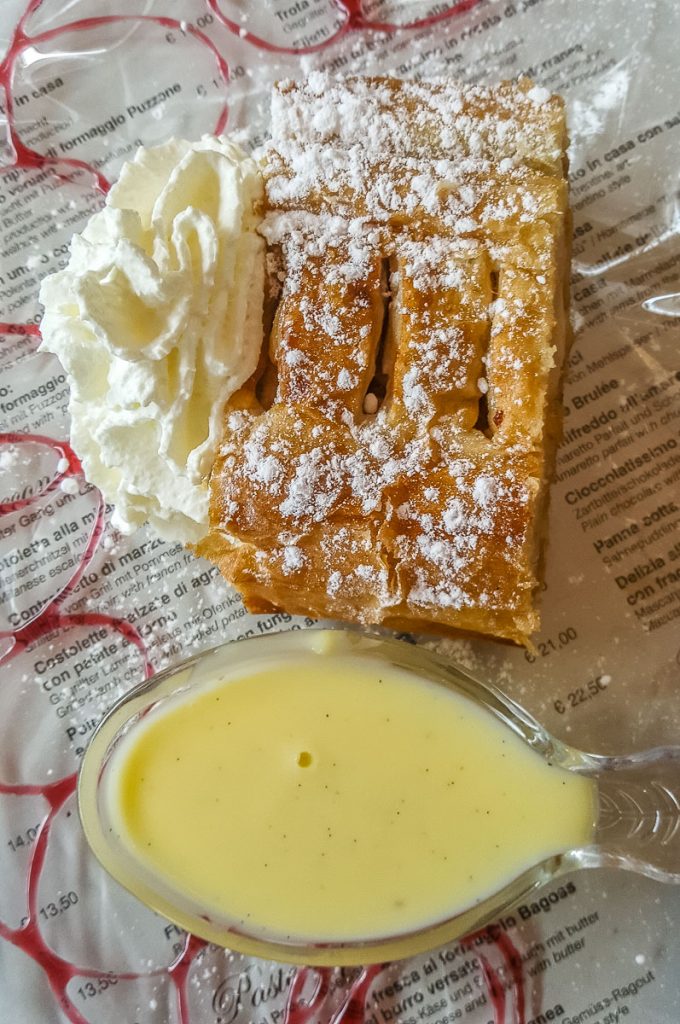 All this is coupled with lots of practical tips about eating around the lake. You will see my recommendations about eating out here right at the end. Photos showing you the beauty of Lake Garda and its food are inserted all the way throughout.
I hope that all this first-hand tried and tested information will come in handy during your visit to the lakefront towns here. And that you will enjoy sampling new foods and new dishes at Lake Garda for the most authentic Italian travel experience.
Have a look!
What Defines the Cuisine of Lake Garda?
Pin for Later!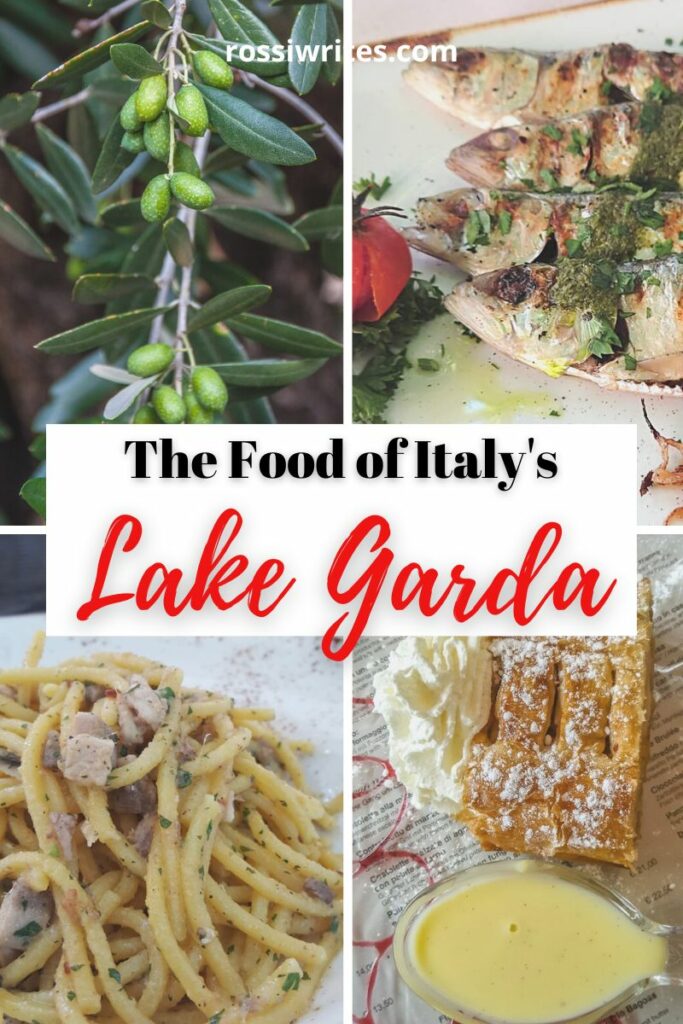 Protected by rugged mountains to the north and rolling hills to the south, Lago di Garda enjoys a mild Mediterranean-style microclimate. This is a fertile land where vineyards, olive groves, and peach orchards carpet the slopes and plains around the lake.
More surprisingly, centuries-old citrus gardens still provide rich pickings of lemons and oranges. They were first established by the Franciscan friars in the 14th century. Then, for hundreds of years, Lake Garda was the northernmost place in Europe where citrus fruit was grown for commercial purposes.
Add to this the local chestnut forests, the truffle-rich slopes of Monte Baldo, the lake waters teeming with fish, and the locally reared meats and you have all the main ingredients for the cuisine of Lake Garda.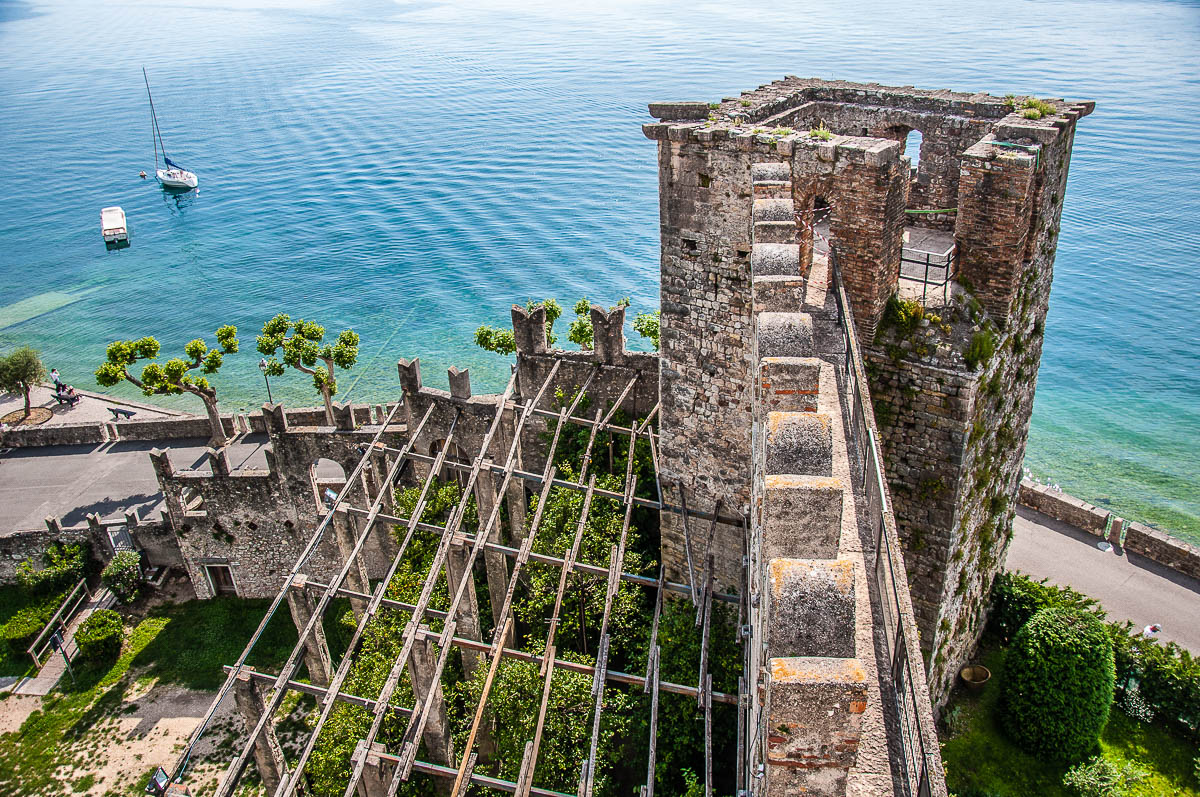 What makes the palette of local dishes incredibly varied, however, is that the lake is territorially split between three northern Italian regions – Veneto, Lombardy, and Trentino-Alto Adige. Each one of them has its own flavours, typical ingredients, and cultural influences.
Trentino-Alto Adige, for example, was part of the Austro-Hungarian Empire until 1919. Visit the northernmost lakefront town of Riva del Garda and you will see how strong is the Tyrolean influence on the pastries and desserts sold in the local patisseries. Strudel, sachertorte, and krapfen doughnuts are everywhere here.
With short travel times between the many different lakefront towns, you can easily hop around Lake Garda and explore the local culinary offerings of its many restaurants. You can have breakfast in Desenzano del Garda in Lombardy, lunch in Lazise or Malcesine in Veneto, and dinner in Riva del Garda in Trentino-Alto Adige. Just imagine the huge variety of local dishes you can sample here.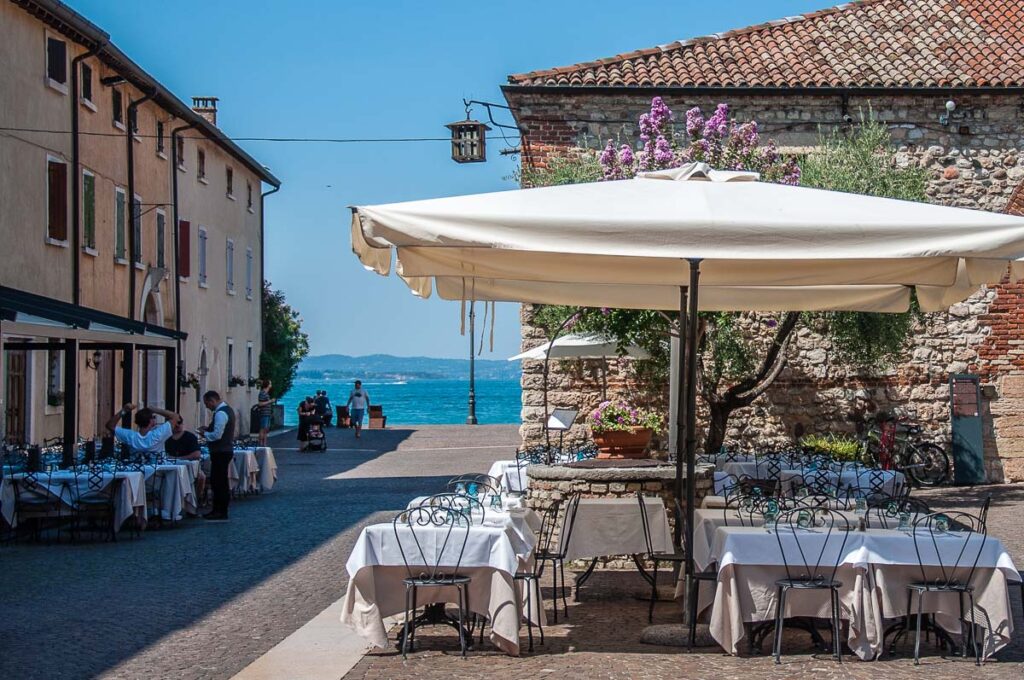 The lake is a great introduction to the regional nuances of Italian cuisine. Plus, it's also a great place to tuck into beloved Italian staples such as pizza and pasta dishes. Everything is prepared with locally-grown fruit and vegetables and enjoyed with many worldwide famous yet locally produced white, red, rose, and sparkling wines.
All this makes Lago di Garda a truly irresistible destination. Do you feel like heading there now? If so, have a look below at the helpful lists of foods and dishes you simply have to try during your time at Italy's largest lake.
19 Foods, Dishes, and Wines You Need to Try at Lago di Garda – Italy's Largest Lake
Pin for Later!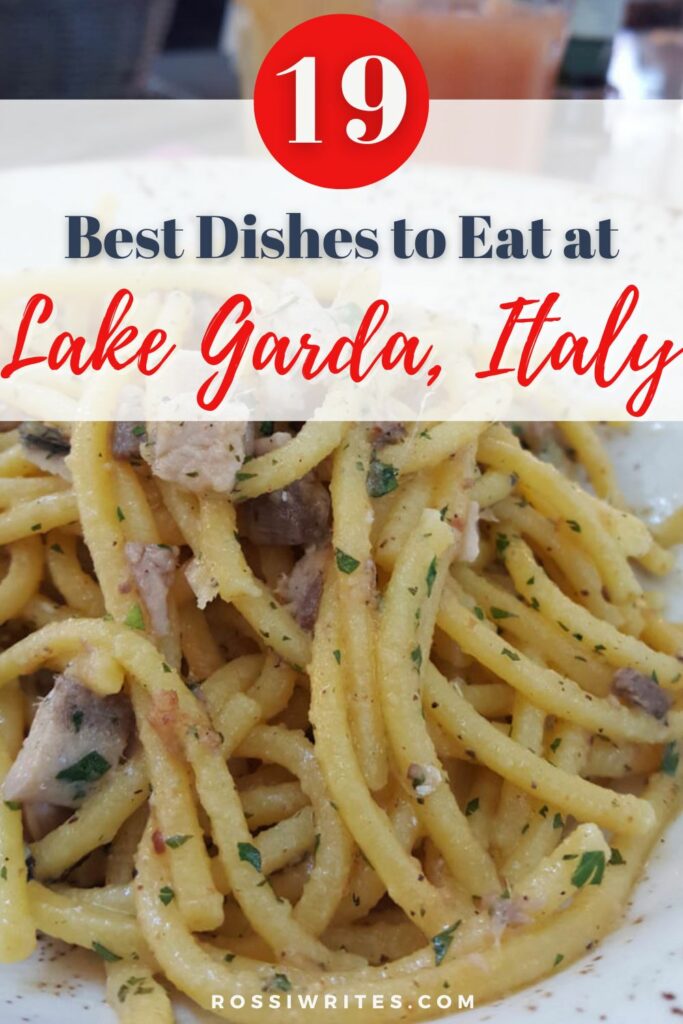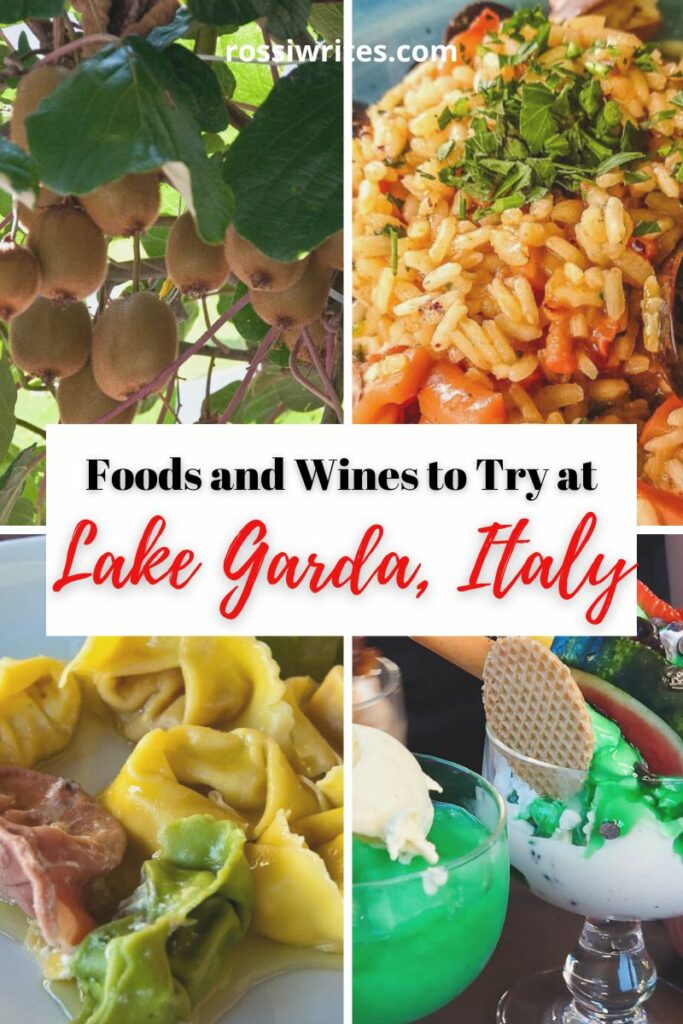 First, let's have a look at some of the most typical foodstuffs you can enjoy around Lake Garda. They are:
1. Garda DOP Extra Virgin Olive Oil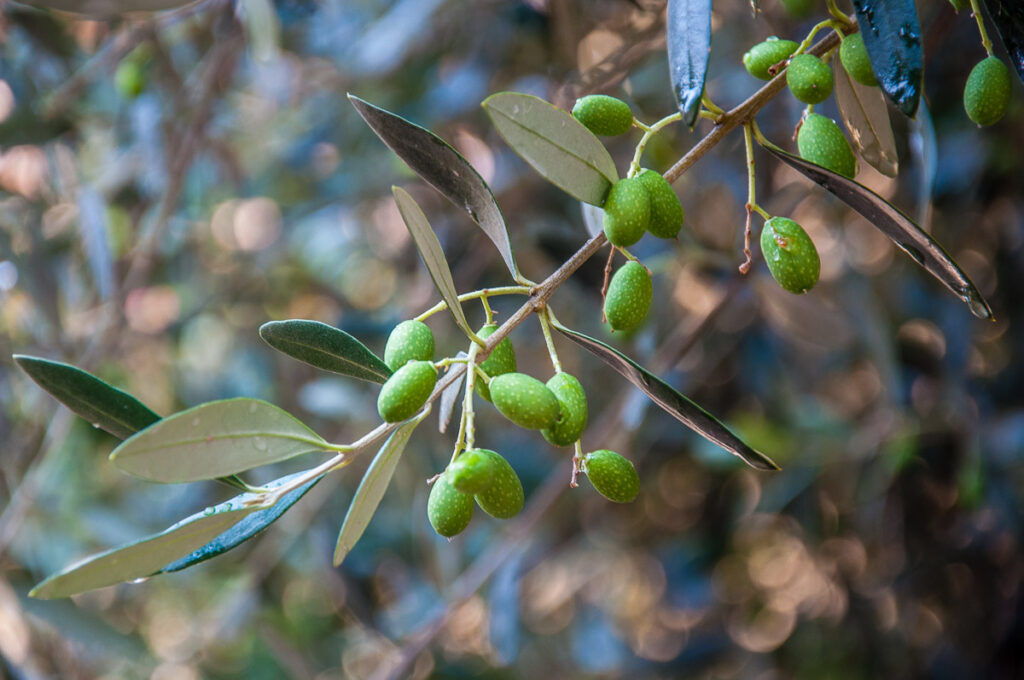 Lake Garda's microclimate has favoured the cultivation of olive trees since ancient times. Nowadays, this is the northernmost corner of the world where olive oil – or green gold as it is called locally – is produced.
The olive oils of Lake Garda are of extremely high quality. They have a wide palette of notes with aromatic herbs and hay standing out. Typically, the local olive oils have an almond aftertaste.
Around the lake, there are three olive-oil-producing zones with a DOP (in English, Protected Designation of Origin) status. A lashing of Garda DOP olive oil transforms any meal into a feast for the senses. It's especially delicious and fragrant splashed on freshly grilled lake fish.
There are many places at Lake Garda where you can learn more about the local olive oils and the traditions behind the cultivation of olive groves in the area. Here are a couple:
In addition, many local hiking paths cross centuries-old terraced olive groves. A good one to follow is the path leading up to the medieval village of Campo di Brenzone. Find out how to hike it:
2. Fresh Fish from Lake Garda and the Mountain Streams Around It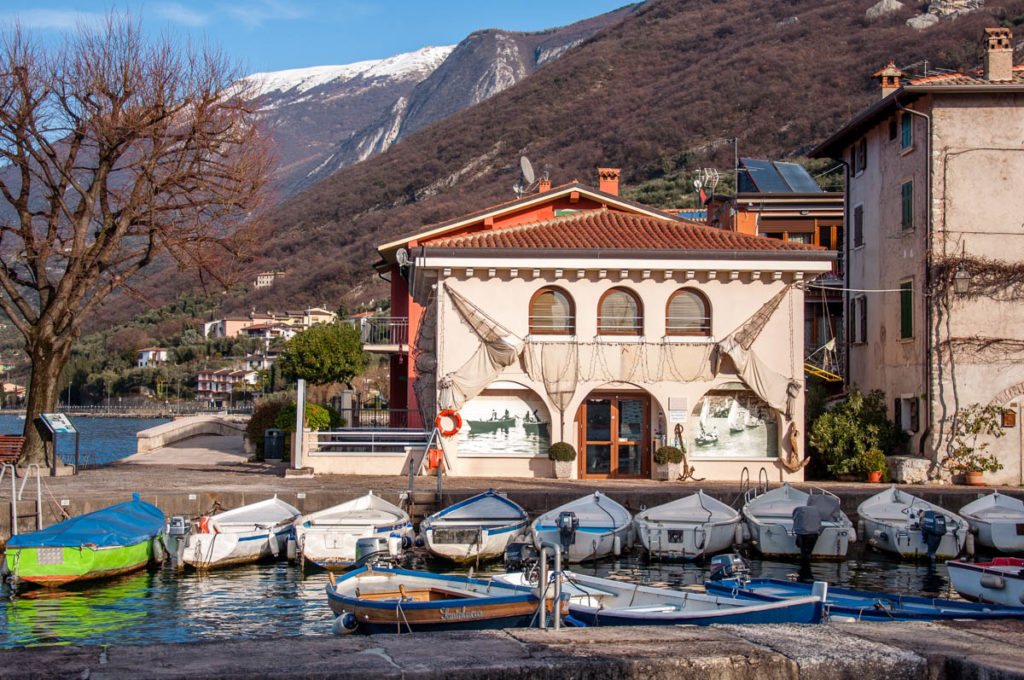 The waters here team with over 25 types of fish – from perch (persico) and pike (luccio) to sardines (sarde), char (salmerino), whitefish (lavarello), and tench (tinca). It's also here that you can taste the highly prized carpione – a salmon-like fish which is native to Lake Garda and lives in its deep waters.
The local restaurants serve a large variety of fish dishes. Sample as many as you can if fish is something you love to eat. To learn more about the fishing traditions around Lake Garda, make sure that you visit the following sights:
3. Black Truffles from Monte Baldo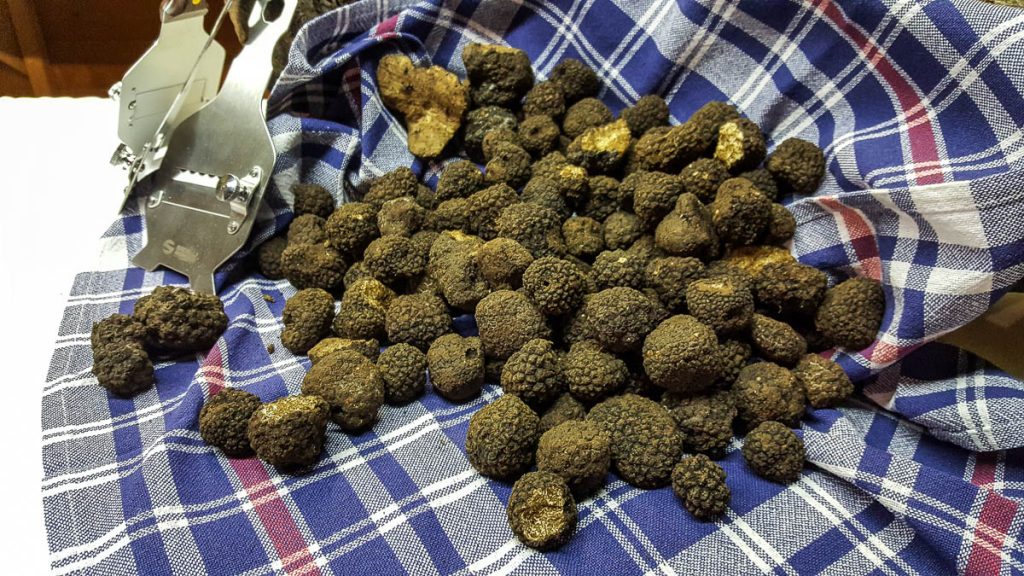 These fragrant tubers are plentiful on the slopes of Monte Baldo – the Alpine mountain chain that shelters the eastern shores of Lake Garda.
There are several varieties of black truffles found here. The main two are:
The highly-prized tuber melanosporum which can grow as big as a large orange. It matures between December and March and has an intense, pleasant flavour. Known in English as black truffle and in Italian as nero pregiato, it can command very high prices.
The tuber brumale which in English is called either winter truffle or Muscat truffle. It grows from the size of a hazelnut to that of a chicken egg.
You can see stalls selling black truffles at local events and Christmas markets around Lake Garda.
To enjoy local black truffles at their best, head to the annual Feast of the Black Truffle from Monte Baldo. It's held at the end of August or at the start of September in the small town of Caprino Veronese in the mountainous slopes above the eastern shore of the lake.
At the same time, avoid purchasing truffle-scented oils and sauces sold in touristy places around the lake. In general, they represent the idea of black truffles without, actually, incorporating the local tubers in any shape or form.
4. Honey from Lake Garda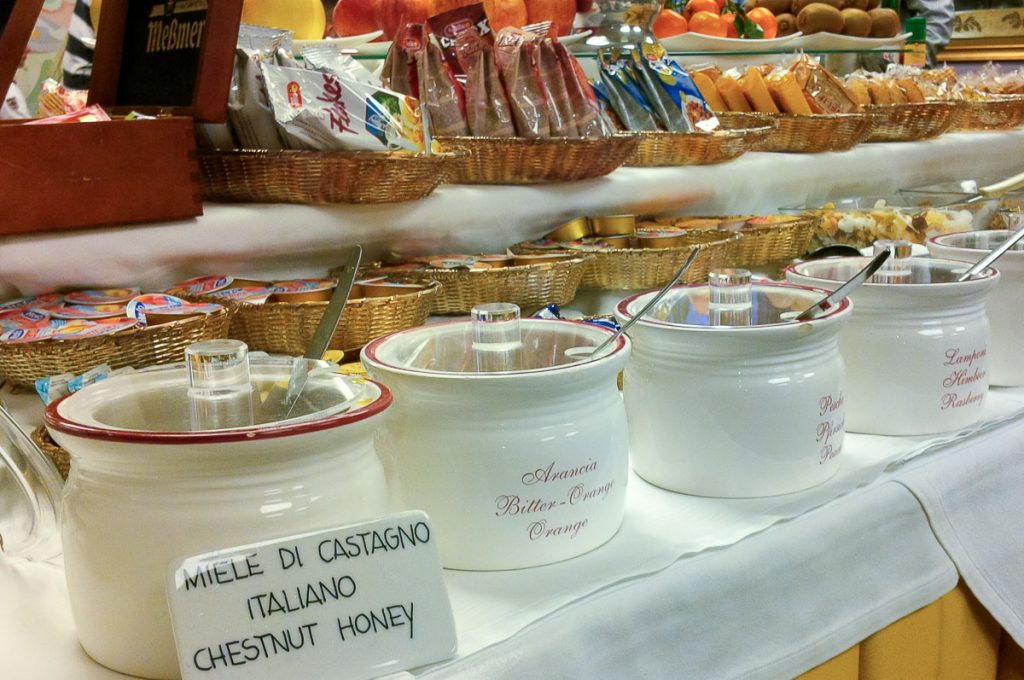 Head to one of the fresh fruit and veg markets held weekly in the lakefront towns and you are bound to come across a stall selling prized local honey and bee products.
The Alpine mountain chain of Monte Baldo is widely known as the Garden of Europe. Here you will find hundreds of aromatic herbs and rare plants. Among them are 57 types of orchids!
This is a blessed land where bees happily get to work. There are dozens of small beekeepers here. The local honey is delicious and makes a great present. The chestnut, acacia, millefiori, and dandelion varieties are particularly popular.
If you can't really travel with jars of honey in your luggage, then make sure that you try Lake Garda's honey at least once during your stay here.
If honey is of particular interest to you, then at the start of autumn don't miss the Giorni del Miele (in English, Days of Honey) in the lakefront town of Lazise. This is an event of national importance dedicated to beekeeping.
5. Lemons and Other Citrus Fruits of Lake Garda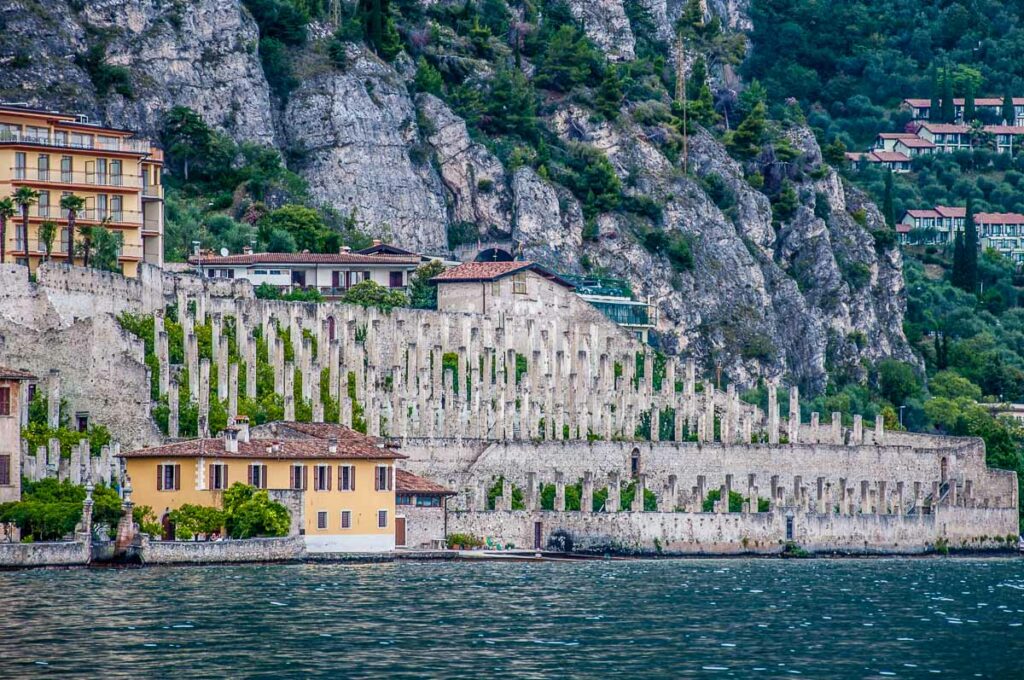 Back in the 14th century, Franciscan friars introduced the first citrus trees around Lake Garda. For many hundreds of years their fruits – especially lemons – were a prized source of Vitamin C.
To this day, large citrus gardens – called limonaia – flourish on the lake shores. Particularly famous are the ones between the lakefront towns of Limone sul Garda and Gargnano in Lombardy. You can also visit the splendid limonaia in the medieval castle in the town of Torri del Benaco in Veneto.
The citrus gardens are planted on terraces that have been painstakingly excavated in the steep slopes. Tall concrete pillars create a sort of skeletal structure between the patches with trees. In winter, these pillars are used to support the roofs and walls that enclose temporarily the gardens to preserve the trees from the colder temperatures.
Don't miss a chance to sample the lemons, oranges, bergamots, limes, and mandarins grown around Lake Garda. They are used to produce limoncello, candy, all sorts of cosmetics, and scented soaps. All make wonderful souvenirs to take with you back home. The restaurants around the lake – especially those in Limone sul Garda – often serve freshly squeezed lemonade. It's delicious!
By the way, the name of Limone sul Garda – the town that nowadays is synonymous with Lake Garda's citrus gardens and fruits – doesn't actually come from 'lemon'. Have a look at point 15 in this blog post to find out its origin:
6. Kiwis of Lake Garda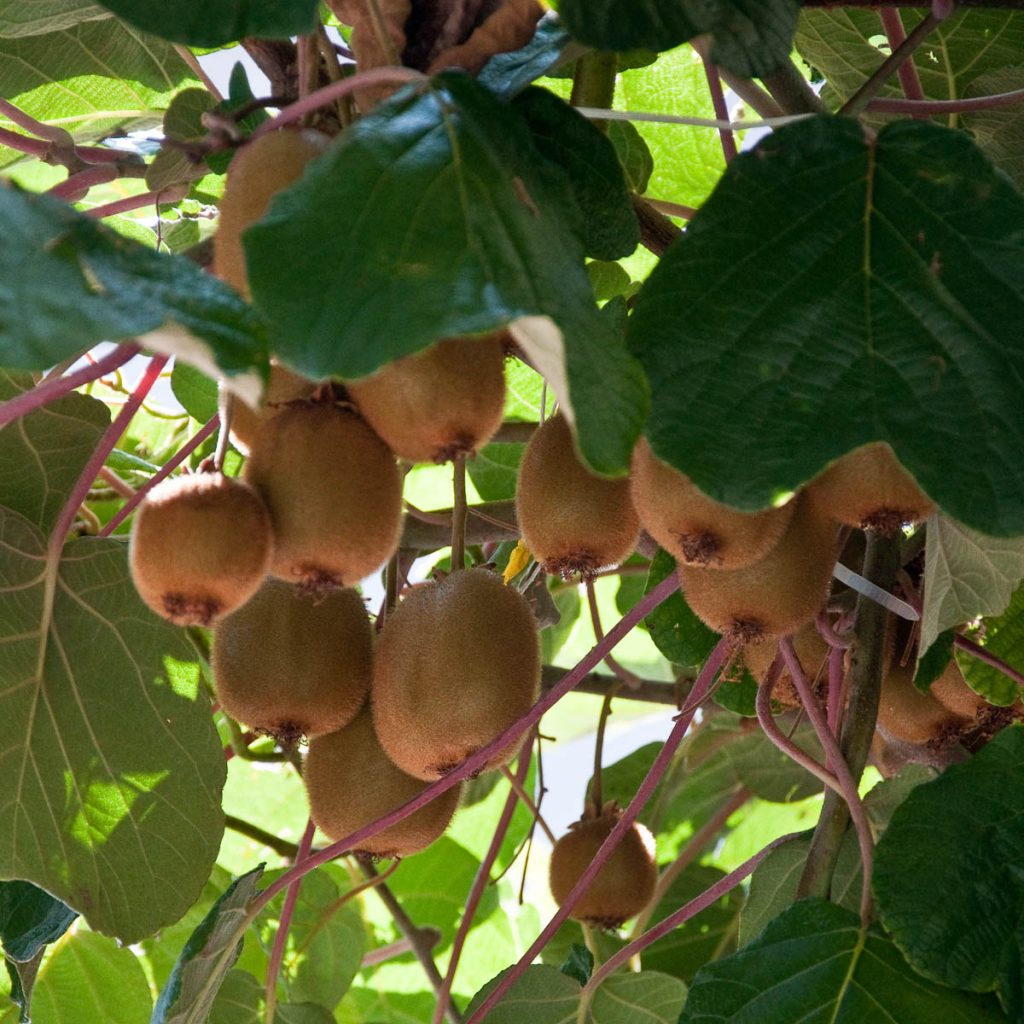 Italy is one of the world's top three producers of kiwi. The area around Lake Garda lends itself well to the cultivation of this delicious exotic fruit.
The kiwis grown here are sold under the Kiwi del Garda trademark. They are large, soft, and juicy.
Driving past the vineyards and orchards that stretch around the southern shores of Lake Garda, you may spot small, handwritten signs. They say simply 'Kiwi' and point to a small stall on the side of the road. Stop and buy fresh kiwis directly from the local producers.
It makes for a great Italian experience and the fruits are delicious!
7. Peaches of Verona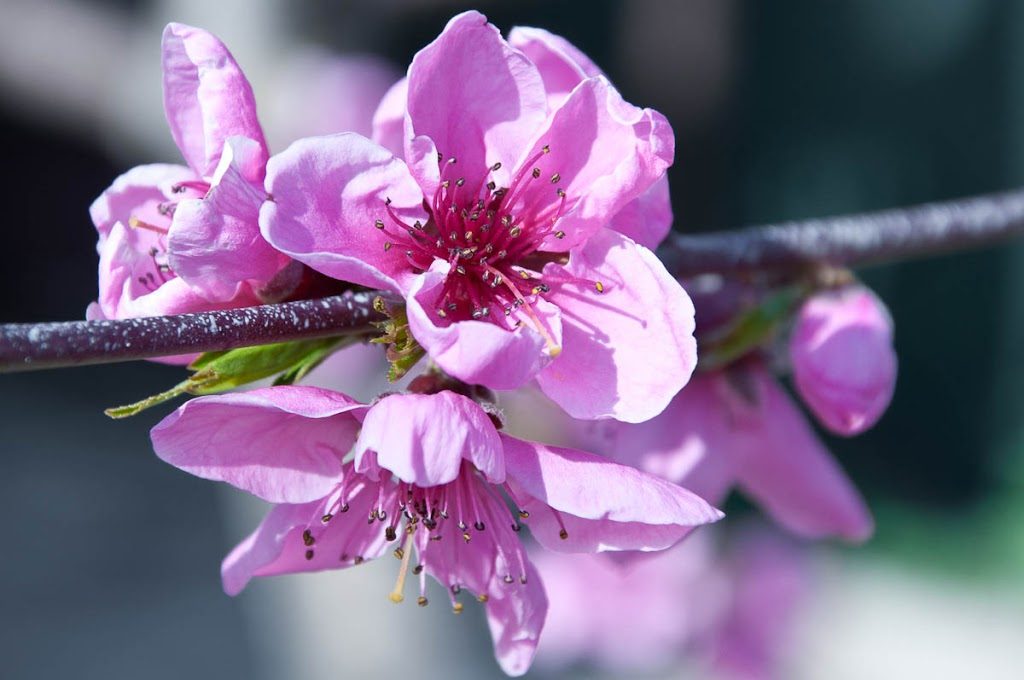 Lake Garda is famous for its peach orchards which thrive thanks to the lake's mild microclimate. When they bloom in pink each spring, the area around the southern shore of the lake turns even more picturesque.
Especially prized is the Pesca di Verona – the peach from Verona. It's named after the famous Northern Italian city that is only about 15 mins away by train from the lake. Peaches have been cultivated in the area between Verona and Lake Garda for many centuries. Nowadays, they enjoy what in Italian is called an IGP status (in English, Protected Geographical Indication).
You will recognise the peaches and nectarines of Verona by their intense colouration. Their flesh can be either white or yellow. It's juicy and pleasantly sweet with just a balancing touch of acidity.
The local peaches and nectarines are used both in desserts and in savourty salads. I particularly love the peach granita – a cold icy slush – made by some of the gelaterias on Lake Garda. Gelateria Vivaldi in the town of Desenzano del Garda is my personal favourite.
8. Chestnuts DOP from San Zeno di Montagna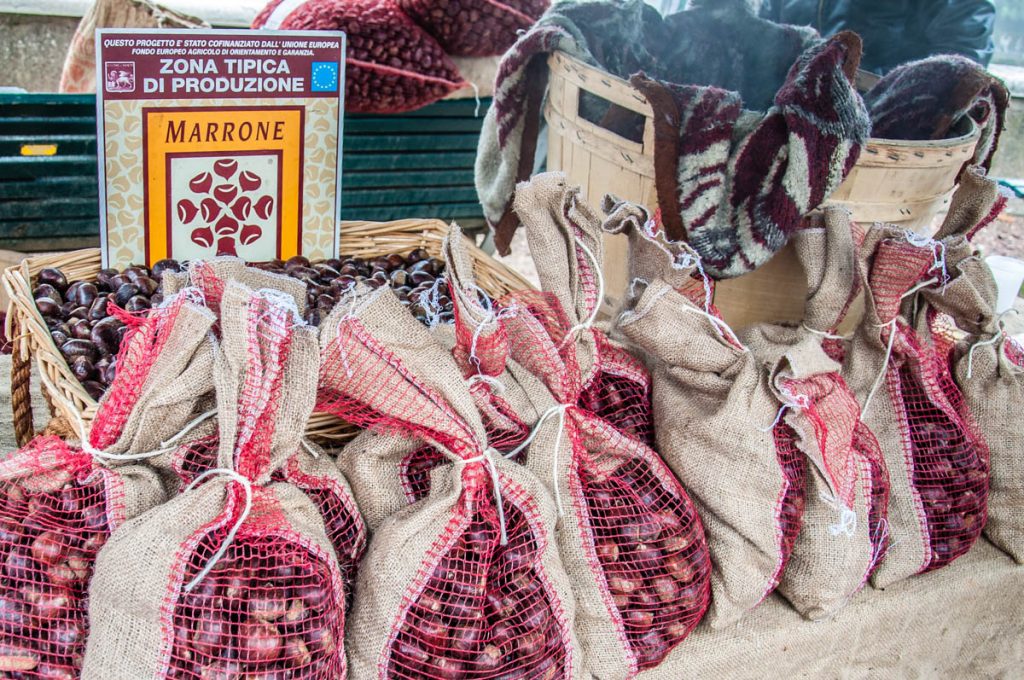 Centuries-old chestnut forests carpet the slopes of Monte Baldo on the eastern shore of Lago di Garda. They are particularly large in the area of San Zeno di Montagna – a small town on the slopes overlooking the lake waters. The chestnuts grown here are very tasty and enjoy a Protected Designation of Origin (in Italian DOP) status.
For many hundreds of years, chestnuts were a staple of the local diet. Rich in carbs and low in protein and fats, they were a cheap fuel for the people of the mountains. Called marrone in Italian, they were eaten either roasted, boiled, dried or ground into flour which was then used in the making of bread, pasta, polenta, and cakes.
So, chestnuts were a very versatile food. Even better, they were suitable not just for people for also for their livestock. For example, chestnuts of lesser quality were fed to the pigs which gave their meat a nice sweet taste.
If you are visiting Lake Garda during the chestnut harvest season – in October and November – you can enjoy a local castagnata. This is a food festival dedicated to chestnuts and the different ways you can eat them. A particularly famous one is the Chestnut Festival in San Zeno di Montagna. It includes a chestnut market, a flavours market, and a couple of competitions.
Here are several traditional dishes you can order and enjoy at Lake Garda. They are:
9. Lake Fish Dishes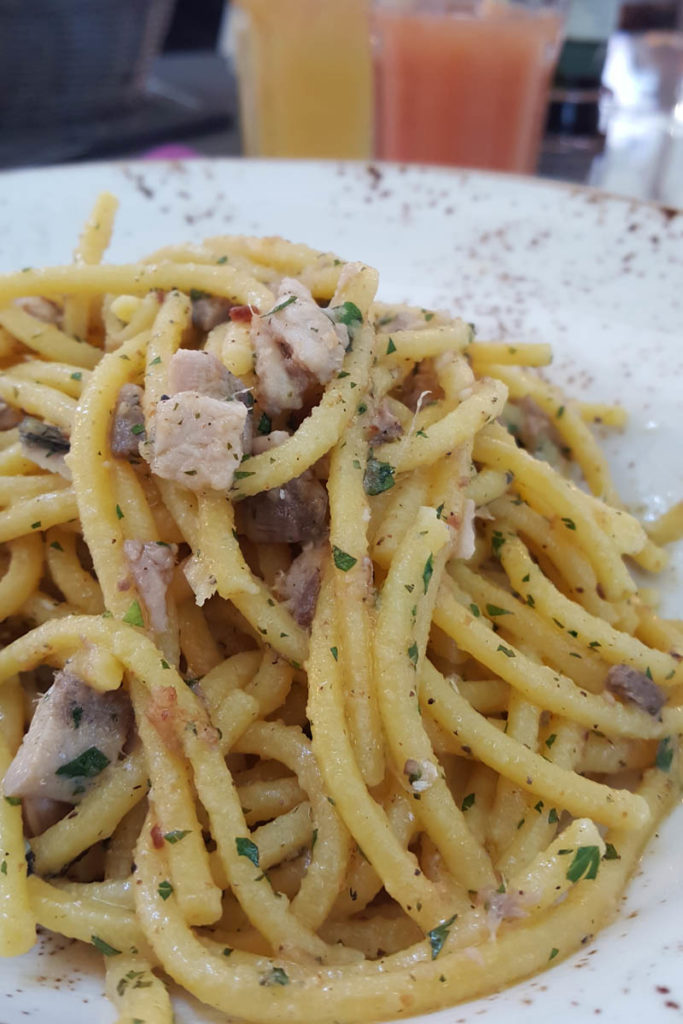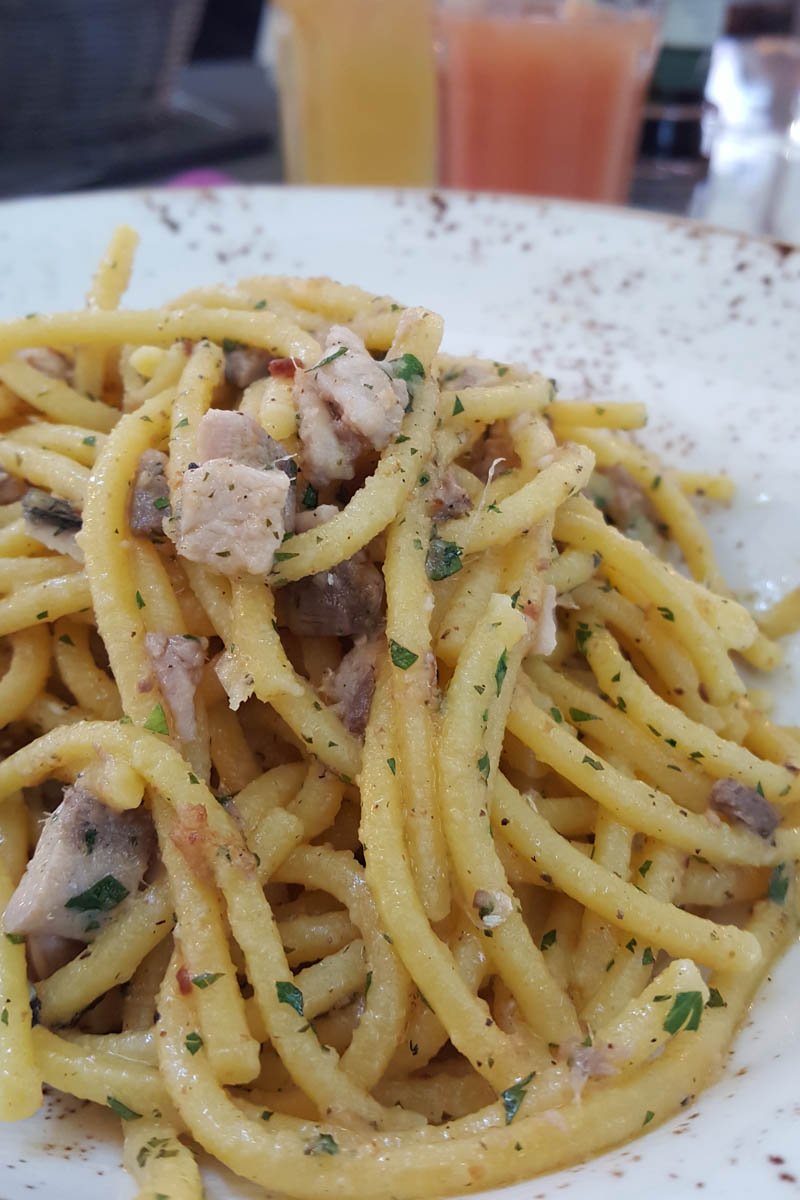 As mentioned above, Lake Garda's waters are teeming with as many as 25 different types of fish. Here are a few typical ways to prepare fish here:
Bigoli con le sarde – long round strands of pasta served with a delicious sauce of sardines. Bigoli look quite a lot like spaghetti. However, they are much thicker. Plus, they are shaped using a special press called torchio bigolaro. It extrudes the pasta strands rather than stretching them and compressing them.
Risotto con la tenca – a typical for the area of Verona dish. It combines locally-produced rice with the abundant in Lake Garda tench fish.
Pasta al sugo di Garda – pasta served with a sauce prepared with a mix of lake fish.
Pasta al ragù di lago – pasta (usually tagliatelle or tagliolini) served with a tomato- and wine-based sauce with filleted lake fish chopped in small pieces.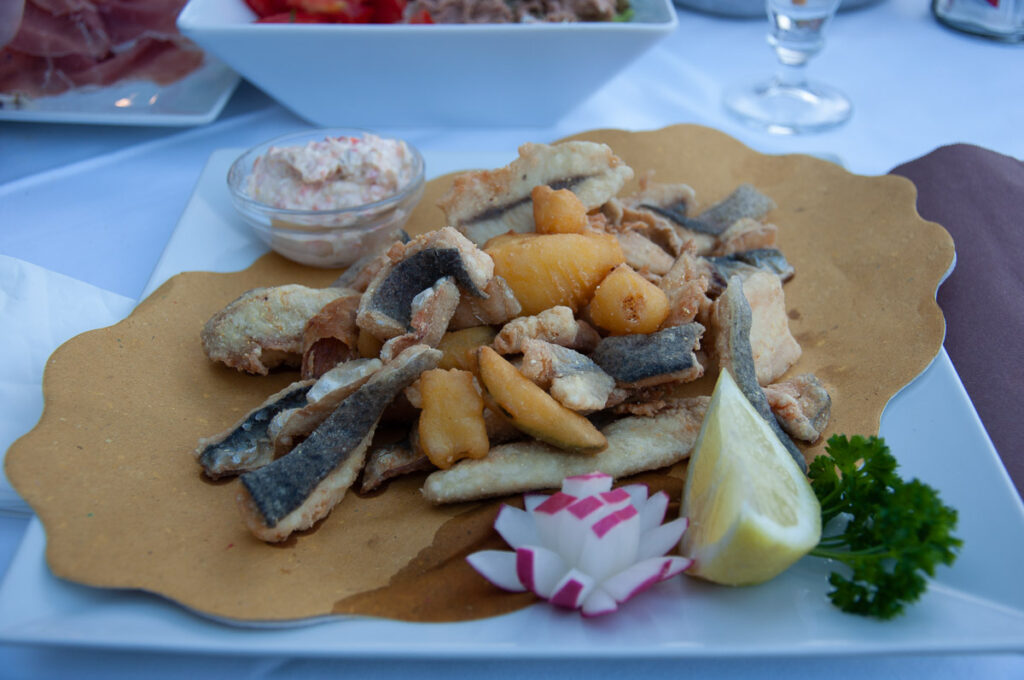 Fritto misto – expect a mix of battered and fried pieces of different types of fish served with fried vegetables. A helping of polenta may be added, too. It's much more delicious than it sounds. It was one of my favourite dishes when I used to live in Italy.
Pescato di lago alla griglia – mixed grilled fish served with a dash of Garda DOP olive oil. Particularly popular (and delicious!) are the sardine alla griglia – grilled sardines.
Zuppa di pesce di lago – a fragrant bowl of soup made of assorted lake fish and fresh tomatoes. It's served with pieces of grilled bread to dip in.
Luccio alla gardesana con polenta – a deceptively simple meal of pike fish served with a sauce made of extra virgin olive oil, capers, and anchovies.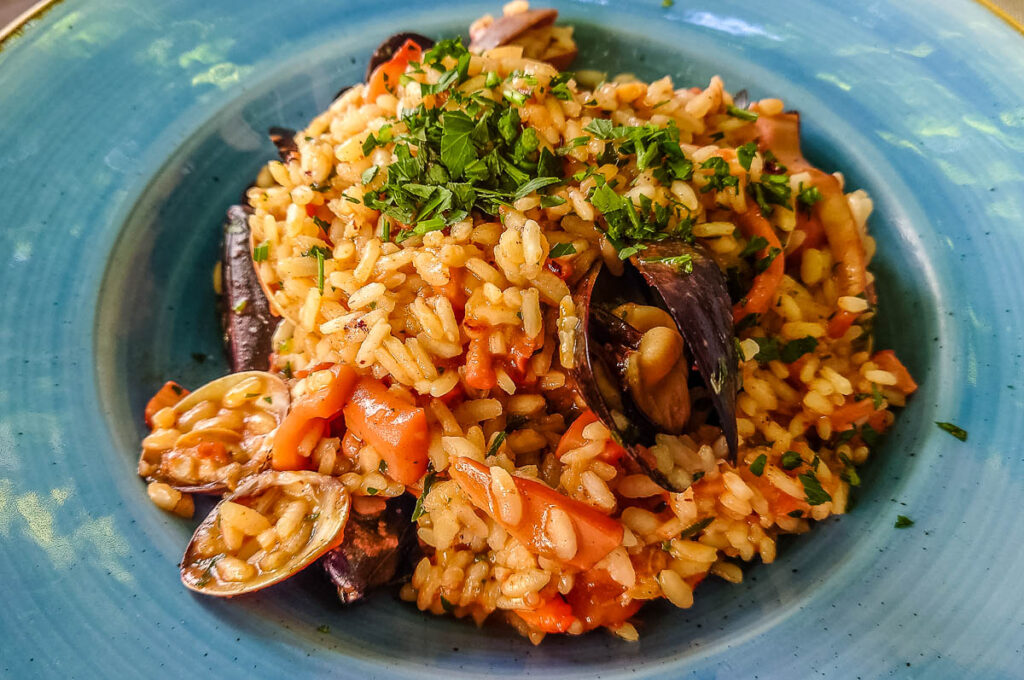 If you prefer sea fish to lake fish, don't worry. Seafood dishes are easy to come by at Lake Garda. From roasted octopus and grilled prawns to seafood risotto and spaghetti with clams, the catch of the day from the Mediterranean and the Adriatic Seas reaches Italy's largest lake pronto.
10. Meat Dishes and Salami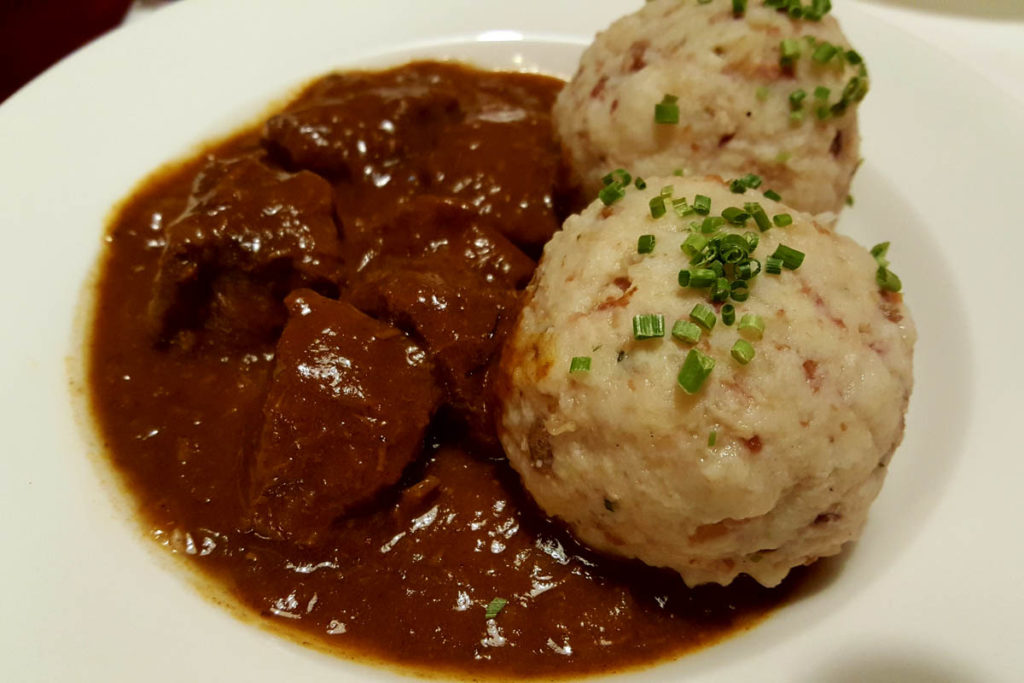 Lake Garda is one of those rare destinations where the local cuisine uses equally well fish and meat. The three Northern Italian regions that border the lake- Veneto, Lombardy, and Trentino-Alto Adige – have each excellent meat dishes, sausages, and salami. Here are some of the truly best ones:
Carne salada – traditional for Trentino salty meat that has been flavoured with spices and herbs and left to rest over several weeks. It is enjoyed as an appetiser either raw or cooked.
Gulash Trentino – the local version of the traditionally Hungarian goulash. Trentino inherited this dish from when it was part of the Austro-Hungarian Empire. It is customarily served with canederli – bread dumplings often made with speck and cheese.
Luganega sausage – delicious long pork sausage typical for Northern Italy, especially Lombardy and Trentino. Traditionally, it's served split open and grilled with a side of potatoes or chips, polenta, and forest mushrooms.
Risotto tastasal – also known as risotto al tastal. Typical for the Province of Verona in Veneto, this is risotto made with sausage meat.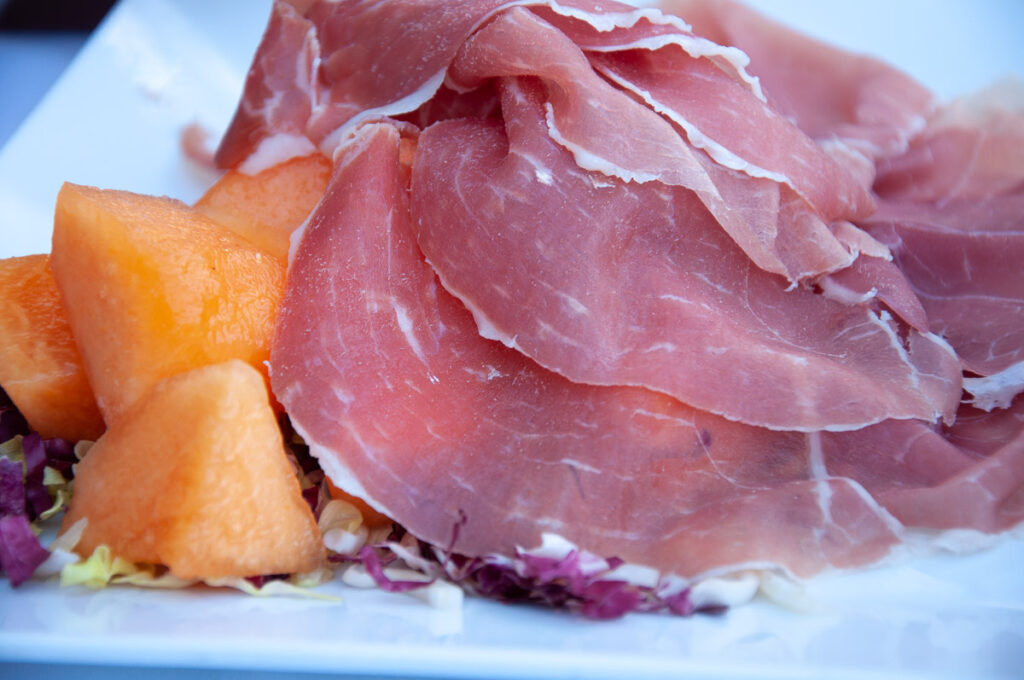 At Lago di Garda, you can savour many different Italian salami, cured meats, and cold cuts. The famous prosciutto e melone is a staple summer offering in many of the lake's eateries and restaurants.
If you want to be more local, however, try soppressa veronese and salame mantovano.
The former is a thick sausage with a distinctive garlicky taste. There is also a garlic-free version if you prefer. You will recognise the soppressa by the thin layer of white-ish mould that develops all over its casing during the curing period.
The latter is a soft salami made of pork meat. It has a faint garlicky scent and just a touch of pepper.
11. Polenta Dishes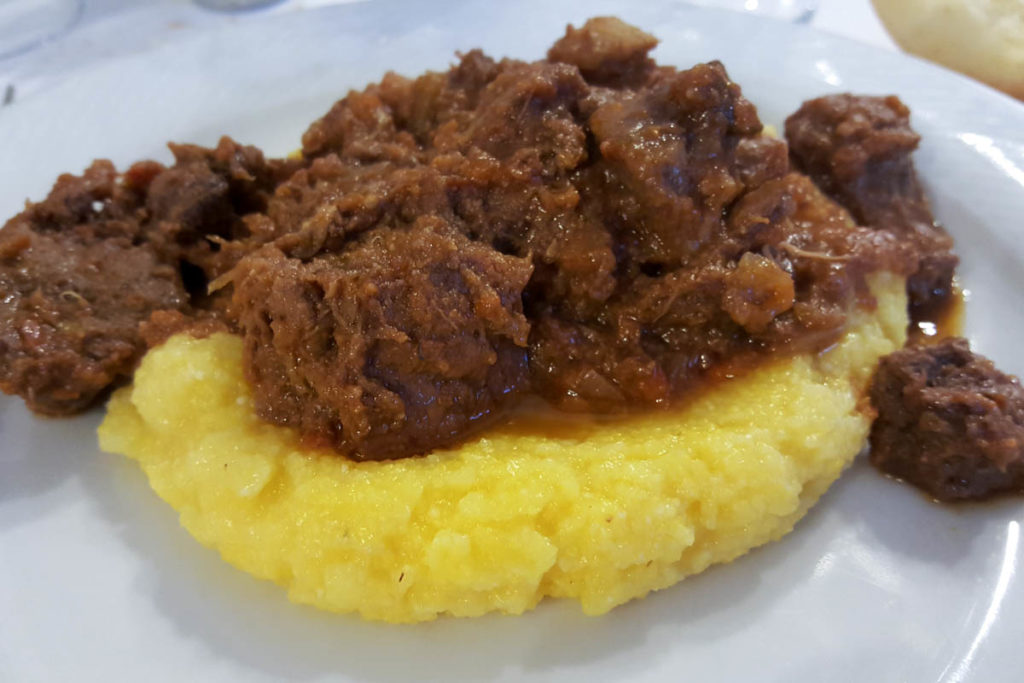 Polenta is a traditional Italian food. You can read more about it and its historic and culinary links specifically to the North of Italy in this blog post:
Around Lake Garda, you will see polenta served in many different ways and as an accompaniment to both fish and meat dishes. Depending on what you order, polenta may come either grilled in thick slices or soft and creamy with a mash-like consistency.
The above photo shows a portion of polenta topped with wild boar stew. I enjoyed it several seasons ago at a small restaurant in Borghetto sul Mincio near Lake Garda. The polenta pillow worked incredibly well, catching and absorbing the rich meat juices.
At Italy's largest lake, you can also choose to try:
Polenta grigliata – you may also see it called polenta alle brace. These are thick slices of polenta that have been grilled. The hot grill has left black marks across the tender yellow or white texture of the cornmeal.
Polenta carbonera – this is polenta mixed with cheese and olive oil. Some local versions call for the addition of onions, a glass of wine, butter, and/or sausage to the mix.
Polenta taragna – this is polenta enriched with ground buckwheat. It is then mixed with fresh cheeses and melted butter.
12. Casonsei from Brescia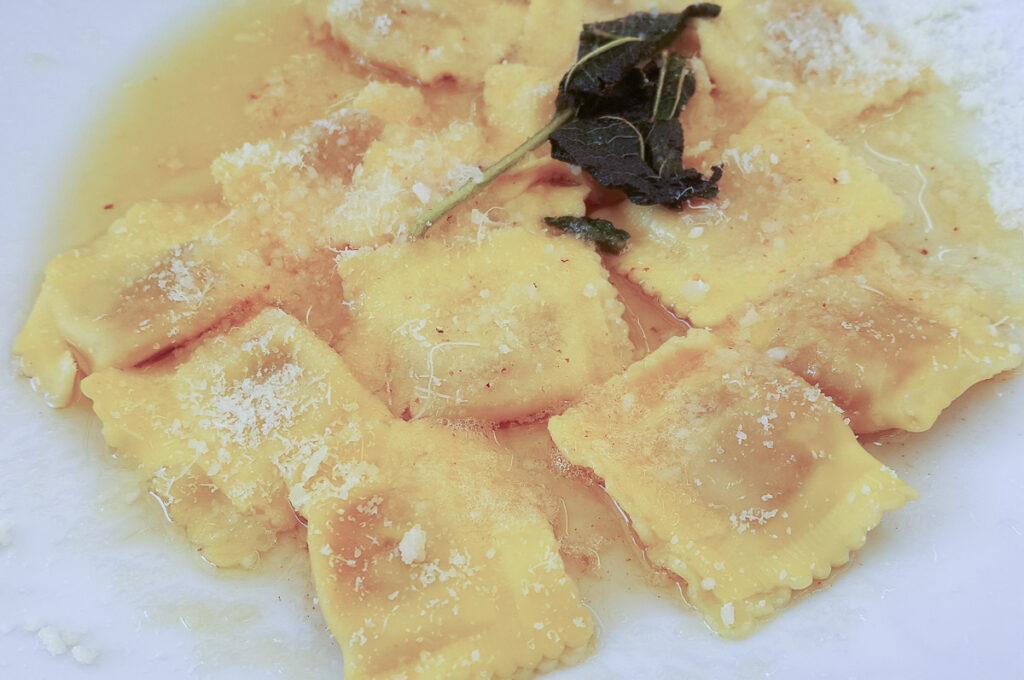 These are large pasta shapes stuffed with a filling made of eggs, mature cheese (or ricotta), spinach or meat. They are served generously drizzled with melted butter and decorated with sage leaves. It's a very satisfying meal.
Typical for the Province of Brescia in the region of Lombardy, give casonsei a try when you are on the bresciana coast of Lago di Garda. This corresponds to the southwestern and western shores of the lake. In other words, from the town of Sirmione to the town of Limone sul Garda.
13. Tortellini of Valeggio sul Mincio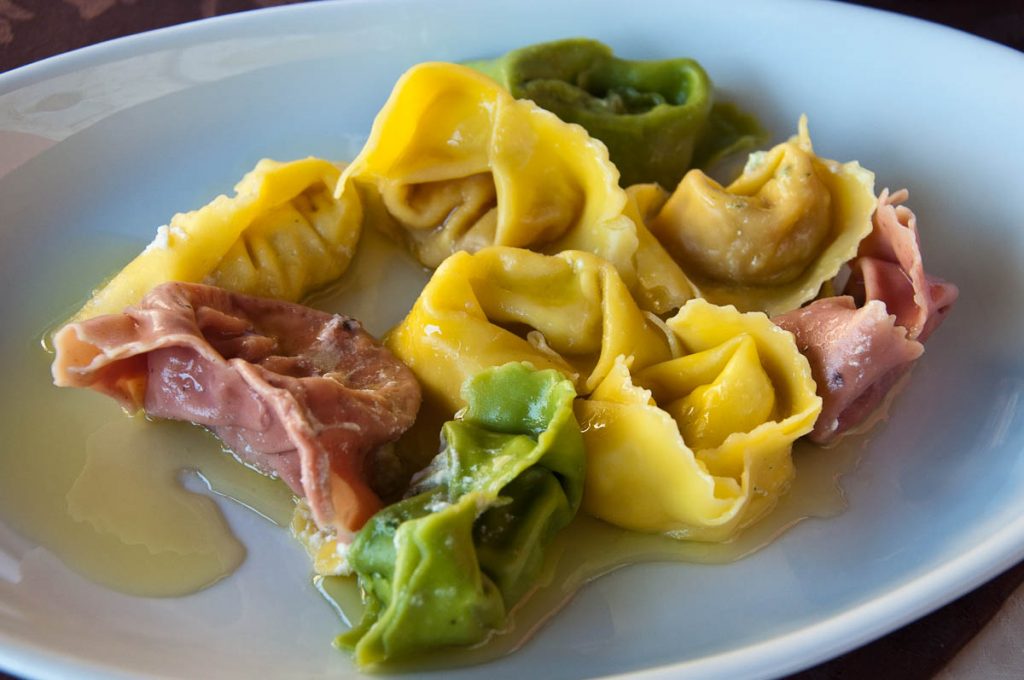 These are fresh pasta squares with a delicious filling combining a mix of meats – pork fillet, veal, beef, chicken breast (or livers), and prosciutto. A touch of parmesan, a sprinkle of rosemary, some nutmeg and onions complete this gastronomic bouquet.
The squares of pasta are then folded and twisted into a beautiful shape with plump middle and overlapping slim triangular ends. Finally, they are boiled and served either in broth or dripping with butter and sage.
The tortellini are typical for the town of Valeggio sul Mincio which is also famous for its medieval hamlet of Borghetto sul Mincio. Surrounded by peach orchards and lush vineyards, Valeggio and Borghetto are just 20 mins away from the southern shores of Lake Garda. Both are part of the northern Italian region of Veneto.
Valeggio's tortellini are highly-prized. You will see them sold in some of the best delis at Lake Garda and served in the local restaurants. They are also known as tortellini nodo d'amore – love-knot tortellini.
Have a look at this blog post to discover the legend that inspired their shape. You will also find out how to attend the annual feast held in their honour on the most impressive medieval bridge in the surroundings of Lake Garda.
And, what about pizza? And pasta? Can I still enjoy them at Italy's Lake Garda?!
14. Pizza and Pasta at Lake Garda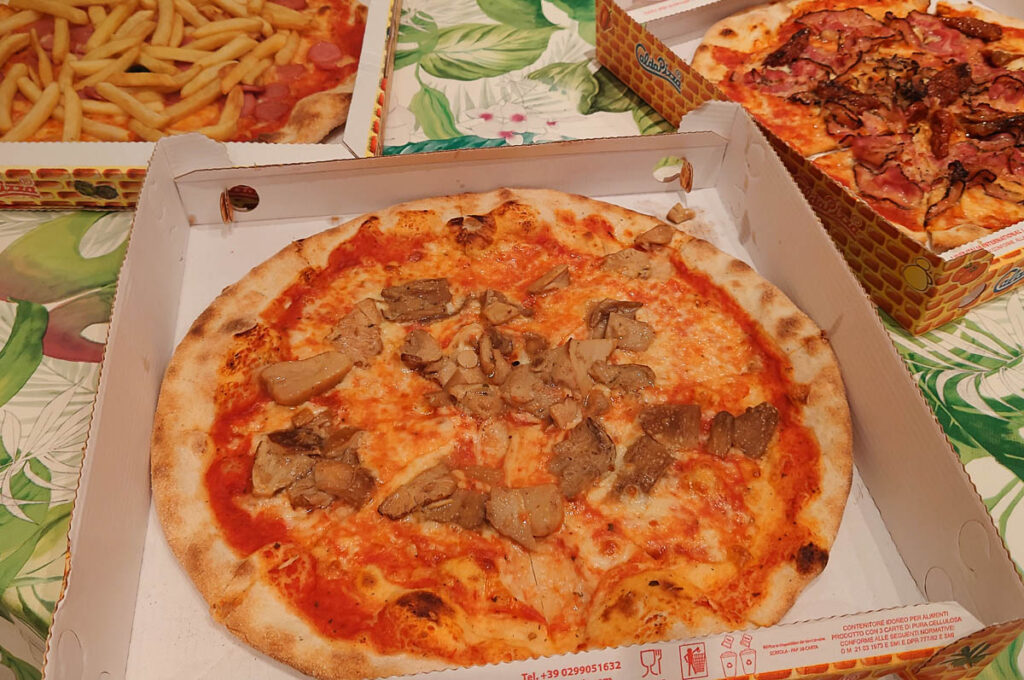 Of course, you can enjoy pizza, pasta, and other great Italian staples like tiramisu, for example, during your stay at Lake Garda. After all, they are the most popular representatives of the dishes that come under the umbrella term 'Italian food'.
Many restaurants around the lake offer a large variety of pizzas as part of their menu. For around 8-12 euros, you can lunch or dine on a freshly baked pizza with a variety of toppings – from vegetarian to seafood- and meat-based.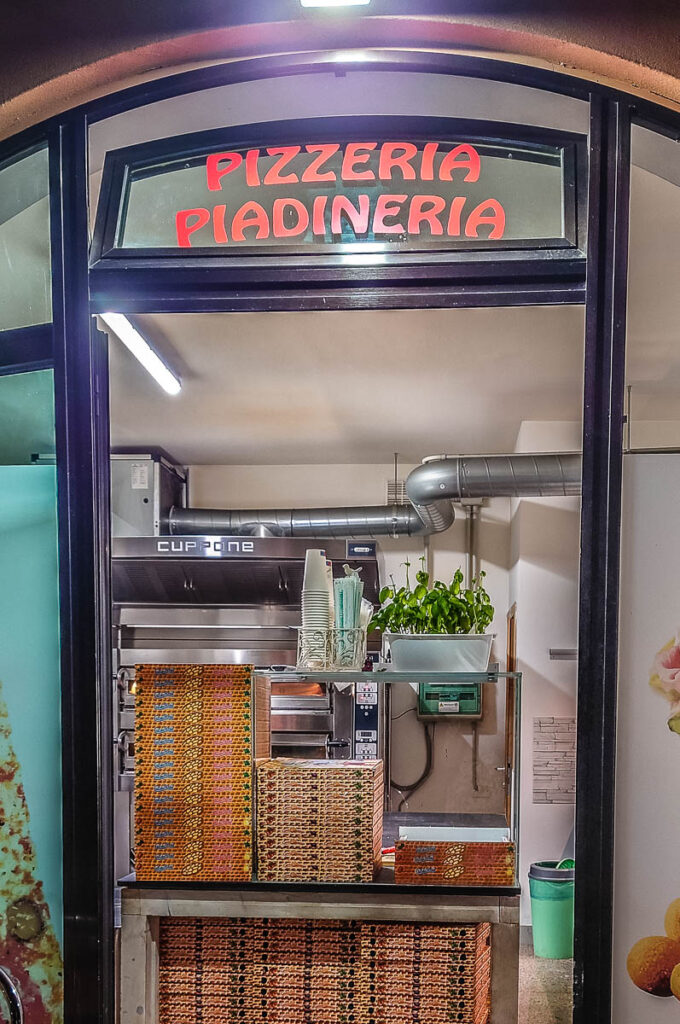 If you can, also try to pop into a local pizzeria – one of those tiny operations hidden in the residential streets of the lakefront towns. They have a counter, a drinks chiller, and perhaps a couple of plastic tables at most. Their main business is pizza to take away. The locals pop in to choose a pizza from a long menu and take it home to eat.
If your accommodation allows it, do the same. After you order, you can watch the pizza dough getting stretched into a perfect circle. Then, the toppings are quickly yet carefully placed on top. The pizza is placed inside a hot wood-burning oven and mere minutes later comes out perfectly baked.
The pizza-maker – or pizzaiolo as they call him in Italian – slides it into a card box and hands it to you. Enjoy!
Prices vary from four to 10-12 euros depending on the size and toppings. It's a great experience to have not just around Lake Garda but in any Italian city or town.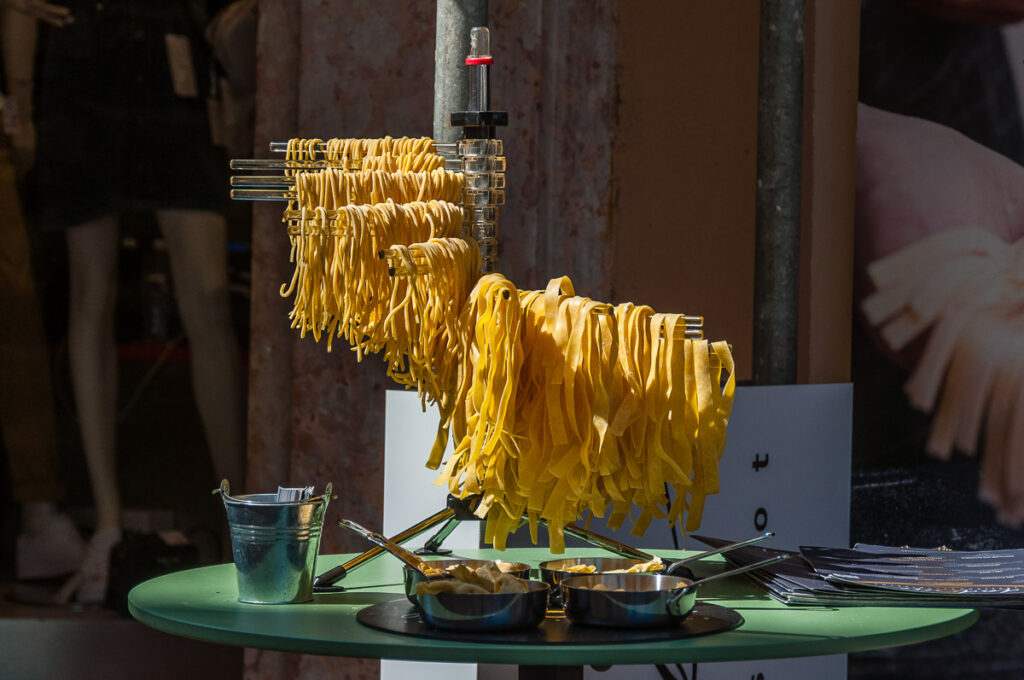 As for pasta – you won't be short of choice of pasta dishes at Italy's largest lake. I have described two of the most famous local ones under points 12 and 13 above.
You will see several other types of pasta served in the local restaurants – from penne to spaghetti. Often, they are topped with typical for the lake foodstuffs like fish or particular cheeses. You can also order a simple pasta with tomato sauce – always a great choice.
Now, let's have a look at some local cheeses you can savour at Lake Garda in Italy.
15. Cheeses of Lake Garda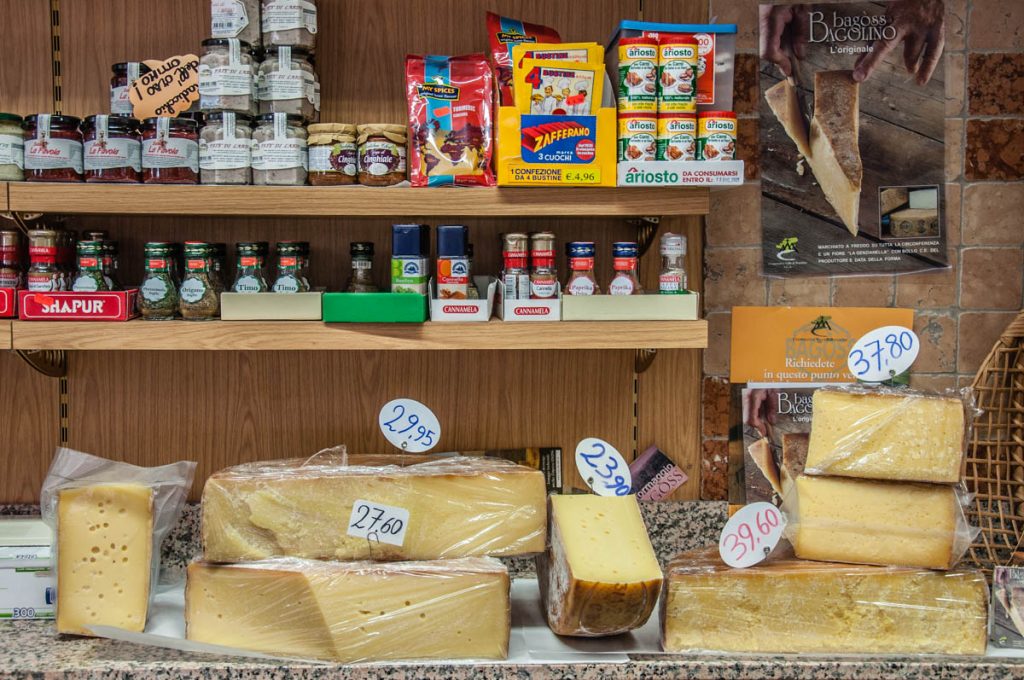 Italy is undoubtedly the land of cheese. There are hundreds of varieties here to enjoy. Many of them are internationally famous. If you love cheese, use your stay at Lake Garda to tuck into many different types.
You really are in luck here! On one hand, the lake borders three northern Italian regions – Veneto, Lombardy, and Trentino-Alto Adige – each with its own numerous types of cheese.
On the other hand, there are dozens of small dairy farms here. Dotted around the hills and mountains surrounding Italy's largest lake they make by hand unique cheeses.
Here are a few for you to try:
Formagella di Tremosine – this is a soft fragrant cheese made of cow milk. It's produced on the Tremosine plateau.
Tremosine is one of the most beautiful villages in Italy. It stands on the edge of a vertiginous rocky outcrop above the western shore of Lake Garda. Behind it, a large plateau with aromatic herbs and lush grass stretches out.
I discovered the formagella di Tremosine cheese for myself this summer. It was recommended to us at a local deli in the lakefront town of Desenzano del Garda. It was excellent to have at breakfast with a fresh pane mantovano – the multilayered bread rolls typical for the city of Mantua in Lombardy.
Monte Veronese DOP – this Italian cheese was one of the first to obtain a Protected Designation of Origin status. It's produced in the Lessini Hills and the Veronese Prealps – the hilly groups between Verona and the eastern shore of Lake Garda. The Monte Veronese cheese comes in two varieties – fresh and matured.
Bagoss – this is a very prized matured cheese that is only produced in the small town of Bagolino near the Lombardian city of Brescia. It has a lovely dense, intense, and salty flavour with hints of walnuts and chestnuts. Having a thick slice of Bagoss in a soft bread roll feels like a feast in itself.
Formaggio Tombea – this is a very rare cheese produced by a single family-owned dairy farm in Trentino. The cheese curds are tinted with saffron and pressed in wheels which are then matured from six months to several years. The curious thing is that each cheese wheel is brushed with flaxseed oil. You can imagine the extraordinary palette of flavours this produces.
Grana Padano DOP – this famous cheese is produced over a large territory in Northern Italy including the lands around Lake Garda. It is matured for at least nine months and has a fine grain which is very pleasant to chew. You will easily find Grana Padano in shops, delis, and supermarkets around Italy's largest lake. It's delicious, so take every opportunity to taste it.
Craving something sweet?! Here are some Lake Garda delights for those with a sweet tooth!
16. Pastries, Cakes, and Desserts of Lake Garda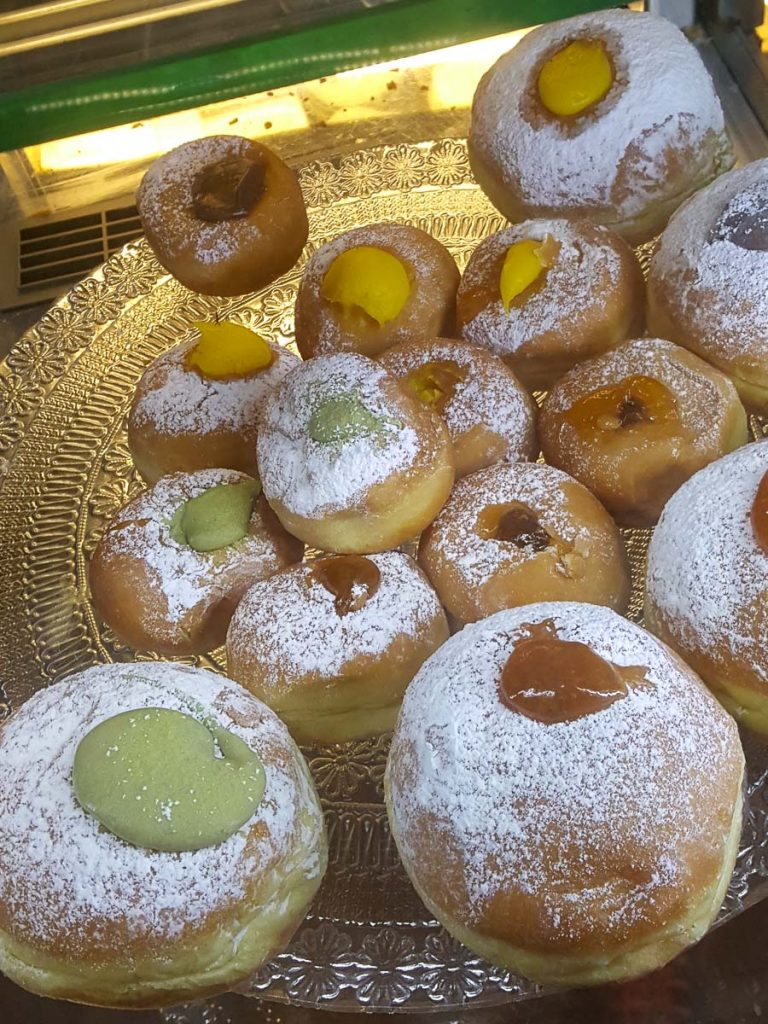 If you love to treat yourself to sweet things, you will enjoy your visit to Lake Garda. In the many patisseries, bakeries, and gelaterias dotted around the shores of Italy's largest lake, you will discover a huge assortment of pastries, cakes, biscuits, and frozen desserts.
Start your days at Lake Garda with a typical Italian breakfast of sweet pastries, croissants (known in Italian as cornetto and brioche), krapfen (doughnuts stuffed with chocolate, cream or jam), and crostata (a jam or chocolate-filled pie made of shortcrust pastry).
For more details about the traditional Italian breakfast and Italian breakfast foods, have a look at these two blog posts:
After a meal, help yourself to a dessert that reflects the culinary traditions of the three Northern Italian regions – Veneto, Lombardy, and Trentino-Alto Adige – that border Lake Garda.
Among them are:
Yoghurt with honey and chestnuts – typical for Trentino, this is a nice thick natural yoghurt served drizzled with honey and studded with whole sugared chestnuts.
Apple strudel – sold in all good patisseries in the towns of Riva del Garda and Torbole at the northern tip of the lake.
Torta di fregoloti – typical for the mountainous Trentino, this cake is rich in butter, has a honey flavour, and it's fragranced with a small glass of the strong Italian alcoholic drink grappa.
Torta delle rose – a cake made of pieces of dough shaped like little roses. It's typical for the small town of Valeggio sul Mincio. According to the legend, it was first baked in 1490 for the wedding feast of Francesco II Gonzaga and Isabella d'Este. He was the ruler of the nearby city of Mantua and she would become one of the most prominent patrons of the Italian Renaissance.
Torta Maderno – this cake is typical for the small town of Maderno on the western shore of Lake Garda. It was first made in the historic bakery Panetteria Perolini. It's filled with a delicious lemon-scented creme patisserie.
Cassata gardesana – this semi-frozen dessert or semifreddo in Italian is made of ricotta, honey, crushed almonds, and pieces of candied fruit. Unlike the much more well-known cassata siciliana, the one from Lago di Garda is served lightly drizzled with olive oil produced on the lake shores.
If you like biscuits with your afternoon coffee, then don't miss a chance to try Lake Garda's traditional saffron biscuits and the famous sanvigilini. The latter were created, they say, for the visit of Winston Churchill – then-Prime Minister of the United Kingdom – to the charming Punta di San Vigilio.
17. Gelato and Granita at Lake Garda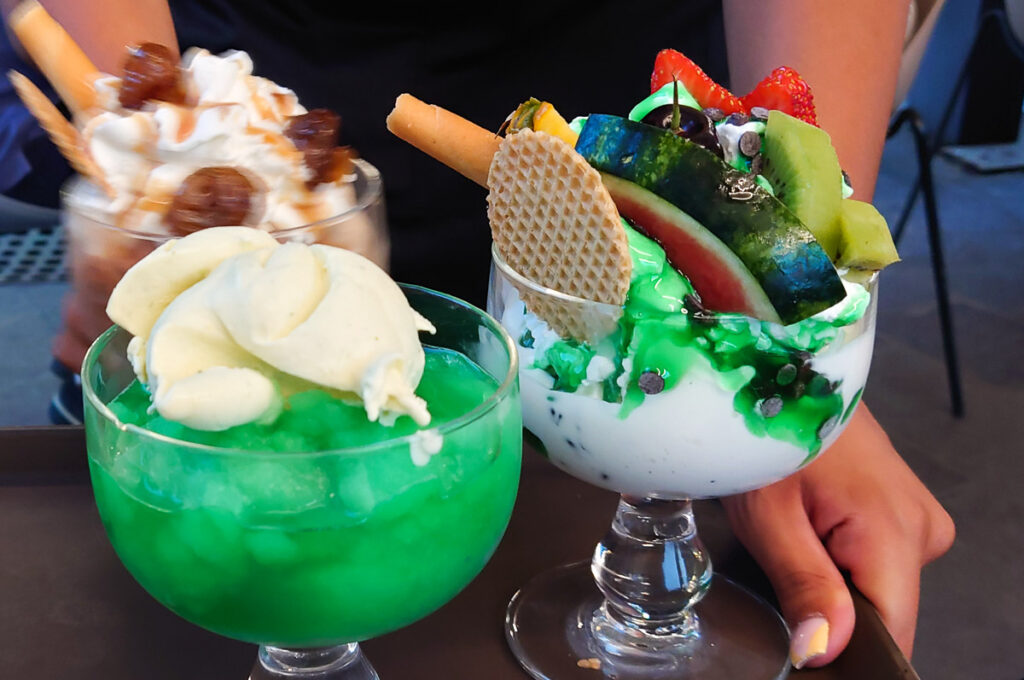 There is nothing better than tucking into a large portion of Italian gelato or granita on a hot summer day at Lake Garda.
Gelato – the Italian superior approach to ice cream – is sold in dozens of flavours in many gelaterias dotted around the lake. The good ones make their own gelato using fresh, seasonal fruits and high-quality chocolate, nuts, and dairy products. They also offer milk-free alternatives.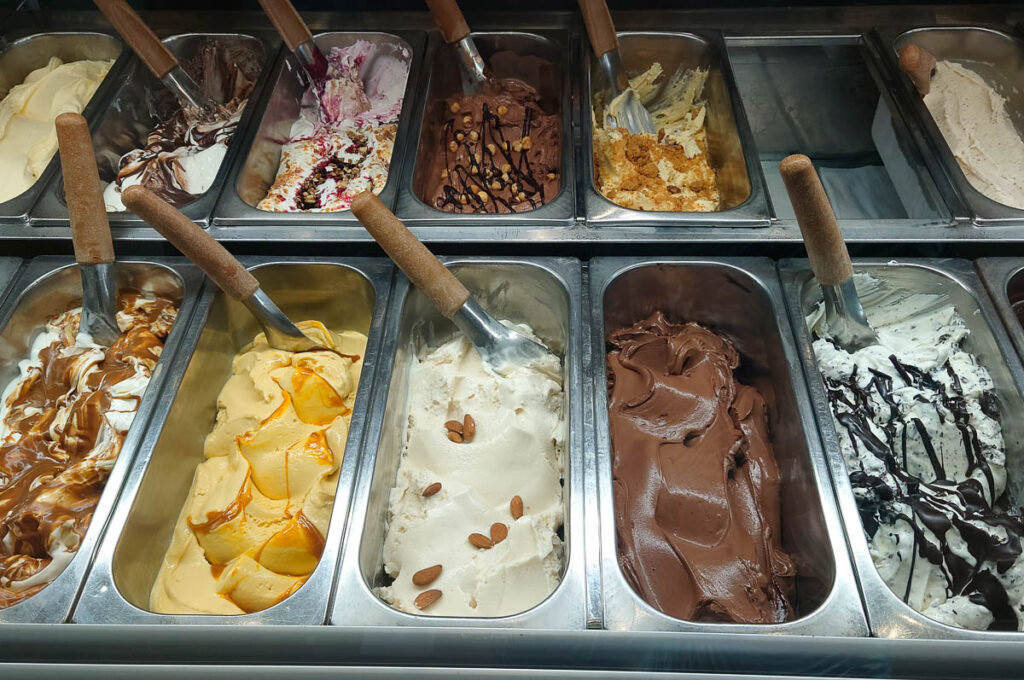 You will know a good gelato by its colour, flavour, and density. Nothing too bright, too artificially sweet, too full of air. My favourite gelaterias at the lake are Vivaldi in Desenzano del Garda and La Cremeria in Lazise. There are many others!
For example, you may want to try the gelato with herbs from Monte Baldo made by the Bottega del Buon Gelato in Malcesine.
The only gelaterias I actively avoid here are concentrated next to a large landmark in the town of Sirmione. They make a roaring trade but for me, their gelato is too full of air and too brightly coloured.
Granita is traditionally a Sicilian semi-frozen dessert. In the good gelaterias around Lake Garda, you will find several flavours of granita – lemon, mint, peach, strawberry, and so on – served by the ladleful in large cups. It's very refreshing and it feels very light! Especially on a hot summer day!
What about a nice coffee? Where to get the best cup of coffee at Lake Garda?
18. Coffee at Lake Garda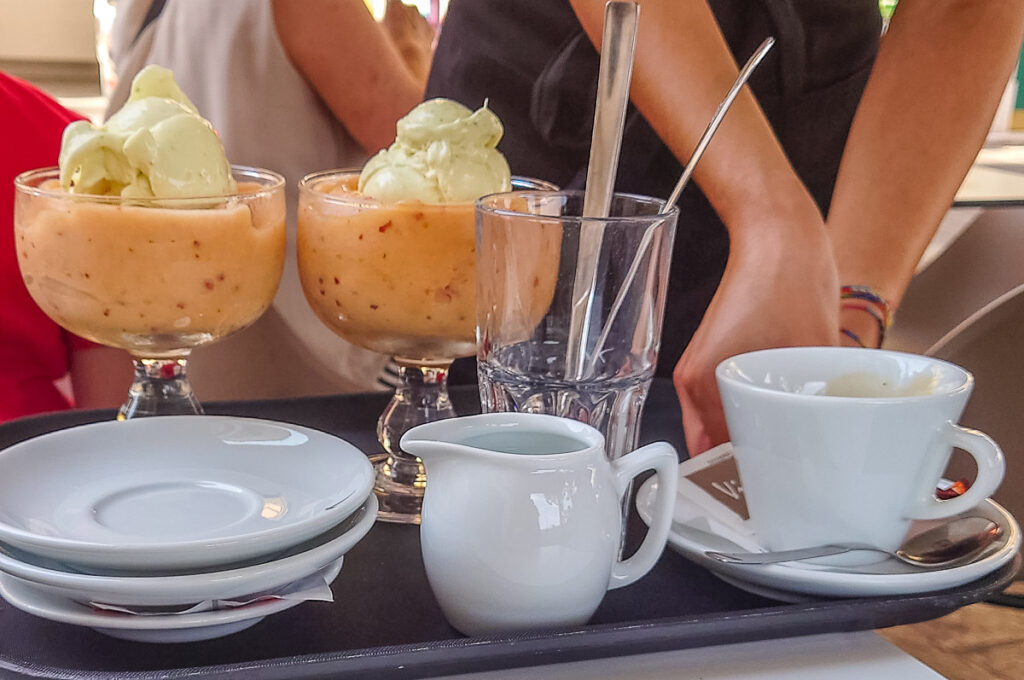 In terms of coffee, you can find consistently good, inexpensive coffee in the bars, coffee shops, and eateries all around Lago di Grada. It's a question of national pride in Italy to serve excellent coffee at prices that everyone can afford.
If you are spending a few days at Italy's largest lake and want to delve deeper into the Italian coffee traditions, head to the nearby city of Rovereto. There you can enjoy the coffee blends of the historic cafe Bontadi. It was founded in 1790 and it's still going strong. Nowadays, it also has a barista training academy and a must-see Coffee Museum.
To learn more about Italian coffees, have a look at these blog posts:
Finally, a quick word about Lake Garda's wines.
19. Wines of Lake Garda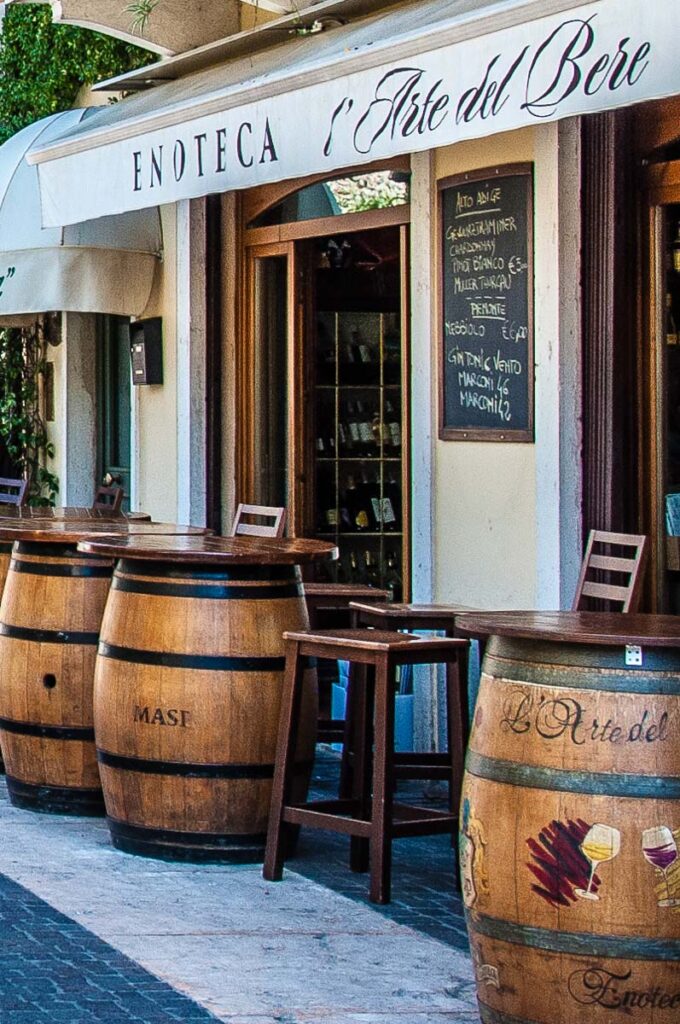 Surrounded by vineyards and enjoying a mild micro-climate with over 2,000 hours of sunshine per year, Lake Garda is an important wine-producing area in Italy. Several local wines like the pink claret (Chiaretto) and the light red wine of the lakefront town of Bardolino enjoy international acclaim. The Durello wines of the adjacent to Lake Garda Lessinia Hills are also highly appreciated by wine connoisseurs.
Not only that but the lake is also right next door to several other renowned grape-growing and wine-producing Italian territories. From the wines of Valpolicella, Custoza, and Soave in Veneto to the refined light sparkling wines of Franciacorta in Lombardy, you will be spoiled for choice. Not forgetting, of course, the Vino Santo of Trentino which is made of dried grapes for maximum sugar concentration and Trentodoc – the sparkling wine from the mountains of Trentino where grapes are harvested by hand.
You can enjoy (responsibly!) a different type of wine with every meal at Lake Garda and still have many left to try after the end of your holiday. To learn more about the local viniculture you can visit a wine museum or have a tasting in a Lake Garda winery. Here are some of the best places to head to:
Zeni Wine Museum – next door to the historic centre of Bardolino, the museum is part of the Zeni Winery. It is a great introduction to the rich local history of wine production. The highlights of the visit include an olfactory gallery, a barrique cellar, and 16th-century wine presses.
Masi Tenuta Canova – five minutes away from the lakefront town of Lazise, this is a large wine estate where you can enjoy a tasting session, shop for refined Italian wines, and visit the on-site Wine Discovery Museum.
Serego Alighieri – 20 minutes away from the lakefront town of Lazise, this is a historic wine estate that in 1353 was purchased by Pietro – the son of Dante Alighieri. Since then it has belonged for 21 generations to the direct descendants of the great Italian poet.
You can also book an organised tour to take you to renowned local wineries and sample their best offerings. This one comes highly recommended.
Finally, if the wines of Bardolino are of particular interest to you, don't miss the annual Bardolino Wine Festival. In Italian, it's known as the Festa dell'Uva e del Vino and it's held between the end of September and the start of October.
Having read through all this, can you tell me the best places to eat at Lake Garda?
Where to Eat at Lake Garda?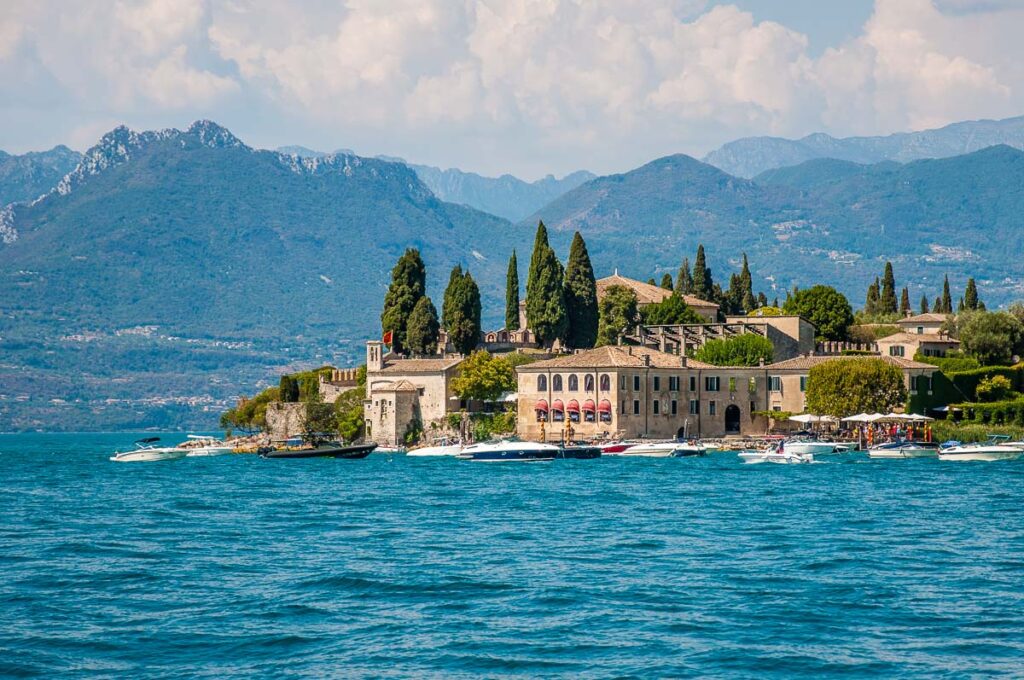 You will find a huge variety of places to eat around Lago di Garda. From small bakeries with dozens of freshly-baked types of pastries and bread to refined Michelin-starred restaurants, you can pick and choose depending on what you like to eat and how much you want to spend.
For many reasons, I usually don't recommend specific eateries on my blog as tastes are widely different and it is quite impossible to come up with a shortlist for such a large territory as that of Lake Garda. Even a short walk around any of the lakefront towns will reveal to you all types of places to eat here. My suggestion is to leaf through the menu, have a look at the food served at the tables or displayed at the counter, and decide if this is a place you want to be a patron of.
Your accommodation and the local tourist information office should also be able to recommend specific eateries for all types of budgets. There are many luxury options around the lake as well as many pocket-friendly osterias and trattorias.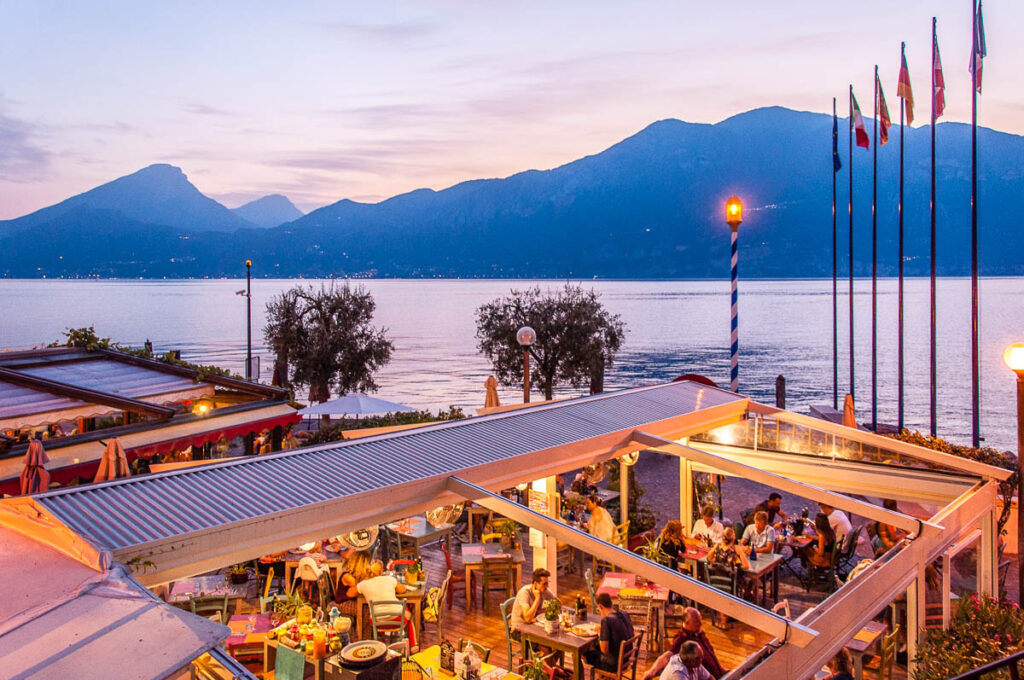 Advance booking for the most refined and/or popular places like Locanda di San Vigilio is always a good idea. Here, I have a personal anecdote to share.
We were spending a few days at Lake Garda in the summer after the lockdowns in 2020. We hadn't booked a place to dine in and when we arrived back at our accommodation after an active day exploring the lake, the local restaurants were full and couldn't give us a table.
We ended up eating instant noodles with sweetcorn on the balcony of our rented flat. Which, by coincidence, was overlooking the best fish restaurant in town. We could see delicious portions being served to the tables below yet we were grateful to have something to eat after all.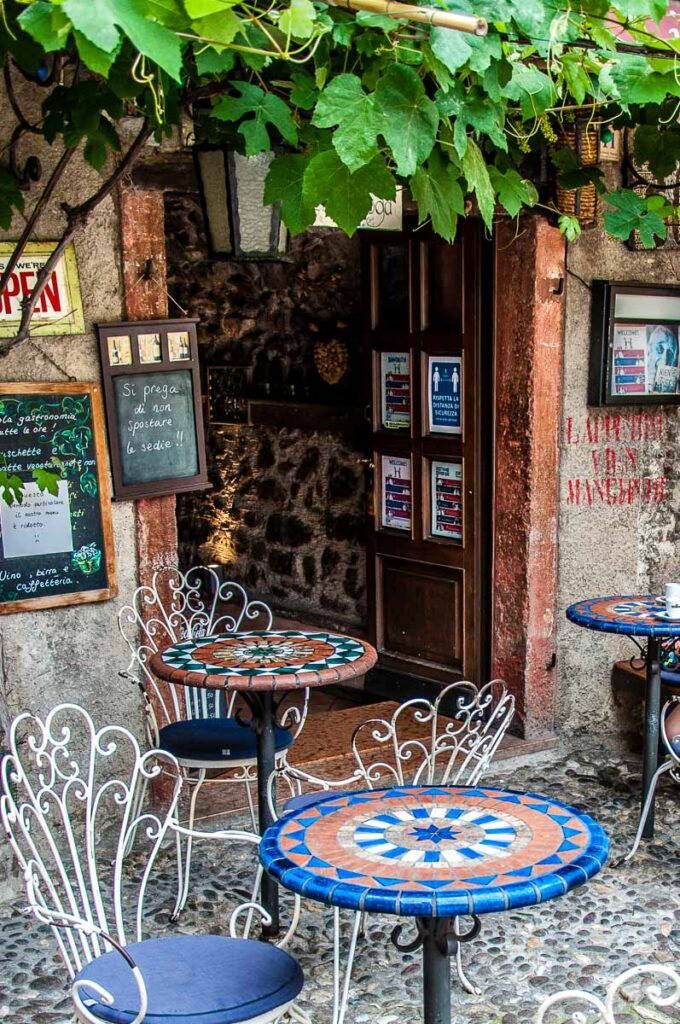 Here, I also have to admit that often when choosing a place to eat at Lake Garda, I have been led primarily by the beauty its location offers.
I remember a gorgeous tiny cobbled square in the small town of Malcesine where an unpretentious eaterie had its outside tables under a lush vine. How could you resist such a setting?!
I remember a stunning 18-century house in the lakefront town of Salò. A bar on its ground floor was serving quite an unimaginative menu of mainly panini and gelato. Its frescoed ceiling and intricate facade decorations called my name though, so we sat in for a light lunch.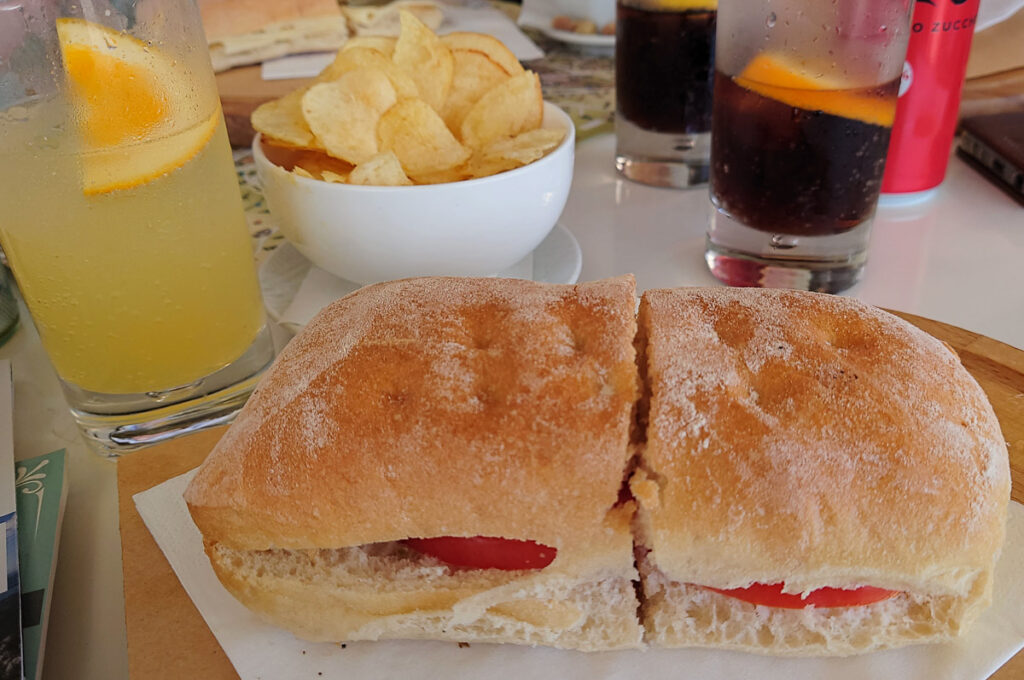 You don't need to spend a fortune or go to very specific places to have great food at Lake Garda, however.
Italians take pride in their food and use fresh, seasonal ingredients supplied by local farms and small producers. With pizzas from small takeaway pizzerias starting from four-five euros and mains in pocket-friendly restaurants from 9 to 20 euros per portion, there is always something delicious to eat and enjoy here.
For more tips about eating well in Italy on a budget, have a look at this blog post:
Finally, bear in mind that the opening hours of many restaurants, trattorias, and osterias around Lake Garda usually include a long afternoon break called riposo. In other words, many of them close after the lunch service and then re-open in the early evening ready to serve dinner.
If you are looking for something to eat in between, head to a local bar. In Italy, this is a mix of a coffee shop, a cafe, and an actual bar where a large selection of light lunches, snacks, sandwiches, and coffees are served all throughout the day.
Where Can I Find More Information about Italy's Lake Garda?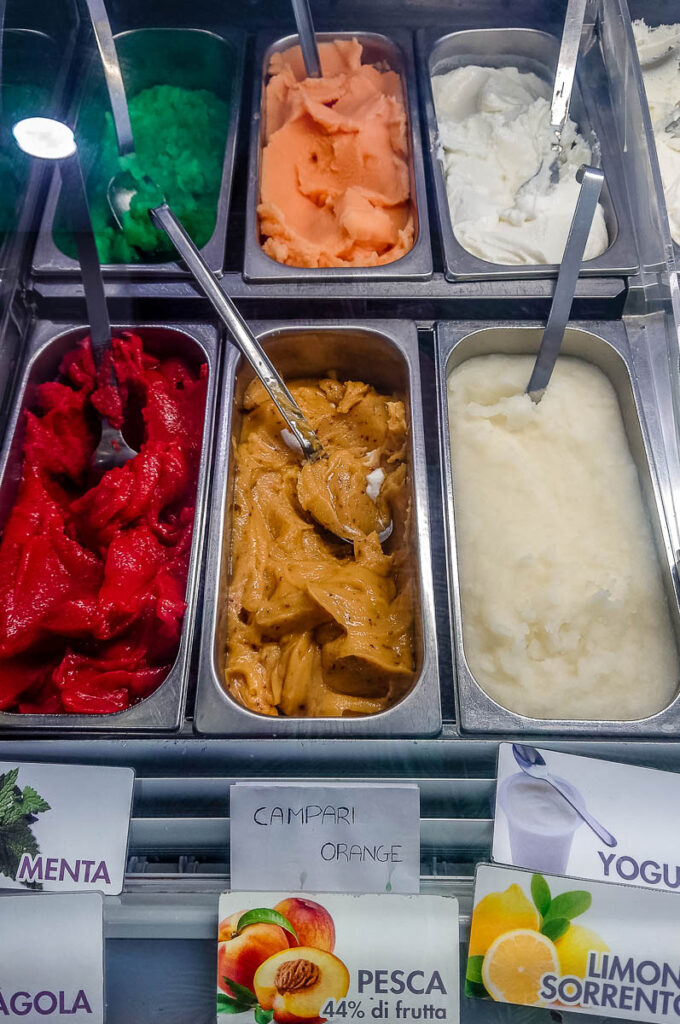 Lago di Garda is Italy's largest lake. With shores dotted with beautiful towns and offering a long list of must-see sights and exciting activities, this is a popular destination in the north of the country.
I have written extensively about Lake Garda and all the wonderful things you can do around it at any time of the year. Click on the Lake Garda category under the Italy topic on my blog for the full list of useful blog posts covering travel to the lake and the best destinations around it.
Alternatively, have a look directly at these detailed blog posts for specific travel information and numerous ideas and suggestions for your Lake Garda plans:
Travel to Lake Garda:
Best Destinations around Lake Garda:
If you like shopping for new books on Amazon, you may also want to leaf through the following travel guides on Lake Garda, Italy:
In case you prefer gorgeous visuals to the written word, have a look at this beautifully shot travelogue taking in the Northern Italian lakes.
In Conclusion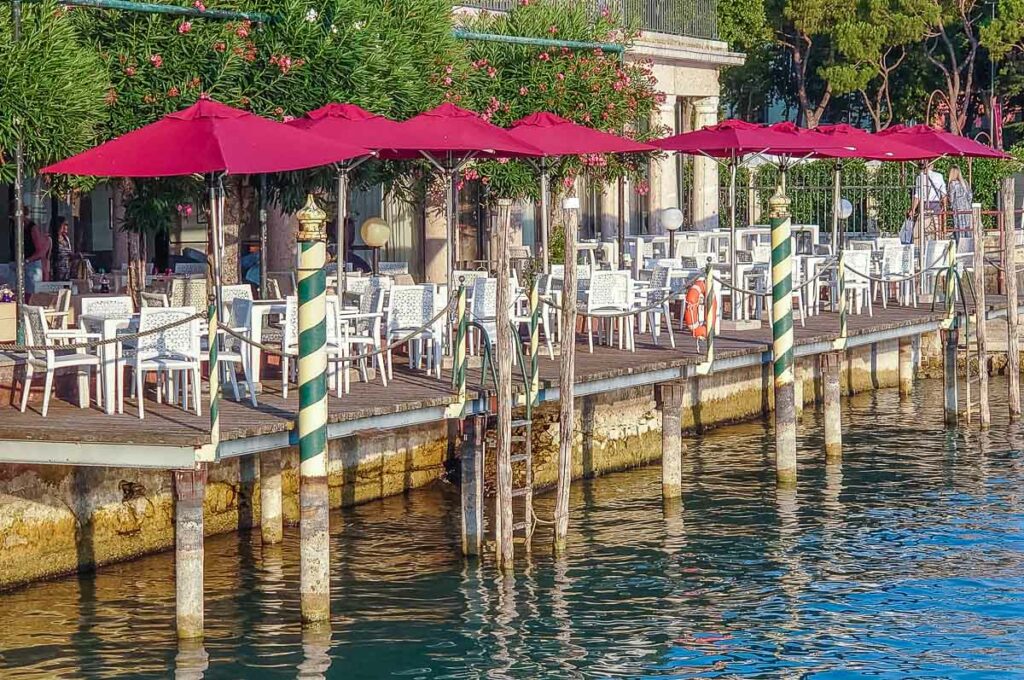 Here you have it! A detailed blog post about the traditional foods and the outstanding wines you can enoy at Italy's largest lake – Lago di Garda!
In it, I have summarised my eight years of travelling to and spending time at the lake from a culinary point of view. From the best fruits grown around Lake Garda to the most traditional fish and meat dishes to savour here, everything is covered. Including cheeses and desserts, and coffees and wines.
I hope that all this information – meticulously organised in helpful sections and peppered with practical tips – is going to come in very useful during your explorations of Lake Garda.
Above all, I hope that it will inspire you to discover new flavours and tastes for yourself. Be adventurous!
Enjoy the food of Lake Garda!
More Helpful Lake Garda Info for You
Lake Garda Towns and Villages: Best Towns, Desenzano del Garda, Riva del Garda, Malcesine, Torri del Benaco, Punta di San Vigilio, Campo di Brenzone, Borghetto and Valeggio sul Mincio
Lake Garda Hiking: Tibetan Bridge, Rocca di Garda, Park of the Waterfalls
Visiting Lake Garda: Map of Lake Garda, Getting Around Lake Garda, Lake Garda with Kids, 8 Best Airports, Venice to Lake Garda, Verona to Lake Garda, Milan to Lake Garda, Bologna to Lake Garda
Lake Garda Beaches: 16 Top Tips, Unmissable Beaches, Jamaica Beach (Sirmione)
Lake Garda Sights: Best Theme Parks, Best Castles, Shortest River in Italy, Sanctuary of Madonna della Corona
More Helpful Italy Info for You
Best of Italy: Italy Gift Guide, Italian Piazzas, Italian Markets, Accommodation for Every Budget, Best Times to Visit Italy, Italy in Summer, Italy with Kids
Italian Food: Best Italian Food Gifts, Cheap Italian Food, Rules of Italian Breakfast, Italian Breakfast Foods
Italian Coffee: Italian Coffee Culture, Italian Coffee Drinks, History of Coffee in Italy
Christmas in Italy: Fun Facts, Things to Do, Italian Nativity Scenes, Panettone, Christmas Guide
Northern Italy: Best Cities to Visit, Major Airports, Reasons to Visit
Lake Como: Things to See, Nesso
Venice: Best Things to Do, Essential Tips, Major Landmarks, Hidden Gems, How to Navigate Venice, Venice in a Day for Art Lovers, Train Stations, Nearest Airports, Best Tours, Beaches of Venice, Quotes about Venice, Boats in Venice, Haunted Venice, Day Trips from Venice, Venice to Lake Garda, Venice to Padua, Venice to Verona, Arco del Paradiso
Verona: Things to Do in One Day, Verona Opera Festival, Day Trips from Verona, Romeo and Juliet Itinerary, Verona to Venice, Verona to Milan
Padua: Things to Do in One Day, 101 Facts About Padua, 10 Reasons to Visit Padua, Day Trips from Padua
Vicenza: Things to Do, Day Trips from Vicenza, Best Museums, The Beauty of Vicenza
Veneto: Top Places to Visit, Unique Adventures, Most Colourful Places, Mysterious Places, Most Beautiful Lakes, Reasons to Visit, Main Cities, Prettiest Small Towns, Most Beautiful Villages
Lombardy: Best Cities and Towns, Reasons to Visit, Brescia
Friuli Venezia Giulia: Venzone, Most Beautiful Villages
Emilia Romagna: Bologna, Ravenna, Comacchio, Most Beautiful Villages
Marche: Reasons to Visit, Gradara, Frasassi Caves, Temple of Valadier
Thank you for reading! Please, leave me a comment, pin the images or use the buttons right at the top and at the end of this blog post to share it on social media.
For more useful information like this, please, like my blog's page on Facebook and subscribe to my strictly no-spam newsletter.
Pin This Blog Post!