Jamaica Beach – or Spiaggia Giamaica in Italian – is the most beautiful and hippest beach to visit on Italy's largest lake – Lago di Garda.
It stands at the end of a long thin promontory and it's a walk away from Sirmione – Lake Garda's most popular town.
Instead of sand or tiny pebbles, Jamaica Beach consists of huge flat rock slabs which surround the whole tip of the promontory. They rise from the depths of the lake and their rough surface pokes above the water. In the glare of the midday sun, the slabs look almost white and provide a striking contrast against the lake in tones of emerald and sapphire.
The ruins of a once-enormous ancient Roman villa make the scene even more breathtaking. They tower over Jamaica Beach and as you swim in the crystal clear water you can easily imagine yourself as a 1st century BC Roman man or woman having an invigorating bath.
The only thing that brings you back to our modern times is the muffled beat that reaches you in waves from the beach bar. Otherwise, this is a place that seems to have changed very little over the last two millennia.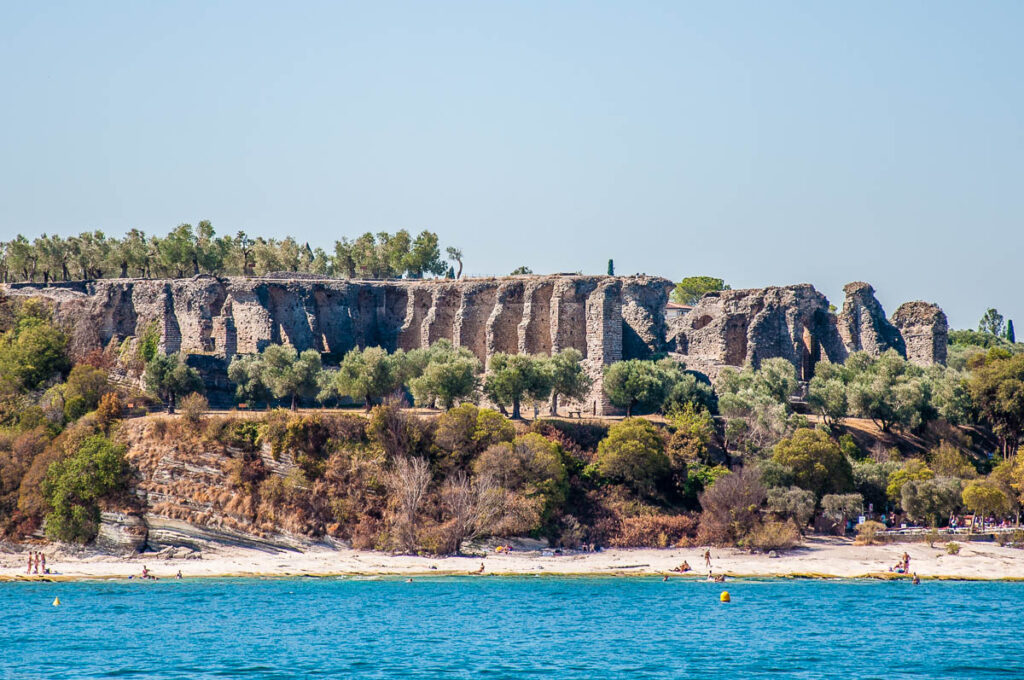 Visiting Jamaica Beach is one of the best things to do not just at Lake Garda but in the whole of Italy, too. It's exciting, it feels authentic, and it gives you a chance to experience Italy on many different levels.
It also feels so reenergising. If you have had a few grey months and you are feeling a bit tired of it all, a swim at Jamaica Beach and some sunbathing on its flat sun-bleached rocks will top your energy levels up. Just like it happened this summer to me!
The best bit is that while hip and vibrant, Jamaica Beach is not one of those beaches where you feel judged based on your beach attire and body shape. It's a place where you get to be yourself and you can truly relax.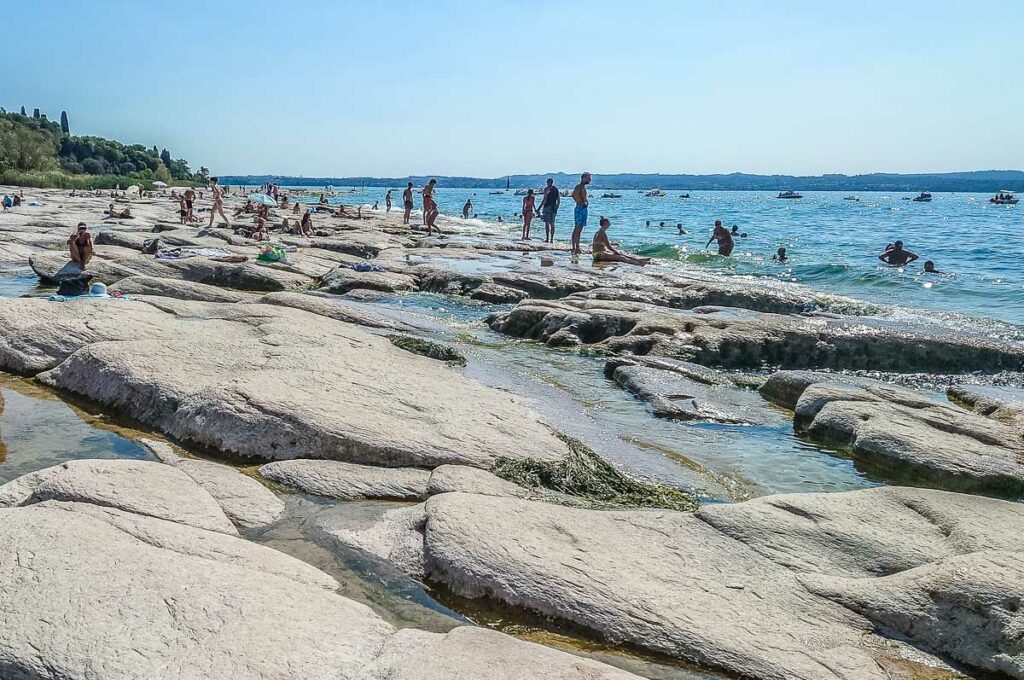 So, in this blog post today, I want to tell you about visiting Jamaica Beach in Sirmione on Lake Garda. How to get there, is it worth it, what to expect, and what to bring with you? It's all covered in easy to browse through chunks of information.
I have also included many practical tips to make your beach visit go as smoothly and enjoyably as possible. Including what to be aware of and be prepared for as this, after all, is quite an unusual beach. Right at the end, you will also find a description of my pesonal experiences at Jamaica Beach over the years and just a week ago this summer.
I hope that all this information will come in very handy when you are planning your time at Italy's Lake Garda and your visit to Sirmione. Without further ado, grab your swimming costume, towel, and suncream and…
Let's dive in!
Jamaica Beach – Visiting The Most Beautiful Beach on Lake Garda, Italy (With Map and Practical Tips)
Pin for Later!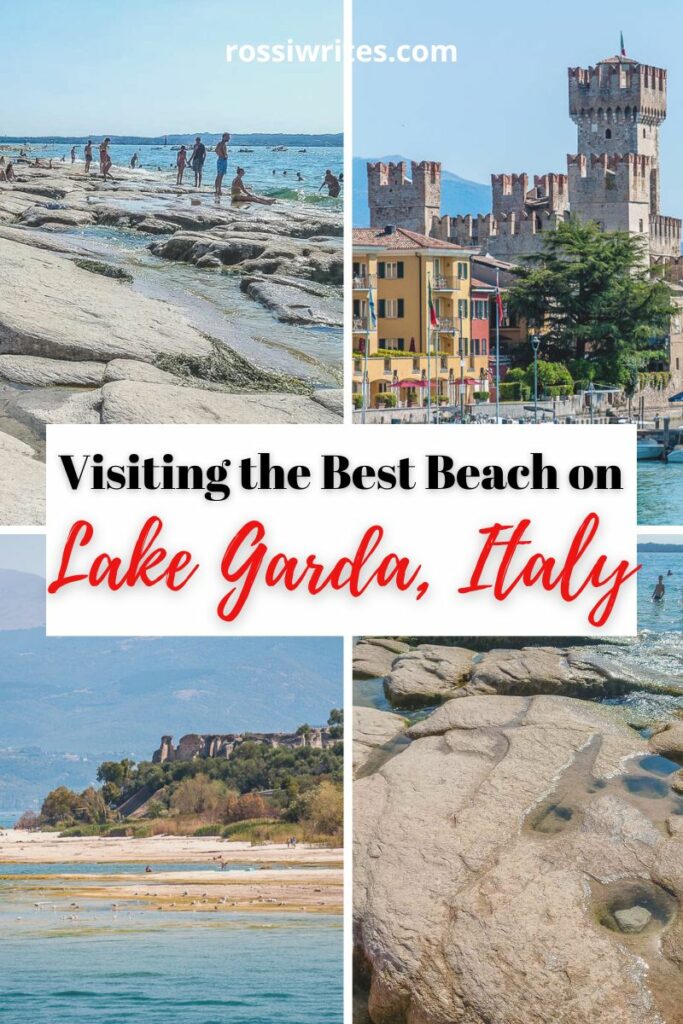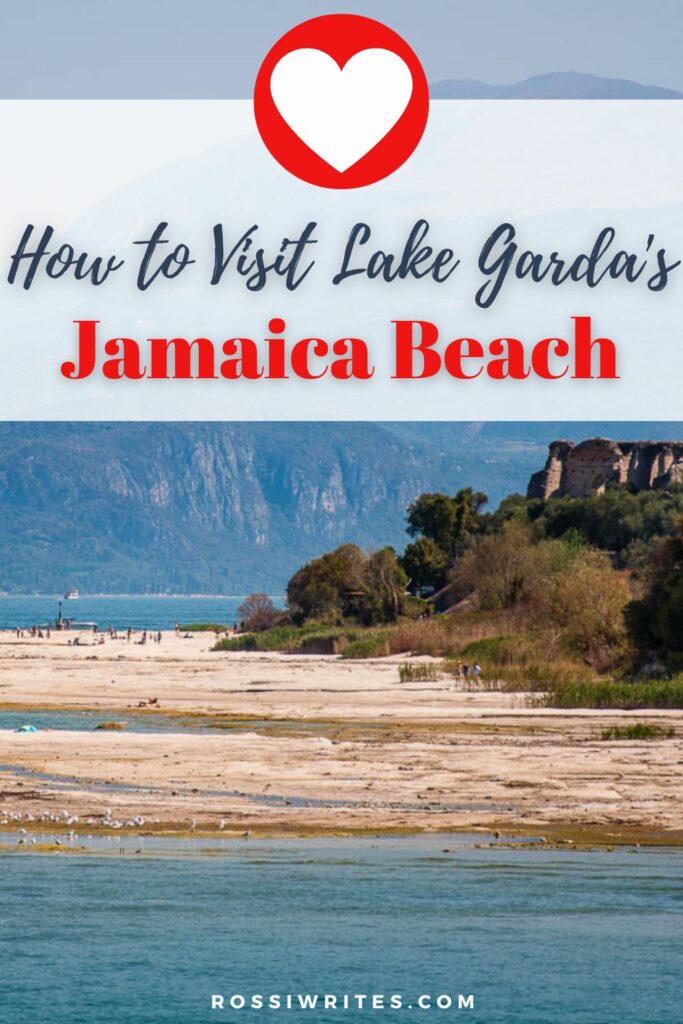 Where on Italy's Lake Garda is Jamaica Beach (Spiaggia Giamaica)?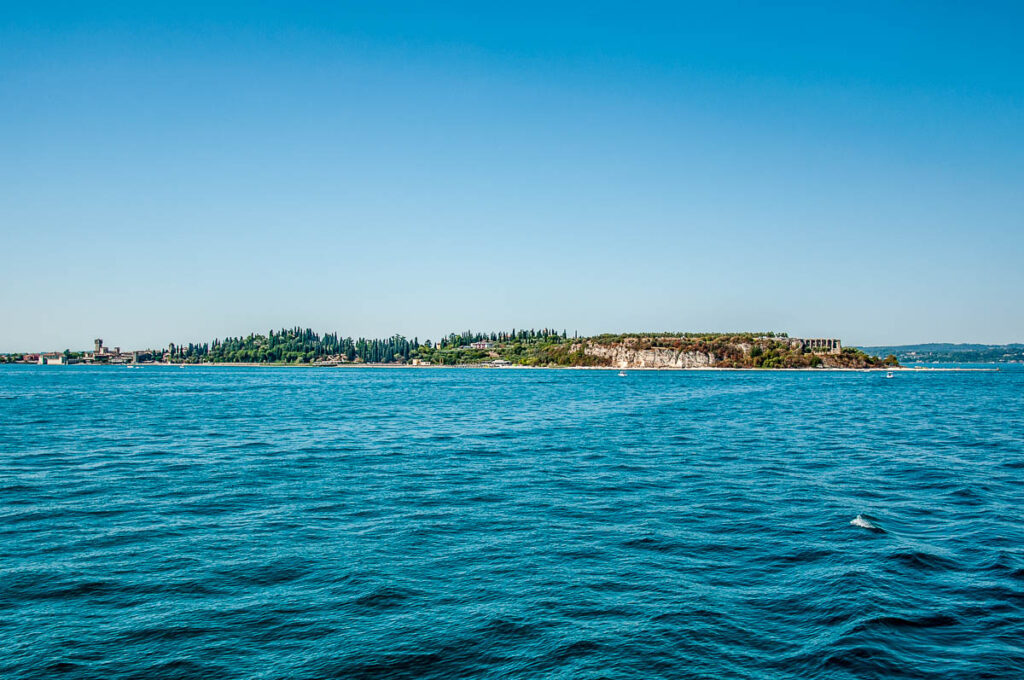 You will find Jamaica Beach right at the end of the promontory of Sirmio. This is a long and thin piece of land that starts approximately at the mid-point of the southern shore of Lago di Garda and then juts deep into the lake.
Houses, hotels, and lavish villas line up this narrow strip of land which ends in a roughly triangular shape. At the start of this triangle stands Garda's prettiest lakefront town – Sirmione. With a medieval castle, a handful of centuries-old churches, and elegant thermal baths, this is a blessed place. Its beauty, historic landmarks, and delicious local food attract crowds of people from all over the world from the first warm days of spring until the beginning of the cold weeks of autumn.
Jamaica Beach stands at the other end of the triangle from Sirmione. It is right underneath the massive ruins of a once splendid Roman villa – Grotte di Catullo. The archaeological park comprising the ruins is one of the most impressive landmarks on Lake Garda and a must-see when you are in Sirmione. In summer, make sure that you combine a visit to it with a detour to Jamaica Beach in order to experience fully what the town of Sirmione and the promontory of Sirmio have to offer – history, stunning nature, and unforgettable Italian moments.
Here is a map showing the precise location of Jamaica Beach on Lake Garda. You can zoom in and out to get a better idea of its surroundings and to calculate directions from any nearby or distant point of departure:
How to Reach Jamaica Beach (Spiaggia Giamaica)?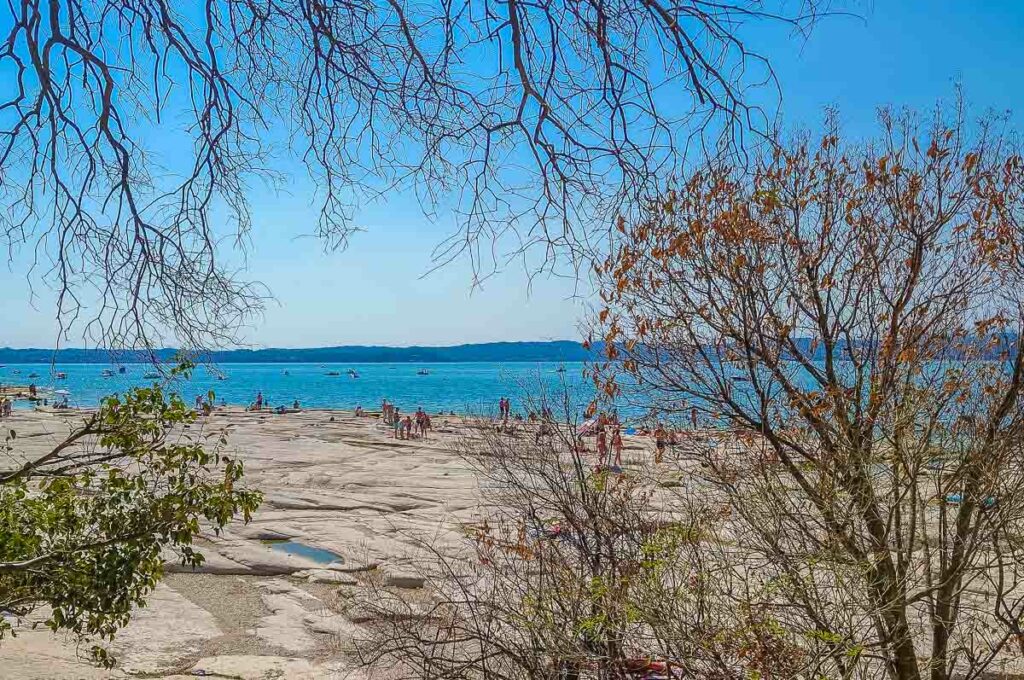 While it is not difficult to reach Jamaica Beach on Italy's Lake Garda, it can be time-consuming depending on your point of departure. You can still visit it on a day trip even if your base in Italy is either Verona, Brescia, Milan, Mantua, Bologna, Vicenza, Padua or even Venice. Just be prepared for an early start.
To make the most of your time at the beach though, it's best if you are staying either in Sirmione, Desenzano del Garda, Lazise, Garda or another nearby lakefront town.
In any case, here is how to proceed in the easiest and most organised manner:
First, You Will Need to Reach Sirmione!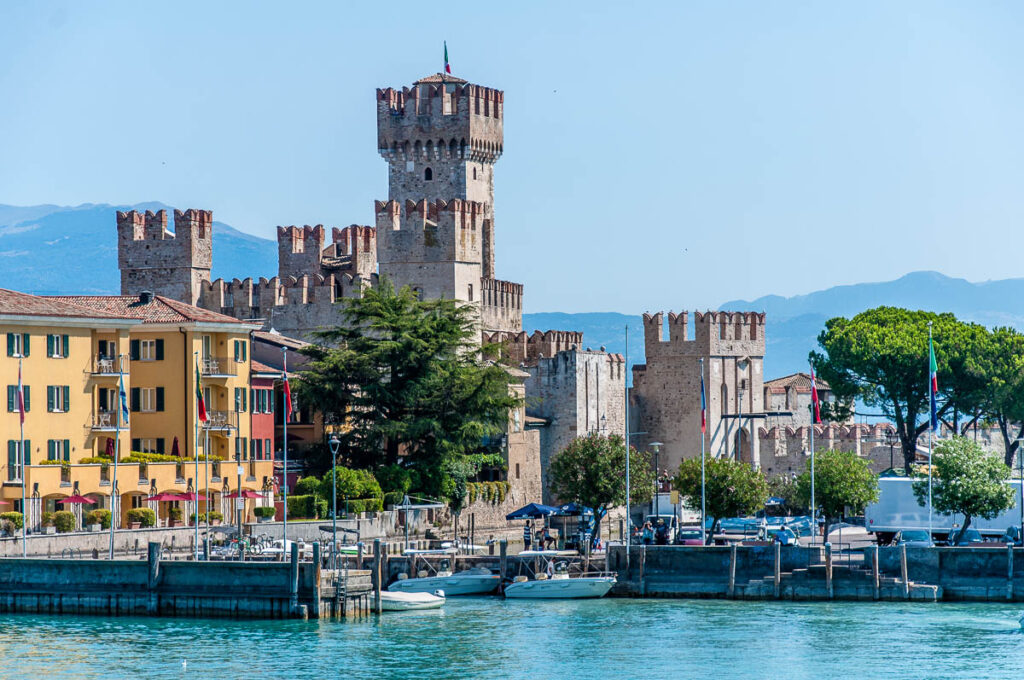 There are at least four ways to do it, depending on your point of departure and type of transport.
You can travel by train from either Verona, Brescia, Milan, Mantua, Bologna, Vicenza, Padua or Venice to Desenzano del Garda and then take the ferry across to Sirmione.
In this case, bear in mind three things. One is that depending on the type of train and your point of departure, you may need to change trains in Verona. The other is that if you are coming from further afield like Bologna or Venice, then taking the high-speed train pays off in terms of time savings. You can use Omio and Italo Treno to research timetables and prices in advance.
The last thing to know is that the walk from the train station to the ferry port in Desenzano del Garda takes about 15 mins. The ferry crossing takes only about 17-18 mins. You can check the current timetable at the official website of Navigazione Laghi (in English).
Personally, for me this is the easiest way to reach Sirmione if you are visiting Lake Garda just for the day from one of the largest northern Italian cities.
You can travel by bus line 026 from either Brescia or Verona to Sirmione. The stop you'll want to get off at is Sirmione Largo Faselo (near the Scaliger Castle at the start of the town's historic centre). You can also get this bus from Desenzano del Garda's train station thus avoiding the long walk down to the ferry port.
You can travel by ferry or bus to Sirmione from other lakefront towns such as Lazise, Garda, Bardolino, Peschiera del Garda, and so on. Check the current timetables to see which type of transport will be more convenient for you. Use Navigazione Laghi (in English) for the ferry. Bus line 164 will take you from Garda, Bardolino, and Lazise to Peschiera del Garda. Once there, change to bus line 026 to Sirmione Largo Faselo (near the Scaliger Castle at the start of the town's historic centre).
If you are arriving by car, check Sirmione's official website for the best place to park. Bear in mind that during the high season, there is a huge flow of people and vehicles to Sirmione. Parking near Largo Faselo (near the Scaliger Castle at the start of the town's historic centre) may be impossible.
Check if there is a shuttle service offered from your chosen car park to Largo Faselo / the Scaliger Castle. Otherwise, you may also consider parking near a ferry port or a bus stop in another lakefront town and reaching Sirmione by public transport.
Useful Tip:
Have a look at these blog posts to find out how to reach Lake Garda by either train, bus or car from four of the largest Northern Italian cities:
Next, You Will Need to Reach Jamaica Beach from Sirmione!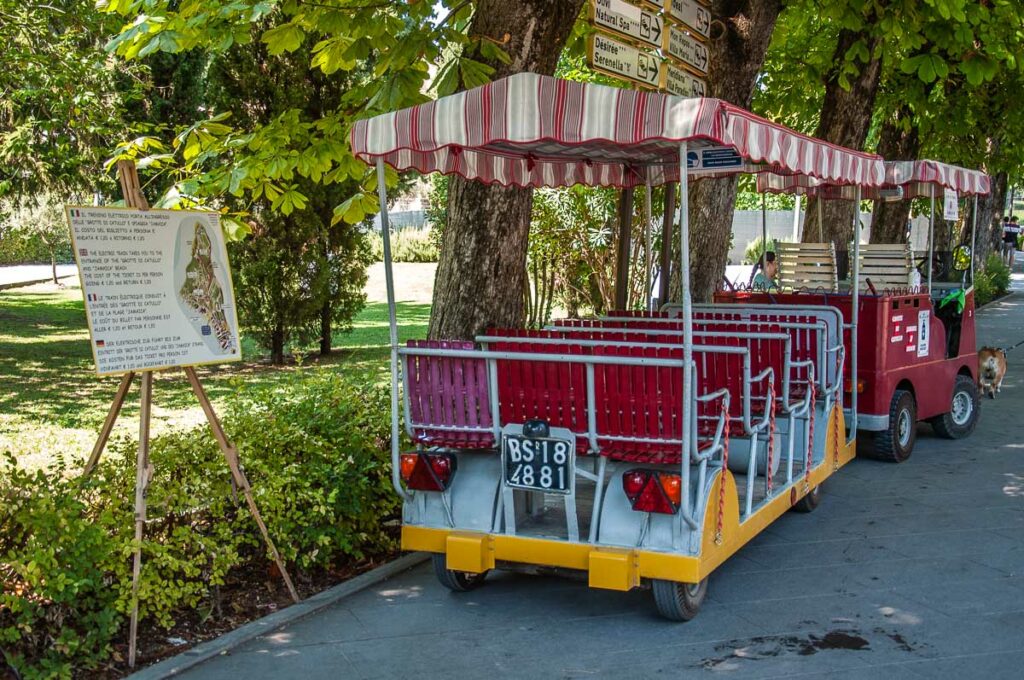 Once in Sirmione, you need to make your way across the town and then all the way to Jamaica Beach. This is a distance of just under 1.5 km. It's easy to navigate on foot but in the midst of summer and in the chaos of the crowds that besiege Sirmione, walking it may feel very taxing.
So, this is what to do for the easiest way to get there.
If you have arrived by ferry, your point of departure will be Piazza Giosuè Carducci in Sirmione. If you have arrived by either bus or car/shuttle bus, you will be starting your walk from the medieval Scaliger Castle at the entrance to Sirmione's historic centre. Both the piazza and the castle are very close to one another, so the directions from this point onwards are the same.
Start walking towards Parco Don Lino Zorzi. This is a small park about 400 m away from the Scaliger Castle and 350 m away from Piazza Carducci. You will be walking in a straight line, following Sirmione's main street. There is no chance to get lost or confused. Sidetracked – yes, as the town is very cute and has lots of great shops.
Right next to Parco Don Lino Zorzi stands Aquaria – Sirmione's elegant thermal spa. So, as you approach the park you will see a large water fountain with gushing water.
Once you reach the park, during the high season there are three small tourist trains that shuttle people up to the archaeological park of Grotte di Catullo. The trains stop right by the park and leave as soon as one of them is full of people. The price of the ticket this summer was 1.20 euros one way. Bring cash. It will be the best money you will spend in Sirmione this day.
The train covers a distance of about a kilometre. It's very convenient, as you avoid walking uphill in the hot sun and it cuts your travelling time significantly. If you prefer, of course, you can walk it, too. Just follow the main road. It's all very obvious and clear. There are many signs pointing to Grotte di Catullo along the way.
The train will drop you off by the ticket office of the archaeological park of the ancient Roman villa Grotte di Catullo. There is a small potable water fountain here and you can fill up your water bottle for free.
There is a small gate and behind it, a wide path leads downhill through an olive grove. In high season, you will see a constant trickle of people going up and down the path. Follow them and soon you will get your first glimpse of Jamaica Beach through the branches of the olive trees. Bear in mind that the olive grove is private property, so stay on the path.
Here is a map showing the five major stops on our itinerary:
Points of Departure: 1. Scaliger Castle 2. Piazza Carducci
Mid-point: 3. Parco Don Lino Zorzi
End-point: 4. Grotte di Catullo Archaeological Park 5. Jamaica Beach
What Makes Jamaica Beach (Spiaggia Giamaica) A Must-See?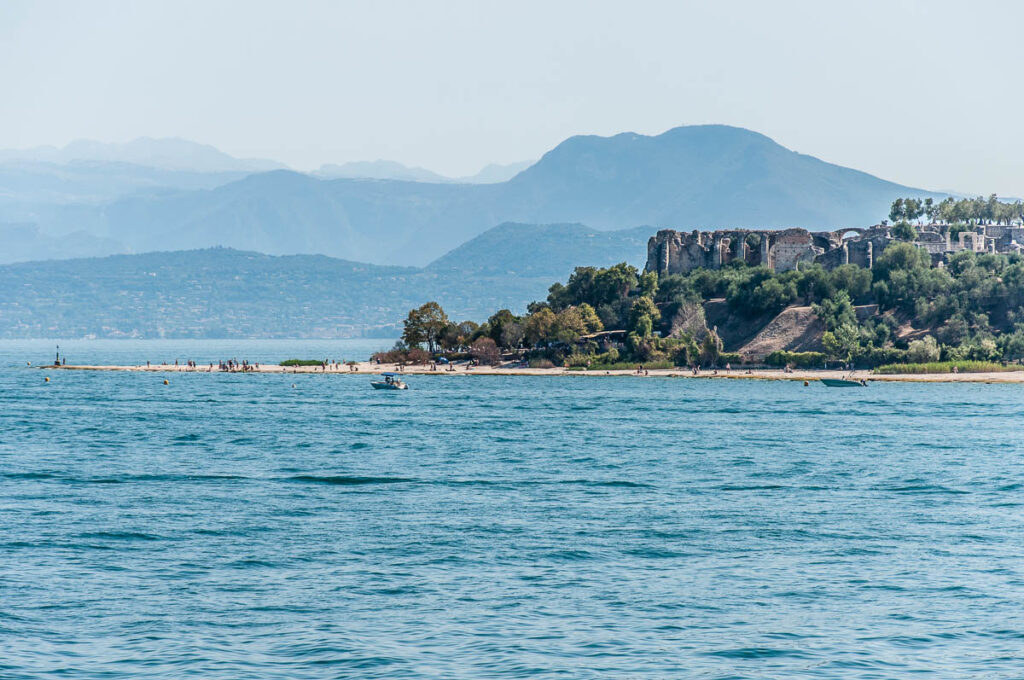 Jamaica Beach is easily the most beautiful beach on Lake Garda and one of the most unique beaches in all of Italy. It's still a somewhat hidden gem. However, it attracts an ever-growing number of people year after year. Yet, it still offers an authentic way to experience the best of Italy's nature coupled with stunning panoramic views of Italy's largest lake under the watchful eye of impressive in their scale ancient Roman ruins.
The most spectacular thing about Jamaica Beach is that here the beach strip is not made of sand or pebbles. Instead, it's a huge slab of flat rock that has been eroded by the water and the wind into a series of sun-bleached stone plates. While flat, the rock is very textured so you can – in a way – see how the waves have glided over it over many thousands of years. You can also see the fissures between the different layers.
And, if you have a vivid imagination, you can imagine this huge layer of rock rising from the depths of the lake and supporting all of the promontory of Sirmio on its back. It will certainly appeal to geologists, photographers, and people in love with the beauty of nature.
This incredible photo gives you a great visual idea of what I have tried to express in the preceding lines. Jamaica Beach are the bright squares and rectangles of dry land right on the edge of the promontory. Bear in mind that the surface of the beach expands or shrinks depending on the current level of the lake waters.
Throughout this blog post, I have peppered the photos I personally took of Jamaica Beach during my last visit there a week ago this summer. You see how much bigger the beach currently is due to the drought that has been blighting Europe over the hot months of this year.
What Facilities There Are at Jamaica Beach (Spiaggia Giamaica)?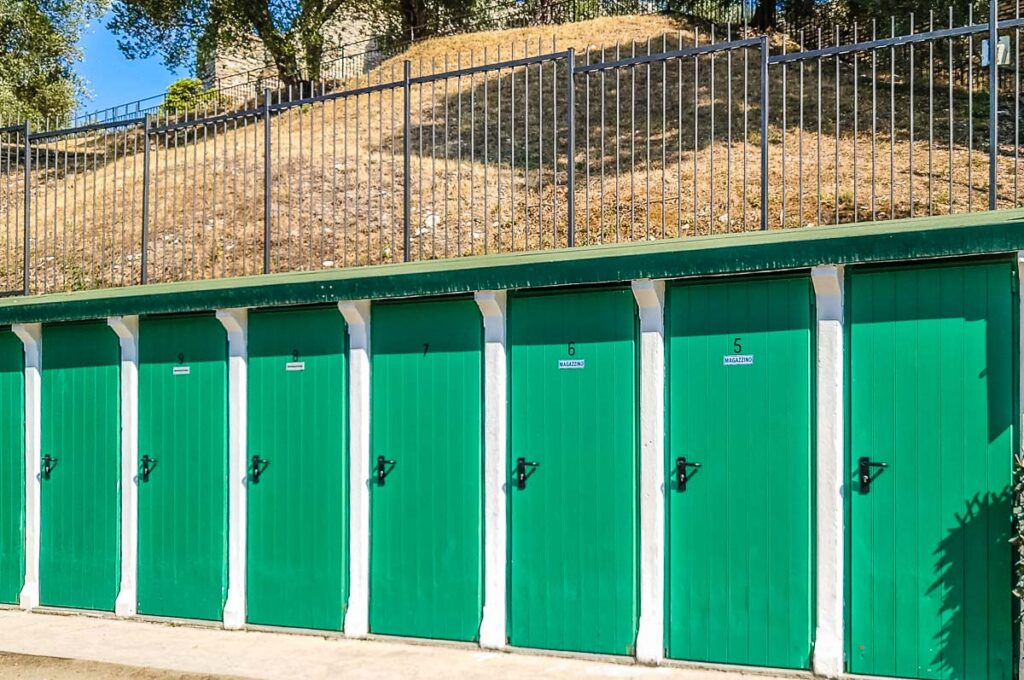 Jamaica Beach has several amenities, however, to a large degree it's still a wild place.
During the high season, the beach is open from 9.00 am to 8.00 pm. The metal gate leading to it is locked overnight. There is a bar where you can buy drinks, cocktails, and food. You can also pay to use the sunloungers placed in the shadow of a small copse of olive trees.
Next to the bar, there are changing cubicles, showers, and toilets which are free to use.
Music is played at the bar and the beat reaches you as you swim in the water, adding to the chilled vibe of the whole experience.
Beyond the services and amenities offered by the bar, access to the beach itself is free. The responsibility for your safety remains with you.
What to Bring for a Great Day at Jamaica Beach (Spiaggia Giamaica)?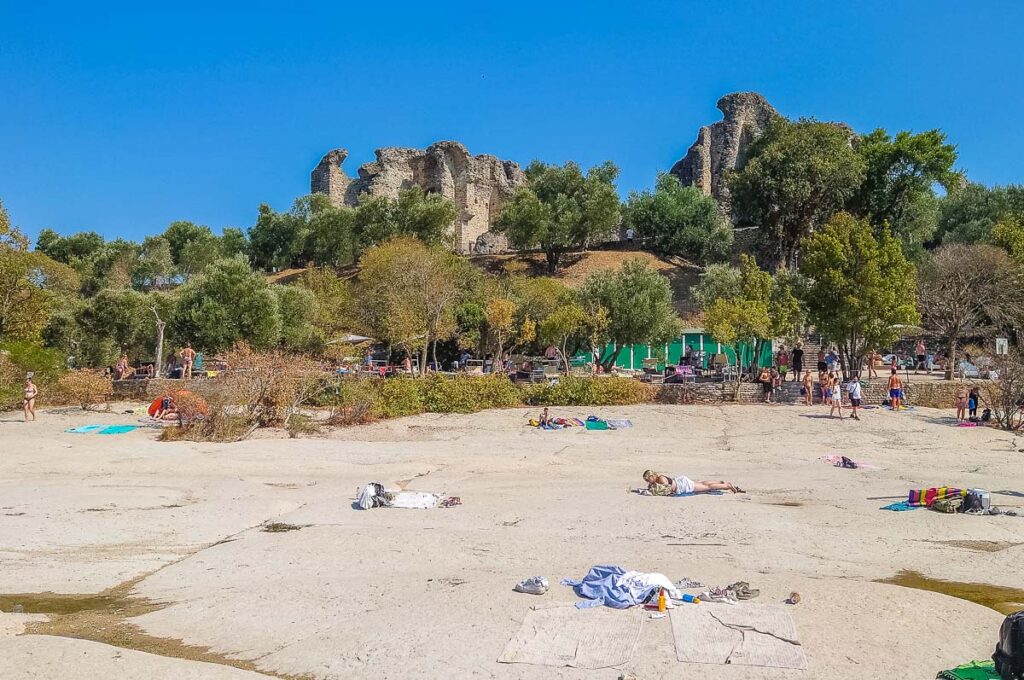 Here is a handy packing list of some of the things you may find useful to have on you during your visit to Jamaica Beach in Sirmione on Lake Garda. While it's not exhaustive by any means it will give you a good starting idea:
Towel – this is self-explanatory. You will need a beach towel to make sitting on the flat rocks a bit more comfortable and to towel yourself off after a swim.
Bathing Costume – bathing suits are not optional at Jamaica Beach.
Suncream – unless you book a sunlounger in the bar area, there is very little shadow to be found at Jamaica Beach. Slather the suncream as the sun is unforgiving.
Water Shoes – make sure that they have a good grip as the rock slabs are very slippery when wet.
Goggles / Snorkelling Gear – the water at Jamaica Beach is crystal clear and you may get to see some cool lake fish. My husband and daughter love snorkelling and told me they saw lots of fish in the deep crevasses between the rock slabs.
Water – it gets very hot there during the day. You will want to keep hydrated. You can top up your water bottle from the free water fountain next to the stop of the tourist train at the top of the path.
Snacks – if you are planning to spend the day at Jamaica Beach and don't want to go to the bar for every little thing, bring your snacks with you. Make sure that you clean after yourself and take your litter home with you. Also, bear in mind that barbecuing and/or lighting fires are expressly forbidden here and on all other beaches in Sirmione on Lake Garda.
Sunhat – it will come in very handy to offset the lack of shadow.
A change of clothes – to look nice and presentable after a day spent swimming and sunbathing at this still very much a wild place.
What to Be Aware of at Jamaica Beach (Spiaggia Giamaica)?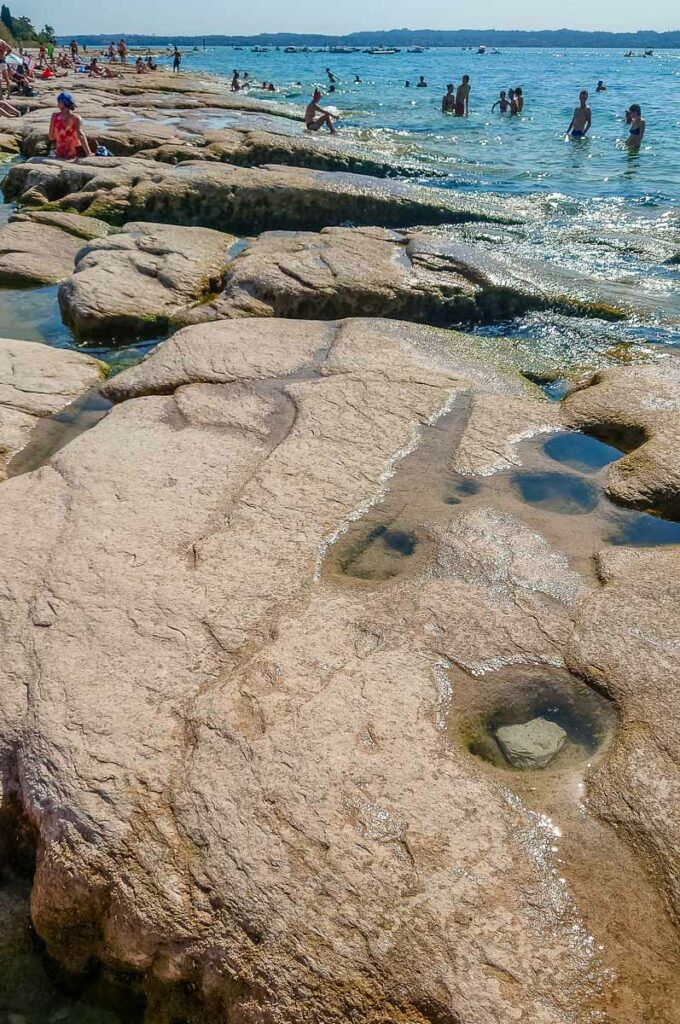 While Jamaica Beach is beautiful and very special, there are certain things you need to be aware of in order to decide if you want to see it for yourself or not. Here they are in no particular order.
Changeable Water Level – how much of the flat rock slabs will be exposed depends strictly on the current weather conditions. The drier the summer, the bigger the beach gets. Pictures from previous years or months may show a smaller or much bigger beach than what you get to see when you visit.
Lack of Shadow – unless you hire a sunlounger near the bar, there isn't much shadow to be found at Jamaica Beach. Especially when the water level is down. It can get very hot on the flat rocks.
Slippery stones – the biggest disappointment you may experience at Jamaica Beach is upon discovering that the beautiful flat rocks get very slippery when wet. Microscopic algae seem to thrive on them and turn them into veritable slides when a bit of water washes over them.
Be very careful when walking on wet stone surfaces here. Don't run! When getting in the water, you may discover that the best way to do it is to sit down and slide slowly on your backside. Everyone is doing it and it becomes a bit of a bonding experience as everyone is laughing about it.
Unfortunately, I saw a girl running into the water and then slipping and falling heavily on the stones. Thankfully, she didn't suffer any obvious damage.
Uneven Surfaces – the other thing you will soon notice at Jamaica Beach is that the rock slabs have deep fissures between each other and – often – deep holes in them. You need to be careful where and how you step as it's easy to imagine a painfully twisted ankle (and even worse!) if your foot gets in the narrow space between two slabs or slips into a hole.
This applies to both the stone slabs peeking over the water and the ones submerged in it. Thankfully, the water is crystal-clear and it's easy to see where one steps. But it's something to have in mind at all times.
Stagnant Water – during times of drought, the water recedes and leaves an ever-larger surface of flat rocks exposed. Small pools of water may remain in the recesses between the different stone slabs and stagnate. They look green and may smell a bit. Try positioning your towel further away.
Sudden Drop – the flat rocks seem to end suddenly and then the water gets very deep very fast. Exercise caution when swimming here at all times!
This, by the way, it's not an exhaustive list. There may be other things at Jamaica Beach you may dislike or find difficult to deal with depending on your personal tastes and abilities.
Can I See Jamaica Beach (Spiaggia Giamaica) Without Actually Walking All the Way There?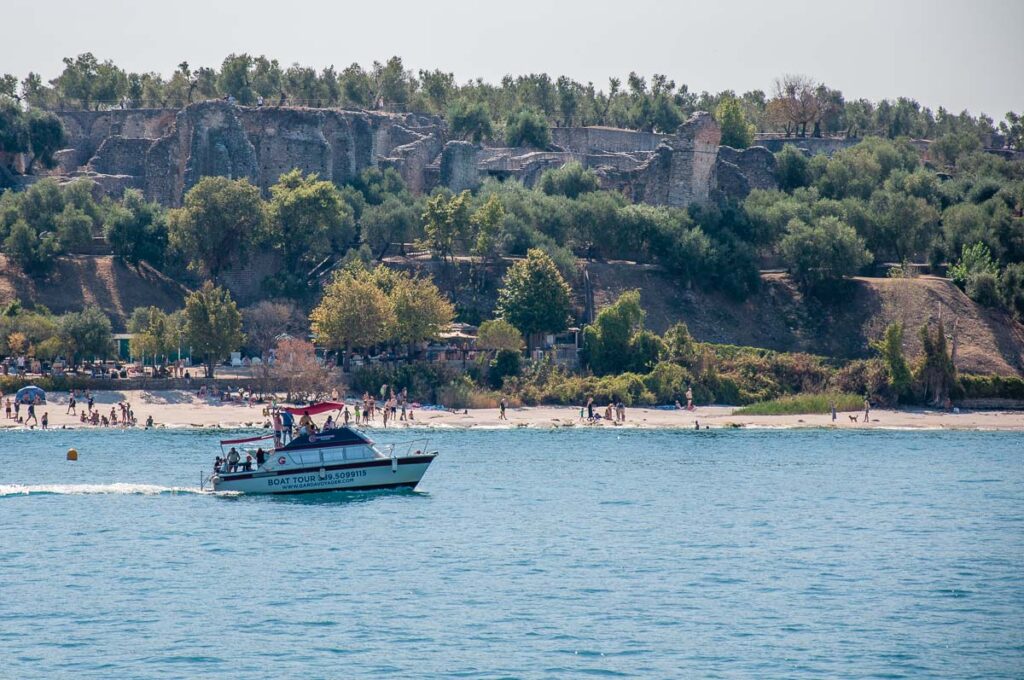 Yes, this is actually super easy! You just need to join one of the many boat tours around the promontory of Sirmio. During the high season, they leave regularly throughout the day from the small port next to the Scaliger Castle. You can book in advance online.
Where Else Can I Go to the Beach at Lake Garda, Italy?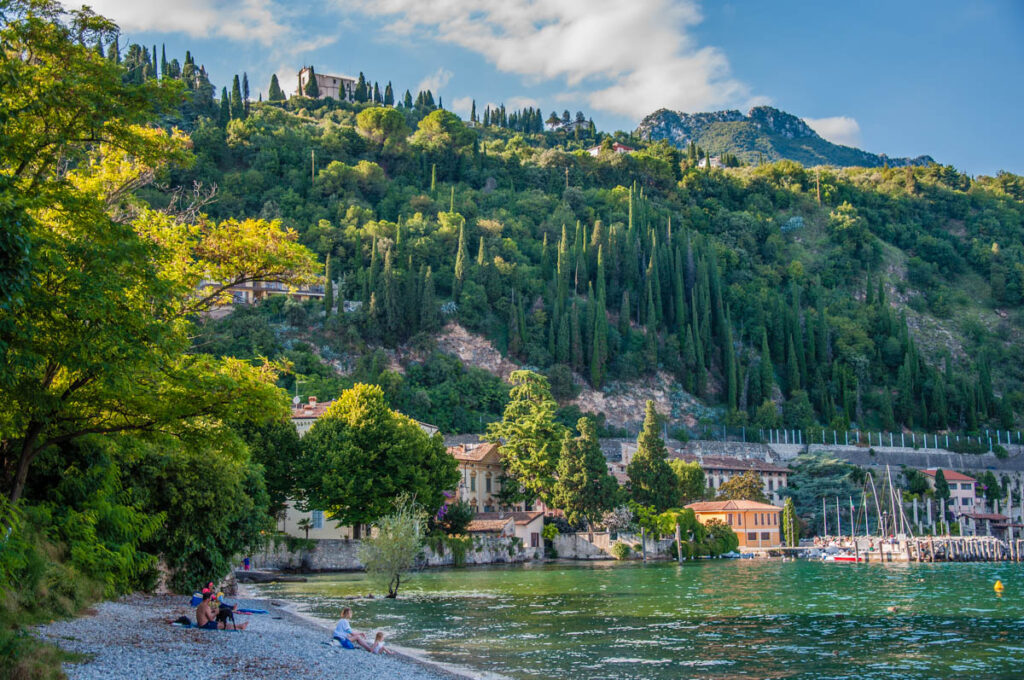 There are over a hundred beaches at Lake Garda in Italy. From tiny pebbly beaches where it's just you, the water, and the sun to places dotted with sunloungers and umbrellas and charging an entrance fee, you have a big choice in terms of swimming and sunbathing here.
There are several other beaches in Sirmione in addition to Spiaggia Giamaica. Just around the corner from it, you will find the very well-presented Lido delle Bionde. Along the promontory of Sirmio, you can also go to Spiaggia delle Muse, Lido Galeazzi Beach, Brema Beach, Lido di Lugana, and Punta Gro Beach.
For more details about beaches to enjoy at Lake Garda, have a look at these two blog posts:
What Other Water-Based Activities Can I Enjoy at Lake Garda, Italy?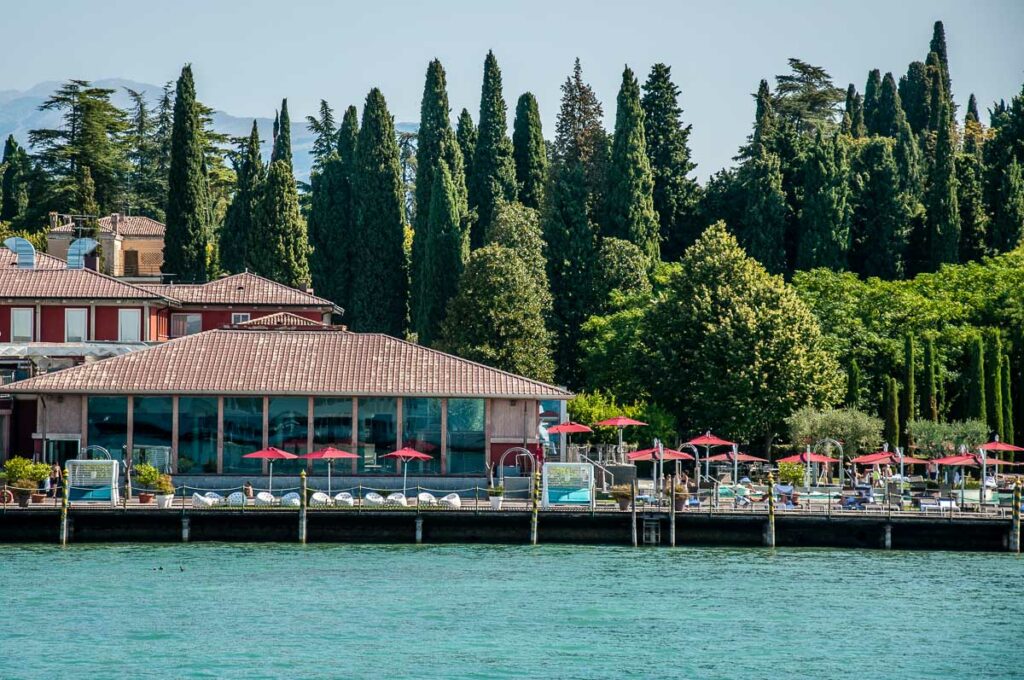 If water is your thing, you will be spoilt for choice at Lago di Garda. Italy's largest lake is a hotspot both for water-based sports and relaxing water activities.
At different spots around the lake, you can windsurf, kitesurf, water ski, dive, sail, paddleboard, hire a pedalo or a motor boat and even practice canyoning and canoeing. You don't have to be an expert either.
Many water sports companies around the lake offer tasters, individual and group training, guided practice, as well as boat and sailing tours. Also, at several of the beaches around Lake Garda, you can easily and cheaply rent pedalos and canoes for a set amount of time.
Many thermal springs dot the shores and the underwater bed of lake Garda. They feed excellent thermal spas and resorts. It's a pleasure to spend a few relaxing hours in them during your Italian holiday. Aquaria Thermal SPA (pictured above) is a beautiful spa in Sirmione. It's easy to reach from Jamaica Beach and has some great offers to book in advance online.
Parco Termale Villa dei Cedri and Aquardens Thermal Baths also come highly recommended.
Even better! Right next to Lake Garda, you will find some of the largest and best water parks in Italy. They are great places to spend hours having fun in the water. Click for further details and to purchase tickets: Gardaland and SEA LIFE Aquarium (with Legoland Water Park), CanevaWorld Resort, Cavour Water Park, and Le Ninfee del Garda Water Park.
For more water parks and amusement parks to visit nearby, have a look at this blog post:
Where Can I Find More Information about Italy's Lake Garda?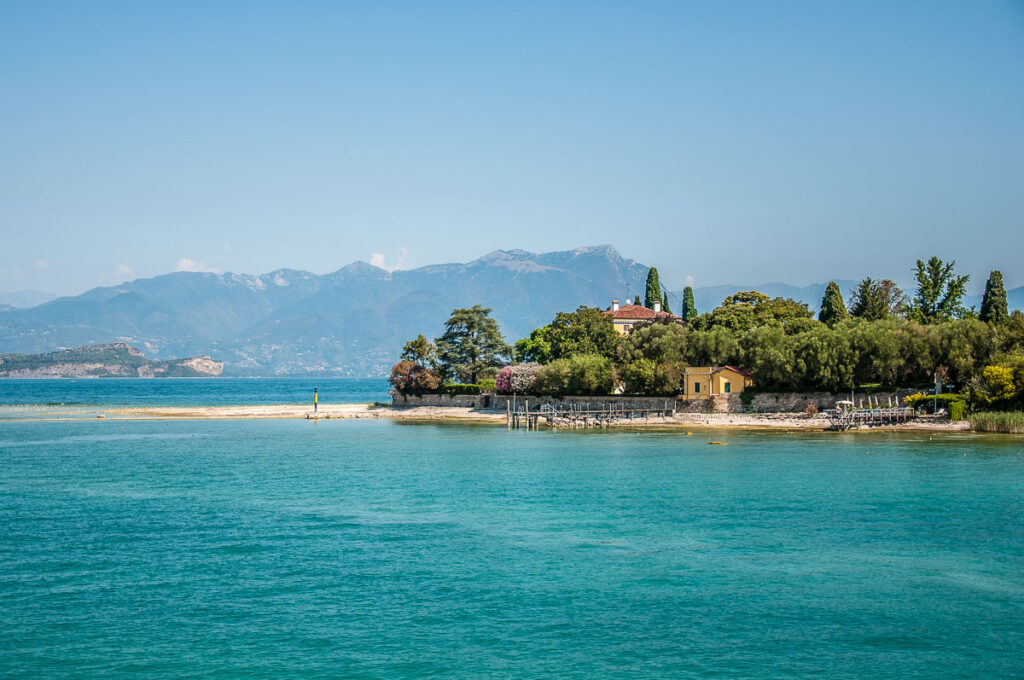 Lago di Garda is Italy's largest lake. With shores dotted with beautiful towns and offering a long list of must-see sights and exciting activities, this is a popular destination in the north of the country.
I have written extensively about Lake Garda and all the wonderful things you can do around it at any time of the year. Click on the Lake Garda category under the Italy topic on my blog for the full list of useful blog posts covering travel to the lake and the best destinations around it.
Alternatively, have a look directly at these detailed blog posts for specific travel information and numerous ideas and suggestions for your Lake Garda plans:
Travel to Lake Garda:
Best Destinations around Lake Garda:
If you like shopping for new books on Amazon, you may also want to leaf through the following travel guides on Lake Garda, Italy:
In case you prefer gorgeous visuals to the written word, have a look at this beautifully shot travelogue taking in the Northern Italian lakes.
My Personal Experience of Visiting Jamaica Beach (Spiaggia Giamaica) on Lake Garda in Italy
I have long been a fan of the unique beauty of Jamaica Beach on Lake Garda and have wanted to write about it for a very long time. This summer, I finally managed to get some photos of it, too. From many different angles. So, the time was finally right for me to sit down and tell you all about this rather striking beach.
Now, many people may say that this is not a beach, after all, as there is no sand or pebbles on it. Others may claim that Jamaica Beach is overhyped. And in a way, they may be right.
This is not a typical beach, I agree. If the water is high, its unusual flat rocks may be almost completely submerged not leaving much space to open your towel. If it is a dry summer, then the rocks – sun-bleached and rough-textured – stretch for dozens of meters and shadow is scarce. Once wet the rock slabs get very slippery. Not to mention that simply reaching Jamaica Beach takes quite the effort.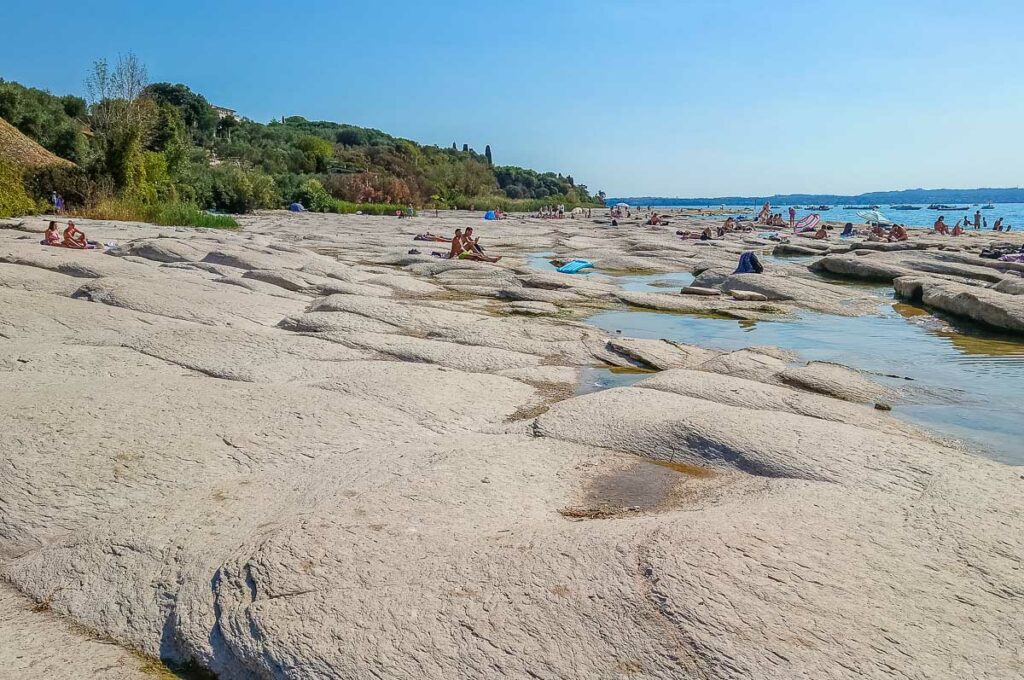 Yet, this is where the beauty of this unique beach lies. Still very much a wild place, visiting it is more a state of mind than a manicured summer experience. The moment your eyes glimpse the emerald waters brimming the flat rocks, you know you have reached a very special place.
With the ancient Roman ruins towering above the beach and the huge expanse of Lake Garda stretching in front of your eyes, this is a place where nature, history, and people meet and where you can simply be. It doesn't matter how old or young you are, how beach-perfect you may or may not feel. The cost and cut of your bathing suit are of no importance. No one cares if you are cool or not in real life.
You may not even be a beach person at all! I actually don't really like sunbathing and spending a whole summer holiday just lying on the beach is my idea of boredom and hell. Yet, I only too gladly make the trek to Jamaica Beach for the unique mix of emerald waters, historic ruins, and flat rocks.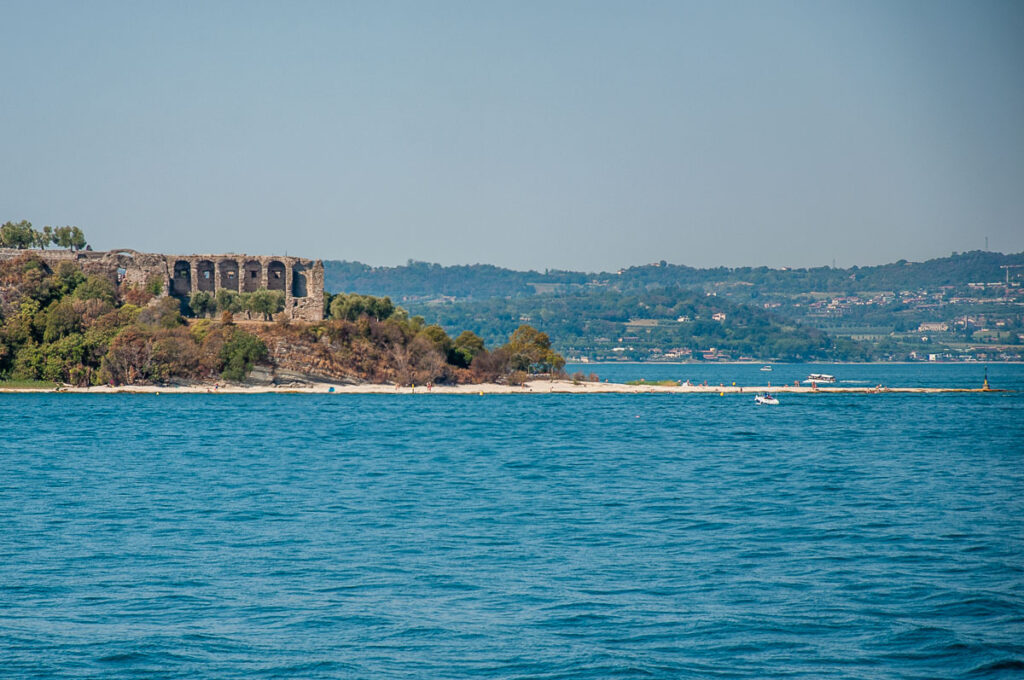 After two years in England, this summer we returned for the first time to Italy – a country where we had spent six years before. When choosing the places to visit and revisit during our one-week stay, we all – my husband, our daughter, and I – voted for Lake Garda. We had often spent happy day trips and longer stays on its shores and wanted to see it again.
In my mind, I then made a plan to return to Jamaica Beach once more. This is how at the height of summer and on a day when the temperature hit 36 degrees Celsius, we made the ferry crossing from Desenzano del Garda to Sirmione, then braved the crowds besieging this ancient lakefront town, and finally got the tourist train from the small green park to the large archaeological park of Grotte di Catullo.
Finally, we walked down the path – sloping downhill and curving through the olive grove. The water and the flat rocks flashed through the branches in images that I had spent many months wondering if I would ever get to see again. Soon, we could sense the beat of the trance-y music played by the beach bar.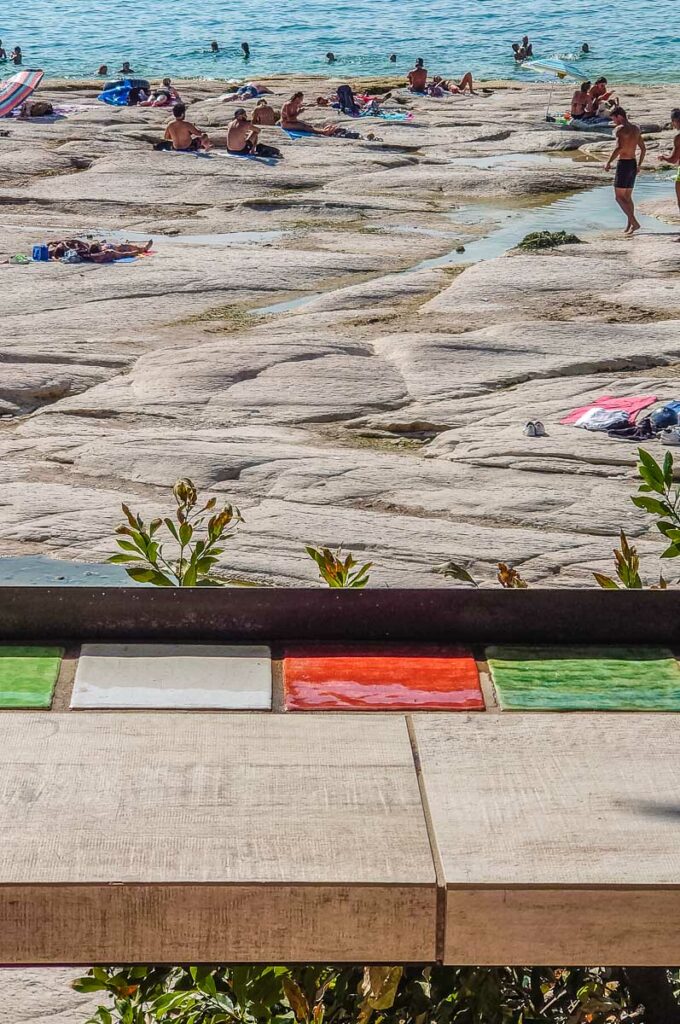 We threw our stuff on a flat slab near the edge of the water and jumped in. The hot dry summer had exposed a huge strip of the rock surrounding the tip of the promontory of Sirmio. It had also boiled the water of the lake to the temperature of tepid tea. It was so exciting just to be there. Swimming, splashing, and at all times carefully avoiding getting my feet stuck in the deep crevasses between the rock plates.
The day after, we got on the ferry again to ferry hop around the lake. From Desenzano del Garda we headed first to Sirmione – where we remained on board – and then to Lazise – another pretty as a picture lakefront town. As the ferry left Sirmione's small port and started to go round the promontory, I positioned myself on the deck ready to capture the beauty of Jamaica Beach.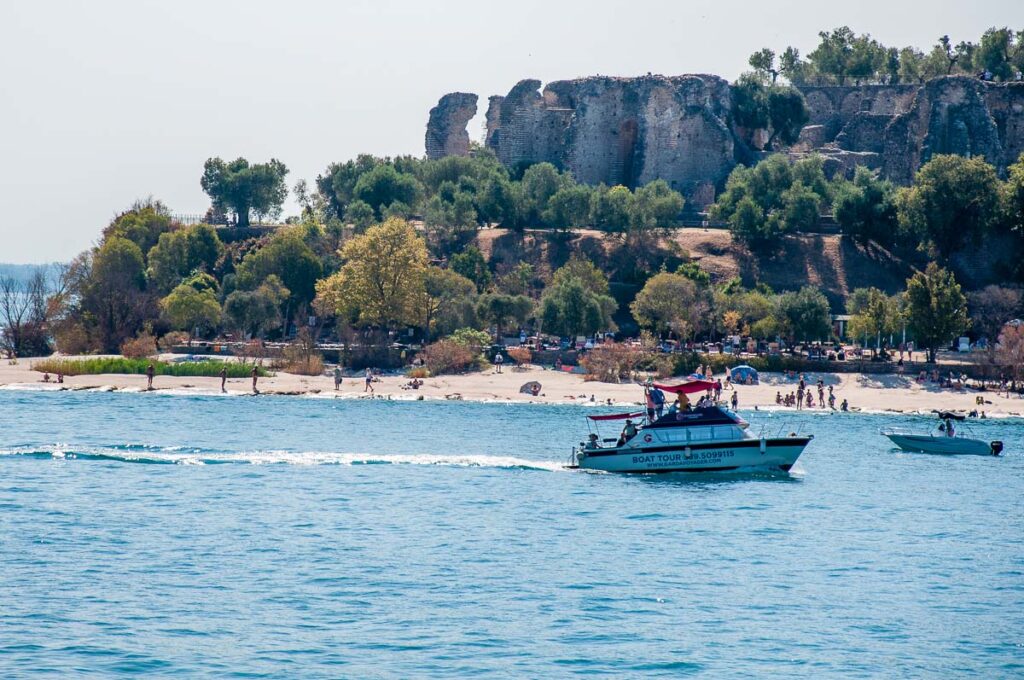 The day after, as one last hurrah before heading to Venice for the end of our Italian summer holiday, we decided to splash out on a small motor boat that we rented for three hours. We wanted to stop somewhere close to Jamaica Beach and swim in the crystal-clear water.
Strong wind and choppy waters cancelled all such plans. As we stood opposite the promontory's tip, I laid sprawled on the boat's bow – overwhelmed by the strong rocking motion. My husband and our daughter – as hardy sea dogs – tended to the boat and after discussing it in depth decided against dropping the anchor and to head straight back to Desenzano.
Even though of the three of us I am the one born close to the sea, that day Lake Garda completely overpowered me. With one last momentous effort, I raised my head to steal one last glance at Jamaica Beach across the water. This beautiful place that takes effort to reach and has an element of danger to it. Aren't all the best things in life just so?!
In Conclusion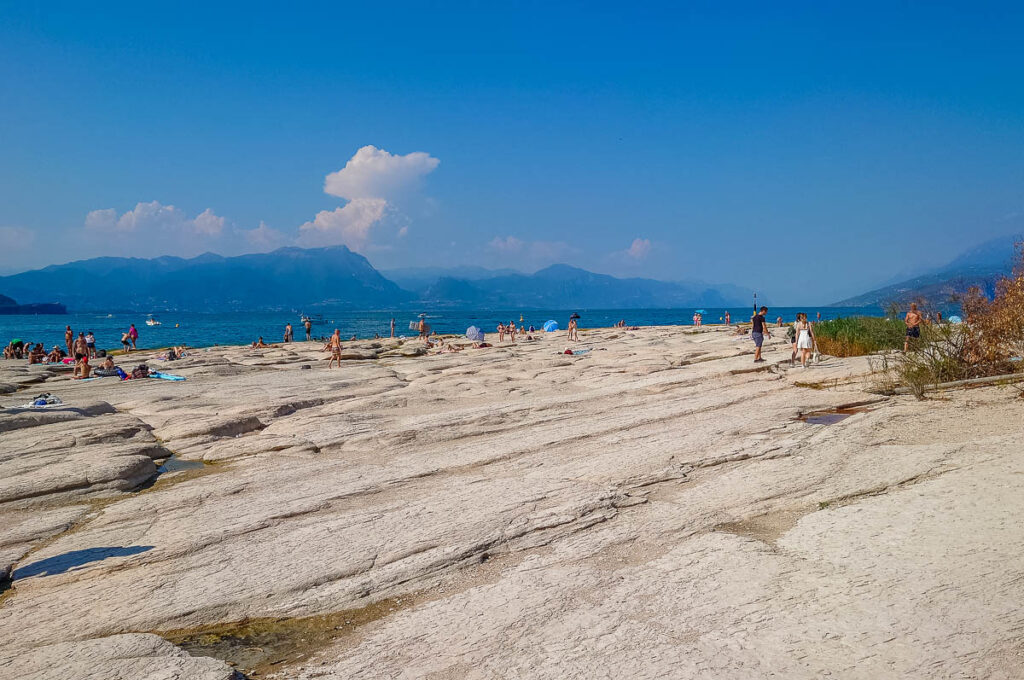 So, here you have it – the uniquely beautiful Jamaica Beach. It's not in vain that is often cited as the best beach on Italy's largest lake – Lago di Garda.
In this blog post, I gave you detailed information about visiting and spending time there for yourself. From how to get to Jamaica Beach to why this is a must-see place on Lake Garda, it's all covered. Including what to bring with you and what to be aware of for the best beach day.
I hope that all this information will come in handy when you are planning your Italian holiday.
Have a great time at Lake Garda!
Enjoy Jamaica Beach's vibe and beauty!
More Helpful Lake Garda Info for You
Lake Garda Towns and Villages: Best Towns, Desenzano del Garda, Riva del Garda, Malcesine, Torri del Benaco, Punta di San Vigilio, Campo di Brenzone, Borghetto and Valeggio sul Mincio
Lake Garda Hiking: Tibetan Bridge, Rocca di Garda, Park of the Waterfalls
Visiting Lake Garda: Map of Lake Garda, Lake Garda with Kids, 8 Best Airports, Travel Around Lake Garda, Venice to Lake Garda, Verona to Lake Garda, Milan to Lake Garda, Bologna to Lake Garda
Lake Garda Beaches: 16 Top Tips, 3 Unmissable Beaches
Lake Garda Sights: Best Theme Parks, Best Castles, Shortest River in Italy, Sanctuary of Madonna della Corona
More Helpful Italy Info for You
Best of Italy: Italy Gift Guide, Italian Piazzas, Italian Markets, Accommodation for Every Budget, Best Times to Visit Italy, Italy in Summer, Italy with Kids
Italian Food: Best Italian Food Gifts, Cheap Italian Food, Rules of Italian Breakfast, Italian Breakfast Foods
Italian Coffee: Italian Coffee Culture, Italian Coffee Drinks, History of Coffee in Italy
Christmas in Italy: Fun Facts, Things to Do, Italian Nativity Scenes, Panettone, Christmas Guide
Northern Italy: Best Cities to Visit, Major Airports, Reasons to Visit
Lake Como: Things to See, Nesso
Venice: Best Things to Do, Essential Tips, Major Landmarks, Hidden Gems, How to Navigate Venice, Venice in a Day for Art Lovers, Train Stations, Nearest Airports, Best Tours, Beaches of Venice, Quotes about Venice, Boats in Venice, Haunted Venice, Day Trips from Venice, Venice to Lake Garda, Venice to Padua, Venice to Verona, Arco del Paradiso
Verona: Things to Do in One Day, Verona Opera Festival, Day Trips from Verona, Romeo and Juliet Itinerary, Verona to Venice, Verona to Milan
Padua: Things to Do in One Day, 101 Facts About Padua, 10 Reasons to Visit Padua, Day Trips from Padua
Vicenza: Things to Do, Day Trips from Vicenza, Best Museums, The Beauty of Vicenza
Veneto: Top Places to Visit, Unique Adventures, Most Colourful Places, Mysterious Places, Most Beautiful Lakes, Reasons to Visit, Main Cities, Prettiest Small Towns, Most Beautiful Villages
Lombardy: Best Cities and Towns, Reasons to Visit, Brescia
Friuli Venezia Giulia: Venzone, Most Beautiful Villages
Emilia Romagna: Bologna, Ravenna, Comacchio, Most Beautiful Villages
Marche: Reasons to Visit, Gradara, Frasassi Caves, Temple of Valadier
Thank you for reading! Please, leave me a comment, pin the images or use the buttons right at the top and at the end of this blog post to share it on social media.
For more useful information like this, please, like my blog's page on Facebook and subscribe to my strictly no-spam newsletter.
Pin This Blog Post!