Visiting Croatia is the start of a travel love affair that can easily last a lifetime.
Often called the Land of a Thousand Islands on account of its beautiful archipelagoes in the Adriatic Sea, Croatia is also the land of numerous vibrant cities, stunning national parks, charming beaches, and outstanding historic landmarks.
Not forgetting, of course, the delicious Croatian food which is a curious mix of Balkan traditions, Venetian influences, and a South European abundance of fresh seafood and fruits of the earth.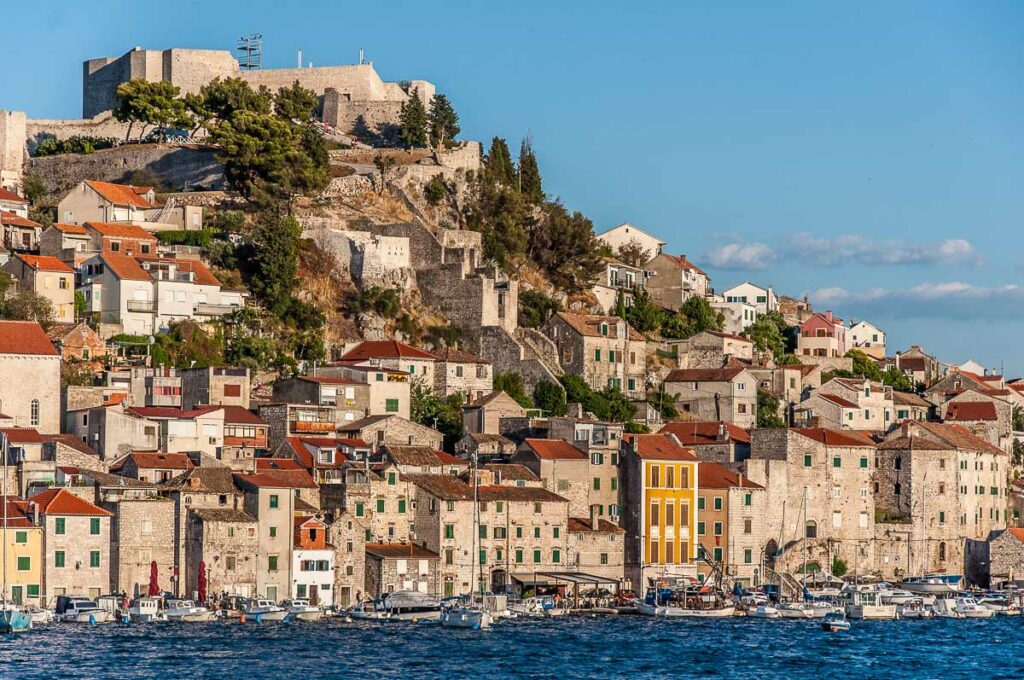 Over the last decade or so, Croatia has become an ever-hotter destination. As the filming location of cult TV series and entertaining films (hello, Game of Thrones and Mamma Mia 2!) and dotted with must-see UNESCO sites, the country attracts hip travellers, people who like to keep active, families with kids, and people who just want to relax.
In fact, just over 11 million people visit Croatia each year. This is astonishing, considering that the actual population is almost three times smaller. Yet, the country doesn't feel overwhelming and crowded. Far from it!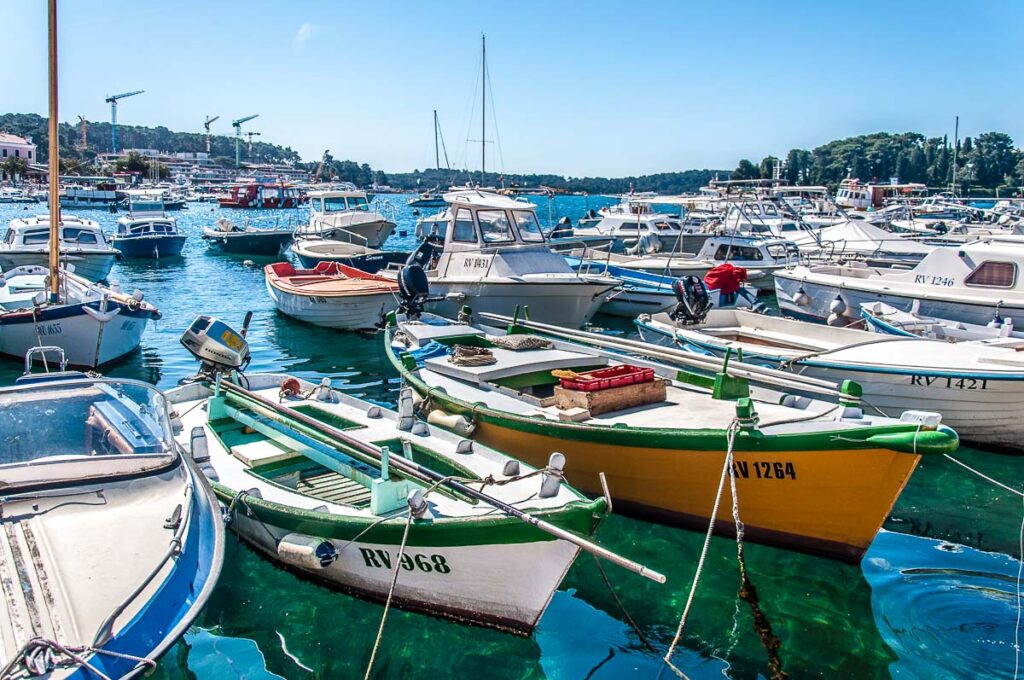 There are hundreds of different destinations to visit here. Many of them are still hidden gems. Croatia has a somewhat small territory. Yet it stretches widely along the eastern Adriatic coast. Then it delves deep into the Balkans. It thus offers a tremendous variety of beautiful places to explore. Just when you think that you've ticked the best ones off, something new – unexpected, gorgeous, and with an intriguing story to tell – pops up.
This happened to me! The first time that I visited Croatia, it was an easy city break in the capital Zagreb. Then, Istria – the peninsula in the Northern Adriatic – caught my eye on account of its centuries-old towns with stunning settings and Venetian heritage. Then Dalmatia called. This historic Croatian region – once a Roman province and nowadays a must-see spot in Europe – stole my heart with its islands, incredible nature, and must-see sights.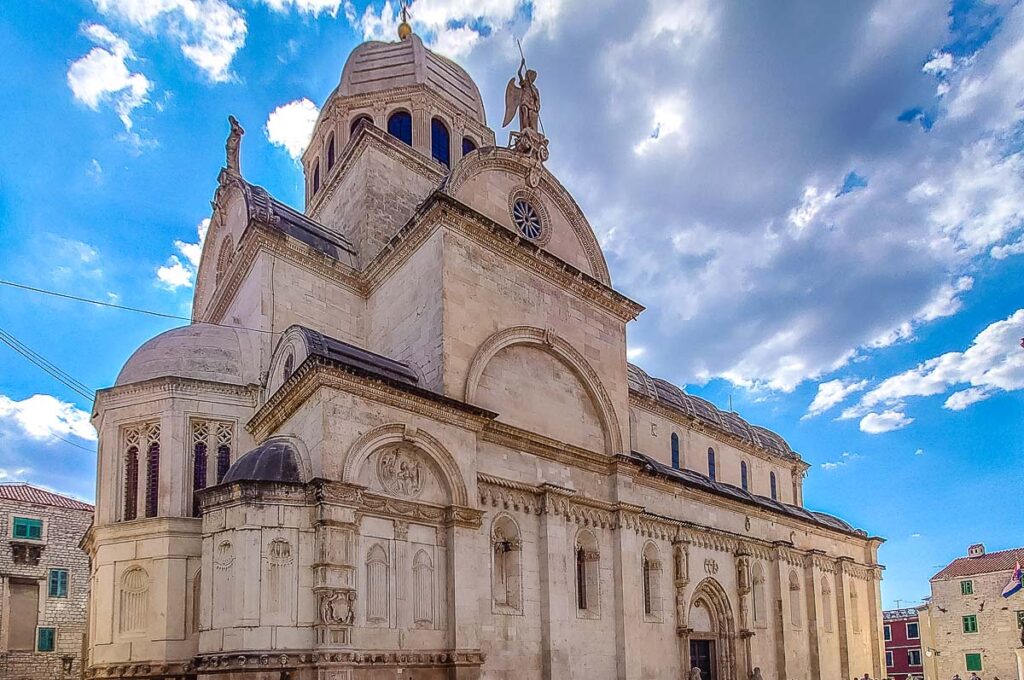 So, in this blog post today, I want to share with you 15 reasons to visit Croatia. Just in case you are looking for a new destination to explore in Europe and you need a place that it's easy to get to and has a lot to offer, too.
I will outline what makes this country special in my own eyes and jot down many first-hand tried and tested tips to make your initial research into Croatia a fun and exciting experience. Expect lots of curious details that will spark your curiosity and make you want to learn more.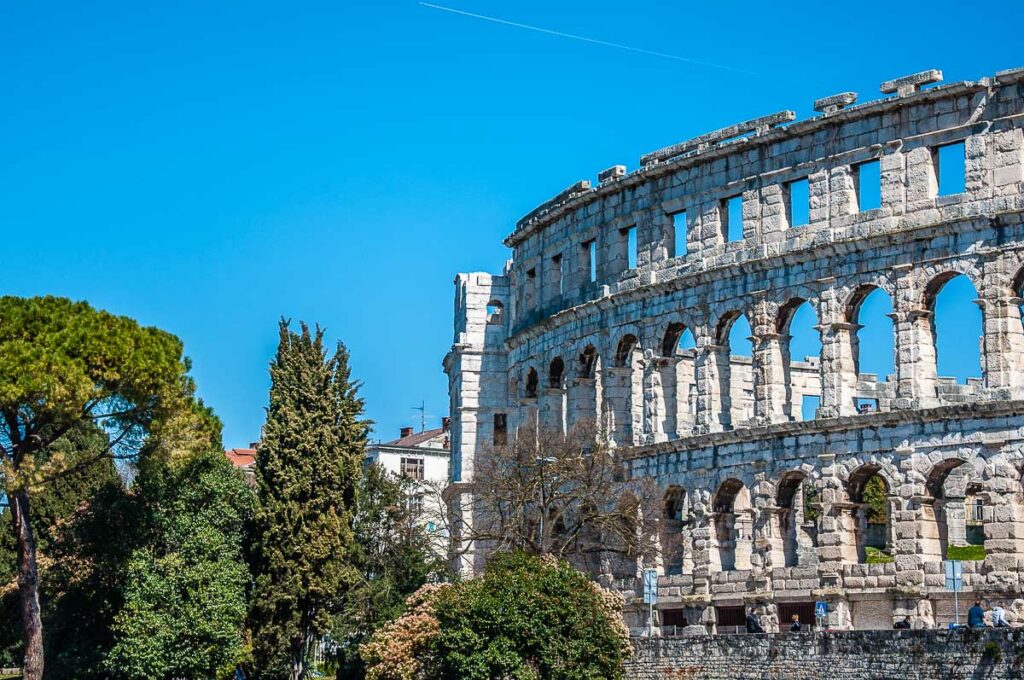 For example, did you know that the world's sixth-largest Roman amphitheatre is preserved to this day in Croatia? Or that there is a 132 m deep cave here inhabited by strange translucent creatures called olms? Have you heard of the Croatian archipelago that keeps the centuries-old secrets of coral hunters and sea sponge divers? And why is a button the most original souvenir to buy here, after all?
The answers to all these questions and so much more make a visit to Croatia a must.
Find out the best 15 reasons why now!
15 Reasons to Visit Croatia – The Land of a Thousand Islands
Pin for Later!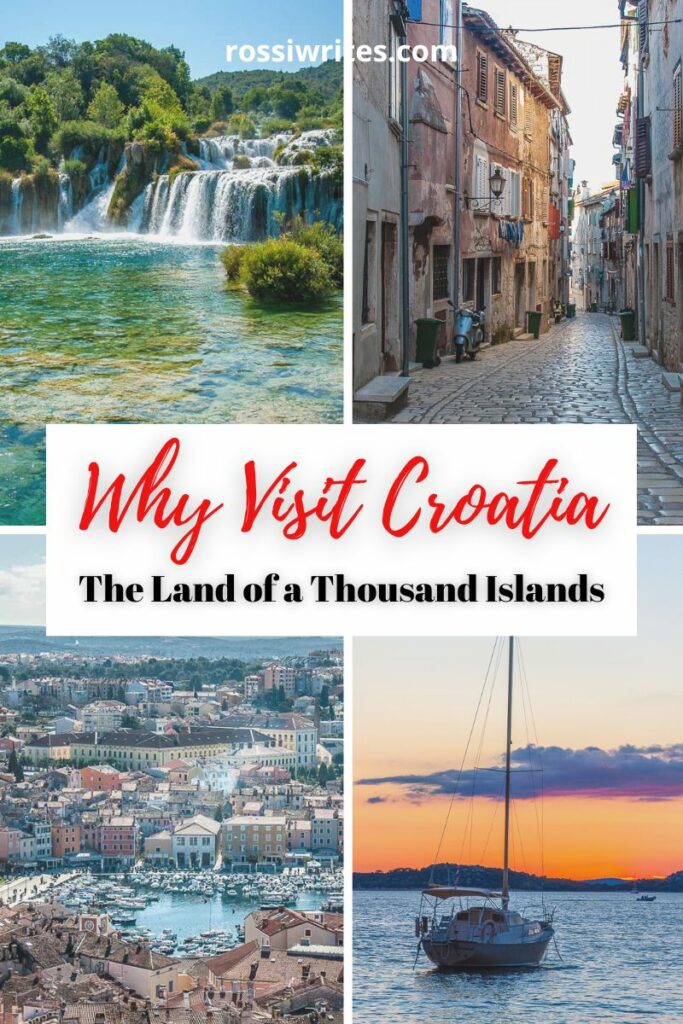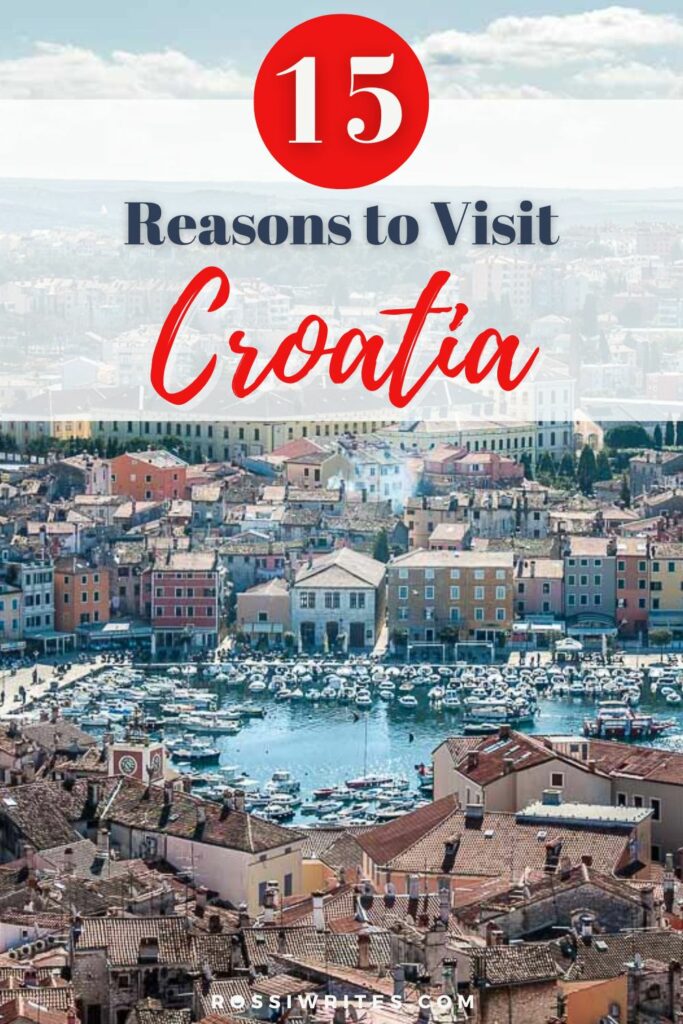 1. Croatia's Large Cities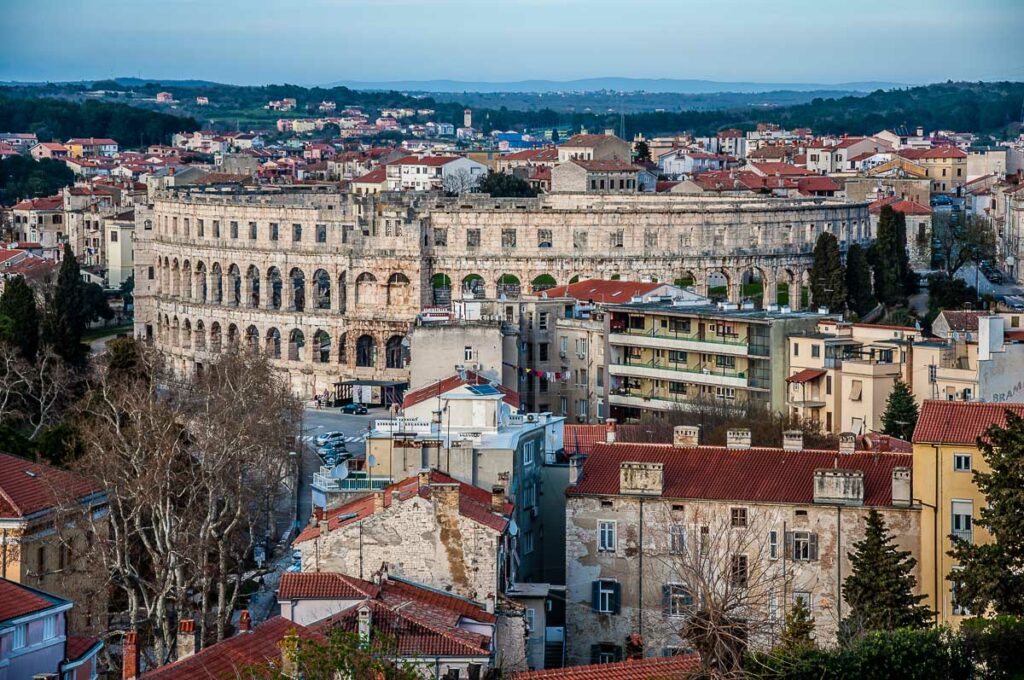 From Pula in the north and Zagreb in the east to Split and Dubrovnik in the south, Croatia is dotted with vibrant cities that are exciting destinations for a weekend break or a longer stay.
Some of them were founded by the ancient Histri tribe which was followed by the ancient Greeks and Romans. All these civilisations arrived at the northeastern and eastern shores of the Adriatic Sea drawn by the favourable climate and the fertile land.
Other large Croatian cities grew during medieval times. Often they started life as fortified settlements which soon grew and added splendid churches and lavish palaces to their urban landscape.
Nowadays, the cities of Croatia have long lists of must-see historic and cultural landmarks. They are full of life and regularly hold exciting events – from large music festivals to some of the best Christmas markets in Europe.
The best thing about Croatia's cities is that they are not overwhelmingly large. The capital Zagreb, for example, has 800,000 inhabitants. The second-largest Croatian city – Split – has just over 160,000 people living in it.
For all they have to offer in terms of museums, eateries, and sights, they are not overwhelming. So, you can cover a lot of ground over a couple of days and still have plenty of time to relax and/or enjoy the social vibe.
My favourite large cities in Croatia:
For its history, I really like Pula – the 3,000 years old city in Istria. For its stunning historic centre, nearby archipelagoes, and relaxed and safe atmosphere, I love Šibenik in Dalmatia.
2. Croatia's Historic Towns
The thing that always amazes me every time that I start planning a visit to Croatia is the incredible number of small historic towns dotted around the country. With beautifully preserved medieval architecture, often built on the tip of peninsulas or on stunning islands, these are places where you feel transported centuries back in time while still enjoying all mod cons.
There is something truly unique about walking down the stone-covered alleys of a town where cars have never been allowed (or been able) to enter. Then you stop to have a coffee at a place where the locals have congregated for centuries. And you end up your little stroll by scaling the bell tower of the local cathedral to admire a view that has pretty much remained unchanged for the last millennium or so.
There are so many small Croatian towns to choose from. Hvar and Rovinj are ever-popular destinations. But you also have Tribunj, Primošten, and Korčula. Choosing which ones to put on your itinerary is so exciting! And a bit heartbreaking, of course, as there are so many of them that time is never quite enough to see them all.
My favourite historic towns in Croatia:
I am truly partial to Trogir. It's a small Croatian town which I discovered for myself this summer. You will find it on a small island that's connected to the mainland by the means of two small bridges. Cars can't enter the historic centre which is a UNESCO World Heritage Site. Learn more about Trogir by having a look at this blog post:
3. Croatia's Islands and Archipelagoes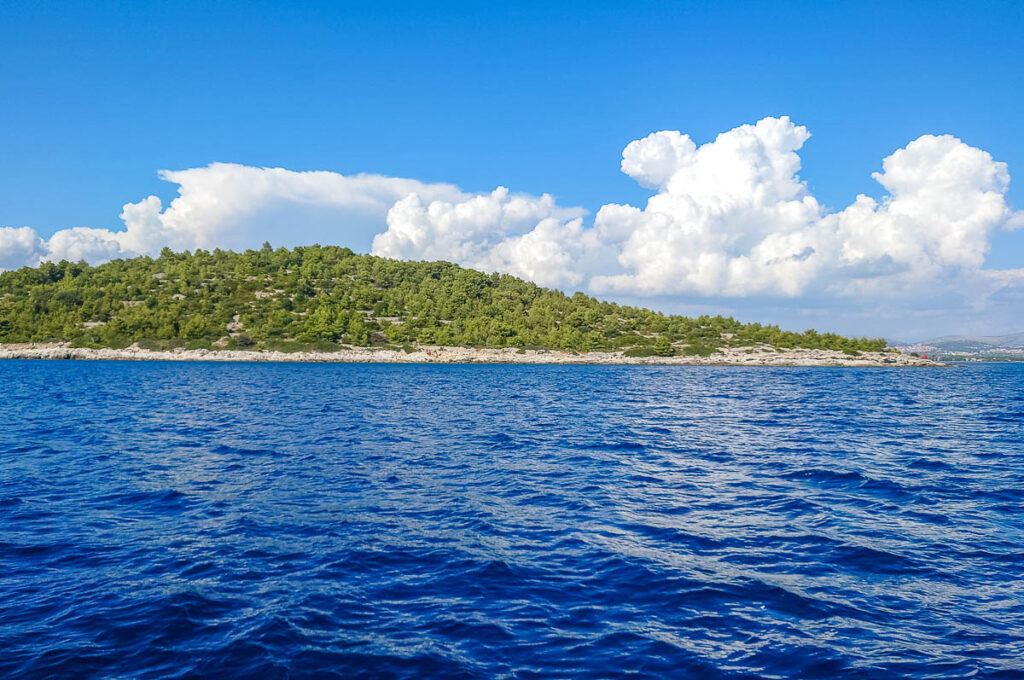 It is not in vain that they call Croatia the Land of a Thousand Islands. To be precise, the country has 1,246 islands, islets and rocks in the Adriatic Sea. When you arrive in Croatia by plane, you see them from above. Long chains of pieces of land of varying size – from large to minuscule. They peak above the sparkling sea waters and give you an idea of the beauty and excitement you are about to experience first-hand.
Croatia is an ever-popular destination for nautical sports and beach vacations on account of its many archipelagoes. The best thing is that in most cases you don't need to have a fancy yacht or a motorboat to reach many of the Croatian islands by yourself.
Regular ferries run by the state-owned company Jadrolinija connect them to the mainland all throughout the day. There is nothing like island-hopping here to enjoy the peace and quiet of secluded beaches and the delicious food of small local restaurants.
The Kornati Islands are Croatia's densest archipelago. Its 140 islands are uninhabited. 89 of them are part of the Kornati National Park which has also been placed on the country's tentative list of UNESCO World Heritage Sites. Famous for their moon-like appearance and crystal-clear waters, the Kornati can be visited only as part of an organised tour.
My favourite archipelago in Croatia:
This summer I fell in love with Croatia's Šibenik Archipelago. It's right next to the Kornati Islands but, unlike them, can be visited by public transport. It has 249 islands, islets, and reefs with only six of them permanently inhabited. It's a place of total peace and quiet where coral divers and sea sponge hunters have lived for centuries. Learn their stories by clicking on this blog post:
4. Croatia's National Parks
Croatia is the perfect destination for a nature lover. On its relatively small territory, you will find eight national parks and 11 nature parks where your eyes can feast on stunning waterfalls, placid lakes, and landscapes that vary from green and lush to moon-like.
Plitviče Lakes National Park is Croatia's most famous national park and the country's most popular tourist attraction. It's also a UNESCO World Heritage Site. Here, you can walk on boardwalks following a chain of 16 lakes which flow one into another creating beautiful waterfalls in the process.
Brijuni National Park is an archipelago off the peninsula of Istria. On its largest island – Veli Brijuni – over 200 dinosaur footsteps have been preserved for over a hundred million years. Slightly newer than them but still just as exciting to see are the Roman ruins that dot the island.
Biokovo Nature Park in Dalmatia comprises Croatia's second-largest mountain range. Come here to walk the glass skywalk – the first in the country. Semi-circular in shape, it stands at an elevation of 1,228 m. It protrudes 11 m beyond the edge of the cliff and opens fantastic panoramic views over the Adriatic Sea and the Croatian islands.
My favourite national park in Croatia:
I loved visiting Krka National Park in the historic Croatian region of Dalmatia this summer. It's widely famous for its waterfalls. Especially, the striking Skradinski Buk – a 45-m tall formation of 17 cascading waterfalls. What I enjoyed the most during my visit was the boat ride we took across a series of placid lakes to the island monastery of Visovac. The deep peace I experienced while the small boat glided across the waters in hues of sparkling green and blue was worth it in itself my travelling to Croatia.
5. Croatia's Beaches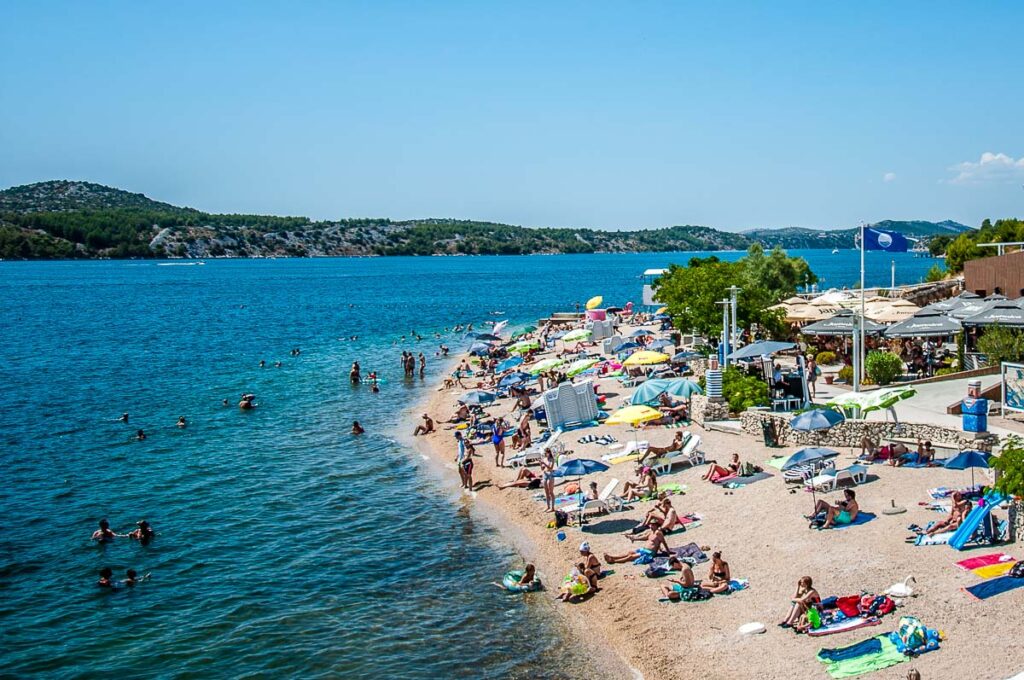 In a country with a 1,777 km coastline, you can expect to come across a beach or a thousand. While most Croatian beaches are small and pebbly, there are so many of them here that you can easily find a secluded place where it's just you, the water, and the sun.
Other beaches here are outfitted with sun loungers, umbrellas, and even colourful beach huts. They may also have a beach bar serving cold drinks and playing cool music.
Any way you like your beach time, the crystal-clear warm waters of the Adriatic Sea are a delight to take a dip in.
Pack your snorkelling mask as there are lots of fish to be seen darting in the water right next to the shore. Don't forget your water shoes, too! As pesky sea urchins often hide between the pebbles on the sea bed.
My favourite beaches in Croatia:
I am not really a beach person, to be honest. Yet, this summer, I couldn't wait to get in the water and then happily sunbathe in Croatia. I found Croatian beaches very relaxed. They weren't places where you feel constantly observed and judged based on your shape and attire. At beaches with paid-for facilities, prices for umbrellas and sun loungers were very pocket-friendly.
My favourite beaches were on the island of Prvić in the Šibenik Archipelago. Small, pebbly, with clear water, it felt fun to go for a swim before and after walking between the two villages on the island. On the nearby island of Krapanj, I loved it when a local told us 'The whole beach is an island!' when we asked him which is the best beach here. True! People would just stretch their towels – even on the edge of the small quays – and just relax and sunbathe.
I also liked Banj Beach next to the Dalmatian city of Šibenik. It afforded a picture-perfect view of the Old Town – its tall stone houses beautifully contrasted against the blue water and the blue sky.
6. Croatia's Ancient Roman Sites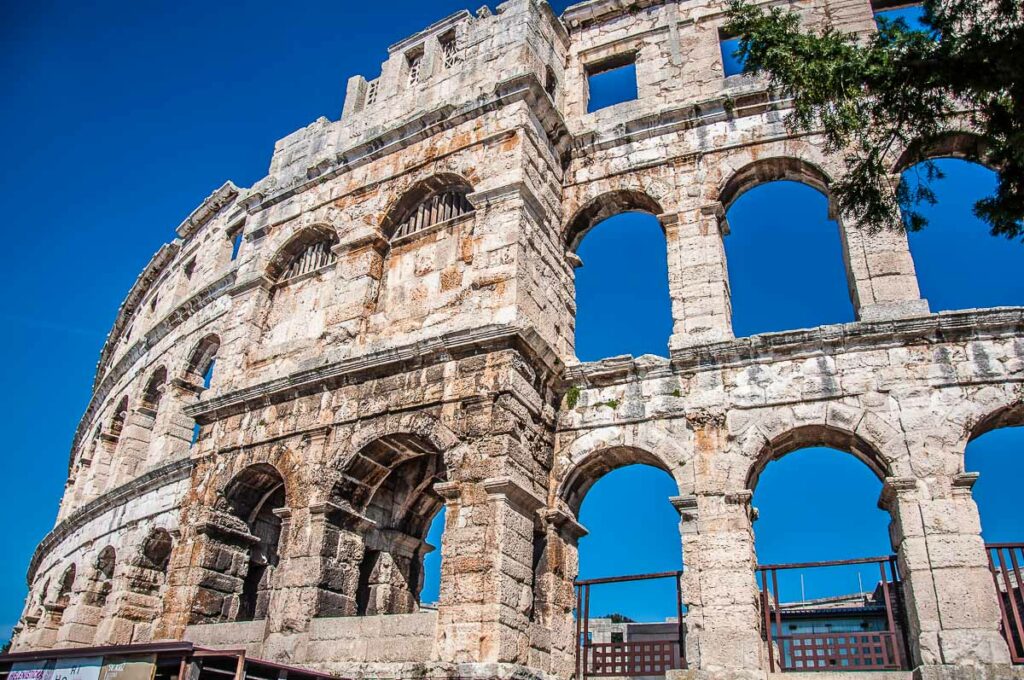 One of the main things that originally attracted me to Croatia as a destination is the abundance of ancient Roman ruins here. For centuries, large swathes of the country were ruled by the Roman Empire. Five Roman emperors were actually born in what nowadays is Croatia.
Among them, Diocletian stands out. He ruled from 284 to 305 CE and built an enormous palace in what nowadays is Croatia's second-largest city – Split. After a long and glorious rule, curiously, Diocletian was the first Roman emperor to voluntarily and peacefully abdicate his throne. He retired to his palace where he loved gardening and growing vegetables, especially, cabbages. Today, the ruins of the Diocletian Palace have been incorporated into many buildings and constitute the nucleus of Split's Old Town.
You will find Roman ruins of different scales in many of the most beautiful places in Croatia. From majestic structures to precious artefacts, from the foundations of many medieval buildings to ancient Roman jewels and amphoras found on the bottom of the sea, it's exciting to trace the history of the Roman Empire on the Eastern shore of the Adriatic. If you are a history buff, this makes Croatia a must-see destination.
From Pula to Split, there is a treasure trove of Roman heritage to explore here. Zadar, Solin, and Burnum are only some of the names that stand out.
My favourite Roman ruins in Croatia:
My favourite ancient Roman structure in Croatia is the Pula Arena. Built during the 1st century AD, nowadays, it's the sixth-largest surviving Roman amphitheatre in the world. It's absolutely majestic! You can sit inside and feel transported back to those times when spectators would be sprinkled with perfumed waters from cisterns kept in the amphitheatre's four towers. This way, the plebs' odour wouldn't offend the sensitive noses of the Roman aristocracy.
7. Croatia's Venetian Heritage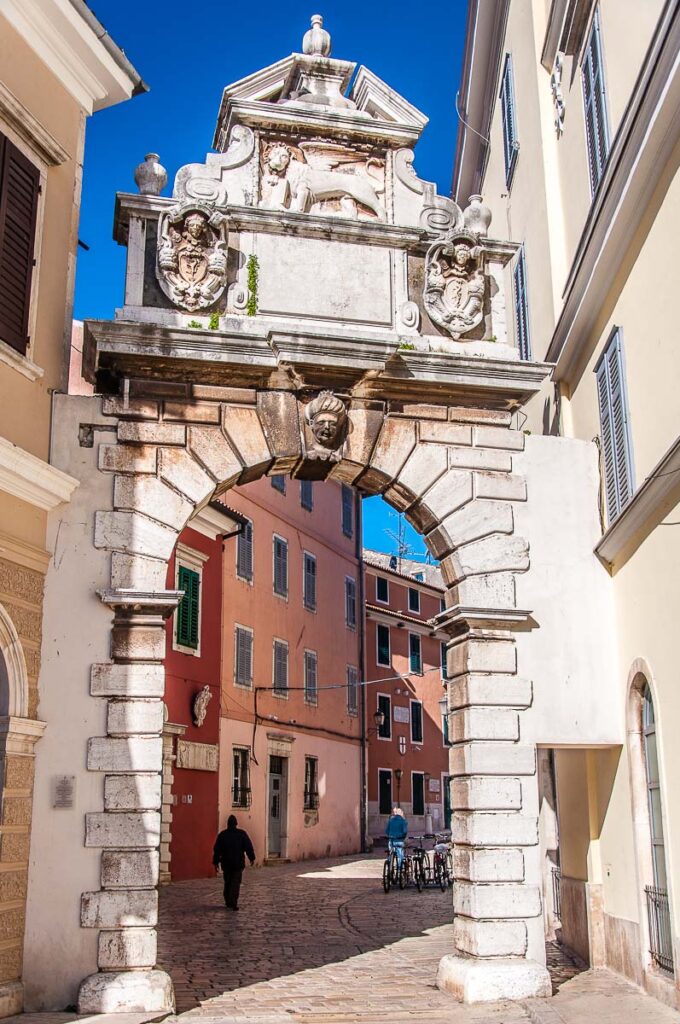 I have a deep interest in history and art with an emphasis on the Republic of Venice and the Venetian Renaissance. From this point of view, a particularly exciting for me facet of Croatia is the country's rich Venetian heritage.
For a thousand years, Venice was the most powerful maritime republic in Europe and the Mediterranean region. It ruled directly and/or exercised political and commercial control over large swathes of land in mainland Italy, along the Adriatic shores, and several of the Greek islands.
Many towns and cities in Istria and Dalmatia were part of the Republic of Venice for centuries. Nowadays, their Old Towns preserve a decidedly Venetian look and feel. In their museums and churches, you will discover masterpieces by Venetian artists and architectural influences from across the Adriatic.
Unfortunately, when thinking of Venice, nowadays, often the perception is of a touristy place where people go to have their photo taken with gondolas and canals.
Somehow, the fact that this was once a political and commercial superpower that defined the fortunes of Europe in many different ways for centuries gets easily overlooked. If you have a deep-seated interest in history and art and want to trace historic and artistic developments from the Late Middle Ages to the beginning of the 20th century, head to Croatia after or even before visiting Venice.
Croatian cities and towns such as Dubrovnik, Split, and Rovinj, for example, have a lot of captivating stories to tell. Learning them in the context of European history rather than as isolated episodes is a very inspiring experience. It builds a deeper understanding of the Europe we live in and how it came to be the way it is.
My favourite Venetian traces in Croatia:
This summer, I loved visiting the small Museum of Sacred Art in the town of Trogir in Dalmatia. It has some outstanding paintings by Venetian masters such as Giovanni Bellini and Quirizio da Murano. I find such small museums fascinating as they help me build for myself a better understanding of how art and artistic influences travelled across large distances centuries ago. They also lack the crowds that besiege the world-famous art galleries where everyone goes to see a particular painting and then move on.
The arched doorways in the Old Towns of Trogir and Šibenik were another thing I loved seeing here that reminded strongly me of Venice.
8. Croatia's UNESCO Sites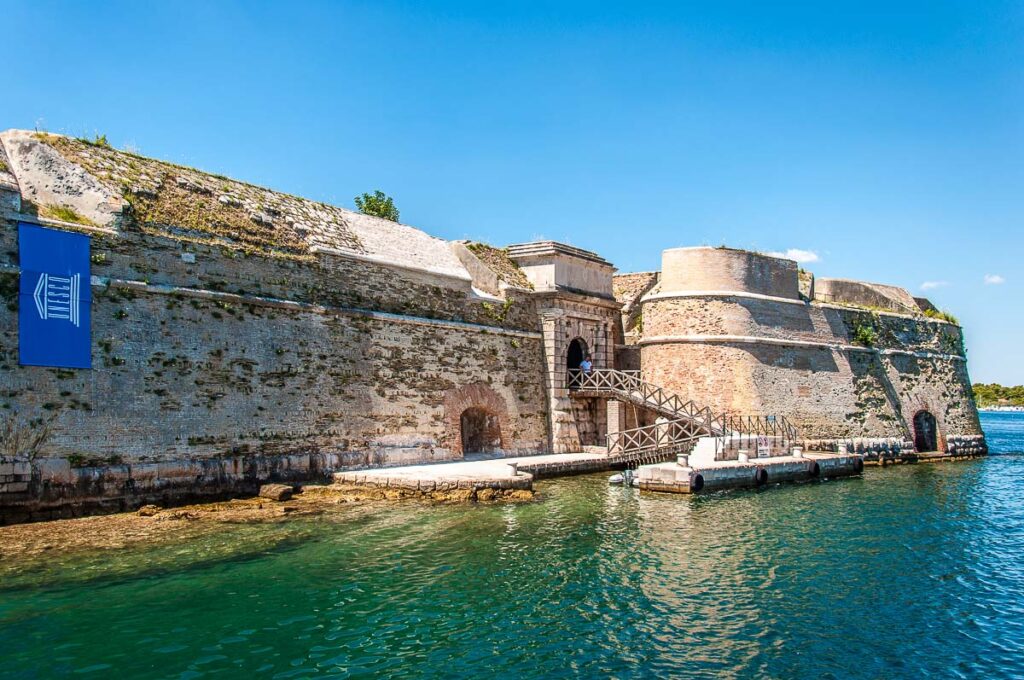 With such a rich heritage on a relatively small territory, it's not surprising then that Croatia has ten UNESCO World Heritage Sites. 15 more are placed on the so-called tentative list. In other words, these are sites of outstanding universal value and as such are suitable for inscription by UNESCO, too.
Croatia's official page on the UNESCO World Heritage Convention website makes for fascinating reading. Scrolling through it, you can easily pick dozens of exciting travel ideas to take you places that inspire, captivate, and make you feel connected to the highest achievements of human thought and creativity.
My favourite UNESCO sites in Croatia:
This summer I spent about a week in the city of Šibenik on the Dalmatian coast. Relatively less known than nearby Split or Zadar, for example, it actually has two UNESCO World Heritage Sites.
One is the breathtaking Cathedral of St. James which is a triumph of Renaissance architecture and local craftsmanship.
The other is the impressive St. Nicholas Fortress in the St. Anthony Channel. The fortress can only be reached by boat and it's an outstanding example of Venetian military architecture.
9. Croatia's Delicious Food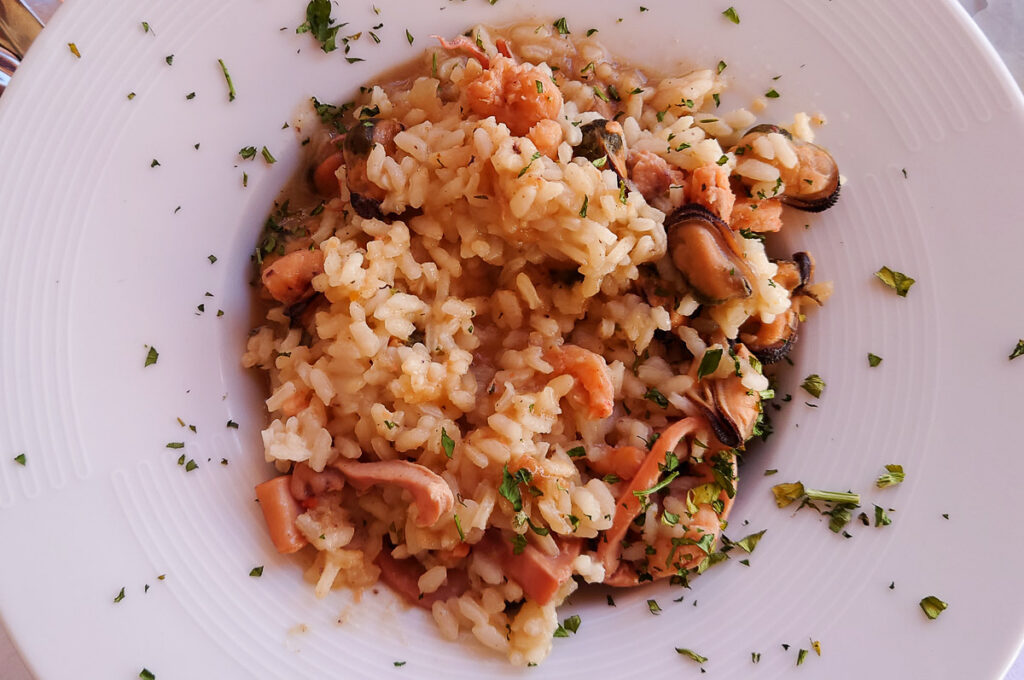 If you enjoy good food, Croatia has a lot to offer in terms of flavours, the freshness of the ingredients, and the skilful preparation of both meat and seafood. I find Croatian food very exciting as it combines both Balkan and Venetian influences in some very creative ways.
The Adriatic Sea generously provides different types of fish, mussels, clams, squid, octopus, and prawns. The land grows seasonal fruits and vegetables and rears outstanding red meats.
Traditional recipes include dishes that take long hours of marinating so as to infuse the meat with a myriad of flavours. Clear broths with a handful of short noodles or rice thrown in extract the juices and flavours of a nice cut of meat or the catch of the day. Battered mussels and minuscule sprat are quickly fried in hot oil and served to enjoy alfresco with views of the beaches and the sea.
Exploring Croatia through its food is exciting and satisfying. Which Croatian dish or foodstuff are you going to fall in love with?
My favourite foods and dishes in Croatia:
I love trying new things food-wise. A visit to Croatia is always quite exciting for me for two reasons. One is that the local cuisine is well-versed in both seafood and meat preparation. This results in very versatile menus where there is always something new to try. No matter what you feel like – scampi or a light soup or a heavier meat-based dish – you can have it.
The other thing is the presence of many Balkan influences in Croatian cuisine. Here, I can easily find pastries and foods that remind me of Bulgaria where I am from. In the morning, I can pop down to a local bakery and have a delicious burek – filo pastry stuffed with white brine cheese or meat. For lunch, I can have fried sprat – girice – which is also quite typical for my hometown of Varna. And for dinner, I can enjoy stuffed vegetables or cevapi which remind me of the food I grew up with.
10. Croatia's Caves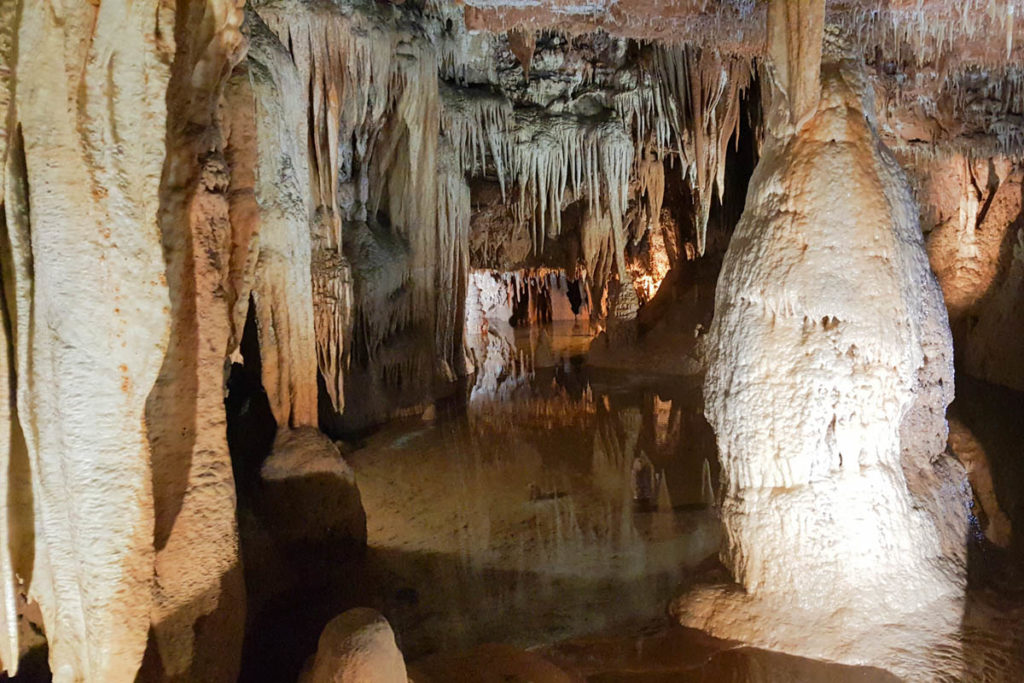 Croatia's natural world hides many wonders. Many of them are literally underground. This is a country richly studded with caves, pits, and sinkholes. They say that there are over 7,000 of them in the whole of Croatia!
Some of the most beautiful and intriguing Croatian caves are open for guided visits. For example, in Paclenica National Park (which is also a UNESCO World Heritage Site), you can hike to see the Manita Peć Cave. In Istria, don't miss the beautiful Mramornica Cave. It has been attracting travellers for centuries and in 1770 it was even described by Alberto Fortis – a Roman Catholic priest, a professor of natural history, and a geologist.
Even more curiously, several of Croatia's most beautiful caves are actually on its islands. For example, Biserujka – 110 m deep karst cave on the island of Krk in the northern Adriatic Sea. It has a gallery where short musical performances are held.
Even more beautiful and unique is the Blue Cave. This is a sea cave on the island of Biševo off the Dalmatian coast of Croatia. It can only be visited by boat as part of an organised tour. The water inside the cave has a bewitching blue colour making a visit to the Blue Cave an unforgettable experience.
My favourite cave in Croatia:
I really loved visiting the Baredine Cave in Istria, Croatia. This is a sinkhole – or jama in Croatian – that is 132 m deep. The tourist trail here reaches a depth of 60 m. The cave has very beautiful formations and even a small underground lake. Above all, here you can see olms. These are aquatic salamanders with translucent skin. Freakily, they look like they have no eyes and they can spend up to 12 years without eating anything at all.
When we visited the Baredine Cave, there were baby olms there. We learned that these quite fantastical animals – think Golum with gills (my husband's description of them!) – can reproduce by laying eggs or giving live birth depending on the temperature of their surroundings.
11. Croatia's Traditional Crafts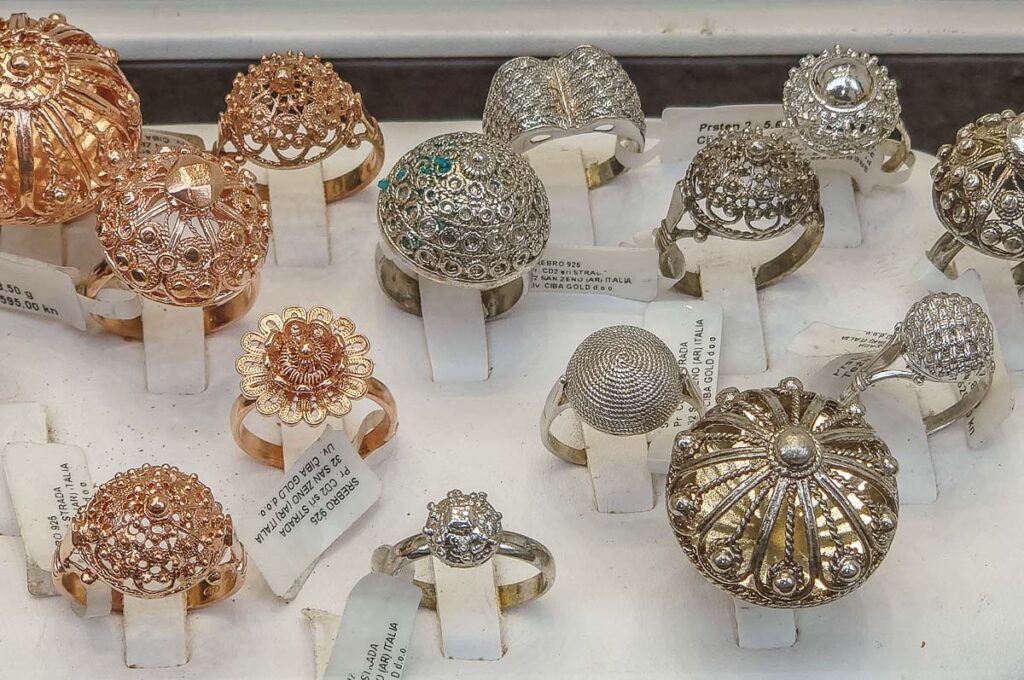 I love shopping for crafts with a story behind them. Something that speaks of a culture and its way of life. Something handmade that has been held by loving, skilled hands and that is a carrier of traditions that go centuries back in time.
Croatia is a wonderful place to go craft chasing. Many unique local items have been preserved and given a new lease of life. A case in point is the Šibenik button – a bicone made of silver wire twisted in complex filigree twirls. Originally, these buttons were an intrinsic part of the male folk costume typical for the city of Šibenik in Dalmatia.
Nowadays, the Šibenik button has been reimagined as an accessory in many different shapes – from earrings and necklaces to rings and bracelets made of gold, silver, and other metals, too. The buttons are very beautiful, unimitable in their shape, and make for a wonderful memento to take home from Croatia with you. Plus, in 2007, the Croatian National Tourist Board declared the Šibenik button the most original Croatian souvenir.
Other crafts to shop for here are handmade lace, coral jewellery, and wooden toys.
My favourite craft purchase in Croatia:
I fell in love with a hand-embroidered tablecloth as I was passing by an antique shop in Šibenik one morning. The blue flowers caught my eye and I had to have it even though in the spur of the moment I didn't even realise that I don't have a table of the right size at home.
Oh, well! The right-size table is on my shopping list now.
12. Croatia's Peace and Quiet
For a country that is relatively small, has a population of just over four million, and attracts over 11 million visitors each year, Croatia is, nevertheless, a very easy place to find peace and quiet.
With thousands of hidden gems – from islands to hiking paths – here, it's so easy and quick to escape to a secluded destination and just relax. When I travel, I am all about seeing as much as possible and doing it all and then more. In Croatia, however, I found that just relaxing and just being present in the moment feels so right.
It doesn't matter if I've ticked off every single museum and every single sight. I just enjoy sitting down, pushing the off button, and just immersing myself in the here and now. I live in a highly stressed and stressful culture where personal success and achievements are like weapons brandished around you to make you feel your shortcomings very acutely. It's a place where you have to perform and deliver and achieve things.
Finding peace and quiet from my own thoughts this summer in Croatia was so precious. And it seemed to happen so easily.
My favourite place for peace and quiet in Croatia:
If you are ever in need of a bit of disconnect, head to the Šibenik Archipelago. Sparkling blue water, beautiful islands with only a handful of people, fresh food, pebbly beaches, sun in the sky, and regular ferries with cheap prices. What more can a person need?!
13. Croatia's Panoramic Views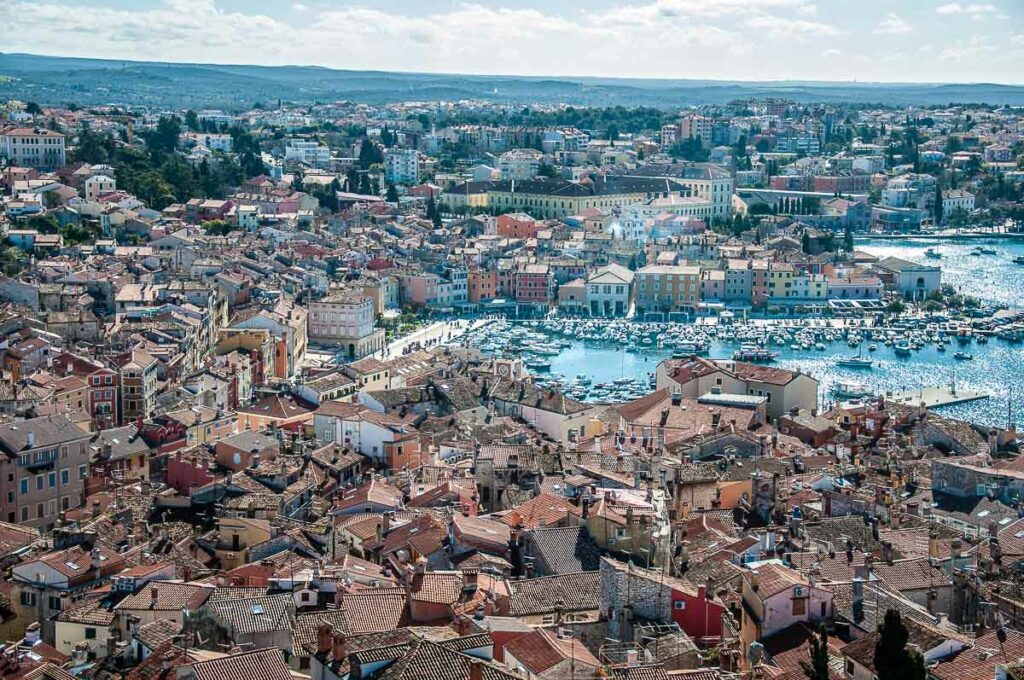 If you need a large dose of beauty in your life, the panoramic views of Croatia will fulfil this valid emotional need. It is so very easy to get a bird's-eye view here. Even if you feel that the events of the last few years have clipped your wings.
Tall bell towers attached to centuries-old churches, hilltop fortresses, hiking paths curving up slopes, and even the upper deck of a ferry provide an endless stream of soul-inspiring views. Seeing things from above gives us new perspectives to explore. In more ways than one.
This is one of the best things about travel. It opens up new horizons in front of us. Knowing that you have climbed up historic stairs to see an Old Town that has hardly changed over many centuries, that you have walked for miles to admire the view of waterfalls cascading down vertical stone walls, and that you have found it in yourself to go out there, book tickets, and board the ferry to discover an island for yourself are all things – no matter how small – that make you feel full of life and like you can achieve things.
In this way, Croatia more than delivers. There are so many things to experience here that you are compelled to get out there, see more, and do more. And when you stop to catch your breath and to admire yet another fantastic view, the feeling is so elating and it makes you feel full of life and decisiveness.
My favourite panoramic view in Croatia:
On our last day in the Dalmatian city of Šibenik this summer, we climbed up the steps through the Old Town leading to the hilltop Fortress of St. Michael. Up there a stunning panoramic view revealed itself to us. Beyond the tall stone houses spread the Šibenik Bay. This oval expanse of water is surrounded by low-lying hills on all sides and it's connected to the Adriatic Sea only by the means of the St. Anthony Channel.
Boats crisscrossed the bay under the blue skies. Beyond the green hills, we could glimpse the Adriatic and the shapes of the Šibenik Archipelago. This group of islands stretched all the way to the horizon. There are no words to describe the beauty of this view and the quiet happiness that fills you up by the virtue of simply being there and seeing it for yourself.
Another inspiring view in Croatia is that of the town of Rovinj in Istria. Climb up the worn out steps of the cathedral's bell tower for a breathtaking panorama. You will want to memorise every single detail to recall on cold days when you need a reminder that there is so much beauty in life, after all.
14. Croatia's Historic Figures
You can tell a lot about a country by the historic figures it raised. Croatia has a long list of intriguing personalities who have given a lot to their motherland and Europe as a whole.
Starting with Diocletian – the Roman emperor who was born in a family of low status and then went on to achieve important for his time things, not least standardizing the empire's tax system. Curiously, he was also passionate about gardening and dedicated himself to it after taking voluntary retirement. In his old age, Diocletian even refused to return to power as he preferred growing cabbages. You can tell a lot about a man from the way he approaches his vegetables.
In the 15th century, Elvira Pecenić-Marulić, also known as Bira, from Split chose to live in a monastery rather than get married. She was a lifelong influence over the work of her brother – the famous Croatian writer Marko Marulić. Several of his most famous novels were written specifically for Bira and the nuns at the monastery where she spent her life.
Nikola Tesla is another noteworthy person born in the Croatian lands. Obliviated from history for many decades, nowadays his inventions and contributions to science and technology have attracted widespread recognition. Not least, a famous automotive company carries his name.
My favourite historic Croatian personality:
This summer, I was very intrigued to learn the story of Faust Vrančić (also known under his Italianised name, Fausto Veranzio). He was a 17th-century polymath and excelled as a scientist, historian, linguist, philosopher, mathematician and physicist.
Nowadays, a large Memorial Centre on the Dalmatian island of Prvić tells the story of Vrančić and his many inventions. Among them is the Homo Volans – one of the very first prototypes of the parachute. A statue recreating the sketches by Vrančić of the Flying Man stands next to the Memorial Centre.
Historic personalities aside, when visiting Croatia, I also enjoy meeting and talking to the Croatian people of today. From the ladies who ran the places where we stayed in Trogir and Šibenik to the people we spoke to in restaurants, shops, in town, and on the beach, it was easy to engage in conversation. There were no barriers and everyone felt very open and approachable.
I especially enjoyed talking to the owners of the small Diving Museum on the island of Krapanj. Part of a family that has been diving for sea sponges and corals for centuries, they had many exciting stories to tell.
15. Croatia's Transport Network
Being able to quickly and inexpensively travel around a country is one of the major factors for me when I choose a place to visit. The Croatian transport network is a huge plus in the long list of reasons to vacation in Croatia.
Getting around the country by bus/coach, train, ferry, and car is very easy. Local bus companies connect the larger cities to a long list of smaller destinations. Regular ferries take you to numerous islands across the Adriatic. Tickets are very pocket-friendly and travel times are very manageable. Toll roads and free roads provide easy access to Croatia's largest cities.
All this makes it very easy and inexpensive to explore Croatia as an independent tourist. You can organise your stay and sightseeing completely by yourself. Or, if you prefer, you can book specific experiences in advance online via Viator and GetYourGuide.
To check transport timetables, you can use the following local companies: Jadrolinija, Arriva, Čazmatrans, and Samoborček. You can also use the Omio and Bus Croatia search engines.
My favourite thing about Croatia's transport network:
I loved how easy it is to use the ferries that take you across to several of the Croatian islands. Easy-to-understand timetables gave us all the information that we needed to organise our sightseeing and beach time according to the ferry's arrival and departure times. The people in the ticket offices also spoke English and were very helpful.
I also loved Split Airport. It's full of light, modern, and very easy to navigate. It can do with a bigger selection of eateries and things to eat but all in all flying into Split Airport from England and then from Split Airport to Venice were two of my very best airport experiences ever.
Practical Tips About Visiting Croatia
Pin for Later!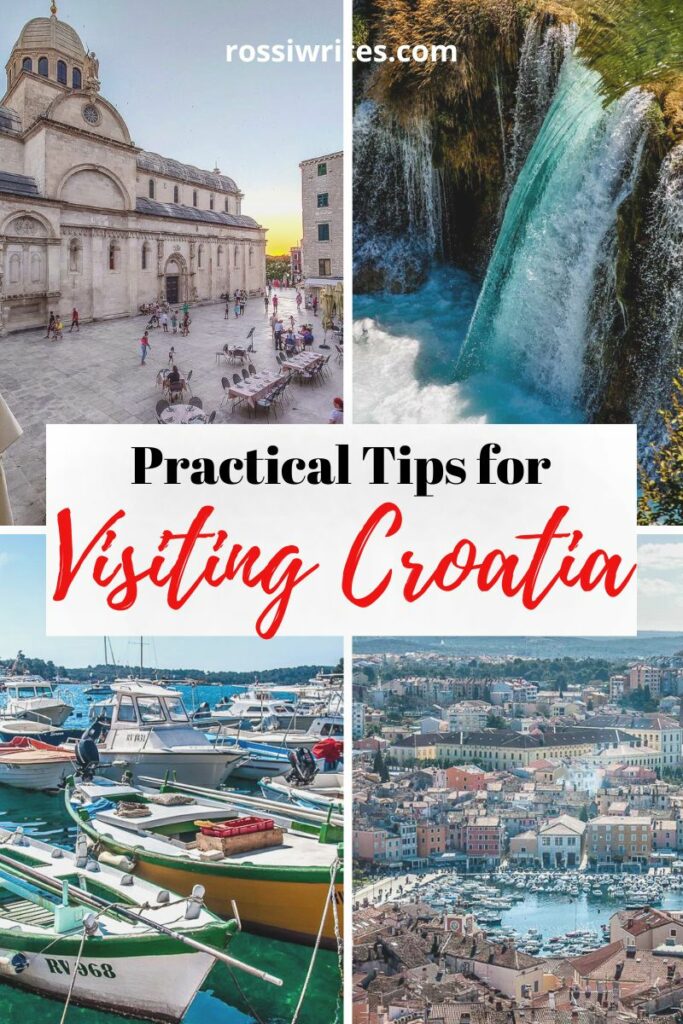 Where is Croatia?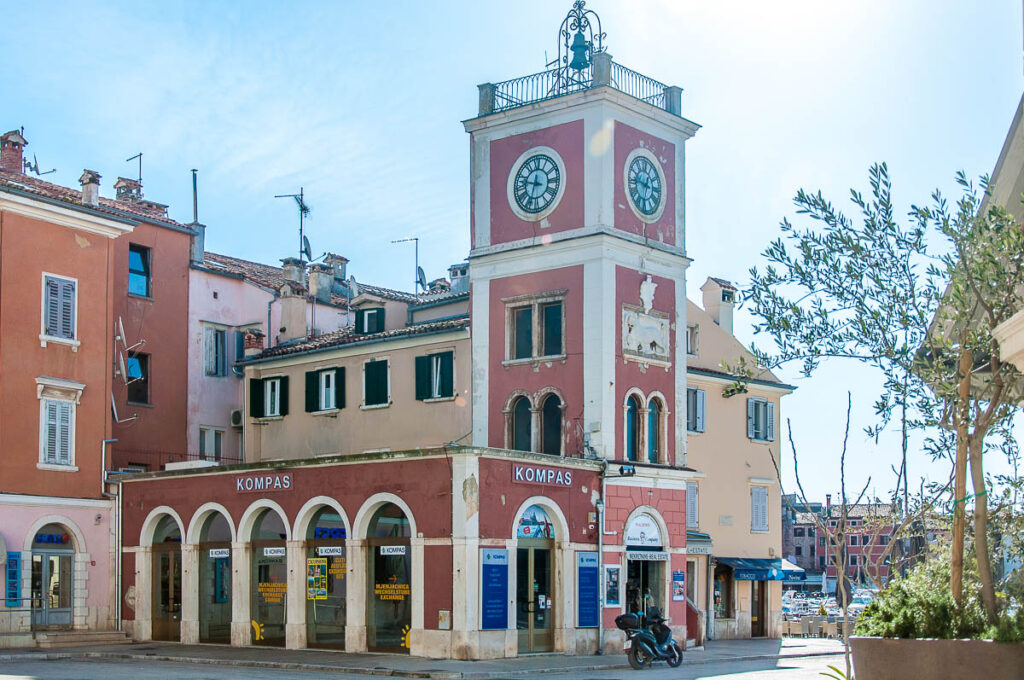 Croatia is in Southeastern Europe and right across from the calf of Italy's boot. It stretches along the eastern shore of the Adriatic Sea and then it juts deep into the Balkan Peninsula. Croatia borders five countries: Slovenia, Hungary, Serbia, Bosna and Herzegovina, and Montenegro.
It's easy to reach by plane and road from anywhere in Europe. There are nine civil airports here. The airports in Zagreb, Split, Dubrovnik, Zadar, Rijeka, and Pula offer direct access to many of the most famous and beautiful places in Croatia.
In addition, regular ferry lines connect Croatia to many different Italian cities and ports all along the Adriatic coast.
Here is a map showing the precise geographic location of Croatia. You can zoom in and out to get a better idea. If you wish, you can also use this map to calculate travel distances and directions.
Which Are the Most Beautiful Places in Croatia?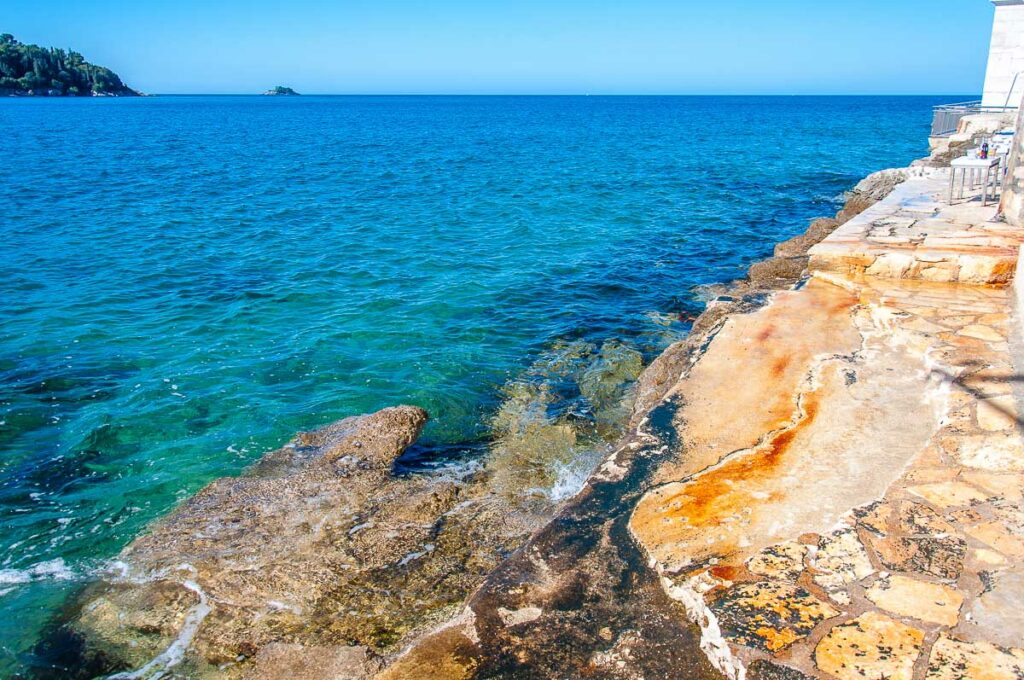 There are many beautiful places in Croatia to choose from. The country is particularly suitable for repeat visits or for a longer stay and active exploration.
To start on your Croatian journey, you can choose one particular corner of Croatia to visit and delve into. For example, this could be the Dalmatian coast, the Istrian peninsula or the capital Zagreb. These options will give you a chance to see one or some of the country's largest cities and many known and hidden gems around them – from nature parks and medieval towns to Roman ruins, major churches, and even islands.
For me, personally, the most beautiful places in Croatia are its small towns and islands. Especially, the small towns built on an island like Trogir, Rovinj, and Tribunj, for example
What Type of Vacation Can I Have in Croatia?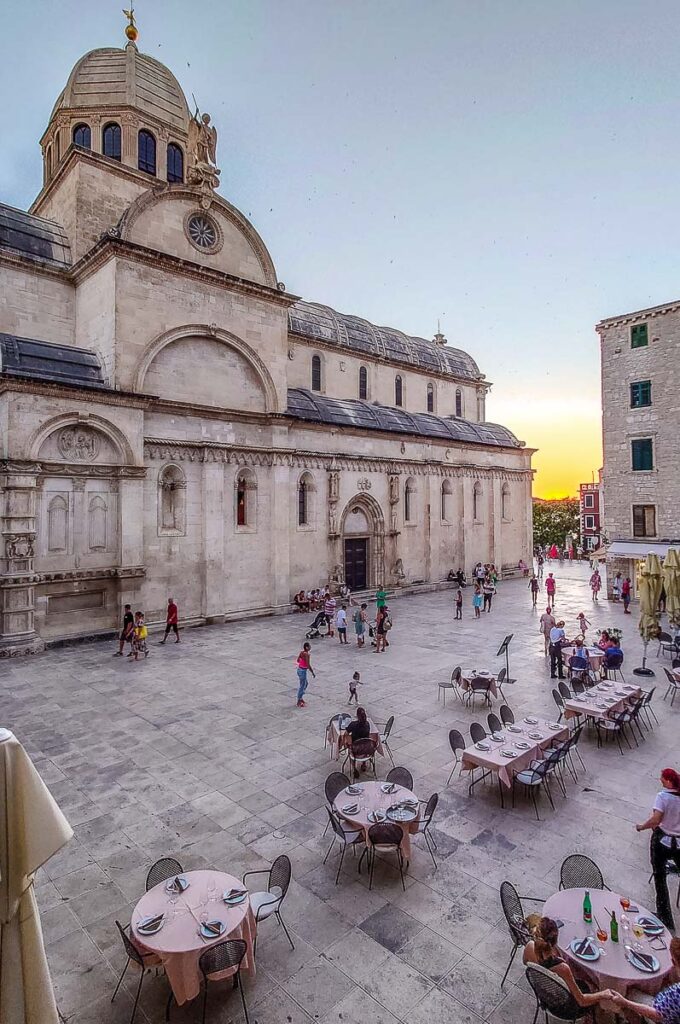 You can have many different types of vacations in Croatia. From active breaks to city breaks and from sailing experiences to beach holidays, there is lots to choose from.
If you like travelling independently as I do, a great course of action is to pick a Croatian city as a base and then do a lot of day trips in the area. This is what we did as a family. In Istria, we picked Rovinj and in Dalmatia, we picked Šibenik.
What Is Croatia Known For?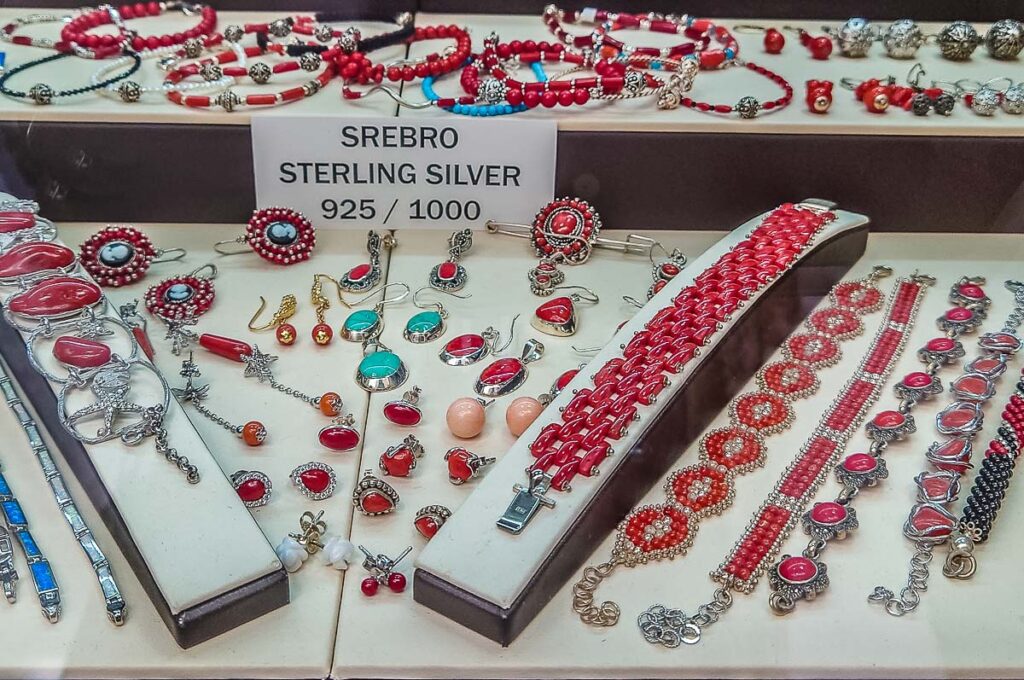 For the last decade or so, Croatia has enjoyed ever-increasing popularity as the perfect destination for nautical, historical, active, and summer tourism.
On account of its beautifully preserved historic cities and stunning nature, Croatia is often picked as a filming location. The Croatian city of Dubrovnik, for example, is not only prominently featured in the TV series Game of Thrones. It also stands in for Canto Bight – the tourist and gambling destination on the Outer Rim world of Cantonica in Star Wars: The Last Jedi.
Croatia is also known for its traditional crafts. Lacemaking, coral jewellery, and lavender-based products are only some of the offerings of the country's artisans.
When to Visit Croatia?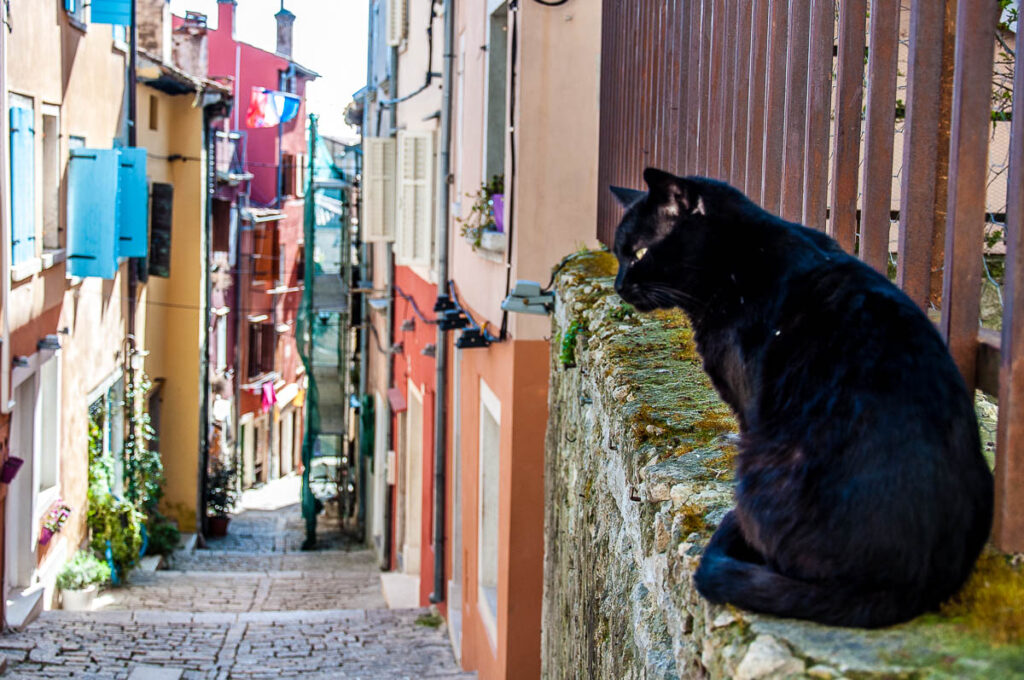 It really depends on what you want to do and see here. If it is a beach holiday or island-hopping that you are after, then the high season is the best time to visit Croatia. Expect high temperatures – often over 30 degrees Celsius.
Sightseeing is best enjoyed during the shoulder season – April and May and then September and October. This is also when Croatia's national parks usually offer cheaper entrance tickets and reduced crowds.
In winter, come for the Christmas markets, the Carnival celebrations, and the ski resorts. Zagreb's Christmas market, for example, was named the best in Europe three times in a row. Even better, Plitviče Lakes National Park is open in winter, too. You can get to see it without the summer crowds and if it's particularly cold, then its waterfalls freeze, too.
How Long to Spend in Croatia?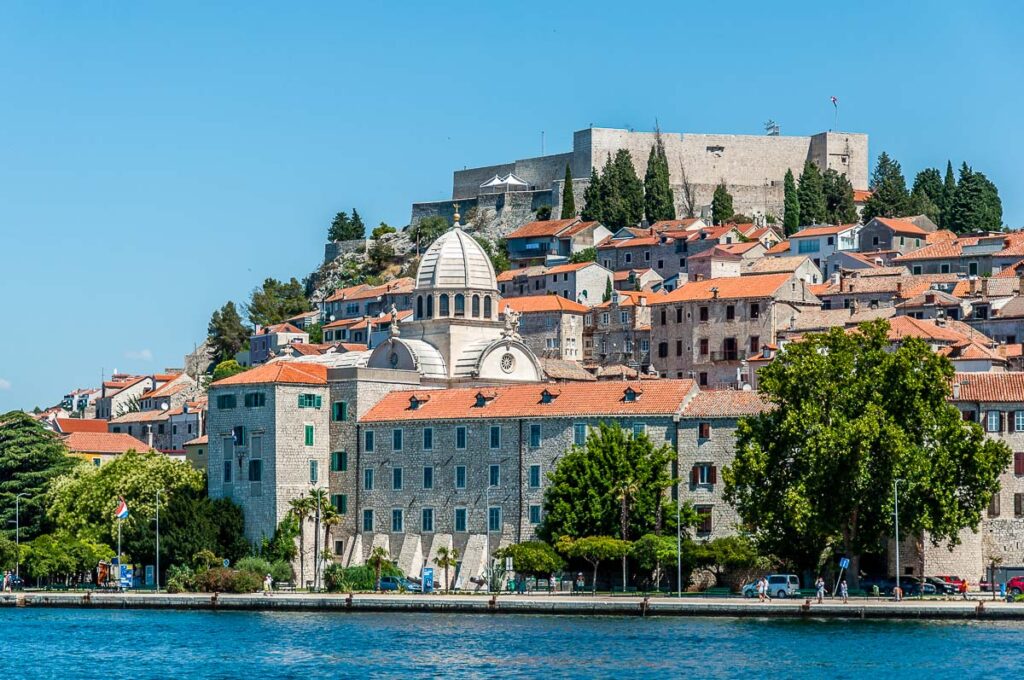 Croatia is a great destination to visit time and time again. There is lots to see and enjoy here and many beautiful places to pick from. So, stay for as long as your holiday allowance and budget permit. Then book a repeat visit before long.
Where to Stay in Croatia?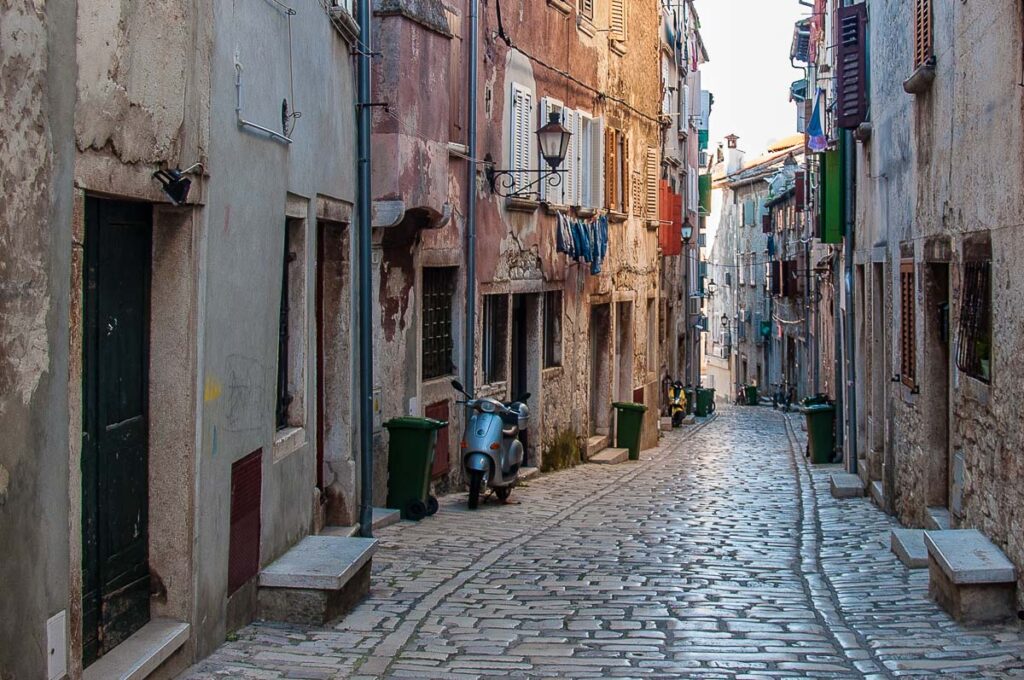 You can find all sorts and types of accommodation in Croatia to suit any budget. From luxury apartments to comfortable hostels, there is something for everyone.
No matter where you choose to stay, make sure that you book well in advance. Especially, if you are planning to visit during the high season. Croatia is an ever-popular destination and many visitors return time and time again. Prices can rise steeply depending on the season and how little time there is between now and your visit.
Due to their medieval urban plans, Croatia's Old Towns are often impenetrable to cars and/or vehicular traffic in them is highly restricted. Before booking, check to see if you will need to carry your luggage from the last allowed access point for cars to your accommodation.
Another thing to check for is the availability of lifts. Often, tall stone houses in the Old Towns have been converted into short-term lets. They have several stories but not always a lift.
I usually prefer to book all my accommodation through Booking.com. Click to see all available options for places to stay in and around some of the largest cities in Croatia: Zagreb, Split, Dubrovnik, Zadar, and Pula.
If you need some visual help in terms of precise location and price range, have a look at this map. It gives you a quick idea of the prices and whereabouts of the many hotels and other forms of accommodation you can book for your stay in Croatia.
You can zoom in and out in order to search for a place to stay. You can also click on the option that interests you to find out more details or to make a booking directly.
What to Pack for Croatia?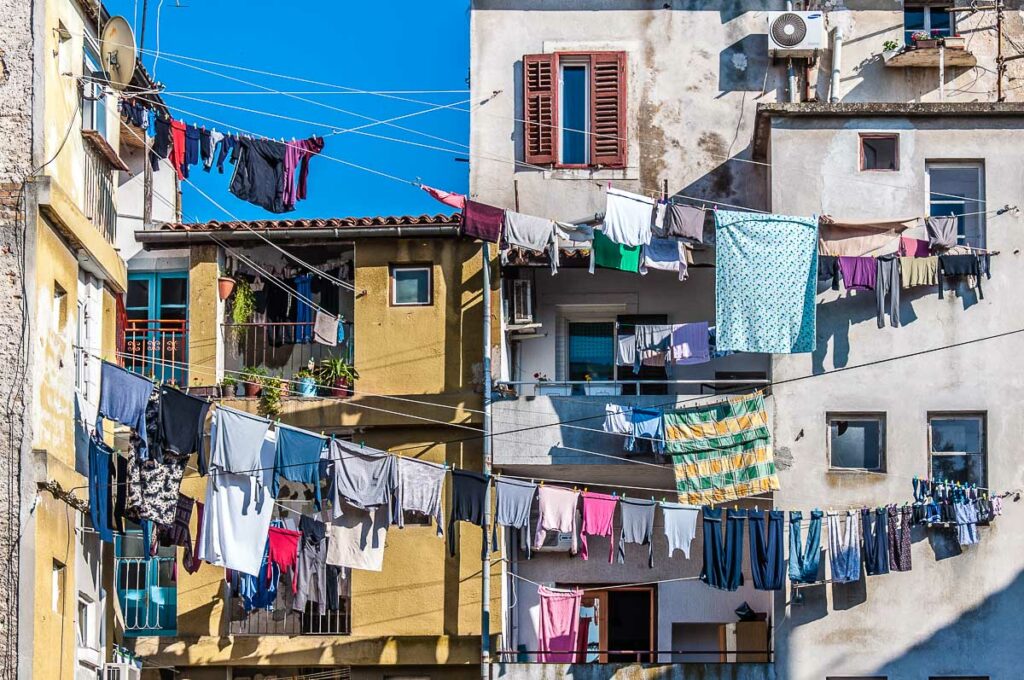 Pack your most comfortable shoes. Especially, if your main reason for a visit to Croatia is to sightsee and visit the country's national parks. The streets and alleys in Croatia's Old Towns are covered with cobbles or stone slabs. Often, there are lots of steps, too. In the national parks, you will be walking on different types of terrain – from pebbly and steep to boardwalks.
You will want to protect your feet at all times. So, bring shoes with a good grip that support your ankles and don't let your feet slide inside.
Make sure that your clothes cover your shoulders and knees if you are planning to visit the churches, cathedrals, and monasteries of Croatia.
In summer, suncream is a must. A hat and sunglasses will come in very useful, too. If you are intending to go to the beach or book a boat trip, ideally bring water shoes. Pebbles, sharp rocks, and sea urchins are a regular occurrence at beaches here.
In Conclusion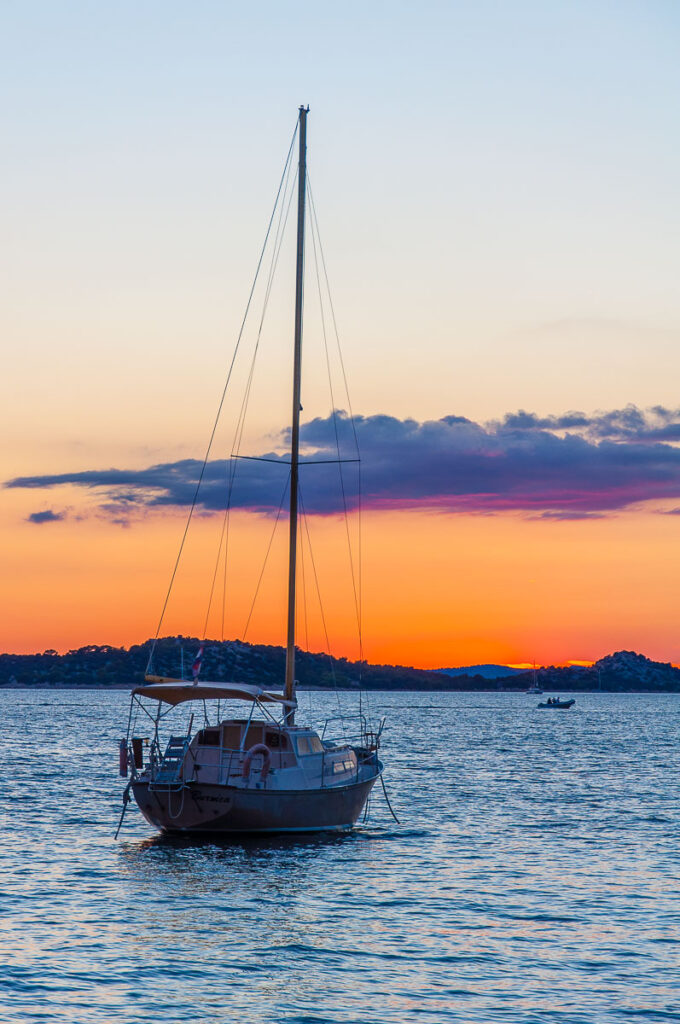 Travelling in Croatia is exciting and enriching on many levels. This small country in Southeastern Europe has a lot to offer to tourists trying to decide on their next vacation spot and travellers searching for a rich in experiences destination.
If you have ever wondered 'Why visit Croatia?', in this blog post today I gave you 15 excellent reasons to do it. From islands and beaches to delicious food and millennial history, there are many ways to savour what Croatia has to offer.
I have also included a helpful section with practical tips about visiting Croatia. It provides details on the most beautiful places to visit here and the different ways you can experience this exciting country.
I hope that all this information (peppered with photos that I loved taking) will convince you to book a visit before long.
Enjoy visiting Croatia!
More Helpful Travel Info for You
Best of Croatia: Trogir, Šibenik Archipelago, Baredine Cave
Best of Italy: Venice, Lake Garda, Veneto, Lombardy, Emilia-Romagna, Marche, Friuli Venezia Giulia, Trentino, Italy with Kids, Italy for Foodies, Day Trips in Italy, Hiking in Italy, Christmas in Italy
Best of Portugal: One Day in Aveiro, Photos of Aveiro, One Day in Porto, Photos of Porto, One Day in Guimarães, Photos of Guimarães, Photos of Braga, Sanctuary of Bom Jesus do Monte, The Best Portuguese Desserts and Pastries
Best of England: London, Kent, Dorset, East Sussex, Days Out in England
Travel: Travel Resources, The Joy of Travel, Safety Tips
Pin This Blog Post!