Prato della Valle is Italy's largest square!
You will find it in Padua – a Northern Italian city that is 430 years older than Rome.
A stone's throw away from the tourist magnets of Venice and Verona, Padua is free of tourist crowds and yet it has many aces up its sleeve.
Among them are the world's oldest academic botanical garden, Italy's second-oldest University, and even Europe's oldest covered market. Add to this the worldwide famous Scrovegni Chapel with its frescoes by Giotto which are recognised as the earliest artistic expression of the Italian Renaissance.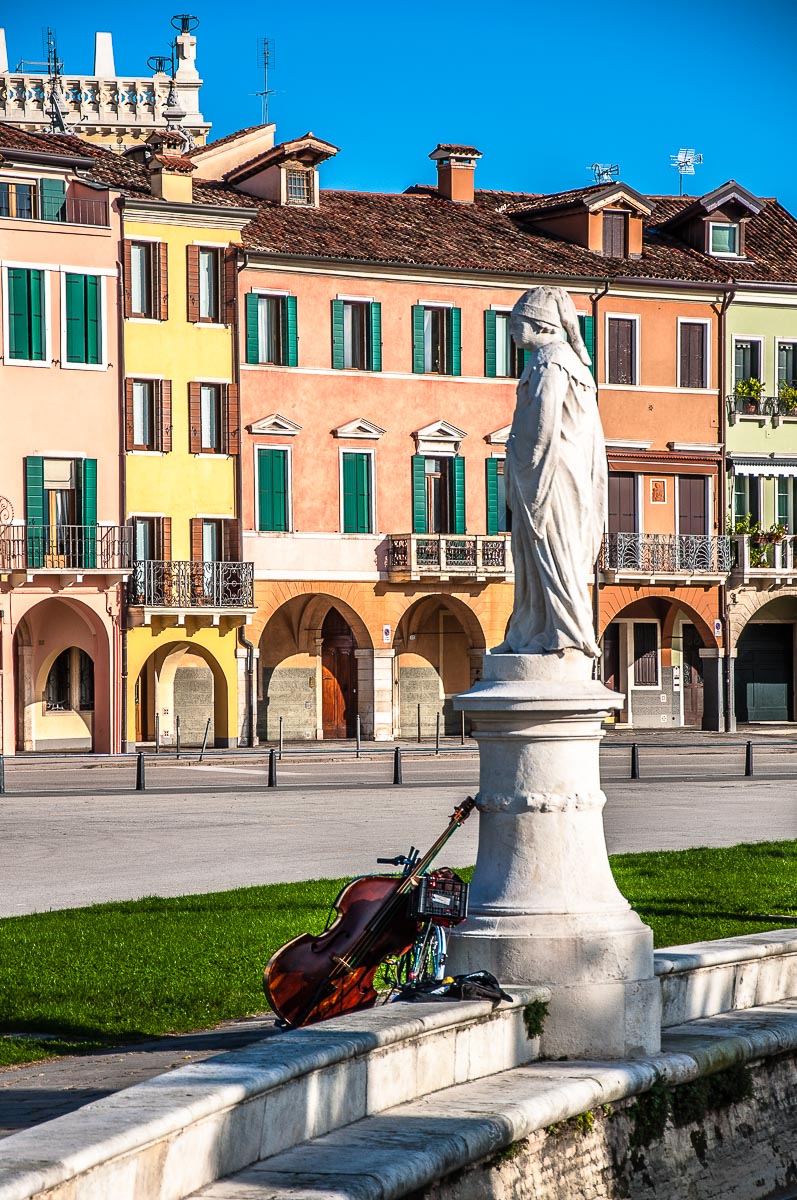 So, yes, Padua has a long list of must-see sights and Italy's largest square takes a pride of place on it. Called Prato della Valle, this is an enormous triangular piazza covering an area of 88,620 sq.m.
Indeed, the square is so big that at its centre there is an island! Known as Isola Memmia, it has an area of 20,000 sq.m. An elliptical water canal runs around the island. Quite amazingly, at the bottom of the canal, right beneath the sparkling blue water, lie ancient Roman ruins. In addition, some of Padua's most beautiful buildings stand around Prato della Valle.
The square is a great place to go for a walk, to peruse the markets regularly held there or to have fun at one of the large events that take place throughout the year.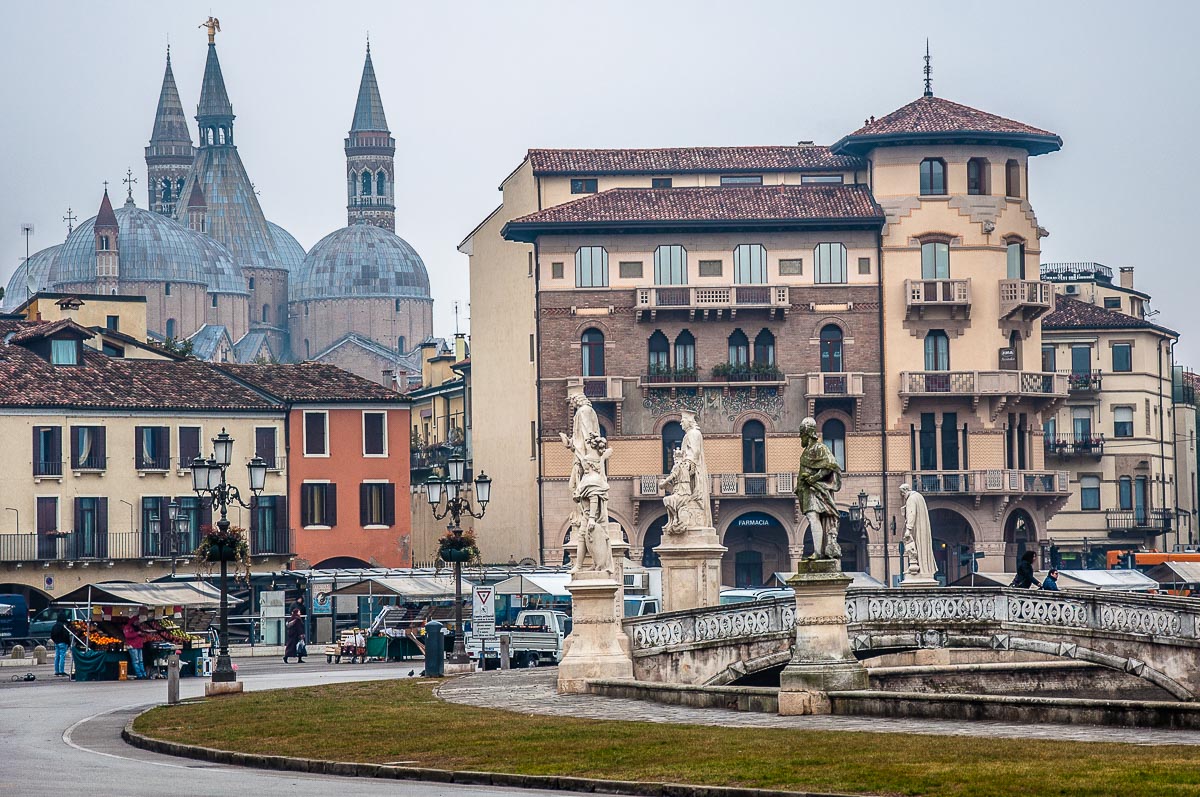 Above all, Prato della Valle has a very interesting history. It has been the stage for theatrical performances, military parades, horse races, lively markets, popular fairs, and city-wide celebrations all the way through Padua's pre-Roman, Roman, medieval, Renaissance, and modern-day periods. The square has served many purposes. It has become the focal point in the city to which people have flocked for one reason or another all throughout the centuries.
During the six years that I lived in Italy, I spent many moments at Prato della Valle. Half-square, half-garden, it's a must-see when you are in Padua. You may find it completely deserted on one of those foggy days that make Padua feel so mysterious. Or you may find it pulsating with thousands of people on the dates of large-scale events and concerts. No matter what's happening or not there, Prato della Valle is always a great destination to explore.
Prato della Valle is in Padua's historic centre. It's very easy to reach on foot from almost all of the city's major sights. If you are coming from the train station and don't fancy a longer walk, then Padua's modern tram will get you there in just over ten minutes.
The square – large and imposing – has many tales to tell. In this blog post today, I want to share with you the 15 most interesting and fascinating facts which I came to learn about Prato della Valle myself.
Have a look!
Prato della Valle in Padua – 15 Fascinating Facts About Italy's Largest Square
1. Prato della Valle Has Served Padua for Over Three Millennia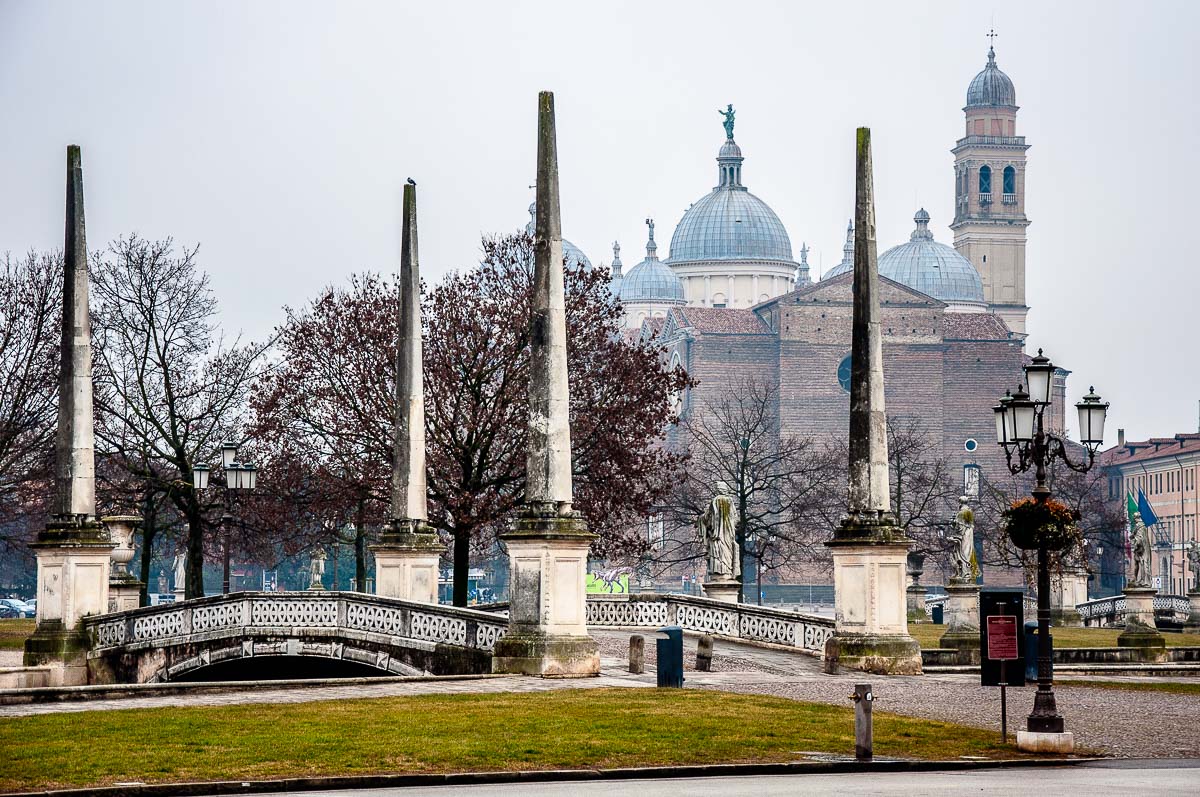 Prato della Valle has been Padua's most important place for large public gatherings and events since the foundation of the city.
Padua was settled in 1183BC, making it the oldest city in Northern Italy. According to its foundation myth, Padua was established by Antenor – a counsellor of King Priam of Troy and a hero from the Trojan War. It is believed that after the fall of Troy, Antenor led the tribe of the Veneti people across the seas to the lands of what nowadays is the Northern Italian region of the Veneto.
Where Prato della Valle stands today, the Veneti used to hold their Ludi Cetarii. These were gladiator games that were established by Antenor himself and took place every thirty years.
Today, more than 32 centuries later, Prato della Valle is still Padua's focal point.
2. The Name of Prato della Valle Means Marshy Market Meadow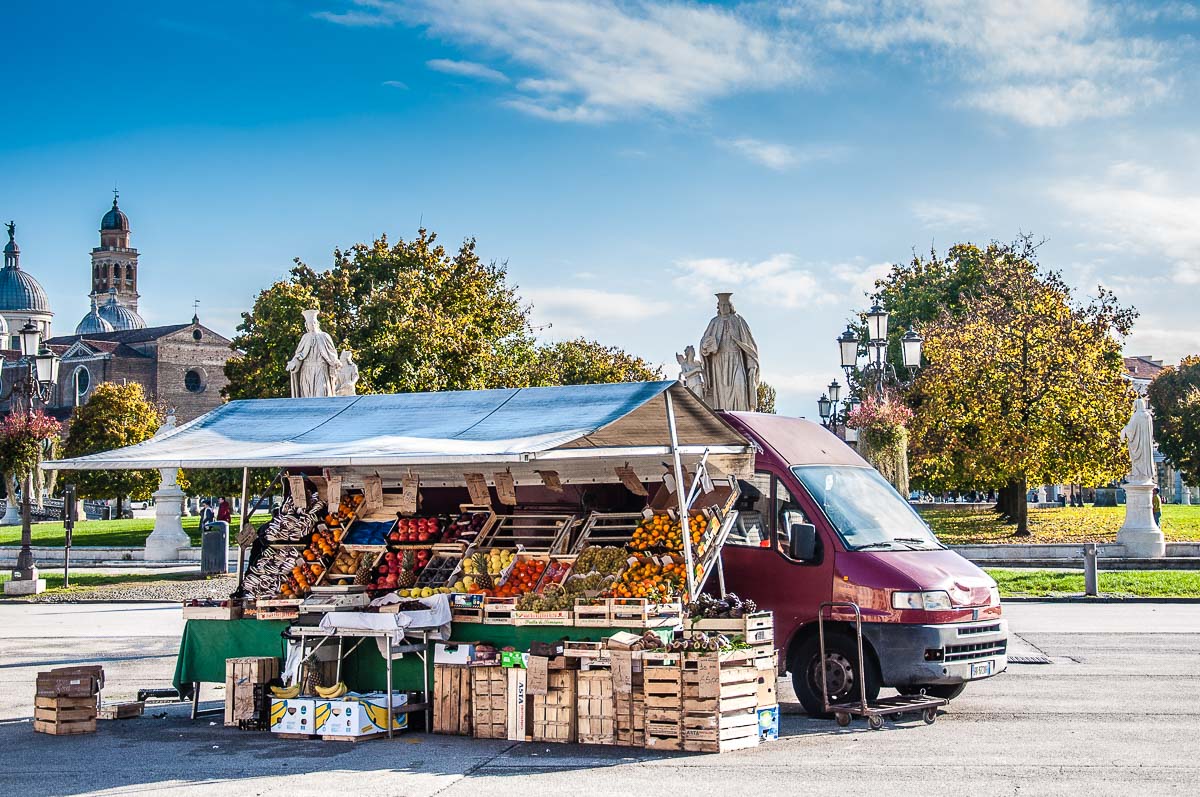 Prato della Valle took on its current name around the 12th century. It's based on the Latin words:
Pratum – meaning meadow or lawn that is specifically used to hold markets and as such, it can be either paved or covered with grass; and
Vallis – meaning a lowland or valley and often used for marshy places or swamps.
In fact, the area of Prato della Valle was very marshy. It flooded often and waters collected and stagnated there for months.
So, Prato della Valle offered a curious paradox. On the one hand, throughout the centuries, it was regularly used to hold markets, fairs, and large events. On the other hand, the area where it stands often became flooded, inaccessible, and even unsanitary for most of the year. Winters made the problem particularly severe.
In the 18th century Prato della Valle was given its current refined look. Yet, its name designating it as a marshy market meadow has stuck. Attempts to change it to something a bit more patriotic or elegant didn't succeed. And the square to this day is known as Prato della Valle. The locals often refer to it as Pra dea vae or simply Pra.
3. Prato della Valle Has Had Many Names Throughout the Centuries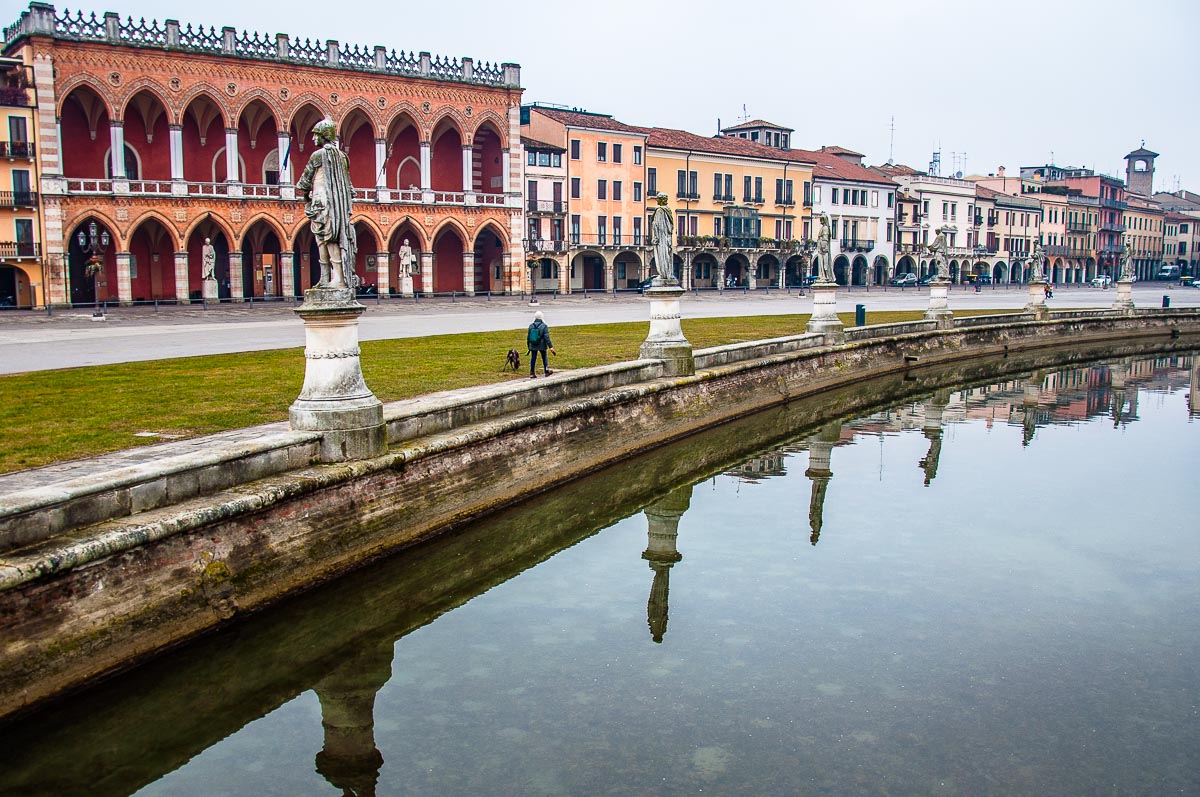 While Prato della Valle has stuck over the last eight centuries, the square has had many other names since it first started being used over three millennia ago. Here are a few:
Campus Martius – literally, Field of Mars. This was Prato della Valle's name during Padua's Roman period. It was on account of the military exercises and parades that the Romans held regularly here.
Campo Santo – on account of the two Christian saints who had been buried here after their martyrdom. One is St. Justina of Padua (in Italian, Santa Giustina) and the other is St. Daniel of Padua (in Italian, San Daniele or San Danilo di Padova).
Prato di Santa Giustina – as Prato della Valle was for many centuries owned by the adjacent Basilica and Abbey of Santa Giustina. It became the property of the city only in 1767.
Valle del Mercato – as in the Middle Ages, Prato della Valle was used to hold a large biweekly cattle market.
Piazza delle Statue – after Prato della Valle was sanitised and completely redesigned in the 18th century, an attempt was made to change its 'marshy' name to something more elegant like Square of the Statues. This was on account of the dozens of statues that had been commissioned to adorn the square. While Piazza delle Statue was used for a period and it was even mentioned in travel guides for Padua from that era, the new name didn't stick and the locals kept calling the square Prato della Valle.
Piazza Vittorio Emanuele II – during the Savoy reign, many important sights and squares in Italy were given the name of the first King of a united Italy. Yet, it never gained foot on Padua's Prato della Valle.
4. The Locals Call Prato della Valle 'The Field without Grass'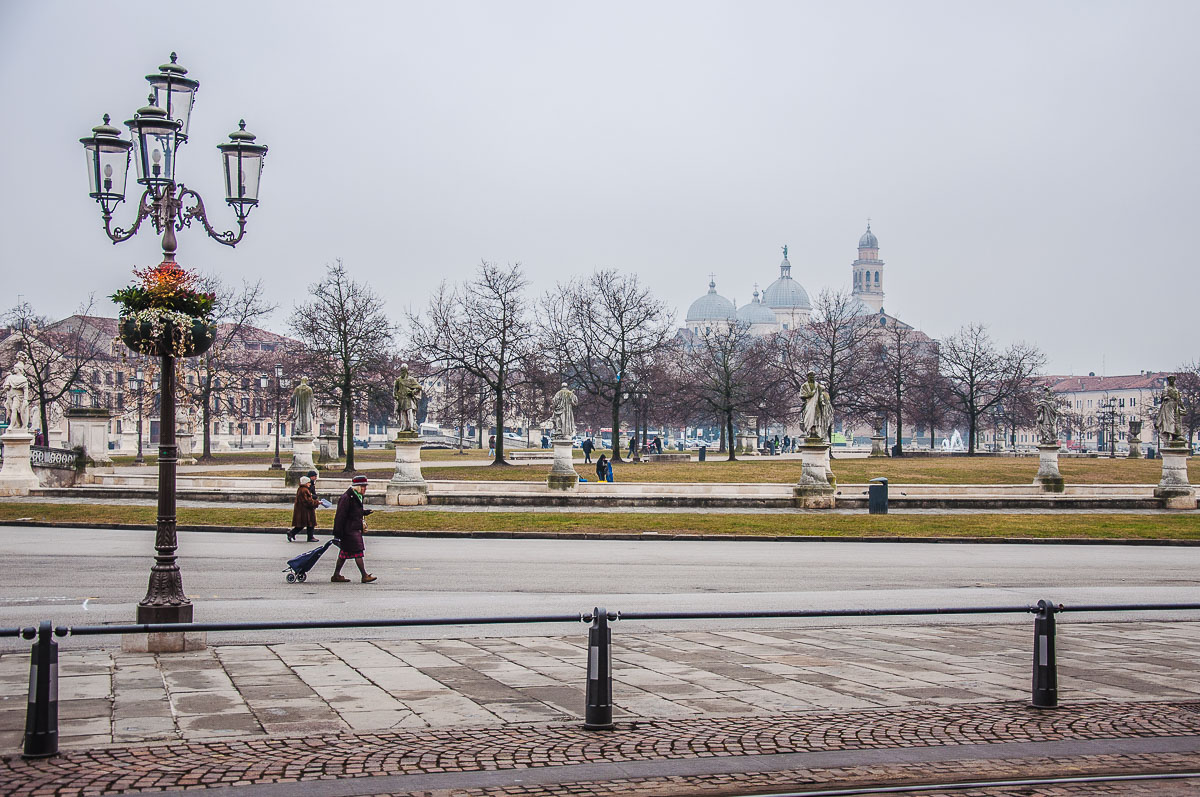 The locals tend to be quite the self-deprecating bunch. Hence, they traditionally refer to Padua as the city 'with the three withouts'. According to them, these are:
The Saint without Name – St. Anthony, the Patron of Padua, is so highly venerated here that he is simply referred to as Il Santo (in English, The Saint). There is no need to mention his name as everybody knows who he is.
The Cafe without Doors – Caffe' Pedrocchi, Padua's historic coffee house, originally used to be open 24/7 and its doors were literally never closed.
The Field without Grass – Prato della Valle, which the locals still think of more as a field rather than a proper square, originally didn't have much grass on account of its very marshy nature. Nowadays, this is not the case and most of Prato della Valle is covered with thick and lush grass. Yet, the name has stuck.
5. Venice's Rialto Bridge is Built with Stones from Prato della Valle's Roman Theatre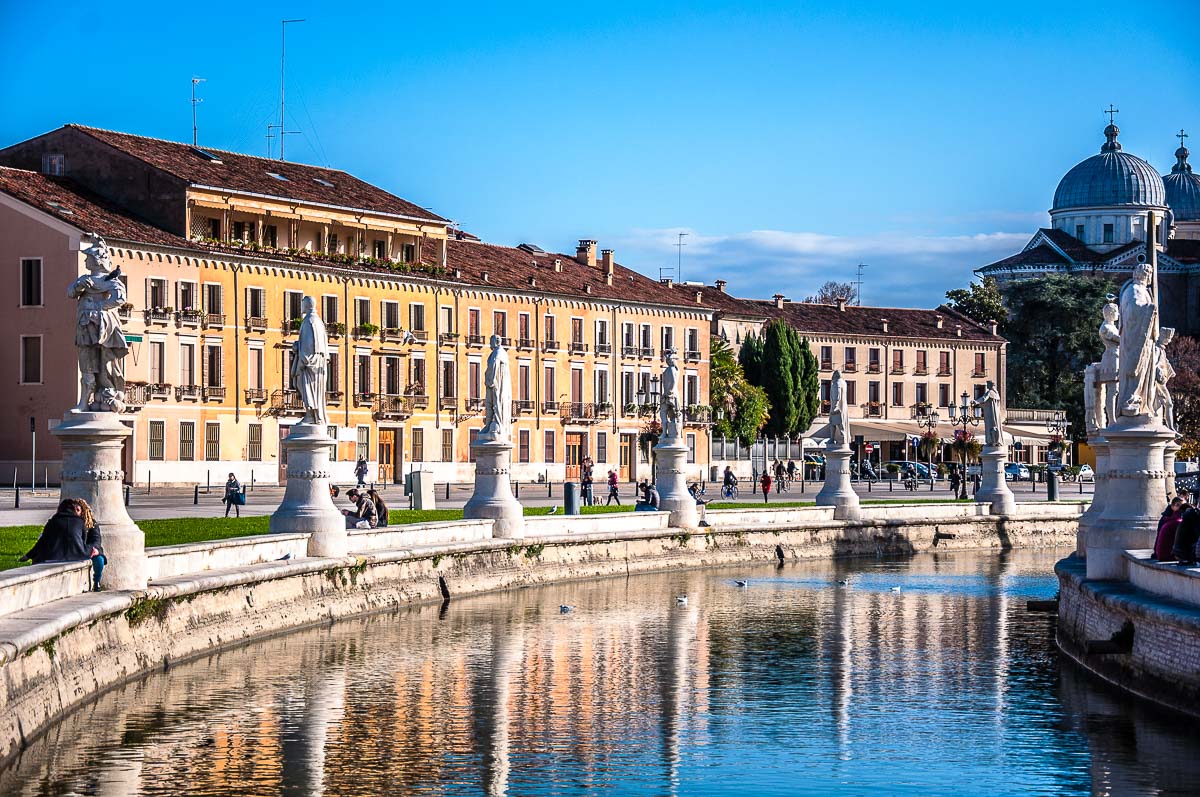 High quality building material has often been repurposed and re-used throughout the centuries. This is exactly what happened in the case of Prato della Valle's Roman theatre.
When Padua became a Roman city around 49BC, a large theatre was erected at what was then known as Campus Martius and today as Prato della Valle. It was an imposing building with a diameter of around 50 m. It was called Zairo which some experts think is a corruption of either Satiro (on account of the type of plays performed there) or the Latin word Theatrum.
After the fall of the Roman Empire, Padua suffered many attacks between the 5th and the 9th centuries at the hands of the Huns, the Lombards, and the Magyars. The Roman heritage of the city was reduced to ruins. It was from the ruins of the Roman theatre Zairo that building materials were procured not just for the Basilica of Santa Giustina which today overlooks Prato della Valle but also for the Rialto Bridge in Venice.
Built between 1588 and 1591, the Rialto Bridge is one of the most elegant and most famous structures in the world. It's interesting to think that some of its stones have borne witness to theatrical performances in Ancient Rome.
6. Prato della Valle Hosted a Food Fight in the Middle Ages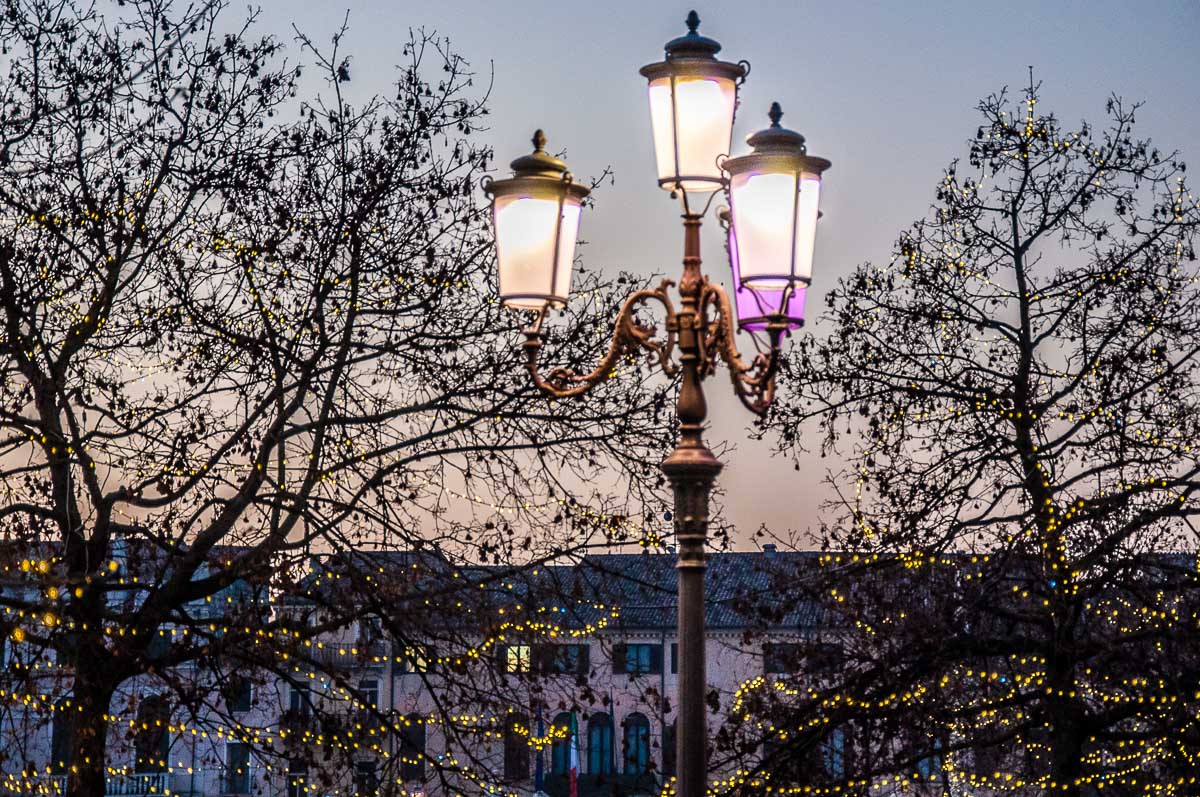 Many lively markets, fairs, and performances have been held at Prato della Valle throughout the centuries. The free men of the city would flock there to take part in jousting tournaments and duels. Big celebrations would be organised on the feast days of Padua's patron saints: St. Anthony in June, St. Justina in October, and St. Prosdocimus in November.
Most curiously, at the start of the 13th century, Prato della Valle became the focal point of a really fun event called Castello d'amore (in English, Love Castle). This was a sort of a food fight between the young men and the maidens of Padua. First, a large wooden castle would be erected on the square. Then both parties would wear helmets and armours. The young men would attack the castle by throwing oranges, pears, sweets, pieces of sugared ginger, pies, flowers, perfumed water, and even coins and jewellery. The maidens had to defend the castle at all cost. Once the castle fell, each young man would grab a maiden by the hand and all would spend the rest of the evening celebrating at a large open-air party with tables laden with food and musicians playing lively tunes. Often, marriage contracts would be exchanged on the spot, too.
To this day, Prato della Valle is still Padua's beating heart. The square hosts large concerts and events. The parties and fireworks for New Year's Eve and Ferragosto (a public holiday on 15th August) are particularly famous.
7. Horses Used to Race on Prato della Valle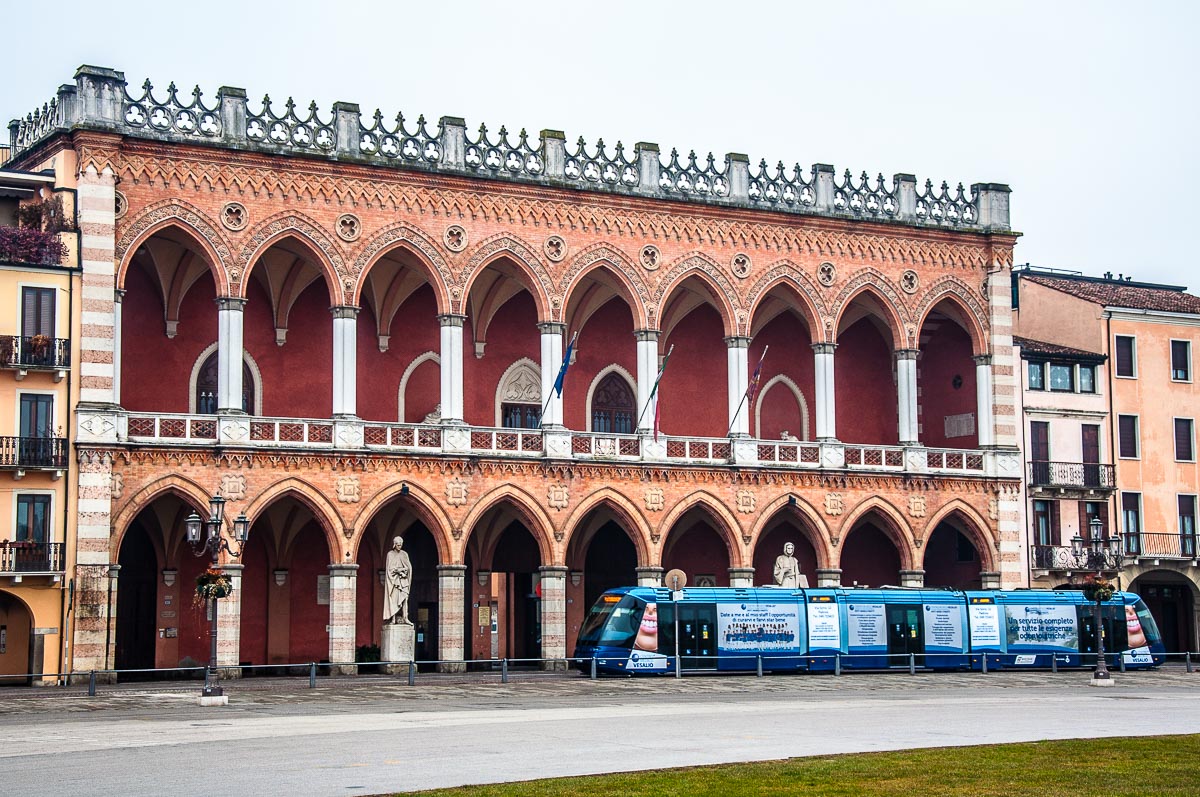 For millennia horses used to be a constant presence on Prato della Valle. In Roman times, there was a circus there that was used for horse races.
The tradition resurfaced again in the Middle Ages. On 20th June 1257, a famous Palio (in English, race) was first held there. Known as the Corsa dei berberi it celebrated the liberation of Padua from the tyranny of the medieval warlord Ezzelino. It remained a staple on Padua's social calendar for many years. The winner would receive twelve lengths of scarlet cloth!
Later on, cart races and jockey races were also organised on Prato della Valle.
8. A Trojan Horse Once Stood on Prato della Valle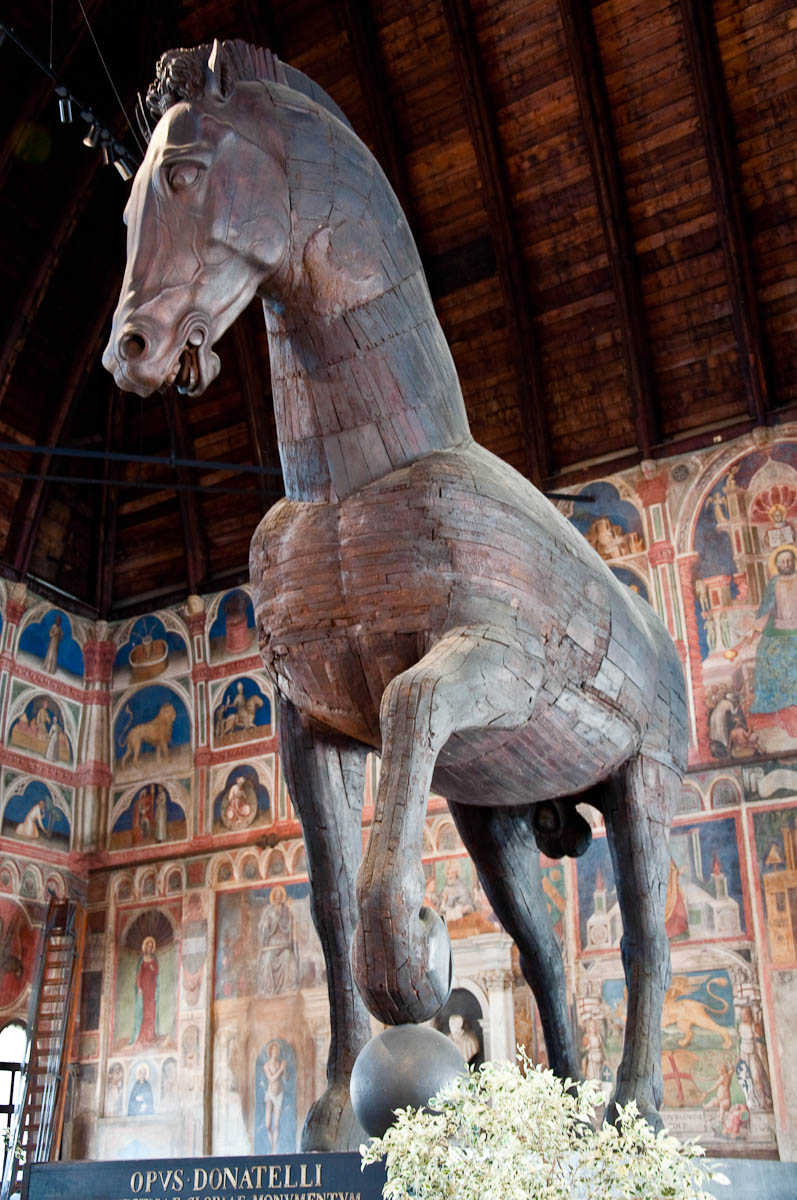 Having been founded by a Trojan hero, Padua paid tribute to its ancestry by having a Trojan horse on Prato della Valle. It was made of wood for a Carnival celebration in 1466.
Some think that the wooden horse was made by the famous Florentine sculptor Donatello. In fact, Donatello had spent ten years of his life living in Padua, just around the corner from Prato della Valle. One of the most important pieces of art he produced while there was the monument of the military commander Gattamelata on his horse. This had been the first full-size equestrian monument cast in bronze since the Antiquity. When it was finished in 1453 and placed next to the Basilica of St. Anthony in Padua (where you can still see it nowadays), it made quite the impression.
Others believe that the wooden horse for Padua's 15th-century Carnival was not made by the hands of Donatello but it was instead modelled after Donatello's monument of Gattamelata. In any case, the wooden horse was quite the success and nowadays it's kept in Padua's Palazzo della Ragione. This is the city's medieval town hall which is covered in beautiful frescoes and it's one of the most important sights in the city.
A curious anecdote about the wooden horse is that somehow throughout the centuries it lost its original tail and head. So, in the 19th century, they were re-made and re-attached to the wooden figure.
9. Prato della Valle Took Its Current Shape in the 18th Century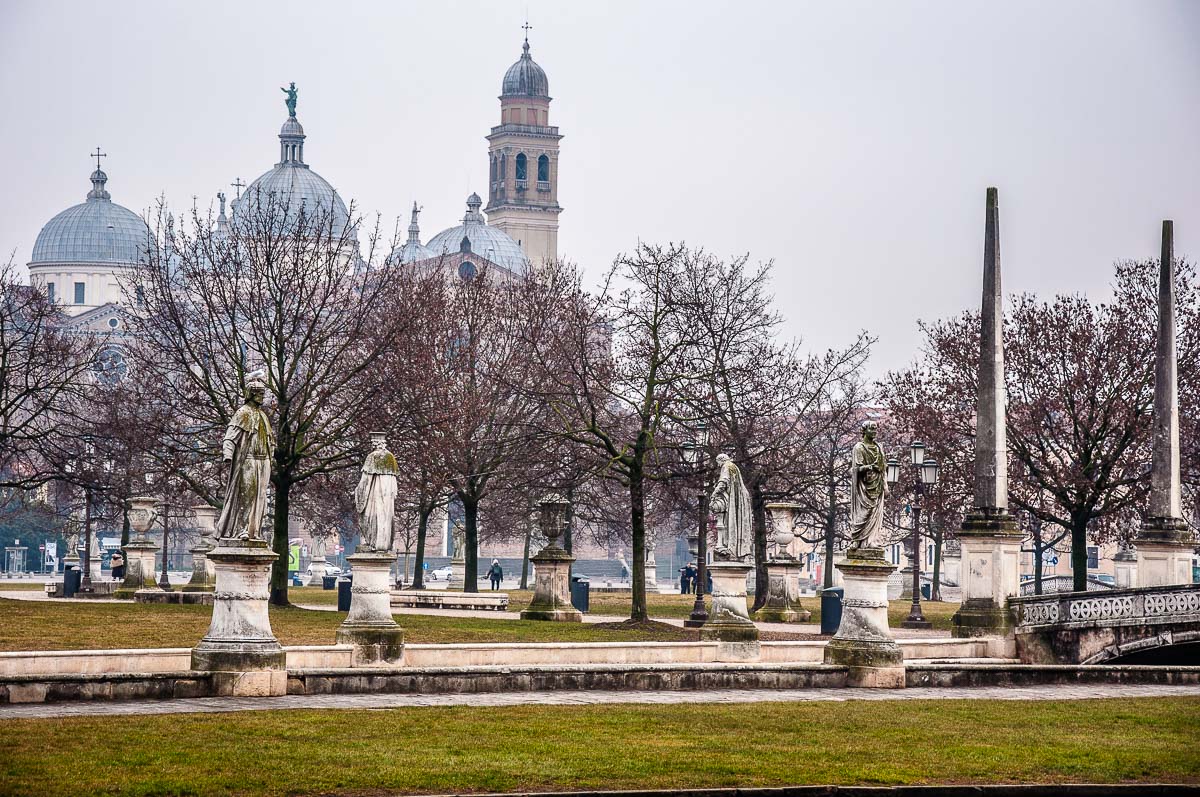 A Venetian patrician by the name of Andrea Memmo took an interest in Prato della Valle in the 18th century. He was a Procurator of St. Mark – the second most prestigious position in the Republic of Venice after the Doge. A highly-cultured and educated man, Memmo had been working tirelessly on many projects aiming to improve Padua's urban profile.
He took it upon himself to raise the money needed for the complete redesign of Prato della Valle. Apparently, certain taxes were increased and private donations were solicited. Over 44 days in 1775 and together with Domenico Cerato – an architect who had worked on important projects in several cities of the Veneto – Memmo realised his idea of turning Prato della Valle from a marshy and unsanitary place into an expansive and elegant square.
Some portions of Memmo's original plan were completed much later. For example, the fountain that nowadays can be seen there was added only in 1926. Other parts of it never saw the light of day. Yet, the success of Prato della Valle's new design was such that the island in its centre to this day it's known as Isola Memmia – Memmo's Island.
10. It Took 10,000 Carts of Soil to Create Isola Memmia on Prato della Valle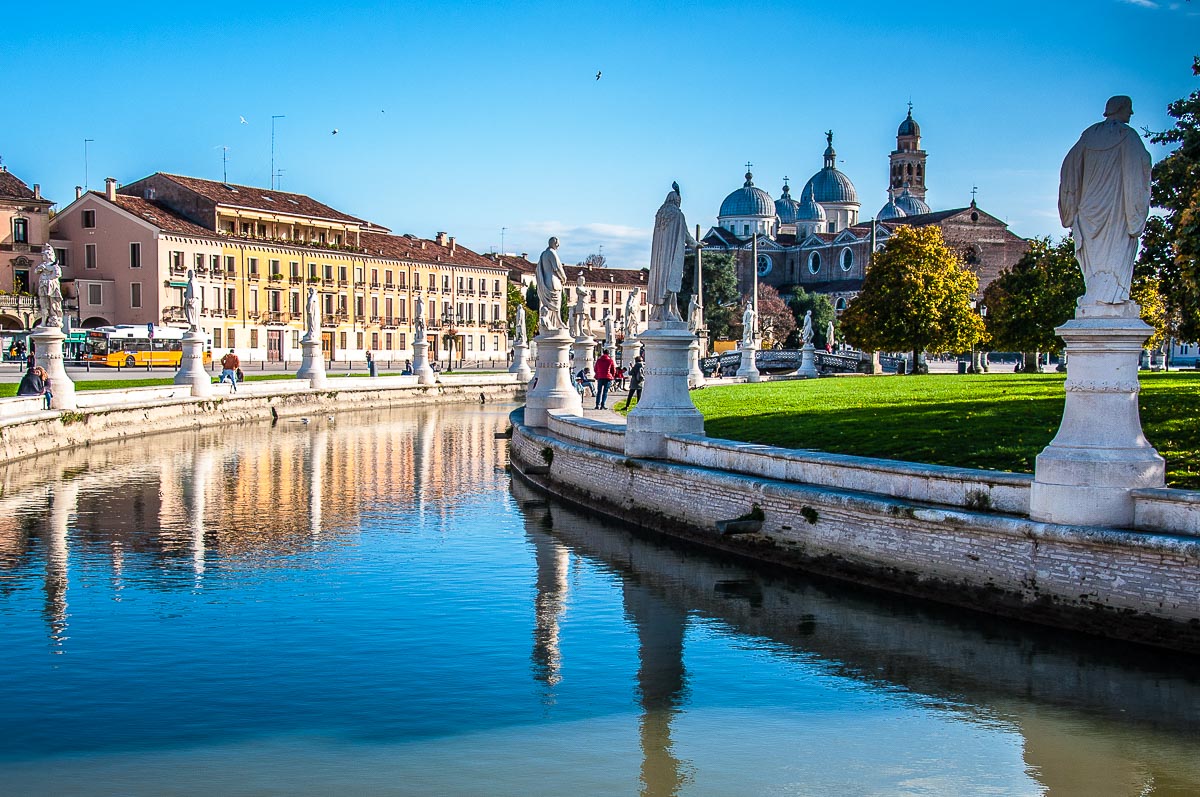 If you look at Prato della Valle today, you will see the Isola Memmia at its centre. This is a beautiful oval island covered with grass and dotted with tall trees. There is a nice fountain, two wide intersecting lanes, four bridges, and many decorative elements. An elliptical canal adorned with many statues runs around the island. It's a very beautiful and elegant place.
Yet, originally, this whole area was concave! For centuries, water would collect here and stagnate, turning the place into a swamp for most of the year.
To overcome the issue and to create the Isola Memmia, Andrea Memmo had 10,000 carts of soil dropped in the middle of Prato della Valle. At the time, this must have been quite the feat, considering that they didn't have the heavy equipment we have today.
One more curious thing about Isola Memmia. Seen from above, its two intersecting alleys resemble a very large cross. During Roman times, two roads crossed Prato della Valle – one led to Rome and one to the Adriatic. In a way, the two lanes nowadays are a nice reminder of this.
11. Prato della Valle's Canal Is Almost a Kilometer and a Half Long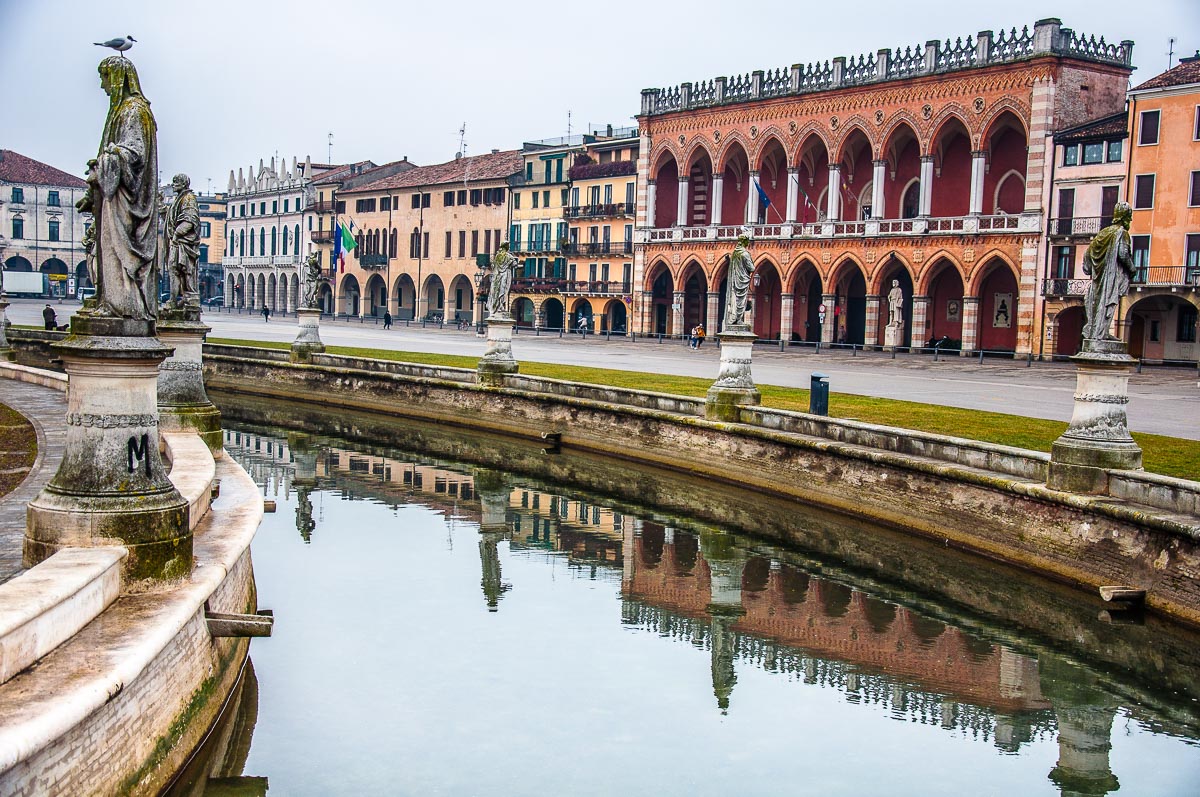 The canal that runs around Prato della Valle's island is, without a doubt, the most striking element about the whole thing. Yes, Prato della Valle is enormous. Yes, it has a very interesting history. And, yes, the square is surrounded by some of Padua's most beautiful buildings.
At the same time, it's the elliptical canal that makes Prato della Valle such a unique place. Crossed by four bridges – two of which adorned with four tall obelisks each – the canal has an external circumference of 1,450 m! People often sit on its stone edges to relax and take in the views.
The most wondrous thing about the canal though is that the remains of Zairo – the Roman theatre that had once stood on Campus Martius – are at its bottom. In 2017, archaeologists dried up the canal in order to study the theatre's remains – a semi-circular orchestra pit standing in front of a rectangular stage and amphitheatrical rows of seats.
Prato della Valle's canal is fed by Alicorno – an underground canal that receives its waters from the River Bacchiglione.
12. 78 Statues Circle Prato della Valle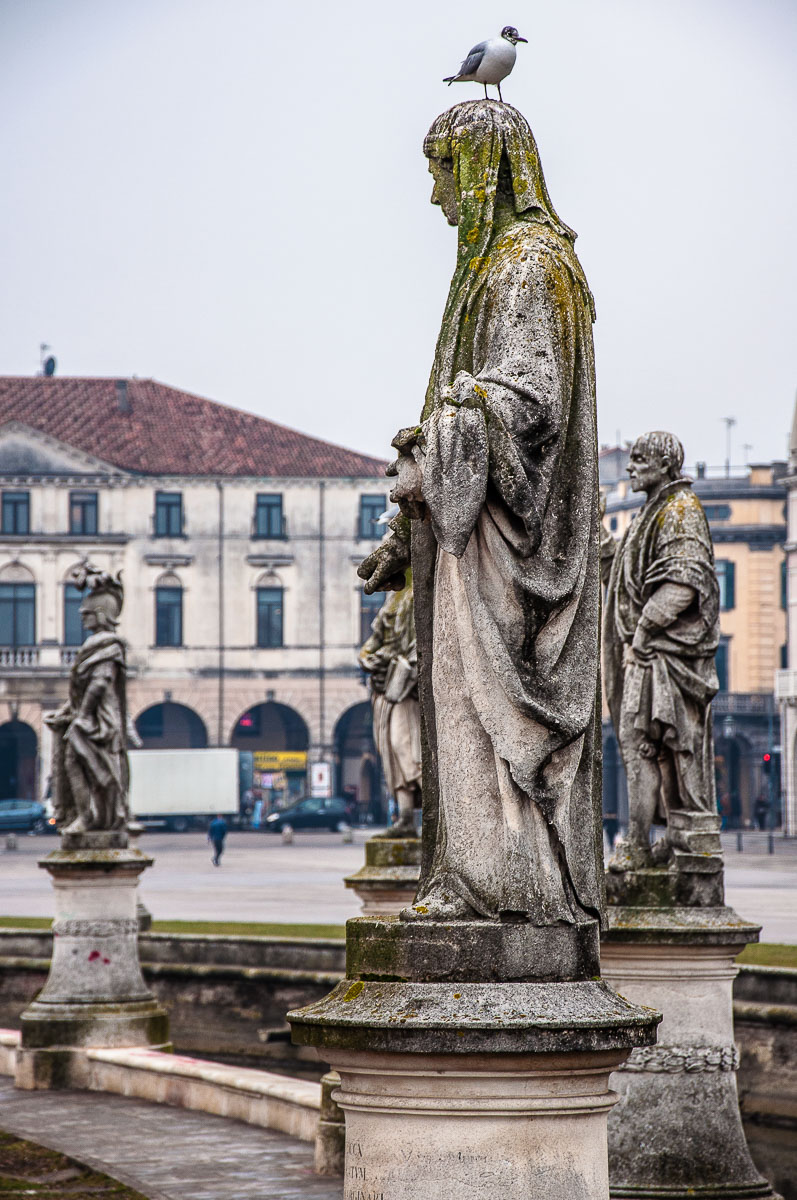 Two rings of statues circle the Isola Memmia of Prato della Valle. They are placed on the edges of the elliptical canal and represent important for the history and culture of Padua personalities.
Some of the statues are of people that are famous all over the world. Like Galileo Galilei who, in his own words, spent the happiest 18 years of his life living in Padua. His is statue number 36. Others have had a more local reach. All of them have contributed to the development of the arts, sciences, business, and politics of Padua or have achieved significant success as alumni of the renowned University of Padua. Walking around Prato della Valle, you come across the statues of the Roman historian Livy, the humanist and poet Petrarch, the artist Andrea Mantegna, the Neoclassical sculptor Antonio Canova.
The statues were made by different artists and were subsidised by private individuals, local organisations, and even foreign royalty. It took over sixty years to complete all statues. The first to be placed at the square in 1775 was of Antenor – the mythical founder of Padua. The statue was commissioned by Andrea Memmo himself. The last – in 1838 – was of the doctor from Padua Francesco Luigi Fanzago who was a fervent proponent of the smallpox vaccine.
Only two of the statues represent women – one is a bust of the poetess and musician Gaspara Stampa and the other is of an old lady symbolising the city of Padua. Curiously enough, Elena Cornaro Piscopia – the first woman to receive a PhD – is not represented here although she graduated from the University of Padua and is buried in the Basilica of Santa Giustina which flanks Prato della Valle.
Originally, there were supposed to be 88 statues at Prato della Valle. Two of them – those of Giotto and Dante – were positioned in the portico of the beautiful Loggia Amulea which overlooks Prato della Valle. And several statues representing Venetian Doges were destroyed by Napoleon's troops when Padua fell into their hands.
13. Italy's Seventh-Largest Church Overlooks Prato della Valle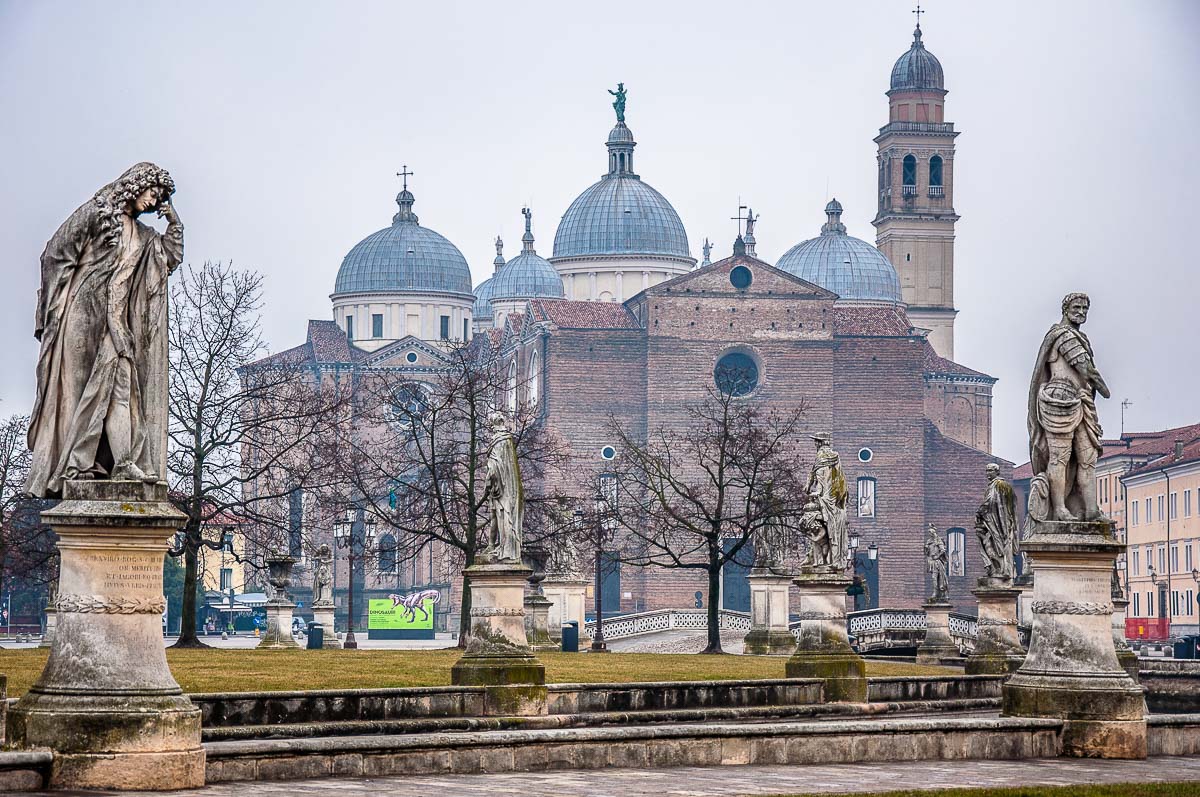 The enormous Basilica of Santa Giustina flanks Prato della Valle. While the square is Italy's largest, the basilica is the seventh-biggest church in the country and also the ninth-biggest in the world.
The square and the basilica beautifully complement one another. The size of one only serves to emphasise the robustness of the other. Plus, the connection between the Basilica of Santa Giustina and Prato della Valle goes back to 304AD.
This is when Giustina (known as Justina of Padua in English) was martyred for her Christian faith. She was buried near Zairo – the Roman theatre which at the time stood where nowadays Prato della Valle is. Giustina had been a beautiful girl from Padua who upon her conversion to Christianity gave a vow of lifelong chastity. The Roman emperor Maximian tried to force her to renounce her faith. She rebuffed him and he ordered her to be slain.
Nowadays, Santa Giustina is one of the patron saints of both Padua and Venice. The huge basilica dedicated to her has been built and rebuilt many times throughout the centuries. Almost 120 m long and 82 m wide, it's a truly impressive sight.
14. Every Year a Huge Effigy is Burned on Prato della Valle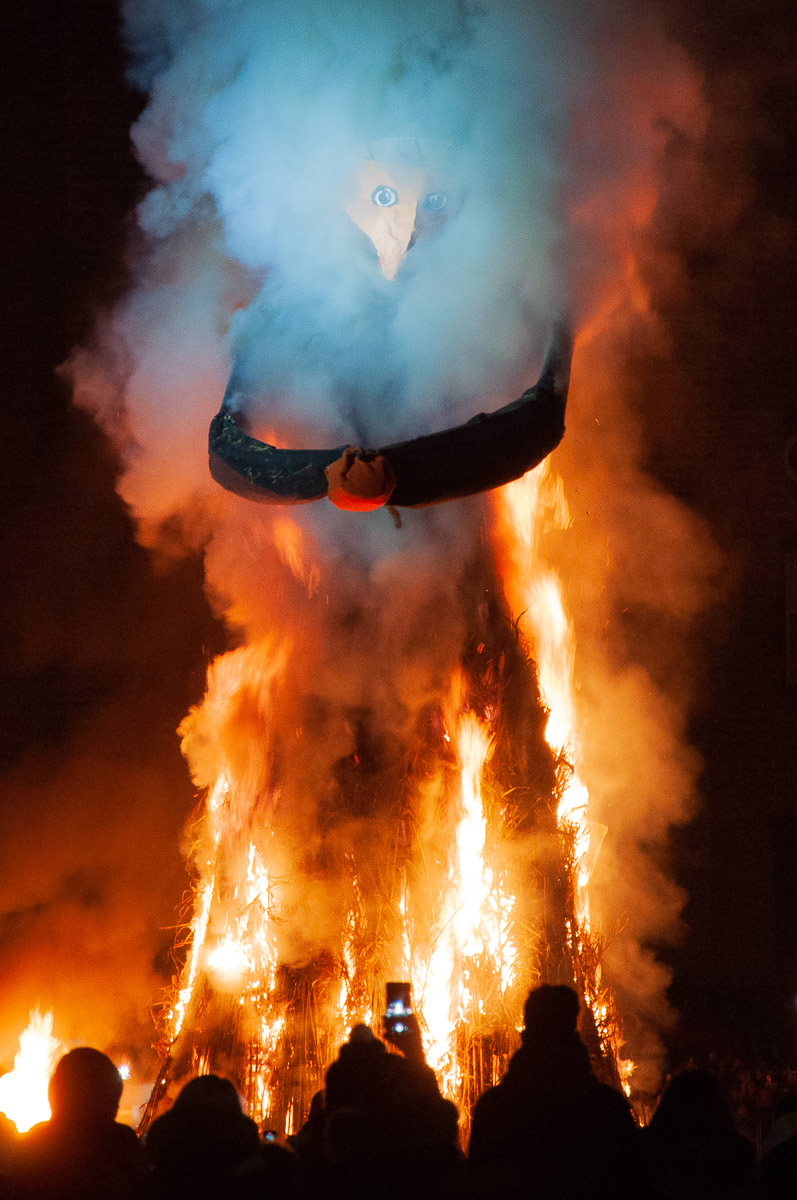 Epiphany – 6th January – is a special day for every Italian child. This is when Befana – an old lady with a long nose and a kerchief on her head – arrives on a broom bringing presents for the well-behaved kids. The ones that didn't behave that well during the preceding year get a lump of coal instead.
And what do you think the Italian parents do to thank Befana for the gifts?! They burn a large effigy of her on the evening of the 6th January! Apparently, it symbolises the end of the old year, leaving everything old and broken behind and starting the new year afresh.
Well, year after year Prato della Valle in Padua hosts the burning of one of the most impressive effigies of Befana this side of Italy. 10 m tall and towering over the square's statues, seeing it burn is a truly spectacular sight. Is it a throwback to a pagan past of witches and magic?! The Italians are very quick to tell you that Befana is not a witch but a kind old woman. Also, they add, her story is tightly connected to that of the birth of Jesus.
Click here to read more about Befana. If you find yourself in Padua on Epiphany, head to Prato della Valle for one of the most curious and memorable things you can see in Italy.
15. Prato della Valle Hosts Some of Padua's Most Important Markets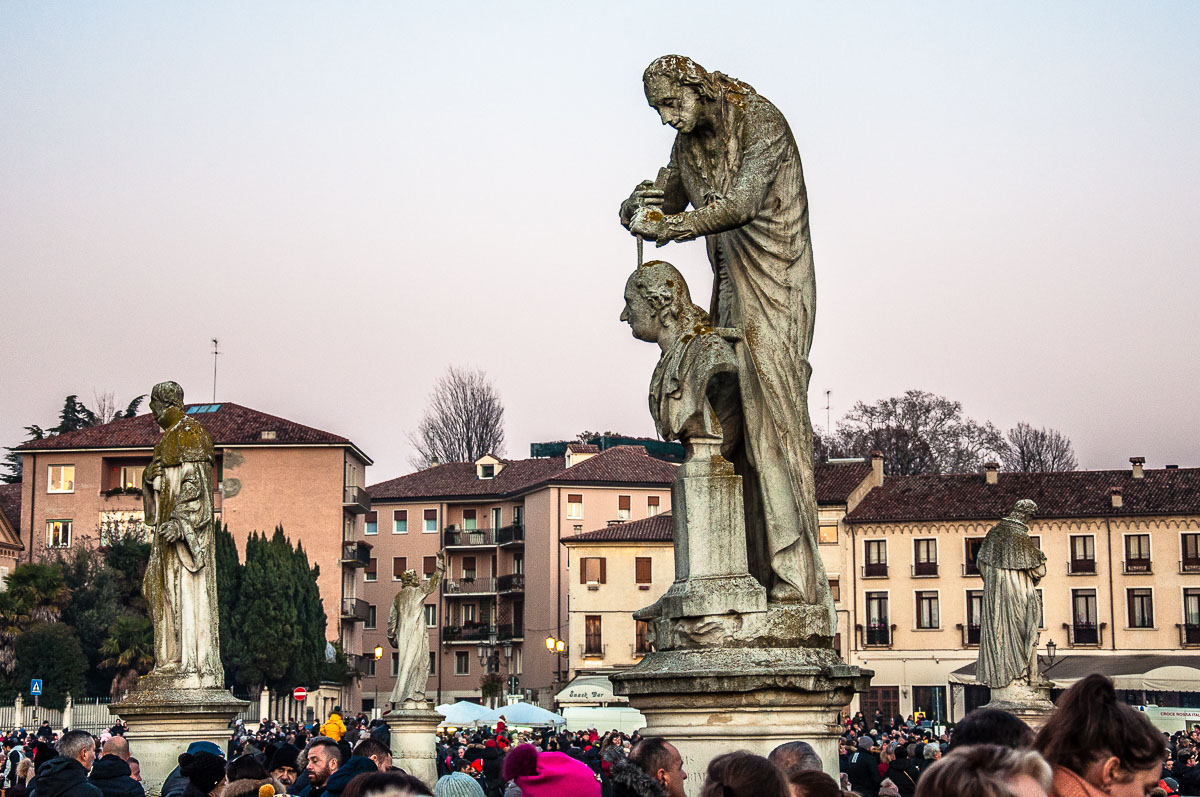 Known as Valle del Mercato in the Middle Ages for hosting a biweekly cattle market, Prato della Valle continues to be one of Padua's most important marketplaces to this day.
Daily, a handful of stalls sell fresh produce on the square. Every Saturday is a market day here, too. This is when more than 160 stalls set up around the canal and locals and visitors flock to them. If you like antiques and vintage items, then come to Prato della Valle on the third Sunday of the month to peruse the stalls of antique sellers from all over Nothern Italy.
By the way, the photo above shows the famous Neoclassical sculptor Antonio Canova chiseling the bust of another famous man. I particularly love this statue on Prato della Valle for it can feel quite open to interpretation. Unless, of course, you know in advance that it represents a scultor at work.
In Conclusion
Prato della Valle is Italy's largest square and one of the most interesting places to visit during an Italian holiday. You will find it in Padua – a Northern Italian city which is older than Rome.
The square – triangular in shape and incredibly vast – is so big indeed that it has its own island in the middle of it. Having served Padua as a stage for performances, parades, and parties since the Antiquity, nowadays Prato della Valle is the spot where some of the city's largest and most exciting events take place.
Prato della Valle has many stories to tell. Its appearance has changed several times throughout the centuries. A Roman Field of Mars, a marshy medieval marketplace, an 18th-century embodiment of the ideal patrician garden, Prato della Valle has been all of them.
The more you know about this place, the more you come to appreciate it. So, in the above blog post, I shared with you 15 of the most exciting and fascinating facts about Prato della Valle in Padua, Italy. I hope that you found the information on this page captivating.
Above all, I hope that it will galvanise you to place Prato della Valle and Padua at the top of your travel bucket list so that you can head there as soon as it's possible.
Enjoy your visit to Prato della Valle in Padua, Italy!
More Helpful Padua Info for You
Padua: Things to Do in One Day, 101 Facts About Padua, 10 Reasons to Visit Padua, Day Trips from Padua
Padua Videos: Prato della Valle, Basilica of St. Anthony of Padua, Scrovegni Chapel, Palazzo della Ragione, Palazzo Bo
More Helpful Italy Info for You
Northern Italy: 18 Best Cities to Visit
Veneto: Best Cities to Visit, Top 15 Places, 30 Adventures, 15 Most Colourful Places
Best of Italy: Italian Piazzas, Italian Food, Italian Markets, Italian Coffee Culture
Lake Garda: Best Towns, Nearest Airports, Travel Options, Lake Garda with Kids
Lake Como: Things to See
Verona: Things to Do in One Day, Day Trips from Verona
Vicenza: Things to Do, Day Trips from Vicenza
Thank you for reading! Please, leave me a comment, pin the image below or use the buttons right at the top and at the end of this blog post to share it on social media.
For more useful information like this, please, like my blog's page on Facebook and subscribe to my strictly no-spam newsletter.