Taking a day trip from Bologna to Venice in Italy is easy, very enjoyable, and a great thing to do.
Plus, it gives you a chance to explore two of the most famous Italian cities in the span of the same Italian holiday.
For its location in the heart of the Venetian Lagoon, Venice is universally known as the world's most unique and beautiful city. Venice is also rich in important historic and artistic sights, it is a hub of artisan crafts and a stage for large-scale worldwide known events. In a nutshell, the city of water offers a great number of things to see, do, and enjoy. Several of them can be covered in a day.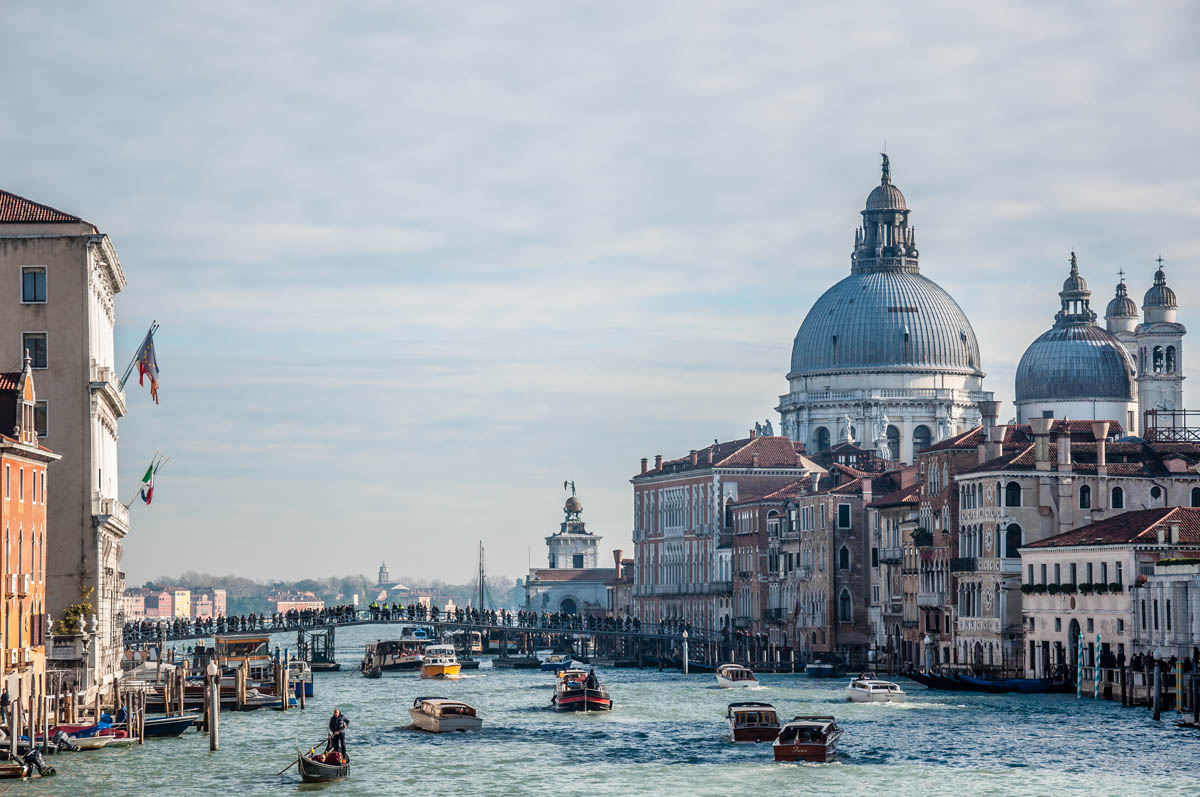 With travel times starting from an hour and a half one way and with high-speed trains and modern motorways connecting Bologna and Venice, this is a day trip in Italy that is very straightforward and easy to organise. So, don't miss the chance to take it!
To make it easy for you, in this blog post, I have collated all the details to make planning a day trip from Bologna to Venice a success. From first-hand tried and tested information on how to travel between these two Italian cities to a shortlist of the major sights to see in Venice in a day, everything's covered.
During my six years of living in Italy, I travelled to Bologna and Venice many times. Each time, it was so worth it and it opened yet another horizon in front of me in terms of Italian history, culture, food, and art.
Now, I would like to share my tips with you to help you have a great experience, too. Logically organised in easy chunks, below you will find the information that you need to enjoy Venice on a great day trip from Bologna in Italy.
Have a look!
Bologna to Venice – A Beautiful Day Trip in Italy (With Travel Tips and Sights to See)
Where is Venice, Italy?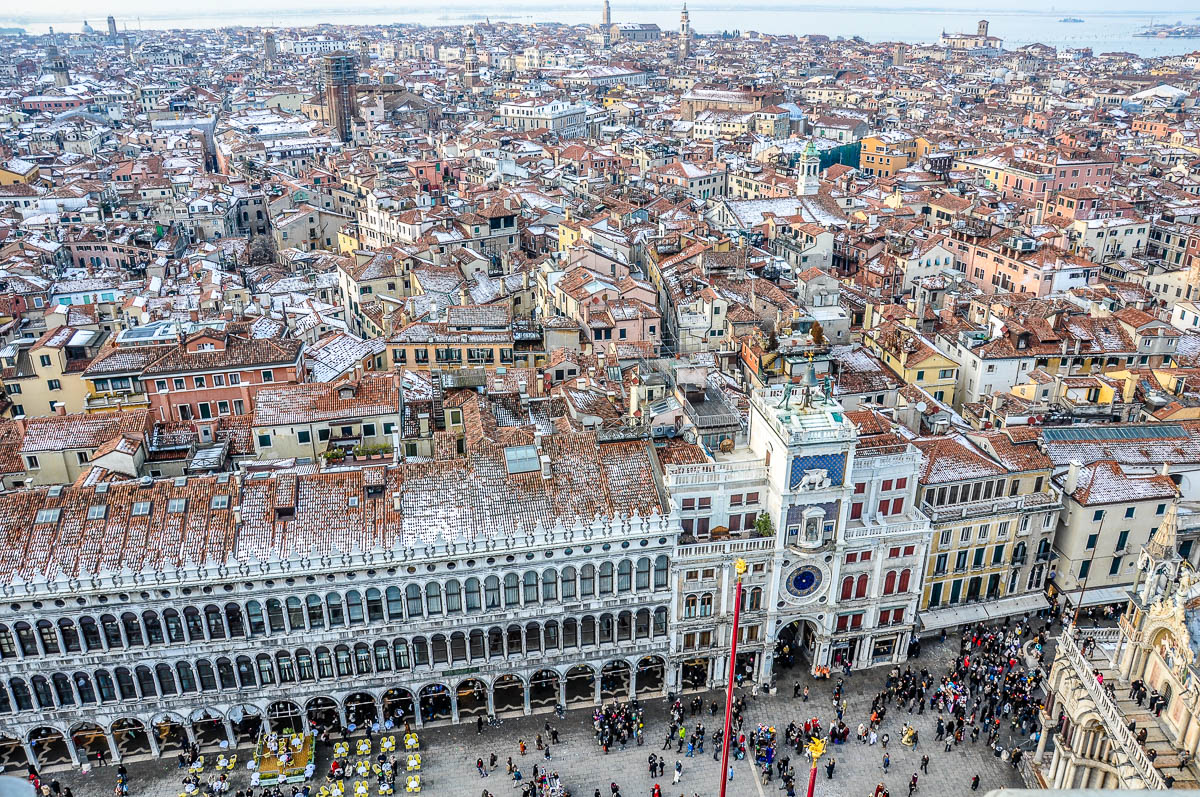 Venice is the capital of the Northern Italian region of the Veneto. Famously, the historic centre of the city is built on 118 small islands grouped together in the heart of the Venetian Lagoon. A long car and railway bridge connects Venice to the mainland.
Bologna itself is the capital of the Northern Italian region of Emilia-Romagna. The distance between Bologna and Venice is around 155 km.
Venice is connected to Bologna by road and railway. Travel between them is straightforward and with a bit of planning, it doesn't have to cost the earth.
The train station of the historic centre of Venice is called Venezia Santa Lucia. It is an end of the line station and among the 14 largest and busiest train stations in Italy. On average, it serves 450 high-speed and regional trains a day and deals with 30 million passengers a year.
Besides Bologna, Venice is easy to reach from a number of large Italian cities. For example, Florence, Verona, Milan, Turin, and Naples in addition to the Italian capital Rome. Venice also enjoys excellent railway connections to several important European cities in Austria, Switzerland, Germany, and France.
Geographically speaking, Venice has two parts:
The historic centre of Venice – built on 118 islands in the Venetian Lagoon and surrounded by water on all sides. This was the capital of the Republic of Venice and nowadays is one of the biggest tourist destinations in the world. If you want to explore the beauty and heritage of Venice on a day trip from Bologna, you need to travel to the Venezia Santa Lucia train station which serves the historic centre of Venice.
The mainland area of Venice – known as Venezia Mestre or simply Mestre, this is the large borough on the mainland. The trains from Bologna to Venice first stop at the Venezia Mestre train station before heading across the water to the Venezia Santa Lucia train station in the historic centre of the city. First-time visitors at times get confused and get off the train at Venezia Mestre. Unless you have a specific interest in Mestre, you need to stay on the train until the end of the line at Venezia Santa Lucia.
Why Visit Venice from Bologna?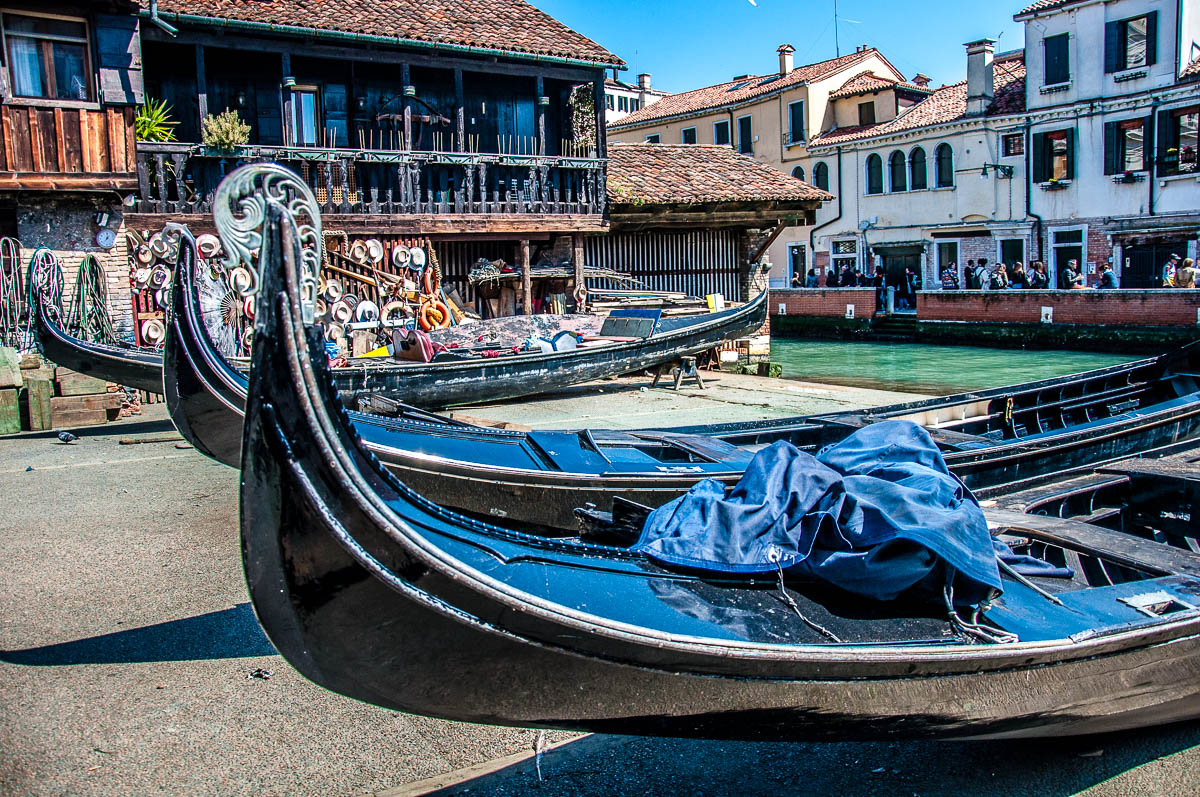 If you are spending a few days in Bologna and have already visited the many beautiful historic towns and cities nearby (for example, Ferrara, Ravenna, Parma, Comacchio, Modena, and Florence), you may want to also take a day trip to Venice.
Venice, after all, is always a good idea! The city of water doesn't really need any introduction and it's famous worldwide for its unique location, multilayered history, priceless works of art, and mesmerising beauty. Once the capital of the mighty Republic of Venice which ruled over the Mediterranean trade for more than 1,000 years, nowadays the historic city of Venice is a must-see for anyone who loves beauty, art, and history.
With a history that spans many centuries, Venice is an important cultural and artistic centre in Northern Italy. For its concentration of unique historic, urban, and artistic landmarks and for its extraordinary natural landscape, Venice and its Lagoon have been a UNESCO World Heritage Site since 1987.
From its main sights – many of which are clustered around the spectacular St. Mark's Square and Grand Canal – to its hundreds of hidden gems and corners dotted all over the historic centre, Venice is always a delight to discover. With a bit of forward planning and having a clear idea in mind as to what you want to see there in a day, a trip from Bologna to Venice can be a cool adventure to leave memories that last a lifetime.
How to Travel from Bologna to Venice?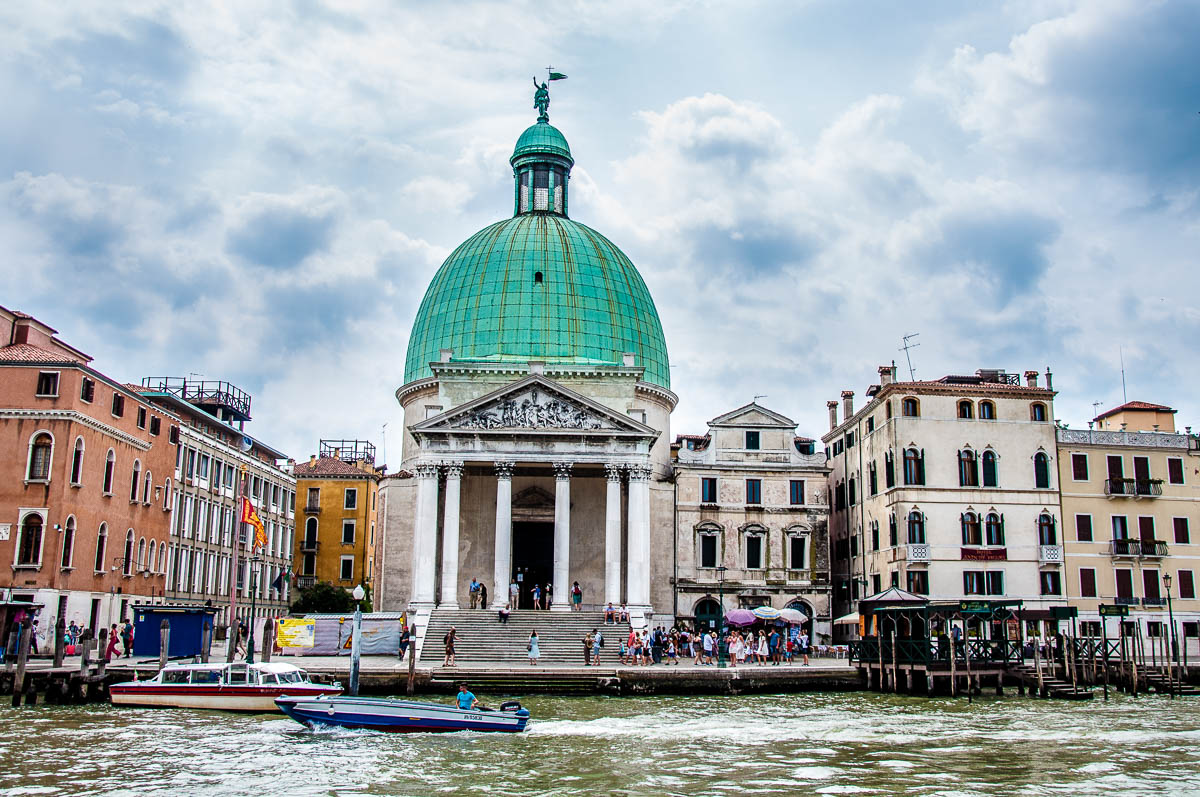 There are two main convenient ways to travel from Bologna to Venice for a day trip. Here they are in further details:
Bologna to Venice by Train – train times are very manageable, especially if you take the direct high-speed trains. Taking the much cheaper fast regional trains will increase the journey by about half an hour one way which is still very palatable.
Here is how it works:
High-speed trains (Frecciarossa, Frecciargento, and ItaloTreno):
On average they take about 1 h 33 mins from Bologna Centrale train station to Venezia Santa Lucia train station.
They are very swish and travel really fast.
However, this type of trains cost more and the tickets for them get more expensive the closer to the date of travel you buy them.
The earlier you buy your tickets, the less you will pay. Plan ahead and keep an eye on the TrenItalia and ItaloTreno websites for the best pricing.
Fast Regional trains (Regionale Veloce):
On average they take about 2 h 08 mins from Bologna Centrale train station to Venezia Santa Lucia train station.
A Regionale Veloce train is a fast regional train that only stops at the major train stations along the way.
The tickets for the Regionale Veloce trains cost the same, don't increase in price no matter how close to departure you buy them, and can be easily bought on the day of travel from the ticket machines or the ticket kiosks at the train station.
The thing to remember is that once you buy your ticket for a Regionale Veloce train, you need to validate it before you board the train! Basically, you need to place your ticket in the slot of one of the machines affixed to the walls/pillars of the train station and wait for the machine to print a code on the ticket. If you don't do it, your ticket is not valid and fines are large.
The Regionale Veloce trains are a great alternative to the high-speed trains. They can be about three times cheaper and with just over 30 mins difference in travel times.
Train Stations:
Bologna
The main train station in Bologna is called Bologna Centrale. This is one of the five busiest and most important railway stations in Italy. Hundreds of high-speed and regional trains connect it to many cities and towns all across the country. 58 million passengers arrive at and depart from Bologna Centrale each year.
With locals travelling for work and dozens of thousands of tourists visiting Bologna daily, you will find the city's main train station a hub buzzing with activity all throughout the day. To avoid stress, make sure that you allow plenty of time to buy tickets (if you haven't bought them online or on-site in advance), to find the respective platform, and board the train.
Venice
As mentioned above, there are two train stations in Venice, too. Both of them are on the same train line:
Venezia Santa Lucia train station – if you want to visit Venice proper, i.e. the historic centre of Venice on the islands in the Venetian Lagoon, this is the train station you need to travel to. The travel times given above apply to the journeys from Bologna Centrale to this train station.
Venezia Mestre train station – if you have a specific interest in Mestre – the mainland administrative borough of Venice, you need to travel to this station. It precedes the Venezia Santa Lucia train station and travel times from Bologna Centrale to it will be on average 10-12 mins shorter.
Buying Tickets Online:
To check travel times from Bologna to Venice by train and to buy train tickets in advance, you can use one of these two websites:
TrenItalia – for Frecciarossa and Frecciargento high-speed trains and Regionale Veloce fast regional trains;
ItaloTreno – for ItaloTreno high-speed trains only.
Both are easy to navigate and have an English user interface. The only thing to remember is that on the TrenItalia website you need to use the Italian names of the train stations (as given above) when you are doing a search for tickets.
Bologna to Venice by Car – if you prefer, you can travel from Bologna to Venice by car. The journey by toll roads can take anything from 1 h 30 mins to almost 2 h 30 mins depending on the itinerary you follow and how heavy the traffic is. Using GPS navigation is indispensable as traffic jams occur and it can help you avoid them as much as possible. Be prepared for a more of an assertive type of driving and drivers that seem to be on the offensive.
In principle, travelling by toll road is the quickest way to get around in Italy. From Bologna to Venice, you will be driving on the Autostrada Bologna-Padova – A14 for the most of the journey and then change to the Autostrada Serenissima – A4 for the last few kilometres.
This website lays out the whole itinerary in minute detail. And this website will give you an estimate of how much the tolls are going to cost.
As you know, Venice is a car-free city. You can park on the island of Tronchetto which is like one huge car park. Just follow the signs after crossing over from the mainland on the long Liberty Bridge. It's easy and your GPS app will be able to point you in the right direction. Once at Tronchetto, you can get the people mover to Piazzale Roma and start exploring from there.
Another option is to park at one of the car parks at Piazzale Roma and either walk from there or take the vaporetto (Venice's water bus) from there down the Grand Canal.
If you do a search online, you will find several different car park operators in Tronchetto and Piazzale Roma. Then you can choose the most convenient one for you.
What to see in Venice on a Day Trip from Bologna?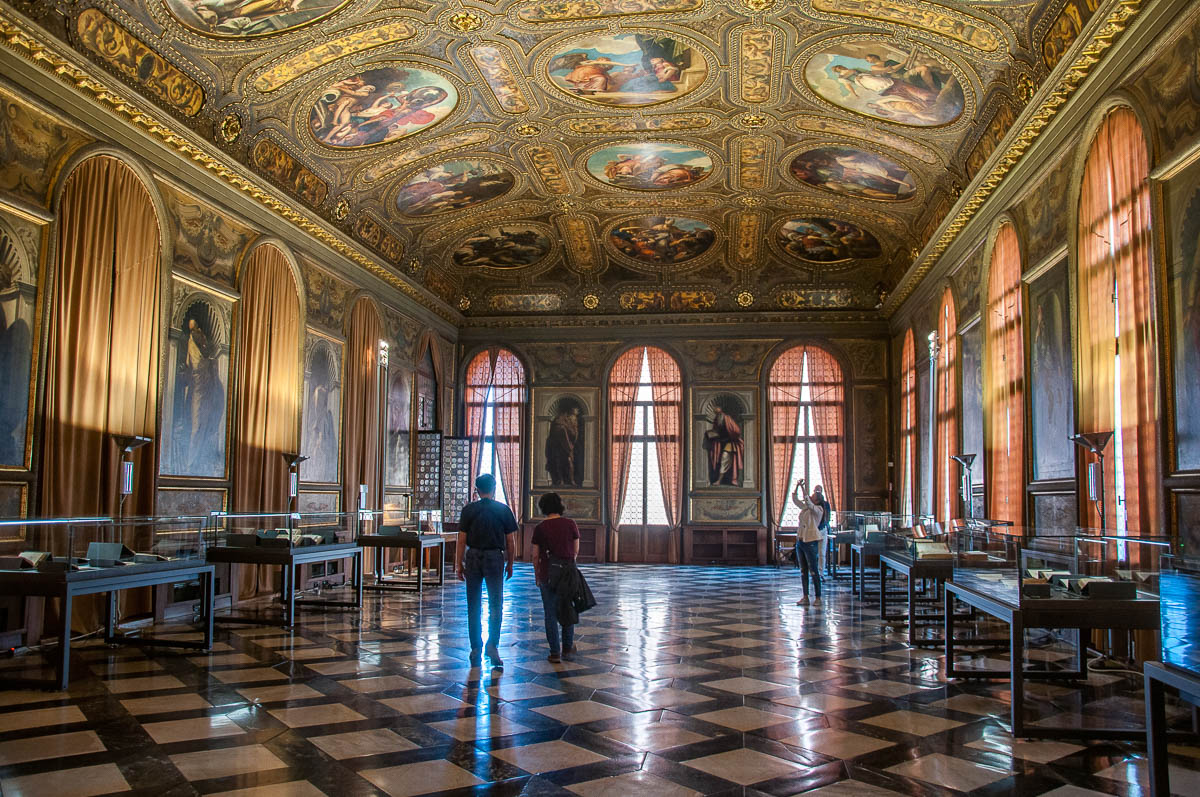 One day is never enough for Venice but it's better than none. There are many things to do, see, and fall in love with in Venice, Italy. If you have a plan in mind and/or are prepared to be walking around all day in search of hidden gems, you can certainly cover a lot of ground here from morning till dusk.
Just make sure that you wear your most comfortable shoes and clothes. In summer, bring a water bottle with you (you can refill it from the free water fountains around town). Above all, don't be afraid of getting lost once or twice (it's part of the experience of being in Venice).
A great introduction to the beauty of Venice is to simply take vaporetto number 1 either from Piazzale Roma or from Venezia Santa Lucia train station down the Grand Canal. This way, you will be able to see numerous splendid palaces, historic churches and Rialto Bridge before arriving in style at St. Mark's Square where many of the city's major sights are grouped around.
Here is a shortlist to get you started planning your day trip from Bologna to Venice:
Grand Canal – take vaporetto number 1 all the way to St. Mark's Square. The journey down the Grand Canal is a fabulous introduction to the beauty of Venice. Along the way you will see such stunning buildings and structures as Ca' Pesaro, Ca' d'Oro, Rialto Bridge, Ca' Rezzonico, Accademia Bridge, Gallerie dell'Accademia, and Basilica Santa Maria della Salute. The vaporetto (this is what water buses are called in Venice) will take you all the way down to the large expanse of water known as St. Mark's Basin with St. Mark's Square and the Doge's Palace on one side and the islet of San Giorgio Maggiore on the other.
Doge's Palace – a visit to this splendid pink and white Gothic building will give you an excellent idea about the Republic of Venice as a political and commercial titan during its heyday. You will also gain an understanding of the Republic's unique governmental structure and will see some truly stunning monumental pieces of art.
St. Mark's Basilica and St. Mark's Campanile – Venice's most iconic church that is covered with gold mosaics inside. Its belltower is almost 100 m tall and it's diagonally across from the basilica's facade. Make sure that you take the lift to its top to enjoy breathtaking views over the city of water.
Rialto Bridge and Rialto Markets – one of Venice's most famous sights, the elegant stone arch of Rialto Bridge straddles the Grand Canal at its narrowest point. Right next to it you can explore the Rialto markets offering an abundance of fresh produce and fresh fish.
Museums, churches, and sights – two of the most famous museums here are Gallerie dell'Accademia and Peggy Guggenheim's Collection. In addition, there is a whole host of museums, churches, and sights here to satisfy every type of interest in history and art. Here are some suggestions: Fondazione Querini Stampalia, Ca' Pesaro, Ca' Rezzonico, Teatro La Fenice, Scuola Grande San Rocco, Basilica dei Frari, Scala Contarini del Bovolo, Museo Correr and the Monumental Rooms of the Biblioteca Nazionale Marciana (pictured above).
Cicchetti – take every opportunity to enjoy Venice's own finger foods that are traditionally washed down with a glass of wine (called ombra by the Venetians);
Historical Events – if you are in Venice at the right time, enjoy a splendid event. Carnevale, Venice Historical Regatta, the Regatta of the Ancient Maritime Republics, and the annual Befana race are particularly famous.
Private Tours with a Truly Venetian Local Guide – for private tours of Venice, I always recommend Luisella Romeo from See Venice and Erika Cornali from When in Venice. They can help you experience Venice authentically and tailor a tour to your specifications.
There are many more beautiful sights and unique locations to visit in Venice, Italy on a day trip from Bologna. If you are after some hidden corners and little-known gems, make sure that you read this exhaustive article:
It covers in extensive detail the many curious, weird, and whimsical things that make Venice such a unique city and a must-see destination when you are in Italy.
What Is Your Personal Experience of Travelling to Bologna and Venice in Italy?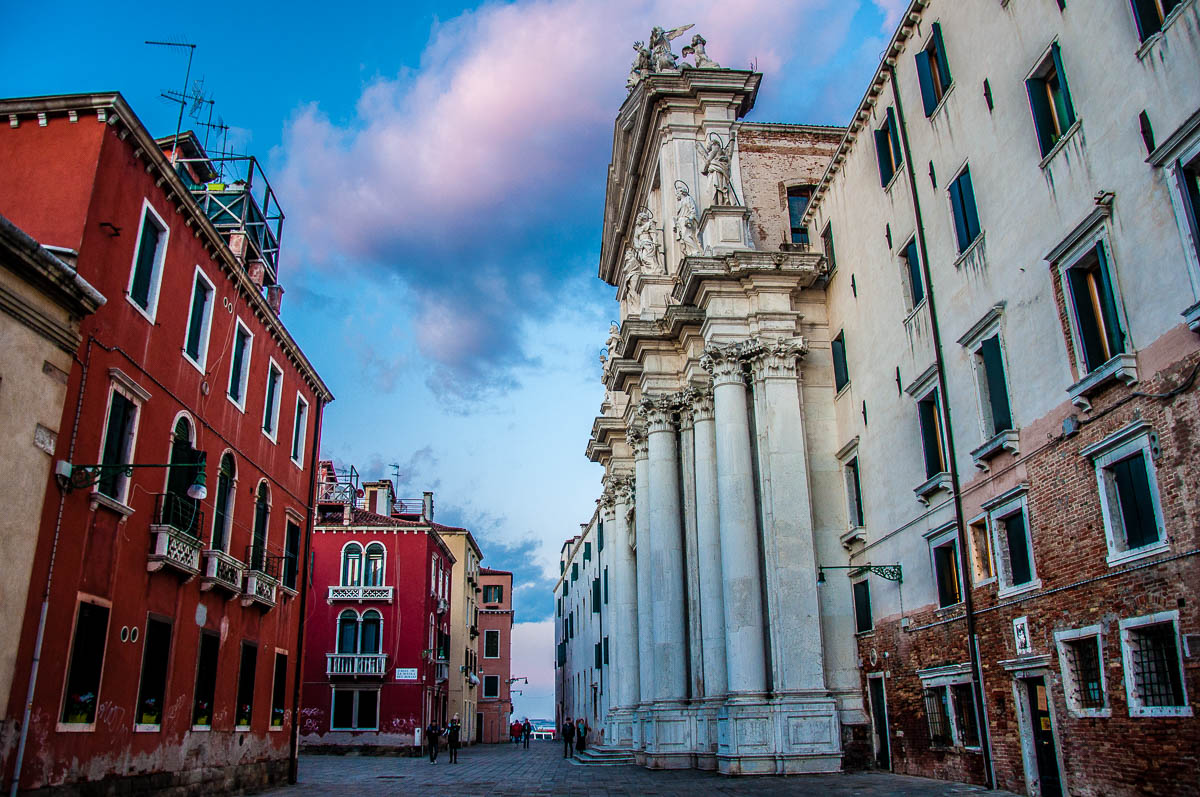 I spent six years living in Vicenza – an elegant historic city about 45 mins up the road from Venice in Italy. As such, I took every opportunity to travel to both Venice and Bologna to explore their art, history, culture, unique events, delicious food, and lovely city settings. Before moving to Italy, I had travelled numerous times from England to Venice for city breaks and long weekends. In addition, while living in Italy, we regularly drove from Vicenza to Bologna to take a plane from the city's airport to either England or Bulgaria.
Travelling by train and by car around the Veneto and Emilia-Romagna is easy and toll roads are not that expensive. The motorways are modern and in general, very well maintained. Many trains connect Bologna and Venice all throughout the day.
The high-speed trains, in general, are very clean, new, and well-maintained. They feel very swish. While they can get quite busy in the mornings and in the late afternoons with business people commuting between Venice, Bologna, and the towns and cities between the two, the journey is very comfortable.
If you prefer to travel by fast regional train from Venice to Bologna, this is a great option, too. The price is much more palatable and the extra half an hour travel time one way is very manageable.
Venice has so much to offer that a day here quickly flies away. Delving into the city's history and art is very satisfying for you always end up discovering new things. Even if you are here just for a day, you can explore places of great historic, architectural, and artistic importance. Plus, the city as a whole is very beautiful and turning every corner, crossing every bridge, walking along every canal reveals more beauty to truly fall in love with.
Yes, crowds besiege the most popular sights. In summer the sun can be very, very hot. Yet, Venice – the real, authentic one – is easy to discover even on a day trip. The city of water has a way to get under your skin, to make you really fall for it.
I full-heartedly recommend taking a day trip from Bologna to Venice to anyone spending a few days in Bologna and wanting to see one of Italy's and the world's most famous cities with their own eyes.
A small disclaimer is due here: All the information contained in this blog post is up to date at the date of publishing it. This is not professional, exclusive advice. Just personal experiences and suggestions shared without any obligation to you and any expectations from you.
In Conclusion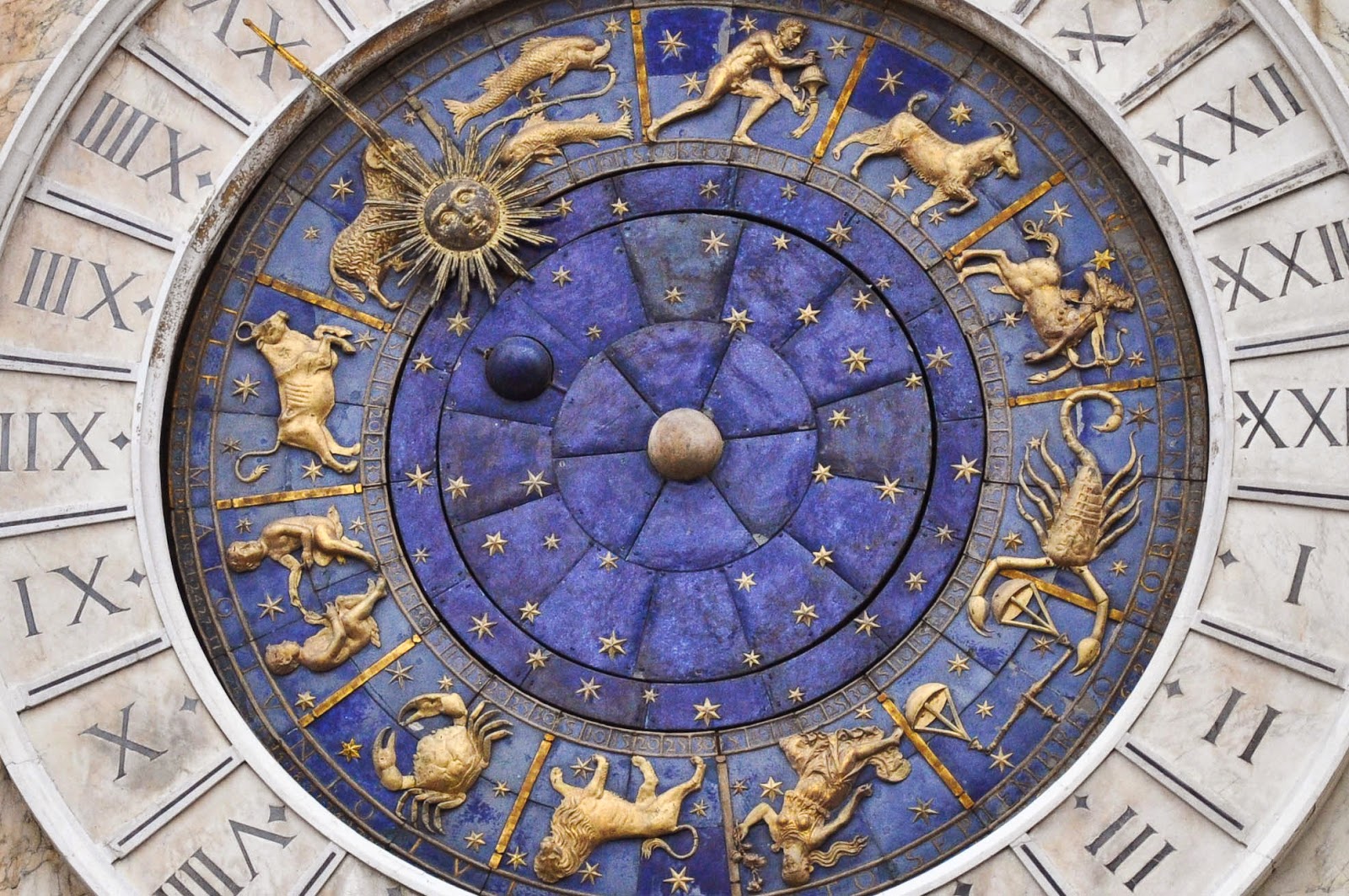 Taking a day trip from Bologna to Venice is a great way to make your Italian holiday even more exciting.
These are two of the most famous cities in Italy and have a lot to offer to the traveller interested in history, art, and beautiful views. While Bologna and Venice are not close geographically, thanks to high-speed trains and modern motorways, they are a very manageable distance away from one another.
Hence visiting Venice from Bologna can be very straightforward. Venice – universally recognised as the world's most beautiful city – has many splendid sights and museums. Several of them can be covered in one (hectic!) day.
In the above blog post, I give you detailed information on how to make such a day trip. From how to get from Bologna to Venice as swiftly as possible to a shortlist of what to do and see in Venice in one day, all the bases are covered.
I hope that the information provided will galvanise you to put Venice at the top of your travel wish list and that you will visit this exciting Italian city on a day trip from Bologna (or even stay longer) as soon as this is possible.
Enjoy your day trip to Venice, Italy!
More Helpful Links
Thank you for reading! Please, leave me a comment, pin the image below or use the buttons right at the top and at the end of this blog post to share it on social media.
For more useful information like this, please, like my blog's page on Facebook and subscribe to my strictly no-spam newsletter.