Here is how to visit Trogir in Croatia coupled with a list of the best things to do in this small town blessed by Kairos – the ancient Greek god of opportune moments.
Trogir is beautiful! Its historic centre – Trogir Old Town – is built on a tiny island and connected by bridges to the mainland.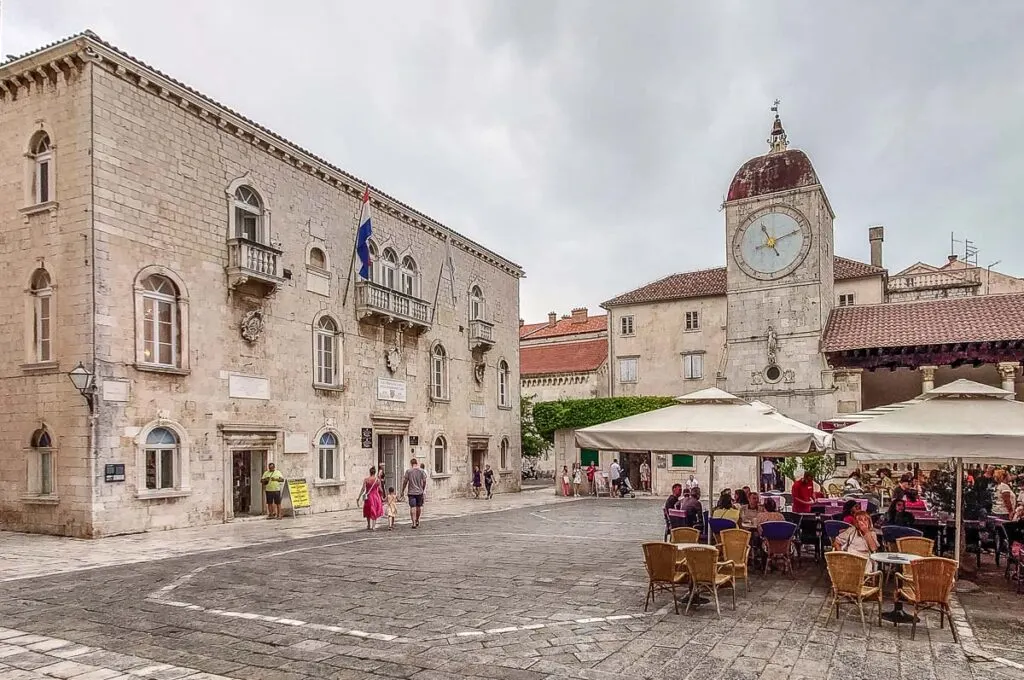 Expect a mosaic of perfectly preserved medieval and Renaissance buildings and narrow, sinuous streets covered with centuries-old stone slabs. With a history that goes over three millennia back in time and a rich palette of activities and landmarks, Trogir is a must-see. You will find this gem on the Adriatic coast of the historic Croatian region of Dalmatia.
Very easy to reach from nearby Split – the second-largest Croatian city – and providing immediate access to a number of islands, archipelagoes, and other coastal towns, Trogir is a lovely destination. You can head there for an exciting day trip or pick it as a convenient base for a longer exploration of this corner of Southeastern Europe.
Perfect to explore on foot, Trogir will appeal to lovers of history, photography, and good food. With a chic palm-fringed promenade where large yachts moor right across from centuries-old churches and medieval walls, the town is incredibly laid-back.
You can sightsee. You can take your time over a long meal. You can book a boat trip. You can shop for local crafts. You can walk across a bridge to a nearby island and spend time on the beach. Or you can do it all in one long day.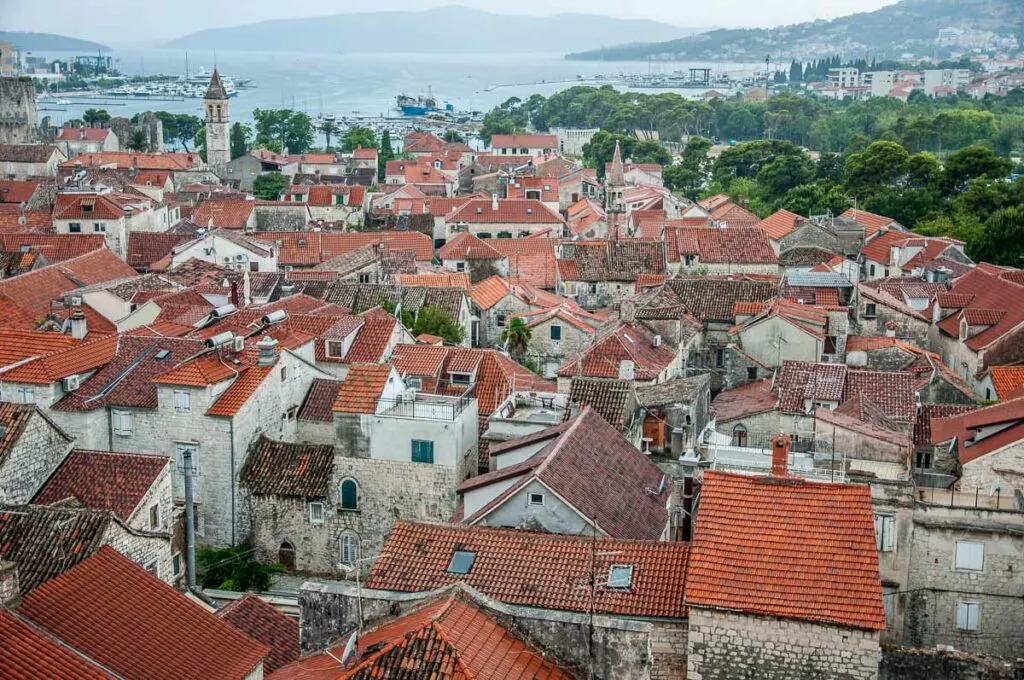 Only a couple of weeks ago, I had the chance to spend a lively evening and a lovely day in Trogir Old Town. It was the first place we stopped at during a week we spent in Croatia this summer.
Trogir won me over with its relaxed vibe and stunning panoramas. After walking all over it and enjoying both its most well-known landmarks and its charming hidden corners, I found it to be the perfect embodiment of that famous saying that you need to seize the day and enjoy it as best as you can.
So, in this blog post today, I want to tell you all that I learned about Trogir. I hope to inspire you to discover this Croatian town on a tiny island for yourself.
As such, I will start by listing the best things to do in Trogir. From its Old Town which is a UNESCO World Heritage Site to the day trips you can take from here, it's all covered in easy to browse through chunks of information.
Next, you will find a map pinpointing all the must-see sights and landmarks to tick off during your stay in Trogir. You can save the map as a favourite and use it in your explorations of this Croatian town.
Finally, you will find a list of practical tips covering many useful details. For example, how to reach Trogir from anywhere in Croatia and abroad, the best times to visit the town, and where to stay on the island and for how long.
I hope that all this information will come in very useful if you pick Trogir in Croatia for your next travel adventure.
Have a look!
15 Best Things to Do in Trogir, Croatia – The Town of Opportune Moments
Pin for Later!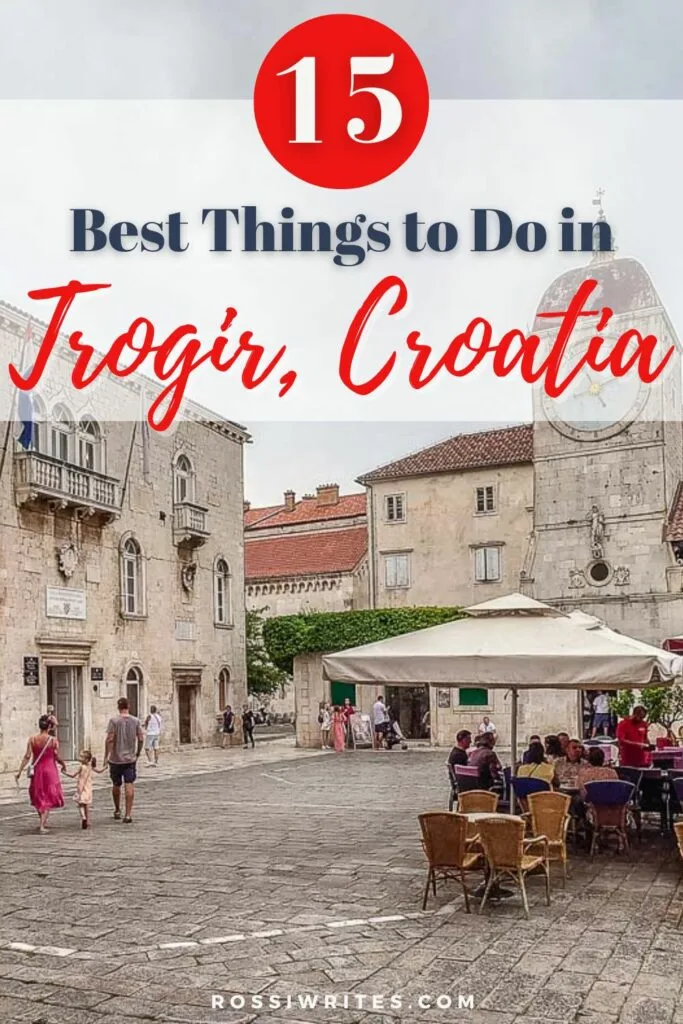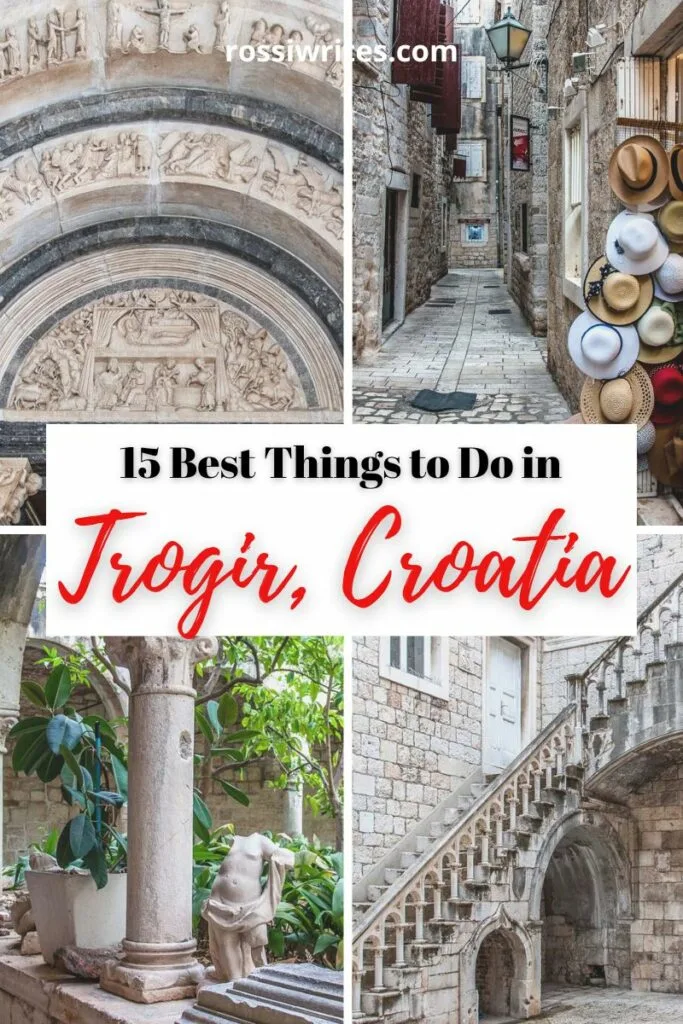 1. Lose Yourself in the Labyrinth of Trogir Old Town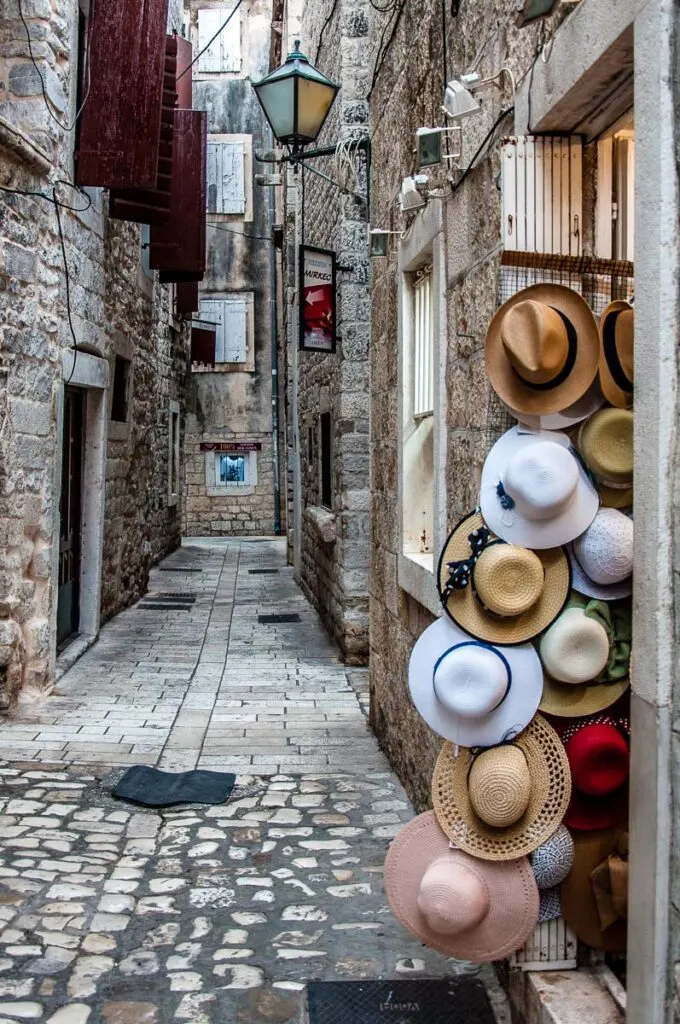 Trogir is a town with a millennial history. The area around it was first settled over 3,600 years ago.
Its historic centre – Trogir Old Town – is nestled on a small island separated from the mainland and the nearby large island of Čiovo by the means of narrow sea channels. A couple of bridges provide easy access to the island nowadays. In the distant past, this small piece of insular land – so close to terra firma yet protected by a ring of water – must have looked like such a safe haven.
No wonder then that the ancient Greeks established a colony here in the 3rd century BC. They named it Tragurion. The naturally sheltered harbour, numerous freshwater springs, and abundance of stone as sturdy building material kept the town on the map for many centuries to come.
The ancient Greeks were followed by the Romans, then the Croats, Byzantines, Hungarians, and Venetians. Even Napoleon and the Habsburgs claimed the town as their own. Each new civilisation left its imprint on Trogir.
To this day, its historic centre – Trogir Old Town – is a mosaic of red rooftops and stone slabs which erupt in hundreds of shades depending on the angle of light. From the darkest to the palest of grey with pink, white, and even amber tones, who knew that stones can be so alive with colour and the centuries-old stories they keep?!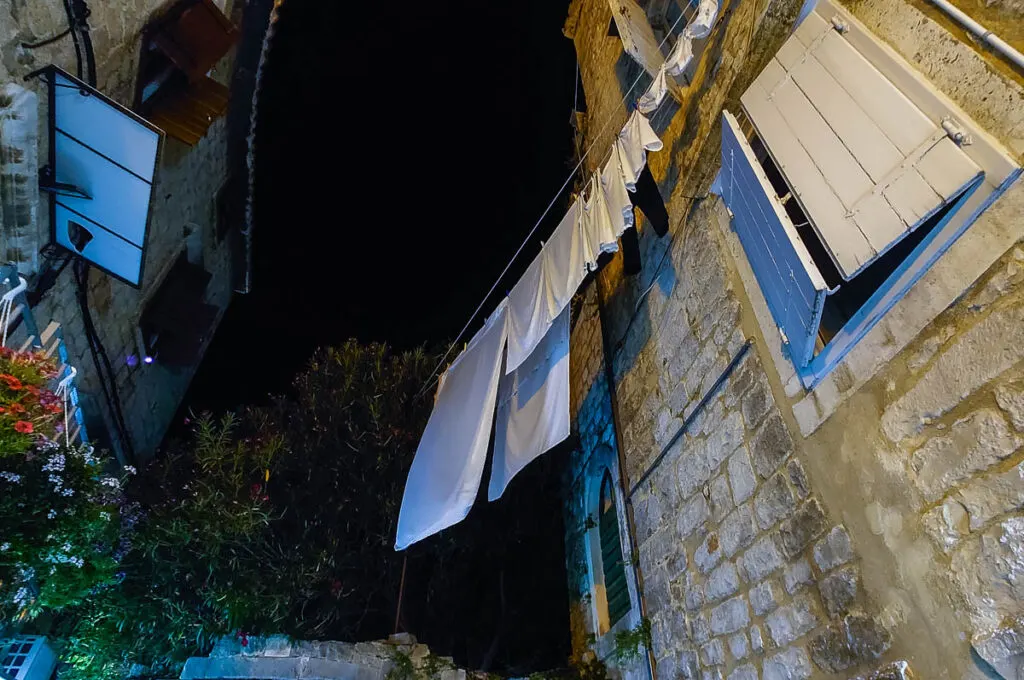 So, as a quick introduction to the beauty and history of Trogir, go for a walk through its Old Town. Wander around without a plan just taking it all in. The island is tiny. You can cross it in about five minutes if you walk fast. Instead, slow down and enjoy it.
See how the stone-covered alleys take unexpected turns and lead to vaulted stone passageways. Stop to admire the tall facades of the 13th- and 14th-century houses that have whiled away the years and still stand unperturbed. Look into the open windows of the kitchens of the local restaurants and breathe in the delicious scents.
Trogir is after all the best-preserved Romanesque and Gothic town in Central Europe. Here, you can imagine and in a way experience life as it was a thousand or so years ago. Without cars, multinational companies, and chain coffee shops.
It's no wonder then that UNESCO inscribed Trogir Old Town on its World Heritage List. The street plan of the island settlement dates back to the Hellenistic and Roman periods and it's dotted with elegant Venetian buildings. The best way to get to know this small Croatian town is to walk slowly all over its historic centre.
2. Visit the Majestic Cathedral of St. Lawrence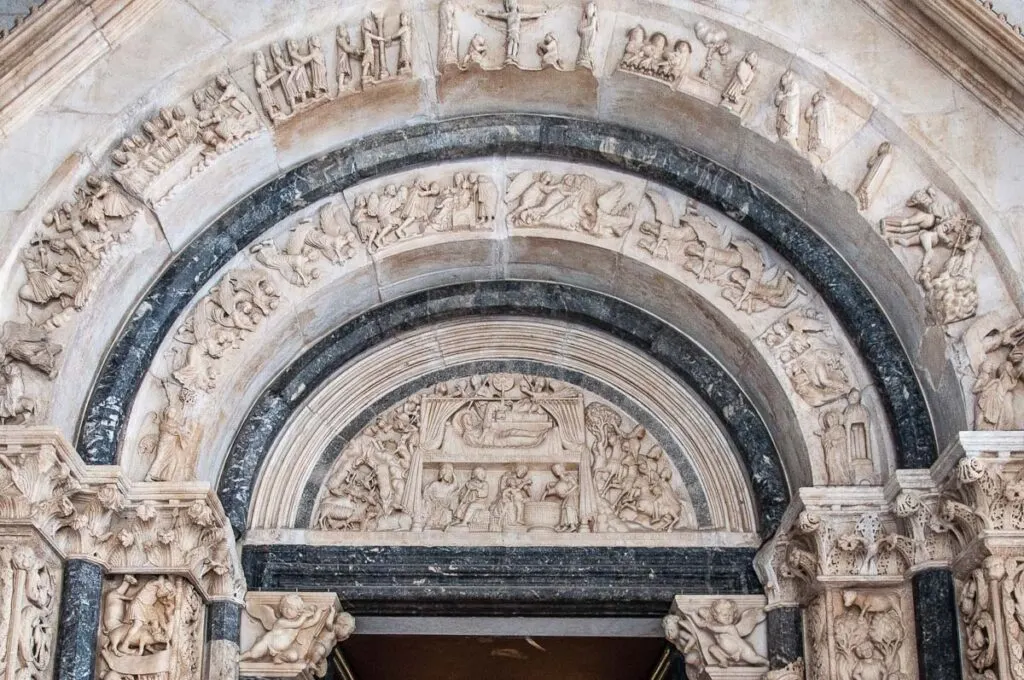 Every place has a gem in its crown and Trogir's is a rather large and splendid one. The Cathedral of St. Lawrence (in Croatian, Katedrala Sv. Lovre) is the heart of Trogir Old Town. It towers over the beautiful John Paul II Square (in Croatian, Trg Ivana Pavla II) and it faces a number of the town's most important buildings – from the Town Hall to the Clock Tower and the Town Loggia.
The construction of the Cathedral of St. Lawrence started in 1213 and lasted five centuries. Its massive body has three naves and it's in the Romanesque and Gothic styles. Its bell tower affords fantastic panoramic views over Trogir, the island of Čiovo, the mainland, and the Adriatic Sea.
Here are the three main things to see in Trogir's main landmark:
Radovan's Portal – the main entrance of the Cathedral of St. Lawrence was sculpted and carved by Master Radovan – a craftsman from medieval Trogir. This is a unique work of sculptural art from the first half of the 13th century.
The portal is flanked by the full-size figures of Adam and Eve standing atop lions. Then, numerous scenes are painstakingly carved in the portal's arches thus creating detailed visual narratives.
One arc represents the main events in the life of Jesus. Another shows the Labours of the Months – a cycle of agricultural and social activities taking place throughout the year.
Look closely and you will see a mermaid, a centaur, and bevy of domestic animals. Right next to them stand saints, hunters, and angels. It's all truly splendid and you can easily spend a long amount of time deciphering the different sculptural groups and enjoying the detail and precision with which they have been carved.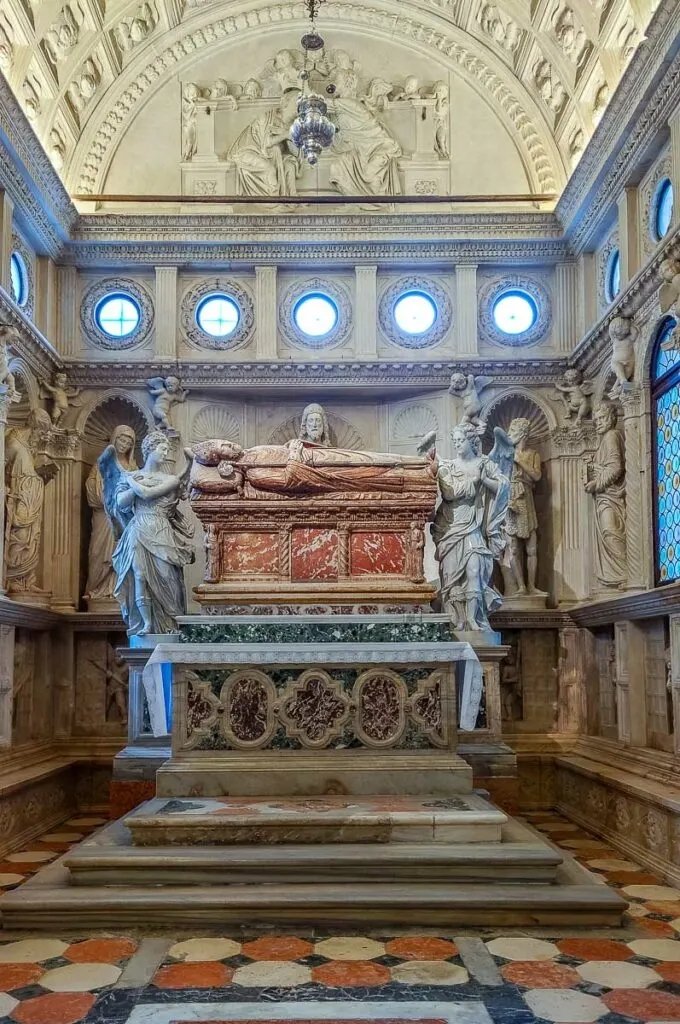 Chapel of St. John of Trogir – this is the funerary chapel of one of the two patron saints of Trogir (with St. Lawrence being the other). It is a richly decorated space which was built in the second half of the 15th century. Expect numerous sculptures and bas-reliefs. Look up to admire the coffered ceiling and you will see the head of God himself looking down onto the lavishly ornamented sarcophagus of St. John of Trogir.
In life, he was a Bishop of this small Dalmatian town. The locals celebrate his feast on 14th November to express their thanks to the Saint for preventing the destruction of Trogir in 1105 at the hands of the Hungarian King Koloman.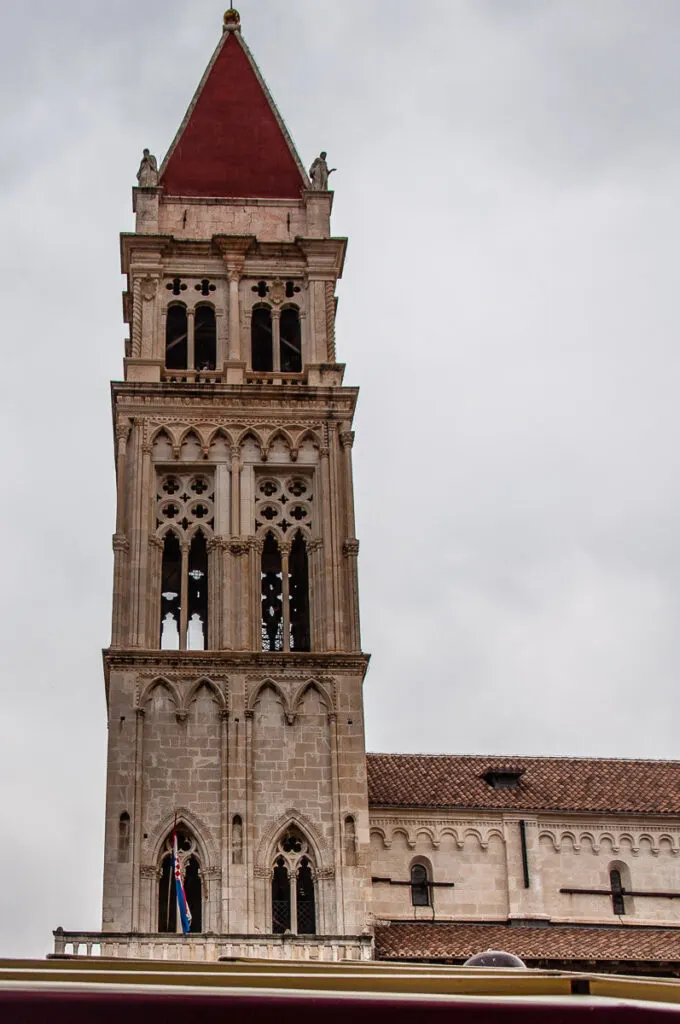 Bell Tower – this is a tall square tower in three different architectural styles. Its first floor is Gothic, the second is Venetian Gothic, and the third is Renaissance.
The bell tower is open for visits and affords spectacular views of Trogir and the surrounding area. Kids under 14 years of age must be accompanied by an adult. Scaling the tower is safe but a somewhat taxing experience, especially, if you have a fear of heights. If possible, avoid wearing a skirt on the day of your visit.
To visit the tower, first, you need to go up a very narrow enclosed spiral staircase. This leads to a large terrace which opens a nice view of Trogir's historic Cipiko Palace and the John Paul II Square. Then, the actual climbing of the bell tower begins.
The metal staircases here are affixed to the walls with a huge empty space through the centre of the tower. The last staircase is short but vertical, so you need to pull yourself up a bit to scale it. It's safe but it may give you some palpitations. Up there, the bell hangs just above your head, so avoid being on the top floor when the bell rings the hour.
The views are worth the effort!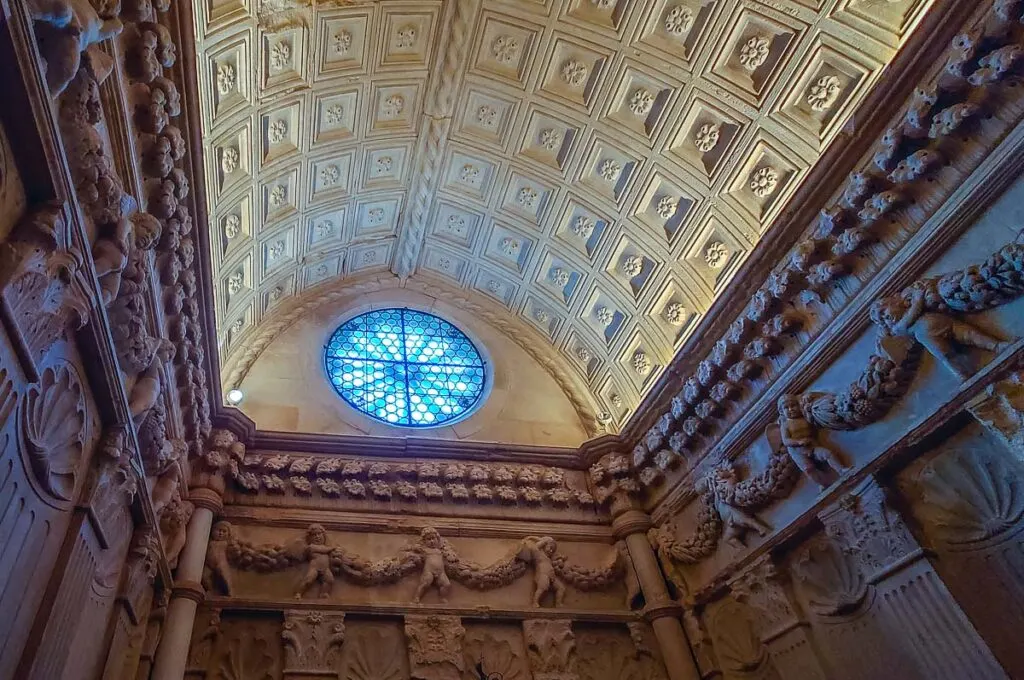 Finally, don't miss the Cathedral's sacristy where some of its most precious treasures, works of art, and relics are displayed. The choir stalls are beautifully carved of walnut wood and stand on both sides of the altar. The baptistery is a symphony of stonework and it's adorned with beautiful bas-reliefs.
3. Take in the Beauty of Trogir's Main Square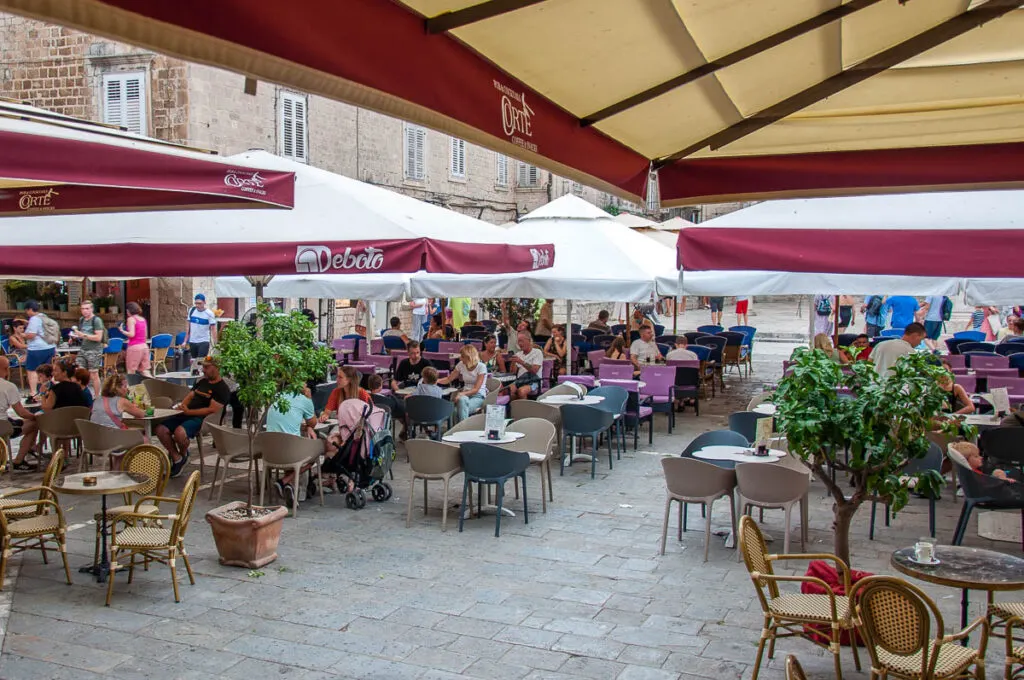 John Paul II Square – or Trg Ivana Pavla II in Croatian – is one of the most beautiful historic piazzas I have had the pleasure to visit. Surrounded by some of Trogir's most important buildings and largely taken over by the tables and umbrellas of the local cafes, it is very much like an open-air lounge. You can easily sit here and just spend a couple of hours enjoying a coffee, an ice cream, and all the history and architecture you can take in on a sunny day. It is such a relaxed, beautiful space.
The first time that I saw John Paul II Square was actually close to midnight. We had just arrived on the plane from England and after dropping off our luggage at the studio apartment we had booked for the night, we had gone out to explore Trogir.
The town was full of life. Restaurants were serving Dalmatian delicacies. Families were enjoying a relaxed walk. There was such verve in the air. Then, we stepped onto the main square and found ourselves at the town's main stage. A singer was belting Elvis Presley's songs. People were dancing. The centuries-old palaces and churches were lit in a warm golden light. It was just the stuff that summer memories are made of.
Here are the main things to enjoy at and around John Paul II Square in Trogir in Croatia:
Cathedral of St. Lawrence – covered in detail in point 2 above.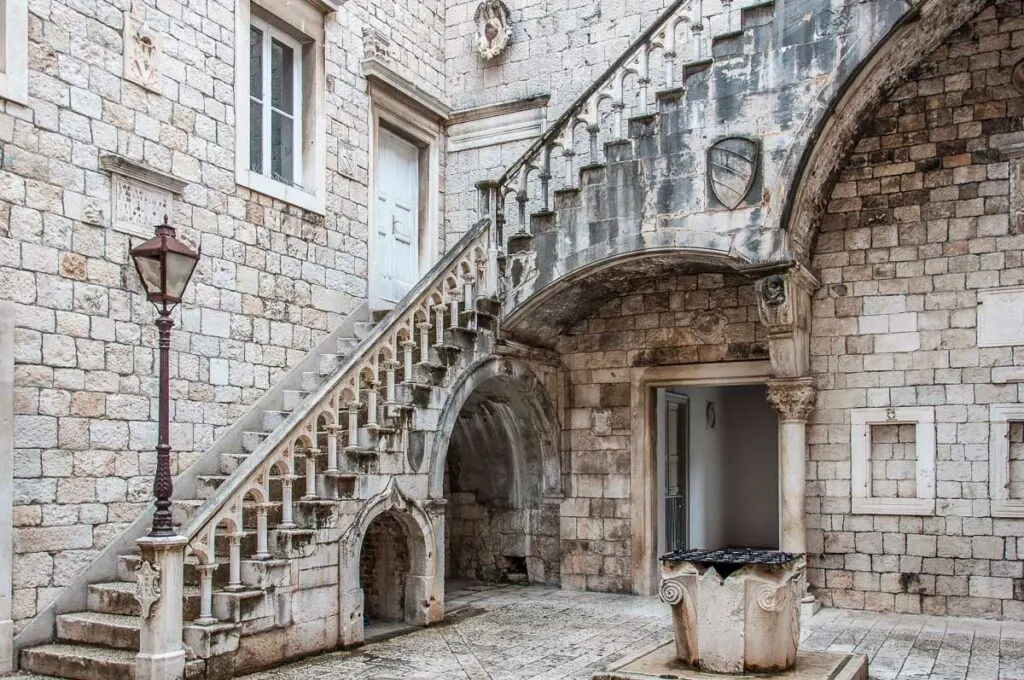 Town Hall – built in the 15th century, this stone building has an elegant courtyard decorated with coats of arms. The outside staircase is one of the most striking examples of Venetian architecture in Trogir.
The Town Hall nowadays houses the local tourist information office. Pop in here for a map of Trogir and to get an answer to any questions you may have as a visitor to Dalmatia and Croatia.
Museum of Sacred Art – covered in point 4 below.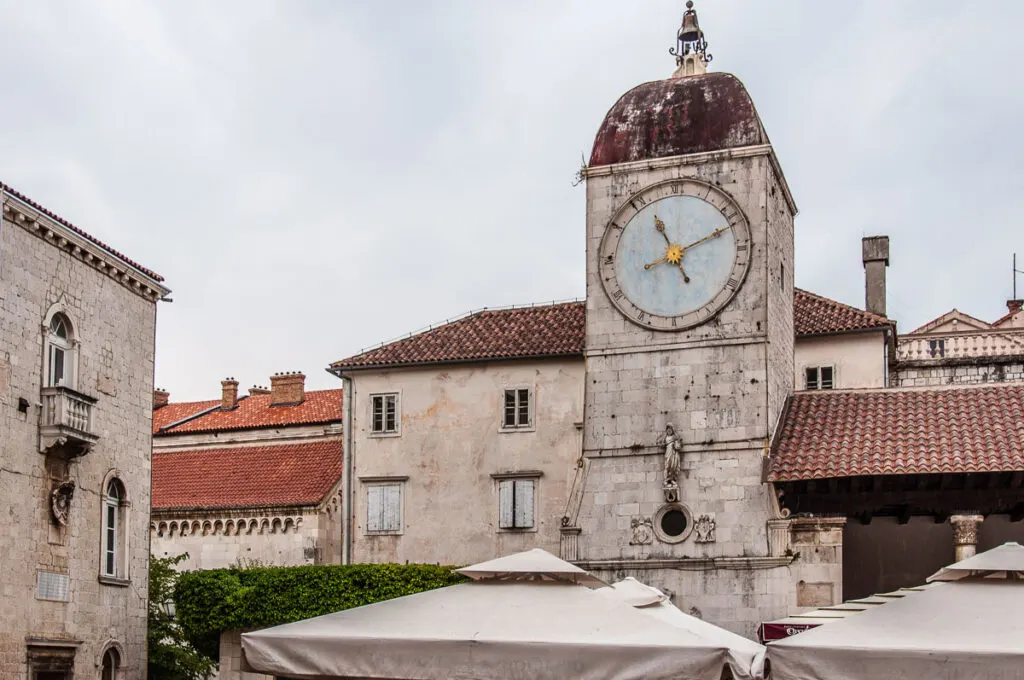 St. Sebastian's Church and Clock Tower – the church was built in 1476 by the citizens of Trogir grateful to have been delivered from the plague. Its architect was Niccolò di Giovanni Fiorentino (in English, known as Nicolas of Florence).
Before moving to Dalmatia, he had worked with the famous Tuscan sculptor Donatello in Padua and then in Venice. In Trogir, he also left his mark on the Chapel of St. John (see point 2 above) in the Cathedral of St. Lawrence. Most importantly, he finished the majestic Cathedral in the nearby Dalmatian city of Šibenik which is a UNESCO World Heritage Site.
The Clock Tower has a beautiful blue dial and it was my favourite structure around Trogir's main square.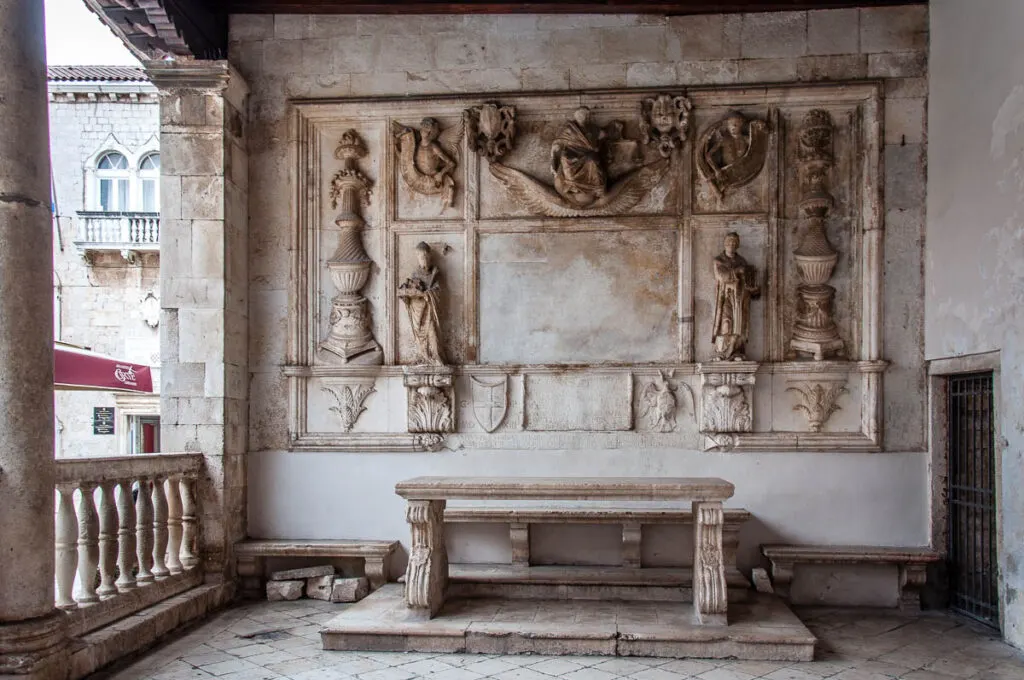 Town Loggia – dating back to the 13th century, this is the covered space next to the Clock Tower. This is where the citizens of Trogir used to congregate in the past to discuss the issues of the day. The local court would meet here, too on certain days in order to proclaim laws and proceed with court cases.
Inside the loggia, you can admire large bas-reliefs. The one on the eastern wall was carved by the workshop of Niccolò di Giovanni Fiorentino. Originally, it had a central panel depicting the Lion of St. Mark – a symbol of the then-ruling Republic of Venice. This panel was removed in 1932. You can still see the panels of St. Lawrence and St. John of Trogir – the patrons of the town.
The huge bas-relief on the central wall of the loggia depicts Petar Berislavić – the viceroy of Croatia in the early 16th century.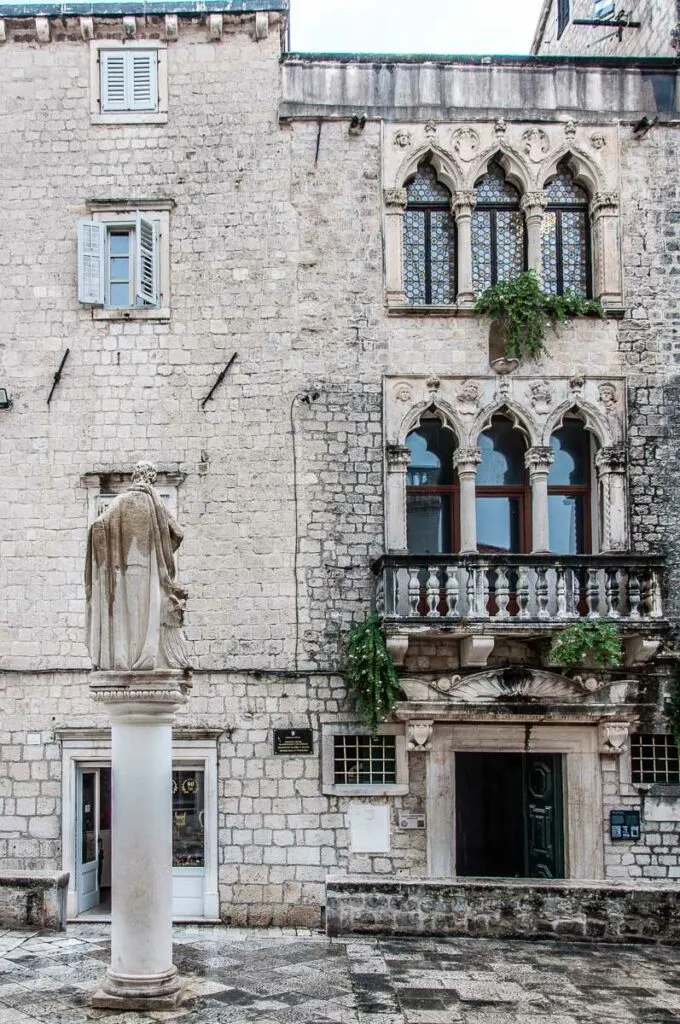 The Great Cipiko Palace – composed of a group of Romanesque buildings, the palace took on its Venetian Renaissance look between the 15th and the 17th centuries when it was extensively remodelled. Niccolò di Giovanni Fiorentino worked on this project, too. Among other things, he also carved the south portal of the palace.
While the Great Cipiko Palace is closed for visits, I enjoyed photographing its beautiful facade. You can enter the atrium to see the figurehead of a rooster. It once adorned a Turkish ship which was sunk during the Battle of Lepanto in 1571.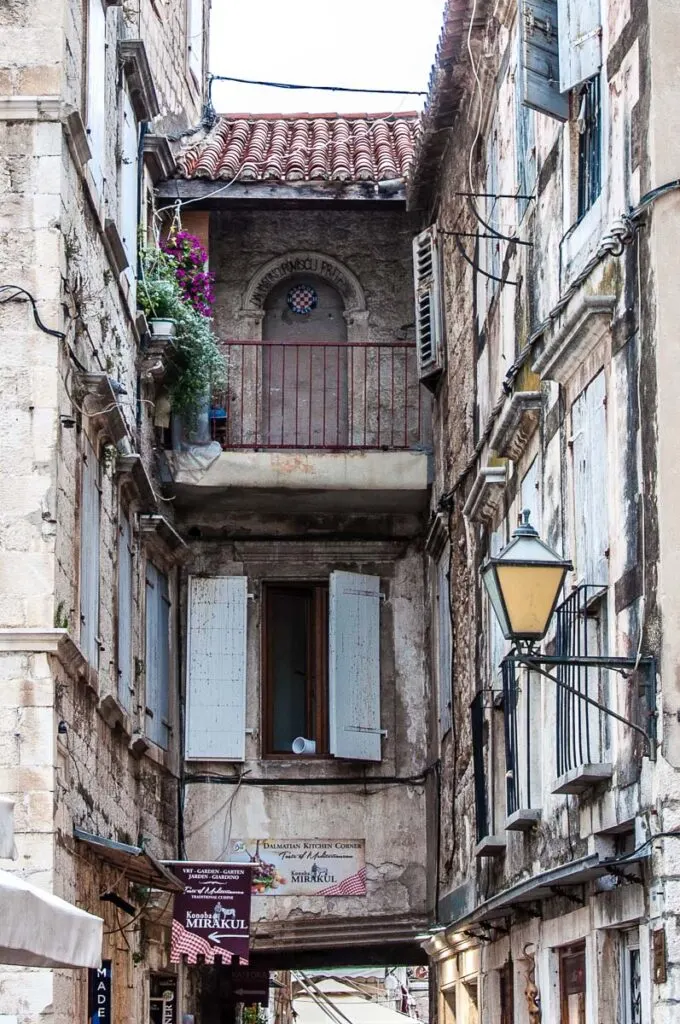 A little tip – right next door to John Paul II Square, you can visit another of Trogir's delightful stone-covered piazzas. Follow the street named Gradska Ulica as it passes by the Town Loggia and goes through a small passage across the ground floor of a tall house.
On the other side of the passage, you will emerge at a small square surrounded by beautiful buildings with shops on their ground floors. The square is taken by the tables of the local restaurants and ice cream parlours. It's a gorgeous place to have lunch or a snack and to relax after a busy few hours of sightseeing around Trogir.
4. Discover the Treasures of Trogir's Museums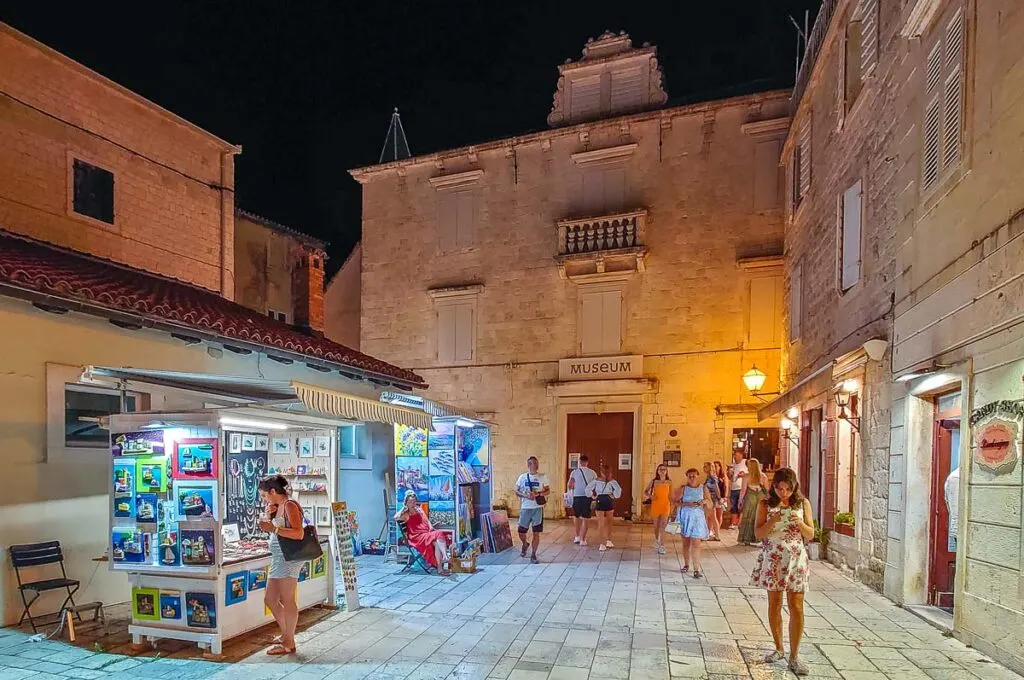 Trogir is deceptively small. You can walk all over it in ten minutes or so. Everything you need and want to see here seems to be a minute away at most.
Yet, the deeper you delve into the many layers of Trogir's traditions and history, the more time you need to see it all and do it all.
The best way to go about it is to pop into the town's museums and explore the treasures they hold. Here they are: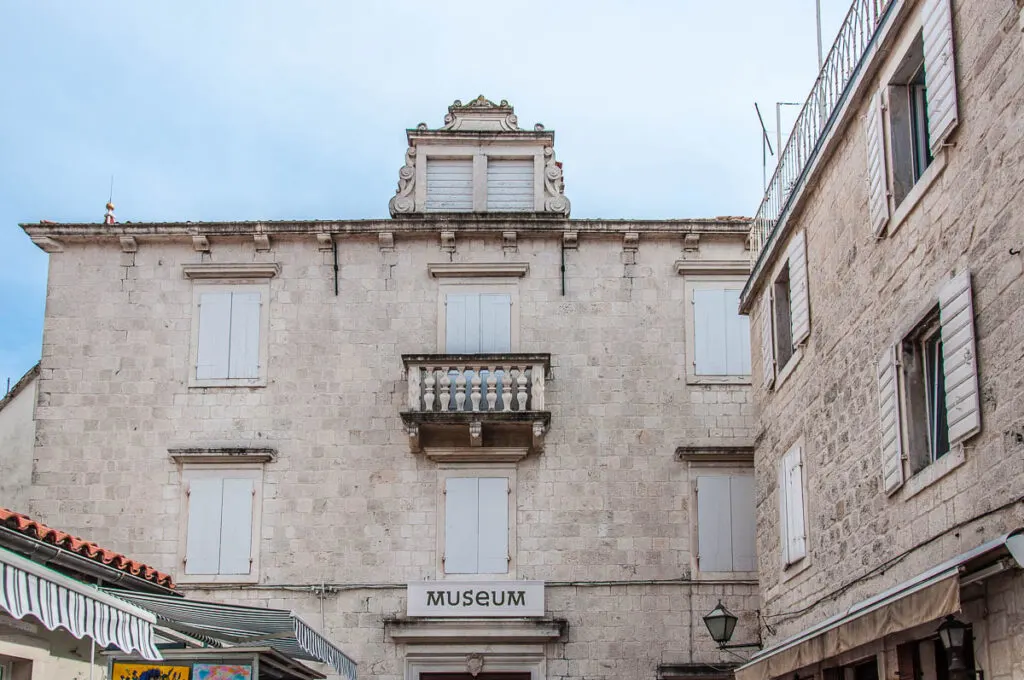 Trogir Town Museum – very well-curated and with a collection that spans 3,600 years, don't miss this museum if you want to immerse yourself fully into the history and the stories of Trogir.
It's housed in a series of palaces once owned by the Venetian family of the Garagnin-Fonfogna. You will see the museum as soon as you step into Trogir Old Town through the North Gate. The latter is one of the two main historic entrances into the once walled town. It's crowned by a statue of St. John of Trogir and is a few steps away from the local bus station.
Inside the museum, you can trace the development of Trogir from the pre-Hellenistic times to the modern age. Particularly precious are the collections of books. They include manuscripts, early printed editions, and many important historic documents.
Museum of Sacred Art – hiding behind a small courtyard at John Paul II Square, this is my husband's favourite art museum of all that I have managed to drag him to over the last dozen years or so. The reason?! The museum is very small, tidy, and has a good but not overwhelming number of works of art.
You can be in and out in a few minutes. Yet, I encourage you to spend longer admiring the paintings by Paolo Veneziano, Giovanni Bellini, and Quirizio da Murano – all eminent painters from the Venetian School. There are several local masters, too.
Don't miss the 13th-century polyptych of the high altar of the Cathedral of St. Lawrence. There are also two nursing Madonnas – this is a theme that is of great interest to me and I am always happy to come across it in museums, churches, and art galleries we visit in Europe.
5. Step Over the Threshold of Trogir's Many Churches and Monasteries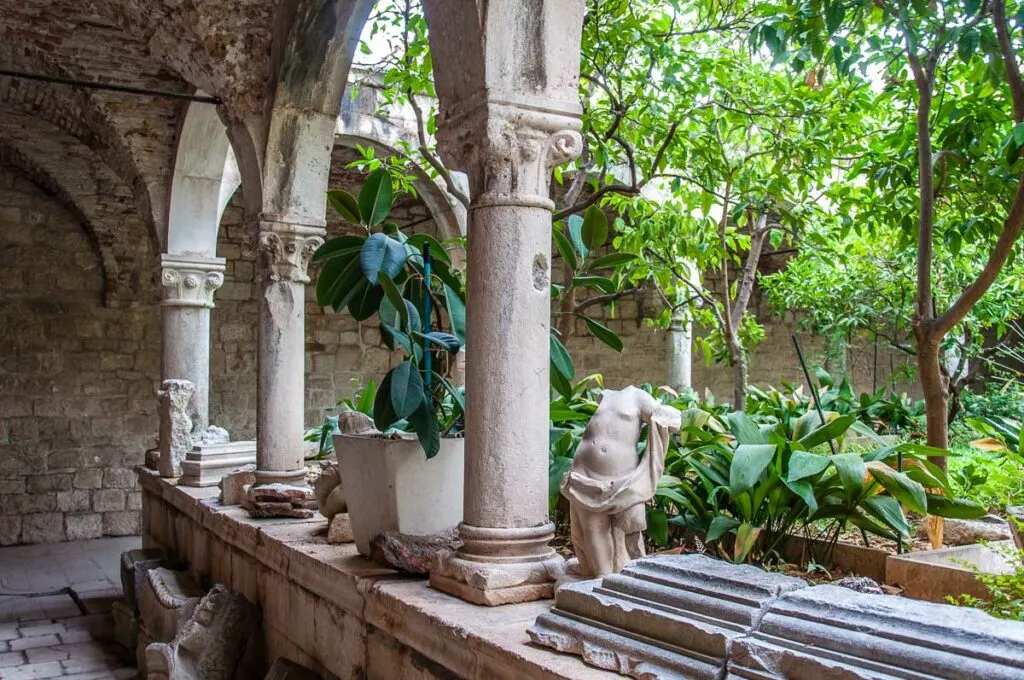 The Cathedral of St. Lawrence is Trogir's most important religious site. Yet, there are several other churches, chapels, and monasteries around the Old Town that preserve local traditions and beliefs in the most authentic way.
As you explore the maze of Trogir's car-free stone-paved streets, the weathered facades of centuries-old churches and tall bell towers will suddenly rise in front of you. Stop and look at them. If they are open, enter and explore. You never know what stories and works of art you will discover behind the thick stone walls.
Here are some of the most intriguing churches and monasteries to see for yourself in Trogir:
Monastery and Church of St. Dominic – next to Trogir's palm-fringed waterfront promenade, this is a beautiful and peaceful sight to visit on the island.
The small entrance fee will give you access to a nice collection of sacred art, the main body of the church, and above all, the cloister. Full of lush plants and dotted with pieces of old sculptures, bas-reliefs, and other such artefacts, it's a great place to seek shade on a hot summer day.
Church of St. John the Baptist – a Romanesque church which is presumed to be the work of Master Radovan. In the past, it was part of a Benedictine monastery. Nowadays, it houses a collection of important sculptures.
Among them are works by Niccolò di Giovanni Fiorentino as well as four Apostles by Alessandro Vittoria – one of the leading Italian sculptors of the 16th century.
Church of Our Lady of Mount Carmel – founded in the Middle Ages, historically this is the church of Trogir's fishermen, craftsmen, and labourers. You will find it just off the waterfront promenade in the western part of the Old Town. If you are in Trogir on 16th July, come to the church in the evening to see the traditional procession with the statue of Our Lady.
6. Seize Kairos – The Ancient Greek God of Opportune Moments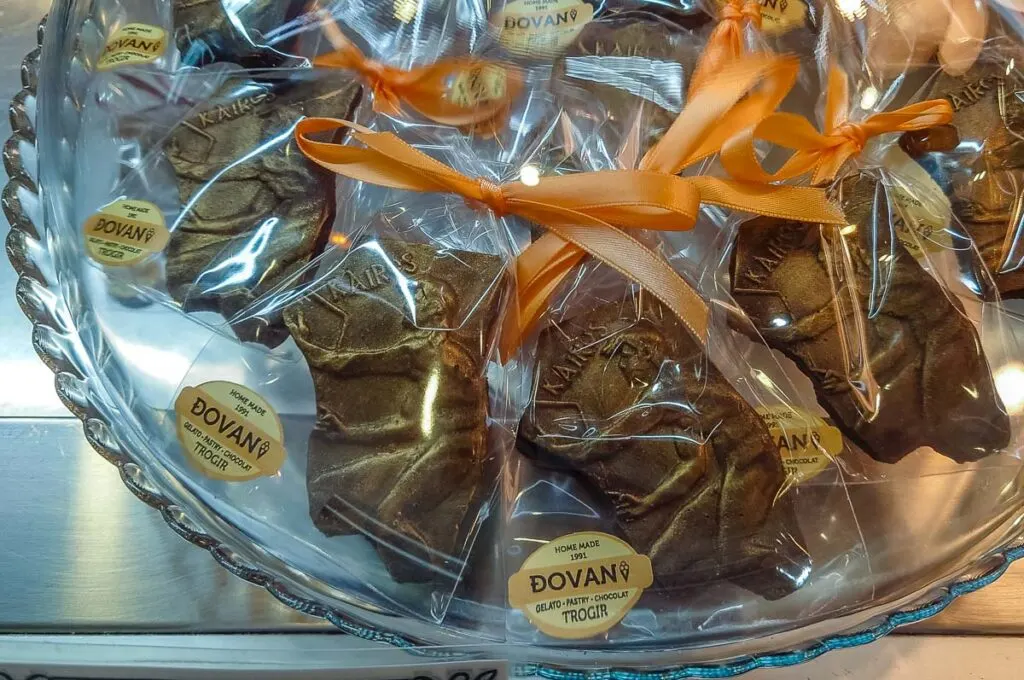 As we popped into an ice cream parlour during our evening walk in Trogir, my eyes were drawn to a large glass bowl filled with beautifully packaged chocolates. Curiously, they were shaped like a small bas-relief depicting a young, graceful man with a long tuft of hair.
The sign next to the bowl explained that this was Kairos – the ancient Greek god of opportune moments or the crucial time to act. Leave it to the ancient Greeks to come up with a god or goddess for every concept of the natural and human world! Kairos is the perfect personification of the notion that time flies and we need to bravely seize the day as luck and happiness are fleeting by design. In other words, fortune favours the brave!
Now, as luck would have it, in 1928 a bas-relief depicting Kairos was discovered in an abandoned house in Trogir. It dates back to the beginning of the 3rd century BC – when the ancient Greeks settled their colony Tragurion where Trogir Old Town now stands.
The bas-relief shows the young man standing on tiptoe, ready to fly away in an instant. His arms are outstretched. In his hands, he holds a pair of scales. His long tuft of hair falls over his forehead but the crown of his head is bald. When the right moment comes along in your life, don't be afraid to seize it by figuratively grabbing Kairos by his long tuft. Otherwise, he will fly away on his wings and you will be left empty-handed grappling at the back of his head.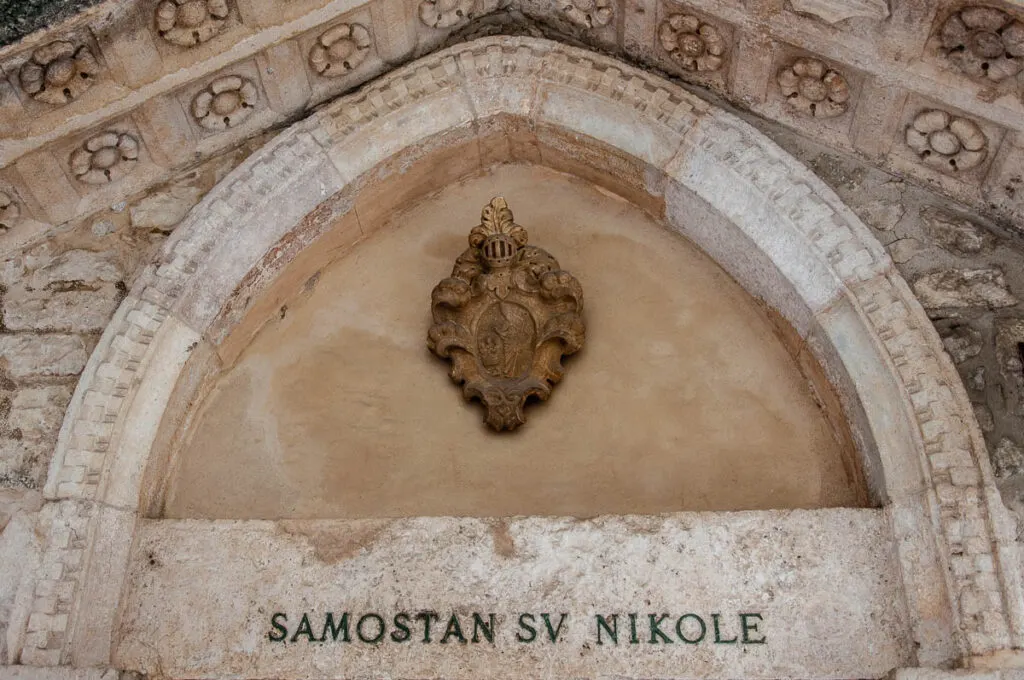 Today, the bas-relief of Kairos is displayed in the Benedictine Monastery of St. Nicholas in Trogir. You will see its large stone building near the town's South Gate. The monastery was founded in 1064. It's still functioning to this day.
Don't miss your opportunity to visit the monastery. It has an interesting collection of archaeological artefacts, precious works of art, and religious items. Just be aware that it closes for a long break in the afternoon.
Otherwise, Kairos has become a much-loved figure in Trogir. As you walk around the Old Town, you will see him replicated in many different ways in the local shops and houses. Including, made into chocolate bars to take home with you as a sweet reminder of your time in this corner of Croatia.
7. Enjoy a Walk Along Trogir's Palm-Fringed Promenade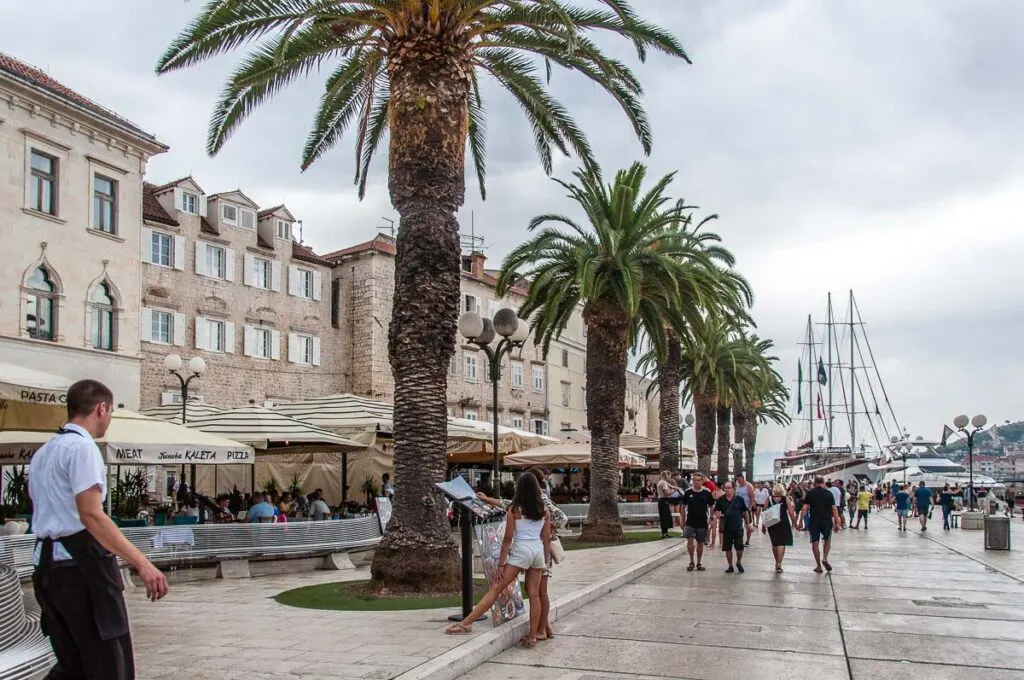 Riva – this is what the locals call Trogir's palm-fringed promenade. Wide, flat, and straight, it runs along the water edge and provides splendid views across the sea channel to the nearby island of Čiovo.
A leisurely stroll along the riva is a great way to pass the time in Trogir and to feel the pulse of this beautiful town. On one side stand the alfresco tables of the local restaurants. On the other, sleek yachts, akin to floating palaces, moor majestically.
For the full effect, start your walk along the promenade from the town's South Gate. This is an imposing portal that is also known as the Marine Gate as it faces the sea channel. By the way, its counterpart – the North or Land Gate as it faces the mainland – is a short walk away around the corner.
From the South Gate head along the promenade down to the Kamerlengo Castle. Along the way, you will spot some of Trogir's most imposing buildings. For example, the primary school 'Petar Berislavić' and the Church and Monastery of St. Dominic.
8. Take in the Panoramic Views from the Walls of the Kamerlengo Castle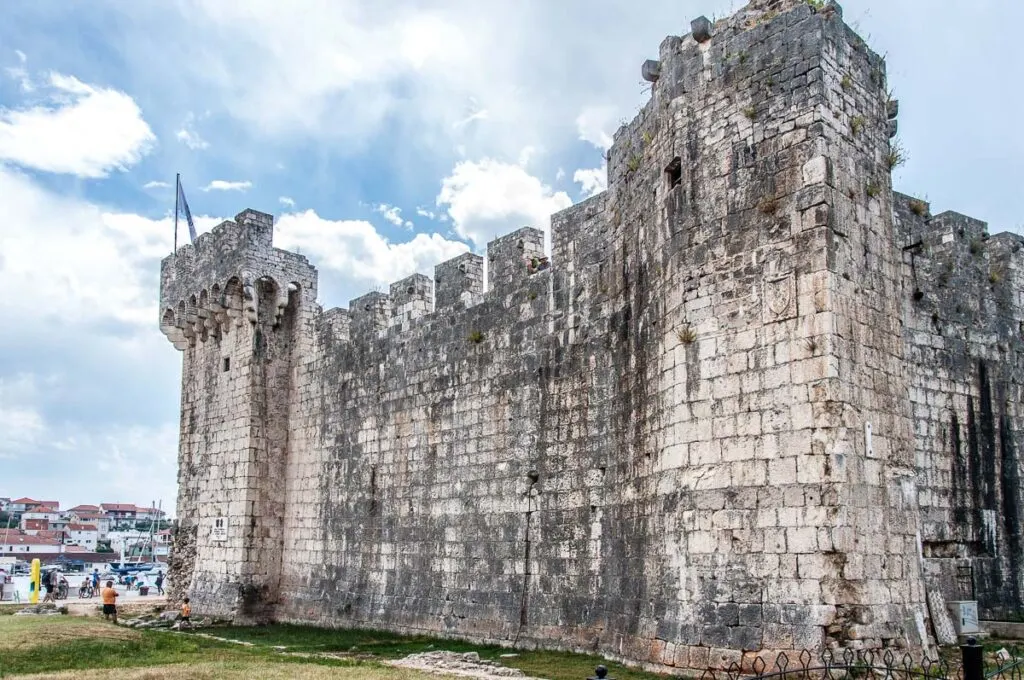 The Kamerlengo Castle is an early 15th-century fortress at the end of Trogir's promenade. It stands on the corner of the tiny island that hosts the Old Town. Right next to it you will see the local football pitch, a small playground for the kids, and the stalls of the local tour operators.
Every day, crowds of visitors to Trogir besiege the Kamerlengo Castle. Strong and dark, it towers over the human hubbub, keeping centuries-old secrets with pride.
The castle was built soon after the Republic of Venice conquered Trogir in 1420. Originally, it was surrounded by a sand-filled ditch and had a high defensive wall on two sides. The main gate on the northern side was also equipped with a drawbridge.
Nowadays, concerts and film nights take place in the Kamerlengo Castle during the high season. Visitors are also invited to walk along the castle's walls so as to take in the stunning panoramic views of Trogir Old Town, the mainland, and the island of Čiovo across the narrow sea channel.
A short walk away from the Kamerlengo Castle, you can also see St. Mark's Tower. This is a round fort in the Renaissance style. It was erected in the 15th century to help protect Trogir from the Turkish invasions. On the way there, you will pass by the Marmont's Gloriette – a small pavilion built by the French during the Napoleonic occupation of Dalmatia.
9. Enjoy Delicious Dalmatian Dishes in Trogir's Lively Inns and Restaurants
I really enjoyed the Dalmatian cuisine during our week in Croatia this summer. It's a wonderful mix of Balkan and Venetian influences. And it also puts the emphasis equally well on seafood and meat, which is quite the rarity.
As a place which attracts many visitors during the high season, Trogir is dotted with a large number of eateries. From bakeries and cafes to inns and restaurants, you are bound to find something that appeals to your taste buds and your pocket. There are even two Michelin-starred restaurants here – Il Ponte and Konoba TRS.
Meals around town – based on the totally unrepresentative method of glancing at the menus of a couple of restaurants as we went around sightseeing – vary from sixty to over 250 kuna per plate. By the way, kuna is the Croatian currency. When we visited, the exchange rate was a bit over eight kuna for one British pound.
Seafood and fish dishes are more expensive than meat-based ones. Many restaurants have chilled displays with the catch of the day by their front doors.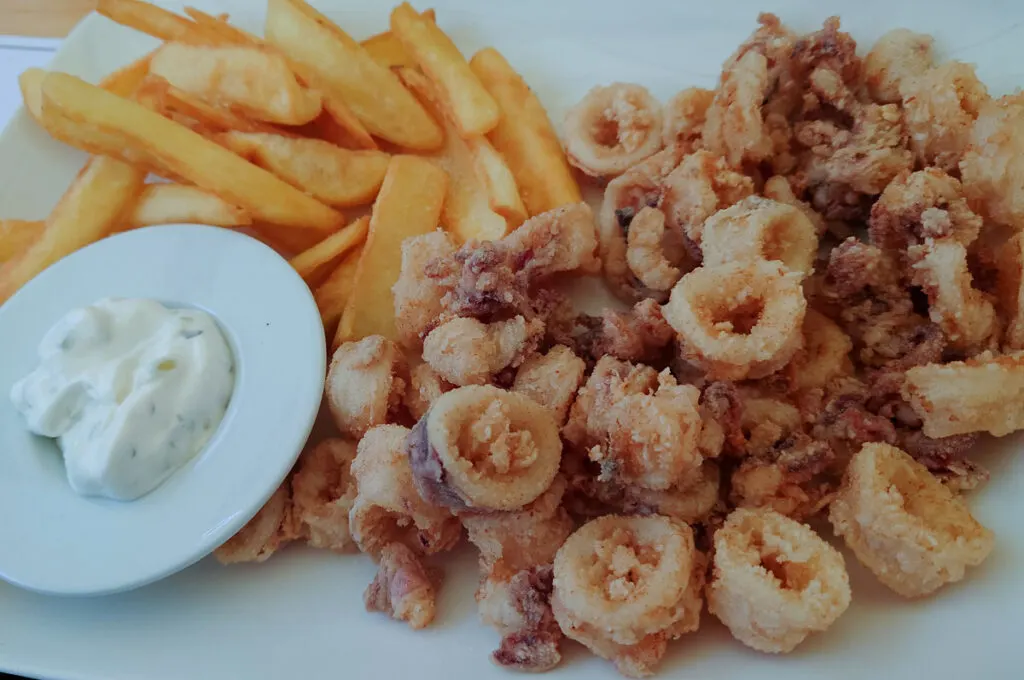 We started the morning with Croatian pastries from the bakery just around the corner from our rented studio apartment. Then, for lunch we had:
fried squid – my child;
mixed meat selection including ćevapčići and skewers – my husband; and
peppers stuffed with mince meat and served with tomato sauce and a huge helping of mash – for me. This dish appealed strongly to my Balkan essence and it was delicious and filling in a very satisfying way.
We picked a small restaurant – Tri Volta – completely at random. It's on a small alley in the Old Town. It also has tables at the small piazza just off Trogir's main John Paul II Square (see the tip at the end of point 3 above).
When in Dalmatia, also give the following dishes and foodstuffs a try: squid ink risotto, seafood risotto, Drniš prosciutto, slow-cooked beef (pašticada), fried sprat (girice), cheese from the island of Pag (Paski Sir), and octopus stew. Finish off with a rožata (thick and more-ish creme caramel) and/or scoop of locally made ice cream.
If you are staying in Trogir for more than a day, don't miss a visit to the local market. It has a great selection of fresh seafood and seasonal fruit and vegetables. The tomatoes and watermelons they had when we were in town were the best.
10. Sample Handmade Rafioli – Trogir's Traditional Cookies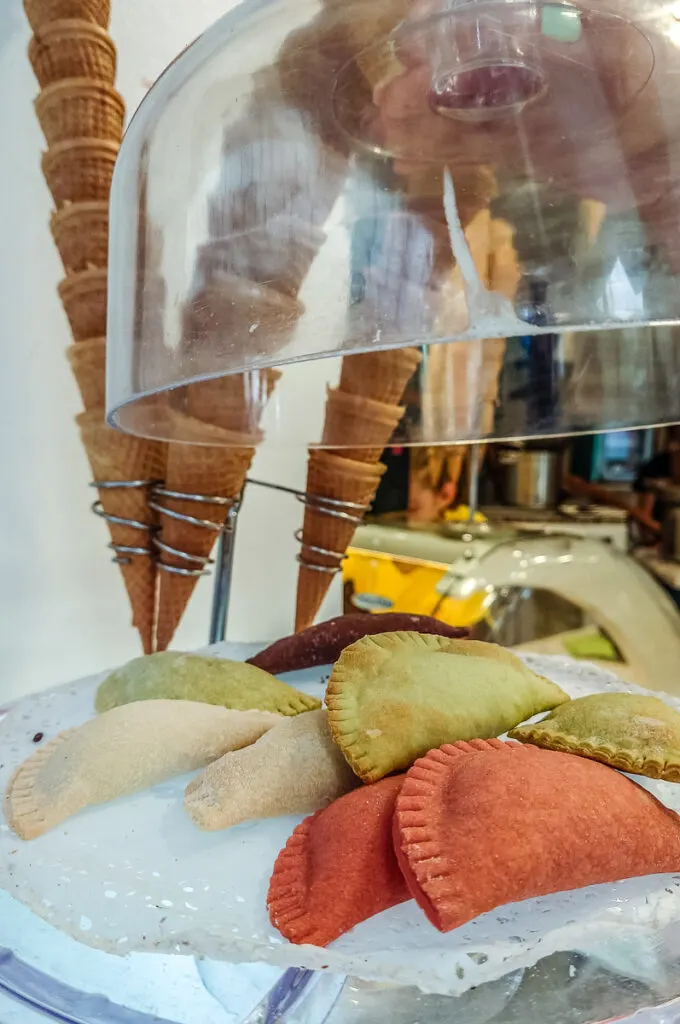 Rafioli are shortbread cookies typical for Trogir. They are made of large circles of thin dough which are then filled with a mixture of ground almonds, sugar, and spices, and pressed into a semicircular shape. The edges are crimped for a pleasing effect.
According to the local legend, there was once a lady with the family name Rafioli. She was imprisoned in the Kamerlengo Castle in Trogir (the legend doesn't say for what crime or reason!). To pass the time, she baked cookies. A local nobleman liberated her and took her home where she baked rafioli cookies for the rest of her life.
The legend is a bit unsatisfactory to me, as it doesn't mention many details. Above all, it doesn't say if the nobleman fell in love with the cookie-baking lady or wanted her simply as his personal baker. What's a cookie without a proper love story behind it?!
Anyway, when you walk around Trogir, rafioli will catch your eye from the window displays of the local ice cream parlours. They cost about ten kuna each and in some places they give you a little discount depending on the number of rafioli you buy.
I am always eager to try the cookies and sweets of each place I visit. Have a look at my blog post about the best Portuguese pastries and desserts if you are interested in my first-hand research! So, the rafioli of Trogir were waving at me every time I passed an ice cream parlour in town.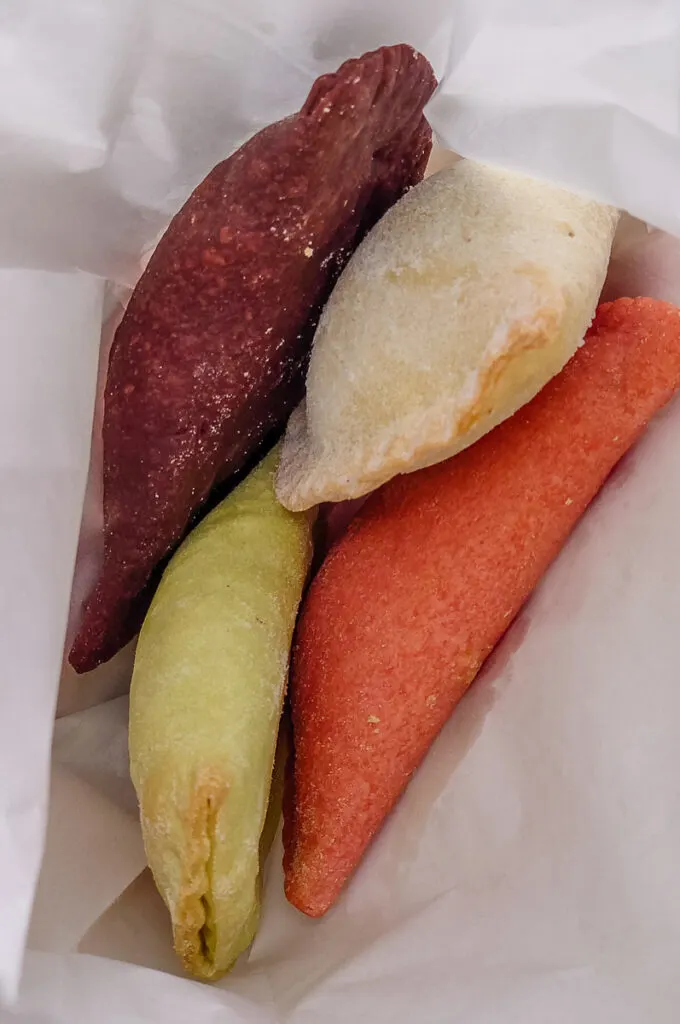 It was with trepidation and some great expectations that I ordered four rafioli – one for each available colour – to have after lunch during the day that I spent with my family in Trogir this summer. I was handed a paper bag with a white rafiol with almond filling, a pink with a white chocolate filling, a green with a fig filling, and a brown rafiol with a milk chocolate filling.
A large poster in the ice cream parlour promised that the rafioli were made according to an old Trogir family recipe with 100% almonds without additives. You could tell I was almost salivating waiting to have my first bite.
Unfortunately, I found the rafioli rather dry and a touch boring. It could be that I had just had a very nice lunch followed by a cup of delicious albeit overly sweet ice cream. So my taste buds were tired and numb. It could be that the rafioli felt a bit stale. I managed half a white rafiol with some difficulty and a bite of the green one to check the fig filling as I love figs in any form and shape.
My child, on the other hand, really liked the rafioli and claimed them as her snack for our trip to the nearby city of Šibenik later that evening. So, yes, I don't know. I am really glad I got to taste Trogir's rafioli, as I don't like to miss out on local specialities. On the other hand, I feel like I need to try them again in order to make up my mind. Trogir is lovely for a repeat visit anyway!
In the meantime, if you try rafioli during your time in Trogir, let me know what you think!
11. Shop in Trogir's Boutiques and Artisan Studios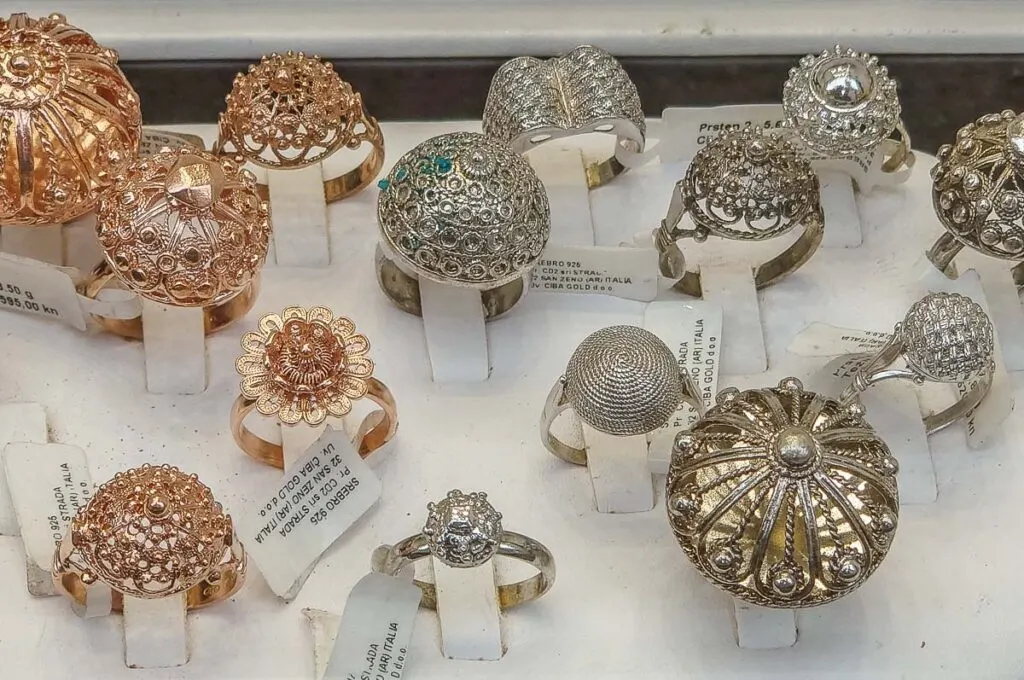 Trogir Old Town is an exciting place to shop. Numerous small boutiques and artisan studios populate the ground floors of the tall stone buildings. They are a great place to hunt for traditional Croatian souvenirs and crafts.
Always very popular are the Šibenik buttons. Originally, they were an essential part of the male folk dress worn in the area of the nearby city of Šibenik. Nowadays, these intricate filigree buttons have been fashioned into all sorts of jewellery pieces – from earrings to necklaces and bracelets.
Coral jewellery is another bestseller here. Corals traditionally are supplied by the coral hunters from the island of Zlarin in the Šibenik Archipelago. With rich symbolism and many myths behind them, red corals are said to protect the wearer, bring him tranquillity, and enhance his creativity.
Sea sponges from the Adriatic Sea are another local souvenir you will see in Trogir's shops. The town is also a great place to shop for art – from oil paintings to drawings and prints.
12. Book a Boat Trip Starting from Trogir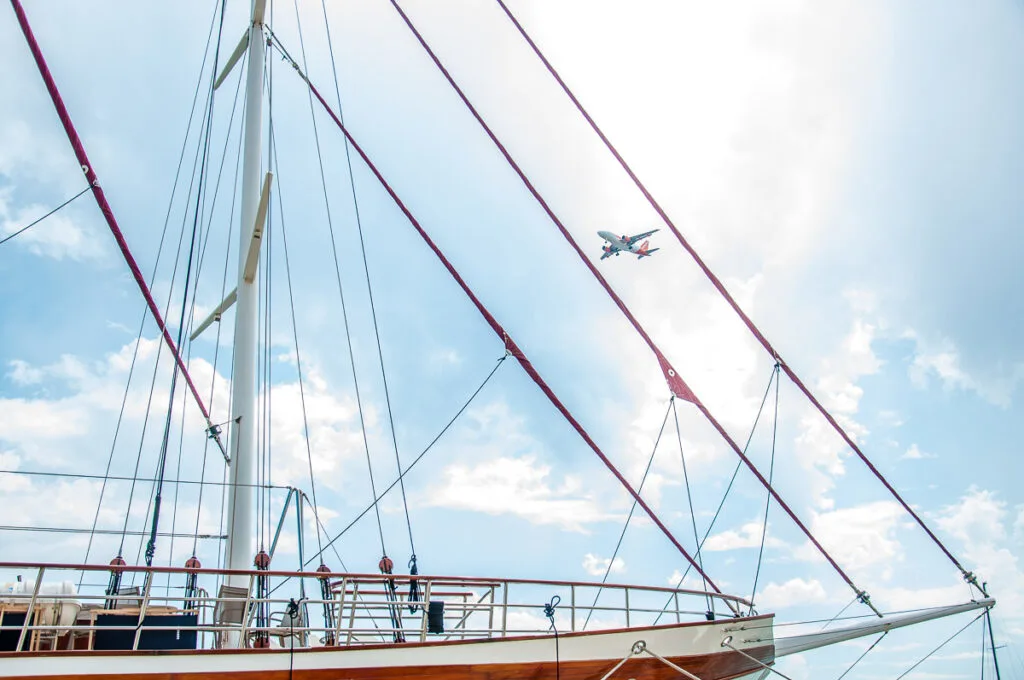 Trogir is the perfect place to go island hopping. Many boat trips leave every day from this small town taking visitors to Croatia to discover some of the most striking spots on the Adriatic.
At the end of Trogir's palm-fringed promenade and right by the Kamerlengo Castle, you will find the stalls of the boat trip organisers. They will give you all the details that you need to decide which trip is best for you. Just bear in mind that during the high season, tours fill up quickly and it's advisable to book a couple of days in advance.
Here are a few options to choose from:
Five Islands Day Trip with Entry to the Blue Grotto – this is an exciting all-day trip by speed boat which takes in some of the most beautiful Croatian islands, including Hvar. The highlight of the day is the visit to the Blue Grotto famous for its strikingly vibrant blue water.
Three Islands Half-Day Speedboat Tour – this is a nice and easy tour to three nearby islands. The highlight here is swimming in the Blue Lagoon – a place of crystal-clear waters with a colourful underwater world.
Blue Lagoon and Three Islands Cruise with a Fish Picnic – this tour covers the same sights as the one above but gives you more time to enjoy each place. It also includes a delicious fish picnic in the price for added excitement.
Another tour you can book onsite in Trogir includes a dive to the Via Crucis underwater museum followed by a visit to the adjacent water park.
13. Explore the Island of Čiovo Just Across the Water from Trogir
A narrow sea channel separates the small island of Trogir Old Town from the significantly larger island of Čiovo. Water taxis and two bridges connect the two. One recently underwent a major renovation, it's about 100 m long, and it links the Old Town directly to Čiovo. The other one is brand new and it stands a driving distance away from the Old Town. You can see it from the top of the bell tower of the Cathedral of St. Lawrence.
Čiovo is the largest island in the Trogir Archipelago. It's a place where you will find lots of beaches, olive and almond groves, peaceful villages, and several villas and resorts. Plus, squid is plentiful in the waters around the island.
As Trogir Old Town doesn't have a beach as such, most people walk, drive or take the water taxi across to Čiovo to sunbathe and swim at one of its many beaches. This article describes in detail the best beaches there with videos showing you exactly what to expect.
For a touch of history, you can visit Čiovo's Dominican Monastery of the Holy Cross. It dates back to 1265. In spite of being bombed during the Croatian War of Independence in 1991, it's still functioning to this day.
To experience Čiovo with a difference, book an off-road ATV quad-bike tour of the island.
14. Take the Kids to the Playground in Trogir
After all this sightseeing, it's only fair to let your little ones run a bit if you are visiting Trogir as a family.
There is a small playground in the shadow of the Kamerlengo Castle. I spent a relaxing half an hour there just chilling on a bench while my daughter played with kids from Croatia and several other countries. It was a nice pause during our busy day!
There are a few more playgrounds in and around Trogir Old Town. You can check their locations in this handy Google Map. As you can see, the Old Town also has several green spaces fringing the island. They are also nice places to head to for a little walk when you need a bit of peace and quiet:
15. Take a Day Trip from Trogir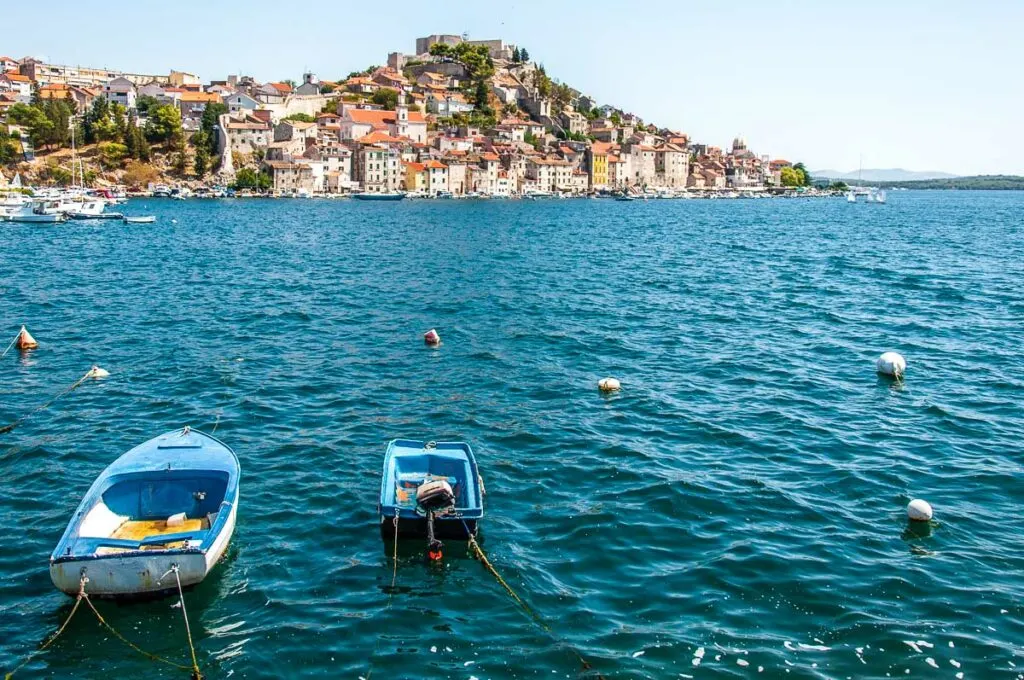 Trogir is perfectly positioned for exciting day trips and multi-day explorations of the historic region of Dalmatia in particular and Croatia as a whole.
A dense network of local buses connects this small town to large cities, tiny villages, places of historic interest, and nature parks. You can also choose to rent a car to explore even further afield.
Here are my suggestions for unmissable day trips in the area. Take your pick:
Split – Croatia's second-largest city is less than 50 mins away by public transport from Trogir. Bus 37 connects the two regularly throughout the day and stops at Split Airport along the way. Among the many must-see things in Split, don't miss the Diocletian Palace – one of the largest and most imposing ancient Roman structures to reach us to this day.
Šibenik – a splendid Dalmatian city with two UNESCO World Heritage Sites. Only about an hour away by bus from Trogir, it has a beautifully preserved medieval nucleus and a host of unmissable landmarks. Among them stands out the Cathedral of St. James – the most important Renaissance building in the whole of Croatia.
This is, actually, the city where we spent most of our week in Croatia, so I can wholeheartedly recommend Šibenik. It's lovely on many levels!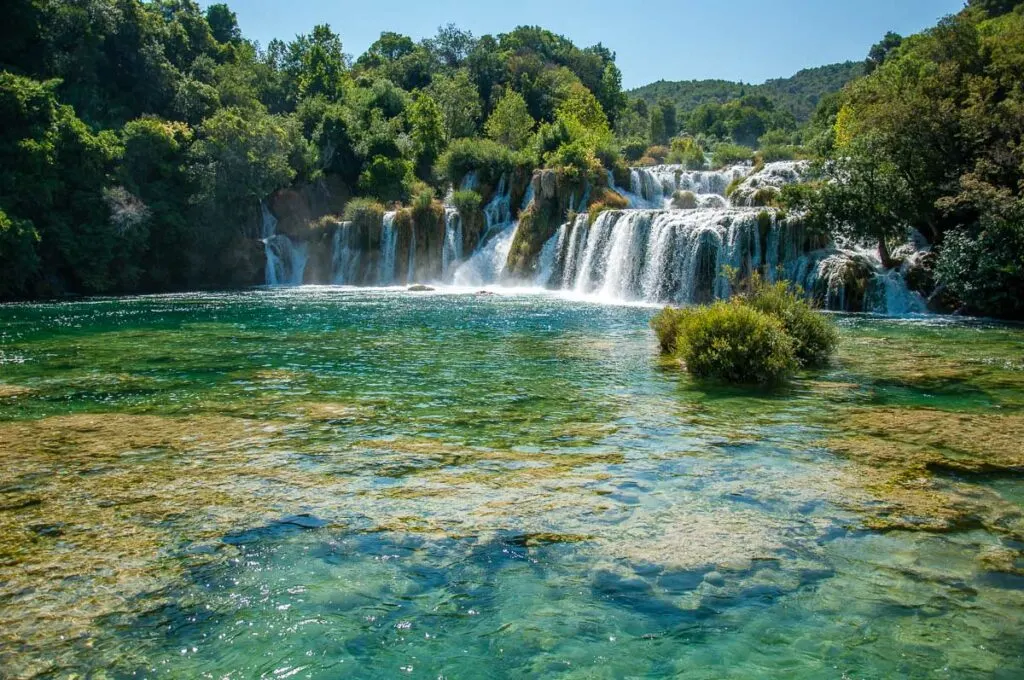 Krka National Park – less than an hour away from Trogir, this is a huge nature park with numerous lakes and a series of seven waterfalls. A beautiful, idyllic place where you can walk through lush forest, marvel at huge waterfalls and take a boat for a peaceful, soul-inspiring trip to the island monastery of Visovac. This organised tour gives you a chance to easily visit Krka and Šibenik from Trogir in one day.
Zadar – just an hour and a half away from Trogir, you can visit the oldest continuously inhabited Croatian city. Zadar has a lot to offer to the curious traveller – from Roman ruins and Venetian architecture to beautiful sandy beaches, you will be spoilt for choice.
Plitvice Lakes National Park – just over two hours away from Trogir, this is Croatia's largest nature park. It's also the country's most popular tourist attraction. A UNESCO World Heritage Site since 1979, it's known for its stunningly beautiful series of lakes and waterfalls. To easily see as much as possible of the Plitvice Lakes in a day, have a look at this well-recommended tour.
Dubrovnik – easily, this is the most famous Dalmatian city on account of its history and appearances in many cult TV series and films. Here Game of Thrones comes immediately to mind. Over three hours away from Trogir one way, the best way to visit it in a day is to book an organised tour. This one comes highly recommended.
Map of the Best Things to Do in Trogir in Croatia
Here is a map showing you the location of the best things to do and the best sights to see in Trogir Old Town in the historic Croatian region of Dalmatia.
I made it using Google Maps. So, you can use it just like any other Google map. You can zoom in and out, click to open the map in a separate tab and click on the different pins to see their coordinates.
You can also use this map to calculate distances and directions from any of the featured sights to any point in Trogir and vice-versa. You can also zoom in and explore the urban plan of this small Croatian town.
You can share this map of the best things to do in Trogir, Croatia on social media, too.
Most importantly, if you click on the small dark grey star next to the map's name 'Best Things to Do in Trogir, Croatia', this will save the map to your account in Google Maps. This way, you can easily revisit it for directions any time you want.
The destinations pinned to this map of Trogir are as follows:
1. Cathedral of St. Lawrence 2. John Paul II Square 3. Town Hall 4. Church of St. Sebastian with Clock Tower 5. Town Loggia 6. The Great Cipiko Palace 7. Gradska Ulica 8. Trogir Town Museum 9. Museum of Sacred Art 10. Monastery and Church of St. Dominic 11. Benedictine Monastery and Church of St. Nicholas 12. Riva Promenade 13. Kamerlengo Castle 14. Marmont's Gloriette 15. St. Mark's Tower
Practical Tips About Visiting Trogir in Croatia
Pin for Later!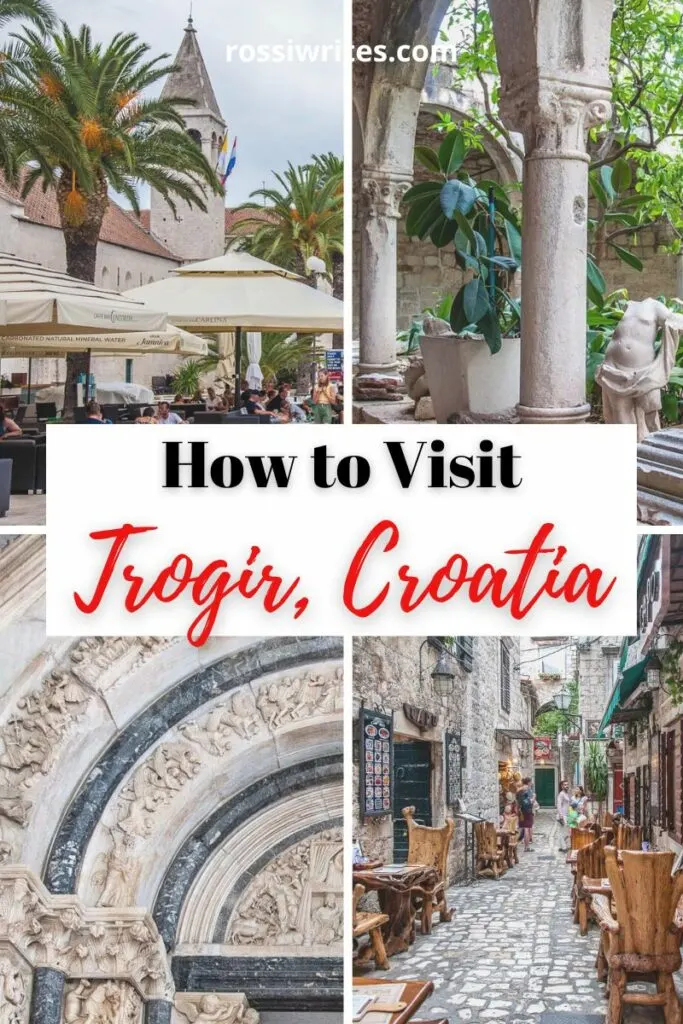 Where in Croatia is Trogir?
Trogir is a small town on the Adriatic coast in the historic Croatian region of Dalmatia. Its historic nucleus – or Trogir Old Town – stretches across a tiny island connected to the mainland by two small bridges. Two longer bridges link Trogir to the much larger adjacent island of Čiovo.
First founded in the 3rd century BC by the ancient Greeks, Trogir Old Town was inscribed on the UNESCO World Heritage List in 1997. Its ancient urban plan, sinuous medieval streets, and Venetian heritage attract thousands of visitors during the high season.
Quite conveniently, Trogir is only 5 km or so away from Split Airport – the largest in Croatia. By bus line 37, it takes only ten minutes to reach the small town from the airport. This makes it a great destination for a weekend break or a last-minute fly-in, fly-out visit.
Otherwise, here are the distances in km from some of the largest cities in Croatia to beautiful Trogir:
from the largest Dalmatian city Split to Trogir – 27 km;
from Šibenik to Trogir – 47 km;
from Zadar to Trogir – 130 km;
from Dubrovnik to Trogir – 263 km;
from the Croatian capital Zagreb to Trogir – 384 km;
from Rijeka to Trogir – 386 km; and
From Pula to Trogir – 492 km.
Finally, Trogir is also the perfect departure point either by bus or boat for many famous landmarks, nature parks, and islands/archipelagoes in Croatia. Among them are Krka National Park, the Blue Grotto, Kornati National Park, and the island of Hvar.
Here is a handy map showing the exact location of Trogir Old Town in Croatia. You can click on it to zoom in or out to get a better idea of the geographical position of this beautiful Dalmatian town.
How to Reach Trogir from Abroad and/or Anywhere in Croatia?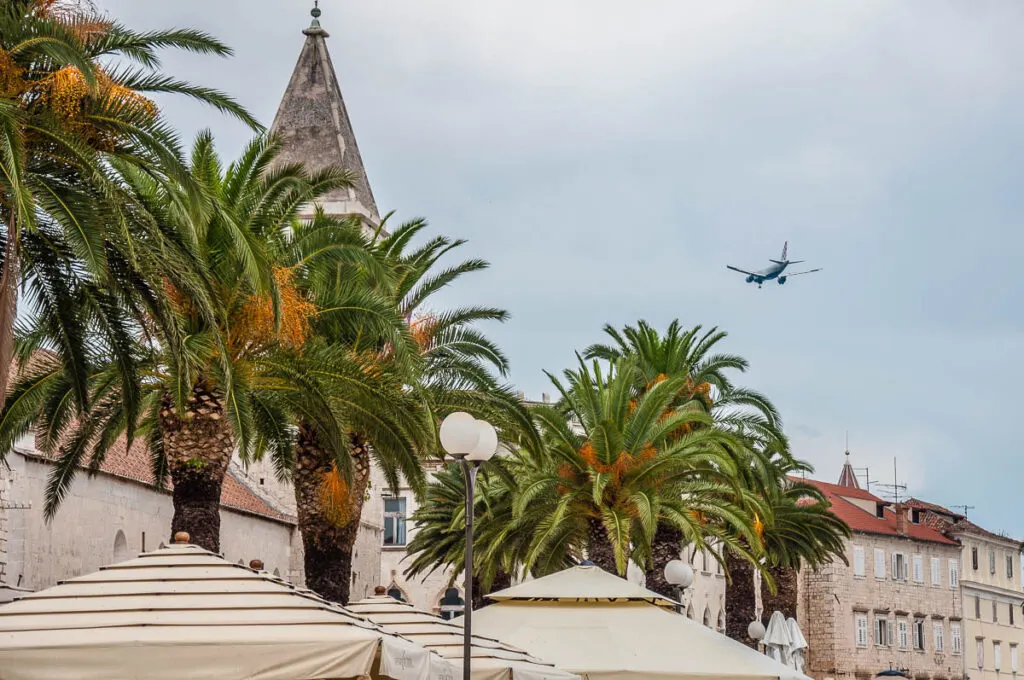 Trogir is very easy to reach by plane, bus or car both from abroad and anywhere in Croatia. Here is how to do it:
By plane – Trogir is only about 5 km or so away from Split Airport – Croatia's largest. While it carries the name of the country's second-largest city, the airport is actually about 40 mins away by bus from Split and just 10 mins away by public transport to Trogir. At present, 63 cities in 22 countries enjoy direct flights to Split Airport thus giving you a quick and easy way to reach Trogir and enjoy all that this beautiful town has to offer.
Once you arrive at Split Airport, you will find the bus stop for Trogir just outside of the terminal. Walk out through the large glass doors between the two information kiosks. Then walk down to the road and the bus stop is immediately to your right.
Don't make our mistake of walking through the long glass corridor that goes from the terminal over the road and then all the way to the car park. This way, you will have to walk from the exit of the corridor back up to the road and then cross the road to reach the bus stop. It's not a long walk but if you are tired after a late flight it's quite inconvenient.
Once at the bus stop, catch bus 37 to Trogir. A current timetable is affixed to the bus stop or you could check it here in advance. You can buy your tickets directly from the bus driver. If I remember well, we paid 12 kuna per person.
Alternatively, you can also easily catch a taxi from Split Airport to take you to Trogir. Taxis are plentiful and the drivers may approach you to ask if you are interested in hiring them. The going rate when we visited was 100 kuna.
Bear in mind that Trogir Old Town is impenetrable to cars, so if you are staying there, you will need to walk and carry/wheel your luggage.
We left Split Airport past 9 pm and waited about 15 mins for the bus to arrive. The bus stop felt safe, there were other people there, and the journey was very short. The bus station in Trogir was buzzing with activity. We walked across the small bridge that connects the mainland to the Old Town on the island. Then, we wheeled our luggage through the maze of streets which, even at that late hour were full of people enjoying their meals at the local restaurants and socialising.
By bus – a well-developed network of local buses connects Trogir to the other towns and cities in Dalmatia and further away in Croatia and all over Europe.
The local bus companies run frequent services which are inexpensive and reliable. Their names are Arriva, Čazmatrans, and Samoborček. You can use the Bus Croatia search engine to search for travel times and prices.
Unfortunately, we had booked tickets online in advance with a large coach company that serves the whole of Europe. It shall remain nameless here as we had a terrible experience. The bus we had to take from Trogir to Šibenik was late by an hour and a half and waiting in the hot weather was not enjoyable. In the meantime, we saw several local buses leave half empty for Šibenik.
Then, when our bus eventually arrived, our pre-booked seats had been taken by other passengers who refused to move. There were only three seats left on the bus – spread around the upper deck – so we couldn't even sit together with our child.
The bus driver decided to start driving while we were still trying to explain that we couldn't let our child sit by herself with people we didn't know. Eventually, the people who had taken our seats moved begrudgingly and a German guy started abusing us even though his seating was not affected in any way.
We were the only people boarding from Trogir who managed to sit in their pre-booked seats. One poor girl was trying to explain to the people who had taken her seat that she had paid extra to book it only for them to ignore her, open a pack of biscuits, and start looking through the window while munching.
It was not pleasant and I will not use this particular company again if I can help it.
By car – our original plan had been to drive from England to Croatia this summer. For many reasons and after much thought, we decided to simply fly in and rely on the local public transport. So, I don't have first-hand experience of reaching Trogir by car. However, we spent time on the road going on day trips in Dalmatia and my impressions were of a well-organised road network.
In any case, make sure that you use a navigational app. During rush hour there is heavy traffic between Split and Trogir which leads to delays and much longer travel times.
Where to Stay in Trogir, Croatia?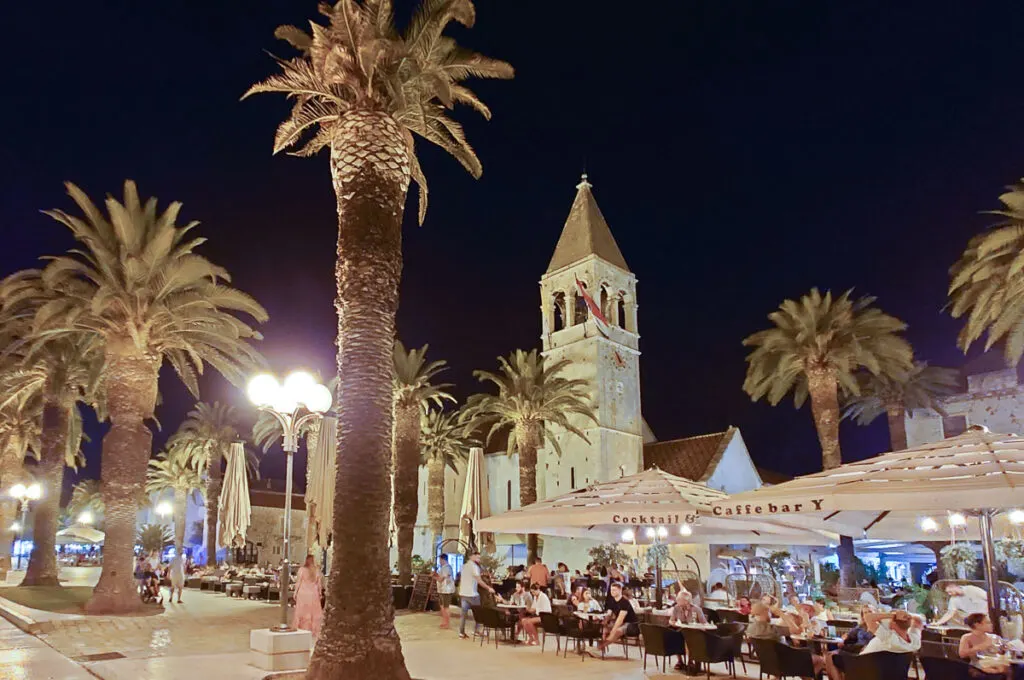 You can find all sorts and types of accommodation in and around the Croatian town of Trogir to suit any budget. From luxury apartments to comfortable hostels, there is something for everyone.
You can stay either in Trogir Old Town (in which case, prepare to carry or wheel your luggage on the car-free island), on the mainland or on the island of Čiovo.
No matter where you choose to stay, make sure that you book well in advance. Especially, if you are planning to visit during the high season. Trogir is an ever-popular destination. Prices can rise steeply depending on the season and how little time there is between now and your visit.
I usually prefer to book all my accommodation through Booking.com. Click to see all available options for places to stay in and around Trogir, Croatia.
For our one night in Trogir, we booked Apartment Patricia. It was very comfortable, in the heart of the Old Town, and with oodles of character. Plus, there was air conditioning which was great at the height of summer. I loved the view of Trogir's rooftops from the windows. Bear in mind that there were a few flights of steps up to the studio apartment.
Most of the buildings in the historic centre are tall and with several storeys. Ask in advance if your accommodation has a lift if you would like to avoid climbing up steps during your stay.
If you need some visual help in terms of precise location and price range, have a look at this map. It gives you a quick idea of the prices and whereabouts of the many hotels and other forms of accommodation you can book for your stay in Trogir in the historic Croatian region of Dalmatia.
You can zoom in and out in order to search for a place to stay. You can also click on the option that interests you to find out more details or to make a booking directly.
When is the Best Time to Visit Trogir?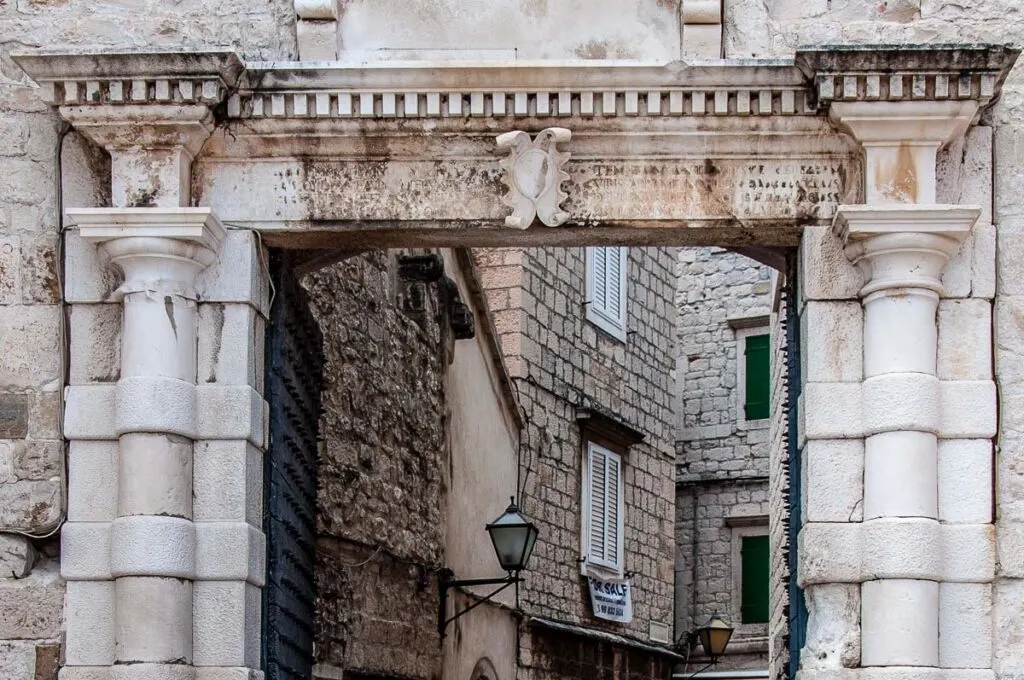 Trogir has a Mediterranean climate. Expect hot summers and mild to cool winters.
The town is an ever-popular destination on the Dalmatian coast. The high season – from June to the first half of September – sees a large influx of visitors.
If you want to avoid the crowds, come during the shoulder seasons – April and May and then the second half of September and October.
We visited in the last week of July and Trogir was full with people enjoying the summer vibe. There weren't uncomfortably large crowds and bottlenecked streets but everywhere you looked, there was a constant flow of people. It all felt very relaxed though.
We were lucky in so that the morning after our arrival, the skies darkened and threatened us with rain for a couple of hours or so. This gave us a chance to explore the Old Town with a bit of a breeze and without the hot roasting sun above. The rain finally materialised while we were inside the Cathedral of St. Lawrence. It was then gone in half an hour or so.
In the afternoon, it got very hot again, so we had lots of ice cream to keep cool. That was the official excuse, at least!
How Long to Stay in Trogir?
This really depends on your travel style and plans for Dalmatia and Croatia.
Most people visit on a day trip from Split. They may spend a couple of hours in Trogir Old Town and then enjoy a boat trip in the Trogir Archipelago.
Our original intention was to only stay the night in Trogir before heading out to Šibenik – our main place of interest during our week in Croatia. The more we read about Trogir, the more we realised that this is a town that must be seen. So we ended up spending a full day here before leaving in the early evening.
I think a day is perfect to sightsee, eat good food, gor for a walk, look around the shops, and take it easy. Trogir is small and you can definitely rush it in a couple of hours. To feel the atmosphere and immerse yourself in it, a day would be much better.
As Trogir is so close to Split Airport, for me it would also be a perfect weekend destination. Especially, during the shoulder season when the flow of people diminishes a bit.
What to Pack for Your Visit to Trogir in Croatia?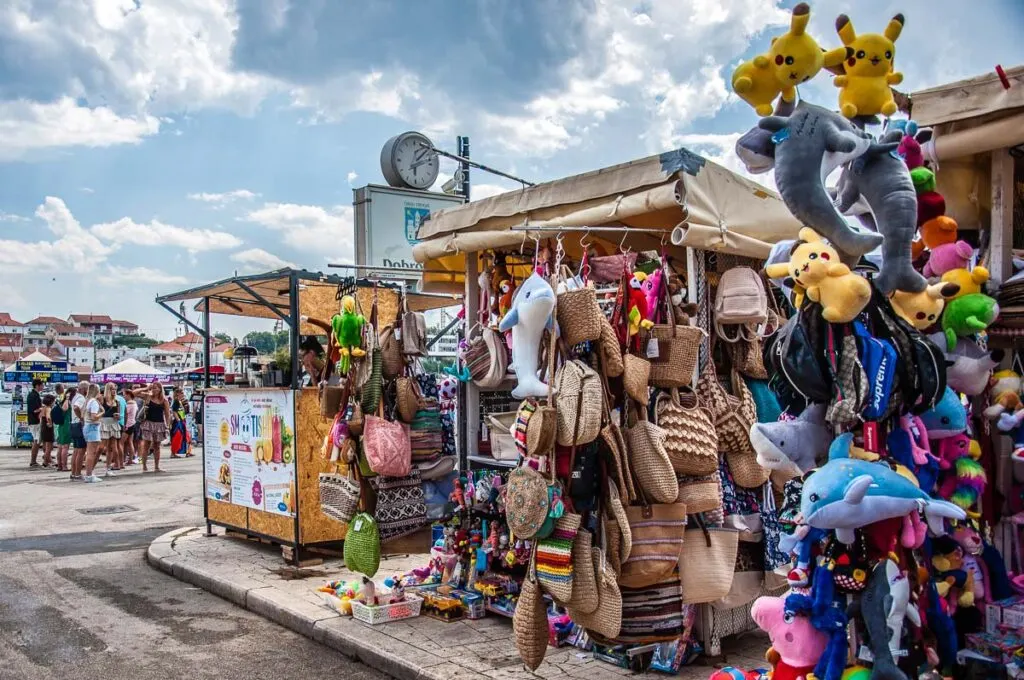 Pack your most comfortable shoes, as you will be walking around everywhere. Make sure that your clothes cover your shoulders and knees if you are planning to visit the churches and the cathedral of Trogir. Suncream is a must. A hat and sunglasses will come in very useful, too.
If you are intending to go to the beach or book a boat trip, ideally bring water shoes. Pebbles, sharp rocks, and sea urchins are a regular occurrence at Dalmatian beaches.
In Conclusion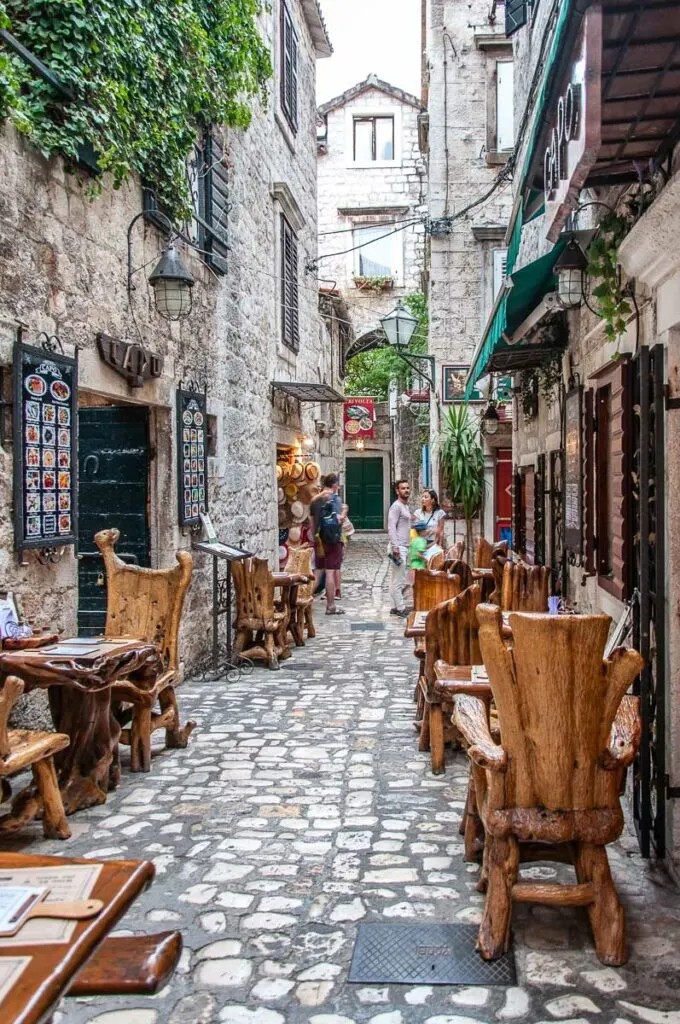 Trogir is a beautiful island town in the historic Croatian region of Dalmatia. It has a millennial history, a handful of striking landmarks, and restaurants serving delicious Dalmatian dishes.
Right next door to Split Airport – the country's largest – Trogir is a great destination for a day trip, a weekend break or a longer holiday in this corner of Europe. Plus, its Old Town is a UNESCO World Heritage Site. All in all, this is a place to put on your travel bucket list.
So, in this blog post today, I shared with you the 15 best things to do in Trogir and many practical tips about getting there in the most straightforward way. It's all based on my personal experience – from mishaps to exciting discoveries. I hope that all this information will come in very useful when you are planning your own trip to Trogir.
This is after all the town of Kairos – the ancient Greek God of opportune moments. It's a beautiful place where seizing the day never felt more delightful.
Have a wonderful time in Dalmatia in Croatia!
Enjoy Trogir!
More Helpful Travel Info for You
Best of Croatia: Baredine Cave
Best of Italy: Venice, Lake Garda, Veneto, Lombardy, Emilia-Romagna, Marche, Friuli Venezia Giulia, Trentino, Italy with Kids, Italy for Foodies, Day Trips in Italy, Hiking in Italy, Christmas in Italy
Best of Portugal: One Day in Aveiro, Photos of Aveiro, One Day in Porto, Photos of Porto, One Day in Guimarães, Photos of Guimarães, Photos of Braga, Sanctuary of Bom Jesus do Monte, The Best Portuguese Desserts and Pastries
Best of England: London, Kent, Dorset, East Sussex, Days Out in England
Travel: Travel Resources, The Joy of Travel, Safety Tips
Thank you for reading! Please, leave me a comment, pin the images or use the buttons right at the top and at the end of this blog post to share it on social media.
For more useful information like this, please, like my blog's page on Facebook and subscribe to my strictly no-spam newsletter.
Pin This Blog Post!