Here are 10 unmissable towns in the English county of Kent.
Easy to get to from the British capital London and offering a long list of great sights to explore, these Kentish towns are worth a day trip or a longer exploration.
Expect medieval castles and cathedrals, long sandy beaches, important historic landmarks, delicious local dishes, charming hidden corners, and lots of fun things to do no matter if you are travelling with your family, as a group of friends or by yourself.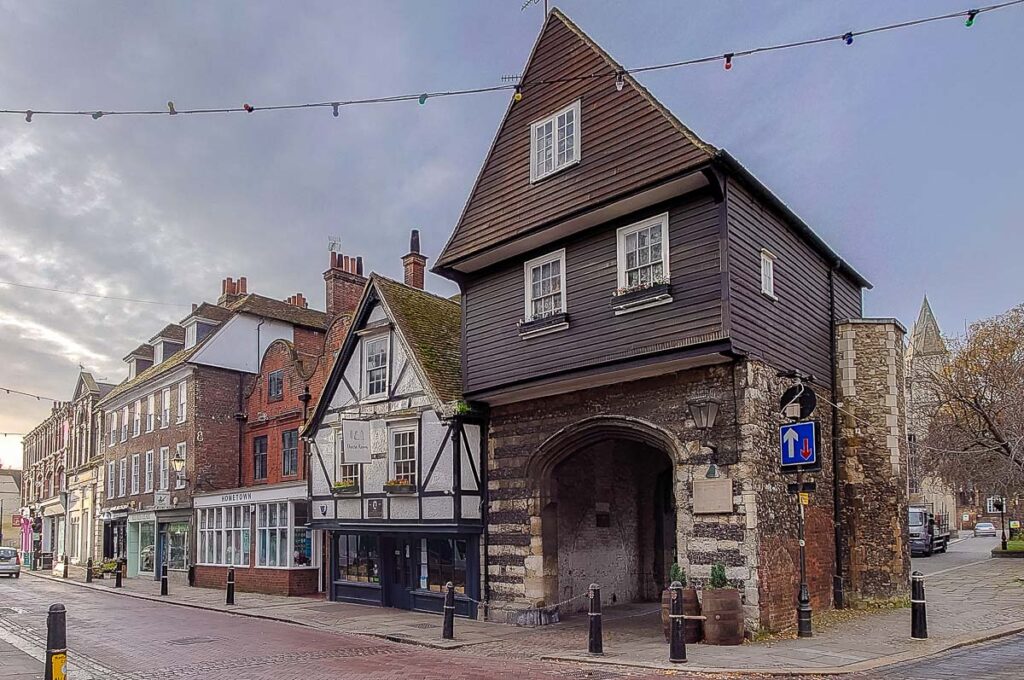 High-speed trains and a dense network of roads connect Kent's towns to Greater London and the neighbouring English counties of Essex, Surrey, and East Sussex. Thus you can quickly escape to Kent even as a last-minute decision for a great day out.
So, if you are looking for ideas for new destinations to explore in England, in this blog post today I will list ten must-see towns in Kent and the best things to do in each. I have ordered them alphabetically to make it easy to scroll up and down. They are Broadstairs, Canterbury, Chatham, Dover, Faversham, Folkestone, Herne Bay, Margate, Rochester, and Whitstable.
Towards the end of this blog post, there is a handy map, too. On it, you can see their locations in relation to London and calculate travel distances by car and public transport.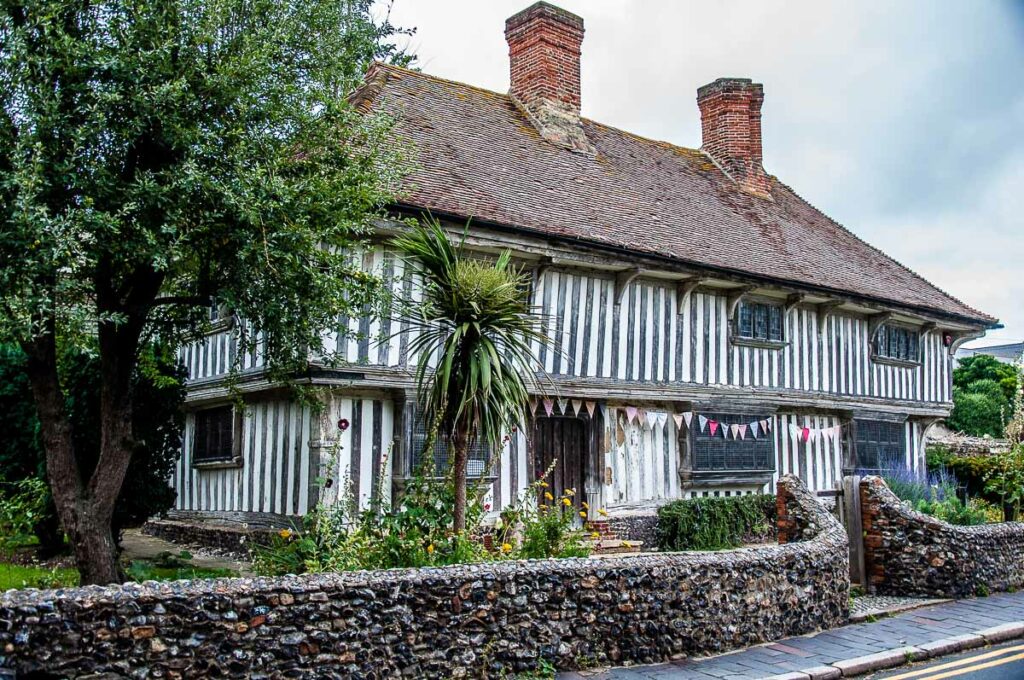 Some of these Kentish towns are large and some are small. Yet, all of them are unique and no matter what your interests are centred around – history, food, keeping active or something else – you will find it here.
Even better! Many of these towns in Kent are right next to one another. This way, you can easily visit and enjoy a couple or more of them within the span of the same weekend break or longer exploration of the area. It's a great way to see the most in the shortest amount of time!
For each of these ten must-see towns in Kent, I have included: a shortlist with the most important sights that can be seen in a day, approximate travel times by train from London, and photos to give you an idea of what to expect.
Plus, at the end of this blog post, you will find a section with practical tips about visiting the towns of Kent in England. From how to travel between them to where to stay here, everything is covered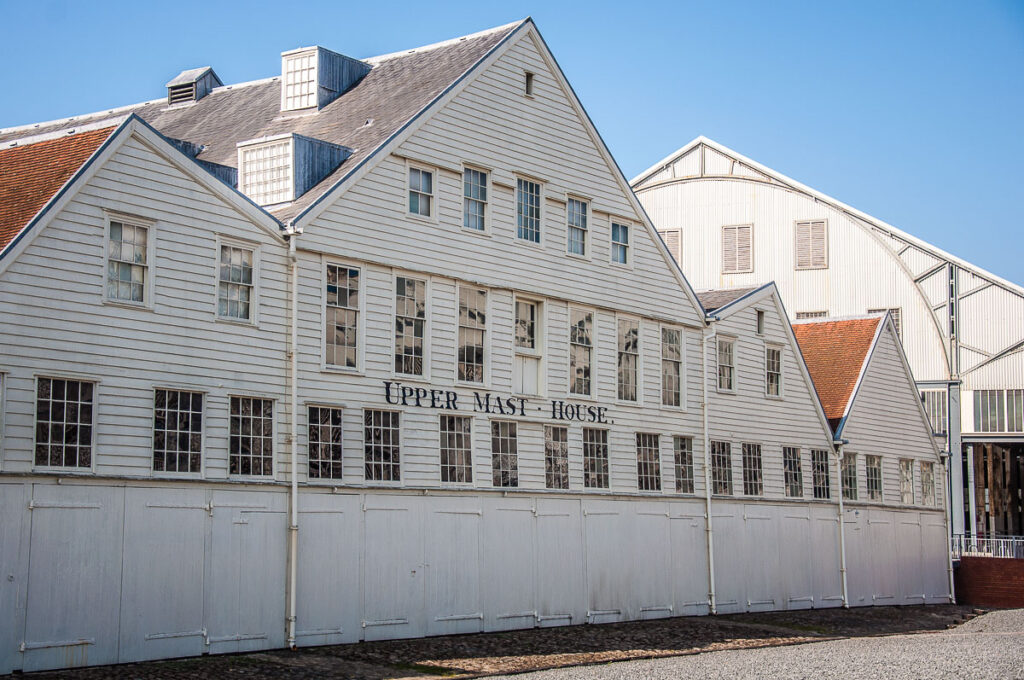 I hope that all the information provided below – first-hand tried and tested by me – will give you just the impetus that you need to get out and explore Kent – known as the Garden of England – and its charming towns.
Have a look!
10 Must-See Towns in Kent, England – Great Day Trips from London
Pin for Later!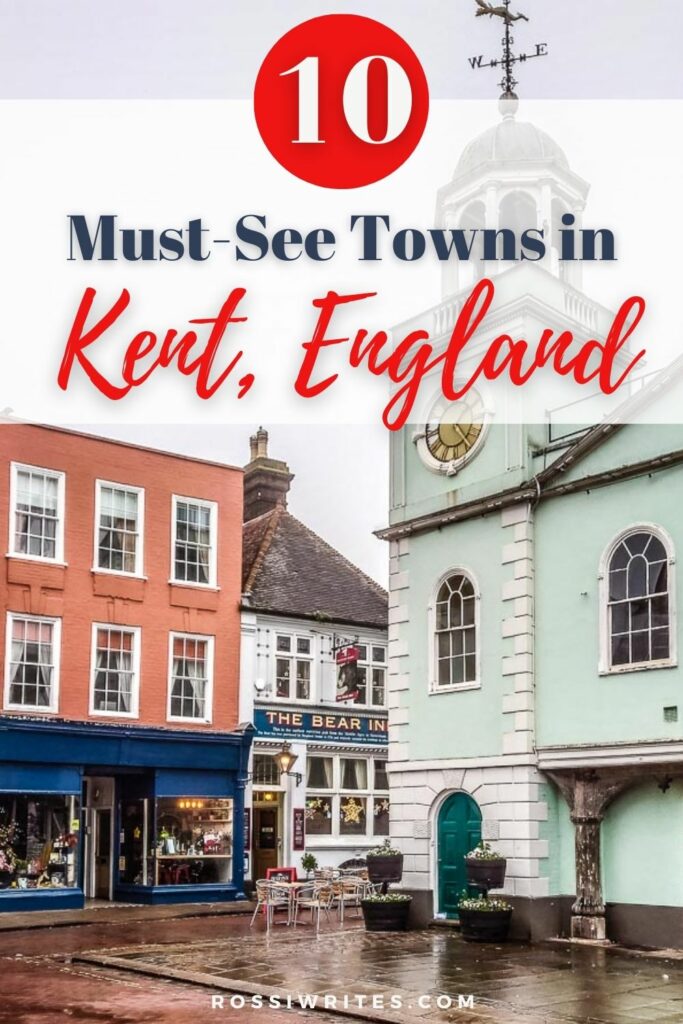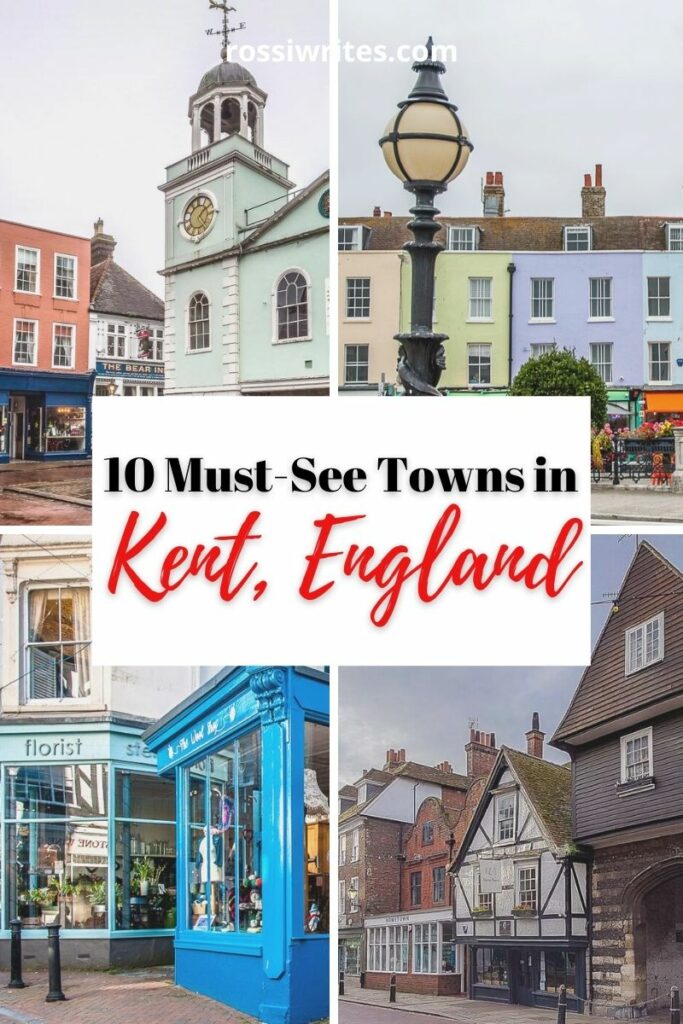 1. Broadstairs – Kent's Town of Beaches, Smugglers, and Festivals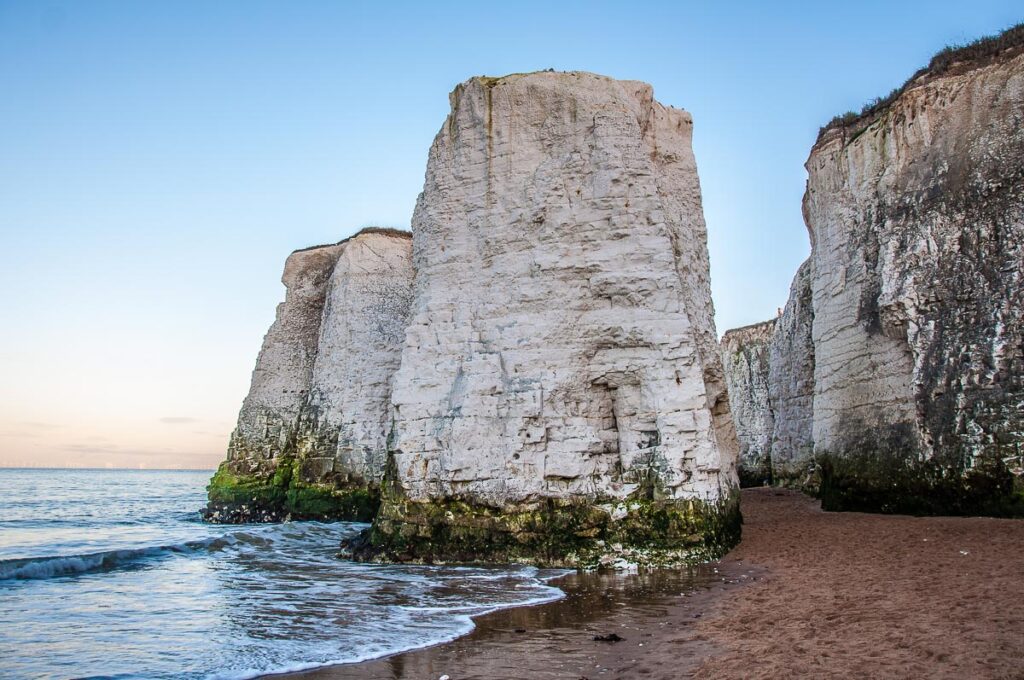 Broadstairs is a delightful discovery on the coast of Kent in England. This quiet seaside town truly comes into its own during the lively festivals that it holds all throughout the year. Dotted with eateries and independent shops, its streets curve along the top of a tall cliff. At its bottom huddles the picturesque Viking Bay with a spacious sandy beach. Colourful beach huts complement the holiday atmosphere.
In total, there are seven sandy bays in and around Broadstairs. Three of them – Botany Bay, Joss Bay, and Kingsgate Bay – are particularly famous. The first has a backdrop of steep white cliffs. Its dramatic chalk stacks often feature in iconic photographs of England. People come from near and far to see them, sun themselves on the beach, and enjoy a spot of beachcombing.
Joss Bay, on the other hand, is one of England's best beaches for surfing. There is a renowned surf school here if you have always wanted to give riding a board on the waves a try.
Kingsgate Bay stands out with a photogenic arch in the tall chalk cliffs that hug its beach. At the top of the cliffs stands the historic Kingsgate Castle. Built in the 18th century, nowadays it has been converted into residential flats but it still preserves its imposing exterior.
Yet, Broadstairs is not all about beaches and beach life. This picturesque Kentish town has strong connections to the history of England's smuggling bands. In the past centuries, they operated illegal channels bringing in tax-free goods from the continent and had lots of brushes with the law.
Nowadays, a network of underground tunnels still exists beneath Broadstairs' Edwardian houses. If the history of smuggling in Britain is of interest to you, have a look at this great website. In addition, this book is the ultimate resource. It takes a pride of place in my collection of books about England.
Broadstairs also has an interesting literary link that makes it a must-see town in Kent. The famous English writer Charles Dickens used to holiday here in a clifftop house with sweeping sea views. He wrote two of his most famous novels – David Copperfield and Bleak House – in Broadstairs.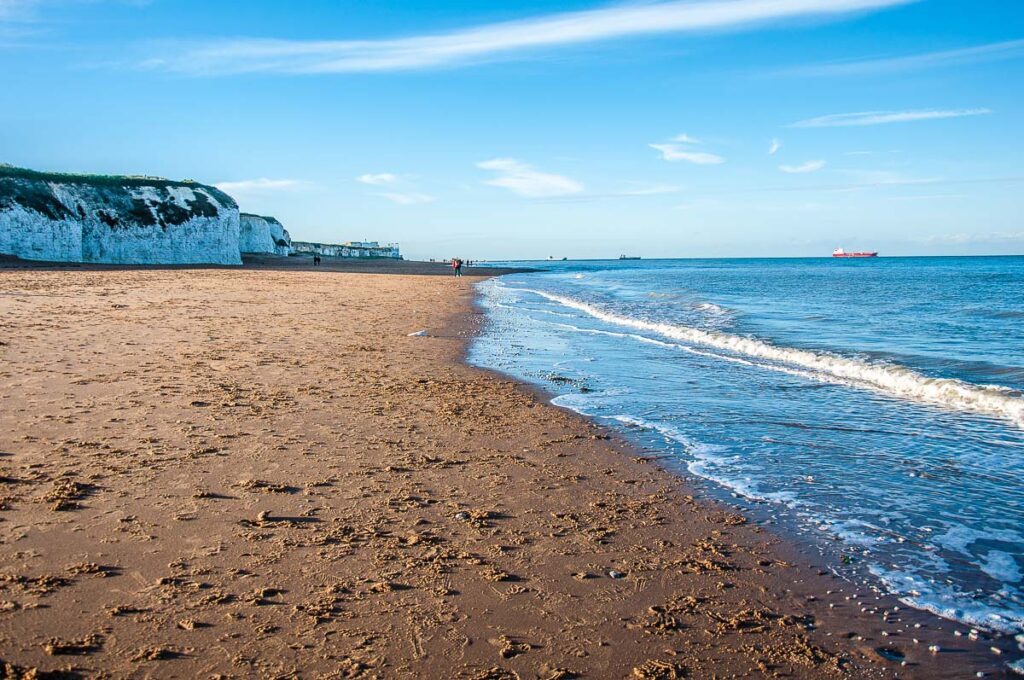 What to see in Broadstairs:
Broadstairs Bandstand – a focus of community life, in summer live music performances are regularly held here.
Victoria Gardens and Promenade – enjoy the sprawling views from this clifftop promenade lined up by hotels and quirky eateries. Then sit on a bench in the lush gardens for a bit of rest and a cone of ice-cream.
Dickens House Museum – this small and very well curated mseum is housed in the Broadstairs cottage that inspired the description of the home of Betsy Trotwood in 'David Copperfield' by Charles Dickens. Pop in to learn more about the celebrated English writer and his connection to this Kentish town where he spent long periods of time between 1837 and 1859.
Crampton Tower Museum – if you have a special interest in the history of engineering and transport, don't miss this small museum in Broadstairs. It celebrates the Victorian engineer Thomas Russell Crampton who designed locomotives and railways. He was also the first to successfully lay a telegraph cable under the English Channel.
Thanet Open-Top Bus – go for a scenic ride along Kent's coast. Hop on to discover local sights and several other Kentish towns over the course of one exciting day. Here is what you can see along the way. The open-top bus is a seasonal activity. Please, check its current timetable before making plans.
Broadstairs Dickens Festival – first held in 1937, this is a great festival to experience for yourself. It takes place annually in June. Expect people dressed in Dickensian costumes circulating around the old town and bringing the spirit of Dickens' novels to life.
Broadstairs Water Gala – this is a summer extravaganza with live music, beach events, and spectacular fireworks over Viking Bay in the heart of Broadstairs.
Broadstairs Folk Week – a lively festival of traditional folk music that has been taking place in Broadstairs for over 50 years. It is a great family-friendly event with lots of gigs and activities for all ages. It takes place in August.
Broadstairs Food Festival – taking place twice a year – once at Easter and once at the start of autumn – this is a three-day festival dedicated to all things delicious.
North Foreland Lighthouse – with a history that stretches back to 1499, the current building of this lighthouse was erected in 1691. It stands on the edge of a tall promontory that affords sweeping sea views. It's not open for visits but it can be admired from the outside. The former lighthouse keeper's cottages have been converted into holiday lets. Best visited by car unless you fancy a longish walk from Broadstair's town centre.
Cotton Powell Museum, Quex House and Gardens – A short drive away from Broadstairs, this is a great place to visit with the family.
Travel Time by Train: London to Broadstairs – from 1 h 20 mins by high-speed train or from 1 h 49 mins by regular cheaper train. Click here to check travel times and prices.
Where to Stay in Broadstairs: Artfuls, Yarrow Hotel, The Guest House Broadstairs
Perfect for: A nice trip to the English seaside so that you can sun yourself on one of the many beaches in and around Broadstairs, eat at the fab local restaurants, delve deeper into local history from smuggling to railways, and learn more about the famous writer Charles Dickens and the books he wrote while living in this town in Kent.
Official website: Visit Broadstairs
2. Canterbury – Kent's Cathedral City and a UNESCO World Heritage Site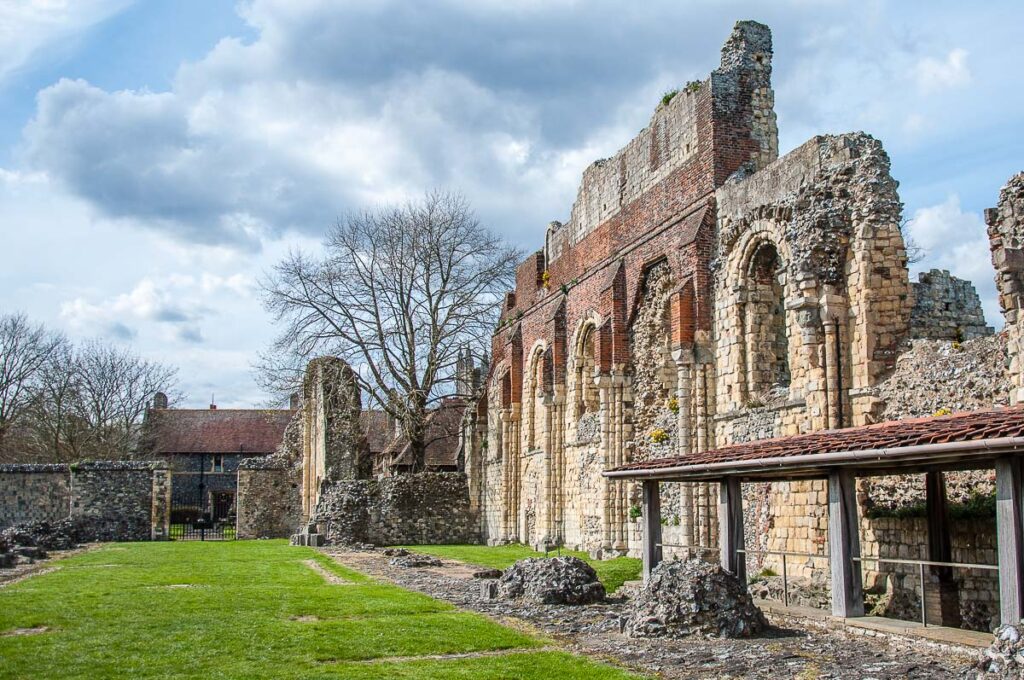 A trip to Canterbury is a must in England. Charming, multilayered, and offering lots of things to experience and learn about, this is not just the only city in Kent (and as such it takes a pride of place on this list of Kentish towns) but it's also the religious capital of England.
As such, Canterbury has a large number of Christian landmarks tracing the arrival and presence of Christianity in the country. In addition, the city has Roman roots, imposing medieval ruins, England's oldest cathedral, and three UNESCO World Heritage sites.
Since the Middle Ages, Canterbury is also the starting point for the pilgrimage to Rome along the ancient route of Via Francigena. Beside the south porch of Canterbury Cathedral, you can see the zero km stone.
For centuries, the city has been a destination for pilgrims in itself, too. The assassination of Bishop Thomas Becket inside Canterbury Cathedral in 1170 caused outrage across Catholic Europe. Soon, the spot where he was slain by the knights of King Henry II as well as his tomb (later shrine) became important places of pilgrimage.
Yet, it's not all about history and religion in Canterbury. The Cathedral city has a young vibe thanks to hosting the University of Kent – one of the top 50 Universities in the UK. In addition, the streets in the old town are lined up with quirky independent shops and watering holes that have been in business for centuries.
The River Stour flows through Canterbury and you can go on an exciting tour in a handbuilt boat known as a punt. It's a great way to admire waterside views of the city's historic facades and lush gardens. Spring is especially nice here with daffodils and tulips in full bloom next to centuries-old buildings and ruins.
If hiking is your thing, Canterbury is a great starting point for many beautiful walks in Kent. A very popular path leads from the Cathedral city to the village of Chilham which is recognised as one of the most beautiful corners of Kent.
What to see in Canterbury:
Canterbury Cathedral – this is the mother-church of the worldwide Anglican Communion. It's also the Seat of the Archbishop of Canterbury. A UNESCO World Heritage site, it's a truly fascinating place to visit on account of its millennial history and a splendid mix of Romanesque and Gothic architecture.
St. Augustine's Abbey – this ruined abbey on the edge of Canterbury is a UNESCO World Heritage Site. It was founded by St. Augustine of Canterbury in 598 and it flourished until the dissolution of the monasteries in England in 1538. Augustine was sent from Rome to Kent by Pope Gregory I with the mission to convert the Anglo-Saxons to Christianity. He founded the abbey, converted Ethelbert – the King of Kent – and built the first Canterbury Cathedral. Thus Kent was the first Christian Kingdom in the British Isles.
Church of St. Martin – a small church on the outskirts of Canterbury and the city's third UNESCO World Heritage Site. This is the oldest still in use church in the English-speaking world. Originally, it was the private chapel of the Christian Queen Bertha of Kent back in the 6th century.
Canterbury Roman Museum – Built over the remains of a Roman town house, the museum explores the city's Roman roots in a clear and exciting way. A great place to visit with kids, friends or by yourself, here you can admire a splendid Roman mosaic from the 3rd century AD among many other things.
The Beaney House of Art and Knowledge – a great mix of art gallery, library, and a visitor information centre right in the heart of Canterbury. The Beaney is housed in one of the city's most beautiful buildings – a large 19th-century house with a stunning Mock Tudor facade.
Dane John Gardens – a green oasis standing between Canterbury East train station and the old town. Originally a Roman cemetery, in the 11th century AD the place was turned into a Norman castle. In the 19th century, it then became a civic park. Nowadays, you can still see the Roman burial mound, go up to its top to admire the views, and then proceed to Canterbury's old town on the walkway along the medieval defensive walls.
Westgate Towers – this is England's largest surviving medieval gateway. Climb up to the top for spectacular views of Canterbury. Along the way, spend time in the on-site museum, too.
Old Weaver's House – this is my favourite half-timbered house in Canterbury. Facing both the high street and the River Stour, it has a beautiful historic facade. Hundreds of years old, it owes its name to the Flemish and Huguenot weavers who settled in Canterbury and Kent in the 16th-17th centuries.
Marlow Theatre – the English playwright and Shakespeare's rival Christopher Marlowe was born in Canterbury in 1564. Nowadays, the theatre of his birth city carries his name and there are lots of spots around the old town to get you back to the Elizabethan times that he inhabited. Have a look at this self-led walk for ideas what to see.
Canterbury Festival – a two-week-long festival comprising over 200 ticketed and free events. Expect concerts, performances, art exhibitions, and family happenings. Don't miss it if you plan to be in Canterbury in October.
Guided Tours of Canterbury: If you are short on time and you want to cover lots of ground, you can book a guided tour of Canterbury and its surroundings by choosing one of these great options:
Travel Time by Train: London to Canterbury – from 54 mins by high-speed train or from 1 h 29 mins by regular cheaper train. Click here to check travel times and prices.
Where to Stay in Canterbury: Cathedral Gate, The Maidens Chambers, Canterbury Cathedral Lodge, The Hugo – Hotel Concept Canterbury
Perfect for: A fantastic trip for those with an interest in history and quintessentially English destinations. You will love the centuries-old quirky houses, Canterbury's long list of things to do and experience, and the local independent shops and eateries.
Official website: Visit Canterbury
3. Chatham – Kent's Naval Town Where You Can Ski in Any Season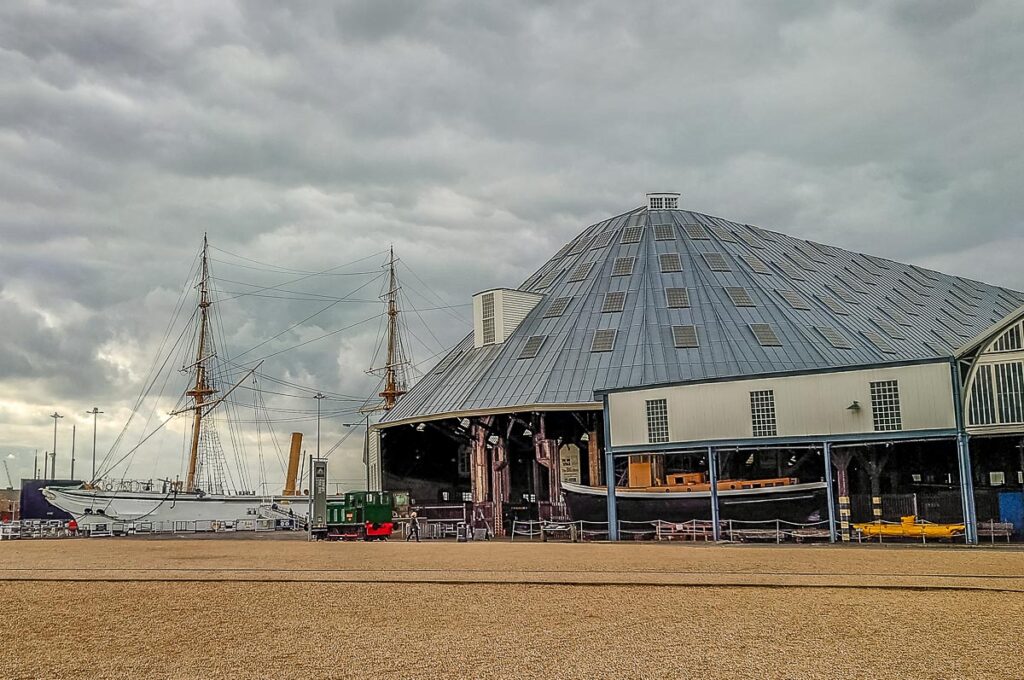 At a first glance, the town of Chatham in Kent is quite unremarkable. With long residential streets flanked by endless terraced houses and a bleak town centre, it lives largely in the shadow of Dickensian Rochester – a splendid historic town just down the road (see point 9 below for more about it).
Plus, Chatham, Rochester, and a handful of other small adjacent towns in Kent nowadays are part of the same large conurbation (what a word!!) called Medway after the name of the river that flows through them. Thus Chatham blends and disappears even more into the mix of houses and streets that crisscross this rather industrial part of Kent.
Yet, Chatham has hidden depths and if you give it a chance, you will be surprised to discover some of the most intriguing sights and landmarks to visit within easy access from London. For, in the past, this town in Kent was a major naval port and dockyard producing large ships for Britain's Royal Navy.
Some of the United Kingdom's most famous names have a tight connection to Chatham and its naval glory. For example, Admiral Horatio Nelson – one of Britain's greatest naval heroes. He started his career in 1771 as a 12-year old boy in Chatham Dockyard.
Even more curiously, by this time the famous ship HMS Victory – which in 1805 would be Nelson's flagship during the Battle of Trafalgar – had already been built in Chatham between 1759 and 1765.
Chatham keeps several more surprises up its sleeve. Charles Dickens spent his childhood here. Nowadays, the house where his family resided still stands. While it's not open for visits, you can walk past it as it's just across the street from the town's train station.
Plus, Chatham was mentioned by Vincent van Gogh in a letter sent in 1876 to his brother Theo. At the time, the famous artist was a poor teacher working in the Kentish town of Ramsgate. Desperate to visit his sister Anne in the town of Welwyn 100 miles away, he set off on foot. This is what he had to say about Chatham: "In the afternoon I arrived at Chatham, where, in the distance, past partly flooded, low-lying meadows, with elms here and there, one sees the Thames full of ships."
So, in a nutshell, should you decide to visit this often overlooked town in Kent and don't spend too long in the still bleak town centre, then you will be in for some pleasant surprises. Including a yacht marina and a ski piste that is operational all throughout the year!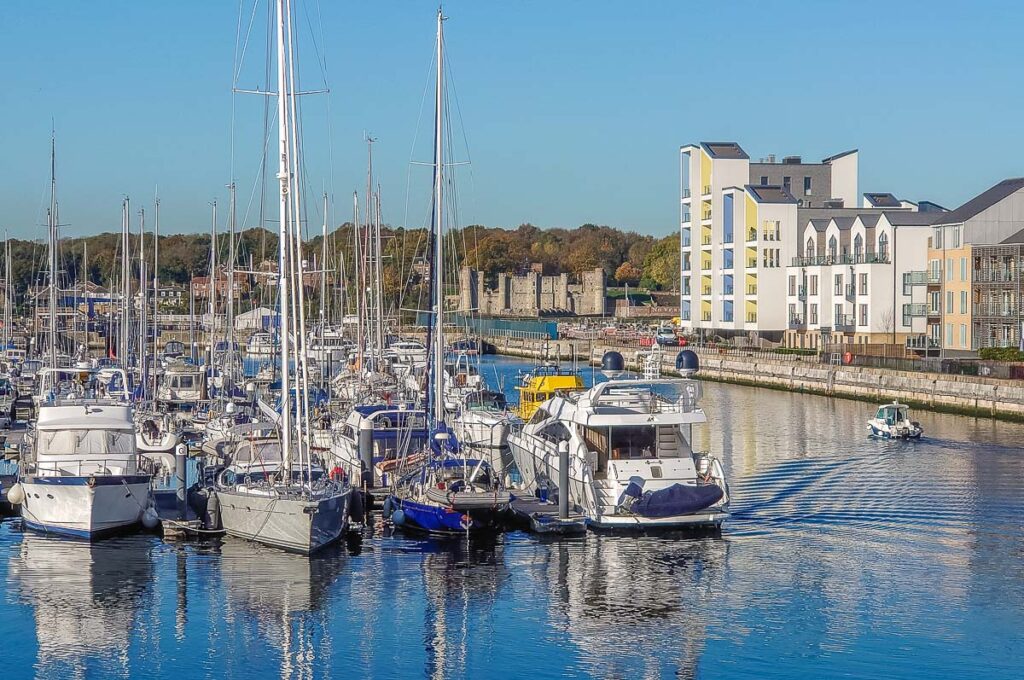 What to see in Chatham:
The Historic Dockyard – explore over 400 years of naval history in Britain's most complete and best-preserved dockyard of the Age of Sail. A truly wonderful place where you can easily spend a whole day and still have several areas left to explore. I particularly love the Victorian Ropery (which once was Europe's longest brick building) and the submarine (don't miss a chance to get on board). Chatham's Historic Dockyard is also often used as a filming location. You may recognise it from such movie and TV hits as The Mummy, Children of Men, Bridgerton, and Call the Midwife.
Fort Amherst – take a tour of the underground tunnels of this Napoleonic fort which at the start of the 19th century had the world's most advanced defence system for its time.
Chatham Naval Memorial – an imposing hilltop monument. It was unveiled in 1924 in remembrance of those members of the Royal Navy who had perished during the First World War and had no known grave.
Chatham Maritime and St. Mary's Island – a large residential development with a busy marina and an outlet shopping centre. This is a nice place to go for a walk, to grab a bite to eat at one of the dozens of eateries, and to admire the views of the River Medway.
Cafe Nucleus – with two locations in Chatham (and one in the nearby town of Rochester), this is a place that makes it worth it to explore Chatham's high street. Set in amid the workshops and studios of local artists, expect a creative environment where delicious food and drinks are served throughout the day.
The Old Brook Pumping Station – a small place just off Chatham's high street, come here to learn more about Medway's and Kent's industrial history.
Chatham Snowsports Centre – this place is one of the best surprises Chatham has in store for you. Here you can practice skiing, snowboarding, tubing, and tobogganing in any season! It sounds quite wacky and the first time that I saw it, I couldn't believe that there is such a place in Chatham but it's great and so much fun! I love the tobogganing track which happens to be the longest one in the UK.
Royal Engineers Museum – set in nearby Gillingham, this is Kent's largest military museum. It has an eclectic and exciting collection covering a period of 300 years. From the world's first guided torpedo to a chunk of the Berlin Wall, here you can see many unusual and intriguing artefacts.
Upnor Castle – built in the 16th century, this is an artillery fort with an interesting history and great views across the River Medway to St. Mary's Island and Chatham Maritime. You will find the castle at the end of a beautiful street flanked by quirky houses in the village of Upnor. A great place to visit on the way to Chatham, if you are arriving by car from London or anywhere else in Kent. You can also stop here on the way to Rochester, Whitstable, and several other towns in Kent.
Copper Rivet Distillery – standing right in the heart of Chatham Historic Dockyard, it makes distinctive English gin, whisky, and vodka. You can tour it to experience the entire distillation process from grain to glass.
Travel Time by Train: London to Chatham – from 40 mins by high-speed train or from 44 mins by regular cheaper train. Click here to check travel times and prices.
Where to Stay in Chatham: The Ship & Trades, Bridgewood Manor Hotel & Spa, The Charles Hotel, St. George Hotel
Perfect for: A trip full of history and surprising landmarks. If you love getting off the beaten track and finding beauty in unexpected corners, you will be so pleased you've made the journey to Chatham.
Official website: Visit Medway
4. Dover – Kent's Town of the World's Oldest Boat, Roman Ruins, and one of England's Most Imposing Castles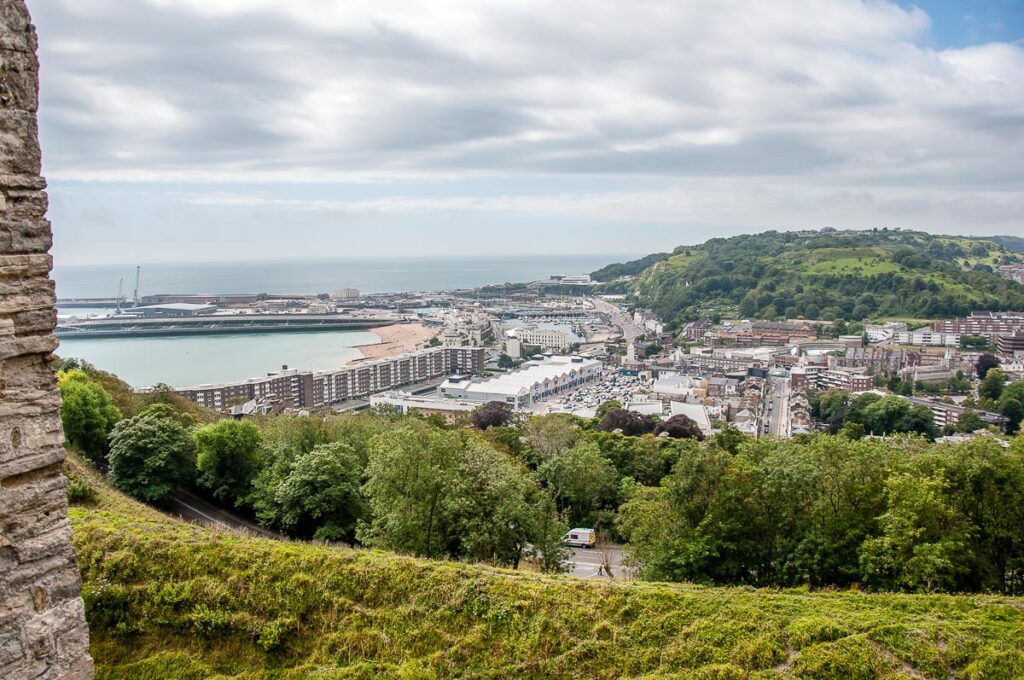 Dover is an English town with ancient roots. A former Roman stronghold, it stands at the narrowest point of the English Channel and as such is the British town that is nearest to France. If you hike along the white cliffs that plunge perpendicularly into the water and provide the town's dramatic backdrop, on a clear day you can see the French coast.
The view is particularly beautiful from the top of the Great Tower – the spectacular keep of Dover Castle. This is one of the most iconic English castles and had it not been for Windsor Castle, it would have undoubtedly been the largest one, too. It sprawls across the top of a steep hill – aptly named Castle Hill.
Dover Castle was first built in the 11th century and then enlarged and remodelled several times throughout the years. Yet, a fort had existed on Castle Hill since the Iron Age.
The Romans – upon their invasion of the British Isles in the 1st century AD, built a lighthouse here that is still standing minus its top. Eight-sided and made of stone, it's known as pharos (from the Greek word for lighthouse) and it's Britain's tallest surviving Roman building.
The Romans called Dover Dubris or Dubras. They appreciated its strategic position on the English Channel and the short crossing times from the continent. Hence, they built a stronghold and a port here and used them to facilitate their military campaigns across Britain.
Nowadays, over 60 Roman sites have been unearthed in and around Dover. Among them stand out the ruins of the Roman Painted House which is considered to be the finest Roman house open to the public in England.
You can see it for yourself just around the corner from Dover Museum which has its own star exhibit – the world's oldest preserved seagoing boat. About 3,500 years old, it dates back to the Bronze Age and it was discovered in Dover in 1992.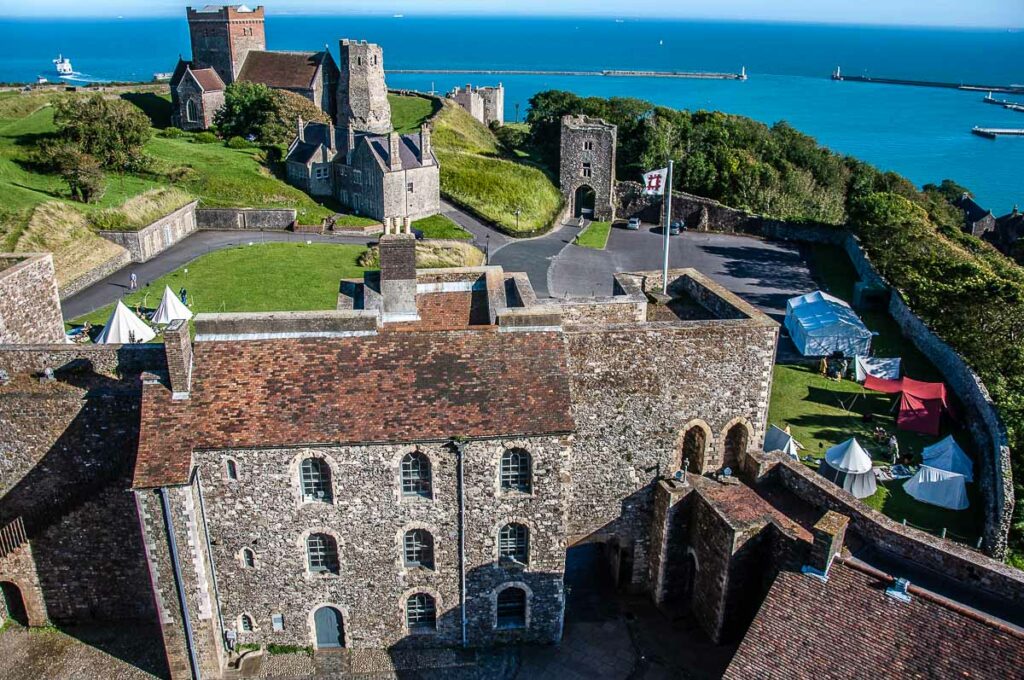 What to see in Dover:
Dover Castle – from a Roman lighthouse and medieval fortifications to underground tunnels used during World War I and II explore 2,000 years of history during a visit to this imposing English castle. The views across the English Channel from its walls and its Great Tower are a must, too. Click to buy your tickets in advance.
Western Heights – built in the 18th and the 19th century, these expansive hilltop fortifications were designed to protect England's coast in the case of a French invasion by sea and land. They afford spectacular views over Dover and the English Channel. Free exterior visits. Guided tours are held on a number of dates between April and August.
Dover Museum and Bronze Age Boat Gallery – come here to get to know Dover from pre-history to our days. This historic port town has a lot of stories to tell. Special attention here deserves the Bronze Age boat – the world's oldest wooden seagoing vessel. See it in the special gallery built for it.
Roman Painted House – the finest Roman house open to the public in Britain, come here to see painted scenes depicting the God Bacchus and an elaborate hypocaust. The house dates back to 200 AD when it was a large mansio – a Roman inn for travellers crossing the English Channel on official state business.
Maison Dieu – a medical hospital that nowadays serves as Dover Town Hall. It was founded in 1203 specifically to accommodate the pilgrims travelling across the English Channel to visit the shrine of Thomas Becket in Canterbury Cathedral. Later on it was used as a provisioning yard supplying beer and biscuit to the Royal Navy. Nowadays, it holds cultural and educational events and workshops. It will open permanently to the public in 2024.
Dover Pier – a great place to go for a walk above the waters of the English Channels. The pier affords splendid views over Dover Castle, Western Heights, and the White Cliffs of Dover.
White Cliffs of Dover – One of England's most iconic landmarks, these are tall vertical chalk cliffs in sparkling white colour. You can go for a hike along the cliffs following one of the many paths, visit the Victorian South Northland Lighthouses or simply admire the cliffs from the sea by going on a sea safari. Alternatively, you can book a guided visit by choosing one of these available options:
Sea Safari – you can get on a boat for an exciting little cruise during your time in Dover. There are different itineraries to choose from – a sail past the White Cliffs to admire their beauty and a trip to see the local seal colony are the two options that appeal to most travellers.
Travel Time by Train: London to Dover – from 1 h 5 mins by high-speed train or from 1 h 53 mins by regular cheaper train. Click here to check travel times and prices.
Where to Stay in Dover: Maison Dieu Guest House, Castle House Guest House, Heathwood
Perfect for: A great trip if you want to see the splendid Dover Castle and glimpse the coast of France across the English Channel. A hike along England's iconic white cliffs and a visit to Dover's many other sights will make it a day to remember.
Official website: Visit White Cliffs Country
5. Faversham – Kent's Best-Kept Secret Where England's Oldest Brewery Produces Award-Winning Ales and Lagers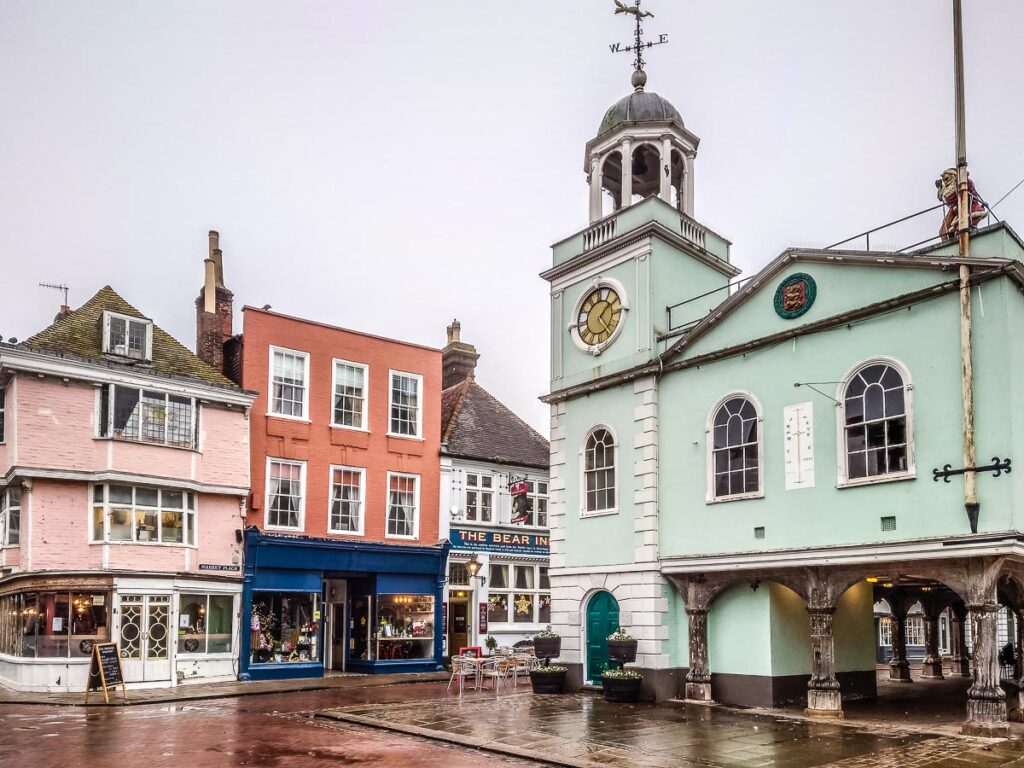 Not many travellers have heard of Faversham which allows this little gem of a town in Kent to preserve its authentic look and spirit. Yet, there are many things here that make a visit to Faversham a must when you are in this corner of England.
You can easily spend a leisurely day simply taking in the local delights or combine Faversham with a visit to Whitstable and/or Herne Bay (see respectively points 10 and 7 below) in one hectic day. These three towns in Kent are on the same train line and the total travelling time between the three is less than 20 minutes. Plus, they are also connected by train to Rochester, Chatham, Margate, and Broadstairs.
I am very fond of Faversham on account of its very pretty high street populated by centuries-old houses with half-timbered facades and warped by the hands of time walls. Blooming flowers and post-stamp-sized gardens are everywhere you look. It's all very quintessentially English and proper. Very quiet, very peaceful, with lots of plaques recalling curious historic events affixed to houses and walls, so that you stop and read them one by one as you walk by.
Small and easy to navigate in an hour or so, Faversham has hidden depths. First, this is the oldest market town in the county of Kent in England. A market has been regularly held here for at least 900 years.
Next, England's oldest brewery – Shepherd Neame – was founded in Faversham back in 1698. Nowadays, you can visit its historic buildings and state-of-the-art factory on a guided visit.
Faversham Creek flows just a step away from the old town. Go for a leisurely stroll down to its banks to see the large boats moored at Standard Quay and to browse the quirky shops housed in a cluster of picturesque old warehouses.
Plus, a short drive away from Faversham, you can visit the Brogdale Collections. In other words, here you will find every type of fruit tree that grows in the United Kingdom. There are dozens and hundreds of varieties of apples, cherries, pears, hazelnuts and other trees.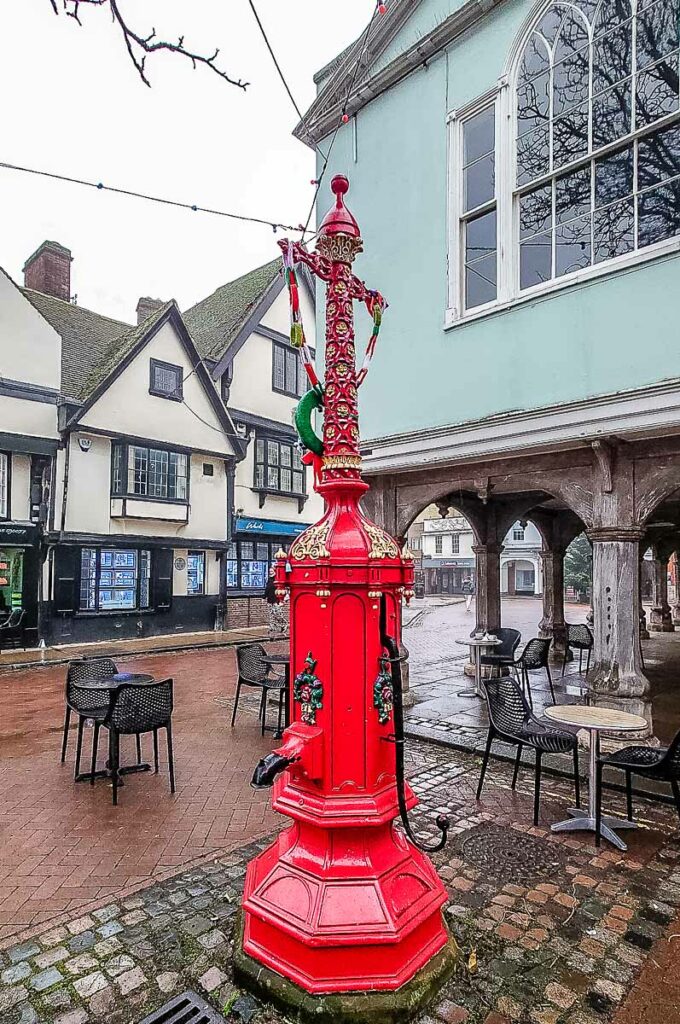 What to see in Faversham:
Shepherd Neame – book a guided tour of England's oldest brewery. You will find its visitor centre right in the heart of Faversham's old town. Shepherd Neame also owns several pubs in England, so make sure that you sample its award-winning range of ales and lagers when exploring the towns of Kent.
Market Place – right in the centre of Faversham, this charming square has held a regular market for over 900 years. It's even mentioned in the Domesday Book! This is an 11th-century manuscript recording every shire in England and parts of Wales with the purpose of calculating taxes. To buy fresh fruits, flowers, and veg, come here on Tuesday, Friday, and Saturday. In addition, there are monthly and fortnightly markets here focusing on arts & crafts, antiques, and local food producers. Click here for all the news and updates about Faversham Market.
Guildhall – an unusual building in a light green colour right in the middle of Faversham's Market Place. Its boxy top floor is supported by wooden pillars and has elegantly arched windows which make it look light and airy. There has been a guildhall in Faversham since the Middle Ages hosting both the local market on its ground floor and meetings and assemblies on its top floor. The current Guildhall was erected in 1814 after the previous one burnt in a fire.
Standard Quay – a short walk away from Market Square, this historic quay on Faversham Creek is a former commercial port. Nowadays, it is home to a number of cute shops where you can buy anything from antiques to fresh fish. Large fishing boats moor here adding to the quirky atmosphere. The Oyster Bay House stands at the quay's opposite end. Built in the 19th century, it was first used to store hops. Nowadays, it's been converted into residential flats.
Fleur de Lis Heritage Centre – pop in for a look at extensive collections of documents and artefacts throwing light on Faversham's local history from the Iron Age to Elizabethan times and onwards to our days. The centre also organises seasonal guided tours of this pretty town in Kent.
St. Mary of Charity Church – Faversham's parish church has a tall spire that dominates the town's skyline. The church's history is tightly connected to the ancient abbey founded here in the 12th century. While the abbey no longer exists, building material from it was salvaged to erect several of the structures in this town in Kent.
Maison Dieu – this 13th-century hospital nowadays functions as a museum showing Roman artefacts. It has very limited opening hours.
Abbey Physic Community Garden – an award-winning garden in the heart of Faversham that acts as a community centre by organising workshops and events, holding arts & crafts and cookery sessions, and providing horticulture training.
Macknade's Food Hall – Just outside Faversham you can shop in one of England's oldest food halls. Founded in 1847, it stocks an amazing selection of foods from all over the world. The Italian and the French offerings are particularly good.
Brogdale Collections – a short drive away from Faversham, this is a great place to visit. Green and bursting with life, here you can walk through lush orchards growing hundreds of varieties of apples, pears, cherries, and other traditional for England fruits. It's especially beautiful in spring when you can picnic under the blooming cherry trees. In autumn, you can take part in large, pick-your-own events. The music playground will keep the kids entertained for hours and the onsite deli offers lots of local delicacies.
Oare Gunpowder Works Country Park – just outside Faversham town centre, this is a great place to go for a walk in the bosom of nature. Formerly an important centre for the production of gunpowder, the park nowadays preserves many historic buildings alongside water features and a pond.
Belmont House – an elegant 18th-century house surrounded by lavish gardens. Come to explore the extraordinary collections of armoury and clocks. A special mention deserve the paintings by the Trinidadian painter Michel-Jean Cazabon. The gardens preserve their late 18th-century layout and consist of a walled garden, pinetum, wooded areas, formal lawns, and a large kitchen garden.
Travel Time by Train: London to Faversham – from 1 h 6 mins by high-speed train or from 1 h 10 mins by regular cheaper train. Click here to check travel times and prices.
Where to Stay in Faversham: The Sun Inn, The Quay, The Shepherds Snug, Cave Hotel near Canterbury
Perfect for: A relaxing half-day or full-day escapade to take in the best of life in Kent. A bit of history, lots of quirky houses, delicious food, and a number of unique attractions. A great place to take it easy!
Official website: Visit Faversham
6. Folkestone – Kent's Unexpectedly Colourful and Creative Destination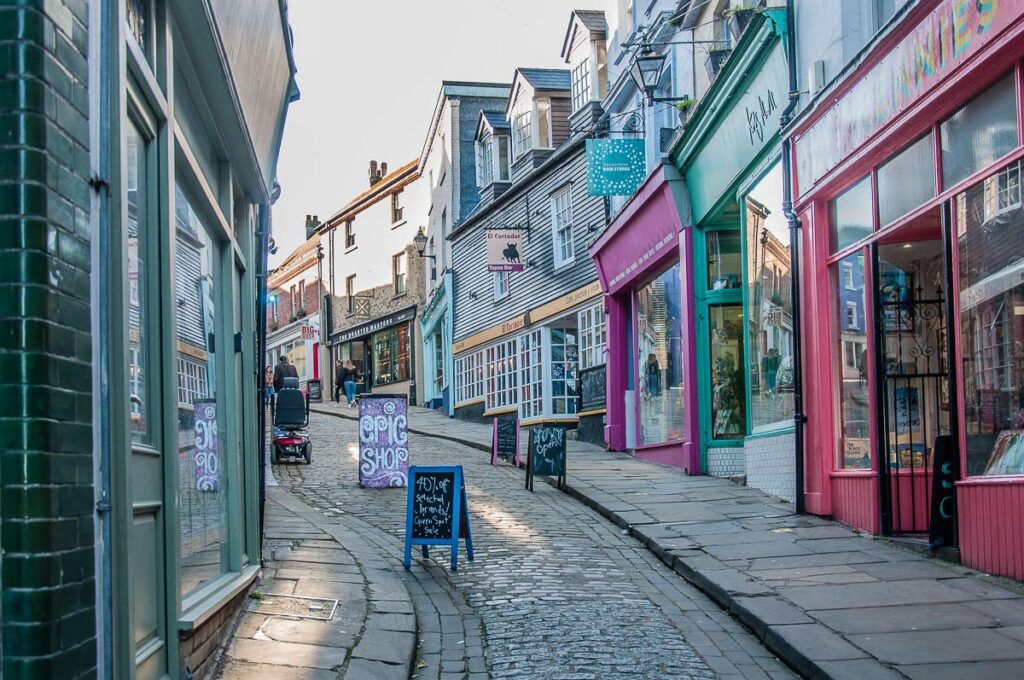 Folkestone is an exciting throwback to England's Edwardian era when this coastal town in Kent was the most fashionable seaside resort this side of the English Channel.
Royals and aristocrats flocked to it in their droves and to look presentable for them, the town was soon dotted with large and imposing light-filled buildings and spacious squares.
After World War II and with the English preferring to holiday abroad, Folkestone quickly lost its lustre. However, nowadays, the town has engineered its own revival by attracting creative businesses and artists from all over Kent and even London.
While the town still bears vestiges of economic hardship here and there, right in its heart a colourful Creative Quarter is filled with the shops and workshops of painters, bakers, interior designers, and vintage fashion connoisseurs. It's a fun and vibrant place to be.
The Folkestone Triennal is now a well-established art event and the town boasts UK's largest outdoor exhibition of contemporary art. As you walk around, you come across installations and works of art that both slot into the urban environment and make you feel like you are in a parallel reality.
Richard Woods' pink house bobbing on the blue waters of Folkestone Harbour is a case in point.
Next door to the harbour stands the old train station (no longer in use) which in the past would welcome travellers from all over England headed to the ferry to France. Since the construction of the Channel Tunnel – the structure that allows cars and trains to reach the continent along the bottom of the English Channel – the local ferry service has been discontinued.
Instead, Folkestone Harbour Arm – once a ferry station – nowadays is a lively place dotted with eateries and regularly holding large events. Go for a walk on it, then top your tan on the adjacent beaches, and spend a bit of time in the Lower Leas Coastal Park.
This is a gorgeous seaside garden that hugs the side of a steep cliff. It has several levels, a small amphitheatre, and a large children's playground. Follow the zigzag path up to the top of the cliff. Along its edge runs Folkestone's wide promenade – The Leas – flanked by imposing buildings and yet more cafes and restaurants.
Among them, stands the statue of William Harvey. He was born in Folkestone in 1578 and after studying at the University of Padua in Italy, he became a renowned physician, anatomist, and scientist. He was the first to describe the blood circulatory system.
If you continue your walk down the Leas back to Folkestone's old town, you can see the place where Harvey was born. And this is just one of the many surprising discoveries this vibrant town in Kent has in store for you.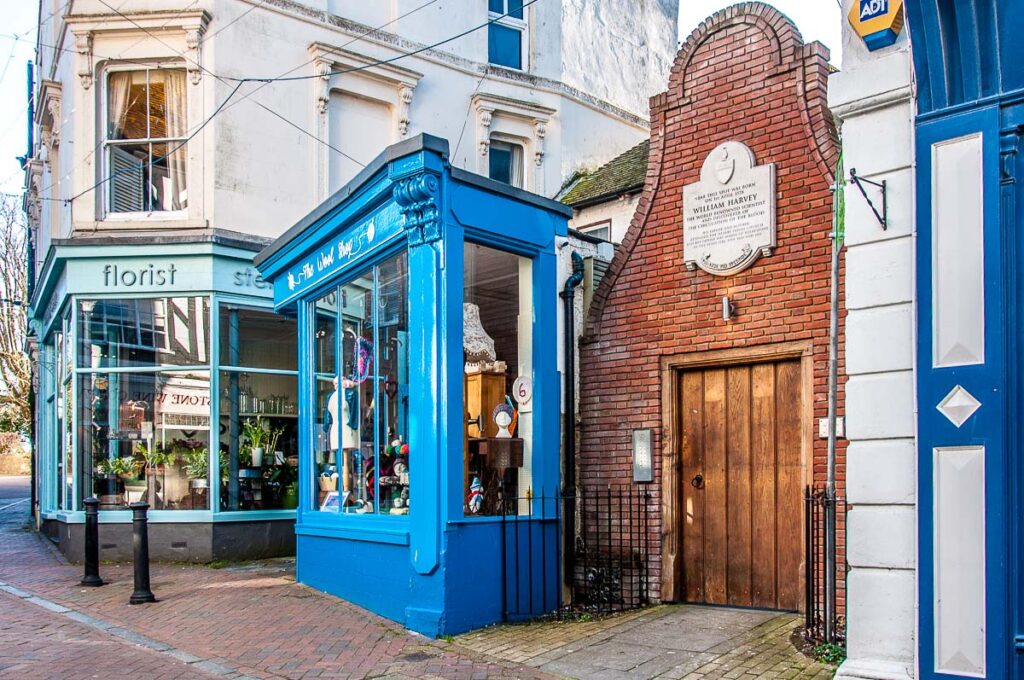 What to see in Folkestone:
Creative Quarter – a colourful nucleus of creative shops, studios, and businesses flanking picturesque cobbled streets in the heart of Folkestone. It's a place with a great atmosphere. Seeing it is a must even on the shortest visit to this coastal town in Kent.
Folkestone Harbour Arm – a beautiful promenade jutting deep into the sea and with a cool lighthouse at its end. Populated by bars and eateries, it opens gorgeous views over Folkestone and the English Channel. The promenade has two levels, so for the full experience walk to its end on the lower level and return along the upper one.
Folkestone Museum – a thoughtfully curated local museum throwing light on the town's evolution from the first settlements of the Stone Age people in the 4th millennium BC to its heyday as a fashionable seaside resort under the patronage of King Edward VII and his mistress Alice Keppel.
The Leas – Folkestone's clifftop promenade. It affords splendid views over the English Channel all the way to the French coast across the water. It's lined with fashionable hotels and eateries. A walk along the Leas is indeed a very pleasant thing to do. The promenade is the work of the illustrious 19th-century architect Decimus Burton who also designed the Wellington Arch in London and the layout of London Zoo, Hyde Park, and Kew Gardens.
Lower Leas Coastal Park – a lovely seaside park split into different levels and corners. The spacious playground with inventively designed equipment deserves a mention. Kids may want to spend the whole day here.
Sunny Sands – a sprawling sandy beach next to Folkestone Harbour. It's great to top up your Vitamin D reserves and to enjoy the views of Folkestone.
Folkestone Beach – an incredibly large beach which, however, is covered by shingle.
Martello Towers – these round sturdy forts were built along Kent's coast to defend England from potential attacks during the Napoleonic Wars at the start of the 19th century. Martello Tower Number 3 is an easy walk or drive away from Folkestone old town.
Battle of Britain Memorial – dedicated to the aircrew who flew in the Battle of Britain – a military campaign in World War II. It stands next to the village of Capel-le-Ferne just up the road from Folkestone.
Port Lympne Reserve – this is Kent's largest wildlife attraction. Over 700 rare and endangered animals live here. You can visit for the day and spend the night here, too. Glamping tents, treetop houses, and lodges overlooking the tiger, lion, giraffe, and woolf enclosures offer you a chance to have a holiday to remember forever.
Channel Tunnel – Folkestone is the English terminus of the famous Chunnel. If you are travelling across the English Channel by car, you need to board the specialised vehicle-carrying Le Shuttle train here. If you are a foot passenger, however, then you need to board the Eurostar train either in London or the nearby Kentish town of Ashford.
Travel Time by Train: London to Folkestone – from 52 mins by high-speed train or from 1 h 41 mins by regular cheaper train. Click here to check travel times and prices.
Where to Stay in Folkestone: View Hotel, The Ship Inn, The Royal Norfolk Hotel, 10to12 Folkestone
Perfect for: A great trip over one exciting day or a leisurely weekend. You will love Folkestone if you love beaches, quirky shops, and oodles of British seaside charm. The views of France across the English Channel are quite fab, too. And you can go on so many walks nearby!
Official website: Visit Folkestone and Hythe
7. Herne Bay – Kent's Town That Once Built a Pier Over a Kilometre Long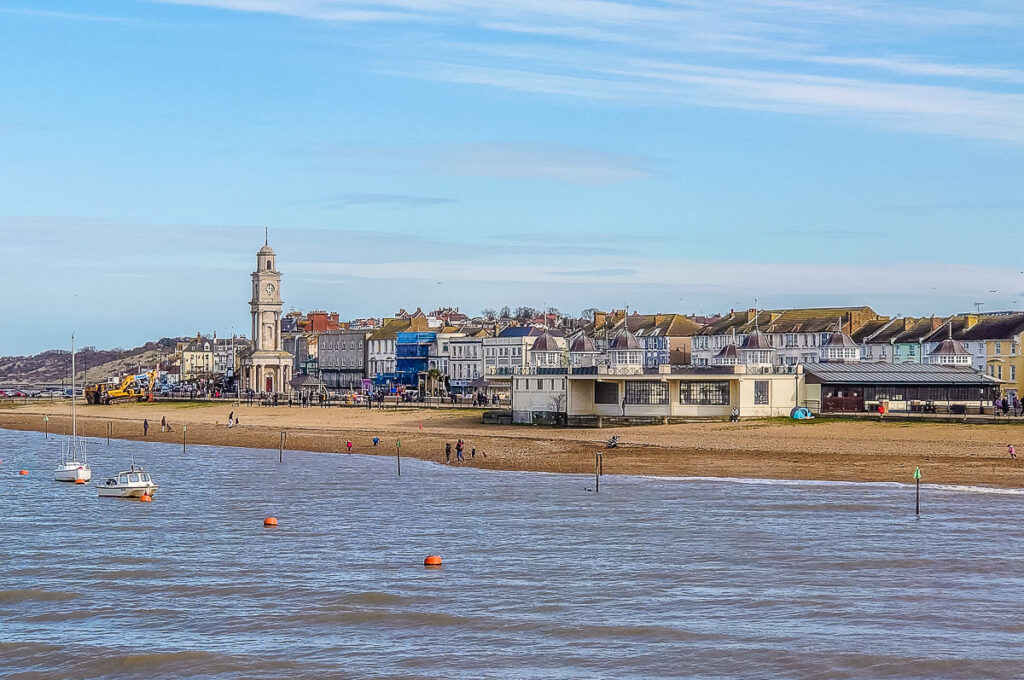 Herne Bay is a town with many stories to tell. While nowadays, it looks a bit unloved in places, it has many curious corners and a smattering of colourful facades to keep you taking photos for your social media. I know I did!
Next door to Whitstable and just up the road from Canterbury, Margate, and Broadstairs, Herne Bay is often overlooked in favour of these more popular towns in Kent.
Yet, Herne Bay more than holds its own. After all, this was one of England's very first seaside resorts and at one point in history, it even had the second-longest pier in the UK. So, do consider spending a leisurely day getting to know it better.
Nowadays, Herne Bay still has a touch of its glorious Victorian past and a long promenade that follows the seemingly endless seafront. Walk west and you can reach the town of Whitstable in about an hour or so. It depends on how many times you will stop along the way to take photos of the brightly coloured beach huts.
Walk east and you will end up at Reculver Country Park where Roman and medieval ruins provide one of Kent's most photogenic backdrops.
The beaches in and around Herne Bay are shingle. At the same time, they are some of the best spots in England for beachcombing and fossil-finding. 65 million years ago, just after the extinction of the dinosaurs, the area was part of a tropical sea and today fossilised teeth and even elephant tusks have been found here. If you can't find one yourself, head to the local museum to see the incredible fossils that have been discovered here over the years.
The town is great to visit with kids as they can run around the beach, play in the seafront playground, and have fun on Herne Bay Pier. Among the cafes and the shops built on it directly above the water, it also has a helter-skelter – a very vintage British amusement ride.
The nearby Memorial Park has a play area, sports facilities, and a duck pond. It's a nice place to relax in after walking all around town.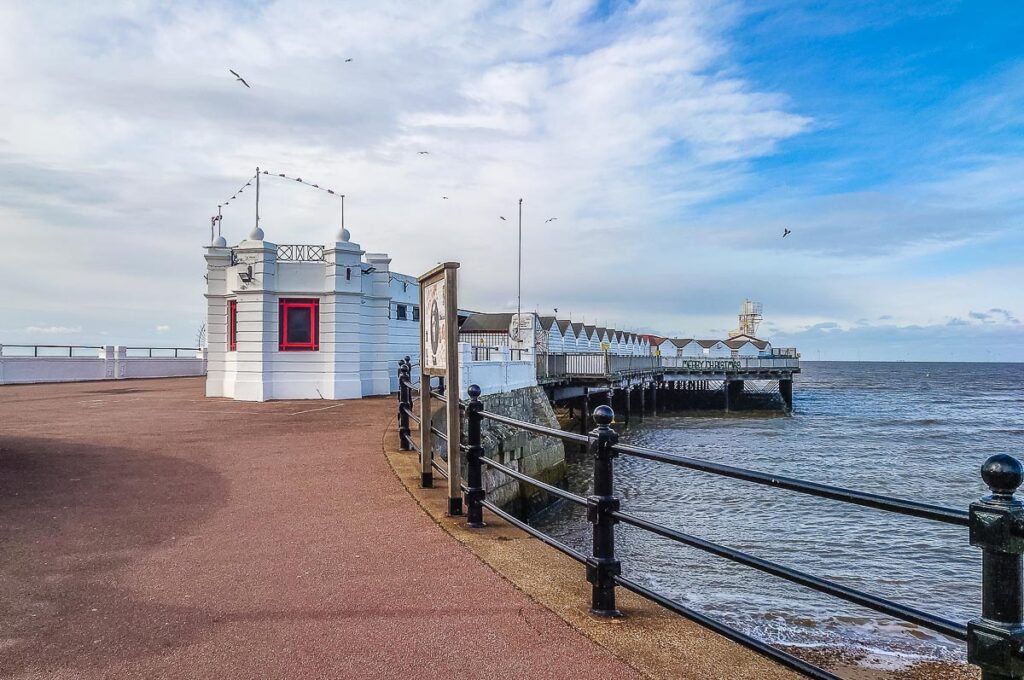 What to see in Herne Bay:
Herne Bay Pier – this is a great place to experience, especially on funfair days. Expect a smattering of shops and cafes, as well as a helter-skelter in a nod to the vintage charms of the English seaside. Concerts and events are regularly held here. There has been a pier in Herne Bay since the first half of the 19th century. Since then, it has been remodelled several times. Most notably, in 1899, when it was rebuilt for the third time, the pier was 1,154 m long thus making it the second-longest pier in England. It was so long that it had its own electric tram running on it.
The Seaside Museum – a small local museum telling the story of Herne Bay. For me, particularly interesting here are the prehistoric elephant tusks and fossils. They were found at Herne Bay which during the Palaeocene was part of a shallow tropical sea surrounded by lush forests.
Clock Tower – it may look a bit plain when you are standing next to it but this is one of the first freestanding purpose-built clock towers in the UK. Some even believe it to be the first. It was erected in 1837. Right next to it there is a nice playground for the kids to run around and burn off some energy.
Statue of Amy Johnson – a pioneering aviator, in 1930 Amy Johnson became the first woman to fly solo from England to Australia. Known as the Queen of the Air, unfortunately, her life was cut short at 37 years of age when for still unknown reasons she went off-course over the Thames Estuary leading to her having to parachute just off the shore of Herne Bay. Nowadays, a bronze statue of Amy stands on the town's promenade. It's engraved with her iconic quote: 'Believe nothing to be impossible!'.
Central Beach – a two-mile stretch of shingle beach dotted with beach huts, ice-cream parlours, cafes, and pubs. In the town centre, there is also a bandstand, a small public garden with a Victorian fountain, a long sea defence breakwater, and a wide promenade. It's great for walks or to simply sit and enjoy the sea views.
Herne Bay Cultural Trail – walk around town trying to spot sights relevant to Herne Bay's culture and history. From murals and a war memorial to the site of a gruesome murder by a serial killer over a century ago, the trail certainly covers a wide variety of events that have left their imprint on this coastal town in Kent.
Reculver Country Park and Towers – a large coastal park with historic ruins. A large Roman fort once stood here providing protection against Saxon attacks. Nowadays, coastal erosion has destroyed a large part of the remains of the past. An Anglo-Saxon monastery then flourished here. Two tall towers were added to the church in the 12th century and survive to this day. They are a stunning landmark to see on long coastal walks in the area. The adjacent beach is also a great spot for beachcombing. When the sea recedes, it leaves behind a mixture of beautiful and whimsical shells and stones. Many dedicated beachcombers have found fossils here, too. Just wrap up warm as in autumn and winter the beach can get incredibly windy and cold.
Herne Mill – a traditional for Kent smock windmill dating from 1789. It has rather limited opening hours but you can spot it from the A299 Thanet Way driving towards Herne Bay.
Wildwood Trust – set in ancient woodland, this is a centre for the conservation of British wildlife. Hundreds of animals native to the British Isles live here. Come to see bears, wolves, bison, deer, owls, and the nowadays rare red squirrel among many others.
Travel Time by Train: London to Herne Bay – from 1 h 20 mins by high-speed train or from 1 h 27 mins by regular cheaper train. Click here to check travel times and prices.
Where to Stay in Herne Bay: Evening Tide, The Sleep-Inn Hare B&B
Perfect for: A nice day on the English seaside with a touch of nostalgia in. Once you have had fun looking through the shops in town and on Herne Bay's pier, you can go for a long walk to nearby Whitstable and thus end up seeing two towns in Kent in a day.
Official website: Visit Herne Bay
8. Margate – Kent's Cool Town with a Huge Beach, Vintage Theme Park, and So Much Art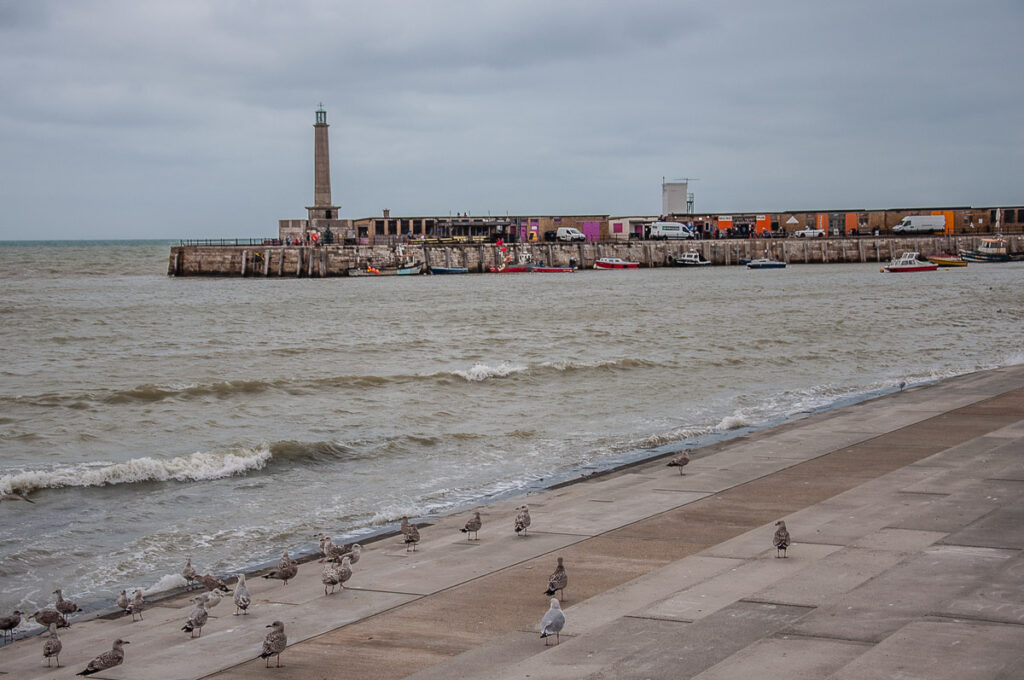 Margate is the epitome of an English seaside town. It has a wide sprawling sandy beach, one of the country's oldest theme parks, and even a tidal sea bathing pool which was built in 1937 and it's four acres large.
At the same time, this town in Kent is known for its close relations to the arts. The renowned English landscape painter J.M.W. Turner loved spending time in Margate. He is even quoted to have stated that the town had 'the loveliest skies in all of Europe'. Coming from an artist who had painted Venice, Rome, Cambridge, and London among many other iconic places, this is, undoubtedly, a great compliment for Margate.
The town is also the birthplace of Tracy Emin – one of the most well-known British artists of our time. Come visit and you can amble through the vast rooms of Turner Contemporary – a renowned art gallery which stands on Margate's seafront and was opened by Emin herself back in 2011.
While Margate was a famous seaside resort in the past, like many other towns in Kent, it went through a period of sharp decline towards the end of the 20th century. The Great Recession of 2007-2009 hit it particularly hard.
Nowadays, the town enjoys a new lease of life. Its Old Town is peppered with quirky cafes and boutiques. Haeckels – a locally created brand – is particularly famous on account of its skincare range based on seaweed harvested by hand in Margate.
It's not all about the sea and art in Margate though. The town is just as interesting to see underground as above the surface. Two curious sights here beckon you to come.
The first is the Shell Grotto – a mysterious series of chambers. Every inch of their surface – from the bottom of the walls to the centre of the ceilings – is covered with millions of shells forming complex patterns.
The second is Margate Caves – a former chalk quary that has rough walls painted with murals. Some of them have faded over the past decades and now are locally known as 'ghosts'.
All in all, Margate is just like these murals – a bit faded, a bit vibrant, with deep layers of history, a bit crude and yet with lots of details to grab your interest and keep you coming back for more.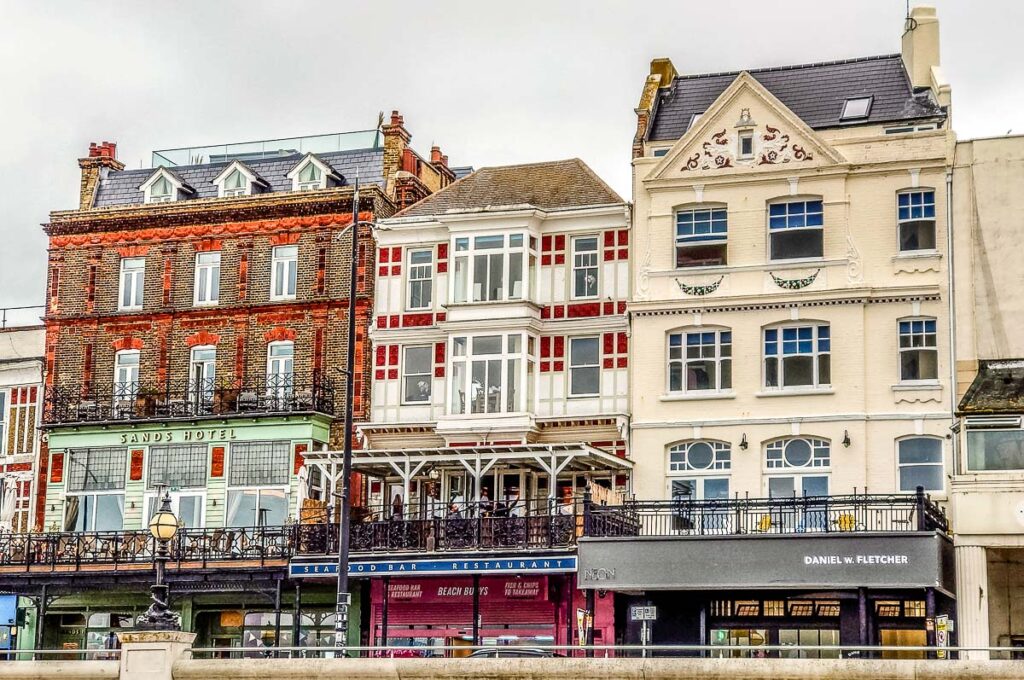 What to see in Margate:
Turner Contemporary – an outstanding art gallery on Margate's seafront. In itself, it's a reason alone to visit this town in Kent. Housed in a purpose-built angular building that takes a little bit to grow on you, the gallery is named after J.M.W. Turner – one of England's most renowned artists who had a longstanding connection to Margate.
Dreamland Amusement Park – a vintage theme park sporting UK's oldest and the world's second-oldest wooden roller coaster, a 35 m high Ferris wheel, and a music stage that often hosts famous bands. You cannot come to Margate and not spend at least an hour in Dreamland having fun and eating fish and chips or candy floss. It's like a rite of passage.
Shell Grotto – my favourite sight in Margate, this is a series of underground chambers the walls of which are completely covered with over 4.6 million shells. No one knows when it was built and what it was used for. It's one of the most unusual places to visit in the whole of the UK. Don't miss it!
Margate Caves – another underground sight to explore in Margate. This former chalk quarry at one point was used as a wine cellar and has large murals painted on its walls.
Margate Main Sands – this is an impressive urban beach that is a Blue Flag award winner. Its wide and long sandy strip unfurls along Margate's main seafront street. It has a large tidal pool at one end and a long pier known as Margate Harbour Arm at the other. Turner Contemporary stands adjacent to the starting point of the pier and overlooks the raw beauty of the North Sea.
Margate Museum – this exciting museum traces the history of Margate and its adjacent area over the last 5,500 years. It's housed in an old building that in the past was used as a police station and magistrates court. The museum has reduced opening times.
Crab Museum – newly opened in Margate, this is Europe's only museum dedicated to crabs. Pop in to learn more about these fascinating decapod crustaceans.
Tudor House – one of the oldest buildings in Margate. Built in 1525, originally it was a farmer's house. Throughout the years mariners, weavers, and shoemakers lived in it.
The Old Kent Market – housed in a former cinema, the market has a bunch of great food stalls and small eateries. Very quirky, here you can sample both traditional English foods and bakes as well as international fare.
Winter Gardens – dating back to 1911, this is Margate's top venue for concerts and events.
Tom Thumb Theatre – housed in a Victorian coach station, this is officially one of the world's tiniest theatres. It has only 50 seats. Its quirky architecture is a mix of Alpine and Japanese inspirations.
Travel Time by Train: London to Margate – from 1 h 26 mins by high-speed train or from 1 h 43 mins by regular cheaper train. Click here to check travel times and prices.
Where to Stay in Margate: Victoria Hotel, Sherwood Hotel, The Duplex Margate
Perfect for: The ultimate English seaside trip. Good to visit in any season on account of its long list of sights, Margate is especially cool on a sunny day when its huge sandy beach, quirky shops, great eateries, and lively vibe make it the place to be.
Official website: Visit Thanet
9. Rochester – The Town That Inspired Charles Dickens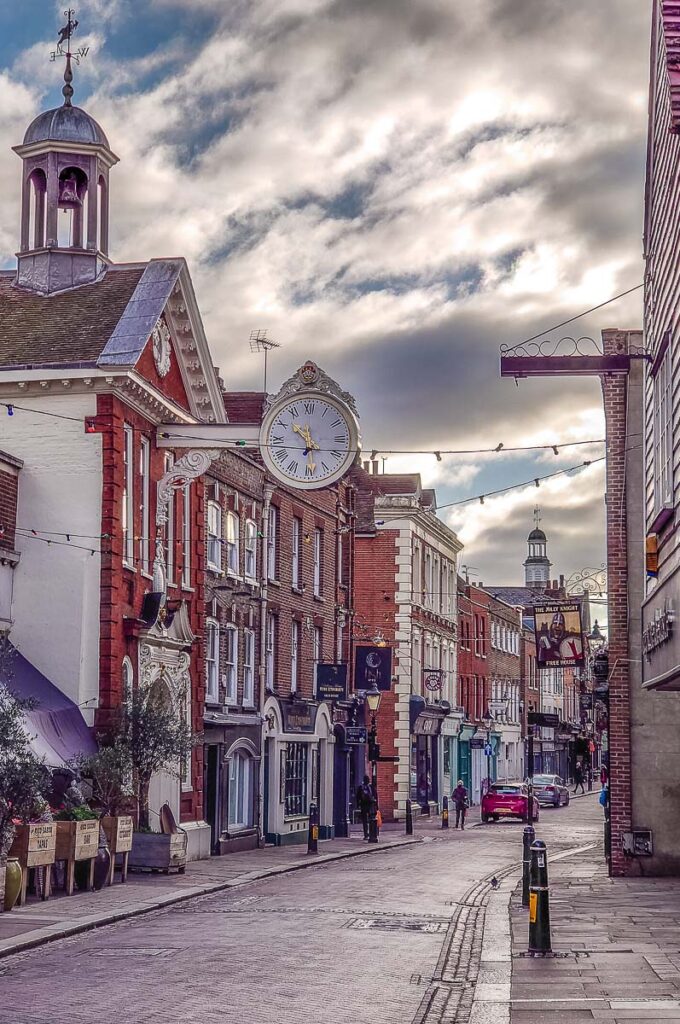 Rochester is all your dreams of historic English towns come true. Here you will find both Roman and Norman heritage, as well as atmospheric half-timbered houses, a ruined castle, a majestic cathedral, a cobbled high street, and regularly held events that recreate centuries-old traditions.
It's no wonder then that Rochester in Kent inspired the quill of one of the most famous English writers – Charles Dickens. His novels contain direct references to many real-life people and places in and around Rochester. Including Restoration House – the prototype for Miss Havisham's rambling home in Great Expectations.
Nowadays, the town keeps the Dickensian spirit alive. Local shops and cafes are named after famous Dickensian characters and books. A Dickens festival and a Dickens Christmas take place every year. Plus, when you are in town, you can see the Swiss chalet in which Dickens penned several of his books. It is huddled in a cute small garden just off the high street.
Rochester has many claims to fame though. The Romans built a bridge here and had houses, roads, and shops. Later on, medieval builders and architect erected Rochester Castle and Rochester Cathedral.
Nowadays, the castle has the talles Norman keep in all of England. The cathedral is England's second-oldest, holds an organ festival, and produces its own premier gin. Inspired by historic recipes, it's fetchingly named 604 after the year in which the Cathedral was founded.
Most importantly, Rochester Cathedral holds one of the most important medieval manuscripts in England The Textus Roffensis contains a compilation of early English laws going as far back as 600 AD.
At the same time, Rochester is a thoroughly modern English town. It has a high street dotted with independent boutiques, great places to eat, and holds a regular farmers' market. I am very fond of this town in Kent. As I live just up the road in Chatham, I often go for walks around Rochester and there is always something new and exciting to spot there.
It takes less than three quarters of an hour to reach Rochester from Central London. As such, this is one day trip in England you will want to take time and time again.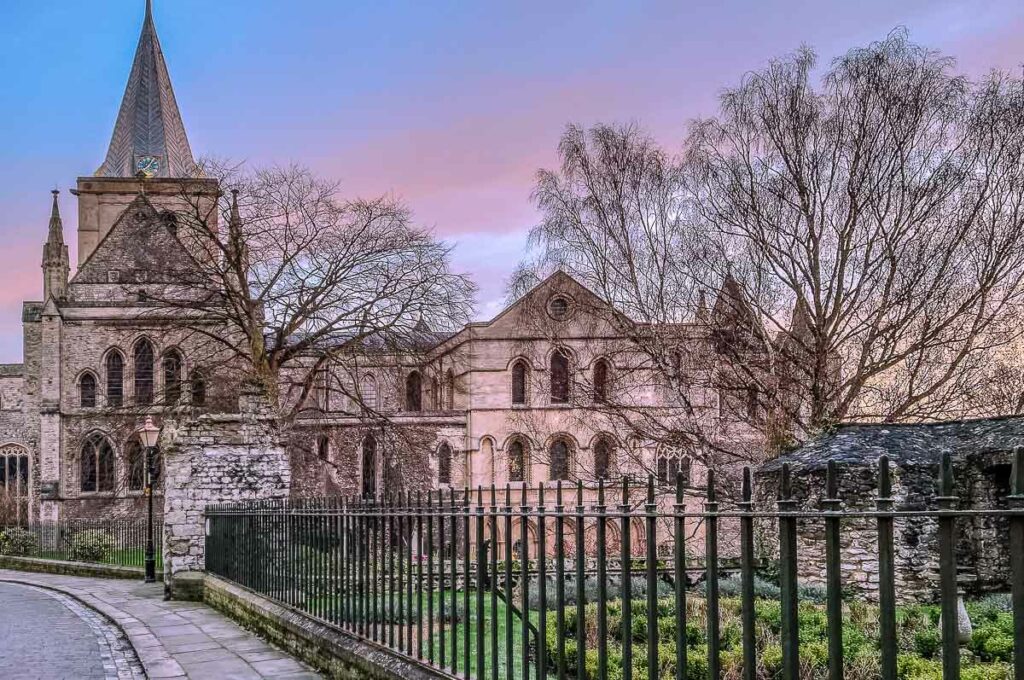 What to see in Rochester:
Rochester Castle – a stunning, well-preserved castle with a tall Norman keep. It guards over the River Medway and it's right across from Rochester Cathedral. First erected in the 11th century by Gundulf – Bishop of Rochester and one of William the Conqueror's greatest architects – the castle is picture-perfect to this day.
Rochester Cathedral – founded in 604 AD, this is the second-oldest cathedral in England. A must-see when in town, it has a lot to offer to the visitor interested in history and architecture.
Rochester High Street – a truly picturesque main street flanked by buildings representing like a patchwork England's architectural styles over the last several hundred years. Some of the houses here have been in use since the 15th/16th centuries. There is a great selection of independent boutiques and cafes here, too.
Guildhall Museum – set up at the end of the 19th century, the museum tells the stories of Rochester in an engaging and emotional way. There is a brand new section dedicated to the life and works of Charles Dickens. For me, the most interesting exhibit to see here is the full-size reconstruction of part of a prison hulk. Prison hulks were ships moored in the River Medway. Prisoners were kept in them for years in what nowadays we would describe as completely inhuman conditions. In fact, Magwitch from Dickens' Great Expectations is a convict who escapes from one such prison hulk.
Dickens' Swiss Chalet – a cute two-storey hut facing a small yet pretty garden just off Rochester High Street. Dickens had it installed in the garden of Gad's Hill Place – his home in the nearby village of Higham for the last 15 years of his life. He wrote several of his greatest novels in it. The chalet was moved to its current location in Rochester in 1961. Currently, it's not open to the public but it's nice to see it from the outside considering its link to literary history.
Eastgate House – a fascinating Elizabethan townhouse built between the 16th and the 17th centuries. You will see it right next to Dickens' Swiss Chalet. Don't miss a chance to see its interiors if it is open on the day of your visit.
Restoration House – a step away from the high street and opposite the pretty park The Vines, this is a grand house composed of several medieval buildings. Its history is fascinating both in real and literary life. King Charles II stayed here on the eve of the Restoration of the Stuart dynasty in the 17th century. And then the house was the inspiration for the rambling home of Miss Havisham in Dickens' Great Expectations.
Six Poor Travellers' House – a Tudor charity house where up to World War II six poor travellers would be given food and shelter for the night.
Huguenot Museum – this is Britain's very first museum dedicated to the history of the Huguenots who in the 17th/18th centuries escaped religious persecution in France and moved across the English Channel in search of new life.
Submarine U-475 Black Widow – this is a Soviet submarine from the Cold War period. For many years it operated as a museum in London and Folkestone. Nowadays, you can see it moored in the River Medway as your train goes across the long bridge and pulls into Rochester. The submarine is not open for visits but it has become an integral part of the local landscape.
Travel Time by Train: London to Rochester – from 37 mins by high-speed train or from 40 mins by regular cheaper train. Click here to check travel times and prices.
Where to Stay in Rochester: The Golden Lion Wetherspoon, The Gordon House Hotel, North Downs Barn
Perfect for: An unforgettable day trip if you love history, cobbled streets, Classical English literature, castles, wonderful coffee shops, and quirky boutiques. It's a great place to base yourself to explore more of Kent. Alternatively, and if you are a quick sightseer, you can combine Rochester with nearby Chatham or venture further out to Faversham, Whitstable, or Herne Bay.
Official website: Historic Rochester
10. Whitstable – Kent's Bohemian Seaside Town with the Freshest Oysters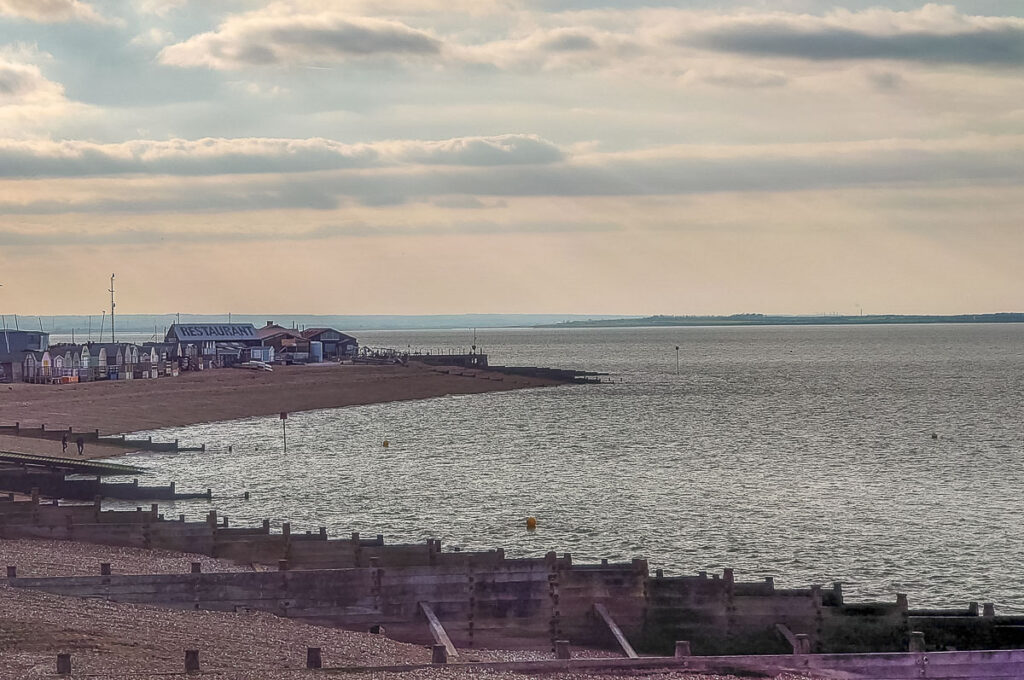 Whitstable is my favourite coastal town in Kent and England. This is on account of its oysters, curving streets lined with fishermen's huts, and its relaxed atmosphere. You can spend the whole afternoon here just ambling along the beach and feel like you've done the most important thing in the world.
Even the ancient Romans loved the area and prized the local oysters so much that they would send them all the way back to Rome. Nowadays, oysters are still Whitstable's trademark and eateries selling them fresh or battered are easy to come by.
As you walk around town if you spot a pink facade make sure that you pop in. This would be the famous Wheeler's Oyster Bar which has been serving juicy oysters since 1856. It's a great place to visit to pick a picnic of delicious seafood to enjoy on the beach or to have outstanding fish dishes in the small onsite restaurant. People travel all the way from London for the experience.
Be adventurous and apart from oysters, ask for such English staples as cockles, whelks, winkles, and crab. I must admit that I find the whelks a bit chewy, yet do give them a try. You never know, you may find a new favourite food! The crab meat sandwiches are outstanding.
Whitstable Harbour is very picturesque with its black huts and traditional boats arriving laden with the catch of the day. A fish market operates here, too. Stop to see what's on offer or grab a delicious portion of traditional for England fish and chips.
A coastal walk connects Whitstable to Herne Bay. The path is flat, easy to navigate, and passes by clusters of colourful beach huts. It's a great way to get active and experience the English seaside. You can then take the train back to Whitstable.
Alternatively, wait for the low tide and be amazed by the water's retreat and how much of the seabed actually gets exposed. This is when you can take a walk on the so-called Street – a strip of land that shows up when the waters pull back.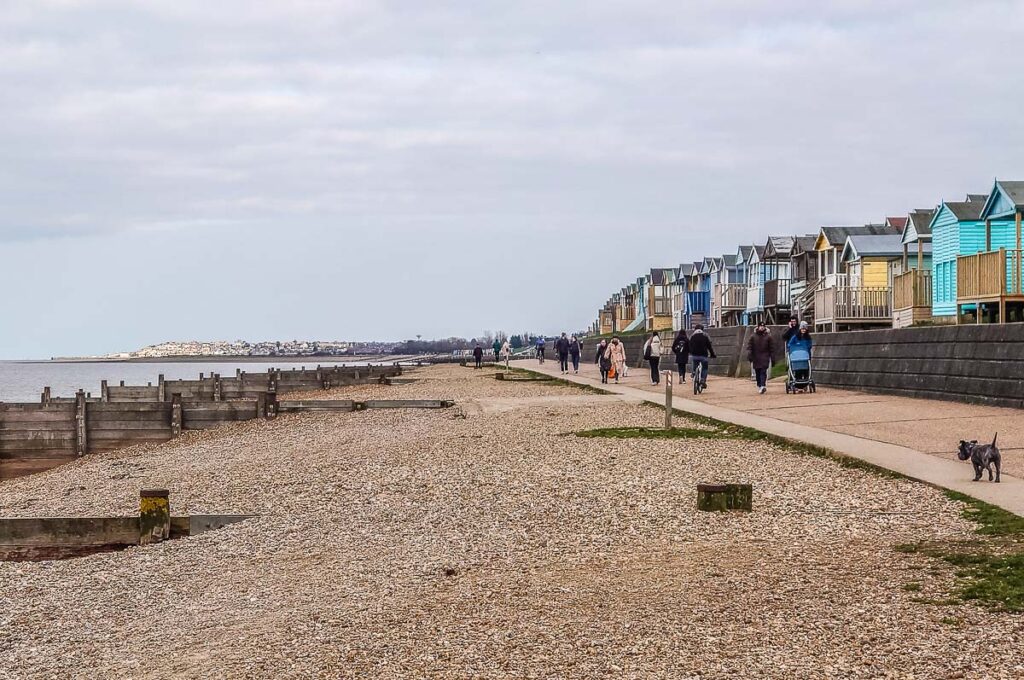 What to see in Whitstable:
Whitstable Harbour – dating back to the first half of the 18th century, this is a lively working harbour with a thriving fish market. Come watch the fishing boats return laden with the catch of the day and indulge in Whitstable's best oysters served absolutely fresh.
Whitstable Castle – a manor house built between the 18th and the 19th centuries. It looks a lot like a castle, hence the name. Come for a walk in the gardens and to enjoy a cup of proper English tea. A great experience to have in this coastal town in Kent.
Whitstable Community Museum and Gallery – get to know Whitstable's history and traditions first-hand with the help of the volunteers who run this small museum in town. There are lots of educational and enjoyable activities for kids.
Tankerton Beach – covered with pebbles and lined by fishing huts (some of which nowadays have been turned into chic holiday homes), this is England-by-the-sea at its very best. At low tide, the water recedes to reveal The Street – a long walk straight through the sea. Don't get caught there when the tide turns!
Whitstable West Beach – expect groynes (wooden tide barriers) and shingle. It's the quintessential English beach. It is also a great place to go for a walk or to sit down and enjoy the views.
The Favourite – this is a historic oyster yawl, the last of its kind. In other words, this is a boat that a century ago was used in the oyster trade. At its heyday, Whitstable used to have over a hundred yawls.
Old Town – expect independent shops and galleries selling beautiful arts and crafts as well as many great eateries. Wheeler's Oyster Bar deserves a special mention. It has been in business since 1856 and it has a very eye-catching pink facade.
Whitstable Oyster Festival – a very popular annual event. It's not in vain that this town in Kent is known as England's oyster capital.
Oyster Bay Trail – a 6.7 m bike route from Swalecliffe (just outside Whitstable) to Reculver where you can see the ruins of a Christian abbey and a Roman fort.
Shivering Sands and Red Sands – former military forts built near the Thames Estuary and used during World War II and the Cold War. They are literally huge buildings on incredibly long stilts standing upright in the water. Seeing them for the first time is quite the experience. Local companies organise boat tours to the forts and can also take you to see the Kentish Flats wind farms and to a secret spot with a large seal colony.
Travel Time by Train: London to Whitstable – from 1 h 14 mins by high-speed train or from 1 h 20 mins by regular cheaper train. Click here to check travel times and prices.
Where to Stay in Whitstable: The Marine Hotel, The Crescent Turner Hotel, Fisherman's Huts and Warehouse Holiday Lets,
Perfect for: A relaxing day trip if you love beaches, oysters, fresh seafood, fish markets, and are looking to experience the charm of coastal England.
Official website: Visit Whitstable
Map of 10 Must-See Towns in Kent, England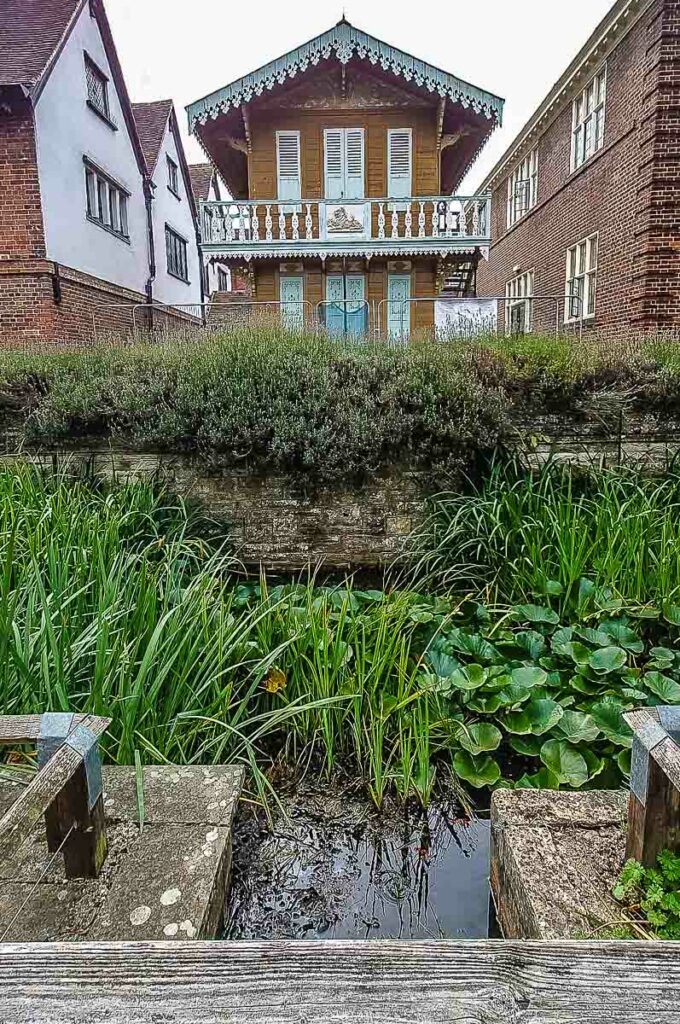 Here is the map showing you the location of the ten must-see towns in Kent, England in relation to the British capital London.
I made it using Google Maps. So, you can use it just like any other Google map. You can zoom in and out, click to open the map in a separate tab and click on the different pins to see their coordinates.
In the information box for each pin, I have inserted a link to local accommodation options on Booking.com. If you are researching places to stay, click on it to see what's available for your travel dates.
You can also use this map to calculate distances and directions from any point in the UK or abroad to any point in the ten towns in Kent covered in this blog post. You can also zoom in and explore the urban plan of any of these ten towns. This way, you can make your own itinerary to follow during your visit.
If you want, you can share this map of the towns in Kent, England on social media, too.
This map includes the British capital London and the following ten towns:
1. Broadstairs 2. Canterbury 3. Chatham 4. Dover 5. Faversham 6. Folkestone 7. Herne Bay 8. Margate 9. Rochester 10. Whitstable
Practical Tips about Visiting the Towns of Kent, England
Pin for Later!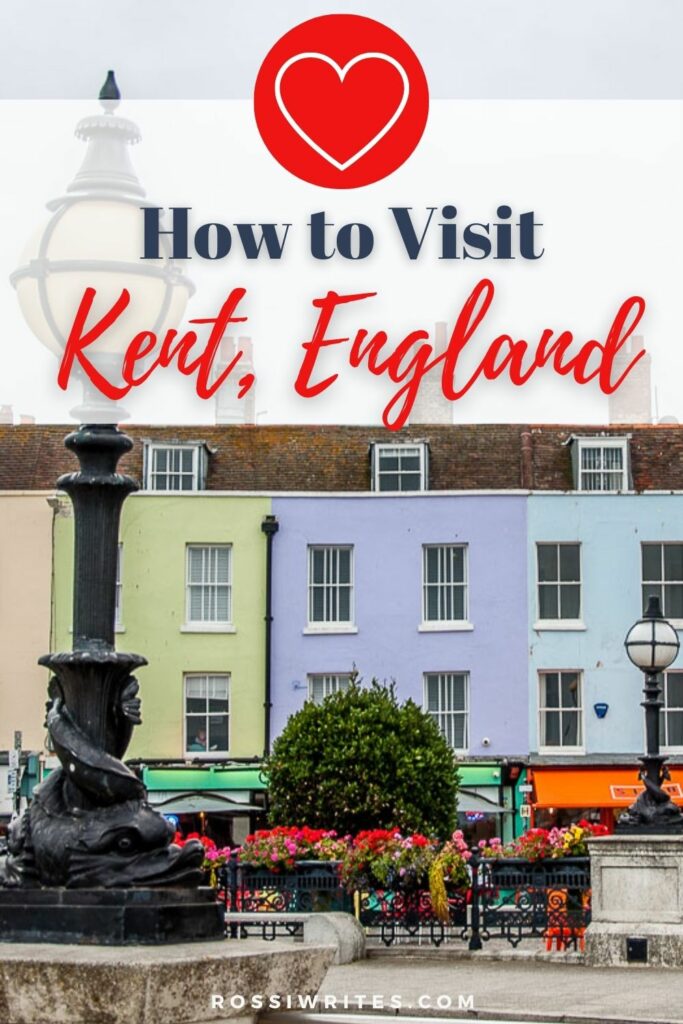 1. Where in England is Kent?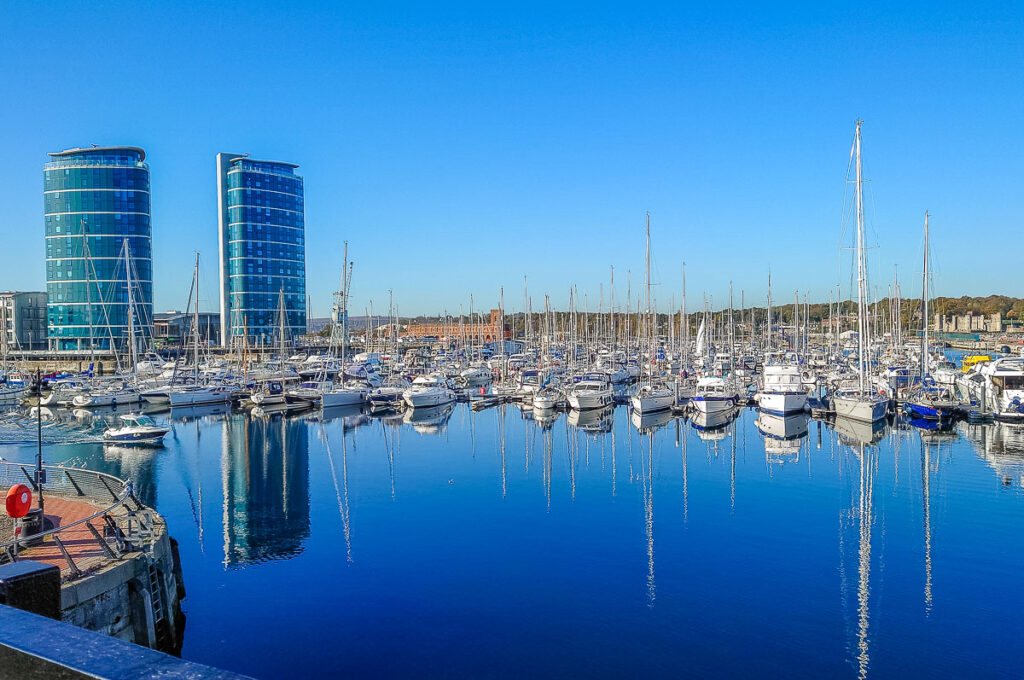 Kent is one of England's 48 counties. It's the 6th largest in the country in terms of its population (1.8 million inhabitants) and the 10th largest in terms of its area.
You will find it in the southeast corner of England. It stretches between:
Greater London to the north-west;
the Thames Estuary, the county of Essex across the estuary, and the North Sea to the north;
the Strait of Dover and the English Channel to the south;
the county of East Sussex to the south-west,
the county of Surrey to the west.
France is 34 km across the Strait of Dover from Kent. On a sunny day, you can clearly see the French coast from the White Cliffs of Dover and the town of Folkestone. The view is especially beautiful from the top of the Great Tower of Dover Castle.
The town of Dover is an important port providing regular transport by ferry to France.
Folkestone is the starting point of the Channel Tunnel (colloquially known as the Chunnel) – the just over 50 km long underwater tunnel that connects England to France.
Kent's county town is Maidstone. This English county is dotted by a few dozens of towns and villages of different sizes, including Britain's smallest town – Fordwich. In this blog post, I have covered ten of the most interesting and historic towns to visit in Kent. I will be adding more Kentish towns to this list throughout the year, so check back when you can for new destinations and information.
Here is a map showing the exact location of Kent in the United Kingdom. You can zoom in and out to see the geographical details that interest you.
2. How to Reach the Towns in Kent, England?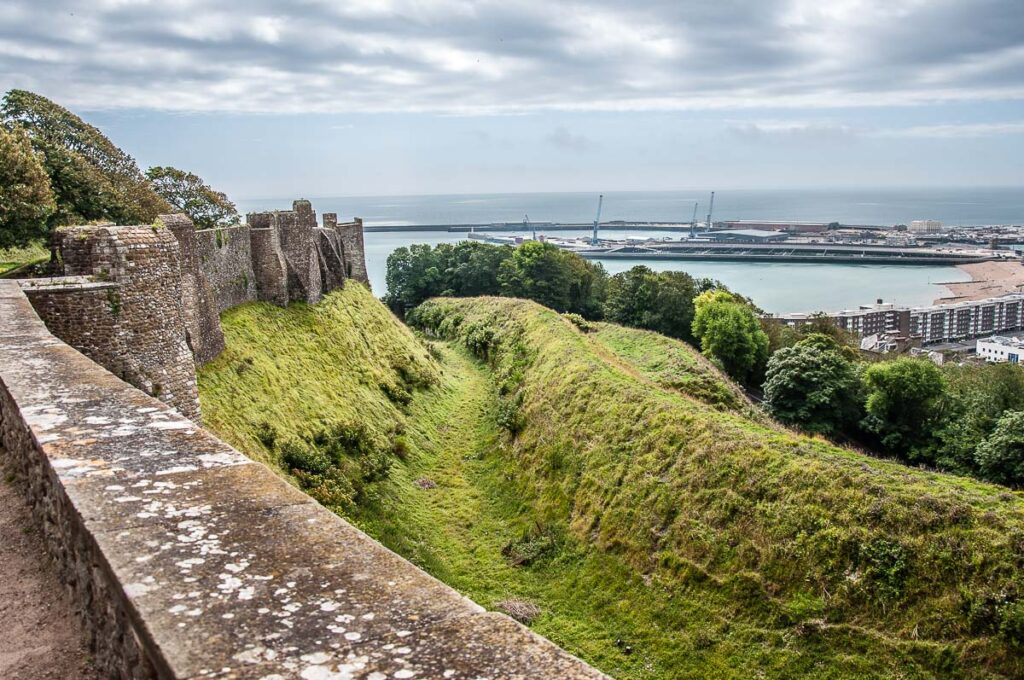 The towns of Kent are easy to reach from anywhere in England, the UK, and Europe. Some of England's most important airports are an easy driving distance away. The Channel Tunnel connects Britain to France under the English Channel.
A well-developed railway system links the county to several of London's train stations. A dense network of roads help you get anywhere you want to go – from the main towns in Kent to the smallest villages – by either local bus or by car.
Here are a few more details to make your travel planning even easier:
How to Reach Kent by Air
These four major airports are within a short driving distance away from Kent, England:
Heathrow Airport and London Luton Airport are a bit further away but also relatively good points of arrival for Kent in England.
How to reach Kent by Train
High-speed and regular trains connect the towns of Kent to Greater London.
England's only high-speed railway line links two major London railway stations – St. Pancras International and Stratford International – to many destinations in Kent. The Javelin trains travel at speeds of up to 140 mph. As such, it takes only 37 minutes to reach Rochester from St. Pancras International and 54 minutes to travel all the way from London to Canterbury.
Ticket prices for the high-speed trains, however, tend to be significantly more expensive. It pays to buy your tickets well in advance or to consider taking the regular trains instead. They may take a bit longer but the savings can make the extra travel time worth it.
Depending on which town in Kent you want to reach, you may catch a regular train from London Victoria, London Charing Cross or yet another major railway station in London.
Many of the towns in Kent covered in this blog post are on the same train line(s). For example, the Chatham Main Line connects Rochester, Chatham and Faversham and then splits into two branches. The trains serving one branch travel to Whitstable, Herne Bay, Margate, and Broadstairs. The trains serving the other branch travel to Canterbury and Dover.
Travelling times between the different towns in Kent tend to be quite short. For example, Rochester to Chatham by train is only three minutes and the journey from Faversham to Whitstable is about eight minutes.
This means that if you are a quick sightseer or if you want to cover a lot of ground in the shortest amount of time, you can plan to visit two or more Kentish towns within the span of the same holiday.
It is always advisable to buy your train tickets well in advance. This will give you better prices. Even if you are buying your tickets at the last minute, avoid travelling by train before 9.30 am Monday to Friday. This is when the train fares can be significantly more expensive.
To check train travel times and buy tickets in advance, I use Omio. It shows prices and travel times for all available types of trains in England irrespective of the company that runs them. This way I can compare costs and times of departure and arrival. Trainline is another good website to use. It also has a mobile app you can download and refer to when making travel plans.
How to Reach Kent by Car
The English county of Kent is very well connected by road to Greater London and the neighbouring English counties of Essex, East Sussex, and Surrey. Road traffic in England, in general, can be very heavy with traffic jams occurring quite regularly during peak times and school holidays.
Always use a GPS app when driving in Kent and England, so as to avoid traffic jams as much as possible. Also, factor in parking fees which can be a significant expense. Be mindful of parking restrictions, as fines are steep.
If this is your first time driving in England (for example, if you are arriving via the Channel Tunnel), then be aware at all times that driving here is on the left.
Here is a handy map showing Kent's road network and current traffic information. On this page, Kent County Council provides a good overview of the types of roads in Kent – from motorways to trunk roads.
Motorways in England are, in general, free of charge. You will have to pay the Dartford Crossing Charge if you drive across Dartford Bridge into Kent and through Dartford Tunnel upon leaving Kent. It needs to be done online, so it's easy to overlook. Fines, however, are steep!
If you need to rent a car for your trip to Kent in England, click to check the latest offers and prices by Europcar.
3. Where to Stay in the Towns of Kent, England?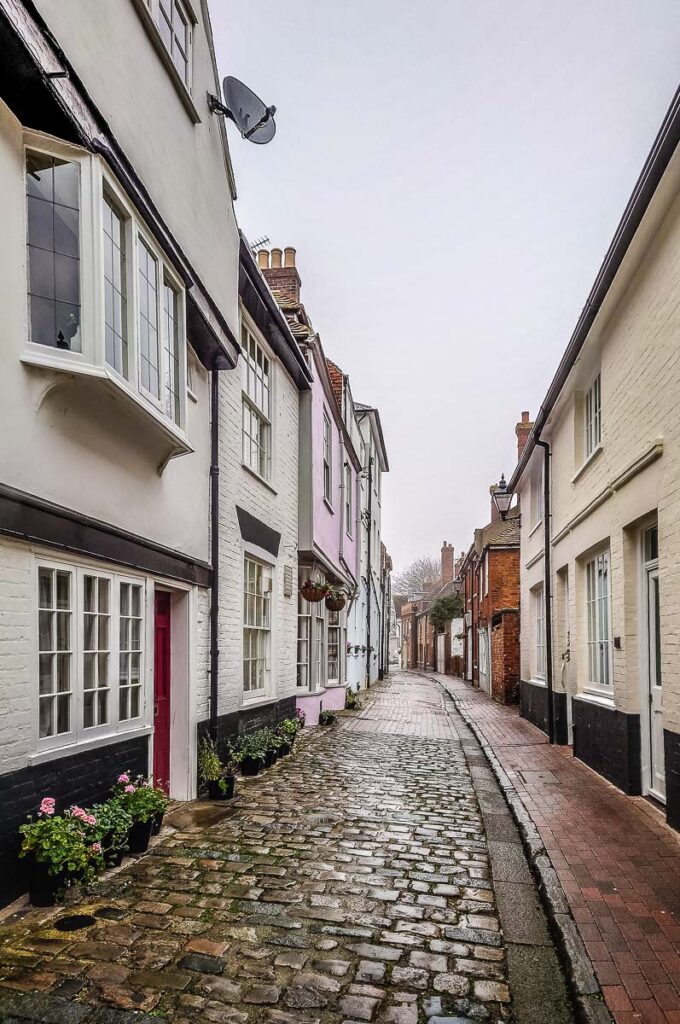 You can find all sorts and types of accommodation in and around the towns of Kent in England to suit any budget. From luxury hotels in quirky buildings to cosy B&Bs in historic houses, there is something for everyone.
I usually prefer to book all my accommodation through Booking.com. It gives me many different options in terms of budget and location and I can also read and compare reviews left by real people. Click to see all available places to stay in Kent, UK.
If you need some visual help in terms of precise locations and price range, have a look at this map. It gives you a quick idea of the prices and whereabouts of the many hotels and privately rented flats and houses you can book for your stay in the towns of Kent in England.
You can zoom in and out, type in the specific location you are interested in, and adjust the dates according to your specific travel plans.
4. When Is the Best Time to Visit the Towns of Kent, England?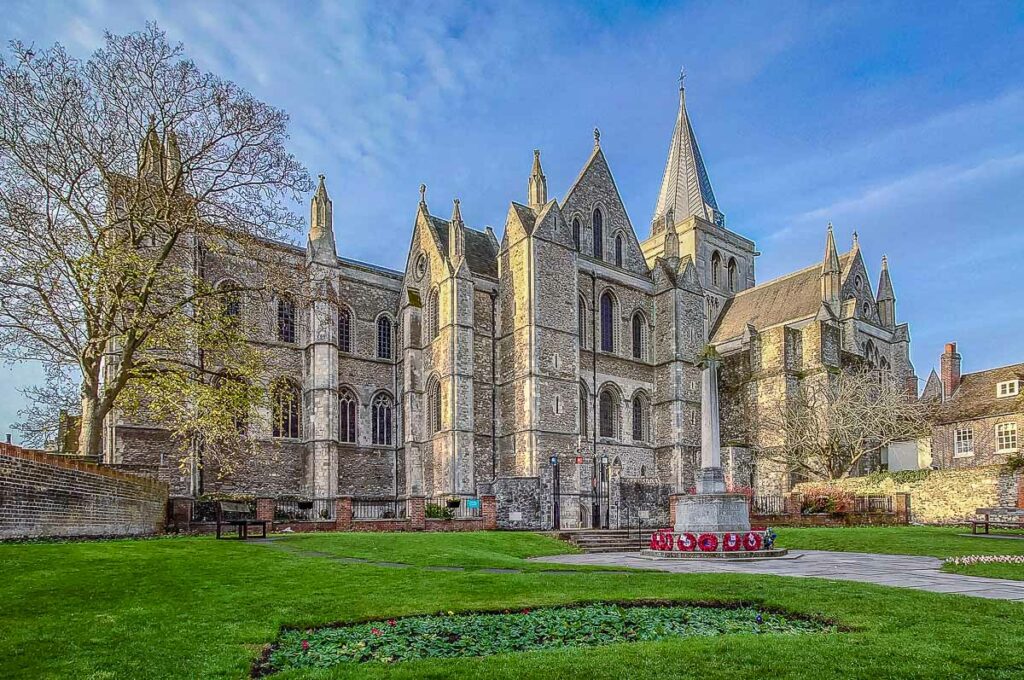 Any time is a good time to come visit Kent!
Spring brings meadows covered with blooming daffodils and bluebells.
The great British summer is lovely to experience on one of Kent's many beaches ice-cream cone in hand.
Autumn can be damp and foggy, yet apple harvests are on and seeking refuge from the drizzle in historic pubs and quirky museums is a lot of fun.
And then in winter, Christmas markets and fairs are the order of the day.
Plus, all throughout the year, beachcombing is fab and town-wide festivals take place.
So, take your pick and come visit as soon as you can!
For a short overview of England's weather, have a look at this link.
5. Can I Visit the Towns in Kent by Organised Trip?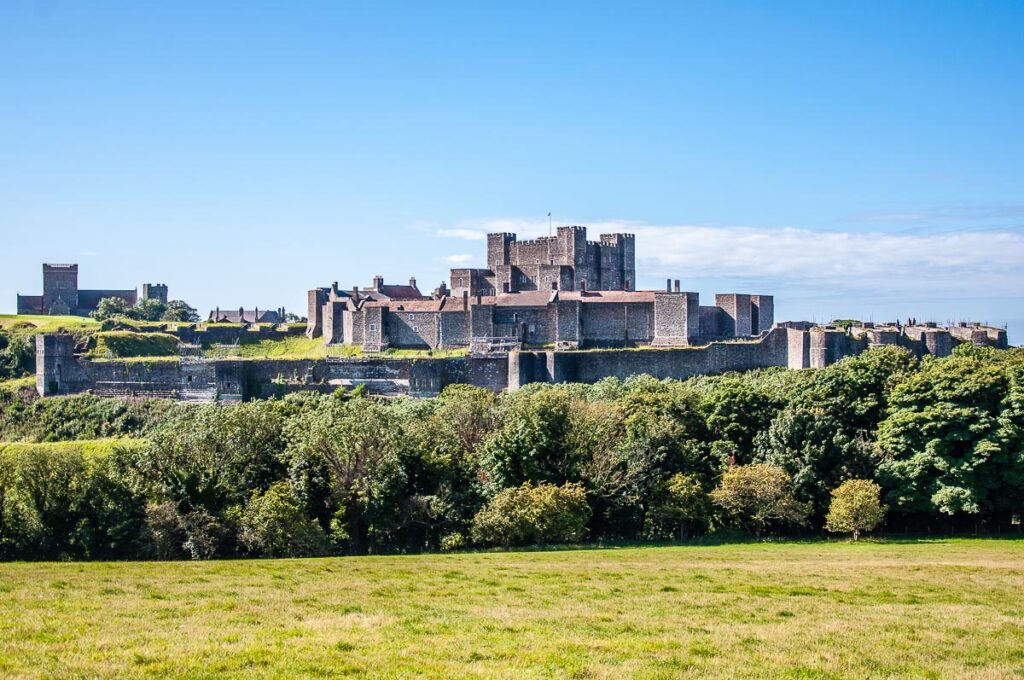 Yes, of course! If you don't have much time and want to see as much as possible or if you enjoy guided visits where everything is taken care of for you, then booking an organised tour of the towns of Kent is a great idea.
You can use tour search engines like Viator to see what's available. Otherwise, here are some of the best options to choose from:
In Conclusion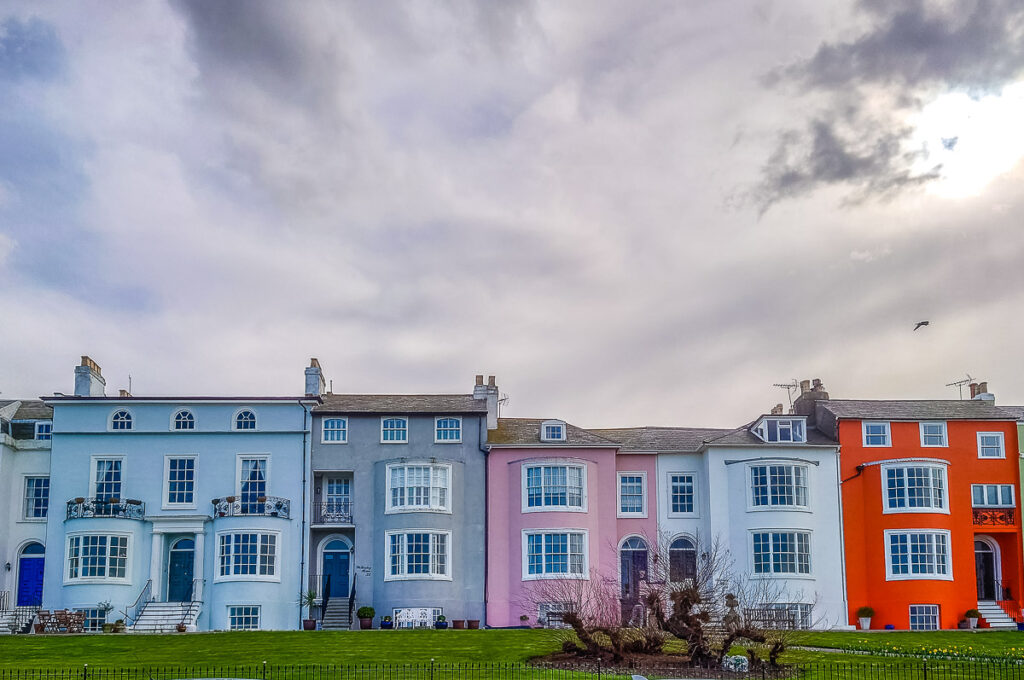 Here you have them! The ten best towns in Kent to enjoy exploring on a trip from London or from anywhere in England really.
In this blog post, I outlined the best things to do in the following Kentish towns: Broadstairs, Canterbury, Chatham, Dover, Faversham, Folkestone, Herne Bay, Margate, Rochester, and Whitstable. I also gave you the travelling times from London to each both by high-speed and regular trains. Some suggestions for the best places to stay in the area were thrown in the mix, too.
I hope that all this first-hand tried and tested information as well as the photos I took will be just the impetus that you need to head out to see the towns of Kent during your time in England.
I will be adding more Kentish towns to this list as and when I explore them while I live in Kent myself. So, do have a look again every now and then.
Enjoy visiting the towns of Kent!
It's one English county you simply have to experience for yourself!
Now get ready quick for your trip to the towns of Kent in England!

More Helpful England Links for You
Travel in England: Best Towns in England
London: South Kensington Museums
Cambridgeshire: Cambridge
Cheshire: Chester
Isle of Wight: Alum Bay, Carisbrooke Castle, Osborne House, Pepperpot, Round the Island Race, St. Catherine's Lighthouse
Hertfordshire: St. Albans Cathedral
Kent: Reasons to Visit, Towns in Kent, Kent Life
Northumberland: Lindisfarne
English Lifestyle: Differences Between the English and the Italians, Memorial Benches, Allotments, Charity Shops, Beachtime
English Food: Fish and Chips
Thank you for reading! Please, leave me a comment, pin the images below or use the buttons right at the top and at the end of this blog post to share it on social media.
For more useful information like this, please, like my blog's page on Facebook and subscribe to my strictly no-spam newsletter.
Pin This Blog Post!