Here are 15 reasons to visit Kent – an English county that is traditionally known as The Garden of England.
Sandwiched between London and the English Channel, Kent is in the South East of England and it's connected to Europe via the famous Eurotunnel.
This is the 50.46 km long underwater railway line between England and France.
Given its geographical proximity to the continent, it's not surprising then that the ancient Romans started their invasion of the island of Britain – then populated by the Celtic Britons – from the beaches of Kent.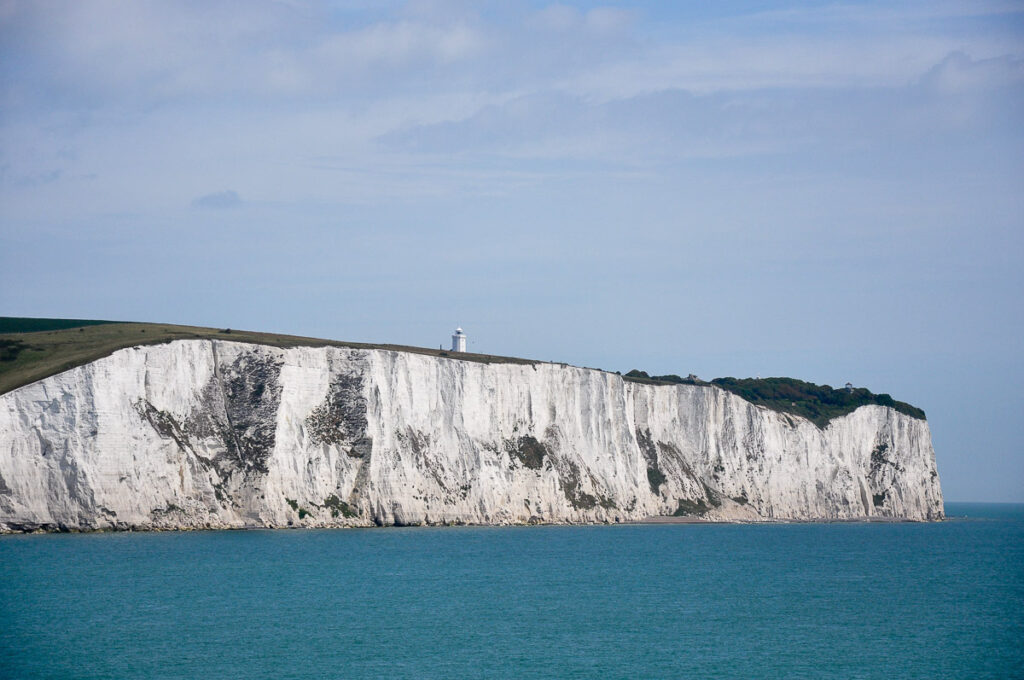 It must be said that they didn't have a tunnel then to facilitate the crossing so the Romans arrived by boat. When the White Cliffs of Dover loomed in front of them, they must have grasped why Britain at the time was known as Albion – The White Land.
Thanks to the Romans, nowadays Kent is dotted with must-see Roman ruins, including one of the world's few surviving Roman lighthouses. This is a 1st-century AD stone tower that today stands on the grounds of the mighty Dover Castle.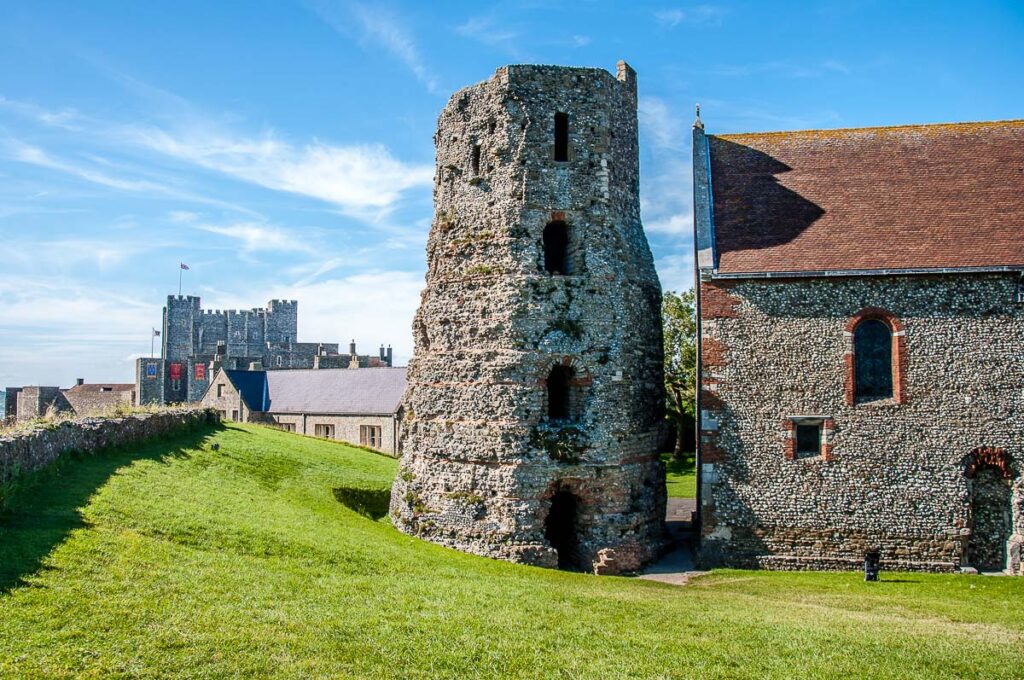 Alongside Roman ruins, Kent in England is also rich in medieval fortifications, splendid manor houses, lavish palaces, and gorgeous landscaped gardens. Each of these must-see landmarks is a reference to the rich history of this English county where throughout the centuries Anglo-Saxons, Normans, and Tudors lived, ruled, fought, hunted, and in general, enjoyed life.
History is not all that you can delve into here, though. Kent is also rich in terms of culture, literary heritage, religious sights, naval landmarks, and even good food and excellent ales, liquors, and wines. After all, here you can eat some of the best oysters in the world and visit England's oldest brewery!
Considering it all, Kent is a great destination to explore in the UK. Easy and quick to reach from London, its many historic towns and picturesque villages make for memorable days out. Or you may decide to spend a long weekend or a whole week here in order to learn more about this beautiful corner of England.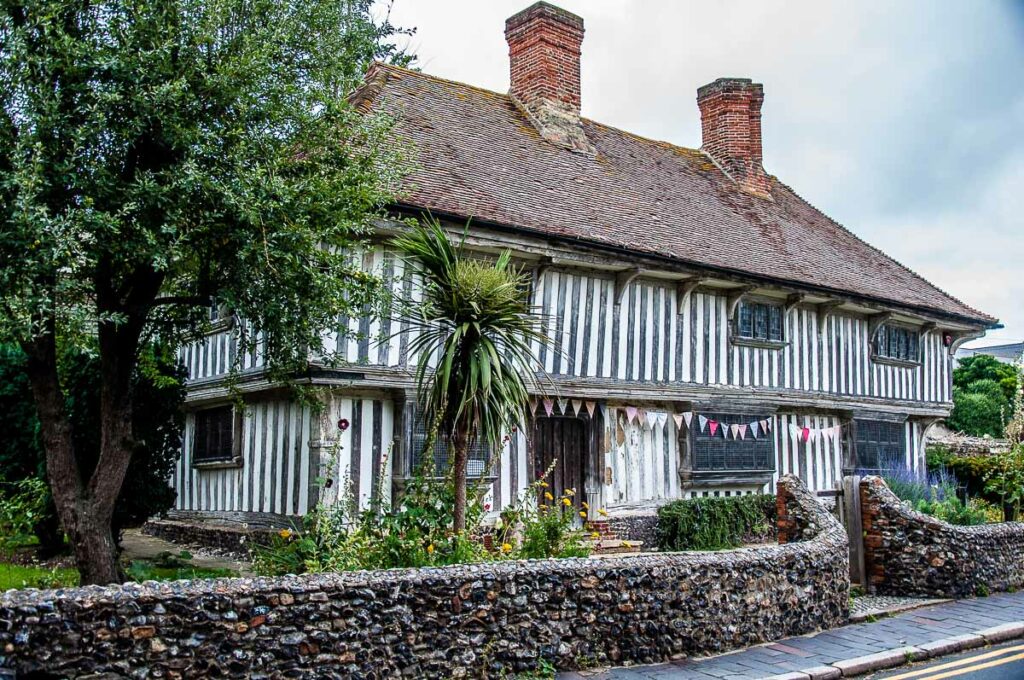 I, myself, moved to Kent after 12 years in London. All in all, I have been living here now for three and a half years (split by six years in Italy). I appreciate Kent and everything it offers on many levels.
So, I thought, you may be interested to learn more about it and what makes it a must-see destination in the UK and Europe.
Have a look!
15 Reasons to Visit Kent – The Garden of England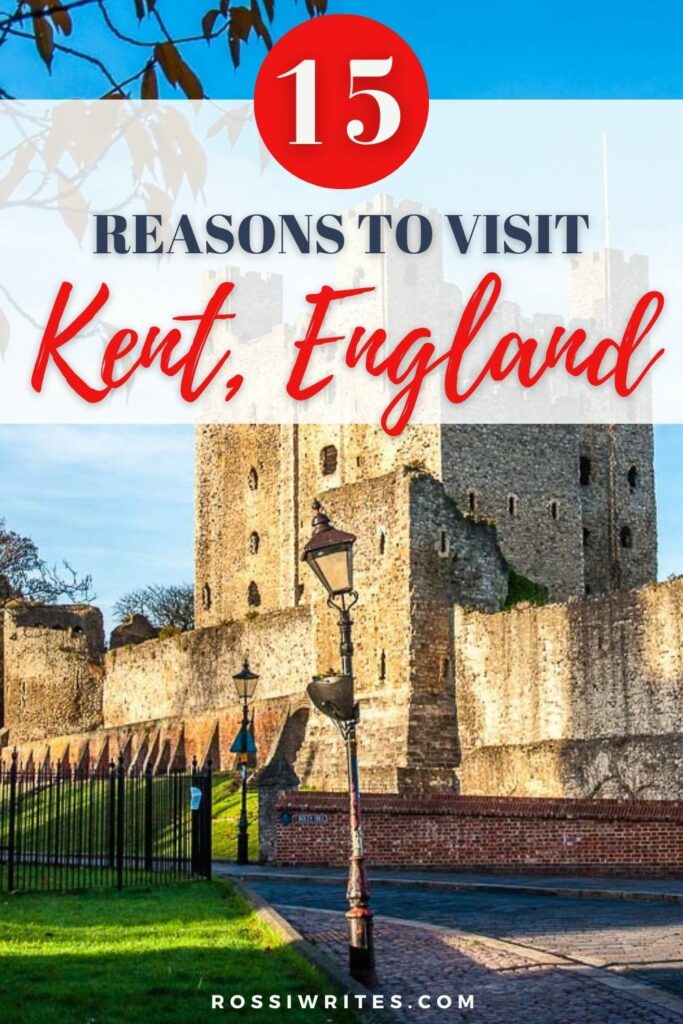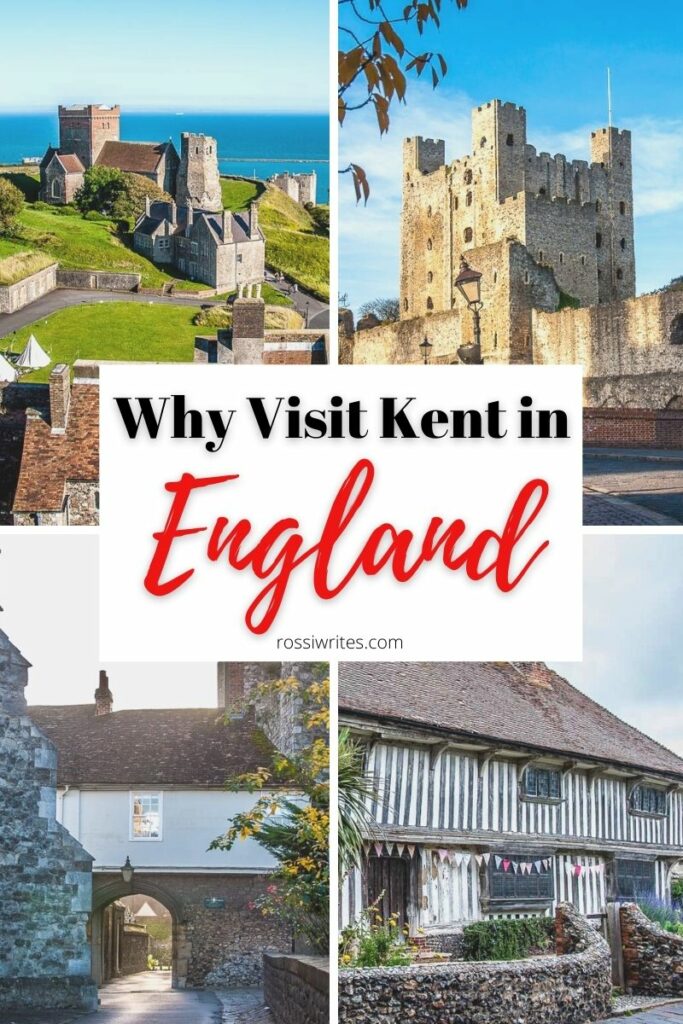 1. Kent's Roman Heritage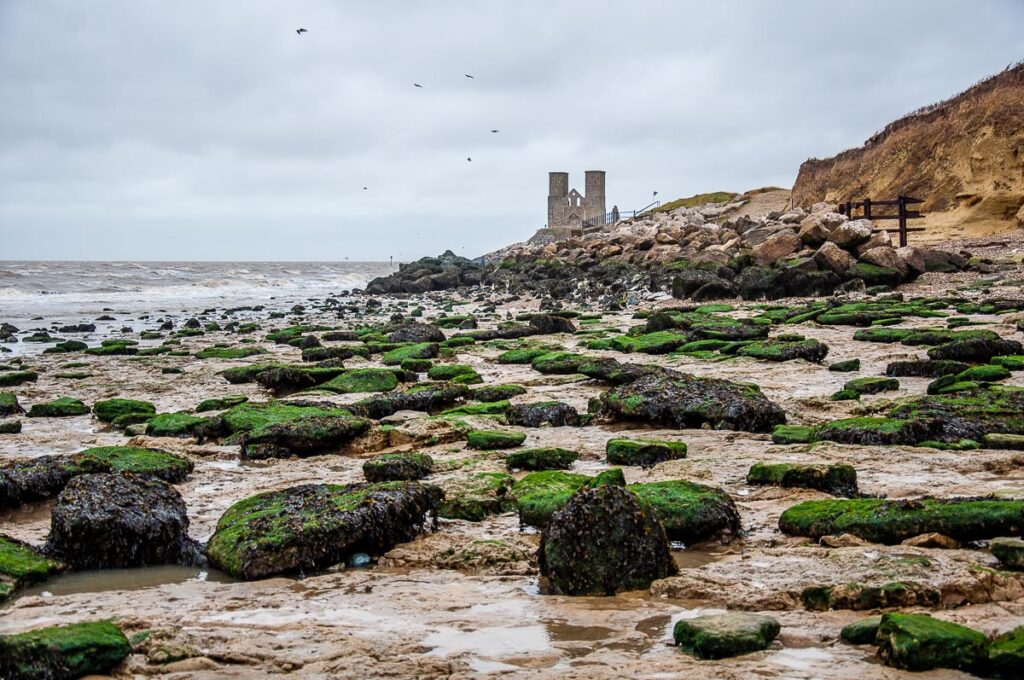 Ancient Rome had a large appetite for the natural resources of the island of Britain. Copper, gold, lead, silver, tin, and salt were in great abundance here. The Romans made three attempts to invade Britain and succeeded in 43AD. This is when four Roman legions landed at three places that nowadays are part of the English county of Kent – Richborough, Lympne, and Dover.
Even before then, Roman merchants traded with the Celtic tribes that populated Britain. Roman customs and goods were known in the South of England and their influence only intensified in the decades and centuries after the invasion.
Nowadays, Roman ruins pepper the lands of Kent telling exciting stories of the past. Visiting them on a day out is a great thing to do here. I particularly like these three ancient Roman sites in Kent, although there are several others to explore with your family and friends or on your own:
Lullingstone Roman Villa – these are the remains of a once-large Roman villa. First built in the 1st century AD, it flourished until about the 4th or 5th centuries AD when it was destroyed by fire. A beautiful floor mosaic survives in the villa's dining hall. The whole site is thoughtfully preserved and makes for a great visit. The villa is next door to the Kentish medieval village of Eynsford. Here you can also see one of the most complete Norman castles in England, cross a cute little stone bridge over a river ford, explore the very picturesque high street, and head for walks in the surrounding countryside.
Reculver Towers and Roman Fort (pictured above) – a large Roman fort once stood here providing protection against Saxon attacks. Nowadays, coastal erosion has destroyed a large part of the remains of the past. An Anglo-Saxon monastery then flourished here. Two tall towers were added to the church in the 12th century and survive to this day. They are a stunning landmark to see on long coastal walks in the area. The adjacent beach is also a great spot for beachcombing. When the sea recedes, it leaves behind a mixture of beautiful and whimsical shells and stones. Many dedicated beachcombers have found fossils here, too. Just wrap up warm as in autumn and winter the beach can get incredibly windy and cold.
Richborough Roman Fort and Amphitheatre – these are the impressive ruins of a Roman Saxon fort that was erected right after the Roman invasion of Britain in 43AD. A Roman town grew around it and served as the main point of access into Roman Britain. What I find most of interest about this place is that it's the starting point of Watling Street. This is a road that has been used since ancient times, was then paved by the Romans, and it's 444 km long. It still exists nowadays and portions of it have been incorporated into England's road system.
2. Kent's Castles, Forts, and Moated Manor Houses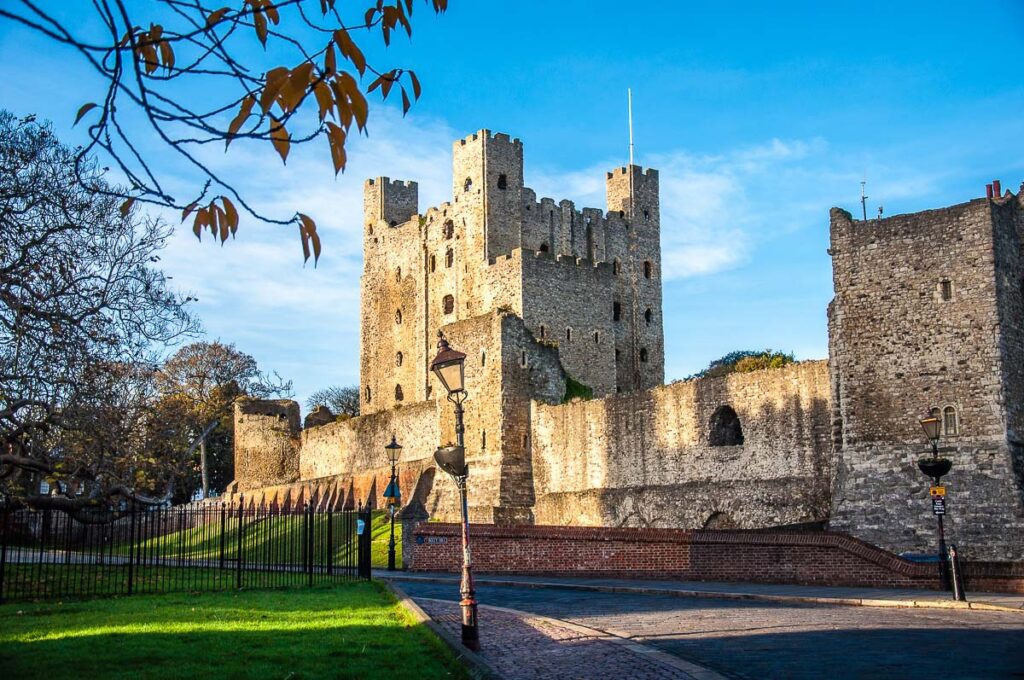 About 30 castles dot the lands of Kent. They offer a wonderful insight into England's past and are a great destination on a day when you have a few hours to spare.
Some like Leeds Castle and Hever Castle are surrounded by lush landscaped gardens, have many amenities from a cafe to a playground, and offer a rich programme of events all throughout the year. You can easily spend a whole day on their grounds letting the kids have a run around while delving into the stories of the past.
Other historic fortified structures in Kent are right in the heart of some of the Kentish towns. Rochester Castle – pictured above – is a great example. Surrounded by a (now dry) moat and sturdy defensive walls, it stands guard over the picturesque town of Rochester. The castle was originally erected in 1080 and its mighty keep was added at the start of the 12th century.
You will see it right opposite the impressive Rochester Cathedral and can visit it before heading to the town's quirky high street with its cute shops and cafes. Plus, from the top of Rochester Castle's keep, you can enjoy stunning panoramic views of Kent and the River Medway.
As luck would have it, I often walk past Rochester Castle. I've seen it hundreds of times and have visited it on dozens of different occasions. Yet, the view of its keep and its walls never fails to make me stop in my tracks and just stand there for a moment in time taking it all in. It's truly impressive!
Medieval castles are not all you will find in Kent, England. There are also moated manor houses here. These are large historic residential buildings surrounded by moats. Not a castle, not a palace, they are very particular and beautiful. Ightham Mote and Groombridge Place are a case in point.
The former dates back to the 14th century and has a wonderful half-timbered structure and gardens that stretch over 14 acres. If you have ever had this dream to see a quintessential movie-set perfect English house – quirky and cinematic – this is it.
The latter is a 17th-century moated manor house with 200 acres of farmland, sculpted formal gardens, a secret garden, and a giant chessboard. Very atmospheric, it makes for a great day out.
Finally, in Kent, you can also visit a couple of Tudor artillery forts. They are shaped like a rose made of semi-circular petals overlapping around a cylindrical central building. These forts are a great place to learn more about Henry VIII who built them and the many historic figures who lived and worked in them. Walmer Castle and Deal Castle are a short distance from one another and can be seen on the same day.
Walmer Castle has beautiful gardens, one of which was landscaped as a present for Elizabeth The Queen Mother for her 95th birthday.
The Duke of Wellington (the victor against Napoleon Bonaparte in the Battle of Waterloo) was another famous resident of Walmer Castle. He actually died here and as part of your visit, you can see his funerary mask and his famous boots.
3. Kent's Beautiful Gardens and Parks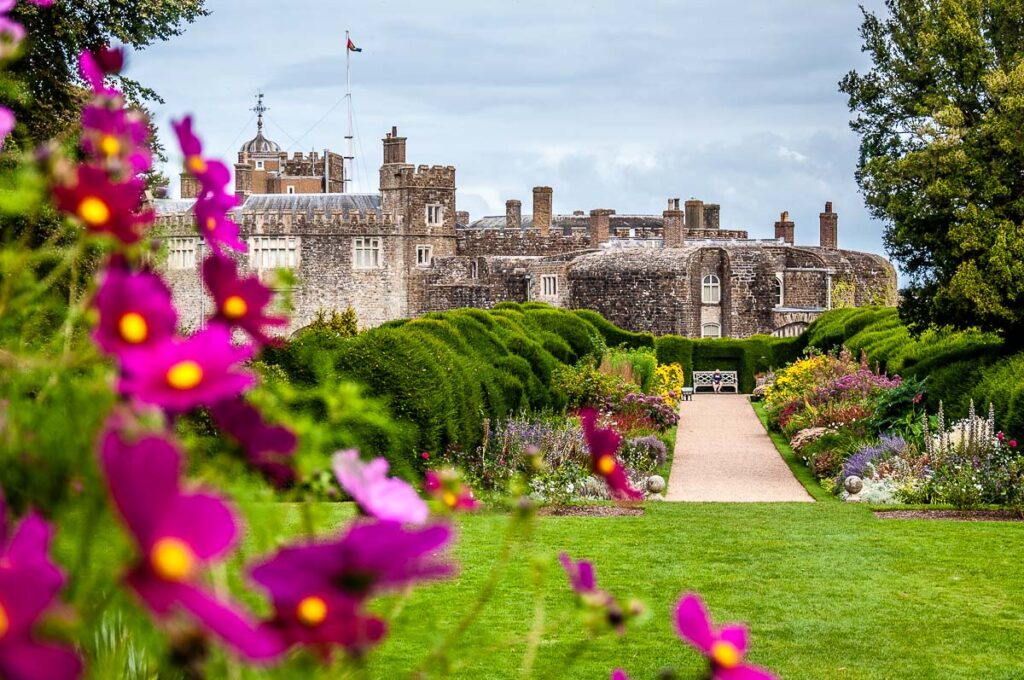 Kent is officially known as The Garden of England. A moniker that this English county was given on account of the many orchards and hop gardens that historically were cultivated here.
Fruit growing is a tradition that is still strong in Kent. Travel by train or road from one Kentish town to another and you will pass by endless apple orchards, cherry trees, and long greenhouses where strawberries and raspberries get juicier and redder.
In fact, each summer the Kentish Hugh Lowe Farms supply up to 33 tonnes of strawberries to the world-famous Wimbledon tennis tournament.
It is also in Kent that you will find Britain's leading glasshouse complex – Thanet Earth – producing fresh vegetables served on British tables up and down the country.
Above all though, Kent is rich in elegant gardens and expansive parks where spending a few hours or even a whole day walking around, looking at flowers in bloom, and enjoying the close contact with landscaped nature is always a delight.
Here are three of my favourite gardens to visit in Kent. There are dozens more to discover by yourself. Part of historic properties or developed over the decades as a standalone sight, they are great to visit in spring, summer, and autumn. Bear in mind that some of Kent's gardens do remain closed over the cold months.
Knole Park – this is a huge park next to the town of Sevenoaks in Kent. About 384 hectares in size, it's adjacent to the majestic Knole House. It's great for walks in any season. Just don't forget the wellies on a rainy day, as it gets quite muddy. I love this park as there is a herd of deer living here. So, as you walk through the forest, suddenly, the deer and their little ones cross the path in front of you and it's a beautiful experience to have.
Riverhill Himalayan Gardens – these are beautiful historic gardens that were set up in 1840 and since then have been run by the same family. There are different spaces and corners to explore here – from a fragrant Rose Walk and fun Rock Garden to woodpaths and a Walled Garden. So lovely to visit!
Walmer Castle Gardens (pictured above) – I already referenced Walmer Castle above but its beautiful gardens deserve a special mention. They are split between a woodland park, a formal part, and a vegetable garden. I particularly like the castle's moat which has been turned into a lush garden space. Carpeted with soft grass, there are many blooming shrubs planted here adding to the castle's charm. The vegetable garden is gorgeous. In any season, dozens of vegetables are cultivated here. There is also a small fruit orchard. You can buy fresh produce from the garden cart or eat it deliciously coooked in the on-site cafe.
If gardens are your thing, let me also suggest a very interesting and unique place to visit here in Kent, England. Brogdale Collections is a huge orchard that houses UK's National Fruit Collection. In other words, here you will find every type of fruit tree that grows in the United Kingdom. There are dozens and hundreds of varieties of apples, cherries, and pears.
In spring when the orchard is in bloom it's a delight to visit and picnic in the shadow of the blossoming trees.
4. Kent's Historic Towns and Villages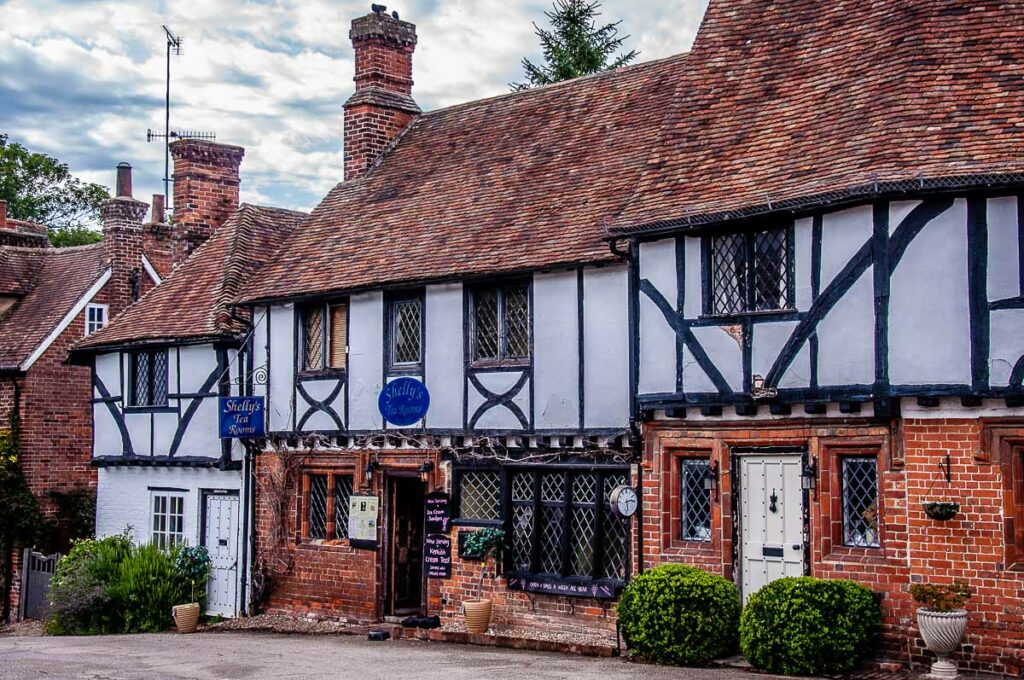 Kent is blessed with some of the cutest historic towns and villages to explore within an hour – hour and a half away from London.
With quirky houses showcasing the best of English architecture throughout the centuries – from half-timbered facades and wooden cladding to Georgian buildings – they are delightful to explore on a day trip or during longer stays in the county.
From Canterbury to Tenterden and from Aylesford to Tonbridge, there are many great destinations in Kent if you like whimsical buildings, cobbled lanes, and cinematic historic centres.
Here are three of my favourite towns and villages in Kent that are worth a day trip or a longer exploration:
Rochester – with a beautiful high street headlined by one of England's oldest castles and England's second-oldest cathedral, this beautiful town in Kent is a delight to explore. Known for its Dickensian heritage, Rochester offers so much more: Norman history, quirky buildings, cute cafes, and independent fashion and jewellery boutiques. The local community is also very active and art and music festivals and events take place here throughout the year.
Whitstable – this is a gorgeous seaside town famous for its fresh seafood and working harbour. The local oysters are particularly prized. Enjoy them in Wheelers Oyster Bar – a local institution that has been in business since 1856. The harbour is great for walks along the seaside, to watch boats returning from the sea laden with the catch of the day, and for visits to the fish market where there is an incredible abundance of fresh seafood.
Chilham (pictured above) – a very pretty little village with gorgeous historic houses, medieval square, and a privately owned castle. On account of Chilham's architecture and quaint character, the village has been featured in many English films and TV programmes, most notably in the BBC adaptation of 'Emma' – one of the best-known books by Jane Austen. You can drive to Chilham, spend a bit of time here simply walking around and taking in the historic facades before stopping for a nice meal in a local pub. Or you can walk from Canterburry all the way to Chilham following the ancient path of the Pilgrims' Way that, it's supposed, has been in use since the Stone Age.
5. Kent's Great Beaches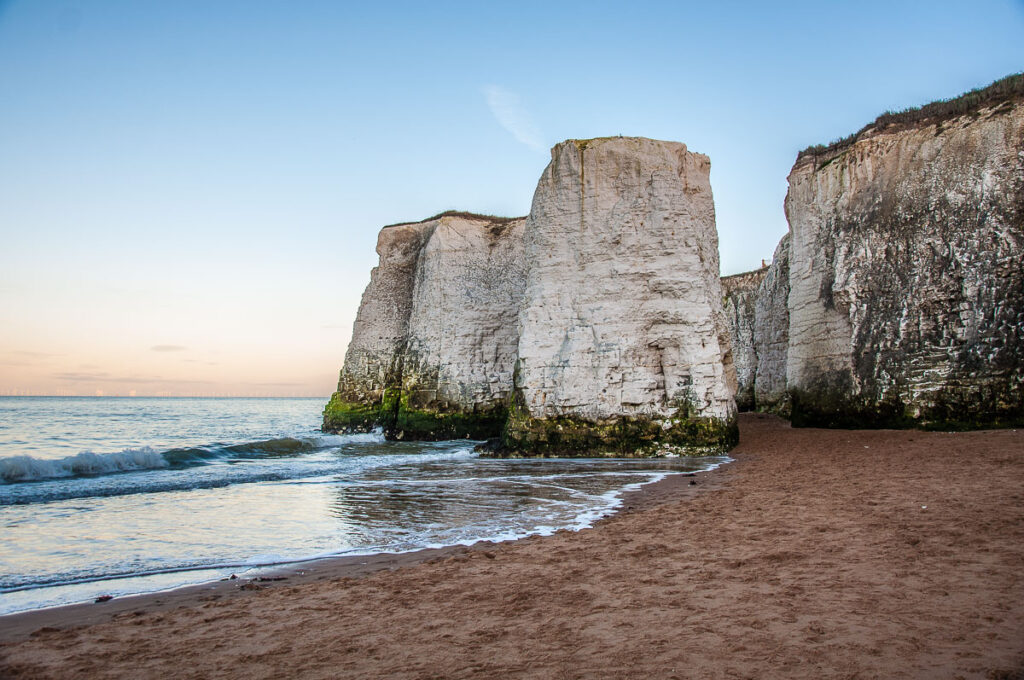 You know, people don't really think of England as a beach destination. Yet, Kent is a place generously gifted with many beaches that are a great place to head to in any season:
for a spot of sunbathing and a refreshing swim during one of England's heatwaves; and
for long beach walks in any other weather.
Covered with golden sands or shingles, Kent's beaches are wide, long, and often flanked by steep white cliffs or other unique landforms.
Here are three Kentish beaches I particularly like and recommend:
Bottany Bay (pictured above) – a short drive away from the town of Broadstairs in Kent, this is a sprawling sandy beach with a backdrop of steep white cliffs. Its dramatic chalk stacks are particularly famous. People come from near and far to photograph them.
Margate Main Sands – this is an impressive urban beach with a wide and long sandy strip that unfurls around the central street of the Kentish town of Margate. With a large tidal pool at one end and with one of England's most famous art galleries – the Turner Contemporary – at the other, this is a great place to enjoy a sunny day of the Great British summer.
Kingsgate Bay – this is a secluded sandy cove. A particular highlight is the arch at the end of the tall chalk cliffs that flank the beach. A set of steep steps leads from the nearby road down to the water. Kingsgate Bay is also right next door to Joss Bay – a very popular beach in Kent on account of its long sandy strip and excellent conditions for surfing.
Bear in mind that Kent's beaches are tidal. At low tide, some of the beaches may double in size or be peppered with rock pools which are great to explore. At high tide, however, some beaches here may be almost completely covered by water or the water may cut off access to particular coves. Please, be mindful of this when you visit.
If you are into long beach walks, pencil in a day to walk from the town of Whistable to the town of Herne Bay in Kent following the outline of the long beach between them. It's a great experience! Very easy to do, too as the path is wide and flat. It also offers sweeping sea views, gaggles of photogenic beach huts, and you can stop for a drink, an ice cream or a nice lunch in Herne Bay before heading back to Whistable by train or on foot.
Kent's beaches are also great for beachcombing. Several of them are rich in fossils and even in historic finds. There is something so calming and pleasant in slowly walking down a beach trying to spot a little treasure among the piles of shells and pebbles.
Two of the most curious items found on the beaches of Kent are a 1,000-year-old slipper and an elephant tusk that weighed more than 75 kg. The best thing I have personally found was a piece of tile with a blue and white pattern. It's quite pretty, really. I now keep it by my potted plants.
6. Kent's Proximity to London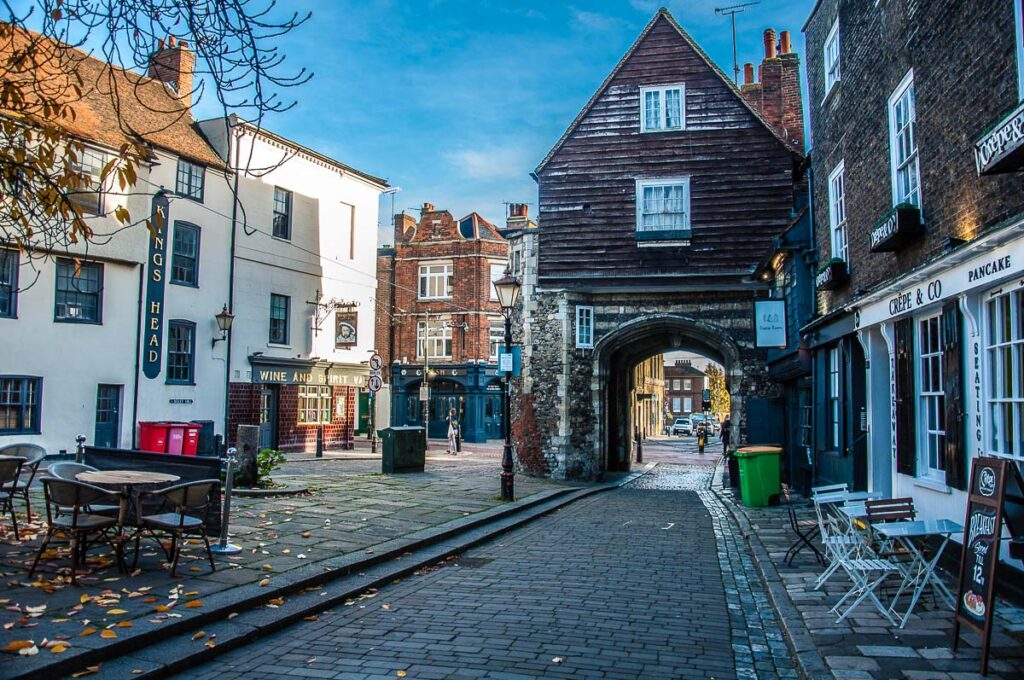 One of the best things about the English county of Kent is how close it is to London. Trains for Kent's main towns leave from many of London's major railway stations. Most importantly: London St. Pancras International, London Victoria, London Bridge, and Stratford International.
England's only high-speed railway line connects London St. Pancras International and Stratford International to many of Kent's main towns – Canterbury, Margate, Ramsgate, Dover, Whitstable, and Folkestone. The Javelin trains travel at speeds of up to 140 mph. As such, it takes only 37 minutes to reach Rochester from St. Pancras International and 54 minutes to travel all the way to Canterbury.
If you opt for the regular trains (which are also much cheaper), then the usual shortest travelling times from London Victoria station to some of the most interesting towns in Kent are as follows:
London Victoria to Rochester (pictured above) – 40 mins;
London Victoria to Whitstable – 1 h 20 mins;
London Victoria to Canterbury – 1 h 28 mins;
London Victoria to Margate – 1 h 43 mins.
This makes Kent easy to escape to on weekends and the perfect destination for spontaneous days out or even a staycation.
I regularly travel by train from the town of Chatham in Kent to London Victoria. With a travelling time of about 45 minutes one way, I used to have longer commutes when I lived in London.
So, if you are desperately in need of an easy day out, Rochester in Kent is a great contender. Starting from London Victoria train station, you can be walking down a high street lined with quirky buildings, cute coffee shops, and England's second-oldest cathedral in 40 minutes! It's one of the quickest ways to get out of London and explore a truly beautiful and historic English town.
7. Kent's Amazing Shopping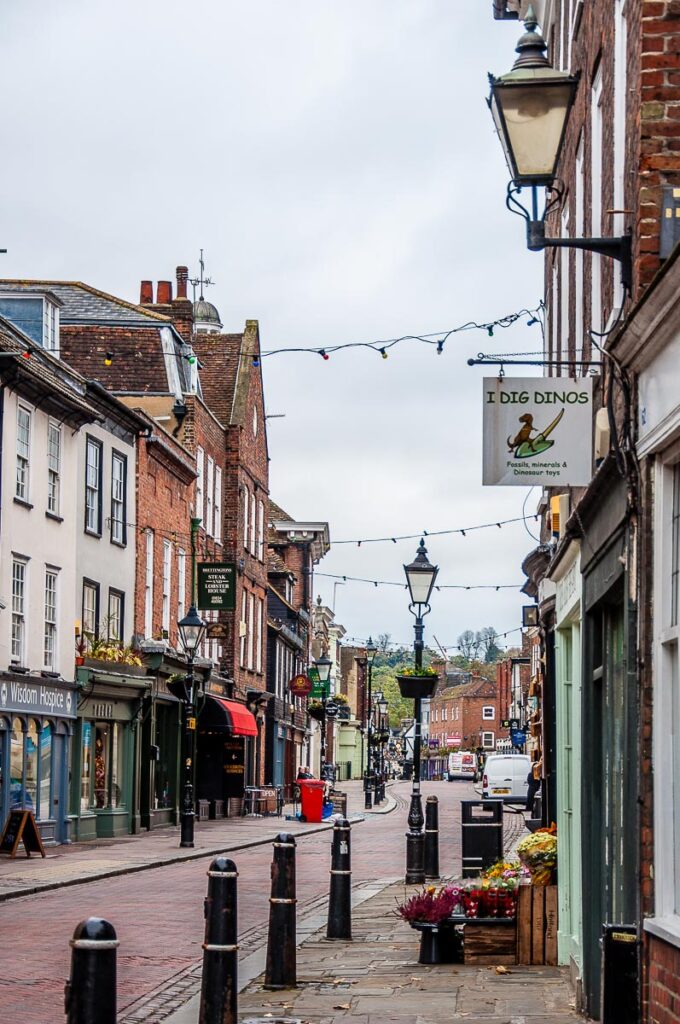 Kent is a great place to visit in England if you like shopping. Many of the historic towns here have high streets flanked by independent shops offering a great selection of stylish fashion, jewels, and homewares.
Excellent antique and vintage shops abound, too. There is nothing like spending time browsing through their wares and uncovering a real treasure of an item that is decades or even centuries old.
At the same time, branches of high-street chains are not amiss in Kent either. This English county is dotted with large shopping centres where you can shop the latest lines of perennial favourites like Next, M&S, HobbyCraft, and Primark among many others.
Bluewater Shopping Centre is particularly popular, too. When it opened in 1999, it was the largest shopping mall in Europe and the second-largest in the world. Today, it has 300 shops and 50 bars and restaurants.
Finally, if you are after high-fashion brands at discounted prices, then head to Ashford Designer Outlet in Kent.
8. Kent's Festivals and Events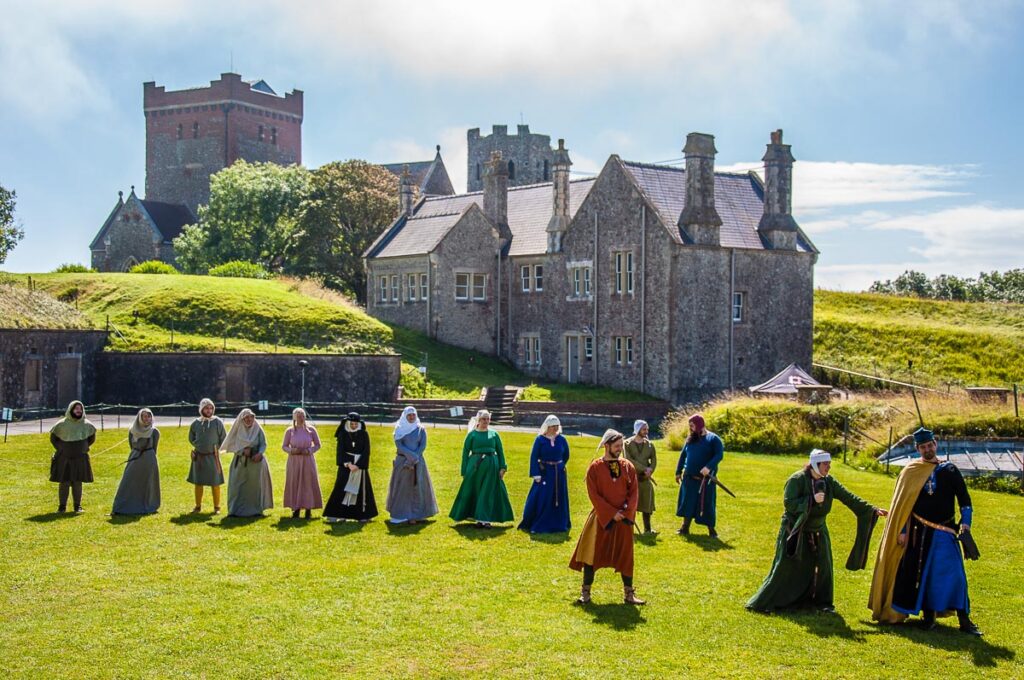 Kent has a rich programme of events that makes this English county a great place to visit any time of the year.
From local events organised by individual landmarks (for example, Hever Castle and Chatham Historic Dockyard) to town-wide festivals (for example, Rochester Dickensian Christmas), there is always somewhere fun and exciting to head to here.
Particularly popular are Kent's events tied to major holidays like Christmas markets (don't miss the ones in Rochester, Canterbury, and Tonbridge) and Easter egg hunts (check out the ones in Chartwell and Scotney Castle, for example). But there are also many standalone festivals here like Ramsgate Festival of Sound and Broadstairs Folk Week.
Food celebrations are also aplenty with Whitstable Oyster Festival being one of the most well-known.
I love spending time at a good festival or a fun event. The pictured above medieval reenactment in Dover Castle a few months ago was a great highlight. There were knights, ladies, musicians, and even a fire-eating juggler.
So, get your friends together or the kids out of the house and spend a fun day or a few fun hours at one of Kent's events. Aimed at different ages and covering a wide array of interests, they offer something for everyone no matter the weather and the season.
9. Kent's Dickensian Heritage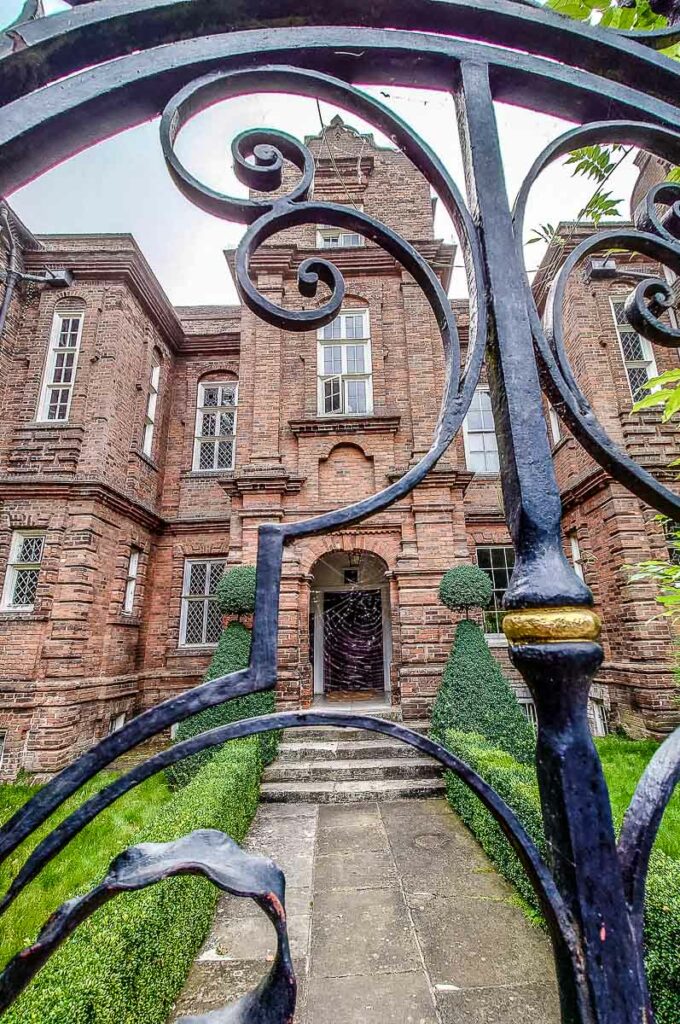 The famous British writer Charles Dickens had deep connections to Kent. He spent most of his life living in and around the Kentish towns of Chatham, Rochester, Broadstairs, and Gravesend. He found inspiration in their residents and buildings to create some of the most memorable literary characters and landmarks.
So, come to Kent in England to see the houses where Dickens lived, the streets and buildings that he described in his novels, and the places he would visit as part of his long daily walks.
To start you off on this Dickensian adventure, here are three of the best Dickens destinations in Kent, UK to explore:
Rochester – this gorgeous historic town looks plucked from a Dickensian novel. In fact, the opposite is true. The great writer used many of the local buildings as prototypes for the houses of his most iconic characters. For example, Restoration House (pictured above) in Rochester served as inspiration for Miss Havisham's decaying mansion Satis House in Great Expectations.
Even better, just off Rochester High Street, you can see the actual Swiss chalet in which Dickens wrote several of his famous novels.
The town is proud of its Dickensian heritage. Walk down the street here and you will notice that many of the local businesses have names inspired by Dickens' life and works. From Tiny Tim's Tearooms to the Deaf Cat – a cafe named after the great writer's cat which was indeed deaf – the connection to Dickens and his literary work here is strong.
Every year, Rochester also holds two town-wide Dickens festivals. In June there is the Medway Dickens Festival and in December, there is the Dickensian Christmas Festival. This is when you can see the writer's most iconic characters parading down Rochester High Street alongside many events taking place in town.
Broadstairs – this is another must-see destination in Kent, England, if you are interested in walking in Charles Dickens' steps. Broadstairs is a beautiful seaside town and the writer used to holiday here in a clifftop house with sweeping sea views. He wrote two of his most famous novels – David Copperfield and Bleak House – here.
Nowadays, Broadstairs has a small Dickens Museum housed in the cottage that inspired the description of the home of Betsy Trotwood in 'David Copperfield'.
Unfortunately, the clifftop house where the writer used to stay during his time in Broadstairs and which nowadays is known as Bleak House after the novel is no longer open for visits. You could visit it before and sit in the writer's study looking out to the sea. It was a great experience!
Higham – this is the small village in Kent where Charles Dickens spent the last 15 years of his life. He bought a house here – Gad's Hill – that he had admired for years and finally was able to afford. He wrote his last two novels – Great Expectations being one of them – here.
Nowadays Gad's Hill is a school but under normal circumstances, it can be visited as part of a guided tour on selected days of the year.
10. Kent's Good Honest Food (and Beer, Liquors, and Wines)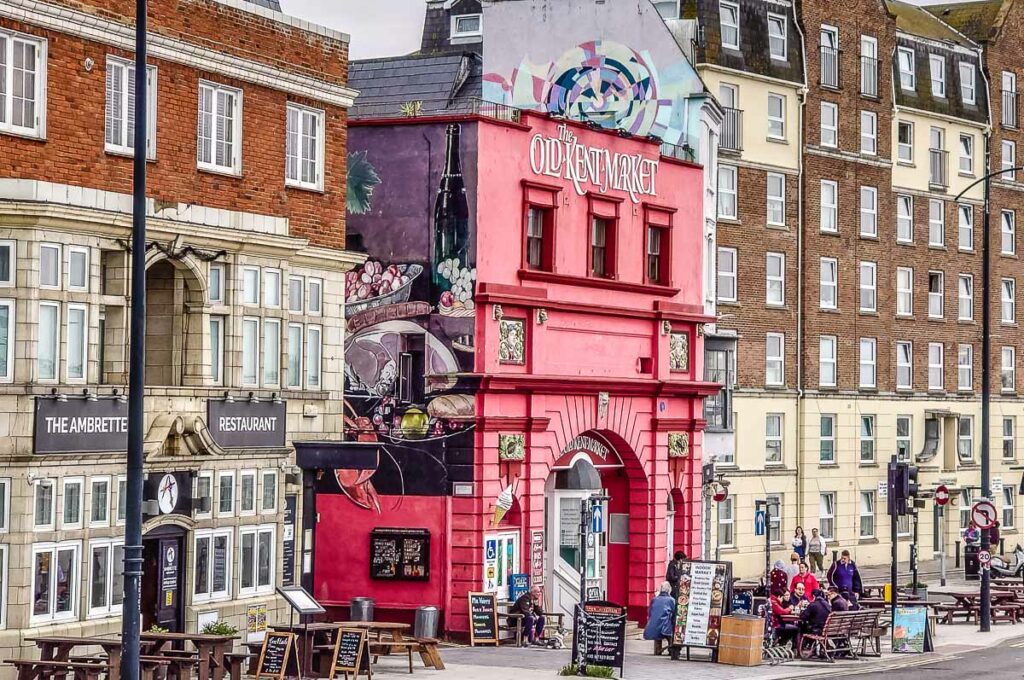 Kent is a must-see English county if you have an interest in good food and drink. From Whitstable oysters to Britain's oldest brewer, there are great foodie destinations here to explore.
Here are three of my favourite ones:
The Old Kent Market (pictured above) in Margate – housed in a former cinema, this is a collection of great food stalls and small eateries. Very quirky, here you can sample both traditional English foods and bakes as well as international fare.
Macknade – a delightful food hall with branches in three Kentish towns – Faversham, Tunbridge Wells, and Ashford. Here you will find an amazing selection of foods from all over Kent, Europe, and the world. When I am in need of an Italian fix, I head to Macknade in Faversham as they stock many of the delicious foods I fell in culinary love with during my six years in Italy. Provolone or panettone, I know I can find it here.
Tea Room at The Friars in Aylesford – a spacious tea room serving traditional cakes, bakes, and light lunches in the Carmelite Priory of Aylesford. It is a beautiful place to visit with spacious gardens and the river Medway flowing past.
One curious thing about Kent in England in terms of food history is that here you can visit the town of Sandwich. The nowadays ubiquitous sandwich is named after the town's 4th Earl – Lord John Montague. He ordered for a piece of meat placed between two pieces of bread to be served to him so that he could eat whilst still playing a game of cards. His friends, upon seeing this, asked for the 'same as Sandwich' thus giving rise to what nowadays is one of the most popular types of food in the world.
And here are a couple of typical Kent desserts to sweeten your visit to this English county:
Gypsy Tart – a beloved local delicacy that has been around for a very long time. A pie crust is filled with a mixture of evaporated (or condensed) milk and muscovado sugar. It's incredibly sweet but it's a must-try if this is your first visit to Kent.
Canterbury Tart – a local dessert making use of the plentiful supply of appes in Kent. The first recorded recipe of this local staple dates back to 1381 and it was written down by Geoffrey Chaucer – most famous as the author of The Canterbury Tales.
Kent is also very famous for its ales, beers, liquors, and wines. Here you can tour the facilities of Shepherd Neame – Britain's oldest brewer – that has operated in the Kentish town of Faversham since at least 1698. Biddenden Vineyards produce award-winning wines and their vineyards can be visited from April to September. The Copper Rivet Distillery make distinctive English gin, whisky, and vodka and you can tour it to experience the entire distillation process from grain to glass.
11. Kent's Unique Oast Houses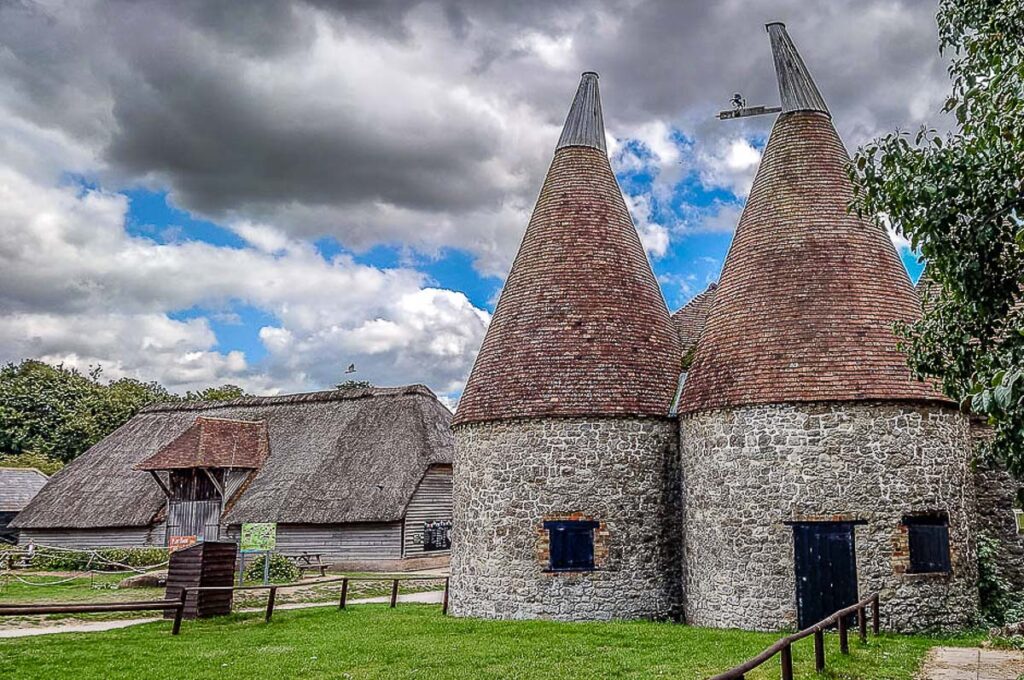 Everywhere you go in Kent, you will drive past the traditional for this English county oast houses.
They make quite an impression with their cylindrical turrets attached to the main body of the building. Conical roofs crowned by weathervanes complement their unique architecture.
The design of the Kentish oast house was developed throughout the centuries to make it easy to dry the hops abundantly grown here. Hops have been cultivated and then brewed in ales and beers in Kent for a very long time. The first hop garden in England was established near Canterbury in 1520. Since then over half of the hops produced in the country have come from Kent.
The cylindrical turrets attached to a Kentish oast house are actually kilns in which the freshly-picked hops are spread out to dry them with hot air. The conical roofs are open on top and are protected by a special device. Called a cowl it regulates the flow of air and keeps the rain out.
Nowadays, many of the oast houses in the county have been converted into luxury accommodation. It's quite the status symbol to own one.
If you want to see an oast house up close and to go inside it, too, then head straight to Kent Life. This is an open-air museum where you can learn about rural life in Kent throughout the centuries. A hop garden and a large oast house are at the heart of the attraction. You can read more about them and everything else you can see and do here in my blog post about Kent Life at this link:
12. Kent's Amazing Landmarks and Quirky Sights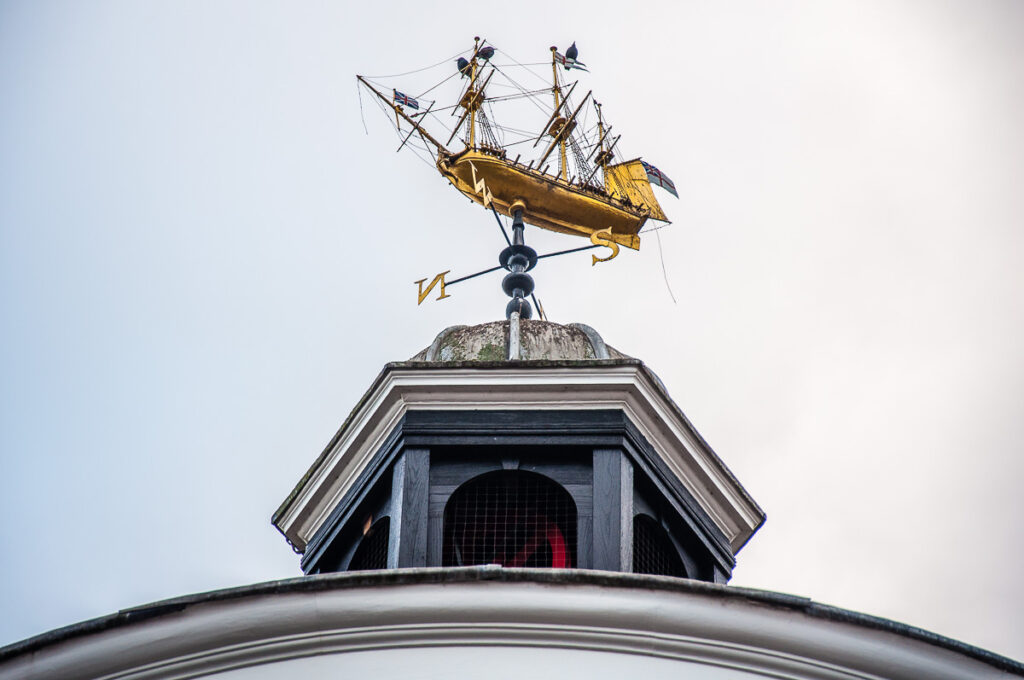 There are many truly unique places to visit in Kent. From a seal colony near the town of Sandwich to abandoned war forts just off the coast of the towns of Whitstable, Herne Bay, and Margate, here you can discover and enjoy many amazing landmarks and sights that appeal to your sense of the unusual.
Here are a few to see for yourself:
When life gets a little bit too serious sometimes, it's nice to know that you have a long list of quirky places to head to for an hour or a full day to take your mind off things and to gain a new perspective. Life is colourful and unusual and with Kent's curious and interesting sights and landmarks, it's easy to keep experiencing new things time and time again.
Of the sights and attractions I mentioned above, I particularly loved visiting the Shell Grotto and the Caves in Margate. Both are underground, have a curious history, and make for such an unusual thing to do even on a rainy and grey day.
I also love the tobogganing and tubing centre in the town of Chatham in Kent. UK's longest tobogganing track is here and while I was very apprehensive before my first ride, it turned out to be a lot of fun.
13. Kent's Naval History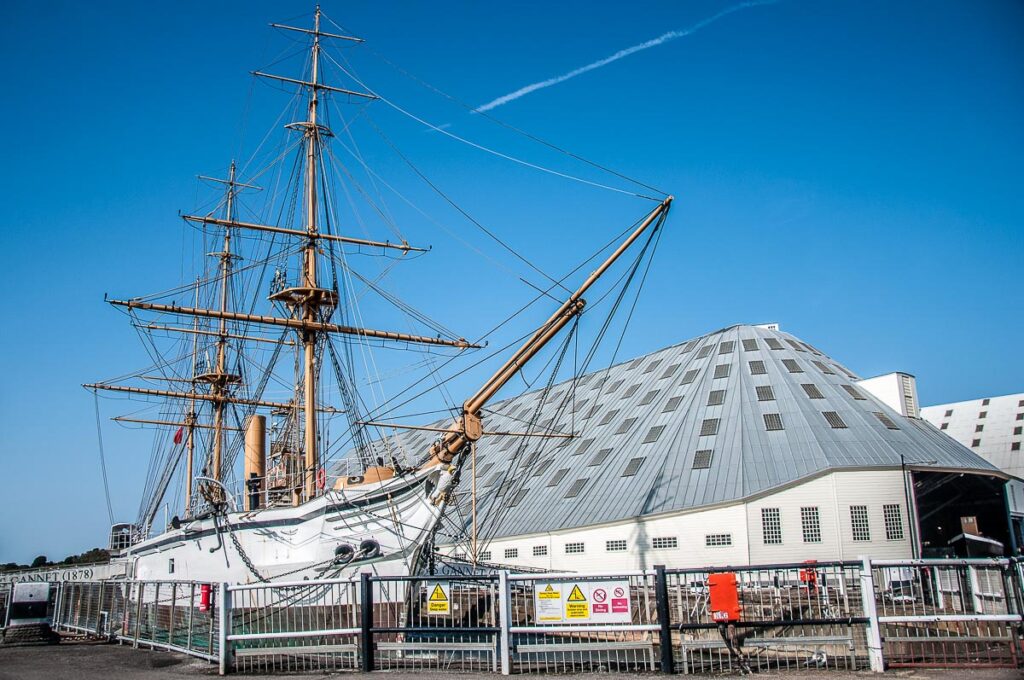 With its strategic position on the shores of the English Channel and being England's closest point to Europe, throughout the centuries Kent has played an important role in safeguarding the Kingdom and developing its naval powers.
Put a day aside to explore Kent's naval heritage and you will be surprised by how many famous British historic figures have a deep connection to this corner of England. From Sir Francis Drake – an English explorer and accomplished seafarer among other things – who started his naval apprenticeship in Kent to Admiral Horatio Nelson who arrived in Chatham – then a major naval port and dockyard – as a 12-year old boy in 1771 to begin his naval career.
Here are some of the best places to get close to Kent's naval history:
Roman Pharos at Dover Castle – this eight-sided lighthouse was one of two built by the Romans who had just established Dubris (nowadays the Kentish town of Dover) as a major naval base.
The Historic Dockyard (pictured above) in Chatham – explore over 400 years of naval history in Britain's most complete and best preserved dockyard of the Age of Sail. A truly wonderful place where you can easily spend a whole day and still have several areas left to explore. I particularly love the Victorian Ropery (which once was Europe's longest brick building) and the submarine (don't miss a chance to get on board). Chatham's Historic Dockyard is also often used as a filming location. You may recognise it from such movie and TV hits as The Mummy, Children of Men, Bridgerton, and Call the Midwife.
Chatham Naval Memorial – an imposing hilltop monument. It was unveiled in 1924 in remembrance of those members of the Royal Navy who had perished during the First World War and had no known grave.
14. Kent's Religious Heritage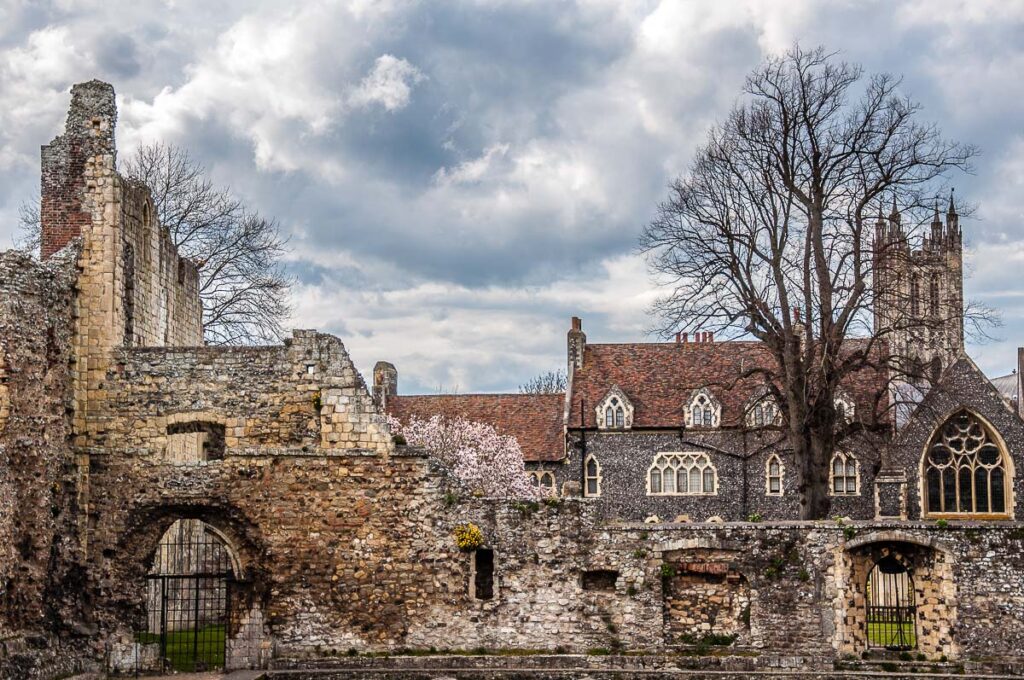 Kent has a fascinating religious history which is interesting to learn about even if you are not religious.
The Cathedral city of Canterbury in Kent is England's religious capital and has a large number of Christian landmarks tracing the arrival and presence of Christianity in the country.
Today, Canterbury has three UNESCO World Heritage sites – all of them with a rich Christian history. All three are a must-see place in England and visiting them makes for a very interesting day out in Kent. Here they are:
Canterbury Cathedral – this is the mother-church of the worldwide Anglican Communion and Seat of the Archbishop of Canterbury. It's a truly fascinating place to visit on account of its millennial history and a mix of Romanesque and Gothic architecture.
Church of St. Martin – a small church on the outskirts of Canterbury. This is the oldest still in use church in the English-speaking world. Originally, it was the private chapel of the Christian Queen Bertha of Kent back in the 6th century.
St. Augustine's Abbey – a ruined abbey on the edge of Canterbury. It was founded by St. Augustine of Canterbury in 598 and it flourished until the dissolution of the monasteries in England in 1538. Augustine was sent from Rome to Kent by Pope Gregory I with the mission to convert the Anglo-Saxons to Christianity. He founded the abbey, converted Ethelbert – the King of Kent – and build the first Canterbury Cathedral. Thus Kent was the first Christian Kingdom in the British Isles.
In addition to these three major religious landmarks, Kent has many more churches and places of worship to see and explore here. From England's second-oldest Cathedral in Rochester, the ruined Bayam Old Abbey, and the Carmelite Priory The Friars in Aylesford to the Guru Nanak Darbar Gurdwara – one of the largest Sikh temples outside India – there is lots to see and explore here in terms of religion, history, and culture.
15. Kent's Kids Attractions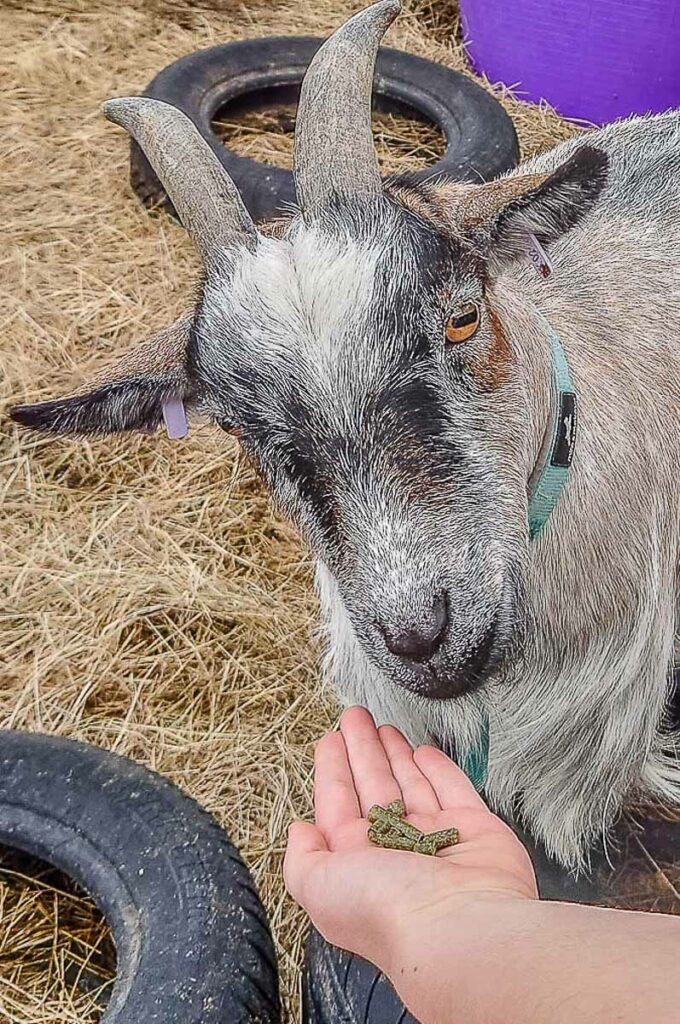 Finally, Kent is a great destination for families. From spending time in the bosom of nature to having fun at award-winning attractions, there are many options here to keep kids of any age entertained over a day, a weekend, a half-term holiday, and even a longer period.
Here are a few must-see kid-friendly places in Kent:
Plus, many museums and attractions here have sightseeing itineraries and trails developed specifically with kids in mind. Information is presented in a fun and accessible way so that children develop an interest in a topic that otherwise may be a bit too serious and dry.
It is a lot of fun to explore Kent with kids in tow. There is never a shortage of exciting places to visit in this English county. From the Shell Grotto in Margate to the orchards of Brogdale Collections, there is always something curious and unusual here to explore and enjoy.
As a family, we particularly like Buttercups Sanctuary. It takes in and looks after mistreated and abandoned goats. It's a lovely place to visit. Kids and adults can spend time getting close to the goats, providing them with pets and scratches, and even feeding them tasty treats.
In Conclusion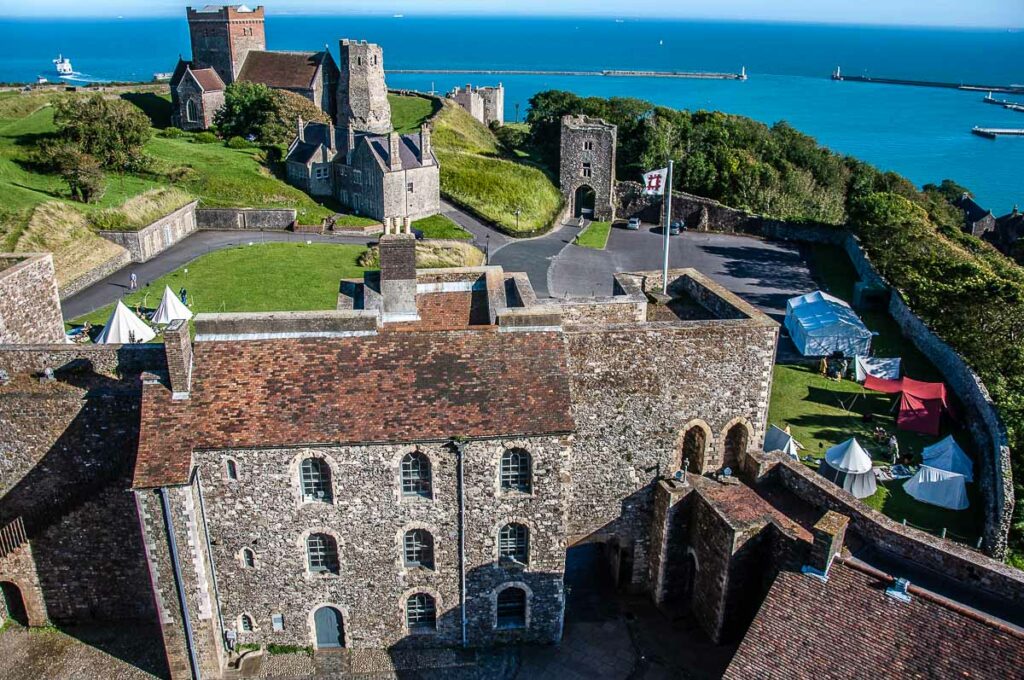 Known as the Garden of England, Kent is an English county sandwiched between London and the English Channel.
Dotted with cute towns and with deep layers of history, Kent is a great place to head to on a day trip or for a longer exploration. Easy to reach from London within less than an hour, this is a corner of England that has lots to offer in terms of history, culture, good food, and fun events. Come once and you will want to return time and time again.
So, in this blog post today, I summarised in text and photos the main 15 reasons to visit Kent in England, UK. From its Dickensian heritage and naval history to its centuries-old traditions of ale-making and oyster-catching, Kent is always a delight to explore.
I hope that all the information outlined here as well as all the first-hand tried and tested tips I shared will give you lots of ideas for days out in Kent.
Enjoy your time in the Garden of England!
Now get ready quick for your trip to Kent in England!

More Helpful England Links for You
Travel in England: Best Towns in England
London: South Kensington Museums
Cambridgeshire: Cambridge
Cheshire: Chester
Isle of Wight: Alum Bay, Carisbrooke Castle, Osborne House, Pepperpot, Round the Island Race, St. Catherine's Lighthouse
Hertfordshire: St. Albans Cathedral
Kent: Kent Life
Northumberland: Lindisfarne
English Lifestyle: Differences Between the English and the Italians, Memorial Benches, Allotments, Charity Shops, Beachtime
English Food: Fish and Chips
Thank you for reading! Please, leave me a comment, pin the images below or use the buttons right at the top and at the end of this blog post to share it on social media.
For more useful information like this, please, like my blog's page on Facebook and subscribe to my strictly no-spam newsletter.