Here are 25 delicious Portuguese desserts and pastries to enjoy during your holiday in Portugal.
Sampling what the local cuisine has to offer is one of the greatest pleasures of travel.
Especially, when the focus is on the sweet output of a country.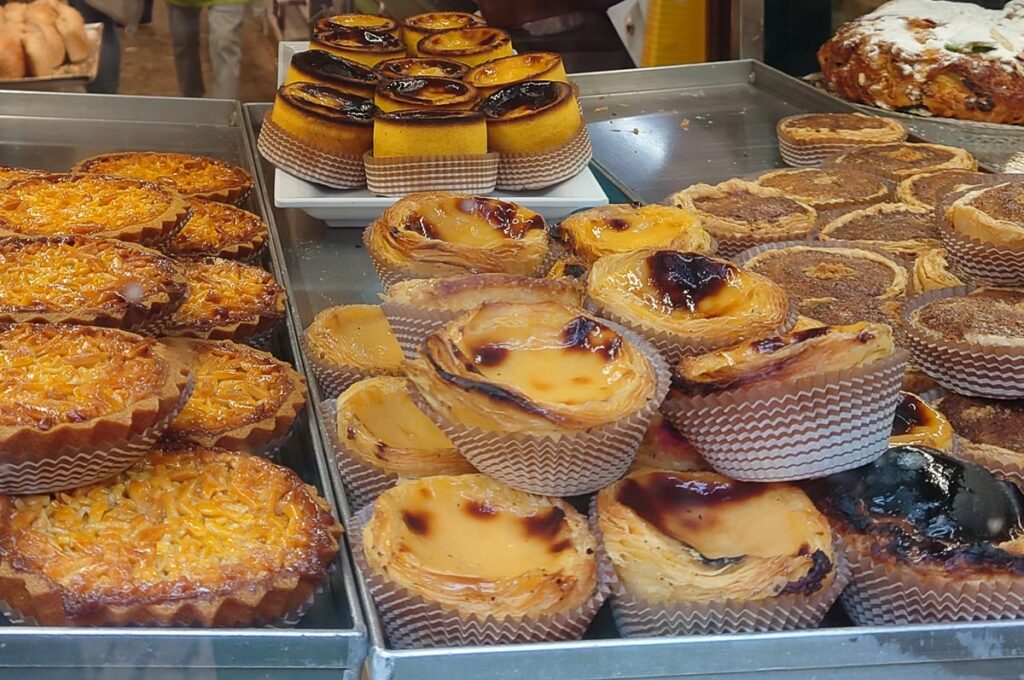 On account of its history, azulejos, and beaches, Portugal is a popular destination in the south of Europe. Stretched along the edge of the Iberian Peninsula, the country has another huge ace up its sleeve, namely its doçaria. This is an umbrella term for all the Portuguese cakes, sweets, puddings, pastries, confectionery, and hard candy.
There are literally hundreds of them and if you have a sweet tooth or enjoy tasting new foods when you travel, you will really love your time in Portugal.
After recently spending a week in northern and central Portugal where I enjoyed copious amounts of traditional and innovative Portuguese desserts, now I want to share with you all the sweet details. From the internationally famous pastéis de nata to several little-known beyond the confines of the country desserts and pastries, I will take you on a delicious journey.
For this, I will start with a short overview of the traditions of Portuguese desserts and pastries. This will give you a good idea of the particularities of Portugal's baking and sweet-making.
This way, you will find out, for example, why the Portuguese use so many egg yolks (sometimes up to 20! Yes, no joke!) in their recipes. You will also understand why I consider Portuguese croissãs superior to the Italian cornetto and even better than French croissants (Oh, the blasphemy!).
Then, I will list 25 Portuguese desserts and pastries that you will want to taste for yourself during your holiday in the country. For each one of them, I will outline the traditions behind it, how it tastes, and what makes it so special.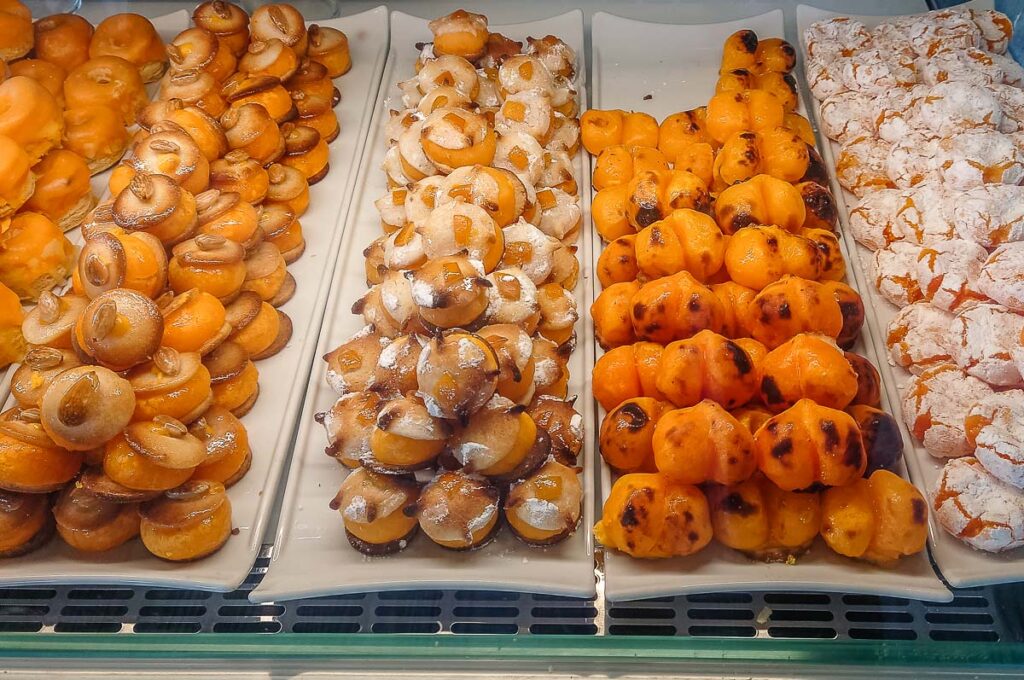 Finally, I will give you five practical tips to help you experience and embrace the Portuguese dessert scene in the best possible way.
There are no recipes included in this post as this is not a baking blog (although, for what matters, I do love baking and eating baking goods).
This is strictly a travel article about Portugal's sweets and puddings. Its aim is to provide you with a helpful list of the best Portuguese desserts and pastries. This way, when you travel to Portugal, you will know exactly what to order so that you get to savour not just the best local sweets but also the history and traditions of this charming country in Europe.
Now, let's tuck in!
Traditions and Particularities of Portugal's Desserts and Pastries or Why Do the Portuguese Use So Many Eggs in Their Sweets
Pin for Later!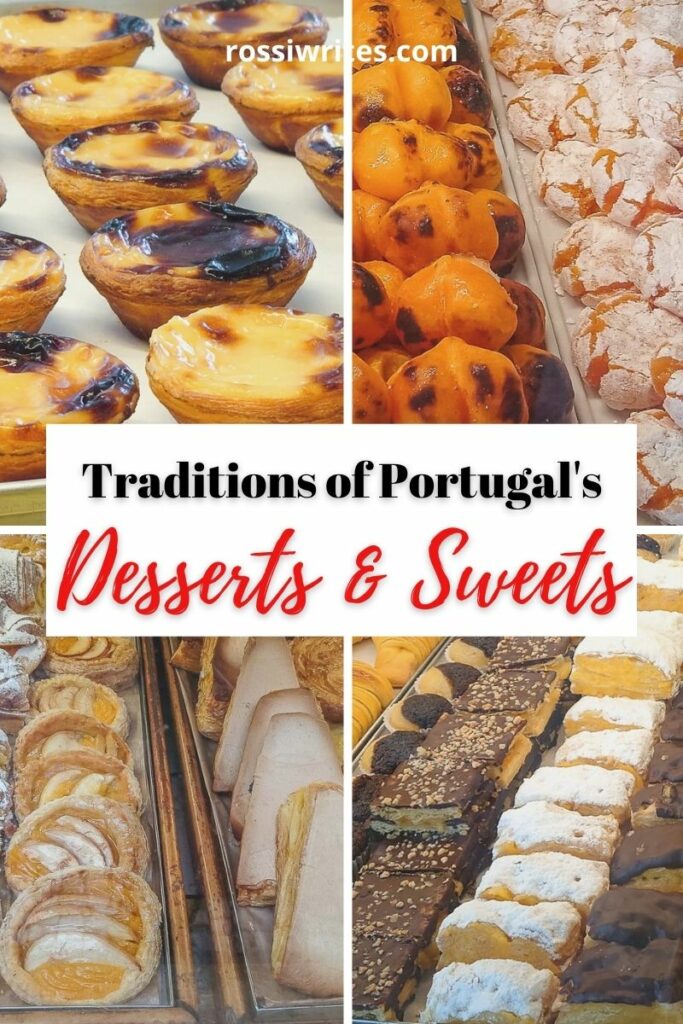 The traditional Portuguese desserts and sweets have two main ingredients – egg yolks and sugar – and one heavily supporting ingredient – almond flour. White flour is used quite sparingly in them.
Known as doçaria conventual (in English, convent desserts), their recipes were created in the country's numerous convents and monasteries and their character was pretty much defined between the 15th and the 16th centuries.
At that time Portugal had just taken over from the Republic of Venice as the biggest producer and importer of sugar in Europe. Sugarcane plantations thrived first on the islands of Madeira and Cape Verde and then in Brasil thus providing a steady supply of the prized 'sweet salt' to Portugal.
Up until then, sugar had been considered an expensive spice with two main applications. One was as an ingredient in the potions prepared in the pharmacies of the Portuguese convents and monasteries. The other was as a fortifying food administered in tiny doses to the malnourished and sick people languishing in the monastic infirmaries.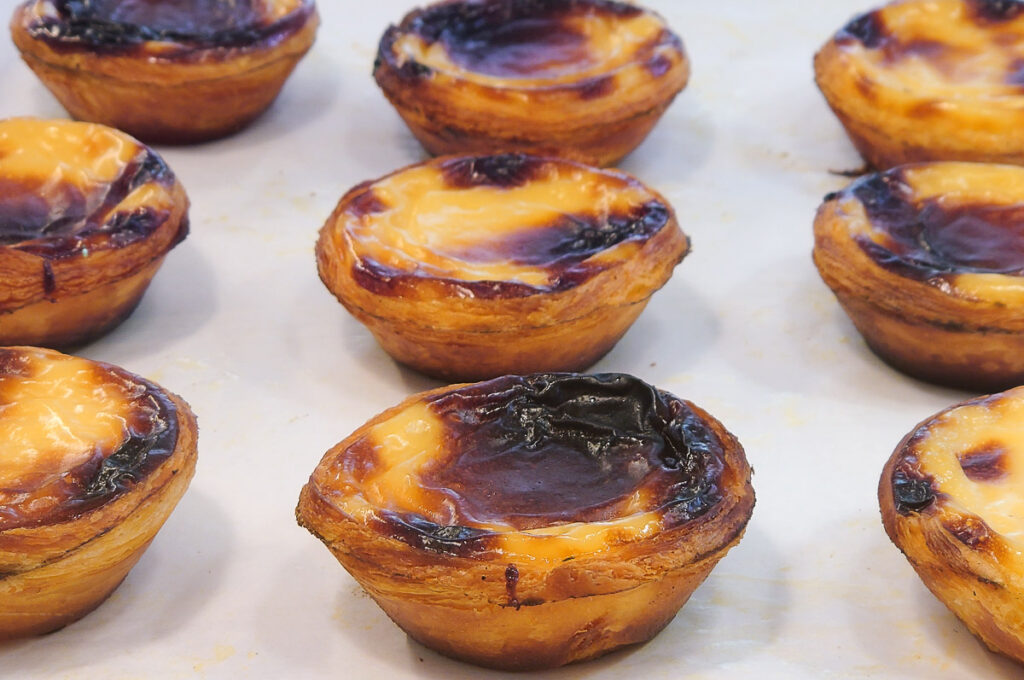 When copious amounts of sugar started to arrive from the Portuguese colonies, its price fell significantly. In addition, large quantities of sugar were donated by the king to a number of religious orders. Soon, the nuns and monks had to find a new way to use it. Thus, sugar trickled from the monastic pharmacy into the monastic kitchen.
At the same time, the Portuguese convents and monasteries had yet another problem to solve: what to do with a huge surplus of egg yolks? The egg whites were used in ever greater quantities to starch the clothes of the aristocracy and the habits of the nuns and monks. They also had a wide application in the process of fining wines – a technology that was used to improve their clarification, aroma, and colour.
The leftover egg yolks were initially fed to domestic animals but when sugar became plentiful, a new use was found for them – desserts. Recipes were created and perfected in the kitchens of many convents and monasteries all around Portugal.
The nowadays world-famous pastel de Belém was the work of the monks of Mosteiro dos Jerónimos in Lisbon. The nuns from the Mosteiro de Jesus in the town of Aveiro in Central Portugal came up with ovos moles (literally, soft eggs). The nuns in the small town of Ovar baked the soft and spongy Pão-de-ló de Ovar. Their counterparts in the city of Guimarães in the north of the country created a whole line of sweets. Among them are the toucinho-do-céu, tortas de Guimarães, and douradinhas de Guimarães.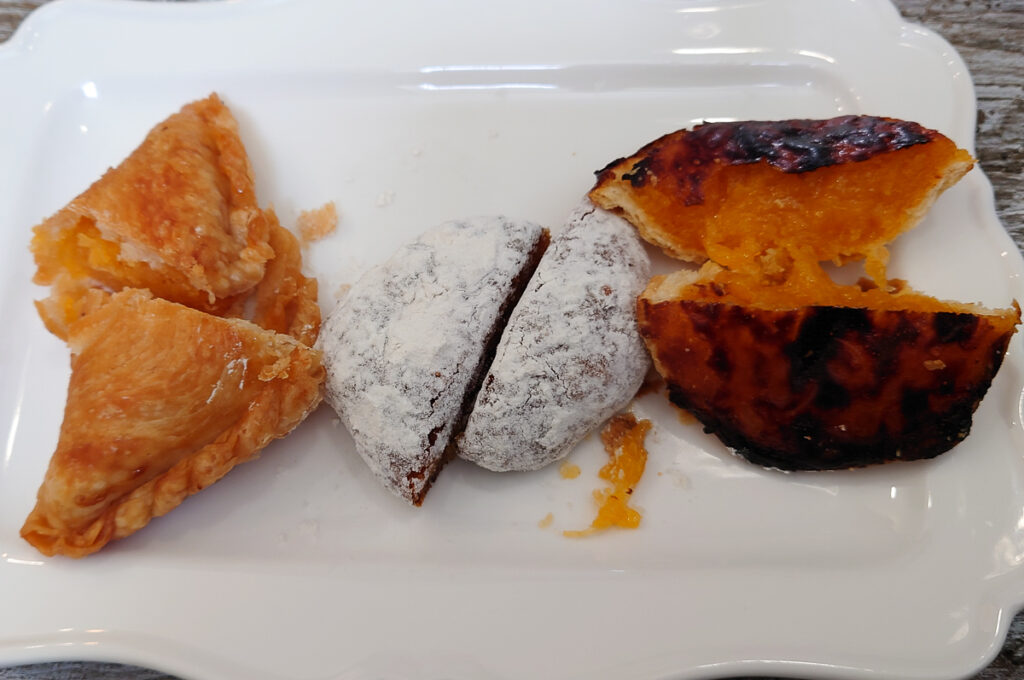 Yet, in 1834 the end of the Portuguese Civil War led to the dissolution of the monasteries in Portugal. In the years that followed, their lands were nationalised and the nuns and monks were expelled. Searching for ways to survive, some of them passed the secret recipes for several prized convent desserts to selected local families.
They started making and selling the desserts themselves thus keeping the traditions of Portugal's doçaria conventual alive.
To this day, their descendants continue making these historic desserts in the old fashioned way. Their production is often entirely by hand. Egg yolks and sugar are still the leading characters with almond flour playing a strong supporting role. After all, Portugal is an important almond grower. Then come the different types of fats – butter, pork lard, and even bacon!
These base ingredients – yolks, sugar, almonds, and fats – are used in a myriad of different and original ways. A trip across the small in terms of territory country of Portugal will amaze you with the staggering number and variety of local desserts and pastries.
It's so easy to get carried away when you order sweets in a local patisserie or pastelaria in Portugal. I certainly wanted to taste it all, try it all. There are dozens and hundreds of types of sweets each calling your name. How to resist?! I simply couldn't!
You will see that most of the Portuguese desserts and pastries are an intense yellow colour, orange even. Such is the concentration of egg yolks in each sweet bite.
Plus, every small town and village in Portugal has a local delicacy. So wherever you go, there is always something new to try. And while the convent desserts and pastries are still at the base of the doçaria portuguesa, over the last few decades, many new influences have been felt here, too.
This has led to the absorption of several foreign recipes and their complete adaptation to the Portuguese taste. From French croissants to doughnuts from Berlin, nowadays they have their own versions in Portugal – croissãs and bolas de Berlim – that for me at least, easily beat the originals in terms of taste and flavour.
25 Delicious Portuguese Desserts and Pastries to Enjoy in Portugal
Pin for Later!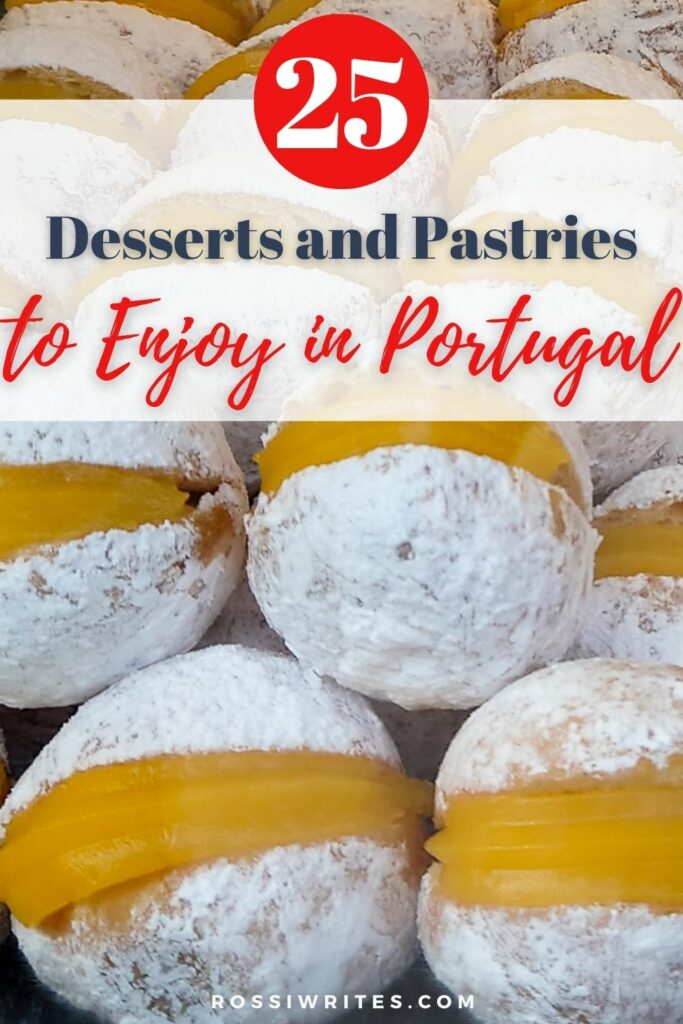 1. Pastel de Belém / Pastel de Nata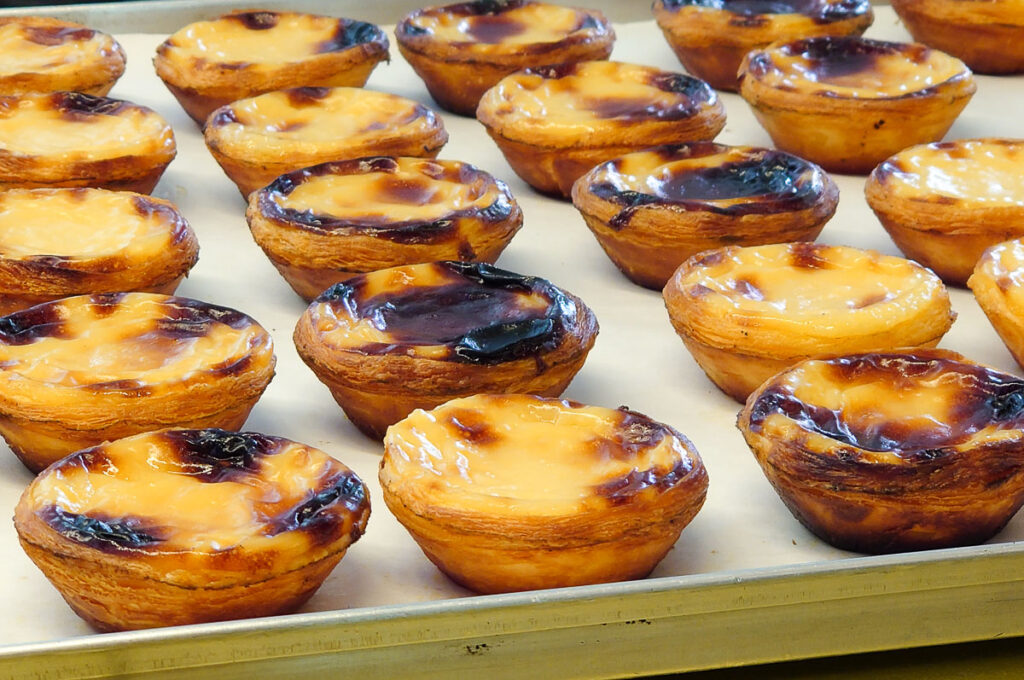 The pastel de Belém and the pastel de nata (pl. pastéis de Belém and pastéis de nata) are without a doubt Portugal's most famous pastries. Simply described, they look like a small basket made of delicate puff pastry and filled with thick and gloopy egg custard. Thus, in English, they are often called Portuguese egg custard tarts or even Portuguese egg tarts.
Anywhere you go in Portugal, you will come across these egg custard tarts. They are sold in refined patisseries and small corner bars. There are even whole chains of cafes dedicated exclusively to making and selling them.
So, thousands of visitors to Portugal have 'eat a Portuguese egg custard tart' as one of their bucket list items for this beautiful country.
And here comes an interesting question. Actually, two:
Why the most famous pastry of Portugal has two names in Portuguese? and
What is the difference between a pastel de Belém and a pastel de nata?
The pastel de Belém is the original Portuguese egg custard tart. It can only be made and sold under this name by a small bakery in Lisbon's district of Belém. The bakery, aptly named Pastéis de Belém, has been producing thousands of these delicious pastries since 1837.
Three years prior to that, in 1834, all monasteries and convents in Portugal had been dissolved. One of them was the large Mosteiro dos Jerónimos in Belém. This monastery had a secret recipe for a delicious pastry. When the monks were expelled, one of them passed the recipe to a local family which operated a sugar cane refinery and a small store next to the monastery.
Thus the myth and the manufacture of the pastéis de Belém were born. The small store became a small bakery-cum-cafe and nowadays, it's the only place in the world where the pastéis de Belém are made following the original recipe. This is also the only place in the world where they can be sold under this name. It's even trademarked.
You can't, however, keep such a delicious pastry confined to one small specific place in a whole country of egg custard tart lovers. As the popularity of the pastéis de Belém grew, other bakeries and patisseries all over Portugal started making them. They came up with their own ways of baking them so as to look as close to the original pastry. However, they can only sell them as pastéis de nata with nata meaning cream in Portuguese.
To enjoy a pastel de Belém (or a pastel de nata) at its best, have it fresh out of the oven. Sprinkle a bit of cinnamon on top and accompany it with a nice cup of coffee or (when in Porto) a small glass of port wine.
2. Ovos Moles de Aveiro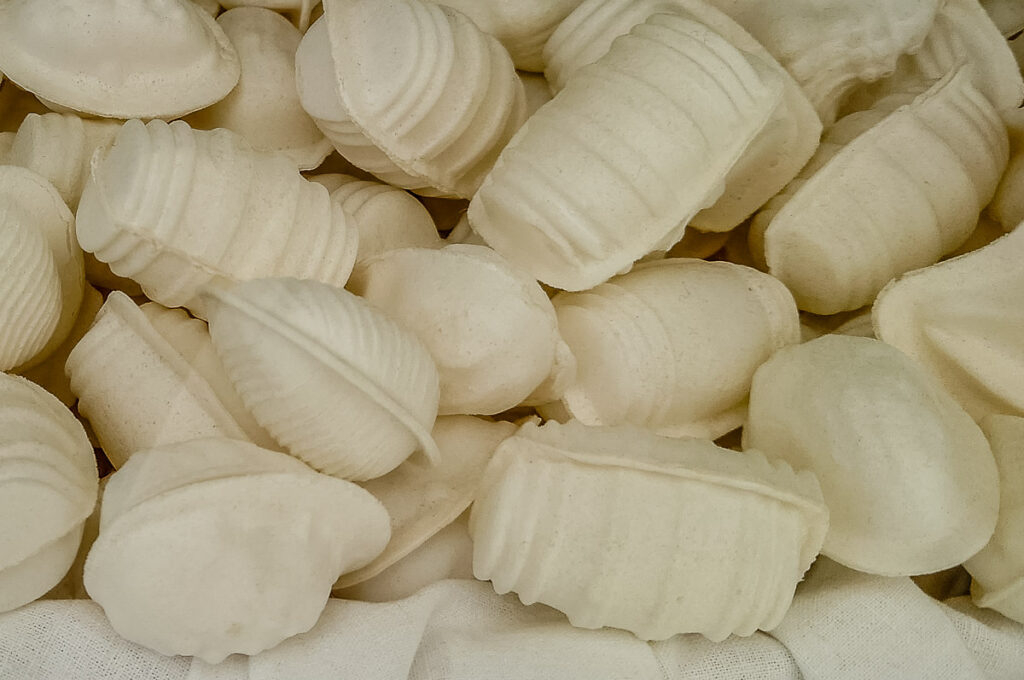 Ovos moles is a truly unique Portuguese dessert. In English, its name means literally soft eggs. I know, it doesn't sound that appealing. Plus, these little wafer casings filled with thick egg- and sugar-based cream can be quite the acquired taste.
Yet, with a history that spans 500 years, zealously observed traditions, and very much handmade from start to end, they are one of the things that you really have to try for yourself when you are in Portugal.
Ovos moles are typical for Aveiro. This is a small city on the Atlantic coast of the country. About an hour away from Porto by train, Aveiro is known for its canals, colourful boats, salt flats, and Art Deco houses. Some even refer to it as the Venice of Portugal.
An important Domenican convent – the Mosteiro de Jesus – once existed here. Nowadays, its imposing building functions as Aveiro's outstanding city museum.
They say that in the 16th century, a nun from the convent couldn't tolerate the long days of fasting. Finding plenty of egg yolks and sugar in the convent's kitchen, she prepared a thick eggy cream which she hid under the communion wafers. A delicious spoonful of cream with a wafer gave her just the energy that she needed to keep praying.
While no one knows for sure if this is a true story or a legend, the fact is that by the 19th century, the nuns of Aveiro's Mosteiro de Jesus were known for their ovos moles. After the dissolution of the monasteries of Portugal, a local lady by the name of Odilia dos Anjos Soares – who had once worked in the convent's kitchen – started making the ovos moles at home and selling them around town.
Soon the local girls took on the production of these unique sweets and would wait for the trains arriving in Aveiro from Lisbon and Porto to sell the local delicacy to the travelling ladies and gents.
So, what exactly are ovos moles? Imagine a casing made of thin wafers and moulded to look like a seashell, fish, small barrel or even walnut and chestnut. Each shape is indicative of Aveiro's traditions. For example, the barrels look just like the ones once used to store and transport salt and seaweed. The sea shapes recall the abundance of fish and seafood here. Walnut and chestnut trees grow around the city.
When you bite into the casing, a thick gloopy paste fills up your mouth. It has a very intense orange colour and a very strong egg taste for it's made by carefully mixing beaten egg yolks and sugar syrup and then thickening the mixture over a slow fire. It sounds simple but it's a very delicate process.
Nowadays, the ovos moles de Aveiro are one of Portugal's most famous and most highly-prized sweets. In 2008, the European Union even designated them a product with a Protected Geographical Indication.
As you walk around Aveiro, you will see ovos moles sold everywhere here. They are packed in pretty boxes or small wooden or ceramic barrels hand-painted with typical local scenes. Such a beautiful gift for loved ones (if they love eggs) after your Portuguese holidays!
Make sure that you visit one or some of the local patisseries specialised in their production. Many of them have been in business since the 19th century. Among the most famous ones are Confeitaria Peixinho and Maria da Apresentaçao da Cruz Herdeiros.
There is even a Brotherhood of the Ovos Moles de Aveiro and an Association of the Producers of Ovos Moles. They make sure that this unique sweet preserves its traditions while also adapting to our modern times. After all, it was with the association's blessing that a chocolate variety of ovos moles – called ovos moles pretos – was launched a few years ago.
3. Pudim do Abade de Priscos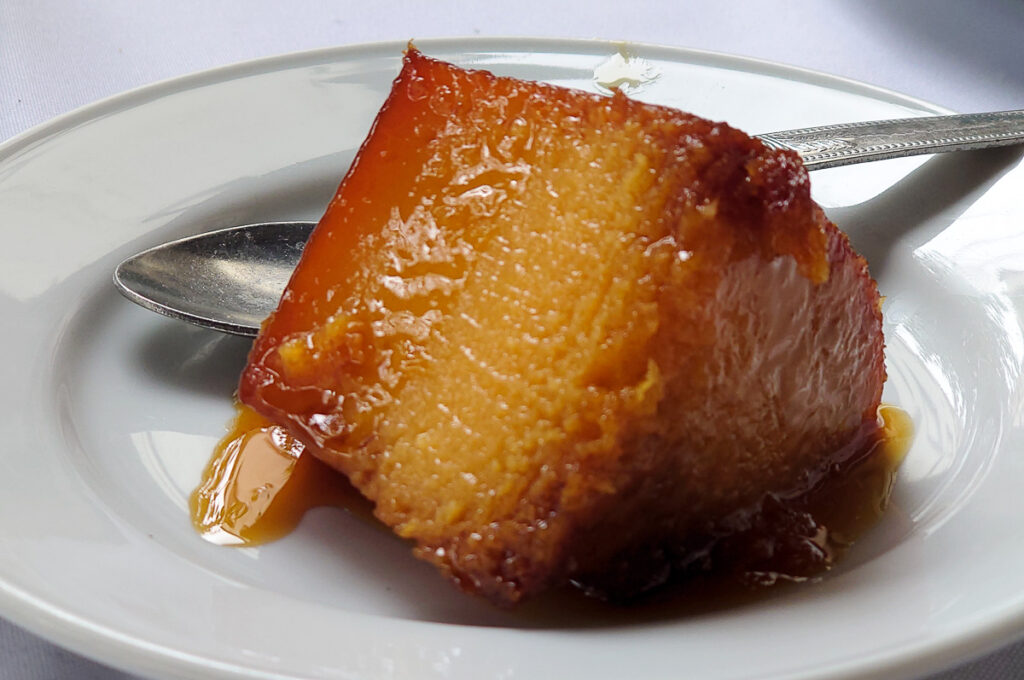 I had never met a dessert I couldn't finish until I was presented with a slice of pudim do Abade de Priscos in a small eaterie in Braga. This is a city in the north of the country which is known as the Portuguese Rome.
With a name that means pudding of the Abbot of Priscos (with Priscos being a small parish in the municipality of Braga), I can describe it as an incredibly rich and thick creme caramel cooked in a large mould. It has a dark orange, almost golden brown colour due to the 15 or so egg yolks and the port wine used to make it.
Plus, it has a secret ingredient – bacon! This explains the heavy taste of the pudding and the uncanny way it slides down the tongue just like all delicious fats do.
The pudim do Abade de Priscos was created in the 19th century by the Catholic priest Manuel Joaquim Machado Rebelo. He was the Abbot of Priscos for 50 years. Legend has it that he loved to cook and to this day his very particular pudding is sold in many places in Portugal, particularly in the north of the country.
4. Tibias de Braga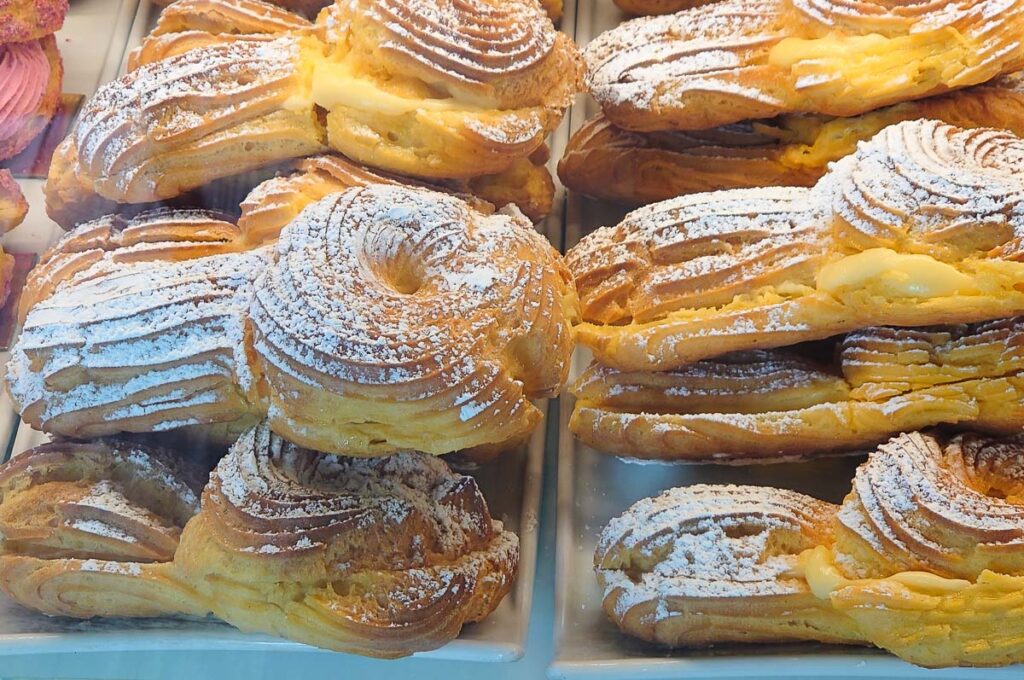 This was my absolute favourite Portuguese dessert that I sampled for the first time during my last visit to Portugal right before Easter this year. As its name indicates, it's typical for the city of Braga in the north of the country.
In shape, it does look like a shinbone or tibia – the larger of the two bones in the lower leg. However, if you have a wilder imagination, the tibia de Braga may remind you of a completely different anatomical part.
In a way, the tibias de Braga are a type of eclair. They are very delicate and just the perfect amount of crispy. While eclairs are often a bit chewy and difficult to take a bite off, the tibias de Braga melt in the mouth. The sensation is elevated by the silky creme patisserie they are traditionally filled with.
I had the most delicious tibias de Braga in a lovely little patisserie called (very fittingly) Tibias de Braga. It stands right next to the large stone arch – Arco da Porta Nova – on the edge of Braga's historic centre. It's a must-visit stop on your explorations of this beautiful Northern Portuguese city.
Tibias de Braga makes both traditional and new varieties of the tibias de Braga. I particularly loved their caramel version. Unfortunately, I was still so stuffed with the pudim do Abade de Priscos, that I simply couldn't try the strawberry tibia de Braga. It's a great excuse for a return visit to his corner of Portugal.
5. Drageias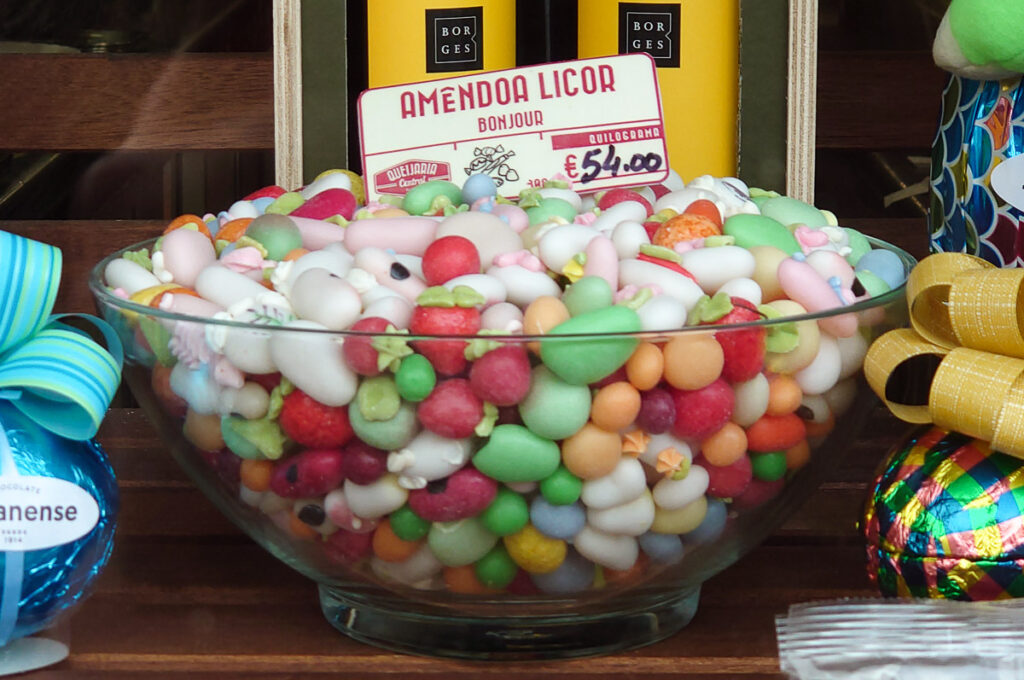 Portugal has a wonderful variety of dragees or drageias. With a thin crispy shell in many different flavours and colours they fill large glass jars in the window displays of the local patisseries and chocolate shops.
Some hide a chocolate-covered whole almond inside. Others have a piece of dried fruit as their centre. Yet others are made just of chocolate – layered thickly and generously.
A particular type of dragees sold here are scented with fruit liquors and then painted and decorated by hand one by one in a multi-stage process that takes two months. They are known as drageias de licor Bonjour in Portuguese. You will recognise them by their whimsical shapes. Moulded as tiny strawberries, vegetables, and even babies they have bright inviting colours. When you pop one in your mouth, it leaves a gentle sugary taste with just a hint of liquor.
For the best drageias in Portugal, head to the nearest shop of Arcadia. This family-run company has been making exquisite dragees since 1933. Their oldest shop is in the city of Porto with branches also operating in Guimarães, Braga, Aveiro, Viseu, Coimbra, Cascais, Estoril, Lisbon, and several other places all over the country.
6. Pão de Ló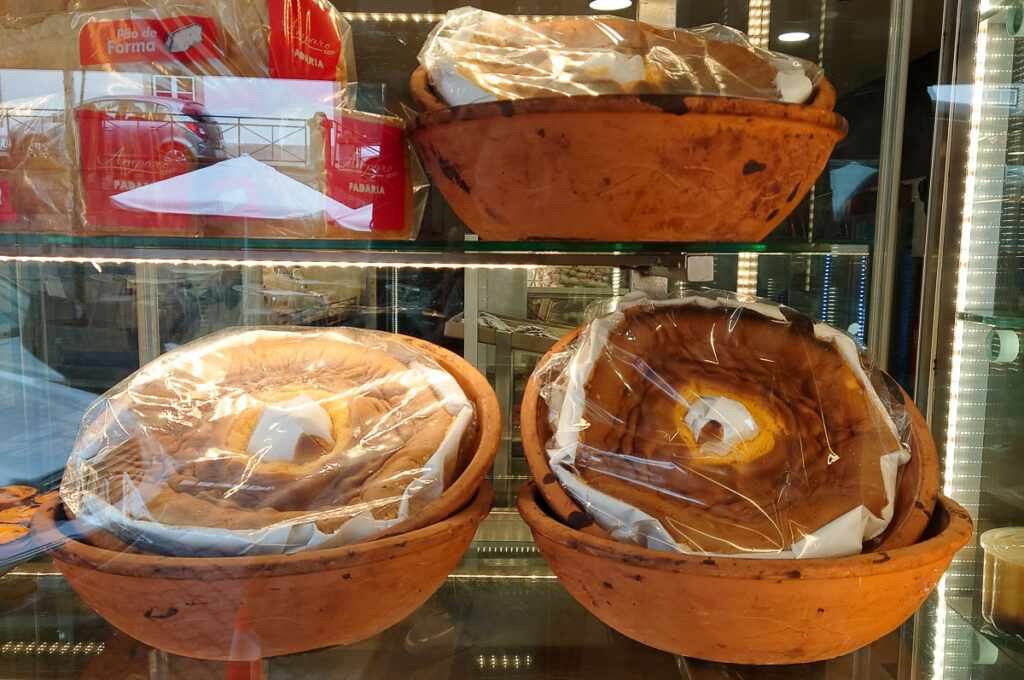 Pão de ló is the Portuguese answer to sponge cake. It's made of only three ingredients – eggs, sugar, and flour. The recipe may also call for as many as eight egg yolks.
The cake is then baked in a special clay bowl called alguidar. A small pot is placed upside down in its centre and then the alguidar is carefully lined with pieces of white paper. The batter is carefully poured in on top of the paper and around the small pot in the middle.
Finally, a second alguidar is placed upturned on top of the first to act as a type of lid. It all goes in the oven for 45 mins or so.
The result is a large and incredibly soft cake with a circular hole in the middle. It's often sold whole and still enveloped in the paper in which it was baked. You can eat it as it is or garnish it with cream or fruit.
There are different regional types of pão de ló around Portugal. Particularly well-known are:
Pão de ló de Ovar – typical for the small town of Ovar in Central Portugal. In 2016, the European Union designated it a product with a Protected Geographical Indication. Unlike the ordinary pão de ló, the one from Ovar doesn't have a hole in the middle.
Instead, its centre is incredibly soft, liquid even, making it necessary to use a spoon to scoop it out. It is traditionally prepared for Easter and Christmas. References to the traditions and artisanal production of the pão de ló de Ovar have been found in documents and literary works going back to the 18th century.
Pão de ló de Arouca – typical for the small town of Arouca in the Metropolitan Area of Porto. Unlike the other types of pão de ló, it's rectangular in shape. It's also sold in rectangular slices which are dipped in hot sugar syrup.
7. Guardanapos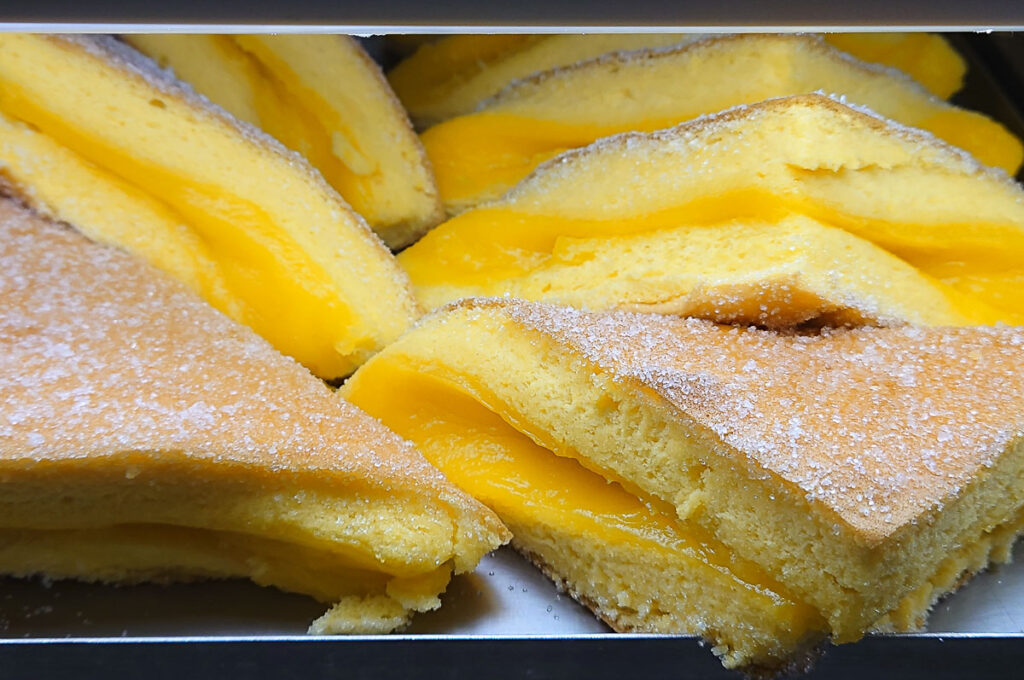 Guardanapo means napkin in Portuguese and when you look at this neatly folded cake, it's immediately clear how it got its name.
A guardanapo is basically a large square of soft sponge. As soon as it's taken out of the oven, it's spread with a generous layer of doce de gemas – an egg- and sugar-based gloopy paste that unlike ovos moles has also a spoonful of butter and some vanilla or lemon essence added to it.
The sponge is then folded over to create a pleasing triangular shape.
While I loved the softness and the texture of the sponge itself, I wasn't too keen on the doce de gemas. I think it takes a little bit of time (and constant sampling of Portuguese desserts and pastries) to get used to the strong concentrated taste of egg yolks.
8. Croissã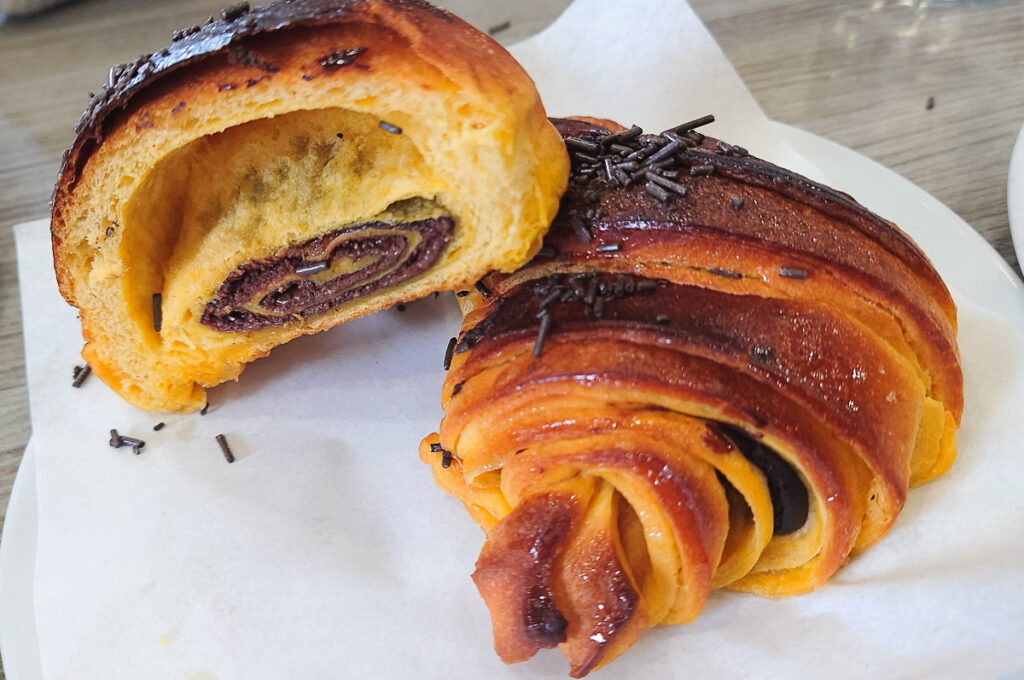 Croissã (also sometimes spelt croassã) is the Portuguese version of the French croissant. Both are similar in shape, however, there are some significant differences between the two. While the French original is crumbly and traditionally it's not filled, the Portuguese croissã has more of a brioche-like texture and it's baked either plain or with one of many delicious fillings. For example, chocolate or almond cream.
This makes it somewhat similar to the Italian cornetto (also called brioche in Northern Italy). Then again, the cornetto/brioche is pale yellow in colour and it's filled with cream, chocolate or jam once it's been baked.
The Portuguese croissã has an intense yellow, even orange shade. This is because the dough is made with lots and lots of eggs. Once the dough has been rolled out and the shapes cut off, the filling is applied to them. The croissãs are then rolled and baked.
In addition, in Portugal, they decorate their croissãs with chocolate sprinkles, flaked almonds or icing sugar thus making them even richer and more delicious to eat.
I love Portuguese croissãs. Having one for breakfast in a local patisserie in Portugal is a quick and very cheap way to start the day. When you order, they bring it to you cut in two and placed on a small plate, so as to make it easier to eat.
Keep in mind that croissãs tend to be quite heavy. Coupled with a cup of coffee, a chocolate or an almond croissã keeps me going all the way to lunch.
9. Bolo-rei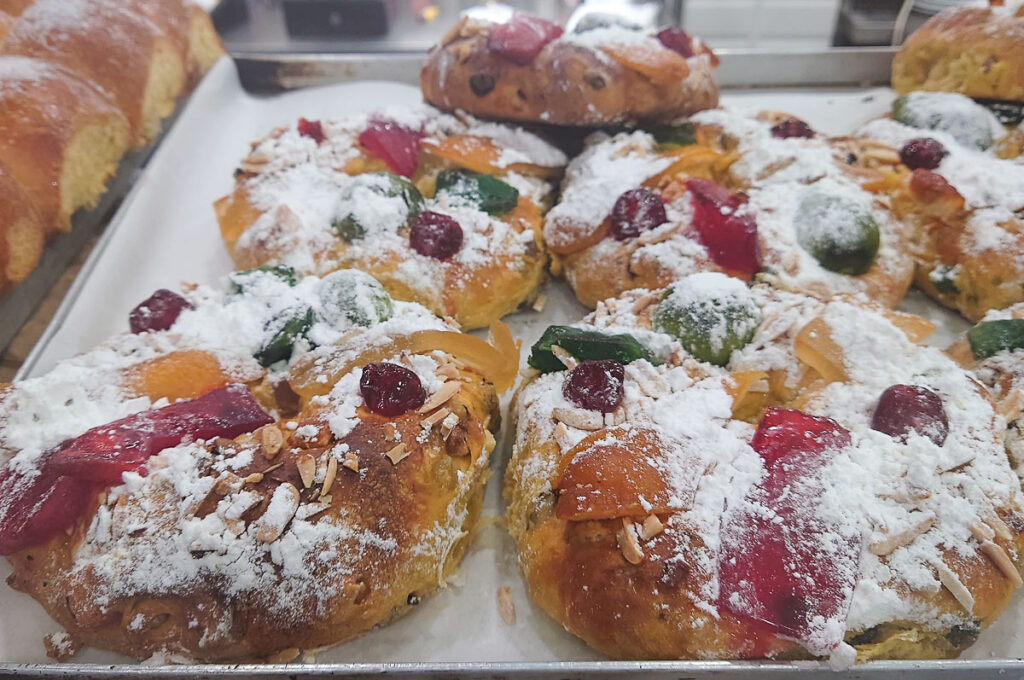 Bolo-rei is a traditional dessert enjoyed originally at Christmas and (more recently) at Easter in Portugal. In English, its name means Cake King and there is even a simpler version of it known as bolo-rainha – Cake Queen.
Shaped like a crown, the cake owes its name to the Three Kings from the Nativity Story. It's made with lots of sugared fruits and nuts and it's baked to a golden brown colour. It symbolises the gifts which the Three Kings offered to the Infant Jesus on Epiphany (6th January):
gold – as in the golden tones of the cake;
myrrh – as in the sugared fruits used to decorate it; and
frankincense – as in the irresistible festive aroma of the cake.
Bolo-rei gained popularity in Portugal in the 19th century. It was inspired by the tradition of the French gâteau des rois that was quickly adopted in Lisbon and then spread throughout the country. Otherwise, the roots of this cake go all the way back to Roman times.
During the celebrations of Saturnalia in December of each year, the Romans would eat a sweet round cake with a small bean – a symbol of fertility – hidden inside it. Whoever found the bean in their piece of cake would be proclaimed the king or the queen of the festivities.
Placing a bean and later on a small trinket in the cake survived in its French and Portuguese versions. In Portugal specifically, whoever found the bean in their slice of bolo-rei had to buy the cake for the following Epiphany. The person who found the trinket on the other hand would enjoy good luck and fortune in the new year.
Bear in mind that nowadays the inclusion of non-edible objects in foods is strictly regulated in Portugal. So, make sure that you ask when you buy your bolo-rei if it has a bean or a trinket inside.
If you don't have a taste for sugared fruit, then you can enjoy a bolo-rainha instead. It's made just like the bolo-rei but only with nuts.
10. Toucinho-do-céu de Guimarães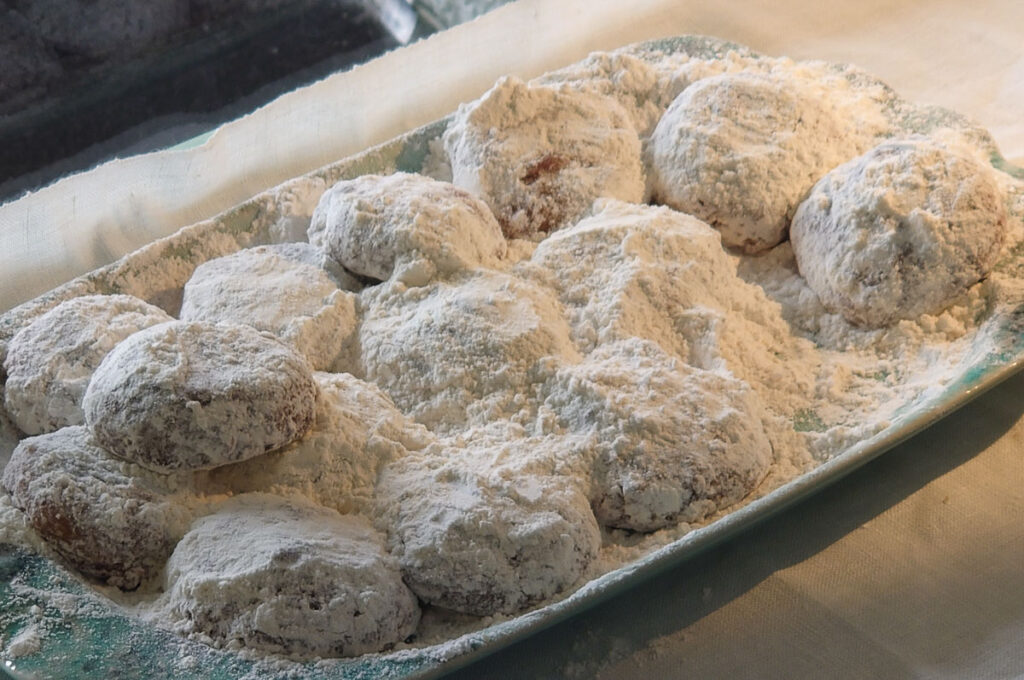 This is one of Portugal's most famous convent desserts – the toucinho-do-céu de Guimarães. At a first glance, it looks a bit like a meatball that you have rolled in the palms of your hands and patted flat just a bit to give it its final shape.
The toucinho-do-céu is then rolled in copious amounts of flour. However, it doesn't get fried. Frying wouldn't do anything for it as its main ingredients are ground almonds, sugar, and almost two dozen egg yolks!
The result is a dense, rich paste that's chewy in an inexplicably nice and satisfying way and hits a sensory spot that you didn't even know you had. It's not surprising then that this unusual concoction – created centuries ago by the nuns of the Convent of Santa Clara in the Portuguese city of Guimarães – is known as toucinho-do-céu or, as it's usually translated in English, bacon from heaven.
You may find many recipes for toucinho-do-céu online. The one for the Guimarães variety, however, is a closely guarded secret known only to a few local families. It also has one very unusual ingredient – the fibrous strands of chila.
In English, chila is fig leaf gourd – a type of squash. It's oval in shape, has pleasing green colour, and in size resembles a medium melon. Its fibrous pulp is what gives the toucinho-do-céu de Guimarães its inimitable chewy texture.
On account of its history and delicious convent desserts, Guimarães is a great place to visit in Portugal. Find more about it here:
11. Tortas de Guimarães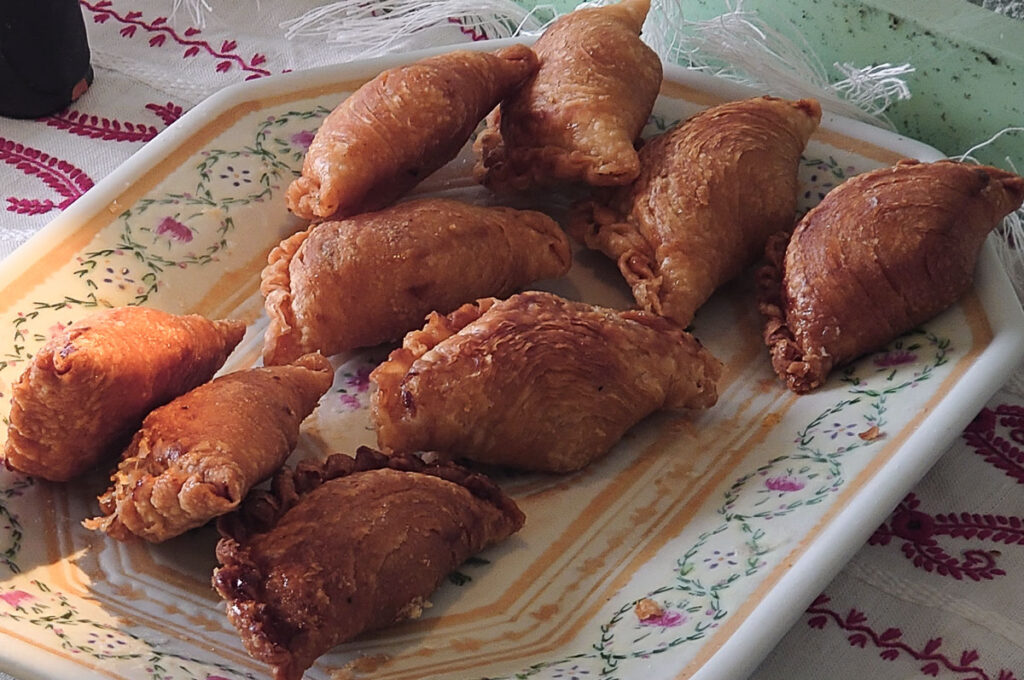 The nuns of the Convent of Santa Clara in Guimarães certainly kept themselves very busy. For they created not just the heavenly toucinho-do-céu de Guimarães but also came up with several other delicious recipes.
Tortas de Guimarães is another of their inventions. When the convent was dissolved in the 19th century, the recipe was entrusted to a local family. To this day, its descendants make the tortas de Guimarães by hand beautifully twisting closed the edges of each small pie filled with a delicious mixture.
The crispy fan-like shell is made of flour, water, and animal fat. Biting into it reveals a sweet softness – the filling is carefully prepared of egg yolks, finely ground almonds, and chila. Once again, the strands of this unusual gourd make this traditional Portuguese dessert so very pleasantly chewy.
It is thought that the tortas de Guimarães were originally known as pastéis reais – royal pasties. If you are into tasting unusual foods with an interesting story behind them, then visiting the city of Guimarães in the north of Portugal is a great idea for some culinary research and enjoyment.
12. Douradinhas de Guimarães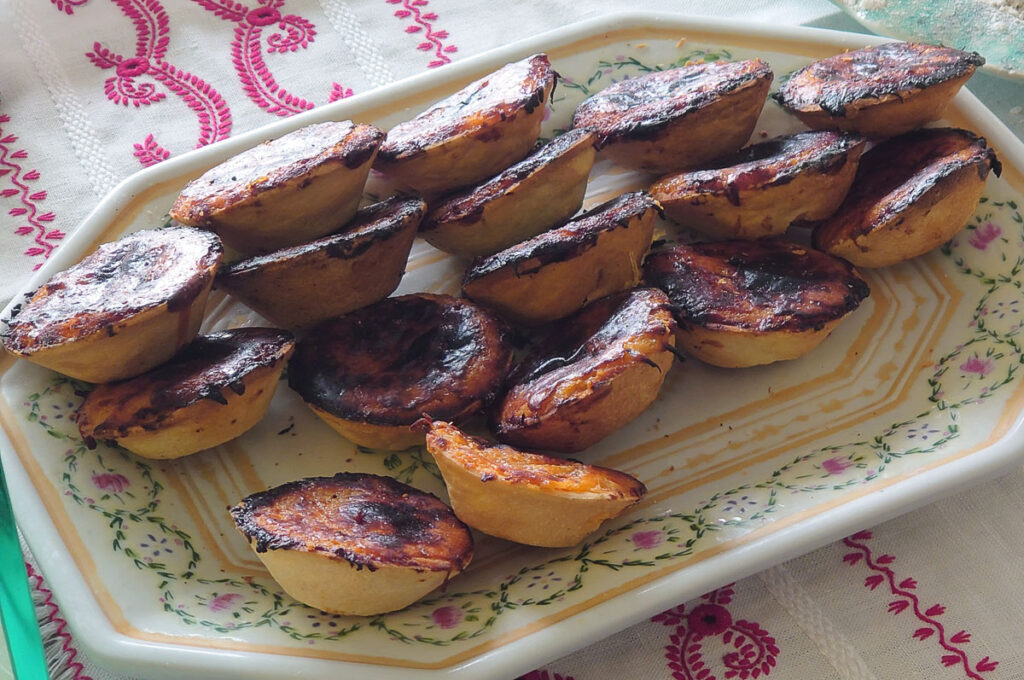 Douradinhas means 'the little golden ones' in English. They are the third convent dessert you can taste in the city of Guimarães in Northern Portugal. Just like the toucinho-do-céu de Guimarães and the tortas de Guimarães, it was created by the nuns of the Convent of Santa Clara.
Nowadays, the splendid Baroque building of the former convent houses the Town Hall. A few steps down the street from it, you will come across the small patisserie Divina Gula where you can try the city's traditional convent desserts.
The douradinhas de Guimarães are small tarts made of shortcrust pastry and filled with a mixture of egg yolks, ground almonds, and strands of fig leaf gourd or chila as it is known in Portuguese. You can tell that the nuns used the same few ingredients in many imaginative ways. It would be a sin not to try all their sweet creations when you are in this verdant corner of Portugal.
13. Bolacha María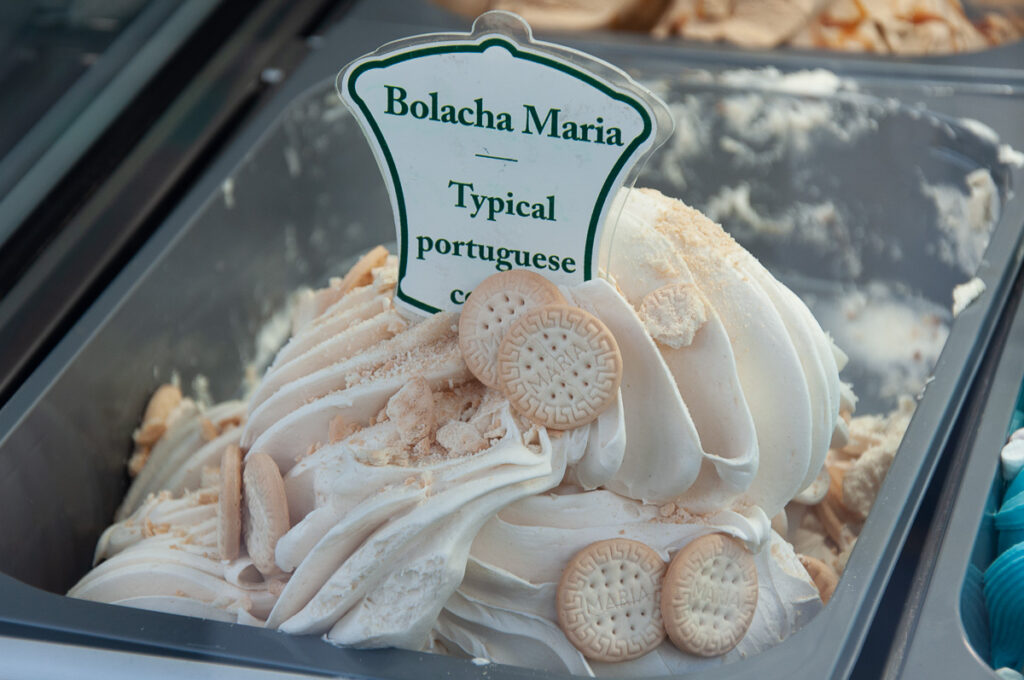 Bolacha means biscuit in English and bolacha María is the Portuguese answer to the English rich tea biscuit. Curiously enough, this nowadays most popular biscuit in Portugal was developed by a London bakery in 1874 to commemorate the marriage of the Grand Duchess Maria Alexandrovna of Russia to the Duque of Edinburgh.
While it never really took off in England, it became the most sought-after biscuit in many countries around the world. It's sold under several names such as Marie, Maria, Mariebon, and Marietta.
Vanilla-flavoured and very inexpensive, bolacha María is often enjoyed in Portugal as an accompaniment to a nice cup of coffee or tea. The biscuit is also a main ingredient in many local recipes. Two of the most well-known ones are:
bolo de bolacha – this is a beautiful and very tasty cake made by alternating layers of biscuits dipped in coffee with layers of thick cream.
salame de chocolate – this is a delicious and easy to make dessert composed of broken biscuits and chocolate. While it's also very popular in Italy, the Portuguese version is slightly different as it uses eggs! Just as you would expect from any self-respecting Portuguese dessert.
Bolacha María is so much more than a simple biscuit. An integral part of life in Portugal, nowadays it's used in many different ways – as the first solid food for infants, as a dependable snack, and even as an ice cream flavour.
14. Suspiros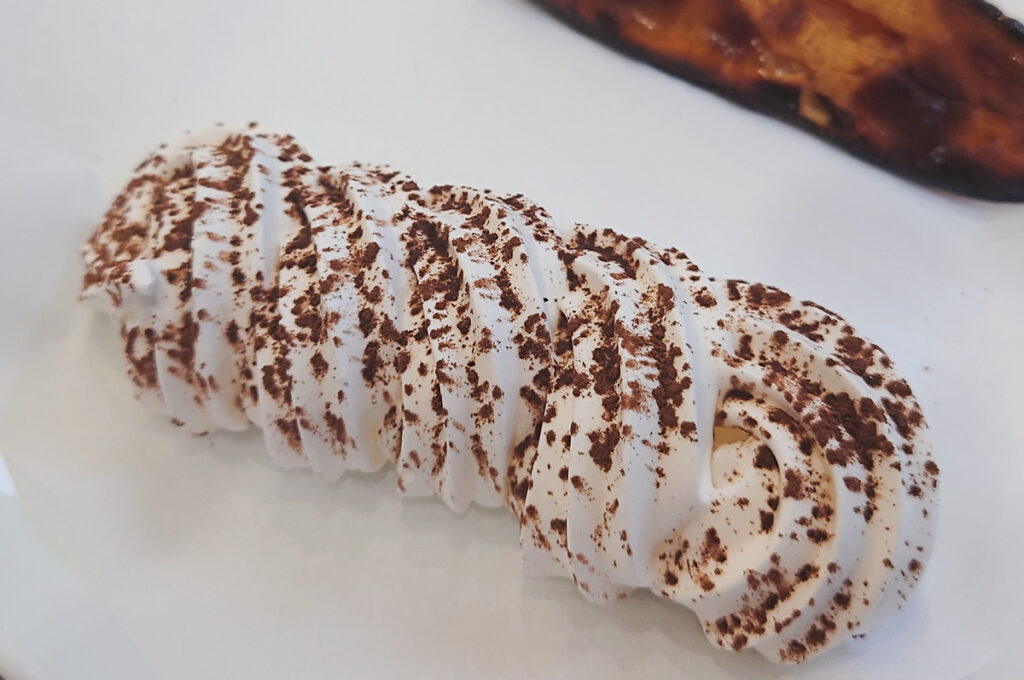 Literally translated, suspiro in Portuguese means a sigh in English. The word has an important secondary meaning, though as meringues in Portugal are known as suspiros.
Every self-respecting Portuguese patisserie sells suspiros. From tiny meringues to puffs as big as a large bread roll, they are a local staple. Made of egg whites and sugar, they melt in the mouth.
The popularity of suspiros may help you find the answer to the logical question – what happens nowadays with all those egg whites left after the yolks have been used to make traditional Portuguese desserts and sweets?
15. Brigadeiros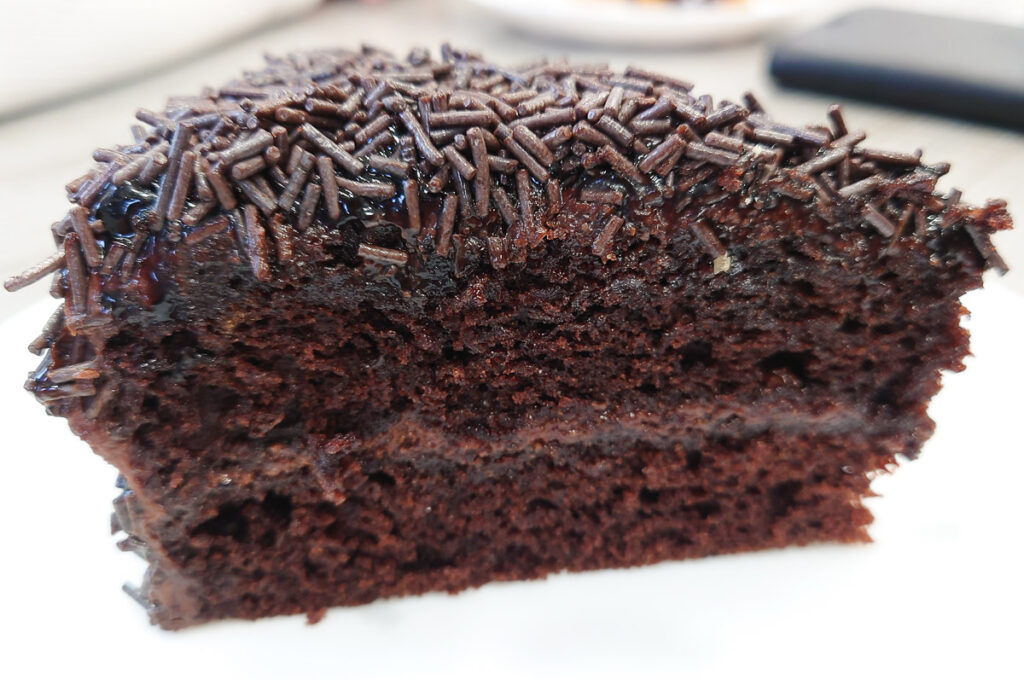 Brigadeiros are actually from Brasil. Made of condensed milk, cocoa powder, and butter, they are soft truffles covered with thick chocolate sprinkles. The story goes that they were created back in 1945 to promote the candidacy of brigadier Eduardo Gomes for president of Brasil.
Easy to make and so very delicious, nowadays, brigadeiros are popular all over the world. Even more so in Portugal – a country connected to Brasil by the means of history and language.
You will find brigadeiros in many Portuguese patisseries. They are sold both:
in their original form – as delectable chocolate truffles; and
as a moist chocolate cake coated with a generous helping of brigadeiros-based cream and then covered with chocolate sprinkles.
Both the truffles and the cake are a must-try in Portugal. Especially, if you craving something sweet yet not egg-based.
16. Bola de Berlim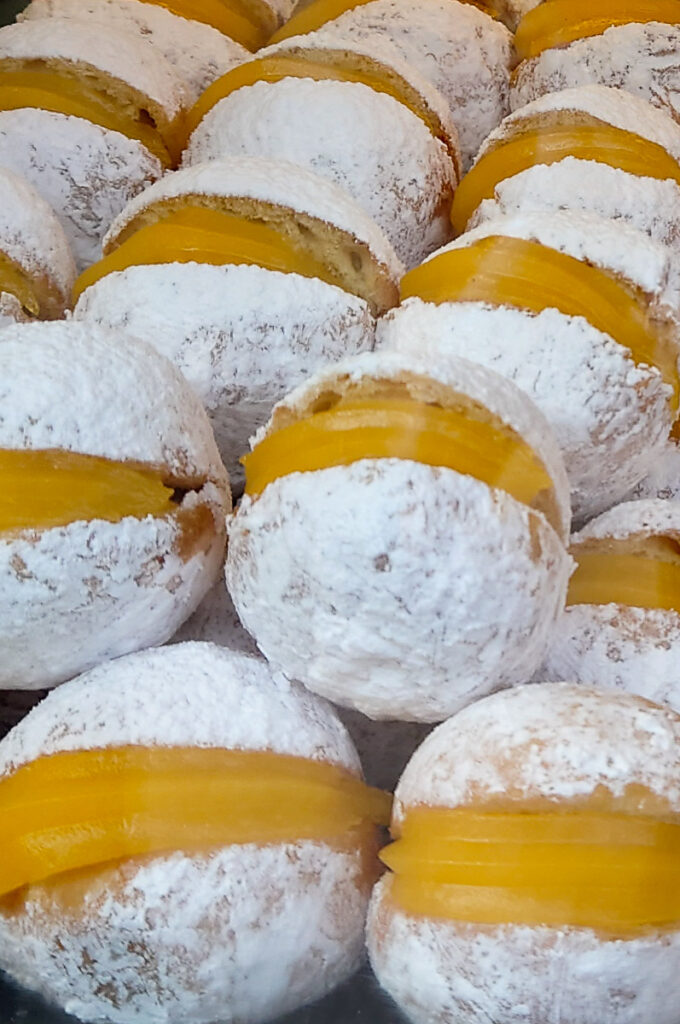 The bola de Berlim is the Portuguese answer to the famous Berliner doughnut.
Hailing from the German capital Berlin, this is a ball-shaped doughnut with no central hole. Once fried, in its original version, it gets filled with a marmalade or jam (usually made of red fruits like strawberries or raspberries). Then, it's dusted with icing or granulated sugar.
Berliners reached Portugal during the Second World War. As the country had remained neutral, it became a safe harbour for Jewish people seeking to leave Europe for a new life in the USA.
The delicious doughnuts quickly gained popularity in Portugal and got a local name which still paid homage to their city of origin. Bola de Berlim means literally a ball from Berlin in English.
Large and sweet, the bolas de Berlim are the third most popular Portuguese pastry after the pastel de nata and the croissã. They have kept their original shape, however, in Portugal, they are sold either plain or generously filled with creme patisserie through a sideways cut.
250,000 bolas de Berlim are consumed daily in the country. They are incredibly popular as a summer snack to have on the beach, too.
Particularly sought-after are the bolas de Berlim by the small Pastelaria Manuel Natário in the city of Viana do Castelo in Northern Portugal. The patisserie makes over 1,000 doughnuts daily and people queue around the block to buy them.
17. Gelado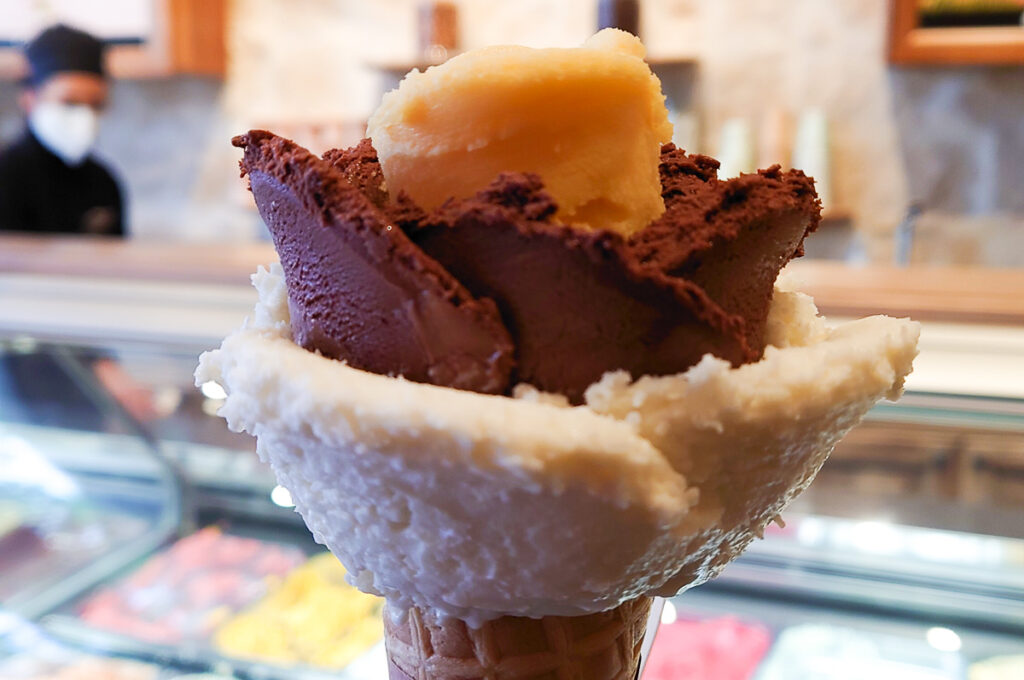 If you love ice cream, you will be spoiled for choice in Portugal. Gelado, as it is known in Portuguese, is sold in dozens of flavours both by small, family-owned gelatarias and large-scale producers.
Gelado has been a favourite delicacy in Portugal since at least the 17th and 18th centuries. Later on, many Italian families would open seasonal gelatarias here bringing with them the know-how of the world-famous Italian gelati.
Nowadays, you can expect a refined selection of flavours and imaginative toppings in any self-respecting gelataria in Portugal. From the traditional to the most innovative, there is always something refreshing and exciting to taste here on a hot day.
The most intriguing gelado flavour I had during my last visit to Portugal was natas do céu. In English, this translates literally as heavenly cream. This is a traditional Portuguese layered dessert made of mousse, pieces of bolacha María, and egg custard. I enjoyed it as a gelado in a small gelataria in Costa Nova – a cute little town on the Atlantic Ocean that is famous for its houses painted in bright stripes.
I also enjoyed quite a lot the ice creams of the Amorino parlours. This originally French company nowadays has branches in many countries, including Portugal, and it's famous for its rose-shaped gelados.
18. Jesuitas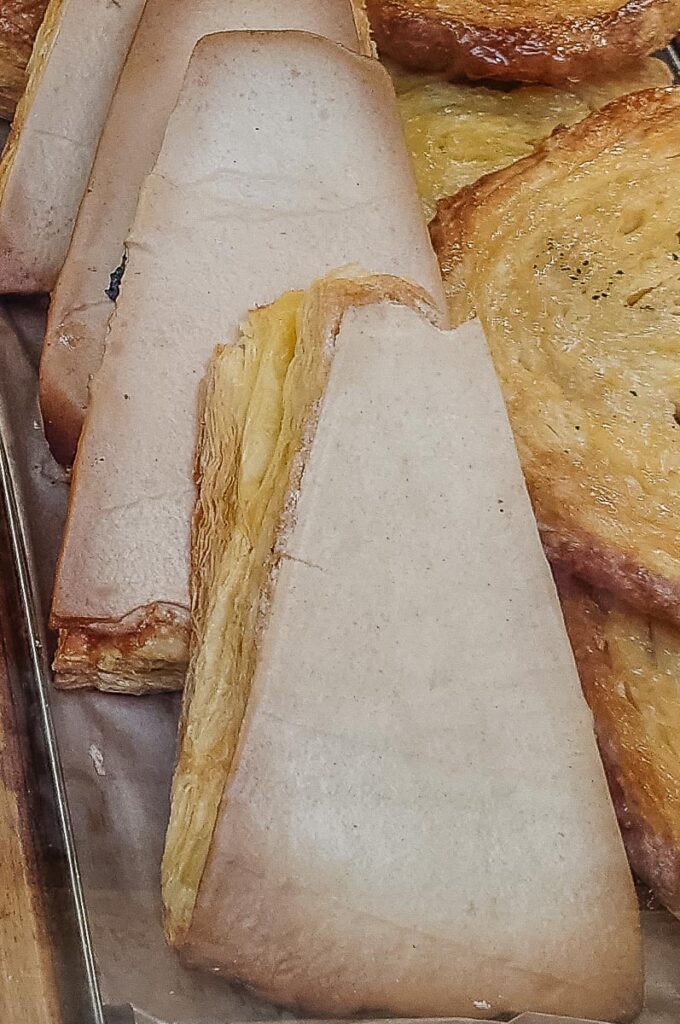 The jesuitas are a traditional Portuguese pastry. There are many stories about their origins. However, many think that they were created by a Spanish pastry-maker who was working in Santo Tirso – a small town near Porto. Their brown colour reminded him of the robes traditionally worn by the Jesuit friars. So, he gave them the name jesuitas.
The jesuitas are made of two layers of puff pastry with a generous layer of doce de ovos (yolk- and sugar-based cream) sandwiched between them.
On top, they are brushed with egg white that has been beaten with icing sugar. This is what gives the jesuitas their traditional brown colour.
19. Castanhas de Ovos de Arouca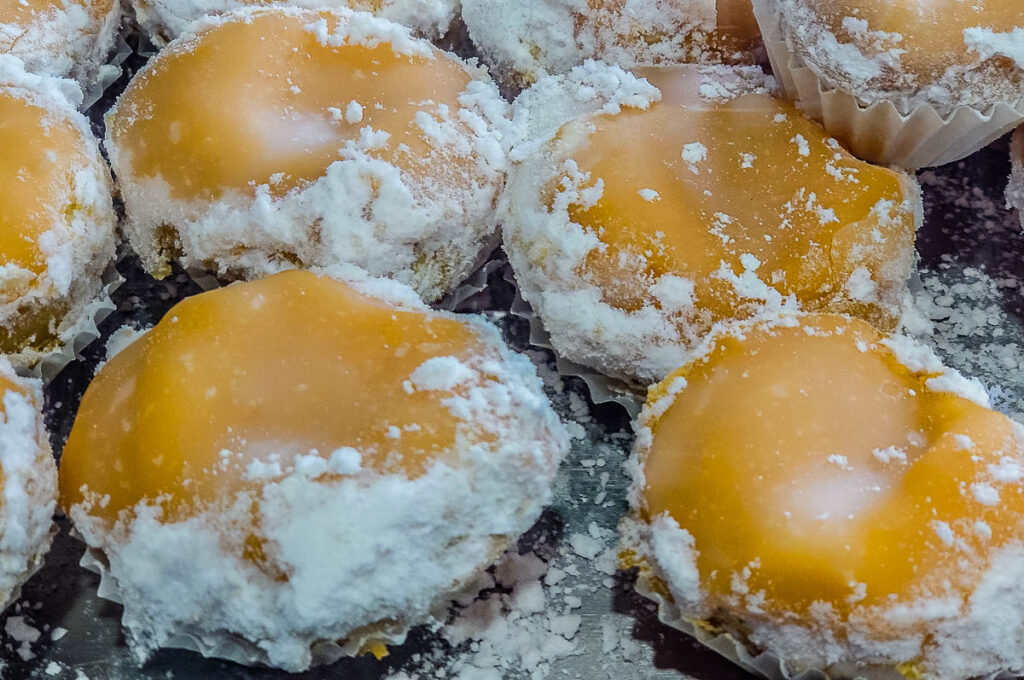 The castanhas de ovos de Arouca are one of the traditional convent desserts of Portugal. Their name means literally eggy chestnuts. Arouca, on the other hand, is a small town in the Metropolitan Area of Porto. It's famous for its many local desserts, sweets, and a very particular sponge cake (which I have mentioned under number 6 above).
The castanhas de ovos de Arouca are made with 16 egg yolks, water, and almost equal parts of sugar and almond flour. They look very solid and chewy. However, when you bite into one, your teeth go through the very delicate outer shell without any resistance. Then a thick yet delicate yolk paste fills your mouth.
One small castanha was more than enough for me. It's very sweet and rather heavy.
By the way, there are several other types of castanhas de ovos made in other parts of Portugal, too. What makes the ones from Arouca special is the use of almond flour.
20. Bolo Romano de Braga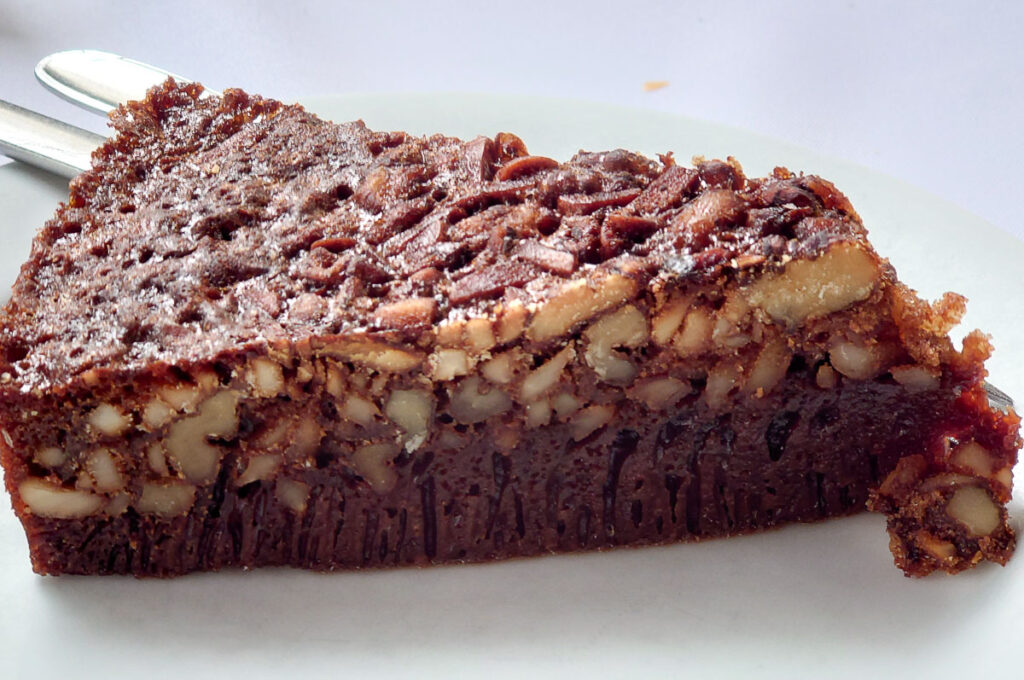 The bolo romano de Braga is a very unique cake. Its recipe dates back to the 2nd century AD. The cake is made in limited quantities in a small eaterie in Braga – Portugal's third-largest city in terms of its urban area.
Two millennia ago, Braga was a thriving Roman colony named Bracara Augusta. It was founded in 20 BC and it reached its apogee during the 2nd century AD. Nowadays, the citizens of Braga are very proud of their Roman heritage. Each year in May, they stage a large festival where they dress like the ancient Romans, celebrate like the ancient Romans, and relive their glorious past.
No worries if you can't make it to Braga in May. To get closer to the city's Roman traditions at any other time of the year, you just need to head to Frigideiras do Cantinho. This small eaterie stands on a corner in the historic centre of the city and it's built on top of the ruins of a Roman domus.
The glass floor lets you look at the ancient walls while you are tucking into a thick slice of bolo romano. This very unusual cake has quite a solid, glutinous consistency. It was created by the owners of the eatery for the celebration of 2,000 years since the foundation of Braga by the Romans. Coincidentally, around the same time, the Roman ruins were discovered underneath their counters and tables.
The recipe comes from the famous collection of Roman recipes De Re Coquinaria (in English, On the Subject of Cooking). The cake is made with nuts, honey, and milk. For added luxury, a drop or two of port wine is added to the mix, too.
The most interesting thing about this bolo romano is that it's baked in a bain-marie in the oven for an hour. This is what gives it its unusual consistency.
21. Artisanal Chocolate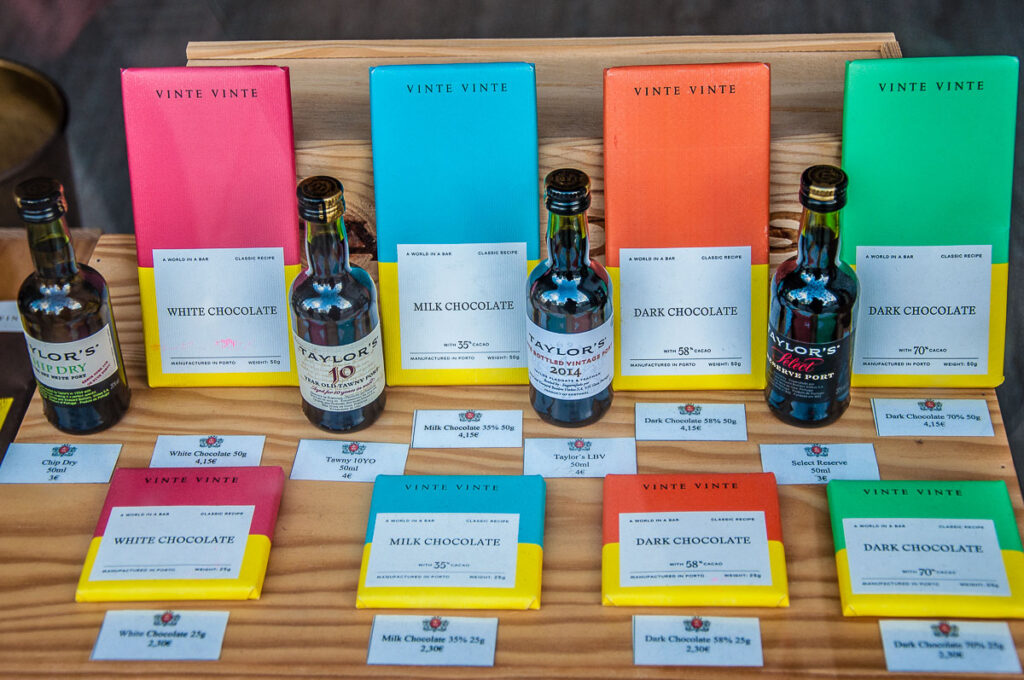 If you love chocolate, Portugal is a great country to visit. Several local brands craft delicious chocolate tablets and truffles following the bean-to-bar process.
Among the most well-known brands and chocolate shops in the country are Vinte Vinte, Chocolate com Pimenta, Maria Chocolate, and Feitoria do Cacao.
Beautifully wrapped, their chocolates make wonderful gifts for loved ones and to yourself after a holiday in Portugal. They are also great to enjoy with port wine – one of the most well-known exports of the country.
If you are visiting Portugal with kids, then treat them to a nice cup of chocolate quente. The Portuguese version of hot chocolate is an incredibly creamy drink that is so thick that you need a spoon to scoop it with.
22. Folar de Pascoa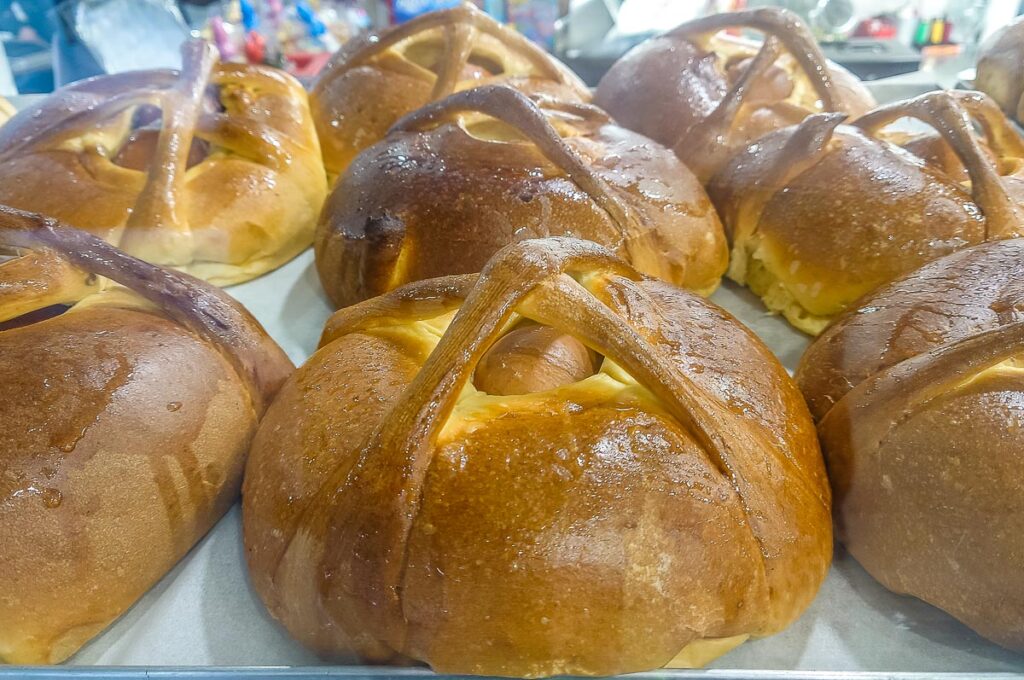 Folar de Pascoa is Portugal's traditional sweet Easter bread. From north to south, there are some regional differences in its preparation but usually, it has a round shape and either one or more boiled eggs placed in a dip in the middle. The bread is then decorated with two strips made of dough which are crossed over the eggs – a direct reference to the Crucifixion.
Symbolically, Portugal's folar de Pascoa represents a nest and the eggs are the promise of new beginnings through fertility and rebirth. In some parts of the country, the folar may also be savoury and stuffed with a variety of meats from bacon to ham. The sweet version is much more popular though and traditionally, it's flavoured with cinnamon and fennel.
There is a local legend in Portugal about the miraculous origins of the folar de Pascoa. In a nutshell, a beautiful girl called Mariana received two marriage proposals. One of the pretenders for her hand was from a poor family, the other one was a rich aristocrat. Both asked her to decide by Palm Sunday.
After praying to St. Catherine, Mariana chose the poor chap. The rich man, enraged, swore that he would kill him on the day of the wedding. Terrified, Mariana spent the Easter Vigil praying to the saint. They say, that the image of St. Catherine smiled at her.
On Easter Sunday, Mariana woke up early and, once again, headed to the local church to place flowers on the altar of the saint. Upon returning home, she found a large loaf of bread on top of her table. It was decorated with whole boiled eggs and surrounded by the same flowers she had just left on the altar.
Thinking that the bread was a gift from her fiance, Mariana went to thank him. To her surprise, she met him halfway and he had also received a loaf of sweet bread. Both decided that the loaves must be a sign of peace from the rich aristocrat.
They headed to his house but were amazed to find that he had also received a loaf of bread. It was then decided that the loaves were a miraculous gift from St. Catherine.
23. Tarte de Amêndoa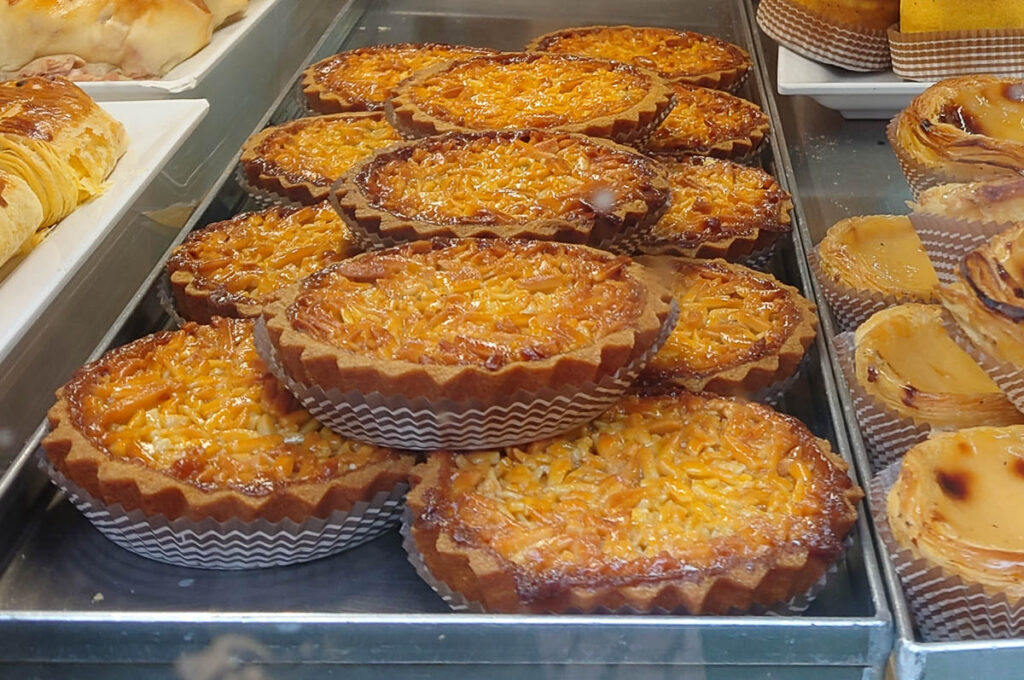 Portugal is a large producer of almonds. Historically, many Portuguese desserts – especially the ones that originated in the country's convents and monasteries – use almond flour and almond meal as one of their main ingredients.
The tarte de amêndoa or almond tart in English is popular all over the country. It's covered with almond slivers and has a delicious filling of almond meal, butter, and milk. It's baked until the almonds on top caramelise thus adding a nice crunch to each delicious bite.
24. Cavacas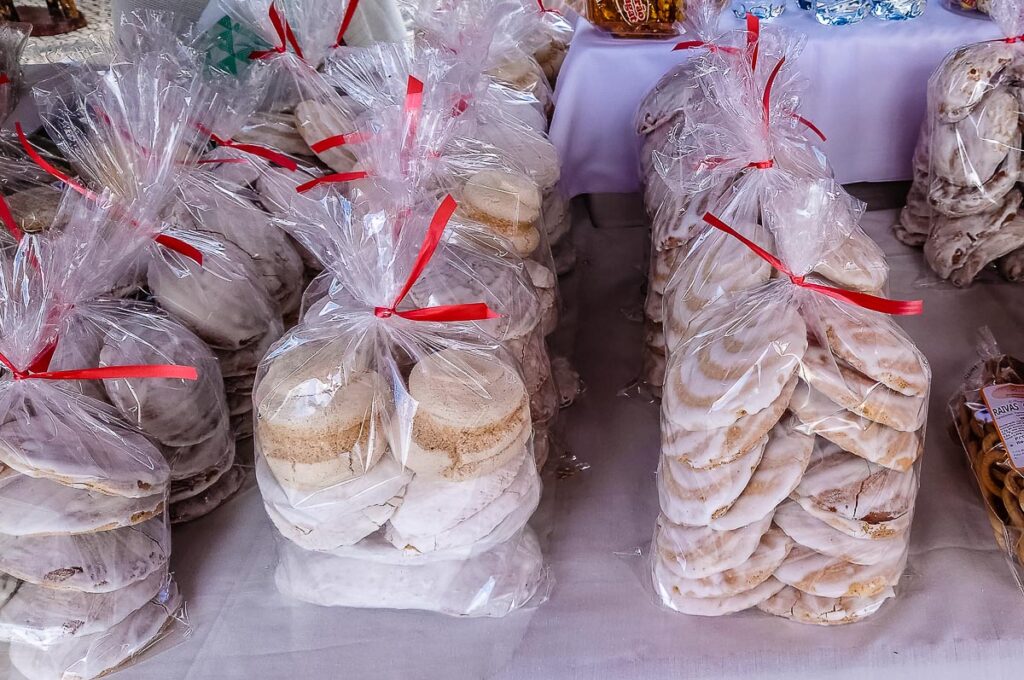 Cavacas are biscuits that are typical for central and northern Portugal. They caught my eye on a stall in the historic quarter of the city of Aveiro and I had to get a bag.
There are, actually various types of cavacas. I got the soft ones with the white circular strips of icing on top. They had a faint lemony flavour and were a bit bland but made a nice and quick afternoon snack.
You can see the hard cavacas in the cut-off bag on the right-hand side of the photo. These biscuits have a curious local tradition attached to them. In January, Aveiro celebrates the Feast of São Gonçalinho. This is when people climb to the top of the chapel of the saint and throw cavacas rijas from its rooftop.
It is an offering of gratitude for fulfilled wishes. Hundreds of people congregate around the chapel during the days of the feast trying to catch the cavacas. It is one of the most unusual celebrations in Portugal and Europe.
25. Mil Folhas de Merengue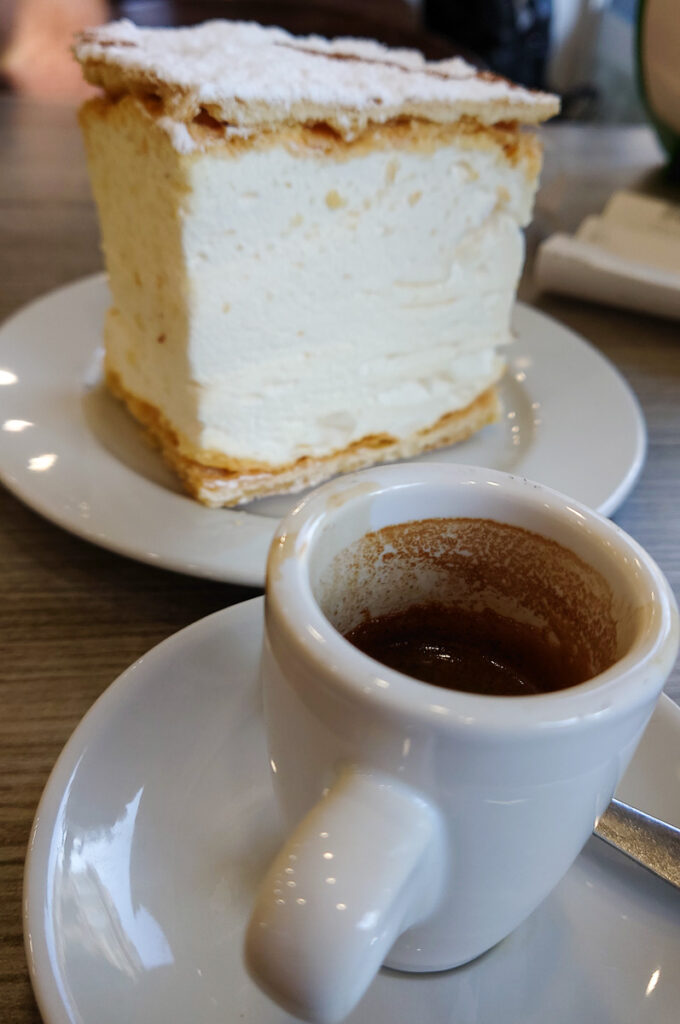 Let me finish this detailed blog post about the best Portuguese desserts and sweets with the only dessert I tried in Portugal that wasn't quite to my taste – mil folhas de merengue. While I love millefeuille, its Portuguese version didn't win me over and I have to admit that I left the otherwise generous slice half-eaten on my plate. Something that I never do.
Millefeuille is a very popular dessert all over Europe. While its origin is unknown, its French name makes it sound quite refined and the combination of light and crispy puff pastry and delicious pastry cream brings utmost joy to my heart.
In Portugal, millefeuille is known as mil folhas (and even milfois) which, just like the French name, means thousands of sheets. As you can imagine, this is a direct reference to the puff pastry which opens up and separates into many different crisp layers when baked the right way.
Portuguese patisseries sell large slices of delicious-looking mil folhas de merengue which are composed of two layers (instead of the traditional three) of puff pastry – one at the bottom and one on top. In the middle, you have an incredibly thick slab of Italian meringue.
Now, unfortunately for me, this very fluffy looking meringue turned out to be stabilised with gelatine. I am not one for jellies and gelatinous textures. So, while I ordered my Portuguese mil folhas with glee, I simply couldn't finish the meringue. The puff pastry layers were, however, really nice, crispy, and just the right amount of sweet.
My personal tastes aside, I decided to include this particular Portuguese dessert in my list, as people are different and like different things. So, perhaps, Portugal's mil folhas de merengue will turn out to be someone's perfect dessert. In this case, I would only be too happy to have pointed you in its direction.
5 Practical Tips about Tasting the Best Portuguese Desserts and Sweets
Here are five practical tips to help you get the maximum out of the huge variety of desserts and pastries during your visit to Portugal. I hope that they will come in very useful, especially, if you have a sweet tooth.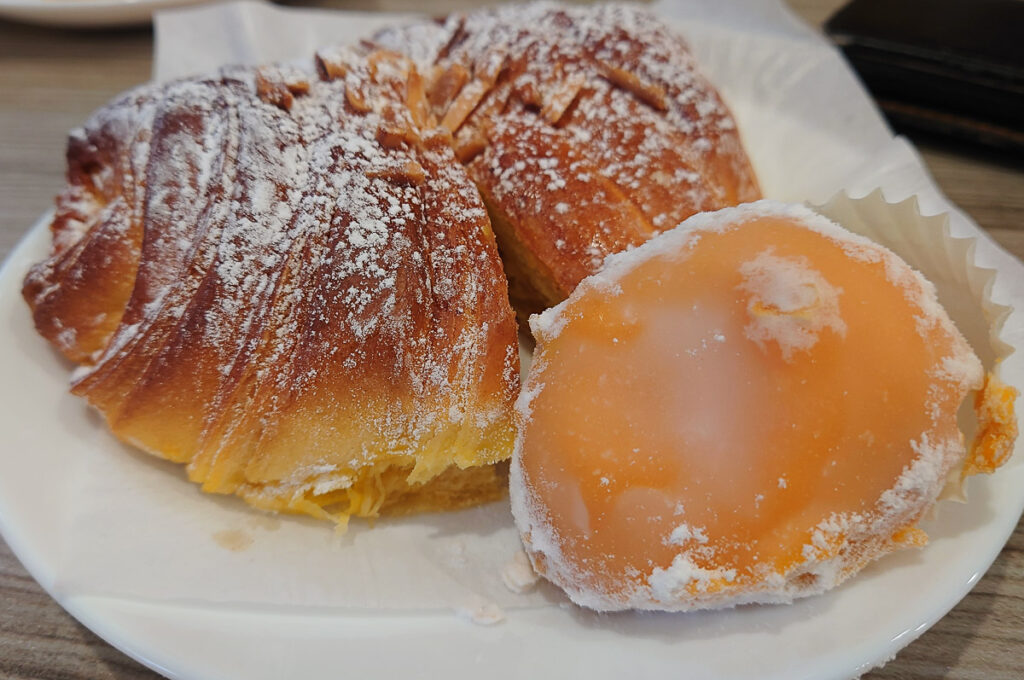 Think Local – every region, city, town, and village in Portugal has its own local sweet delicacy. Often, more than one. Anywhere you go, actively seek out and taste the local delights. It could be the ovos moles of Aveiro or the tibias of Braga or something else completely.
Exploring a foreign culture through its food is a great way to connect to it and have a more authentic travel experience. Portugal's desserts and pastries make this exploration such a delicious affair.
Be Adventurous – many visitors to Portugal today arrive eager to sample the country's famous pastéis de Belém and pastéis de nata. While truly scrumptious, don't limit yourself just to them.
Portugal's dessert scene is very rich both in traditional and innovative sweets. So, keep experimenting. Some things you will fall in love with and even crave when you go back home at the end of your Portuguese holiday. Others won't be to your taste.
In any case, the sampling, the savouring, the discovery of the local culinary traditions, and the coming out of your food comfort zone would have left you with memories to last a lifetime.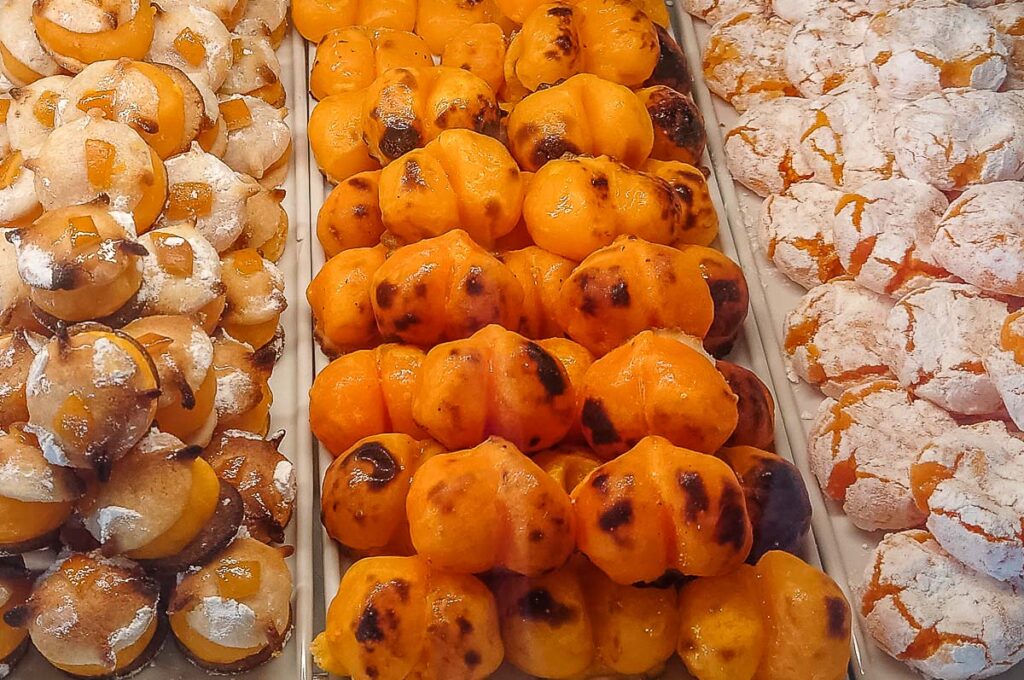 Mind That Egg – it's an understatement to say that, traditionally, Portuguese desserts and pastries are made with an enormous quantity of egg yolks. If you are not a huge fan of eggs, then take it slowly. Start by training your palate with Portuguese croissants, doughnuts, and sponge cakes before making the transition to truly egg-rich desserts as ovos moles, castagnas de ovos, and pudim do Abade de Priscos.
Also, many Portuguese patisseries offer the same desserts and pastries in two different sizes – small and large. If a particular pudding catches your eye, try the small version first to see if you like it. Then, you will know for sure if you want to go big or choose something else next time.
If you don't eat eggs and yet you have a sweet tooth, don't despair. There are still quite a few delicious things you can indulge in when in Portugal. Brigadeiros (originally from Brazil), different types of dragees, and a variety of chocolates are widely available all over the country.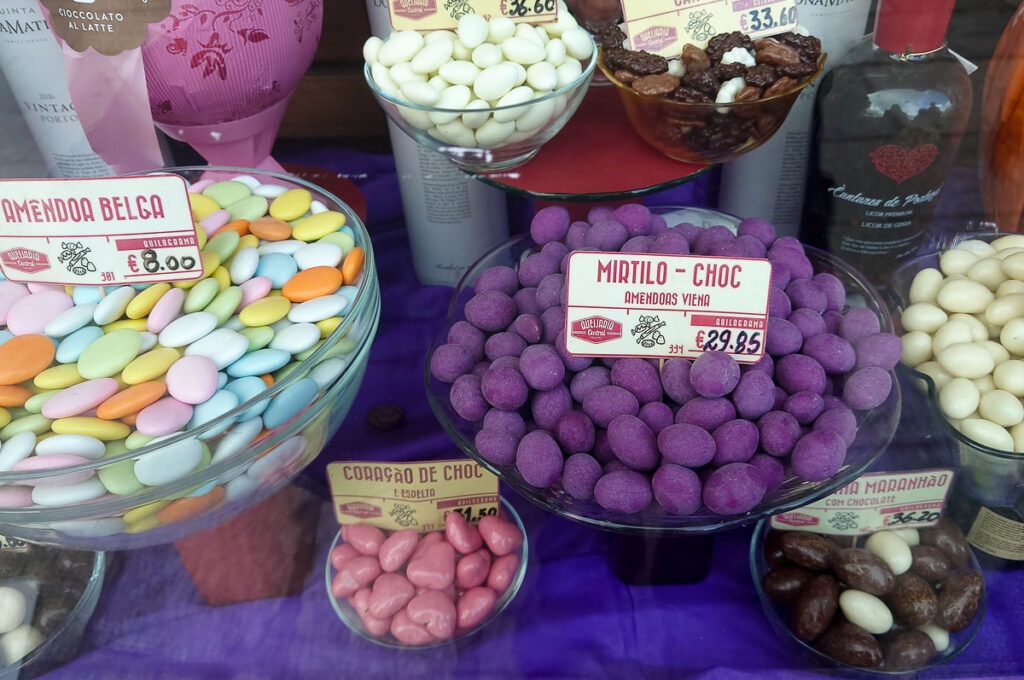 Dig Deeper – learning about Portugal's traditions in the frame of the country's desserts and pastries is a fun and satisfying venture. There are several websites both in Portuguese and English expanding on the country's centuries-old culinary history.
In addition, have a look at these three books: Portuguese Desserts to Say Yes to, Authentic Portuguese Desserts, Cook Delicious Portuguese Desserts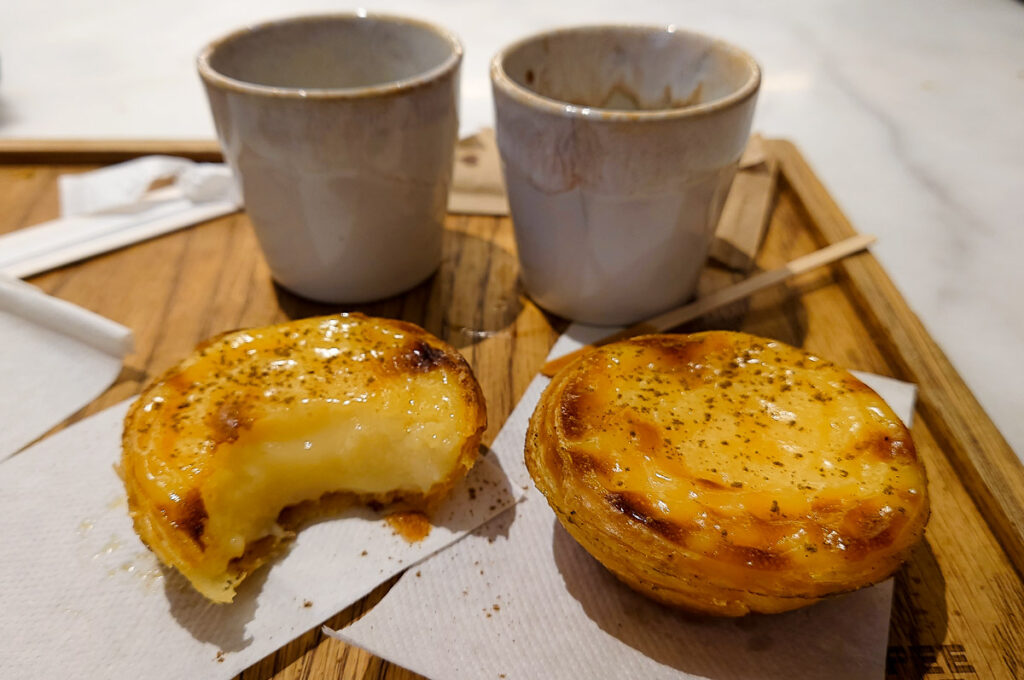 Learn to Make – taking a cooking class to learn how to make some of the most traditional and delicious Portuguese desserts and pastries is a great thing to do during your holiday in Portugal. Even if you are not a dab hand in the kitchen, this will be an opportunity to get closer to local traditions and attitudes to food. You will get a better understanding of how food functions in the minds and lives of the Portuguese people.
Here is a nice and tidy list of Portuguese cooking classes you can take in Portugal. Click to have a look and pick the one you like the most.
In Conclusion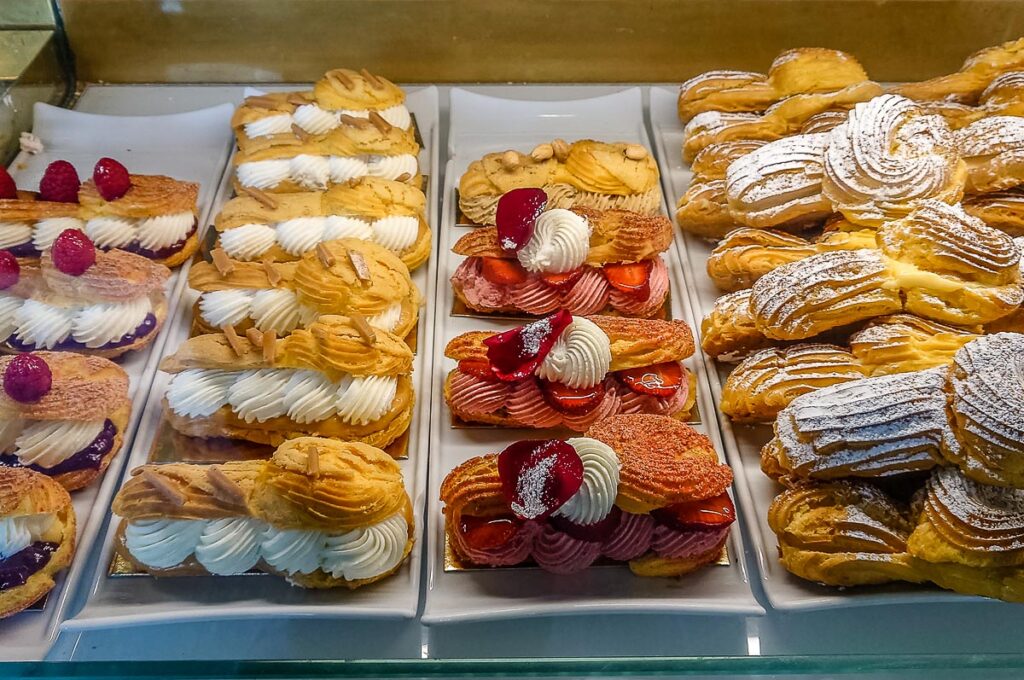 Here you have them! 25 of the very best Portuguese desserts and pastries coupled with a short overview of Portugal's dessert-making and pastry-baking traditions.
From worldwide famous pastries – such as the pastéis de Belém – which were developed in the Portuguese convents and monasteries hundreds of years ago to several newly embraced sweets like the Brazilian brigadeiros and the German Berliners, Portugal's dessert scene is exciting and rich.
When you visit Portugal, you will be tempted to tuck into the many Portuguese pastries and sweets and at least, find out why so many of them are made with dozens of egg yolks.
Well, in this blog post I gave you the answer to this and many other questions pertaining to Portugal's sweet output. I also described in detail 25 of the very best desserts and pastries for you to sample during your stay in this beautiful country in Europe.
It's all based on my own visits to and culinary explorations of Portugal.
I hope that all the information, the practical tips, and the photos I shared with you herewith will entice you to head there as soon as possible.
Enjoy Portugal!
Now, get ready quick for your trip to Portugal!

More Helpful Travel Info for You
Best of Portugal: One Day in Porto, Photos of Porto, One Day in Aveiro, Photos of Aveiro, One Day in Guimarães, Photos of Guimarães, Photos of Braga, Sanctuary of Bom Jesus do Monte,
Best of Italy: Italy for Foodies, Venice, Lake Garda, Veneto, Lombardy, Emilia-Romagna, Marche, Friuli Venezia Giulia, Trentino, Italy with Kids, Day Trips in Italy, Hiking in Italy, Christmas in Italy
Best of England: London, Kent, Dorset, East Sussex, Days Out in England
Travel: Travel Resources, The Joy of Travel, Safety Tips
Thank you for reading! Please, leave me a comment, pin the images or use the buttons right at the top and at the end of this blog post to share it on social media.
For more useful information like this, please, like my blog's page on Facebook and subscribe to my strictly no-spam newsletter.
Pin This Blog Post!