Here is how to spend one day in Aveiro – a small city in Central Portugal which is widely known as the Portuguese Venice.
Easy to visit from either Porto or Coimbra, Aveiro is very walkable, has oodles of character, and it's a very pleasant day trip if you are looking for an easy balance between sightseeing and relaxation.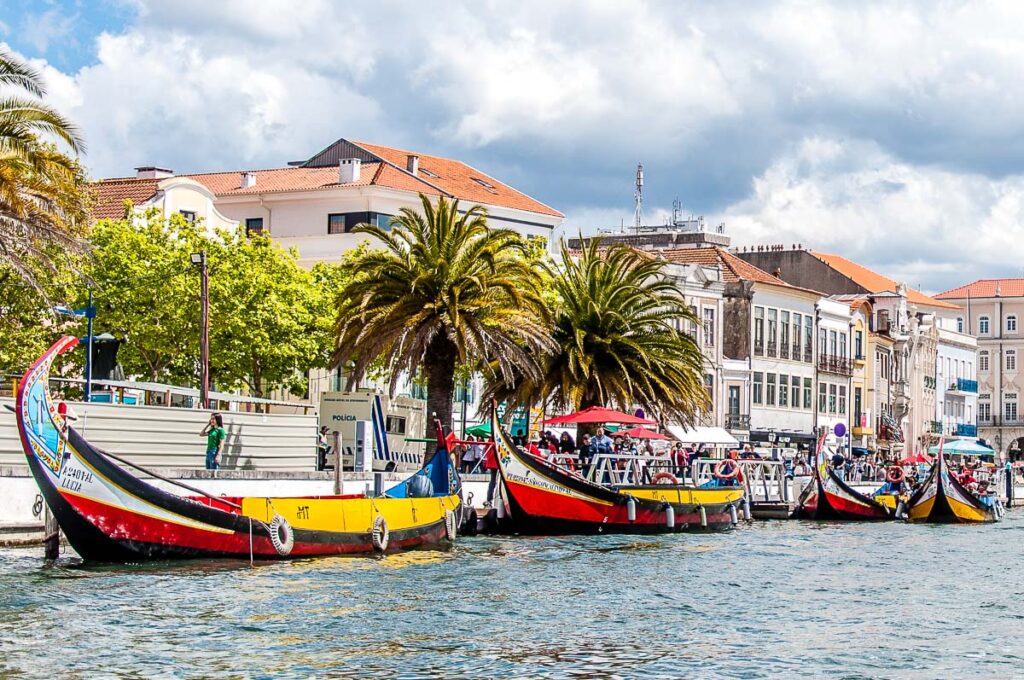 Built on the edge of Ria de Aveiro – Portugal's largest coastal lagoon – Aveiro's centre is fringed by a small number of canals navigated by the traditional moliçeiro boats. These long vessels are painted in bright colours and have a dramatically curved bow and stern. They are central to Aveiro's tourist image and have become a much-photographed symbol of Portugal.
The combo of the lagoon, canals, and typical boats is the reason why Aveiro is often called the Portuguese Venice. Yet, this small city is nothing as grand as the original City of Water, neither does it have its head-spinning number of landmarks.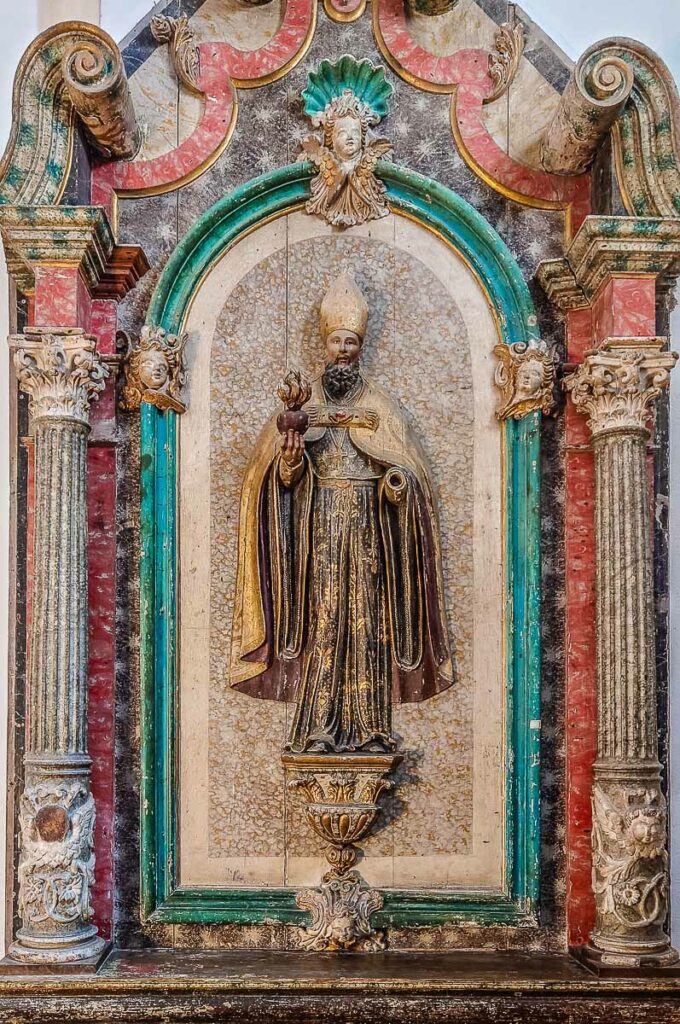 Aveiro, however, has its own history, intriguing sights, and quirky traditions which are delightful to explore and learn about on a sunny day trip in Central Portugal. The city has a verve and vibrancy to it on account of its renowned University, wide central avenues, and several beach resorts nearby. Plus, Aveiro has its own delicacies – from fresh seafood and samphire to the iconic ovos moles.
All this makes it a must-see destination in its own right and a place which one needs to explore with an open heart and mind, leaving all marketing cliches aside.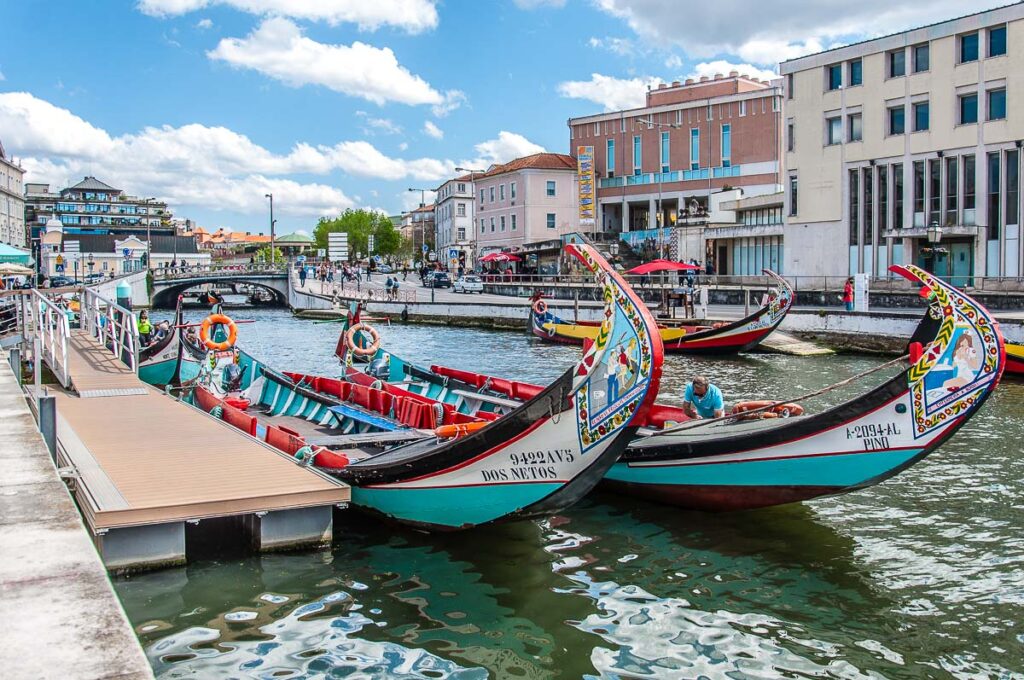 So, in this blog post today, I want to share with you a one-day self-guided tour of Aveiro in Portugal. It includes the city's must-see sights and several hidden corners. From a ride in a moliçeiro boat to the lavish sarcophagus of Aveiro's own Princess Saint, you can cover it all in one exciting day. Not forgetting the famous striped houses of Costa Nova right next door to Aveiro.
To make your travel planning an easy and enjoyable experience, at the end of this blog post I have included lots of practical tips and a detailed map of the suggested itinerary. You can easily personalise it according to your needs and interests. There is also a short section about how to get to Aveiro by train, bus or car from anywhere in Portugal.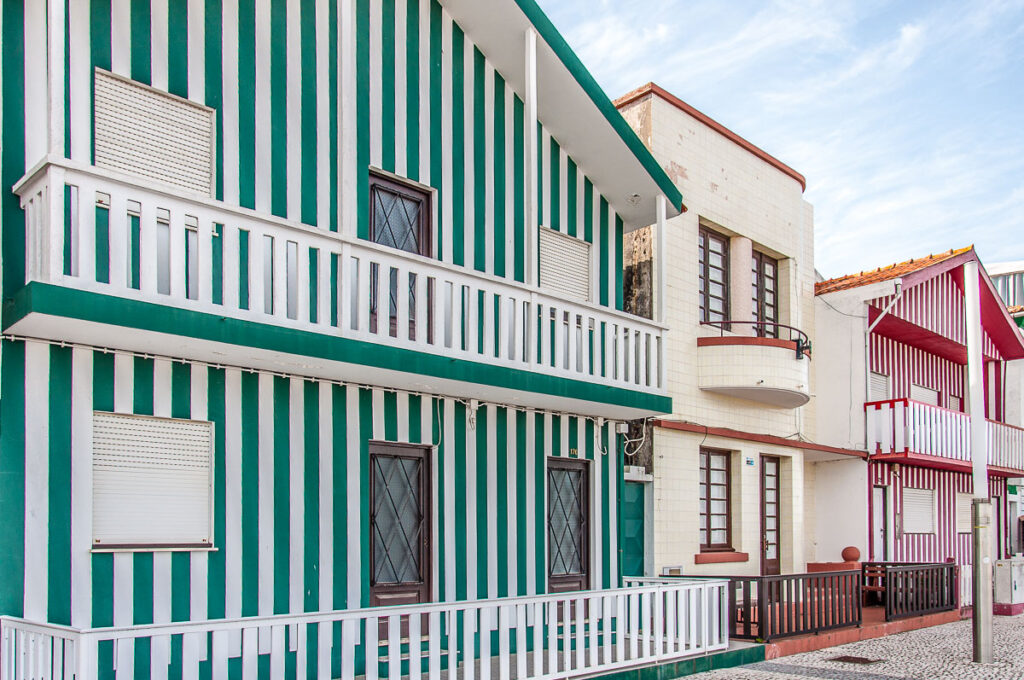 It's all based on my personal experience of travelling to and exploring this beautiful Portuguese city. This is the itinerary that I followed together with my family in April of this year. We had a lovely day in Aveiro and I hope that you will, too.
To get an even better visual idea of this exciting city in Central Portugal, have a look also at this blog post:
Otherwise, let's start!
One Day in Aveiro – The Perfect Itinerary with Map and Practical Tips for the Venice of Portugal
Pin for Later!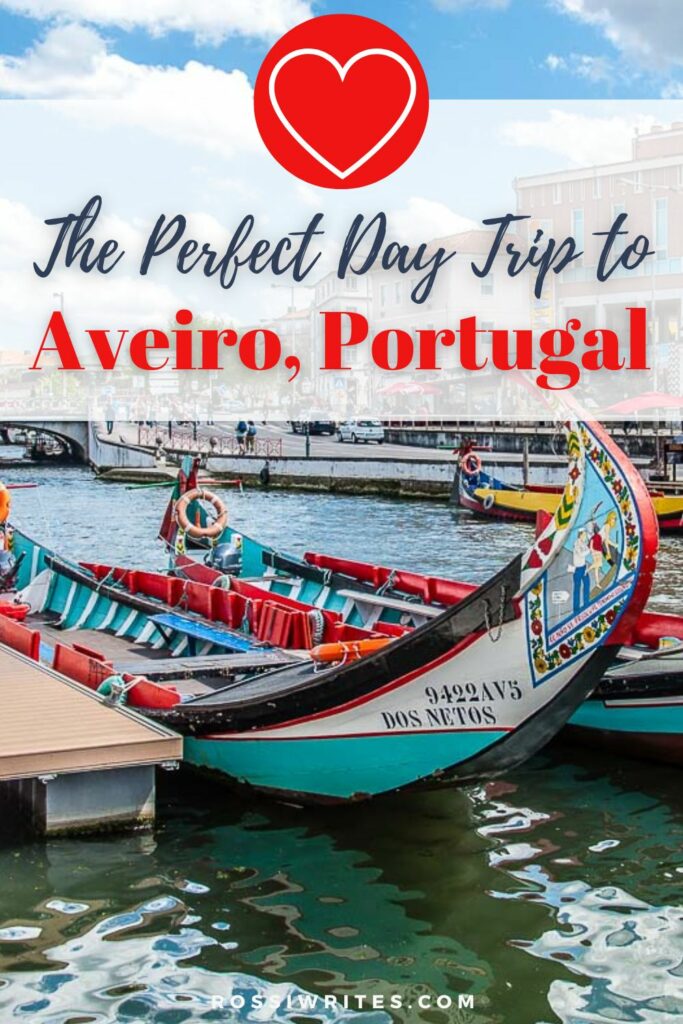 Start of the One-Day Itinerary for Aveiro, Portugal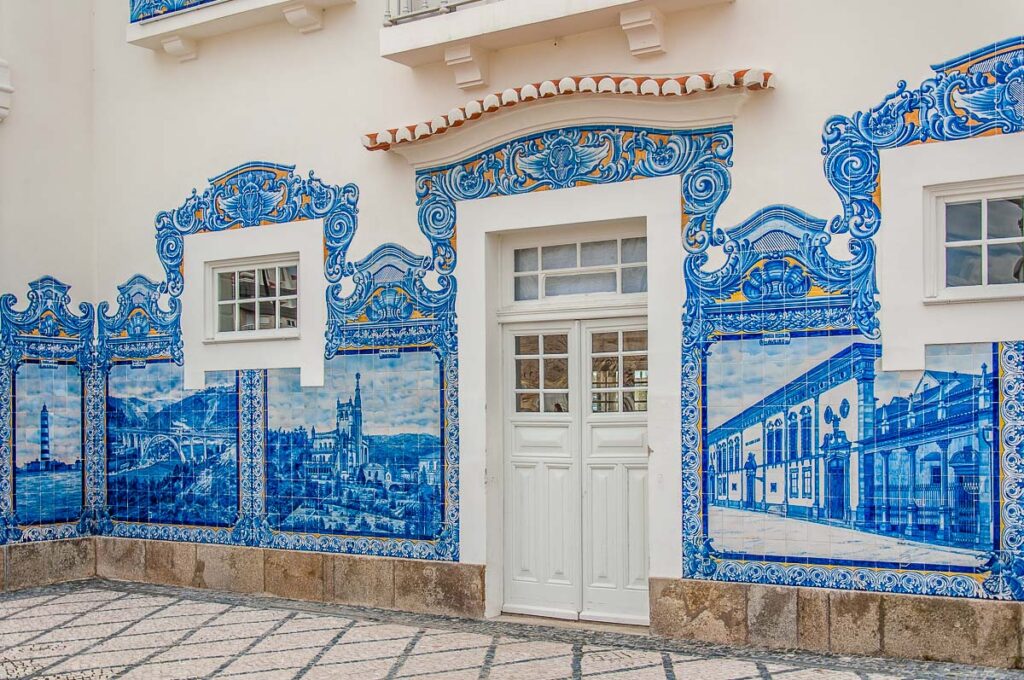 This one-day self-guided walking tour of Aveiro in Portugal starts from the city's train station.
If you are arriving by car, there are many car parks around Aveiro, including next to the train station. Pick the one that is most convenient for you. You can then begin the itinerary from the specific place you are at in town.
To make full use of this self-guided tour, aim to reach Aveiro around 9 am or a bit earlier. Although small and compact, the city has many beautiful corners and you will want to see as much as possible for a truly memorable experience.
I haven't assigned specific times of arrival and departure for each of the sights on this one-day itinerary for Aveiro. It is up to you to decide how much time you want to spend at each and if you want to see them all or just a few.
You may even decide to spend the night in town and enjoy this self-guided walking tour of Aveiro over two days.
Aveiro's Old Train Station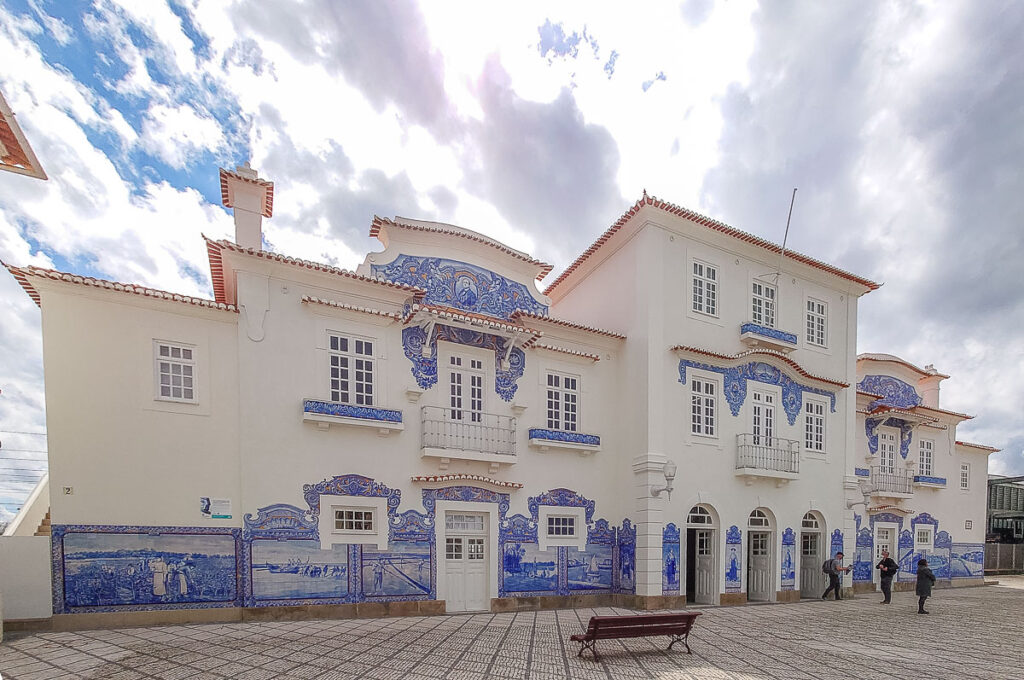 Aveiro's old train station will be the first sight that will catch your eye as soon as you arrive in town.
While your train will stop at the city's flash new railway station, right next to it you will spot a gleaming white building covered with azulejo panels in blue and white. Azulejos are tin-glazed ceramic tiles traditionally used in Portugal to cover facades and internal walls.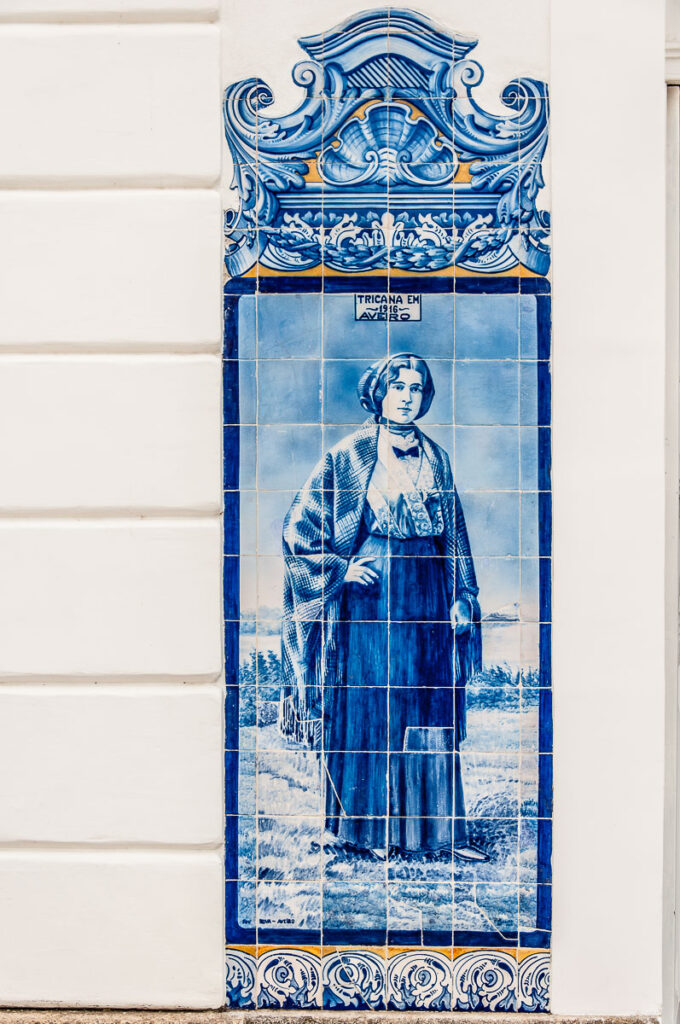 The old train station of Aveiro has 59 azulejo panels. They depict typical for the city and Portugal landmarks, scenes, and occupations – from fishing in the lagoon to harvesting the nearby salt flats. Recently restored to the tune of one million euros, this iconic building is a great first stop in charming Aveiro.
Take a few minutes to look at the different panels and then head into town on Avenida Dr. Lourenço Peixinho.
Avenida Dr. Lourenço Peixinho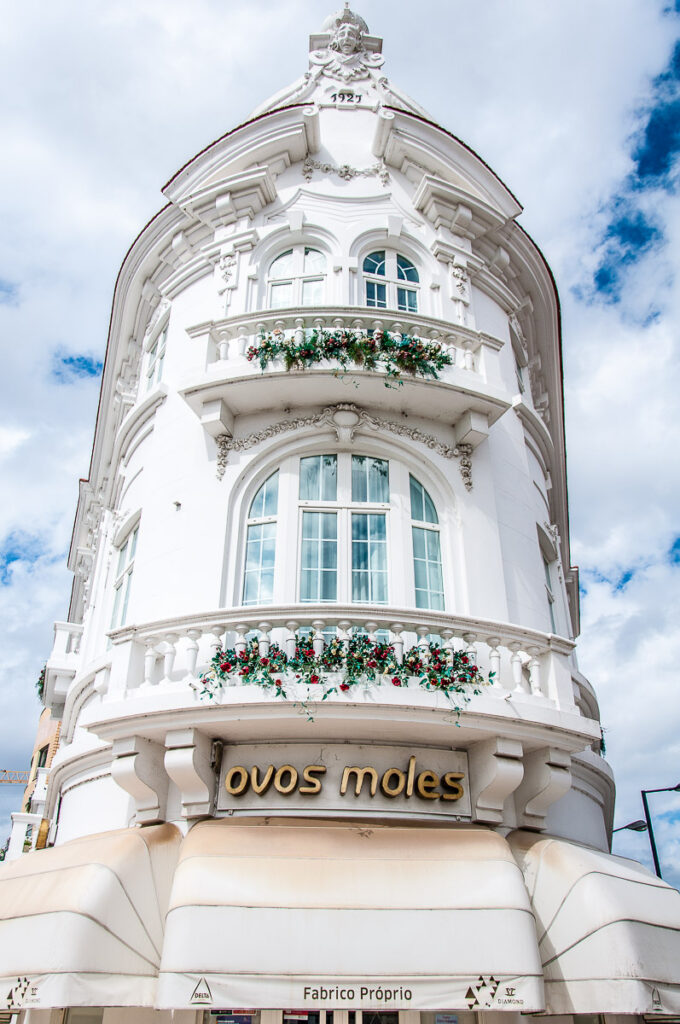 Avenida Dr. Lourenço Peixinho is Aveiro's main avenue. 30 m wide and 1,100 m long, it leads from the city's train station to the city's centre.
Depending on how fast you walk, it will take you about 15-20 mins to cover the straight as an arrow avenue. It is quite a long walk to reach the main sights of Aveiro. So, be mentally prepared for it and use it to ease yourself into the city's spirit.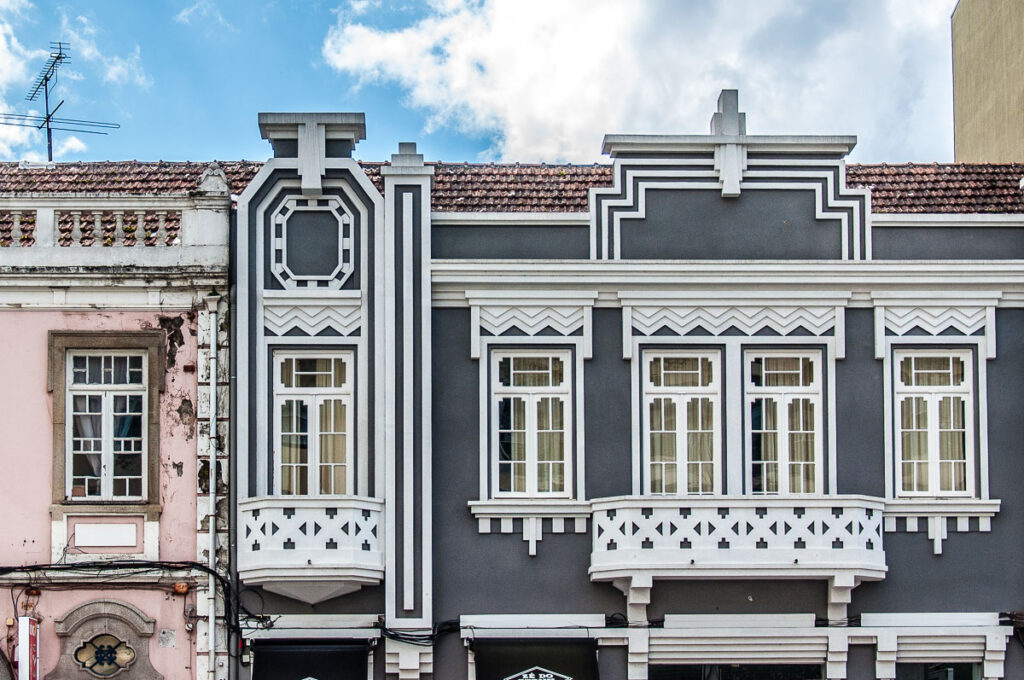 Along the way, keep an eye out for interesting facades. There are quite a few elegant structures here including one or two of the Aveiro's famous Art Nouveau buildings. Another thing to keep an eye out for is the so-called calçada portuguesa. This is a mosaic-like pavement typical for Portugal. It utilises small black and white cobbles to form shapes and outlines. It thus adds visual interest to simple sidewalks and large squares.
Aveiro has some of the loveliest patterns created with calçada portuguesa in all of Portugal. Expect sea-inspired, geometrical, and even zodiacal motifs symmetrically replicated time and time again on the ground. So, it's quite a nice exercise to try to spot some of them as you walk down Avenida Dr. Lourenço Peixinho.
Beira Mar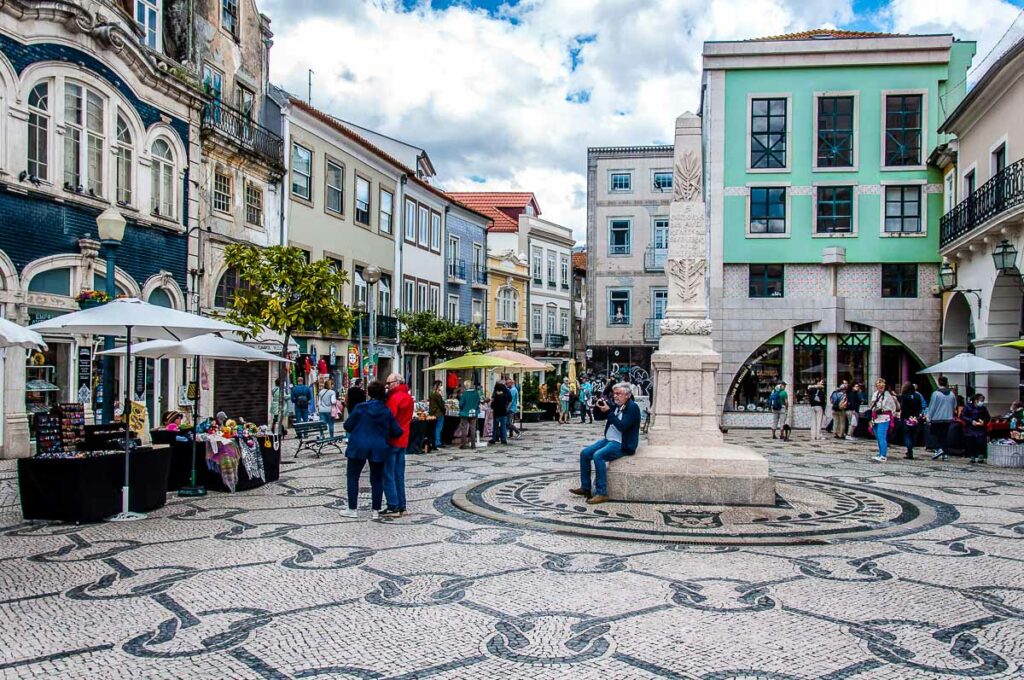 When you reach Praça Melo Freitas, leave Avenida Dr. Lourenço Peixinho behind and head into what for me amounts to Aveiro's liveliest and prettiest part – the district of Beira Mar.
Historically, this is where the local fishermen used to live. So, one of the central sights to see here is the city's fish market.
Praça Doutor Melo Freitas will be on your right-hand side as you approach the end of Avenida Dr. Lourenço Peixinho. You will recognise it by the interlaced rope motif of its calçada portuguesa. It's inspired by the Manueline style – the late-Gothic and early Renaissance style named after the Portuguese King Manuel. During his reign from 1495 to 1521, the country's seafaring expeditions led to the discovery and exploration of many new for Europe lands.
The square is also surrounded by many beautiful buildings in intense colours. At its centre stands the Obelisk of Freedom (in Portuguese, Obelisco da Liberdade). In the Art Nouveau style, the obelisk was placed here in 1909 in memory of all those citizens of Aveiro who had fought for freedom in the Portuguese Civil War of the 19th century.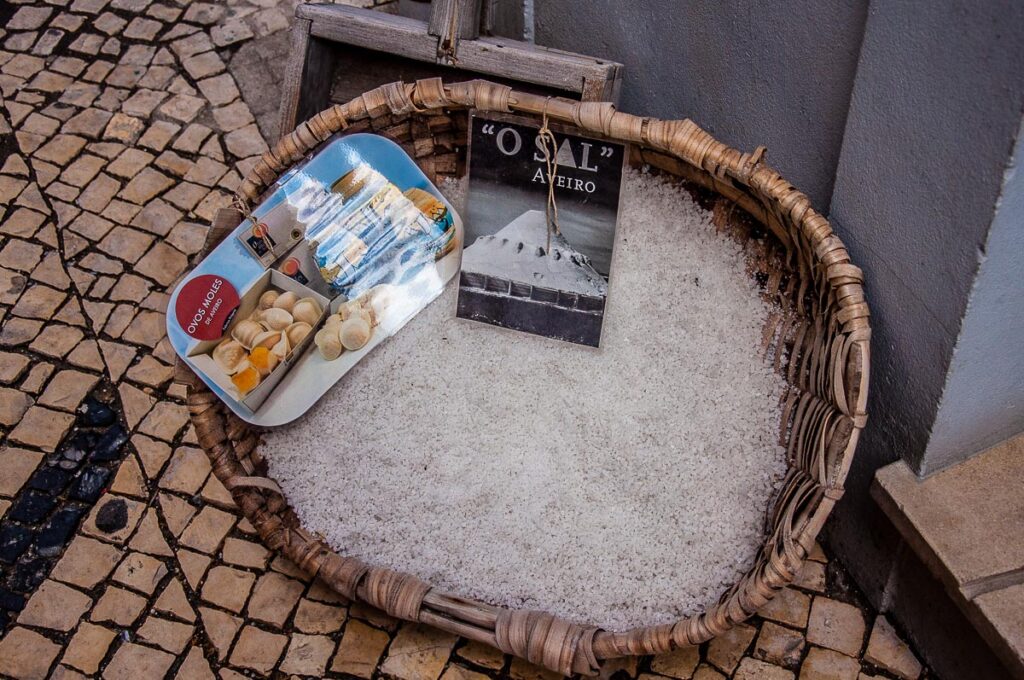 Walk across the square and follow the narrow Rua Domingos Carrancho for about 40 m. Then turn left onto Rua do Ten. Rezende and follow it for 110 m. The streets are lined by many eateries with their tables placed outside. Also here you will see many small shops selling souvenirs and Aveiro's prized salt.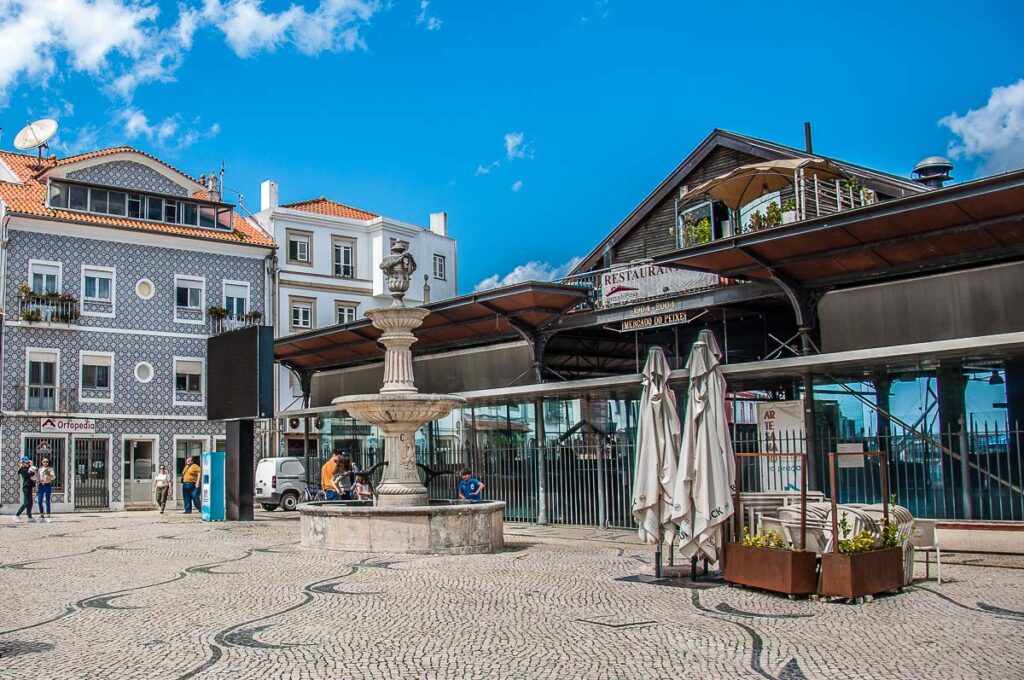 Finally, turn right onto Largo da Praça do Peixe where you will see the imposing building of the local fish market. The ground floor is where the fishmongers sell the catch of the day every morning from Tuesday till Saturday. The top floor is taken by a large restaurant specialising in fish and seafood.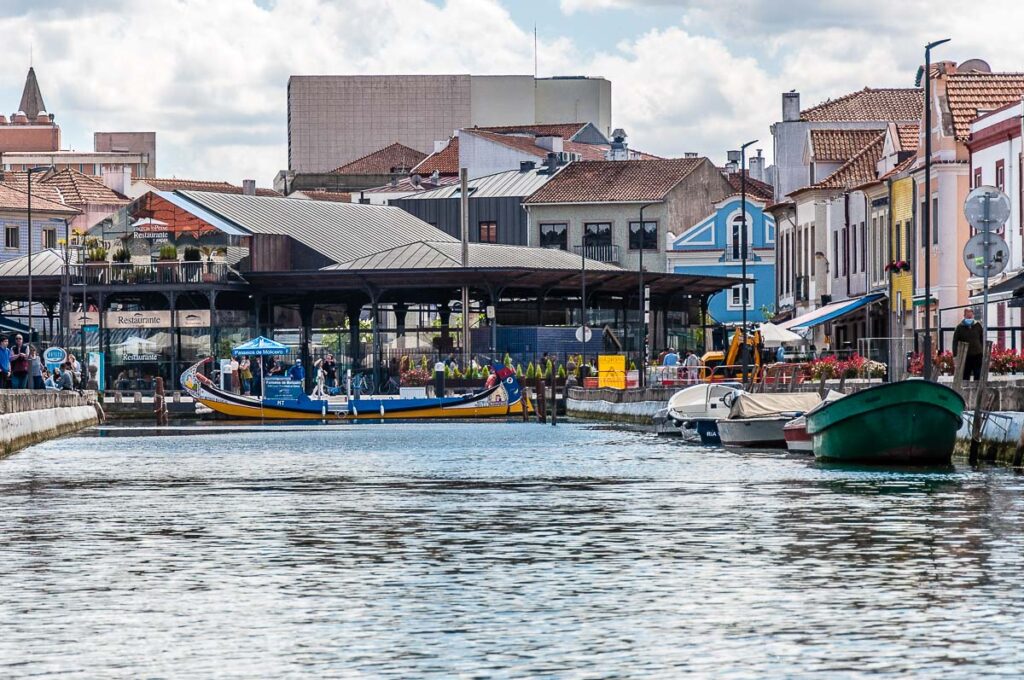 By the fish market, you will see one of Aveiro's famous canals – the aptly named Canal da Praça do Peixe (also known as Canal dos Botirões). Houses painted in bright colours will catch your eye and will tempt you to take your camera out.
A minute away on foot behind the fish market, you can also see the Chapel of São Gonçalinho. For this, walk behind the fish market and turn right onto Cais dos Botirões – the bank of the canal – for 30 m. Next, take a slight right onto Largo de São Gonçalinho.
São Gonçalinho is one of Aveiro's patron saints. People pray to him for help if they have problems in their marriage or issues with their bones. On the day of the Saint – 10th January – the people of Aveiro congregate in front of the Chapel of São Gonçalinho.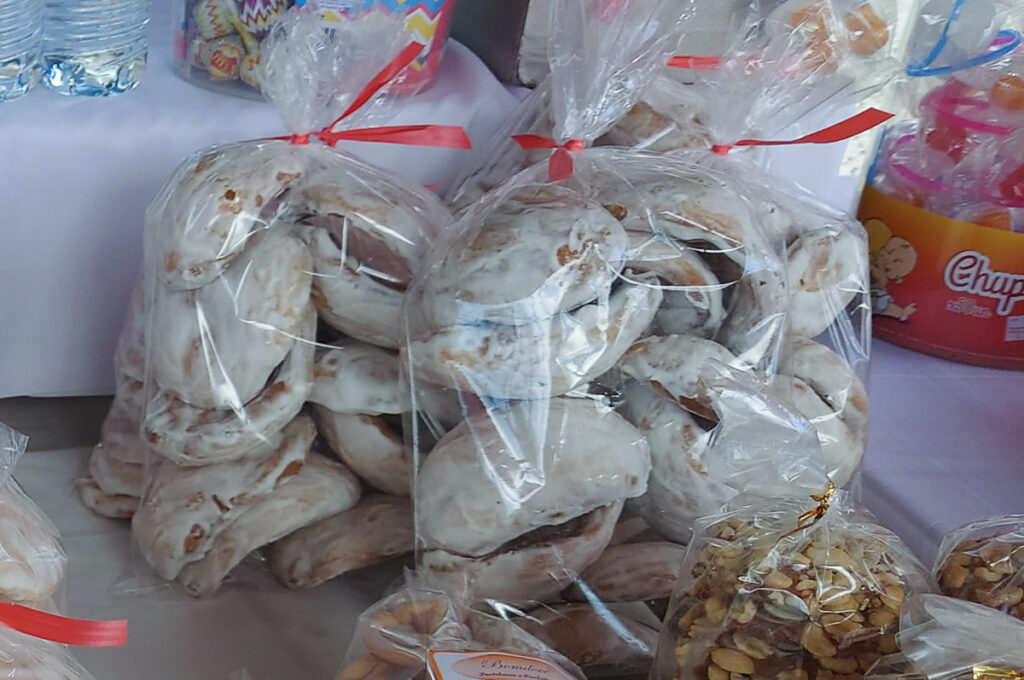 Those who in the preceding year have had their prayers answered by the saint, throw bags of cavacas rijas – a local variety of hard biscuits – from the rooftop of the chapel. Hundreds of people congregate below trying to catch them.
Next, you will be heading to the first two museums for the day. They are both small but quite interesting, especially if you want to learn as much as possible about Aveiro and its traditions.
Museu da Cidade de Aveiro and Museu de Arte Nova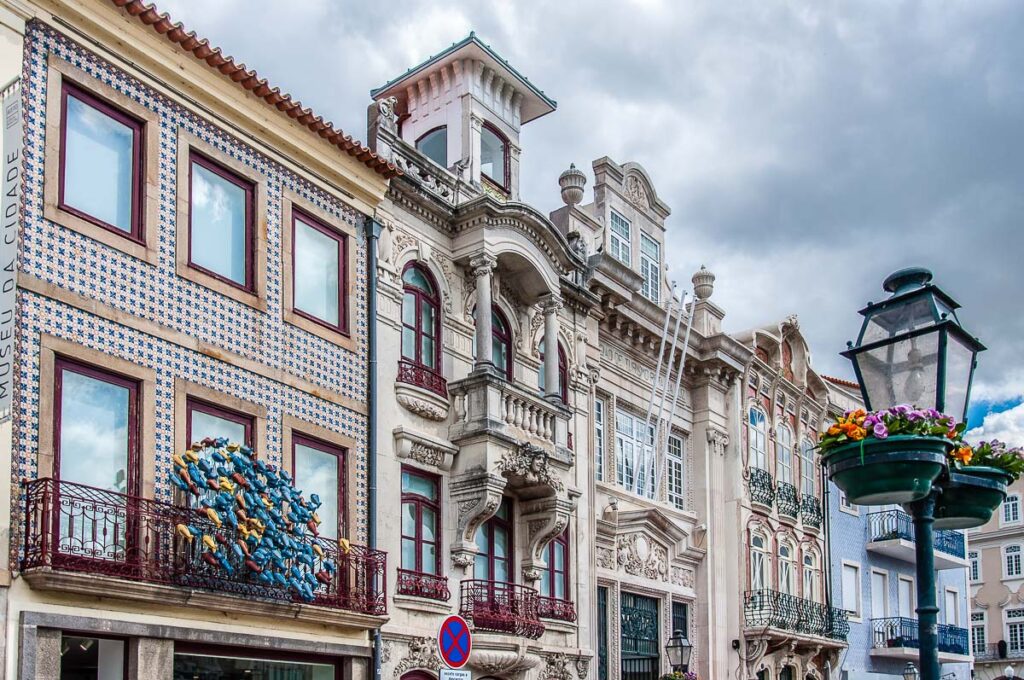 Retrace your steps from the Chapel of São Gonçalinho to the fish market. Once there, follow Rua Trindade Coelho for about 100 m. At the corner, turn left onto Rua João Mendonça and after 60 m you will see the beautiful facade of Aveiro City Museum (in Portuguese, Museu da Cidade de Aveiro).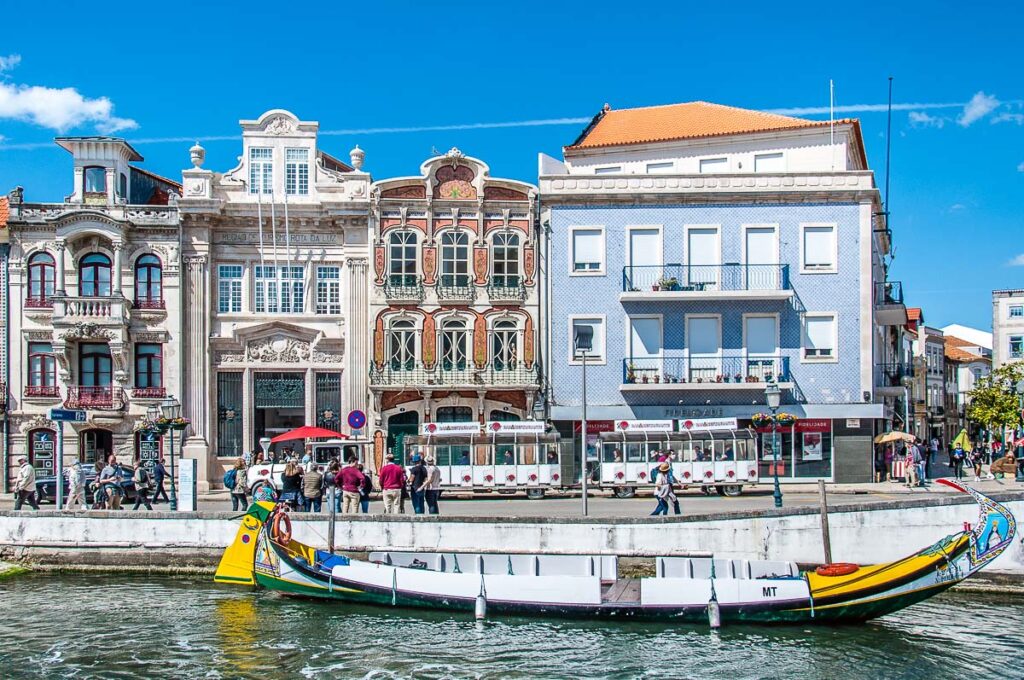 The museum faces the city's main attraction – the Canal Central with its colourful moliçeiro boats. Stop for a minute to enjoy your first glimpse of it, then head into the museum.
The Museu da Cidade de Aveiro is small and tidy. It offers a quick introduction to the history of Aveiro. It has two floors with some very well-organised displays. If you stop to read all the information, you can see it all in about 15-20 mins max.
On the ground floor, you can also watch an immersive video about the Ria de Aveiro Lagoon. This is the largest coastal lagoon in Portugal. It is a place where hundreds of different types of birds live and where Aveiro's salt flats are.
If you don't think you will have time to visit the salt flats during your day trip to Aveiro, this short video will give you a good idea of the beauty and the importance of the lagoon.
Most importantly, in Museu da Cidade de Aveiro you can buy a combined ticket for Aveiro's three main museums. For the humble price of seven euros (valid at the time of my visit in April 2022), you can explore the artefacts and the stories of Aveiro City Museum, the Art Nouveau Museum, and the Aveiro Museum – Santa Joana.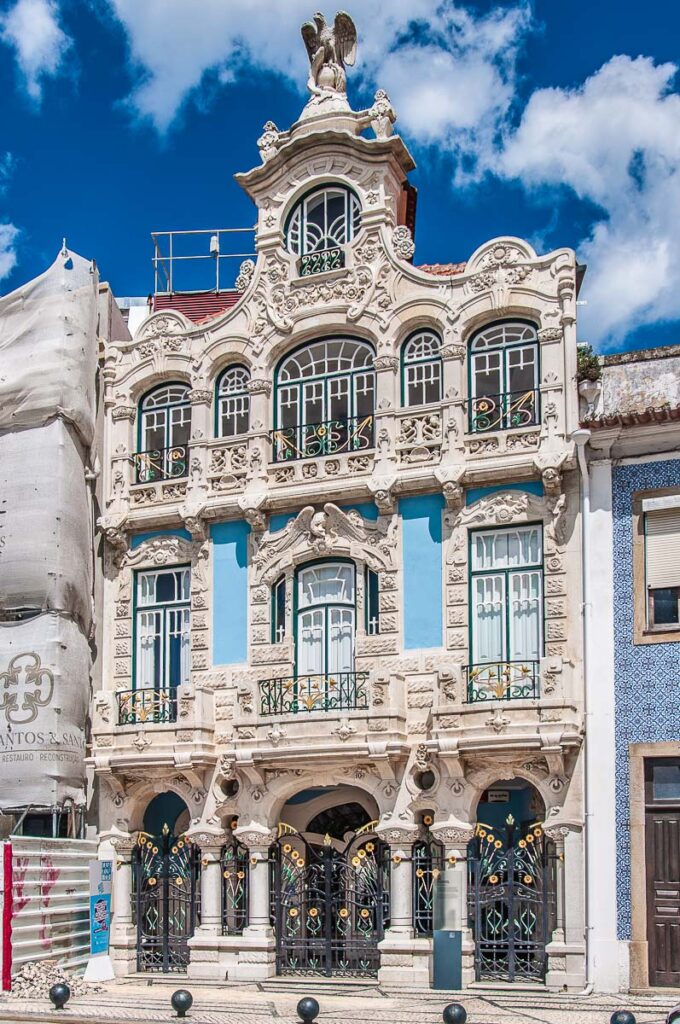 Next, head to the Art Nouveau Museum (in Portuguese, Museu de Arte Nova). It's only 100 m away from Museu da Cidade de Aveiro down Rua João Mendonça. This museum is housed in the Casa Major Pessoa – a splendid Art Nouveau house dating back to 1907-1909.
One of Aveiro's defining characteristics is the proliferation of Art Nouveau buildings. There is even a thematic itinerary taking in 28 iconic buildings and structures around town.
The Museu de Arte Nova marks the start of the itinerary and you can pick a map here showing the location of the other buildings on the list. The museum hosts temporary exhibitions and has a tea room on its ground floor.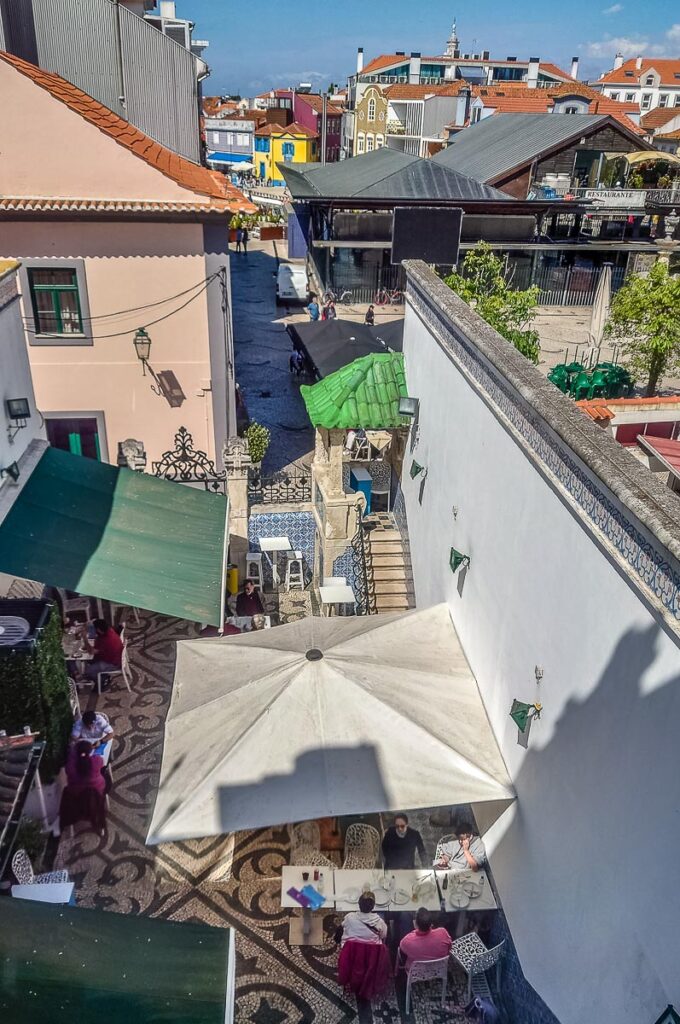 What I enjoyed the most here was the house itself. Its interiors matched the quirky facade with their flowing lines and organic shapes.
After your visit to the Museu de Arte Nova in Aveiro, you can spend a few moments in the adjacent Jardim do Rossio – a rather striking garden flanked by tall palm trees.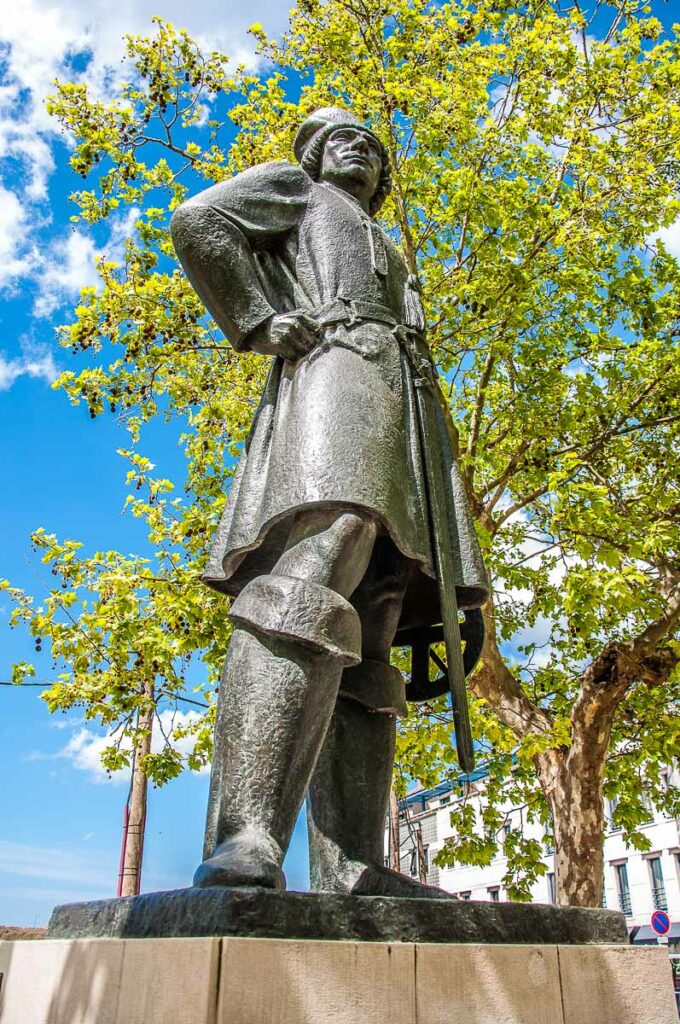 Next to the garden, you can see the monument of João Afonso de Aveiro – a maritime pilot who was instrumental in the Portuguese explorations of the world in the 15th century.
When we visited, the Jardim do Rossio was fenced off and a large-scale renovation was taking place. So, we had a coffee with an ovo mole each and headed straight to the next point on this itinerary.
Ovos Moles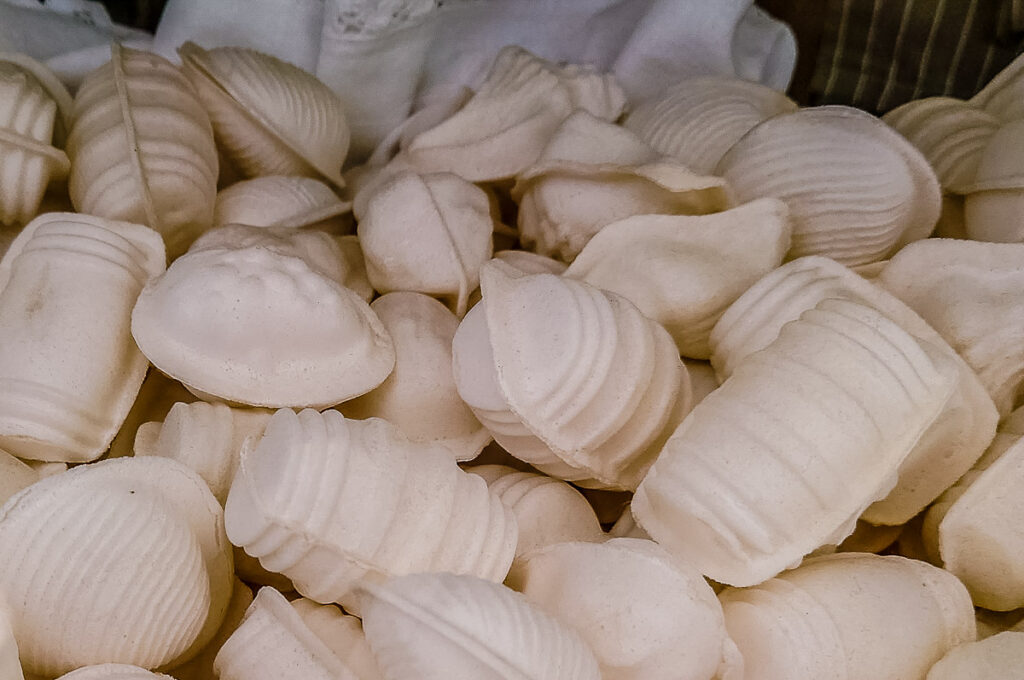 Ovos moles (in English, soft eggs) are Aveiro's most famous delicacy. These are small parcels made of wafers shaped to look like shells, walnuts, and barrels among other things. Inside, they are filled with a thick and gloopy paste made of sugar and a huge number of egg yolks.
They say that the original recipe for ovos moles was created at the start of the 16th century in the city's Mosteiro de Jesus. At the time this was a large Benedictine convent which nowadays has been transformed into a must-see museum. Much adored all around Portugal and even name-checked by famous Portuguese writers like Eça de Queiroz, you have to try at least one ovo mole when in Aveiro.
Yes, they are a bit of an acquired taste, at least for me, but they are one of the city's most enduring icons. So, in the name of authentic travel experiences, take a short break from all the sightseeing and head to one of the many specialised shops and patisseries around town to have a taste of ovos moles.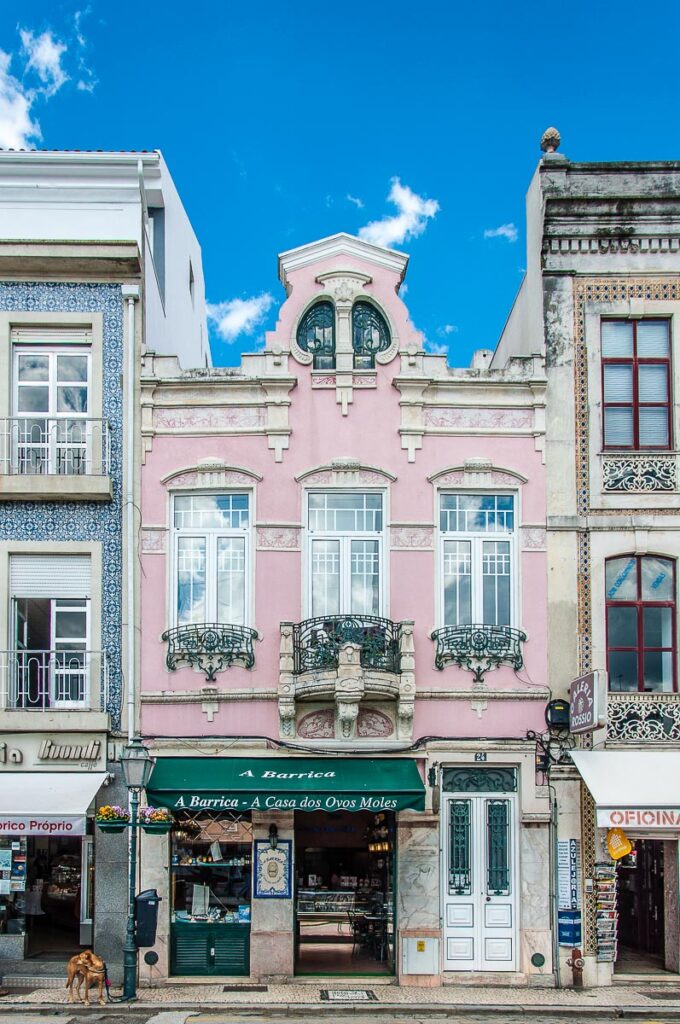 An easy way to do it is to stop at A Barrica Casa dos Ovos Moles. This is a small cafe specialising in the traditional production by hand of ovos moles. It's housed on the ground floor of an elegant Art Nouveau building (which is actually part of the city's Art Nouveau itinerary). You will spot its pink facade right between the Museu da Cidade de Aveiro and the Museu de Arte Nova. Here you can have a coffee and your fill of ovos moles before heading out for a boat tour on Aveiro's famous canals.
Alternatively, you may want to attend a short demonstration to see how ovos moles are actually made. There are several establishments around town which provide workshops.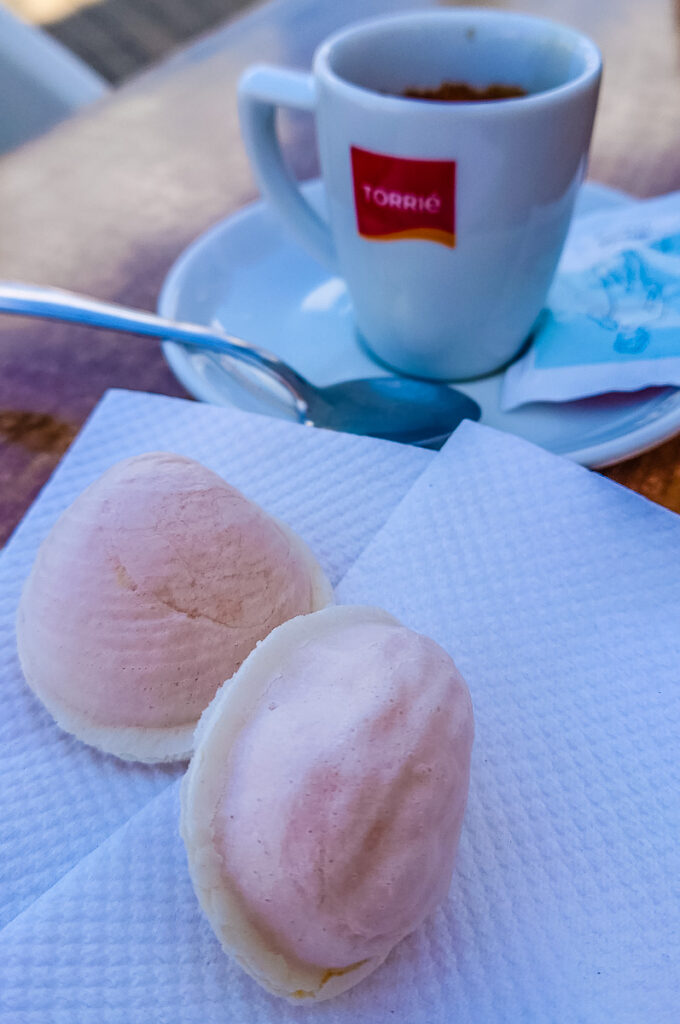 Maria da Apresentação Cruz & Herdeiros is one of the most well-known ones. They have been in the business of making ovos moles since 1882. Their workshop where they hold demonstrations is deeper into the district of Beira Mar and near the Chapel of São Gonçalinho. Their website (in Portuguese) has all the details about booking up to five days in advance.
The other option is to book a workshop at the Oficina do Doce. Again, you need to reserve your spot in advance. Plus, you need to make a request to see if they can hold it in English.
Otherwise, you can learn more about the history and the traditions of ovos moles under point 2 in this blog post:
Tour in a Traditional Moliçeiro Boat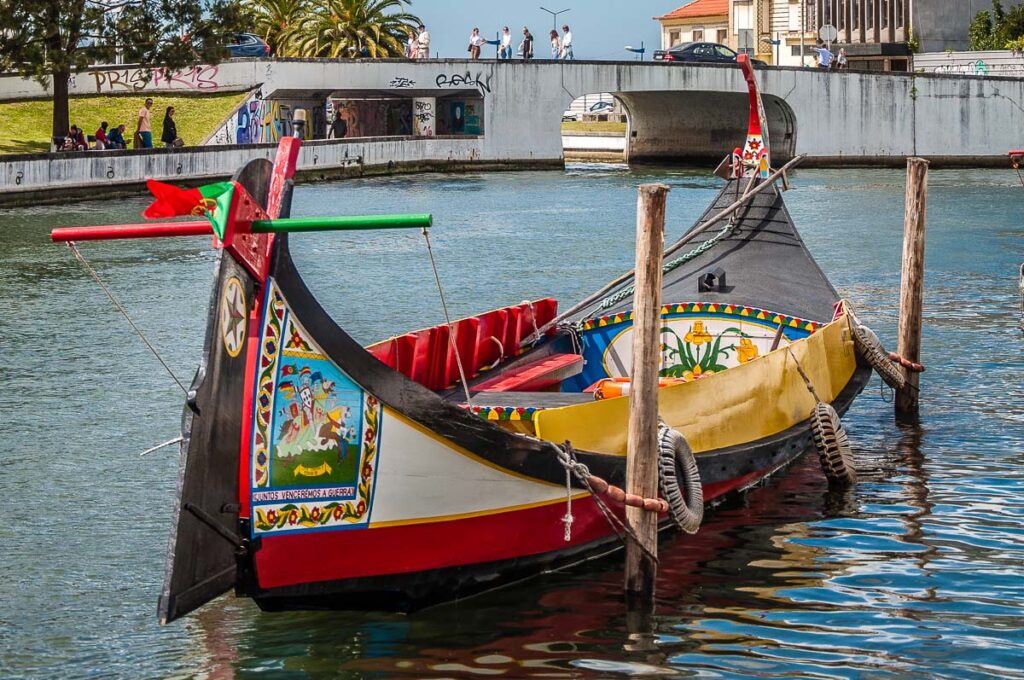 The tour in a traditional colourful boat is the main highlight of a day trip to Aveiro in Portugal. The boats leave from Canal Central and allow you to enjoy the views of the city coupled with the stories told by the skipper. You will see the small quays from which the tour boats leave right next to the Jardim do Rossio and in front of the Museu da Cidade de Aveiro.
The tours take about 45 mins and on a busy day, you may need to wait in line a bit before boarding. On the train ride from Porto to Aveiro, we booked a boat tour through Get Your Guide. Upon reaching the quay, we had to wait about ten minutes for the next boat to become available.
There are several local companies offering these tours. If you don't want to book in advance, you can have a look along Canal Central to see which one appeals to you the most.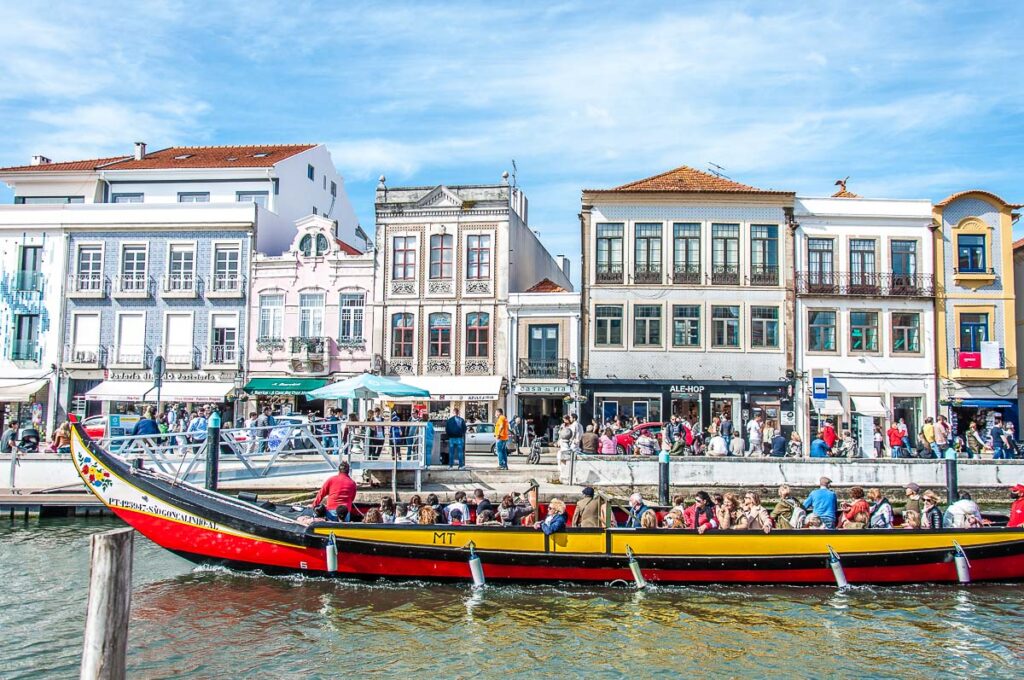 Once on board, we were seated at the front of the boat with an extended Spanish family next to us. A group of Portuguese friends took the other half of the boat.
The skipper was lively and chatty, switching smoothly between the three languages. He provided the same information in all three languages giving equal amounts of attention to all three groups of people on board. I learnt quite a lot from him, not least the differences between Aveiro's traditional boats: moliçeiro and mercantel.
I described them in some detail under points 1 and 7 in this blog post, if you want to have a look. It also explains why many of Aveiro's boats are decorated with somewhat salacious handpainted scenes:
Visual Travel Guide to Aveiro, Portugal – 18 Photos to Entice You to Visit the Portuguese Venice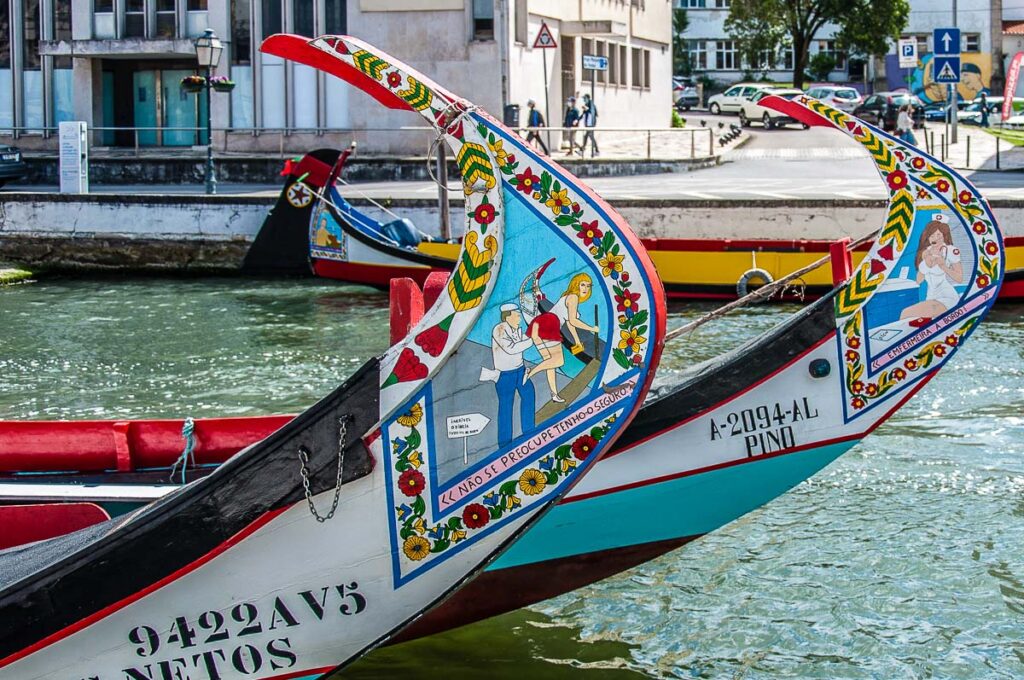 It was a sunny, warm day and it was very pleasant just to sit down for a bit and glide on the canals. If you are visiting in summer, bring a hat and suncream, as there is no shade in the actual boat and it can get very hot.
Our skipper entertained us with stories about Aveiro and pointed to the different sights as we glided past.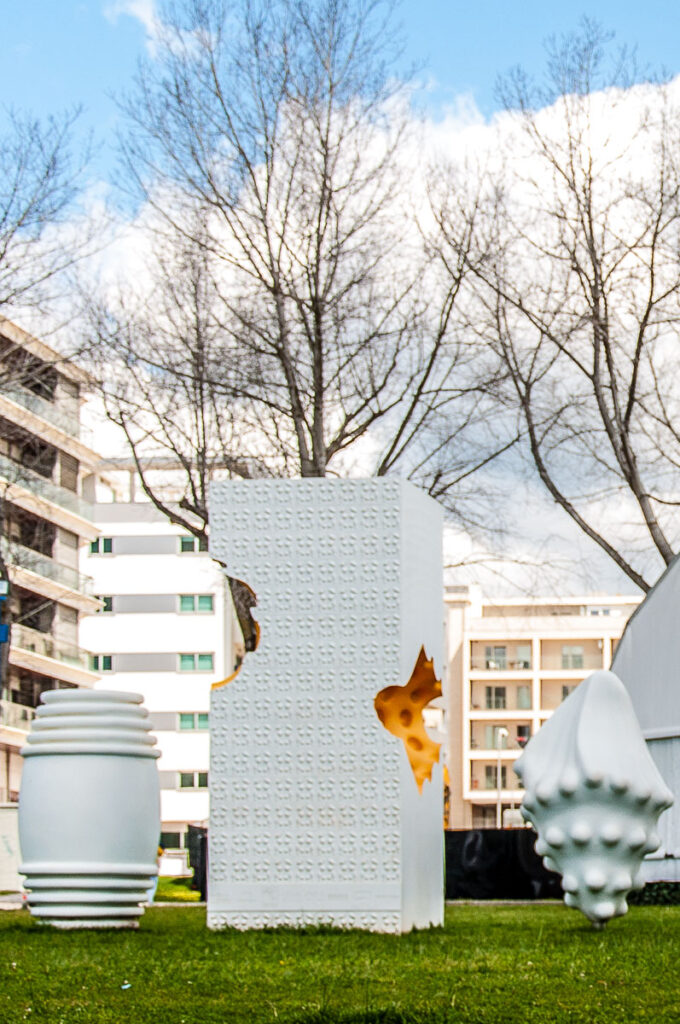 From a number of small bridges – each with a story behind it – to a monument dedicated to the local delicacy – ovos moles – there is enough to keep your interest.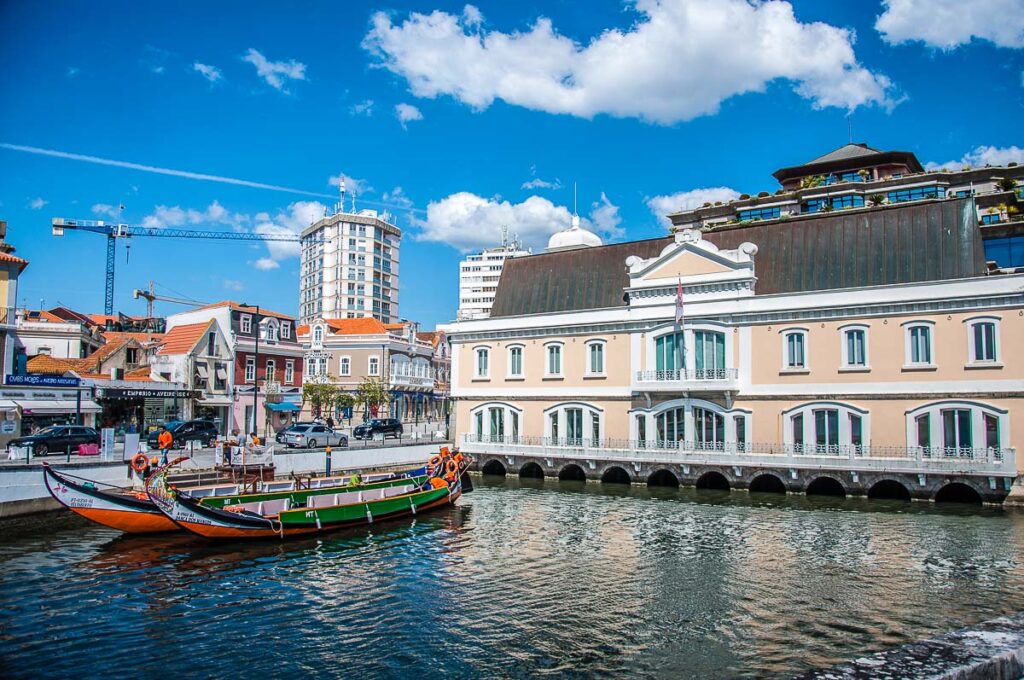 I enjoyed seeing the Antiga Capitania – a large building over the Canal do Côjo.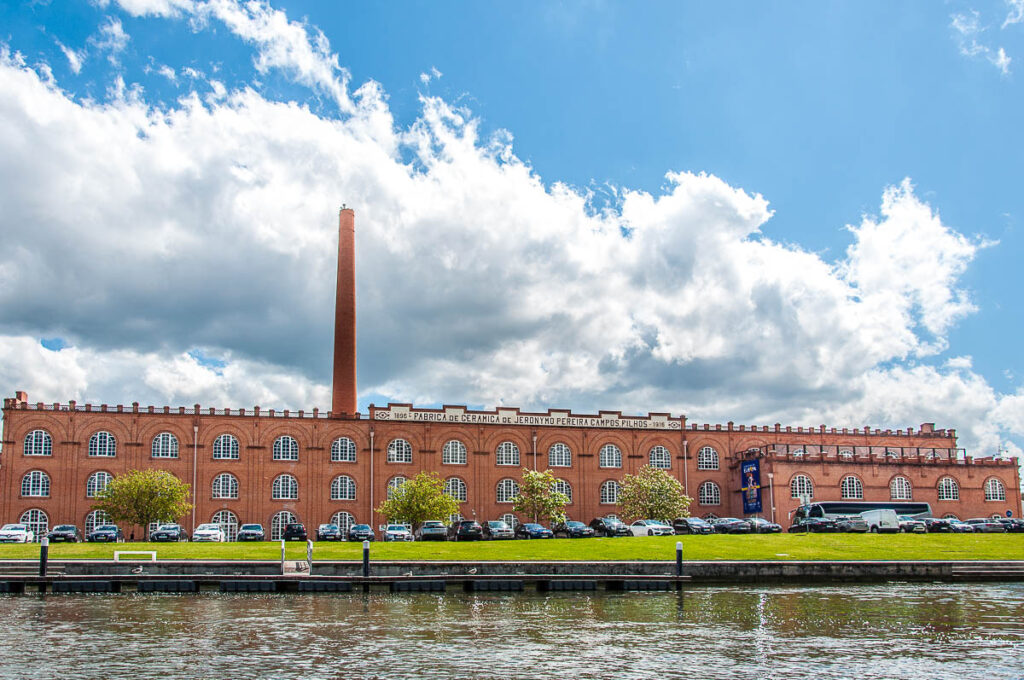 Another large building that caught my eye was a former ceramics factory which nowadays functions as a congress centre.
The stories of Aveiro's bridges were also quite interesting. The bridges are rather small and if you are still looking for similarities with Venice, they may disappoint you a bit. Yet, they have their own charm and local traditions attached to each, so in the context of Aveiro, I found them charming.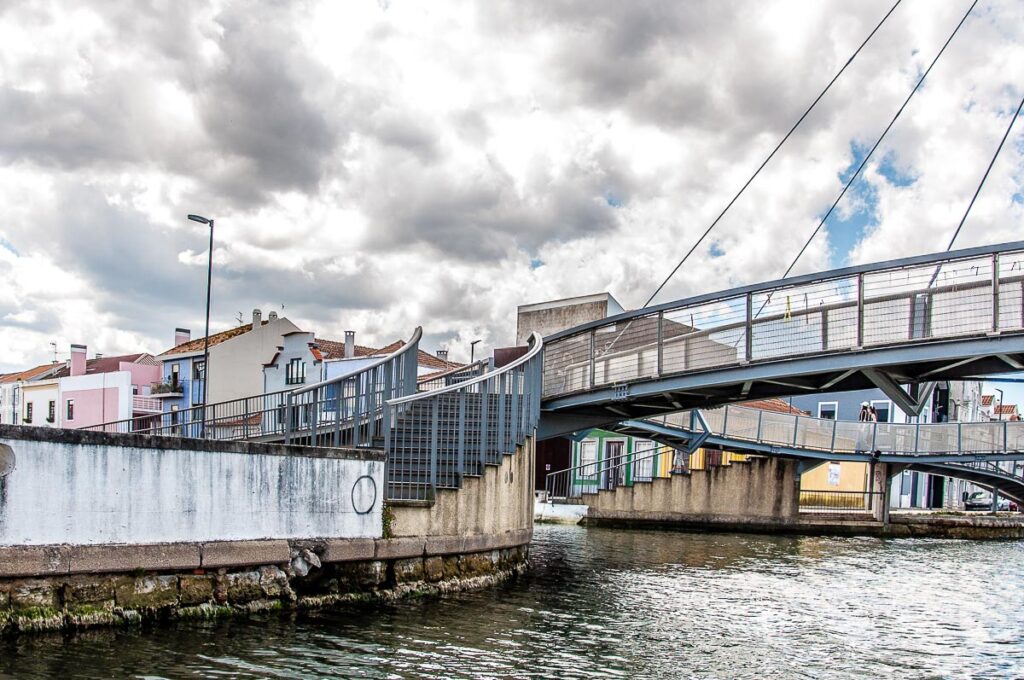 I liked the Ponte do Laço the most (sorry, I couldn't take a full photo of it from the boat). This circular pedestrian bridge is built over the crossing point of two of Aveiro's canals. According to our skipper, its design was inspired by the shape of the nets used in the lagoon of Ria de Aveiro to catch eels.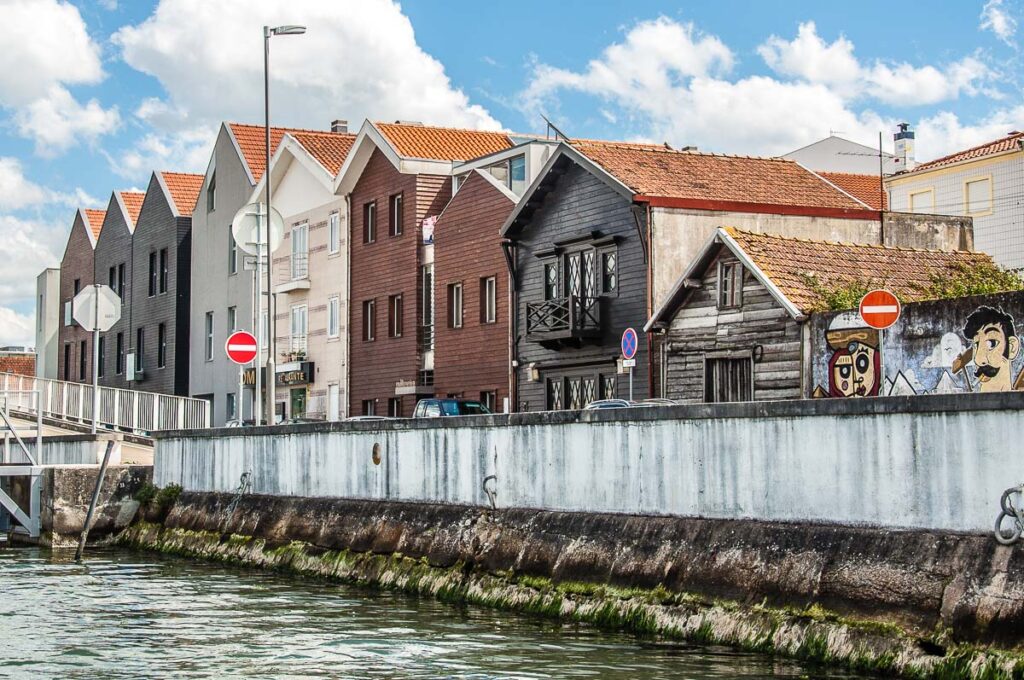 I also enjoyed learning a bit about Aveiro's salt. Large salt flats stretch right next to the city and have been in use since at least medieval times. We saw the traditional salt warehouses. Many of them nowadays have been converted into residential buildings. One even houses a famous restaurant which is featured in the Micheline Guide.
Tour by Electric Train or Tuk-Tuk (Optional)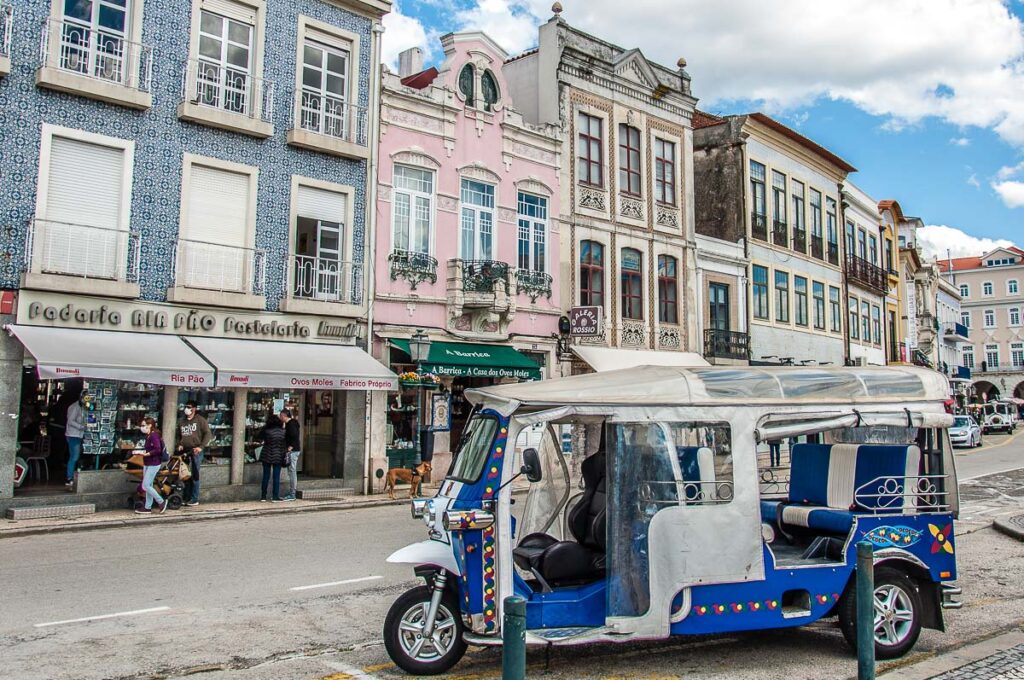 Once your boat tour of Aveiro comes to an end, you may want to take the electric train or hire a tuk-tuk to take you around, too.
The tours take between 30 and 45 mins and are an easy and convenient way to cover some long-ish distances in the city. The electric train and the tuk-tuk take you beyond the centre and as far as the salt flats and the campus of the Universidade de Aveiro (one of the top Universities in Portugal and Europe).
As we travel as a family, we always try to find things to do throughout the day that are of interest to each one of us – my husband, our daughter, and I. As such, my husband chose the boat tour of the canals, I insisted on seeing the museums and the churches of Aveiro, and our child wanted to go to the playground.
So, we didn't have time to do either the electric train or the tuk-tuk tour. I thought I should mention them as options here, nevertheless, as you may have a different approach to organising your day trips.
Forum Shopping Centre and Playground (Optional)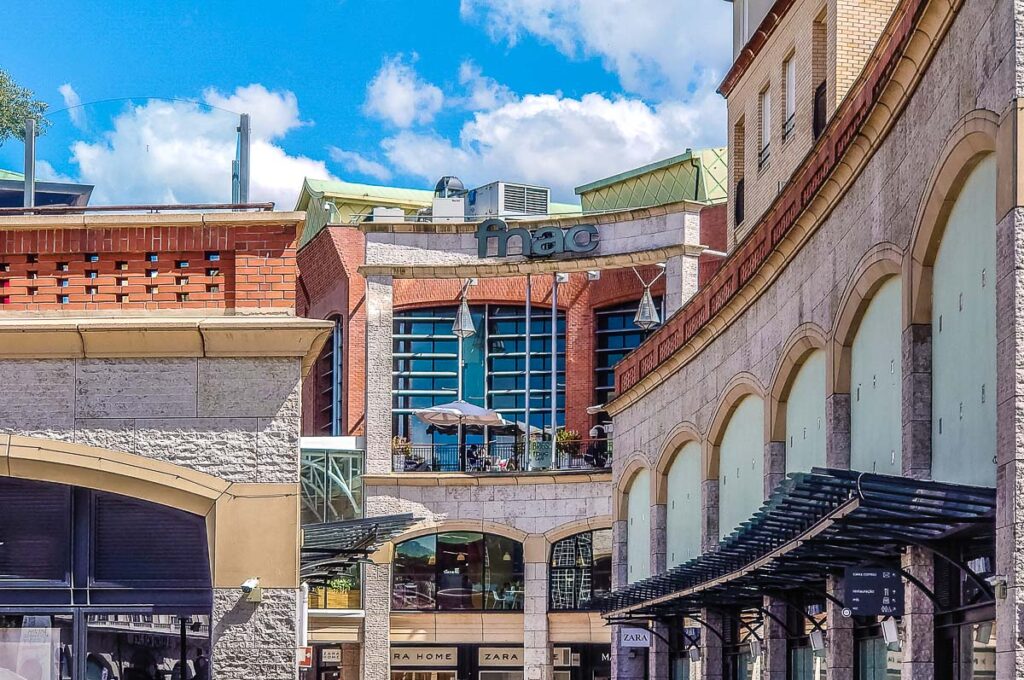 After our boat tour, we headed to the playground next to Forum Aveiro – the city's central shopping mall. You will find it just 200 m away from the Museu da Cidade de Aveiro and right across Canal Central.
You will pass by Forum Aveiro during the boat tour, so if you are looking for a playground or want to shop, it's a great place to head to during your day trip to Aveiro. The shopping mall also has a great roof garden with lovely views of the city and the lagoon.
After our child had a little run around the playground, it was time to head to Aveiro's cathedral and the city's most important museum.
Sé de Aveiro and Museu de Aveiro – Santa Joana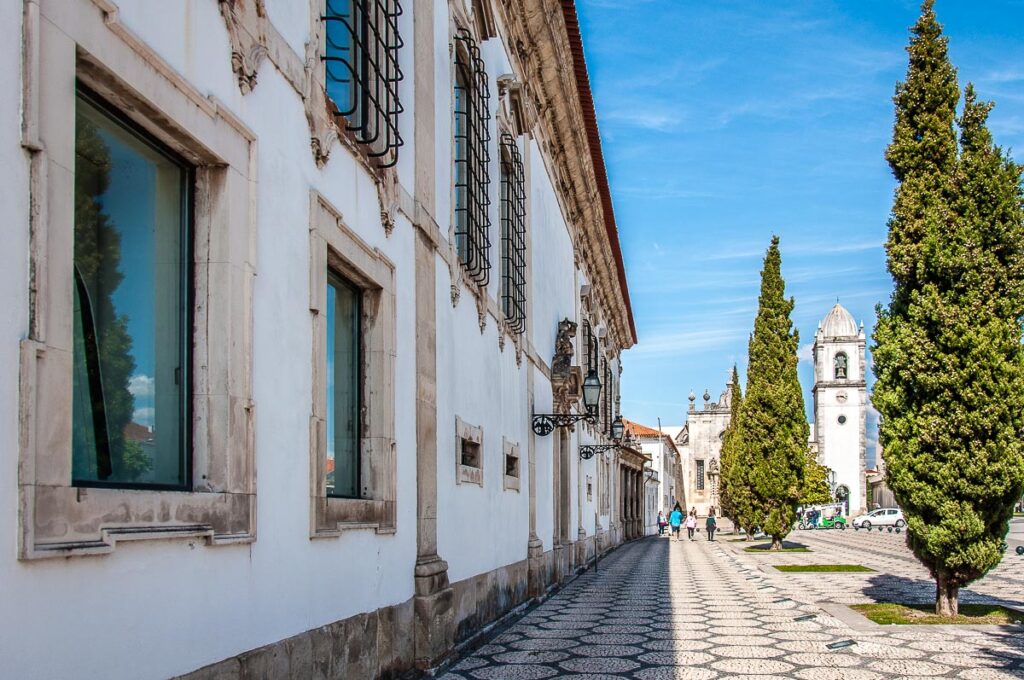 Next, a short walk away from the canals of Aveiro will take you deeper into the historic nucleus of the city and all the way to one of its major sights – the splendid Museu de Aveiro – Santa Joana. This was once the Mosteiro de Jesus – an important Benedictine convent – where not only the city's famous delicacy ovos moles was invented but where the city's own Princess Saint lived in the 15th century.
To reach the Museu de Aveiro – Santa Joana from the Forum Aveiro Shopping Mall, follow Rua do Batalhão de Caçadores for about 200 m. Then at the roundabout, take the first exit onto Avenida 5 de Outubro. After about 40 m, on your left-hand side you will see Sé de Aveiro. Also known as the Igreja Paroquial de Nossa Senhora da Glória, this is the city's Cathedral.
If you can spare a few minutes, make sure that you visit this elegant church that is at the heart of Aveiro's religious and community life.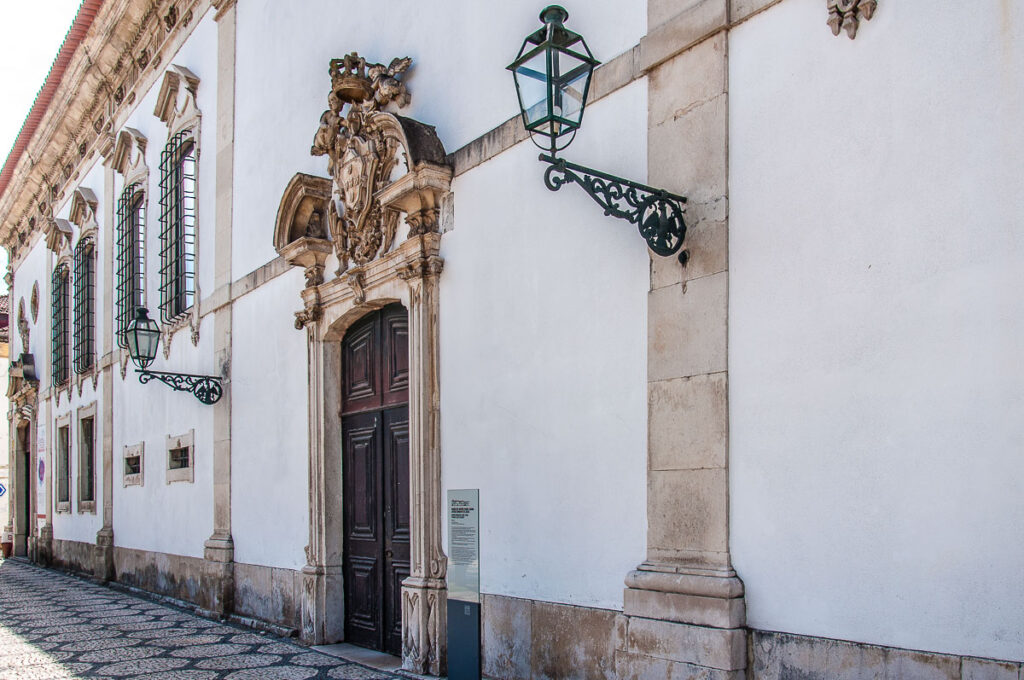 Otherwise, turn right onto Avenida Santa Joana and follow the long body of the former convent until you reach the main entrance. The museum housed inside preserves Aveiro's most important religious art and relics. It's well worth a visit.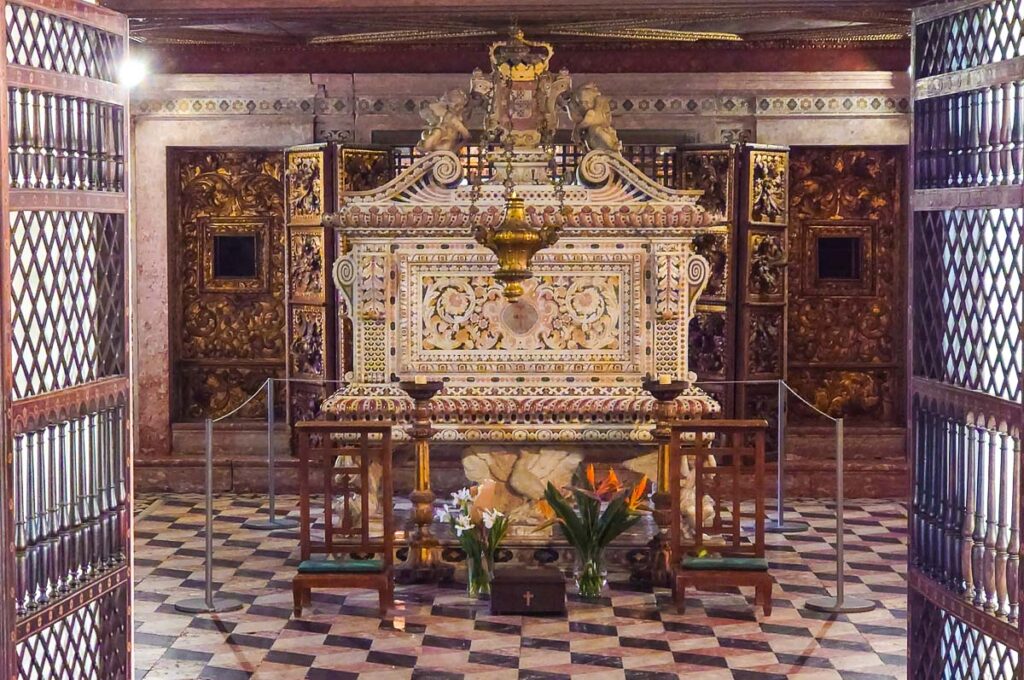 The ground floor is where you can visit the tomb of St. Joanna, Princess of Portugal. Known in Portuguese as Santa Joana Princesa, she was the daughter of King Afonso V. Wanted in marriage by the kings of France and England, she instead dedicated her life to serving God. Joanna was beatified in 1693 and to this day is one of the most beloved and revered Portuguese saints.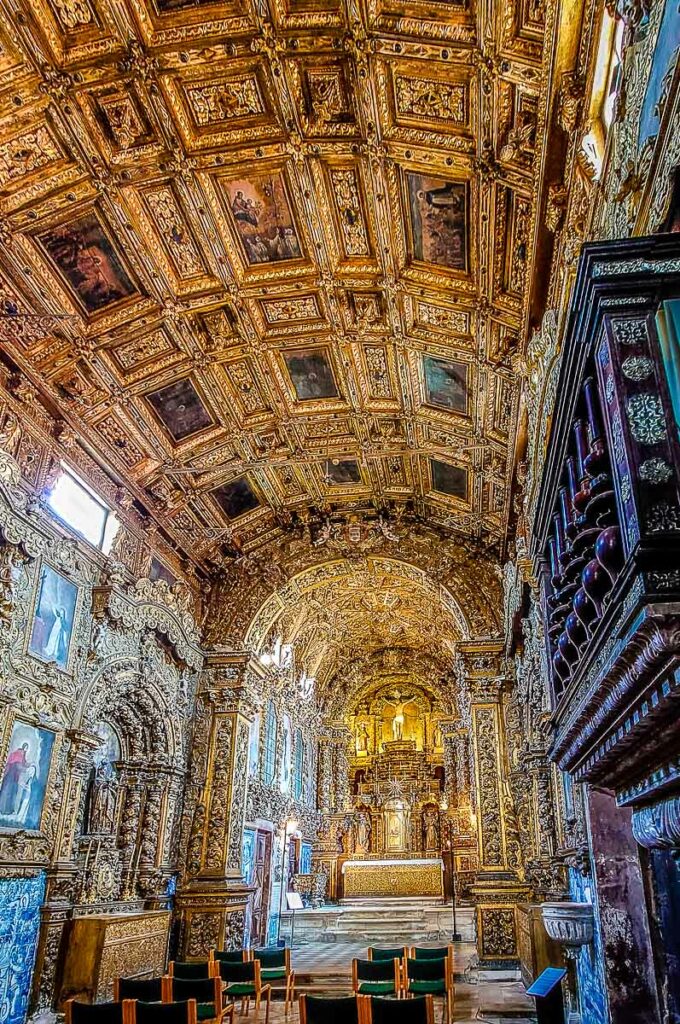 Also on the ground floor of the museum, you will see the splendid Igreja de Jesus – a small church lavishly decorated with gilded woodwork. Next, is the cloister, several chapels, and the refectory. The walls of many of these spaces are completely covered with beautiful azulejo tiles.
The second floor of the museum showcases important pieces of art and other interesting artefacts.
Once your visit to the museum is complete, it's time to see one last corner of Aveiro's centre and then decide if you want to make the journey to the nearby resort of Costa Nova or do something else instead.
Praça da República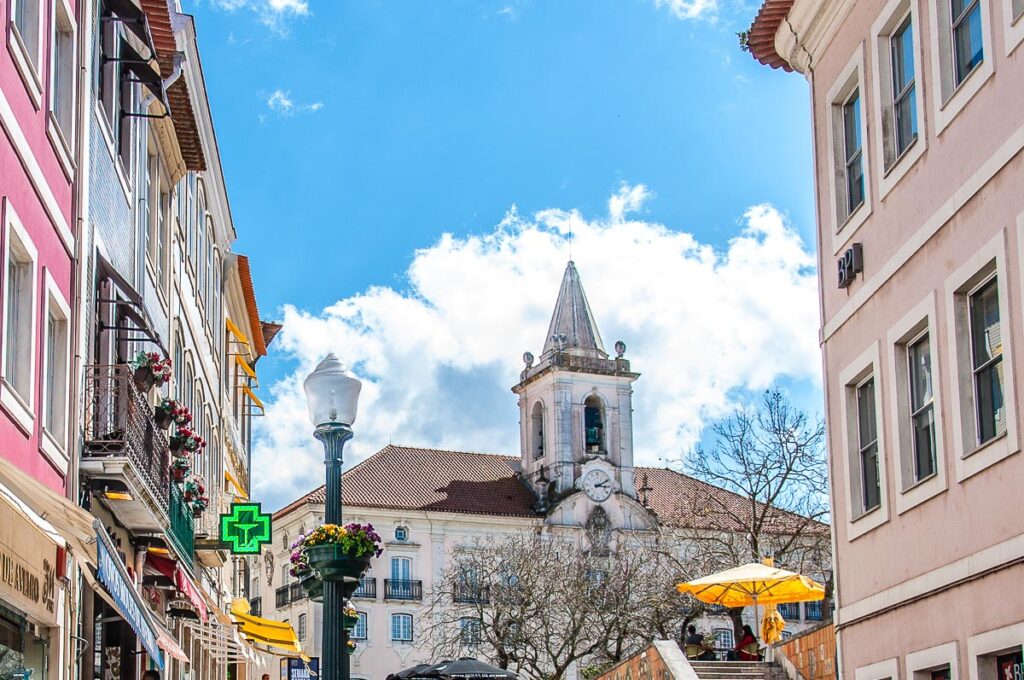 Praça da República is a large square flanked by large, imposing buildings. Among them are Aveiro's District Council – Câmara Municipal – and a 17th-century church – Igreja da Misericordia. For me, the main attraction of the square is its calçada portuguesa with a pattern of circles in different sizes. It sounds simple but it's actually very pretty, especially on a nice sunny day.
To reach Praça da República from Museu de Aveiro – Santa Joana, turn right onto Rua do Principe Perfeito and walk straight for 160 m. Then turn left and follow Rua Dr. Nascimento Leitão for 70 m. Next, turn right onto Rua dos Combatentes da Grande Guerra for around 75 m and finally, continue on Rua de Coimbra for 20 m.
You will emerge on Praça da República between the Igreja da Misericordia and the Câmara Municipal. Once you have taken the square in, it's time to decide what you want to do for the rest of your day in Aveiro.
There are at least three options: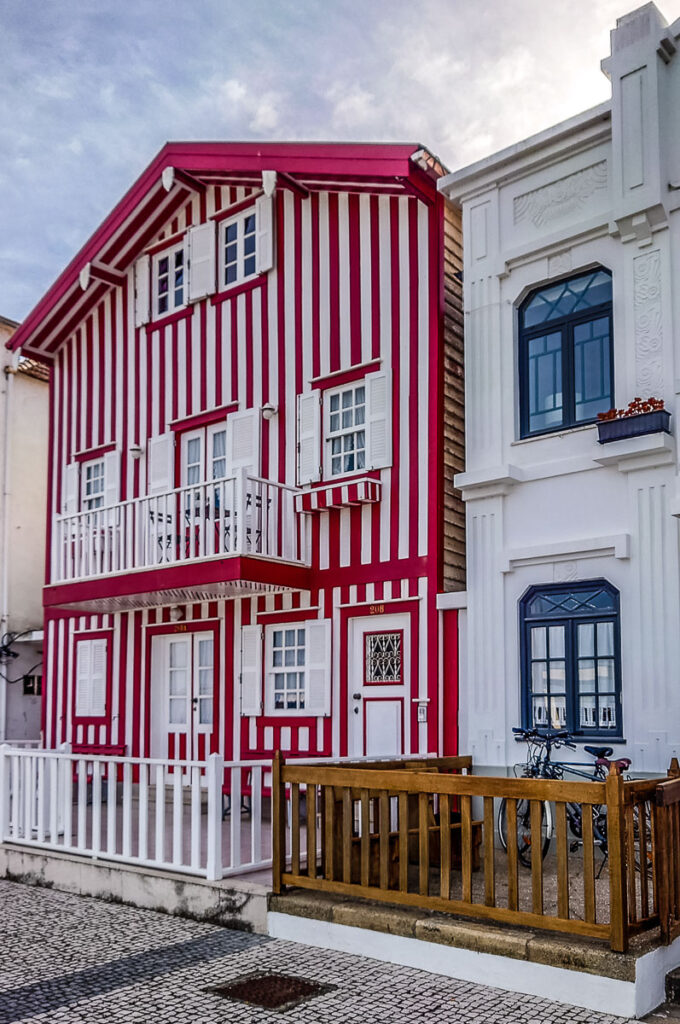 Costa Nova – this is the most popular option. Costa Nova is a resort on the Atlantic coastline of Portugal. It's about 12 km away from Aveiro and it's famous for its striped houses and expansive beaches.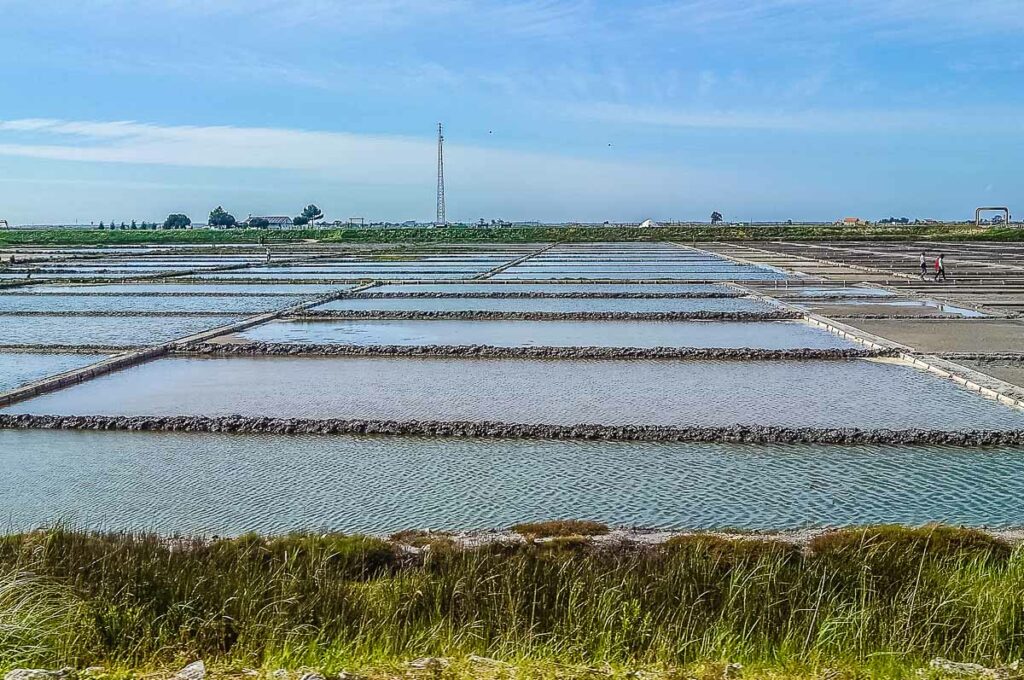 Salt Flats – for many centuries Aveiro's fortunes were built on salt. Large salt flats stretch right next to the city. Some of them are open for visits. For example, the Ecomuseum of Marinha da Troncalhada is a great destination if you want to learn more about the history and traditions of the harvesting of salt in the area.
Other salt flats here have been turned into beaches with salt spa facilities. The most popular one is the Marinha da Noerinha which has a beach, a salt museum and even floating houses to spend the night in.
Parque Infante Dom Pedro – Parque da Cidade – this is a large green park with a lake, a playground, and all sorts of facilities. If you are tired of sightseeing and want to relax a bit before the end of your day trip to Aveiro, the park is a great place to head to.
For our own day trip to Aveiro in Portugal, we chose to make the journey to Costa Nova as we wanted to see its very famous striped houses.
Costa Nova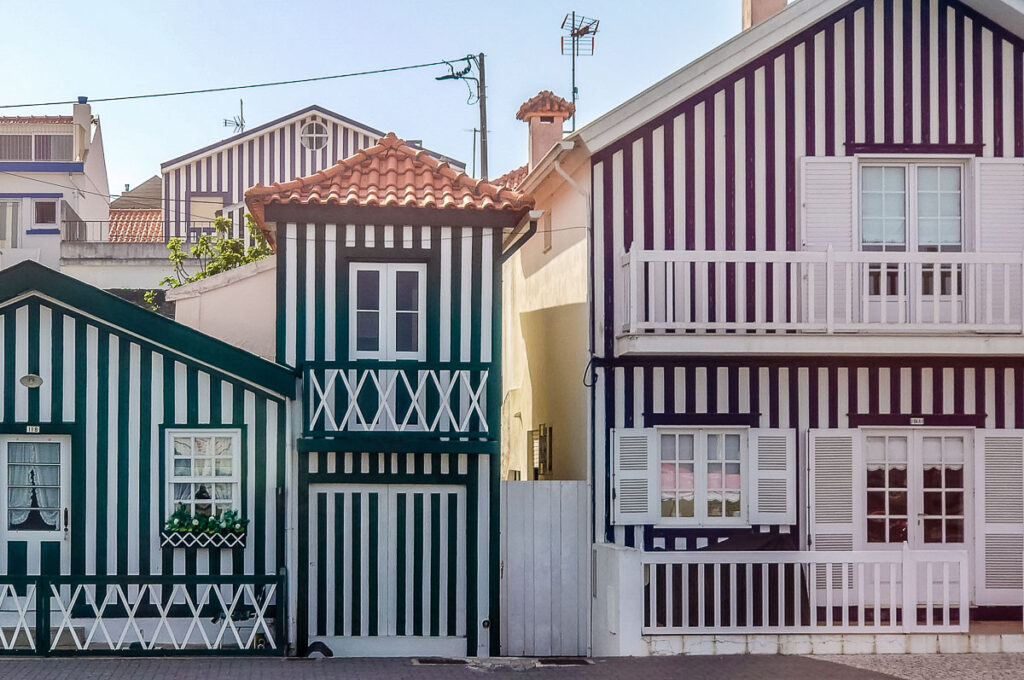 Bus line 5191 connects Aveiro to Costa Nova all throughout the day. It starts from Aveiro's train station and then drives through the city stopping at Rua Clube dos Galitos before getting on the highway.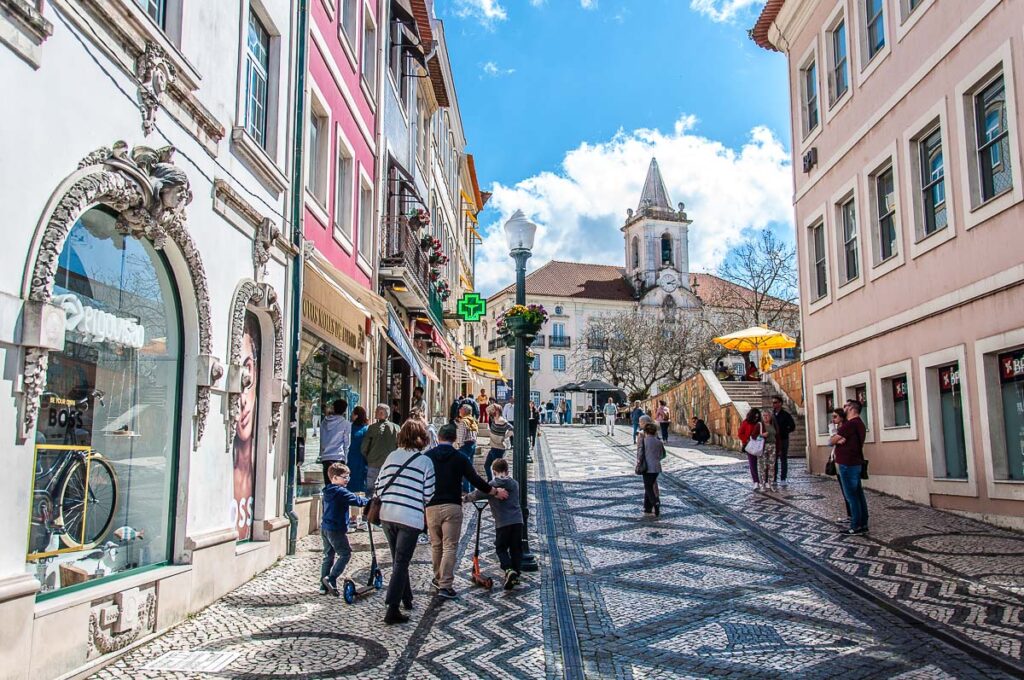 To reach the bus stop from Praça da República, follow Rua de Coimbra for about 80 m. You will soon see that this street leads you back to Canal Central. If you want, while still on Rua de Coimbra, pay a quick visit to Confeitaria Peixnho. This is an incredibly elegant patisserie that has been making ovos moles by hand since 1856.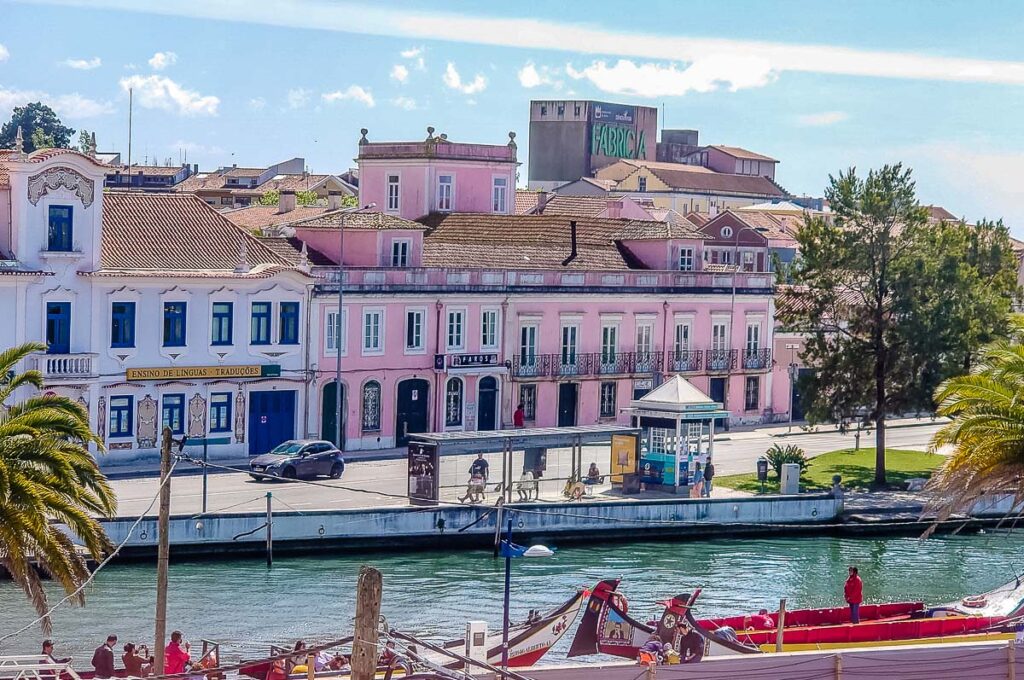 Next, at the corner with Praça Gen. Humberto Delgado, take the 1st exit onto Rua do Clube dos Galitos. Walk for about 200 m and you will see the large bus stop on the edge of the Canal Central. It's right across the canal from the Jardim do Rossio and the Museu de Arte Nova that you have visited in the morning.
You can consult the current timetable for bus 5191 at the official website of Transdev (in Portuguese). It is not too difficult to use. Select a starting point (Origem). Pick 'Aveiro (Galitos)'. Then, select 'Costa Nova (Larg A Anca)' as the destination (Destino). Click on Pesquisar (Search).
Travel times are over 30 mins one way. During the weekdays of July and August, travel times shrink to 18 mins one way.
As we visited in April, the journey by bus felt like it took a long time. It could be because I was already quite tired after a week of active sightseeing and day-tripping in Portugal. It could be because it was a very sunny and warm day. In any case, travelling on that bus felt like ages. Most probably though it only took around 35 or 40 mins at most.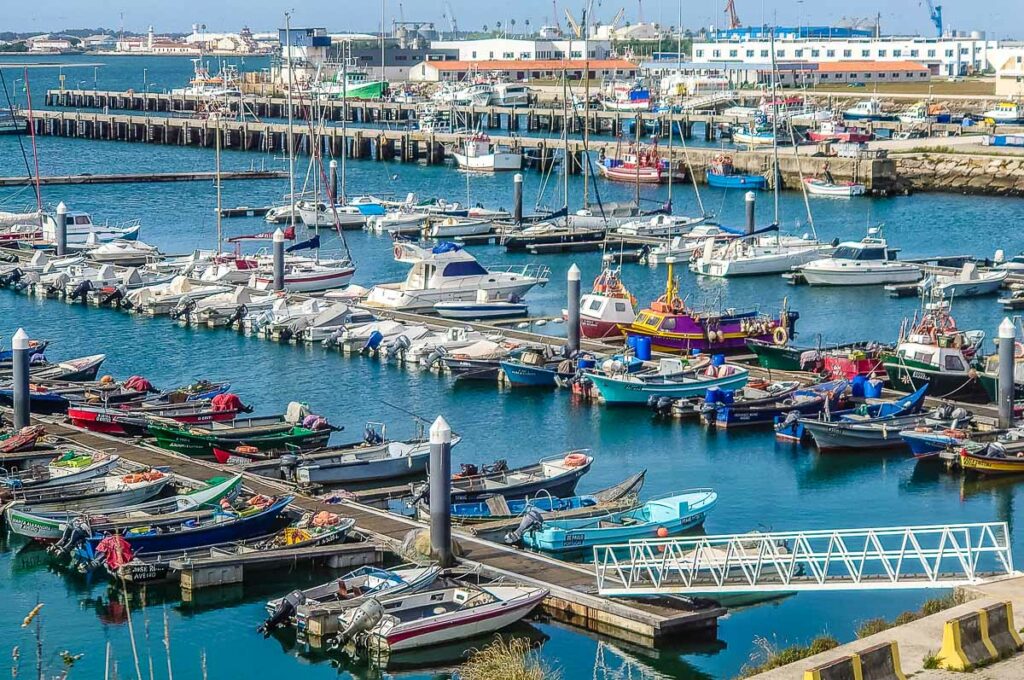 In any case, the bus was very comfortable. It travelled across the lagoon Ria de Aveiro, so the journey itself was very interesting. The bus drove through small suburbs. It went across a long bridge. It also passed by Aveiro's port authority and what seemed like a small harbour.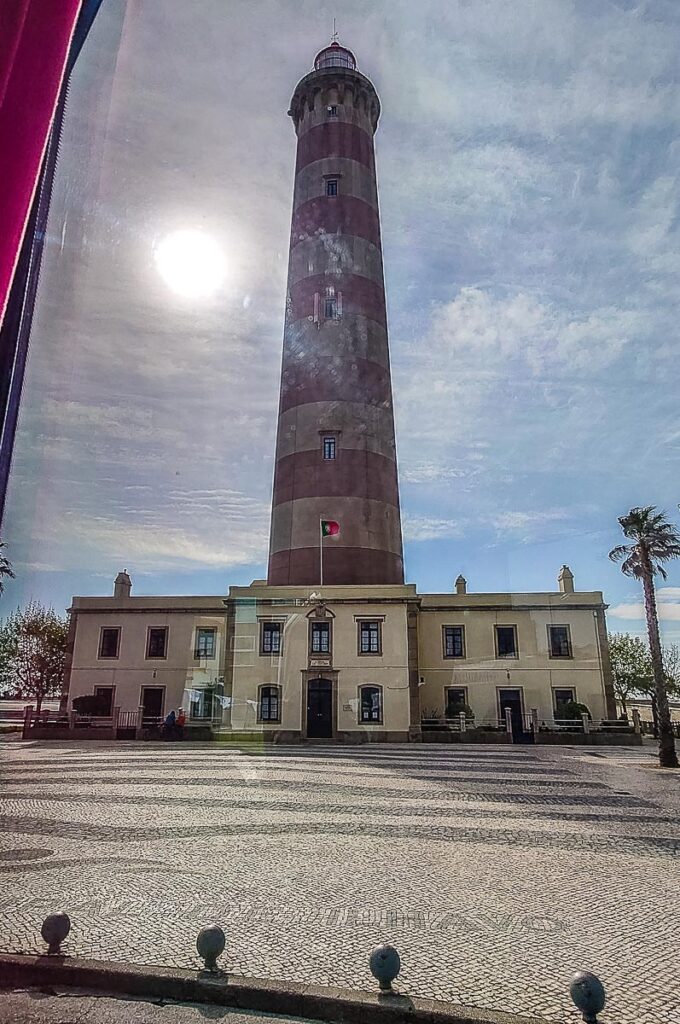 We stopped in Ílhavo – a small town where, if you are staying in Aveiro for more than a day, you can visit several interesting sights. Among them are Portugal's tallest lighthouse, the Museu Marítimo with its aquarium housing a shoal of cod fish, the Ship-Museum Santo André, and the museum of the Vista Alegre ceramics factory.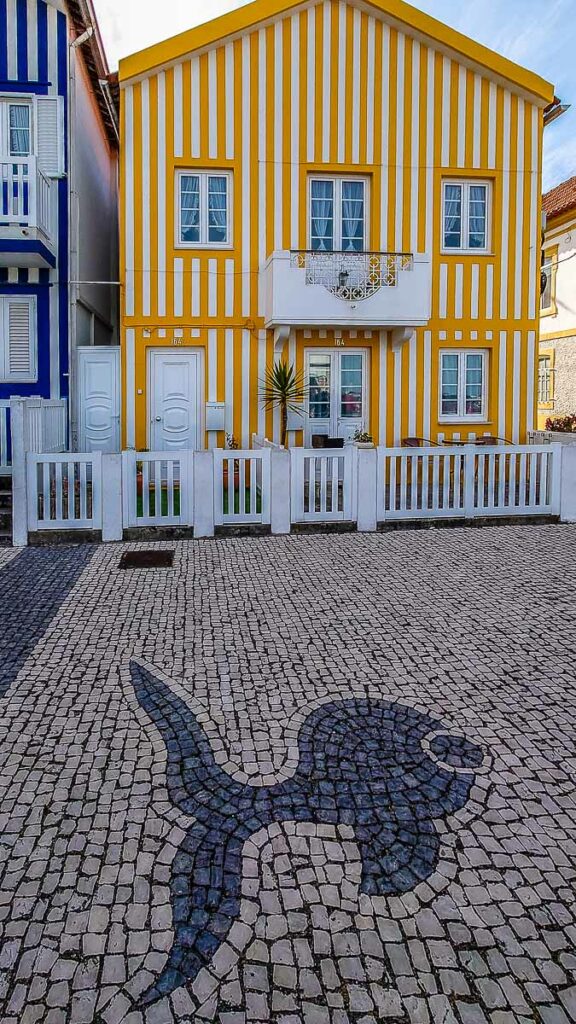 A few minutes down the road from Ílhavo and we reached Costa Nova. It's a lovely place to visit that, I feel, deserves its own day trip rather than being rushed on the same day as a visit to Aveiro. In any case, we only had a limited amount of time in Portugal and yet wanted to see as much as possible. Hence, we did what most people do and squeezed in Costa Nova and Aveiro together.
I don't regret it, as Costa Nova is very cute. Its famous striped houses started life as palheiros – fisherman's huts. You can read more about them and how they came to be painted in stripes under point 15 in this blog post: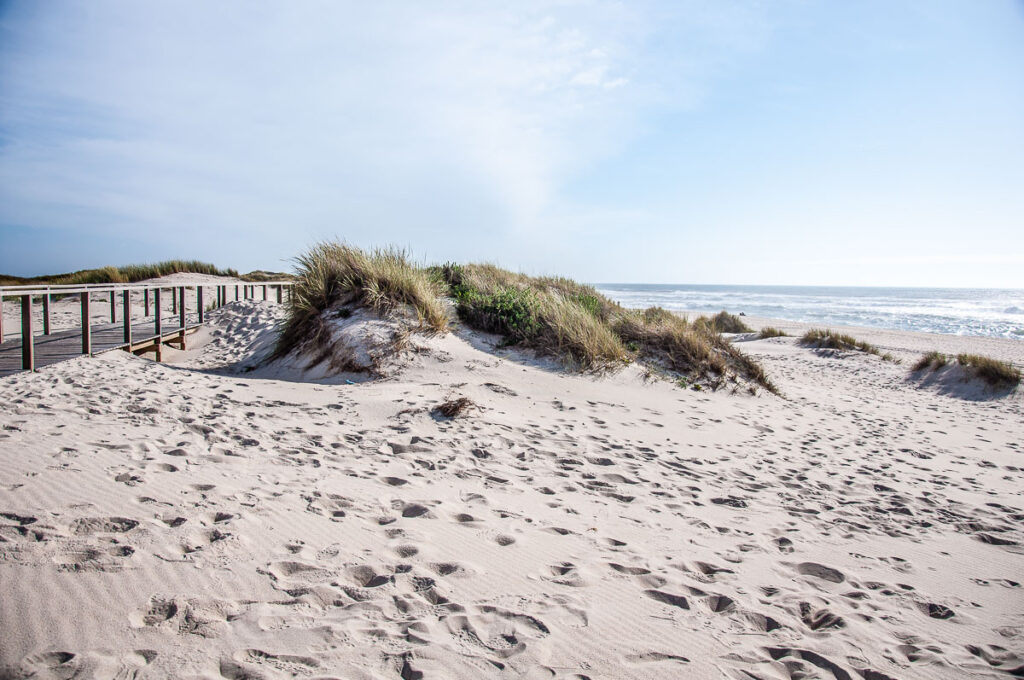 Costa Nova also has splendid beaches with fine golden sand. Although by this point we had a very limited time, we managed to go for a short walk along the beach, ice cream in hand. It was such a pleasure to see the Atlantic Ocean on a sunny day. The water sparkled in thousands of blue hues and the breeze felt lovely and refreshing on my face.
A wooden boardwalk ran along the beach giving you a chance to go for long walks above the dunes to the nearby small towns and resorts.
A quick visit to the hexagonal Igreja Matriz – the main church of Costa Nova – was all we had time left for. Then we had to rush to catch the bus back to Aveiro. In hindsight, I feel we should have perhaps caught a taxi so as to cut the journey time in half and have more time to spend in Costa Nova.
End of the One-Day Itinerary for Aveiro, Portugal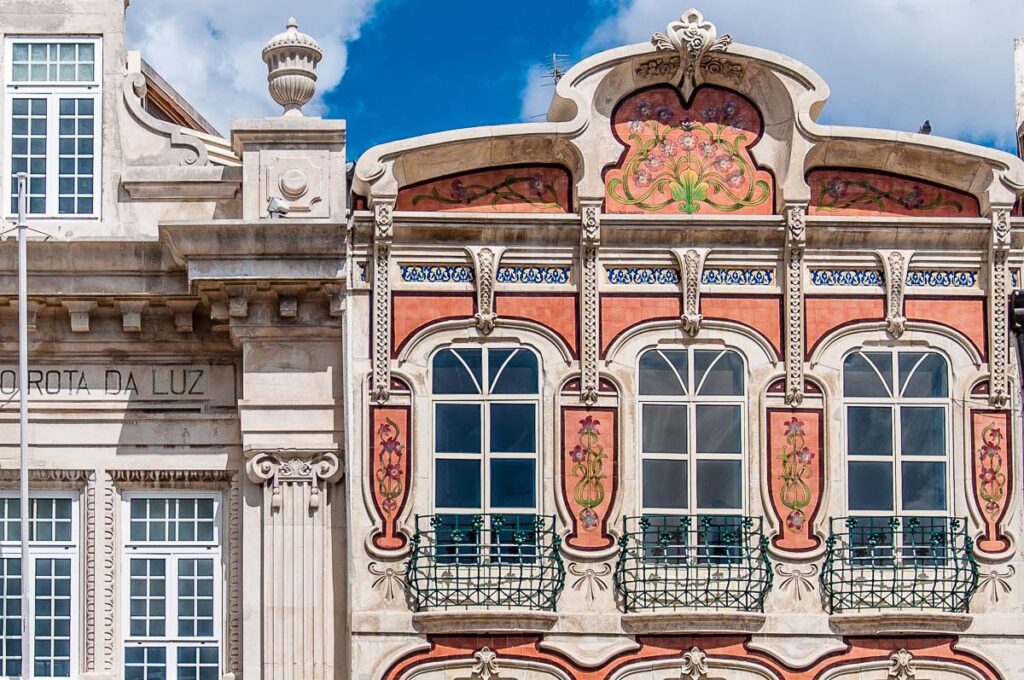 Now, if you have decided to visit Costa Nova by bus, the good news is that on the way back you can stay on the bus until its last stop at the city's coach station. It's right next door to the train station, which is very handy.
If you have used the rest of your time in Aveiro to visit either the salt flats or the city's large park, please, use your GPS to find your way back to either the train station or where you've parked your car.
This brings to an end our day trip to Aveiro in Portugal. I hope you had a great time!
Map of This One-Day Itinerary for Aveiro, Portugal
Here is a map showing you the sights and landmarks to explore during a day trip to Aveiro and Costa Nova in Central Portugal.
I made it using Google Maps. So, you can use it just like any other Google map. You can zoom in and out, click to open the map in a separate tab, and click on the different pins to see their coordinates and pertinent information.
You can also use this map to calculate distances and directions from any of the featured sights and landmarks to any other point in Aveiro and Costa Nova. This way you can make your own itinerary to follow in the city known as the Portuguese Venice.
If you want, you can also share this map on social media, too.
The sights and landmarks pinned to this map are as follows:
1. Train Station 2. Old Train Station 3. Avenida Dr Lourenço Peixinho 4. Praça Melo Freitas and Obelisco da Liberdade 5. Praça do Peixe with Fish Market 6. Capela de São Gonçalinho 7. Maria da Apresentação Cruz & Herdeiros M1882 – Ovos Moles de Aveiro 8. Museu da Cidade de Aveiro 9. Museu de Arte Nova 10. Monument of João Afonso de Aveiro 11. Jardim do Rossio 12. A Barrica – Casa dos Ovos Moles 13. Oficina do Doce 14. Moliceiro Boat Tours 15. Antiga Capitania 16. Congress Center 17. Ponte do Laço (Circular Pedestrian Bridge) 18. Forum Aveiro Shopping Mall 19. Sé de Aveiro 20. Museu de Aveiro – Santa Joana 21. Praça da República 22. Igreja da Misericordia 23. Câmara Municipal de Aveiro 24. Ecomuseum Marinha da Troncalhada 25. Marinha da Noeirinha 26. Parque do Infante Dom Pedro – Parque da Cidade 27. Striped Houses of Costa Nova 28. Igreja Matriz of Costa Nova
Practical Tips about Taking a Day Trip to Aveiro in Portugal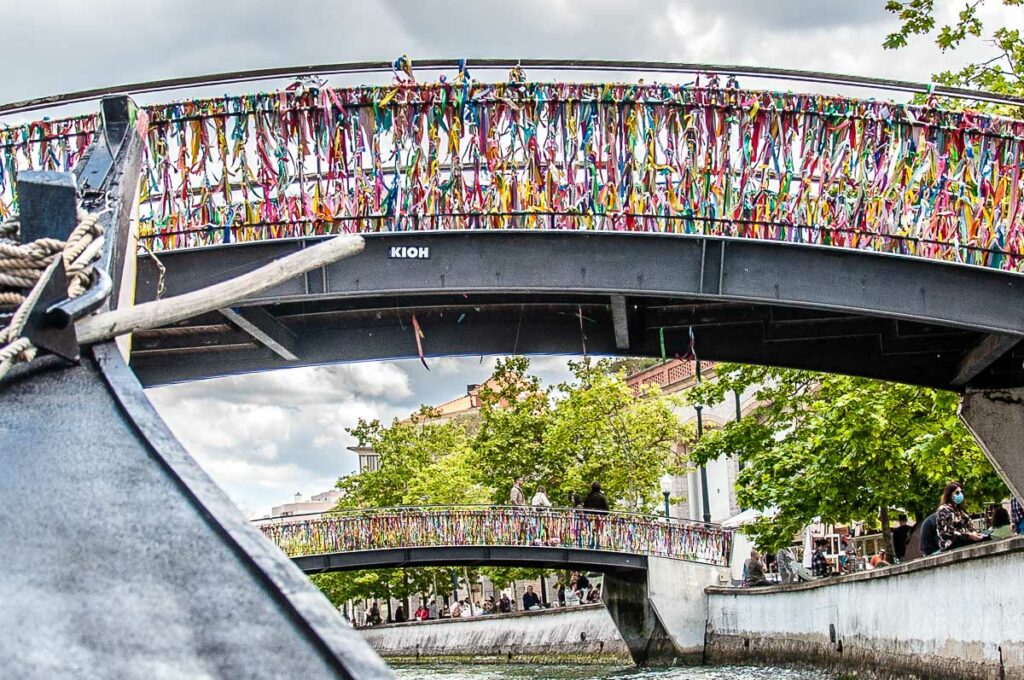 Aveiro is a great city to visit in Central Portugal. It is easy to cover in a day, it has a handful of great landmarks, a local delicacy with a curious story, and above all, it's a place with a happy and a bit quirky character.
Easy to visit from Porto and Coimbra, Aveiro is the second-largest city in Central Portugal. It makes for a great day trip or a nice weekend break. While there is plenty to do and see here, Aveiro is not overwhelming and you can both sightsee and take it very easy in equal measures.
So, to make your trip to Aveiro in Portugal as exciting and smooth as possible, keep in mind the following practical tips:
Manage your expectations – Aveiro is often called the Portuguese Venice which, unfortunately, creates a lot of unreasonable expectations in some visitors. So, don't come here expecting grand architecture and a maze of canals.
Instead, be ready for a small city with its own history and traditions coupled with a cool location in Portugal's largest coastal lagoon and just a stone's throw away from the Atlantic Ocean. There are some canals here but nothing on the scale of Venice.
There are also two traditional for Aveiro boats – moliçeiro and mercantel – which are big, bold, and beautiful. Plus, a tour in them costs about one-sixth of a ride in a Venetian gondola!
Order of sightseeing – feel free to adapt the above one-day itinerary for Aveiro in Portugal to your specific needs. For example, you may decide to add more stops along the way, change the sequence of sights visited or even omit certain landmarks which may not be of interest to you.
Plus, you can easily split this self-guided walking tour of Aveiro over two days. This way you can spend the night in this beautiful Portuguese city, eat a delicious dinner of fresh seafood, and enjoy its vibe in the evenings when the locals come out for a walk, meet up with friends, and relax after a long day.
Distances and walking times – Aveiro is a small city and everything is either right next to one another or just around the corner. The longest stretch of walking is from the train station into the centre. This easily takes 15-20 mins and can be a bit boring.
Otherwise, the distances between the different sights on this self-guided tour of Aveiro are on average between one and four minutes. In the city centre, there is something to see and do at every step, so walking doesn't feel tedious and time flies quickly.
Historic surfaces – many streets and squares here are covered with a particular type of cobble called calçada portuguesa. This is a mosaic-like pavement made of small cobbles. Ideally, wear appropriate shoes that support the ankles, have a good grip, and when it's hot, don't allow your feet to slide inside them.
Energy levels and skincare – keep hydrated and sated at all times, especially on a hot sunny day. Aveiro's sunlit squares and streets are easy spots to get a sunburn. Bring a water bottle (or get one from the many small shops in town), feast on the local delicacies, and stay out of the sun during the hottest hours of the day.
Visiting with kids – Aveiro is easy to navigate with kids in tow. The central part of the city has several pedestrian areas. The whole city has a nice and relaxed vibe to it. Be vigilant, however, next to the water canals and the busy central streets where traffic is non-stop.
There is a nice playground in Forum Aveiro Shopping Mall right in the centre of town. A sprawling park – Parque Infante Dom Pedro – Parque da Cidade – is a great place to visit with kids.
Opening times – always check current opening times before your visit. Where possible, I have provided links to the official websites of the different sights in Aveiro.
For example, while the Museu de Aveiro – Santa Joana is, in principle, open every day (with some limited exceptions), the Museu da Cidade de Aveiro and the Museu de Arte Nova are closed on Mondays.
Organised tours – if you don't feel like travelling on your own and doing it all by yourself, then you can book a guided tour to take you to Aveiro. Click to have a look at some of the best tours from Porto and Lisbon.
How to Reach Aveiro from Anywhere in Portugal
Pin for Later!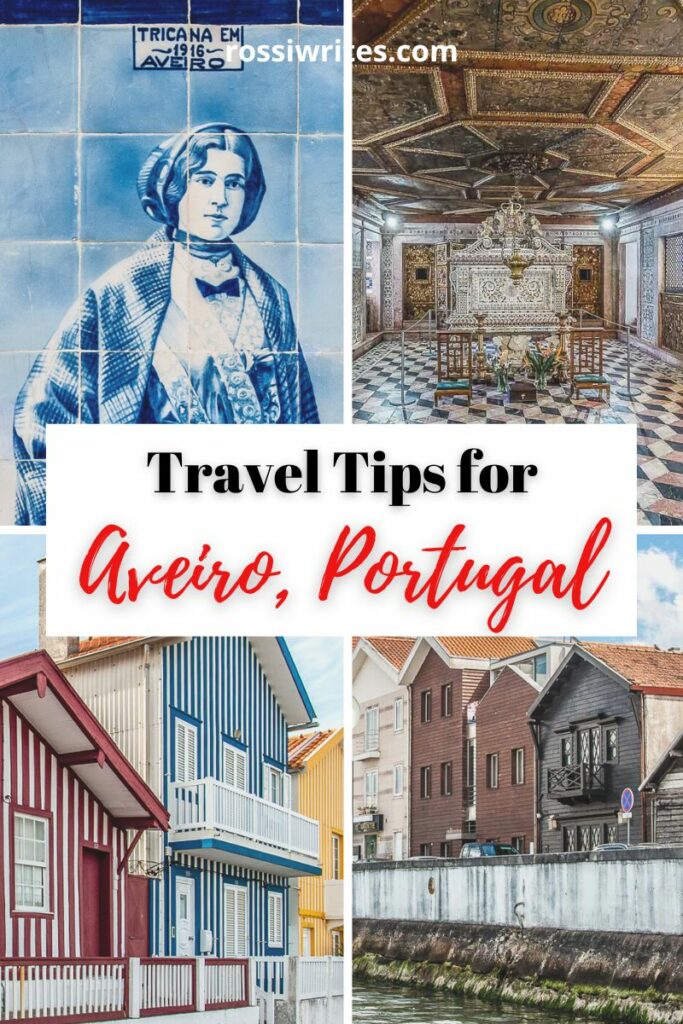 It is very straightforward to reach the city of Aveiro from anywhere in Portugal either by car or public transport.
Here is how to proceed:
By Car:
Use Google Maps or an alternative GPS app to get specific directions from your point of departure to the city of Aveiro in Central Portugal.
Here are some average travelling times to give you an idea of how long it will take you to drive to Aveiro from some of the most important Portuguese cities:
from Porto – 45 mins – 1 h 5 mins, 75 km away;
from Coimbra – 45 mins – 1 h 15 mins, 63 km away;
from Braga – 1 h 15 mins – 1 h 50 mins, 126 km away; and
from Lisbon – 2 h 20 mins – 3 h 20 mins, 220 km.
There are many car parks around the city, so have a look at Google Maps or another map application to find the most convenient spot to leave your car for the day.
By Train:
Portugal has a well-organised railway system operated by the national train company Comboios de Portugal. Trains running at regular intervals throughout the day connect Aveiro to the country's largest cities. You can use the train company's website to check travel times and buy tickets in advance.
You can also buy tickets at the train station. Remember to validate your ticket before boarding the train.
Porto to Aveiro – trains leave from Porto's São Bento station and also stop at Porto's Campanhã station. The journey lasts about 1 h 18 mins or slightly longer depending on the time of the day. It's quite tedious as the train stops at over 20 small towns along the way. Yet, the tickets are very inexpensive and it's a very easy day trip to make. You can check the timetable at this link.
There is also a high-speed train connecting Porto to Aveiro. The tickets for it, however, cost from four to six times more and the time saved is only about 20 mins or so.
When you board the train, try to sit on the right-hand side of the carriage. This will allow you to enjoy the views of the River Douro as the train is leaving Porto and then of the Atlantic Ocean as for a part of the journey, the railway line runs parallel to the beaches.
Bear in mind that Aveiro is a popular day trip from Porto and trains get full fast, especially on weekends. Try to be at the train station at least 10 mins before departure. When we travelled to Aveiro in April, the train was full both ways and there were people standing up for most of the journey.
Lisbon / Coimbra to Aveiro – trains leave from Lisboa Santa Apolónia and also stop at Lisboa Oriente train stations. They take from 2 h 8 mins to over 4 h to reach Aveiro.
Coimbra is a stop on the same railway line. A high-speed train will take around 40 mins to reach Aveiro. Travel times by the slower and much cheaper trains start from one hour.
By Bus:
You can travel to Aveiro by bus. In general, tickets are more expensive than getting there by train, although monthly deals and discounts can be available. Also, travel times are sometimes longer.
You can use the official website of Rede Expressos to research tickets and departures in advance.
By Organised Tour:
If you are short on time and want to see the maximum within a day or if you enjoy having it all organised for you, then there are many guided tours you can choose from. Sometimes, in addition to Aveiro, they may also take in Costa Nova or Coimbra or even Porto.
A knowledgeable and friendly guide will escort you giving you in-depth information about Aveiro and its lagoon, history, and traditions.
Here is a selection of the best day trips to Aveiro from Portugal's largest cities. Click to have a look and see if anything fits your travel needs and requirements:
In Conclusion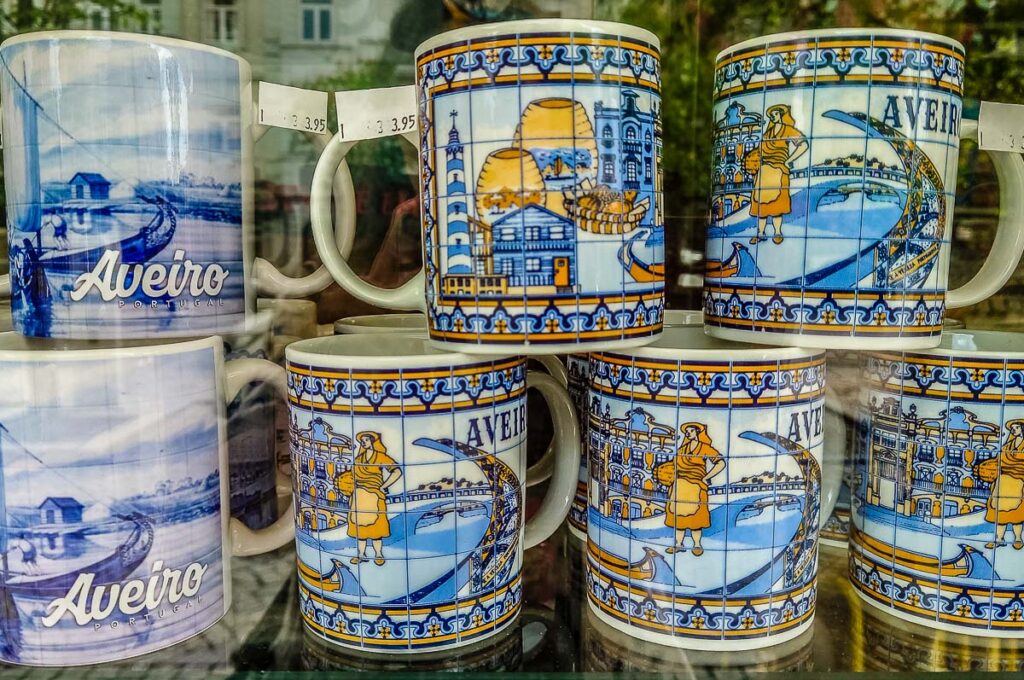 Here you have it – a one-day itinerary for Aveiro in Portugal. Often referred to as the Portuguese Venice, this small city is built in the country's largest coastal lagoon. With an authentic local culture based on the centuries-old production of salt, Aveiro provides two of Portugal's most iconic symbols:
moliçeiro – the traditional for the city and the lagoon colourful boats with a curved bow and stern; and
ovos moles – a local speciality that was first prepared in Aveiro's large monastery five centuries ago. Nowadays is the city's most sought-after delicacy.
Add to this a quirky centre, lavish churches, a rich Art Nouveau heritage, and lots of fresh seafood. All this makes Aveiro a fun day trip in Central Portugal that is especially easy to take from the cities of Porto and Coimbra.
So, in case Aveiro sounds like a place you would like to experience for yourself, I hope that this blog post will come in very handy. The detailed self-guided tour I shared with you above was personally tried and tested on location by me and my family in the spring of this year. It covers Aveiro's main sights and even includes a quick trip to the sandy beaches just next door to the city.
To make your travel planning for Aveiro easier, I have also included a list of practical tips as well as helpful information on how to get to Aveiro by public transport and by car from the largest Portuguese cities.
I hope that all these details will come in very handy and that you will have a great time visiting Portugal!
Enjoy Aveiro!
Now, get ready quick for your trip to Aveiro in Portugal!

More Helpful Travel Info for You
Best of Portugal: Photos of Aveiro, Photos of Porto, Photos of Guimarães, Photos of Braga, Day Trip to Porto, Day Trip to Guimarães, Sanctuary of Bom Jesus do Monte, Best Portuguese Desserts and Pastries
Best of Italy: Venice, Lake Garda, Veneto, Lombardy, Emilia-Romagna, Marche, Friuli Venezia Giulia, Trentino, Italy with Kids, Italy for Foodies, Day Trips in Italy, Hiking in Italy, Christmas in Italy
Best of England: London, Kent, Dorset, East Sussex, Days Out in England
Travel: Travel Resources, The Joy of Travel, Safety Tips
Pin This Blog Post!