Here are 18 photos of the city of Aveiro in Portugal that build a visual travel guide to this small in size and larger-than-life city.
Known as the Portuguese Venice, people flock to it for its canals and colourful boats.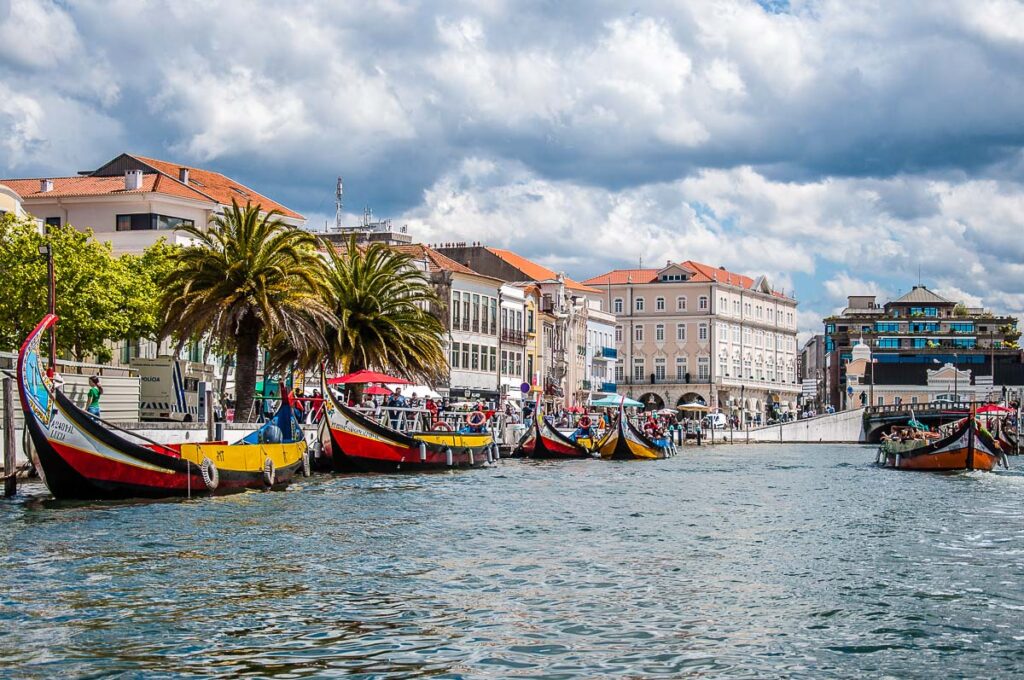 Yet, Aveiro is not a pale imitation of the Italian City of Canals. This is a place with its own traditions and centuries-old history which nowadays has much to offer to the traveller seeking to have the perfect day trip in Portugal.
Small and easy to navigate on foot, Aveiro has just the right mix of historic sights, excellent food, and fun things to do. When the sun shines bright on the city's Art Nouveau facades and the breeze gently ruffles your hair, this is a great place for a holiday experience. Plus, wide sandy beaches are only a short distance away.
Built in Ria de Aveiro – Portugal's largest coastal lagoon – Aveiro has a light and breezy vibe to it. Here, you can do as much or as little as you want. Taking it easy over a long lunch at an outside table in the midst of the hubbub of locals and tourists has as much value as ticking off all of the city's landmarks.
Knowing me, you can bet that I went for the latter option. Yet, Aveiro felt so pleasantly relaxed that visiting the city's main museums and ticking off its main activities didn't feel like a chore at all. All the sightseeing that I did was interspersed with long moments of taking it easy and just enjoying the day.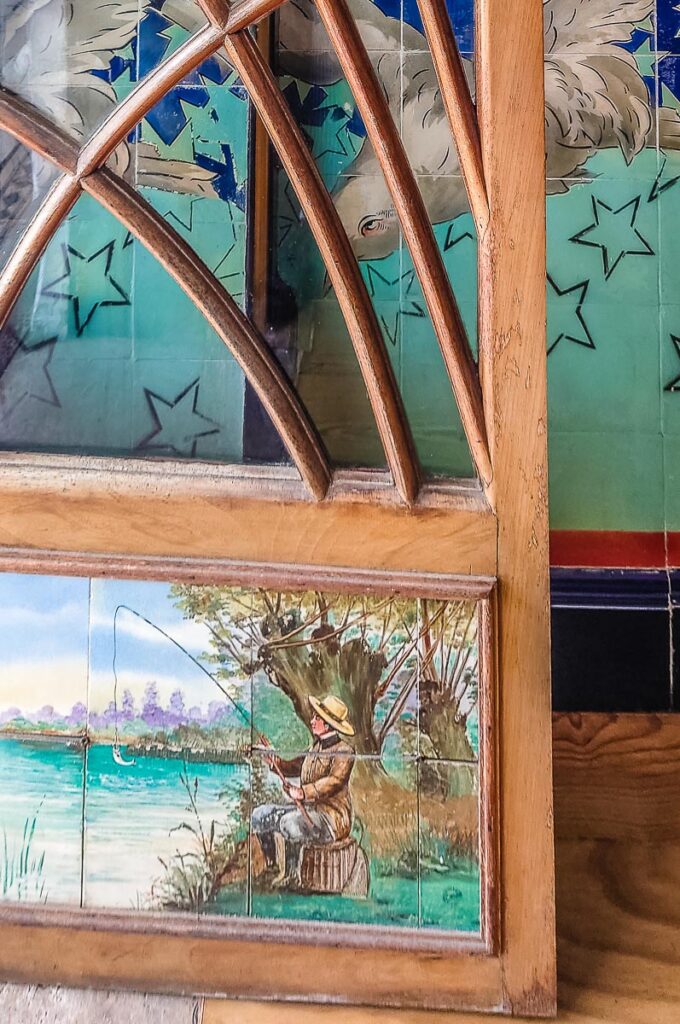 So, if you are looking for a great day trip in Portugal or a great Portuguese destination to stay in for a few fun days, let me tell you about Aveiro. Or better still, let me show you its most intriguing and most beautiful sides.
As such, in this blog post today, I want to share with you 18 photos of Aveiro in Portugal. I took them during my own day trip there earlier this spring. Put together, they are a visual travel guide to give you a good idea of what this small Portuguese city stands for.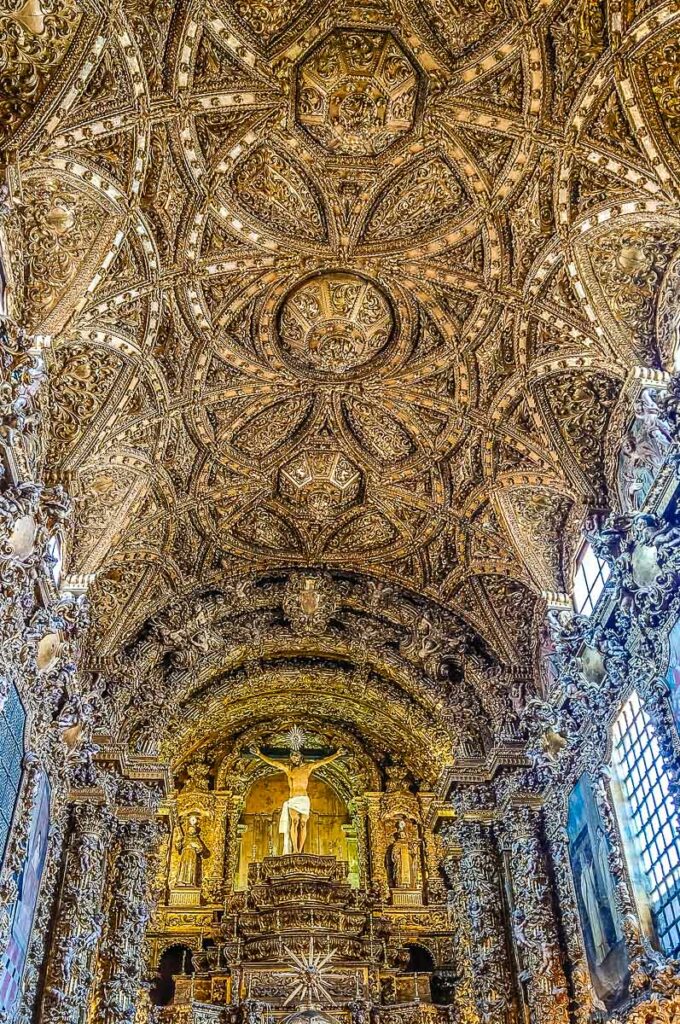 From traditional boats and wide canals to local delicacies and historic sights, there is a bit of everything in this selection of images of Aveiro and its lagoon.
Plus, stripy houses, sandy beaches, gorgeous azulejos, colourful facades, a romantic bridge, something called calçada portuguesa, and lots and lots of curious little details that reveal Aveiro's authentic stories and character.
Have a look!
Visual Travel Guide to Aveiro, Portugal – 18 Photos to Entice You to Visit the Portuguese Venice
Pin for Later!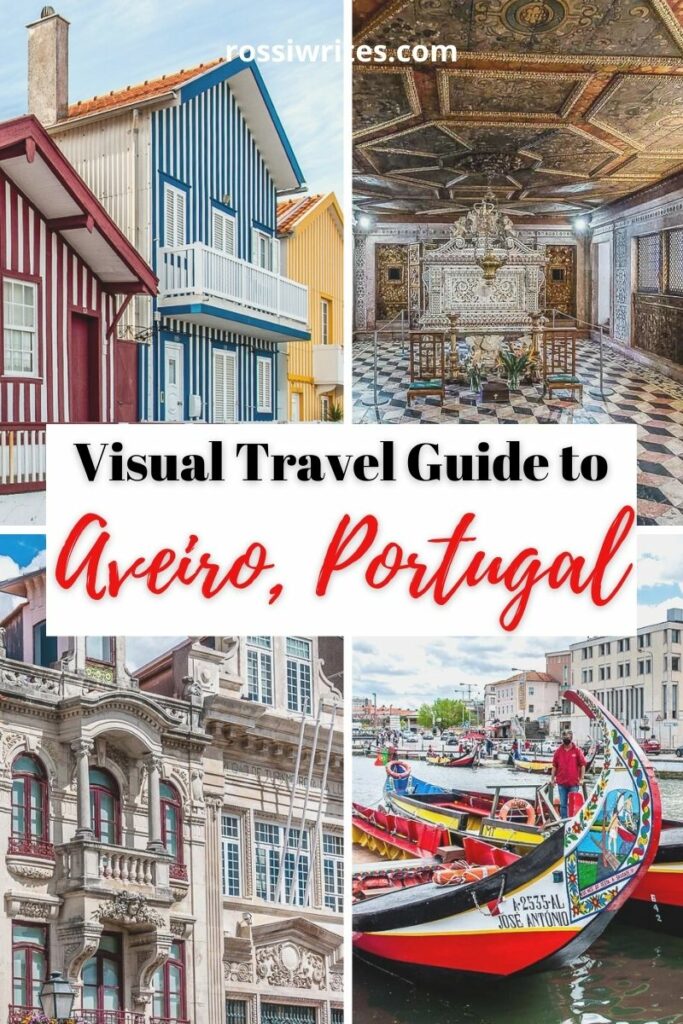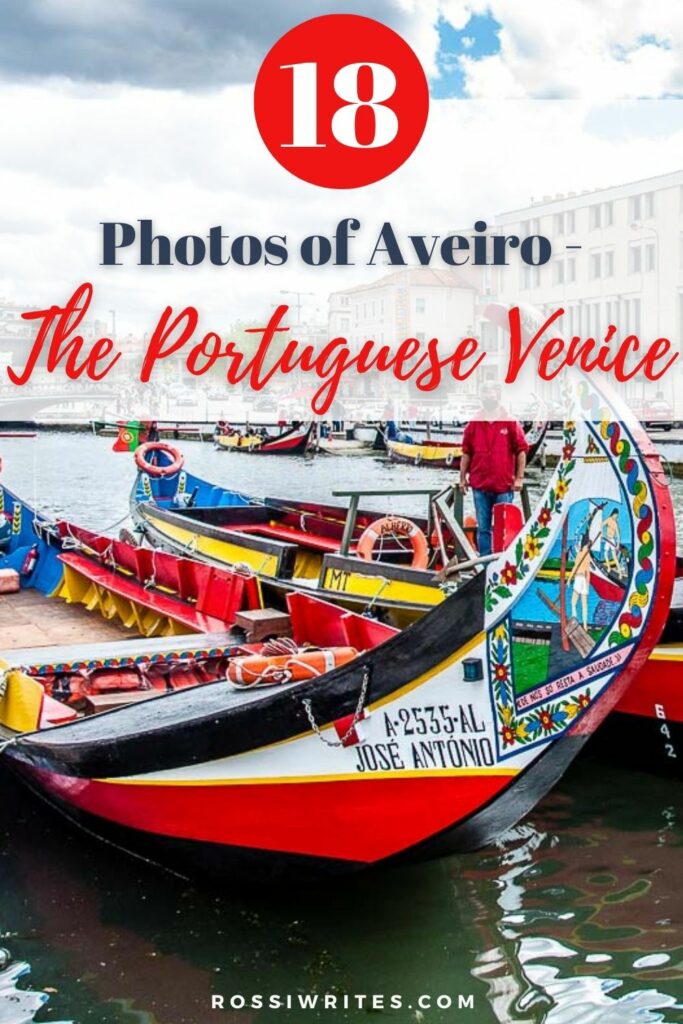 1. Aveiro's Traditional Boats – Moliçeiro and Mercantel – Are the City's Calling Card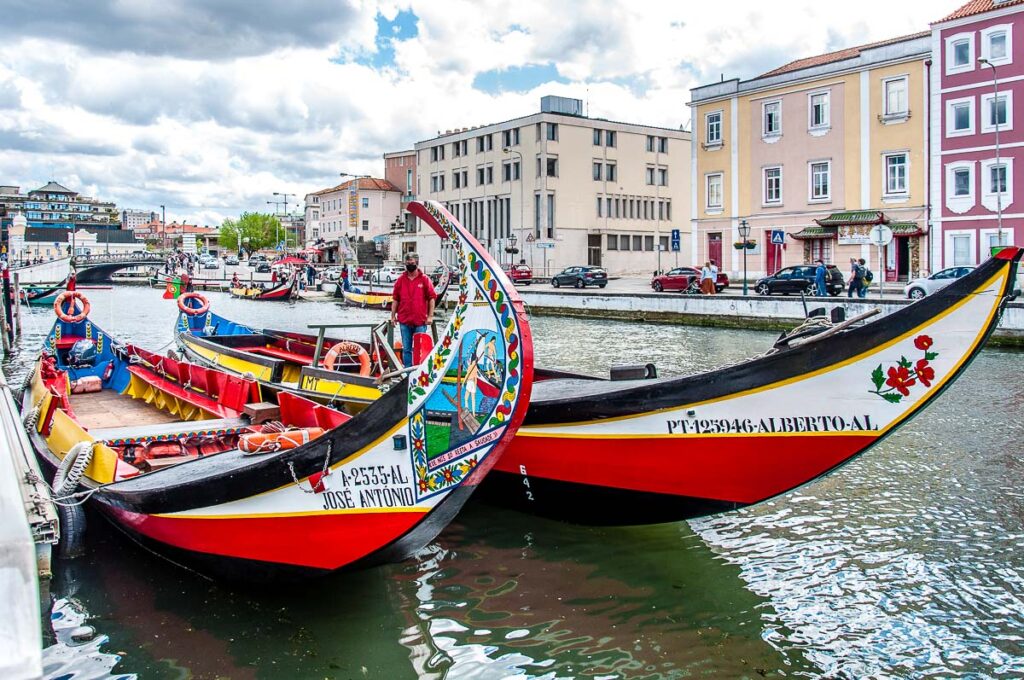 Aveiro is known as the Portuguese Venice mainly on account of three things – its location in a lagoon, its canals, and its traditional boats. While Venice has the black gondola, Aveiro has the moliçeiro and the mercantel.
Nowadays, they ferry tourists up and down the city's canals on fun and exciting tours that take in Aveiro's Art Nouveau facades, old and new bridges, and historic landmarks. In the past, both types of boats were instrumental for life in the lagoon. Here are their main characteristics:
Moliçeiro – on account of its curved bow and stern, this is the most popular traditional boat of Aveiro.
It was used to collect and transport seaweed – or moliço in Portuguese – a prized fertiliser for the sandy soils around the city. From the 18th until the start of the 20th century, the moliçeiro boat was also the main form of transport in the lagoon of Ria de Aveiro.
The boat has a flat bottom which allows it to navigate in very shallow waters. Originally, it had a sail, too. It's about 15 m long and it's made of pinewood.
Mercantel – it's very similar to the moliçeiro, however, its bow is straighter and it protrudes forwards. In the past, this type of typical for Aveiro boat was used to transport the salt produced in the nearby salt flats. It's about 18 m long.
The above photo shows a moliçeiro and a mercantel side by side in Aveiro's main urban channel – the Canal Central. As you can see, both boats are very colourful and are adorned with hand-painted panels and bright borders. Today, they are Aveiro's most well-known calling card. The moliçeiro, however, is more often featured in photos and marketing materials as its dramatic curved bow and prow are more visually striking and memorable.
Taking a boat ride along the urban canals is one of the best things to do in Aveiro. It's a great introduction to the main sights and the relaxed atmosphere of this small city in Central Portugal. You can book your tour online or on the quay of Canal Central on the day. During the high season, queueing is to be expected, so it's a good idea to book in advance.
2. Aveiro's Most Romantic Bridge Is Best Enjoyed with a Loved One Hand in Hand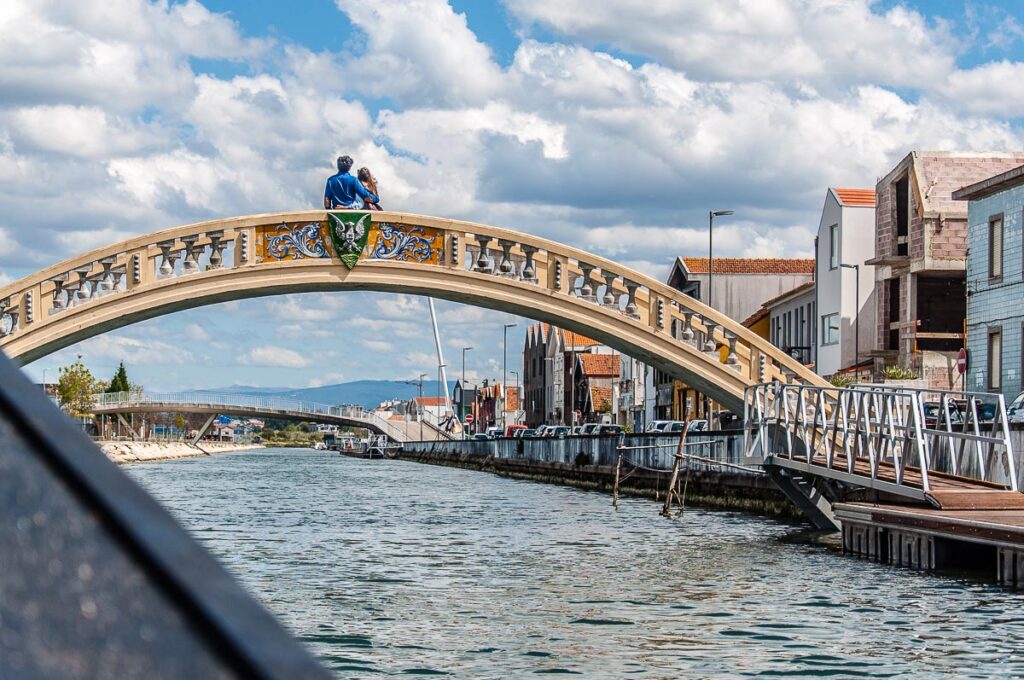 This is Ponte dos Carcavelos. It straddles the Canal de São Roque and it runs between Aveiro's old fishermen's district Beira Mar and the city's salt flats. When you do a boat tour of the city, this is one of the many bridges you will see along the way.
Built in 1953 to replace an earlier bridge which had collapsed in 1942, the bridge was named after the beach town of Carcavelos on the outskirts of Lisbon. At the time, Aveiro's salt flats were mainly owned by rich people from the Portuguese capital and they were in the custom of naming local places and points of interest after Lisbon's landmarks.
As you can see, the Ponte dos Carcavelos has a beautiful arch and it's adorned with Aveiro's coat of arms – a silver eagle on a green background. For decades, this bridge has also been locally known as the Ponte dos Namorados (or the Bridge of Couples in English). This is because the young men of Aveiro would bring their girlfriends to the top of the arch to look at the sunset together.
Nowadays, however, another bridge in town is much more popular than the Ponte dos Carcavelos. Known as Ponte Laços de Amizade, it straddles the Canal do Cojo next to Forum – Aveiro's large shopping centre. Since 2004 and on the initiative of students from the University of Aveiro, people tie up colourful ribbons on the railings of the bridge as a sign of friendship and love.
It's a lovely thing to do and above all, it negates the use of heavy locks which have blighted many romantic spots around the world.
Today the Ponte Laços de Amizade (the name of which actually means Bridge of the Ties of Friendship) is covered completely with long ribbons which flutter in the breeze. Many of the locals have also started to refer to it as the Ponte dos Namorados taking the moniker away from the Ponte dos Carcavelos.
I still enjoyed seeing the original Bridge of Couples in town. As luck would have it, a couple was enjoying the view from the top of its arch right as the tour boat that I was on passed underneath. Ah, young love! Always looking for symbolic places to reinforce its strength.
3. Aveiro's Historic Train Station is the First Sight to Catch Your Eye As You Arrive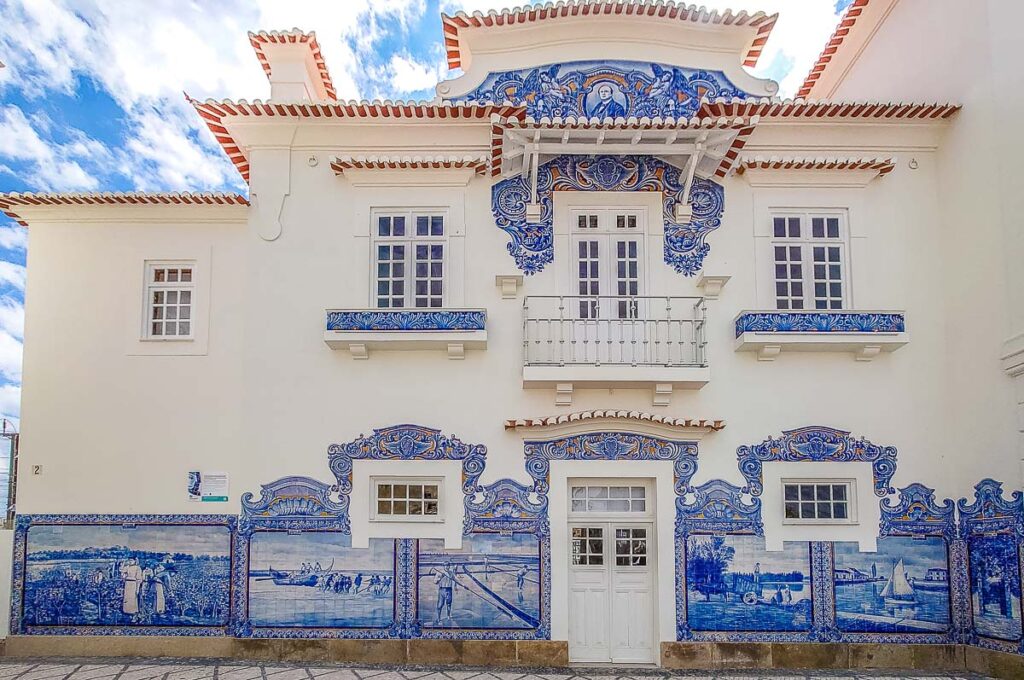 Aveiro is all about the details and the sooner you start noticing them around town, the brighter and more colourful your visit to this small Portuguese city will turn out to be.
In this respect, I was really lucky. As soon as we walked out of Aveiro's modern train station, we came across its old building which is beautifully decorated with azulejo panels in blue and white. A large patterned pavement – or calçada portuguesa as it's known locally – stretched right in front of it.
From this moment onwards, everywhere I looked around town, I spotted so many beautiful details – from elegant wrought-iron balconies to painted surfaces and decorative elements. They all emphasised Aveiro's character and whimsicality.
Azulejos are the traditional Portuguese tilework which is used to create decorative panels and often covers whole walls and facades. For me, Aveiro has some of the most striking and elegant azulejo arrangements in all of Portugal. The old railway station is a case in point.
Painted in bright white colour, its blue and white azulejo panels recreate traditional scenes of local life. From fishermen returning from the sea with boats laden with the catch of the day to workers harvesting salt in the adjacent to Aveiro salt flats, it's all beautifully depicted. Spending a few minutes looking at these azulejo panels is a quick introduction to the history and the spirit of the city and its lagoon.
It's also the best start to a great visit to Aveiro.
4. Aveiro's Azulejos Make This Portuguese City Look so Lovely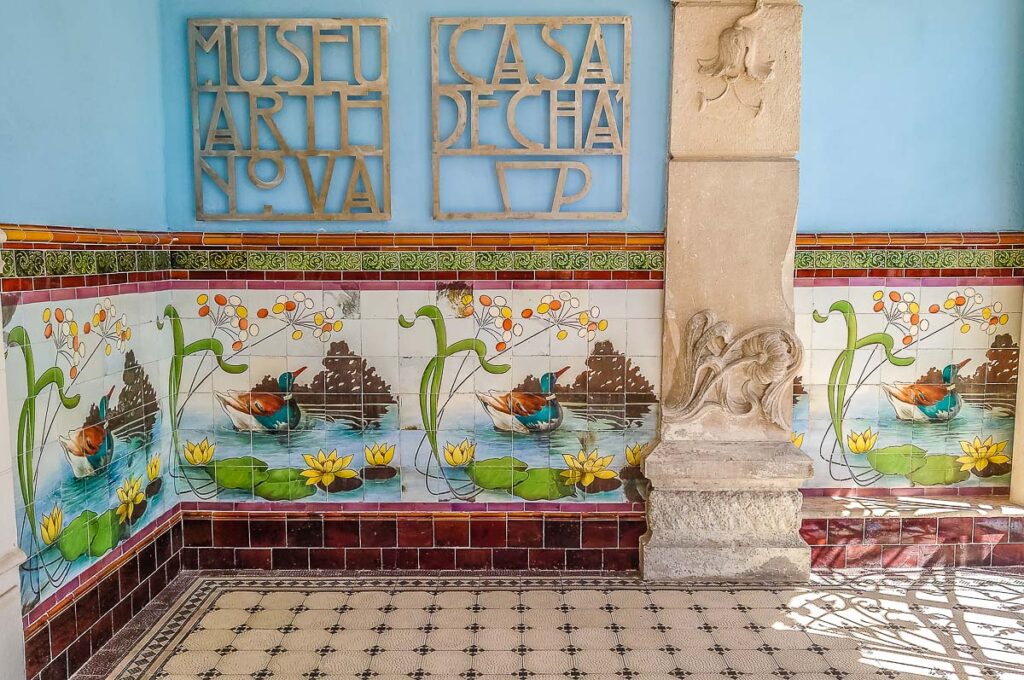 Everywhere you look in Aveiro, you will notice stunning azulejo panels. I absolutely loved this one. It decorates the porch of the Casa Major Pessoa next to the city's Canal Central. The house was built between 1907 and 1909. Nowadays, it houses the Museu de Arte Nova (in English, Museum of Art Nouveau).
The museum is the starting point of a thematic Art Nouveau itinerary. You can get a map from the ticket office and then walk around Aveiro taking in the beautiful buildings in this particular architectural style. There are close to thirty of them all around the town. From its elegant facade to its spiral staircase, Casa Major Pessoa is the most striking one among them all. For me, at least!
From the moment I stepped on its porch – decorated with the idyllic azulejo panel shown above – I knew I was at a very special place indeed. This house and the museum inside it were one of my favourite things to see in Aveiro. Plus, the top floor opens beautiful views towards the Canal Central and the Jardim do Rossio on one end and secluded courtyards and the Fish Market on the other.
After visiting the Museu de Arte Nova in Aveiro, I simply knew that if I ever win the lottery, I will have a house with a wide porch decorated with azulejos showing a duck happily splashing in the water. This, and I will also buy myself an Italian Renaissance painting.
5. Aveiro's Splendid Art Nouveau Heritage is a Delight to Explore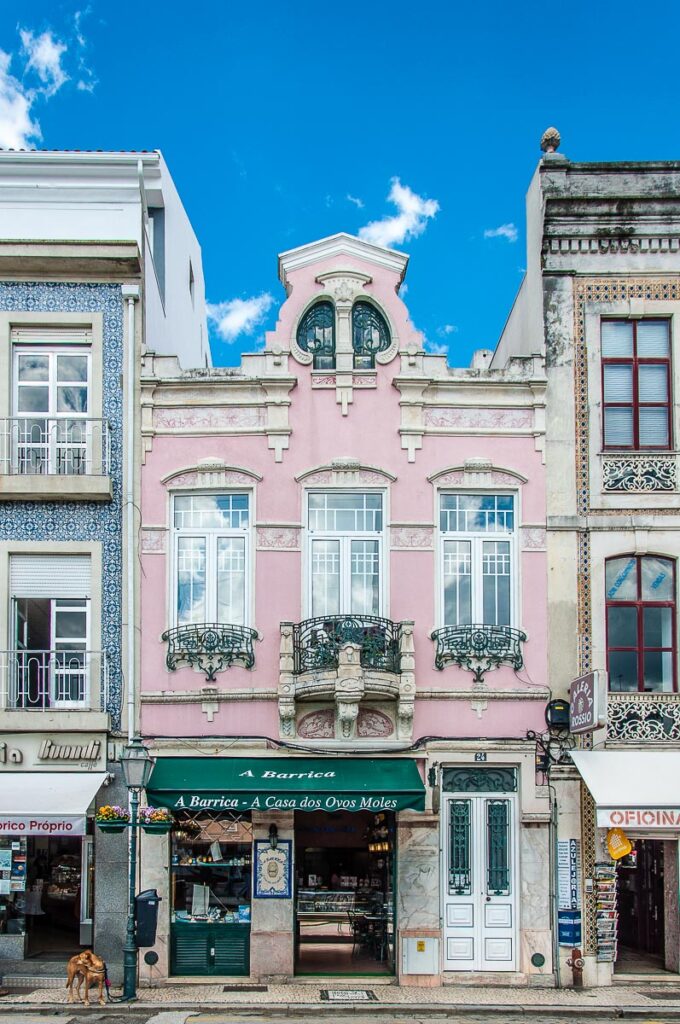 Aveiro is often marketed as the Venice of Portugal. Yet on account of its large number of Art Nouveau buildings this small Portuguese city actually reminded me a lot of a different place in the Venetian Lagoon – the island of Lido di Venezia.
Both Aveiro and Lido di Venezia are two of the best spots in Europe to visit if you like the flowing lines and the organic shapes of this style of art and architecture which flourished between the end of the 19th century and the start of the 20th.
As I mentioned above, in Aveiro you can enjoy an Art Nouveau itinerary taking in 28 iconic buildings and structures around town. If this is not enough, in the nearby small town of Ílhavo there are a few more houses that catch the eye with their Art Nouveau design. Particularly famous is the splendid Vila Africana.
Art Nouveau (or Arte Nova in Portuguese) was the architecture of choice in Aveiro between 1904 and 1920. It was particularly popular among immigrant families who had made their fortunes in Brazil before re-settling back in Portugal.
Apart from Casa Major Pessoa, I also particularly loved the pink Casa dos Ovos Moles pictured above. It combines two of Aveiro's most distinctive traits – Art Nouveau architecture and the production and sale of ovos moles.
The latter is a delicacy typical for the city. I tell you a bit more about it further below in this blog post. Or you can read in detail about it under point 2 in this blog post:
6. The Patterns of Calçada Portuguesa Make Aveiro's Squares Look So Beautiful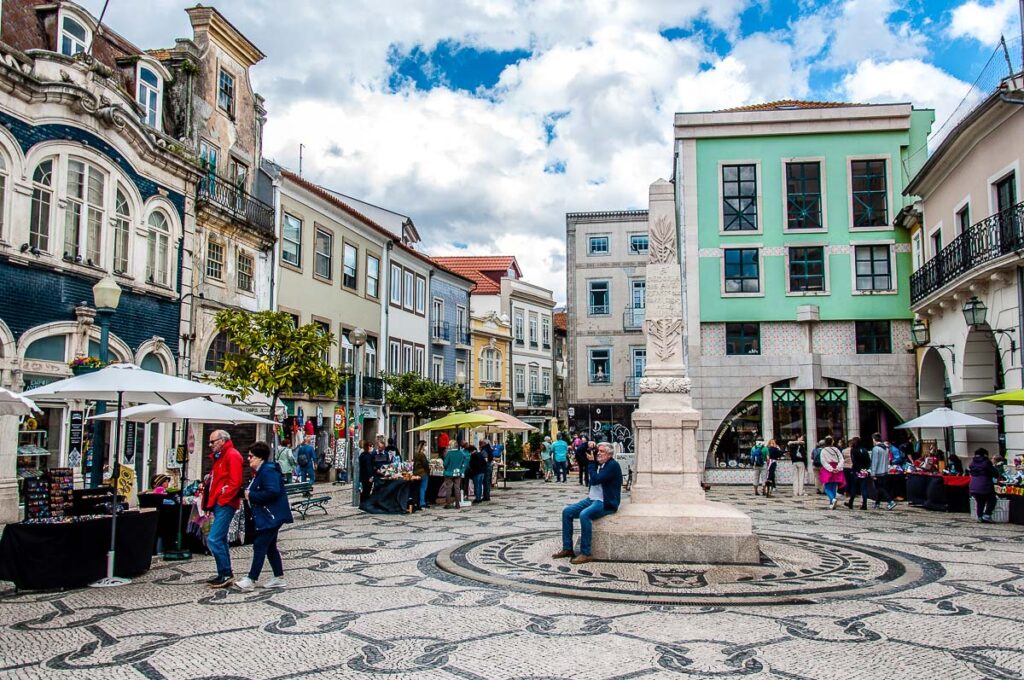 Calçada portuguesa is a mosaic-like pavement typical for Portugal. It utilises small black and white cobbles to form shapes and outlines. It thus adds visual interest to simple sidewalks and large squares.
With roots that stretch back to Roman times, the calçada portuguesa takes skill and hard work.
As luck would have it, Aveiro has some of the loveliest patterns created with calçada portuguesa in all of Portugal. Go for a walk through its historic streets and squares and you will come across sea-inspired, geometrical, and even zodiacal motifs symmetrically replicated time and time again on the ground.
The photo above shows you the cute little square Praça Melo Freitas. Flanked by colourful facades, at its centre is the Obelisk of Freedom (in Portuguese, Obelisco da Liberdade). In the Art Nouveau style, the obelisk was placed there in 1909 in memory of all those citizens of Aveiro who had fought for freedom in the Portuguese Civil War of the 19th century.
The pattern of the calçada portuguesa here recreates one of Portugal's most used decorative elements – interlaced rope. It's inspired by the Manueline style – the late-Gothic and early Renaissance style named after the Portuguese King Manuel. During his reign from 1495 to 1521, the country's seafaring expeditions led to the discovery and exploration of many new for Europe lands.
7. Yet You'll Find Aveiro's Most Striking Decorations on the Sides of Its Traditional Boats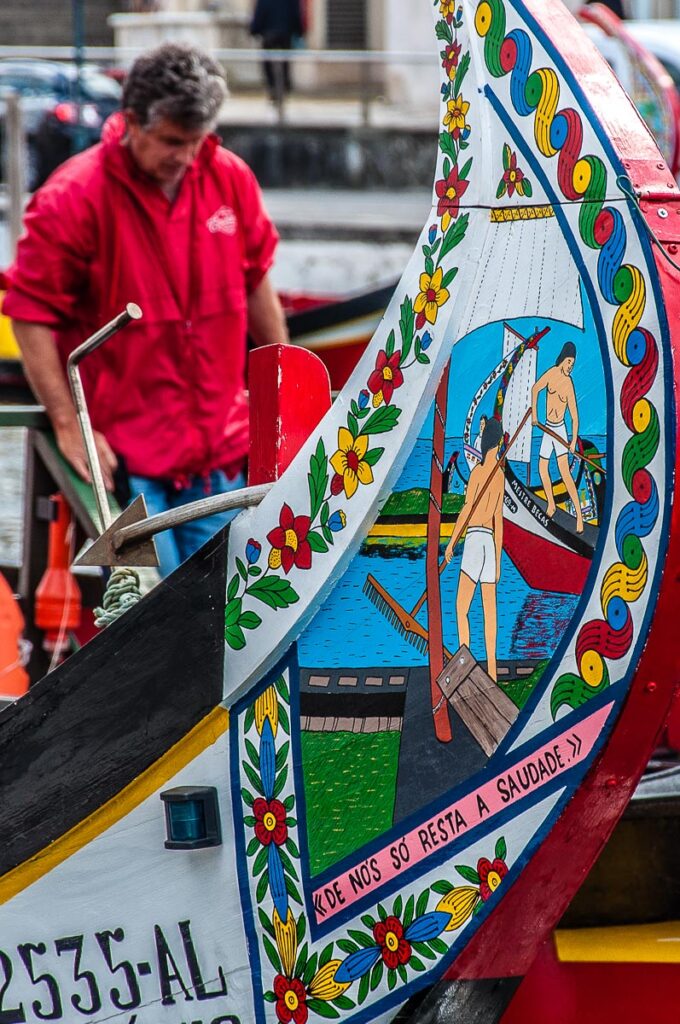 Aveiro's moliçeiro and mercantel boats share one important feature – they are painted in bright colours. In addition, the moliçeiro boats have postcard-like panels both on their bows and sterns. These rectangular panels are hand-painted, captioned with a descriptive or evocative phrase, and framed with strips filled with flowers and/or geometrical shapes.
The panels themselves are a form of popular art typical for Aveiro. Using bright, intense colours and somewhat crudely portrayed figures, they depict scenes which can fall under one or a mix of categories. Among them are:
religious with depictions of the Virgin Mary, Jesus Christ, and various saints;
cultural showcasing local traditions and work themes;
historical representing eminent historic figures like the kings of Portugal; and so on.
Nowadays, however, the most popular group of panel images seem to be those with satiric character with erotic elements. Expect to see ladies with emphasised breasts, lifted dresses, and so on. It's all done very much tongue in cheek and the little phrase that captions each panel has a somewhat sarcastic tone to it.
It's also not immediately obvious, as, in the blur of colours and boats, you focus first on the landscape as a whole before starting to notice the details of the panels of the passing moliçeiro boats. So, don't expect to be scandalised, except, of course, if you are in the habit of getting offended by things like this.
While some of Aveiro's traditional boat panels are certainly not PC, they are a type of local popular art that has existed for many decades if not centuries.
In the photo above you can see a good representation of a moliçeiro boat panel. Instead of ladies, it depicts men in their smalls. The men are collecting moliço seaweed – a traditional for Aveiro occupation that provided jobs for the locals for many hundreds of years. The caption below says: 'Of us, only nostalgia remains!'
When you know the history of Aveiro, you realise that this is pure social commentary. A longstanding tradition is gone. The men who in the past would collect seaweed in their moliçeiro boats, nowadays use them for tourist rides.
8. Exploring Aveiro's Religious Heritage Is a Must in This City in Portugal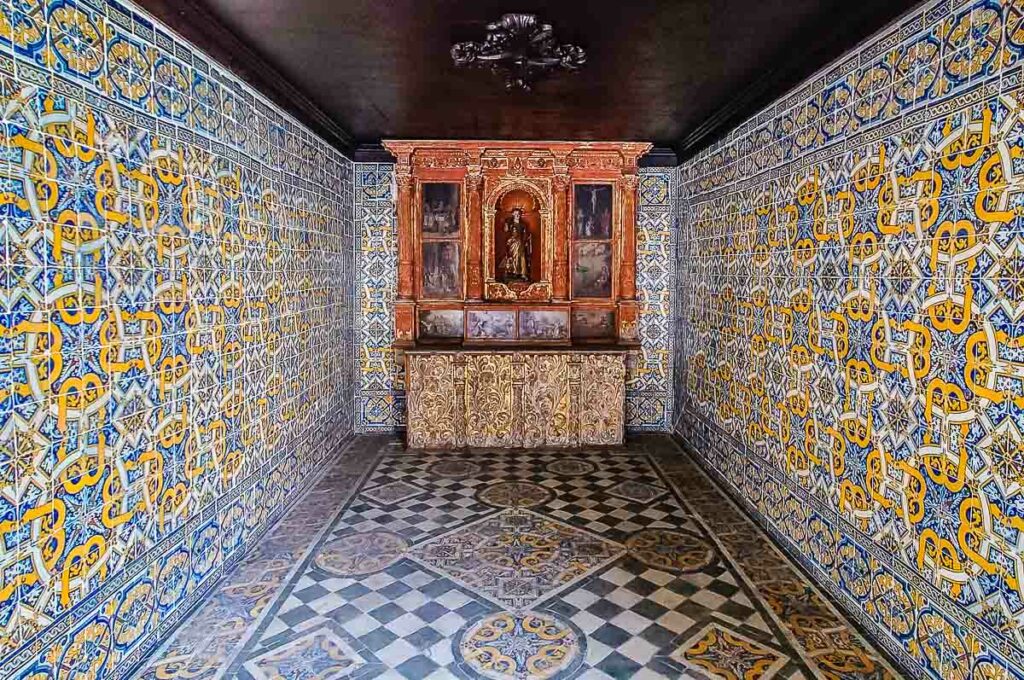 Aveiro is not all about traditional boats, handpainted panels, and Art Nouveau facades. A visit to this small city in Central Portugal would be incomplete if you don't spend a bit of time exploring its religious sights.
The easiest way to do it is to head to the former Mosteiro de Jesus. Once an important Benedictine convent, nowadays, its imposing building has been converted into the Museu de Aveiro / Santa Joana.
A short walk away from the bustling with boats and colour Canal Central, this major museum in Aveiro is a peaceful place where you can take refuge during the hottest hours of the day. The premises of the former monastery are conserved in all their Baroque glory. So, prepare for chapels fully tiled with azulejos and a church where every surface is covered with lavishly gilded wood carvings. Then the top floor of the building has a great collection of religious art.
I particularly loved the cloister with its azulejo-clad fountain and the nuns' refectory completely tiled with azulejos in blue and white. The photo above shows the Chapel of St. John Evangelist – another beautiful space to stop in and admire in the Museu de Aveiro / Santa Joana.
9. Aveiro Has Its Own Princess Saint with a Captivating Story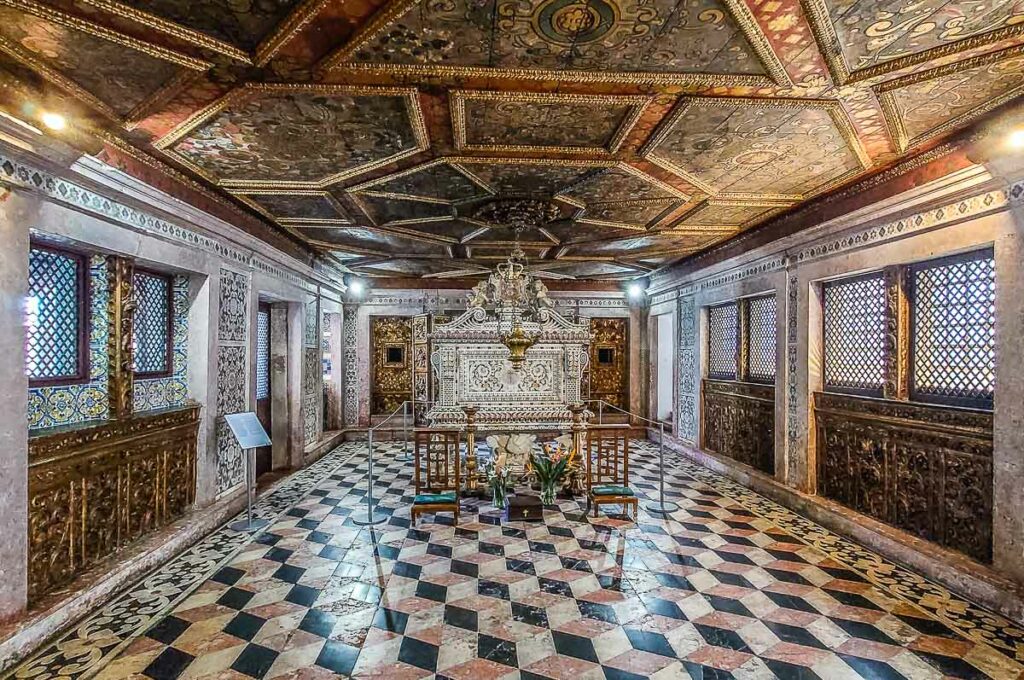 In a lavishly decorated room in the Museu de Aveiro / Santa Joana stands the sarcophagus of Joanna, Princess of Portugal. Known in Portuguese as Santa Joana Princesa, she was the daughter of King Afonso V.
Born in 1452, Joanna was expected to inherit the throne of Portugal. Instead, she followed her heart and dedicated her life to her Christian faith. She entered the Mosteiro de Jesus in Aveiro in 1475. Still, pressure was exerted on her to return to court and enter into a dynastically advantageous marriage. The kings of France and England were among her suitors. Joanna refused and spent the rest of her life in the monastery.
She passed away on 12th May 1490. A popular legend in Portugal recounts how – on the day of her burial – the procession carrying her coffin passed through the monastic gardens. The flowers that Joanna had loved so much in her life and had used to take care of, wilted in sorrow and fell on her coffin. This, they say, was her first miracle.
Joanna was beatified in 1693 and to this day is one of the most beloved and revered Portuguese saints.
Her sarcophagus in Aveiro's Museu da Cidade / Santa Joana is a work of pietra dura stone art. It took eleven years to make it. In 1711, it was placed in a room that is richly decorated with azulejos and gilded wood carvings. People come to pray to the saint and leave flowers for her. Although nowadays the monastery no longer exists and the room is part of the museum, for the locals this is still very much a place of prayer and devotion.
On 5th January 1965, Pope Paul VI declared St. Joanna the patron saint of Aveiro. Every year, the city celebrates her day on the 12th of May with a large procession. In addition, concerts and events take place over the span of a week. It's one of the main festivities on Aveiro's calendar.
10. Aveiro's Most Famous Delicacy – Ovos Moles – Was Created in the City's Monastery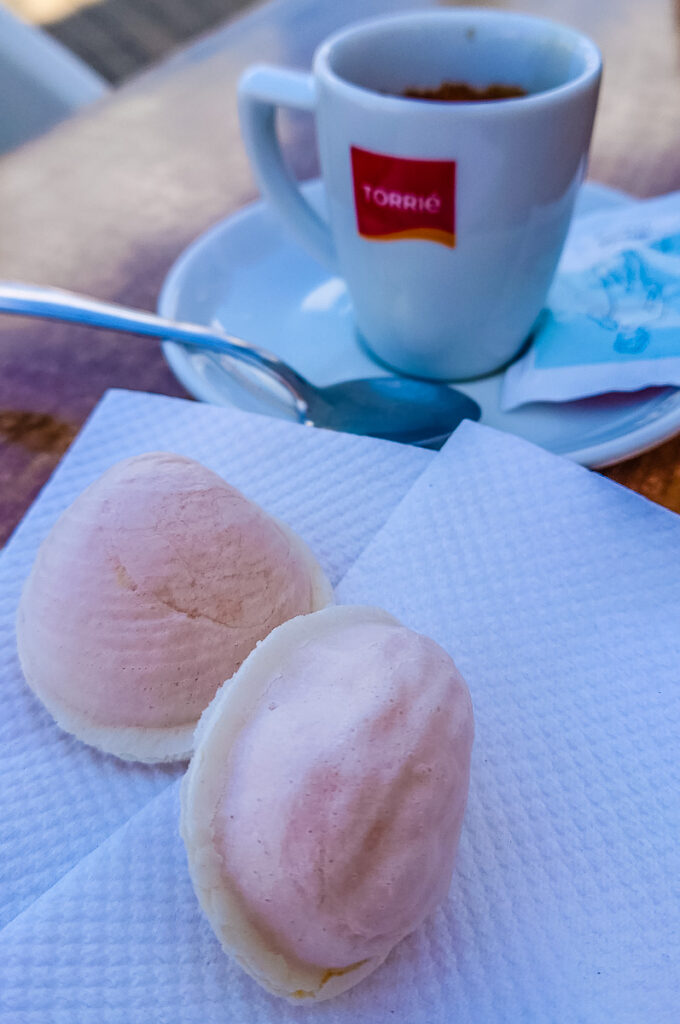 The former Mosteiro de Jesus gave Aveiro not just its Princess Saint and the lavish premises of its major museum. It also bequeathed the city its most famous delicacy – the ovos moles.
With a name that in English means soft eggs, these are small parcels made of wafers in different traditional shapes and filled with a thick and gloopy egg- and sugar-based paste.
Ovos moles – for me, at least, are very much an acquired taste but you cannot leave Aveiro unless you try them at least once. The legend says that they were created by a nun from Mosteiro de Jesus who couldn't tolerate the long days of fasting. She mixed sugar and egg yolks and hid the delicious cream under the communion wafers.
The resulting ovos moles soon gained the recognition of the whole town. When the monastery was closed in the 19th century, their production was taken on by the local ladies.
Nowadays, the city of Aveiro is dotted with historic shops still making ovos moles the old-fashioned way. They are sold in pretty boxes and in small barrels made of either wood or ceramics. Painted with traditional local scenes, the barrels look just like the ones used in Aveiro in days of yore to transport salt and seaweed in.
To learn more about Aveiro's ovos moles and other traditional Portuguese convent desserts, have a look at this blog post:
11. The Good People of Aveiro Love to Throw Hard Biscuits from the Top of a Local Church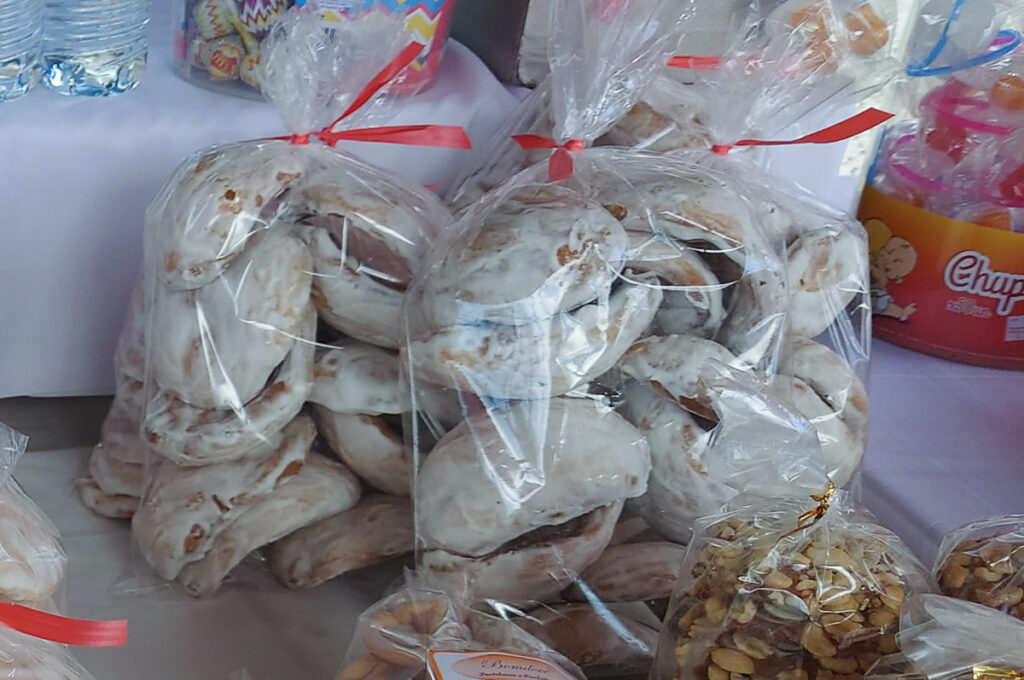 If you visit Aveiro in Portugal on the weekend closest to the 10th of January, bring an umbrella with you. Most probably, it won't rain but the upturned umbrella will come in very handy to catch the bags of biscuits that the locals throw on these days from the rooftop of the Chapel of São Gonçalinho.
São Gonçalinho is Aveiro's other patron saint. He was born in 1190 in a small parish near the city of Braga in the north of Portugal. In Aveiro, he is venerated as the saint to whom one prays if they have health issues with their bones or problems in their marriage.
The day of the Saint – 10th January – is celebrated in many places around Portugal. Usually, on this day, the men give women cakes as a sign of their love. In Aveiro, however, they take things just a step further.
Those who in the preceding year had had a prayer answered by the saint, throw bags of cavacas from the rooftop of the Chapel of São Gonçalinho in the Beira Mar district of the city. Hundreds of people congregate below trying to catch the cavacas any way they can. A very popular method is to use an upturned umbrella, hence my recommendation above.
Now, cavacas are biscuits that are typical for central and northern Portugal. There are soft cavacas which are decorated with white circular lines of icing on top. And there is a hard variety called cavacas rijas as shown in the photograph above. Curved and very solid, these are the biscuits that the good people of Aveiro throw from the chapel's roof.
If you can't make it there for the festivities of São Gonçalinho, don't despair. You can still buy cavacas – both soft and hard – in town. The chapel is also a lovely place to visit during your walks around the Beira Mar historic district.
12. Aveiro's Historic District of Beira-Mar Is So Pretty and Lively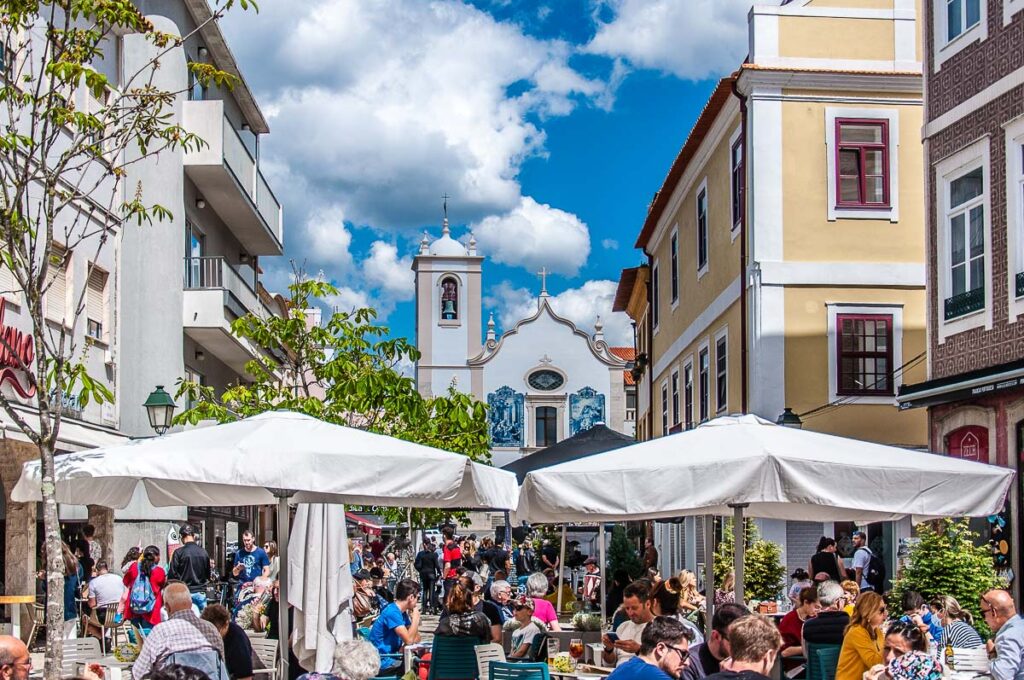 Beira Mar is my favourite spot in Aveiro. This historic district of fishermen houses the city's fish market, many Art Nouveau buildings, and several sunlit squares covered with the beautiful patterns of calçada portuguesa.
Stretching right behind the Museu de Arte Nova and the adjacent Museu da Cidade, Beira Mar buzzes with energy. On a sunny day, there is no better place to be in town. Restaurants and eateries place their tables outside so that patrons can enjoy the freshest seafood while topping up their Vitamin D reserves. Shops sell typical for Aveiro gifts – from the locally-harvested salt to ovos moles and tinned fish delicacies.
If you come here early in the morning, you can browse the fish market and marvel at the exuberance of what the ocean provides. Later on, you can simply go for a relaxed walk, pop in to see the local chapels and churches, pick a lovely souvenir to take home with you, and enjoy a coffee in the sun.
While very central, Beira Mar still feels like a secret. Many people who come to Aveiro, walk from the train station straight down to Canal Central, then do a boat tour, and then feel like they've seen it all and done it all. Yet, they miss out on the high energy and the historic streets of Beira Mar.
Make sure that you dedicate at least one whole day to Aveiro so that you can explore its streets and discover all that this charming Portuguese city has to offer. And definitely don't miss the district of Beira Mar.
13. For Many Centuries, Aveiro's Fortunes Were Built on Salt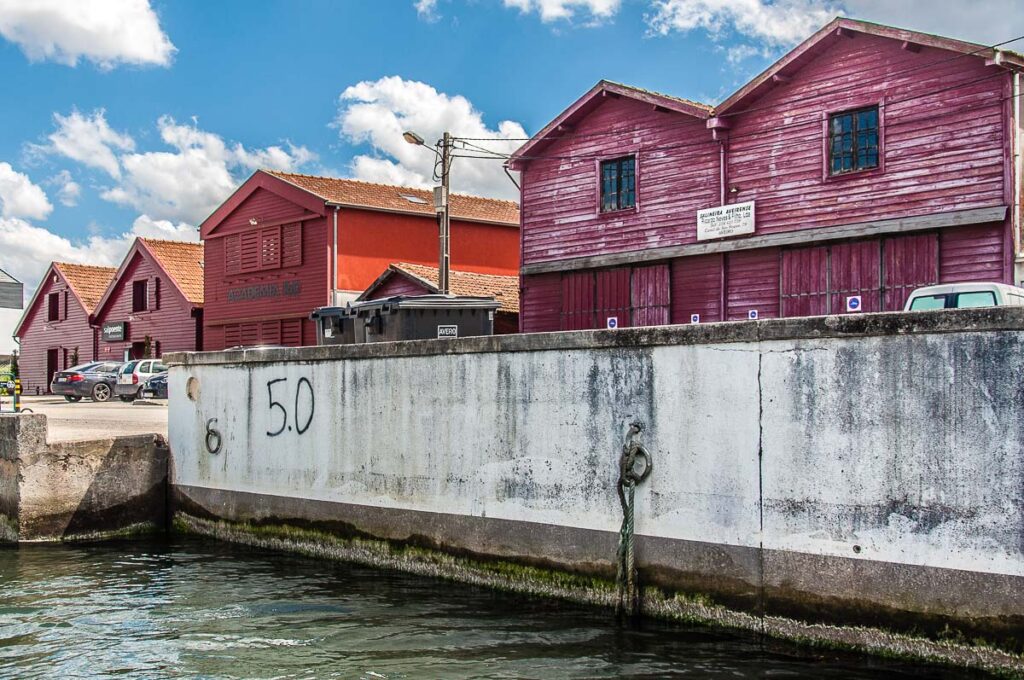 Long before the tourists started flocking to Aveiro to have a look at its pretty Art Nouveau houses and enjoy a boat tour down its canals, the fortunes of this small Portuguese city were built on salt.
Expansive salt flats stretch right next to the city's districts. For many centuries they were one of the locals' main sources of work and income. It was the Phoenicians back in the 9th century BC who introduced in the lands of modern-day Portugal the methods of salt production through evaporation of seawater. They were followed by the Romans who needed lots of salt to preserve fish as a reliable source of food.
By the 10th century AD, salt from Ria de Aveiro – the natural lagoon formed by the River Vouga – was already well-known and sought-after. By the 12th century, the salt produced in Aveiro was enough for the whole country of Portugal and it was even exported abroad.
Nowadays, salt is still harvested in Aveiro and you can go for a walk through the salt flats just a short distance away from the city's residential districts. There is even a beach with spa facilities where you can take full advantage of the salt's therapeutic properties.
While the production of salt in Aveiro is no longer the massive-scale operation it once was, you can still find vestiges around the city of its importance to the local economy and way of life.
The above photo shows the historic salt warehouses on Cais de São Roque in Aveiro. Many of the original armazens de sal nowadays have been turned into residential buildings. One of them houses the award-winning Salpoente Restaurant which is even featured in the Micheline Guide. You can see it on the left-hand side of the photo.
Otherwise, an imposing abstract monument was installed on the edges of the salt flats back in 1994. It represents the two main figures of Aveiro's salt production – the marnoto and the salineira – with the large pyramidal piles of salt behind them.
The marnotos were the men who would harvest the salt from the flats using different wooden implements. The salineiras were the women who would carry the heavy baskets with salt from the flats to the warehouses.
Sculptures of a marnoto and a salineira also grace a bridge a step away from the Museu da Cidade.
You can find more information about Aveiro's salt flats on the official website of Salinas Aveiro. Most of the information about the history and traditions of the area is in Portuguese, but there are details in English about the available guided tours. They are held in different languages.
If you are short on time and don't feel like walking from the city to the salt flats, then you can jump on the tuka tuka tourist sightseeing train. In about 45 minutes or so, it will take you past the salt flats and other major landmarks in Aveiro.
14. Aveiro is a City of Fishermen
Aveiro has always been a city of fishermen. After all, it stands in the heart of Portugal's largest coastal lagoon – Ria de Aveiro – and it's a stone's throw away from the Atlantic Ocean.
Large panels showing a traditional fisherman and centuries-old fishing methods decorate the facade of the city's old railway station. You will see them as soon as you arrive in town by train. It's a quick introduction to the locals' reliance on the sea for sustenance.
Nowadays, there are over 700 licensed fishing vessels in Central Portugal. They represent one-fifth of all fishing boats in the country. Local cockles, octopus, turbot, sea bream, oysters, and mussels are particularly prized.
To learn more about the deep connection between Aveiro and fishing, head to the fish market where the catch of the day is sold early every morning. You can then go for a walk through Beira Mar – Aveiro's historic district of fishermen.
To delve even further into the history of fishing here, make sure that you squeeze in a visit to the small town of Ílhavo eight km away from Aveiro. There is a regular bus or you can get a taxi. In Ílhavo, you can visit the Museu Marítimo. This maritime museum explores the fishing traditions in the lagoon of Ria de Aveiro and the fishing of cod by Portuguese fishermen in the waters of Newfoundland and Greenland.
Cod or bacalhau is the most popular fish in Portuguese cuisine. There are over 1,000 ways to prepare it. The Museu Marítimo of Ílhavo even has a large tank with a shoal of these magnificent fish living in it. As part of your visit, you can also see an original cod fishing trawler – the Ship-Museum Santo André.
If you are in Ílhavo in August, then don't miss the local Codfish Festival. It is a cultural and culinary highlight in this corner of Portugal.
15. The Striped Houses of Costa Nova Started Life as Palheiros – Fisherman's Huts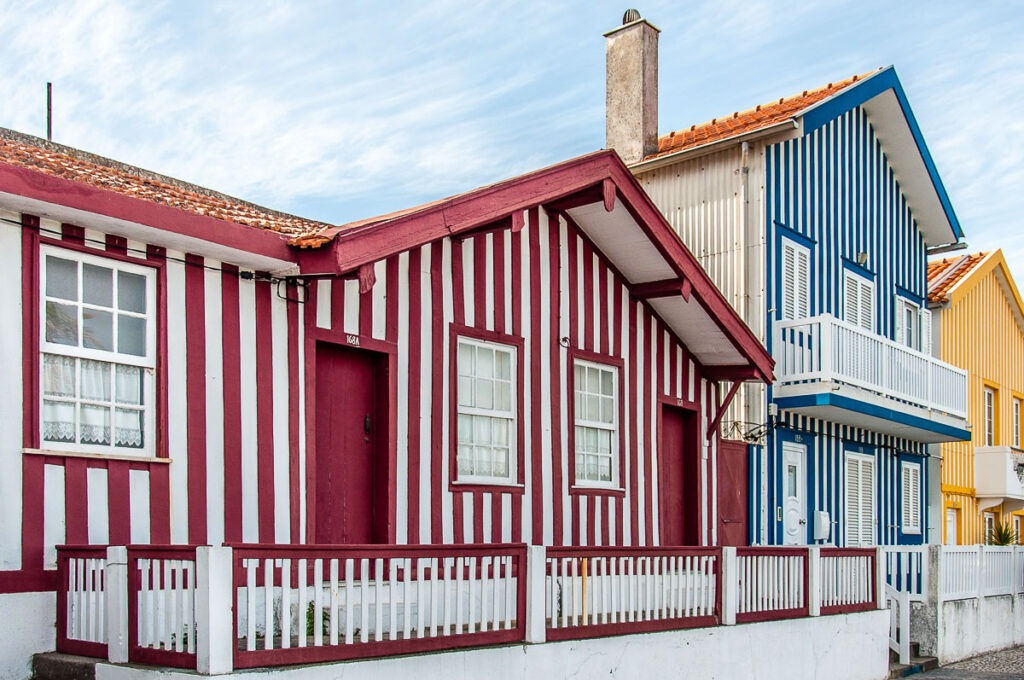 At the start of the 19th century, Costa Nova was a thriving fishing village. Nowadays, it's a popular resort with the Atlantic Ocean on one side and the Ria de Aveiro on the other. About ten km away from Aveiro and next door to Ílhavo, it's a must-see when you are in this part of Portugal.
The striped houses of Costa Nova are one of Portugal's most photographed sights. Quirky and painted in bright colours, they catch the eye and make you think of holidays spent on a sunny sandy beach.
Nowadays, these small houses are trendy on Instagram and people queue to have their photo taken in front of them. Yet, in the past, they were humble fisherman's huts known as palheiros in Portuguese.
The palheiros were made of wooden planks. To protect their facades from salt and water, they were coated with fish-oil based varnish enriched with natural pigments in either ochre or black. Thus the tradition of alternate colours was born and it survivies to this day in the striped facades of the Costa Nova's fisherman's huts.
Another interesting tidbit is that, originally, the huts didn't have internal walls or rooms and were a single structure able to accommodate large fishing nets and other such tools of the trade. Soon, however, they were adapted to house the families of the fishermen who then began painting them in ever brighter colours.
Today, the most popular colours here are red, blue, green, and yellow. It is believed that the vibrant hues were chosen so that the fishermen could easily recognise their house from the deck of their boat in the open sea. This, allegedly, would have been very useful on foggy days.
Today, many of the striped houses can be rented for a fabulous holiday. People come here to enjoy all the delights of Portuguese summer.
A bus connects Aveiro to Ílhavo and then to Costa Nova. The journey lasts about an hour or so. If you are short on time, it's best to catch a taxi or book one of the day trips taking in Aveiro and the local area.
16. Ílhavo and Costa Nova Have Fabulous Sandy Beaches Right Next Door to Aveiro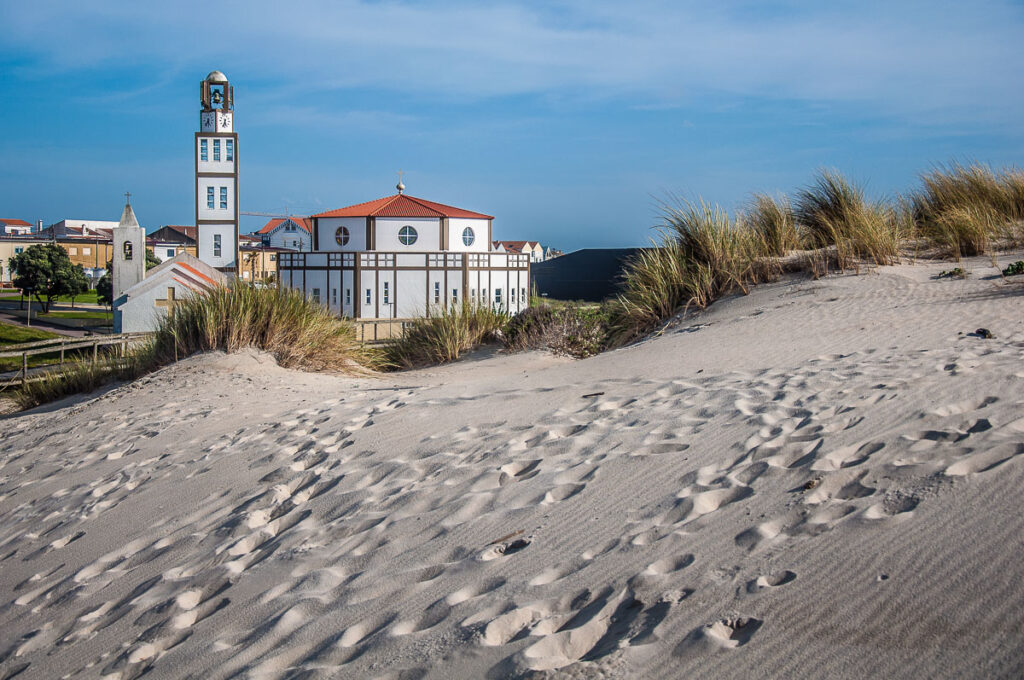 A wide sandy strip runs for kilometres between the small towns of Ílhavo and Costa Nova. Dotted with large dunes, it accommodates many famous local beaches. A boardwalk runs atop the dunes allowing you to go for long walks and take in the beauty of the Atlantic Ocean.
The above photo shows the sand dunes in Costa Nova. Behind them, you can see the Igreja Matriz or the main church of this small town. It was built in 2000, its interior is covered with azulejos, and it has a rather interesting hexagonal shape. It's a lovely sight to see on a day trip to Aveiro and the towns of its lagoon.
17. And This is Portugal's Tallest Lighthouse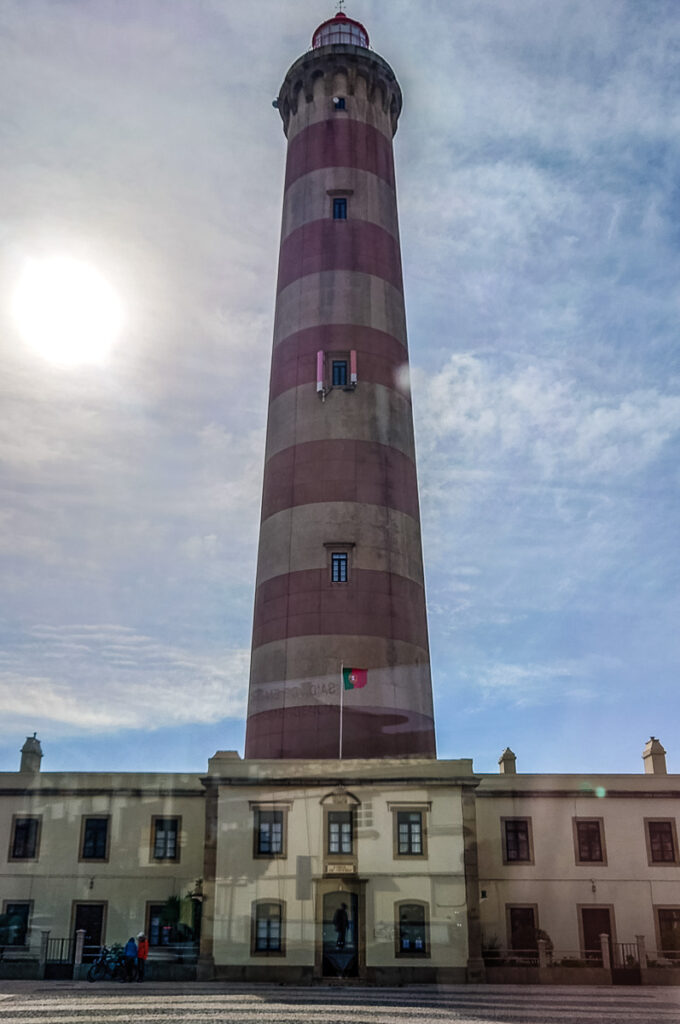 This is the Farol de Aveiro. It's also known as the Farol de Barra. At 62 m, it's the tallest lighthouse in Portugal and the second-tallest on the Iberian Peninsula. It stands on Praia da Barra – a beach in the small town of Ílhavo which is about eight km away from Aveiro.
The lighthouse was designed by the engineer Paulo Benjamin Cabral in 1879. It was then built between 1885 and 1893. After significant repairs in 1929, it was electrified in 1936.
The Farol de Aveiro is open for visits every Wednesday afternoon. Only a limited number of people is allowed in every hour, so come early to avoid disappointment. From the top of the lighthouse, you can enjoy some of the best views of the coastal lagoon Ria de Aveiro and the Portuguese beaches on the Atlantic Ocean.
To reach the Farol de Aveiro, you can take the bus that connects throughout the day the train station and the historic centre of Aveiro to the small coastal towns of Ílhavo and Costa Nova.
Alternatively, a taxi or a day tour are both good ways to explore quickly and efficiently the area around Aveiro. Click here if you will be travelling from Porto and here if your starting point is Lisbon.
18. A New Lease of Life for Aveiro's Historic Sights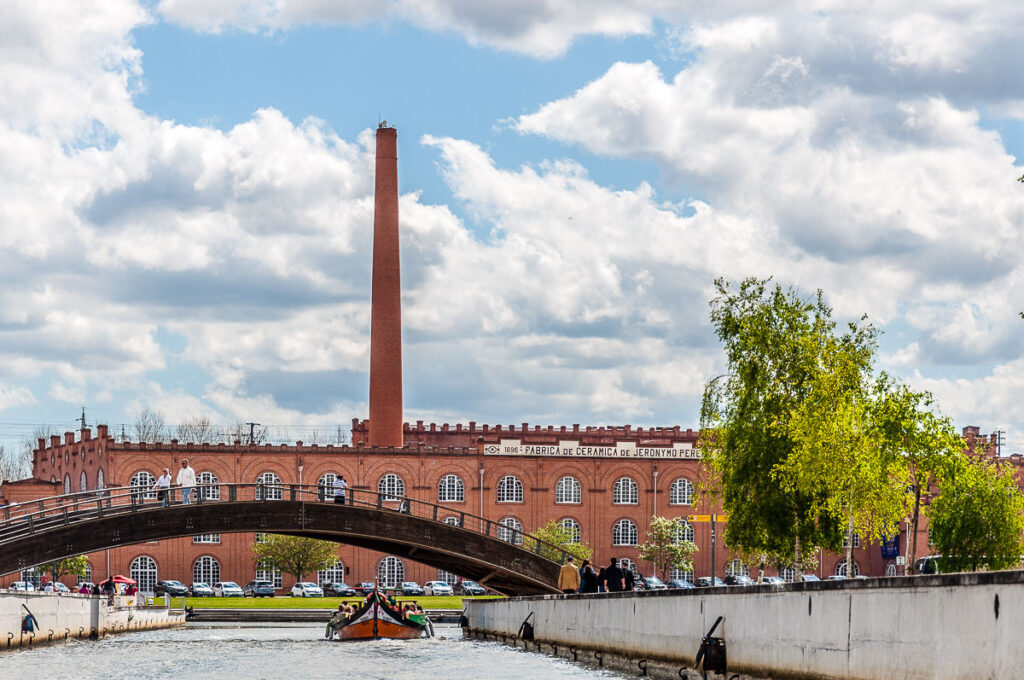 After exploring the sights of the two small towns of Ílhavo and Costa Nova in Ria de Aveiro, let's conclude this visual travel guide with one last photo of the main city in the lagoon – Aveiro itself.
This huge building is a former ceramics factory. The production of handpainted porcelain has been an important occupation for generations in this part of Portugal. If you want to learn more about it, you can visit the Vista Alegre Museum in nearby Ílhavo. It explores the traditions and designs of one of Portugal's most well-known ceramics brands.
Otherwise, Aveiro's own ceramics factory was one of the largest in Portugal for many decades. Its red-brick building was built at the start of the 20th century and it was inspired by English industrial architecture. However, it went out of business in the 1960s.
Nowadays, it has been converted into a congress centre where many large-scale events take place. It's a great example of how old buildings here have been given a new lease of life and how forward-looking Aveiro is. After all and irrespective of its small size, this city in Central Portugal has one of the best universities not just in the country but in the whole of Europe.
When you do a boat tour in Aveiro, you will see the Congress Centre as part of the itinerary. Nearby, you can also see the monument dedicated to the city's own delicacy – ovos moles. I can't think of any other place in the world where they have a sculpture dedicated to a dessert!
You can easily walk from Aveiro's Congress Centre to the railway station if your time in this beautiful Portuguese city has come to an end.
In Conclusion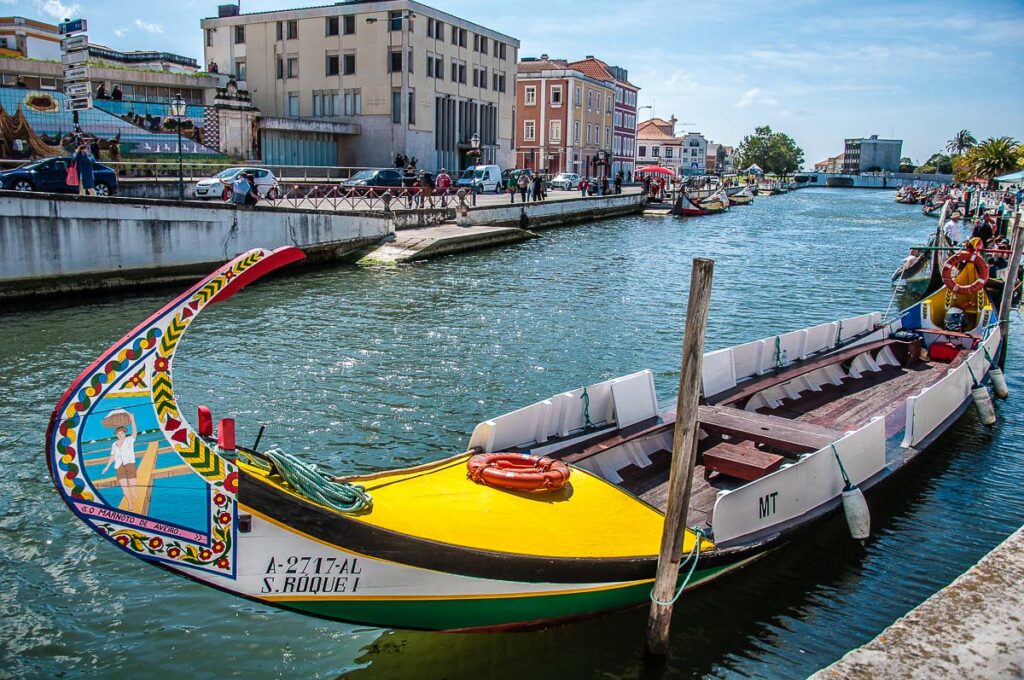 I hope that you enjoyed this walk in pictures through the beautiful city of Aveiro in Central Portugal.
Built in the country's largest coastal lagoon – Ria de Aveiro – this is a place of many must-see sights and many beautiful views. There are those who call Aveiro the Portuguese Venice on account of its canals and traditional boats. Yet, the city has its own character and its own stories to tell.
In the above post, I shared with you 18 photos of Aveiro and the lagoon Ria de Aveiro. Each one comes with its own curious details that throw light on the local history and customs.
From traditional boats with colourful panels to elegant Art Nouveau buildings, from a centuries-old convent dessert to hard biscuits being thrown from the roof of a church to celebrate the city's patron saint, and from striped houses to sandy beaches, Aveiro has a lot to offer to the traveller seeking to experience something beyond the easy marketing comparisons.
I hope that both the images and the text in this blog post will inspire you to discover Aveiro authentically for yourself.
Enjoy your travels in Portugal!
Now, get ready quick for your trip to Aveiro in Portugal!

More Helpful Travel Info for You
Best of Portugal: One Day in Aveiro, One Day in Porto, Photos of Porto, One Day in Guimarães, Photos of Guimarães, Photos of Braga, Sanctuary of Bom Jesus do Monte, The Best Portuguese Desserts and Pastries
Best of Italy: Venice, Lake Garda, Veneto, Lombardy, Emilia-Romagna, Marche, Friuli Venezia Giulia, Trentino, Italy with Kids, Italy for Foodies, Day Trips in Italy, Hiking in Italy, Christmas in Italy
Best of England: London, Kent, Dorset, East Sussex, Days Out in England
Travel: Travel Resources, The Joy of Travel, Safety Tips
Thank you for reading! Please, leave me a comment, pin the images or use the buttons right at the top and at the end of this blog post to share it on social media.
For more useful information like this, please, like my blog's page on Facebook and subscribe to my strictly no-spam newsletter.
Pin This Blog Post!