Here are 63 photos of Porto that capture the character and build a visual travel guide to Portugal's second-largest city.
With a millennial history, a riverside nucleus that nowadays is a UNESCO World Heritage Site, and a unique location between the mouth of the River Douro and the crashing waves of the Atlantic Ocean, Porto is one of the most fascinating destinations to visit in Europe.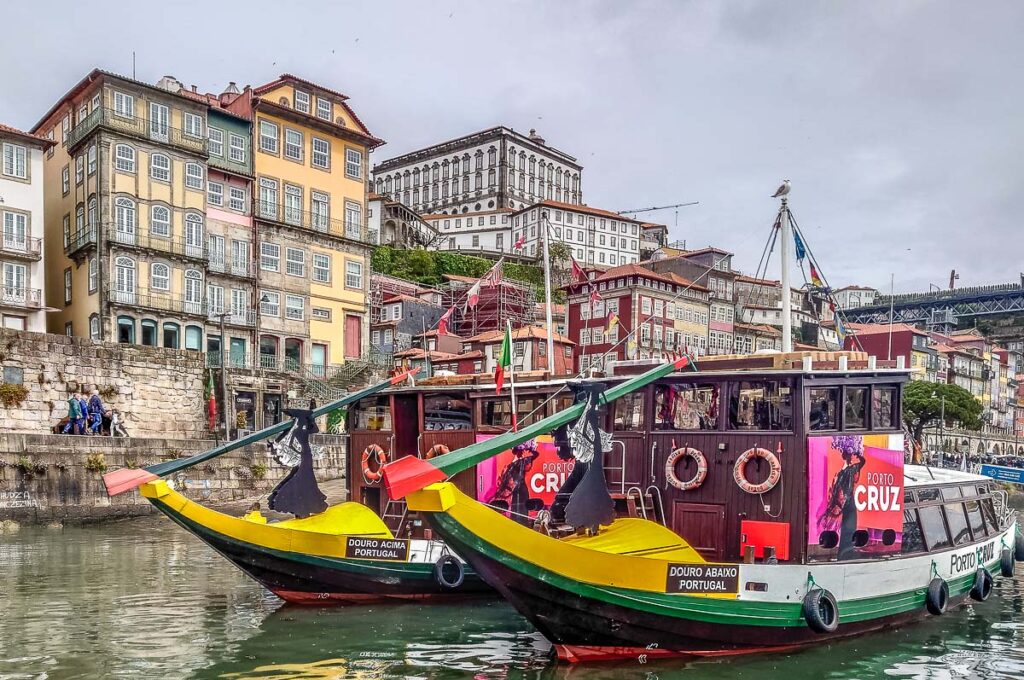 This is a place with a strong character, a puzzle-like historic centre, and deeply-rooted traditions. A Portuguese city with the type of beauty that is easy to idealise in photos, Porto also has many hidden layers. The deeper you delve into them, the more you learn about world history and Portugal's rather major role in it.
You can spend a breezy holiday here taking just the prettiest bits of Porto in a perfectly instagrammable way. From the azulejo-covered facades to the quirky electric trams, it's all so pleasantly digestible.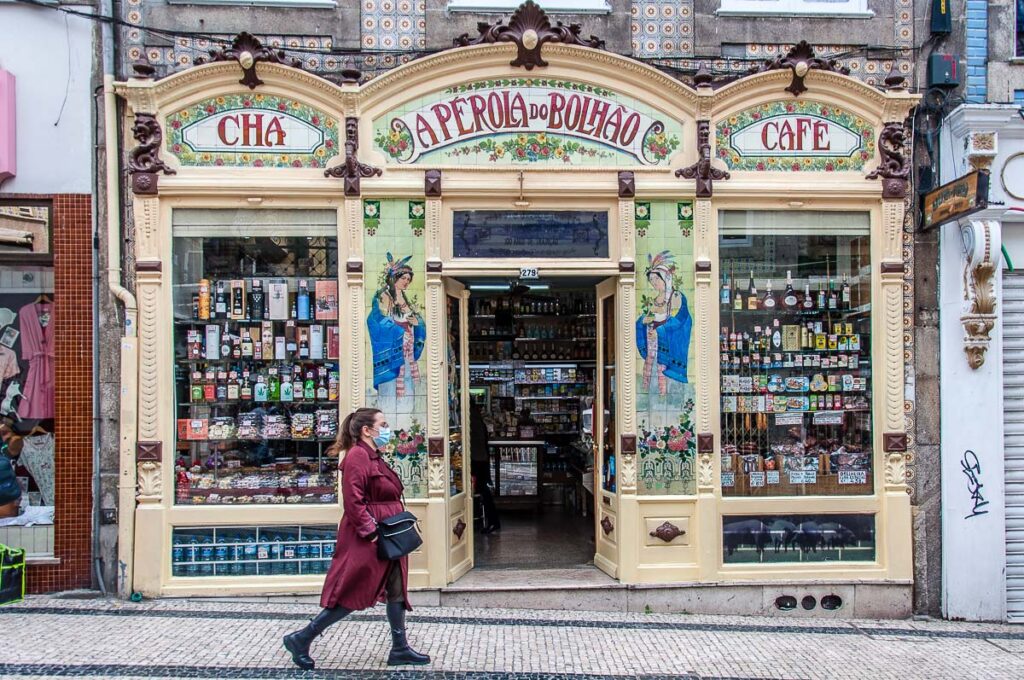 Or you may choose to dig beneath the surface and embrace the grittier sides of Porto for grit here is easy to come across, unavoidable even. Next to imposing monumental buildings stand skeletons of past glories. Street art and graffiti cover both hidden corners and large exposed walls.
The economic strife of the past few years has left its imprint on Porto. While the prices of food and the tickets for sights seem ridiculously cheap to many arriving for a short visit from abroad, many of the locals find them difficult to afford.
Yet, strife seems to always have been a way of life in Porto. From the fateful decision to erect a city on a steep slope thus making going up and down steps a lifelong commitment to building ships to explore the world when it was still a vast unknown place, Porto has been hard at work.
In the process, it became much more than simply the country's second-largest city. It's a destination with its own legends, imposing landmarks, and a very easy to fall in love with beauty. More than a place, Porto is a state of mind as a famous quote printed on thousands of souvenirs in the city tells you.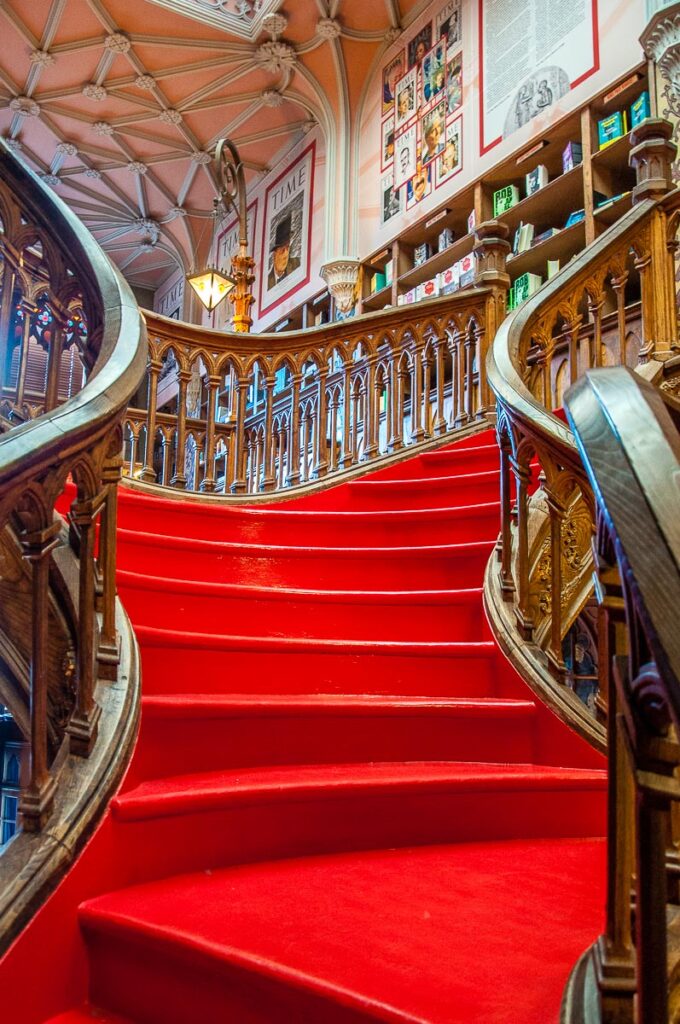 I had a chance to spend a week in Porto this spring. I had a meticulous plan for all the sights I wanted to see and all the day trips I wanted to take. Porto, however, had its own ideas.
So, for two days of the three and a half days I dedicated specifically to this city in Portugal, it poured. The water seemed to come at me from all sides and I sought refuge in places I didn't have on my list while having to forego others that were impossible to enjoy in the dramatic rain.
Then the sun would shine again making the city look so lovely and relaxed. And Porto would reveal itself as the perfect place to simply stop and enjoy the views and the pastéis de nata without a hurry, a worry or a plan in the world.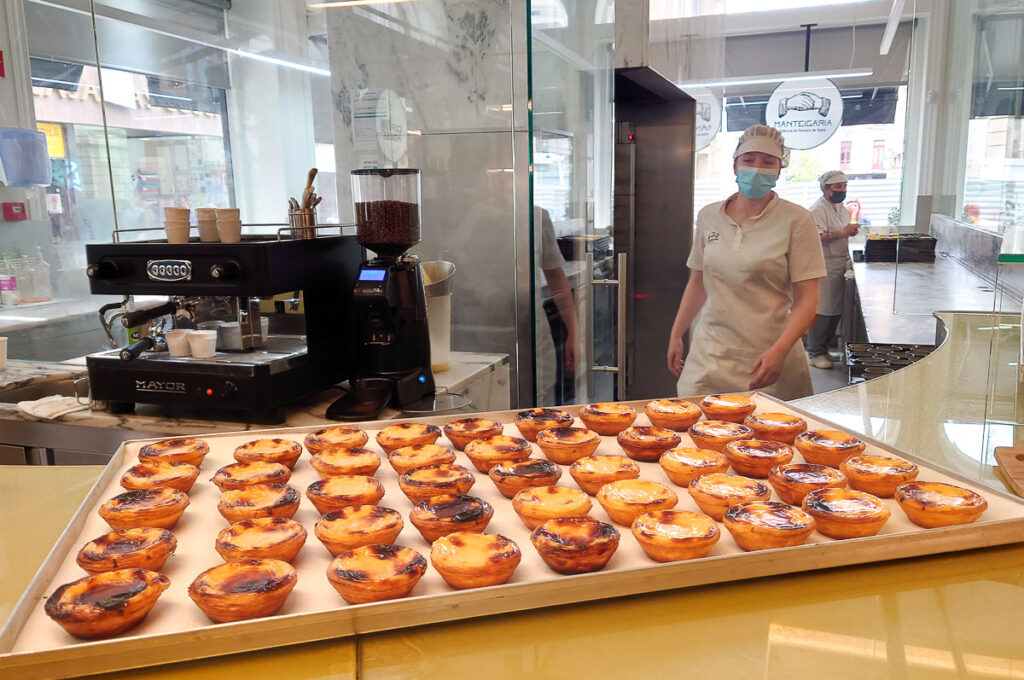 It was this contrast of darkness and light, heavy rain and happy sun that made Porto such a compelling destination to lose myself in. I can't say I was smitten with it but it had my whole and undivided attention the whole time I was there.
So, this collection of images of Porto represents Portugal's second-largest city as I saw it. From its beauty to its reality, I captured its character as it revealed itself to me.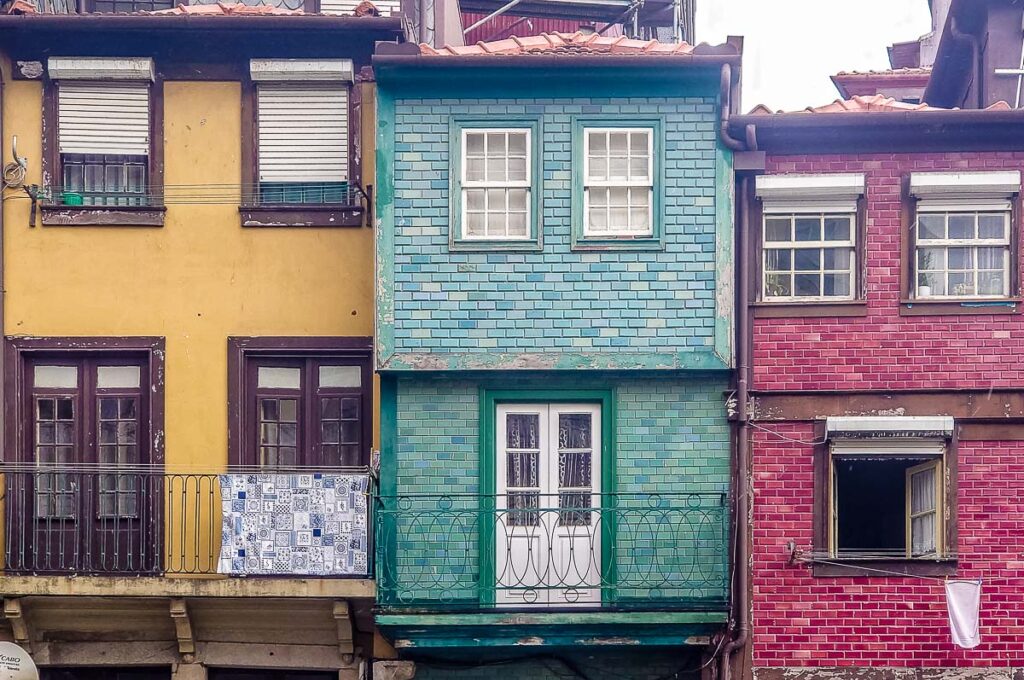 To make browsing a bit easier, I have organised my photos of Porto below in the following ten thematic groups: views, sights, azulejos, food, quirks, facades, churches, water, details, and realities. You can scroll up and down to see just the topics that interest you or enjoy all the pictures one by one.
Underneath each photo of Porto, I have jotted down a short description, an abbreviated story of what it represents, as well as some personal thoughts.
I hope that this visual travel guide to Porto will inspire you to discover this exciting and thought-provoking city in Portugal for yourself.
Have a look!
63 Photos of Porto That Capture the Character of Portugal's Second-Largest City
Pin for Later!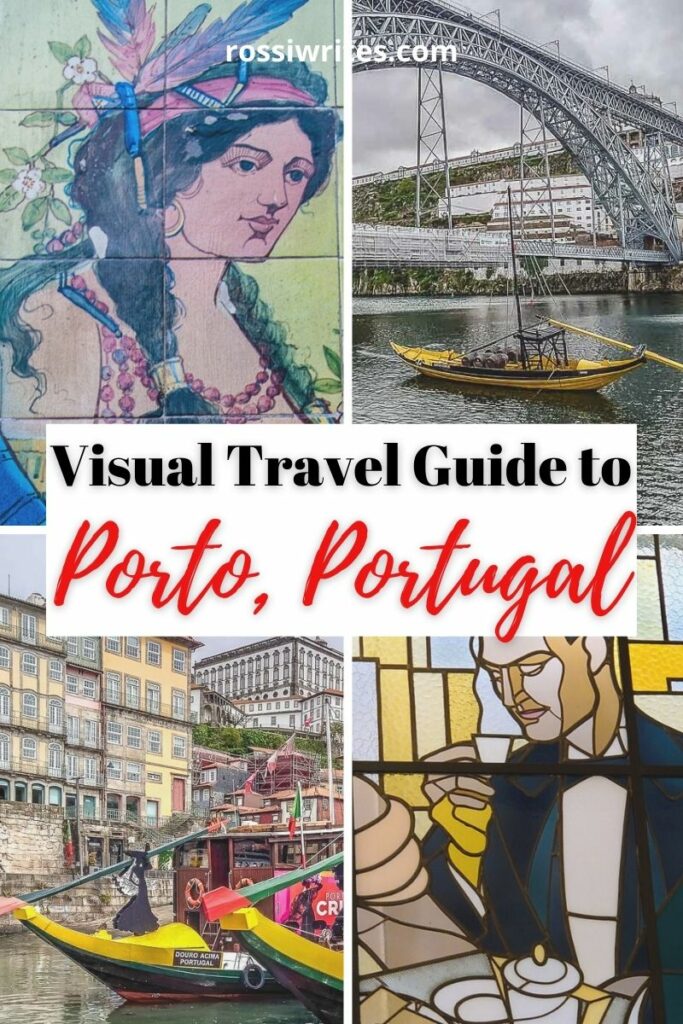 5 Photos of Porto's Best Views
With tall colour-blocked houses crammed together at incredible angles and hurtling down steep slopes, Porto's panoramas have oodles of inherent drama.
A big part of experiencing the city is simply to stop and take it all in. From the Torre dos Clérigos – Portugal's tallest bell tower – to the head-spinning upper deck of the iconic Dom Luis I Bridge, there are many viewpoints dotted around from which to admire both the historic and the modern urban parts.
Here are some of my favourite panoramic views of Porto:
Porto at dusk is poetry in motion. I walked very gingerly along the upper deck of the Dom Luis I Bridge to take in the bird's-eye views just as the night was slowly falling.
Standing at 45 m up in the air, the bridge's metal railings were the only thing between me and the vertical drop. People were ambling along the deck stepping away from its central lane every few minutes or so to let the electric trams of Porto's Metro drive past.
It's not surprising then that, as I was holding the camera, my hands trembled a bit. It was not easy to focus on the beauty in front of me.
Down below, ant-sized people were walking along Cais da Ribeira – the riverfront promenade of the Ribeira historic district. The imposing Episcopal Palace ruled the view from the top of the hill. This was the historic centre of Porto – a UNESCO World Heritage Site – at its most striking. To admire it at its best, I just had to conquer my fear of heights and moving vehicles.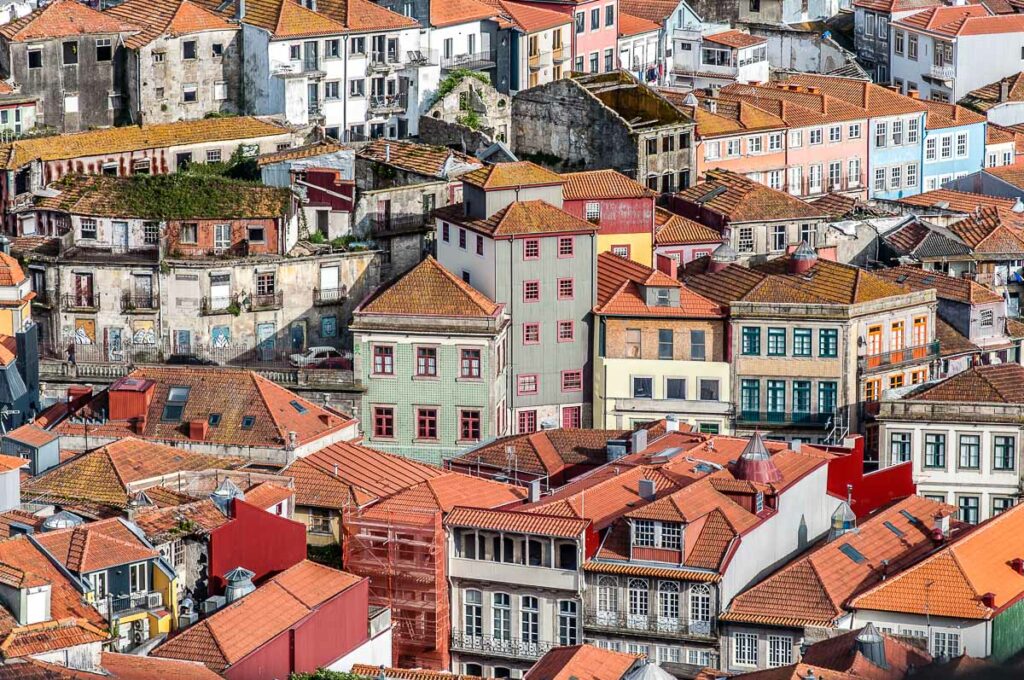 Porto's houses cluster together supporting each other to the bitter end. As you walk around the historic centre, you will often see tall residential buildings with beautiful facades standing right next to derelict houses with gaping windows and empty doors.
They are crammed together by the centuries of erecting buildings on a steep terrain where each square metre of land has been claimed and used.
I took this photo from the top of the Torre dos Clérigos – Portugal's tallest church bell tower. After climbing 240 steps, I stood up there on the narrow balcony at 76 m height marvelling at the puzzle-like character of the city below. It's like a maze that defies all modern-day conventions of symmetry and urban living and where old and new exist side by side and one on top of another.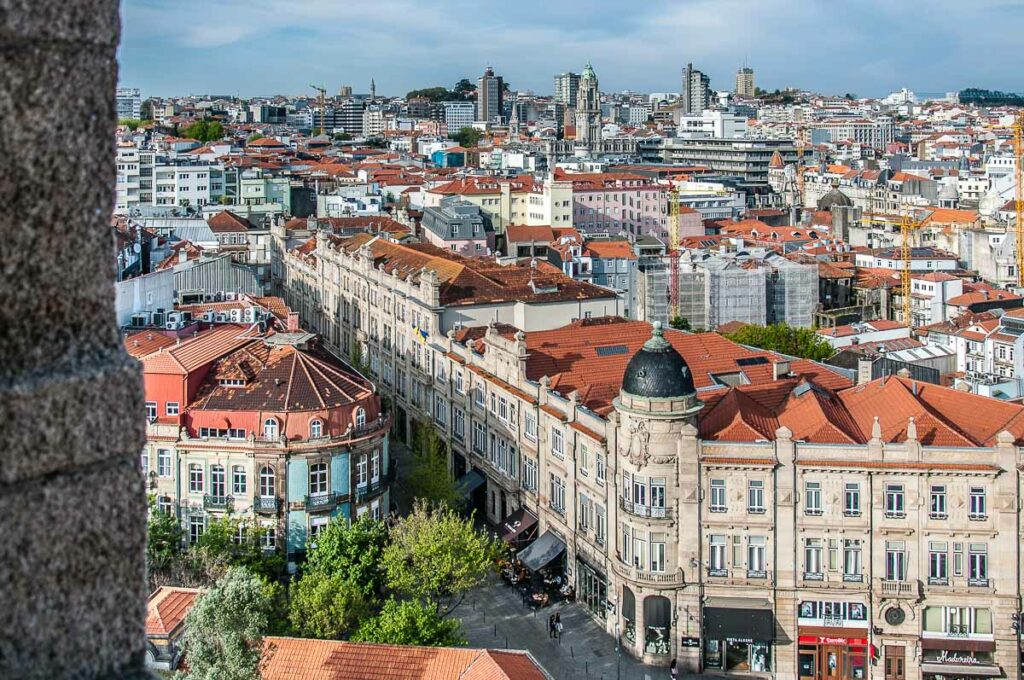 Porto is not all about the old though. The city's historic centre – all bunched up on the steep slope above the River Douro – soon gives place to the city's newer parts. Here, on slightly flatter ground, large avenues are flanked by tall imposing buildings.
Monumental facades vie for your attention at every step. Dotted between them and clustered beyond them rise tall residential blocks of flats. Once again, the Torre dos Clérigos is the best spot to take in this mosaic of grey shades and angular shapes.
Walking, one gingerly step after another, around its narrow circular balcony gives you a panoramic overview of Portugal's second-largest city and reveals to you the threads that make Porto's slightly rough yet beautiful fabric.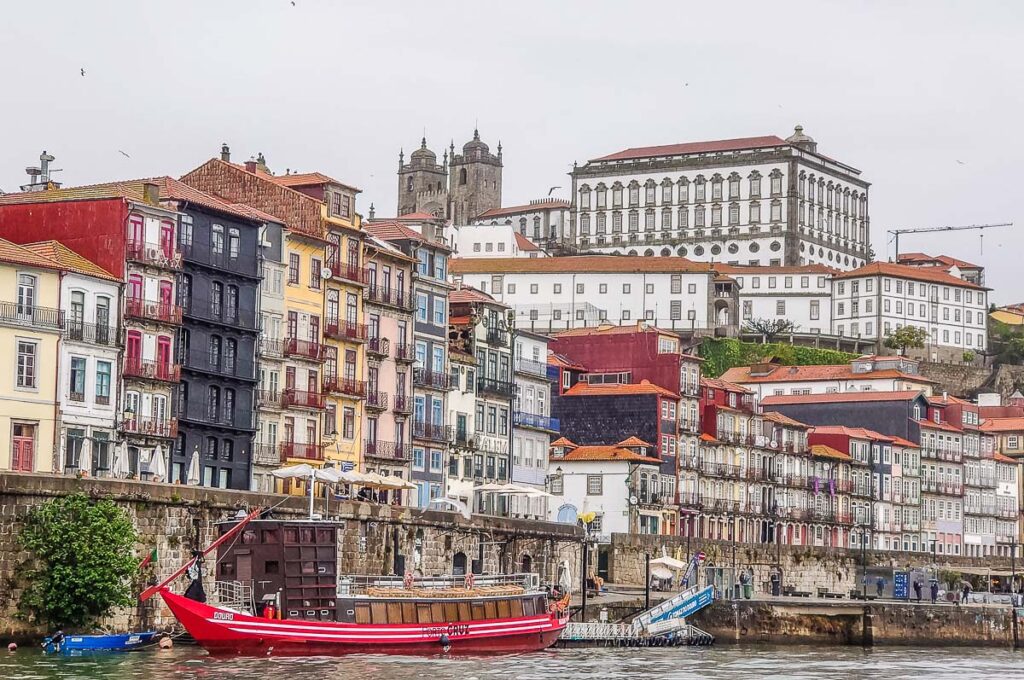 The deck of a boat is another great place to stand to enjoy the beauty of Porto. As you sail on the River Douro, colourful buildings cinematically roll past exerting a hypnotic effect.
Boats run all throughout the day. Some take the locals and the visitors to Porto across the River Douro to the town of Vila Nova de Gaia on the opposite shore. Others sail up and down the river on a cruise taking in Porto's six bridges. And yet others head upstream to the terraced vineyards at the heart of the famous Douro wine region.
No matter which one you choose, it's a great way to take in Porto's panoramic views and appreciate the city's unique urban character.
I took this photo from the board of a Six River Cruise boat on a very rainy day in Porto. It shows the solid yet elegantly proportioned building of the Episcopal Palace towering above the colourful facades that flank the riverfront promenade Cais da Ribeira. For the hypnotic effect of sailing past them, have a look at this reel on my Instagram account.
There are many churches to visit and admire in Porto. The most majestic of them all is the city's Cathedral – Sé do Porto. It's built on a hilltop and it's flanked by the Paço Episcopal (or Episcopal Palace in English). Right in front of the cathedral and the palace stretches the Terreiro da Sé. Covered with stone slabs this is a half-square, half-terrace that affords fantastic views of the city's historic centre and the River Douro.
Inside the Sé do Porto, you will discover an azulejo-covered cloister, lavish chapels decorated with gilded carved wood, and a rather severe-looking church with an imposing altar, towering pillars, and bare stone walls.
To me, Porto's Cathedral looked like a curious mixture of a military fort and a place of worship. It's been built to withstand attack and then embellished throughout the centuries.
You can admire the imposing Cathedral, the Episcopal Palace, and the square in front of them from the top of the Torre dos Clérigos. I took this panoramic photo of Porto's most important church standing up there on the tower's narrow balcony with my back firmly pressed against the wall to help me beat my height-induced trepidation while still enjoying the splendid views.
5 Photos of Porto's Must-See Sights
Porto has a long list of must-see sights as you would expect from a city with a millennial history. I enjoyed ticking off as many of them as I could and delving deeper into the stories and myths of this exciting place in the north of Portugal.
So, in this selection of photos of Porto's must-see sights, I will show you the ones that truly caught my imagination and/or made me stop and think.
Porto has plenty of amazing landmarks to appeal to different ages and interests. From history buffs to chasers of Instagram fame and Harry Potter fans, the city has something unique to intrigue and charm you. Come here with an open heart and mind though as you are bound to discover many unexpected layers to it all, too.
Here are some of Porto's main sights that made the biggest impression on me: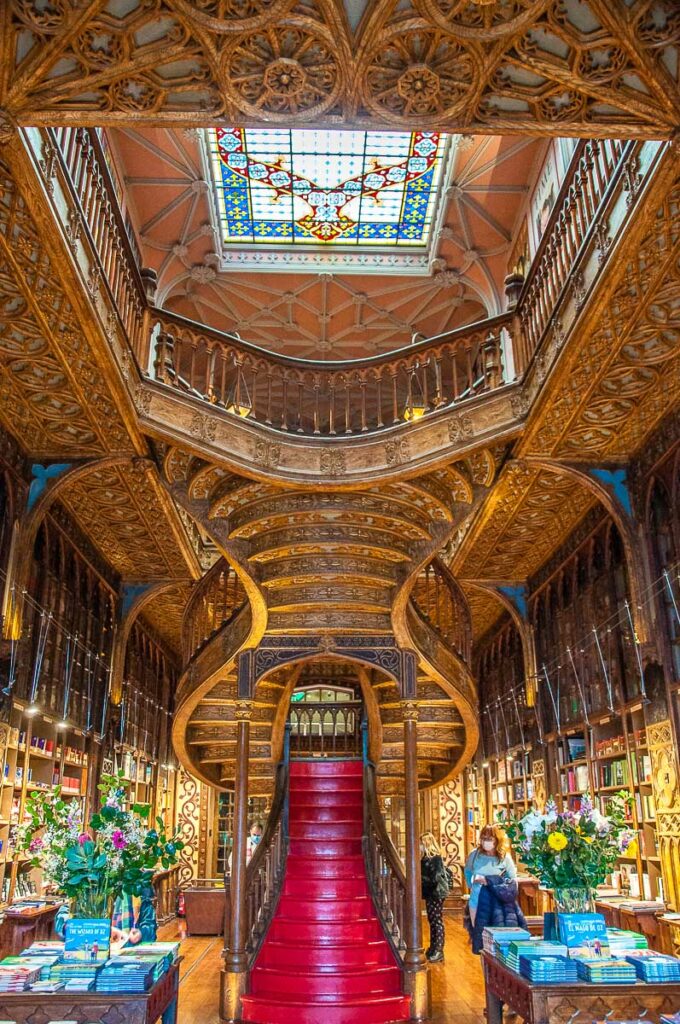 They say that this striking staircase inspired author J. K. Rowling's imaginative descriptions of Hogwarts and, especially, the moving staircases in the school of witchcraft and wizardry. Is this an indisputable truth or simply one of Porto's many myths? Who knows…
The reality is that nowadays, this is the most famous staircase in Porto (and possibly the world). Every day it attracts hundreds of visitors eager to photograph it, walk on it, and thus get a little bit of Harry Potter magic in their lives.
The staircase is in Livraria Lello & Irmão – a historic bookstore that is recognised as one of the most beautiful bookshops in the world. A long queue snakes in front of it every day and eager tourists need to book online and pay an entrance fee (deductible from the price of any book they may buy) before they are allowed inside.
My daughter is a big Harry Potter fan, so we had to visit the bookstore during our time in Porto. It took us three attempts before we got it all right – booking in advance, shortest queues, and minimal crowding inside. I didn't know what to expect. Was this going to be a tourist gimmick or something that travel memories are made of?! Let me tell you, I am so glad we went.
The bookstore is beautiful! It's not just the staircase! Every surface is covered with exquisite wood carvings. There is a splendid skylight stained glass window. Some of the most exquisitely printed books are sold here.
To enjoy it all at its best, try to visit the bookstore in the hour before it closes for the day. In the last thirty minutes or so, the top floor was almost empty and there were only a few people milling downstairs. Just make sure you book in advance as otherwise, you won't be able to enter. Alternatively, book a Harry Potter's Inspiration Tour for all the hidden gems with Potter magic around Porto.
This is Ponte de Dom Luís I – one of the most beautiful bridges in the world. It was designed by Théophile Seyrig – a German engineer and student of Gustave Eiffel (the civil engineer who designed the world-famous Eiffel Tower in Paris).
Curiously enough, Eiffel himself had submitted a project for the construction of the Dom Luís I Bridge. He lost, however, to his student.
The double-decker bridge is Porto's pride and joy. It spans the River Douro at a picturesque meander and it links Portugal's second-largest city to the town of Vila Nova de Gaia. The top deck is almost 400 m long. At 172 m, the lower deck is just under half its length.
I took this photo from the bottom of the Escadas dos Guindais – a series of steep flights of steps that takes you past derelict houses and facades covered with the ubiquitous graffiti down to the riverbank. Traversing the Escadas dos Guindais is an experience in itself. With the splendid partial and full views of Ponte de Dom Luís I that they afford, you will be stopping many times along the way to take the raw beauty of it all and capture it in digital format.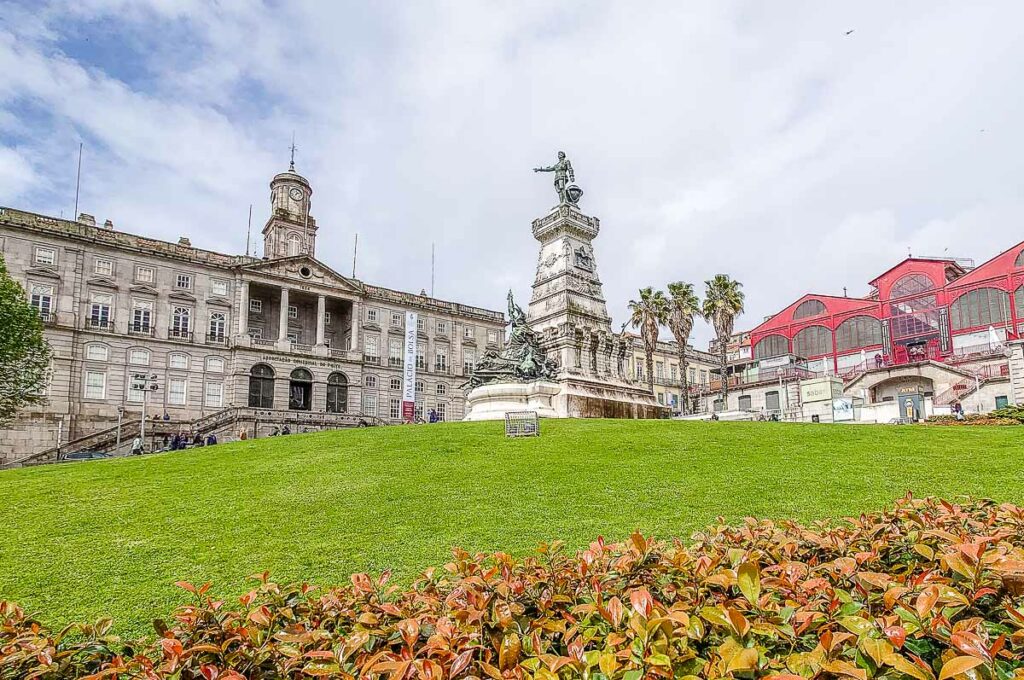 The Praça do Infante D. Henrique is a green rectangle in Porto's densely built-up historic centre. It's flanked by some of the city's most famous landmarks and the heavy urban traffic trundles past it.
In the middle of the square stands the proud monument of Henry the Navigator. A Portuguese prince with an English mother, he galvanised the 15th-century maritime discoveries that would lead the small country of Portugal to become a powerful empire. For a few hundred years, at least.
Behind the monument stands Porto's Mercado Ferreira Borges. Painted bright red, this is a late 19th-century building that was built to house a market. Throughout the decades that followed it has been used for anything else but a market. Nowadays it operates as a concert venue.
The imposing Neoclassical facade that dominates the photo's backdrop is of the famous Palacio da Bolsa. Once Porto's stock exchange, nowadays it's open for guided visits and tourists often queue in front of it.
You don't see it in the above photo, but next door to the Palacio da Bolsa stands the Igreja de São Francisco – a church that was originally built in the 13th century. Inside, it's decorated with exceedingly complex and florid wood carvings gilded with over 300 kg of gold.
It's the one sight in Porto that I didn't enjoy visiting and where the excessive use of gold made questions about the purpose of faith and the vanity of organised religion pop into my head.
To conclude this short tour of Praça do Infante D. Henrique in Porto, Portugal, walk the few short steps from the square towards the River Douro. Soon, on the left-hand side, you will see the Casa do Infante. This is a historic museum inside one of Porto's oldest buildings which at one point served as the city's Customs House. It is here that Prince Henry the Navigator was born in 1394.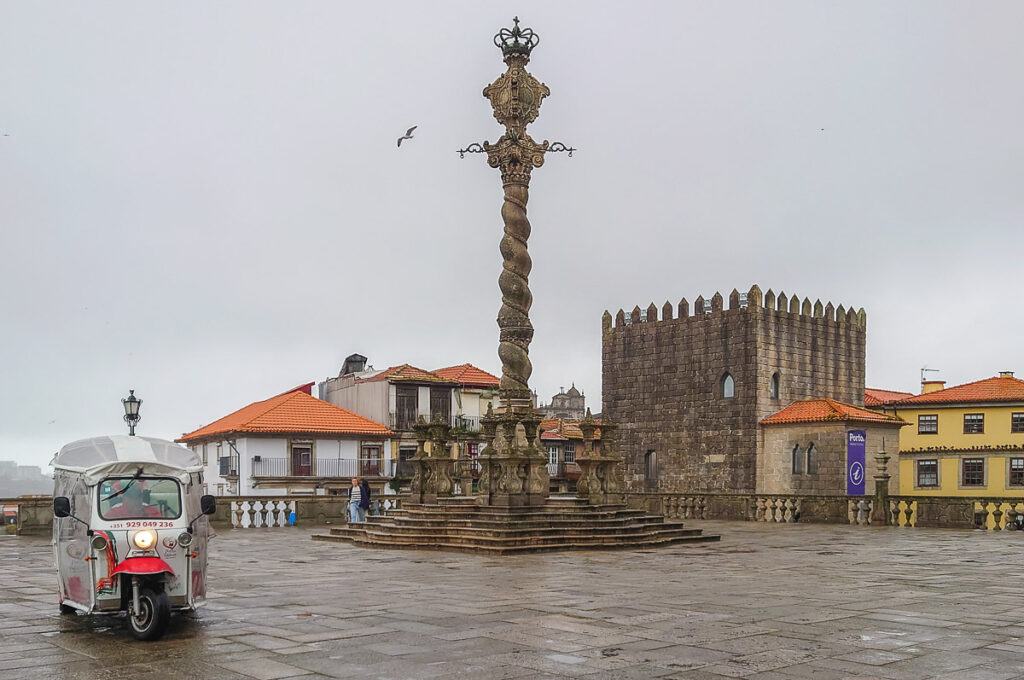 This is Porto's Pelourinho. It's the focal point of the Terreiro da Sé – the stone-covered half-square, half-terrace that protrudes in front of the city's Cathedral and opens splendid views over the historic centre and the River Douro.
A pelourinho is the term used in Portuguese to designate a tall stone pillar positioned at the town's main square or another such central place. In the past, criminals and those condemned to death were tied up to the pelourinho for the populace to see and boo at. It was a strong visual reminder that crime brought shame to the perpetrator.
Interestingly enough, Porto's pelourinho is a fake. It was placed at Terreiro da Sé only in 1940. At the time, many old houses that had been built too close to the Cathedral and were thus obstructing the view of its facade were demolished. The newly open space was covered with stone slabs and the fake pelourinho was installed there thus becoming one of Porto's must-see sights.
Porto's original pelourinho on the other hand had been erected at the start of the 16th century. It was near the city's gallows by the medieval defensive wall. It was then destroyed in the 18th century.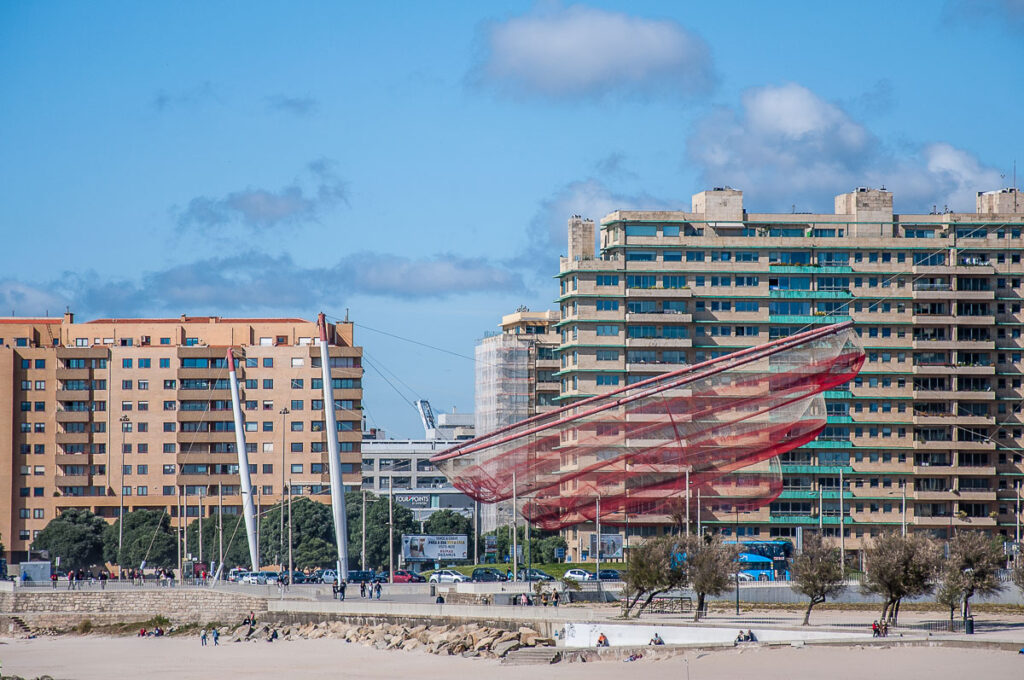 Meet Anemone! Known also as She Changes, this is a beautiful kinetic sculpture. You will find it on the outskirts of Porto and right next to the beaches of the neighbouring city of Matosinhos.
Created by the American sculptor and fibre artist Janet Echelman, the Anemone symbolises Porto's and Matosinhos's connection to the sea in terms of seafaring, fishing, and industry.
The net – attached to steel rings and poles – moves with the wind. It is quite mesmerising and calming to watch. One of Porto's newer sights compared to its other centuries-old landmarks, the installation is a great example of how contemporary art can both slot into and transform our utilitarian environment adding something magical to it.
7 Photos of Porto's Amazing Azulejos
Azulejos are one of Portugal's most well-known identifiers.
While tiles are used all over the world – mainly to cover the walls and floors of bathrooms – here they have been elevated to a form of art. Made of ceramic and tin-glazed, azulejos have a curious history that spans many centuries and combines in a beautiful mix many cultural influences – from Roman, Byzantine, and Arabic to Spanish, Italian, and even Flemish and Dutch.
And yet, it was in Portugal that azulejos reached their peak. Italy has its frescoes, Belgium (via Flanders) has its tapestries, France has its wallpaper, England has its wood panelling, and Portugal has its azulejos.
From the facades of churches to the interiors of palaces, they are widely used all over the country creating lavish expressions of national pride, religious fervour, and cultural identity.
In Porto, you will discover some of Portugal's most striking and well-known azulejo panels. Polychromatic or in Delft-inspired blues and whites, they cover large surfaces and tell visual stories that can take you days to decipher one detailed scene after another.
I truly enjoyed discovering Porto's azulejos – from the hand-painted ones used to create enormous scenes to the mass-produced ones used to add visual interest and texture to the facades of buildings.
Here are some of my favourite azulejo panels in Porto: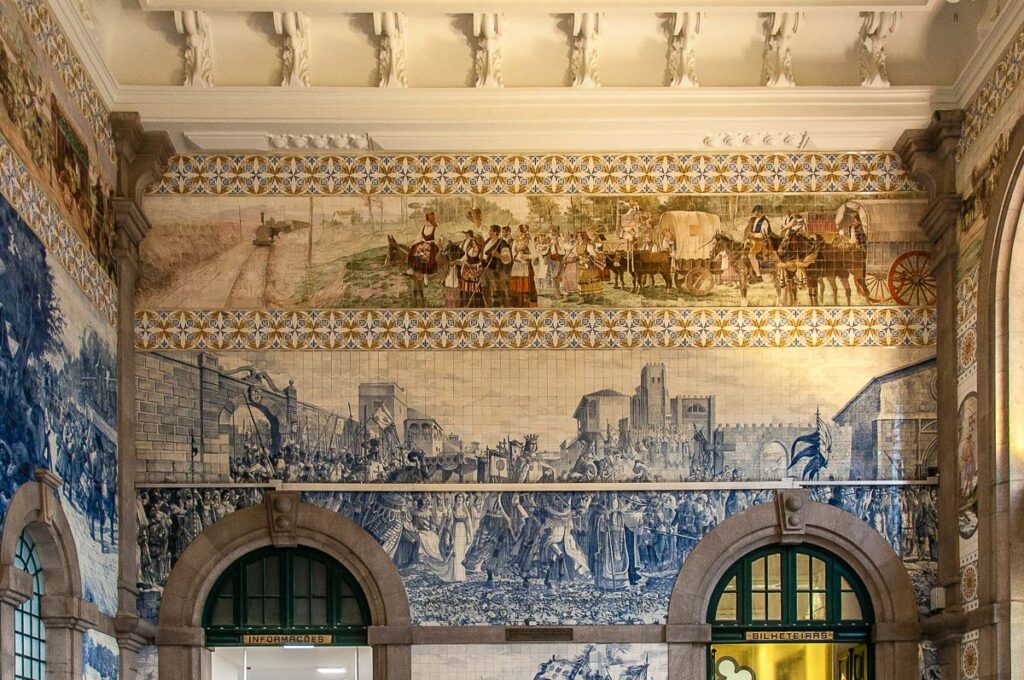 The vestibule of Porto's historic train station São Bento (or St. Benedict in English) is decorated with 20,000 azulejo tiles. Painted by the Portuguese artist Jorge Colaço, they took 11 years to complete between 1905 and 1916.
The colourful frieze along the top end of the walls of the vestibule depicts the evolution of transport in Portugal. The wide blue and white panels underneath represent major events in the history of the country.
On account of its imposing architecture and monumental cycle of azulejos, São Bento is so much more than just a train station. It's one of Porto's main sights and it's a place where you can spend time just taking the imagery in and slowly discovering every little detail.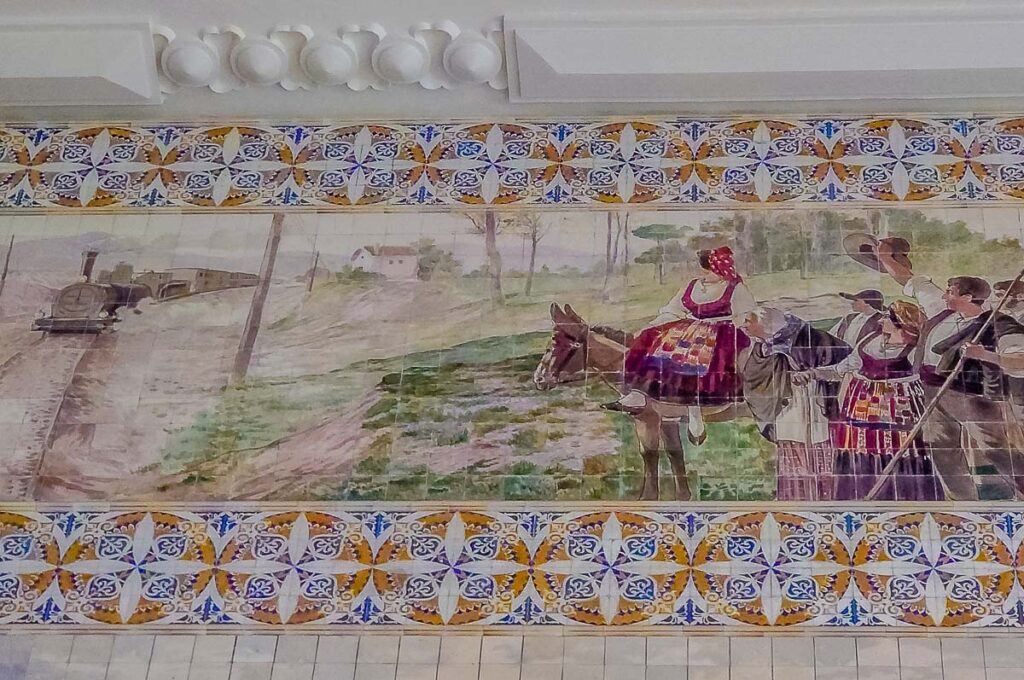 This is my favourite azulejo panel in the station of São Bento in Porto. It forms part of the upper frieze of polychromatic azulejos which depicts the evolution of transport in Portugal.
I love the girl sitting on the donkey with her gaze turned away from us and focused diagonally across the panel, the old lady standing next to her and leaning incredulous forward, and then the strong young man saluting with this hat the arrival of the train. The colourful traditional clothing of the welcoming party is in stark contrast with the greys of the locomotive and the carriages.
It's one of the best depictions I have ever seen of the old meeting the new.
This is a close-up of the blue and white azulejos adorning the facade of the Church of Santo Ildefonso in Porto. While the church was erected in the first half of the 18th century, the tilework was added over 200 years later, in 1932.
The 11,000 azulejo tiles adorning the facade were painted by Jorge Colaço – the artist who also created the tilework of Porto's São Bento train station.
The two top Latin words – Unus Trinus – refer to the Christian concept of Trinity or the unity of Father, Son, and Holy Spirit in one Godhead. Deus Caritas refers to God as Universal Love.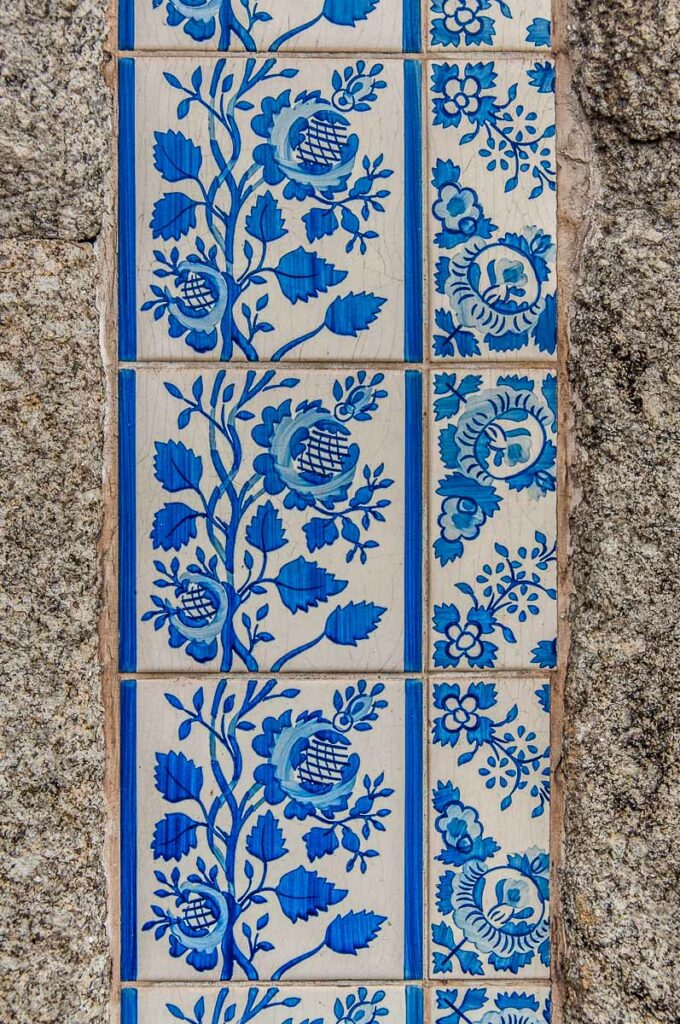 Strips of azulejos adorn many facades all around Porto. They add a splash of colour and some whimsicality to buildings which otherwise may appear a bit gloom and grey.
I think I took this photo along the Escadas dos Guindais. As I mentioned above, this is a long stairway composed of many steep flights of steps. Walking down the steps, striking views of the iconic Dom Luis I Bridge and Porto's historic district of Ribeira open in front of your eyes. It's quite dramatic, really.
At the same time, the Escadas dos Guindais are flanked by many tall houses with most of them in a terrible state of abandonment and disrepair. Among the dilapidated facades, I was drawn to this bright strip of flowers in blue and white. It was a small reminder that beauty is to be found everywhere. You just need to look for it.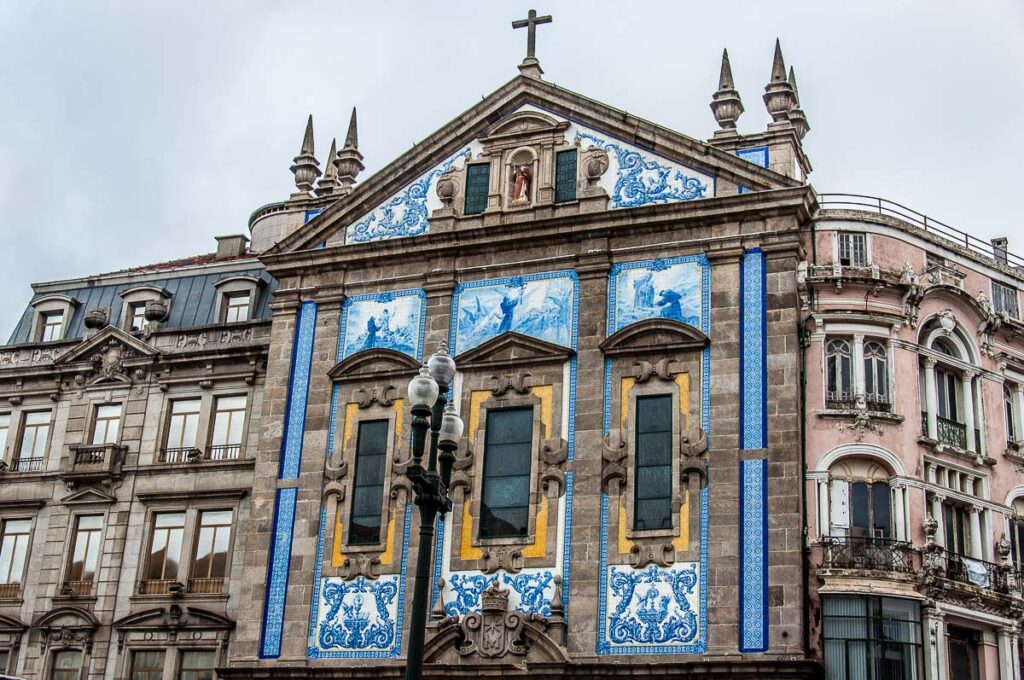 This is another azulejo-clad church facade in Porto. I loved the combination of bright yellow frames and more traditional blue and white panels. The colours harmonised so well plus they offered a great contrast to the grey slabs of the facade.
It was a rainy day, cold and so very drab. Porto looked quite bedraggled. Yet, the yellows and the blues offered a momentary respite, a hope for something better just about to come.
As we were walking out of the São Bento train station, I knew I had to find a safe place in the hubbub of people, traffic lights, and taxi cars, take my camera out of my bag, and try to capture this facade.
Here is another detail of the stunning azulejo panels decorating the São Bento train station in Porto. The more you look at the 20,000 tiles comprising the different scenes that line up the station's vestibule, the more details you see.
We took three day trips during our week in Porto and I had made it our goal to always arrive at the train station with plenty of time to spare before our train was scheduled to leave. I used these minutes to simply position myself around the vestibule, crane my neck, and look up and around.
Depending on the time of the day, the sunlight fell under different angles, so I kept discovering new images to focus on. I loved the peace and quiet that seem to flow out of this boat scene above. In the background, you can see how the barrels with wine used to be loaded on boats to be transported down the River Douro.
I am much more interested in the mother with her sleeping baby and her older daughter (or little sister?!) at the front and their brave shoe-less ferrywoman though. It's such a beautiful scene!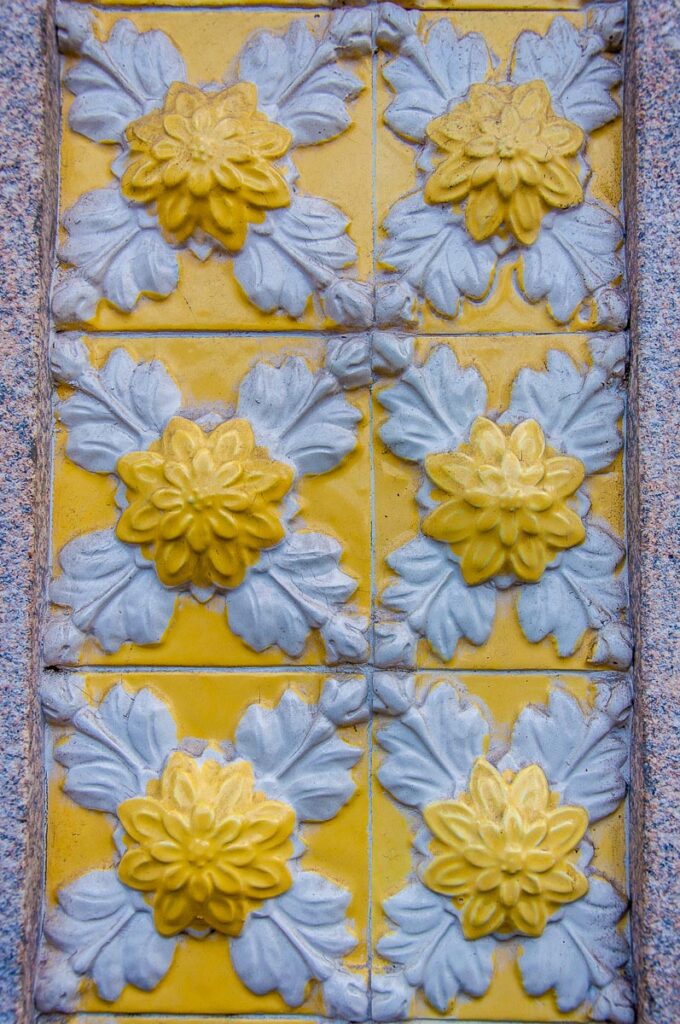 Not all azulejos are flat and painted on. Some employ moulded motifs to add visual interest to the surfaces they are attached to.
I noticed these strips of yellow azulejos with yellow flowers and white leaves decorating one of the imposing buildings around Porto's main square Praça da Liberdade. I loved the high relief of the flowers and the detail of the petals and the leaves.
It's a simple ornament which – repeated many times – provided a splash of bright colour and gave the otherwise grey building a bit of character, too.
9 Photos of Porto's Delicious Food
Porto has a great food scene. Meat-centric dishes are the norm in Portugal. Seafood is aplenty, too. Traditional Portuguese desserts and pastries are made with copious amounts of sugar and egg yolks (sometimes, up to 20!).
The city's main claim to culinary fame is the francesinha. This is a huge sandwich that is served on a deep plate filled with hot sauce of tomatoes and beer. Grilled sardines are another must-try local delicacy.
Small eateries and restaurants serve traditional, international, and creative dishes. Plus, some of the best burgers in Europe. I had one in a small brunch place near Porto's Passeio Alegre. It arrived garnished with black garlic mayonnaise. It was delicious!
In terms of veggies, don't miss the caldo verde – a traditional soup made of kale and potatoes. It's so warming and filling. Especially, on a cold, rainy day! And it's so typical for Portugal that it's not only recognised as one of the Seven Wonders of Portuguese Gastronomy but it's also sold in the country's branches of McDonald's.
Here are some of the delicious dishes and foods I enjoyed in Porto:
This is Porto's most famous dish – the fabled francesinha. While its name references France and its girls, there is nothing refined or restrained here. This is one sandwich that is stuffed with several different types and cuts of meat, it's then topped with cheese (and sometimes with a fried egg), and it's served doused in a hot peppery sauce made of tomatoes and beer. Often, a large helping of chips is added, too.
I wonder how come this sandwich hasn't caught up in England yet. It is so amazing! I think, if I had the money, I would be opening a francesinha shop in London as we speak.
Francesinhas are sold all over Porto. Each self-respecting cafe and restaurant here has them on the menu. On average they start from around eight euros and can go up to 30 depending on their fillings and toppings. Most often than not, however, they cost around 10-12 euros.
We had a francesinha in Lado B Cafe in Porto. I'll tell you a secret. There you can have half a francesinha if like me you have spent your day in Portugal's second-largest city sampling the delights of the local bakeries and patisseries.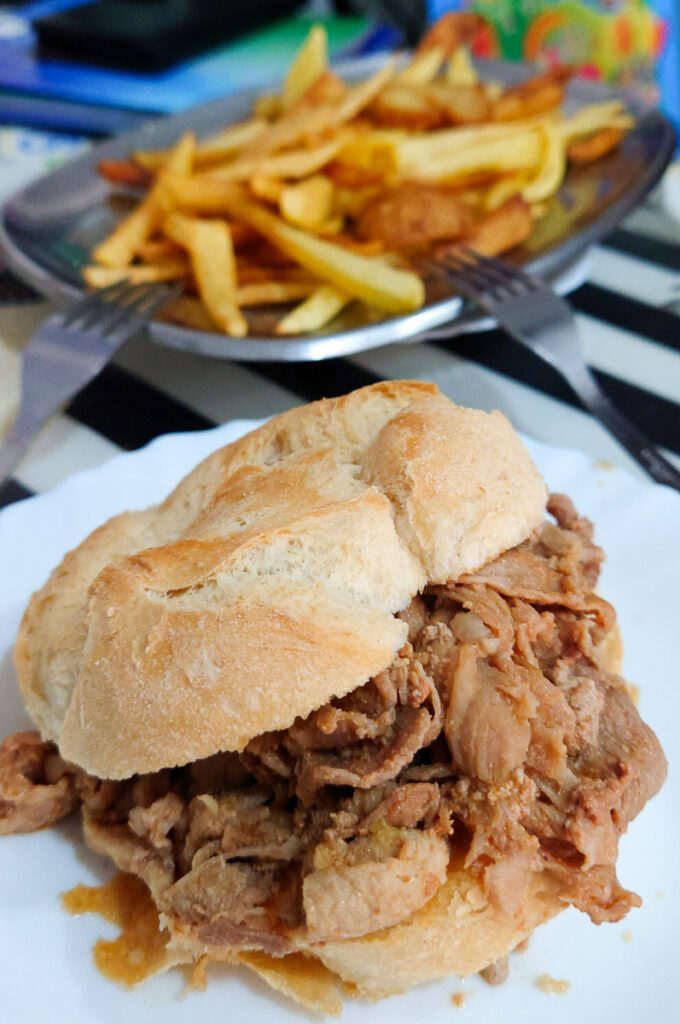 This is a bifana. A traditional Portuguese sandwich stuffed with thin slices of pork and served on a soft bread roll. The pork is marinated and then simmered in a sauce made of white wine, garlic, and paprika.
The result is incredibly soft and juicy meat that melts in your mouth. The sauce seeps into the soft bread which is just about to disintegrate but you greedily take a huge bite lest you lose a drop or a crumb.
We had the most glorious bifanas in O Lanchinho da Vitória – a modest cafe next door to one of Porto's most popular viewpoints – Miradouro da Vitória. We came across it by pure chance after spending a busy day sightseeing around Porto and suddenly noticing that it was already four pm and we still hadn't had lunch.
The unassuming cafe is run by a husband and wife and the food is homemade and delicious. We ordered three rissóis (see further below), three bifanas, and three drinks (isn't it amazing that they have mango-flavoured cold tea in Portugal?!), and sat down to relax a bit.
The lady owner got busy behind the counter and I noticed she had a small pot on top of a stove you can find in any small humble kitchen. A minute later she brought us our bifanas and we took our first bites. It was a glorious experience!
Just as we thought that things couldn't get any better, the lady brought us a plate of freshly fried chips. Not of the frozen variety that they sell in shops and are all perfectly cut. No, homemade fried chips like the ones I used to have as a child. Where each potato had been peeled slowly by hand, then cut in somewhat irregular strips, and fried into hot fresh oil.
It was pure heaven!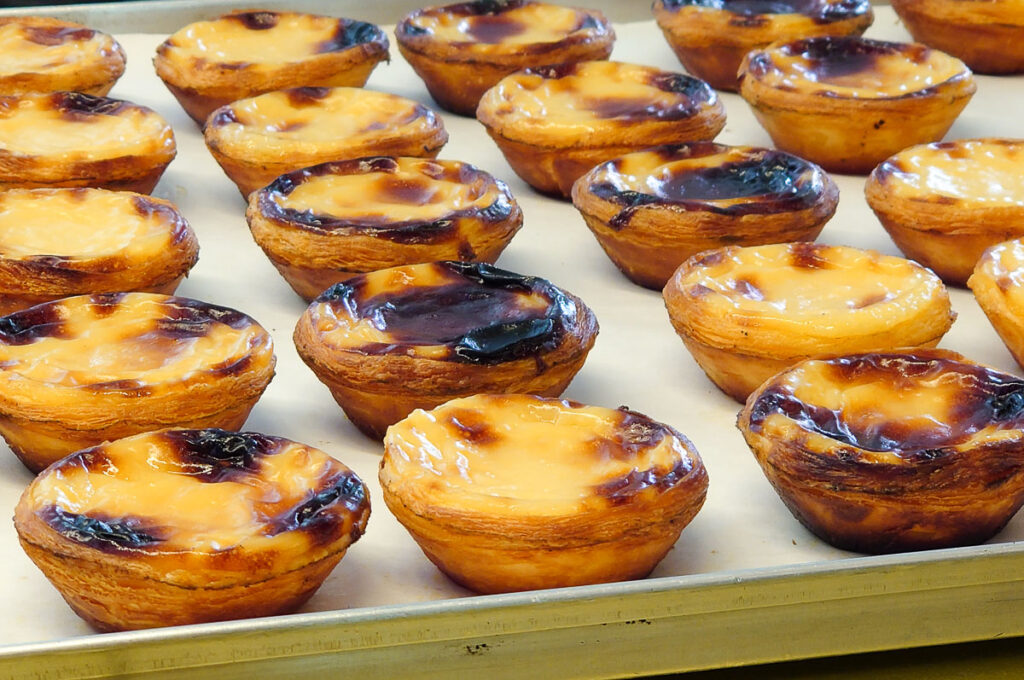 Pastéis de nata don't really need much of an introduction. The egg custard tarts are Portugal's most famous pastry. Each day, hundreds of thousands of these delicious puff pastry baskets filled with thick and gloopy egg-based cream are sold all over the country (and even abroad).
The photo above shows freshly baked pastéis de nata sold in Manteigaria – a pastry shop specialised in their production and with branches all over the country. On our first day in Porto, we stopped at the Manteigaria branch right next door to the Mercado do Bolhão. After tucking into a pastel de nata each, then we spend time watching how the pastries were made.
It's a very visually pleasing process – from stretching a piece of puff pastry around the bottom and the walls of small metal moulds to taking out of the oven huge trays with steaming hot pastéis de nata. The more I watched, the more I understood why I simply had to have at least one pastel de nata each day that I was going to be in Portugal. I did just that!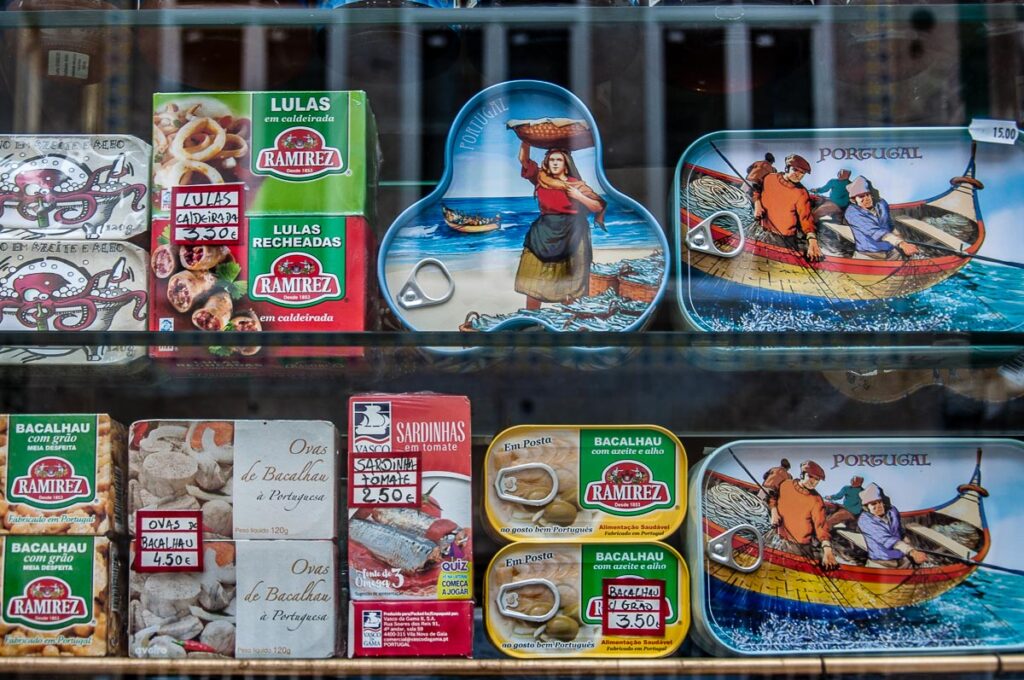 Portugal has a very well-developed food canning industry. Especially popular are its fish tins. Fish and seafood have always been a large part of the national diet. Throughout the years, many different ways to preserve them have been adopted here.
Two millennia ago, this corner of the Iberian Peninsula provided large quantities of dried and salted fish to the Roman Empire. Two centuries ago, the country began to conserve fish in tins. The first canning factory in Portugal – Ramirez – was founded in 1853.
Nowadays, you can find an excellent assortment of canned fish all around the country. Many of the tins have also beautiful designs thus making them great gifts for the foodie in your life. Canned sardines, cod, tuna fish, octopus, squid, and mackerel are a must-try in Portugal.
The photo above shows you a small number of the fish and seafood tins sold in one of Porto's best delis – A Pérola do Bolhão. When you see the enormous selection they stock, you begin to understand why the humble tin is something so much more here.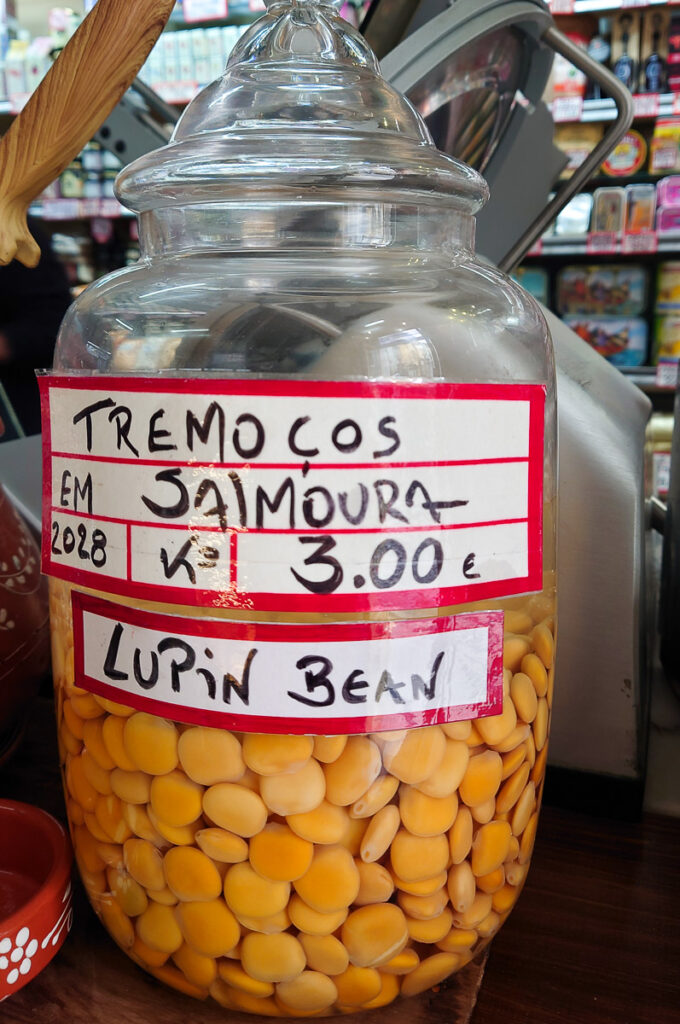 These are tremoços. Known as lupin (or lupini) beans in English, these flat rectangular legumes are served in Portugal as a snack to go with your beer. Just like peanuts are sometimes enjoyed with a pint in England or plain crisps with a spritz in Italy.
Tremoços are pickled in salty water and have a thick skin which you need to remove. The Portuguese extoll their healthy properties, especially, their high fibre content, and the fact that tremoços were enjoyed even by the Romans.
When you enter a Portuguese cafe or bar, you may see a large jar full of tremoços sitting on the counter. Give them a try and see what you think. At the very least, you can tick a cultural experience off your travel list. At the best, now you have a new favourite snack to tuck in every now and then.
These are rissóis (sing. rissol). They are small croquettes with one of several different fillings – beef, chicken, and even tuna fish and prawns.
Shaped as half-moons, thick cylinders or small spheres, you will see them sold in every eatery in Porto and Portugal. Dipped in egg and breadcrumbs and then deep-fried, they are delicious and a great choice when you want a quick bite or need a snack to go with your drink.
Small in size but packing a flavoursome punch, rissóis are one of the most traditional Portuguese finger foods you can try for yourself when in Porto.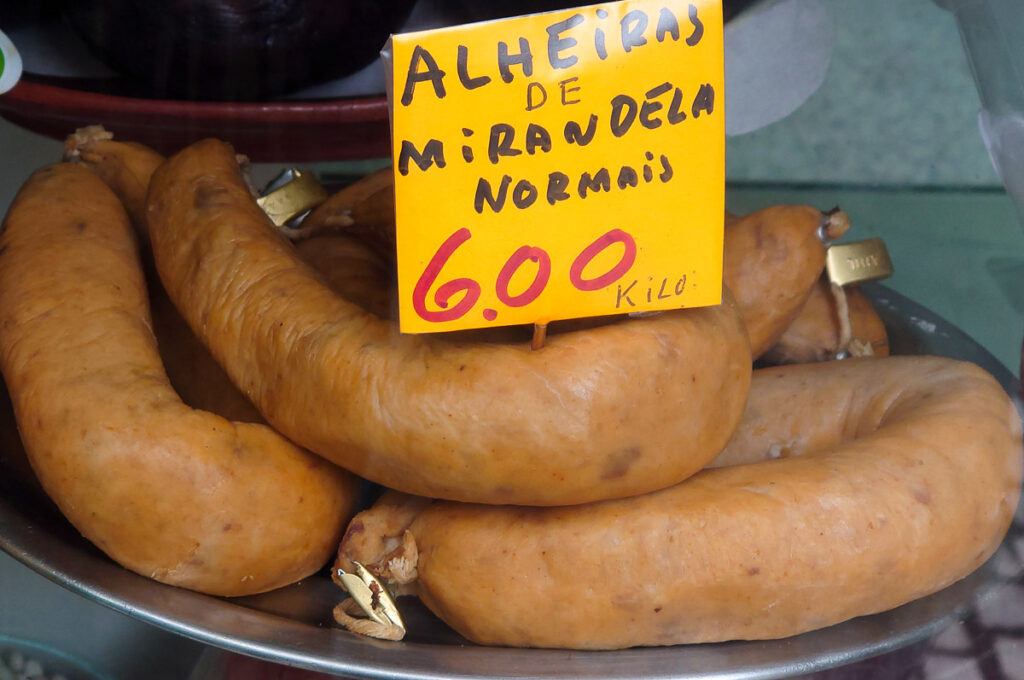 This is one very special sausage. Its name is alheira de Mirandela. Its history goes back to the end of the 15th century. Most recently, it was proclaimed to be one of the Seven Wonders of Portuguese Gastronomy.
The sausage takes its name from the Portuguese word for garlic – alho. Instead of pork, it's made with poultry meat and sometimes game. Finally, breadcrumbs are added for texture.
They say that the recipe for the alheira sausage was invented by Portugal's Jewish people. In 1497 they were pressed to either convert to Christianity or be expelled from the country. Some of those who converted secretly kept their original beliefs and lifestyle. Hence, the alheira was created to look like pork sausage. Yet, it could be eaten without going against the Jewish food laws.
Nowadays, alheira is sold all over Porto. You will see it on the menu in all traditional and local restaurants. The best delies and eateries make sure that they serve alheira de Mirandela which is considered to be the original and best sausage. Mirandela is a small northern Portuguese town just over an hour and a half away from Porto.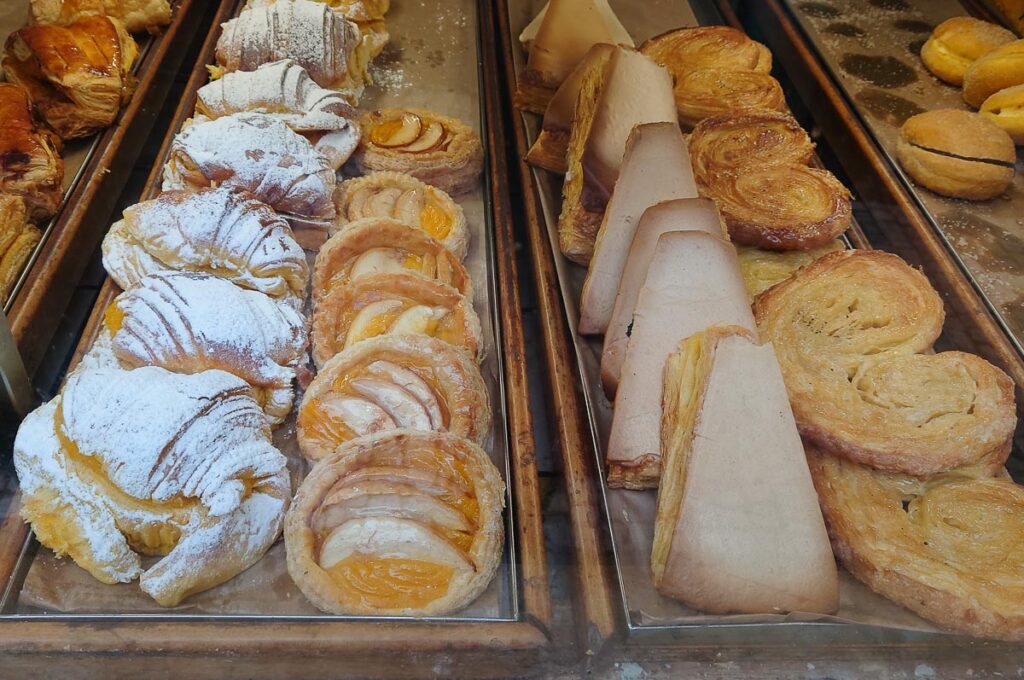 Porto has a wonderful collection of bakeries and patisseries. Known as padarias, pastelarias, and confeitarias in Portuguese, they make, bake, and sell delicious pastries and desserts. The recipes for many of them were originally created in the country's convents and monasteries many centuries ago.
If you have a sweet tooth or if you are always looking to taste new things when you travel abroad, Porto has a lot to offer. Have a look at this detailed blog post to get ready for all that you can tuck in here and to find the answer to important questions such as 'Why the Portuguese use so many eggs in their baking?':
Otherwise, the above photo shows you the window display of Confeitaria do Bolhão. This traditional bakery and pastry shop is a delight to visit in Porto and has a rich assortment of sweet and savoury pies, cakes, and snacks.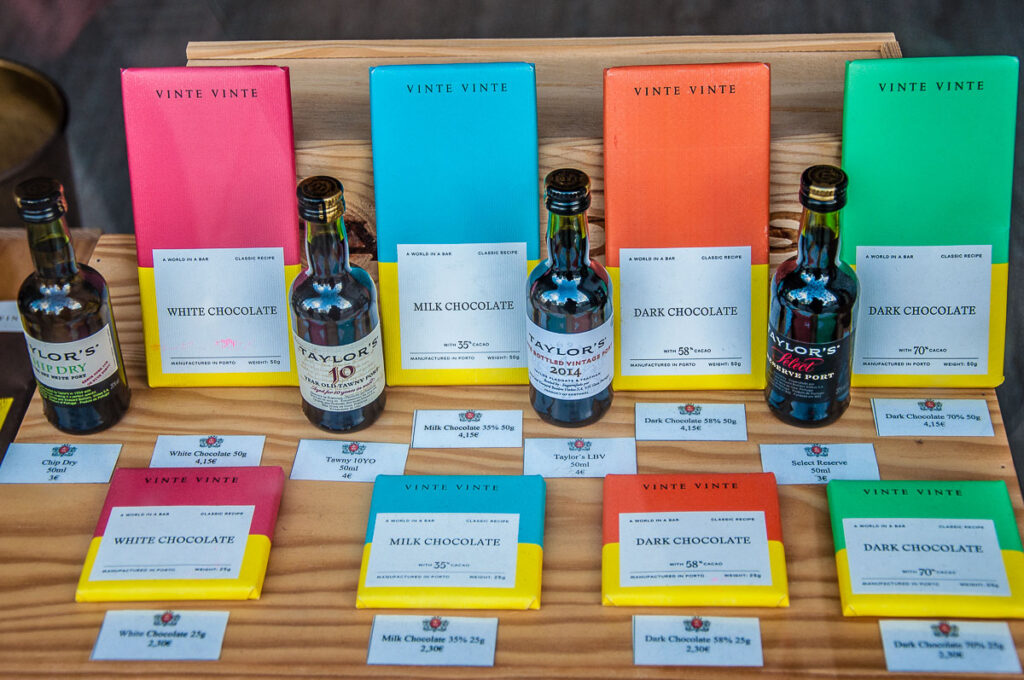 Port wine is one of Porto's most famous exports. Portugal's second-largest city has been producing brandy-fortified wine since the 17th century. Nowadays, every time we say port wine in English, we say Porto's name. It has become synonymous with these rich and sweet wines.
Many visitors to Porto come here attracted by the possibility to visit the cellars of many centuries-old port wine producers and sample their outstanding ports. Taylor's Port, for example, is particularly well-known. Founded by an English wine merchant over 300 years ago, to this day is one of the leading brands in the port wine scene. You will see their highly-prized ports sold in the city's best delis and restaurants.
In Taylor's Port shop in the centre of Porto, you can also buy some of the country's delicious artisan chocolates. The brand Vinte Vinte espouses the bean-to-bar philosophy and it's one of the best small chocolate producers in Portugal.
A sip of port wine and a small square of chocolate is a great end to any meal both when you are in Porto and once you are back home from Portugal.
5 Photos of Porto's Quirks
Porto is a city of quirks and whims. Everywhere you look, there are little curiosities that catch your eye and keep you intrigued.
It could be a steep stairway that functions as a street or an electric tram that races across the upper deck of a 45 m high bridge.
You never know what's around the corner here. And that makes Porto such an authentic place to explore.
Here are some of Porto's quirks that jumped out at me: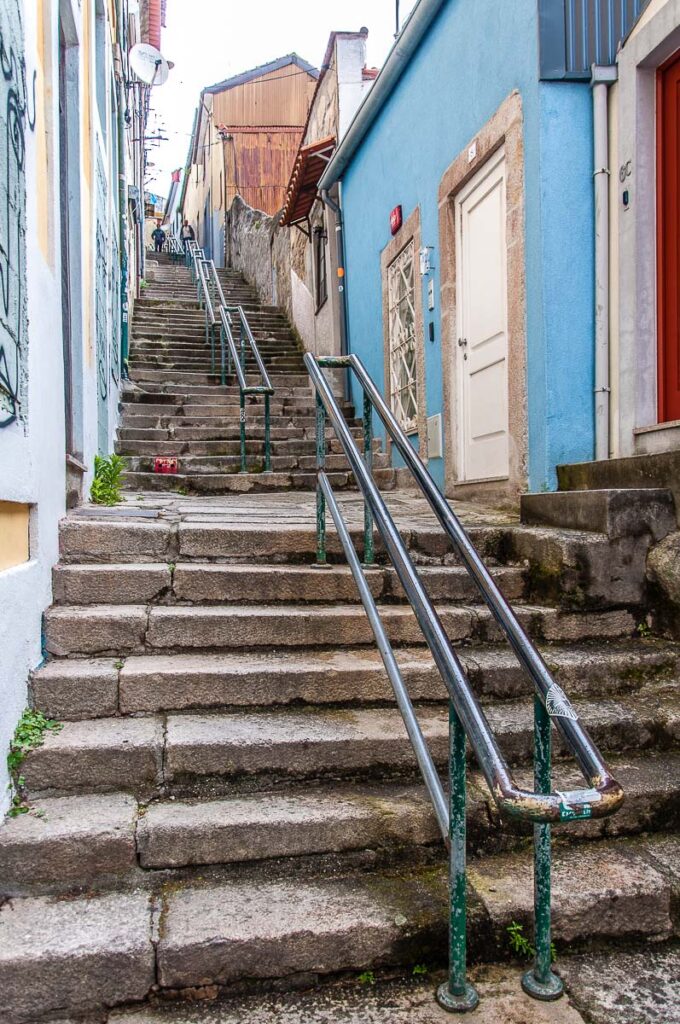 Stairways instead of streets are a fact of life when the city you live in is built on a steep, steep slope. Several portions of Porto's historic centre are only reachable by scaling flights of steps. It does wonders for your legs. I am just not sure how it feels actually living here and going up and down the steps every single day.
So, these are the Escadas dos Guindais – a long stairway comprised of many flights of stone steps. Its top end is a few minutes away from Porto's Cathedral and the historic São Bento train station. The steps take you down to the level of the River Douro and end near the lower deck of the Dom Luis I Bridge.
There is also the Funicular dos Guindais which will save you all the walking. However, when we visited it was closed for an undetermined period of time, so we took the steps instead.
It was a very exciting experience with striking views opening along the way. At the same time, the houses flanking the stairway are often quite dilapidated, so you get to experience Porto beyond the perfect instagrammable shots.
There are other such stairways around the city's historic centre. If you like walking, make sure that you go up and down at least a few of them. Take it easy and stop as often as you like. Not just to catch your breath but also to take in the quirky character of Porto – a city that turned an almost perpendicular slope into a place to live.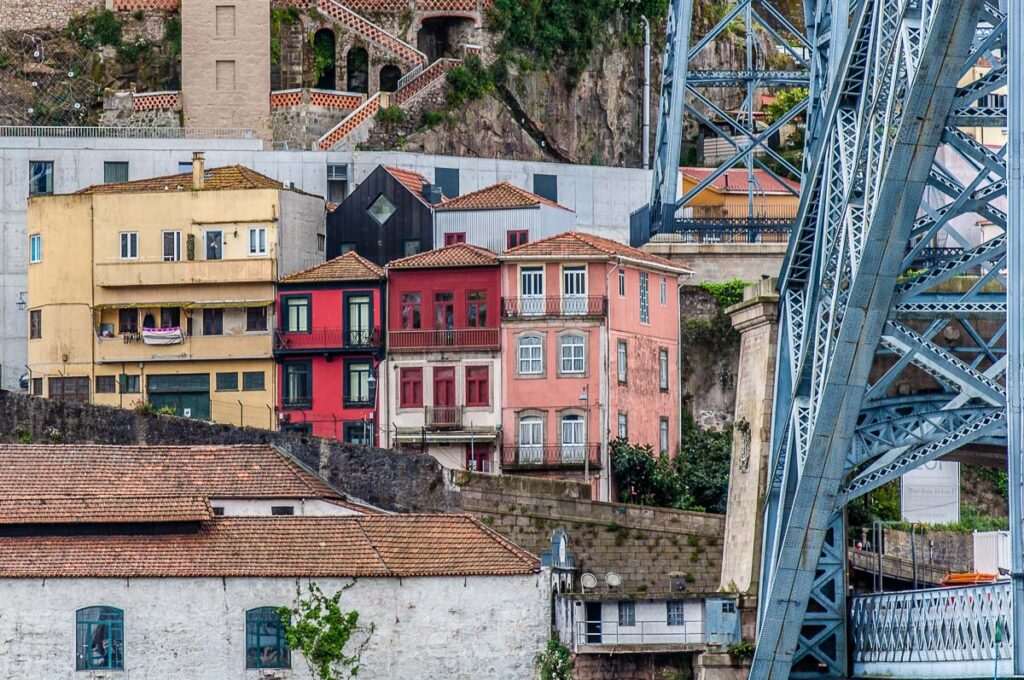 The urban fabric of Porto is made of tall, multi-storey houses. They are crammed tightly into the most unexpected locations.
The smaller the available spot, the larger – it seems – is the number of buildings squeezed on it. Just like this bunch of colourful houses on a steep slope right next to the metal arches of the Dom Luis I Bridge.
They look so out of place surrounded by rock and metal. Yet, they seem so proud of themselves for having commandeered some of the best views of Porto.
I wonder how easy (or awkward for that matter) is getting to their entrance doors.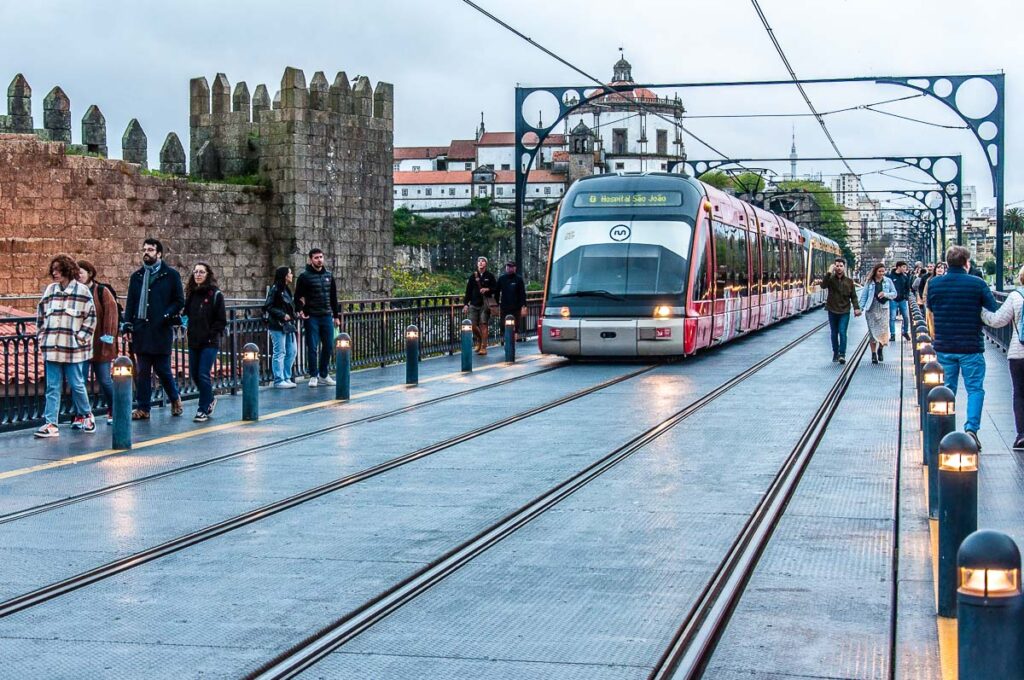 This is the upper deck of the 45 m tall Dom Luis I Bridge in Porto. It's open only for pedestrians and the electric trams of the city's metro.
While there are illuminated bollards indicating to pedestrians the paths along the edges of the bridge to stick to, in fact, people walk all over the bridge's deck. Including on the rails and between them!
When they hear an incoming tram, they quickly jump out of the way. Many don't interrupt their picture taking and just make sure that there is a sliver of space between them and the tram.
Trams seem to appear suddenly and are rather quiet. You have to pay attention at all times, especially when it gets dark. As they pass you by – huge metal objects – you feel quite small. I instinctively grabbed the bridge's railing before jumping away from it when my eyes focused on the perpendicular drop beyond it.
It's a great place to put your common sense to use, especially on a windy, rainy day.
Laundry decorating the facades of centuries-old buildings is a typical sight in the countries in the south of Europe.
God knows it was one of my favourite things to photograph in Italy when I used to live there.
If you are new to the sight of sheets and pants flapping above your head as you walk past, Porto is a great initiation. Lines laden with freshly laundered clothes make the city feel alive, authentic.
I cannot help but wonder about the lives of people whose laundry I am walking past. What emotions are they experiencing behind those walls? What are the dramas of their lives?
Once you've seen someone's laundry, I feel, you know them on a deeper level. Although, as is the case here, you may not actually meet them face to face.
As such, I consider Porto's clotheslines one of the city's major landmarks.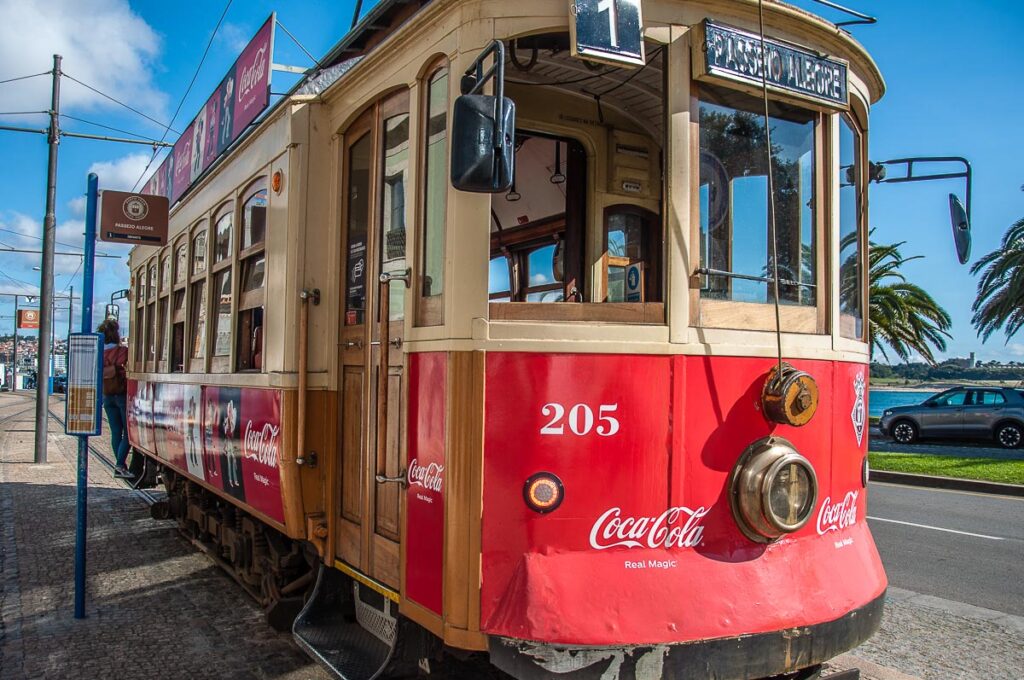 Porto's historic electric trams are one of the quirkiest things to experience in Portugal's second-largest city.
Clinking and clanking, they connect the city centre to the nearest beaches. Along the way, they pass by the Porto Tram Museum. Stop here to learn more about the history of Porto's cute little trams – they have been a fixture of the city for close to 130 years.
Inside, Porto's trams are absolutely beautiful – all wooden panelling and old-fashioned charm. Yet, I quickly realised that I preferred watching them passing by than actually riding in one. They take twice the time to cover the same distance as the local bus and can get rather packed.
The most curious thing about Porto's historic trams for me was how close they get at several points along the way to buildings and shopfronts. There is a series of cafes and eateries near Passeio Alegre where the tram's tracks pass literally right next to the outside tables.
7 Photos of Porto's Imposing Facades
Large, imposing buildings flank Porto's main streets and avenues. Their striking facades are one of the city's most memorable features.
At the same time, in the historic district of Ribeira, tall houses are tightly packed together like the proverbial tinned sardines. Often clad with azulejos, their facades are colour-blocked and adorned with cute wrought-iron balconies.
Here are some of Porto's facades that I loved taking photos of: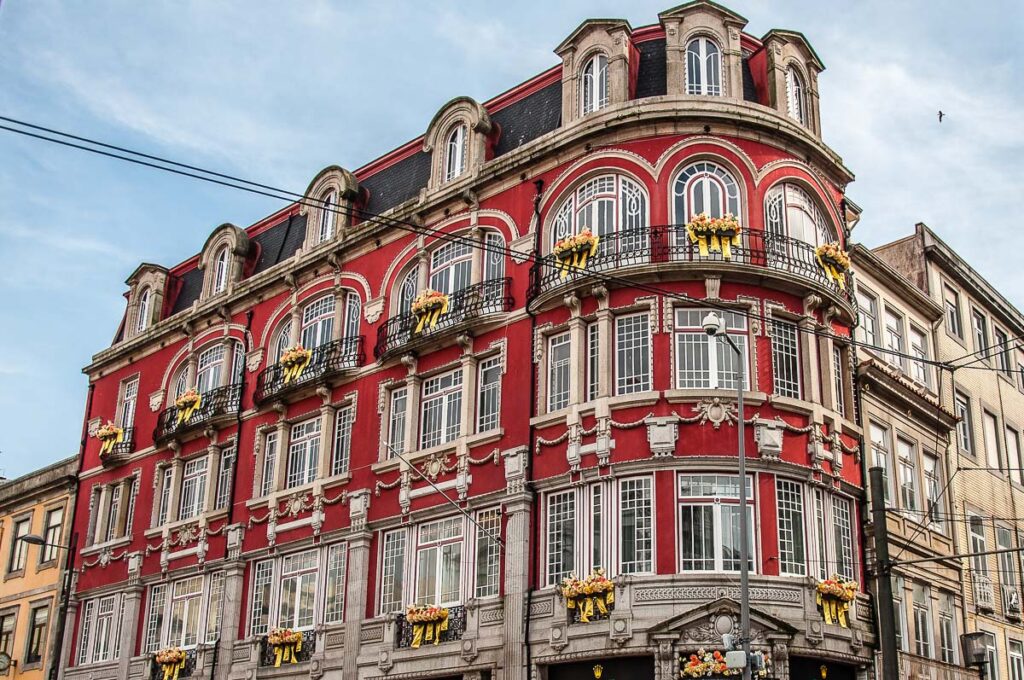 This elegant building stands on a corner of Porto's main shopping street – the vibrant Rua Santa Catarina. It was one of the first facades to catch my eye on our first walk in town fresh off the plane.
I loved the bold colour, the decorative elements, the flower arrangements with their wide yellow ribbons, and the attic windows. There was something quite Parisian about it all, don't you think?!
It was not an easy feat to take a photo to fit the whole facade and show how it curves before it joins the much plainer building next door. The streets at this point are very busy with car traffic and pedestrians and the pavements are super narrow.
I had to contort myself a bit, with my back safely pressed against a wall, and voila, here you have it. My first facade picture from Porto.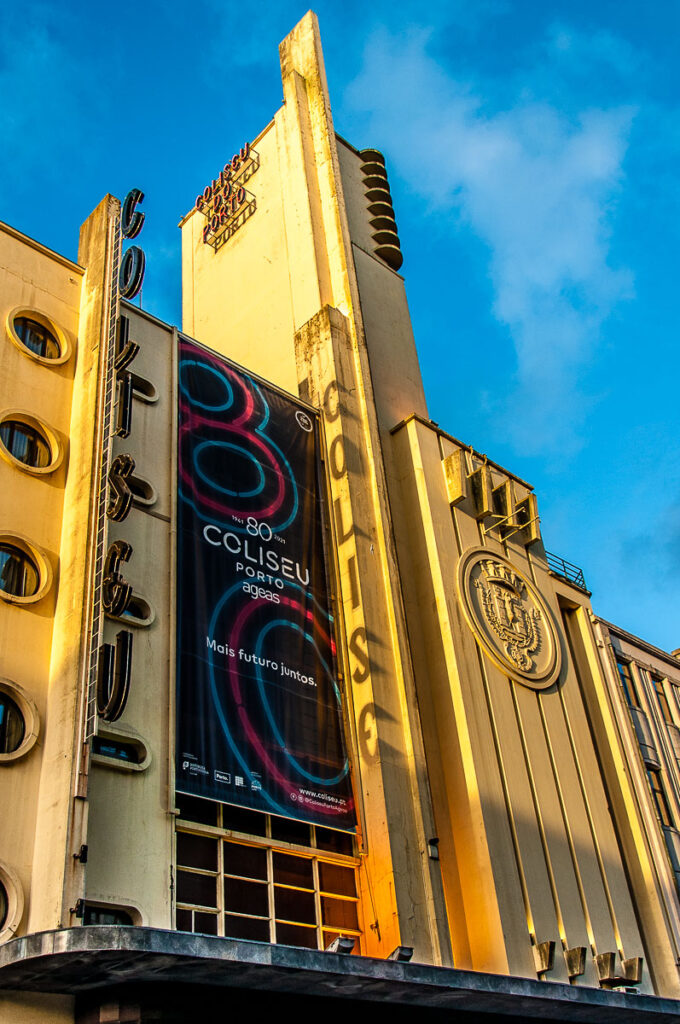 This is Coliseu do Porto – one of the most emblematic buildings in Portugal's second-largest city. It was opened in 1941. Over the decades it has hosted concerts and performances by the most famous national and international bands and artists.
The building is a perfect representation of the Modernismo architectural style which was popular in Portugal between the start of the 20th century and the 1970s. It reminded me a lot of the old Dreamland Cinema in the town of Margate in England. Both buildings seem to have followed a similar stylistic brief. Especially in terms of the thin tower that protrudes from their main bodies.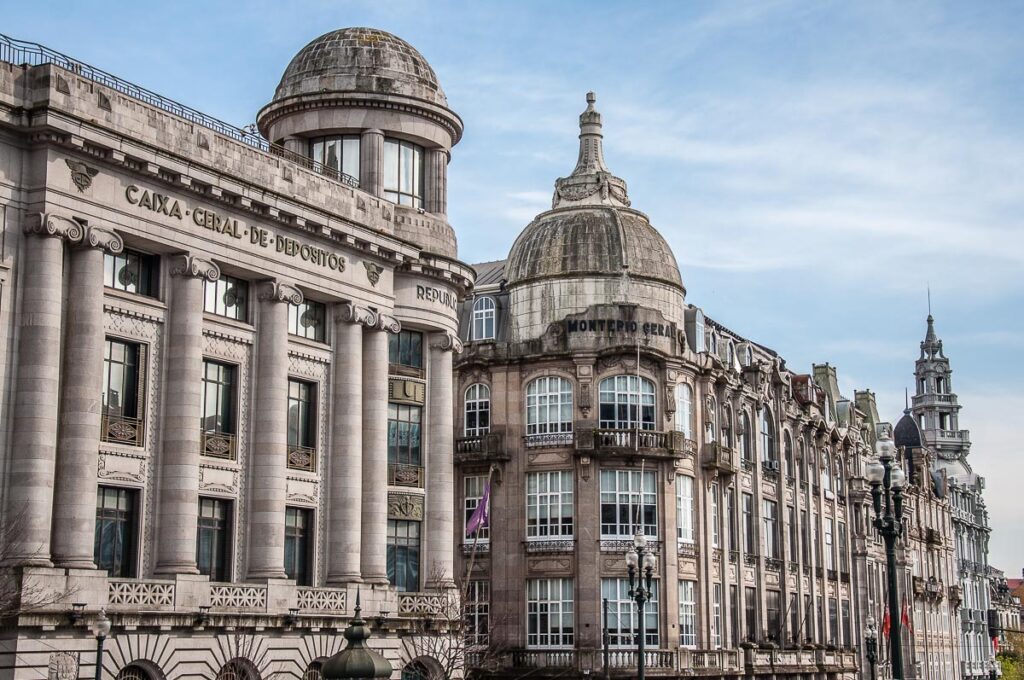 These are some of the grandiose buildings that flank Porto's main artery – Avenida dos Aliados. Everything is so big here that it's easy to feel rather small, minuscule even.
At the same time, this – at least for me – is a rather grey place. The facades – although imposing – seem quite boring and repetitive. And the decades of traffic trundling past have left them with this non-descript colour that results from dozens of layers of fine dust tightly caked together.
I wondered many times how this avenue would look if a giant could take a huge water pressure cleaning machine to it so as to energetically wash the facades.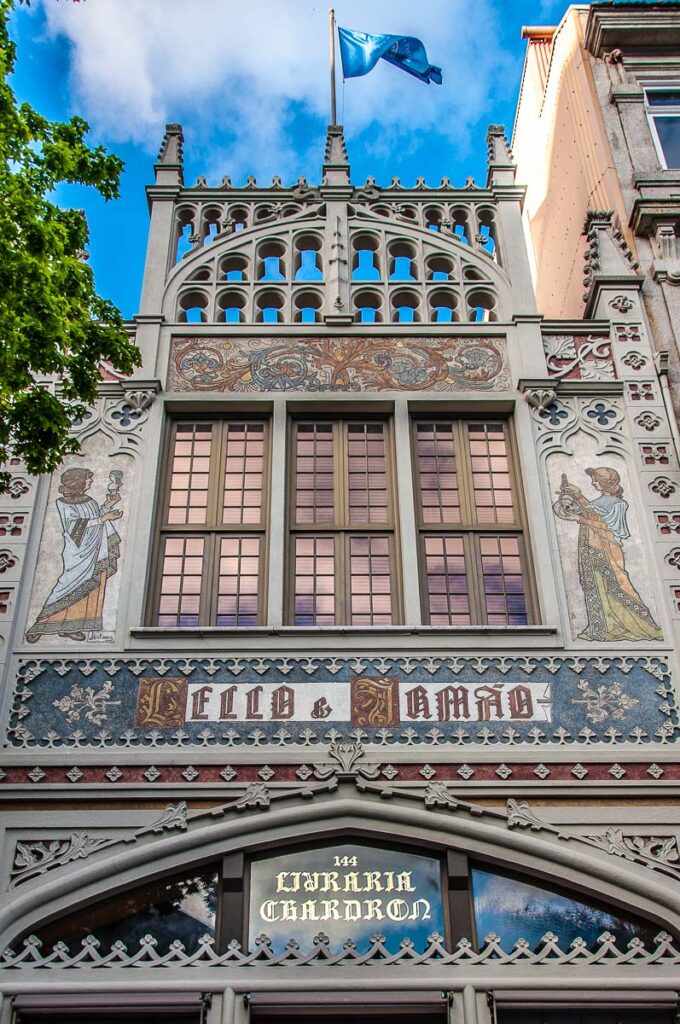 Without a doubt, this is Porto's most exciting facade. Livraria Lello & Irmão is one of those architectural creations that are beautiful both inside and out.
With long queues snaking in front of it all throughout the day, chances are you will spend a bit of time looking up at its Neo-Gothic facade before being admitted in. Isn't it gorgeous?! And just a touch esoteric, too. By the way, the two figures on both sides of the facade represent Art and Science.
Believe me, I took dozens of photos of this spectacular facade from any possible angle. I love it!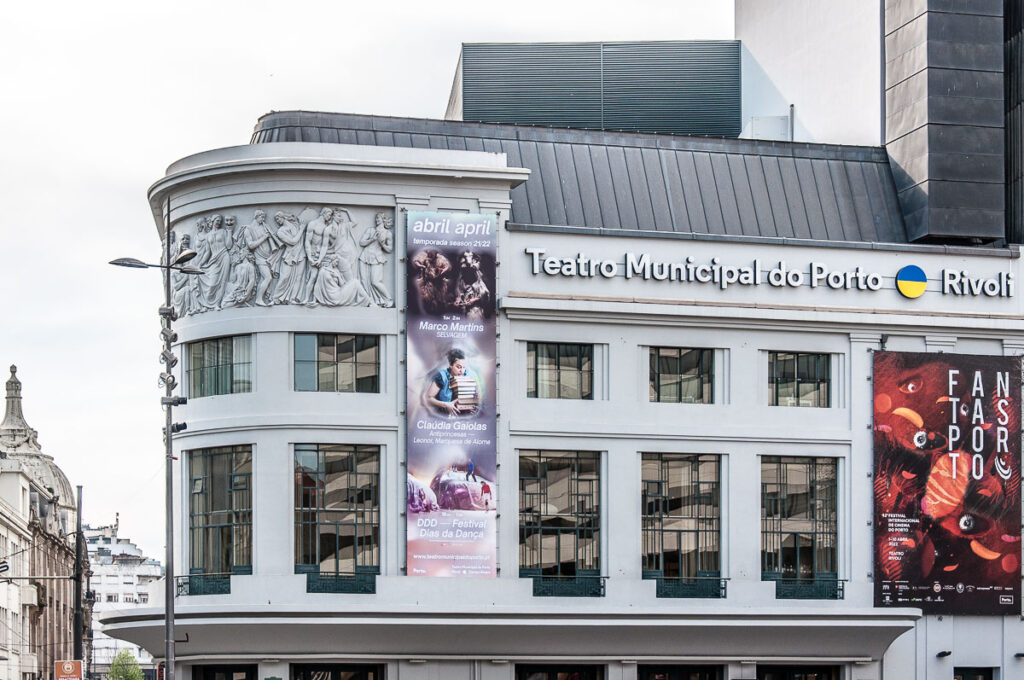 This is Teatro Rivoli – one of the two sites of Porto's Municipal Theatre. It stands right in the heart of the city and has an imposing yet elegant facade with a frieze inspired by classical buildings and rows of tall windows letting lots of natural light in.
I would have loved to see a performance here. It's definitely something to put on my list for my next visit to Porto. As this is one of those cities where the more you visit the more there is to see and do.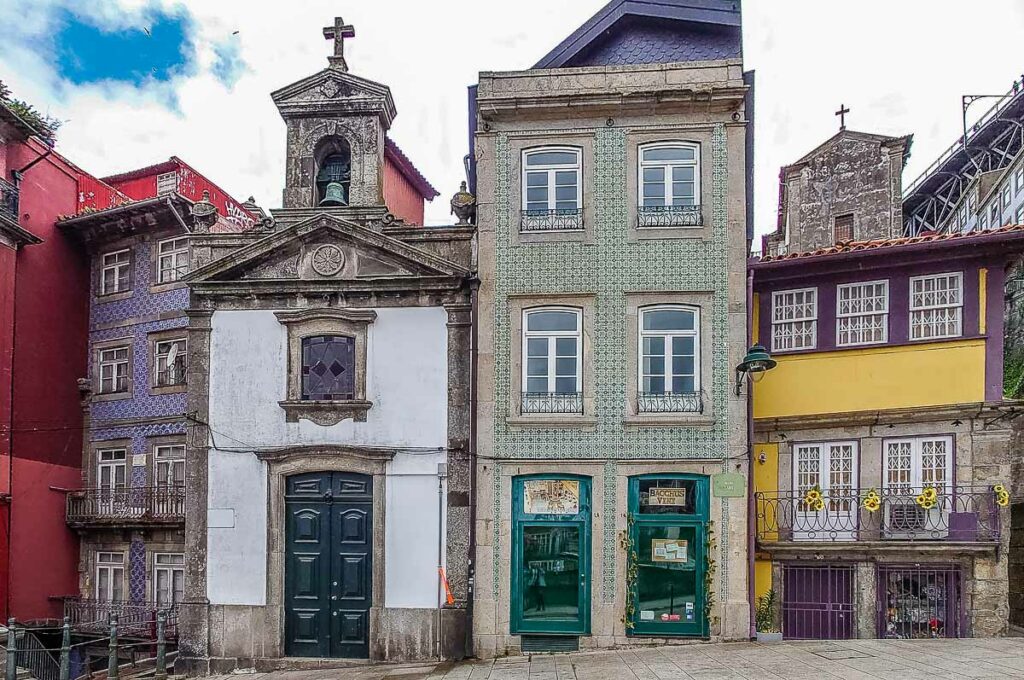 This patchwork-like mix of facades caught my eye on a rainy day in Porto. It stands right at the start of the historic district of Ribeira and it's typical for the city's oldest part.
I loved the colours, the azulejo-clad walls, the tiny church squeezed in between the houses, the odd angles at which the buildings stand. In a way, you get to see how the city evolved taking in every available space and making the most of it.
Yet, it's not all utilitarian. There is an aspiration for beauty, too. Hence the strong colours, the doorframes painted in intense hues, the sunflowers adorning the wrought-iron balcony on the right-hand side, and what appears to be a rooftop garden can be glimpsed on top of the burgundy building that is cut off on the left-hand side.
It's just like life itself. A bit messy, a bit at odds with itself. Yet in the strife for survival, there is support from those close to you and beautiful touches to make it all worth it.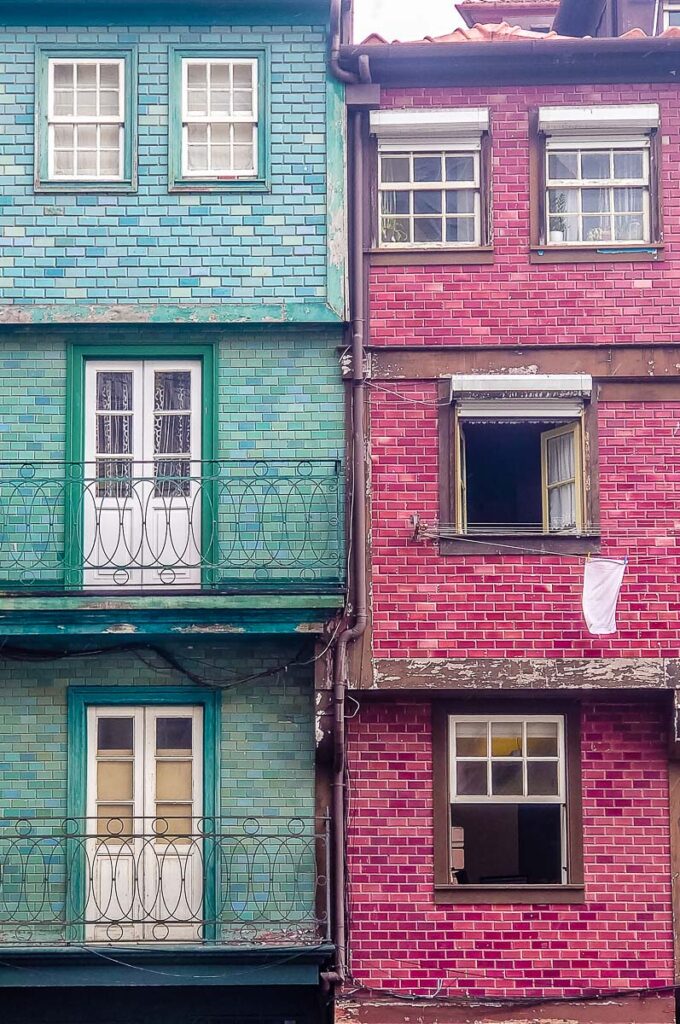 I loved these colour-blocked facades in the historic district of Ribeira in Porto. On a rainy day, they provided a strong pop of colour.
The single white towel danced in the wind. The open windows made me wonder about the lives of the people living behind them.
There was a pile of dust and rubbish in the corner of the lower balcony of the green building. It had been a while since a caring hand had looked after that particular apartment. A fact that was confirmed by the silence of the balcony door muted by a piece of plywood.
5 Photos of Porto's Historic Churches
Just like every Portuguese city, Porto has its fair share of Catholic churches.
Many of them are clad in striking azulejos in blue and white. The Instagram crowd clamours for the best spots in front of them in order to take photos to hopefully attract thousands of likes. This commodification of churches is staggering to witness. From a place of prayer and faith, they seem to become mere vehicles to make us go gaga and click that like button.
I have a peculiar relation to organised religion and I often approach places of worship mainly from the angle of their artistic and cultural value. As such, I loved the azulejo facades of Porto's historic churches. Their interiors, in most cases, I found too suffocatingly ornamented. It was Baroque to the max.
The altarpieces – made of carved gilded wood or talha dourada in Portuguese – were so incredibly florid that my eyes struggled to focus looking at them. I craved the frescoed surfaces of the Italian churches.
Then, when we visited Porto's most lavish church – Igreja de São Francisco, which is covered with 300 kg of gold – I caught myself thinking 'Why?! Who needs all this?!'.
In any case, here are some of the Porto's historic churches that I stopped to take a photo of: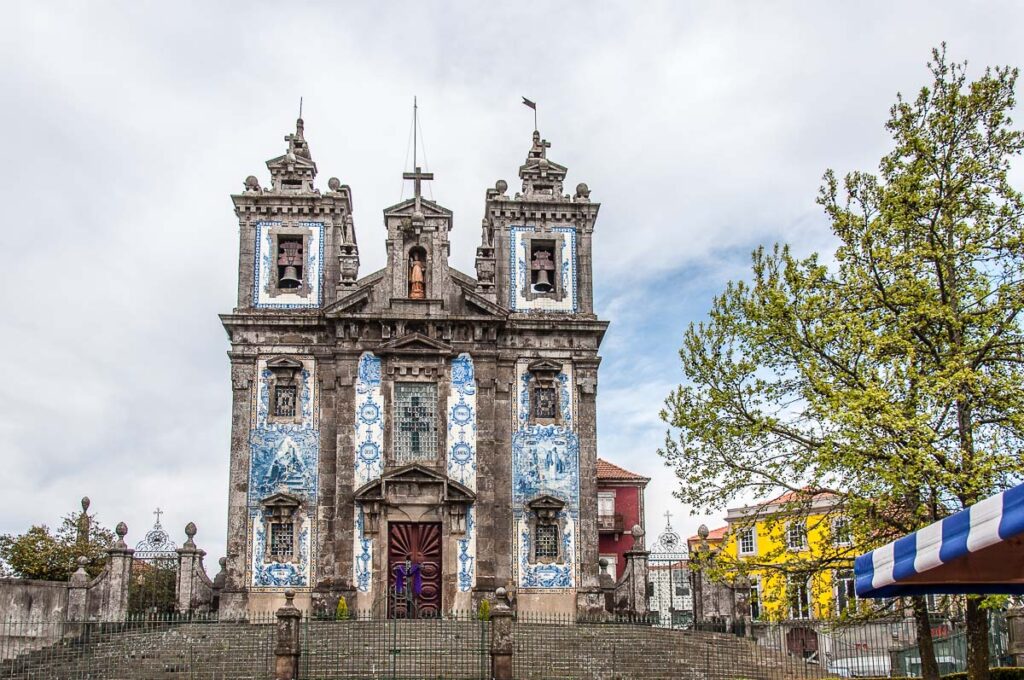 This is the Igreja de Santo Ildefonso. It dates back to the 18th century and its facade was covered with azulejos in blue and white almost 200 years afterwards. The church is dedicated to St. Ildephonsus – a 7th-century Bishop of Toledo.
In front of the church, there is a small square that hosts a market of artisan items and souvenirs. It's just a stone's throw away from Rua Santa Catarina – Porto's lively shopping street.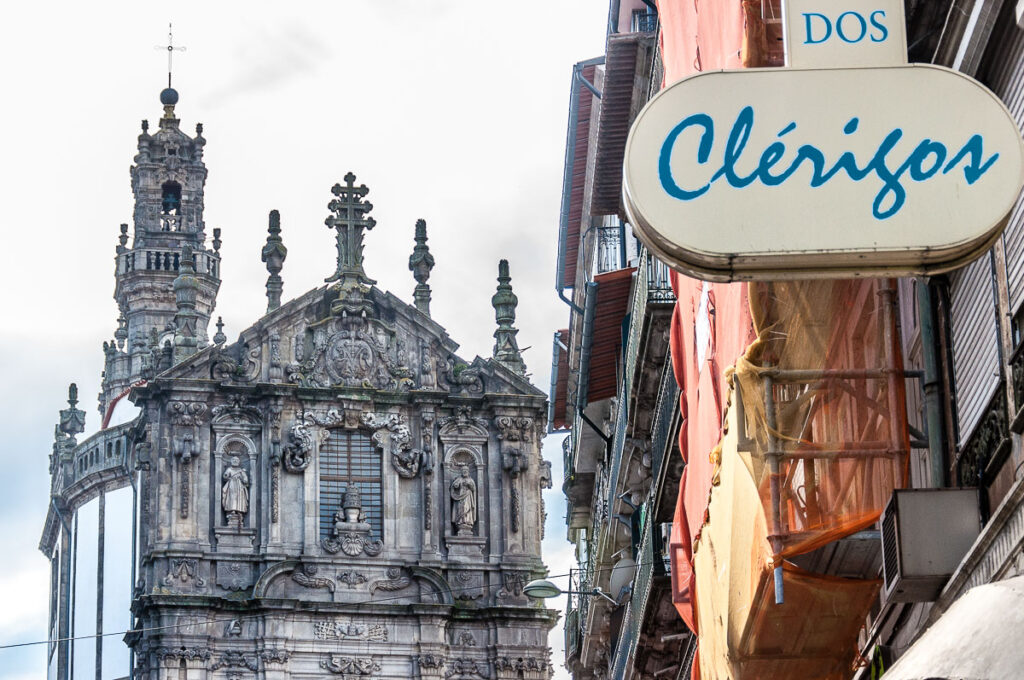 This is the Igreja dos Clérigos – a Baroque church built by Nicolau Nasoni. Hailing from Italy, he worked mainly in Portugal, leaving an impressive architectural, artistic, and sculptural heritage.
From frescoes and gilded woodwork (known as talha dourada in Portuguese) to altarpieces and architectural designs, Nasoni's creative hand had a major influence on Porto's and Portugal's Baroque and Rococo periods. He is buried in the Clérigos Church. At his request, his tomb is unmarked.
The church is one of Porto's most well-known sights on account of something else though. Its bell tower – the Torre dos Clérigos – is the tallest in Portugal. It reaches 75 m up in the sky and it affords splendid panoramic views of the city. You can see it peaking right behind the church.
This is the Capela das Almas (Chapel of Souls). It faces Porto's busy shopping street Rua Santa Catarina and it's one of the city's most popular places for perfect Instagram photos. The pavement that brims it is very narrow and cars and buses fly past.
On the outside of the chapel, people stop to pose and capture their carefully chosen outfits against the blue and white exuberance of the azulejo tiles.
Inside the chapel, people pray with fervour and dozens of tall candles burn bright and drip hot wax as an offering to God for each heartfelt plea.
Again, this is Sé do Porto – the city's Cathedral that looks to have been built just as sturdy and able to withstand attack as any self-respecting medieval castle. Next to it, you can visit the Paço Episcopal – the former residence of the Bishops of Porto.
I found the palace a very interesting place with large rooms and a nice collection of artefacts. It's certainly not overwhelming and visiting it deepens in yet another way your understanding of the history of Porto.
Beyond the cathedral and the Episcopal Palace, you can see the long body of the Mosteiro da Serra do Pilar. Although all three look quite close to one another in the photo above, the monastery is actually across the River Douro. It's worth a visit though as it affords some of the most splendid views of Porto.
These are the Igreja do Carmo and the Igreja dos Carmelitas Descalços – two churches that appear to be one. Built just over a century apart, between them stands Porto's smallest house. Just three feet in width and known as the Casa Escondida (the Hidden House), you can glimpse its white window between the facades of the two churches.
A small square with the picturesque Fountain of the Lions (shown further below in this blog post) stands right next door. The imposing building of the University of Porto is across the square from the churches.
8 Photos of Porto's Connection to Water
Built at the spot where the estuary of the River Douro meets the crashing waves of the Atlantic Ocean, Porto's existence is intrinsically connected to water. Throughout the centuries, the city has harnessed its power to make its fortunes.
From building the ships needed for Portugal's Age of Discoveries to developing boats specifically for the transport of wines down the River Douro, Porto is a place where river navigation meets ocean exploration.
So, I was very intrigued by Porto's reliance and dependence on water and wanted to delve a bit into it during my visit. And then the torrential rains that got me soaked more than once offered me yet another water-based angle to the city.
Here are my favourite photos illustrating Porto's connection to water: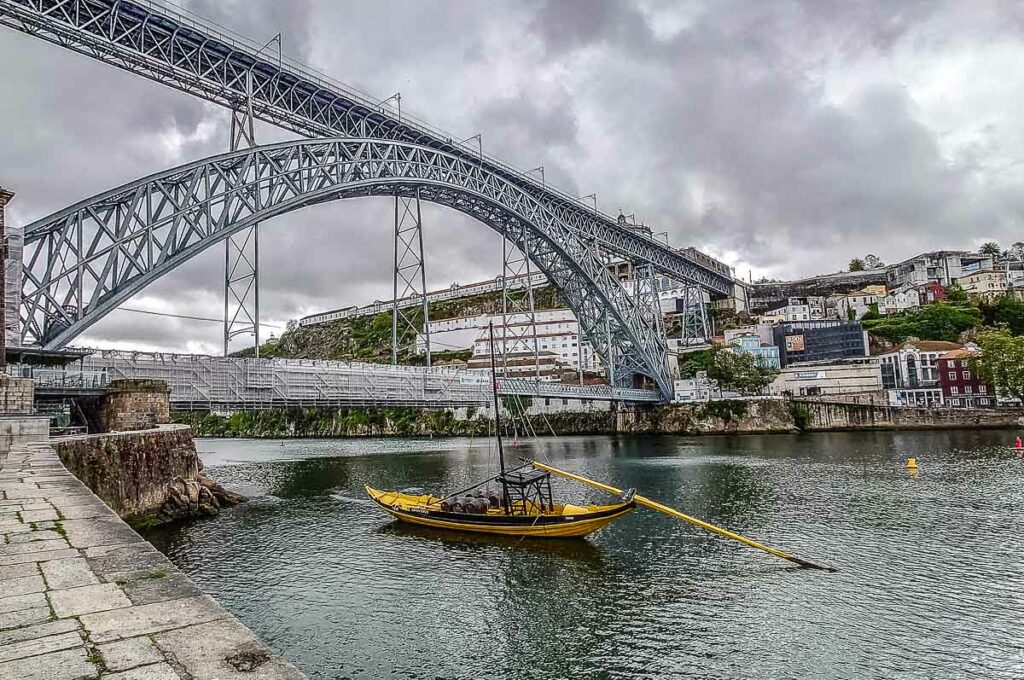 Douro is an 897 km long behemoth of a river. Known as Duero in Spanish, it flows through Spain and Portugal and it's the third-largest river on the Iberian Peninsula.
The city of Porto is built on steep slopes at its estuary. Life here – both in its highs and lows – has always been tightly connected to the river.
Barges laden with barrels have been bringing wine down the Douro to Porto for hundreds of years. Bridges have been built over the river to make it easy to cross and to facilitate the city's industry and traffic.
Every night, Porto falls asleep in Douro's embrace and every day, the river wraps around the city like a ribbon around a precious present. That's it until the skies open and grey cold rain falls down in thick curtains. In some years, the river swells up and floods the historic district of Ribeira.
And then, the sun comes up again and the city and river re-establish their amicable relations.
At dusk, Porto is still a city of red rooftops. The blue ribbon of the River Douro flows past them and golden lights from the historic district of Ribeira glow in the quickly falling darkness.
Hundreds of people come out for a walk and to meet with friends after a long day spent working or – if they are visitors to Porto – sightseeing. From the upper deck of the Dom Luis I Bridge, they look like tiny ants and the city is the size of a maquette.
That's it until you look down the sheer drop from the top of the bridge. Then, suddenly, it all comes into sharp focus and the real measures of the city landscape hit you. Carefully holding with one hand on the bridge's railing, I take one last photo of Porto from above.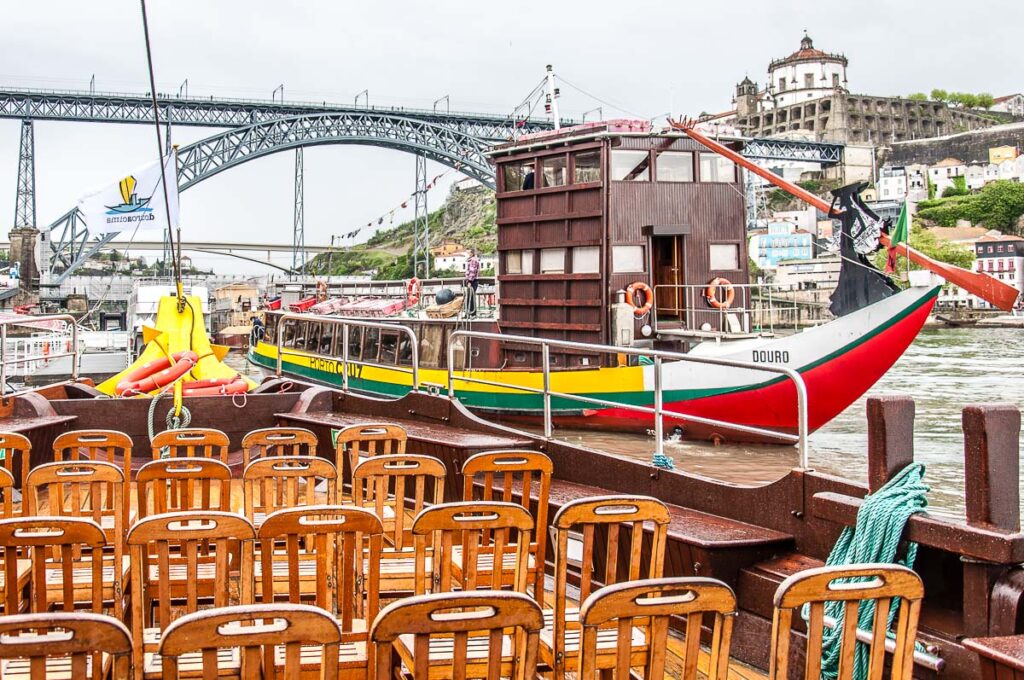 Wine barges converted into tourist cruise boats criss-cross the estuary of the River Douro. All throughout the day, they take visitors of Porto on a Six Bridges cruise.
It's a fun thing to do in the city, learning about its history one bridge at a time. The views of the historic centre from the waterside are stunning, too.
The boats have a sharp bow with a wide beam where in the past the large barrels of wine were placed. Nowadays, they have been replaced by neat rows of chairs. Sitting on one of them and looking at the cityscape, you feel like you are in the audience of a truly splendid spectacle.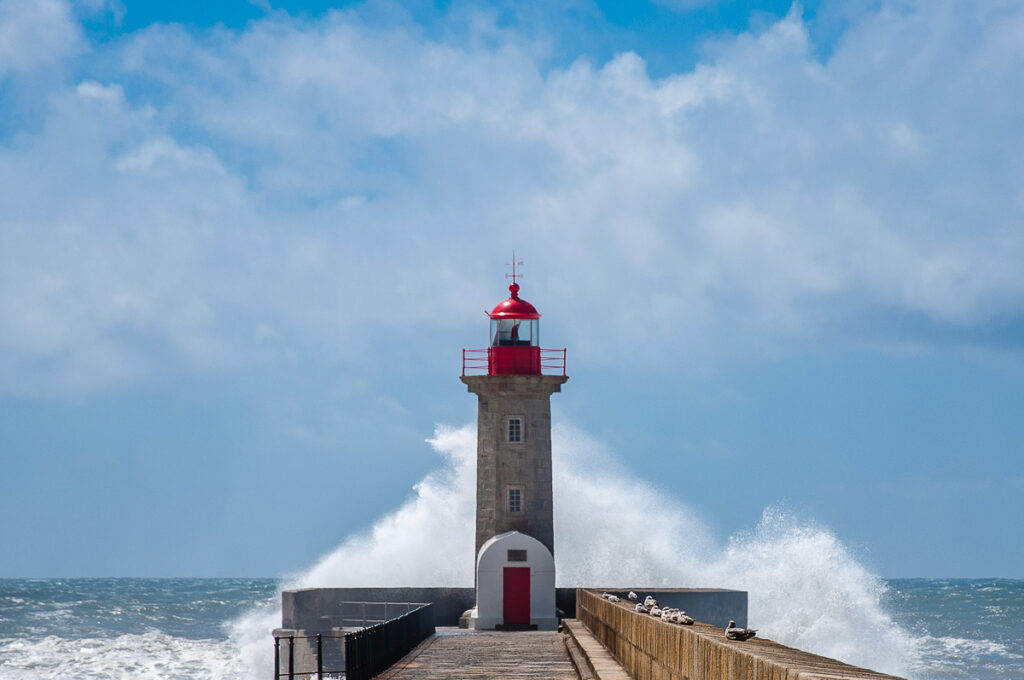 This is the 19th-century lighthouse that stands at the meeting point of the River Douro and the Atlantic Ocean. 10 metres tall, in Portuguese it's known as Farolim de Felgueiras.
Coming here to watch the huge ocean waves crashing against the granite body of the lighthouse is a favourite local pastime. Being on the jetty on days with adverse weather is dangerous though and you can easily get dragged in the water.
In fact, when we visited, the entrance to the Felgueiras jetty was closed off. I kept waiting for the biggest waves to crash in order to take a dramatic photo with all the spray. My reflexes were not finetuned that day, however, so every time a huge wave hit, my finger pressed the shutter with just a tenth of the second too late.
Just as I was about to leave, a car with a sign Correio da Manhã – one of Portugal's largest daily newspapers – stopped next to us. A journalist and a cameraman jumped out ready to report on the incredibly large waves that day. I am sure they had better luck capturing them in all their glory.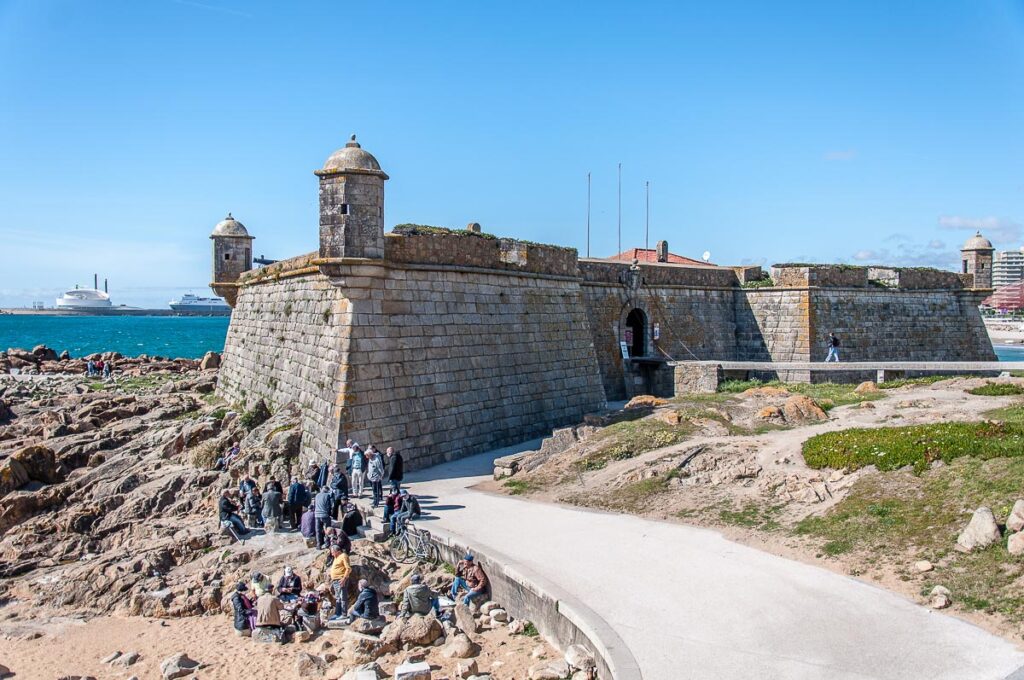 This is Castelo do Queijo or the Castle of Cheese. It owes its amusing name to the fact that it's built on top of a large granite rock that apparently looks very much like a wheel of cheese.
A fort has existed at this spot on the beaches between Porto and Matosinhos for many hundreds of years. The current structure was erected there in the 17th century to ward off pirate attacks. With ships laden with expensive cargoes returning to Portugal from Madeira and Brasil, French, Dutch, English, and Northern African pirates were active in the area.
Nowadays, the Castelo do Queijo (or Forte de São Francisco do Queijo as it's officially named) is another piece of evidence of the long-standing relationship between Porto and water.
The castle is just across the road from the city's small but delightful SeaLife Aquarium. Visiting them both is a great way to spend a busy morning here. If the weather permits it, then you can also relax on one of the adjacent beaches.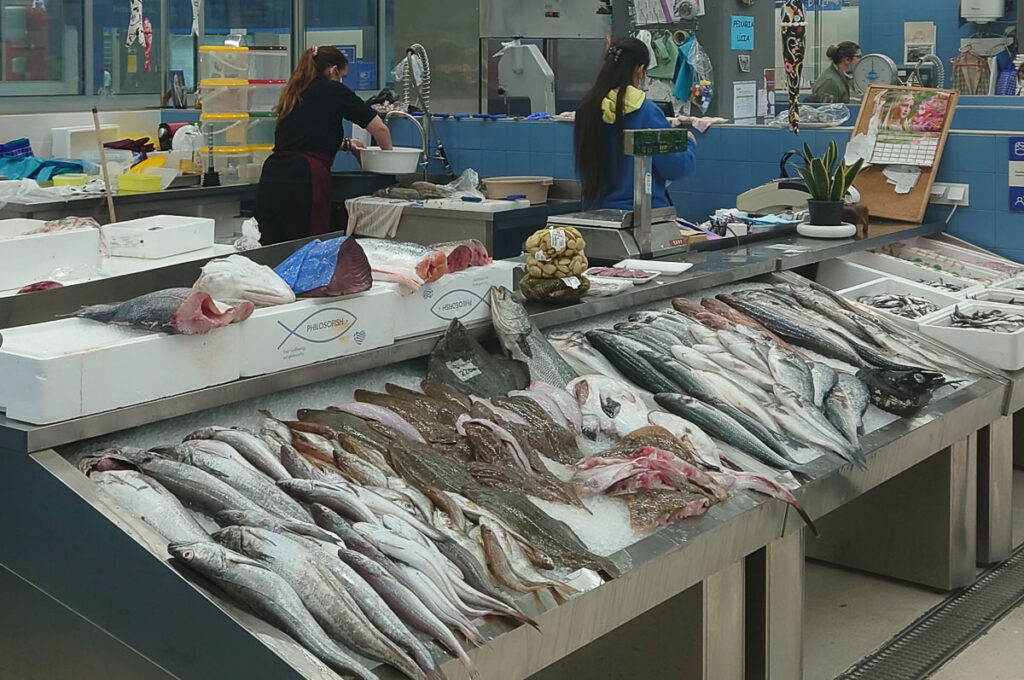 Portugal is the European country with the largest consumption of fish and seafood. While, on average, Europeans eat just over 24 kg of fish per capita each year, the Portuguese more than double that with a consumption of 57 kg per person.
Seafood is prepared in hundreds of different ways in Portugal. Cod – or bacalhau as it's called in Portuguese – is the most popular fish. Plus, two of the Seven Wonders of Portuguese Gastronomy are seafood-based. They are:
Sardinhas Assadas – grilled sardines; and
Arroz de Marisco – seafood rice.
Porto's historic market Bolhão has a large section dedicated to fishmongers. Here you can find a great variety of both fresh and frozen seafood from all around the world. Visiting the market early in the morning is a great way to immerse yourself in the culinary history of Portugal and observe the locals carefully making their choice at the various fish stalls.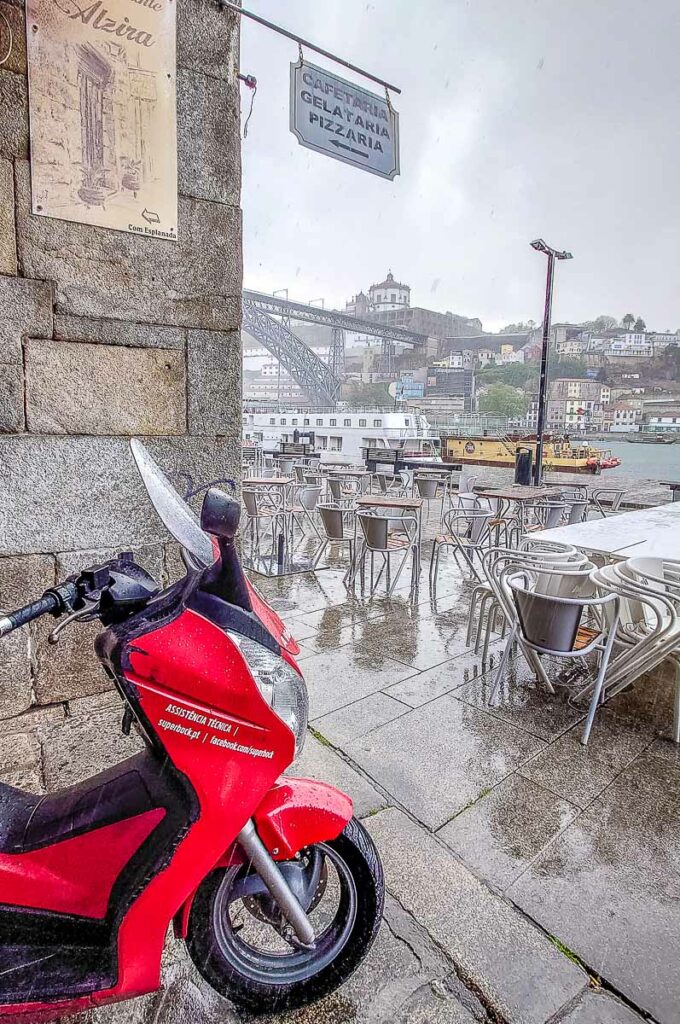 The flow of water in Porto is not limited to the River Douro and the Atlantic Ocean. Between October and May, torrential rains often hit the city thus making it one of the wettest places in all of Southern Europe.
When it rains in Porto, the water seems to come at you not just from above but from all directions. The heavy raindrops bounce off the cobbled streets and splash all over your shoes and trousers. Then the wind grabs at your umbrella with strong hands, jerking it back and forth, and sideways above your head. Before you know it, you get soaked. Through and through.
I took the above photo while sheltering from a heavy bout of rain in the historic district of Ribeira. A delivery driver joined us underneath the stone arch connecting two tall houses and providing a narrow dry strip surrounded by cascading water. The contrast of his red moped against the grey city was too much to resist. I fished my mobile out of my camera bag and snapped a quick photo.
After a few minutes, we spotted a small bar through the grey drapes of the rain. We took our chances and ran to it. As it turned out the bar hadn't actually opened for the day but the owner kindly let us in. Soon we had a cup of coffee and a pastel de nata in front of each one of us to make up for an otherwise wet and cold day in Porto.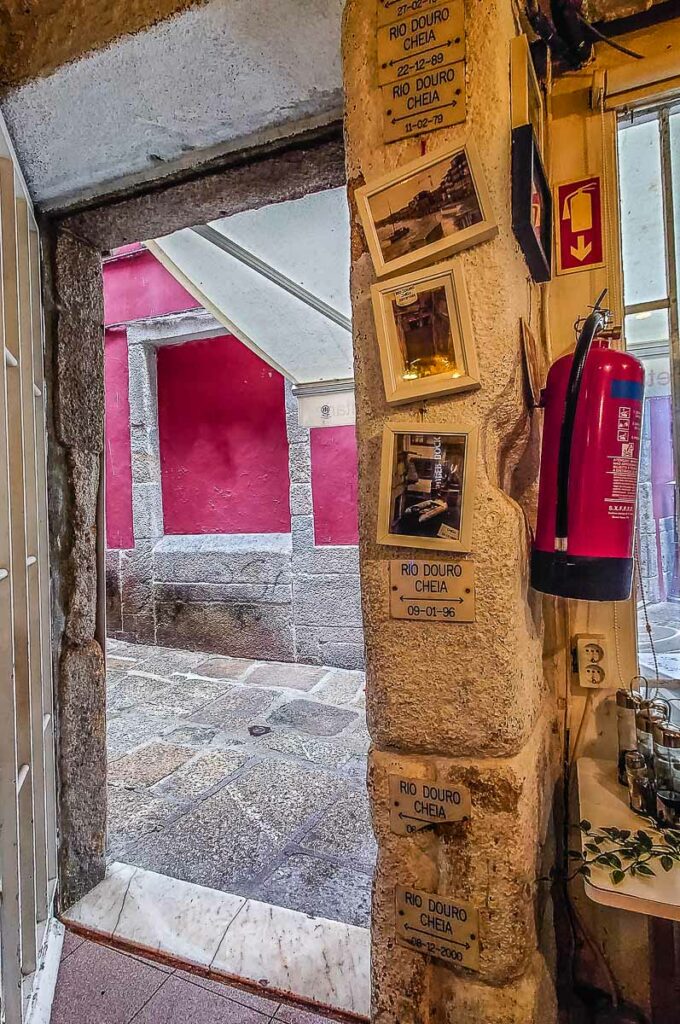 It was in this little bar that I spotted something curious. Small plaques were affixed to the wall showing the levels that floods had hit in the district of Ribeira throughout the last few decades. The word cheia in Portuguese means flood in English. So, if you look at the photo above, you will see how high the floods have reached here.
The bar was in a large courtyard just off the riverside promenade Cais da Ribeira. You could see that, for example, in 1979 the floodwaters went as high as the top of its doorframe.
8 Photos of Porto's Striking Details
Porto is all about the details. Architectural ornaments, wrought-iron balconies, Manueline windows, Baroque swirls, and pavements covered with the traditional calçada portuguesa which like a mosaic uses small stones in black and white to build patterns and create three-dimensional illusions.
While Porto has a very distinctive look thanks to its unique location, it's the small details that make it a truly extraordinary place to visit. Noticing them is like learning to decipher a hidden language that tells long-forgotten stories about the city.
Here are some of the details that I loved spotting in Porto: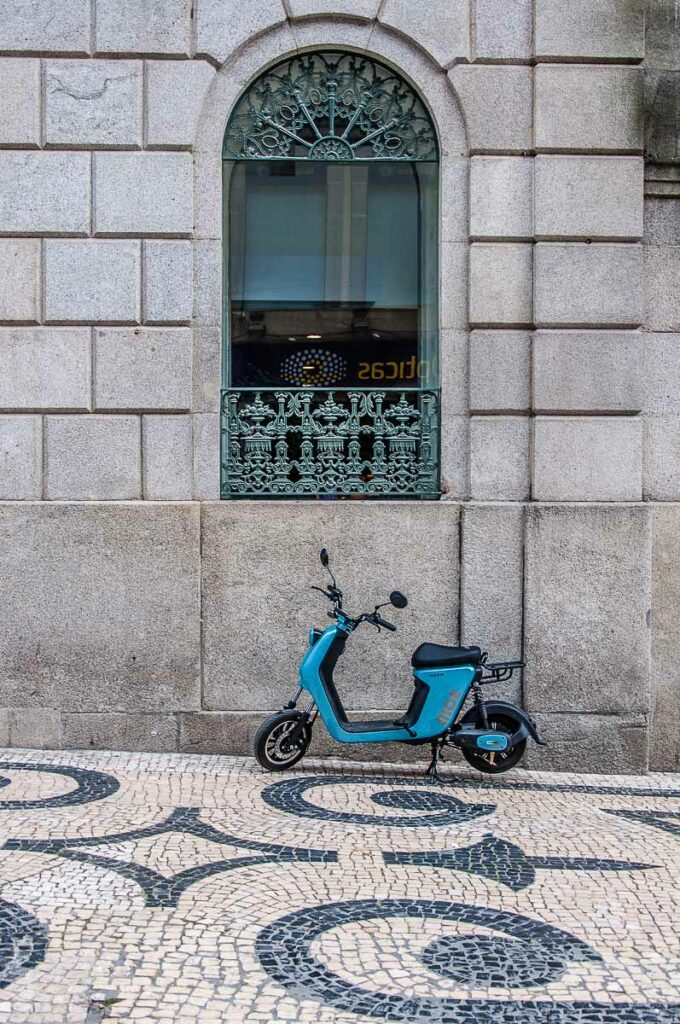 Calçada portuguesa is a mosaic-like pavement typical for Portugal. It utilises small black and white cobbles to form shapes and outlines and thus adds visual interest to simple sidewalks.
With roots that stretch back to Roman times, the calçada portuguesa takes skill and hard work. On our last day in Porto, we actually had a chance to observe how it's put in place one cobble at a time. A group of craftsmen – hammer in hand and a pile of cobbles next to each – were busy laying the new pavements around Bolhão – Porto's covered market.
The photo above shows the pattern of the calçada portuguesa on Rua Santa Catarina – the busy pedestrian street in Porto with lots of shops and cafes. I liked the look of the wrought-iron window guard against the mosaic-like pavement. The tiny blue moped made the scene truly eye-catching.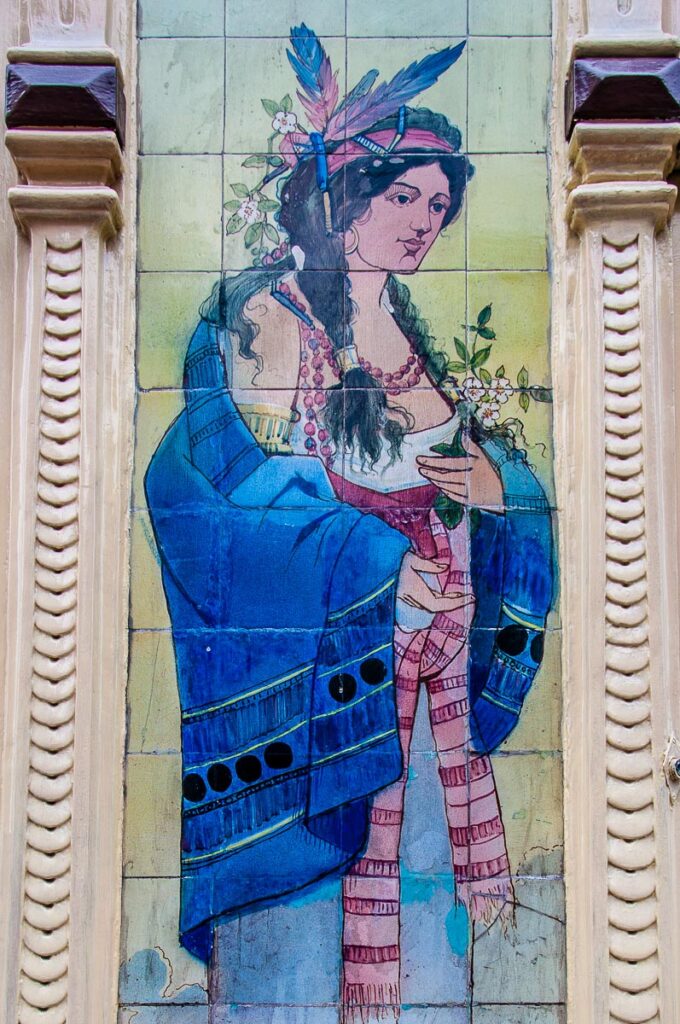 A Pérola do Bolhão is Porto's most photographed deli. Its facade is decorated with painted azulejos and inside you will find all sorts of typical Portuguese foods. Particularly delicious (and beautifully presented) are the tins with fish pates and the chocolate-covered dragees.
I loved walking past this small deli every day during our explorations of Porto. Every time, its beautiful facade would catch my eyes with yet another elegant detail. I particularly loved the azulejo panels painted with two female figures – one on each side of the door.
You will find A Pérola do Bolhão just up the street from Porto's imposing covered market Bolhão. It's a great place to buy food gifts and delicacies to take home with you as a little delicious piece of Portugal.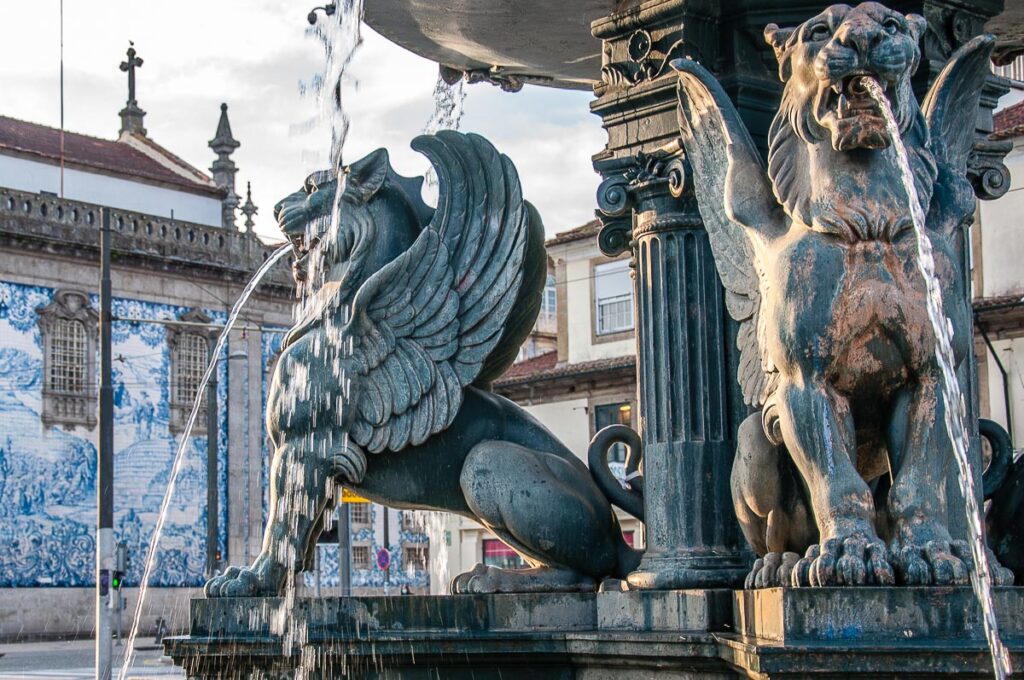 These ferocious lions grace the aptly named Fonte dos Leões (in English, Fountain of the Lions) near the Igreja do Carmo in Porto. Their curved wings and fearsome claws give them the appearance of mythical beasts. In fact, when I first saw them from afar, my initial impression was that they were griffons.
With J. K. Rowling spending several years living and working in Porto before her Harry Potter fame, it's easy to fantasise how much of Porto's decorative elements have influenced her writing. This particular fountain, to me, at least, seems like such a great contender for creative inspiration.
Curiously enough, there is an identical to this fountain in the English city of Leicester. It precedes its Porto counterpart by a few years.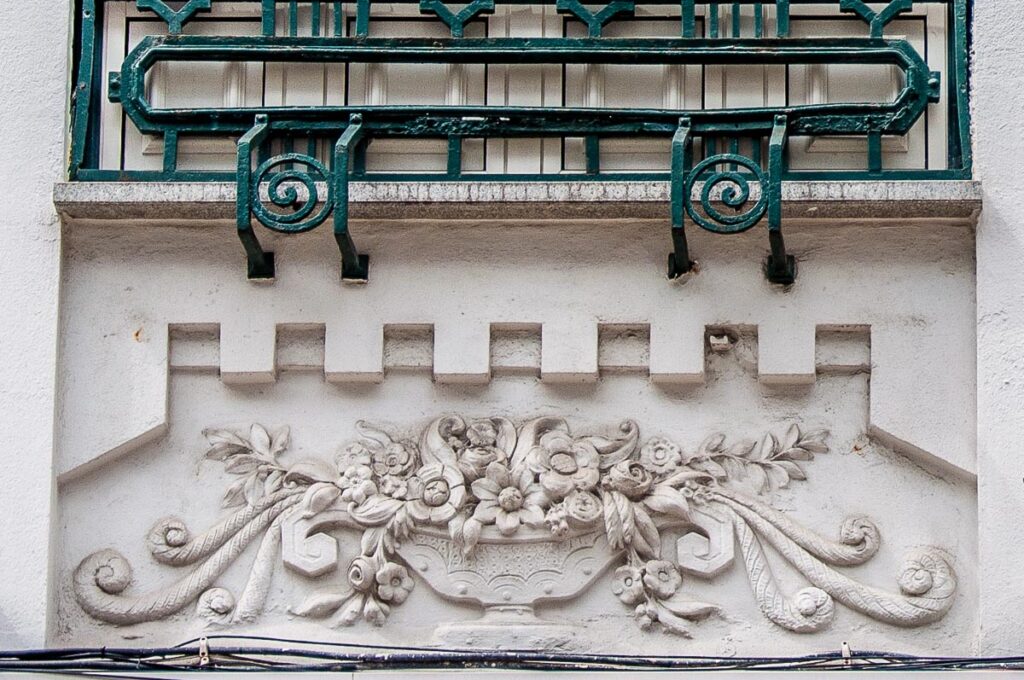 This shallow bowl overflowing with flowers and swirls decorates one of Porto's many imposing facades. The motif is replicated underneath each of the tall windows that create a cascade of light inside the building.
Stuccoes in geometric, floral, and other imaginative shapes are affixed to many of the buildings in central Porto. They give the cityscape texture and character and keep you intrigued as you walk around exploring Portugal's second-oldest city.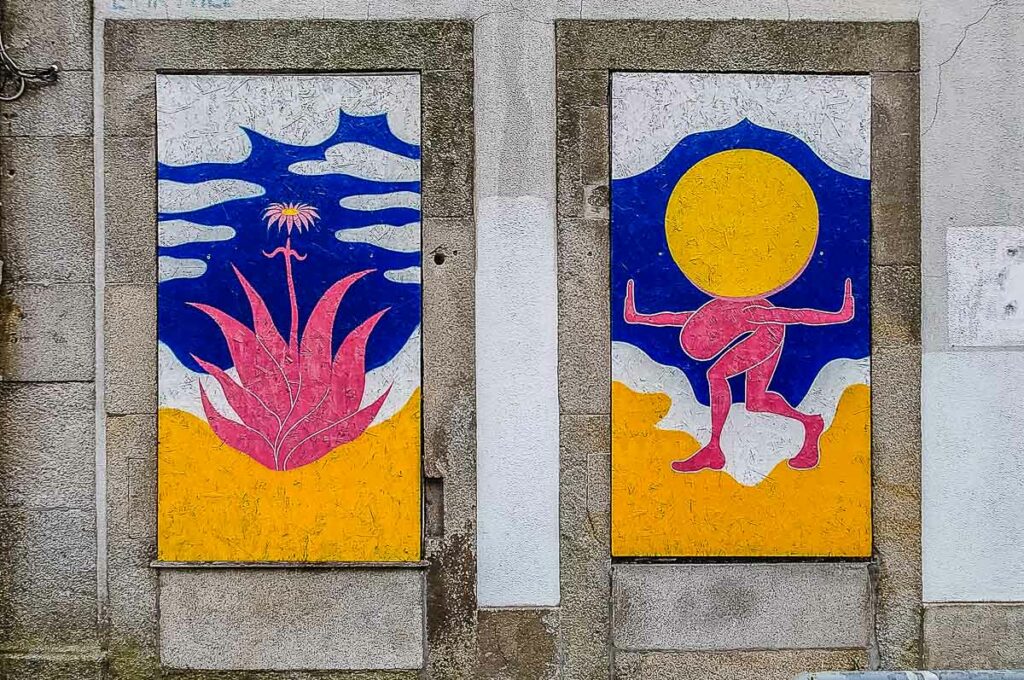 Porto is a city blighted by street art. There are a few resplendent murals and then a shedload of graffiti that vacillate between the plain ugly and the downright awful.
They seem to be the visual representation of the disillusionment and dejection that can be felt in many corners of the city.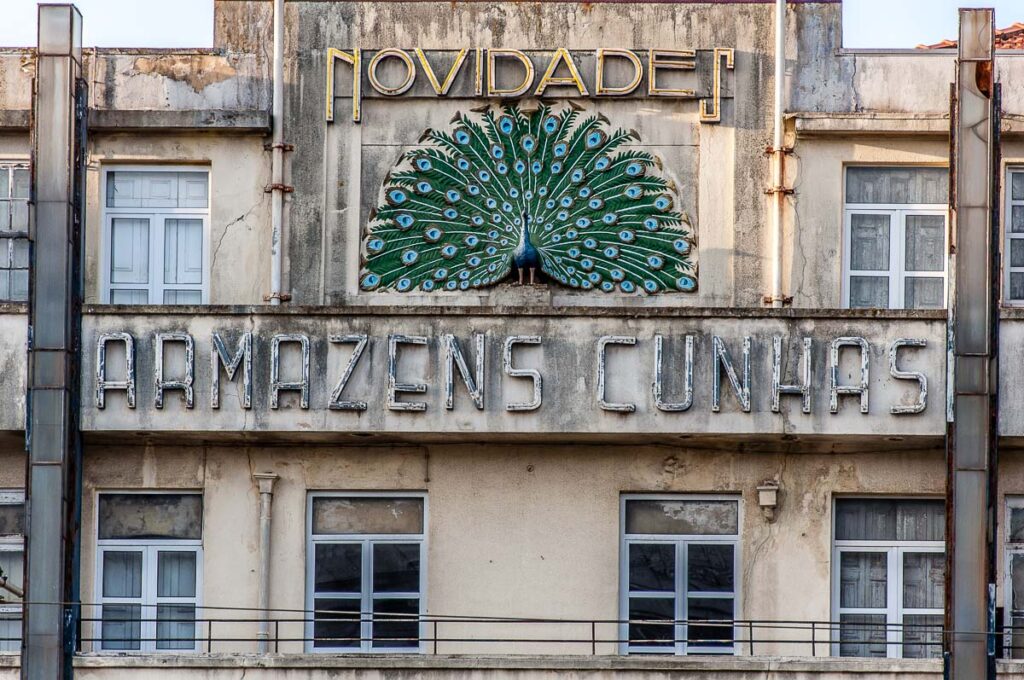 This splendid peacock decorates the facade of the historic department store Armazens Cunhas in Porto. You will find it right next door to the azulejo-clad Igreja do Carmo and just up the road from Livraria Lello & Irmão.
The store was founded in 1898. Since 1917, it has been in the hands of the same family. Its premises occupy three 19th-century buildings united by a single Art Deco facade.
Inside, the shop preserves its decades-old interiors. You can browse bedspreads, bath sets, and blankets and imagine that you are in Porto a century or so ago.
I was really taken with the contrast between the still resplendent peacock – all proud with its open tail of lush green feathers topped with blue eyespots – and the somewhat dust-caked facade. You could tell, the passage of the years had left its mark on it.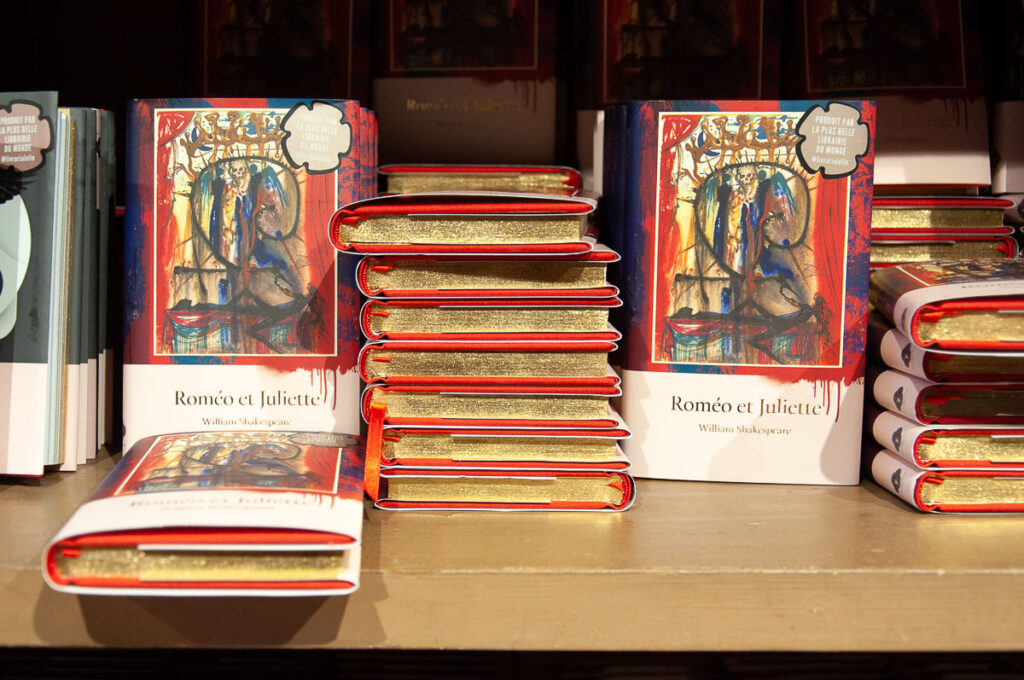 Visiting Livraria Lello & Irmão in Porto is an experience not just because of its stunning interiors, lovely facade, and Harry Potter link.
The books sold here are a work of readable art themselves. Printed specifically for the bookshop by its own publishing house, they have beautifully designed dust jackets, solid hardback covers, and often top edge gilding.
The catalogue includes the most famous classical works of literature in several different languages. From Shakespeare's Romeo and Juliet to The Maias by the Portuguese author Eça de Queiroz, you are bound to find a new family heirloom on the shelves of the world's most beautiful bookshop.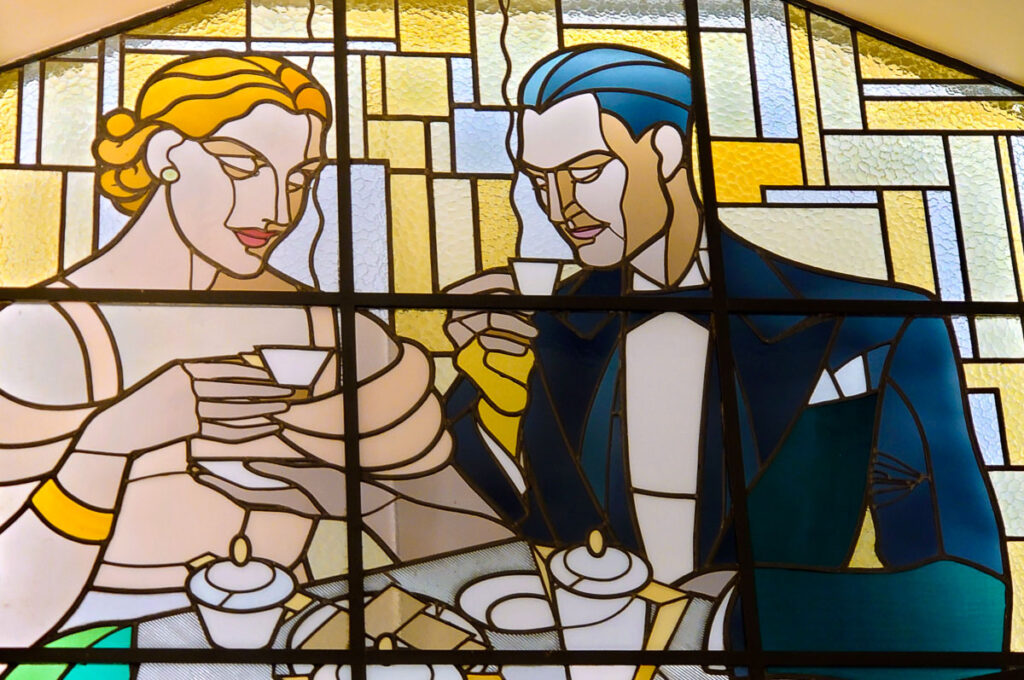 This stunning stained glass window is in the world's officially most beautiful McDonald's that happens to be right in the heart of Porto – Portugal's second largest-city.
The building once housed the elegant Cafe Imperial. When it went out of business in the 1980s, the fast food conglomerate moved in. It had the foresight to keep all the original Art Deco ornamentation.
This is why here you can tuck into a Big Mac underneath a crystal chandelier while the stylish couple from the photo above keeps sipping their coffees and forever avert their gaze away from your choice of food.
No matter what your personal stance may be on the topic of fast food, make sure that you visit the most beautiful McDonald's in the world when you are in Porto. The stained glass windows showing the life cycle of coffee from bean to cup are worth it alone.
4 Photos of Porto's Daily Realities
For all its historic beauty and unique location, Porto is still very much a city deeply affected by the present. The challenges of living in the historic centre – with its narrow cobbled streets and endless stone steps – are only too obvious.
Simple tasks like shopping must feel like an exhausting chore as bags need to be lugged up and down steep slopes. Whole clusters of streets seem completely impenetrable to cars. Historic houses with once beautiful facades stand dilapidated just around the corner from flash avenues.
The last two years of lockdowns and restrictions have left their hard imprint on the city, too. The national minimum wage in Portugal currently is around 700 euros per month and the average monthly salary is only about 1300 euros. Considering the high rental prices, life is not easy for the locals.
What the visitors to Porto see as cheap prices, many of the people actually living in the city often struggle to pay. The Portuguese have an incredible national pride and yet, it seems, they often feel quite isolated in the far corner of the Iberian Peninsula.
Here are some photos that illustrate well the realities of life in Porto:
Just around the corner from Porto's elegant Episcopal Palace stands an abandoned building. This contrast between lavish and dilapidated is easy to notice all over the city.
There are two realities in Porto living side by side – the reality of those who keep going and the reality of those who cannot.
It was with a heavy heart that I noticed how many people had a hard life here. How a small coin could mean so much.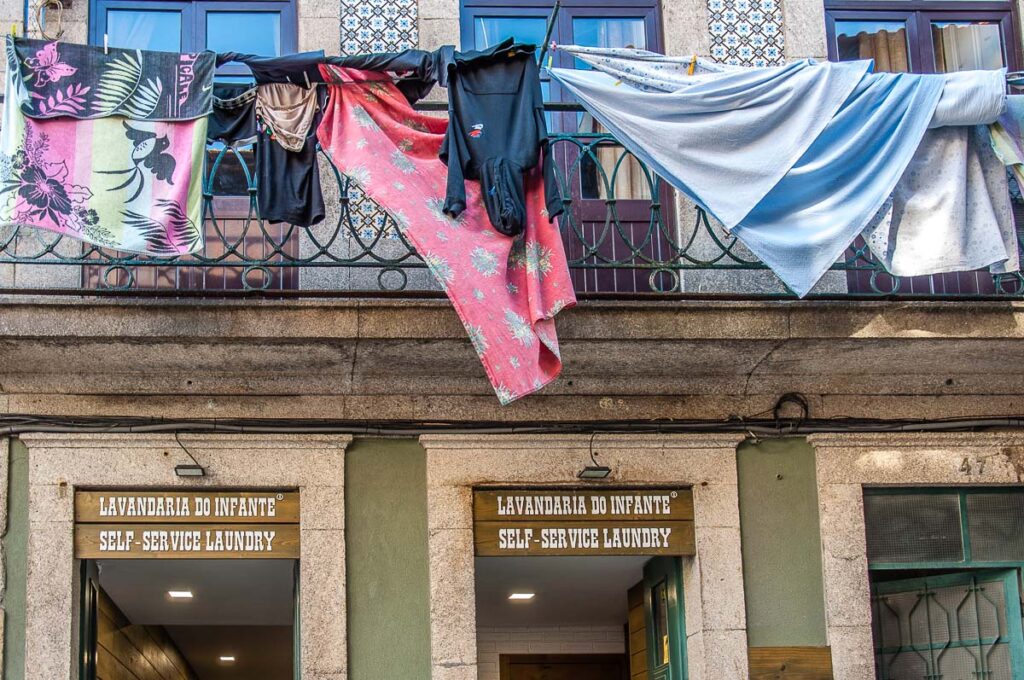 This clothesline heavy with laundry caught my eye on a steep street in the historic district of Ribeira. The wind had twisted the sheets and clothes around the line. The same way that our lives get twisted and thrown around by strong forces. Sometimes, all that keeps us still hanging there is a small peg.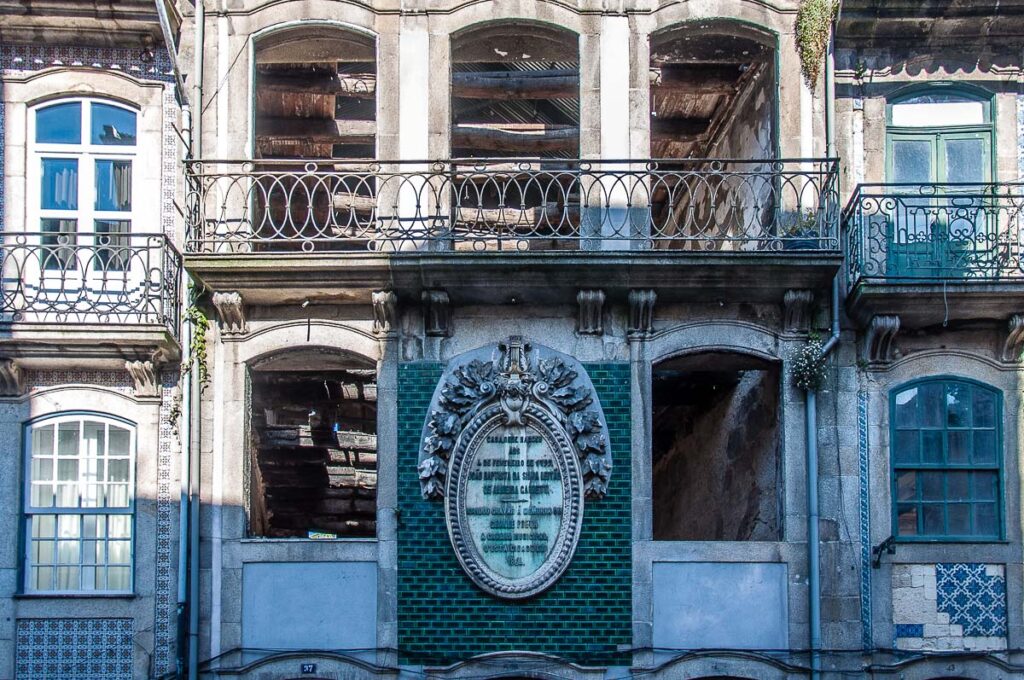 The contrast between the ornate medallion and the gaping windows caught my eye and I snapped this old, falling apart house as I was walking by.
It was only afterwards, back in England, when I was processing my photos from Porto that I realised that this is the birth-house of one of Portugal's greatest writers, poets, journalists, and politicians – Almeida Garrett.
You can see his imposing statue in front of Porto's large Câmara Municipal (or City Hall in English). It gave me such a pain to see that the house where he was born – so splendid in the past – had been reduced to ruins by the hands of time.
Orange trees laden with fruit grow on a stone terrace above the rooftops of tall houses clad with azulejos in shades of blue and red. The hard rock of the slope on which Porto is built peeks above the cluster of buildings.
Satellite dishes adorn the facades. The broken windows of abandoned flats stand side by side with the curtained windows of the apartments where someone wakes up every morning and gets on with their day.
Tightly packed together and making use of all available space, so many different fortunes, so many different ways to exist. Life goes on.
In Conclusion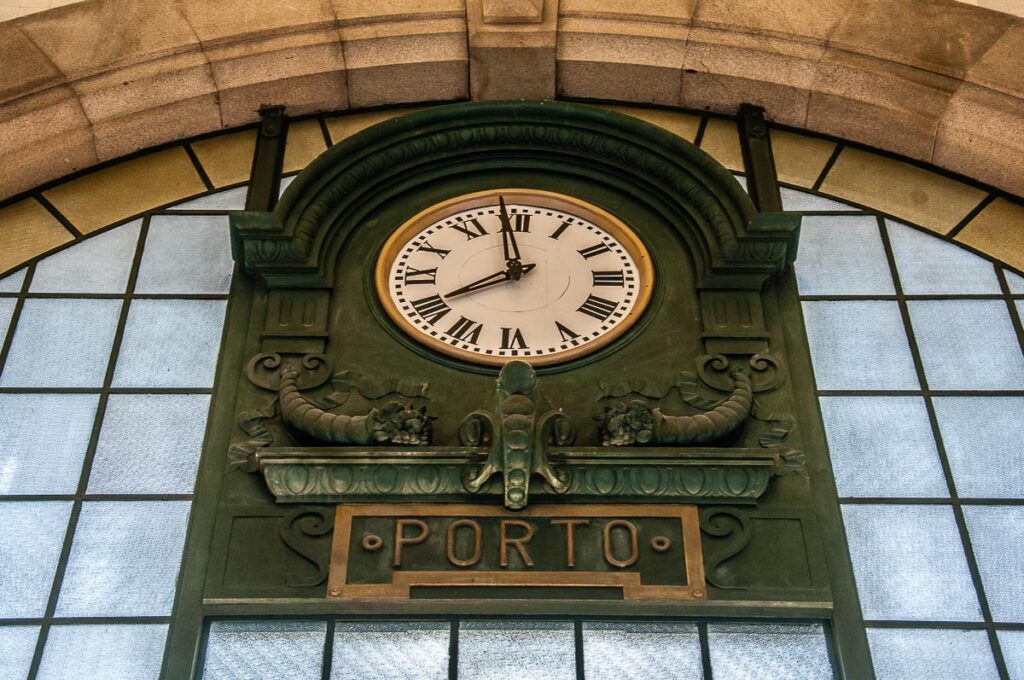 Here you have it! Porto – Portugal's second-largest city – in 63 photos and stories.
I hope that this visual travel guide has inspired you to discover Porto for yourself. This exciting city is one of the most multilayered and authentic destinations in Europe. Its centuries-old streets and buildings hold the keys to many captivating stories.
Rain or shine, Porto has a lot to offer. As I found out for myself during my visit to the city earlier this spring.
Porto intrigued me on many levels. It's both a place where history was made and a modern-day metropolis dealing with life's adversities as best as it can. It's a city that needs not just to be seen but also felt and experienced.
Enjoy discovering everything that Porto has to offer – delicious food, stunning sights, fantastic panoramic views, azulejos in yellow, blue, and white, sandy beaches nearby, and a great cultural life.
And I hope that you'll fall in love with Porto's vibrancy and verve!
Now, get ready quick for your trip to Porto in Portugal!

More Helpful Travel Info for You
Best of Portugal: One Day in Porto, One Day in Aveiro, Photos of Aveiro, One Day in Guimarães, Photos of Guimarães, Photos of Braga, Bom Jesus do Monte, Portuguese Desserts and Pastries
Best of Italy: Venice, Lake Garda, Veneto, Lombardy, Emilia-Romagna, Marche, Friuli Venezia Giulia, Trentino, Italy with Kids, Italy for Foodies, Day Trips in Italy, Hiking in Italy, Christmas in Italy
Best of England: London, Kent, Dorset, East Sussex, Days Out in England
Travel: Travel Resources, The Joy of Travel, Safety Tips
Thank you for reading! Please, leave me a comment, pin the images or use the buttons right at the top and at the end of this blog post to share it on social media.
For more useful information like this, please, like my blog's page on Facebook and subscribe to my strictly no-spam newsletter.
Pin This Blog Post!