Brescia is a large and exciting city in Northern Italy that stays firmly off the beaten track.
With a history that spans over 3,200 years, a host of monumental Roman ruins, a hilltop medieval castle surrounded by Venetian walls, a UNESCO-inscribed archaeological area and museum complex, some of the most splendid squares in Europe, and the Mille Miglia car race, Brescia is a delight to discover and yet it remains one of Italy's most precious hidden gems.
Halfway between Milan and Verona, it takes about half an hour to reach Brescia from either by high-speed train. The city is a short distance away from Lago di Garda – Italy's largest lake. A great day trip destination from also Venice, Bologna, and Turin and an excellent base for a longer Italian holiday, Brescia is easy to access from several major airports in Northern Italy.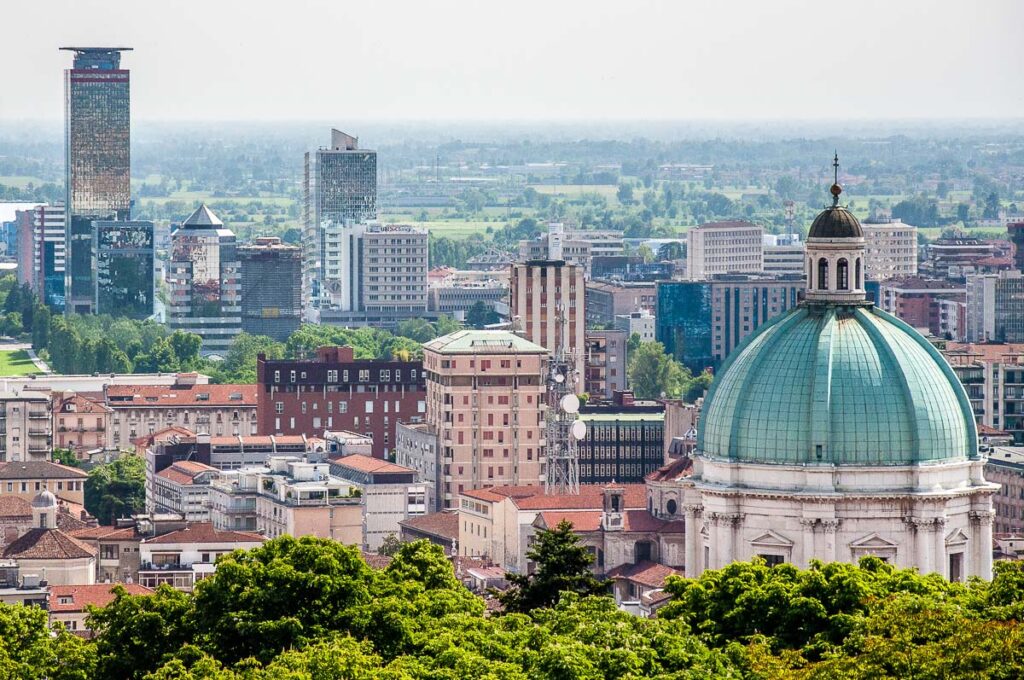 Head to Brescia before long to experience the very best of Italy's history, traditions, art, archaeology, and food. All this, without the suffocating crowds that besiege Italy's tourist hotspots. If it sounds too good to be true, take it from me: Brescia is amazing on many levels. A bold statement, indeed. Yet, one which I will support with all the information provided in this blog post.
After all, I loved visiting and revisiting Brescia during my six years of living in Italy. Now, I am only too happy to pass the word along.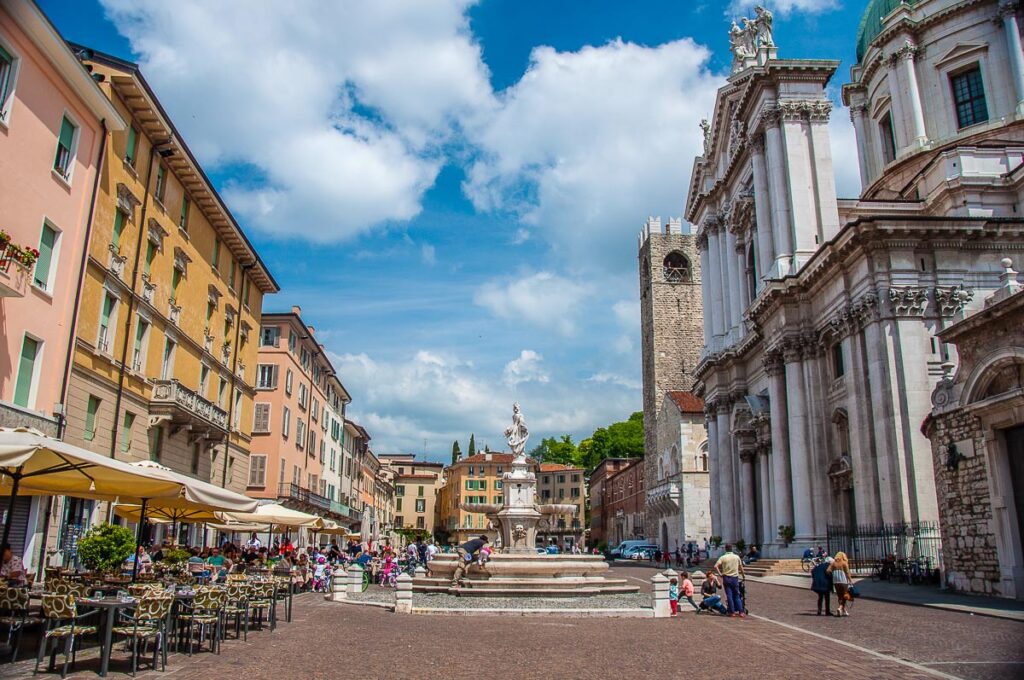 To start with, I will share with you my personal impressions of Brescia together with a short overview of the millennial history of this underrated Italian city. Next, I will outline all the wonderful things you can see and experience for yourself here. Further below, there is also a map with the main sights and landmarks in Brescia covered in this blog post.
Finally, I will provide you with lots of practical tips to make it easy for you to plan your visit to Brescia in Italy. From how to get there to what to see, where to stay, and how many days to pencil in for this Northern Italian city, everything is covered in some detail.
You can scroll up and down this page to find just the information that you need. Or you can read it all step by step.
So, let's begin!
My Personal Impressions of Brescia in Italy and a Short Overview of Brescia's History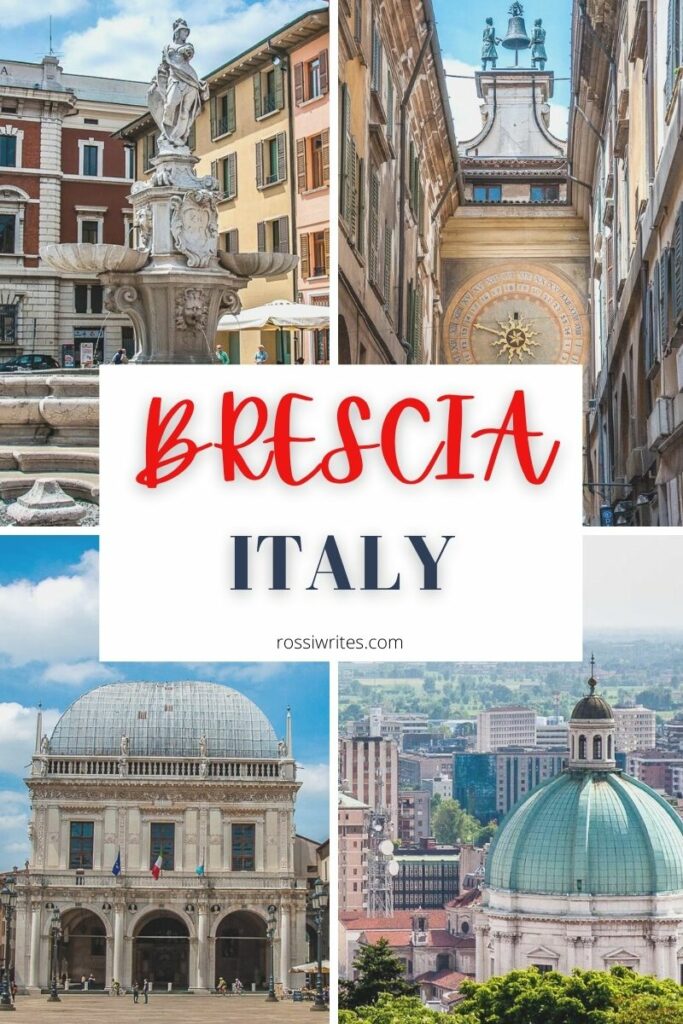 I absolutely loved visiting Brescia and everything this underrated Northern Italian city has to offer.
Easy to reach by train and by car from a number of important cities in Italy, Brescia was always a great destination for me as it is only about an hour away by high-speed train from Vicenza where I used to live.
The city has a beautiful historic centre where many different periods have left their imprint. Inhabited since the Bronze Age, Brescia nowadays is a patchwork of Roman, Lombard, Venetian, and Modernist influences, architecture, and landmarks. You can actually see how history happened here and how it shaped the city. Turning every corner in Brescia reveals yet another beautiful surprise.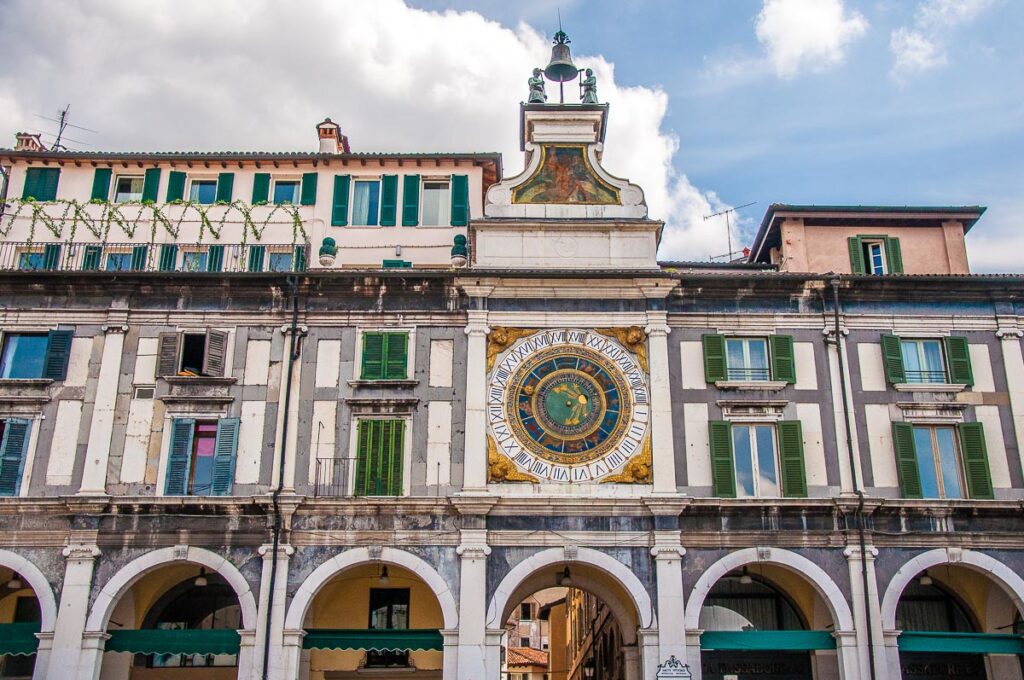 A 13th-century palace stands next door to a 17th-century cathedral. Cobbled streets lead to sprawling squares flanked by elegant buildings. Roman ruins have been incorporated in Renaissance walls. Two bellstrikers stand perched on top of a splendid astronomical clock. And above it all, a hilltop medieval castle with Venetian defensive walls keeps watch over Brescia's historic centre and the Bresian plains.
There is so much to see and do here that's easy to become a bit overwhelmed. What do you head to first: the UNESCO-inscribed Roman archaeological area and the adjacent Santa Giulia Museum Complex? The hilltop castle known as the Falcon of Italy? The Old Cathedral or the New Cathedral?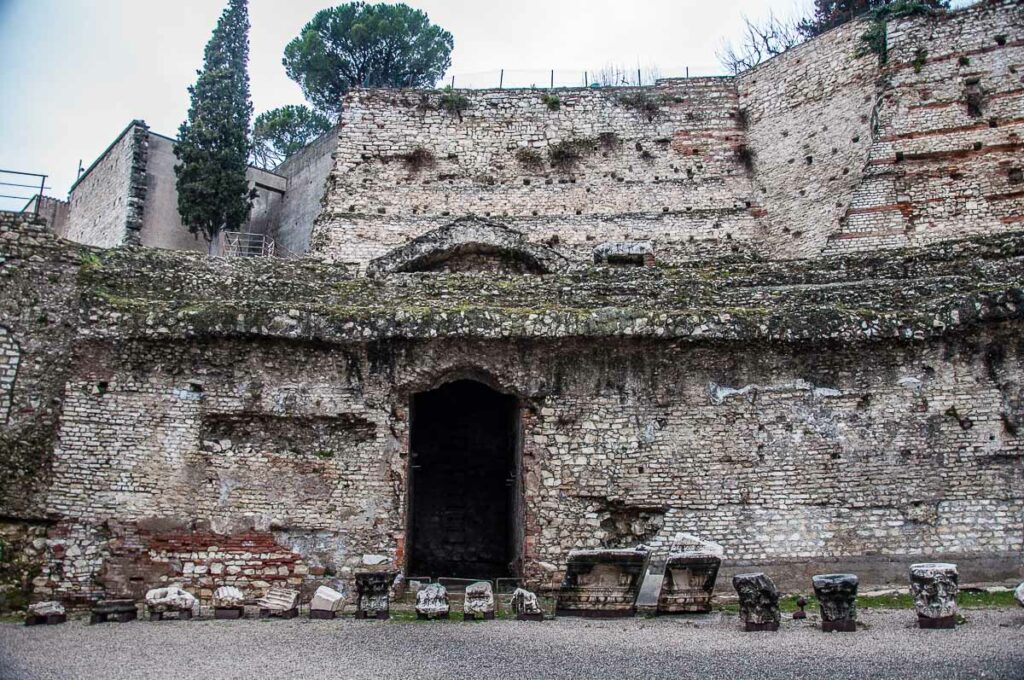 My best tip for Brescia is to simply head out and explore the city one step at a time with your most comfortable shoes on your feet. Don't rush it. Don't be desperate to see it all, do it all. Especially, if you only have a day to spend here.
Tick off a couple of the major sights (the Santa Giulia Museum Complex needs at least a couple of hours) and then take it easy. Just allow yourself to explore Brescia at your speed. Enter every church, every sight that you come along. Or head to a sunlit piazza, sit at the outside tables of a local eatery or cafe, and immerse yourself in some people-watching and architecture-gazing.
A big part of the pleasure of being in Brescia is simply to stop and look, take it all in, and even imagine how imposing and grand the Roman architecture must have been millennia ago. Don't think of Brescia as a place to rush. For all there is to see and do here, the amount of information and impressions is such that you need time to truly see it, enjoy it, absorb it, and fully commit it to memory.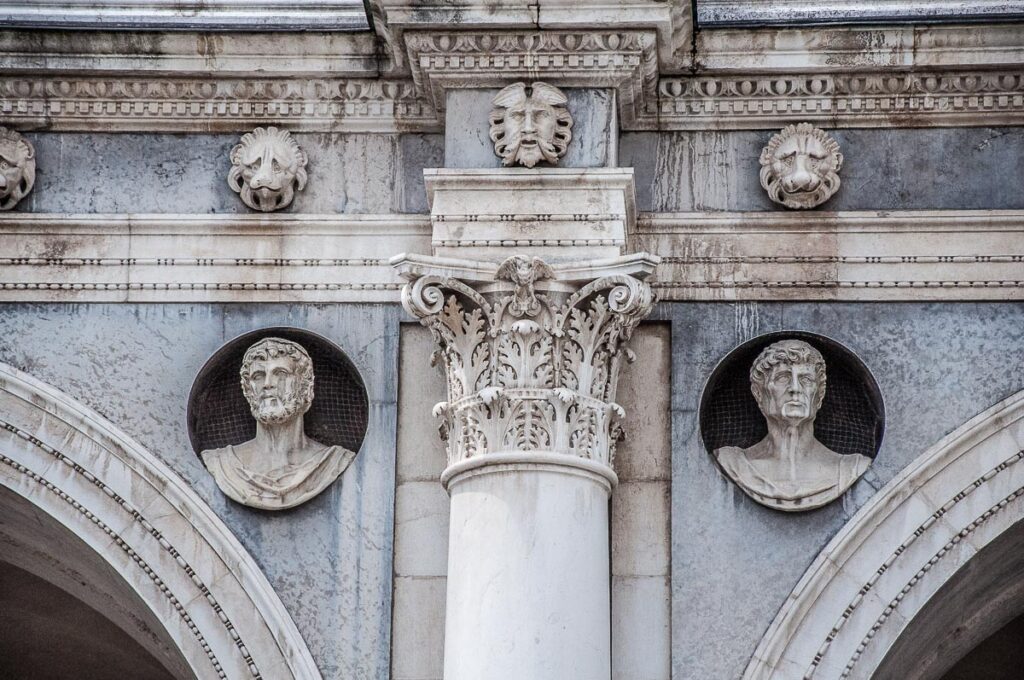 Brescia is an ancient city. It stands on the meeting point between the Prealps and the immense Po Valley in Northern Italy. Human settlements have existed here since the Bronze Age. Inhabited consecutively by Ligurian, Etruscan, and Celtic tribes, between the 3rd and 2nd centuries BC, Brescia became an ally of Rome.
At the time, the city was known first as Briccia and then as Brixia from brig meaning elevated places. In fact, while today the city spreads out in the flat as a pancake Brescian plains, the first inhabited spot here was Cidneo Hill – nowadays taken by Brescia's imposing castle. Archaeological excavations here have unearthed many artefacts. Most interestingly, the ruins of a Roman temple from the 1st century AD.
At the foot of Cidneo Hill, the Romans also built an imposing Forum surrounded by religious temples, a large theatre, and private dwellings.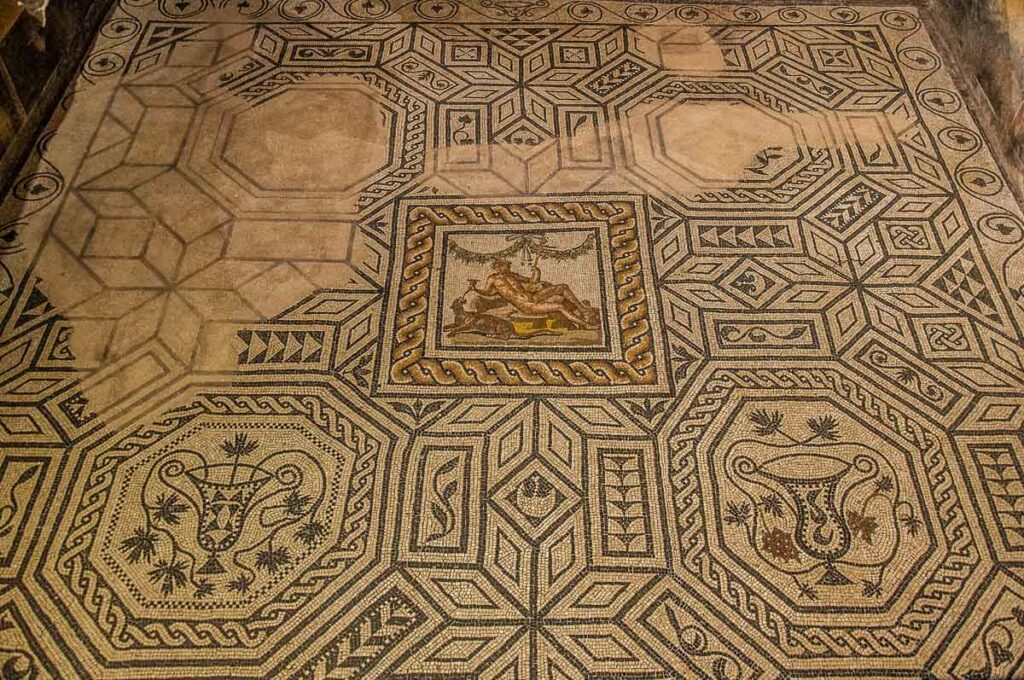 After the fall of the Roman Empire, Brescia was sacked by Attila's forces in the 5th century AD. The 6th century AD saw the arrival of the Lombards (also known as Longobards, Langobards, and Longbeards). They conquered vast swathes of lands in Northern and Central Italy. Desiderius – Duque of Brescia and the last Lombard King – founded the Monastery of San Salvatore (nowadays the Santa Giulia Museum Complex) here in 753 AD.
During the Middle Ages, Brescia alternated between a free commune and being part of the territorial possessions of powerful feudal lords.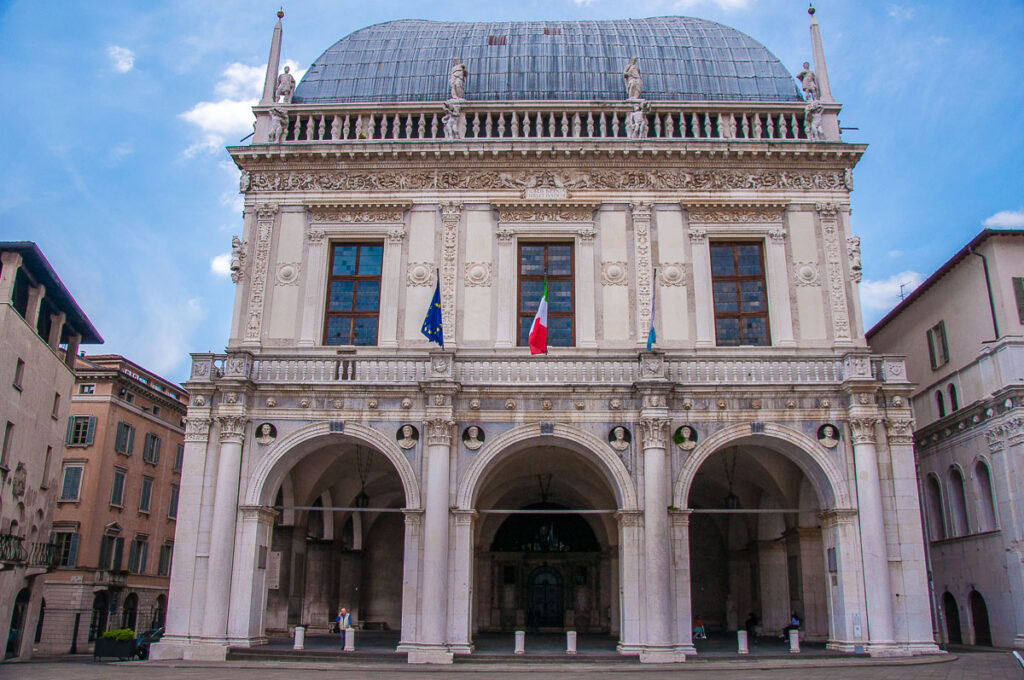 In 1426, the city joined the Republic of Venice. With the exception of short periods, it remained part of its mainland territories until the Republic's fall in 1797. Brescia then became part of Italy in 1859.
Walking around Brescia nowadays, you feel the echo of its multilayered past. The city's Roman ruins are considered Northern Italy's largest and best-preserved Roman archaeological area. Together with Brescia's Lombard artefacts, they have been inscribed on UNESCO's List of World Heritage Sites as part of the property 'Longobards in Italy. Places of the power (568-774 A.D.)'.
Brescia, Italy – 10 Best Things to Do in the Most Underrated Italian City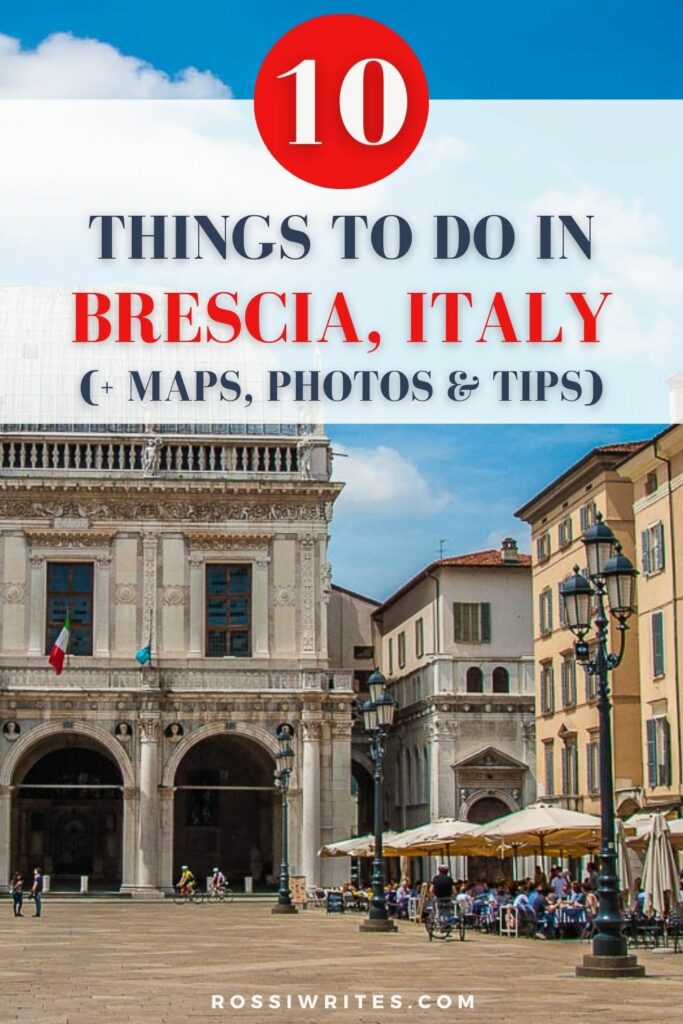 1. Lose Yourself in the Santa Giulia Museum Complex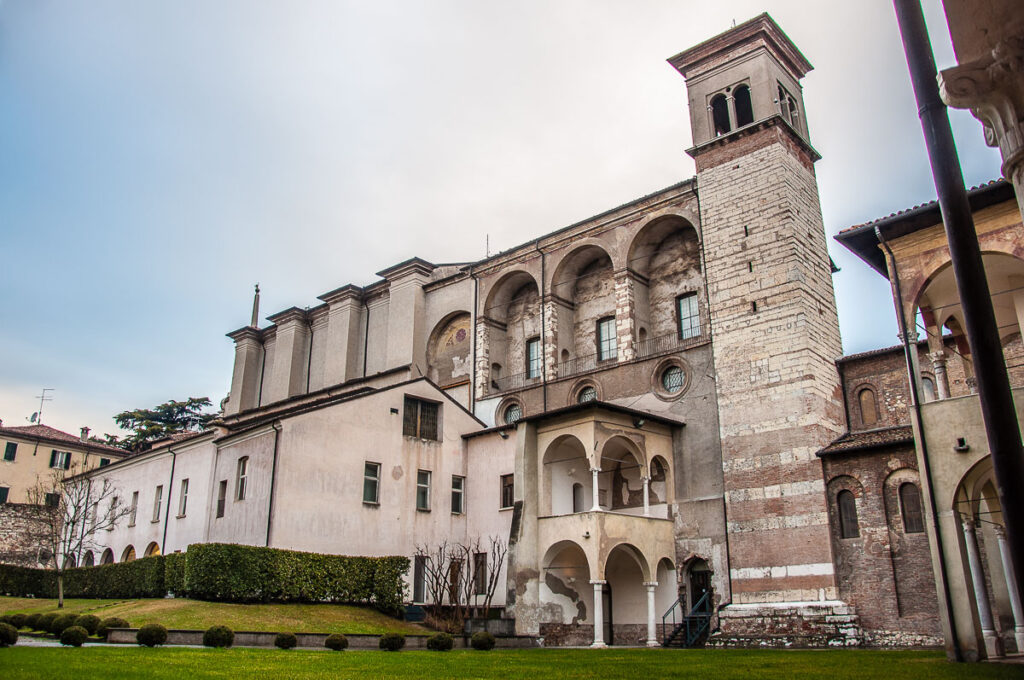 The Santa Giulia Museum Complex is the brightest gem in Brescia's crown. Incredibly large and with an immense collection, this is one of the most important museums in Italy and Europe. It is housed in the former female Benedictine Monastery of San Salvatore which was founded in 753 AD by Desiderius – the last King of the Lombards – and his wife Ansa.
Their daughter Anselperga was the first abbess. The monastery grew rich and powerful, undergoing several expansions throughout the centuries. In 1599, the Church of Santa Giulia was added to it.
Nowadays, the Santa Giulia Museum Complex has an area of 14,000 sq. m and over 12,000 artefacts. They follow the history of Brescia from the 3rd millennium BC to the 1700s. Since 25th June 2011, the museum is a UNESCO World Heritage Site.
From beautifully preserved Roman mosaics to lavishly frescoed chapels, rich thematic displays, and priceless archaeological and historic artefacts, the Santa Giulia Museum Complex is a wonderful mix of Roman and Lombard, Romanesque and Renaissance styles, legacies, and heritages.
There is so much to see that you can easily spend half or even a whole day here. Walking from room to room inside the enormous museum you see how the different historic periods evolved and blended into one another, both finding inspiration in the past and obliterating it in the name of the future.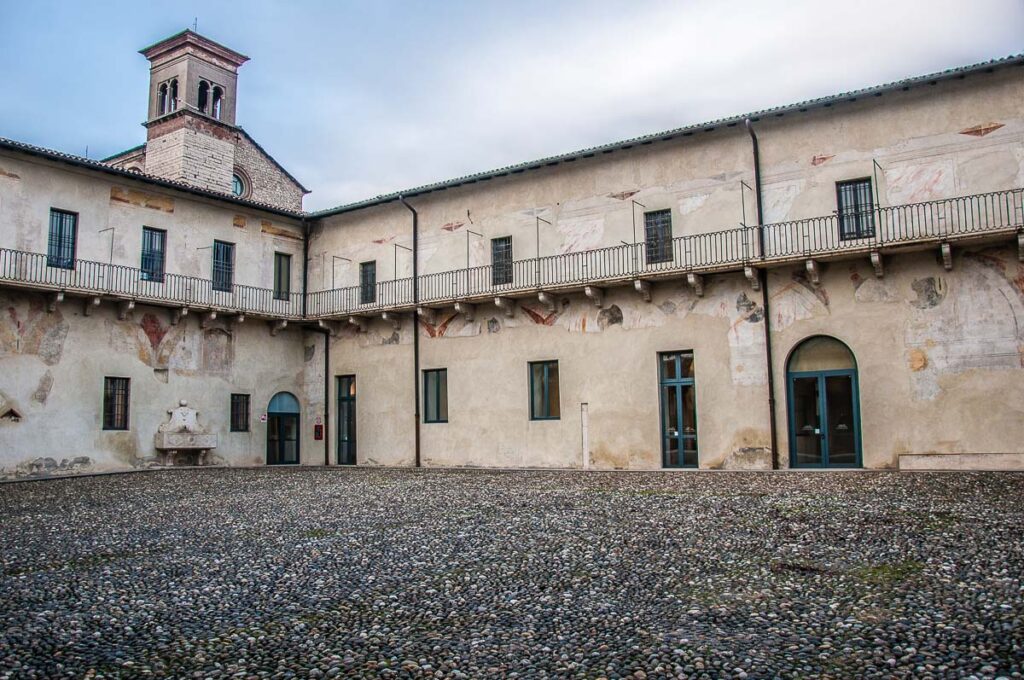 The museum itinerary takes you through the Lombard Basilica of San Salvatore and its crypt, the 12th-century Oratory of Santa Maria in Solario in the Romanesque style, the Renaissance Choir of the Nuns, and the 16th-century Church of Santa Giulia. Not forgetting the Roman dwellings with complex frescoes and mosaics that have survived the test of time among the ruins.
Three of the museum's most precious artefacts are:
The Winged Victory – an impressive statue representing Victoria – the goddess of victory. It's one of the very few ancient bronze statues to reach us (almost) intact. It was discovered in 1826 during excavations in Brescia's Capitolium. For a long time, it was thought that it's Roman in origin and dates back to the 1st century AD. Recenty, however, it's been suggested that the statue is Greek and is from the 3rd century BC.
Desiderius' Cross – an exquisite jeweled cross made of wood, covered with golden plates, and set with 212 medallions, gemstones, and cameos. It is believed that the cross was gifted to the monastery by its founder – King Desiderius. About one quarter of the gemstones and cameos date back to the ages of Imperial Rome and the Late Antiquity. For example, one of them depicts the Muses and another – the Ancient Greek hero Belerophon and the winged horse Pegassus. Particularly striking is a medallion from the 3rd century AD which depicts in gold leaf a mother with her two sons.
The Brescia Casket (also known as the Brescia Lipsanotheca) – a precious ivory box from the late 4th century AD which, it's supposed, was used as a reliquary. It's the only one of its type to have reached us in generally good condition. The box is decorated with incredibly detailed carvings the full interpretation of which puzzles the art historians.
There are hundreds and thousands of other must-see pieces here that tell the stories of the past. So, it really pays to pencil in enough time for the Santa Giulia Museum Complex and to wear your most comfortable shoes and clothes for the visit as there is lots of walking, standing on your feet, and marvelling at beautiful works of art and archaeological artefacts.
Official Website: Santa Giulia Museum Complex
2. Immerse Yoursef in Ancient Rome in Brescia's Capitolium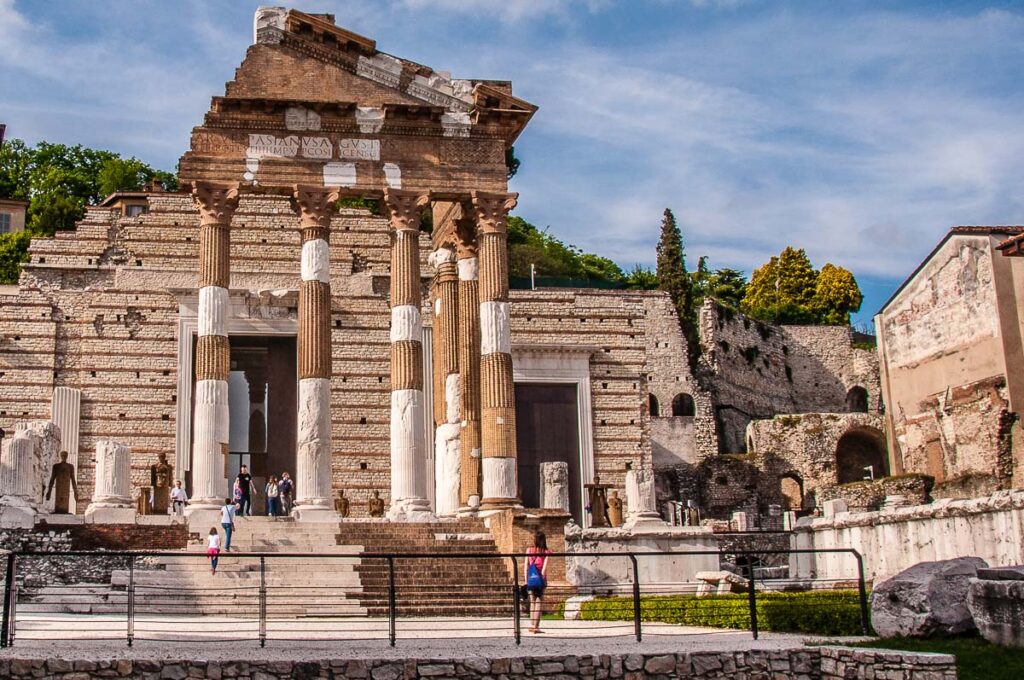 With a millennial history, Brescia is an intriguing place to visit. Especially if you have an interest in Ancient Rome and its architecture, culture, and art. Populated by different tribes since the Bronze Age, by the 3rd century BC, Brescia was known as Briccia and it was where the ancient Gallic tribe Cenomani lived.
In 225 BC, the Cenomani established a strong alliance with Rome. They became federates of Rome in 196 BC and Briccia took the Romanized name Brixia. The colony was recognised as a Roman city – civitas – in 89 BC. The locals were officially given Roman citizenship in 49 BC.
Brixia stood on the ancient Roman road Via Gallica which started next to Verona and connected the Roman cities which nowadays we know as Brescia, Bergamo, and Milan.
Between the 1st century BC and the 1st century AD, many large and important Roman buildings were erected in Brixia. Nowadays, their ruins constitute Northern Italy's most important and best-preserved Roman archaeological area.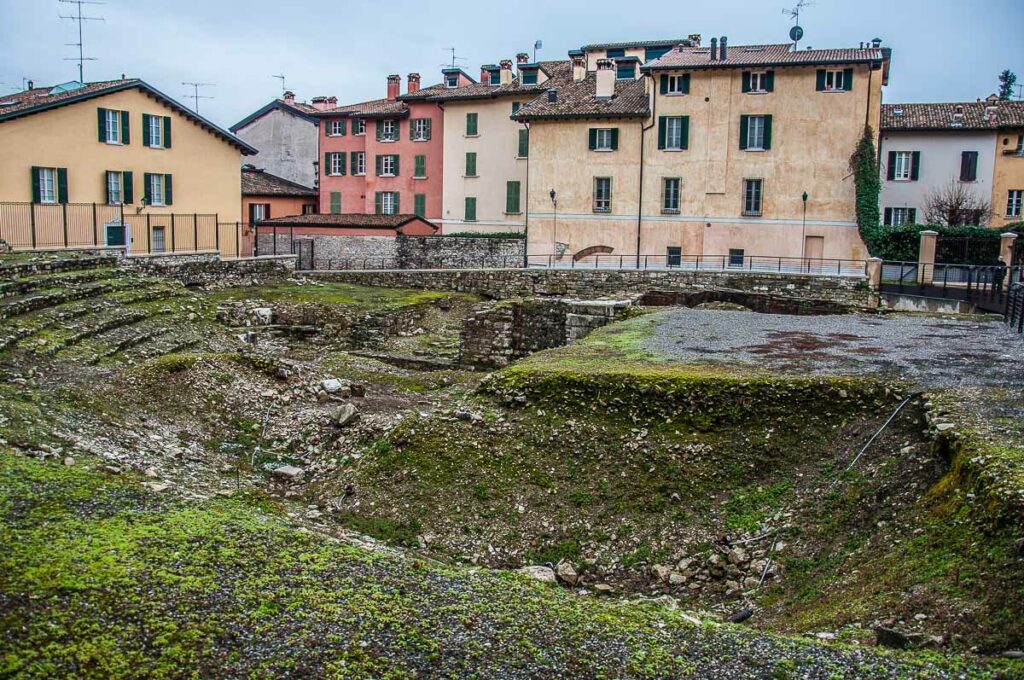 Exploring Brescia's Roman heritage is a must during even the shortest visit to this beautiful Italian city. Here is what you shouldn't miss:
Piazza del Foro – this was the site of the Roman forum. Nowadays, the square is where you can see and visit many large-scale Roman remains. Among them are the Capitolium Archaeological Area, the Roman Theatre, and the underground Republican Sanctuary.
Capitolium Archaeological Area – this was an important temple dedicated to the Capitoline Triad – Jupiter, Juno, and Minerva. It was erected on the orders of the Emperor Vespasian between 73 and 74 AD. It stood at the northern extremity of Brixia's Roman forum (nowadays, Brescia's Piazza del Foro). After the Fall of the Roman Empire, the temple was badly affected by the passage of time and, especially, by a large fire in the Vth century AD.
Republican Temple – built in the early 1st century BC, nowadays it stands underground and its ruins still preserve immaculate Roman floors and complex Roman frescoes in incredibly bright colours.
Roman Theatre – dating back to the 1st-2nd centuries AD, nowadays you can see where the tiered semicircular seating area and the stage once stood. At its heyday, this was an impressive structure that could accommodate up to 15,000 spectators.
Underground archaeological route with Roman remains – Palazzo Martinengo stands next door to Piazza del Foro in Brescia. Here, you can descend underground to see the ruins of the buildings that once existed along Brixia's forum. It makes for a cool visit as you are also shown a short film demonstrating what the Roman city looked like millennia ago.
Roman Basilica – erected in the 1st century AD, it stood at the southern extremity of the Roman Forum.
Roman roads – the two main roads of Roman Brixia gave rise to two of Brescia's main streets. The Decumanus Maximus (the east-west orientated main road of a Roman city) nowadays is known as Via dei Musei. The Cardus (the north-south orientated main road of a Roman city) nowadays is known as Via Agostino Gallo.
Official Websites:
Capitolium Archaeological Area – for visits to the Capitoline Temple, the Republican Temple, and the Roman Theatre. (The Italian version of the website has much more information than the English page. You can use Google Translate to get the gist of it as the details shared are very interesting, especially, if you have an interest in Ancient Rome and archaeology.)
Palazzo Martinengo – for the underground archaeological route. In principle, visits here are free of charge. You can check the current opening hours here (in Italian).
3. Head Up Cidneo Hill to Visit the Castle of Brescia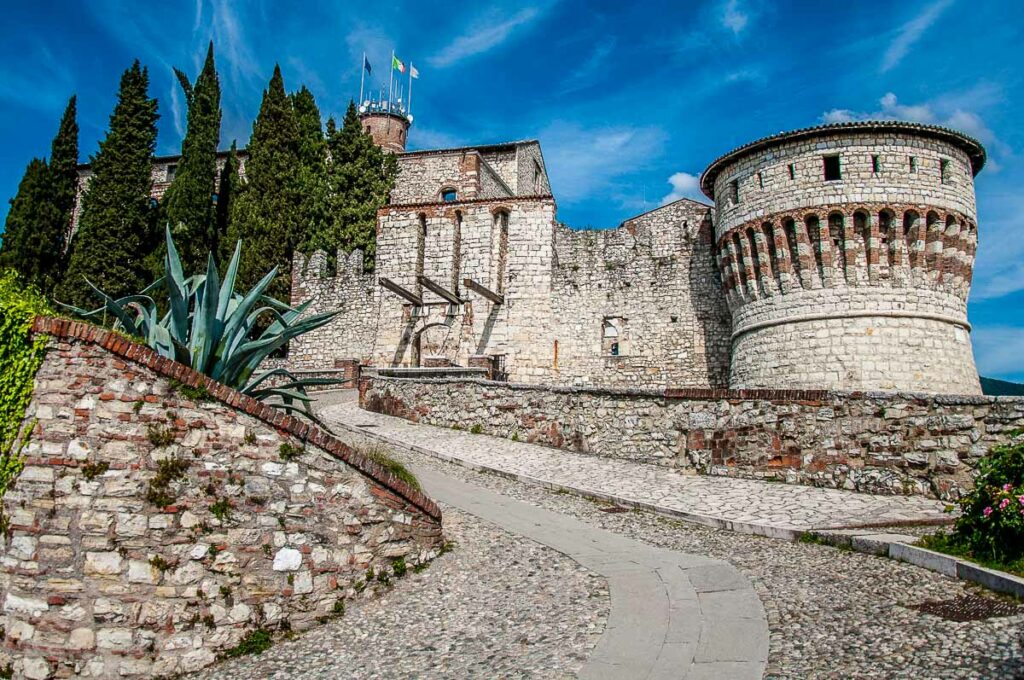 Brescia has an imposing castle that stands – proud and unassailable – on top of the steep Cidneo Hill. It is from this advantageous spot that it overlooks the city's historic centre and enjoys stunning panoramic views over centuries-old domes and rooftops, modern-day skyscrapers, and the flat as a pancake Brescian plains.
There are several ways to reach the castle from the historic centre of Brescia. If you are driving, there is a free car park right by the castle's walls.
Otherwise, start from Piazza Tito Speri, walk along Via Militare, and then take Via del Castello. A popular route is to walk from Piazza Tiro Spero along the cobbled Contrada Sant'Urbano and then continue on Via Alexander Langer and Via del Castello.
There are cobbles, steps, and sloping paths as well as lovely views of Brescia the higher up you go. Here is the majestic dome of the city's Duomo Nuovo which you can glimpse through the trees as you walk up Cidneo Hill.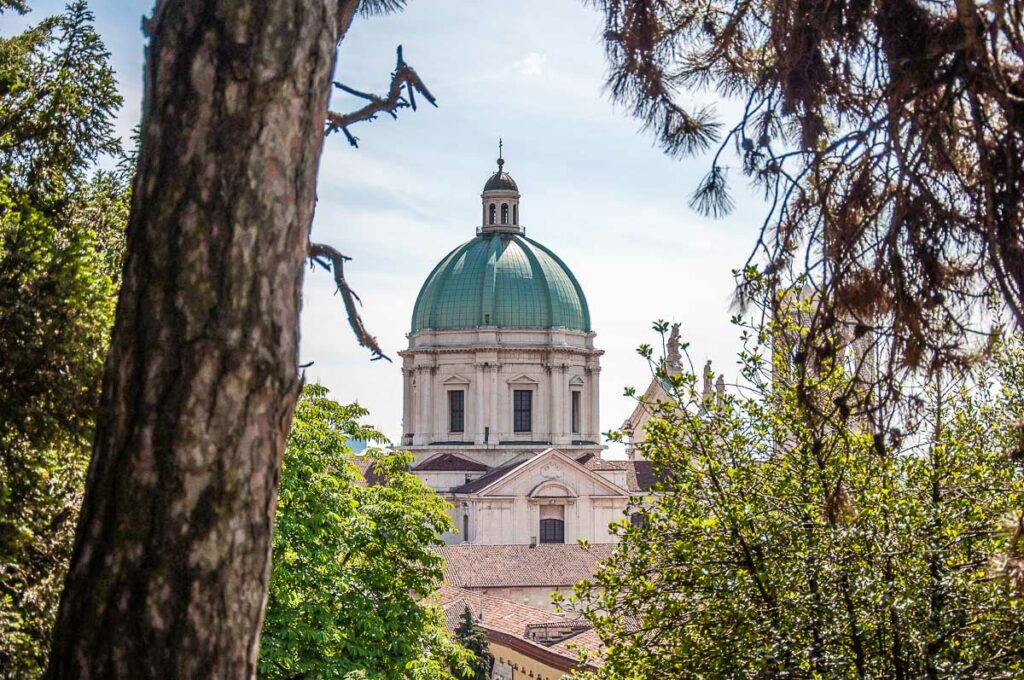 Cidneo Hill has been inhabited since the Bronze Age. In the 12th century BC, the Ligurian tribes first settled here. Between the 1st century BC and the 1st century AD, the Romans erected several hilltop buildings, most notably a temple the ruins of which can still be seen here.
Torre Mirabella – a 22 meters tall tower perched at the highest spot of Cidneo Hill – dates back to the 12th-13th centuries AD when Brescia was a free commune. Then, in the 14th century, the Visconti – the medieval rulers of nearby Milan – erected a mighty keep (or Mastio in Italian) right next to it.
There is an old legend about a greedy man who was cursed to turn into a falcon and to forever fly above the fortifications on Cidneo Hill. Hence, the hill (and often the castle) are called the Falcon of Italy.
During the four centuries of Venetian dominion of Brescia, thick defensive walls, proud circular towers, and two granaries were added to the castle complex. To this day, you can see the winged Lion of St. Mark – the symbol of the Republic of Venice – on the monumental gate of Brescia's Castle.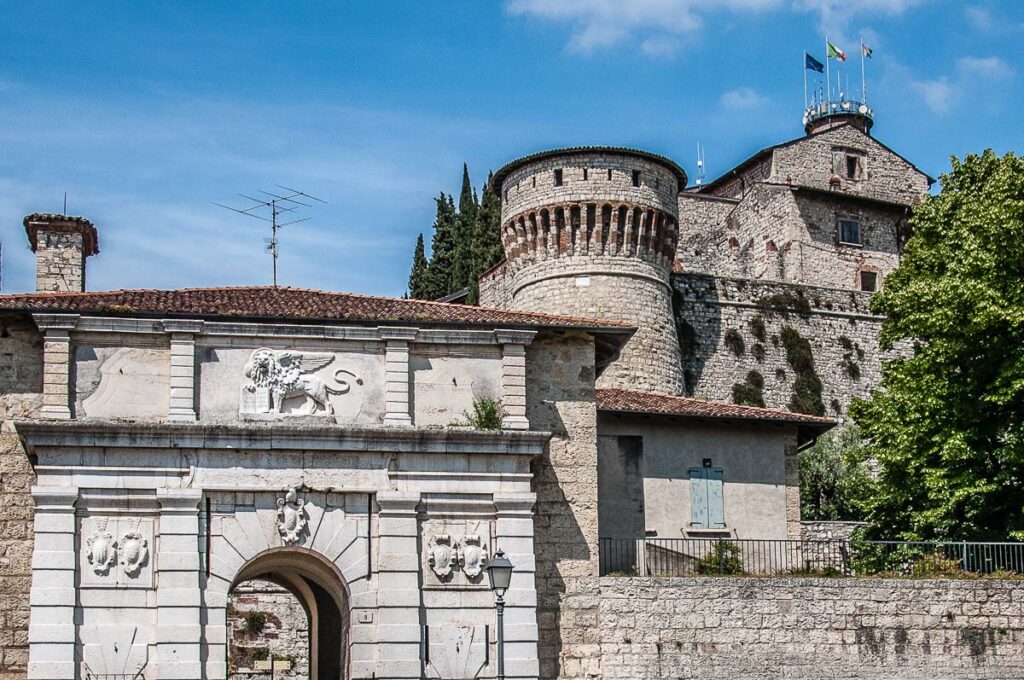 Nowadays, with its round towers and mighty bulwarks, the Castle of Brescia is a must-see even if you are in town for only a limited amount of time. It is, after all, one of the largest and best-preserved fortifications in the North of Italy. Come here to enjoy the splendid views and to relax in the unexpectedly lush gardens. The entrance is free.
Then visit the on-site museums (small entrance fee applies) and several landmarks for a portion of history so as to better understand Brescia's eventful past:
Luigi Marzoli Arms Museum – housed in the 14th-century keep with preserved medieval frescoes and Roman ruins, this is a major collection of ancient arms and armour. Between the 15th and the 18th centuries, Brescia was an important centre for the manufacture of arms, so here you can admire deadly yet incredibly elaborate weapons.
Museum of Risorgimento – come here to learn more about the 19th-century movement for the unification of Italy, especially from the point of view of the events that took place in Brescia. Known as the Lioness of Italy, the city won this proud moniker for its Ten Days rebellion against the Austrians in 1849.
Cidnea Astronomic Observatory – Italy's first public observatory is housed in St. Mark's Bastion of Brescia's Castle. It has a three-metre dome and a room for the observation of the sun.
Numero 1 – Italy's first train monument, this is a historic locomotive that has been placed at the castle's main square. Inside one of the old Venetian granaries of the castle complex, you can also see two model railways. They are quite fun and kids may find them fascinating.
Pusterla Vineyard – this is an award-winning urban vineyard on the slopes of Cidneo Hill. Its story stretches back to the year 1037 and some of the vines here are centuries-old! They say that the British statesman and twice Prime Minister Winston Churchill was among the connoisseurs of the wines produced here.
The Castle of Brescia holds one of the largest medieval historic reenactments in the North of Italy. The rest of the time, you can join a hidden itineraries tour of the castle taking you inside the various towers and rooms which otherwise are not open to the general public.
Official Websites:
4. Marvel at the Lavish Teatro Grande in Brescia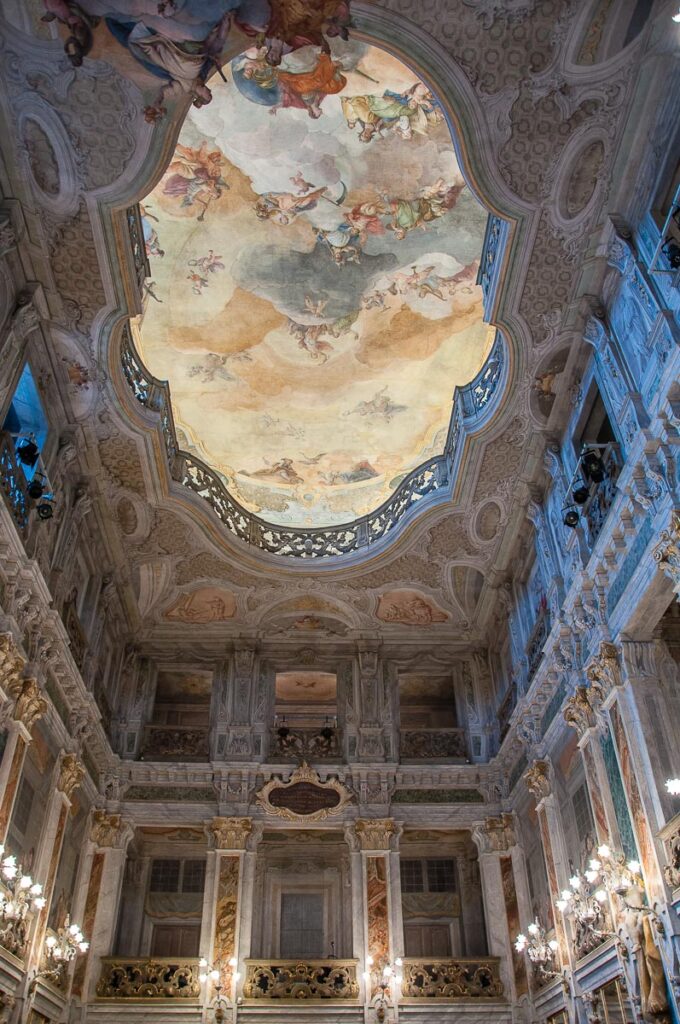 Italy is famous for its historic theatres and opera houses and Brescia has one of the most beautiful and lavish ones of them all.
Teatro Grande is right in the historic centre of the city and just around the corner from Brescia's old and new cathedrals – Duomo Vecchio and Duomo Nuovo. Its roots stretch back to the 16th century while its current building was erected largely in the 1810s. The world's most famous opera singers and artists have performed here and the theatre was recognised as a national monument of Italy over 100 years ago.
Brescia's Teatro Grande has several must-see spaces that like a patchwork date to different periods and yet smoothly complement each other in their service to the arts. They are:
Outside Arcade and Facade – the entrance of Brescia's Teatro Grande is inside a long imposing arcade. A stone staircase leads to the majestic interior.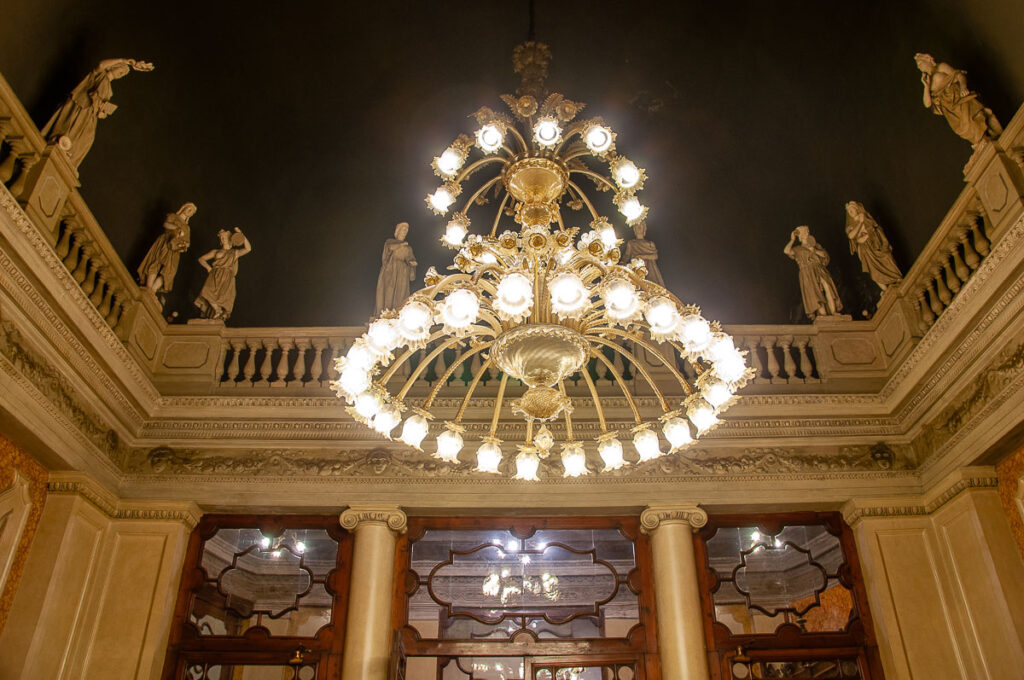 Room of the Statues – surrounded by pillars topped by 16 statues, this is a grand space that reminds you of the beauty of theatres in Ancient Greece and Rome. Try spotting the three busts that also decorate this room. One is of the famous Italian composer Giuseppe Verdi. The other two are of celebrated playwrights from Brescia.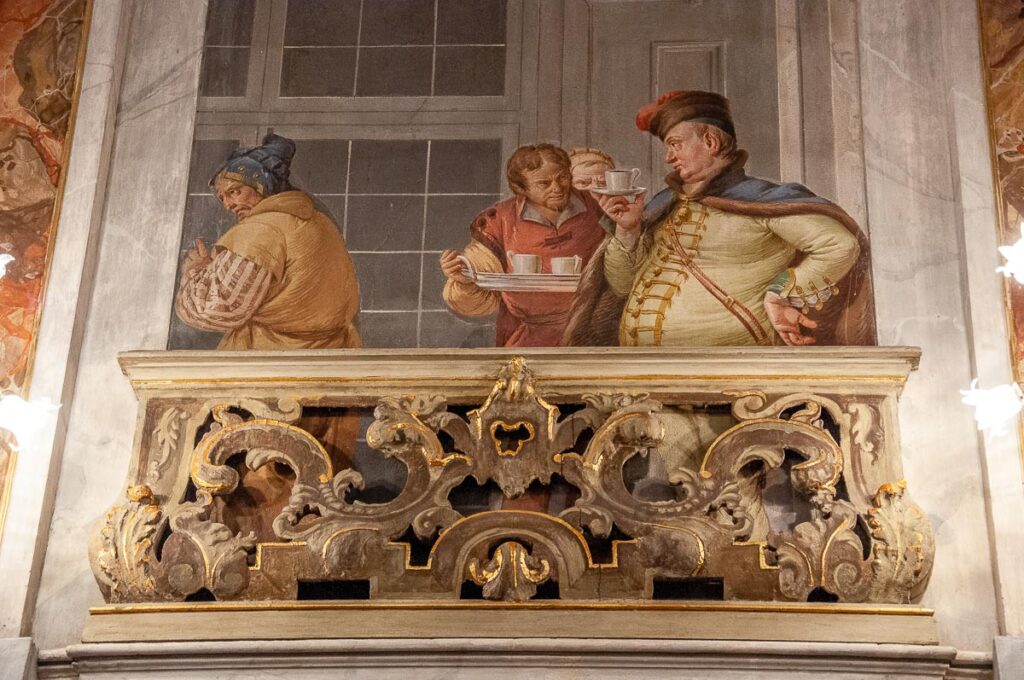 Ridotto (Foyer) – a rectangular space covered with Rococo frescoes and stuccoes. It also has an impossibly high ceiling making you feel like you are in a royal palace about to be seen by the Queen. Keep an eye out for the fresco of a noble gentleman being served a cup of hot coffee. It's one of the works of art that testifies to the deep connection between Italy and coffee.
The Ridotto leads to two small side rooms. Beautifully frescoed, they are a delight to see. Keep an eye out for a handwritten letter by the famous Italian composer Giacomo Puccini hanging on the wall there.
Sala Grande – this is the actual performance hall. Horseshoe-shaped, expansive in size (22 x 17 m), with five rows of boxes, and lavishly decorated, usually, you can only see it if you are attending a performance in Brescia's Teatro Grande. So, if you are spending more than a day in this Northern Italian city by all means book to see a ballet, an opera or anoher production here. It's really worth it!
Official Website: Fondazione Teatro Grande di Brescia
5. Spend Time in Brescia's Monumental Churches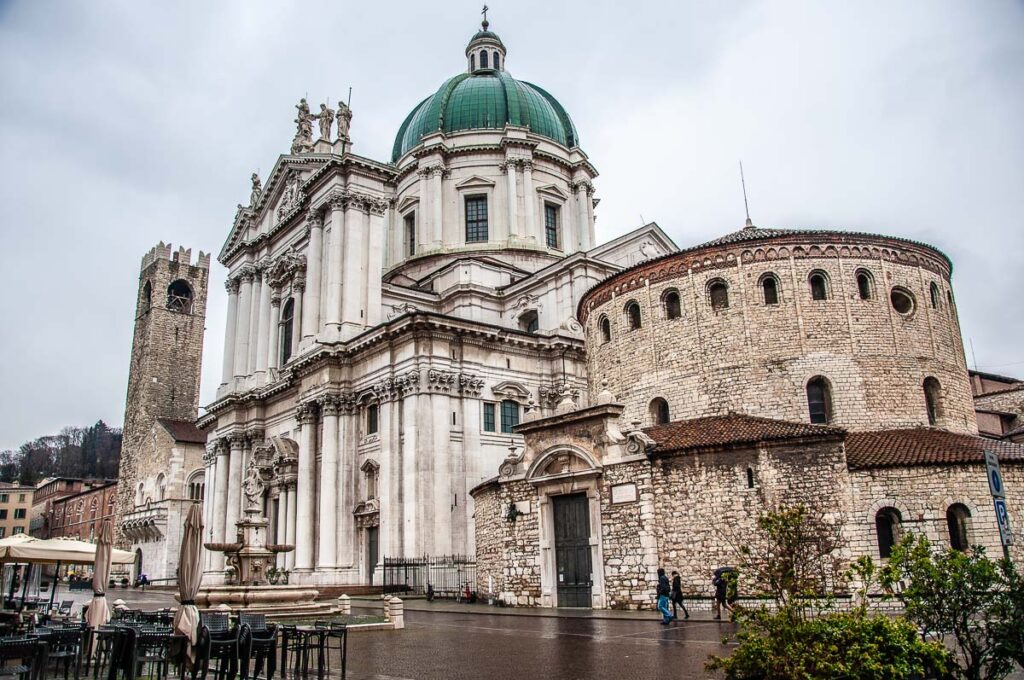 Brescia is blessed to have many unmissable sights and among these the city's monumental churches take a pride of place. For their rich layers of history, imposing architecture, and expansive collections of art, Brescia's churches are a must-see even if you are not religious.
Here are the ones I really enjoyed seeing and visiting here: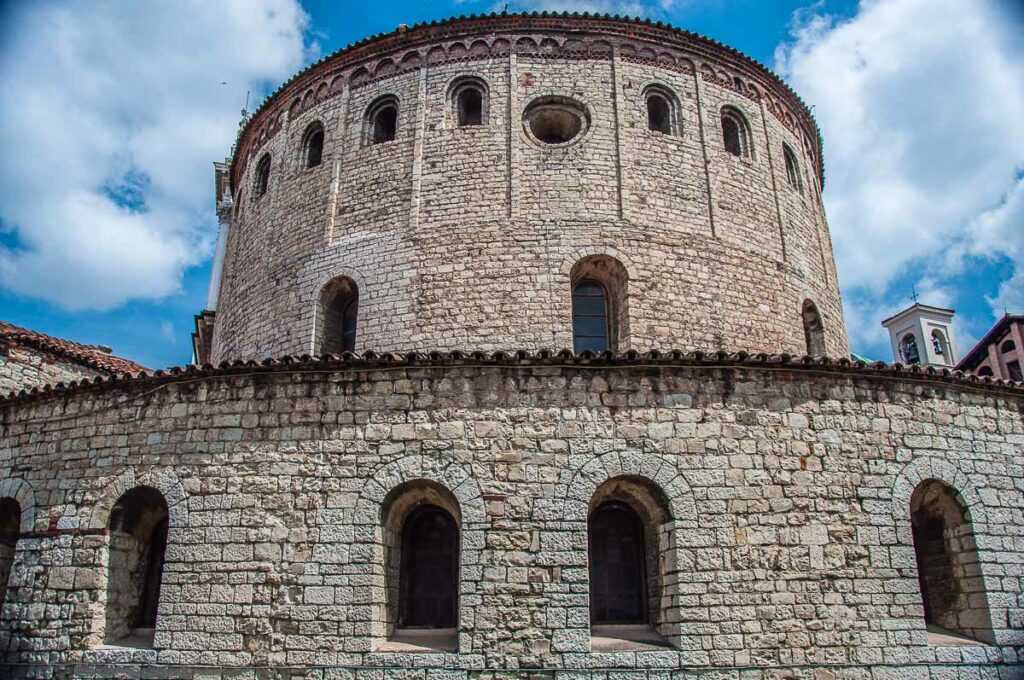 Duomo Vecchio (La Rotonda) – Brescia's Old Cathedral dates back to the end of the 11th century. It's one of Italy's few round Romanesque churches. Its architecture is probably inspired by the Church of Holy Sepulchre in Jerusalem. Inside, you can admire Roman columns and capitals and early-Christian mosaics. The crypt dates back to at least the 6th century AD. This is where the holy relics of San Filastrio – a 4th-century bishop of Brescia – are kept.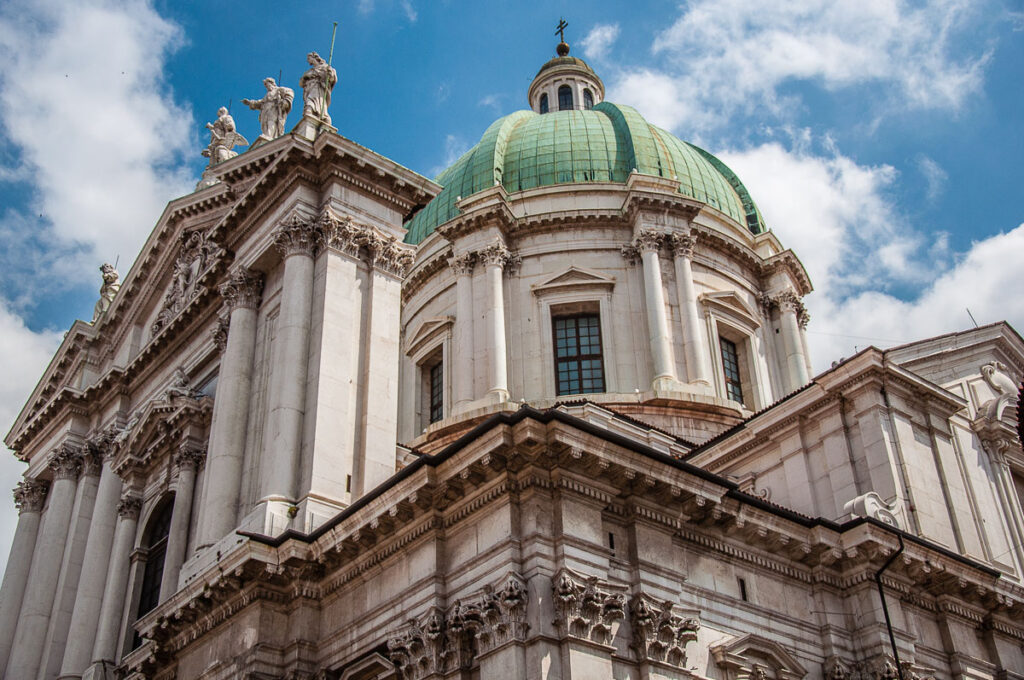 Duomo Nuovo – Brescia's New Cathedral was built between 1604 and 1825. It has a grand marble facade in the Baroque style and it was erected on the site of a Paleochristian basilica. It has the third-tallest dome in Italy!
Brescia's Duomo Vecchio and Duomo Nuovo stand side by side on Piazza Paolo VI in the historic centre. The square is named after Pope Paul VI (1963-1978) who was born Giovanni Battista Montini near Brescia.
Sanctuary of Santa Maria delle Grazie – this monumental complex is a wonderful mix of Renaissance, Baroque, and Neo-Gothic architectural and artistic influences. The plain exterior doesn't betray the richly decorated interior. A cloister links the large basilica to the shrine where a miraculous image of the Virgin Mary is venerated.
Church of Santi Nazaro and Celso – come here for the Averoldi Altarpiece – an early 16th-century masterpiece by the Renaissance painter Titian.
Church of San Faustino in Riposo – this tiny round church has an interesting conical dome dating back to the 12th century.
It is impossible to list all the churches of Brescia which deserve a visit on account of their history, architecture, and art. Church of Santa Maria dei Miracoli with its intricate Renaissance facade, Church of Santa Maria del Carmine with its Romanesque-Gothic architecture, Church of San Francesco with its frescoes from the 14th and the 15th centuries and its wooden choir stalls. There are so many!
If you have some spare time on your hands, make it your mission to enter every church that you come across during your visit to Brescia. You will be truly overwhelmed by the wonderful discoveries you will make – from local stories about miraculous images to priceless works of art.
Official Websites:
6. Fall in Love with Brescia's Spacious Squares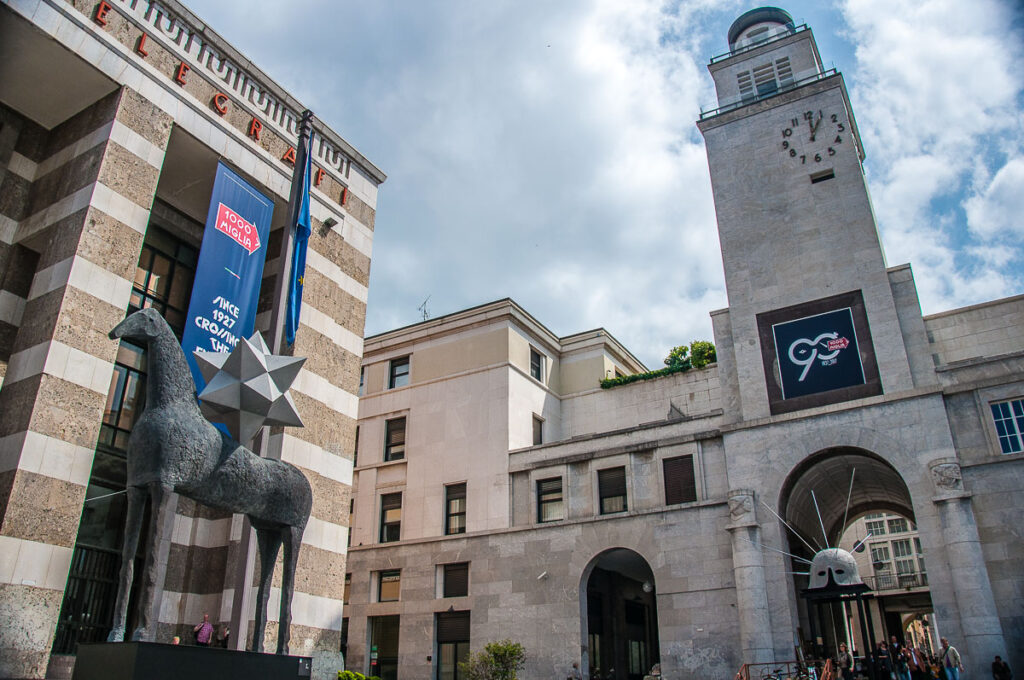 The piazza is one of Italy's most enduring symbols. And Brescia has some of the most splendid historic squares to see here. Surrounded by elegant, centuries-old buildings and flanked by lively cafes and restaurants, spending time at one of Brescia's piazzas is to enjoy Italy authentically. Sit al fresco, have a coffee or a local dish, and engage in some people-watching.
Here are the squares in Brescia you need to experience for yourself: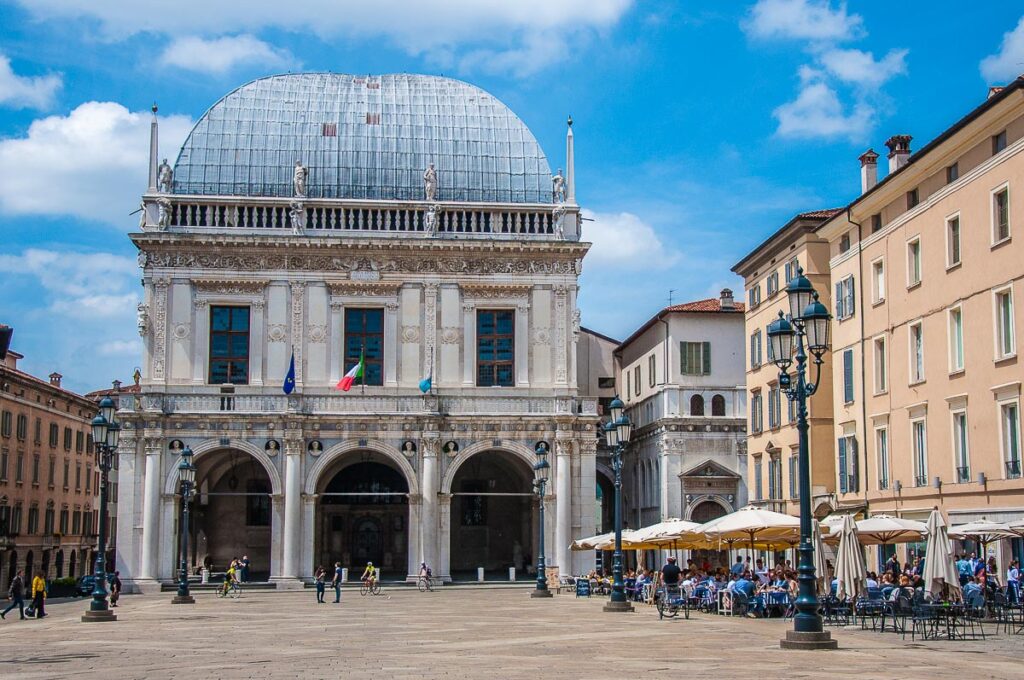 Piazza della Loggia – this is easily the most beautiful square in a city of many beautiful historic squares. It is very Venetian in character and it takes its name from the imposing loggia which stands at one of its ends. The loggia is an elegant Renaissance building that was erected between 1492 and 1570 with the creative input of the famous architects Jacopo Sansovino and Andrea Palladio.
The former is famous for designing and erecting the St. Mark's Library in Venice. The latter is the creator of the Palladian architectural style and his churches, palaces, and villas can be admired in many places in the Northern Italian region of Veneto and, especially, in Venice and Vicenza.
The ceiling of Brescia's Loggia was decorated with three large canvases by the famous Venetian artist Titian. Unfortunately, a big fire in 1575 destroyed them together with the lead roof of the building. The roof as we see it nowadays was placed there in 1914 and it was inspired by the original Renaissance roof in the shape of a boat's hull.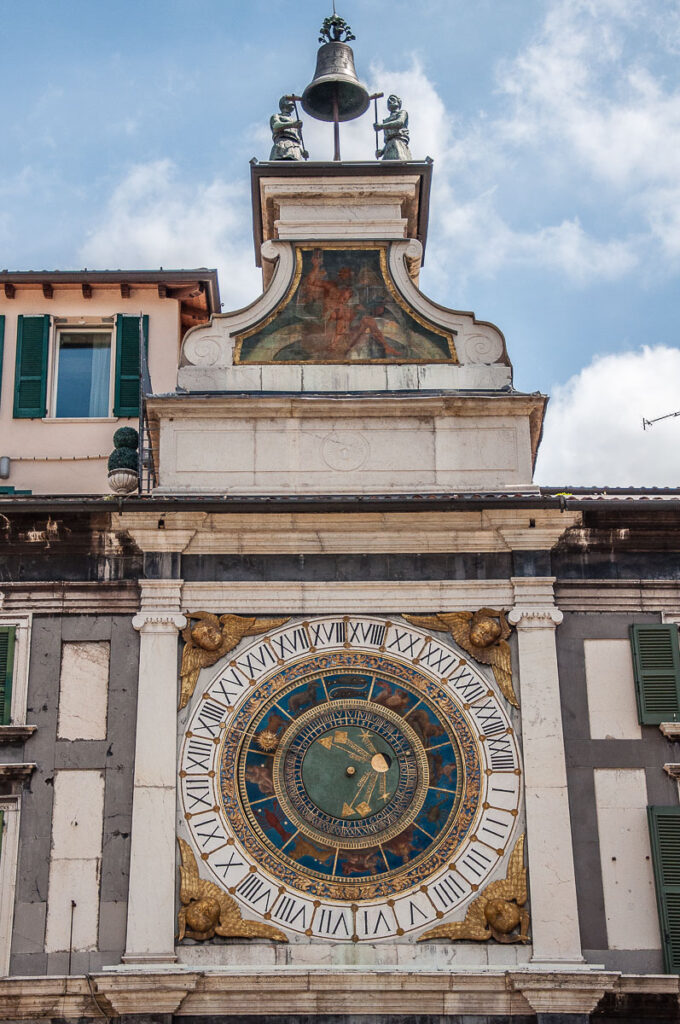 My favourite sight at Brescia's Piazza della Loggia is the 16th-century astronomical clock. You will see it in the middle of the long portico that stretches along the western edge of the square. Notice the two figures standing on both sides of the large bronze bell that crowns the clock tower. Colloquially, these bellstrikers are known as the Macc de le Ure – the Madmen of the Hours. The locals have even given them individual names – Tone and Batista.
Make sure that you walk through the clock tower's portico. There is a lovely narrow street on the other side. You will see that on the opposite side the clock has a second, slightly less ornate, yet still very beautiful face.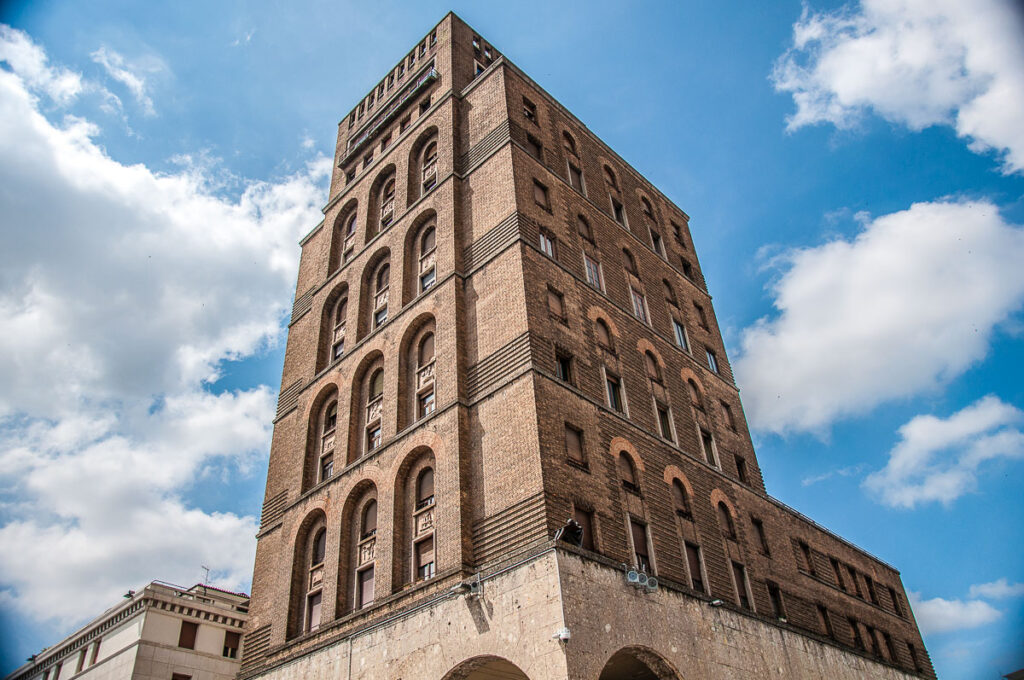 Piazza Vittoria – for me, this was the first square that I saw in Brescia and it made a huge impression on me. It's very different to what an Italian piazza looks like in our collective mind. It's very large, rather grey, and it's surrounded by huge, monolith buildings. It looks quite stern. That's it unless it's a sunny blue-skied day and people are out and about visiting the monthly antique market or another one of the lively events that Brescia regularly holds.
The square was the brainchild of Marcello Piacentini – one of the main representatives of the Fascist architectural style in Italy. He is also known as the designer of the central part of Bergamo's Lower Town. A portion of Brescia's medieval historic centre was raised to the ground to open space for the new Piazza Vittoria which was erected between 1927 and 1932.
It is here that you can see Italy's first skyscraper – the Torrione. 60 metres tall, it was built between 1930 and 1932 and it was officially opened by Benito Mussolini.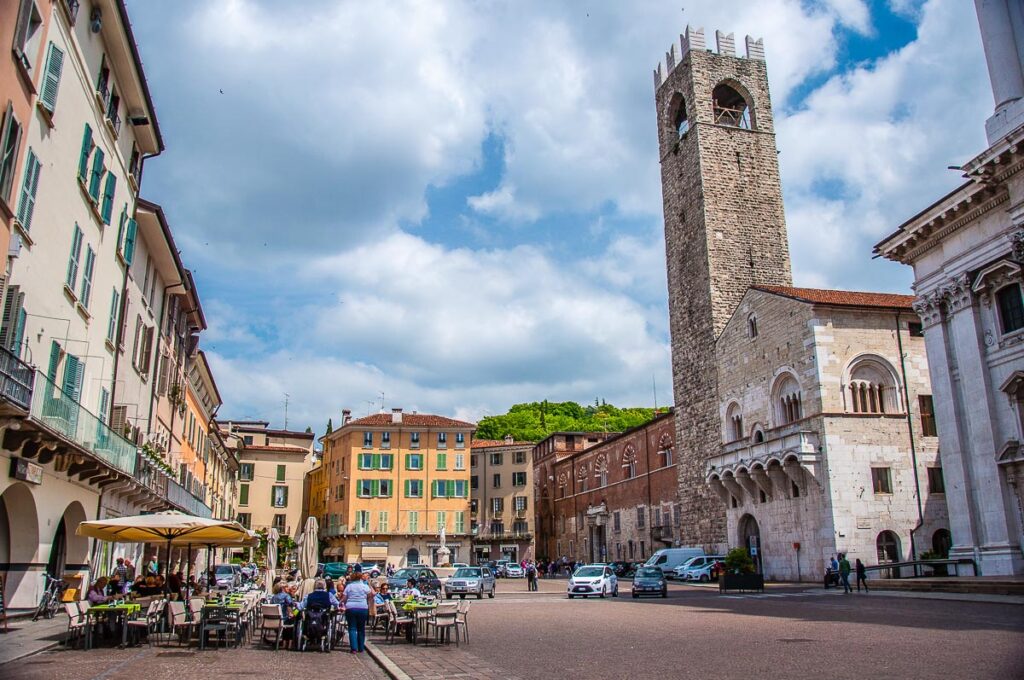 Piazza Paolo VI (previously known as Piazza del Duomo) – some of Brescia's most important religious and civic buildings flank this square in the heart of the city. Among them are the Duomo Vecchio and the Duomo Nuovo, as well as the Broletto Palace with its 54 metres tall tower – the Torre del Pegol.
I have already covered the city's cathedrals under point 5 above, so let me tell you a bit more about the Palazzo del Broletto. Historically, this is Brescia's town hall. Its name – Broletto – comes:
either from the word brolo meaning orchard (as, apparently, the palace was built at a spot where an orchard once stood);
or from the words mercatum broli – vegetable market – as during the Middle Ages, the palace faced the lively city market.
In any case, the Broletto Palace was first built between the end of the 12th and the beginning of the 13th centuries and has been modified several times since then. It has a small cobbled courtyard with a fountain. The balcony which faces Piazza Paolo VI was used in the past to announce all new decrees and laws to the people congregated below. Hence, the balcony is known as the Loggia delle Grida (Loggia of the Shouts).
Several eateries flank Piazza Paolo VI and on a sunny day, it's very nice to sit here alfresco and take in the historic buildings around the square. There are two fountains, too.
Piazza Paolo VI is also famous in the history of Brescia as the place where such worldwide famous bands and performers as Deep Purple, Mark Knopfler, and Lenny Kravitz have had concerts.
7. Pencil in Time for Brescia's Other Museums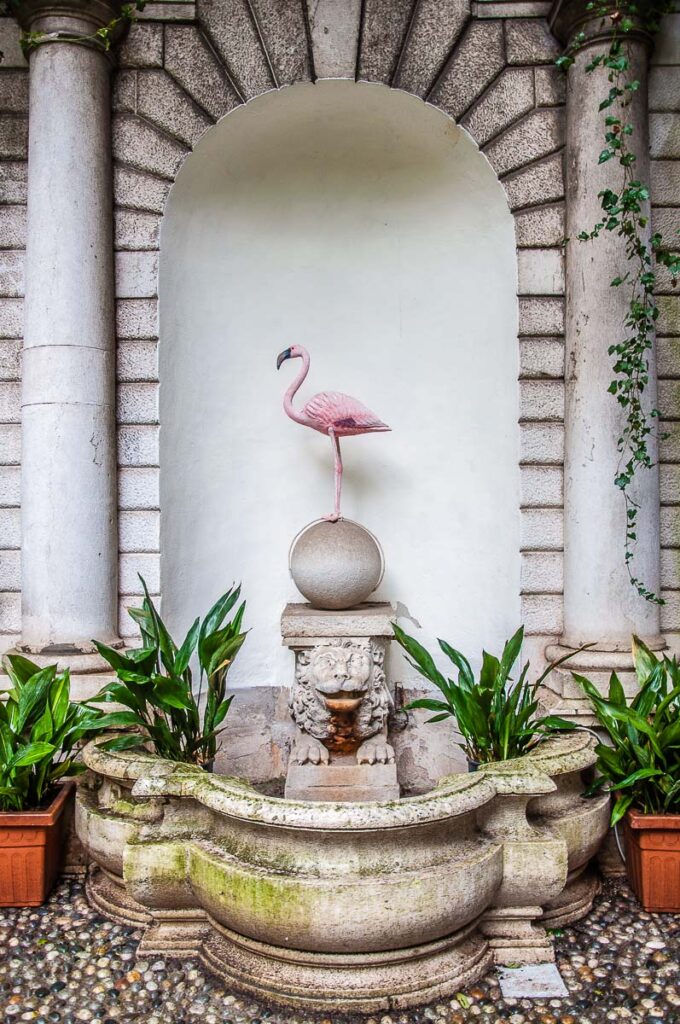 If you love museums and the stories they tell, you will be in your element in Brescia. There are museums here to appeal to a wide range of interests – from history and art to motor racing. Take your pick:
Pinacoteca Tosio Martinengo – come here to explore Brescia's rich collection of art. The gallery is housed in 25 rooms of a 17th-century palace. Spend a quiet hour here taking in the artistic output of many local and internationally acclaimed Italian painters. A special mention deserve the masterpieces by Raphael, Lorenzo Lotto, Tintoretto and Sofonisba Anguissola. The Brescian School of the Italian Renaissance is also very well represented.
Palazzo Martinengo – I mentioned this palace in Brescia under point 2 above on account of the underground Roman ruins you can see here. In addition, Palazzo Martinengo hosts art exhibitions and has a nice garden which is also used as an exhibition space.
Mille Miglia Car Race Museum – a great destination if you love the history of motor sports. The Mille Miglia was a famous motorsport endurance race that was originally held from 1927 to 1957. It was then revived in 1977 but it's open only to car models that were manufactured before 1957 and were participants in the original event. The museum tells the story of the Mille Miglia race and has a splendid collection of classic and vintage cars. It's housed in the former Monastery of Sant'Eufemia in Brescia.
Diocesan Museum of Sacred Art – don't miss it if you have a special interest in works of religious art, illuminated manuscripts, and liturgical vestments. Italy has many Diocesan Museums and if you have never been to one, Brescia's own is a great introduction to the type of artefacts and stories curated in these establishments.
National Museum of Photography – it tells the story of photography and cinema from the first experiments to our days.
Two passes in Brescia help you enjoy a visit to as many museums here as you can while adhering to a strict budget. They are:
Brescia Card – a useful 24h or 48 h card that gives you access to the city's main museums and transport services (including Brescia's subway) for one very reasonable price.
Desiderio Card (in Italian) – valid for one year, this card gives you unlimited access to all of Brescia's Civic Museums.
Official Websites:
8. Tuck into Brescia's Delicious Local Food and Wines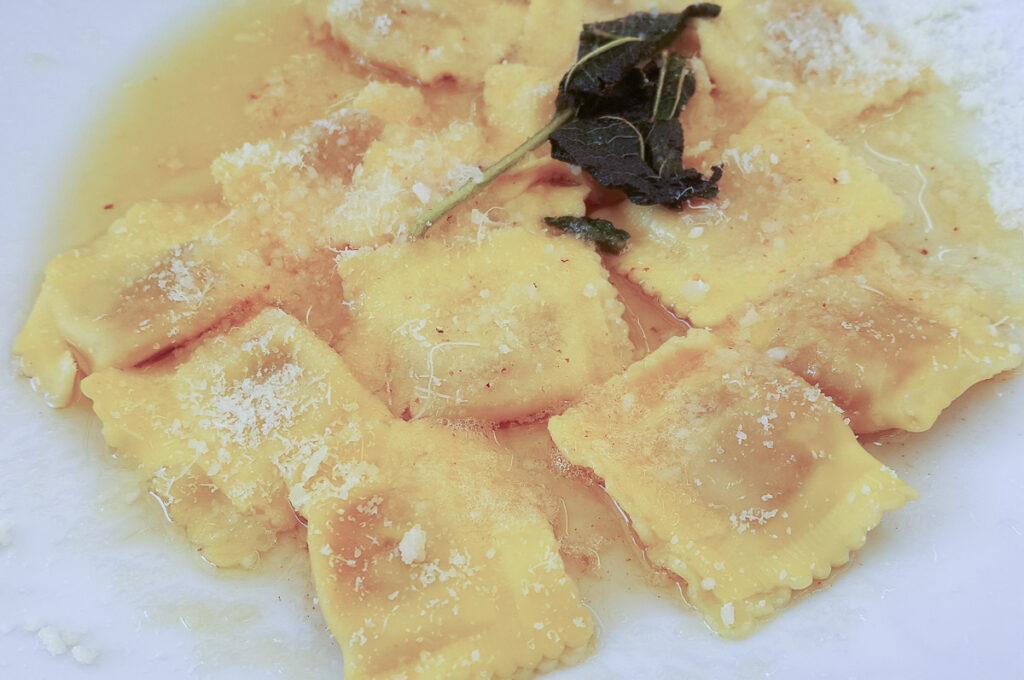 Italian food is famous all over the world and a visit to Italy is made so much more appetising by the promise to eat and drink well during your stay here. On account of its geographical position on the cusp of plains and mountains and having a handful of large lakes nearby, Brescia has a great local cuisine and exquisite wines.
Here is a shortlist of the culinary and oenological delights you can enjoy during your visit to Brescia in Italy:
Bagoss – prized cheese that is only produced in the small town of Bagolino near Brescia. It has a lovely dense and salty flavour with hints of walnuts and chestnuts. Having a thick slice of Bagoss in a soft bread roll feels like a feast in itself.
Casonsei – large pasta shapes stuffed with a filling made of eggs, mature cheese (or ricotta), spinach or meat. They are served generously drizzled with melted butter and decorated with sage leaves.
Polenta taragna – this is polenta prepared with ground buckwheat and corn flour. It is then mixed with fresh cheeses and melted butter.
Lumacche alla bresciana – snails cooked with spinach and served with grated parmesan.
Persicata – typical for Brescia, these little sweets are made by boiling white peaches with sugar. The resulting thick paste is then left to dry over a week and sliced into small rectangles or squares.
Biscotti bresciani – twice baked solid biscuits that the locals are very proud of.
Franciacorta wines – outstanding sparkling wines produced in the famous Franciacorta area near Brescia.
9. Enjoy Brescia's Lively Festivals and Events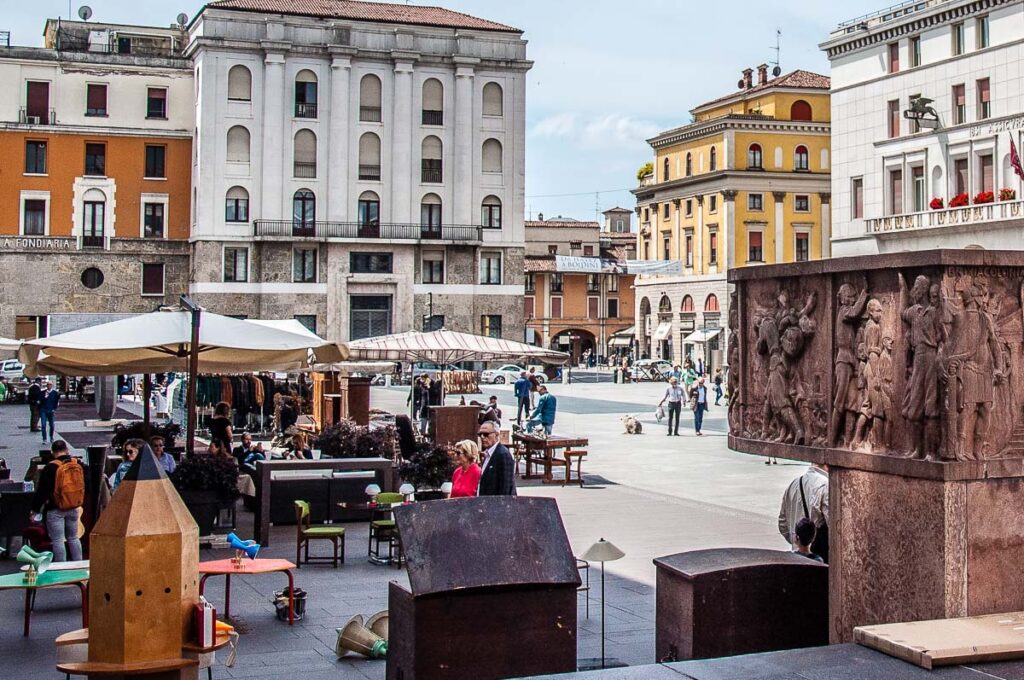 Brescia has a rich programme of events that fills this Italian city with joy and hubbub all throughout the year. If you can, try to time your visit to Brescia to coincide with one of these festivals and happenings for even more great experiences here:
Fiera dei Santi Faustino e Giovita – on 15th February every year, Brescia celebrates the day of its two patron saints. You can keep an eye on the official website for news about future editions of the celebration.
Brescia Art Marathon – held every spring, this is a marathon with international participation and it's approved by the Italian Athletics Federation.
Antique Market – held every second Sunday of the month (excluding July and August).
International Piano Festival Arturo Benedetti Michelangeli – this is one of the most prestigious events in the world dedicated to piano music. It's named after the famous pianist Arturo Benedetti Michelangeli who was born near Brescia in 1920.
Mille Miglia Storica – historical reenactment of the 1,000-mile automobile race held between 1927 and 1957.
Brescia's Siege – historical reenactment of the siege of Brescia in 1238 by the Holy Roman Emperor, Frederick II.
10. Take a Day Trip from Brescia, Italy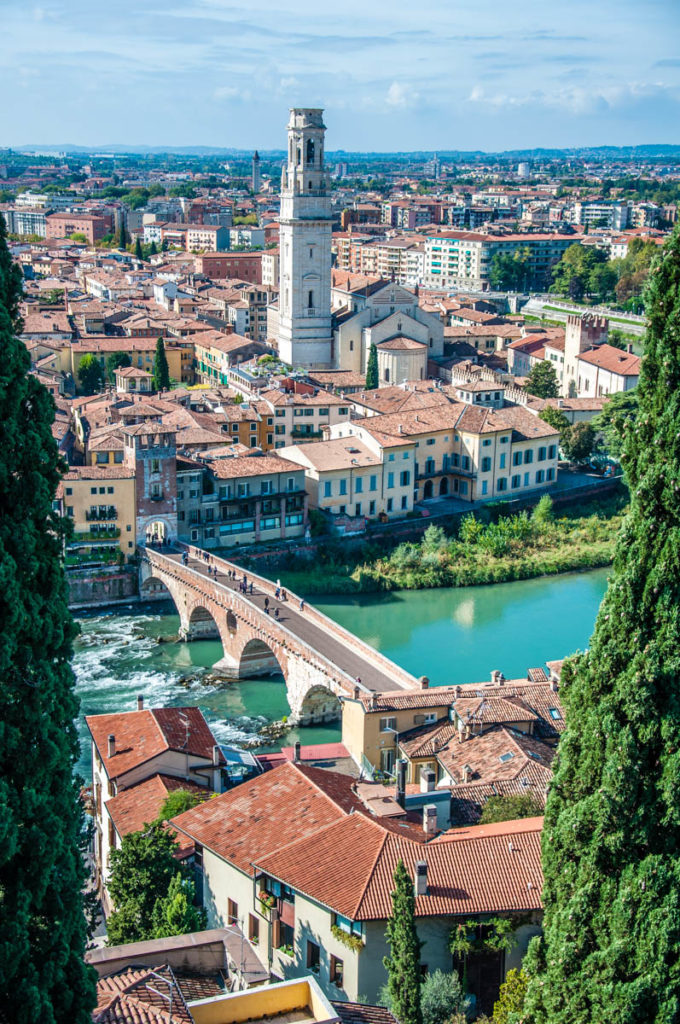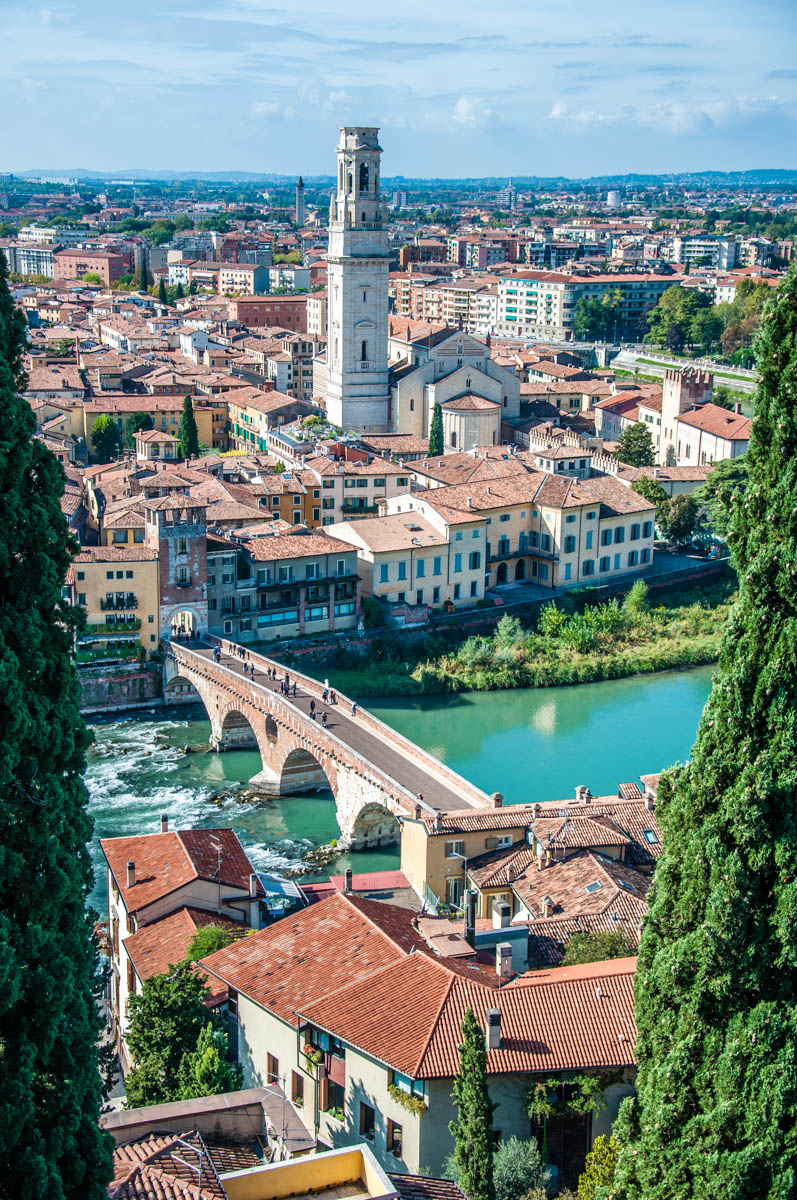 If you have decided to use Brescia as your base during your time in Italy, then you will be spoilt for choice when it comes to day trips and explorations in the immediate area. In alphabetical order, here are some great trips by train and/or road to enjoy from Brescia:
Bagolino – a tiny town built on a steep slope in the deep Valley Sabbia in the Prealps of Lombardy. Less than 75 km away from Brescia, Bagolino is a great destination on account of its Carnival. This is a unique, authentic celebration that has been classified as one of Italy's most important ethnological discoveries of the last 200 years. Bagolino is also the place where the famous local cheese Bagoss is made.
Bergamo – a gem of a small Italian city with a beautiful hilltop historic centre, a wonderful collection of must-see sights, and this relaxed atmosphere where you immediately immerse yourself in the Italian way of life. Less than 45 km away from Brescia, Bergamo is especially interesting as it is a curious mixture of Lombard and Venetian styles and influences. With a millennial history, massive defensive walls which nowadays are on the list of UNESCO World Heritage Sites, and a busy low-cost airport nearby, Bergamo is a must-see in this corner of Italy.
Cremona – Italy's City of Violins is beautiful and has a wonderful selection of historic sights to explore. Among them stand out the Violin Museum, many frescoed palaces, and the city's Cathedral with its Baptistery and its 111 m tall bell tower – the Torrazzo. The workshops of many violin-makers are dotted all over town. About 53 km away from Brescia, the journey to Cremona is worth it even just for the local nougat. Known as torrone, this is a traditional delicacy renowned all over Italy. It's enjoyed mainly during the Christmas season.
Franciacorta – a famous wine-producing area in the Province of Brescia. Wine aficionados should definitely visit. Booking a guided tour is an easy way to explore the beautiful vineyards and the historical wineries producing outstanding sparkling wines. You can visit a centuries-old cellar and do a tasting by pairing wines with delicious local specialities.
Franciacorta Outlet Village – a must-see destination for those who love shopping designer fashion at outlet prices. About 20 mins away from Brescia, you can easily spend half or a full day here.
Lake Como – easily Italy's most famous lake on account of its beautiful nature, cute lakefront towns, and the number of Hollywood actors holidaying on its shores. With Lecco and Como (two of the largest lakefront towns) respectively 87 and 136 km away from Brescia, you can either drive there or get the train (with a quick change in Milan).
Lake Garda – this is Italy's largest lake and a great destination to explore. Dotted with cute lakefront towns and offering a great variety of things to do, see, and enjoy, Lake Garda is easy to reach from Brescia. Several of its most famous and most beautiful towns – like Desenzano del Garda, Sirmione, Salo' and Gardone Riviera – are actually in the Province of Brescia and connected to it either by train or bus.
Lake Iseo – Northern Italy's hidden gem of a lake, Iseo has two major claims to fame. One is that it has one of the largest lake islands in Europe – the beautiful Monte Isola. The other is that it was the spectacular setting of The Floating Piers – an installation by the late artist Christo that made it possible for people to walk on water. By car, you can get to Lake Iseo from Brescia in about half an hour and then get a ferry to Monte Isola or explore other beautiful corners around the lake.
Mantua – Italy's Renaissance gem is only about 72 km away from Brescia. Discovering its frescoed palaces and many artistic and historic sights is a great way to spend a memorable day in Northern Italy. Don't miss the Camara degli Sposi (in English, the Bridal Chamber) in the Ducal Palace. Frescoed by the famous artist Andrea Mantegna, it's one of the pinnacles of the Italian Renaissance.
Milan – one of the world's fashion capitals and Italy's second-largest city, Milan is always a great idea. A huge, sprawling place dotted with museums and boutiques, there is so much to see and do here that you can easily fill several days. Only half an hour away on the high-speed train from Brescia, Milan has many must-see sights. Its Gothic Duomo, Leonardo da Vinci's Last Supper, the opera theatre La Scala, and one of the world's oldest shopping malls – the Galleria Vittorio Emanuele II – are only some of the most important landmarks here.
Val Camonica – one of the largest valleys in the Central Alps is only about an hour away by car from Brescia. Come here to see the millennial rock carvings which are a UNESCO World Heritage Site.
Venice – the city of water is one of the world's most famous destinations. 180 km away from Brescia (or just under two hours on the high-speed train), don't miss a visit to Venice if you haven't been before. Have a look at my Venice-centric blog posts for detailed information about all the wonderful things you can do and see there.
Verona – known as the City of Love, Verona is the literary stage of the tragic love of Romeo and Juliet. Yet, that's not all! The city has a rich Roman heritage, a worldwide famous opera festival, a lively historic centre dotted with must-see sights, and one of the most beautiful urban settings this side of Italy. 70 km away from Brescia (or just over half an hour on the high-speed train), Verona is the ultimate day trip.
For more great destinations to explore in the Northern Italian region of Lombardy of which Brescia is the second-largest city, have a look at this blog post:
Map of Brescia's Must-See Sights
Here is a nice and tidy map showing you the locations of the main Brescia sights.
I made it using Google Maps. So, you can use this map of Brescia in Italy just like any other Google map. You can zoom in and out, click to open the map in a separate tab, and click on the different pins to see their coordinates.
You can also use this map to calculate distances and directions from any point in Brescia (or Italy) to any other point in this beautiful Northern Italian city (and beyond). This way, you can make your own itinerary to follow during your visit.
If you want, you can share this map of Brescia on social media, too.
Here are the main Brescia landmarks included in the map:
1. Santa Giulia Museum Complex; 2. Capitolium Archaeological Area; 3. Castle of Brescia; 4. Teatro Grande; 5. Duomo Vecchio; 6. Duomo Nuovo; 7. Piazza della Loggia; 8. Piazza Vittoria; 9. Piazza Paolo VI; 10. Pinacoteca Tosio Martinengo; 11. Palazzo Martinengo; 12. Mille Migla Museum; 13. Diocesan Museum of Sacred Art; 14. National Museum of Photography.
How to Visit Brescia in Italy and Other Practical Tips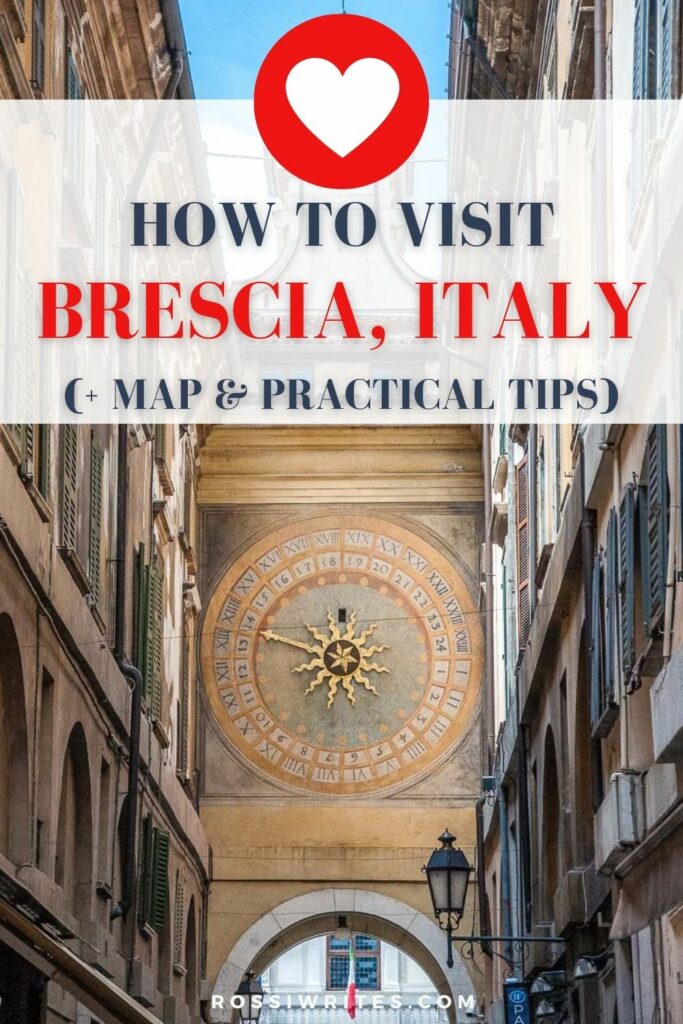 Where in Italy is Brescia?
With a population of about 200,000 people, Brescia is the second-largest city in the Northern Italian region of Lombardy. The city is also the capital of the Province of Brescia which with a surface of 4,785 km2 is over three times bigger than the Province of Milan.
Half an hour away by high-speed train from the regional capital Milan, Brescia stands at the foot of the Brescian Prealps – a mountain range at the southern part of the Alps. The Brescian plains stretch around the city. Monte Maddalena with an elevation of 874 m rises right next to Brescia.
Italy's largest lake – Lago di Garda – stands to the east of Brescia. In fact, several of the most famous lakefront towns here are part of the Province of Brescia. Among them are Desenzano del Garda (the largest town on Lake Garda), Sirmione, Salo', Gardone Riviera, and Limone sul Garda.
To the northwest of Brescia, you can visit the lesser-known yet very beautiful Lake Iseo. A number of smaller lakes also dot the territories adjacent to the city.
Brescia offers easy access by road and/or railway to the Italian regions of Veneto, Trentino-Alto Adige, Piedmont, and Emilia-Romagna. To give you a better idea, here are the respective distances from some of the most important Northern Italian cities to Brescia:
Verona (Veneto) – around 70 km away from Brescia;
Milan (Lombardy) – around 100 km away from Brescia;
Trento (Trentino-Alto Adige) – around 136 km away from Brescia;
Venice (Veneto) – around 180 km away from Brescia;
Bologna (Emilia-Romagna) – around 200 km away from Brescia; and
Turin (Piedmont) – around 230 km away from Brescia.
Here is a map showing the exact location of Brescia in Italy. You can click on it to zoom in and out, to check specific distances, and to get directions to other destinations in Italy and abroad.
How to reach Brescia in Italy?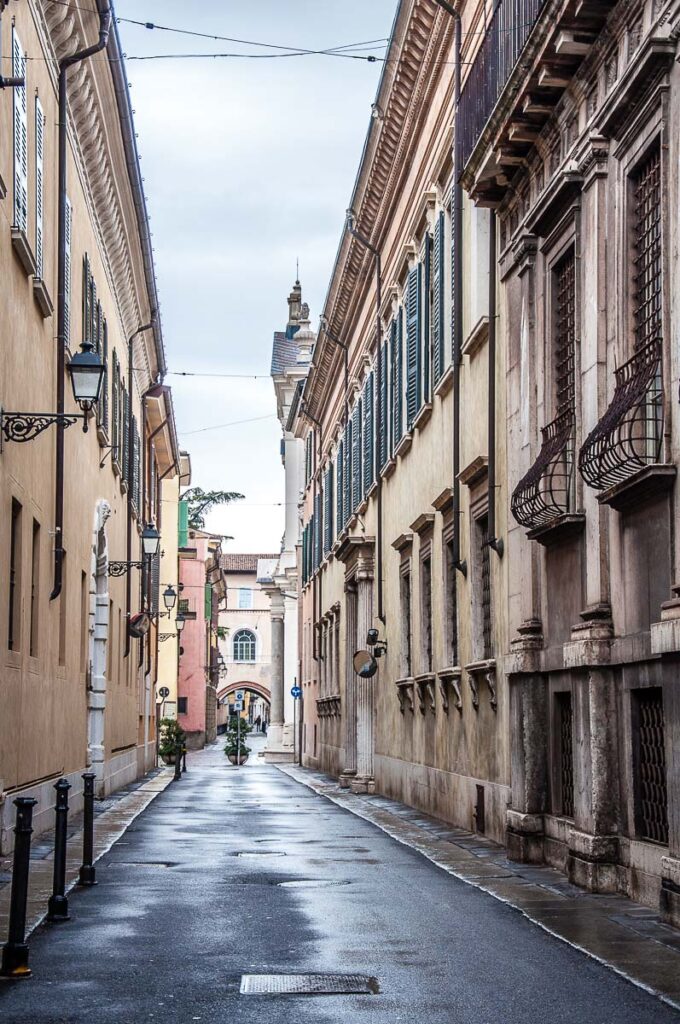 Brescia is well connected by air, road, and railway to anywhere in Europe and Italy.
This large Italian city is close to several of the major airports in Northern Italy. Bergamo's Orio al Serio Airport is only about 40 mins up the road. Verona's Valerio Catullo Airport is about 45 minutes away. Milan Linate, Milan Malpensa, Venice's Marco Polo Airport, and Bologna's Guglielmo Marconi Airport are between one hour and two hours away, too.
While Brescia has its own airport, nowadays it specialises in cargo flights.
Brescia also enjoys excellent connections by train to many of the largest cities in Northern Italy. The city is on one of the most important Italian railway lines. It connects Turin and Venice with stops in Milan, Brescia, Verona, Vicenza, and Padua along the way. Served by high-speed trains, it allows for fast and comfortable travel.
As such, the journey from Milan to Brescia by high-speed train is just over half an hour. Cheaper regional trains take between 45 mins and just over an hour to cover the same distance. The journey from Verona to Brescia by high-speed train is also only 35 mins and the cheaper regional trains take around 45 mins.
To check train travel times and buy tickets in advance, I use Omio. It shows prices and travel times for all available types of trains in Italy irrespective of the company that runs them. This way I can compare costs and times of departure and arrival.
Reaching Brescia by car is very easy, too. The city is on two of Italy's most important motorways:
Autostrada A4 (known also as La Serenissima after the moniker of the historic Republic of Venice) – which connects Turin via Milan and Venice to Triest; and
Ausostrada A21 (known also as the Motorway of the Wines as it goes across several important wine-producing areas) – which connects Turin to Piacenza, Cremona, and Brescia.
This helpful website will give you an estimate of how much the tolls are going to cost. Click here if you need to hire a car for your trip to Brescia in Italy.
Where to stay in Brescia, Italy?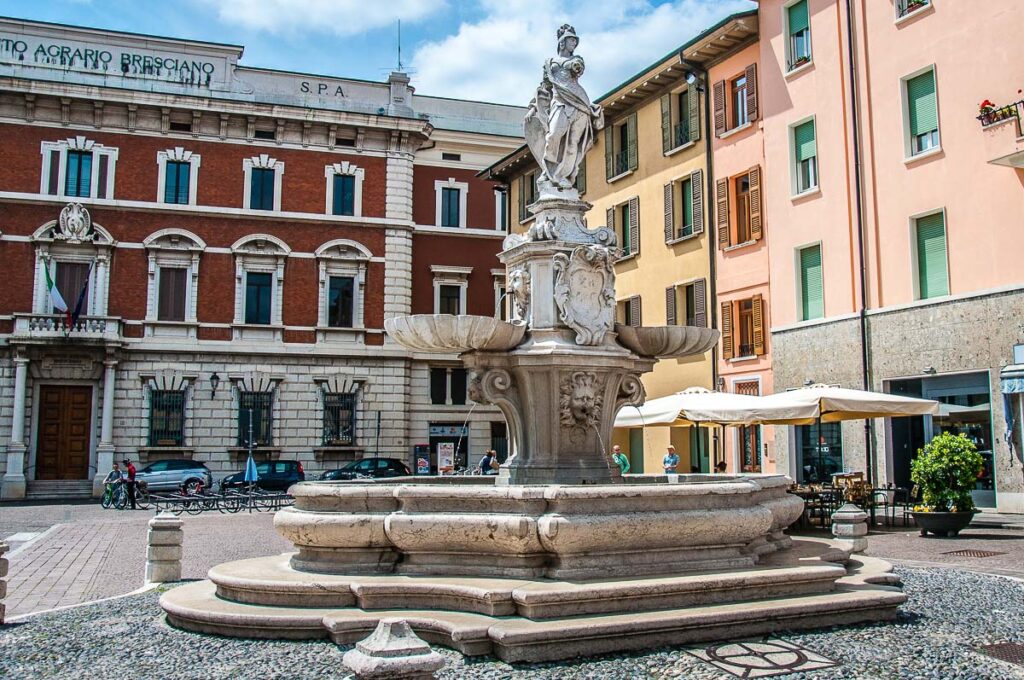 You can find all sorts and types of accommodation in and around Brescia in Lombardy, Italy to suit any budget. From fabulous hotels to cozy B&B's in historic buildings, there is something for everyone.
For ideas about the types of accommodation available in Lombardy in particular and Italy in general, have a look at this blog post:
I usually prefer to book all my accommodation through Booking.com. It gives me many different options in terms of budget and location and I can also read and compare reviews left by real people. Click to see all available places to stay in and around Brescia, Italy.
These three places are exceptionally good, too depending on your requirements and budget:
Locanda delle Mercanzie – with a central location, lovely decor, and only a small number of rooms, stay here for the authentic Italian experience.
Il Cantuccio di Gioia – warm welcome awaits you in this small yet perfectly appointed B&B which is next door to Brescia's main landmarks.
La Filanda – with streamlined, elegant rooms with wood-beamed ceilings, this small B&B is in the heart of Brescia thus allowing you to experience the city like a local.
If you need some visual help in terms of precise location and price range, have a look at this map. It gives you a quick idea of the prices and whereabouts of the many hotels and privately rented flats and houses you can book for your stay in Brescia in Lombardy, Italy:
When is the best time to visit Brescia, Italy?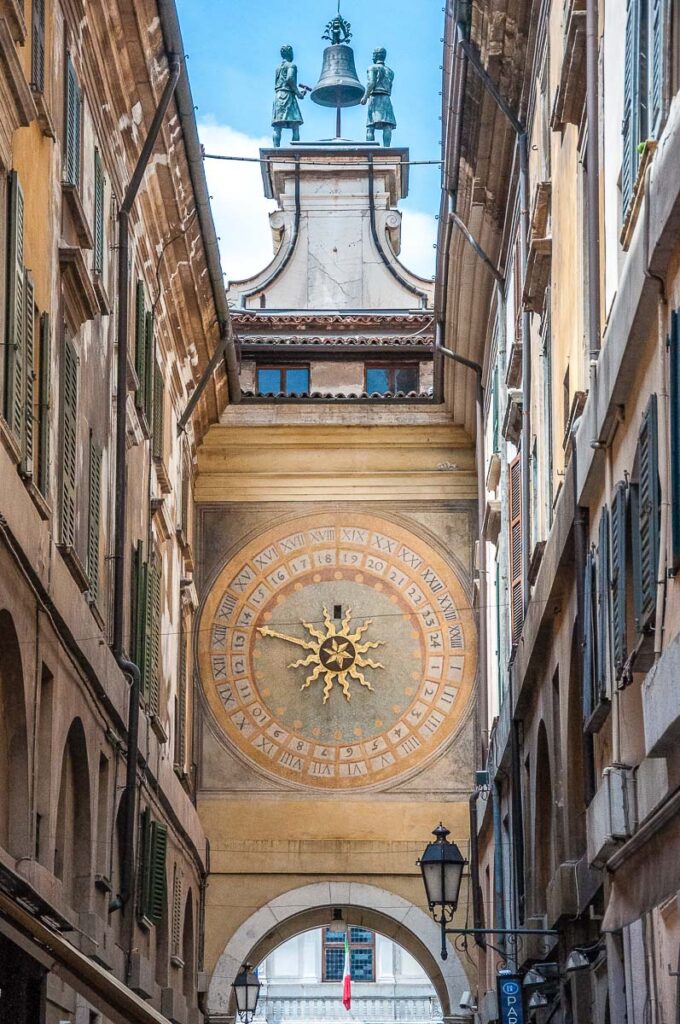 Brescia is a great year-round destination for a day trip or a longer stay in Lombardy, Italy. No matter the season, this beautiful city with Roman ruins, a hilltop castle, and splendid museums is a very exciting place to visit. I have spent time in Brescia both on drizzly days in winter and on hot days in summer, and there is so much to do here and so many inside and covered places to spend time at that the weather really was never an issue.
Still, I find this corner of Italy at its best in spring when everything gets green, the temperatures vary between light-jacket and short-sleeve weather, and the air is full of promise for the year ahead.
The end of summer and early autumn are also very beautiful with streaming golden light, balmy temperatures, and not too much rain. November and December bring a promise of a lovely Italian Christmas. Winters can be cold and damp with the occasional snowfall, so seek refuge in the city's many sights. You may be surprised to discover that you have them all to yourself.
As it happened to me during my last visit to Brescia's Capitolium Archaeological Area on a damp and grey February day. There is nothing like looking at millennia-old Roman frescoes and ruins without anyone around.
For a very detailed overview of Brescia's climate and month by month data, have a look at this link.
How long to stay in Brescia, Italy?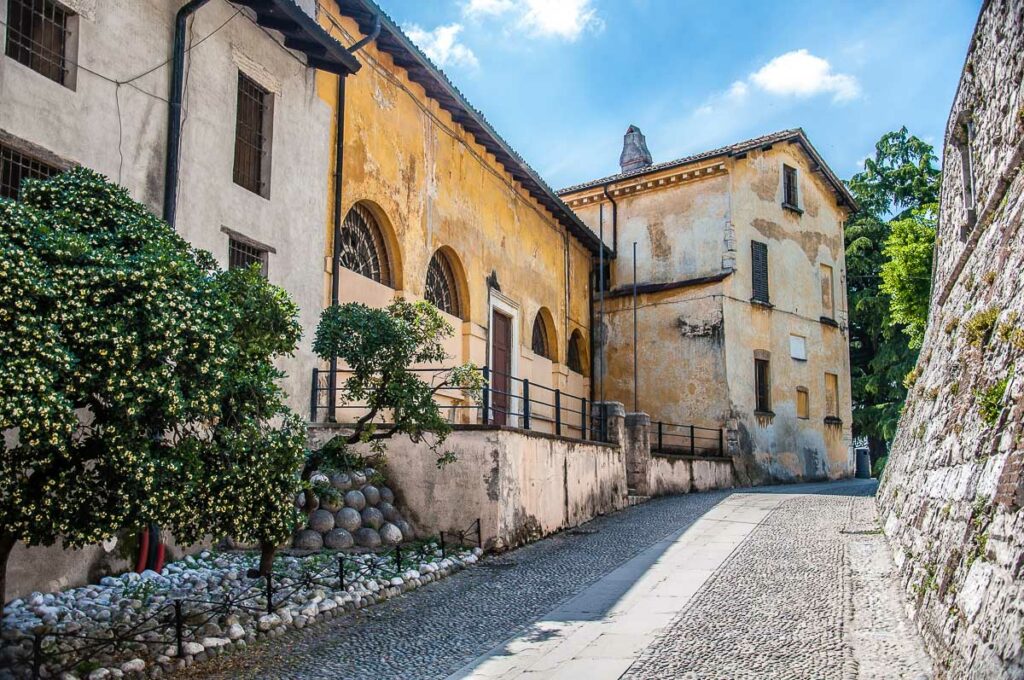 Brescia is the perfect day trip destination. In a day, you can easily walk all over its historic centre and climb up to the hilltop castle. This will also give you time for a quick visit to some of the main museums and sights. And you can add a nice, leisurely lunch, too.
If you would prefer to delve deeper into Brescia's many treasures, then consider staying a couple of days at least. The Santa Giulia Museum Complex in particular really needs plenty of time. It is such a vast and varied place with so much to see and imbibe in terms of Roman ruins, splendid frescoes, and historic artefacts that spending as much time as you can here really pays off.
If you decide to use Brescia as a base for a weekend break or a longer holiday in Italy, then you can take several wonderful day trips in the area, too. From hidden corners to large tourist magnets, there is lots to see within a short distance away.
Leaving the city for short excursions and then getting back to it is easy. Unlike Milan where navigating the city traffic eats into your available time.
What to do with kids in and around Brescia, Italy?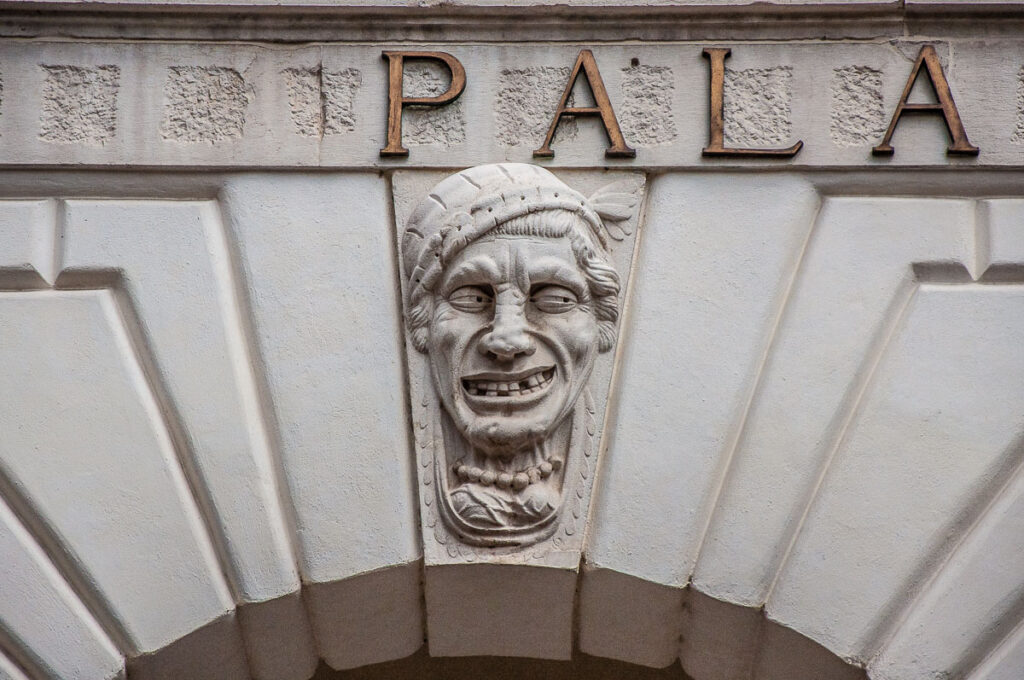 While traipsing around museums and sights with kids in tow may not sound like your idea of fun, Brescia is an undeniably great place to visit for families. Delving into history and art and just seeing the remnants of the past makes an indelible impression on young minds and inspires a deep interest in the world that surrounds us.
Brescia's many museums regularly organise educational courses, guided visits, thematic itineraries, and even dramatized tours. Keep an eye on their websites (links are provided in the different entries above) to see what's on.
In addition, some of Brescia's museums have activity books that will keep kids entertained and engaged during a long visit. Published in three languages – Italian, English, and German – these activity books are available free of charge at the ticket offices of the Santa Giulia Museum Complex, the Pinacoteca Tosio Martinengo, and the Luigi Marzoli Arms Museum (in the Castle of Brescia).
Brescia is also a great point of departure for hiking trips and nature visits in this beautiful corner of Italy. With lakes, hills, plains, and mountains on the doorstep of this exciting Italian city, there is always something to do and see here.
Take the kids to Lake Garda to see its cute lakefront towns and proud medieval castles. Hike to the top of Rocca di Manerba for splendid lake views and a portion of history. Visit citrus greenhouses and Italy's largest theme parks.
Alternatively, explore Lake Iseo together as a family. Take the ferry across to Monte Isola – one of Europe's largest lake islands. Visit the Torbiere del Sebino nature reserve – once a peat bog which nowadays is populated by 170 species of birds and where each spring and summer you can admire the spectacle of thousands of white water lilies in bloom. Or continue driving up to Val Camonica to see its amazing rock carvings.
In winter, ski resorts and areas are within a short distance from Brescia. In Val Camonica, Val Sabbia, and Val Trompia you will find great amenities for skiers and snowboarders of any age.
What are some great tours and activities to book in Brescia, Italy?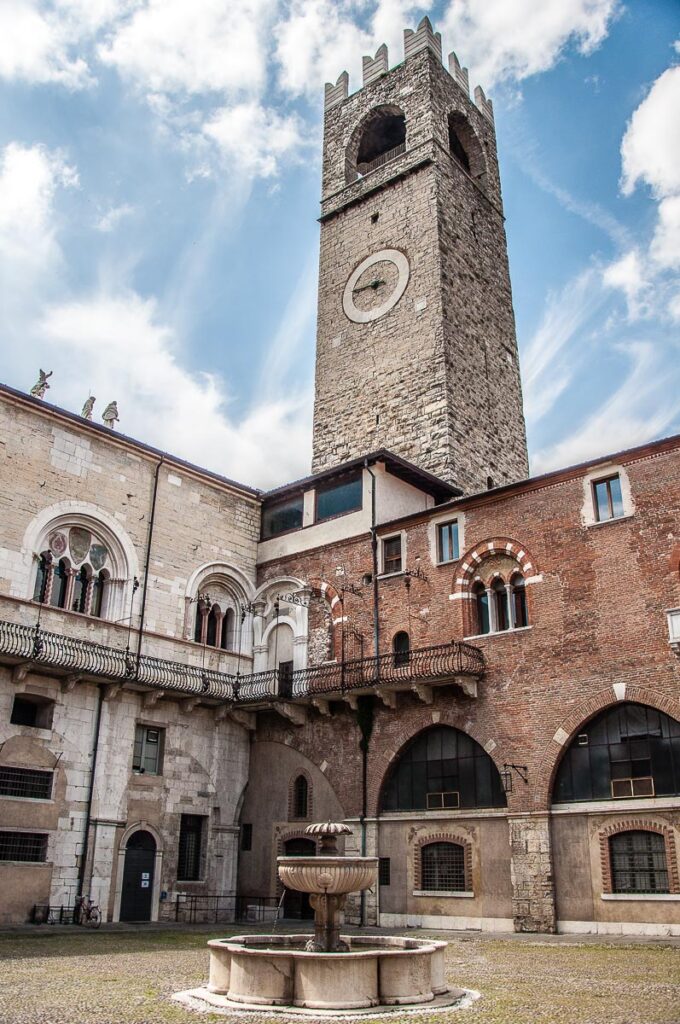 Do you enjoy exploring new places with the help of an expert local guide? Then booking an organised tour or activity during your time in Brescia, Italy is a great idea. It will give you a chance to delve in a structured manner into everything that this exciting Italian city and its surroundings have to offer. From history and art to delicious food and wine, you can experience the best of Brescia in a short amount of time.
Here are some of the best tours and tour guides in and around Brescia to look into and choose from according to your interests, available time, and budget:
Enjoy a private walking tour of Brescia taking in all its highlights in two and a half hours. Great choice if you are on a tight schedule and yet want to see it all. Or if you want to get your bearings around the city and find out where is everything that needs exploring in depth.
Discover the wines of Franciacorta – the wine-making territory near Brescia that is famous all over the world for its outstanding sparkling wines.
Consult this long list with expert guides certified to lead tours in Brescia and the areas of tourist interest around this exciting Italian city.
In Conclusion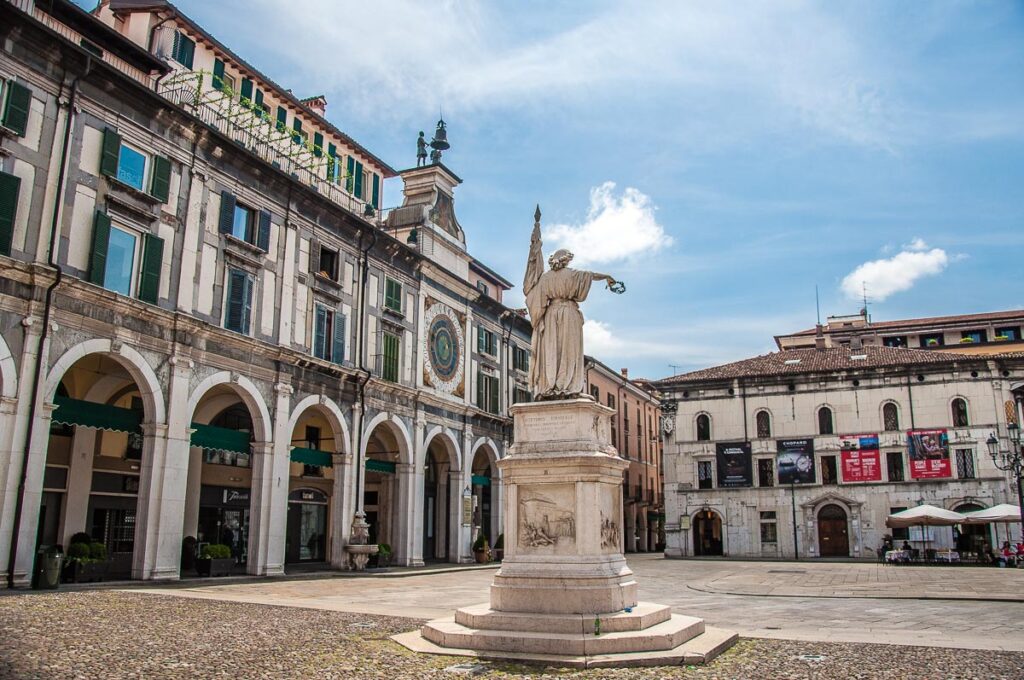 Brescia is a large northern Italian city with a millennial history and a rich host of must-see sights. Sandwiched between Milan and Verona, it often gets overlooked in favour of these two large tourist magnets. Yet, Brescia has a lot to offer to the traveller seeking to explore the history, the art, the nature, and the good food of Italy authentically.
Close to several major northern Italian airports and with a historic centre where Roman ruins stand side by side with Renaissance squares, Brescia is a hidden gem in Italy. The stage of many local festivals and internationally known events like the Mille Miglia historic car race, this lively Italian city is also a UNESCO site on account of its Lombard heritage.
Visiting Brescia on a day trip or choosing it as your base in Italy for a longer stay is a great idea. There is so much to do and see both in and around the city that by the end of your stay you will want to double your time here.
So, if you have ever wondered 'Is Brescia worth a visit?' or if you are looking for a new destination to explore in Italy off the beaten track, this blog post provides you with lots of details to help you make up your mind. From how to visit Brescia by plane, train or car to the best things to see and do here, from where to stay in Brescia to the best explorations of its adjacent area, I have covered all the bases.
During my six years of living in Italy, Brescia was always a destination I revisited with a never-waning curiosity and joy. Each time it had new discoveries for me to make. It could be the underground ruins of Roman houses with their stones telling millennial stories suspended in time. It could be a stunning panoramic view from the city's hilltop castle. Or it could be a plate of delicious casonsei served in a small eatery where the locals go. I enjoyed them all!
Now, I hope that all the information and first-hand tried and tested tips I share with you in this blog post will galvanise you to discover this underrated Italian city and everything it has to offer for yourself.
Have a wonderful time in Brescia, Italy!
Now, get ready quick for your visit to Brescia, Italy!

More Helpful Italy Info for You
Northern Italy: Reasons to Visit, Best Cities, Major Airports
Lombardy: Best Cities and Towns
Day Trips: Milan to Verona, Milan to Venice, Milan to Lake Garda, Venice to Milan, Verona to Milan
Lake Garda: Best Towns, Map of Lake Garda, Theme Parks, Nearest Airports, Travel Options, Lake Garda with Kids, Beautiful Castles
Lake Como: Things to See, Nesso
Thank you for reading! Please, leave me a comment, pin the images below or use the buttons right at the top and at the end of this blog post to share it on social media.
For more useful information like this, please, like my blog's page on Facebook and subscribe to my strictly no-spam newsletter.