Venzone is a fortified medieval village that was declared Italy's most beautiful in 2017.
Famous for its mummies and set at the foot of velvety mountain peaks, Venzone is a great place to visit if you are seeking an authentic Italian experience.
The village stands near Italy's border with Austria and Slovenia and it's part of the Northeastern Italian region of Friuli Venezia Giulia.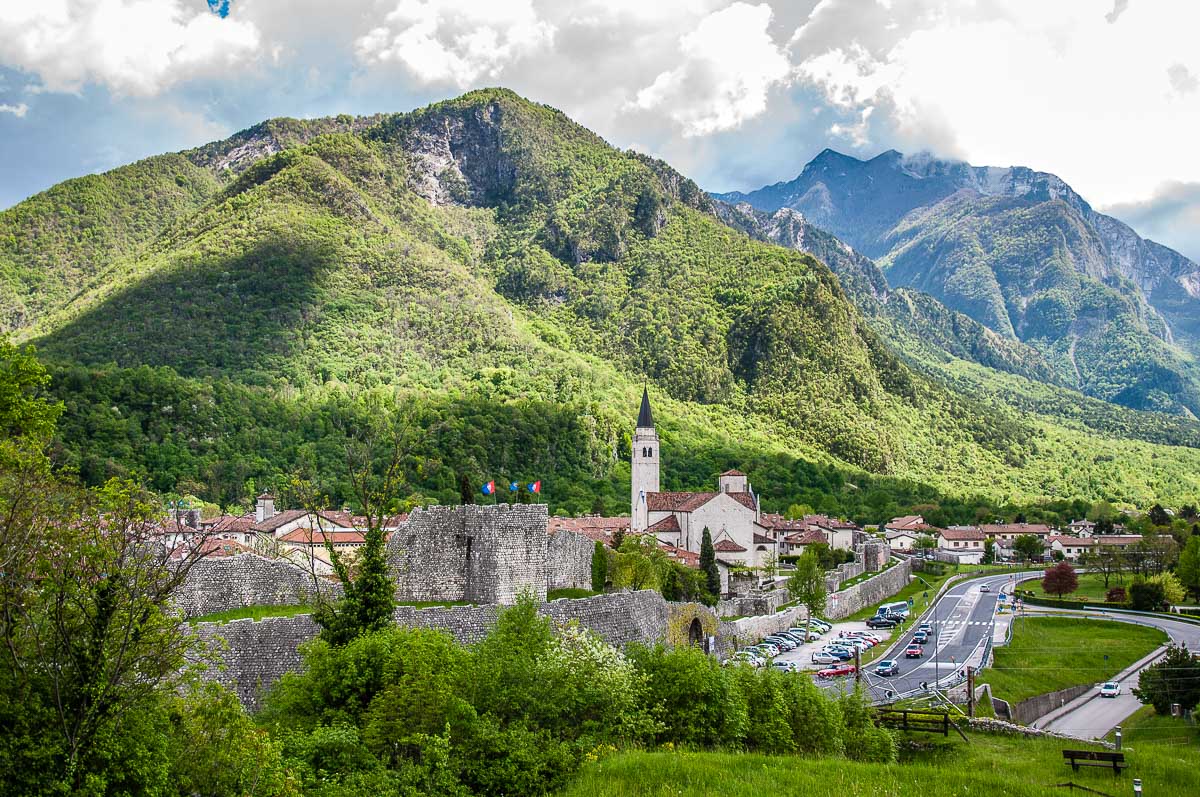 With the mighty river Tagliamento rushing past it, Venzone is like a time capsule. Its medieval walls, Gothic cathedral, and palaces with Venetian windows and architectural ornaments have seen many centuries fly past. At the same time, the village is a testament to the strong character of the locals. After it was devastated by a series of earthquakes in 1976, it was rebuilt in one of the most extraordinary examples of artistic and architectural restoration.
If you are looking for beautiful and authentic corners of Italy to explore, then Venzone is a great destination. This is a place where you can feel the echo of Italy's history in all its multilayered glory. Plus, the village has many quirks about it – from its mummies created by a dehydrating fungus to the moniker of its inhabitants who are known as pumpkinheads. Behind the latter stands a local legend that has also given rise to an important pumpkin festival taking place in Venzone each October.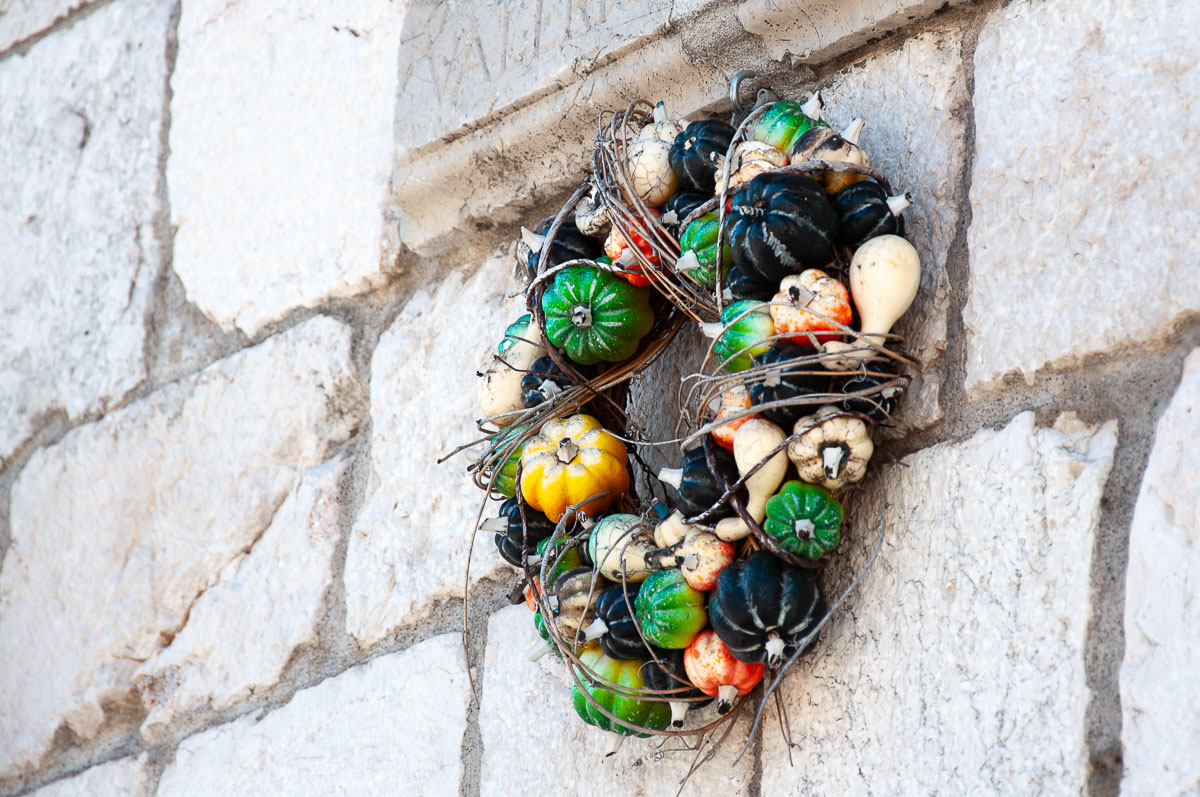 All in all, there are many things to do in and around Venzone to happily fill a couple of hours, half a day or a whole day of relaxed exploration during your Italian holiday. In this blog post, I will tell you all about them and will give you helpful pointers to make your visit to Venzone a truly exciting adventure.
From answers to such questions as 'where is Venzone' and 'how to get there' to a list with the best sights to see in the village, it's all organised in logical chunks of practical information to make your travel planning as easy as possible.
I had the chance to spend a lovely day in Venzone during a road trip through Friuli Venezia Giulia. This small and very pretty village left one of the brightest memories of my life in Italy.
Now, I want to share it all with you so as to galvanise you to discover this off the beaten track and so exciting corner of Italy all for yourself.
Have a look!
10 Things to Do in Venzone – Italy's Most Beautiful Village for 2017
Where is Venzone, Italy?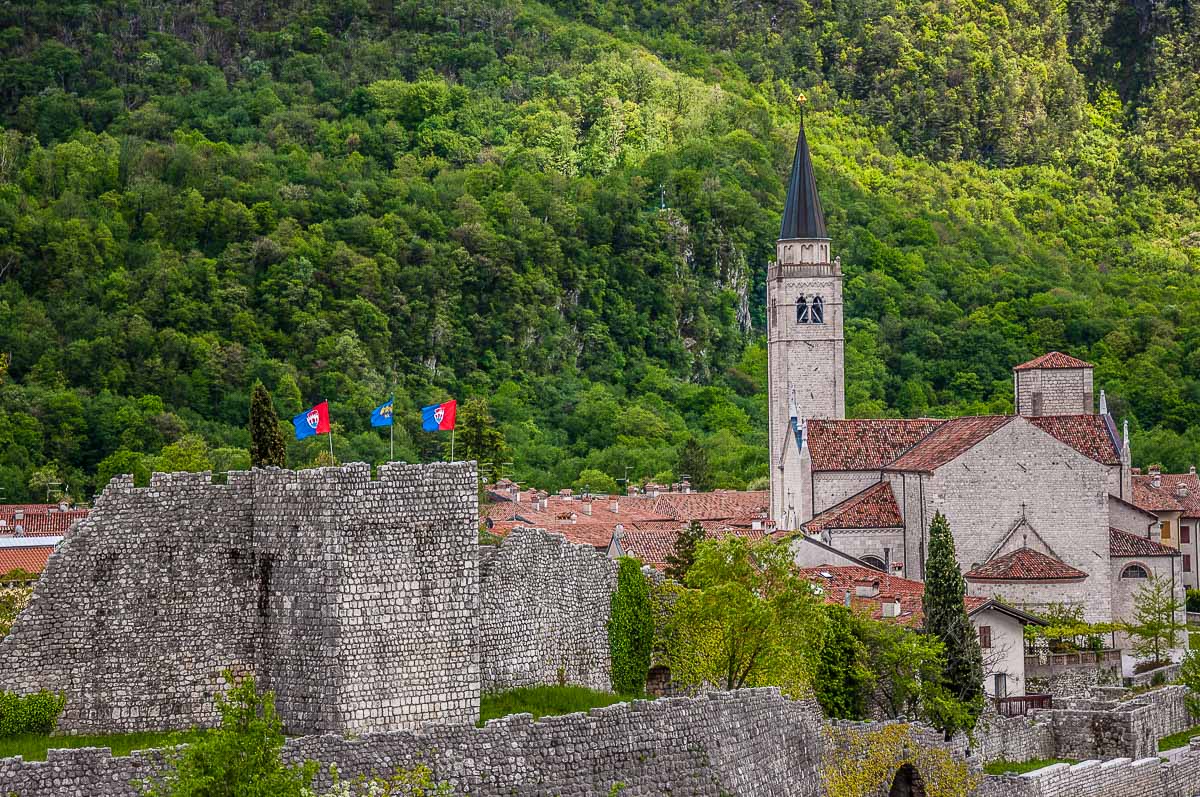 Venzone is a small village in Italy with just over 2,000 inhabitants. You will find it in the Province of Udine which is part of Friuli Venezia Giulia – Italy's Northeasternmost region.
Venzone is about 35 km away from the city of Udine and 65 km away from Italy's border with Austria and Slovenia. The village is on the shores of the Torrent Venzonassa and at the meeting point of the valley of the River Tagliamento and the valley of the River Fella.
Lush mountains surround Venzone. A particular mention here deserves Monte Plauris – almost 2,000 m tall, this is the highest summit of the Julian Pre-Alps. Its ridges and peaks serve as the village's dramatic backdrop. On the opposite side of the River Tagliamento stands Monte San Simeone.
That's not all though. To the east of Venzone stretch the Julian Alps and to the west – the Carnic Alps. As such, the area is a haven for walkers, hikers, rock climbers, mountain bikers, and lovers of nature and adrenaline.
The area around Venzone is very beautiful. Many different animal and plant species thrive here. In fact, Venzone is on the edge of the Julian Pre-Alps Regional Natural Park where marmots, chamois, roe deers, ibexes, and golden eagles thrive and orchids flourish.
Why Visit Venzone, Italy?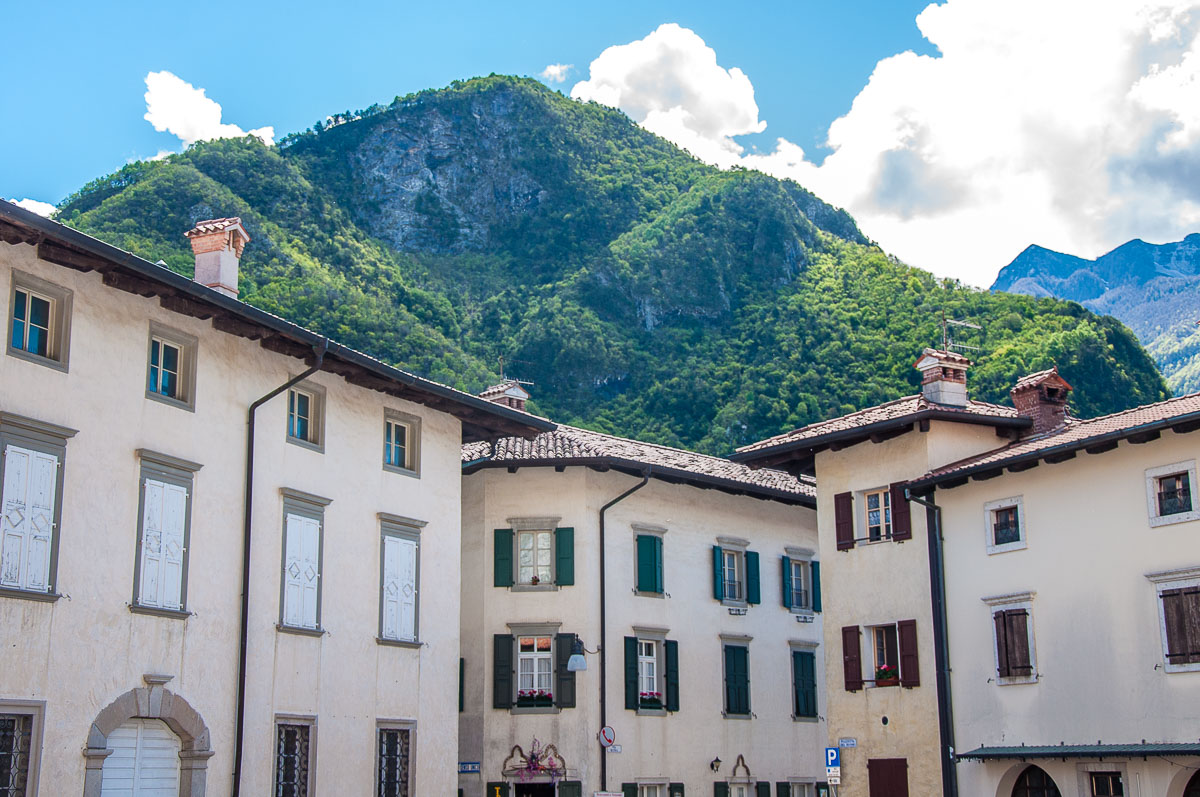 Venzone stands – proud and beautiful – at the foot of velvety mountains and next to rushing rivers. It is an ancient place where people have lived and traversed for millennia. Occupying a strategic location between the north of Italy and Central Europe, Venzone guarded an important trade route all the way from the Antiquity to beyond the Middle Ages.
It is a place with a turbulent history, a crossroads of civilisations. From the Celts who lived there in 500 BC to the Napoleon's troops which occupied it in 1797, through the centuries a long list of nations and cultures claimed Venzone and its area as their own.
Fully fortified in the 13th/14th centuries and thus becoming Friuli Venezia Giulia's only fully fortified medieval village, Venzone was declared a National Monument in 1965 by the Italian government. And then, in 1976, a powerful series of earthquakes devastated Venzone. Yet, this was not the end of the village.
In a testament to the locals' spirit, Venzone was restored stone by stone, making sure that each piece was placed in its original position. A painstaking process that took eight years but restored Venzone to its glory. The village nowadays is officially considered an extraordinary example of artistic and architectural restoration.
In 1991, the European Community and the Italian magazine Airone declared it an 'Ideal Village Where It Is Beautiful to Live in'. More recently, Venzone was selected as Italy's most beautiful village in 2017.
Venzone also has some very curious quirks! Like the 42 mummies which were unearthed here in addition to a very lively pumpkin festival that for a weekend each year turns the village into a medieval dream.
So, no matter what you are looking for – beautiful views, multilayered history, authentic local traditions, or even mummies – in Venzone you are bound to find it all in one great Italian experience.
What Are the Best Things to Do in Venzone, Italy?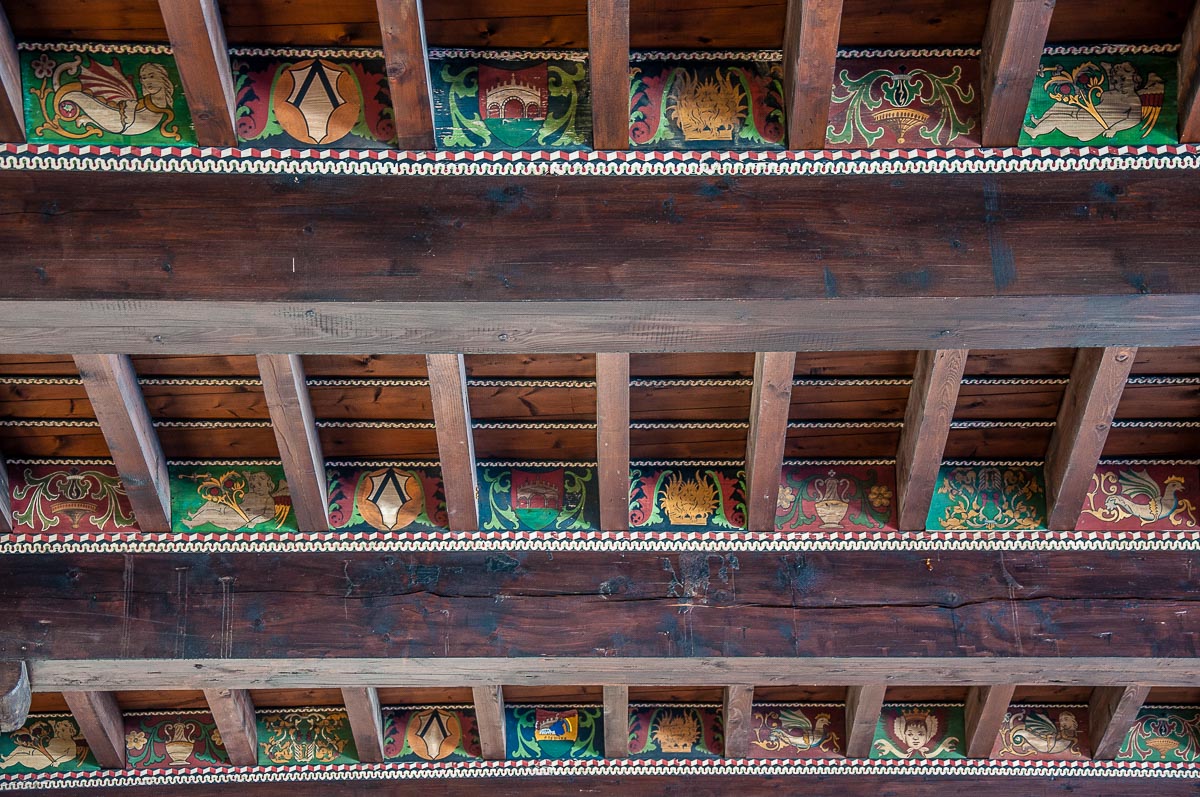 Small and compact, Venzone offers a nice selection of things to do and see. They will entice lovers of history, seekers of beauty, and people who simply want to experience Italy off the beaten track.
Here is a shortlist of the ten best things to do in Venzone, Italy. Most of them are within the village's very walkable historic centre. A couple will entice you to go for a short walk beyond its double defensive walls.
1. Medieval Defensive Walls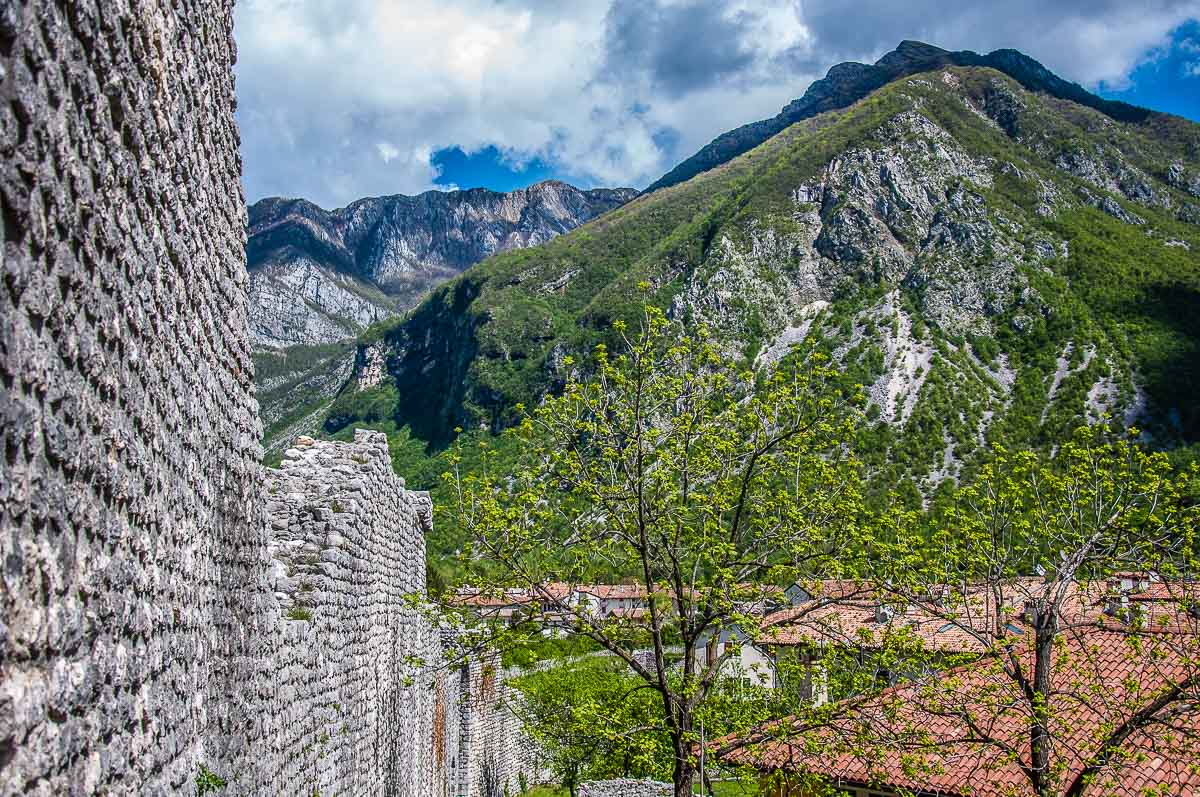 A double ring of defensive walls surrounds the historic centre of Venzone. They were originally erected in 1258 by Glizoio di Mels of the feudal family that at the time ruled the village. A deep moat surrounded the walls, too. Nowadays, the moat is a dry concave area covered in lush grass.
Glizoio's fortifications are hexagonal in shape. The walls were originally eight metres tall and dotted with 15 towers. At least five additional fortresses were built at the same time at different strategic spots around Venzone. Their aim was to dominate the valley and protect the lucrative trade route that passed through it.
2. Duomo of Sant'Andrea Apostolo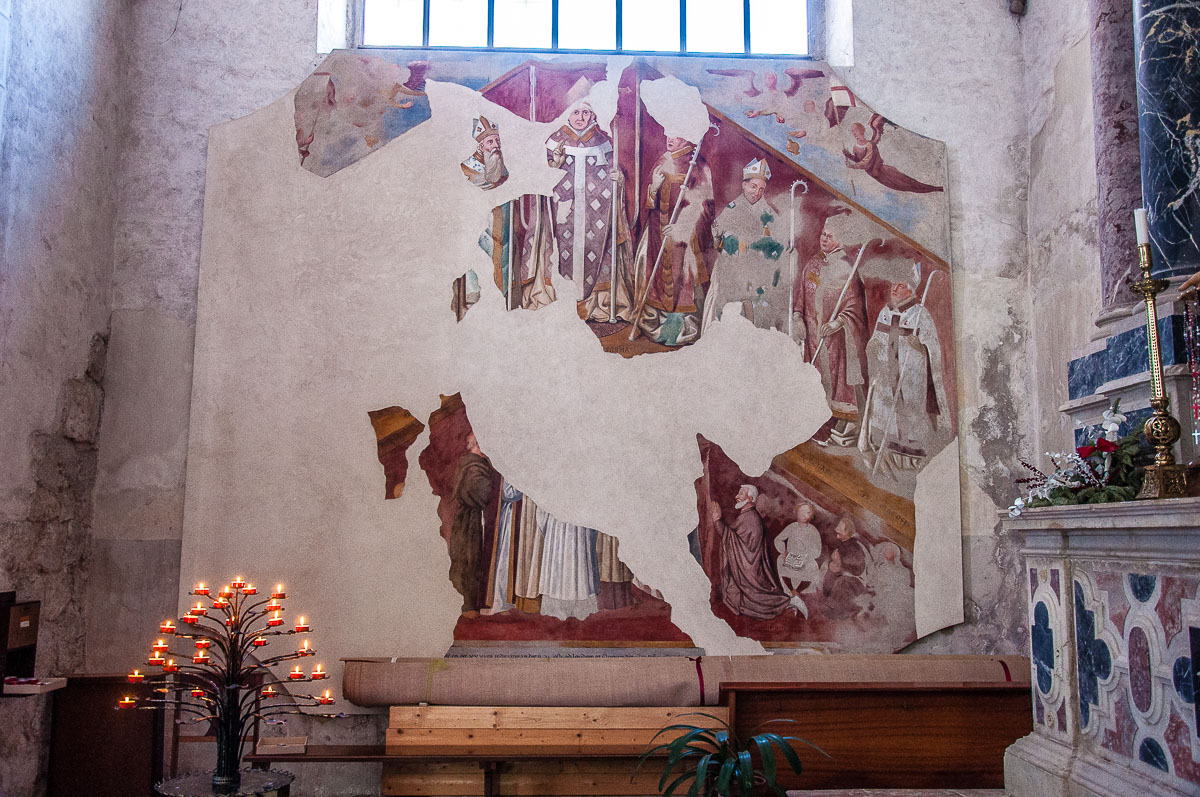 Venzone's Duomo is a splendid Gothic cathedral. Its construction started at the beginning of the 14th century at the place of an even older church. Although not completely finished, it was consecrated on 2nd August 1338. In the centuries that followed two more chapels, a bell tower, and a sacristy were added to it. Venzone's Duomo was destroyed by the earthquakes of 1976 and then it was carefully restored stone by stone.
During my visit to the cathedral, I particularly loved seeing the fragments of its original frescoes that had been painstakingly re-attached to the walls. The position of even the smallest pieces had been established and the pieces re-attached one by one, thus giving you an idea of how splendid the interiors of the cathedral must have been before the earthquakes.
The Duomo of Sant'Andrea Apostolo is an important sight in Venzone for many reasons. On one hand, this is the most important Christian church in the area. It is also where archaeological excavations have found proof of Venzone's ancient past. And where the village's famous mummies were originally unearthed in 1642.
3. Chapel of San Michele
This is a small round building next to the Duomo of Sant'Andrea Apostolo. Its crypt nowadays is where you can see five of Venzone's famous mummies.
These are bodies that were mummified not by people (as in Ancient Egypt, for example) but by an accidental mix of natural causes. Among them were the specific temperature and humidity of the rich in calcium sulfate local soil. The presence in it of a particular fungus was integral for the process of mummification.
The first mummies were discovered in 1642 during construction work on Venzone's Duomo. In total, 42 mummies have been unearthed there. In the past, they caused quite the stir in scientific circles and some of them were studied in Padua, Vienna, and Paris.
A large number of the mummies were destroyed during the earthquakes in 1976. 15 of them survive to this day and five of them can be seen in the crypt of the Chapel of San Michele. To visit, you need to buy an entrance token from a local shop or newsagents in Venzone.
4. Church of San Giovanni Battista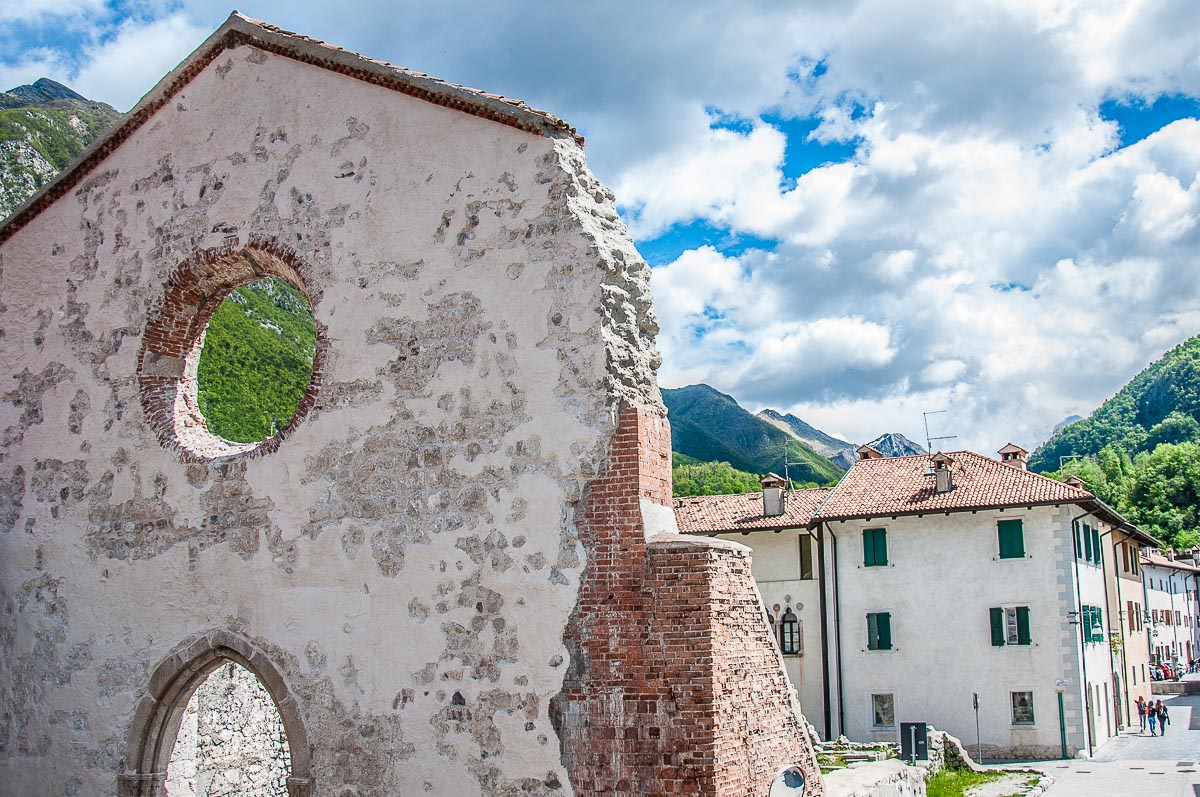 This church was originally built in the first half of the 14th century. Until 1770, it was part of the adjacent Augustinian convent. The church was almost entirely destroyed by the earthquakes of 1976. Its ruins have been preserved and left to stand in the heart of Venzone's historic centre. It's a stark reminder of the brute force of nature and the fragility of life.
5. Palazzo Comunale and Its Clock Tower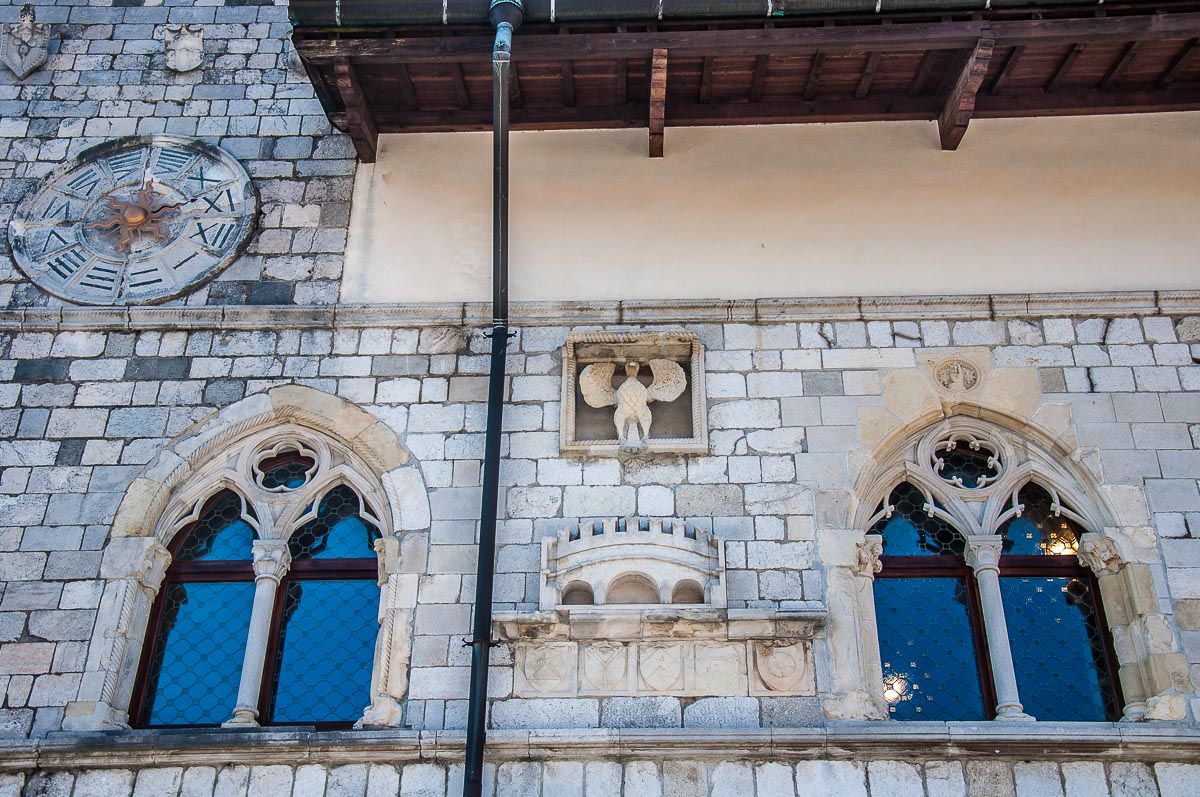 Built between 1390 and 1410, this is the town hall in the heart of Venzone's historic centre. It has a beautiful portico with coats of arms painted on its wooden beams. An elegant outside staircase leads to the top floor of the palace. Inside you can admire frescoes by Pomponio Amalteo – a son-in-law and one of the most accomplished pupils of the famous painter Pordenone.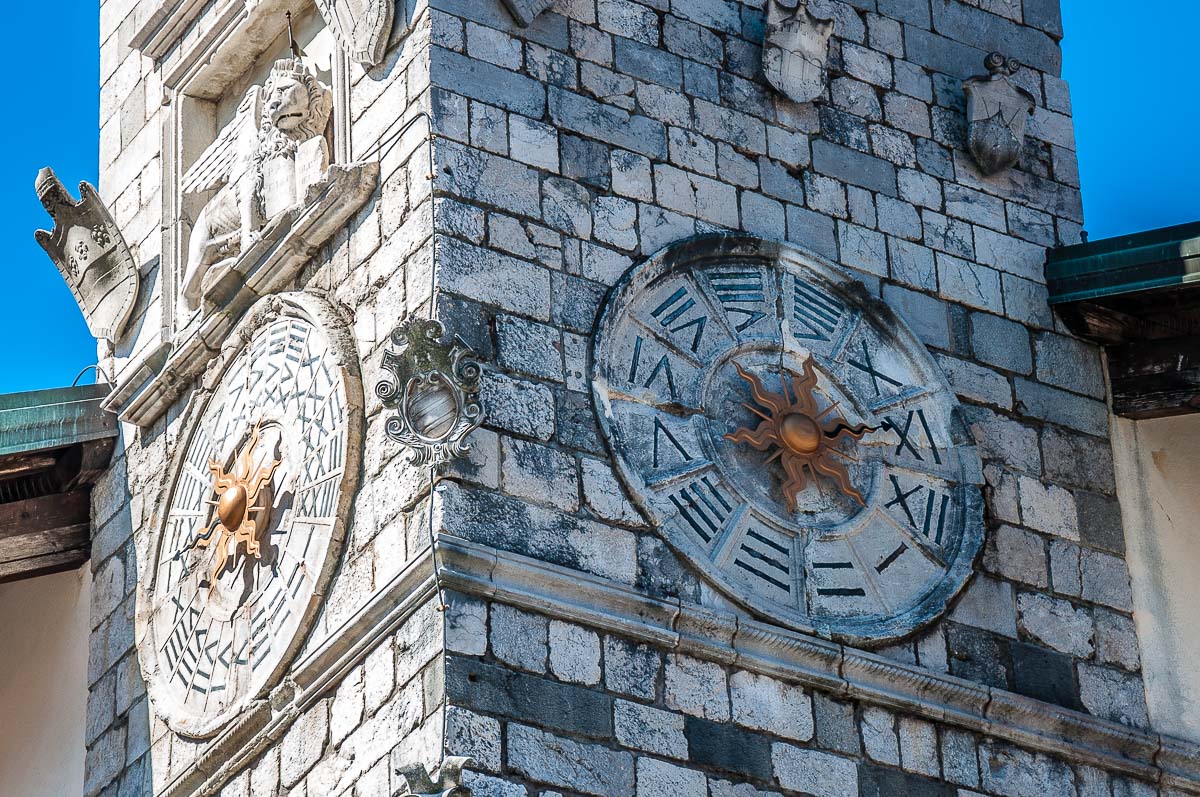 The clock tower of the Palazzo Comunale is particularly interesting. It has two clocks – one 24-hour face and one 12-hour face. In the past, when Venzone was a very busy transit town on the way from Italy to Austria, access to the walled historic centre was possible only between 5 am in the morning and 5 pm in the afternoon. The 12-hour clock marked the admission time.
6. Piazza Municipio and Fontana Pubblica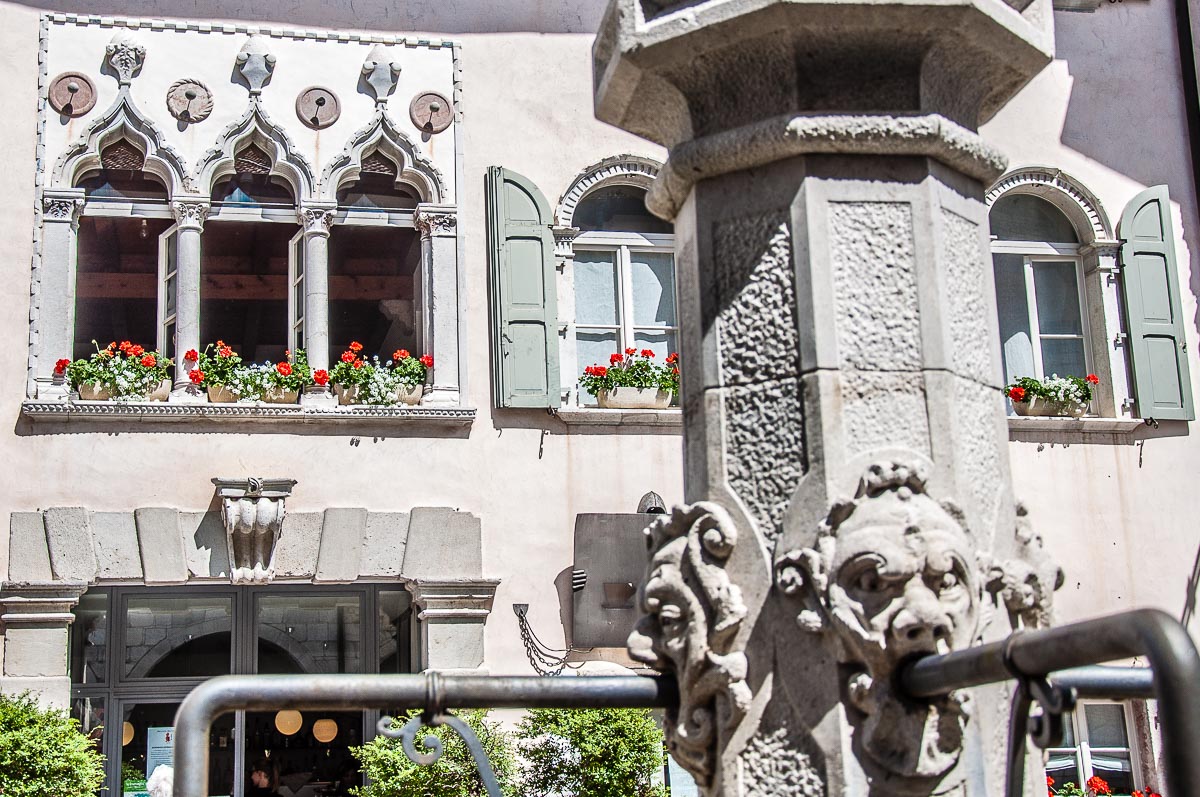 This is an elegant square with a 19th-century water fountain. You will find them right next to the Palazzo Comunale. It is a lovely place in the heart of Venzone's historic centre to stop at for a moment, look around, notice the beautiful centuries-old buildings and take many photos.
7. Venzone's Historic Palaces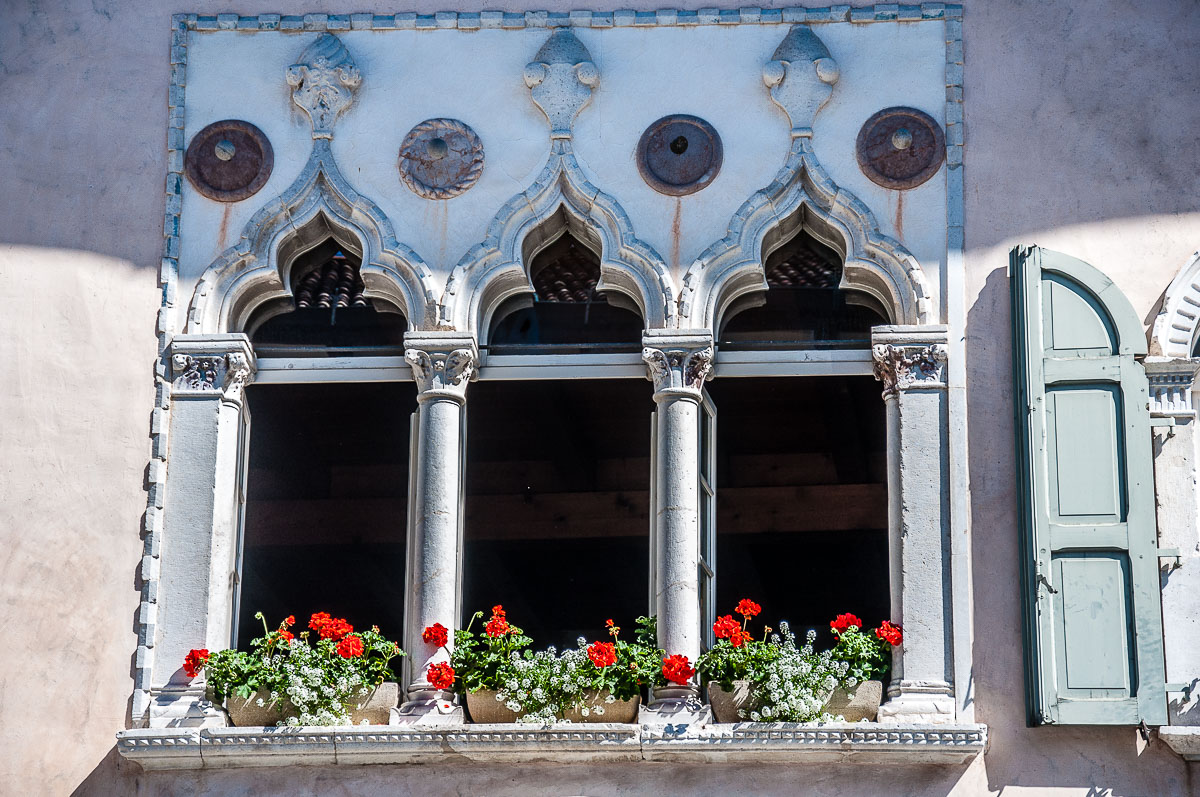 Several lovely palazzi grace Venzone's streets and squares. These are large historic buildings reflecting the style of the respective century in which they were built. A special mention here deserve:
Palazzo Orgnani Martina – a 17th-century building that is also the seat of the local museums. The first of them is Museo Tiere Motus – exploring the earthquakes of 1976, the devastation they caused to Venzone in particular and Friuli Venezia Giulia in general, and the process of reconstruction and restoration that followed. The other museum in this palazzo is BOSC which explores the forests, human history, and the economy of Friuli Venezia Giulia. Both museums have limited opening hours.
Palazzo Radiussi – A Gothic house on Piazza Municipio which, most notably, has a typical Venetian window.
Casa Marcurele – built in the 11th century, this is the oldest house in Venzone.
8. Fortino Veneziano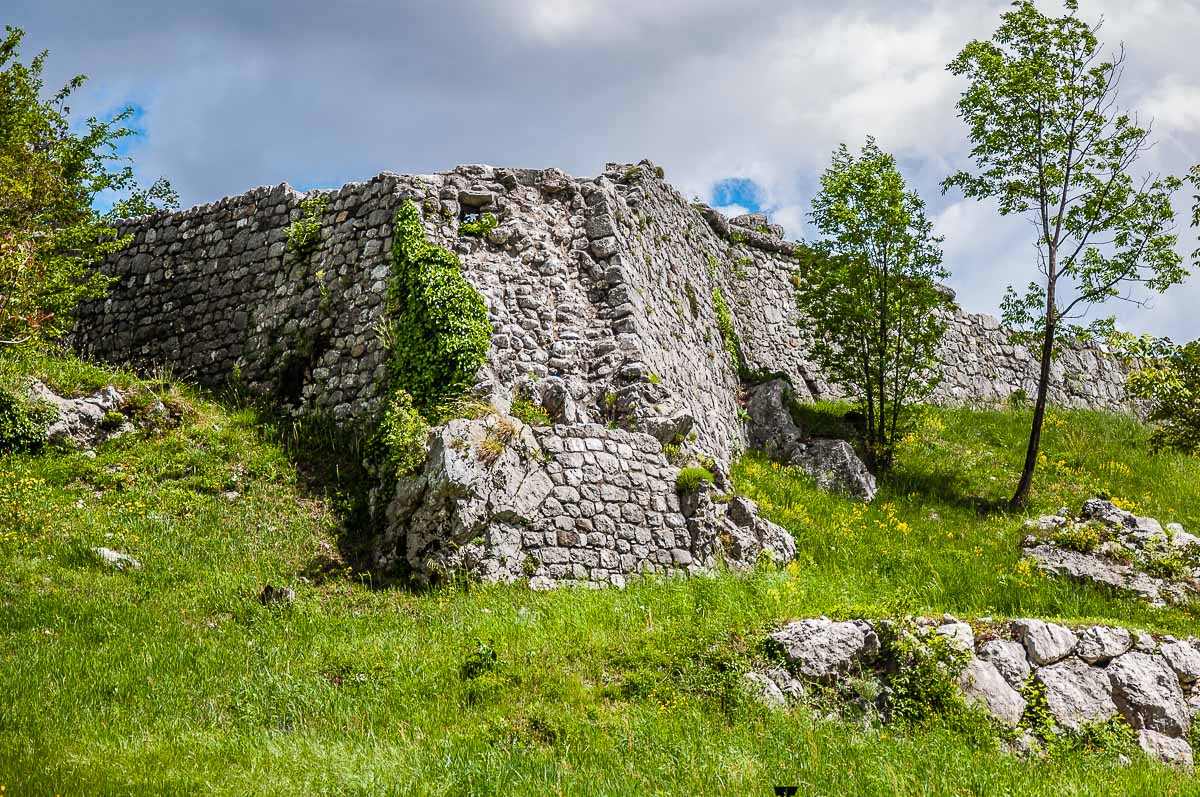 This is a small Venetian fort, now in ruins. You will find it on a small hill overlooking the village of Venzone. You can either drive there from the historic centre or walk. The ruins are covered with dense vegetation. It's a great place for panoramic views of the village, the River Tagliamento, and the surrounding mountains.
9. Pumpkin Festival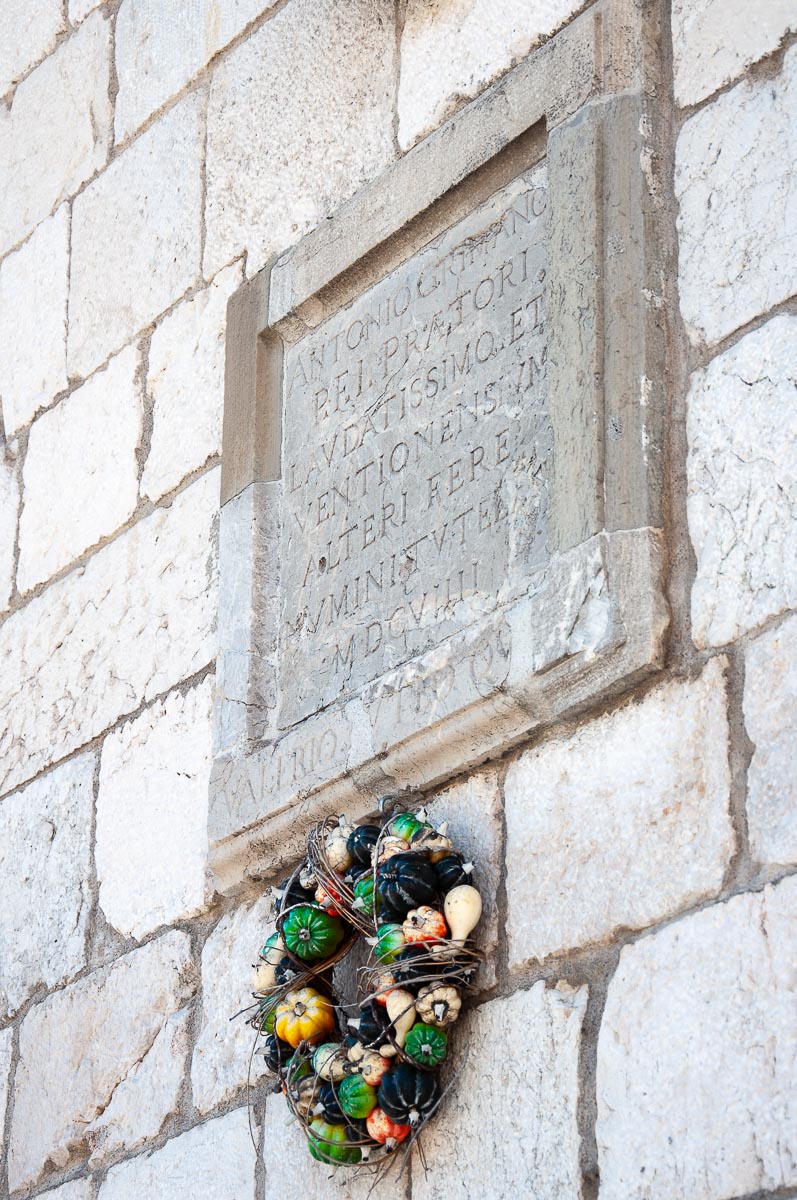 The pumpkin festival is a yearly extravaganza taking place on the fourth weekend of October. This is when Venzone reenacts its medieval past and pumpkins of all sizes and shapes rule.
An ancient legend is at the base of the village's strong connection to pumpkins. Apparently, many centuries ago, when the bell tower of Venzone's Duomo was being built, the village couldn't afford to pay the goldsmith who made the golden sphere to be positioned on its spire. Enraged, the goldsmith secretly replaced the sphere with a pumpkin which he had carefully covered with gold leaf. Then he left the village.
In time, the pumpkin rotted and fell apart, thus provoking the outrage of the locals. Yet to this day, the inhabitants of Venzone are known as pumpkinheads.
If you look closely at the Duomo's bell tower, you can see a gold sphere there under the cross at its top. It's shaped a little bit like a pumpkin, don't you think?!
10. Rivers near Venzone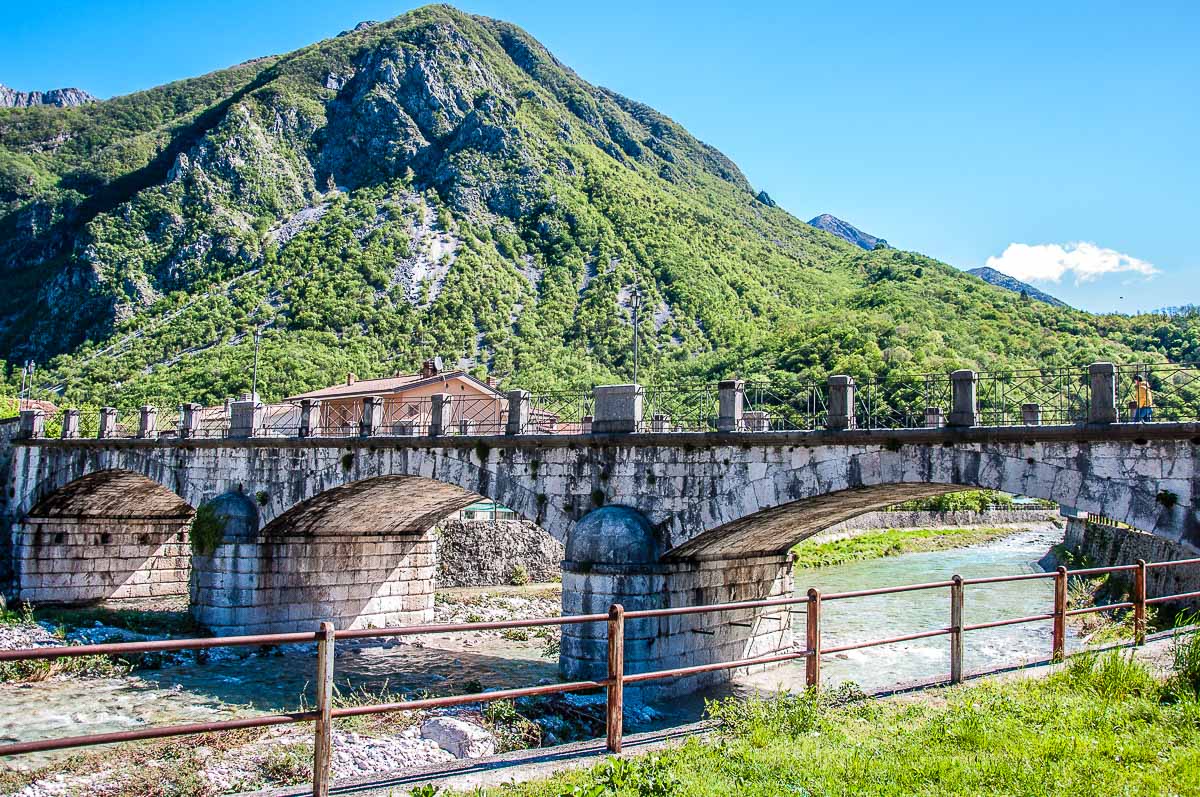 There are two water bodies that are tightly related to the history of Venzone.
The Torrent Venzonassa runs right next to the village. A sturdy bridge goes over it. It is thought that Venzone owes its name to this torrent.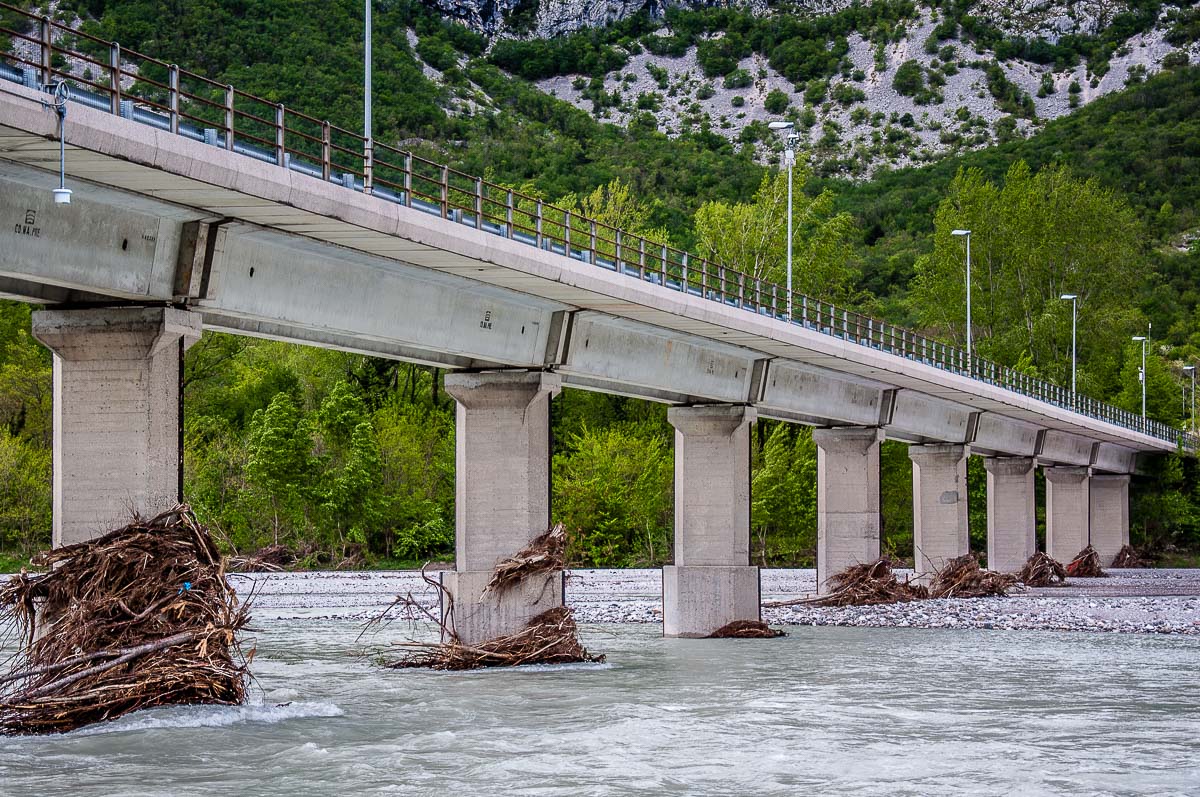 The River Tagliamento runs through the valley in which Venzone was settled. This is a mighty, rushing river that flows from the Alps to the Adriatic Sea. You can have a good panoramic view of it from the Venetian fort next to Venzone. A long road bridge runs across this river, too.
My Personal Experience of Visiting Venzone, Italy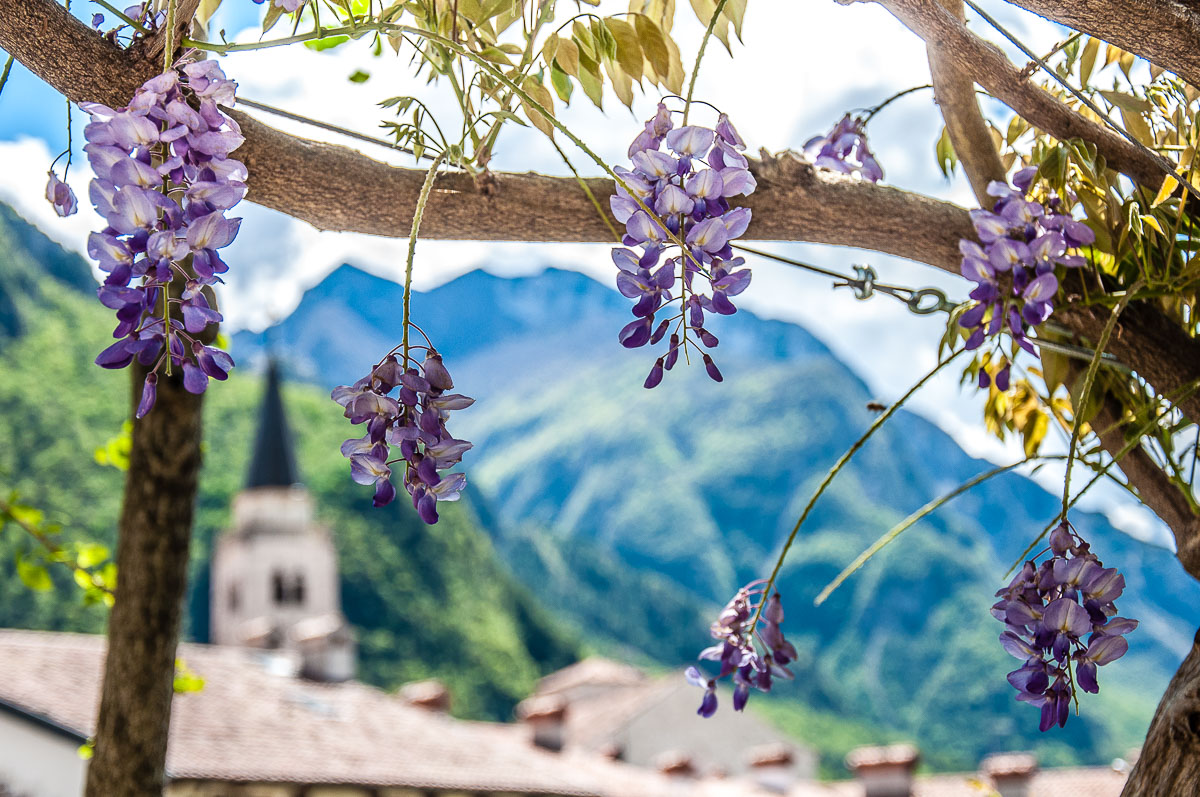 As with all good things in life, my visit to Venzone happened by pure chance.
We were at the end of a road trip that had taken us from the Veneto up to Austria. On the way back, we dedicated a couple of days to exploring the villages and stories of Friuli Venezia Giulia. This northeasternmost corner of Italy has always interested me. Standing mostly off the beaten track, it has many hidden gems just waiting to be discovered by the traveller always looking for the next adventure.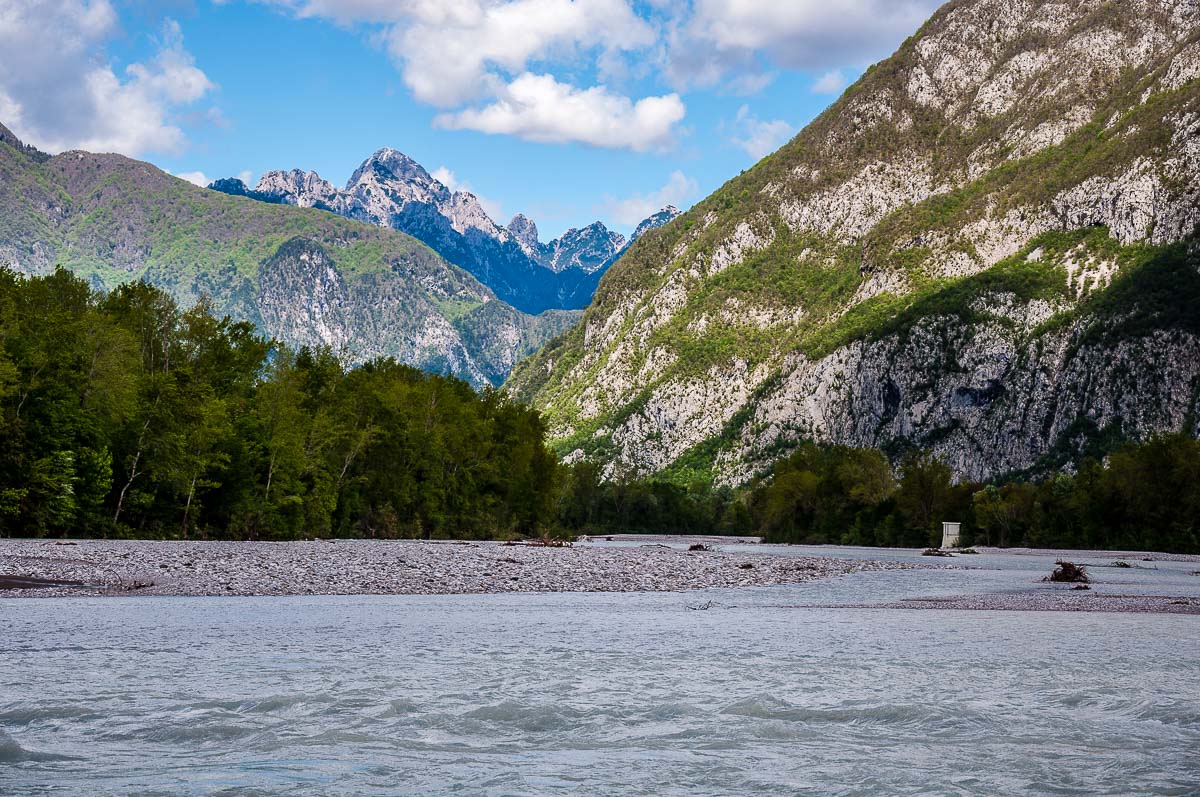 After spending the night near the village of Bordano to which we had been attracted on account of its large butterfly house, we headed to Venzone in the morning of the day after with the idea of spending there perhaps an hour or two tops. As it happened, we spent most of the day there. It was only the torrential rain that started late that afternoon that made us dash for the car and leave Venzone behind.
What can I say?! The village is very charming. Although small, it has hundreds of stories to tell. It has been a bubbling centre of human life and activity for millennia.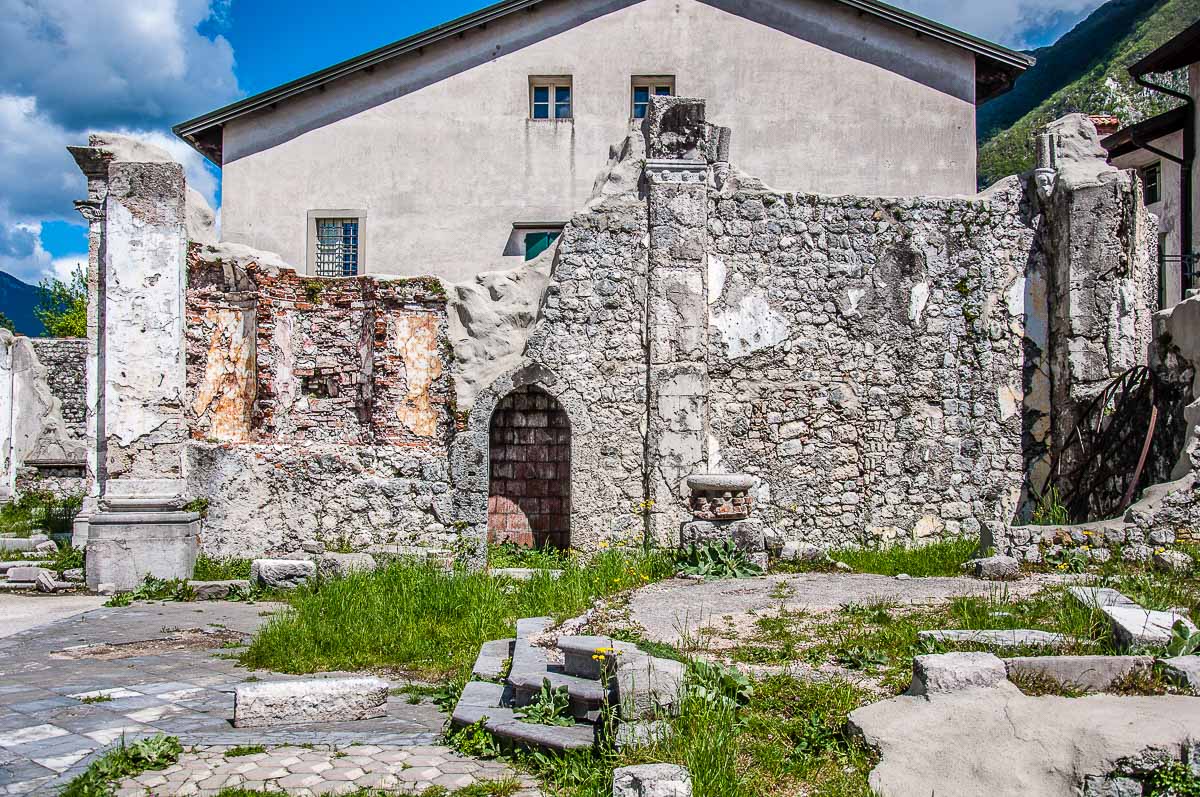 In 500BC, the Celts populated the area. When the Romans built the important Via Romea Julia Augusta from Aquileia to Noricum (present-day Austria and parts of Slovenia), a statio was established at what today we know as Venzone. A Roman statio was an official stopping place on a Roman road that was maintained by the central government in Rome.
In the Middle Ages, the area was attacked and dominated by many different civilisations. From Visigoths and Huns to Ostrogoths, Byzantines, Lombards, and Carolingians, Venzone was a crossroads of activity.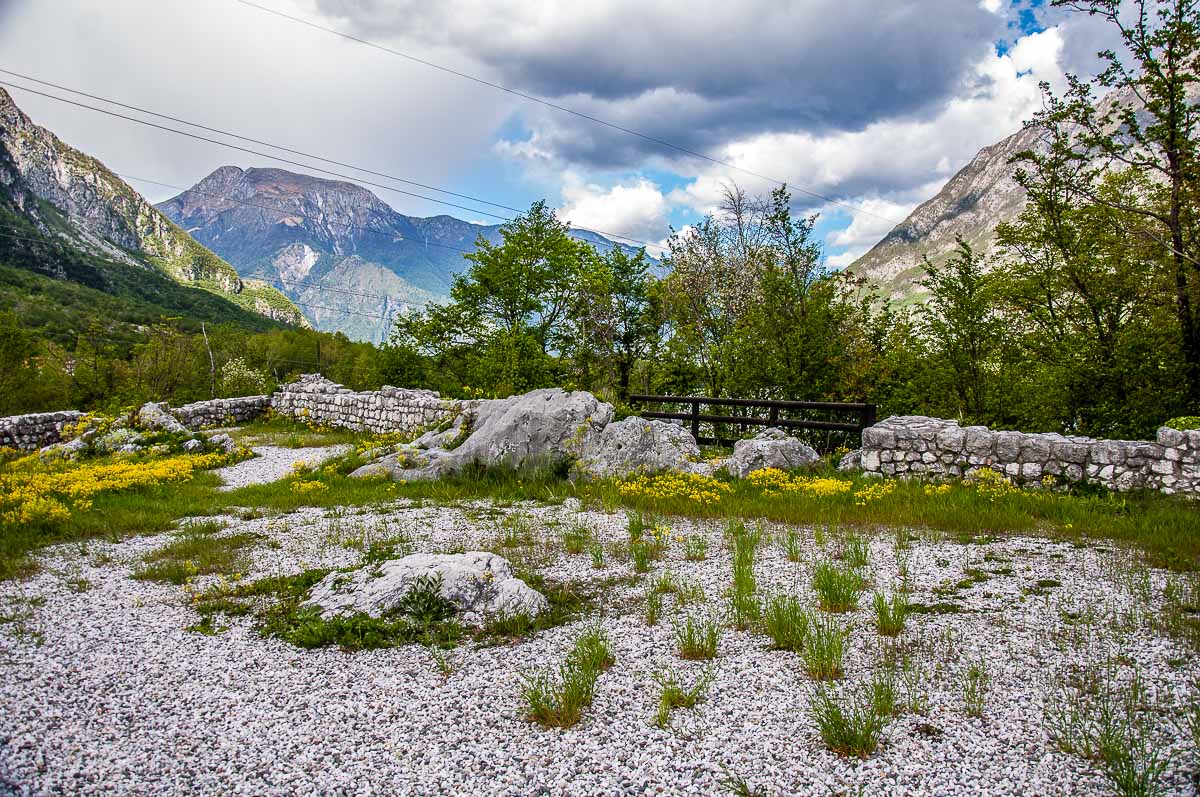 The village, as it is nowadays, was first set up during the Carolingian dominion of the region between the 8th and the 10th centuries AD. Its name was first mentioned in documents in 923 AD. It was then called Clausas de Abiciones which through the centuries underwent many linguistic changes to the modern-day name of Venzone.
In the 13th century, a double defensive wall and a deep moat were built around Venzone. It thus became the only fully fortified medieval village in all of Friuli Venezia Giulia. Then, in 1420, the Republic of Venice took control of the region. To this day, you can see the winged Lion of St. Mark's – the symbol of Venice – at several spots around Venzone.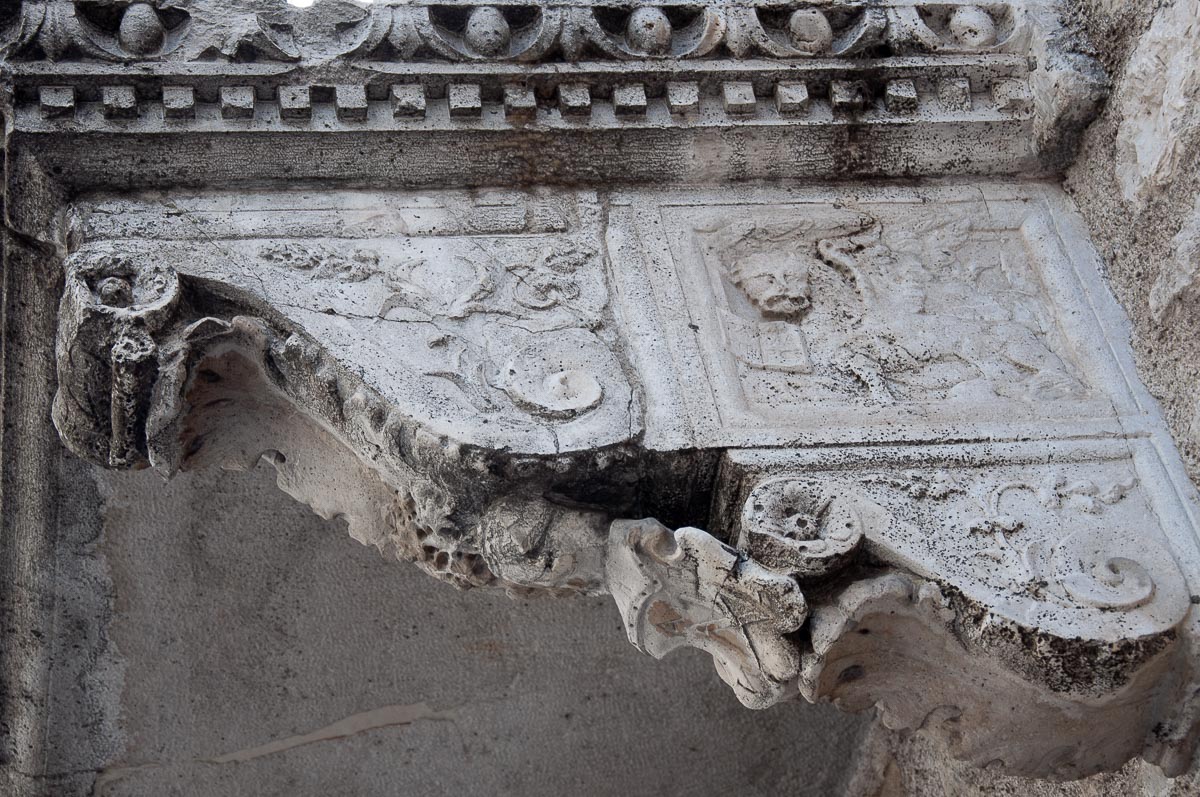 The village was occupied by Napoleon's troops in 1797. This was followed by a short period of Austrian domination before Venzone became part of Italy in 1866.
For its incredible heritage and fortifications, Venzone was declared a National Monument. Unfortunately, a series of powerful earthquakes between May and September 1976 devastated the area damaging badly or fully destroying many of Venzone's historic buildings. The village was restored, stone by stone, making sure that every piece was placed in its original place. It was an arduous process that lasted eight years.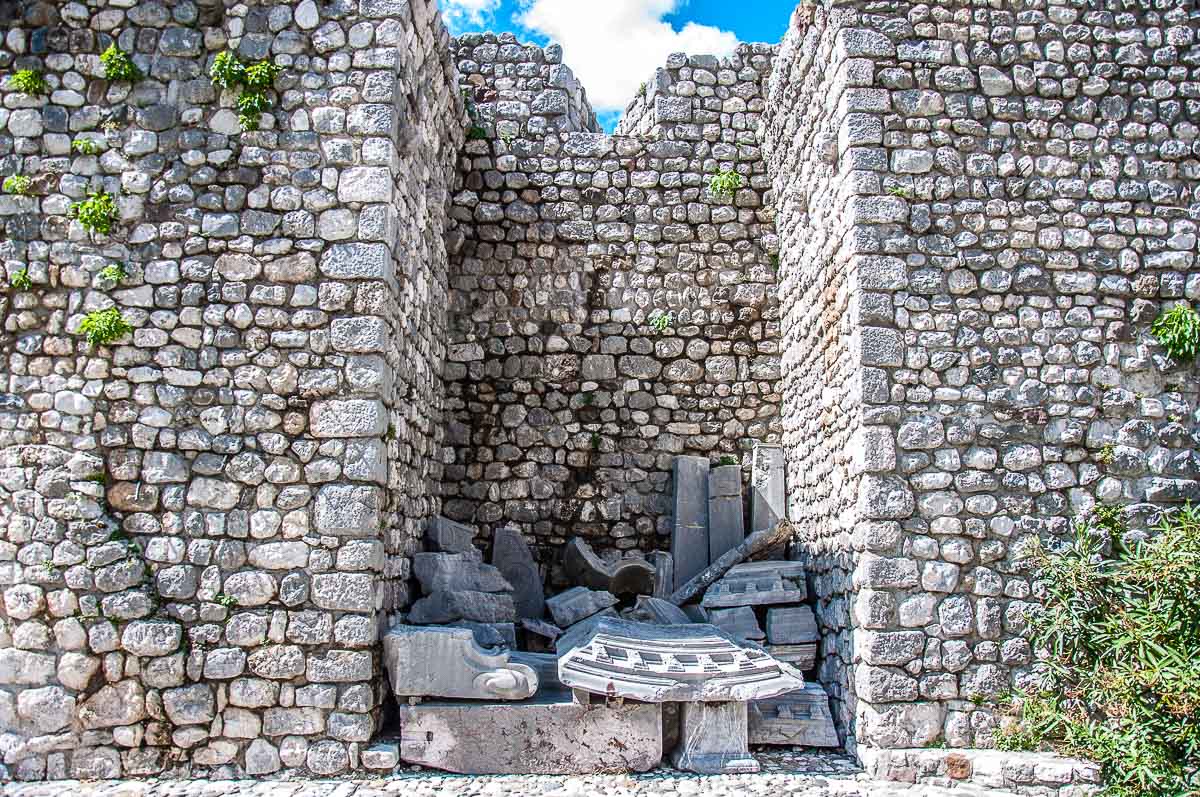 Walking around Venzone nowadays, it's easy to come across traces of the great devastation that the earthquakes brought.
So, it's all the more wondrous to think that the local people managed to rebuild literally from the ground their lost village and to reclaim from the rubble its beauty and history.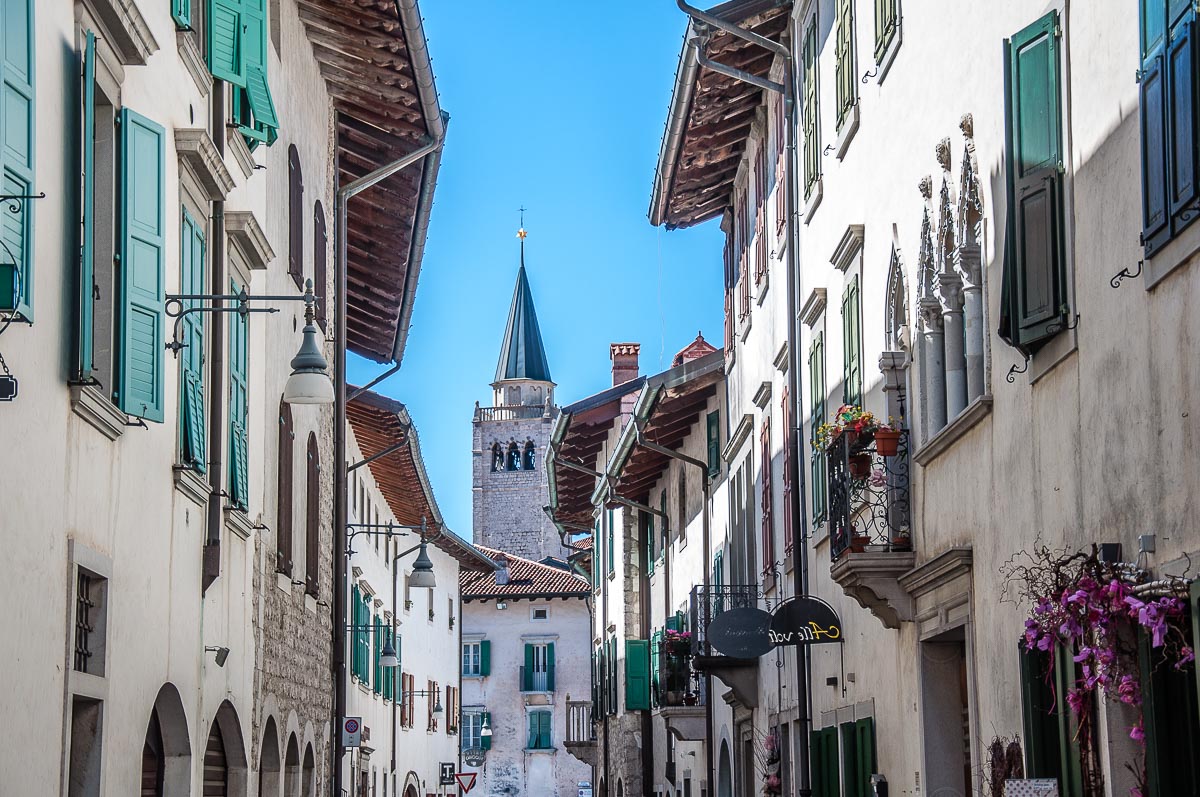 Following Venzone's streets from one sight to the next, I marvel at how wide they are. Having been to a number of medieval villages and towns in Italy over the six years that we spent living there, I have come to expect them to have narrow curving streets that the sun finds hard to illuminate. Yet, this is not the case here. Venzone used to be an important transit stop on a densely trafficked commercial road from the Antiquity to the High Middle Ages.
The village served both as a place to store goods and as a custom house. From dawn till dusk, an endless row of carriages flowed up and down its streets. The sound of whips over the heads of the animals pulling the loads must have been so crisp and loud that Venzone became to be known as Peuscheldorf – the Town of Whips – in German.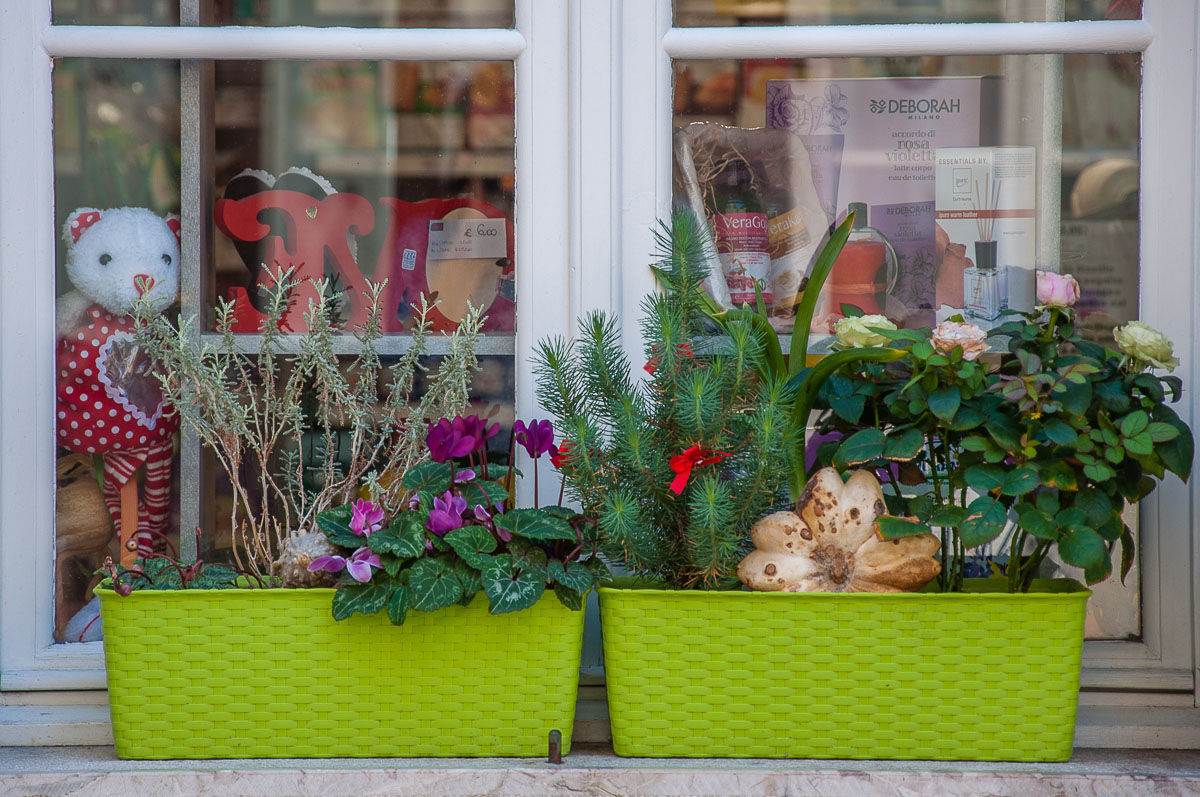 Tall buildings line up the wide streets of Venzone. We walk slowly, stop at the many cute little shops along the way, take a coffee in a traditional Italian bar. We look at the stone facades around us, we admire their windows – so different from one another and reflecting the century in which each building was erected.
I spend a long moment in the large Duomo looking at the frescoes inside. Irreparably damaged by the earthquakes, their fragments have been saved piece by piece from the rubble and reattached like one enormous puzzle – never to be finished – to the walls. I admire the dedication of the hands that picked these little colourful fragments – no matter how small and how smudged – and found their precise place.
Statues with broken limbs and with scratched faces stand up proud. They have survived. Now they have a story to tell that trascends the limits of art and becomes part of the human experience.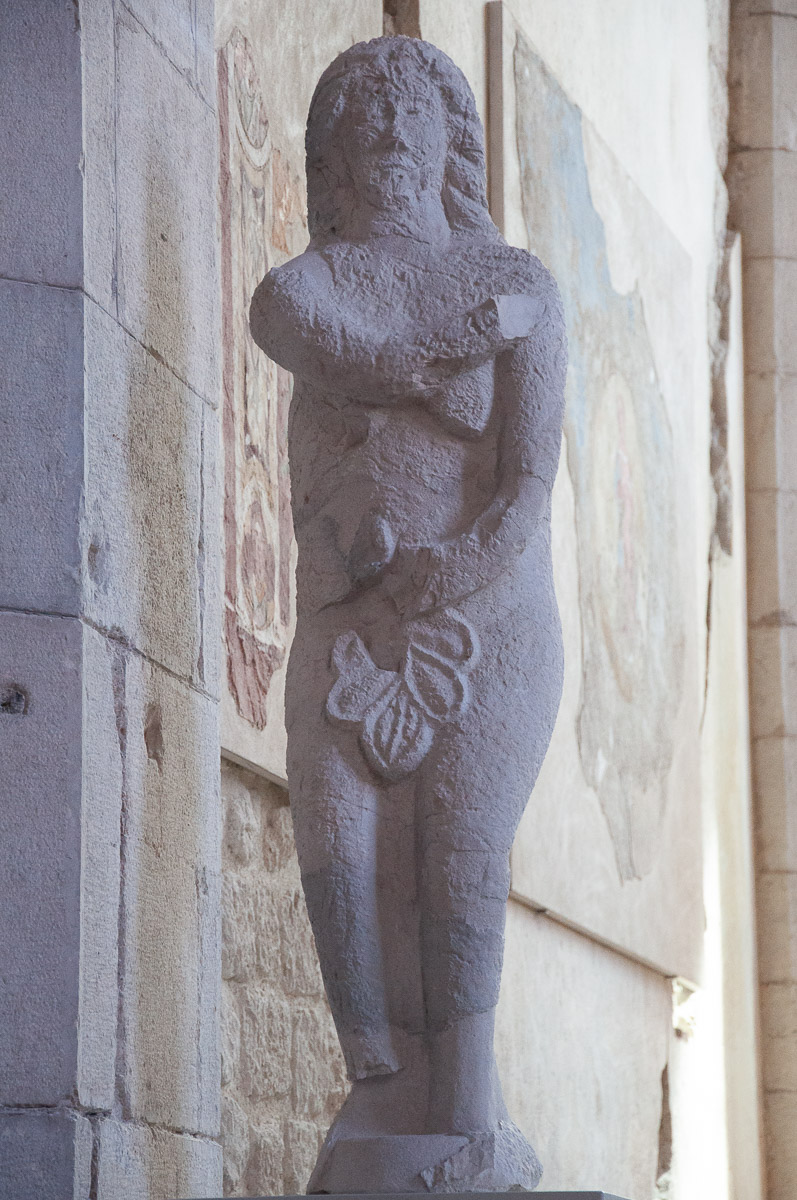 For many centuries, the locals had believed in the legend of Orcolat. This was a monster that lived in the mountains of Carnia – a beautiful area in Friuli Venezia Giulia. Orcolat's abrupt movements, they said, caused earthquakes. When the first earthquake hit at 9 pm on 6th May 1976, the most intense seismic shock lasted almost one minute and it was 6.5 on the Richter scale.
In an area of 600,000 inhabitants, 1,000 people died. 47 of them – in Venzone, where 90% of the buildings and the artistic heritage were either razed to the ground or badly damaged. The seismic shocks continued all through that summer until the 15th September 1976, when an earthquake of 6.1 on the Richter scale hit again bringing even more devastation to the small village.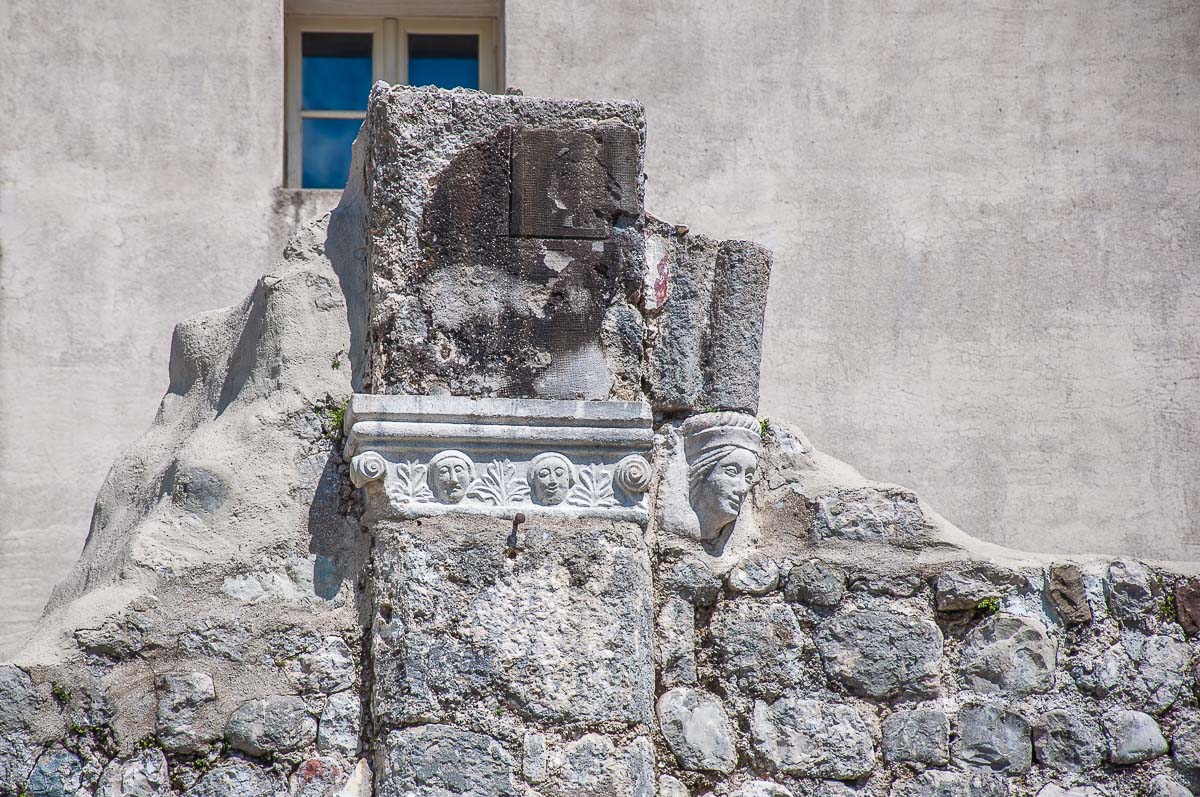 Locally, Orcolat's name became synonymous with the series of earthquakes in 1976. Yet, walking around Venzone, the monster doesn't seem to throw its long shadow over the village anymore.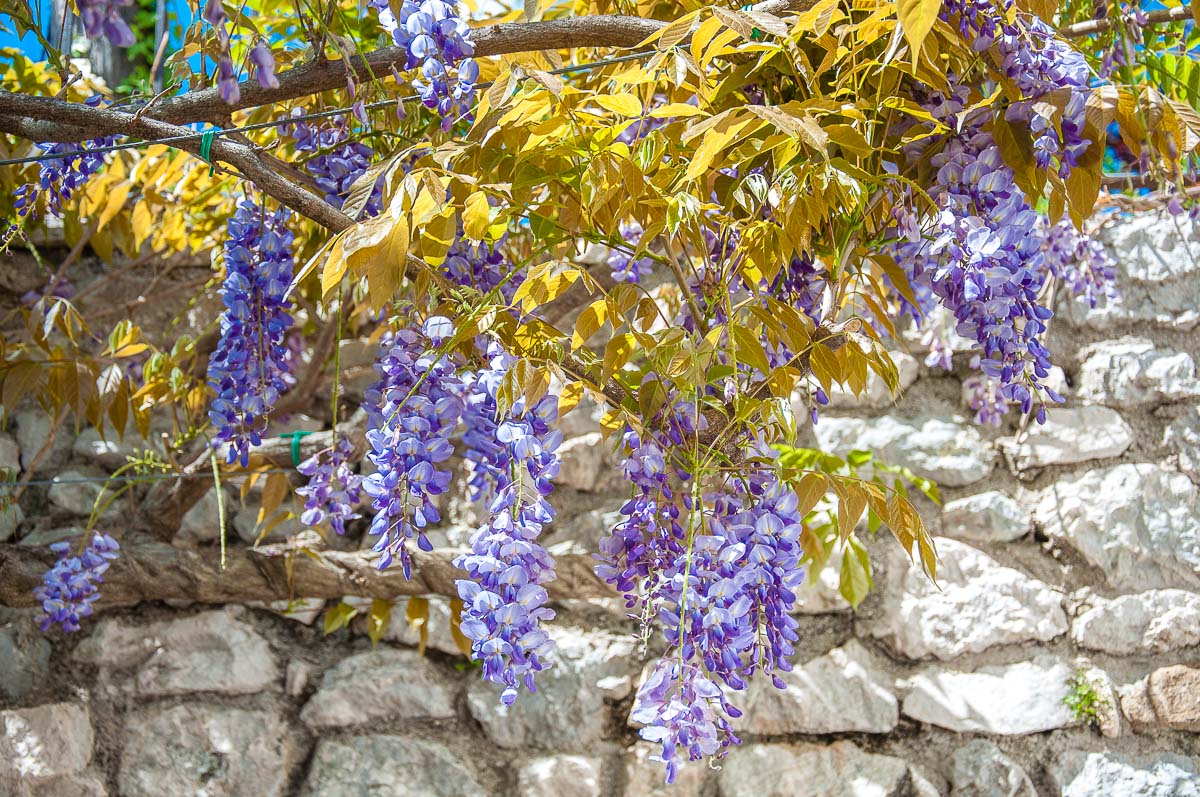 Enveloped in blossoming wisterias, Venzone feels light and bright, with its beautiful medieval fortifications and buildings lovingly and painstakingly restored one stone at a time.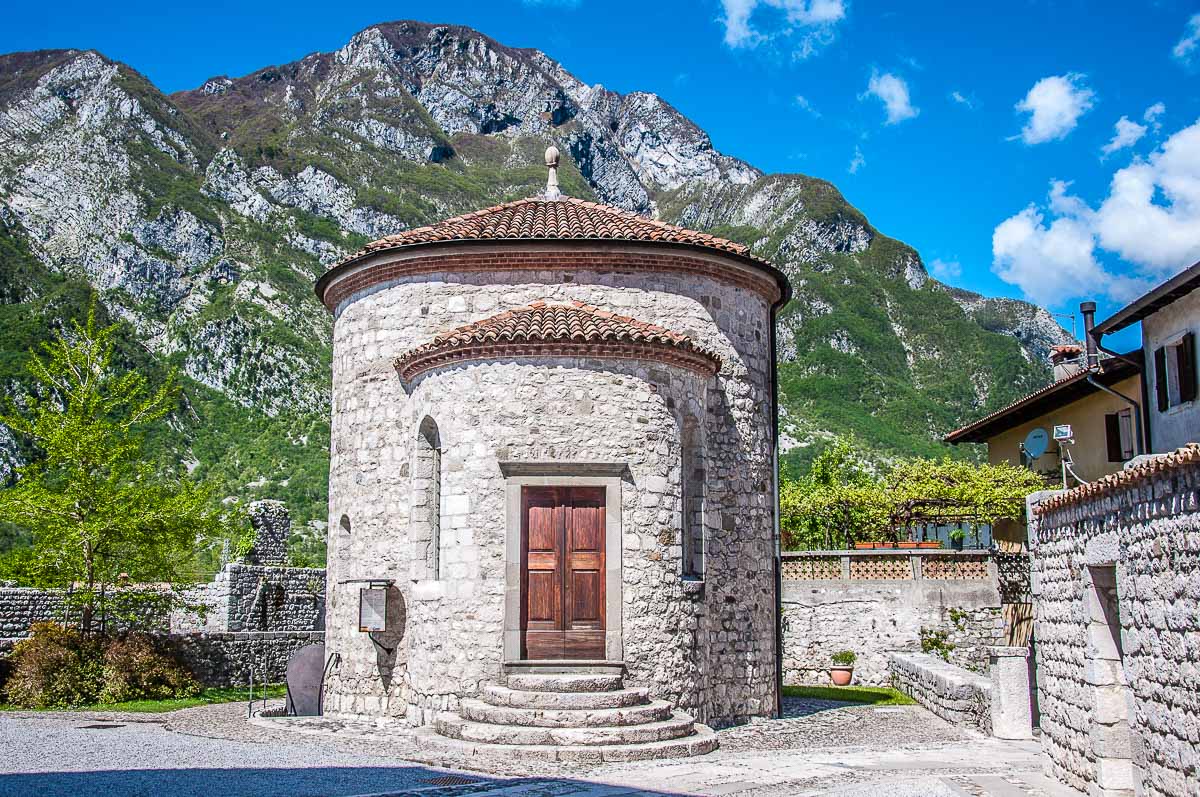 The only dark moment for me comes in the afternoon when we head to the crypt of the Chapel of San Michele. This is where five of Venzone's mysterious mummies can be seen. Before becoming mummies, these were people who lived in Venzone many centuries ago. When they died, they were interred. Then, a mix of humidity, temperature, type of soil, and a dehydrating fungus mummified their bodies into what looks to me like deformed tree trunks.
In the tiny crypt, I have a moment of pure panic. I am too scared to look at the mummies, yet the space is so tiny that I am right next to them. With trembling hands, I manage to open the small metal gate and I run up the steps back into the sunlight.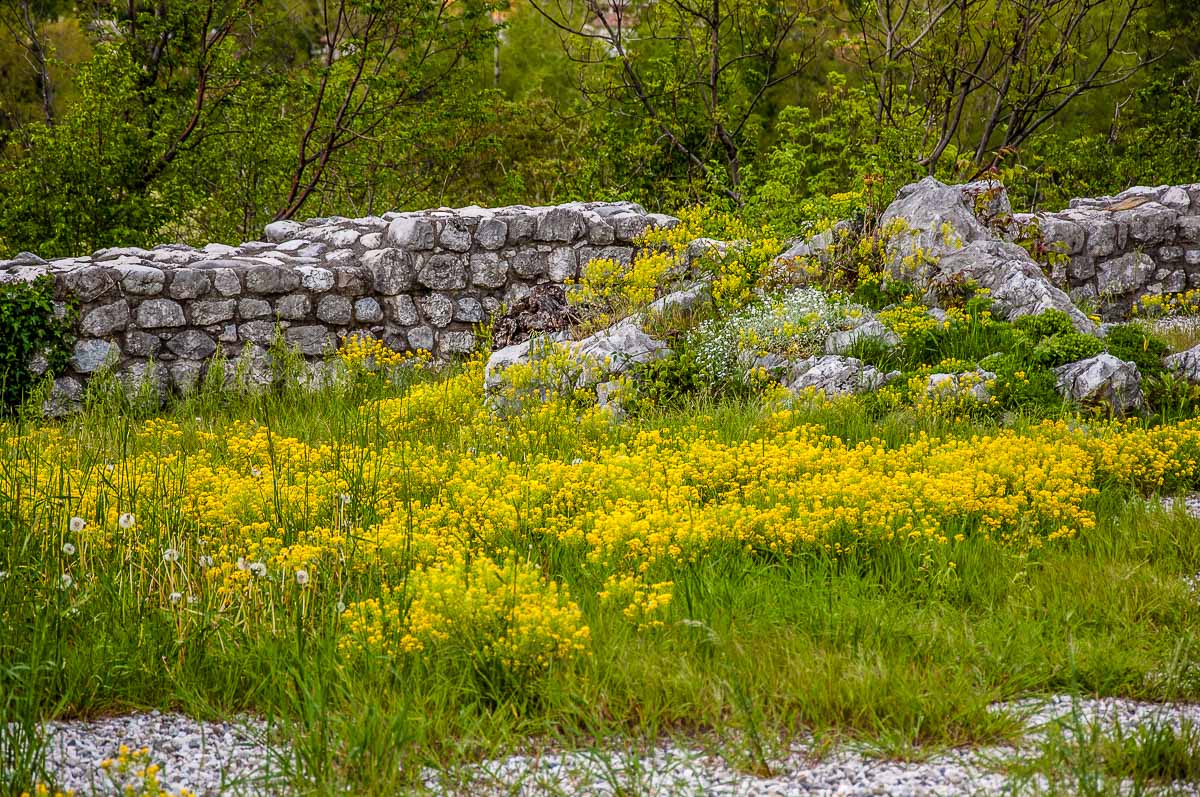 Our last stop at Venzone for the day is the small Venetian fort across the road from the village's historic centre. Walking up the path to the Venetian ruins, we admire the beautiful views that open towards the River Tagliamento on one side and Venzone surrounded by mountain peaks on the other.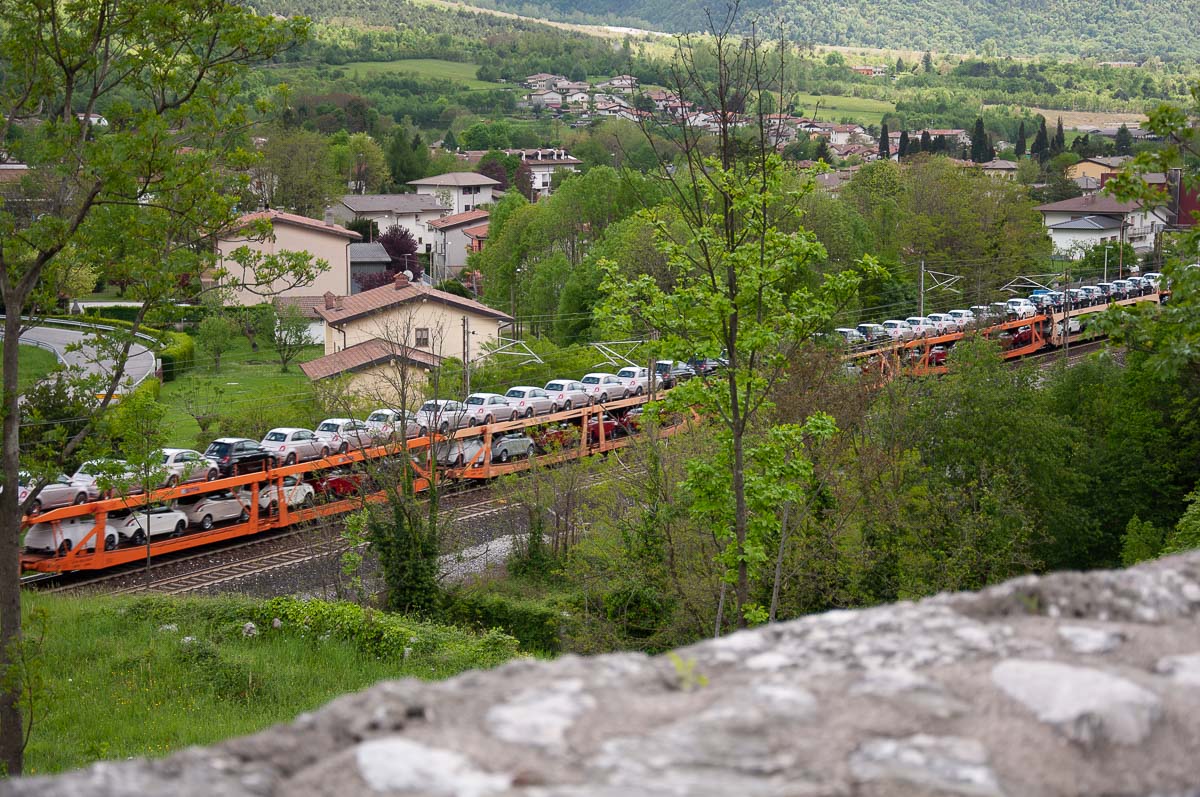 Just then, a freight train passes by, carrying hundreds of new cars. After so many centuries, it seems that Venzone is still on a trade route.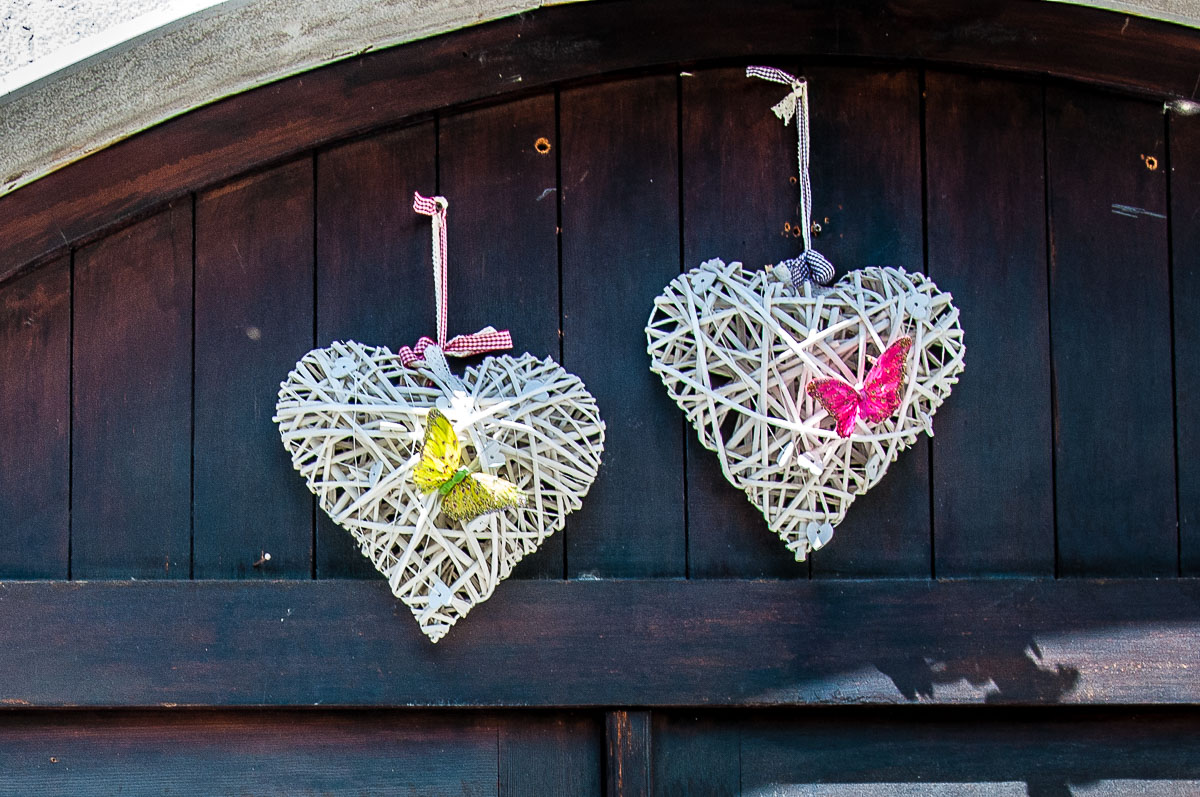 An old couple sits, holding hands, on a bench by the Venetian fort. We greet each other and establish an easy rapport. The couple – a local man and woman – are in their 70's now. They were born in Venzone and remember the earthquake only too well.
'We moved to a town down the road over thirty years ago,' – they tell us. 'But we often come back here to look at Venzone from this bench!'
When Is the Best Time to Visit Venzone, Italy?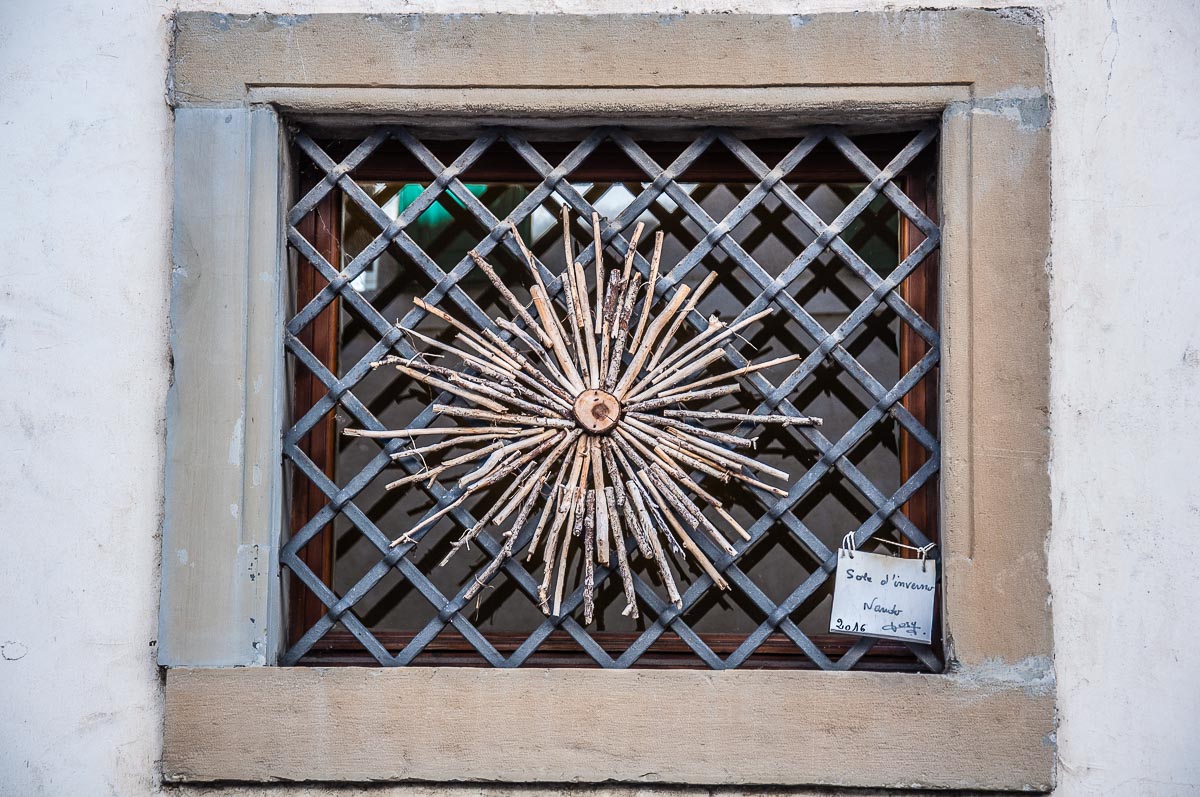 Venzone is best visited on a clear and sunny day!
This way you will be able to better appreciate the village's stunning setting next to the River Tagliamento, the Torrent Venzonassa and the many mountain peaks and ridges which surround it.
At the same time, as we can't simply order the perfect weather for when we travel (otherwise, life would be almost ideal), don't miss an opportunity to visit Venzone even if the sun is not shining bright on the particular day you are going to be there.
Venzone is easy to navigate, its historic centre is on a flat surface, and there are many local sights, shops, and eateries to explore no matter what's the weather outside.
If you want to see the village's famous pumpkin festival, then by all means make sure that you head to Venzone on the fourth weekend of October. Keep an eye on the event's official page here for specific dates. Bear in mind that this is when the village gets very busy. So, if you are intending to spend the night, organise your accommodation well in advance.
How to Reach Venzone, Italy?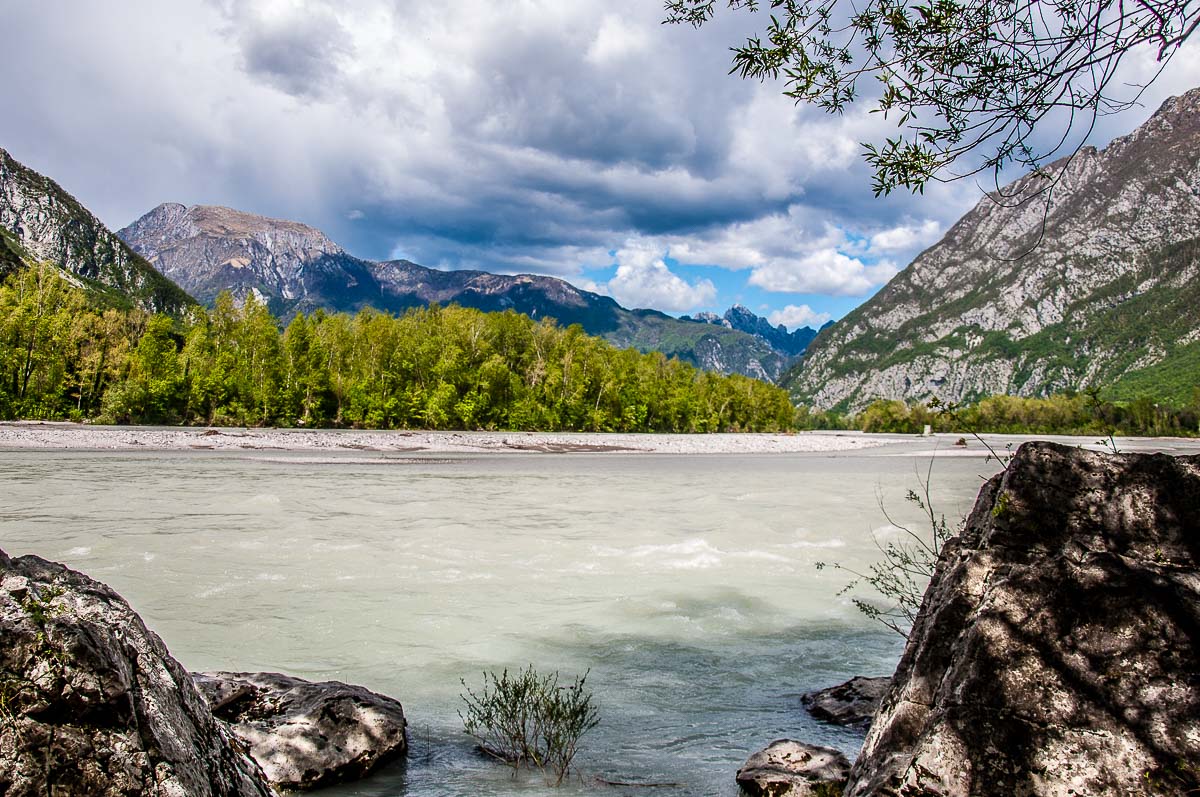 Venzone is easy to reach by car, train, and local bus. While it's further away from the usual tourist magnets in Italy and stands in the bosom of nature, the village is not difficult to visit.
By Car
To start with, Venzone is about 35 km away from the provincial capital Udine, and just over 100 km away from the regional capital Triest. Venzone is also about 85 km away from the famous resort of Grado in Friuli Venezia Giulia, making it easy to visit for a day if you are vacationing in that area.
Venzone is also 65 km away from the Italian border with Austria and Slovenia. This makes it an easy to reach destination in Italy if you are spending time in one of these two countries.
If you are in the Northern Italian region of the Veneto, you can reach Venzone from Venice in under two hours and from Padua and Vicenza in just over two hours. Bear in mind that depending on traffic and the day, these travelling times can expand significantly.
The area is served by well-appointed motorways, so travelling by car is smooth and pleasant. This very helpful website will give you an estimate of how much the tolls are going to cost.
You can leave your car at one of the large car parks just outside of Venzone's medieval defensive walls. The historic centre of the village where most of the sights are is small and easy to walk around. Traditionally, the historic centres of the Italian villages and towns are limited traffic areas (ZTL in Italian). Driving through them without a special pass is bound to incur heavy fines.
By Train and Bus
Venzone has its own train station and bus station. Regional trains and buses connect the village to a number of nearby cities and towns. For example, Udine, Cividale del Friuli, and Tarvisio. You can easily travel from anywhere in Italy to Venzone by changing trains in Udine and then continuing onwards on the regional train that stops at the village.
Travel between Udine and Venzone takes about half an hour on the regional trains. By bus, the travel time can easily double and triple depending on the bus line and the time of the day.
The train and bus stations are outside of Venzone's historic centre. When you arrive, you will need to walk between five and ten minutes to reach it.
For train travel times, ticket prices and booking tickets in advance, use the official website of the Italian State Railway: TrenItalia (in English).
For bus travel times and other pertinent information, you can have a look at the official website of the local public transport company: TPL FVG (in Italian).
How Long to Spend in Venzone, Italy?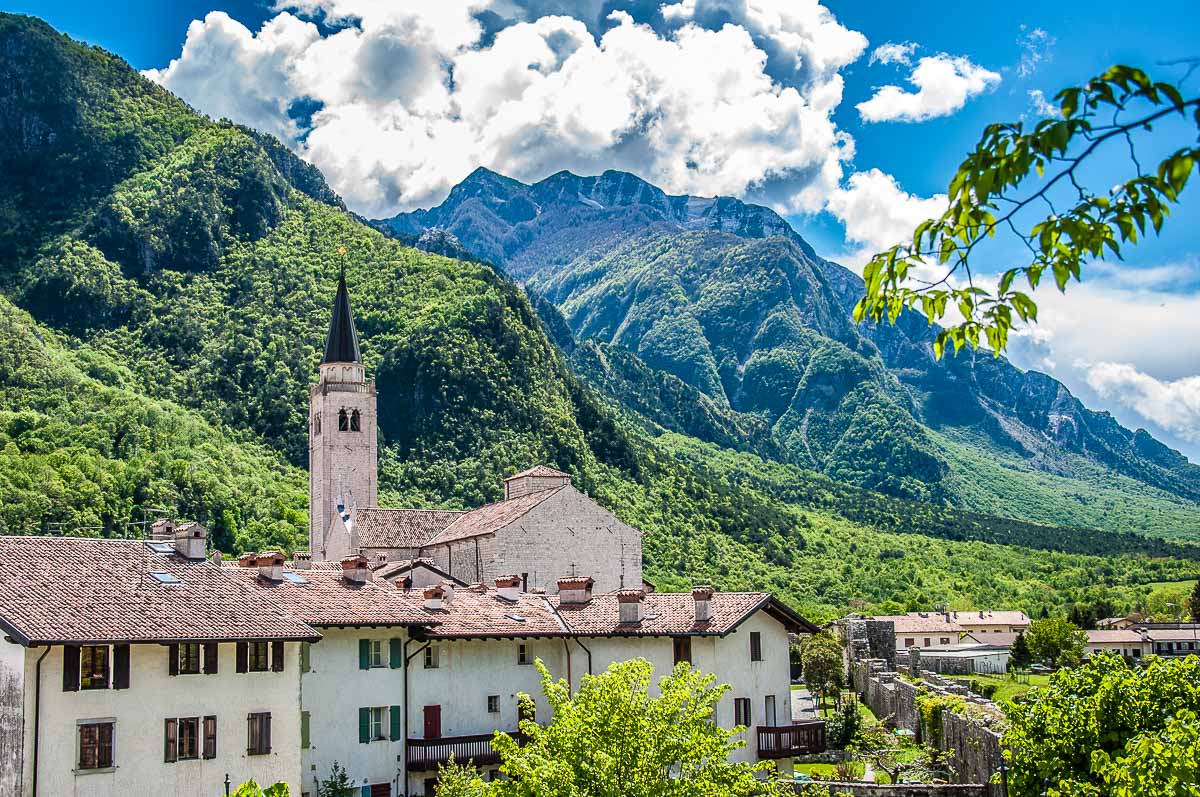 How long to spend in the Italian village of Venzone depends entirely on you and what your travel plans and personal interests are.
Compared to the large Italian cities, Venzone is tiny. Its historic centre is easily navigable on foot from one end to the other. If you are a quick sightseer, you can comfortably fit the main sights there in a couple of hours with time to spare for a nice Italian coffee or a lovely local meal.
In case you also want to do a hike or visit a nearby village or town, then pencil a day for Venzone and its surrounding area in your travel plans.
If you want to experience the peace and quiet of this beautiful corner of Italy, then consider spending the night in Venzone. There is nothing like waking up at sunrise in a centuries-old Italian village and feeling like you have all its beauty for yourself.
What Else to Do Around Venzone, Italy?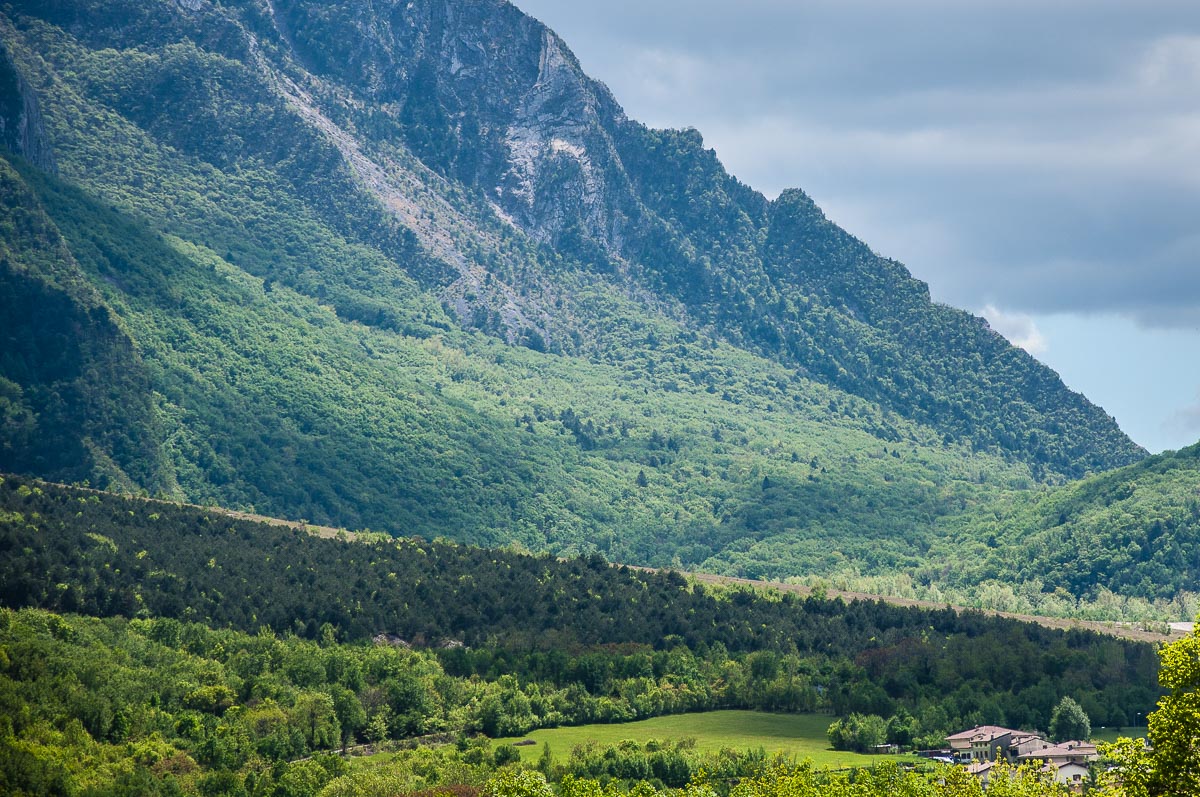 There are many things you can do and enjoy in the vicinity of Venzone, Italy. It all depends on your interests and how much time you have at your disposal.
On one hand, if you have an interest in nature and sport, there are many hikes and walks to be enjoyed in the mountains surrounding Venzone. For example, have a look at this page in English on the website of the Julian Pre-Alps Regional Natural Park. It lists several itineraries of different difficulty levels. On the same website, you can also consult this leaflet in Italian listing a couple of nature walks right next to Venzone.
Within an easy driving distance from Venzone, you can visit Italy's largest butterfly house. You will find it in the village of Bordano. Click here to read about my experience visiting it.
Also within an easy driving distance from Venzone, you can explore the valleys and villages of Carnia. This is an area in Italy that is famous for its beautiful nature, ancient history, and local crafts.
Less than 20 mins away from Venzone, you can visit Gemona del Friuli. This is the town where the world's oldest baptism records are preserved. Gemona's registers date back to 1379!
You can easily travel from Venzone to any of the larger cities and towns in Italy's Northeasternmost region – Friuli Venezia Giulia. Udine, Grado, Aquileia, Pordenone, Palmanova, and the regional capital Triest offer a wealth of historic sites and museums to keep you busy for several days. If you prefer to explore the region's beautiful villages, then, click here for ideas where to head to next.
Travelling by car or train from Venzone, you can also easily and relatively quickly reach many of the cities in the Italian region of Veneto. From Venice to Padua and Vicenza, there is lots to see and do there.
In Conclusion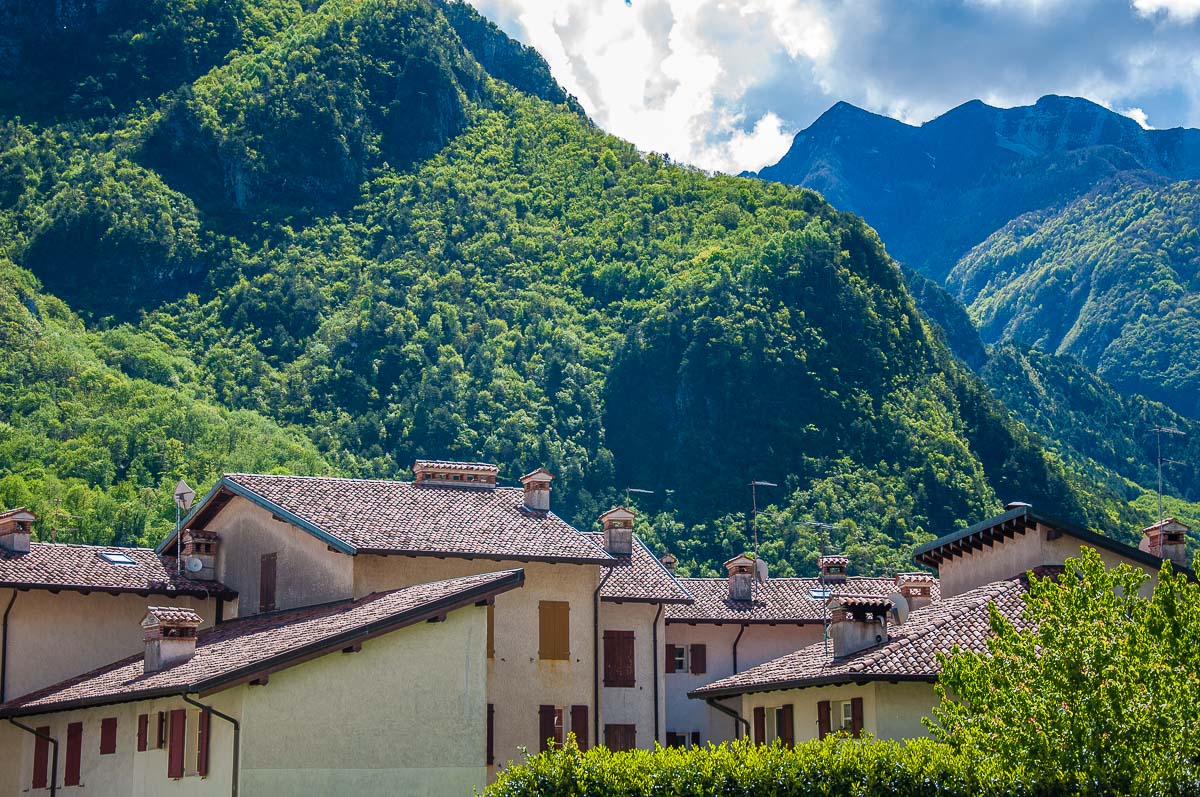 Venzone is a small village in the Italian region of Friuli Venezia Giulia. With a history that spans millennia, medieval fortifications, and a beautiful setting in the bosom of nature, it was officially voted Italy's most beautiful village for 2017.
On the shores of a fast river and surrounded by velvety mountains, Venzone is a great destination off the beaten path in Italy and a delight to discover.
In the above blog post, I give you detailed information on how to visit Venzone and personally experience all that it has to offer. From how to travel to the village by car, train or bus to an extensive list of the things to do in Venzone, this page has all sorts of practical tips to make your visit all the smoother and more enjoyable.
I hope that the information provided will inspire you to put Venzone on top of your Italy's bucket list and that as soon as possible you will head to this multilayered yet little-known corner of Italy to see it first hand.
Enjoy your trip to Venzone, Italy!
More Helpful Info for You About Italy's Most Beautiful Villages
Why Visit Italy's Villages: Italian Villages
Friuli Venezia Giulia: Most Beautiful Villages
Emilia Romagna: Most Beautiful Villages
Veneto: Most Beautiful Villages
More Helpful Italy Info for You
Northern Italy: 18 Best Cities to Visit
Veneto: Best Cities to Visit, Top 15 Places, 30 Adventures, 15 Most Colourful Places
Best of Italy: Italian Piazzas, Italian Food, Italian Markets, Italian Coffee Culture
Lake Garda: Best Towns, Nearest Airports, Travel Options, Lake Garda with Kids
Lake Como: Things to See
Venice: Hidden Gems, Boats in Venice, Day Trips from Venice
Verona: Things to Do in One Day, Day Trips from Verona
Padua: Things to Do in One Day, 101 Facts About Padua, 10 Reasons to Visit Padua, Day Trips from Padua
Vicenza: Things to Do, Day Trips from Vicenza
Thank you for reading! Please, leave me a comment, pin the image below or use the buttons right at the top and at the end of this blog post to share it on social media.
For more useful information like this, please, like my blog's page on Facebook and subscribe to my strictly no-spam newsletter.