Are You Planning a Trip to Shere – England's Romcom Village?
Hello! Here you will find my ultimate travel guide for Shere – a quaint English village where some of the most iconic scenes in famous Holywood and British romcoms were filmed. Use it to organise a day trip to or a longer stay in Shere.
No matter if you are arriving from London, anywhere else in England or abroad, on this page you will find detailed information to make your travel planning easy, logical, and enjoyable. It will also help you experience the best that Shere has to offer in terms of local sights, food, and facilities.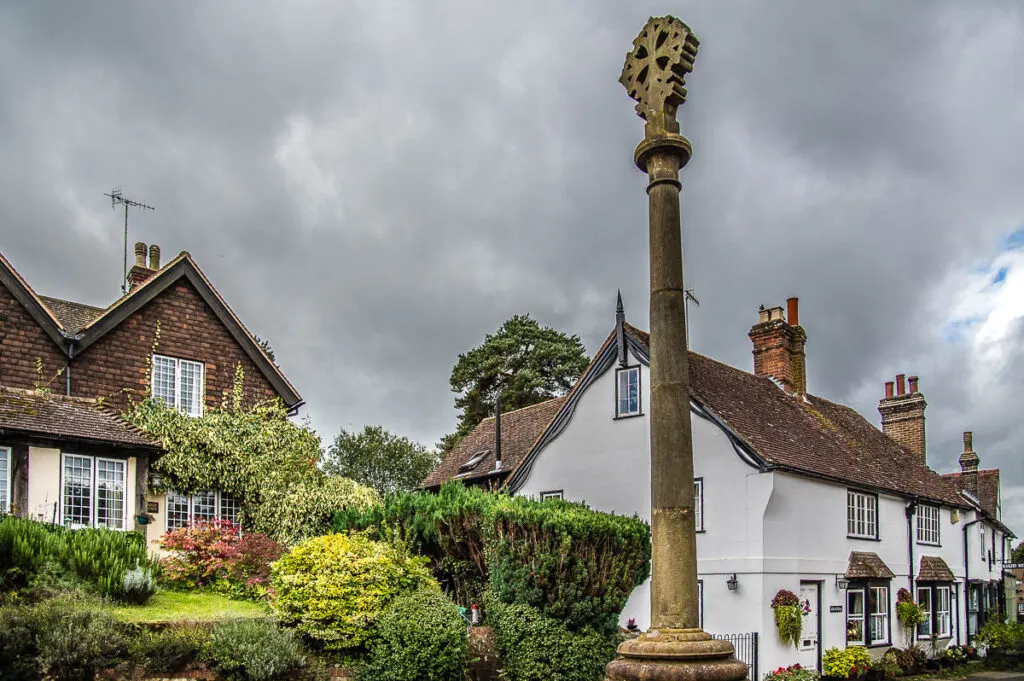 Shere is a great destination if you want to see where the perennial Christmas favourite The Holiday was filmed, to experience the best that the English countryside has to offer, or simply to enjoy a nature walk and a delicious pub lunch.
This Shere travel guide is thematically structured and covers several topics. For example:
Is Shere worth a visit?
How to reach Shere and where to park?
Where to eat and where to stay in Shere?
What are the best things to do in Shere?
What other sights and landmarks to explore nearby?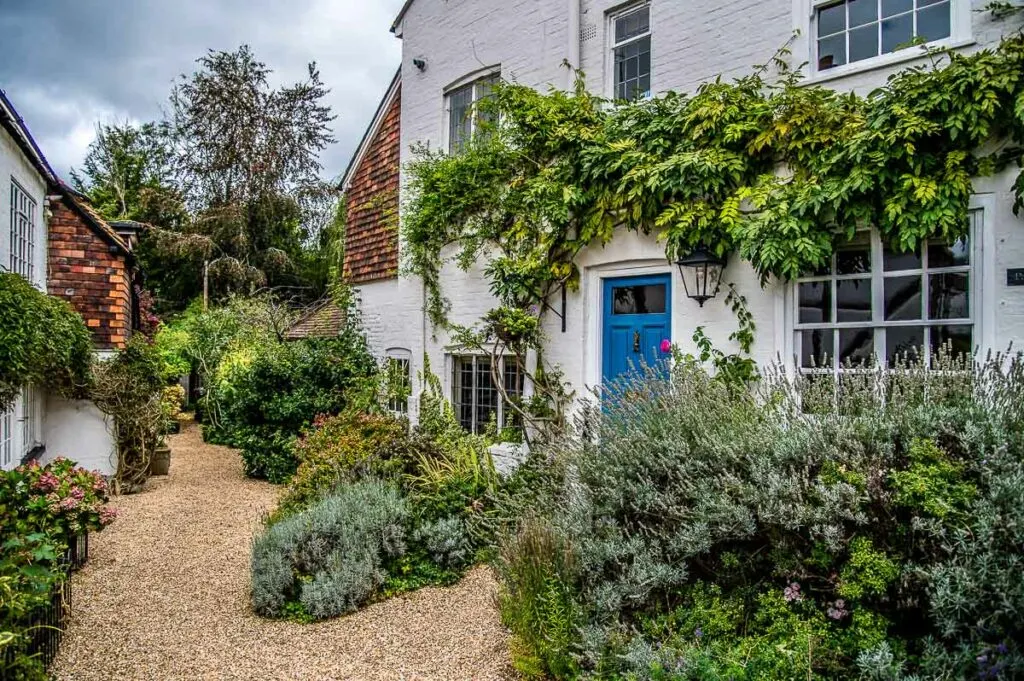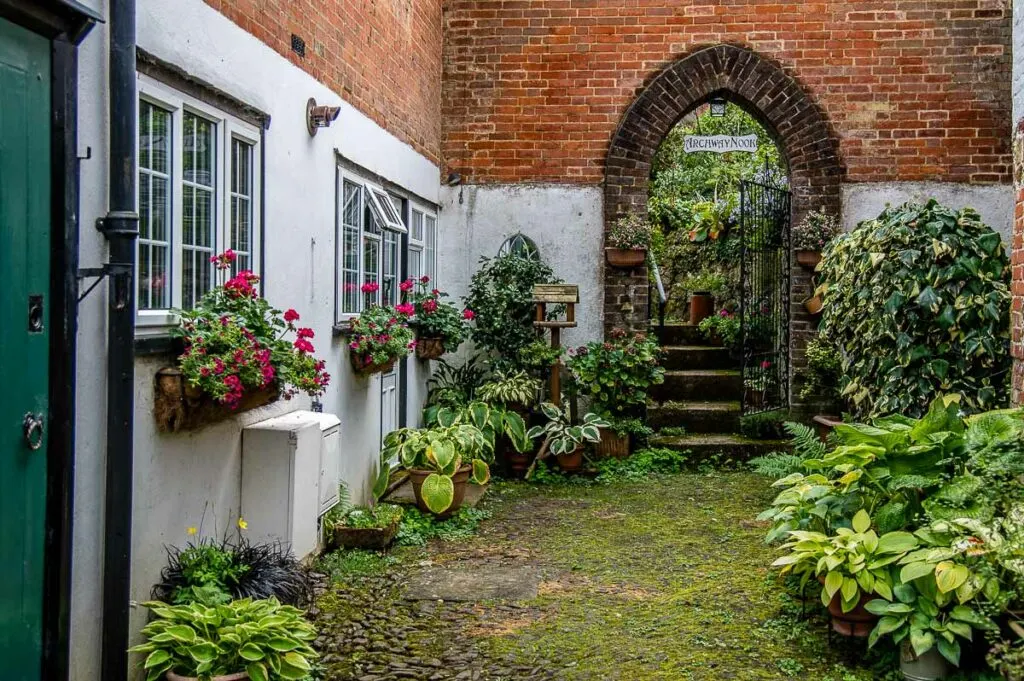 There are also maps, practical tips, and lots of beautiful photos to give you an idea of what to expect. You will also find the best times to visit Shere and a handy list of the best local landmarks. Right at the end, I have also included my top 5 tips for visiting England's romcom village.
Feel free to scroll up and down to focus just on the type of travel information that you need.
Have a look and enjoy your visit to Shere!
---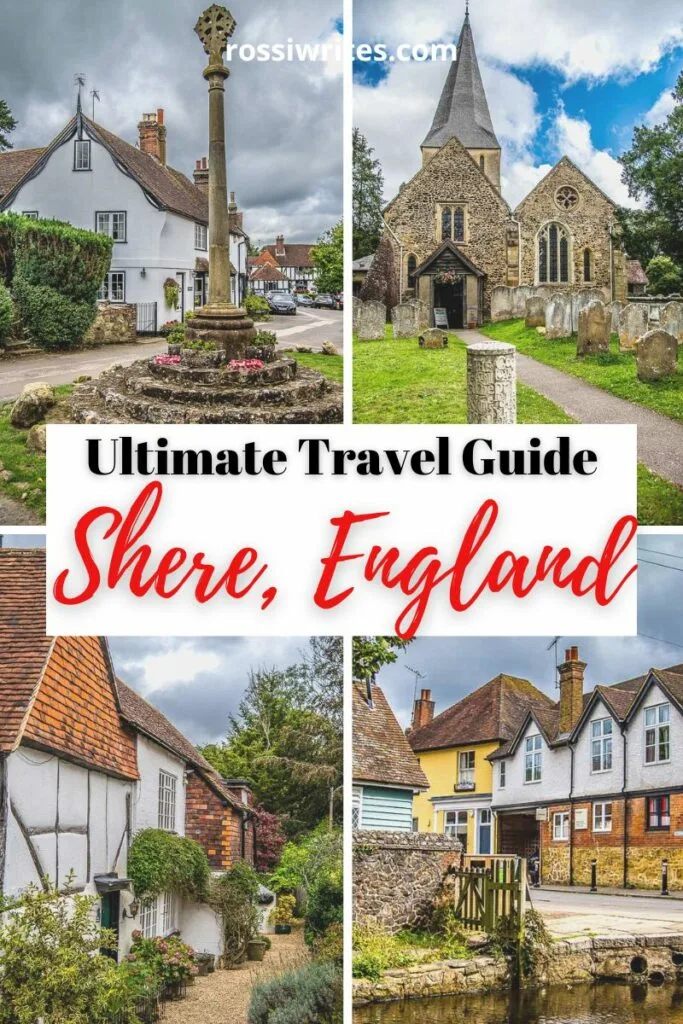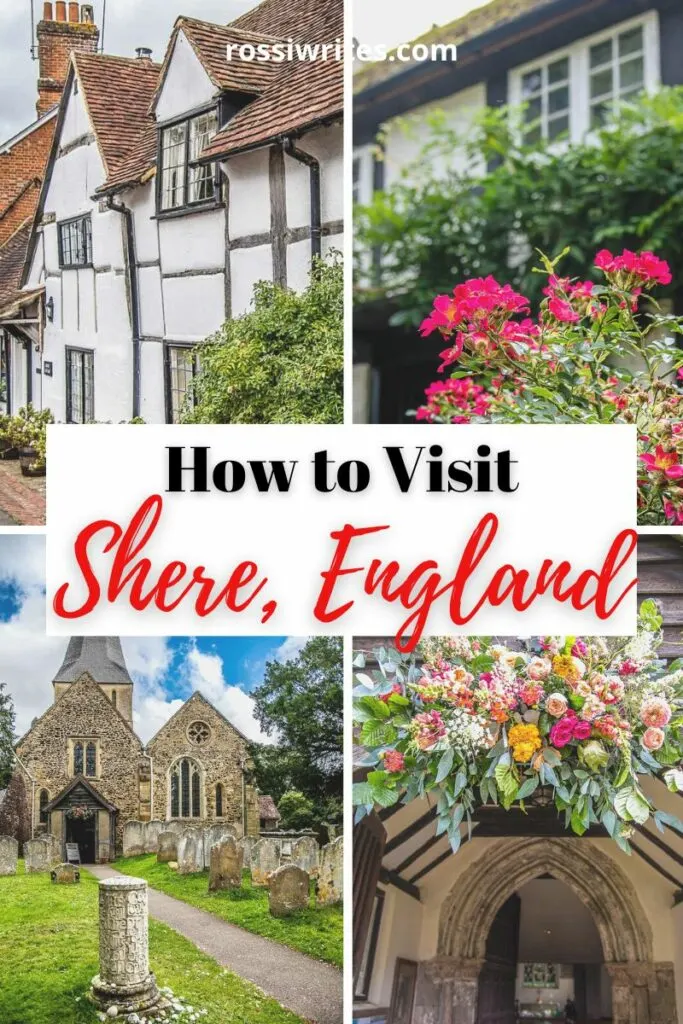 ---
The information in this travel guide reflects my first-hand experience. It may contain affiliate links and if you click and make a purchase through them, I may receive a small commission at no cost to you. The ads on this page help me keep this blog free and produce new travel content for you to enjoy. Full details in my Disclosure.
---
WHERE IS SHERE?
Shere is a small medieval village in England. It's part of the English county of Surrey and it stands about 35 m (or 55 km) away from the English capital London.
The closest to Shere larger English towns are Guildford and Dorking. The village is almost halfway between them. Surrounded by the Surrey Hills (recognised as an Area of Outstanding Natural Beauty), Shere is on the River Tillingbourne. Crystal-clear, this small stream flows through the centre of the village thus making its setting even more idyllic.
Only about 1,000 people live in the actual village of Shere and about three times that in the parish of Shere which also incorporates a number of adjacent villages and hamlets. Of these, the medieval Gomshall is very pretty and can be seen on the same day as Shere.
Next door you will also find the pretty villages of Albury and Abinger Hammer; Silent Pool which is a small quarry lake with an eerie tale to tell; and curiously, Newlands Corner where Agatha Cristie's car was discovered after the famous crime novelist staged her disappearance in 1926.
---
IS SHERE WORTH A VISIT?
Shere is a great place to visit in England. The village's quintessential English charm and romcom links make it a lovely destination for a day trip, a relaxing weekend or a base from which to explore the English countryside and lesser-known towns.
Expect picture-perfect half-timbered houses, medieval churches with tall spires, and lush rolling hills. All around Shere, enjoyable country walks stretch through woods and along hilltops and lead to cosy English pubs serving home-cooked grub and Sunday roasts.
Easy to reach from London and many of the main cities and towns in the counties of Surrey, Hampshire, West Sussex, East Sussex, and Kent, Shere is a must-see. Even more so, if you want to experience idyllic England as they show it in films.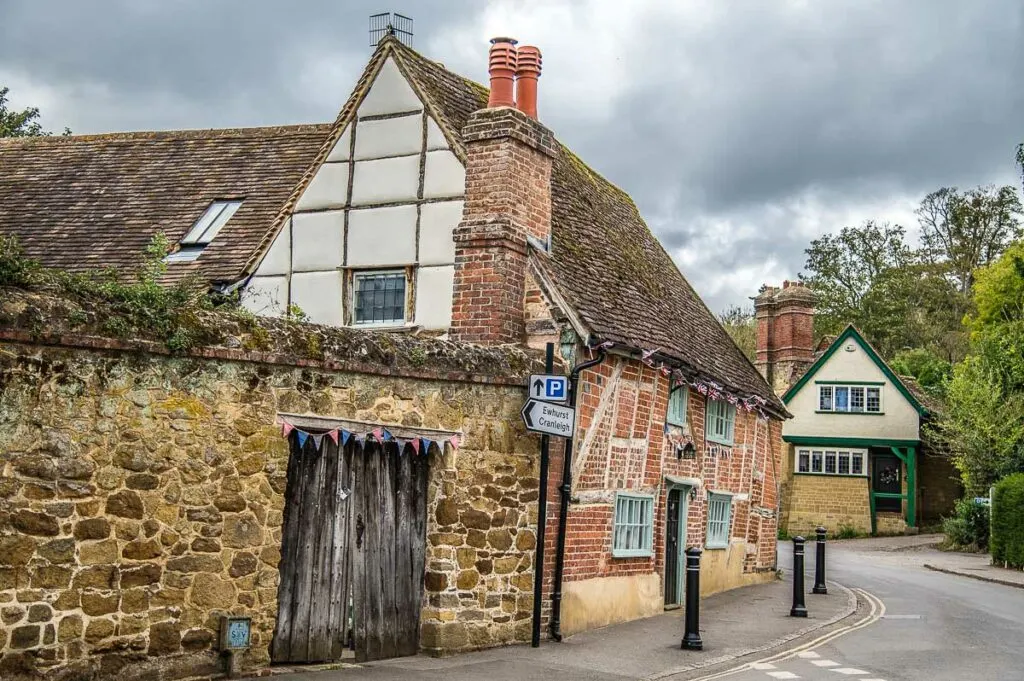 ---
WHAT IS SHERE KNOWN FOR?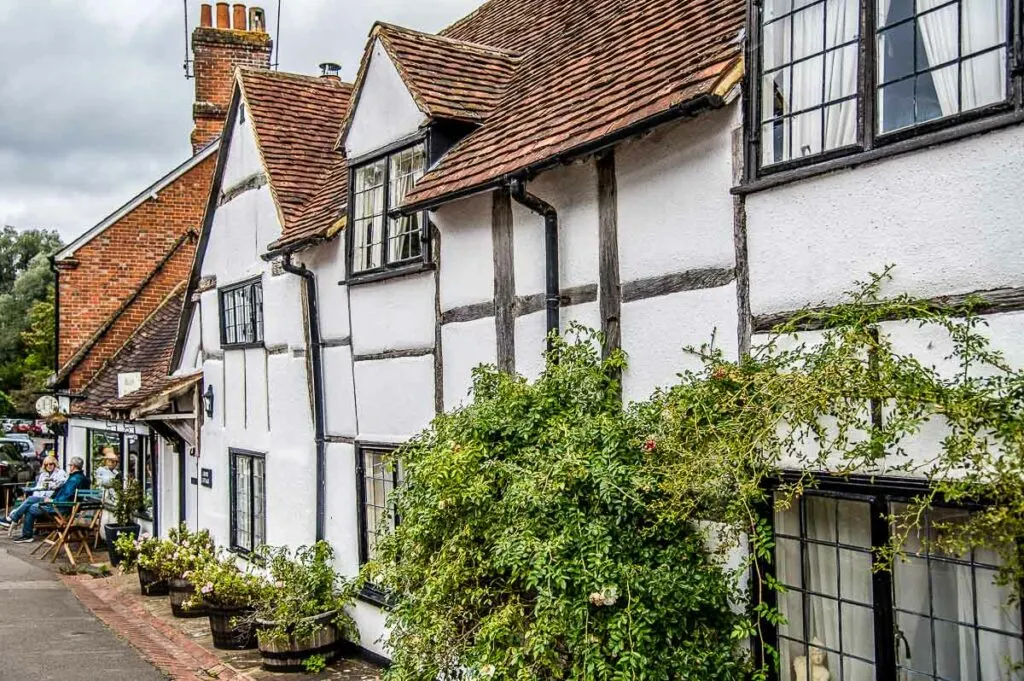 Nowadays, Shere is well known as the filming location of some of the biggest romantic comedies of the past few decades. The perennial Christmas favourite The Holiday starring Cameron Diaz and Kate Winslet was shot here. The village also features in iconic scenes in 'Bridget Jones: The Edge of Reason' and The Wedding Date.
Shere is also known for its picture-perfect cottages. At the heart of the village, stand half-timbered houses mostly from the 16th and the 17th centuries, although some of the oldest buildings here date as far back as the 15th century. And the village church was erected in 1190!
In the past, Shere was known for its woollen industry and also for the mills and forges perched along the River Tillingbourne. Sheep were plentiful here and sheep-stealing gangs operated around the village with the men meeting in the White Horse pub after a successful ride on the adjacent meadows.
Actually, some believe that Shere's name is a derivation of 'shear' and 'shearsmith' on account of the shears used in sheep shearing and the production of wollen cloth. Yet, the village was known as Essira (also Essire) as far back as the 11th century and its current name could be simply a corruption of this Norman word.
---
HOW TO REACH SHERE?
Shere is very easy to reach by car from anywhere in England. You can also use public transport to come here, although this will be slightly more time-consuming.
Here is how to proceed:
By Car – a navigation app such as Google Maps will recommend the best itinerary depending on your starting point. Once in Shere, you can park in the free car park at the back of the village museum and right next to the recreation ground. In fact, the turn-off for the car park is to your right as soon as you see the house in the third photo illustrating this segment of my Shere travel guide.
Here are some sample distances to Shere from a number of nearby English towns and London:
Guildford to Shere – 6 miles
Dorking to Shere – 6 miles
Godalming to Shere – 10 miles
London to Shere – 32 miles (plus or minus a few miles depending on your point of departure)
Brighton to Shere – 43 miles
Oxford to Shere – 71 miles
N.B.: Shere is also only about 19 miles away from Gatwick Airport and 24 miles away from Heathrow Airport. This makes the village very easy to reach by car as soon as you arrive in Britain.
By Public Transport – bus line 32 connects the towns of Guildford, Dorking, and Redhill, stopping in Shere along the way. It takes about 23 mins to reach the village from Guildford. The distance from Dorking is covered in under 30 mins.
Alternatively, you can use bus line 25 from Guildford to Cranleigh.
N.B.: Shere doesn't have a train station. The nearest to Shere railway stations are in Gomshall, Dorking, and Guildford. Trains run from London Waterloo and London Victoria and take from as little as 32 mins one way (for example, from London Waterloo to Guildford). Once there, you can take bus 32 or bus 25 as above.
A good tip is to buy your train tickets at least a few weeks in advance in order to get the best prices.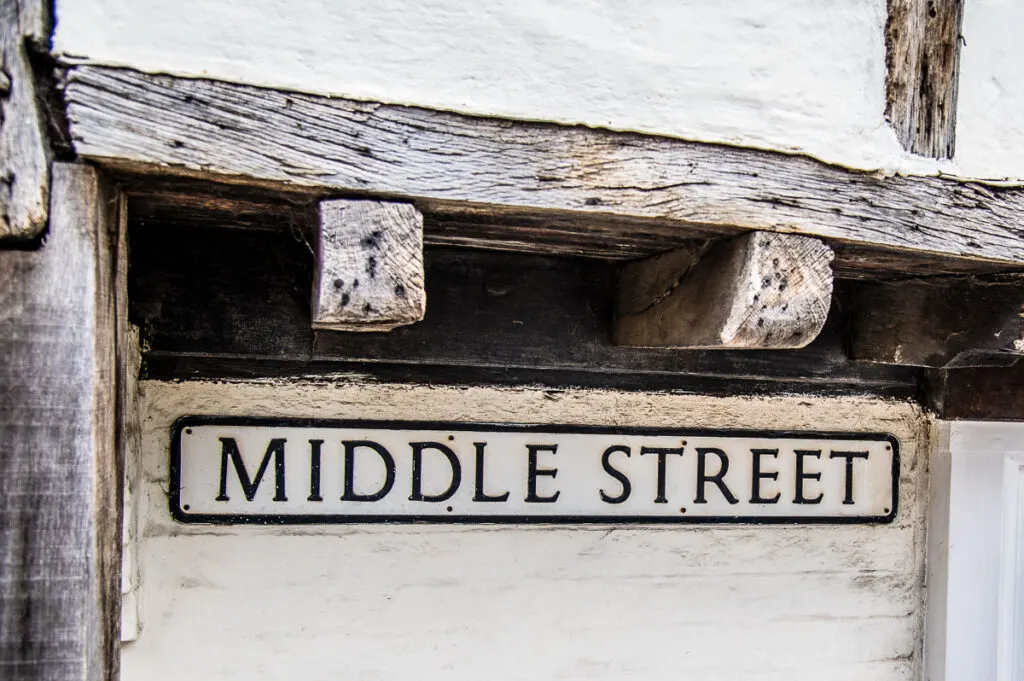 ---
BEST TIME TO VISIT SHERE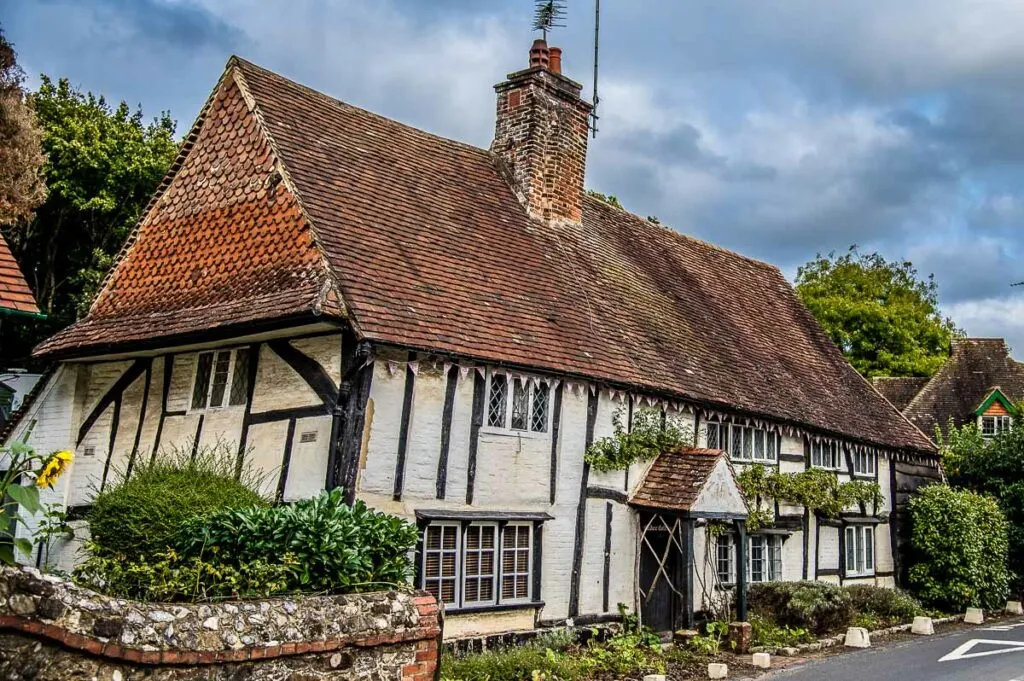 The best time to visit Shere in the English county of Surrey is on a clear sky day. The season doesn't really matter as long as it's not raining and it's not overly cold.
The village is lovely for a day trip in the English countryside. In any season, you can enjoy a spot of local sightseeing, before heading for a bracing walk in the woods and fields around to then return to Shere to tuck into a hearty pub lunch.
Shere is very pretty in spring and summer with wisterias and roses in bloom. In early autumn, the village is still very lush with greenery everywhere you look.
If you happen to be in Shere on a snowy winter day, then you can certainly count yourself luckier than Hollywood producers who had to bring artificial snow by the ton to make the village look plucked out of a Christmas wonderland for the famous romcom movie The Holiday.
---
BEST THINGS TO DO IN SHERE
Don't expect a huge list of things to do in Shere. The village is tiny in size and if you are a quick sightseer you can walk all over it in an hour or even less.
Being here is not about speed, however. The village is a doorway to an England that nowadays mostly exists in films. So, take it easy, take it slow and enjoy getting to know Shere and the best it has to offer:
Cottage Spotting – if you love the look of whitewashed English cottages, in Shere you will find your own personal heaven. Wonderful half-timbered facades proliferate around the village. With names such as The Old Forge and The Old Prison House, every building here has a story to tell. The buildings around Shere date from the 15th to the 20th centuries with the largest concentration from the 16th and the 17th centuries. They present curious architectural details – from a large peephole made of bullseye glass to a wattle fence and even a gargoyle face. Right in the centre of the village, you will see an elegant blue structure – something between a large shed and a small chalet. While in the past it housed the local fire brigade, nowadays it operates as public toilets.
Visiting Film Locations – when in Shere, you will want to see the places where some of the most famous romcoms of our times were filmed. Here are the most prominent ones! The 12th-century Church of St. James can be seen in 'Bridget Jones: The Edge of Reason' as Bridget and Mark walk hand in hand across the snowy churchyard after her parents' vow renewal. It all has a very fairytale feel to it. The White Horse pub is where Amanda and Graham exchanged smouldering glances in The Holiday. And there is a famous chase scene in The Wedding Date which features Shere's cottages and blue former fire station/current public toilets.
N.B.: If you are desperate to see Iris's cute cottage from The Holiday, sorry to break it to you but it doesn't exist. The exterior was built especially for the filming process in a spot near Shere and then removed a few years afterwards. Apparently, the cottage was modelled on a real-life building called Honeysuckle Cottage in the village of Holmbury St Mary. If you really want to see it, it's a 10-minute drive away from Shere.
Art Gallery Jaunt – there is a really lovely art gallery in Shere. Known as the Pop-Up Gallery, it is housed in the family home of the artist John Rich. His work expresses an inner sensitivity to those details that make ordinary life truly beautiful. A large garden is at the back of the gallery and you can pop out there to have a look at the pond and the grapes on the vineyard before continuing with your exploration of Rich's body of work. A must!
Eating, Drinking, and Shopping – Shere has a cluster of quirky shops and delightful eateries. The Shere Pottage is one of those boutiques where you want to buy everything as gifts for friends but mostly for yourself – from interior decoration accessories to potted plants. The White Horse – the pub from 'The Holiday' – serves delicious Sunday roasts and excellent pub grub. The William Bray is an attractive gastropub just up the road. The Dabbling Duck is a deli cafe serving burgers, sandwiches, cakes, and proper afternoon teas. It has a nice garden with a large yurt in it and it also sells gins by the local Silent Pool Distillers. Tilly's Tea Shop is huddled at the end of one of Shere's prettiest streets. Pop in for light lunches, scones, and English tea.
A Dive in Local History – from a mention in the Domesday Book to stories of sheep-stealing, Shere's history is captivating. It is made of small-scale local events which when put together give you a great picture of life in the English countryside throughout the centuries. Don't miss Shere Museum for all the stories it tells and the curious artefacts collected over its two floors.
A Literary and Artistic Exploration – throughout the centuries many artists and writers called Shere home or came to visit looking for peace and inspiration. For example, J. M. Barrie (the creator of Peter Pan) to Margaret Tarrant (an English illustrator with an instantly recognisable style) had connections to the village.
Nature Walking – standing right in the heart of Surrey Hills, Shere is a great starting point for many walks, rambles, and hikes in the area. You can amble along often muddy lanes cutting through lush forests and stretching next to expansive hills and vineyards. A pheasant may fly out startled from underneath a bush. An old bridge may appear to your right over the River Tillingbourne. A network of public footpaths crisscrosses the area. You can find itineraries to follow on the website of Surrey Hills or in one of the guidebooks recommended further below.
Dog Walking – if you have a furry friend, head out to Shere! The village and the area around it are loved by dog walkers. You can see all sorts of breeds led by all types of people – singles, couples, families, and groups of friends.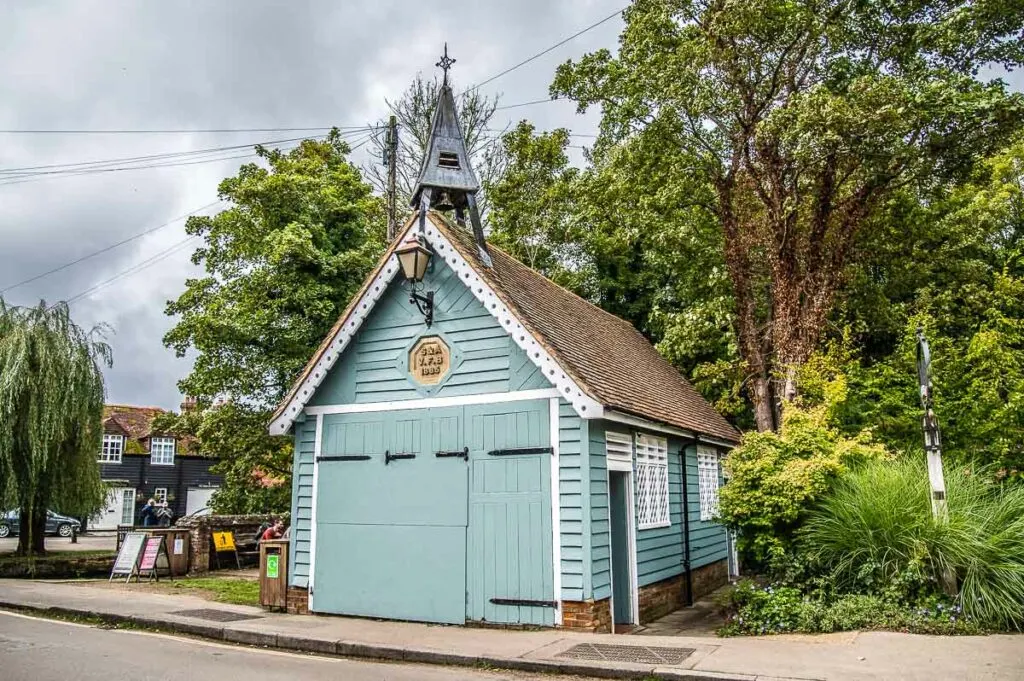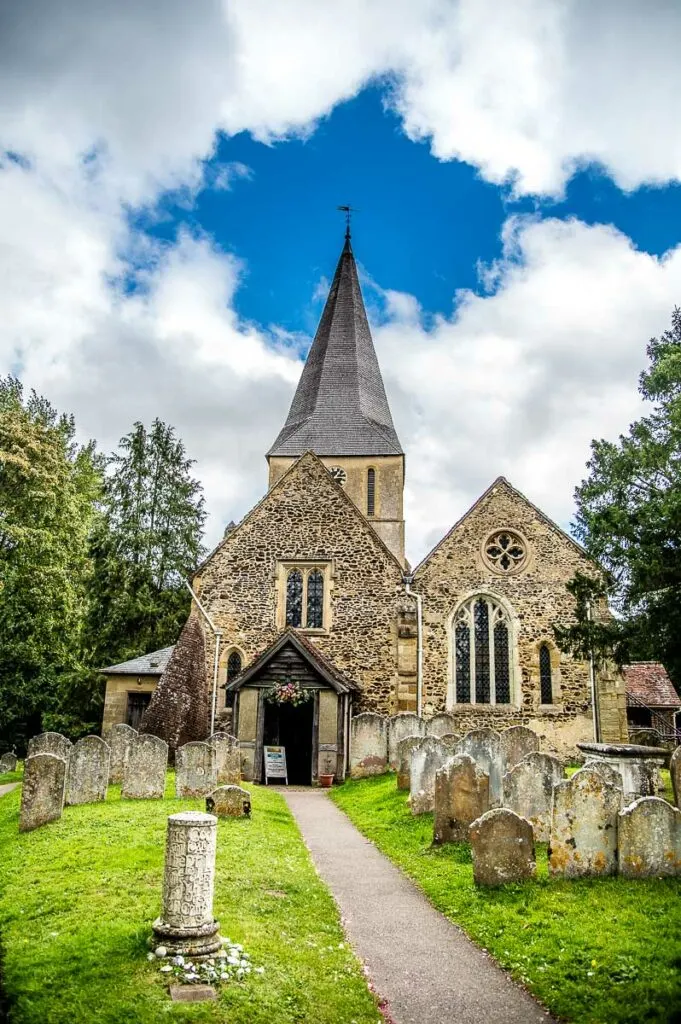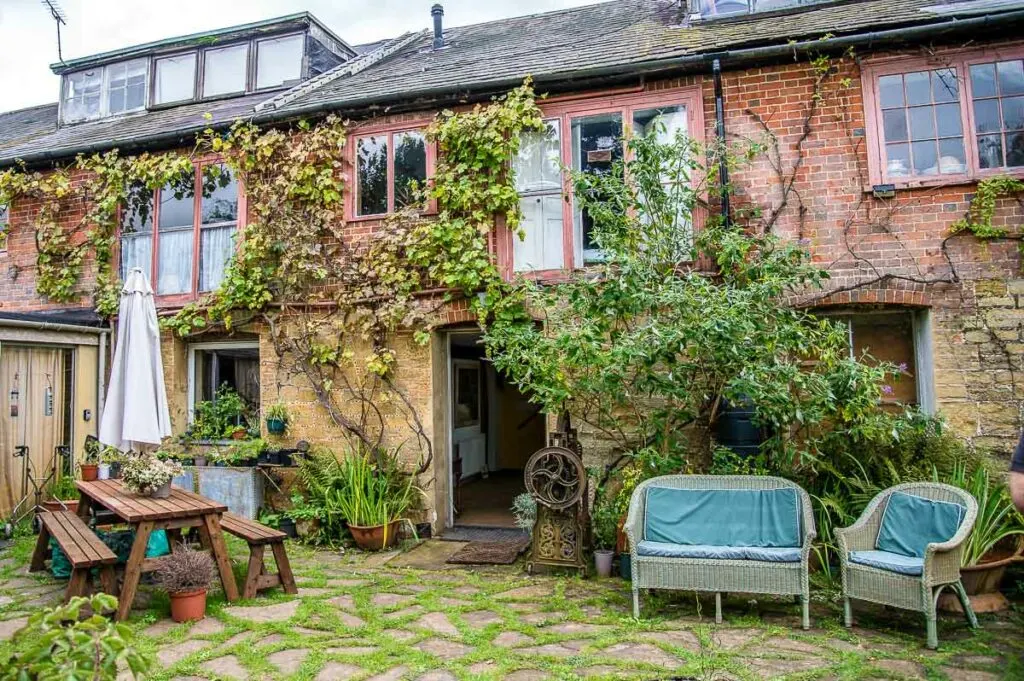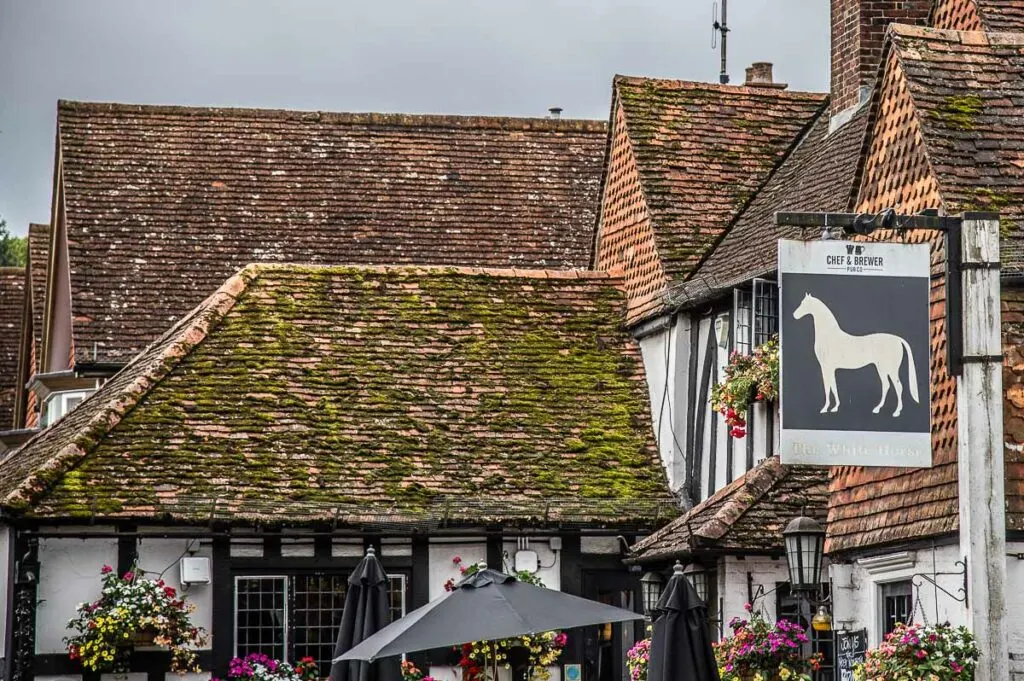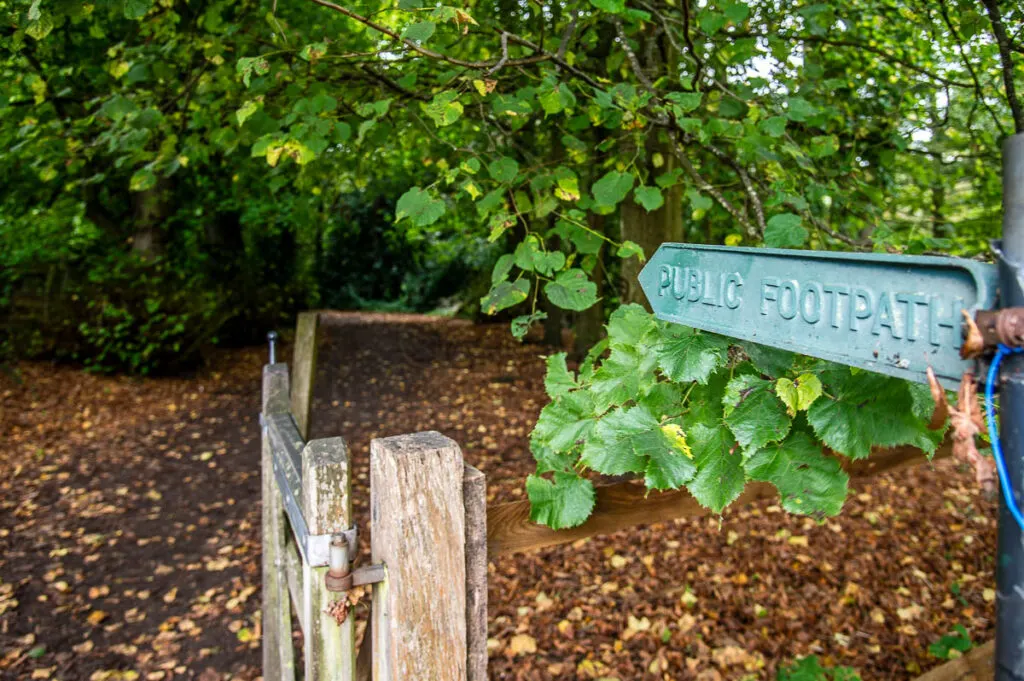 ---
MAIN SIGHTS IN SHERE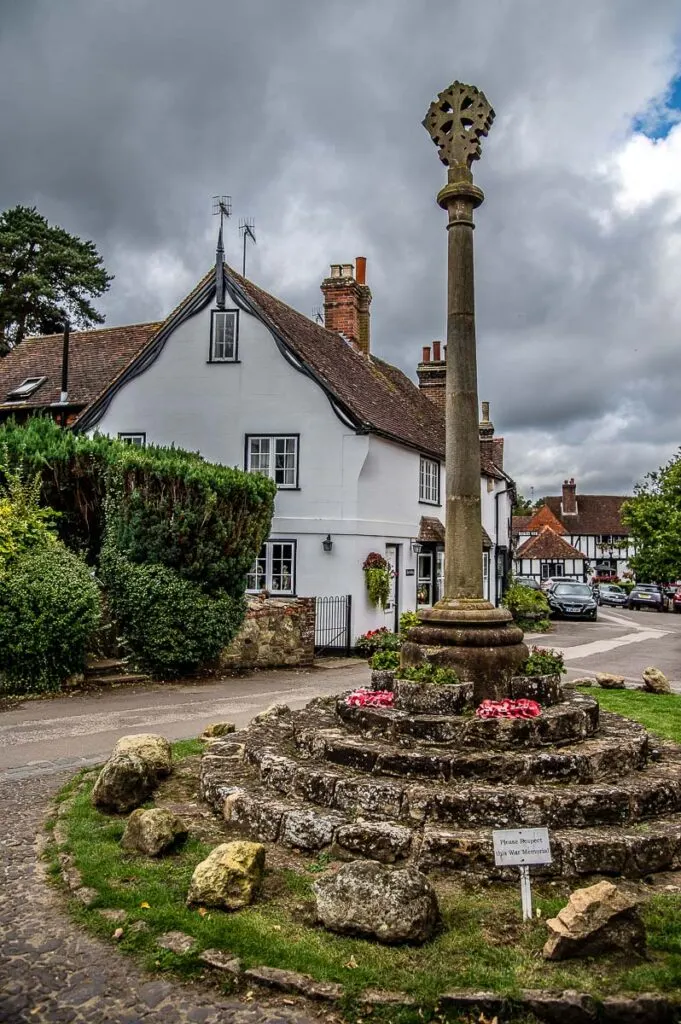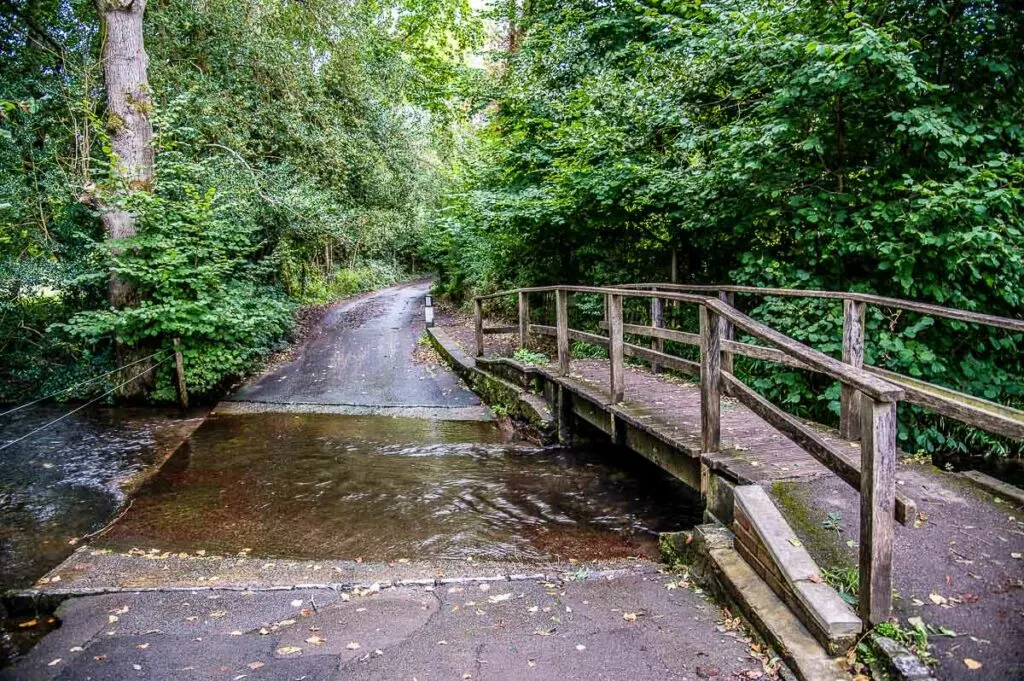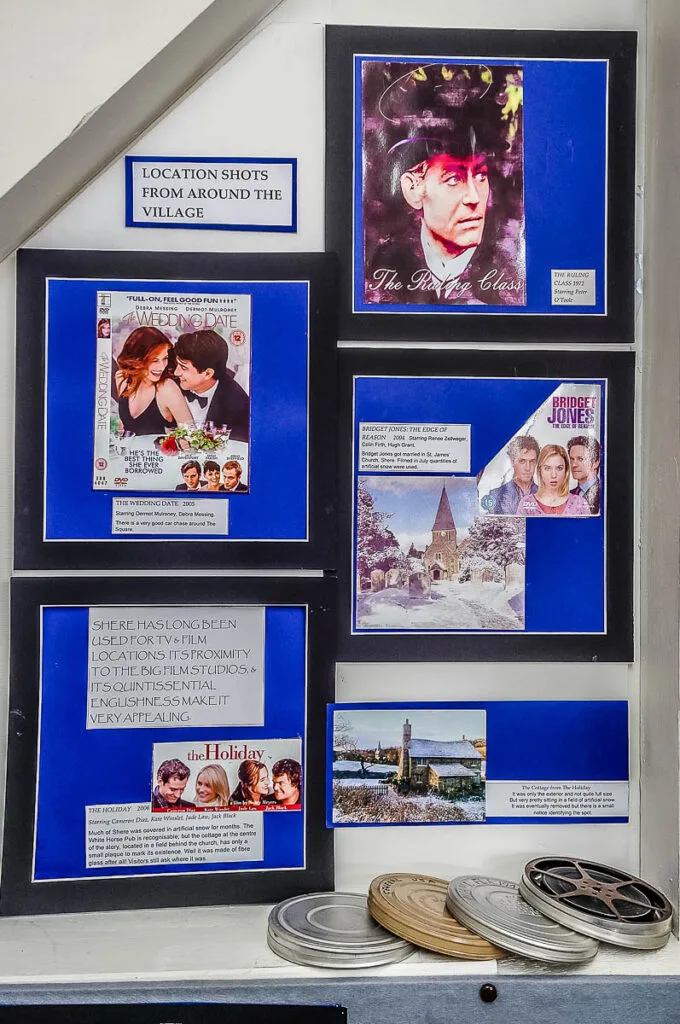 Here is a handy list of the main sights and landmarks in the village of Shere in the English county of Surrey. Some of them I already mentioned above but here they are listed with some additional information about them. Tick them off one by one!
Church of St. James – very picturesque, this small Norman church dates back to the 1190. Its impressive spire was erected between 1213 and 1300. It's surrounded by a churchyard with old tombstones. A pretty lychgate – or a gate with a small roof on top of it – stands at its entrance. This was designed by Sir Edwin Lutyens, a renowned architect who also designed the Cenotaph in Whitehall, London. When we visited, there had just been a wedding at the church, so it was beautifully decorated with flowers. The English are very good at making every effort to keep their churches at the centre of community life. So, inside Shere's church, you can see the signs of all sorts of local initiatives – from a food collection to a forthcoming harvest festival and a poster with photos of the couples to wed here during the year. There is even a corner with sofas and a carpet right next to the altar so that you can sit and chat and feel like part of the community. It's all rather quaint, especially compared to Catholic and Eastern Orthodox churches which often can be all about the rites. The Church of St. James preserves the story of the Anchoress of Shere. This was a woman called Christine Carpenter who in 1329 promised to dedicate her life to God and asked to be enclosed in a small cell built in the church's wall. You can still see the small opening on the outside through which people would pass her food and water. Inside the church, there is a small quatrefoil opening through which she watched the celebration of mass.
War Memorial – right by the churchyard, you will see this tall and thin pillar crowned by the Maltese cross. It honours the fallen in the First and Second World Wars.
River Tillingbourne and the Duck Pond – this small river runs through the chalk hills of England's North Downs and flows right through the heart of Shere. Next to the former fire station, you will see that the riverbed widens slightly. This is where a gaggle of ducks live and frolic making this idyllic village even more picture-perfect. If you continue walking along the river, you will see some of the most interesting historic cottages here. Right past the allotments, you will come across a small wooden bridge and a road that the river runs over. Stay on the public footpath that goes through the woodland. After a short walk, you will see a barrier to your left with another short path branching out and leading to the local cemetery.
White Horse Pub – originally a 15th-century farmhouse, it became an inn two centuries afterwards. According to the local lore, this is where sheep-steeling gangs would meet. Allegedly, timbers from Admiral Nelson's ship 'Victory' are incorporated into the building's framework. Nowadays, the 'White Horse' is famous as one of the filming locations of the Christmas favourite The Holiday. The pub is right past the duck pond on the River Tillingbourne in the heart of Shere. You will recognise it by its whitewashed half-timbered facade adorned with lots of hanging baskets with cascading flowers in bloom. Curiously, by the pub's entrance door, there is an old-fashioned contraption called pillory. With holes for restraining the head and the arms, offenders would be chained to it and exposed to public abuse.
Pop-Up Gallery – easily my favourite place in Shere. This is where you can get close to the work of John Rich – an English artist and art restorer. The gallery is in his family home and as part of the visit you can see the lovely garden. It's a wonderful immersion in the life and aspirations of an artist and an opportunity to experience a Shere house inside and out.
Shere Museum – this lovely little museum explores in detail the traditions of Shere. The displays are organised over two floors with corners dedicated to domestic life, agriculture, literary connections, film locations, and several other pertinent to village life topics. The museum is open only from 2 pm to 5 pm every Saturday and Sunday and on some bank holidays. It's free to visit and a small donation is much appreciated.
Shere Well and Water Fountain – you will see it just at the top of Middle Street in the village. In a long wall flanking the road, there is a niche with two thin metal railings. Behind them, there is a small depression and you can look down to see a trickle of water running through.
Sights to Visit Next Door to Shere:
Silent Pool and Sherbourne Pond – two small ponds surrounded by lush vegetation and perfect for a short nature walk. Silent Pool owes its name to its always perfectly still waters. A local legend tells of a beautiful young maiden – a woodcutter's daughter – who would often bathe here. When a passing nobleman wanted to lure her out of the water, he rode his horse into the pool. Frightened, she moved to a deeper ground and tragically drowned. Silent Pool is indeed mysteriously still. We saw it on a windy afternoon and the water didn't even ripple. It stands right behind the tiny Sherbourne Pond. There is a small car park just off the main road and then a short path leads up to the two bodies of water. Driving there after visiting Shere makes for a nice ending to a lovely day trip in the English countryside.
Silent Pool Distillery and Albury Vineyard– Silent Pool is flanked by the facilities of this award-winning gin producer and the vineyard of this family-run organic wine company. Both offer tours and a rich programme of events and tastings all throughout the year.
Newlands Corner – a beauty spot with woodlands and nature trails, this is a great place to drive to for a relaxing afternoon of picnicking and walking.
---
WHERE TO STAY IN SHERE
Shere is a perfect destination for a day trip from London and several English counties. If you want to truly delve into the beauty and peace that this quintessential English village offers, then consider it a base for a longer holiday.
Here are some carefully selected accommodation options in and around Shere. Pick the one that appeals to your tastes and offers the comforts you desire.
Shere: Rookery Nook
Peaslake: Hurtwood Hotel
Dorking: Castle Mill Bed and Breakfast
Albury: The Drummond at Albury
Alternatively, use the map included here to get a quick visual idea of the available accommodation options around Shere in England. You can zoom in and out, type in your specific travel dates, and then click on the different price points for detailed information about the hotel you want to know more about.
---
WHAT ELSE TO SEE NEARBY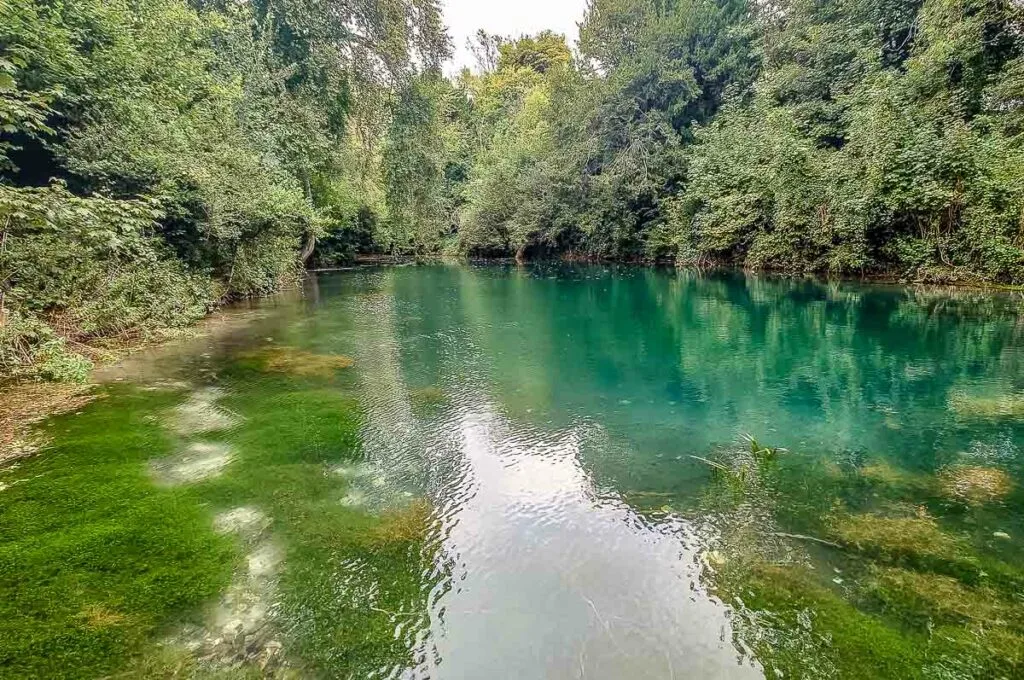 Shere is in the heart of Surrey Hills – an Area of Outstanding Natural Beauty. You can easily combine a visit to this quintessential English village with a nature walk in its beautiful surroundings. Two nearby options are Silent Pool and Newlands Corner.
Alternatively, you can spend some time visiting the other pretty villages next door to Shere. Albury, Gomshall, and Abinger Hammer have picture-perfect corners.
Another idea is to spend a couple of hours in Shere and then explore one of the larger towns nearby. Guildford and Dorking have great shopping and a cluster of local landmarks. The market town of Godalming is a place to explore if you want to see even more of the filming locations of The Holiday.
---
BEST TRAVEL GUIDES FOR THE COUNTY OF SURREY IN ENGLAND
---
MORE INFORMATION ABOUT ENGLAND
I have been living in England since the year 2000 (with an interruption of six years which I spent in Vicenza in the north of Italy). I have also been blogging about travel since 2014. While the bulk of my blog content is dedicated to travel in Italy, I have an ever-increasing number of travel articles covering destinations in England. Scroll down to the end of this page to see a list with links to them.
If you want, you can also keep an eye on my Facebook and Instagram pages as I keep adding more photos, posts, and travel tips about England and other countries almost daily.
Finally, England's official tourism website is a great source of the latest news about travel here. Otherwise, this is one of the best guidebooks about England.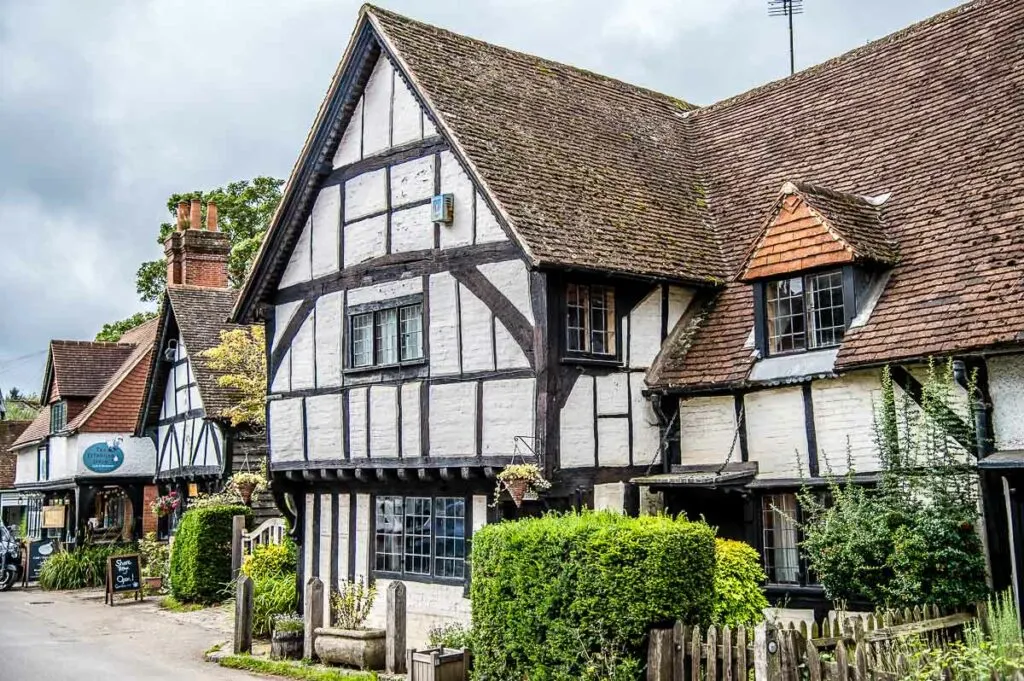 ---
MY TOP 5 TIPS FOR VISITING SHERE IN ENGLAND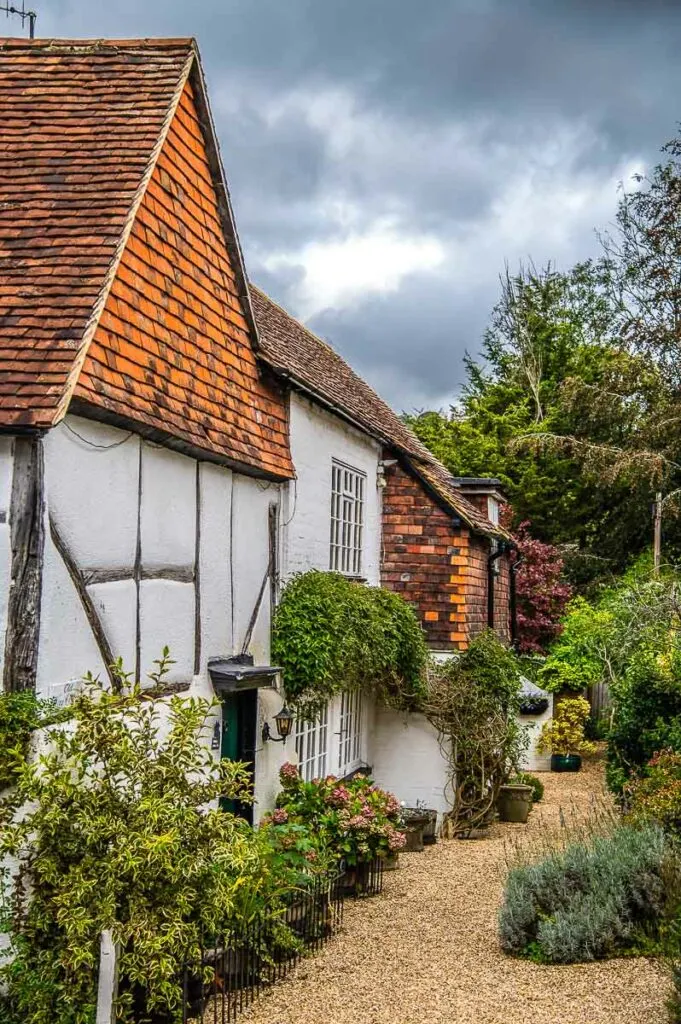 Wear comfortable walking shoes. Even more so, if you are planning to go for a hike through the woods and fields around Shere. Footpaths are often muddy, so shoes with a good grip are advised.
If you want to enjoy a meal in the White Horse pub (of The Holiday fame), book a table at least a few days in advance. The pub is very popular. Especially on weekends!
Several of the villages that are part of the parish of Shere are also worth a visit. For example, Abinger Hammer has a lovely clock tower and Gomshall – some great pubs.
If you love gardening, come to Shere on the cusp of summer. This is when the village stages its Open Gardens Day and you can pop in and out of private gardens all around while drinking Pimms and lemonade in proper English style.
Don't worry if you can't make it to Shere for this particular event though. At any other time of the year, you can do the short drive to the nearby RHS Garden Wisley. In just under 20 minutes from the village, it's one of the best large-scale gardens in the whole of England. I particularly love its impressive glasshouse and its Christmas illuminations are also rather cool.
---
THANK YOU FOR READING
---
TRAVEL TOOLS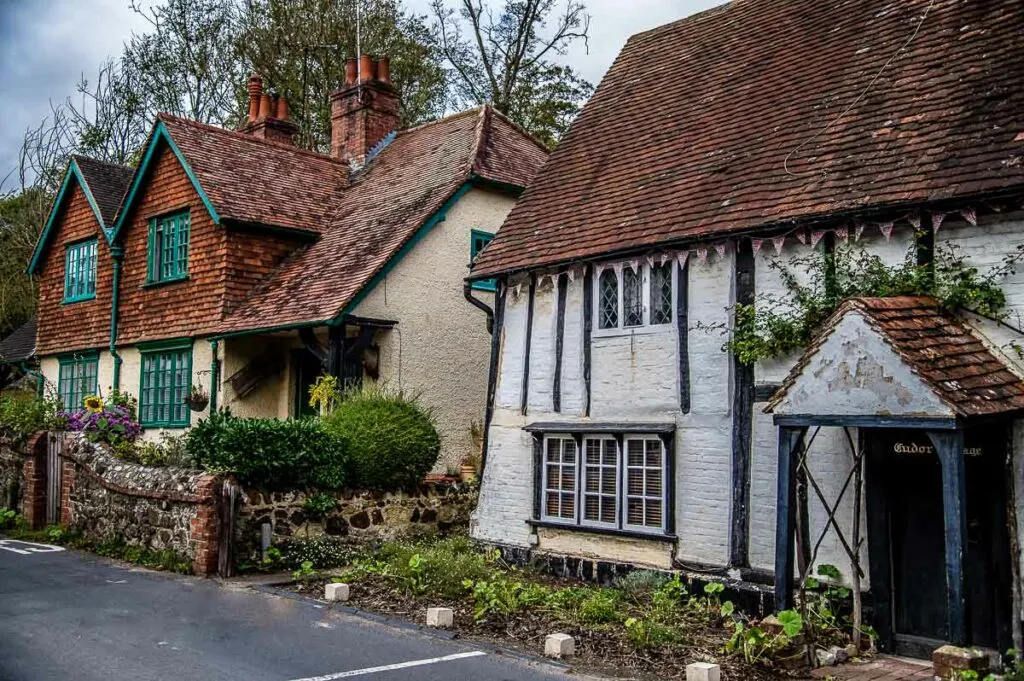 ---
EVEN MORE HELPFUL INFO ABOUT ENGLAND FOR YOU
Travel in England: Best Towns in England
London: South Kensington Museums
Cambridgeshire: Cambridge
Cheshire: Chester
Isle of Wight: Alum Bay, Carisbrooke Castle, Osborne House, Pepperpot, Round the Island Race, St. Catherine's Lighthouse
Hertfordshire: St. Albans Cathedral
Kent: Reasons to Visit, Towns in Kent, Kent Life
Northumberland: Lindisfarne
English Lifestyle: Differences Between the English and the Italians, Memorial Benches, Allotments, Charity Shops, Beachtime
English Food: Fish and Chips
---