North Wales, most probably, is as far off the top of your travel wishlist as the Moon is to the Earth.
Yet, and not unlike the Moon, North Wales is a place of great beauty that is enveloped in mystery. Luckily though and not like the Moon, North Wales is very easy to get to.
Dotted with stone castles, lush hills, and purple blooms, and cuddled in the powerful embrace of the Irish Sea this underrated corner of the United Kingdom seems to be plucked straight out of a fairytale. With a history spanning many centuries and with a language which sounds half-way between a mermaid song and the clang of arms, North Wales is a pleasure to escape to and explore.
Plus, in North Wales, you are never far away from the ring of bells of sheep and cows. In countless numbers, these gentle and curious animals populate the many pasture fields giving a bucolic quality to the green landscape.
Add the herds of horses peppered all over North Wales and your imagination starts painting stories of knights and dragons with ease.
A couple of weeks ago, I had the chance to spend three days taking in the beauty and the sights of North Wales. From the magical island of Anglesey down to the dream-like village of Portmeirion and all the way through the Snowdonia Mountains, it was amazing how many wonderful experiences we managed to pack in such a short amount of time. Yet, we felt thoroughly refreshed and relaxed.
Today, I want to share with you thirteen photos that I have handpicked from the hundreds taken during our exploration of North Wales in order to introduce you to the beauty and the spirit of this special place.
From Roman ruins to Welsh dragons, from purple heather fields to misty hills, North Wales revealed itself to me in the most inspiring way. With just a touch of whimsicality, too! After all, the town with the longest name in Europe happens to be in North Wales!
Yes, try saying Llanfairpwllgwyngyllgogerychwyrndrobwllllantysiliogogogoch!
I'm not making this up! Just have a look below…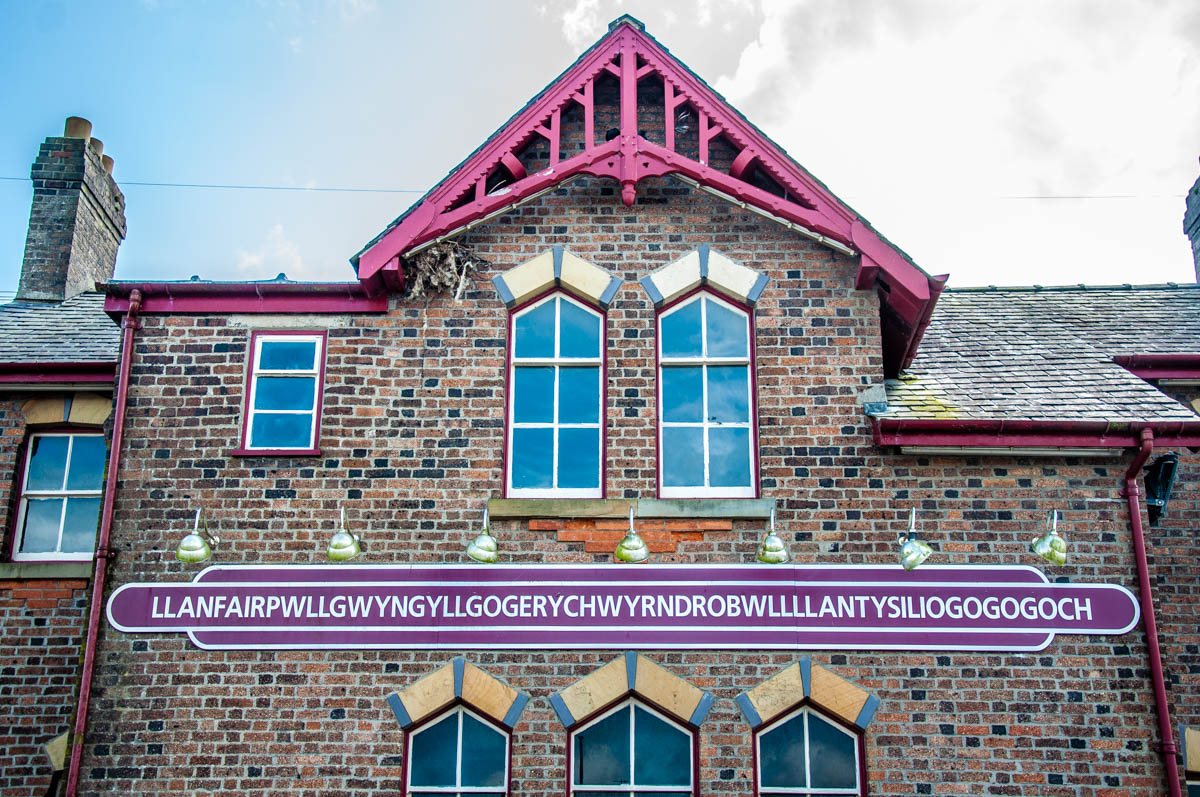 In a word, North Wales has a lot to offer to the traveller looking to escape the beaten track and to discover a land of centuries-old history, untouched nature, and soul-inspiring sights and views.
So, without further ado, let me show you
The Beauty of North Wales, UK in 13 Photos and Stories
1. The Village of Portmeirion – A Dream of Shapes and Colours
This is the gorgeous village of Portmeirion in North Wales.
Looking like a cross between Gaudi's Park Guell in Barcelona and the cliff-hugging villages of Cinque Terre in Italy, this fantastical place was built in the 20th century by the Welsh architect Sir Clough Williams-Ellis. It took him close to 50 years to bring the design of his life to fruition.
Nowadays, Portmeirion attracts people from all over the UK and the world with its riot of shapes and colours. Plus, a very famous British television show called The Prisoner was filmed there in the 1960s.
I spent a very happy half a day exploring the beauty of Portmeirion with my family. Even though the weather was drab and rainy, as soon as I glimpsed the colourful houses and the parks with lush plants in full bloom, I felt like I had woken from a heavy sleep to find myself in the perfect version of our world.
Wouldn't it be amazing if we all could live surrounded by so much beauty on a daily basis?!
I took this photo from the top of a small hill in Portmeirion's wildwood – a subtropical forest spread over 70 acres. From up there, in the cold and drizzly air, you could see the village in all its beauty and fall in love with it over and over again.
More Information: For more details about Portmeirion in North Wales, please, visit its official website here.
2. Parys Mynydd Copper Mountain – Once the Largest Copper Mine in the World
The best things in life usually happen by chance.
This is exactly how we discovered Parys Mynydd on the island of Anglesey in North Wales. We were driving down the road headed for the town of Amlwch when a group of large hills caught our eye.
Between the large patches of purple heather covering their rocky surface, there were pebbles and stones in every colour of the rainbow. The effect was stunning. We had to stop and explore for ourselves.
Parys Mynydd – the Copper Mountain – has been mined for ore since the Bronze Age. In the 18th century, the copper mine was the largest in the world. While nowadays a portion of the mountain is still being mined, the rest has been turned into a sight where visitors can hike through the colourful hills and past small ponds.
In the middle of it all stand the remains of a stone windmill. In the second half of the 18th century, the windmill provided auxiliary power for a steam engine which was pumping in the nearby 240-metre-deep Cairns Shaft.
Walking through the colourful hills of Parys Mynydd is a fabulous experience. The place has an otherworldly feeling to it and surrounded by stones and rocks in different shades of purple, green, and yellow, you start appreciating the beauty of this world from a brand new point of view.
More Information: For more details about Parys Mynydd – The Copper Mountain – in North Wales, please, visit its official website here.
3. Trefignath Burial Chamber – A Six-Millennia Old Testament to Human Culture
What at first glance may appear like a random pile of rocks, is, in fact, a burial chamber dating back to the Neolithic era.
Known as the Trefignath Burial Chamber, you will find it on the island of Holyhead in North Wales. It is a peaceful and secluded place, very close to the point where Holyhead connects to the nearby island of Anglesey by the means of the North Wales Expressway.
Originally built around 3750 BC and then expanded in three separate stages, it is thought that the burial chamber was used for about 1,500 years before being abandoned around 2250 BC.
Even though nothing is known about the spiritual beliefs of the people who built and used the burial chamber such a long time ago, visiting it is like establishing a mental connection with a long gone past. Looking at the chamber's remains, I thought about the spiritual beliefs of our modern world, how nations have fought and fight with each other over what they choose to believe in and what people, six millennia down the line from us, would make of everything that we have believed in and fought for.
Would they have any more than an old abandoned cemetery to base their knowledge of us on?!
More Information: For more details about Trefignath Burial Chamber in North Wales, please, visit its official website here.
4. Segontium – A Roman Fort in North Wales
The Romans definitely loved to travel and conquer and they reached as far as North Wales where they built forts and controlled the lucrative mining of gold, copper, and lead.
Segontium – allegedly named after the nearby River Seiont – was one such Roman fort. Its ruins can be seen on the outskirts of the small Northern Welsh port town of Caernarfon. Segontium was built either in 77 or 78 AD. It remained in use until at least 394 AD while the Roman occupation of North Wales had come to an end just over a decade before in 383 AD.
Through the three centuries of its existence, the fort was gradually reduced in size and military power. Initially, it housed a thousand Roman soldiers and their families. Towards the end, Segontium served to guard the area against the attacks of Irish pirates. Nowadays, Segontium's ruins lie close to the ground outlining the long-gone buildings where the Roman soldiers would bathe, sleep, and pray.
After a long day visiting a number of great sights in that corner of North Wales, I really didn't expect to have a chance to see Segontium, too. Visiting the fort was at the front of my mind through the day but by the time we reached Caernarfon, it was starting to get late, the persistent drizzle had grown into an icy rain, and after a quick stop to see Caernarfon Castle (see point 5 below), we still had an hour of driving ahead of us to reach our pre-booked hotel for the night.
So, when on the outskirts of Caernarfon the road climbed up a hill and then sped past the ruins of Segontium, I couldn't believe my luck. I recognised the minimal yet neat and tidily presented archaeological remains from photos I had seen online. We stopped the car and just as the rain had slowed down to drizzle again, I jumped out and took a couple of photos through the metal fence which surrounds the sight.
Earlier this summer I had seen a rich collection of Roman artifacts beautifully displayed in the Archaeological Museum of my home city of Varna in Bulgaria. Vicenza in Italy, where I currently live, also has a significant number of Roman ruins and artifacts – a testament to its importance as a Roman municipium. Seeing the remains of Segontium in North Wales beautifully closed the circle for me.
More Information: For more details about the Roman fort Segontium in North Wales, please, visit its official website here.
5. Caernarfon Castle – A Mighty Fortress with Centuries-Old History
Caernarfon Castle is a sight to behold. Officially recognised as one of the most impressive medieval buildings in the world you will find it on the banks of the River Seoint in the small Northern Welsh port town of Caernarfon.
Curiously enough, building material plunged from Segontium – the nearby Roman fort (see point 4 above) – was used in the construction of Caernarfon Castle. Building it was a massive enterprise that started in 1283, lasted 47 years and cost up to £25,000. An astronomical for its time amount!
Some say that the castle's mighty defensive walls and polygonal towers were inspired by the legendary defensive walls of Constantinople – the capital of the Byzantine Empire. Others insist that the inspiration for Caernarfon Castle were Roman sites and forts in Great Britain.
Either way, the castle is striking. It was the brainchild of King Edward I – the English king who subjected Wales towards the end of the 13th century. Curiously enough, Caernarfon Castle was the place where Prince Charles was invested as a Prince of Wales in 1969.
We reached the castle late in the afternoon of a Welsh summer day that was as cold as a late autumn night in Nothern Italy. Shivering in my short-sleeved t-shirt, I ran up a bridge over the river in order to take my very best shot of the castle. Looking at it through my camera lens, the cold and discomfort were quickly forgotten.
Caernarfon Castle stood up, proud and powerful in a way that can only be achieved after centuries of standing still at the same place.
More Information: For more details about Caernarfon Castle in North Wales, please, visit its official website here.
6. The Welsh Dragon – A Symbol of the Spirit of a Nation
Everywhere you look in North Wales, you are bound to see dragons.
The firebreathing creature of legends and myths is the symbol of Wales – a country which has fought many times through the centuries in defense of its independence, its traditions, and its language.
The Welsh red dragon lives in the country's legends and is on the country's flag which proudly flaps in the wind above castles, public places, and private homes.
Dragon imagery is easy to come across in other places in North Wales, too. I particularly loved spotting this small stone-chiseled dragon in the ornamental frieze of an ancient church.
The Church of St. Cybi on the Holy Island (also known as Holyhead) in North Wales was founded in 540 AD as part of an Early Christian monastic settlement inside the remains of a Roman fort. It was then rebuilt between the 13th and the 16th centuries.
St. Cybi – the church's founder – was a 6th-century bishop and saint from Cornwall. Curiously, St. Cybi was a first cousin of St. David – the Patron Saint of Wales.
Actually, I glimpsed two different dragons in the frieze of St. Cybi's Church. One looked just like the red dragon on the Welsh flag. The other – pictured herewith – captured my imagination with its scaly tail. Half-Earth and half-sea, it is the perfect representation (for me, at least) of this part of North Wales where the Irish Sea – at times docile and blue and then ferocious and grey – holds Holyhead in its tight embrace.
It needs to be said that this two-footed dragon with a fishtail is known as a wyvern. According to some historians though, the wyvern may be the origin of the red dragon of Wales.
7. Bara Brith – Wales' Traditional Speckled Bread
You cannot come to Wales and not indulge in a nice slice of bara brith.
This typical Welsh speckled bread is made with mixed spices in addition to raisins that have been left to soak overnight in strong tea. So, each bite that you take is flavoursome, juicy and moist. Plus, the sweetness of the bara brith contrasts really well with the thin layer of salty Welsh butter that you spread on top of your slice.
I have been an ardent fan of bara brith since my very first visit to Wales back in 2002. At the time, I focused on the south of the country where during a day happily spent at St. Fagans National Museum of History I indulged in my very first slice of bara brith.
Now, that we were exploring North Wales, I couldn't miss an opportunity to get close and personal to bara brith again. Here it is! A special moment shared between a cup of coffee, a nice slice of Welsh speckled bread, and myself.
Coincidentally, the World Bara Brith Championship is held every year in Llandudno – a town in North Wales.
More Information: For more details about bara brith, have a look at the traditional bara brith recipe on the official Visit Wales website. Check also the website of the World Bara Brith Championship.
8. Heather Fields – The Purple Beauty of North Wales
Everywhere we went in North Wales, everywhere we looked, we saw heather growing in purple patches along the roads and on the slopes of steep hills as well as covering whole expanses of land bordering the Irish sea.
Heather is a perennial shrub which flowers with purple blooms and grows close to the earth. Its blooms are delicate, tiny and coloured in an intense purple shade.
Seen from afar, the heather shrubs – sprouting tight one to another – create the illusion of purple mossy stones. It's beautiful to look at.
Plus, the heather fields sustain local wildlife. We saw hundreds of butterflies fluttering over the heather shrubs' purple blooms. Birds were zooming in and out of the low-growing heather, too. Apparently, adders find the shrubs quite nice, too but I preferred not to think of this fact of life.
I must admit too that I have never been one for purple but looking out at Anglesey's purple heather heathlands filled my heart with indescribable joy.
More Information: For more details about where to see heather heathlands in North Wales, have a look at the website of the North Wales Wildlife Trust.
9. Sheep – The Staple of North Wales
Well, hello there, good looking!
We met this gorgeous specimen on a green field in North Wales and, obviously, I had to take to snap.
In fact, good looking sheep are all over North Wales. As you drive through, you will see white dots speckling green hills and pasture fields everywhere you look. For, Welsh sheep are super agile and easily climb up steep slopes to graze all day long.
They are rather gentle at heart though and quickly run away if you try to get close to them. Something we established for ourselves as we were walking down the path to a Welsh farm where we had booked to spend the night. A young sheep had escaped the wooden fences of the adjacent field and was busy grazing on the path. As we carefully approached, it sensed us coming and speedily ran towards the safety of the flock giving little jumps with its back legs which was rather funny to observe.
Sheep farming is big in Wales with an estimated number of 11 million sheep in the entire country. I don't know what percentage of this figure belongs to North Wales but judging by the endless flocks we saw as we travelled across the land, it must be quite significant.
More Information: For more details about sheep in Wales – breeds, history of sheep farming and modern-day uses – have a look at the official website of Wales' National Wool Museum.
10. Snowdonia – Wales' First National Park
Snowdonia is a region of mountains in North Wales. It's incredibly beautiful and it is a place where you, enchanted, discover just how many different shades of green there really are in the world.
Taking its name from Snowdon – which at 1,085 m is the highest mountain in Britain after the Scottish Highlands – Snowdonia is a pleasure to travel through and explore. Designated a national park in 1951, it was the first of its kind in Wales.
Snowdonia is where you will find the Welsh 3000s. These are 15 mountains with a height of over 3,000 feet (914.4 m). A popular mountaineering challenge is to reach all 15 summits within 24 hours.
It is not just peaks and slopes you will find there though. Snowdonia is also home to many lakes. On a windy and rainy evening, we drove past one of them. Its waters were grey and choppy. In its fury, it looked like a mini ocean constrained between craggy peaks.
Further down the road, we passed through Beddgelert – an incredibly beautiful traditional Northern Welsh village with slate cottages and baskets overflowing with flowers which were hanging from lampposts and facades all over the place.
On the photo above you can see Snowdonia at its moody best. The body of water at the front is the Menai Strait – a narrow stretch of water that stands between the Welsh mainland and the island of Anglesey. It had just started to rain (yet again!) and mist and clouds covered the green peaks of Snowdonia which mere minutes before could be seen perfectly outlined on the horizon.
11. The South Stack Lighthouse – A Beacon on the Irish Sea Coast
Lighthouses have something very appealing about them. It could be because there was a lighthouse very near to where I would spend every summer as a child or it could be that they have come to symbolise a beacon of light in an otherwise dark and aimless world. In any case, I can't say no to a visit to a lighthouse and as luck would have it, the island of Holyhead in North Wales has one of the best I have ever seen.
Built in 1809 on a small islet just off the coast of Holyhead, the South Stack lighthouse looks both romantic and dramatic when you admire it from the nearby tall cliffs. For many years it was used to guide ships sailing between Dublin and Liverpool away from the island's treacherous rocks.
If you look closely at the photo above, you will see a white ferry as a largish dot on the horizon just to the left off the lighthouse's top. It looks like one of the ferries which connect Ireland to Holyhead every day.
Nowadays, the South Stack lighthouse is open for visitors. Unfortunately, we couldn't visit it as it was closed due to strong winds on the day we were there. We could only admire the lighthouse from the nearby Elin's Tower – a 19th-century building which houses the local base of the British wildlife charity RSPB. At the top floor of Elin's Tower, you can also spend time trying to spot the local wildlife – from puffins and cormorants to bottleneck dolphins and even orcas every now and then.
More Information: For more details about the South Stack Lighthouse in North Wales, please, visit its official website here. For more details about Elin's Tower and the South Stack Cliffs Nature Reserve in North Wales, please, visit its official website here.
12. The Estuary of the River Dwyryd – At the Crossroad between Water and Land
Having grown on the shores of the non-tidal Black Sea, I find tides particularly intriguing.
All this water retreating at particular times of the day or night only to return with all its might a few hours down the line… It looks quite magical to me!
The river Dwyryd in North Wales has a long tidal estuary which drains out of water to reveal rippled sandbanks and islets. Above this magical scene presides the charming village of Portmeirion (see point 1 above). It really is a place where the genius of nature and man meet.
When we visited Portmeirion, the tide was at its lowest and the wide river bed was almost entirely exposed. We saw people going for a walk across it with their children and dogs and almost reaching the midpoint of the river. As the day progressed, the water slowly started to flow back. Rivulets alternated with sandbanks thus creating contrasting stripes when you looked at the estuary from the high vantage point of Portmeirion.
13. Llanfairpwllgwyngyllgogerychwyrndrobwllllantysiliogogogoch – The Town with the Longest Name in Europe
North Wales can be a very whimsical place, too! After all and among the many castles, natural sights, and fluffy sheep, here you will also find the town with the longest name in Europe! It is also the second-longest place name in the world!
Try saying Llanfairpwllgwyngyllgogerychwyrndrobwllllantysiliogogogoch!
Apparently, it means The Church of Mary in the Hollow of the White Hazel Near the Fierce Whirlpool and the Church of Tysilio by the Red Cave. It was invented in the 1860's in order to attract tourists to the small town. A task at which Llanfairpwllgwyngyllgogerychwyrndrobwllllantysiliogogogoch excels to this day!
After all, we also made the pilgrimage to its train station to take a selfie or two with the different signs spelling the 58 letters of the town's name. Above, you can see a photo of the train station's platforms with a sign providing the phonetic pronunciation of Llanfairpwllgwyngyllgogerychwyrndrobwllllantysiliogogogoch.
Let me know how learning to say it goes!
In Conclusion
North Wales is a great place to visit when you are looking to escape the beaten track and want to find peace and quiet surrounded by stunning nature and centuries-old historical artifacts.
The Northern portion of Wales – one of the four countries which comprise the United Kingdom – has a lot to offer to the curious traveller. Here you will find Snowdonia – a stunning region of mountains and Wales' first national park; the islands of Anglesey and Holyhead where Neolithic relics survive alongside Roman forts, medieval castles, and sites of industrial historic interest; as well as the magical village of Portmeirion which looks like it was created in a colourful dream.
In my blog post above I share with you 13 photos and stories to wake your interest in North Wales. I hope that you find this underrated corner of Europe just as intriguing and beguiling as I did during my exploration of it only a couple of weeks ago.
More Helpful Links
Have you been to North Wales before? What did you love seeing and doing there? What would you suggest that I visit there next time that I head to Wales? Let me know in the Comments section below!
Thank you for reading! Please, leave me a comment, pin the image below or use the buttons right at the top and at the end of this blog post to share it on social media.
For more useful information like this, please, like my blog's page on Facebook and subscribe to my weekly strictly no-spam newsletter.