I love the run-up to Christmas!
In England, where we lived up until August 2014, this period of festive preparations starts earlier and earlier each year and it's driven largely by massive commercial interests.
It's not unusual to see Christmas departments opening their festive doors in the large shopping centres three or even four months before the actual event. Then, it is Christmas galore on all fronts, with Christmas music pumping on the shops' hi-fi's, piles of Christmas stocking fillers taking all available shopfloor space, and large maddening crowds of not so cheerful shoppers out and about in an exhausting search for that perfect yet elusive gift.
Even the recession of the past few years didn't quite put much of a dent in the Christmas shopping frenzy that happens on the streets of London at least from the beginning of November onwards. After months of shopping, listening to a catalogue of Christmas music spanning several decades and stuffing our faces with mince pies, I always had the same prevailing thought come Christmas Day: 'OMG, all this was for one day!?'. And before we knew it, this day was over all too soon with nothing to cheer us up for the next couple of months of winter gloom but the huge January sales starting in the early hours of Boxing day.
So, it is quite refreshing to experience the much slower, thoughtful, and much less frenetic approach to the run-up to Christmas in the Italian city of Vicenza, where we currently live. Although it's the end of November, the Christmas lights here are not on yet! Hey, they are still being put up.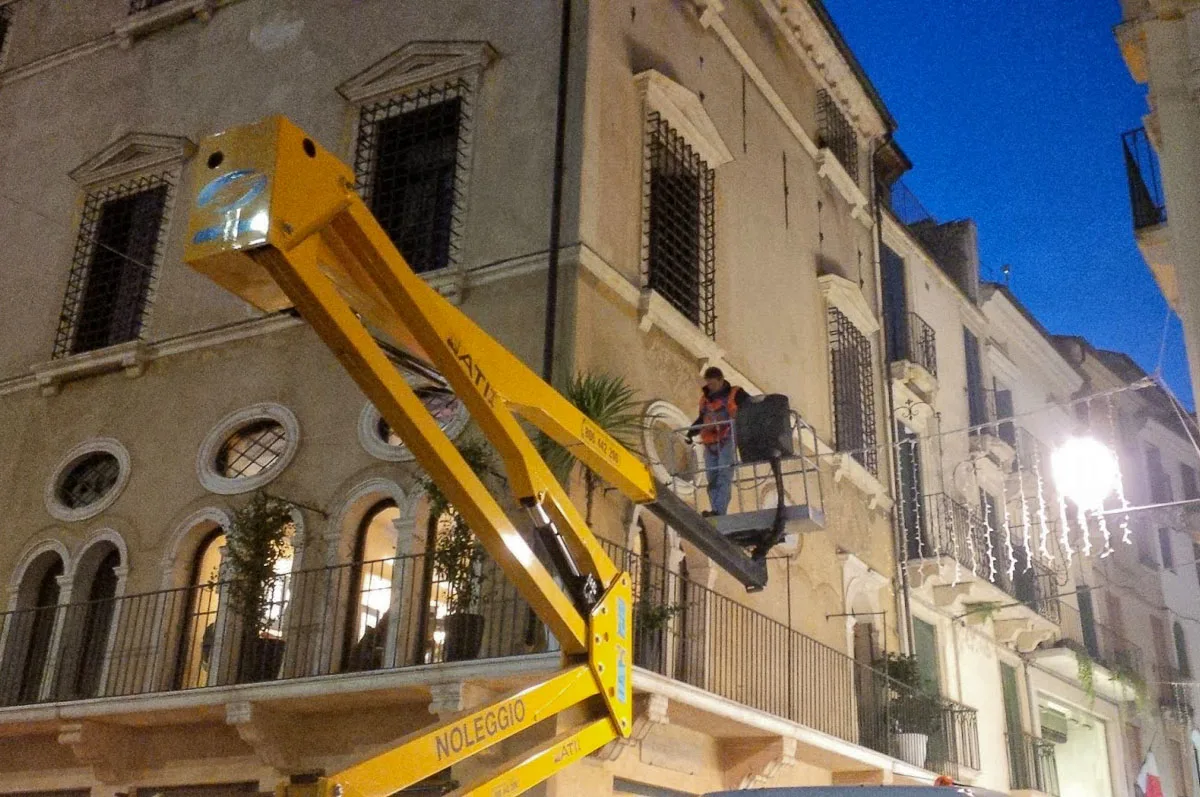 I have been reading my friends' Facebook updates about Christmas partying and Christmas shopping in London for a good few weeks now. I am happy to report that I haven't started feeling Christmassy yet. This could be because the Italian sun is still shining and even though Italians are already deeply burrowed in thick jackets complemented with chic scarves, I find the weather still quite balmy with the temperatures easily reaching 16-18 C during the day.
Or it could be because most of the shops are not yet decorated and you would be hard-pressed to come across a large throng of people doing a Christmas shop in town. Most are simply enjoying their coffees and their pastries in the elegant cafes. And, most importantly, they have time to chat. Like the sweet old lady who stopped to admire my baby and then told me about the wonderful Nativity Scenes they put in the churches dotted around Vicenza. When I asked her if I can see any yet, she replied: 'No, it's too early. Wait until December!'.
Yes, I admit it, my favourite large shop Viridea – a happy mixture of a garden centre, art and craft, cooking and pet shop – had its Christmas department open at the end of October with the most exquisite of displays.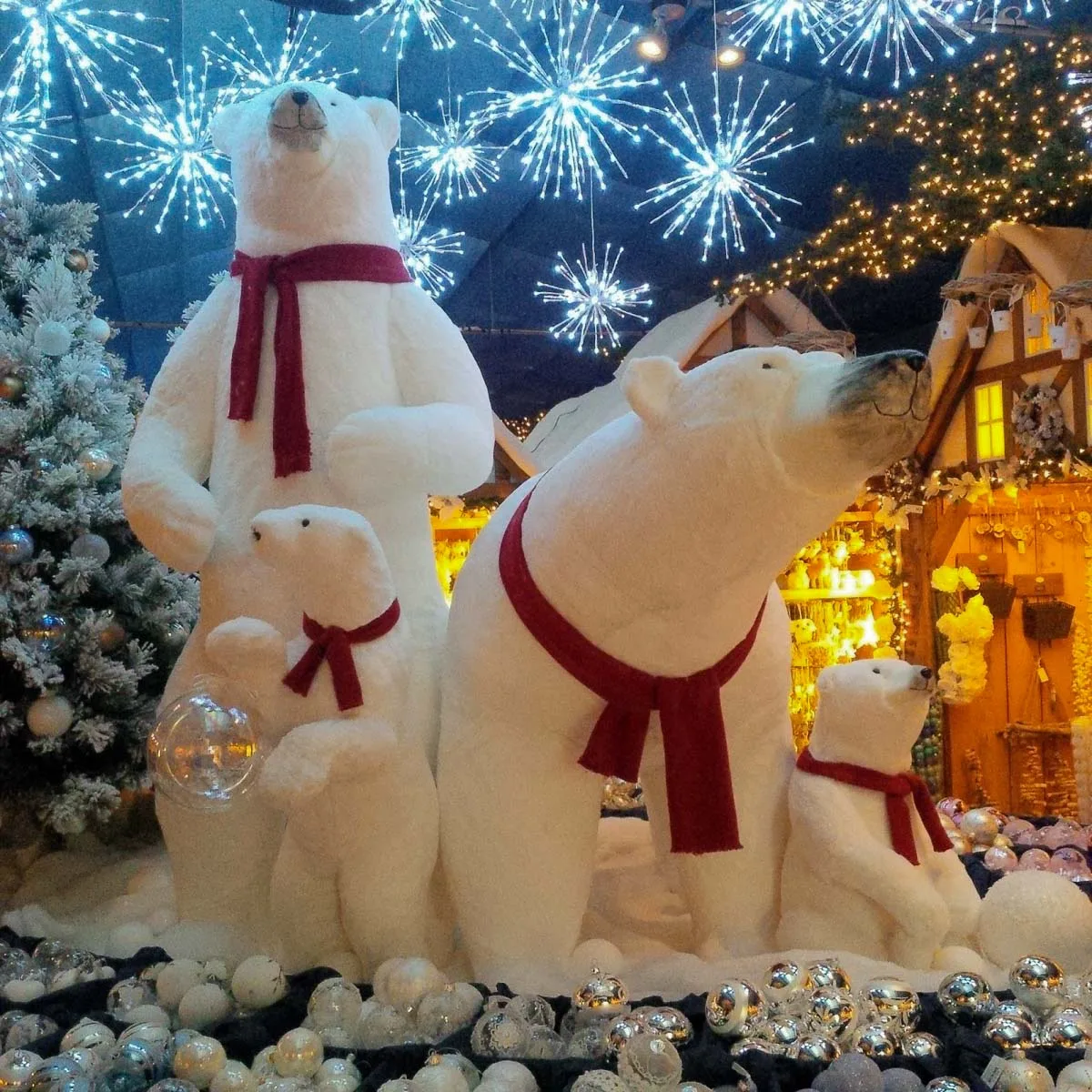 But all the other shops in town are just now starting to follow suit with some humble decorations or a Christian-themed display. I particularly love this one.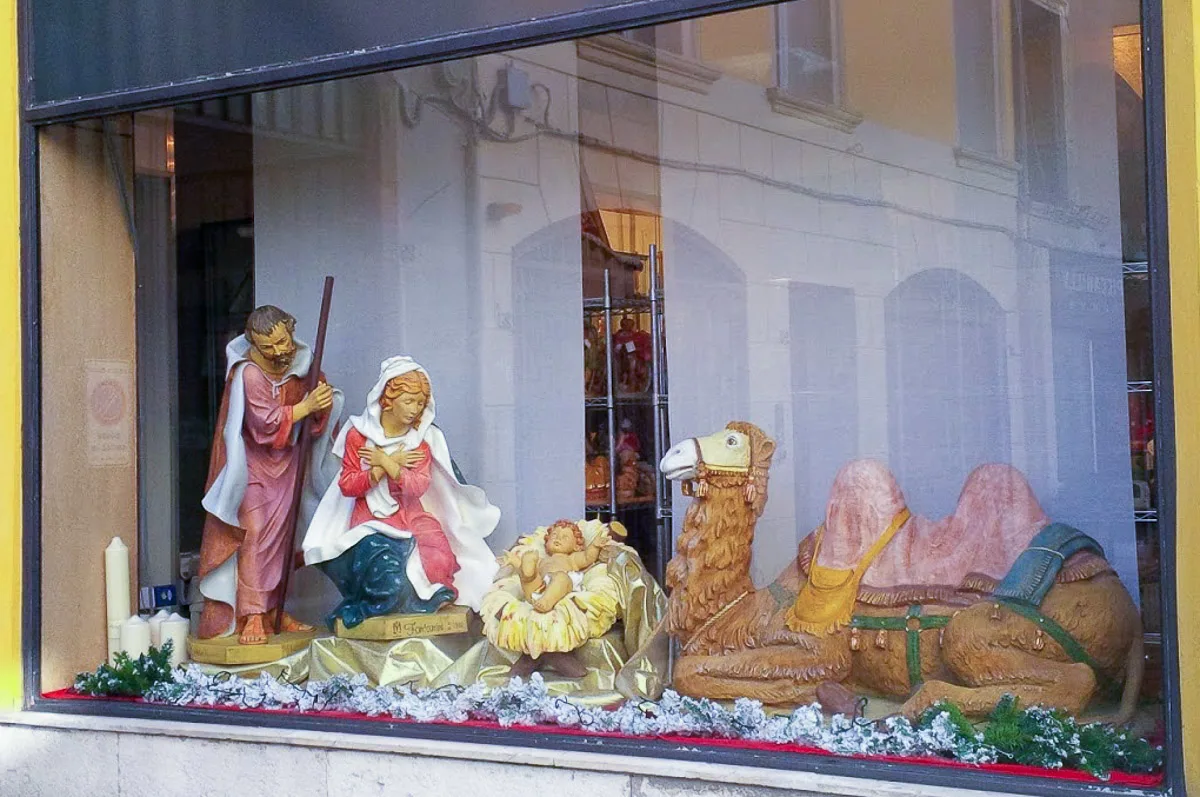 I think the camel is splendid and as for the blue-eyed, flame-haired baby Jesus, well, believe it or not, there are lots of red-haired people in this part of Italy.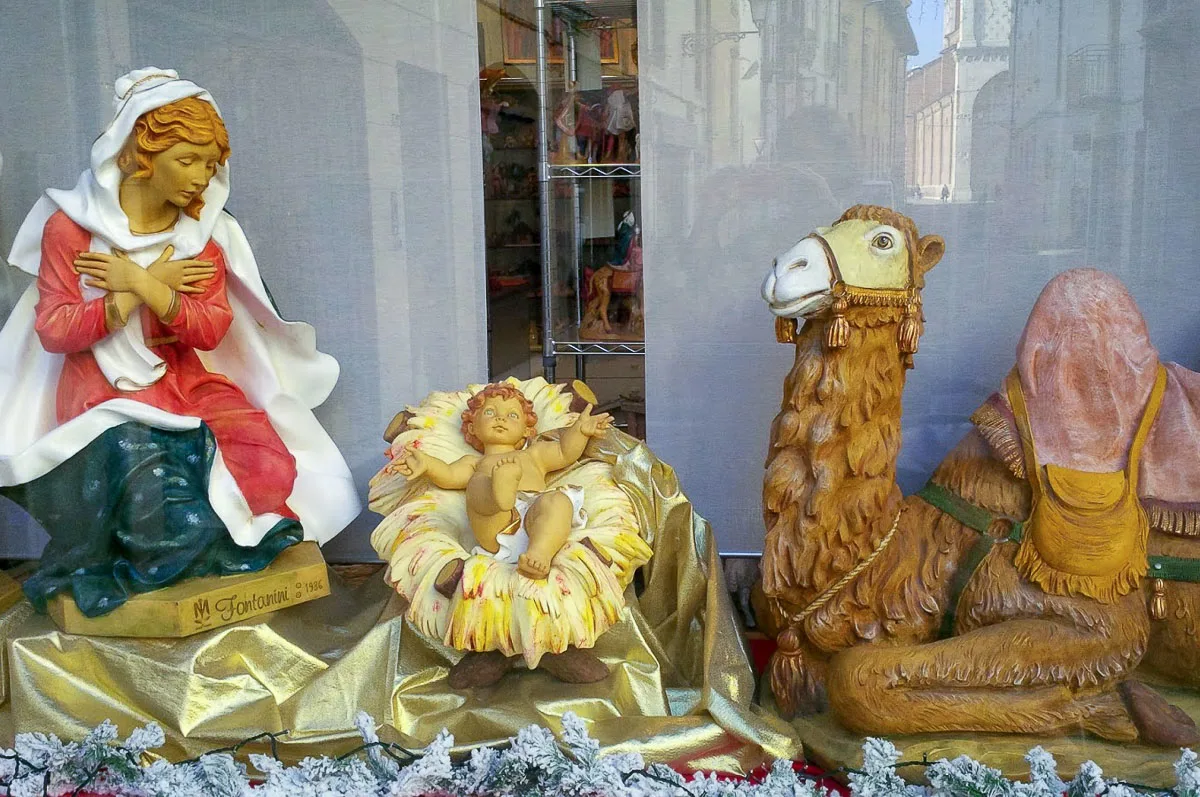 In my walks around Vicenza's historic centre on most days I come across other visual reminders that Christmas is getting close. Usually, though they are quite subtle and not in your face at all.
Like this little display of poinsettias.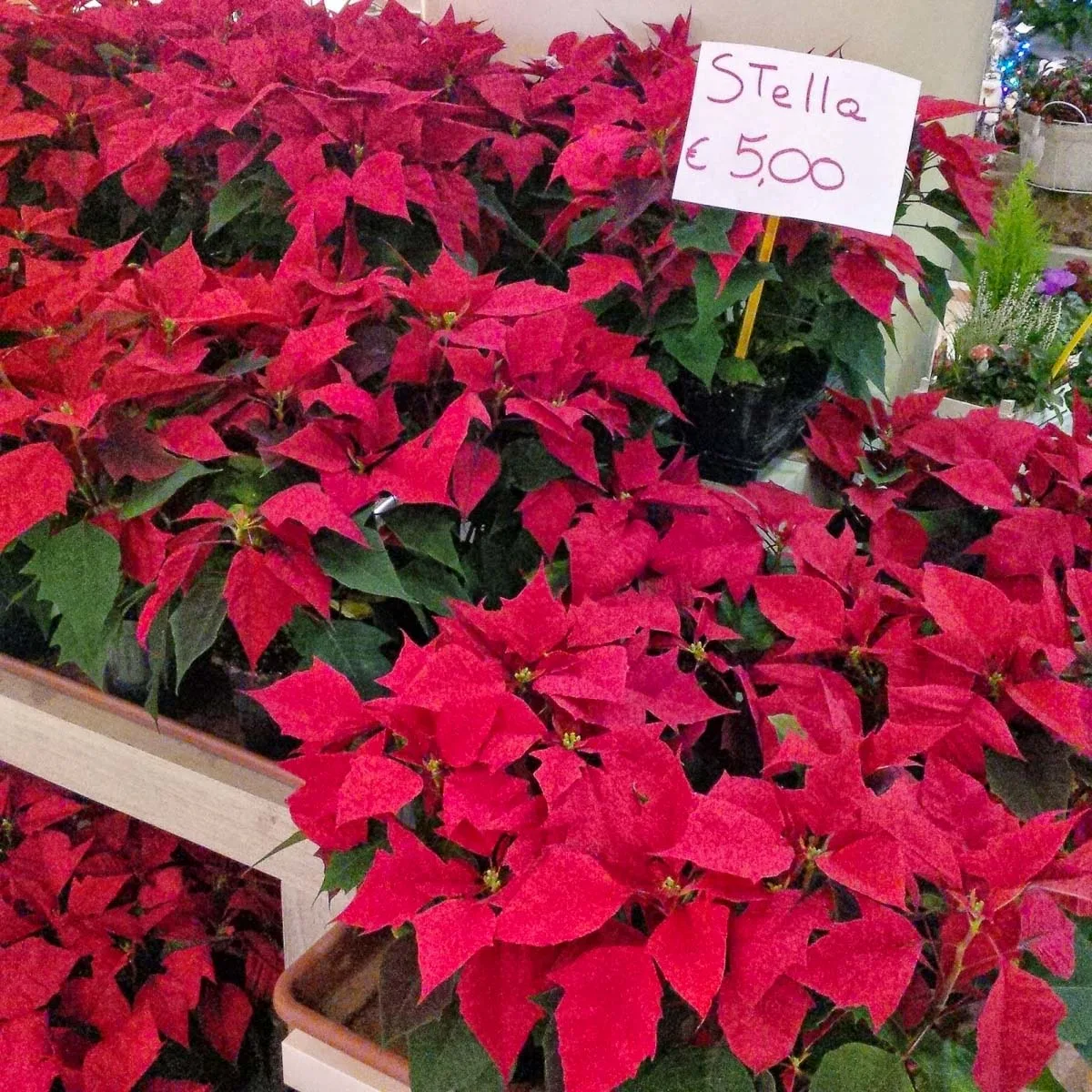 This Christmas-themed display of table covers and bedspreads, that I admired at the market held twice a week in town.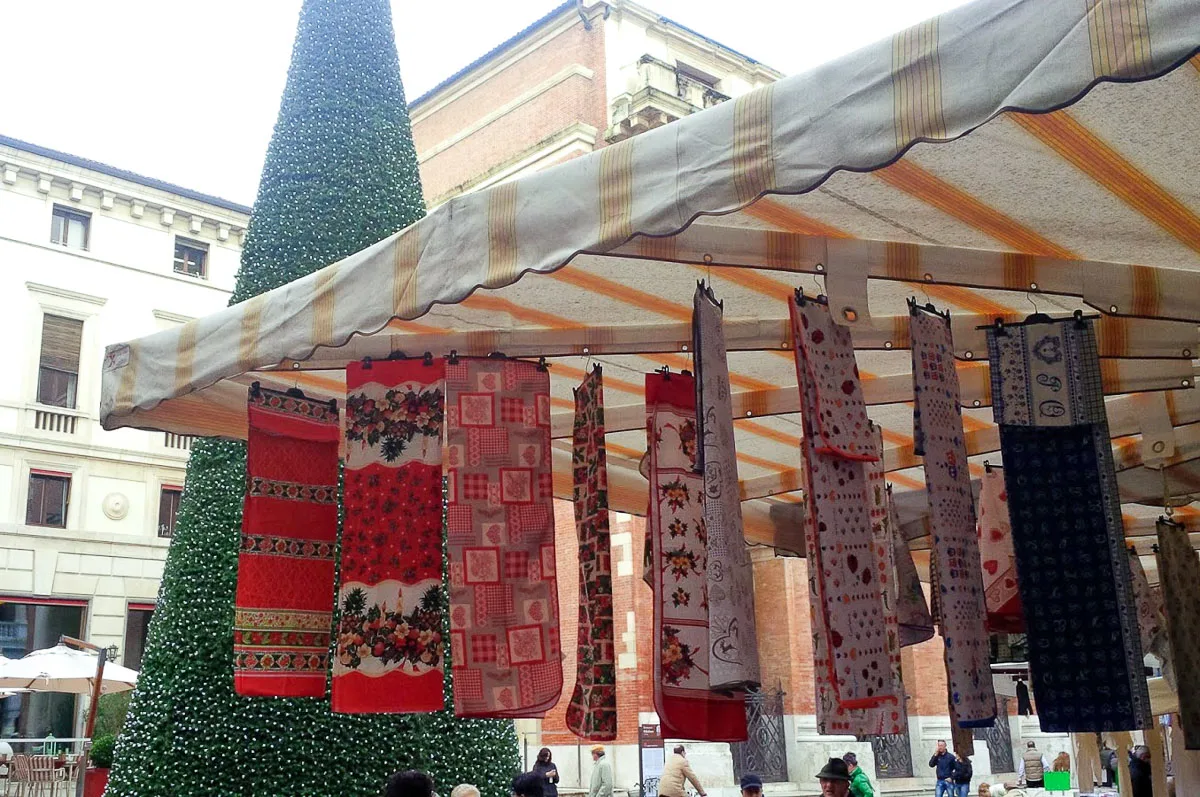 As well as these abstract Christmas trees next to a lovely jewellery shop in Palladio's Basilica.
I haven't done any Christmas shopping just yet! When I eventually do it though, I think I will let myself be seduced by the array of wonderful Christmas mechanical and battery-operated displays I've seen in a couple of shops. They have nothing of the plastic multifunctionality associated with developmental toys these days. They just inspire wonder and bring back the magic of Christmas, that for me somehow has been lost.
I mean, just look at this: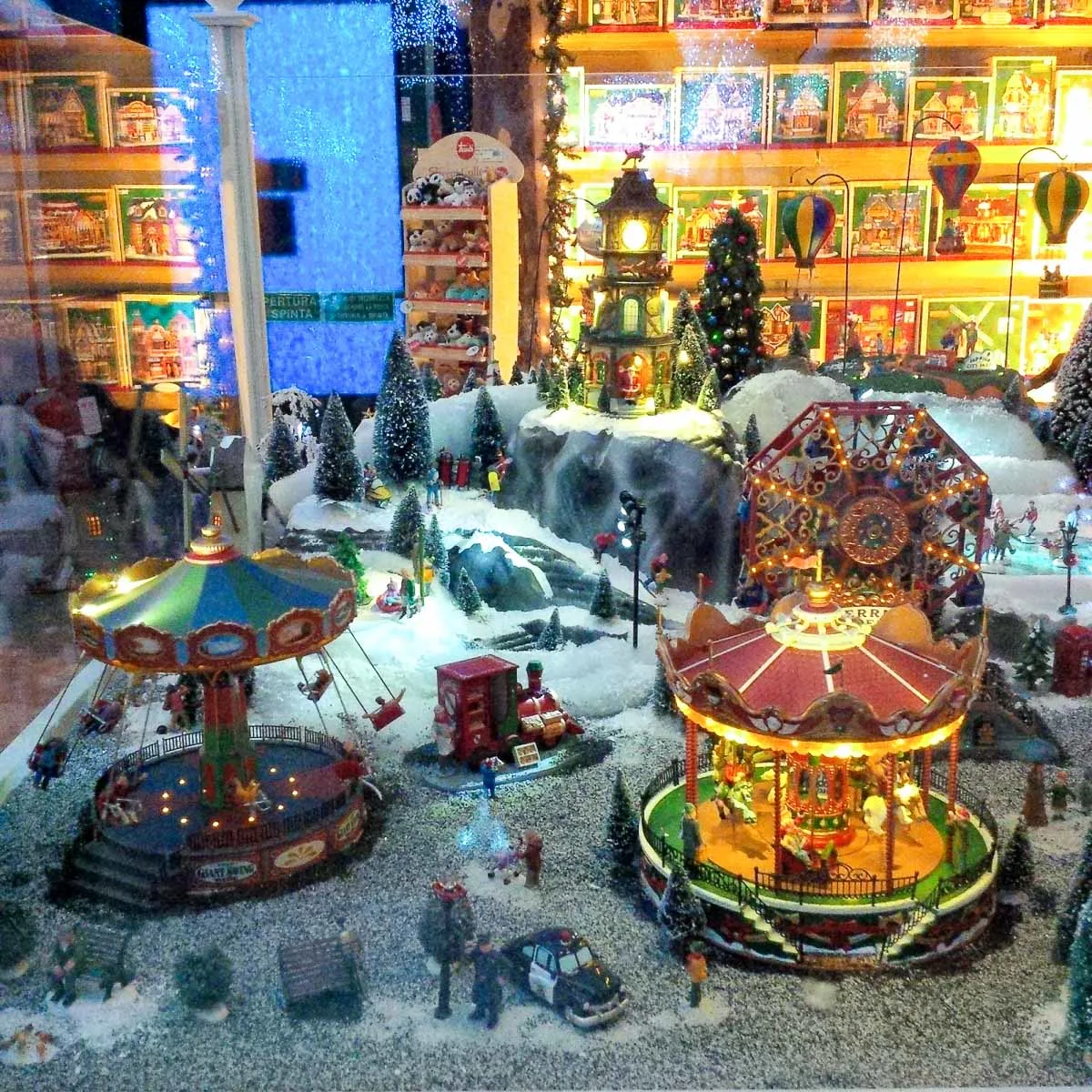 This carousel would be a great future heirloom to give to my baby one day.
Instead of an uninspired jumper or a boring pair of socks, everybody else would be getting some delicious Christmas nougat.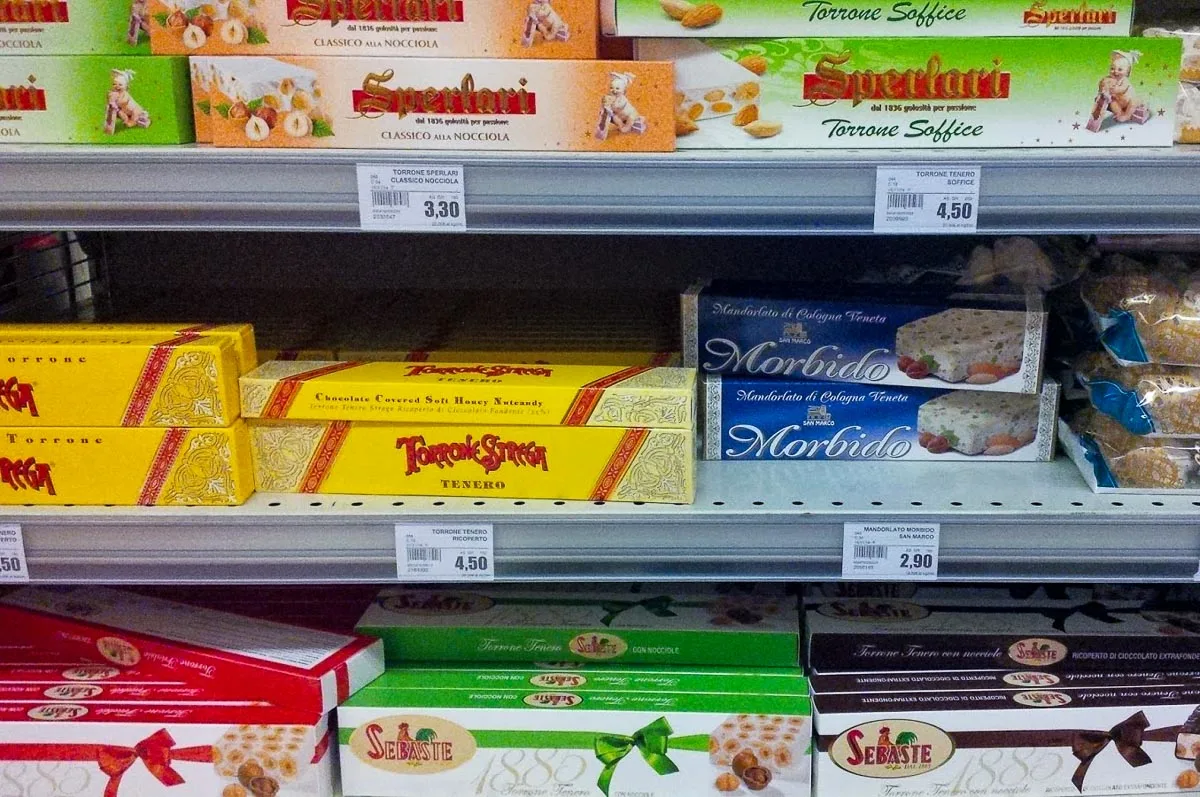 Plus, it is much easier to fit in the suitcase for our forthcoming trip back to England than boxes of scrumptious panettone.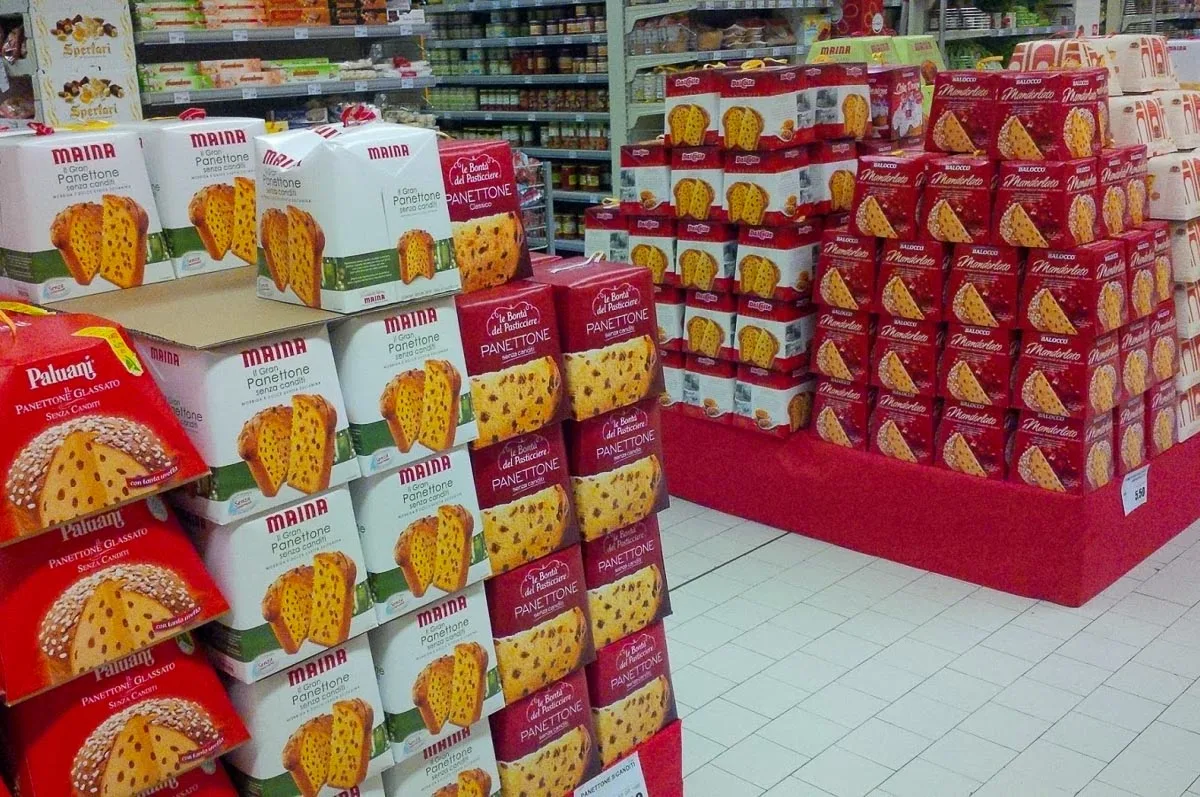 Talking of Christmas magic and excitement, I had a moment of pure wonder only a couple of days ago, when, upon reaching Piazza dei Signori – the main square in town – I realised it had been covered with a web of lights that climb all the way up the tall watchtower – the majestic Torre Bissara.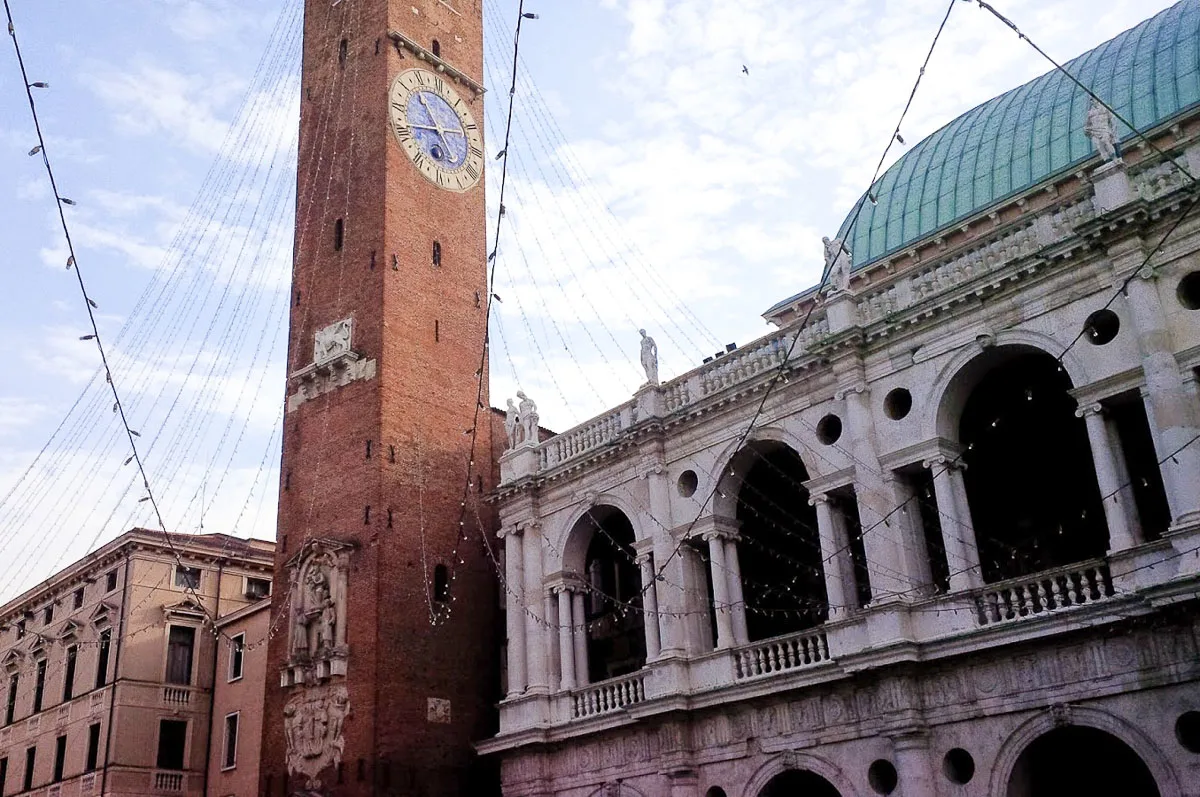 It's stunning! And I can only imagine how amazing it would look once the lights are on.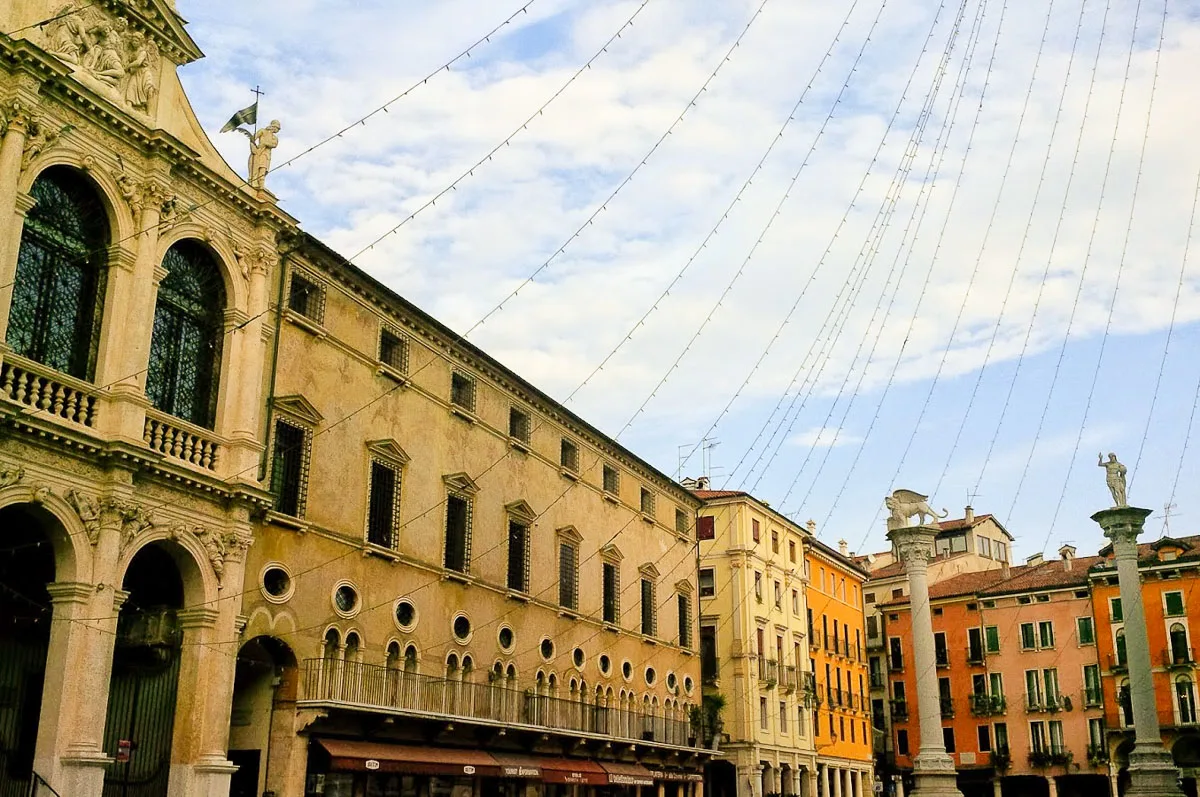 I wonder how they managed to hang the lights so high up. It must have required a real effort so as not to tangle the many different strings.
In my walks around town, I've seen the men doing this rather difficult task during the day…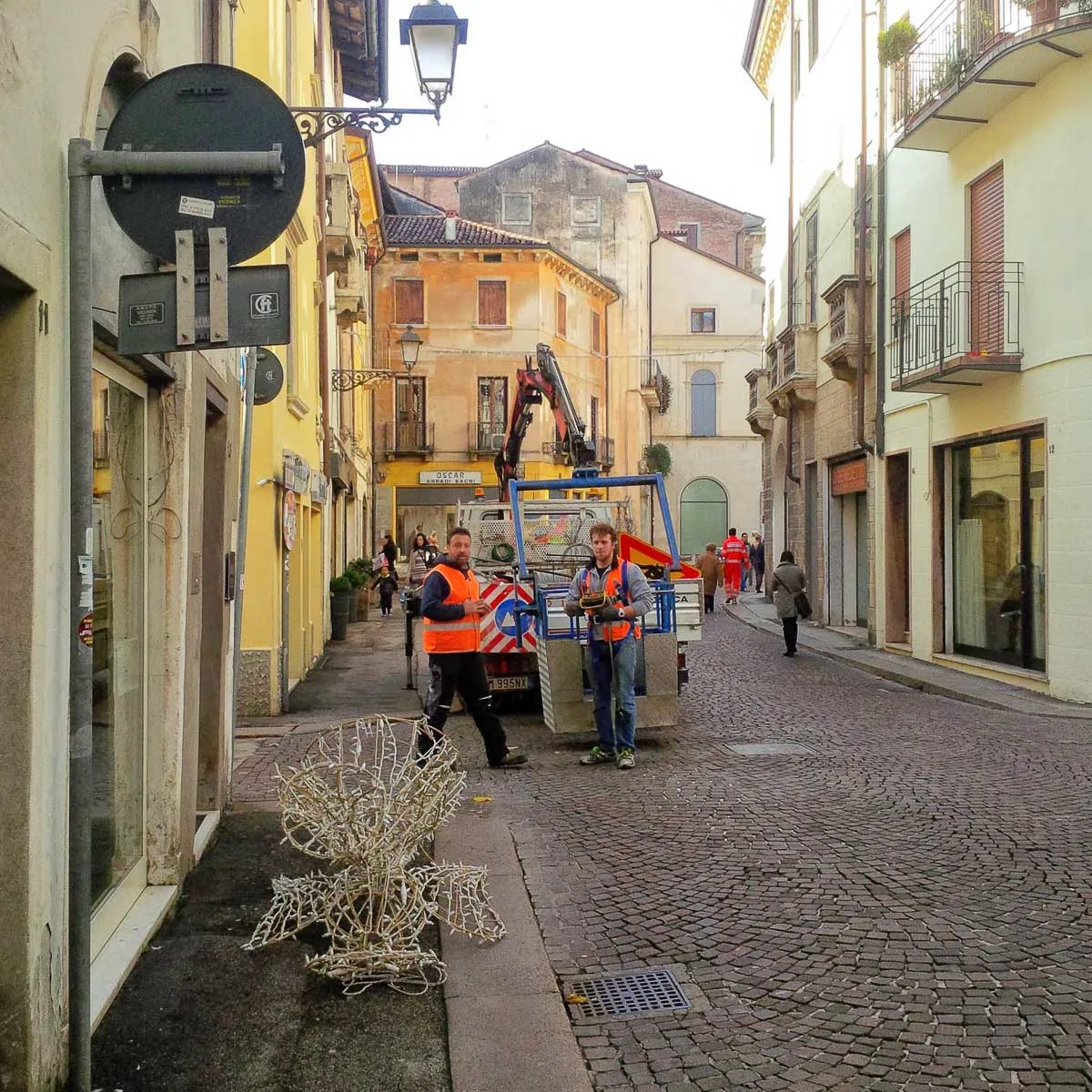 … and then in the early evening.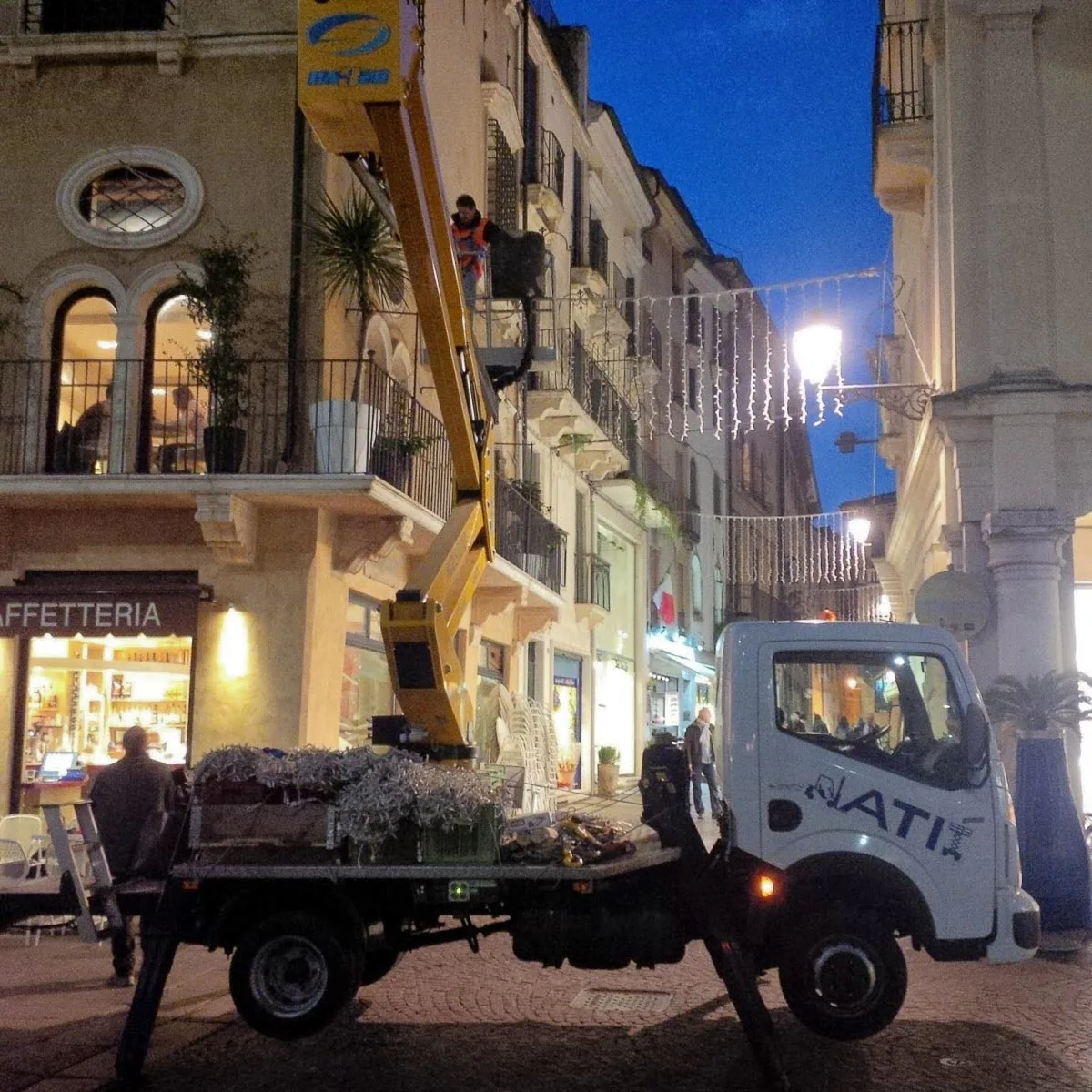 It must be so satisfying to be adorning your city with curtains of Christmas lights like this one.
Have a wonderful run-up to Christmas!

Be merry and enjoy! And don't forget to come to Vicenza to experience it all in the quietly magical way.
More Helpful Articles about Christmas in Italy
Thank you for reading! Please, leave me a comment, pin the image below or use the buttons right at the top and at the end of this blog post to share it on social media.
For more useful information like this, please, like my blog's page on Facebook and subscribe to my strictly no-spam newsletter.